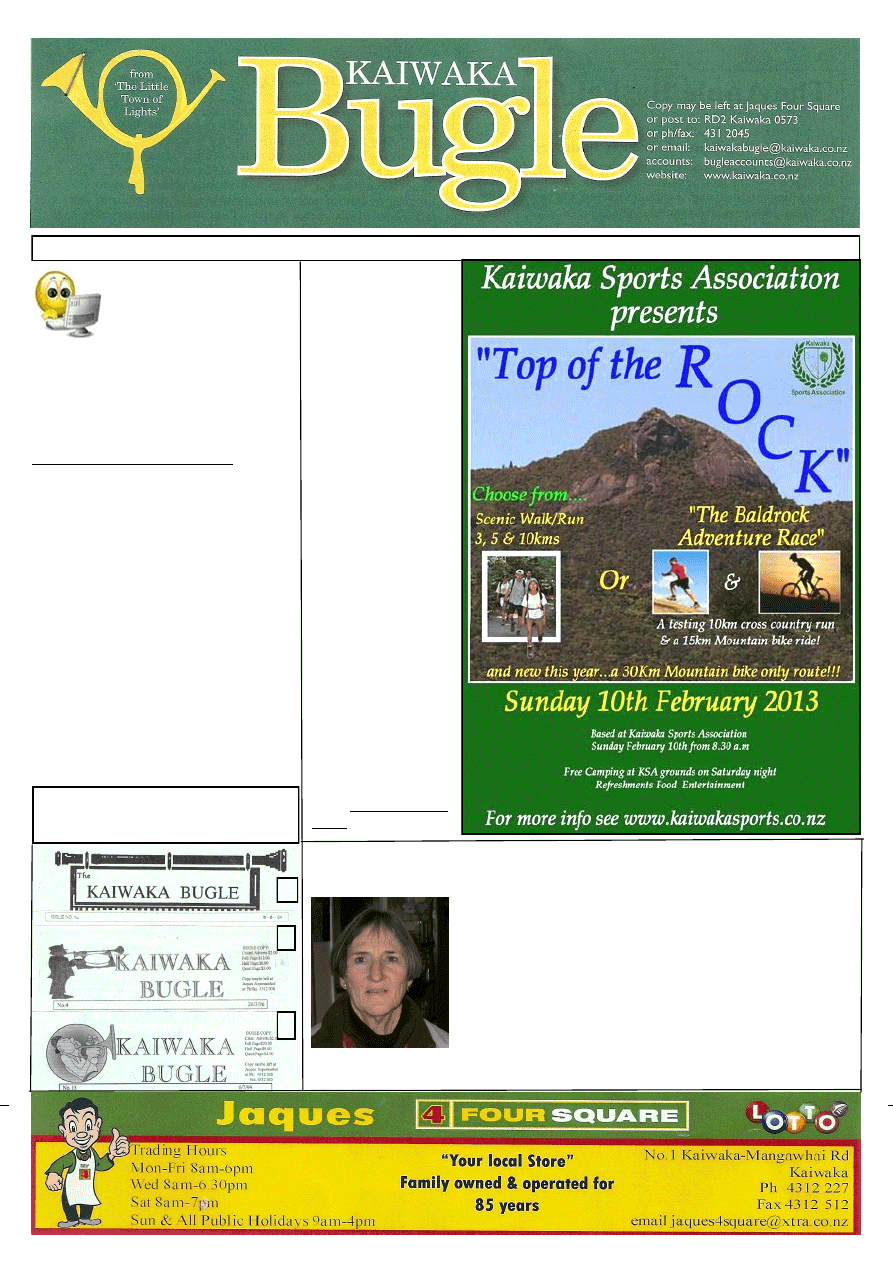 No: 1 
21/01/2013 
HAPPY NEW YEAR! 
―In the New Year, may your 
right 
hand 
always 
be 
stretched  out  in  friendship, 
but never in want‖ Irish toast
A message to all advertisers and  
associations who place ads etc. in the 
Bugle:  
As the new editor, I do not have access 
to  Lindsey's  personal  email  so  please 
be sure to send all details to  
kaiwakabugle@kaiwaka.co.nz  by  the 
Friday before the ―appear‖ date to avoid 
any  disappointment.  Also  please  note 
that the phone/fax number on our letter-
head  is  Lindsey's  private  number  and 
we  have  several  reams  of  letterhead  to 
get  through before  we  can change that. 
The  Kaiwaka  Media  Group  are  in  the 
process of setting up a direct number to 
the  Bugle  office  which  will  be  advised 
as  soon  as  possible.    In  the  meantime, 
for any urgent matters, my cell phone is 
0220804186.  Cheers Ann 
Message  from  John  Bowmar,  Fire 
Chief,  re  fire  restrictions:  "44 gallon 
drums are not incinerators; rubbish can 
only be burnt in a commercial incinera-
tor". See Public Notices for fire ban. 
Bugle 2 will appear 04 February 
Top of the Rock 
is  back  for  its  third 
great  year.  Last year 
was  a  great  success 
with 
participants 
ranging from 2 to 76; 
both visitors and 
locals.    It  is  an  event 
that  the  entire  family 
can  enjoy  as  well  as 
being  a  good  avenue 
for serious athletes to 
get a great workout.  
This  year  the  event 
organisers  have  in-
cluded 
a 
30km 
Mountain  bike  only 
route. 
When showing up for 
this event please 
remember  we  can 
still get burnt in over-
cast  conditions,  so 
bring  plenty  of  water 
and  sunblock  with 
you.  Don't  forget  to 
allow  extra  time  for 
parking  and  potty 
stops  and  to  register 
before the start time. 
For more information 
go to kaiwakasports. 
co.nz  
Lindsey Hargreaves resigns as Editor 
After twenty years in the role, Lindsey Hargreaves has resigned as Editor of the 
Kaiwaka Bugle.  The Kaiwaka Media Group and all the com-
munity of Kaiwaka wish to extend their heartfelt thanks and 
appreciation  to  Lindsey  for  her  due  diligence  in  getting  the 
Bugle  out  on  time  every  fortnight  during  those  20  years.  It 
has  been  many  hours  of  work  with  quite  some  pressure  at 
times.  As  it  is  not  in  Lindsey's  makeup  to  withdraw  from 
voluntary community work entirely, she is moving on up to 
another  big  learning  curve.    Lindsey  will  be  involved  with 
the  Kaiwaka  website,  both  development  and  design  and 
maintains  her  position  as  Chairman  of  the  Kaiwaka  Media  Group.  Thank  you 
Linz for a job well done; and please keep looking over my shoulder for awhile! 
Below are various versions of the Bugle 
Header throughout the years of Lindsey's 
involvement.  Remember these?... 
93-
95 
96-
98 
99-
03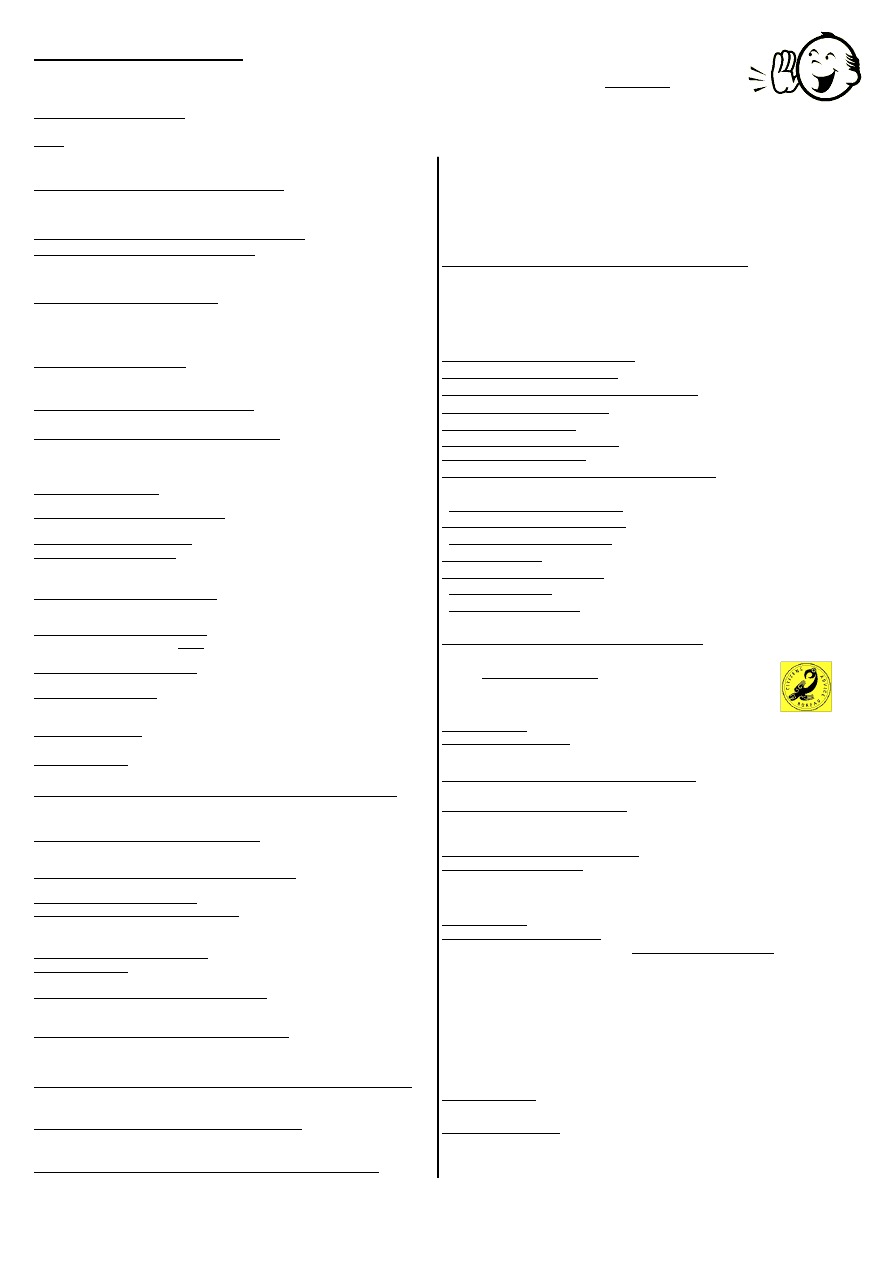 LOCAL SERVICES 
*St.John Ambulance 
111 or Freephone0800 61 0066
*Fire phone 111     *Police phone 111 or 09 4311150
WELLSFORD DOCTORS: Ph: 4238 086 
A A: Meets Wed., 8pm Kaiwaka Ph: 4312228, 4315543, 0800229 6757   
AL ANON: In recess, contact Ph: 4312228 
AgriQuality (MAF) Livestock Consultant 
Phone 09 4311 820 or 021518257 
CAB-Citizens Advice Bureau.Wellsford Ph: 4237333. 
BUDGETING SERVICE,OTAMATEA:Free confidential advice & 
support - all areas of  personal finance Ph: 09 4318173 or 094318117
FAMILY SUPPORT SERVICES responding to the needs in our 
community  Counselling/Family Therapy/Seminars/Youth Work/
Probation/Osteopathy/Govt.Day Agencies/Community Information  
Ph: 4312661 Hours: 9am-5pm. Mon - Fri (funded & CYFS approved) 
FUNERAL SERVICES: Morris & Morris Ltd, 
Whangarei - Bev Jaques Ph:4312367 or 0800667747 
Grandparents Raising Grandchildren: Sarah Rogers Ph: 4312194 
HAKARU LANDFILL/Transfer Station:Open everyday except 
Tuesday10am-4pm.Ph4312629 Cost-$55 trailer load up to 1 cubic 
metre. Ph:4258567 - office 
INLAND REVENUE: Last Friday each month, 
11-3pm Ph4312661 
KAIWAKA KOHANGA REO:
Ph:4312620 Mon.-Fri. 8.30am-2.30pm 
KAIWAKA CEMETERY: Ph: 4312045 
KAIWAKA LIBRARY: kaiwaka.library@gmail.com  
Mon. 4-6pm; Wed., Thurs., Fri., Sat.  10am-2pm Ph:4312539
KAIWAKA PLAYCENTRE: Ph: 4312286. Hastie Lane 
Monday to  Friday  9.00am 
- 
12 noon.
KAIWAKA POST OFFICE:
Ph:4312 626 Fax: 4312287  
Post Code: 0573  for RD2  and  0542 for all Kaiwaka Post Office mail 
KAIWAKA SPORTS ASSN: Ph 4312005; 4312129 gym 
KAIWAKA STJOHN: Manager Steve Rosser 09 431840, 021 2316836; 
Sec: C Dymock 4312744 
NORTHPOWER: Faults Kaiwaka area 0800 104040 
PARENTPORT: Free, practical family support servicePuhoi to Paparoa 
Ph:  Sharon Mehana, Co-ordinator. 4259357 or 027 280 5093 
PERSONAL DEVELOPMENT COACHING, GROUP FACILITATION:  
Sabine Druckler 4312231 
 
PLUNKET  KAIWAKA/MANGAWHAI:  Ph:
094318187 
or  0
276753488 
Kaiwaka Mobile Clinic once a month– appointments necessary;  
Mangawhai (next Domain) 
1st & 3rd Thursday & Coffee Morning; 
PLUNKET CARSEAT CO-ORDINATOR:  
Pat Scott Ph 4314530 or 
0272881635 
PLUNKET FREEPHONE -0800 933 922 
PLUNKET -MAUNGATUROTO  Clinic every 2nd & 
4thThursday. Ph: 09 4318187 
PUBLIC HEALTH NURSE: Gloria Reid Ph: 094327634  
HOMEOPATH: Donna Flavell Ph: 
4314843 
RETURNED AND SERVICES ASSN 733 Settlement Rd.Hakaru 
Ph.4312176 Bill Kerr (President) Ph.4314719 
TE KOROWAI AROHA O NGATIWHATUA 
(The Cloak of Love of Ngatiwhatua) Support and Maori Consultancy.  
Ph: 4239481 (Wellsford) 
WOMEN'S WELFARE LEAGUE & Reaching Out For Youth:  
4 Kaiwaka-Mangawhai Rd, M Morgan 4312293 
VETERINARY SERVICE MANGAWHAI: 
Ph: 4314535 Mon-Fri 8.30-4.30, Sat 9-12, a/h appt. 
KAIPARA DISTRICT COUNCIL www.kaipara.govt.nz:  
Help Desk FREEPHONE 0800 727 059 
Dog/Stock/Noise 0800 105 890 
Kaiwaka Service Centre Ph:4312 013 Mon-Sat 8.30-4.30pm 
WHAT'S ON
PLEASE ~ do let me know what is on - email 
kaiwakabugle@kaiwaka.co.nz 
*25-26Jan~Otamatea Tennis Tournament  
*31Jan~Otamatea High-all school attends 
*6 Feb~ Waitangi Day 
*9Feb~Top of the Rock Marshalls meeting 6.30pm KSA 
*10Feb~Top of the Rock, Kaiwaka 
*12Feb~Pt Curtis Cruising Club Committee Meeting  7pm 3 Furlongs Hotel 
See www.kaiwaka.co.nz for upcoming events. 
 
Drink can "tear tabs" - for Starship Hospital-Ph 4312625   
KDC  HOUSEHOLD  RUBBISH  COLLECTION  -  Kaiwaka    Pick 
up ­Mondays=green sticker' bags are picked up by Northland Waste
-queries  to  them  09  4303273,Wednesdays=Blue  bags  (at  KDC  
$2.80)  Kaurilands 09 4392146.  
 
*OTAMATEA GREY POWER-09 431 8138 Joan Hoggard  
*KAIWAKA BADMINTON -Tuesdays 7.30pm Ph: 4312345 
*KAIWAKA GARDEN & FLORAL Grp:
2nd Thursday in month Ph: 4314767 
*Kaiwaka SCOUT
S&CUBS-
Thursdays 5.30-7pm,Hakaru Ph:Bruce  4312542 
*KAIWAKA SQUASH -Mondays 7pm,  Ph: Barbara Thomas 4315905 
*GYMNASTICS OTAMATEA -  Tuesday Ph: Stephanie 4312022   
*HAKARU PONY CLUB-Ph: Dianne Christianson  4314315 
*
MANGAWHAI COMBINED PROBUS CLUB
: 2pm,3rd Thursday 
month in the Senior Citizens Hall Mangawhai. Ph: 4315777
*PT CURTIS CRUISING CLUB - Jean Ph: 4312246 
*WAIPU GENEALOGYGROUP -4th Monday in month Ph: 4312725 
*NZ GENEALOGY-Wellsford - 1st Thursday in month Ph: 4237033 
*CRAFT GROUP
:2nd & 4th Tuesday, 10am, Wellsford Ph 4238547
*RSA,Hakaru & Dist.Women- meet 1.30pm 4th Thurs in month 4312668  
*OWEN STEVENS at Kate's Place Ph:4312661   
*Diabetes Support Group-for Kaiwaka, Mangawhai, Wellsford -10am, 
 
3rd Friday of month Ph:A.Pert 4238242; J.Gardner 4238060 
*WELLSFORD CITIZEN ADVICE BUREAU:  
0800 367 222 
Ph: 4237333 Wellsford Community Centre   
Email: cab.wells@xtra.co.nz
Advertising in WHAT'S ON is FREE  
 
CHURCHES:
*Gateway Worship Centre-St Mary's Church Nathan Rd off Oneriri Rd, Kaiwaka 
Services, 10.30am 1st & 3rd Sunday of every month. Contact: Rev David Gage 
4312528 or 0212354282 
*Kaiwaka Family Church-Your Community Church Sundays, l0am 
Home Group every Wed evening, Pastor John.Dekker Ph: 4318203 
*Kaiwaka Services.Anglican & Co-op at StPauls Church  - 1st Sun. 9.30am
(Anglican),3rd Sun. 4pm (Co-op).  Contacts: Parish Office 09 4318193, 
M.Hargreaves, Peoples Warden 4312295, C.Bygrave 4312057  
*Church of Christ the King, Mangawhai 9.30am every Sunday 
*St.Mary's Catholic Church:
Maungaturoto – Griffins Road, Saturday evening Vigil 
Mass 6pm; Mangawhai – Senior Citizens Hall, Sunday Mass 8:30am; Wellsford – 
Matheson Road, Sunday Mass 10:30am; Mid-week Mass times and all enquires to Fr. 
Bill Fletcher – phone 423 8170 
*Baptist Church: Sun. 10.30am Mangawhai Snr Cit.Hall.Ph:4312339 
*CauseWay Church Mangawhai – Sundays 10.15am, Mangawhai Community Recrea-
tion Centre, Insley St. Ph: 09 4314782  www.causewaychurch.org.nz 
 
*St.Pauls Archie Bull Hall HIRE  $20 half day, $40 full day per hire 
 Contact G. Jaques 4312048 
*Kaiwaka War Memorial Hall HlRE– Phone 4312725 or 
Email  kaiwaka.hall.bookings@gmail.com 
*Hakaru Hall HIRE-contact  J. Marshall 4312297 
*Te Pounga Marae queries -A.Gage 4312528, 4312527 
*Kaiwaka Sports Association hire/queries- C. Anderson 4312051 
Justice of Peace: B.FJaques; L.Donaldson; A.F.Hargreaves  -please phone to 
make sure they are available 
Marriage Celebrants: L.Donaldson; A.F.Hargreaves; Judith Knights 
 
Next Bugle Deadline Friday 01/02/2013 
―If you enjoy the time you waste; it is not wasting time!‖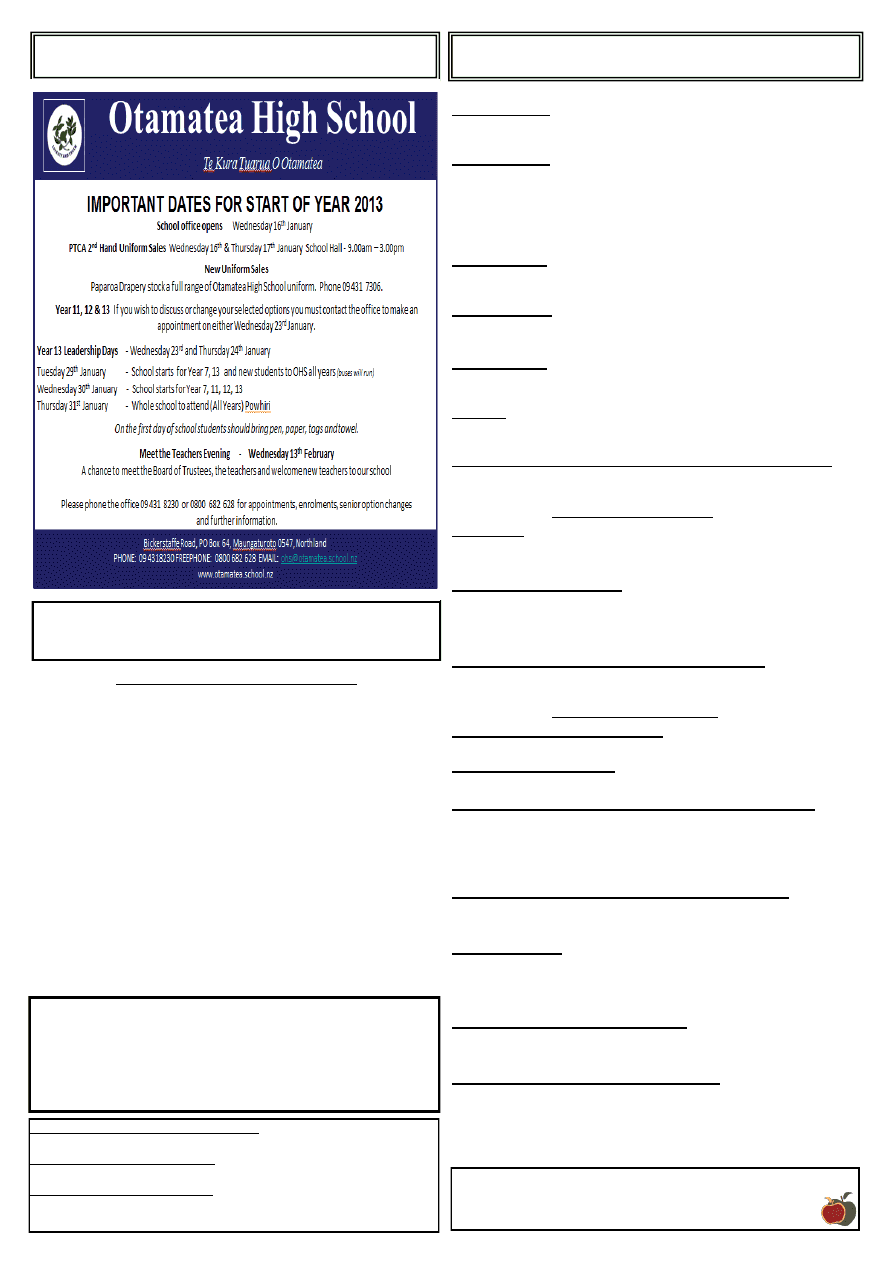 PUBLIC NOTICES 
CLASSIFIED 
FOR RENT: 
Farm house for rent Kaira Rd.3bdrm. Sorry 
no dogs. Bond and refs required. $220 p/wk. Ph: 4312660. 
FOR  SALE: 
1974 Zenith; dble braked tandem horse float; 
WOF & Rego (new). New timber floor; brakes redone.  
Older style float; carry two hacks; head divider; thick rubber 
matting;  excellent  to  tow;  good  starter  float;  needs  minor 
work. $5500 ono.  Ph Lee 0211048534 
FOR SALE: 
Electric Mower Masport -As new $50.  
Blower Vac—Black & Decker as new $50. Ph: 4312450 
FOR SALE: 
Piglets $70 each, 9 weeks old. Fundraising 
for school trip to Japan. Phone Renata/Rebecca 4312085 
FOR SALE:
 Sheep Poo $7 Bag. Fundraiser for Kaiwaka 
Cubs. Ph: Carol 4312044 
or Stephen Strong 431 4806 .
FREE: 
SHREDDED  PAPER:  Free  -  first  in  first  served. 
Phone: 4312045 
SELF CATERING HOLIDAY ACCOMMODATION
In Kaiwaka. Very reasonable rates.   Sleeps up to 4, (dogs 
welcome).  Phone Felicity or Robin  for details on 09 431 
2365, or email morgans.r.f@gmail.com 
TO LET:
 Two bedroom cottage; lovely sunny home, rural 
outlook with grazing for one horse. Oneriri $230 p/wk. Ph: 
0221 597 043 
HOUSE FOR RENT: 
Sun
ny, clean and tidy 2 bedroom 
townhouse with single basement garage on Marshall Road. 
$220pw inc lawns.  Please call Sheridan 09 410 4870 
Mob 0276 879 459
FREE  COUNSELLING  AVAILABLE: 
Counselling 
Student seeks clients to further his studies. Professional  
approaching service. Phone Pete 021 825 970 or  
094312 152 or peteworsfold@xtra.co.nz 
WORKERS  REQUIRED: 
 Apply to Robin at Absolute 
Concrete 2458 SH1 Kaiwaka  4312 211
CLOTHING  SALE:  All  this  week  at  Kaiwaka  St 
John Op Shop $2 bag.
EXPERIENCED CAREGIVER AVAILABLE:  
Look after elderly, disabled people, children, &  
animals in your own house; also house sitting &  
gardening. For more info phone 022 414 5960 
CLOTHING ALTERATIONS & REPAIRS: 
Hems,  Zips,  Dressmaking  Ph:  Win  4312027    or  027 
444 8358 Winsome Designs.
HALL  HIRE:  available from Absurdistan Communi-
ty,  Parekura  Rd.  Enjoy  our  beautiful  hall  and  harbour 
views  for  your  special  day,  course  etc.  For  more  info 
ph 4312202 or 021 2377678
FREE  GRAZING  WANTED:  We will manage your 
small or larger block with our calves or cattle. Can do 
some fencing and water. Ph: 4312006 after 6pm   
BERNZ  MASSAGE  THERAPY:  Diploma  Therapy 
Massage from NZCM; Relax and Rejuvenate; Muscle Injury Re-
covery;  I'm a Mobile Massage Service. Competitive rates in Kai-
waka, Mangawhai, Maungaturoto. Ph: Bernie 021 0232 5741 or 
4312816
Kaiwaka Bugle Advertisements 2013: 
Classified $2; 1/8 page $5; 1/4 page $10; 1/2 page $20;  
bugleaccounts@kaiwaka.co.nz 
Payments can be online, posted or left at Jaques Store. 
kaiwakabugle@kaiwaka.co.nz  for queries or copy. 
The Kaiwaka Bugle is a community newspaper run by volunteers.  
Articles, etc. printed are not necessarily the opinion of the 
BugleTeam
LEABOURNS 
Car & Van Hire
Bus & Coach Charters
Airport Transfers  
Monthly Shopper Bus
Ph 4237416 
PROVERBS  21:2-  We justify our actions by 
appearances; God examines our motives.
The Winner of Kaiwaka School's Kereru Class 
Mosaic Bird Box Raffle was Liz Hyndman. 
Thanks to everyone who took a ticket! 
RESTRICTED FIRE SEASON
Pursuant to Section 22(2) of the Forest and Rural Fires Act 
1977 the Kaipara District Council hereby declares a  
Restricted Fire Season to be in force from midnight Fri­
day 18th January 2013, until further notice. 
The restriction will remain in force until weather conditions 
and fire danger indicators warrant it's uplifting, and applies to 
all land in the Kaipara District. 
The lighting of fires in the open air is restricted and permits 
are required. 
Permits will only be issued where suitable fire protection 
measures can be provided. Consideration should be given as 
to whether the fire can be delayed until the fire danger reduc-
es.  Permits will not be issued where the fire can be reasona-
bly delayed or the task can be achieved without the use of 
fire. To obtain a permit apply on line at havingafire.org.nz or 
phone Forest Protection Services (09) 430 7707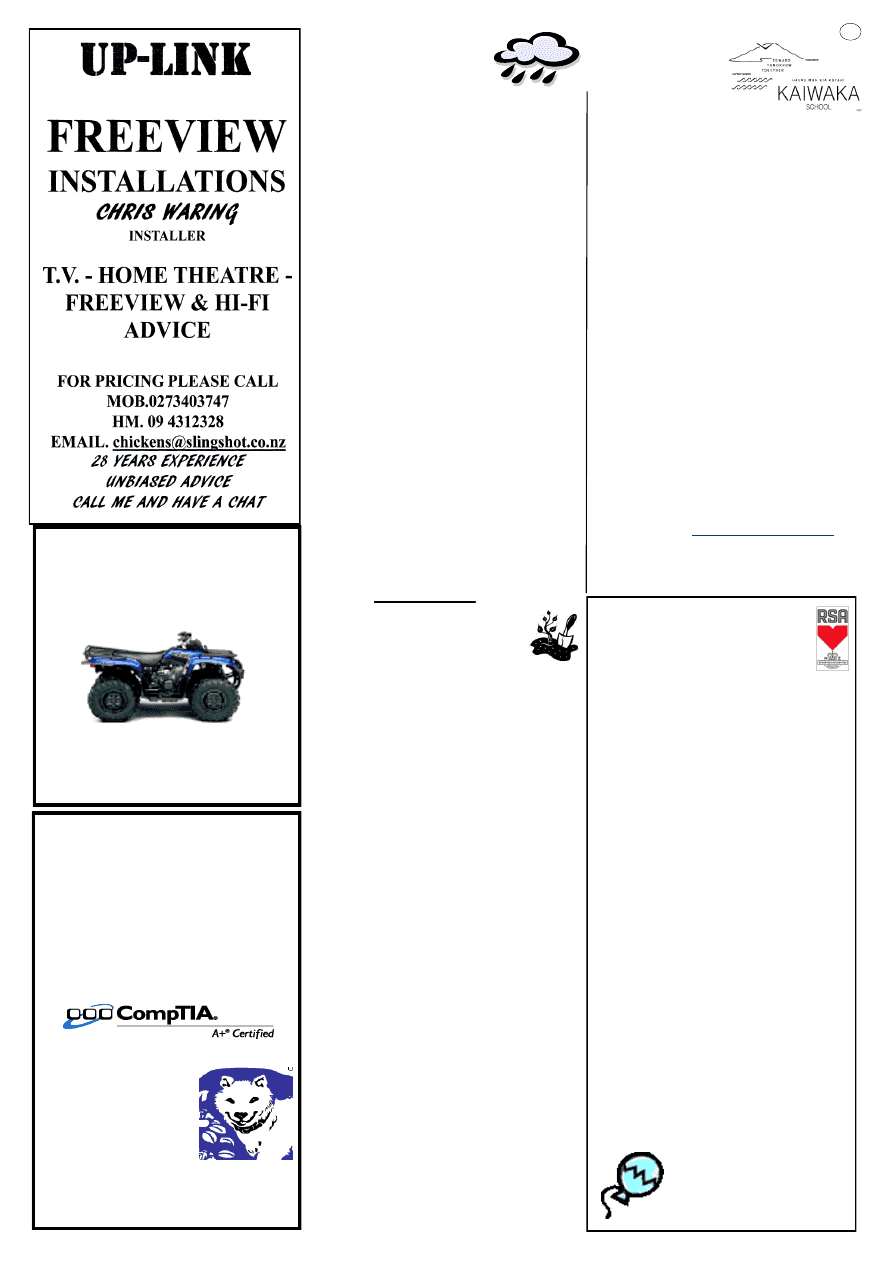 Laughing Dog 
Computers 
Kaiwaka, NZ
Technical Services 
Repairs & Upgrades 
7 Day Service
KAIWAKA GARDEN 
& FLORAL GROUP 
Well Happy New Year Everyone. 
The  last  meeting  for  2012  was  held  at 
Neville and Ann's home where a cheery 
small group made posies for the Retire-
ment Village Residents and some of our 
Elderly  round  the  District  which  we 
later  delivered  after  a  cuppa.Presents 
collected for the underprivaledged Chil-
ren were put under the Christmas tree at 
Wellsford medical centre also. 
Some  of  us  are  looking  forward  to  at-
tending  the  Ellerslie  Flower  Show  in 
Christchurch  in  March,  hope  those 
Earthquakes stay away.!! 
Our  next  meeting  will  be  at  Dawn  Be 
Hagues at 90 Ross road, Topuni on 14th 
Feb . Entries in by 1-15 p.m please. 
Competitions:- 
St  Valentines  Formal  (Meaning  line  ar-
rangement) for Floral comp. 
Fruit - Tomato 
Flower of month - Dahlia 
Vege - 3 of the potatoes - of  the Seed Spud 
given out. 
We  all  wish  Petronella  Brom  a  Speedy 
recovery  after  her  recent  operation  and 
hope  you  are  able  to  join  us  at 
Dawn's,  Petronella. 
So a new Year begins hope it is Happy, 
Healthy and Prosperous for You all and 
we  hope  it  will  bring  some  new  Mem-
bers who will be very "Welcome" 
Enquiries  Phone  Jean  our  President 
4314767 or Ann (Secretary) 4315913. 
5 
KAIWAKA  MOTOR 
CYCLES LTD 
SALES SERVICE SPARES
FARM BIKE SPECIALIST
Phone 431 2127  
Kaiwaka-Mangawhai Rd 
Kaiwaka 
KAIWAKA  
SCHOOL 
I  hope  you  have  all  had  an  enjoyable 
holiday 
and 
ready 
for 
another 
busy  school  year.  We  are  welcoming 
our new Principal Mrs Rosemarie Ellis, 
she started her teaching career in Kaiko-
he  but  has  come  to  us  from  a  large 
school  in  windy  Wellington.  Rose-
marie and her husband have set up home 
locally.  We  will  be  welcoming  her  and 
our new children at a powhiri first thing 
on  Tuesday  29th  January  2013.  All  are 
welcome. 
Lish BOT Rep 
Parent  Port  -    Kaiwaka  and  outer  are-
as  is  a    FREE  service  for  families  with 
pre  school  children  it  provides  basic 
housework, washing, cooking, local gro-
cery shopping and childcare ( while you 
rest ). 
This  is  a  free  service  for  all  families 
when feeling under real pressure. 
Contact Linda 09 4259357 or 
0272805093 or 
and she will arrange for a local Parent 
Port worker to come and help as soon as 
possible. 
KAIWAKA  
WEATHER 
Wishing  you  all  a  happy  and  prosper-
ous  new  year.    It  was  a  shame  the 
weather  over  Christmas  spoilt  a  lot  of 
peoples'  fun  and  celebration.  Decem-
ber  was  a  mixed  up  month  weather-
wise with strong winds and a few  
niggly  showers.  We  did  have  really 
nice summery  weather though and the 
temperatures  were  lovely.    I  noticed 
people  wearing  real  summer  clothing 
early  this  year  compared  to  other 
years.  (Me  included  so  it  must  have 
been warm).  We recorded for Decem-
ber  2012  101mm  and  for  December 
2011 182mm.  
We  recorded  12  days  of  rain  for  De-
cember  as  we  did  for  December  last 
year  also,  but  obviously  heavier  in 
2011.    Our  wettest  December  since 
1987 was in 1988 with 210mm and the 
driest was 1984 with 04mm. Our wet-
test  12months  since  1987  was  2011 
with  1736mm  (remember  January 
2011  with  336mm)  and  the  driest  was 
1991  with  844mm.    The  12  months 
rainfall  for  2012  was  1344mm    and 
2011  was  1736.    Here  is  looking  for-
ward  to  another  year.  Look  after  each 
other and take care out there. Bev. 
Phone or text 
0221036636  
Or 
09 9733111 
Hakaru & District 
RSA Inc.  
733 Settlement Rd
Anniversary Weekend 
Family Sports & Fun Day 
Sunday 27th January 3pm 
start 
 
Bring the kids 
 
Sausage Sizzle 
 
Finger Food 
 
Darts    Pool     Snooker 
 
Egg & Spoon Races 
 
Toss the Gumboot 
 
Skittles  
 
Kids Lollie Scramble 
 
Free Soft Drinks for the 
Kids 
 
Bar Open 
 
Treasure Hunt 
 
Raffles 
 
Fun Fun Fun 
See you there!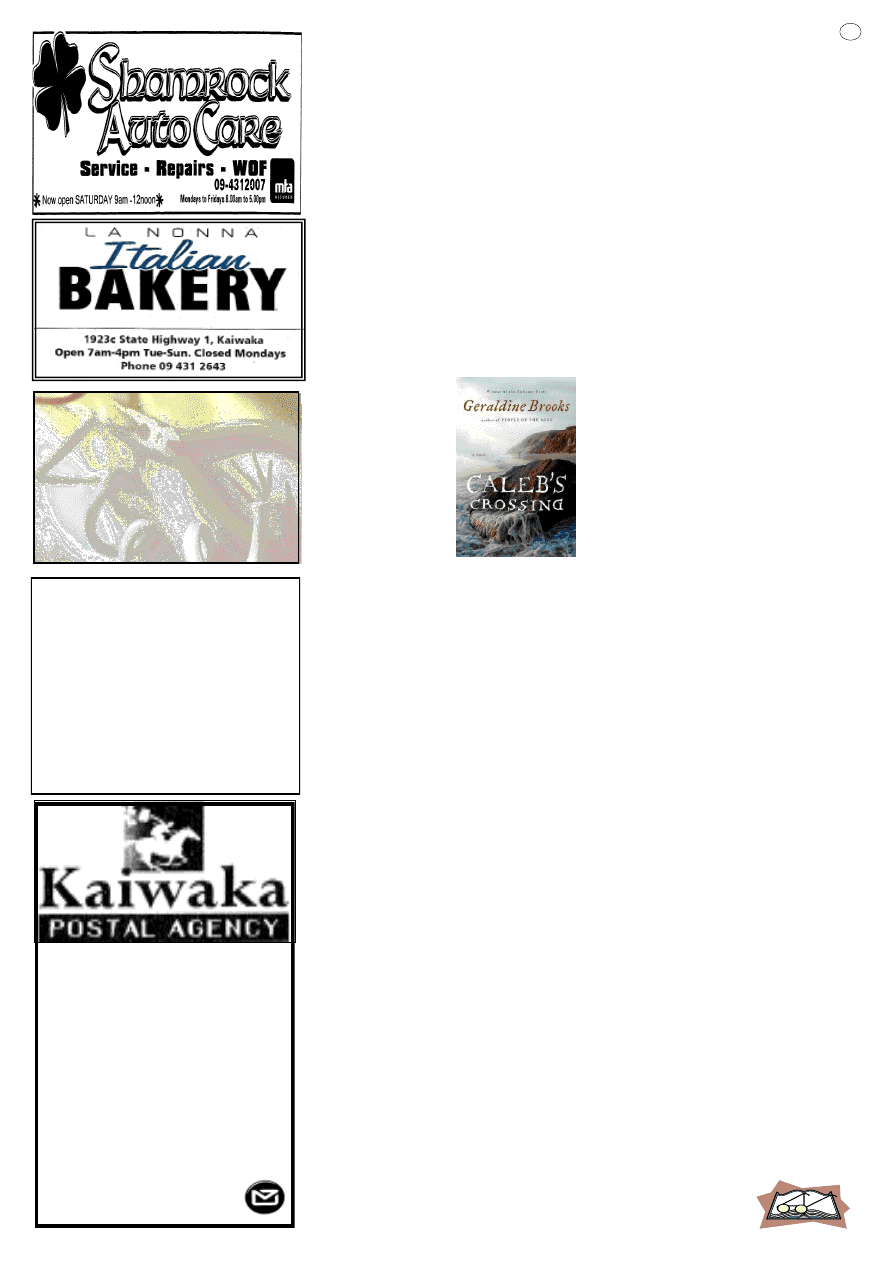 Kaiwaka Library 
Summer 
Book Sale 
$1 each or 3 for $2 
Discarded library books  
and donations only 
Proceeds from the sale of these  
books go to buying new books for your 
library 
Paul Greig Electrical Ltd 
Residential • Farm • Commercial 
Paul Greig 
Registered Electrician 
Ph: 431 2223 Mob:021 230 2717 
Reliable & Professional Quality Service 
Based in Kaiwaka 
11 
Photocopying available 
Up to and including A3 
For all your postal needs 
including P.O.Boxes, car 
registrations, RUC 
4312626 
KAIWAKA LIBRARY REPORT 
Happy New Year!  Hope you managed 
to  get  in  some  good  reading  time  dur-
ing the holiday period. 
We  have  some  changes  to  the 
team.  Farewell and thanks for all your 
help  to  Jude  and  Cilla,  who  have  left 
us, and welcome to Cathy. 
We have a few months before any book 
swaps,  but  here  are  the  dates  in  case 
you  like  to  keep  an  eye  on  these 
things.  The next Large Print and Audio 
book swap is on 30 April, and the next 
Dargaville swap is three weeks later on 
21 May - that's a change from the origi-
nal date, if you've heard different. 
Adrienne has read Caleb's Crossing by 
Geraldine Brooks. 
"This  is  a  fascinat-
ing book - it is fic-
tion,  but  based 
around the fact that 
in  1665  Caleb  was 
the  first  American 
Indian  to  graduate 
from  Harvard  Col-
lege.  It  follows  his 
life  from  the  wilds 
of  the  islands  off  the  east  coast  of 
America,  in  an  area  now  known  as 
Martha's Vineyard, to a life of learning 
in Latin and Greek amongst the sons of 
the colonial elite. It is on the island that 
Caleb  as  a  boy  meets  and  learns  from 
Bethia,  the  12-year-old  daughter  of  a 
Calvanist  minister.  These  two  teach 
each  other  to  speak  the  other's  lan-
guage,  and  they  develop  an  amazing 
bond that holds them in support of each 
other  over  many  years  and  through  to 
Caleb's  graduation.  You  are  taken 
through the struggles of the first strictly 
religious  settlers  and  their  desire  to 
convert  the  "savages";  the  incredible 
barriers  amongst  those  families  for  the 
women  to  make  themselves  heard;  the 
extraordinarily  harsh  existence  that 
some  early  settlers  must  have  encoun-
tered  and  yet  shining  through  all  of 
this,  so  many  wonderful  characters 
emerge.  (Many  of  our  own  early  set-
tlers  must  have  encountered  similar 
situations,  though  fortunately  not  the 
harsh  cold  of  those  northern  win-
ters!)  Geraldine  Brooks  has  based  her 
story  around  a  handful  of  facts,  in  a 
way  that  makes  this  book  a  delight  to 
read  and  I  highly  recommend  it."  This 
book is on the Rental Fiction shelves in 
the library. 
Elizabeth  has  read  A  Man  Called 
Blessed  by  Ted  Dekker  and  Bill 
Bright.  Imagine  the  Ark  of  the  Cove-
nant  being  found,  and  a  new  prophet 
being  found  at  the  same  time.  Imagine 
how  the  Middle  East  would  react  to 
both  of  these  possibilities.  This  book  is 
a  interesting  exploration  of  what  would 
happen if both of these events happened 
at  the  same  time.  In  this  explosive  se-
quel  to  Blessed  Child,  Rebecca  Solo-
mon leads a team deep into the Ethiopi-
an desert to hunt the one man who may 
know  the  final  resting  place  of  the  Ark 
of  Covenant.  But  Islamic  fundamental-
ists  fear  the  Ark's  discover  will  compel 
Israel  to  rebuild  Soloman's  temple  on 
the  very  site  of  their  own  holy  mosque 
in  Jerusalem...  This  book  can  be  found 
on  the  Dargaville  book  shelves  until 
early May. 
I've  read  Banquo's  Son  by  T.K.  Rox­
borough  (amongst  several  other  books 
since you last heard from me!) Banquo, 
Thane  of  Lochaber,  was  a  friend  of 
Macbeth's, known to us through Shake-
speare's "Scottish play". When Banquo's 
son Fleance is about ten years old, they 
are  out  together  one  day;  Flea  happens 
to  be  on  his  father's  horse  with  Banquo 
walking  alongside,  when  they  are  at-
tacked.  At  his  father's  urging,  as  he  is 
struck down, Flea takes off on the horse 
and  doesn't  stop.  Come  forward  about 
another  ten  years,  and  Flea  is  living  in 
England  with  a  couple  who  found  him 
almost  starved  to  death  days  after  the 
attack.  When  Flea  meets  Rosie,  daugh-
ter of a local merchant, and they fall  in 
love,  Flea  knows  he  must  put  aside  his 
love  to face  his  past  and  avenge  his  fa-
ther's  death  before  he  can  ask  Rosie  to 
marry him. Neither Rosie nor her father 
are pleased at him going away at such a 
time,  when  Rosie  is  greatly  admired  by 
many  and  could  have  her  pick  of  hus-
bands,  but  she  loves  him  and  promises 
to wait.  It's all a big mystery to Rosie's 
family  and  Flea's  adopted  family,  who 
are  still  none  the  wiser  about  his  past. 
This is  a tale of love, loss and revenge, 
set  in  the  turmoil  of  Scotland  after  the 
death  of  Macbeth.  It  is  not  historically 
accurate,  but  based  on  Shakespeare's 
play  rather  than  the  facts  as  they  really 
occurred  (shrouded  as  they  are  in  the 
mists  of  time).  I'm  not  one  to  let  the 
facts get in the way of a good story, and 
enjoyed  it  immensely.  This  book  is  on 
the Rental Fiction shelves in the library. 
There  are more book reviews and news 
on our Facebook and Google+ pages. 
 
Wendy Howard, Librarian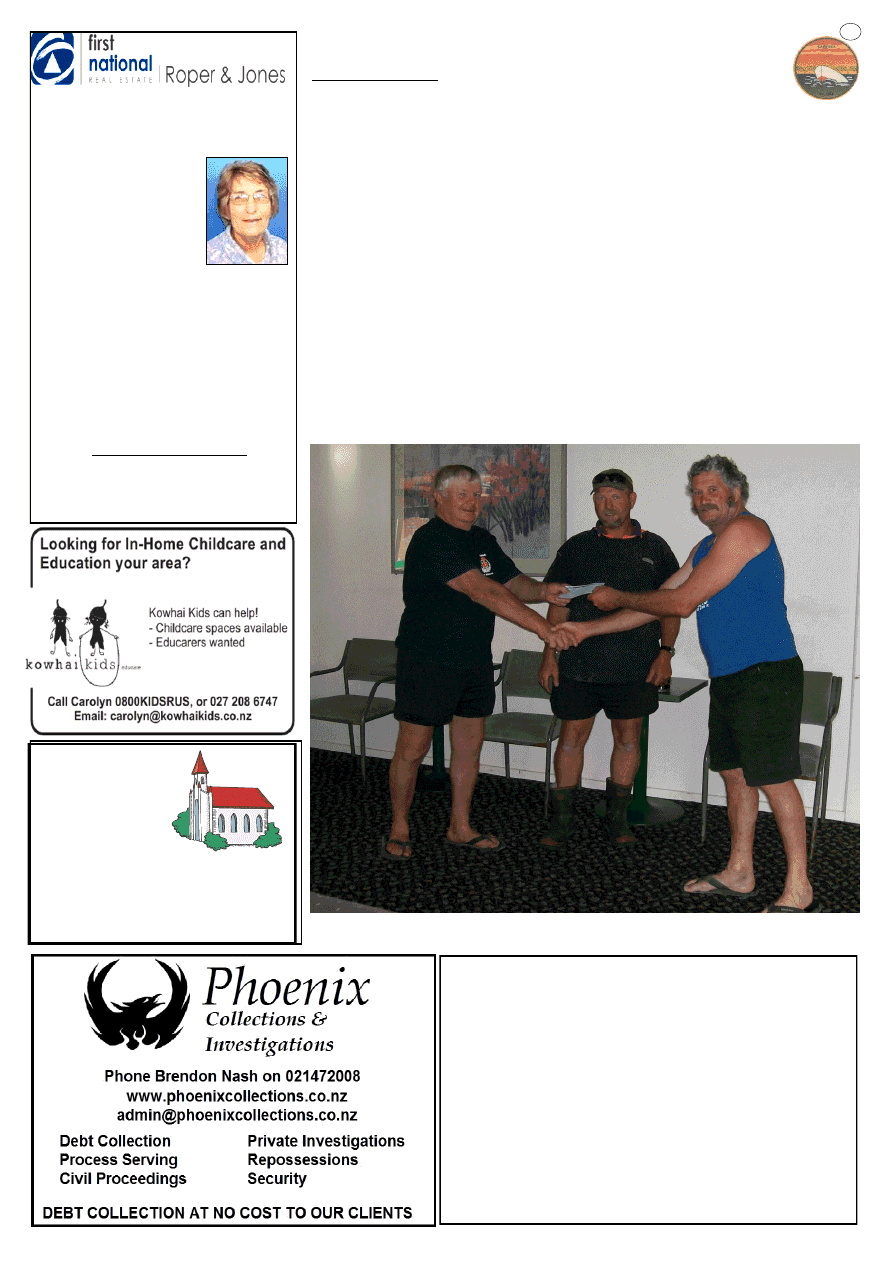 ST PAUL'S  
SUNDAY  
SERVICES
First Sunday 9.30am, third Sunday 4pm  
Paparoa Anglican and Wellsford  Co-op Parishes 
StPauls Church: Kaiwaka-Mangawhai Rd.  
Contacts:M.Hargreaves 4312295, C.Bygrave 4312057  
1st Sun. (Anglican),3rd Sun. (Co-op).
 9 
Point Curtis Cruising Club 
Upcoming events: 
 27 January: North vs South Pool Contest at 3 Furlongs Hotel, Kaiwaka 
from 1pm.  This is our annual local challenge open to all who want to com-
pete,  North of the Kaiwaka Bridge vs South of the Kaiwaka Bridge.  Always a fun 
and competitive afternoon.  Bring a plate for the BBQ!!! 
9 & 10 March: Members Only Fishing Contest.  Species: (Senior Section) Snap-
per, Kingfish, Kahawai, Gurnard, Crayfish. 
(Junior Section) Snapper, Kingfish, Kahawai, Gurnard, Crayfish and Eel. 
Entry: Adult $20, Junior (Under 15) $10.( *New members are welcome to 
join.  Subs must be paid 7 days prior to competition to be eligible to enter the com-
petition.  Subs are $30 for a family and $20 for an individual.  Subs can be paid at 
3 Furlongs Hotel, or to Jean McLeish (Secretary/Treasurer) 4312520). 
17 OR 24 March: Claybird Shoot at Pongo's farm.  (*Date to be confirmed.) 
12, 13 & 14 April: East vs West Open Fishing Contest.  All board species.  Entry: 
Adult $30, Junior (Under 15) $10. 
Fish Of The Month: Kingfish.  Members can weigh in Kingi's at 3 Furlongs Hotel 
and be in to win 1st, 2nd and 3rd prizes (Until 7pm, 12 February). *MAF rules 
apply.  
Next Committee Meeting: 7pm, 12 February at 3 Furlongs Hotel, Kaiwaka. 
Wayne Leslie, Commodore 
Felicia Doornenbal 
"Covering the Kaipara" 

List 

Sell 

No obligation  
   honest appraisals 
 
CALL ME– Your Local Kaiwaka 
Real Estate Connection 
 
Mob:021-858115 
A/hr:09-4312059 
Bus: 09-4311016 
e-mail: felicia@ubernet.co.nz 
Freephone 0800 311 322 
www.roperandjones.co.nz 
Photo: Commodore Wayne Leslie presenting cheque for $3504.50 to Kaiwaka Volunteer Fire Bri-
gade Chief John Bowmar  
OTAMATEA TENNIS  
TOURNAMENT 
Anniversary Weekend 
Kaiwaka Sports Complex 
Spectators are most welcome, why not 
come along to watch some quality  
tennis!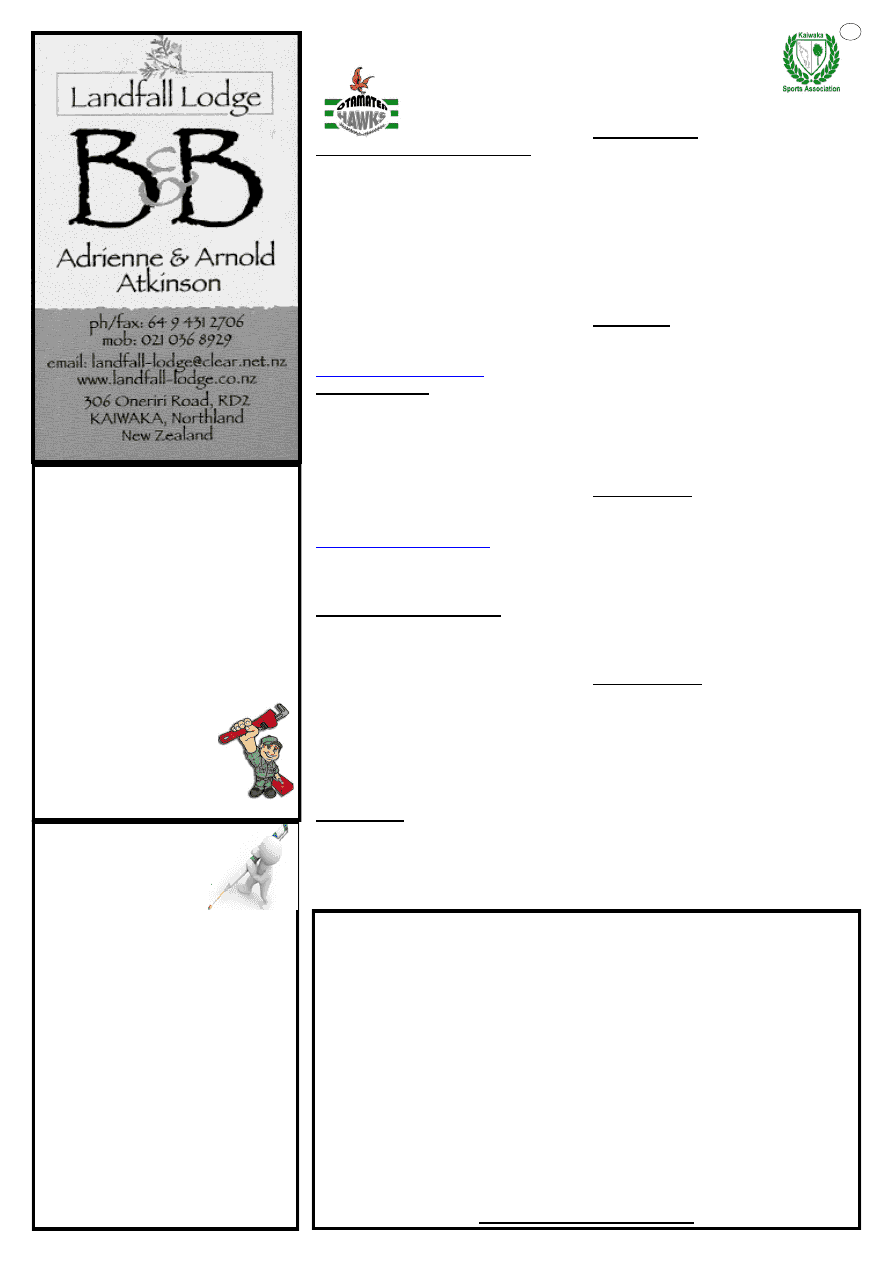 Ross Murphy 
PLUMBER 
Certifying Plumber 
09 431 7510 
021 424 252 
Paparoa Based 
+
New Housing 
+
Renovations 
+
Maintenance 
Topnotch  
Engraving
Quality Engraving  
Service  
SPECIALISING IN:
www.tnengraving.com 
www.pettagsnewzealand.com 
Phone (09) 431 2174 
or  
Email: engraving@slingshot.co.nz
7 
KAIWAKA SPORTS ASSOCIATION
"  ENGRAVING    
& SALES 
"  NAME     
BADGES 
"  SIGNAGE 
"  PET TAGS 
"  JEWELLERY 
"  TROPHIES & 
CUPS 
"  AWARDS & 
MEDALS 
"  GIFTWARE 
"  CLUB ORDERS 
or ONE OFFS 
QUIZ NIGHT
Friday 15
th
 March, 7pm 
Kaiwaka Sports Complex
* teams of 4 - 6 people 
* lots of spot prizes 
* supper provided 
* $10 per head
Pre-registered teams only. 
Contact Cheryl Anderson to register on 4312 051 or  
We  are  looking  forward 
to  another  busy  year  at 
the Kaiwaka Sports Com-
plex starting with the: 
Otamatea Tennis Tournament 
There  is  a  long  history  behind  our  an-
nual  Otamatea  Tennis  Tournament  as 
we  are  now  in  our  62
nd
  year!  If  you 
have  no  plans  over  Anniversay  Week-
end  why  not  come  down  to  our  courts 
to  watch  some  quality  tennis.  Players 
camp at our grounds over the weekend 
and  there  is  always  a  friendly  carnival 
atmosphere.  There  will  be  a  BBQ  and 
social  on  the  Saturday  night.  For  tour-
nament  enquiries  please  contact  Briar 
Jaques on 4312 377 or  
Top of the Rock 
We  are  looking  forward  to  our  third 
annual  Top  of  the  Rock  multi-sport 
event  on  Sunday  10
th
  February.  If  you 
will  be  travelling  on  Baldrock  Rd  or 
Gibbons Rd that morning, please exer-
cise  caution,  as  there  will  be  competi-
tors  on  sections  of  the  roads.  Entry 
forms 
are 
on 
our 
website 
.  You  can 
read the article on the Top of the Rock 
elsewhere  in  the  Bugle  for  more  de-
tails.   
Otamatea Rugby Reunion 
The  Otamatea  Rugby  Club  will  hold  a 
reunion on the 19
th
 and 20
th
 of April at 
our  Sports  Complex  to  celebrate  their 
25
th
  anniversary.  Registration  forms 
have  been  sent  out  to  past  players, 
coaches, managers and executive com-
mittee  members.  If  you  have  any 
Hawks memorabilia that you would be 
happy to have displayed at the reunion, 
please  contact me on 4312 051 or kai-
wakasports@gmail.com. 
Movie Night 
Looking  for  a  fun,  cheap  night  out  for 
the whole family? We will be showing 
the  movie  Diary  of  a  Wimpy  Kid  – 
Dog  Days  at  the  Sports  Complex  on 
Friday  22
nd
  February.  Doors  open  at 
7.30pm. Only $4 per adult 
and $2 per child (Yr 9 & under). Funds 
raised will go to the Sports Association. 
Sports Awards 
This  year  our  annual  Kaiwaka  Sports 
Awards  will  be  held  on  Monday  29
th
April.  Our  affiliated  sports  clubs  will 
soon begin the process of selecting their 
nominees  in  the  categories  of  Senior 
Sportsperson of the Year, Junior Sports-
person of the Year, Service to Sport and 
the Greg McRae Memorial Trophy. Our 
guest  speaker  will  be  motivational  per-
formance coach Charles Donoghue.  
Quiz Night 
Time to swat up on that trivia! We will 
hold  a  Quiz  Night  at  the  Complex  on 
Friday 15
th
 March as a fundraiser for the 
Sports  Association.  Teams  of  4  –  6, 
supper  provided,  bar  open  and  lots  of 
great prizes! $10 per head. And new this 
year,  a  special  round  of  Kaiwaka  ques-
tions.  Register  your  team  with  me  on 
4312 051. 
Junior Tennis 
Junior tennis will start up again in Feb-
ruary on Saturday mornings 9 – 10am at 
the  Kaiwaka  courts.  Coach  Grant  van 
Dalsum  will  coach  the  players  during 
Term  1  on  Mondays  from  4.30  to 
5.30pm.  Any  primary  or  high  school 
aged  children  are  welcome  to  come 
along.  For  further  information  please 
phone  Lindell  Ferguson  (evenings)  on 
4312 542.  
School holidays 
It's  great to  see so many families down 
at  the  Complex  over  the  school  holi-
days.  If  you  are  looking  for  something 
to do with the kids you are always wel-
come  to  come  along  to:  have  a  hit  of 
tennis,  shoot  some  hoops,  take  a  walk 
through  the  bush,  throw  a  frisbee 
around  on  the  rugby  fields  or  practice 
your golf swing, take  a dip in the pool, 
play  on  the  playground  and  finish  off 
with a meal in the BBQ area – lots to do 
and all of it free!  
Cheryl Anderson, Manager KSA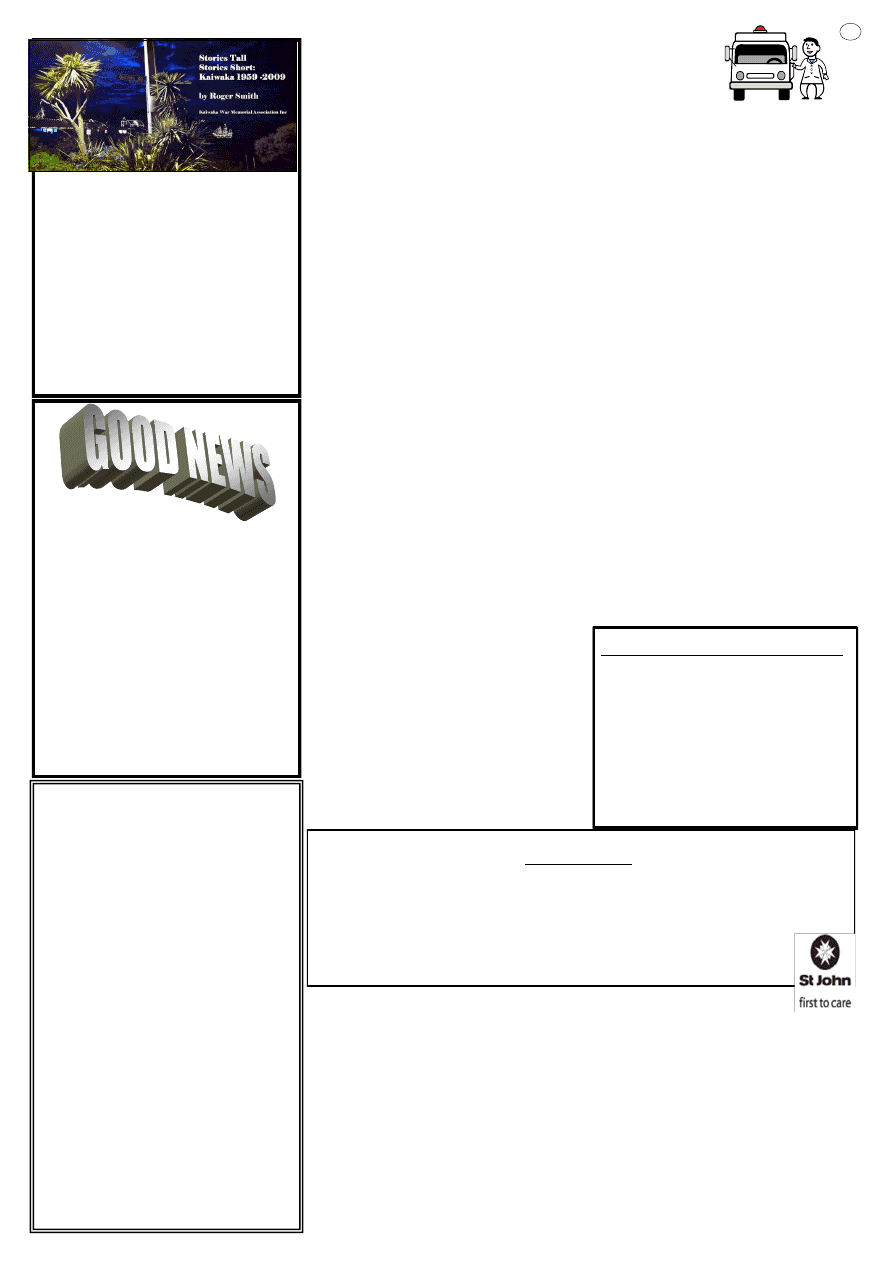 @ the  
Kaiwaka Family 
Church 
 Your COMMUNITY 
CHURCH 
Each Sunday  
10am:  Lively Family  
 
    Programme 
 
Everyone warmly welcome.
Ph: Pastor John Dekker     
09 4318203 
THERE'S 
AMBER'S 
Q Cafe &  
Restaurant  
All day breakfast, 8am - 5.30pm.     
Home made Pizza, take away or eat in from 8am to late. 
 Light lunches, 11.am - 5.30pm, 
Dinner Menu at 5.30pm to late 
 Toasted Sandwiches and Sandwiches made to order. 
All day, Pies, Chowder & Soups 
 Milkshakes, Kiwi Ice cream, Slushie Fruit drink, Tea, 
Coffee 
 Closed Mondays.....except Observed Holidays 
 Sunday to Thursday: 8am - 8pm 
 Friday: 8am - 8.30pm, Saturdays 8am- 9pm 
4315226 
Trevor & Amber 
41 Moir Street, Shop 5-6  
Mangawhai Village 
Next to Carters Building Supplies 
15 
KAIWAKA  
HISTORICAL  SOC. 
"Stories Tall, Stories Short  
Kaiwaka 1959-2009"  
by Roger TW Smith.  $40 
―KAIWAKA: 
A Photographic  
History‖  
$25 
Contact D.Hastie 4312192 
Available at Jaques Superstore 
Kaiwaka St John News        
Community Services Officer: 
For all Community Services Forms 
see Millie at the Kaiwaka St John 
Op Shop. Phone 4312423 
MORE MEMBERS REQUIRED 
FOR THE KAIWAKA STATION
. 
Hi  all.    Welcome  to  the  New  Year.  
Thank  you  for  the  support  you  have 
shown to St John over the past year, and 
especially  to  those  who  volunteer  their 
time  at  the  Op  Shop.    Milly  and  her 
crew  are  doing  a  wonderful  job  there.  
Special thanks to Reg  Jacques who has 
spent  endless  hours  doing  repair  work 
and  maintenance  on  both  the  op  shop 
and  the  St  John  station  to  make  sure 
they are safe places to work from. 
The  last  two  years  have  seen  3  people 
studying hard on their National Diploma 
in Ambulance Practice.  I am pleased to 
announce  that  all  3  passed  their  exam 
just  before  Xmas.    Congratulations  and 
well done to:  Denise McMonagle, Judy 
Eagleton, and Marj Steiner.  This means 
that  we  are  all  called  Emergency  Medi-
cal  Technicians  (EMT,  or  as  it  used  to 
be called—an Ambulance Officer).  The 
exciting follow up to that is that now, if 
one  of  us  are  on  call,  we  can  transport 
our  patients  to  hospital.    We  also  are 
hoping to cover from Monday to Friday 
every night of the week, plus Tuesday—
during the day, and every 2nd Saturday, 
during  the  day.    This  will  be  huge  for 
Kaiwaka  and  the  surrounding  areas,  as 
we  can  also  now  be  a  backup  for  both 
the  Mangawhai  and  Maungaturoto  sta-
tions,  which  may  also  mean  a  lot  more 
callouts. 
I  would  like  to  take  this  opportunity  to 
thank  all  those  who  have  helped  us 
through our study and our exams, espe-
cially  our  tutor  Stewart  Cook  and  to 
Wally  Mitchell.    A  special  thanks  goes 
to our families, who have been very pa-
tient and supportive during this time 
At the Maungaturoto station, there are a 
lot  more  people  studying  hard  to  com-
plete  their  National  Diploma  in  Ambu-
St John Lifelink: 
For those of you who are living on your own, or if you have a condition that could require 
urgent assistance, call  
0800 50 23 23.  This is the number of the St John Lifelink.  Once you have one of these 
gadgets you can feel reassured that help will be immediately on the way should 
you feel the need to activate it.  This service operates 24 hours, 7 
7 days a week.  To find out more, give St John a call on the above number. 
lance Procedure and congratulations go 
to  Troy  Savage,  who  also  passed  his 
exam  just  before  Xmas.    This  is  awe-
some.  Good luck to those who are go-
ing  forward  for  their  assessment  early 
in the New Year. 
Summer  is  here  and  along  with  it  the 
usual worries.  The sun has been partic-
ularly  fierce  this  year,  so  covering  up 
with sun screen is a must.  Please watch 
the  speeding.    There  has  been  a  upturn 
in  road  crashes,  and  the  summer  does 
not  have  to  be  spoilt  by  visiting  loved 
ones in hospital due to this. 
We  are  once  again  looking  for  more 
recruits  to  our  station.    At  present  we 
have  4  people  who  are  permanent,  one 
person  who  is  here  on  her  holidays 
from university (and who is studying to 
become  a  paramedic),  3  who  are  on 
leave for various reasons, and one new-
bie.    So  as  you  can  see,  we  are  very 
short on people.  If you can help at all, 
please 
call 
Steve 
Rosser 
on 
0272777645, 
or 
0212316836 
or 
094318403, or contact any of us here at 
Kaiwaka.  We would love to hear from 
you.   
That's all for now.  Keep safe and well.   
Cheers from Marj Steiner 
ST JOHN OP SHOP 
Hello  Everyone  ―Happy  New  Year‖. 
Hope you all had a great Xmas and New 
Year. The shop is open and we have had 
a  roaring  start  to  the  year.  However, 
while  the  shop  was  ―closed‖,  people 
were  seen  taking  goods  that  were  left 
outside  the  shop.  Two  women  from  a 
blue  Holden  and  other  people  whose 
vehicles  couldn't  be  identified  as  there 
were  others  cars  about.  That's  called 
STEALING. We now have surveillance 
cameras  and  you  will  be  caught.  You 
won't see them but they will 
see  you.  Be  warned.  Action  will  be 
taken. We are looking for more furni-
ture,  crockery,  bric-a-brac  and  any-
thing  else that's  saleable  and in good 
condition.  Still  receiving  a  lot  of 
stained and smelly clothes, and while 
we  are  grateful  for  what  we  get, 
things  like  that  take  up  our  time  and 
space.  If  you  have  things  you  may 
give  us  but  are  unsure,  just  bring  it 
anyway.  We  look  forward  to  and  are 
grateful for everyone's support. Milly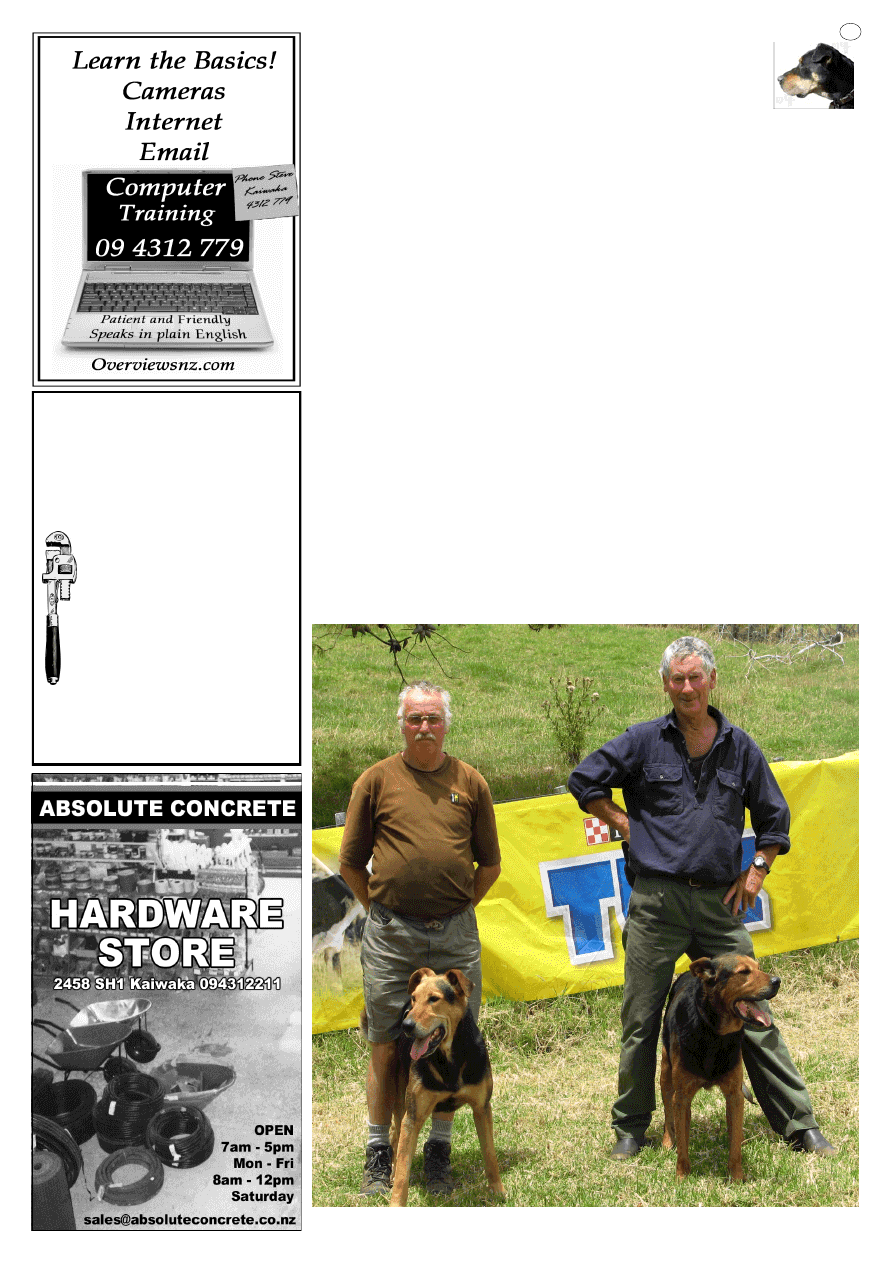 BARRY CURTIS  
PLUMBING LTD 
REGISTERED CRAFTSMAN 
PLUMBER 
Phone 4315572      
027 257 9884 
     25 years experience 
  
  
       Friendly reliable service 
  
All plumbing and  
maintenance 
       Alterations and new housing 
       New wood fire installation 
       Spouting 
       Competitive rates  
 PROMPT EFFICIENT  SERVICE  
TUX  HANDY  DOG
, 
Otioro Road, January 6.
The  2012  Handy  Dog  was  very  wet  with  many  vehicles  stuck,  but 
2013,  the  opposite:  hot  with  no  shade  since  the  Power  Board  re-
moved all the trees along the roadside. 
This  was  not  appreciated  by  the  team  of  workers  at  Otioro  Road  on  January  6 
where the order of the day was big hats, umbrellas and plenty of sunblock but the 
cool, rehydrating beverages were enjoyed by many.  
A great gallery including a couple from Pennsylvania and another from Florida, all 
of whom were most impressed by the skill of our dogs and the voluntary input by 
our great team of helpers from both the Otamatea and Molesworth Clubs. 
Apparently  in  the  USA  trial  grounds  are  not  made  available  without  charge  nor 
manned by volunteers.  
The  top qualifier  in  the  first  round  was  the  old pairing  of  Tony  Hargreaves  with 
Rogue closely followed by Craig Pearson with Colt and Dougal, Duncan Gilligan 
with Muss, and Colin Jay with Dawn. 
In the final, though, Craig with Dougal showed the rest a clean pair of heels with a 
near faultless 99 scored.  In second place, local Duncan Gilligan and Muss scored 
96.5, Rogue with Tony  were third with 93.5 and Far North pair of Colin Jay with 
Dawn 91 fourth, the fifth place with a rather rough run was Craig Pearson's other 
dog Colt with 57.  We wish Dougal and Muss all the best in the NZ Final at Taupo 
on Auckland Anniversary weekend.  
In  the  Heading  Arena  Tony  Hargreaves  and  Steel,  with  a  very  good  98  points, 
came first; second place to a ‗perennial' trialist Barney Strong from Turangi, with 
Jet, one point behind Tony, and third place went to Lance Philburn, from Waiuku 
with Steel.  
Don't  forget  that  there  will  be  a  dog  trial  arena  event  taking  place  at  the  Wark-
worth Show on January 26 2013.  
Three of our Molesworth members competed well at the Kaitaia Tux Yarding and 
Handy Dog events where Scott McRae with Otis and Tony Hargreaves with Hail 
both made it to the Handy Dog Final. 
In  the  Yarding  event  Scott  McRae  with  Skeeta  and  Rob  Hastie  with  Dash  also 
made the final but neither combination managed to feature in the top placings.  
Rob Hastie 
13 
Duncan and  Muss (left) with Tony and Rogue                                       Photo: Rob Hastie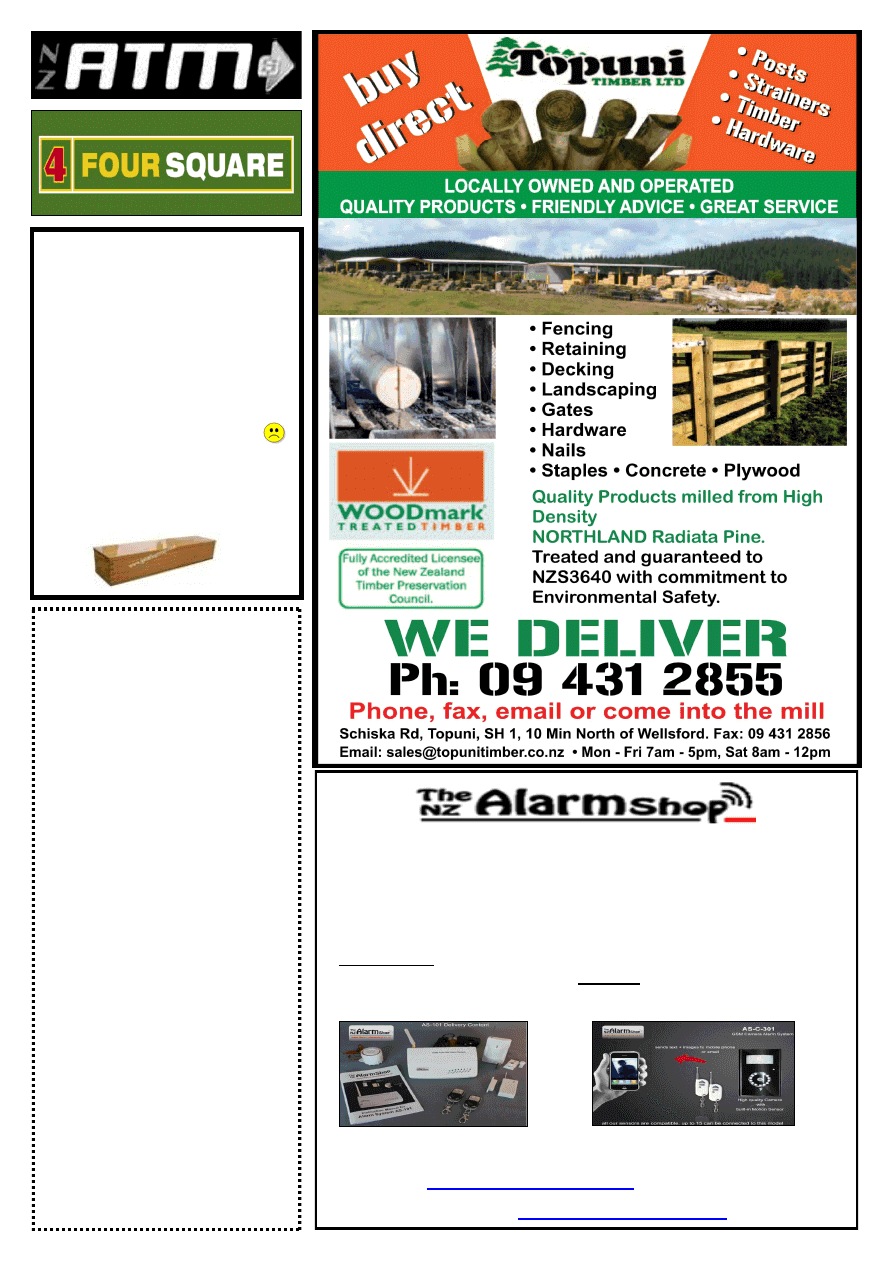 17 
KEV's CASKETS 
Stylish, BUDGET Accommodation 
Takeaways (8 available)  
or made to order 
  Featuring 2 styles and  
Different finishes. 
   Also O/S and Infant size 
Phone Kev in Kaiwaka  
021 1322 671 
Or come and visit my showroom 
104 Settlement RD, Kaiwaka 
Gateway 
North 
MOTEL & CAFE,  
Kaiwaka 
' The ideal stopover for friends & family' 
9 spacious self contained units 
Spa pool & Sauna (guests only) 
Swimming pool 

Conference Room-seats 60  All 
enquiries welcome (hire age $95 a day) 

Our Cafe serves Breakfasts   & 
Light meals-  8am-6.30pm  
'All Welcome' 
Phone 4312389  or Email 
info@gatewaynorth.co.nz 
Visit our website 
www.gatewaynorth.co.nz 
ATM
  OPEN 7.30-6pm DAILY 
* "Bring this ad along 
& receive  a free  
coffee", Martin 
www.the-nz-alarmshop.co.nz 
Protect your home, bach, shed, garage, camper, boat…. 
Monitor your property, watch what's going on. 
 
Easy to install and manage DIY GSM Alarm Systems, basic or 
extended features, suitable for everyone, expandable to your re-
quirements. 
 
Text or call alerts to your mobile and nominated phones. 
 
Camera Alarm System sends images to mobile or email. 
NO ELECTRICIAN, NO WIRING, 
NO MONTHLY COMMITMENT, NO LAND LINE NECESSARY! 
$249.00                                                        
$399.00   
*Phone not included
 For more interesting products please check our web site  
To order or for more information:  
The NZ AlarmShop, email: 
, ph 09-4315905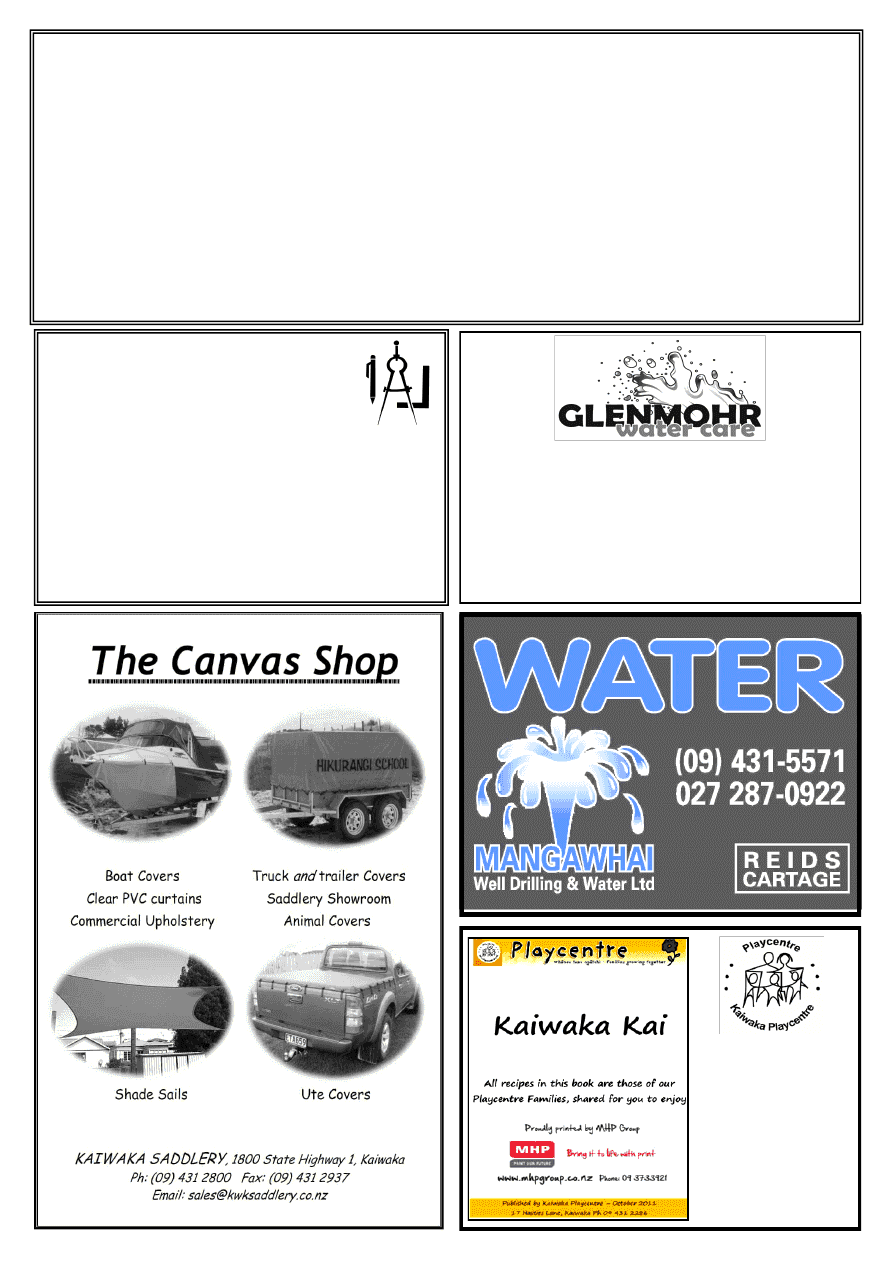 RANGANUI EARTHMOVERS 
 
16T Excavator   
(tilt, thumb & ROPS cab)   
Transport Trailer 
2 x 6 Wheeler Tip Trucks 
Suppliers of All Grades of Metal & Topsoil 
 
If you want a proper job done with an experienced operator ring 
Grant on    A/H 431-2131        Email  ranganui.dev@xtra.co.nz 
   Mob  021845-246 
Driveways, House Sites,  
Drainage Dams, 
Section Clearing,  
Tree Work,  Rock Retaining Walls,  
Quarry Work, 
Basically Anything That a Digger Can Do 
design drafting 
service 
Retired builder and manufacturer with over 40 years  
experience in the building industry is offering a design 
drafting service  
for domestic housing, sleepouts and sheds.  
Plans formulated in consultation with clients, with 
working drawings completed and submitted to  
council for processing.  Extensive practical experience,  
able to identify & resolve problems. 
Please ring Mike Lean on 
09 431 2260  
or 
021 431 196 
Water Tank Cleaning 
" 
 Keep your water safe & clean   
 
Removal of sediment, silt etc 
 
Vacuum or full scrub 
 
Minimal water loss 
Phone Mark (09) 432 0655 or 0274 707607 
Get your copy from: 
Jaques Four Square 
Kaiwaka Postal Agency 
Kaiwaka Cheese Shop 
Cafe Eutopia 
The Well of Health 
Tony's Maungaturoto 
 
Or email  
jodygreig@clear.net.nz  
or phone 431 2223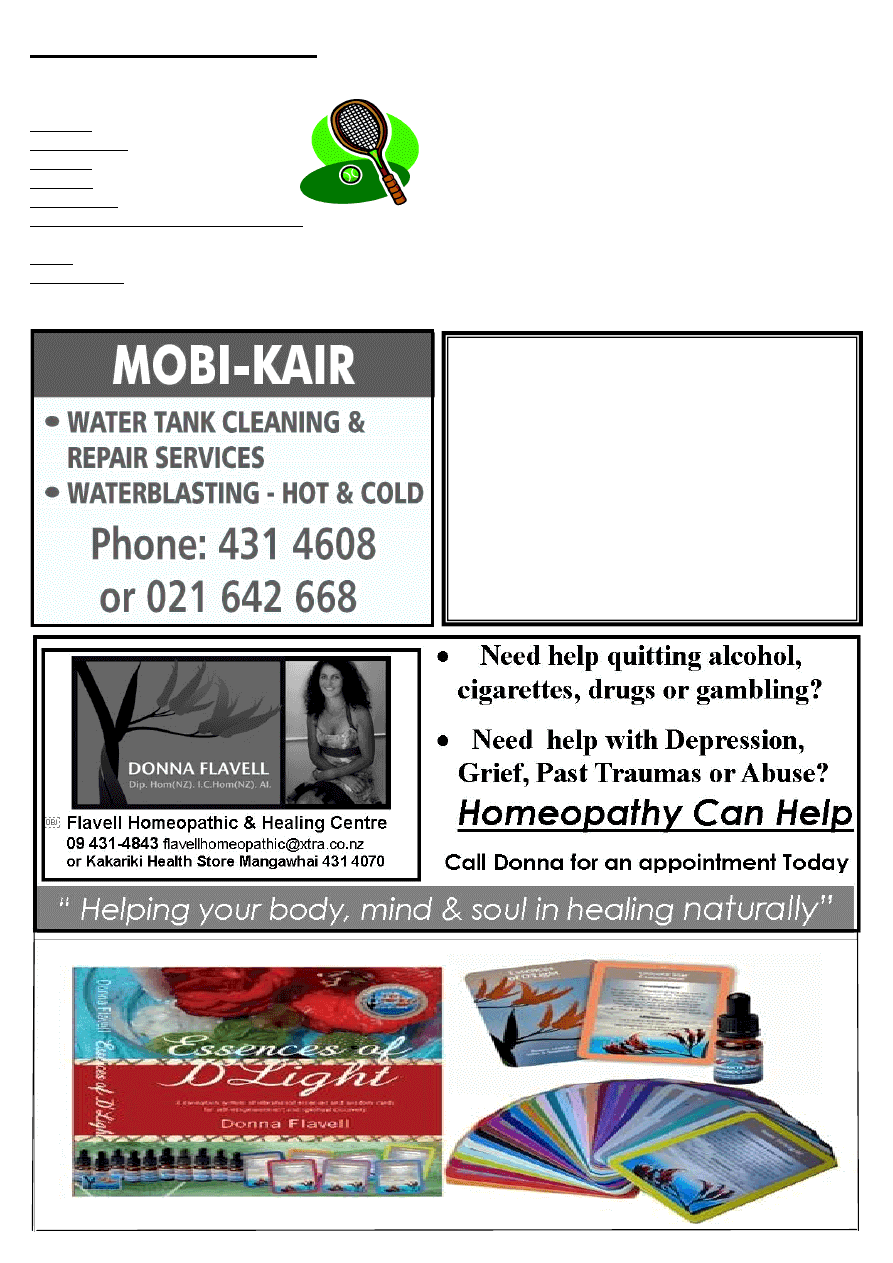 TILING 
Certified Waterproofing 
431 4533 or 021 86 33 33 
George 
MCN Property Solutionz  
Local references available 
Be on the lookout for Donna's new book Essences of D'Light  which was released December 
KAIWAKA TENNIS CLUB
Congratulations to Gabriele Otlersdorf who was elected new 
President of Kaiwaka Tennis Club at the 8 December AGM.
All other officers were relected. 
President: Gabi Manschewski  
Vice-President: Megan Little  
Secretary: Lindell Ferguson  
Treasurer: Carols Mills  
Club Captain: Innes Anderson  
Delegates to Kaiwaka Sports Association: Lindell Ferguson, 
Innes Anderson, Gabi Manschewski 
Patron: Jan Hargreaves  
Life Members: John and Audrey Anderson, Bryan 
McClean, Mark and Pam Ottaway, Evan Wright  
Club Captain/Acting President Innes Anderson thanked  
 
Briar Jaques for her efforts with the Otamatea Open annual 
tennis tournament; and Lindell Ferguson and  
Carol Mills for their efforts on behalf of junior tennis. Kai-
waka Senior Tennis team won the Rodney Interclub Barry 
Markwick Memorial Trophy. The club looks forward to a 
successful Otamatea Open Tennis Tournament at Anniver-
sary Weekend January, registrations to Briar Jaques.   
Subs: 
Junior Coaching: $30 each (children aged 5 up to school 
Year 13) 
Junior Casual: $10 – no professional coaching 
Senior Casual: $45 – not playing interclub or tournaments 
Senior Interclub: $50 
Family Sub: $135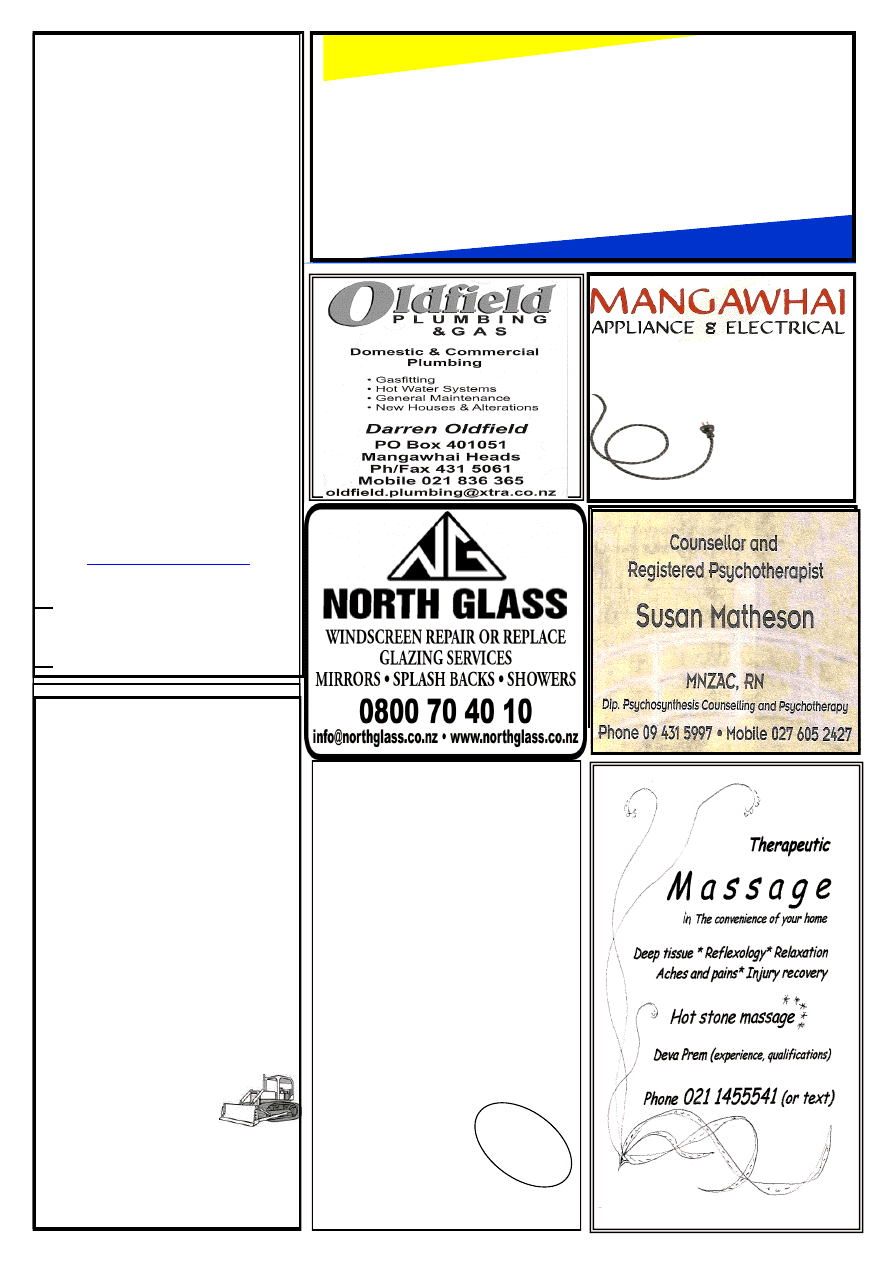 www.mangawhaimassage.co.nz 
CONCRETE 
If it's concrete we do it 
Full Preparation & Pour by 
Experienced Local Team 
Phone Phil Keen Contractors  
027 659 2376 
Bas
ed o
ut  
One
riri 
Roa
d 
HODGETTS
CONTRACTING
Digger Work    

Driveways 

House Sites   

Dams 

Drains, etc
Also available for HIRE 

3 ton Vib Roller 

Heavy Duty Tow 

Waterblaster  

Lazer Level 
Phone Mark 
4312877 
027 447 8554
DEAN STEWART 
Registered Electrician 
12B Wood St.  
Mangawhai Heads 
021 280 4008 
09 4314651 
AUTHOURISED FISHER AND PAYKEL SERVICE 
Bonjour, tous les mondes! 
Happy, prosperous 2013 
Not a fully functioning person...with those 
niggles, aches and pains? You guessed it.  
 I can help!
Monsieur Masseur .... 
RELAXING  
MASSAGE
..... Juste pour vous" 
Here's feedback from a happy client 
"Pete's treatment works. He identified 
long standing injuries no one else could 
fix and relieved years of chronic pain, 
fatigue and headaches.  I have Pete to 
thank for getting me back to work. I am 
so much happier and more confident in 
myself.  I can thoroughly recommend 
him." 
 
Call for an appointment now!
Pete Worsfold 
4312 152  or   021 825970   
Or  Ph. "The Well of Health" 
For an appt. 09 4312 799 
 
Or mobile service available 
Coates  
Contracting 
 
D41 Bulldozer with 6 
way blade, bush rigged 
with winch 
 
For all tree work 
 
General bulldozing and  
  stick raking. 
 
120hp Tractor for 
ground cultivation,  
 
tip trailer work. 
 
Fencing
All enquiries phone  
Brett Coates  
094318720 or mob 
021431872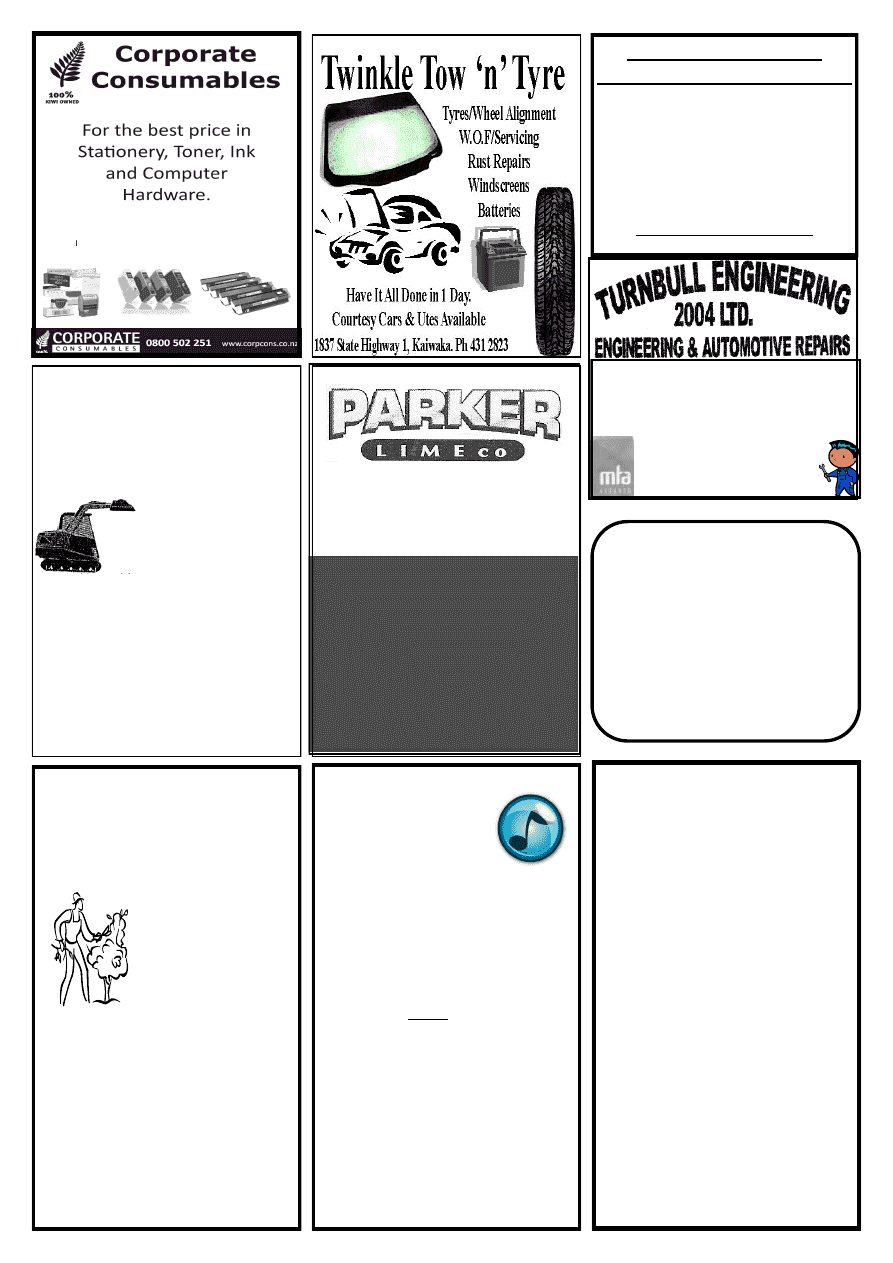 T.W.WRIGHT 
WATER PUMPS  
SALES & SERVICE 
DEEP WELL & SUBMERSIBLE REPAIRS 
203 WHAKAPIRAU RD, WELLSFORD 
PHONE 09 4238235   
MOBILE 021 976 545 
For all Your Mechanical  
and Engineering Needs 
WOF
AVAILABLE 
758 Kaiwaka-Mangawhai Rd 
4312148
Landcare 
Services
Dave Hyndman  
     4312302 
   021 431238 
Trenching, Hole Boring, Land 
Levelling,  Driveways, 
Landscaping,  Post Peel,  
Pig Post, Lifestyle block 
mowing, etc....also Rotary 
Hoeing 
For reliable and friendly service 
contact Dave 
Landscape Supplies 
Bulk Cartage 
4312407 
Mob: 021 453 252  
Fax: 4312939 
 scott.parker@parkerlime.co.nz 
Gibbons Road,  
Kaiwaka 
Having a party?  
A wedding? 
Or a social? 
 Call  
'Flower DJ Services'  
Wide selection of music 
Retro music a specialty  
Top quality sound system 
And for 
live 
music 
'Maura Flower Trio'  
Easy-listening 3-piece  
Wide repertoire of songs
Reasonable rates 
Also P.A. Hire 
Call Maura and Peter Flower  
Ph 09 4316640 or 0211 648318  
maura.flower@gmail.com 
Willow Bend
HORSE  
HOTEL 
"   
Total Horse Care 
" 
Agistment 
" 
Riding Lessons 
" 
Arena Hire (60x40) 
" 
Young Horse Starting 
" 
Re-training/Exercising 
" 
Hoof Trimming 
" 
Problem Solving 
Phone Sue 09 431 2817 
or 021 623 776 
Or email sue.gray@xtra.co.nz 
Phone Andie or Gavin 
on 
0800 502 251 
OUT THERE 
GARDENS AND LAWNS 
Lawn Mowing – Any Size 
Section Clearing  
Hedge Trimming  
Spraying  
Planting 
Pruning   
Gutters Cleaned 
Chainsaw Work 
Regular Services 
General Maintenance 
Garden Waste Removal 
Free Quotes 
Get The Job Done! 
Servicing Kaiwaka/Mangawhai 
Contact Phil Jones 
027 243 5503  
431 2196  
Email: outthere09@gmail.com 
Self Catering Holiday  
Accommodation in Kaiwaka 
Very reasonable rates. 
Sleeps up to 4, (dogs welcome) 
Phone Felicity or Robin for details 
on 09 431 2365, or email:  
morgans.r.f@gmail.com 
PLANNING A NEW KITCHEN? 
 CONTACT NOEL McDOWELL
WELLSFORD KITCHENS
Ph/Fax 094312888 
KAIWAKA-Any time
  QUALITY CUSTOM MADE KITCHENS  
~Personal and Prompt Service~ 
~All Workmanship Guaranteed~ 
~Over 20 Years in the Trade~ 
~Free Design & Quote~ 
17 
A NEW COUNTRY,  
A NEW NAME 
As told by a family member: 
In  the  early  1860s  two  young  men  met 
on a ship that was sailing for New Zea-
land  from  England.    One  was  a  well 
brought up young man who had brought 
disgrace  to  his  family  and  was  being 
sent out after being told never to return 
to England, but would be sent a sum of 
money  every  few  months  for  his  keep.  
He  did  not  want  to  leave  England  and 
was  very  bitter.    These  men  were  not 
uncommon  and  were  called  remittance 
men.  His new friend was  young, eager 
to  settle  in  N.Z.  but  was  from  a  poor 
family  and  so  came  as  an  assisted  pas-
senger.    When  they  reached  Auckland, 
the  well-to-do  ―nogooder‖  made  a  pact 
with  his  new  mate  that  in  return  for 
swapping  names  and  so  identities,  he 
would  return  to  England,  using  his  first 
remittance, but never contact his family 
again.    In  return  for  changing  his  name 
his friend would then be able to receive 
the  remittance  money  for  as  long  as  he 
lived.   
The young settler worked hard and mar-
ried under his new name and by 1872 he 
and  his  wife  had  two  children,  and  had 
arrived  in  Kaiwaka  about  1870  after 
buying  McDonalds  farm  which  became 
Evan Wrights' farm ultimately.  George 
Thornton  is  first  mentioned  in  Papers 
Past  Kaiwaka  History  in  1871  when  he 
is  seconded  onto  the  Pukekaroro  High-
way  Board  along  with  William  Leslie 
and  others  to  check  on  the  Boards' 
spending.    In  the  Daily  Southern  Cross 
dated  30th  Jan  1872,  there  is  a  report 
headed:  Destructive  Fire  at  Kaiwaka, 
Mangawai.  It is with sincere regret that 
I have to record the occurrence of a de-
struction  which  took  place  at  Kaiwaka 
on  Sunday  evening  Jan  14th,  whereby 
the house of G. W. Thornton was utterly 
destroyed.    The  lengthy  report  states 
how  two  children  were  in  the  house, 
when Mrs Thornton, who was some dis-
tance  away,  was  able  to  rescue  them; 
how  Mr  J.  Cameron  was  able  to  rescue 
some important papers before the house 
was  gutted  by  the  fire  which  started  in 
the  chimney.    After  the  fire,  Mr  Bow-
mar took the family in and then, the re-
porter  details,  a  public  meeting    was 
held  to  raise  subscriptions  for  the  relief 
of  the  homeless  family.    In  the  Daily 
Southern Cross dated 27th June 1876, a 
report  on  Kaiwaka  states  that:  On  the 
14th instant (June), Mr G 
Thornton, farmer, had a very severe ac-
cident with his horse at his slip-panel. 
 He  was  found  quite  unconscious  and 
covered in blood with several kicks un-
der his right ear.   
Dr  Marks,  who  was  called  as  promptly 
as a race of 25 miles would permit (from 
Waipu)  rendered  very  valuable  assis-
tance,  and  with  the  kind  attentions  of 
our  good  neighbours,  Dowson,  Ross, 
Hastie  and  Bowmar,  Mr  Thornton  re-
covered  consciousness,  but  remained  in 
a critical state.  George must have made 
a  full  recovery  as  he  fathered  13  chil-
dren, and many feature on the War Me-
morials in the Hall.  Lindsey made men-
tion of them in the 2nd Oct 2012 Bugle.  
How  long  the  cover  up  lasted  is  not 
known,  but  Thornton  children  went  to 
England,  and  we  must  wonder  whether 
they  contacted  the  adopted  family  or 
not.  However it does throw out of kilter 
those  trying  to  trace  their  pedigree,  and 
the  above  story  is  not  an  isolated  case.  
Could  it  be  possible  that  the  elusive 
Nurse Lucas nee Thornton, that we can-
not find records of, possibly joined up as 
a  nurse  under  what  she  considered  her 
rightful name?  Nurse Lucas has a ―D‖ 
after  her  name,  which  means  she  died 
while  on  duty,  but  possibly  sometime 
later  as  the  wounded  were  still  dying 
from  their  wounds  several  years  after 
the  war  ended  and  nurses  still  looked 
after  them.    The  Great  Flu  Epidemic 
killed many weakened men.  Her father, 
George Thornton, was a hard man, and 
it is said he was hard to get on with, but 
with 13 kids and a well kicked head we 
can  understand  his  actions  a  bit  better.   
Bill Leslie  
STUMP 
GRINDING 
Big or small  
Tidy professional 
job 
Tel: Mark 021 457247 
 or 09 4321816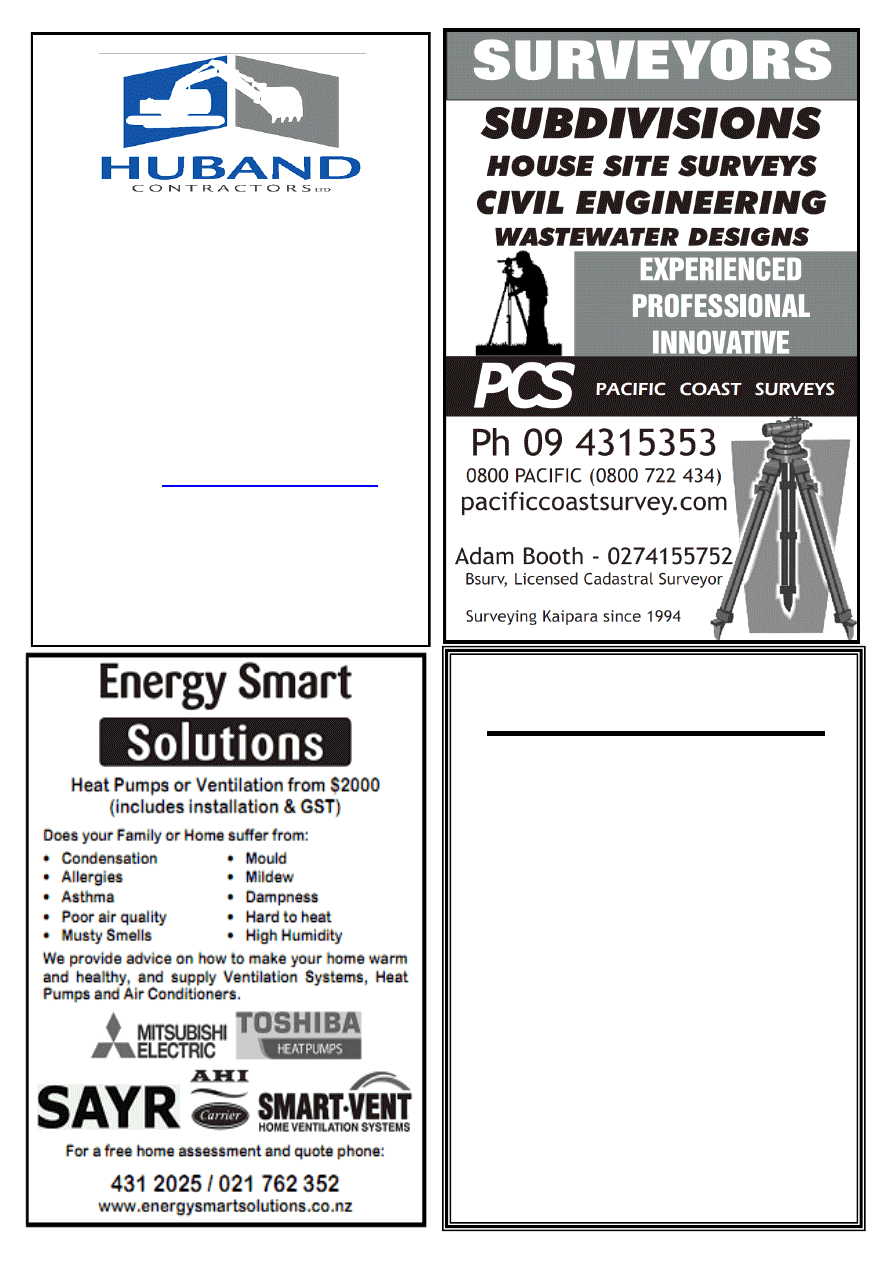 STOCKFOOD
GREAT RANGE FOR ALL YOUR LIVESTOCK  
AT GREAT PRICES 
 ALSO CHECK OUR 
DOG BISCUITS 
20 KG FOR $57.80 
LPG REFILLS 9KG 
STILL ONLY $31.50
MANGAWHAI SERVICE 
STATION 
(09) 431 4242 
44 MOIR STREET IN THE VILLAGE 
*   R O A D I N G   *   E A R T H W O R K S  
*    
*   D R A I N A G E   *   S I T E W O R K S   *  
For any further enquiries, contact 
Shaun on: 
Cell: 021 222 0272 
Home: 09 4318339 
Email:   
Shaun Huband:  Registered  
Drainlayer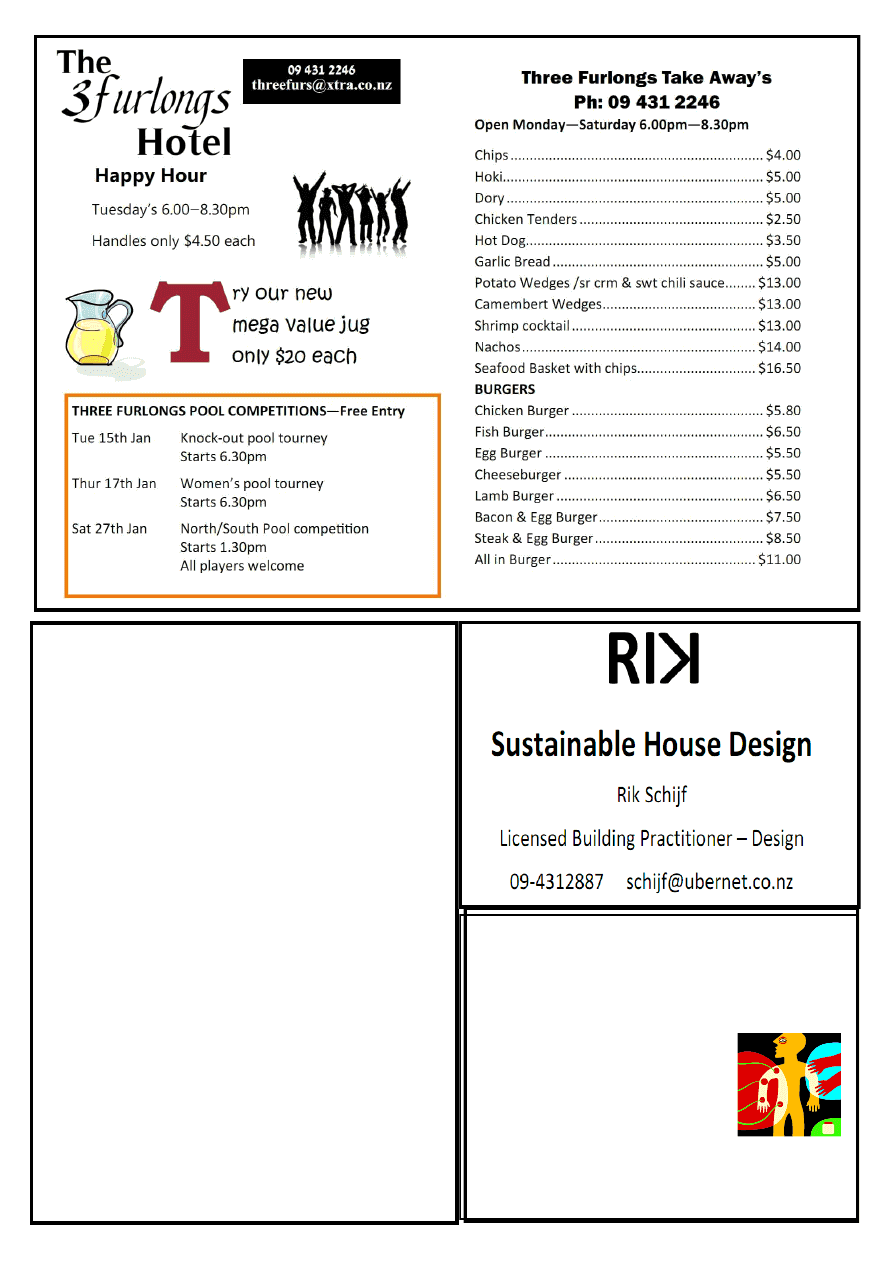 Mangawhai Beach & Country  
Market @ Domain 
Sunday January  27th  
(Long Weekend) 
0900—1300  
Cafe/ Bbq/ live music/ kids  
entertainment 
All the fun and fabulous stalls 
you want to find in a real 
country market    
Stalls/carboot available 
Ph   0274586144 
OWEN STEVENS 
Osteo Therapist
For careful adjustments to bones and joints 
Treatment for  
humans and their pets 
Clinics: Kate's Place, Kaiwaka: 
Last Friday of month 
Warkworth Showground:  
2
nd
 Thursday, monthly
For bookings:  9.00am-5.00pm 
Phone 09 4312661  
 
Or phone Owen  09 4317123   anytime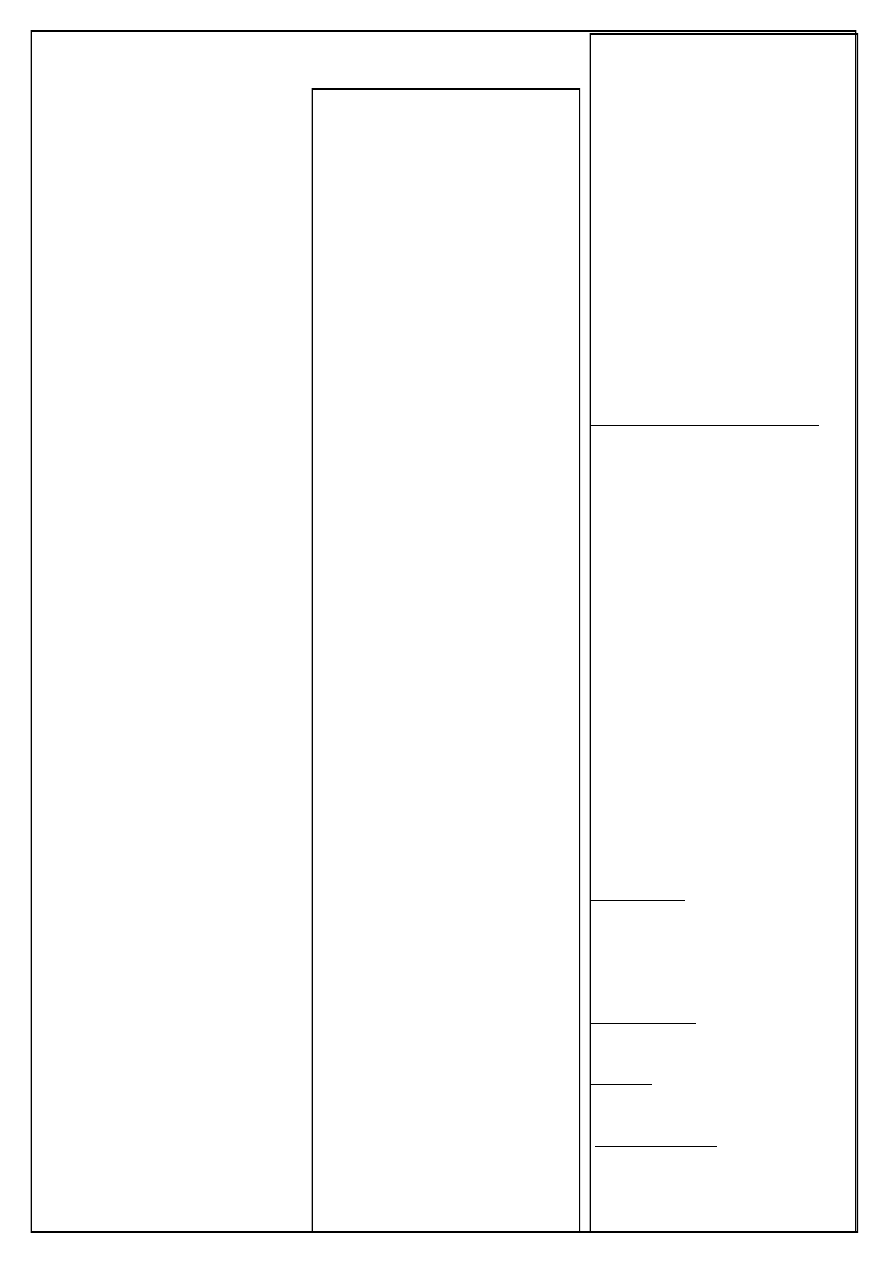 ACCOMMODATION/MEALS  
Baldrock View B&B Farmstay  4312989 
Gateway North Motor Lodge      4312389 
Landfall Lodge B&B Homestay  4312706 
Three Furlongs Hotel 
4312246 
ACCOUNTING 
Stephen Jaques 
4312377 
ART GALLERY 
BevTaylor's Puketotara Gallery   4312031  
AUTOMOTIVE 
Automotive Electrical           027 6639953 
Auto Painting John Bowmar  
4312248 
Shamrock Auto Care 
4312007 
Turnbull Engineering & Auto. 
4312148 
Twinkle Tow ‗n' Tyre  
4312823 
BOARDING KENNELS 
Baldrock Kennels & Cattery 
4312789 
BUILDER/DECORATOR 
Wellsford Kitchens 
4312888 
Kev's Caskets                         021 1322671  
CLEANING/HOUSE SITTING  
JR Cleaning Services 
4312826 
CARTAGE & TRANSPORT  
Bizzy Beavers                          021 351946 
Eastern Transport  
4312399 
Ferguson Agricultural Contract  4312542 
Parker Transport & Lime 
4312407 
CATERING 
Kaiwaka Sports Association  
4312229 
Ottaway Bakery  
4312329 
CAFES 
Cafe Eutopia  
4312999 
Gateway Motel Cafe  
431238   
Italian Bakery La Nonna 
4312643 
Mormors 
4312 
Odd Sox Cafe 
4312669 
Three Furlongs 
4312326 
CHILD CARE 
Small Poppies 
4312842 
CLOTHING 
Buy The Way 
4312884 
Kaiwaka Clothing  
4312187 
Winsome Designs 
4312027 
CONCRETE/WATER PRODUCTS 
Absolute Concrete 
4312211 
CONTRACTORS  
Arborist  - Mike Law               0259240519          
G.Borck Hay Contracting 
4312236 
Ferguson - Hay& Silage  
4312542 
Hodgetts - Excavation 
4312877 
Power Drainage 
4312434 
Phil Keen Concrete                 027 6592376 
Ranganui Developments 
4312131 
CRAFT 
The Apple Basket Patchwork 
4312443 
Cheese Making 
4312234  
DOCTOR at Coast to Coast, Wellsford  
by appointment 
4238538 
ELECTRICIAN 
Paul Greig 
4312223 
Sean Treacy 
4312252 
ENGINEERING  
Turnbull Engineering 
4312148 
ENGRAVING 
Topnotch Laser Engraving 
4312174  
FITNESS/SPORTS GROUND 
Kaiwaka Sports Association 4312005or129 
FLOOR SANDING 
Nuaz Floorsanding C.Kenyon     4312971 
FUNERAL DIRECTOR       
Morris & Morris c/-Bev Jaques   4312367 
FURNITURE 
  2013 KAIWAKA BUSINESSES   
Kaiwaka Furniture Factory         4312212 
GARDEN CENTRE/NURSERY  
Kauri Park Nursery 
4312125 
Kaiwaka Organics 
4312732 
GIFTS  
All-Sortz 
4312 
Gateway North Motor Lodge  4312389 
St.John Op Shop  
4312423 
Well of Health   
4312799 
GLASS 
North Glass 
GRAPHIC  & GENERAL DESIGN 
Contour Creative Studio Ltd     4312511 
Tawa Imaging   
4318706 
GROCERIES/DAIRY/CHEESE 
Jaques Supermarket 
4312227 
Kaiwaka Cheese Shop 
4312195 
GROUP FACILITATION  
Sabine Drückler, Hiepe4312231
HAIRDRESSER  
The Hair Salon   
4312128 
HEALTH/BEAUTY 
Avon - G.Matheson 
4314827 
Counsellor S.Matheson        0276052727 
Massage D Prem                  0211455541 
Massage P Worsfold  
Well of Health   
4312799 
HEATING 
Solar Water Solutions 
4312992 
HORSES 
Willow Bend Horse Hotel 
4312817 
LANDSCAPING  
Out There Gardens & Lawns 
4312196 
Landcare Services 
4312302 
MOWERS/CYCLES/CHAINSAWS  
Kaiwaka Motorcylcles Ltd          4312127 
Kaiwaka Suzuki   
4312123 
PAINTERS 
Kaiwaka Painters      
9937111/
0220804186 
PHOTOGRAPHY 
Steve Campbell    
4312779 
PLASTERING   
Korach Kontractors   
4312904 
PLUMBER 
Mitchelson Plumbing 
4312815 
POST OFFICE   
Postal Agency   
4312626 
RESOURCE 
Kaipara District Council 
4312013 
Kaiwaka Family Support Service  4312661 
Design Drafting  Mike Lean 
4312260 
RUBBISH 
Hakaru Landfill   
 4258567 
RURAL MAILCONTRACTORS  
Norm &Yvonne Brown  
4312028 
SADDLERY/UPHOLSTERY/CANVAS  
The Canvas Shop  
4312800 
SERVICE STATION  
Shamrock Service Station 
4312321  
TAKEAWAYS   
Gateway Takeaways 
4312350 
TECHNICAL SERVICE 
Laughing Dog Computers 
4312424 
Up-Link Installations 
4312328 
TIMBER MILL & SALES  
Topuni Timber Mill 
4312855 
TRAVEL 
Leabourn Passenger Service 
4237416 
VENTILATION SYSTEMS 
Energy Smart 
4312025 
ORGANISATION & 
SERVICES  
JUSTICE OF PEACE  B.FJaques,  
L.Donaldson,  A.F.Hargreaves. 
MARRIAGE CELEBRANTS - 
L.Donaldson;4312228;A.F.Hargreaves 
4312045;  Judith Knights 4312765 
Fire Brigade –J Bowmar 
4312248 
Kaiwaka Primary School 
4312309 
Kohanga Reo  
4312620 
Kaiwaka Library - W.Howard   4312539 
        kaiwaka.library@gmail.com 
Kaiwaka/Mangawhai Plunket Soc.   
4314187 
Kaiwaka Playcentre -  
4312286 
     Mon -Fri 9.00-12.00          
Kaiwaka War Memorial Hall 
            kaiwaka.hall@gmail.com 
ParentPort - Sharon Mehana    4259357 
St. John Division S.Rosser 0212316836 
Scout/Cub Group   
4312250  
INTEREST GROUPS/SPORTS  
Athletics - T.Holst 
4318 180 
Badminton - K. Fleming  
4312345 
Fitness -  J.Harris  
4312129 
Fishing -Pt.Curtis Cruising Club4312246 
Gardening Club - Jean 
4314767 
Gymnastics - P.Jaques 
4312446 
Historical Society -R.Hastie   4312192  
Indoor Bowls - G.Mansfield   4312310 
Kaipara Hunt - A.Doornenbal  4312059 
Kaiwaka Sports Ass. - CAnderson 4312051 
Hakaru Pony Club - Dianne   4314315 
Maori Women's Welfare League4312293 
Molesworth Sheep Dog Trials 4312192 
Netball-Kaiwaka -  Melissa  4312239  
Netball-Otamatea Ex -M.Manuell
4312686 
Nthld.Western Riding - C.Ries  4312040 
Pig Hunters Club - F.Steiner  4312035 
Pt.Curtis Cruising Club 
4312246 
Repertory-Otamatea 
4318729 
RSA-Hakaru - 
4314719 
RSA - Women's Section   
4314512 
Rugby-JMB -  
4312578 
Rugby-Senior  -Justin      021 1804232  
Soccer -  M.Seagar 
4318494 
Squash - B.Thomas  
4315905 
Tennis - B.Jaques 
4315157  
Touch - J.Walker 
4312750 
Three Furs. Pools/Darts   
4312246 
CHURCHES 
Anglican. St. Pauls& St.Michaels
4312295 
Co-operating Parish services  4312057  
Family Church - Kaiwaka  
4318203 
Gateway Worship Centre  
4312528  
Brethren 
HALLS—Hire 
Kaiwaka War Memorial Hall 4312725 
Archie Bull Hall  
4312048 
MARAE 
Oruawharo Marae 
Te Pounga Marae - Oneriri  4312681 
 INFORMATION 
Kaipara District Council Service Centre     
0800 100 388 
4312013 
Kaiwaka Bugle  
4312045 
Kaiwaka Media Group 
4312045 
www.kaiwaka.co.nz