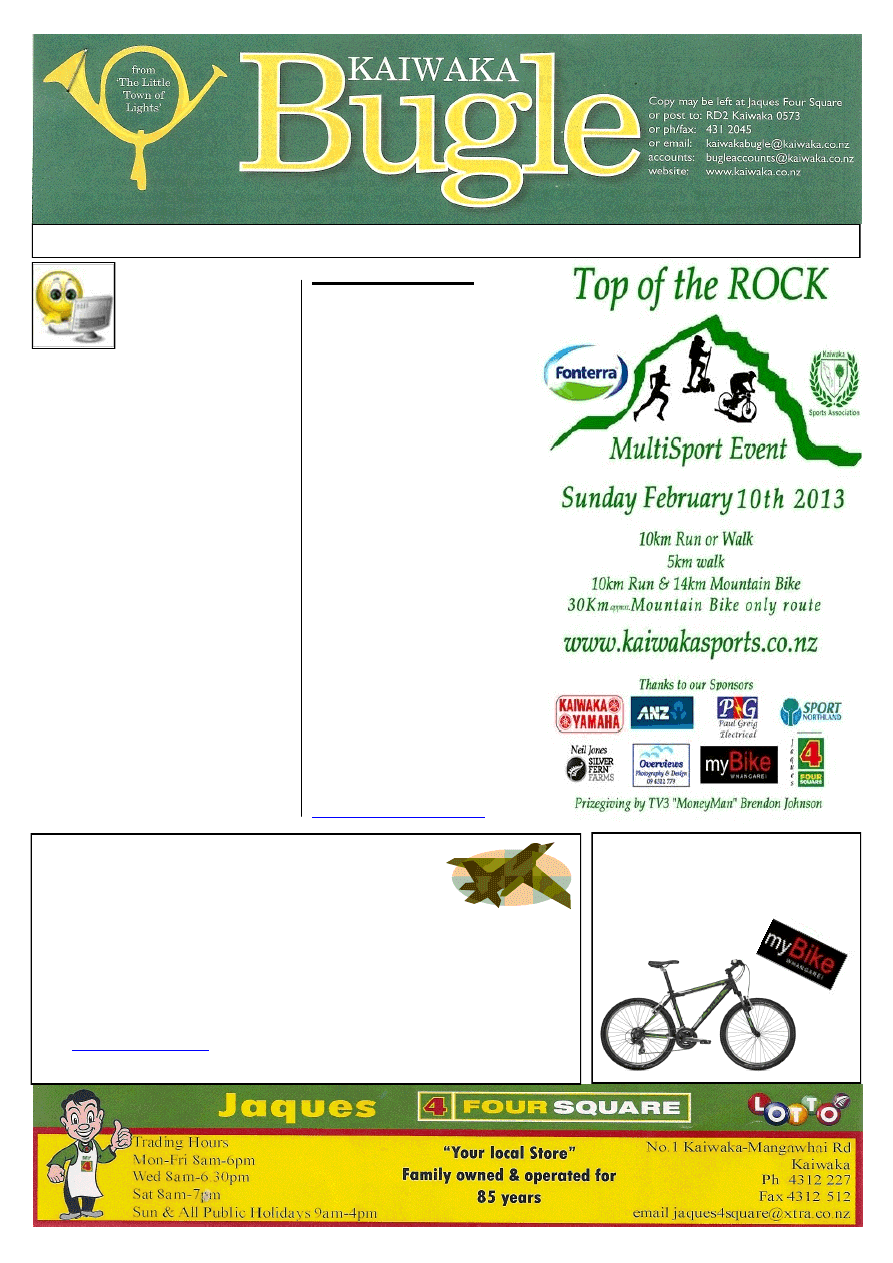 No: 2 
05/02/2013 
Thanks  to  those  of  you 
who  have  advised  me  of 
changes  to  the  Kaiwaka 
Business  Directory.  It  is 
not  too  late  to  update,  so 
let  me  know.  For  ease  of  reference  I 
have  attached  a  draft  copy.  There  is 
only  room  for  a  free  listing  of  phone 
numbers  at  this  stage  but  you  will  be 
able to advertise at length on the web-
site, for a fee. 
To  those  of  you  who  have  asked  for 
signage  reminding  people  to  cross  the 
highway  using  the  walkway  under  the 
bridge,  please  note  Council  is  already 
in the process of organising signs. 
The  NZ  Transport  Agency  is  closing 
State Highway 12 (SH12) to all traffic 
at  Hardies  Bridge  near  Matakohe  in 
Northland  for  six  hours  on  Tuesday 
(February  12)  for maintenance work. 
The  closure  will  start  at  9am  and  con-
tinue until 3pm.  Traffic will be divert-
ed between Paparoa and Matakohe via 
Oakleigh,  Porter  and  Ararua  Roads  - 
an  18  kilometre-long  diversion  that 
will add another 15 minutes to journey 
times. 
Our condolences go to the Parker fami-
ly who are grieving the passing of Fre-
da Parker at the weekend, aged 93yrs.
Ann  0220804186 
Bugle 3 will appear 19 February 
Top of the Rock 
Kaiwaka  Sports  Association  
multi-sport event, the 'Top of the 
Rock'  will  be  held  this  coming 
Sunday 10
th
 February – have you 
got your entry in yet?  
This  year  they  are  offering  the 
following options: 
*5km Walk 
*10km Run or Walk 
*10km  Run  +  14km  Mountain 
Bike, and new this year 
*30km 
approx
.  Mountain  Bike 
only route 
Routes  cover  private  farmland, 
including  the  two  lakes  on  Bal-
drock  Road  –  very  scenic  coun-
tryside and Baldrock Mountain – 
magnificent views! 
Prizegiving  will  be  hosted  by 
TV3's  "Money  Man"  Brendon 
Johnson. There will be prizes for 
placegetters  as  well  as  lots  of 
spot prizes! 
Free  camping  at  KSA  grounds 
Saturday night. 
Pick  up  an  entry  form  from 
Jaques  Four  Square    or  you  can 
enter on the day at 8am (late en-
try fee) or phone Cheryl on 4312 
051.  Registration  forms  and  fur-
ther details can be found on their 
website: 
Check out 
the terrific Mountain Bike, 
a Trek 3500 donated by myBike  
Whangarei, to be won this weekend at 
Top of the Rock. 
Waitangi Day Wednesday 06 February  
AIR FORCE RED CHECKERS OVER WAITANGI  
 
In a fitting finale to two days of commemorative activities 
supported by the Navy; The Red Checkers, the Air Force"s formation aerobatics 
team, will showcase their flying skills by performing a formation flying display 
over Waitangi on Waitangi Day. 
What: Red Checkers aerobatic display (weather and serviceability permitting).  
Where: Over Waitangi  
When: Wednesday, 6 February 2013, 12:15  
Visit 
 and click on "What"s On / Events" for the Red Check-
ers flying schedule in 2013.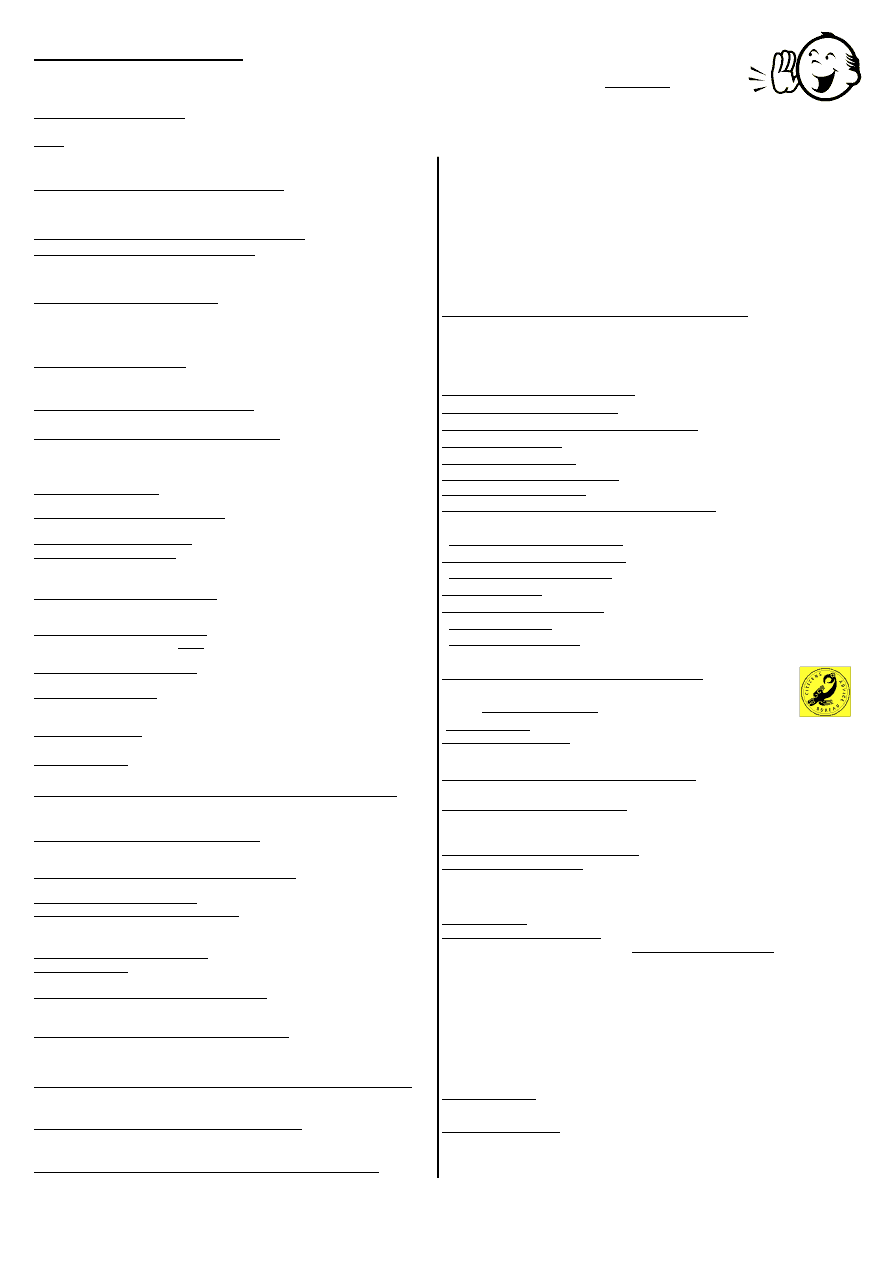 LOCAL SERVICES 
*St.John Ambulance 
111 or Freephone0800 61 0066
*Fire phone 111     *Police phone 111 or 09 4311150
WELLSFORD DOCTORS: Ph: 4238 086 
A A: Meets Wed., 8pm Kaiwaka Ph: 4312228, 4315543, 0800229 6757   
AL ANON: In recess, contact Ph: 4312228 
AgriQuality (MAF) Livestock Consultant 
Phone 09 4311 820 or 021518257 
CAB-Citizens Advice Bureau.Wellsford Ph: 4237333. 
BUDGETING SERVICE,OTAMATEA:Free confidential advice & 
support - all areas of  personal finance Ph: 09 4318173 or 094318117
FAMILY SUPPORT SERVICES responding to the needs in our 
community  Counselling/Family Therapy/Seminars/Youth Work/
Probation/Osteopathy/Govt.Day Agencies/Community Information  
Ph: 4312661 Hours: 9am-5pm. Mon - Fri (funded & CYFS approved) 
FUNERAL SERVICES: Morris & Morris Ltd, 
Whangarei - Bev Jaques Ph:4312367 or 0800667747 
Grandparents Raising Grandchildren: Sarah Rogers Ph: 4312194 
HAKARU LANDFILL/Transfer Station:Open everyday except 
Tuesday10am-4pm.Ph4312629 Cost-$55 trailer load up to 1 cubic 
metre. Ph:4258567 - office 
INLAND REVENUE: Last Friday each month, 
11-3pm Ph4312661 
KAIWAKA KOHANGA REO:
Ph:4312620 Mon.-Fri. 8.30am-2.30pm 
KAIWAKA CEMETERY: Ph: 4312045 
KAIWAKA LIBRARY: kaiwaka.library@gmail.com  
Mon. 4-6pm; Wed., Thurs., Fri., Sat.  10am-2pm Ph:4312539
KAIWAKA PLAYCENTRE: Ph: 4312286. Hastie Lane 
Monday to  Friday  9.00am 
- 
12 noon.
KAIWAKA POST OFFICE:
Ph:4312 626 Fax: 4312287  
Post Code: 0573  for RD2  and  0542 for all Kaiwaka Post Office mail 
KAIWAKA SPORTS ASSN: Ph 4312005; 4312129 gym 
KAIWAKA STJOHN: Manager Steve Rosser 09 431840, 021 2316836; 
Sec: C Dymock 4312744 
NORTHPOWER: Faults Kaiwaka area 0800 104040 
PARENTPORT: Free, practical family support servicePuhoi to Paparoa 
Ph:  Sharon Mehana, Co-ordinator. 4259357 or 027 280 5093 
PERSONAL DEVELOPMENT COACHING, GROUP FACILITATION:  
Sabine Druckler 4312231 
 
PLUNKET  KAIWAKA/MANGAWHAI:  Ph:
094318187 
or  0
276753488 
Kaiwaka Mobile Clinic once a month– appointments necessary;  
Mangawhai (next Domain) 
1st & 3rd Thursday & Coffee Morning; 
PLUNKET CARSEAT CO-ORDINATOR:  
Pat Scott Ph 4314530 or 
0272881635 
PLUNKET FREEPHONE -0800 933 922 
PLUNKET -MAUNGATUROTO  Clinic every 2nd & 
4thThursday. Ph: 09 4318187 
PUBLIC HEALTH NURSE: Gloria Reid Ph: 094327634  
HOMEOPATH: Donna Flavell Ph: 
4314843 
RETURNED AND SERVICES ASSN 733 Settlement Rd.Hakaru 
Ph.4312176 Bill Kerr (President) Ph.4314719 
TE KOROWAI AROHA O NGATIWHATUA 
(The Cloak of Love of Ngatiwhatua) Support and Maori Consultancy.  
Ph: 4239481 (Wellsford) 
WOMEN"S WELFARE LEAGUE & Reaching Out For Youth:  
4 Kaiwaka-Mangawhai Rd, M Morgan 4312293 
VETERINARY SERVICE MANGAWHAI: 
Ph: 4314535 Mon-Fri 8.30-4.30, Sat 9-12, a/h appt. 
KAIPARA DISTRICT COUNCIL www.kaipara.govt.nz:  
Help Desk FREEPHONE 0800 727 059 
Dog/Stock/Noise 0800 105 890 
Kaiwaka Service Centre Ph:4312 013 Mon-Sat 8.30-4.30pm 
WHAT"S ON
PLEASE ~ do let me know what is on - email 
kaiwakabugle@kaiwaka.co.nz 
Advertising in WHAT'S ON is FREE
*6Feb~Waitangi Day 
*9Feb~Top of the Rock Marshalls meeting 6.30pm KSA 
*10Feb~Top of the Rock, Kaiwaka 
*12Feb~Pt Curtis Cruising Club Committee Meeting  7pm 3 Furlongs Hotel 
*22Feb~SeniorNet Mangawhai AGM-The Club, Molesworth Dr. 2pm  
*25Feb~Eastern United Junior Rugby AGM 5.30pm at KSA  
*28Feb~Hakaru RSA Women"s Section AGM- Clubrooms 1.30pm 
See www.kaiwaka.co.nz for upcoming events. 
 
Drink can "tear tabs" - for Starship Hospital-Ph 4312625   
KDC  HOUSEHOLD  RUBBISH  COLLECTION  -  Kaiwaka    Pick 
up ­Mondays=green sticker" bags are picked up by Northland Waste
-queries  to  them  09  4303273,Wednesdays=Blue  bags  (at  KDC  
$2.80)  Kaurilands 09 4392146.  
 
*OTAMATEA GREY POWER-09 431 8138 Joan Hoggard  
*KAIWAKA BADMINTON -Tuesdays 7.30pm Ph: 4312345 
*KAIWAKA GARDEN & FLORAL Grp:
2nd Thursday in month Ph: 4314767 
*KAIWAKA 
CUBS-
Thursdays 5.30-7pm,Hakaru Ph:Bruce  4312542 
*KAIWAKA SQUASH -Mondays 7pm,  Ph: Barbara Thomas 4315905 
*GYMNASTICS OTAMATEA -  Tuesday Ph: Stephanie 4312022   
*HAKARU PONY CLUB-Ph: Dianne Christianson  4314315 
*
MANGAWHAI COMBINED PROBUS CLUB
: 2pm,3rd Thursday 
month in the Senior Citizens Hall Mangawhai. Ph: 4315777
*PT CURTIS CRUISING CLUB - Jean Ph: 4312246 
*WAIPU GENEALOGYGROUP -4th Monday in month Ph: 4312725 
*NZ GENEALOGY-Wellsford - 1st Thursday in month Ph: 4237033 
*CRAFT GROUP
:2nd & 4th Tuesday, 10am, Wellsford Ph 4238547
*RSA,Hakaru & Dist.Women- meet 1.30pm 4th Thurs in month 4312668  
*OWEN STEVENS at Kate"s Place Ph:4312661   
*Diabetes Support Group-for Kaiwaka, Mangawhai, Wellsford -10am, 
 
3rd Friday of month Ph:A.Pert 4238242; J.Gardner 4238060 
*WELLSFORD CITIZEN ADVICE BUREAU:  
0800 367 222 
Ph: 4237333 Wellsford Community Centre   
Email: cab.wells@xtra.co.nz
CHURCHES:
*Gateway Worship Centre-St Mary's Church Nathan Rd off Oneriri Rd, Kaiwaka 
Services, 10.30am 1st & 3rd Sunday of every month. Contact: Rev David Gage 
4312528 or 0212354282 
*Kaiwaka Family Church-Your Community Church Sundays, l0am 
Home Group every Wed evening, Pastor John.Dekker Ph: 4318203 
*Kaiwaka Services.Anglican & Co-op at StPauls Church  - 1st Sun. 9.30am
(Anglican),3rd Sun. 4pm (Co-op).  Contacts: Parish Office 09 4318193, 
M.Hargreaves, Peoples Warden 4312295, C.Bygrave 4312057  
*Church of Christ the King, Mangawhai 9.30am every Sunday 
*St.Mary"s Catholic Church:
Maungaturoto – Griffins Road, Saturday evening Vigil 
Mass 6pm; Mangawhai – Senior Citizens Hall, Sunday Mass 8:30am; Wellsford – 
Matheson Road, Sunday Mass 10:30am; Mid-week Mass times and all enquires to Fr. 
Bill Fletcher – phone 423 8170 
*Baptist Church: Sun. 10.30am Mangawhai Snr Cit.Hall.Ph:4312339 
*CauseWay Church Mangawhai – Sundays 10.15am, Mangawhai Community Recrea-
tion Centre, Insley St. Ph: 09 4314782  www.causewaychurch.org.nz 
 
*St.Pauls Archie Bull Hall HIRE  $20 half day, $40 full day per hire 
 Contact G. Jaques 4312048 
*Kaiwaka War Memorial Hall HlRE– Phone 4312725 or 
Email  kaiwaka.hall.bookings@gmail.com 
*Hakaru Hall HIRE-contact  J. Marshall 4312297 
*Te Pounga Marae queries -A.Gage 4312528, 4312527 
*Kaiwaka Sports Association hire/queries- C. Anderson 4312051 
Justice of Peace: B.FJaques; L.Donaldson; A.F.Hargreaves  -please phone to 
make sure they are available 
Marriage Celebrants: L.Donaldson; A.F.Hargreaves; Judith Knights 
 
Next Bugle Deadline Friday 15/02/2013 
"Friendship is like wetting your pants; everyone can see it but 
only you can feel its warmth!" QI  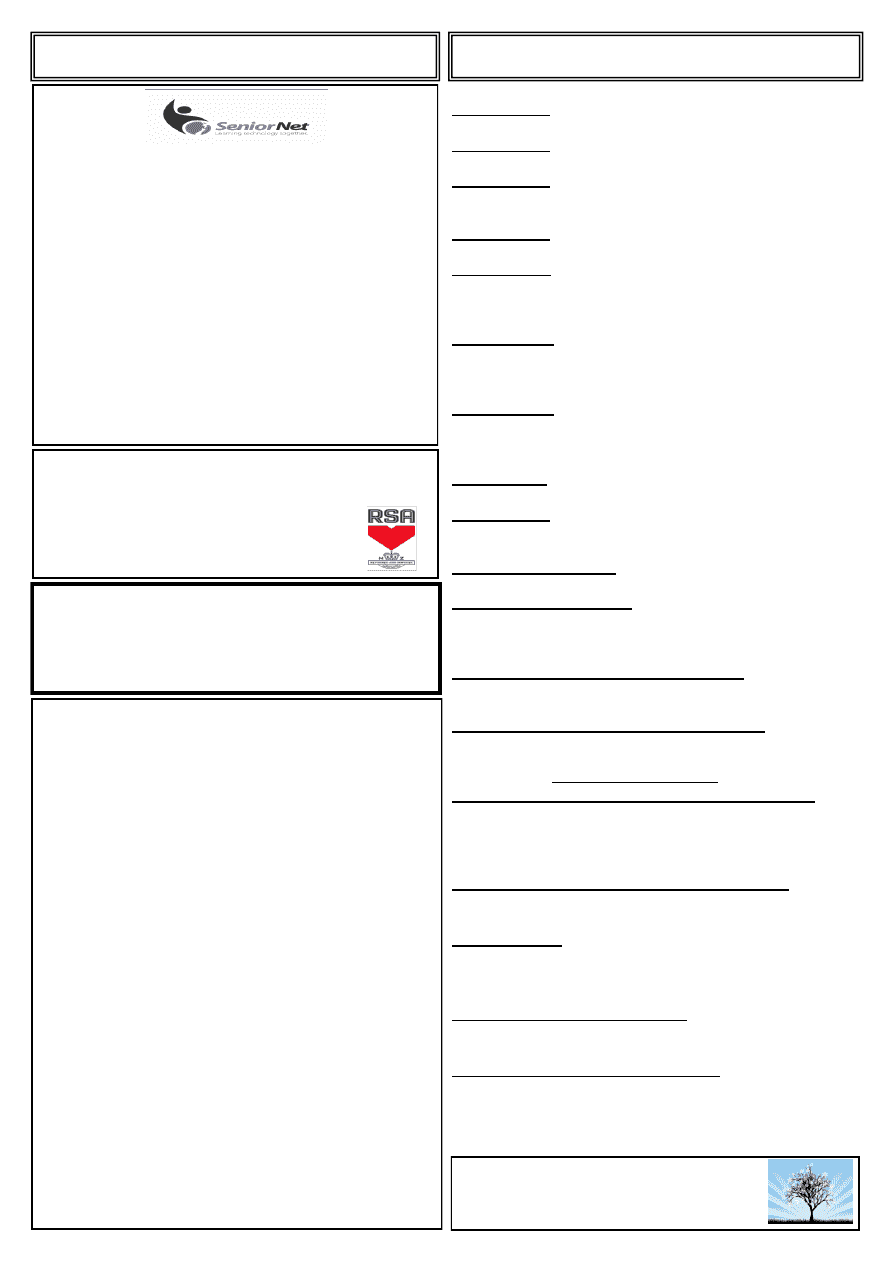 PUBLIC NOTICES 
CLASSIFIED 
FOR RENT: 
2 Bed Cottage in Hakaru $220 per week  
Ph: 4312265 
FOR  SALE: 
Weaner pigs $80 each. Last years lambs $80 
each. Quail eggs $6 a dozen. Ph: 4312265 
FOR  SALE:
 CUSHIONS giant 550mm X 550mm square, 
11,  each  with  a  different  hardwearing  fabric,  as  new,  $20 
each. "They don"t make them anymore" Ph: 4312869 
FOR  SALE: 
Older Leonard fridge selling because we up-
graded. Goes well $75 Ph: 4312065
FOR  SALE: 
Indian ring necks MALE green $80 Male & 
Female $500. Portable Goldair BBQ & 9kg gas bottle only 
used once $200. 2 man kayak, 3 rod holders, 2 seats, 2 oars 
& anchor 3 mnths old $1000. Ph: 4312647
FOR  SALE: 
TIDY,  EASY  CARE  HOME...HAS  ALL 
YOU NEED 3 bdrms,1bathrm,fully fenced, big deck, HRV, 
private with rural back drop, electric dble garage, fireplace.   
(16 Puawai St Kaiwaka)$265,000  ph:0276623923 
FOR  SALE:
  FREE  single  bed,  mattress  and  bookcase/
headboard.  Suitable  young  child.  Also  rectangular  table  3 
feet long x 15 inches wide, custom-made for fish tank with 
shelf. All these items are not flash. Ph 945 0935 Kaiwaka. 
FOR SALE:
 Small square hay bales, just bailed. $6 each 
Ph: 0212351323 
FOR  SALE:
 PIGLETS 11 weeks old. $70 each, 2 or more 
$60 each. Fundraiser for OHS trip to Japan in April.  Phone 
Renata/Rebecca 4312 085 
WANTED  TO  BUY: 
Sofa, 2 wooden chairs, small table - 
in good condition. Ph: Sabine 4312231 
WORK  AVAILABLE:
 Dairy farm work  available  until 
end  of  May  2013.  Part  or  full  time.  Kaiwaka/Mangawhai 
area. Must be able to travel. Ph: 4312455/0274990838 
NATURAL  ANIMAL  THERAPIST  : 
Diatomaceous 
Earth Stockist.  Specialising in Horses.  Jill Shires  4312080  
FREE  COUNSELLING  AVAILABLE: 
Counselling 
Student seeks clients to further his studies. Professional  
approaching service. Phone Pete 021 825 970 or  
094312 152 or peteworsfold@xtra.co.nz 
EXPERIENCED CAREGIVER AVAILABLE:  
Look after elderly, disabled people, children, &  
animals in your own house; also house sitting &  
gardening. For more info phone 022 414 5960 
CLOTHING ALTERATIONS & REPAIRS: 
Hems, Zips, Dressmaking Ph: Win 4312027  or  
027 444 8358 Winsome Designs.
HALL  HIRE:  available from Absurdistan Communi-
ty,  Parekura  Rd.  Enjoy  our  beautiful  hall  and  harbour 
views  for  your  special  day,  course  etc.  For  more  info 
ph 4312202 or 021 2377678
FREE  GRAZING  WANTED:  We will manage your 
small or larger block with our calves or cattle. Can do 
some fencing and water. Ph: 4312006 after 6pm   
BERNZ  MASSAGE  THERAPY:  Diploma  Therapy 
Massage from NZCM; Relax and Rejuvenate; Muscle Injury Re-
covery;  I"m a Mobile Massage Service. Competitive rates in Kai-
waka, Mangawhai, Maungaturoto. Ph: Bernie 021 0232 5741 or 
4312816
SENIORNET MANGAWHAI INC 
Notice is hereby given that the  
The Annual General Meeting of SeniorNet 
Mangawhai Inc  
Will be held on 
FRIDAY 22 FEBRUARY 2013 at 2 pm 
At 
The Club, Molesworth Drive, Mangawhai 
Heads 
All members and intending members are encouraged to at-
tend.  Nominations for chairperson and committee will be 
taken from the floor. 
PROVERBS:  
11:28 - A life devoted to 
THINGS is a dead life, a stump;  
a God-shaped life is a flourishing tree.
Hakaru RSA Women"s Section AGM 
Will be held at RSA clubrooms on  
28th February at 1.30pm. 
COMMUNITY FOOD BANK 
It is with deep regret I have to put this notice in the Bugle. 
Just before Xmas 2012 the Community Food Bank Dona­
tion Tin with money in it, was stolen from the Three Fur-
longs Hotel.  There is a video with people who were actually 
there when it was stolen. There is a person seen clearly tak-
ing the tin off the counter. The video is going to be handed 
to the police. 
The Managers of the 3 Furlongs hotel; Maori Women"s Wel-
fare League; Kaumatua Kuia; Reaching out for Youth; and 
Jaques Four Square, agree that this will be put in the police 
hands.  We had to do this to keep ourselves ssafe and clear 
of all blame.  The community were starting to ask us ques-
tions.  At the moment we are pretty desperate for donations 
of food items.  If you are able to help, could you leave items 
at Jaques Four Square please. 
Many thanks to our sponsors: 3 Furlongs Hotel; The Cheese 
Shop; Odd Sox Café; Tapihana and Tearoha Shelford 
(Ratana Church); Pastor John Dekker; Maori Women"s Wel-
fare League/Reaching Out for Youth; Mangawhai District 
Nurses; Kaiwaka Family Support; Jaques Four Square; Kau-
matua Kuia (Kaiwaka/Maungaturoto); and Kaiwaka Postal 
Agency. 
There will be donation boxes left at most of the sponsors- 
names listed. (Give and it will be given back twice fold). 
Arohanui, Marie Morgan, Paula Jaques, Dalleise Jaques and 
Lindsey Hargreaves. 
UNVEILINGS 
Fred (Boogie) & Eva Brown,  
Mervin Kemp, & Liz Van Der Hoek. 
To be held at Otamatea Marae Batley Rd Maungaturoto 
Sat. Feb 9th 2013 11am.  Enquiries 0274933077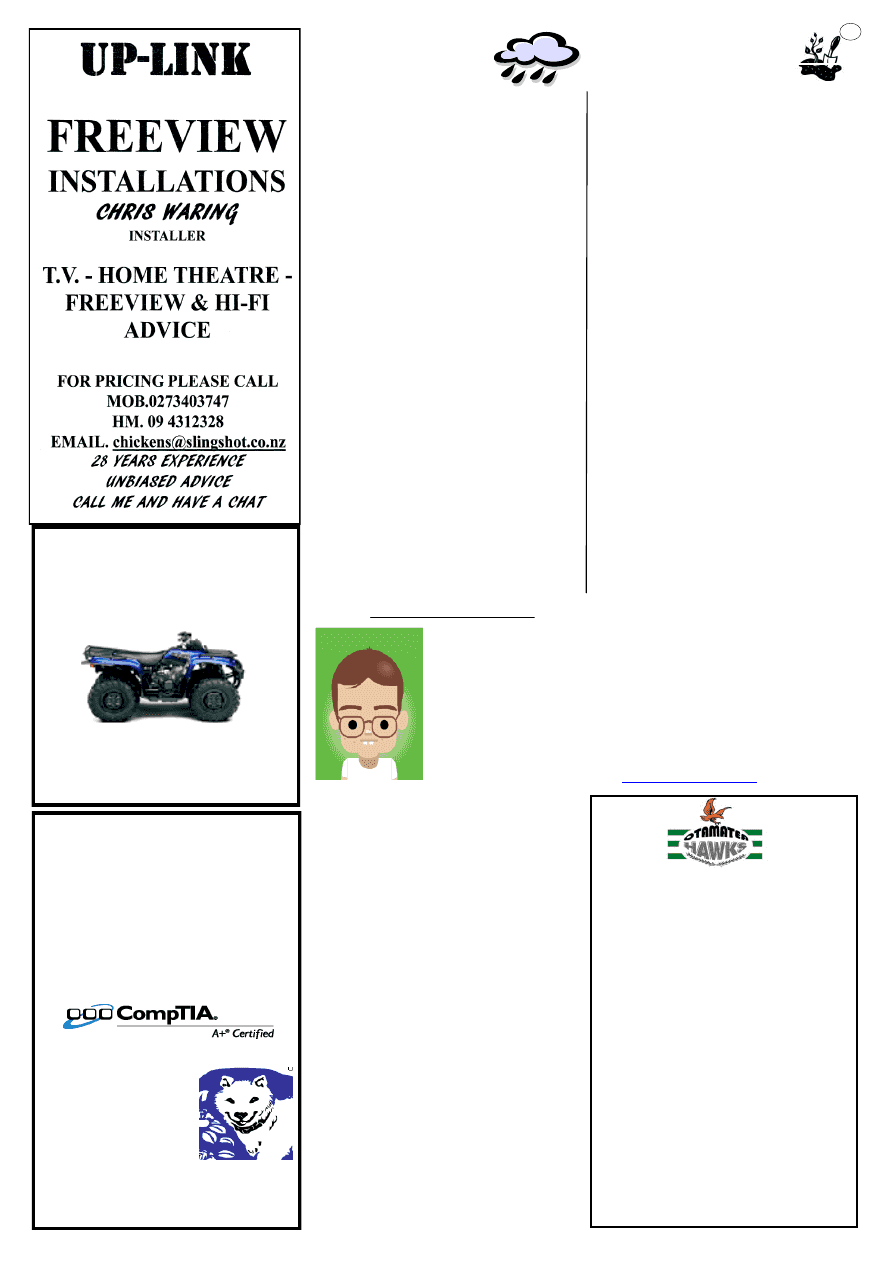 Laughing Dog 
Computers 
Kaiwaka, NZ
Technical Services 
Repairs & Upgrades 
7 Day Service
5 
KAIWAKA  MOTOR 
CYCLES LTD 
SALES SERVICE SPARES
FARM BIKE SPECIALIST
Phone 431 2127  
Kaiwaka-Mangawhai Rd 
Kaiwaka 
 GARDENING 
KAIWAKA  
WEATHER
Phone or text 
0221036636  
Or 
09 9733111 
Geek Speak
by Laughing Dog 
and Mac Puppy 
Watch out for those 
hoax calls telling you 
your computer is in-
fected with a virus etc.  
These are scams designed to relieve you 
of your hard earned. Windows Tech-
nical Support does not cold call about 
computer infections.   
Do not let them have access to your 
computer over the internet or your cred-
it card details. 
Have been trying out naked broadband 
for a couple of months now i.e. broad-
band line but no phone line. Instead of a 
landline your telephone and internet 
come through broadband. There have 
been a few problems mainly due to the 
appalling slow broadband connection 
which at times makes callers sound 
very tired or very drunk and a slight 
delay. So this is why the strange tele-
phone number now – Ph: 9733111(still 
a local call) or 0221036636 if you want 
to text.  There are some nice features to 
this service – caller id and voice mes-
sages are not only able to be accessed 
from the phone but also sent to by 
email. Obviously there are some teeth-
ing problems but so far – impressed! 
Keep you posted..  Corina and Marsh
Otamatea Hawks 
Preseason match 
Saturday 16
th
 Feb 
Hawks vs Waitakere, 
1.30pm 
Kaiwaka Sports Complex 
Come along to 
 support our boys! 
Go corny for cornflowers 
I"ll  be  honest  –  I"m  not  a  fan  of  all 
flowers.  I"m  not  going  to  name  names 
but  some  are  a  bit  cheesy  or  old-
fashioned  and  others  are  a  little  hard 
work.  Cornflowers,  however,  are  a  va-
riety  I"m quite fond of. In my opinion, 
they have universal appeal.  
I  know  all  sorts  of  different  people 
from different generations who are fans 
of cornflowers, all for different reasons. 
They  look  good  and  they"re  easy  to 
grow. But the main reason I"m a fan of 
cornflowers  is  for  the  wild,  non-
conforming feel they add to a garden.  
This pinky, lavender, blue or white col-
oured  flower  grows  well  next  to  cos-
mos  because  they  like  the  same  condi-
tions  and  they"ll  hold  each  other  up.  I 
also like to plant it amongst my laven-
der,  roses  or  delphiniums  for  the  same 
reasons. 
All  you  need  is  a  sunny,  well-drained 
spot with soil that isn"t too sour. Before 
you start planting, I recommend adding 
a good general fertiliser like nitrophos-
ka blue or blood and bone to help give 
the seedlings a good kick-start. 
Then  dig  a  little  hole  and  plant  each 
seedling  around  10cm  apart.  They"re 
quite upright growing plants and plant-
ing  at  this  space  apart  will  allow  them 
to  support  the  weight  of  each  oth-
er.Don"t  have  much  space?  They  also 
grow  really  well  in  pots.  Try  planting 
cornflowers  in  the  centre  of  your  pot 
and  lobelias  around  the  outside.  In 
around  six  to  eight  weeks  your  non-
conforming  plants  will  start  to  flower 
and  provide  a  splash  of  colour  for  au-
tumn.  ~Tod  Palenski,  Awapuni  Nurse-
ries 
Well hello folks.  Already this is my second 
weather  report  for  the  year,  a  bit 
scary.    What  can  I  say  about  the  weather, 
windy,  windy,  windy.    If  it  is  not  coming 
from  the  west  or  south  west  it  is  east  or 
south  east.    It  is  terrible  as  I  do  not  think 
anyone  has  been  sheltered  much  from  one 
wind  or other  for  a  long  while.    The  farm-
land is starting to look real sad and much in 
need  of  rain.   Not  much  on  the  horizon  ei-
ther by the looks of it.  
Well this  is the driest January we have  had 
since  I  started  keeping  track  of    rainfall 
since 1989.   Our wettest January was 1989 
with  343mm.  We  recorded  at  our  house, 
January  2013  10mm.  Jan  2012  74mm.  We 
recorded  3  days  of  recordable  rain  for  this 
year.  Yes it is dry,  I went back to 1
st
 Octo-
ber 2012 to 31
st
 January 2013 and we have 
had 208mm of rain. From October 1
st
 2011 
to  31
st
  January  2012  we  had  460mm 
rain.  So we have had less than half the rain-
fall  for that period.   I see the water tankers 
all over the place now so maybe if you rely 
on  tank  water  you  should  be  putting  your 
order  in  for  a  load  so  you  do  not  run  out. 
Maybe  you  should  have  that  second  tank 
put  in  so  as  not  to  have  to  worry  about  it 
every year.  Well here is looking to a bit of 
rain this month.  Let us hope what is prom-
ised on Monday will come to fruition.  Take 
care out there and do not forget the animals 
and  birds  need  water  also  and  plenty  of  it. 
Bev.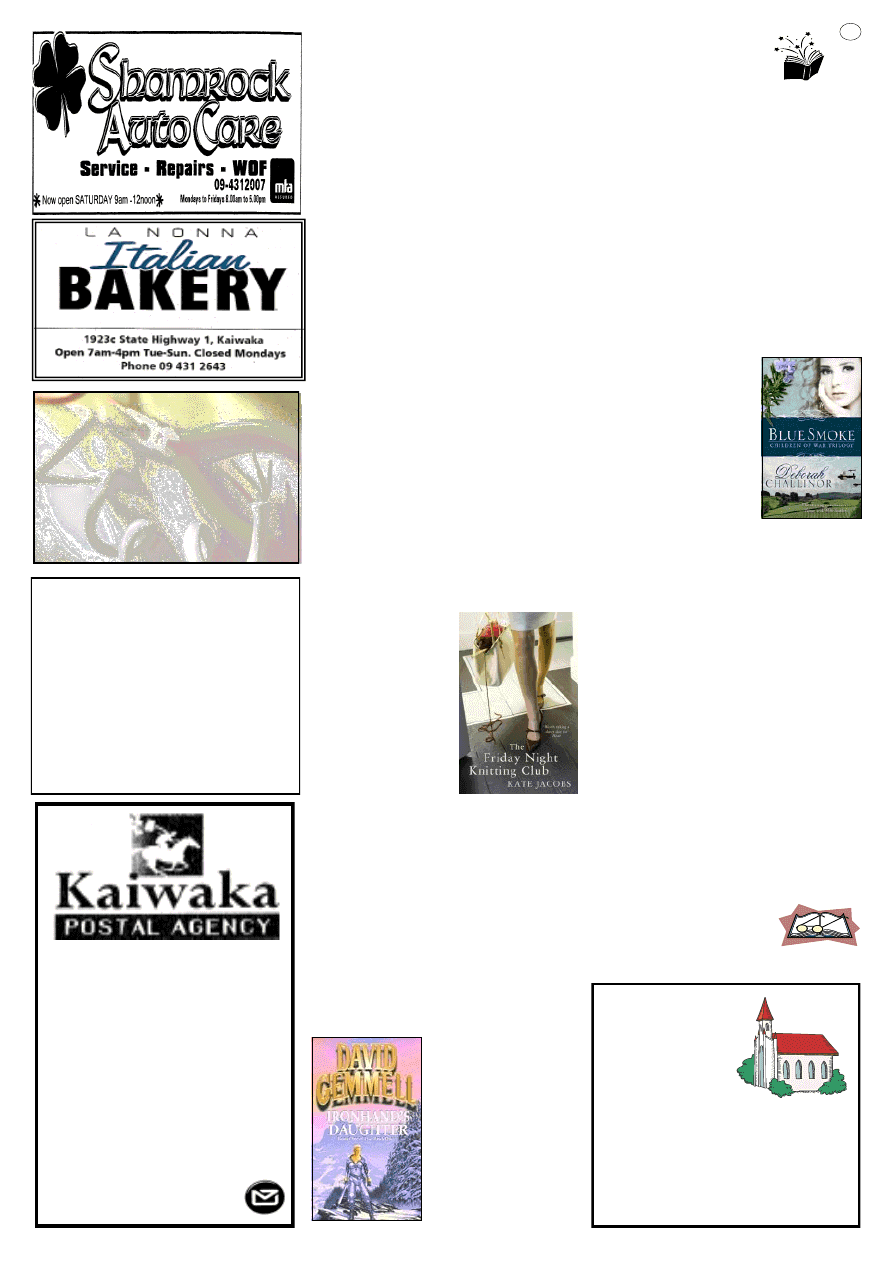 Kaiwaka Library 
Summer 
Book Sale 
$1 each or 3 for $2 
Discarded library books  
and donations only 
Proceeds from the sale of these  
books go to buying new books for your 
library 
Paul Greig Electrical Ltd 
Residential • Farm • Commercial 
Paul Greig 
Registered Electrician 
Ph: 431 2223 Mob:021 230 2717 
Reliable & Professional Quality Service 
Based in Kaiwaka 
11 
ST PAUL"S  
SUNDAY  
SERVICES
First Sunday 9.30am, third Sunday 4pm  
Paparoa Anglican and Wellsford   
Co-op Parishes 
StPauls Church: Kaiwaka-Mangawhai Rd.  
Contacts:M.Hargreaves 4312295, C.Bygrave 
4312057  
1st Sun. (Anglican),3rd Sun. (Co-op). 
Photocopying available 
Up to and including A3 
For all your postal needs 
including P.O.Boxes, car 
registrations, RUC 
4312626 
KAIWAKA LIBRARY REPORT 
We're off to a bit of a rocky start to the new 
year,  with  a recent  upgrade to  the  Kaipara 
District Council's software which somehow 
affected our computer, and it is not able to 
"talk"  to  the  KDC  servers  at  the  moment. 
Very  frustrating  for  all  concerned.  The  IT 
guys  are  on  the  case,  and  I'm  hoping  that 
by the time you read this all will be back to 
normal.  If  not,  please  have  patience  when 
you  come  in  as  we'll  be  writing  down  all 
the  issues  if  I'm  not  in  the  library  myself 
with my laptop, which is connecting to the 
library system okay. 
Don't forget, if you're not already a library 
member,  that  there  is  no  fee  to  join  us, 
thanks to a grant from KDC. You just need 
two  appropriate  forms  of  identification 
(something  with  your  name  and  signature, 
such  as  a  driver's  license  or  Community 
Services  card,  plus  something  to  prove 
your address, such as a power bill or bank 
statement  or  a  letter  from  a  government 
department),  and  fill  in  our  application 
form.  Simple! 
Look  out  for  new  books  coming  onto  our 
shelves - I've gone a bit overboard with the 
shopping  lately,  to  the  benefit  of  the  li-
brary.  If  you  use  Facebook  or  Google+, 
keep an eye on us there as I post the titles 
of  new  books  as they  go onto the  shelves. 
Book reviews get posted there, too. 
Elizabeth  has  been 
listening to The Friday 
Night  Knitting  Club 
by Kate  Jacobs. At 11 
CDs  long,  this  audio 
book  is  a  very  long 
story.  It  is  enjoyable, 
and the end is not quite 
what  you  expect.  It 
starts  almost  by  acci-
dent:  the  women  who 
buy  their  knitting  nee-
dles and wool from Georgia Walker's little 
yarn shop linger for advice, for a coffee, for 
a  chat,  and  before  they  know  it  every  Fri-
day night is knitting night. And as the nee-
dles clack, and the garments grow, the con-
versation moves on from patterns, and yarn 
to  life,  love  and  everything.  They  may  be 
different  ages,  from  different  backgrounds 
and facing different problems, but they are 
drawn together by threads of affection that 
prove as durable as the sweaters they knit. 
Elizabeth  highly  recommends  this  book.  It 
is  on  the  audio  book  shelves  until  late 
April. 
I've  read  Ironhand's 
Daughter  by  David 
Gemmell. Sigarni  is  not 
your  usual  Highland 
spinster  -  at  19  she  is 
strong-willed,  beds  who 
she pleases (and barren), 
and has  few cares  in the 
world.  But  her  world  is 
shattered  when  the  Out-
land Baron wants to take 
her  trained  hawk  for 
himself,  and  she  ends  up  imprisoned  in  the 
cells,  where  she  is  brutally  raped  by  the 
Baron's  men.  The  Baron  lost  an  eye  in  the 
contretemps  and  is  infuriated.  This  is  the 
beginning  of  a  prophecy  coming  to  life  - 
unknown to even Sigarni  herself, she  is the 
daughter  of  Ironhand,  the  Highland  King 
who  died  about  200  years  ago,  and  legend 
says  someone  of  his  blood  is  destined  to 
lead  her  people  to  freedom.  This  is  typical 
David Gemmell  - one of my favourite writ-
ers  -  blood-thirsty,  mystical,  heroical,  and 
all those things that make up a good fantasy 
adventure.  This  is  the  first  of  two  books  in 
this  series,  and  I'm  reading  the  second  one 
now.  This  book  is  on  the  Rental  Fiction 
shelves in the library. 
Blue  Smoke  by  Deborah 
Challinor.  In  this  third 
and final installment in the 
life  of  Tamar  Murdoch, 
we  start  with  the  Napier 
earthquake  in  1931,  when 
Tamar  and  her  daughter 
Keely are right there in the 
thick  of  things.  Tamar's 
grandchildren are growing 
up,  just  in  time  to  be 
called  into  service  for  World  War  Two  - 
young  girls  and  boys  alike.  I  enjoyed  this 
book as much as the previous two, "Tamar" 
and  "White  Feathers".  This  book  is  on  the 
Rental Fiction shelves in the library, the first 
two are on the Free Fiction shelves. 
Elizabeth  has  read  The  Reversal  by  Mi­
chael  Connelly.  As  always  this  is  a  really 
good,  fast  paced  read.  About  half  way 
through  the  book,  you  find  that  you  really 
have nothing else to do but finish the book. 
When  Mickey  Haller  is  invited  by  the  Los 
Angeles  County  District  Attorney  to  prose-
cute  a  case,  he  suspects  he's  being  set  up. 
Why should one of the hottest defence law-
yers in the business agree to switch sides for 
one trial? Especially since the DA's determi-
nation  to  retry  Jason  Jessup,  a  convicted 
child  killer  who  spent  almost  25  years  on 
death row before DNA evidence  freed him, 
seems  doomed  to  failure...  This  book  is  on 
the  Dargaville  shelves  in  the  library  until 
early May. 
See you in the library! 
Wendy Howard, Librarian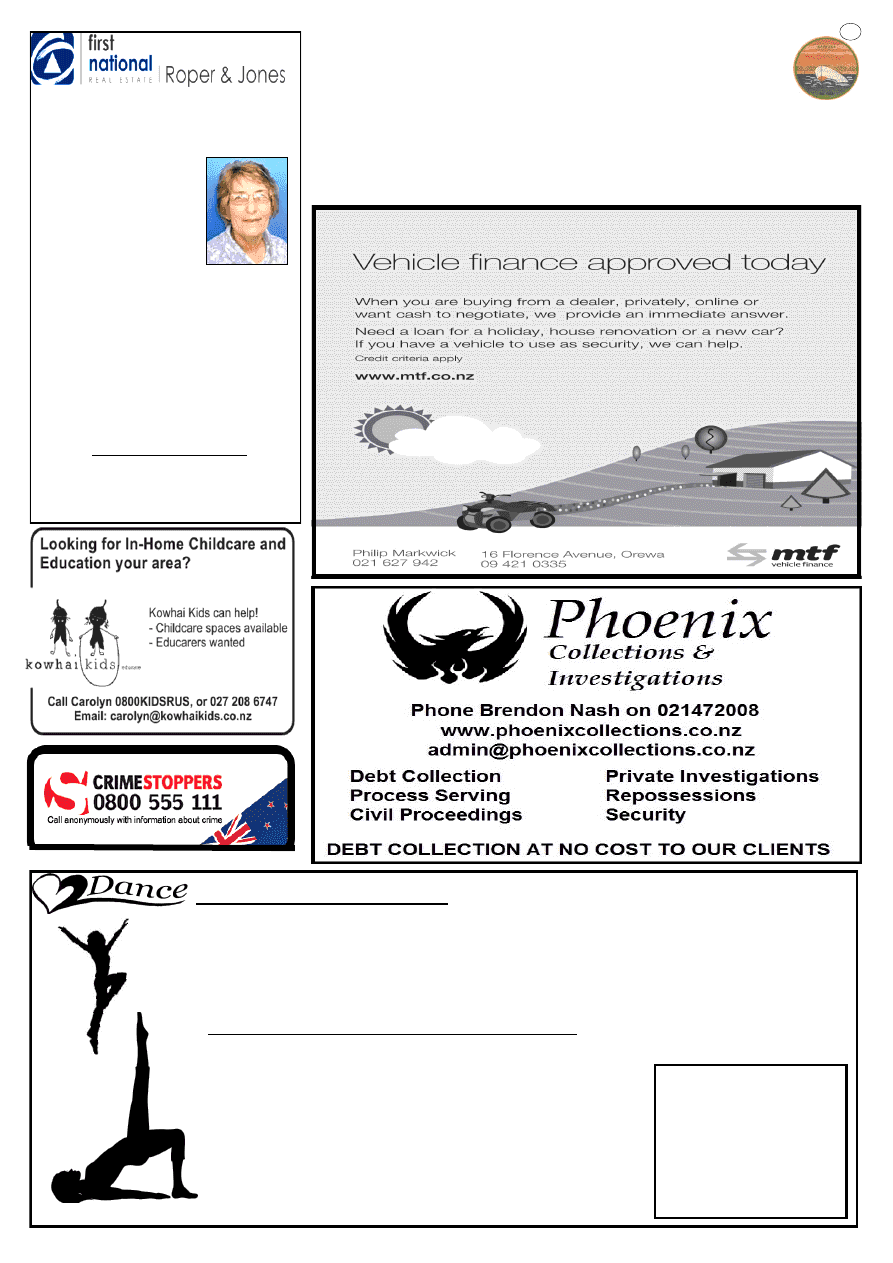 9 
Point Curtis Cruising Club
Fish of the month: Kingfish until 12 February 2013.  Weigh in your  
Kingfish to win 1st, 2nd or 3rd prize in our monthly competition.  MAF rules  
apply.  Thank you to our generous sponsors for this contest: Jaques 4 Square,  
La Nonna Italian Bakery, and Kaiwaka Motorcycles. 
Next committee meeting 7pm, 12 February 2013 at 3 Furlongs Hotel, Kaiwaka. 
Wayne Leslie, Commodore. 
Felicia Doornenbal 
"Covering the Kaipara" 

List 

Sell 

No obligation  
   honest appraisals 
 
CALL ME– Your Local Kaiwaka 
Real Estate Connection 
 
Mob:021-858115 
A/hr:09-4312059 
Bus: 09-4311016 
e-mail: felicia@ubernet.co.nz 
Freephone 0800 311 322 
www.roperandjones.co.nz 
Mary Madden
Love 2 Dance,
& Pilates.
Mangawhai.
P: (09) 431 4351
M: 0210348450
E: 
love2dance@xtra.co.nz
 'Dance 4 children' 
(4yrs - teens)
Classes are fun, creative, theatrical and jazzy!  
Learn a fusion of dance styles to all types of music. Develops rhythm, co-ordination, 
confidence, body awareness, fitness, flexibility and performance skills.  
Term one starts from Tues.12th Feb. 6pm. Book in now! 
'Pilates mat classes' 
(all ages)
Do you desire to have a strong core, flat belly, long lean 
muscles, flexibility, strength, balance and great posture?    
…………Yes!! 
Can you improve your fitness, eliminate niggling back &  
joint pain & reduce stress while you energize your entire 
body?  Yes!!
………………..
So what are you waiting for?
#Free intro. session for new beginners! 
 Thursday. 7
th
 Feb @ 9:30am or 6pm. Book in now!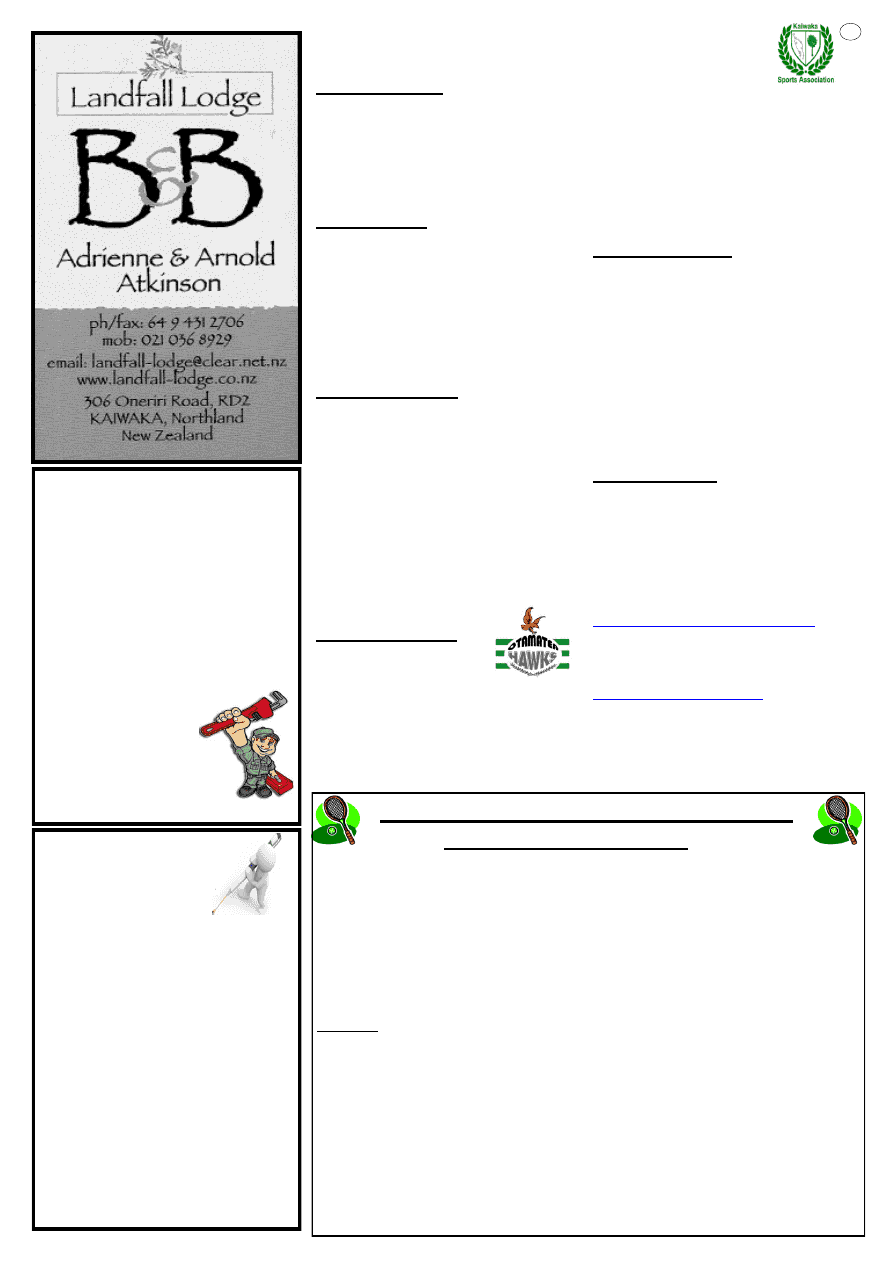 Ross Murphy 
PLUMBER 
Certifying Plumber 
09 431 7510 
021 424 252 
 Paparoa Based 
+
New Housing 
+
Renovations 
+
Maintenance 
Topnotch  
Engraving
Quality  
Engraving Service  
www.tnengraving.com 
www.pettagsnewzealand.com 
Phone (09) 431 2174 
or  
7 
KAIWAKA SPORTS ASSOCIATION
" 
ENGRAVING    & 
SALES 
" 
NAME   BADGES 
" 
SIGNAGE 
" 
PET TAGS 
" 
JEWELLERY 
" 
TROPHIES & 
CUPS 
" 
AWARDS & 
MEDALS 
" 
GIFTWARE 
" 
CLUB ORDERS  
or ONE OFFS 
Movie Night 
Looking for a fun, family-friendly night 
out? We will be showing the movie 
Diary of a Wimpy Kid – Dog Days at 
the Sports Complex on Friday 22
nd
 Feb-
ruary. Doors open at 7.30pm. Only $4 
per adult and $2 per child Yr9&under. 
Quiz Night 
As a fundraiser for the Sports Associa-
tion, we will hold a Quiz Night at the 
Complex on Friday 15
th
 March. Teams 
of 4 – 6, supper provided and bar 
open. Prizes for the top three teams 
plus lots of spot prizes! $10 per head. 
Register your team with Cheryl on 
4312 051. 
Junior Tennis 
Junior tennis is on Saturday mornings 
9 – 10am at the Kaiwaka courts. Coach 
Grant van Dalsum will coach the play-
ers during Term 1 on Mondays from 
4.30 to 5.30pm. Any primary or high 
school aged children are welcome to 
come along. Thank you to the junior 
tennis parents who helped with the 
kitchen roster at the Otamatea Tennis 
Tournament. For information on junior 
tennis please phone Lindell Ferguson 
(evenings) on 4312 542.  
Senior Rugby 
Even though we are still 
in the middle of summer, 
thoughts are turning to rugby. The 
Otamatea Hawks first pre-season 
match will be held at our grounds on 
Sat 16
th
 February, kickoff 1.30pm – a 
chance for our new coach Paul Mant to 
put the boys through their paces!       
A Rugby Smart course (for 
coaches of grades U14 and above) will 
be held at the Complex on Monday 4
th
March at 6.30pm. The next Otamatea 
Rugby meeting will be held at the Com-
plex on Tuesday 26
th
February at 7pm. 
And registrations for our Otamatea Rug-
by Reunion in April have already started 
to come in! 
Junior Rugby 
Our junior rugby club, Eastern United, is 
also preparing for the season with their 
AGM at the Complex on Monday 25
th
February, 5.30pm. All parents of JMB 
children are encouraged to attend. 
Their Registration Day will be held at 
the Complex on Sunday 17
th
 March, 
9.30am. All boys and girls interested in 
playing rugby are invited to attend. For 
JMB enquiries phone Rebecca Blissett 
on 4312 085. 
Martial Arts 
Our Martial Arts instructor Craig Ben-
netts is starting a new class on Sundays 
at 8.30am in our gymnasium beginning 
on Sunday 17
th
 February. Learn Tai Chi 
for harmony, wellbeing, balance and 
relaxation. For enquiries please phone 
Craig on 4315 170 or email  
otamatea.kempo@slingshot.co.nz
And lastly a special thank you to Steve 
Campbell who does a great job keeping 
our website up-to date. Visit 
 for details on 
any of our upcoming events or infor-
mation on our affiliated sports clubs. 
Cheryl Anderson 
Manager 
      OTAMATEA TENNIS TOURNAMENT 
Anniversary Weekend
The weather over Anniversary Weekend was a mixed bag of wind, sun and rain, 
but that didn't dampen the enthusiasm of the players who turned up to the Kai-
waka courts to compete in the annual Otamatea Tennis Tournament. 
Plenty of players and supporters took advantage of the free camping at the Sports 
Complex grounds and at the prizegiving many players made mention of how 
much they enjoyed the friendly social atmosphere at Kaiwaka and always looked 
forward to coming along every year.  
Thank you to the many people who made this tournament possible – organisers, 
kitchen helpers, BBQ caterers, bar staff and to our many generous sponsors. 
Results: 
Mens Singles: 
Winner:  Hamish Thomson 
Runner up: David Garnier
Ladies Singles: 
Winner: Diana D'Audney (6th time she 
has won this!) 
Runner up: Paula Stubbing
Mixed Doubles: 
Winners: Roger Collins and Aneta 
Tarabova 
Runners up: Alex Weatherhead and 
Karen Lorimer. 
Mens Doubles: 
Winners: Alex Weatherhead and Hamish 
Thomson 
Runners up: Merv Tane and Keith Cock-
ing
Ladies Doubles: 
Winners: Paula Stubbing and Lana 
Sokolnikova 
Runners up: Hana Ruzickova and Marina 
Sokolnikova 
SPECIALISING IN: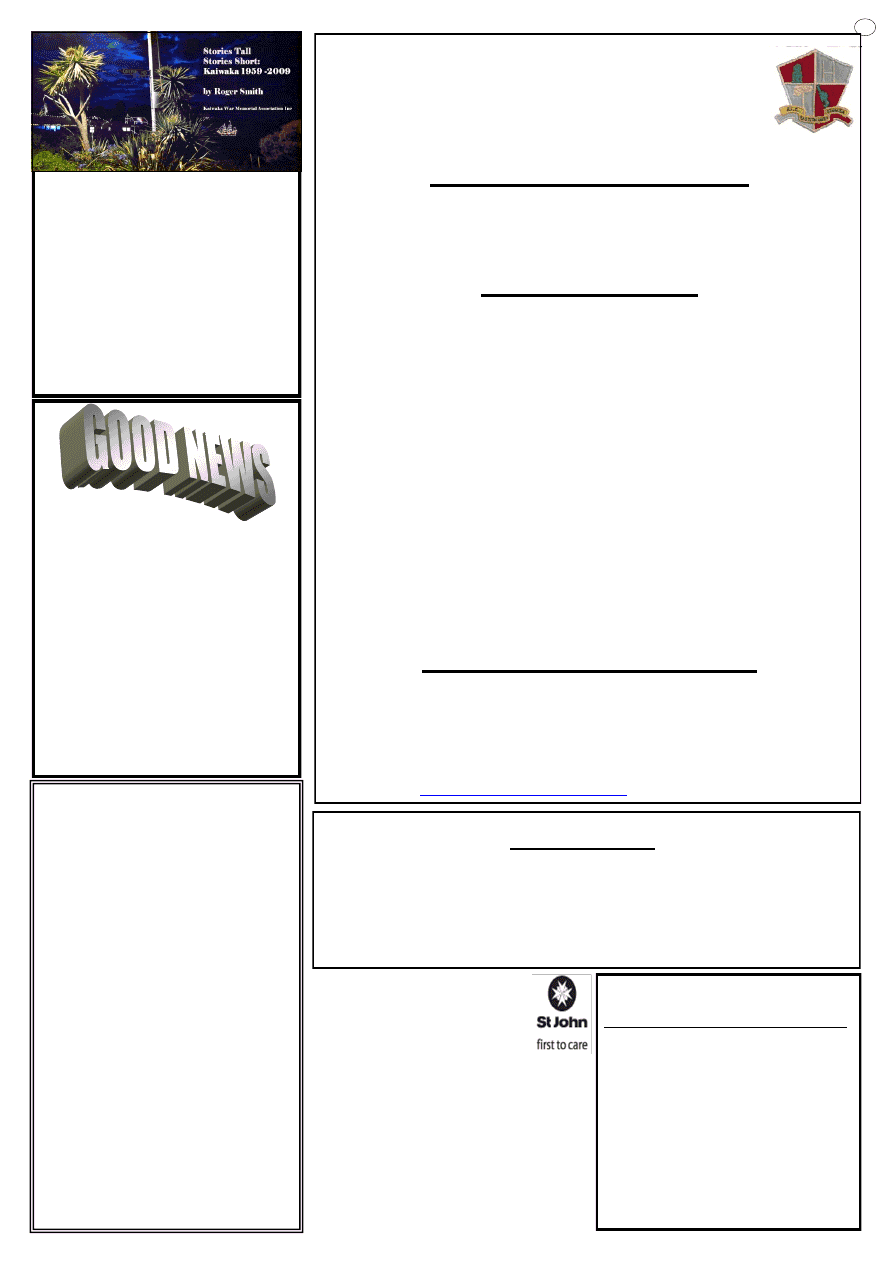 @ the  
Kaiwaka Family 
Church 
 Your COMMUNITY 
CHURCH 
Each Sunday  
10am:  Lively Family  
 
    Programme 
 
Everyone warmly welcome.
Ph: Pastor John Dekker     
09 4318203 
THERE'S 
AMBER'S 
Q Cafe &  
Restaurant  
All day breakfast, 8am - 5.30pm.     
Home made Pizza, take away or eat in from 8am to late. 
 Light lunches, 11.am - 5.30pm, 
Dinner Menu at 5.30pm to late 
 Toasted Sandwiches and Sandwiches made to order. 
All day, Pies, Chowder & Soups 
 Milkshakes, Kiwi Ice cream, Slushie Fruit drink, Tea, 
Coffee 
 Closed Mondays.....except Observed Holidays 
 Sunday to Thursday: 8am - 8pm 
 Friday: 8am - 8.30pm, Saturdays 8am- 9pm 
4315226 
Trevor & Amber 
41 Moir Street, Shop 5-6  
Mangawhai Village 
Next to Carters Building Supplies 
KAIWAKA  
HISTORICAL  SOC. 
"Stories Tall, Stories Short  
Kaiwaka 1959-2009"  
by Roger TW Smith.  $40 
"KAIWAKA: 
A Photographic  
History"  
$25 
Contact D. Hastie 4312192 
Available at Jaques Superstore 
Community Services Officer: 
For all Community Services Forms 
see Millie at the Kaiwaka St John 
Op Shop. Phone 4312423 
MORE MEMBERS REQUIRED 
FOR THE KAIWAKA 
STATION. 
St John Lifelink: 
For those of you who are living on your own, or if you have a condition that could require 
urgent assistance, call  
0800 50 23 23.  This is the number of the St John Lifelink.  Once you have one of these 
gadgets you can feel reassured that help will be immediately on the way should you feel 
the need to activate it.  This service operates 24 hours, 7 
7 days a week.  To find out more, give St John a call on the above number. 
ST JOHN OP SHOP 
Hello Everyone, 
We are in need of beds, drawers,  
crockery, nic nacs and anything 
you have that"s saleable please. 
Has anyone got a spare hose we could  
have for our garden? It would be greatly 
appreciated. 
I still don"t have my phone back yet 
(locked) so you can phone me on  
09 4312423.  Thanks again for your 
continued support. 
Milly 
Eastern United JMB 
Planning is underway for the 2013 season. Please put 
these important dates in your diary.  
Upcoming events: 
Annual General Meeting 
Monday 25
th
 February, 5.30pm 
Kaiwaka Sports Association 
All Welcome 
Registration Day 
Sunday 17
th
 March, 9.30am 
Kaiwaka Sports Association 
Please make the time to register on this day, or contact me  
directly if you are unable to attend. We need to know the level 
of interest so that we can begin to register our teams and meet 
Rugby Union requirements. We expect the season to begin in 
April with practices early April and games by the end of April. 
This is subject to confirmation. 
All children welcome ages 4 – 13, parents you must attend to 
sign the registration forms. We will be having a boot swap/sell. 
Please ensure that all boots are clean and clearly labelled with 
your name and a price. Come along and catch up with your rug-
by mates, make new ones, have a swim, have fun! 
Otamatea Rugby Reunion 
We will be playing a game at the reunion on Saturday 20
th
April, KSA grounds. Further details to follow. 
Any enquiries to: 
Rebecca Blissett, Eastern United JMB President 
094312085 
15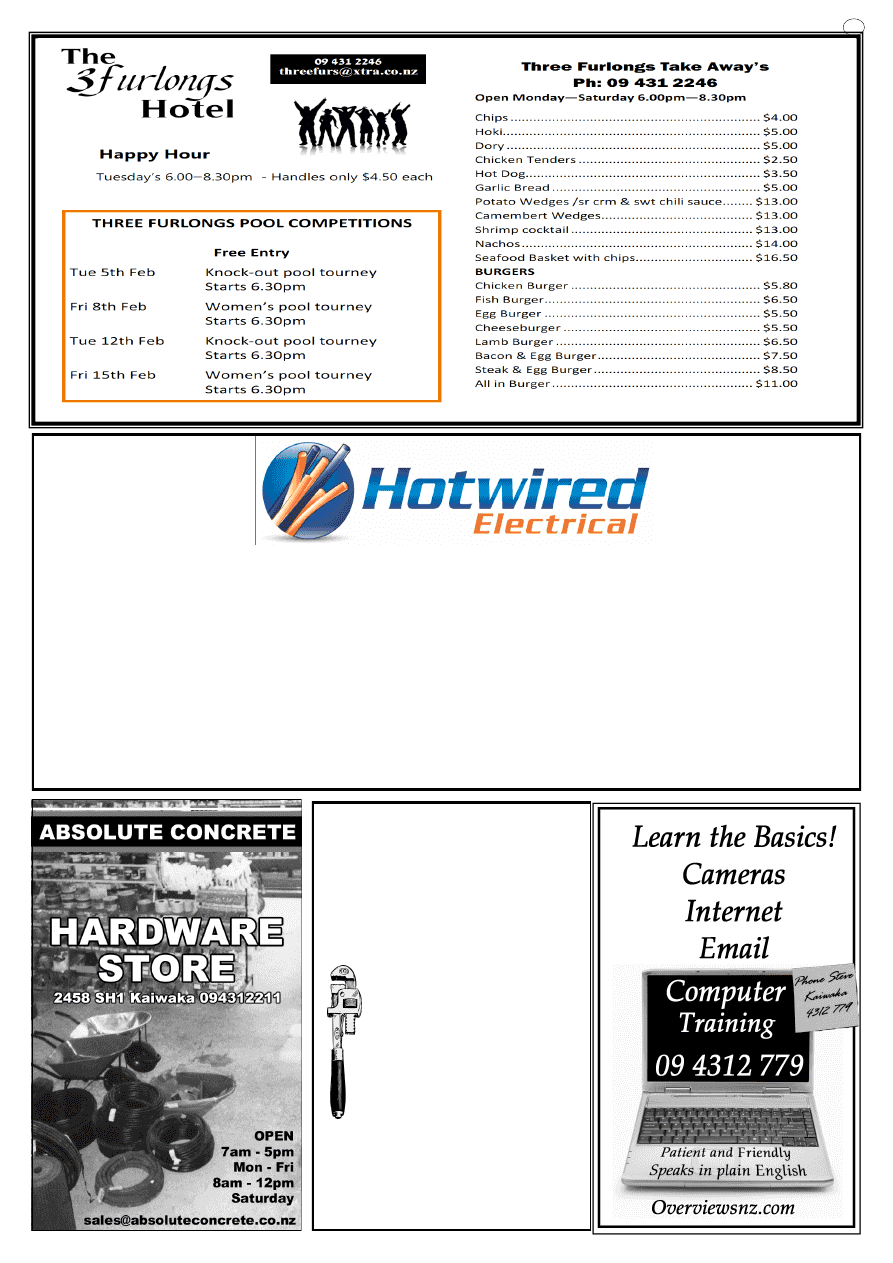 BARRY CURTIS  
PLUMBING LTD 
REGISTERED CRAFTSMAN 
PLUMBER 
Phone 4315572      
027 257 9884 
     25 years experience 
 
  
  
       Friendly reliable service 
  
All plumbing and  
maintenance 
       Alterations and new housing 
       New wood fire installation 
       Spouting 
       Competitive rates
 
PROMPT EFFICIENT SERVICE  
13 
For All your Electrical  Requirements 
"
  Domestic small jobs 
"
  Residential dwellings and alterations 
"
  Commercial  
"
  Industrial           
No job too big or too small 
Contact Jason today on: 
(09) 431 5992, (021) 405 019 
www.hotwiredelectrical.co.nz 
 17 
    KEV's  
  CASKETS 
   Stylish, BUDGET Accommodation 
     Takeaways (8 available)  
     or made to order 
         Featuring 2 styles and  
                   Different finishes. 
              Also O/S and Infant size 
Phone Kev in Kaiwaka  
021 1322 671 
Or come and visit my  
showroom 
    104 Settlement RD, Kaiwaka 
www.the-nz-alarmshop.co.nz 
Protect your home, bach, shed, garage, camper, 
boat…. 
Monitor your property, watch what's going on. 

Easy to install and manage DIY GSM Alarm Systems, basic 
or extended features, suitable for everyone, expandable to 
your requirements. 

Text or call alerts to your mobile and nominated phones. 

Camera Alarm System sends images to mobile or email. 
NO ELECTRICIAN, NO WIRING, 
NO MONTHLY COMMITMENT, NO LAND LINE NECESSARY! 
         $249.00     
              $399.00    
*Phone not included
 For more interesting products please check our web site  
To order or for more information:The NZ AlarmShop,  
email: 
, ph 09-4315905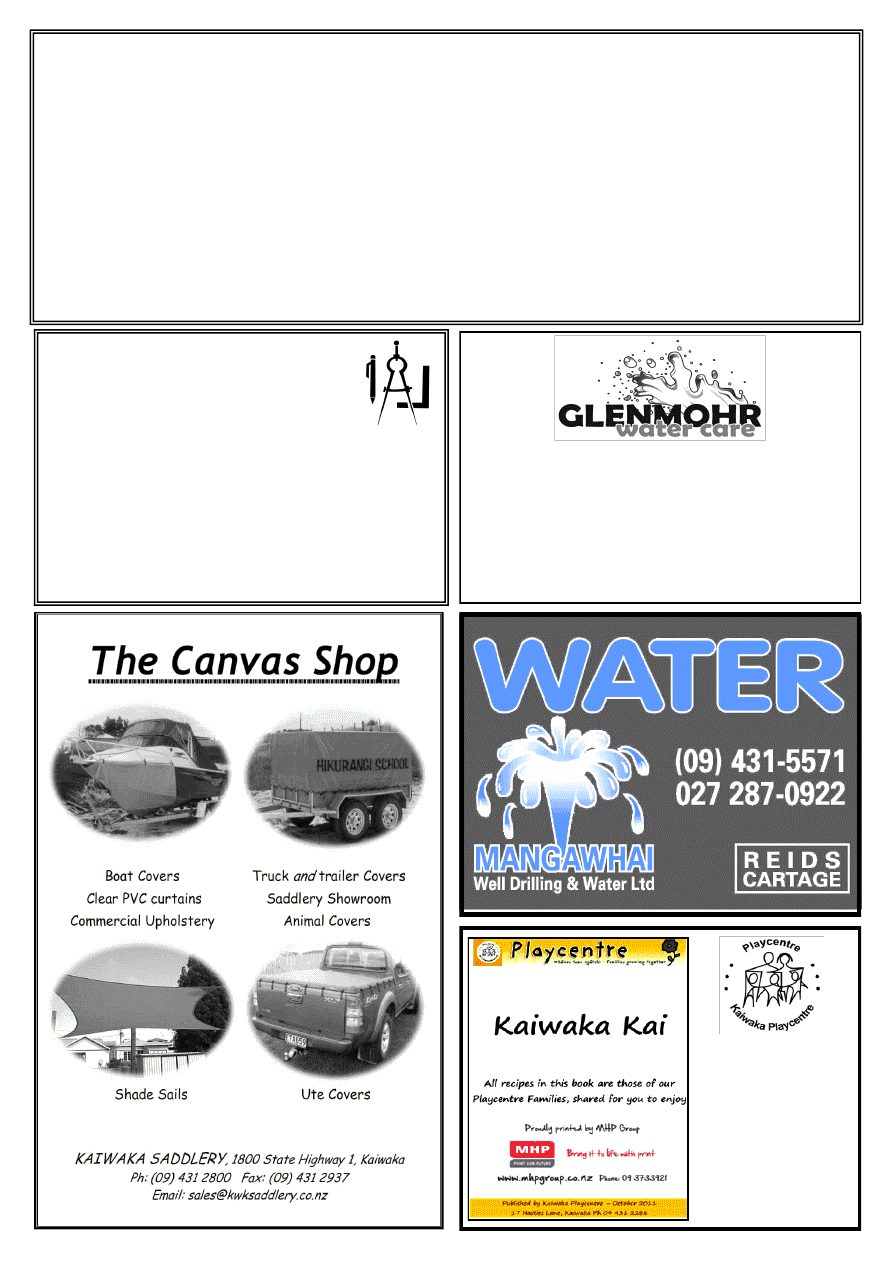 RANGANUI EARTHMOVERS 
 
16T Excavator   
(tilt, thumb & ROPS cab)   
Transport Trailer 
2 x 6 Wheeler Tip Trucks 
Suppliers of All Grades of Metal & Topsoil 
 
If you want a proper job done with an experienced operator ring 
Grant on    A/H 431-2131        Email  ranganui.dev@xtra.co.nz 
   Mob  021845-246 
Driveways, House Sites,  
Drainage Dams, 
Section Clearing,  
Tree Work,  Rock Retaining Walls,  
Quarry Work, 
Basically Anything That a Digger Can Do 
design drafting 
service 
Retired builder and manufacturer with over 40 years  
experience in the building industry is offering a design 
drafting service  
for domestic housing, sleepouts and sheds.  
Plans formulated in consultation with clients, with 
working drawings completed and submitted to  
council for processing.  Extensive practical experience,  
able to identify & resolve problems. 
Please ring Mike Lean on 
09 431 2260  
or 
021 431 196 
Water Tank Cleaning 
" 
 Keep your water safe & clean   
 
Removal of sediment, silt etc 
 
Vacuum or full scrub 
 
Minimal water loss 
Phone Mark (09) 432 0655 or 0274 707607 
Get your copy from: 
Jaques Four Square 
Kaiwaka Postal Agency 
Kaiwaka Cheese Shop 
Cafe Eutopia 
The Well of Health 
Tony's Maungaturoto 
 
Or email  
jodygreig@clear.net.nz  
or phone 431 2223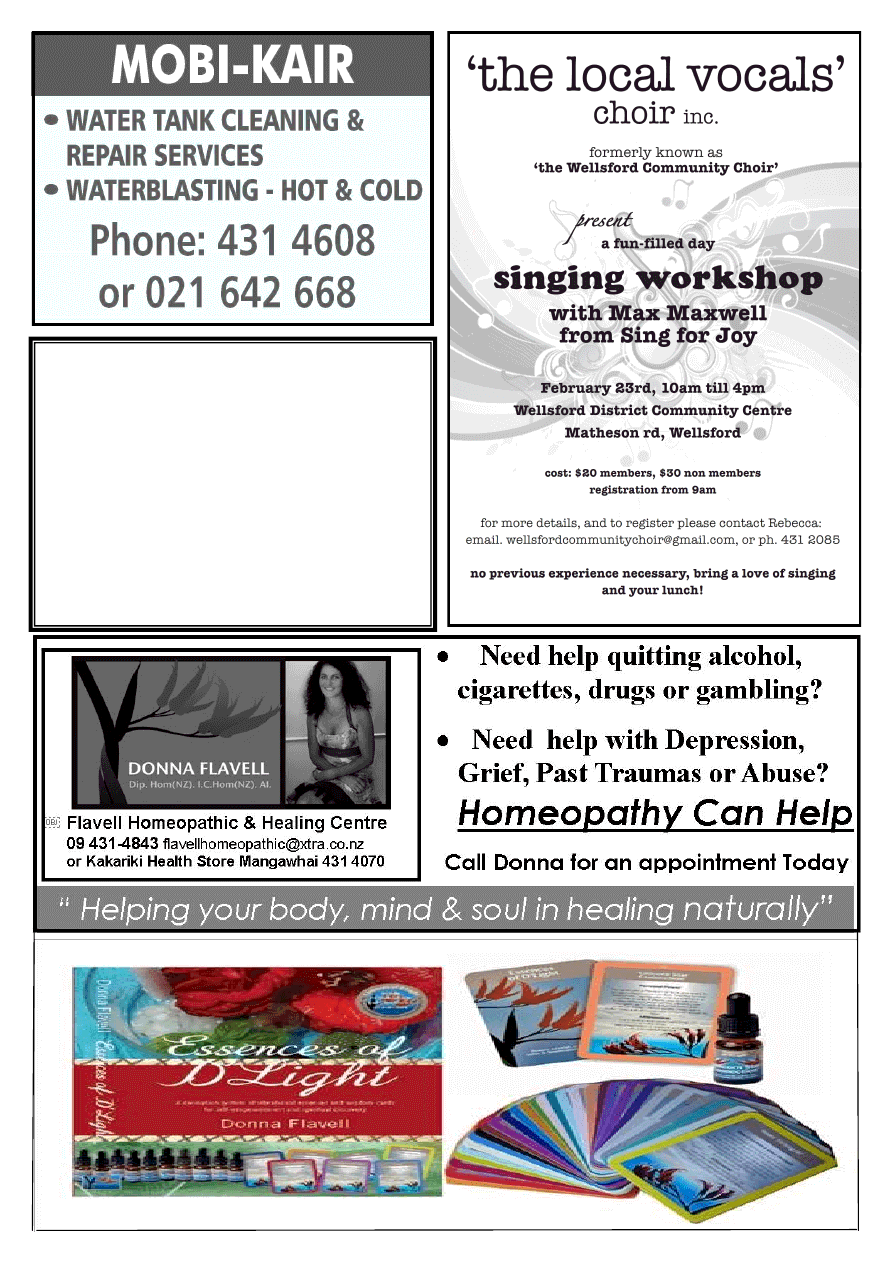 TILING 
Certified Waterproofing 
431 4533 or 021 86 33 33 
George 
MCN Property Solutionz  
Local references available 
Be on the lookout for Donna's new book Essences of D'Light  which was released December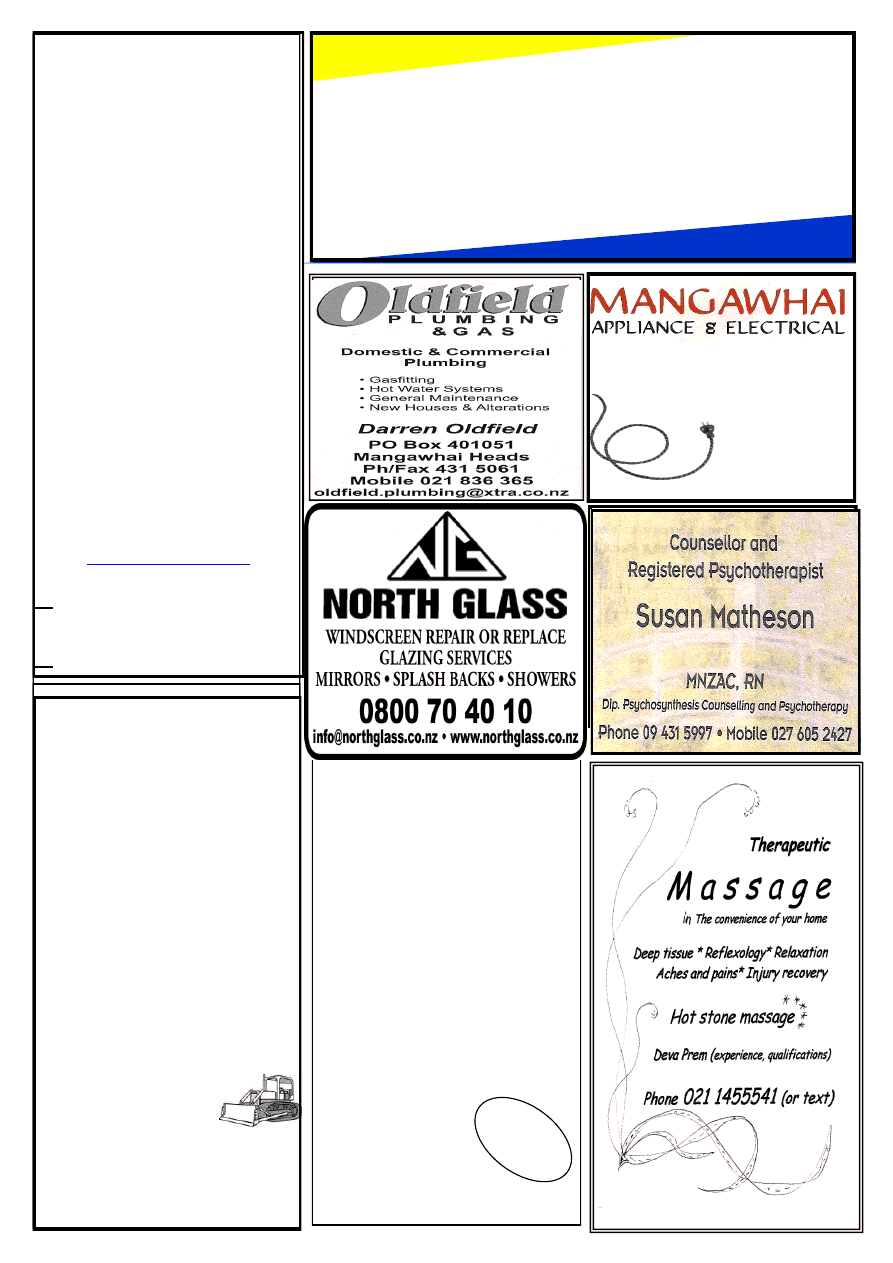 www.mangawhaimassage.co.nz 
CONCRETE 
If it's concrete we do it 
Full Preparation & Pour by 
Experienced Local Team 
Phone Phil Keen Contractors  
027 659 2376 
Bas
ed o
ut  
One
riri 
Roa
d 
HODGETTS
CONTRACTING
Digger Work    

Driveways 

House Sites   

Dams 

Drains, etc
Also available for HIRE 

3 ton Vib Roller 

Heavy Duty Tow 

Waterblaster  

Lazer Level 
Phone Mark 
4312877 
027 447 8554
DEAN STEWART 
Registered Electrician 
12B Wood St.  
Mangawhai Heads 
021 280 4008 
09 4314651 
AUTHOURISED FISHER AND PAYKEL SERVICE 
Bonjour, tous les mondes! 
Happy, prosperous 2013 
Not a fully functioning person...with those 
niggles, aches and pains? You guessed it.  
 I can help!
Monsieur Masseur .... 
RELAXING  
MASSAGE
..... Juste pour vous" 
Here's feedback from a happy client 
"Pete's treatment works. He identified 
long standing injuries no one else could 
fix and relieved years of chronic pain, 
fatigue and headaches.  I have Pete to 
thank for getting me back to work. I am 
so much happier and more confident in 
myself.  I can thoroughly recommend 
him." 
 
Call for an appointment now!
Pete Worsfold 
4312 152  or   021 825970   
Or  Ph. "The Well of Health" 
For an appt. 09 4312 799 
 
Or mobile service available 
Coates  
Contracting 

D41 Bulldozer with 6 
way blade, bush rigged 
with winch 

For all tree work 

General bulldozing and  
  stick raking. 

120hp Tractor for 
ground cultivation,  

tip trailer work. 

Fencing
All enquiries phone  
Brett Coates  
094318720 or mob 
021431872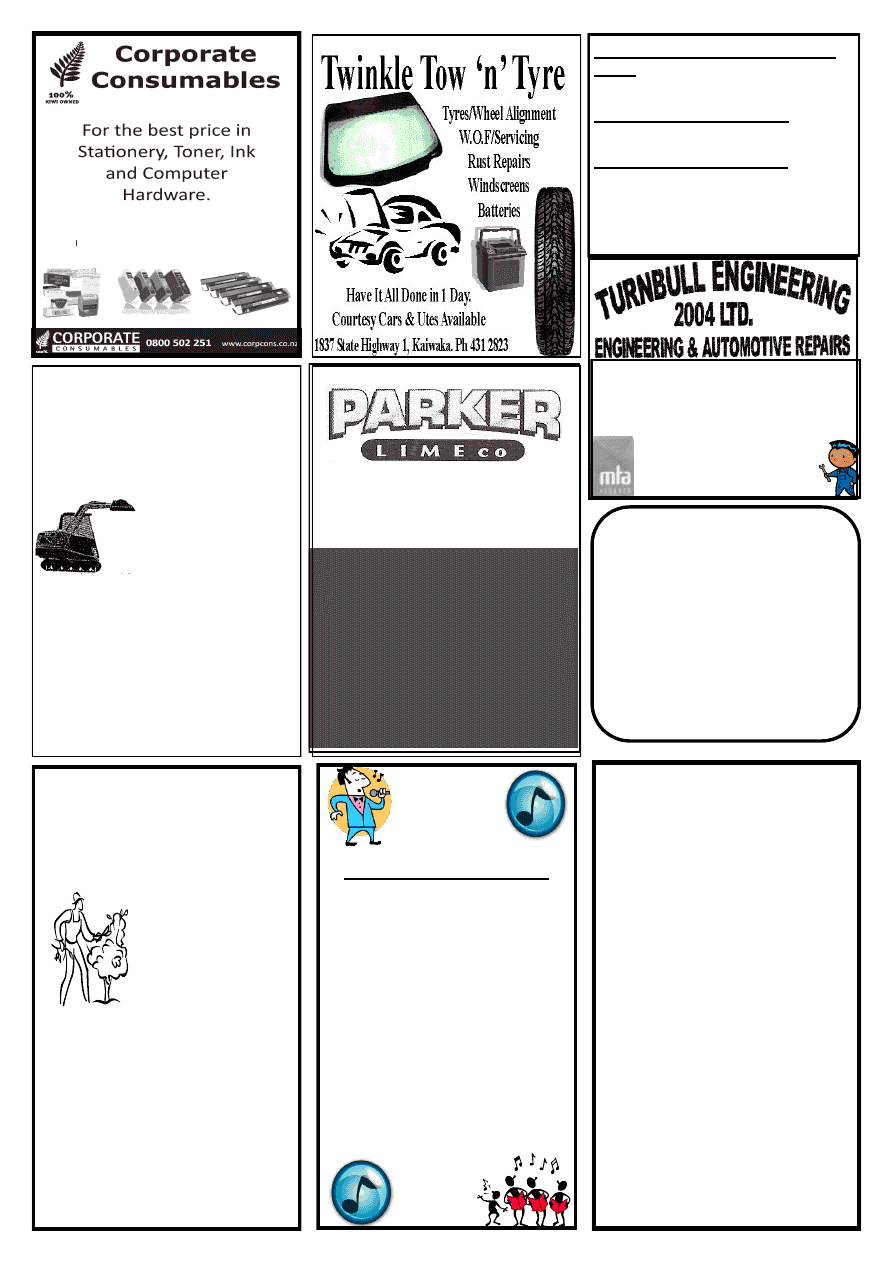 T.W.WRIGHT 
WATER PUMPS  
SALES & SERVICE 
DEEP WELL & SUBMERSIBLE REPAIRS 
203 WHAKAPIRAU RD, WELLSFORD 
PHONE 09 4238235   
MOBILE 021 976 545 
For all Your Mechanical  
and Engineering Needs 
WOF
AVAILABLE 
758 Kaiwaka-Mangawhai Rd 
4312148
Landcare 
Services
Dave Hyndman  
     4312302 
   021 431238 
Trenching, Hole Boring, Land 
Levelling,  Driveways, 
Landscaping,  Post Peel,  
Pig Post, Lifestyle block 
mowing, etc....also Rotary 
Hoeing 
For reliable and friendly service 
contact Dave 
Landscape Supplies 
Bulk Cartage 
4312407 
Mob: 021 453 252  
Fax: 4312939 
 scott.parker@parkerlime.co.nz 
Gibbons Road,  
Kaiwaka 
Willow Bend
HORSE  
HOTEL 
"   
Total Horse Care 
" 
Agistment 
" 
Riding Lessons 
" 
Arena Hire (60x40) 
" 
Young Horse Starting 
" 
Re-training/Exercising 
" 
Hoof Trimming 
" 
Problem Solving 
Phone Sue 09 431 2817 
or 021 623 776 
Or email sue.gray@xtra.co.nz 
Phone Andie or Gavin 
on 
0800 502 251 
OUT THERE 
GARDENS AND LAWNS 
Lawn Mowing – Any Size 
Section Clearing  
Hedge Trimming  
Spraying  
Planting 
Pruning   
Gutters Cleaned 
Chainsaw Work 
Regular Services 
General Maintenance 
Garden Waste Removal 
Free Quotes 
Get The Job Done! 
Servicing Kaiwaka/Mangawhai 
Contact Phil Jones 
027 243 5503  
431 2196  
Email: outthere09@gmail.com 
Kaiwaka Bugle Advertisements  
2013: 
Classified $2 (max 30 words); 1/8 page $5;  
1/4 page $10; 1/2 page $20;  
bugleaccounts@kaiwaka.co.nz 
Payments  can  be  online,  posted  or  left  at 
Jaques 4 Square Store. 
kaiwakabugle@kaiwaka.co.nz  for  
queries or copy.  
The Kaiwaka Bugle  is a community news-
paper  run  by  volunteers.    Articles,  etc. 
printed  are  not  necessarily  the  opinion  of 
the Bugle Team  
Singing Lessons 
Individual sessions 
All styles of music  
All voice types 
Reasonable rates 
Phone  
Maura Flower 
021 164 8318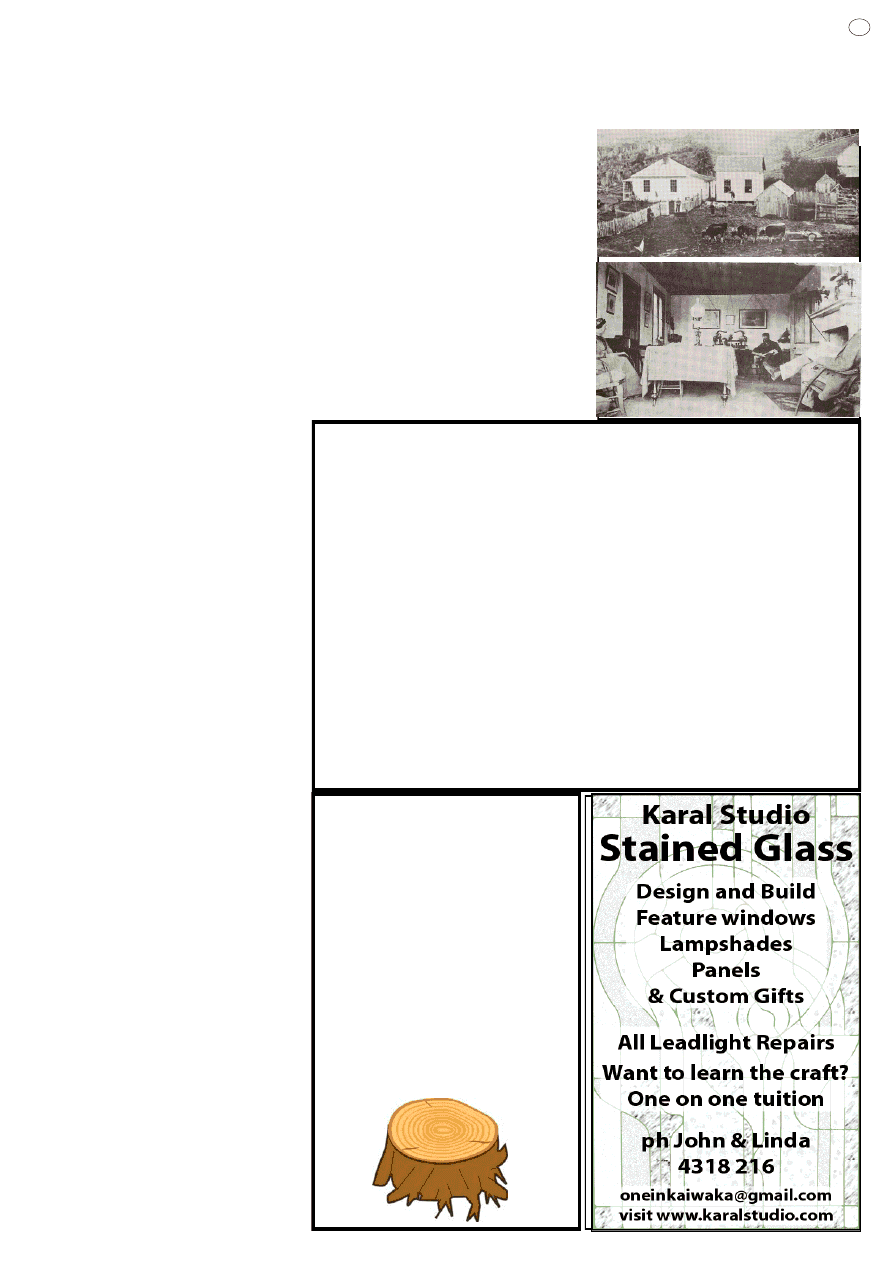 PLANNING A NEW KITCHEN? 
 CONTACT NOEL McDOWELL
WELLSFORD KITCHENS
Ph/Fax 094312888 
KAIWAKA-Any time
  QUALITY CUSTOM MADE KITCHENS  
~Personal and Prompt Service~ 
~All Workmanship Guaranteed~ 
~Over 20 Years in the Trade~ 
~Free Design & Quote~ 
17 
WHEN  THE    LOCALS 
LEARNT TO MOAN 
Rate demands are always a talking point 
and  often  bring  forth  some  hard  words 
as  to  how  and  where  they  should  be 
used,  and  this  has  been  the  vogue  for 
more  than  140  years  as  it  was  in  1867 
that    the  Auckland  Provincial  Council 
issued a decree that local Highway Dis-
tricts  should  be  formed  throughout  the 
Province.    A  meeting  was  called  for  to 
form  the  Pukekaroro  Highway  District 
at  the  Mangawai  Hotel  in  "The  Daily 
Southern  Cross"  newspaper  dated  25th 
February 1868 and was signed by order 
of  the  Provincial  Superintendent,  Mr  J. 
Williamson.  A meeting was held and a 
rate  was  struck  of  1  penny  an  acre.  
Mangawai  was  included  in  the  Puke-
karoro  area.    In  a  letter  to  the  same 
newspaper dated 15th January 1869, Mr 
J.F.H. Hull wrote to his Honour the Su-
perintendent informing him that while a 
rate of 1 penny per acre had been struck 
for  1868  in  the  Pukekaroro  District,  no 
meeting  had  been  held  in  October  of 
that  year  to  appoint  trustees  for  1869, 
and,  he  stated,  this  was  due  to  the  ab-
sence  of  many  settlers  at  the  Thames 
Gold  fields;  the  poverty  of  others;  and 
the  large  number  of  absentee  owners 
made  Mr  Hull  think  it  not  possible  to 
bring  the  Highways  Act  into  operation 
in  the  District.    The  next  mention  of  a 
meeting  was  one  held  in  Mr  Hull"s 
house  of  the  Pukekaroro  Highway  Dis-
trict  dated  7th  July  during  which  no 
business  of  any  importance  was  trans-
acted, and that a new rate would be lev-
ied  in  October  when  the  next  meeting 
would be held.  In a report of a meeting 
in  the  Southern  Cross  newspaper  dated 
5th October 1869 the following trustees 
were elected for the ensuing year, being 
Mr Robert Ross, Mr William Leslie, Mr 
Joseph  Webster,  Mr  Joseph  Borman 
[Bowmar]  and  Mr  F.H.  Hull  who  was 
elected chairman.  The meeting passed a 
resolution that the Chairman request, by 
public  notice  to  the  settlers  of  Man-
gawai  district,  that  they  hold  a  meeting 
with the view to form that district into a 
Roads Board so that they could cooper-
ate  with  this  Board  in  putting  the  road 
between  them  into  proper  order.    Some 
reports  started  to  appear  in  newspapers 
that  while  rates  could  be  levied,  there 
was  no  one  responsible  for  the  collec-
tion of them and this was leading to ac-
rimony amongst the settlers in the Prov-
ince.  However  Kaiwaka  overcame  this 
problem  for  we  read  that  in  October 
1871  there  are  recorded  Court  cases 
when  the  Chairman  of  the  Pukekaroro 
Highway  Board  is  taking  some  well 
known  settlers  in  the  Hakaru  area  to 
Court  for  non-payment  of  rates.    How-
ever  it  is  Mangawai  that  now  takes  our 
interest as there is a very lengthy letter 
in the "Daily Southern Cross" dated 9th Oc-
tober 1872 that  states that "at  last more life 
has  come  to the  district than  for  some  con-
siderable time past.  We have heard nothing 
of  our  Highway  Board  since  the  day  of  the 
meeting  held  July  last;  even  the  trustees 
knew  not  whether  they  had  an  existence  or 
not; but this last week without giving notice 
to the whole of the trustees" two or three of 
them  met  and  appointed  a  Chairman,  and 
have  now  declared  themselves  duly  and  le-
gally  elected  and  intend  to  proceed  with 
business  without  loss  of  time.  They  have 
struck  a  rate  of  1  penny  per  acre  for  1000 
acres or more, 2 pence an acre for 100 acres 
or more, and 3 pence per acre for under 100 
acres".  The writer questioned the legality of 
the  rates, the  legality  of  the  Board  and  was 
very  unhappy  that  the  Chairman,  who 
moved the rate prices, was the only  man  in 
the  area  that  owned  more  than  1000  acres, 
and  how  his  vote  gave  his  land  a  cheaper 
rate than  all  others.    The  reporter  was  very 
concerned  and  as  I  said  before  he  wrote  at 
some  length  in  the  very  same  way  that 
Mangawhai ratepayers have been writing to 
the local papers in the last couple of years.  
It  could  be  said  that  moaning  about  rates 
has been going on for 140 years in the area. 
Bill Leslie               Below: Hull Homestead 
STUMP 
GRINDING 
Big or small  
Tidy professional 
job 
Tel: Mark 021 457247 
 or 09 4321816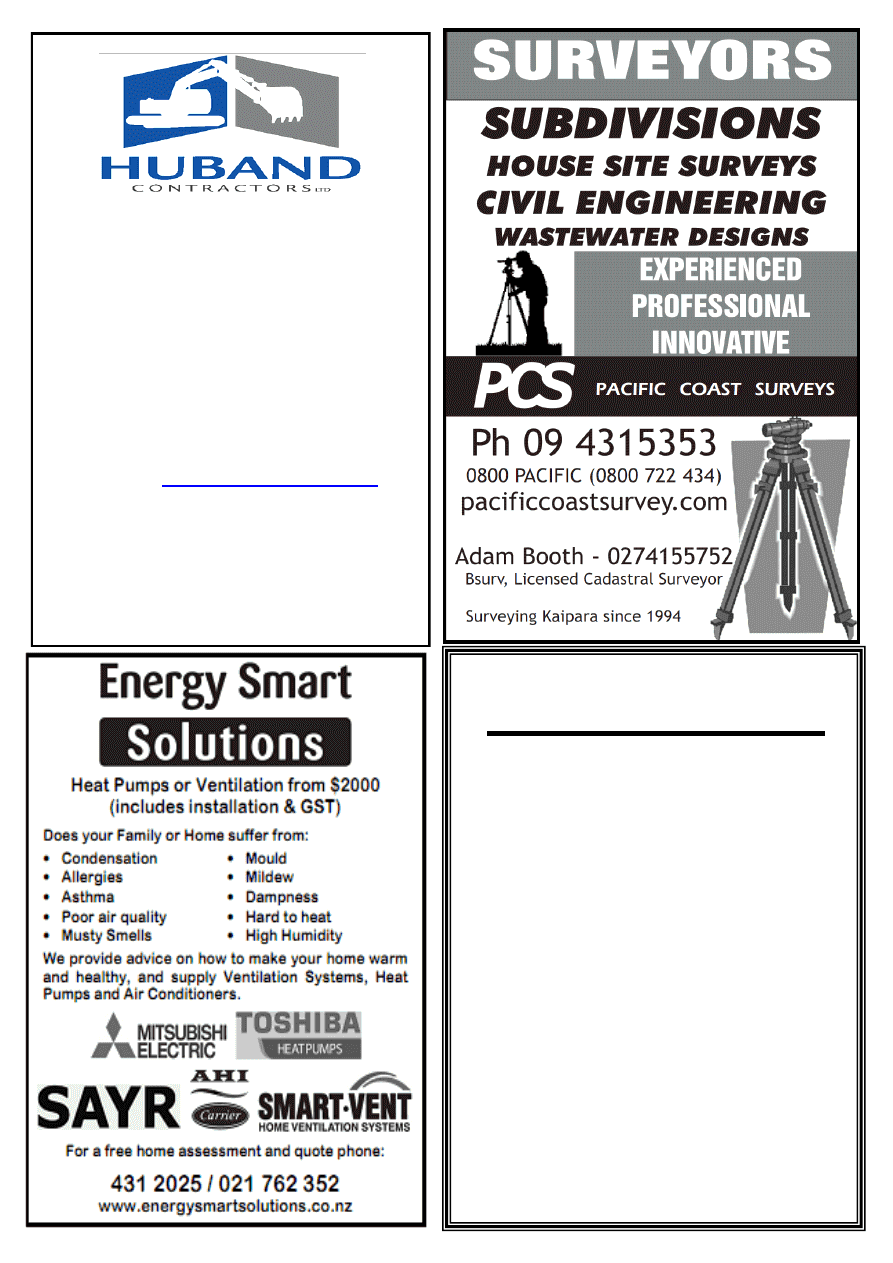 STOCKFOOD
GREAT RANGE FOR ALL YOUR LIVESTOCK  
AT GREAT PRICES 
 ALSO CHECK OUR 
DOG BISCUITS 
20 KG FOR $57.80 
LPG REFILLS 9KG 
STILL ONLY $31.50
MANGAWHAI SERVICE 
STATION 
(09) 431 4242 
44 MOIR STREET IN THE VILLAGE 
*   R O A D I N G   *   E A R T H W O R K S  
*    
*   D R A I N A G E   *   S I T E W O R K S   *  
For any further enquiries, contact 
Shaun on: 
Cell: 021 222 0272 
Home: 09 4318339 
Email:   
Shaun Huband:  Registered  
Drainlayer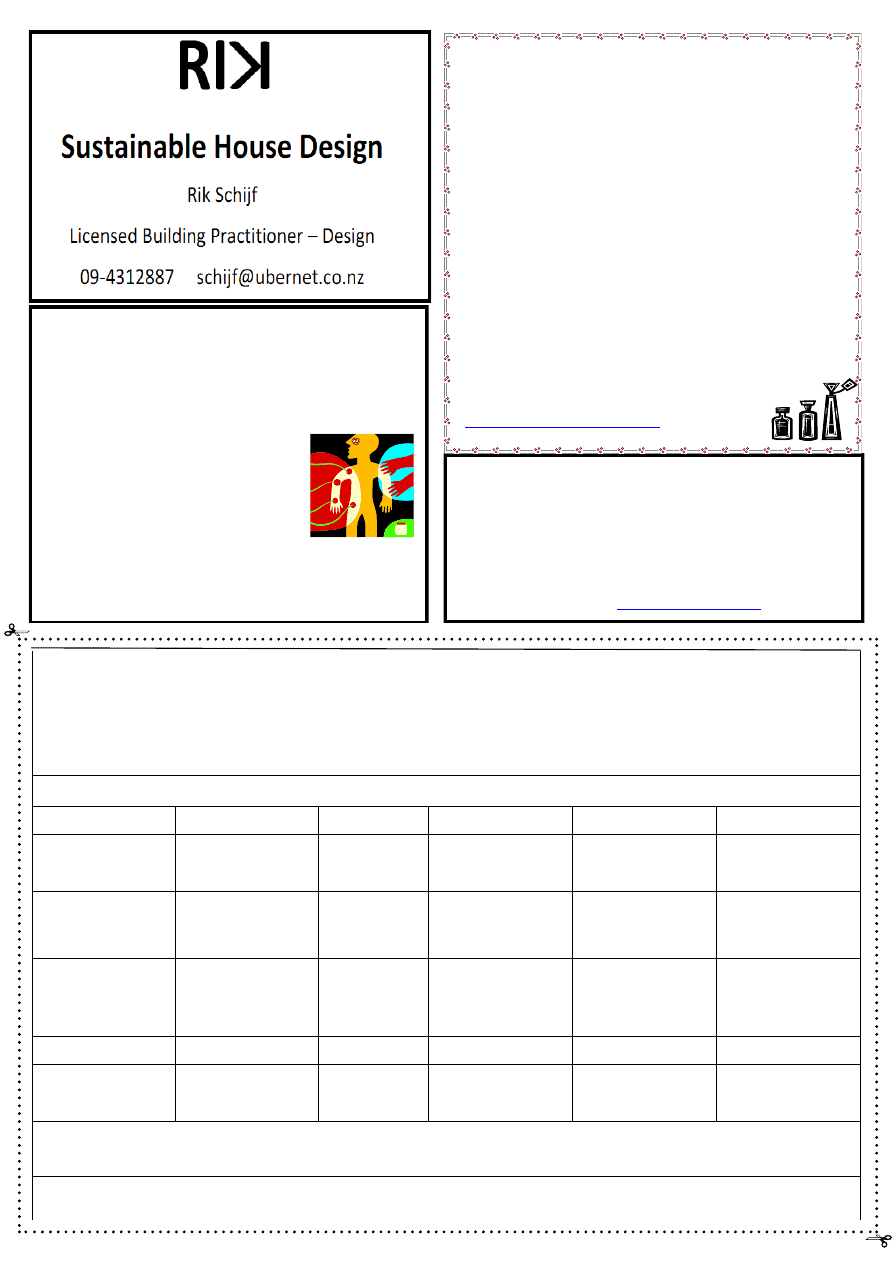 QUIZ NIGHT 
Friday 15
th
 March, 7pm 
Kaiwaka Sports Complex
* teams of 4 - 6 people 
* lots of spot prizes 
 
*  
supper provided   
*
$10 per head
Pre-registered teams only. Contact Cheryl Anderson to register on  
OWEN STEVENS 
Osteo Therapist
For careful adjustments to bones and joints 
Treatment for  
humans and their pets 
Clinics: Kate's Place, Kaiwaka: 
Last Friday of month 
Warkworth Showground:  
2
nd
 Thursday, monthly
For bookings:  9.00am-5.00pm 
Phone 09 4312661  
 
Or phone Owen  09 4317123   anytime 
AVON  
AVON 
AVON
AVON
AVON
Hi Everyone, 
Brochure  6  orders  are  due  to  me  by  8  February 
and delivery 18th February. 
There are some really great deals in this issue eg. 
3 for $12.00 on pages 112-123,fragrance specials, 
and really good make-up deals. 
Also in this issue Avon is introducing the new cloth-
ing range in larger sizes. 
EXTRA SPECIAL DEALS - Reversalist Day, Night 
and Eye Creams $65.00 value 
$180.00  and  Rejuvenate  Day  Night  and  Eye 
Cream $65.00 value $180.00. 
Have an End of Summer Make-Over Party, get to-
gether  for  Nail  Painting  -  great  new  colours  -  Eye 
Colour and Foundations to try. 
I  still  have  product  available  for  instant  sales  so 
give me a call. 
Gale Matheson 0943124827  0274149576   or  
A 
big
 hello to the Community of Kaiwaka!  
 My family and I have recently moved to Kaiwaka and we are overwhelmed by the warm and open hearted wel-
come we have been receiving since settling here.  Thank you for making us feel at home so quickly.  My passion 
is Yoga and last year I have completed my training as a Yoga Therapist. I would like to share my passion within 
the Community and would like to offer several Yoga class times to everyone's needs and liking.  
Yoga Classes in Kaiwaka 
Monday 
Tuesday 
Wednesday 
Thursday 
Friday 
Saturday 
Kaiwaka                     
Yoga and Pranayama              
6.30 -7.30 am 
Kaiwaka                     
Yoga and Pranayama              
6.30 -7.30 am 
Kaiwaka                     
Yoga and Pranayama              
6.30 -7.30 am 
Kaiwaka                  
Body  Alignment              
8.30 - 10 am 
Kaiwaka                    
Yoga for Beginners              
8.30 - 10 am 
Call for details  
Manage your Mood           
10.30 -11.30  
Kaiwaka                    
Rest and Restore              
6.15 - 7.45 pm 
Kaiwaka                    
Yoga for Beginners    
6.15 - 7.45 pm 
At present the classes are funded by NorthTec Whangarei and your investment will be $ 35 for 10 classes.                                                          
I am also available for private sessions. 
For more details please contact Gabriele Shivanidevi       09 4312099 or 0220704763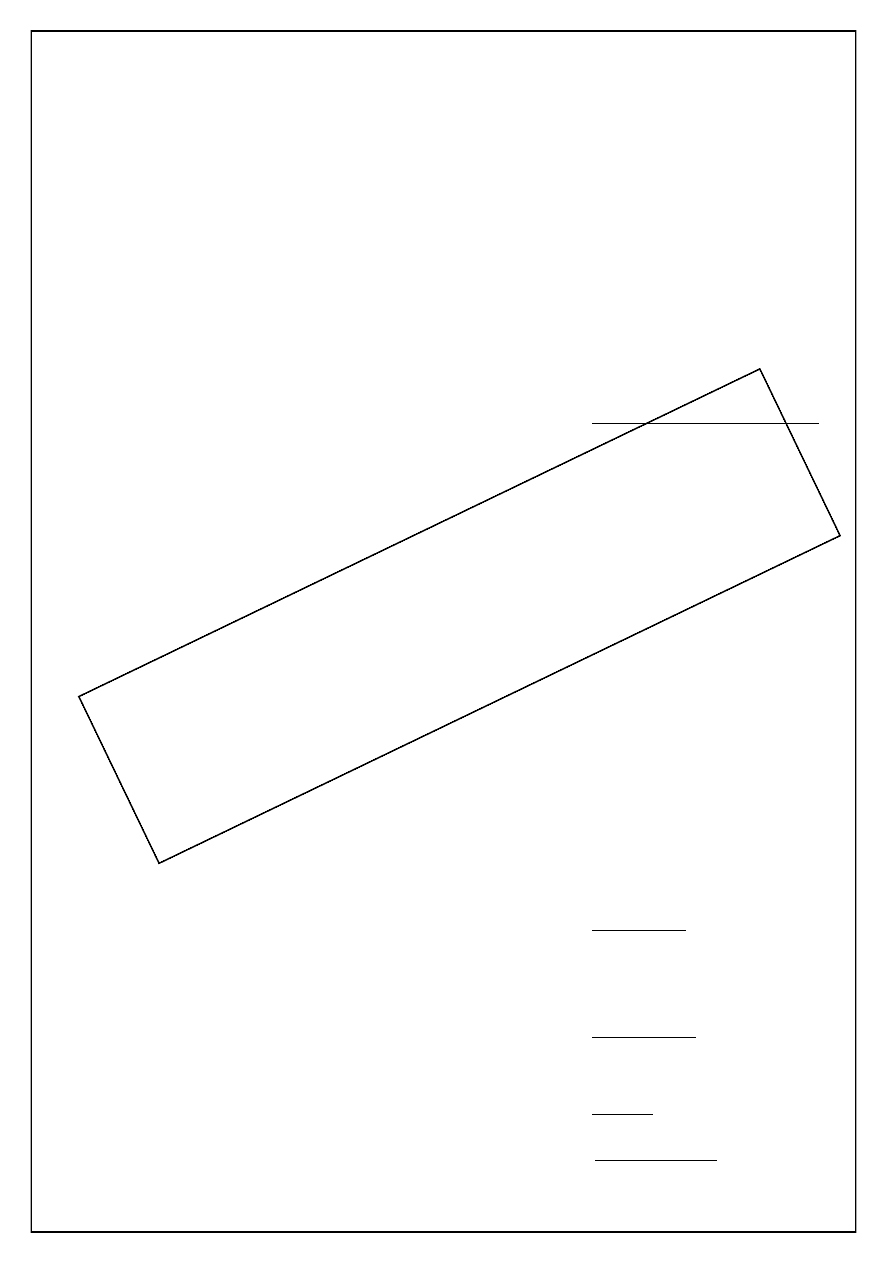 ACCOMMODATION/MEALS  
Baldrock View B&B Farmstay    4312989 
Gateway North Motor Lodge        4312389 
Landfall Lodge B&B Homestay    4312706 
Three Furlongs Hotel 
  4312246 
ACCOUNTING 
Stephen Jaques 
   4312377 
ART GALLERY 
BevTaylor"s Puketotara Gallery     4312031  
AUTOMOTIVE 
Automotive Electrical             027 6639953 
Auto Painting John Bowmar  
  4312248 
Shamrock Auto Care 
  4312007 
Turnbull Engineering & Auto. 
  4312148 
Twinkle Tow "n" Tyre  
  4312823 
BOARDING KENNELS 
Baldrock Kennels & Cattery 
  4312789 
BUILDER/DECORATOR 
Wellsford Kitchens 
  4312888 
Kev"s Caskets                           021 1322671  
CLEANING 
JR Cleaning Services 
  4312826 
CARTAGE & TRANSPORT  
Bizzy Beavers                            021 351946 
Eastern Transport  
  4312399 
Ferguson Agricultural Contract    4312542 
Parker Transport & Lime 
  4312407 
CATERING 
Kaiwaka Sports Association  
  4312229 
Ottaway Bakery  
  4312329 
CAFES 
Cafe Eutopia  
  4312999 
Gateway Motel Cafe  
  4312389 
Italian Bakery La Nonna 
  4312643 
Mormors 
  4312639 
Odd Sox Cafe 
  4312669 
Three Furlongs 
  4312326 
CHILD CARE 
Small Poppies 
  4312842 
CLOTHING 
Buy The Way 
  4312884 
Kaiwaka Clothing  
  4312187 
Winsome Designs 
  4312027 
CONCRETE/WATER PRODUCTS 
Absolute Concrete 
  4312211 
CONTRACTORS  
Arborist  - Mike Law                0272940519          
G.Borck -Hay Contracting 
  4312236 
Hodgetts - Excavation 
  4312877 
Olsen Lawn mowing 
 4312077 
Power Drainage 
  4312434 
Phil Keen Concrete                  027 6592376 
Ranganui Developments 
  4312131 
CRAFT 
The Apple Basket Patchwork 
  4312443 
Cheese Making 
  4312234  
DOCTOR at Coast to Coast, Wellsford  
by appointment 
  423 8086  
ELECTRICIAN 
Paul Greig 
  4312223 
Sean Treacy 
  4312252 
ENGINEERING  
Turnbull Engineering 
  4312148 
ENGRAVING 
Topnotch Laser Engraving 
  4312174  
FITNESS/SPORTS GROUND 
Kaiwaka Sports Assoc. Complex    4312005 
   Fitness Centre 
  4312129 
FLOOR SANDING 
Nuaz Floorsanding C.Kenyon        4312971 
FUNERAL DIRECTOR       
Morris & Morris c/-Bev Jaques    4312367 
FURNITURE 
  2013 KAIWAKA BUSINESSES   
Kaiwaka Furniture Factory             4312212 
GARDEN CENTRE/NURSERY  
Kauri Park Nursery 
    4312125 
Kaiwaka Organics 
    4312732 
GIFTS  
All-Sortz 
    4312701 
Gateway North Motor Lodge      4312389 
St.John Op Shop  
    4312423 
Well of Health   
    4312799 
GLASS 
North Glass 
   0800704010/094314999 
GRAPHIC  & GENERAL DESIGN 
Contour Creative Studio Ltd          4312511 
Tawa Imaging   
     4318706 
GROCERIES/DAIRY/CHEESE 
Jaques Supermarket 
     4312227 
Kaiwaka Cheese Shop 
   4312195 
GROUP FACILITATION  
Sabine Drückler, Hiepe                   4312231
HAIRDRESSER  
The Hair Salon   
    4312128 
HEALTH/BEAUTY 
Avon - G.Matheson 
    4314827 
Counsellor S.Matheson             0276052727 
Massage D Prem                       0211455541 
Massage P Worsfold  
Well of Health   
    4312799 
HEATING 
Solar Water Solutions 
    4312992 
HOME KILL 
Kaiwaka Farm Kills  
    4312268 
HORSES 
Willow Bend Horse Hotel 
    4312817 
LANDSCAPING  
Out There Gardens & Lawns 
    4312196 
Landcare Services 
    4312302 
MOWERS/CYCLES/CHAINSAWS  
Kaiwaka Motorcylcles Ltd             4312127 
Kaiwaka Suzuki   
    4312123 
PAINTERS 
Kaiwaka Painters         
9733111/
0220804186 
PHOTOGRAPHY 
Steve Campbell    
    4312779 
PLASTERING   
Korach Kontractors   
    4312904 
PLUMBER 
Mitchelson Plumbing 
    4312815 
POST OFFICE   
Postal Agency   
    4312626 
RESOURCE 
Kaipara District Council 
   4312013 
Kaiwaka Family Support Service  4312661 
Design Drafting  Mike Lean 
   4312260 
RUBBISH 
Hakaru Landfill   
   4258567 
RURAL MAILCONTRACTORS  
Norm &Yvonne Brown  
  4312028 
SADDLERY/UPHOLSTERY/CANVAS  
The Canvas Shop  
  4312800 
SERVICE STATION  
Shamrock Service Station 
  4312321  
TECHNICAL SERVICE 
Laughing Dog Computers 
  9733111 
Up-Link Installations 
  4312328 
TIMBER MILL & SALES  
Topuni Timber Mill 
  4312855 
TRAVEL 
Leabourn Passenger Service 
  4237416 
VENTILATION SYSTEMS 
Energy Smart 
  4312025 
STI
LL
 DRAFT
 ONL
Y 
PLE
ASE 
ADVI
SE          
CHANGE
S
ORGANISATION & 
SERVICES  
JUSTICE OF PEACE  B.FJaques,  
L.Donaldson,  A.F.Hargreaves. 
MARRIAGE CELEBRANTS - 
L.Donaldson;4312228;A.F.Hargreaves 
4312045;  Judith Knights 4312765 
Fire Brigade –J Bowmar 
  4312248 
Kaiwaka Primary School 
  4312309 
Kohanga Reo  
  4312620 
Kaiwaka Library - W.Howard     4312539 
        kaiwaka.library@gmail.com 
Kaiwaka/Mangawhai Plunket Soc.   
  4314187 
Kaiwaka Playcentre -  
  4312286 
     Mon -Fri 9.00-12.00          
Kaiwaka War Memorial Hall 
            kaiwaka.hall@gmail.com 
ParentPort - Sharon Mehana      4259357 
St. John Division S.Rosser 0212316836 
Kaiwaka Cubs-B.Ferguson      4312542  
INTEREST GROUPS/SPORTS  
Athletics - Eileen Parsons 
  4318055 
Badminton - K. Fleming  
  4312345 
Fitness Centre-  J.Harris  
  4321755 
Fishing -Pt.Curtis Cruising Club4312246 
Gardening Club - Jean 
  4314767 
Gymnastics - S. Brown 
  4312022 
Historical Society -R.Hastie     4312192 
Hockey- Robyn Bruce 
  4318145 
Indoor Bowls - G.Mansfield     4312310 
Kaipara Hunt - A.Doornenbal    4312059 
Kaiwaka Sports Ass. - CAnderson 4312051 
Hakaru Pony Club - Dianne      4314315 
Maori Women's Welfare League4312293 
Martial Arts- Craig Bennetts    4315170 
Molesworth Sheep Dog Trials  4312192 
Netball-Primary -  Melissa 
  4312239 
Netball-High Sch-Madeline      4317056 
Netball-Otamatea Ex  
                 Mirna Manuell 
  4237767 
Nthld.Western Riding - C.Ries    4312040 
Pig Hunters Club - F.Steiner    4312035 
Pt.Curtis Cruising Club 
  4312246 
Repertory-Otamatea 
  4318729 
RSA-Hakaru - 
  4314719 
RSA - Women's Section   
  4314512 
Rugby-JMB-Rebecca Blissett   4312085 
Rugby-Senior-Kevin Pres.  0274793659 
Soccer -  May Seager 
  4318494 
Squash - B.Thomas  
  4315905 
Tennis - Lindell Ferguson 
  4312542  
Three Furs. Pools/Darts   
  4312246 
CHURCHES 
Anglican. St. Pauls& St.Michaels 
 4312295 
Co-operating Parish services   4312057  
Family Church - Kaiwaka  
 4318203 
Gateway Worship Centre  
 4312528 
HALLS—Hire 
Kaiwaka War Memorial Hall   4312725 
Archie Bull Hall  
 4312048 
Kaiwaka Sports Complex-Cheryl 
   Anderson 
 4312051  
MARAE 
Oruawharo Marae 
Te Pounga Marae - Oneriri   4312681 
 INFORMATION 
Kaipara District Council Service Centre     
0800 100 388 
 4312013 
Kaiwaka Media Group 
 4312045 
www.kaiwaka.co.nz