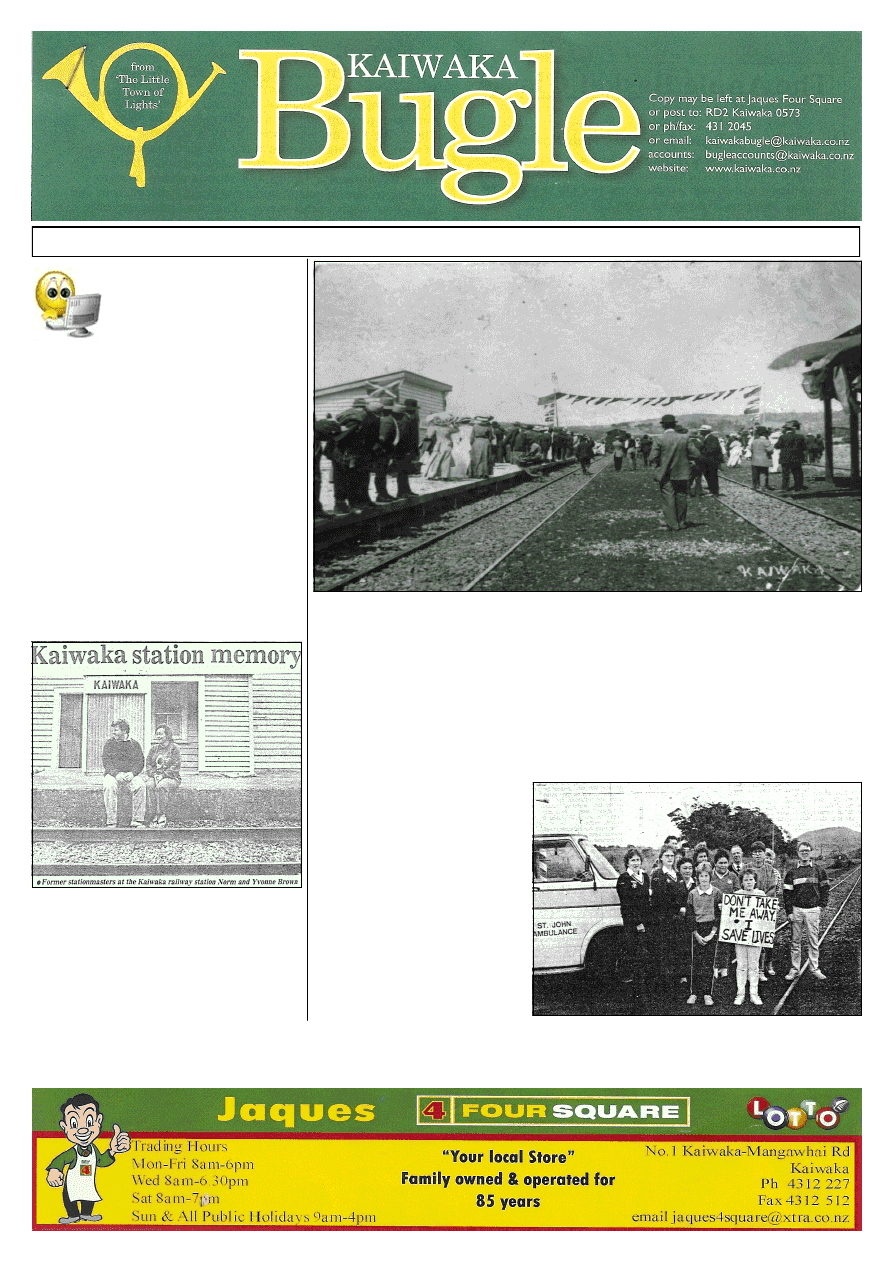 No: 3 
19/02/2013 
Well  Top  of  the  Rock  is 
over  for  another  year,  and 
what  a  great  success  it  was! 
Over  300  competitors  en-
joyed  a  wonderful  day  and 
the views from Baldrock were fantastic! 
(So  I  am  told,  as  my  job  was  parking 
cars  and  handing  out  water  as  weary 
participants  made  it  to  the  finish).  
Cameron  Shaw  won  the  myBike  Trek 
3500 Mountain Bike-well done. 
Delivery of 2013 Census forms begins: 
A  team  of  more  than  7000  census  col-
lectors  will  deliver  Internet  Access 
Codes and paper census forms to every 
home in New Zealand between 16 Feb-
ruary and census day on 5 March.  
North  Tec  Training  comes  to  Kai-
waka. See page 17 for more info 
Ann 0220804186 
Bugle 4 will appear 05 March 
KAIWAKA  RAILWAY  LINE  OPENED  18  MARCH  1913. 
One  hundred  years  ago
 the Kaiwaka Railway Line was open 24 hours a day 
and  formed  the  centre  of  our  small  community.  Many  farmers  began  milking 
enough  cows  to  send  cream  away,  by  rail,  to  the  Kaipara  Dairy  Company  in 
Helensville. The Kaiwaka Railway Station soon became one of the busiest stations 
on  the  North  line.    Large  stockyards,  two  stock  loading  chutes,  goods  crane  and 
backshunt  for  fertiliser,  made  the  yard  often  congested.    It  was  common  for  a 
steam engine and guard"s van to leave Maungaturoto to pick up a full tonnage for 
the locomotive at Kaiwaka. The first stationmaster, Ernst Lamberth, began work at 
Kaiwaka Station in March 1925.  
Plans by NZR to remove the flashing red lights and warning bells at the rail cross-
ing  on  Oneriri  Road  and  other 
Northland  crossings  in  the  ear-
ly  90"s,  were  met  with  out-
spoken  protests  by  the  locals, 
including  staff  from  St  John 
Ambulance  Association  who 
were  irate  that  NZR  would  put 
their  own  monetary  gain  over 
the value of the lives of locals.  
The  then  secretary  for  the  As-
sociation,  guess  who...Lindsey 
Hargreaves,  told  reporters  they 
"did  not  want  to  pick  up  the 
pieces  after  an  accident"!  The 
locals,  together  with  support 
from  the  Locomotive  Engineers  Association,  Whangarei  branch,  were  successful 
in  their  attempt  to  keep  all  the  "bells  and  whistles"  and  have  undoubtedly  saved 
many lives.  AJ                     
Photos Courtesy of the Historical Society 
The photo above was taken in 1986 just 
days  before  the  Stationhouse  was  re-
moved.  (That"s  Norm  and  Yvonne 
Brown in their prime as stationmasters!) 
At  that  time  six  trains,  three  south  and 
three north, still passed through the sta-
tion  each  night  but  a  stationmaster  had 
not  welcomed  the  trains  since  Septem-
ber 1985 and the closure of the Kaiwaka 
station was part of the railways" plans to 
reduce staff in the north. 
xxxxxxx 0220804186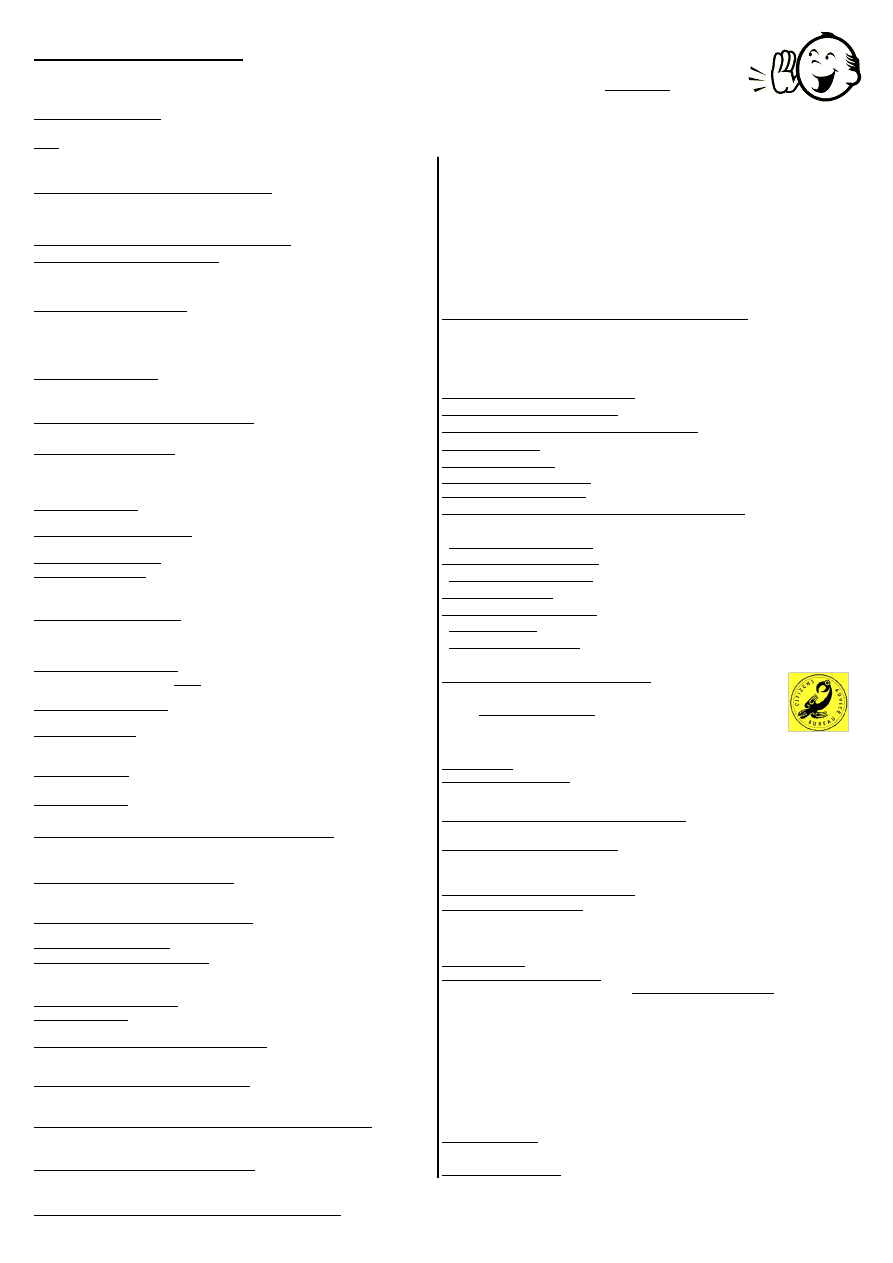 LOCAL SERVICES 
*St.John Ambulance 
111 or Freephone0800 61 0066
*Fire phone 111     *Police phone 111 or 09 4311150
WELLSFORD DOCTORS: Ph: 4238 086 
 
A A: Meets Wed., 8pm Kaiwaka Ph: 4312228, 4315543, 0800229 6757   
AL ANON: In recess, contact Ph: 4312228 
AgriQuality (MAF) Livestock Consultant 
Phone 09 4311 820 or 021518257 
CAB-Citizens Advice Bureau.Wellsford Ph: 4237333. 
BUDGETING SERVICE,OTAMATEA:Free confidential advice & support - all 
areas of  personal finance Ph: 09 4318173 or 094318117
FAMILY SUPPORT SERVICES responding to the needs in our community  
Counselling/Family Therapy/Seminars/Youth Work/Probation/
Osteopathy/Govt.Day Agencies/Community Information  
Ph: 4312661 Hours: 9am-5pm. Mon - Fri (funded & CYFS approved) 
FUNERAL SERVICES: Morris & Morris Ltd, 
Whangarei - Bev Jaques Ph:4312367 or 0800667747 
Grandparents Raising Grandchildren: Sarah Rogers Ph: 4312194 
HAKARU LANDFILL/TIP:Open everyday except Tuesday 
10am-4pm.Ph4312629 Cost-55 trailer load up to 1 cubic metre 
Ph:4258567 - office 
INLAND REVENUE: Last Friday each month, 
11-3pm Ph4312661 
KAIWAKA KOHANGA REO:
Ph:4312620 Mon.-Fri. 8.30am-2.30pm 
KAIWAKA CEMETERY: Ph: 4312045 
KAIWAKA LIBRARY: kaiwaka.library@gmail.com  
Mon. 4-6pm; Wed., Thurs., Fri., Sat.  10am-2pm Ph:4312539
KAIWAKA PLAYCENTRE: Ph: 4312286. Hastie Lane 
Monday to  Friday  9.00am 
- 
12 noon. 
 
KAIWAKA POST OFFICE:
Ph:4312 626 Fax: 4312287  
Post Code: 0573  for RD2  and  0542 for all Kaiwaka Post Office mail 
 
KAIWAKA SPORTS ASSN: Ph 4312005 lounge; 4312129 gym 
 
KAIWAKA STJOHN: Manager Steve Rosser 09 431840, 021 2316836; Sec: 
C Dymock 4312744 
NORTHPOWER: Faults Kaiwaka area 0800 104040 
PARENTPORT: Free, practical family support servicePuhoi to Paparoa 
Ph:  Linda, Co-ordinator. 4259357 or 027 280 5093 
PERSONAL DEVELOPMENT COACHING, GROUP FACILITATION:  
Sabine Druckler 4312231 
 
PLUNKET  KAIWAKA/MANGAWHAI:  Ph:
094318187 
or  0
276753488 
Kaiwaka Mobile Clinic once a month– appointments necessary;  
Mangawhai (next Domain) 
1st & 3rd Thursday & Coffee Morning; 
PLUNKET CARSEAT CO-ORDINATOR:  
Pat Scott Ph 4314530 or  
0272881635 
PLUNKET FREEPHONE -0800 933 922 
PLUNKET -MAUNGATUROTO  Clinic every 2nd & 4th Thursday. Ph: 
09 4318187 
PUBLIC HEALTH NURSE: Gloria Reid Ph: 094327634  
HOMEOPATH: Donna Flavell Ph: 
4314843 
RETURNED AND SERVICES ASSN 733 Settlement Rd. Hakaru 
Ph.4312176 Bill Kerr (President) Ph.4314719 
TE KOROWAI AROHA O NGATIWHATUA 
(The Cloak of Love of Ngatiwhatua) Support and Maori Consultancy.  
Ph: 4239481 (Wellsford) 
WOMEN'S WELFARE LEAGUE & Reaching Out For Youth:  
4 Kaiwaka-Mangawhai Rd, M Morgan 4312293 
 
VETERINARY SERVICE MANGAWHAI: 
Ph: 4314535 Mon-Fri 8.30-4.30, Sat 9-12, a/h appt. 
KAIPARA DISTRICT COUNCIL www.kaipara.govt.nz:  
Help Desk FREEPHONE 0800 727 059 
WHAT'S ON
PLEASE ~ do let me know what is on - email 
kaiwakabugle@Kaiwakaa.co.nz 
*20 Feb ~ Kaipara Knights Soccer Club AGM KSA 7pm 
*22 Feb ~ SeniorNet Mangawhai Inc. AGM The Club 2pm 
*27 Feb ~ Otamatea Senior Netball AGM KSA 6pm 
*28 Feb ~ Hakaru RSA Women"s Section AGM Clubrooms 1.30pm 
*28 Feb ~ TOTR Debrief Meeting, KSA, 7pm 
*03 Mar~ St Paul"s Church AGM after 9.30am service at St Paul"s 
*04 Mar~ Kaiwaka Media Group AGM KWMH 5.30pm 
*05 Mar~ Kaiwaka Badminton Meeting, KSA 6.30pm 
 
See www.kaiwaka.co.nz for upcoming events. 
Drink can 'tear tabs' - for Starship Hospital-Ph 4312625   
KDC  HOUSEHOLD  RUBBISH  COLLECTION  -  Kaiwaka    Pick 
up -Mondays. At KDC Blue bags $2.80  Kaurlilands 09 4392146.  
(Note:  "green  sticker"  bags  are  picked  up  by  Northland  Waste-
queries to them 09 4303273) 
 
*OTAMATEA GREY POWER-09 431 8138 Joan Hoggard  
*KAIWAKA BADMINTON -Tuesdays 7.30pm Ph: 4312345 
*KAIWAKA GARDEN & FLORAL Grp:
2nd Thursday in month Ph: 4314767 
*Kaiwaka  
CUBS-
Thursdays 5.30-7pm, Hakaru Ph: 4312542  
*KAIWAKA SQUASH -Mondays 7pm,  Ph: Barbara Thomas 4315905 
*GYMNASTICS OTAMATEA -  Tuesday Ph: Stephanie 4312022   
*HAKARU PONY CLUB-Ph: Dianne Christianson  4314315 
*MANGAWHAI COMBINED PROBUS CLUB: 2pm,3rd Thursday 
month in the Senior Citizens Hall Mangawhai. Ph: 4315777
*PT CURTIS CRUISING CLUB - Jean Ph: 4312246 
*WAIPU GENEALOGYGROUP -4th Monday in month Ph: 4312725 
*NZ GENEALOGY-Wellsford - 1st Thursday in month Ph: 4237033 
*CRAFT GROUP:2nd & 4th Tuesday, 10am, Wellsford Ph 4238547
*RSA,Hakaru & Dist.Women- meet 1.30pm 4th Thurs in month 43123668  
*OWEN STEVENS at Kate's Place Ph:4312661   
*Diabetes Support Group-for Kaiwaka, Mangawhai, Wellsford -10am, 
 
3rd Friday of month Ph:A.Pert 4238242; J.Gardner 4238060 
WELLSFORD CITIZEN ADVICE BUREAU:  
0800 367 222 
Ph: 4237333 Wellsford Community Centre   
Email: cab.wells@xtra.co.nz
Advertising in WHAT'S ON is FREE  
 
CHURCHES:
*Gateway Worship Centre-St Mary's Church Nathan Rd off Oneriri Rd, Kaiwaka 
Services, 10.30am 1st & 3rd Sunday of every month. Contact: Rev David Gage 
4312528 or 0212354282 
*Kaiwaka Family Church-Your Community Church Sundays, l0am 
Home Group every Wed evening, Pastor John.Dekker Ph: 4318203 
*Kaiwaka Services.Anglican & Co-op at StPauls Church  - 1st Sun. 9.30am
(Anglican),3rd Sun. 4pm (Co-op).  Contacts: Parish office 09 4318193, M.Hargreaves, 
Peoples Warden 4312295, C.Bygrave 4312057  
*Church of Christ the King, Mangawhai 9.30am every Sunday 
*St.Mary"s Catholic Church:
Maungaturoto – Griffins Road, Saturday evening Vigil 
Mass 6pm; Mangawhai – Senior Citizens Hall, Sunday Mass 8:30am; Wellsford – 
Matheson Road, Sunday Mass 10:30am; Mid-week Mass times and all enquires to Fr. 
Bill Fletcher – phone 423 8170 
*Baptist Church: Sun. 10.30am Mangawhai Snr Cit.Hall.Ph:4312339 
*CauseWay Church Mangawhai – Sundays 10.15am, Mangawhai Community Recrea-
tion Centre, Insley St. Ph: 09 4314782  www.causewaychurch.org.nz 
 
*St.Paul's Archie Bull Hall HIRE  $20 half day, $40 full day per hire Contact 
G. Jaques 4312048 
*Kaiwaka War Memorial Hall HlRE- contact Wendy 4312725 or 
 
Email  kaiwaka.hall.bookings@gmail.com 
*Hakaru Hall HIRE-contact  J Marshall 4312297 
*Te Pounga Marae queries -A.Gage 4312528, 4312527 
*Kaiwaka Sports Association hire/queries- C. Anderson 4312051 
Justice of Peace: B.FJaques; L.Donaldson; A.F.Hargreaves  -please phone to 
make sure they are available 
Marriage Celebrants: L.Donaldson; A.F.Hargreaves; Judith Knights 
 
Next Bugle Deadline Friday 01/03/2013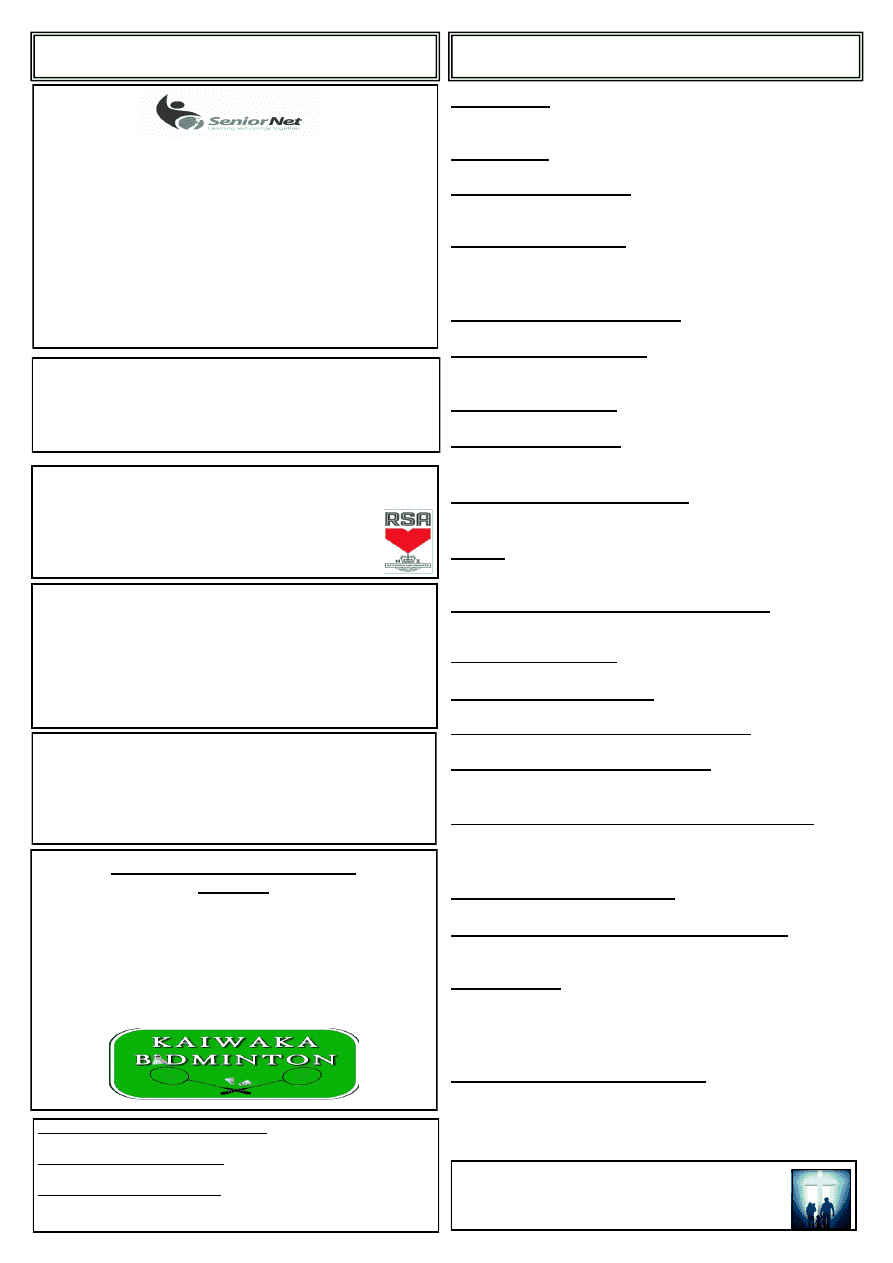 PUBLIC NOTICES 
CLASSIFIED 
FOR  SALE: 
4x4 tyres 31x10.50 R15 on Ali "Mag" rims 6 
stud  off  Hi  Lux  Ute.  Worn  but  some  life.  Suitable  off  road. 
$100. Ph. John 4312550 or 021405789
FOR  SALE: 
Suffolk Ram. Approx. 4 years old; very placid 
$60.  Phone 4312027 
GRAZING  WANTED:  Anything  up  to  60  acres.  Any 
area considered. Phone 021733305
HOUSE  FOR  RENT:  3
  bedrooms,  with  carport.  11kms 
west  of  Kaiwaka.  Floor  &  ceiling  recently  insulated. 
Sunny,  with  fenced-off  garden  area.  References  re-
quired. Sorry, no dogs. $200pw. Phone 4312042 
FARM HOUSE FOR RENT:  
Oneriri. 3 bdrm. Bond and 
refs required. Prefer no dogs. $210/ week. Ph.: 4312660
WANTED  –  TO  RENT: 
2 bedroom house/cottage – not 
more than $200 per week.  Ph.: 09 431-9094 / 0211657547 
WANTED  TO  BUY: 
Sofa, 2 wooden chairs, small table - 
in good condition. Ph.: Sabine 4312231 
WANTED  TO  BUY:  Approx.  20-40  fence  posts  for 
Eco  Village.  Old  and/or  used  tanelised  or  new  hard-
wood. Ph. Peter 4312718 or 0211502260 
FREE  GRAZING  WANTED:  We  will  manage  your 
small  or  larger  block  with  our  calves  or  cattle.  Can  do 
some fencing and water. Ph: 4312006 after 6pm 
FREE:  
Glass shelving 12 pieces of glass 82.5 cm by 5.1 cm 
most of the edges are okay a bit dirty as they have been out-
side for quite some time. Phone 4312522
FREE  COUNSELLING  AVAILABLE: 
Counselling 
Student  seeks  clients  to  further  his  studies.  Professional  ap-
proaching service. Phone Pete 021 825 970 or 09 4312 152 or 
peteworsfold@xtra.co.nz
CLEANING  SERVICES: 
$20  per  hour, fast,  friendly  and 
efficient. Phone Jill Shires 431 2080 Kaiwaka.
NATURAL  ANIMAL  THERAPIST  . 
Diatomaceous 
Earth Stockist.  Specialising in Horses.  Jill Shires  4312080  
C
RANIO  SACRAL  THERAPY 
for horses. Phone  Jill 
Shires 431 2080    
EXPERIENCED CAREGIVER AVAILABLE:  
Look after elderly, disabled people, children, & animals 
in your own house; also house sitting & gardening. For 
more info phone 022 414 5960
BEE  SWARMS  REMOVED:   Phone Adrian 
4312296 
or 
021 2537661
CLOTHING ALTERATIONS & REPAIRS: 
Zips, hems, dressmaking & dress design. Phone Win 4312027 
or 0274448358
HALL  HIRE:  available from Absurdistan Community, 
Parekura Rd. Enjoy our beautiful hall and harbour views 
for  your  special  day,  course  etc.  For  more  info  ph. 
4312202 or 021 2377678
BERNZ MASSAGE THERAPY: Diploma Therapy 
Mas-
sage from NZCM; Relax and Rejuvenate; Muscle Injury Recovery;  
I"m a Mobile Massage Service. Competitive rates in Kaiwaka, Man-
gawhai, Maungaturoto. Ph.: Bernie 021 0232 5741 or 4312816
Kaiwaka Bugle Advertisements 2013: 
Classified $2; 1/8 page $5; 1/4 page $10; 1/2 page $20 
bugleaccounts@kaiwaka.co.nz 
Payments can be online, posted or left at Jaques Store. 
kaiwakabugle@kaiwaka.co.nz  for queries or copy. 
The Kaiwaka Bugle is a community newspaper run by volunteers. 
Articles, etc. printed are not necessarily the opinion of the Bugle 
Team
SENIORNET MANGAWHAI INC 
Notice is hereby given that the  
The Annual General Meeting  
of SeniorNet Mangawhai Inc.  
Will be held on 
FRIDAY 22 FEBRUARY 2013 at 2 pm 
The Club, Molesworth Drive, Mangawhai Heads 
All members and intending members are encouraged to at-
tend.  Nominations for chairperson and committee will be 
taken from the floor. 
Hakaru RSA Women's Section AGM 
Will be held at RSA clubrooms on  
28th February at 1.30pm. 
Kaipara Knights Soccer Club AGM 
Wednesday 20
th
 February,  
Kaiwaka Sports Complex, 7pm.  
Please attend if your child wishes to play and/or you are 
interested in playing, helping, coaching.  
More info: Lindell Ferguson 431 2542. 
KAIWAKA BADMINTON 
MEETING
Tuesday 5th March, 6.30pm 
Kaiwaka Sports Complex  
This meeting is to discuss a potential change of club night 
and to set the start date. If you are interested in playing this 
season please attend - we are looking for some more enthu-
siastic members to promote this fun sport for the family. 
For more information phone Kaye on 4312 345. 
KAIWAKA MEDIA GROUP 
Annual General Meeting 
Monday 4 March 5.30pm 
Kaiwaka War Memorial Hall 
MANGAWHAI INDOOR BOWLING CLUB AGM 
The Annual General Meeting will be held in the Senior Citizen's 
Community Hall Fagan Pl. Mangawhai Heads at 7.30pm on  
Monday 4th March 2013. AGENDA President's Report, Financial 
Statement, Election of Officer's, General Business. All Welcome  
PROVERBS  
11:29-  Exploit or abuse your 
family, and end up with a fistful of air; common 
sense tells you it's a stupid way to live.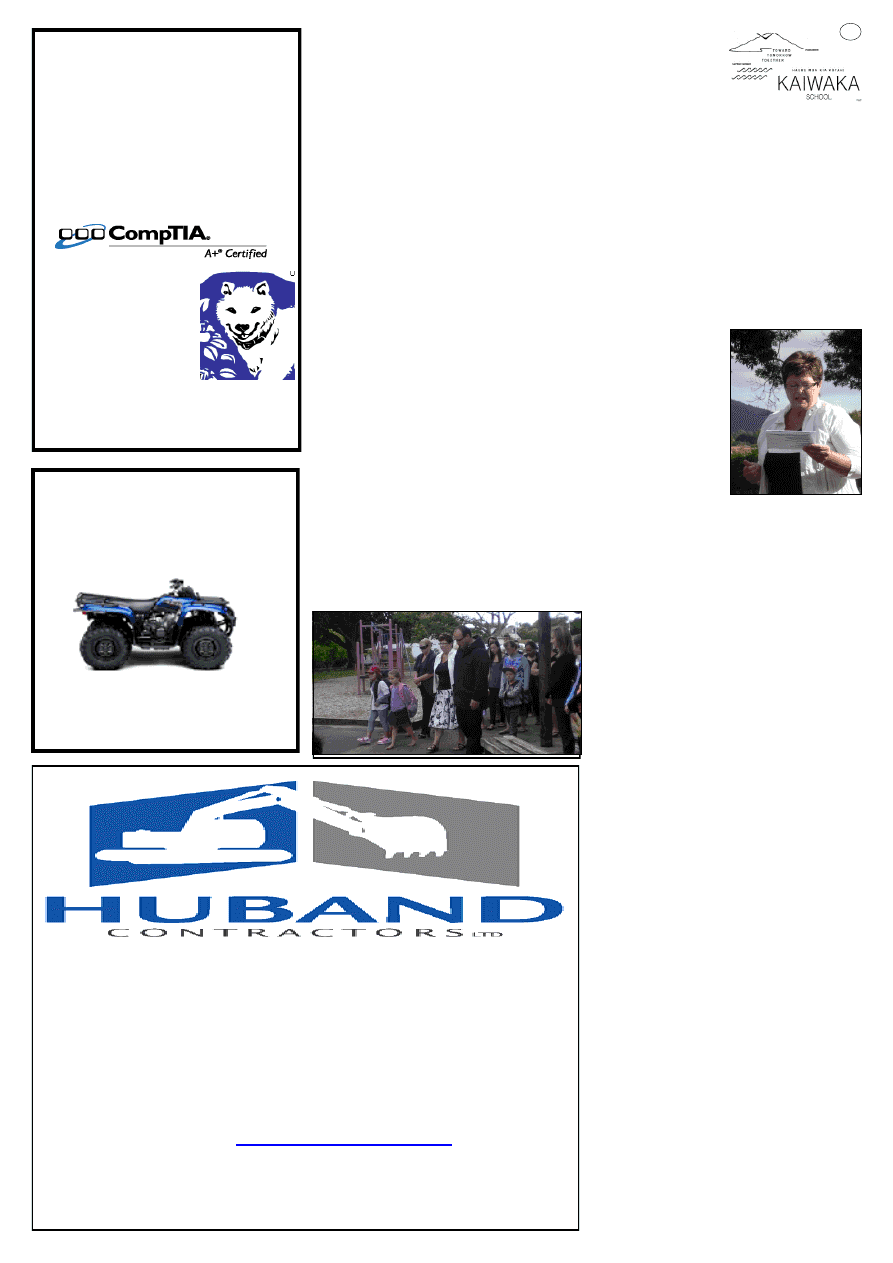 Laughing Dog 
Computers 
Kaiwaka, NZ
Technical Services 
Repairs & Upgrades 
7 Day Service
www.laughingdog.co.nz
KAIWAKA  MOTOR 
CYCLES LTD 
SALES SERVICE SPARES
FARM BIKE SPECIALIST
Phone 431 2127  
Kaiwaka-Mangawhai Rd 
KAIWAKA SCHOOL 
Kaiwaka  School  re-opened  on  Tuesday 
29
th
  January  2013  with  a  very  special 
powhiri  held  outside,  under  our  huge 
trees  and  over-looked  by  our  guardian 
mountain,  Pukekaroro.  Not  only  did 
Whaea Mina "call on" nine of our twelve 
new  students  starting  this  year,  but  our 
new  Principal,  Rosie  Ellis  was  the  very 
special  person  the  students  and  staff 
were waiting to bring into the whanau of 
Kaiwaka School. 
Matua  Reno  Skipper,  a  student  teacher 
working  in  Room 3,  led  the  "new  com-
ers"  and  their  whanau.    Luke  Connelly, 
our Whanau Chairman, Wayne Blissett, 
from the Board of Trustees and Melissa 
Watts the Board Chair Person gave their 
welcomes.  The  speeches  were  followed 
with the magical singing of our students. 
Mrs Rosie Ellis, in her speech, spoke of 
her  beginnings;  teaching  in  Northland 
with her husband Chris, and then around 
the  North  and  South  Islands.  They  are 
very  familiar  with  this  area,  regularly 
holidaying in Mangawhai with her fami-
ly  of  four  boys  who  are  now  grown  up 
and  on  their  own  "journeys."    Her  last 
position  was  as  Principal  of  a  large 
school  in  Wellington.  She  is  looking 
forward  to  leading  our  school  into  the 
future. 
*   R O A D I N G   *   E A R T H W O R K S   *    
*   D R A I N A G E   *   S I T E W O R K S   *  
For any further enquiries, contact Shaun on: 
Cell: 021 222 0272 
Home: 09 4318339 
Email:   
Shaun Huband:  Registered Drainlayer 
Phone or text 
0221036636  
Or 
 9733111 
It  was  lovely  that 
some of our families 
were  also  able  to 
come  along  to  sup-
port  as  well  as  Matua  Jessie  Pene.  The 
Reverend Dekker and Mrs Dekker came 
to  support  the  new  families  from  their 
congregation  who  were  starting  school. 
He  spoke  of  the  "special  character"  of 
Kaiwaka  School  which  was  certainly 
felt on this morning.  
It was a special privilege for me as Dep-
uty  Principal  to  "claim"  Mrs  Ellis  and 
bring  her  over  from  the  side  of  the 
"manuhiri"  to  join  her  with  the  "tangata 
whenua"  of  Kaiwaka  School.  In  like 
fashion  the  students  were  collected  and 
brought  to  join 
their  new  classes. 
As  classes  began, 
all 
the 
adults 
shared  a  cuppa. 
The  new  year  be-
gan  and  with  it,  a 
new  chapter  for 
Kaiwaka  School! 
And  now  here  we 
are  in  the  fourth  week.  School  is  hum-
ming  along  and  our  new  students  have 
settled in with routines established in all 
classes. Many of our whanau have come 
to make themselves known to Mrs Rosie 
Ellis  as  she  becomes  familiar  with  the 
unique  nature  of  our  school  and  as  she 
brings her special talents also.  
Lindy Gaskin   
School  is  really  under  way  now  we  are 
in  week  four  the  students  and  staff  are 
settled in and are working hard.  
On the Friday the 8
th   
 Feb  22 students 
from Rooms 4 and 5 set off to Toll Sta-
dium in Whangarei to join in skills, ac-
tivities  and  heaps  of  fun  with  the……. 
AUCKLAND  BLUES!!!!    It  was  two 
hours  of  exhausting  fun  in  the  sun  and 
the  students  loved it.  Thanks  to Teresa 
and  Malaea  who  were  able  to  help  on 
the day.  
Thank you to the parents who attended a 
working  bee  at  school  recently  prepar-
ing  gardens  for  classes  to  plant  flowers 
and vegetables of their choice.  They are 
really  looking  great  and  are  growing 
well. The children are keen to learn how 
things  grow and what is needed to look 
after the plants.  
The  PTA  would  like  to  thank  the  fami-
lies who are in our calf rearing scheme, 
which raises great money for our school 
and  students.  Thank  you  to  the  Mills, 
Wakeling, Anderson and Lusty families 
the  work  and  commitment  does  not  go 
unnoticed. 
In  a  nutshell  the  calf  rearing  scheme  is 
when  someone  raises  a  calf  and  is  then 
sold at the Wellsford Sale. the Kaiwaka 
School  receives  the  sold  price  of  the 
calf. If you or anyone would like to help 
with  this  great  scheme  or  has  any  en-
quires please contact the school.
5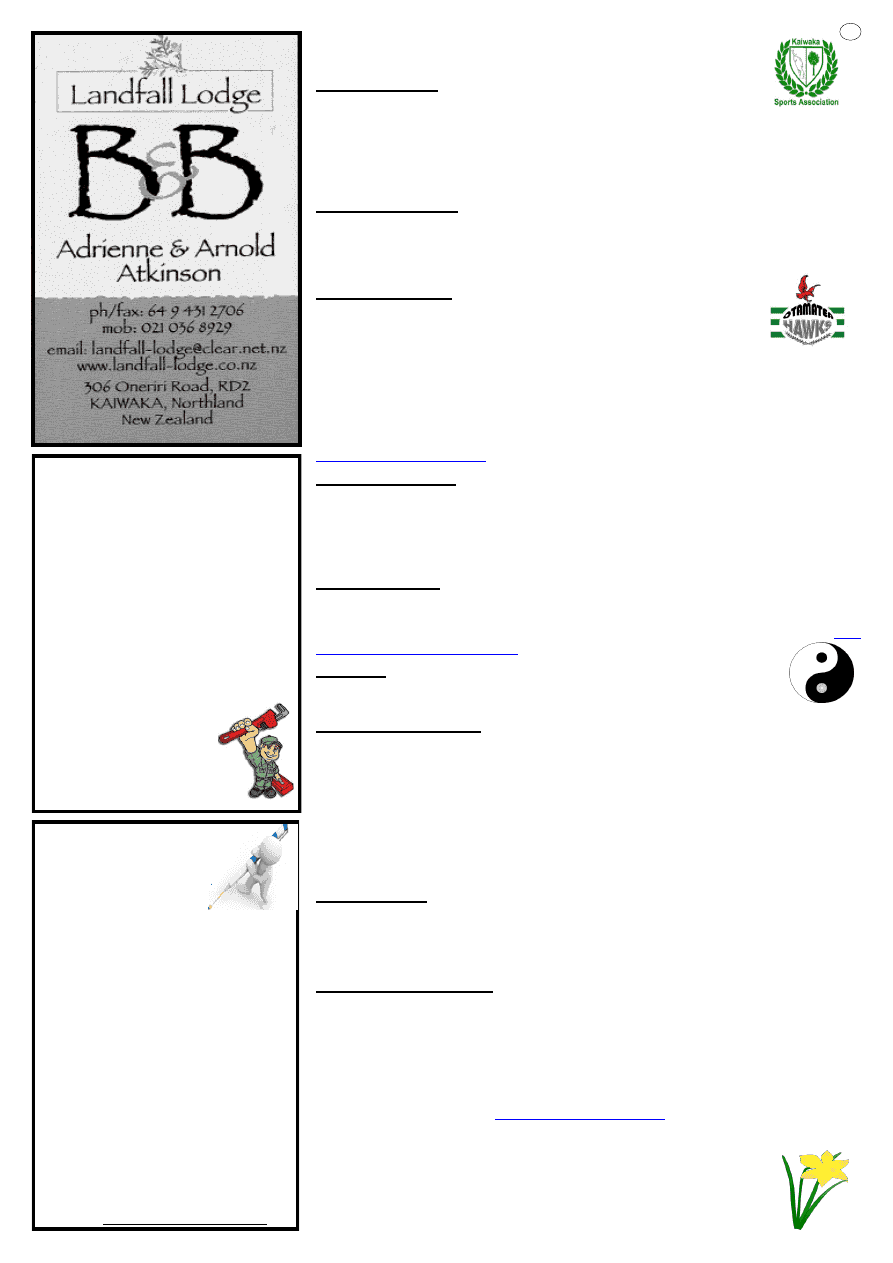 Ross Murphy 
PLUMBER 
Certifying Plumber 
09 431 7510 
021 424 252 
Paparoa Based 
+
New Housing 
+
Renovations 
+
Maintenance 
Topnotch  
Engraving
Quality Engraving  
Service  
SPECIALISING IN:
www.tnengraving.com 
www.pettagsnewzealand.com 
Phone (09) 431 2174 
or  
Email: engraving@slingshot.co.nz
7 
KAIWAKA SPORTS ASSOCIATION
"  ENGRAVING    
& SALES 
"  NAME     
BADGES 
"  SIGNAGE 
"  PET TAGS 
"  JEWELLERY 
"  TROPHIES & 
CUPS 
"  AWARDS & 
MEDALS 
"  GIFTWARE 
"  CLUB ORDERS 
or ONE OFFS 
Gymnastics 
This year, Gymnastics Otamatea are again putting on the successful  
"Give-It-A-Go" class  in the month of March for families to try out gymnastics to-
gether.  This  is  a  low  cost  class  with  minimal  commitment  so  that  busy  families 
can have a taste of gymnastics with no further obligation. Classes are held at the 
KSA gymnasium on Mondays in March from 4 – 5pm, $5 for four classes. Children 
must be accompanied by a participating adult and pre-enrolment is essential. 
Junior Tennis 
Junior tennis is on Saturday mornings 9 – 10am at the Kaiwaka courts and coach 
Grant van Dalsum will coach the players on Mondays from 4.30 to 5.30pm. Any 
primary or high school children are welcome. For information  
on tennis please phone Lindell Ferguson (evenings) on 4312 542.  
Senior Rugby
The Otamatea Hawks had their first outing for the year with a pre- 
season match against Waitakere last Saturday. Under the watchful  
eye of new coach Paul Mant, the boys played well coping with a hot day and a 
very  hard  field,  winning  32  -  12.  Their  next  home  pre-season  match  will  be 
against Glenfield on Saturday 9
th
 March at the Kaiwaka grounds, kickoff 1.30pm – 
why not come along to support our boys! A Rugby Smart course (for coaches of 
grades  U14  and  above)  will  be  held  at  the  Complex  on  Monday  4
th
  March  at 
6.30pm. If you were involved in the Otamatea Rugby Club, but have not received 
a  registration  form  for  Aprils  reunion,  you  can  download  one  from 
Junior Rugby 
Our junior rugby club, Eastern United will hold their AGM at the Complex on Mon-
day 25
th
 February, 5.30pm. All parents of JMB children are encouraged to attend. 
The  JMB  Registration  Day  will  be  held  at  the  Complex  on  Sunday  17
th
  March, 
9.30am.  All  boys  and  girls  interested  in  playing  rugby  are  invited to  attend.  For 
JMB enquiries phone Rebecca Blissett on 4312 085. 
Martial Arts 
Our Martial Arts instructor Craig Bennetts has begun a new class on Sundays at 
8.30am  in  our  gymnasium.  Learn  Tai  Chi  for  harmony,  wellbeing,  balance  and 
relaxation.  For  enquiries  please  phone  Craig  on  4315  170  or  email 
Soccer 
Our soccer club, the Kaipara Knights, will hold their AGM at the Sports 
Complex this Wednesday at 7pm. All welcome. 
Top of the Rock 
With nearly 300 participants, our Top of the Rock multi-sport event was very suc-
cessful! You can read more in the article in this edition of the Bugle.  
There will be a Top of the Rock debrief meeting on Thursday 28
th
 February, 7pm 
at  the  Sports  Complex.  Please  come  along  with  your  thoughts  on  how  the  day 
went and your ideas on how we can improve things for next year. 
Just before the event, our water pump died and we also had problems with our 
chiller and ice machine – not what you need when hundreds of people are about 
to arrive! Many thanks to Bruce Ferguson who calmly sorted out these problems 
for us – thanks Bruce! 
Quiz Night 
As a fundraiser for the Sports Association, we will hold a Quiz Night at the Com-
plex on Friday 15
th
 March. Teams of 4 – 6, supper provided and bar open. Prizes 
for  the  top  three  teams  plus  lots  of  spot  prizes!  $10  per  head.  Pre-registered 
teams only – ring me on 4312 051. 
Bulbs Fundraiser 
Bulb planting time is just around the corner, so we are holding a Bulbs Fundrais-
er. Bulbs are easy to plant, fun to grow and will reward you with lovely flowers 
year after year! Our options are tulips, daffodils, bluebells, freesias and wildflower 
seed mix. Bulbs are supplied by GardenPost who source the bulbs from New Zea-
land's best growers and prices offered are less than normal retail price. You can 
pick up an order form from Jaques Four Square or the Sports Complex or down-
load one from our website 
. Further details are on the 
form. For any enquiries on the Bulbs Fundraiser, please phone me on 4312 051. 
Cheryl Anderson,  
Manager, Kaiwaka Sports Association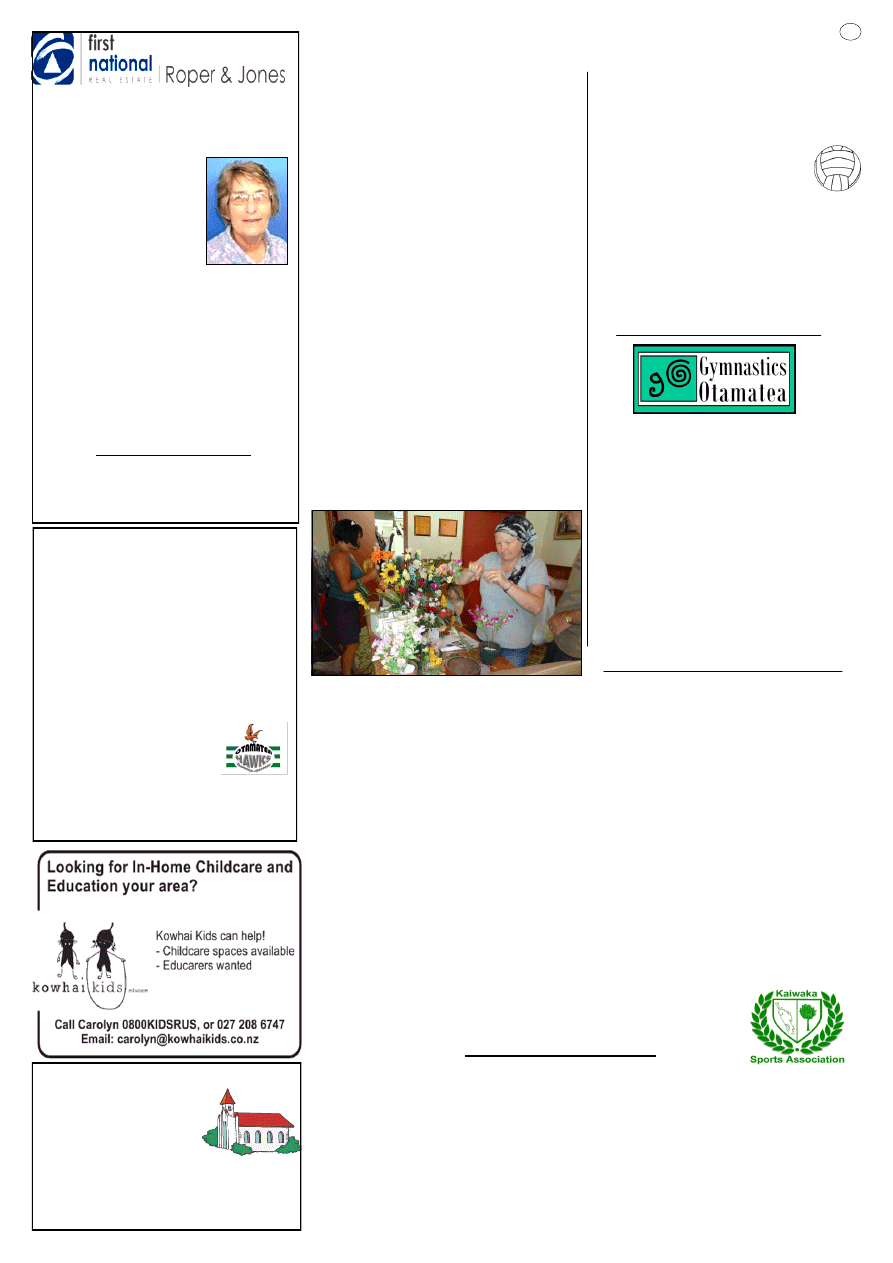 ST PAUL"S  
SUNDAY  
SERVICES
First Sunday 9.30am, third Sunday 4pm  
Paparoa Anglican and Wellsford  Co-op Parishes 
StPauls Church: Kaiwaka-Mangawhai Rd.  
Contacts:M.Hargreaves 4312295, C.Bygrave 4312057  
1st Sun. (Anglican),3rd Sun. (Co-op).
 9 
Felicia Doornenbal 
"Covering the Kaipara" 

List 

Sell 

No obligation  
   honest appraisals 
 
CALL ME– Your Local Kaiwaka 
Real Estate Connection 
 
Mob:021-858115 
A/hr:09-4312059 
Bus: 09-4311016 
e-mail: felicia@ubernet.co.nz 
Freephone 0800 311 322 
www.roperandjones.co.nz 
Some feedback received from the competitors after the event:
"Fantastic day, fantastic organisation and fantastic community spirit – roll on next 
year!" 
"Thank you for such a well run event. This was my first time doing the event and 
I thoroughly enjoyed the 10km walk. We will definitely be encouraging friends to 
do this next year and encouraging husbands to do the bike ride." 
"Great event, great club and set-up – loved it!" 
"This was my first Top of the Rock event. I cannot speak highly enough of how 
well it was organised from start to finish! From how well informed I was kept pri-
or to the day, the smooth entry and payment options, venue directions, great 
parking, the challenging but enjoyable course and the hospitality and prize giving 
afterwards. I had only ever passed through Kaiwaka and was surprised and de-
lighted with the Kaiwaka Sports Association facilities. I will definitely be coming 
back next year and bringing more participants." 
.
..Top of the Rock continues from page 7 
           TOP OF THE ROCK 
     Debrief meeting 
               Thursday 28
th
 February, 7pm 
Kaiwaka Sports Complex 
If you have any ideas on how we can improve our event 
for next year, you are most welcome to come along. 
Otamatea Hawks 
Preseason match 
Saturday 9
th
 March 
Hawks vs. Glenfield, 
1.30pm 
Kaiwaka Sports  
Complex 
Come along to support 
our boys! 
ORT  Busy  with  Dirty 
Weekends 
It  may  be  a  drought  in 
Northland,  but  gardens  are  blooming  at 
the Otamatea Repertory Theatre. 
The  stage  "props"  team  recently  spent  a 
busy  afternoon  making  potted  flowering 
plants  to  use  in  the  upcoming  comedy 
"Dirty Weekends" by Roger Hall and Phil-
ip Norman.   
"Dirty  Weekends"  is  about  gardening  - 
New  Zealand's  favourite  pastime.  The 
jokes  spring  up  like  weeds,  the  situations 
tangle like clematis and the songs sparkle 
like  hoses  on  a  summer  evening.    The 
show follows the horticultural frustrations 
of three Kiwi couples as they dig, fertilise, 
plant,  prune  and  intrigue.  With  their  fin-
gers  on  the  Kiwi  pulse,  Roger  Hall  and 
Philip  Norman  hit  the  mark  for  a  good 
night"s entertainment!  
With opening night only a matter of weeks 
away, the  actors are busy perfecting  their 
performances for a "blooming wonderful" 
opening night on March 15
th
 at the thea-
tre in Maungaturoto. Tickets are availa-
ble now online at 
 and at 
Tony"s Lotto Shop in Maungaturoto. 
OTAMATEA  EX  NETBALL 
MUSTER, TRIANS and AGM 
If  you  are  interested  in  playing  Senior 
Netball come along to our muster, regis-
ter you interest and find out information 
about  fees,  season  dates,  umpiring/
coaching workshops, etc 
Muster at Kaiwaka Sports Assn 
Wednesday 27 February, 6.30pm 
There will be a short AGM before Mus-
ter,  6pm  until  6.30pm.  Please  attend  if 
you can. 
We will be trialling teams on: 
First Trial: Wednesday 6 March, 6.30pm 
Second Trial: Wednesday 13 March, 6.30pm. 
For more information please phone Mir-
na Manuell 4237767 or 021544229 
This  year,  Gymnastics  Otamatea  is 
again putting on the successful "Give-It-
A-Go"  class  on  Monday  afternoons  in 
the  month  of  March  for  families  to  try 
out  gymnastics  together.  This  is  a  very 
low  cost  class  with  minimal  commit-
ment  so  that  busy  families  can  have  a 
taste of gymnastics with no further obli-
gation.  Classes  are  held  at  the  Kaiwaka 
Sports Association from 4pm - 5pm. Pre
-registration is essential and all children 
must be accompanied by an adult.  
For further information:  4312022 
 021 180 3821  
or email gymnasticsotamatea@gmail.com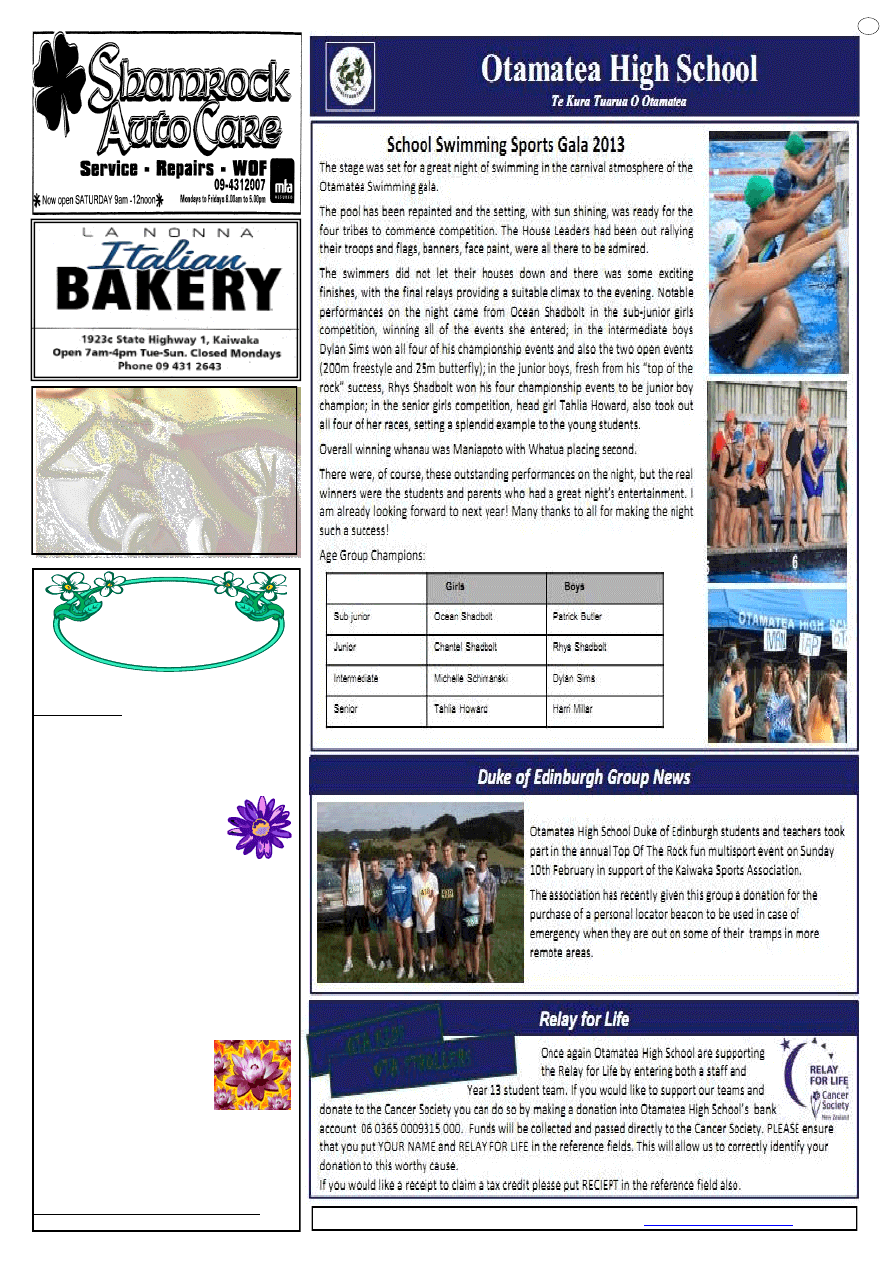 11 
Paul Greig Electrical Ltd 
Residential • Farm • Commercial 
Paul Greig 
Registered Electrician 
  Ph: 431 2223 Mob:021 230 2717 
Reliable & Professional Quality Service 
Based in Kaiwaka 
Sound  
 Landscapes 
Imagine
… if you will... 
...That unkempt area of your 
property...it needs atten-
tion...caring for...turn it into a 
work of art...a magic 
space...rustling...lush… 
shiny native plants... 
...texture...style…colour... 
form...fragrance… 
You"ve been aching 
 to do it.  You"ve put it 
off...TILL NOW! 
"Let me help relieve your 
burden" "Together we can 
make it happen"
Call for site appt.  
now: Pete Worsfold 
"Sound Landscapes" 
Phone 021825970 
peteworsfold@xtra.co.nz 
See page 19 for Principal's Comment or website: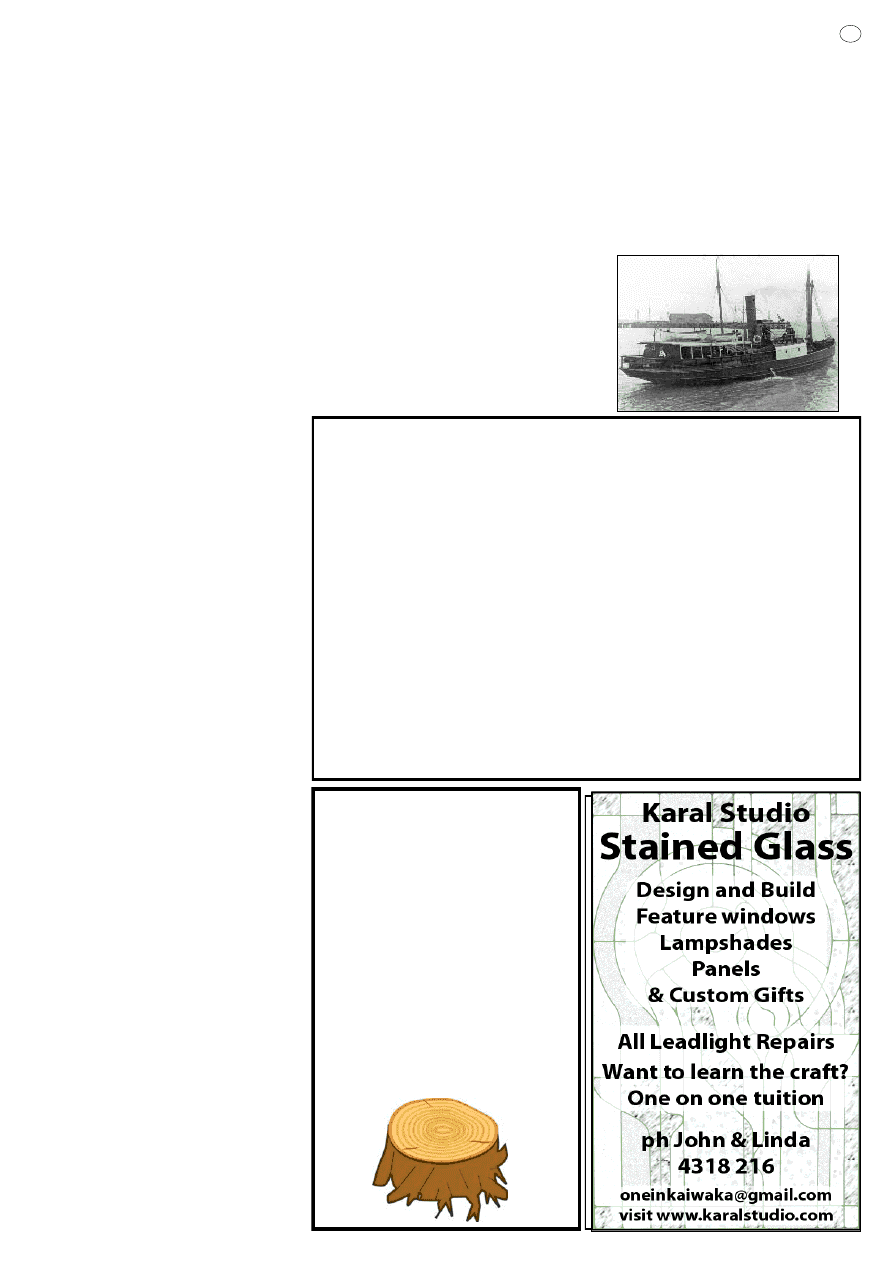 PLANNING A NEW KITCHEN? 
 CONTACT NOEL McDOWELL
WELLSFORD KITCHENS
Ph/Fax 094312888 
KAIWAKA-Any time
  QUALITY CUSTOM MADE KITCHENS  
~Personal and Prompt Service~ 
~All Workmanship Guaranteed~ 
~Over 20 Years in the Trade~ 
~Free Design & Quote~ 
STUMP 
GRINDING 
Big or small  
Tidy professional 
job 
Tel: Mark 021 457247 
 or 09 4321816 
WHAT'S IN A NAME? 
In  searching  our  history  there  are  a  lot 
of pitfalls to overcome and as  
Kaiwaka"s  European  History  started  at 
Mangawhai,  one  would  think  that  the 
search of that name would be easy when 
going into Papers Past.  However that is 
not the case as the then spelt Mangawai 
also  went  under  the  spelling  of  Mon-
gowai,  Mongawai,  Mongawhai,  Mon-
gowhai,  Mungowai,  Mungawai,  Man-
gawhi,  Mangawhai  and  to  search  our 
history one has to enter all these names.  
This is especially so when searching the 
shipping news.   
In "The Daily Southern Cross" newspa-
per  (which  wasn"t  a  daily  until  1862), 
where often  the  reporter  spelt  the  name 
differently in the same paper.  The rea-
son for searching the shipping lists was 
to  find  when  Kauri  Gum  was  first 
shipped  out  of  Mangawai,  and  the  first 
entry I can find is when the 20 ton cut-
ter  "Ant"  under  Captain  Adamson  ar-
rived in Auckland with one ton of gum 
and  4  1/2  tuns    of  whale  oil,  (oil  was 
weighed  by  a  tun  barrel),  reaching 
Auckland  from  Mongowai  on  Septem-
ber  15th  1858,  then  the  "Flora"  under 
Captain  McKenzie  arrived  in  Auckland 
with 22 tons of gum on the 1st Novem-
ber,  followed  on  8th  November  "The 
Lady of the Lake", Captain Te Kira with 
1  ton,  then  on  the  15th  November,  the 
"Amelia"  Captain  Tere  Were  with  11 
tons.  Again on the 26th November, the 
"Ant",  Captain  Adamson  with  15  tons 
as  well  as  the  "Herald"  with  1  ton  and 
once more the "Ant" with 20 tons on the 
9th  December;  the  "Amelia",  Captain 
Ngatagata with 12 tons on the 14th De-
cember,  and  the  "Ant"  again  arrived  in 
Auckland on the 28th December with 6 
tons and so we find that in the first three 
months, the shipping of gum came to 87 
tons  and  as  no  one  had  settled  in  Kai-
waka  at  that  date,  a  lot  of  this  was 
picked  up  by  local  Maori  as  they  were 
shipping it on their own boats.  It was a 
worthwhile  enterprise  as  gum  at  this 
time was fetching 28 pounds per ton in 
England.   
While  the spelling of Mangawai causes 
a problem for the shipping reporter, it is 
nothing compared to his spelling of the 
names of the Maori Captains for on suc-
cessive  visits  the  Captain  of  "The Lady 
of the Lake" was Wiri, Te Wairo and Te 
Kira  while  the  "Maria"  had  Captain 
Harepu going to Mongowai and Captain 
Hohepa from Mangawai on its return. 
Another  was  the  "Elizabeth"  with  Cap-
tain Rangitohirahira, Captain Rongi and 
Captain Rongi to he Riri, on successive 
voyages.    In  the  first  four  months  of 
1859  three  boats  with  European  Cap-
tains  took  out  73  tons  of  gum,  
whilefour  Maori  owned  boats  carried 
107 tons to Auckland.  A rough estimate 
13 
suggests over 300 tons left Mangawai in 
the  year  1859  and  there  was  no  wharf 
and the first bullock wagons did not ar-
rive  till  midway  through  the  year,  nor 
have  pack  horses  ever  been  mentioned.  
Gum  doesn"t  jump  into  sacks  and  row 
itself  out  to  the  waiting  cutters,  as  the 
boats  were  called,  waiting  in  the  deep 
water channel.  The boat that carried the 
biggest  load  was  the  "Elizabeth"  that 
took  out  26  tons  in  one  load  and  24 on 
another.  We don"t even know where the 
boats  were  loaded  and  so  the  mystery 
deepens as there are no records of Euro-
pean  involvement  in  gum  collecting  till 
about  1860,  so  the  first  years  of  the 
Mangawai gum trade was carried out by 
the  local  Maori.    Kaiwaka"s  first  men-
tion  of  Kauri  gum  is  when  it  is  back 
loaded from Hulls shop by Sam Mooney 
after  dropping  Albertlander"s  off  at  the 
Kaiwaka  landing  when  on  their  way  to 
Paparoa  in  1862.    Gum  was  entering 
Auckland  from  all  the  small  Northland, 
Coromandel  and  Hauraki  Gulf  island 
harbours  and  mostly  on  Maori  owned 
boats, so few records were kept until the 
European  diggers  started  working.    An 
unrecognized,  and  unrecorded  part  of 
local history.  Kaiwaka was a little easi-
er to spell for newspaper reporters, with 
Kaiwhaka  and  Kaureka  being  used, 
while  Pukekaroro  sometimes  went  by 
the name of Pukekaruru and  
Pukeharuru. ~ Bill Leslie 11/02/13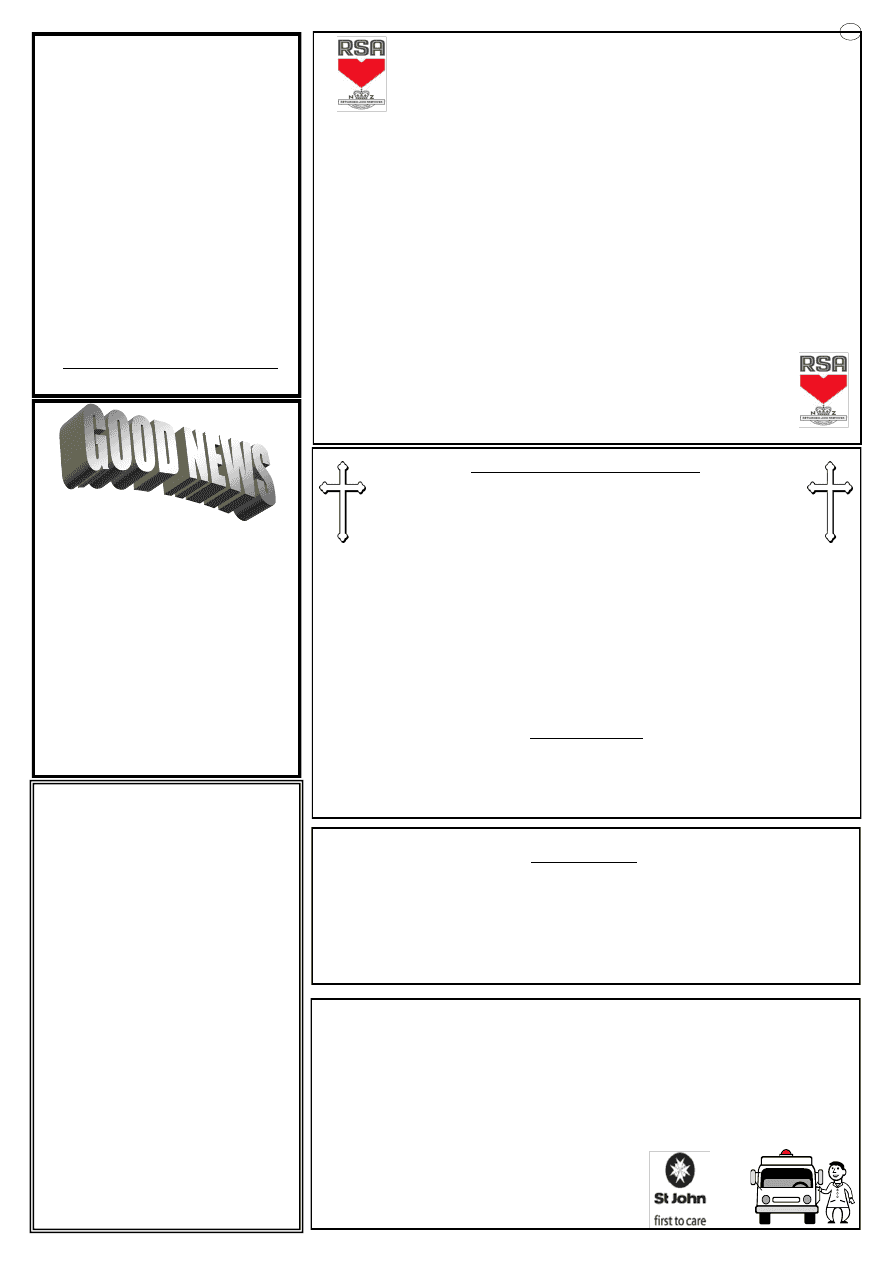 @ the  
Kaiwaka Family 
Church 
 Your COMMUNITY 
CHURCH 
Each Sunday  
10am:  Lively Family  
 
    Programme 
 
Everyone warmly welcome.
Ph.: Pastor John Dekker     
09 4318203 
THERE'S 
AMBER'S 
Q Cafe &  
Restaurant  
All day breakfast, 8am - 5.30pm.     
Home made Pizza, take away or eat in from 8am to late. 
 Light lunches, 11.am - 5.30pm, 
Dinner Menu at 5.30pm to late 
 Toasted Sandwiches and Sandwiches made to order. 
All day, Pies, Chowder & Soups 
 Milkshakes, Kiwi Ice cream, Slushie Fruit drink, Tea, 
Coffee 
 Closed Mondays.....except Observed Holidays 
 Sunday to Thursday: 8am - 8pm 
 Friday: 8am - 8.30pm, Saturdays 8am- 9pm 
4315226 
Trevor & Amber 
41 Moir Street, Shop 5-6  
Mangawhai Village 
Next to Carters Building Supplies 
HAKARU RSA
Women's Section 
2nd Friday of the Month 
from 6.30pm 
    Roast of the Day   
 $12.00 
    Fish n Chips   
 $10.00 
         Pea Pie Mash   
      $  6.00 
Includes salads 
Desserts  $5.00 
Phone Heather 4314668 
Jan 4314512 
QUIZ NIGHT
Friday 15
th
 March,7pm 
Kaiwaka Sports 
Complex
* teams of 4 - 6 people 
* lots of spot prizes 
* supper provided 
* $10 per head
Pre-registered teams only. 
 Contact Cheryl Anderson to        
register on 4312 051 or 
St John Lifelink: 
For those of you who are living on your own, or if you have a condition that could require 
urgent assistance, call  
0800 50 23 23.  This is the number of the St John Lifelink.  Once you have one of these 
gadgets you can feel reassured that help will be immediately on the way should you feel 
the need to activate it.  This service operates 24 hours, 7 
7 days a week.  To find out more, give St John a call on the above number. 
15 
St John Op Shop Kaiwaka 
Could people please 
not
 leave furniture outside the shop when we haven"t seen it 
first.  The two chairs left out in the rain were wet; we still have them because of 
their condition and they are taking up space. 
We are in need of drawers, tables and chairs and anything else in good saleable 
condition.  Ring me if you are not sure.  We also need pillows, towels etc.  
Has anyone got fruit, vegetables, cut flowers?  All are much appreciated. 
Thank you for your donations and support. 
Milly and Staff  Phone (09) 4312423 
St. Mary's Catholic Church 
Parish Mission  
 Saturday evening  2
nd
 March to  Sunday 10
th
 March 
Team of 10 Missionaries are coming to visit our Parish of 
Wellsford, Maungaturoto and Mangawhai 
There will be home visits to meet and talk with you. 
 Your concerns and needs will be listened to.  
Evening Seminars geared for all people. 
Contact details: 
Wellsford…..Fr. Bill Fletcher – Ph.  423-8170  
    Ivan Tomas – Ph.  423 8424 
Mangawhai…..Michele Oliver – Ph. 431 5048    
Maungaturoto . Peter & Ann Jackson -- Ph. 431 2226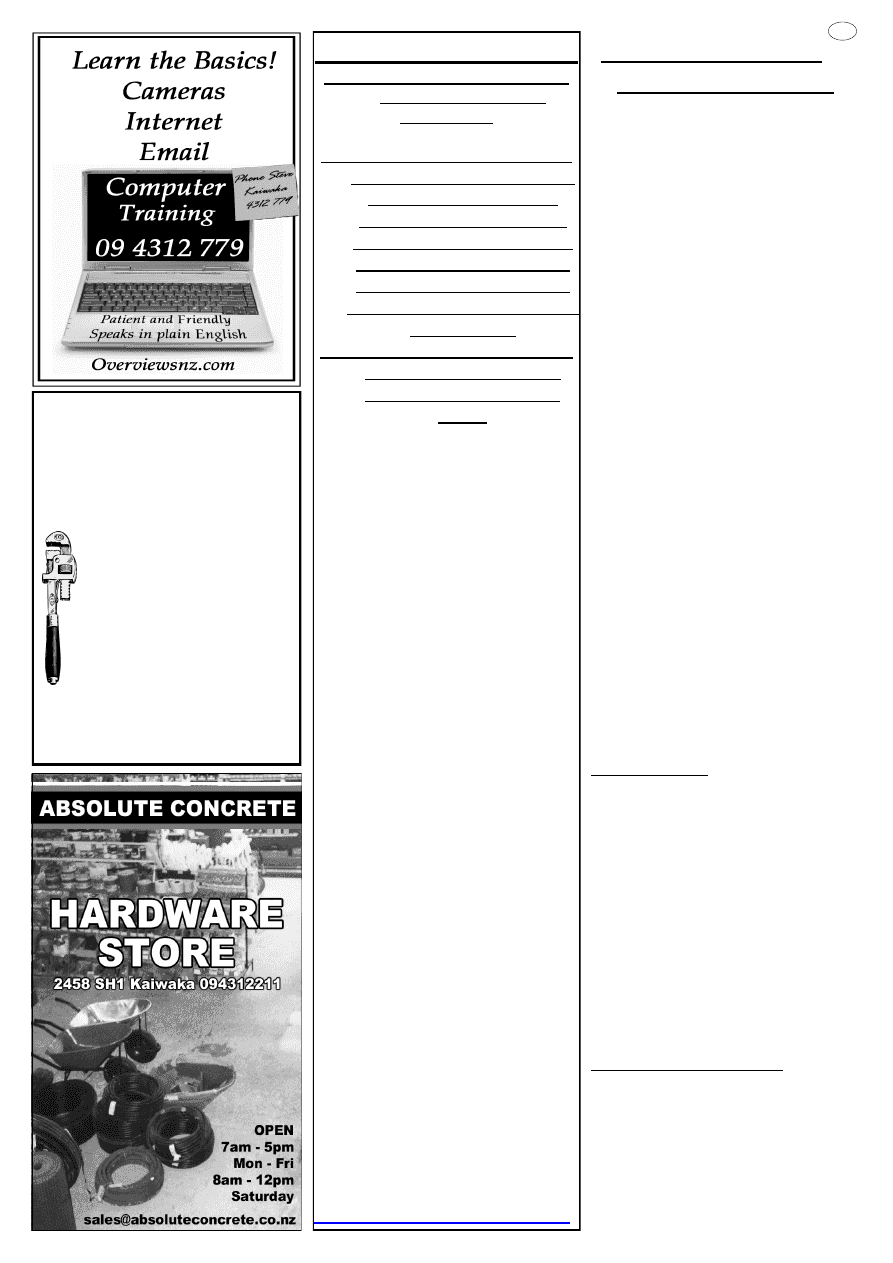 BARRY CURTIS  
PLUMBING LTD 
REGISTERED CRAFTSMAN 
PLUMBER 
Phone 4315572      
027 257 9884 
     25 years experience 
  
  
       Friendly reliable service 
  
All plumbing and  
maintenance 
       Alterations and new housing 
       New wood fire installation 
       Spouting 
       Competitive rates  
 PROMPT EFFICIENT  SERVICE  
 Try ThetaHealing™ 
For Your Emotional, Spiritual, 
Physical and overall  
Well being! 
ThetaHealing™ is a natural well 
being therapy based on cut-
ting edge neuroscience, 
alongside the rich and an-
cient tradition of sincere fo-
cused thought & prayer for 
healing and transformation 
through the power of Uncon-
ditional Love. 
It is totally non denominational, 
embracing all faiths, reli-
gions, cultures, race and 
creed. 
                          ***** 
Many life experiences can be hurt-
ful, sad and can leave us feeling 
emotionally overwhelmed, spiritual-
ly wounded, which in turn can affect 
our overall health and wellbeing. 
In fact, there is growing scientific 
evidence showing that toxic emo-
tion can contribute to disease, and 
with this is growing awareness that 
emotions, feelings and the power of 
thought have a direct bearing upon 
our physical health.  There is in-
creasing interest in how changing 
the mind influences the body to cre-
ate optimum health. 
ThetaHealing™ can restore well-
being in a moment or find and 
clear the subconscious beliefs and 
programs blocking your progress 
to create  
 Heart Soul Mind & Body well-
ness!   
 
Believe in yourself, restore mana,  
self worth, feel content inside 
yourself,  identify and follow your 
life purpose & reap the rewards
.  
Consultations are available for 
adults,  
children with parental consent,  
and can also assist animals. 
Phone Gloria Certified  
ThetaHealer® 
  +09 431 2209 or  
027 3638833 
North Tec Training 
Comes to Kaiwaka 
"The Kaipara Work Group" is a small  
community group. 
We are helping bring courses from North 
Tec to this area.  
Kaiwaka, with her fine, almost "as good as 
new" Hall, is handy for people from Papa-
roa, Maungaturoto,  
Mangawhai and Wellsford. 
 To start with, we see ourselves: 
-Finding  the  right  courses  which  will  suit 
this area and which people are wanting, and 
then spreading the word. 
-Finding  tutors/venues  and  help  the  tutor 
where required.
-All courses require trainees to work on vol-
untary projects as they train, so we will help 
with this. Ad, as Hall custodian, is so happy 
to  see  how  the  course  can  help  Kaiwaka. 
Carpentry  can  work  on  things  like  fences 
around  the  hall  which  are  planned.  The 
painting  course  can  paint  the  inside  of  the 
hall  as  they  learn  and  the  Horticulture  peo-
ple  may  start  the  talked  about  Community 
Garden  at  rear  of  hall,  (behind  new  fence)! 
Some  rent  for  the  hall  is  very  handy  but 
most  of  all,  the  Hall  is  getting  more  use.  
North Tec are great. They are doing similar 
courses  off  campus  around  the  north.  The 
work benches are fold up so the other users 
are  not  affected.  Projects  from  the  wider 
area  like  helping  Albie  with  the  Wharf  at 
Maungaturoto,  will  be  identified  as  well. 
Our group will help with all of this. 
-Helping as many as possible to want to find 
work or keep training further.  
It is early days and we are feeling our way. 
A  lot  of  local  support  and  some  donated 
products  already  are  encouraging.  Please 
help fill the courses. If you think of anyone 
who  may  be  interested,  please  tell  them  to 
Phone Minnie       431 2638  or   021751993 
Carpentry Level  2:   
The first group of 14  will start on 25
th
 Feb.  
at the Kaiwaka Memorial Hall. 
 3  days  per  week,      9am  to  3pm  (hours  to 
work in with school children).  The numbers 
are building up nicely  however there is still 
some room so please let anyone know:  
North Tec  will  be  at  the  Hall  on    Wed  20
th
Feb  10.00am  to  register  and  answer  ques-
tions  so  please  bring  a  photo  type  I.D  or 
Birth Certificate. A person from Study Link 
will  also  be  there  to    ensure  benefit  pay-
ments and loans for the $480.00 fee are easi-
ly  sorted.  Trainees  are  supplied  with  boots 
and  basic  hand  tools  which  they  keep  after 
the course.... A very easy start to a career in 
construction or learn the skills to build with 
wood.  Letter  boxes,  kennels  etc.,  jobs 
around the home. 
More courses will run after this.  
Carpentry  Level  2,  or  Level  4  if  required.   
Painting    and  Horticulture/  Gardening  are  
planned  so  please  let  us  know  if  you  are 
interested  and  spread  the  word  around.  The 
painting  course  is  free.  Perhaps  you  and 
some friends can suggest another course you 
think we could run? 
To  register,  or  for  more  info,  please  call:   
Minnie Magill    431 2638   or   021 751993 
17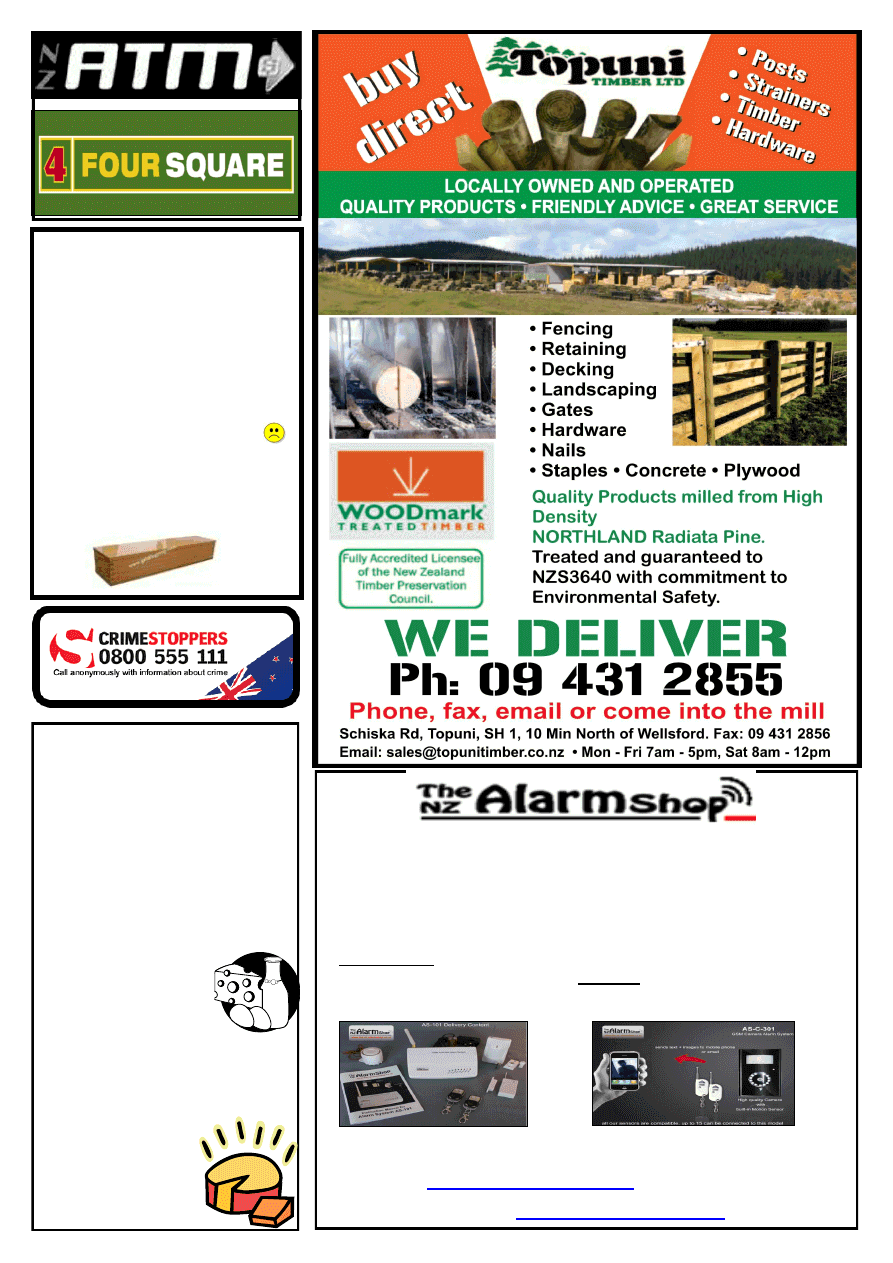 17 
KEV's CASKETS 
Stylish, BUDGET Accommodation 
Takeaways (8 available)  
or made to order 
  Featuring 2 styles and  
Different finishes. 
   Also O/S and Infant size 
Phone Kev in Kaiwaka  
021 1322 671 
Or come and visit my showroom 
104 Settlement RD, Kaiwaka 
www.the-nz-alarmshop.co.nz 
Protect your home, bach, shed, garage, camper, boat…. 
Monitor your property, watch what's going on. 
 
Easy to install and manage DIY GSM Alarm Systems, basic or 
extended features, suitable for everyone, expandable to your re-
quirements. 
 
Text or call alerts to your mobile and nominated phones. 
 
Camera Alarm System sends images to mobile or email. 
NO ELECTRICIAN, NO WIRING, 
NO MONTHLY COMMITMENT, NO LAND LINE NECESSARY! 
$249.00                                                        
$399.00   
*Phone not included
 For more interesting products please check our web site  
To order or for more information:  
The NZ AlarmShop, email: 
, ph. 09-4315905 
Hands On    
CHEESEMAKING  
WORKSHOPS  
are  On Again  
EVERY SATURDAY    
( 9am to appr.3 pm, incl. lunch)  
 
GOUDA (Hard Cheese) and  
Camembert Style (soft cheese) 
Other dates by  
arrangement… 
 
Or....  if YOU supply the 
Milk ...I can make the 
Cheese for YOU. 
 
For More Info or Bookings   
Contact; 
Ad ......(Founder of 
Kaiwaka Cheese 
Shop) on 
09-4312234 or  
021 2154495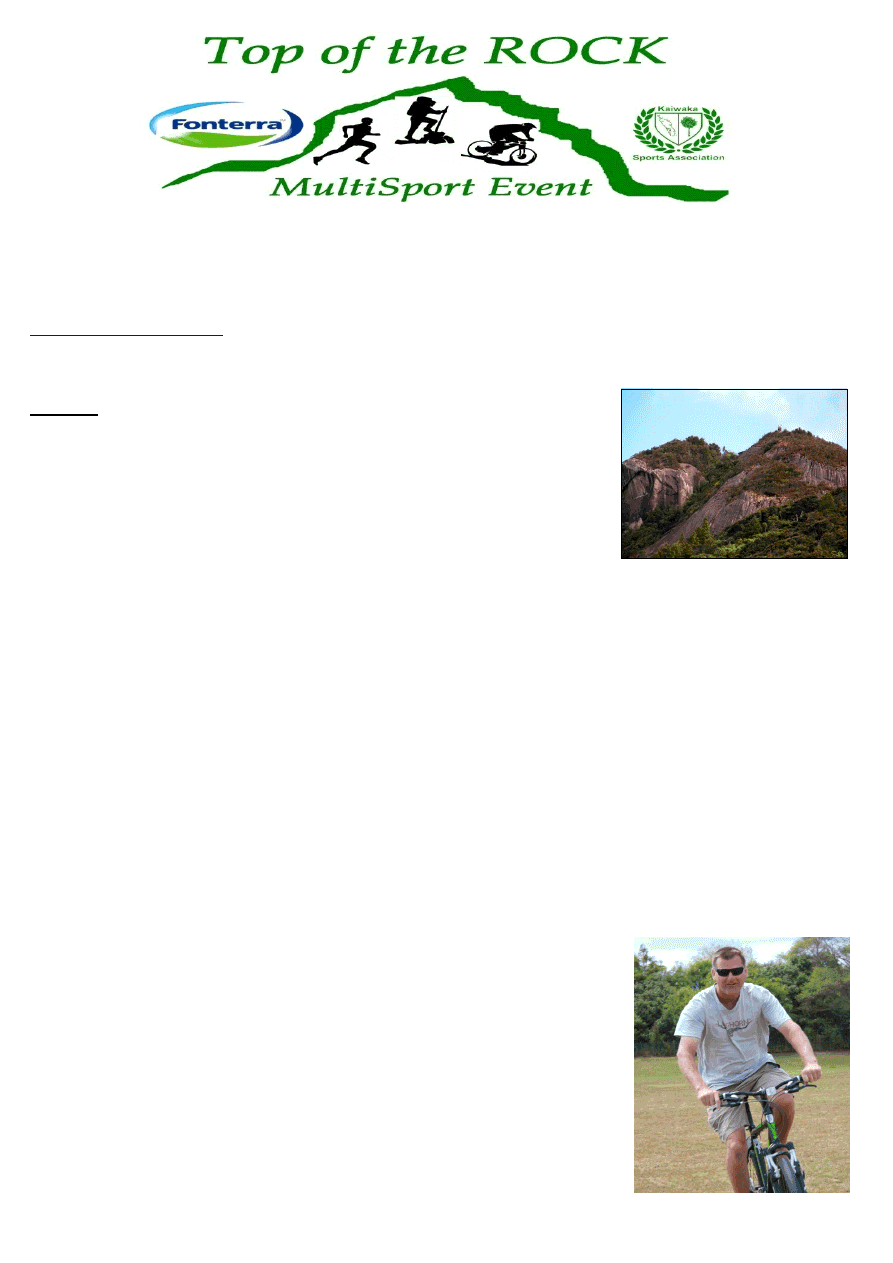 The Kaiwaka Sports Associations Top of the Rock multi-sport event was a great success! 
There were nearly 300 entries – competitors came from as far afield as Hamilton and Whangarei as well as lots 
of entries from locals. Some competitors participated in the 10km run & 14km mountain bike course or the 30km 
mountain bike route while the majority entered the 10 or 5km run or walk course. Photos can be viewed on 
TV3's 'Money Man' Brendon Johnson presided over the prizegiving. With thanks to the generous sponsors, there 
were over 80 prizes up for grabs – winners got first choice from the prize table, then the remaining prizes were 
given out by a draw.  
Results: 
Solo run & bike    
Jason Matthews 
Team run & bike  
Scott Parker & Mark Hodgetts 
30km bike – male 
Alex Delamore 
30km bike – female 
Megan Dimozantos 
10km run – male  
Rhys Shadbolt 
10km run – female 
Laura Smit 
5km run – male   
Devan Gabbitas 
5km run – female 
Brenda Ferguson 
Mangawhai Tyres kindly donated $50 for the oldest competitor. This was won by Maungaturoto's Trevor 
Brljevich, 82 years, who completed the 5km walk.  
The chocolate fish prize went to Jeff Stewart who was bandaged up from a bike accident the previous week, but 
still competed in the event! This year there were over forty volunteers helping run the event – the winner of the 
volunteers prize draw was Lindsey Hargreaves. A lawnmower, generously donated by Steve from Kaiwaka Motor-
cycles was raffled off and went to Devon Neaves. 
The main spot prize of an Avanti bike was won by a very appreciative Cameron Shaw. 
Kaiwaka Sports Association President Evan Wright was given a gift in recognition of all the work that he and his 
wife Michelle put into organising the event. As with most community events this was a team effort, so thank 
you also to: 
the many marshals and registration officials 
Kaiwaka Playcentre for the food stalls and bouncy castle 
Kaiwaka Netball club for the pool supervision 
Kaiwaka Fire Brigade for the route supervision 
Coates Family Trust for permission to climb Baldrock Mountain 
bar staff and photographers 
and the many landowners who gave permission for the routes to go over their 
farmland. 
And a very big thank you to the sponsors: 
Absolute Concrete 
Ann & Bryce Cullen 
ANZ bank   
Apple Basket 
Atlas Quarries 
Bavage & Chapman 
Carters Mangawhai  
Copthorne Hotel 
David & Mary Hargreaves 
Doug & Lenore Donaldson
Fonterra 
Grind coffee  
Ian & Beverly Stewart 
Jaques Four Square 
John & Jan Hargreaves 
Kaiwaka Cheese Shop 
Kaiwaka Motorcycles 
Kaiwaka Sports Association 
Kauri Springs 
Landcare Services  
Mangawhai Tyres 
Mangawhai Vet Centre   
More FM 
My Bike 
NZ Alarm Shop 
Overviews NZ 
Parker Lime 
Paul Greig Electrical 
Ranganui Developments 
RD1 Wellsford 
Rob & Deb Hastie 
Rob Whitehead 
Robert Leslie Logging 
Rural Design  
Silver Fern Farms   
Sport Northland 
Tony & Lindsey Hargreaves 
Tony Turnbull Engineering 
Well of Health 
Wellsford Sports & Leisure 
Cameron Shaw winner of the myBike 
Trek3500.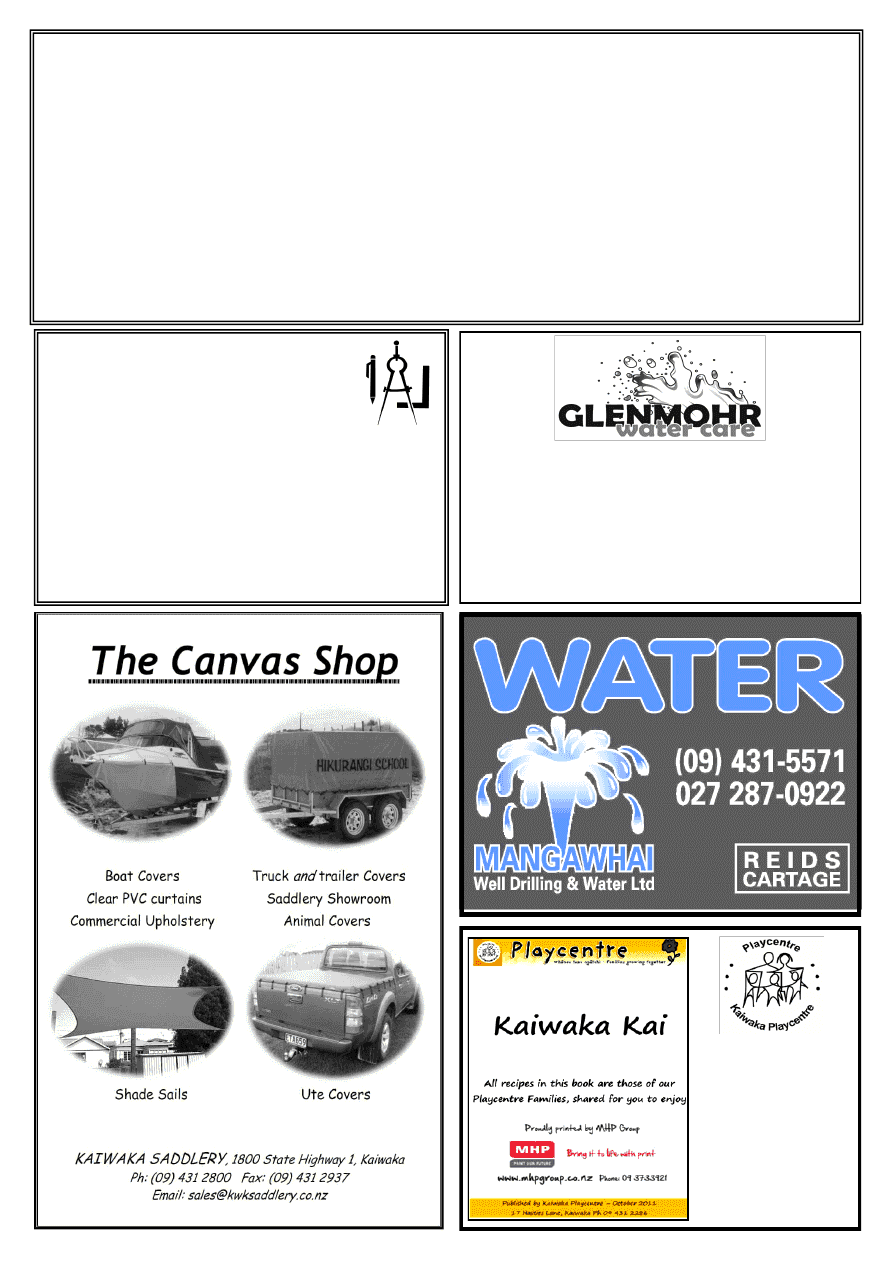 RANGANUI EARTHMOVERS 
 
16T Excavator   
(tilt, thumb & ROPS cab)   
Transport Trailer 
2 x 6 Wheeler Tip Trucks 
Suppliers of All Grades of Metal & Topsoil 
 
If you want a proper job done with an experienced operator ring 
Grant on    A/H 431-2131        Email  ranganui.dev@xtra.co.nz 
   Mob  021845-246 
Driveways, House Sites,  
Drainage Dams, 
Section Clearing,  
Tree Work,  Rock Retaining Walls,  
Quarry Work, 
Basically Anything That a Digger Can Do 
design drafting 
service 
Retired builder and manufacturer with over 40 years  
experience in the building industry is offering a design 
drafting service  
for domestic housing, sleepouts and sheds.  
Plans formulated in consultation with clients, with 
working drawings completed and submitted to  
council for processing.  Extensive practical experience,  
able to identify & resolve problems. 
Please ring Mike Lean on 
09 431 2260  
or 
021 431 196 
Water Tank Cleaning 
" 
 Keep your water safe & clean   
 
Removal of sediment, silt etc. 
 
Vacuum or full scrub 
 
Minimal water loss 
Phone Mark (09) 432 0655 or 0274 707607 
Get your copy from: 
Jaques Four Square 
Kaiwaka Postal Agency 
Kaiwaka Cheese Shop 
Cafe Eutopia 
The Well of Health 
Tony's Maungaturoto 
 
Or email  
jodygreig@clear.net.nz  
or phone 431 2223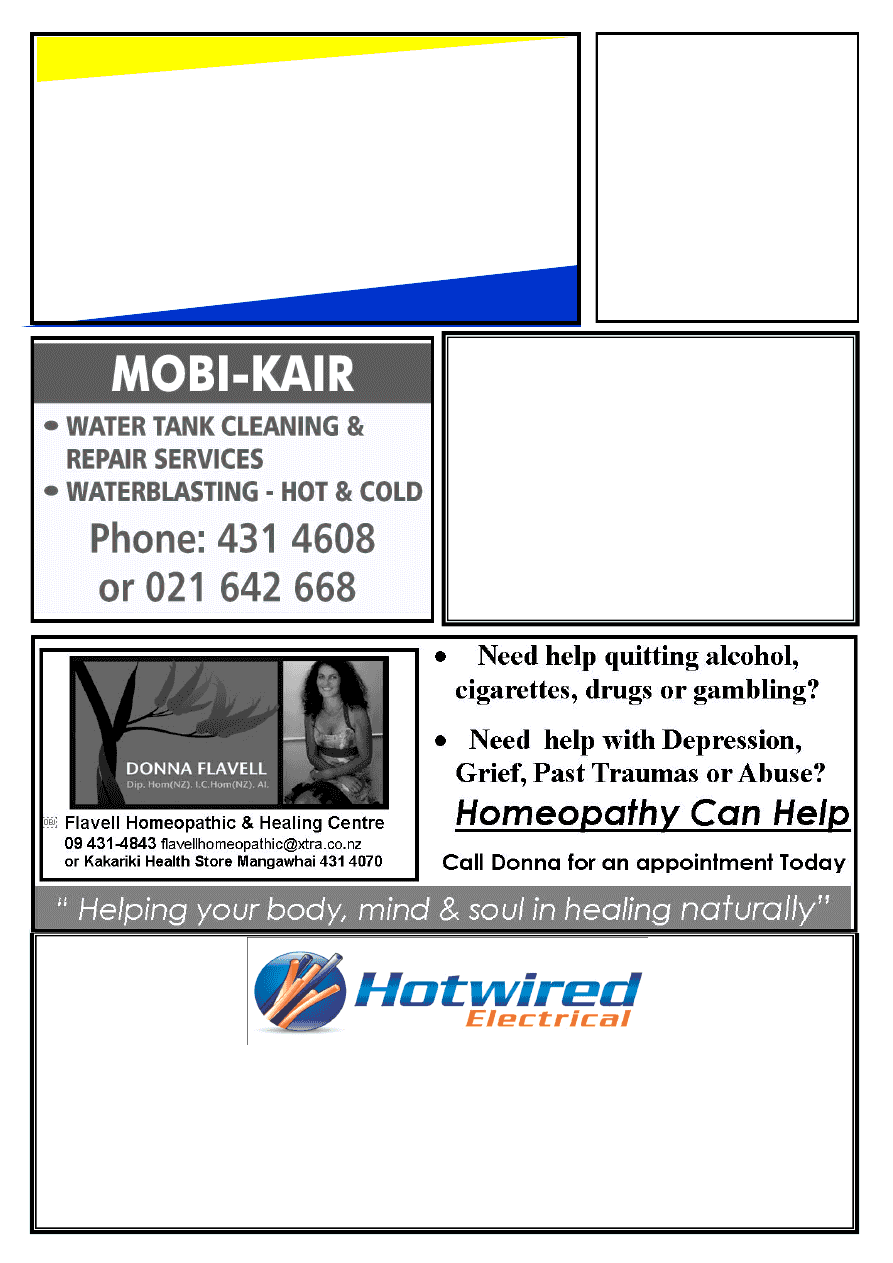 CONCRETE 
If it's concrete we do it 
Full Preparation & Pour by 
Experienced Local Team 
Phone Phil Keen Contractors  
027 659 2376 
TILING 
Certified Waterproofing 
431 4533 or 021 86 33 33 
George 
MCN Property Solutionz  
Local references available 
 LEABOURNS 
Car & Van Hire 
Bus & Coach Charters 
Airport Transfers 
 Monthly Shopper Bus 
Phone (09) 4237416 
For All your Electrical  Requirements 
 
Domestic small jobs 
 
Residential dwellings and alterations 
 
Commercial              
No job too big or too small
 
Industrial                       
Contact Jason today on: 
(09) 431 5992, (021) 405 019 
www.hotwiredelectrical.co.nz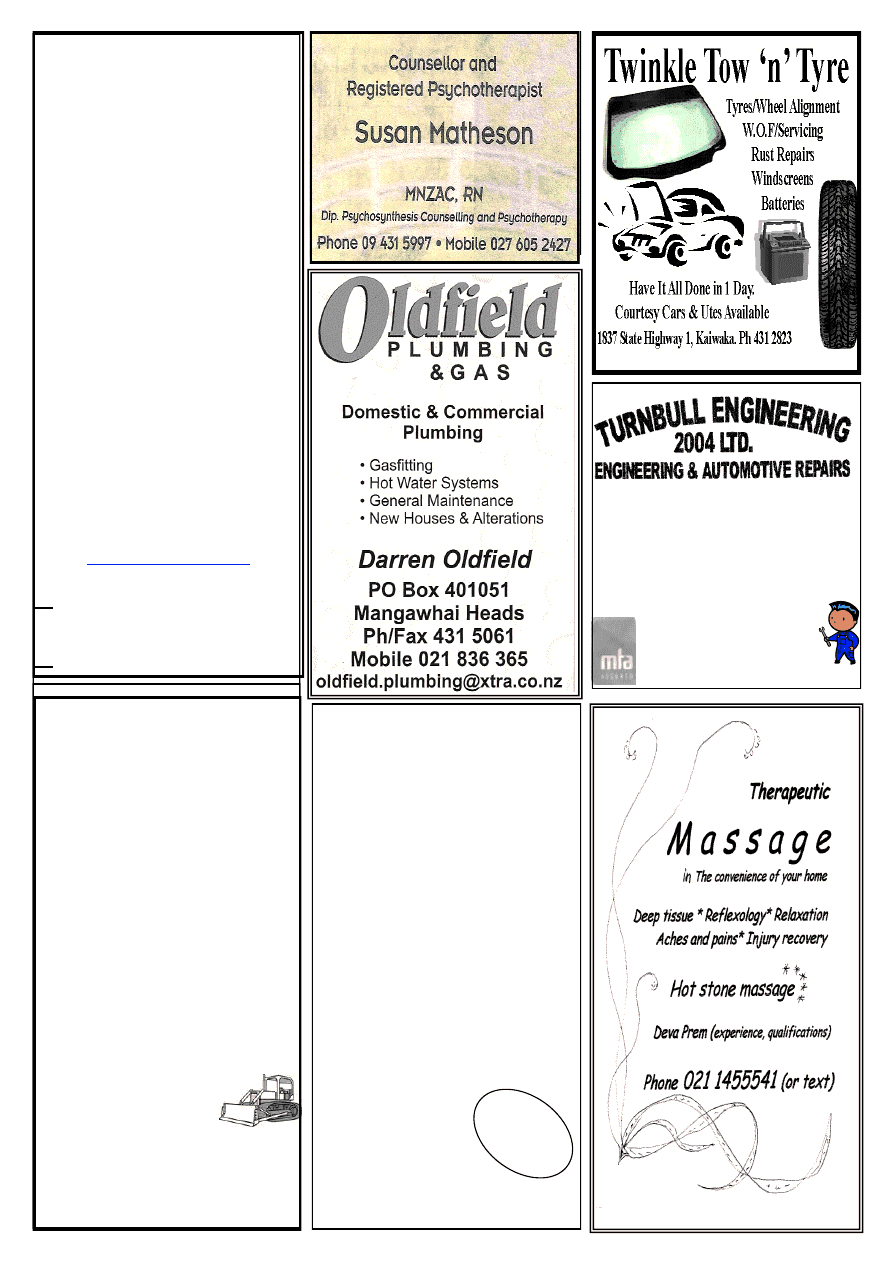 www.mangawhaimassage.co.nz 
Bas
ed o
ut  
One
riri 
Roa
d 
HODGETTS
CONTRACTING
Digger Work    

Driveways 

House Sites   

Dams 

Drains, etc
Also available for HIRE 

3 ton Vib Roller 

Heavy Duty Tow 

Waterblaster  

Lazer Level 
Phone Mark 
4312877 
027 447 8554
Bonjour, tous les mondes! 
Happy, prosperous 2013 
Not a fully functioning person...with those 
niggles, aches and pains? You guessed it.  
 I can help!
Monsieur Masseur .... 
RELAXING  
MASSAGE
..... Juste pour vous" 
Here's feedback from a happy client 
"Pete's treatment works. He identified 
long standing injuries no one else could 
fix and relieved years of chronic pain, 
fatigue and headaches.  I have Pete to 
thank for getting me back to work. I am 
so much happier and more confident in 
myself.  I can thoroughly recommend 
him." 
 
Call for an appointment now!
Pete Worsfold 
4312 152  or   021 825970   
Or  Ph. "The Well of Health" 
For an appt. 09 4312 799 
 
Or mobile service available 
Coates  
Contracting 
 
D41 Bulldozer with 6 
way blade, bush rigged 
with winch 
 
For all tree work 
 
General bulldozing and  
  stick raking. 
 
120hp Tractor for 
ground cultivation,  
 
tip trailer work. 
 
Fencing
All enquiries phone  
Brett Coates  
094318720 or mob 
021431872 
For all Your Mechanical  
and Engineering Needs 
WOF
AVAILABLE 
758 Kaiwaka-Mangawhai Rd 
4312148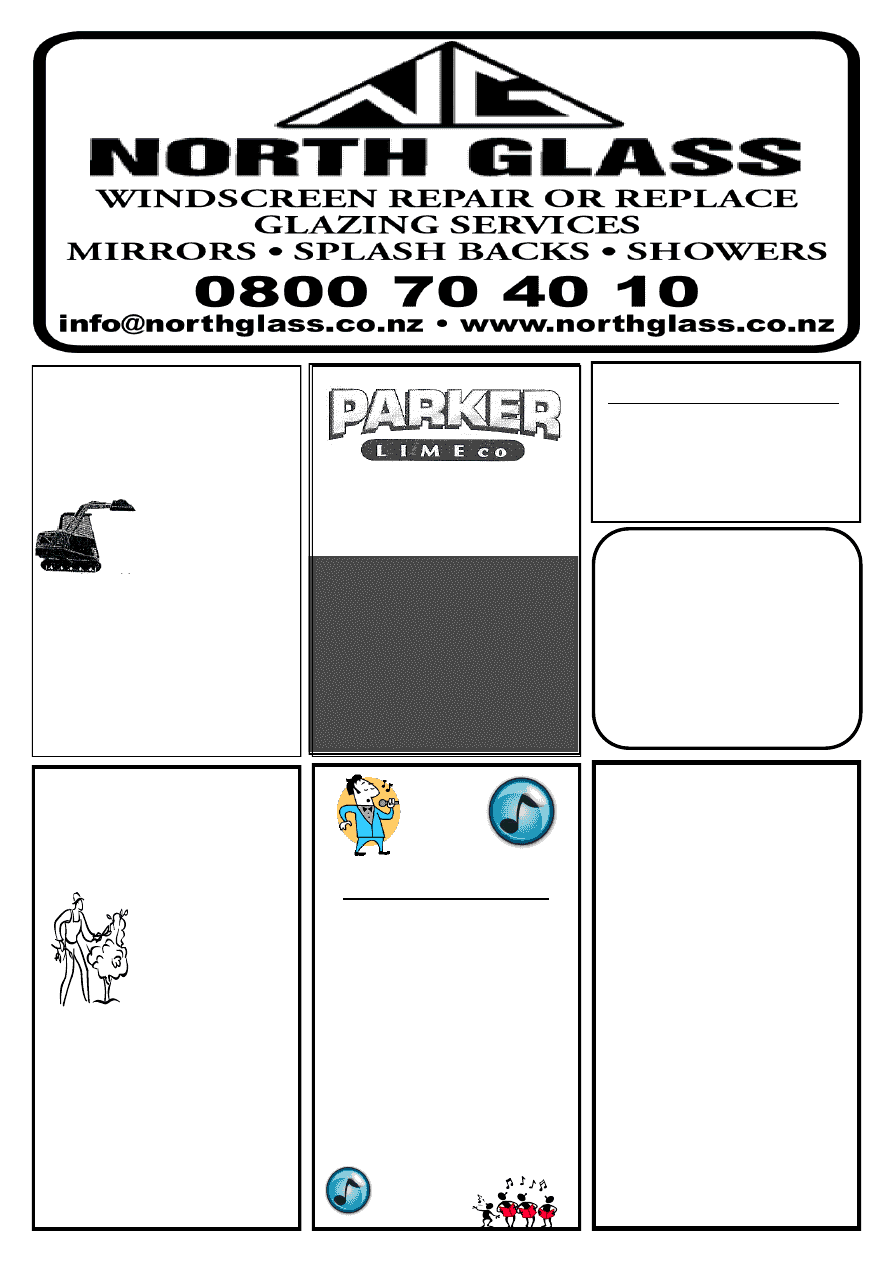 T.W.WRIGHT 
WATER PUMPS  
SALES & SERVICE 
DEEP WELL & SUBMERSIBLE REPAIRS 
203 RD, WELLSFORD 
PHONE 09 4238235   
MOBILE 021 976 545 
Landcare 
Services
Dave Hyndman  
     4312302 
   021 431238 
Trenching, Hole Boring, Land 
Levelling,  Driveways, 
Landscaping,  Post Peel,  
Pig Post, Lifestyle block 
mowing, etc....also Rotary 
Hoeing 
For reliable and friendly service 
contact Dave 
Landscape Supplies 
Bulk Cartage 
4312407 
Mob: 021 453 252  
Fax: 4312939 
scott.parker@parkerli
me.co.nz 
Gibbons Road, Kai-
waka 
Singing Lessons 
Individual sessions 
All styles of music  
All voice types 
Reasonable rates 
Phone  
Maura Flower 
021 164 8318 
Willow Bend
HORSE  
HOTEL 
"   
Total Horse Care 
" 
Agistment 
" 
Riding Lessons 
" 
Arena Hire (60x40) 
" 
Young Horse Starting 
" 
Re-training/Exercising 
" 
Hoof Trimming 
" 
Problem Solving 
Phone Sue 09 431 2817 
or 021 623 776 
Or email sue.gray@xtra.co.nz 
OUT THERE 
GARDENS AND LAWNS 
Lawn Mowing – Any Size 
Section Clearing  
Hedge Trimming  
Spraying  
Planting 
Pruning   
Gutters Cleaned 
Chainsaw Work 
Regular Services 
General Maintenance 
Garden Waste Removal 
Free Quotes 
Get The Job Done! 
Servicing Kaiwaka/Mangawhai 
Contact Phil Jones 
027 243 5503  
431 2196  
Email: outthere09@gmail.com 
Community Services Officer: 
For all Community Services Forms 
see Millie at the Kaiwaka St John 
Op Shop. Phone 4312423 
MORE MEMBERS REQUIRED FOR 
THE KAIWAKA STATION
.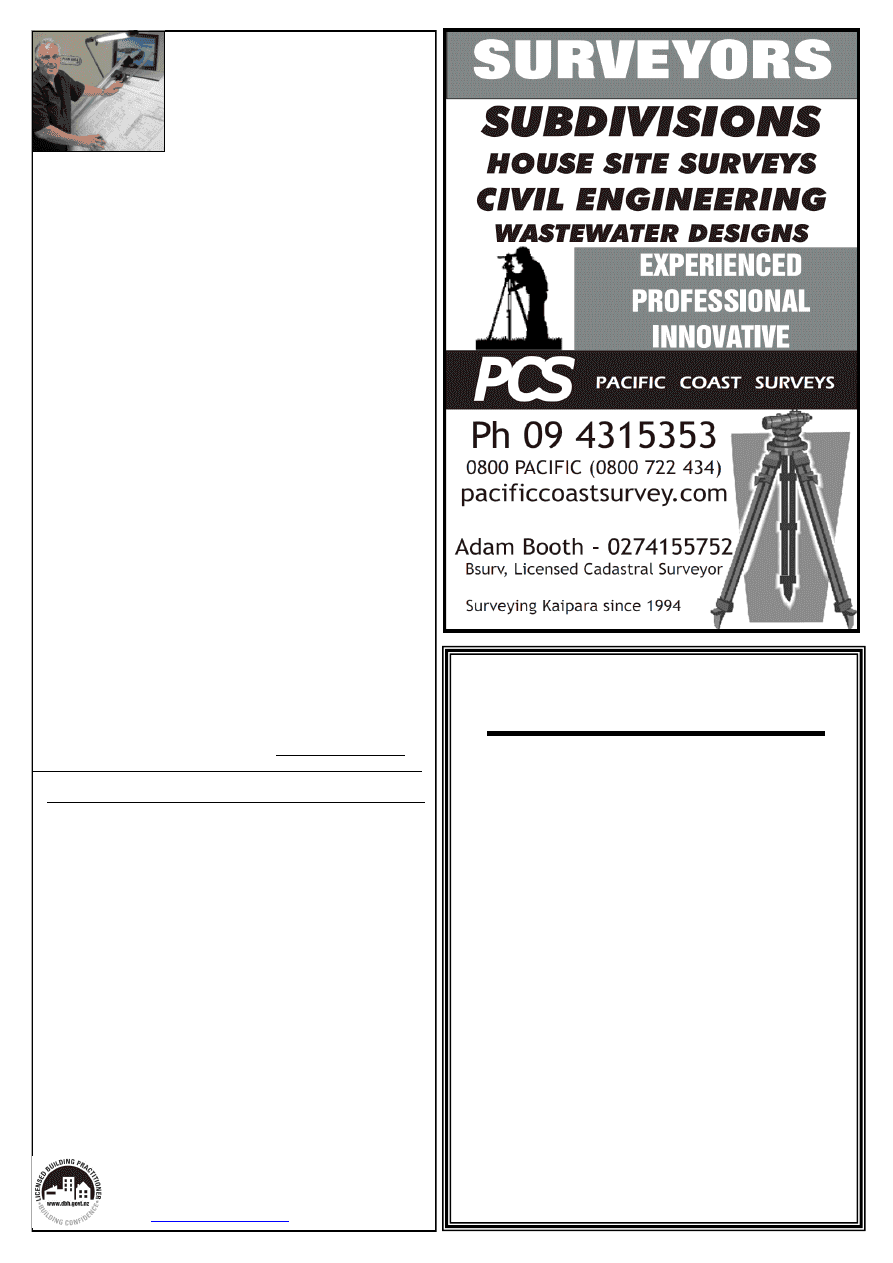 STOCKFOOD
GREAT RANGE FOR ALL YOUR LIVESTOCK  
AT GREAT PRICES 
 ALSO CHECK OUR 
DOG BISCUITS 
20 KG FOR $57.80 
LPG REFILLS 9KG 
STILL ONLY $31.50
MANGAWHAI SERVICE 
STATION 
(09) 431 4242 
44 MOIR STREET IN THE VILLAGE 
ARCHITECTURAL 
BUILDING PLANS 
AND DESIGNS 
20% Reduced Cost - design and planning. 
If you are thinking of building, then you need 
to make use of cost savings in architectural 
design as well as having a good and well experienced designer. 
This applies if you are considering a new home, any alterations or any 
building additions/farm buildings, sheds, alterations, whatsoever. 
There are many things that are frustrating if you are not totally 
familiar with what all details are required by Councils -especially 
with new regulations in force to ensure everything runs smoothly - 
e.g. Resource and Building Consents, planning restraints, new 
building materials ,applying for building permits, dealing with 
building contractors to name a few -you need a capable,  
experienced and professional designer with a clear knowledge of 
all the processes. 
WE CAN HELP YOU CLARIFY ALL OF THESE ITEMS 
 
AND MAKE LIFE RUN MORE SMOOTHLY. 
Brian of Wright Design has been helping and organising all these 
facets of design and building for over 40 years. 
With needs of family changing and the economy - building require-
ments constantly being reorganized and made more complex, it"s very 
important to obtain professional advice for any building project - no 
matter what size. 
Brian advises on design, materials, permit applications, builders 
and subcontractors for any project - no matter how small or large 
ALL THIS AT A REDUCED COST so YOUR DOLLAR    
GOES FURTHER  
Wright Design offers free visits, consultations and all the advice 
you need on planning. Design, building, contractors, council  
permit applications, guaranteed permit plan acceptance. 
QUALIFICATIONS 
Brian is a qualified designer (NZCAD) with over 40 years of varied 
experience in all types of building and is a registered and Licensed 
Building Practitioner in Design - L.B.P. 117345 
He ensures you will achieve the best from your budget with  
recommended excellent local contractors ready to competitively 
price and build your personal project quickly and efficiently. 
EXPERIENCE 
Brian"s practical building and 40+ years of design experience 
means he can give you excellent advice and all the guidance need-
ed for all your building needs, 
FEES: To help you attain your project Brian has reduced his 
costs by 20%, giving you extra funds for the rest of your project. 
ENGINEER: Brian can arrange engineering for a reasonable cost. 
THIS IS AN ABSOLUTELY GENUINE FEE REDUCTION!! 
Qualified and inexpensive designer – N.Z.CAD., LBP 117345 
Guaranteed design and working drawings 
Free site visit to your home or property 
Great service 
Obtain a free quote with 20% Discount. 
PROJECTS 
Additions, alterations, basements, new houses, motels, bed and 
breakfast commercial buildings and shop fit outs are a few pro-
jects he has been involved with. 
Brian can show you many of his projects in the area to emphasise 
his versatility 
WHAT TO DO FROM NOW 
Call Brian   
Arrange a visit 
Discuss your needs 
Obtain great advice.  
Obtain a free quotation - with a true 20% discount 
Make a decision based on the facts - You Won"t Be Disappoint-
ed! 
MAKE GOOD USE OF HIS EXPERIENCE AND THIS 
GREAT OFFER OF REDUCED FEES OF 20% 
Brian can offer plan printing-from A4 to AO (2 x A1 size) 
WRIGHT DESIGN 
Brian"s office is at: 72 SPINDLER ROAD, R.D.2 WELLSFORD  
(Off Wayby Valley Road.) Call in for a chat and a coffee, or he 
will call on you at your home if preferred. 
WRIGHT DESIGN: Office 09-423-8092 
Mobile 021 276 7389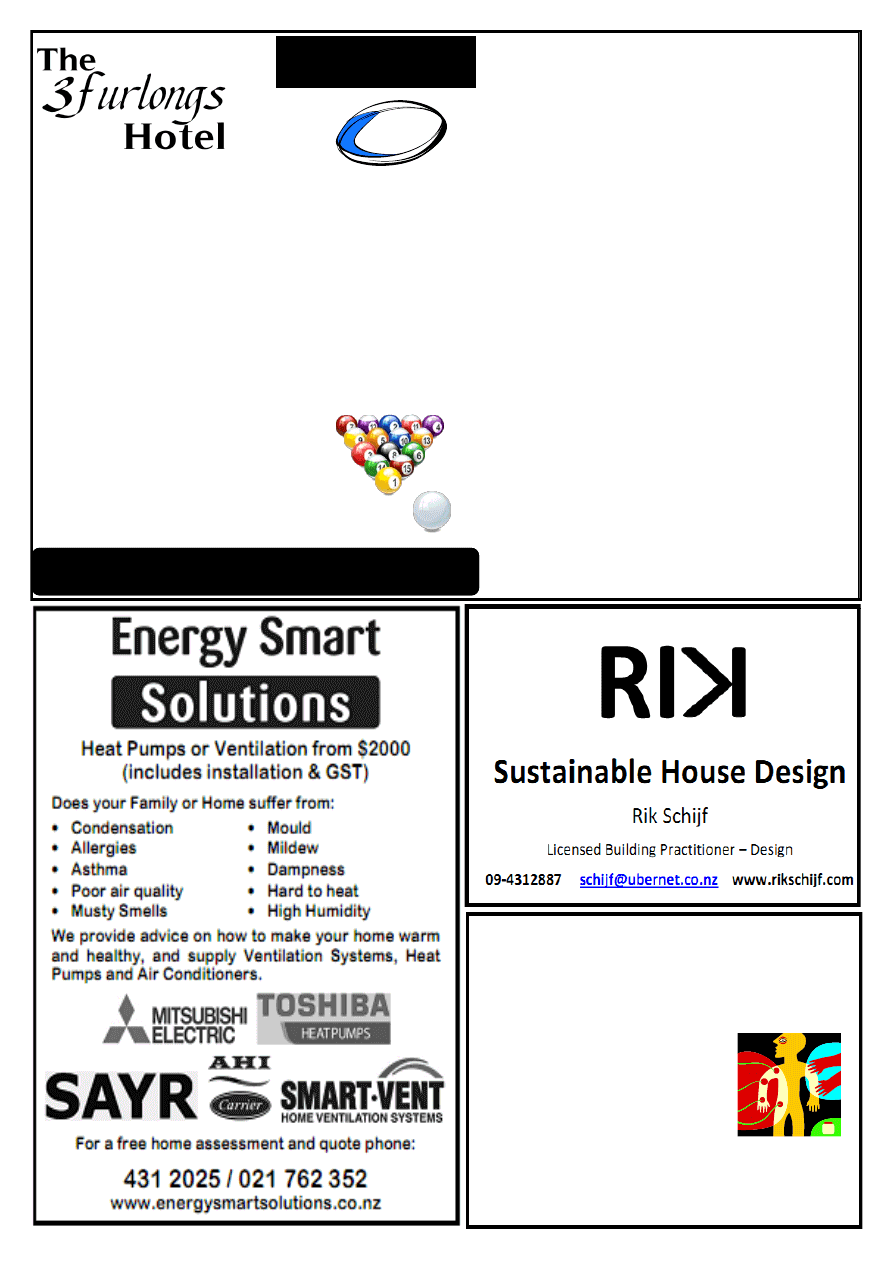 OWEN STEVENS 
Osteo Therapist
For careful adjustments to bones and joints 
Treatment for  
humans and their pets 
Clinics: Kate's Place, Kaiwaka: 
Last Friday of month 
Warkworth Showground:  
2
nd
 Thursday, monthly
For bookings:  9.00am-5.00pm 
Phone 09 4312661  
 
Or phone Owen  09 4317123   anytime 
Three Furlongs Take Aways 
Ph: 09 431 2246 
Open Monday—Saturday 6.00pm—8.30pm 
Chips ................................................................. $4.00 
Hoki .................................................................. $5.00 
Dory .................................................................. $5.00 
Chicken Tenders ............................................... $2.50 
Hot Dog ............................................................ $3.50 
Garlic Bread ...................................................... $5.00 
Potato Wedges /sr crm & swt chili sauce ........ $13.00 
Camembert Wedges ........................................ $13.00 
Shrimp cocktail ............................................... $13.00 
Nachos ............................................................ $14.00 
Seafood Basket with chips .............................. $16.50 
BURGERS 
Chicken Burger ................................................. $5.80 
Fish Burger ....................................................... $6.50 
Egg Burger ........................................................ $5.50 
Cheeseburger .................................................... $5.50 
Lamb Burger ..................................................... $6.50 
Bacon & Egg Burger ......................................... $7.50 
Steak & Egg Burger .......................................... $8.50 
All in Burger ................................................... $11.00 
Happy Hour  Tuesday's 6.00—8.30pm - Handles only $4.50 
Pool Tourney's 
Come on down on Tuesday night or Friday  
night for our knock-out pool competition.   
First prize is a bar tab. 
IT'S SUPER XV TIME,  
Call in for a beer and watch the game with us 
Fri 22ndFeb 
Highlanders v's Chiefs at 7.35pm 
Rebels v's Brumbies at 9.40pm 
Sat 23rd Feb 
Hurricanes v's Blues at 7.35pm 
Reds v's Waratahs at 9.40pm 
Fri 1 Mar 
Blues v's Crusaders at 7.30pm 
Reds v's Hurricanes at 9.20pm 
Sat 2 Mar 
Chiefs v's Cheetahs at 7.35pm 
Waratahs v's Rebels at 9.20pm 
09 431 2246 
threefurs@xtra.co.nz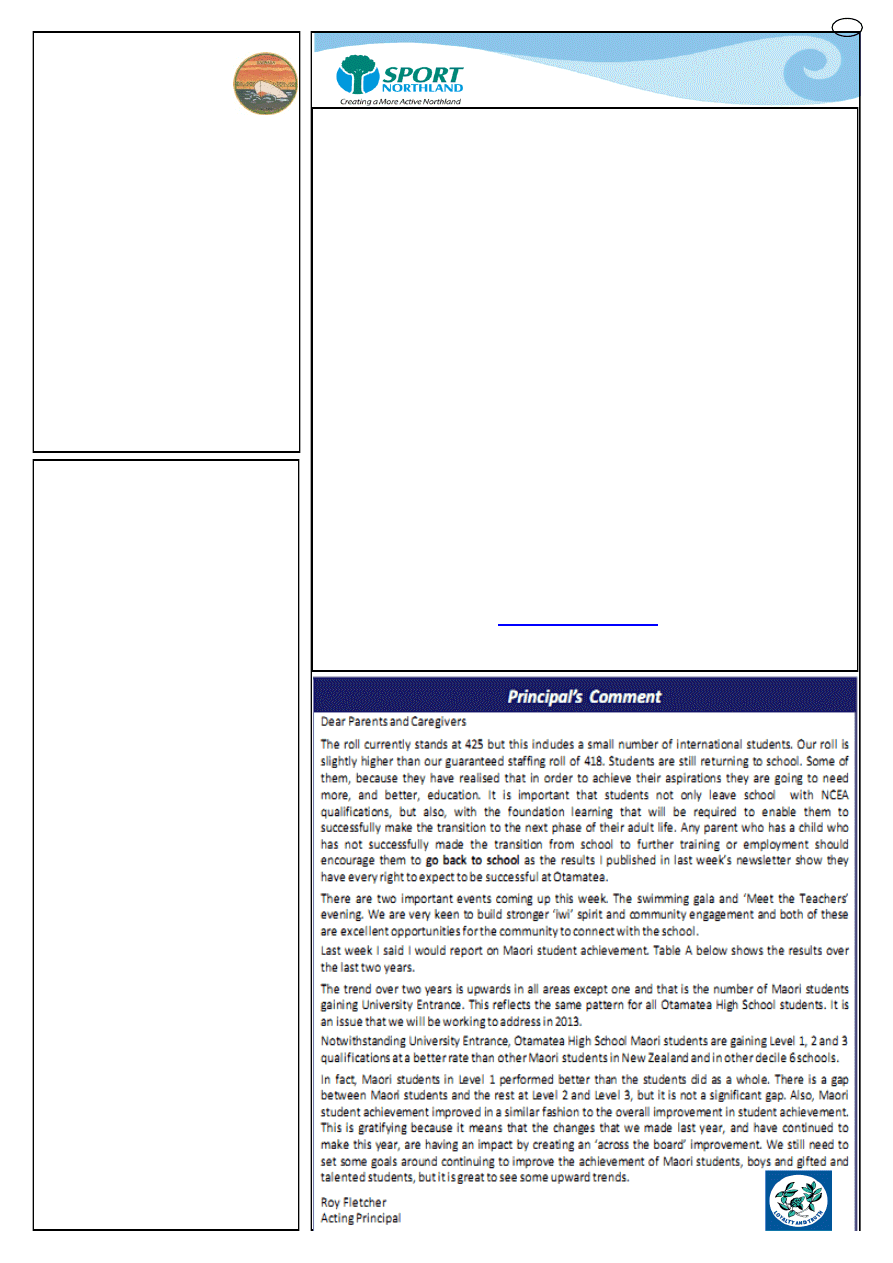 Point Curtis Cruising 
Club 
Club Members only fishing 
contest 9 and 10 March 2013.   
Entry $20 per adult angler and $10 per 
junior (Under 15).   
Contest  Species:  Snapper,  Kahawai, 
Kingfish,  Gurnard,  Crayfish  and  Eel 
(Eel section for Juniors only). 
New  members  welcome,  however 
subs must be paid 7 days prior to con-
test.    $20  single  or  $30  family.   Subs 
may be paid at 3 Furlongs Hotel,  
Kaiwaka  or  to  Jean  Mcleish 
(Secretary)  4312520. 
Claybird  Shoot:  At  Wayne  and  Linda 
Leslie's Farm 17 March 2013. 
Fish  Of  the  Month:   Snapper  until  12 
March 2013. 
Next  committee  meeting  7pm,  12 
March 2013 at 3 Furlongs Hotel. 
Wayne Leslie, Commodore. 
19 
Mangawhai Triathlon first event for 2013
The AvantiPlus Mangawhai Triathlon is the first event on the 2013 Sport North-
land events calendar and will be held on Sunday 24 February. This is the first of 
three triathlons Sport Northland will organise with the Ray White Allens Kids Tri-
athlon  being  held  at  Onerahi  on  Sunday  17  March  and  the  AvantiPlus 
(Whangarei) Kumara Triathlon at Kai Iwi Lakes on Saturday 6 April.  
A good flow of early entries have been received for the Mangawhai event with 
many coming from outside the Northland region. Sport Northland Events Team 
Leader Hayley Overton says it is pleasing to see this event gaining in popularity. 
"Having the opportunity to compete as an individual or as a team in these triath-
lon events is often a great way for people to experience their first triathlon. An-
other factor is the opportunity to either swim or kayak the first leg of the event", 
she said. 
Based at Mangawhai Heads, the triathlon offers a swim of 500 metres or kayak 
of 1.5km followed by a 17km cycle and the 5km run.  Categories are offered not 
only for the individual disciplines for open men and women, under 20s and over 
40s but also provide the opportunity for people to enter as a team.  
Previous winners of the Mangawhai triathlon has included top New Zealand tri-
athletes Samantha Warriner and Nicky Samuels however this event encourages 
competitors  from  novice  through  to  competitive  levels,  with  the  team  section 
being an ideal option for beginners. 
The  safety  briefing  will  be  held  at  the  event  headquarters  at  the  Mangawhai 
Camp ground at 8.15am prior to the 8.30am start.  
A  great  array  of  prizes  including  an  AvantiPlus  bike,  will  be  given  away  at  the 
prize  giving  which  will  take  place  at  the  finish  area  (at  the  end  of  Mangawhai 
Heads Road) at approximately 11am. 
Entries are open online  at 
February or contact Sport Northland for further details.  
colleen@sportnorth.co.nz 
About Sport Northland
Sport  Northland  is  Northland's  Re-
gional  Sports  Trust  –  a  charitable 
trust with a core purpose of 'creating 
a more active Northland' and a vision 
that  'All  Northlanders  are  healthier 
through regular, lifelong participation 
in sport and physical recreation'. The 
trust  focuses  on  physical  recreation 
and  support  for  grass  roots  sports 
organisations  through  a  new  ap-
proach  working  with  targeted  sports 
in  targeted  communities  throughout 
Northland. 
 
Sport Northland also has a number of 
flagship  programmes,  events,  facili-
ties and activities under its umbrella - 
these  include  the  multiple  national 
award  winning  10,000  Steps  North-
land  programme,  the  national  award 
winning  region-wide  Run/Walk  Se-
ries,  the  national  award  winning  Top 
Energy  WaterSafe  programme  and 
other  successes  such  as  Green  Pre-
scription,  Active  Workplaces,  He 
Oranga  Poutama,  Taitamariki  Tuu 
Ora,  early  childhood  and  school 
based  programmes  and  work  across 
the region's three districts through six 
Sport Advisors.  
 
Sport Northland also owns and oper-
ates both the ASB Leisure Centre and 
the ASB Northland Sports House, and 
owns (but contracts out the manage-
ment of) the Whangarei Aquatic Cen-
tre. 
For  further  information  please  con-
tact:
Colleen Atchison   0274775660 

ORGANISATION & 
SERVICES  
JUSTICE OF PEACE  B.F.Jaques,  
L.Donaldson,  A.F.Hargreaves. 
MARRIAGE CELEBRANTS - 
L.Donaldson;4312228;A.F.Hargreaves 
4312045;  Judith Knights 4312765 
Fire Brigade –J Bowmar 
   4312248 
Kaiwaka Primary School 
   4312309 
Kohanga Reo  
   4312620 
Kaiwaka Library - W. Howard       4312539 
        kaiwaka.library@gmail.com 
Kaiwaka/Mangawhai Plunket Soc.   
  4314187 
Kaiwaka Playcentre -  
  4312286 
     Mon -Fri 9.00-12.00          
Kaiwaka War Memorial Hall 
            kaiwaka.hall@gmail.com 
ParentPort - Linda  
   4259357 
St. John Division S.Rosser      0212316836 
Kaiwaka Cubs-B.Ferguson   
   4312542  
INTEREST GROUPS/SPORTS  
Athletics - Eileen Parsons 
   4318055 
Badminton - K. Fleming  
   4312345 
Fitness Centre-  J.Harris  
   4321755 
Fishing -Pt.Curtis Cruising Club      4312246 
Gardening Club - Jean 
   4314767 
Gymnastics - S. Brown 
   4312022 
Historical Society  
   4312045 
Hockey- Robyn Bruce 
   4318145 
Indoor Bowls - G.Mansfield  
   4312310 
Kaipara Hunt - A.Doornenbal      4312059 
Kaiwaka Sports Ass. - C. Anderson    4312051 
Hakaru Pony Club - Dianne           4314315 
Maori Women's Welfare League     4312293 
Martial Arts- Craig Bennetts 
   4315170 
Molesworth Sheep Dog Trials       4312192 
Netball-Primary -  Melissa 
   4312239 
Netball-High Sch-Madeline           4317056 
Netball-Otamatea Ex  
                 Mirna Manuell 
   4237767 
Nthld.Western Riding - C.Ries      4312040 
Pig Hunters Club - F.Steiner  
   4312035 
Pt.Curtis Cruising Club 
   4312246 
Repertory-Otamatea 
   4318729 
RSA-Hakaru - 
   4314719 
RSA - Women"s Section   
   4314512 
Rugby-JMB-Rebecca Blissett     4312085 
Rugby-Senior-Kevin Pres.      0274793659 
Soccer -  May Seager 
   4318494 
Squash - B.Thomas  
   4315905 
Tennis - Lindell Ferguson 
   4312542  
Three Furs. Pools/Darts   
   4312246 
CHURCHES 
Anglican. St. Paul"s 
  4312295 
Anglican St.Michael"s 
  4315913                
Co-operating Parish services 
  4312057  
Family Church - Kaiwaka  
  4318203 
Gateway Worship Centre  
  4312528 
HALLS—Hire 
Kaiwaka War Memorial Hall        4312725 
Archie Bull Hall  
  4312048 
Kaiwaka Sports Complex-Cheryl 
   Anderson 
  4312051 
MARAE 
Oruawharo Marae 
Te Pounga Marae - Oneriri 
  4312681 
 INFORMATION 
Kaipara District Council Service Centre     
0800 100 388 
  4312013 
Kaiwaka Media Group 
  4312045 
www.kaiwaka.co.nz 
FUNERAL DIRECTOR  
Morris & Morris c/-Bev Jaques     4312367 
FURNITURE 
Kaiwaka Furniture Factory             4312212 
GARDEN CENTRE/NURSERY  
Kauri Park Nursery 
    4312125 
Kaiwaka Organics 
    4312732 
GIFTS  
All-Sortz 
    4312701 
St.John Op Shop  
    4312423 
Well of Health   
    4312799 
GLASS 
North Glass 
   0800704010/094314999 
GRAPHIC  & GENERAL DESIGN 
Contour Creative Studio Ltd         4312511 
Tawa Imaging   
    4318706 
GROCERIES/DAIRY/CHEESE 
Jaques Supermarket 
    4312227 
Kaiwaka Cheese Shop 
  4312195 
GROUP FACILITATION  
Sabine Drückler, Hiepe                   4312231
HAIRDRESSER  
The Hair Salon   
    4312128 
HEALTH/BEAUTY 
Avon - G.Matheson 
    4314827 
Counsellor S.Matheson             0276052427 
Homeopath & Massage             0275749007 
Massage D Prem                       0211455541 
Massage P Worsfold  
    4312152 
Well of Health   
    4312799 
HEATING 
Solar Water Solutions 
    4312992 
HORSES 
Willow Bend Horse Hotel 
    4312817 
Jill Shires 
    4312080 
LANDSCAPING  
Out There Gardens & Lawns 
    4312196 
Landcare Services 
    4312302 
MOWERS/CYCLES/CHAINSAWS  
Kaiwaka Motorcycles Ltd             4312127 
Kaiwaka Suzuki   
    4312123 
PAINTERS 
Kaiwaka Painters         
9733111/
0220804186 
PHOTOGRAPHY 
Steve Campbell    
    4312779 
PLASTERING   
Korach Kontractors   
    4312904 
PLUMBER 
Mitchelson Plumbing 
    4312815 
POST OFFICE   
Postal Agency   
    4312626 
RESOURCE 
Kaipara District Council 
   4312013 
Kaiwaka Family Support Service  4312661 
Design Drafting  Mike Lean 
   4312260 
RUBBISH 
Hakaru Landfill   
   4258567 
RURAL MAILCONTRACTORS  
Norm &Yvonne Brown  
  4312028 
SADDLERY/UPHOLSTERY/CANVAS  
The Canvas Shop  
  4312800 
SECURITY/ELECTRICAL 
John Watson 
                    0274953488  
SERVICE STATION  
Shamrock Service Station 
  4312321  
TECHNICAL SERVICE 
Laughing Dog Computers 
  9733111 
Up-Link Installations 
  4312328 
TIMBER MILL & SALES  
Topuni Timber Mill 
  4312855 
TRAVEL 
Leabourn Passenger Service 
  4237416 
VENTILATION SYSTEMS 
Energy Smart 
  4312025 
ACCOMMODATION/MEALS  
Baldrock View B&B Farmstay    4312989 
Gateway North Motor Lodge        4312389 
Landfall Lodge B&B Homestay    4312706 
Riverside Cottage 
  4312365 
The Palms B&B Homestay 
  4315114 
Three Furlongs Hotel 
  4312246 
ACCOUNTING 
Stephen Jaques 
   4312377 
ARCHITECTURAL DESIGN 
Orcan Design 
   4312827 
ART GALLERY 
BevTaylor"s Puketotara Gallery     4312031  
AUTOMOTIVE 
Automotive Electrical             027 6639953 
Auto Painting John Bowmar  
  4312248 
Shamrock Auto Care 
  4312007 
Turnbull Engineering & Auto. 
  4312148 
Twinkle Tow "n" Tyre  
  4312823 
BOARDING KENNELS 
Baldrock Kennels & Cattery 
  4312789 
BUILDER/DECORATOR 
Wellsford Kitchens 
  4312888 
Kev"s Caskets                           021 1322671  
CLEANING 
JR Cleaning Services 
  4312826 
Jill Shires 
  4312080 
CARTAGE & TRANSPORT  
Eastern Transport  
  4312399 
Ferguson Agricultural Contract    4312542 
Parker Transport & Lime 
  4312407 
CATERING 
Kaiwaka Sports Association  
  4312229 
Ottaway Bakery  
  4312329 
CAFES 
Cafe Eutopia  
  4312999 
Gateway Motel Cafe  
  4312389 
Italian Bakery La Nonna 
  4312643 
Mormors 
  4312639 
Odd Sox Cafe 
  4312669 
Three Furlongs 
  4312326 
CHILD CARE 
Small Poppies 
  4312842 
CLOTHING 
Buy The Way 
  4312884 
Kaiwaka Clothing  
  4312187 
Winsome Designs 
  4312027 
CONCRETE/WATER PRODUCTS 
Absolute Concrete 
  4312211 
CONTRACTORS  
Arborist  - Mike Law                0272940519          
G.Borck -Hay Contracting 
  4312236 
Hodgetts - Excavation 
  4312877 
Olsen-lawn mowing 
  4312077 
Power Drainage 
  4312434 
Phil Keen Concrete                  027 6592376 
Ranganui Developments 
  4312131 
CRAFT 
The Apple Basket Patchwork 
  4312443 
Cheese Making 
  4312234  
DOCTOR at Coast to Coast, Wellsford  
by appointment 
  423 8086  
ELECTRICIAN 
Paul Greig 
  4312223 
Sean Treacy 
  4312252 
ENGINEERING  
Turnbull Engineering 
  4312148 
ENGRAVING 
Topnotch Laser Engraving 
  4312174  
FITNESS/SPORTS GROUND 
Kaiwaka Sports Assoc. Complex    4312005 
Fitness Centre 
  4312129 
  2013 KAIWAKA BUSINESSES