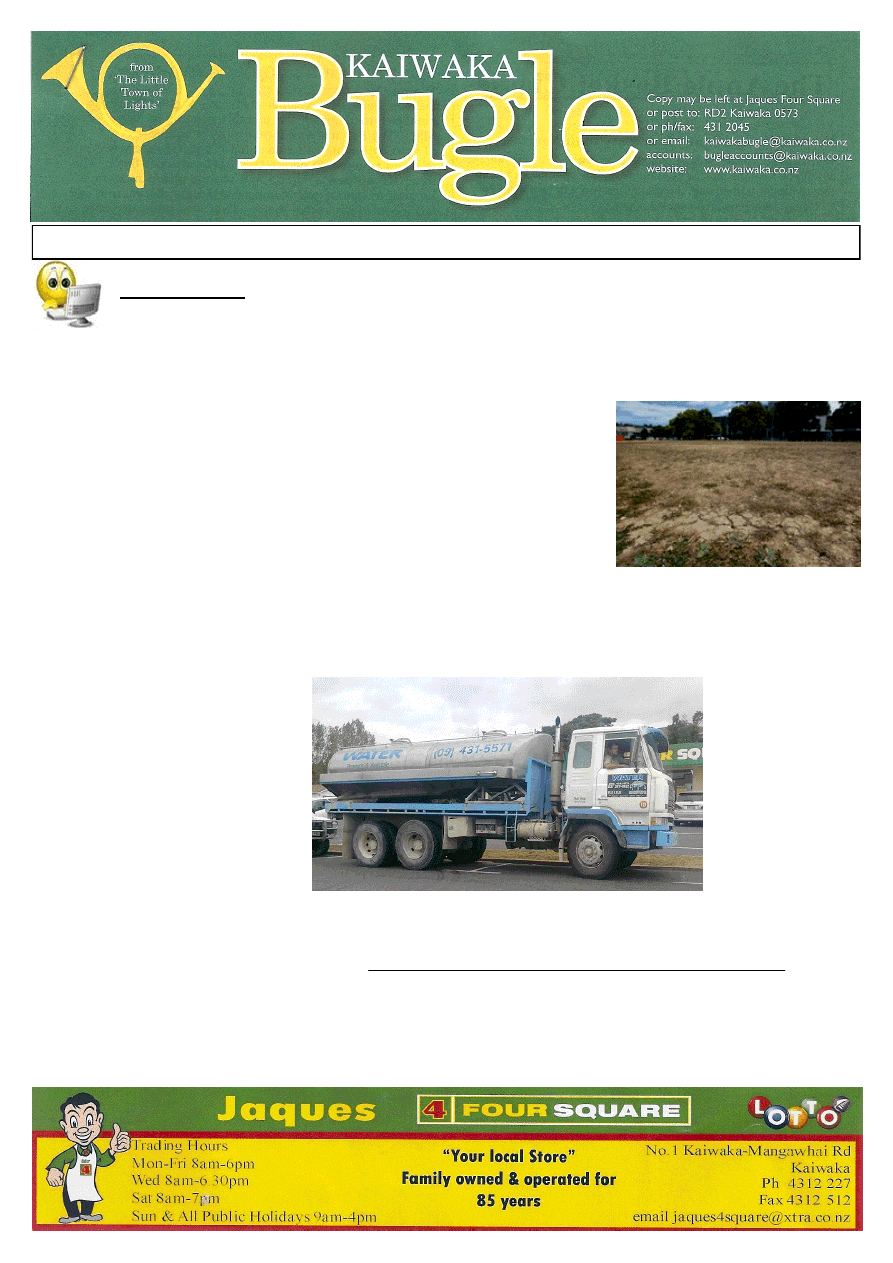 No: 4 
05/03/13 
The KDC advise there is now      
       a TOTAL fire  ban in place 
       as of midnight on Friday 01 
       March. That means not even 
an   incinerator  or  a  hangi.  No  permits 
are  being  issued  until  further  notice.  
Rain  dances  are  allowed!    Although 
the drought in February 1886 was end-
ed  with  torrents  of  rain  for  7  hours 
which then did considerable damage to 
the  potato  crops;  so  go  easy  on  the 
dances  and  prayers  for  rain!    Coinci-
dentally,  that  same  year  Kaiwaka  was 
surrounded  by  tremendous  bush  fires 
which  could  be  seen  raging  on  all 
sides.  Clouds  of  smoke  enveloped  the 
country  for  three  days.  Let"s  not  let 
that  happen  this  year. The  Dome  Val-
ley was close enough. 
 
Beekeepers urged to watch for poison 
honey. Beekeepers are being advised 
to test their honey for tutin toxins as 
drought conditions are raising the risk 
of toxic honey this year. As drought 
conditions cut down the options for 
food for foraging bees, there is an in-
creased chance the bees will feed from 
the tutu plant which produces danger-
ous tutin toxins in honey. 
 
The Kaiwaka  Squash  Club  would  like 
to THANK the Sports Association for 
their  generous  grant  and  help  in  reno-
vating and up-dating the squash courts! 
We  are  very  proud  and  would  like  to 
invite the community to come and take 
part in our OFFICIAL  OPENING  on 
April  7th, from 11am onwards. Come, 
have  a  hit,  try  the  game!  Rackets  and 
balls will be supplied, a sausage sizzle 
will be on, the bar will be open, bring 
your friends and family and have some 
fun!   Ann 0220804186 
 
Bugle 5 will appear 19 March 2013 
DROUGHT HITS NORTHLAND 
A state of drought has been officially declared for Northland. Primary Industries 
Minister  Nathan  Guy  made  the  announcement  at  a  Dargaville  dairy  farm  on 
Wednesday 25 February. "This is recognition that we are now beyond what is a 
normal dry summer, and into an extreme climatic event. The entire North Island 
is extremely dry, but Northland is one of the worst-hit areas. The declaration of a 
medium-scale event means that extra Government funding will now be available 
to  coordinate  support  through  local  organi-
sations  like  the  Rural  Support  Trusts.  In 
extreme  cases  there  will  also  be  Rural  As-
sistance  Payments  (RAPs)  available  to 
farmers  in  severe  hardship."  Mr  Guy  said 
the  decision  comes  after  receiving  advice 
from  the  Ministry  for  Primary  Industries, 
including  soil  moisture  data  from  NIWA, 
and in consultation with the local communi-
ty. "Support is also available from Govern-
ment  agencies  in  all regions.  Farmers  should  contact  IRD  if  they  need  help  or 
flexibility with making tax payments, and standard assistance is available from 
the Ministry of Social Development.  NZ  Herald.  
Above photo dry Northland paddock  
Local  water  carriers  advise  they  have  not  been  this  busy  since  the  drought  of 
2010. They are making non-stop water deliveries and advise people to phone in 
and  book  for  a  deliv-
ery if they are getting 
low;  it  is  fine  to  can-
cel  if/when  it  rains! 
and  to  remember  the 
water at the bottom of 
the tank is never usea-
ble as outlet pipes are 
usually  placed  well 
above  the  bottom  of 
the  tank.  Also,  Sandy 
at  Mangawhai  Well 
Drilling  &  Water  Ltd 
(ph. 4315571) warns locals that the older pumps will die if you go out and leave 
your washing machine on and run out of water; only the newer pumps have a cut
-off switch.  Don"t forget about pet water bowls; top up every day as the water 
evaporates while you"re looking at it!            P
hoto of local water carrier, Mike Simpson 
xxxxxx 0220804186 
Northland  plumbers,  gasfitters  and  drainlayers 
are being reminded to 
ensure  they  relicense  by  1  April 2013.Plumbing,  gasfitting  and  drainlaying  are 
regulated industries in New Zealand and it is illegal for anyone to do this work 
unless they are authorised to do so by the Plumbers, Gasfitters and Drainlayers 
Board. All plumbers, gasfitters and drainlayers must ensure they are licensed or 
they will be unable to legally undertake work in New Zealand.             PGDB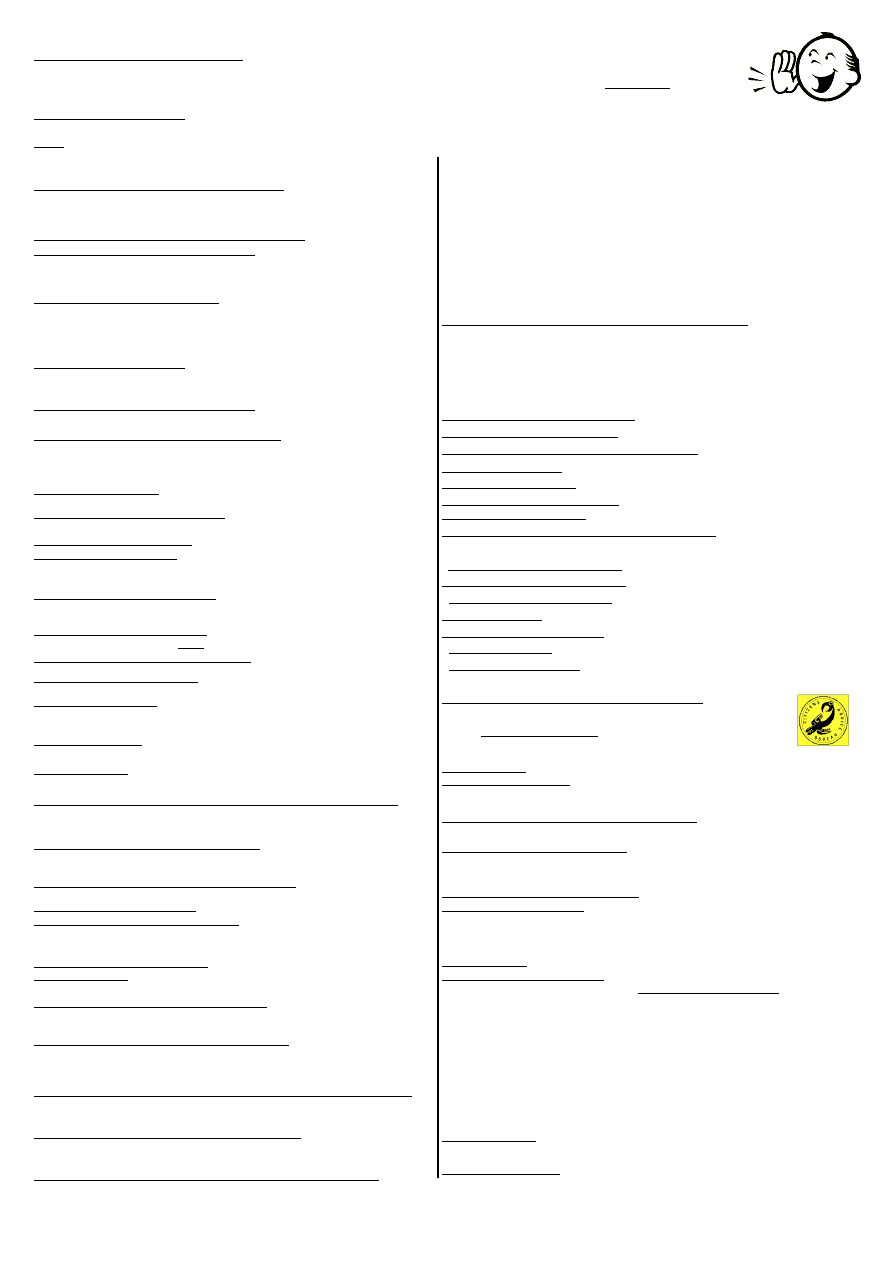 LOCAL SERVICES 
*St.John Ambulance 
111 or Freephone0800 61 0066
*Fire phone 111     *Police phone 111 or 09 4311150
WELLSFORD DOCTORS: Ph: 4238 086 
A A: Meets Wed., 8pm Kaiwaka Ph: 4312228, 4315543, 0800229 6757   
AL ANON: In recess, contact Ph: 4312228 
AgriQuality (MAF) Livestock Consultant 
Phone 09 4311 820 or 021518257 
CAB-Citizens Advice Bureau.Wellsford Ph: 4237333. 
BUDGETING SERVICE,OTAMATEA:Free confidential advice & 
support - all areas of  personal finance Ph: 09 4318173 or 094318117
FAMILY SUPPORT SERVICES responding to the needs in our 
community  Counselling/Family Therapy/Seminars/Youth Work/
Probation/Osteopathy/Govt.Day Agencies/Community Information  
Ph: 4312661 Hours: 9am-5pm. Mon - Fri (funded & CYFS approved) 
FUNERAL SERVICES: Morris & Morris Ltd, 
Whangarei - Bev Jaques Ph:4312367 or 0800667747 
Grandparents Raising Grandchildren: Sarah Rogers Ph: 4312194 
HAKARU LANDFILL/Transfer Station:Open everyday except 
Tuesday10am-4pm.Ph4312629 Cost-$55 trailer load up to 1 cubic 
metre. Ph:4258567 - office 
INLAND REVENUE: Last Friday each month, 
11-3pm Ph4312661 
KAIWAKA KOHANGA REO:
Ph:4312620 Mon.-Fri. 8.30am-2.30pm 
KAIWAKA CEMETERY: Ph: 4312045 
KAIWAKA LIBRARY: kaiwaka.library@gmail.com  
Mon. 4-6pm; Wed., Thurs., Fri., Sat.  10am-2pm Ph:4312539
KAIWAKA PLAYCENTRE: Ph: 4312286. Hastie Lane 
Monday to  Friday  9.00am 
- 
12 noon.
KAIWAKA POST OFFICE:
Ph:4312 626 Fax: 4312287  
Post Code: 0573  for RD2  and  0542 for all Kaiwaka Post Office mail 
KAIWAKA PRIMARY SCHOOL : Ph: 4312309 
KAIWAKA SPORTS ASSN: Ph 4312005; 4312129 gym 
KAIWAKA STJOHN: Manager Steve Rosser 09 431840, 021 2316836; 
Sec: C Dymock 4312744 
NORTHPOWER: Faults Kaiwaka area 0800 104040 
PARENTPORT: Free, practical family support servicePuhoi to Paparoa 
Ph:  Sharon Mehana, Co-ordinator. 4259357 or 027 280 5093 
PERSONAL DEVELOPMENT COACHING, GROUP FACILITATION:  
Sabine Druckler 4312231 
 
PLUNKET  KAIWAKA/MANGAWHAI:  Ph:
094318187 
or  0
276753488 
Kaiwaka Mobile Clinic once a month– appointments necessary;  
Mangawhai (next Domain) 
1st & 3rd Thursday & Coffee Morning; 
PLUNKET CARSEAT CO-ORDINATOR:  
Pat Scott Ph 4314530 or 
0272881635 
PLUNKET FREEPHONE -0800 933 922 
PLUNKET -MAUNGATUROTO  Clinic every 2nd & 
4thThursday. Ph: 09 4318187 
PUBLIC HEALTH NURSE: Gloria Reid Ph: 094327634  
HOMEOPATH: Donna Flavell Ph: 
4314843 
RETURNED AND SERVICES ASSN 733 Settlement Rd.Hakaru 
Ph.4312176 Bill Kerr (President) Ph.4314719 
TE KOROWAI AROHA O NGATIWHATUA 
(The Cloak of Love of Ngatiwhatua) Support and Maori Consultancy.  
Ph: 4239481 (Wellsford) 
WOMEN"S WELFARE LEAGUE & Reaching Out For Youth:  
4 Kaiwaka-Mangawhai Rd, M Morgan 4312293 
VETERINARY SERVICE MANGAWHAI: 
Ph: 4314535 Mon-Fri 8.30-4.30, Sat 9-12, a/h appt. 
KAIPARA DISTRICT COUNCIL www.kaipara.govt.nz:  
Help Desk FREEPHONE 0800 727 059 
Dog/Stock/Noise 0800 105 890 
Kaiwaka Service Centre Ph:4312 013 Mon-Sat 8.30-4.30pm 
WHAT"S ON
PLEASE ~ do let me know what is on - email 
kaiwakabugle@kaiwaka.co.nz 
Advertising in WHAT'S ON is FREE   
*05 Mar~ Kaiwaka Badminton AGM, KSA 6.30pm 
*09 Mar~ Pt Curtis Cruising Club Members Only Comp. 6am. 
*15 Mar~ Quiz Night KSA 7pm 
*22 Mar~ Movie Night KSA Doors open 7.30pm 
*06 Apr~ 10 am  Workshop by solar engineer Eric Jansseune of the 
Positive Energy House, 114 Vista Lane, 0573 Kaiwaka,  094312408, 
*07 Apr~ Squash Club Official Opening 11am All Welcome 
See www.kaiwaka.co.nz for upcoming events. 
 
Drink can 'tear tabs' - for Starship Hospital-Ph. 4312625   
KDC  HOUSEHOLD  RUBBISH  COLLECTION  -  Kaiwaka    Pick 
up ­Mondays=green sticker" bags are picked up by Northland Waste
-queries  to  them  09  4303273,Wednesdays=Blue  bags  (at  KDC  
$2.80)  Kaurilands 09 4392146.  
 
*OTAMATEA GREY POWER-09 431 8138 Joan Hoggard  
*KAIWAKA BADMINTON -Tuesdays 7.30pm Ph: 4312345 
*KAIWAKA GARDEN & FLORAL Grp:
2nd Thursday in month Ph: 4314767 
*KAIWAKA 
CUBS-
Thursdays 5.30-7pm,Hakaru Ph:Bruce  4312542 
*KAIWAKA SQUASH -Mondays 7pm,  Ph: Barbara Thomas 4315905 
*GYMNASTICS OTAMATEA -  Tuesday Ph: Stephanie 4312022   
*HAKARU PONY CLUB-Ph: Dianne Christianson  4314315 
*
MANGAWHAI COMBINED PROBUS CLUB
: 2pm,3rd Thursday 
month in the Senior Citizens Hall Mangawhai. Ph: 4315777
*PT CURTIS CRUISING CLUB - Jean Ph: 4312246 
*WAIPU GENEALOGYGROUP -4th Monday in month Ph: 4312725 
*NZ GENEALOGY-Wellsford - 1st Thursday in month Ph: 4237033 
*CRAFT GROUP
:2nd & 4th Tuesday, 10am, Wellsford Ph 4238547
*RSA,Hakaru & Dist.Women- meet 1.30pm 4th Thurs in month 4312668  
*OWEN STEVENS at Kate"s Place Ph:4312661   
*Diabetes Support Group-for Kaiwaka, Mangawhai, Wellsford -10am, 
 
3rd Friday of month Ph:A.Pert 4238242; J.Gardner 4238060 
*WELLSFORD CITIZEN ADVICE BUREAU:  
0800 367 222 
Ph: 4237333 Wellsford Community Centre   
Email: cab.wells@xtra.co.nz
CHURCHES:
*Gateway Worship Centre-St Mary's Church Nathan Rd off Oneriri Rd, Kaiwaka 
Services, 10.30am 1st & 3rd Sunday of every month. Contact: Rev David Gage 
4312528 or 0212354282 
*Kaiwaka Family Church-Your Community Church Sundays, l0am 
Home Group every Wed evening, Pastor John.Dekker Ph: 4318203 
*Kaiwaka Services.Anglican & Co-op at StPauls Church  - 1st Sun. 9.30am
(Anglican),3rd Sun. 4pm (Co-op).  Contacts: Parish Office 09 4318193, 
M.Hargreaves, Peoples Warden 4312295, C.Bygrave 4312057  
*Church of Christ the King, Mangawhai 9.30am every Sunday 
*St.Mary"s Catholic Church:
Maungaturoto – Griffins Road, Saturday evening Vigil 
Mass 6pm; Mangawhai – Senior Citizens Hall, Sunday Mass 8:30am; Wellsford – 
Matheson Road, Sunday Mass 10:30am; Mid-week Mass times and all enquires to Fr. 
Bill Fletcher – phone 423 8170 
*Baptist Church: Sun. 10.30am Mangawhai Snr Cit.Hall.Ph:4312339 
*Cause Way Church Mangawhai – Sundays 10.15am, Mangawhai Community Recre-
ation Centre, Insley St. Ph: 09 4314782  www.causewaychurch.org.nz 
 
*St.Pauls Archie Bull Hall HIRE  $20 half day, $40 full day per hire 
 Contact G. Jaques 4312048 
*Kaiwaka War Memorial Hall HlRE - Phone 4312725 or 
Email  kaiwaka.hall.bookings@gmail.com 
*Hakaru Community Hall HIRE -Ph.  4312256 or 4312110 
*Te Pounga Marae queries -A.Gage 4312528, 4312527 
*Kaiwaka Sports Association hire/queries- C. Anderson 4312051 
Justice of Peace: B.FJaques; L.Donaldson; A.F.Hargreaves  -please phone to 
make sure they are available 
Marriage Celebrants: L.Donaldson; A.F.Hargreaves; Judith Knights 
 
Next Bugle Deadline Friday 15 March 2013 
PUBLIC NOTICES 
CLASSIFIED 
FOR  RENT: 
OFFICE  OR  RETAIL  SPACE 
–  Shop  1, 
1956 SH1 (opposite the Cheese Shop).  Refurbished space 
with data cabling, own toilet facilities, sunny and warm with 
2 dedicated car parks.  Lots of foot traffic.  Ph 09 422 9221
. 
FOR RENT: House 2/3 bdrms, 2 bthrms, family room 
& lounge, fireplace & car shed.  Quiet & private 10kms 
down Oneriri  Rd., $220  per week (sleep out  available 
for extra) Ph: 4312529 evenings. 
FARM  HOUSE  FOR  RENT: 
3  bdrms.  10kms  from 
Kaiwaka. Bond and refs required. $210/ week. Ph.: 4312660 
HOUSE  FOR  RENT:  3  bdrms  with  carport.  11kms 
west of Kaiwaka. Floor & ceiling recently insulated. 
Sunny,  with  fenced-off  garden  area.  References  re-
quired. Sorry no dogs. $200 pw. Pls phone 4312042 
FOR SALE: 1 Breeding pair of blue Indian ringnecks, 
$400. 1 Breeding pair of yellow Indian ringnecks $400. 
1 green male Indian ringneck $80. 1 White cane bassi-
nette $50. 2 person Kayak with padded seat and anchor 
$1,000  ono.  Portable  BBQ  with  gas  bottle,  used  once 
$200. Ph: 4312647 or 0212685541 
FOR SALE: White wrought iron table & 2 chairs $60. 
Phone 09 4312188 
WANTED:  A  band  saw  for  small  projects.  Please 
phone Nick on 4312778 or ph/txt 0211706097 
BOARD AVAILABLE: to trustworthy, honest person. 
Shared facilities. Help with domestic jobs and garden-
ing part of package. Contact Andrew 0212537661 
LEARNING  TO  COOK   on a small budget.  If you 
are interested please phone Jenny on 4312826 
after 7pm 
CLEANING  SERVICES: 
$20  per  hour,  fast,  friendly 
and efficient. Phone Jill Shires 431 2080 Kaiwaka.
NATURAL  ANIMAL  THERAPIST:   
Diatomaceous 
Earth Stockist.  Specialising in Horses.  Jill Shires  4312080  
C
RANIO  SACRAL  THERAPY 
for horses. Phone  Jill 
Shires 431 2080    
CLOTHING SALE AT OP SHOP: 
with all you can fit 
in a bag for $1. THAT"S CORRECT - ONE DOLLAR!
FREE  COUNSELLING  AVAILABLE: 
Counselling 
Student seeks clients to further his studies. Professional  
approaching service. Phone Pete 021 825 970 or  
094312 152 or peteworsfold@xtra.co.nz 
EXPERIENCED CAREGIVER AVAILABLE:  
Look after elderly, disabled people, children, &  
animals in your own house; also house sitting &  
gardening. For more info phone 022 414 5960
CLOTHING ALTERATIONS & REPAIRS: 
Hems,  Zips,  Dressmaking  Ph:  Win  4312027    or  027  444 
8358 Winsome Designs. 
HALL  HIRE: 
available  from  Absurdistan  Community, 
Parekura Rd. Enjoy our beautiful hall and harbour views for 
your special day, course etc. For more info ph 4312202 or 
021 2377678
FREE  GRAZING  WANTED: 
We  will  manage  your 
small or larger block with our calves or cattle. Can do some 
fencing and water. Ph: 4312006 after 6pm  
BERNZ MASSAGE THERAPY: 
Diploma Therapy Mas-
sage from NZCM; Relax and Rejuvenate; Muscle Injury Recov-
ery;    I"m  a  Mobile  Massage  Service.  Competitive  rates  in  Kai-
waka, Mangawhai, Maungaturoto. Ph: Bernie 021 0232 5741 or 
4312816
Kaiwaka Bugle Advertisements 2013: 
Classified $2; 1/8 page $5; 1/4 page $10; 1/2 page $20;  
bugleaccounts@kaiwaka.co.nz 
Payments can be online, posted or left at Jaques Store. 
kaiwakabugle@kaiwaka.co.nz  for queries or copy. 
The  Kaiwaka  Bugle  is a  community newspaper run by volunteers.  
Articles, etc. printed are not necessarily the opinion of the 
BugleTeam
PROVERBS  
17:13-  Those who return evil for 
good will meet their own evil returning. 
Friends of the Kauri Museum 
AGM 
Monday 18 March 2pm 
Matakohe Hall
Phone: Betty Gee  09 4316448 
Kaiwaka Primary School Board of Trustees 
     Casual vacancy for an elected trustee 
A casual vacancy has occurred on the Board of Trustees for 
an  elected  parent  representative.    The  Board  has  resolved 
under section 105 of the Education Act 1989 to fill the va-
cancy by selection.  If ten percent or more of eligible voters 
on the school roll ask the Board, within 28 days of the notice 
being  published,  to  hold  a  by-election  to  fill  the  vacancy, 
then a by-election will be held.   
Any eligible voter who wishes to ask the Board to hold a by-
election should write to: 
Chairperson 
Board of Trustees 
Kaiwaka School 
P.O. Box 104,  KAIWAKA   by 8 April 2013 
AGM 
The Kaiwaka Squash Club will hold the Annual 
General Meeting on Monday, March 4
th
 at 7pm 
downstairs at the Kaiwaka Squash Courts. 
EVERYBODY WELCOME!!! 
For more info please call Barbara 4315905, Oliver 
4315693 or Innes 4312250 
Turnbull Engineering  
wish to extend their thanks to all past and present customers.  
As of 1st March,  Nathan and Tina Lusty will take over the 
business.  We wish them well. Thanks to all, 
Tony and Sue  
The Fishing Raffle 
run to support some of the Ota-
matea High School Students going to Japan was drawn on 
Monday 25th February at Jaques Four Square, by Brian 
Jaques.  The winner was Dave Hyndman from Kaiwaka. We 
would like to say a huge thank you to La Nonna Italian 
Bakery and Jaques Four Square for allowing us to sell raf-
fles on their premises. And thank you to everyone who 
bought a ticket for your support. 
Renata Blissett and Murphy Linehan 
NorthAble Disability Services Mobile Van 
Disability Information & Equipment 
Our van will be visiting Kate's Place every fourth 
Tuesday 11.30am to 12.30pm 
Ring Dave 0508637200 or 0274538797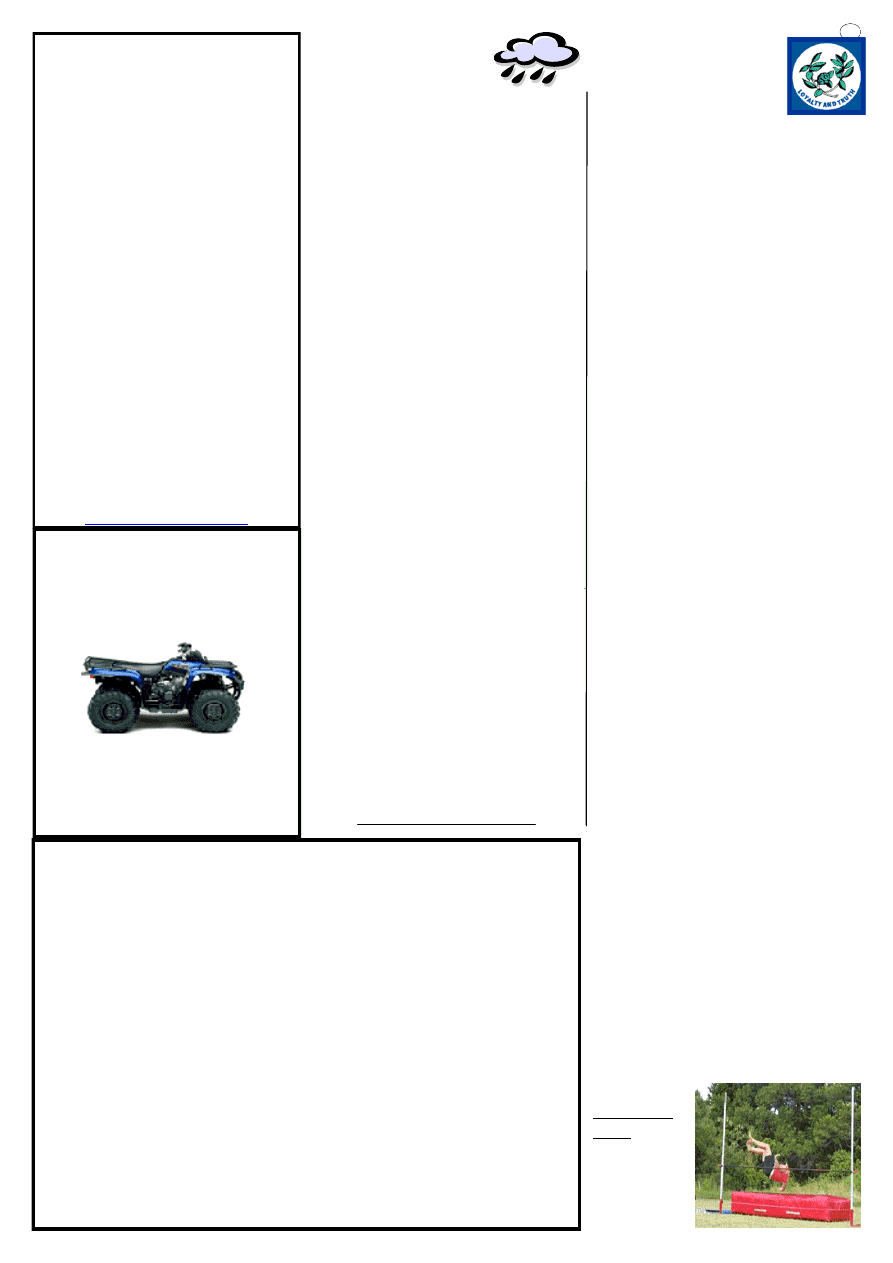 PLANNING A NEW KITCHEN? 
 CONTACT NOEL McDOWELL
WELLSFORD KITCHENS
Ph/Fax 094312888
KAIWAKA-Any time
  QUALITY CUSTOM MADE KITCHENS  
~Personal and Prompt Service~ 
~All Workmanship Guaranteed~ 
~Over 20 Years in the Trade~ 
~Free Design & Quote~ 
5 
KAIWAKA  MOTOR 
CYCLES LTD 
SALES SERVICE SPARES
FARM BIKE SPECIALIST
Phone 431 2127  
Kaiwaka-Mangawhai Rd 
Kaiwaka 
KAIWAKA  
WEATHER 
OTAMATEA  
HIGH SCHOOL 
Athletic Sports 2013 
The  sunshine  brought  out  the  students 
in  large  numbers  for  the  annual  sports 
day . For some the heat was more of a 
hindrance  as  they  ran  the  800  metres, 
but  for  the  sprinters,  conditions  were 
perfect for some very fast times. 
Notable  performances  were  in  abun-
dance  as  there  was  excellent  competi-
tion  between  the  year  groups.  Te 
Awaroa  Peihopa  clocked  a  respectable 
12.47  in  the  100  metres,  and  Kharnse 
Namana  threw  the  discus  over  32  me-
tres  in  the  junior  boys  competition. 
Rakai  Parker  ran  the  800  metres  in 
2mins 34 only to see Rhys Shadbolt run 
2.22 later in the day. Shontay Morunga 
was  fastest  girl  running  800  metres  in 
2mins  55.  Kayne  Goodfellow  was  the 
fastest sub junior over this distance and 
follows  the  family  tradition  of  very 
good long distance runners. 
In  the  high  jump  competition  there 
were  a  number  of  good  performances 
with  Joshua  Nishitani-Hart  clearing 
1.40,  along  with  Rakai  Parker.  Julia 
Pearce  was a  stand  out  high  jumper  in 
the  girls  competition,  along  with  Erin 
Kingi. 
On the Monday there was a real festival 
atmosphere as the seniors and interme-
diates took to the field. The fastest boys 
in the school for 100 metres were Levi 
Adomea and Alex Damsted. Fastest girl 
in the school this year was Tahlia How-
ard  who  was  also  the  fastest  over  800 
metres  along  with  Michaela  Rowe. 
Fastest  boys  in  the  800  metres  were 
Bobby  Fisher  and  Dylan  Sims.In  the 
high  jump  many  students  achieved  the 
maximum  4  points  for  their  iwi  by 
clearing 1.40 mark, but were prevented 
from  going  higher  by  time  constraints. 
In the long jump Cheyenne Fisher leapt 
an  excellent  4.85metres  to  put  the  ma-
jority of the boys in the shade. 
In  the  senior  throwing  competitions 
Caitlin Foster proved herself again. She 
won  both  the  discuss  and  shot  as  did 
Joesiah Day for the boys. Michael Par-
ker  putted  the  shot  over  the  10metre 
mark and Leslie Shum took out the in-
termediate  boys  discuss.  The  final 
events were the relays and this year it 
was  Maniapoto  who  took  out  five  of 
the eight relays, extending their lead at 
the top.
Final results 
were:
1
st
 Maniapoto
2
nd
 Whatua
3
rd
 Arawa
4
th
 Ngapuhi
Bonjour, tous les mondes! 
Not a fully functioning person...with those 
niggles, aches and pains? You guessed it.  
 I can help!
Monsieur Masseur .... 
RELAXING  
MASSAGE
..... Juste pour vous" 
Here's feedback from a happy client 
"Pete's treatment works. He identified 
long standing injuries no one else 
could fix and relieved years of chronic 
pain, fatigue and headaches.  I have 
Pete to thank for getting me back to 
work. I am so much happier and more 
confident in myself.  I can thoroughly 
recommend him." 
Call for an appointment now!
Pete Worsfold 
4312 152  or   021 825970   
Greetings folk.  Friday was the 1
st
 day 
officially  of  Autumn,  meaning  that 
summer has officially ended now. The 
weather  today  is  feeling  a  bit  like  au-
tumn.    Well  what  can  we  say  other 
than  dry,  dry,  dry  and  windy,  windy, 
windy.  I am sure you do not need re-
minding  of  how  dry  it  is.    The  water 
tankers are delivering flat out and find-
ing  it  hard  to  keep  up.    I  believe  the 
tank  manufacturers  are  behind  with 
orders  also  as  people  seem  to  be  get-
ting  those  extra  water  tanks  put  in. 
(wise decision).  The farmers are cart-
ing  water  to  their  troughs  for  the  ani-
mals.    I    know  of  one  farmer  at  least 
that  has  3  large  dams  on  his  property 
and  two  have  been  emptied  and  the 
third  must  be  very  low  by  now  as  I 
spoke  to  him  a  couple  of  weeks  ago 
and  he  was  starting  to  feel  a  bit  anx-
ious  about  it.    Please  do  keep  those 
animals and birds etc well watered. We 
dehydrate and so do they.  Our rainfall 
for  February  was  35mm.    February 
2012 was 73mm. First two months this 
year  was  45mm  and  January-February 
2012 was 147mm. So since 1987, 2013 
is  the  driest  first  two  months  of  any 
year since 1990 by 3mm.  The wettest 
first  two  months  of  any  year  since 
1987  was  actually  1989  with 
368mm.    Our  driest  February  since 
1987 was 1990 with 3mm rain and the 
wettest  was  2004  with  260mm 
rain.   There is no rain forecast for the 
next  10  days  so  watch  the  water  us-
age.    Once  again  take  care  out  there 
and kind to each other. Also be aware 
if there is a little rain and the roads are 
wet they will be very slippery with all 
the oil on them. Bev.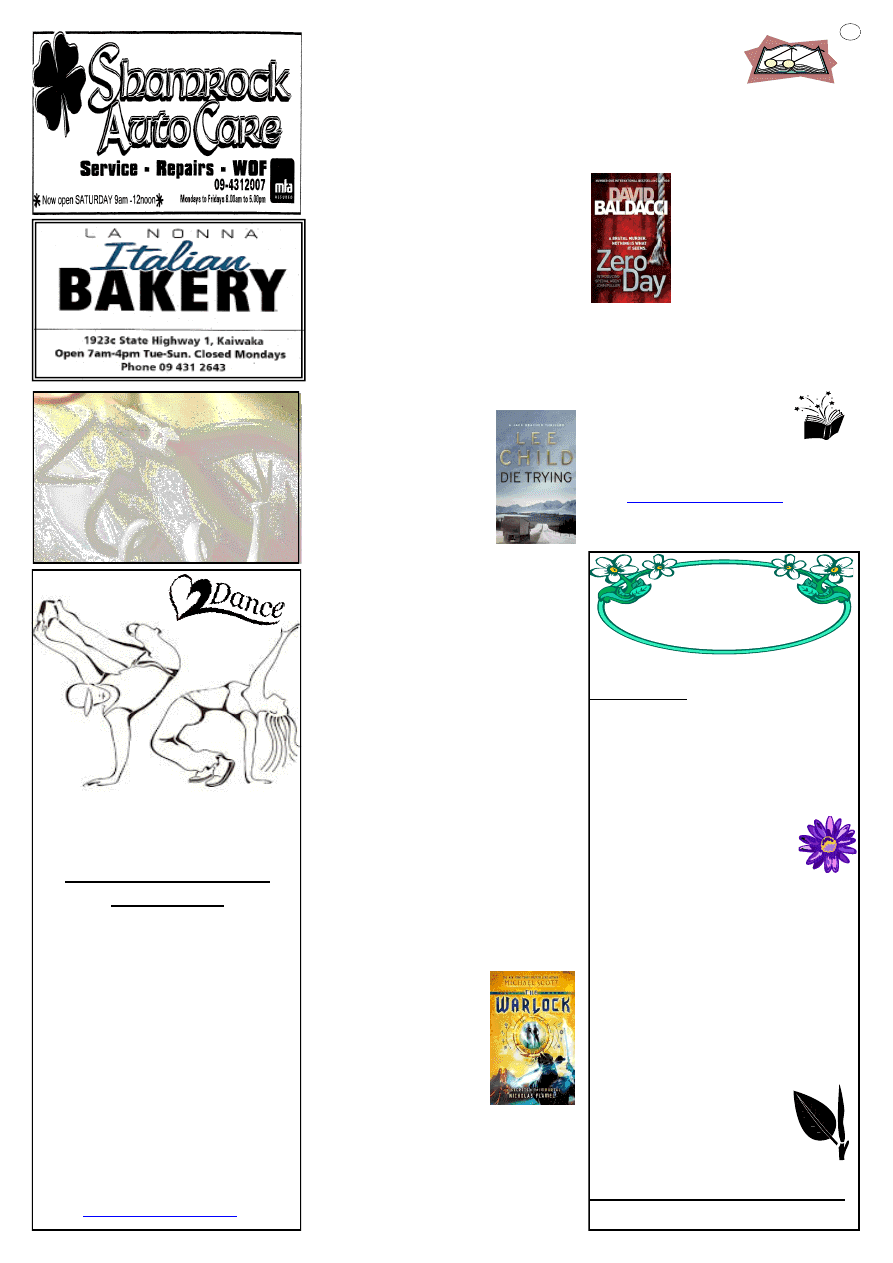 ing forward to the next book, "The En-
chantress".  All  six  books  in  the  series 
"Secrets  of  the  Immortal  Nicholas 
Flamel" are on the shelves in the library. 
Elizabeth  has read  Zero  Day  by  David 
Baldacci. The first in anoth-
er  new  series,  War  hero 
John  Puller  is  known  to  be 
the  top  investigator  in  the 
US Army's CID. So when a 
family with military connec-
tions is brutally murdered in 
a  remote  area  of  West  Vir-
ginia,  Puller  is  called  into  investigate. 
He  soon  suspects  the  case  had  wider 
implications...  Like  all  Baldacci  books, 
this reads well and fast. 
See you in the library! 
Wendy Howard, Librarian 
Kaiwaka Library, cnr State Highway 1 and Kai-
waka Mangawhai Road. PO Box 89, Kaiwaka 
0542. Phone 4312 539. 
Email 
Sat 10am-2pm, Mon 4-6pm. Membership is 
available to all residents in the Kaiwaka area.
Paul Greig Electrical Ltd 
Residential • Farm • Commercial 
Paul Greig 
Registered Electrician 
Ph: 431 2223 Mob:021 230 2717 
Reliable & Professional Quality Service 
Based in Kaiwaka 
11 
KAIWAKA LIBRARY  
Our computer woes are over, and all is 
back to normal in that area. Thank you 
to  the  IT  guys  at  Kaipara  District 
Council  for  their  efforts  to  resolve 
those problems. 
We have started cataloguing our jigsaw 
collection,  so  they  can  be  issued  like 
the books on our shelves. It may take a 
while to complete this project, but any 
of our puzzles can be borrowed wheth-
er bar-coded or not. 
Deidree  has  been  busy  in  the  library 
recently,  taking  the  books  down  and 
cleaning  the  shelves,  then  putting  the 
books back and ensuring they're sorted 
properly.  The  place  is  looking  great 
from her efforts. Thank you Deidree! 
I've  recently  read  Die  Trying  by  Lee 
Child.  Reacher  has  been 
out of the army for a short 
time, and one day is walk-
ing down a Chicago street 
when a young woman with 
a  crutch  comes  out  of  a 
store  in  front  of  him  and 
starts  to  drop  both  the 
crutch  and  the  pile  of  drycleaning  she 
was  holding  in  an  effort  to  not  fall 
over. Being who he is, Reacher steps in 
to assist - and turns to find himself star-
ing at a gun held by a man in front of 
them.  Reacher  and  the  young  woman 
are bundled into a car, then later trans-
ferred to a van and driven across coun-
try.  It  takes  Reacher a  while  to realise 
that  the  woman  is  taking  the  situation 
as calmly as he is, instead of panicking 
as an untrained civilian would. Who is 
she?  Why  have  they  been  kidnapped? 
This  is  the  second  Reacher  book  writ-
ten  by  Lee  Child,  but  the  umpteenth 
one  I've  read.  There's  no  need  to  read 
them  in  order,  they  each  stand  alone 
well.  I  enjoyed  it  as  much  as  I've  en-
joyed  the  others.  If  you've  read  a 
Reacher book, you'll like this one - and 
if  you've  never  read  one,  it's  time  you 
started! This book is on the Rental Fic-
tion shelves in the library. 
I've  read  Warlock  by  Michael  Scott. 
Book 5 of this series, and 
we're  back  in  San  Fran-
cisco  where  John  Dee's 
building  is  collapsing 
around  him  and  Nicholas 
is dying. Elsewhere Scat-
ty finds herself in the lost 
city  of  Danu  Talis.  The 
adventure continues, as Dee tries to get 
the  upper  hand  to  rule  the  world,  the 
Flamels try to survive, and the twins try 
to make sense of all the strange things 
going on around them. Separated now, 
they seem to be taking different paths. 
I'm  still  enjoying  the  series,  and  look-
      Hip Hop! 
New Hip hop classes in  
Mangawhai! 
           5 week workshop 
   Starts 
Wednesday 13
th
March. 
Boyzdance
 (5-10yrs) 
4:30-5:15pm
.
$50
Teens 
(mixed class) 
5:15-6:15pm. 
$60
Teacher from Hardcore Whangarei 
Enquiries & Enrolments essential: 
Ph. Mary Madden 
(09) 431 4351 
Mob: 0210348450 
Email: 
Sound  
 Landscapes 
I
magine
… if you will... 
...That  unkempt  area  of  your 
property...it 
needs 
atten-
tion...caring  for...turn  it  into  a 
work 
of 
art...a 
magic 
space...rustling...lush… 
shiny native plants... 
...texture...style…colour... 
form...fragrance… 
You"ve been aching to do it.   
You"ve put it off...TILL NOW! 
"Let  me  help  relieve  your 
burden"  "Together  we  can 
make it happen"
Call for site appt.  
now: Pete Worsfold 
"Sound Landscapes" 
 
Phone 021825970 
peteworsfold@xtra.co.nz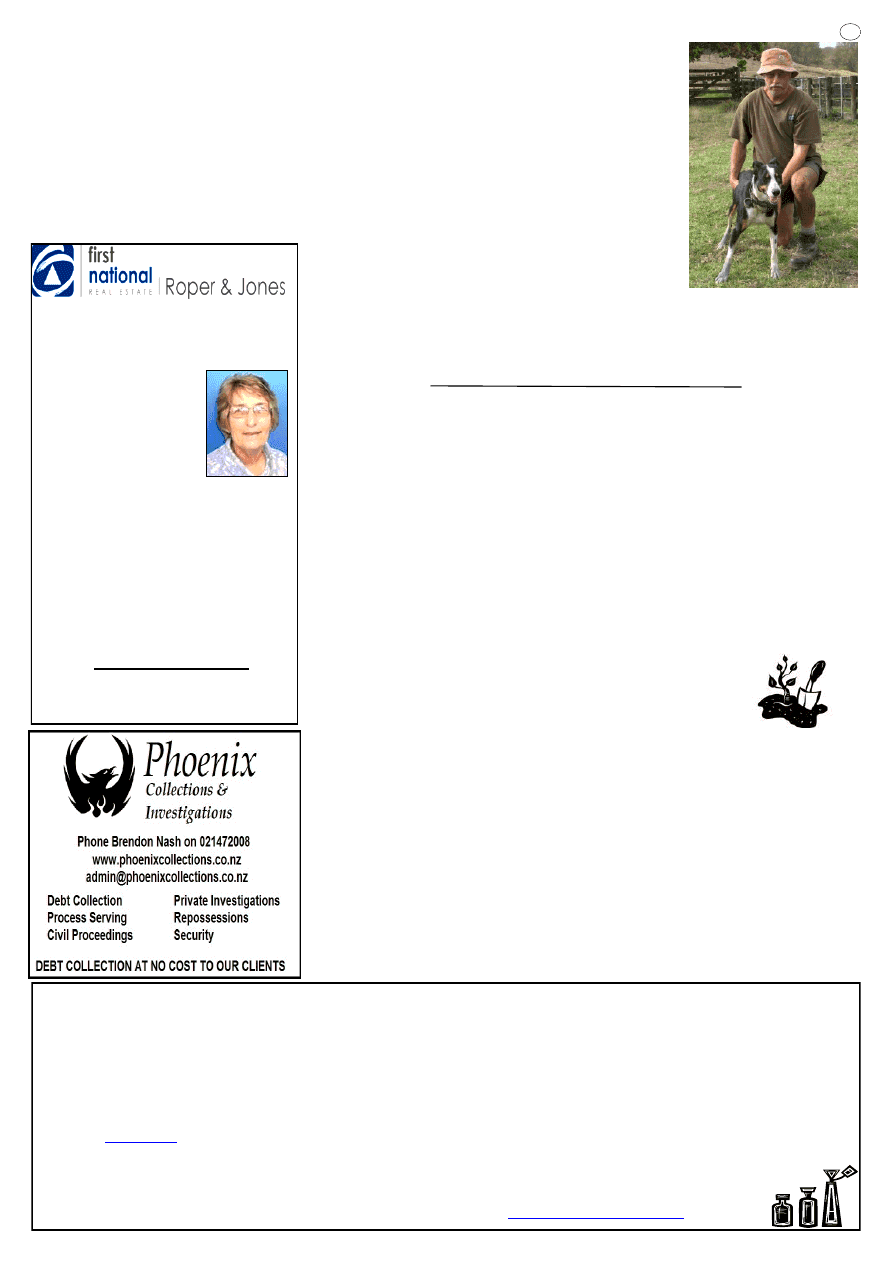 9 
DOG TRIALS
What's happening in the Dog Trial world, for members of our local Club. 
At Warkworth A & P Show Scott McRae with Elle showed the rest of the competition a clean pair 
of heels. 
The first of Northland Centre's traditional sheep dog trials was held at  Helensville where Tony 
and Steel were to the fore with Scott and Otis featuring on the Huntaway hills. 
The next week trials were at the Bay of Islands with Duncan and Tim in the money on the Short 
Head and Yard, Tony and Steel in the Long Head and Scott and Otis achieving Ist and 2nd in the 
two Huntaway events. 
Omamari Club trials were next where Tony and Steel gained 2nd in the Long Head. 
No Club trials last week but Show Trials at the Northland Field Days where Duncan and Tim were 
second, being unlucky not to fill that top spot. 
The  trials  held  at  Mangonui  this  weekend  will  have  re-
sults  posted at a later date.    The following 2 trials will 
be at Tauhoa (Rodney) and Marohemo (Otamatea) over the next two weeks.  
Yes we are dry and in drought conditions but having spent four days of judging at 
Elsthorpe in Hawkes Bay at  the beginning of February  we  don't know  how  lucky 
we are in comparison.
Rob Hastie 
        Photo: Duncan and Tim 
KAIWAKA GARDEN & FLORAL GROUP 
12  members  enjoyed  "Valentines  Day"  14th  Feb at Dawn  Be  Hagues  home  with 
her extensive Garden which seems to be "standing up" to the dry conditions very 
well. 
The lucky Birthday girl to receive flowers this month was Anne Shimmin. 
Arrangements were made to car pool to Pam & Ron McCallum's garden and hear 
Maggie Barrie speak, and I have heard since, that they enjoyed their afternoon. 
A new category has been introduce called "Wild Card" which enables members to 
bring any fruit or vege that is not on the schedule for that month. 
Also  Flowers  for  Floral  Arrangements  only,  may  be  picked  from  "other  places" 
other than your own garden - no commercially grown flowers though 
Competition results:-Judges L. Lusty & A. Shimmin 
Best bloom 1st A. Dowson. Hibiscus 2nd B. Atkin-Cooke 
Bloom of the month - Dahlia 
1st A Dowson, 2nd S. Hamilton-Wallace  
Spike or cluster: 1st H Small, 2nd A. Shimmin 
Vege Potato ( grown in buckets from Seed potato given out) 
1st H Small, 2nd J Paget. 
Fruit - Tomato 
1st J Paget, 2nd L Lusty 
Floral Arrangement - "Valentines Day" 
1st A Dowson, 2nd Sue Hamilton-Wallace. 
Overall - A Dowson's floral arrangement. 
We all wish Petronella Brom a speedy recovery and hope she will be well enough 
to come next month. 
Raffle was won by L. Lusty. 
The March meeting will be at Sue Hamilton-Wallace's  41 Gumdiggers Lane, Mwi 
Heads.4315494 on 14th March 1 p.m. 
Flower - Hibiscus 
Vege - any root vege e.g. carrot radish etc. 
Fruit Passion fruit or any pip fruit. 
Floral - Beach Arrangement but have at least 1 fresh flower. 
New members Welcome      Phone Jean 4314767 or Ann 4315913 
AVON
  AVON  
AVON
AVON
AVON
Hi Everyone, Brochure 8 is now available with orders to me by 21st March with delivery 29th March. Brochure 7 is also still 
available. 
NEW Drama Mascara $14.99. Half Price make up sale on pages 8-23. 
Happy Customer Special Advanced Techniques Shampoo and Conditioner $5.99 each page 30-31. Anew specials on pages 
34-37 with FREE Regime Kit with purchase. 
Fragrance sale with Free Glass Photo Frame. 
Log on to  
 to find out more about this great new Anew Anti-aging Serum. I have some $65.00 now will be 
$85.00 when launched later in the year. 
I have some products in stock for instant purchase so if you need something in a hurry I may have it. Have an Avon  
Party - you choose the theme - Make up, Fragrance, Skin Care, Clothing or Jewellery. 
For more information call Gale Matheson  094314827  0274149576  or 
Felicia Doornenbal 
"Covering the Kaipara" 

List 

Sell 

No obligation  
   honest appraisals 
 
CALL ME– Your Local Kaiwaka 
Real Estate Connection 
 
Mob:021-858115 
A/hr:09-4312059 
Bus: 09-4311016 
e-mail: felicia@ubernet.co.nz 
Freephone 0800 311 322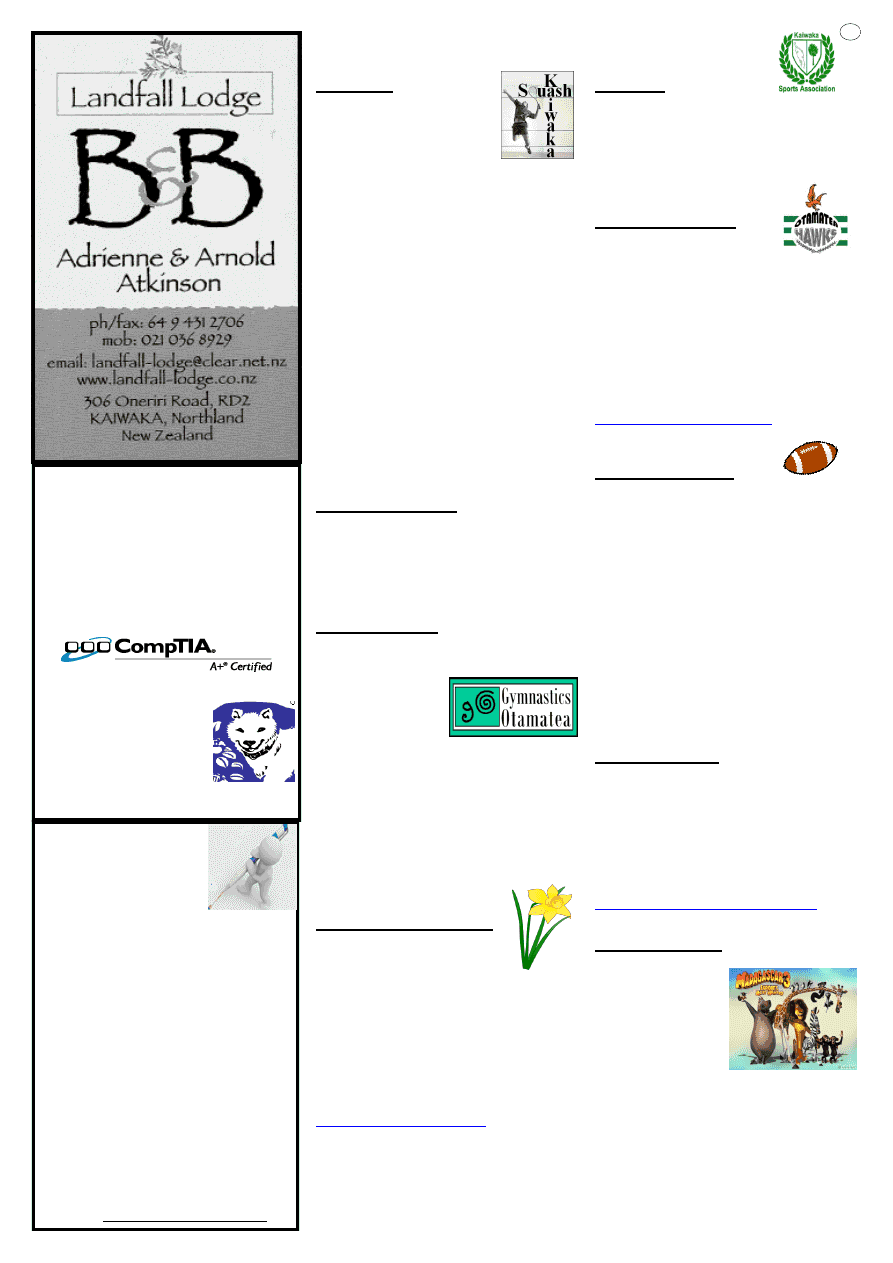 Topnotch  
Engraving
Quality Engraving  
Service  
SPECIALISING IN:
www.tnengraving.com 
www.pettagsnewzealand.com 
Phone (09) 431 2174 
or  
Email: engraving@slingshot.co.nz
7 
KAIWAKA SPORTS ASSOCIATION
"  ENGRAVING    
& SALES 
"  NAME     
BADGES 
"  SIGNAGE 
"  PET TAGS 
"  JEWELLERY 
"  TROPHIES & 
CUPS 
"  AWARDS & 
MEDALS 
"  GIFTWARE 
"  CLUB ORDERS 
or ONE OFFS 
Squash 
The  Kaiwaka  Squash  club 
is  holding  a  Business 
House Competition on four 
Monday nights (March 18
th
& 25
th
 and April 8
th
 & 15
th
) starting at 
6pm. Get a team together of four peo-
ple  (one  must  be  a  beginner  with  no 
squash experience) and join the fun! 
Each game lasts for 15mins and points 
from all the 4 players are accumulated 
to determine the winning team. This is 
a  fun,  social  event,  only  $10  per  per-
son  for  the  four  nights.  To  register 
your  team,  please  phone  Barbara 
Thomas on 4315 905.  
The  community  is  invited  to  come  to 
the  Squash  Clubs  official  opening  on 
Sunday,  April  7
th
  at  the  KSA  squash 
courts  from  11am  (we  can  show  off 
our  new  glass  balustrades!)  Come 
along for a hit, bring the kids, racquets 
and balls are provided, just bring non-
marking shoes. Hope to see you there! 
Junior Tennis 
Junior  tennis  is  on  Saturday  mornings 
9  –  10am  at  the  Kaiwaka  courts  and 
coach Grant van Dalsum will coach the 
players  on  Mondays  from  4.30  to 
5.30pm.  Any  primary  or  high  school 
children are welcome.
Gymnastics 
Gymnastics  Otamatea  are  again  put-
ting  on  their  successful  "Give-It-A-Go" 
classes 
in 
the 
month of March for 
families  to  try  out 
gymnastics  togeth-
er.  This  is  a  low 
cost class with minimal commitment so 
that busy families  can have a taste of 
gymnastics  with  no  further  obligation. 
Classes  are  held  at  the  KSA  gymnasi-
um  on  Mondays  in  March  from  4  – 
5pm,  $5  for  four  classes.  Children 
must  be  accompanied  by  a  participat-
ing  adult  and  pre-enrolment  is  essen-
tial.  
Soccer 
Our  soccer  club,  the  Kaipara  Knights, 
will  hold  their  Rally  Day  on  Saturday 
23
rd
  March  at  11am  at  our  Complex. 
Boys  and  girls  of  all  ages  who  are  in-
terested  in  playing  soccer  this  season 
are encouraged to attend. 
Senior Rugby 
The Otamatea Hawks will  
play a pre-season match  
against Glenfield on Saturday  
9th  March  at  the  Kaiwaka  grounds, 
reserves  12.30pm  and  premiers 
1.45pm – why not come along to sup-
port our boys! If you were involved in 
the  Otamatea  Rugby  Club  in  the  last 
25 years, but have not received a reg-
istration  form  for  Aprils  reunion,  you 
c a n   d o w n l o a d   o n e   f r o m 
Cheryl on 4312 051 
Junior Rugby 
Thank you to the many JMB  p a r e nt s 
who attended last weeks AGM and of-
fered  to  take  on  coaching/managerial/
administrative  roles.  Many  thanks  to 
President  Rebecca  Blissett  who  has 
done a great job running  the club  but 
has  now  stepped  down.  Thank  you  to 
Jennie  Reynolds  who  has  offered  to 
take over this position. Our junior rug-
by club will hold their Rally Day at the 
Complex  on  Sunday  17
th
  March, 
9.30am. All boys and girls interested in 
playing  rugby  are  invited  to  attend. 
Swimming  pool  open,  free  breakfast 
provided and boot swap. 
Martial Arts 
Our  Martial  Arts  instructor  Craig  Ben-
netts  has  begun  a  new  class  on  Sun-
days  at  8.30am  in  our  gymnasium. 
Learn  Tai  Chi  for  harmony,  wellbeing, 
balance and relaxation. This is in addi-
tion  to  his  Kempo  classes  held  on 
Wednesday  afternoons.  For  enquiries 
please email Craig on  
otamatea.kempo@slingshot.co.nz
Movie Night 
If you are looking 
for a fun, inexpen-
sive night out for 
the family then 
come along to the 
Sports Complex on 
Friday 22
nd
 March 
for the showing of the movie 
Madagas-
car 3 Europe's Most Wanted
. Doors 
open at 7.30pm, movie will start when 
it gets dark. Adults $4, children $2 
(year 9 and under). Funds raised go to 
the Sports Association. 
 
Bulbs Fundraiser 
Bulb  planting  time  is  just 
around the corner, so we are 
holding  a  Bulbs  Fundraiser. 
Bulbs  are  easy  to  plant,  fun  to  grow 
and will reward you with lovely flowers 
year after year! The bulbs on offer are 
tulips,  daffodils,  bluebells,  freesias  and 
wildflower  seed  mix.  You  can  pick  up 
an order form from Jaques Four Square 
or the Sports Complex or download one 
f r o m  
o u r  
w e b s i t e 
.  Further  de-
tails are on the form. For any enquiries 
on  the  bulbs  fundraiser,  please  phone 
me on 4312 051. 
Cheryl Anderson 
Manager Kaiwaka Sports Association 
Laughing Dog 
Computers 
Kaiwaka, NZ
Technical Services 
Repairs & Upgrades 
7 Day Service 
Phone or text 
0221036636  
Or 
 09 9733111 
www.laughingdog.co.nz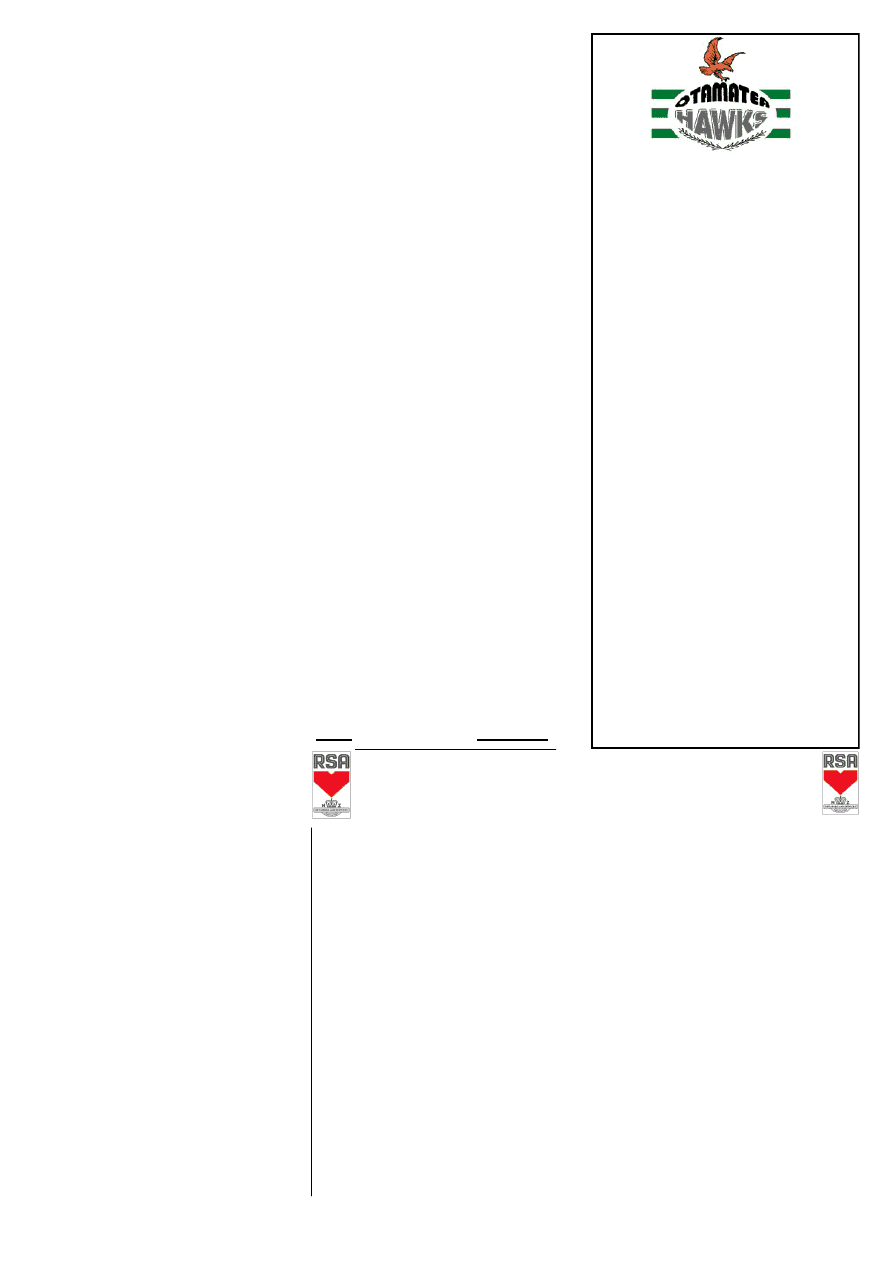 Kaiwaka Sports Assn Inc  
Grants for 2012
KSA                            
$7214.00
KSA                            
  $761.43
Kaiwaka School           
  $516.52
Kaiwaka School                 $425.00
Otamatea RFC               $2822.70
Pt Curtis CC                  $2300.00
Family Support Services    $500.00
Otamatea X Netball           $200.00
Kaiwaka Netball                $500.00
KSA                            
$8625.00
Otamatea RFC              $2424.00
Otamatea Marae           $3726.00
KSA                           
  $935.28
KSA                           
$1434.78
KSA                           
$1908.26
Otamatea High School   $1500.00
PT Curtis CC                 $3775.00
Otamatea JMB              $3530.00
Kaiwaka School           
$1000.00
Nga Hoe Uranga Ki 
Kaipara                        
$1000.00
Otamatea JMB              $2324.00
Otamatea RFC            
$1500.00
Maori Womens Welfare
League                        
$2850.00
Otamatea Aero Club      $1656.00
KSA                            
$1468.86
Otamatea JMB              $2500.00
Kaiwaka Tennis               $490.00
Mgto Squash Club          $1000.00
Otamatea RFC       
       $5000.00
Otamatea High School      $500.00
Kaiwaka School              $2045.00
KSA                                $28511.51
Nga Hoe Uranga Ki
Kaipara                          $3000.00
  
Total                              $97943.34 
Otamatea 
Hawks 
Pre-season 
match
Hawks vs  
Glenfield 
Sat 9
th
 March 
 B's 12.30pm 
and A's 1.45pm 
Kaiwaka Sports 
Complex
Come along to 
support our boys! 
HAKARU  RSA WOMEN'S SECTION
On Monday 18th February we held a successful bowls day at the  
Mangawhai Club with 40 ladies participating.  Women"s Section mem- 
bers came from Northern Wairoa, Waipu, Warkworth, Mangawhai and our 
own  W/Sec  from  Hakaru.  President  Heather  Welcomed  everyone  and  wished 
them  a  Happy  Day.  Heather  had as  usual attractively  done  up  10  raffles  which 
were  well  supported  and  morning  and  afternoon  tea  was  provided,  for  Visitors 
and Members alike.   Results: 
Skips 1st Carol Henwood  r/up Sheila Hodgson 
3rds 1st Dorothy Van r/up Marion Pilmer 
2nd's 1st Barbara Elmes  r/up Gay Clement 
Leads 1st Sue Epsom, r/up Barbara Howard. 
There were also prizes given during the day, well done Dawn Powell for organis-
ing all this.  
Meeting on 28th Feb which was also followed by the AGM was not supported as 
well as normal. We are pleased to hear Petronella Brom is improving health wise 
each day. 4 Members are invited to Silverdale"s 38th Birthday on 7th May. 
Our NWA conference is coming up shortly and all Women"s Sections are work-
ing  on  the"  Powers  That  Be"  to  make  Breast  screening  to  be  available  free  to 
ALL Women not just a certain age group. The Birthday girl for the month was 
Dawn Powell. 
We must have made a good job of the bowls as we have been asked to host  the 
Northland Bowls in  November. 
We are catering for an Air Force Luncheon on 9th March. 
We  discussed a trip to Auckland on the 16th May 
Our April meeting is to be one week early on the 18th as Anzac Day falls on our 
Continued page 15...
KAIWAKA  
SPORTS ASSOCIATION  
Applications for grant funding  
are  being  accepted  for  the  following 
periods -  MARCH-APRIL
APPLICATION PROCESS - HOW TO APPLY: 
Applicants  can  uplift  a  KSA  application  form 
from  The  Three  Furlongs  Hotel  operating  KSA 
gaming machines or www.kaiwakasports.co.nz 
Forms can also be requested directly from KSA. 
All  relevant  details  are displayed  below  and  are 
also displayed at the venue. 
Venue: The Three Furlongs Hotel 
Postal: PO Box 62 , Kaiwaka 
Tel: 094312329 
Fax: 094312229 

You  must  return  the  application  form  and  any 
associated  documentation  to  the  Association  at 
the address printed on the application form. 

The  application  form  contains  a  checklist  of 
important information that must be included with 
the  application  in  order  for  funding  to  be 
considered.  Failure  to  supply  all  Information 
requested  may  result  in  the  application  being 
declined or returned to you unprocessed. 

Applications are checked for completeness and 
considered by the Grants Committee on a regular 
basis. 

An  application  may  take  up  to  6  weeks  to  be 
processed.  
CRITERIA: 
1.  Applications  are  checked  for  compliance 
against the criteria of the Department of Internal 
Affairs and the definition of Authorised Purposes 
as set out in the Gambling Act 2003. 
2. Funding is distributed in the local community 
area - 
a.  Provision,  maintenance  and  development  of 
club  buildings,  furniture,  fittings,  grounds  and 
equipment.  Excludes  any  bar  area  and/or 
facilities;  b.  Assist  sporting  adjuncts  within  the 
club  through  the  provision  of  uniforms, 
equipment,  premises  and  the  actual  and 
reasonable expenses to travel  to and compete in 
tournaments  with  kindred  groups.  Excludes 
professional sports people/teams. 
 c.  Funds  for  the  promotion  of  amateur  sport 
within  the  local  community.  Excludes  the 
payment of wages/salaries  
d.  Donations  to  support  recognized  community 
organisations  within  the  local  community  with 
the  provision  of  facilities.    Excludes  bar  area 
and/or facilities. 
Applicants  should  be  aware  that  the  ultimate 
decision on funding rests with the Association"s 
Grants  Committee  and  that  there  are  no 
guarantees that the full amount of the application 
will  be  supported  or  indeed  the  application  will 
be supported at all.  
WHO WILL CONSIDER APPLICATIONS: 
All applications will be considered by the Grants 
Committee which is made up of KSA Trustees. 
Applications are generally considered in the 
week following the closing date. Applicants are 
usually  notified in writing within 10 Days.  
The Trustees of KSA are: 
Brian Jaques JP. QSM - Managing Director, 
Kaiwaka 
Evan Wright -Farmer, Kaiwaka 
Tony Hargreaves, JP -Farmer, Kaiwaka 
Wayne Leslie - Farmer, Kaiwaka 
Mark Ottaway  QSM - Baker. Kaiwaka 
Innes Anderson –Farmer, Kaiwaka 
Paula Jaques-Manager, Kaiwaka 
COMPLAINTS POLICY: 
Any  complaints  regarding  the  distribution  of 
grant proceeds must be sent in writing addressed 
to: 
The Principal Officer/Complaints.  
KSA. PO Box 62. Kaiwaka 
Complaints  received  in  this  manner  will  be 
acknowledged in writing.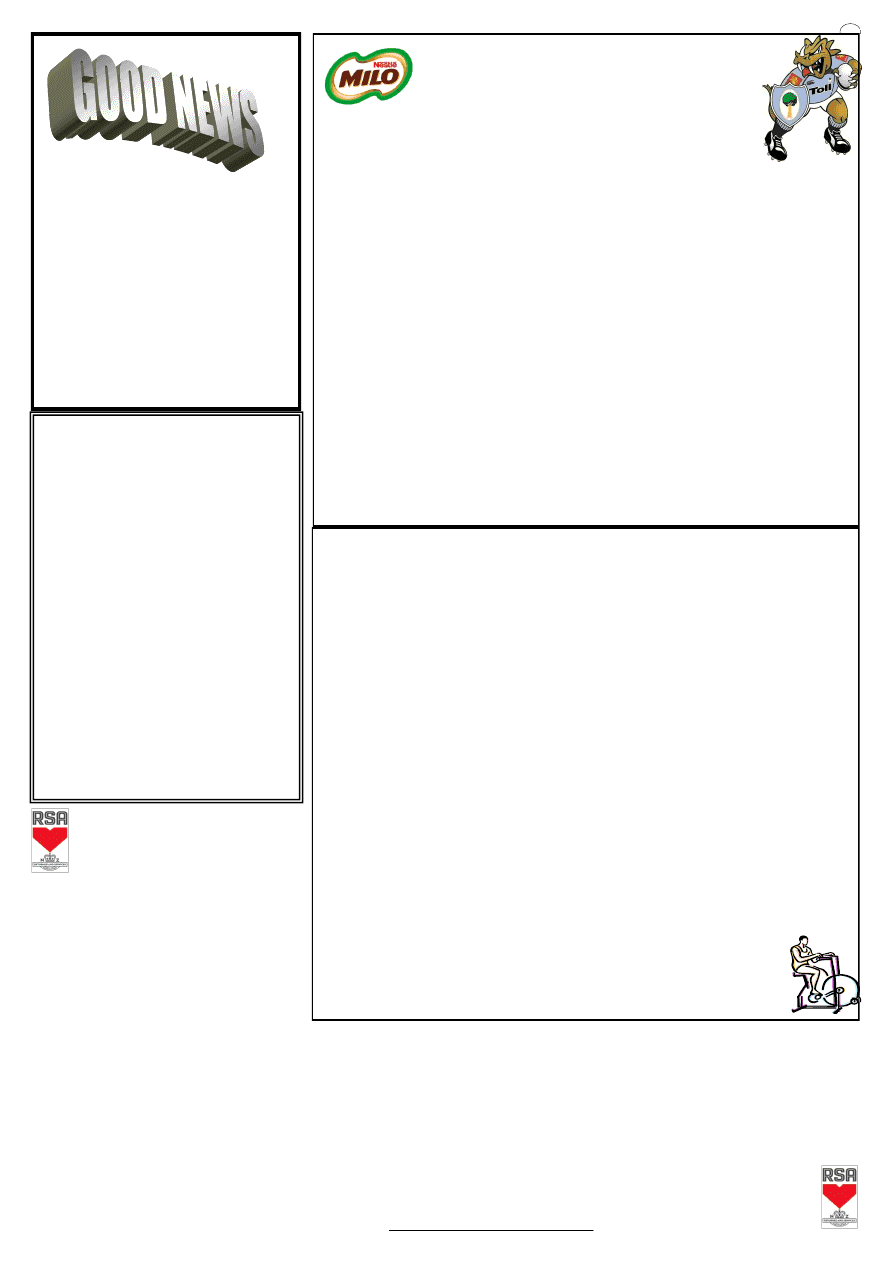 THERE'S 
 Your COMMUNITY 
CHURCH 
Each Sunday  
10am:  Lively Family  
 
    Programme
Everyone warmly welcome.
Ph: Pastor John Dekker     
09 4318203 
AMBER'S 
Q Cafe &  
Restaurant  
All day breakfast, 8am - 5.30pm.     
Home made Pizza, take away or eat in from 8am to late. 
 Light lunches, 11.am - 5.30pm, 
Dinner Menu at 5.30pm to late 
 Toasted Sandwiches and Sandwiches made to order. 
All day, Pies, Chowder & Soups 
 Milkshakes, Kiwi Ice cream, Slushie Fruit drink, Tea, 
Coffee 
 Closed Mondays.....except Observed Holidays 
 Sunday to Thursday: 8am - 8pm 
 Friday: 8am - 8.30pm, Saturdays 8am- 9pm 
4315226 
Trevor & Amber 
41 Moir Street, Shop 5-6  
Mangawhai Village 
Next to Carters Building Supplies 
  Eastern United JMB 
Registration Day 
 Sunday
17th March 2013
9.30 am Kaiwaka Sports Association 
Under 7, under 9, under 11, under 13's 
If your child has never played before we will have a 
place for them in the team. 
So come along and register.  All Juniors registered/
played can share a "Milo Breakfast" - Cereal provided 
thanks to Milo. 
 
 
Also meet the Northland Taniwha 
Lolly Scramble   
Swimming Pool Open 
Boot Trading Table - Bring your old boots and set your 
price. 
For further information, contact Jennie 9450502
Kaiwaka Fitness  
Hi Everyone. Sorry it"s been so long. I have been having problems with comput-
er, nothing more frustrating than writing everything and sending it only to have 
computer fail on last push of button. Anyway, hope all is well and Christmas and 
New Year went well, seems such along time along now. 
Hope those that did the Top of the Rock enjoyed it. Sounds like it was a great 
event. There's a few fund raising events coming up soon at the Sports Associa-
tion, please try and support them when you can.  
Sports Awards are also coming up so if you know of anyone that belongs to the 
gym who has done something special in the last 12 months let me know so we 
can put their name forward.  
Will be looking at getting new up right bike as it seems a lot of you would like 
this. Awaiting new standing calve machine to come as well. 
Have put up article about drug use by Bodybuilders on noticeboard, we are not 
all  drug  takers  and  in  fact  I  don't  use  anything  these  days  bar  fat  burners  pre 
comp. 
I am concerned about young guys taking stuff though. A friend at works son end-
ed up in A&E with a heart rate of over 200 after taking a pre work out supple-
ment, which contains caffeine, he was also taking fat burner (containing caffeine) 
plus  a  couple  of  coffees  before  hand.  He  spent  several  hours  in  A&E.  HOPE-
FULLY  he  will  read  labels  in  future.  Please  be  careful  of  what  you  are  taking 
especially  you  young  boys  at  your  age  you  shouldn't  need  to  take  supplements 
especially  anything  containing  testosterone  as  your  levels  are  at  their 
peak between 18-25 years, the side effects aren't worth it. If you feel 
you need to take  
supplements I suggest you ask someone who knows something  
about it; not the people trying to sell you stuff to line their pockets. 
Everything else seems to be ticking along. Take care for now Jules  
Hakaru RSA Women's Section  
continued… 
meeting Day, Heather asked for 
as many people to be at the Club 
on the 24th at 1-30 with lots of flowers 
to make posies and Wreaths. 
Angel Erstich our NZ NWA president is 
to receive her RSA gold star at Kaitaia 
on 16th March and we are sending at 
least 4 reps from Hakaru. 
Results of AGM 
Patroness Joan Leslie 
President Heather Small 
Vice President Lena Carleton. 
Secretary Jan Mann 
Treasurer Helen Hawkins 
Reporter  Ann Dowson 
Committee:- 
Bettie Marchant, Raewyn Keane, Patri-
cia Black, June Wilson, Shirley De 
Vries, and Fay Wintle. 
 
...RSA... 
Sales Table  
R. Keane, Eileen Wright and Dawn Powell. 
Lena Carleton gave her NWA report and one of their main aims throughout NZ is 
to encourage Youth to become members and we are very fortunate to have our 
Army Cadets and Scouts & Cubs next door. 
The afternoon ended with a welcome cuppa. 
Next Meeting Thursday 28th March, new Members Welcome, talking new 
members we are pleased to have Phyllis Browne to join us again. 
Enquiries Phone Heather 094314668 or Jan 4314512 
@ the  
Kaiwaka 
Family Church 
15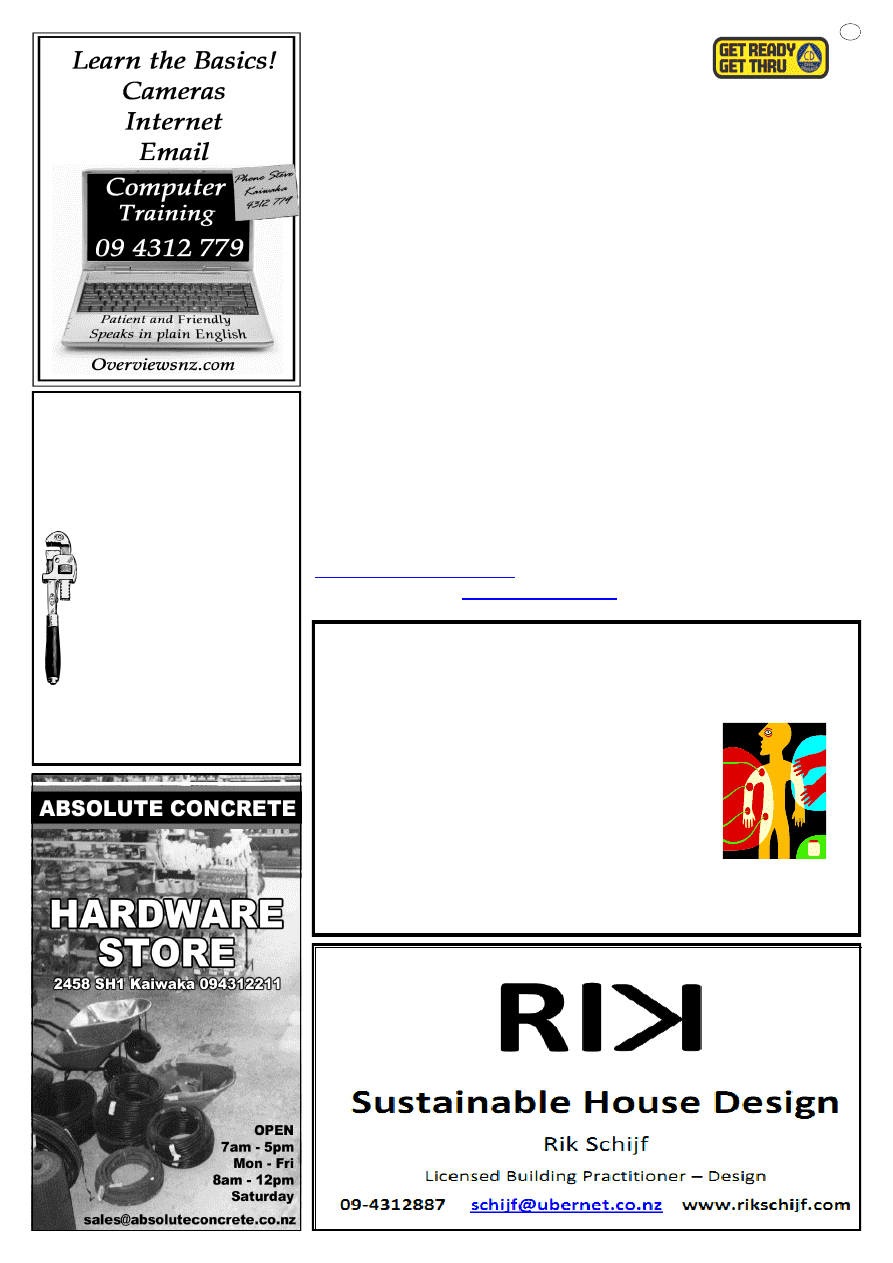 BARRY CURTIS  
PLUMBING LTD 
REGISTERED CRAFTSMAN 
PLUMBER 
Phone 4315572      
027 257 9884 
     25 years experience 
  
  
       Friendly reliable service 
  
All plumbing and  
maintenance 
       Alterations and new housing 
       New wood fire installation 
       Spouting 
       Competitive rates  
 PROMPT EFFICIENT  SERVICE  
KNOW YOUR NEIGHBOUR 
The Good Book says: "Love thy Neighbour" (which, on  
consideration, is pretty good advice).   
In today"s world, the Kaiwaka Community Response Group (KRCG) would like 
to add: "Get to KNOW your Neighbour!! And also get their telephone number 
as well as giving them yours."   
In  a  small  community  like  ours  it  makes  good  sense  to  be  in  touch  with  our 
neighbours, in good times and bad.  We have plenty of evidence of how this has 
worked out in previous emergencies (e.g the tornado-wrecked house a couple of 
years ago when everyone rallied round to help out the shocked owner). 
Civil Defence recommends setting up telephone trees as part of our community 
response plan, but apart from very central Kaiwaka, as a community our area is 
quite spread out, so KRCG thinks it is more practical to exchange phone numbers 
with our neighbours on either side.  That means, we need to make only two calls 
in any emergency (aside from major medical or fire of course).  This is another 
part of planning for the 'IF' 
There are nine hazards listed as possible significant threats to Kaiwaka the most 
obvious  being  cyclones,  tsunami,  flooding  and  fire.    The  current  dry  weather 
moves rural fire well up the list!  And after the "asteroid" event in Russia recently 
perhaps that"s another we can add.  The writer of a short letter to the editor in the 
Dargaville News of 20 Feb gives an interesting look at the Richter scale and tsu-
mani which may follow quakes – he ends with: "The next could be off the Tongan 
trench just north of White Island, maybe an hour tsunami travel time away.  Are 
you ready?" 
We don"t want to frighten you, but repeat his question: "Are you ready?" (Have 
you checked your stores and spare water supply lately? Might be a good idea to 
do it now; and after that, write your phone number on a piece of paper, take it 
with you and pop over and introduce yourself to your neighbour.  It might be the 
start of a lifelong friendship!)
Neighbours Day Aotearoa is on 23 and 24 March.  Check out 
 or find it on facebook.  And don"t forget to 
take another look at 
13 
OWEN STEVENS 
Osteo Therapist
For careful adjustments to bones and joints 
Treatment for humans and their pets 
Clinics: Kate's Place, Kaiwaka: 
Last Friday of month 
Warkworth Showground:  
2
nd
 Thursday, monthly
For bookings:  9.00am-5.00pm 
Phone 09 4312661  
Or phone Owen  09 4317123   anytime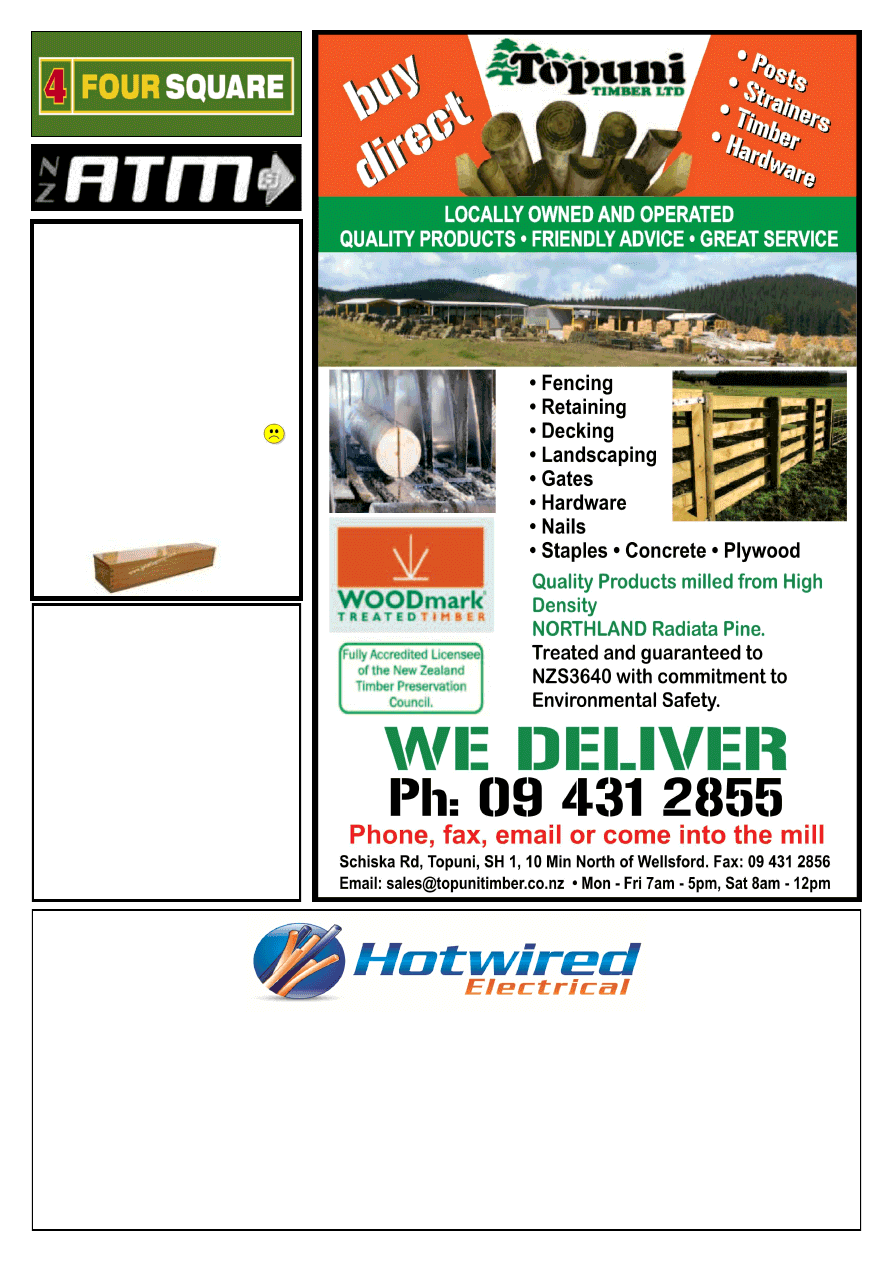 17 
KEV's  
CASKETS 
Stylish, BUDGET Accommodation 
Takeaways (8 available)  
or made to order 
  Featuring 2 styles and  
Different finishes. 
   Also O/S and Infant size 
Phone Kev in Kaiwaka  
021 1322 671 
Or come and visit my showroom 
104 Settlement RD, Kaiwaka 
 LEABOURNS 
Passenger Service 
Car & Van Hire 
Bus & Coach Charters 
Airport Transfers 
 Monthly Shopper Bus 
Phone (09) 4237416 
For All your Electrical  Requirements 
 
Domestic small jobs 
 
Residential dwellings and alterations 
 
Commercial 
 
Industrial                 
No job too big or too small      
Contact Jason today on: 
(09) 431 5992, (021) 405 019 
www.hotwiredelectrical.co.nz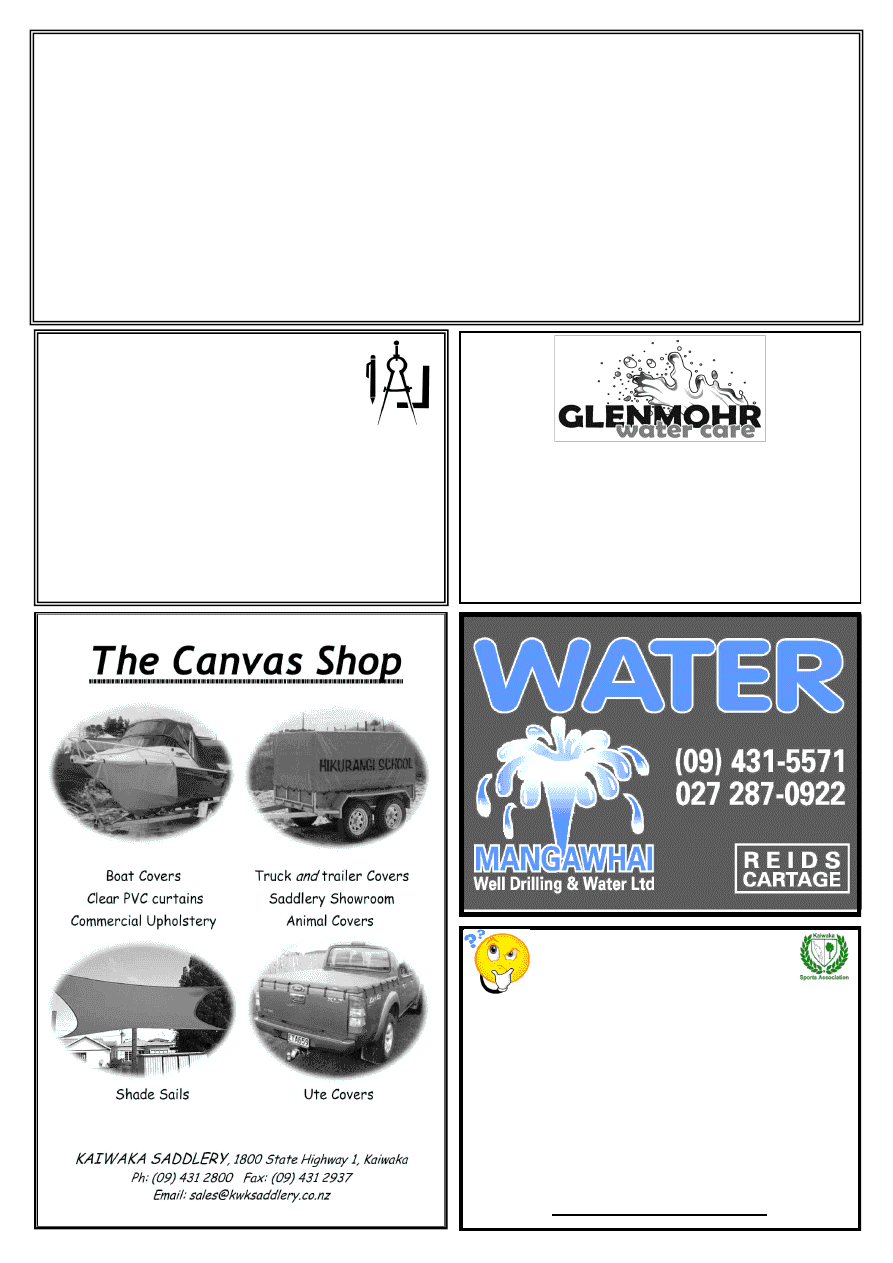 RANGANUI EARTHMOVERS 
 
16T Excavator   
(tilt, thumb & ROPS cab)   
Transport Trailer 
2 x 6 Wheeler Tip Trucks 
Suppliers of All Grades of Metal & Topsoil 
 
If you want a proper job done with an experienced operator ring 
Grant on    A/H 431-2131        Email  ranganui.dev@xtra.co.nz 
   Mob  021845-246 
Driveways, House Sites,  
Drainage Dams, 
Section Clearing,  
Tree Work,  Rock Retaining Walls,  
Quarry Work, 
Basically Anything That a Digger Can Do 
design drafting 
service 
Retired builder and manufacturer with over 40 years  
experience in the building industry is offering a design 
drafting service  
for domestic housing, sleepouts and sheds.  
Plans formulated in consultation with clients, with 
working drawings completed and submitted to  
council for processing.  Extensive practical experience,  
able to identify & resolve problems. 
Please ring Mike Lean on 
09 431 2260  
or 
021 431 196 
Water Tank Cleaning 
" 
 Keep your water safe & clean   
 
Removal of sediment, silt etc 
 
Vacuum or full scrub 
 
Minimal water loss 
Phone Mark (09) 432 0655 or 0274 707607 
QUIZ NIGHT 
Friday 15
th
 March,7pm 
Kaiwaka Sports Complex
* teams of 4 - 6 people 
* lots of spot prizes 
* supper provided 
 
$10 per head 
Pre-registered teams only. 
 Contact Cheryl Anderson to register on 
4312 051 
or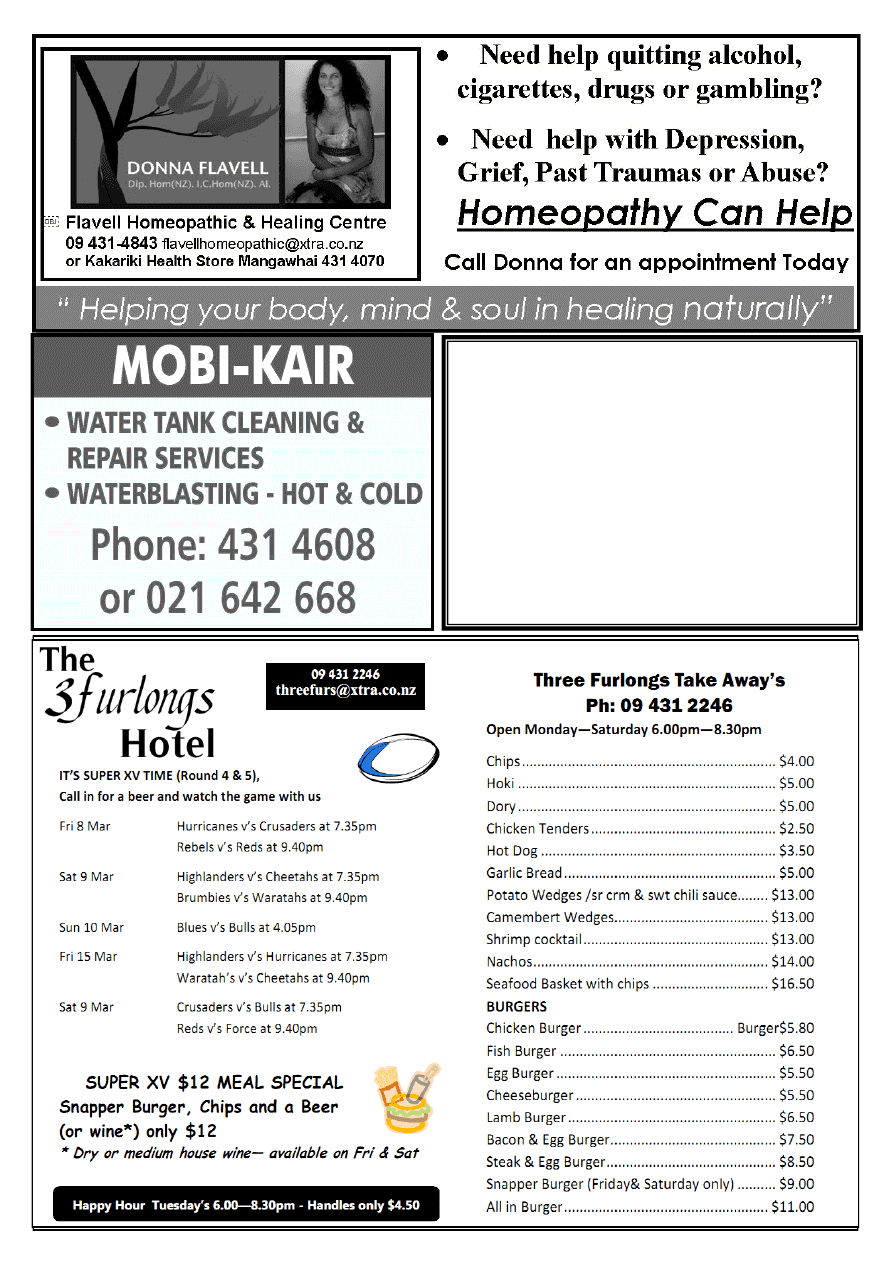 TILING 
Certified Waterproofing 
431 4533 or 021 86 33 33 
George 
MCN Property Solutionz  
Local references available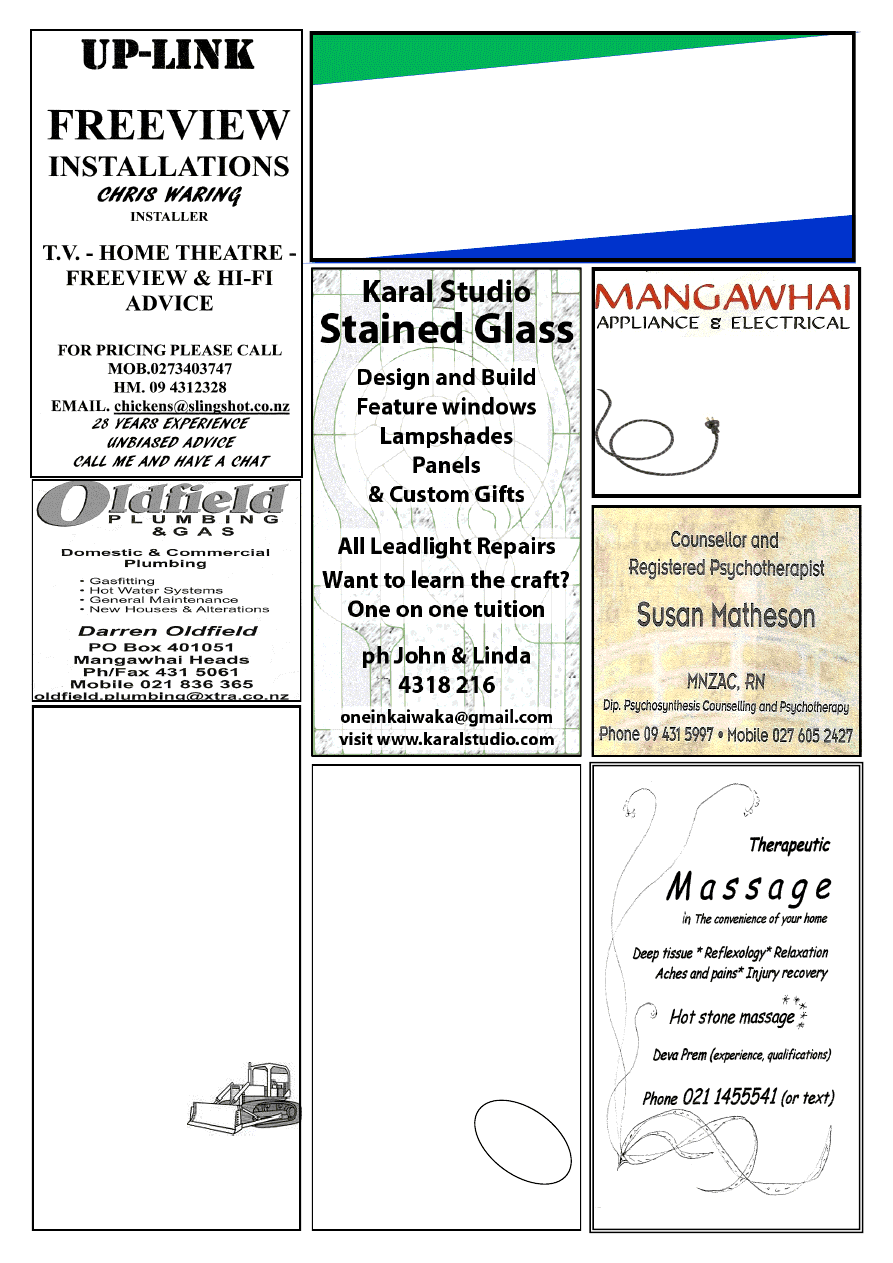 www.mangawhaimassage.co.nz 
CONCRETE 
If it's concrete we do it 
Full Preparation & Pour by 
Experienced Local Team 
Phone Phil Keen Contractors  
027 659 2376 
Based ou
t  
Oner
iri Roa
d 
HODGETTS
CONTRACTING
Digger Work    

Driveways 

House Sites   

Dams 

Drains, etc
Also available for HIRE 

3 ton Vib Roller 

Heavy Duty Tow 

Waterblaster  

Lazer Level 
Phone Mark 
4312877 
027 447 8554
DEAN STEWART 
Registered Electrician 
12B Wood St.  
Mangawhai Heads 
021 280 4008 
09 4314651 
AUTHOURISED FISHER AND PAYKEL SERVICE 
Coates  
Contracting 
 
D41 Bulldozer with 6 
way blade, bush rigged 
with winch 
 
For all tree work 
 
General bulldozing and  
  stick raking. 
 
120hp Tractor for 
ground cultivation,  
 
tip trailer work. 
 
Fencing
All enquiries phone  
Brett Coates  
094318720 or  mob 
021431872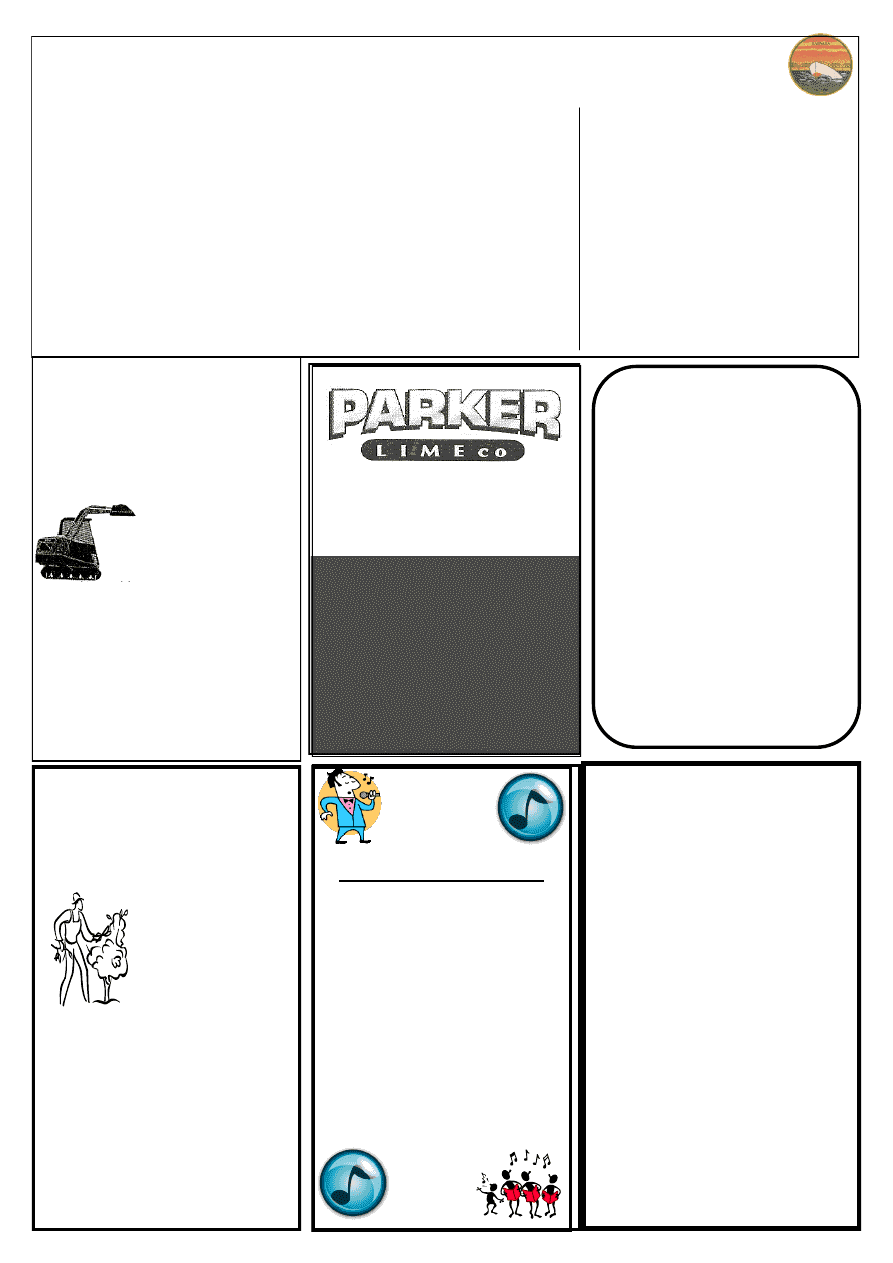 T.W.WRIGHT 
WATER PUMPS  
SALES & SERVICE 
DEEP WELL & SUBMERSIBLE REPAIRS 
203 WHAKAPIRAU RD, WELLSFORD 
PHONE 09 4238235   
MOBILE 021 976 545 
Landscape Supplies 
Bulk Cartage 
4312407 
Mob: 021 453 252  
Fax: 4312939 
 scott.parker@parkerlime.co.nz 
Gibbons Road,  
Kaiwaka 
Landcare 
Services
Dave Hyndman  
     4312302 
   021 431238 
Trenching, Hole Boring, Land 
Levelling,  Driveways, 
Landscaping,  Post Peel,  
Pig Post, Lifestyle block mowing, 
etc....also Rotary Hoeing
For reliable and friendly service 
contact Dave 
Willow Bend
HORSE  
HOTEL 
"   
Total Horse Care 
" 
Agistment 
" 
Riding Lessons 
" 
Arena Hire (60x40) 
" 
Young Horse Starting 
" 
Re-training/Exercising 
" 
Hoof Trimming 
" 
Problem Solving 
Phone Sue 09 431 2817 
or 021 623 776 
Or email sue.gray@xtra.co.nz 
OUT THERE 
GARDENS AND LAWNS 
Lawn Mowing – Any Size 
Section Clearing  
Hedge Trimming  
Spraying  
Planting 
Pruning   
Gutters Cleaned 
Chainsaw Work 
Regular Services 
General Maintenance 
Garden Waste Removal 
Free Quotes 
Get The Job Done! 
Servicing Kaiwaka/Mangawhai 
Contact Phil Jones 
027 243 5503  
431 2196  
Email: outthere09@gmail.com 
Singing Lessons 
Individual sessions 
All styles of music  
All voice types 
Reasonable rates 
Phone  
Maura Flower 
021 164 8318 
Point Curtis Cruising Club 
 
Point Curtis Cruising Club Incl. Members Only Competition 
Start time: 6am Saturday 9th March 2013 
Finish time: 6pm Sunday 10th March 2013 
Weigh in: Each day 5pm - 6pm at 3 Furlongs Hotel 
Maximum weigh in: 2 per species per angler per day 
Prize giving: 6.30pm on Sunday 10th March at 3 Furlongs Hotel 
BBQ: 7pm on Sunday 10th March at 3 Furlongs Hotel (Please bring a plate) 
Ticket Outlets: Jean McLeish 4312520 or 3 Furlongs Hotel, Kaiwaka 4312246 
Adults: Entry Fee:$20 
Species: Snapper, Kingfish, Kahawai, Gurnard and Crayfish 
Adult Prize giving: Heaviest Snapper: $300. 2nd & 3rd prizes Fishing Gear 
All other species 1st, 2nd & 3rd: Fishing gear 
Juniors: (Aged Under 15)  Entry Fee: $10
Species: Snapper, Kingfish,  
Kahawai, Gurnard, Crayfish & Eel 
Separate Junior Prizegiving 
 
Please see poster for disclaimer 
Claybird shoot at Pongo's farm  
Sunday 17th March 
Fish of the month: Snapper (until next 
committee meeting) 
Next committee meeting 7pm, 12 
March 2013 at 3 Furlongs Hotel 
 
Wayne Leslie, Commodore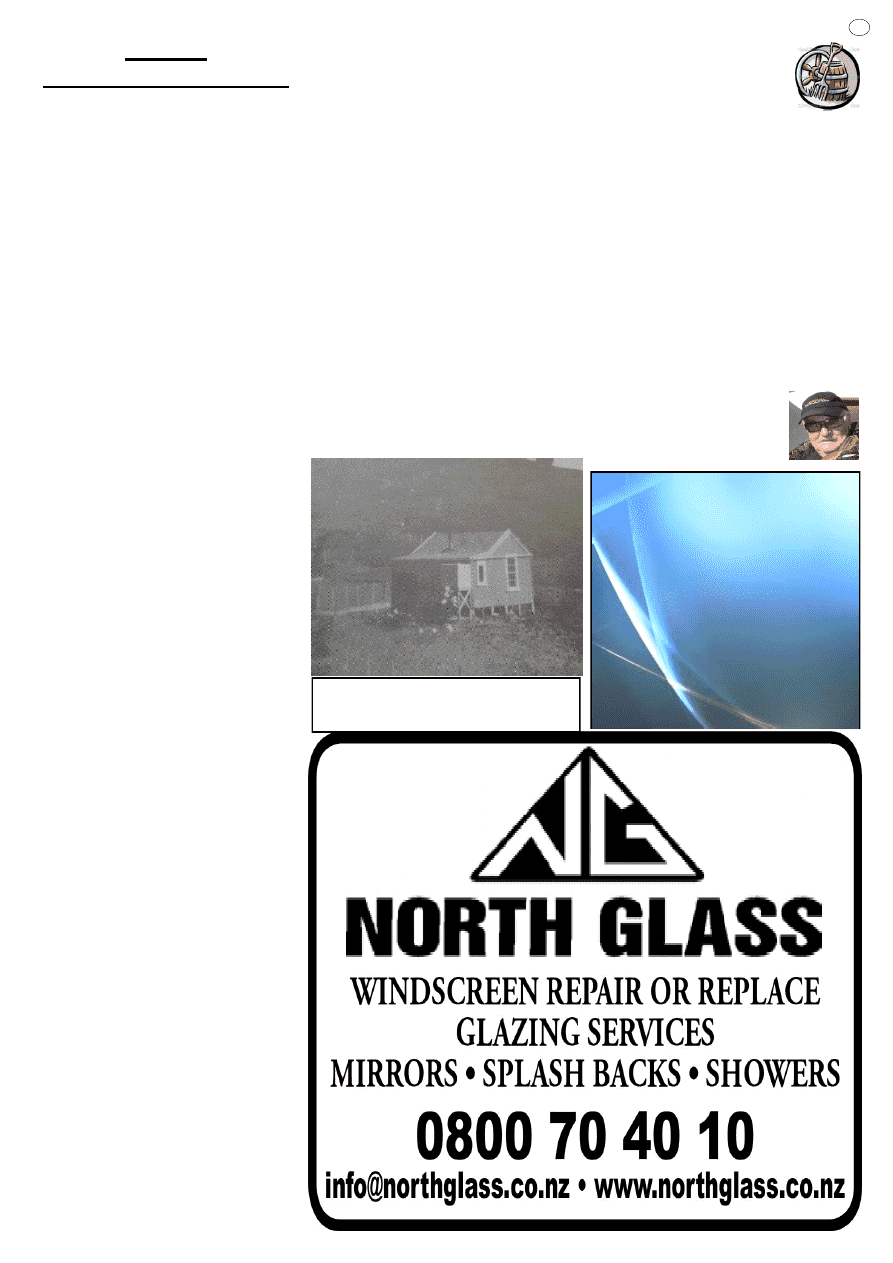 17 
ones who have seen so much 
change, and believe that the  
children of today must be  
taught that change is constant 
and on going and so one wonders at 
some teachers who cannot handle 
change themselves.  As I said before 
that while I was at Hakaru with its 14 
pupils sitting in a building that was 
mainly surrounded by gorse and scrub, 
I did well in nature study as when we 
went on nature walks we saw basket 
fungus, tar weed, fly-catching plants, 
quail and sky lark nests, maiden hair 
fern, piles of Kiwi crop stones and  
many other things that no longer exist 
and so my knowledge cannot be 
passed on. Change made what I was 
good at, just a memory, but  
a good one. 
 
Bill Leslie  5 March 2013 
IS OUR               
SCHOOLING RIGHT? 
My great grandfather was sent to sea at 
the age of nine and for the next 19 years 
was a sailor and gold digger before be-
coming a farmer in Kaiwaka in 1859, 
and while he could read and write, nei-
ther were strong points of his life.  His 
schooling was slight as was my grandfa-
ther"s who was 12 before the first 
school was built, which he left when he 
was 14, as did my father.  All the 
schooling they got was based on the 
curriculum of mother England.  We, in 
fact, owe much to mother England as 
the second Kaiwaka school built in 
1880 was built to an English design and 
so with its steep roof, the Kaiwaka snow 
did not prove a problem sticking to the 
gables.  The basics were taught, what 
was right and what was wrong instilled 
with a cane, chivalry was important and 
the importance of being British and part 
of an Empire on which the sun never set 
was ingrained into the minds of all.  By 
the time I started school at Hakaru, 
which is while the 2nd World War was 
on, things were changing, as my first 
real teacher was an American exchange 
teacher from Hawaii, by the name of 
Miss Ulele Scriven.  She also boarded at 
our house and so my "O.K's, okey 
dokey, yep and ain't's", while alright 
with her, did not go down well when 
she left to return to the U.S.A.  We 
learnt  pounds and ounces, bushels and 
pecks, inches, feet, yards, chains, fur-
longs and miles, gills, pints and quarts, 
pounds shillings and pence along with 
its long multiplication and division.  
Who can remember how to multiply £4, 
11 shillings and 6 pence 1/2 penny, by 
7?  One of my weak points at school 
was spelling, which caused me many 
straps.  It is now apparent to me that I 
was learning to text 65 years ahead of 
time.  Another cause of much misery 
was poor writing, which was coupled 
with poor comprehension, and poor 
English; in fact I only did well in nature 
study and social study, and one teacher 
told me in no uncertain terms that I 
would go through life as a plodding oaf.  
Not what one goes to school to learn.  In 
fact most of what I learnt became use-
less, but it was a base that taught me 
how to overcome change, and that 
change is an on going part of this world, 
and if you don"t learn to change quick-
ly, you quickly get left behind.  This is a 
problem that must be faced and is hard-
er to face as we get older, and while I 
don"t like many things that are new, I 
do not rubbish them, but give a big sigh 
of resignation.  However, as I got 
strapped so many times for poor 
spelling, I do refuse to text.  With the 
huge changes that have taken place in 
education, I find I am not much use in 
helping with my grandchildren"s home-
work, but realise that hopefully it is 
better than what I got.  Discipline at 
school was hard when I was young, and 
is something I have problems with.  
Many of my teachers had fought in the 
War and so meting out discipline was 
no problem and as children we ex-
pected to be punished if we did wrong 
at school, just as we were at home. 
Teachers of today are dedicated and do 
a very good job in the main, but when a 
new system is advocated, there are cries 
of derision from many.  To us older 
Photo from Kaiwaka Photographic History 
Pukekaroro School before it was moved to 
Hakaru in 1943. 
Freeview  
Installations 
Richard Te Haara 
25 Marram Place 
Mangawhai Heads 
021 1104056 
kiwipride@xtra.co.nz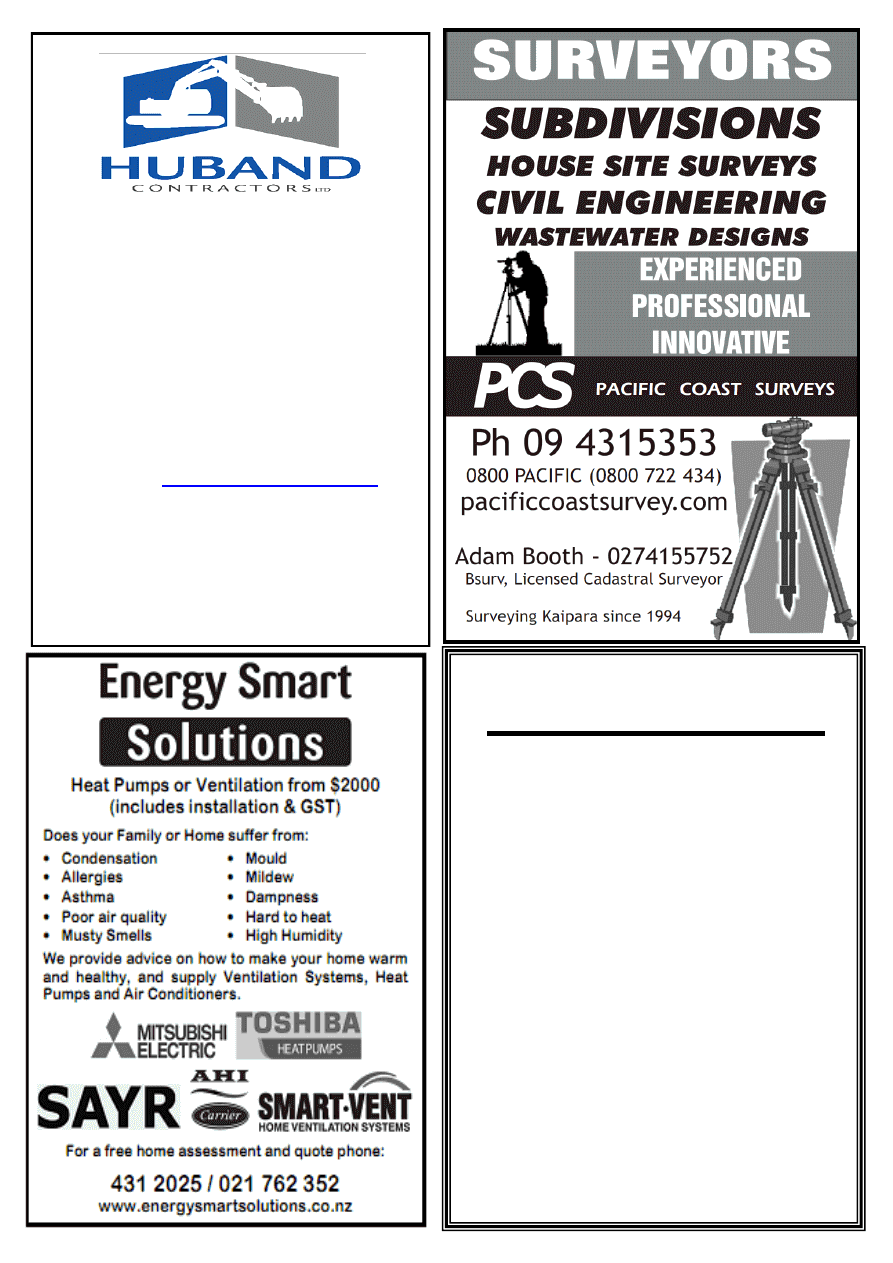 STOCKFOOD
GREAT RANGE FOR ALL YOUR LIVESTOCK  
AT GREAT PRICES 
 ALSO CHECK OUR 
DOG BISCUITS 
20 KG FOR $57.80 
LPG REFILLS 9KG 
STILL ONLY $31.50
MANGAWHAI SERVICE 
STATION 
(09) 431 4242 
44 MOIR STREET IN THE VILLAGE 
*   R O A D I N G   *   E A R T H W O R K S  
*    
*   D R A I N A G E   *   S I T E W O R K S   *  
For any further enquiries, contact 
Shaun on: 
Cell: 021 222 0272 
Home: 09 4318339 
Shaun Huband:  Registered  
Drainlayer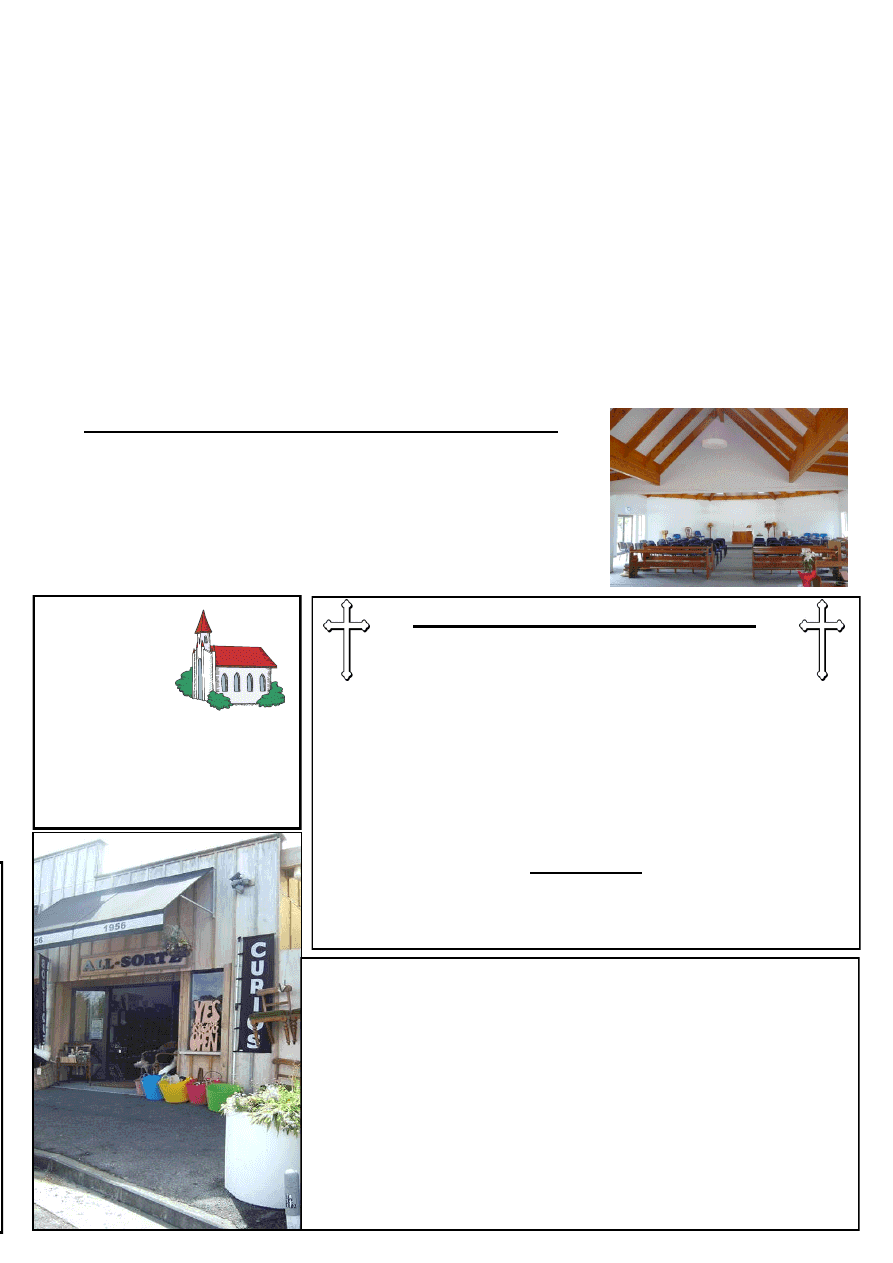 ST PAUL"S  
SUNDAY  
SERVICES
First Sunday 9.30am, third Sunday 4pm  
Paparoa Anglican and Wellsford  Co-op Parishes 
StPauls Church: Kaiwaka-Mangawhai Rd.  
Contacts:M.Hargreaves 4312295, C.Bygrave 4312057  
1st Sun. (Anglican),3rd Sun. (Co-op). 
New Anglican church opens in Mangawhai!
Recently the new Anglican church at Mangawhai was opened by  
The Right Reverend Bishop Jim White, Assistant Bishop of the Diocese of Auckland.  
He first led a service of Thanksgiving and Secularisation  in the old Chapel of Christ the King . This old building 
was built in 1885 as a schoolhouse and in 1957 was dedicated as a place of worship; and the Anglican commu-
nity have worshipped  there ever since,  living in harmony with the church mice and adapting to the limitations of 
space. It has now been gifted to the Mangawhai Artists Association. So it was time to say farewell. 
The  52 strong congregation then  followed Bishop Jim into the new church for the Dedication.  Bishop Jim deliv-
ered  a strong message saying, " This building has five doors and all open outwards. It is for us to go out into the 
community."  
It was through the generosity of several benefactors that the church was able to be built,  including  Rae Coulter 
who left a substantial bequest ; and Gerda de Boer  and her family who gave a substantial sum. Others have 
gifted time, money  and materials.  The parishioners are extremely grateful to all who have contributed. 
The octagonal shape of the church and the light that radiates from the high ceiling  give a sense of warmth. " We 
are delighted with how the church has turned out - a number of people have remarked that it feels as though we 
have always been there," says Dianne Hawken, the  Priest- in-charge.  
"We  would  like  the  community  to  feel  welcome  in  this  place  so  we  are  having  Church  Open  Saturdays  in 
March from 10am till noon where you can come in,  have a look and maybe sit for awhile,  and enjoy morning 
tea", says Dianne.  
The facility has a large kitchen and the church opens into the Hall. It can seat about 140 so is suitable for wed-
dings, funerals and other functions. 
The Church is Open every Saturday in March!
Christ the King Anglican Church 9 Molesworth Drive Mangawhai 
We are open every Saturday in  March!! 
2, 9, 16, 23, 30 March 10.00am-12 noon. 
16 March 10.00–3.00pm. 
Everyone is welcome  
Come in, have a look, sit awhile and have a cup of tea or coffee! 
St. Mary's Catholic Church 
Parish Mission  
 Saturday evening  2
nd
 March to  Sunday 10
th
 March 
Team of 10 Missionaries are coming to visit our Parish of 
Wellsford, Maungaturoto and Mangawhai 
There will be home visits to meet and talk with you. 
 Your concerns and needs will be listened to.  
Evening Seminars geared for all people. 
Contact details: 
Wellsford….Fr. Bill Fletcher – Ph.  423-8170  
    Ivan Tomas – Ph.  423 8424 
Mangawhai….Michele Oliver – Ph. 431 5048    
Maungaturoto ….Peter & Ann Jackson -- Ph. 431 2226 
 Hands On    
CHEESEMAKING  
WORKSHOPS  
are  On Again  
EVERY SATURDAY   ( 9am to 
appr.3 pm, incl. lunch)  
GOUDA (Hard Cheese) and Cam­
embert Style (soft cheese) 
Other dates by  
arrangement… 
Or....  if YOU supply the Milk ...I 
can make the Cheese for YOU. 
For More Info or Bookings   
Contact; 
Ad ......(Founder of Kai­
waka Cheese Shop) on, 09-
4312234 or 021 2154495 
Shop 4, 1956 State Highway 1, Kaiwaka   
Phone 09 431 2701
 MIDDAY, MIDWEEK MEMORABILIA – 50% OFF  
 SELECTED ITEMS 
 ON WEDNESDAYS, THURSDAYS AND FRIDAYS 
 FOR ONE HOUR FROM MIDDAY TO 1.00 PM 
Different items each day and discount applies to that time/day only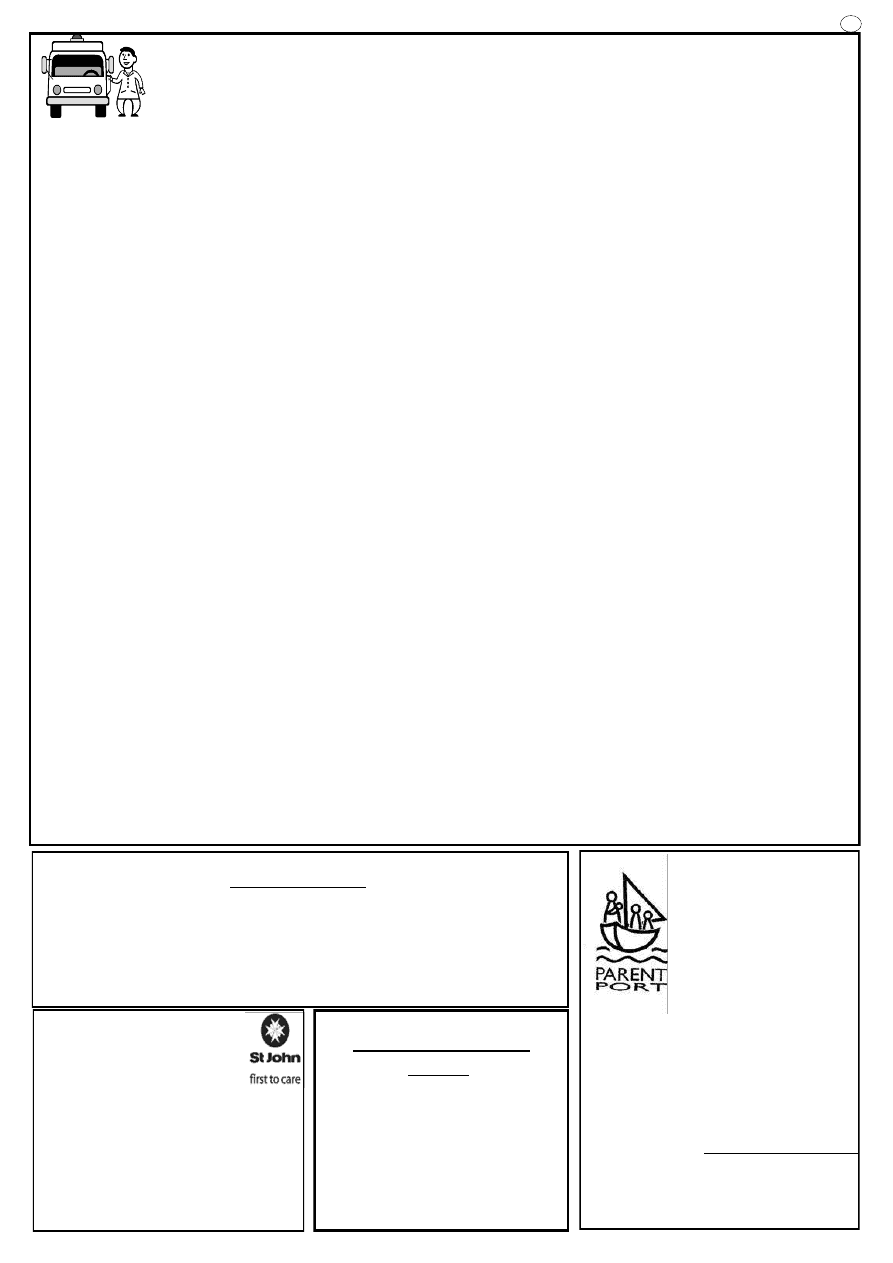 19 
Parent Port 
-   
Kaiwaka and outer  
  areas  is  a  FREE  ser    
  vice  for  families  with 
  pre  school  children  it 
  provides  basic  house-
work,  washing,  cooking,  local  gro-
cery shopping and childcare ( while 
you rest ). 
This is a free service for all fami-
lies  when  feeling  under  real  pres-
sure. Contact Linda 09 4259357 or 
0272805093
and she will arrange for a local Par-
ent  Port  worker  to  come  and  help 
as soon as possible. 
St John Lifelink
: 
For those of you who are living on your own, or if you have a condition that could 
require urgent assistance, call  
0800 50 23 23.  This is the number of the St John Lifelink.  Once you have one of these 
gadgets you can feel reassured that help will be immediately on the way should you feel 
the need to activate it.  This service operates 24 hours,  
7 days a week.  To find out more, give St John a call on the above number. 
The Role of an Ambulance Officer 
The role of an Ambulance Officer is to be part of a team that provides pre-hospital emergency care to           
their community.  They are trained to respond to a wide range of medical and accident emergencies, and 
then to assess and treat patients then transport them to further care if required.  
A Volunteer Ambulance Officer needs to be motivated and committed to regularly crew the ambulance and attend ongoing 
training.  The general expectation is for volunteers to commit to at least one rostered shift per week and attend station train-
ing nights therefore helping ensure a good level of exposure to skill development and patient care. 
Whilst there is no upper or lower age limit, volunteers do need to be in good physical health and hold a full driver license.  
Applicants should also have current Workplace First Aid Certificate but if they don"t we can facilitate this at a reduced 
cost. 
Anyone wishing to become an operational member of St John goes through a formal application process.  This includes 
filling  out  an  application  form,  Police  and  personal  reference  check,  written  and  physical  assessment  then  interview.  
Whilst this process is being undertaken people are welcome to attend team training nights and are encouraged to ride in the 
ambulance as observers.  
In return for the volunteer"s time, St John provides NZQA recognized training and life skills that can be applied in all sorts 
of situations. A great deal of satisfaction can be gained in helping others in need and directly supporting the community 
through the provision of a much needed and respected service.  
St John provides free training for both paid and volunteers staff up to and including the Paramedic qualification. As with a 
lot of things, the on job experience counts for a lot when it is tied in with a more formal qualification. 
Maungaturoto  and  Kaiwaka  ambulance  stations  are  primarily  crewed  by    volunteers  with  one  paid  Ambulance  Officer 
providing support and rostered on week days.  As a vital part of emergency services, the ambulance team works closely 
with other services such as the police, fire and rescue helicopter. 
The term Ambulance Officer is a generic term.  In reality, ambulance officers hold different qualifications depending on 
how much study and training they have successfully completed.  
First Responders are ambulance officers who have some advanced first aid training and have undertaken driving train-
ing. These officers usually assist higher qualified officers, drive the ambulances and are part of an ambulance crew. 
Emergency Medical Technicians complete the National Diploma in Ambulance Practice and are encouraged to take the 
lead as ambulance crew. 
With further experience,  Paramedics complete further study and training enabling them to provide a wider range of 
treatments. 
Intensive Care Paramedics undertake study and training at University and have wide experience in pre-hospital care. 
These officers provide Advanced Life Support and an extensive range of treatments and procedures. 
Volunteers who live close to the ambulance station are able to undertake their duties from home and are alerted to call outs 
by a personal pager that will be issued to them. However, volunteers living further afield will need to be either at the ambu-
lance station or in the local area whilst they are on duty so that response to call outs is not delayed. The ambulance stations 
at Maungaturoto and Kaiwaka have dedicated staff facilities for volunteers that wish to be on duty from the ambulance sta-
tion. 
As the provider of ambulance services to our community, St John could not provide a quality ambulance response without 
the support of volunteers who are local people looking after and involved in the local community.  
Becoming a Volunteer Ambulance Officer not only means that you are helping your local community but also may open up 
opportunities further down the track.  Whilst some of the training can be challenging, particularly as our members move up 
through the qualification levels, we offer plenty of support and assistance. Many volunteers have benefited from this expe-
rience and this has lead to part-time and fulltime employment opportunities. 
If you would like to be part of St John - Maungaturoto/Kaiwaka ambulance and all the support, friendship and sense of 
team that comes with that, please contact the Team Manager at the Maungaturoto station on 09 4318403 or 0212316836 
ST JOHN OP SHOP 
 
Milly has been busy selling and 
would appreciate more goods  
especially bric a brac and furniture. 
  
At the moment there is a clothing sale
with all you can fit in a bag for $1.   
YES THAT'S RIGHT-ONE DOLLAR 
 
Contact Milly on 022 3812233 or 
4312423 
Community Services 
Officer: 
For all Community Services Forms 
see Millie at the Kaiwaka St John 
Op Shop. Phone 4312423 
MORE MEMBERS REQUIRED 
FOR THE KAIWAKA STATION
.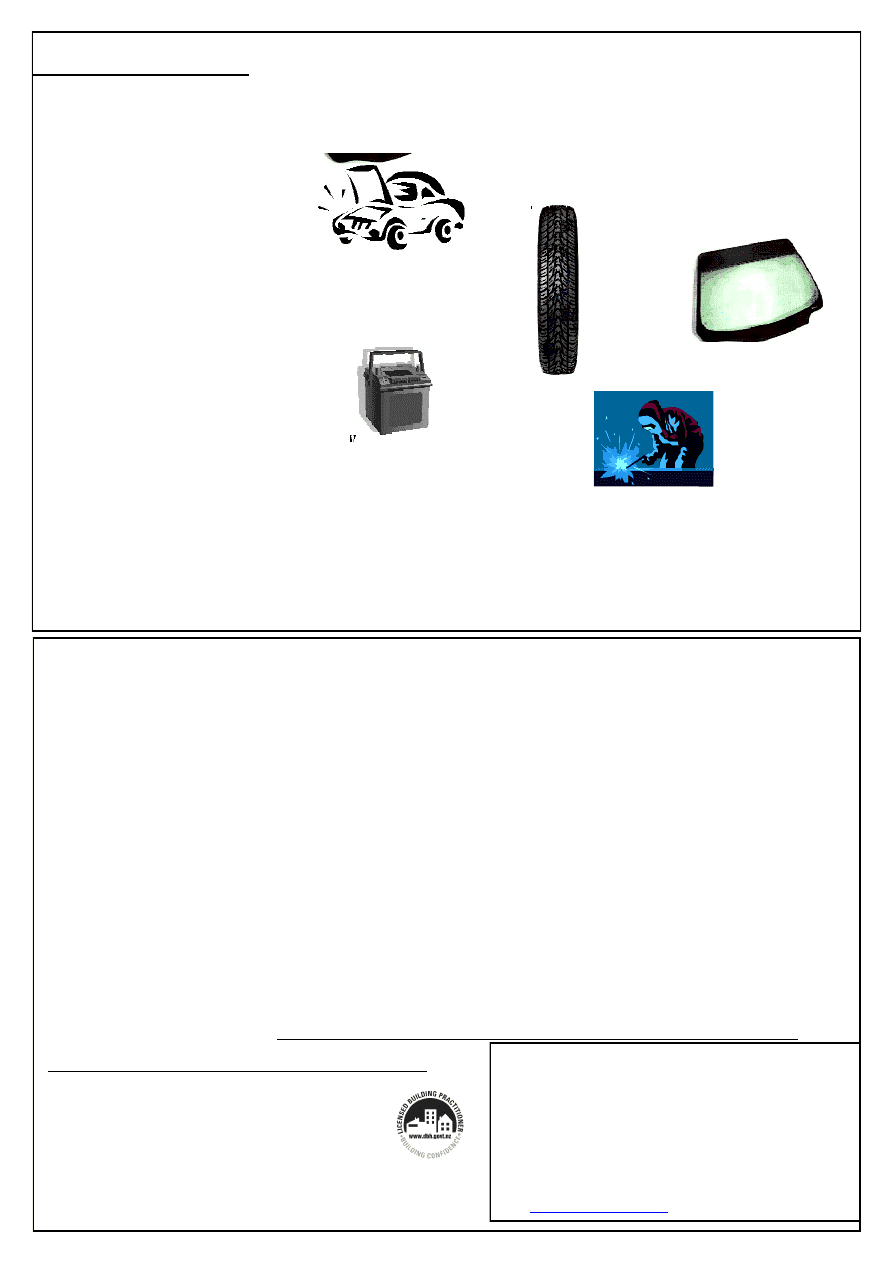 Want it done? 
Bring it to          
Twinkle Tow 'n' Tyre 
*W.O.F. 
*Tyres 
*Windscreen replacement 
*Chip repairs 
*Bulk Oil 
*Batteries 
*Welding 
*Custom built trailers 
*Trailer hire 
Think you"ll get a better deal in the city? 
Go on, ring us; it won"t cost anything! 
1837 State Highway 1, Kaiwaka       Phone 431 2823 
ARCHITECTURAL BUILDING PLANS AND DESIGNS 
20% Reduced Cost - design and planning. 
If you are thinking of building, then you need to make use of cost savings in architectural design as well as having a good and well experienced 
designer. This applies if you are considering a new home, any alterations or any building additions/farm buildings, sheds, alterations, whatsoev-
er. There are many things that are frustrating if you are not totally familiar with what all details are required by Councils -especially with 
new regulations in force to ensure everything runs smoothly - e.g. Resource and Building Consents, planning restraints, new building 
materials ,applying for building permits, dealing with building contractors to name a few -you need a capable,  
experienced and professional designer with a clear knowledge of all the processes. 
WE CAN HELP YOU CLARIFY ALL OF THESE ITEMS  AND MAKE LIFE RUN MORE SMOOTHLY.  
Brian of Wright Design has been helping and organising all these facets of design and building for over 40 years. 
With needs of family changing and the economy - building requirements constantly being reorganized and made more complex, it"s very im-
portant to obtain professional advice for any building project - no matter what size. 
Brian advises on design, materials, permit applications, builders and subcontractors for any project - no matter how small or large 
ALL THIS AT A REDUCED COST so YOUR DOLLAR GOES FURTHER  
Wright Design offers free visits, consultations and all the advice you need on planning. Design, building, contractors, council  
permit applications, guaranteed permit plan acceptance. 
QUALIFICATIONS 
Brian is a qualified designer (NZCAD) with over 40 years of varied experience in all types of building and is a registered and Licensed Building 
Practitioner in Design - L.B.P. 117345 
He ensures you will achieve the best from your budget with  
recommended excellent local contractors ready to competitively price and build your personal project quickly and efficiently. 
EXPERIENCE 
Brian"s practical building and 40+ years of design experience means he can give you excellent advice and all the guidance needed for all 
your building needs, 
FEES: To help you attain your project Brian has reduced his costs by 20%, giving you extra funds for the rest of your project. 
ENGINEER: Brian can arrange engineering for a reasonable cost. 
THIS IS AN ABSOLUTELY GENUINE FEE REDUCTION!! 
Qualified and inexpensive designer – N.Z.CAD., LBP 117345 
Guaranteed design and working drawings 
Free site visit to your home or property 
Great service 
Obtain a free quote with 20% Discount. 
PROJECTS 
Additions, alterations, basements, new houses, motels, bed and breakfast 
commercial buildings and shop fit outs are a few projects he has been in-
volved with. 
MAKE GOOD USE OF HIS EXPERIENCE AND THIS GREAT OFFER 
WHAT TO DO FROM NOW 
Call Brian   
Arrange a visit 
Discuss your needs 
Obtain great advice.  
Obtain a free quotation - with a true 20% discount 
WRIGHT DESIGN 
Brian"s office is at: 72 SPINDLER ROAD, R.D.2 WELLSFORD  
(Off Wayby Valley Road.) Call in for a chat and a coffee, or he will call 
on you at your home if preferred. 
WRIGHT DESIGN: Office 09-423-8092 
Mobile 021 276 7389 
Email: