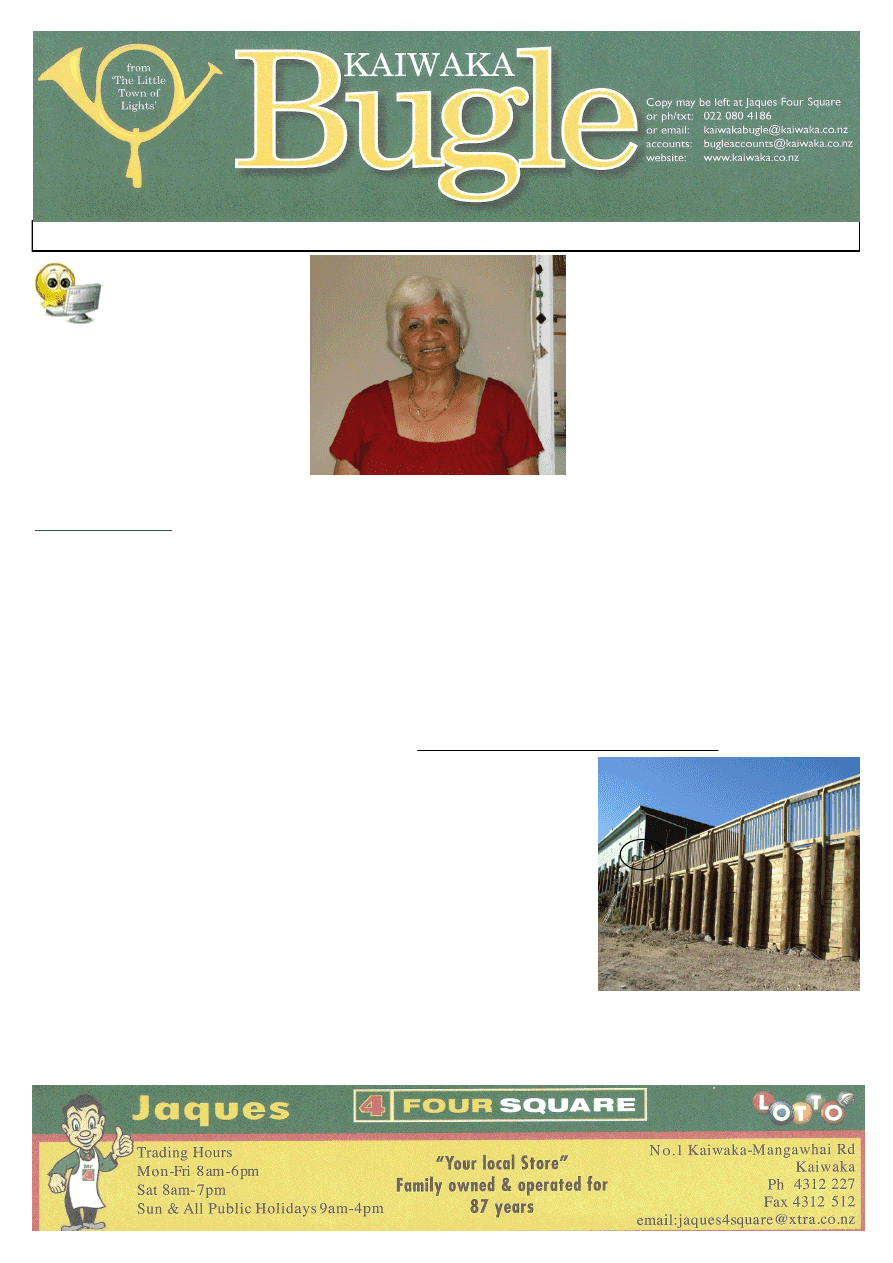 No: 5 
19/03/2013 
The Great Wall of Kaiwaka 
This teeny tiny, itsy bitsy bit of landscap-
ing  undertaken  by  Ilia  and  Eva  Petro  of 
La Nonna Italian Bakery is there so Kai-
waka  doesn't  slip  away!  (Just  kidding!)
The 24 metre long wall is held in place by 
several  7-8  metre  posts,  4  mtrs  into  the 
ground and offers a great rural view. The 
Council  said  it  was  one  of  the  biggest 
engineering  projects  in  Kaiwaka  for  
years. Ilia and Eva wish to thank the local 
contractors  who  worked  so  hard:  Mike 
Lean and his team; Mark Hodgetts; Dave 
Hyndman;  Phil  Keen;  Craig  Mitchelson; 
Absolute Concrete and Paul Greig.  With a BIG thank you to Brian McClean who 
gave his permission to open up the view across his farmland and allowed access 
to all the diggers etc., needed to complete this awesome project. If you haven't 
already  stood  at  the  safe  viewing  platform  (see  circle  above)  and  admired  the 
view, you should. It's between the Italian Bakery and the Council building.   AJ 
If  you  haven't  completed 
your census forms, there  is 
still  time  to  do  them  online 
or  on  paper,  and  it  IS  com-
pulsory.    General  Manager 
of  the  2013  Census  Carol  Slappendel 
said. ―The census website is still opera-
tional and online forms are still coming 
in. If you don't have your paper forms 
and  Internet  Access  Code,  please  con-
tact  0800  CENSUS  (0800  236  787) 
The  information  collected  is  hugely 
important, as it's used for health, edu-
cation  and  transport  decisions.‖  For 
more  about  the  2013  Census  see 
KDC  PUBLIC  MEETING  Monday 
25  March  at  0930  in  the  Kaiwaka 
War Memorial Hall.  You HAVE to 
be  there  to  find  out  what's  going  to 
happen to our lives/rates! See page 3 
Maungaturoto
will  see  the  start  of  a 
major  new  initiative  with  a  regular 
monthly Market beginning on Friday 5 
April. See inside for details. Cheers AJ
Bugle 6 will appear 02 April 2013 
ZONTA CLUB HONOURS 
  LOCAL VOLUNTEER 
Once again this year on March 8th,  
International  Women's  Day,  the  Zonta 
Club  of  Mangawhai  celebrated  Yellow 
Rose  Day  by  honouring  a  local  woman 
who has made a significant contribution to 
the  local  community.    This  year's  recip-
ient was Milly O'Leary, founder and  
organiser of the St John Opportunity Shop 
in Kaiwaka.  
The O'Leary's son was a sufferer of severe 
bronchial asthma, so the family had many occasions when they used the services 
of St John.  Milly was determined that one day she would give back to the ser-
vice, so after their son's death seven years ago and once she and her husband had 
retired, Milly approached St John and set up the Op Shop in Kaiwaka two and a 
half years ago.  In the first year they had a turnover of $22,000 and have a band 
of 6-7 volunteers.  The success of the shop is a testament to Milly's organisation-
al skills, sheer hard work and determination, but it is her warm, generous person-
ality and welcoming smile that are so distinctive  and memorable. 
Milly was honoured at a breakfast at Harvest Café in Mangawhai, on Friday 8th 
March  and  was  joined  by  whanau,  friends  and  fellow  St  John  volunteers  from 
around the Kaipara District.  
BIG congratulations to Milly from the Kaiwaka Bugle Team. 
Kaiwaka  St John  Op  Shop  is  open  from  Tuesday to Friday from  10am  to  4pm 
and  on  Saturday  from  10am  to  1pm.    More  volunteers  are  needed,  especially 
strong men for moving furniture!  Contact Milly on 4312423 or 022 3812233 if 
you can help. 
Thank  you from  Milly:  ―I would like 
to  thank  the  ladies  who  came  to  sup-
port  me  at  the  International  Women's 
Day  Breakfast.  I  was  really  honoured 
to have so many people get out of bed 
so early just for me! To my ladies from 
work, Denise, Melissa, Jude and some 
of the staff from Mangawhai Op Shop, 
my whanau Martha, Wi John, Gregory, 
Jeanette and several other ladies whom 
I  didn't  know,  thank  you  all  very 
much.    To  Carolyn  &  Jude,  who  felt 
that  I  was  worthy  of  being  chosen  as 
the recipient of  the ―Yellow Rose Day 
Award‖ a very special thanks. To Ste-
phen  and  his  members  of  St  John,  it 
was great to have you there; and to my 
husband,  Ray,  for  being  there  as  al-
ways.‖ 
Milly O'Leary,  St John Op Shop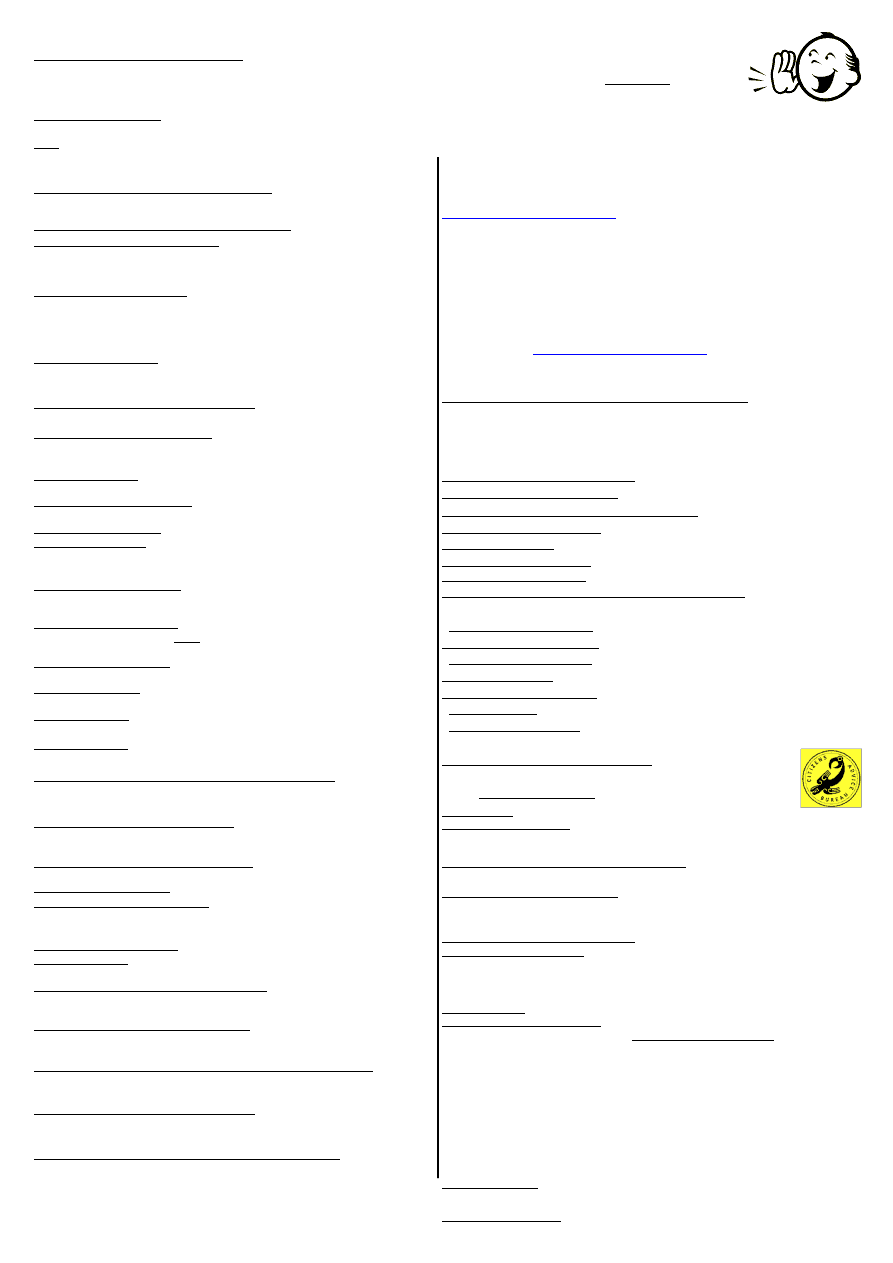 LOCAL SERVICES 
*St.John Ambulance 
111 or Freephone0800 61 0066
*Fire phone 111     *Police phone 111 or 09 4311150
WELLSFORD DOCTORS: Ph: 4238 086 
 
A A: Meets Wed., 8pm Kaiwaka Ph: 4312228, 4315543, 0800229 6757   
AL ANON: In recess, contact Ph: 4312228 
AgriQuality (MAF) Livestock Consultant 
Phone 09 4311 820 or 021518257 
CAB-Citizens Advice Bureau.Wellsford Ph: 4237333. 
BUDGETING SERVICE,OTAMATEA:Free confidential advice & support - all 
areas of  personal finance Ph: 09 4318173 or 094318117
FAMILY SUPPORT SERVICES responding to the needs in our community  
Counselling/Family Therapy/Seminars/Youth Work/Probation/
Osteopathy/Govt.Day Agencies/Community Information  
Ph: 4312661 Hours: 9am-5pm. Mon - Fri (funded & CYFS approved) 
FUNERAL SERVICES: Morris & Morris Ltd, 
Whangarei - Bev Jaques Ph:4312367 or 0800667747 
Grandparents Raising Grandchildren: Sarah Rogers Ph: 4312194 
HAKARU LANDFILL/TIP:Open everyday except Tuesday 
10am-4pm.Ph4312629 Cost-$40 cubic metre Ph:4258567 - office 
INLAND REVENUE: Last Friday each month, 
11-3pm Ph4312661 
KAIWAKA KOHANGA REO:
Ph:4312620 Mon.-Fri. 8.30am-2.30pm 
KAIWAKA CEMETERY: Ph: 4312045 
KAIWAKA LIBRARY: kaiwaka.library@gmail.com  
Mon. 4-6pm; Wed., Thurs., Fri., Sat.  10am-2pm Ph:4312539
KAIWAKA PLAYCENTRE: Ph: 4312286. Hastie Lane 
Monday to  Friday  9.00am 
- 
12 noon.
KAIWAKA POST OFFICE:
Ph:4312 626 Fax: 4312287  
Post Code: 0573  for RD2  and  0542 for all Kaiwaka Post Office mail 
KAIWAKA SPORTS ASSN: Ph 4312005; 4312129 gym 
KAIWAKA ST JOHN: Manager Steve Rosser , 021 2316836 
NORTHPOWER: Faults Kaiwaka area 0800 104040 
PARENTPORT: Free, practical family support servicePuhoi to Paparoa 
Ph:  Sharon Mehana, Co-ordinator. 4259357 or 027 280 5093 
PERSONAL DEVELOPMENT COACHING, GROUP FACILITATION:  
Sabine Druckler 4312231 
 
PLUNKET  KAIWAKA/MANGAWHAI:  Ph:
094318187 
or  0
276753488 
Kaiwaka Mobile Clinic once a month– appointments necessary;  
Mangawhai (next Domain) 
1st & 3rd Thursday & Coffee Morning; 
PLUNKET CARSEAT CO-ORDINATOR:  
Pat Scott Ph 4314530 or  
0272881635 
PLUNKET FREEPHONE -0800 933 922 
PLUNKET -MAUNGATUROTO  Clinic every 2nd & 4thThursday. Ph: 
09 4318187 
PUBLIC HEALTH NURSE: Gloria Reid Ph: 094327634  
HOMEOPATH: Donna Flavell Ph: 
4314843 
RETURNED AND SERVICES ASSN 733 Settlement Rd. Hakaru 
Ph.4312176 Bill Kerr (President) Ph.4314719 
TE KOROWAI AROHA O NGATIWHATUA 
(The Cloak of Love of Ngatiwhatua) Support and Maori Consultancy.  
Ph: 4239481 (Wellsford) 
WOMEN'S WELFARE LEAGUE & Reaching Out For Youth:  
4 Kaiwaka-Mangawhai Rd, M Morgan 4312293 
VETERINARY SERVICE MANGAWHAI: 
Ph: 4314535 Mon-Fri 8.30-4.30, Sat 9-12, a/h appt. 
KAIPARA DISTRICT COUNCIL www.kaipara.govt.nz:  
Help Desk FREEPHONE 0800 727 059 
Dog/Stock/Noise 0800 105 890 
Kaiwaka Service Centre Ph:4312 013 Mon-Sat 8.30-4.30pm 
Next Bugle Deadline Friday 29/03/2013 
WHAT'S ON
PLEASE ~ do let me know what is on - email 
kaiwakabugle@Kaiwakaa.co.nz 
Advertising in WHAT'S ON is FREE 
*20 Mar~ Sports Assoc. Meeting KSA 7.30pm All Welcome 
*22 Mar~ Movie Night KSA Doors open 7.30pm 
*25 Mar~ KDC Public Meeting 9am and 11am KWMH 
*05 Apr~ 8 pm - ‗Dance of Life', Kaiwaka Hall, $10,  
, 09 431 2408, 021 2968794 
*06 Apr~ 10am Workshop by solar engineer Eric Jansseune of 
the Positive Energy House, Kaiwaka 09 4312408 
*07 Apr~ Squash Club Official Opening 11am All Welcome 
*13 Apr~ Teddy Bear's Picnic, Maungaturoto Primary School 
0930-1230 
*13 Apr~ 8 pm – ‗Latin Fun', salsa for singles & couples at 8 
pm, Worldshake party at 9:30 pm, Kaiwaka Hall, $5 class, $10 
class+party, 
,  09  431  2408,  021 
2968794
See www.kaiwaka.co.nz for upcoming events. 
KDC  HOUSEHOLD  RUBBISH  COLLECTION  -  Kaiwaka    Pick 
up ­Mondays. At KDC Blue bags $2.80  Kaurlilands 09 4392146.  
(Note:  ‗green  sticker'  bags  are  picked  up  by  Northland  Waste-
queries to them 09 4303273) 
 
*OTAMATEA GREY POWER-09 431 8138 Joan Hoggard  
*KAIWAKA BADMINTON -Tuesdays 7.30pm Ph: 4312345 
*KAIWAKA GARDEN & FLORAL Grp:
2nd Thursday in month Ph: 4314767 
*Kaiwaka SCOUT
S&CUBS-
Thursdays 5.30-7pm,KWMHaII, Innes Ph: 4312250  
*KAIWAKA SQUASH -Mondays 7pm,  Ph: Barbara Thomas 4315905 
*GYMNASTICS OTAMATEA -  Tuesday Ph: Stephanie 4312022   
*HAKARU PONY CLUB-Ph: Dianne Christianson  4314315 
*MANGAWHAI COMBINED PROBUS CLUB: 2pm,3rd Thursday 
month in the Senior Citizens Hall Mangawhai. Ph: 4315777
*PT CURTIS CRUISING CLUB - Jean Ph: 4312246 
*WAIPU GENEALOGYGROUP -4th Monday in month Ph: 4312725 
*NZ GENEALOGY-Wellsford - 1st Thursday in month Ph: 4237033 
*CRAFT GROUP:2nd & 4th Tuesday, 10am, Wellsford Ph 4238547
*RSA,Hakaru & Dist.Women- meet 1.30pm 4th Thurs in month 43123668  
*OWEN STEVENS at Kate's Place Ph:4312661   
*Diabetes Support Group-for Kaiwaka, Mangawhai, Wellsford -10am, 
 
3rd Friday of month Ph:A.Pert 4238242; J.Gardner 4238060 
WELLSFORD CITIZEN ADVICE BUREAU:  
0800 367 222 
Ph: 4237333 Wellsford Community Centre   
Email: cab.wells@xtra.co.nz
CHURCHES:
*Gateway Worship Centre-St Mary's Church Nathan Rd off Oneriri Rd, Kaiwaka 
Services, 10.30am 1st & 3rd Sunday of every month. Contact: Rev David Gage 
4312528 or 0212354282 
*Kaiwaka Family Church-Your Community Church Sundays, l0am 
Home Group every Wed evening, Pastor John.Dekker Ph: 4318203 
*Kaiwaka Services.Anglican & Co-op at StPauls Church  - 1st Sun. 9.30am
(Anglican),3rd Sun. 4pm (Co-op).  Contacts: Rev R Dunlop 09 4318193, M.Hargreaves, 
Peoples Warden 4312295, C.Bygrave 4312057  
*Church of Christ the King, Mangawhai 9.30am every Sunday 
*St.Mary's Catholic Church:
Maungaturoto – Griffins Road, Saturday evening Vigil 
Mass 6pm; Mangawhai – Senior Citizens Hall, Sunday Mass 8:30am; Wellsford – 
Matheson Road, Sunday Mass 10:30am; Mid-week Mass times and all enquires to Fr. 
Bill Fletcher – phone 423 8170 
*Baptist Church: Sun. 10.30am Mangawhai Snr Cit.Hall.Ph:4312339 
*CauseWay Church Mangawhai – Sundays 10.15am, Mangawhai Community Recrea-
tion Centre, Insley St. Ph: 09 4314782  www.causewaychurch.org.nz 
 
*St.Paul's Archie Bull Hall HIRE  donation for electricity & upkeep  
 
(usuaIly$10-$15per hire) Contact G. Jaques 4312048 
*Kaiwaka War Memorial Hall HlRE- contact Wendy 4312725 or 
 
Email  kaiwaka.hall.bookings@gmail.com 
*Hakaru Hall HIRE-contact  J Marshall 4312297 
*Te Pounga Marae queries -A.Gage 4312528, 4312527 
*Kaiwaka Sports Association hire/queries- C. Anderson 4312051 
Justice of Peace: B.FJaques; L.Donaldson; A.F.Hargreaves  -please phone to 
make sure they are available 
Marriage Celebrants: L.Donaldson; A.F.Hargreaves; Judith Knights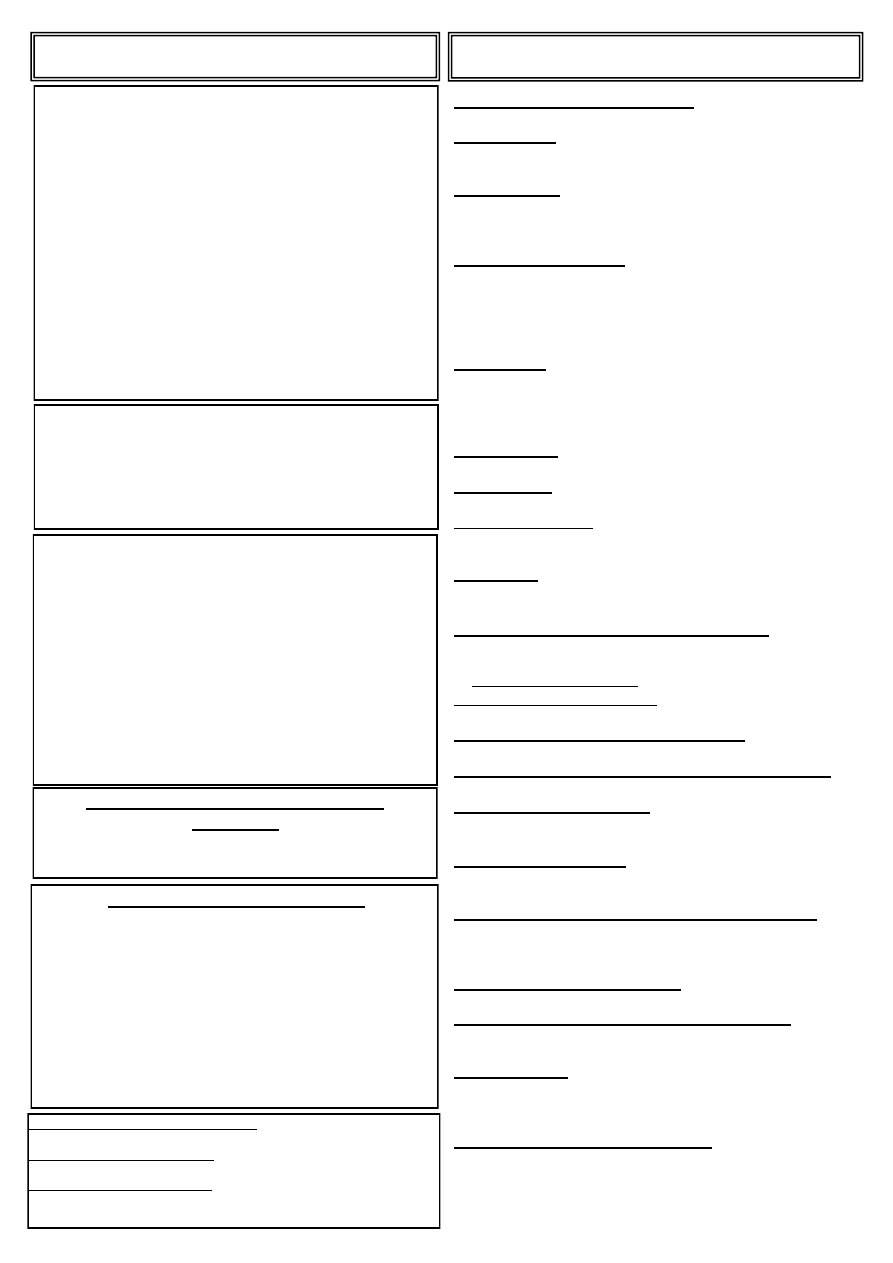 PUBLIC NOTICES 
CLASSIFIED 
FARM  HOUSE  FOR  RENT:
  3  bdrms.  10  kms  from 
Kaiwaka. Bond & refs required. $210/week. Ph. 4312660 
FOR  RENT: 
2 bdrm cottage with carport, 
central 
Maun-
gaturoto,  close  to  shops  and  schools  $200  per  week,  ph 
0223269018 or 021779245
FOR  RENT:
 Two bedroom attached unit with rural views, 
very  good  condition,  8.5  kms  down  Oneriri  Rd.,  internal 
garage. Wetback wood burner. $180 pw Please ring Mike & 
Tania Lean 4312260 or Mike 021431196, Tania 021431366 
HOUSE  FOR  RENT: 
3 bedrooms, with carport.  11 kms 
west  of Kaiwaka—10  mins  drive.  Floor  &  ceiling  recently 
insulated. Private, quiet, lots of room for kids to run around. 
Chook  house.  Sunny,  with  fenced-off  garden  area.  Refer-
ences  required.  Sorry,  no  dogs.  $200pw.    Please  phone 
4312042
FOR  SALE: 
Imagine ...fresh milk...own butter...cream off 
the top of the milk...You can have all that! I have a 3 phase 
milking  machine  and  electric  motor  for  sale.  I'll  throw  in 
some  accessories  for  nothing…$865ono  Ph.  4312009  eve-
nings or 021825970. 
FOR  SALE: 
Petrol  water  pump  for  sale,  8  HP  Ph. 
4312009 evenings or 021825970 
FOR  SALE: 
Sheep Poo. Fundraiser for Kaiwaka Cubs. $7 
per bag. Phone Carol Mills 4312044 
GARAGE  SALE: 
1164 SH1 Topuni from 9am Easter Sat 
&  Sunday.  Dog  kennels,  old  mowers  &/or  parts,  lapidary 
equipment, household bric ‗n brac, clothes, books 
&  more. 
MISSING: 
Small  male  tabby  cat  from  Oneriri  Road.  If 
you have any info please phone 4312928 or 0211337362
FREE  COUNSELLING  AVAILABLE:
  Counselling 
Student seeks clients to further his studies. Professional ap-
proaching service. Phone Pete 021 825 970 or 09 4312152 
or peteworsfold@xtra.co.nz 
CLEANING  SERVICES: 
$20  per  hour,  fast,  friendly 
and efficient. Phone Jill Shires 431 2080 Kaiwaka.
NATURAL  ANIMAL  THERAPIST. 
Diatomaceous 
Earth Stockist.  Specialising in Horses.  Jill Shires  4312080  
JILL SHIRES CRANIO SACRAL THERAPIST 
for 
horses, pets and people.   Phone 4312080. 
LEARNING  TO  COOK 
on a small budget. If you are 
interested please phone Jenny on 4312826 after 7pm 
SINGING  LESSONS: 
Want  a  better  voice,  feel  shy 
about singing?  Teaching 39 years in NZ music industry at 
all levels. Phone Robyn Hill 09 431 9159 or 0274 725610
EXPERIENCED CAREGIVER AVAILABLE:  
Look  after elderly,  disabled  people,  children,  &  animals  in 
your own house; also house sitting &  gardening. For  more 
info phone 022 414 5960 
BEE  SWARMS  REMOVED:   
Phone Adrian 4312296 
or 021 2537661
CLOTHING ALTERATIONS & REPAIRS: 
Zips,  hems,  dressmaking  &  dress  design.  Phone  Win 
4312027 or 0274448358
HALL  HIRE: 
available  from  Absurdistan  Community, 
Parekura Rd. Enjoy our beautiful hall and harbour views for 
your special day, course etc. For more info ph. 4312202 or 
021 2377678
BERNZ  MASSAGE THERAPY:
 Diploma Therapy Mas-
sage from NZCM; Relax and Rejuvenate; Muscle Injury Recov-
ery;    I'm  a  Mobile  Massage  Service.  Competitive  rates  in  Kai-
waka, Mangawhai, Maungaturoto. Ph.: Bernie 021 0232 5741 or 
4312816
Kaiwaka Bugle Advertisements 2013: 
Classified $2; 1/8 page $5; 1/4 page $10; 1/2 page $20; 1 page $40 
bugleaccounts@kaiwaka.co.nz 
Payments can be online, posted or left at Jaques Store. 
kaiwakabugle@kaiwaka.co.nz  for queries or copy. 
The Kaiwaka Bugle  is a community newspaper run by volunteers.  
Articles, etc. printed are not necessarily the opinion of the 
BugleTeam
Kaipara Knights Soccer Club  
REGISTRATION DAY 
We are preparing for another season of soccer! People who 
are keen to play are invited to attend our Registration Day 
Saturday  23  March  11am  at  Kaiwaka  Sports  Associa­
tion. All interested players are asked come along to fill out 
a registration form so we can work out teams. We will also 
have a free BBQ, a swap-meet to help people find second 
hand boots, shorts, shin pads or socks – and friendly games 
if  possible.    The  soccer  season  usually  runs  from  April/
May until early September. Games are played on Saturdays 
at the Port Albert Domain, in most grades at the same time 
each  week.  The  Kaipara  Knights  Soccer  Club  involves 
players from around 4 years old to adults (open grade).  
Feel free to contact club secretary Lindell Ferguson 09 431 
2542 evenings with any questions you may have. We hope 
to see you there. 
MISSING 
from St Michael's Church at Hakaru: 2 
framed  photographs  of  Reverend  Tutin  and  his  wife, 
Sarah, taken from the foyer of the Church.  Please for-
ward  any  information  as  to  their  whereabouts  to  A. 
Dowson (Secretary 09 4315913) or just return them to 
the Church and no further action will be taken. 
After six weeks in hospital due to her early arrival 
Anita and Matthew are very happy to welcome home 
Mahalia Hope Cundy Thompson 
Born 21/01/2013 
Loved little sister of Jimi, Maddy, Emma, Sandy and 
Makalo 
 and granddaughter of Donna and Graeme Thompson 
and Marion and Roy Cundy and lots of aunties, uncles 
and cousins 
A BIG thank you to family and friends for 
your help and support. 
KAIWAKA SPORTS ASSOCIATION 
MEETING
Weds 20
th
 March, 7.30pm 
Kaiwaka Sports Complex 
KDC PUBLIC MEETINGS: 
25
th
 March 
9.30am Public Meeting – Kaiwaka Memorial Hall 
11am Council Meeting – Kaiwaka Memorial Hall 
3pm Public Meeting – Paparoa Hall 
26
th
 March 
3pm Public Meeting – Dargaville, Council Chambers 
The purpose of the meetings is to give the public the chance 
to  understand  some  of the  key  tenets  of the  proposed  LTP 
amendments and Annual Plan including the submission and 
hearing process and how they can make their views heard.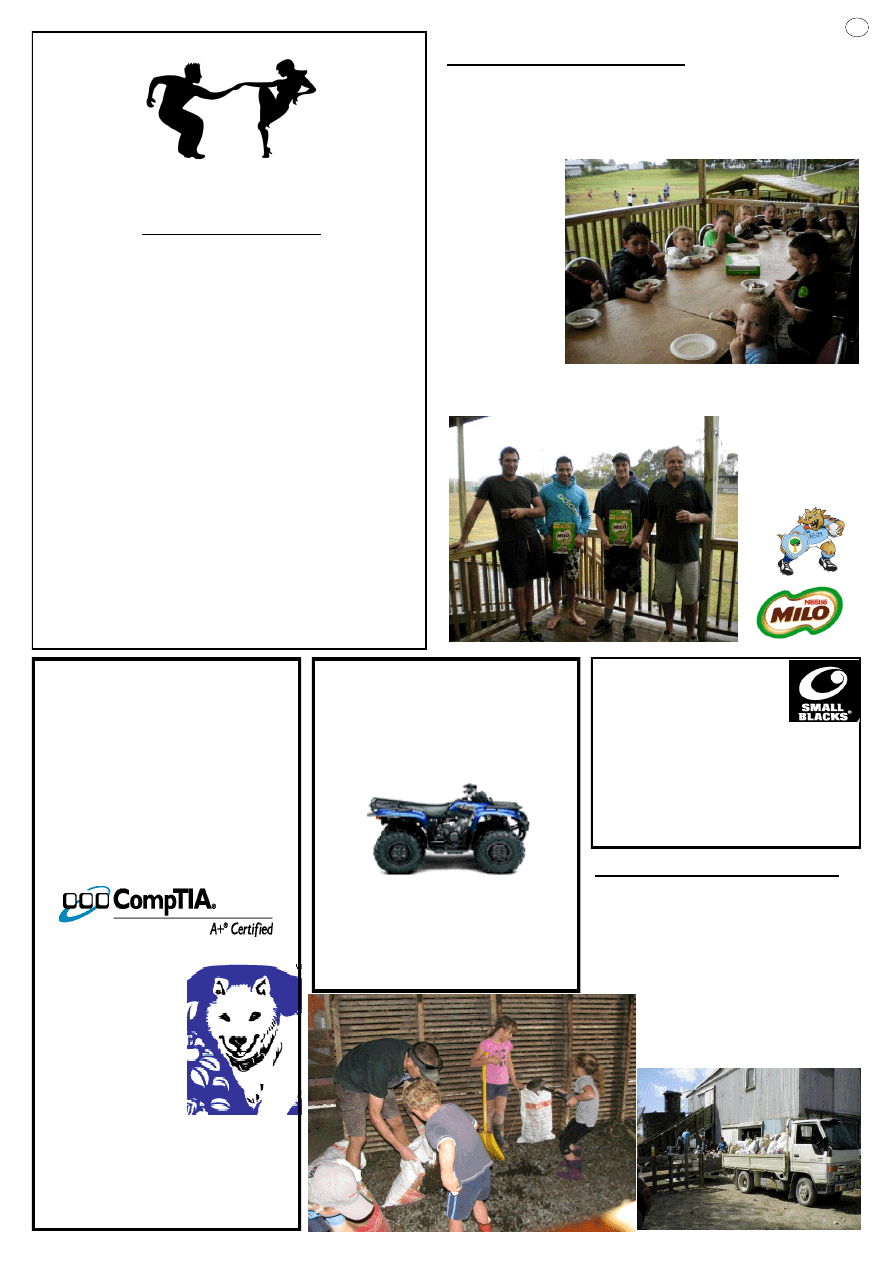 Phone or text 
0221036636  
Or 
 09 9733111 
Laughing Dog 
Computers 
Kaiwaka, NZ
Technical Services 
Repairs & Upgrades 
7 Day Service 
www.laughingdog.co.nz
KAIWAKA  MOTOR 
CYCLES LTD 
SALES SERVICE SPARES
FARM BIKE SPECIALIST
Phone 431 2127  
Kaiwaka-Mangawhai Rd 
Kaiwaka 
5 
LATIN FUN & DANCE OF LIFE 
NEW: DANCE @ KAIWAKA HALL 
LATIN FUN – Salsa for everyone + PARTY! 
STARTS APRIL 13 - From then every FIRST SATURDAY of 
the month: May 4, June 1, July 6 
Salsa steps for singles and couples, followed by a 
WORLDSHAKE PARTY! 
Class 8 pm, party 9:30 pm 
$10 (class+party), $5 (party) 
DANCE OF LIFE  
Move to the music and the beat, without learning steps, 
dancing spontaneously with what is here and now in the 
dance of our life… 
STARTS APRIL 5 – Next dates: April 26, May 17, June 14 
Friday evenings from 8 pm till 10 pm    $10 
Questions?  
Carla Rosseels & Eric Jansseune 
09 431 2408, C 021 2968794, E 021 02231700 
Email: carla.rosseels@gmail.com 
Kaiwaka Cubs Dig for Funds 
The Kaiwaka Cubs and their families 
had a wonderful day at Jan and John 
Hargreaves. An industrious bunch dug 
sheep manure from under the wool-
shed and loaded more than 170 bags 
on the ute and trailer. Then it was 
down to the water for a swim 
and picnic. The bags of sheep 
manure are for sale, contact 
Carol Mills on 4312044
Photos below:  Lindsey Hargreaves 
SMALL BLACKS 
RUGBY COURSE 
A  Small  Blacks  coaching  course  will 
be  held  at  the  Kaiwaka  Sports  Com-
plex  on  Wednesday  3
rd
  April  at 
6.30pm.  
This  is  a  requirement  for  all  coaches 
of rugby teams from  
Under 7's → Under 13's. 
Eastern United JMB  
held their Registration day at the KSA on Sunday. We had a 
great turn out, but still needing more players. If you are keen 
to give it a go, give Jennie a call (9450502) its not too late to 
register. First game is on 12th April. 
Although  it  was  raining  we  had  a  great  game  of  touch  with 
Jordan  Linnell, 
Drew 
White-
head, 
Mike 
Tevine  and  Trev 
Linnell  from  the 
Otamatea 
Hawks.  Thanks 
for  coming,  the 
children 
were 
having  so  much 
fun  they  didn't 
want  to  leave 
and  come  and 
have  a  bowl  of  Milo    cereal.  Once  at  the  table  they  all  had 
seconds. A BIG THANKS TO MILO and the OTAMATEA 
HAWKS. 
We  Are  looking 
forward  to  a 
great season.  
Photos:  
Jennie Reynolds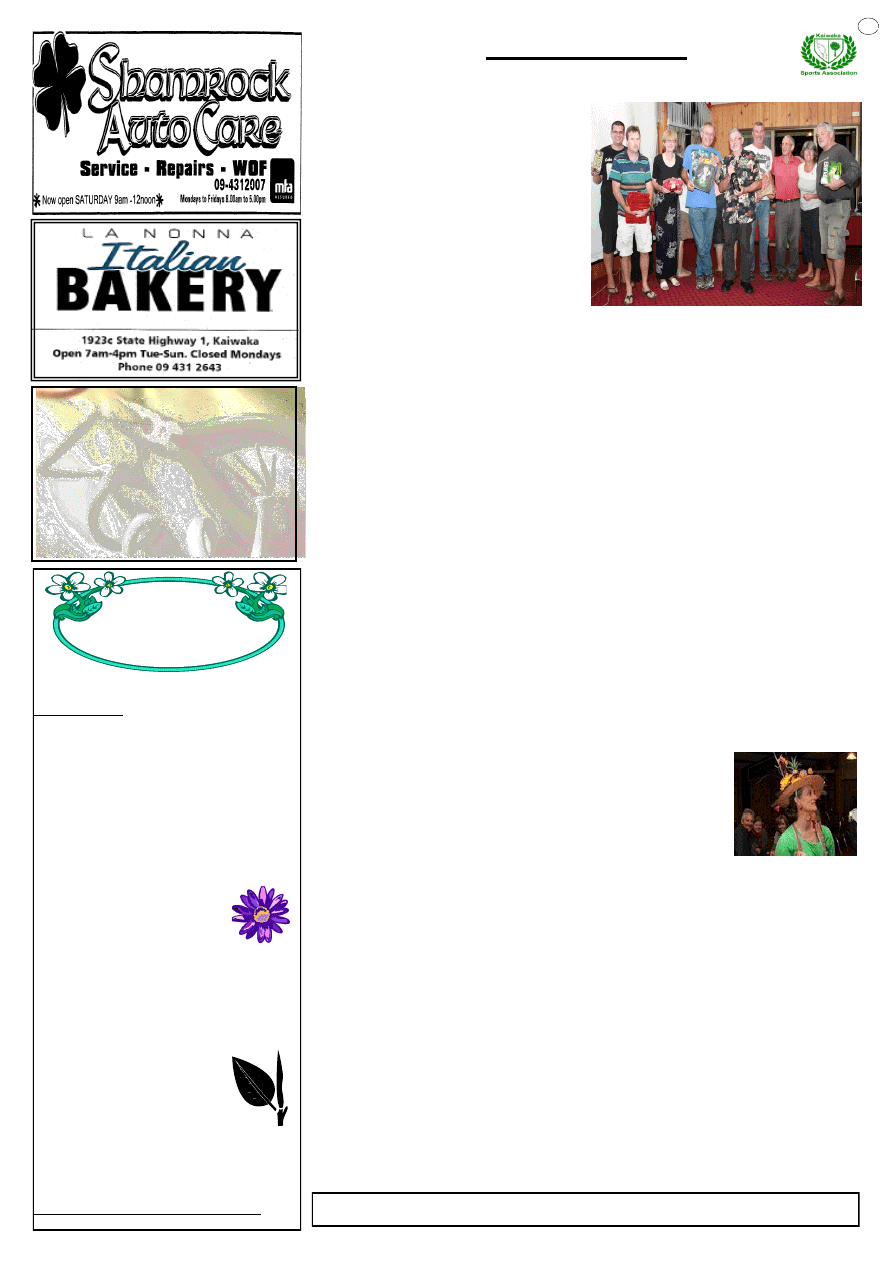 11 
Paul Greig Electrical Ltd 
Residential • Farm • Commercial 
Paul Greig 
Registered Electrician 
  Ph: 431 2223 Mob:021 230 2717 
Reliable & Professional Quality Service 
Based in Kaiwaka 
Sound  
 Landscapes 
Imagine
… if you will... 
...That unkempt area of your 
property...it needs atten-
tion...caring for...turn it into a 
work of art...a magic 
space...rustling...lush… 
shiny native plants... 
...texture...style…colour... 
form...fragrance… 
You've been aching 
 to do it.  You've put it 
off...TILL NOW! 
―Let me help relieve your 
burden‖ ―Together we can 
make it happen‖
Call for site appt.  
now: Pete Worsfold 
‗Sound Landscapes' 
Phone 021825970 
peteworsfold@xtra.co.nz 
KSA QUIZ NIGHT 
A great crowd turned up for Quiz night on Friday, a fundraiser for the Kaiwaka 
Sports Association. Fifteen teams nutted 
their way through questions on music, 
sport, general knowledge and more. 
Congratulations to the top teams who had 
their choice from the prize table: 
1
st
 equal        Market Forces & Causeway
Crew 
3
rd
 Coswecan 
4
th
 equal 
 The Northerners & Mrs  
Browns Family           
Winning teams Market Forces and Causeway Crew 
Special spot prizes went to Debbie Hastie, Katie Shaw and Emma Butler. The re-
maining prizes were given out by a draw
     
Thank you to emcee Tony Hargreaves and scorers Corina Ross and Lindsey Har-
greaves. Many thanks also to Melissa Watts for working the bar, to Pam & Mark 
Ottaway for putting on supper and to Holly Anderson for being the runner. 
 
A round of local knowledge questions was included in the quiz – you can test 
yourself on how well you know your town! (answers below) 
1.   In 2009 an animal made itself at home on the banks of the Kaiwaka river for 
several days, becoming a bit of a tourist attraction. Name the animal. 
2.   As part of Kaiwaka's 150
th
 anniversary celebrations, the community put on an 
event which claimed an unofficial world record for the highest number of people 
wearing something. What were they wearing?      
3.   What year did the Jaques family purchase the Kaiwaka Four Square?   
4.   For the last three Top of the Rock multi-sport events, who hosted the prizegiv-
ing? 
5.   At the end of last year, Lindsey Hargreaves stepped down as editor of the Kai-
waka Bugle after how many years in this volunteer role? 
6.   Kaiwaka is known as the ―Little Town of Lights‖. The lights above the prima-
ry school are in what shape?  
7.   Before Kaiwaka Playcentre was built on Hasties Lane, what business occupied 
the site?   
8.   Te Pounga Marae is the home marae of which Hapu? 
9.   Who is the pastor of the Kaiwaka Family Church?  
10.  Local resident Jude Bishop attends many community 
events but is not always recognisable! What is the name of her 
alter ego?  
 
   Thank you to our generous sponsors: 
Jaques Four Square 
Edugames   
Three Furlongs 
Ti Point Reptile Park 
Kaiwaka Fitness Centre   
Aotearoa Surfing School 
Hi-Way Liquor 
Essentially Skin 
Otamatea Kempo   
Resene 
Rainbows End 
Caffe L'Affare 
The Kauri Museum 
Bazaar World 
Simon Holst  
L'Art Beauty 
NZ Woman's Weekly magazine  
McPhersons 
NZ Outdoor Hunting magazine  
Karen Murrell 
NZ Fishing World magazine 
Fitness Life magazine 
 
Thank you to everyone who came, and we look forward to seeing you next time!
Cheryl Anderson, Manager KSA
Answ
ers:
 1.
 se
al  
 2.
 lig
hts
   3
. 1
924
   4
. T
V3's "
Mone
y Ma
n"
 B
rend
on 
Joh
nso
n   
5. 2
0   
6. ABC
   7
. V
ala
na 
Kni
t-
wea
r   8
. T
e U
ri O
 H
au 
  9
. J
ohn
 D
ekk
er  
 10
. Mrs 
G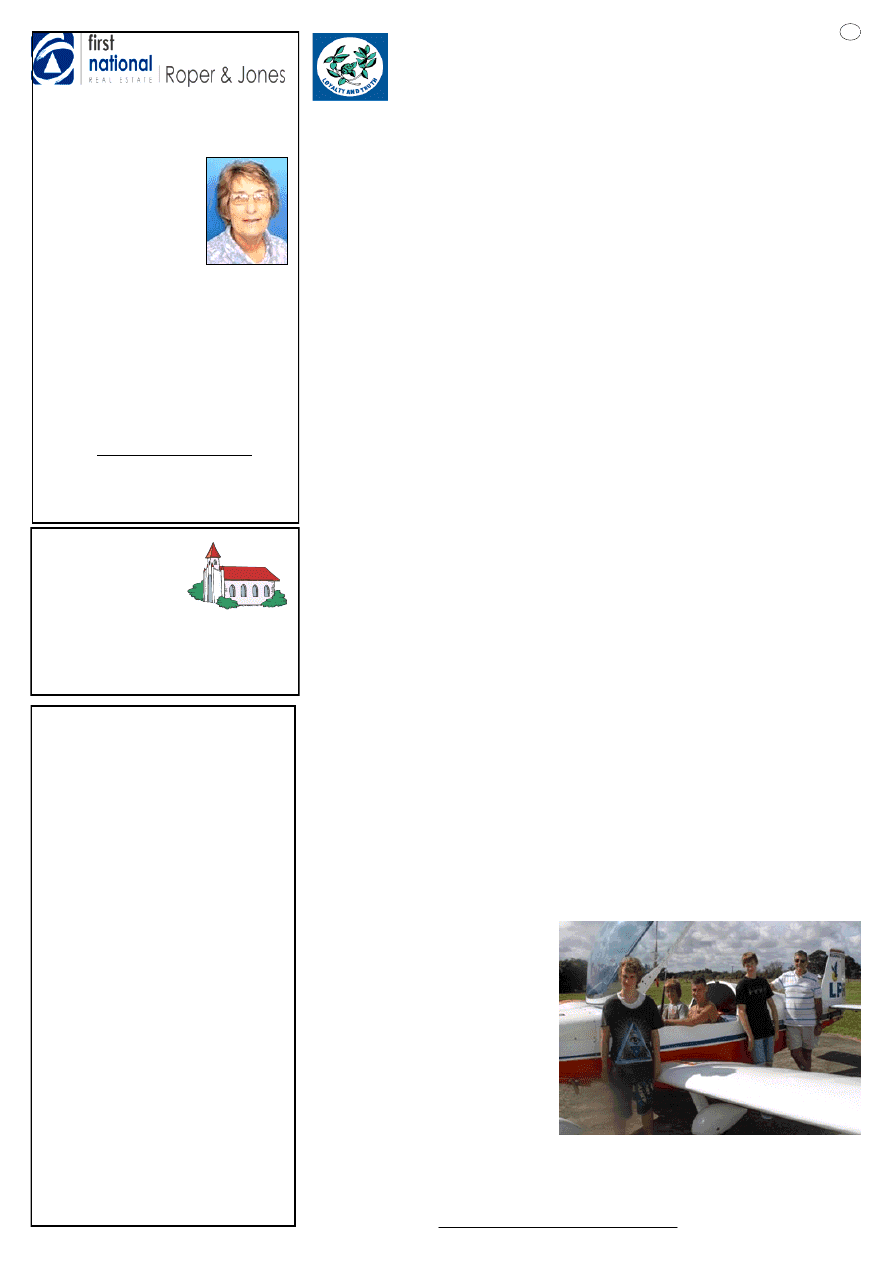 ST PAUL'S  
SUNDAY  
SERVICES
First Sunday 9.30am, third Sunday 4pm  
Paparoa Anglican and Wellsford  Co-op Parishes 
StPauls Church: Kaiwaka-Mangawhai Rd.  
Contacts:M.Hargreaves 4312295, C.Bygrave 4312057  
1st Sun. (Anglican),3rd Sun. (Co-op).
 9 
Felicia Doornenbal 
"Covering the Kaipara" 

List 

Sell 

No obligation  
   honest appraisals 
 
CALL ME– Your Local Kaiwaka 
Real Estate Connection 
 
Mob:021-858115 
A/hr:09-4312059 
Bus: 09-4311016 
e-mail: felicia@ubernet.co.nz 
Freephone 0800 311 322 
Www.roperandjones.co.nz 
OTAMATEA HIGH SCHOOL 
Paparoa Anglican Parish 
Easter Services 
 
 
St Paul's Kaiwaka 
31 March Easter Sunday   
Holy Communion 10.00am 
 
Christ the King Mangawhai 
Monday 25, Tuesday 26 & Wednes-
day 27 March  
Holy Communion 10.00am 
28 March Maundy Thursday 
7.30pm  
Foot & hand washing Service 
29 March Good Friday 10.00am 
31 March Easter Sunday 8.30am 
& 9.30am 
Holy Communion 
 
Parish AGM at St Paul's Kaiwaka 
Sunday 24 March 
11.30am shared lunch.  
Meeting begins at 12.30pm.  
Dear Parents and Caregivers 
The  most  important  value  we  can  promote  is  that  of  respect.  Respect  is 
something that you have to give to get back. This means we all have to take a risk. The 
risk  of  giving  respect  to  others  even  if  we  feel  they  have  not  respected  us.  For  us  at 
school, it means teaching  students what that respect looks like. It can be as simple as 
using words like please, thank you or excuse me. It can be more complex, such as how 
to negotiate the difficult waters of adolescent relationships. One thing we can be certain 
of is that we will suffer little damage to ourselves if we are nice to people. 
I had a delegation of two students from the student council come to see me the other 
day. I was impressed by their honesty and maturity. They had come to give an honest 
assessment  of several issues that had been observed around the school. Their sugges-
tion of possible solutions and their willingness to pursue those themselves indicated to 
me a very mature approach and this is what impressed me. 
Coming events are Northland Athletics, The Special Olympics, the  social science Bay of 
Islands trip and visit to Ruapekapeka and the fundraising social for the Japan trip. On the 
15 March there will also be a large contingent of staff and students involved in the can-
cer relay for life in Whangarei. Congratulations to Miss Kingsford for sacrificing her hair 
for the cause.  
Roy Fletcher, Acting Principal 
Why in  the world would anyone ever shave off their hair? 
When I walked into our gym I thought we were having an ordinary Arawa assembly, but 
then I saw the chair and hair shaver and knew something was different. My mind asked, 
'why in the world would anyone shave off their hair?' By the time I left, my attitude had 
completely changed and I understood why Miss Kingsford did what she did and I am 
proud of her for being thoughtful. 
"It doesn't matter. It's only hair and it will just grow back," she said. 
She told us she was having her hair cut off because she wants to help people that have 
cancer to have another chance to live. I found it very touching and saw some people 
were crying a little bit when she said that. 
Our teacher is truly awesome.                                                             By Mya Lawrence, 7S
Aviation Academy News
The day started with an email from one of the Otamatea Aviation Academy members, 
"The weather does not look the best. Is the flying still on?"  The morning cleared and at 
1.00pm on Sunday afternoon, three members of the Otamatea Aviation Academy gath-
ered at the Otamatea Aero Club's airfield, Ruawai. 
The fourth was lucky enough to have won the privilege of flying from Omaha to Ruawhai 
in Mr. Morrison's vintage Auster aircraft and arrived in style. 
The opportunity to take their first flying lesson came about through the wonderful help of 
Mark Ottaway, Steven Jaques, and the Kaiwaka Sports Association who have made the 
funds available. 
Murray Hargreaves is the Flight Instructor and each Academy Member was treated to 
their introduction to the "Effects of Controls" in the Club's Alpi Pioneer aircraft.  It was 
very easy to see the sense of achievement and enjoyment that each Academy Member 
gained as the cockpit hood was raised after each flight.  Smiles as big as they get with 
excited talk of what had been done. During the afternoon, the budding pilots were treat-
ed to a flight in the Vintage Auster, and experienced what flying an aircraft of 
"Yesteryear" is like.
So the word has spread, and permission 
forms from the other Academy  
Members are now being handed in. The 
funding will allow a second flight in  
the coming weeks. 
Progress on the building of the Cubflyer 
is excellent. The fuselage is close to  
being completed and the wings have 
been started. The rudder and fin have  
taken shape with the undercarriage in 
the final stage of welding.               
 Left to right Chase Wharfe, Joshua Lees, Brent Sewell, Hayden 
      Lupton and Instructor Murray Hargreaves 
The WW2 Auster has also made great progress under the watchful eye of  
John Melville. It had been straightened, sand blasted, and the undercoat sprayed on. The 
fitting out is underway and the path on the long road back to flying has begun.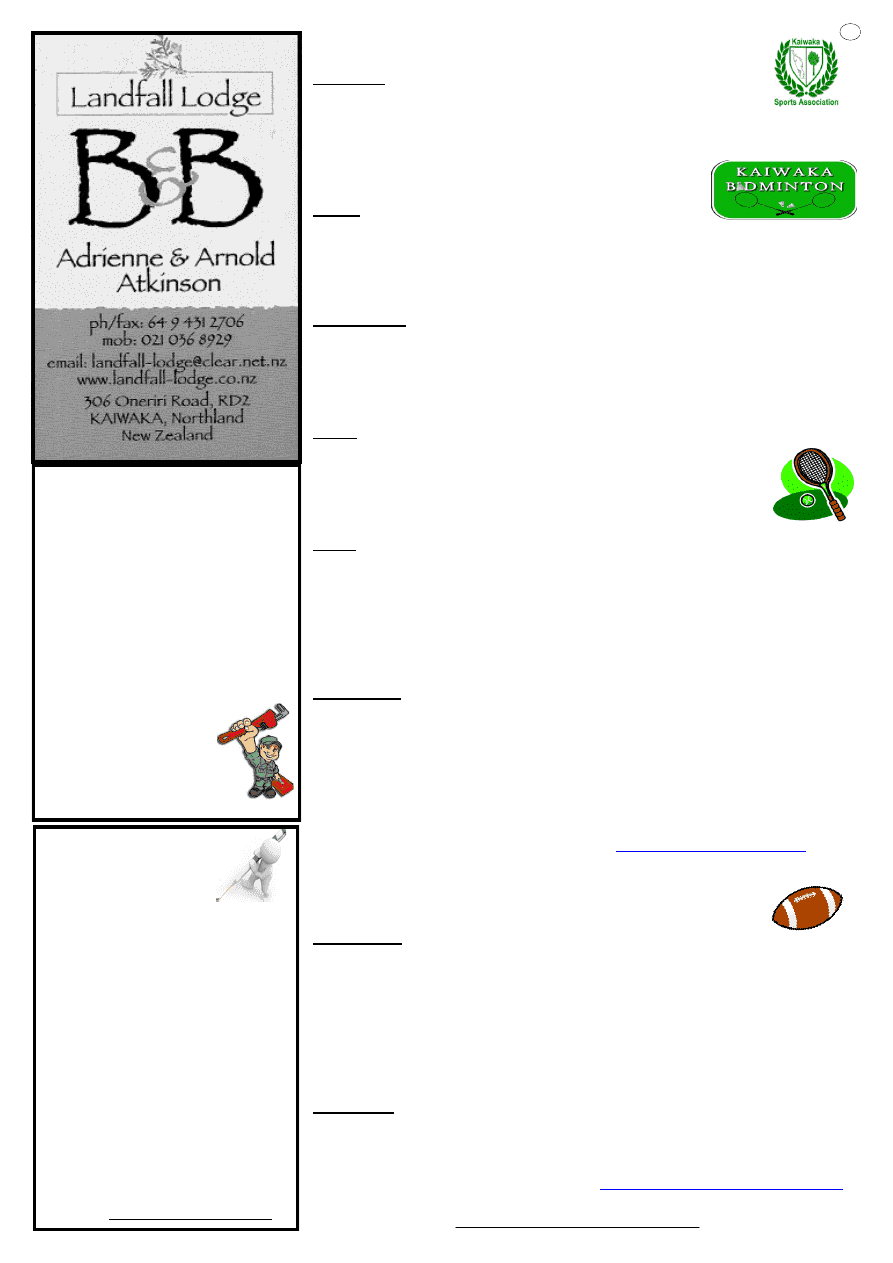 Ross Murphy 
PLUMBER 
Certifying Plumber 
09 431 7510 
021 424 252 
Paparoa Based
+
New Housing 
+
Renovations 
+
Maintenance 
Topnotch  
Engraving
Quality Engraving  
Service  
SPECIACISING IN:
Www.tnengraving.com 
www.pettagsnewzealand.com 
Phone (09) 431 2174 
or  
Email: engraving@slingshot.co.nz
7 
KAIWAKA SPORTS ASSOCIATION
"  ENGRAVING    
& SALES 
"  NAME     
BADGES 
"  SIGNAGE 
"  PET TAGS 
"  JEWELLERY 
"  TROPHIES & 
CUPS 
"  AWARDS & MED-
ALS 
"  GIFTWARE 
"  CLUB ORDERS or 
ONE OFFS 
Badminton 
Have you ever thought about giving badminton a go? We have a  
small friendly club and players of all ages and abilities are welcome. Badminton 
is held in the KSA gymnasium on Tuesdays from 7.30pm and the season will 
begin on 26
th
 March. The AGM will be held on 9
th
 April at 
7.30pm. Only $3.00 per night until the AGM. 
 
Squash  
The community is invited to our squash clubs official open-
ing on Sunday, April 7
th
 at the courts from 11am (we can show off our new glass 
balustrades!) Come along for a hit and bring the kids! Racquets and balls are pro-
vided, you just need to bring non-marking shoes.  
 
Junior Netball 
Congratulations to Melissa Watts who runs our junior netball club. Melissa was 
surprised recently by an on-air phone call from More FM telling her she had won 
a 50‖ plasma TV! Melissa was nominated for the competition because of the great 
job she does running the club – thanks for all your work Melissa! 
 
Tennis 
Junior tennis is on Saturday mornings 9 – 10am at the Kaiwaka 
courts and coach Grant van Dalsum will coach the players on Mon-
days from 4.30 to 5.30pm. Any primary or high school children are 
welcome. 
 
Soccer 
The Kaipara Knights soccer club, will hold their Rally Day on Saturday  
23
rd
 March at 11am at the Sports Complex. Free BBQ, a swap-meet and some 
friendly games. The soccer season runs from April/May until early September 
with matches played on Saturday mornings at Port Albert. Boys and girls of all 
ages who are interested in playing soccer this season are encouraged to attend this 
Rally Day. 
 
Senior Rugby 
Northlands drought was evident at the Hawks pre-season match against Glenfield, 
as the very hard ground meant several injuries for the players. Ex-All Black Wal-
ter Little was at the Complex supporting his Glenfield side  - he must have gone 
away happy as not only did his side win both matches, but he also won the meat 
pack raffle! 
If you were involved in the Otamatea Rugby Club in the last 25 years, but have 
not received a registration form for the reunion to be held on Friday 19
th
 and Sat-
urday 20
th
 April, you can download one from 
phone Cheryl on 4312 051. Old Boys have the opportunity to play in a Golden 
Oldies match against Manaia on the Saturday morning – this will be 
televised by Grass Roots rugby. 
 
Junior Rugby 
If you have a boy or girl who is keen to play rugby this season but you couldn't 
make Sundays Rally Day, please register your interest with Jennie Reynolds on 
9450 502. We will field an Under 7's, Under 9's and Under 11's team and 
(depending on numbers) an Under 13's team. Trainings are Tuesdays and Thurs-
days evenings and matches are either Friday evenings or Saturday mornings. Un-
der 7's play Rippa Rugby while the older grades play tackle, with Small Blacks 
rules applied. The emphasis is on children having fun, learning ball-handling 
skills and enjoying being part of a team. 
Martial Arts 
Our Martial Arts instructor Craig Bennetts has begun a new class on Sundays at 
8.30am in the KSA gymnasium. Learn Tai Chi for harmony, wellbeing, balance 
and relaxation. This is in addition to his Kempo classes held on Wednesday after-
noons. For enquiries please email Craig on 
otamatea.kempo@slingshot.co.nz
Cheryl Anderson, Manager KSA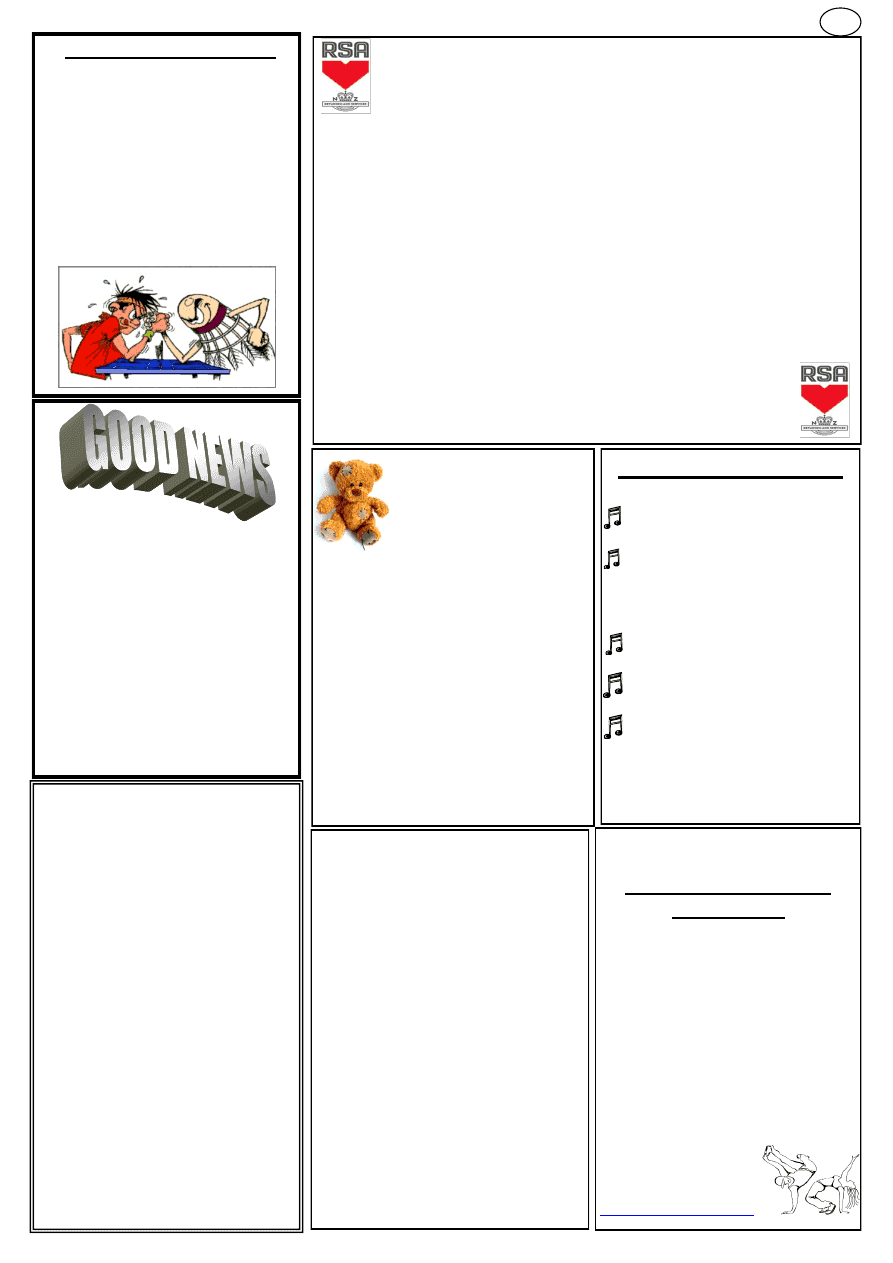 @ the  
Kaiwaka Family 
Church 
 Your COMMUNITY 
CHURCH 
Each Sunday  
10am:  Lively Family  
    Programme 
 
Everyone warmly welcome.
Ph.: Pastor John Dekker     
09 4318203 
THERE'S 
AMBER'S 
Q Cafe &  
Restaurant  
All day breakfast, 8am - 5.30pm.     
Home made Pizza, take away or eat in from 8am to late. 
 Light lunches, 11.am - 5.30pm, 
Dinner Menu at 5.30pm to late 
 Toasted Sandwiches and Sandwiches made to order. 
All day, Pies, Chowder & Soups 
 Milkshakes, Kiwi Ice cream, Slushie Fruit drink, Tea, 
Coffee 
 Closed Mondays.....except Observed Holidays 
 Sunday to Thursday: 8am - 8pm 
 Friday: 8am - 8.30pm, Saturdays 8am- 9pm 
4315226 
Trevor & Amber 
41 Moir Street, Shop 5-6  
Mangawhai Village 
Next to Carters Building Supplies 
15 
HAKARU RSA
Women's Section 
2nd Friday of the Month 
from 6.30pm 
    Roast of the Day   
 $12.00 
    Fish n Chips   
 $10.00 
       Pea Pie Mash   
    $  6.00   
Includes salads 
Desserts  $3.00 
Phone Heather 4314668 
Jan 4314512 
KAIWAKA BADMINTON 
Time to dust off those racquets and sports 
shoes because badminton is starting on 26
th
March at 7.30pm in the Kaiwaka gymnasi-
um and we challenge YOU to be there to 
support the club and get that all important 
bit of fun exercise. 
Only $3.00 per night until the AGM 
The AGM is a couple of weeks later (9
th
April) and we'd love to have some new  
keen members with those fresh ideas. 
If you're keen and need a bit more info 
phone Kaye on 4312 345 
. 
St John Op Shop 
Those  cooler  mornings  and  evenings 
are approaching.  The last of our  
$1 Bag of Clothes Sale is now finished 
and we will now be hanging  
out more good clothes.  We are in need 
of blankets, doggie blankets, 
towels, shoes, rugs, mats, crockery fruit, 
veges,  and  anything  in  saleable  condi-
tion. DON'T be offended when we ask 
you  if  the  clothes  you  bring  in  have 
been  washed.    We  get  caught  out  so 
many  times  if  we  can't  check  clothing 
while  we  are  busy.  It's  nothing  to  re-
ceive  many  bags  with  clothes  that  are 
stained,  ripped,  smelly  and  simply 
brought to us solely to dispose of which 
is a big cost to us.  So please don't  use 
us as the dump, take it there yourself.  I 
don't enjoy being so blunt but I'm find-
ing  I  have  to  be  as  it's  an  on  going 
thing.     Milly 
Maungaturoto  
Residents  
Association  
presents  
The 1st Annual Teddy Bear's Picnic 
13
th
 April 2013 
 Maungaturoto Primary School  
9.30- 12.30: Bring your picnic and your teddy 
Face Painting; Maungaturoto & Paparoa Playcentre 
stalls; PTA stall; Mobile Coffee Van; Bubble Ma-
chine Free Storytime (every ½ hour from 9.30); 
Free Under 5 teddy bear games; Free Golf Games; 
Adopt or Donate a Teddy, and more.. 
Raffle drawn 12 noon (tickets from Playcentre, 
100% Fergus Appliances, Maungie, or on day) 
SINGING LESSONS 
  Want a better voice, feel shy 
about singing? 
  If you are a new beginner,  
beginner amateur, singer/ song                                                                               
writer or just need a tune-up,  
   contact me.   
  Working on a demo or  
recording I can help! 
  Singing products and work-
shops available.  
  Teaching 39 years in NZ  
music industry at all levels 
Phone Robyn Hill on  
09 4319159 or 0274 725610 
Hip Hop!
New Hip hop classes in  
Mangawhai! 
           5 week workshop
Starts 
Wednesday 13
th
 March. 
Boyzdance (5-10yrs) 
4:30-5:15pm
.
$50 
Teens (mixed class) 
5:15-6:15pm. 
$60
Teacher from Hardcore Whangarei 
 
Enquiries & Enrolments essential: 
Ph. Mary Madden 
(09) 431 4351 
Mob: 0210348450 
Email: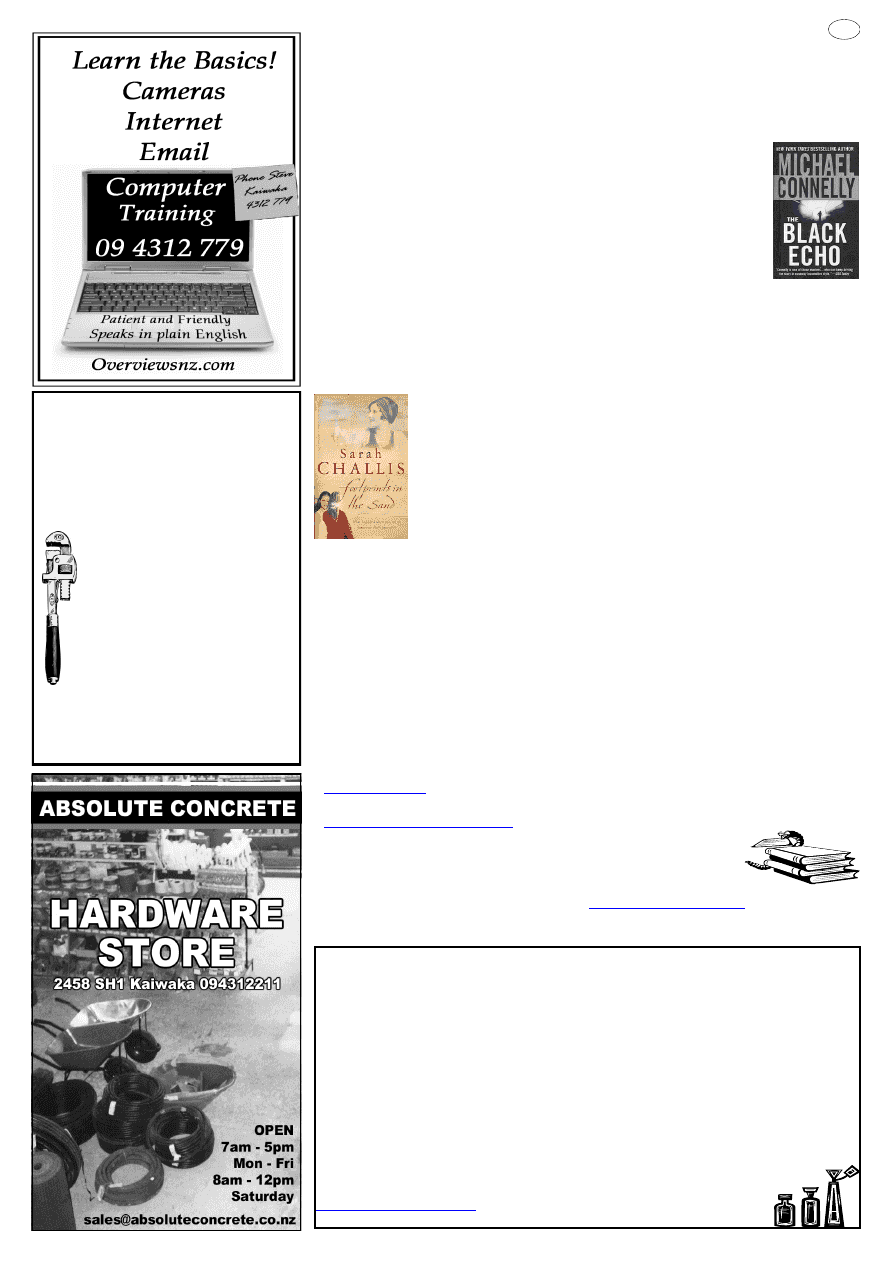 BARRY CURTIS  
PLUMBING LTD 
REGISTERED CRAFTSMAN 
PLUMBER 
Phone 4315572      
027 257 9884 
     25 years experience 
  
  
       Friendly reliable service 
  
All plumbing and  
maintenance 
       Alterations and new housing 
       New wood fire installation 
       Spouting 
       Competitive rates  
 PROMPT EFFICIENT  SERVICE  
17 
KAIWAKA LIBRARY
It's almost time to start thinking about the next book swap - we'll be swapping 
the Large Print and Audio books on Tuesday 30 April  - that means we'll need 
them all back the week before so they can be swapped for new ones.  So, if you 
haven't had a good look over those collections yet, now is the time 
to do so before they disappear from the shelves - they'll be packed 
away a bit ahead of time, as we need them all back for this swap. 
Recently I've read The  Black  Echo by Michael  Connelly. LAPD 
homicide detective Harry Bosch is called to the discovery of a body 
in  a  pipe  at  Mulholland  Dam.  Just  another  homeless  person,  it 
seems, until Harry realises the man is a former Army tunnel rat like 
him, a buddy from his days in Vietnam. The investigation takes him 
to  the  FBI,  who  are  also  looking  at  the  guy  in  connection  to  a  bank  robbery 
where access was gained through a tunnel. Teaming up with Special Agent Elea-
nor  Wish,  they  investigate  the  situation.  But  someone  on  the  inside  is  on  the 
wrong side, which complicates things... I picked up this book because the author 
is popular with several library members, and was not disappointed. I'll be look-
ing out for more titles - we have many on our shelves. This book is on the Rental 
Fiction shelves in the library. 
Elizabeth has been listening to Footprints  in  the  Sand by Sarah 
Challis. When Emily Kingsley arrives at the church for her eccen-
tric Great Aunt Mary's funeral, she is still grieving for her broken 
relationship with the mean and unfaithful Ted, and has little sor-
row to spare. At the wake afterwards, however, she and her cousin 
Clemmie learn the contents of Mary's will. Clemmie is thrilled at 
the chance of adventure. Emily is not. With immense reluctance, 
she agrees to travel to Mali. Why Mary wanted her ashes scattered 
there she cannot imagine, and the thought of a hot, pointless trip is almost too 
much  to  bear.  But they  must  complete Mary's  journey.  This  is  a  lovely,  enter-
taining, and informative story. I thoroughly enjoyed listening to the girls adven-
tures. This Playaway audio book is on the library shelves until late April. 
Don't forget that it's free to join the library, you just need to bring two forms of 
identification in with you - something with your name and signature on it, like a 
driver's license or Community Services card, and a "proof of address" no more 
than three months old, like a power or telephone bill or a letter/statement from 
the bank - and complete an application form. 
Anyone  with  access  to  the  internet  can  search  our  library  catalogue  from  the 
comfort  of  their  own  home.  Just  go  to  the  Kaipara  District  Council  web  site 
) and click on the link to the library at the bottom of the home 
page,  and  follow  through  to  the  catalogue.  Send  me  an  email 
) if you're having difficulties with it. 
See you in the library! 
Wendy Howard, Librarian 
Kaiwaka Library, cnr State Highway 1 and Kaiwaka Mangawhai Road. PO 
Box 89, Kaiwaka 0542. Phone 4312 539. Email 
 Open Wed-Sat 
10am-2pm, Mon 4-6pm. Membership is available to all residents in the Kaiwaka area.
AVON
  AVON  
AVON
AVON
AVON 
Hi Everyone, 
Brochure 9 is about to be delivered with orders to me by 15th April. You can still order 
from Brochure 8 and orders should be in by Friday for 29th March delivery. 
Mothers' Day is on the horizon and there are some great deals with Eternal Magic 
"Enchanted" just released. The full gift set is $59.99 with Eau De Toilette Spray, Shower 
Gel, Body Lotion and a Jewellery Roll. There is also a great range of gifts on pages 31-57 
for you to choose from. 
Anew Platinum Day cream is now available at $59.99 with a free Luxurious Tote Set. 
The Super Saver is for the Mineral Range either a Powder or Liquid Foundation with Set 
for $34.99 with any broucher purchase of $15.00. 
New Nail Pro colours for the new season with any 2 for $20.00. 
For more details contact Gale Matheson 094314827 0274149576 or e-mail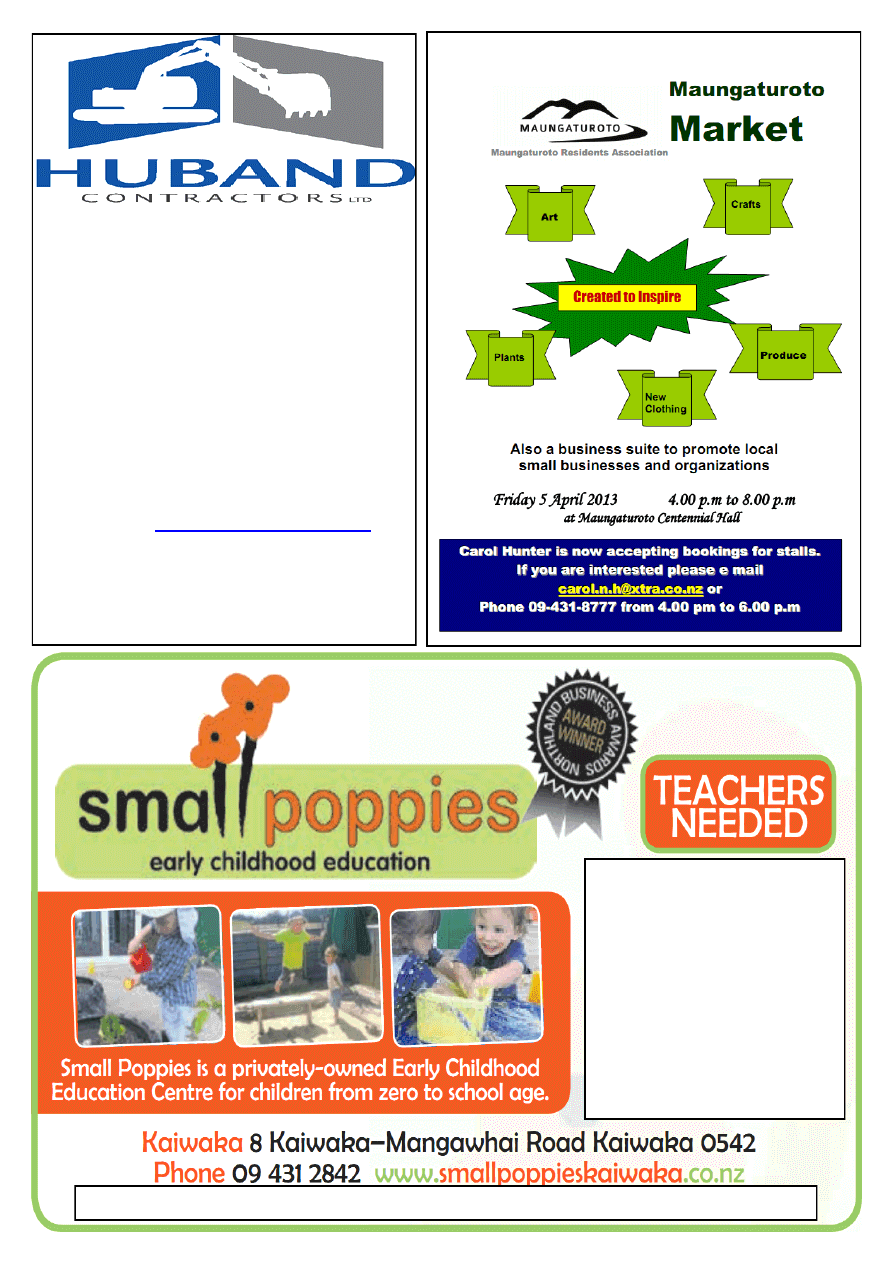 *   R O A D I N G   *   E A R T H W O R K S  
*    
*   D R A I N A G E   *   S I T E W O R K S  
*  
For any further enquiries, contact 
Shaun on: 
Cell: 021 222 0272 
Home: 09 4318339 
Email:   
Shaun Huband:  Registered Drain-
layer 
15 
Permanent and  
relieving 
teacher posi-
tions available 
now 
Send your CV to smlpoppies@xtra.co.nz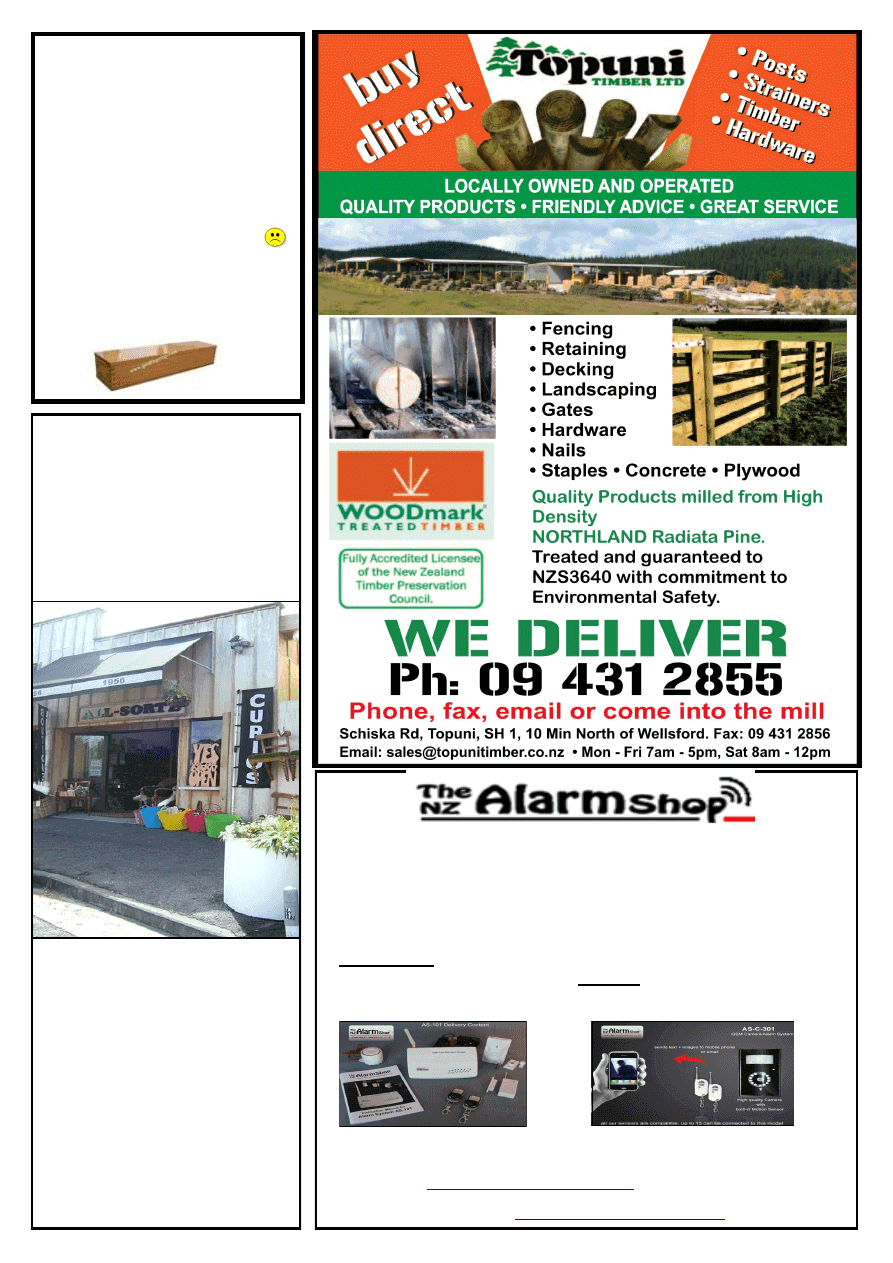 17 
KEV's CASKETS 
Stylish, BUDGET Accommodation 
Takeaways (8 available)  
or made to order 
  Featuring 2 styles and  
Different finishes. 
   Also O/S and Infant size 
Phone Kev in Kaiwaka  
021 1322 671 
Or come and visit my showroom 
104 Settlement RD, Kaiwaka 
www.the-nz-alarmshop.co.nz 
Protect your home, bach, shed, garage, camper, boat…. 
Monitor your property, watch what's going on. 

Easy to install and manage DIY GSM Alarm Systems, basic or 
extended features, suitable for everyone, expandable to your re-
quirements. 

Text or call alerts to your mobile and nominated phones. 

Camera Alarm System sends images to mobile or email. 
NO ELECTRICIAN, NO WIRING, 
NO MONTHLY COMMITMENT, NO LAND LINE NECESSARY! 
$249.00                                                        
$399.00   
*Phone not included
 For more interesting products please check our web site  
To order or for more information:  
The NZ AlarmShop, email: 
, ph. 09-4315905 
 ALL-SORTZ 
COLLECTABLES
Shop 4,  
1956 State Highway 1,  
Kaiwaka   
Phone 09 431 2701 
MIDDAY, MIDWEEK  
MEMORABILIA – 50% OFF  
SELECTED ITEMS 
ON WEDNESDAYS, 
THURSDAYS AND  
FRIDAYS 
FOR ONE HOUR FROM 
MIDDAY TO 1.00 PM 
Different items each day and dis-
count applies to that time/day only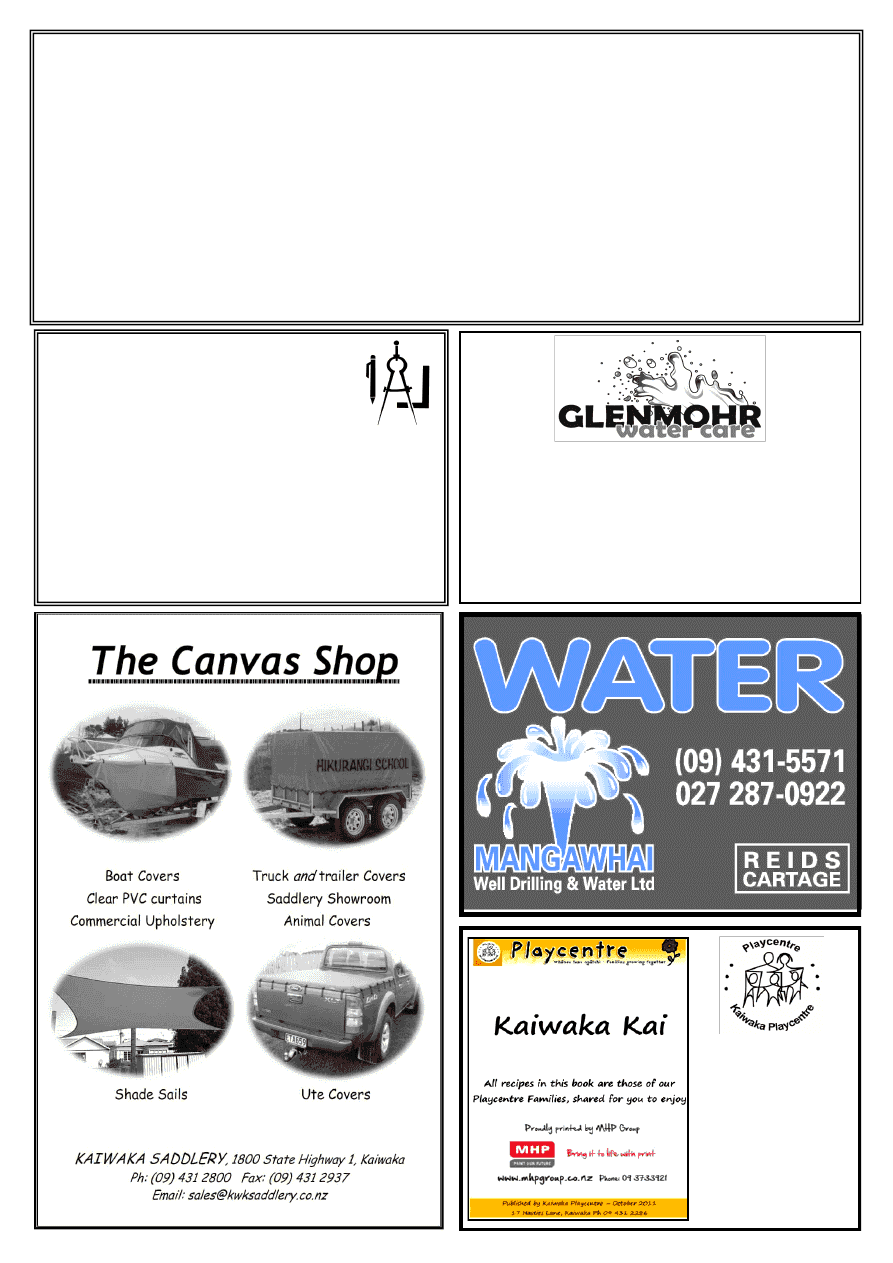 RANGANUI EARTHMOVERS 
 
16T Excavator   
(tilt, thumb & ROPS cab)   
Transport Trailer 
2 x 6 Wheeler Tip Trucks 
Suppliers of All Grades of Metal & Topsoil 
 
If you want a proper job done with an experienced operator ring 
Grant on    A/H 431-2131        Email  ranganui.dev@xtra.co.nz 
   Mob  021845-246 
Driveways, House Sites,  
Drainage Dams, 
Section Clearing,  
Tree Work,  Rock Retaining Walls,  
Quarry Work, 
Basically Anything That a Digger Can Do 
design drafting 
service 
Retired builder and manufacturer with over 40 years  
experience in the building industry is offering a design 
drafting service  
for domestic housing, sleepouts and sheds.  
Plans formulated in consultation with clients, with 
working drawings completed and submitted to  
council for processing.  Extensive practical experience,  
able to identify & resolve problems. 
Please ring Mike Lean on 
09 431 2260  
or 
021 431 196 
Water Tank Cleaning 
" 
 Keep your water safe & clean   
 
Removal of sediment, silt etc. 
 
Vacuum or full scrub 
 
Minimal water loss 
Phone Mark (09) 432 0655 or 0274 707607 
Get your copy from: 
Jaques Four Square 
Kaiwaka Postal Agency 
Kaiwaka Cheese Shop 
Cafe Eutopia 
The Well of Health 
Tony's Maungaturoto 
 
Or email  
jodygreig@clear.net.nz  
or phone 431 2223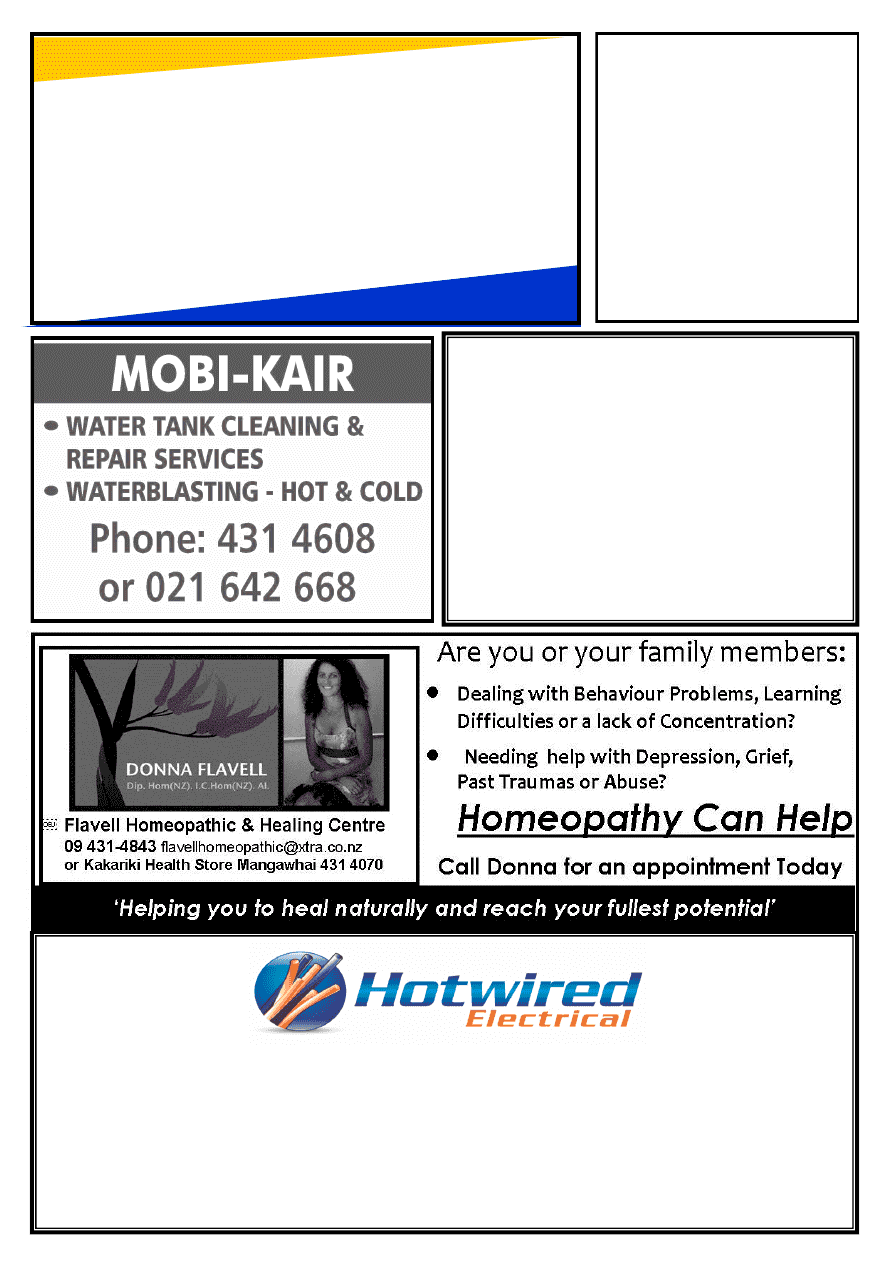 CONCRETE 
If it's concrete we do it 
Full Preparation & Pour by 
Experienced Local Team 
Phone Phil Keen Contractors  
027 659 2376 
TILING 
Certified Waterproofing 
431 4533 or 021 86 33 33 
George 
MCN Property Solutionz  
Local references available 
 LEABOURNS 
Passenger Service 
Car & Van Hire 
Bus & Coach Charters 
Airport Transfers 
 Monthly Shopper Bus 
Phone (09) 4237416 
For All your Electrical  Requirements 
 
Domestic small jobs 
 
Residential dwellings and alterations 
 
Commercial              
No job too big or too small
 
Industrial                       
Contact Jason today on: 
(09) 431 5992, (021) 405 019 
www.hotwiredelectrical.co.nz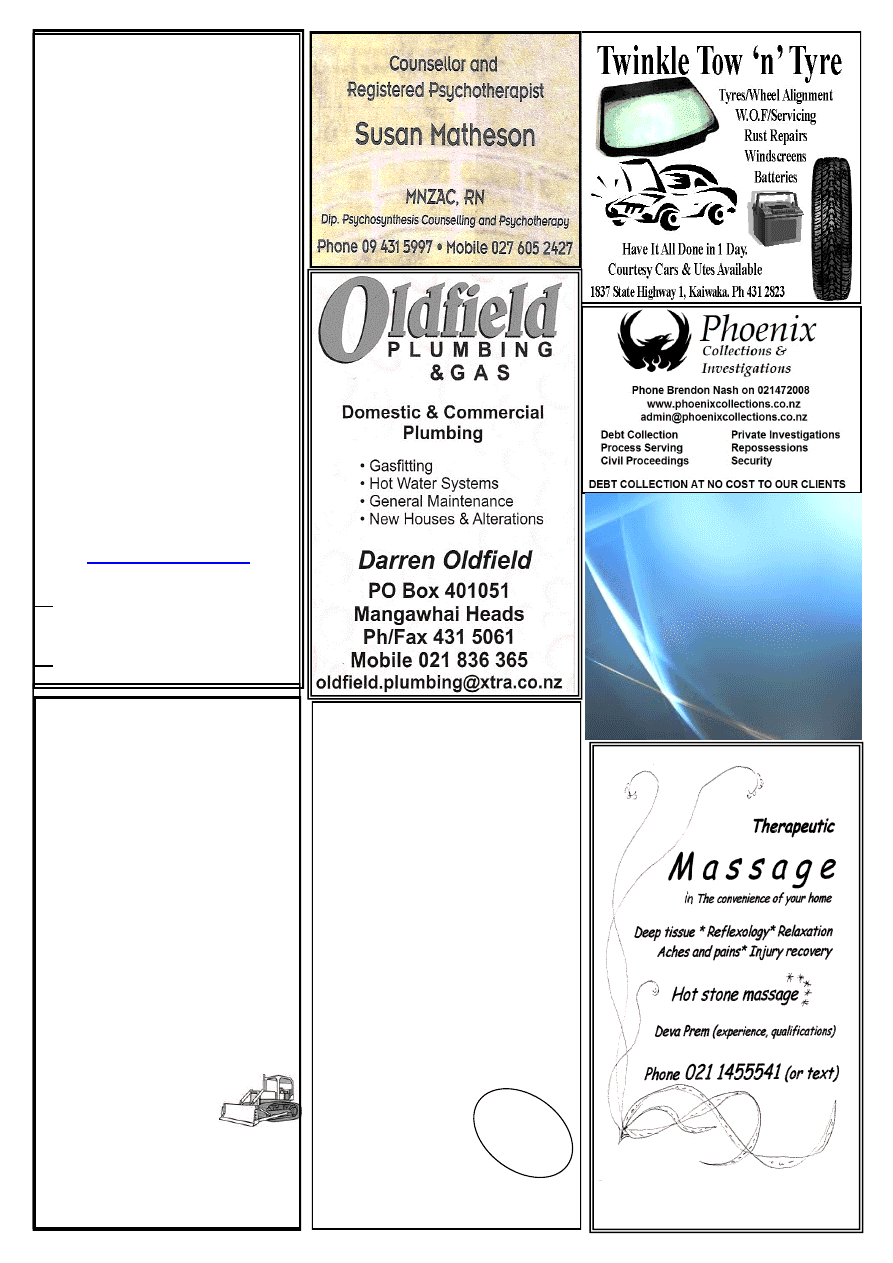 www.mangawhaimassage.co.nz 
Based ou
t  
Oner
iri Roa
d 
HODGETTS
CONTRACTING
Digger Work    

Driveways 

House Sites   

Dams 

Drains, etc
Also available for HIRE 

3 ton Vib Roller 

Heavy Duty Tow 

Waterblaster  

Lazer Level 
Phone Mark 
4312877 
027 447 8554
Bonjour, tous les mondes! 
Happy, prosperous 2013 
Not a fully functioning person...with those 
niggles, aches and pains? You guessed it.  
 I can help!
Monsieur Masseur .... 
RELAXING  
MASSAGE
..... Juste pour vous" 
Here's feedback from a happy client 
"Pete's treatment works. He identified 
long standing injuries no one else could 
fix and relieved years of chronic pain, 
fatigue and headaches.  I have Pete to 
thank for getting me back to work. I am 
so much happier and more confident in 
myself.  I can thoroughly recommend 
him." 
 
Call for an appointment now!
Pete Worsfold 
4312 152  or   021 825970   
Or  Ph. "The Well of Health" 
For an appt. 09 4312 799 
 
Or mobile service available 
Coates  
Contracting 
 
D41 Bulldozer with 6 
way blade, bush rigged 
with winch 
 
For all tree work 
 
General bulldozing and  
  stick raking. 
 
120hp Tractor for 
ground cultivation,  
 
tip trailer work. 
 
Fencing
All enquiries phone  
Brett Coates  
094318720 or mob 
021431872 
Freeview  
Installations 
Richard Te Haara 
25 Marram Place 
Mangawhai Heads 
021 1104056 
kiwipride@xtra.co.nz
T.W.WRIGHT 
WATER PUMPS  
SALES & SERVICE 
DEEP WELL & SUBMERSIBLE 
REPAIRS 
203 WHAKAPIRAU RD, 
WELLSFORD 
PHONE 09 4238235   
MOBILE 021 976 545 
Landscape Supplies 
Bulk Cartage 
4312407 
Mob: 021 453 252  
Fax: 4312939 
scott.parker@parkerli
me.co.nz 
Gibbons Road, Kai-
waka 
Willow Bend
HORSE  
HOTEL 
"   
Total Horse Care 
" 
Agistment 
" 
Riding Lessons 
" 
Arena Hire (60x40) 
" 
Young Horse Starting 
" 
Re-training/Exercising 
" 
Hoof Trimming 
" 
Problem Solving 
Phone Sue 09 431 2817 
or 021 623 776 
Or email sue.gray@xtra.co.nz 
OUT THERE 
GARDENS AND LAWNS 
Lawn Mowing – Any Size 
Section Clearing  
Hedge Trimming  
Spraying  
Planting 
Pruning   
Gutters Cleaned 
Chainsaw Work 
Regular Services 
General Maintenance 
Garden Waste Removal 
Free Quotes 
Get The Job Done! 
Servicing Kaiwaka/Mangawhai 
Contact Phil Jones 
027 243 5503  
431 2196  
Email: outthere09@gmail.com 
Singing Lessons 
Individual sessions 
All styles of music  
All voice types 
Reasonable rates 
Phone  
Maura Flower 
021 164 8318 
Landcare 
Services
Dave Hyndman  
     4312302 
021 431238
Trenching, Hole Boring, Land 
Levelling,  Driveways, 
Landscaping,  Post Peel,  
Pig Post, Lifestyle block 
mowing, etc....also Rotary 
Hoeing 
For reliable and friendly service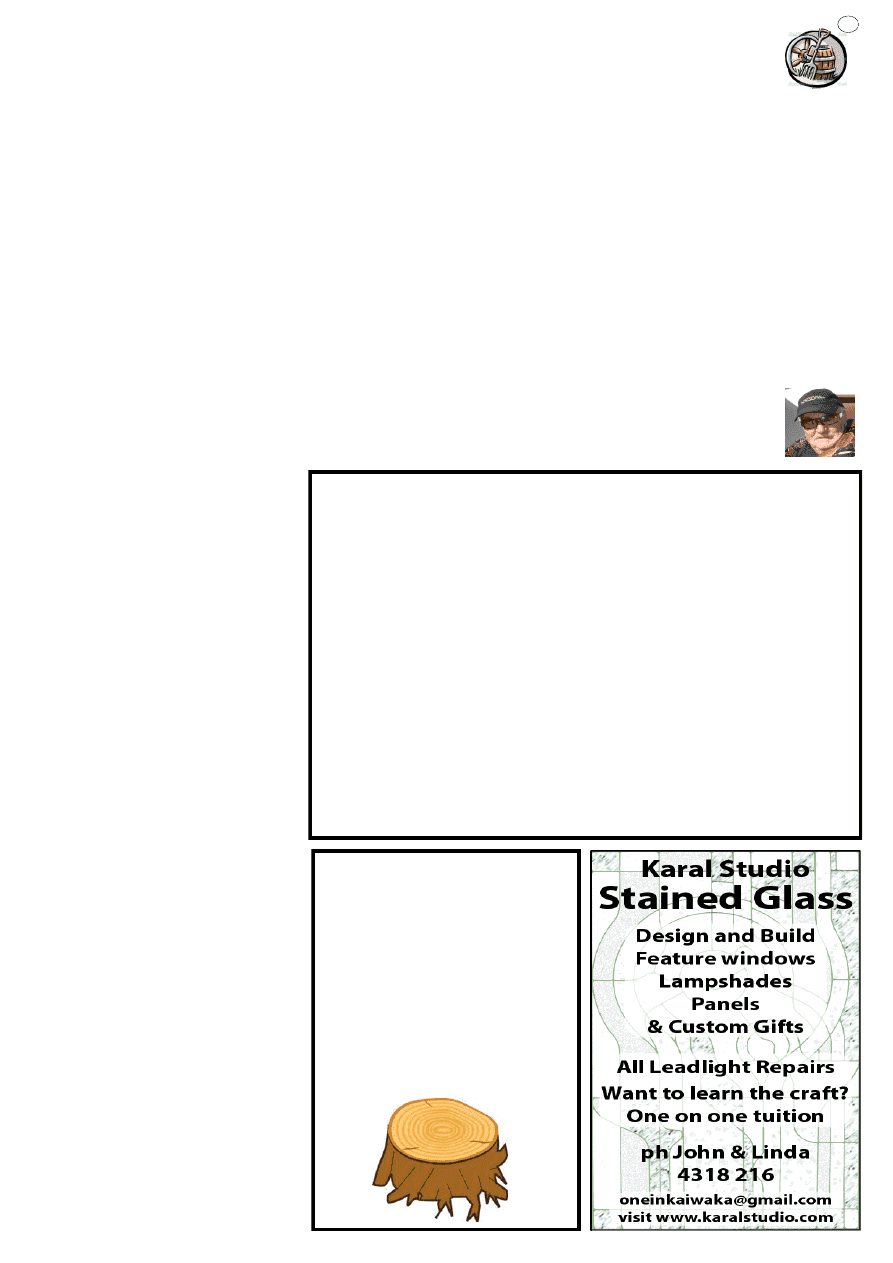 PLANNING A NEW KITCHEN? 
 CONTACT NOEL McDOWELL
WELLSFORD KITCHENS
Ph/Fax 094312888 
KAIWAKA-Any time
  QUALITY CUSTOM MADE KITCHENS  
~Personal and Prompt Service~ 
~All Workmanship Guaranteed~ 
~Over 20 Years in the Trade~ 
~Free Design & Quote~ 
STUMP 
GRINDING 
Big or small  
Tidy professional job   
Tel: Mark 021 457247 
 or 09 4321816 
T.W.DOWSON,  
KAIWAKA'S EARLY 
SCRIBE 
I was recently asked why I had not done 
an  article  on  one  of  Kaiwaka's  most 
noted  European  pioneers  and  there  is  a 
reason  why,  that  I  will  divulge  later  in 
this  jotting.    In  1859,  Dowson,  along 
with a partner J.D.Crombie, was granted 
land  at  the  end  of  Settlement  Road 
where it joined Pukenui Road, the acre-
age being 80, but no further mention is 
made  of  Crombie.    Dowson,  who  ar-
rived in N.Z. on the 10th February 1859 
on the ―William Watson‖ along with the 
Littin  family,  did  not  take  up  his  land 
immediately,  but  spent  a  year  or  so 
building  a  Mission  house  in  Fiji  and 
then  spent  some  years  in  Coromandel.  
In 1866 he arrived at Mangawai on the 
same  cutter  as  the  Littin  family  when 
both took over their claims, the Littins' 
also  on  Settlement  Road.  The  Littins' 
had farmed at Otahuhu before taking up 
their  80  acres.    Thomas  William  Dow-
son  soon  saw  that  life  was  bleak  as  a 
bachelor  and  so  returned  to  Auckland 
and  married  Emily  Ann  Turner,  a  doc-
tor's  daughter,  who  was  the  governess 
of  the  Alfred  Buckland  family,  who 
were  leading  Auctioneers  in  Auckland, 
and  gave  the  couple  two  heifers; a  few 
sheep were run, but it was building that 
T.W.  excelled  in  and  he  built  a  house 
near  where  the  railway  line  crosses 
Pukenui Road, in which numerous chil-
dren were born.  He must have had a bit 
of money as he procured the timber for 
his  house  from  Coromandel  and  it  is 
stated  in  the  Centennial  of  Kaiwaka 
booklet that his, built in 1867, as well as 
the  Hastie  and  Ross  houses,  were  the 
first  sawn  timber  houses  in  Kaiwaka, 
which is strange when my great grand-
father had pit sawn timber and built his 
house  in  1862;  perhaps  it  was  not  pre-
tentious enough. T.W. did a lot of com-
munity  work,  doing  the  census  as  well 
as being a newspaper reporter, but it is 
the work as secretary for the committee 
that got the first Kaiwaka school under 
way  that  he  was  renowned  for,  and 
much  correspondence  to  and  from  the 
Central Board of Education in Auckland 
bears his signature or name.  As I once 
said  before,  that  as  an  Englishman 
amongst a committee made up of Scots, 
it was handed down that it was better to 
have  him  doing  all  the  writing  rather 
than  have  him  do  all  the  talking.  T.W. 
built the first school which was a com-
munity  effort,  T.W.  giving  his  labour 
free, Cameron and Thornton cutting the 
timber at 10 shillings a 100 foot, while 
Boyed split and supplied shingles at 10 
shillings  a  1000.    A  large  picnic  and 
sports  day  was  held  at  the  opening  of 
the  school  on  the  23rd  May  1870,  but 
no teacher was found until the 11th No-
vember,  with  the  first  school  day  start-
ing on the 14th November.  In 1872 the 
building of a teacher's house was under-
taken,  and  with  all  timber  supplied 
Dowson  undertook  to  build  the  house 
for the sum of £15.  In 1873 there must 
have  been  a  bit  of  a  dust  up  as  T.W. 
handed in his resignation as secretary of 
the  school  committee,  but  in  1874  he 
and  William  Leslie,  along  with  others 
are  elected  to  the  Hakaru  School  com-
mittee  after  a  rather  acrimonious  meet-
ing in the Hakaru School.  T.W. eventu-
ally moved and took up land which has 
originally been Reddy's and Cameron's 
opposite the Caltex service station.   
As I said before, I was a bit hesitant on 
writing  about T.W.  as  he and  my  great 
grandfather,  William,  while  they  re-
spected each other, they did not always 
see eye to eye.  They called each other 
Mr. Leslie and Mr. Dowson while talk-
ing  to  one  another,  but  used  different 
names for each other when apart.  On  
one occasion a violent  
outbreak happened when  
T.W.'s milking heifer went 
dry  caused  by  William's  bull,  and 
T.W. did his block stating that as long 
as  he  lived  he  would  make  sure  no 
Dowson  would  ever  marry  a  Leslie, 
and a 150 years later that has still not 
happened.    On  another  occasion  T.W. 
was  building  a  barn/stables  for  Wil-
liam  and  saw  William  looking  at  his 
work.  T.W., who had a stooped back, 
asked  if  the  wall  was  straight  enough 
to  which  William  replied,  ―Aye,  Mr 
Dowson,  it  be  as  straight  as  ye  own 
cruicked  back.‖    This  barn,  with  its 
axed mortices and high peaked roof to 
keep the snow off was a great place to 
play  in  when  I  was  a child,  and  stood 
for over 100 years, a great tribute to its 
builder, T.W. Dowson. 
Bill Leslie  
14 March 2013 
13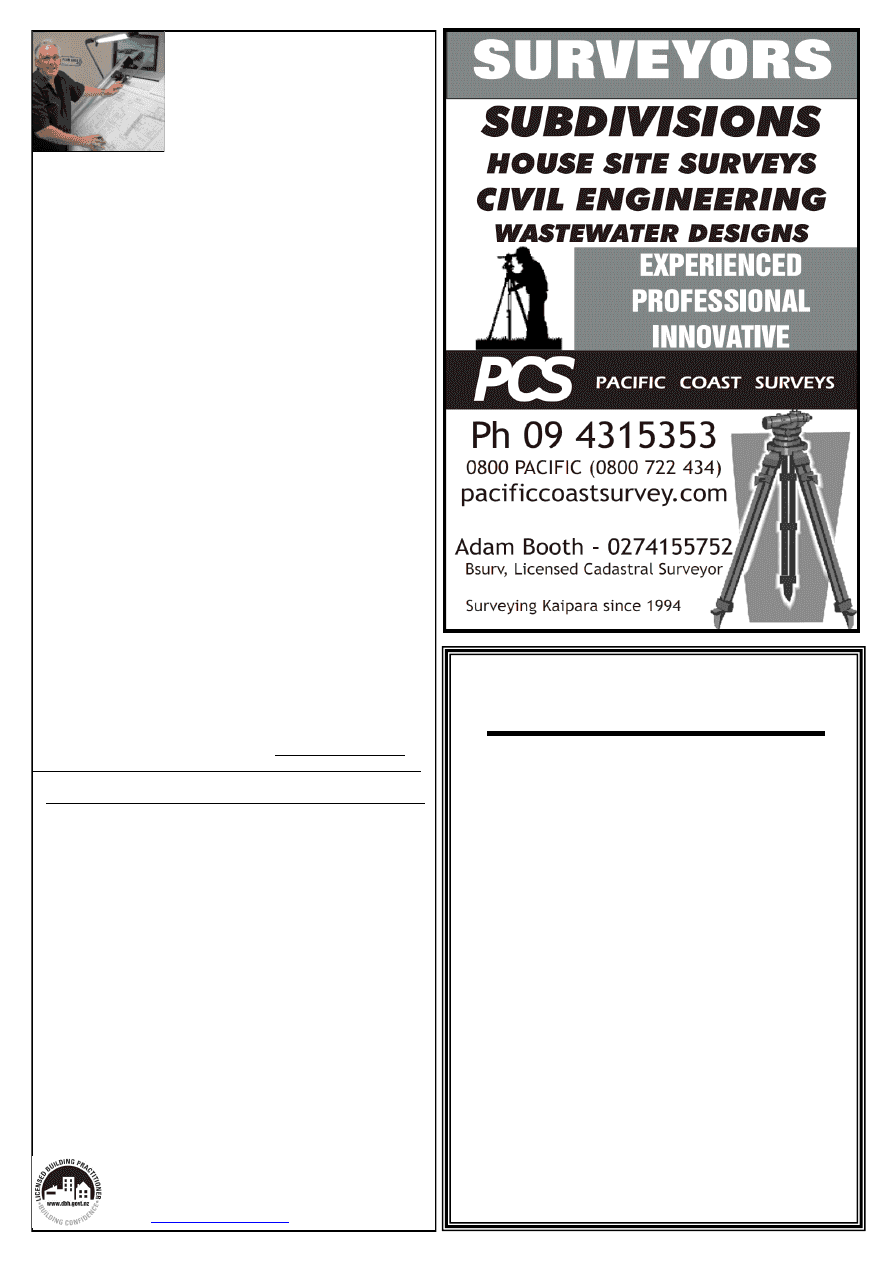 STOCKFOOD
GREAT RANGE FOR ALL YOUR LIVESTOCK  
AT GREAT PRICES 
 ALSO CHECK OUR 
DOG BISCUITS 
20 KG FOR $57.80 
LPG REFILLS 9KG 
STILL ONLY $31.50
MANGAWHAI SERVICE 
STATION 
(09) 431 4242 
44 MOIR STREET IN THE VILLAGE 
ARCHITECTURAL 
BUILDING PLANS 
AND DESIGNS 
20% Reduced Cost - design and planning. 
If you are thinking of building, then you need 
to make use of cost savings in architectural 
design as well as having a good and well experienced designer. 
This applies if you are considering a new home, any alterations or any 
building additions/farm buildings, sheds, alterations, whatsoever. 
There are many things that are frustrating if you are not totally 
familiar with what all details are required by Councils -especially 
with new regulations in force to ensure everything runs smoothly - 
e.g. Resource and Building Consents, planning restraints, new 
building materials ,applying for building permits, dealing with 
building contractors to name a few -you need a capable,  
experienced and professional designer with a clear knowledge of 
all the processes. 
WE CAN HELP YOU CLARIFY ALL OF THESE ITEMS 
 
AND MAKE LIFE RUN MORE SMOOTHLY. 
Brian of Wright Design has been helping and organising all these 
facets of design and building for over 40 years. 
With needs of family changing and the economy - building require-
ments constantly being reorganized and made more complex, it's very 
important to obtain professional advice for any building project - no 
matter what size. 
Brian advises on design, materials, permit applications, builders 
and subcontractors for any project - no matter how small or large 
ALL THIS AT A REDUCED COST so YOUR DOLLAR    
GOES FURTHER  
Wright Design offers free visits, consultations and all the advice 
you need on planning. Design, building, contractors, council  
permit applications, guaranteed permit plan acceptance. 
QUALIFICATIONS 
Brian is a qualified designer (NZCAD) with over 40 years of varied 
experience in all types of building and is a registered and Licensed 
Building Practitioner in Design - L.B.P. 117345 
He ensures you will achieve the best from your budget with  
recommended excellent local contractors ready to competitively 
price and build your personal project quickly and efficiently. 
EXPERIENCE 
Brian's practical building and 40+ years of design experience 
means he can give you excellent advice and all the guidance need-
ed for all your building needs, 
FEES: To help you attain your project Brian has reduced his 
costs by 20%, giving you extra funds for the rest of your project. 
ENGINEER: Brian can arrange engineering for a reasonable cost. 
THIS IS AN ABSOLUTELY GENUINE FEE REDUCTION!! 
Qualified and inexpensive designer – N.Z.CAD., LBP 117345 
Guaranteed design and working drawings 
Free site visit to your home or property 
Great service 
Obtain a free quote with 20% Discount. 
PROJECTS 
Additions, alterations, basements, new houses, motels, bed and 
breakfast commercial buildings and shop fit outs are a few pro-
jects he has been involved with. 
Brian can show you many of his projects in the area to emphasise 
his versatility 
WHAT TO DO FROM NOW 
Call Brian   
Arrange a visit 
Discuss your needs 
Obtain great advice.  
Obtain a free quotation - with a true 20% discount 
Make a decision based on the facts - You Won't Be Disappoint-
ed! 
MAKE GOOD USE OF HIS EXPERIENCE AND THIS 
GREAT OFFER OF REDUCED FEES OF 20% 
Brian can offer plan printing-from A4 to AO (2 x A1 size) 
WRIGHT DESIGN 
Brian's office is at: 72 SPINDLER ROAD, R.D.2 WELLSFORD  
(Off Wayby Valley Road.) Call in for a chat and a coffee, or he 
will call on you at your home if preferred. 
WRIGHT DESIGN: Office 09-423-8092 
Mobile 021 276 7389 
Email: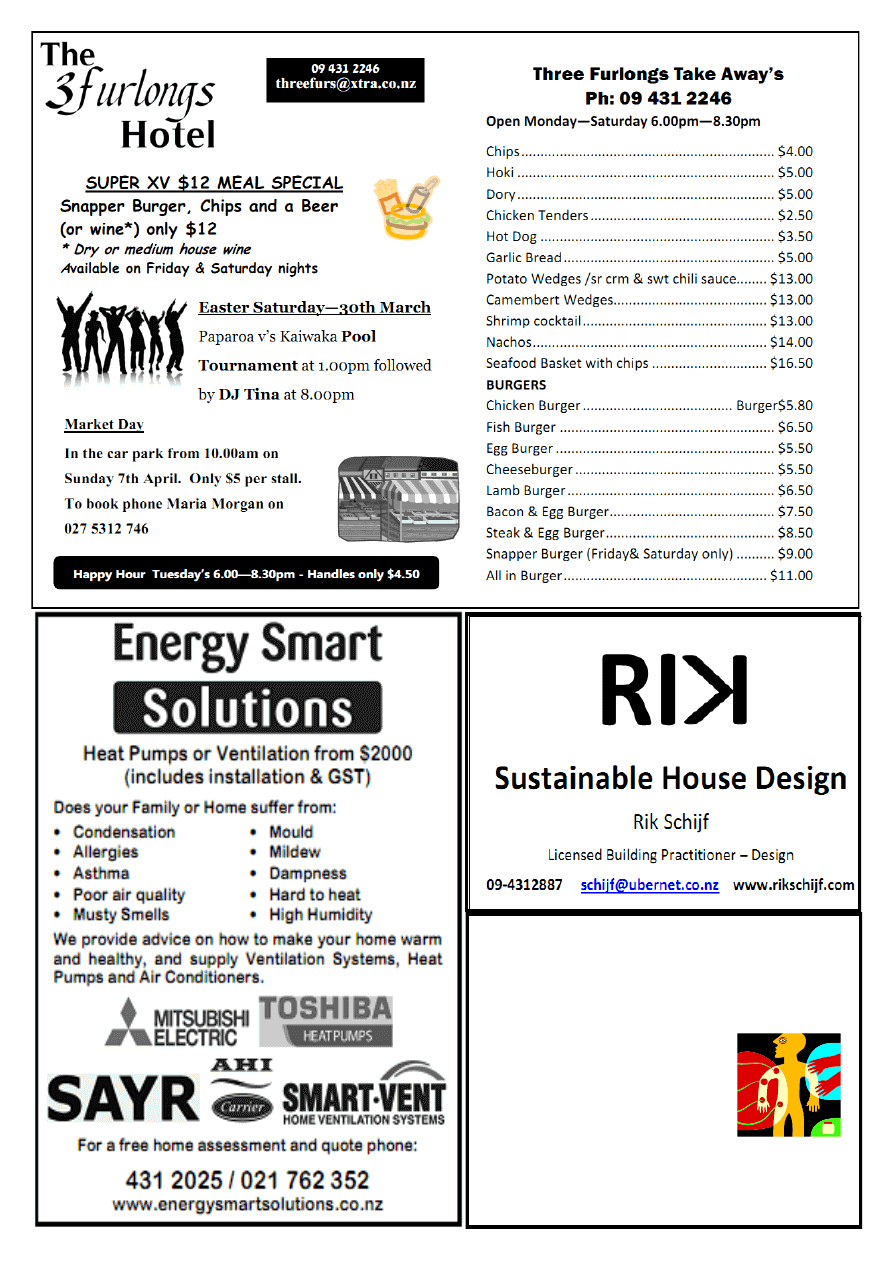 OWEN STEVENS 
Osteo Therapist
For careful adjustments to bones and joints 
Treatment for  
humans and their pets 
Clinics: Kate's Place, Kaiwaka: 
Last Friday of month 
Warkworth Showground:  
2
nd
 Thursday, monthly
For bookings:  9.00am-5.00pm 
Phone 09 4312661  
Or phone Owen  09 4317123   anytime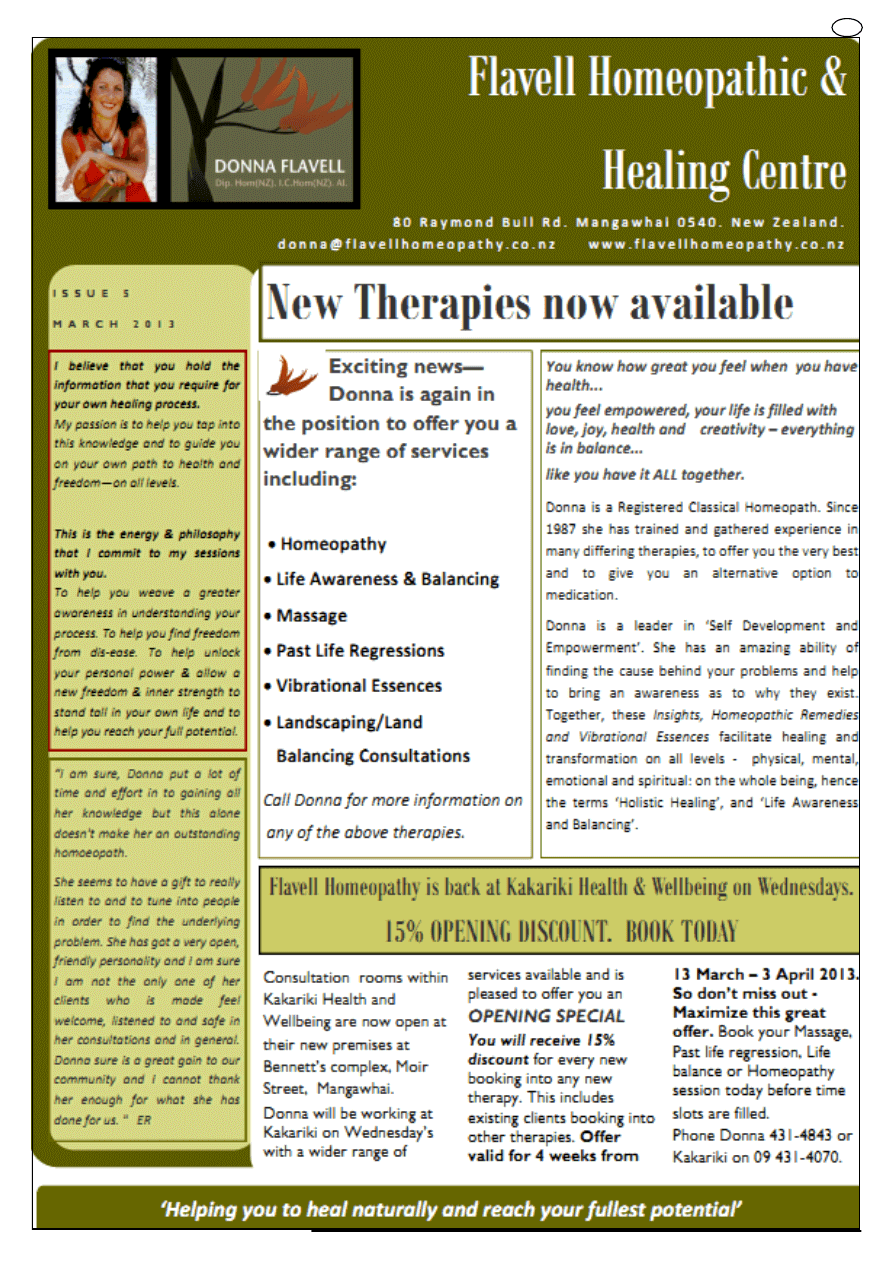 19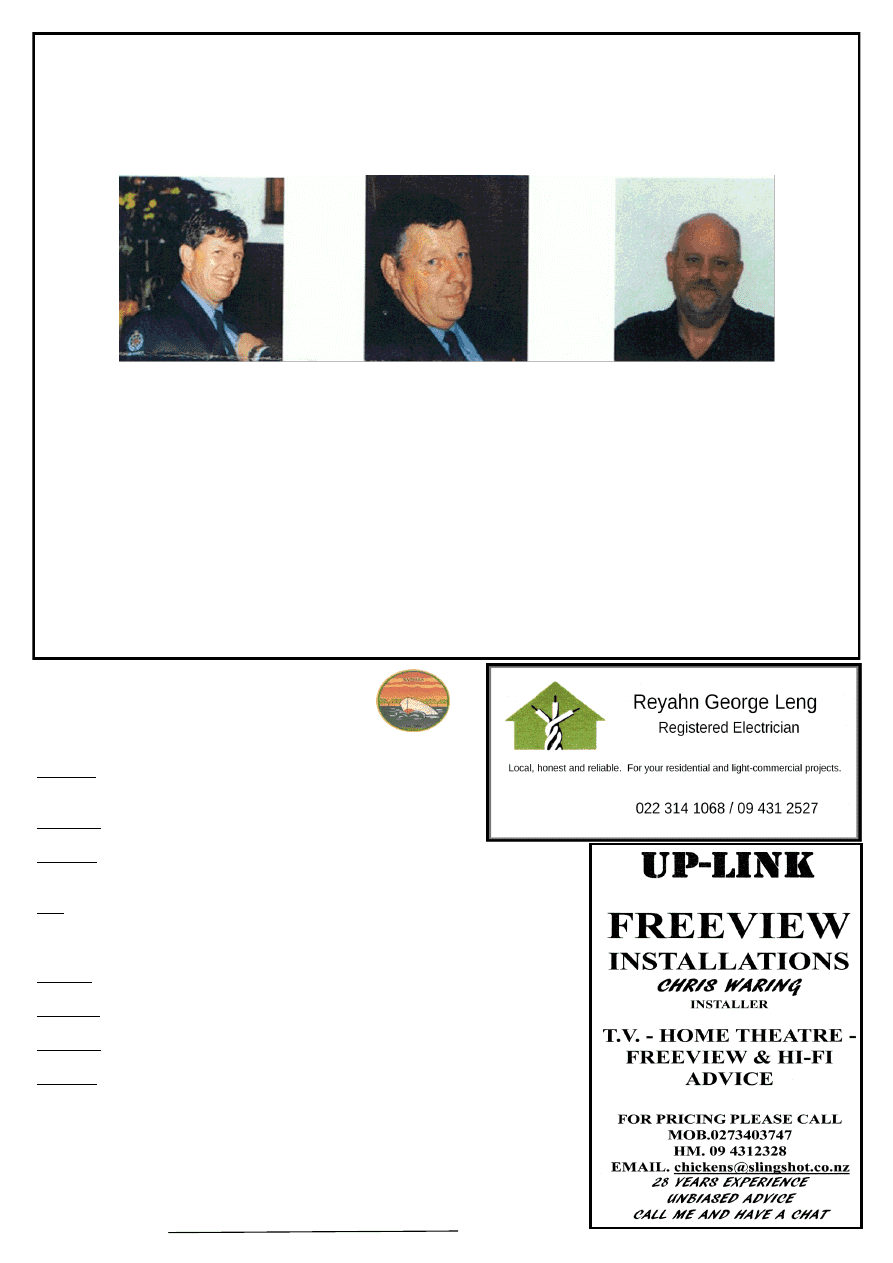 Point Curtis Cruising Club 
Results for Point Curtis Cruising Club Inc Club  
Members Fishing  
Tournament, 9th and 10th March 2013. 
Junior Section: 
Snapper: 
1st: Patrick Butler 1.147kg, 2nd: Ashley Greig 1.023kg, 
3rd: Jacob Butler 1.019kg 
Kahawai: 
1st: Brayden Mills 2.260kg, 2nd: Joseph Walker 0.302kg 
Gurnard: 
1st: Tai Walker 0.524kg, 2nd: Corbin Walkers 0.445kg,  
3rd; Tai Walker 0.404kg 
Eel: 
1st: Tane Thomas 1.343kg, 2nd: Kalani Wehi 0.445kg,  
3rd: Jacob Butler 0.229kg 
Senior Section: 
Snapper: 
1st: Gravy 3.242kg, 2nd: Paul Mills 3.212g, 3rd: Tony Smith 2.746kg 
Kingfish: 
1st: Pongo 20.500kg, 2nd: Grabba 15.583kg, 3rd: Renna Brown 13.460kg 
Kahawai: 
1st: Grabba 2.837kg, 2nd: Colin Birkenhead 2.673kg, 3rd: Joss Tolley 2.486kg 
Gurnard: 
1st: Gravy 0.970kg
Thank   you to all who went out fishing and thank you to Russell, Barbara and 
Tracey and staff at the 3 Furlongs Hotel for hosting us.   
East VS West Open Fishing Competition 
April 12, 13 and 14, 2013 
Fish Of The Month: Snapper 
Next Meeting Date:7pm 9 April 2013 at 3 Furlongs Hotel 
Wayne Leslie, Commodore 
The Kaiwaka Volunteer Fire Brigade would like to invite members of the community  
to celebrate 
Triple Gold Star Celebration 
We will be celebrating the achievement of Robert Leslie, Norman Brown and Graham Dakin for completing 25 
years of service with the New Zealand Fire Service. 
 
 
 
                          Robert Leslie 
    Norman Brown 
           Graham Dakin 
Event Schedule 
Date: Saturday, 23
rd
 March 2013, starting at 7.00pm, 
Honours Awards at 8.15pm / Gold Star Awards at 8.30pm 
Place: Kaiwaka War Memorial Hall (aka Community Centre) 
Supper, Band and Dance afterwards 
Lots of Raffles 
Tickets $30 single, $50 double from Fire Service Volunteers or at Jaques Four Square.