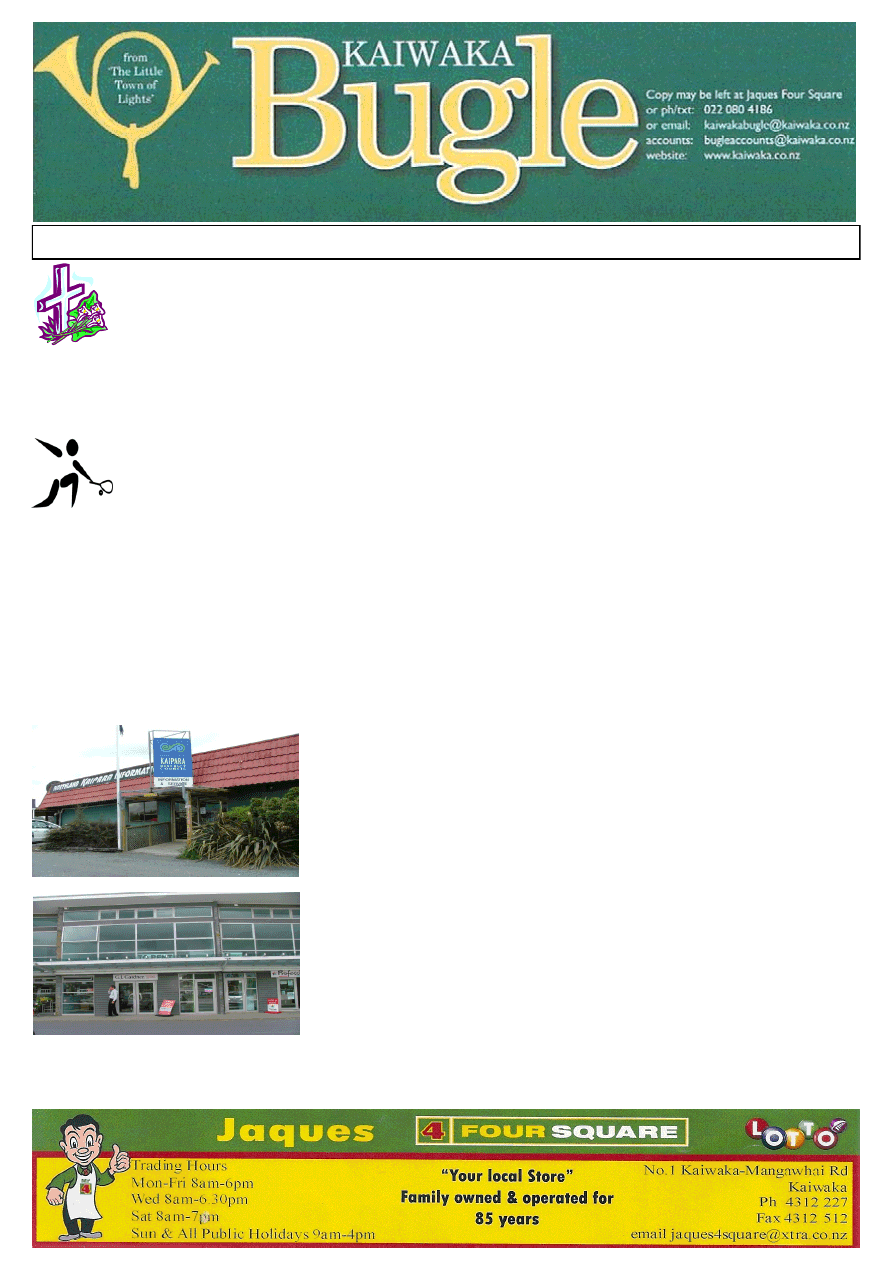 No: 6 
02/04/2013 
Our thoughts and prayers 
are with our fellow Bugle 
Team  member, Heather 
Nash, at this sad time of 
her husband's passing. 
Robert will be especially missed at the 
collating tables. May he Rest in Peace. 
KAIWAKA SQUASH CLUB  
OFFICIAL OPENING              
7
th
 of April, 11am 
The Kaiwaka Squash Club 
is proud to show off the 
renovated and up-dated premises at the 
Kaiwaka Sports Association (next to the 
tennis courts) with an OFFICIAL 
OPENING on SUNDAY, 7
TH
 OF 
APRIL 2013 from 11am!! 
Bring some non-marking shoes, we can 
provide rackets and balls and have a go! 
Great for all ages and skill levels, great 
family sport, great fun for everybody! 
Just come, have a look and a try and 
a sausage from the sausage sizzle! 
RATES ARE INCREASING YET AGAIN! 
I  attended  the  public  meeting on Monday 25 March held by the appointed (not 
elected) Commissioners for the Kaipara District Council.  I have never sat through 
such a condescending and patronising event in my life!  It started with Mr. Colin 
Dale suggesting we ―all move up closer so as to make a more cosy atmosphere‖. I 
felt like I was back in kindergarten.  Unfortunately there was not a big turnout of 
locals
and it was almost a case of too many Chiefs and not enough Indians. 
Basically the information I gleaned is KDC is close to $80 million in debt and they 
plan  to  reduce  this  debt  by  $30  million  by  2022,  with  break-even  budgets.    Of 
course the community, and it  seems Kaiwaka's community, more so than others, 
have been hit hardest with first 34-48% increase in rates a few months ago to be 
followed by another 9.3%! According to the Council, the average of the previous 
rate hike was 20%. One wonders, as a gentleman did ask, who ended up paying no 
increase in order to get that average.  And as our REAL rate increase was 34-48% 
I asked the question if, in fact, the 9.3% is also an average and should the Kaiwaka 
community add 14-28% onto the planned 9.3%?  I got no satisfactory answer.  We 
know the Mangawhai Wasterwater Scheme is way over budget.  Mangawhai resi-
dents  will  pay  $35.6  million  and  another  18.4  million  is  to  be  spread  across  the 
Kaipara District. 
The  Reviewing  Plan  we  were  subjected  to  via  a  power  point  presentation  raised 
more questions than solutions.  By 2015, when there will be an election for Coun-
cil, these Commissioners think they will have rebuilt the trust  we should have in 
Council; shown accountability and transparency; and simplified the rating base. 
Our rates will be in four instalments (currently six); Fees and charges are going up 
3.1%. If your property is over 2 hectares you will be expected to pay 155% of a 
targeted rate; as opposed to residential and smaller properties only paying 100%!  
At  the  meeting,  they  told  us  we  had  until  13  May  2013  to  get  submissions  in  to 
Council.  But on the KDC website the deadline for submissions is 4pm 19 APRIL 
2013. Hearings will be held 14-16 May 2013. The final Long Term Plan document 
will be in force 15 June 2013. For more info see www.kaipara.govt.nz  AJ
COUNCIL QUITS KAIWAKA 
THEN at the very end of the meeting, a Commissioner announced that ―because 
the new landlord was asking too much rent for their current premises, the Council 
offices  are  moving  to  Mangawhai;  because  nothing  happens  in  Kaiwaka;  every-
thing happens in Mangawhai‖! At that point Ilia Petro, the new landlord, got up to 
speak.    Lo  and  behold,  we  find  out  that  the  Council  never  even  negotiated  with 
him over the new terms.  Ilia was quite prepared to put the difference of new rent 
vs.  old  rent  back  into  the  community.    The  rent  he  was  asking  was  based  on  an 
evaluation that the Council asked him to have done as they refused to pay for one. 
As mentioned in the last Bugle, Ilia and Eva Petro have done a lot for our commu-
nity  and  are  definitely  going  the  extra  mile  for  us.  The  Council  on  the  other 
hand…not so much!  It just proved to me and, I'm sure, anyone else sitting there 
listening to these jokers, that they are indeed experts in pulling the wool over our 
eyes.    Some  of  us  may  be  sheep  farmers  but  we  are  not  sheep-like.    A  deal  had 
already  been  struck  with  The  Hub,  6  Molesworth  Drive,  Mangawhai  (see  photo 
left) to lease their top floor to the Council at a very appealing rate.  Perhaps a con-
flict  of  interest  in  that  deal?    Property  developer/Council:  consents,  permits…no 
worries.  Are we sure The Hub is user friendly? Wheelchair access? Why are these 
boys spending more money that we don't have?  Nothing changes: Commissioners 
and Council treat us like mushrooms, ie: keep us in the dark and feed us on sheep 
dodo.  Haven't we had enough of that from the previous council?  Ann J. 
Editor
Don't forget to turn your clocks back 
one hour before you go to bed Sat 7 
April when daylight saving ends. 
Bugle 7 will appear on 16 April 2013 
FROM THIS…. 
….TO THIS 
 I hope they pack their sunblock.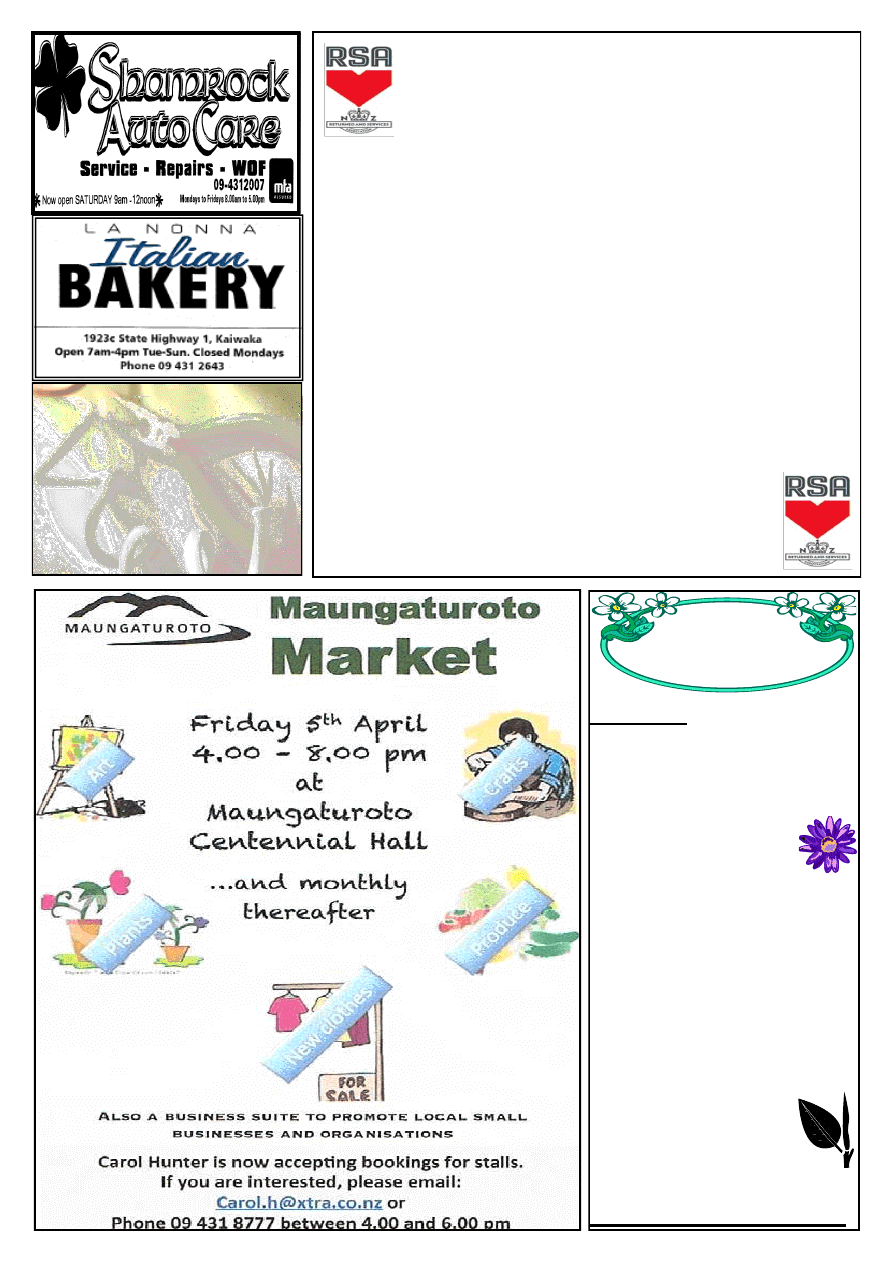 HAKARU RSA
Women's Section 
2nd Friday of the Month 
from 6.30pm 
    Roast of the Day   
 $12.00 
    Fish n Chips   
 $10.00 
       Pea Pie Mash   
   $  6.00   
Includes salads 
Desserts  $3.00 
Phone Heather 4314668 
Jan 4314512 
Paul Greig Electrical Ltd 
Residential • Farm • Commercial 
Paul Greig 
Registered Electrician 
Ph: 431 2223 Mob:021 230 
2717 
Reliable & Professional Quality Service 
Based in Kaiwaka 
Sound  
 Landscapes 
I
magine
… if you will... 
...That  unkempt  area  of  your 
property...it 
needs 
atten-
tion...caring  for...turn  it  into  a 
work 
of 
art...a 
magic 
space...rustling...lush… 
shiny native plants... 
...texture...style…colour... 
form...fragrance… 
You've been aching to do it.   
You've put it off...TILL NOW! 
―Let  me  help  relieve  your 
burden‖  ―Together  we  can 
make it happen‖
Call for site appt.  
now: Pete Worsfold 
‗Sound Landscapes' 
 
Phone 021825970 
peteworsfold@xtra.co.nz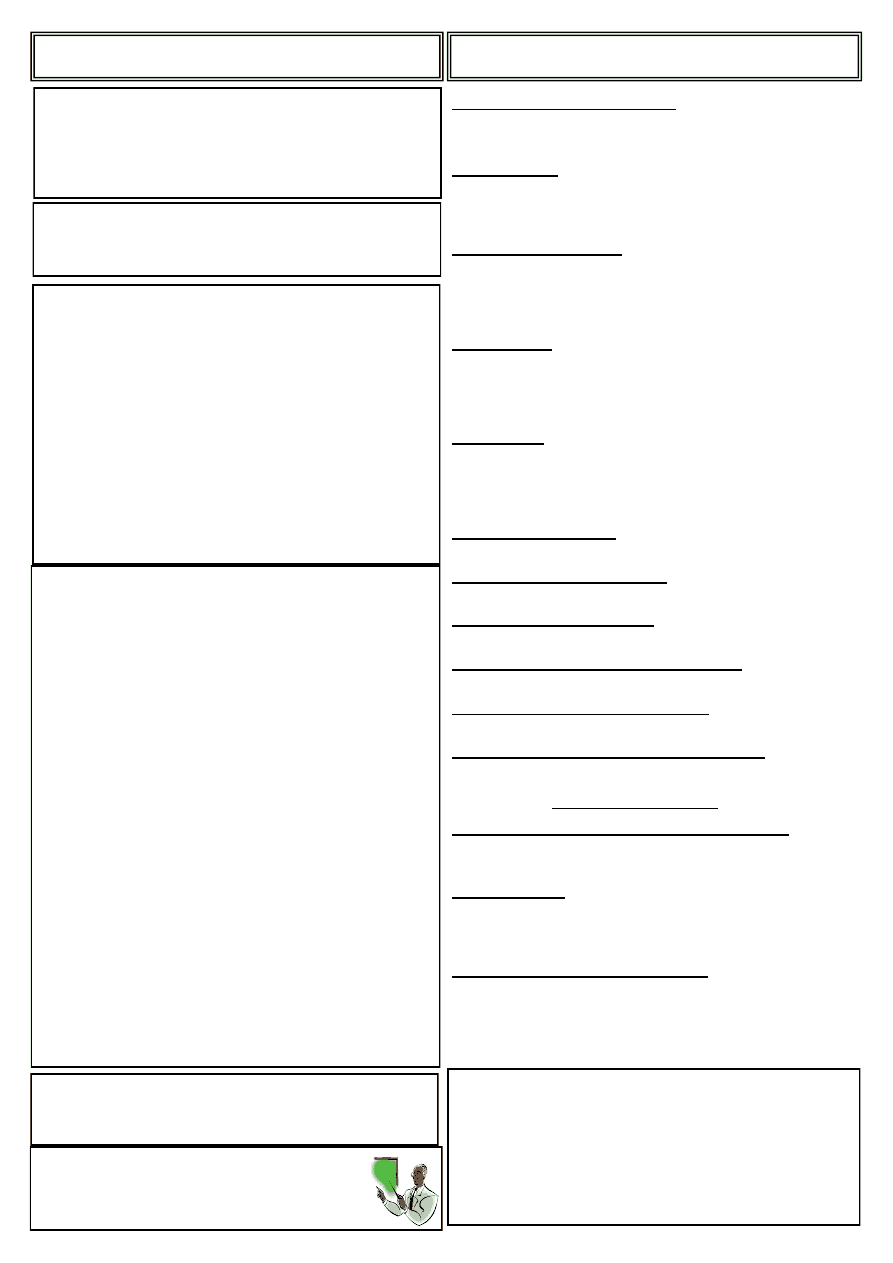 PUBLIC NOTICES 
CLASSIFIED 
FARM HOUSE FOR RENT: 
3 bedrooms.10kms from 
Kaiwaka down Oneriri Rd. Bond and referemces required. 
$200pw. Please phone 4312660. 
FOR  RENT:
 Two bedroom attached unit with rural views, 
very  good  condition,  8.5  kms  down  Oneriri  Rd.,  internal 
garage. Wetback wood burner. $180 pw Please ring Mike & 
Tania Lean 4312260 or Mike 021431196, Tania 021431366
HOUSE  FOR  RENT: 
3 Bdrms with carport. 11kms west 
of  Kaiwaka—10  mins  drive.  Floor  &  ceiling  recently  insu-
lated.  Private,  quiet,  lots  of  room  for  kids  to  run  around. 
Sunny,  with  fenced-off  garden  area.  References  required. 
Sorry, no dogs. $200 pw. Please phone 4312042 
FOR  SALE:
  O.H.S  girls  senior:  2x  skirts  size  61cm,  2x 
blouse  size  10,  $40.00  lot.  Puma,  kids  rugby  boots,  good 
condition sz 3Y (21cms) $40.00. 1x adata 1gb memory stick 
for PC $20.00, 1x 1gb laptop mem stick $20.00, 1x 512mb 
laptop mem stick $10.00.  Phone 4312262 or 0211687847. 
FOR  SALE: 
Imagine ...fresh milk...own butter...cream off 
the top of the milk...You can have all that! I have a 3 phase 
milking  machine  and  electric  motor  for  sale.  I'll  throw  in 
some  accessories  for  nothing…$865ono  Ph.  4312009  eve-
nings or 021825970
BOARD  OFFERED: 
Handy to Kaiwaka, furnished sleep 
out suitable for student or adult. Ph: 4312664
HANDYMAN  SERVICES:
  All  building  work  to  odd 
jobs. Fast and efficient. Phone Graeme 021 775943 
CLEANING  SERVICES: 
$20  per  hour,  fast,  friendly 
and efficient. Phone Jill Shires 431 2080 Kaiwaka. 
NATURAL  ANIMAL  THERAPIST:   
Diatomaceous 
Earth Stockist.  Specialising in Horses.  Jill Shires  4312080 
CRANIO  SACRAL  THERAPY 
for horses. Phone  Jill 
Shires 431 2080   
FREE  COUNSELLING  AVAILABLE: 
Counselling 
Student seeks clients to further his studies. Professional  
approaching service. Phone Pete 021 825 970 or  
094312 152 or peteworsfold@xtra.co.nz 
CLOTHING ALTERATIONS & REPAIRS: 
Hems,  Zips,  Dressmaking  Ph:  Win  4312027    or  027  444 
8358 Winsome Designs. 
HALL  HIRE: 
available  from  Absurdistan  Community, 
Parekura Rd. Enjoy our beautiful hall and harbour views for 
your  special  day,  course  etc.  For  more  info  ph  4312202  or 
021 2377678 
BERNZ MASSAGE THERAPY: 
Diploma Therapy Mas-
sage from NZCM; Relax and Rejuvenate; Muscle Injury Recov-
ery;    I'm  a  Mobile  Massage  Service.  Competitive  rates  in  Kai-
waka, Mangawhai, Maungaturoto. Ph: Bernie 021 0232 5741 or 
4312816
PROVERBS: 
12:1-  If you love learning, 
you love the discipline that goes with it; how 
short sighted to refuse correction!  
BLANK BACK PAGE IN LAST BUGLE 
My apologies to everyone for the blank back page 
in Bugle #5. A change in the number of Bugle's printed 
saw an unexpected shortage of ink to complete the run. 
Wendy Howard , Printer
Kaiwaka School PTA AGM 
Wednesday 17 April 2013 2.45pm in the Staff Room. 
All very welcome. 
Kaiwaka Volunteer Fire Brigade  
50th Jubilee 1963-2013  
Sat 6th April 2013 12pm to 2pm 
Open day at the Kaiwaka Fire Station. 
 
Big refinery Fire appliance demonstration 
 
Sausage sizzle 
 
Demonstrations of car cutting and  
extraction 
 
Videos and photos of the local history 
Everybody welcome 
The Kaiwaka Fire Brigade 
would like to thank our Life 
Members, Gold Star Members, and members of the public 
who attended the Honours Night March 23rd.  It was an un-
forgettable night.  Thanks to our generous local businesses 
and sponsors the night went off with the biggest bang the 
KCC has seen in a while.  Great raffles, great music.  Thanks 
to Playcentre Mums for arranging supper and dishes; Mark & 
Pam for the savouries & sweets and Maungaturoto Fire Bri-
gade Members for taking care of refreshments leaving us free 
to mingle, drink and dance.  A big thank you Leabourns for 
the free shuttle. 
What an honour to see three fine people awarded Gold Stars 
for 25 years service to the NZ Fire Service; Rob Leslie, 
Norm Brown and Graham Dakin who is a paid fire support 
officer but wished to join us and share his honour.  It was 
especially nice to have their family members there and 
acknowledged for the roles they play and sacrifices they 
make to keep us all safer. 
Other awards were given: 3 year certificates to Dave Kearton 
and Mike Law. Two year bars to John Bowmar making a 
total of 35 years service, Peter Fleming making 23 (2 more 
years till next big party), Adrian Buxton making 19 and 
Kraig Steiner making 15 years-all great achievements. The 
Angela Gallie Trophy for dedication went to Mickey Renton; 
the Stirrers Trophy went to Rob Leslie (payback hehe) 
See above for Open Day Sat 6 April. See you there FLICK 
Thank you note: 
I would like to thank everyone who has been helping to clean 
up  McLean's  Park  (rest  area  by  Coffee  Pot/Gateway  North 
Motor Lodge).  Special thanks to Elizabeth Preston who has 
been going down every couple of days to pick up the dumped 
rubbish and for the weed eating she has done.  What a differ-
ence it makes to the place! We really appreciate what you are 
doing.  With immense thanks, Hannah 
Otamatea Hawks Special General Meeting 
Regarding Life Membership 
Tuesday 16th April, 7pm at Kaiwaka Sports Association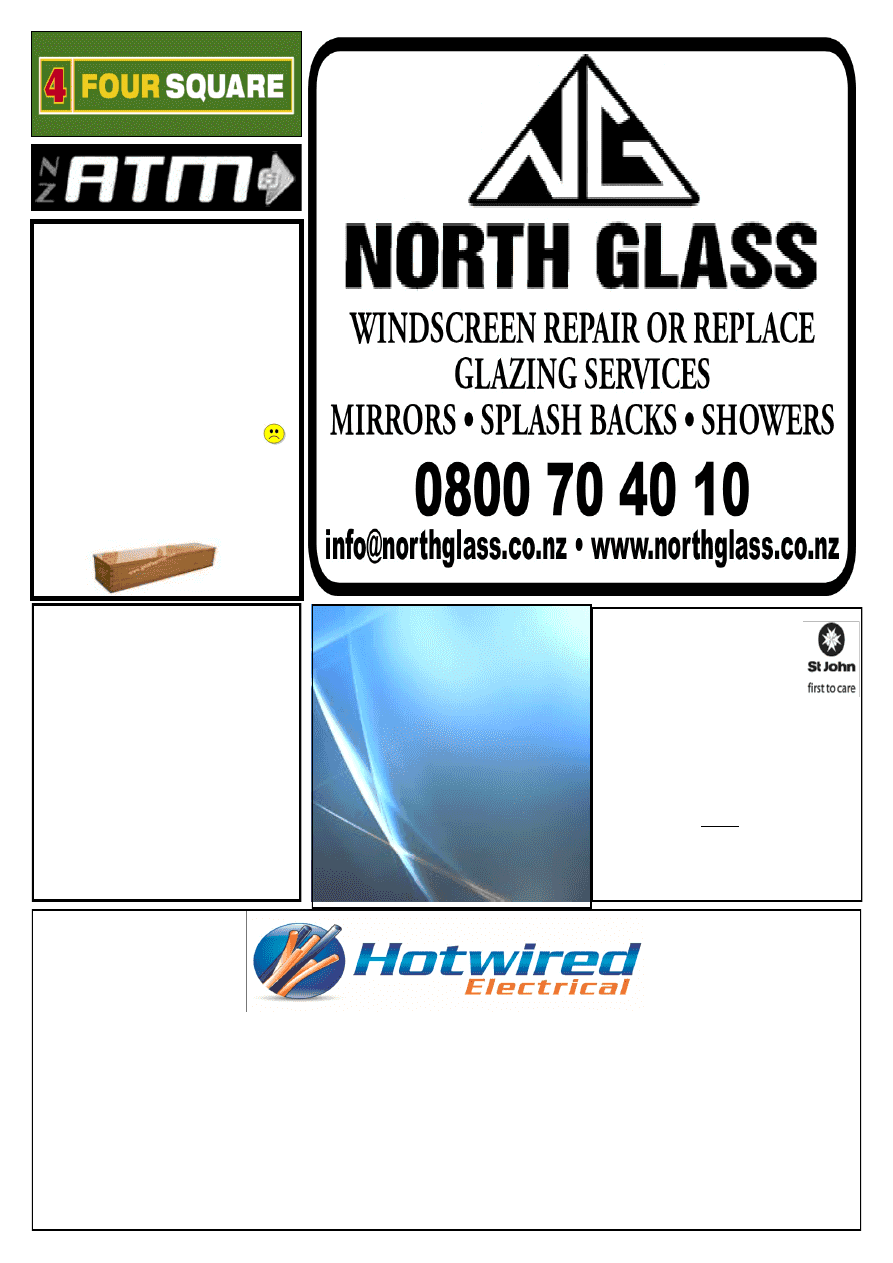 Freeview  
Installations 
Richard Te Haara 
25 Marram Place 
Mangawhai Heads 
021 1104056 
kiwipride@xtra.co.nz
KEV's  
CASKETS 
Stylish, BUDGET Accommodation 
Takeaways (8 available)  
or made to order 
  Featuring 2 styles and  
Different finishes. 
   Also O/S and Infant size 
Phone Kev in Kaiwaka  
021 1322 671 
Or come and visit my showroom 
104 Settlement RD, Kaiwaka 
 LEABOURNS 
Passenger Service 
Car & Van Hire 
Bus & Coach Charters 
Airport Transfers 
 Monthly Shopper Bus 
Phone (09) 4237416 
For All your Electrical  Requirements 
 
Domestic small jobs 
 
Residential dwellings and alterations 
 
Commercial 
 
Industrial                 
No job too big or too small      
Contact Jason today on: 
(09) 431 5992, (021) 405 019 
www.hotwiredelectrical.co.nz 
ST JOHN OP SHOP
KAIWAKA 
Hope you all had a great Easter.   
Feeling the cold?  We have some  
lovely warm clothing, socks, winter shoes. 
I have a lot of space and need some furni-
ture, pots (cooking), blankets, winter 
sheets. I will take blankets that may have a 
small hole/rip.  Even the cats and dogs need 
blankets!  Anything else in saleable condi-
tion is welcome. Please no bags of dirty 
clothing. I feel like a broken record. The 
shop now has a phone: 09 4312650.  
Home: 4312423.  
Thanks, Milly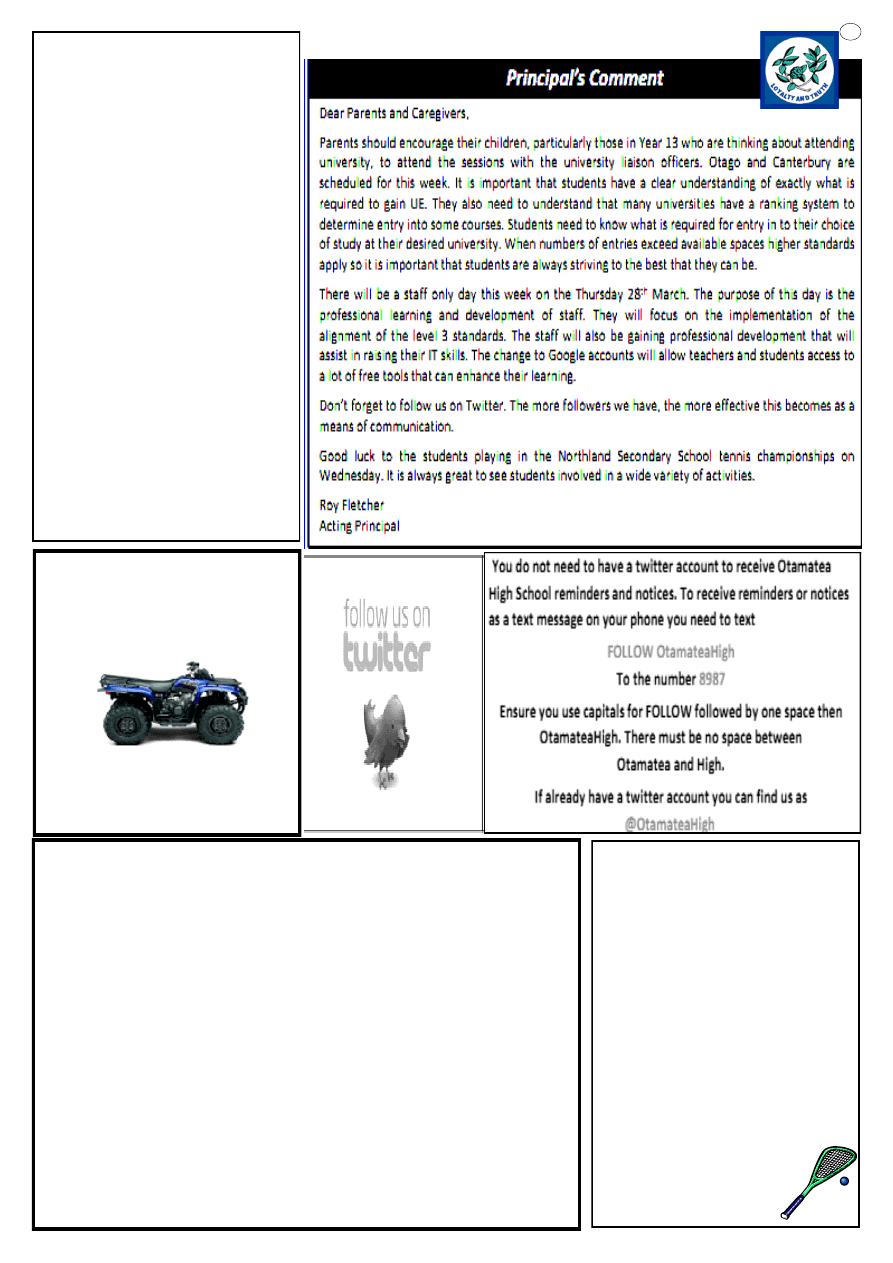 PLANNING A NEW KITCHEN? 
 CONTACT NOEL McDOWELL
WELLSFORD KITCHENS
Ph/Fax 094312888
KAIWAKA-Any time
  QUALITY CUSTOM MADE KITCHENS  
~Personal and Prompt Service~ 
~All Workmanship Guaranteed~ 
~Over 20 Years in the Trade~ 
~Free Design & Quote~ 
5 
KAIWAKA  MOTOR 
CYCLES LTD 
SALES SERVICE SPARES
FARM BIKE SPECIALIST
Phone 431 2127  
Kaiwaka-Mangawhai Rd 
Kaiwaka 
 OTAMATEA HIGH SCHOOL
Real Thai Cooking 
Classes 
Learn to create amazing food from 
NOY, an expert cook. 
 
Small classes of 5 people 
 
Series of four lessons of 3 hours 
each,10-1pm 
 
Main dish, rice + vegetable dish each 
lesson 
 
Individual learning stations 
 
All ingredients and equipment provid-
ed 
 
Team of 3 staff to support learning 
 
Create a meal, eat together and take 
some home to Wow! the family. 
Lesson 1 Sat. Apr 13-Thai green curry 
Lesson 2 Sat. Apr 20-Sweet + sour fish 
Lesson 3 Sat. Apr 27-Sweet + sour egg  
 
with tamarind sauce 
Lesson 4 Sat. May 4-Vegetables with  
 
oyster sauce  
The cost is $95 per lesson 
Bookings essential (a deposit secures you 
a place). 
Phone Noy or Paul 09 4312992 
(Only 1x place left in the April series) 
Kaiwaka Squash Club 
Business  House  Competition  in  the 
renovated premises has taken place 
so far on Monday, 18th and 25th of 
March  and  was  a  great  success!  It 
was  fantastic  to  see  so  many  play-
ers, from 8 to 60 years!! 
Guess  everybody  had  fun,  many 
had  a  drink  and  a  nice  burger  and 
left in a good mood!  
CARTER  PINK  was  the  leading 
team after the first night, but on the 
second  night  they  were  challenged 
and  beaten  by  WELLS-
FORD SPORT AND  
LEISURE!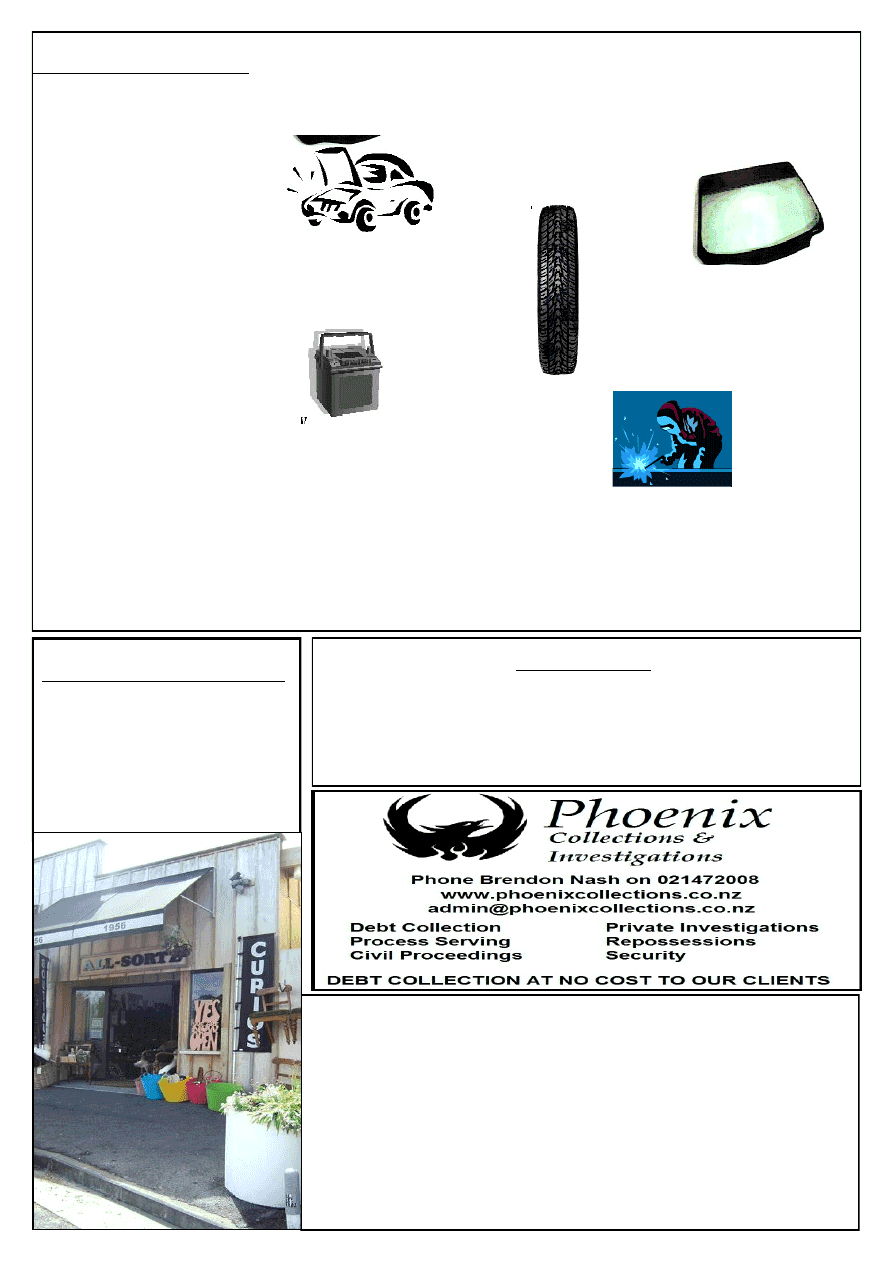 St John Lifelink
: 
For those of you who are living on your own, or if you have a condition that could require 
urgent assistance, call  
0800 50 23 23.  This is the number of the St John Lifelink.  Once you have one of these 
gadgets you can feel reassured that help will be immediately on the way should you feel 
the need to activate it.  This service operates 24 hours,  
7 days a week.  To find out more, give St John a call on the above number. 
Community Services Officer: 
For all Community Services Forms 
see Milly at the Kaiwaka St John Op 
Shop. Phone 4312650 
MORE MEMBERS REQUIRED 
FOR THE KAIWAKA STATION
. 
 ALL-SORTZ COLLECTABLES 
Shop 4, 1956 State Highway 1, Kaiwaka   
Phone 09 431 2701
 MIDDAY, MIDWEEK MEMORABILIA – 50% OFF  
 SELECTED ITEMS ON WEDNESDAYS, THURS-                                
 
DAYS AND FRIDAYS FOR ONE HOUR FROM 
MIDDAY TO 1.00 PM
   Different items each day and discount applies to that time/day only 
Want it done? 
Bring it to          
Twinkle Tow 'n' Tyre 
*W.O.F. 
*Tyres 
*Windscreen replacement 
*Chip repairs 
*Bulk Oil 
*Batteries 
*Welding 
*Custom built trailers 
*Trailer hire 
Think you'll get a better deal in the city? 
Go on, ring us; it won't cost anything! 
1837 State Highway 1, Kaiwaka       Phone 431 2823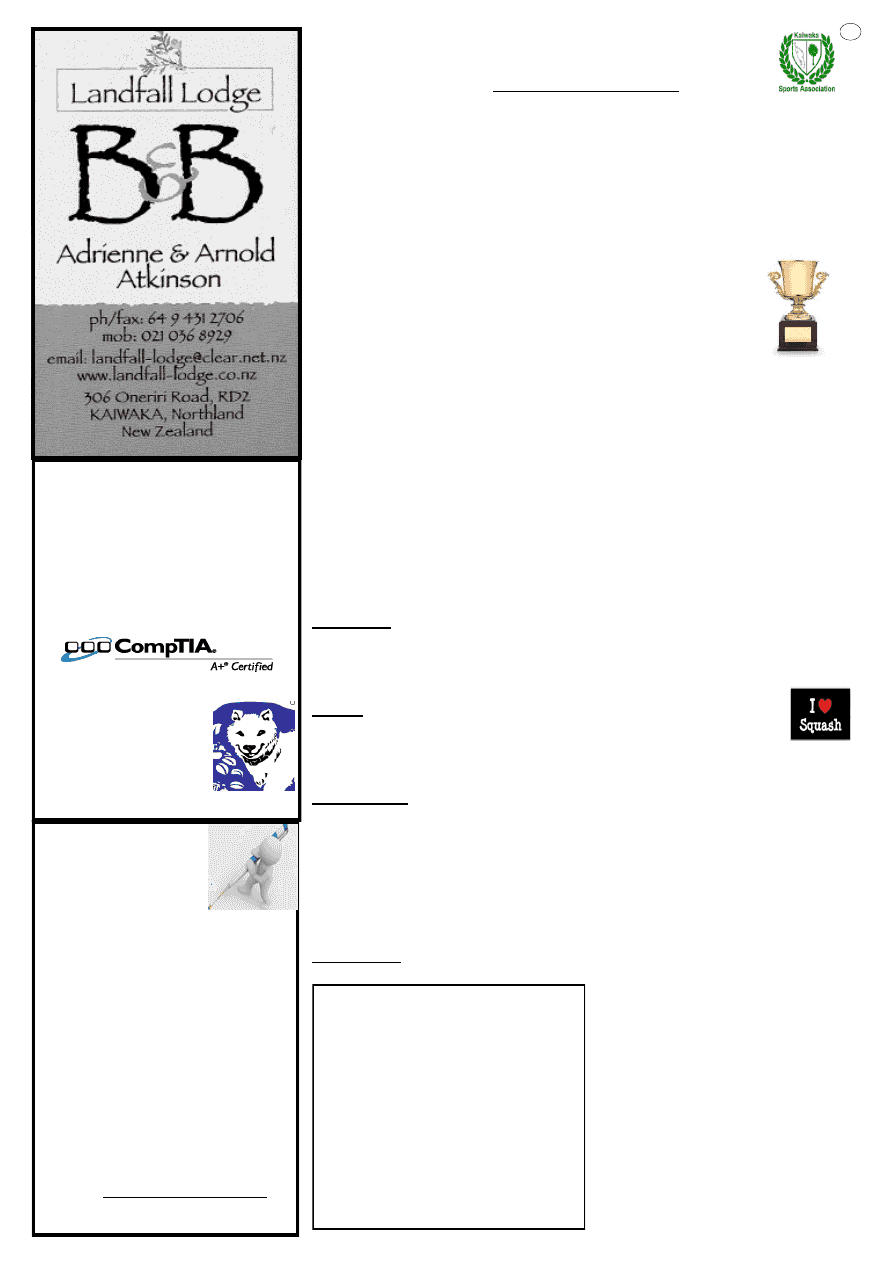 Topnotch  
Engraving
Quality Engraving Service  
SPECIALISING IN:
www.tnengraving.com 
www.pettagsnewzealand.com 
Phone (09) 431 2174 
or  
Email: engraving@slingshot.co.nz
7 
KAIWAKA SPORTS ASSOCIATION
"  ENGRAVING    
& SALES 
"  NAME     
BADGES 
"  SIGNAGE 
"  PET TAGS 
"  JEWELLERY 
"  TROPHIES & 
CUPS 
"  AWARDS & 
MEDALS 
"  GIFTWARE 
"  CLUB ORDERS 
or ONE OFFS 
Kaiwaka Sports Awards 
Congratulations to this years nominees for the Kaiwaka Sports Awards: 
 
Senior Sportsperson of the Year 
Michael Robinson   
Otamatea Rugby 
Rose O'Connell 
Squash 
Maree Stewart 
Otamatea-Ex Netball 
Junior Sportsperson of the Year 
Paige Kenyon  
Primary School Netball 
Cheyanne De Ardenne 
High School Netball 
Raymond Taito 
Eastern United JMB 
Gareth Ferguson 
Gymnastics 
Jayden Johnson 
Hockey 
Service to Sport 
Melissa Watts 
Primary School Netball 
Rebecca Blissett 
Eastern United JMB 
Barbara Thomas 
Squash 
Paula Jaques   
Gymnastics 
Wayne Maclennan   
Hockey 
Steve Campbell 
Badminton 
Mark Flannagan 
Kaipara Knights Soccer 
Madelaine Moulds   
High School Netball 
Jodie Bennetto 
Otamatea-Ex Netball 
Greg McRae Memorial Trophy 
Jade Tornquist 
Primary School Netball 
Patrick Butler  
Eastern United JMB 
Bayley Coates 
High School Netball 
The Awards Dinner will be held on Monday 29th April and will feature emcee John Mark-
by from More FM and guest speaker performance psychology coach Charles Donoghue. . 
Nominees will receive a complimentary ticket in the mail shortly. Tickets are on sale at 
Jaques Four Square and are also available from KSA club delegates or phone Cheryl An-
derson on 4312 051. Adults $25, children (Year 9 & under) $10.  
Badminton 
Have you ever thought about giving badminton a go? We have a small friendly club and 
players of all ages and abilities are welcome. Badminton is held in the KSA gymnasium on 
Tuesdays from 7.30pm and the season has just started. The AGM will be held on 9th April 
at 7.30pm. Only $3.00 per night until the AGM. 
Squash  
The community is invited to our squash clubs official opening on Sunday, 
April 7th at the courts from 11am (we can show off our new glass balustrades!) 
Come along for a hit and bring the kids! Racquets and balls are provided, you just need to 
bring non-marking shoes. 
Senior Rugby 
There will be a special meeting at the Sports Complex on Tuesday 16th April to discuss 
nominating John Keighley for a Life Membership. 
If  you  were  involved  in  the  Otamatea  Rugby  Club  in  the  last  25  years,  but  have  not  re-
ceived  a  registration  form  for  the  reunion  to  be  held  on  Friday  19th  and  Saturday  20th 
April,  you  can  download  one  from  www.kaiwakasports.co.nz  or  phone  Cheryl  on  4312 
051. Old Boys have the opportunity to play in a Golden Oldies match against Manaia on 
the Saturday morning  – this will be televised by Grass Roots rugby. It will be an action-
packed day as there will be JMB, IMB and seniors matches for you to watch as well as the 
Golden Oldies match - mark it in your diary! 
Junior Rugby 
If you have a boy or girl who is keen to play rugby this season, please register your interest 
Eastern United JMB - we 
had out first training run 
on Tuesday we had a good 
turnout United JMB - we 
had out first training run 
United JMB - we had out 
first training run on 
Tuesday
w 
Laughing Dog 
Computers 
Kaiwaka, NZ
Technical Services 
Repairs & Upgrades 
7 Day Service 
Phone or text 
0221036636  
Or 
 09 9733111  
www.laughingdog.co.nz
Eastern United JMB - we 
had out first training run 
on Tuesday we had a good 
turnout if your child would 
like to play come along 
Tuesday 5.30 United JMB 
- we had out first  
Eastern  United  JMB 
- we 
had  out  first  training  run  on  Tues-
day. We had a good turnout. If your 
child  would  like  to  play,  come  along 
Tuesday  5.30  PM  at  the  Kaiwaka 
Sports  Ass  or  contact  Jennie 
9450502.  Our  first  game  is  Friday 
night  12th April and  also  we will  be 
playing Saturday 20th April for the 
Otamatea  Hawks  25th  reunion       
more  about  that  later.  Have  fun, 
play hard. 
with  Jennie  Reynolds  on  9450  502.  Train-
ings are Tuesday and Thursday  evenings at 
the Kaiwaka grounds and matches are either 
Friday  evenings or Saturday  mornings. The 
emphasis is on children having fun, learning 
ball-handling skills  and enjoying  being part 
of a team. 
Over  100  children  from  our  local  schools 
will  enjoy  a  Rippa  Rugby  tournament  held 
at  our  grounds  on  Friday  12th  April,  from 
9am. Spectators welcome. 
Many  thanks  to  the  KSA  pokies  fund  for 
granting the junior rugby club the money to 
pay  for  socks  and  mouthguards  for  all  the 
players. Much appreciated! 
Cheryl Anderson, Manager, KSA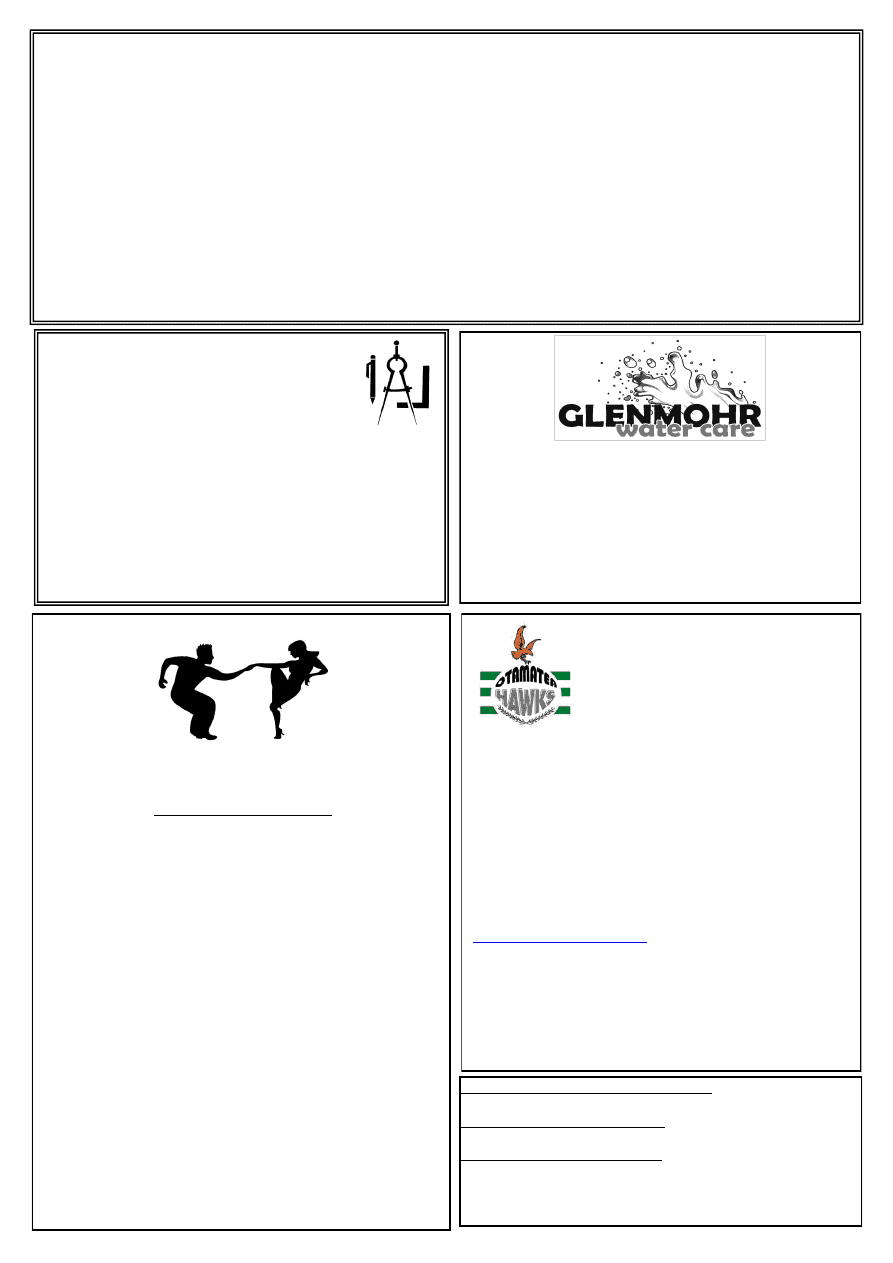 RANGANUI EARTHMOVERS 
 
16T Excavator   
(tilt, thumb & ROPS cab)   
Transport Trailer 
2 x 6 Wheeler Tip Trucks 
Suppliers of All Grades of Metal & Topsoil 
 
If you want a proper job done with an experienced operator ring 
Grant on    A/H 431-2131        Email  ranganui.dev@xtra.co.nz 
   Mob  021845-246 
Driveways, House Sites,  
Drainage Dams, 
Section Clearing,  
Tree Work,  Rock Retaining Walls,  
Quarry Work, 
Basically Anything That a Digger Can Do 
Kaiwaka Bugle Advertisements 2013: 
Classified $2; 1/8 page $5; 1/4 page $10; 1/2 page $20;  
bugleaccounts@kaiwaka.co.nz 
Payments can be online, posted or left at Jaques Store. 
kaiwakabugle@kaiwaka.co.nz  for queries or copy. 
The Kaiwaka Bugle is a community newspaper run by vol-
unteers. Articles, etc. printed are not necessarily the opinion 
of the Bugle Team  
design drafting 
service 
Retired builder and manufacturer with over 40 years  
experience in the building industry is offering a design 
drafting service  
for domestic housing, sleepouts and sheds.  
Plans formulated in consultation with clients, with 
working drawings completed and submitted to  
council for processing.  Extensive practical experience,  
able to identify & resolve problems. 
Please ring Mike Lean on 
09 431 2260  
or 
021 431 196 
Water Tank Cleaning 
" 
 Keep your water safe & clean   
 
Removal of sediment, silt etc 
 
Vacuum or full scrub 
 
Minimal water loss 
Phone Mark (09) 432 0655 or 0274 707607 
LATIN FUN & DANCE OF LIFE 
NEW: DANCE @ KAIWAKA HALL 
LATIN FUN – Salsa for everyone + PARTY! 
STARTS APRIL 13 - From then every FIRST SATURDAY of the 
month: May 4, June 1, July 6 
Salsa steps for singles and couples, followed by a 
WORLDSHAKE PARTY! 
Class 8 pm, party 9:30 pm 
$10 (class+party), $5 (party) 
DANCE OF LIFE  
Move to the music and the beat, without learning steps, 
dancing spontaneously with what is here and now in the 
dance of our life… 
STARTS APRIL 5 – Next dates: April 26, May 17, June 14 
Friday evenings from 8 pm till 10 pm    $10 
Questions?  
Carla Rosseels & Eric Jansseune 
09 431 2408, C 021 2968794, E 021 02231700 
Email: carla.rosseels@gmail.com 
THE OTAMATEA 
HAWKS 
RUGBY CLUB 
The  Otamatea  Rugby  Club  will  celebrate  25  years  of 
rugby with a reunion on the 19
th
 & 20
th
 April at the Kai-
waka Sports Complex. 
Invitations to past players, coaches, managers and com-
mittee members have been sent out. 
I'm sure we will have missed some people out so if you 
were involved with the Otamatea Rugby Club but have 
not received an invitation, please get in touch with me, 
or download a registration form from 
If you have any memorabilia that could be displayed at 
the reunion, please contact me. 
Cheryl Anderson 4312 051   027 346 2702 
kaiwakasports@gmail.com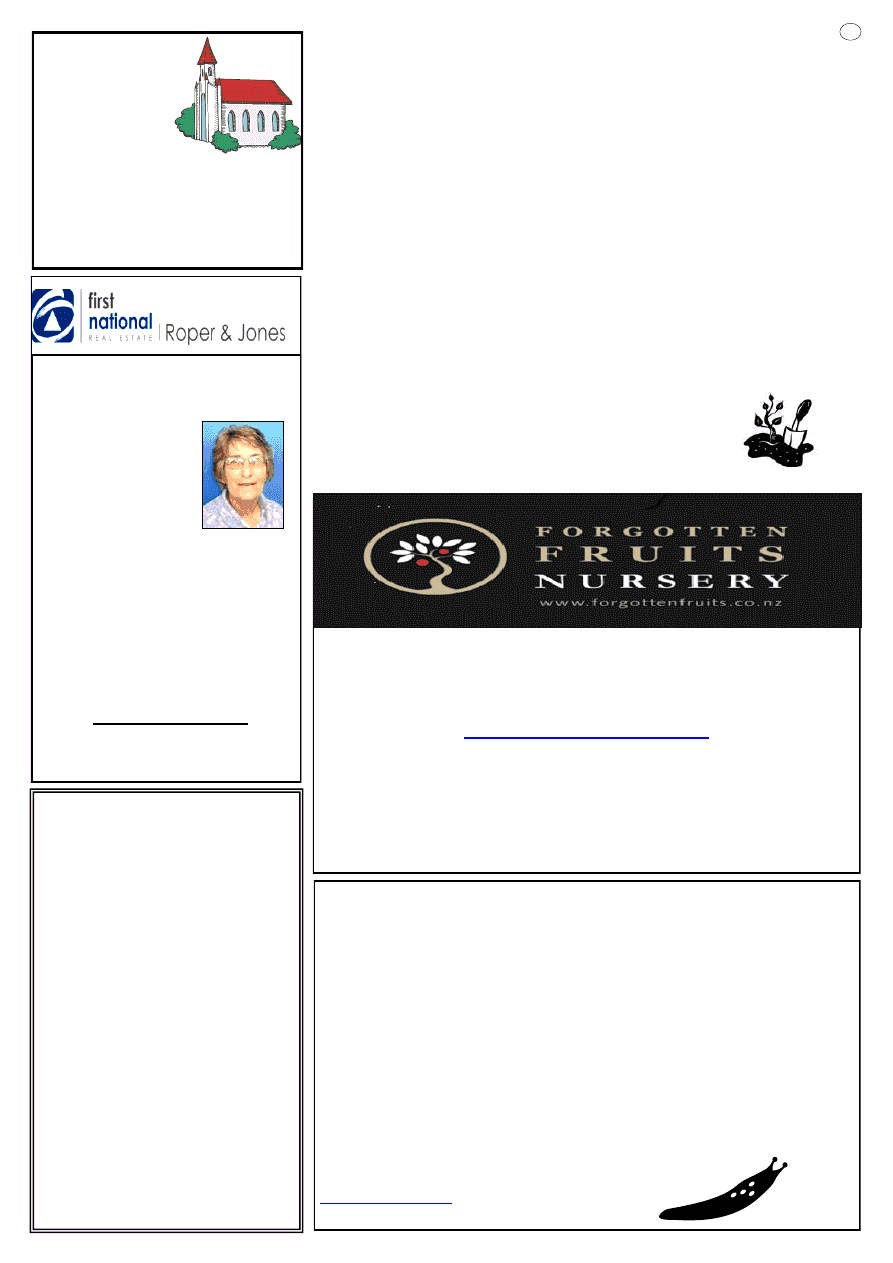 AMBER'S 
Q Cafe &  
Restaurant 
All day breakfast, 8am - 5.30pm.     
 Home made Pizza, take away or eat in from 8am to 
late. 
 Light lunches, 11.am - 5.30pm, 
Dinner Menu at 5.30pm to late 
 Toasted Sandwiches and Sandwiches made to order. 
All day, Pies, Chowder & Soups 
 Milkshakes, Kiwi Ice cream, Slushie Fruit drink, Tea, 
Coffee 
 Closed Mondays.....except Observed Holidays 
 Sunday to Thursday: 8am - 8pm 
 Friday: 8am - 8.30pm, Saturdays 8am- 9pm 
4315226 
Trevor & Amber 
41 Moir Street, Shop 5-6  
Mangawhai Village 
Next to Carters Building Supplies 
ST PAUL'S  
SUNDAY  
SERVICES
First Sunday 9.30am, third Sunday 4pm  
Paparoa Anglican and Wellsford  Co-op Parishes 
StPauls Church: Kaiwaka-Mangawhai Rd.  
Contacts:M.Hargreaves 4312295, C.Bygrave 4312057  
1st Sun. (Anglican),3rd Sun. (Co-op). 
 9 
Felicia Doornenbal 
"Covering the Kaipara" 

List 

Sell 

No obligation  
   honest appraisals 
 
CALL ME– Your Local Kaiwaka Re-
al Estate Connection 
 
Mob:021-858115 
A/hr:09-4312059 
Bus: 09-4311016 
e-mail: felicia@ubernet.co.nz 
Freephone 0800 311 322 
www.roperandjones.co.nz 
Check out our new 2013 Fruit Tree  
Catalogue on our website:  
Or phone 4312687 and we will post one out. 
Be in quick to secure your favourite fruit 
trees. 
Stop slugs in their slime 
Forget about slug bait let me introduce…beer bait! 
Simply, cut the top off an empty fizzy drink bottle, leaving approximately 10cm of 
plastic from the lid.  Make sure the lid is tightly screwed on. 
Make a hole next to your vegetables large enough for the whole bottle neck to fit 
into.  The open end of your plastic bottle should sit almost parallel with the soil. 
Place three sticks approximately 15cm in height around your plastic bottle in the 
shape of a teepee.    
Fill  your  bottle  up  to  the  halfway  mark  with  beer  (slugs  aren't  fussy  about  the 
type of beer, but kids make sure you ask your parents first!). 
To  ensure that the beer is  protected  from  rain,  take  the discarded  end  of  your 
plastic fizzy drink bottle and cut off a section approximately 5cm from the end. 
Balance this section on the three sticks you staked earlier.  This will create a lid 
to protect the beer against rain. 
Now all you have to do is sit back and wait.  Overnight the slugs will slide their 
way  into  the  beer.  And  don't  just  stop  with  one  beer  bait  bottle,  make  several 
and  place  them  around  your  slug  susceptible  veges.  Believe  me  you'll  be 
amazed by the results.
Tod Palenski,  Awapuni Nurseries 
KAIWAKA GARDEN & FLORAL GROUP 
11 members attended the March meeting, held at Sue Hamilton-Wallace's home, 
on a beautiful day which enabled us to have an outdoor meeting on Sue's deck. 
Sue's extensive garden was a delight to see with her interesting ideas and sculp-
tures  depicting  the  seaside.  Very  appropriate  for  our  Seaside  arrangement 
with at least one flower won by Margaret Haverfield with Sue 2nd.
Hibiscus flower of the month was won by L. Lusty with, D. Alexander 2nd
Best bloom 1st L. Lusty - , 2nd B. Atkin-Cooke
Vege 1st Sue with a beetroot, 2nd R. Browne - carrot
Fruit-  Any pip fruit-1st Sue cape gooseberry, 2nd L. Lusty passion fruit 
Wild card - 1st A. Dowson -Pepper, 2nd R. Browne - lettuce
Most Outstanding - Lorraine's Hibiscus..
Raffle was won by Diane.
Final arrangements were made to do the arrangements for the Kaiwaka Fire Bri-
gade's Gold Star function.
6 members with Husbands, rellies and friends  enjoyed the Ellerslie Flower Show 
held  in  Christchurch. There  were  some  awesome  exhibits both  outdoor  and in-
door. We  all  came  home  with  inspiring  ideas,  plus  free  packets  of  seed  and  a 
pansy plant. (For those who went out the right gate!!)
Meeting  next  month  to  be  at  Rosemary  Browne's  33  Alamar  Crescent  on  11th 
April. Phone 4314744. 
Entries to be in by 1-15 p.m..
Bloom of month - Rose
Vege Buttercup or pumpkin - with wedge cut out
Fruit - Lemon
Arrangement - Easter.
New Members welcome, Subs $5-00 now due.
Queries phone A. Dowson 4315913.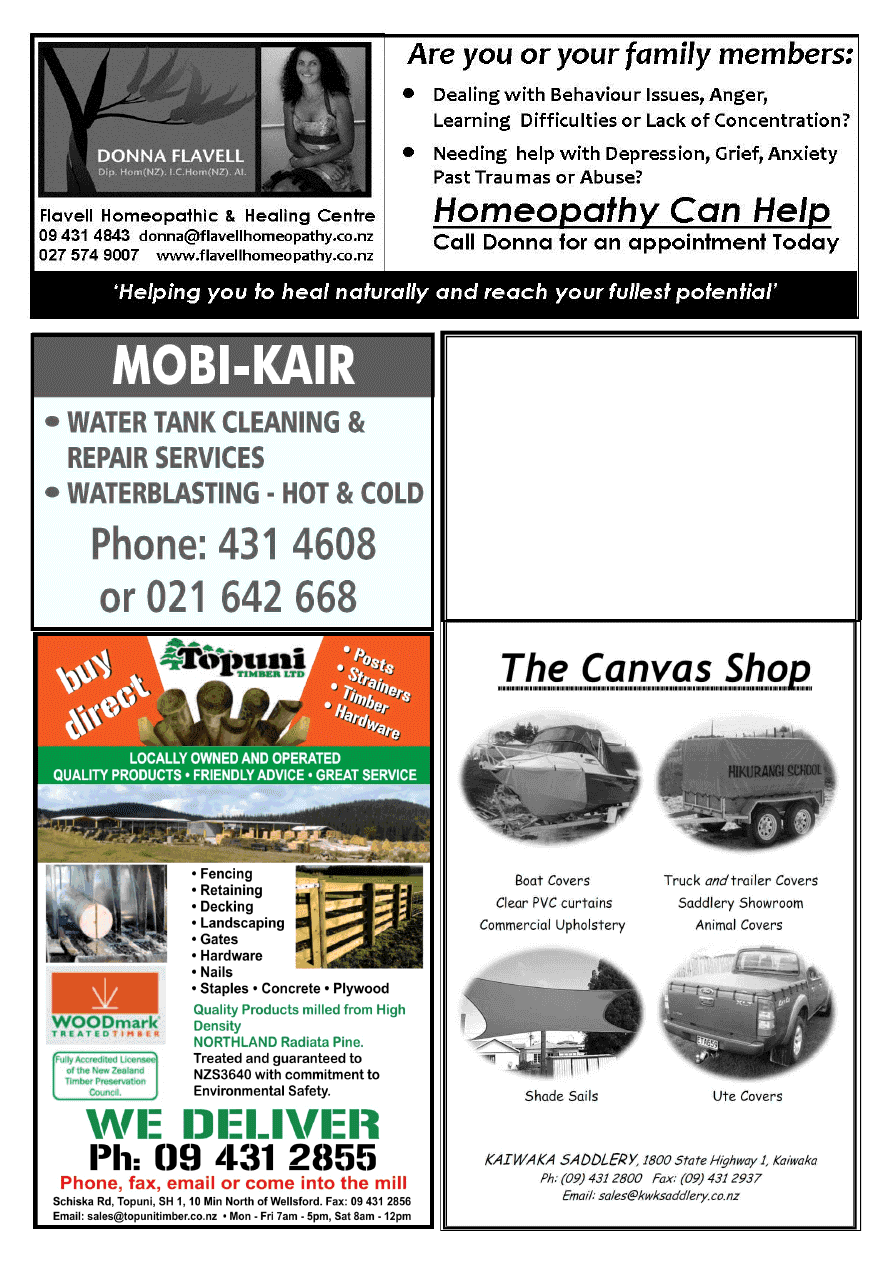 TILING 
Certified Waterproofing 
431 4533 or 021 86 33 33 
George 
MCN Property Solutionz  
Local references available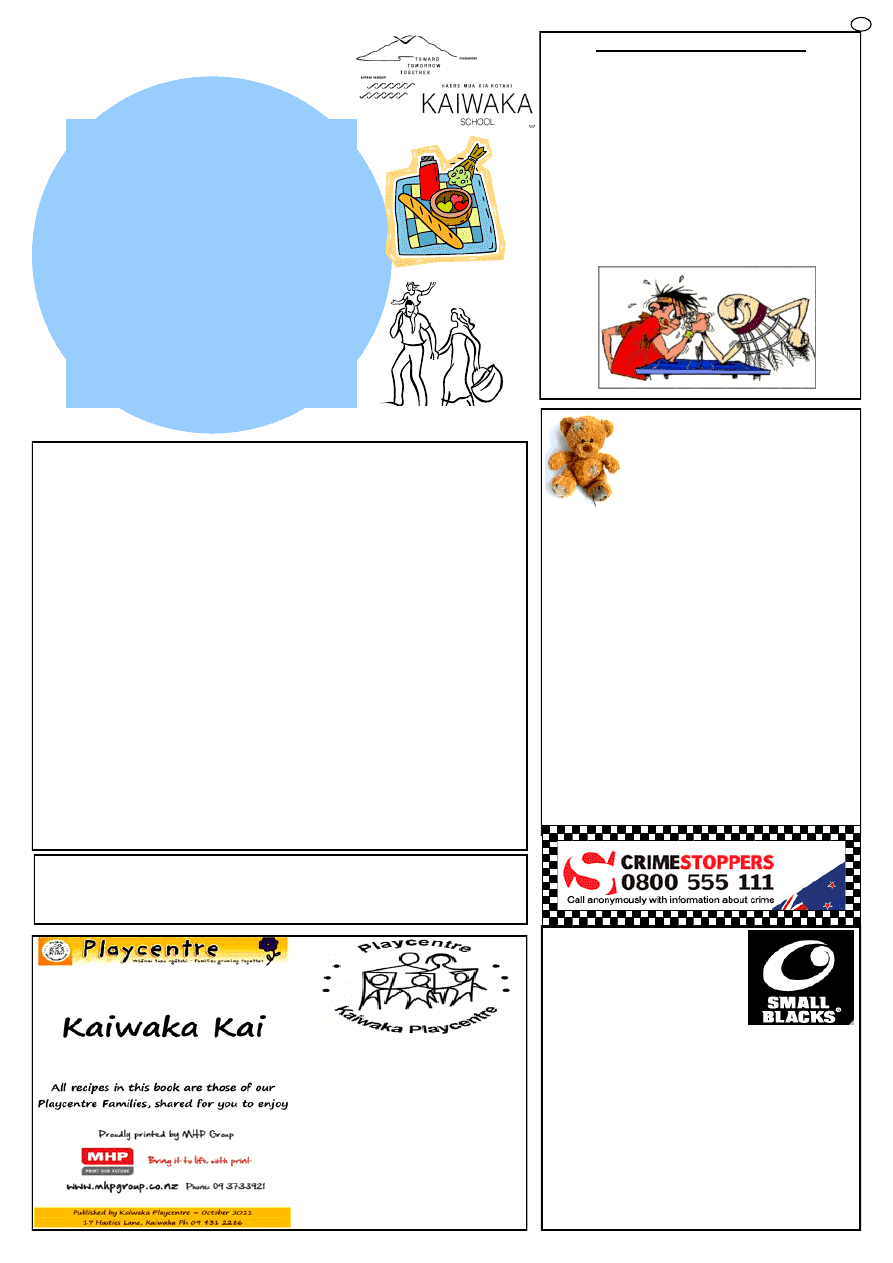 KAIWAKA SCHOOL     
Friends & Family of Kaiwaka School. 
Join us for a 
 Pot Luck Picnic Party
to have some fun and 
meet our new Principal. 
At school. 
On Thursday 4 April  5:30 pm. -7:30pm 
Bring a dish to share. 
See you there! 
KAIWAKA BADMINTON 
Time  to  dust  off  those  racquets  and  sports 
shoes  because  badminton  is  starting  on  26
th
March  at  7.30pm  in  the  Kaiwaka  gymnasium 
and we challenge YOU to be there to support 
the  club  and  get  that  all  important  bit  of  fun 
exercise. 
Only $3.00 per night until the AGM 
The AGM is a couple of weeks later (9
th
 April) 
and  we'd  love  to  have  some  new  keen  mem-
bers with those fresh ideas. 
If you're keen and need a bit more info phone 
Kaye on 4312 345 
. 
Maungaturoto  
Residents  
Association  
presents  
The 1st Annual Teddy Bear's Picnic 
13
th
 April 2013 
 Maungaturoto Primary School  
9.30- 12.30: Bring your picnic and your teddy 
Face Painting; Maungaturoto & Paparoa Playcentre stalls; 
PTA stall; Mobile Coffee Van; Bubble Machine Free 
Storytime (every ½ hour from 9.30); Free Under 5 teddy 
bear games; Free Golf Games; Adopt or Donate a Teddy, 
and more.. 
Raffle drawn 12 noon (tickets from Playcentre, 100% 
Fergus Appliances, Maungaturoto, or on the day) 
Get your copy from: 
Jaques Four Square 
Kaiwaka Postal Agency 
Kaiwaka Cheese Shop 
Cafe Eutopia 
The Well of Health 
Tony's Maungaturoto 
Or email  
jodygreig@clear.net.nz  
or phone 431 2223 
SMALL BLACKS 
RUGBY COURSE
A  Small  Blacks  coaching  course 
will be held at the  
Kaiwaka  Sports  Complex  on 
Wednesday 3
rd
 April at 6.30pm.  
This is a requirement for all coaches 
of rugby teams from  
Under 7's → Under 13's. 
Kaiwaka  School 
Board of Trustees Election  2013
 
Nominations are invited for the election of 3 (three)  parent repre-
sentatives to the Board of Trustees. 
A nomination form and a notice calling for nominations will be 
posted to all eligible voters. 
Additional nomination forms can be obtained from the school  
office. 
Nominations close at noon on 16th  May 2013 and may be accom-
panied by a signed candidate's statement. 
The voting roll will be open for inspection at the school  shortly and 
can be viewed during normal school hours. 
There will also be a list of candidates' names, as they come to 
hand, for inspection at the school. 
Voting closes at noon on 30
th
 May 2013. 
 
Sara McAulay 
Returning Officer 
Kaiwaka School 
PLEASE  NOTE: 
The Playcentre raffle was not drawn on Saturday due 
to unforeseen circumstances and will be drawn on Tuesday 02 April and 
the winner's name will be published in Bugle 7. 
 11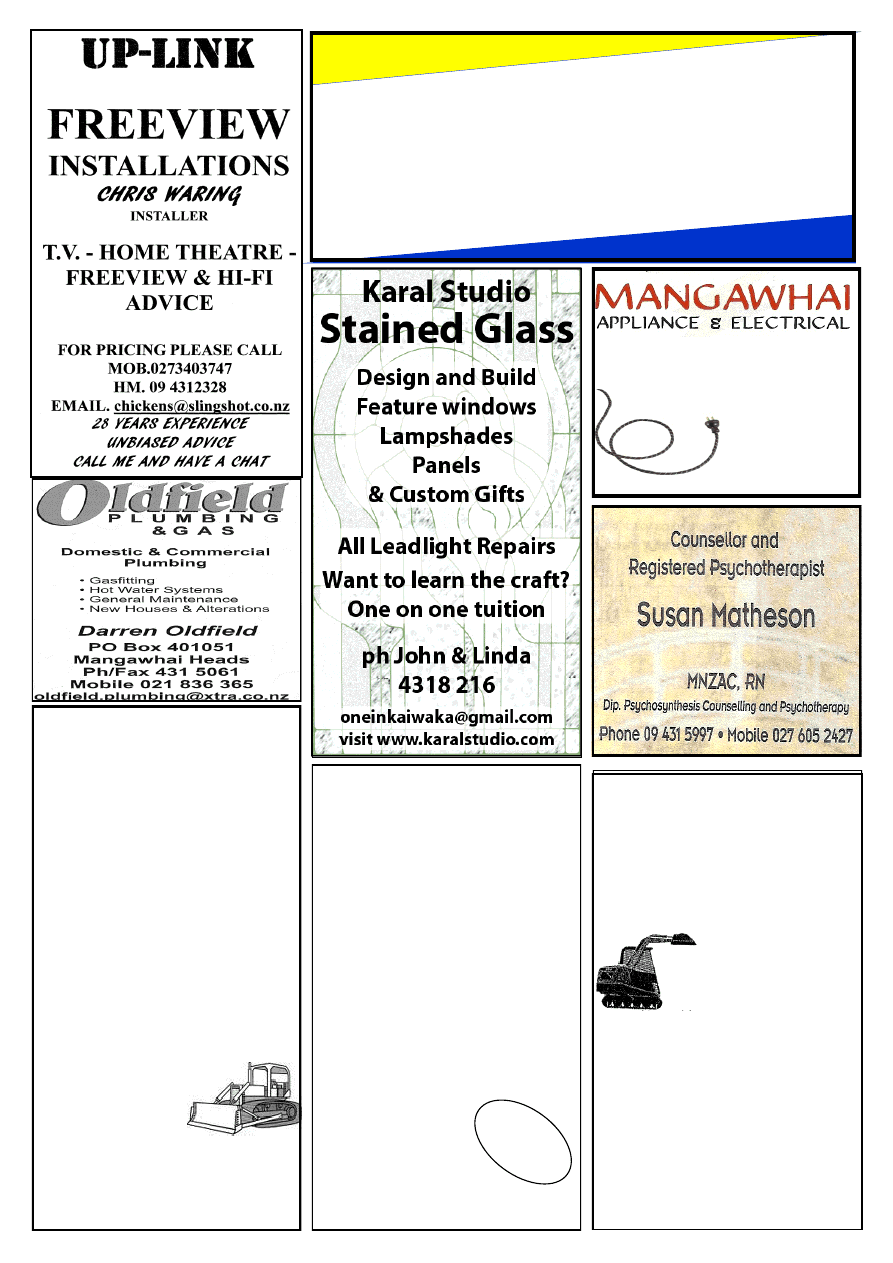 Landcare 
Services
Dave Hyndman  
     4312302 
   021 431238 
Trenching, Hole Boring, Land 
Levelling,  Driveways, 
Landscaping,  Post Peel,  
Pig Post, Lifestyle block 
mowing, etc....also Rotary 
Hoeing
For reliable and friendly 
service contact Dave 
CONCRETE 
If it's concrete we do it 
Full Preparation & Pour by 
Experienced Local Team 
Phone Phil Keen Contractors  
027 659 2376 
Bas
ed o
ut  
One
riri 
Roa
d 
HODGETTS
CONTRACTING
Digger Work    

Driveways 

House Sites   

Dams 

Drains, etc
Also available for HIRE 

3 ton Vib Roller 

Heavy Duty Tow 

Waterblaster  

Lazer Level 
Phone Mark 
4312877 
027 447 8554
DEAN STEWART 
Registered Electrician 
12B Wood St.  
Mangawhai Heads 
021 280 4008 
09 4314651 
AUTHOURISED FISHER AND PAYKEL SERVICE 
Coates  
Contracting 
 
D41 Bulldozer with 6 
way blade, bush rigged 
with winch 
 
For all tree work 
 
General bulldozing and  
  stick raking. 
 
120hp Tractor for 
ground cultivation,  
 
tip trailer work. 
 
Fencing
All enquiries phone  
Brett Coates  
094318720 or  mob 
021431872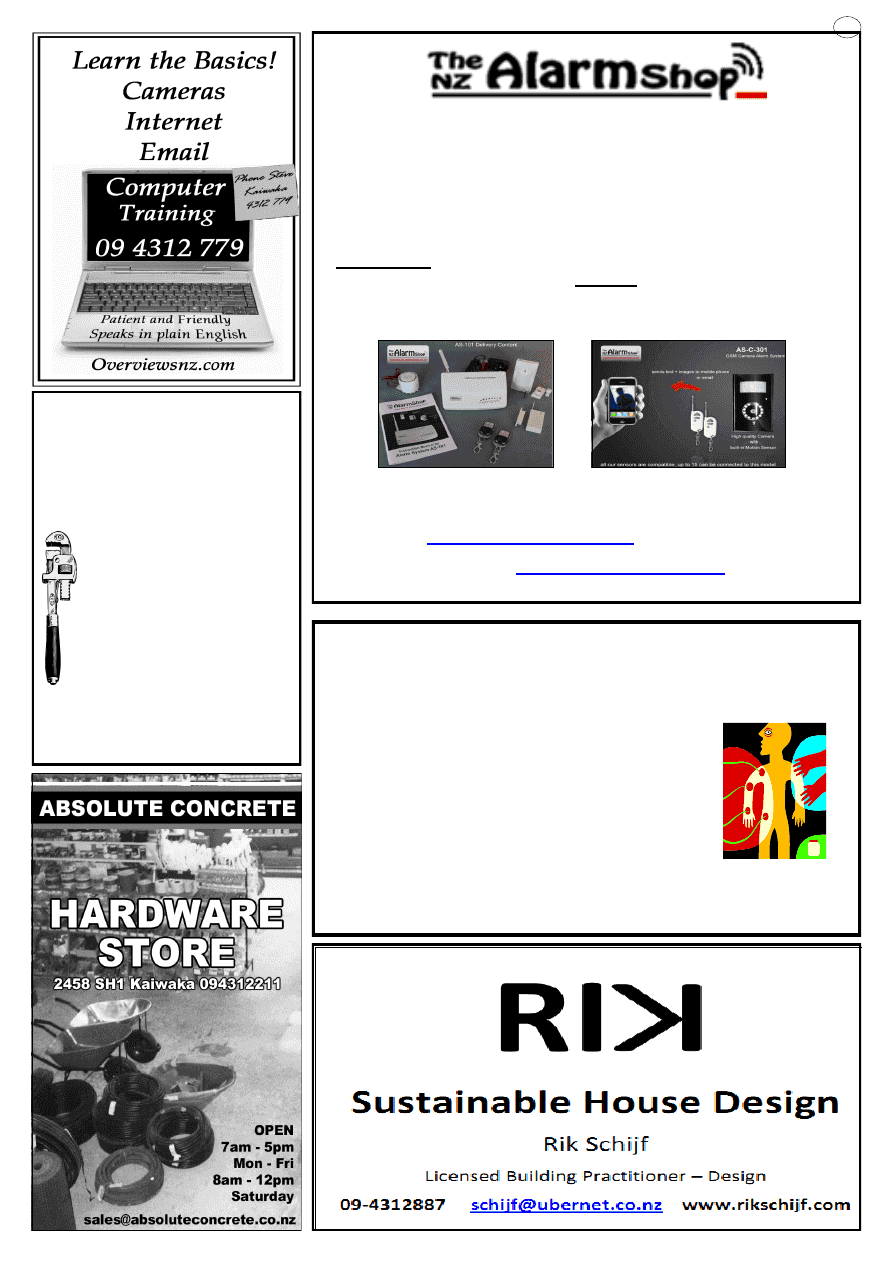 BARRY CURTIS  
PLUMBING LTD 
REGISTERED CRAFTSMAN 
PLUMBER 
Phone 4315572      
027 257 9884 
     25 years experience 
  
  
       Friendly reliable service 
  
All plumbing and  
maintenance 
       Alterations and new housing 
       New wood fire installation 
       Spouting 
       Competitive rates  
 PROMPT EFFICIENT  SERVICE  
www.the-nz-alarmshop.co.nz 
Protect your home, bach, shed, garage, camper, boat…. 
Monitor your property, watch what's going on. 
 
Easy to install and manage DIY GSM Alarm Systems, basic or 
extended features, suitable for everyone, expandable to your  
requirements. 
 
Text or call alerts to your mobile and nominated phones. 
 
Camera Alarm System sends images to mobile or email. 
NO ELECTRICIAN, NO WIRING, 
NO MONTHLY COMMITMENT, NO LAND LINE NECESSARY! 
    $249.00                                                                              
$399.00   
*Phone not included
For more interesting products please check our web site  
To order or for more information:  
The NZ AlarmShop, email: 
, ph. 09-4315905 
OWEN STEVENS 
Osteo Therapist
For careful adjustments to bones and joints 
Treatment for humans and their pets 
Clinics: Kate's Place, Kaiwaka: 
Last Friday of month 
Warkworth Showground:  
2
nd
 Thursday, monthly
For bookings:  9.00am-5.00pm 
Phone 09 4312661  
Or phone Owen  09 4317123   anytime 
13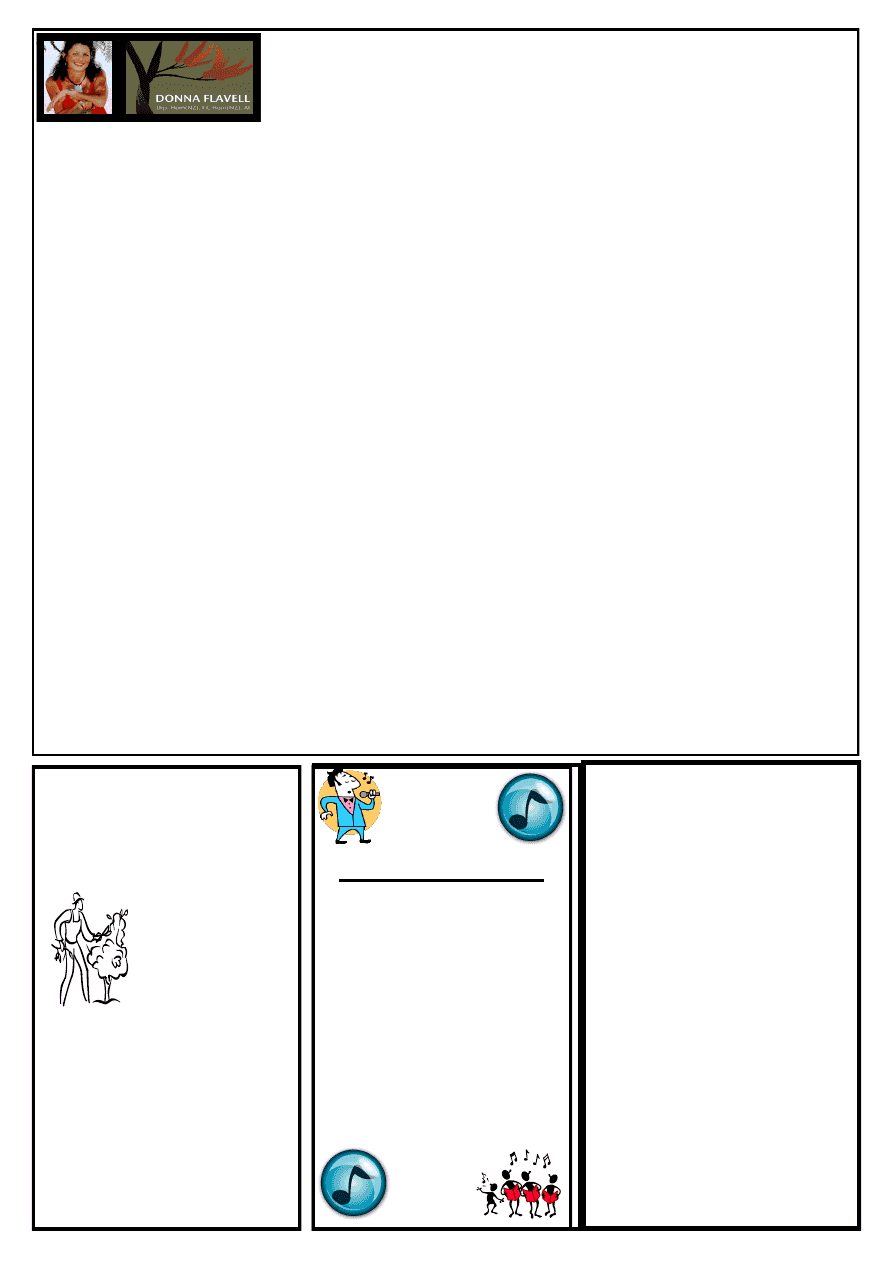 Willow Bend
HORSE  
HOTEL 
"   
Total Horse Care 
" 
Agistment 
" 
Riding Lessons 
" 
Arena Hire (60x40) 
" 
Young Horse Starting 
" 
Re-training/Exercising 
" 
Hoof Trimming 
" 
Problem Solving 
Phone Sue 09 431 2817 
or 021 623 776 
Or email sue.gray@xtra.co.nz 
OUT THERE 
GARDENS AND LAWNS 
Lawn Mowing – Any Size 
Section Clearing  
Hedge Trimming  
Spraying  
Planting 
Pruning   
Gutters Cleaned 
Chainsaw Work 
Regular Services 
General Maintenance 
Garden Waste Removal 
Free Quotes 
Get The Job Done! 
Servicing Kaiwaka/Mangawhai 
Contact Phil Jones 
027 243 5503  
431 2196  
Email: outthere09@gmail.com 
Singing Lessons 
Individual sessions 
All styles of music  
All voice types 
Reasonable rates 
Phone  
Maura Flower 
021 164 8318 
Donna is a Registered Classical Homeopath. Since 1987, she has trained and gathered experience in many differing therapies, to offer 
you the very best options in Natural Health Care and to offer you alternative options to medication. 
 
 Homeopathy works by stimulating your body's   natural healing abilities; therefore, it is gentle and safe to use at any stage of life  - 
during pregnancy, for babies, toddlers, teens, through to adulthood and the elderly. 
Homeopathy treats you as a unique individual and recognises that all illness has an impact on the mind as well as the body. The 
focus of homeopathy is on restoring health, rather than merely treating     symptoms in isolation.  
There are many thousand remedies to choose from that may best fit your symptoms. However, just ONE remedy will have a most 
significant impact, elicit deeper healing and positively affect your entire being.  
It is a little like the widespread ripple effecting the whole pond after dropping just one tiny pebble into it. 
 
Past Life Regression Therapy journeys into your past through meditation. The positive aspects of our past lives, the skills, wisdom, 
and soul growth have all been smoothly integrated into who we are now. We use these achievements without thinking.  
     It is the unfinished business, or wounds that still fester, causing us problems that can often seem unrelated or out of proportion to 
issues within this life. It is as if part of us has become stuck in the past and is still reliving that experience.  
 
Past Life Regression can help you to work through unexplained fears, anxieties, pain, illness and susceptibilities, the things that can 
fester and still cause you problems, as well as to enhance positive gifts or interests.  
It reconnects us, enabling a release of frozen emotions and stuck beliefs and completes any unfinished business, effectively  integrating 
back into the whole where health is restored.  
 
'Essences of D'Light' Vibrational Essences work a little  like  your own personalised Rescue Remedy and are selected to  suit your 
unique situation. Your Essence powerfully yet gently supports you through your life challenge, healing and/or awareness process. 
 
Donna is a leader in 'Self-Development and Self-Empowerment'. She has an amazing ability of finding the cause behind your prob-
lems and helps to bring an awareness as to why they exist.  
     Together, these Insights, along with Homeopathic Remedies and Vibrational Essences, assist to facilitate healing and transformation 
on all levels - physical, mental, emotional and spiritual: on the whole being, hence the terms ‗Holistic Healing', and ‗Life Awareness 
and Life Balancing'. 
You know how great you feel when you have health... you feel empowered, your life is filled with love, joy, health and creativity – 
everything is flowing and in balance... 
like you have got it ALL together.  
Call today to book your appointment 09 431 4843 or 027 5749007 www.flavellhomeopathy.co.nz 
New Natural Health Options Now Available To You 
Flavell Homeopathic & Healing Centre are offering a wider range of health op-
tions for you to choose from for you and your family. 

 Homeopathy         Massage        Life Awareness & Life Balancing  Past Life Regression Therapy         

 Vibrational Essences                    Landscaping & Land Health/Balancing Consultations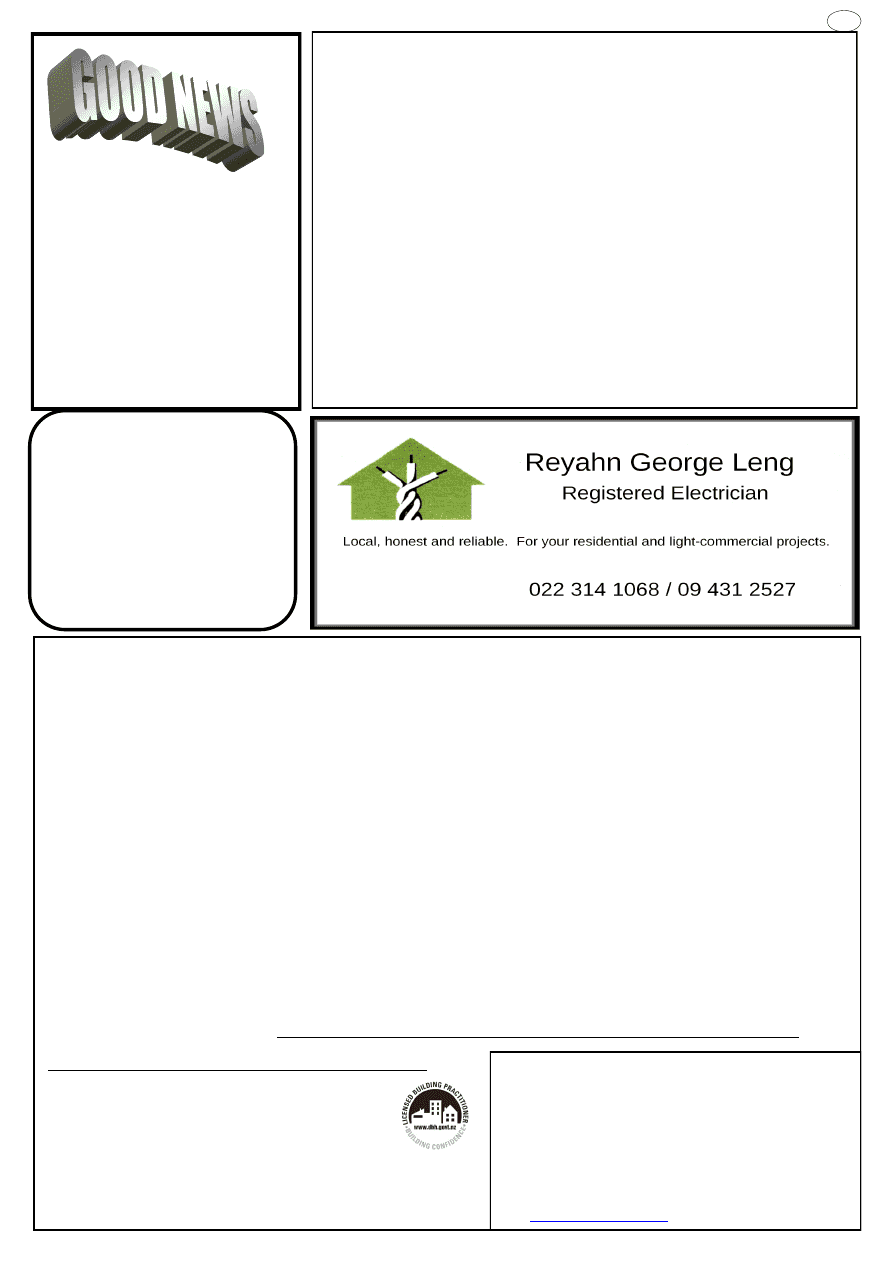 THERE'S 
 Your COMMUNITY 
CHURCH 
Each Sunday  
10am:  Lively Family  
    Programme
Everyone warmly welcome.
Ph: Pastor John Dekker     
09 4318203 
@ the  
Kaiwaka 
Family Church 
First Year celebration for Mangawhai Trampers 
The  Mangawhai  Trampers  are  about  to  celebrate  the  completion  of  their  first 
year as a group. The group was formed following last year's Mangawhai Walk-
ing  Weekend  by  those  who  had  enjoyed  the  weekend  and  now  has  about  60 
members.  The  group  meets  on  the  third  Sunday  of  each  month  to  undertake  a 
tramp. Each tramp has a leader and the average walking time (including enjoy-
able  stops  for  morning  tea and  lunch  etc)  is  four  hours. The group  walks  at  a 
leisurely  pace  and  starts  each  tramp  at  10.00am.  The  tramp  undertaken  in 
March  by  11  members  was  in  the  McKenzie  Limestone  Hill  Scenic  Reserve 
through regenerating bush where remnants of the kauri mill machinery can still 
be seen. 
The next walk will be a mostly coastal walk in Leigh on 21
st
 April and then the 
walk to celebrate the first birthday of the formation of the group will be a local 
one, over Richard Henry's farm at Tara, on Sunday 19
th
 May ( part open farm-
land, part bush and including a  Maori Pa and archaeological sites). 
New members are welcome (there are no joining fees) and the group car pools 
wherever  possible.  Anyone  who  is  interested  in  joining  the  group  can  contact 
Dawn Browne (09 431 5926 or Jan Jacob (09 431 5157) for more information. 
ARCHITECTURAL BUILDING PLANS AND DESIGNS 
20% Reduced Cost - design and planning. 
If you are thinking of building, then you need to make use of cost savings in architectural design as well as having a good and well experienced 
designer. This applies if you are considering a new home, any alterations or any building additions/farm buildings, sheds, alterations, whatsoev-
er. There are many things that are frustrating if you are not totally familiar with what all details are required by Councils -especially with 
new regulations in force to ensure everything runs smoothly - e.g. Resource and Building Consents, planning restraints, new building 
materials ,applying for building permits, dealing with building contractors to name a few -you need a capable,  
experienced and professional designer with a clear knowledge of all the processes. 
WE CAN HELP YOU CLARIFY ALL OF THESE ITEMS  AND MAKE LIFE RUN MORE SMOOTHLY.  
Brian of Wright Design has been helping and organising all these facets of design and building for over 40 years. 
With needs of family changing and the economy - building requirements constantly being reorganized and made more complex, it's very im-
portant to obtain professional advice for any building project - no matter what size. 
Brian advises on design, materials, permit applications, builders and subcontractors for any project - no matter how small or large 
ALL THIS AT A REDUCED COST so YOUR DOLLAR GOES FURTHER  
Wright Design offers free visits, consultations and all the advice you need on planning. Design, building, contractors, council  
permit applications, guaranteed permit plan acceptance. 
QUALIFICATIONS 
Brian is a qualified designer (NZCAD) with over 40 years of varied experience in all types of building and is a registered and Licensed Building 
Practitioner in Design - L.B.P. 117345 
He ensures you will achieve the best from your budget with recommended excellent local contractors ready to competitively price and 
build your personal project quickly and efficiently. 
EXPERIENCE 
Brian's practical building and 40+ years of design experience means he can give you excellent advice and all the guidance needed for all 
your building needs, 
FEES: To help you attain your project Brian has reduced his costs by 20%, giving you extra funds for the rest of your project. 
ENGINEER: Brian can arrange engineering for a reasonable cost. 
THIS IS AN ABSOLUTELY GENUINE FEE REDUCTION!! 
Qualified and inexpensive designer – N.Z.CAD., LBP 
117345 
Guaranteed design and working drawings 
Free site visit to your home or property 
Great service 
Obtain a free quote with 20% Discount. 
PROJECTS 
Additions, alterations, basements, new houses, motels, bed and breakfast 
commercial buildings and shop fit outs are a few projects he has been  
involved with. 
WHAT TO DO FROM NOW 
Call Brian   
Arrange a visit 
Discuss your needs 
Obtain great advice.  
Obtain a free quotation - with a true 20% discount 
WRIGHT DESIGN 
Brian's office is at: 72 SPINDLER ROAD, R.D.2 WELLSFORD  
(Off Wayby Valley Road.) Call in for a chat and a coffee, or he will call 
on you at your home if preferred. 
WRIGHT DESIGN: Office 09-423-8092 
Mobile 021 276 7389 
 15 
T.W.WRIGHT 
WATER PUMPS  
SALES & SERVICE
DEEP WELL & SUBMERSIBLE REPAIRS 
203 WHAKAPIRAU RD, WELLSFORD 
PHONE 09 4238235   
MOBILE 021 976 545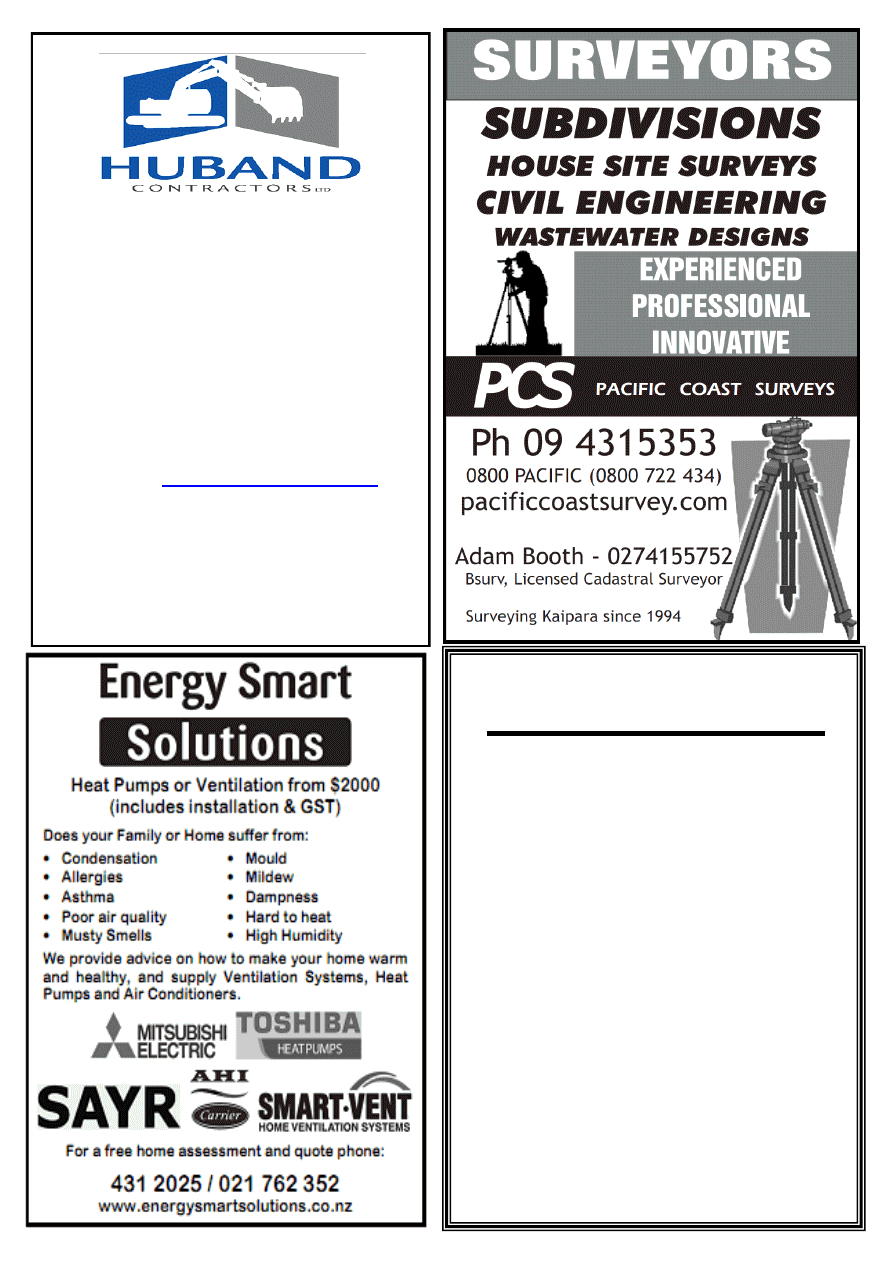 STOCKFOOD
GREAT RANGE FOR ALL YOUR LIVESTOCK  
AT GREAT PRICES 
 ALSO CHECK OUR 
DOG BISCUITS 
20 KG FOR $57.80 
LPG REFILLS 9KG 
STILL ONLY $31.50
MANGAWHAI SERVICE 
STATION 
(09) 431 4242 
44 MOIR STREET IN THE VILLAGE 
*   R O A D I N G   *   E A R T H W O R K S  
*    
*   D R A I N A G E   *   S I T E W O R K S   *  
For any further enquiries, contact 
Shaun on: 
Cell: 021 222 0272 
Home: 09 4318339 
Email:   
Shaun Huband:  Registered  
Drainlayer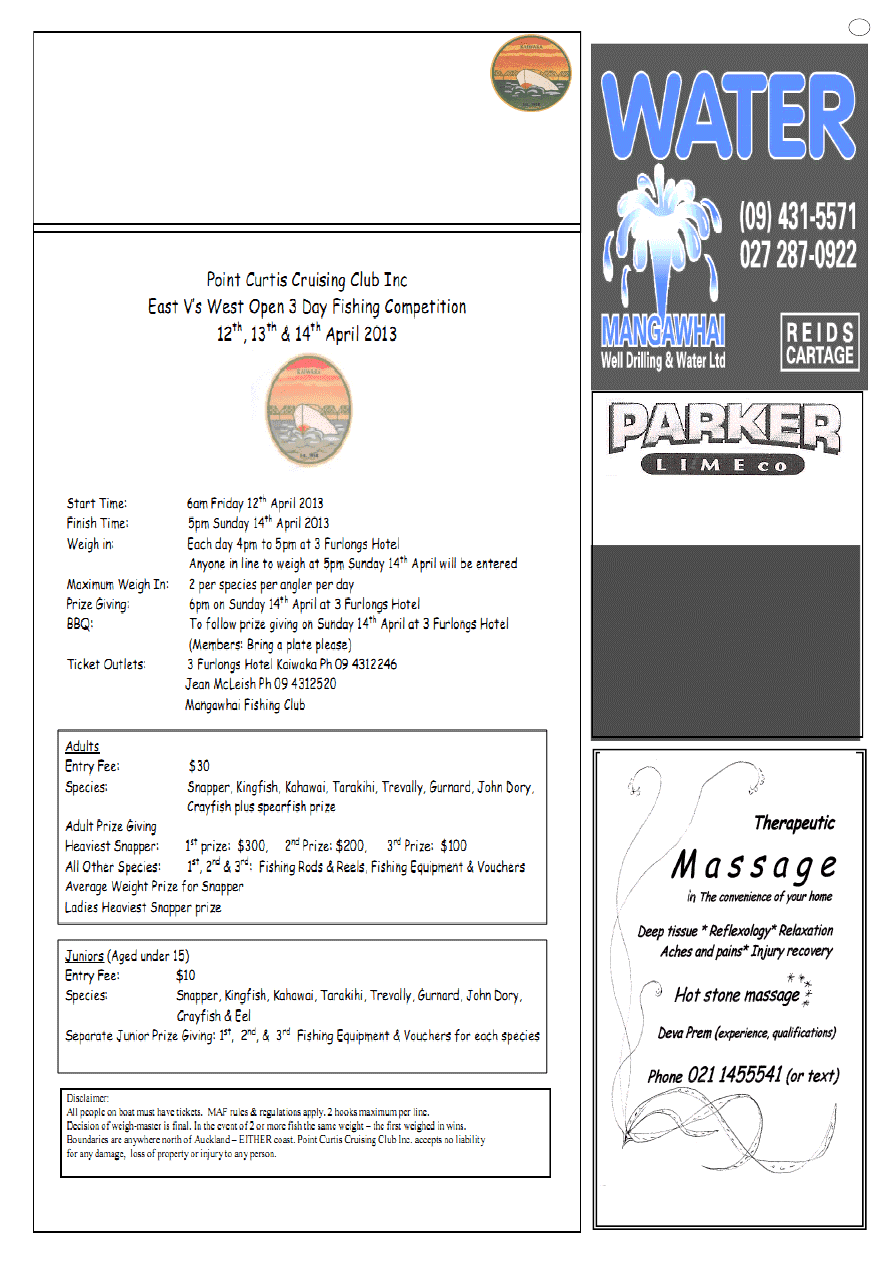 Landscape Supplies 
Bulk Cartage 
4312407 
Mob: 021 453 252  
Fax: 4312939 
 scott.parker@parkerlime.co.nz 
Gibbons Road,  
Kaiwaka 
www.mangawhaimassage.co.nz 
17 
Point Curtis Cruising Club 
Point Curtis Cruising Club Report 
East West Open Fishing contest is on 12,13 and 14th April.   
Please see posters for rules and regulations and ticket outlets. 
Fish of the month (snapper)  
1st: Renna 7.28kg,  2nd: Linda  6.15kg,  3rd: Carol  5.85kg. 
Fish of the month:  Snapper (cut off date 9 April). 
Next meeting: 7pm, 9th April 2013 at 3 Furlongs Hotel, Kaiwaka. 
Wayne Leslie, Commodore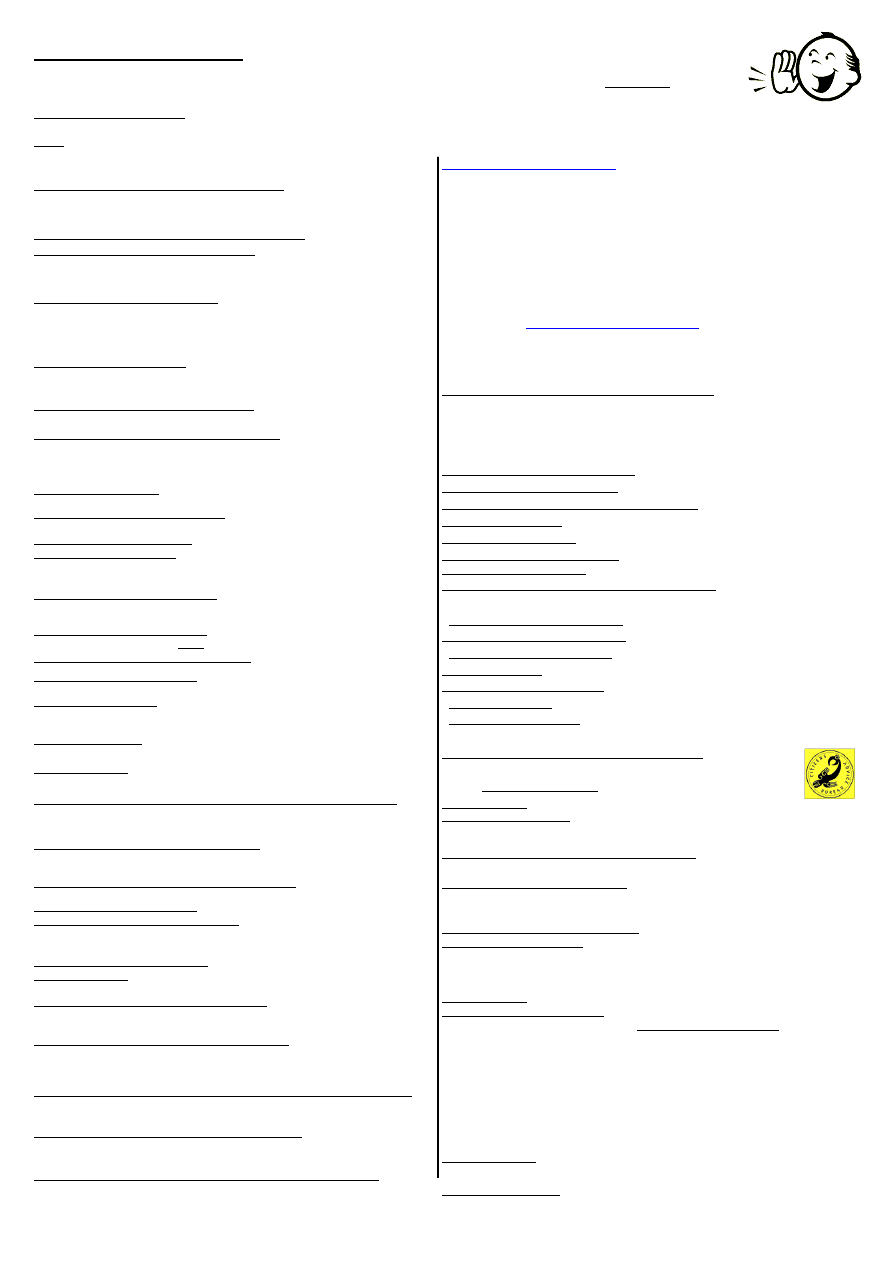 LOCAL SERVICES 
*St.John Ambulance 
111 or Freephone0800 61 0066
*Fire phone 111     *Police phone 111 or 09 4311150
WELLSFORD DOCTORS: Ph: 4238 086 
A A: Meets Wed., 8pm Kaiwaka Ph: 4312228, 4315543, 0800229 6757   
AL ANON: In recess, contact Ph: 4312228 
AgriQuality (MAF) Livestock Consultant 
Phone 09 4311 820 or 021518257 
CAB-Citizens Advice Bureau.Wellsford Ph: 4237333. 
BUDGETING SERVICE,OTAMATEA:Free confidential advice & 
support - all areas of  personal finance Ph: 09 4318173 or 094318117
FAMILY SUPPORT SERVICES responding to the needs in our 
community  Counselling/Family Therapy/Seminars/Youth Work/
Probation/Osteopathy/Govt.Day Agencies/Community Information  
Ph: 4312661 Hours: 9am-5pm. Mon - Fri (funded & CYFS approved) 
FUNERAL SERVICES: Morris & Morris Ltd, 
Whangarei - Bev Jaques Ph:4312367 or 0800667747 
Grandparents Raising Grandchildren: Sarah Rogers Ph: 4312194 
HAKARU LANDFILL/Transfer Station:Open everyday except 
Tuesday10am-4pm.Ph4312629 Cost-$55 trailer load up to 1 cubic 
metre. Ph:4258567 - office 
INLAND REVENUE: Last Friday each month, 
11-3pm Ph4312661 
KAIWAKA KOHANGA REO:
Ph:4312620 Mon.-Fri. 8.30am-2.30pm 
KAIWAKA CEMETERY: Ph: 4312045 
KAIWAKA LIBRARY: kaiwaka.library@gmail.com  
Mon. 4-6pm; Wed., Thurs., Fri., Sat.  10am-2pm Ph:4312539
KAIWAKA PLAYCENTRE: Ph: 4312286. Hastie Lane 
Monday to  Friday  9.00am 
- 
12 noon.
KAIWAKA POST OFFICE:
Ph:4312 626 Fax: 4312287  
Post Code: 0573  for RD2  and  0542 for all Kaiwaka Post Office mail 
KAIWAKA PRIMARY SCHOOL : Ph: 4312309 
KAIWAKA SPORTS ASSN: Ph 4312005; 4312129 gym 
KAIWAKA STJOHN: Manager Steve Rosser 09 431840, 021 2316836; 
Sec: C Dymock 4312744 
NORTHPOWER: Faults Kaiwaka area 0800 104040 
PARENTPORT: Free, practical family support servicePuhoi to Paparoa 
Ph:  Sharon Mehana, Co-ordinator. 4259357 or 027 280 5093 
PERSONAL DEVELOPMENT COACHING, GROUP FACILITATION:  
Sabine Druckler 4312231 
 
PLUNKET  KAIWAKA/MANGAWHAI:  Ph:
094318187 
or  0
276753488 
Kaiwaka Mobile Clinic once a month– appointments necessary;  
Mangawhai (next Domain) 
1st & 3rd Thursday & Coffee Morning; 
PLUNKET CARSEAT CO-ORDINATOR:  
Pat Scott Ph 4314530 or 
0272881635 
PLUNKET FREEPHONE -0800 933 922 
PLUNKET -MAUNGATUROTO  Clinic every 2nd & 
4thThursday. Ph: 09 4318187 
PUBLIC HEALTH NURSE: Gloria Reid Ph: 094327634  
HOMEOPATH: Donna Flavell Ph: 
4314843 
RETURNED AND SERVICES ASSN 733 Settlement Rd.Hakaru 
Ph.4312176 Bill Kerr (President) Ph.4314719 
TE KOROWAI AROHA O NGATIWHATUA 
(The Cloak of Love of Ngatiwhatua) Support and Maori Consultancy.  
Ph: 4239481 (Wellsford) 
WOMEN'S WELFARE LEAGUE & Reaching Out For Youth:  
4 Kaiwaka-Mangawhai Rd, M Morgan 4312293 
VETERINARY SERVICE MANGAWHAI: 
Ph: 4314535 Mon-Fri 8.30-4.30, Sat 9-12, a/h appt. 
KAIPARA DISTRICT COUNCIL www.kaipara.govt.nz:  
Help Desk FREEPHONE 0800 727 059 
Dog/Stock/Noise 0800 105 890 
Kaiwaka Service Centre Ph:4312 013 Mon-Sat 8.30-4.30pm 
WHAT'S ON
PLEASE ~ do let me know what is on - email 
kaiwakabugle@kaiwaka.co.nz 
Advertising in WHAT'S ON is FREE   
*See www.kaiwaka.co.nz for upcoming events.
*05 Apr~ 8 pm - ‗Dance of Life', Kaiwaka Hall, $10,  
, 09 431 2408, 021 2968794 
*06 Apr~ 10am Workshop by solar engineer Eric Jansseune of 
the Positive Energy House, Kaiwaka 09 4312408 
*06 Apr~ Open Day Kaiwaka Fire Station 12-2pm 
*07 Apr~ Squash Club Official Opening 11am All Welcome 
*13 Apr~ Teddy Bear's Picnic, Maungaturoto Primary School 
0930-1230 
*13 Apr~ 8 pm – ‗Latin Fun', salsa for singles & couples at 8 
pm, Worldshake party at 9:30 pm, Kaiwaka Hall, $5 class, $10 
class+party, 
, 09 431 2408, 021 
2968794
 
Drink can 'tear tabs' - for Starship Hospital-Ph. 4312625   
HOUSEHOLD  RUBBISH  COLLECTION  -  Kaiwaka    Pick  up-
Mondays=Green bags are picked up by Northland Waste-queries to 
them 09 4303273,Wednesdays=Blue  bags and  yellow recycling (at 
Jaques  $2.70 and $1.40)  are picked up by Kaurilands 09 4392146.  
 
*OTAMATEA GREY POWER-09 431 8138 Joan Hoggard  
*KAIWAKA BADMINTON -Tuesdays 7.30pm Ph: 4312345 
*KAIWAKA GARDEN & FLORAL Grp:
2nd Thursday in month Ph: 4314767 
*KAIWAKA 
CUBS-Thursdays 5.30-7pm,Hakaru Ph:Bruce  4312542
*KAIWAKA SQUASH -Mondays 7pm,  Ph: Barbara Thomas 4315905 
*GYMNASTICS OTAMATEA -  Tuesday Ph: Stephanie 4312022   
*HAKARU PONY CLUB-Ph: Dianne Christianson  4314315 
*
MANGAWHAI COMBINED PROBUS CLUB
: 2pm,3rd Thursday 
month in the Senior Citizens Hall Mangawhai. Ph: 4315777
*PT CURTIS CRUISING CLUB - Jean Ph: 4312246 
*WAIPU GENEALOGYGROUP -4th Monday in month Ph: 4312725 
*NZ GENEALOGY-Wellsford - 1st Thursday in month Ph: 4237033 
*CRAFT GROUP
:2nd & 4th Tuesday, 10am, Wellsford Ph 4238547
*RSA,Hakaru & Dist.Women- meet 1.30pm 4th Thurs in month 4312668  
*OWEN STEVENS at Kate's Place Ph:4312661   
*Diabetes Support Group-for Kaiwaka, Mangawhai, Wellsford -10am, 
 
3rd Friday of month Ph:A.Pert 4238242; J.Gardner 4238060 
*WELLSFORD CITIZEN ADVICE BUREAU:  
0800 367 222 
Ph: 4237333 Wellsford Community Centre   
Email: cab.wells@xtra.co.nz
CHURCHES:
*Gateway Worship Centre-St Mary's Church Nathan Rd off Oneriri Rd, Kaiwaka 
Services, 10.30am 1st & 3rd Sunday of every month. Contact: Rev David Gage 
4312528 or 0212354282 
*Kaiwaka Family Church-Your Community Church Sundays, l0am 
Home Group every Wed evening, Pastor John.Dekker Ph: 4318203 
*Kaiwaka Services.Anglican & Co-op at StPauls Church  - 1st Sun. 9.30am
(Anglican),3rd Sun. 4pm (Co-op).  Contacts: Parish Office 09 4318193, 
M.Hargreaves, Peoples Warden 4312295, C.Bygrave 4312057  
*Church of Christ the King, Mangawhai 9.30am every Sunday 
*St.Mary's Catholic Church:
Maungaturoto – Griffins Road, Saturday evening Vigil 
Mass 6pm; Mangawhai – Senior Citizens Hall, Sunday Mass 8:30am; Wellsford – 
Matheson Road, Sunday Mass 10:30am; Mid-week Mass times and all enquires to Fr. 
Bill Fletcher – phone 423 8170 
*Baptist Church: Sun. 10.30am Mangawhai Snr Cit.Hall.Ph:4312339 
*Cause Way Church Mangawhai – Sundays 10.15am, Mangawhai Community Recre-
ation Centre, Insley St. Ph: 09 4314782  www.causewaychurch.org.nz
*St.Pauls Archie Bull Hall HIRE  $20 half day, $40 full day per hire 
 Contact G. Jaques 4312048 
*Kaiwaka War Memorial Hall HlRE - Phone 4312725 or 
Email  kaiwaka.hall.bookings@gmail.com 
*Hakaru Community Hall HIRE -Ph.  4312256 or 4312110 
*Te Pounga Marae queries -A.Gage 4312528, 4312527 
*Kaiwaka Sports Association hire/queries- C. Anderson 4312051 
Justice of Peace: B.FJaques; L.Donaldson; A.F.Hargreaves  -please phone to 
make sure they are available 
Marriage Celebrants: L.Donaldson; A.F.Hargreaves; Judith Knights 
DEADLINE FOR NEXT BUGLE IS FRIDAY 12 APRIL