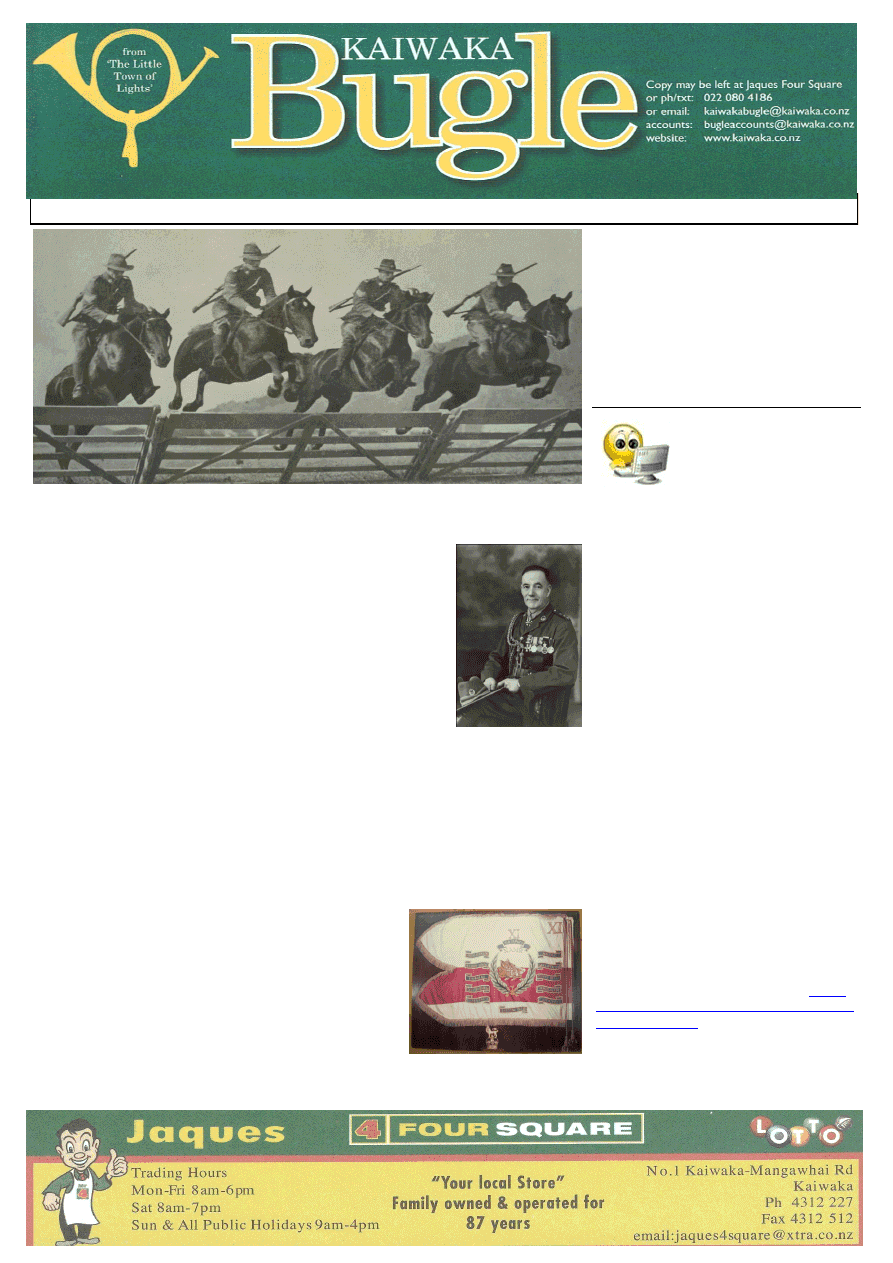 No: 7 
16/04/2013 
Thanks to everyone who  
stopped me in the street,  
rang me or emailed me  
their approval and/or con-
gratulations  for  the  article  in  Bugle  6 
about  the  Council  debacle.    Only  one 
person took offence and set his lawyer 
onto me! It is good to know so many of 
you disapprove of the way Council and 
now  their  Commissioners have  treated 
the  community  of  Kaiwaka.    Now  if 
we  could just  get  them  to listen  to  us.  
We  know  what  Kaiwaka  needs;  the 
Council  and  their  Commissioners  do 
not.  I  have  decided  to  publish,  with 
their  permission,  a  copy  of  a  letter  to 
Commissioner John Robertson, from a 
member of our community and also an 
advertisement  paid  for  by  Mangawhai 
Residents and Ratepayers Assoc. to be 
included  in  this  Bugle.    They  give  us 
pause  for  thought  and  possibly  action. 
See page 21 and 12 respectively. 
Don't forget to get your submissions 
in to Council before 4pm 19th April. 
Deliver it: to Council Offices 
Enter it: online at www.kaipara.govt.nz 
Post it: to KDC, Private Bag 1001 Dar-
gaville 0340 
Email it: to council@kaipara.govt.nz 
Fax it: to 09 439 6756 
If you want to know how much your 
own rates are going up, go to:
rates.kaipara.govt.nz/cgi-bin/mksform?
You will need the legal 
description of your property i.e. DP 
and Lot No.                       Cheers Ann 
THE BOAR'S HEAD INSIGNIA WAS WORN WITH 
PRIDE BY NORTH AUCKLAND  MOUNTED RIFLES 
The Kauri Museum"s latest exhibition is nearing completion in 
time for the official opening on ANZAC DAY. The base of the 
display  has  come  from  a  collection  that  belonged  to  the  3
rd
Auckland and Northland Battalion Trust, and with local memo-
rabilia from the museum"s own collection, will record this part 
of history.  On Anzac Day we hear many visitors saying "My 
grandfather  was  a  member  of  the  North  Auckland  Mounted 
Rifles". We want to answer questions of who the North Auck-
land Mounted Rifles were, so future generations are aware of 
their tremendous sacrifice.    
Mounted Rifles were different to the more common  "cavalry" 
forces as they rode horses into battles.  They were known to dismount undercov-
er and would then fight on foot with rifles and bayonets.  One in four would stay 
to look after four horses.   Other support often came from horse artillery and ma-
chine guns if they were available.   Men from rural areas of Northland , who had 
lived on farms and had grown up with horses, often joined the Mounted Rifles.  
These  men  were  generally  known  to  be  resourceful  and  tough  and  were  good 
marksmen.   They were used to hard work and could look after themselves.  
The South African War 1899-1902 had inspired a wave of patriotism in North-
land.    Volunteers  came  together  to  form  five  companies.    These  were  the 
Marsden  Mounted  Rifles  based  in  Whangarei;  the  Otamatea  Mounted  Rifles, 
based in Maungaturoto; the Northern Wairoa Mounted 
Rifles, based in Dargaville; the Mangonui Mounted Ri-
fles  based  in  Mangonui;  and  the  Hokianga  Mounted 
Rifles based in Waimamaku.  Later additions were from 
Kawakawa, Mangakahia and the Scottish Horse Mount-
ed Rifle Volunteers from Waipu.  
This evocative exhibition tells stories of the men of the 
North  Auckland  Mounted  Rifles  and  records  their  im-
portant history so that they will not be forgotten by fu-
ture  generations.  Some  members  of  these  companies    joined  contingents  that 
went  to  South  Africa.    With  the  onset  of  WW1  the  North  Auckland  Mounted 
Rifle Regiment  supplied a squadron to the New Zealand Mounted Rifle Brigade 
Bugle 8 will appear 30 April 2013 
which  fought  at  Gallipoli,  Sinai  and 
Palestine.  The  boar"s  head  insignia 
badge was worn with pride on the front 
of  the  hat  and  also  worn  on  points  of 
each  collar.  It  is  also  featured  on  the 
North  Auckland  Mounted  Rifles  regi-
mental flag.  
The  parade  commenc-
es  at  10.30am  with  fall  in  at 
Matakohe Memorial Hall on  
Anzac Day, 25th April.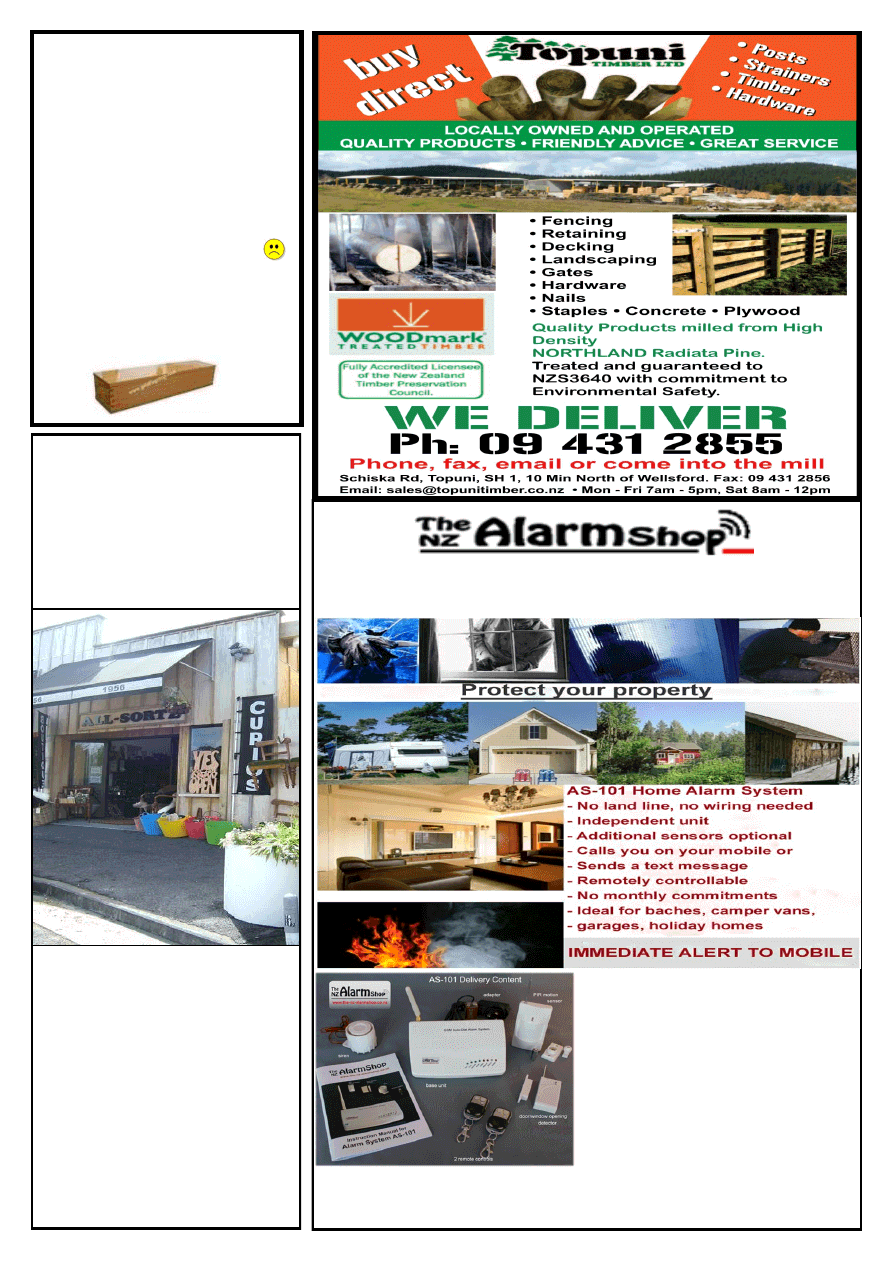 17 
KEV's CASKETS 
Stylish, BUDGET Accommodation 
Takeaways (8 available)  
or made to order 
  Featuring 2 styles and  
Different finishes. 
   Also O/S and Infant size 
Phone Kev in Kaiwaka  
021 1322 671 
Or come and visit my showroom 
104 Settlement RD, Kaiwaka 
 ALL-SORTZ 
COLLECTABLES
Shop 4,  
1956 State Highway 1,  
Kaiwaka   
Phone 09 431 2701 
WINTER HOURS 
Open Friday 
To Monday 
From 11.00am 
To 3.00pm 
Or by prior  
Telephone 4312701  
(Business Hours) 
Or 4229221 or 0274353535  
(After Hours
) 
www.the-nz-alarmshop.co.nz
AFFORDABLE DIY HOME ALARM SYSTEM 
In the event of an alarm situation, the sys-
tem alerts you by sending a text message 
to your mobile phone and/or one of 5 ded-
icated contact phone numbers.  
To check, you can "listen-in" into the room 
by calling the system and so find out, 
what is going on.  
If you personally inform the police about a 
burglary in progress, it is MUCH MORE 
EFFICIENT than the siren going off on its 
own and nobody reacts. Easy to handle 
by You get all this for $249   everybody. 
For more information or other security products call Jorg or Barbara 09-4315905 
or check our web site www.the-nz-alarmshop.co.nz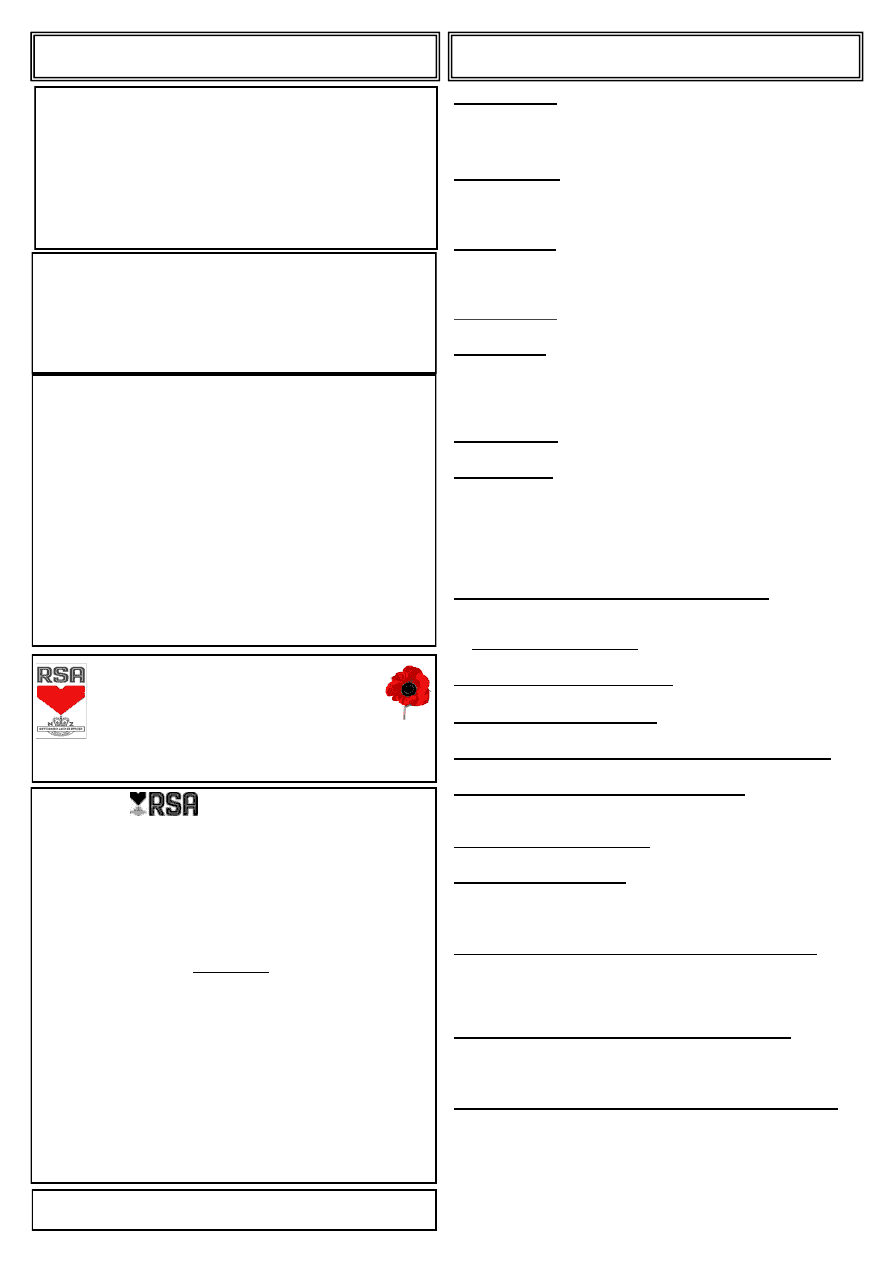 PUBLIC NOTICES 
CLASSIFIED 
FOR RENT: 
OFFICE OR RETAIL SPACE 
– 
Shop 1, 
1956 SH1 (opposite the Cheese Shop).  Refurbished space 
with data cabling, own toilet facilities, sunny and warm with 
2 dedicated car parks.  Lots of foot traffic.  Ph 09 422 9221.
FOR  RENT:
 Two bedroom attached unit with rural views, 
very  good  condition,  8.5  kms  down  Oneriri  Rd.,  internal 
garage. Wetback wood burner. $180 pw Please ring Mike & 
Tania Lean 4312260 or Mike 021431196, Tania 021431366 
FOR  RENT: 
3 Bedroom house for rent. Located on SH1 
Kaiwaka.  2  minutes  walk  to  shops,  1  minute  walk  to  the 
pub.  Small  garage.  $250  per  week.  Telephone  Barbara  on 
(09) 431 2246. 
FOR  RENT:
 4 bdrm  villa near Kaiwaka township. $300 
per week. Bond & references required. Ph. 021 2140522  
FOR  SALE: 
Imagine ...fresh milk...own butter...cream off 
the top of the milk...You can have all that! I have a 3 phase 
milking  machine  and  electric  motor  for  sale.  I"ll  throw  in 
some  accessories  for  nothing…$865ono  Ph.  4312009  eve-
nings or 021825970. 
FOR  SALE: 
Petrol  water  pump  for  sale,  8  HP  Ph. 
4312009 evenings or 021825970 
FOR  SALE: 
Gym equipment, needs some TLC, includes 
computerised exercycle, gym centre $300 lot. 2 x set French 
doors, negotiable. 15" alloy rims with tyres $200. Drum Kit 
with paiste cymbals, 2 x hi-hat stands stool $300 only. Tidy 
3  seater  sofa  creamy  colours  $100.  Ph  4312118  or  txt  to 
view 0211831856
FREE  COUNSELLING  AVAILABLE:
  Counselling 
Student seeks clients to further his studies. Professional ap-
proaching service. Phone Pete 021 825 970 or 09 4312152 
or peteworsfold@xtra.co.nz  
HANDYMAN  SERVICES:  All building work to odd 
jobs. Fast and efficient. Phone Graeme 021 775943 
CLEANING  SERVICES: 
$20  per  hour,  fast,  friendly 
and efficient. Phone Jill Shires 431 2080 Kaiwaka.
JILL SHIRES CRANIO SACRAL THERAPIST 
for 
horses, pets and people.   Phone 4312080. 
NATURAL  ANIMAL  THERAPIST:   
Diatomaceous 
Earth Stockist.  Specialising in Horses.  Jill Shires  4312080 
LEARNING  TO  COOK 
on a small budget. If you are 
interested please phone Jenny on 4312826 after 7pm
SINGING  LESSONS: 
Want  a  better  voice,  feel  shy 
about singing?  Teaching 39 years in NZ music industry at 
all levels. Phone Robyn Hill 09 431 9159 or 0274 725610 
EXPERIENCED CAREGIVER AVAILABLE:  
Look  after elderly,  disabled  people,  children,  &  animals  in 
your own house; also house sitting &  gardening. For  more 
info phone 022 414 5960 
CLOTHING ALTERATIONS & REPAIRS: 
Zips,  hems,  dressmaking  &  dress  design.  Phone  Win 
4312027 or 0274448358
MOLESWORTH  SHEEP  DOG  TRIAL  CLUB   
64th  ANNUAL  TRIALS 
Being  held  at  Rakiki  Farm,  Oneriri  Road  26th  and 
27th  APRIL 
Come for half an hour or half a day on both days to witness 
some  of  the  best  handlers  and  their  dogs  in  New  Zealand. 
Refreshments available. Any queries contact:  Rob 4312192 
or  Scott 4315561. 
Kaiwaka School PTA AGM 
Wednesday 17 April 2013 2.45pm in 
the Staff Room. 
All very welcome 
Otamatea Hawks  
Special General Meeting regarding Life 
Membership 
Tuesday 16th April, 7pm at Kaiwaka 
Sports Association
All Welcome 
 HAKARU
Annual General Meeting
Sunday 19th May 2013 @ 1:30 pm 
  RSA Club rooms.
AGENDA: 
 Election of Committee.  
  General business.
Written Nominations and Proposals 
    need to the be in the hands  
    of the Secretary by Monday 13th May.
Financial Members only will be  
permitted at the meeting.
KAIPARA CITIZENS AND RATEPAYERS 
ANNUAL GENERAL MEETING
SATURDAY 20TH APRIL 2013 
LIONS HALL. HOKIANGA ROAD, 
DARGAVILLE 
11.00am 
All members and others most welcome
PROVERBS: 15:27- 
 Dishonest money brings grief to the 
family, but hating bribes brings happiness.
    ANZAC Day Service at 
   RSA Hakaru 
   Thursday 25th April 
                       10.00am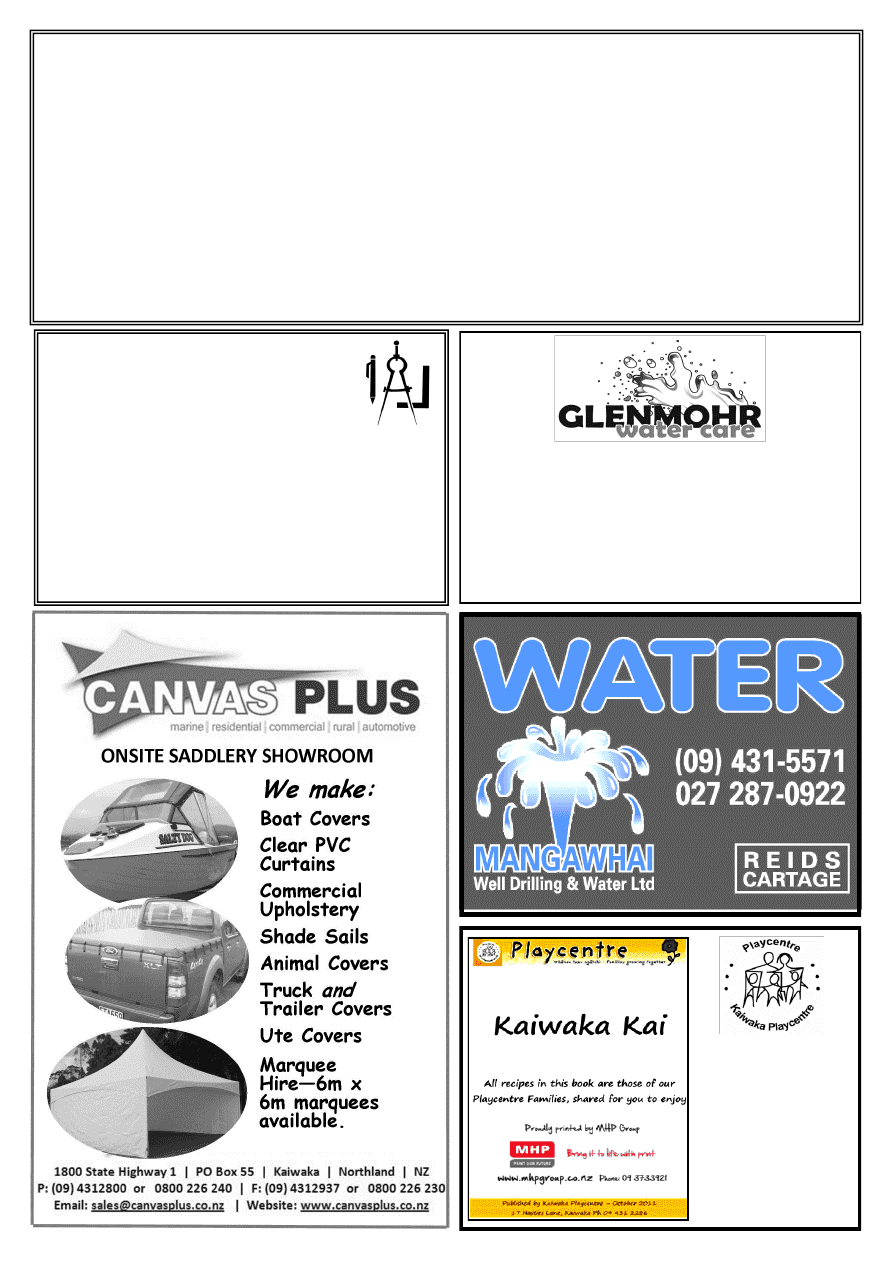 RANGANUI EARTHMOVERS 
 
16T Excavator   
(tilt, thumb & ROPS cab)   
Transport Trailer 
2 x 6 Wheeler Tip Trucks 
Suppliers of All Grades of Metal & Topsoil 
 
If you want a proper job done with an experienced operator ring 
Grant on    A/H 431-2131        Email  ranganui.dev@xtra.co.nz 
   Mob  021845-246 
Driveways, House Sites,  
Drainage Dams, 
Section Clearing,  
Tree Work,  Rock Retaining Walls,  
Quarry Work, 
Basically Anything That a Digger Can Do 
design drafting 
service 
Retired builder and manufacturer with over 40 years  
experience in the building industry is offering a design 
drafting service  
for domestic housing, sleepouts and sheds.  
Plans formulated in consultation with clients, with 
working drawings completed and submitted to  
council for processing.  Extensive practical experience,  
able to identify & resolve problems. 
Please ring Mike Lean on 
09 431 2260  
Water Tank Cleaning 
" 
 Keep your water safe & clean   
 
Removal of sediment, silt etc. 
 
Vacuum or full scrub 
 
Minimal water loss 
Phone Mark (09) 432 0655 or 0274 707607 
Get your copy from: 
Jaques Four Square 
Kaiwaka Postal Agency 
Kaiwaka Cheese Shop 
Cafe Eutopia 
The Well of Health 
Tony's Maungaturoto 
 
Or email  
jodygreig@clear.net.nz  
or phone 431 2223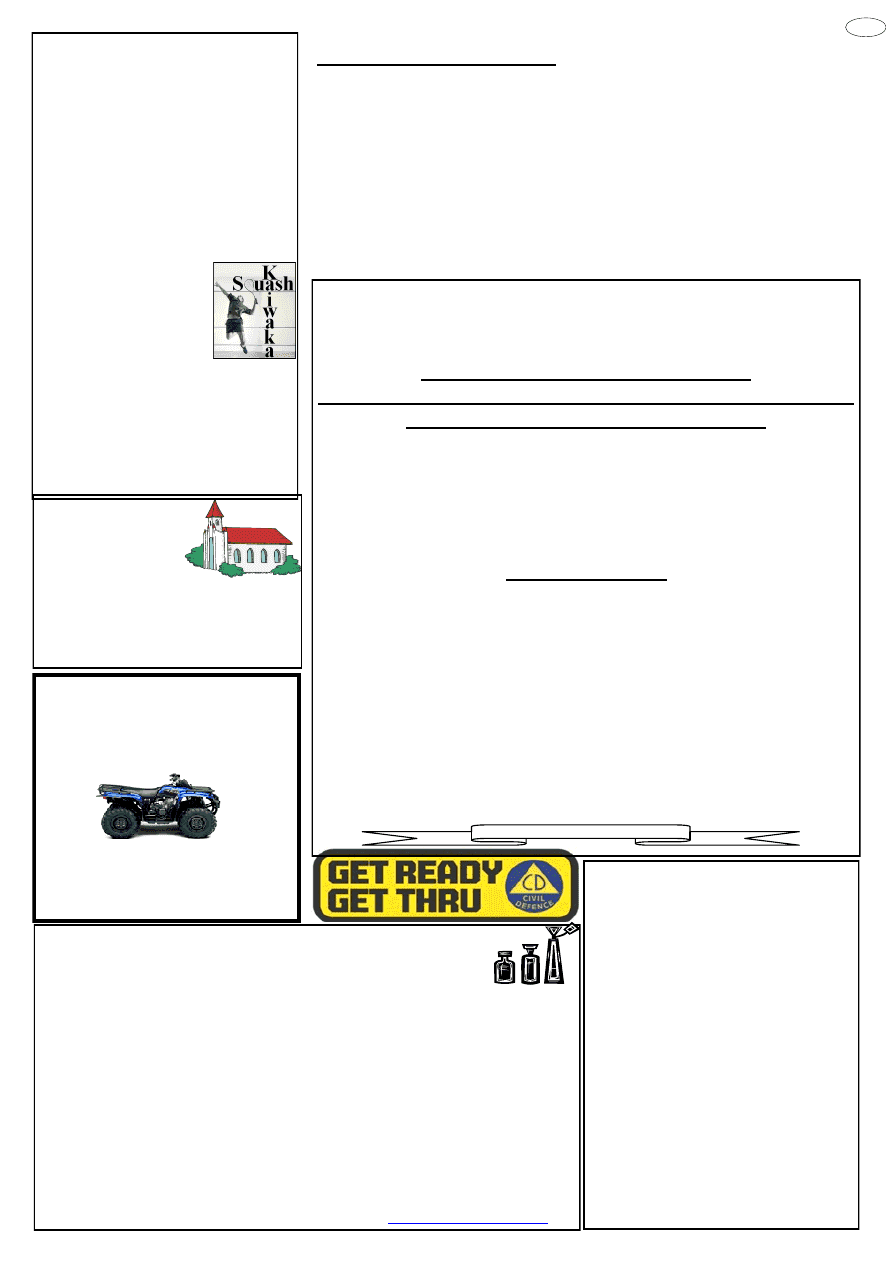 ST PAUL"S  
SUNDAY  
SERVICES
First Sunday 9.30am, third Sunday 4pm  
Paparoa Anglican and Wellsford  Co-op Parishes 
StPauls Church: Kaiwaka-Mangawhai Rd.  
Contacts:M.Hargreaves 4312295, C.Bygrave 4312057  
KAIWAKA  MOTOR 
CYCLES LTD 
SALES SERVICE SPARES
FARM BIKE SPECIALIST
Phone 431 2127 
Kaiwaka-Mangawhai Rd 
Kaiwaka 
5 
AVON
  AVON  
AVON
AVON
AVON 
Hi Everyone, 
Brochure 10 is now available. Orders due by 1st May with delivery on 10th May so they 
will be available for Mothers Day. 
New Lipstick "Totally Kissable"  in 10 great shades. Buy one and receive your choice of 
Glimmerstick Lip Liner Free. 
One Great Mascara and Ultra Luxury Eye Liner and Lip Liner amazing value at $4.99 
each. Smooth Minerals Lip Gloss $5.99 each. 
SUPER SAVERS. Spend $15.00 in brochure and choose one of the following, Anew All 
in One Max, Peel Off Mask and Eye Cream all 3 for $19.99, Silvertone or Goldtone 
Watch for $24.99 each and Butler Organiser Handbag $39.99 each,  in Blue or Brown.  
Mothers Day gifts from fragrance to clothing and accessories and add a Fashion Scarf for 
$12.99 with any purchase from pages 110-155. 
Try before you buy. Have an Avon Party at home with your friends and receive free sam-
ples and gifts for all. 
Give Gale Matheson a call on 094131827, 0274149576 or 
Eastern United JMB  
On the 13
th
 April we played Paparoa at Paparoa the scores were: 
Midgets, a close match, lost 5 to 4. The Jaques Player of the Day was D J Brain for com-
mitment and all round good play. 
Under 9"s lost 10 to 2. The Coffee Pot Player of the Day was Conner Quirk for first try of 
season and good sportsmanship. 
Under 11"s won .(score not advised).   The Coffee Pot Player of the Day was Boyd Wintle  
Our next game will be 20
th
 April  against Maungaturoto  at  Kaiwaka kick off at 9.30 am 
this is part of the Otamatea Hawks 25
th
 reunion. 
New players are most welcome to join our club. Trainings Midgets and Under 9"s Tuesday 
5.30pm. 
Under 11"s Tuesday and Thursday 5.30pm . Enquires to Jennie 9450502 or 02102764171 
BULLYING IS A COMMUNITY ISSUE so  
BECOME PART OF THE SOLUTION  
ATTEND OUR PUBLIC MEETING 
WEDNESDAY APRIL 17TH 7.25PM @ ST JOHN'S HALL 
HURNDALL ST.    MAUNGATUROTO 
If you have children or teenagers experiencing bullying OR you are being 
bullied then you are invited to this meeting. 
If you are concerned about the safety of the children in your community 
then you are invited to this meeting. 
What is Bullying? 
 
Bullying is deliberately harmful aggressive behaviour 
 
Bullying is behaviour that is repeated over time 
 
Bullying involves a power imbalance between those who bully 
and those being bullied 
If you care then come to hear and share in a community  
approach 
We acknowledge the financial assistance of MSD for this project 
KAIWAKA SQUASH CLUB 
Our  Business  House  Finals  take 
place  on  Monday,  22nd,  starting 
6pm. 
Fighting  for  the  "Worst  of  Worst"  - 
Place are CARTER  PINK v LAND-
FALL, 
Fighting for "Best of Best" - Place is 
CARTER  BLACK  v  WELLSFORD 
SPORTS & LEISURE. 
The other teams are fighting for the 
middle ranking.... 
We  had  a  great  round, 
have  seen  some  inspir-
ing  games  and  some 
fantastic  performances 
of the individual players! 
The final will be very interesting! 
Prize  giving  will  be  around  8.30pm 
and socializing will be open ended! 
Everybody interested in the game is 
welcome  to  watch  and  share  opin-
ions!  For  more  Information  please 
ring Barbara 4315905 
Your advert 
could be 
here for as 
little as $5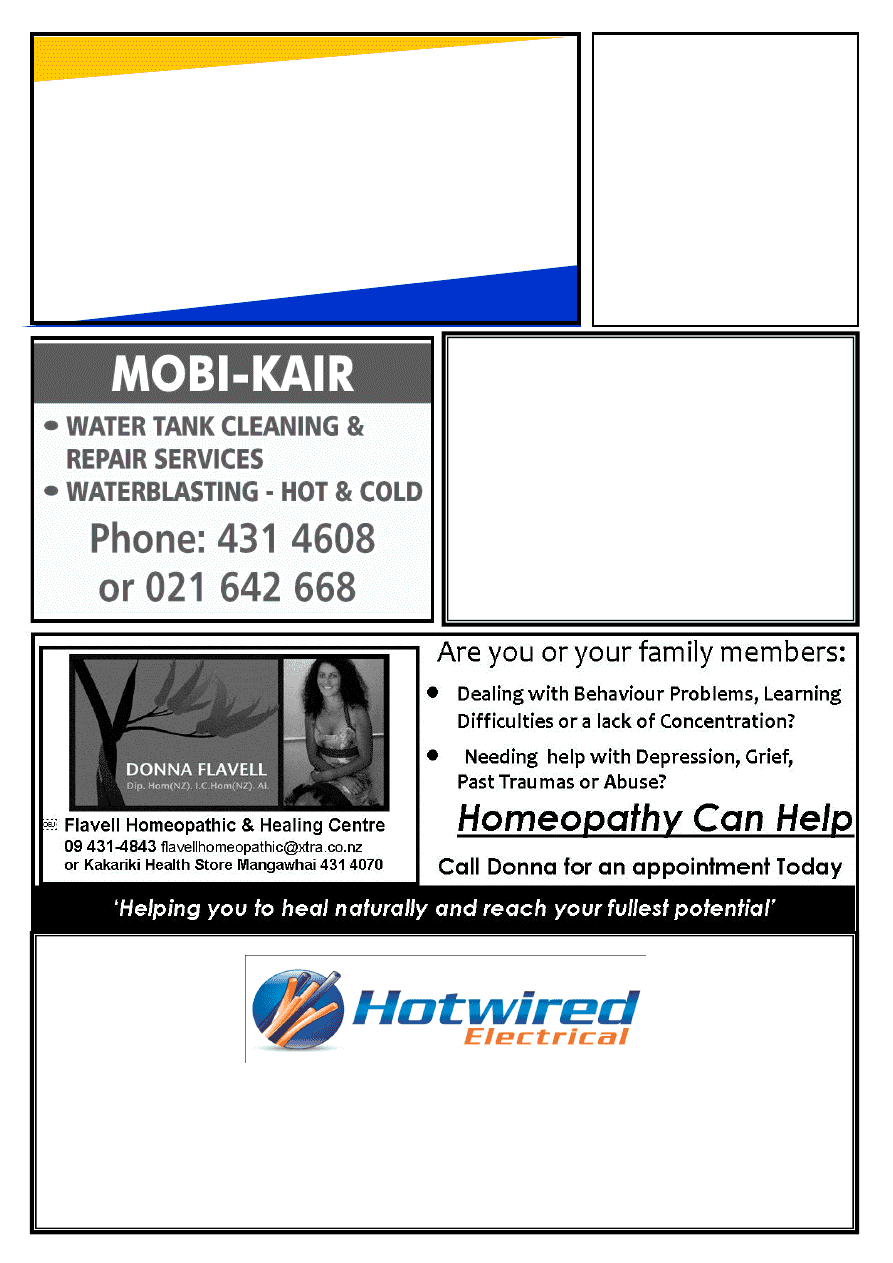 CONCRETE 
If it's concrete we do it 
Full Preparation & Pour by 
Experienced Local Team 
Phone Phil Keen Contractors  
027 659 2376 
TILING 
Certified Waterproofing 
431 4533 or 021 86 33 33 
George 
MCN Property Solutionz  
Local references available 
 LEABOURNS 
Passenger Service 
Car & Van Hire 
Bus & Coach Charters 
Airport Transfers 
 Monthly Shopper Bus 
Phone (09) 4237416 
For All your Electrical  Requirements 
 
Domestic small jobs 
 
Residential dwellings and alterations 
 
Commercial              
No job too big or too small
 
Industrial                       
Contact Jason today on: 
(09) 431 5992, (021) 405 019 
www.hotwiredelectrical.co.nz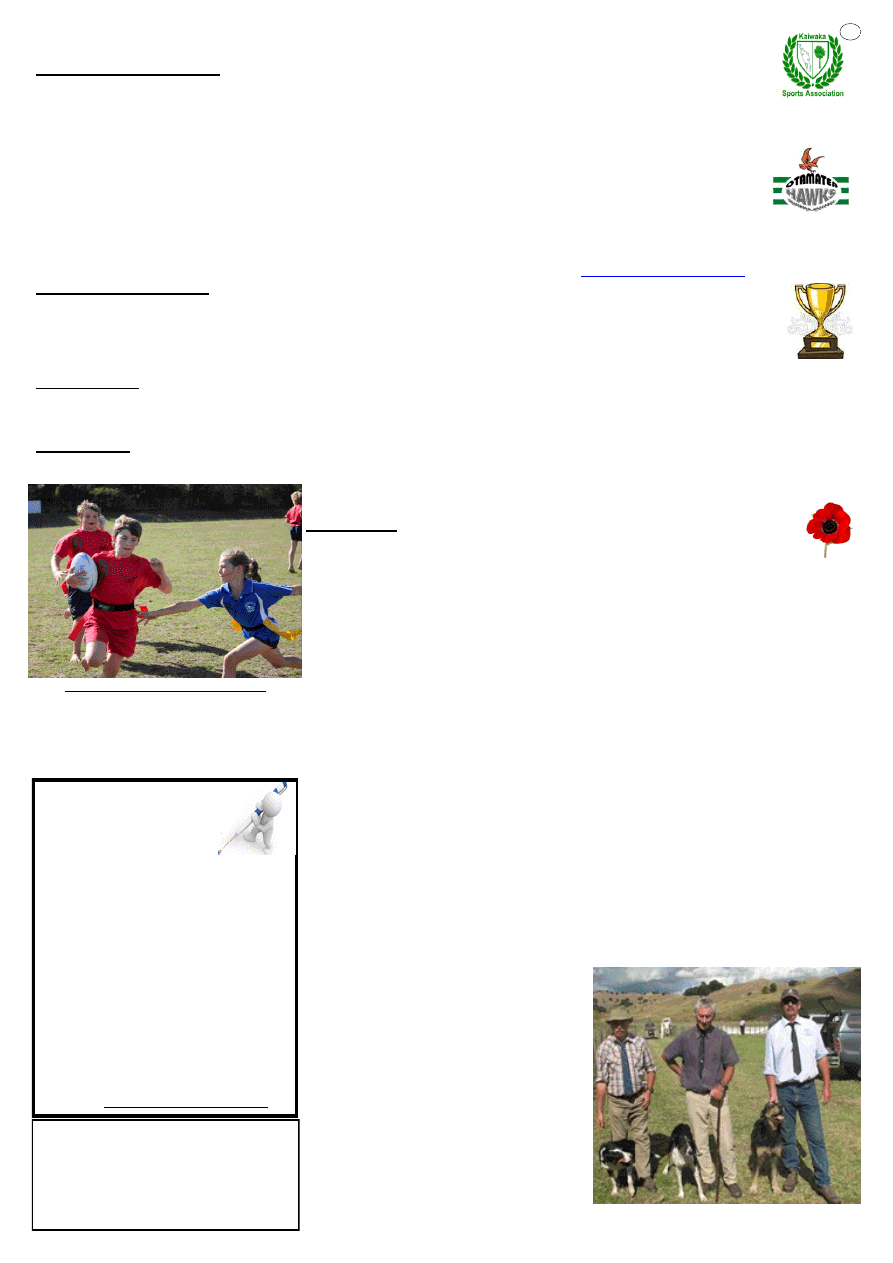 Topnotch  
Engraving
Quality Engraving Service  
SPECIALISING IN:
7 
KAIWAKA SPORTS ASSOCIATION
"  ENGRAVING    & 
SALES 
"  NAME     BADG-
ES 
"  SIGNAGE 
"  PET TAGS 
"  JEWELLERY 
"  TROPHIES & 
CUPS 
"  AWARDS & MED-
ALS 
"  GIFTWARE 
"  CLUB ORDERS or 
ONE OFFS 
SHEEP  DOG  TRIALS  
As you read this there will only be two events in Northland to go, Mangakahia at 
Twin Bridges and our own, Molesworth on 26th and 27th April. 
Local  club  members  have  been  very  competitive  around  the  Northland  Centre 
trials, none more so than Duncan with "Tiny" Tim who now has a pocketful of 
qualifying points to allow him to compete in the South Island Championships and 
the North Island and New Zealand Champs, well done Duncan (and Tim). 
At the Northland Centre Championships held at Tangiteroria last weekend they 
were placed 5th in the Short Head and Yard first round, then in the Run Off, alt-
hough they both became a little worked up put in a creditable performance to fin-
ish 3rd behind the ultimate competitor Murray Child with his two dogs, Ace and 
Dice  in  1st  and  2nd  places.    Tony  and  Steele  won  the  first  round  in  the  Long 
Head but in the Run Off pesky sheep put paid to any aspirations of maintaining 
that position eventually finishing in 4th place.  Scott and Otis were in the top five 
in both the Zig Zag and Straight huntaway classes and after the Run Off were 3rd 
in the Zig Zag and 2nd in the Straight.  If it had not been for family commitments 
(21st"s which clashed with some dog trials), these two would have ended up the 
top Huntaway in Northland. 
Scott  has  also  been  featuring  in  the  prize  money  with  Elle  and  Sceats  on  the 
Heading  courses.    Sceats,  a  name  familiar  to  many  Kaiwaka  residents  and  yes 
this dog was bred by Bob Sceats, our Molesworth Patron and a long term resident 
on  Oneriri  Road  who,  in  his  day,  was  more  than  competitive  with  his  team  of 
dogs.  The  only  one  letting  the local team  down  it  seems  is  the  writer,  must  be 
spending too much time with pen and paper instead of out practising.  Two rib-
bons, a blue and a gold plus 60kg of dog 
biscuits  were  my  lot  from  the  Easter 
Show but I don"t think it was the fault of 
the  Judge.    It  was  great  to  see  Duncan 
also showing his wares as a Judge at the 
Easter Show and I hope with this display 
he will go onto the Judges List, an hon-
our he surely deserves. 
Molesworth members extend their sym-
pathy and love to Heather Nash on the 
passing of her husband Robert who has 
been one of our very valued "go-fers" at 
our trials in recent years. We also wish 
our Life Member Ilona Whitehead a 
speedy and healthy recovery.                
Rob H 
Duncan &Tim; Tony & Steele; Scott & Otis 
Otamatea Rugby Reunion 
Ex players, coaches and committee members are coming to Kaiwaka from a 
ll over New Zealand this weekend to help celebrate the clubs 25
th
 anniversary.  
On the Friday evening there will be a casual Meet & Greet at the Sports Complex and on Saturday evening there will be a dinner with 
photos, speeches, memorabilia display etc. And we have an action-packed day of rugby on the Saturday for our guests to enjoy: 
9.30am    
Eastern United vs Maungaturoto U7's & U9's  
10.15am         Eastern United vs Maungaturoto U11's  
10.30am         Otamatea vs Kamo U14's 
11am              Golden Oldies Otamatea vs Manaia 
12.15pm       Otamatea Hawks reserves vs Hora Hora 
2.30pm           Otamatea Hawks premiers vs Hora Hora  
Spectators are welcome so feel free to come along for the day  – there will be food stalls and the bar will be open. The Golden Oldies 
match will be filmed by Grassroots TV and televised on SKY's Rugby Channel. Its not too late to register for the evening functions, so 
if you were involved with Otamatea Rugby and would like to attend, please contact me on 
Kaiwaka Sports Awards 
Congratulations to the 20 nominees for our annual Sports Awards in the categories of Senior Sportsperson of the Year, Jun-
ior Sportsperson of the Year, Service to Sport and the Greg McRae Memorial trophy. The Awards dinner will be held on 
Monday 29th April and will feature emcee John Markby from More FM and guest speaker performance psychology coach 
Charles Donoghue. Tickets on sale at Jaques Four Square, from club delegates or phone me on 4312 051. Adults $25 and 
children (Year 9 and under) $10. 
Bank Clearing 
Many thanks to Bruce Ferguson and Mike Laws who cleared the bank between the KSA carpark and the school over Easter. This is the 
first step in creating some more much needed carpark spaces at the Complex. If you would like some free firewood, there is a huge pile 
of logs at the base of the bank – just help yourself! 
Rippa Rugby 
Last Friday the  Kaiwaka  Sports Complex hosted a Rippa  Rugby tournament.  Over 160 children from local  schools  competed in  the 
tournament, points will carry over to the next tournament in Term 2 which will also be held at Kaiwaka. Thank you to Jennie Reynolds 
and her team from our junior rugby club Eastern United who provided a sausage sizzle for 
the children. 
ANZAC Day 
On Thursday 25
th
 we will host two Harding Shield matches. At 1.00pm Bay of  
Players from Maungaturoto Prmy & Mangawhai Beach 
Islands  and  Rodney/Northern  Wairoa  will 
square off and at 2.30pm Whangarei will be 
up against Mangonui.  Spectators most wel-
come. 
Cheryl Anderson, Manager, KSA 
www.pettagsnewzealand.com 
Phone (09) 431 2174 
or  
Email: engraving@slingshot.co.nz
DOG TRIAL UPDATE: 
At  Broadwood  Trials  over  the  weekend 
Duncan and Scott both featured in the prize 
money  again  and  Rob  Hastie  managed  to 
put  in  a  great  run  with  Jack  to  take  first 
place in the Short Head and Yard event!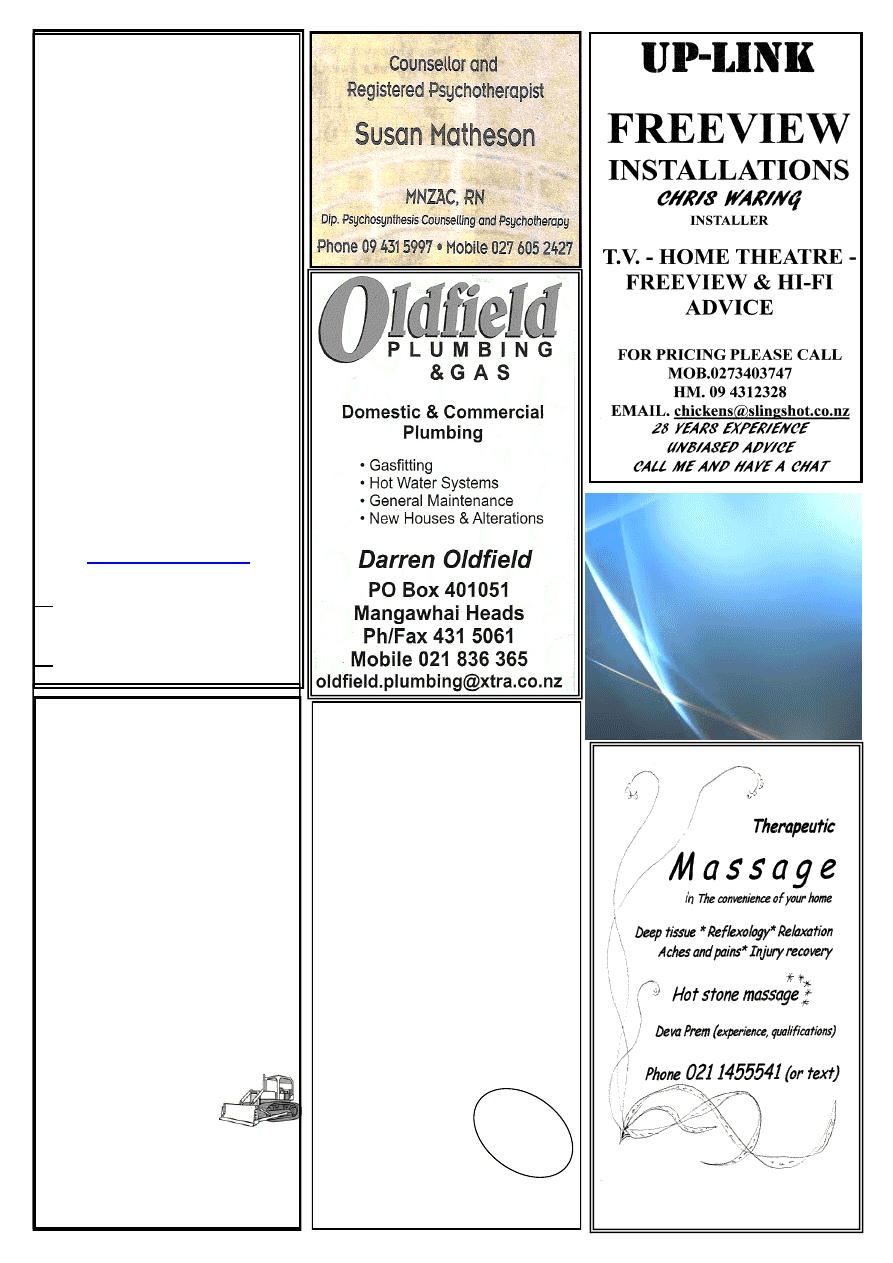 www.mangawhaimassage.co.nz 
Based ou
t  
Oner
iri Roa
d 
HODGETTS
CONTRACTING
Digger Work    

Driveways 

House Sites   

Dams 

Drains, etc
Also available for HIRE 

3 ton Vib Roller 

Heavy Duty Tow 

Waterblaster  

Lazer Level 
Phone Mark 
4312877 
027 447 8554
Bonjour, tous les mondes! 
Happy, prosperous 2013 
Not a fully functioning person...with those 
niggles, aches and pains? You guessed it.  
 I can help!
Monsieur Masseur .... 
RELAXING  
MASSAGE
..... Juste pour vous" 
Here's feedback from a happy client 
"Pete's treatment works. He identified 
long standing injuries no one else could 
fix and relieved years of chronic pain, 
fatigue and headaches.  I have Pete to 
thank for getting me back to work. I am 
so much happier and more confident in 
myself.  I can thoroughly recommend 
him." 
 
Call for an appointment now!
Pete Worsfold 
4312 152  or   021 825970   
Or  Ph. "The Well of Health" 
For an appt. 09 4312 799 
 
Or mobile service available 
Coates  
Contracting 
 
D41 Bulldozer with 6 
way blade, bush rigged 
with winch 
 
For all tree work 
 
General bulldozing and  
  stick raking. 
 
120hp Tractor for 
ground cultivation,  
 
tip trailer work. 
 
Fencing
All enquiries phone  
Brett Coates  
094318720 or mob 
021431872 
Freeview  
Installations 
Richard Te Haara 
25 Marram Place 
Mangawhai Heads 
021 1104056 
kiwipride@xtra.co.nz
 9 
Felicia Doornenbal 
"Covering the Kaipara" 

List 

Sell 

No obligation  
   honest appraisals 
 
CALL ME– Your Local Kaiwaka 
Real Estate Connection 
 
Mob:021-858115 
A/hr:09-4312059 
Bus: 09-4311016 
e-mail: felicia@ubernet.co.nz 
Freephone 0800 311 322 
Www.roperandjones.co.nz 
Sound  
 Landscapes 
Imagine
… if you will... 
...That unkempt area of your 
property...it needs atten-
tion...caring for...turn it into a 
work of art...a magic 
space...rustling...lush… 
shiny native plants... 
...texture...style…colour... 
form...fragrance… 
 
You"ve been aching 
 to do it.  You"ve put it 
off...TILL NOW! 
"Let me help relieve your 
burden" "Together we can 
make it happen"
Call for site appt.  
now: Pete Worsfold 
"Sound Landscapes" 
Phone 021825970 
peteworsfold@xtra.co.nz 
OTAMATEA HIGH SCHOOL 
Dear Parents and Caregivers    
8 April 2013 
Congratulations  are  due  to  Dirk  Smyth  who  was  capped  on  Friday  
22nd  of March.  Dirk  has  achieved a Master  of  Education  Leadership  with  
First    Class    Honours.    I    have    included  more    information    regarding  Dirk"s 
achievements later in this newsletter.   
I had an excellent day on Saturday. I went to the Otamatea Marae at Tanoa be-
cause I had been invited to  give  a  report  on  "Maori  Student Achievement".  
The  Otamatea    Management    Committee    was  interested  to  hear    ideas    about  
how  they could work with  the  school to improve  the  achievement of Maori 
students. There were people willing to support the school"s efforts in improving 
reading of junior students, particularly boys who are the ones most at risk. I was 
able to point out that there was positive news  in  that  Otamatea  Maori  students  
at  Level  1  NCEA  in  2012  outperformed  non-Maori  students.  I also made 
the point that the challenge for us as a school community is to retain more stu-
dents to Year 13 and also to give them the skills to succeed in UE. Another idea 
that was suggested was a homework centre at school. This would not only give 
students access to expert help but also access to the school"s broadband  internet  
as  a  number  of  whanau  did  not  have  this  access  at  home.  It  was  a fantas-
tic meeting from my point of view because I was made to feel very welcome at 
the marae and there were very positive suggestions made there. I would like to 
thank everybody for making  me feel at home and I  hope  that  we  can  make  
some  progress  on  the  suggestions  made.  I  will  return  to  the  marae,  with  
the whole staff, on Friday 12th because it is the venue for our professional devel-
opment day. I also remind parents that the school is closed for tuition on this day.  
I was also able to spend some time with the Duke of Edinburgh Bronze group 
who were getting tuition on bushcraft. Thanks go to Stephen Orchard for giving 
up  his  time  to  tutor  them  and  to  Robyn  Bruce  for  her  excellent  organisation. 
Robyn is ably assisted by Wayne Maclennan. The Sports" Leadership group were 
also camping at school to complete some standards for NCEA. Thanks also go to 
Lana Parkinson for her excellent organisation.  
The  new  system  for  marking  the  rolls  for  buses  is  going  extremely  well  
and  buses  are  getting  away quickly and safely. Thanks to all the students for 
their co-operation. The system was suggested by the students  from  the  Student  
Council  and  the  school  prefects.  This  is  an  excellent  example  of  positive 
student  leadership  in  the  school  and  it  is  exactly  what  we  are  trying  to  
encourage    with    our    vision    of  "Today"s  Learners,  Tomorrow"s  Leaders".  I 
would also like to acknowledge and thank Arina Bosch and Monique Myburgh 
for  their  excellent  work  organising  the  buses.  In    this    week"s    newsletter    we  
have  included  the  Positive  Behaviour  for  Learning  School-wide  social be-
haviour matrix for the grounds. This is our focus for this week. Finally, we are 
really proud of our students involved in the Aviation Academy and would like to 
express our  thanks  to  Murray  Hargreaves   and  Paul  Morrison  for  making  it  
possible  for  the  students  to  have flying  lessons.  Our  thanks  also  go  to  
Mark  Ottaway,  Stephen  Jaques  and  Kaiwaka  Sports  Association  for provid-
ing sponsorship.  
Roy Fletcher, Acting Principal  
Board of Trustees Election Timetable 
Please take note of the following deadlines if you wish to stand for the Board of 
Trustees in the upcoming elections. 
1. 
Nominations for BoT close at 12 noon on the 16th May 
2. 
Voting papers will be distributed by the 21st May 
3. 
Voting closes noon on election day 30th May 
4. 
Votes are counted on the 5th June 
5. 
Board takes office on the 6th June 
 
The Board looks forward to your nominations            Ross Millar, BoT Chair 
Drive with care after long dry spell warns NZTA
Heavy rain forecast for Auckland and Northland can create dangerous driving conditions 
after the extended dry spell, and the NZ Transport Agency says people will need to take 
care on wet highways and roads.  
"Because we"ve had so much sunshine in our regions , expect road surfaces to be slippery 
with the rain," says the NZTA"s Regional Assets Manager, Steve Mutton.    
"All summer long, dust, dirt, oil and other debris builds up on the surface and when it 
rains, those ingredients combine and get stirred up to make driving conditions slippery and 
dangerous.  Conditions are at the worst in the first few hours of rain, and light rain is more 
of a challenge than a heavy downpour."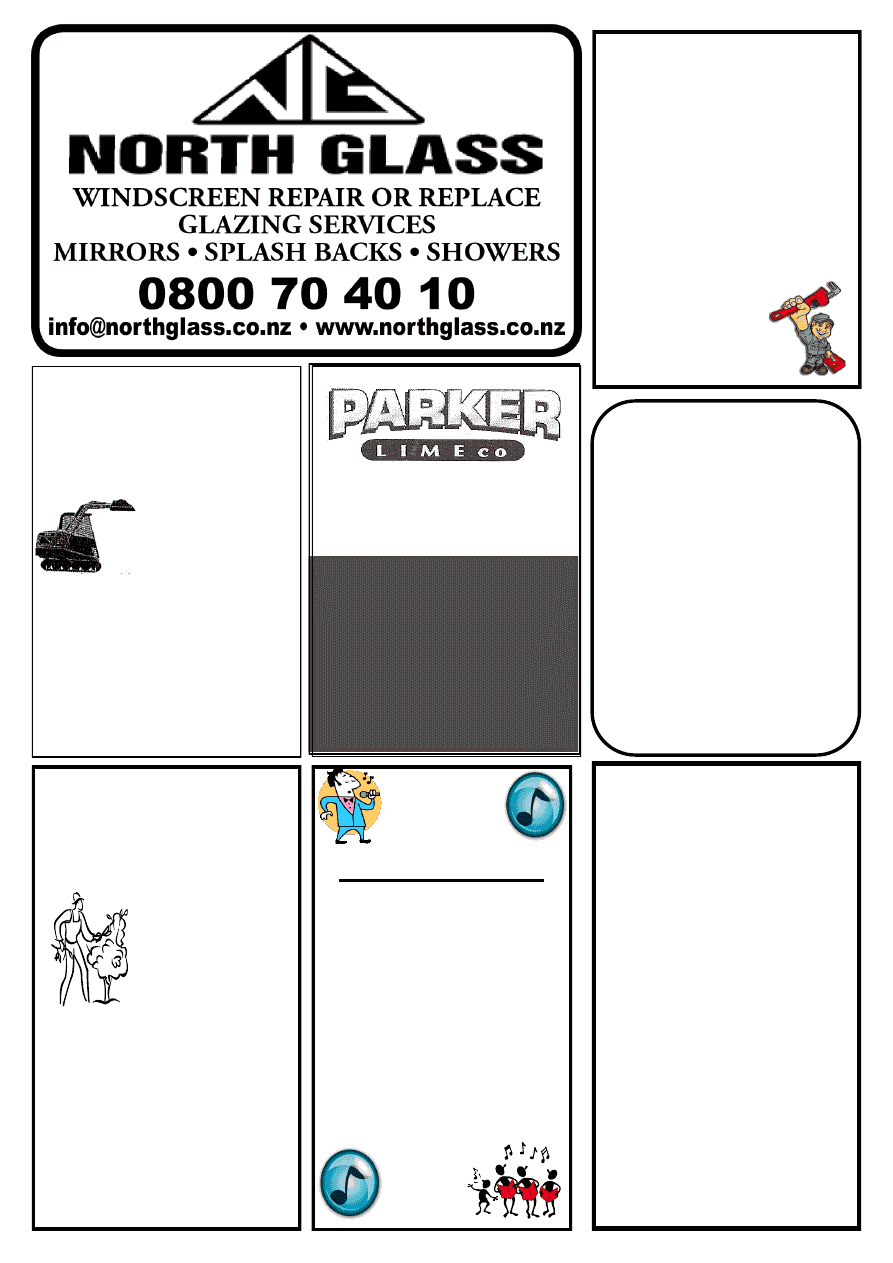 T.W.WRIGHT 
WATER PUMPS  
SALES & SERVICE 
DEEP WELL & SUBMERSIBLE 
REPAIRS 
203 WHAKAPIRAU RD, 
WELLSFORD 
PHONE 09 4238235   
MOBILE 021 976 545 
Ross Murphy 
PLUMBER 
Certifying Plumber 
09 431 7510 
021 424 252 
Paparoa Based
+
New Housing 
+
Renovations 
+
Maintenance 
Landscape Supplies 
Bulk Cartage 
4312407 
Mob: 021 453 252  
Fax: 4312939 
scott.parker@parkerli
me.co.nz 
Gibbons Road, Kai-
waka 
Willow Bend
HORSE  
HOTEL 
"   
Total Horse Care 
" 
Agistment 
" 
Riding Lessons 
" 
Arena Hire (60x40) 
" 
Young Horse Starting 
" 
Re-training/Exercising 
" 
Hoof Trimming 
" 
Problem Solving 
Phone Sue 09 431 2817 
or 021 623 776 
Or email sue.gray@xtra.co.nz 
OUT THERE 
GARDENS AND LAWNS 
Lawn Mowing – Any Size 
Section Clearing  
Hedge Trimming  
Spraying  
Planting 
Pruning   
Gutters Cleaned 
Chainsaw Work 
Regular Services 
General Maintenance 
Garden Waste Removal 
Free Quotes 
Get The Job Done! 
Servicing Kaiwaka/Mangawhai 
Contact Phil Jones 
027 243 5503  
431 2196  
Email: outthere09@gmail.com 
Singing Lessons 
Individual sessions 
All styles of music  
All voice types 
Reasonable rates 
Phone  
Maura Flower 
021 164 8318 
Landcare 
Services
Dave Hyndman  
     4312302 
021 431238
Trenching, Hole Boring, Land 
Levelling,  Driveways, 
Landscaping,  Post Peel,  
Pig Post, Lifestyle block 
mowing, etc....also Rotary 
Hoeing 
For reliable and friendly service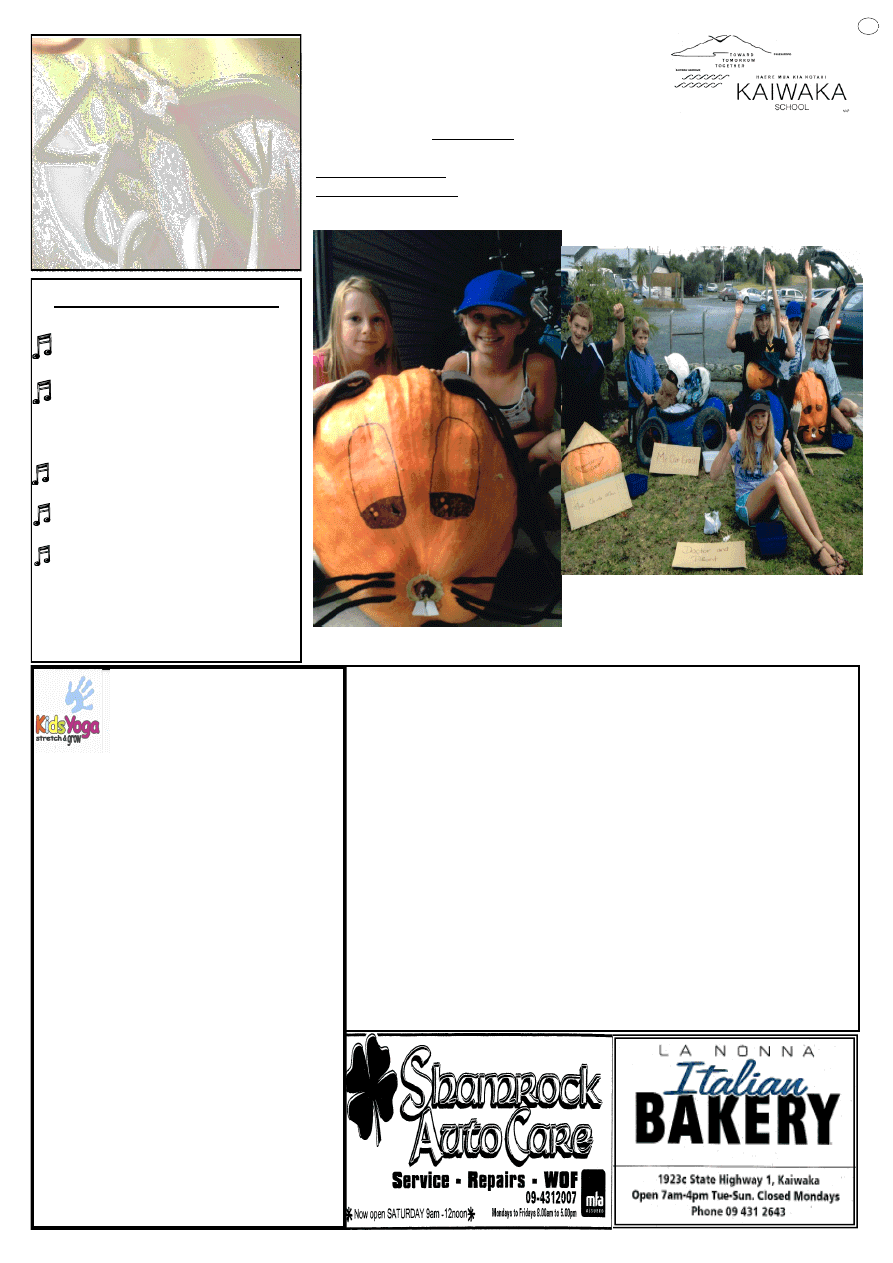 11 
Paul Greig Electrical Ltd 
Residential • Farm • Commercial 
Paul Greig 
Registered Electrician 
  Ph: 431 2223  
Mob:021 230 2717 
Reliable & Professional Quality Service 
Based in Kaiwaka 
       KAIWAKA SCHOOL 
Kaiwaka  School 
Board of Trustees Election  2013
Nominations  are  invited  for  the  election  of  3  (three)    parent  repre-
sentatives to the Board of Trustees. 
A nomination form and a notice calling for nominations will be posted 
to all eligible voters. 
Additional nomination forms can be obtained from the school  office. 
Nominations close at noon on 16th  May 2013 and may be accompa-
nied by a signed candidate's statement. 
The voting roll will be open for inspection at the school  shortly and 
can be viewed during normal school hours. 
There will also be a list of candidates' names, as they come to hand, 
for inspection at the school. 
Voting closes at noon on 30
th
 May 2013. 
 
Sara McAulay 
Returning Officer 
Kaiwaka School 
SINGING LESSONS 
  Want a better voice, feel shy 
about singing? 
  If you are a new beginner,  
beginner amateur, singer/ song                                                                               
writer or just need a tune-up,  
   contact me.   
  Working on a demo or  
recording I can help! 
  Singing products and workshops 
available.  
  Teaching 39 years in NZ  
music industry at all levels 
Phone Robyn Hill on  
09 4319159 or 0274 725610 
Yoga for Kids during             
    School Holidays 
Kaiwaka
                  When:  Monday the 22
nd
 and   
 Wednesday the 24
th
 April 2013  
Time:    10.30 and 12 noon!
Fun story- based yoga classes, colouring in 
mandalas and games for children between the ages 
of four and ten, with the aim of fostering a positive 
attitude towards themselves and also teaching chil-
dren important tools of how to use their own breath 
for relaxation. 
I also offer classes for teens which will be 
more based on flexibility, acceptance of who they 
are and creating a clear and focus mind through 
breath and body movement! 
The classes will run for approx. 1 ½ hours.  
Classes and times are subject to interest, ages and 
numbers of children. 
$ 5 per session per Child / Teen!!! 
Registration is essential – classes are limited to 
10!  Call today for more information and to 
book your space  
Gabriele 09 4312 099 or 022 0704763 
Kaiwaka School"s Annual Giant Atlantic Pumpkin  
Competition was held on Thursday 28th March 2013. 
Categories were: Fancy Dress won by Paige and Summer Kenyon with Bunny Bill 
Williams. 
Long Distance Roll won by Brayden (Bob) Mills with Mr China Man 
Weigh In For Trophy won by Michael Ferguson for the second year in a row with 
Mr Car Crash and a weight of 66.5kg 
 
A fun day was had by all.  Thanks to those 
who supported this year"s event. Special 
thanks to Maungaturoto Vet Centre for the use of their scales.           Megan L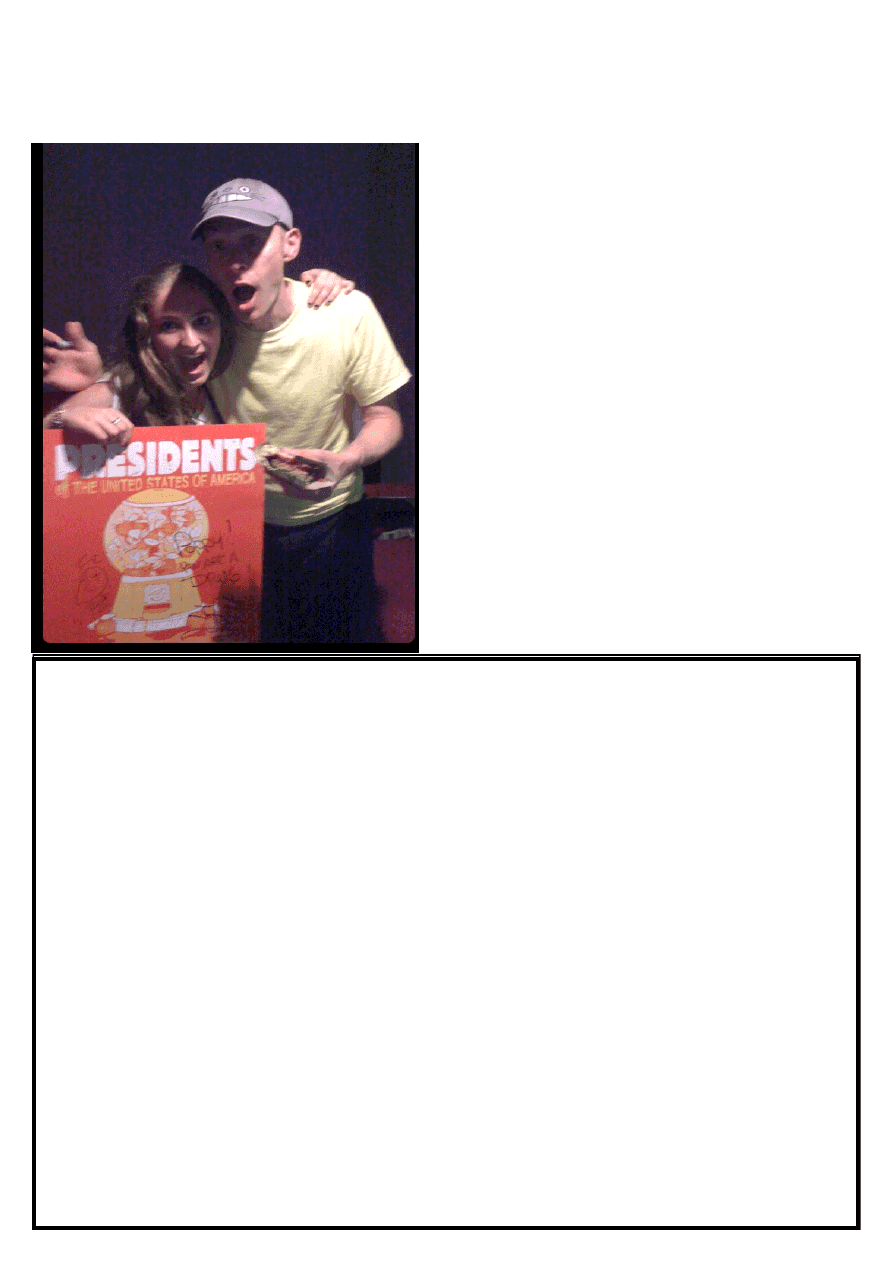 So  a  good  question  right  now  may  be,  how  did  I,  (Poppy  Tohill)  a 
local  seventeen  year  old  girl  get  to  work  with  one  of  the  biggest 
bands  from  the  90's?  Well,  good  question.  Here's  how  the  adven-
ture unfolded…   
My desire is to manage and do public relations for musicians, so in 
order  to  achieve  my  goal  I  set  out  in  search  of  some  work  experi-
ence in this field. I contacted the Do It Records Management Com-
pany and Paul Marshall decided to give me a shot at it. My first as-
signment  was  promoting  the  band,  the  Presidents  of  the  United 
States of America on their Australasian Tour. After weeks of poster 
drops  and  clogging  up  everyone's  newsfeeds  on  Facebook  and 
twitter, the big day finally arrived! At the crack of dawn on Monday 
18 March, I nervously made my way to the hotel to rendezvous with 
the band and management team. First on the schedule was a num-
ber of television interviews with the Good Morning Show, Four Live, 
U Live & Nightline. From the thick of television world on the Good 
Morning  Show  to  experiencing  the  breakage  of  Paul's  nose,  I  was 
thrust even more so into the management world, covering for the 
hospitalised  manager!  Making  sure  the  band  members  had  coffee 
and  got  to  their  interviews  on  time,  I  became  the  new  temporary 
manager!  Concluding all the interviews, sound check and a pit stop 
for  dinner,  it  was  time  for  the  doors  of  the  Studio,  The  Venue  to 
open,  me  to  test  out  my  skills  at  being  a  burly  backstage  security 
guard and the night to begin rocking! Two kiwi bands preceded the 
main  billing  for  the  night.  Security  guard  duties  were  running 
smoothly.  Then  the  PUSA  took  the  stage  by  storm-  I'm  sure  my 
good  luck  high  five  to  each  of  the  members  had  something  to  do 
with this! Their energetic performance and repertoire of songs were 
an  astounding  hit  with the  audience  and  the  gig  was  a  raging  suc-
cess.  My  night  ended  hanging  out  backstage  posing  in  silly  photos 
with the Presidents, and discussing all things 'rock n roll!' If it wasn't 
for Paul's generosity I would never have had a brief encounter with 
the legendary Santana, a surprise catch up with my friend Shannon 
Ryan (a presenter on Four Live), discovered my talents in event se-
curity, and spent the day hanging out with some incredibly down to 
earth 90's  rock  legends.  I  never  imagined  that  I'd  ever  be  rubbing 
shoulders with the Presidents of the United States of America..  
 
                                     Poppy Tohill 
(1) Join the Mangawhai Ratepayers association and support the court action. 
(2) Stop putting your money into an incinerator and join the rates strike. 
If only half of the ratepayers in the Kaiwaka area joined the rates strike the madness would stop. 
Please join the other 2,000 people who have seen the light, and choke off the money supply until they 
either meet the community half way or go down completely. 
At the stroke of a pen they have pulled their office out of Kaiwaka. They didn't even offer the landlord 
the courtesy of a discussion. 
Are you going to stand for that kind of treatment?? 
Send an email to mrra@vodafone.co.nz and we will send back an enrolment form and payment infor-
mation. Or write to P.O.Box 225 Mangawhai 0540, enclosing  
a cheque for your subscription, and including your name and address,  
and an email address if you have one. 
$10.00 single $15.00 Family, per annum, plus any donation you are able to make to the legal fighting 
fund (refundable if we don't have to spend it). 
Now you know, even if you weren't there, what the KDC Commission is really 
like.
How do you respond to this?
The Bugle Call Has Sounded
The Presidents of the United States 
Ha! I bet you instantly thought Obama, didn't you? Not 
quite.. The Presidents I'm talking about are the 90's 
rock band legends- the Presidents of the United States 
of America (PUSA)…  
Photo Poppy Tohill with  Chris Ballew (vocals)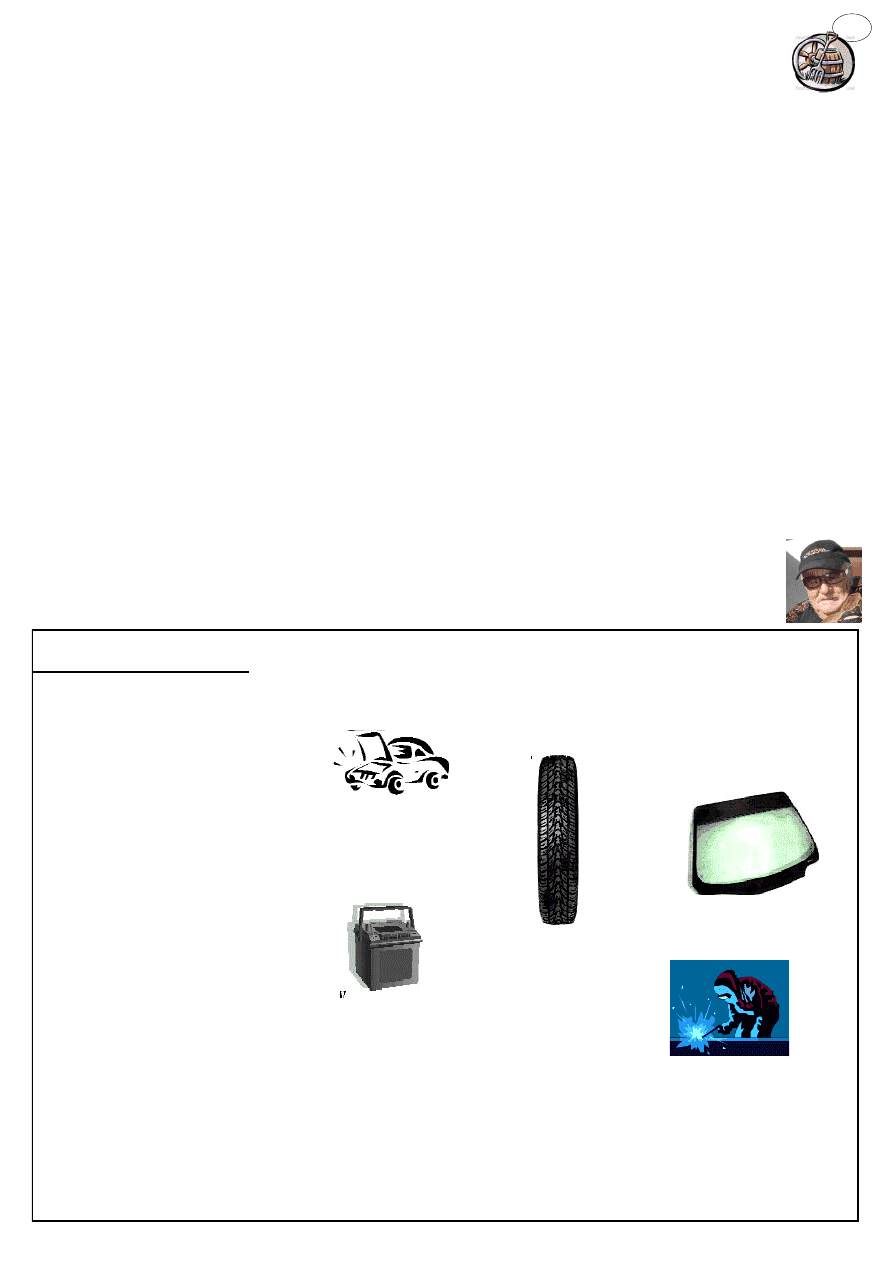 SOME NAMES FROM THE 
PAST 
In the Daily Southern Cross newspaper 
dated the 22nd June 1875, under the 
heading KAIWAKA by local corre-
spondent, is the following report. On 
May 27th at the General Hospital, died 
William Dunmore, a well known settler, 
an old seaman, more familiarly known 
as "Ned".  He had been a resident in the 
district for some 15 years and was noted 
for being clever in carving headboards 
for graves and fancy walking sticks. 
William Dunmore owned 24 acres, be-
ing lot 42 which is the land between 
Laurence Road and Gabolinis Road on 
the south side as one starts to go down-
hill to Mangawai.  It was he who at a 
meeting on the 9th of January 1871, 
moved that the Kaiwaka School be sup-
plied with a blackboard, which was se-
conded by Mr Boyd of Settlement 
Road.  In June of the same year he was 
appointed to draw up plans for the first 
school house in conjunction with the 
teacher Mr Grainger.  He was elected to 
the Kaiwaka School Committee in 
1871.  I can well remember when 
young, his carved Kauri headboards in 
the Hakaru and Te Arai Cemeteries, and 
although well weathered and rotting, it 
was plain to see that they were a work 
of art.  Sadly time and fire has ravaged 
the old headboards and only the steel 
ground pegs that held them in place re-
main. It is possible that it was Ned Dun-
more who made the brooms that were 
shipped down to Auckland by the doz-
ens for sale from Mangawai along with  
cheese and butter from other settlers.  
While his brooms and headboards no 
longer exist, it is possible that some of 
his ornate walking sticks do.  His work 
in the district is known only by the cou-
ple of mentions he gets in the history of 
the Kaiwaka and Hakaru schools.  Be-
ing a seaman he would have got on well 
with fellow seaman, my great grandfa-
ther William.   
Another name of a slightly later date is 
the name Williams, with Alfred George 
Williams and his wife Harriet Jane nee 
King taking up land at Hakaru circa 
1895, just after their first son, Albert 
Pritchard Williams was born.  Another 
three children were born at Hakaru, be-
ing William Henry, Leonard Murray 
born 1901 and Evelyn May born 1905.  
He was a share holder, but not a suppli-
er of the Hakaru Dairy Factory in 1902, 
and was secretary of the Mangawai 
Horticulture and Flower Show for some 
time, and was a chairman of the Hakaru 
School, which up till 1916 was held in 
Sarahs Hall, alongside the Court House, 
and in the District School"s History his 
name is mentioned as him being a yeo-
man for the district.  His  wife, who was 
school caretaker  
is also mentioned in the same 
way.  They left the district in  
1915 and the school reverted back to a 
Dance Hall which is where my parents 
met in 1920, the new and present hall 
was built in 1928.  A new school was 
built up Valley Road on Blackwell 
land, being opened in 1916.  In April 
1915, Albert Pritchard and William 
Henry (Billy) along with my father, 
Dick Leslie, Keith Leslie and Bill 
Shelton rode to Maungaturoto and en-
listed for the front. Billy was working 
for my grandfather at the time as he 
employed many on fencing and road-
ing contracts, which included fencing 
off the railway line.  My father"s diary 
tells how they were working for the 
Public Work Dept. on the road and dad 
was getting 9 shillings a day.  On the 
Saturday after they enlisted, they rode 
to Mangawai and had a game of foot-
ball.  Dad and Keith got through the 
war well, Albert was wounded and 
both Bills were killed.  Bill Shelton 
was keen on dad"s sister, Mary, and if 
all had gone off well they would have 
married, but she never did and is bur-
ied with her parents at Kai-
waka.  If anyone has details 
of the Williams" family, I  
would like to know.    
Bill Leslie 11/04/13 
Want it done? 
Bring it to...      
Twinkle Tow 'n' Tyre
*W.O.F. 
*Tyres 
*Windscreen replacement 
*Chip repairs 
*Bulk Oil 
*Batteries 
*Welding 
*Custom built trailers 
*Trailer hire 
*Storage available, cars, boats, house contents etc.
Think you"ll get a better deal in the city? 
Go on, ring us; it won"t cost anything! 
1837 State Highway 1, Kaiwaka       Phone 431 2823 
13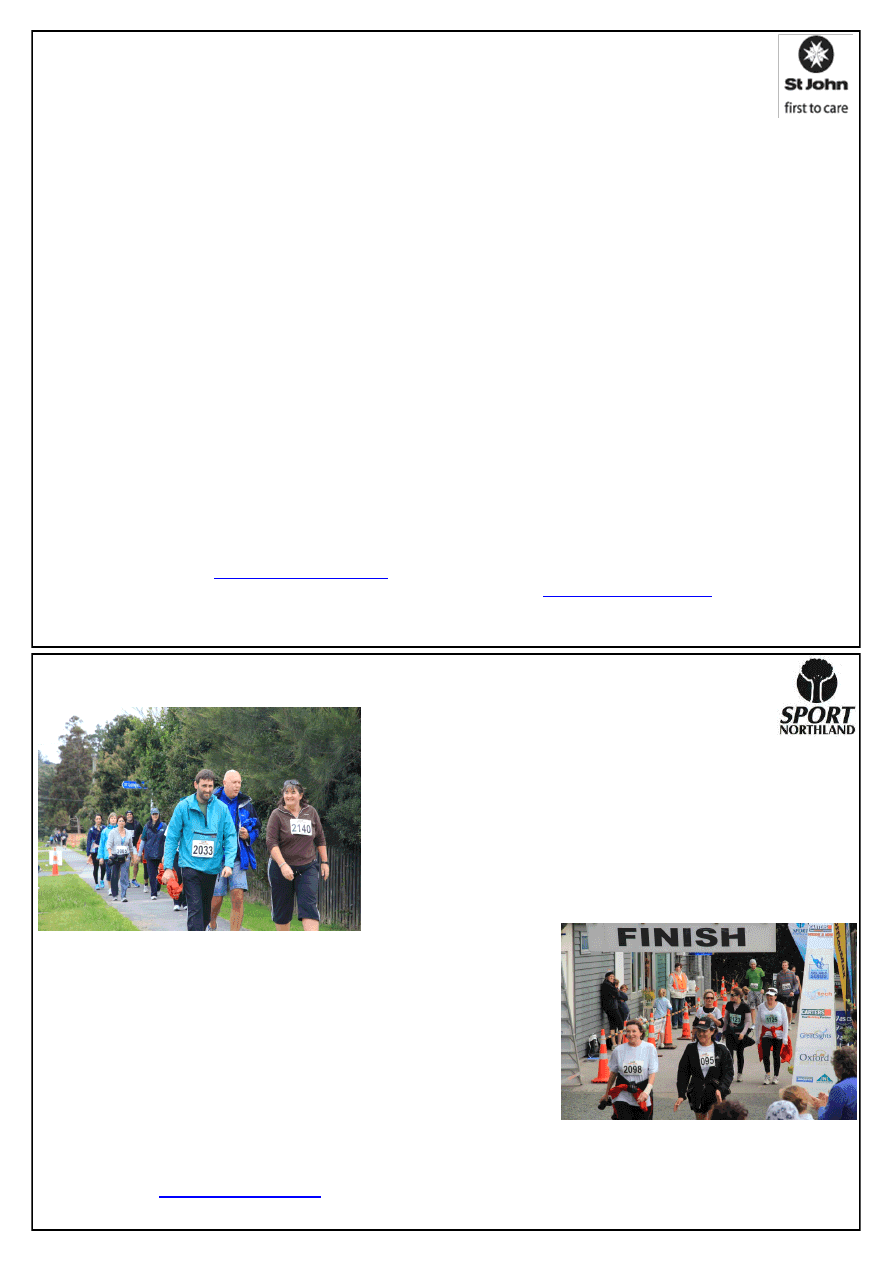 Save the date – St John National Youth Festival, 27 April  
The St John National Youth Festival and Competitions are being held on 25-29 April in Auckland. 
Members of the media and the public are warmly invited to attend: 

Major event: First aid competitions
 (including realistic accident scenarios) on the hallowed turf at Eden Park from 10.00am 
to 3.00pm on Saturday 27 April 

A Hauora Youth expo focusing on
 community youth organisations and careers in health (sponsored by St John North Shore 
Area Committee) at the North Shore Events Centre between 10.00am-2.00pm on Friday 26 April  

Drills and communication competition
 day at the North Shore Events Centre between 10.00am and 2.00pm on Friday 26 
April. 
The Festival is the major event for St John Youth in New Zealand.  For many of the Festival participants, the competitions day on Satur-
day is the key event and what they have been training for since last year.  The three St John Regions in New Zealand (Northern, Central 
and South Island) are represented by 12 teams who will be tested (as teams and individuals) in first aid, healthcare, leadership, com-
munications and drill (marching). 
Props, make-up and 'patients' will be used on competition day to recreate realistic accident and medical emergency situations.  Scenes 
are staged as realistically as possible so that competitors react in a way that mirrors how they would respond in actual accidents and 
medical emergencies.  
As well as competitions, this year's festival has a theme of 'Hauora' – health and wellbeing – and will include a hauora expo on Friday 
26 April, with a particular focus on youth health. 
The St John Youth programme has been going strong for 86 years in New Zealand.  It focuses on positive youth development, offering 
young people from 6 to 18 years great opportunities to develop leadership and decision-making skills. It encourages discovery, adven-
ture and learning – with an emphasis on having fun and meeting new people. 
For more information or for interviews with Festival management or participants, please contact Catherine Orr, Communications Advi-
sor, on 09 571 3414 or email 
For more information on the St John Youth programme, please visit our website at 
Catherine Orr  Communications Consultant 
St John
           Earlier date set for Mangawhai Heads 2 Hub
Sunday 21 April is the new date set for the Mangawhai Heads 2 Hub Run/Walk, this year sponsored by Jeff Oliver 
Print. This annual event, organised by Sport Northland has 
moved from being a mid-winter event in July to the new April 
date.  As well as a shift in date, a new distance has also been added. Sport 
NorthLand's Events Team Leader Hayley Overton says, "It is great to be able 
to offer a shorter option of 5.5km to the usual 8.5km event. This is only the 
second event in the 2013 Sport Northland Run/Walk Series so it is good to 
make a more achievable distance for the newcomers.  Pompallier College 
student Harry Linford will be trying to continue his great run of form having 
completed the 2012 Sport Northland Run/Walk Series at the top of the Lead-
erboard. Lindford has continued on with his good form to win the first event 
in the 2013 series, the Chilltech Beach 2 Basin. Similarly in the women's divi-
sion, last year's series winner 
Carolyn Younger, was first across the line in the 9km event to take the top spot on 
the 2013 Women's Leaderboard. The Jeff Oliver Print Mangawhai Heads 2 Hub 
5.5km will start at Sail Rock Café on Wood Street for either a run or walk at 
8.30am while the 8.5km event will start at Mangawhai's Ocean Beach for a run, 
walk or pram stroll at 9am. Both courses will link onto Molesworth Drive and con-
tinue to the finish line at The Hub.  A great array of prizes, from Sport Northland 
sponsors, are once again up for grabs for the competitors with a Telecom mobile 
phone and  iPod from Gen-i, Fullers Great Sights vouchers, ASB and Asics mer-
chandise plus the major prize, a bike from AvantiPlus Whangarei.  All Northland 
adults who compete in the event will go into the draw to win the Suzuki Splash 
car sponsored by Pacific Motor Group which will be drawn following the last event in the Run/Walk Series, the Fullers 
GreatSights Kerikeri Half Marathon on Saturday 16 November. The 5.5km or 8.5km Mangawhai course makes a great training 
run in the lead up to the next event in the series, the Jennian Homes Mother's Day Fun Run/Walk to be held on 12 May. Entries 
are open Online at 
 and close on 17 April or pick up an entry form from a Carters store or Sport North-
land Office.   
                                                         Photos from last year's event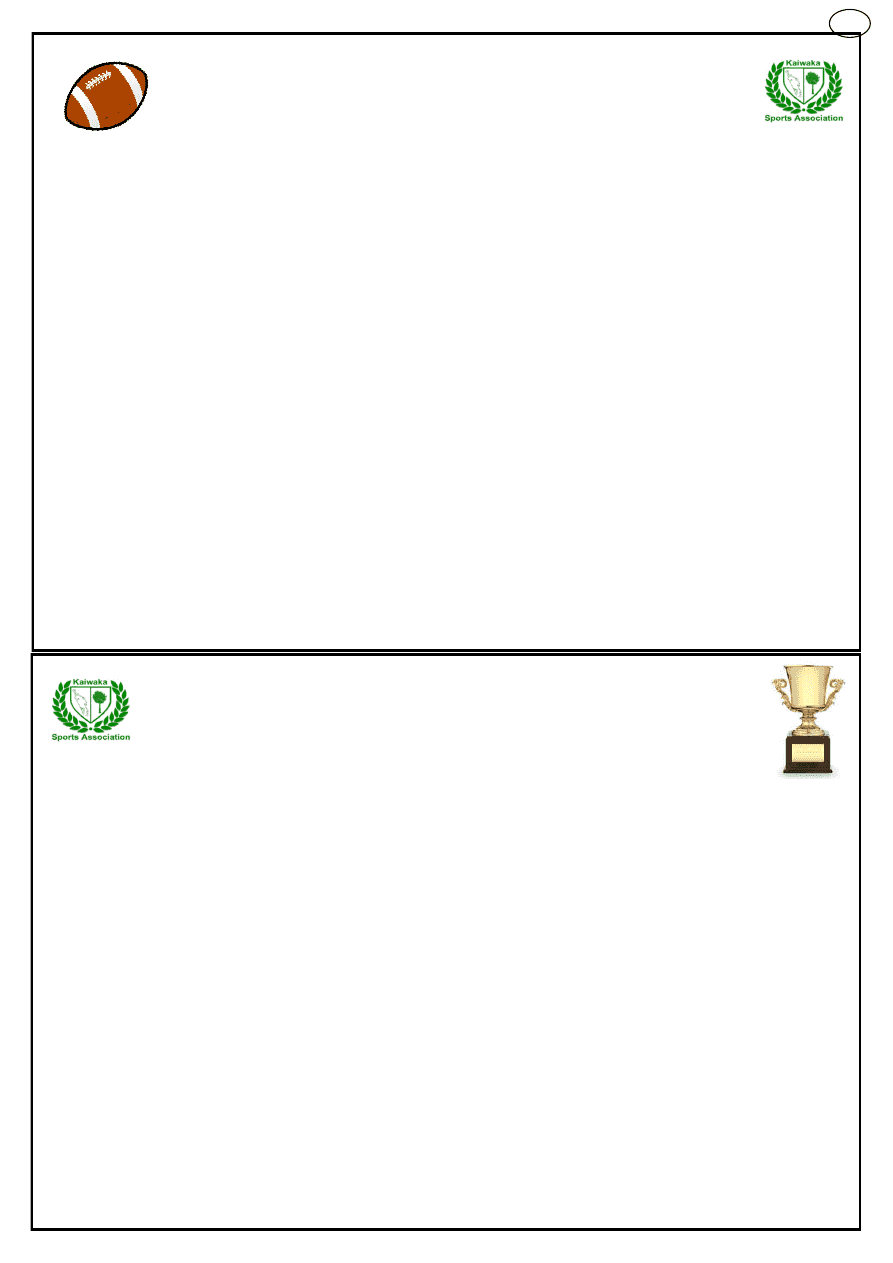 OTAMATEA 
HAWKS 
  REUNION 
Sat 20
th
 April 
Kaiwaka Sports Complex 
09.30am    Eastern United vs Mgto U7's & U9's 
10.15am    Eastern United vs Mgto U11's  
10.30am    Otamatea vs Kamo U14's 
11.00am    Golden Oldies Otamatea vs Manaia 
12.15pm    Otamatea reserves vs Hora Hora 
  2.30pm     Otamatea premiers vs Hora Hora 
Spectators welcome 
Food & drink available 
KAIWAKA SPORTS  
ASSOCIATION
SPORTS AWARDS 
Monday 29
th
 April, 6.30pm 
Kaiwaka Sports Complex 
Emcee: More FM's John Markby 
Guest speaker: Charles Donoghue 
  Adults   $25      
        Children (Year 9 & under)   $10
Tickets available from Jaques Four Square, KSA club delegates or phone 
Cheryl Anderson on 4312 051 
15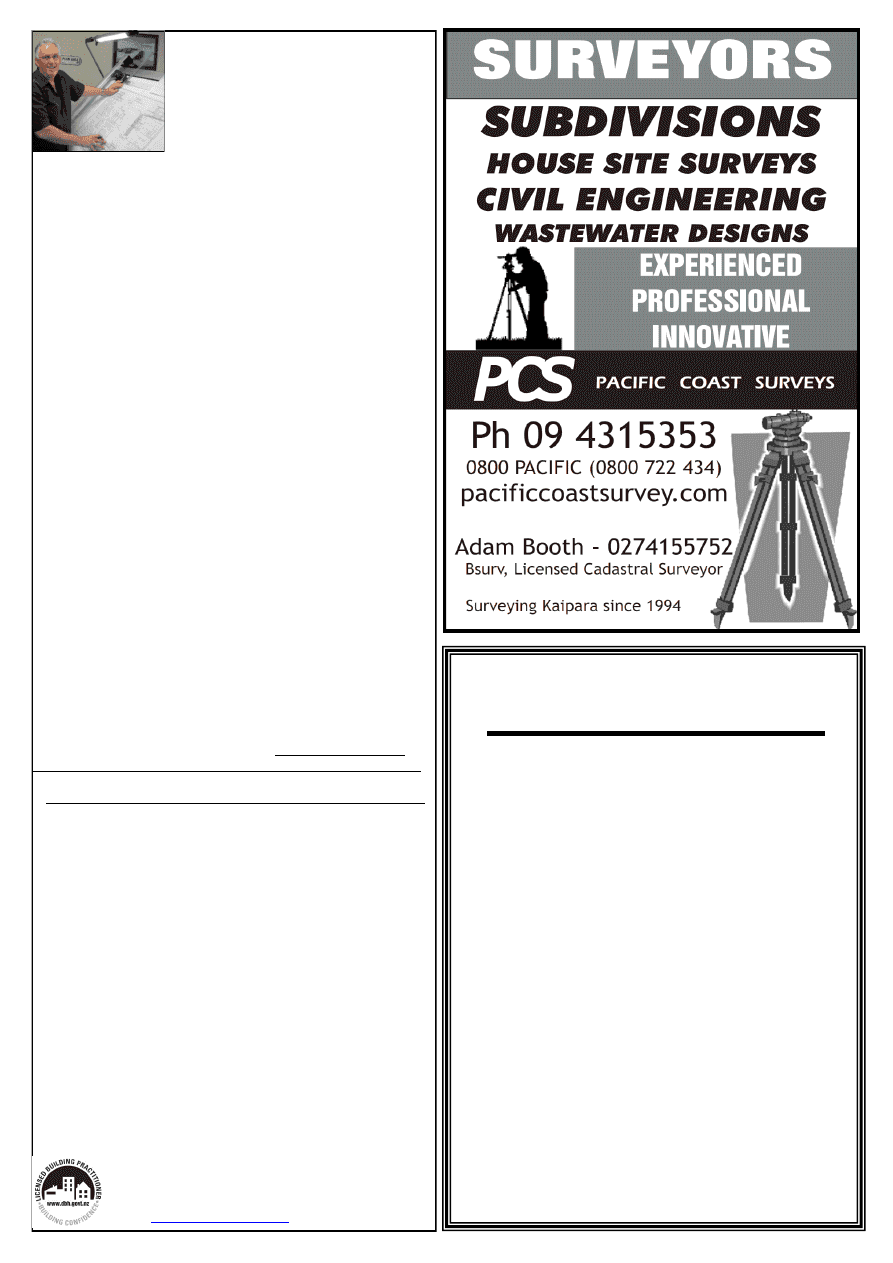 STOCKFOOD
GREAT RANGE FOR ALL YOUR LIVESTOCK  
AT GREAT PRICES 
 ALSO CHECK OUR 
DOG BISCUITS 
20 KG FOR $57.80 
LPG REFILLS 9KG 
STILL ONLY $31.50
MANGAWHAI SERVICE 
STATION 
(09) 431 4242 
44 MOIR STREET IN THE VILLAGE 
ARCHITECTURAL 
BUILDING PLANS 
AND DESIGNS 
20% Reduced Cost - design and planning. 
If you are thinking of building, then you need 
to make use of cost savings in architectural 
design as well as having a good and well experienced designer. 
This applies if you are considering a new home, any alterations or any 
building additions/farm buildings, sheds, alterations, whatsoever. 
There are many things that are frustrating if you are not totally 
familiar with what all details are required by Councils -especially 
with new regulations in force to ensure everything runs smoothly - 
e.g. Resource and Building Consents, planning restraints, new 
building materials ,applying for building permits, dealing with 
building contractors to name a few -you need a capable,  
experienced and professional designer with a clear knowledge of 
all the processes. 
WE CAN HELP YOU CLARIFY ALL OF THESE ITEMS 
 
AND MAKE LIFE RUN MORE SMOOTHLY. 
Brian of Wright Design has been helping and organising all these 
facets of design and building for over 40 years. 
With needs of family changing and the economy - building require-
ments constantly being reorganized and made more complex, it"s very 
important to obtain professional advice for any building project - no 
matter what size. 
Brian advises on design, materials, permit applications, builders 
and subcontractors for any project - no matter how small or large 
ALL THIS AT A REDUCED COST so YOUR DOLLAR    
GOES FURTHER  
Wright Design offers free visits, consultations and all the advice 
you need on planning. Design, building, contractors, council  
permit applications, guaranteed permit plan acceptance. 
QUALIFICATIONS 
Brian is a qualified designer (NZCAD) with over 40 years of varied 
experience in all types of building and is a registered and Licensed 
Building Practitioner in Design - L.B.P. 117345 
He ensures you will achieve the best from your budget with  
recommended excellent local contractors ready to competitively 
price and build your personal project quickly and efficiently. 
EXPERIENCE 
Brian"s practical building and 40+ years of design experience 
means he can give you excellent advice and all the guidance need-
ed for all your building needs, 
FEES: To help you attain your project Brian has reduced his 
costs by 20%, giving you extra funds for the rest of your project. 
ENGINEER: Brian can arrange engineering for a reasonable cost. 
THIS IS AN ABSOLUTELY GENUINE FEE REDUCTION!! 
Qualified and inexpensive designer – N.Z.CAD., LBP 117345 
Guaranteed design and working drawings 
Free site visit to your home or property 
Great service 
Obtain a free quote with 20% Discount. 
PROJECTS 
Additions, alterations, basements, new houses, motels, bed and 
breakfast commercial buildings and shop fit outs are a few pro-
jects he has been involved with. 
Brian can show you many of his projects in the area to emphasise 
his versatility 
WHAT TO DO FROM NOW 
Call Brian   
Arrange a visit 
Discuss your needs 
Obtain great advice.  
Obtain a free quotation - with a true 20% discount 
Make a decision based on the facts - You Won"t Be Disappoint-
ed! 
MAKE GOOD USE OF HIS EXPERIENCE AND THIS 
GREAT OFFER OF REDUCED FEES OF 20% 
Brian can offer plan printing-from A4 to AO (2 x A1 size) 
WRIGHT DESIGN 
Brian"s office is at: 72 SPINDLER ROAD, R.D.2 WELLSFORD  
(Off Wayby Valley Road.) Call in for a chat and a coffee, or he 
will call on you at your home if preferred. 
WRIGHT DESIGN: Office 09-423-8092 
Mobile 021 276 7389 
Email: 
@ the  
Kaiwaka Family 
Church 
 Your COMMUNITY 
CHURCH 
Each Sunday  
10am:  Lively Family  
    Programme 
 
Everyone warmly welcome.
Ph.: Pastor John Dekker     
09 4318203 
THERE'S 
AMBER'S 
Q Cafe &  
Restaurant  
All day breakfast, 8am - 5.30pm.     
Home made Pizza, take away or eat in from 8am to late. 
 Light lunches, 11.am - 5.30pm, 
Dinner Menu at 5.30pm to late 
 Toasted Sandwiches and Sandwiches made to order. 
All day, Pies, Chowder & Soups 
 Milkshakes, Kiwi Ice cream, Slushie Fruit drink, Tea, 
Coffee 
 Closed Mondays.....except Observed Holidays 
 Sunday to Thursday: 8am - 8pm 
 Friday: 8am - 8.30pm, Saturdays 8am- 9pm 
4315226 
Trevor & Amber 
41 Moir Street, Shop 5-6  
Mangawhai Village 
Next to Carters Building Supplies 
17 
HAKARU RSA
Women's Section 
2nd Friday of the Month 
from 6.30pm 
    Roast of the Day  
 $12.00 
    Fish n Chips  
 $10.00 
     Pea Pie Mash   
  $  6.00  
Includes salads 
Desserts  $3.00 
Phone Heather 4314668 
Jan 4314512 
St John Op Shop  
Getting cooler.  We have some 
lovely warm clothing. 
Large  items: 
single bed with head-
board $20; single bedbase and mattress 
$45;  large  writing  desk  (ex  Post  Of-
fice);  Ironing  board  $8;  two  loungers 
$10 each; all in very good condition. 
We  desperately  need  crockery,  towels 
and  blankets  and  anything  else  in  a 
clean and saleable condition. 
We  now  have  a  shop  telephone.  The 
number is 
431 2650 
Thank you, Milly 
KAIWAKA WEATHER 
Welcome  to  you  all.    Mad  March  weather 
was not so mad after all. Yes we had a bit of 
wind,  beautiful  sunny  days,  partly  cloudy, 
and  a  few  showers  which  were  quite  lo-
cal.    We  could  see  from  our  place  over  to 
tunnel hill there were more showers than we 
had.  I sympathize with the folk who have to 
buy  in  water.    I  hear  some  are  on  their  3
rd
tanker load.  Maybe you have had more than 
that.    We  are  nearly  disappearing  down  the 
cracks around our section as I guess a lot of 
other  people  are.    Well  we  recorded  24mm 
of  rain  for  March  with  rain  recorded  on  5 
days.  A  few  other  bits  were  not  recorda-
ble.  We have had 69mm of rain for the first 3 months of this year. Compare 
that to 339mm for the first 3 months of last year. Since 1987 when we start-
ed  recording  the  rainfall  the  driest  March  we  have  had  was  in  2004  with 
08mm.  The wettest March was 2007 with 260mm.   The wettest 3months 
of any year was 2011 with 520mm and the driest was (yes you guessed it) this year 2013 
with 69mm .  It would have been good to have a wind barometer over the last 3 months 
with some of that wind to record. I hope the Gods are not saving it all up to come in one 
big  downpour,  then  we  would  be  in  trouble.  Okay,  so  not  to  get  ahead  of  myself,  the 
weather will be what the weather will be.  We are still better off in all ways than a lot of 
other countries. If you happen to go back and 
check  on  my  records  I  am  sorry  I  got 
last March wrong.  Good on you if you picked it up otherwise you could not have 
lost any sleep over it. Anyhow take care out there and you will hear form me next 
month.    Remember  if  you  would  like  me  to  add  anything  in just  send email  to 
regandbj@xtra.co.nz   Oh you have no email?, phone 4312367. Bev. 
North Tec Future Trades 
& 
T
he
W
ork
C
amp
Invite everyone to their 
new training centre in 
Kaiwaka for a cuppa. 
Monday 6
th
 May 10.00 to 
11.00am. 
Behind the KDC beside the 
New Great Wall. 
-Lets Welcome "North Tec Fu-
ture Trades" to Town. 
-See what the first Elementary 
Construction Level 2 Course is 
about. 
-Look over our Fantastic New 
Carpentry Workshop. 
-Meet our Crew, see what we 
are Skilfully Constructing.   
-Plenty of Parking Available. 
Don't Forget! 
We are running more 
courses starting in July: 
Another Elementary Con-
struction Level 2:       
Enrol Now for July 
Painting Level 2.       
Enrol now for July 
Sustainable Rural Devel-
opment.   Enrol Now 
  
For enrolments or enquiries:  
Minnie 021 751 993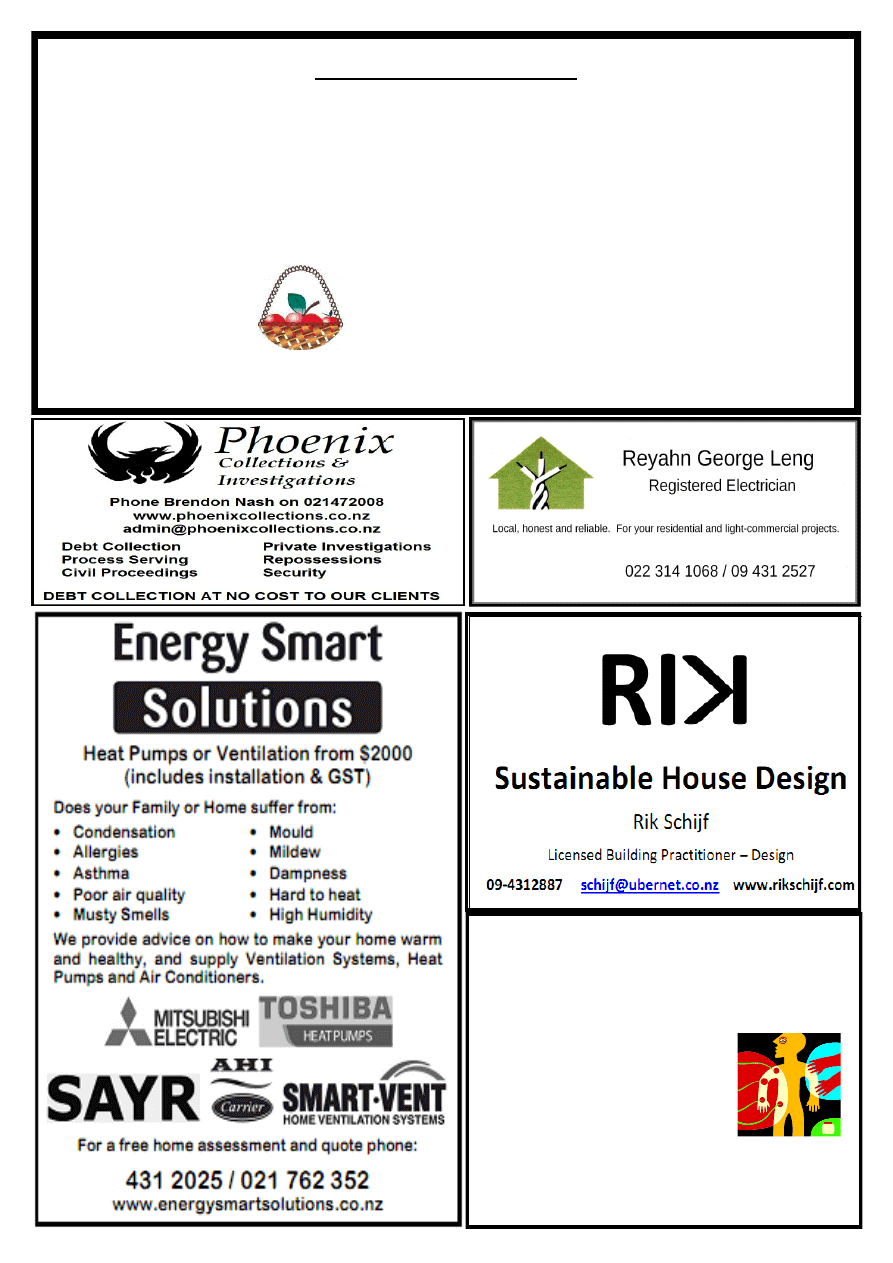 OWEN STEVENS 
Osteo Therapist
For careful adjustments to bones and joints 
Treatment for  
humans and their pets 
Clinics: Kate's Place, Kaiwaka: 
Last Friday of month 
Warkworth Showground:  
2
nd
 Thursday, monthly
For bookings:  9.00am-5.00pm 
Phone 09 4312661  
Or phone Owen  09 4317123   anytime 
The Apple Basket 
We are your local Creative Store.  Suppliers of Beautiful Fabric, Knitting Wools, Trims, Laces, Threads, Patterns, Books, 
Classes….the list goes on.  Come and see us and we will show you around.   
New Knitting Yarns in Store! 
Come in and check out the new colours and patterns! 
Get the needles out and get knitting! 
The Apple Basket 
1914 State Highway One 
Kaiwaka 0542 
PH/Fax 09 4312443 
www.applebasketquilts.co.nz 
Email: applebasketquilts@xtra.co.nz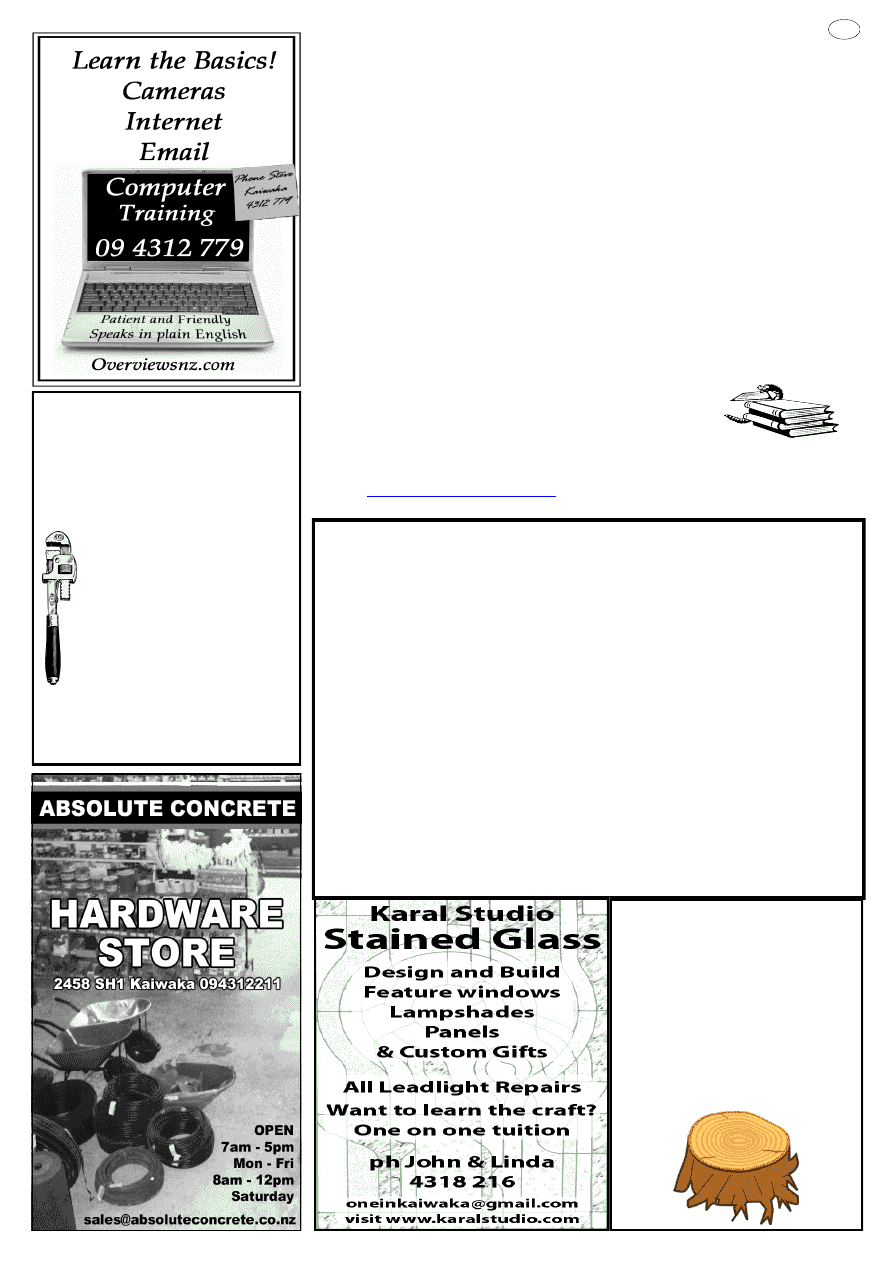 BARRY CURTIS  
PLUMBING LTD 
REGISTERED CRAFTSMAN 
PLUMBER 
Phone 4315572      
027 257 9884 
     25 years experience 
  
  
       Friendly reliable service 
  
All plumbing and  
maintenance 
       Alterations and new housing 
       New wood fire installation 
       Spouting 
       Competitive rates  
 PROMPT EFFICIENT  SERVICE  
PLANNING A NEW KITCHEN? 
 CONTACT NOEL McDOWELL
WELLSFORD KITCHENS
Ph/Fax 094312888 
KAIWAKA-Any time
  QUALITY CUSTOM MADE KITCHENS  
~Personal and Prompt Service~ 
~All Workmanship Guaranteed~ 
~Over 20 Years in the Trade~ 
~Free Design & Quote~ 
STUMP 
GRINDING 
Big or small  
Tidy professional job   
Tel: Mark 021 457247 
 or 09 4321816 
19 
KAIWAKA LIBRARY
The next Large Print and Audio book swap is rapidly approaching. Now is the 
time to return all of those books, please, so we can swap them for others at the 
end of the month. 
We've had more problems with the computer recently, due to an upgrade of the 
software that inadvertently locked out all of the libraries. That's now resolved 
and we're back to normal. Thank you for your patience over those few days 
when we had to work manually. 
The library will be closed on Anzac Day, Thursday 25 April. 
Recently I've read Echo Burning by Lee Child. Reacher is picked up on the 
road by a Latino woman, just as he needs to get out of town quickly 'cos the po-
lice are after him. She's been looking all over for him - or someone like him - to 
take care of a problem for her. All is not as it seems, of course - it would not be a 
Lee Child book otherwise! It's a good plot with twists and turns - oh, and did I 
mention that it's summer in Texas, and stinking hot? Hot enough to kill you if 
you're out in the open with no shelter or water for too long. An unexpectedly odd 
choice to read in the middle of summer, contrasting nicely with books set in po-
lar regions that I've read in winter (go figure!). This book is on the Rental Fic-
tion shelves in the library. 
See you in the library! 
Wendy Howard, Librarian 
Kaiwaka Library, cnr State Highway 1 and Kaiwaka Mangawhai Road. PO Box 
89, Kaiwaka 0542. Phone 4312 539. 
Email 
 Open Wed-Sat 10am-2pm, Mon 4-6pm. 
Membership is available to all residents in the Kaiwaka area.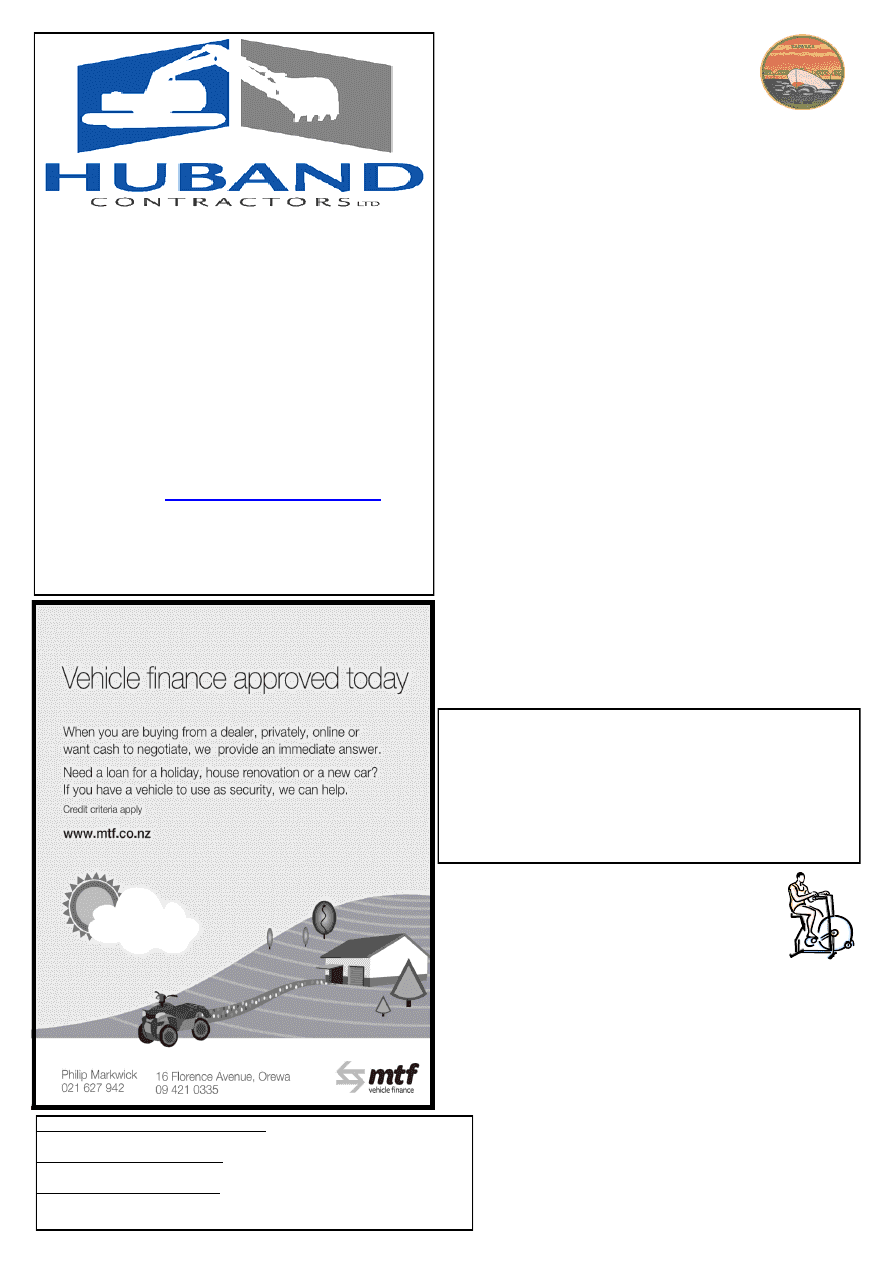 *   R O A D I N G   *   E A R T H W O R K S  
*    
*   D R A I N A G E   *   S I T E W O R K S   *  
For any further enquiries, contact 
Shaun on: 
Cell: 021 222 0272 
Home: 09 4318339 
Email:   
Shaun Huband:   
Registered Drainlayer 
Point Curtis Cruising Club
Results for East vs West Open Fishing Contest  
12,13 and 14 April 2013 
Junior Section 
Snapper: 1st : Bailey Addison 1.987kg, 2nd: Brayden Mills 
1.920kg, 3rd; Johnny Woolley 1.402kg 
Kahawai: 1st: Bailey Addison 1.807kg, 2nd: Bailey Addison 
1.526kg 
Gurnard: 1st: Brayden Mills, 0.764kg 
Eel: 1st: Caleesto Mills 2.541kg, 2nd: Brayden Mills 1.378kg, 
3rd: Hannah Mills 0.949kg 
Senior Section 
Snapper: 1st: Gravy 4.728kg, 2nd: Gravy 3.953kg, 3rd: Carol 
Welsford Mills 3.67kg 
Kingfish: 1st: Linda Leslie 18.58kg, 2nd: Tracey O'Donoghue 
15.641kg, 3rd: Renna Brown 13.812kg 
Kahawai: 1st: Gravy 2.689kg, 2nd: Andrew Kenny 2.394kg, 
3rd: Andrew Kenny 2.389kg 
Trevally: 1st:Chris Ries 1.838kg, 2nd: Barry Curtis 1.800kg, 
3rd: Johnny Clyde 1.798kg 
Gurnard:1st: Johnny Clyde 0.844kg, 2nd: Keith Mills 0.815kg, 
3rd: Andrew Kenny 0.800kg 
John Dory:1st Brian Denise 0.826kg, 2nd: Brian Denise 
0.610kg 
Crayfish: 1st Craig Butler 0.699kg, 2nd: Craig Butler 0.613kg 
Average Snapper Weight Prize (Average snapper weight 
1.591kg)  Colin Birkenhead 1.582kg 
Ladies Heaviest Snapper: Carol Welsford Mills 3.67kg 
Lucky Ticket Draw: Joseph Lund 
Thanks to those who entered and thanks to 3 Furlongs Hotel 
for hosting us. 
Pool Contest 27 April vs Maungaturoto 
Opening Day Duck shoot and end of season prizegiving 4th 
May 2013 
Wayne Leslie, Commodore 
KAIWAKA FITNESS
Hi Everyone, I know I have been a bit slack of late but 
now have computer at home, so will try to do more up-
dates of what"s happening at gym in future. It"s that time 
again for AGM will give date soon. It would be nice to 
have  a  few  more  people  on  board.  I  know  last  time  I 
wrote I said we would be getting a new bike; still looking at this as 
some members asked whether we really needed another one. I have 
also been looking at replacing premade barbells, thought it was sort-
ed but then the supplier said they were only sold in sets, the heaviest 
being 55kg which I don't think we need as too heavy for most of us 
and I fear I would be the one picking them up off the floor as people 
don't seem keen to put heavier weights away, so I am still investigat-
ing this. Have spent the week at work where everyone is on a diet of 
some kind from the mad to not so mad, anything to lose some kilos. 
Remember when trying to lose weight it has to be more of a life style 
change than a quick fix, The quicker it comes off the faster it 
goes back, the average women shouldn't drop below 1200 calo-
ries per day. Sometimes just cutting a few things from normal 
diet is enough, i.e. bread, booze and fruit. The annual Kaiwaka 
Sports Awards are in a few weeks.  Please try and get along to 
support our local sports people and association. 
Renewal  for  memberships  20th  of  May.  Train  hard  take  care 
Jules  
Kaiwaka Bugle Advertisements 2013: 
Classified $2; 1/8 page $5; 1/4 page $10; 1/2 page $20;  
bugleaccounts@kaiwaka.co.nz 
Payments can be online, posted or left at Jaques Store. 
kaiwakabugle@kaiwaka.co.nz  for queries or copy. 
The Kaiwaka Bugle is a community newspaper run by volunteers.   
Articles, etc. printed are not necessarily the opinion of the BugleTeam  
NIWA SEASONAL CLIMATE OUTLOOK 
Temperatures for late autumn (April – June) are likely to 
be above average across the North Island, 
Rainfall totals over the April – June period as a whole are likely 
to  be  in  the  near  normal  range  for  all  regions.  Soil  moisture 
levels  are  likely  to be below normal for the  north of the North 
Island for the April – June period, and normal or below normal 
for  the  remainder  of  the  country.  River  flows  are  likely  to  be 
below normal for the North Island.  

21 
Chief Commissioner, Kaipara District Council, J. Robertson, Private Bag 1001, Dargaville. 
Dear Mr. Robertson 
Re:  Council Quits Kaiwaka article – Kaiwaka Bugle 2/4/2013 
We read the above article yesterday which reported on the public meeting held by Commissioners  on Monday 25
th
 March.  
We both feel compelled to respond to you, your fellow commissioners, and to members of our community.  In particular we 
are responding to the below extracts from the article at this time.  
"At the very end of the meeting, a Commissioner announced that  "because the new landlord was asking too much rent for their cur-
rent premises, the council offices are moving to Maungawhai;  because nothing happens in Kaiwaka; everything happens in Maun-
gawhai"!   At that point Ilia Petro, the new landlord, got up to speak.  Lo and behold we find out that the Council never even negoti-
ated with him over the new terms.  
Ilia was quite prepared to put the difference of the new rent vs old rent
back into the community.
The Rent he was asking was based on an evaluation that the Council asked him to have done as they refused to pay for one." 
Further into the article it was further reported and questions raised  "A deal had already been struck with The Hub, 6 Moles-
worth Drive, Mangawhai to lease their top floor to the Council at a very appealing rate. Perhaps a conflict of interest in that deal?  
Property developer / Council: consents, permits .. no worries.  Are we sure The Hub is user friendly?  Wheelchair access?  Why are 
these boys spending more money that we don"t have?" 
We would like to begin with the first accusation made by the commissioner in question. 'because the new landlord was asking 
too much rent for their current premises, the council offices are moving to Maungawhai".  To attempt to make a scape goat of 
the landlord for this decision, to defame him,  having not even attempted to discuss or negotiate  possibilities is not only 
appalling,   it is totally unprofessional and not what one would expect from so called Professionals, appointed by our Gov-
ernment.  It is playground bully tactics, finger pointing, manipulative and distracting, whinging behavior.  " He made me.  
It"s his fault." Our understanding about our Governments reason for  employing highly remunerated "professionals" to act as 
Commissioners  for the Kaipara District, was to clean up the previous councils mismanagement,  and to rebuild trust with 
ratepayers, which include business ratepayers, as well as residential ratepayers.  To do this requires skills that it seems, are 
sadly lacking, especially at this meeting. 
To build Trust requires honesty, integrity, an ability to listen, to communicate with respect, to negotiate openly and with 
fairness. To consult the people who this will affect. 
How is moving council offices going to affect the citizens of middle Kaipara?  Have they been asked? Consulted?  Has there 
been honesty?  Is any respect being shown to anyone? 
What has resulted is anger, disgust, distrust, alienation, disappointment,  as a valued member of our community, a busi-
ness man and his family has been shafted by a group of Commissioners who know nothing, and care even less about our 
community. 
You have made a decision.  One would hope a professional decision given that is your mandate.  At least have the gump-
tion and the intelligence  to report accurately on the facts for making this decision. 
What are the costs to be?  All costs!  Moving costs, long term costs? What are the savings? Long term savings?  How will 
this affect service to ratepayers? How will this better serve our communities?  How will this help to build Trust and coopera-
tion between future council, ratepayers, and the wider communities?  
What research has been done to support this decision?  Who has been consulted?  Will all residents be able to access this 
new building?  Have you considered the impact on the ratepayers, including the many elderly, on the additional time, and 
costs  for travel from areas such as Paparoa, Maungaturoto and  surrounding areas (  Tinopai, Pahi etc)    for manual pay-
ments of rates, dog registration etc. ?   
Currently Kaiwaka is a Central point for all of these areas, short of travelling to Dargaville. 
"Nothing happens in Kaiwaka". What does this mean?   How many cars travel through Kaiwaka daily?   How many of these  
stop and visit local businesses?  How many ask about how to get to the Matakohe Museum?  Ask how to find Tane Mahuta?   
Ask how to get to Maungawhai for the Art trail or other event? How many are referred to the Information desk in the cur-
rent KDC building for information about what  can be found in the Kaipara district?  Found in the Maungawhai community? 
West and Northern Kaipara?  
Kaiwaka is the first township in the Kaipara District that all those travelling North pass through.   
Would our National  Parliament save money by moving to  New Plymouth, or Stewart Island?  Maybe ! Would they do this?  
I don"t think so!   
Would the Whangarei Council save rental costs by shifting their Information Centre to Ruakaka?    Maybe! Would they do 
this?  I don"t think so!   
Is moving the Kaipara District Council signage, and Information centre from State Highway 1, to Maungawhai , not short 
sighted from a tourist promotional perspective that currently benefits the whole of the Kaipara?  Kaiwaka is the Gateway to 
the North,  the East of Kaipara and the West of Kaipara.  This was demonstrated during the Rugby World cup.  
As mistrust has been further deepened  by the way this has been handled,  we would also like it clarified as to whether  
there any interests / friendships with the management of     " The Hub"  which the Council has already agreed to use as for 
premises by any parties?    
We believe that you and your commissioners owe an apology to your current landlord for  what almost seems like a set up, 
to request him to carry out an evaluation to ascertain fair and justifiable rental for his premises, and then to use this as an 
excuse to pull out of the lease.  Defamation of character comes to mind.   
Unfortunately for you, because you have no knowledge of our community, you have no understanding of the deep respect  
our community has for Ilia Petro and his family.  The contribution that they have made to our community is enormous in 
both personal and business terms since setting up their Italian Bakery in Kaiwaka.   Mention to  anyone from around  the 
country that you live in in Kaiwaka and the immediate response is , " Yes I know Kaiwaka.  We always stop at the  Italian 
Bakery"!  The statement  "Nothing happens in Kaiwaka" is very inaccurate as you will no doubt become aware as bees stir,  
and begin to swarm in defense of their Hive.  
Watch this space!   
Sincerely,  (name and address supplied, ed)  
The Kaiwaka Bugle is a community newspaper run by volunteers.   
Articles, etc. printed are not necessarily the opinion of the BugleTeam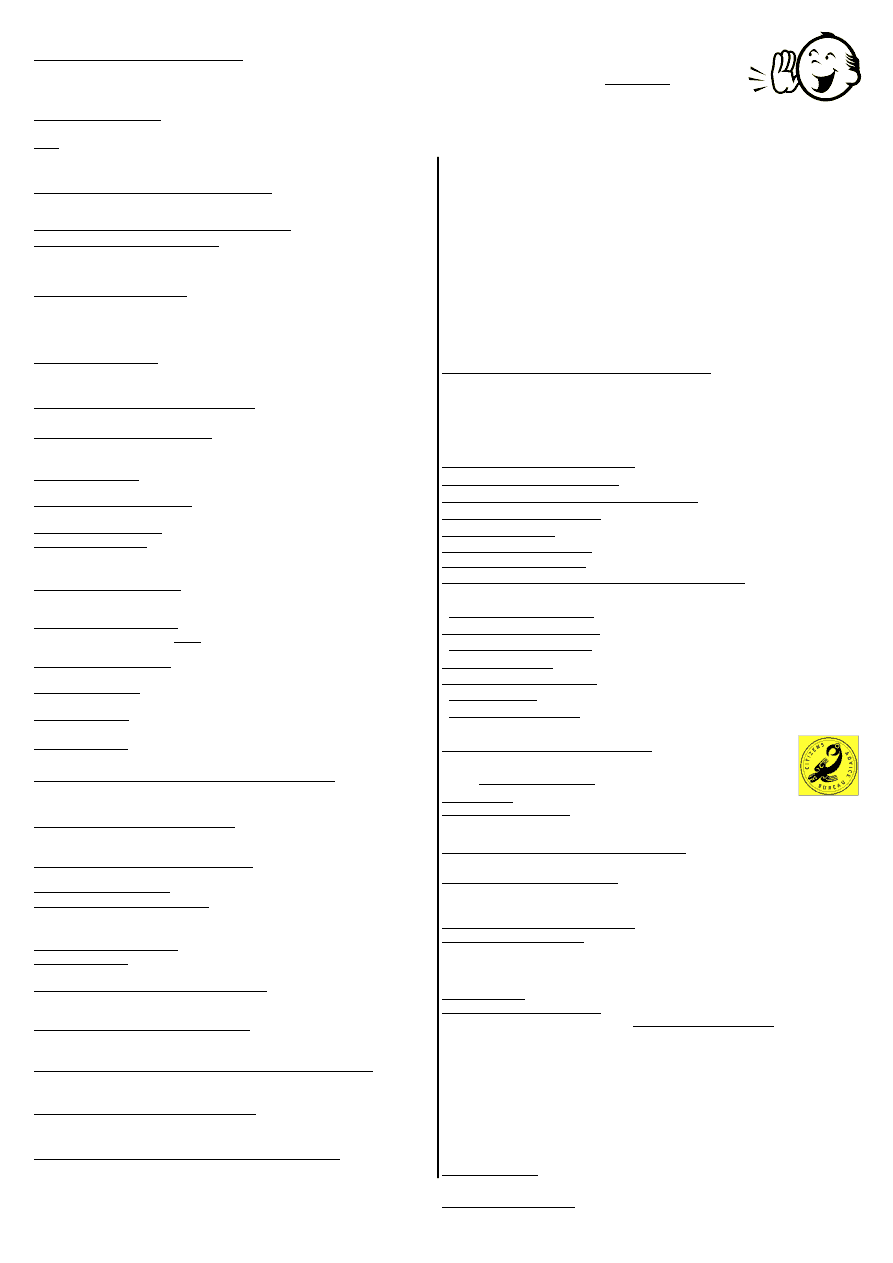 LOCAL SERVICES 
*St.John Ambulance 
111 or Freephone0800 61 0066
*Fire phone 111     *Police phone 111 or 09 4311150
WELLSFORD DOCTORS: Ph: 4238 086 
 
A A: Meets Wed., 8pm Kaiwaka Ph: 4312228, 4315543, 0800229 6757   
AL ANON: In recess, contact Ph: 4312228 
AgriQuality (MAF) Livestock Consultant 
Phone 09 4311 820 or 021518257 
CAB-Citizens Advice Bureau.Wellsford Ph: 4237333. 
BUDGETING SERVICE,OTAMATEA:Free confidential advice & support - all 
areas of  personal finance Ph: 09 4318173 or 094318117
FAMILY SUPPORT SERVICES responding to the needs in our community  
Counselling/Family Therapy/Seminars/Youth Work/Probation/
Osteopathy/Govt.Day Agencies/Community Information  
Ph: 4312661 Hours: 9am-5pm. Mon - Fri (funded & CYFS approved) 
FUNERAL SERVICES: Morris & Morris Ltd, 
Whangarei - Bev Jaques Ph:4312367 or 0800667747 
Grandparents Raising Grandchildren: Sarah Rogers Ph: 4312194 
HAKARU LANDFILL/TIP:Open everyday except Tuesday 
10am-4pm.Ph4312629 Cost-$40 cubic metre Ph:4258567 - office 
INLAND REVENUE: Last Friday each month, 
11-3pm Ph4312661 
KAIWAKA KOHANGA REO:
Ph:4312620 Mon.-Fri. 8.30am-2.30pm 
KAIWAKA CEMETERY: Ph: 4312045 
KAIWAKA LIBRARY: kaiwaka.library@gmail.com  
Mon. 4-6pm; Wed., Thurs., Fri., Sat.  10am-2pm Ph:4312539
KAIWAKA PLAYCENTRE: Ph: 4312286. Hastie Lane 
Monday to  Friday  9.00am 
- 
12 noon.
KAIWAKA POST OFFICE:
Ph:4312 626 Fax: 4312287  
Post Code: 0573  for RD2  and  0542 for all Kaiwaka Post Office mail 
KAIWAKA SPORTS ASSN: Ph 4312005; 4312129 gym 
KAIWAKA ST JOHN: Manager Steve Rosser  09 4318403, 021 2316836 
NORTHPOWER: Faults Kaiwaka area 0800 104040 
PARENTPORT: Free, practical family support servicePuhoi to Paparoa 
Ph:  Sharon Mehana, Co-ordinator. 4259357 or 027 280 5093 
PERSONAL DEVELOPMENT COACHING, GROUP FACILITATION:  
Sabine Druckler 4312231 
 
PLUNKET  KAIWAKA/MANGAWHAI:  Ph:
094318187 
or  0
276753488 
Kaiwaka Mobile Clinic once a month– appointments necessary;  
Mangawhai (next Domain) 
1st & 3rd Thursday & Coffee Morning; 
PLUNKET CARSEAT CO-ORDINATOR:  
Pat Scott Ph 4314530 or  
0272881635 
PLUNKET FREEPHONE -0800 933 922 
PLUNKET -MAUNGATUROTO  Clinic every 2nd & 4thThursday. Ph: 
09 4318187 
PUBLIC HEALTH NURSE: Gloria Reid Ph: 094327634  
HOMEOPATH: Donna Flavell Ph: 
4314843 
RETURNED AND SERVICES ASSN 733 Settlement Rd. Hakaru 
Ph.4312176 Bill Kerr (President) Ph.4314719 
TE KOROWAI AROHA O NGATIWHATUA 
(The Cloak of Love of Ngatiwhatua) Support and Maori Consultancy.  
Ph: 4239481 (Wellsford) 
WOMEN'S WELFARE LEAGUE & Reaching Out For Youth:  
4 Kaiwaka-Mangawhai Rd, M Morgan 4312293 
VETERINARY SERVICE MANGAWHAI: 
Ph: 4314535 Mon-Fri 8.30-4.30, Sat 9-12, a/h appt. 
KAIPARA DISTRICT COUNCIL www.kaipara.govt.nz:  
Help Desk FREEPHONE 0800 727 059 
Dog/Stock/Noise 0800 105 890 
Kaiwaka Service Centre Ph:4312 013 Mon-Sat 8.30-4.30pm 
Next Bugle Deadline Friday 26/04/2013 
WHAT'S ON
PLEASE ~ do let me know what is on - email 
kaiwakabugle@kaiwaka.co.nz 
Advertising in WHAT'S ON is FREE  
*16 Apr ~ Otamatea Hawks Special Gen"l Mtg 7pm KSA 
*17 Apr ~ Kaiwaka School PTA AGM 2.45pm in Staff Room 
*17 Apr ~ Public Meeting (Bullying)7.25pm St John Hall, 
Hurndall St., Maungaturoto 
*20 Apr ~ Otamatea Hawks Reunion KSA First game 9.30am 
*20 Apr ~ Kaipara Citizens & Ratepayers AGM 11am Lions 
Hall Hokianga Rd, Dargaville 
*26-27 Apr ~Moleswth Sheep Dog Trials, Rakiki Frm, Oneriri 
*29 Apr ~ KSA Sports Awards 6.30pm Sports Complex 
*06 May~ Northtec Open Day 1000-1100 Cuppa and looksee 
beside the new Great Wall. Everyone invited. 
*19 May ~ Hakaru RSA AGM 1.30pm RSA Club rooms
See www.kaiwaka.co.nz for upcoming events. 
HOUSEHOLD  RUBBISH  COLLECTION  -  Kaiwaka    Pick  up  -
Mondays=Green  bags  are collected by Northland Waste-queries to 
them 09 4303273 Wednesdays.=Blue bags and yellow recycling (At 
Jaques  Blue  bags  $2.80  and  yellow  $1.40)  are  collected  by 
Kaurlilands 09 4392146.  
 
*OTAMATEA GREY POWER-09 431 8138 Joan Hoggard  
*KAIWAKA BADMINTON -Tuesdays 7.30pm Ph: 4312345 
*KAIWAKA GARDEN & FLORAL Grp:
2nd Thursday in month Ph: 4314767 
*Kaiwaka SCOUT
S&CUBS-
Thursdays 5.30-7pm,KWMHaII, Innes Ph: 4312250  
*KAIWAKA SQUASH -Mondays 7pm,  Ph: Barbara Thomas 4315905 
*GYMNASTICS OTAMATEA -  Tuesday Ph: Stephanie 4312022   
*HAKARU PONY CLUB-Ph: Dianne Christianson  4314315 
*MANGAWHAI COMBINED PROBUS CLUB: 2pm,3rd Thursday 
month in the Senior Citizens Hall Mangawhai. Ph: 4315777
*PT CURTIS CRUISING CLUB - Jean Ph: 4312246 
*WAIPU GENEALOGYGROUP -4th Monday in month Ph: 4312725 
*NZ GENEALOGY-Wellsford - 1st Thursday in month Ph: 4237033 
*CRAFT GROUP:2nd & 4th Tuesday, 10am, Wellsford Ph 4238547
*RSA,Hakaru & Dist.Women- meet 1.30pm 4th Thurs in month 43123668  
*OWEN STEVENS at Kate's Place Ph:4312661   
*Diabetes Support Group-for Kaiwaka, Mangawhai, Wellsford -10am, 
 
3rd Friday of month Ph:A.Pert 4238242; J.Gardner 4238060 
WELLSFORD CITIZEN ADVICE BUREAU:  
0800 367 222 
Ph: 4237333 Wellsford Community Centre   
Email: cab.wells@xtra.co.nz
CHURCHES:
*Gateway Worship Centre-St Mary's Church Nathan Rd off Oneriri Rd, Kaiwaka 
Services, 10.30am 1st & 3rd Sunday of every month. Contact: Rev David Gage 
4312528 or 0212354282 
*Kaiwaka Family Church-Your Community Church Sundays, l0am 
Home Group every Wed evening, Pastor John.Dekker Ph: 4318203 
*Kaiwaka Services.Anglican & Co-op at StPauls Church  - 1st Sun. 9.30am
(Anglican),3rd Sun. 4pm (Co-op).  Contacts: Rev R Dunlop 09 4318193, M.Hargreaves, 
Peoples Warden 4312295, C.Bygrave 4312057  
*Church of Christ the King, Mangawhai 9.30am every Sunday 
*St.Mary"s Catholic Church:
Maungaturoto – Griffins Road, Saturday evening Vigil 
Mass 6pm; Mangawhai – Senior Citizens Hall, Sunday Mass 8:30am; Wellsford – 
Matheson Road, Sunday Mass 10:30am; Mid-week Mass times and all enquires to Fr. 
Bill Fletcher – phone 423 8170 
*Baptist Church: Sun. 10.30am Mangawhai Snr Cit.Hall.Ph:4312339 
*CauseWay Church Mangawhai – Sundays 10.15am, Mangawhai Community Recrea-
tion Centre, Insley St. Ph: 09 4314782  www.causewaychurch.org.nz 
 
*St.Paul's Archie Bull Hall HIRE  donation for electricity & upkeep  
 
(usuaIly$10-$15per hire) Contact G. Jaques 4312048 
*Kaiwaka War Memorial Hall HlRE- contact Wendy 4312725 or 
 
Email  kaiwaka.hall.bookings@gmail.com 
*Hakaru Hall HIRE-contact  J Marshall 4312297 
*Te Pounga Marae queries -A.Gage 4312528, 4312527 
*Kaiwaka Sports Association hire/queries- C. Anderson 4312051 
Justice of Peace: B.FJaques; L.Donaldson; A.F.Hargreaves  -please phone to 
make sure they are available 
Marriage  Celebrants:  L.Donaldson;  A.F.Hargreaves;  Judith  Knights  09 
4315765