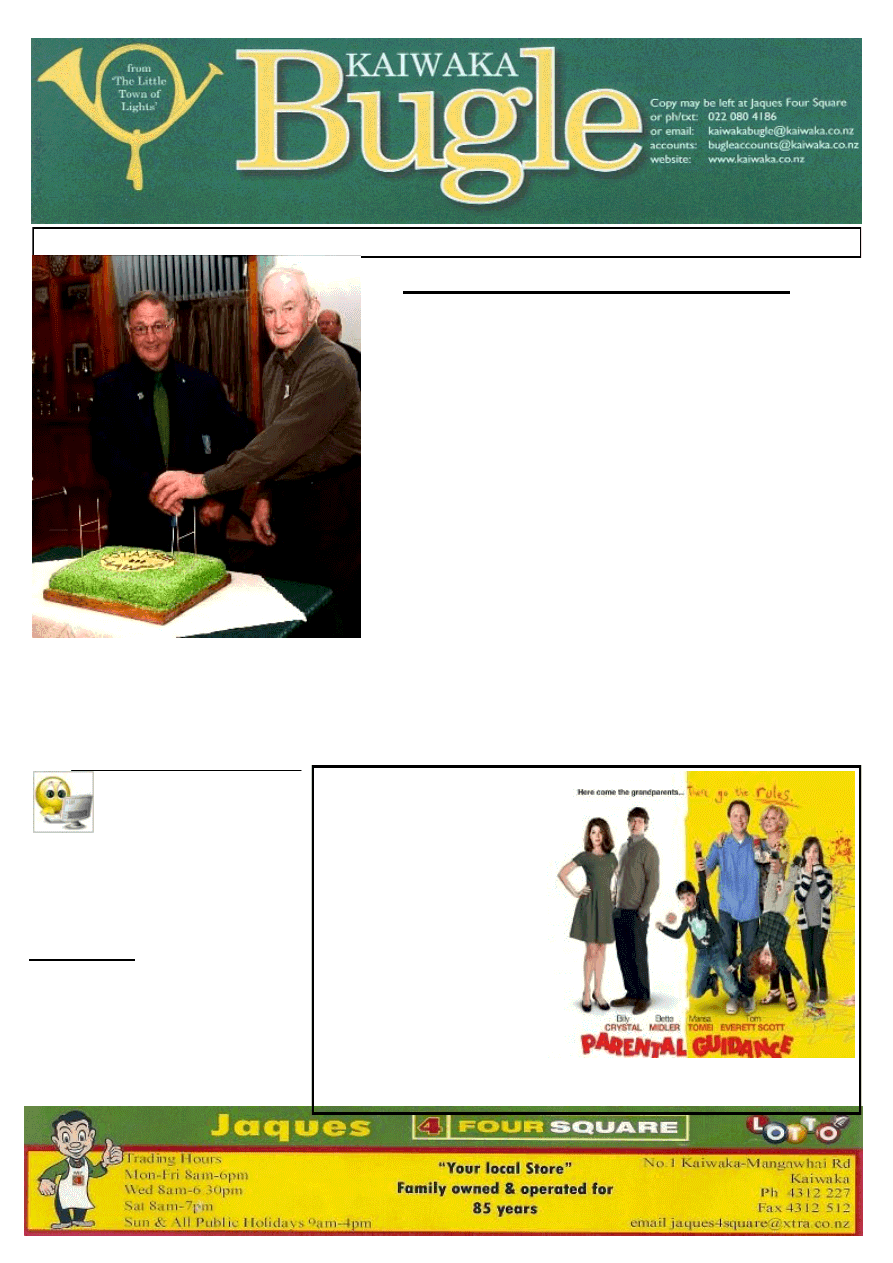 No: 8 
  30/04/2013 
Support this fundraiser with a fun night out for the whole                                          
 
family. 
Parental Guidance 
Friday 3
rd
 May 
Kaiwaka Sports  
Complex 
Doors open at 6.30pm
Adults $4 
Children $2  
(Yr 9 & under)
Fun, family-friendly 
movie!
  Otamatea Rugby Reunion
Life Members Pete Hargreaves and Adrian Reddy cut the cake.  
Grassroots TV covered the day's play and held interviews with key club personalities. The day of rugby concluded with a 
Gala Dinner and life memberships were awarded to Willie Phillips, Wuzz Phillips, Kim Phillips and John Keighley. A high-
light for the guests was the showing of the 1989 match when Otamatea won the First Division against Old Boys at Okara 
Park.
Many thanks to everyone who contributed towards the weekend. Photos from the reunion can be viewed on our web-
site 
www.kaiwakasports.co.nz.  Cheryl, Mgr., KSA 
The Otamatea Rugby Club marked a quarter century of play with a 
reunion on the 19th and 20th April at the Kaiwaka Sports Complex. 
Club president, Kevin Robinson, says the reunion was a great success, 
with players, coaches, managers and committee members coming from 
all over New Zealand to mark the 25th anniversary. 
The club formed in 1988 after a merger between the Maungaturoto and 
Eastern  United  clubs.  Kaiwaka's  Russell  Kemp,  who  had  played  for 
both at various times and went on to coach for the new club, remembers 
"a bit of debate" before the decision was made to unite. "They were two 
strong sides, each with a lot of club pride, so some were for and some 
against. But we got there in the end." 
First five and fullback for the first Otamatea premier team, Todd Mor-
gan,  says  the  merger  caused  a  bit  of  a  shakeup  in  local  rugby  and  the 
new team struggled initially with a string of injuries and several players 
out playing for North Auckland. "We took some hammerings in that first 
round and got rubbished by the media, but the following year we came 
second in the Premiership and in 1990 won Cock of the North."  
Seven rugby matches were played throughout the day for reunion guests 
to enjoy. The huge crowd was reminiscent of the old days when the 
Community used to congregate at the Sports Complex on a Saturday.  
       Just a follow up to the article
       on the North Auckland  
       Mounted Rifles from last Bu-
gle.  The
man sitting in the chair on the 
front  page  is  Lt  Col  James  McCarroll, 
for those of us who wondered.  
Don't  forget  Mother's  Day,  second 
Sunday in May (12th). See Gale Mathe-
son's Avon advert, page 15, for gift ide-
as. But you have to be quick! 
Flu  Warning  The  influenza  season  is 
heading to New  Zealand and Dr. Peters 
from  the  NZ  College  of  Public  Health 
Medicine  is  warning  people  to  get  vac-
cinated  as  soon  as  possible.  And  she 
warns the disease may arrive even earli-
er  this  year  than  usual,  as  happened  in 
the northern hemisphere.   
Cheers Ann
Bugle 9 will appear 14 May 2013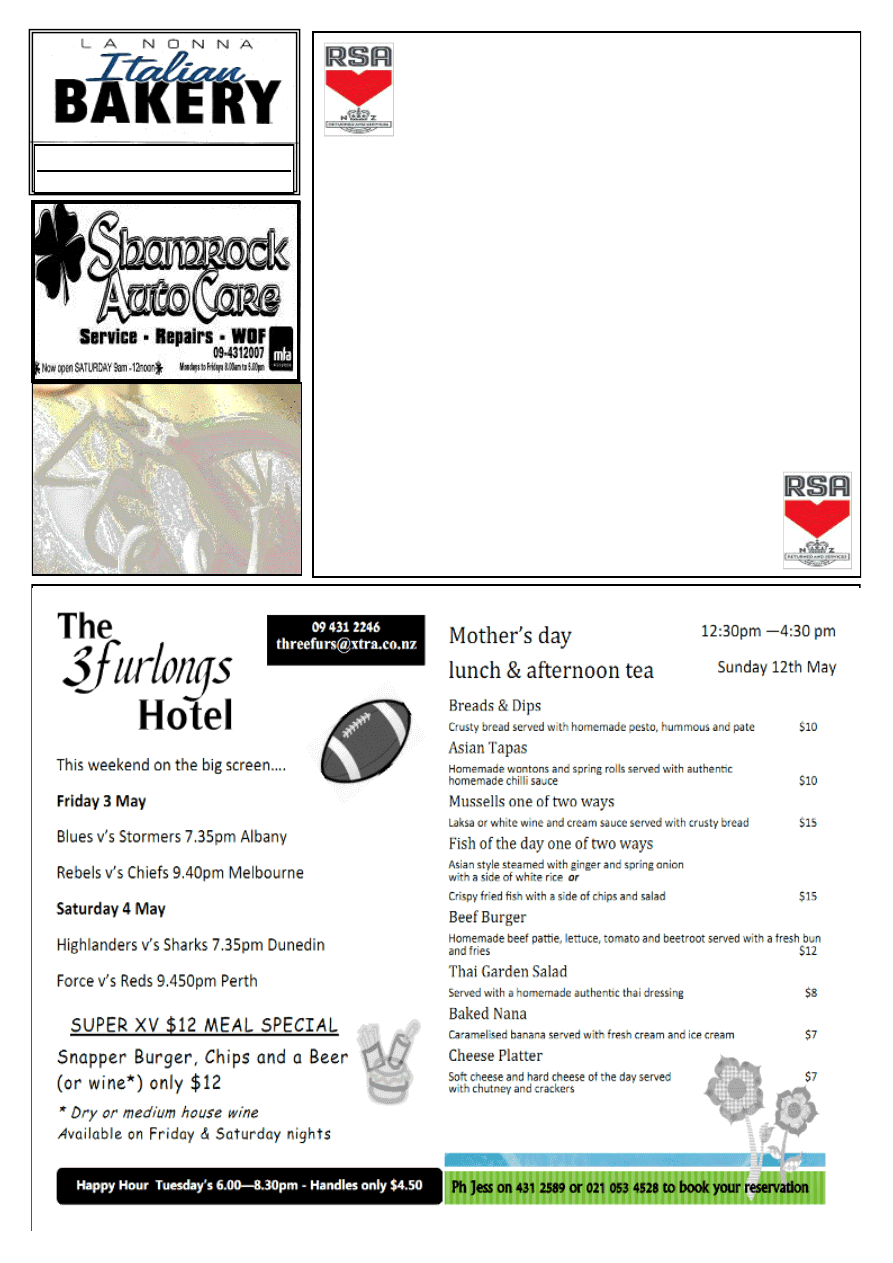 HAKARU RSA
Women's Section 
2nd Friday of the Month 
from 6.30pm 
    Roast of the Day   
 $12.00 
    Fish n Chips   
 $10.00 
       Pea Pie Mash   
   $  6.00   
Includes salads 
Desserts  $3.00 
Phone Heather 4314668 
Jan 4314512 
Paul Greig Electrical Ltd 
Residential • Farm • Commercial 
Paul Greig 
Registered Electrician 
Ph: 431 2223 Mob:021 230 
2717 
Reliable & Professional Quality Service 
Based in Kaiwaka 
CLOSED UNTIL 29 MAY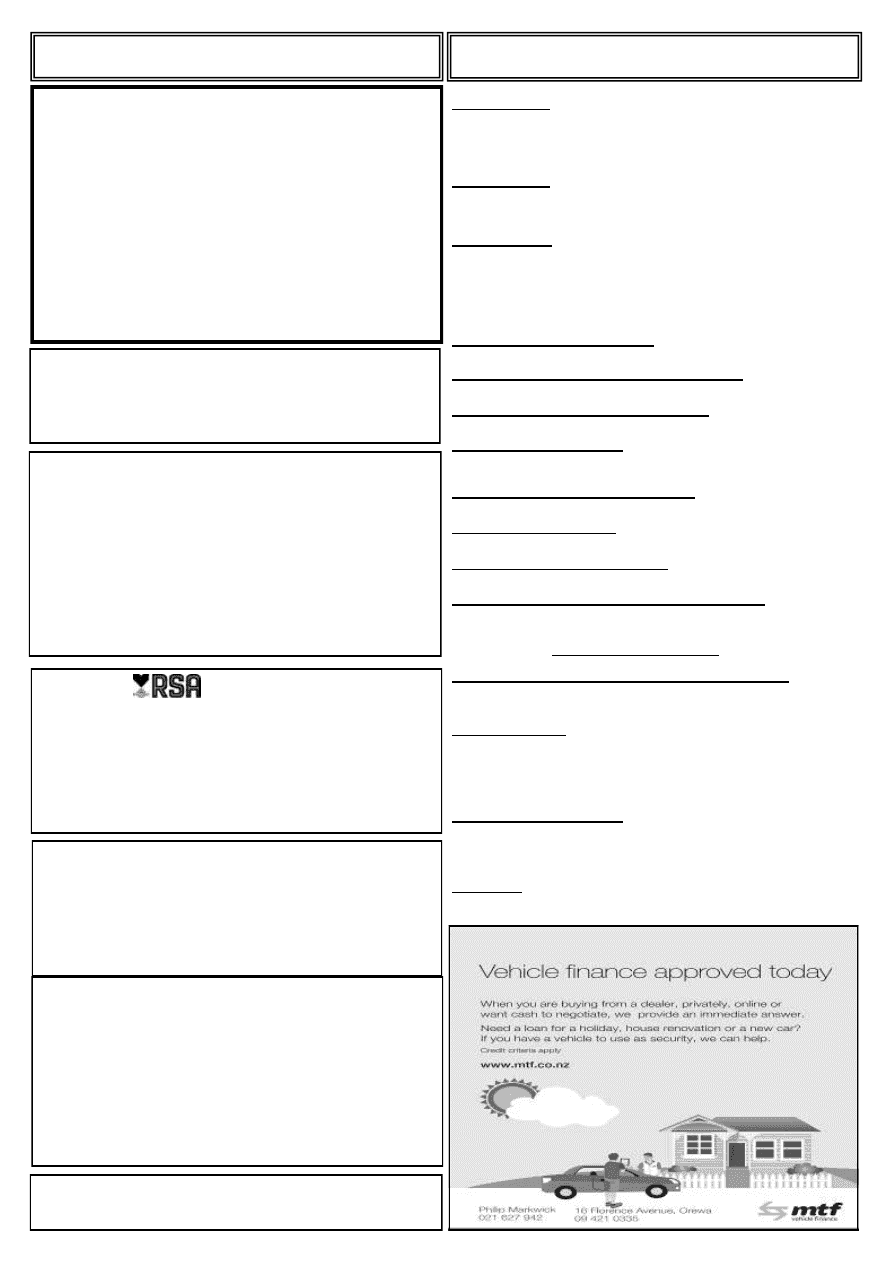 PUBLIC NOTICES 
CLASSIFIED 
FOR RENT: 
OFFICE OR RETAIL SPACE 
– 
Shop 1, 
1956 SH1 (opposite the Cheese Shop).  Refurbished space 
with data cabling, own toilet facilities, sunny and warm with 
2 dedicated car parks.  Lots of foot traffic.  Ph 09 422 9221.
FOR RENT: 
Farm house for rent. Quiet and private. Car-
port and garage. Oneriri. $200 pw. Bond and references re-
quired. Phone 4312660
FOR SALE: 
Silver Grey metal single 
Bunk Beds  
incl. 2 
matching foam mattresses. All clean and good condition, grand-
children are grown out of it!! Dim: 990mm W x 1500mm H 
x2005mm L. 
$ 125.00.
Some assembly required, can deliver in  
Kaiwaka.09-4312234 or 0212154495 
CLEANING  SERVICES: 
$20 per hour, fast, friendly and 
efficient. Phone Jill Shires 431 2080 Kaiwaka.
NATURAL  ANIMAL  THERAPIST:   
Diatomaceous 
Earth Stockist.  Specialising in Horses.  Jill Shires  4312080  
CRANIO  SACRAL  THERAPY 
for horses. Phone  Jill 
Shires 431 2080 
HORSE  CLIPPING:
  available.  $80  per  horse/pony.  
Contact Josi 021 733305
LEASE  BLOCK  WANTED:
  anything  considered. 
Phone Josi 021 733305
BOARD  OFFERED: 
Handy to Kaiwaka, furnished sleep 
out suitable for student or adult. Ph: 4312664 
HANDYMAN  SERVICES:
  All  building  work  to  odd 
jobs. Fast and efficient. Phone Graeme 021 775943 
FREE  COUNSELLING  AVAILABLE: 
Counselling 
Student seeks clients to further his studies. Professional  
approaching service. Phone Pete 021 825 970 or  
094312 152 or peteworsfold@xtra.co.nz
CLOTHING ALTERATIONS & REPAIRS: 
Hems,  Zips,  Dressmaking  Ph:  Win  4312027    or  027  444 
8358 Winsome Designs. 
HALL  HIRE: 
available  from  Absurdistan  Community, 
Parekura Rd. Enjoy our beautiful hall and harbour views for 
your special day, course etc. For more info ph 4312202 or 
021 2377678 
SINGING  LESSONS: 
Want  a  better  voice,  feel  shy 
about singing?  Teaching 39 years in NZ music industry at 
all levels. Phone Robyn Hill 09 431 9159 or 0274 725610 
FOUND: 
a single key on a tag marked "spare trailer" at the 
Sports Complex on Sunday.  Available at Jaques 4 Square.  
PROVERBS: 
11:17-  When you're kind to others, you 
help yourself; when you are cruel to others, you hurt yourself.
Kaiwaka/Mangawhai Mid-Week 
Tramping Group
We are a group of women who enjoy the outdoors, and wish 
to  maintain  our  fitness.  We  meet  every  Monday  8.00am---
2.30pm approx. and tramp the many local walking tracks, 
farms, coastal tracks, etc. If you would like to join us or find 
out more please phone Gail 4315174, Sharron 4314661,  
Viv 4315306, Karen 4312090 
 HAKARU
Annual General Meeting
Sunday 19th May 2013 @ 1:30 pm 
  RSA Club rooms.
All members are urged to attend.
KAIWAKA FITNESS 
AGM Thursday 2nd of May  
at the gym,11am. All welcome. 
To discuss up and coming year, past and the future of  the gym. 
Robert (Bob) David Nash 
17/07/1948 - 27/03/2013  
A huge thank you to the community of Kaiwaka for the 
wonderful support you have given me and my family.  
Special thanks to Tony, Lindsey and all my friends. 
You are helping me more than you realize with your 
support. Thanks to the Kaiwaka Bugle for allowing me 
to express how much I appreciate the cards, visits and 
cakes and hope you will all accept this general thank 
you; I have been overwhelmed with the kindness from 
our community. 
Thank you all.  Heather and family.    
MISSING
Set of Sports Complex keys, borrowed from Jaques Four 
Square over 6 weeks ago and not returned. On a pink and 
cream lanyard with voodoo dolls written on it. Please return 
to Paula at Four Square. 
Mangawhai Table Tennis Club 
 is holding its  AGM 7:30 pm Thursday 2
nd
 May  
          at the Mangawhai Library Hall. 
After 35 years of active involvement in the club Jill is retiring 
and looking for support to keep the club viable. 
Please  show  your  support  by  coming  to  this  meeting  if  you 
are intending to play table tennis through to September. 
If you are not able to attend this meeting please contact Jill.
Phone 4314874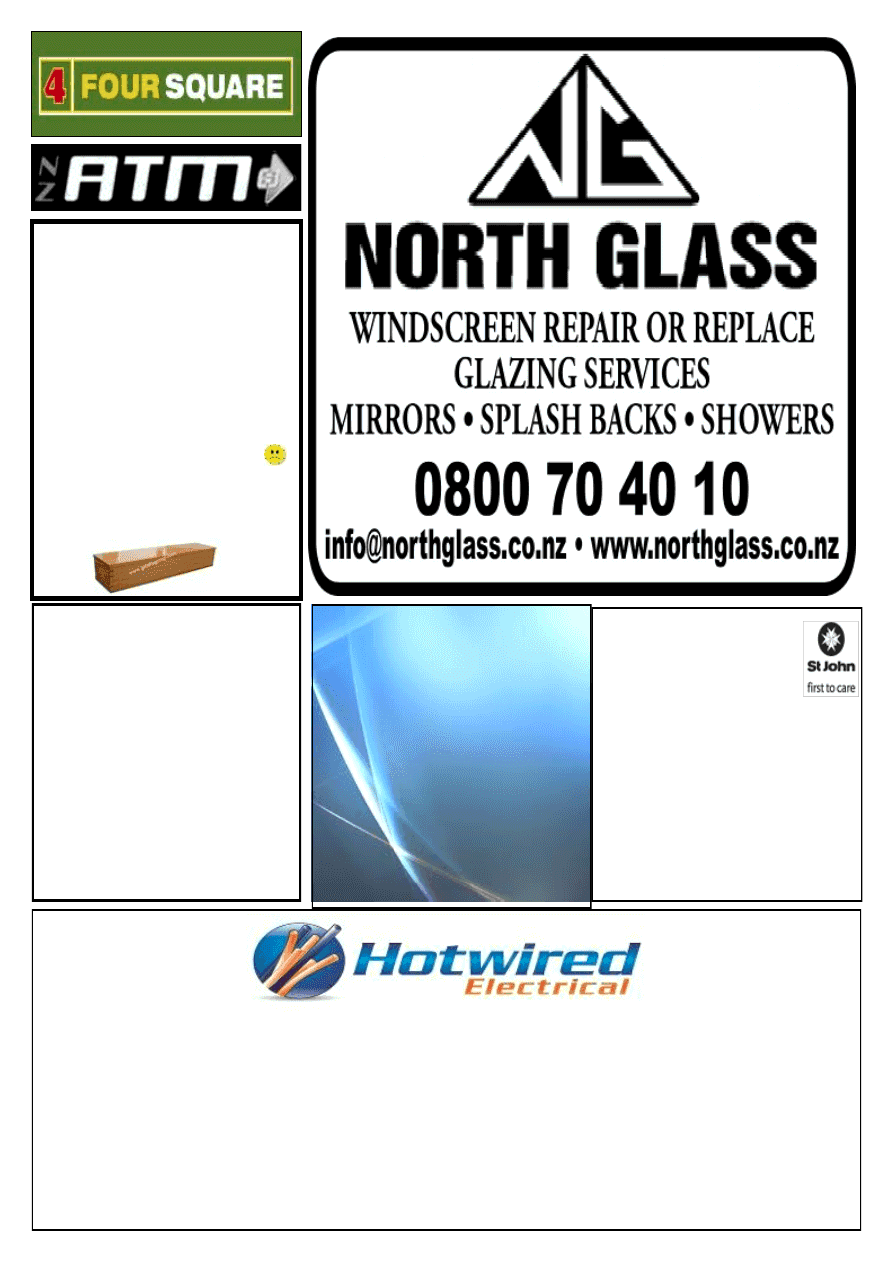 Freeview  
Installations 
Richard Te Haara 
25 Marram Place 
Mangawhai Heads 
021 1104056 
kiwipride@xtra.co.nz
KEV's  
CASKETS 
Stylish, BUDGET Accommodation 
Takeaways (8 available)  
or made to order 
  Featuring 2 styles and  
Different finishes. 
        Also O/S and Infant size 
     Phone Kev in Kaiwaka  
021 1322 671 
Or come and visit my showroom 
104 Settlement RD, Kaiwaka 
 LEABOURNS 
Passenger Service 
Car & Van Hire 
Bus & Coach Charters 
Airport Transfers 
 Monthly Shopper Bus 
Phone (09) 4237416 
For All your Electrical  Requirements 
 
Domestic small jobs 
 
Residential dwellings and alterations 
 
Commercial 
 
Industrial                 
No job too big or too small      
Contact Jason today on: 
(09) 431 5992, (021) 405 019 
www.hotwiredelectrical.co.nz 
ST JOHN OP SHOP
KAIWAKA PH: 4312650 
Shop Closed Saturdays  
over Winter as of NOW! 
 
Would anyone have a small tin "garden 
shed" we could have, please? 
 
Anything else in saleable condition will 
be much appreciated. 
 
Thank you, Milly 4312423 (home)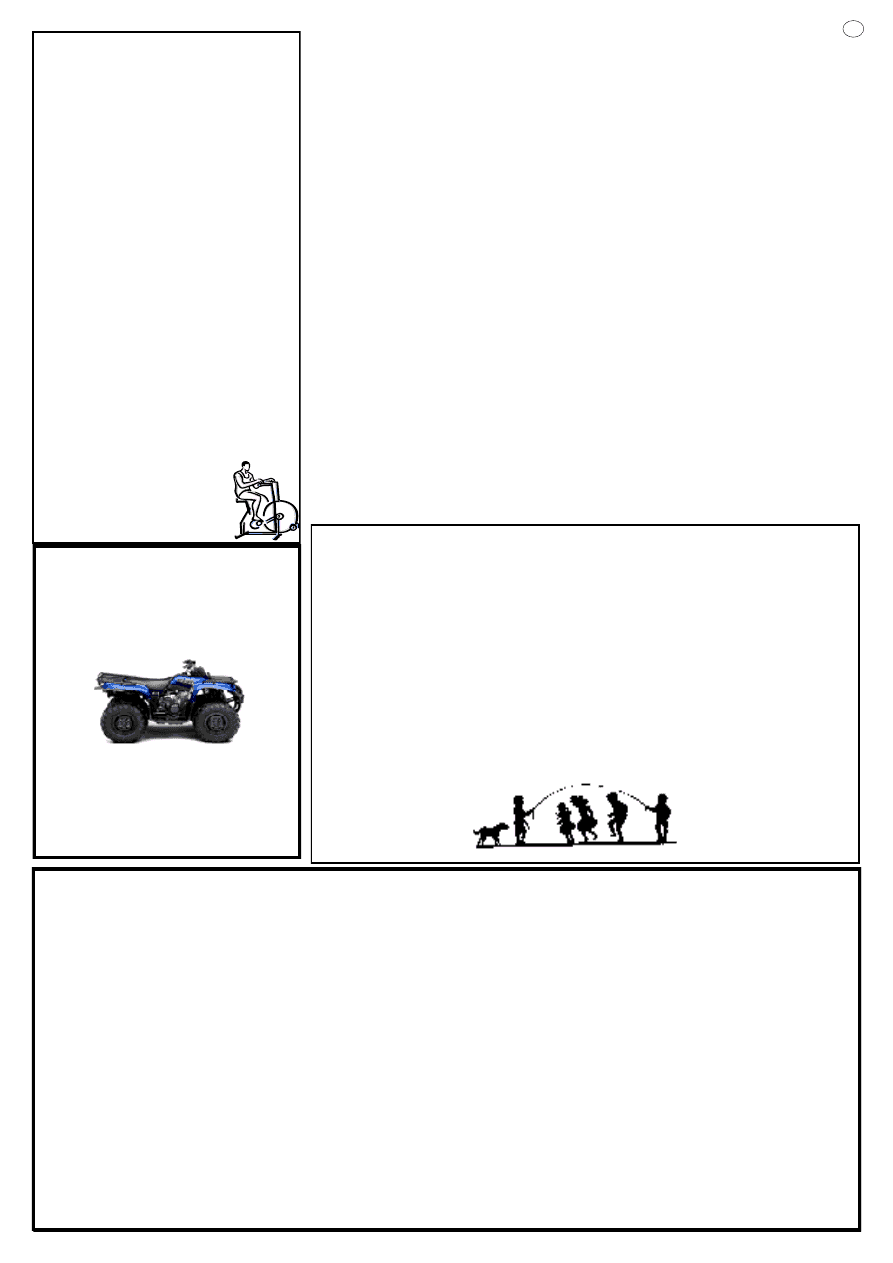 PLANNING A NEW KITCHEN? 
 CONTACT NOEL McDOWELL
WELLSFORD KITCHENS
Ph/Fax 094312888
KAIWAKA-Any time
  QUALITY CUSTOM MADE KITCHENS  
~Personal and Prompt Service~ 
~All Workmanship Guaranteed~ 
~Over 20 Years in the Trade~ 
~Free Design & Quote~ 
5 
KAIWAKA  MOTOR 
CYCLES LTD 
SALES SERVICE SPARES
FARM BIKE SPECIALIST
Phone 431 2127  
Kaiwaka-Mangawhai Rd 
Kaiwaka 
 Kaipara Citizens and Ratepayers News 
19 April 2013  Council warns of massive legal costs, and may be forced to find $500,000 in 
unbudgeted funds to for legal costs against the Mangawhai Residents and Ratepayers Asso-
ciation  (MRRA)  claims.  This  is  surely  grossly  overstated  unacceptable  deceptive  scare-
mongering, from a Council paying $240,000 to CEO McKerchar, up to $1,000,000 on the 
last Annual Plan, which the commissioners now seek to replace with yet another basis for 
rates,  at  further  ratepayer  cost.  What  too  of  the  Proposed District  Scheme  first  quoted  at 
under  $500,000,  now  around  $5,000,000,  and  $200,000  so  far  on  validating  Bill  inputs? 
Surely this pattern can only be stopped by the Courts or by withholding rates to stop such 
waste? In March, the MRRA lodged judicial review proceedings against the Council. The 
proceedings  relate  to  the  Mangawhai  Community  Wastewater  Scheme,  historical  rating 
issues and Council's Development Contributions Policy. In a  report to Commissioners to 
be  discussed  at  next  week's  Council  meeting  (Tuesday  23  April)  Chief  Executive  Steve 
Ruru said Council's legal costs could be as high as $500,000 based on the scope of the pro-
ceedings filed by the MRRA. Council has admitted many illegalities, so why should they 
spend ratepayers money to defend what should have been rectified already? Commissioners 
credibility and integrity becomes most questionable when they admit illegalities exist to the 
extent they seek Parliament to legislate the illegal to become in effect legal, yet oppose the 
ratepayers taking Court action to seek the required corrections legally.  
Who do the Commissioners really represent? Perhaps they should be helping MRRA rather 
than opposing? "We would hope it's nothing like that but we have to be prepared. At the 
moment, we simply don't have that money unbudgeted so it will need to come from some-
where else or we will have to raise it." This now seems just another group prepared to plun-
der ratepayers already limited incomes and has to be stopped. Commissioners should not be 
able to raise $500,000 of ratepayers funds without ratepayers consent for unbudgeted ex-
penditure. Ratepayers must vote on this or the commissioners should be held liable and 
shown the door!  Chair of Commissioners John Robertson said he was hugely disappointed 
that the MRRA had taken legal action when Commissioners, Council staff and many others 
throughout Kaipara were doing all they could to move the District forward, not back. Is it 
not time Commissioners supported ratepayers in correcting illegalities?  krassn@gmail.com 
KAIWAKA FITNESS 
Hi Everyone,  
We  will  be  having  our  AGM  on 
Thursday the 2nd of May at the gym 
at  11am.  All are welcome. Should not 
take too long. We will present financial 
accounts,  election  of  offices  and  com-
mittee.  Discuss  the  future  of  gym  and 
any other matters arising. Discuss Open 
Day  and  change  over  of  keys.  Come 
and have a say. 
Someone  keeps  leaving  lights  on  and 
the door open when they leave can you 
please ensure that things are turned off 
and  door  is  locked;  we  don't  want 
things walking out the door. 
Sports  Awards  are  on  Monday  night 
please  support  Sports  Association  with 
this; good night out. 
Still awaiting calf machine and price on 
barbell set, they are very slow, will 
have to look elsewhere soon. Does any-
one have any contacts for good quality 
commercial gym equipment? 
That's about it for now; short 
and sweet, 
Take care, Jules  
'
Rhythm and Riggle'
Music and Movement for Babies and  
Preschoolers 
Every Tuesday starting 14 May 10am 
at  
the new Christ the King Anglican Church 
9 Molesworth Drive Mangawhai 
ALL WELCOME! 
Gold coin donation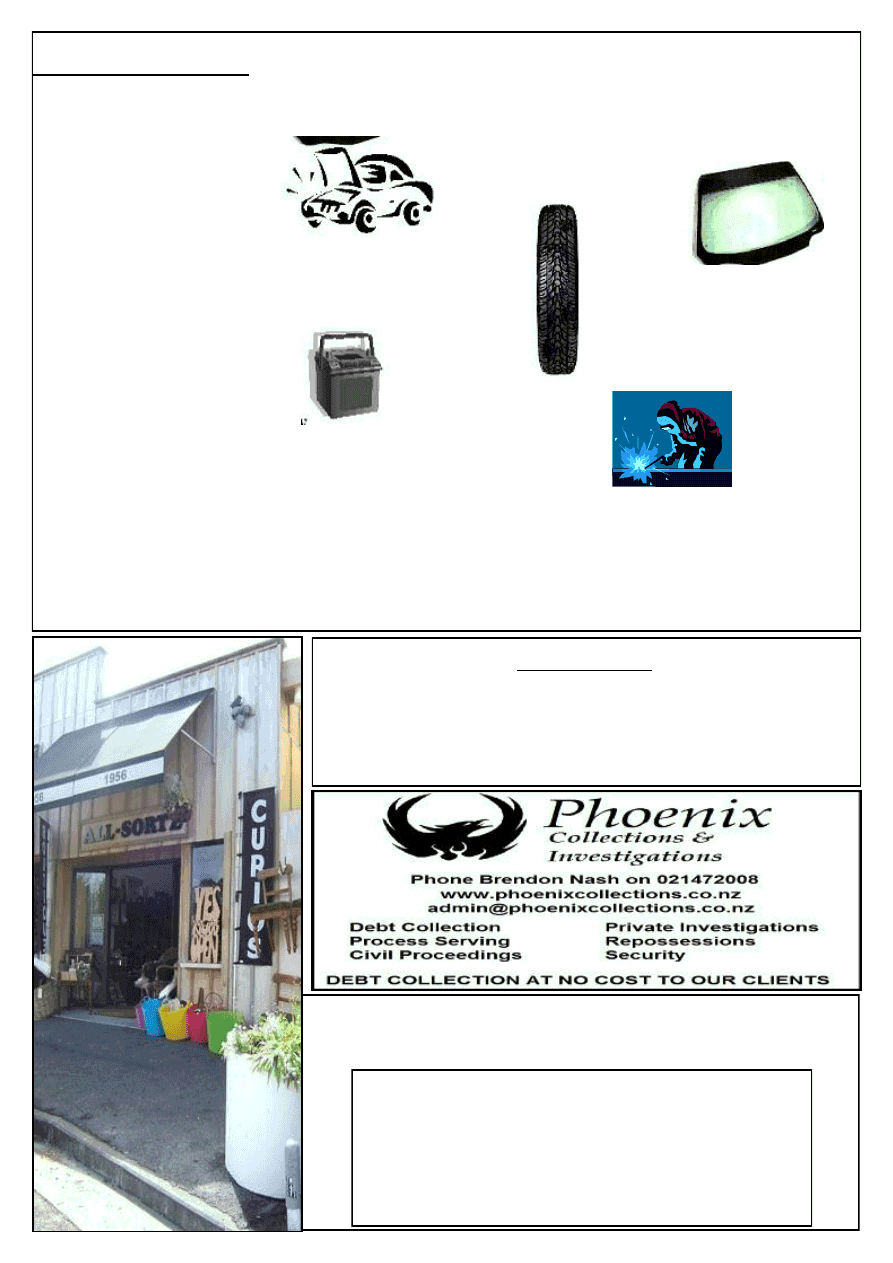 St John Lifelink
: 
For those of you who are living on your own, or if you have a condition that could require 
urgent assistance, call  
0800 50 23 23.  This is the number of the St John Lifelink.  Once you have one of these 
gadgets you can feel reassured that help will be immediately on the way should you feel 
the need to activate it.  This service operates 24 hours,  
7 days a week.  To find out more, give St John a call on the above number. 
 ALL-SORTZ COLLECTABLES
Shop 4, 1956 State Highway 1, Kaiwaka  Phone 09 4312701
Want it done? 
Bring it to          
Twinkle Tow 'n' Tyre 
*W.O.F. 
*Tyres 
*Windscreen replacement 
*Chip repairs 
*Bulk Oil 
*Batteries 
*Welding 
*Custom built trailers 
*Trailer hire 
Think you'll get a better deal in the city? 
Go on, ring us; it won't cost anything! 
1837 State Highway 1, Kaiwaka       Phone 431 2823 
WINTER HOURS 
Open Friday To Monday 
From 11.00am To 3.00pm 
Or by prior appointment 
Telephone 4312701 (Business Hours) 
Or 4229221 or 0274353535 (After Hours
)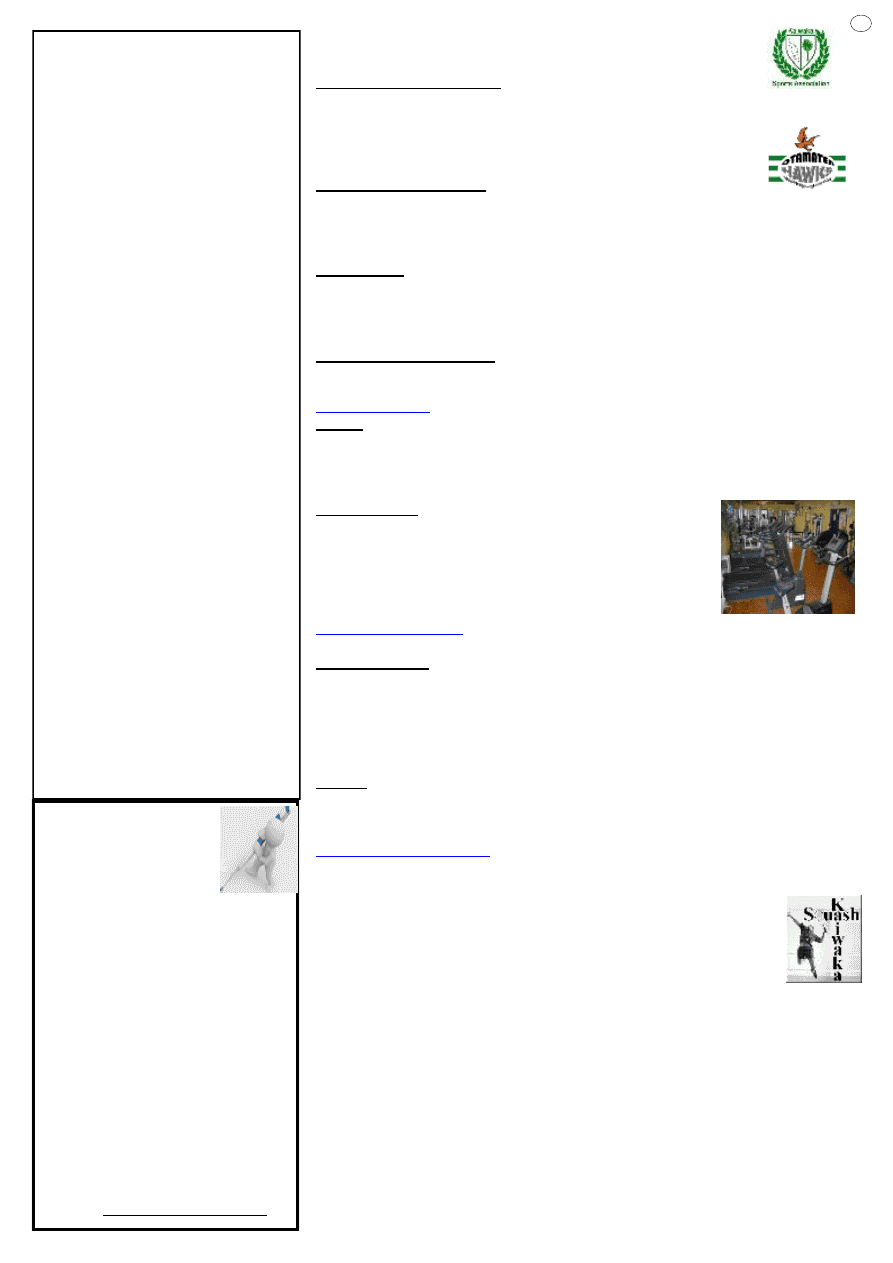 Topnotch  
Engraving 
Quality Engraving Service  
SPECIALISING IN:
www.tnengraving.com 
www.pettagsnewzealand.com 
Phone (09) 431 2174 
or  
Email: engraving@slingshot.co.nz
7 
KAIWAKA SPORTS ASSOCIATION
"  ENGRAVING    
& SALES 
"  NAME     
BADGES 
"  SIGNAGE 
"  PET TAGS 
"  JEWELLERY 
"  TROPHIES & 
CUPS 
"  AWARDS & 
MEDALS 
"  GIFTWARE 
"  CLUB ORDERS 
or ONE OFFS 
Otamatea Rugby Reunion 
Did  you  catch  the  footage  of  the  Otamatea  Rugby  reunion  on  Grassroots  TV? 
This screened on ANZAC Day but there will be replays throughout the week, so 
lookout for  Grassroots  Rugby  in  your TV  listings.  You  can read 
about the reunion weekend in the report in this edition of the  
Bugle. 
Harding Shield matches 
A large crowd turned up to the Sports Complex on ANZAC Day to watch two 
sub-union  matches.  Congratulations  to  Whangarei  who  romped  home  against 
Mangonui  45  –  19.  And  the  Rodney/Northern  Wairoa  team  (featuring  several 
Hawks players) had a good win over Bay of Islands 36 – 19. 
Movie Night 
If you are looking for a family-friendly evening, come along to the Sports Com-
plex on Friday 3
rd
 May for a screening of the comedy Parental Guidance. Doors 
open at 6.30pm, adults $4, children (year 9 and under) $2. Food and drink availa-
ble.  
Netball Umpiring Course 
A  course  for  aspiring  netball  umpires  will  be  held  at  the  Sports  Complex  on 
Tuesday  7
th
  May  at  5.30pm.  For  more  information  please  contact Tina  Ball  on 
Rugby 
We have another big day of rugby coming up on Saturday 11
th
 May. JMB match-
es will begin at 9.30am (Eastern United vs Wellsford U7's, U9's and U11's) then 
our  seniors  will  take  on  Kamo,  reserves  at  12.30pm  and  premiers  at  2.15pm. 
Spectators welcome. 
Fitness Centre 
Keys to our Fitness Centre will change over on Monday 20
th
May.  We  have  a fully  equipped  Fitness  Centre  with bikes, 
climbers,  rowers,  free  weights,  CV  machines,  weights  ma-
chines,  sunbed,  toilets  and  showers.  All  available  24/7  for 
$140  per  year.  You  can  purchase  a  membership  at  Jaques 
Four Square or contact Julie Harris on 027 76504540 or  
School property 
There  was  an  incident  recently  where  spectators  who  watched  a  rugby  match 
from the school car park left broken bottles and rubbish on the school grounds 
and damaged school property. If you watch sports events from the school, please 
ensure you leave their grounds as you found them. We all need to work together 
to have a safe and clean school for our children.  
Squash 
Well done to Barbara Thomas who ran a successful business house tournament. 
Congratulations to the winners – the Wellsford Sports and Leisure team (aka the 
Manuell family). You can check out photos from the tournament on our website 
New members are always welcome, so if you are looking to take up a fun sport 
which  will  keep  you  fit,  why  not  give  squash  a  try?  Come  along  to  our  club 
nights,  Mondays  from  6pm  at  the  Kaiwaka  courts.  You  will  need 
comfortable clothes and soft-soled shoes. If you don't own a racquet, 
we  have  some  you  can  borrow.  For  more  information  on  squash, 
please phone Barbara on 4315 905. 
Cheryl Anderson, Manager, Kaiwaka Sports Association 
Eastern United JMB - we 
had out first training run 
on Tuesd 
ay we had a good turnout 
United JMB - we had out 
firs 
E
Eastern United JMB
On the 20
th
 April we played Maunga-
turoto at Kaiwaka as part of the  
Otamatea Hawks 25
th
 Reunion 
The scores were:  
Midgets lost  8-7;  the Jaques Player of 
the Day was  Toby Lee for great sup-
port. 
Under 9's lost 10-0;  The Coffee Pot 
Player of the Day was Branden Ed-
wards for  outstanding attack and  
defence. 
Under 11's lost  31-5;  there was no 
player of the day but the whole team 
did an outstanding job.                               
Our next game will be 11
th
 May  against 
Wellsford at Kaiwaka  Kick off at 
9.30am. 
New players are most welcome to join 
our club. Trainings Midgets and Under 
9's Tuesday 5.30.Under 11's Tuesday 
and Thursday 5.30. Enquires to Jennie 
9450502 or 02102764171 
Kaiwaka Squash Club 
The  Kaiwaka  Squash  Club  finished 
the  first  round  of  Business  House 
Competition  in the  newly  renovated 
premises successfully. With players 
from  Mangawhai,  Wellsford,  Maun-
gatoroto  and  Kaiwaka,  we  had  a 
challenging mix of talents. 
Winner  was  the  team  of  Wellsford 
Sports  &  Leisure,  sponsored  by 
Sandy. 
This  team  consisted  out  of  4 mem-
bers of the Manuell family, Ken, Mir-
na,  Jamie  and  8  year  old  Jesse. 
Well done to them and great play! 
Second came Carter Black, a strong 
all  male  team  from  Mangawhai. 
Wooden  Spoon  winners,  despite 
hard fights, was Landfall. 
No  matter  how  many  points  the 
teams got, I think it is fair to say that 
the games were fun and as well as 
the beers afterwards! 
We will have another round of busi-
ness  house  soon,  check  the  Kai-
waka  Sports  Association  web  site 
for  details!  Everybody  welcome  to 
join! 
The Kaiwaka Squash Club sincerely 
thanks  the  sponsors  for  their  sup-
port and donations: Wellsford Sport 
&  Leisure,  Wellsford  Pharmacy, 
Mark  Ottaways,  Kaiwaka  Sports 
Association,  The  NZ  AlarmShop  as 
well  as  the  angels  of  the  kitchen: 
Tania,  Tina,  Sue  and  Barbara. 
Many  thanks  to  Rose  and  Sue  for 
sparking  the  idea  and  helping  with 
the  organization  and  Innes  for  set-
ting up the draw. We are also grate-
ful to Steve for maintaining and up-
dating  the  squash  section  of  the 
Kaiwaka web site. Well done every-
one, great team work!            Barb 
RANGANUI EARTHMOVERS 
 
16T Excavator   
(tilt, thumb & ROPS cab)   
Transport Trailer 
2 x 6 Wheeler Tip Trucks 
Suppliers of All Grades of Metal & Topsoil 
 
If you want a proper job done with an experienced operator ring 
Grant on    A/H 431-2131        Email  ranganui.dev@xtra.co.nz 
   Mob  021845-246 
Driveways, House Sites,  
Drainage Dams, 
Section Clearing,  
Tree Work,  Rock Retaining Walls,  
Quarry Work, 
Basically Anything That a Digger Can Do 
CONCRETE 
If it's concrete we do it 
Full Preparation & Pour by 
Experienced Local Team 
Phone Phil Keen Contractors  
027 659 2376 
design drafting 
service 
Retired builder and manufacturer with over 40 years  
experience in the building industry is offering a design 
drafting service  
for domestic housing, sleepouts and sheds.  
Plans formulated in consultation with clients, with 
working drawings completed and submitted to  
council for processing.  Extensive practical experience,  
able to identify & resolve problems. 
Please ring Mike Lean on 
09 431 2260  
or 
021 431 196 
ST PAUL'S  
SUNDAY  
SERVICES
First Sunday 9.30am, third Sunday 4pm  
Paparoa Anglican and Wellsford  Co-op Parishes 
StPauls Church: Kaiwaka-Mangawhai Rd.  
Contacts: M. Hargreaves 4312295, C. Bygrave 4312057  
1st Sun. (Anglican), 3rd Sun. (Co-op). 
Water Tank Cleaning 
" 
 Keep your water safe & clean   
 
Removal of sediment, silt etc 
 
Vacuum or full scrub 
 
Minimal water loss 
Phone Mark (09) 432 0655 or 0274 707607 
OWEN STEVENS 
Osteo Therapist
For careful adjustments to bones and joints 
Treatment for humans and their pets 
Clinics: Kate's Place, Kaiwaka: 
Last Friday of month 
Warkworth Showground:  
2
nd
 Thursday, monthly
For bookings:  9.00am-5.00pm 
Phone 09 4312661  
Or phone Owen  09 4317123   anytime 
 Hands On    
CHEESEMAKING  
WORKSHOPS  
are  On Again  
EVERY SATURDAY   
( 9am to appr.3 pm, incl. 
lunch)  
GOUDA (Hard Cheese) and Cam-
embert Style (soft cheese) 
Other dates by  
arrangement… 
Or....  if YOU supply the 
Milk ...I can make the 
Cheese for YOU. 
For More Info or Book-
ings  Contact: 
Ad ......(Founder of 
Kaiwaka Cheese Shop) on, 09-
4312234 or 021 2154495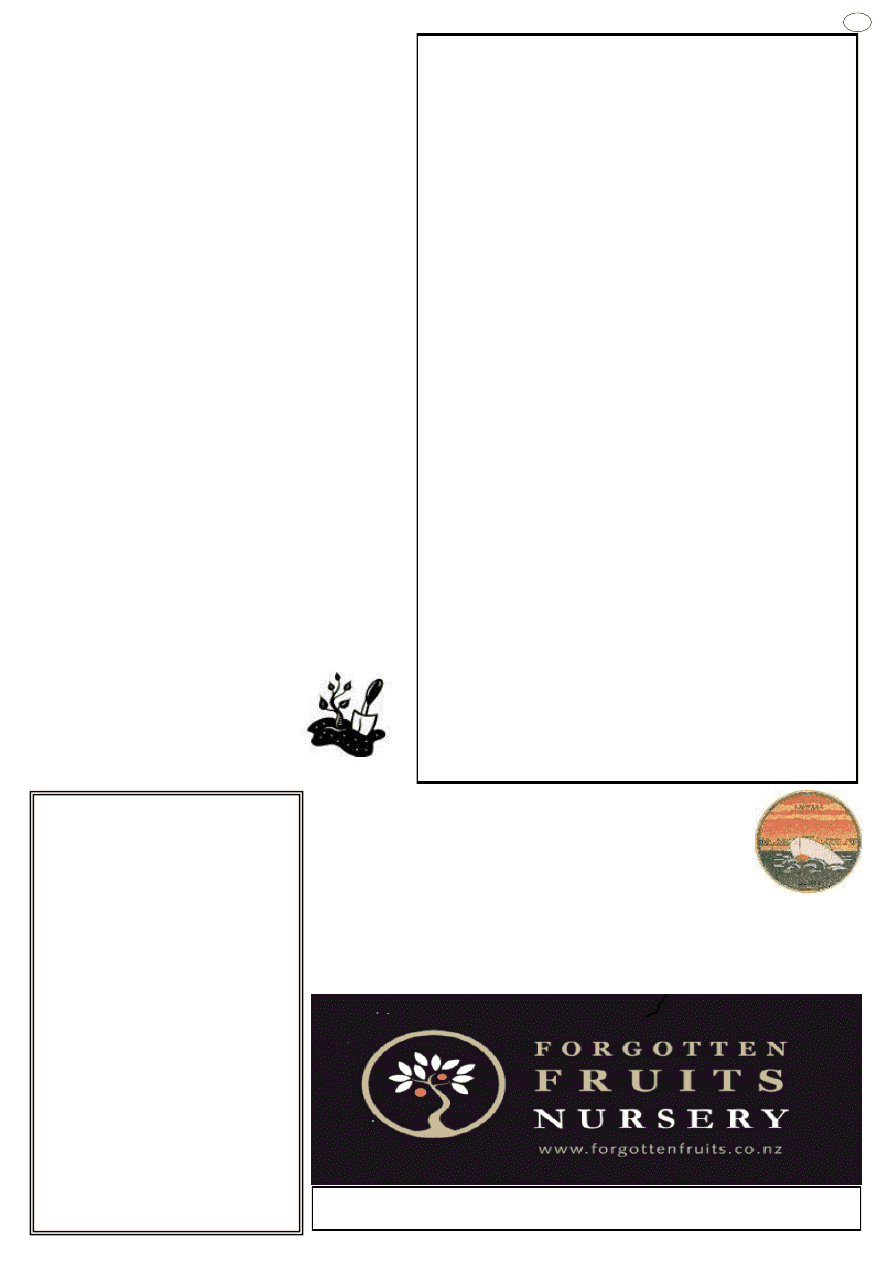 Point Curtis Cruising Club 
AMBER'S 
Q Cafe &  
Restaurant 
All day breakfast, 8am - 5.30pm.     
 Home made Pizza, take away or eat in from 8am to 
late. 
 Light lunches, 11.am - 5.30pm, 
Dinner Menu at 5.30pm to late 
 Toasted Sandwiches and Sandwiches made to order. 
All day, Pies, Chowder & Soups 
 Milkshakes, Kiwi Ice cream, Slushie Fruit drink, Tea, 
Coffee 
 Closed Mondays.....except Observed Holidays 
 Sunday to Thursday: 8am - 8pm 
 Friday: 8am - 8.30pm, Saturdays 8am- 9pm 
4315226 
Trevor & Amber 
41 Moir Street, Shop 5-6  
Mangawhai Village 
Next to Carters Building Supplies 
 9 
KAIWAKA  GARDEN  &  FLORAL 
GROUP 
North Tec Future Trades 
& 
T
he
W
ork
C
amp
Invite everyone to their new training 
centre in Kaiwaka for a cuppa. 
Monday 6
th
 May 10.00 to 11.00am. 
Behind the KDC beside the New Great Wall. 
-Lets Welcome "North Tec Future Trades" to Town. 
-See what the first Elementary Construction Level 2 
Course is about. 
-Look over our Fantastic New Carpentry Work-
shop. 
-Meet our Crew, see what we are Skilfully Con-
structing.   
-Plenty of Parking Available 
- Some Entertain-
ment.......A Raffle Draw.....  
Don't Forget! 
We are running more courses starting in 
July: Enrol Now for Another Elementary 
Construction Level 2. 
Enrol Now for July Painting Level 2.  
Enrol now for July Sustainable Rural Devel-
opment.  
For enrolments or enquiries:  Minnie 021 751 993 
The  April  meeting  was  held  at  Rosemary  and  Alvin 
Browne's  with  a  stunning  view  of  the  estuary  and 
Heads.  Members  were  very  impressed  with their  won-
derful terraced and sheltered garden. 
Vice  President  Betty  Atkin-Cooke  welcomed  a  new 
member  Adrienne  Osman.  We  all  thought  of Jean  and 
Noel  enjoying  beautiful  Fiji,  was  it  a  Birthday  trip we 
wonder. 
Birthdays for this month: 
Jean, Rosemary Diane Alexander and Helen Shimmin. 
It  was  noted  that  the  sales  table  has  been  a  bit  sparse 
lately, members are encouraged to bring cuttings, bulbs 
and plants plus jam and relishes which can be priced at 
home. 
Rosemary  offered  to  visit  Mangawhai  beach  school  as 
they require help with planning their gardens. Does an-
yone  out there have a worm farm they no longer want 
for the school to see how one works. 
Our  little  Club  is  growing  in  membership  which  is 
great,  but  because  we  meet  in  private  homes  we  are 
thinking  of  limiting  membership  to  25  with  a  waiting 
list. 
Judges for this month Rosemary and Adrienne. 
Results of competitions: 
Best Bloom  1st R. Browne Cosmo 2nd L. Lusty dahlia 
Cluster  -  1st  D.  Alendar  Vireya,  2nd  Sue  H-Wallace 
schizstylis 
Rose 1st M. Haverfield no second 
Vege - pumpkin 1st B. Atkin-Cooke, 2nd Sue 
Fruit - Lemon 1st M. Haverfield 
Floral arrangement - "Easter" 
Wild card 1st Sharyn McClean's Apple 
Most outstanding Diane's Vireya 
It is the A.G.M next month at Margaret Haverfields  
10 Findlay Street 1 p.m 9th May. 
Bloom of the month - Chrysanthemum 
Vege - Silver beet ( 3 stalks) 
Fruit - Feijoa 
Arrangement - "Mothers Day" 
Raffle won by Rosemary. 
A. Dowson - Secretary 4315913 enquiries  
Saturday 4th May Club members only Opening Day Duck Shoot. 
Weigh in 4pm - 5pm.  No late weigh ins. 
Prizegiving for opening day duck shoot  and end of season  
prizegiving to follow.  If you are on the board please try and come!!! 
Members please bring a plate. 
Good luck to everyone and please be safe out there, identify your targets please. 
Next committee meeting 7pm, 7th May 2013 at 3 Furlongs Hotel. 
Wayne Leslie, Commodore 
Check out our new 2013 Fruit Tree Catalogue on our website: 
www.forgottenfruits.co.nz - Or phone 4312687 and we will post one out.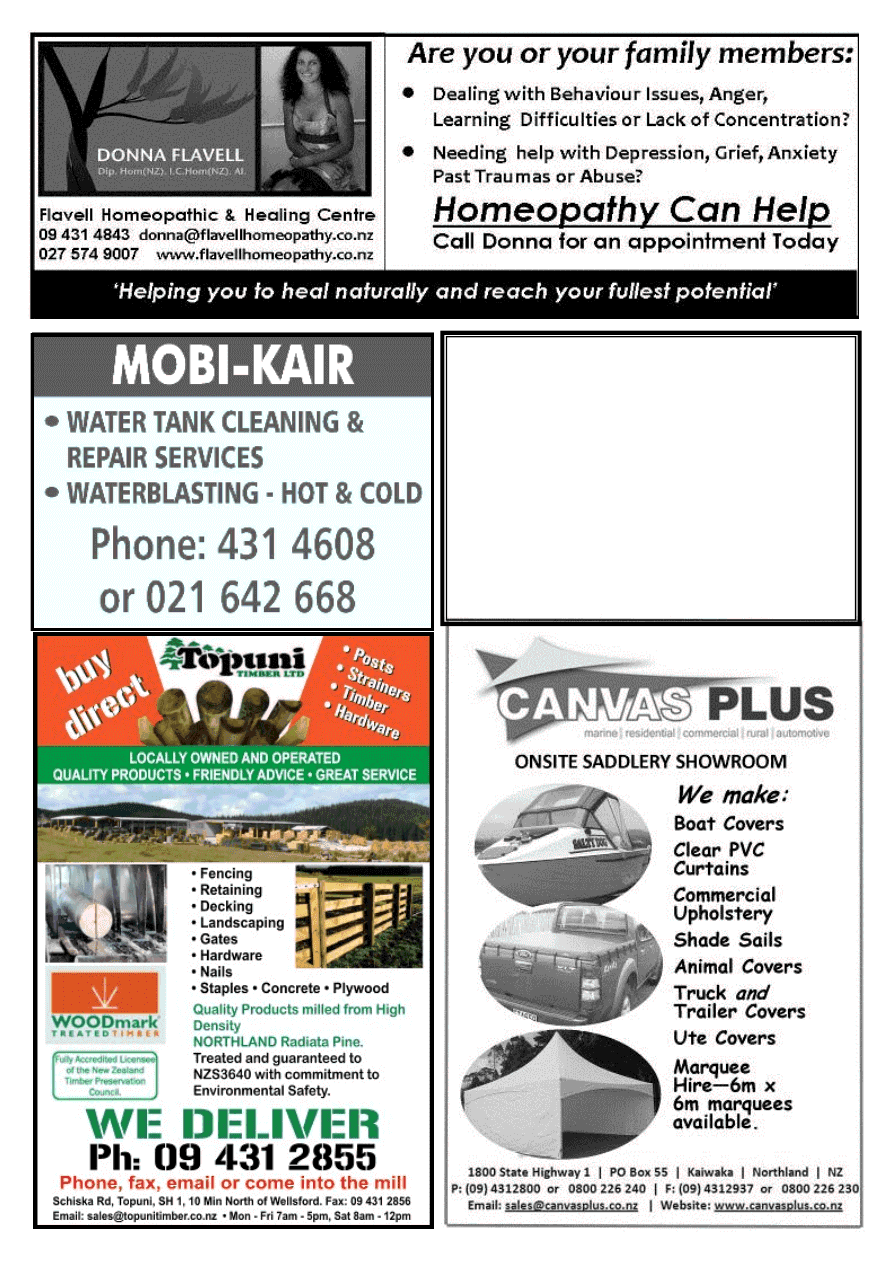 TILING 
Certified Waterproofing 
431 4533 or 021 86 33 33 
George 
MCN Property Solutionz  
Local references available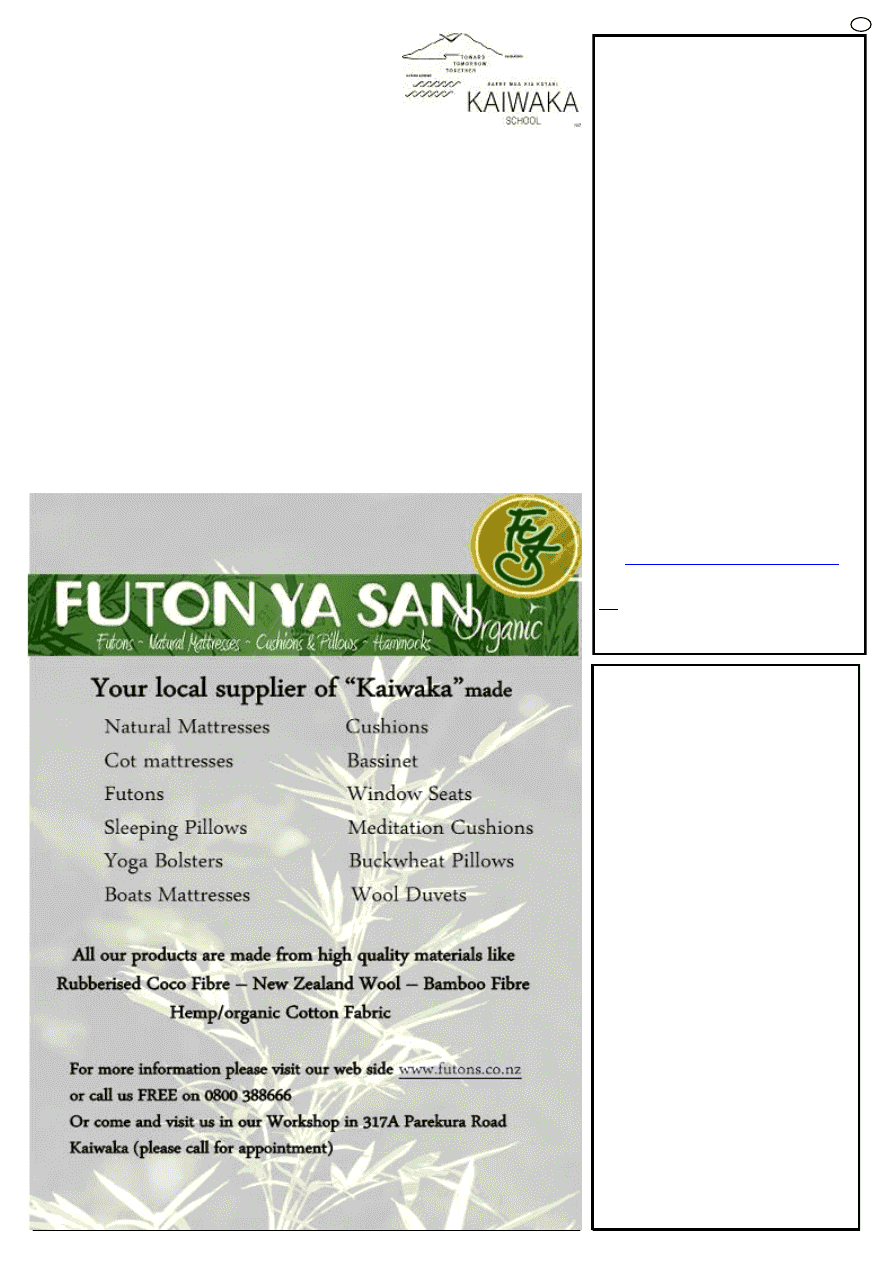 KAIWAKA SCHOOL     
 11 
Bonjour, tous les mondes! 
Not a fully functioning person...with those 
niggles, aches and pains? You guessed it.  
 I can help!
Monsieur Masseur .... 
RELAXING  
MASSAGE
..... Juste pour vous" 
Here's feedback from a happy client 
"Pete's treatment works. He identified 
long standing injuries no one else could 
fix and relieved years of chronic pain, 
fatigue and headaches.  I have Pete to 
thank for getting me back to work. I am 
so much happier and more confident in 
myself.  I can thoroughly recommend 
him." 
 
Call for an appointment now!
Pete Worsfold 
4312 152  or   021 825970   
Or  Ph. "The Well of Health" 
For an appt. 09 4312 799 
 
We  thank  Mr Wayne  Blissett for  all  the  work  he  has 
done for the school throughout recent years. 
Our  April  meeting  was  the  last  one  for  Wayne,  he is 
not  standing  for  BOT  re-election.  Wayne  has  served 
on the Board for seven years and was chairman for  five of these years. This has 
been  a  truly  generous  effort  and  the  school  community  is  very  grateful  for  the 
huge contribution he has made.  
WE NEED YOUR HELP:  
We are having dreadful problems with the school grounds on Saturdays after rug-
by. Bottles and cans are strewn all around the school, cigarette butts and bottle 
caps are everywhere, making mowing impossible. The rubbish had to be picked 
up after last Saturday's match and this filled 1/2 a wheelie bin. Sand was thrown 
out of the  sandpit and had to be blown away, so a lot was wasted. Flowers were 
picked and a branch broken off the puriri tree. The danger tape was pulled off the 
dangerous playground apparatus, and cars are parked across the neighbours drive-
way and the school entrance.  
If you or your family/friends are around on a Saturday, please help by stopping 
people  who  are  damaging  our  school,  making  mess,  ruining  our  beautiful 
grounds, littering and being inconsiderate when they are parking. Please be really 
proactive  about  protecting  our  school  and  our  children  by  insisting  that  our 
grounds are respected.  
If you have any good ideas about a better way to manage this problem, please let 
me know.  
Rosie Ellis, Principal 
Kaiwaka  School 
Board of Trustees 
Election  2013
Nominations  are  invited  for  the 
election of  3 (three)   parent  repre-
sentatives  to  the  Board  of  Trus-
tees. 
A  nomination  form  and  a  notice 
calling for nominations will be post-
ed to all eligible voters. 
Additional nomination forms can be 
obtained from the school  office. 
Nominations close at noon on 16th  
May  2013  and  may  be  accompa-
nied by a signed candidate's state-
ment. 
The  voting  roll  will  be  open  for  in-
spection  at the  school  shortly  and 
can  be  viewed  during  normal 
school hours. 
There  will  also  be  a  list  of  candi-
dates'  names,  as  they  come  to 
hand, for inspection at the school. 
Voting closes at noon on 30
th
  May 
2013. 
 
Sara McAulay 
Returning Officer 
Kaiwaka School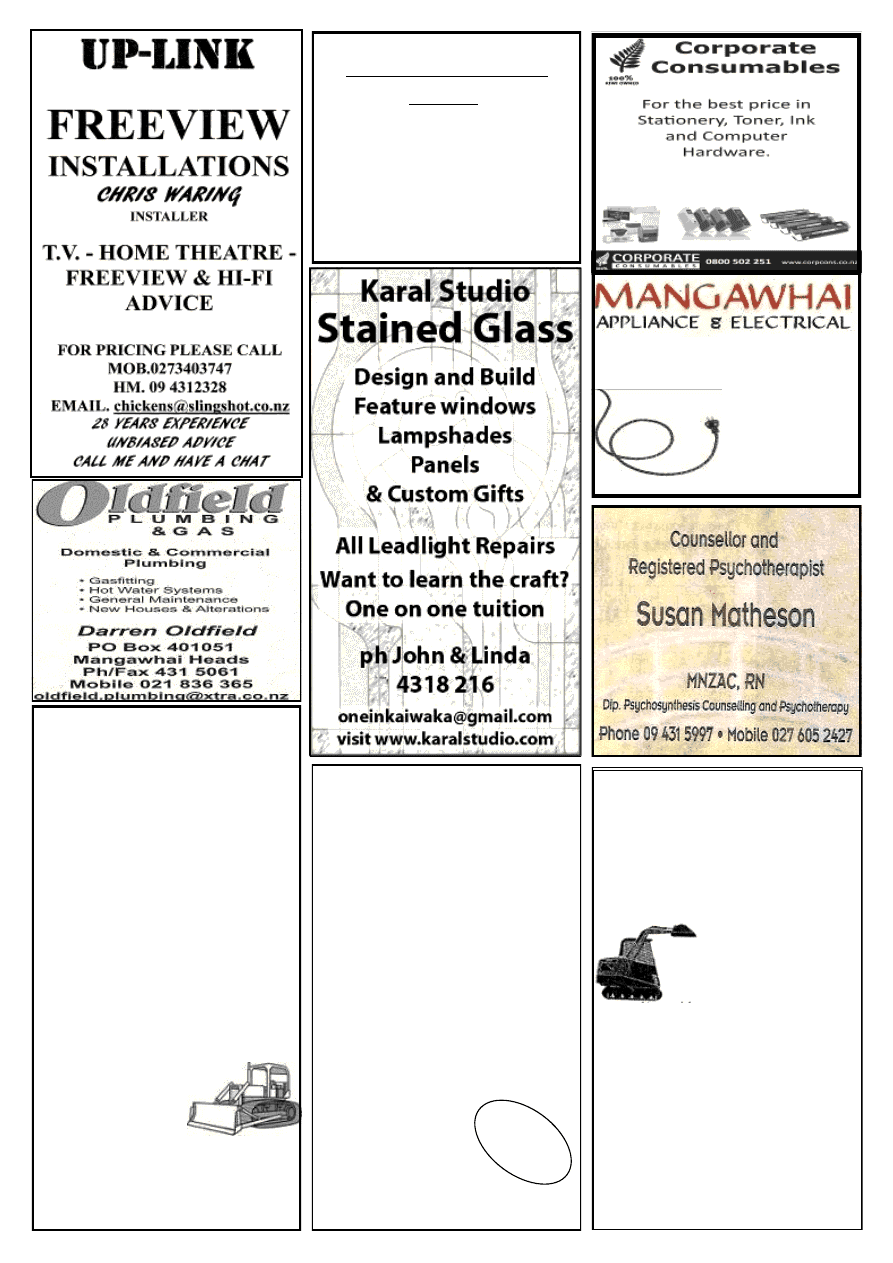 Landcare 
Services
Dave Hyndman  
     4312302 
   021 431238 
Trenching, Hole Boring, Land 
Levelling,  Driveways, 
Landscaping,  Post Peel,  
Pig Post, Lifestyle block 
mowing, etc....also Rotary 
Hoeing
For reliable and friendly 
service contact Dave 
Based ou
t  
Oner
iri Roa
d 
HODGETTS
CONTRACTING
Digger Work    

Driveways 

House Sites   

Dams 

Drains, etc
Also available for HIRE 

3 ton Vib Roller 

Heavy Duty Tow 

Waterblaster  

Lazer Level 
Phone Mark 
4312877 
027 447 8554
DEAN STEWART 
Registered Electrician 
12B Wood St.  
Mangawhai Heads 
021 280 4008 
09 4314651 
AUTHOURISED FISHER AND PAYKEL SERVICE 
Coates  
Contracting 
 
D41 Bulldozer with 6 
way blade, bush rigged 
with winch 
 
For all tree work 
 
General bulldozing and  
  stick raking. 
 
120hp Tractor for 
ground cultivation,  
 
tip trailer work. 
 
Fencing
All enquiries phone  
Brett Coates  
094318720 or  mob 
021431872
Community Services 
Officer: 
For all Community Services Forms 
see Milly at the Kaiwaka St John Op 
Shop. Phone 4312650 
MORE MEMBERS REQUIRED 
FOR THE KAIWAKA STATION
. 
Phone Andie or Gavin on 
0800 502 251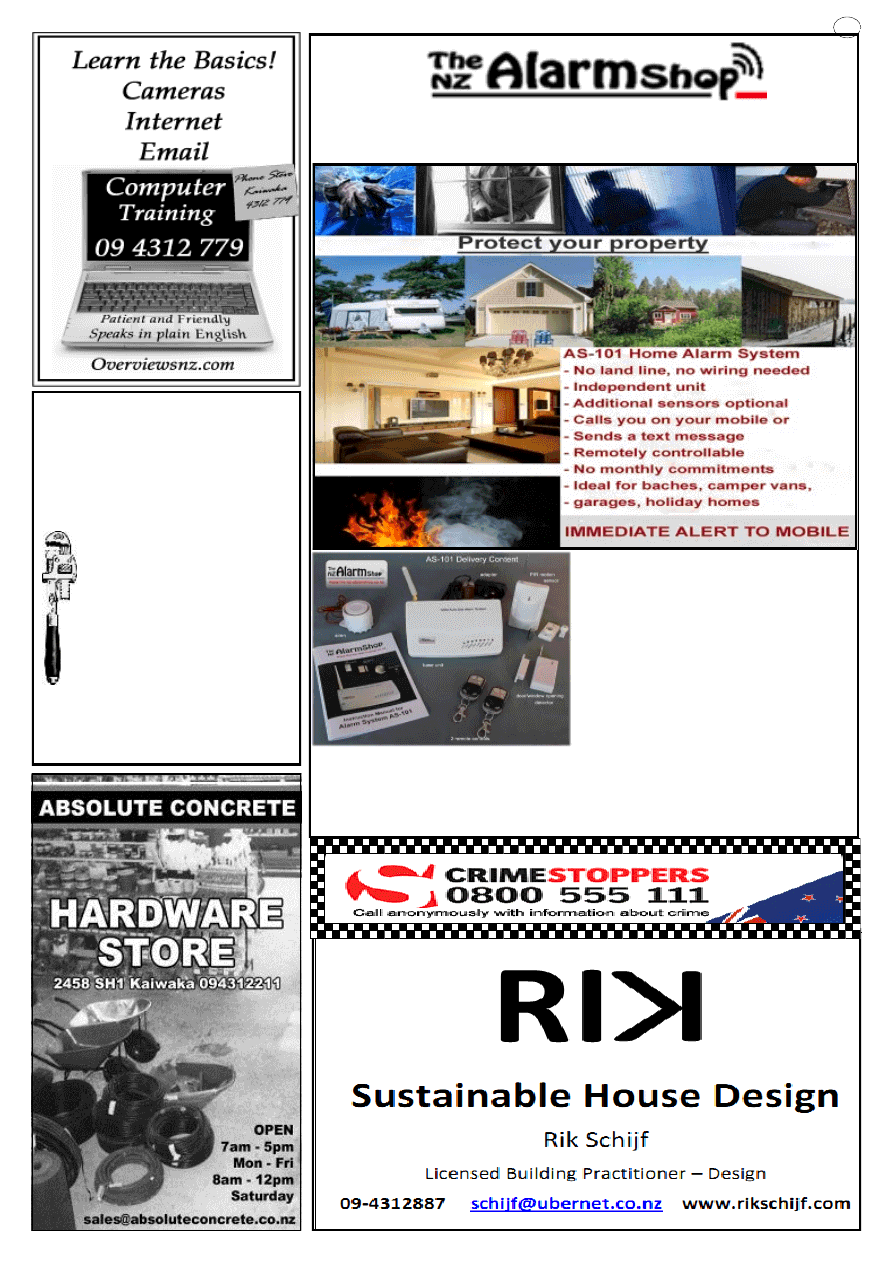 BARRY CURTIS  
PLUMBING LTD 
REGISTERED CRAFTSMAN 
PLUMBER 
Phone 4315572      
027 257 9884 
     25 years experience 
  
  
       Friendly reliable service 
  
All plumbing and  
maintenance 
       Alterations and new housing 
       New wood fire installation 
       Spouting 
       Competitive rates  
 PROMPT EFFICIENT  SERVICE  
13 
www.the-nz-alarmshop.co.nz
AFFORDABLE DIY HOME ALARM SYSTEM 
In the event of an alarm situation, the sys-
tem alerts you by sending a text message 
to your mobile phone and/or one of 5 ded-
icated contact phone numbers.  
To check, you can "listen-in" into the room 
by calling the system and so find out, 
what is going on.  
If you personally inform the police about a 
burglary in progress, it is MUCH MORE 
EFFICIENT than the siren going off on its 
own and nobody reacts. Easy to handle 
 
by everybody. 
You get all this for $249     
For more information or other security products call Jorg or Barbara 09-4315905 
or check our web site www.the-nz-alarmshop.co.nz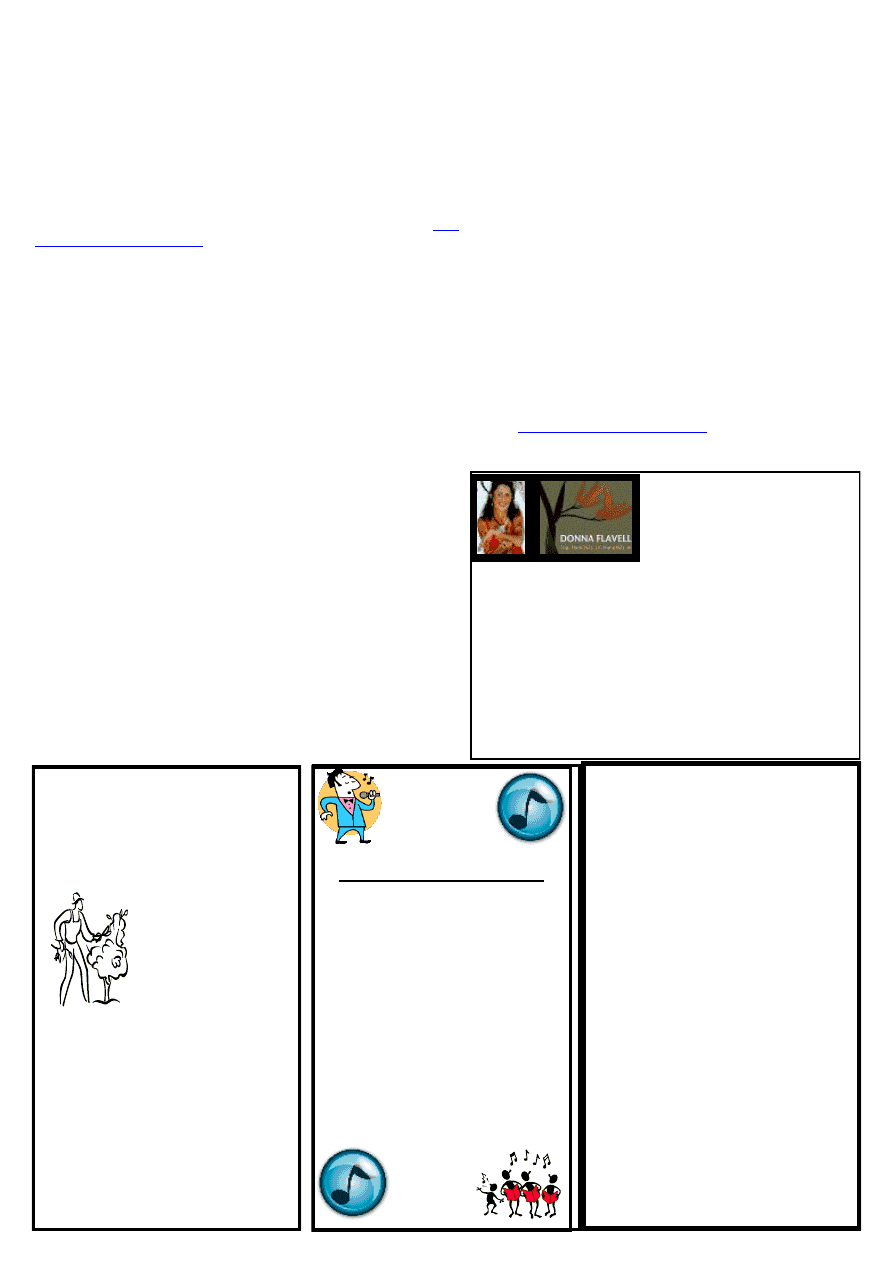 Willow Bend
HORSE  
HOTEL 
"   
Total Horse Care 
" 
Agistment 
" 
Riding Lessons 
" 
Arena Hire (60x40) 
" 
Young Horse Starting 
" 
Re-training/Exercising 
" 
Hoof Trimming 
" 
Problem Solving 
Phone Sue 09 431 2817 
or 021 623 776 
Or email sue.gray@xtra.co.nz 
OUT THERE 
GARDENS AND LAWNS 
Lawn Mowing – Any Size 
Section Clearing  
Hedge Trimming  
Spraying  
Planting 
Pruning   
Gutters Cleaned 
Chainsaw Work 
Regular Services 
General Maintenance 
Garden Waste Removal 
Free Quotes 
Get The Job Done! 
Servicing Kaiwaka/Mangawhai 
Contact Phil Jones 
027 243 5503  
431 2196  
Email: outthere09@gmail.com 
Singing Lessons 
Individual sessions 
All styles of music  
All voice types 
Reasonable rates 
Phone  
Maura Flower 
021 164 8318 
New Natural Health    
Options Now Available  
to You. Flavell Homeopath 
-ic & Healing Centre    
are offering a wider range  
of health options for you to 
choose from for you and your family. 
Donna is a Registered Classical Homeopath. Since 1987, 
she has trained and gathered experience in many differing 
therapies,  to  offer  you  the  very  best  options  in  Natural 
Health Care and to offer  you alternative options to medi-
cation.  Homeopathy  works  by  stimulating  your  body's   
natural healing abilities; therefore, it is gentle and safe to 
use at any stage of life. 
Call today to book your appointment 09 4314843 
or 0275749007 www.flavellhomeopathy.co.nz 
KAIWAKA LIBRARY 
By the time you read this report, the latest Large Print and Au-
dio book swap will be done and dusted. Come on in and take a 
look at the huge range of titles on these shelves - they're for all 
library  members  to  borrow.  Many  thanks  for  everyone  who 
helped out on the day. 
We  are looking for  a  new  volunteer, as one of our team will 
be  retiring  from  the  library  soon  to  pursue  other  interests. 
Would  you  like  to  join  us?  Are  you  available  on  the  second 
Wednesday  of  each  month?  You  need  to  know  how  to  use  a 
Windows computer, and have regular access to emails to keep 
in  touch.  If  you're  interested,  send  an  email  to 
 to introduce yourself and let me know 
you'd like to join us. Full training will be given to the success-
ful applicant. If that day doesn't suit you but you're keen to be a 
library  volunteer,  send  an  email  anyway  and  I'll  contact  you 
when there's a suitable vacancy. 
Recently  I've  read  Behind  the  sun  by  Deborah  Challinor. 
Meet  Friday,  Sarah,  Rachel  and  Harriet.  Four  young  women, 
thrown together by their need to survive, form a friendship in 
London's  notorious  Newgate  Gaol.  Life  there  is  tough  -  life-
threateningly tough - and you need friends or money (or both) 
to survive. In time the inmates of the gaol are put on a ship and 
transported to New South Wales. The trip out is an endurance 
in itself, having to face not only the perils of long ocean voyag-
es - including down into the Roaring Forties and freezing con-
ditions  -  but  the  threats  posed  by  enemies  made  amongst  the 
other  prisoners  and  travellers  on  the  ship.  At  Sydney  they're 
transported  to  the  Parramatta  Female  Factory,  to  wait  for  an 
assignment out working for the settlers and former convicts in 
the area. A new place to learn how to survive, quite different to 
what  they're  used  to.  They're  not  happy  about  the  prospect  of 
being split up, but make the most of what they have. I enjoyed 
this  book.  The  descriptions  of  life  in  those  times  and  places 
were  very  good,  not  pulling  any  punches  about  just  how  bad 
they were. My only consternation was discovering this was not 
a standalone novel as I'd thought when I began it, but the start 
of a new series! The next book "Girl of Shadows" has not been 
published yet, though there is a teaser for it at the end of this 
book. This book is on the Rental Fiction shelves in the library. 
A  Tiny  Bit  Marvellous by Dawn  French. This is the story of 
the Battle family, a typical two-children family in a small Eng-
lish town. It's told from the viewpoint of the family members, 
with a chapter coming from Mo, another from Peter, etc. Mo is 
a child psychologist, but has no idea how to relate to her 
own children. She feels grey, inside and out. Then one day 
Noel,  her  new  intern,  tells  her  he's  attracted  to  her,  and 
after getting over her initial horror, she finds herself com-
ing  to  life  as she  thinks  about him.  Dora  is  about to turn 
18,  and  wants  to  be  famous.  She  applies  to  get  onto  the 
next series of a major tv talent quest program, planning to 
sing  a  favourite  song.  She  has  an  online  friend,  the  only 
person  to  know  this  secret,  who  offers  to  help  her  get 
ready for the audition and so they arrange to meet for the 
first time in a local park. Peter is younger than Dora, and 
has  a  fixation  on  Oscar  Wilde.  He  meets  Noel  and  falls 
instantly  in  love,  devising  a  plan  to  work  in  his  mother's 
office so that he can be near Noel and be seen by him. He 
notices a file with a familiar name on it, and opens it up to 
read  the  contents...  "Then  there's  Dad...  who's  just,  well, 
Dad.  Oh,  and  there's  a  dog.  Called  Poo."  (book  cov-
er)  This is an amusing book - as you'd expect from a suc-
cessful comedian - but with a dark undertone. A most en-
joyable read. This book is on the Rental Fiction shelves in 
the library. 
See you in the library! 
Wendy Howard, Librarian Kaiwaka Library, cnr State Highway 
1  and  Kaiwaka  Mangawhai  Road.  PO  Box  89,  Kaiwaka  0542. 
.
Email 
2pm, Mon 4-6pm. Membership is available to all residents 
in the Kaiwaka area.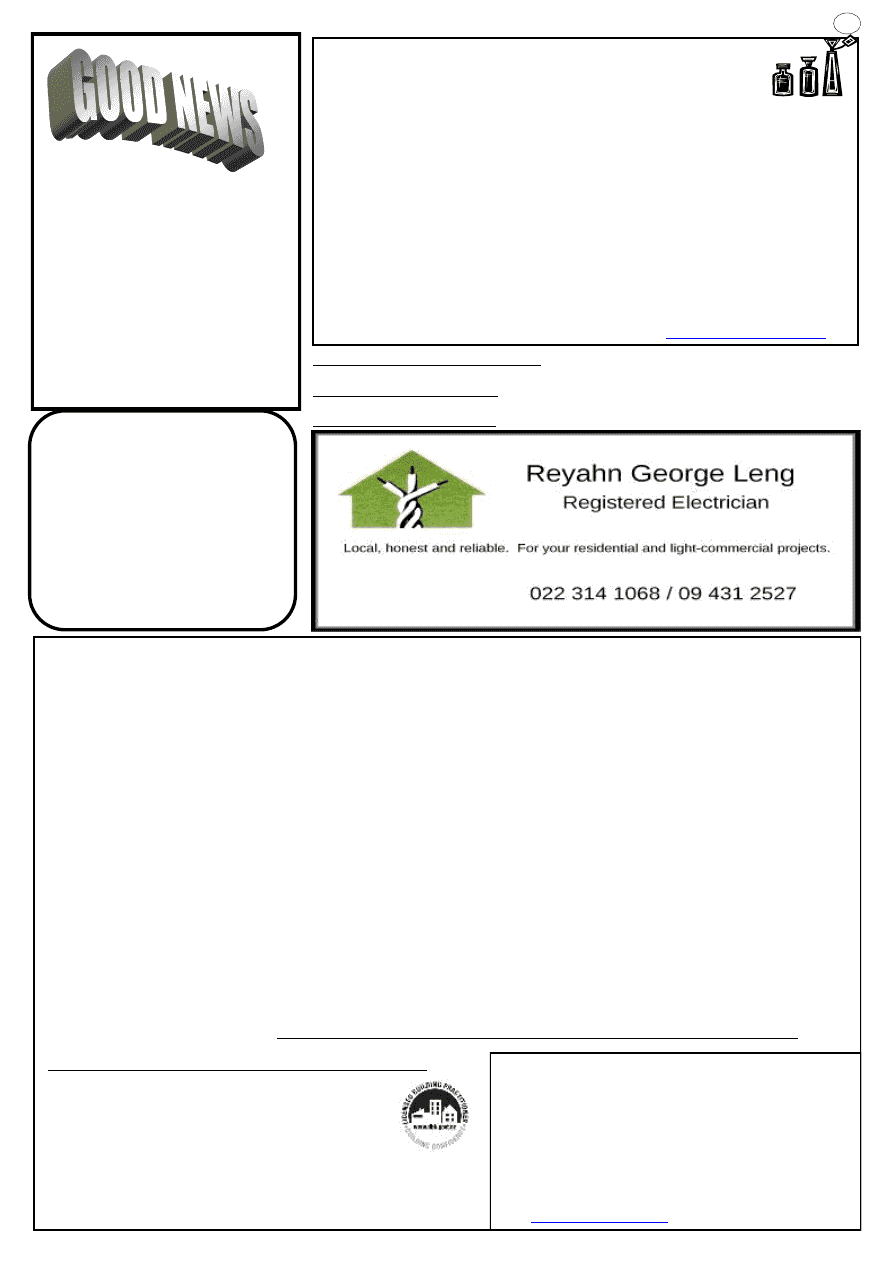 THERE'S 
Kaiwaka Bugle Advertisements 2013: 
Classified $2; 1/8 page $5; 1/4 page $10; 1/2 page $20;  
bugleaccounts@kaiwaka.co.nz 
Payments can be online, posted or left at Jaques Store. 
kaiwakabugle@kaiwaka.co.nz  for queries or copy. 
 Your COMMUNITY 
CHURCH 
Each Sunday  
10am:  Lively Family  
 
    Programme
Everyone warmly welcome.
Ph: Pastor John Dekker     
09 4318203 
@ the  
Kaiwaka 
Family Church 
ARCHITECTURAL BUILDING PLANS AND DESIGNS 
20% Reduced Cost - design and planning. 
If you are thinking of building, then you need to make use of cost savings in architectural design as well as having a good and well experienced 
designer. This applies if you are considering a new home, any alterations or any building additions/farm buildings, sheds, alterations, whatsoev-
er. There are many things that are frustrating if you are not totally familiar with what all details are required by Councils -especially with 
new regulations in force to ensure everything runs smoothly - e.g. Resource and Building Consents, planning restraints, new building 
materials ,applying for building permits, dealing with building contractors to name a few -you need a capable,  
experienced and professional designer with a clear knowledge of all the processes. 
WE CAN HELP YOU CLARIFY ALL OF THESE ITEMS  AND MAKE LIFE RUN MORE SMOOTHLY.  
Brian of Wright Design has been helping and organising all these facets of design and building for over 40 years. 
With needs of family changing and the economy - building requirements constantly being reorganized and made more complex, it's very im-
portant to obtain professional advice for any building project - no matter what size. 
Brian advises on design, materials, permit applications, builders and subcontractors for any project - no matter how small or large 
ALL THIS AT A REDUCED COST so YOUR DOLLAR GOES FURTHER  
Wright Design offers free visits, consultations and all the advice you need on planning. Design, building, contractors, council  
permit applications, guaranteed permit plan acceptance. 
QUALIFICATIONS 
Brian is a qualified designer (NZCAD) with over 40 years of varied experience in all types of building and is a registered and Licensed Building 
Practitioner in Design - L.B.P. 117345 
He ensures you will achieve the best from your budget with recommended excellent local contractors ready to competitively price and 
build your personal project quickly and efficiently. 
EXPERIENCE 
Brian's practical building and 40+ years of design experience means he can give you excellent advice and all the guidance needed for all 
your building needs, 
FEES: To help you attain your project Brian has reduced his costs by 20%, giving you extra funds for the rest of your project. 
ENGINEER: Brian can arrange engineering for a reasonable cost. 
THIS IS AN ABSOLUTELY GENUINE FEE REDUCTION!! 
Qualified and inexpensive designer – N.Z.CAD., LBP 
117345 
Guaranteed design and working drawings 
Free site visit to your home or property 
Great service 
Obtain a free quote with 20% Discount. 
PROJECTS 
Additions, alterations, basements, new houses, motels, bed and breakfast 
commercial buildings and shop fit outs are a few projects he has been  
involved with. 
WHAT TO DO FROM NOW 
Call Brian   
Arrange a visit 
Discuss your needs 
Obtain great advice.  
Obtain a free quotation - with a true 20% discount 
WRIGHT DESIGN 
Brian's office is at: 72 SPINDLER ROAD, R.D.2 WELLSFORD  
(Off Wayby Valley Road.) Call in for a chat and a coffee, or he will call 
on you at your home if preferred. 
WRIGHT DESIGN: Office 09-423-8092 
Mobile 021 276 7389 
Email: 
 15 
T.W.WRIGHT 
WATER PUMPS  
SALES & SERVICE
DEEP WELL & SUBMERSIBLE REPAIRS 
203 WHAKAPIRAU RD, WELLSFORD 
PHONE 09 4238235   
MOBILE 021 976 545 
AVON
  AVON  
AVON
AVON
AVON 
AVON 
Hi Everyone, 
Brochure 10 is now available. Orders due by 1st May with delivery on 10th May so they 
will be available for Mothers Day. 
New Lipstick "Totally Kissable"  in 10 great shades. Buy one and receive your choice of 
Glimmerstick Lip Liner Free. 
One Great Mascara and Ultra Luxury Eye Liner and Lip Liner amazing value at $4.99 
each. Smooth Minerals Lip Gloss $5.99 each. 
SUPER SAVERS. Spend $15.00 in brochure and choose one of the following, Anew All 
in One Max, Peel Off Mask and Eye Cream all 3 for $19.99, Silvertone or Goldtone 
Watch for $24.99 each and Butler Organiser Handbag $39.99 each,  in Blue or Brown.  
Mothers Day gifts from fragrance to clothing and accessories and add a Fashion Scarf for 
$12.99 with any purchase from pages 110-155. 
Try before you buy. Have an Avon Party at home with your friends and receive free sam-
ples and gifts for all. 
Give Gale Matheson a call on 094131827, 0274149576 or 
The Kaiwaka Bugle is a commu-
nity  newspaper  run  by  volun-
teers. Articles, etc. printed are not 
necessarily  the  opinion  of  the 
Bugle Team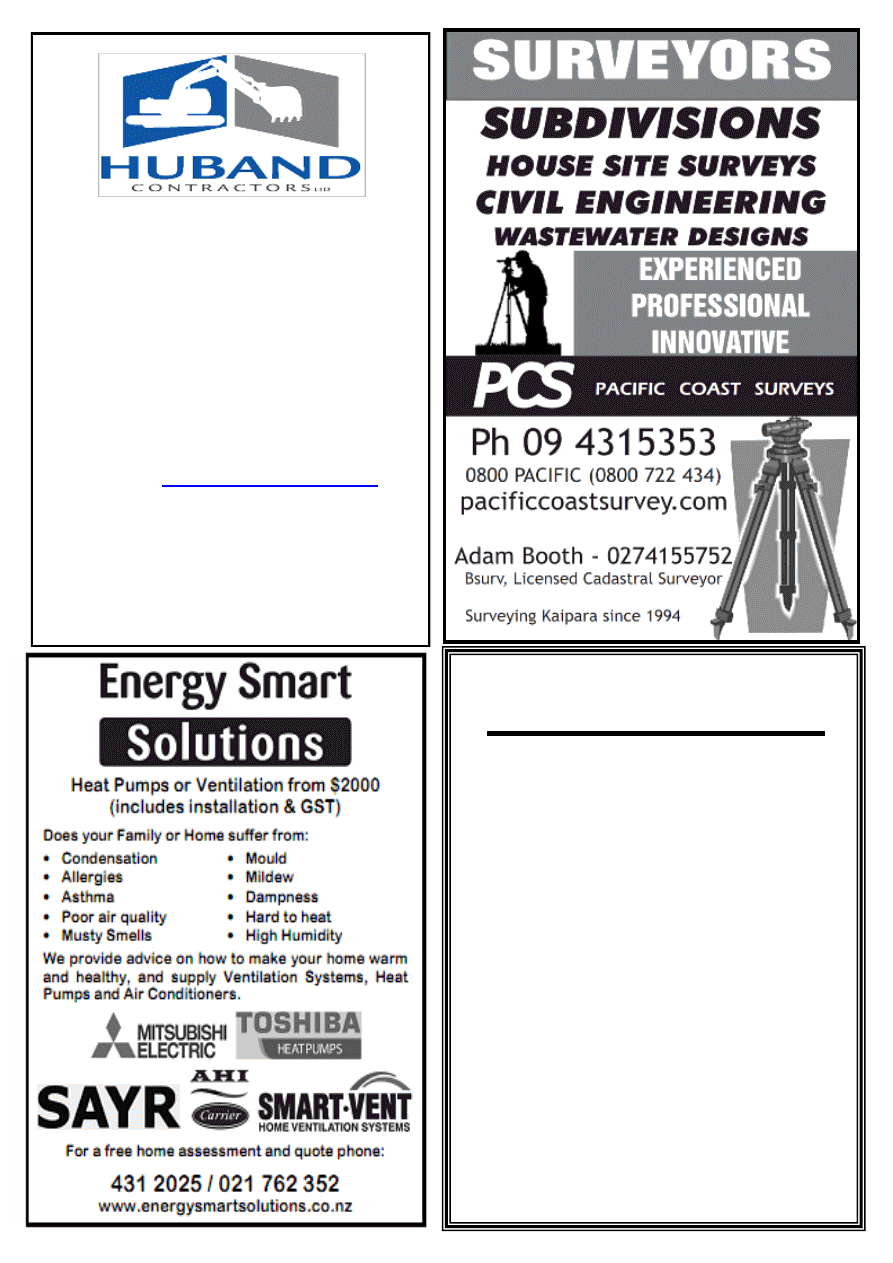 STOCKFOOD
GREAT RANGE FOR ALL YOUR LIVESTOCK  
AT GREAT PRICES 
 ALSO CHECK OUR 
DOG BISCUITS 
20 KG FOR $58.90 
LPG REFILLS 9KG 
STILL ONLY $31.50
MANGAWHAI SERVICE 
STATION 
(09) 431 4242 
44 MOIR STREET IN THE VILLAGE 
*   R O A D I N G   *   E A R T H W O R K S  
*    
*   D R A I N A G E   *   S I T E W O R K S   *  
For any further enquiries, contact 
Shaun on: 
Cell: 021 222 0272 
Home: 09 4318339 
Shaun Huband:  Registered  
Drainlayer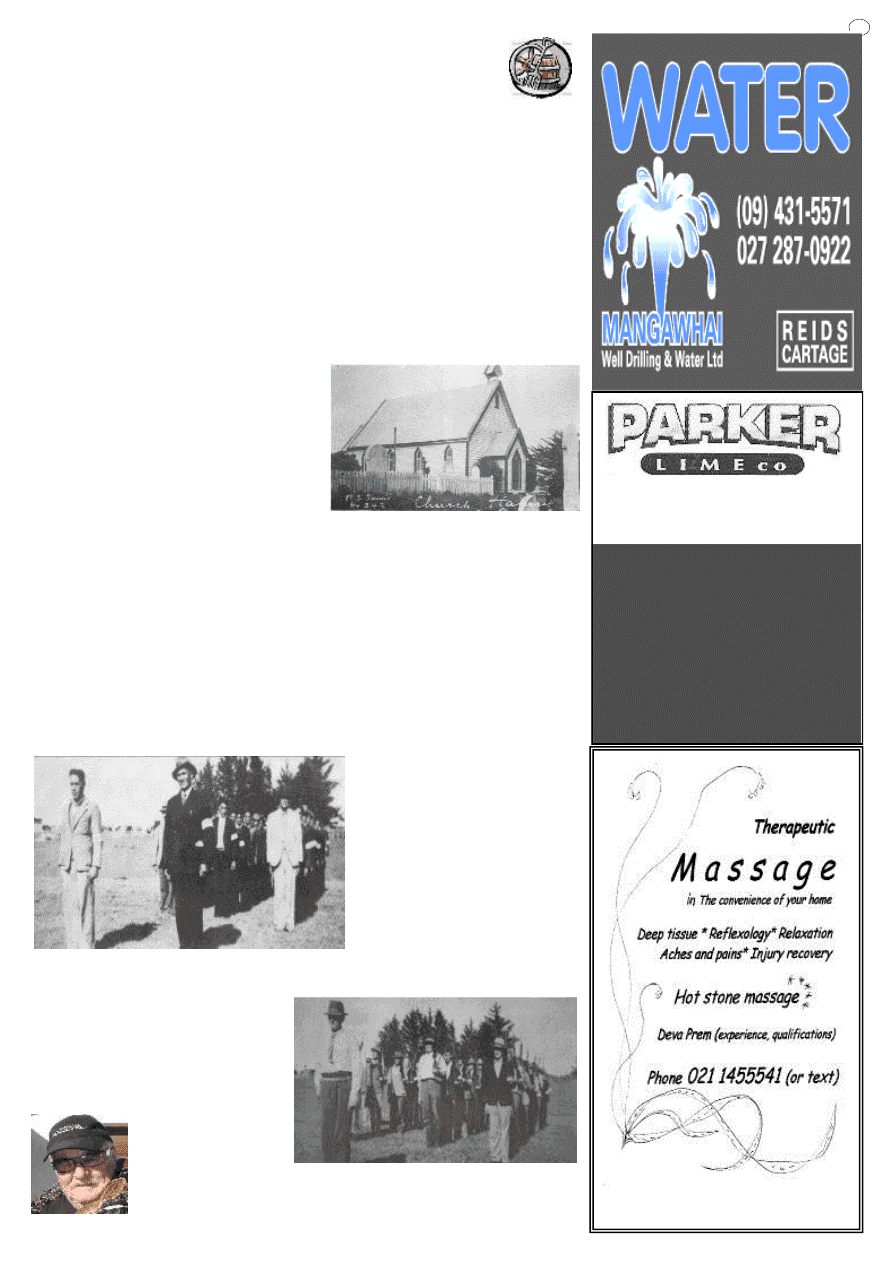 Landscape Supplies 
Bulk Cartage 
4312407 
Mob: 021 453 252  
Fax: 4312939 
 scott.parker@parkerlime.co.nz 
Gibbons Road,  
Kaiwaka 
www.mangawhaimassage.co.nz 
17 
MEMORIES OF YESTERYEAR 
 
Two occasions in the past couple of weeks have jolted my memory of  
how things were done many years ago.  The first was the 50th anniversary of the 
formation of the Kaiwaka Volunteer Fire Brigade, and it was great to remember 
and tell many stories of how a group of us got together to get things moving.  It 
was a wonderful night and well presented.  Something missed was at the start of 
the Voluntary Fire Brigade we did not have a siren, and so at the first signal of a 
fire  the  girls  in  the  telephone  exchange  would  give  every  fireman  eight  short 
rings  on  his  house  phone.    It  can  be  well  imagined  how  one  girl  giving  those 
short  blasts  on  the  phone  in  the  middle  of  the  night  had  a  dozen  near  naked 
young men running around their homes looking for suitable clothing in which to 
fight a fire.  Such was the community spirit shown by the girls in the exchange, 
yet  few  now  remember  anything  about  our  telephone  system  before  it  became 
automatic.  Mention was made of a big scrub fire at Mangawhai that in today's 
terms would have wiped out dozens of houses.  As one who was there for several 
hours, I then had to ask permission from the Chief; as did others, to be allowed 
to return home to milk the cows, returning to the fire after the evening milking.  
That fire had a front a couple of kilometres 
long.  
Another  jolt  to  the  memory  was  attending 
the  Anzac  parade;  something  I  have  done 
now  for  seventy  years.    I  can  remember 
being taken along by my father in 1943, at 
the age of three to attend the service always 
held  in  St.  Michael's  Church  at  Hakaru. 
(See picture at right) As a three year old I 
thought it pretty boring, and had no hesitation in saying so, so spent much time 
outside  alone,  climbing  the  headstones  in  the  graveyard.    All  the  old  fellows 
marching  was  interesting,  with  no  young  men  present  as  many  were  away 
fighting.  The Minister seeing many for the only attendance of the year in church 
seemed to talk on and on, and of course I heard my first rendition of "Abide with 
Me" which I now know off by heart, which is just as well as I usually forget to 
take my glasses to the service.  After the service at St. Michael's, the men would 
go to the Hakaru Hall for a cup of tea, which was served out of the boots of cars 
in brown bottles, and so Anzac Day during World War II could take just as long 
to  celebrate  as  does the  present  ones.    One  thing  I  do  remember  is  the lack  of 
female participation in the War years' Anzac service.  It was a very  male only 
occasion.  With the Anzac memories of the War years also comes the memory of 
going with Dad to the home guard practices, (see photos below) with the most 
vivid memory of being locked in the car while live shooting took place.  Training 
took  place  at  various  locations, 
and    the  ones  I  remember  well 
took  place  on  our  farm,  Bill 
Gouk's  farm,  which  was  just 
passed  the  Hakaru  bridge  on  the 
way  to  Mangawhai,  and,  of 
course,  the  Mangawhai  Hotel 
paddock, which took all day, and 
meant  I  drank  many  glasses  of 
raspberry  and  lemonade,  and 
could play on the wharf.  On one 
occasion near the end of the war I 
was allowed to pull the trigger of a Lewis machine gun, and I couldn't even brag 
about it at school, as I hadn't started school.  Another memory of the war years 
was  the  lack  of  cars  on  the  road,  as 
there  was  a  shortage  of  petrol,  so 
when one did see a car it was always 
full  of  people,  as  pooling  was  im-
portant.  Hard  times  don't  always 
leave bad memories. 
 
 
 
 
 
Bill Leslie  26/04/13 
The Home Guard on parade, above left and 
right. Kaiwaka Sports Field, 1940, World 
War II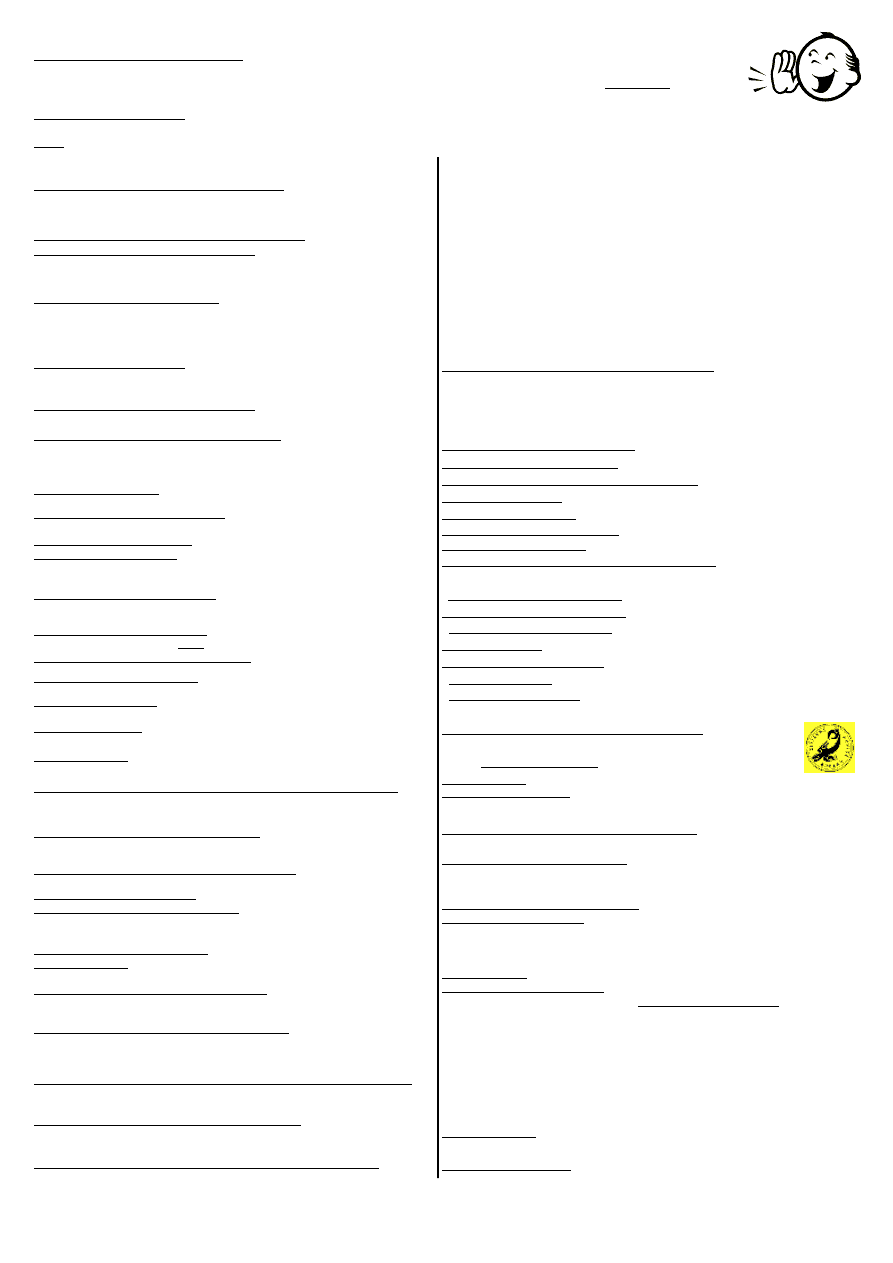 LOCAL SERVICES 
*St.John Ambulance 
111 or Freephone0800 61 0066
*Fire phone 111     *Police phone 111 or 09 4311150
WELLSFORD DOCTORS: Ph: 4238 086 
A A: Meets Wed., 8pm Kaiwaka Ph: 4312228, 4315543, 0800229 6757   
AL ANON: In recess, contact Ph: 4312228 
AgriQuality (MAF) Livestock Consultant 
Phone 09 4311 820 or 021518257 
CAB-Citizens Advice Bureau.Wellsford Ph: 4237333. 
BUDGETING SERVICE,OTAMATEA:Free confidential advice & 
support - all areas of  personal finance Ph: 09 4318173 or 094318117
FAMILY SUPPORT SERVICES responding to the needs in our 
community  Counselling/Family Therapy/Seminars/Youth Work/
Probation/Osteopathy/Govt.Day Agencies/Community Information  
Ph: 4312661 Hours: 9am-5pm. Mon - Fri (funded & CYFS approved) 
FUNERAL SERVICES: Morris & Morris Ltd, 
Whangarei - Bev Jaques Ph:4312367 or 0800667747 
Grandparents Raising Grandchildren: Sarah Rogers Ph: 4312194 
HAKARU LANDFILL/Transfer Station:Open everyday except 
Tuesday10am-4pm.Ph4312629 Cost-$55 trailer load up to 1 cubic 
metre. Ph:4258567 - office 
INLAND REVENUE: Last Friday each month, 
11-3pm Ph4312661 
KAIWAKA KOHANGA REO:
Ph:4312620 Mon.-Fri. 8.30am-2.30pm 
KAIWAKA CEMETERY: Ph: 4312045 
KAIWAKA LIBRARY: kaiwaka.library@gmail.com  
Mon. 4-6pm; Wed., Thurs., Fri., Sat.  10am-2pm Ph:4312539
KAIWAKA PLAYCENTRE: Ph: 4312286. Hastie Lane 
Monday to  Friday  9.00am 
- 
12 noon.
KAIWAKA POST OFFICE:
Ph:4312 626 Fax: 4312287  
Post Code: 0573  for RD2  and  0542 for all Kaiwaka Post Office mail 
KAIWAKA PRIMARY SCHOOL : Ph: 4312309 
KAIWAKA SPORTS ASSN: Ph 4312005; 4312129 gym 
KAIWAKA STJOHN: Manager Steve Rosser 09 431840, 021 2316836 
NORTHPOWER: Faults Kaiwaka area 0800 104040 
PARENTPORT: Free, practical family support servicePuhoi to Paparoa 
Ph:  Sharon Mehana, Co-ordinator. 4259357 or 027 280 5093 
PERSONAL DEVELOPMENT COACHING, GROUP FACILITATION:  
Sabine Druckler 4312231 
 
PLUNKET  KAIWAKA/MANGAWHAI:  Ph:
094318187 
or  0
276753488 
Kaiwaka Mobile Clinic once a month– appointments necessary;  
Mangawhai (next Domain) 
1st & 3rd Thursday & Coffee Morning; 
PLUNKET CARSEAT CO-ORDINATOR:  
Pat Scott Ph 4314530 or 
0272881635 
PLUNKET FREEPHONE -0800 933 922 
PLUNKET -MAUNGATUROTO  Clinic every 2nd & 
4thThursday. Ph: 09 4318187 
PUBLIC HEALTH NURSE: Gloria Reid Ph: 094327634  
HOMEOPATH: Donna Flavell Ph: 
4314843 
RETURNED AND SERVICES ASSN 733 Settlement Rd.Hakaru 
Ph.4312176 Bill Kerr (President) Ph.4314719 
TE KOROWAI AROHA O NGATIWHATUA 
(The Cloak of Love of Ngatiwhatua) Support and Maori Consultancy.  
Ph: 4239481 (Wellsford) 
WOMEN'S WELFARE LEAGUE & Reaching Out For Youth:  
4 Kaiwaka-Mangawhai Rd, M Morgan 4312293 
VETERINARY SERVICE MANGAWHAI: 
Ph: 4314535 Mon-Fri 8.30-4.30, Sat 9-12, a/h appt. 
KAIPARA DISTRICT COUNCIL www.kaipara.govt.nz:  
Help Desk FREEPHONE 0800 727 059 
Dog/Stock/Noise 0800 105 890 
Kaiwaka Service Centre Ph:4312 013 Mon-Sat 8.30-4.30pm 
WHAT'S ON
PLEASE ~ do let me know what is on - email 
kaiwakabugle@kaiwaka.co.nz 
Advertising in WHAT'S ON is FREE   
Mondays 0800-2.30pm Kaiwaka Tramping Group  Karen 4312090 
*02 May ~ Kaiwaka Fitness AGM at the Gym 11.00am All welcome 
*04 May ~ DANCE PARTY + LATIN FUN CLASS, 8 pm, Kai-
waka Hall 09 4312408 or 021 2968794  
*06 May~ Northtec Open Day 1000-1100 Cuppa and looksee beside 
the new Great Wall. Everyone invited. 
*11 May ~ HOW TO TACKLE THE ENERGY CRISIS, 10 am, 114 
Vista Lane, Kaiwaka  09 4312408 or 021 02231700  
*17 May ~ DANCE OF LIFE, freestyle dance, 8 pm, Kaiwaka Hall 
09 4312408 or 021 2968794  
*19 May ~ Hakaru RSA AGM Clubrooms 1.30pm 
See www.kaiwaka.co.nz for upcoming events. 
Drink can 'tear tabs' - for Starship Hospital-Ph. 4312625   
HOUSEHOLD  RUBBISH  COLLECTION  -  Kaiwaka    Pick  up-
Mondays=Green bags are picked up by Northland Waste-queries to 
them 09 4303273,Wednesdays=Blue  bags and yellow recycling (at 
Jaques  $2.70 and $1.40)  are picked up by Kaurilands 09 4392146.  
 
*OTAMATEA GREY POWER-09 431 8138 Joan Hoggard  
*KAIWAKA BADMINTON -Tuesdays 7.30pm Ph: 4312345 
*KAIWAKA GARDEN & FLORAL Grp:
2nd Thursday in month Ph: 4314767 
*KAIWAKA 
CUBS-Thursdays 5.30-7pm,Hakaru Ph:Bruce  4312542
*KAIWAKA SQUASH -Mondays 7pm,  Ph: Barbara Thomas 4315905 
*GYMNASTICS OTAMATEA -  Tuesday Ph: Stephanie 4312022   
*HAKARU PONY CLUB-Ph: Dianne Christianson  4314315 
*
MANGAWHAI COMBINED PROBUS CLUB
: 2pm,3rd Thursday 
month in the Senior Citizens Hall Mangawhai. Ph: 4315777
*PT CURTIS CRUISING CLUB - Jean Ph: 4312246 
*WAIPU GENEALOGYGROUP -4th Monday in month Ph: 4312725 
*NZ GENEALOGY-Wellsford - 1st Thursday in month Ph: 4237033 
*CRAFT GROUP
:2nd & 4th Tuesday, 10am, Wellsford Ph 4238547
*RSA,Hakaru & Dist.Women- meet 1.30pm 4th Thurs in month 4312668  
*OWEN STEVENS at Kate's Place Ph:4312661   
*Diabetes Support Group-for Kaiwaka, Mangawhai, Wellsford -10am, 
 
3rd Friday of month Ph:A.Pert 4238242; J.Gardner 4238060 
*WELLSFORD CITIZEN ADVICE BUREAU:  
0800 367 222 
Ph: 4237333 Wellsford Community Centre   
Email: cab.wells@xtra.co.nz
CHURCHES:
*Gateway Worship Centre-St Mary's Church Nathan Rd off Oneriri Rd, Kaiwaka 
Services, 10.30am 1st & 3rd Sunday of every month. Contact: Rev David Gage 
4312528 or 0212354282 
*Kaiwaka Family Church-Your Community Church Sundays, l0am 
Home Group every Wed evening, Pastor John.Dekker Ph: 4318203 
*Kaiwaka Services.Anglican & Co-op at StPauls Church  - 1st Sun. 9.30am
(Anglican),3rd Sun. 4pm (Co-op).  Contacts: Parish Office 09 4318193, 
M.Hargreaves, Peoples Warden 4312295, C.Bygrave 4312057  
*Church of Christ the King, Mangawhai 9.30am every Sunday 
*St.Mary's Catholic Church:
Maungaturoto – Griffins Road, Saturday evening Vigil 
Mass 6pm; Mangawhai – Senior Citizens Hall, Sunday Mass 8:30am; Wellsford – 
Matheson Road, Sunday Mass 10:30am; Mid-week Mass times and all enquires to Fr. 
Bill Fletcher – phone 423 8170 
*Baptist Church: Sun. 10.30am Mangawhai Snr Cit.Hall.Ph:4312339 
*Cause Way Church Mangawhai – Sundays 10.15am, Mangawhai Community Recre-
ation Centre, Insley St. Ph: 09 4314782  www.causewaychurch.org.nz
*St.Pauls Archie Bull Hall HIRE  $20 half day, $40 full day per hire 
 Contact G. Jaques 4312048 
*Kaiwaka War Memorial Hall HlRE - Phone 4312725 or 
Email  kaiwaka.hall.bookings@gmail.com 
*Hakaru Community Hall HIRE -Ph.  4312256 or 4312110 
*Te Pounga Marae queries -A.Gage 4312528, 4312527 
*Kaiwaka Sports Association hire/queries- C. Anderson 4312051 
Justice of Peace: B.FJaques; L.Donaldson; A.F.Hargreaves  -please phone to 
make sure they are available 
Marriage  Celebrants:  L.Donaldson;  A.F.Hargreaves;  Judith  Knights  09 
4315765 
Next Bugle Deadline Friday 10 May 2013