No: 9 
14/05/2013 
 Bugle 10 will appear 28 May 2013 
      Did everyone get a letter  
      from KDC CEO Steve Ruru? 
      Wasn't the flow chart very  
       helpful!  See what Kaipara  
      Citizens and Ratepayers 
Assoc. have to say about the Validation 
Bill on pages 11& 12. 
For a town where nothing happens, Kai-
waka  is  pleased  to  welcome  three  new 
businesses to town. The  Spice  Lounge 
is now open for lunches as well as din-
ners; see their advert on page 17. 
Celena's  is  a  new  gift  shop  which 
opened  01  May  and  is  located  next  to 
La  Nonna  Italian  Bakery.    It  is  full  of 
great  items  for  the  people  in  your  life 
who  have  everything.    Celena's  has 
come  to  us  from  Mangawhai  and  its 
owner  is  already  singing  the  praises  of 
the Kaiwaka Community's friendliness.  
See advert page 21 
Body  Tech  Panelbeaters  has  very  re-
cently  acquired  the  use  of  workshop 
space behind Twinkle Tow ‗n Tyre and 
we are very lucky to have such a busi-
ness  so  close  at  hand  for  all  our  body 
repairs! (I wish it was that easy to repair 
this old body!)  Call in to see Craig for a 
free  quote  anytime.    See  his  advert  on 
page 12. 
And don't forget Mormor's which has-
n't  been  here  too  long  but  is  already 
setting  records  for  foot  traffic  on  that 
side of the road. 
Congratulations Lynne & Eddie on your 
44th  Wedding  Anniversary.  Eddie  still 
as "Hot" as ever celebrated by taking a 
plunge,  clothes  and  all,  off  the  Man-
gawhai  pontoon  at  full  tide  to  "Cool" 
down. Go Eddie!              Cheers, Ann  
KAIWAKA SPORTS ASSOCIATION 
SPORTS AWARDS
Around  100  people  turned  up  to  the  29th  Kaiwaka  Sports  Association  Sports 
Awards held recently at the Kaiwaka Sports Complex. 
Emcee John Markby, from 
More FM, read the profiles of the 20 nominees and made mention of how hard the 
voting  must  have  been  with  such  a  high  calibre  of  nominees.  All  nominees  re-
ceived a gift, with thanks to Tim Holdgate from the ANZ Bank. 
Congratulations to the winners: 
Senior Sportsperson of the Year  
Rose O'Connell 
Junior Sportsperson of the Year  
Cheyanne De Ardenne 
Service to Sport   
Melissa Watts 
Greg McRae Memorial Trophy  
Bayley Coates 
Senior Sportsperson of the Year Rose O'Connell was nominated by the Kaiwaka 
Squash Club. As well as playing squash in 
Kaiwaka  and  Wellsford,  Rose  also  com-
petes in netball and touch and coaches high 
school  netball.  Seventeen  year  old  Chey-
anne  De  Ardenne  was  nominated  by  the 
Otamatea High School Netball Club for her 
outstanding  achievements  in  netball.  She 
was the Vice Captain for the top Otamatea 
High School netball team and was selected 
to  play  for  the  North  Harbour  Under  17 
reps team and the Rodney District Second-
ary  Schools  championship.  Cheyanne  is 
currently  studying  at  the  New  Zealand 
Institute of Sport in Auckland. Nominated 
by the Kaiwaka Netball Club, Service to Sport winner Melissa Watts is the man-
ager, treasurer, administrator, fundraiser and organiser for the club as well as be-
ing the sole umpire and fill in coach. Melissa is also the coach for the Rodney Net-
ball Yr 7 Representative team. The Greg McRae Memorial Trophy (awarded for 
sporting excellence and contribution to code) was won by Bayley Coates. Bayley 
plays for the OHS Netball team 2 and was selected for Upper North Island Sec-
ondary Schools. Bayley achieved her centre badge theory and her junior umpiring 
badge.  
Bayley won the Saunders Trophy for dedication to umpiring and also won the Net-
ball Rodney Umpire Association Most Improved Junior Umpire award.
Throughout the evening there was a colouring-in competition to keep the children 
entertained  -  congratulations  to  Alyssa  Flannagan  and  Holly  Kenyon  who  won 
family passes to Motat. 
Many  thanks  to  Mark  and  the  catering  team  for  a  lovely  meal,  to  guest  speaker 
Charles  Donoghue,  to  bar  volunteers  Melissa  &  Bruce  and  to  Steve  Campbell 
from  overviewsnz.com  who  took  photos  throughout  the  evening.  Photos  can  be 
viewed on our website 
Cheryl Anderson, Manager, Kaiwaka Sports Association 
From left: Rose O'Connell, Melissa Watts,  
Cheyanne De Ardenne and Bayley Coates.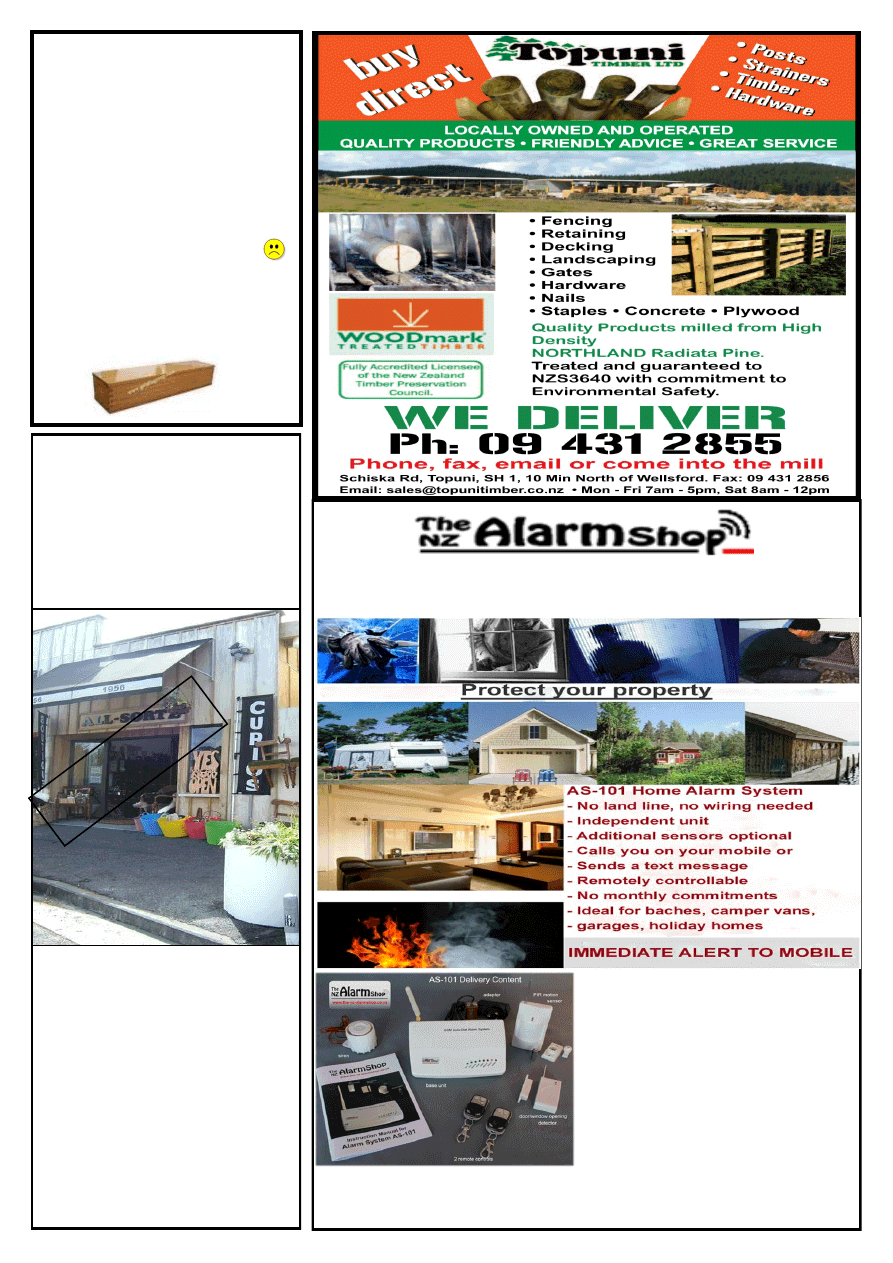 17 
KEV's CASKETS 
Stylish, BUDGET Accommodation 
Takeaways (8 available)  
or made to order 
  Featuring 2 styles and  
Different finishes. 
   Also O/S and Infant size 
Phone Kev in Kaiwaka  
021 1322 671 
Or come and visit my showroom 
104 Settlement RD, Kaiwaka 
 ALL-SORTZ 
COLLECTABLES
Shop 4,  
1956 State Highway 1,  
Kaiwaka   
Phone 09 431 2701 
WINTER HOURS 
Open Friday 
To Monday 
From 11.00am 
To 3.00pm 
Or by prior  
Telephone 4312701  
(Business Hours) 
Or 4229221 or 0274353535  
(After Hours
) 
www.the-nz-alarmshop.co.nz
AFFORDABLE DIY HOME ALARM SYSTEM 
In the event of an alarm situation, the sys-
tem alerts you by sending a text message 
to your mobile phone and/or one of 5 ded-
icated contact phone numbers.  
To check, you can "listen-in" into the room 
by calling the system and so find out, 
what is going on.  
If you personally inform the police about a 
burglary in progress, it is MUCH MORE 
EFFICIENT than the siren going off on its 
own and nobody reacts. Easy to handle 
by You get all this for $249   everybody. 
For more information or other security products call Jorg or Barbara 09-4315905 
or check our web site www.the-nz-alarmshop.co.nz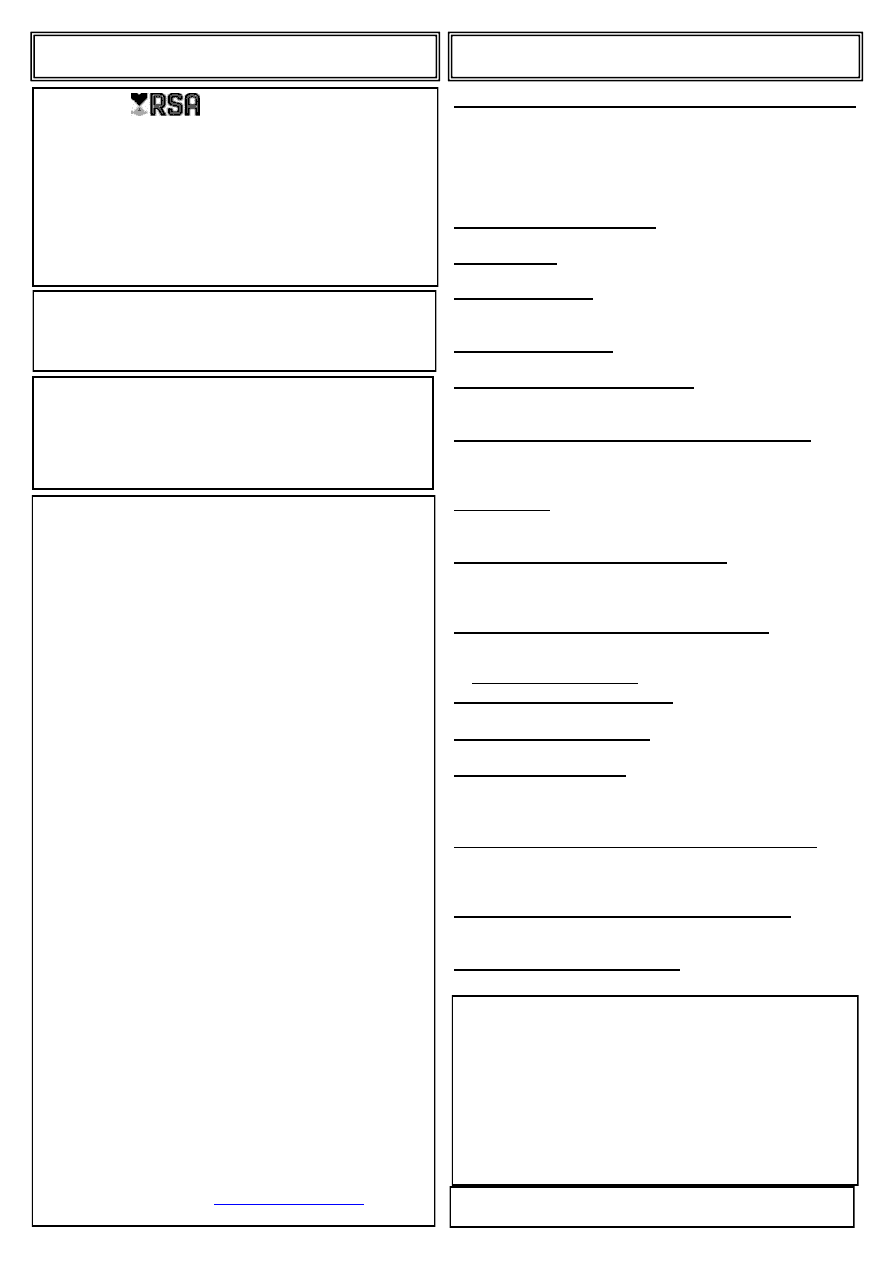 PUBLIC NOTICES 
CLASSIFIED 
BUSINESS  FOR  SALE  OR  SHOP  FOR  LEASE: 
All-Sortz  Collectables,  Shop  4,  1956  SH1  (opposite Café 
Eutopia).  40sqm  of  refurbished  space  with  shared  kitchen 
and toilet facilities. Lots of foot traffic. Very successful life-
style business. Current owner wishes to retire ―down on the 
farm‖, but is no hurry to vacate. Ph: 09 422 9221.
FIREWOOD FOR SALE:
  Ti tree $100 cubic metre 
Mix (Ti tree, Mac, Wattle) $80 cubic metre Ph 0211246829 
FOR  SALE:
  1x  single  bed;  2x  single  divan  beds  Ph: 
0211537448 after 6pm 
GARAGE  SALE:
 Sunday May 19th 8am to 12 noon. As-
sorted household goods 83 Marshall Road, Kaiwaka 
HORSE  CLIPPING
 available. $80 per horse/pony. Con-
tact Josi 021 733305
LEASE  BLOCK  WANTED:
  Anything  considered. 
Phone Josi 021 733305 
VACANCY  FOR  APIARIST'S  ASSISTANT:
 Train-
ing given, terms and conditions negotiable. Contact Adrian 
09 4312296 or 021 2537661 
WANTED: 
English  bluebell  bulbs.  Any  quantity.  I  don't 
mind  digging  them  up.  Please  phone  Maria  on  4312234  if 
you have any to spare. 
EXPERIENCED  CAREWORKER
 requires work.  My 
name is Cindy Cotton and I have been working in the area 
for about 12 years.  Ph: 4312006 
FREE  COUNSELLING  AVAILABLE:
  Counselling 
Student seeks clients to further his studies. Professional ap-
proaching service. Phone Pete 021 825 970 or 09 4312152 
or peteworsfold@xtra.co.nz  
HANDYMAN  SERVICES:  All building work to odd 
jobs. Fast and efficient. Phone Graeme 021 775943
LEARNING  TO  COOK 
on a small budget. If you are 
interested please phone Jenny on 4312826 after 7pm
SINGING  LESSONS: 
Want  a  better  voice,  feel  shy 
about singing?  Teaching 39 years in NZ music industry at 
all levels. Phone Robyn Hill 09 431 9159 or 0274 725610 
EXPERIENCED CAREGIVER AVAILABLE:  
Look  after elderly,  disabled  people,  children,  &  animals  in 
your own house; also house sitting &  gardening. For  more 
info phone 022 414 5960
CLOTHING ALTERATIONS & REPAIRS: 
Zips,  hems,  dressmaking  &  dress  design.  Phone  Win 
4312027 or 0274448358
FREE GRAZING WANTED:  Small or large block. Can 
do some fencing or water. Phone after 6pm  4312006 
 HAKARU
Annual General Meeting
Sunday 19th May 2013 @ 1:30 pm 
  RSA Club rooms.
All members are urged to attend.
PROVERBS: 20:28-  Love and truth form a good leader; 
sound leadership is founded on loving integrity.
New  Zealand  Constitution  – 
what's it to you?                
Helen Marsh
The  government  is  conducting  a  review  of  the  New  Zea-
land constitution and has set up an advisory panel to report 
to  them  what  New  Zealanders  think.  The  review  was 
something the Maori Party asked for as a condition of their 
participation  in  government  so  there  is  a  view,  strongly 
expressed in some quarters, that this is an attempt by Mao-
ri to  turn the tables  of racism  and  establish  special  rights 
for  Maori.  Many  Maori,  on  the  other  hand  think  it  is  an 
attempt  by  the  National  Party  to  remove  their  Treaty 
rights. Whatever the intention or expectations of the gov-
ernment the review has been set up to be open for submis-
sions on any constitutional issues we are concerned about 
including ―Bill of Rights issues‖ and ―other issues and per-
spectives that are raised during public engagement‖. Most 
of us don't think we know much about constitutional issues 
but  we  can  see  some  things  that  are  going  well  in  New 
Zealand and others that seem to be going badly wrong. We 
can  use this  opportunity  to  think  about  how  our constitu-
tion can make sure we don't lose the good bits and about 
whether it could help change the bad things. Julie Watson 
from  the  Human  Rights  Commission  is  coming  to  Kai-
waka  to  do  a  Constitutional  Workshop  –  Julie  is  a  well 
respected  educator  and  communicator  who  makes  any 
meeting "lively". She can help us work out how, what we 
want for NZ in the future, is related to the constitution. 
Here is an example of a question I am struggling with: giv-
en  that  New  Zealand  representatives  worked  hard  at  the 
United Nations trying to make the 1948 Universal Declara-
tion of Human Rights strong saying: 
"Experience in New Zealand has taught us that the asser-
tion of the right of personal freedom is incomplete unless it 
is related to the social and economic rights of the common 
man. There can be no difference of opinion as to the tyran-
ny of privation and want. There is no dictator more terri-
ble than hunger." (Delegation member, Dr Colin Aikman, 
on behalf of New Zealand, UN, 1948.)
Why then do we still have unacceptable levels of hun-
ger  in  New  Zealand?  Could  we  put  something  in  the 
constitution that would change this?
RSVP to Helen Marsh <
 09 4312582 or 0274889911 
Kaiwaka/Mangawhai Mid-Week 
Tramping Group
We are a group of women who enjoy the outdoors, and wish 
to  maintain  our  fitness.  We  meet  every  Monday  8.00am---
2.30pm approx. and tramp the many local walking tracks, 
farms, coastal tracks, etc. If you would like to join us or find 
out more please phone Gail 4315174, Sharron 4314661,  
Viv 4315306, Karen 4312090 
Otamatea Hawks Committee Meeting 
Tuesday 21 May 2013, 7pm 
at Kaiwaka Sports Association 
Point Curtis Cruising Club Inc AGM 
Tuesday 11 June 2013 at 7pm,  
3 Furlongs Hotel     All Welcome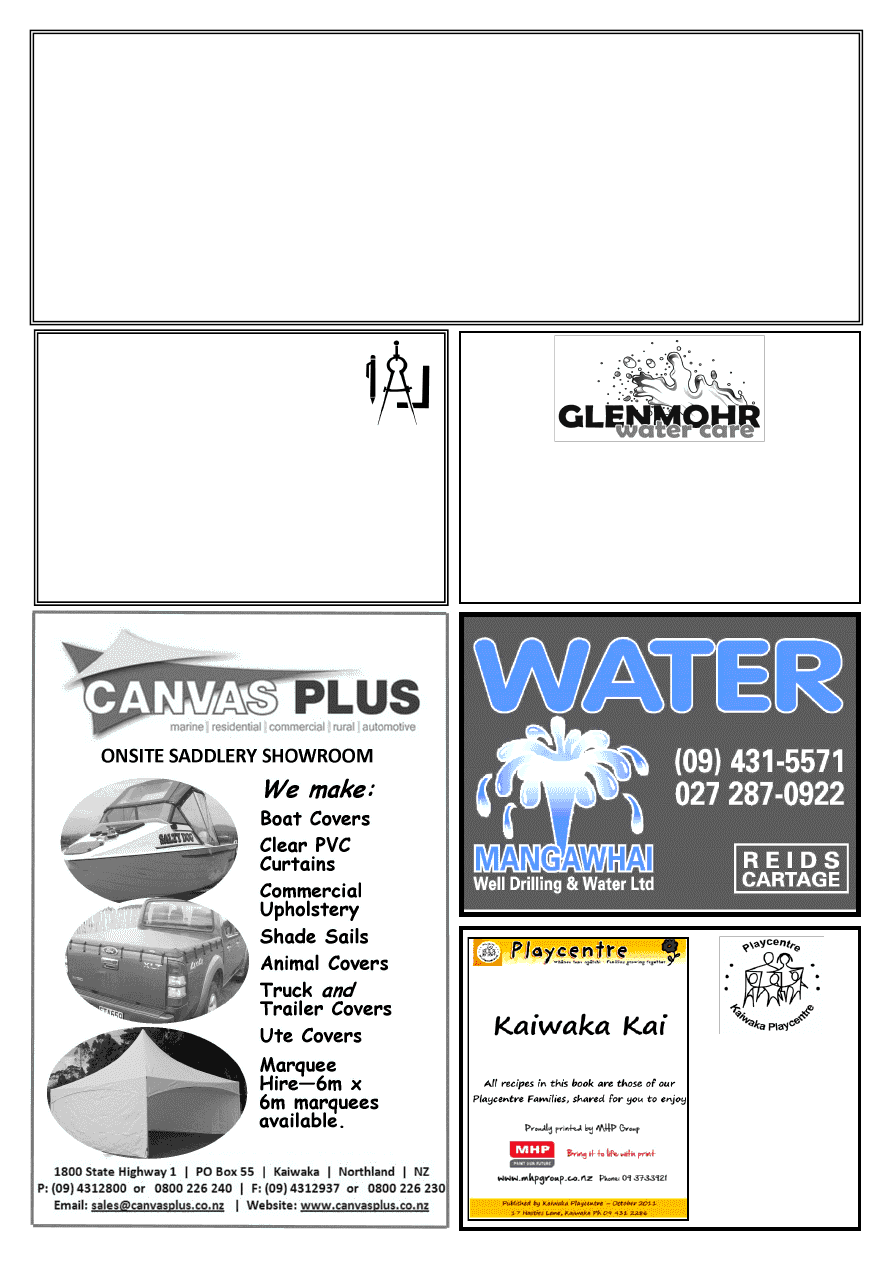 RANGANUI EARTHMOVERS 
 
16T Excavator   
(tilt, thumb & ROPS cab)   
Transport Trailer 
2 x 6 Wheeler Tip Trucks 
Suppliers of All Grades of Metal & Topsoil 
 
If you want a proper job done with an experienced operator ring 
Grant on    A/H 431-2131        Email  ranganui.dev@xtra.co.nz 
   Mob  021845-246 
Driveways, House Sites,  
Drainage Dams, 
Section Clearing,  
Tree Work,  Rock Retaining Walls,  
Quarry Work, 
Basically Anything That a Digger Can Do 
design drafting 
service 
Retired builder and manufacturer with over 40 years  
experience in the building industry is offering a design 
drafting service  
for domestic housing, sleepouts and sheds.  
Plans formulated in consultation with clients, with 
working drawings completed and submitted to  
council for processing.  Extensive practical experience,  
able to identify & resolve problems. 
Please ring Mike Lean on 
09 431 2260  
Water Tank Cleaning 
" 
 Keep your water safe & clean   
 
Removal of sediment, silt etc. 
 
Vacuum or full scrub 
 
Minimal water loss 
Phone Mark (09) 432 0655 or 0274 707607 
Get your copy from: 
Jaques Four Square 
Kaiwaka Postal Agency 
Kaiwaka Cheese Shop 
Cafe Eutopia 
The Well of Health 
Tony's Maungaturoto 
 
Or email  
jodygreig@clear.net.nz  
or phone 431 2223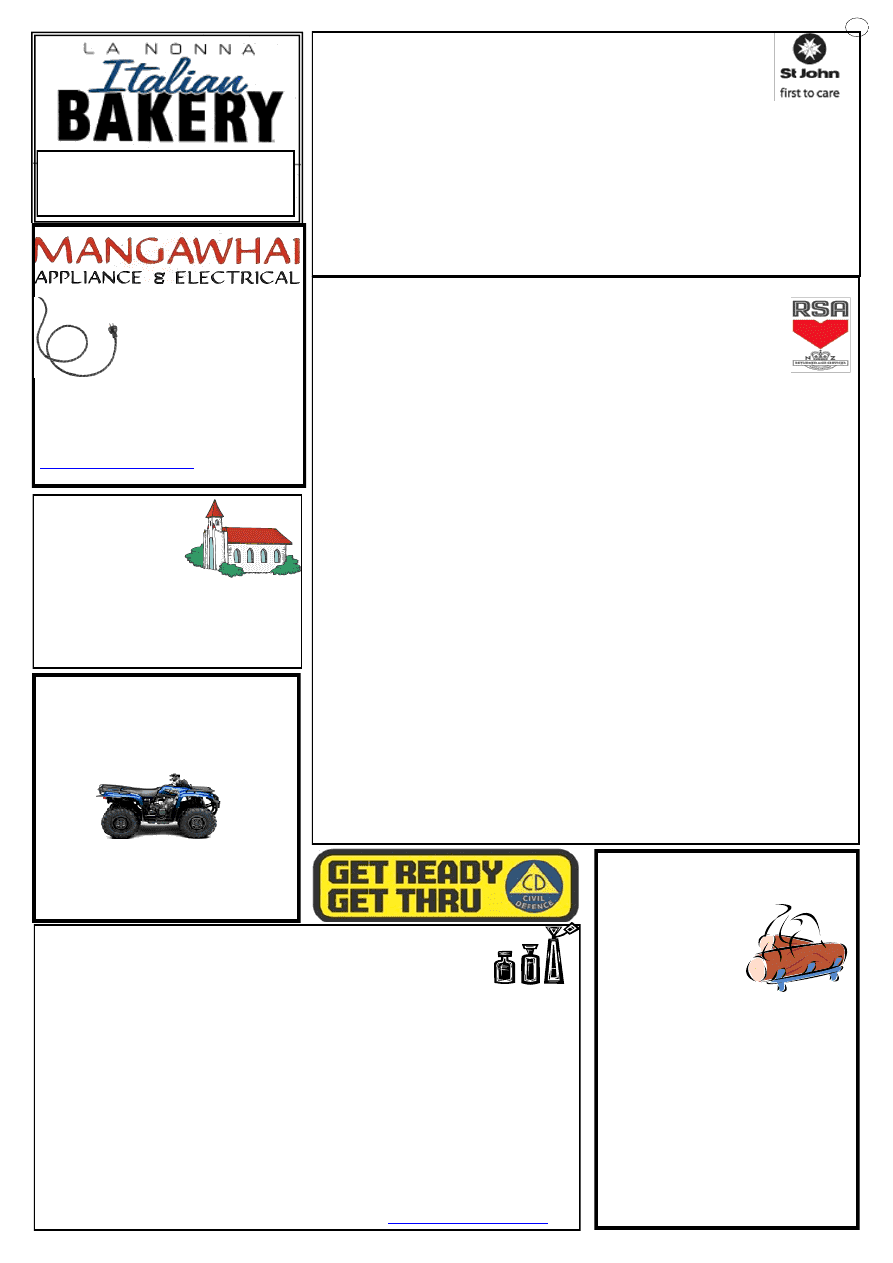 ST PAUL'S  
SUNDAY  
SERVICES
First Sunday 9.30am, third Sunday 4pm  
Paparoa Anglican and Wellsford  Co-op Parishes 
StPauls Church: Kaiwaka-Mangawhai Rd.  
Contacts:M.Hargreaves 4312295, C.Bygrave 4312057  
1st Sun. (Anglican),3rd Sun. (Co-op).
KAIWAKA  MOTOR 
CYCLES LTD 
SALES SERVICE SPARES
FARM BIKE SPECIALIST
Phone 431 2127 
Kaiwaka-Mangawhai Rd 
Kaiwaka 
St John Op Shop 
Phone 4312650  Shop Hours Mon-Fri 10-4pm 
Closed Sat and Sundays 
Please don't leave donations outside the shop. With winter upon us they will get 
wet. Ring me if you need to.  We have lots of lovely winter clothes available. 
3 Seater Lounge $50. 
Drawers also with mirrors. 
Bedside Cabinet 
Bedbases (2) 
Double & Queen size mattresses….. 
All donations greatly received and thank you everyone for your continued sup-
port and to my volunteer staff for all your tremendous help.  Special thanks to 
Pam Ottoway and Marge Steiner who came to help our volunteer Beryl Ad-
amson who had to be taken from work to Wellsford doctors by ambulance. Beryl 
is quite alright now.           Milly (home) 4312423 
5 
AVON
  AVON  
AVON
AVON
AVON 
Hi Everyone, 
Brochure 10 is now available. Orders due by 1st May with delivery on 10th May so they 
will be available for Mothers Day. 
New Lipstick "Totally Kissable"  in 10 great shades. Buy one and receive your choice of 
Glimmerstick Lip Liner Free. 
One Great Mascara and Ultra Luxury Eye Liner and Lip Liner amazing value at $4.99 
each. Smooth Minerals Lip Gloss $5.99 each. 
SUPER SAVERS. Spend $15.00 in brochure and choose one of the following, Anew All 
in One Max, Peel Off Mask and Eye Cream all 3 for $19.99, Silvertone or Goldtone 
Watch for $24.99 each and Butler Organiser Handbag $39.99 each,  in Blue or Brown.  
Mothers Day gifts from fragrance to clothing and accessories and add a Fashion Scarf for 
$12.99 with any purchase from pages 110-155. 
Try before you buy. Have an Avon Party at home with your friends and receive free sam-
ples and gifts for all. 
Give Gale Matheson a call on 094131827, 0274149576 or 
CLOSED UNTIL 29 
MAY 
DEAN STEWART 
Registered Electrician 
021 280 4008 
09 4312 119 
AUTHOURISED FISHER AND PAYKEL SERVICE 
Jess McInnes l Administration
l  
Mangawhai Appliance & Electrical 
M 
021 280 4008 
P
 (09) 4312 119 
PO Box 401079, Mangawhai Heads 0505  
FIREWOOD 
FOR 
SALE 
Simply the 
best dry, 
seasoned totara
$90
 CUBIC METRE 
DELIVERED
Phone Lyn 0220708674 
Or Ray 0212274420
HAKARU & DISTRICTS MEMORIAL RSA 
WOMEN'S SECTION
Not as many members attended the April meeting on the 18th due to  
the earlier date clashing with other organisations meeting, but because 
ANZAC day fell on our meeting day we had to change the date. 
It has been a very busy time for members what with helping with the poppy col-
lections at Kaiwaka , Mangawhai Village and Mangawhai Heads, baking for AN-
ZAC  day,  putting  crosses  on  all  the  Service  Men  and  Women's  graves  prior  to 
Anzac Day and making the posies and wreaths on the Wednesday prior - hey- but 
it was worth it when we saw the huge crowd which attended on ANZAC  to pay 
their Respects, especially the young people, our future generation of members we 
hope.!  Many  thanks  to  the  Cadets  Parents,  and  Members  of  the  Public  who 
brought  plates  of  food  also.  We  would  have  been  struggling  without  them. 
Heather asked me to say a big Thank you to all who helped with the Poppy collec-
tion Roster. 
4 members will be attending Silverdale's 38th Birthday on 7th May. 
The  Birthday  Girls  for  this  month  were  Jan  Mann  our  Secretary  and  Dorreen 
Woodhouse, hope you had a Happy Day Girls. 
We are sorry to hear Lena Our Vice President and Welfare Officer has had a fall, 
get well soon Lena we miss you. 
We have a bus trip coming up on Thursday 16th May to visit the Viaduct Basin in 
Auckland and have Lunch at Browns bay, meals available at the RSA for $13, bus 
trip free for members and $15 for visitors. 
MEMBERS you need to get your names to Heather 4314668 as soon as possible 
as the invitation will be open to visitors to fill the bus which will be leaving out-
side the  Mangawhai Heads off license at 8-45a.m and we plan to be home no lat-
er than 4-30 p.m. 
We are planning the over 80's Afternoon tea on Sunday 26th May at 2-30 pm. 
Keep  Sunday  9th June  free  for the "Tripe  &  Onions  Lunch"  price  $10  p.p.  and 
there will be other Alternatives in food; time 1 p.m. Names to Heather please 
Next meeting Thursday 23rd May 1-30 p.m.   New Members Welcome.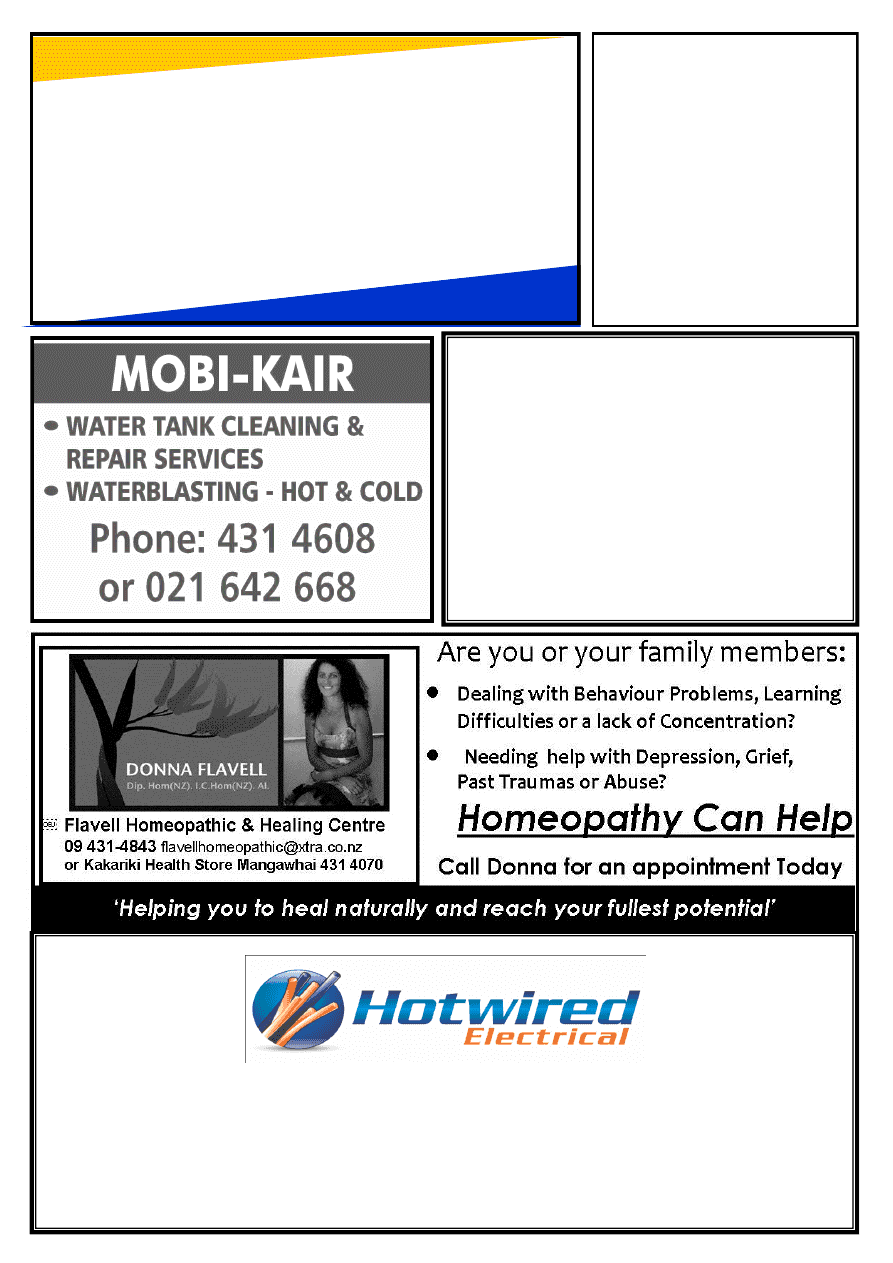 CONCRETE 
If it's concrete we do it 
Full Preparation & Pour by 
Experienced Local Team 
Phone Phil Keen Contractors  
027 659 2376 
TILING 
Certified Waterproofing 
431 4533 or 021 86 33 33 
George 
MCN Property Solutionz  
Local references available 
 LEABOURNS 
Passenger Service 
Car & Van Hire 
Bus & Coach Charters 
Airport Transfers 
 Monthly Shopper Bus 
Phone (09) 4237416 
For All your Electrical  Requirements 
 
Domestic small jobs 
 
Residential dwellings and alterations 
 
Commercial              
No job too big or too small
 
Industrial                       
Contact Jason today on: 
(09) 431 5992, (021) 405 019 
www.hotwiredelectrical.co.nz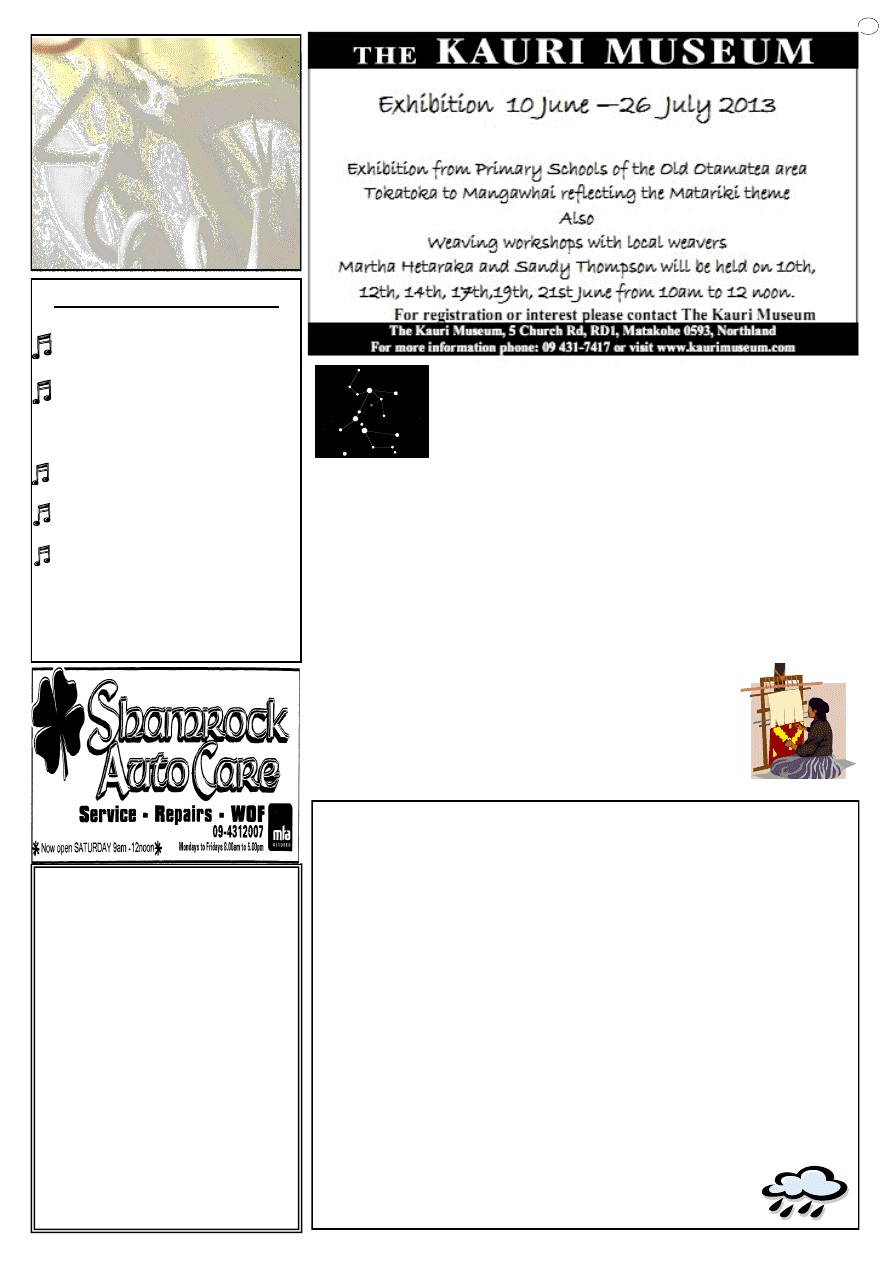 AMBER'S 
Q Cafe &  
Restaurant  
All day breakfast, 8am - 5.30pm.     
Home made Pizza, take away or eat in from 8am to late. 
 Light lunches, 11.am - 5.30pm, 
Dinner Menu at 5.30pm to late 
 Toasted Sandwiches and Sandwiches made to order. 
All day, Pies, Chowder & Soups 
 Milkshakes, Kiwi Ice cream, Slushie Fruit drink, Tea, 
Coffee 
 Closed Mondays.....except Observed Holidays 
 Sunday to Thursday: 8am - 8pm 
 Friday: 8am - 8.30pm, Saturdays 8am- 9pm 
4315226 
Trevor & Amber 
41 Moir Street, Shop 5-6  
Mangawhai Village 
Next to Carters Building Supplies 
 7 
Paul Greig Electrical Ltd 
Residential • Farm • Commercial 
Paul Greig 
Registered Electrician 
  Ph: 431 2223  
Mob:021 230 2717 
Reliable & Professional Quality Service 
Based in Kaiwaka 
SINGING LESSONS 
  Want a better voice, feel shy 
about singing? 
  If you are a new beginner,  
beginner amateur, singer/ song                                                                               
writer or just need a tune-up,  
   contact me.   
  Working on a demo or  
recording I can help! 
  Singing products and workshops 
available.  
  Teaching 39 years in NZ  
music industry at all levels 
Phone Robyn Hill on  
09 4319159 or 0274 725610 
KAIWAKA WEATHER
Greetings people.  To my faithful followers.  I do not forget to put my weather 
report in to the Bugle sometimes as I cannot put my report in before the end of 
the month.  The Bugle is printed on a Monday and you receive it on a Tuesday 
or Wednesday. Sometimes it so happens a Sunday or Monday is the last day of 
the month so hence I dare not guess at  what  the weather will be.  Also I am 
supposed to have my report into the Bugle in time so they can collate the Bugle 
without pressure.  April's weather,  dry, dry, hello rain.  A few bits and then we 
got at our house 82mm on the 16
th
 and had bits ever since.  As I do this report it 
is bucketing down.  The mushrooms have been good.  The wind has been a bit 
ferocious at times.  It is good to see some of the farmers making good use of the 
dry weather to put more dams in on their properties and cleaning out some of the 
old ones.  You never know what the next summer will bring as to droughts so be 
forewarned.  This April we had 193mm of rain and 2012 we had 28mm.  Our 
wettest April since 1987 was 2001 with 215mm and the driest April was 2005 
with 28mm as was 2010 and 2012. Our wettest 1
st
 four months was 2011 with 
619 mm and the driest 1
st
 4months was 2010 and 2013 with 193mm. We record-
ed rain 11 days this month.  I think it is time to think about slippers, fires, warm 
soup and winter woollies. At least some of the grass is recovering.  Take care out 
there. Bev. 
Bev Jaques   2093 SH1 RD2 
Kaiwaka 0573   Phone:  09 431 2367     Mobile:  021 024 99867 
WEAVING WORKSHOPS AND A PRIMARY 
SCHOOL EXHIBITION WILL CELEBRATE 
MATARIKI AT THE KAURI MUSEUM 
Matariki,  the  Maori  New  Year,  officially  begins  on  10  June  this  year.    This  is 
when the constellation of Pleiades or the Seven Sisters rises for the first time in the 
season.  This is  a  time  when  families  traditionally  come  together  to  celebrate,  to 
share skills, achievements, history and knowledge and to honour those who are no 
longer with us and a time to celebrate new beginnings. 
The  Kauri  Museum  has  asked  primary  schools  from  the  old  Otamatea  area 
(Tokatoka to Mangawhai)  for a display from each school that will reflect the  
Matariki theme.  The children can use traditional or modern material, collage, flax 
weaving, poetry, stories etc.  These will all make up an exhibition and will be on 
display in a prominent gallery at the Museum for visitors from many cultures to 
view .  
Weaving  Workshops  will  be  held  with  local  weavers  Martha 
Hetaraka  and  Sandy  Thompson  .  These  will  be  held  on    10
th
, 
12
th
, 14
th
, 17
th
,19
th
 and 21
st
  June for two hours each day from 
10am to 12 noon. 
Beginners or more advanced weavers are welcome to attend as 
many days as they wish.  There will be no cost.  For registration 
or interest please phone The Kauri Museum 094317417.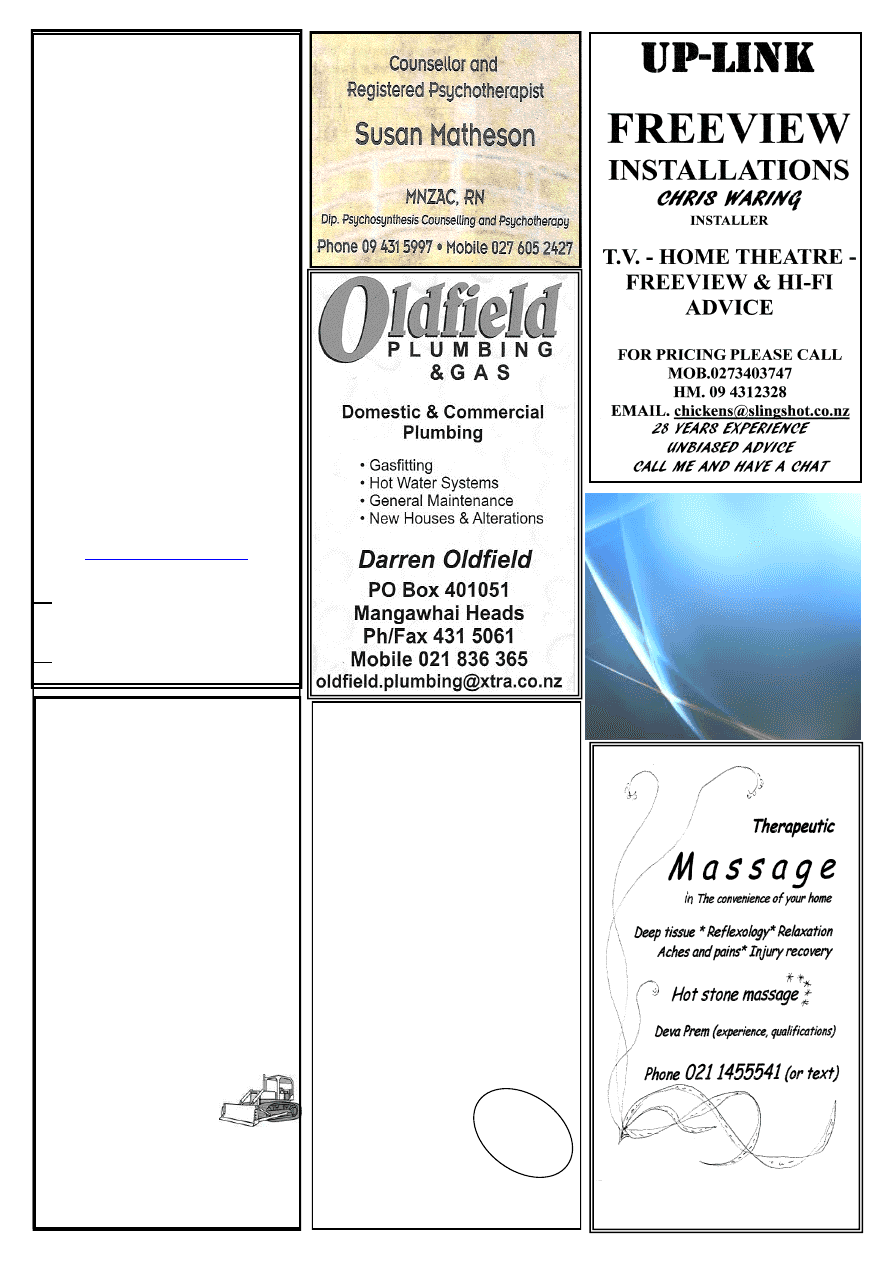 www.mangawhaimassage.co.nz 
Based ou
t  
Oner
iri Roa
d 
HODGETTS
CONTRACTING
Digger Work    

Driveways 

House Sites   

Dams 

Drains, etc
Also available for HIRE 

3 ton Vib Roller 

Heavy Duty Tow 

Waterblaster  

Lazer Level 
Phone Mark 
4312877 
027 447 8554
Bonjour, tous les mondes! 
Not a fully functioning person...with those 
niggles, aches and pains? You guessed it.  
 I can help!
Monsieur Masseur .... 
RELAXING  
MASSAGE
..... Juste pour vous" 
Here's feedback from a happy client 
"Pete's treatment works. He identified 
long standing injuries no one else could 
fix and relieved years of chronic pain, 
fatigue and headaches.  I have Pete to 
thank for getting me back to work. I am 
so much happier and more confident in 
myself.  I can thoroughly recommend 
him." 
 
Call for an appointment now!
Pete Worsfold 
4312 152  or   021 825970   
Or  Ph. "The Well of Health" 
For an appt. 09 4312 799 
 
Or mobile service available 
Coates  
Contracting 
 
D41 Bulldozer with 6 
way blade, bush rigged 
with winch 
 
For all tree work 
 
General bulldozing and  
  stick raking. 
 
120hp Tractor for 
ground cultivation,  
 
tip trailer work. 
 
Fencing
All enquiries phone  
Brett Coates  
094318720 or mob 
021431872 
Freeview  
Installations 
Richard Te Haara 
25 Marram Place 
Mangawhai Heads 
021 1104056 
kiwipride@xtra.co.nz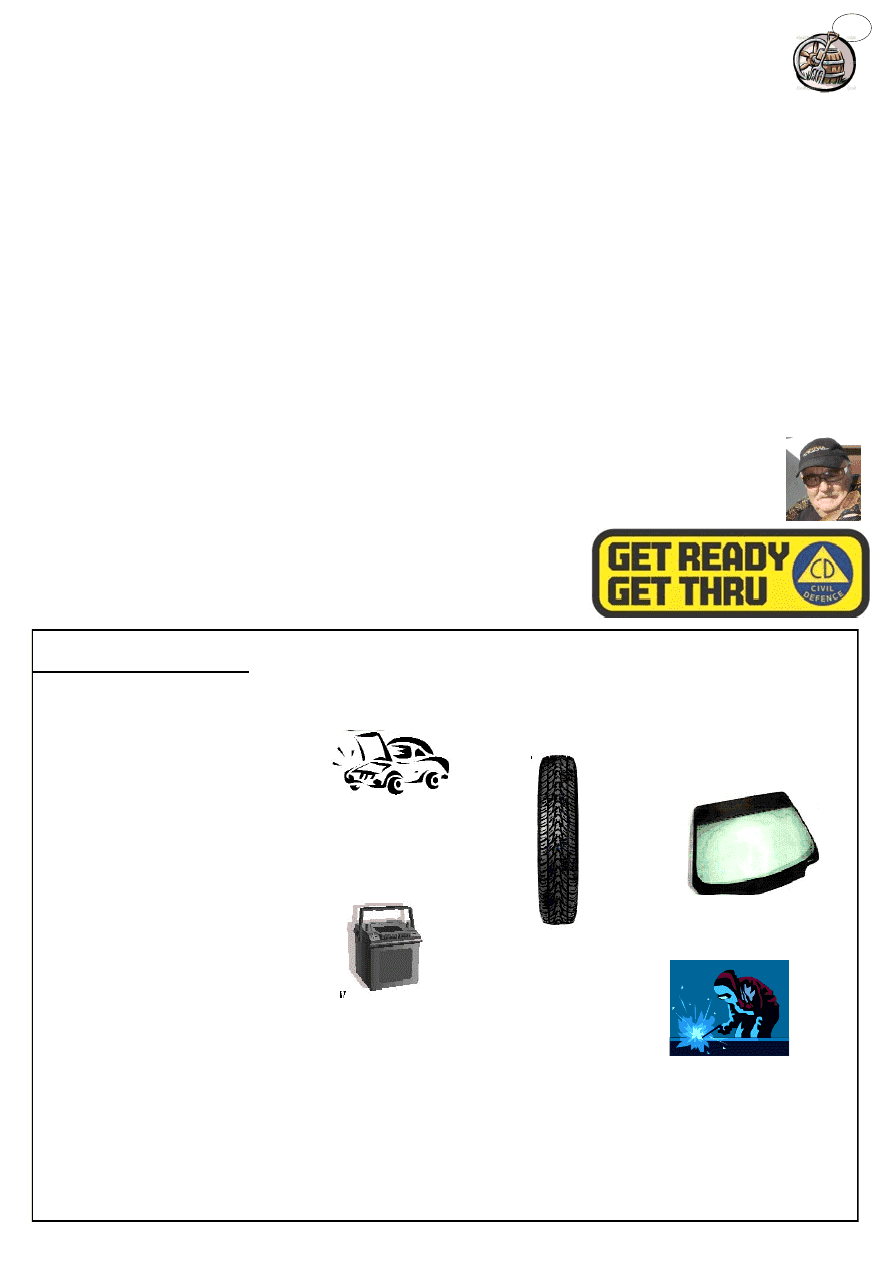 THE EURONESIANS, OR 
THE CHILDREN OF EU-
ROPEAN AND NATIVE 
PARENTS 
A  very  touchy  subject,  but  as  there  are 
several  references  to  children  of  mixed 
blood in the History of Kaiwaka, it can-
not  be  ignored.  In  1843  a  petition  was 
sent  to  England  regarding  the  rights  of 
Euronesians, and while the Daily South-
ern Cross newspaper refers to the word 
in  use in  N.Z.,  it  was for a  short  while 
used  in  other  Pacific  Islands,  whether 
they  be  Polynesian,  Melanesian  or  Mi-
cronesian.    In  Tahiti  they  were  called 
Franconesian.    In  the  newspaper  of 
1843  it  states  that  it  has  advocated  the 
rights of European and Native, frequent-
ly and fully, but is concerned that there 
is  a  large  group  that  has  been  over-
looked by the wise legislators, and that 
is  the  children  of  European  fathers  and 
Maori mothers.  It states, ―We have pro-
tectors  for  the  Maori,  and  we  have  op-
pressors  and  advocates  for  the  white 
people,  but  not  a  single  voice  is  raised 
in favour of the Euronesian‖.  The arti-
cle  states  in  great  length,  that  many 
mixed marriages had been sanctified by 
the  Church,  and  those  not  married  in  a 
Church  had  been  unified  by  the  laws 
and  customs  of  N.Z.  before  the Treaty.  
It  is  noted  that  many  mothers  were 
daughters  of  high  ranking  Chiefs,  and 
by  1840  there  were  some  hundreds  of 
these  children,  some  in  their  30s  and 
40s,  but  most  were  of  a  younger  age.  
The  question  is  asked  how  these  chil-
dren should be regarded; should they be 
classed as native living under the Treaty 
of  Weitangi  (Waitangi)  or  should  they 
be treated as British subjects.  As a Brit-
ish  subject  could  inherit  and  sell  their 
inheritance,  could  they  also  sell  their 
mother's  property,  which  under  the 
Treaty they were unable to do.  A case 
was given of a man living on Weihaki 
(Waiheke) Island who had been granted 
land  and  bought  more  from  his  wife's 
tribe.  He had a large family and lived in 
a fine house.  As N.Z. had no schools he 
sent  his  children  to  Sydney  to  be  edu-
cated, and while his sons were there he 
was drowned, his land confiscated, with 
his  wife  and  children  ending  up  living 
in  poverty  in  the  Pah  with  her  people.  
The word Euronesian is in use again in 
1844,  when it is  used in the  passing  of 
the Native Trust Bill by the Legislative 
Council.    The  writer  of  the  article  tells 
how  the  Natives  fall  into  four  classes, 
those  who  have  resisted  the  Missionar-
ies,  those  who  have  embraced  the 
Church of England, those who have em-
braced  the  Wesleyans,,  and  those  who 
have  converted  to  the  French  Roman 
Catholics.    He  then  states  as  all  sects 
despised and disliked each  
other, he could only see prob- 
lems ahead.  How right he was.   
It must be remembered that at the time 
of writing, while the mixing of the rac-
es  had  started  with  the  sealers  and 
whalers,  then  the  traders,  not  all  were 
ruffians  and  some  very  well  known 
mixed  families  became  prominent  in 
our history.  In 1843 Maori vastly out-
numbered  Europeans,  and  it  was  not 
until 1858 that the role reversed.  With 
Maori  being  predominant  in  numbers, 
many  European  were  very  patronizing 
towards  them,  and  opinion  only 
changed  when  the  population  base 
changed.  In the 1840s and 50s Maori 
were wise in getting a tame pakeha to 
live  in  the  area,  or  better  still  a  Mis-
sionary.  So for a short time we had the 
word  Euronesian  which  got  lost  after 
1844, but to me it seems far better than 
the two words that replaced it. 
Bill Leslie  09/05/13 
Want it done? 
Bring it to...      
Twinkle Tow 'n' Tyre
*W.O.F. 
*Tyres 
*Windscreen replacement 
*Chip repairs 
*Bulk Oil 
*Batteries 
*Welding 
*Custom built trailers 
*Trailer hire 
*Storage available, cars, boats, house contents etc.
Think you'll get a better deal in the city? 
Go on, ring us; it won't cost anything! 
1837 State Highway 1, Kaiwaka       Phone 431 2823 
9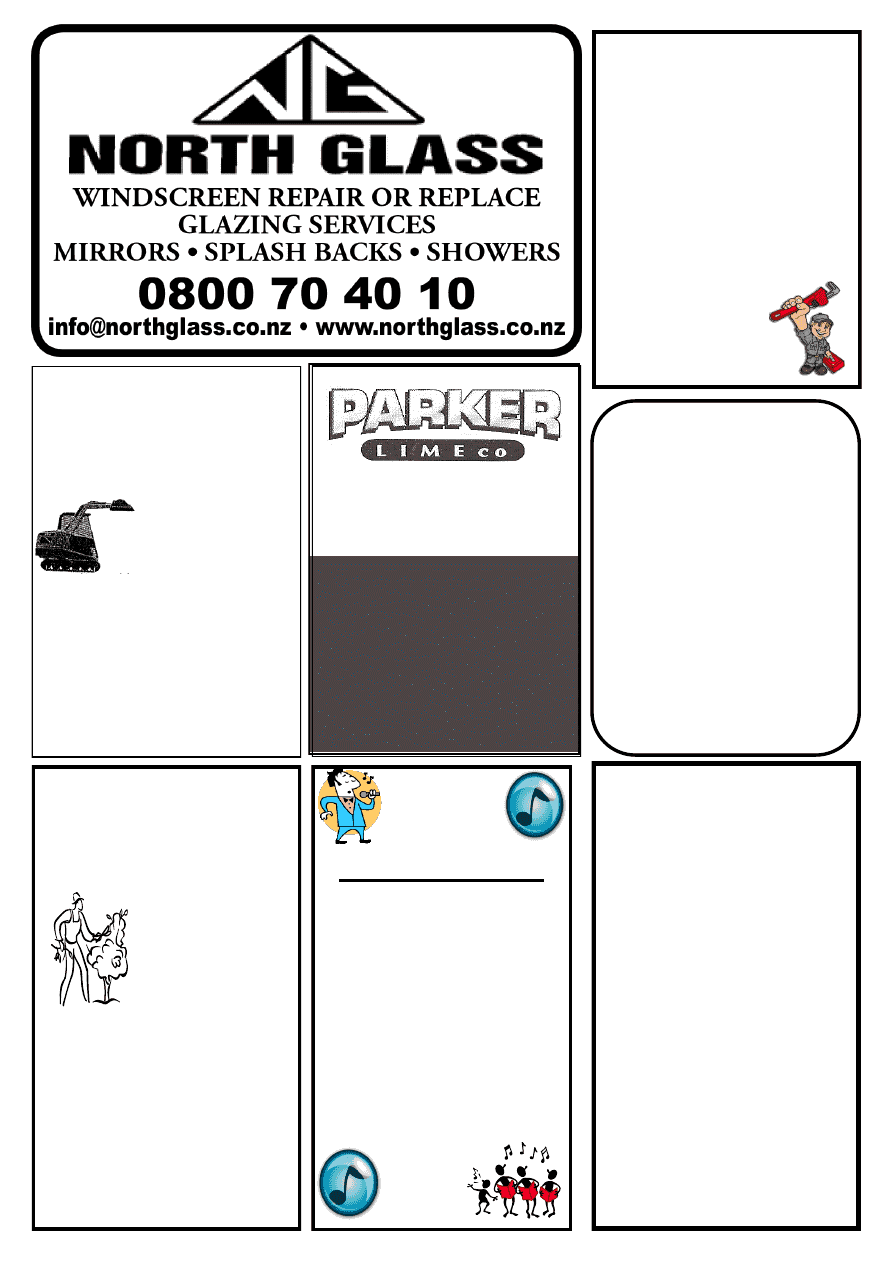 T.W.WRIGHT 
WATER PUMPS  
SALES & SERVICE 
DEEP WELL & SUBMERSIBLE 
REPAIRS 
203 WHAKAPIRAU RD, 
WELLSFORD 
PHONE 09 4238235   
MOBILE 021 976 545 
Ross Murphy 
PLUMBER 
Certifying Plumber 
09 431 7510 
021 424 252 
Paparoa Based
+
New Housing 
+
Renovations 
+
Maintenance 
Landscape Supplies 
Bulk Cartage 
4312407 
Mob: 021 453 252  
Fax: 4312939 
scott.parker@parkerli
me.co.nz 
Gibbons Road, Kai-
waka 
Willow Bend
HORSE  
HOTEL 
"   
Total Horse Care 
" 
Agistment 
" 
Riding Lessons 
" 
Arena Hire (60x40) 
" 
Young Horse Starting 
" 
Re-training/Exercising 
" 
Hoof Trimming 
" 
Problem Solving 
Phone Sue 09 431 2817 
or 021 623 776 
Or email sue.gray@xtra.co.nz 
OUT THERE 
GARDENS AND LAWNS 
Lawn Mowing – Any Size 
Section Clearing  
Hedge Trimming  
Spraying  
Planting 
Pruning   
Gutters Cleaned 
Chainsaw Work 
Regular Services 
General Maintenance 
Garden Waste Removal 
Free Quotes 
Get The Job Done! 
Servicing Kaiwaka/Mangawhai 
Contact Phil Jones 
027 243 5503  
A/H 431 2196  
Email: outthere09@gmail.com 
Singing Lessons 
Individual sessions 
All styles of music  
All voice types 
Reasonable rates 
Phone  
Maura Flower 
021 164 8318 
Landcare 
Services
Dave Hyndman  
     4312302 
021 431238
Trenching, Hole Boring, Land 
Levelling,  Driveways, 
Landscaping,  Post Peel,  
Pig Post, Lifestyle block 
mowing, etc....also Rotary 
Hoeing 
For reliable and friendly service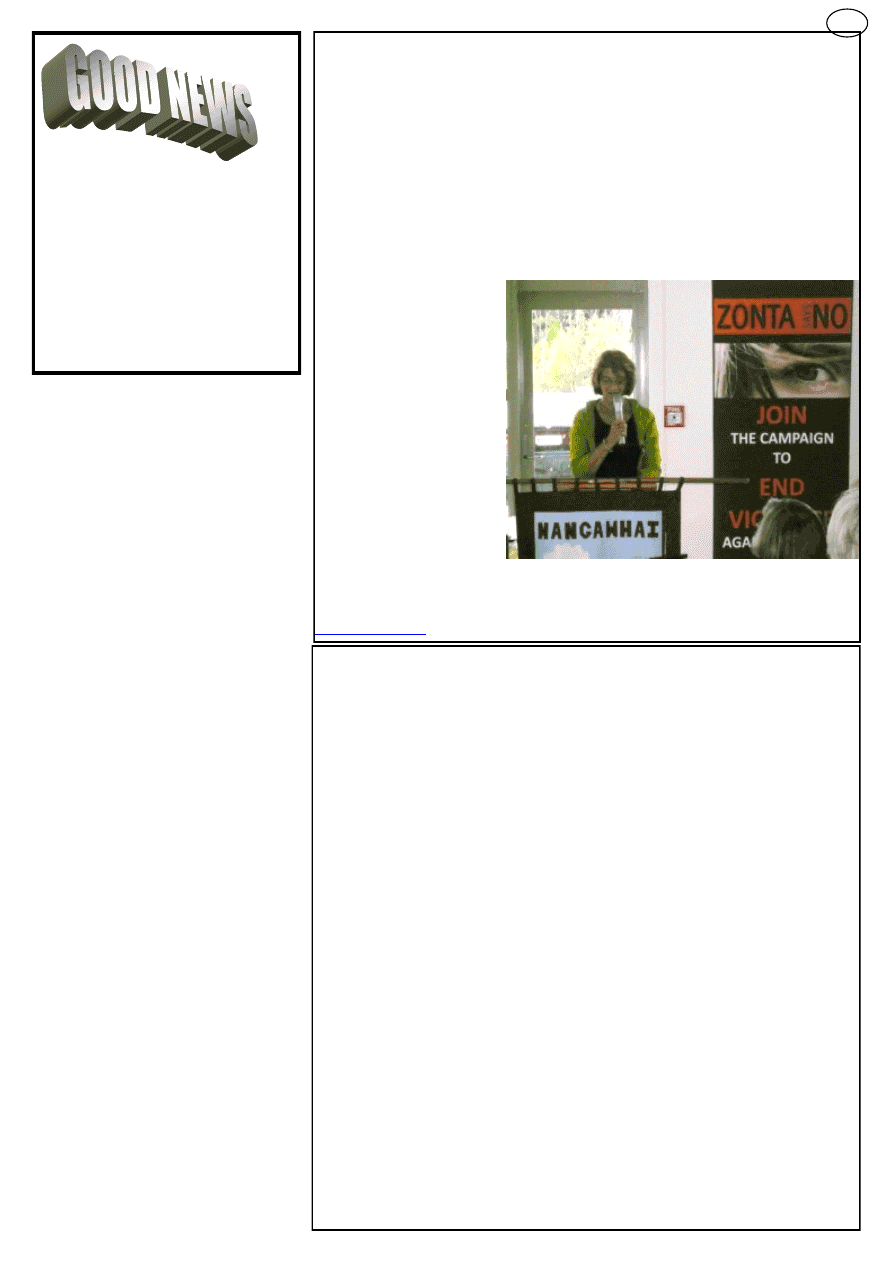 @ the  
Kaiwaka Family 
Church 
 Your COMMUNITY CHURCH 
Each Sunday  
10am:  Lively Family  
 
    Programme
Everyone warmly welcome.
Ph.: Pastor John Dekker 
09 4318203 
THERE'S 
11 
Zonta Forum at Mangawhai Museum  
On a grey, rainy Sunday on 21st April, Zonta held its District 16, Area 1 Forum in the new 
museum building in Mangawhai. What better way can you spend a miserable day than 
with 71 like minded, positive women celebrating and reporting on their 
clubs' achievements over the last year, whether it be in a small way providing baby packs 
for their local women's refuge or helping to eradicate the HIV virus in Rwanda in Africa. 
In a week of utterly depressing World news of bombings, earthquakes, rapes and mur-
ders the Forum was a pure lift of the spirits knowing that Zonta is making a very marked 
and positive contribution to the world. 
Opened with a welcome address by the District Governor, Maureen Heine and Area 1 
Director Lynda Garrett, the day progressed with Presidents' reports from each of 
the 9 clubs in Auckland, Whangarei and Mangawhai which make up Area 1. As well 
as there were workshops on "Advocacy in Action" and Membership discussion groups.  
After a delicious lunch provided by the chef of the local Harvest cafe, the guest speaker 
was Rae Roadley who gave a 
very entertaining speech about 
the female pioneers from her 
latest book and how they are 
often overlooked in history.  A 
video update of Zonta Interna-
tional work in Rwanda closed 
the day with the wonderful 
news that Rwanda has come to 
a pivotal point and is on the 
verge of achieving its first HIV-
free generation by 2015.  
It is not often you can leave a 
conference with the 
knowledge that your small 
individual contribution is actu-
ally making a real difference, a 
real improvement to someone 
else's life. Well done ladies, you all deserve congratulating on your energy and commit-
ments. If you would like more information about Zonta, please contact Sue Poynter, 
President of Managwhai Club on 027 555 6636 or go to the District 16 website 
LETTERS TO THE EDITOR:  
Beware of Divide and Rule
These  ‗commissioners‗  appointed by the National ‗government‗ to appease their 
paymasters in the banking sector are  manipulating the media to undermine the 
good work being done by our democratic watchdog organisation (the Mangawhai 
Ratepayers and Residents Association) and to divide and rule the good people of 
the Kaipara district. 
Never mind that 3 successive Ministers of Local Government REFUSED to en-
force the sections in the Local Government Act that compel Councils to consult 
with ratepayers when significant increases in spending are proposed. ($23,000,000 
>$58,000,000 IS very significant).  The end game is to turn Northland into a Uni-
tary Authority and to privatise (i.e. buy up) all the utilities.  
The means to achieve this is by saddling our communities with unbearable debt.  
This is the political game our ‗elected representatives‗ are playing with our pre-
cious democracy.  The judicial review being called by the Mangawhai Ratepayers 
and Residents Association (Inc) will substantiate the culpability of the Ministry of 
Local Government as the agency of The Crown charged with administering the 
Local Government and Rating Acts: Section 121 of the Local Government Act 
which states that ‗ the Crown shall not be liable for debts accrued by Councils‗ 
can only apply where due process has been followed: It wasn't - so it doesn't !  It 
is the Minister(s) of Local Government's deliberate refusal to enforce the LGA 
that has put us into this situation so the liability is theirs.  
The Kaipara Commission's threat that it will cost us Ratepayers a further $500,000 
to  defend  the  indefensible  is  just  another  desperate  manipulation  which  shows 
their contempt for the due processes that were hard fought and enshrined in law to 
defend us from such predations. 
These people must think we are fools.             (
Name and address supplied, Ed) 
Roading Complaints (letter sent to Council and their reply) 
―Settlement Road is used as a main thoroughfare from State Highway 1 to Man-
gawhai, it services 50 houses within the first 1.5kms.  There is a concert held eve-
ry new year on the road where there will be up to 300 PLUS cars using the road in 
one  day.  It  has  milk  tankers  on  it  daily,  school  buses,  stock  trucks,  other  heavy 
vehicles as well as normal vehicles.
The state of the road is appalling, the corro-
gations are so bad that people are driving on the       
Continues on page 12….
KAIPARA CITIZENS AND 
RATEPAYERS NEWS 
The  reasons  why  the  validation  bill 
should not proceed at this stage can be 
seen here.  
These  reasons  were  presented  to  the 
commissioners  by  the  MRRA  to  try 
and get them to be fair and reasonable 
and  to  consult  with  ratepayers  before 
taking this unilateral action. 
The MRRA has impressed on the com-
missioners that the issue of legal liabil-
ity for the illegal debts must be decided 
either  by  agreement  or  by  the 
court.  Indications are that a court hear-
ing  could  be  held  as  early  as  June  or 
July.  To  have  the  High  Court  rule  on 
this matter, independently, fairly and in 
accordance  with  the  law,  would  bring 
some finality to this long festering dis-
pute.  After  years  of  being  told  repeat-
edly  by  Council  that  issues  of  legality 
could only be decided by the courts, it 
would  be  a  denial  of ratepayers'  rights 
if the Council and parliament united to 
deny  them  access  to  the  court.  The 
MRRA  has  also  made  it  clear  that  it 
would take all reasonable steps to help 
put  Kaipara  back  on  its  feet  again.    If 
agreement  could  be  reached  on  legal 
issues  then  ratepayers  would  support 
the validation of all matters in the vali-
dation  bill  except  for  penalties  on  un-
paid rates by rate strikers, EcoCare an-
nual rates for one year when there was 
no service, and the charges on units of 
demand  and  SUIPs  which  were  totally 
outside the law. 
Validation bills are having a rocky pas-
sage through parliament at the moment 
and  the  Sabin  bill  will  push  parlia-
ment's tolerance to the limit. How pref-
erable  it  would  be  if  it  were  de-
layed  until all the problems of Council 
are identified by the court and the OAG 
report  (which  should  be  out  soon)  so 
that  All  the  problems  facing  Council 
are included in the bill.  Not only that, 
it would have the support of ratepayers 
as  part  of  a  negotiated  settlement. 
kcrassn@gmail.com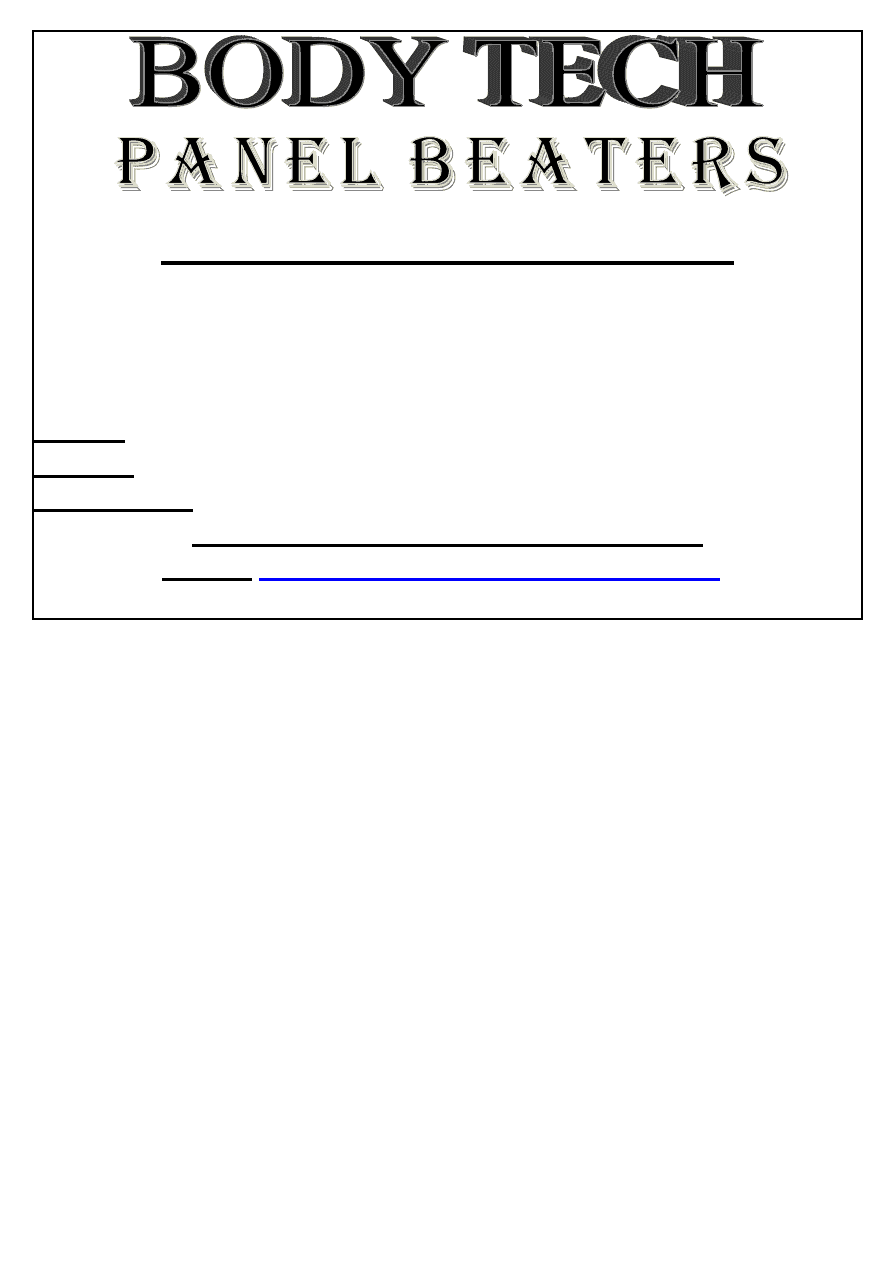 For all your body repair needs!! 
We do: 
 
Rust repairs 
 
Insurance work 
 
Anti-corrosion treatment         
Hours: 8am-5pm Monday-Friday  
Mobile: 021 118 0462 
After hours: 09 431 2384 
Phone: Craig or Call in for a free Quote 
bodytech_panelbeaters@yahoo.com
We are located at 1837 SH1 Kaiwaka, behind Twinkle Tow ‗n' Tyre call in anytime for a free quote.  
 
Large and minor vehicle repairs 
 
Industrial vehicles 
 
Full Cut and polishes 
…..Continues from page 11... 
on  the  wrong  side of the  road  to try  and find a  bit  of  roading  that  is 
more even, the uneven roading has cars falling off the edges, the ridges 
are so bad it sends your car all over the road while driving at a normal 
speed, the corner after the big dip from the State Highway 1 end is so 
small that a truck and a vehicle cannot pass at the same time, this also 
hits  in  a  blind  spot  and  the  vehicle  heading  towards  the  Mangawhai 
end normally ends up in the bank.  
I  have  had  to  repair  fencing  every  month  this  year  and  my  expense 
which is getting a bit beyond a joke, people are driving at 100km on 
tarseal  heading  to  SH1  then  suddenly  hit  gravel  lose  it  go  down  the 
bank and  through my fence. There have been numerous accidents, on 
the first 1km stretch of road, multiple cars with dents and dings, farm 
fences destroyed which have let stock out on the road causing another 
hazard. One horse has had to be shot due to the 4x4 and horse float not 
being  able  to  get  past  corner  with  another  vehicle  coming  the  other 
way, one child has suffered a broken wrist trying to get out of the way 
of a car losing control in the gravel at the top of the dip.    
IT  IS  ONLY  A  MATTER  OF  TIME  BEFORE  SOMEONE  IS 
KILLED ON THIS STRETCH OF ROAD AND WE WILL ALL 
BE BLAMING THE COUNCIL WHEN IT HAPPENS.  
We have complained, signed petitions, watched other less used roads 
get tarsealed that has nowhere near the amount and volume of traffic 
that we have. It is 1km of roading that we ask to have tarsealed. And if 
you can't do that then you need to make the road safe and have it main-
tained every few weeks as it only takes a couple of weeks after being 
graded for it to be back to the same terrible condition.  It is a require-
ment that if you have milk tankers on your road that it is meant to be 
graded every 6 weeks this has never been done.  
This is also formal notification that from now on I will not be repairing 
my fences due to car accidents, I will have it repaired and the bill will 
be going to the Council for payment as it is a result of your poor road-
ing conditions that is causing these accidents, and if any stock are lost 
or injured during these events you will also be sent the bill.  
I am speaking for both myself and a large group of neighbours in the 
first 1k of gravel on Settlement Road. ― 
Disgruntled Rate Payers           Name and address supplied, Ed. 
"I  share  your  passion  for  our  roads,  as  I  am  re-
sponsible for 446km of sealed roads and 1,124km 
of unsealed roads in our district.
According to our records the grader was on Settle-
ment Road on the 25
th
 of February 2013.  As a re-
sult of the very dry weather this did not last long, 
but it was done as we have received some service 
requests on it. Normally if there is more moisture 
in the roads, the grading activity lasts longer, but 
due to the very dry conditions we are having now, 
the  roads  unravel  very  quickly  after  it  has  been 
graded. This is the same for most of the unsealed 
roads  in  the  district.
Settlement  Road  is  a  local 
road  in  our  hierarchy,  and  carries  a  traffic  load 
between  100-500 vehicles  per  day. This  is  signifi-
cant  for  an  unsealed  road,  but  in  the  same  in-
stance we have other unsealed roads with similar 
traffic loads.
I  will  again  ask  that  you  submit  your  request  to 
the  annual  plan  submission  process,  as  this  will 
strengthen  our  case  if  we  are  to  justify  funding 
from NZTA to do remedial work and improvement 
works in the future.
I was informed today that the 
planned grading cycle is to go over the road again 
this week.
With regards to the installation of the 
gravel road ahead sign, I will ask our engineers to 
do  an  assessment  for  us,  and  make  recommen-
dations.
Finally, again thank you for your interest, 
and I urge you to make a submission to the annual 
plan.
 ―
Regards   Roading Manager   KDC 
REALLY? ENGINEERS COST HOW MUCH? 
AS OPPOSED TO A SIGN FOR SAFETY? Ed 
And Council's reply…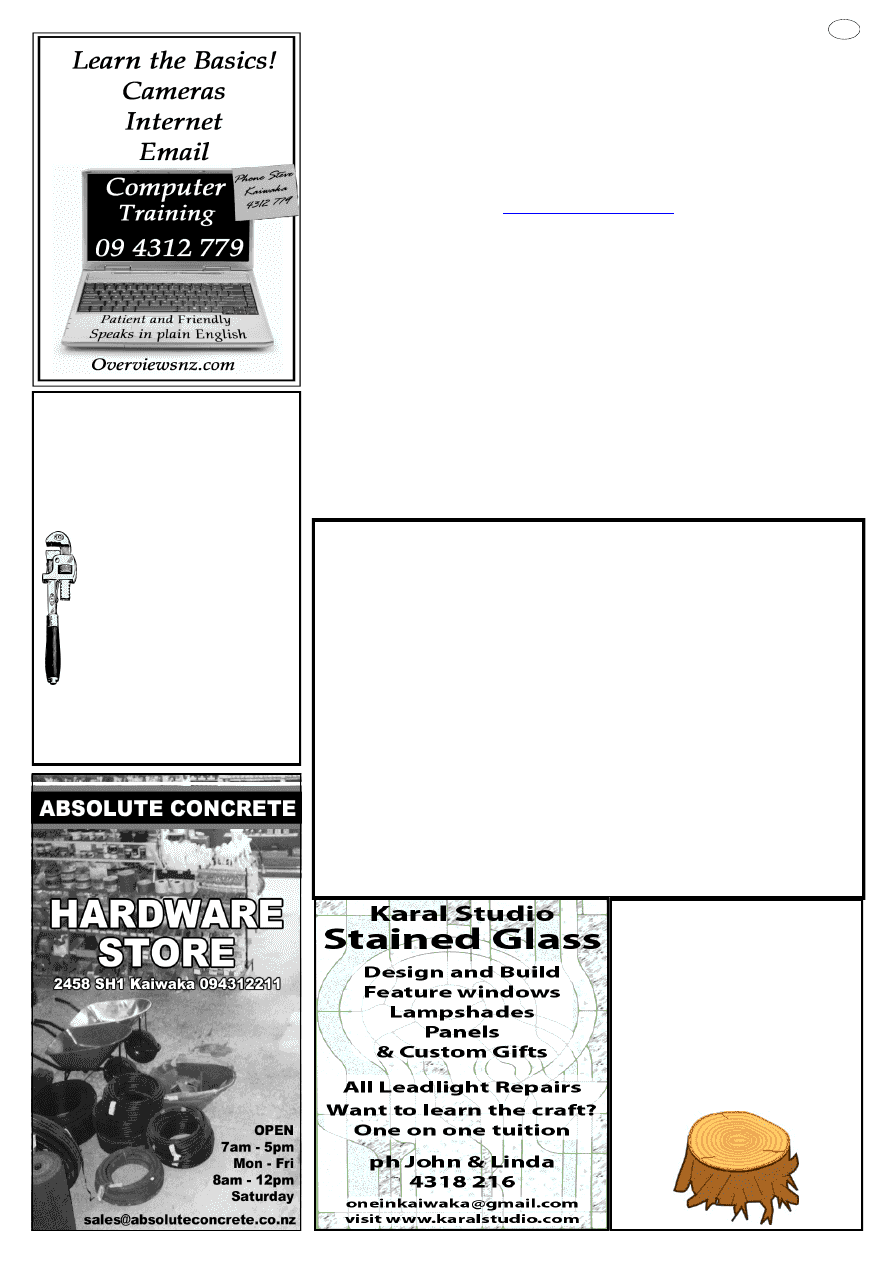 BARRY CURTIS  
PLUMBING LTD 
REGISTERED CRAFTSMAN 
PLUMBER 
Phone 4315572      
027 257 9884 
     25 years experience 
  
  
       Friendly reliable service 
  
All plumbing and  
maintenance 
       Alterations and new housing 
       New wood fire installation 
       Spouting 
       Competitive rates  
 PROMPT EFFICIENT  SERVICE  
PLANNING A NEW KITCHEN? 
 CONTACT NOEL McDOWELL
WELLSFORD KITCHENS
Ph/Fax 094312888 
KAIWAKA-Any time
  QUALITY CUSTOM MADE KITCHENS  
~Personal and Prompt Service~ 
~All Workmanship Guaranteed~ 
~Over 20 Years in the Trade~ 
~Free Design & Quote~ 
STUMP 
GRINDING 
Big or small  
Tidy professional job   
Tel: Mark 021 457247 
 or 
09 
13 
KAIWAKA LIBRARY
Now that the Large Print and Audio swap is over, it's time to look ahead to the next Dar-
gaville swap. This will be on 21 May, about a week away when you read this. Get in 
now to select any books from the current selection before they're packed up - there are 
some great books on those shelves right now. You won't have to return them for the 
swap, they can come back by their due dates. 
We have a vacancy in the library team at the moment. Would you like to be a library 
volunteer? You need regular access to an email account (to keep in touch with the team) 
and be able to use a Windows computer. Full training will be given to successful appli-
cants. Send an email to me at 
 to apply. 
Elizabeth's been listening to The Wrong Door by Bunty Avieson, read by Fleur Bean 
(Audio book 9 CDs). It was the talk of the wake. The women in the red dress. Everyone 
at the service wondered. Who was that woman? Pete's dead and Gwennie's life will nev-
er be the same. How could Pete, a young, fit man, leave her now? Their lives together 
were only just beginning. And pneumonia? It was insane, unthinkable, unbearable. 
Somehow she struggles through the funeral in a daze, and the mysterious mourner in the 
tight fitting red dress barely registers in her consciousness. The woman in red is Clare 
Dalton and she has stumbled into the wrong funeral service. Her brief appearance and 
signature in the condolence book are all it takes to set in motion a trail of deception, 
mystery and buried secrets that connects these two strangers in ways they never thought 
imaginable. An interesting listen, that takes a wee while to actually get going, and come 
together. Worth waiting for the intriguing plot to come together, through many twists 
and turns. Set in New South Wales, interesting to listen to a nearly home grown product. 
I've recently read The Death Maze by Ariana  Franklin. King Henry II's mistress, Fair 
Rosamund, is fed poisonous mushrooms. At first it is thought that she was lucky to sur-
vive the assassination attempt - but the moment Adelia Aguilar hears of it, she knows  
Continues on page 20…..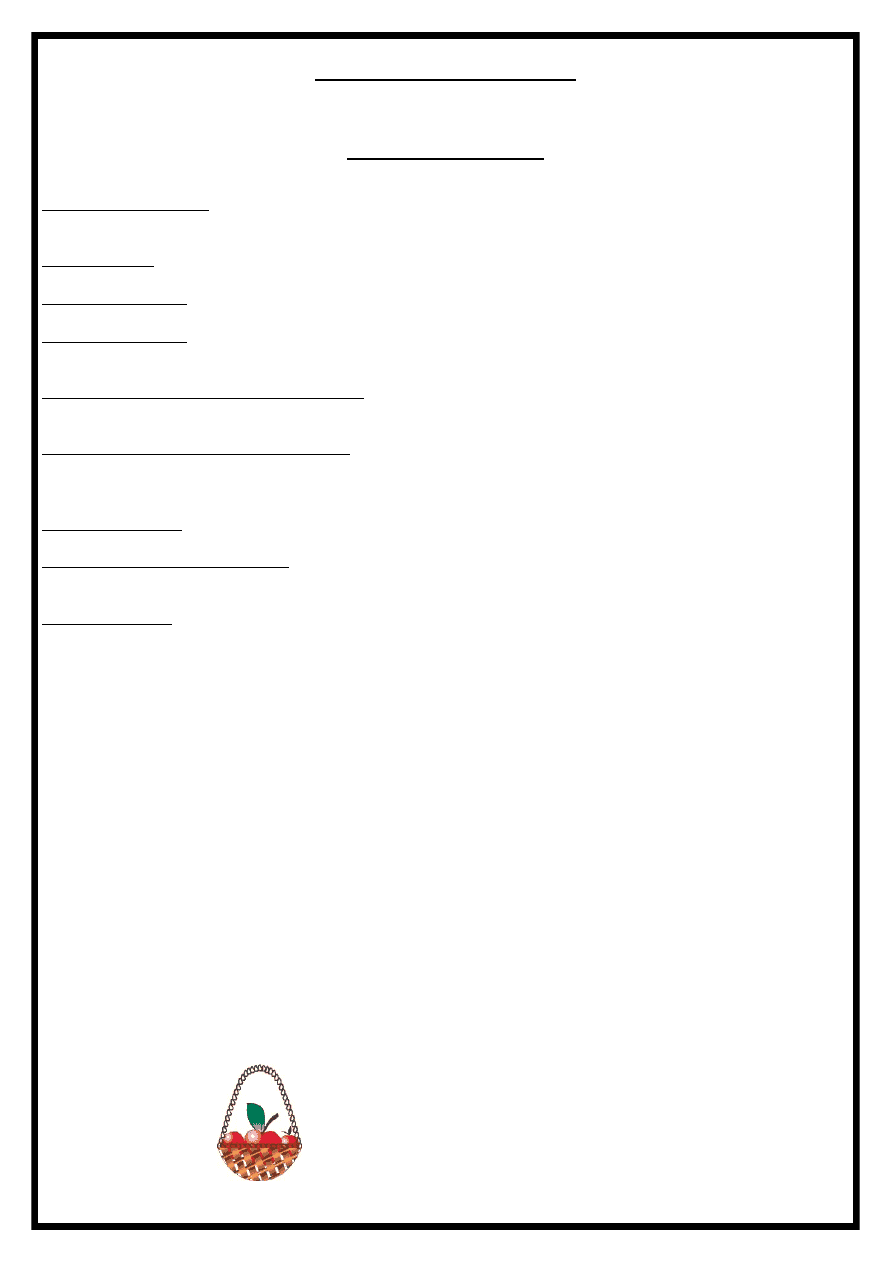 The Apple Basket 
We are your local Creative Store.  Suppliers of Beautiful Fabric, Knitting Wools, Trims, Laces, Threads, Patterns, Books, 
Classes….the list goes on.  Come and see us and we will show you around.   
Classes coming up 
Beginner Quilt Classes -  Learn how to sew hexagons, Dresden plate and all the traditional methods but give it a  
modern look.  Make a beautiful heirloom for yourself or someone special.  Monday Mornings 13th May—8th July. 10.00—
12.00 
Crochet Flowers - Learn how to make beautiful crochet flowers and then get tips on what to do with them.  Very  
inspirational.  Get creative with your yarns and make some beautiful things.  Wednesday 15th May 10.00—12.00 
Learn how to Crochet - Come along and learn the basics of crochet, then there will be no stopping you.  Wednesday 22nd 
May 10.00—12.00 
Sock Knitting Classes -  Learn how to make amazing socks using a circular needle.  It is easier than you think!!   Make 
brightly coloured socks to wear to Pilates, Yoga or just around town.  Make some for the family in all the different beautiful 
yarns.  Saturday 18th May, 10.00—2.00, and/or Thursday 23rd May 10.00—2.00 and/or Saturday 15th June. 
Guilded Needlecase  Class with Val Waterhouse -  come along and make this exquisite needlecase and learn how to do all 
those beautiful embroidery stitches using silk ribbons, metallic threads, silk threads, beads the list goes on.   
Saturday 13th July 10.00—2.30 and Saturday 20th July 10.00—2.30 
Getting to Know Your Sewing Machine Class - This quilt is called "Stitchers Garden" and is designed to get you  
familiar with your sewing machine and how to use the extra feet that you can get for your sewing machine.  Your  
machine can do more than just  sew a straight line you know.  This is a 6 month programme.  Each month you will receive 
2 blocks to learn and finish at home.  Starting  Tuesday 4th June 10.00 - 12.00.   
Learn to Knit Class - Come along and learn the basics of knitting, there are so many wonderful yarns out there it is a waste 
not to knit with them. Tuesday 28th May 10.00—2.00 
Knitting/Crochet /Embroidery Club - Bring along your knitting ,crochet or embroidery and sit with like-minded  
people and get some knitting/crocheting/embroidery done with out the worry of the phone and other distractions.   3rd 
Thursday of each month. Next meeting Thursday 16th May.    
Gift Making Class - This class is designed for you to make all your gifts for the year.  This month we are making a Toilet 
Bag using waterproof fabric, and putting a zip in.  Saturday 25th May 10.00—2.00 
Register by phoning us or emailing us your interest.   
Our classes include a yummy morning/afternoon tea.   
New Yarns in stock include Touch Yarn, Panda Magnum Soft DK Acrylic, Angora,  
Cotton,  Knitsch Yarns, Rowan Yarns, Mohair/Silk, Merino/Silk.   
 
New Fabric in Stock include "Paris Flea Market" by Moda - beautiful soft shades of pink, duck 
egg blue and cream.  Come in and see the quilt we have made with this range.  Our fabrics can 
be used for dressmaking, quilts, interior cushions, tablemats, bags, toys, pin cushions, covering 
chairs…...the list goes on.   
Craft is so satisfying, it makes the worries of the world go away and lift off 
your shoulders.    
Creating is good for the soul.   
Create - Make - Sooth 
The Apple Basket 
1914 State Highway One 
Kaiwaka 0542 
PH/Fax 09 4312443 
www.applebasketquilts.co.nz 
Email: applebasketquilts@xtra.co.nz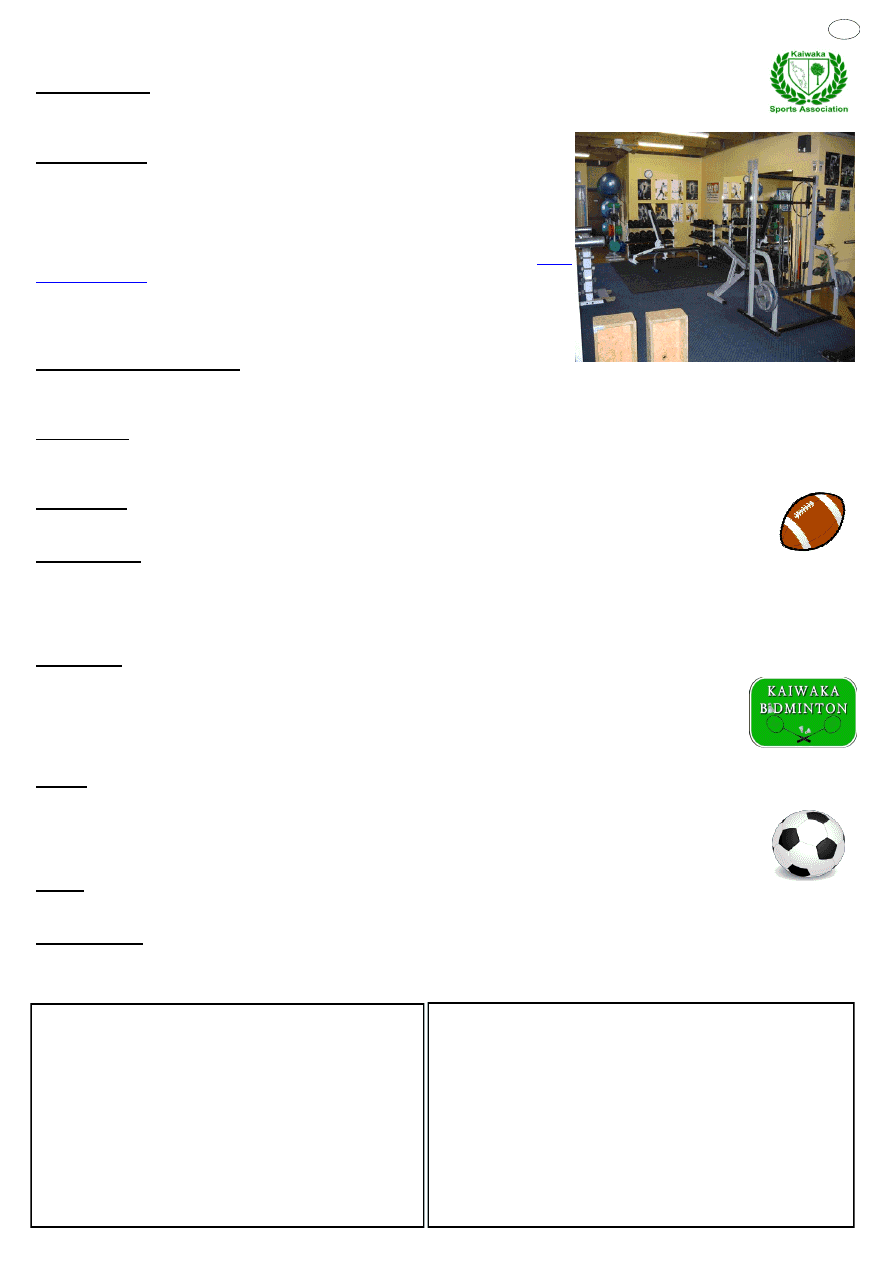 KAIWAKA SPORTS ASSOCIATION
Sports Awards 
We had a full house for our annual KSA Sports Awards held recently. You can read about the evening in the 
report on the front page of this edition of the Bugle. 
Fitness Centre 
The Fitness Centre will hold an Open Day on Thursday 16
th
 May from 5 – 7pm. 
Wine & cheese and a door prize of a years membership. Come along to check 
out our  fully  equipped  centre  –  we  have  bikes,  climbers,  rowers,  free  weights, 
CV machines, weights machines, sunbed, toilets and showers. All available 24/7 
for  $140  per  year.  You  can  purchase  a  membership  at  the  Open  Day  or  from 
Jaques  Four  Square  or  contact  Julie  Harris  on  027  76504540  or 
. Keys to the Fitness Centre will change over on Monday 20
th
May.  Julie  can  design  a  structured  fitness  program  for  individuals  or  groups. 
Programs  can  be  specific  such  as  weight  loss,  joint  mobility  and  flexibility  or 
more general fitness for strength, endurance and speed. 
Rippa Rugby Tournament 
We will host a Primary Schools Rippa tournament at the Complex on Friday 17
th
 May from 9am. Thirteen teams from local 
schools will participate in this fun sport, spectators welcome. Sausage sizzle from 11am. 
JMB Rugby 
Our junior rugby club Eastern United will hold a meeting at the Complex on Tuesday 14
th
 May at 5.30pm, all parents are 
asked to attend. The clubs next home games will be against Tomarata on Friday 24
th
 May from 6pm and against Ruawai on 
Friday 31
st
 from 6pm. 
IMB Rugby 
Our Otamatea Under 14's side will match up against Whangarei Boys at our Complex on Saturday 25
th
 May  
at 10.30am. Supporters and spectators welcome 
Senior Rugby 
The Otamatea Hawks reserves lost to Kamo at Kaiwaka on Saturday 7-46.  The premiers had a closely fought match, going 
down 20-28.  With four tries a piece, our inability to convert lost us this game. This Saturday the Hawks will play Waipu at 
Caledonian Park, then on Saturday 25th, the Hawks will be back at Kaiwaka playing Hikurangi—reserves 12.30pm and 
premiers 2.15pm. There will be an Otamatea Hawks meeting at the Complex on Tuesday 21
st
 May at 7pm.  
Badminton 
Our Badminton Club is always looking for new members, so if you've ever thought about giving this sport 
a try, then come along to our gymnasium on Tuesday evenings from 7.30pm. Badminton is a great game 
for the whole family – age and ability is no barrier! Social games last 10 – 15 minutes, coaching available. 
Soft-soled shoes are best and you can either bring your own racquet or the club has some you can borrow 
for free. For more information on Badminton, please phone Kaye Fleming on 4312 345. 
Soccer 
If you have a child who is interested in playing soccer this season, it's not too late to join! Our Kaipara Knights soccer club 
caters for boys and girls of primary school and high school age and also has an adults team. Match days are 
Saturdays with all teams competing at the Port Albert fields. For more information on soccer please phone 
Lindell Ferguson on 4312 542. 
Movie 
Thank you to everyone who turned up to the screening of Parental Guidance last week. Our movies are proving popular, so 
we will hold another one in the next school holidays – watch this space for details. 
Bank clearing 
Many thanks to Mark Ottaway, Bruce Ferguson and Mark Hodgetts who are doing a great job clearing the large bank be-
tween the school and the KSA carpark. This will provide us with some much needed extra parking. Planting has begun so 
the bank should look good when that has finished.   
Cheryl Anderson, Manager, KSA 
Fitness Centre Open Day 
Thursday 16
th
 May, 5pm 
Kaiwaka Fitness Centre
This is an opportunity to check out the fitness centre, 
meet other members and renew your membership 
for the coming year. Wine & cheese, door prize of a 
years membership. Key changeover 20
th
 May. Que-
ries please phone Julie Harris on 09 4321 755.
15 
EASTERN UNTIED JMB 
On  the  11
th
  May  we  played  Wellsford  at  Kaiwaka  the  scores 
were: 
Midget lost 8-7 the Jaques Player of the Day was Pyper Buxton  
Under 9's lost 10-1 the The  Coffee  Pot Player of the Day was 
Takerei Neil. 
Under 11's won 33-18 the  The  Coffee  Pot Player of the Day 
was Ray Tito. 
Our next game will be Friday night 17
th
 May at 6.00  at  Kai-
waka.  New  players  are  most  welcome  to join  our  club. Train-
ings Under 7's and Under 9's Tuesday 5.30. Under 11's Tues-
day  and  Thursday  5.30.  Enquires  to  Jennie  9450502  or 
02102764171 
Held every 2
nd
 Sunday of the month 
In the Kaiwaka War Memorial Hall 
Sunday 9 June  
Sunday 14 July 
A variety of new & pre-loved goods 
Enquiries to:  
Mandy 09 431 8717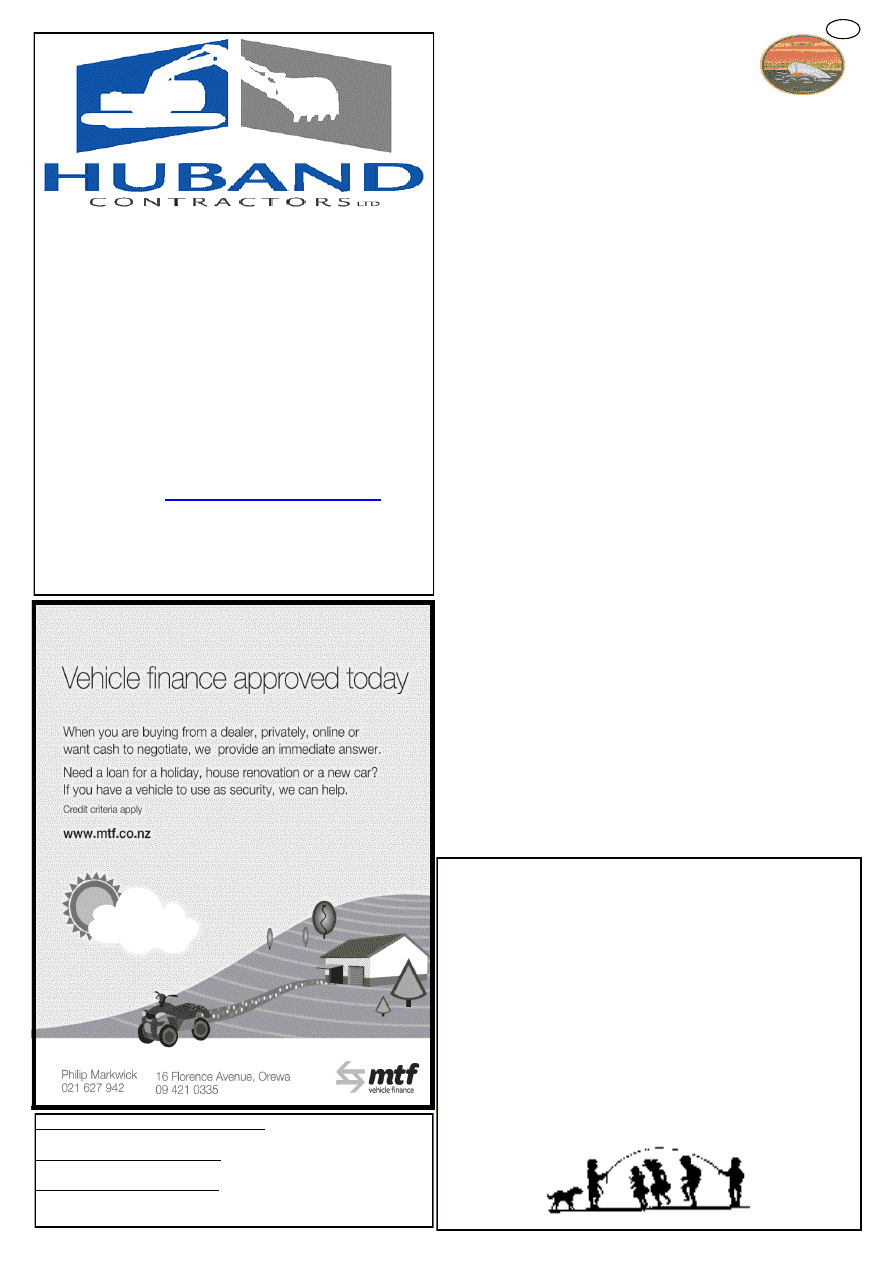 *   R O A D I N G   *   E A R T H W O R K S  
*    
*   D R A I N A G E   *   S I T E W O R K S   *  
For any further enquiries, contact 
Shaun on: 
Cell: 021 222 0272 
Home: 09 4318339 
Email:   
Shaun Huband:   
Registered Drainlayer 
Point Curtis Cruising Club
Results for opening day duck shoot, 4 May 2013 
Senior Section 
Mallard: 1st: Kevin Ries 1.480kg, 2nd: Kevin Ries 1.318kg, 3rd: 
Trevor Wright 1.311kg 
Grey: 1st: Trevor Wright 1.138kg, 2nd: Chris Ries 1.052kg, 3rd: Ni-
gel Ball 0.892kg 
Paradise: 1st: Dave Kennedy 1.919kg, 2nd: Dozey 1.912kg, 3rd: 
Dave Kennedy 1.819kg 
Pheasant: 1st: Trevor Wright 1.404kg, 2nd: Nigel Ball 1.392kg, 3rd: 
Fred Renata 1.385kg 
Pukeko: 1st: Fred Renata 1.158kg, 2nd: Dave Kennedy 1.115kg, 
Wattie 1.087kg 
Junior Section 
Mallard: 1st: Bradley Kennedy 1.269kg, 2nd: Koby Worsell 1.188kg, 
3rd: Jayden 1.088kg 
Paradise: 1st: Jayden 1.428kg 
Pukeko: 1st: Koby Worsell 0.945kg, 2nd: Bradley Kennedy 0.853kg 
2013 End Of Year Prize Giving  
Seniors 
Snapper  Frank Steiner 7.743kg 
Kingfish  Jason Kemp  37kgs 
Kahawai   Grabba Mills 2.837kg 
Terekihi  Linda Leslie  1.094kg 
John Dory  Renna Brown 2.618kg 
Trevally  Rachel Blackie  3.123kg 
Gurnard  Carol Mills    1.100kg 
Crayfish  Norm Brown  1.738kg 
Spearfish  Glen Jaques  0.765kg 
(flounder) 
Boar  Vic Birkenhead  55.4kg 
Mallard  Pongo  1.466kg 
Grey  Joss Tolley  1.204kg 
Paradise  Mark Nimmo  2.138kg 
Pheasant Tony Smith  1.451kg 
Canadian Goose  Graeme 
Bell  4.940kg 
Pukeko  Wattie  1.254kg 
Swan (Black)  Dave Kenne-       
dy  6.350kg 
Upcoming Events: 
North VS South pool contest at 3 Furlongs Hotel, 2nd June from 
1pm. 
Next committee meeting AGM Tuesday 11 June 2013 at 3 Fur-
longs Hotel at 7pm. 
Boar Hunt  10 and 11 August 2013. 
Wayne Leslie, Commodore 
Kaiwaka Bugle Advertisements 2013: 
Classified $2; 1/8 or 1/9 page $5; 1/4 page $10; 1/2 page $20;  
bugleaccounts@kaiwaka.co.nz 
Payments can be online, posted or left at Jaques 4sq Store. 
kaiwakabugle@kaiwaka.co.nz  for queries or copy. 
The Kaiwaka Bugle is a community newspaper run by volunteers.   
Articles, etc. printed are not necessarily the opinion of the BugleTeam  
17 
'
Rhythm and Riggle'
Music and Movement for Babies and  
Preschoolers 
Every Tuesday starting 14 May 
10am 
at  
the new Christ the King Anglican Church 
9 Molesworth Drive Mangawhai 
ALL WELCOME! 
Gold coin donation 
Juniors 
Snapper Max Tornquist 
2.200kg 
Kahawai  Brayden 
Mills  2.260kg 
Gurnard  Brayden 
Mills  0.796kg 
Eel  Koby Worsell  3.875kg 
Boar  Koby Worsell  24kg 
Mallard Koby 
Worsell  1.322kg 
Pheasant  Koby Worsell 
1.272kg 
Paradise  Bradley Kenne-
dy  1.785kg 
Pukeko  Bradley Kennedy 
1.112kg 
Swan (Black)  Bradley Ken-
nedy  5.123kg 
STOCKFOOD
GREAT RANGE FOR ALL YOUR LIVESTOCK  
AT GREAT PRICES 
 ALSO CHECK OUR 
DOG BISCUITS 
20 KG FOR $58.90 
LPG REFILLS 9KG 
STILL ONLY $31.50
MANGAWHAI SERVICE 
STATION 
(09) 431 4242 
44 MOIR STREET IN THE VILLAGE 
ARCHITECTURAL 
BUILDING PLANS 
AND DESIGNS 
20% Reduced Cost - design and planning. 
If you are thinking of building, then you need 
to make use of cost savings in architectural 
design as well as having a good and well experienced designer. 
This applies if you are considering a new home, any alterations or any 
building additions/farm buildings, sheds, alterations, whatsoever. 
There are many things that are frustrating if you are not totally 
familiar with what all details are required by Councils -especially 
with new regulations in force to ensure everything runs smoothly - 
e.g. Resource and Building Consents, planning restraints, new 
building materials ,applying for building permits, dealing with 
building contractors to name a few -you need a capable,  
experienced and professional designer with a clear knowledge of 
all the processes. 
WE CAN HELP YOU CLARIFY ALL OF THESE ITEMS 
 
AND MAKE LIFE RUN MORE SMOOTHLY. 
Brian of Wright Design has been helping and organising all these 
facets of design and building for over 40 years. 
With needs of family changing and the economy - building require-
ments constantly being reorganized and made more complex, it's very 
important to obtain professional advice for any building project - no 
matter what size. 
Brian advises on design, materials, permit applications, builders 
and subcontractors for any project - no matter how small or large 
ALL THIS AT A REDUCED COST so YOUR DOLLAR    
GOES FURTHER  
Wright Design offers free visits, consultations and all the advice 
you need on planning. Design, building, contractors, council  
permit applications, guaranteed permit plan acceptance. 
QUALIFICATIONS 
Brian is a qualified designer (NZCAD) with over 40 years of varied 
experience in all types of building and is a registered and Licensed 
Building Practitioner in Design - L.B.P. 117345 
He ensures you will achieve the best from your budget with  
recommended excellent local contractors ready to competitively 
price and build your personal project quickly and efficiently. 
EXPERIENCE 
Brian's practical building and 40+ years of design experience 
means he can give you excellent advice and all the guidance need-
ed for all your building needs, 
FEES: To help you attain your project Brian has reduced his 
costs by 20%, giving you extra funds for the rest of your project. 
ENGINEER: Brian can arrange engineering for a reasonable cost. 
THIS IS AN ABSOLUTELY GENUINE FEE REDUCTION!! 
Qualified and inexpensive designer – N.Z.CAD., LBP 117345 
Guaranteed design and working drawings 
Free site visit to your home or property 
Great service 
Obtain a free quote with 20% Discount. 
PROJECTS 
Additions, alterations, basements, new houses, motels, bed and 
breakfast commercial buildings and shop fit outs are a few pro-
jects he has been involved with. 
Brian can show you many of his projects in the area to emphasise 
his versatility 
WHAT TO DO FROM NOW 
Call Brian   
Arrange a visit 
Discuss your needs 
Obtain great advice.  
Obtain a free quotation - with a true 20% discount 
Make a decision based on the facts - You Won't Be Disappoint-
ed! 
MAKE GOOD USE OF HIS EXPERIENCE AND THIS 
GREAT OFFER OF REDUCED FEES OF 20% 
Brian can offer plan printing-from A4 to AO (2 x A1 size) 
WRIGHT DESIGN 
Brian's office is at: 72 SPINDLER ROAD, R.D.2 WELLSFORD  
(Off Wayby Valley Road.) Call in for a chat and a coffee, or he 
will call on you at your home if preferred. 
WRIGHT DESIGN: Office 09-423-8092 
Mobile 021 276 7389 
Email: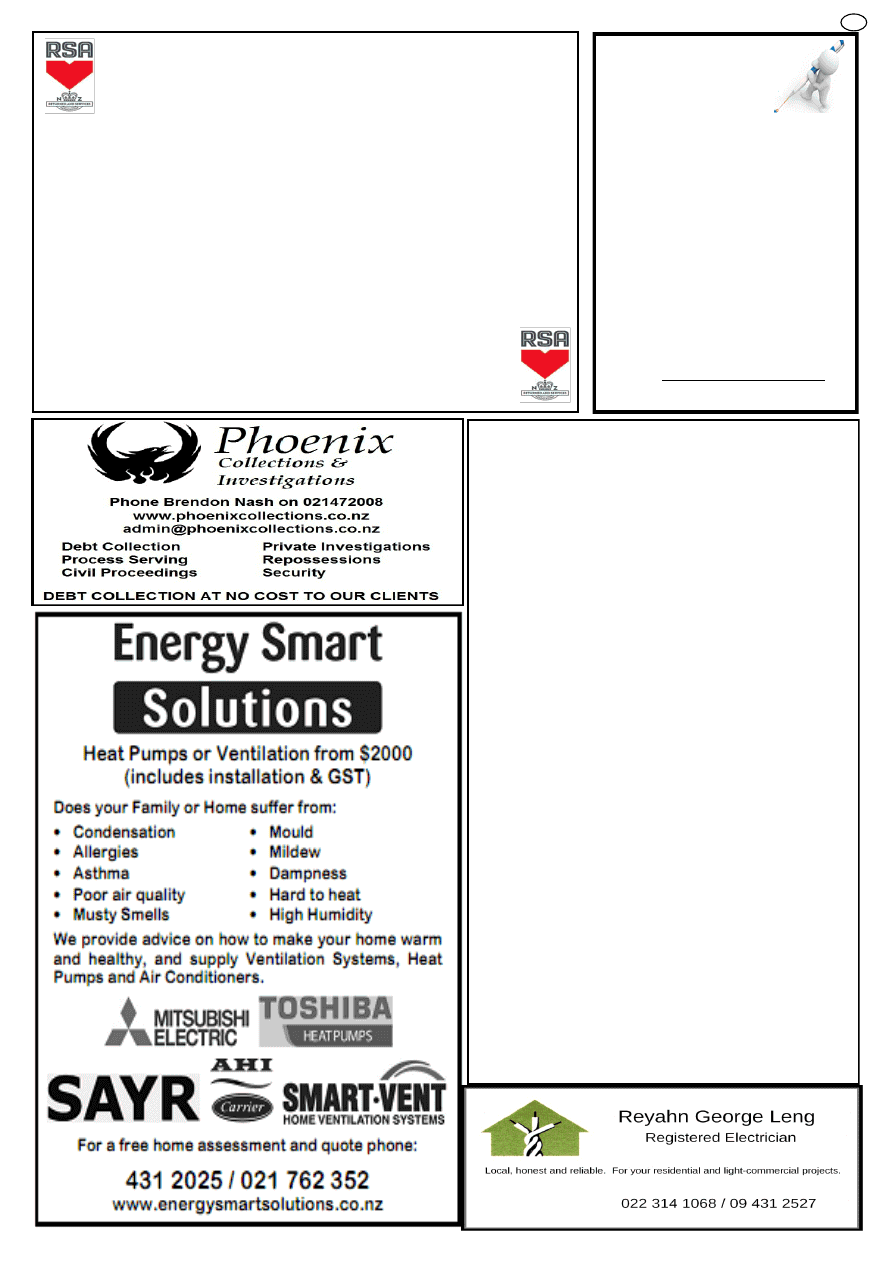 "  TROPHIES & CUPS 
"  AWARDS & MED-
ALS 
"  GIFTWARE 
"  CLUB ORDERS or 
ONE OFFS 
Topnotch  
Engraving
Quality Engraving Service  
SPECIALISING IN:
"  ENGRAVING    & 
SALES 
"  NAME  BADGES 
"  SIGNAGE 
"  PET TAGS 
"  JEWELLERY 
www.pettagsnewzealand.com 
Phone (09) 431 2174 or  
Email: engraving@slingshot.co.nz
HAKARU RSA
Women's Section 
2nd Friday of the Month 
from 6.30pm 
    Roast of the Day  
 $12.00 
    Fish n Chips  
 $10.00 
     Pea Pie Mash   
  $  6.00  
Includes salads 
Desserts  $3.00 
Phone Heather 4314668 
Jan 4314512 
T
HE
W
ORK
C
AMP
   and   
North Tec 
Kia Ora. 
 
Well our Monday morning cuppa was well so well 
supported, we almost ran out of tuna sandwiches.  
We hosted reps from groups like Rotary, The Bugle and 
The C.A.B. 
 Then we had many who wanted to register in the next 
Carpentry, the Painting or the Organic Horticultural 
Course. Plus we had the locals who came to meet the 
North Tec Team, and show their support.   Awesome. 
Taina, Lionell and Dom from North Tec were very.. 
( blown away) with the numbers and the way we laid out 
the welcome mat... and the sandwiches. Thanks Minnie & 
Elisa. They will remember this and will help us utilise 
what  North Tec has to offer.....Well Done Kaiwaka and 
Neighbours. 
The Carpentry course is going very well. This fine 
crew have already graduated out of the school-woodwork- 
type  projects  and  we  are  onto  bigger  projects  as  a  team. 
(Like minor additions to the Hall!) I enjoy the sharing of 
tall,  and  often  true,  yarns of  daring  building  exploits.  As 
well, I am formally training as a tutor (at North Tec), and 
am getting used to the clerical aspects of running courses. 
The plan is to keep impressing North Tec.  
Don't forget.    TheWorkCamp team will be adding 
more to this training:  
We are creating a unique and localised environment to run 
these courses. We're finding our trainees as much work as 
we can.  While on the course or after graduation. 
And we are going to become experts at using the above to 
inspire;  we'll  get  as  many  as  we  can  onto  these  courses 
and into this sort of work. 
All Enquiries Welcome: 
North Tec Carpentry Tutor:  Tim Magill  Bb (Barnbuilder) 
021 487 055 
Enrolments:  Minnie Magill  021 751 993 
 19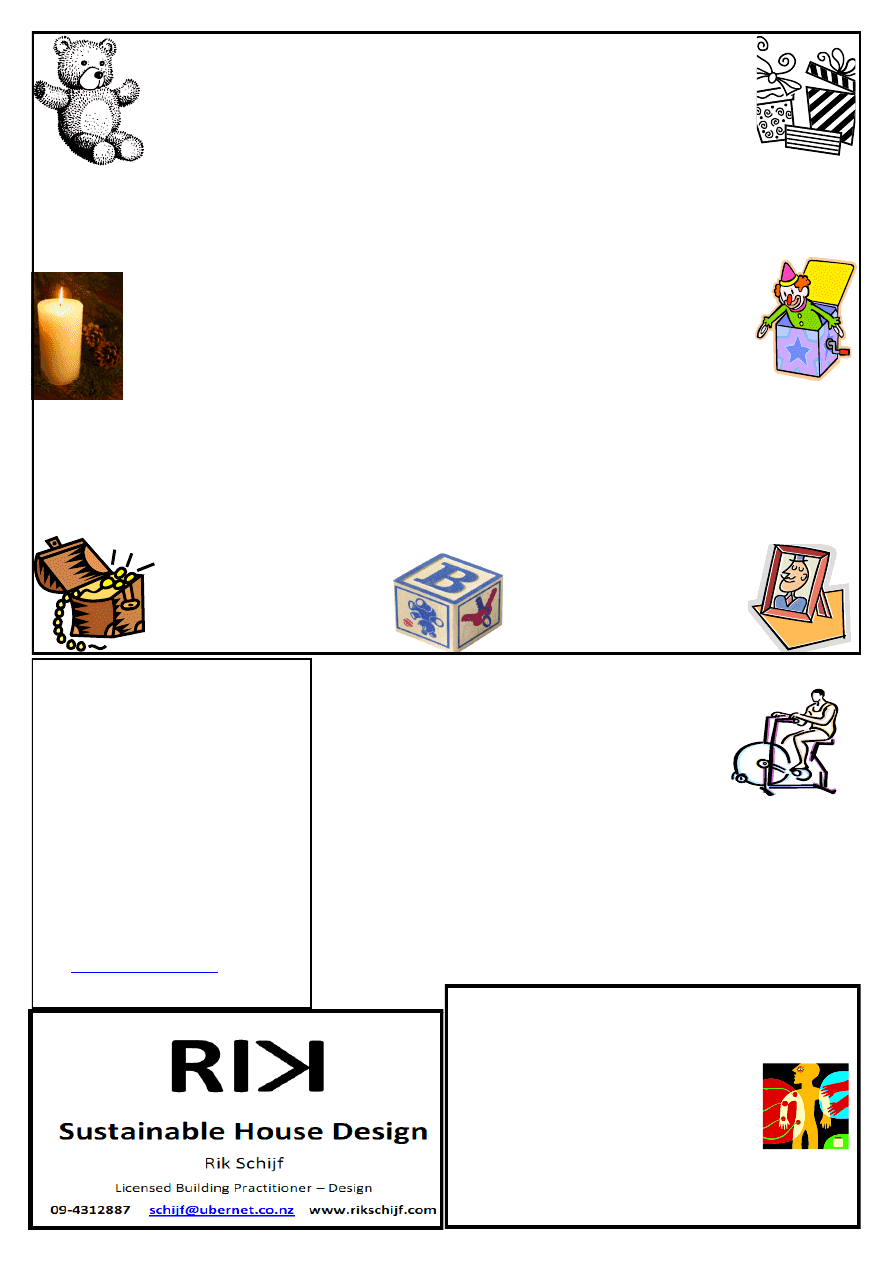 OWEN STEVENS 
Osteo Therapist 
For careful adjustments to bones and joints 
Treatment for  
humans and their pets 
Clinics: Kate's Place, Kaiwaka: 
Last Friday of month 
Warkworth Showground:  
2nd Thursday, monthly          
For bookings:  
9.00am-5.00pm  Phone 09 4312661  
Or phone Owen  09 4317123   anytime 
         KAIWAKA FITNESS CENTRE
 Open Day 
 Thursday 16th May 
                                  5-7pm
   Wine and Cheese     Renew Memberships      Meet other members  
    Come and see what we have in equipment. 
Hi  Everyone,  Winter  has  arrived,  cold  and  wet.  Maybe  time  to  start  training  inside;  at 
least doing some cardio. On the 16th of May 5-7pm we will have our annual Open Day, 
with wine and cheese. Time to renew memberships for the year. Cheapest around,130.00 
plus  10.00  key  fee  for  1  year  24  hour  access,365  days.  Security  cameras  and  security 
lights so safe to train anytime. Because of past problems there is no payoffs. Free mem-
bership up for grabs on the night. Everybody welcome to come and have a look around 
and see  what  we  have to offer. To the  Sports  Association and those  involved in doing 
work on the bank, it looks fantastic and can't wait to see what other plants are going to go 
there, great work.  It's  great to look out at from gym. We are a very lucky community to 
have such people  around  who are  willing to do the  work  and planning of  such a  great 
facility. Hope to see you on Thursday,  
Jules  
                     Celena's Gifts 
(Mangawhai) 
Has relocated to 
1925 State Highway 1 
KAIWAKA (next to Italian Bakery) 
Ph: 09 4312741 
      We stock:- 
      Baby Gifts     Jewellery      Toys 
      Kitchenware    Toiletries      Photo Frames 
NZ Souvenirs    Candles     and much more! 
   
      
LIBRARY REPORT CONTINUES…. 
there is no surviving and that Rosamund will 
soon  die.  It  seems  obvious  that  the  attack 
must  have  come  from  Henry's  jealous  wife, 
Eleanor  of  Aquitaine.  The  country  could  be 
torn  apart  if  the  Queen  is  pitted  against  the 
King. But is that  too obvious? Adelia is in a 
race  to  find  out  the  truth,  before  the  country 
descends into civil war or the assassin strikes 
again. Another great installment in this series, 
this  is  the  second  book  in  the  "Mistress  of 
Death"  series.  Looking  forward  to  the  next 
one!  This  book  is  on  the  Rental  Fiction 
shelves in the library. 
See you in the library!  
Wendy Howard, Librarian 
Kaiwaka  Library,  cnr  State  Highway  1  and  Kai-
waka  Mangawhai  Road.  PO  Box  89,  Kaiwaka 
0542. 
Phone 
4312 
539. 
Email 
  Open  Wed-Sat 
10am-2pm, Mon 4-6pm. Membership is available to 
all residents in the Kaiwaka area.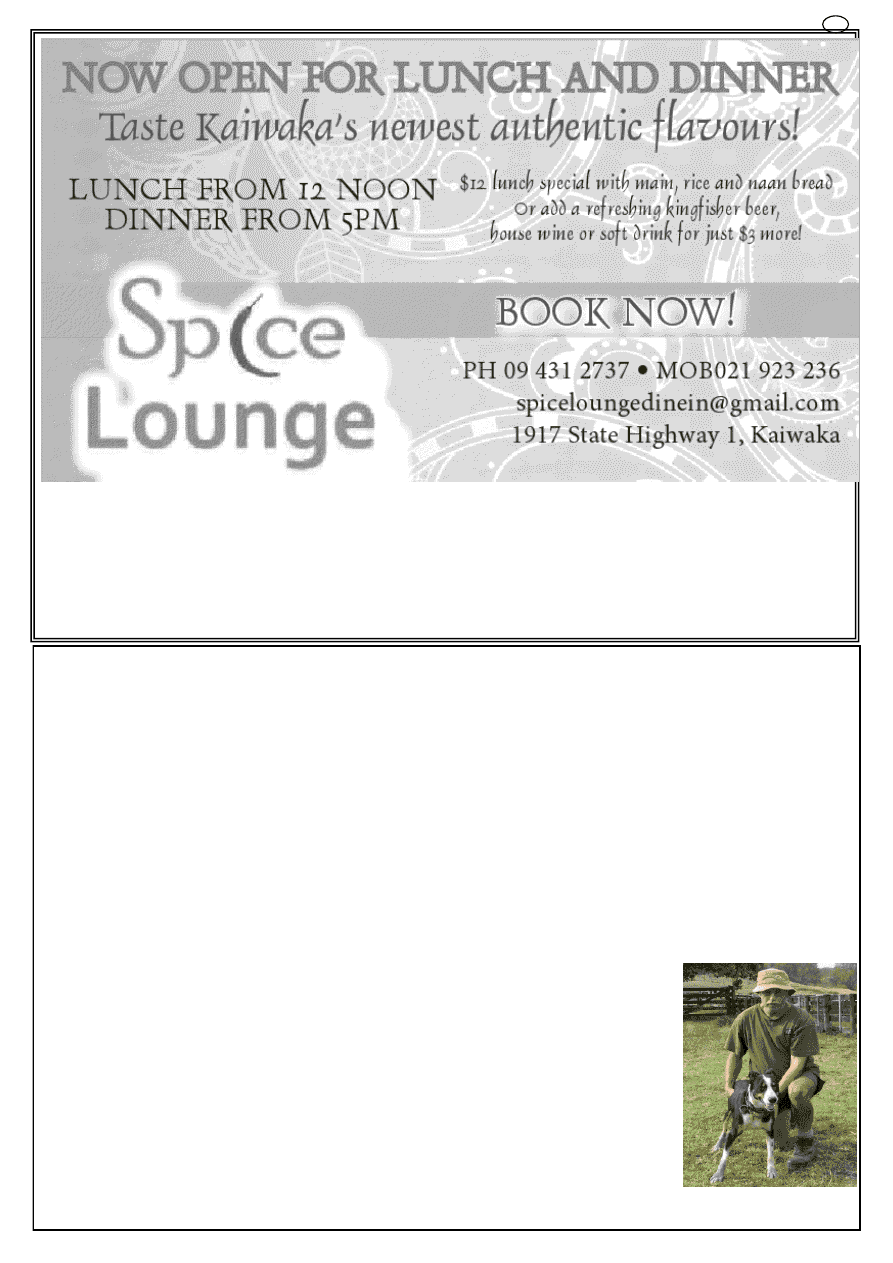 Our  lunch  specials  are  $12  lunch  pack  which  has  choice  of  curries--  butter  chicken/chicken  tikka  masala  ,  lamb 
roganjosh/lamb vindaloo comes with rice & naan bread  and complimentary poppadum. Also customers can top up, for an 
extra $3, with any soft drink (coke, sprite), house wine (red/white ) or kingfisher beer, (conditions apply). 
We are also introducing salads at lunch and options are: Tandoori chicken salad and Sesame Beef Salad for $11.99 
Also fish and chips are available for lunch (beer battered fish) and people will get the chance to try "Soup of the Day" as 
well for just $8. 
We are also open for bookings: for example any birthday parties or family get-togethers. 
Phone: 09 4312737     Satinder Singh 
MOLESWORTH SHEEP DOG TRIAL CLUB, update. 
The recent Club trials were very successful thanks to the favourable weather and the availability of sheep.  The Club is most 
grateful to James Parsons for allowing us to use his ewes that were grazing the trial grounds property.  Run numbers were 
up in the Heading events but lighter on the Huntaway courses.  The Club President, Scott McRae, featured in the prize mon-
ey in three of the events with a 5th place in the Short Head and Yard with Elle, 4th place in the Zig Zag Huntaway and 1st 
place in the Straight Huntaway.  Tony Hargreaves and Steele with a 4th in the Long Head.  Duncan Gilligan did manage a 
first intermediate place with Tim in the Long Head, congratulations to them all. 
The Club would like to thank all the generous sponsors for their contributions which made such a difference to the trials: 
MANKAU WOOLS, RAVENSDOWN FERTILIZER, RABOBANK, POLAND MOTORS, PGG WRIGHTSON'S BER-
NIE McGAHAN, RD1, ELDERS MERCHANDISE and JAMES PARSONS for the loan of the sheep, not forgetting the 
great HOST, JIM LESLIE.  A big THANK YOU to all the volunteers who help on the grounds, releasing sheep, managing 
the courses, delivering the smoko, manning the barbeque and all the kitchen ladies for making sure everyone has great food 
over the two days. 
Since ours was the last Club Trial of the season, the next trialling is the South Island championships taking place this week 
near Blenheim and from reports received, Duncan Gilligan has had some pretty neat runs with Tim in both the Heading 
events; sadly not quite good enough to beat the top runs, but very commendable. 
Getting Gilligans, and dogs down to Blenheim became quite a saga after the discovery of a steering problem in their ute 
which could not be fixed until after their proposed early start on Friday morning.  A solution was proposed; swap utes with 
Hasties, then Hasties could take Gilligans' ute to be fixed whilst they (Gilligans) set off southwards.  All went well with 
fixing the steering and on returning home I was greeted with the news that Hastie's ute had bro-
ken an axle, in Tokoroa!  This really did pose a problem as no rental vehicles could be found (not 
with a dog box anyway), so Gilligans found a motel and with local knowledge and thoughtful-
ness were also loaned accommodation for the dogs on a nearby block.  Next problem was to res-
cue them and get them on their way again; thoughts of driving their own ute down to them were 
discounted because there was no way to get that driver back to Kaiwaka.  Next thought was to 
get  Lindsey  and Tony  to  pick  them  up  as  they  (Hargreaves)  went south  on  Saturday  but,  with 
their ute already packed fully with family belongings to be delivered to Oamaru, it looked unlike-
ly.  Then suddenly the light went on and a solution was found.  Tony would bring his ute to Has-
ties, take Duncan's and both Hargreaves would drive a ute each to Tokoroa and meet Gilligans 
where a ‗ute-trade' would be made.  That all worked extremely well thankfully but still left one 
undriveable ute in Tokoroa.  This has since been repaired and to return it to Kaiwaka will need 
another ute convoy after Duncan collects it on the journey home. We just hope that all vehicles 
are  in  perfect  working  order  for  the  New  Zealand  Championships  at  Taupo  where  a  few  club 
members are ready to compete and hopefully appear on the results board.  Good luck to them all       
Duncan and Tim 
and we hope they have a great week there in good weather.          
D & R Hastie  
Don't let this man drive your ute! Ed. 
 21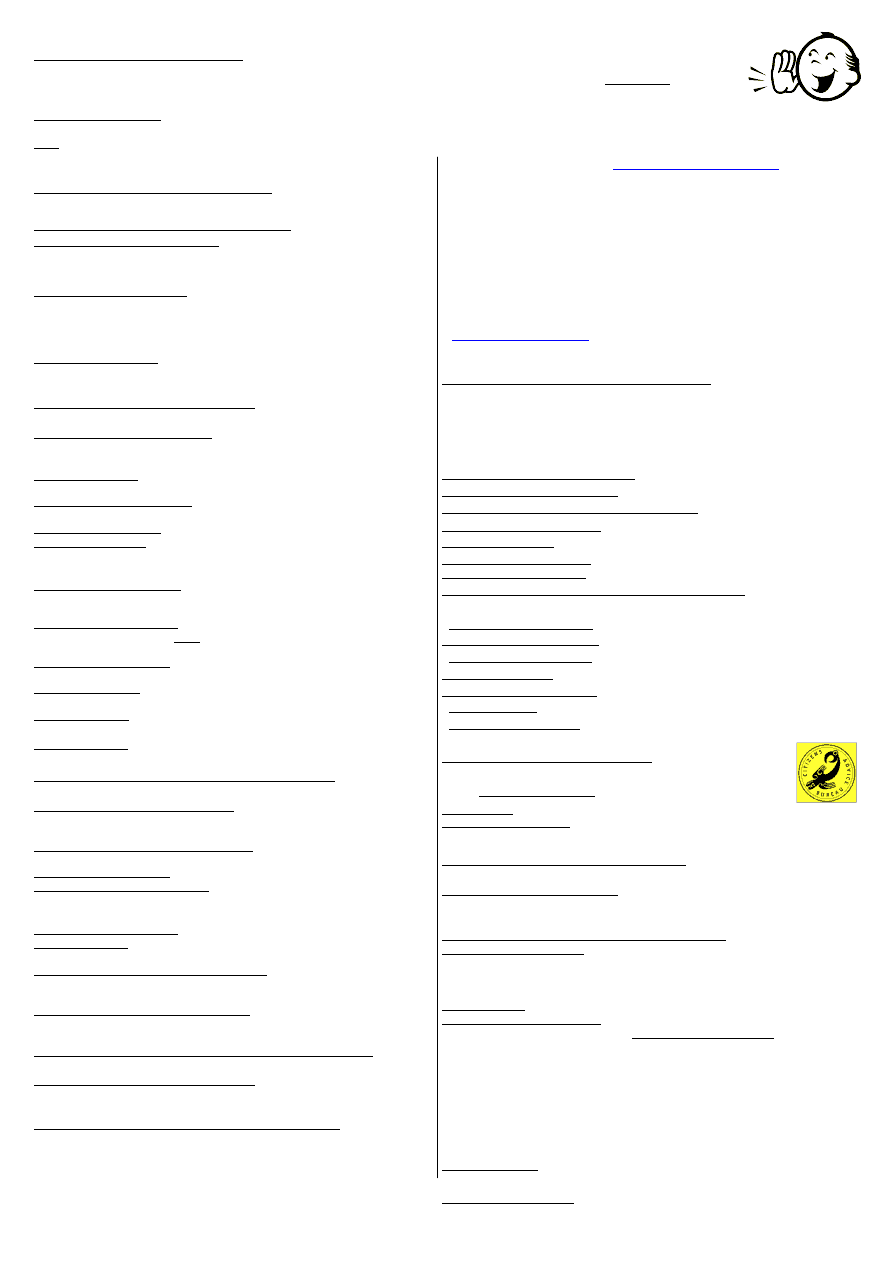 LOCAL SERVICES 
*St.John Ambulance 
111 or Freephone0800 61 0066
*Fire phone 111     *Police phone 111 or 09 4311150
WELLSFORD DOCTORS: Ph: 4238 086 
 
A A: Meets Wed., 8pm Kaiwaka Ph: 4312228, 4315543, 0800229 6757   
AL ANON: In recess, contact Ph: 4312228 
AgriQuality (MAF) Livestock Consultant 
Phone 09 4311 820 or 021518257 
CAB-Citizens Advice Bureau.Wellsford Ph: 4237333. 
BUDGETING SERVICE,OTAMATEA:Free confidential advice & support - all 
areas of  personal finance Ph: 09 4318173 or 094318117
FAMILY SUPPORT SERVICES responding to the needs in our community  
Counselling/Family Therapy/Seminars/Youth Work/Probation/
Osteopathy/Govt.Day Agencies/Community Information  
Ph: 4312661 Hours: 9am-5pm. Mon - Fri (funded & CYFS approved) 
FUNERAL SERVICES: Morris & Morris Ltd, 
Whangarei - Bev Jaques Ph:4312367 or 0800667747 
Grandparents Raising Grandchildren: Sarah Rogers Ph: 4312194 
HAKARU LANDFILL/TIP:Open everyday except Tuesday 
10am-4pm.Ph4312629 Cost-$40 cubic metre Ph:4258567 - office 
INLAND REVENUE: Last Friday each month, 
11-3pm Ph4312661 
KAIWAKA KOHANGA REO:
Ph:4312620 Mon.-Fri. 8.30am-2.30pm 
KAIWAKA CEMETERY: Ph: 4312045 
KAIWAKA LIBRARY: kaiwaka.library@gmail.com  
Mon. 4-6pm; Wed., Thurs., Fri., Sat.  10am-2pm Ph:4312539
KAIWAKA PLAYCENTRE: Ph: 4312286. Hastie Lane 
Monday to  Friday  9.00am 
- 
12 noon.
KAIWAKA POST OFFICE:
Ph:4312 626 Fax: 4312287  
Post Code: 0573  for RD2  and  0542 for all Kaiwaka Post Office mail 
KAIWAKA SPORTS ASSN: Ph 4312005; 4312129 gym 
KAIWAKA ST JOHN: Manager Steve Rosser  09 4318403, 021 2316836 
NORTHPOWER: Faults Kaiwaka area 0800 104040 
PARENTPORT: Free, practical family support servicePuhoi to Paparoa 
Ph:  Sharon Mehana, Co-ordinator. 4259357 or 027 280 5093 
PERSONAL DEVELOPMENT COACHING, GROUP FACILITATION:  
Sabine Druckler 4312231 
PLUNKET  KAIWAKA/MANGAWHAI:  Ph:
094318187 
or  0
276753488 
Kaiwaka Mobile Clinic once a month– appointments necessary;  
Mangawhai (next Domain) 
1st & 3rd Thursday & Coffee Morning; 
PLUNKET CARSEAT CO-ORDINATOR:  
Pat Scott Ph 4314530 or  
0272881635 
PLUNKET FREEPHONE -0800 933 922 
PLUNKET -MAUNGATUROTO  Clinic every 2nd & 4thThursday. Ph: 
09 4318187 
PUBLIC HEALTH NURSE: Gloria Reid Ph: 094327634  
HOMEOPATH: Donna Flavell Ph: 
4314843 
RETURNED AND SERVICES ASSN 733 Settlement Rd. Hakaru 
Ph.4312176 Bill Kerr (President) Ph.4314719 
TE KOROWAI AROHA O NGATIWHATUA 
(The Cloak of Love of Ngatiwhatua) Support and Maori Consultancy.  
Ph: 4239481 (Wellsford) 
WOMEN'S WELFARE LEAGUE & Reaching Out For Youth:  
4 Kaiwaka-Mangawhai Rd, M Morgan 4312293 
VETERINARY SERVICE MANGAWHAI: 
Ph: 4314535 Mon-Fri 8.30-4.30, Sat 9-12, a/h appt. 
KAIPARA DISTRICT COUNCIL www.kaipara.govt.nz:  
Help Desk FREEPHONE 0800 727 059 
ASK FOR MANGWHAI 
OFFICE
Dog/Stock/Noise 0800 105 890 
Next Bugle Deadline Friday 24/05/2013 
Send copy to kaiwakabugle@kaiwaka.co.nz
WHAT'S ON
PLEASE ~ do let me know what is on - email 
kaiwakabugle@kaiwaka.co.nz 
Advertising in WHAT'S ON is FREE  
 
KAIWAKA MARKET  2
nd
 Sunday of the month in the Kai-
waka Hall 10am–1.30pm 
09 4318717 
Tuesdays Rhythm&Riggle 10.0am Christ the King Church 
Mangawhai. 
*
16 May ~ Kaiwaka Fitness Centre Open Day 5-7pm
*19 May ~ Hakaru RSA AGM 1.30pm RSA Club rooms 
*21 May ~ Otamatea Hawks Committee Mtg 7pm KSA 
*23 May ~ Constitution Conversation with Julie Watson from 
the Human Rights Commission 10.15-1.45 with FREE 
LUNCH! Archie Ball Hall. RSVP to Helen Marsh 
<
> , 09 4312582 or 0274889911 
See www.kaiwaka.co.nz for upcoming events. 
HOUSEHOLD  RUBBISH  COLLECTION  -  Kaiwaka    Pick  up  -
Mondays=Green  bags  are collected by Northland Waste-queries to 
them 09 4303273 Wednesdays.=Blue bags and yellow recycling (At 
Jaques  Blue  bags  $2.80  and  yellow  $1.40)  are  collected  by 
Kaurlilands 09 4392146.  
 
*OTAMATEA GREY POWER-09 431 8138 Joan Hoggard  
*KAIWAKA BADMINTON -Tuesdays 7.30pm Ph: 4312345 
*KAIWAKA GARDEN & FLORAL Grp:
2nd Thursday in month Ph: 4314767 
*Kaiwaka SCOUT
S&CUBS-
Thursdays 5.30-7pm,KWMHaII, Innes Ph: 4312250  
*KAIWAKA SQUASH -Mondays 7pm,  Ph: Barbara Thomas 4315905 
*GYMNASTICS OTAMATEA -  Tuesday Ph: Stephanie 4312022   
*HAKARU PONY CLUB-Ph: Dianne Christianson  4314315 
*MANGAWHAI COMBINED PROBUS CLUB: 2pm,3rd Thursday 
month in the Senior Citizens Hall Mangawhai. Ph: 4315777
*PT CURTIS CRUISING CLUB - Jean Ph: 4312246 
*WAIPU GENEALOGYGROUP -4th Monday in month Ph: 4312725 
*NZ GENEALOGY-Wellsford - 1st Thursday in month Ph: 4237033 
*CRAFT GROUP:2nd & 4th Tuesday, 10am, Wellsford Ph 4238547
*RSA,Hakaru & Dist.Women- meet 1.30pm 4th Thurs in month 43123668  
*OWEN STEVENS at Kate's Place Ph:4312661   
*Diabetes Support Group-for Kaiwaka, Mangawhai, Wellsford -10am, 
 
3rd Friday of month Ph:A.Pert 4238242; J.Gardner 4238060 
WELLSFORD CITIZEN ADVICE BUREAU:  
0800 367 222 
Ph: 4237333 Wellsford Community Centre   
Email: cab.wells@xtra.co.nz
CHURCHES:
*Gateway Worship Centre-St Mary's Church Nathan Rd off Oneriri Rd, Kaiwaka 
Services, 10.30am 1st & 3rd Sunday of every month. Contact: Rev David Gage 
4312528 or 0212354282 
*Kaiwaka Family Church-Your Community Church Sundays, l0am 
Home Group every Wed evening, Pastor John Dekker Ph: 4318203 
*Kaiwaka Services.Anglican & Co-op at StPauls Church  - 1st Sun. 9.30am
(Anglican),3rd Sun. 4pm (Co-op).  Contacts: Rev. R Dunlop 09 4318193, 
M.Hargreaves, 4312295, C.Bygrave 4312057  
*Church of Christ the King, 9 Molesworth Dr., Mangawhai 9.30am every Sunday 
*St.Mary's Catholic Church:
Maungaturoto – Griffins Road, Saturday evening Vigil 
Mass 6pm; Mangawhai – Senior Citizens Hall, Sunday Mass 8:30am; Wellsford – 
Matheson Road, Sunday Mass 10:30am; Mid-week Mass times and all enquires to Fr. 
Bill Fletcher – phone 423 8170 
*Baptist Church: Sun. 10.30am Mangawhai Snr Cit.Hall.Ph:4312339 
*CauseWay Church Mangawhai – Sundays 10.15am, Mangawhai Community Recrea-
tion Centre, Insley St. Ph: 09 4314782  www.causewaychurch.org.nz
*St.Paul's Archie Bull Hall HIRE  donation for electricity & upkeep  
 
(usuaIly$10-$15per hire) Contact G. Jaques 4312048 
*Kaiwaka War Memorial Hall HlRE- contact Wendy 4312725 or 
 
Email  kaiwaka.hall.bookings@gmail.com 
*Hakaru Hall HIRE-contact  J Marshall 4312297 
*Te Pounga Marae queries -A.Gage 4312528, 4312527 
*Kaiwaka Sports Association hire/queries- C. Anderson 4312051 
Justice of Peace: B.FJaques; L.Donaldson; A.F.Hargreaves  -please phone to 
make sure they are available 
Marriage  Celebrants:  L.Donaldson;  A.F.Hargreaves;  Judith  Knights  09 
4315765