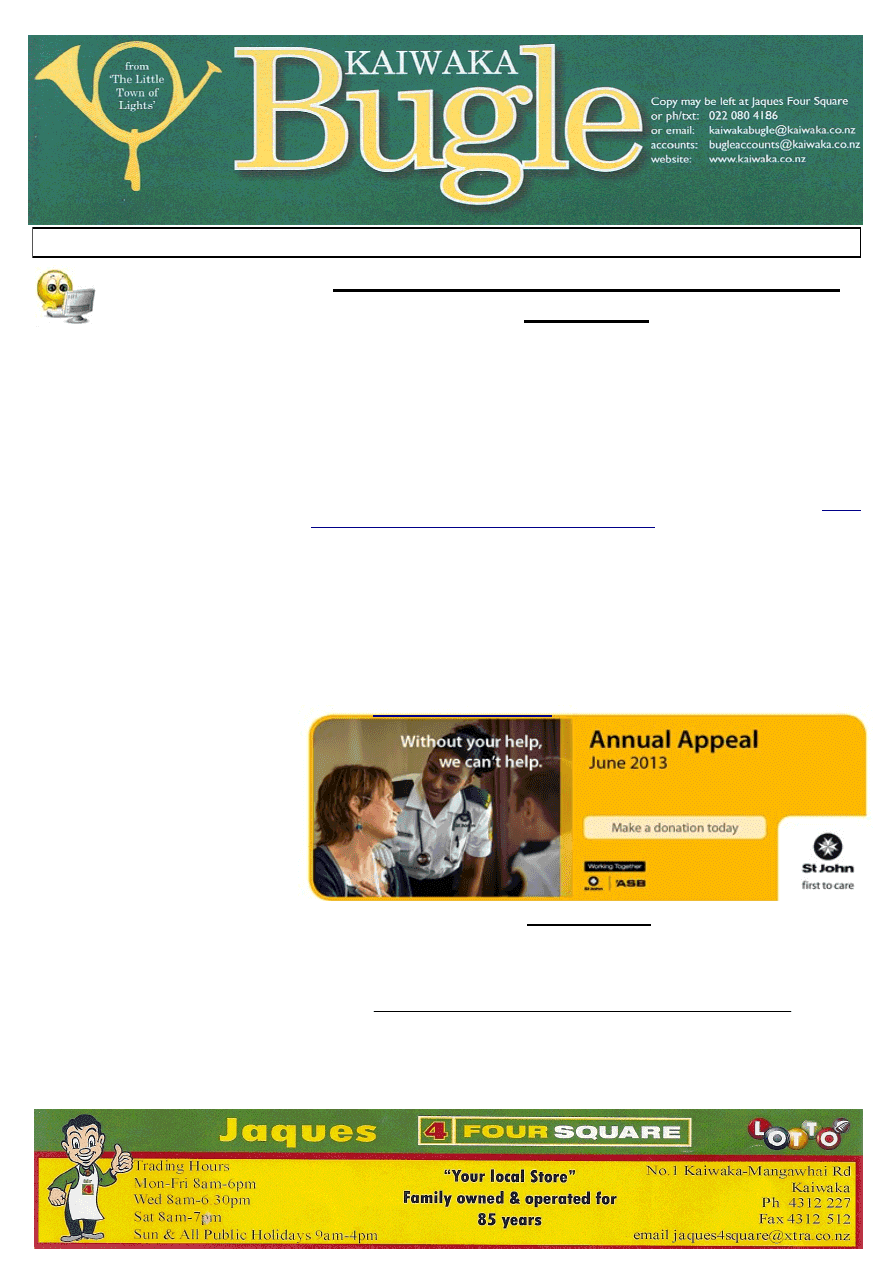 No: 12 
  26/06/2013 
My own personal story of the 
    help  St  John  provides  is  this:  
    the one and only time I have   
    rung  111  and  asked  for  an 
ambulance  was  one  night,  after  mid-
night, when I put out the light to sleep 
and  something  immediately  flew  into 
my ear!  My attempt to flick whatever 
it was out, didn"t work, in fact I man-
aged to push it further in.  It was flap-
ping its wings, right up against my ear 
drum, or so it felt.  It was also messing 
with  my  balance  and  very  disconcert-
ing and disorientating.  I thought about 
ringing  the  neighbours  but  they  are 
elderly and well asleep by this time. 
I  thought  about  the  vacuum  cleaner!  
The  operator  got  Healthline  on  the 
phone and they were telling me to pour 
water into my ear. So I had the phone 
in one hand and a small jug of water in 
the  other  and  all  I  managed  to  get  is 
soaked.  The flapping etc was still go-
ing on. Then they said try oil; I asked 
if it had to be extra virgin olive oil and 
the humour was appreciated.  Nothing 
worked  but  I  had  a  lovely  soft,  well 
oiled face and neck.  Then the operator 
said  she  could  hear  they  had  dis-
patched  an  ambulance.    I  went  and 
opened my front door and turned on all 
the  lights.    Two  ambulance  officers 
arrived  and  the  first  one  said,  "Have 
you got any fly spray?" When I looked 
shocked she said she was only kidding, 
and  try  as  they  might  they  could  not 
get  the  insect  out  of  my  ear.    Finally 
they  were  able  to  drown  it.  I  felt  and 
heard it going through its death throes.  
The next morning, when I found noth-
ing on my pillow, I went to the medical 
centre and they were able to flush out a 
very dead moth.  
I  asked  the  officers  if  this  was  one  of 
their  stranger  callouts  but  they  were 
really lovely and told me of other silli-
er  ones;  like  the  woman  who  rang  an 
ambulance because she had run out of 
panadol! The moral of the story? Don"t 
be  embarrassed  or  hesitate  to  call  St 
John;  they  are  there  to  help  you.     
And if it"s a false alarm...great!    Ann 
Bugle 13 will appear 09 July 2013 
ST JOHN ANNUAL APPEAL THIS WEEK 
24-30 June  
Public rate paramedics 1st equal most trusted profession in a recent poll.  
St John Chief Executive Officer Peter Bradley says he is delighted that paramedics 
have  ranked 1st  equal  with  the  most trusted in the Readers  Digest Most Trusted 
Professions poll. St John has over 4,000 ambulance officers who provide quality 
care  and  comfort  to  patients  –  often  when  they  are  at  their  most  vulnerable. 
"We receive on average a thousand calls a day for help. It is a credit to the dedica-
tion, hard work and compassion of our ambulance officers that we continue to rate 
so well in these types of polls." "It is fantastic to have these results coinciding with 
our 
annual 
fundraising 
appeal 
this 
week. 
"So around 400,000 people a year have a St John experience  – a St John story". 
And  we  are  encouraging  them  to  share  them  on  our  website  at 
www.stjohn.org.nz/Support-us/Tell-Us-Your-Story/
  Well-known  new  Zealanders 
who have shared their St John story include Carly Flynn, Dilon Boucher, the Mad 
Butcher, Shortland Street"s Michael Galvin, Jeremy  Corbett, Dai Henwood, Paul 
Ego and  Steve Wrigley 7 days, Tony Rae from Emirates Team New Zealand, Neil 
Waka and Vaughan Smith, Jay Jay, Mike and Dom from The Edge.           Media 
St John needs the public"s help to continue to save lives. By making a donation to 
our appeal (24-30 June) the public can help St John to continue to provide lifesav-
ing emergency services 24 hours a day, 365 days a year and provide first aid, car-
ing  services  and  community  programmes  throughout  the  country. 
St  John staff  and  volunteers  will  be  out  with  collection  buckets right  around the 
country this week or the public can call 0800 ST JOHN (0800 785 646), or donate 
The  new 
Animal  Health  Centre 
will  open in  Kaiwaka  (opposite The 
Cheese  Shop)  this  coming  Sunday  30th  June  at  10.00am.    There  will  be  all 
sorts  of  opening  day  specials so  mark  it  on  your  calendar and  get  along  to see 
Sandy  and  her  team.  Our  animals  will  benefit  greatly  from  having  this  unique 
enterprise on our doorsteps.  See pages11/12 
St John Lifelink 
For those of you who are living on your own, or if you have a condition that could 
require urgent assistance, call 0800  50  23  23.  This is the number of the St John 
Lifelink.    Once  you  have  one  of  these  gadgets  you  can  feel  reassured  that  help 
will  be  immediately  on  the  way  should  you  feel  the  need  to  activate  it.    This 
service operates 24 hours, 7 days a week.  To find out more, give St John a call.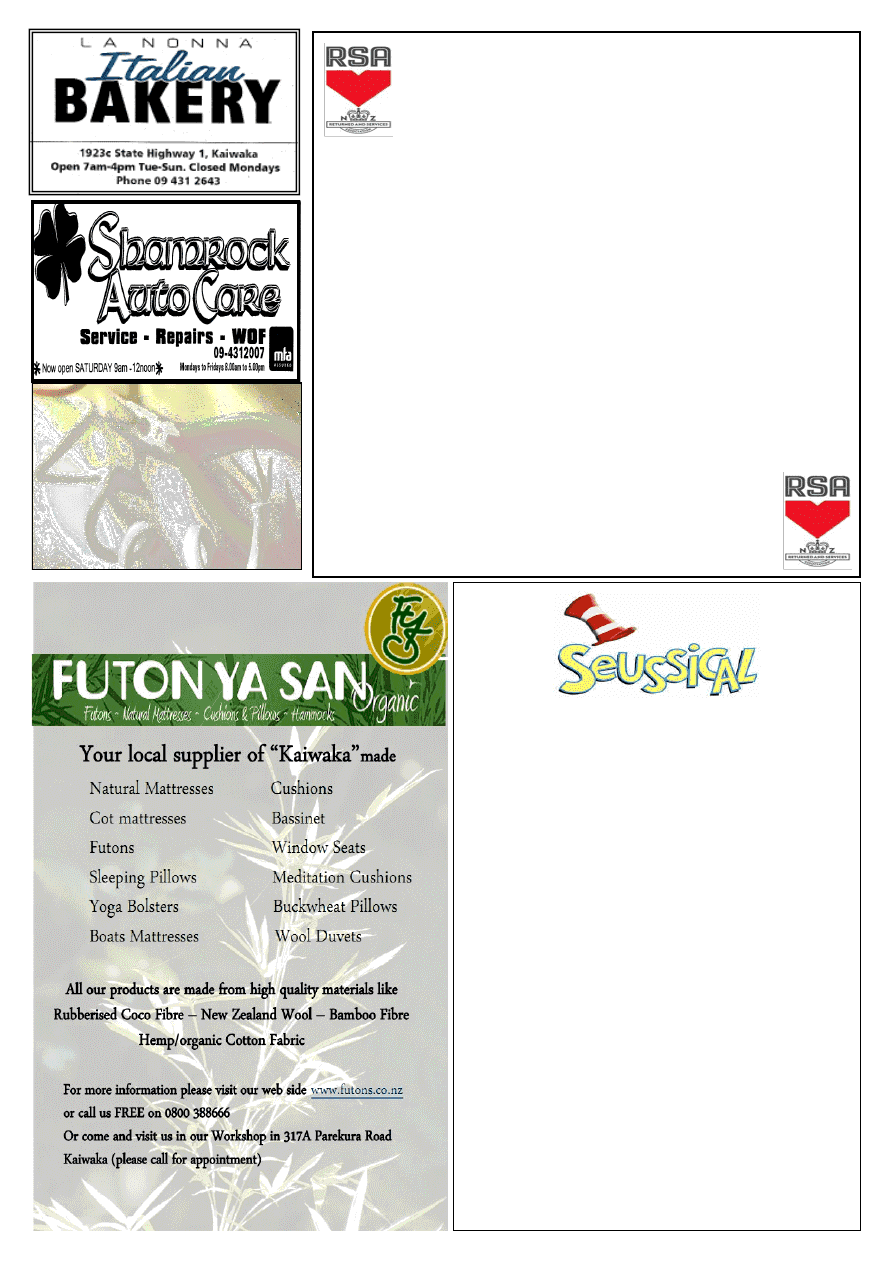 HAKARU RSA
Women's Section 
2nd Friday of the Month 
from 6.30pm 
    Roast of the Day   
 $12.00 
    Fish n Chips   
 $10.00 
      Pea Pie Mash   
    $  6.00   
Includes salads 
Desserts  $3.00 
Phone Heather 4314668 
Jan 4314512 
Paul Greig Electrical Ltd 
Residential • Farm • Commercial 
Paul Greig 
Registered Electrician 
Ph: 431 2223 Mob:021 230 
2717 
Reliable & Professional Quality Service 
Based in Kaiwaka 
 "Seussical" 
Art Competition – 
"Oh, the thinks you 
can think...!" 
Win FREE tickets to 
ORT
"s production of
"Seussical"
TWO FREE TICKETS 
(ONE ADULT AND ONE 
CHILD) 
FOR EACH CATEGORY WINNER – FOR OPENING  
WEEKEND. 
Draw, paint or collage etc – any medium – on 
A4 size paper – any scene from any story by 
the inimitable Dr Seuss.  Check out the books 
and be creative!   
Write your name and phone number on the back and remember to 
put your age. 
Get your creations in to us by July 12
th
You can drop them off at  
Cafe Eutopia in Kaiwaka,  
Tony"s Lotto Shop in Maungaturoto,  
Computer Repairs in Waipu or 
 Drop them in to the theatre on Sunday afternoons    
or post to P O Box 35, Maungaturoto 
 
Our committee will judge them the following week and notify the 
winners.  All entries will be on display in the foyer during the 
show season. 
Three age groups: 
5 – 8 years inc       9 – 12 years inc       13 – 18 years inc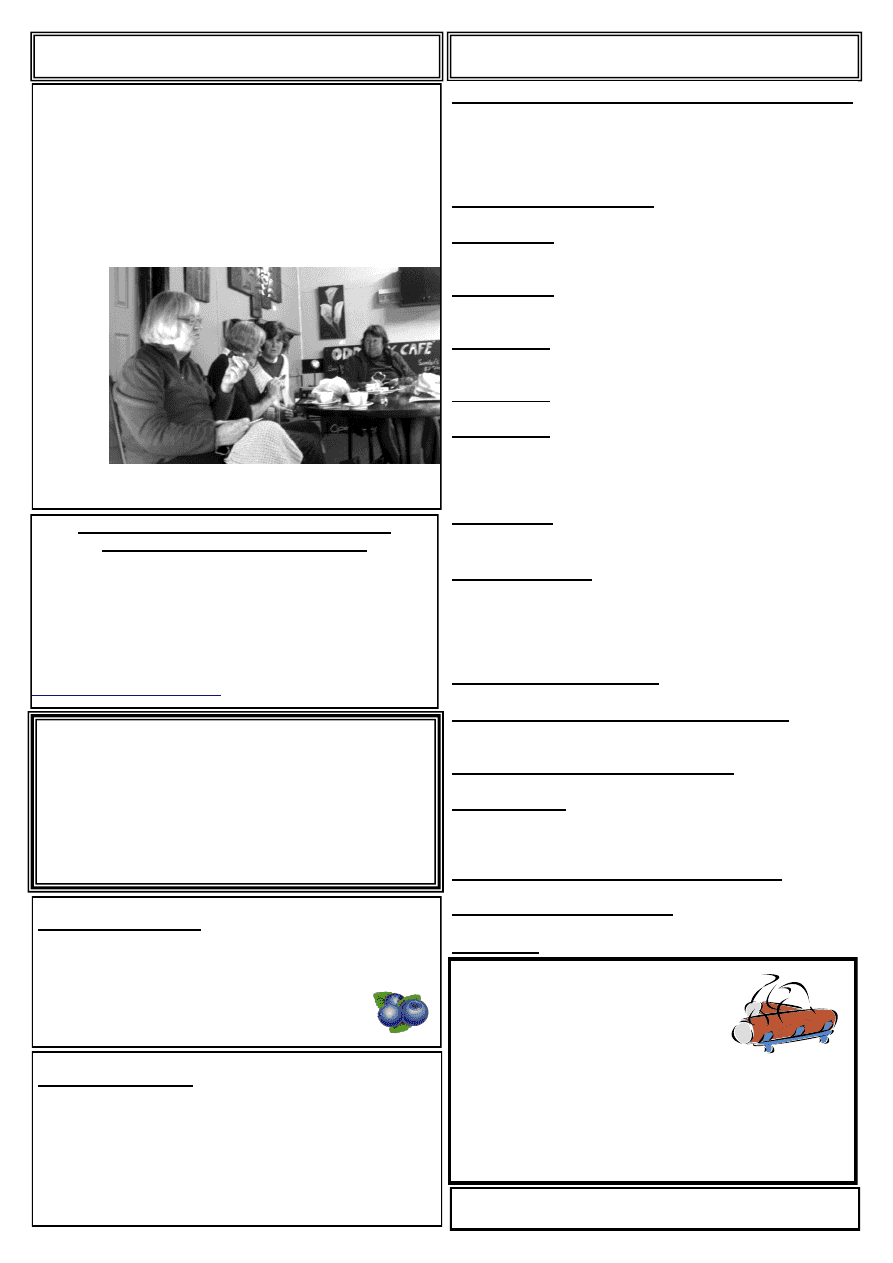 PUBLIC NOTICES 
CLASSIFIED 
BUSINESS  FOR  SALE  OR  SHOP  FOR  LEASE: 
All-Sortz  Collectables,  Shop  4,  1956  SH1  (opposite Café 
Eutopia).  40sqm  of  refurbished  space  with  shared  kitchen 
and toilet facilities. Lots of foot traffic. Very successful life-
style business. Current owner wishes to retire "down on the 
farm", but is no hurry to vacate. Ph: 09 422 9221. 
FIREWOOD FOR SALE:  
Ti tree 
$80
 cubic metre 
Ph. 0211246829 
FOR  RENT:
 Tidy farm house for rent in quiet locality. 3 
bdrm with seperate garage. 10kms from Kaiwaka. $220 p/w 
bond and refs required. phone 4312660. 
FOR  RENT:
 2/3 bedroom house, 2 Bthrms, family room 
&  lounge,  fireplace  &  car  shed.  Quiet  &  private  10  kms 
down Oneriri Rd $220 per wk. Ph. 4312529 (evenings). 
FOR  SALE:
 Lounge suite 2 and 3 seater dark blue uphol-
stery  set  in  Rimu  $490.  Single  bed  mattress  and  base  $50. 
Please phone 09 4312382 after 5pm 
FOR  SALE:
 Rimu hollow core interior doors. Std size x10
-12 $10each. Phone 021486102 
FOR  SALE:
 3000 Monier Elabana Concrete roofing tiles, 
charcoal  colour,  including  capping  etc.,  Free  to  a  good 
home  off  the roof  or  50cents each  stacked on  driveway  in 
Howick.  Can  be  seen  on  TradeMe  606745090.  Phone 
021486102 
FOR  SALE:
Road/Boat  Trailer  $200.  Seagull  Outboard 
Motor 2.5 hp. $150. Anchor, Chain, Warp. New $50.
 Phone 
09 4312209
GARAGE  SALE:
- 
360 Oneriri Road, Kaiwaka SATUR-
DAY  and  SUNDAY  -  29th  and  30th  JUNE  FROM  8.30 
a.m. on.4 stroke motor mower, heaters, kitchen appliances, 
mirrors, wall pictures and all top quality items for everyone 
-  no  rubbishy  items  -  excess  from  our  move  to  new  house 
in Kaiwaka. Phone 09 431 2544 or 021 276 7389
CLEANER  AVAILABLE:  Honest and reliable $20p/
hr. Phone Jill 431 2080 
CLOTHING ALTERATIONS & REPAIRS: 
Hems,  Zips,  Dressmaking  Ph:  Win  4312027    or  027  444 
8358 Winsome Designs. 
CRANIO  SACRAL  THERAPIST: 
for  People  and 
Horses, $45 experienced practitioner. Jill Shires 431 2080 
HALL  HIRE: 
available  from  Absurdistan  Community, 
Parekura Rd. Enjoy our beautiful hall and harbour views for 
your special day, course etc. For more info ph 4312202 or 
021 2377678
HOLISTIC  ANIMAL  PRACTITIONER:   
Horses, 
Pets, Farm Animals. www.allcreatures.co.nz or Jill 4312080 
WANTED  FREE  GRAZING: Small or large block. Can 
do some fencing or water. Phone after 6pm  4312006
WANTED: 
Unused quarry with road access 0211246829
FOR SALE: Blueberry Plants  
2 yrs old. Whitu, Tiff Blue, 
Centurian and Ratahe 
$15 each.  
Phone
 431-2778 
PROVERBS: 
12:19-  Truth stands the test of time; lies 
are soon exposed.
FIREWOOD 
FOR SALE 
Simply the best dry, 
seasoned totara
$90
 CUBIC METRE 
DELIVERED 
Phone Lyn 0220708674  
Or Ray 0212274420
KNITTING IN PUBLIC 
Eight lovely ladies and myself gathered for morning coffee 
and  tea  at  Odd  Sox  cafe,  in  Kaiwaka  on  the  morning  of 
Wednesday 12th June, to be participants in the global event 
of Knitting in Public. This event happens over a week, 8th 
June  to  15th  June.  It  was  amazing  how  many  knew  each 
other, and were keen knitters and crocheters. We were giv-
en a warm welcome by the wonderful team at Odd Sox. For 
me it was amazing that I  had connected with one of these 
local  ladies  through  an  American  website  for  knitters  and 
crochet-
ers.  We 
did 
not 
achieve 
too  many 
queries 
from peo-
ple  pass-
ing 
through, 
the  idea 
of 
the 
week being to promote these two crafts, which are having a 
world wide resurgence. Elizabeth Rogerson. 
FOR SALE: 
Garlic for Planting 
Elephant $6 for 6 cloves. Takahue 
$7 fpr 10 cloves. Egyptian Tree 
Onions $6 for 6 bulbs. Potato On-
ions $6 for 6 bulbs. Phone 431-2778
Karuna Yoga Therapy
Hi I am looking to expand the variety of Yoga clas-
ses  in  Kaiwaka.  I  am  looking  for  Women  that  are 
pregnant,  or  just  had  a  baby  or  teenagers  that  are 
happy to work with me and explore the benefits of 
Yoga.    For  more  info  call  Gabriele  4312099  or 
0220704763 
 Submission deadline for the Constitution  
Conversation extended for a month 
Due to growing interest in the Constitution Conversation, 
the Constitutional Advisory Panel has decided to extend 
the deadline for submissions. People now have until 31
st
July 2013 to put forward their views on our current consti-
tutional arrangements and how they want our country to 
be run in the future. The original submission deadline was 
1
st
 July.
Submissions can be made online at 
email or post before 31
July.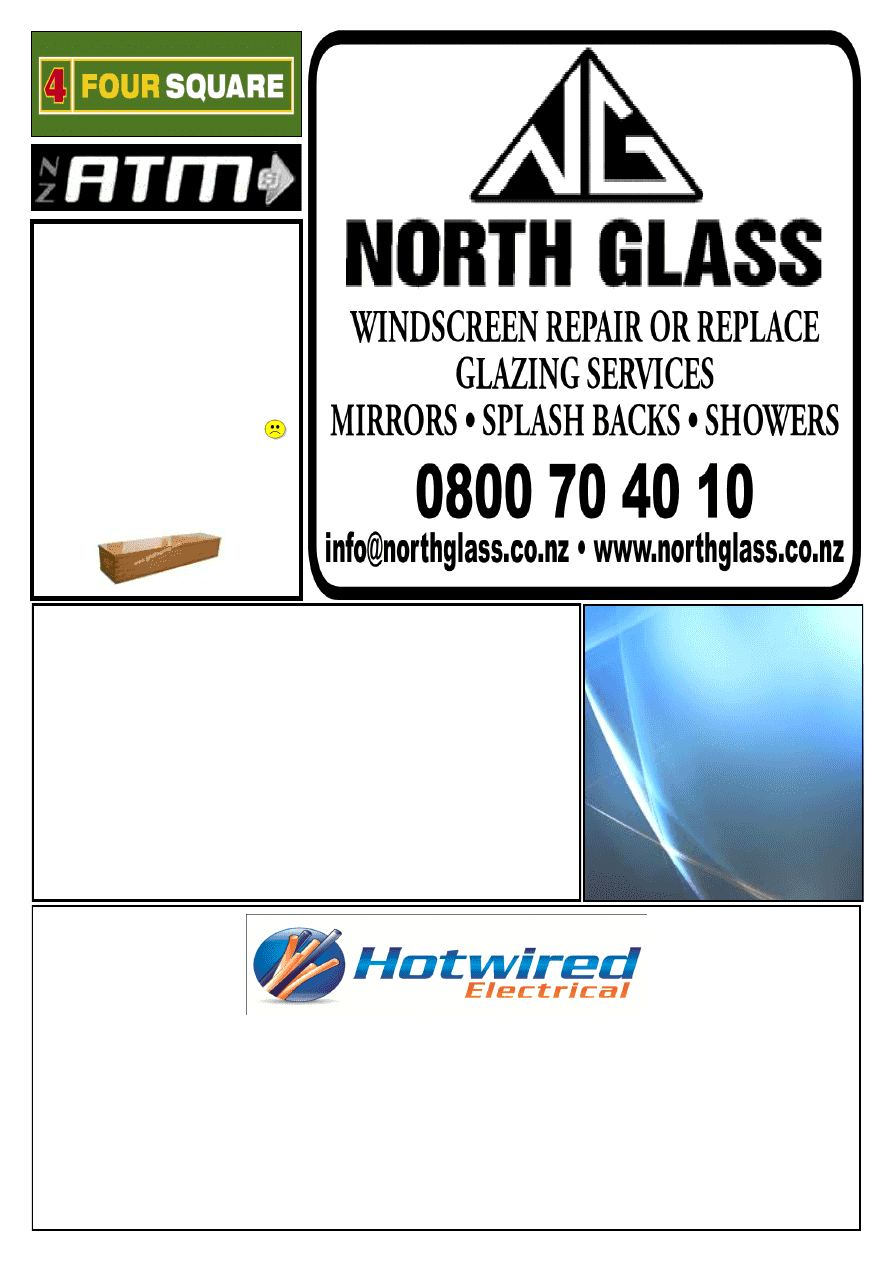 Freeview  
Installations 
Richard Te Haara 
25 Marram Place 
Mangawhai Heads 
021 1104056 
kiwipride@xtra.co.nz
KEV's  
CASKETS 
Stylish, BUDGET Accommodation 
Takeaways (8 available)  
or made to order 
  Featuring 2 styles and  
Different finishes. 
        Also O/S and Infant size 
     Phone Kev in Kaiwaka  
021 1322 671 
Or come and visit my showroom 
271 Rodney St. Wellsford 
For All your Electrical  Requirements 
 
Domestic small jobs 
 
Residential dwellings and alterations 
 
Commercial 
 
Industrial                 
No job too big or too small      
Contact Jason today on: 
(09) 431 5992, (021) 405 019 
www.hotwiredelectrical.co.nz 
 LEABOURNS 
Passenger Service 
Car & Van Hire 
Bus & Coach Charters 
Airport Transfers 
 Monthly Shopper Bus 
Phone (09) 4237416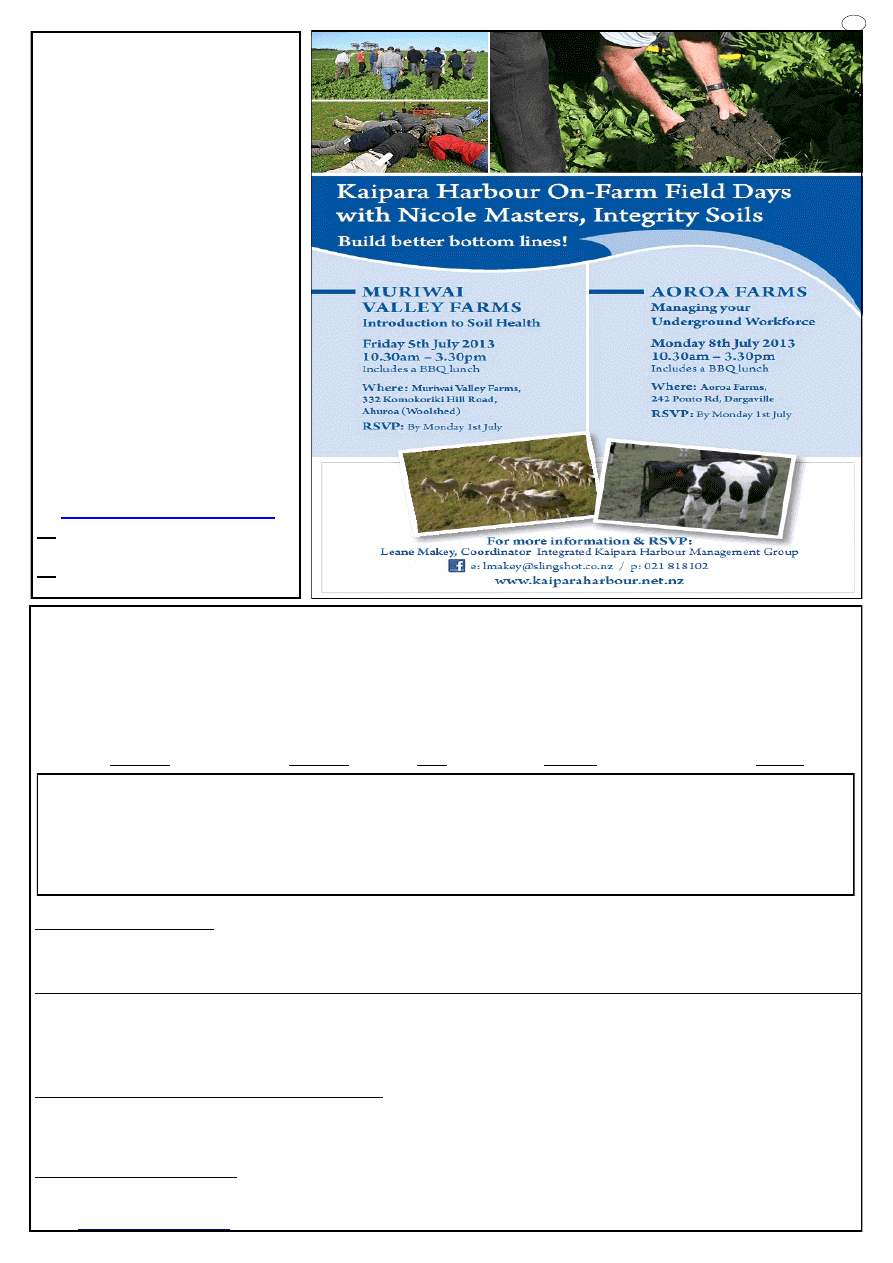 5 
Bonjour, tous les mondes! 
Not a fully functioning person...with those 
niggles, aches and pains? You guessed it.  
 I can help!
Monsieur Masseur .... 
RELAXING  
MASSAGE
..... Juste pour vous" 
Here's feedback from a happy client 
"Pete's treatment works. He identified 
long standing injuries no one else 
could fix and relieved years of chronic 
pain, fatigue and headaches.  I have 
Pete to thank for getting me back to 
work. I am so much happier and more 
confident in myself.  I can thoroughly 
recommend him." 
 
Call for an appointment now!
Pete Worsfold 
4312 152  or   021 825970   
Or  Ph. "The Well of Health" 
For an appt. 09 4312 799 
Or mobile service available 
T
he
W
ork
c
amp
&  
North Tec Future Trades.
We have just completed our first Elementary Construction Course and we are getting ready to run 
more:     Course 
Length   
Fee   
Venue 
Starts 
Builders and Painters 
You are welcome to call in and meet us. See what we teach, find a good casual labourer. Courses run 3-4 days per week so a trainee/ 
labourer could be a call away and could gain a day or two on-site experience....  Hava  cuppa..try our golf range.   We hope you can help 
spread the word on these courses as they could help you find future labour.  
Recruiting...Please 
Help...... 
Do 
You 
Know 
Anyone 
Who 
May 
Be 
Keen? 
 These courses can keep running and grow if people require them.  The best thing we can do is get the word out  to  
anyone   
who 
wants to come and have a look. We
 have more info we can send out. Please spread the word.   
North Tec run very good courses. TheWorkCamp want to jazz things up and keep it happening. TheWorkCamp also has a special interest 
in helping those who want to keep learning or get into trades. Here are two good trades here which can take on  good trained  workers.. 
Next year these Trade Courses move up to Level 3 and 4. 
Fire Arms Safety with Graeme Stevensen 
Graeme is a qualified and energetic Mountain Safety Instructor.  He kindly offered to come and put our crew through his Firearms Safety 
(Theory) Course.  "More the merrier"  he said, so we  will run this, 1 night only..Wed. 26
th
  June 7.00pm at  TheWorkCamp ,   Kaiwaka.. 
. As Graeme says, "most households have access to a gun so safety tips would be handy, not just for hunters". Warm Venue, Cuppa on 
the house, No Charge. He can also help any who want  to obtain their full Firearms  Licence.    
Other Possible Courses: 
We  have had enquiries  for Adult Literacy and Drivers Licence Courses. Tutors are available if there are enough people keen to fill the 
seats.  One night a week, a good relaxed venue, nice group with an easy going teacher.  Please contact:   Minnie Magill  021 751 993  
Email: 
Elementary Construction Level 2   
20 weeks 
Approx  $500  
Beside Italian Café Kaiwaka 
22 July 
Tim    021 487 055   
(for tools/boots)
Painting Level 2 
20 weeks 
Free   
Beside Italian Café Kaiwaka 
22 July 
Tim    021 487 055
Sustainable Rural Development 
20 weeks 
Free   
Kaiwaka War Memorial Hall 
24 July 
James   021 022 41950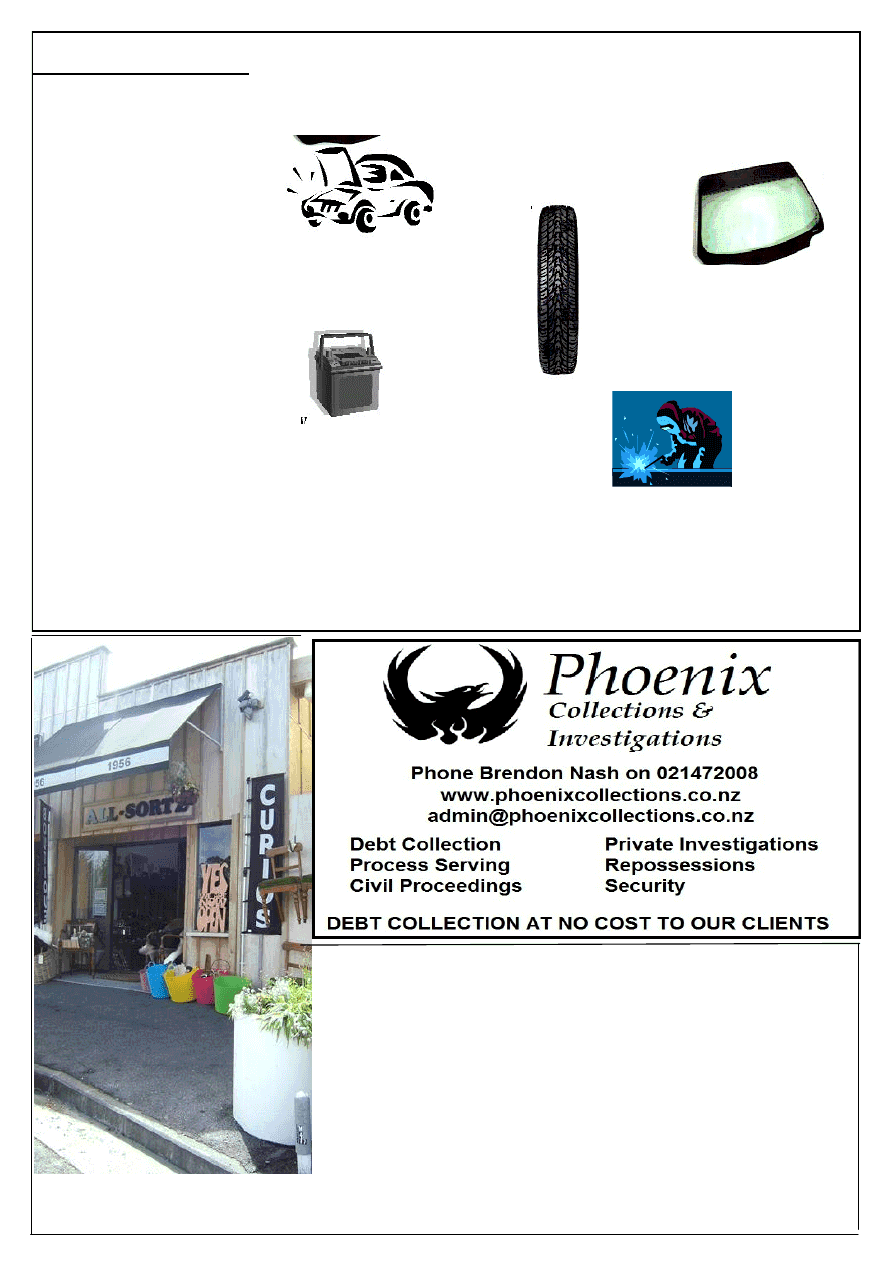 ALL-SORTZ COLLECTABLES
Shop 4, 1956 State Highway 1, Kaiwaka  Phone 09 4312701
Want it done? 
Bring it to          
Twinkle Tow 'n' Tyre 
*W.O.F. 
*Tyres 
*Windscreen replacement 
*Chip repairs 
*Bulk Oil 
*Batteries 
*Welding 
*Custom built trailers 
*Trailer hire 
Think you"ll get a better deal in the city? 
Go on, ring us; it won"t cost anything! 
1837 State Highway 1, Kaiwaka       Phone 431 2823 
CURRENT WINTER HOURS  
Saturday and Sunday 
11.00am to 3.00pm  
Or by prior appointment  
Telephone 4312701 (Business Hours)  
Or 4229221 or 0274353535 (After Hours
) 
All-Sortz Collectables welcomes Sandy and her team at the Animal Health Cen-
tre.  To celebrate their arrival in Kaiwaka, during July All-Sortz is having a celebra-
tory sale with 50% off                                                                                                                                          
Topnotch  
Engraving 
Quality Engraving Service  
SPECIALISING IN:
www.tnengraving.com 
www.pettagsnewzealand.com 
Phone (09) 431 2174 
or  
Email: engraving@slingshot.co.nz
7 
KAIWAKA SPORTS ASSOCIATION 
KAIWAKA  MOTOR 
CYCLES LTD 
SALES SERVICE SPARES
FARM BIKE SPECIALIST
Phone 431 2127  
Kaiwaka-Mangawhai Rd 
"  ENGRAVING    
& SALES 
"  NAME     
BADGES 
"  SIGNAGE 
"  PET TAGS 
"  JEWELLERY 
"  TROPHIES & 
CUPS 
"  AWARDS & 
MEDALS 
"  GIFTWARE 
"  CLUB ORDERS 
or ONE OFFS 
Quiz Night 
Back by popular demand! We will hold another Quiz night on Friday 2
nd
 August 
at 7pm at the Kaiwaka Sports Complex. Teams of 4 - 6 people, prizes for top 3 
teams plus lots of spot prizes, supper provided, bar open, $10 per head. Pre-
registered teams only please. Contact Cheryl Anderson to register on 4312 051 or 
Gymnastics 
We are looking for a coach for our two boys" classes. The per-
son we'd like would be creative & energetic and ready to offer 
challenges & fun to our exceptional groups of boys. Gymnas-
tics experience is not a prerequisite as it would be a shared position with an expe-
rienced coach. Classes are held Tuesdays at the Kaiwaka gymnasium at 4pm & 
4.45pm. Please contact Stephanie Brown on 4312 022 or gymnas-
ticsotamatea@gmail.com. On the 2nd & 3rd of September, Gymnastics Otamatea 
are partnering with Sport Northland and GymSport NZ to host the Otamatea 
Schools GymFest. We are looking for volunteers to help out. There are all sorts 
of jobs to do, so we have something for everyone! Please contact Stephanie with 
your offer of help, thank you. 
Movies 
We will hold two movies during the upcoming school holidays. Escape from 
Planet Earth is a fun animated movie, suitable for the whole family. This will be 
shown at the Complex on Saturday 13
th
 July at 6.30pm.  
On Friday 26
th
 July, 6.30pm we will show Safe Haven, a romantic drama adapted 
from the book by Nicholas Sparks, author of The Notebook. Movies are $4 per 
adult and $2 per child (yr 9 and younger) and are a fundraiser for the Kaiwaka 
Sports Association. 
Hockey 
We will host a Golden Oldies Hockey tournament at the Sports Complex on Sun-
day 7
th
 July. Feel free to come along to watch the action!
Senior Rugby 
The Otamatea Hawks next game is this Saturday 29th June at Mid 
Western. Reserves kickoff at 12.30pm and Premiers at 2.15pm. The 
following Saturday, the Hawks will play Old Boys Marist at the 
Maungaturoto Country Club, at 12.30pm and 2.15pm. Supporters always wel-
come.
First aid kits 
Thank you to everyone who purchased a first aid kit for my fundraiser. The kits 
will arrive next week. 
Get well soon 
Three of our Kaiwaka Sports Association committee members have recently un-
dergone knee surgery – Paula Jaques, Evan Wright and Brian Jaques. All the best 
for your recovery.
                  Cheryl Anderson, Manager, Kaiwaka Sports Association 
Eastern United JMB 
We have had a couple of good weeks of 
rugby. Saturday 15th we played Maunga-
turoto at Maungaturoto. Midget Jaques 
Players of the Day were Keidis DeRidder 
and Tane Thomas. 
Under 9's The Coffee Pot Player of the Day 
Sam Woolley.
Under 11's The Coffee Pot 
Player of the Day  Jessie Tautari and Patrick 
Butler.
On Saturday 22nd we had another away 
game in Wellsford.
Midget Jaques Player of 
the Day was Ryan Stirling. 
Under 9's The Coffee Pot Player of the Day 
Takerei Neil. Under 11's The Coffee Pot 
Player of the Day Neitana Blissett. 
Congratulation to all players as well as the 
players of the day. We are building a great 
club. Our next game will be Friday night at 
Ruawai kick off 5.30 be there at 5.00 PM.
We only have two more games after that at 
Tomarata and our last game at Kaiwaka  on 
the 12th July. New players are most wel-
come to join our club. Trainings Midgets 
and Under 9's Tuesday 5.30.
Under 11's 
Tuesday and Thursday 5.30. Enquires 
to 
Jennie 9450502 or 02102764171
OTAMATEA CHRISTIAN SCHOOL NEW  
ENTRANTS INTAKE 
  
WHAT WE OFFER:  
A strong phonics based programme for 5 to 6 year 
olds   
                       
  .  Low class ratios 
                                 .  Individualised Instruction 
                                 .  Christian Values 
                                 .  High Standards  
                                 .  Six places available 
WHEN:      Intake Starting Date:   
29
th
 of July 
Open Day  Thursday the 27
th
 of June                   
 
WHERE:     Otamatea Christian School          
Contact:   Lynette Bell   
  98 Hurndall Street 
(09)4318487                    
  Maungaturoto   
principal@Otamateachristian.school.nz 
Dr A Macaulay D C 
Maungaturoto Chiropractic Clinic 
3 Gorge Road 
Maungaturoto 
HOURS 
Mon 9am -6pm 
Wednesday 9am-7.30pm 
Thursday 7am-6pm 
For Appointments  
Phone 09 4318019 
For all your body repair needs!! 
We do: 
 
Rust repairs 
 
Insurance work  
 
Anti-corrosion    
 treatment                      
Hours: 8am-5pm Monday-Friday  
Mobile: 021 118 0462 
After hours: 09 431 2384 
 
Phone: Craig or Call in for a free Quote 
  email:
bodytech_panelbeaters@yahoo.com
We are located at 1837 SH1 Kaiwaka, behind Twin-
kle Tow "n" Tyre call in anytime for a free quote.  
 
Large and minor vehi-
cle repairs
 
Industrial vehicles
 
Full Cut and polishes
Celena's Gifts  
1925 State Highway 1 
KAIWAKA (next to Italian Bakery) 
Ph: 09 4312741 
We stock:- 
 
Baby Gifts  
Jewellery     Toys 
Kitchenware  Toiletries     Photo              
NZ Souvenirs  Candles 
   Frames 
   ... and much more!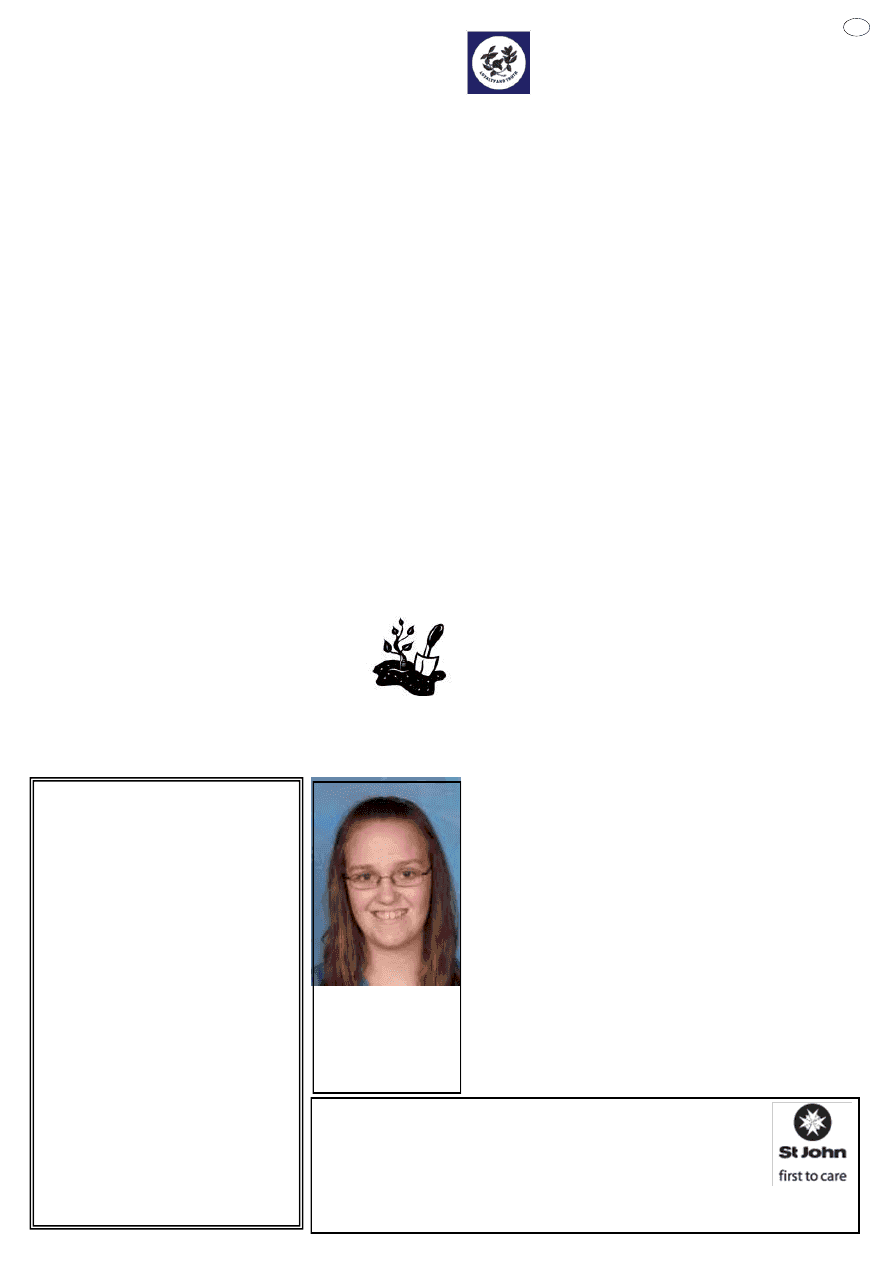 AMBER'S 
Q Cafe &  
Restaurant 
All day breakfast, 8am - 5.30pm.     
 Home made Pizza, take away or eat in from 8am to 
late. 
 Light lunches, 11.am - 5.30pm, 
Dinner Menu at 5.30pm to late 
 Toasted Sandwiches and Sandwiches made to order. 
All day, Pies, Chowder & Soups 
 Milkshakes, Kiwi Ice cream, Slushie Fruit drink, Tea, 
Coffee 
 Closed Mondays.....except Observed Holidays 
 Sunday to Thursday: 8am - 8pm 
 Friday: 8am - 8.30pm, Saturdays 8am- 9pm 
4315226 
Trevor & Amber 
41 Moir Street, Shop 5-6  
Mangawhai Village 
Next to Carters Building Supplies 
KAIWAKA GARDEN & FLORAL GROUP 
22 members attended the meeting on June 13th at N & A Dow-
son's home. 
President Jean Paget was thrilled to welcome 5 new members 
Olive Giles, Helen Thwaites, Lindy Watson, Isa  Christiansen 
and Fay Burnett, making our membership "To the Maximum" 
Rosemary  Browne  brought  pictures  along  from  Mangawhai 
Beach  School of pupils working in their gardens which we are 
helping with through Rosemary, our go-between, we all hope 
to visit the gardens one day soon. 
The Birthday Girls for this month were:- Margaret Haverfield 
(a "Special' 80) congratulations, Gale Matheson, Sue Hamilton
-Wallace, and Jenny Wills; hope you all had Happy Day's. 
Trips were discussed and Glynis Smith has offered to compile 
a list of possible places to visit. 
Some  members  plan  to  visit  Festival  of  the  Flowers  at  the 
Ruakaka Hall on Fri 28th June 12-4 pm or Sat 29th 
10 a.m.-2-30 p.m. 
Judges  for  this  month  were  L.  Lusty,  S.  H/Wallace  and  Isa 
Christensen. 
Floral  Arrangement  "Tussie  Mussie"  14  entries  -  1st  R. 
Browne, 2nd M. Haverfield. 
Vege;- R. Browne 1st (celery) 2nd D. Alexander– Silverbeet. 
Camellia - 1st G. Matheson, 2nd Fay Burnett. 
Spike-; 1st Jenny Wills -Vereya, 2nd L. Lusty - Stock. 
Best bloom - 1st Glynis Smith -Iris, 2nd Sue H/Wallace - poly-
anthus 
Wild  Card  -  1st  Diane  Alexander  -  3  snail  plant  beans,  2nd 
Sharyn Mclean-olives 
Apple - no entries. 
Most outstanding- Rosemary's Celery 
Raffle won by Margaret Whitaker. 
Next  meeting  11th  July  1  p.m.  at    Noel  and  Jean  Paget"s  14 
Robert Street. 
Bloom - Pansy 
Vege - Broccoli 
Fruit - Citrus 
Floral - Its a "Boy or "Girl" (For the Royal Baby!) 
Don't forget the Trading table please Members and near mem-
bers a spare folding chair if you have one!! 
N & A Dowson 
ST JOHN OP SHOP  
KAIWAKA PH: 4312650 (Shop) or 4312423 (Home) 
Shop Hours: Tues-Friday 10am-3pm only 
Closed Sat., Sun., and Mondays during Winter. 
Could do with some more furniture please, and anything else greatly appre-
ciated.  Thanks.            Milly 
9 
Otamatea High School 
Principal's Comment 
Dear Parents and Caregivers  
I have spent the last week reading half-year reports which 
will  be  issued this  week.  Junior students  (Year  7-10)  will 
have their progress reported against curriculum levels. For 
some  parents  this  will  seem  a  little  different to  what  they 
are used to seeing so I will give an explanation in advance. 
By the end of  Year  10 most students should  be achieving 
at  Level 5 or above. By the  end of Year  8  most students 
should  be  achieving  at  Level  4  or  above.  In  general,  stu-
dents should be progressing a curriculum level every  two  
years.  However,  students  do progress  at  different  rates.  
At  times  they  progress  more slowly, on other occasions 
they  progress much more quickly. What  is important for  
parents  to  take    note  of,  is  that  their  children  are  making 
progress.  
In  some  areas  where  the    students   have  not  had  ex-
perience of the subject before, Japanese, for example, they 
would  be  achieving  at  lower  levels  than  described  in  the 
previous paragraph. There are also levels within each level 
so that students can see that they are making progress even 
though  they  may    not   be moving    up  a  curriculum  level. 
The  terms  we  use  are;  B=Basic,  P=Proficient  and 
A=Advanced.  
Whanau teachers have commented on  students" ability to 
relate to their peers, as well as life/work skills such as how 
they present themselves in their school uniform or whether 
they  are  punctual  or  not.  Whanau  teachers  are  also  com-
menting  on  Positive  Behaviour  for  Learning;  Our  Safety,  
Total Respect and Always Learning.  Some teachers have 
also commented about inappropriate use of cellphones so I 
thought it would be useful to comment about the direction 
we are moving with the use of devices in the school. Many 
schools have moved to a what is called BYOD (Bring Your 
Own Device) approach. We are not at that  
stage,  we  have  merely  removed  the  ban on  these  devices. 
However, when we did we made it clear 
    1. We accepted no responsibility for the devices.  
    2. Usage was at the discretion of individual teachers.  
    3. Ethical usage was required at all times.  
By number 3 I meant that devices were not to be used for 
taking  photos/videos  of  people  without  their  permission 
and  that  they  were  not  to  be  used  for  bullying  or  harass-
ment of staff and/or students.  I believe that when we have 
our  Ultrafast  Broadband  connected  and  our  School  Net-
work upgrade we will be in a position to develop a BYOD 
or a Bring Your Own Browser (BYOB) approach to learn-
ing. In the meantime some educational purposes where de-
vices could be put to use at the moment are; taking a pic-
ture of notes off the whiteboard and sending it to a class-
mate  who  is  away,  taking  a  video  of a  group  rehearsal  to 
review  for  homework  so  that  the  performance  can  be  im-
proved.      Coming  up  this  week  is  the  Northland  Cross 
Country  on  Thursday  and  the  Sport  Leadership  group  are 
going  Tramping.  Congratulations  to  Jordyn  Smith,  Year 
12, who has been accepted to participate on a student ex-
change to France. Jordan will experience life in France on a 
two    month  program,  departing  in  November. Jordyn  will 
stay  with  a    host  family,  attend  a    local  high  school  and 
take  up activities in her host community. Jordyn will gain 
firsthand knowledge of a different culture and   language, 
greater independence, confidence and  maturity whilst act-
ing as a New Zealand ambassador in France.
Roy Fletcher, Acting Principal 
 
 
 
 
 
 
 
 
 
 
 
Jordyn Smith, Year 
12, who has been 
accepted to partici-
pate on a student ex-
change to France.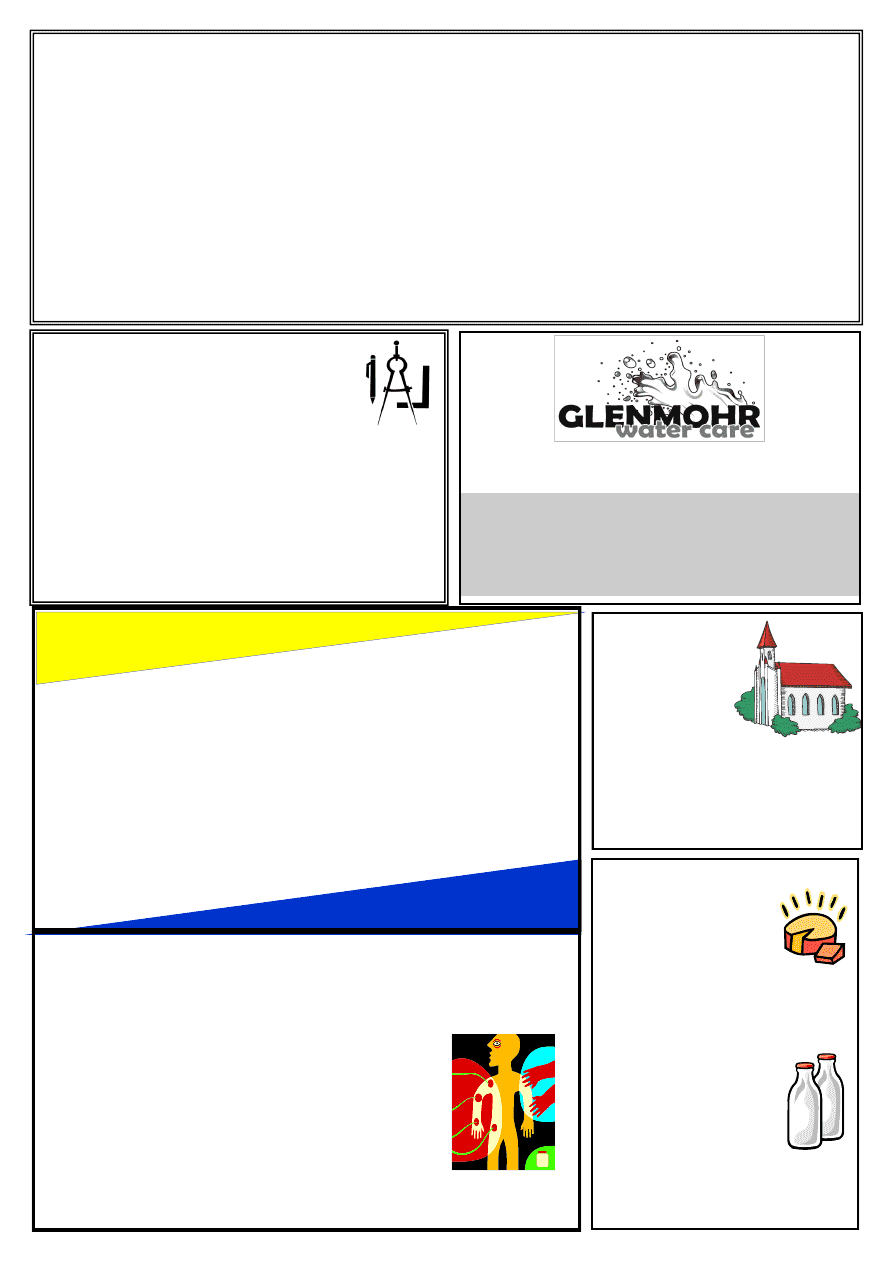 RANGANUI EARTHMOVERS 
 
16T Excavator   
(tilt, thumb & ROPS cab)   
Transport Trailer 
2 x 6 Wheeler Tip Trucks 
Suppliers of All Grades of Metal & Topsoil 
 
If you want a proper job done with an experienced operator ring 
Grant on    A/H 431-2131        Email  ranganui.dev@xtra.co.nz 
   Mob  021845-246 
Driveways, House Sites,  
Drainage Dams, 
Section Clearing,  
Tree Work,  Rock Retaining Walls,  
Quarry Work, 
Basically Anything That a Digger Can Do 
CONCRETE 
If it's concrete we do it 
Full Preparation & Pour by 
Experienced Local Team 
Phone Phil Keen Contractors  
027 659 2376 
design drafting 
service 
Retired builder and manufacturer with over 40 years  
experience in the building industry is offering a design 
drafting service  
for domestic housing, sleepouts and sheds.  
Plans formulated in consultation with clients, with 
working drawings completed and submitted to  
council for processing.  Extensive practical experience,  
able to identify & resolve problems. 
Please ring Mike Lean on 
09 431 2260  
or 
021 431 196 
ST PAUL"S  
SUNDAY  
SERVICES
First Sunday 9.30am, third Sunday 4pm  
Paparoa Anglican and Wellsford  Co-op Parishes 
StPauls Church: Kaiwaka-Mangawhai Rd.  
Contacts: M. Hargreaves 4312295, C. Bygrave 4312057  
1st Sun. (Anglican), 3rd Sun. (Co-op). 
Water Tank Cleaning 
" 
 Keep your water safe & clean   
 
Removal of sediment, silt etc 
 
Vacuum or full scrub 
 
Minimal water loss 
Phone Mark (09) 432 0655 or 0274 707607 
OWEN STEVENS 
Osteo Therapist
For careful adjustments to bones and joints 
Treatment for humans and their pets 
Clinics: Kate's Place, Kaiwaka: 
Last Friday of month 
Warkworth Showground:  
2
nd
 Thursday, monthly
For bookings:  9.00am-5.00pm 
Phone 09 4312661  
Or phone Owen  09 4317123   anytime 
 Hands On    
CHEESEMAKING  
WORKSHOPS  
are  On Again  
EVERY SATURDAY   
( 9am to appr.3 pm, incl. 
lunch)  
GOUDA (Hard Cheese) and Cam-
embert Style (soft cheese) 
Other dates by  
arrangement… 
Or....  if YOU supply the 
Milk ...I can make the 
Cheese for YOU. 
For More Info or Book-
ings  Contact: 
Ad ......(Founder of 
Kaiwaka Cheese Shop) on, 09-
4312234 or 021 2154495 

The following is an advertorial from the  ANIMAL HEALTH CENTRE  
The ANIMAL HEALTH CENTRE"s reputation, service and expertise is now available in the Kaipara District. The Centre 
is opening a branch in Kaiwaka to provide animal owners with choices in pet, equine and farm health care. 
The conventional treatment of cancer, arthritis, auto immune conditions, chemical worm and flea controls and vaccinations 
are replaced with the gentle, non-suppressive therapies of homeopathy, herbal medicine and flower essences. 
The clinic also offers Bioptron Light therapy for post op rehabilitation, arthritis and injury recovery. 
The Clinic"s dispensary has animal homeopathic and herbal remedies that can be tailored to suit individual requirements. 
Ailments may be of a minor nature for example an upset stomach, furballs, cut pads, strains & sprains, to auto-immune, 
heart, kidney, liver and endocrine disorders.  Chronic or serious conditions require a consultation with the clinics" Animal 
Naturopath or referred on to the owners" veterinarian for further investigation prior to treatment.  
The Staff: 
Nicky Fleming, V.N. comes from one of New Zealand"s most experienced feline veterinary clinics and specialises in the 
care of cats, providing comfort grooming, nail trimming, oral hygiene advice and nursing care. She can also advise on fe-
line behaviour and ownership. She is passionate about owner education and has experienced the effectiveness of homeopa-
thy and correct nutrition with her own companion animals. Nicky is a Certified Microchipper and is available for appoint-
ments on Wednesdays  
Therese van den Bos V.N. is an experienced rural mixed practice nurse and can offer sound practical advice in this area. 
Therese has a winning way with dogs of all breeds and offers nail trimming, basic health checks and nursing care. She is a 
keen advocate of complementary therapies and willing to share her knowledge of herbal medicine for the benefit of all ani-
mals. Therese is a Certified Microchipper and is available for appointments on Tuesdays. 
Local Kaiwakian  Denise McMonagle is joining  our  Practice  with  her expertise  in communication,  marketing  and  team-
work. Denise is a keen animal owner and holds a National Diploma in Ambulance Practice so is used to handling life"s ups 
and downs! 
We also have another local veterinary nurse joining our Practice so there will be several familiar faces to greet customers. 
Sarndra G Urwin Dip NAH (Hons) is New Zealand"s most experienced animal Naturopath, achieving physical and emo-
tional wellness of  companion animals through nutrition and drugless therapies. Sarndra is a well- known writer and radio 
chat. "Drugs and nutritional deficits, not disease, are the major factors in the deaths of our pets. There is too much reliance 
on surgery, test results, antibiotics and steroids"  Sarndra says". "Owners need to be informed about choices so they feel 
confident in managing their animal"s health; and that"s just what we"re here for!" 
Check out the food! The ANIMAL HEALTH CENTRE"S food choices transform the lives of cats and dogs – improving 
coat, behaviour, mobility, and body function – with less reliance on medication. Owners quickly notice the huge difference 
it makes to their animals" overall health.. The Kaiparas" best selection of pet food includes a large variety of raw meats, 
organic, dried and wet food, gluten-free, the Purely Pets, K9 Natural and Maranui brands. Owners of multi-pet households 
can bulk buy. Ask about our weight and life-stage nutritional programs. 
The Health and Beauty Bar displays an extensive selection of natural shampoos and Practitioner-Only health products such 
as the very popular medicinal Omegas and Joint Support. 
We"re here to offer you cost-effective choices in the care of your beloved animals, opposite  the  Kaiwaka  Cheese  Shop, 
1956  Main Highway, Kaiwaka.  See our advert on page 12. 
  11 
Independent Sovereign State of Kaiwaka  
Eutopia declared 
Citizens Meeting called – 26
th
 June, 5.30pm, Kaiwaka War Memorial 
Hall 
The participants in the Constitution Conversation in Kaiwaka on 23
rd
 May were challenged to become the government of 
the Independent Sovereign State of Kaiwaka and to devise a constitution for our State. It is not real, of course, but we did 
find it a useful way to bring the idea of a constitution down to earth and closer to home. Most of the attendees at the meet-
ing indicated that they wanted to continue as a group discussing constitutional issues. This public meeting is an opportunity 
for others to join us in these discussions: 
People power 
How do we control our government? 
The idea that had most support in our discussion was that we do not feel that we have democracy: that is we do not feel the 
people have any control of what governments do on our behalf – how can we limit the power of government? What about 
binding citizen initiated referenda or maybe a citizens veto? 
Should the majority of the people always have their way or should we limit that too? 
What place do the 1835 Declaration of Independence and the United Nations Declaration of 
Human Rights have in our Constitution? 
Irreconcilable differences? 
Maori are calling for Tino Rangatiratanga can their long pursued aims be met without being unfair to non-Maori? Are any 
exceptions to non-discrimination acceptable? What about power relationships? 
For info contact Helen Marsh email: hgmarsh@xtra.co.nz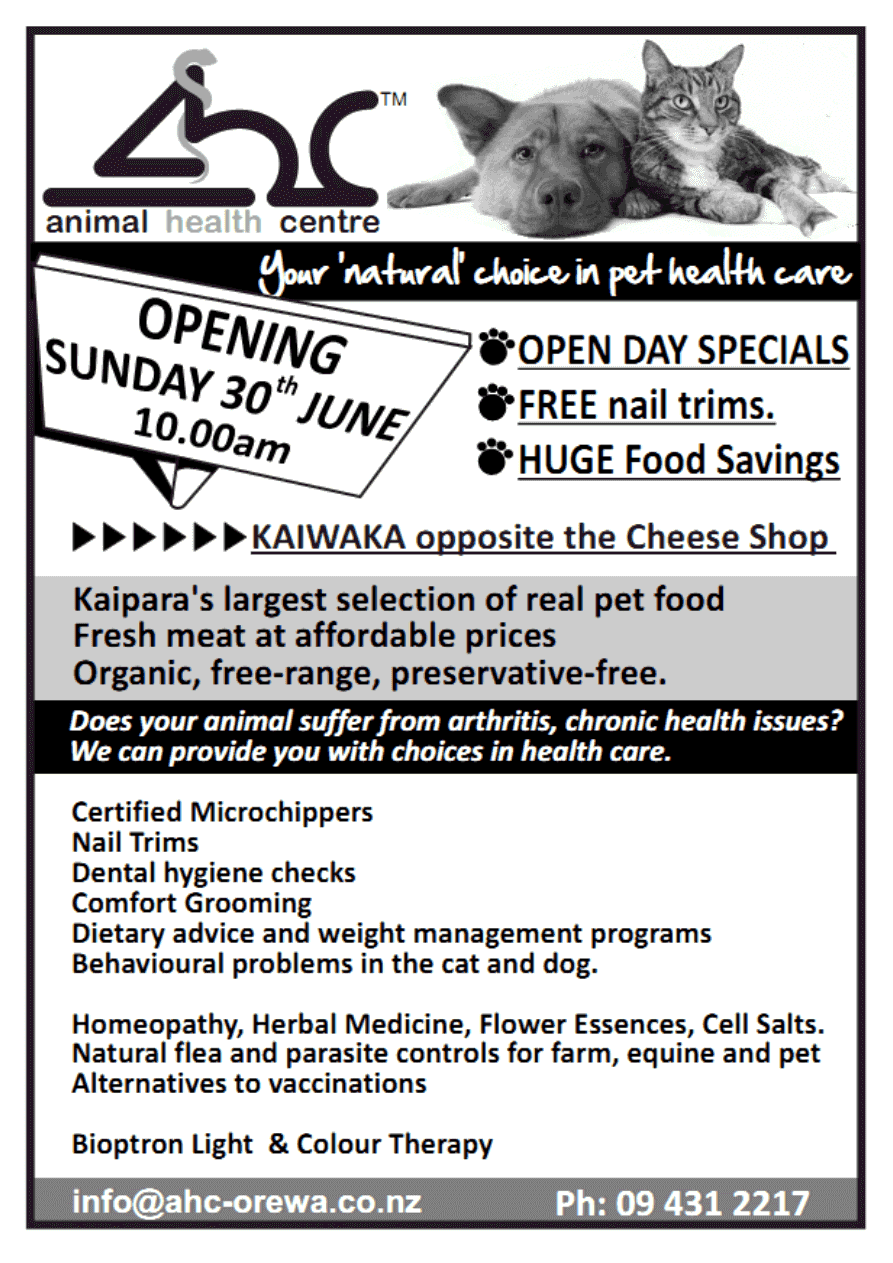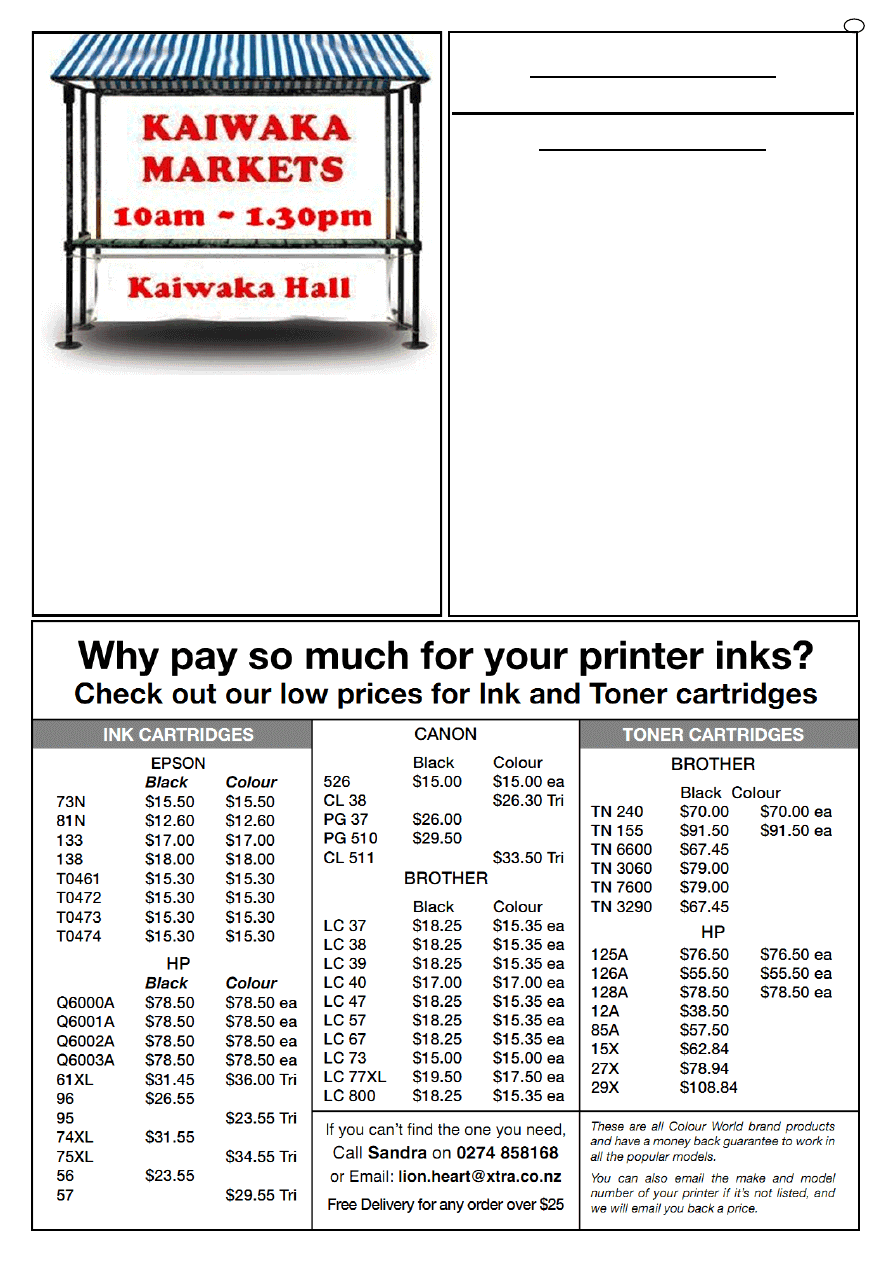 13 
On the 2
nd
 Sunday of each month 
In the Kaiwaka War Memorial 
Hall 
Sunday 14 July 
Sunday 11 August 
A variety of new & pre-loved goods 
Enquiries to:  
PAUL SAUNDERS 
LAWNMOWING & GARDEN 
MAINTENANCE 
 
Lawns and edges   
 
Section mowing 
 
Hedging and trimming 
 
Spraying and fertilising 
 
Tree planting 
 
Green waste removal 
 
Pruning 
Friendly and reliable service guaranteed 
Call now for a free no obligation quote 
021 886 843 
09 431 2731 
Servicing Mangawhai and Kaiwaka 
and surrounding areas 
paulsaunders99@gmail.com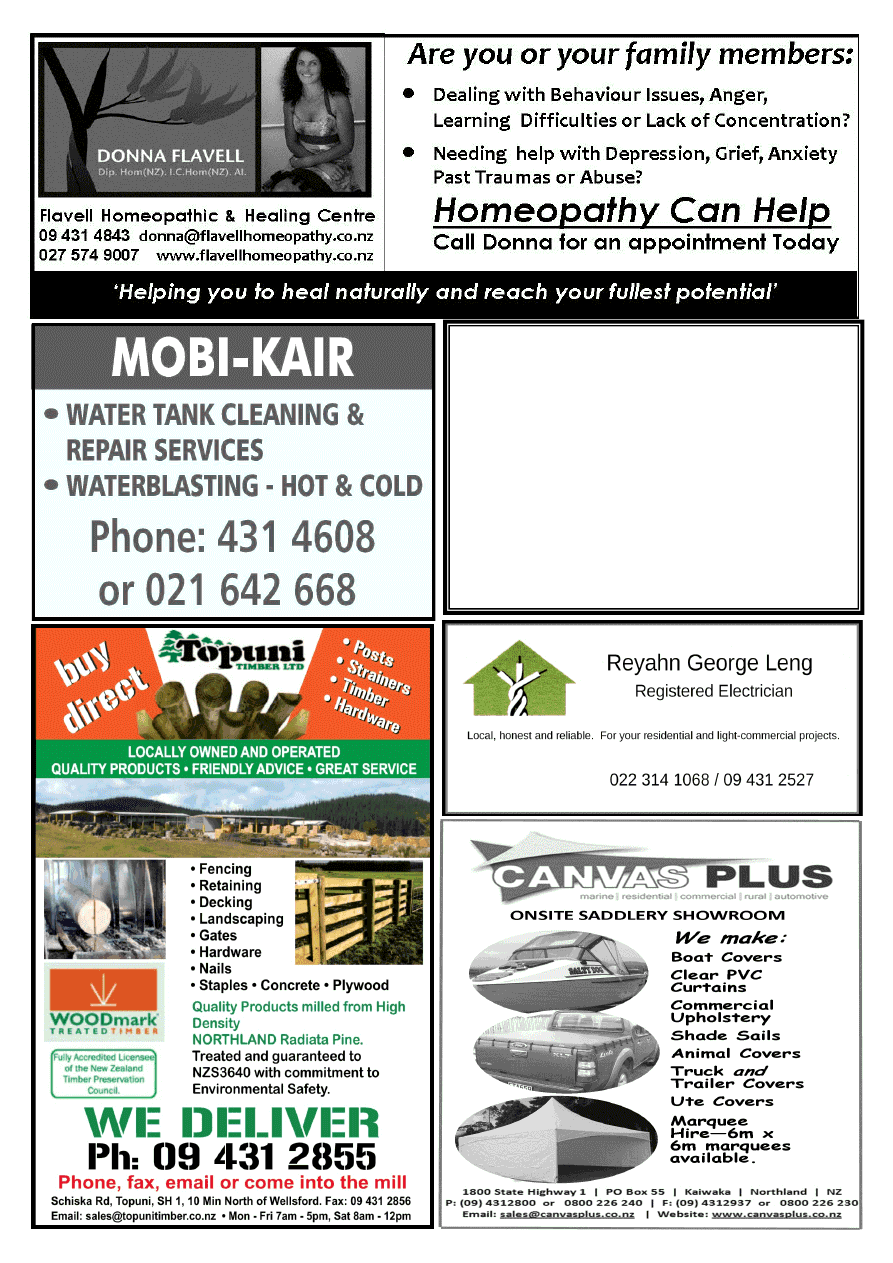 TILING 
Certified Waterproofing 
431 4533 or 021 86 33 33 
George 
MCN Property Solutionz  
Local references available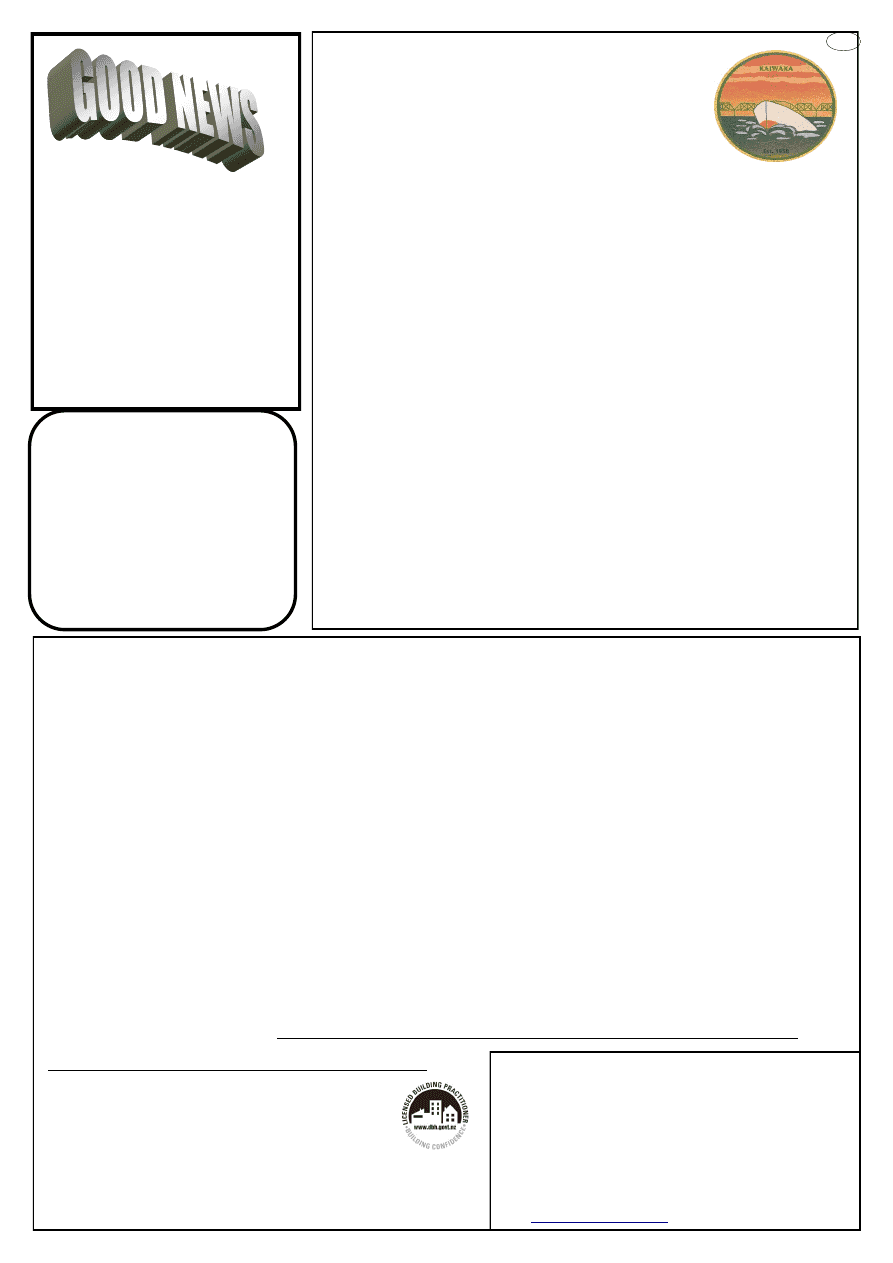 THERE'S 
 Your COMMUNITY 
CHURCH 
Each Sunday  
10am:  Lively Family  
 
    Programme
Everyone warmly welcome.
Ph: Pastor John Dekker     
09 4318203 
@ the  
Kaiwaka 
Family Church 
ARCHITECTURAL BUILDING PLANS AND DESIGNS 
20% Reduced Cost - design and planning. 
If you are thinking of building, then you need to make use of cost savings in architectural design as well as having a good and well experienced 
designer. This applies if you are considering a new home, any alterations or any building additions/farm buildings, sheds, alterations, whatsoev-
er. There are many things that are frustrating if you are not totally familiar with what all details are required by Councils -especially with 
new regulations in force to ensure everything runs smoothly - e.g. Resource and Building Consents, planning restraints, new building 
materials ,applying for building permits, dealing with building contractors to name a few -you need a capable,  
experienced and professional designer with a clear knowledge of all the processes. 
WE CAN HELP YOU CLARIFY ALL OF THESE ITEMS  AND MAKE LIFE RUN MORE SMOOTHLY.  
Brian of Wright Design has been helping and organising all these facets of design and building for over 40 years. 
With needs of family changing and the economy - building requirements constantly being reorganized and made more complex, it"s very im-
portant to obtain professional advice for any building project - no matter what size. 
Brian advises on design, materials, permit applications, builders and subcontractors for any project - no matter how small or large 
ALL THIS AT A REDUCED COST so YOUR DOLLAR GOES FURTHER  
Wright Design offers free visits, consultations and all the advice you need on planning. Design, building, contractors, council  
permit applications, guaranteed permit plan acceptance. 
QUALIFICATIONS 
Brian is a qualified designer (NZCAD) with over 40 years of varied experience in all types of building and is a registered and Licensed Building 
Practitioner in Design - L.B.P. 117345 
He ensures you will achieve the best from your budget with recommended excellent local contractors ready to competitively price and 
build your personal project quickly and efficiently. 
EXPERIENCE 
Brian"s practical building and 40+ years of design experience means he can give you excellent advice and all the guidance needed for all 
your building needs, 
FEES: To help you attain your project Brian has reduced his costs by 20%, giving you extra funds for the rest of your project. 
ENGINEER: Brian can arrange engineering for a reasonable cost. 
THIS IS AN ABSOLUTELY GENUINE FEE REDUCTION!! 
Qualified and inexpensive designer – N.Z.CAD., LBP 
117345 
Guaranteed design and working drawings 
Free site visit to your home or property 
Great service 
Obtain a free quote with 20% Discount. 
PROJECTS 
Additions, alterations, basements, new houses, motels, bed and breakfast 
commercial buildings and shop fit outs are a few projects he has been  
involved with. 
WHAT TO DO FROM NOW 
Call Brian   
Arrange a visit 
Discuss your needs 
Obtain great advice.  
Obtain a free quotation - with a true 20% discount 
WRIGHT DESIGN 
Brian"s office is at: 360 Oneriri Road, Kaiwaka, Northland 0573  
Call in for a chat and a coffee, or he will call on you at your home if pre-
ferred. 
WRIGHT DESIGN: Office 09-4312544 
Mobile 021 276 7389 
Email: 
T.W.WRIGHT 
WATER PUMPS  
SALES & SERVICE
DEEP WELL & SUBMERSIBLE REPAIRS 
203 WHAKAPIRAU RD, WELLSFORD 
PHONE 09 4238235   
MOBILE 021 976 545 
15 
Point Curtis Cruising Club 
 
End of Season Duck Shoot - Club Members Only  29 and  
30 June 2013 
Weigh ins: Each day 4pm - 5pm at 3 Furlongs Hotel,  
Kaiwaka.   
Maximum Weigh in: 2 per species per shooter per day 
Prizegiving  at  6pm  on  Sunday  30th  June  at  3  Furlongs  Hotel,  Kai-
waka.  Prizewinners must be present to collect prizes. 
BBQ to follow prizegiving.  Please bring a plate for a shared meal. 
Adults: Entry Fee:  Free 
Species: Mallard, Grey, Parry, Pheasant, Canadian Goose, Pukeko, Black Swan 
Prizes: 1st, 2nd and 3rd in all categories. 
Juniors (Aged Under 15): Entry Fee: Free 
Species: Mallard, Grey, Parry, Pheasant,  Canadian Goose, Pukeko, Black Swan 
Prizes: 1st, 2nd and 3rd in all categories. 
Congratulations  to  last  month's  winners  of  our  fish  of  the  month  contest 
(Snapper) 
1st: Aaron Kemp 6.449kg 
2nd: Aaron Kemp 5.989kg 
3rd: Jason Kemp 5.958kg 
New Fish of the Month: Gurnard. 
Subs are now due!!! Please pay your $20 single sub or $30 family sub at 3 Fur-
longs  Hotel,  Kaiwaka  or  by  posting  to  Jean  Mcleish,  Secretary/Treasurer,  C/- 
Kaiwaka PDC, Kaiwaka 0542.  Please include up to date contact details and e-
mail address if you have one. 
BOAR  HUNT!!  10th  and  11th  August  2013.    Keep  an  eye  out  for  our  post-
ers.  This is our 2nd Boar Hunt and this year a Snapper Fishing contest will be 
happening  and  some  exciting  contests for Juniors.    Keep  the  10th  and  11th  of 
August free!! 
Next committee meeting: 9th July 2013, 7pm at 3 Furlongs Hotel. 
Wayne Leslie, Commodore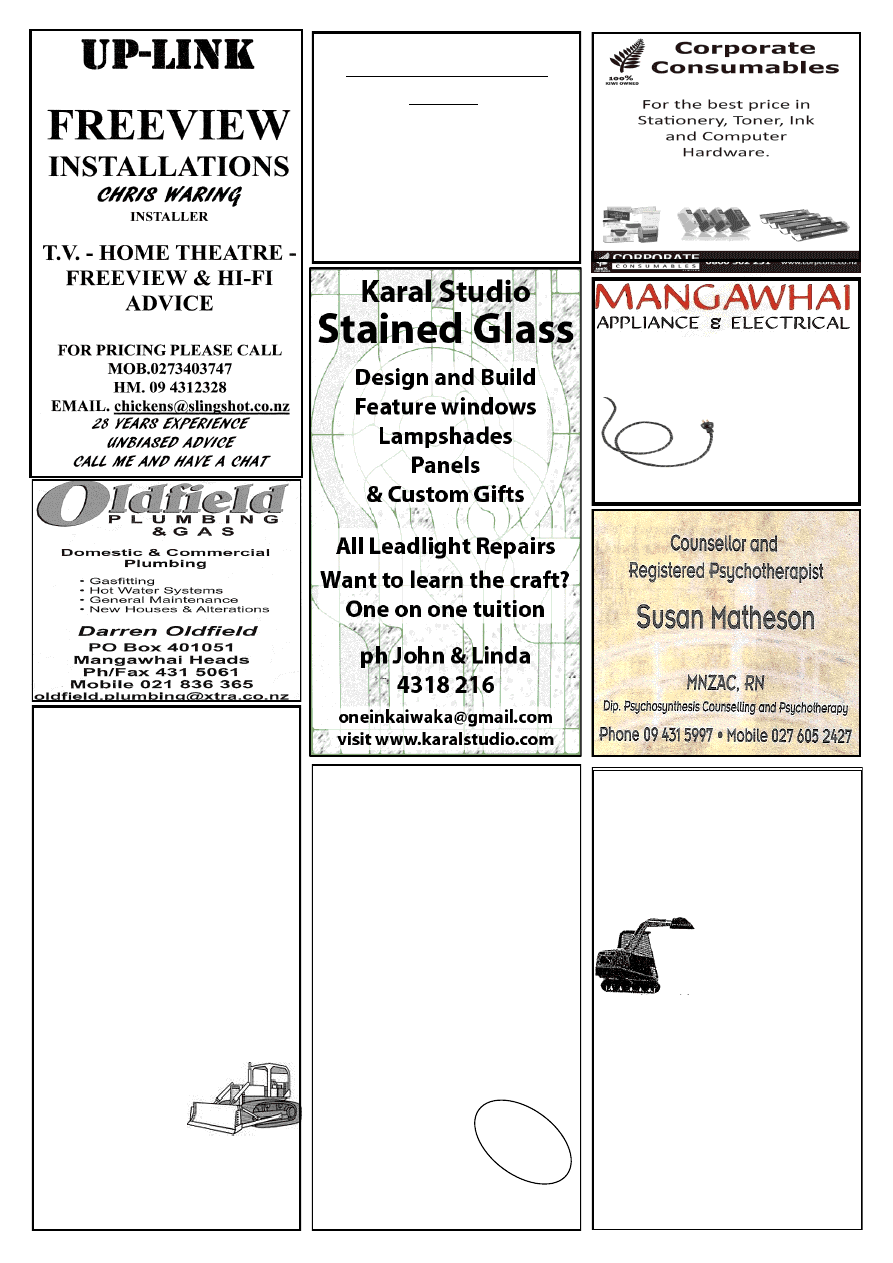 Landcare 
Services
Dave Hyndman  
4312302 
   021 431238 
Trenching, Hole Boring, Land 
Levelling,  Driveways, 
Landscaping,  Post Peel,  Wood 
Chips, Contact Rolling 
Lifestyle block mowing, 
etc....also Rotary Hoeing 
For reliable and friendly 
service contact Dave 
Based ou
t  
Oner
iri Roa
d 
HODGETTS
CONTRACTING
Digger Work    

Driveways 

House Sites   

Dams 

Drains, etc
Also available for HIRE 

3 ton Vib Roller 

Heavy Duty Tow 

Waterblaster  

Lazer Level 
Phone Mark 
4312877 
027 447 8554
DEAN STEWART 
Registered Electrician 
021 280 4008 
09 4312911 
ATHOURISED FISHER AND PAYKEL SERVICE 
Coates  
Contracting 
 
D41 Bulldozer with 6 
way blade, bush rigged 
with winch 
 
For all tree work 
 
General bulldozing and  
  stick raking. 
 
120hp Tractor for 
ground cultivation,  
 
tip trailer work. 
 
Fencing
All enquiries phone  
Brett Coates  
094318720 or  mob 
021431872
Community Services 
Officer: 
For all Community Services Forms 
see Milly at the Kaiwaka St John Op 
Shop. Phone 4312650 
MORE MEMBERS REQUIRED 
FOR THE KAIWAKA STATION
. 
Phone Andie or Gavin on 
0800 502 251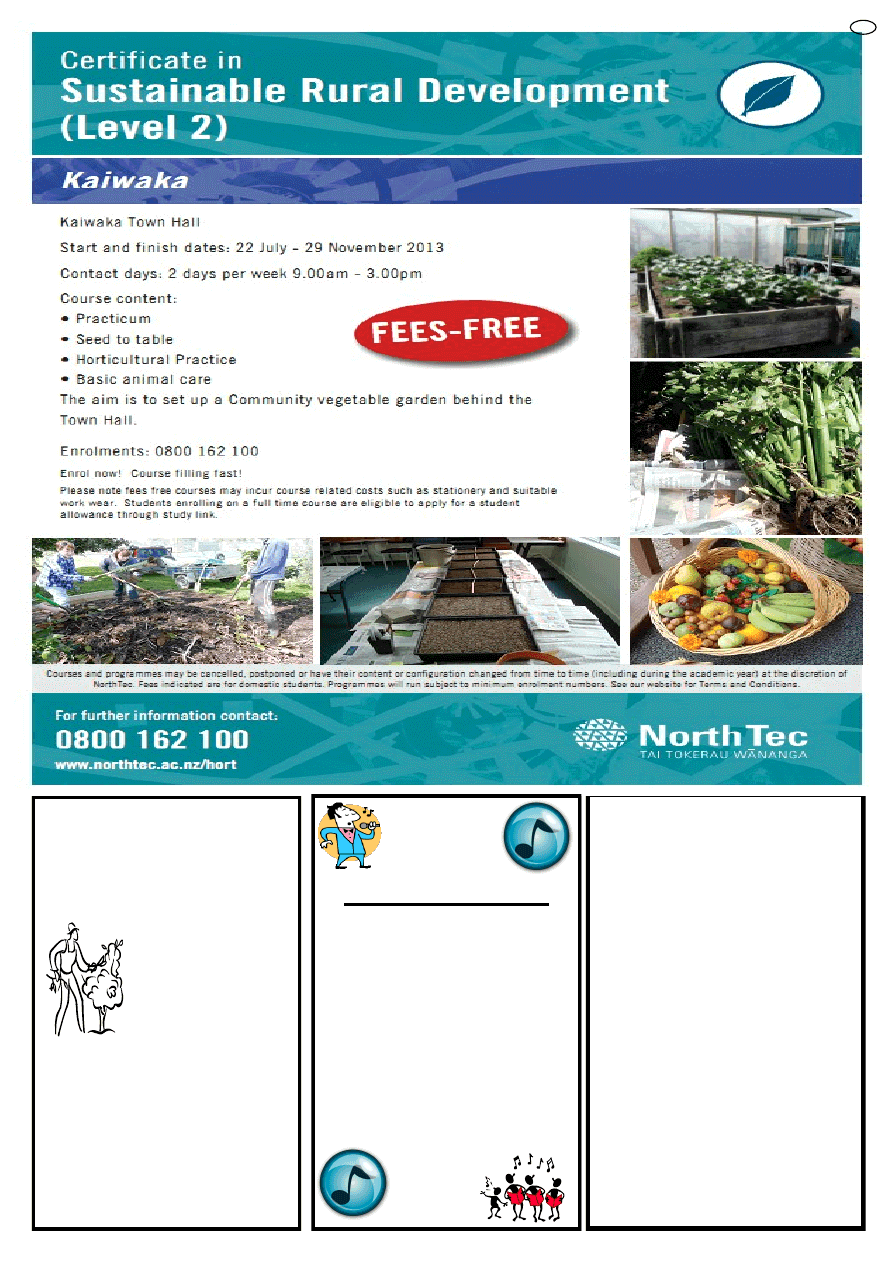 Willow Bend
HORSE  
HOTEL 
"   
Total Horse Care 
" 
Agistment 
" 
Riding Lessons 
" 
Arena Hire (60x40) 
" 
Young Horse Starting 
" 
Re-training/Exercising 
" 
Hoof Trimming 
" 
Problem Solving
Phone Sue 09 431 2817 
or 021 623 776 
Or email sue.gray@xtra.co.nz 
OUT THERE 
GARDENS AND LAWNS 
Lawn Mowing – Any Size 
Section Clearing  
Hedge Trimming  
Spraying  
Planting 
Pruning   
Gutters Cleaned 
Chainsaw Work 
Regular Services 
General Maintenance 
Garden Waste Removal 
Free Quotes 
Get The Job Done! 
Servicing Kaiwaka/Mangawhai 
Contact Phil Jones 
027 243 5503  
431 2196  
Email: outthere09@gmail.com 
Singing Lessons 
Individual sessions 
All styles of music  
All voice types 
Reasonable rates 
Phone  
Maura Flower 
021 164 8318 
 17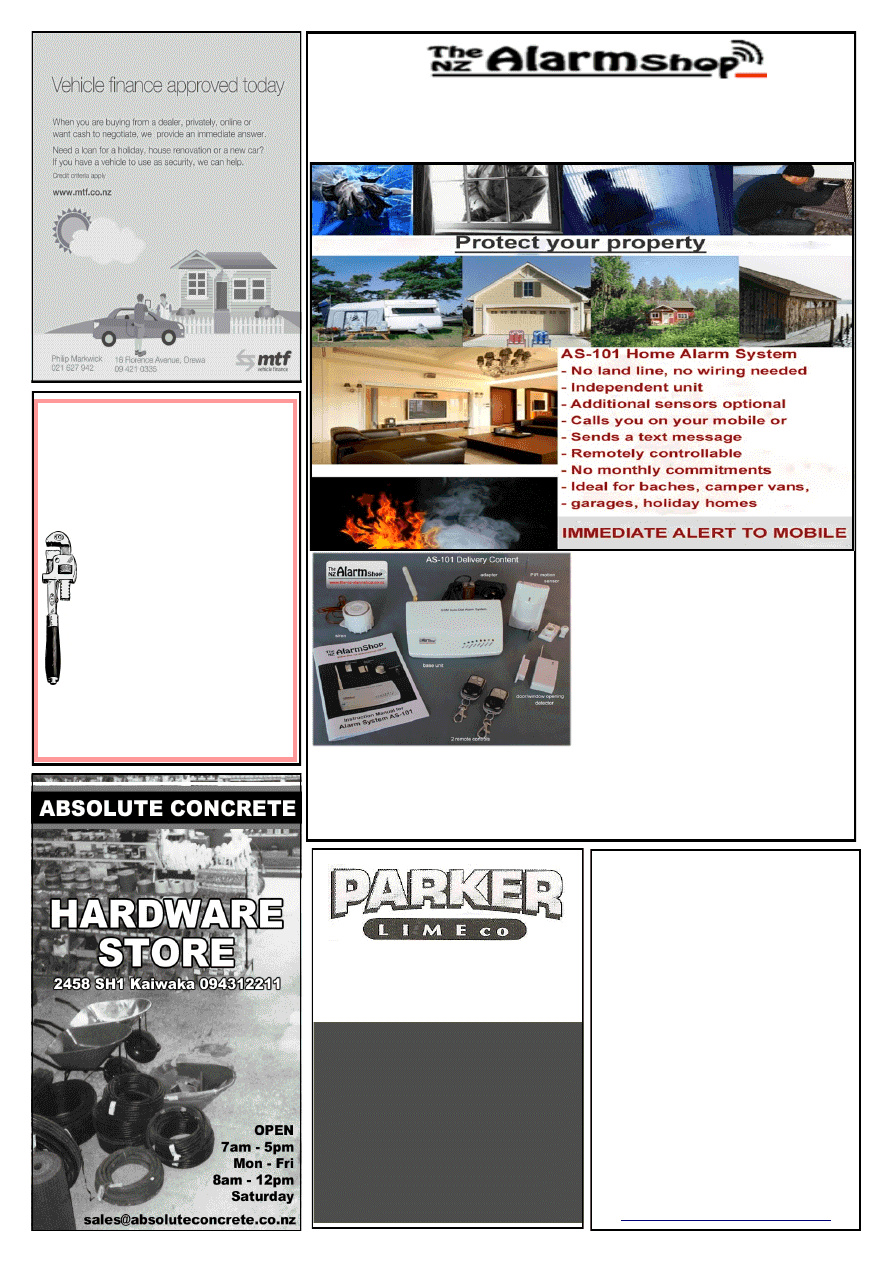 BARRY CURTIS  
PLUMBING LTD 
REGISTERED CRAFTSMAN 
PLUMBER 
Phone 4315572      
027 257 9884 
     25 years experience 
  
  
       Friendly reliable service 
  
All plumbing and  
maintenance 
       Alterations and new housing 
       New wood fire installation 
       Spouting 
       Competitive rates  
 PROMPT EFFICIENT  SERVICE  
Landscape Supplies 
Bulk Cartage 
4312407 
Mob: 021 453 252  
Fax: 4312939 
 scott.parker@parkerlime.co.nz 
Gibbons Road,  
Kaiwaka 
   www.the-nz-alarmshop.co.nz
AFFORDABLE DIY HOME ALARM SYSTEM 
In the event of an alarm situation, the 
system alerts you by sending a text mes-
sage to your mobile phone and/or one of 
5 dedicated contact phone numbers. 
To check, you can "listen-in" into the 
room by calling the system and so find 
out, what is going on. If you personally 
inform the police about a burglary in pro-
gress, it is MUCH MORE EFFICIENT 
than the si                     You get all this 
for $249 
ren going off on its own and nobody re 
acts. Easy to handle by everybody. 
  For more information or other security products call Jorg or Barbara 09-
QUIZ NIGHT 
Friday 2nd August, 7pm 
Kaiwaka Sports Complex 
* teams of 4 - 6 people 
* prizes for top 3 teams plus 
lots of spot prizes 
* supper provided 
* $10 per head 
Pre-registered teams only. 
Contact Cheryl Anderson to reg-
ister on 4312 051 or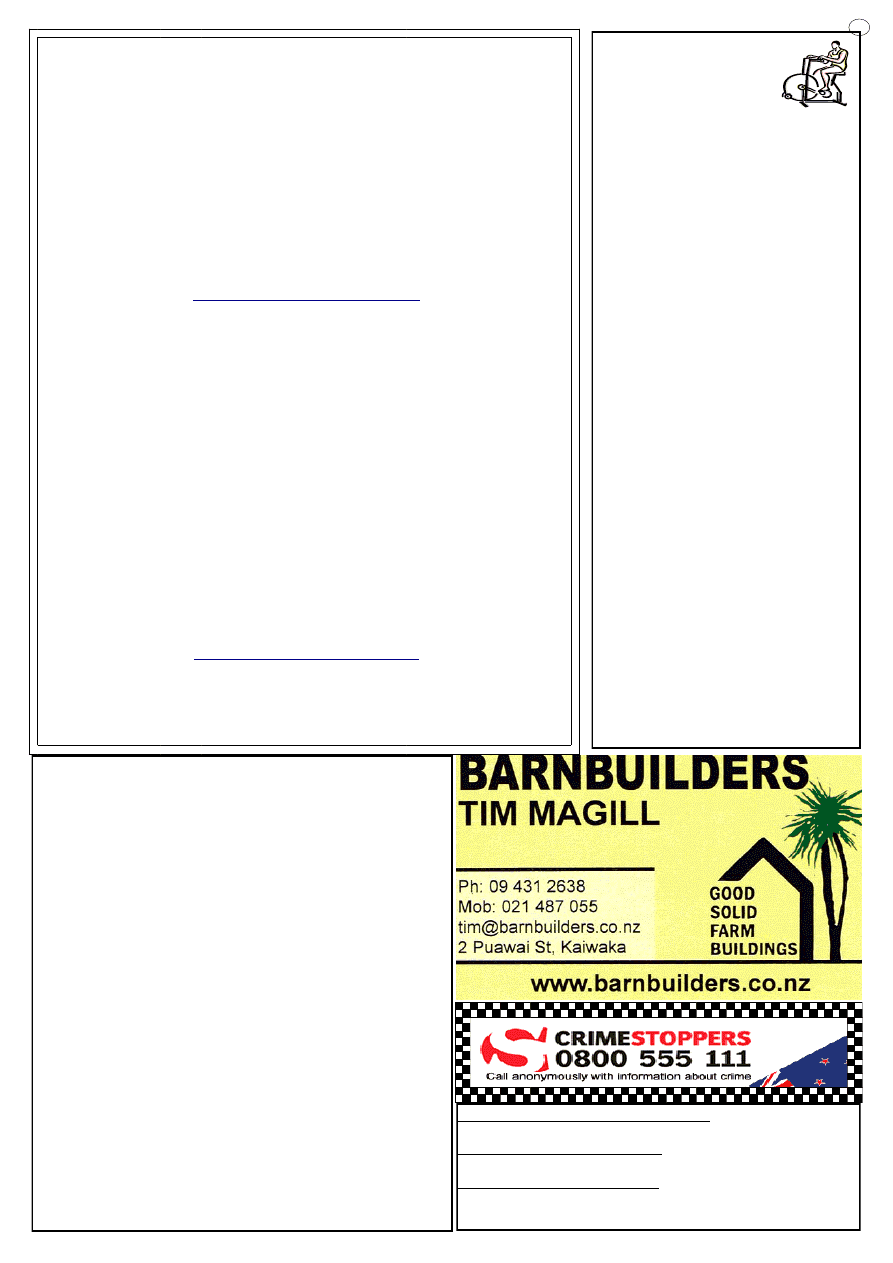 Kaiwaka Bugle Advertisements 2013: 
Classified $2; 1/8 page $5; 1/4 page $10; 1/2 page $20;  
bugleaccounts@kaiwaka.co.nz 
Payments can be online, posted or left at Jaques Store. 
kaiwakabugle@kaiwaka.co.nz  for queries or copy. 
The Kaiwaka Bugle is a community newspaper run by vol-
unteers. Views expressed are not always our own. 
PLANNING A NEW KITCHEN? 
CONTACT NOEL McDOWELL
WELLSFORD KITCHENS 
Ph/Fax 094312888
KAIWAKA-Any time 
  QUALITY CUSTOM MADE KITCHENS  
~Personal and Prompt Service~ 
~All Workmanship Guaranteed~ 
~Over 20 Years in the Trade~ 
~Free Design & Quote~ 
19 
 BERYL MIDDLETON / NOZEDAR 
NATUROPATH 
Has returned to Kaipara after 20 years and will be practicing 
from Kaiwaka 
Herbalist 
Homeopath 
Nutritionist 
Cranial-Sacral Therapist 
Ph. 09 431-2080 
or 021 229 7191 
She is joined by her daughter 
JILL SHIRES 
HOLISTIC ANIMAL THERAPIST 
(Horses, Pets, Farm Animals) 
Herbal Remedies & Tinctures 
Cranial-Sacral Therapist / Reiki 
Diatomaceous Earth Stockist 
Mud Fever Cream & Animal Soaps + More 
Ph. 09 431 2080 
or 021 0506 592 
KAIWAKA FITNESS 
CENTRE
Hi  Everyone,  Hope  you  are  keeping  dry 
and  warm.  First  off  I  would  like  to  send 
my  condolences  to  Murray,  Shona  and 
family.  I  was  saddened  to  hear  of  loss  of 
Vera  Hall.  I  am  sure  she  will  be  dearly 
missed. 
On  a  brighter  note  we  should  be  getting 
some  new  machines  in  the  near  future. 
Remember  that  subs  collected  go  directly 
back into buying equipment for the fitness 
centre,    so  I  encourage  you  to  pay  your 
subs for the year so we can update equip-
ment  as  needed.  I  note  that  there  are  still 
members  allowing  non-members  into  the 
gym,  please  remember  if  caught  you  risk 
the loss of your membership. The fees are 
the cheapest around from Auckland north, 
and  the  equipment  is  up  there,  so  be  fair 
and pay up. 
Can you please make sure you have clean 
shoes,  sand  and  grit  gets  stuck  in  the 
treadmill and ellipse machine and will ruin 
it. 
Diet  updates  for  my  job:4  different  diets 
have been used, drops, weight watchers, 5 
on  2  off,  and  the  good  old  cut  down,  cut 
out the junk. Interestingly enough all have 
lost about the same amount of weight over 
8  weeks,  some  dieters  are  in  better  head 
spaces than others, the cut down one in the 
best  head  space  as  she  still  has  her  latter 
once a week, the others seem to be suffer-
ing at bit more. So I guess at the end of the 
day  it"s  what  works  for  you  but  always 
remember  the  more  restricting  the  harder 
it  is  to  keep  up,  and  the  faster  it  returns. 
As for me I am on the diet again 2 kilos in 
2  weeks,  but  still  eating  1200-1400  calo-
ries a day. So HAPPY DIETING, GOOD 
LUCK  TRAIN  HARD,  AND  IT  DOES 
PAY OFF, Jules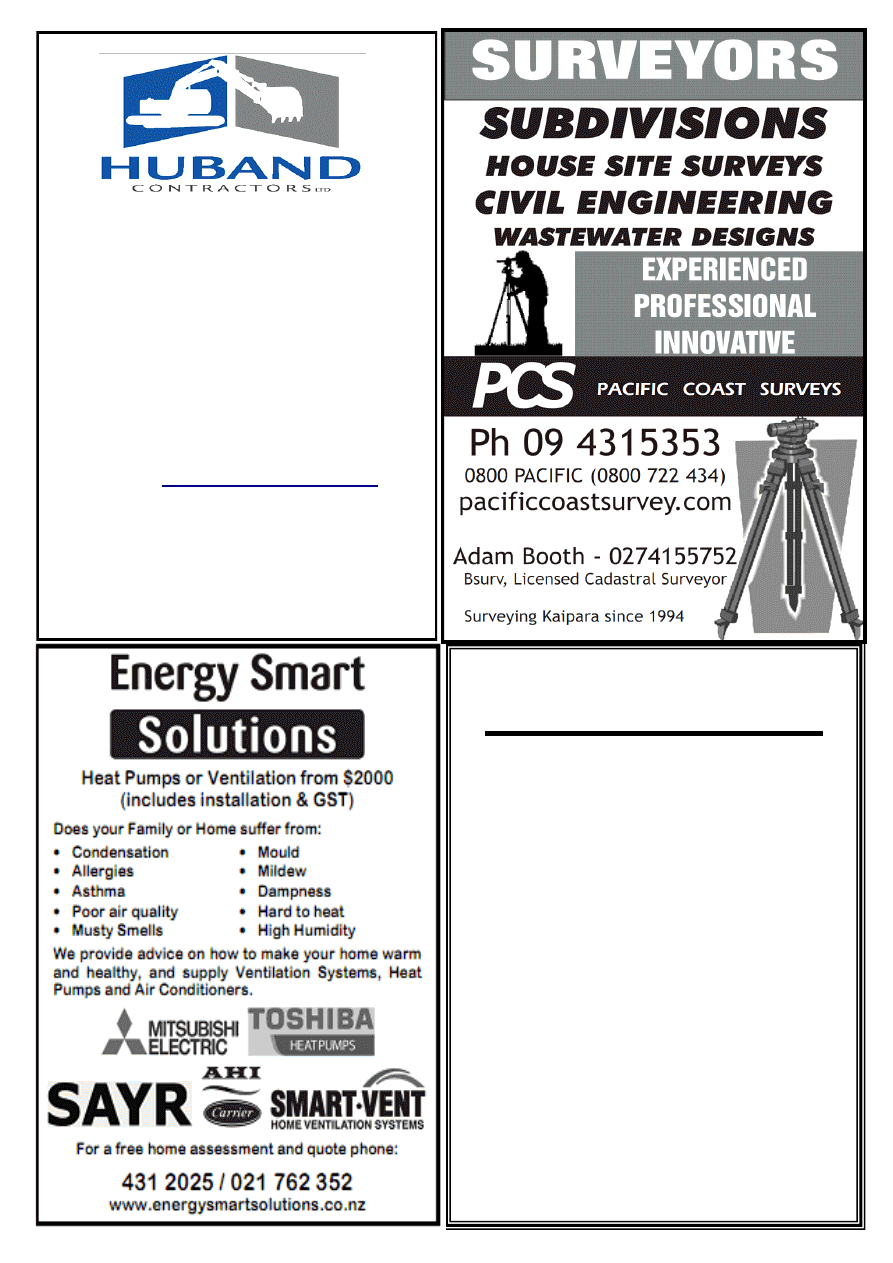 STOCKFOOD
GREAT RANGE FOR ALL YOUR LIVESTOCK  
AT GREAT PRICES 
 ALSO CHECK OUR 
DOG BISCUITS 
20 KG FOR $58.90 
LPG REFILLS 9KG 
STILL ONLY $31.50
MANGAWHAI SERVICE 
STATION 
(09) 431 4242 
44 MOIR STREET IN THE VILLAGE 
*   R O A D I N G   *   E A R T H W O R K S  
*    
*   D R A I N A G E   *   S I T E W O R K S   *  
For any further enquiries, contact 
Shaun on: 
Cell: 021 222 0272 
Home: 09 4318339 
Shaun Huband:  Registered  
Drainlayer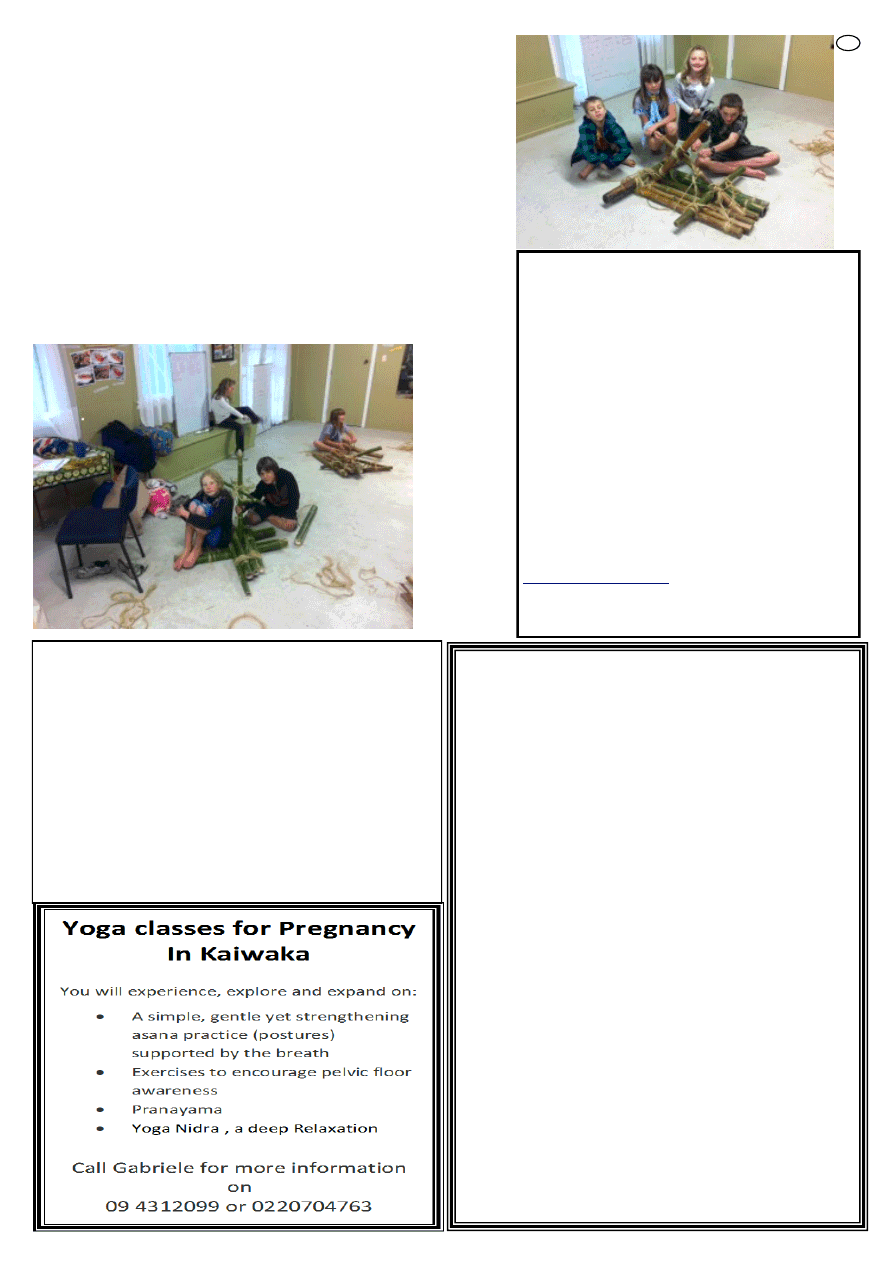 ESCAPE FROM          
ESCAPE FROM          
PLANET EARTH
PLANET EARTH
Saturday 13
th
 July 
     Kaiwaka Sports Complex 
    Doors open at 6.30pm 
Adults $4, children $2  
(year 9 & under)
Fun, family-friendly movie!
  21 
    KAIWAKA/MANGAWHAI CUBS
A great time has been enjoyed by Cubs from the Kaiwaka/Mangawhai 
pack. An interesting, varied year to date has included trips such as bush 
walking, caving at Waipu, floundering, animal care, orienteering, learn-
ing  to  shoot  air  rifles,  and  Warkworth  mudslide  day  –  following  the 
national  theme  of  putting  the  OUT  in  Scouting!  Amongst  this,  Cubs 
attended the Founders Day Service in Whangarei, participated in fund-
raising activities, and a large number attended the Hakaru ANZAC Day 
service. 
The drought saw the planned camp at our Hakaru den delayed until 8 
June. Following a fine set up, meal preparation and campfire songs, it 
became  at  times  a  very  wet  night  sleeping  under  canvas!  Knotting 
campcraft  activities,  building  bamboo  rafts  and  bowl  stands  indoors, 
concluded the overnight adventure challenge. 
The Kaiwaka/Mangawhai  Cubs pack thank the Kaiwaka Sports Asso-
ciation for a grant for den rent payments, and thank John and Jan Har-
greaves for allowing use of their woolshed for the pack to fundraise by 
selling  sheep 
manure.  Each 
dig included a 
family  barbe-
cue  on  the 
beach.  Both 
contributions 
are  valued.  In 
the  words  of 
one 
Cub, 
"Who  would 
have  thought 
digging  poo 
could  be  so 
much fun!" 
          Linnell 
Yoga classes for Teens 
In Kaiwaka 
 
Teenagers  these  days  are  already  under  a  lot 
of  stress  through  peer  pressure,  exams  and 
hormonal imbalance. Through Yoga and medi-
tation they will gain how:  
 
*to improve their concentration 
* to develop decision-making 
* to explore Relaxation 
* to experience Inner peace 
* to have more confidence 
* to be more focus 
* to ease in handling responsibility 
* to increased strength (physical & mental) 
* develop Better memory
Simply to have fun and enjoy life to its 
fullest! 
Call Gabriele for more information on 
09 4312099 or 0220704763 
An Appeal 
Middlemore Hospital deals with over 8,000 babies 
and small children each year. Some of these ba-
bies  and  children  arrive  at  the  hospital  with  very 
little in the way of clothing. This could be because 
they  have  been  flown  into  the  hospital  from  all 
over NZ and the Pacific Islands. The Middlemore 
Foundation is a trust that helps to not only clothe 
these children whilst they  are in the care of Mid-
dlemore Hospital, but that those children in need 
receive  clothing  to  go  home  in.  At  this  time,  the 
Wool Programme of the Foundation is in desper-
ate  need  of  bootees,  (no  smaller  than  7cm  in 
length),  and  jumpers  and  cardigans  in  baby  and 
children  sizes  of  small,  medium  and  large.  Can 
you  help?  I  am  willing  to  see  these  items  reach 
the  hospital.  I  regularly  donate  items  myself.  If 
you can't knit any more, but have wool you don't 
know what do with, I can find willing knitters. You 
can  contact  me  on  4312522  or  email  me  on 
. . I have arranged with the 
library that items can be left with them, and I will 
collect from there. Please feel free to contact me.
 Elizabeth.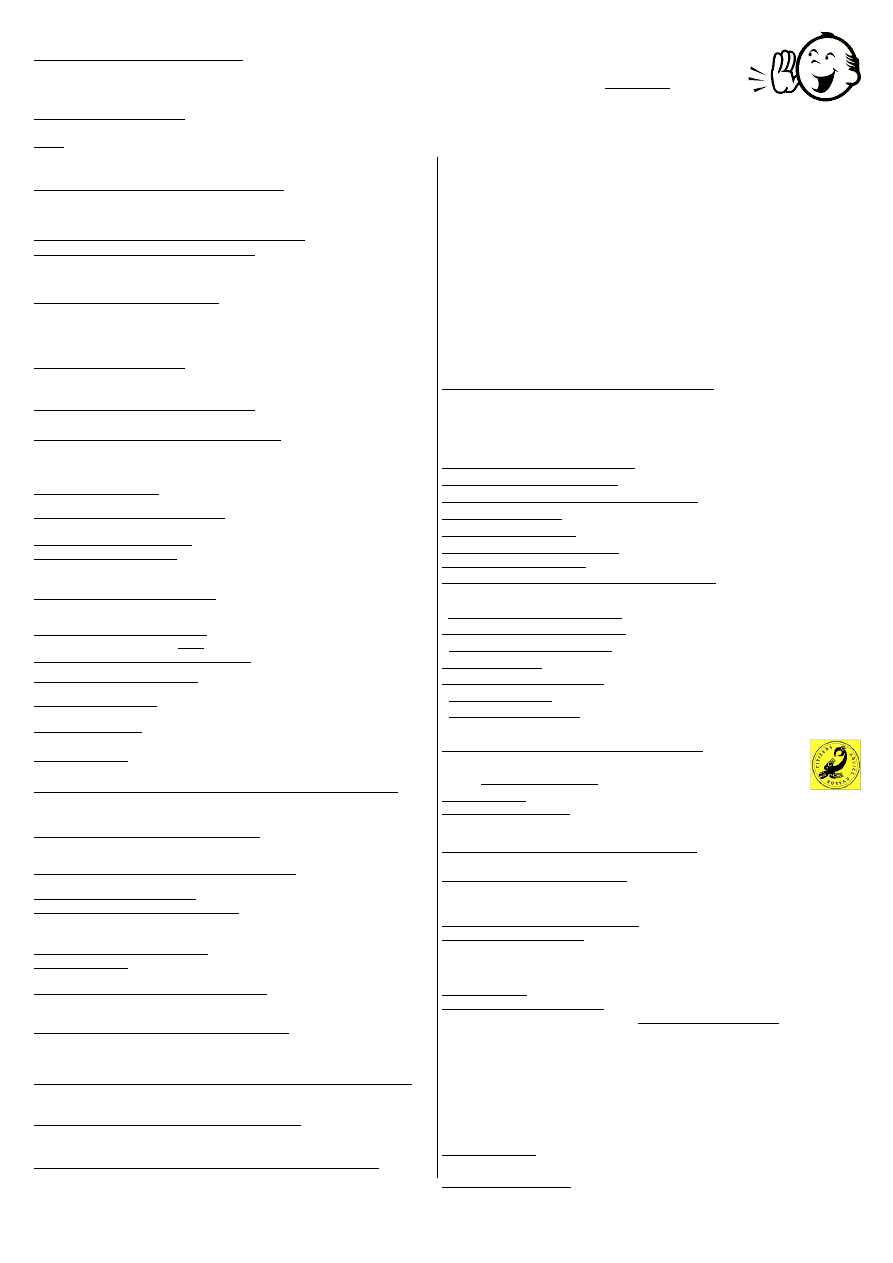 LOCAL SERVICES 
*St.John Ambulance 
111 or Freephone0800 61 0066
*Fire phone 111     *Police phone 111 or 09 4311150
WELLSFORD DOCTORS: Ph: 4238 086 
A A: Meets Wed., 8pm Kaiwaka Ph: 4312228, 4315543, 0800229 6757   
AL ANON: In recess, contact Ph: 4312228 
AgriQuality (MAF) Livestock Consultant 
Phone 09 4311 820 or 021518257 
CAB-Citizens Advice Bureau.Wellsford Ph: 4237333. 
BUDGETING SERVICE,OTAMATEA:Free confidential advice & 
support - all areas of  personal finance Ph: 09 4318173 or 094318117
FAMILY SUPPORT SERVICES responding to the needs in our 
community  Counselling/Family Therapy/Seminars/Youth Work/
Probation/Osteopathy/Govt.Day Agencies/Community Information  
Ph: 4312661 Hours: 9am-5pm. Mon - Fri (funded & CYFS approved) 
FUNERAL SERVICES: Morris & Morris Ltd, 
Whangarei - Bev Jaques Ph:4312367 or 0800667747 
Grandparents Raising Grandchildren: Sarah Rogers Ph: 4312194 
HAKARU LANDFILL/Transfer Station:Open everyday except 
Tuesday10am-4pm.Ph4312629 Cost-$55 trailer load up to 1 cubic 
metre. Ph:4258567 - office 
INLAND REVENUE: Last Friday each month, 
11-3pm Ph4312661 
KAIWAKA KOHANGA REO:
Ph:4312620 Mon.-Fri. 8.30am-2.30pm 
KAIWAKA CEMETERY: Ph: 4312045 
KAIWAKA LIBRARY: kaiwaka.library@gmail.com  
Mon. 4-6pm; Wed., Thurs., Fri., Sat.  10am-2pm Ph:4312539
KAIWAKA PLAYCENTRE: Ph: 4312286. Hastie Lane 
Monday to  Friday  9.00am 
- 
12 noon.
KAIWAKA POST OFFICE:
Ph:4312 626 Fax: 4312287  
Post Code: 0573  for RD2  and  0542 for all Kaiwaka Post Office mail 
KAIWAKA PRIMARY SCHOOL : Ph: 4312309 
KAIWAKA SPORTS ASSN: Ph 4312005; 4312129 gym 
KAIWAKA STJOHN: Manager Steve Rosser 09 431840, 021 2316836 
NORTHPOWER: Faults Kaiwaka area 0800 104040 
PARENTPORT: Free, practical family support servicePuhoi to Paparoa 
Ph:  Sharon Mehana, Co-ordinator. 4259357 or 027 280 5093 
PERSONAL DEVELOPMENT COACHING, GROUP FACILITATION:  
Sabine Druckler 4312231 
 
PLUNKET  KAIWAKA/MANGAWHAI:  Ph:
094318187 
or  0
276753488 
Kaiwaka Mobile Clinic once a month– appointments necessary;  
Mangawhai (next Domain) 
1st & 3rd Thursday & Coffee Morning; 
PLUNKET CARSEAT CO-ORDINATOR:  
Pat Scott Ph 4314530 or 
0272881635 
PLUNKET FREEPHONE -0800 933 922 
PLUNKET -MAUNGATUROTO  Clinic every 2nd & 
4thThursday. Ph: 09 4318187 
PUBLIC HEALTH NURSE: Gloria Reid Ph: 094327634  
HOMEOPATH: Donna Flavell Ph: 
4314843 
RETURNED AND SERVICES ASSN 733 Settlement Rd.Hakaru 
Ph.4312176 Bill Kerr (President) Ph.4314719 
TE KOROWAI AROHA O NGATIWHATUA 
(The Cloak of Love of Ngatiwhatua) Support and Maori Consultancy.  
Ph: 4239481 (Wellsford) 
WOMEN"S WELFARE LEAGUE & Reaching Out For Youth:  
4 Kaiwaka-Mangawhai Rd, M Morgan 4312293 
VETERINARY SERVICE MANGAWHAI: 
Ph: 4314535 Mon-Fri 8.30-4.30, Sat 9-12, a/h appt. 
KAIPARA DISTRICT COUNCIL www.kaipara.govt.nz:  
Help Desk FREEPHONE 0800 727 059  
Dog/Stock/Noise 0800 105 890 
 
WHAT"S ON
PLEASE ~ do let me know what is on - email 
kaiwakabugle@kaiwaka.co.nz 
Advertising in WHAT'S ON is FREE  
Mondays 0800-2.30pm Kaiwaka Tramping Group  Karen 4312090 
Tuesdays Rhythm&Riggle 10.0am Christ the King Church Mgwhia. 
*24-30 June ~ St John Annual Appeal Week. 
*26 June ~ Constitution Conversation Meeting 5.30pm KWMHall 
*29-30 June ~ End of Season Duck Shoot, weigh in & BBQ at Pub  
*30 June ~ Animal Health Centre opens in Kaiwaka 10.00am 
*06 July ~LATIN FUN CLASS, 7.30 pm, Kaiwaka Hall 
*09 July ~ Pt Curtis Cruising Club Meeting  7pm at 3 Furlongs Hotel  
*12 July ~ DANCE OF LIFE, freestyle dance, 8 pm, K/waka Hall  
*14 July ~ KAIWAKA MARKET 10am-1.30pm KWMHall 
*27 July ~LATIN FUN CLASS, 7.30 pm, Kaiwaka Hall, 09 
4312408 / 021 2968794 (same contact for 06 &12 July above)
See www.kaiwaka.co.nz for upcoming events. 
Drink can 'tear tabs' - for Starship Hospital-Ph. 4312625   
HOUSEHOLD  RUBBISH  COLLECTION  -  Kaiwaka    Pick  up-
Mondays=Green bags are picked up by Northland Waste-queries to 
them 09 4303273,Wednesdays=Blue  bags and yellow recycling (at 
Jaques  $2.70 and $1.40)  are picked up by Kaurilands 09 4392146.  
 
*OTAMATEA GREY POWER-09 431 8138 Joan Hoggard  
*KAIWAKA BADMINTON -Tuesdays 7.30pm Ph: 4312345 
*KAIWAKA GARDEN & FLORAL Grp:
2nd Thursday in month Ph: 4314767 
*KAIWAKA 
CUBS-Thursdays 5.30-7pm, Hakaru  Ph:Bruce  4312542
*KAIWAKA SQUASH -Mondays 7pm,  Ph: Barbara Thomas 4315905 
*GYMNASTICS OTAMATEA -  Tuesday Ph: Stephanie 4312022   
*HAKARU PONY CLUB-Ph: Dianne Christianson  4314315 
*
MANGAWHAI COMBINED PROBUS CLUB
: 2pm,3rd Thursday 
month in the Senior Citizens Hall Mangawhai. Ph: 4315777
*PT CURTIS CRUISING CLUB - Jean Ph: 4312246 
*WAIPU GENEALOGYGROUP -4th Monday in month Ph: 4312725 
*NZ GENEALOGY-Wellsford - 1st Thursday in month Ph: 4237033 
*CRAFT GROUP
:2nd & 4th Tuesday, 10am, Wellsford Ph 4238547
*RSA,Hakaru & Dist.Women- meet 1.30pm 4th Thurs in month 4312668  
*OWEN STEVENS at Kate"s Place Ph:4312661   
*Diabetes Support Group-for Kaiwaka, Mangawhai, Wellsford -10am, 
 
3rd Friday of month Ph:A.Pert 4238242; J.Gardner 4238060 
*WELLSFORD CITIZEN ADVICE BUREAU:  
0800 367 222 
Ph: 4237333 Wellsford Community Centre   
Email: cab.wells@xtra.co.nz
CHURCHES:
*Gateway Worship Centre-St Mary's Church Nathan Rd off Oneriri Rd, Kaiwaka 
Services, 10.30am 1st & 3rd Sunday of every month. Contact: Rev David Gage 
4312528 or 0212354282 
*Kaiwaka Family Church-Your Community Church Sundays, l0am 
Home Group every Wed evening, Pastor John.Dekker Ph: 4318203 
*Kaiwaka Services.Anglican & Co-op at StPauls Church  - 1st Sun. 9.30am
(Anglican),3rd Sun. 4pm (Co-op).  Contacts: Parish Office 09 4318193, M.Hargreaves 
4312295, C.Bygrave 4312057  
*Church of Christ the King, Mangawhai 9.30am every Sunday 
*St.Mary"s Catholic Church:
Maungaturoto – Griffins Road, Saturday evening Vigil 
Mass 6pm; Mangawhai – Senior Citizens Hall, Sunday Mass 8:30am; Wellsford – 
Matheson Road, Sunday Mass 10:30am; Mid-week Mass times and all enquires to Fr. 
Bill Fletcher – phone 423 8170 
*Baptist Church: Sun. 10.30am Mangawhai Snr Cit.Hall.Ph:4312339 
*Cause Way Church Mangawhai – Sundays 10.15am, Mangawhai Community Recre-
ation Centre, Insley St. Ph: 09 4314782  www.causewaychurch.org.nz
*St.Pauls Archie Bull Hall HIRE  $20 half day, $40 full day per hire 
 Contact G. Jaques 4312048 
*Kaiwaka War Memorial Hall HlRE - Phone 4312725 or 
Email  kaiwaka.hall.bookings@gmail.com 
*Hakaru Community Hall HIRE -Ph.  4312256 or 4312110 
*Te Pounga Marae queries -A.Gage 4312528, 4312527 
*Kaiwaka Sports Association hire/queries- C. Anderson 4312051 
Justice of Peace: B.FJaques; L.Donaldson; A.F.Hargreaves  -please phone to 
make sure they are available 
Marriage  Celebrants:  L.Donaldson;  A.F.Hargreaves;  Judith  Knights  09 
4315765     
Next Bugle Deadline Friday 05 July 13