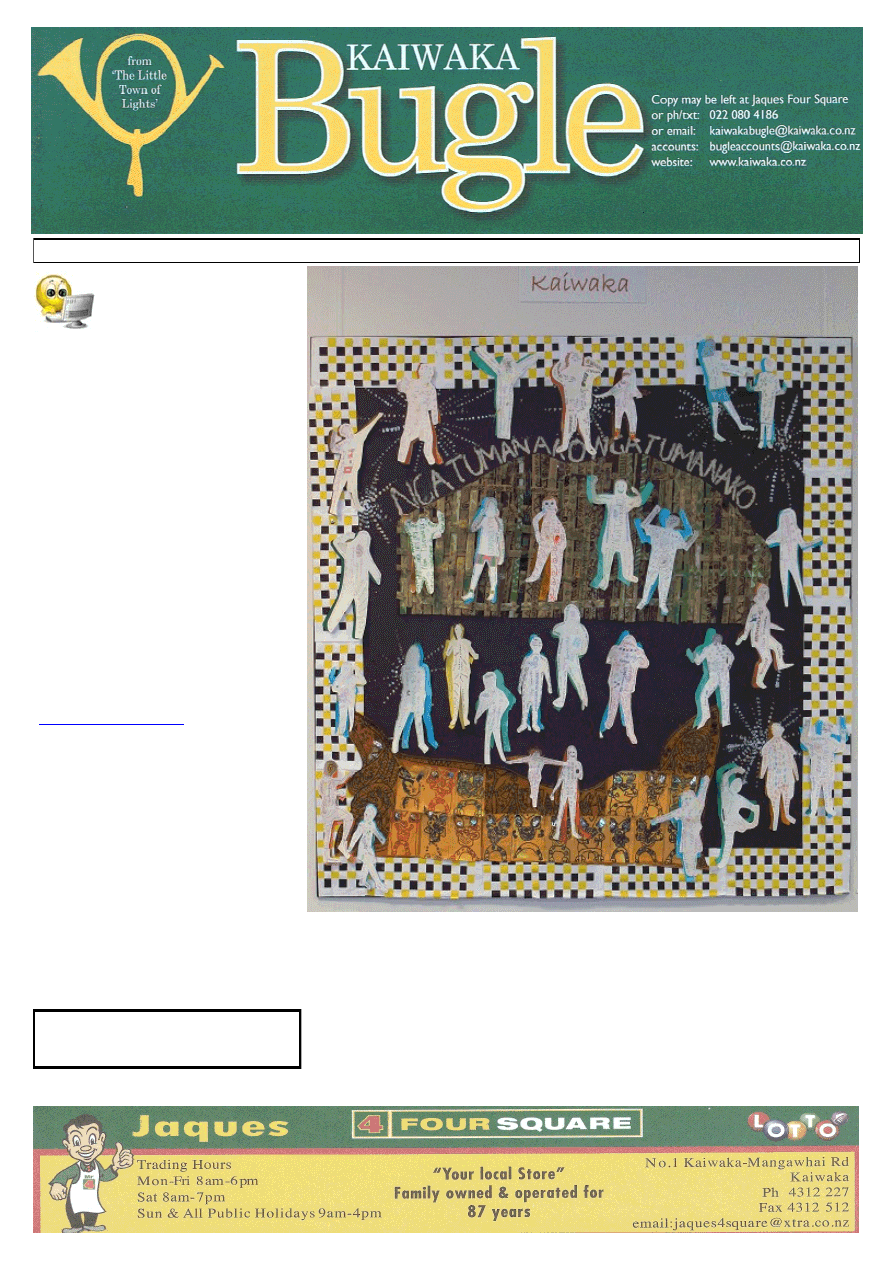 No: 13 
09/07/2013 
 Bugle 14 will appear 23 July 2013 
The  fantastic  piece  of  art-
work  to  the right is  the  Kai-
waka  Primary  School  Ma-
tariki  board  from  the  Kauri 
Museum"s  recent  exhibition  opening. 
Congratulations kids. Well done! 
Red Socks Day - Friday 12 July 
- 
is an opportunity to remember Sir Pe-
ter Blake and to share his story with a 
new generation of New Zealanders, to 
inspire them to stand tall and to dare to 
achieve their dreams. It is also an op-
portunity for New Zealanders to come 
together,  once  again,  to  share  Sir  Pe-
ter's  lucky  red  socks  with  the  Kiwi 
kids who need them most. - See more 
at:  http://www.sirpeterblaketrust.org/
get-involved/red-socks-day-2013/? 
Our condolences go out to the family 
and friends of Barbara Riley of Oner-
iri Road who died recently. R.I.P. 
Matariki,  the  Maori  New  Year, has been celebrated at The Kauri Museum and 
the number seven seemed to have a significant meaning throughout the exhibition.  
To begin with, there are 7 stars in the cluster of stars (Pleiades or "The Seven Sis-
ters")  named  Matariki  by  the  Maori  people.    The  Kauri  Museum  invited  seven 
schools from the area covered by the old Otamatea County, to exhibit a Matariki 
display at the museum. Staff then discovered that the Otamatea County was actu-
ally  divided  into  seven  ridings,  from  Tokatoka  in the  west to Mangawhai  in  the 
east. The children"s exhibition boards are vibrant works and each one tells a dif-
ferent  story  of  Matariki.    Tamariki  from  the  schools  have  visited  the  exhibition 
and enjoyed seeing the other school"s interpretation of this popular annual event. 
                                                                                          Continues  on page 5 …. 
NO  UPDATE  PACK?  YOU'RE 
NOT ENROLLED TO VOTE 
If you didn"t get an enrolment update 
pack  in  the  mail  this  week,  you  need 
to  get  onto  the  electoral  roll  now. 
That"s the message from the Electoral 
Commission,  which  this  week  sent 
update  packs  to  the  3.1  million  New 
Zealanders on the electoral roll.   
"Local elections are coming this year, 
and  you  must  be  on  the  roll  to  take 
part,"  says  Murray  Wicks,  National 
Manager, Enrolment Services.   
"If you don"t get a pack by Thursday 4 
July  2013,  you  are  not  enrolled  to 
vote, and you need to enrol," says Mr 
Wicks.  
"Enrolling is easy! People can enrol or 
update  their  details  online  at 
Enrolment 
forms are also available by freetexting 
your  name  and  address  to  3676,  call-
ing  0800  36  76  56,  or  visiting  any 
PostShop," he says.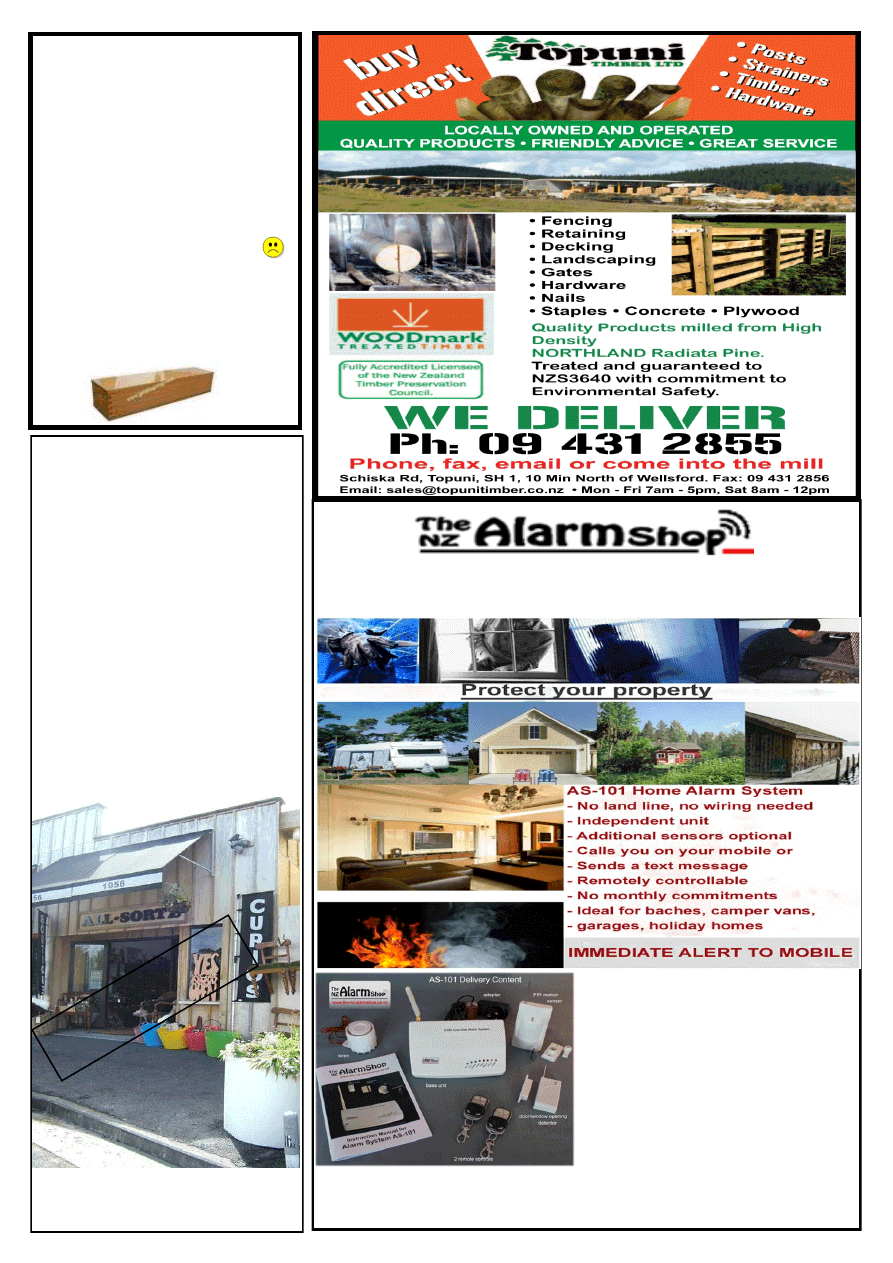 17 
KEV's  
CASKETS 
Stylish, BUDGET Accommodation 
Takeaways (8 available)  
or made to order 
  Featuring 2 styles and  
Different finishes. 
   Also O/S and Infant size 
Phone Kev in Wellsford 
021 1322 671 
Or come and visit my showroom 
271 Rodney Street Wellsford 
 ALL-SORTZ 
COLLECTABLES
Shop 4,  
1956 State Highway 1,  
Kaiwaka   
Phone 09 431 2701 
www.the-nz-alarmshop.co.nz
AFFORDABLE DIY HOME ALARM SYSTEM 
In the event of an alarm situation, the sys-
tem alerts you by sending a text message 
to your mobile phone and/or one of 5 ded-
icated contact phone numbers.  
To check, you can "listen-in" into the room 
by calling the system and so find out, 
what is going on.  
If you personally inform the police about a 
burglary in progress, it is MUCH MORE 
EFFICIENT than the siren going off on its 
own and nobody reacts. Easy to handle 
by You get all this for $249   everybody. 
For more information or other security products call Jorg or Barbara 09-4315905 
or check our web site www.the-nz-alarmshop.co.nz
CURRENT WINTER 
HOURS 
Saturday and Sunday 
11.00am to 3.00pm 
Or by prior appointment 
Telephone 4312701 (Business 
Hours) Or 4229221 or 
0274353535 (After Hours) 
the Animal Health Centre.  To 
celebrate their arrival in  
Kaiwaka, during July, All-Sortz 
is having a celebratory sale 
with 50% off selected items.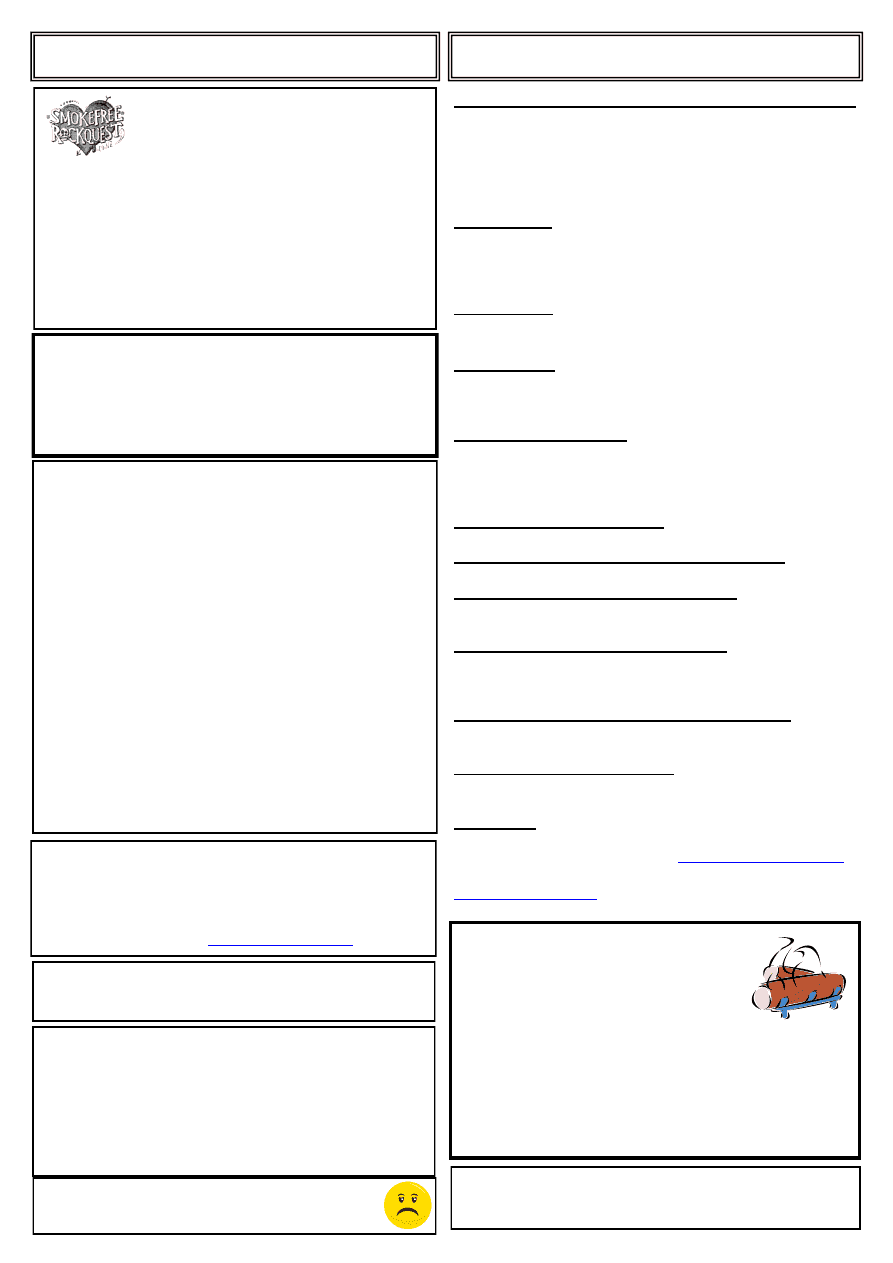 PUBLIC NOTICES 
CLASSIFIED 
BUSINESS  FOR  SALE  OR  SHOP  FOR  LEASE: 
All-Sortz  Collectables,  Shop  4,  1956  SH1  (opposite Café 
Eutopia).  40sqm  of  refurbished  space  with  shared  kitchen 
and toilet facilities. Lots of foot traffic. Very successful life-
style business. Current owner wishes to retire "down on the 
farm", but is no hurry to vacate. Ph: 09 422 9221. 
FOR  SALE: 
High backed green plastic garden chairs from 
the Hall. 60 to sell at $10 each or less if you buy 5 or more.  
All  in  good  condition.  Phone  Ad  Clarijs  4312234  or 
0212154495 
FOR  SALE:  Telstar  "95  Hatch.  Manual.  Good  order 
$1500 ono Ph. 4312995 
FOR  RENT: 
Tidy 3 bedroom house in quiet locality. Sep-
arate garage. 10 Kms  down Oneriri Rd. $220 per wk, bond 
and refs required. Ph: 4312660  
HOUSE  FOR  RENT: 
Sunny, clean and tidy 2 bedroom 
townhouse  with  garage  underneath  on  Marshall  Road. 
$290pw incl. lawns.  Please call Sheridan 09 410 4870 Mob 
0276 879 459 
CLEANER  AVAILABLE: 
Honest  and  reliable $20  p/
hr. Phone Jill 431 2080
HOLISTIC  ANIMAL  PRACTITIONER:   
Horses, 
Pets, Farm Animals. www.allcreatures.co.nz or Jill 4312080
CRANIO  SACRAL  THERAPIST: 
for  People  and 
Horses, $45 experienced practitioner. Jill Shires 431 2080 
EXPERIENCED  CAREWORKER
 requires work.  My 
name is Cindy Cotton and I have been working in the area 
for about 12 years.  Ph: 4312006 
CLOTHING ALTERATIONS & REPAIRS: 
Zips,  hems,  dressmaking  &  dress  design.  Phone  Win 
4312027 or 0274448358
FREE GRAZING WANTED:  
Small or large block. Can do 
some fencing or water. Phone after 6pm  4312006 
WANTED: 
Musos seek competent, exp Lead Singer/Kbrd Play-
er for band. Auditions will be held for successful applicants. Con-
tacts…Pete Worsfold
021825970 
09 4312009 evngs after 8pm
or John Rankin 09 4314692 
PROVERBS: 
 22:17-19  Listen to this wise advice; fol-
low it closely, for it will do you good, and you can pass it on 
to others: TRUST IN THE LORD
FIREWOOD 
FOR SALE 
Simply the best dry, 
seasoned totara
$90
 CUBIC METRE 
DELIVERED 
Phone Lyn 0220708674  
Or Ray 0212274420
SMOKEFREEROCKQUEST 
   Attention all Students at   
  Otamatea High School. 
I have two media passes to give away to 
the  Northland  finals  of  the  SmokeFreeRockQuest.  I 
have checked with the organisers and have permission 
to  give  these  passes  to  the  first  student  of  photog-
raphy,  journalism  or  media  studies  who  contacts  me 
on  0220804186  and  tells  me  the  names  of  two  Ota-
matea  High  School  entrants  in  the  contest  this  year.  
The finals are on FRIDAY 12 JULY.    Ann J., Editor 
Café Eutopia"s Karen is going fishin" first week of school 
hols. So you will have to source coffee etc. elsewhere for 
that week.  
Local Vocals Choir  
10  week  workshop  series  with  Max  Maxwell.  Begins 
Sunday July 21st, Wellsford Community Centre 3pm - 
5pm  every Sunday. Gold Coin  entry. Enquiries to  Re-
becca Blissett 4312085, 
ATTENTION KAIWAKA PRIMARY 
SCHOOL CHILDREN! 
It's calf club time again! Just a reminder that 
the birth dates for lambs and calves to be eligi-
ble to enter are from 1st July. We are starting to 
get enquiries from farmers with animals avail-
able for calf club. If you are looking for a calf 
or a lamb for your Kaiwaka school child, or 
you have one available for adoption, please 
contact Carol Mills 4312044.   
A reminder to all children with cups from last 
year to please return them to the school office 
as soon as possible.   
General calf club enquiries contact Rebecca 
Blissett 4312085.  
Working Bee Under Kaiwaka Bridge 
Pete Worsfold is having a working bee Sunday 21 July 
10.00am under the bridge in Kaiwaka.  Please come and 
help planting and cleaning up what"s already there. Then 
bark it later in the spring during another working bee. Con-
tact Pete 021825970.  BIG thanks to the Brethren at Kauri 
Park for donating plants for the project. 
APOLOGIES to those who thought All-Sortz were having 
a 50% off everything. sale in the last Bugle.   My fault; ad-
vert should have said 50% off selected items.    Ann 
Our condolences are extended to the Connelly Family on 
the loss of Jimmy Connelly. Amongst many things, Jimmy 
was a member of the Fire Brigade and past Kaumatua for 
Kaiwaka School. Husband of Te Puawai Blossom, father 
and grandfather, respected Rangatira o Ngati Whatua. 
 
R.I.P.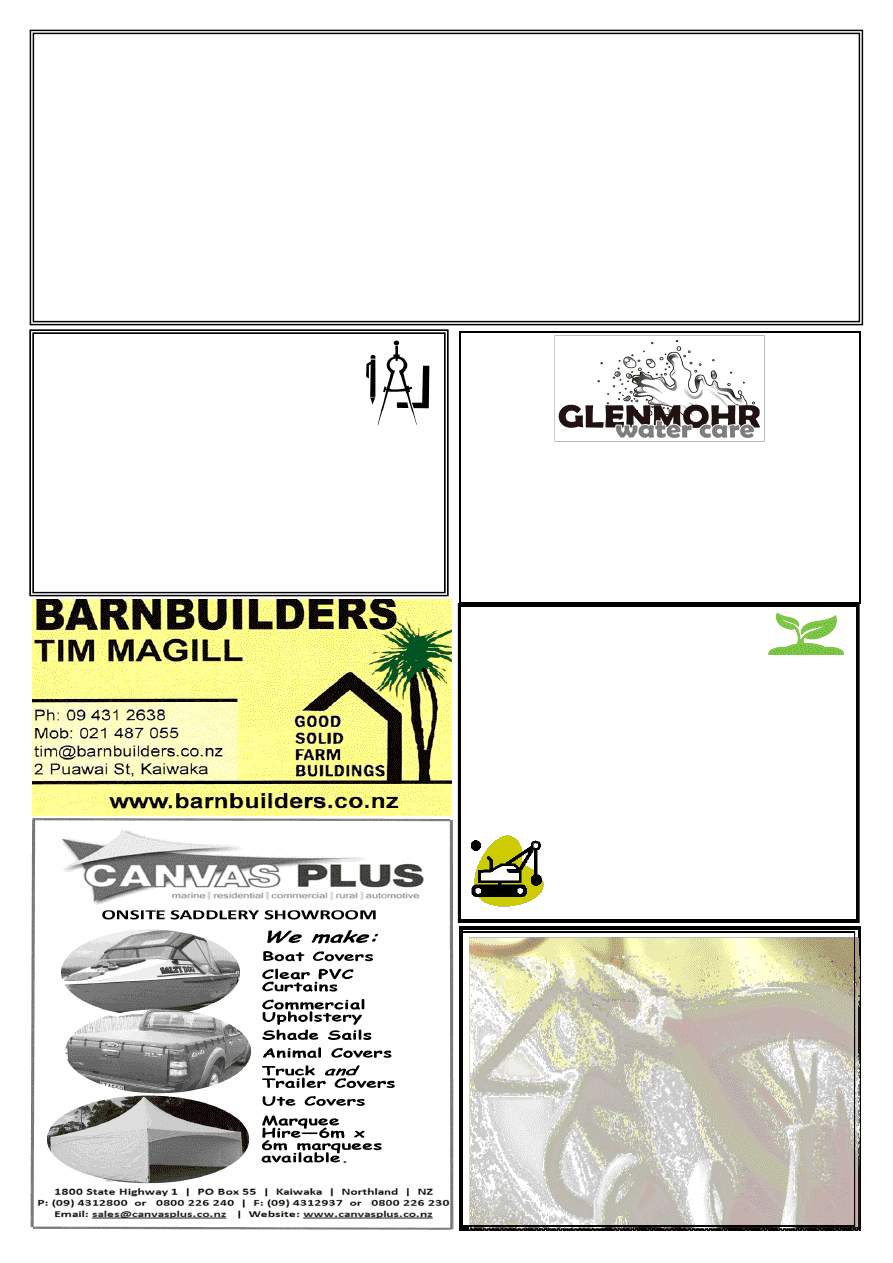 RANGANUI EARTHMOVERS 
 
16T Excavator   
(tilt, thumb & ROPS cab)   
Transport Trailer 
2 x 6 Wheeler Tip Trucks 
Suppliers of All Grades of Metal & Topsoil 
 
If you want a proper job done with an experienced operator ring 
Grant on    A/H 431-2131        Email  ranganui.dev@xtra.co.nz 
   Mob  021845-246 
Driveways, House Sites,  
Drainage Dams, 
Section Clearing,  
Tree Work,  Rock Retaining Walls,  
Quarry Work, 
Basically Anything That a Digger Can Do 
design drafting 
service 
Retired builder and manufacturer with over 40 years  
experience in the building industry is offering a design 
drafting service  
for domestic housing, sleepouts and sheds.  
Plans formulated in consultation with clients, with 
working drawings completed and submitted to  
council for processing.  Extensive practical experience,  
able to identify & resolve problems. 
Please ring Mike Lean on 
09 431 2260  
Water Tank Cleaning 
" 
 Keep your water safe & clean   
 
Removal of sediment, silt etc. 
 
Vacuum or full scrub 
 
Minimal water loss 
Phone Mark (09) 432 0655 or 0274 707607 
Paul Greig Electrical Ltd 
Residential • Farm • Commercial 
Paul Greig 
Registered Electrician 
  Ph: 431 2223  
Mob:021 230 2717 
Reliable & Professional Quality Service 
Based in Kaiwaka 
 
Bobcat ...Hole boring....Retaining walls 
 
Driveways and driveway repairs 
 
Sections cleared ... Land levelling  
 
   Complete landscape construction  
Service
For  a fast friendly competitive service give us a 
call… 
 
Tim Hicks 
      Kaiwaka    
 
094312885   
02102391280
Natural Earth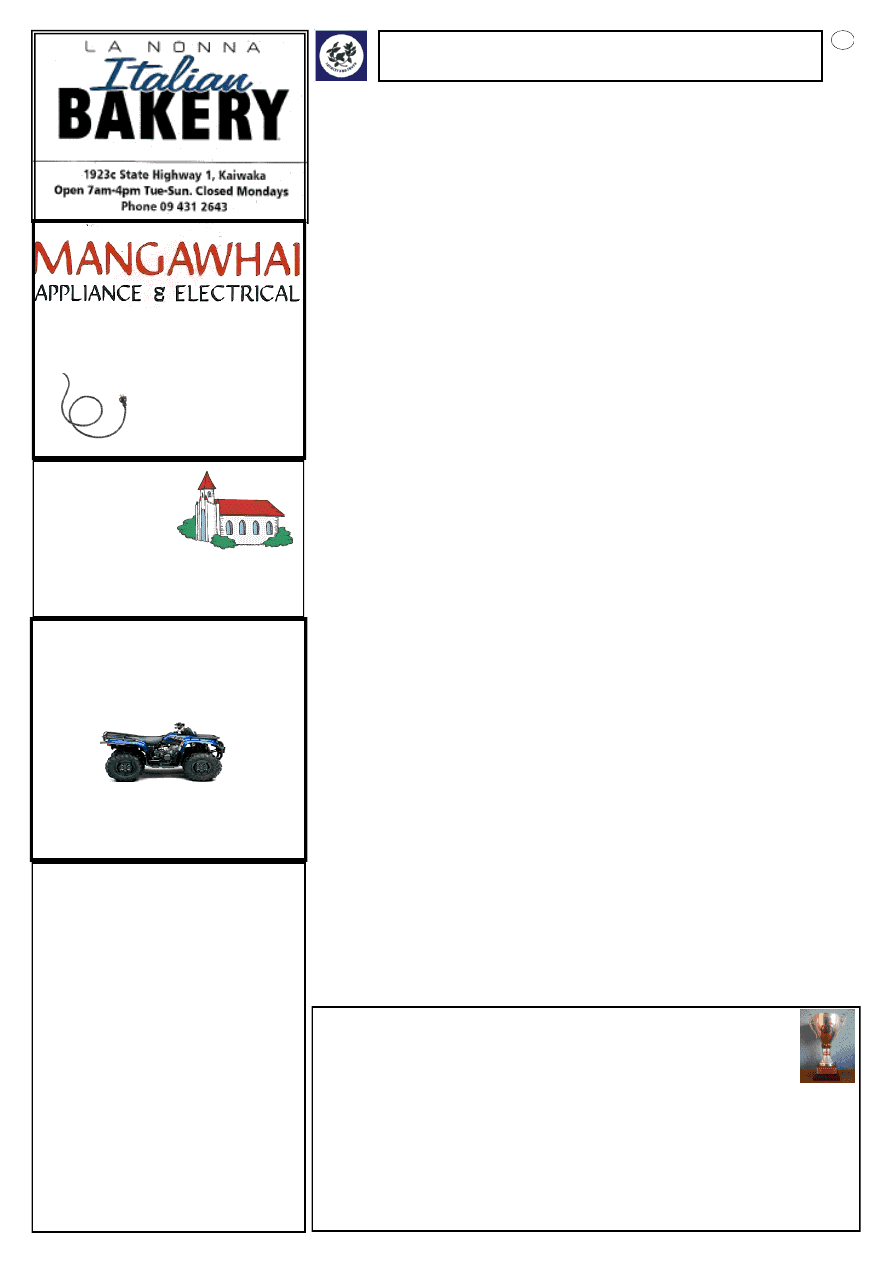 ST PAUL"S  
SUNDAY  
SERVICES
First Sunday 9.30am, third Sunday 4pm  
Paparoa Anglican and Wellsford  Co-op Parishes 
StPauls Church: Kaiwaka-Mangawhai Rd.  
Contacts:M.Hargreaves 4312295, C.Bygrave 4312057  
1st Sun. (Anglican),3rd Sun. (Co-op).
KAIWAKA  MOTOR 
CYCLES LTD 
SALES SERVICE SPARES
FARM BIKE SPECIALIST
Phone 431 2127 
Kaiwaka-Mangawhai Rd 
Kaiwaka 
5 
DEAN STEWART 
Registered Electrician 
021 280 4008 
09 4312 911 
AUTHOURISED FISHER AND PAYKEL SERVICE 
         Otamatea High School 
….Continues  from  front  page  …   
the 
Kauri  Museum's Matariki  Exhibi-
tion
In conjunction with the exhibition, local 
weavers  Martha  Hetaraka  and  Sandy 
Thompson taught flax weaving to many 
enthusiastic  locals  and  visitors.  Some 
learnt how to weave simple flowers with 
Sandy  and  the  more  experienced  made 
their own  kete  under Martha"s  watchful 
eye. A bonus for visiting school children 
from  Warkworth  Primary  School  was  a 
demonstration  of  Maori  Musical  Instru-
ments.    This  was  presented  by  Bernard 
Makoare  of  Kaihu.  A  spokesman  from 
the Museum staff said "It was a wonder-
ful    happy  event  at  The  Kauri  Museum 
and  thanks  must  be  given  to  Te  Puni 
Kokiri and Creative Arts for funding this 
event  and  also  our  local  Maori  people 
who have been so supportive". 
Dear Parents and Caregivers 
It was excellent to see such a good turnout of parents last Thursday. The online 
booking system does not seem to have put anyone off with over 800 bookings 
which is a 33% increase on the amount of bookings from this time in 2012. It 
was also excellent to see that a huge number of families took my advice and 
brought their children with them. The three way partnership is essential if stu-
dents are going to achieve to their potential. I spoke with a number of parents/
caregivers about bringing their children and they had found it very useful. As one 
put it "After all it is her (the student) who is the one who is going to have to do 
something about what the teacher says. A couple of parents mentioned that one 
drawback was that if you had something confidential to say that you did not want 
your child to hear it could be a little inhibiting. My suggestion was that a crowd-
ed hall was probably not the best place to share sensitive, confidential infor-
mation and this is why I included a copy of the teachers" emails again in the last 
newsletter. I believe in the very brief time they have got parents should establish 
the following four things: 
1. What has my child achieved? 
2. Are they making progress? 
3. What are their next learning steps?  
4. How can I support their achievement? 
Anything else you manage to fit in before you move on is a bonus. 
With regard to number 4, I have inserted a paragraph from last week"s comment. 
I would also like to remind parents/caregivers of NCEA students that there is a 
wealth of material on the NZQA website 
http://www.nzqa.govt.nz 
that can assist 
students to perform to their potential in NCEA. If you go to the home page using 
the address above and scroll down to the bottom left hand corner and click on 
"Subjects" in the "School students and parents" list this will take you to infor-
mation on all NCEA subjects. Exemplars of student work, copies of the stand-
ards and past examination papers are just some of things you can access. 
Another very useful website for senior students of English, mathematics and sci-
ence is 
http://www.studyit.org.nz
It was good to see students gaining positive publicity for themselves and Ota-
matea High School in the newspapers last week. There were two articles in the 
"Kaipara Lifestyler". One was a picture of the Kapa Haka group with an article 
about the Matariki concert. This was very well supported by both whanau and 
local kura. There was also an article about the winning anti-drug video produced 
by two of our Head Prefects, Jake Powell and Jack Williamson, and featuring 
Joesiah Day and an orange. 
Finally, Friday"s Herald carried a picture of two of our students James Ratima 
and Shontay Morunga on the ice in Auckland enjoying 9N"s competition win. 
Teachers, Dave Burnell and Arina Bosch along with Wuzz Phillips reported that 
the students were excellently behaved and it was a pleasure to be with them. 
It was excellent to attend the Aviation Academy barbecue. The students were 
asked to explain to their parents exactly what they had been doing and they were 
very enthusiastic about doing just that. The students" families were very support-
ive of the academy and what was happening in it. We are hoping to establish a 
third academy, in hospitality, in 2014. 
Coming up this week we have squash teams away on Friday and Level 1 are in-
volved in a neuroscience competition. 
Finally, it is "Te wiki o te reo Maori" and we will be supporting this at school 
this week. 
http://www.korero.maori.nz/news/mlw 
is a link to website that you 
can get more information on this.                       Roy Fletcher, Acting Principal 
 RODNEY COLLEGE
Netball - 
Every Monday night for the past 4 weeks, the Rodney  
Netball Centre has held the annual Rodney District Secondary  
School  Challenge.  This  year,  Rodney  College  Netball Team  1  came  up 
against Otamatea, Dargaville and Ruawai high schools and won all their games. In 
the end it came to Rodney vs Ruawai. The fierce battle between these teams was 
intense and the girls were on edge. Ruawai gave it their all, however, the Rodney 
girls gave more resulting in the victory, the final score 47-36. I would like to to 
acknowledge  Natasha  Thrasyvoulou
, 
Rebecca  Simmonds  and  Aana  Carter  for 
being selected, by the opposing teams, as players of the day. This is a huge ac-
complishment for the girls, as this is the first time Rodney has won this tourna-
ment.  Way to go girls! Keep it up!                         Renee de Thierry, Captain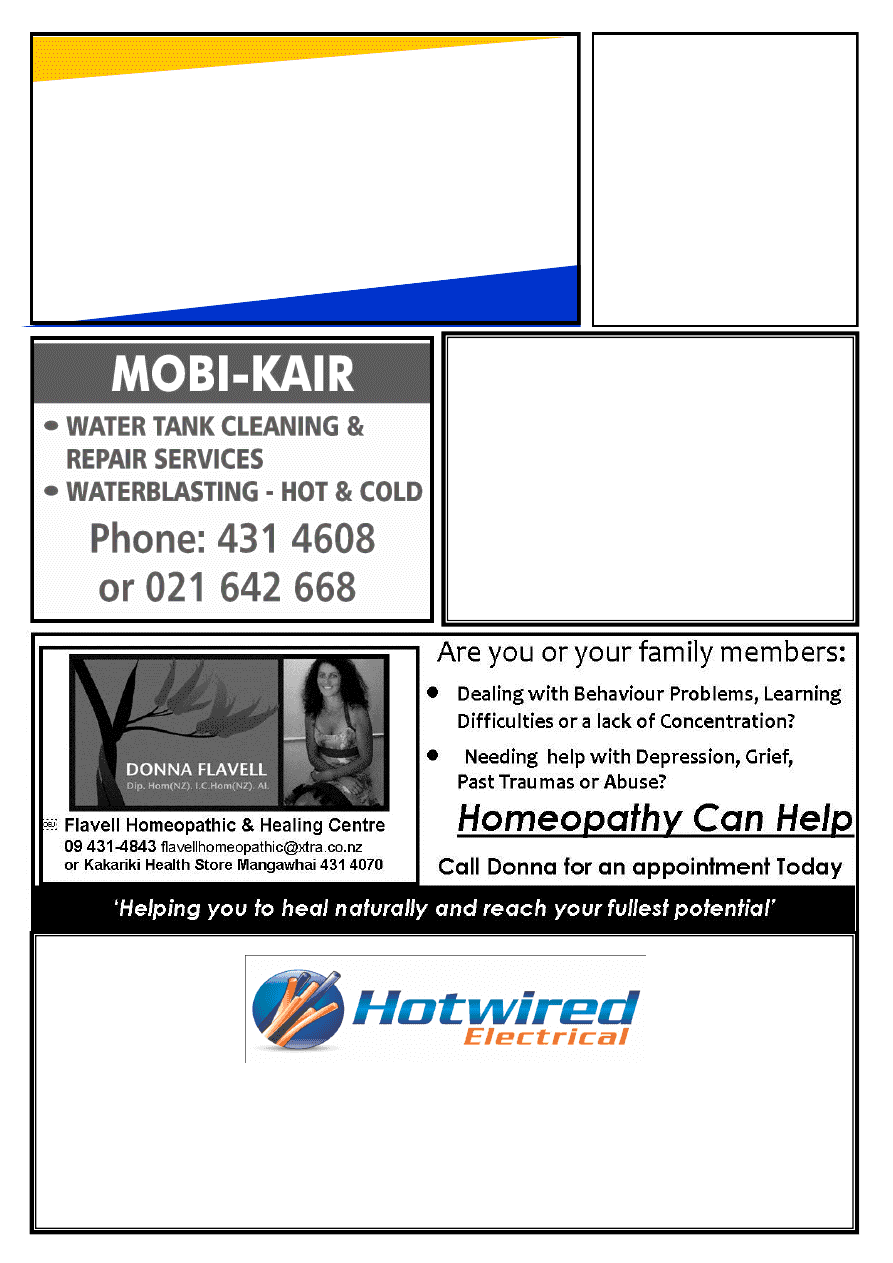 CONCRETE 
If it's concrete we do it 
Full Preparation & Pour by 
Experienced Local Team 
Phone Phil Keen Contractors  
027 659 2376 
TILING 
Certified Waterproofing 
431 4533 or 021 86 33 33 
George 
MCN Property Solutionz  
Local references available 
 LEABOURNS 
Passenger Service 
Car & Van Hire 
Bus & Coach Charters 
Airport Transfers 
 Monthly Shopper Bus 
Phone (09) 4237416 
For All your Electrical  Requirements 
 
Domestic small jobs 
 
Residential dwellings and alterations 
 
Commercial              
No job too big or too small
 
Industrial                       
Contact Jason today on: 
(09) 431 5992, (021) 405 019 
www.hotwiredelectrical.co.nz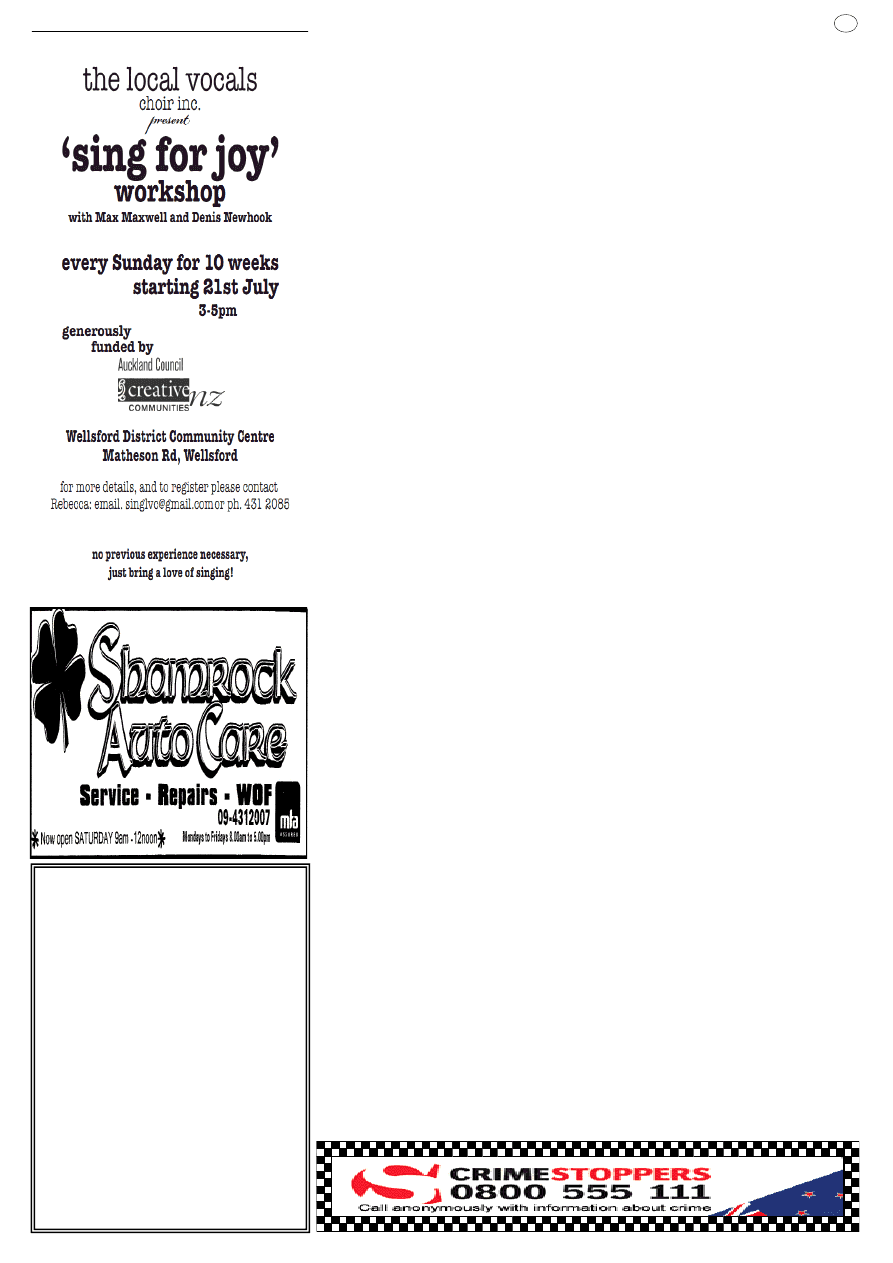 AMBER'S 
Q Cafe &  
Restaurant  
All day breakfast, 8am - 5.30pm.     
Home made Pizza, take away or eat in from 8am to late. 
 Light lunches, 11.am - 5.30pm, 
Dinner Menu at 5.30pm to late 
 Toasted Sandwiches and Sandwiches made to order. 
All day, Pies, Chowder & Soups 
 Milkshakes, Kiwi Ice cream, Slushie Fruit drink, Tea, 
Coffee 
 Closed Mondays.....except Observed Holidays 
 Sunday to Thursday: 8am - 8pm 
 Friday: 8am - 8.30pm, Saturdays 8am- 9pm 
4315226 
Trevor & Amber 
41 Moir Street, Shop 5-6  
Mangawhai Village 
Next to Carters Building Supplies 
 7 
COMMUNITY NEWS 
Sing to throw off the winter blues 
Last year's very successful 10 week series of community singing 
sessions at the Wellsford District Community Centre is being of-
fered again this year. 
"We want people from all aspects of the wider community to feel 
that they are invited to come along and sing with us," says Sally 
Randall  the  president  of  the  Local  Vocals  Choir  (LVC  Inc.) 
"Singing in a group can really lift the spirits, so it's a great way 
to beat the winter blues. The singers will once more share their 
singing  in  a  community  concert  at  the  end  of  the  10  week  se-
ries. Last year's concert was an enormous success, the audience 
packed out the venue."  
Formerly known as the Wellsford Community Choir, the vision of 
the choir grew from Sally's passionate belief that singing is ben-
eficial for health and wellbeing.  
To help deliver this opportunity to the wider community, the LVC 
committee  have  again  been  allocated  funding  this  year  from 
Auckland  Council  Creative  Communities  NZ.  Participation  only 
requires a gold coin each time, made possible by the funding. 
LVC  members  recently  sang  at  the  Wellsford  Library  official 
opening.  
The first of the ten consecutive sessions is on Sunday 21
st
July, at the Wellsford District Community Centre 
If you are interested in enrolling please email sin-
glvc@gmail.com or call Sally on 423 9393. www.facebook.com/
sinlvc 
<<See poster to the left 
Press Release  
03 July 2013  
$14 million Roading Contract Awarded  
The Kaipara District Council awarded its Road Network Maintenance 
Contract 682 to Transfield Services New Zealand Limited at an Extraor-
dinary meeting of Council held 01 July 2013.  
John Burt, General Manager Operations said "Transfield was awarded 
the Contract after a rigorous selection process.  The new Contract has 
been structured so that Council will have more input into the 
type, quantity and timing of maintenance work on our roads.  
Transfield should be commended for the quality of their response and we 
look forward to a close working relationship with them".  
Tenderers were able to submit a response on either the sealed and un-
sealed networks or a combination of both.  All Tenderers indicated that 
they preferred the sealed and unsealed networks to be combined into one 
Contract.  All priced accordingly and , as a result, all offered large dis-
counts. The Contract has an initial Contract period of 23 months and is 
worth just under $14 million.  
Transfield Services New Zealand Limited had the lowest price and was 
also assessed as the best overall contractor.  The two other Tenderers 
were Downer NZ Limited and Fulton Hogan.  
Tenders closed 13 June 2013 and all tenders were evaluated in accord-
ance with the procedures specified in the NZ Transport Agency's (NZTA) 
procurement manual.  
Ends  
Editor"s Note:  14 million and Council have a say as to what, where and how.  So 
how come they won"t spend a few bucks sealing the dangerous part of Settlement 
Road, which will definitely save someone"s life?  See "Letters to the Editor" page 
9.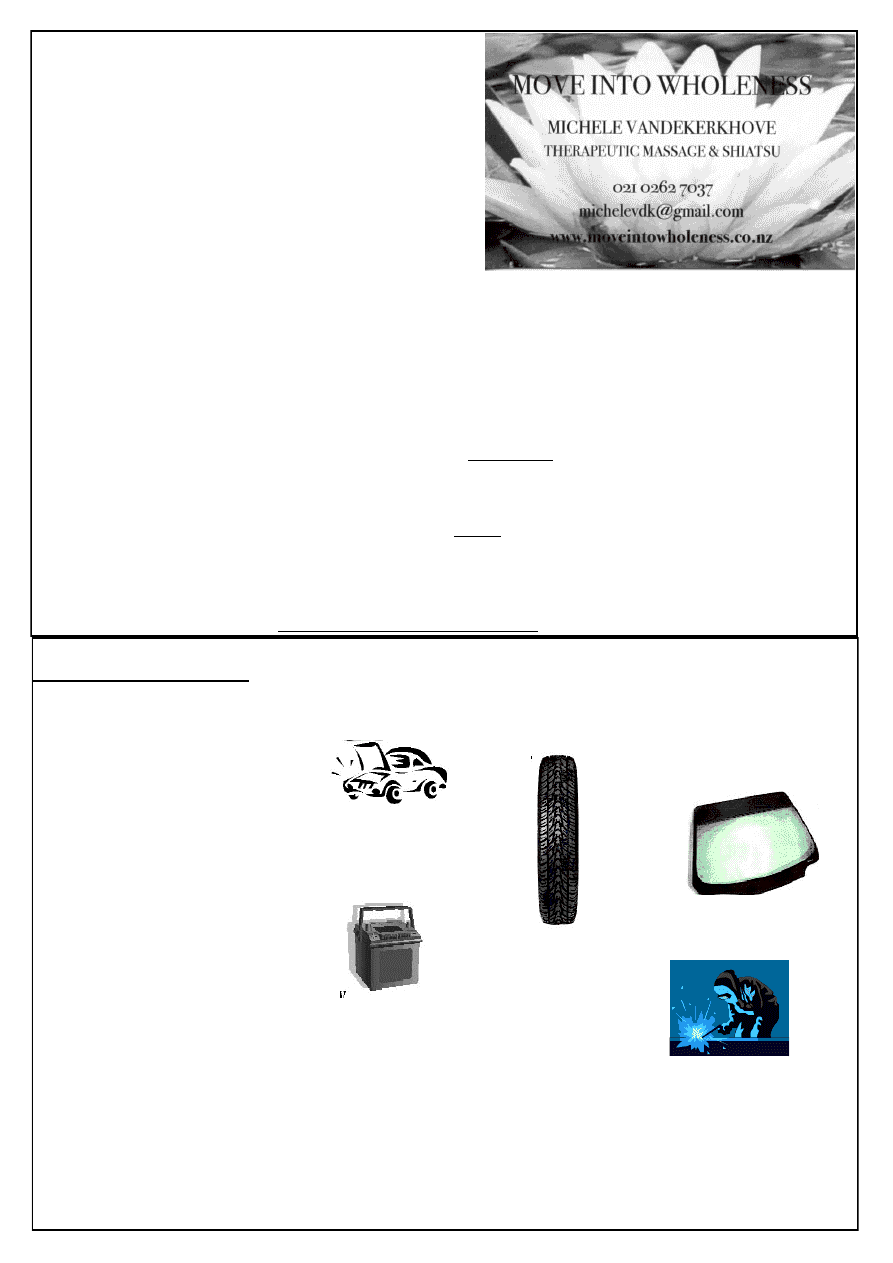 Want it done? 
Bring it to...      
Twinkle Tow 'n' Tyre
*W.O.F. 
*Tyres 
*Windscreen replacement 
*Chip repairs 
*Bulk Oil 
*Batteries 
*Welding 
*Custom built trailers 
*Trailer hire 
*Storage available, cars, boats, house contents etc.
Think you"ll get a better deal in the city? 
Go on, ring us; it won"t cost anything! 
1837 State Highway 1, Kaiwaka       Phone 431 2823 
MOVE INTO WHOLENESS 
Hi, my name is Michèle and I offer Therapeutic Massage and  
Shiatsu treatments in Kaiwaka and Mangawhai. I currently  
realized that it has been over two years since I started my practice  
and occupied the stage at the Mangawhai Hall market every second  
Saturday. Unbelievable how the time has flown by.  
The most common complaint I came across in my practice so far  
is postural pain. Taking on a certain posture that has become hab 
itual can result in muscle ache and general discomfort. Sitting in  
front of a computer screen bending forward (or driving your car  
or other vehicles) for long hours on end on a daily basis makes  
your muscles exert too much of a pull upon the joints and bones. In other words doing the same action every day or simply 
adopting a bad posture can result in muscles which are chronically lengthened and tight. 
The forward bend position, held for a long period and repetitively, causes i.e. the back, shoulder and neck muscles to be-
come  
( 
over 
-) 
stretched. When this happens then a physiologic mechanism provokes the muscle to send a signal alerting 
the central nervous system that the muscle is being stretched and in the worst case overstretched. The central nervous system 
will command the muscle to contract and shorten the muscle all to prevent the muscle from being excessively stretched and 
torn.  
The habitual bad posture keeps on putting stress on the flexor muscles of your back and neck and make those muscles sensi-
tive for extra added stretch over the course of time and will generate contraction of the muscle again. This pattern will even-
tually result in a too tight resting tone of the muscles which is the postural pain.  
The body in a resting position has a baseline tone of the musculature to maintain the proper posture of it"s joints. This base-
line or resting tone of our musculature largely determines our posture, and is set by the central nervous system which func-
tions  without  our  conscious  control.  In  other  words the  resting  tone  of  our  musculature  is also  referred to  as  the  muscle 
memory. In conclusion the goal of the massage therapist is to change the muscle memory of the baseline tone of the tight 
muscles with massage and stretching techniques.  
This article is a simplified sketch of what is causing postural pain. If you would prefer to read a more extended version of 
the physiological mechanisms of how muscles are becoming too tight from having a poor posture please google my face-
book page : Michele Vandekerkhove - move into wholeness. To find out more information about the therapies I offer and 
the locations please visit my website:http://www.moveintowholeness.co.nz or give us a call  02102627037 

9 
LETTERS TO THE EDITOR
Dear Ed,  
In your May edition there was a letter entitled Roading Complaints.  Unbeknown to us others 
in the district making the exact same complaint we too sent emails and letters to the commis-
sioners and the council regarding the state of Settlement Road.  We also got the exact same re-
sponse letter.  
Having just got off the phone from speaking to the Roading Manager (as we had received a let-
ter from him dated 20th June saying this concludes matters raised), we were appauled to listen 
to the fact that the engineers have done a review of the speed limit on Settlement road and they 
state  it  should  remain  at  100km/h.    All  they  are  recommending  is  a  warning  sign  saying 
"SLIPPERY SURFACE - GRAVEL ROAD". 
Are these engineers totally and utterly blind and stupid?    
Let's not forget the conversation with the Roading Manager at KDC, yes he went on to say no 
money in the kitty and he confirmed that yes it was a contract for Settlement Road to be graded 
every 6 weeks but due to lack of money this was not done.  He also made comment that a gravel 
road  situated  in  Mangawhai  was  more  than  likely  to  get  a  recommended  reduced  speed  lim-
it.  Yet Settlement Road is not! Mangawhai again getting priority?  
Also  being  told  that  there  are  so  many  other roads  in  Kaipara  that need  attention.    We have 
been sending letters and requests for speed reduction for 5 years now not just once.  A petition 
was put to the council a few years ago by another resident who went door to door knocking to 
get Settlement Road sorted but it was all ignored.  
We have personally experienced the near misses with two milk tankers who lost control of their 
back truck and we ended up in a ditch.  Also the hoons who drive with no traction on their tyres 
who lose control on the slippery surface.   I recommend all the residents who live on Settlement 
or have to use Settlement to get to their   properties to request the report and keep telling KDC 
that  we  need  a  sealed  road  and  a  reduced  speed  limit.   Is  it  going  to  take a  fatal  accident  for 
KDC to listen? We have requested a copy of the report the engineers have completed and wait-
ing to see what the engineers are saying.  
From some very disgruntled and upset rate payers who do pay their rates and live in Kaiwaka. 
       (Name and email supplied, ed.)   
Below is the wording of the letter we received dated 20th June 2013 from the KDC.  
Speed Limit - Settlement Road, Kaiwaka  
A review of the speed limit on Settlement Road was completed by our engineers. 
As  part  of  that  review an  onsite  survey  was  carried  out  and  the  results  indicated  that  no  changes  were  re-
quired  to  be  implemented.    Frontage  development  and  side  road  volumes  were  insufficient  to  warrant  a 
change of speed limit in this rural environment.  
It is recommended by our engineers that the speed limit for Settlement Road remain at 100 km/h.  
A  permanent  warning  sign  "SLIPPERY  SURFACE  -  GRAVEL  ROAD"  has  been  recommended  and  pro-
grammed to be installed at 265 metres from the start of the road, in order to stay consistent with the other 
signage within this section of road.  
I trust this concludes the matters you have raised regarding the speed limit.  
Yours faithfully, Roading Manager   
Dr A Macaulay D C 
Maungaturoto Chiropractic Clinic 
3 Gorge Road 
Maungaturoto 
HOURS 
Mon 9am -6pm 
Wednesday 9am-7.30pm 
Thursday 7am-6pm 
For Appointments  
Phone 09 4318019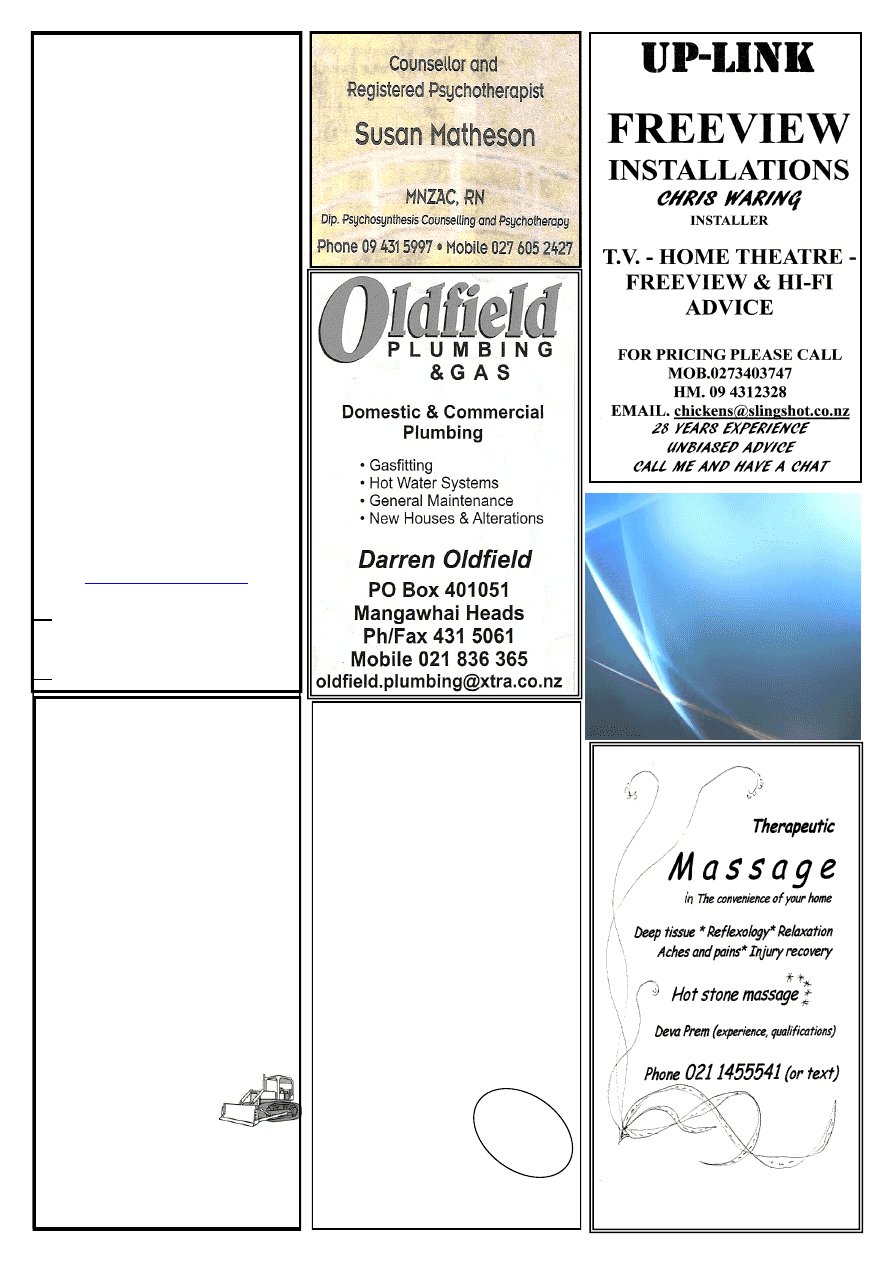 www.mangawhaimassage.co.nz 
Based ou
t  
Oner
iri Roa
d 
HODGETTS
CONTRACTING
Digger Work    

Driveways 

House Sites   

Dams 

Drains, etc
Also available for HIRE 

3 ton Vib Roller 

Heavy Duty Tow 

Waterblaster  

Lazer Level 
Phone Mark 
4312877 
027 447 8554
BONJOUR MESDAMES ET 
MESSIEURS!! 
Need that extra help to feel...fully on top of 
things? You guessed it...  
 I can help!...with all those winter niggles.
Monsieur Masseur .... 
RELAXING  
MASSAGE
..... Juste pour vous" 
Here's feedback from happy clients: 
"Pete's treatment works.  I have Pete to 
thank for getting me back to work. I am so 
much happier and more confident in my-
self.  I can thoroughly recommend him." 
"When Pete massages me, I can feel the 
energy coming through. Strong energy 
comes through. Awesome release." 
 
Call for an appointment now!
Pete Worsfold 
4312 009 (evenings)  or    
021 825970   
Flat 1 1933 SH1 
Or  Book at "The Well of Health" 
for an appt. 09 4312 799 
 
Or mobile service available 
Coates  
Contracting 
 
D41 Bulldozer with 6 
way blade, bush rigged 
with winch 
 
For all tree work 
 
General bulldozing and  
  stick raking. 
 
120hp Tractor for 
ground cultivation,  
 
tip trailer work. 
 
Fencing
All enquiries phone  
Brett Coates  
094318720 or mob 
021431872 
Freeview  
Installations 
Richard Te Haara 
25 Marram Place 
Mangawhai Heads 
021 1104056 
kiwipride@xtra.co.nz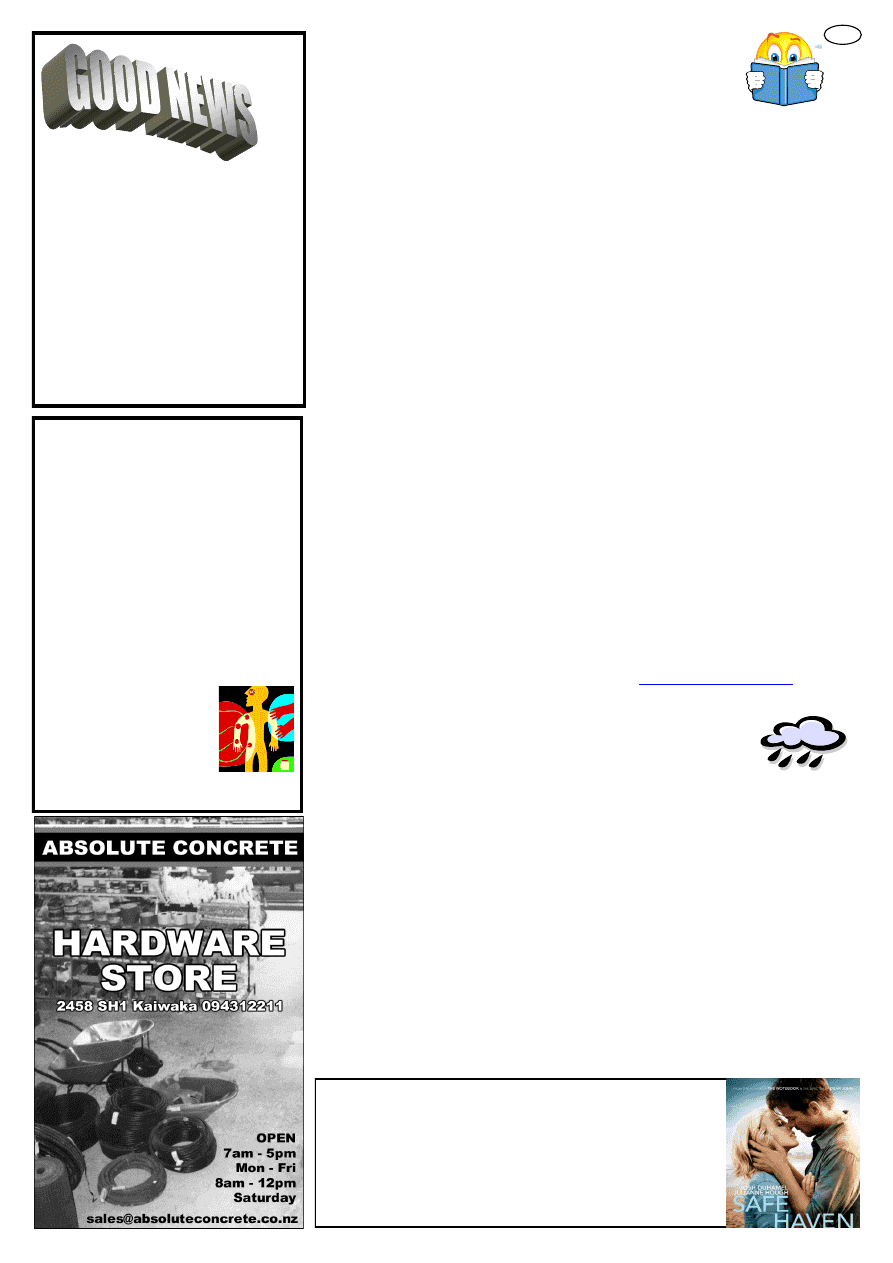 @ the  
Kaiwaka Family 
Church 
Your COMMUNITY CHURCH 
RECEIVE HEALING 
  RECEIVE THE LOVE OF GOD 
  Everyone warmly welcome each                                            
 
    Sunday 10am. 
Contact: Pastor John Dekker,  
09 4318203 
THERE'S 
OWEN STEVENS 
Osteo Therapist
For careful adjustments to bones 
and joints 
Treatment for  
humans and their pets 
Clinics: Kate's Place, Kaiwaka: 
Last Friday of month 
Warkworth Showground:  
2nd Thursday, monthly          
For  bookings:  9.00am-5.00pm  
Phone 
09 4312661 
Or phone Owen   
09 4317123                   
anytime 
KAIWAKA LIBRARY  
Hope you're surviving the winter weather okay.  There's nothing 
like 
curling up with a good book to take your mind off it! 
On  1  July  2013  the  books  marked  with  a  '12'  dot  sticker  stopped  being  rental 
books and are now free to borrow.  To make room for them on the other shelves, 
there has been a bit of a clear-out of older fiction books that have not been read in 
a long time.  This means (1) a whole swathe of books that used to cost a little are 
now  free  to  borrow,  and  (2)  there  are  new  books  on  our  sales  table  to  choose 
from. Come on in and take a look. 
Thank you to everyone who has made a positive comment about our book re-
views. We really appreciate your feedback. If you want to see more than the ones 
in these reports, find us on Facebook or Google+ and follow us there. If you'd 
like to write a review of a book from our shelves, that is very welcome, too - 
email or post it to one of the addresses below, or drop it in at the library. The 
more, the merrier.We now have a few DVDs on our shelves - you'll find them 
next to the audio and Young Adults sections. Unless marked "Free", they cost $3 
to borrow for a week. There's an overdue fee of $1 per day, to encourage prompt 
return. They're now part of our Dargaville exchange, and will change in Decem-
ber when we do that book swap. 
Do you want the library to be open on Monday evenings? Patronage has been a 
bit thin lately, and it's getting hard to justify staying open on those cold and dark 
nights. Use it or loose it! 
Recently  I've  read  Amagansett  by  Mark  Mills.  It's  set  on  Long  Island,  New 
York, where fishing people have eeked out a living for hundreds of years. Post-
World War II, the rich of New York City are discovering it as a weekend and hol-
iday playground, slowly squeezing out the poorer people who can't afford to stay. 
Fishermen Conrad Labarde and Rollo Kemp are trawling along the beach when 
they bring up the body of a beautiful socialite. Police are called, and it appears to 
be an accidental drowning. But Conrad kept quiet about knowing the woman, and 
knows it was murder. Who? Why? His own life becomes endangered as he tries 
to find the answers. I enjoyed this story, and have no hesitation in recommending 
it  to  others.  I've  previously  read  and  enjoyed  The  Information  Officer  by  the 
same author. This book is on the Free Fiction shelves in the library. 
See you in the library! 
Wendy  Howard,  Librarian 
Kaiwaka Library, cnr State Highway 1 and Kaiwaka Mangawhai 
Road. PO Box 89, Kaiwaka 0542. Phone 4312 539. Email 
 Open Wed-
Sat 10am-2pm, Mon 4-6pm. Membership is available to all residents in the Kaiwaka area.
11 
KAIWAKA WEATHER 
Greetings friends.  Here we are 6months of 2013 already gone.   
I wish you well for the rest of the year and hope the weather treats you a bit bet-
ter especially the older folk enduring the cold weather we are having.  Right now 
our temperatures  are  up a bit.   We  got down to  7degrees  at  our  house  later in 
June.    Had  the  slight  hint  of  a  frost.    I  see  now  the  paddocks  are  bogging 
up.  They recovered very well after the summer. It is a shame we have been short 
of  sunshine,  however  we  are  past  the  shortest  day  and  heading  to  summer 
again.  I feel sorry for the baby animals being born in the wet. Oh yes you farm-
ers as well having to go tend to the mothers having the babies. Also the vets who 
have to come out and so the list goes on.  At our house we had 174mm rain over 
13 days of June.  The 1
st
 6 months of the year we had 561mm rain and 1
st
 six 
months  of  2012  we  had  529mm  rain.    Our  wettest  June  since  1987  was 
2009  with 301mm and the driest June was 2012 with 52mm.  Our wettest six 
months of any year since 1987 was 2011 with 1041mm and the driest was 1987 
with  333mm.  We have not had many frosts although it has been cold enough 
but my wise brother-in-law says the ground temperature has been high after the 
summer.  Reg was digging around in a drain and the water that was seeping out 
of the ground was warm. We look forward to another summer.  Keep well and 
keep warm and look after each other. Bev. 
"Safe Haven" 
Friday 26
th
 July 
Kaiwaka Sports Complex,6.30pm 
Adults $4,children $2 (yr 9 & under)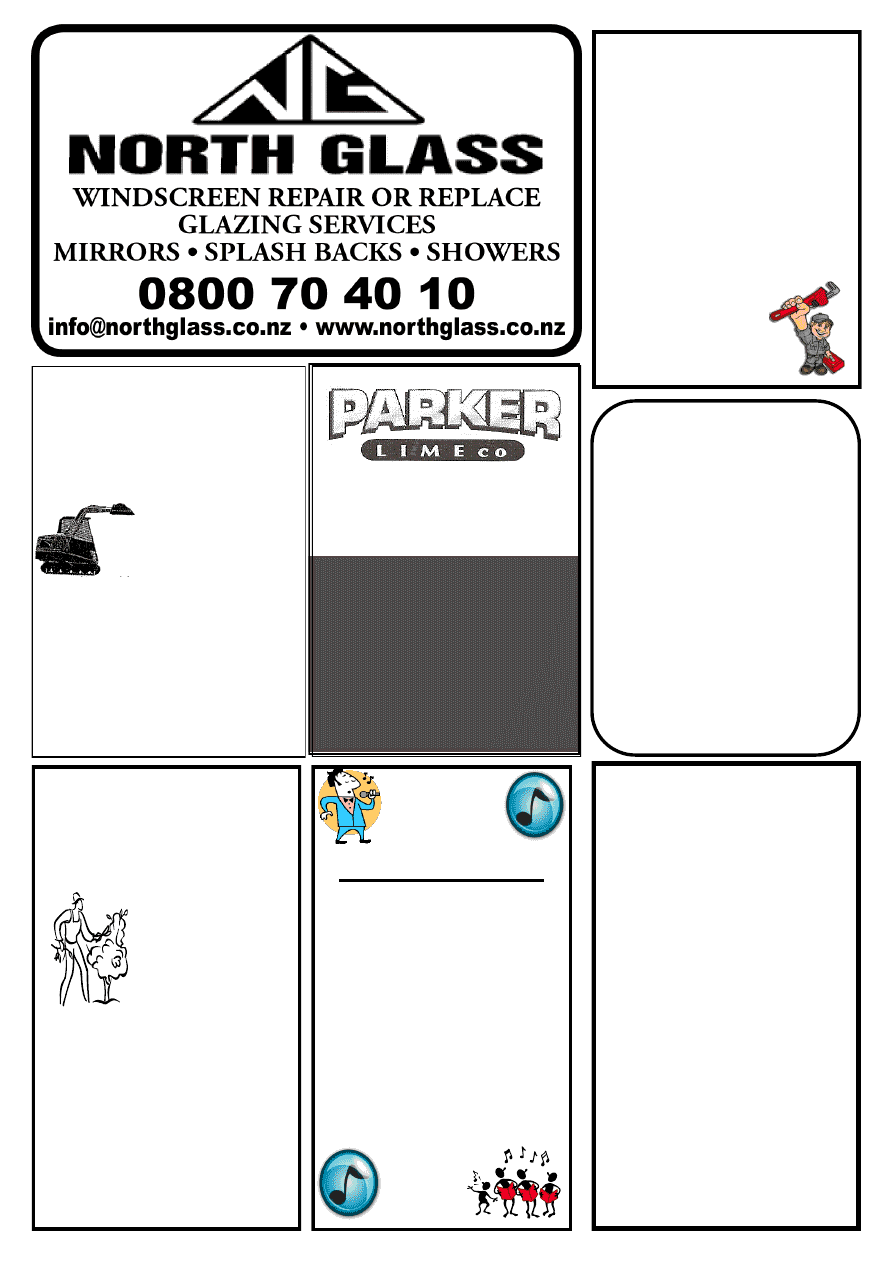 T.W.WRIGHT 
WATER PUMPS  
SALES & SERVICE 
DEEP WELL & SUBMERSIBLE 
REPAIRS 
203 WHAKAPIRAU RD, 
WELLSFORD 
PHONE 09 4238235   
MOBILE 021 976 545 
Ross Murphy 
PLUMBER 
Certifying Plumber 
09 431 7510 
021 424 252 
Paparoa Based
+
New Housing 
+
Renovations 
+
Maintenance 
Landscape Supplies 
Bulk Cartage 
4312407 
Mob: 021 453 252  
Fax: 4312939 
scott.parker@parkerli
me.co.nz 
Gibbons Road, Kai-
waka 
Willow Bend
HORSE  
HOTEL 
"   
Total Horse Care 
" 
Agistment 
" 
Riding Lessons 
" 
Arena Hire (60x40) 
" 
Young Horse Starting 
" 
Re-training/Exercising 
" 
Hoof Trimming 
" 
Problem Solving 
Phone Sue 09 431 2817 
or 021 623 776 
Or email sue.gray@xtra.co.nz 
OUT THERE 
GARDENS AND LAWNS 
Lawn Mowing – Any Size 
Section Clearing  
Hedge Trimming  
Spraying  
Planting 
Pruning   
Gutters Cleaned 
Chainsaw Work 
Regular Services 
General Maintenance 
Garden Waste Removal 
Free Quotes 
Get The Job Done! 
Servicing Kaiwaka/Mangawhai 
Contact Phil Jones 
027 243 5503  
A/H 431 2196  
Email: outthere09@gmail.com 
Singing Lessons 
Individual sessions 
All styles of music  
All voice types 
Reasonable rates 
Phone  
Maura Flower 
      021 164 8318 
Landcare 
Services
Dave Hyndman  
     4312302 
   021 431238
Trenching, Hole Boring, Land 
Levelling,  Driveways, 
Landscaping,  Post Peel,  Wood 
Chips, Contact Rolling 
Lifestyle block mowing, 
etc....also Rotary Hoeing 
For reliable and friendly service 
contact Dave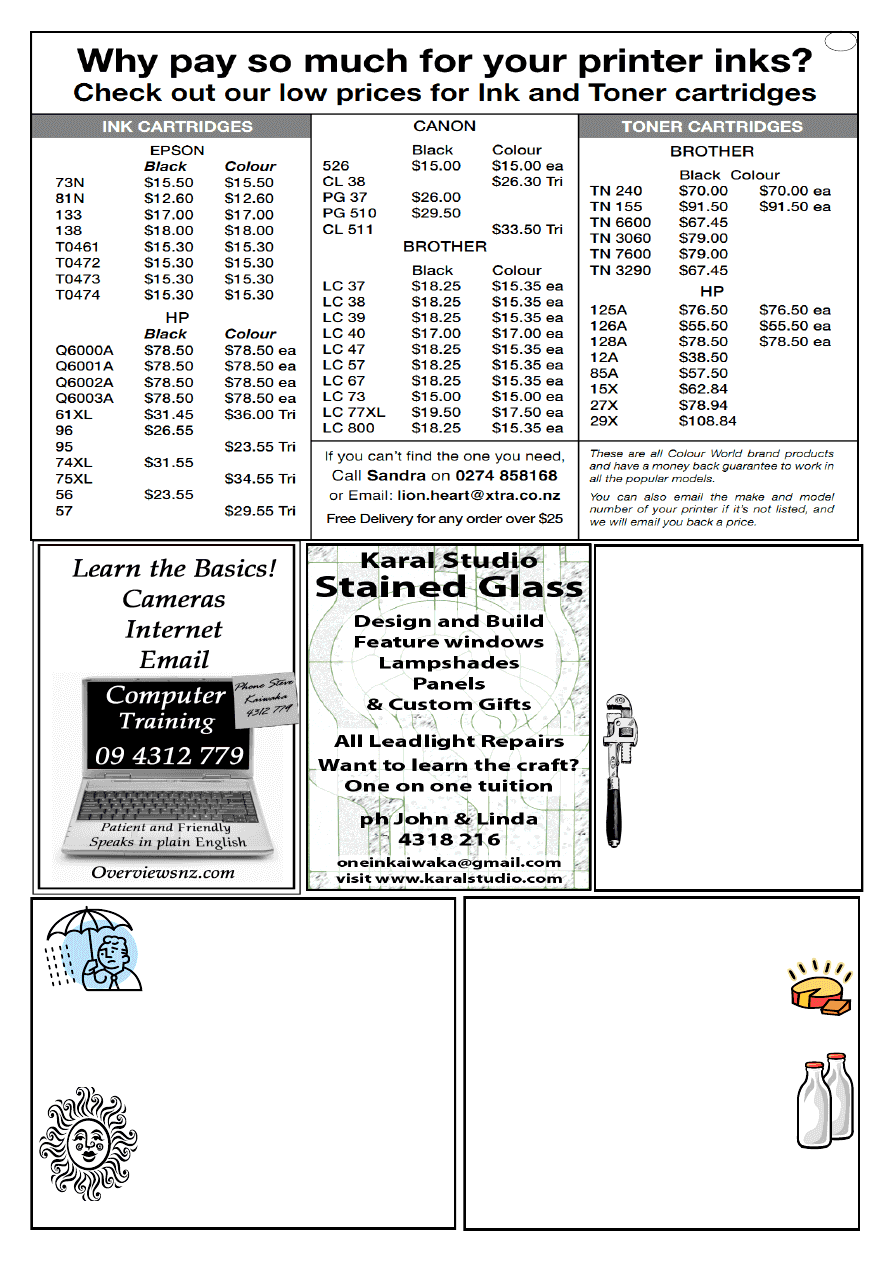 13 
BARRY CURTIS  
PLUMBING LTD 
REGISTERED CRAFTSMAN 
PLUMBER 
Phone 4315572      
027 257 9884 
  25 years experience   
        Friendly reliable service 
        All plumbing & maintenance 
        Alterations and new housing 
        New wood fire installation 
        Spouting 
Competitive rates 
PROMPT EFFICIENT  SERVICE 
Winter can make us all feel a 
bit down.  What if your  
house, holiday home, even 
workplace was fresh and clean to come in-
to.  Just that little ray of sunshine that we 
all enjoy.  
   Jenny's Rural    
Cleaning Services 
Phone 09 4312826 or email
jennychellew@hotmail.com
 Hands On    
CHEESEMAKING WORKSHOPS  
are  On Again  
SATURDAYS  13  and  20  JULY 
( 9am to appr. 3pm incl. lunch)  
GOUDA  (Hard  Cheese)  and  CAMEMBERT  Style 
(soft cheese) 
Other dates by arrangement… 
Or....    if  YOU  supply  the  Milk  ...I 
can make the Cheese for YOU. 
For  More  Info  or  Bookings    Con-
tact:  Ad  ......(Founder  of  Kaiwaka  Cheese 
Shop) on, 09-4312234 or 021 2154495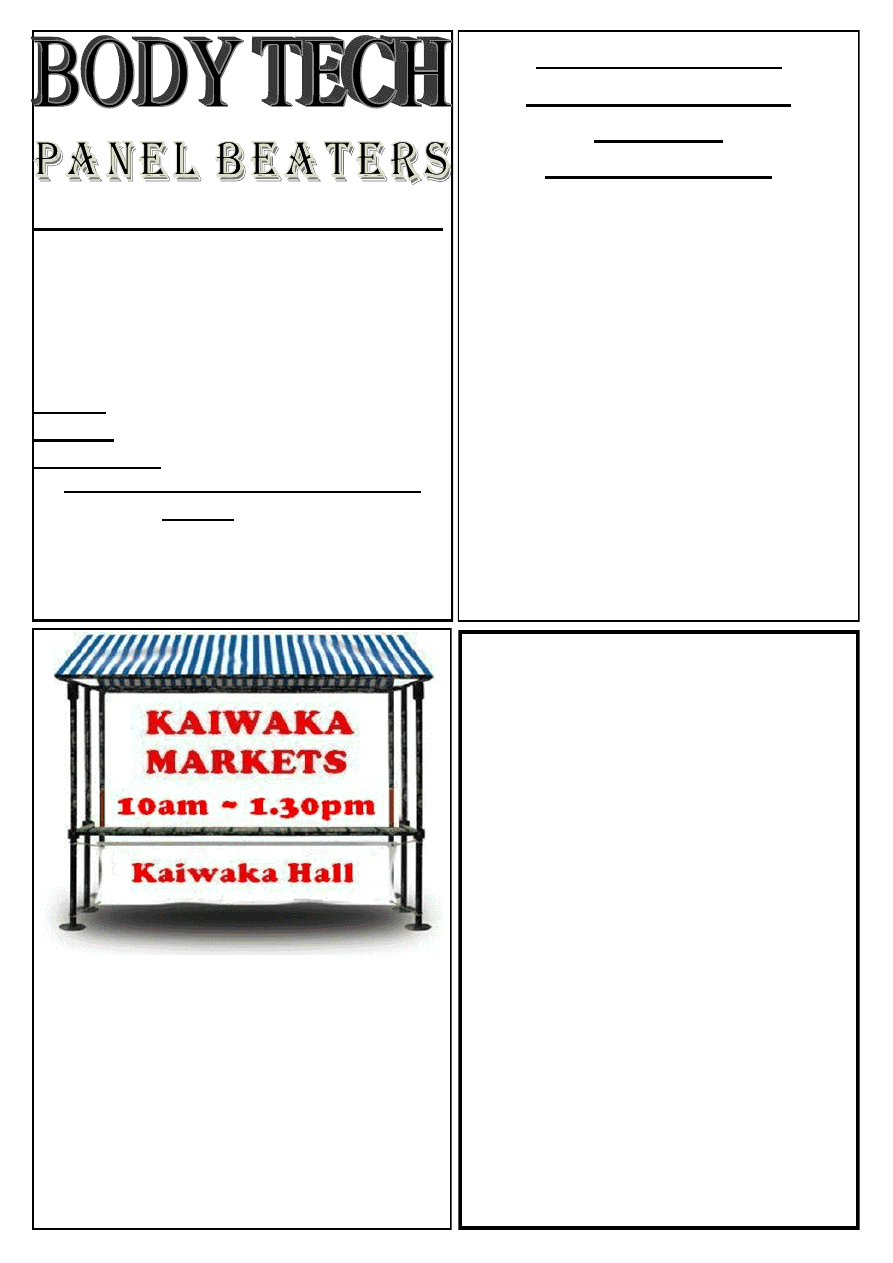 PLANNING A NEW 
KITCHEN? 
 CONTACT NOEL McDOWELL
WELLSFORD 
KITCHENS
Ph/Fax 094312888  
KAIWAKA-Any time 
  QUALITY CUSTOM MADE 
KITCHENS  
~Personal and Prompt Service~ 
~All Workmanship Guaranteed~ 
~Over 20 Years in the Trade~  
~Free Design & Quote~ 
For all your body repair needs!! 
We do: 
 
Rust repairs 
 
Insurance work 
 
Anti-corrosion 
treatment         
Hours: 8.30am-5pm Monday-Friday  
Mobile: 021 118 0462 
After hours: 09 431 2384 
Phone: Craig or Call in for a free Quote 
e-mail: 
bodytech_panelbeaters@yahoo.com
We are located at 1837 SH1 Kaiwaka, behind Twin-
kle Tow "n" Tyre call in anytime for a free quote.  
 
Large and minor vehicle  
 
repairs 
 
Industrial vehicles 
 
Full Cut and polishes 
PAUL SAUNDERS 
LAWNMOWING &  
GARDEN 
MAINTENANCE 
 
Lawns and edges   
 
Section mowing 
 
Hedging and trimming 
 
Spraying and fertilising 
 
Tree planting 
 
Green waste removal 
 
Pruning 
Friendly and reliable service guaranteed 
Call now for a free no obligation quote 
021 886 843 
09 431 2731 
Servicing Mangawhai and Kaiwaka and 
surrounding areas 
paulsaunders99@gmail.com 
On the 2
nd
 Sunday of each month 
In the Kaiwaka War Memorial 
Hall 
Sunday 14 July 
Sunday 11 August 
A variety of new & pre-loved goods 
Enquiries to: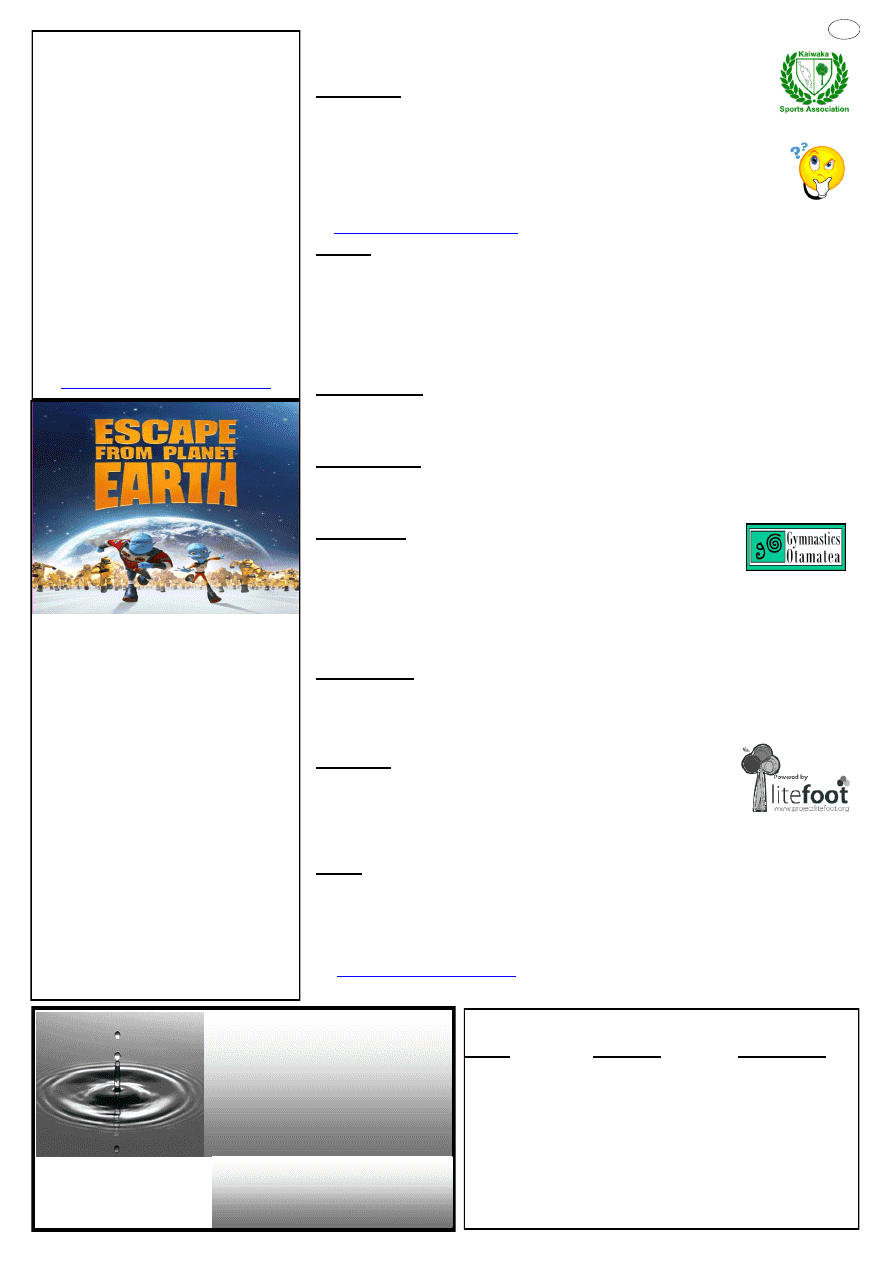 KAIWAKA SPORTS ASSOCIATION
15 
 PETE WORSFOLD M. Soc. Sc. 
 Student Counsellor 
 
 peteworsfold@xtra.co.nz 
021 825 970
Professional Service 
Variety of Modalities 
By Appointment Only 
Quiz Night 
Back by popular demand! We will hold another Quiz night on Friday 2
nd
August at 7pm at the Kaiwaka Sports Complex. Teams of 4 - 6 people,  
prizes  for  top  3  teams  plus  lots  of  spot  prizes,  supper  provided,  bar 
open, $10 per head. And a special round of local questions to test your 
knowledge of your town! For our last Quiz Night we had 15 teams and 
the  winning  team  was  from....  Mangawhai!!  Come  on  Kaiwaka,  you 
need to regain bragging rights! Contact Cheryl Anderson to register on 4312 051 
or 
Movies 
We  will  hold  two  movies  during  the  upcoming  school  holidays.  Escape  from 
Planet Earth is a fun animated movie, suitable for the whole family. This will be 
shown at the Complex this Saturday at 6.30pm.  
On  Friday  26
th
  July,  6.30pm  we  will  show  Safe  Haven,  a  romantic  drama 
adapted from the book by Nicholas Sparks, author of The Notebook. Movies are 
$4 per adult and $2 per child (yr 9 and younger) and are a fundraiser for the Kai-
waka Sports Association. 
Junior Rugby 
Our junior rugby club Eastern United will be playing against Paparoa this Friday 
at 6pm. Our Under 7's, Under 9's and Under 11's will be playing and always ap-
preciate support, so spectators are most welcome.
Senior Rugby 
The  Otamatea  Hawks  next  game  at  the  Sports  Complex  is  Saturday  20
th
  July 
against old foes Waipu. Reserves kick off at 12.30pm and premiers at 2.15pm. 
Come along to support our boys! 
Gymnastics 
Our gymnastics club is looking for a coach for their two boys" 
classes.  The  ideal  person  would  be  creative  &  energetic  and 
ready to offer challenges & fun to our exceptional groups of boys.  
Gymnastics experience is not a prerequisite as it would be a shared position with 
an experienced coach. Classes are held Tuesdays at the Kaiwaka gymnasium at 
4pm  &  4.45pm.  Please  contact  Stephanie  Brown  on  4312  022  or  gymnas-
ticsotamatea@gmail.com.  
First aid kits 
Thank you to all the many people who purchased a first aid kit for my fundraiser 
– we made a profit of $480. Due to the high demand there is a delay in the sup-
ply of the kits, they now will be arriving in a couple of weeks. When they arrive, 
I will ring everyone who ordered one to arrange delivery. 
Recycling 
Many  thanks  to  LiteFoot who  visited  our  Sports  Complex  re-
cently and put in place recycling bins to help reduce how much 
waste  is  sent  to  landfill.  On  LiteFoots  previous  visit  they  in-
stalled  energy  efficient  lightbulbs  in  our  Complex  -  all  of  these  resources  are 
free, so we appreciate their support. 
Fields 
At this time of year there is a very high demand for our rugby fields. As well as 
the usual JMB, IMB and seniors trainings and matches we also have age group 
reps and Taniwha Cup trainings. Please remember if you would like your group 
to  use  our  fields,  you  need  to  book  in  with  me.  This  is  so  I  can  schedule  the 
events to avoid clashes. Give me a call on 4312 051 or 027 3462702 or email me 
on 
Cheryl Anderson, Manager, Kaiwaka Sports Association 
ESCAPE FROM          
ESCAPE FROM          
PLANET EARTH
PLANET EARTH
Saturday 13
th
 July 
     Kaiwaka Sports 
Complex 
    Doors open at 
6.30pm 
       Adults $4, children 
$2 (yr 9 & under) 
      Fun, family-friendly 
movie! 
Deadlines for next few Bugles 
Bugle 
Deadline   
    Publication 
 14 
Friday 19 July  
Tuesday 23 July 
 15 
Friday 2 August 
Tuesday 06 August 
 16 
Friday 16 August 
Tuesday 20August 
 17  
Friday 30 August 
Tuesday 03  Sept 
 18 
Friday 13 Sept           Tuesday 17  Sept 
 19   
     Friday  27  Sept 
Tuesday 01  Oct 
 20 
Friday 11  Oct  
Tuesday 15  Oct 
 21 
Friday 25  Oct  
Tuesday 29  Oct 
QUIZ NIGHT 
Friday 2nd August, 7pm 
Kaiwaka Sports Complex 
* teams of 4 - 6 people 
* prizes for top 3 teams plus 
lots of spot prizes 
* supper provided 
* $10 per head 
Pre-registered teams only. 
Contact Cheryl Anderson to  
register on 4312 051 or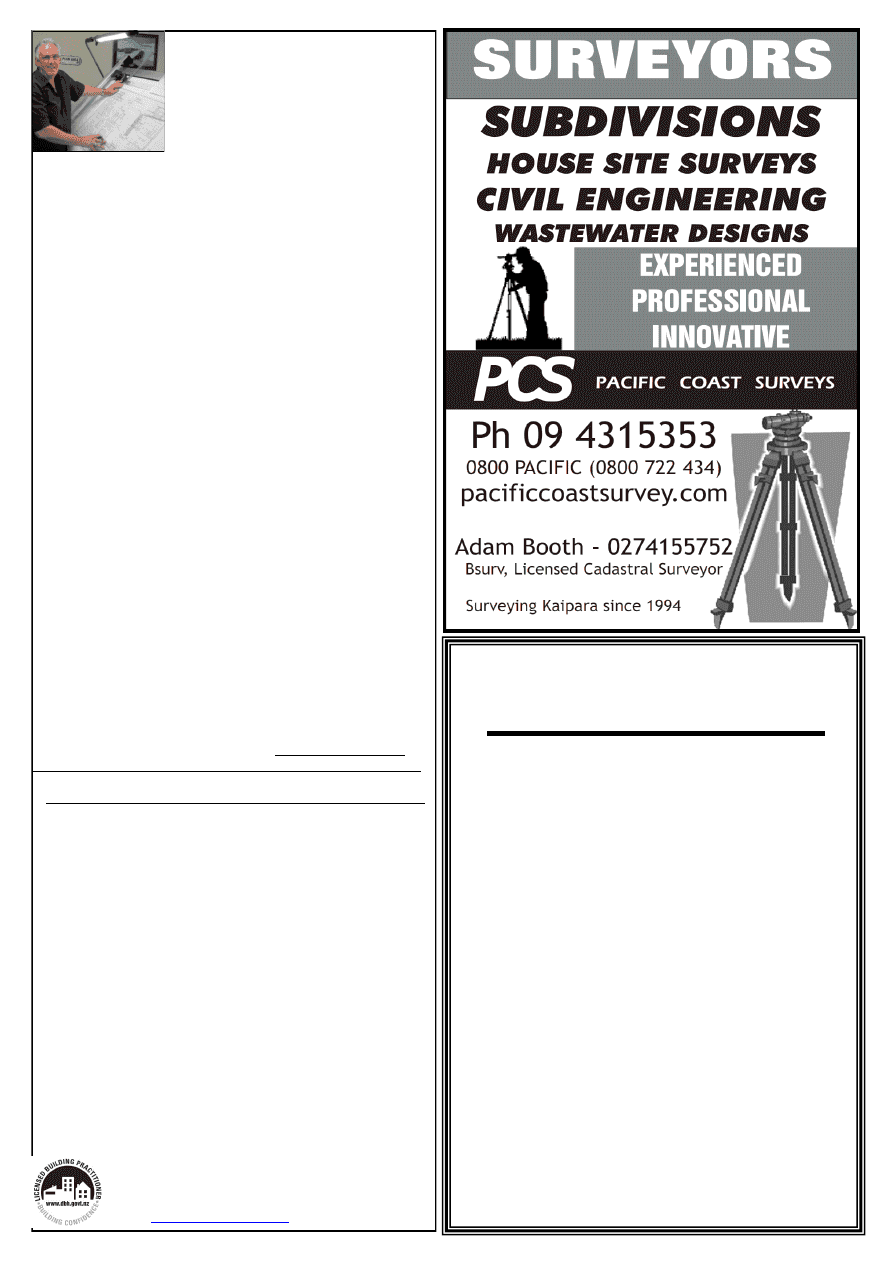 STOCKFOOD
GREAT RANGE FOR ALL YOUR LIVESTOCK  
AT GREAT PRICES 
 ALSO CHECK OUR 
DOG BISCUITS 
20 KG FOR $58.90 
LPG REFILLS 9KG 
STILL ONLY $31.50
MANGAWHAI SERVICE 
STATION 
(09) 431 4242 
44 MOIR STREET IN THE VILLAGE 
ARCHITECTURAL 
BUILDING PLANS 
AND DESIGNS 
20% Reduced Cost - design and planning. 
If you are thinking of building, then you need 
to make use of cost savings in architectural 
design as well as having a good and well experienced designer. 
This applies if you are considering a new home, any alterations or any 
building additions/farm buildings, sheds, alterations, whatsoever. 
There are many things that are frustrating if you are not totally 
familiar with what all details are required by Councils -especially 
with new regulations in force to ensure everything runs smoothly - 
e.g. Resource and Building Consents, planning restraints, new 
building materials ,applying for building permits, dealing with 
building contractors to name a few -you need a capable,  
experienced and professional designer with a clear knowledge of 
all the processes. 
WE CAN HELP YOU CLARIFY ALL OF THESE ITEMS 
 
AND MAKE LIFE RUN MORE SMOOTHLY. 
Brian of Wright Design has been helping and organising all these 
facets of design and building for over 40 years. 
With needs of family changing and the economy - building require-
ments constantly being reorganized and made more complex, it"s very 
important to obtain professional advice for any building project - no 
matter what size. 
Brian advises on design, materials, permit applications, builders 
and subcontractors for any project - no matter how small or large 
ALL THIS AT A REDUCED COST so YOUR DOLLAR    
GOES FURTHER  
Wright Design offers free visits, consultations and all the advice 
you need on planning. Design, building, contractors, council  
permit applications, guaranteed permit plan acceptance. 
QUALIFICATIONS 
Brian is a qualified designer (NZCAD) with over 40 years of varied 
experience in all types of building and is a registered and Licensed 
Building Practitioner in Design - L.B.P. 117345 
He ensures you will achieve the best from your budget with  
recommended excellent local contractors ready to competitively 
price and build your personal project quickly and efficiently. 
EXPERIENCE 
Brian"s practical building and 40+ years of design experience 
means he can give you excellent advice and all the guidance need-
ed for all your building needs, 
FEES: To help you attain your project Brian has reduced his 
costs by 20%, giving you extra funds for the rest of your project. 
ENGINEER: Brian can arrange engineering for a reasonable cost. 
THIS IS AN ABSOLUTELY GENUINE FEE REDUCTION!! 
Qualified and inexpensive designer – N.Z.CAD., LBP 117345 
Guaranteed design and working drawings 
Free site visit to your home or property 
Great service 
Obtain a free quote with 20% Discount. 
PROJECTS 
Additions, alterations, basements, new houses, motels, bed and 
breakfast commercial buildings and shop fit outs are a few pro-
jects he has been involved with. 
Brian can show you many of his projects in the area to emphasise 
his versatility 
WHAT TO DO FROM NOW 
Call Brian   
Arrange a visit 
Discuss your needs 
Obtain great advice.  
Obtain a free quotation - with a true 20% discount 
Make a decision based on the facts - You Won"t Be Disappoint-
ed! 
MAKE GOOD USE OF HIS EXPERIENCE AND THIS 
GREAT OFFER OF REDUCED FEES OF 20% 
Brian can offer plan printing-from A4 to AO (2 x A1 size) 
WRIGHT DESIGN 
Brian"s office is at: 72 SPINDLER ROAD, R.D.2 WELLSFORD  
(Off Wayby Valley Road.) Call in for a chat and a coffee, or he 
will call on you at your home if preferred. 
WRIGHT DESIGN: Office 09-423-8092 
Mobile 021 276 7389 
Email: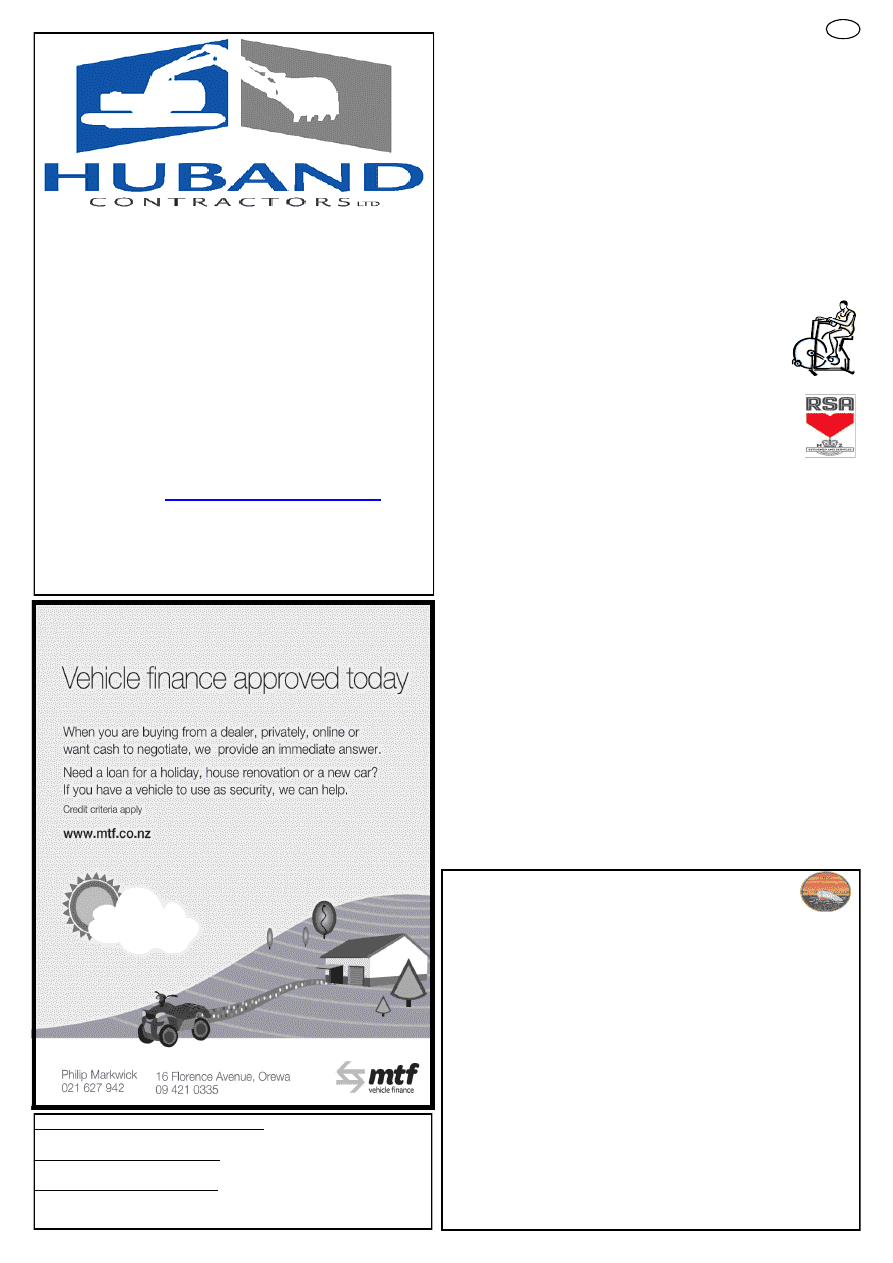 *   R O A D I N G   *   E A R T H W O R K S  
*    
*   D R A I N A G E   *   S I T E W O R K S   *  
For any further enquiries, contact 
Shaun on: 
Cell: 021 222 0272 
Home: 09 4318339 
Email:   
Shaun Huband:   
Registered Drainlayer 
Kaiwaka Bugle Advertisements 2013: 
Classified $2; 1/8 or 1/9 page $5; 1/4 page $10; 1/2 page $20;  
bugleaccounts@kaiwaka.co.nz 
Payments can be online, posted or left at Jaques 4sq Store. 
kaiwakabugle@kaiwaka.co.nz  for queries or copy. 
The Kaiwaka Bugle is a community newspaper run by volunteers.   
Articles, etc. printed are not necessarily the opinion of the BugleTeam  
17 
Point Curtis Cruising Club 
2013 End of Season Duck Shoot  - Prize Giving  30
th
 June 
2013 Seniors  (49 Birds weighed in) see kaiwaka.co.nz web-
site for details: with Trevor Wright, Keith Mills, Dave Ken-
nedy, Paul Mills and Wayne Leslie all getting firsts.  
2013  Juniors    (17  Birds  weighed  in)  see kaiwaka.co.nz  for 
details with Jayden, Bradley Kennedy and Koby Worsell all 
getting firsts.
Pt. Curtis Cruising Club 2nd Annual Boar Hunt 10th and 11 
August 2013,  Check out poster at 3 Furlongs!!! Posters will 
be going up elsewhere shortly. 
Thank you to those who have paid their subs. Subs can be paid 
at 3 Furlongs or by posting to Jean Mcleish (Secretary), C/- 
Kaiwaka PDC, Kaiwaka 0542.  Please include your up-to-date 
contact details and e-mail address if you have one.  Subs are 
$20 single or $30 for a family.  
Next committee meeting Tuesday 9th July, 7pm at 3 Furlongs 
Hotel, Kaiwaka.                           Wayne Leslie, Commodore 
KAIWAKA FITNESS
Hi Everyone, Hope you are enjoying new cross over machine 
and bike. Thanks to Mark and his son for putting the cross over 
machine together with the help of Bente and I, actually we 
tried to keep out of it. The new kettle balls are there for those 
of you who like to train with them. I also find them good, espe-
cially for wide squats as a leg warm up. As you will also note 
we have moved a lot of the machines around; hope it works for 
you, if not let us know and we will see what we can do. 
Sorry to whomever had the cold shower on the coldest day yet. 
Murphy's law, I actually couldn't do the cleaning as the water 
was  that  cold.  Maybe  we  should  have  looked  at  getting  heat 
pump for those cold mornings;  mind you, it makes you move. 
Poor Pam did 1 1/2 hours cardio and didn't even take her sweat 
shirt off. 
Anyone interested in doing the Lake Taupo bike ride 
in  November,  let  me  know,  it"s  on  my  to  do  list. 
There"s also the Kerikeri 1/2 marathon;  
always a good day. 
Keep training, keep warm,  Jules 
Hakaru Memorial RSA (Inc.)  
WOMEN'S SECTION. 
There were 16 present at the June meeting. 
Every  2nd  Friday  in  the  month  Roast  nights  continue  to  be 
well supported.  4 of our members attended the annual con-
ference  in  Tauranga  where  there  were  150  NWA  members 
present from all over N.Z. 
Our Women"s Section bought a star for $500 for Children with 
Cancer where a Child and its family has its own special Star 
and Website. Another project they support is "Kids Can" and 
are also trying to get the age for free Mammograms for up to 
80's plus. 
We are hosting and catering for the Northern Area Bowls on 
the 4th November at "The Club" Mangawhai. 
Some of our members attended the "60 Years building cele-
bration"  and  had  a  great  night  the  music  was  "fantabulous" 
especially for dancing. 
Heather  and  Jan    are  attending  the  Northland  meeting  at 
Kaitaia on 20th July (with Hubbies in tow"!!) might cramp their 
style a bit, ha ha, or lead them astray, don't know which.!! 
The  date  set  for  our  Christmas  Dinner  is  26th  November  at 
the Fishing Club Rooms by the pontoon. 
Hopefully as many Members as possible will be attending the 
"RSA  Mid  Year  Christmas  Dinner"  which  promises  to  be  a 
good night on  Saturday  13th  July,  will  be over  before next 
issues. 
Our Best Wishes go out to all who have had Winter Ailments 
and to Pauline Toye who broke her left collar bone after an-
other fall, and Lorraine Lusty who has cracked a bone in her 
foot after a fall also, and we hope Lena is also feeling better.  
Keep warm and Safe - Ann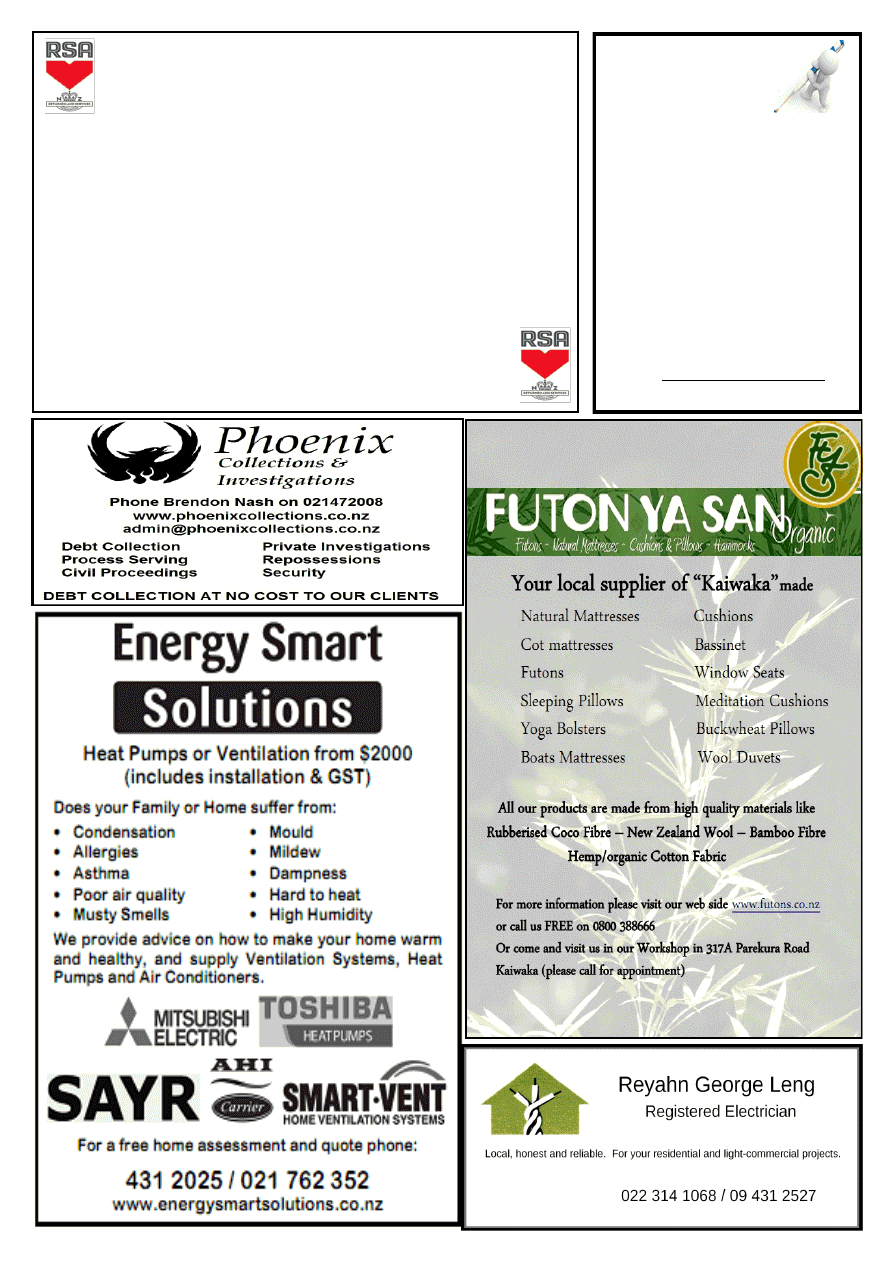 "  TROPHIES & CUPS 
"  AWARDS & MED-
ALS 
"  GIFTWARE 
"  CLUB ORDERS or 
ONE OFFS 
Topnotch  
Engraving
Quality Engraving Service  
SPECIALISING IN:
"  ENGRAVING    & 
SALES 
"  NAME  BADGES 
"  SIGNAGE 
"  PET TAGS 
"  JEWELLERY 
www.pettagsnewzealand.com 
Phone (09) 431 2174 or  
Email: engraving@slingshot.co.nz
HAKARU RSA
Women's Section 
2nd Friday of the Month 
from 6.30pm 
    Roast of the Day  
 $12.00 
    Fish n Chips  
 $10.00 
     Pea Pie Mash   
  $  6.00  
Includes salads 
Desserts  $3.00 
Phone Heather 4314668 
Jan 4314512 
Celena's Gifts 
      1925 State Highway 1 
        KAIWAKA (next to Italian 
Bakery) 
Ph: 09 4312741 
  CLOSED MONDAYS DURING WINTER 
We stock:- 
Baby Gifts  
Jewellery     Toys 
Kitchenware 
Toiletries     Photo Frames               
NZ Souvenirs 
Candles 
   ... and much more! 
Winter Warmer Specials  
         in  Store                                    
 
July and August   
 Come and have a look 
The  team  from  Animal  Health  Centre  are  from  left  to  right:  Ro-
wan,  the  Rotty;  Sandy,  Animal  Naturopath;  Nicky,  V.N;  Nicolle, 
V.N; Therese, V.N; Oscar, and  Denise, 
Animal Health Consultant
. 
We  have  been  open  a  week  and  already  customers  are 
coming back for more! "It sometimes just takes a matter of 
days to show an improvement in health when changing the 
diet and sure enough", says Sandra, "at least three families 
are  finding  that"s  true  especially  in  the  allergic  and  older 
dog." Less poop, pets looking forward to meals and enjoying 
their food . – owners are delighted. 
The Travel Remedy has been flying off the shelf as distance 
travellers  are  told  about  the  very  successful  "no  more  car 
sickness"  drops  and  the  Specials  are  helping  the  pocket 
enormously.
This month"s special  is the canine muesli that 
normally  retails  for  $11.50  a  kilo  –  now  only  $6.50!   SAVE 
$5.00.
Our Handy Hint for this issue:  Skin Problems 
Main causes are dried food (kibble & biscuits) and dog roll. 
If your dog has a skin problem take them off beef e.g. gravy 
beef, blade steak. The heart, liver, kidney and tripe are fine
. 
Chicken has become a problem in the past few months so 
consider that too if the problem does not resolve. See us if 
the issue persists. (No steroids or antibiotics!).  Sandy U
 19 
ANIMAL HEALTH CENTRE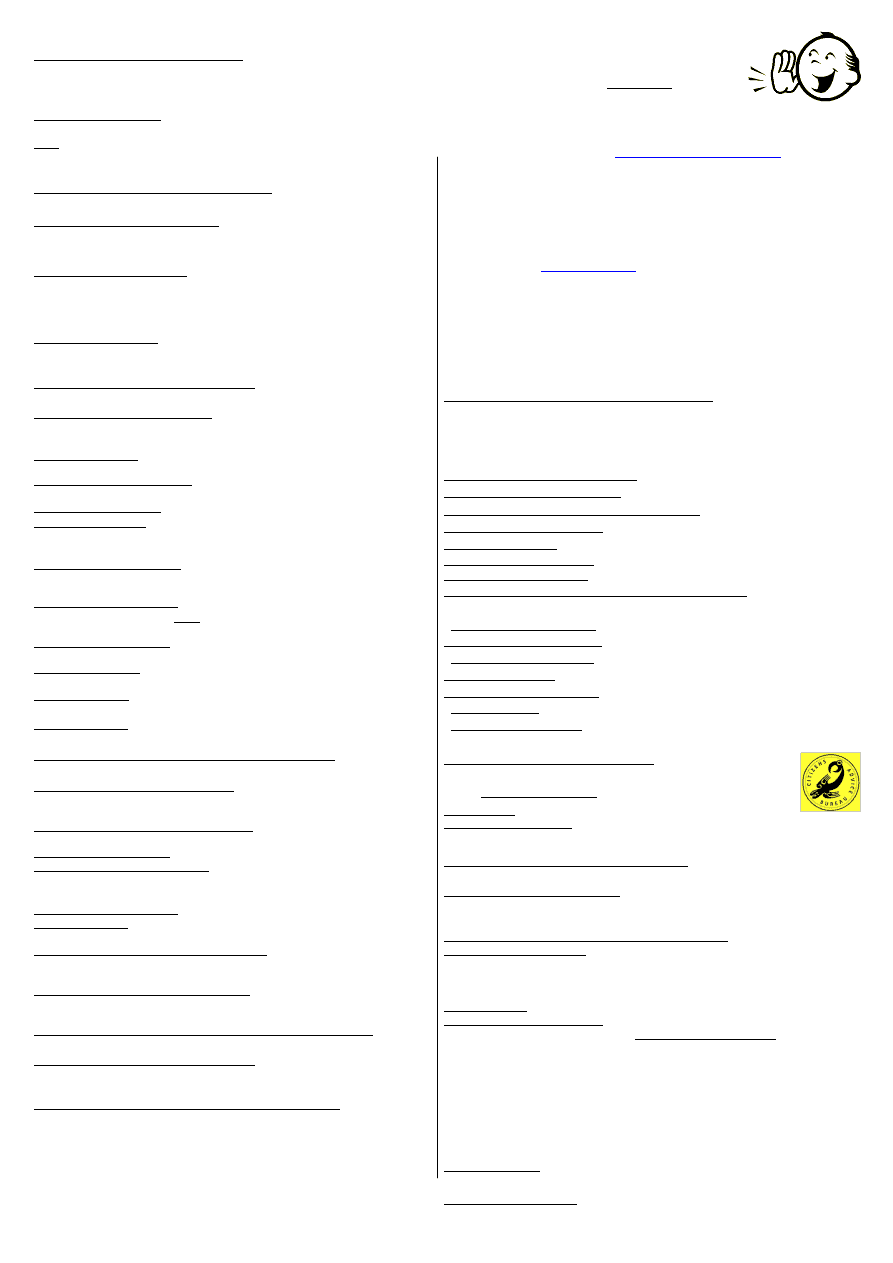 LOCAL SERVICES 
*St.John Ambulance 
111 or Freephone0800 61 0066
*Fire phone 111     *Police phone 111 or 09 4311150
WELLSFORD DOCTORS: Ph: 4238 086 
 
A A: Meets Wed., 8pm Kaiwaka Ph: 4312228, 4315543, 0800229 6757   
AL ANON: In recess, contact Ph: 4312228 
AgriQuality (MAF) Livestock Consultant 
Phone 09 4311 820 or 021518257 
BUDGETING SERVICE,OTAMATEA:Free confidential advice & support - all 
areas of  personal finance Ph: 09 4318173 or 094318117
FAMILY SUPPORT SERVICES responding to the needs in our community  
Counselling/Family Therapy/Seminars/Youth Work/Probation/
Osteopathy/Govt.Day Agencies/Community Information  
Ph: 4312661 Hours: 9am-5pm. Mon - Fri (funded & CYFS approved) 
FUNERAL SERVICES: Morris & Morris Ltd, 
Whangarei - Bev Jaques Ph:4312367 or 0800667747 
Grandparents Raising Grandchildren: Sarah Rogers Ph: 4312194 
HAKARU LANDFILL/TIP:Open everyday except Tuesday 
10am-4pm.Ph4312629 Cost-$40 cubic metre Ph:4258567 - office 
INLAND REVENUE: Last Friday each month, 
11-3pm Ph4312661 
KAIWAKA KOHANGA REO:
Ph:4312620 Mon.-Fri. 8.30am-2.30pm 
KAIWAKA CEMETERY: Ph: 4312045 
KAIWAKA LIBRARY: kaiwaka.library@gmail.com  
Mon. 4-6pm; Wed., Thurs., Fri., Sat.  10am-2pm Ph:4312539
KAIWAKA PLAYCENTRE: Ph: 4312286. Hastie Lane 
Monday to  Friday  9.00am 
- 
12 noon.
KAIWAKA POST OFFICE:
Ph:4312 626 Fax: 4312287  
Post Code: 0573  for RD2  and  0542 for all Kaiwaka Post Office mail 
KAIWAKA SPORTS ASSN: Ph 4312005; 4312129 gym 
KAIWAKA ST JOHN: Manager Steve Rosser  09 4318403, 021 2316836 
NORTHPOWER: Faults Kaiwaka area 0800 104040 
PARENTPORT: Free, practical family support servicePuhoi to Paparoa 
Ph:  Sharon Mehana, Co-ordinator. 4259357 or 027 280 5093 
PERSONAL DEVELOPMENT COACHING, GROUP FACILITATION:  
Sabine Druckler 4312231 
PLUNKET  KAIWAKA/MANGAWHAI:  Ph:
094318187 
or  0
276753488 
Kaiwaka Mobile Clinic once a month– appointments necessary;  
Mangawhai (next Domain) 
1st & 3rd Thursday & Coffee Morning; 
PLUNKET CARSEAT CO-ORDINATOR:  
Pat Scott Ph 4314530 or  
0272881635 
PLUNKET FREEPHONE -0800 933 922 
PLUNKET -MAUNGATUROTO  Clinic every 2nd & 4thThursday. Ph: 
09 4318187 
PUBLIC HEALTH NURSE: Gloria Reid Ph: 094327634  
HOMEOPATH: Donna Flavell Ph: 
4314843 
RETURNED AND SERVICES ASSN 733 Settlement Rd. Hakaru 
Ph.4312176 Bill Kerr (President) Ph.4314719 
TE KOROWAI AROHA O NGATIWHATUA 
(The Cloak of Love of Ngatiwhatua) Support and Maori Consultancy.  
Ph: 4239481 (Wellsford) 
WOMEN'S WELFARE LEAGUE & Reaching Out For Youth:  
4 Kaiwaka-Mangawhai Rd, M Morgan 4312293 
VETERINARY SERVICE MANGAWHAI: 
Ph: 4314535 Mon-Fri 8.30-4.30, Sat 9-12, a/h appt. 
KAIPARA DISTRICT COUNCIL www.kaipara.govt.nz:  
Help Desk FREEPHONE 0800 727 059 
ASK FOR MANGWHAI 
OFFICE
Dog/Stock/Noise 0800 105 890 
Next Bugle Deadline Friday 19/07/2013 
Send copy to kaiwakabugle@kaiwaka.co.nz
WHAT'S ON
PLEASE ~ do let me know what is on - email 
kaiwakabugle@kaiwaka.co.nz 
Advertising in WHAT'S ON is FREE 
KAIWAKA MARKET  2
nd
 Sunday of the month in the Kai-
waka Hall 10am–1.30pm 
09 4318717 
Mondays Kaiwaka/Mangawhai  Tramping Grp. 8am-2.30 
Tuesdays Rhythm&Riggle 10.0am Christ the King Church 
Mangawhai. 
*09 July ~ PCCC Meeting, 7pm at 3 Furlongs Hotel, Kaiwaka. 
*12 July ~ DANCE OF LIFE, freestyle dance, 8 pm, Kai-
waka Hall, 09 
*14 July ~ KAIWAKA MARKET 10am-1.30pm KWMHall 
*27 July ~ LATIN FUN CLASS, 7.30 pm, Kaiwaka Hall, 09 
4312408 / 021 2968794 
*02 Aug ~ Quiz Night, 7pm KSA Reg"n Cheryl 4312051 
*03 Aug ~WORKSHOP, Solar energy opportunities, 10 am, 
09 4312408 / 021 022 31700 
HOUSEHOLD  RUBBISH  COLLECTION  -  Kaiwaka    Pick  up  -
Mondays=Green  bags  are collected by Northland Waste-queries to 
them 09 4303273 Wednesdays.=Blue bags and yellow recycling (At 
Jaques  Blue  bags  $3.00  and  yellow  $1.40)  are  collected  by 
Kaurlilands 09 4392146.  
*OTAMATEA GREY POWER-09 431 8138 Joan Hoggard  
*KAIWAKA BADMINTON -Tuesdays 7.30pm Ph: 4312345 
*KAIWAKA GARDEN & FLORAL Grp:
2nd Thursday in month Ph: 4314767 
*Kaiwaka SCOUT
S&CUBS-
Thursdays 5.30-7pm,KWMHaII, Innes Ph: 4312250  
*KAIWAKA SQUASH -Mondays 7pm,  Ph: Barbara Thomas 4315905 
*GYMNASTICS OTAMATEA -  Tuesday Ph: Stephanie 4312022   
*HAKARU PONY CLUB-Ph: Dianne Christianson  4314315 
*MANGAWHAI COMBINED PROBUS CLUB: 2pm,3rd Thursday 
month in the Senior Citizens Hall Mangawhai. Ph: 4315777
*PT CURTIS CRUISING CLUB - Jean Ph: 4312246 
*WAIPU GENEALOGYGROUP -4th Monday in month Ph: 4312725 
*NZ GENEALOGY-Wellsford - 1st Thursday in month Ph: 4237033 
*CRAFT GROUP:2nd & 4th Tuesday, 10am, Wellsford Ph 4238547
*RSA,Hakaru & Dist.Women- meet 1.30pm 4th Thurs in month 43123668  
*OWEN STEVENS at Kate's Place Ph:4312661   
*Diabetes Support Group-for Kaiwaka, Mangawhai, Wellsford -10am, 
 
3rd Friday of month Ph:A.Pert 4238242; J.Gardner 4238060 
WELLSFORD CITIZEN ADVICE BUREAU:  
0800 367 222 
Ph: 4237333 Wellsford Community Centre   
Email: cab.wells@xtra.co.nz
CHURCHES:
*Gateway Worship Centre-St Mary's Church Nathan Rd off Oneriri Rd, Kaiwaka 
Services, 10.30am 1st & 3rd Sunday of every month. Contact: Rev David Gage 
4312528 or 0212354282 
*Kaiwaka Family Church-Your Community Church Sundays, l0am 
Home Group every Wed evening, Pastor John Dekker Ph: 4318203 
*Kaiwaka Services.Anglican & Co-op at StPauls Church  - 1st Sun. 9.30am
(Anglican),3rd Sun. 4pm (Co-op).  Contacts: Rev. R Dunlop 09 4318193, 
M.Hargreaves, 4312295, C.Bygrave 4312057  
*Church of Christ the King, 9 Molesworth Dr., Mangawhai 9.30am every Sunday 
*St.Mary"s Catholic Church:
Maungaturoto – Griffins Road, Saturday evening Vigil 
Mass 6pm; Mangawhai – Senior Citizens Hall, Sunday Mass 8:30am; Wellsford – 
Matheson Road, Sunday Mass 10:30am; Mid-week Mass times and all enquires to Fr. 
Bill Fletcher – phone 423 8170 
*Baptist Church: Sun. 10.30am Mangawhai Snr Cit.Hall.Ph:4312339 
*CauseWay Church Mangawhai – Sundays 10.15am, Mangawhai Community Recrea-
tion Centre, Insley St. Ph: 09 4314782  www.causewaychurch.org.nz
*St.Paul's Archie Bull Hall HIRE  donation for electricity & upkeep  
 
(usuaIly$10-$15per hire) Contact G. Jaques 4312048 
*Kaiwaka War Memorial Hall HlRE- contact Wendy 4312725 or 
 
Email  kaiwaka.hall.bookings@gmail.com 
*Hakaru Hall HIRE-contact  J Marshall 4312297 
*Te Pounga Marae queries -A.Gage 4312528, 4312527 
*Kaiwaka Sports Association hire/queries- C. Anderson 4312051 
Justice of Peace: B.FJaques; L.Donaldson; A.F.Hargreaves  -please phone to 
make sure they are available 
Marriage  Celebrants:  L.Donaldson;  A.F.Hargreaves;  Judith  Knights  09 
4315765