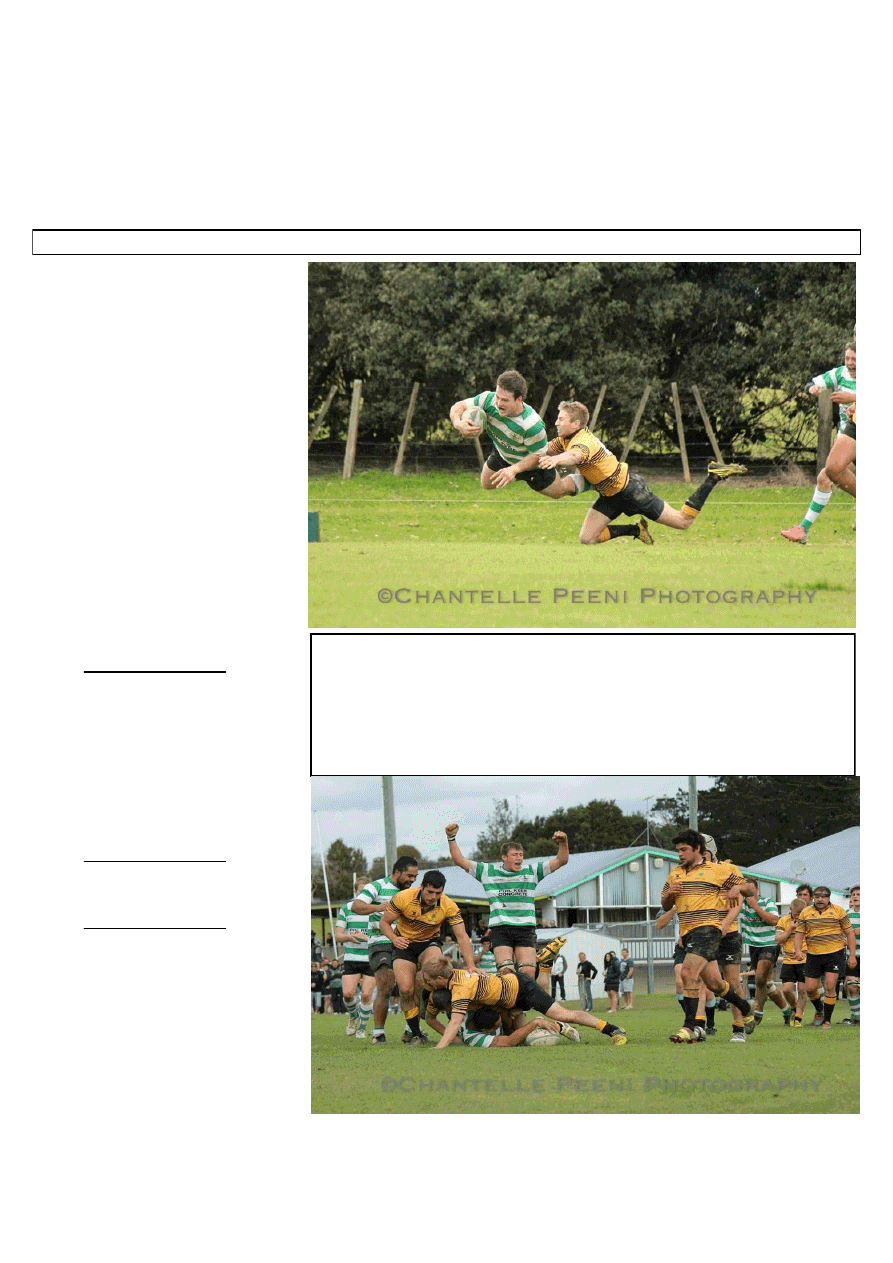 No: 14 
  22/07/2013 
Bugle 15 will appear 06 August 2013 
Congratulations to the two local boys,  
Xavier Brown and Devan Gabbitas, who 
have been selected for the rugby  
Taniwha Shield, Otamatea/Rodney team. 
The Taniwha Shield is competed for by 
teams of Primary and Intermediate  
students representing their sub-unions 
with a week of Pool play matches being 
played at Kensington Park in Whangarei.  
Our boys have gone through very hard 
training over the last few months as well 
as strict diets to achieve the right weight. 
Their first Pool play game is on Tuesday 
against Mangonui at 2.45pm, second 
game on Wednesday 12.45pm against 
Northern Wairoa and third on Thursday 
against Bay of Islands at 11.30am with 
cross-overs and finals on Friday and  
Saturday.  
If you have a chance, get to Kensington 
Park to support these potential top rugby 
players. 
 
Interesting changes happening to the  
centre by the highway, new concrete  
outside the Spice Lounge and building 
work going on next door. 
How smart the concrete looks and it  
certainly is making the whole complex 
look tidier.  
Well done Ilya and Eva, we look forward 
to seeing the completed works in a month 
or two. 
 
Otamatea Repertory Theatre are featuring 
in the new programme Showtime on TV 
ONE at 8.00 pm Wednesday 24 July.  
 
Condolences to the Gage Family on the 
recent loss of Jessie Gage nee Nathan, 
mother of Dave and Ann 
 
 
Bugle Deadline 
Friday 2nd August, Please make 
sure your ads and copy are in by 
2 pm on that date. DH 
Senior Rugby 
A huge crowd turned up to the Sports Complex on Saturday to watch the Otamatea 
Hawks take on old foes Waipu in their last match of the season. The Reserves had an  
outstanding match, winning comfortably 36 - 17. The Premiers enjoyed vocal support 
from the spectators and saved their best performance of the season for last, taking Waipu 
down 31 - 12. This result ensures the Hawks will remain in Northlands first division for 
next season  
- well done guys!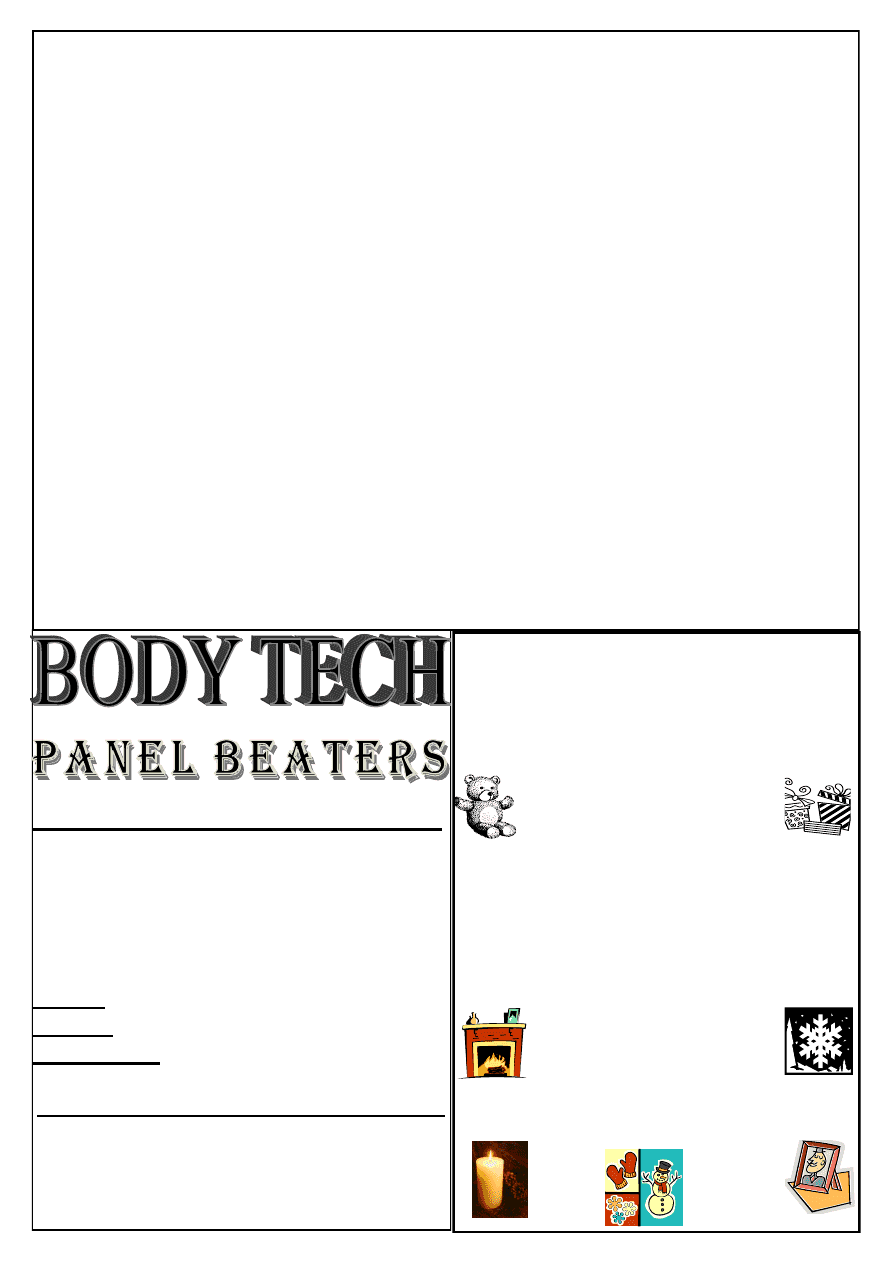 Dr A Macaulay D C 
Maungaturoto Chiropractic Clinic 
3 Gorge Road 
Maungaturoto 
HOURS 
Mon 9am -6pm 
Wednesday 9am-7.30pm 
Thursday 7am-6pm 
For Appointments  
Phone 09 4318019 
For all your body repair needs!! 
We do: 
 
Rust repairs 
 
Insurance work  
 
Anti-corrosion    
 treatment                      
Hours: 8.30am-5pm Monday-Friday  
Mobile: 021 118 0462 
After hours: 09 431 2384 
 
Phone: Craig or Call in for a free Quote 
  email:
bodytech_panelbeaters@yahoo.com
We are located at 1837 SH1 Kaiwaka, behind Twin-
kle Tow "n" Tyre call in anytime for a free quote.  
 
Large and minor vehi-
cle repairs
 
Industrial vehicles
 
Full Cut and polishes
Celena's Gifts 
1925 State Highway 1 
KAIWAKA (next to Italian Bakery) 
      Ph: 09 4312741 
  CLOSED MONDAYS DURING WINTER 
We stock:- 
Baby Gifts  
Jewellery     Toys 
Kitchenware 
Toiletries     Photo Frames               
NZ Souvenirs 
Candles 
   ... and much more! 
Winter Warmer Specials  
        in  Store                                                                   
 
July and August   
   Come and have a look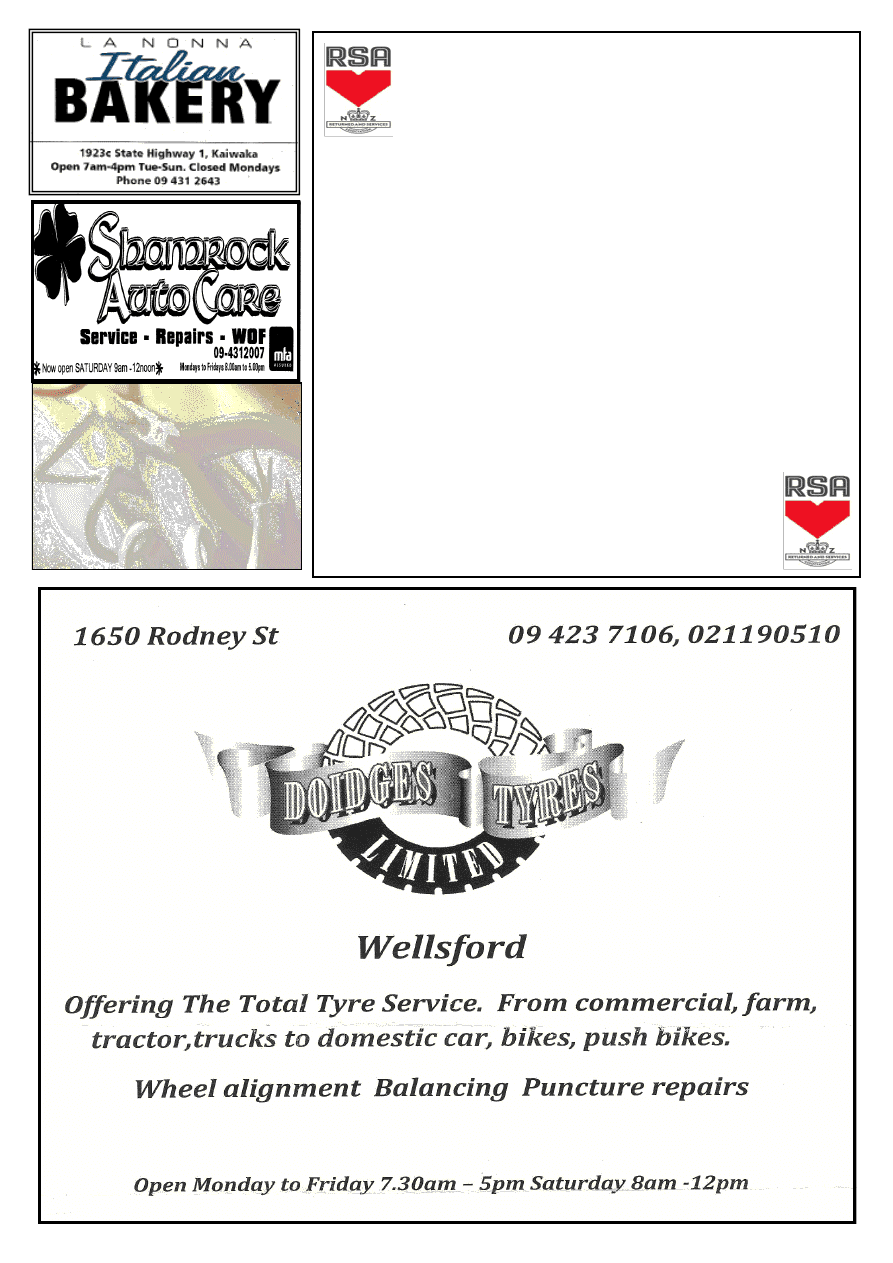 HAKARU RSA
Women's Section 
2nd Friday of the Month 
from 6.30pm 
    Roast of the Day   
 $12.00 
    Fish n Chips   
 $10.00 
      Pea Pie Mash   
    $  6.00   
Includes salads 
Desserts  $3.00 
Phone Heather 4314668 
Jan 4314512 
Paul Greig Electrical Ltd 
Residential • Farm • Commercial 
Paul Greig 
Registered Electrician 
Ph: 431 2223 Mob:021 230 
2717 
Reliable & Professional Quality Service 
Based in Kaiwaka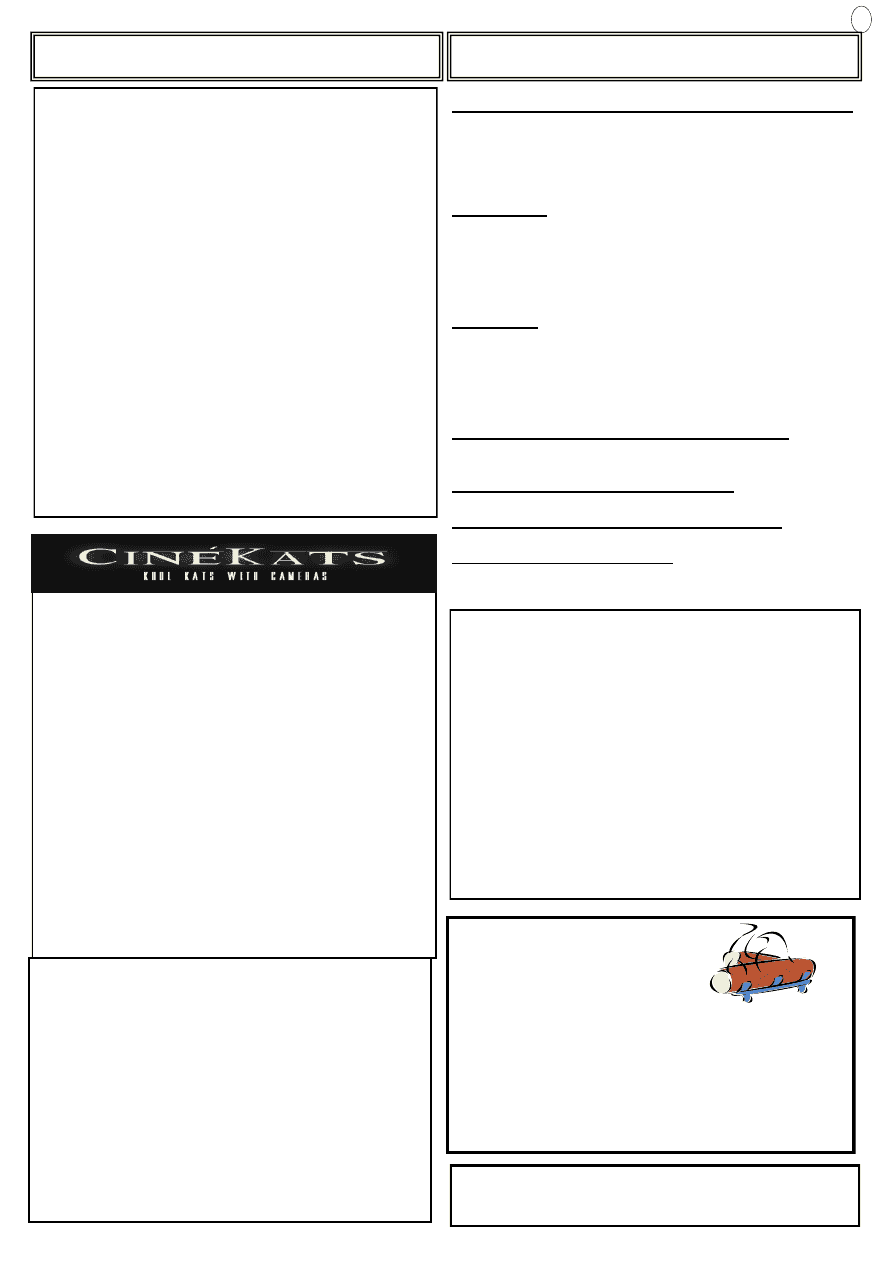 PUBLIC NOTICES 
CLASSIFIED 
BUSINESS  FOR  SALE  OR  SHOP  FOR  LEASE: 
All-Sortz  Collectables,  Shop  4,  1956  SH1  (opposite Café 
Eutopia).  40sqm  of  refurbished  space  with  shared  kitchen 
and toilet facilities. Lots of foot traffic. Very successful life-
style business. Current owner wishes to retire "down on the 
farm", but is no hurry to vacate. Ph: 09 422 9221. 
FOR SALE: 
Dark  Stained  6  Seater  dining  table  and  chairs,  older 
style in average condition. $280 ono. 
Ph.Rachel 0212345074 
Firewood For Sale: Ti tree mix $80 cubic metre  
Ph 0211246829 
TO RENT: 
Farmhouse Oneriri. 10km from Kaiwaka. Tidy 3 bed-
room. Separate garage. $220 week.    Ph 4312660 
House to rent Kaiwaka township, private 2 acres,  
7 bedrooms 3 bathrooms, new carpet,  
Ph 4388211 or 021632121 
CLOTHING ALTERATIONS & REPAIRS: 
Hems,  Zips,  Dressmaking  Ph:  Win  4312027    or  027  444 
8358 Winsome Designs. 
CRANIO  SACRAL  THERAPIST: 
for  People  and 
Horses, $45 experienced practitioner. Jill Shires 431 2080 
HOLISTIC  ANIMAL  PRACTITIONER:   
Horses, 
Pets, Farm Animals. www.allcreatures.co.nz or Jill 4312080 
WANTED  FREE  GRAZING: Small or large block. Can 
do some fencing or water. Phone after 6pm  4312006
PROVERBS:  10:2  -  Ill-gotten  gain  brings  no 
lasting happiness; right living does.
FIREWOOD 
FOR SALE 
Simply the best dry, 
seasoned totara
$90
CUBIC METRE DELIVERED 
Phone Lyn 0220708674  
Or Ray 0212274420
Do you want to learn about trapping predators and how 
effective this can  be.  A free work shop is to be held soon 
run by the volunteers who help look after Fairy Terns at 
Mangawhai.   
The Black Trakka Company will show you how to use 
tracking tunnels and what is involved to find out how 
many and what predators are on your patch.  
WHERE    Fishing Club, Alamar Cr, Mangawhai 
TIME        10am-12md 
DATE       Saturday, 3 August 2013 
Come along to see how it is done as we all need to work 
towards a predator free environment. 
Phone Jane 431-5828 for more information 
Music Video Shoot 
A huge thank you to everyone involved in the  
Set the Cycle music video we shot in Kaiwaka on the 
7th July. 
Special thanks to Marty Roest, Ilya and Eva Petro, 
Tim Magill and NorthTec for letting us film at your 
locations. 
We would also like to mention Anne Shimmin,  
Jan-Marie Olsen, Bruce Ferguson, Gemma Smith, 
Raymond Rihari , Ben Johnston, Otamatea Repertory 
Theatre, Kauri Park Nurseries and Topuni Timber for 
their assistance. We couldn"t have done it without 
your generosity and support! 
Check out CineKats on Facebook to see pictures of 
the shoot and keep your eye on our page to watch the 
video when it is released in August. 
Thanks again, Tru and Katt 
$4000 TOWARDS NEW  VEHICLE     
Maungaturoto & Districts Rotary Club presented a 
cheque to "Linking Hands" for $4000 at a tea meeting 
held on Tuesday 16th July.  Linking Hands is a  
valuable health shuttle service that is well used to get 
people with no public transport to health  
appointments.  It operates in a large area  from 
Matakohe  to Mangawahi, from Kaiwaka to  
Ruakaka.    
Linking Hands is a voluntary organisation that relies 
on grants and donations.  Mrs King said they were 
thankful for the donation that would be put towards a 
new vehicle.    
Jimmy Maramatanga Connelly 
30 Oct 1925 - 04 July 2013 
Our dearly loved father, grandfather, uncle and friend to 
many, passed away peacefully at home in Kaiwaka with all 
his whanau by his side 
The family would like to thank the many people who sent 
condolences and support . Special thanks must go to his 
many friends and staff at the Waioma Rest Home in Whan-
gateau especially  
Jackie, Emma, Edith and Tui.  
We are also grateful to the following: 
Linking Hands 
Te Ha Oranga  
Oruawharo Marae Komiti 
Oruawharo Kura  Kaiwaka School 
Kaiwaka Fire Brigade 
Te Pounga Marae  Te Uri o Hau 
Anne Gage 
Georgina Connelly Fraser Toi 
John Marsden 
Gus & Whanau 
Clay Whitehead 
Daniel & Fiona Paikea 
Brucella 
Mina & Whanau 
Ngawini Postlewaite 
Thomas Connelly  Norman Nathan 
Harrry & Fiona Paikea 
Mervin Kemp 
Tioti Kaihe 
Brian & Bibiana Hill 
Ben & Cherry 
Arohanui to all 
The Connelly Family 
 3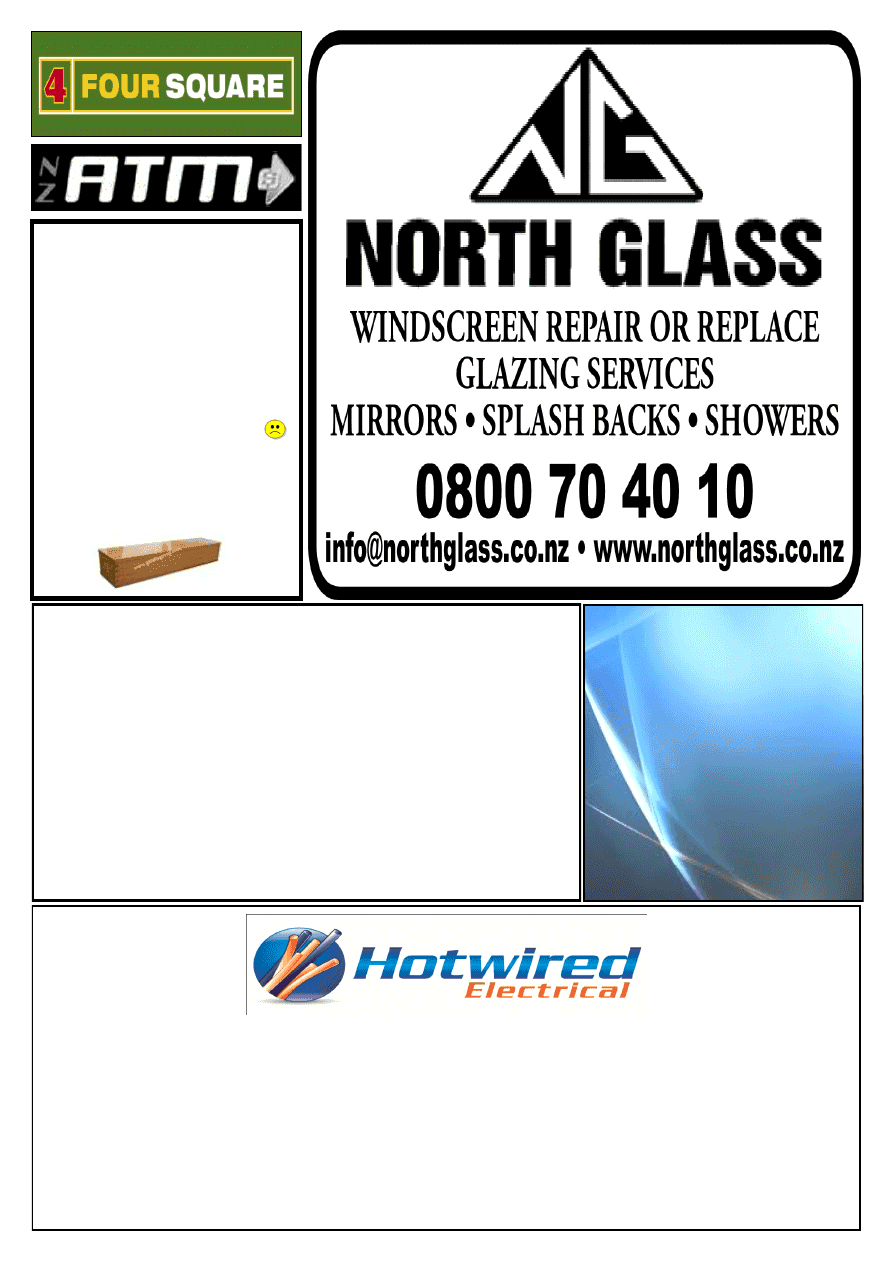 Freeview  
Installations 
Richard Te Haara 
25 Marram Place 
Mangawhai Heads 
021 1104056 
kiwipride@xtra.co.nz
KEV's  
CASKETS 
Stylish, BUDGET Accommodation 
Takeaways (8 available)  
or made to order 
  Featuring 2 styles and  
Different finishes. 
        Also O/S and Infant size 
     Phone Kev in Kaiwaka  
021 1322 671 
Or come and visit my showroom 
271 Rodney St. Wellsford 
For All your Electrical  Requirements 
 
Domestic small jobs 
 
Residential dwellings and alterations 
 
Commercial 
 
Industrial                 
No job too big or too small      
Contact Jason today on: 
(09) 431 5992, (021) 405 019 
www.hotwiredelectrical.co.nz 
 LEABOURNS 
Passenger Service 
Car & Van Hire 
Bus & Coach Charters 
Airport Transfers 
 Monthly Shopper Bus 
Phone (09) 4237416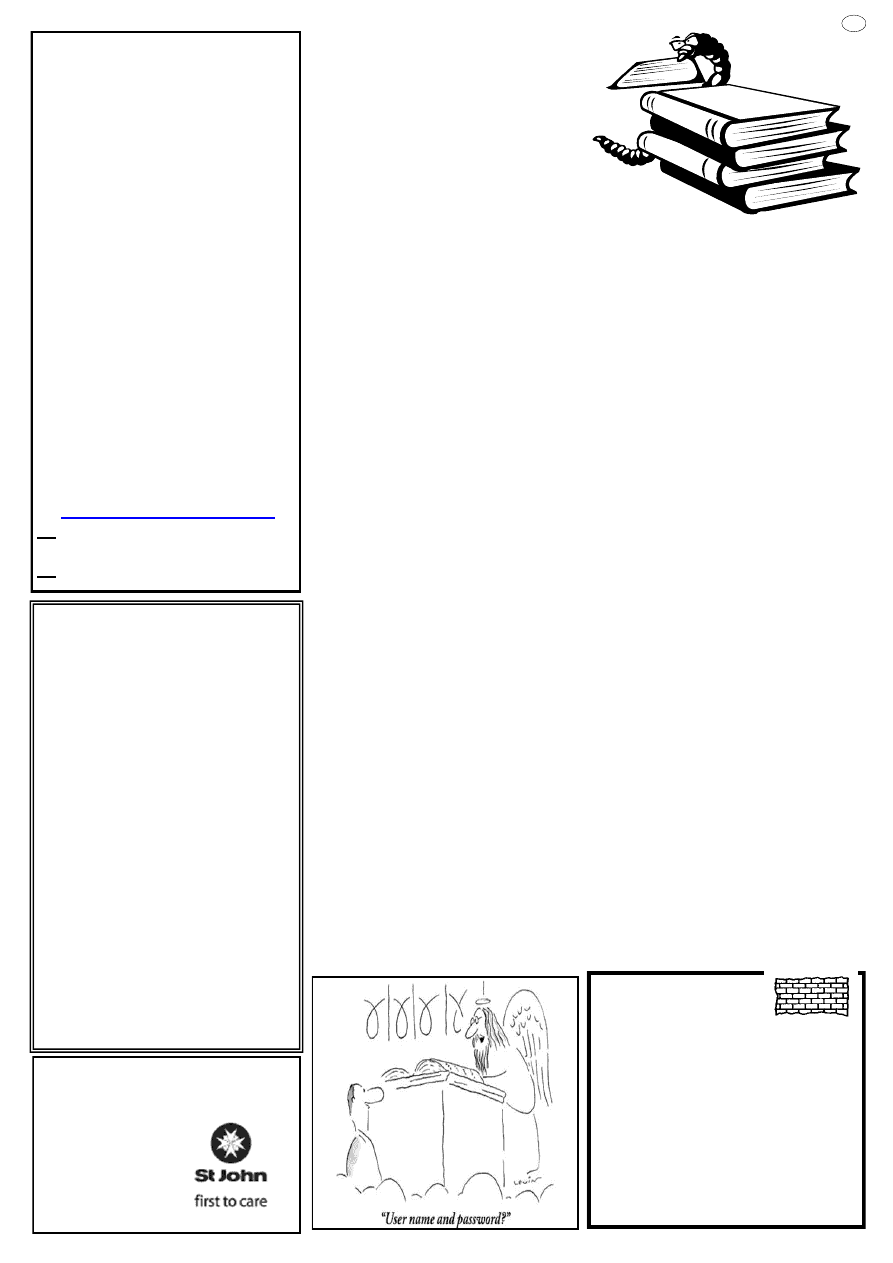 AMBER'S 
Q Cafe &  
Restaurant 
All day breakfast, 8am - 5.30pm.     
 Home made Pizza, take away or eat in from 8am to 
late. 
 Light lunches, 11.am - 5.30pm, 
Dinner Menu at 5.30pm to late 
 Toasted Sandwiches and Sandwiches made to order. 
All day, Pies, Chowder & Soups 
 Milkshakes, Kiwi Ice cream, Slushie Fruit drink, Tea, 
Coffee 
 Closed Mondays.....except Observed Holidays 
 Sunday to Thursday: 8am - 8pm 
 Friday: 8am - 8.30pm, Saturdays 8am- 9pm 
4315226 
Trevor & Amber 
41 Moir Street, Shop 5-6  
Mangawhai Village 
Next to Carters Building Supplies 
5 
ST JOHN OP SHOP  
KAIWAKA PH: 4312650 (Shop)  
or 4312423 (Home) 
Shop Hours:  
Tues-Friday  
10am-3pm only 
Closed Sat., Sun.  
& Mondays during Winter. 
Bonjour, tous les mondes! 
Not a fully functioning person...with those 
niggles, aches and pains? You guessed it.  
 I can help!
Monsieur Masseur .... 
RELAXING  
MASSAGE
..... Juste pour vous" 
Here's feedback from a happy client 
"Pete's treatment works. He identified 
long standing injuries no one else 
could fix and relieved years of chronic 
pain, fatigue and headaches.  I have 
Pete to thank for getting me back to 
work. I am so much happier and more 
confident in myself.  I can thoroughly 
recommend him." 
 
Call for an appointment now!
Pete Worsfold 
4312 152  or   021 825970   
Or  Ph. "The Well of Health" 
For an appt. 09 4312 799 
Or mobile service available 
the roadside, sometimes enjoying 
the hospitality of locals they meet 
on the way. And visiting a few 
UNICEF projects along the way to 
see the work they're doing in remote 
parts of the world, such as helping 
children who live on the streets - in 
heating ducts during winter to  
survive the minus 30 degree  
temperatures - in Ulaanbaatar,  
Mongolia. 
There are problems with the bikes - 
to be expected when you're  
travelling thousands of miles  
cross-country - and problems with 
the support crew, as well as having 
to endure each other's company day 
in and day out. And then there are 
the mosquitoes and bears! 
It's an entertaining series, and I  
recommend watching it. This DVD 
is free to borrow from the 
Dargaville shelves in the library  
until December. 
 
See you in library 
Wendy Howard, Librarian  
Kaiwaka Library, cnr State High-
way 1 and Kaiwaka Mangawhai 
Road. PO Box 89, Kaiwaka 0542. 
Phone 4312 539. Email kai-
waka.library@gmail.com Open 
Wed-Sat 10am-2pm, Mon 4-6pm. 
Membership is available to all resi-
dents in the Kaiwaka area. 
Kaiwaka Library News 
Would you like to volunteer in the 
library? We're looking for someone 
to fill the 2nd Wednesday each 
month, 10am to 2pm. You need to 
be able to use a Windows computer 
(such as log in to Windows and 
open and a web browser), and have  
regular access to emails to keep in 
touch. Full training will be given. If 
you're interested, please send an 
email to  
kawaka.library@gmail.com  
introducing yourself to me. 
 
Have you taken a look at the small 
collection of DVDs on our shelves 
yet? I recently watched  
Long Way Round: the complete  
tv series, a 2-disk DVD set.  
Ewan McGregor and his friend, 
fellow-actor Charley Boorman, 
take up the challenge of  
circumnavigating the world on  
motorbikes. From London, through 
Belgium, Germany, Czech  
Republic, Slovakia, Ukraine,  
Russia, Kazakstan,  
Mongolia, USA and Canada and on 
to New York accompanied by a  
cameraman on a third bike, and two 
support vehicles trailing behind. 
The first episode shows a lot of the 
preparation that went on before they 
hit the road, then most of Europe is 
skipped over lightly for the more 
interesting parts of the world that 
are truly "foreign" to an Englishman 
and a Scotsman. They go through 
the whole gamut of roads, from  
excellent sealed roads in the west, 
getting more and more primitive to 
non-existent - until they're bogged 
down in marsh in a valley in  
Mongolia. Sometimes camping on 
 
BRICK/
BLOCKLAYER            
All aspects of masonry: Fireplac-
es,   
Restoration & Remedial Work. 
JAMES EAGLETON, Tel.  
(09) 431 2514;  
Mob. 0274 749 232;  
nzglenest@yahoo.co.nz 
2 Lawson Road, RD2, Kaiwaka, 0573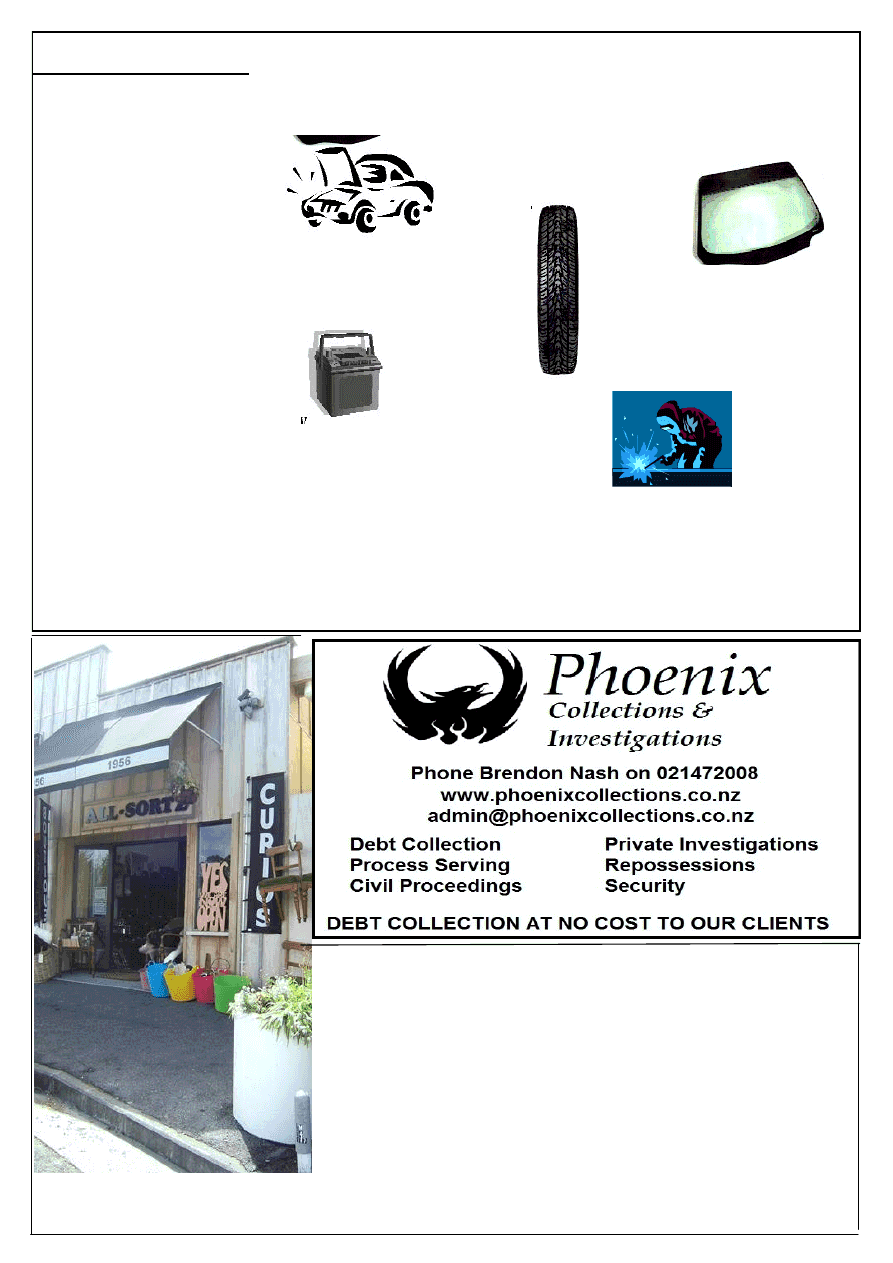 ALL-SORTZ COLLECTABLES
Shop 4, 1956 State Highway 1, Kaiwaka  Phone 09 4312701
Want it done? 
Bring it to          
Twinkle Tow 'n' Tyre 
*W.O.F. 
*Tyres 
*Windscreen replacement 
*Chip repairs 
*Bulk Oil 
*Batteries 
*Welding 
*Custom built trailers 
*Trailer hire 
Think you"ll get a better deal in the city? 
Go on, ring us; it won"t cost anything! 
1837 State Highway 1, Kaiwaka       Phone 431 2823 
CURRENT WINTER HOURS  
Saturday and Sunday 
11.00am to 3.00pm  
Or by prior appointment  
Telephone 4312701 (Business Hours)  
Or 4229221 or 0274353535 (After Hours
) 
All-Sortz Collectables welcomes Sandy and her team at the Animal Health Cen-
tre.  To celebrate their arrival in Kaiwaka, during July All-Sortz is having a celebra-
tory sale with 50% off selected items.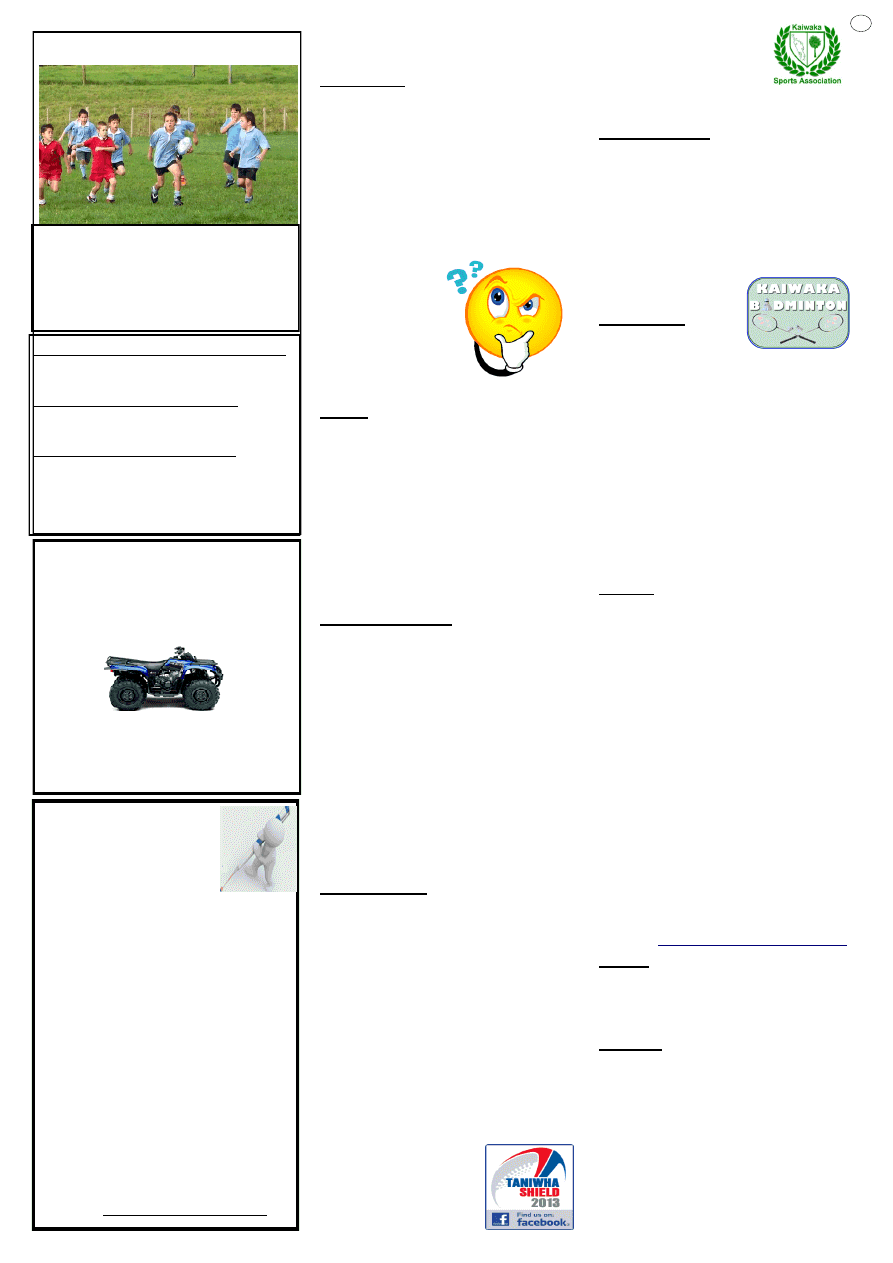 Topnotch  
Engraving 
Quality Engraving Service  
SPECIALISING IN:
www.tnengraving.com 
www.pettagsnewzealand.com 
Phone (09) 431 2174 
or  
Email: engraving@slingshot.co.nz
Kaiwaka Bugle Advertisements 2013: 
Classified $2; 1/8 page $5; 1/4 page $10; 
1/2 page $20;  
bugleaccounts@kaiwaka.co.nz 
Payments can be online, posted or left 
at Jaques Store. 
kaiwakabugle@kaiwaka.co.nz for que-
ries or copy. 
The  Kaiwaka  Bugle  is  a  community 
newspaper  run  by  volunteers.  Views 
expressed are not always our own. 
7 
KAIWAKA SPORTS ASSOCIATION 
KAIWAKA  MOTOR 
CYCLES LTD 
SALES SERVICE SPARES
FARM BIKE SPECIALIST
Phone 431 2127  
Kaiwaka-Mangawhai Rd 
Kaiwaka 
"  ENGRAVING    
& SALES 
"  NAME     
BADGES 
"  SIGNAGE 
"  PET TAGS 
"  JEWELLERY 
"  TROPHIES & 
CUPS 
"  AWARDS & 
MEDALS 
"  GIFTWARE 
"  CLUB ORDERS 
or ONE OFFS 
Quiz Night 
Back by popular demand! We will 
hold another Quiz night on  
Friday 2nd August at 7pm at the 
Kaiwaka Sports Complex. Teams 
of 4 - 6 people, prizes for top 3 
teams plus lots of spot prizes,  
supper provided, bar open, $10 
per head. 
There are still 
spaces for more 
teams, so to reg-
ister please con-
tact Cheryl on 
4312 051 or  
kaiwakasports@gmail.com.  
Movie 
On this Friday at 6.30pm at the 
Sports Complex we will show the 
movie Safe Haven, a romantic 
drama adapted from the book by 
Nicholas Sparks, author of The 
Notebook. Movies are $4 per 
adult and $2 per child (yr 9 and 
younger) and are a fundraiser for 
the Kaiwaka Sports Association. 
Children's Social 
On Friday 23
rd
 August we will 
hold a children's social at the 
Sports Complex – great music, 
dancing, glow items for sale, lolly 
scramble, food and drink for sale. 
The social will be from 7 – 9pm  
(a parent/caregiver to remain with 
children thanks). Children $3 
(adults and under 5's are free). 
Bring the kids out for a fun  
evening! 
 
Junior Rugby 
Our JMB club has now wound up 
its season having had its last 
matches against Paparoa on Fri-
day. Well done to everyone in-
volved with the club! There will 
be an IMB match at the Sports 
Complex on Saturday 3
rd
 August 
at 10.30am – Otamatea Under 14's 
vs Kaihu, spectators welcome.  
And best of luck to our Rodney/
Otamatea Taniwha Cup team who 
will be competing for the  
prestigious Northland 
Primary Schools Ta-
niwha Cup in Whan-
garei all this week. 
Eastern United JMB 
Winner of the  
Eastern United Rugby JMB $100 Raffle  
drawn by Adrian Reddy at the final Hawks 
game on Saturday 20th was Kevin Robin-
son with ticket 37.  
Thank you all for your support, Jennie  
 
Junior Netball 
Our junior netball club will cele-
brate the end of their season with a 
prizegiving and BBQ at the Com-
plex on Friday 30
th
 August from 
5pm. Can all tracksuits and uni-
forms be returned to Melissa or 
Sharlene before this 
date please. 
Badminton 
If you have ever 
thought about  
giving Badminton a go, why not 
come along to club nights on Tues-
days at 7.30pm in our Kaiwaka 
gymnasium. We have club racquets 
you can use for free (or bring your 
own) and soft-soled shoes are best. 
Adults and children of all abilities 
are welcome! For more information 
on our  Badminton club please  
Ph: Kaye Fleming on 4312 345. 
Squash 
Our squash club is a small friendly 
club always welcoming of new 
members. If you'd like to check us 
out, just turn up to the Kaiwaka 
courts on Mondays from 6pm for 
Club Night. You will need  
comfortable clothes with soft-soled 
shoes and if you do not own a  
racquet, the club has some that you 
can borrow. Don't be shy – if you'd 
like to give squash a try, simply 
turn up to Club Night or for more 
information phone Neal Stirling on 
4312 604. There is also information 
on the club along with photos of 
our recently upgraded courts on our 
website 
Found 
Found in the KSA grounds, a ladies 
gold wedding ring. If it is yours 
please phone Cheryl on 4312 051. 
Meeting 
There will be a KSA meeting on 
Wednesday 7th August at 7.30pm 
at the Sports Complex.  
All welcome. 
Cheryl Anderson 
Manager 
Kaiwaka Sports Association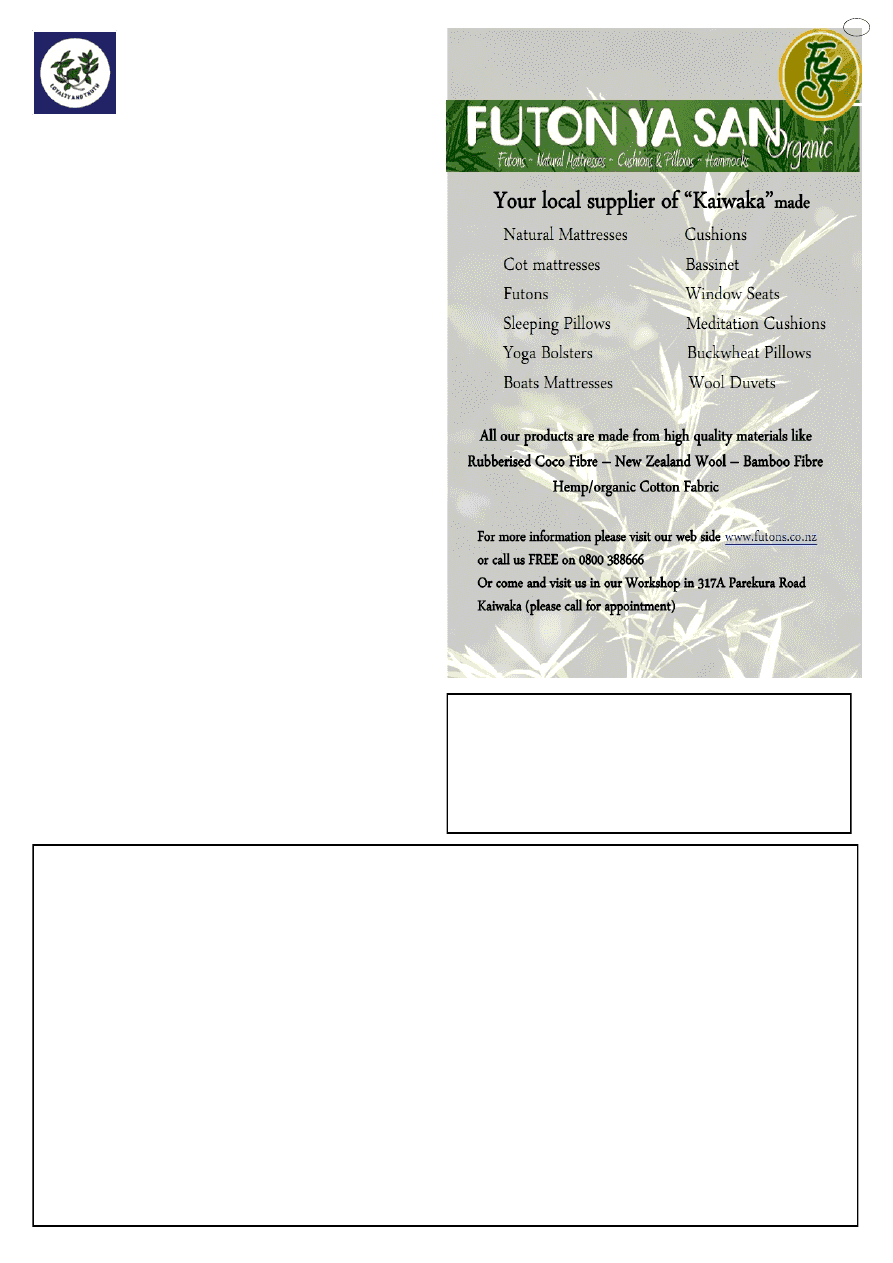 9 
Otamatea  
High School 
 
Dear Parents and Caregivers 
The new principal, Rachel Clothier-Simmonds will be 
starting at the beginning of next term. The school will be 
having a powhiri to welcome her and I would like to  
encourage all parents, whanau and community members 
to come along and give her an excellent welcome. There 
are details below describing the protocol for the powhiri. 
Coming up this week there will be the end of term  
assembly as usual. This will be after lunch on Friday.  
Also, this week, we have students away sailing on the R 
Tucker Thompson. This is a great opportunity for these 
students to not only develop their leadership potential but 
also for them to develop as people. We have other stu-
dents away on a possum course and the top netball team 
will be competing on Thursday. Another event on Thurs-
day is the Year 7 and 8 exchange with Bream Bay  
College. 
Congratulations to Jasmine Sampson, OHS Netball Club 
team 1 member, who was named Rodney Netball Player 
Of The Competition at the Rodney Districts prizegiving 
last week. Jasmine also played in the North Harbour  
Maori Under 17's Netball Team. Well done Jasmine. 
NCEA students should be using the term break to make 
sure that they are on track for meeting their goals for this 
year. They can take advantage of the break from lessons 
to make sure that they are fully prepared for any internal 
assessments that they have in Term 3. We are nearly 2/3s 
of the way through the year and students who have 40 
credits towards level 2 and 3 and over 50 towards level 1 
are well on track for achieving their appropriate NCEA 
level this year. For those aiming for UE, if they have 18 
level 3 credits in 2 approved subjects and 9 other level 3 
credits they are also well on track. This week Academic 
Counsellors will give students a printout of where they are 
at with regard to their credit totals. 
Roy Fletcher, Acting Principal 
Letters to the Editor 
It's great to see local views being published in the Kaiwaka Bugle - but it is time for contributors to stop hiding behind the anonimity of 
"name and address supplied" (or similar) and put their names to their opinions. Name suppression should be reserved for highly sensitive 
cases, which complaining about council is not. It should not be provided as a matter of course. 
     A recent letter opined that the speed limit on Settlement Road should be reduced. In my humble opinion, a change in speed limit is 
not going to change a thing. People who want to drive fast on a gravel road are still going to do so, despite any legal requirements. 
     Drivers are supposed to drive to the conditions, not the speed limit, so those who are not doing so now are hardly going to change 
their habits just because a number on a sign has changed - and how many of those accidents or near-misses that we're being told about 
happened at 100kph? That speed is near-impossible if you're driving safely on Settlement Road, and on many other unsealed roads in the 
district. 
     This is no different to increasing costs to the owners of registered dogs because of the actions of people who do not register their dogs 
- and I'm not starting another argument here, merely providing a comparison. The problems lie with those who don't give a toss or don't 
think about what they're doing, and forcing changes on those who already have respect for others isn't going to change that. 
     Effective driver education is more likely to work - if you can determine what "effective" in this situation is - and/or perhaps some 
signs indicating a safe speed for particularly tricky corners, to warn people who do care for such things, might help. 
     If you don't like what council is doing, keep complaining to them until they pay attention. Don't just moan - be clear in what the prob-
lem is and provide reasonable solutions if you have any. Encourage your friends to do the same. Do it in writing (letter or email) so you 
have a paper trail to point to should the day come that someone at the council end says "we didn't know about this problem". 
     These are my personal opinions, not necessarily those of any organisation where I hold an office or have an association of any kind. 
Wendy Howard 
Kaiwaka 
Advertisers and contributors please note that ads and copy 
need to be in by 2pm on the Friday before going to print on 
Monday. Unfortunately it is very difficult to include late 
copy and ads therefore anything received after close off 
time may not be published but will be included in the fol-
lowing issue. 
The earlier the better !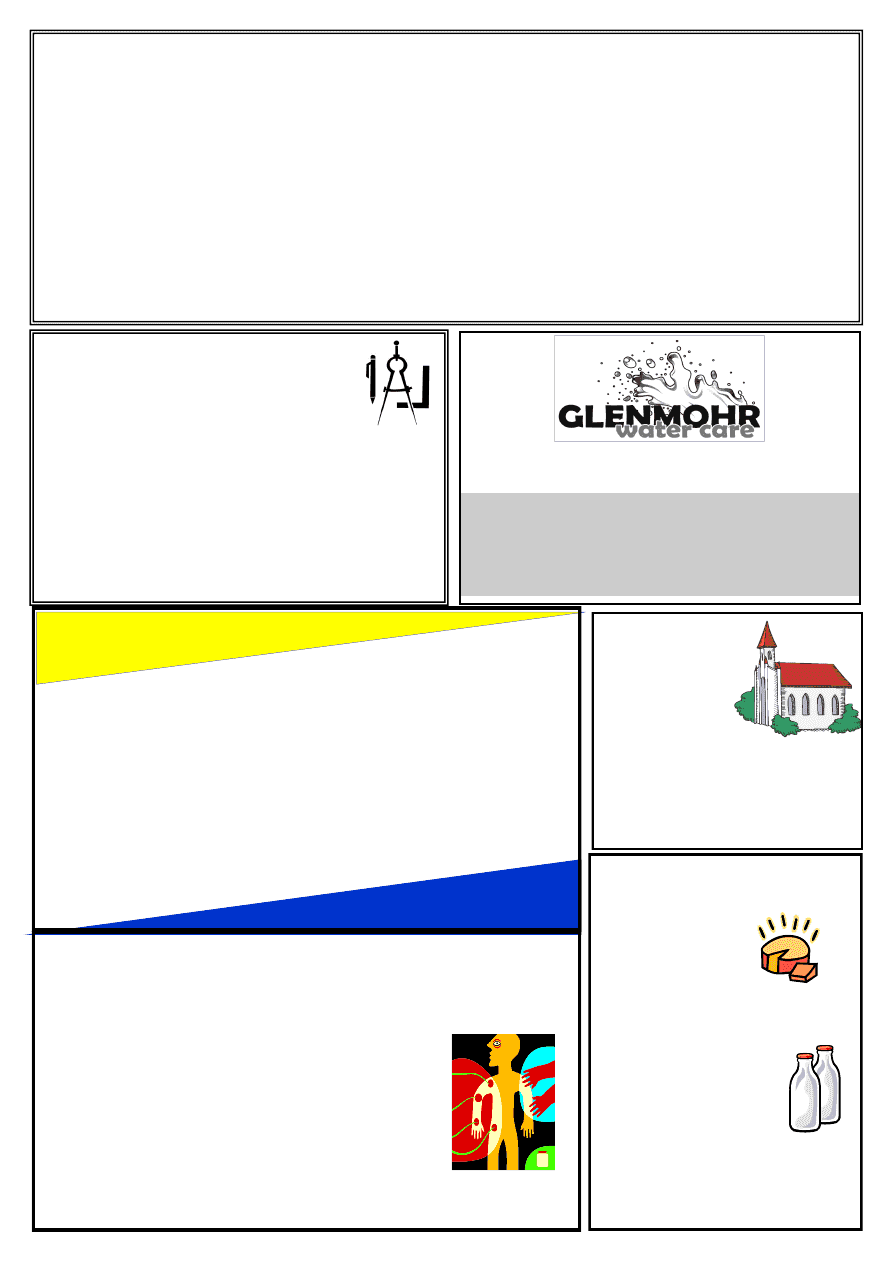 RANGANUI EARTHMOVERS 
 
16T Excavator   
(tilt, thumb & ROPS cab)   
Transport Trailer 
2 x 6 Wheeler Tip Trucks 
Suppliers of All Grades of Metal & Topsoil 
 
If you want a proper job done with an experienced operator ring 
Grant on    A/H 431-2131        Email  ranganui.dev@xtra.co.nz 
   Mob  021845-246 
Driveways, House Sites,  
Drainage Dams, 
Section Clearing,  
Tree Work,  Rock Retaining Walls,  
Quarry Work, 
Basically Anything That a Digger Can Do 
CONCRETE 
If it's concrete we do it 
Full Preparation & Pour by 
Experienced Local Team 
Phone Phil Keen Contractors  
027 659 2376 
design drafting 
service 
Retired builder and manufacturer with over 40 years  
experience in the building industry is offering a design 
drafting service  
for domestic housing, sleepouts and sheds.  
Plans formulated in consultation with clients, with 
working drawings completed and submitted to  
council for processing.  Extensive practical experience,  
able to identify & resolve problems. 
Please ring Mike Lean on 
09 431 2260  
or 
021 431 196 
ST PAUL"S  
SUNDAY  
SERVICES
First Sunday 9.30am, third Sunday 4pm  
Paparoa Anglican and Wellsford  Co-op Parishes 
StPauls Church: Kaiwaka-Mangawhai Rd.  
Contacts: M. Hargreaves 4312295, C. Bygrave 4312057  
1st Sun. (Anglican), 3rd Sun. (Co-op). 
Water Tank Cleaning 
" 
 Keep your water safe & clean   
 
Removal of sediment, silt etc 
 
Vacuum or full scrub 
 
Minimal water loss 
Phone Mark (09) 432 0655 or 0274 707607 
OWEN STEVENS 
Osteo Therapist
For careful adjustments to bones and joints 
Treatment for humans and their pets 
Clinics: Kate's Place, Kaiwaka: 
Last Friday of month 
Warkworth Showground:  
2
nd
 Thursday, monthly
For bookings:  9.00am-5.00pm 
Phone 09 4312661  
Or phone Owen  09 4317123   anytime 
 Hands On    
CHEESEMAKING  
WORKSHOPS  
are  On Again  
SATURDAYS    
3rd & 10th August 
( 9am to appr.3 pm, incl. lunch)  
GOUDA (Hard Cheese) and Cam-
embert Style (soft cheese) 
Other dates by  
arrangement… 
Or....  if YOU supply the 
Milk ...I can make the 
Cheese for YOU. 
For More Info or Bookings   
Contact: 
Ad ...... 
(Kaiwaka Cheese Shop Founder) 
09-4312234 or 0212154495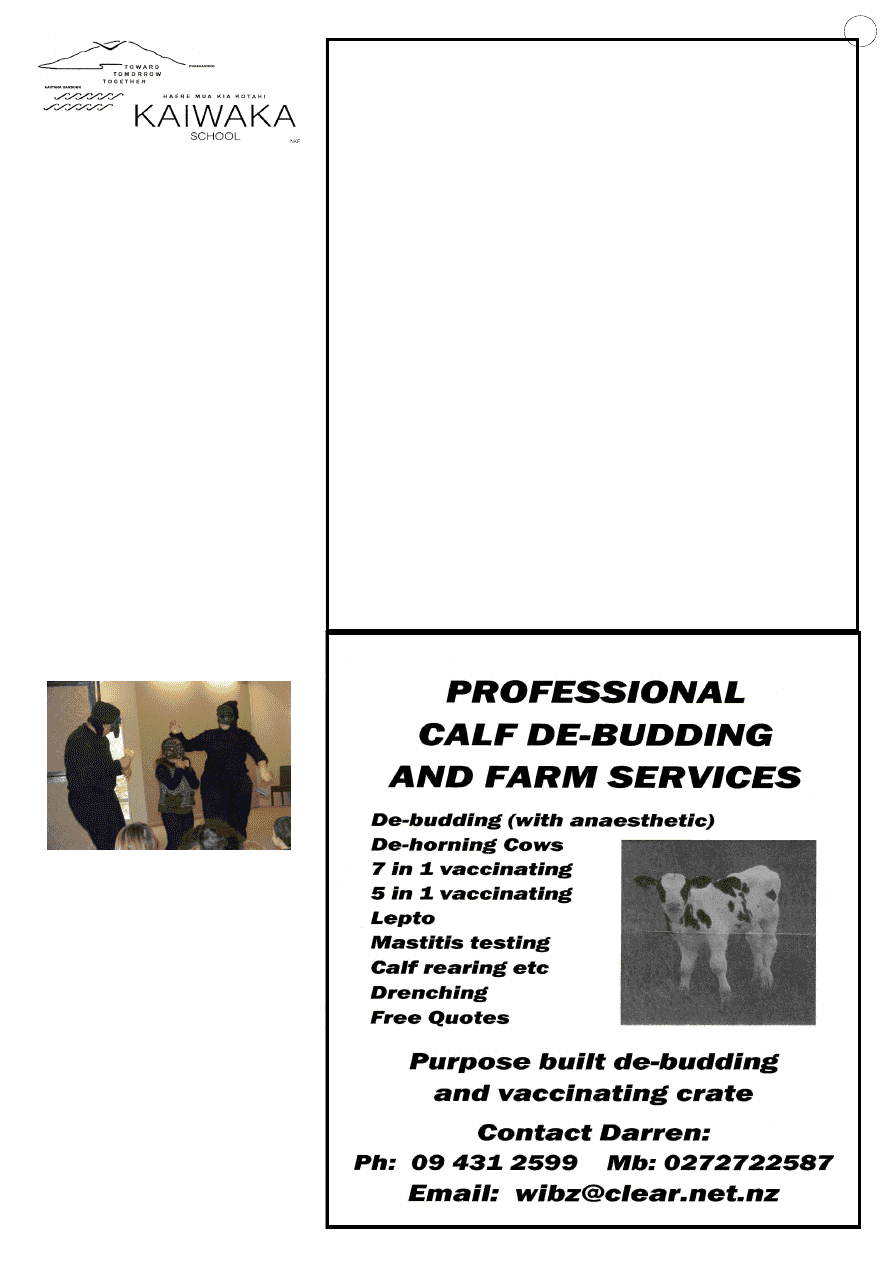 KAIWAKA GARDEN & FLORAL GROUP 
19 members attended the meeting at Jean & Noel Pagets on11th July 
Jeans garden looked very neat and tidy with lots of interesting plants, and the trees 
were ready to burst their buds  for Spring. 
Noel had made a marvellous job of repairing our Garden Club Flags so they now 
stand alone, "Thank you" Noel. 
The Birthdays girls for July were Isa and Glynis, Isa was unable to be present but we 
even Sang "Happy Birthday" for Glynis. 
Some of our Members went to the "Mid Winter Festival of Flowers" at Ruakaka put 
on by the Marsden Bay Garden Club. There were some "Superb" entries in the Floral 
and a very High standard.Three of our members even won raffles, Diane and Sue gro-
ceries, and Rosemary a Camellia bush- Well done Girls. 
We missed Lorraine at our meeting who is laid up with a cracked bone in her foot due 
to a fall, Get Well Soon "Matey" 
Rosemary gave a report on the gardening at Mangawhai beach school, we were 
thrilled to hear 3 worm farms, one operational had been donated to the school in re-
sponse to the " Advert" Garden Club members are hoping to Learn" too" when the 
other two farms are set up. The children have healthy cabbage & broccolli plants in 
the gardens at present. 
Results of competitions 
Judges Petronella Brom, Dawn Behague, Olive Giles (to observe) 
Wild Card - 1st G Matheson - Camellia 
Best Bloom 1st Glynis Smith -Hibiscus, 2nd J Paget - Camellia 
Spike - 1st R Browne- Primula, 2nd G Smith - Chatham Is For-get-me-not. 
Pansy 1st G Matheson 2nd Meredy Ballard 
Vege Brocolli lst A Shimmin- only entry. 
Fruit 1st D Alexander - Lemon. 2nd Jenny Wills - Orange. 
Floral Arrangement "Royal Baby" Boy or Girl - 1st Sue Hamilton-Wallace, 2nd Jean 
Paget. 
Raffle won by Jenny Wills. 
Our next meeting will be on 8th August 1 p.m. at Milestone Cottages, 27 Moir Point 
Road, Mangawhai Heads.  
The only Competition will be "Wild Card" 
Members you may bring a friend, and those who volunteered to bring plates, don't 
forget please. 
Gail is willing to answer gardening questions so bring any questions along 
Any enquiries please ring Jean on 4314767. 
Kia Ora All,  
Term 2 has come to an end and we can re-
flect upon what a busy term it has been; 
A school-wide math-a-thon was organised by 
the PTA to help raise funds for IT equipment 
in early June with approximately $1700 
sponsored which was a fantastic effort. 
The whanau Committee organised a Hangi to 
be held on the 9th of June as a gesture of 
thanks to those who made the upgrading of 
the playground possible with their contribu-
tions of time, skill, equipment, etc. This was 
a very enjoyable and delicious day (despite 
the stormy weather not being ideal for a han-
gi pit) and was attended by 80 of the school 
community. Thank you to all those who 
made this special event possible. 
The tamariki of Kaiwaka School had their 
annual Cross Country on the 12th of June 
with great levels of participation and enjoy-
ment. 
 
The school also had the opportunity to attend 
the Matariki Festival Performance "Ruia Te 
Kakano" at Te Hana Marae which (from 
feedback from staff and students) was a very 
interactive, humorous and entertaining play 
based in pre-colonial Aotearoa. Below is a 
photo of Kaiwaka student Mina Fairburn 
participating in the play 
 
 
 
 
 
 
 
 
 
 
 
Upcoming Events include the greatly antic-
ipated Kaiwaka Got Talent on Wednesday 
the 10th of July. 
 
In Term 3 Kaiwaka School is lucky enough 
to have Seasons Groups available for our 
students during school time. Seasons is a 
grief and loss and support group for chil-
dren who are missing someone important in 
their daily life through separation/divorce, 
other family change or death, for infor-
mation please contact the school office. 
Kaiwaka School would like to thank those 
in our community who have ensured the 
school grounds have remained tidy after the 
weekend sports, there has been a massive 
improvement thank you. 
 
Term 2 ended on Friday the 12th of July 
with Term 3 commencing Monday the 29th 
of July. 
 11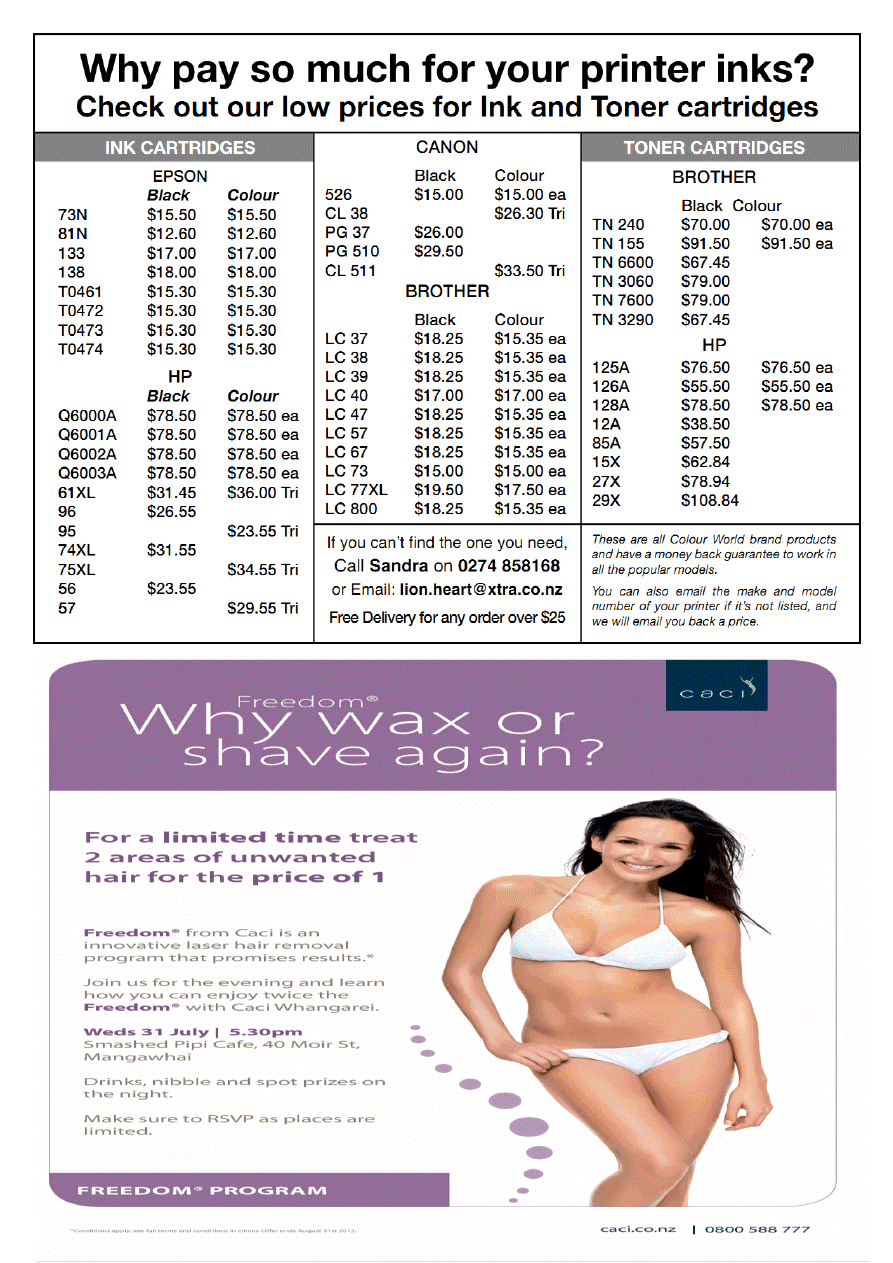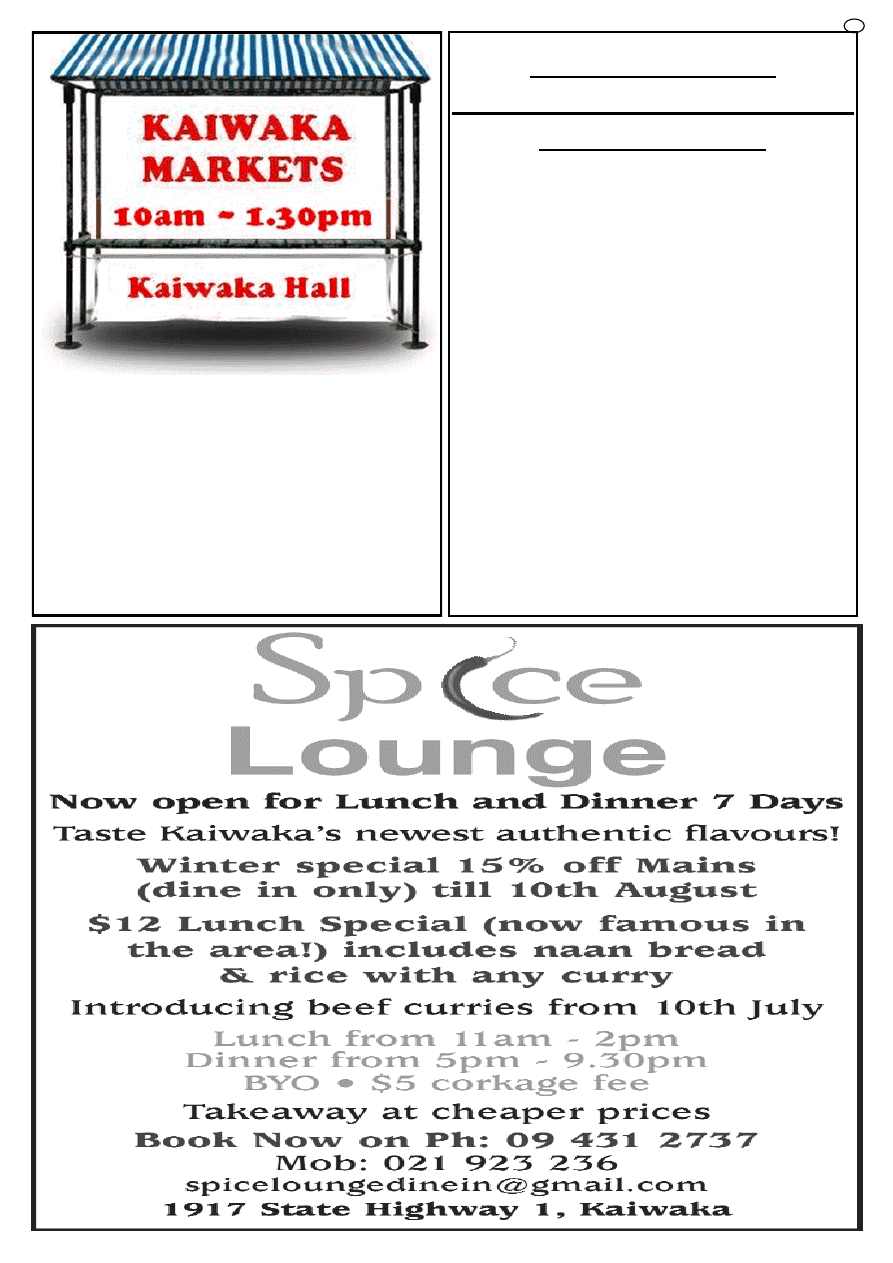 13 
On the 2
nd
 Sunday of each month 
In the Kaiwaka War Memorial 
Hall 
Sunday 11 August 
Sunday 08 September 
A variety of new & pre-loved goods 
Enquiries to:  
PAUL SAUNDERS 
LAWNMOWING & GARDEN 
MAINTENANCE 
 
Lawns and edges   
 
Section mowing 
 
Hedging and trimming 
 
Spraying and fertilising 
 
Tree planting 
 
Green waste removal 
 
Pruning 
Friendly and reliable service guaranteed 
Call now for a free no obligation quote 
021 886 843 
09 431 2731 
Servicing Mangawhai and Kaiwaka 
and surrounding areas 
paulsaunders99@gmail.com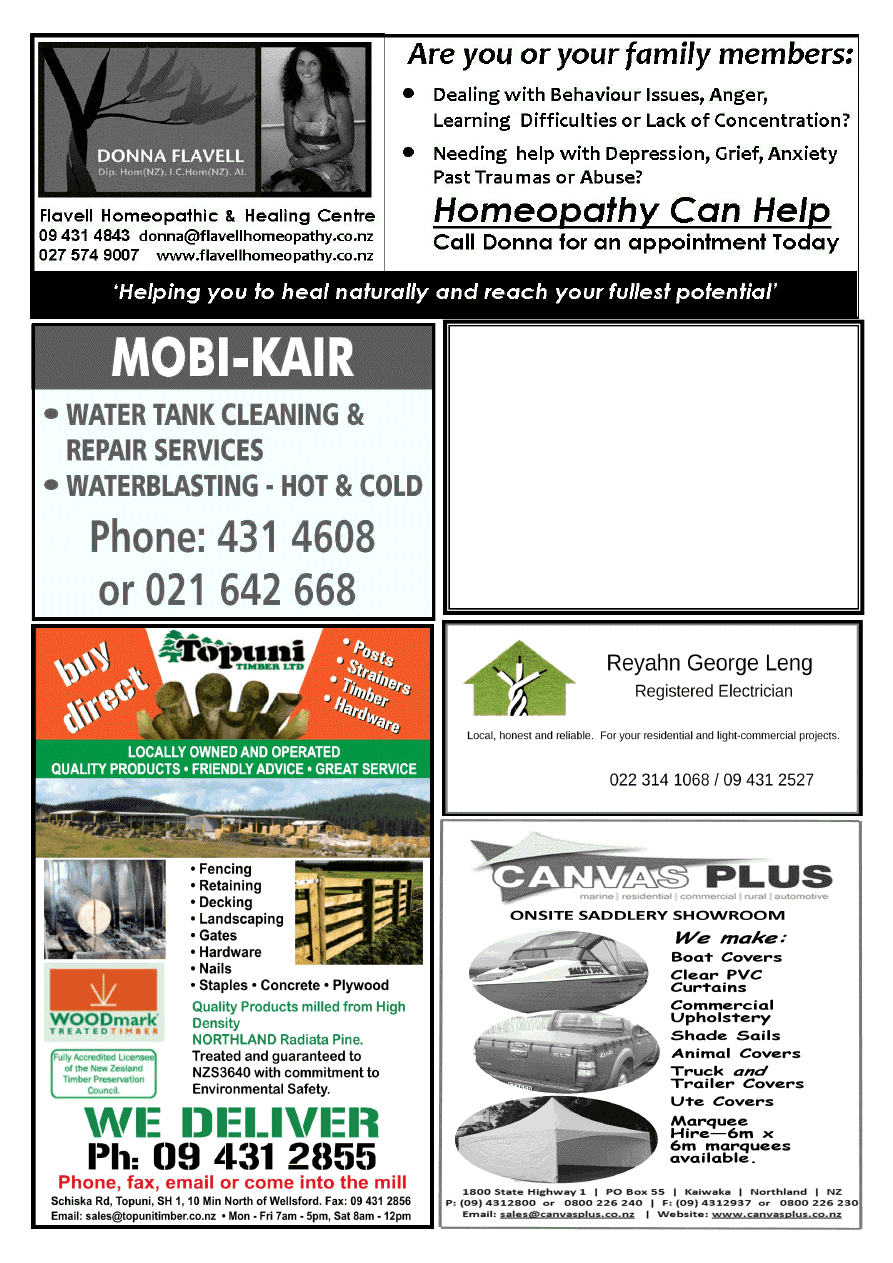 TILING 
Certified Waterproofing 
431 4533 or 021 86 33 33 
George 
MCN Property Solutionz  
Local references available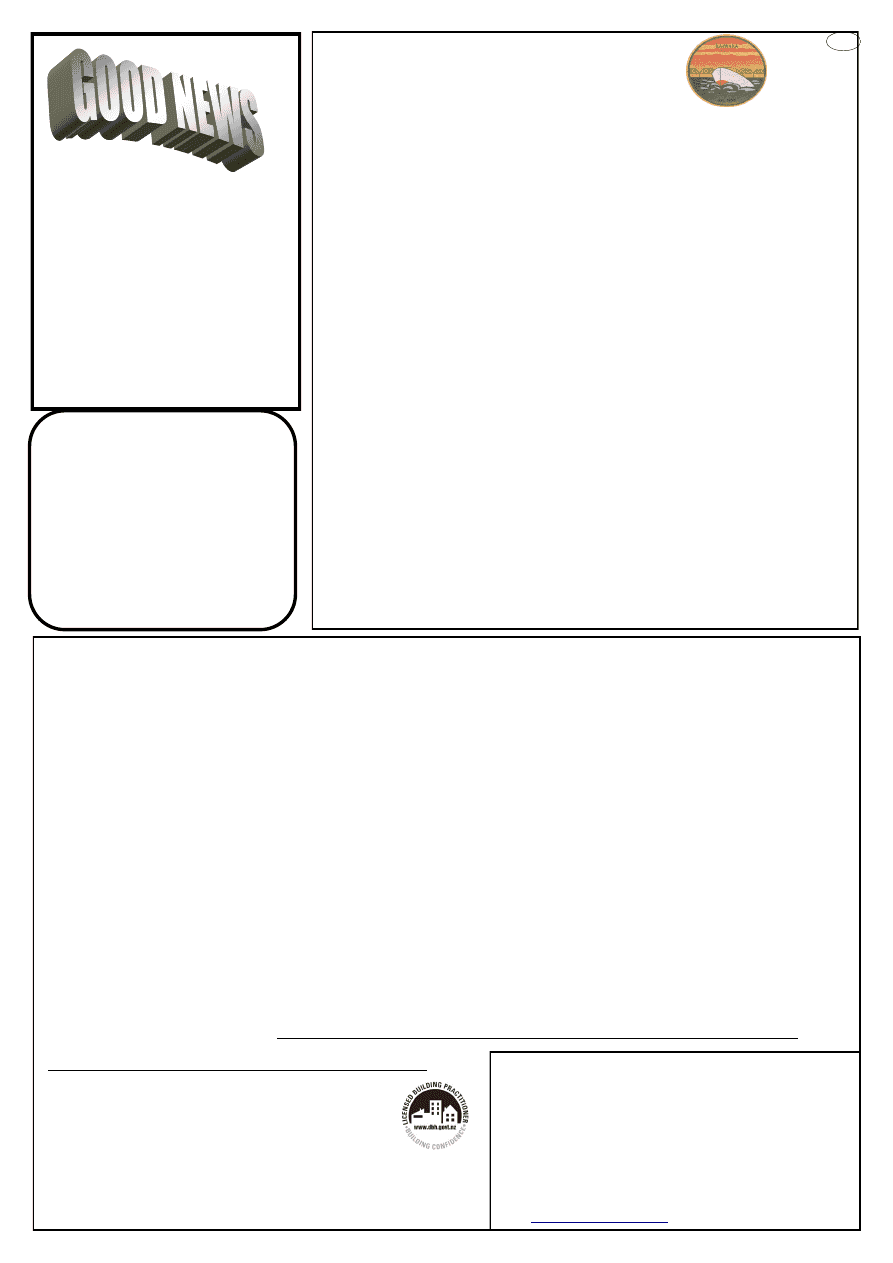 THERE'S 
 Your COMMUNITY 
CHURCH 
RECEIVE HEALING 
  RECEIVE THE LOVE OF GOD 
 Everyone warmly welcome each                                            
 
    Sunday 10am. 
Contact: Pastor John Dekker,  
09 4318203 
@ the  
Kaiwaka 
Family Church 
ARCHITECTURAL BUILDING PLANS AND DESIGNS 
20% Reduced Cost - design and planning. 
If you are thinking of building, then you need to make use of cost savings in architectural design as well as having a good and well experienced 
designer. This applies if you are considering a new home, any alterations or any building additions/farm buildings, sheds, alterations, whatsoev-
er. There are many things that are frustrating if you are not totally familiar with what all details are required by Councils -especially with 
new regulations in force to ensure everything runs smoothly - e.g. Resource and Building Consents, planning restraints, new building 
materials ,applying for building permits, dealing with building contractors to name a few -you need a capable,  
experienced and professional designer with a clear knowledge of all the processes. 
WE CAN HELP YOU CLARIFY ALL OF THESE ITEMS  AND MAKE LIFE RUN MORE SMOOTHLY.  
Brian of Wright Design has been helping and organising all these facets of design and building for over 40 years. 
With needs of family changing and the economy - building requirements constantly being reorganized and made more complex, it"s very im-
portant to obtain professional advice for any building project - no matter what size. 
Brian advises on design, materials, permit applications, builders and subcontractors for any project - no matter how small or large 
ALL THIS AT A REDUCED COST so YOUR DOLLAR GOES FURTHER  
Wright Design offers free visits, consultations and all the advice you need on planning. Design, building, contractors, council  
permit applications, guaranteed permit plan acceptance. 
QUALIFICATIONS 
Brian is a qualified designer (NZCAD) with over 40 years of varied experience in all types of building and is a registered and Licensed Building 
Practitioner in Design - L.B.P. 117345 
He ensures you will achieve the best from your budget with recommended excellent local contractors ready to competitively price and 
build your personal project quickly and efficiently. 
EXPERIENCE 
Brian"s practical building and 40+ years of design experience means he can give you excellent advice and all the guidance needed for all 
your building needs, 
FEES: To help you attain your project Brian has reduced his costs by 20%, giving you extra funds for the rest of your project. 
ENGINEER: Brian can arrange engineering for a reasonable cost. 
THIS IS AN ABSOLUTELY GENUINE FEE REDUCTION!! 
Qualified and inexpensive designer – N.Z.CAD., LBP 
117345 
Guaranteed design and working drawings 
Free site visit to your home or property 
Great service 
Obtain a free quote with 20% Discount. 
PROJECTS 
Additions, alterations, basements, new houses, motels, bed and breakfast 
commercial buildings and shop fit outs are a few projects he has been  
involved with. 
WHAT TO DO FROM NOW 
Call Brian   
Arrange a visit 
Discuss your needs 
Obtain great advice.  
Obtain a free quotation - with a true 20% discount 
WRIGHT DESIGN 
Brian"s office is at: 360 Oneriri Road, Kaiwaka, Northland 0573  
Call in for a chat and a coffee, or he will call on you at your home if pre-
ferred. 
WRIGHT DESIGN: Office 09-4312544 
Mobile 021 276 7389 
Email: 
T.W.WRIGHT 
WATER PUMPS  
SALES & SERVICE
DEEP WELL & SUBMERSIBLE REPAIRS 
203 WHAKAPIRAU RD, WELLSFORD 
PHONE 09 4238235   
MOBILE 021 976 545 
15 
Point Curtis Cruising Club 
REMINDER: Subs are now due!! 
BOAR HUNT: 10 and 11 August 
2013. Tickets are on sale now at 3 
Furlongs Hotel, Kaiwaka (and oth-
er outlets, see poster for details). 
$30 adult, juniors FREE entry.  
This year we are running a  
SNAPPER CONTEST  
at the boar hunt. 
Senior snapper section 
Heaviest Snapper 1st prize $400, 
2nd prize: Rod, reel and tackle box 
value $250, 3rd prize rod and reel 
value $150. Average weight Spon-
sor Hunting and Fishing  
Warkworth Package Value $200. 
Minimum length 32cm. All senior 
snapper weighed in will be auc-
tioned. 
Junior snapper section 
Heaviest Snapper 1st prize $100, 
2nd prize $60, 3rd prize $40. Mini-
mum length 27cm. 
Juniors get to keep their fish after 
weigh in. 
Spot prizes Saturday and Sunday. 
ALL SNAPPER TO BE GILLED 
AND GUTTED PRIOR TO 
WEIGH IN  
(INCLUDING JUNIORS). 
Weigh in Saturday 4-5pm. Sunday 
2-4pm final weigh in  
(Publicans watch). 
Junior eel and possum section 
Heaviest Eel 1st $50, 2nd $30, 3rd 
$20 
Heaviest Possum 1st $50, 2nd $30, 
3rd $20 
Maximum of 2 eels and 2 possums 
per junior (eels and possums SUN-
DAY only). 
All boar hunt enquiries please 
phone Vic on 0211609588 
Fish of the month (Gurnard) 1st: 
Trevor Wright 0.963kg, 2nd: Micky 
Renton 0.648kg 
New Fish of the month SNAPPER 
until 1st August 2013. 
Next committee meeting 1st Au-
gust, 7pm at 3 Furlongs Hotel, Kai-
waka 
Wayne Leslie, Commodore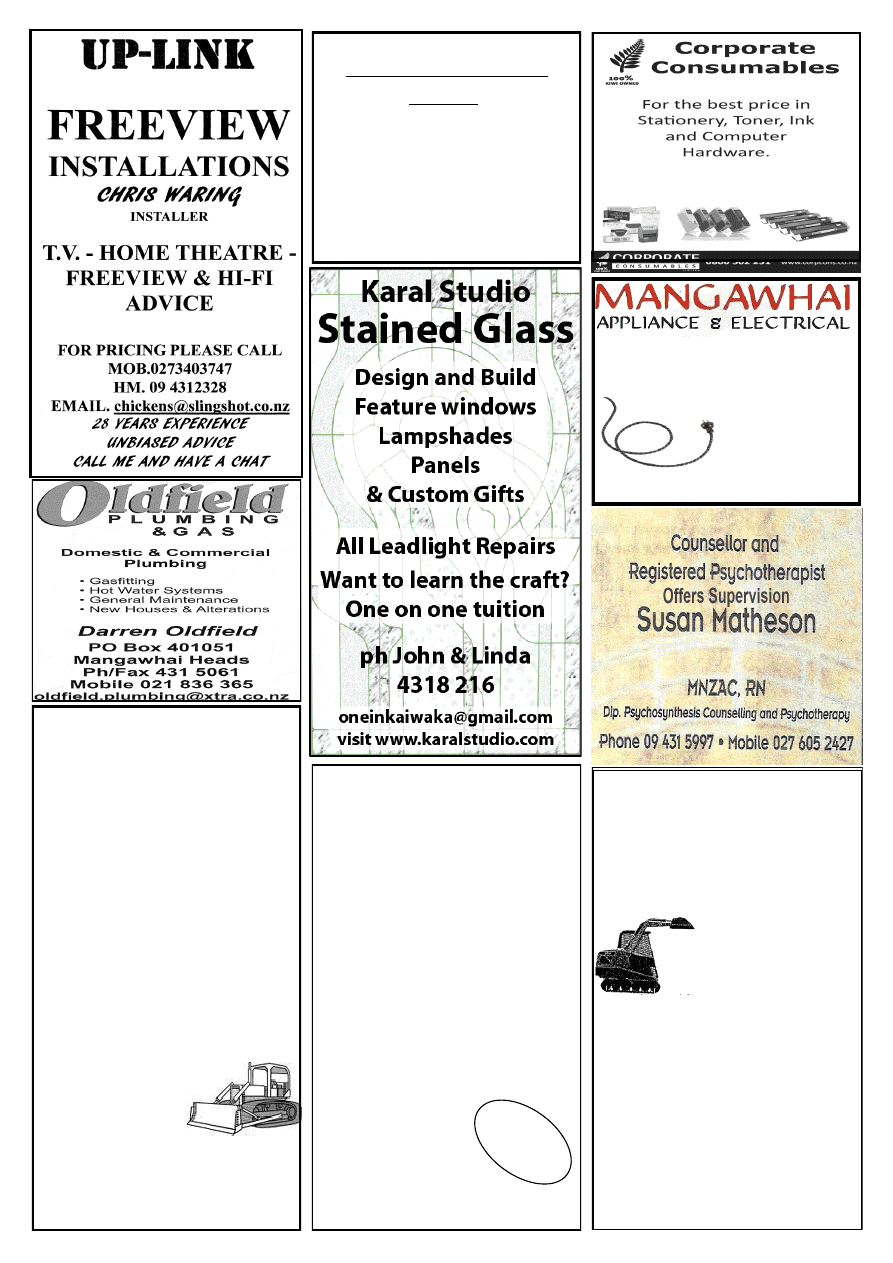 Landcare 
Services
Dave Hyndman  
4312302 
   021 431238 
Trenching, Hole Boring, Land 
Levelling,  Driveways, 
Landscaping,  Post Peel,  Wood 
Chips, Contact Rolling 
Lifestyle block mowing, 
etc....also Rotary Hoeing 
For reliable and friendly 
service contact Dave 
Based ou
t  
Oner
iri Roa
d 
HODGETTS
CONTRACTING
Digger Work    

Driveways 

House Sites   

Dams 

Drains, etc
Also available for HIRE 

3 ton Vib Roller 

Heavy Duty Tow 

Waterblaster  

Lazer Level 
Phone Mark 
4312877 
027 447 8554
DEAN STEWART 
Registered Electrician 
021 280 4008 
09 4312911 
ATHOURISED FISHER AND PAYKEL SERVICE 
Coates  
Contracting 
 
D41 Bulldozer with 6 
way blade, bush rigged 
with winch 
 
For all tree work 
 
General bulldozing and  
  stick raking. 
 
120hp Tractor for 
ground cultivation,  
 
tip trailer work. 
 
Fencing
All enquiries phone  
Brett Coates  
094318720 or  mob 
021431872
Community Services 
Officer: 
For all Community Services Forms 
see Milly at the Kaiwaka St John Op 
Shop. Phone 4312650 
MORE MEMBERS REQUIRED 
FOR THE KAIWAKA STATION
. 
Phone Andie or Gavin on 
0800 502 251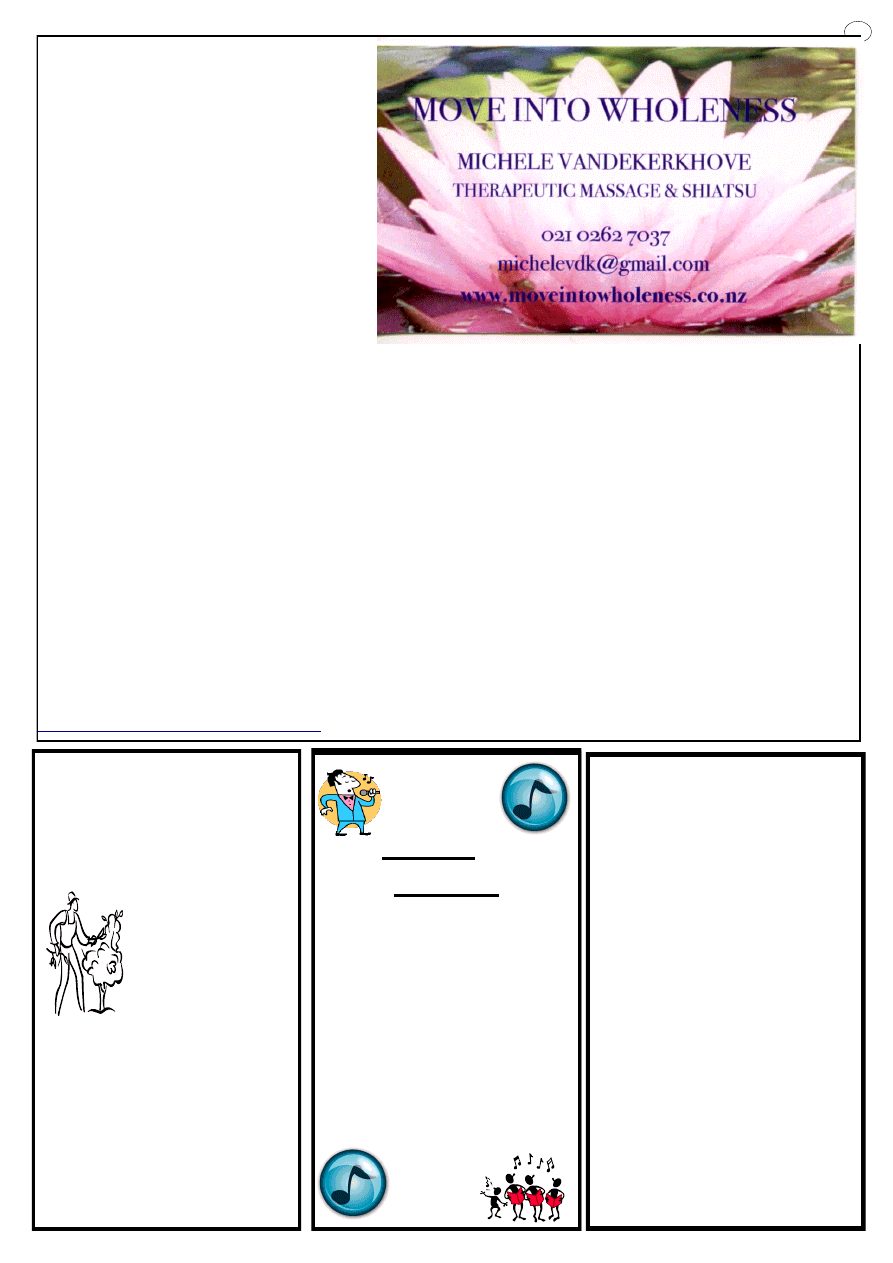 Willow Bend
HORSE  
HOTEL 
"   
Total Horse Care 
" 
Agistment 
" 
Riding Lessons 
" 
Arena Hire (60x40) 
" 
Young Horse Starting 
" 
Re-training/Exercising 
" 
Hoof Trimming 
" 
Problem Solving
Phone Sue 09 431 2817 
or 021 623 776 
Or email sue.gray@xtra.co.nz 
OUT THERE 
GARDENS AND LAWNS 
Lawn Mowing – Any Size 
Section Clearing  
Hedge Trimming  
Spraying  
Planting 
Pruning   
Gutters Cleaned 
Chainsaw Work   
Regular Services 
General Maintenance 
Garden Waste Removal 
Free Quotes 
Get The Job Done! 
Servicing Kaiwaka/Mangawhai 
Contact Phil Jones 
027 243 5503  
431 2196  
Email: outthere09@gmail.com 
Singing  
Lessons 
Individual sessions 
All styles of music  
All voice types 
Reasonable rates 
Phone  
Maura Flower 
021 164 8318 
 17 
Following my previous article in Bugle # 13, 
I want to share a few examples of common 
activities which can create tight and painful 
musculature. Carrying any kind of shoulder 
bag can create a distorted posture. The  
normal slope of the shoulder is such that a 
bag would fall off. To keep this from hap-
pening, the person will likely contract those 
muscles that elevate the shoulder which will 
aid in preventing from the bag sliding off the 
shoulder. If the person is carrying a  
shoulder bag in this fashion on a regular  
basis for a long time then he or she is  
creating a chronic postural problem.  
Alternatively one can carry a bag with the 
strap over the other shoulder and across the body and both the shoulders will stay level.
Another example is where the person bends the head forward to read a book that is resting in his/her lap. 
The tilt of the head means that it's weight is not longer balanced on the spinal column. To prevent the chin 
from falling against the chest the posterior muscles of the neck and head are coming into play. Again, doing 
this for a long time will cause those posterior muscles to become too tight and sore, giving you discomfort.
Extended sitting like driving a car for hours can aggravate a hip flexor muscle called the psoas major. The 
latter runs from each side of your lumbar spine, just behind the intestines, through your pelvis and attaches 
to the upper inner surface of your thigh bone.
As the psoas major tightens so increases the pull of that muscle on the lower back vertebrae. Consequently 
the intensified pull of the psoas muscle can even lead to compression of the lumbar disc joints and  
generate sciatic referred pain. 
Sitting whilst constantly having a wallet in your back pocket can irritate a muscle of the buttock. That  
particular muscle I have in mind is called the piriformis. A tight piriformis can also induce the well known  
sciatica pain. If left untreated the person will in time alter his/her gait to avoid the discomfort and thus create 
muscle imbalance over the whole body. 
For all of the above cases seeing a massage therapist is ultra beneficial in getting rid of the worst pain in 
the short term and to rebuild your proper muscle balance in the long term. 
To find out more about the locations and the therapies I offer please visit my website :  
http://www.moveintowholeness.co.nz
 or give us a call on 021 0262 70 37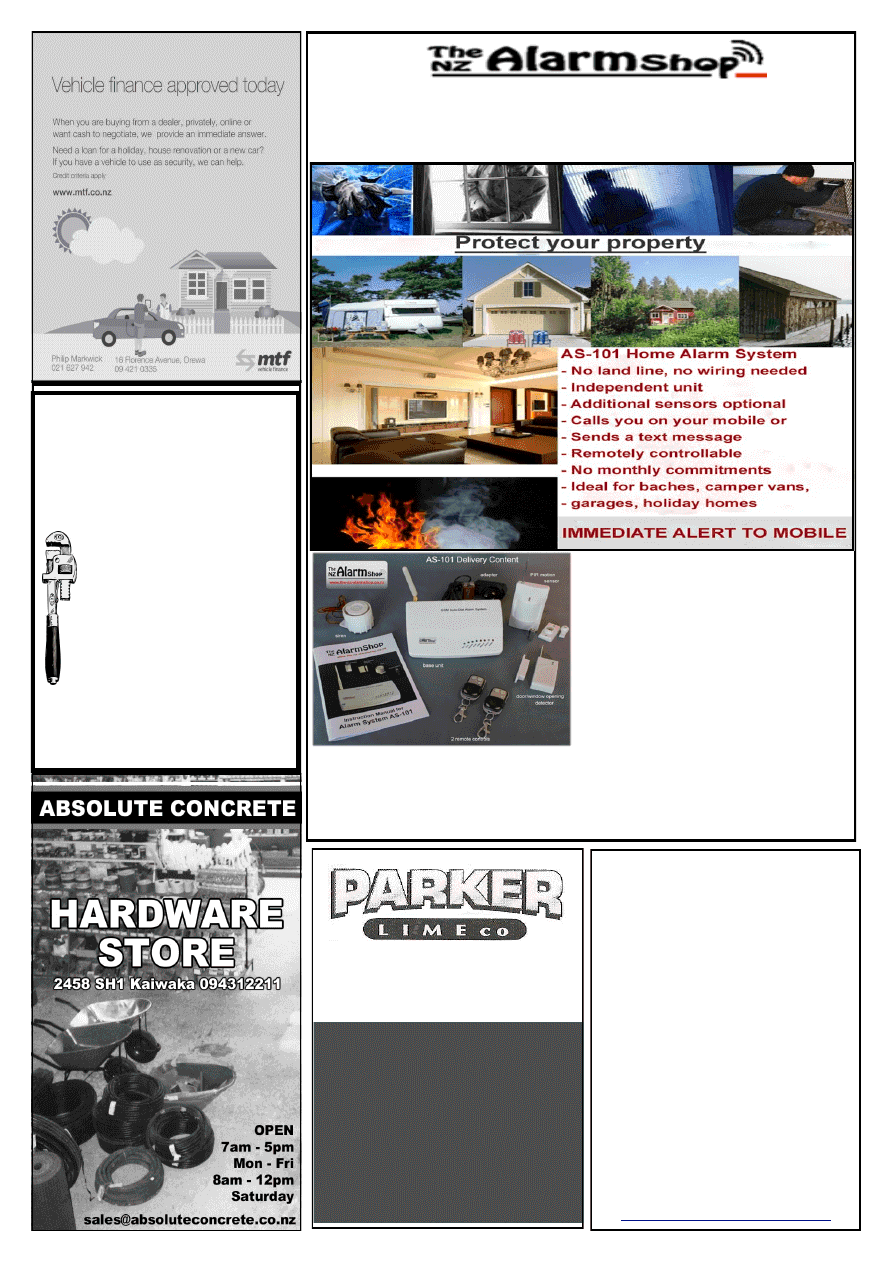 BARRY CURTIS  
PLUMBING LTD 
REGISTERED CRAFTSMAN 
PLUMBER 
Phone 4315572      
027 257 9884 
     25 years experience 
  
  
       Friendly reliable service 
  
All plumbing and  
maintenance 
       Alterations and new housing 
       New wood fire installation 
       Spouting 
       Competitive rates  
 PROMPT EFFICIENT  SERVICE  
Landscape Supplies 
Bulk Cartage 
4312407 
Mob: 021 453 252  
Fax: 4312939 
 scott.parker@parkerlime.co.nz 
Gibbons Road,  
Kaiwaka 
   www.the-nz-alarmshop.co.nz
AFFORDABLE DIY HOME ALARM SYSTEM 
In the event of an alarm situation, the 
system alerts you by sending a text mes-
sage to your mobile phone and/or one of 
5 dedicated contact phone numbers. 
To check, you can "listen-in" into the 
room by calling the system and so find 
out, what is going on. If you personally 
inform the police about a burglary in pro-
gress, it is MUCH MORE EFFICIENT 
than the siren going off on its own and 
You get all this for $249  
      nobody reacts. Easy to handle by everybody. 
  For more information or other security products call Jorg or Barbara  
                 09-4315905 or check our web site www.the-nz-alarmshop.co.nz
QUIZ NIGHT 
Friday 2nd August, 7pm 
Kaiwaka Sports Complex 
* teams of 4 - 6 people 
* prizes for top 3 teams plus 
lots of spot prizes 
* supper provided 
* $10 per head 
Pre-registered teams only. 
Contact Cheryl Anderson to  
register on 4312 051 or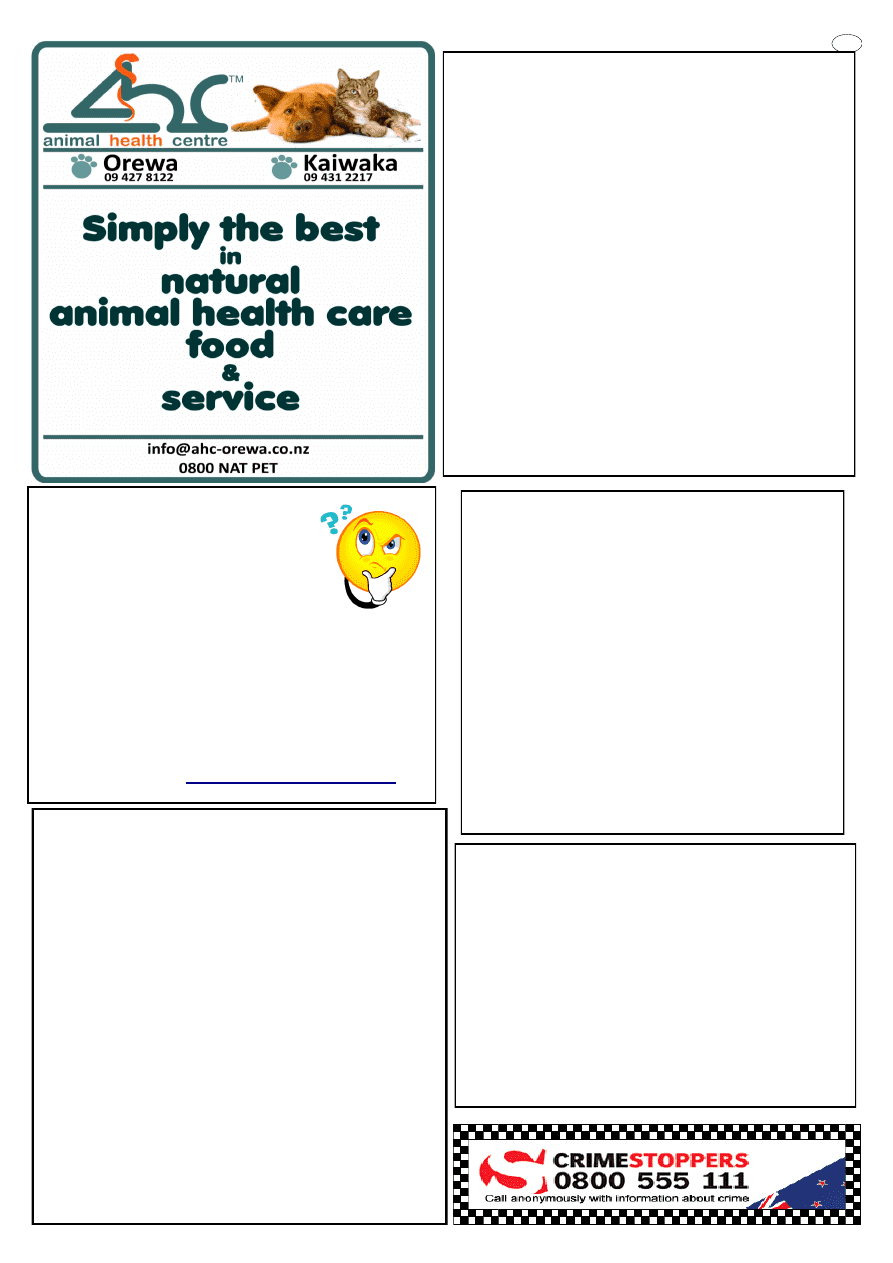 PLANNING A NEW KITCHEN?
CONTACT NOEL McDOWELL
WELLSFORD KITCHENS 
Ph/Fax 094312888
KAIWAKA-Any time 
  QUALITY CUSTOM MADE KITCHENS  
~Personal and Prompt Service~ 
~All Workmanship Guaranteed~ 
~Over 20 Years in the Trade~ 
~Free Design & Quote~ 
19 
QUIZ  NIGHT 
Friday 2nd August, 7pm 
Kaiwaka Sports Complex 
* teams of 4 - 6 people 
* prizes for top 3 teams plus 
lots of spot prizes 
* supper provided 
* $10 per head 
Pre-registered teams only. 
Contact Cheryl Anderson to register on 
4312 051 or 
The Kauri Museum is proud to host 
Gilmore Brown Kaipara Community Art Awards 
31st August - 27th September 2013 
Entries close 23rd August 
Entries forms  available at The Kauri Museum, 
Matakohe 
or available  on website  www.kaurimuseum.com 
Sponsored by; Gilmore Brown Limited, Westmoreland 
Homes, 
The Kauri Museum, Materials Processing Limited,  
Kaipara Lifestyler,and    
A1 Realty Ltd First National Real Estate, Mangawhai, 
Indian Head Massage 
at  
"The Well of Health" shop. 
next to P.O. Kaiwaka. 
Wednesday 12.30pm till 5.30pm 
Ask about other days too. 
Half hour - $30 
Contact Yatra: 
mob.021 2377678 
email: yatrabe@gmail.com 
How much does your pet cost you a week for food? 
Are you paying  $$$ for medications, flea control & vaccinations? 
SAVE $"s  at the ANIMAL HEALTH CENTRE 
 
Food  Save up to 30% 
 (free-range, organic, no preservatives) 
Comfort Groom 
$25.00 
Nail Trim, Anal Glands 
$15.00 
Vaccinations  
$29.90  (one bottle lasts a lifetime) 
Flea Control   
$14.90 (supply lasts medium dog 2 
months) 
Health Bills   
$ cut these drastically 
You are welcome to pop in and discuss healthy choices for your 
companion animal 
ANIMAL HEALTH CENTRE, KAIWAKA  
(opp. The Cheese Shop) 
PH: 09 431 2217 
 
Handy Hint: Recurring anal gland problems are annoying for your 
dog and expensive for you. Never ever have them removed. They 
are telling you that something is not right, usually it"s the diet.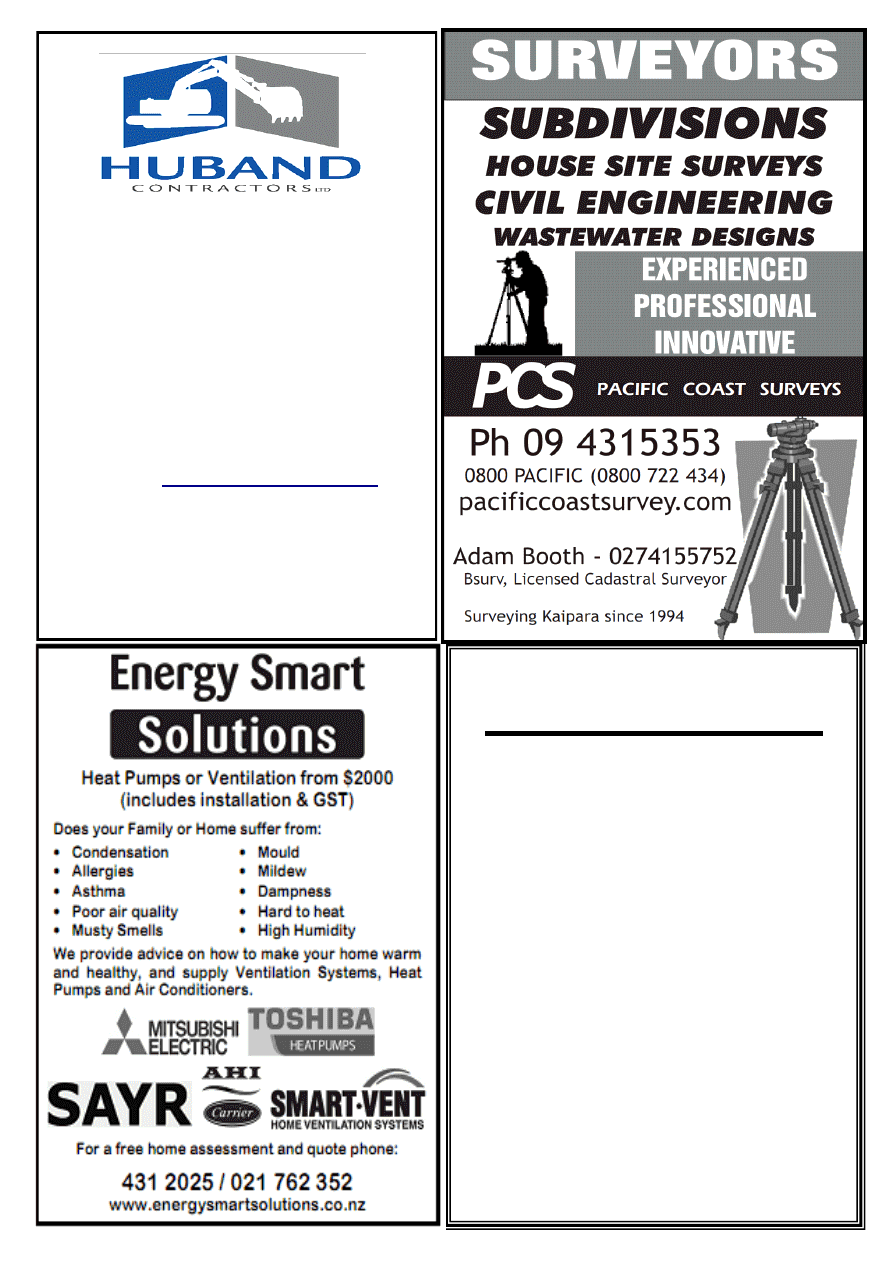 STOCKFOOD
GREAT RANGE FOR ALL YOUR LIVESTOCK  
AT GREAT PRICES 
 ALSO CHECK OUR 
DOG BISCUITS 
20 KG FOR $58.90 
LPG REFILLS 9KG 
STILL ONLY $31.50
MANGAWHAI SERVICE 
STATION 
(09) 431 4242 
44 MOIR STREET IN THE VILLAGE 
*   R O A D I N G   *   E A R T H W O R K S  
*    
*   D R A I N A G E   *   S I T E W O R K S   *  
For any further enquiries, contact 
Shaun on: 
Cell: 021 222 0272 
Home: 09 4318339 
Shaun Huband:  Registered  
Drainlayer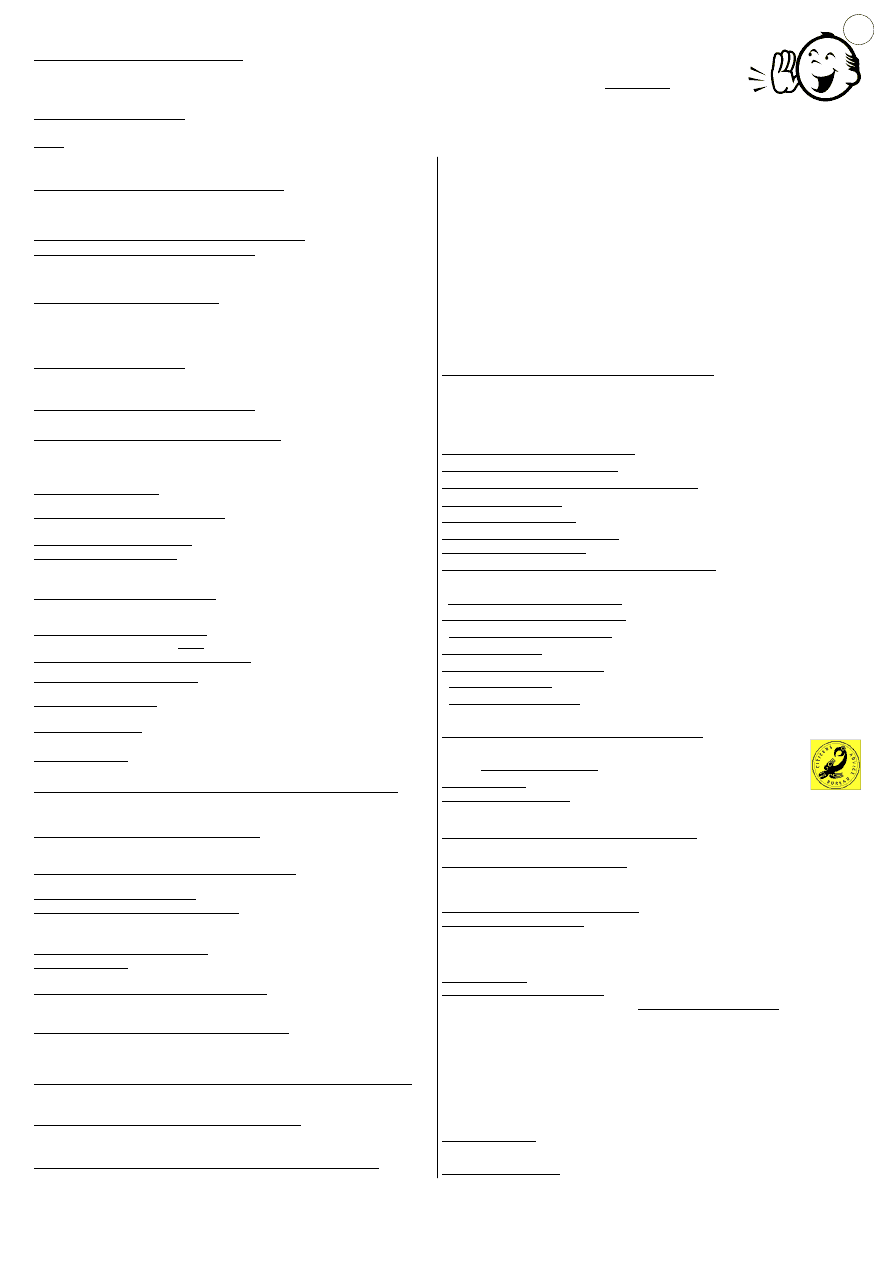 LOCAL SERVICES 
*St.John Ambulance 
111 or Freephone0800 61 0066
*Fire phone 111     *Police phone 111 or 09 4311150
WELLSFORD DOCTORS: Ph: 4238 086 
A A: Meets Wed., 8pm Kaiwaka Ph: 4312228, 4315543, 0800229 6757   
AL ANON: In recess, contact Ph: 4312228 
AgriQuality (MAF) Livestock Consultant 
Phone 09 4311 820 or 021518257 
CAB-Citizens Advice Bureau.Wellsford Ph: 4237333. 
BUDGETING SERVICE,OTAMATEA:Free confidential advice & 
support - all areas of  personal finance Ph: 09 4318173 or 094318117
FAMILY SUPPORT SERVICES responding to the needs in our 
community  Counselling/Family Therapy/Seminars/Youth Work/
Probation/Osteopathy/Govt.Day Agencies/Community Information  
Ph: 4312661 Hours: 9am-5pm. Mon - Fri (funded & CYFS approved) 
FUNERAL SERVICES: Morris & Morris Ltd, 
Whangarei - Bev Jaques Ph:4312367 or 0800667747 
Grandparents Raising Grandchildren: Sarah Rogers Ph: 4312194 
HAKARU LANDFILL/Transfer Station:Open everyday except 
Tuesday10am-4pm.Ph4312629 Cost-$55 trailer load up to 1 cubic 
metre. Ph:4258567 - office 
INLAND REVENUE: Last Friday each month, 
11-3pm Ph4312661 
KAIWAKA KOHANGA REO:
Ph:4312620 Mon.-Fri. 8.30am-2.30pm 
KAIWAKA CEMETERY: Ph: 4312045 
KAIWAKA LIBRARY: kaiwaka.library@gmail.com  
Mon. 4-6pm; Wed., Thurs., Fri., Sat.  10am-2pm Ph:4312539
KAIWAKA PLAYCENTRE: Ph: 4312286. Hastie Lane 
Monday to  Friday  9.00am 
- 
12 noon.
KAIWAKA POST OFFICE:
Ph:4312 626 Fax: 4312287  
Post Code: 0573  for RD2  and  0542 for all Kaiwaka Post Office mail 
KAIWAKA PRIMARY SCHOOL : Ph: 4312309 
KAIWAKA SPORTS ASSN: Ph 4312005; 4312129 gym 
KAIWAKA STJOHN: Manager Steve Rosser 09 431840, 021 2316836 
NORTHPOWER: Faults Kaiwaka area 0800 104040 
PARENTPORT: Free, practical family support servicePuhoi to Paparoa 
Ph:  Sharon Mehana, Co-ordinator. 4259357 or 027 280 5093 
PERSONAL DEVELOPMENT COACHING, GROUP FACILITATION:  
Sabine Druckler 4312231 
 
PLUNKET  KAIWAKA/MANGAWHAI:  Ph:
094318187 
or  0
276753488 
Kaiwaka Mobile Clinic once a month– appointments necessary;  
Mangawhai (next Domain) 
1st & 3rd Thursday & Coffee Morning; 
PLUNKET CARSEAT CO-ORDINATOR:  
Pat Scott Ph 4314530 or 
0272881635 
PLUNKET FREEPHONE -0800 933 922 
PLUNKET -MAUNGATUROTO  Clinic every 2nd & 
4thThursday. Ph: 09 4318187 
PUBLIC HEALTH NURSE: Gloria Reid Ph: 094327634  
HOMEOPATH: Donna Flavell Ph: 
4314843 
RETURNED AND SERVICES ASSN 733 Settlement Rd.Hakaru 
Ph.4312176 Bill Kerr (President) Ph.4314719 
TE KOROWAI AROHA O NGATIWHATUA 
(The Cloak of Love of Ngatiwhatua) Support and Maori Consultancy.  
Ph: 4239481 (Wellsford) 
WOMEN"S WELFARE LEAGUE & Reaching Out For Youth:  
4 Kaiwaka-Mangawhai Rd, M Morgan 4312293 
VETERINARY SERVICE MANGAWHAI: 
Ph: 4314535 Mon-Fri 8.30-4.30, Sat 9-12, a/h appt. 
KAIPARA DISTRICT COUNCIL www.kaipara.govt.nz:  
Help Desk FREEPHONE 0800 727 059  
Dog/Stock/Noise 0800 105 890 
 
WHAT"S ON
PLEASE ~ do let me know what is on - email 
kaiwakabugle@kaiwaka.co.nz 
Advertising in WHAT'S ON is FREE  
Mondays 0800-2.30pm Kaiwaka Tramping Group  Karen 4312090 
Tuesdays Rhythm&Riggle 10.0am Christ the King Church Mgwhai. 
*27 July ~LATIN FUN CLASS, 7.30 pm, Kaiwaka Hall, 09  
4312408 / 021 2968794  
*02 Aug ~ Quiz Night 7pm KSA 
*3 Aug ~ Solar Energy Workshop, Positive Energy House 
Kaiwaka 10am Ph:4312408 Or 021 02231700
*16 Aug~Dance of Life freestyle dance 8pm Kaiwaka War 
Memorial Hall Ph:09 4312408 / 021 2968794  
31 Aug~ LATIN FUN CLASS, 7.30 pm, Kaiwaka Hall, 09  
4312408 / 021 2968794  
See www.kaiwaka.co.nz for upcoming events. 
Drink can 'tear tabs' - for Starship Hospital-Ph. 4312625   
HOUSEHOLD  RUBBISH  COLLECTION  -  Kaiwaka    Pick  up-
Mondays=Green bags are picked up by Northland Waste-queries to 
them 09 4303273,Wednesdays=Blue  bags and yellow recycling (at 
Jaques  $3.00 and $1.40)  are picked up by Kaurilands 09 4392146.  
 
*OTAMATEA GREY POWER-09 431 8138 Joan Hoggard  
*KAIWAKA BADMINTON -Tuesdays 7.30pm Ph: 4312345 
*KAIWAKA GARDEN & FLORAL Grp:
2nd Thursday in month Ph: 4314767 
*KAIWAKA 
CUBS-Thursdays 5.30-7pm, Hakaru  Ph:Bruce  4312542
*KAIWAKA SQUASH -Mondays 7pm,  Ph: Barbara Thomas 4315905 
*GYMNASTICS OTAMATEA -  Tuesday Ph: Stephanie 4312022   
*HAKARU PONY CLUB-Ph: Dianne Christianson  4314315 
*
MANGAWHAI COMBINED PROBUS CLUB
: 2pm,3rd Thursday 
month in the Senior Citizens Hall Mangawhai. Ph: 4315777
*PT CURTIS CRUISING CLUB - Jean Ph: 4312246 
*WAIPU GENEALOGYGROUP -4th Monday in month Ph: 4312725 
*NZ GENEALOGY-Wellsford - 1st Thursday in month Ph: 4237033 
*CRAFT GROUP
:2nd & 4th Tuesday, 10am, Wellsford Ph 4238547
*RSA,Hakaru & Dist.Women- meet 1.30pm 4th Thurs in month 4312668  
*OWEN STEVENS at Kate"s Place Ph:4312661   
*Diabetes Support Group-for Kaiwaka, Mangawhai, Wellsford -10am, 
 
3rd Friday of month Ph:A.Pert 4238242; J.Gardner 4238060 
*WELLSFORD CITIZEN ADVICE BUREAU:  
0800 367 222 
Ph: 4237333 Wellsford Community Centre   
Email: cab.wells@xtra.co.nz
CHURCHES:
*Gateway Worship Centre-St Mary's Church Nathan Rd off Oneriri Rd, Kaiwaka 
Services, 10.30am 1st & 3rd Sunday of every month. Contact: Rev David Gage 
4312528 or 0212354282 
*Kaiwaka Family Church-Your Community Church Sundays, l0am 
Home Group every Wed evening, Pastor John.Dekker Ph: 4318203 
*Kaiwaka Services.Anglican & Co-op at StPauls Church  - 1st Sun. 9.30am
(Anglican),3rd Sun. 4pm (Co-op).  Contacts: Parish Office 09 4318193, M.Hargreaves 
4312295, C.Bygrave 4312057  
*Church of Christ the King, Mangawhai 9.30am every Sunday 
*St.Mary"s Catholic Church:
Maungaturoto – Griffins Road, Saturday evening Vigil 
Mass 6pm; Mangawhai – Senior Citizens Hall, Sunday Mass 8:30am; Wellsford – 
Matheson Road, Sunday Mass 10:30am; Mid-week Mass times and all enquires to Fr. 
Bill Fletcher – phone 423 8170 
*Baptist Church: Sun. 10.30am Mangawhai Snr Cit.Hall.Ph:4312339 
*Cause Way Church Mangawhai – Sundays 10.15am, Mangawhai Community Recre-
ation Centre, Insley St. Ph: 09 4314782  www.causewaychurch.org.nz
*St.Pauls Archie Bull Hall HIRE  $20 half day, $40 full day per hire 
 Contact G. Jaques 4312048 
*Kaiwaka War Memorial Hall HlRE - Phone 4312725 or 
Email  kaiwaka.hall.bookings@gmail.com 
*Hakaru Community Hall HIRE -Ph.  4312256 or 4312110 
*Te Pounga Marae queries -A.Gage 4312528, 4312527 
*Kaiwaka Sports Association hire/queries- C. Anderson 4312051 
Justice of Peace: B.FJaques; L.Donaldson; A.F.Hargreaves  -please phone to 
make sure they are available 
Marriage Celebrants: L.Donaldson; A.F.Hargreaves; Judith Knights  
09 4315765      
Next Bugle Deadline Friday 02 August 13
 20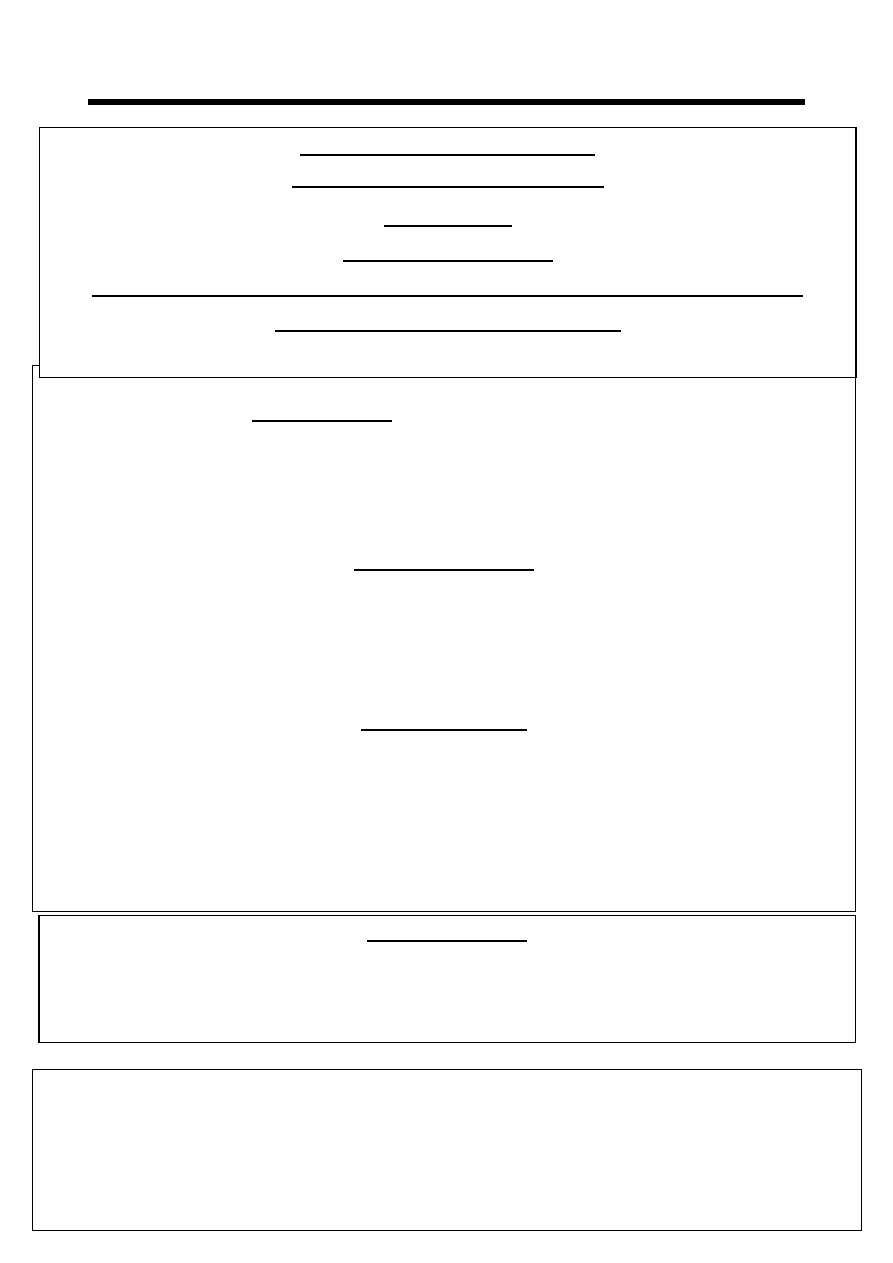 THE SALON KAIWAWKA 
THE SALON KAIWAKA HAS OPEREATED FOR FIVE YEARS IN THE HEART OF KAIWAKA, OF-
FERING CLIENTS A UNIQUE AND PERSONALISED SERVICE TAILORED JUST FOR YOU. 
UP TO DATE TECHNIQUES IN STYLE CUTTING, COLOURING, PERMING,  
HAIR EXTENSIONS, KERATIN RELAXING, AND MUCH MORE.  
STOCKEST OF CHI FAROUK, LOREAL, DELORENZO 
SEAN BURNETT / DIRECTOR/ HEAD STYLIST.  
AVAILABLE MONDAY TO SATURDAY 
WORKING IN SOME OF THE TOP SALONS IN AUCKLAND, WITH 17 YEARS EXPERIENCE 
SPECIALISING IN CUTTING AND COLOURING AND THE LATEST KERATIN RELAXING  
SERVICE, 
CANDICE SEYMOUR  
/ STYLIST /MAKEUP/PHOTOGRAPHER 
AVAILABLE TUESDAY, AND WEDNESDAY 
CANDICE HAS 14 YEARS EXPERIENCE IN THE INDUSTRY EXPANDING HER SKILLS INTO 
OTHER AREAS IN THE INDUSTRY, PERSONALISED WEDDING PACKAGES, AND ADVANCED 
COLOUR AND CUTTING EXSPERT. 
MARY-ANN SCOTT  
STYLIST 
AVAILABLE THURSDAY AND FRIDAY 
OUR NEWEST ADDITION TO THE TEAM MARY-ANN HAS OVER 30 YEARS EXPERIENCE IN 
THE INDUSTRY SPECIALISING IN PERMING, SETS, EYE WORKS, A GREAT ONE TO TRY 
OUT FOR OUR SENIOR CITIZENS DAY  
CINDY SAUNDERS 
SPECIALISING IN MASSAGE THERAPY AND FULL HEALTH CONSULTATION, OFFERING HER 
CLIENTS HERBALIFE PRODUCTS 
AVAILABLE TUESDAY/THURSDAY 
OPEN MONDAY TO SATURDAY 
LATENIGHTS BY APPOINTMENT 
09 4312128 
1943 SH1 KAIWAKA 
MENTION THIS AD AND RECEIVE 10% OFF YOUR NEXT SERVICE 
NAILS SERVICE COMING SOON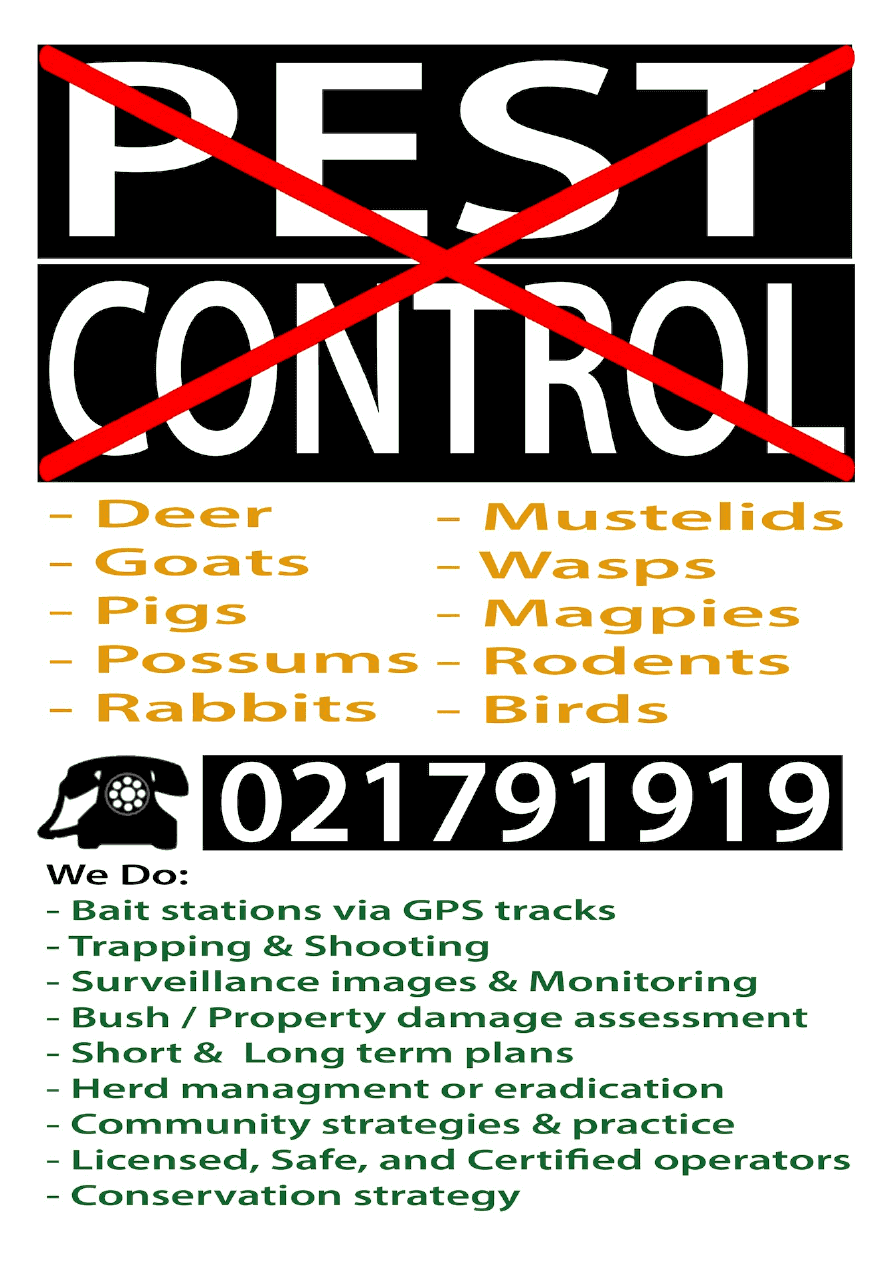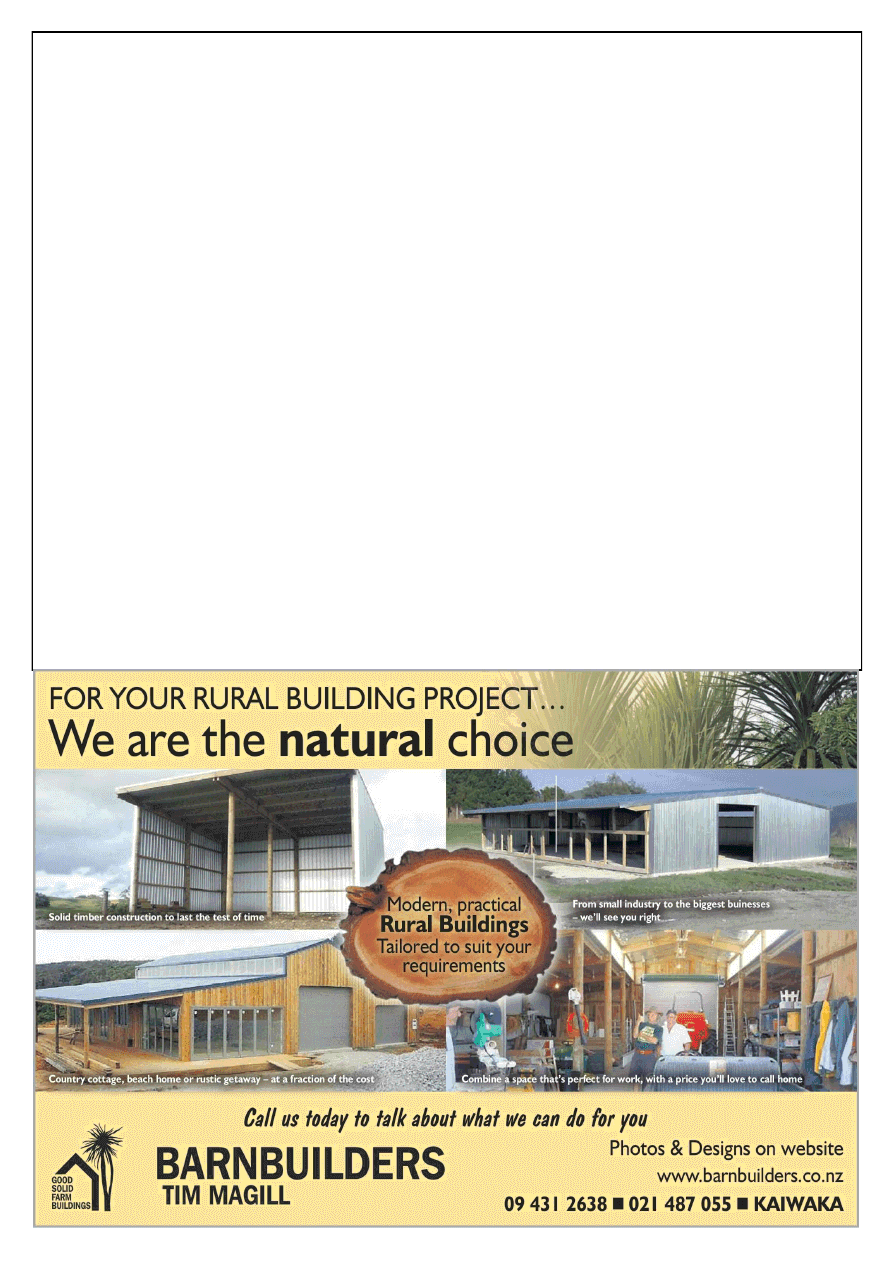 BARNBUILDERS 
Invite you to their new showroom at illias Wharfe 
(Behind Old KDC Offices) 
Kaiwaka 
OPENING EXTRAVAGANZA 
SATURDAY 27
TH
 JULY 8.30 am 
"Our new showroom is a Shrine to the Pine" say Barnbuilder"s Tim and Minnie Magill. 
"It is also the best way to show off our Solid, Traditionally Constructed Timber Buildings." 
"We want to show future clients how our service and designs can give them a good Building. 
 They will be able to see the vast range of sheds and dwellings we have built over 10 years, . 
 We will be ready to help with enquiries and give info on  Local Council Requirements,... 
 We can yarn about  our barns to our past clients " 
Plus we are keen to add to what the other Tennants are bringing to this now vibrant  car park for La Nona Italian Bakery, 
State Highway One Kaiwaka, 
 We are sure we can join in and help make a more interesting interlude as travellers  take a bit of time out from their jour-
ney. 
 We have enjoy selling our buildings amidst the fieldays buzz and with this setup, we will follow along the same lines 
At the rear of the shop is our Workshop plus the Depot for Barnbuilders. Our Pole Buildings are great and always improv-
ing, we feel a lot of people share our preference for Timber as a Natural way to build Sheds. 
We have our team all ready to swing into action: The on site team plus the Office/ Sales Crew: Minnie and Lee who will 
man the store: 8.30am – 5.00pm  
Wed to Sunday. 
Our Shop is for Selling Sheds (primarily}.  
We will Also:  
Promote more North Tec Courses for this region. 
Help Build on/ Promote TheWorkCamp  ideas. 
Show and collect more about  Topuni Mill and The Mountain Road/ Stewarts Bay Tramway Era. 
Sell Timber Products, Weaving and Carving on behalf of local Artists/ Whanau. 
Call in and See Us....