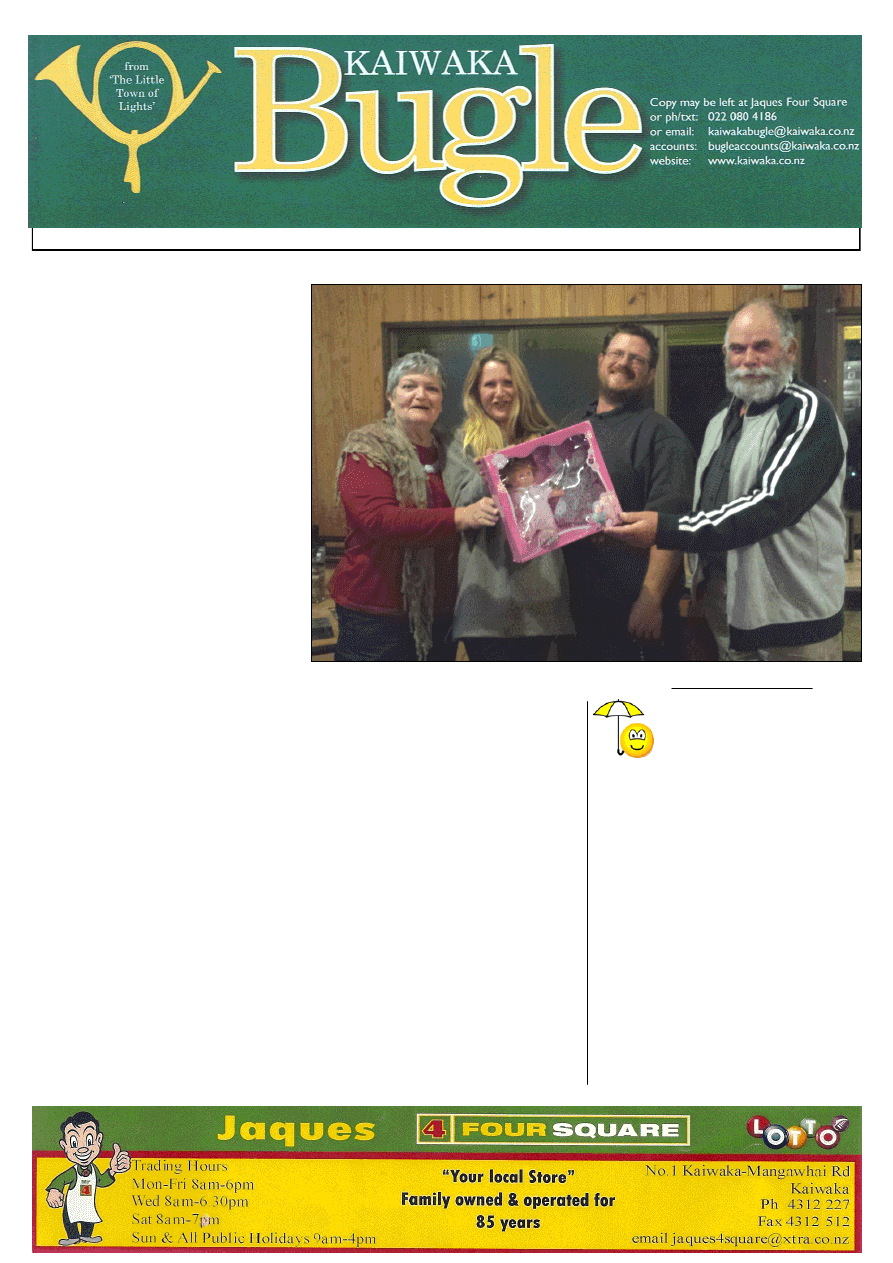 No: 15 
  6/8/2013 
Bugle 16 will appear 20 August 2013 
Rave reviews have come in for 
Otamatea  Repertory  Theatre"s 
production 
"Seussical"-next 
shows  are  9  August  Friday 
7.30pm  &  10  August  Saturday  2pm; 
Saturday  &  Sunday  17  &  18  August  -
both 2pm  
Our  sympathies  to  the  McAulay  family 
on the recent passing of Elva. Elva was 
a  long  time  resident  of  Kaiwaka,  and 
was  one  of  the  Kaiwaka  School  Dental 
nurses. 
Best wishes to the Maungaturoto Wom-
en"s Squash team competing in the Na-
tional competition 21-25 August. 
From Papers Past August 1913: 
1"The train now carries passengers and 
goods to Kaiwaka from Wellsford three 
days a week" Kaiwaka was the northern 
most  stop  then.  2."Kaiwaka"s  Austrian 
storekeeper
  of    3
1
/
2
 years was declared 
bankrupt"
A good crowd braved the wild and wild 
weather  on  Friday  night  and  turned  up 
for Quiz Night, a fundraiser for the Kai-
waka  Sports  Association.  A  dozen 
teams  "nutted"  their  way  through  ques-
tions  on  geography,  famous  faces,  gen-
eral knowledge and more. 
Congratulations  to  the  top  teams  who 
had their choice from the prize table: 1
st
Coswecan; 2nd
The Northerners; 3
rd
Market Force.                                                        
Three  spot  prizes  were  given  out:  a  six 
month  subscription  to  Fatso,  valued  at 
$140  –  won  by  Jamie  Chapman;  a 
Northland  Rugby  season  membership 
pass, valued at $60 – won by Phil Keen; 
a selection of jewellery and kitchenware 
donated  by  Buy  The  Way,  valued  at 
$150 – won by Jess Leslie 
The remaining prizes were given out by 
a draw. Thank you to emcee Tony Har-
greaves  and  scorers  Corina  Ross  and 
Lindsey  Hargreaves.  Many  thanks  also 
to Duncan Gilligan for working the bar, 
to Pam and Mark Ottaway for putting on 
supper and to Holly Anderson for being 
the runner. 
A  round  of  local  knowledge  questions 
was included in the quiz – you can test 
yourself  on  how  well  you  know  your 
town! (Answers below) 
1)   Kaiwaka is known as the "Little Town of 
Lights". Name the man who was the driving 
force behind this initiative.      
2)   In July 2011, Kaiwaka was hit by a freak 
weather  event  which  made  national  news, 
what was this weather event.     
3)   At the start of the year Rosie Ellis took 
over  as  Principal  of  Kaiwaka  School,  but 
who is the school's Deputy Principal?     
4)   Pukekaroro is our local mountain – what 
is the English translation of Pukekaroro?    
5)   Steve Elliott from Kaiwaka  Motorcycles 
often  sponsors  community  events.  He  do-
nated an item to this year's Top of the Rock 
event  which  was  raffled  off  as  a  special 
prize – name the item.   
6)  "The Story of a New Zealand River" is a 
Winning team: Coswecan-
photographed
- Deb Hastie, Penny Diamond, Euan Hastie, Rob Hastie 
KAIWAKA SPORTS ASSN QUIZ NIGHT 
novel  written  in  1920  telling  the  story  of  a 
woman who adjusts to life in the kauri bush 
near Kaiwaka and is considered by some to 
have inspired the film The Piano. Name the 
novel's author.   
7)      Earlier  this  year  at  the  annual  Kaiwaka 
Sports Awards, Melissa Watts won the Ser-
vice  to  Sport  category  for  her  contribution 
to which sport?      
8)      The  Musket  Wars,  a  major  battle  near 
Kaiwaka  between  Nga  Puhi  and  Ngati 
Whatua  resulted  in  over  170  deaths.  In 
which year was this battle?       
9)   In July 2008 Kaiwaka was abuzz with the 
news  of  eye  witness  sightings  of  a  certain 
animal  in  Parkers'  quarry.  What  was  the 
animal purported to be?      
10)  Ilia & Eva Petro own the popular Italian 
bakery  in  Kaiwaka.  What  country  are  they 
from?   
Answers:   1. Mark Ottaway     2. Tornado     
3. Lindy Gaskin     4. Hill of gulls     5. 
Lawnmower     6. Jane Mander     7. Netball     
8. 1825     9. Lion     10. Italy (or Albania)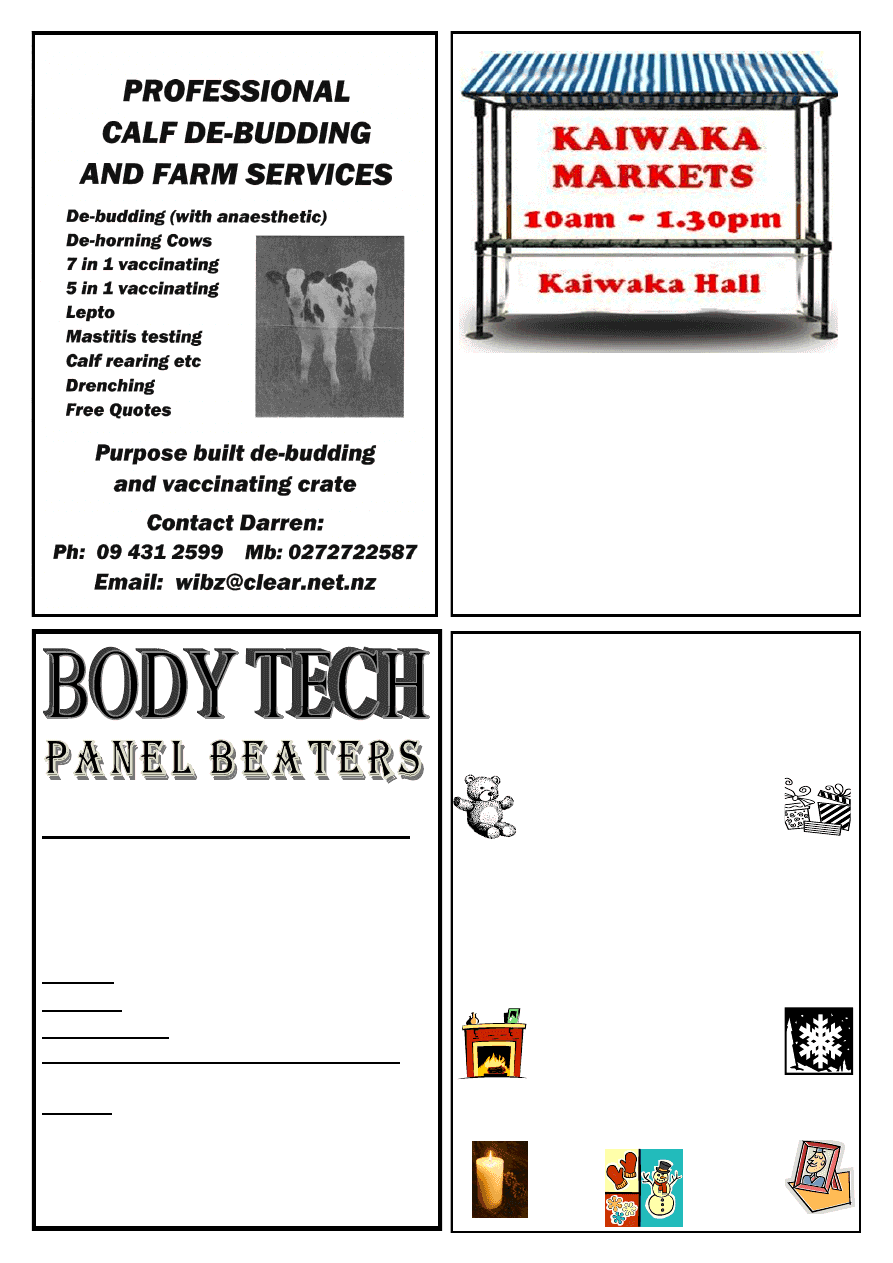 For all your body repair needs!! 
We do: 
 
Rust repairs 
 
Insurance work 
 
Anti-corrosion treatment     
Hours: 8.30am-5pm Monday-Friday  
Mobile: 021 118 0462 
After hours: 09 431 2384 
Phone: Craig or Call in for a free Quote 
 
Email: 
bodytech_panelbeaters@yahoo.com
We are located at 1837 SH1 Kaiwaka, behind Twinkle 
Tow "n" Tyre call in anytime for a free quote.  
 
Large and minor vehicle 
repairs
 
Industrial vehicles
 
Full Cut and polishes
Celena's Gifts 
1925 State Highway 1 
KAIWAKA (next to Italian Bakery) 
      Ph: 09 4312741 
  CLOSED MONDAYS DURING WINTER 
We stock:- 
Baby Gifts  
Jewellery     Toys 
Kitchenware 
Toiletries     Photo Frames               
NZ Souvenirs 
Candles 
   ... and much more! 
Winter Warmer Specials  
        in  Store                                                                   
 
July and August   
   Come and have a look 
On the 2
nd
 Sunday of each month 
In the Kaiwaka War Memorial 
Hall 
Sunday 11 August 
Sunday 08 September 
A variety of new & pre-loved goods 
Enquiries to: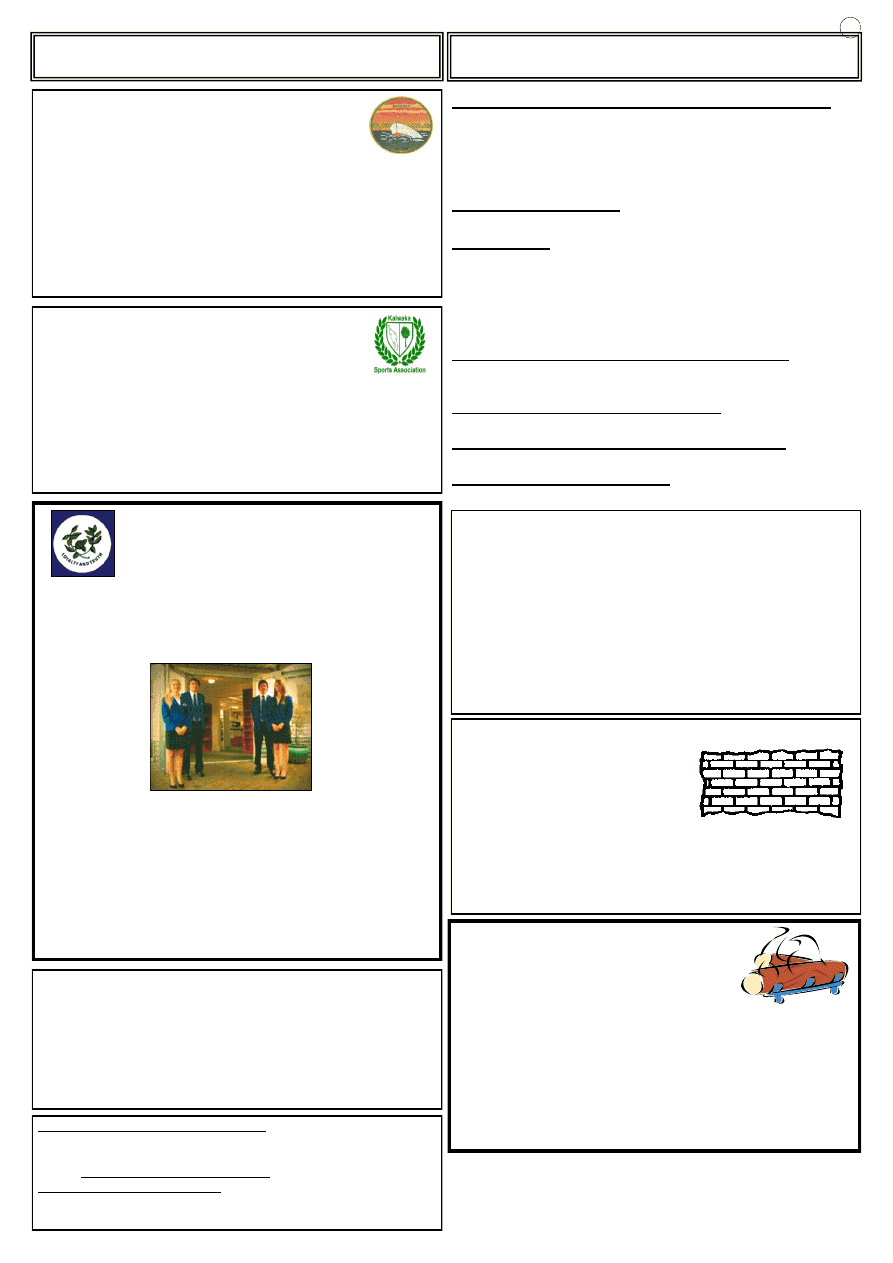 BRICK/BLOCKLAYER            
All aspects of masonry:  
Fireplaces, 
Restoration & Remedial Work. 
JAMES EAGLETON 
Tel. (09) 431 2514  
Mob. 0274 749 232 
jajueagles@yahoo.com.au 
210A Pukenui Road, RD2 Kaiwaka 0573
PUBLIC NOTICES 
CLASSIFIED 
BUSINESS FOR SALE OR SHOP FOR LEASE: 
All-
Sortz Collectables, Shop 4, 1956 SH1 (opposite Café Euto-
pia). 40sqm of refurbished space with shared kitchen and toi-
let  facilities.  Lots  of  foot  traffic.  Very  successful  lifestyle 
business. Current owner wishes to retire "down on the farm", 
but is no hurry to vacate. Ph: 09 422 9221.
FOR SALE-Firewood: Ti tree mix $80 cubic metre  
Ph 0211246829 
FOR RENT: 
Farmhouse  Oneriri. 10km from Kaiwaka. Tidy 3 bed-
room. Separate garage. $220 week.    Ph 4312660 
Room  to  rent  5 mins walk from Kaiwaka; sunny, nice 
views.  $125  pw,  incl  power  &  meals.  Ph:  4312296  or 
021 2537661 
CLOTHING ALTERATIONS & REPAIRS: 
Hems, Zips, Dressmaking Ph: Win 4312027  or 027 444 8358 
Winsome Designs. 
CRANIO SACRAL THERAPIST: 
for People and Hors-
es, $45 experienced practitioner. Jill Shires 431 2080 
HOLISTIC  ANIMAL  PRACTITIONER:   
Horses, 
Pets, Farm Animals. www.allcreatures.co.nz or Jill 4312080 
WANTED FREE GRAZING: Small or large block. Can do 
some fencing or water. Phone after 6pm  4312006 
PROVERBS: 
18:20-21  You  will  have  to  live  with  the 
consequences of everything you say. What you say can  
preserve life or destroy it; so you must accept the consequences 
of your words. 
FIREWOOD 
FOR SALE 
Simply the best dry, 
seasoned totara
$90
CUBIC METRE DELIVERED 
Phone Lyn 0220708674  
Or Ray 0212274420
 3 
Advertisers and contributors please note that ads and copy 
need to be in by 2pm on the Friday before going to print on 
Monday. Unfortunately it is very difficult to include late 
copy and ads therefore anything received after close off time 
may not be published but will be included in the  
following issue. 
The earlier the better ! 
Point Curtis Cruising Club 
10 and 11 August 2013.   
BOAR HUNT & SNAPPER CONTEST  
Senior snapper section  
Junior snapper section 
Junior eel and possum section 
Spot prizes Saturday and Sunday.   
Weigh in Saturday 4-5pm.  
Sunday 2-4pm final weigh in  
OTAMATEA HIGH SCHOOL 
Te Kura O Tuarua Otamatea 
Opening Our Doors 
Parents/Caregivers and prospective students 
Are invited to our fully interactive 
Open Day 
Friday 16 August 9.45am start time 
Kaiwaka Bugle Advertisements 2013: 
Classified $2; 1/8 or 1/9 page $5; 1/4 page $10; 1/2 page $20;  
Payments can be online, posted or left at Jaques Four Square Store - 
contact bugleaccounts@kaiwaka.co.nz 
kaiwakabugle@kaiwaka.co.nz  for queries or copy. 
The Kaiwaka Bugle is a community newspaper run by volunteers.   
Articles, etc. printed are not necessarily the opinion of the Bugle Team  
Business Opportunity 
Ladies Designer Clothing 
Great  opportunity  to  take  over  shop  lot  of  mostly  ladies 
clothing  shoes  and  accessories.  Has  been  sold  for  several 
years on a regular basis at local markets but could also be 
suitable  for  "Pop  Up  Shop"  or  permanent  New  &  Once 
Worn  Clothing  Boutique.  Over  1,000  items  of  New  or 
Nearly New Designer Tops Dresses Trousers Jeans Jackets 
Shoes Bags Summer/Winter All Sizes. 
Racks and Hangers included 
Phone 0277132625 for more info. 
Kaiwaka Sports Association 
KIDS SOCIAL 
FRIDAY 23 August, 7-9pm 
Kaiwaka Sports Complex 
Great music, games & prizes 
 $3 entry (adults & under 5's free
) 
(a parent/caregiver to stay with children, thanks) 
A fundraiser for the Kaiwaka Sports Association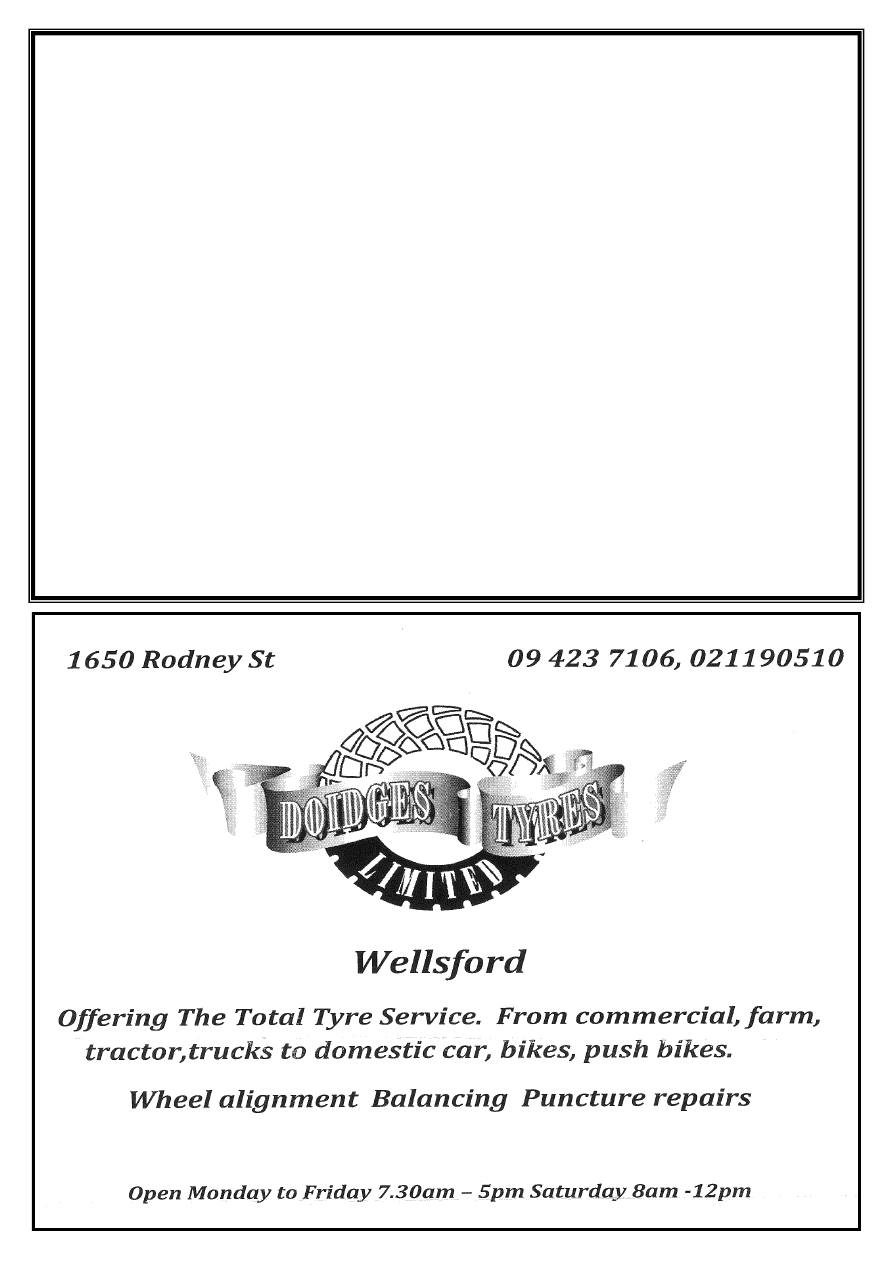 LANDLORDS... 
Is your house being used as a P- Lab? 
Do you live in a P- lab House? 
 
Thinking of buying a house?  
Don"t take the risk...it will damage your health and your wallet If you 
ignore it. 
High accuracy, low cost MethDNA test from as little as $99+GST will 
give you the answer. 
Tests facilitated by Independent Certified Samplers and samples are  
analysed in an environmental testing lab. 
 
Book a test now at: www.methsolutions.co.nz  
or for more info call me:  09 4312234  or 021 2154495   
I am a local Independent Certified Sampler for MethSolutions.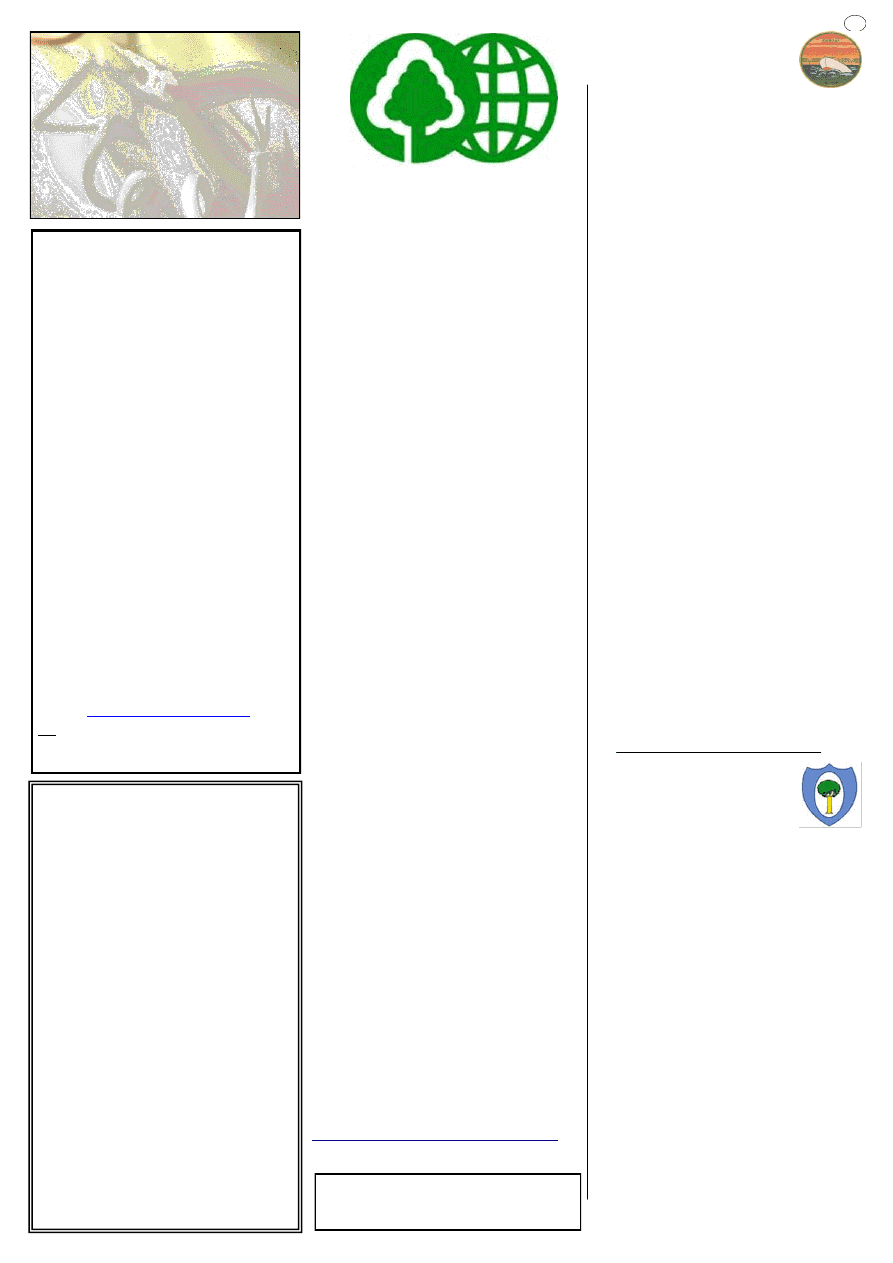 Paul Greig Electrical Ltd 
Residential • Farm • Commercial 
Paul Greig 
Registered Electrician 
Ph: 431 2223  
Mob:021 230 2717 
Reliable & Professional Quality Service 
Based in Kaiwaka 
AMBER'S 
Q Cafe &  
Restaurant 
All day breakfast, 8am - 5.30pm.     
 Home made Pizza, take away or eat in from 8am to 
late. 
 Light lunches, 11.am - 5.30pm, 
Dinner Menu at 5.30pm to late 
 Toasted Sandwiches and Sandwiches made to order. 
All day, Pies, Chowder & Soups 
 Milkshakes, Kiwi Ice cream, Slushie Fruit drink, Tea, 
Coffee 
 Closed Mondays.....except Observed Holidays 
 Sunday to Thursday: 8am - 8pm 
 Friday: 8am - 8.30pm, Saturdays 8am- 9pm 
4315226 
Trevor & Amber 
41 Moir Street, Shop 5-6  
Mangawhai Village 
Next to Carters Building Supplies 
5 
Bonjour, tous les mondes! 
Not a fully functioning person...with those 
niggles, aches and pains? You guessed it.  
 I can help!
Monsieur Masseur .... 
RELAXING  
MASSAGE
..... Juste pour vous" 
Here's feedback from a happy client 
"Pete's treatment works. He identified 
long standing injuries no one else 
could fix and relieved years of chronic 
pain, fatigue and headaches.  I have 
Pete to thank for getting me back to 
work. I am so much happier and more 
confident in myself.  I can thoroughly 
recommend him." 
 
Call for an appointment now!
Pete Worsfold 
4312 152  or   021 825970   
Or  Ph. "The Well of Health" 
For an appt. 09 4312 799 
Point Curtis Cruising 
Club
REMINDER: Subs are now due! 
BOAR  HUNT:  10  and  11  August 
2013.  Tickets are on sale now at Three 
Furlongs Hotel, Kaiwaka (and other out-
lets,  see  poster  for  details).    $30  adult, 
juniors FREE entry.   
This  year  we  are  running  a  SNAPPER 
CONTEST at the boar hunt. 
Senior snapper section: 
Heaviest  Snapper  1st  prize  $400,  2nd 
prize:  Rod,  reel  and  tackle  box  value 
$250,  3rd  prize  rod  and  reel  value 
$150.  Average weight Sponsor Hunting 
and  Fishing  Warkworth  Package  Value 
$200.  Minimum length 32cm.  
All  senior  snapper  weighed  in  will  be 
auctioned. 
Junior snapper section: 
Heaviest  Snapper  1st  prize  $100,  2nd 
prize  $60,  3rd  prize  $40.    Minimum 
length 27cm. 
Juniors get to keep their fish after weigh 
in. 
Spot prizes Saturday and Sunday.  ALL 
SNAPPER  TO  BE  GILLED  AND 
GUTTED  PRIOR  TO  WEIGH  IN 
(INCLUDING JUNIORS). 
Weigh  in  Saturday  4-5pm.  Sunday  2-
4pm final weigh in (Publicans watch). 
Junior eel and possum section: 
Heaviest Eel 1st $50, 2nd $30, 3rd $20 
Heaviest  Possum  1st  $50, 2nd  $30,  3rd 
$20 
Maximum  of  2  eels  and  2  possums  per 
junior (eels and possums SUNDAY on-
ly). 
All  boar  hunt  enquiries  please  phone 
Vic on 0211609588 
Wayne Leslie, Commodore 
ENVIRONMENTAL 
GRANTS  
There is just one week left for organisa-
tions throughout the country to apply for 
the  Canon  Environmental  Grants  Pro-
gram,  offering  $20,000  in  product 
grants  to  New  Zealanders  who  are 
working  on  a  project  that  is  making  a 
positive impact on the environment and 
community. 
 Applications are currently being sought 
across  School,  Tertiary,  Regional  and 
Grassroots  categories
, 
to  help  reward 
and  recognise  some  of  the  outstanding 
work  taking  place  in  communities 
throughout  New  Zealand  .    Each  win-
ning recipient will have the opportunity 
to choose $5,000 worth of Canon prod-
uct to help aid the success of their pro-
ject. 
 Winners are selected based on the envi-
ronmental merits of each project as well 
as the impact the Canon products would 
have on the success of each project.  
 Previous winners range from an indige-
nous  wildlife  sanctuary  in  the  Marlbor-
ough Sounds, to a small rural school in 
the Hawkes Bay who are helping to save 
the declining bee population by creating 
a bee garden and making their own hon-
ey;  to  an  inspirational  sustainable  gar-
den project in the Auckland CBD, creat-
ing  a  sustainable  site  for  children  to 
grow,  harvest,  prepare  and  share  fresh 
food  as  part  of  a  school  curriculum 
linked program. 
 This year grants will be awarded under 
the following categories:  

Regional  Award:  An  environmental 
project  with  significance  to  a  rural  or 
regional area; 

School Award: An environmental pro-
ject being run by a primary or secondary 
school community; 

Grassroots  Award:  A  community 
group  with  an  income  of  $25,000  or 
less; 

Tertiary  Award:  An  environmental 
project being run by an individual with-
in tertiary education; 
  To  find  out  more  information  about 
Canon"s Environmental Grants program 
and to apply potential applicants should 
go to:  
http://www.canon.co.nz/environment
 Entries close August 9, 2013 
Thought for Today - 
We make a living by what we get, but 
we make a life by what we give. 
NORTHLAND RUGBY UNION 
2013 ITM CUP DRAW  
Home Games  
at Toll Stadium, Whangarei 
Sat 24th Aug 4.35pm Northland vs. 
Southland  
Sun 8th Sept 4.35pm Northland vs. 
Wellington 
Thurs 26th Sept 7.35pm Northland vs. 
Tasman  
Wed 9th Oct 7.35pm Northland vs. 
Otago 
Sat l2th October 5.35pm Northland vs. 
Bay of Plenty 
Away Games 
Sat 17th Aug 7.35pm Waikato (RS) vs. 
Northland, Hamilton 
Sat 31 Aug  5.35pm Nth Harbour vs. 
Northland, North Harbour 
Sun 15th  4.35pm Hawkes Bay vs. 
Northland, Napier 
Thurs 19th Sept  7.35pm Auckland vs. 
Northland, Auckland 
Fri 4th Oct  7.35pm Manawatu vs. 
Northland, Palmerston North 
*Waikato vs. Northland is a Ranfurly 
Shield Match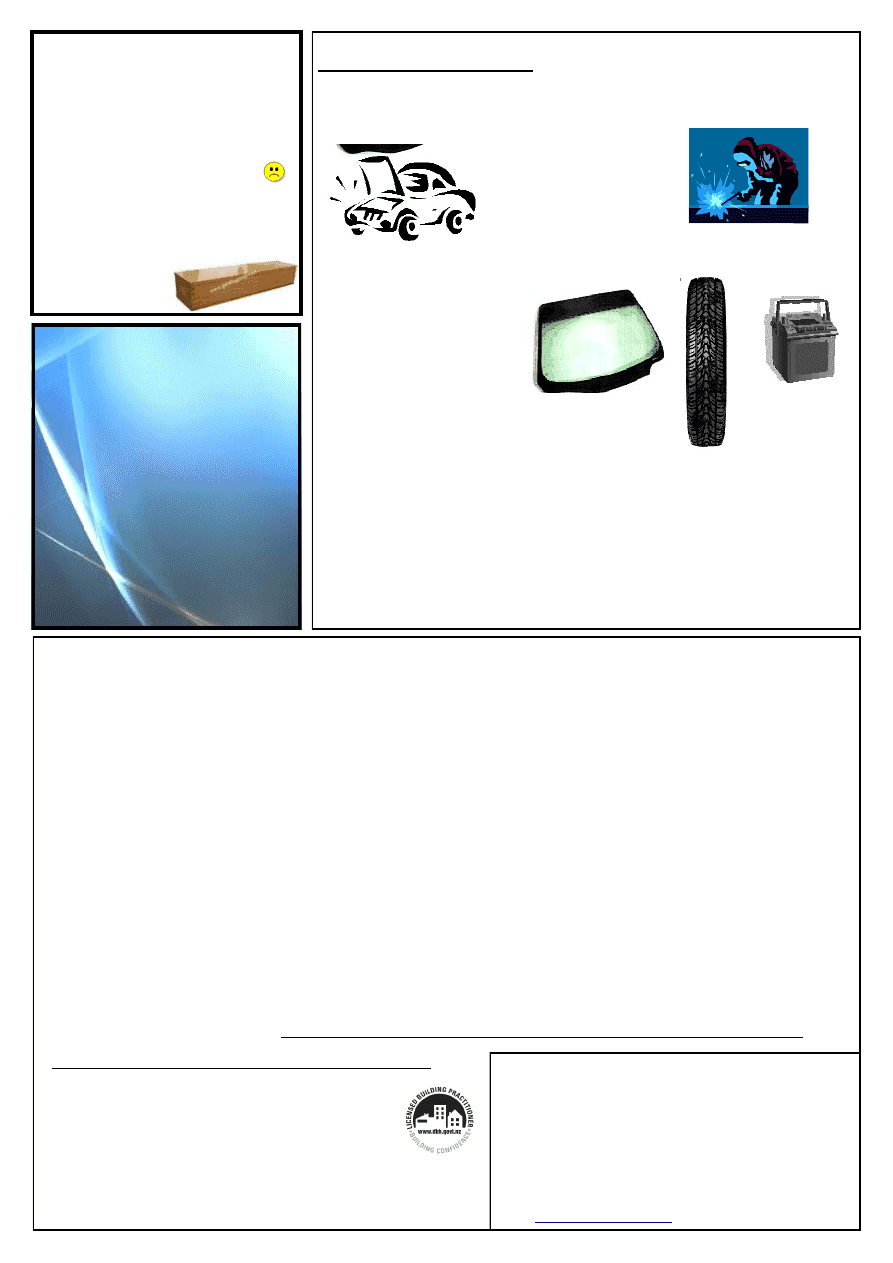 Freeview  
Installations 
Richard Te Haara 
25 Marram Place 
Mangawhai Heads 
021 1104056 
kiwipride@xtra.co.nz
KEV's CASKETS 
Stylish, BUDGET Accommodation 
Takeaways (8 available)  
or made to order 
  Featuring 2 styles and  
Different finishes. 
        Also O/S and Infant size 
     Phone Kev in Kaiwaka  
021 1322 671 
Or come and visit my showroom 
271 Rodney St. Wellsford 
Want it done? 
Bring it to 
Twinkle Tow 'n' Tyre 
*W.O.F. 
*Tyres 
*Windscreen replacement 
*Chip repairs 
*Bulk Oil 
*Batteries 
*Welding 
*Custom built trailers 
*Trailer hire 
Think you"ll get a better deal in the city? 
Go on, ring us; it won"t cost anything! 
1837 State Highway 1, Kaiwaka       
Phone 431 2823 
ARCHITECTURAL BUILDING PLANS AND DESIGNS 
20% Reduced Cost - design and planning. 
If you are thinking of building, then you need to make use of cost savings in architectural design as well as having a good and well experi-
enced designer. This applies if you are considering a new home, any alterations or any building additions/farm buildings, sheds, alterations, 
whatsoever. There are many things that are frustrating if you are not totally familiar with what all details are required by Councils -
especially with new regulations in force to ensure everything runs smoothly - e.g. Resource and Building Consents, planning restraints, 
new building materials ,applying for building permits, dealing with building contractors to name a few -you need a capable,  
experienced and professional designer with a clear knowledge of all the processes. 
WE CAN HELP YOU CLARIFY ALL OF THESE ITEMS  AND MAKE LIFE RUN MORE SMOOTHLY.  
Brian of Wright Design has been helping and organising all these facets of design and building for over 40 years. 
With needs of family changing and the economy - building requirements constantly being reorganized and made more complex, it"s very im-
portant to obtain professional advice for any building project - no matter what size. 
Brian advises on design, materials, permit applications, builders and subcontractors for any project - no matter how small or large 
ALL THIS AT A REDUCED COST so YOUR DOLLAR GOES FURTHER  
Wright Design offers free visits, consultations and all the advice you need on planning. Design, building, contractors, council  
permit applications, guaranteed permit plan acceptance. 
QUALIFICATIONS 
Brian is a qualified designer (NZCAD) with over 40 years of varied experience in all types of building and is a registered and Licensed Build-
ing Practitioner in Design - L.B.P. 117345 
He ensures you will achieve the best from your budget with recommended excellent local contractors ready to competitively price and 
build your personal project quickly and efficiently. 
EXPERIENCE 
Brian"s practical building and 40+ years of design experience means he can give you excellent advice and all the guidance needed for 
all your building needs, 
FEES: To help you attain your project Brian has reduced his costs by 20%, giving you extra funds for the rest of your project. 
ENGINEER: Brian can arrange engineering for a reasonable cost. 
THIS IS AN ABSOLUTELY GENUINE FEE REDUCTION!! 
Qualified and inexpensive designer – N.Z.CAD., LBP 117345 
Guaranteed design and working drawings 
Free site visit to your home or property 
Great service 
Obtain a free quote with 20% Discount. 
PROJECTS 
Additions, alterations, basements, new houses, motels, bed and breakfast 
commercial buildings and shop fit outs are a few projects he has been  
involved with. 
MAKE GOOD USE OF HIS EXPERIENCE AND THIS GREAT  
WHAT TO DO FROM NOW 
Call Brian   
Arrange a visit 
Discuss your needs 
Obtain great advice.  
Obtain a free quotation - with a true 20% discount 
WRIGHT DESIGN 
Brian"s office is at: 360 Oneriri Road, Kaiwaka, Northland 0573  
Call in for a chat and a coffee, or he will call on you at your home if  
preferred. 
WRIGHT DESIGN: Office 09-4312544 
Mobile 021 276 7389 
Email: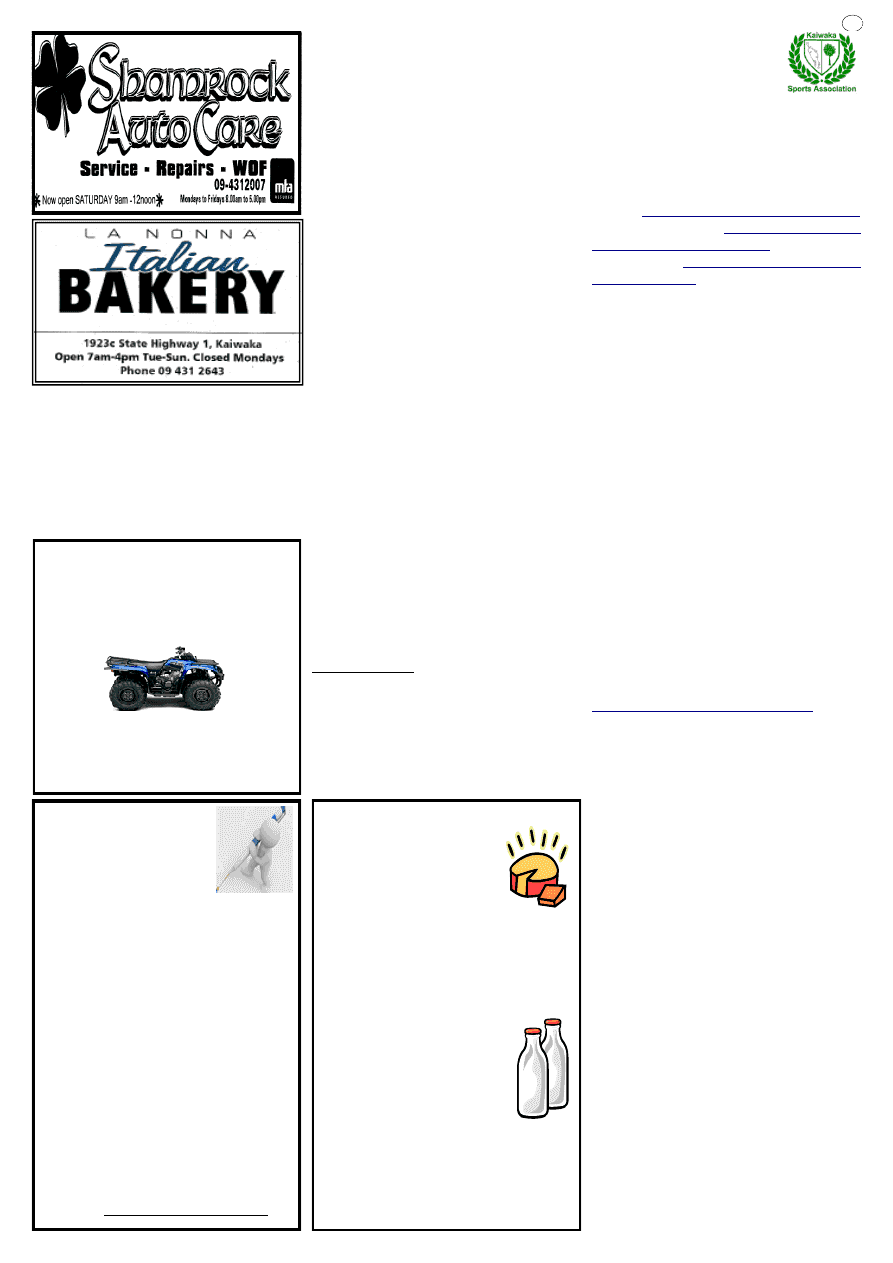 Hands On    
CHEESEMAKING  
WORKSHOPS  
are  On Again  
SATURDAY    
10th August 
( 9am to appx.3 pm, incl. lunch)  
GOUDA (Hard Cheese) and  
Camembert Style (soft cheese) 
Other dates by  
arrangement… 
Or....  if YOU supply the 
Milk ...I can make the 
Cheese for YOU. 
 
For More Info  
or Bookings   
Contact: 
Ad ...... 
(Kaiwaka Cheese Shop Founder) 
09-4312234 or 0212154495 
Topnotch  
Engraving 
Quality Engraving  
Service  
SPECIALISING IN:
www.tnengraving.com 
www.pettagsnewzealand.com 
Phone (09) 431 2174 
or  
Email: engraving@slingshot.co.nz
7 
KAIWAKA SPORTS ASSOCIATION 
KAIWAKA  MOTOR 
CYCLES LTD 
SALES SERVICE SPARES
FARM BIKE SPECIALIST
Phone 431 2127  
Kaiwaka-Mangawhai Rd 
Kaiwaka 
"  ENGRAVING    
& SALES 
"  NAME     
BADGES 
"  SIGNAGE 
"  PET TAGS 
"  JEWELLERY 
"  TROPHIES & 
CUPS 
"  AWARDS & 
MEDALS 
"  GIFTWARE 
"  CLUB ORDERS 
or ONE OFFS 
Quiz Night 
We had a very vocal crowd at our Quiz 
Night  on  Friday  –  lots  of  cheering, 
whooping  (and  some  groaning)  as  the 
answers  were  read  out!  You  can  read 
more about the Quiz Night in the report 
in this edition of the Bugle. 
Children's Social  
On  Friday  23
rd
  August  we  will  hold  a 
children's  social  at  the  Sports  Complex 
– great music, dancing, games and priz-
es,  glow  items  for  sale,  lolly  scramble, 
food and drink for sale. The social will 
be  from  7  –  9pm  (a  parent/caregiver to 
remain  with  children  thanks).  Children 
$3 (adults and under 5's are free). Bring 
the kids out for a fun evening! 
Junior Rugby 
Our JMB club Eastern United will cele-
brate  the  end  of  their  season  with  a 
prizegiving  at  the  Sports  Complex  on 
Wednesday  14
th
  August  at  5pm.  All 
family and friends welcome. 
Well done to our Rodney/Otamatea Ta-
niwha  Cup  team  who  competed  for  the 
Northland  Primary  Schools  Taniwha 
Cup in Whangarei and came fifth in the 
tournament.  Their  prizegiving  will  be 
held  at  the  Complex  on  Thursday  15
th
August at 6pm. 
Not all rugby is finished though, and on 
Saturday 14
th
 September we will host an 
Under 18s rep match – King Country vs 
Vikings. Kickoff will be at 1pm, specta-
tors welcome. 
Junior Netball 
Our junior netball club will celebrate the 
end  of  their  season  with  a  prizegiving 
and BBQ at the Sports Complex on Fri-
day  30
th
  August  from  5pm.  Can  all 
tracksuits  and  uniforms  be  returned  to 
Melissa  or  Sharlene  before  this  date 
please. 
Gymnastics 
Our Gymnastics Club  
President  Stephanie  Brown  can  now  be 
reached on these updated contact  
details: Phone:  022 3624998 
Postal  Address:    Kaiwaka  Sports  Assn, 
Gymnastics Otamatea; PO Box 62,  
Kaiwaka 0542 
email:  
facebook: 
Web: 
Senior Rugby 
After a resounding win against Waipu in 
the  final  match  of  the  year  which  ce-
mented their position in Northland Rug-
by's  first  division  for  next  season,  the 
Hawks  held  their  end  of  season  prize-
giving  at  the  Sports  Complex.  You  can 
read the results in this edition of the Bu-
gle. The Hawks next committee meeting 
will be on Tuesday 20
th
 August, 7pm at 
the Three Furlongs. 
Martial Arts 
Did  you  know  we  hold  several  Martial 
Arts classes out of our gymnasium? On 
Wednesday  afternoons,  our  black  belt 
instructor  Craig  Bennetts  holds  Kempo 
classes,  for  children  and  for  adults.  As 
well  as  an  effective  form  of  self-
defence, Kempo is a unique art form of 
spiritual  growth,  health  and  personal 
responsibility. And on Sunday mornings 
from  8.30am,  he  holds  Tai  Chi  classes. 
For  more  information,  please  contact 
Craig on 4315 170 or  
KSA Meeting 
There  will  be  a  KSA  meeting  this 
Wednesday  7
th
  at  7.30pm  at  the  Sports 
Complex. All welcome. 
Cheryl Anderson, Manager 
Kaiwaka Sports Association 
Kaiwaka Sports Assn. Quiz Night 
Thank you to our generous  
sponsors: 
Jaques Four Square 
Buy the Way 
Avon – Gale Matheson  Parker Lime 
Fatso   
Wellsford Sports & Leisure 
Three Furlongs   
Fitness Life magazine 
Kaiwaka Fitness Centre  Kaiwaka Cheese Shop 
Phil Keen Concrete 
L'art Beauty 
Otamatea Kempo 
Resene 
McPhersons 
NZ Fishing World magazine 
Northland Rugby Union  Motat 
NZ Maritime Museum Fundraising First Aid 
Thank  you  to  everyone  who  came,  and 
we  look  forward  to  seeing  you  next 
time! 
PS. "KIDS SOCIAL" 
Friday 23 August, 7-9pm 
Kaiwaka Sports Assn fundraiser 
Q: Where was the Magna Carta signed? 
A: At the bottom! 
Q: How did the Vikings send secret  
     messages? 
A: By Norse Code! 
Q: What kind of shoes do spies wear? 
A: Sneakers!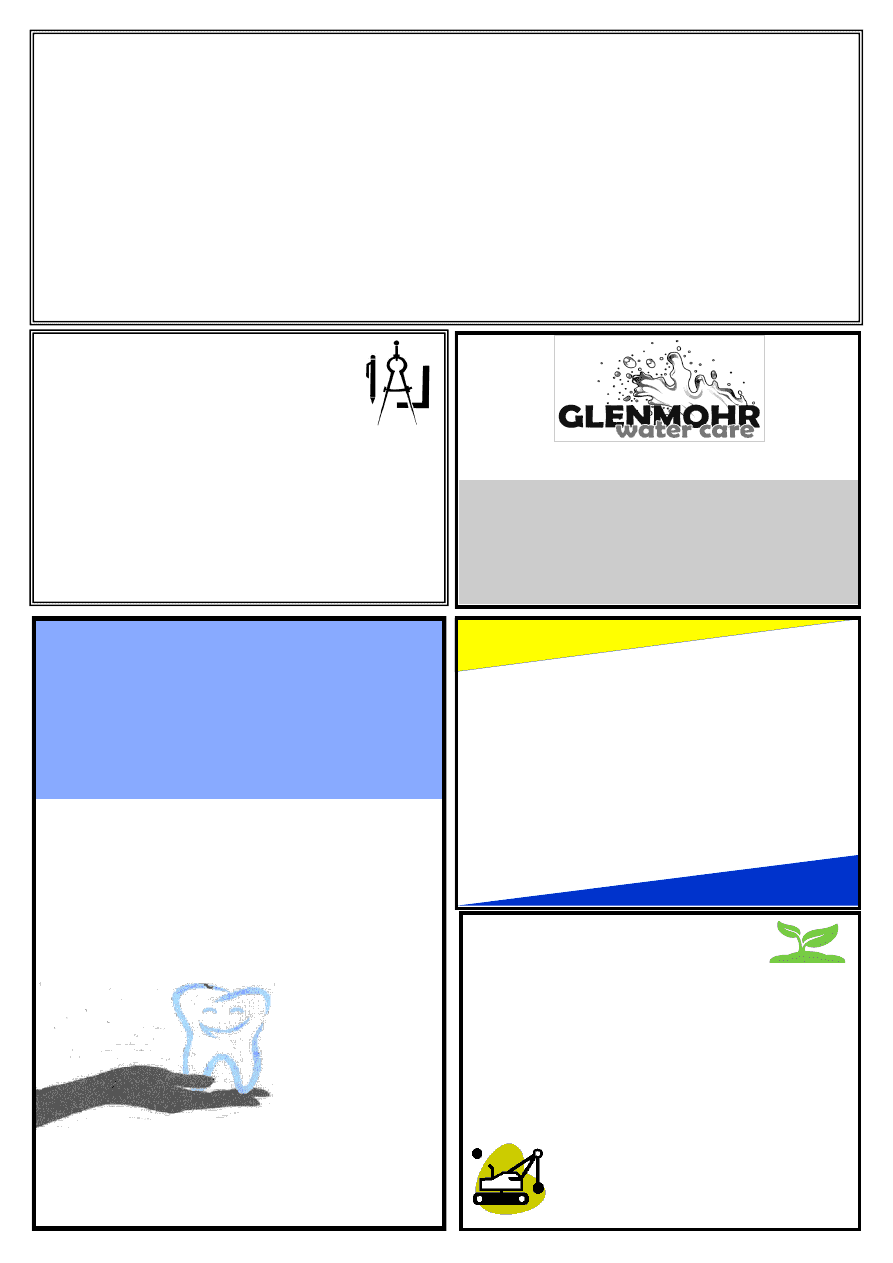 RANGANUI EARTHMOVERS 
 
16T Excavator   
(tilt, thumb & ROPS cab)   
Transport Trailer 
2 x 6 Wheeler Tip Trucks 
Suppliers of All Grades of Metal & Topsoil 
 
If you want a proper job done with an experienced operator ring 
Grant on    A/H 431-2131        Email  ranganui.dev@xtra.co.nz 
   Mob  021845-246 
Driveways, House Sites,  
Drainage Dams, 
Section Clearing,  
Tree Work,  Rock Retaining Walls,  
Quarry Work, 
Basically Anything That a Digger Can Do 
C O N C R E T E  
If it's concrete we do it 
Full Preparation & Pour by 
Experienced Local Team 
Phone Phil Keen Contractors  
027 659 2376 
design drafting 
service 
Retired builder and manufacturer with over 40 years  
experience in the building industry is offering a design 
drafting service  
for domestic housing, sleepouts and sheds.  
Plans formulated in consultation with clients, with 
working drawings completed and submitted to  
council for processing.  Extensive practical experience,  
able to identify & resolve problems. 
Please ring Mike Lean on 
09 431 2260  
or 
021 431 196 
Water Tank Cleaning 
" 
Keep your water safe & clean   
" 
Removal of sediment, silt etc 
" 
Vacuum or full scrub 
" 
Minimal water loss 
Phone Mark (09) 432 0655 or 0274 707607 
 
Bobcat ...Hole boring....Retaining walls 
 
Driveways and driveway repairs 
 
Sections cleared ... Land levelling  
 
   Complete landscape construction  
Service
For  a fast friendly competitive service give us a 
call… 
 
Tim Hicks 
      Kaiwaka    
 
094312885   
02102391280
Natural Earth  
Saturdays 
By 
Arrangement 
Open  
Mon-Fri  
8am-5pm  
Gentle Dental 
Ruakaka 
We love to see you smile 
" 
General  & Cosmetic Dentistry 
" 
Emergency & ACC Treatment 
" 
Denture & Hygienist Services 
" 
Senior Citizen Discounts 
" 
Free Adolescent Care 
" 
Free WINZ Quote 
Ph:  432 8139 
19 Ruakaka Town Centre 
Dr Sim Sood & Associates 
You're in gentle hands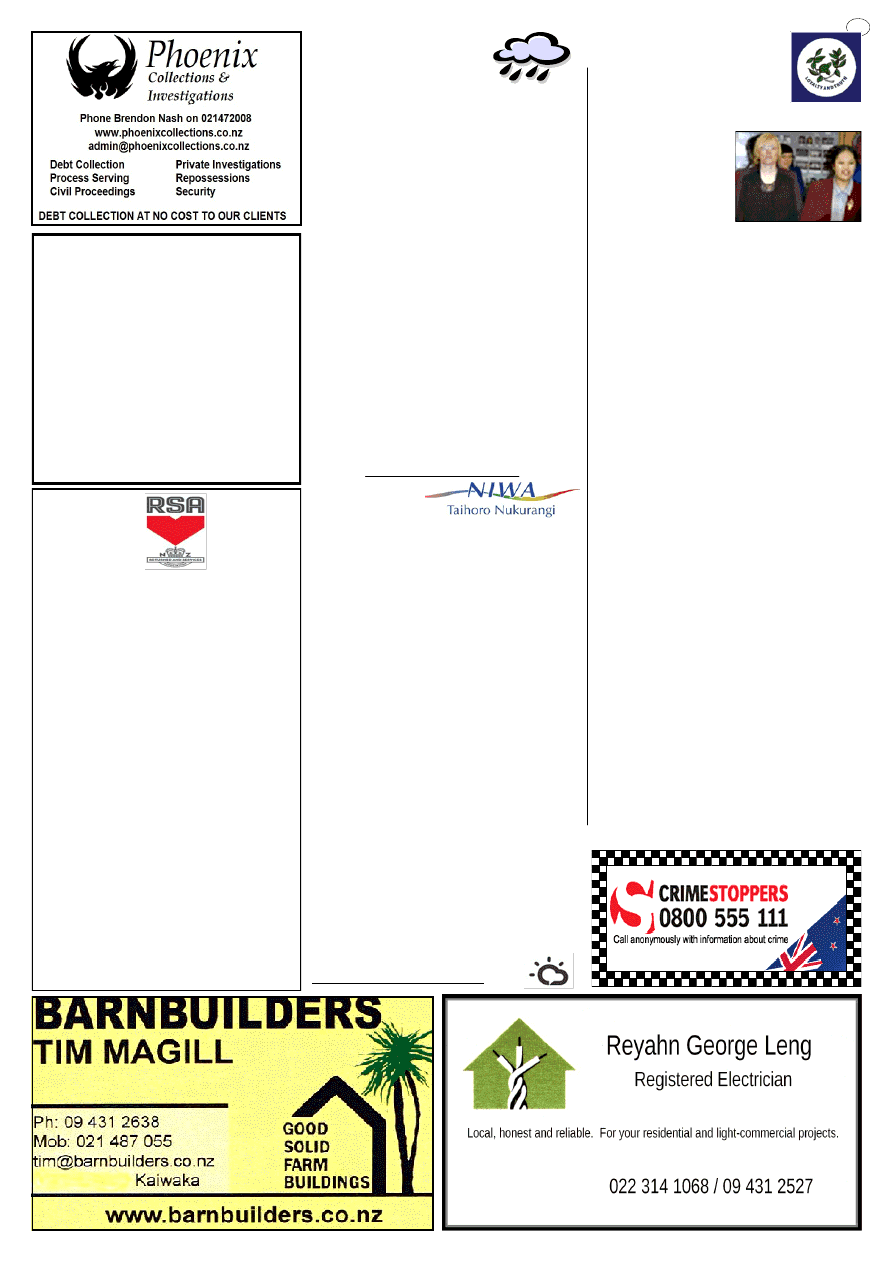 HAKARU RSA
Women's Section 
2nd Friday of the 
Month 
from 6.30pm 
Roast of the Day $12.00 
Fish n Chips      $10.00 
Pea Pie Mash    $6.00   
Includes salads 
Desserts  $3.00 
Phone Heather 4314668 
Jan 4314512 
 LEABOURNS 
Passenger Service 
Car & Van Hire 
Bus & Coach Charters 
Airport Transfers 
 Monthly Shopper Bus 
Phone (09) 4237416 
9
Otamatea  
High School 
Powhiri for new principal 
The day was a  
beautiful day for the 
powhiri  of  the  new 
principal, 
Rachel 
Clothier-Simmonds. 
The  sun  shining  on 
the school and our guests was clearly an 
omen for good times ahead at Otamatea 
High School 
Thank you to the members of the com-
munity, the Board of Trustees members 
and to the staff and students for provid-
ing  such  a  warm  welcome  for  our  new 
principal and our guests. The kaupapa of 
the powhiri is summed up by the follow-
ing statements: 
E tatu mai ana tatou kit e powhiri, kit te 
mihi, kit te whakatau koutou ki te Kura 
Tuarua o Otamatea. He mihi tenei no 
matou nga kaimahi o Te Kura Taurua o 
Otamatea. Nau mai, haere mai. 
We are gathered here to welcome, to 
acknowledge, to settle you here at Ota-
matea High School.  This is a greeting 
from the staff of Otamatea High School. 
Welcome. 
The whole school community is looking 
forward to a new leadership and we all 
have  great  hopes  for  a  bright  future 
ahead. 
Roy Fletcher, Deputy Principal 
*Sunday 11 August-Tuesday 13 August:  
Reporoa  High  School  Exchange  (OHS 
travelling) 
*Friday 16 August:  
OPEN  DAY  at  Otamatea  High  School  
9.45am onward 
WANTED: Items for school production 
"Treasure  Island"  -  baggy  shirts,  old 
pants, wide belts for PIRATES. 
Contact Debi.Walters@otamatea.school.nz 
KAIWAKA 
WEATHER 
Good Wet Morning to you.   
As I type this report out it is bucketing 
down and blowing a howling gale from 
the East (as I am sure you are all getting 
the  same).    Very  miserable  for  the  ani-
mals  giving  birth  and  the  farmers,  vets 
etc attending to them.   
We  had  a  reasonably  good  July  with  a 
few  lovely  frosts  and lots of  calm  days 
with a few very wet days thrown in the 
first half of the month.  
For July this year we recorded 78mm of 
rain and for July 2012 was 272mm  (yes 
that  is  right  I  just  checked  it).  We  rec-
orded  9days  with  rain  last  month.  For 
the  first  7months  of  this  year  we  have 
had  639mm  and  the  same  period  last 
year was 801mm.  Our driest July since 
1987 was 1993 with 33mm and our wet-
test July was 1998 with 602mm. Those 
new dams you put in are pretty full now.  
Take  care  on  the  roads  and  farms  out 
there this wet weather. Bev. 
NIWA  
SEASONAL 
CLIMATE OUTLOOK AUGUST-
OCTOBER 
A  warm  early  spring  on  the  cards 
"Temperatures over the August to Octo-
ber period as a whole are very likely to 
be  above  average  in  the  North  Island 
regions. 
Rainfall  for  the  August-October  period 
as  a  whole  is  forecast  to  be  normal  or 
above  normal  in  the  east  and  north  of 
the  North  Island  as  well  as  the  west  of 
the South island, while normal or below 
normal  rainfall  is likely  for  the  west  of 
the  North  Island  and  the  north  of  the 
South Island.  
The equatorial Pacific Ocean remains in 
a  neutral  state  (neither  El  Niño  nor  La 
Niña) despite some patterns reminiscent 
of  a  weak  La  Niña.  International  guid-
ance indicates that neutral conditions are 
the  most  likely  outcome  over  the  com-
ing three months."  
NIWA, 
National  Institute  of  Water  and 
Atmospheric  Research,  have  launched 
NiwaWeather,  a  free  urban  weather 
forecasting service at 
http://weather.niwa.co.nz/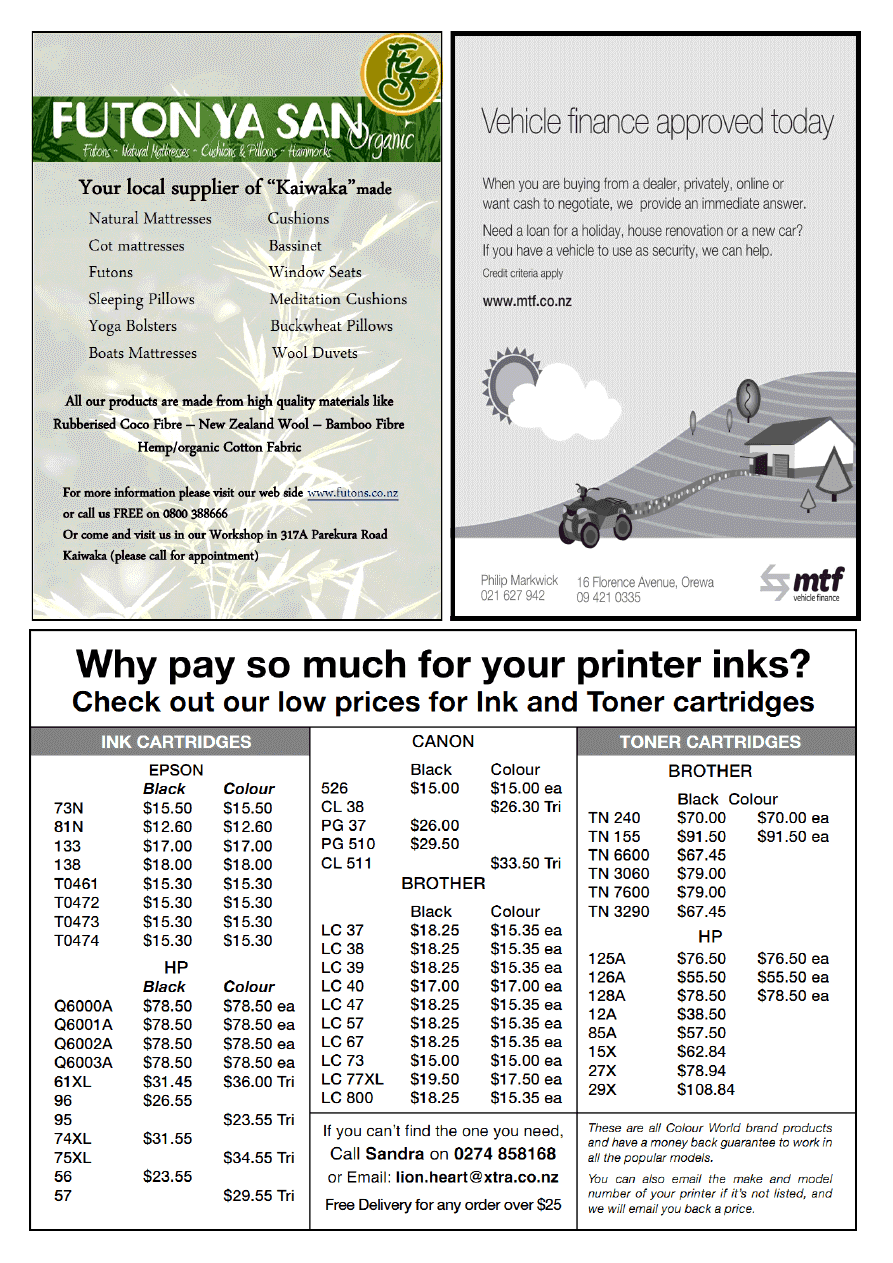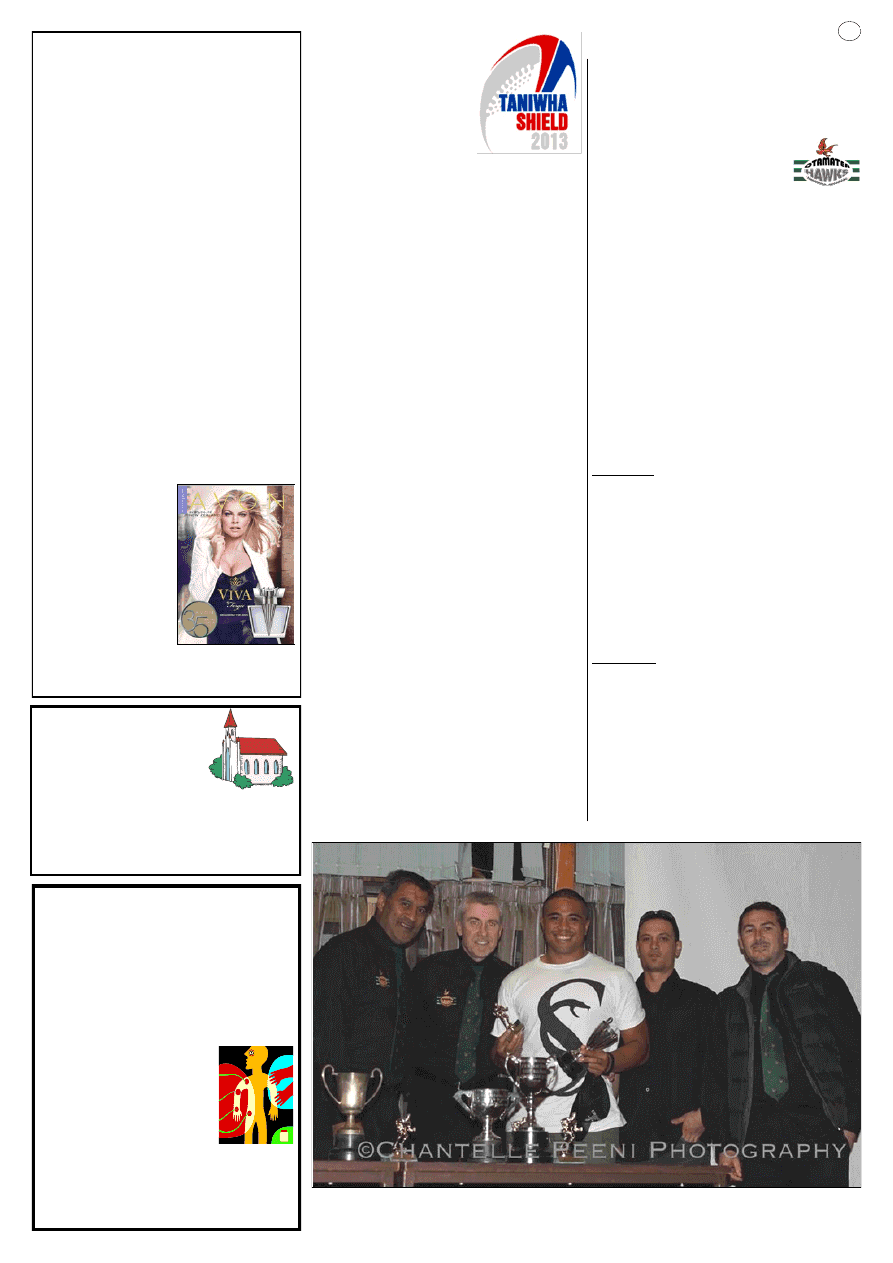 ST PAUL"S  
SUNDAY  
SERVICES
First Sunday 9.30am, third Sunday 4pm  
Paparoa Anglican and Wellsford  Co-op Parishes 
StPauls Church: Kaiwaka-Mangawhai Rd.  
Contacts: M. Hargreaves 4312295, C. Bygrave 4312057  
1st Sun. (Anglican), 3rd Sun. (Co-op). 
OWEN STEVENS 
Osteo Therapist
For careful adjustments to  
bones and joints 
Treatment for humans and their pets 
Clinics:  
Kate's Place, Kaiwaka: 
Last Friday of month 
Warkworth Showground:  
2
nd
 Thursday, monthly
For bookings:  9.00am-
5.00pm 
Phone 09 4312661  
Or phone Owen  09 4317123    
AVON  AVON  AVON   
Brochure 15 is now available with 
orders due 16th August and deliv-
ery approx 23rd August. 
AVON has been in NZ for 35 years 
and is celebrating. Spend $35.00 or 
more and go into the draw to win 
$200. 
There are 35th anniversary spe-
cials and Avon's Top 50 Products 
all on special. 
There are also fabulous Fathers' 
Day gifts with 2 Super Savers of a 
Camouflage Rolling Duffle Bag or a 
Internationalist Ana-Digi Watch 
$29.99 each with a $15.00 bro-
chure purchase. 
All orders over $35.00 also receive 
a FREE gift. 
Introducing The NEW Fergie Fra-
grance  "VIVA" $69.99 and receive 
FREE 3 Purse 
Sprays of all Fer-
gie Fragrances. 
I have samples for 
you to try and al-
so in home get-
togethers so give 
me a call  
Gale Matheson 
094314827    
JUNIOR 
RUGBY 
Although  our  local 
team, 
Otamatea/
Rodney,  did  not  win 
The  Taniwha  Cup  they 
did  come  a  very  creditable  fifth,  well 
done  to  our  two  local  players  Xavier 
Brown and Devan Gabbitas.  
These two  gave  up  the  second  week  of 
the school holidays to spend the time in 
"camp"  dedicated  to  sport  but  at  least 
they  could  eat  well  after  several  weeks 
of  having  to  be  weight  conscious  prior 
to  the  tournament.    The  rules  of  the 
camp  were  strict  but  fair  and  it  was  a 
great experience. 
After an injury free week of rugby De-
van  managed  to  break  a  toe,  kicking  a 
ball, once he returned to school! 
Thanks  to  Kelvin  for  being  the  best  of 
bus-drivers  during  the  week  and  con-
gratulations  to  the  boys,  who  did  us 
proud. 
Teams  that  competed  in  the  2013  Taniwha 
Shield  Tournament  in  Whangarei  included: 
Whangarei  Bears,  Hokianga,  Mangonui, 
Rodney/Otamatea,  Whangarei  Grizzlies, 
Bay  of  Islands  and  Presidents  XV.  Rodney 
will host the competition in 2014. 
Northland's 
Taniwha 
Shield 
Primary 
Schools  Rugby  Tournament  (often  referred 
to 
as the  'Taniwha  Cup') is descended from 
the Cadbury Fry Husdon Trophy, which was 
contested in the 1930's. Later, Northland ran 
and  hosted  a  primary  schools  tournament 
known as the the ASB Roller Mills. 
In the mid-90's Northland was accepted into 
the  NRM  Roller  Mills  Tournament,  after 
which  the  local  ASB  Roller  Mills  competi-
tion  was  replaced  by  the  Culhams  Cup  pri-
mary schools tournament. 
The  Taniwha  Shield  is  run  by  the  sub-
unions of the Northland Rugby Union. Play-
ers  from  this  competition  are  eligible  for 
selection to represent Northland in the NRM 
Roller Mills tournament
Twinkle Tow 'n' Tyre  
OTAMATEA HAWKS 
2013 PRIZE GIVING 
Supported by Phil Keen Concrete 
Congratulations to all players 
involved with our 2013  
campaign. 
H.K Nathan Cup – Most Improved Play-
er (over 15yrs)- Bradley James 
Colin Williams Memorial Cup (U18 
player to try is to succeed)- Bradley 
James 
Otamatea Hawks - U19 Player of the 
Year -Wheriko Tawhiri 
Wright Trophy – U21 Player of the Year
- Johnny Allison 
Maungaturoto Recreational Society  
Trophy – Club Spirit & Personality- 
Gary Kingi 
Pascoe Trophy for Most Conscientious 
Club Player- Michael Tovine 
Top Try Scorer – Dale Hutchinson 
(Hutchy) Memorial Cup- Travis Larsen 
Reserves 
Maungaturoto Rugby Club Most Im-
proved Senior Reserve Player- Michael 
Tuheke 
Ian Hargreaves Family Trophy for  
Senior Reserve Back- Michael Robinson 
Otamatea Hawks Rugby Club for Senior 
Reserve Forward- Jordan Linnell 
Otamatea Hawks Rugby Club for Senior 
Reserve Player of the Year- Rawiri 
Phillips 
Premiers 
Wallis Cup for  Most Improved Senior 
1
st
 Year  Player- Drew Whitehead 
Grant Eager Trophy for Senior  Premier 
Back- Nalu Tuigamala 
Maungaturoto Panelbeaters for Senior 
Premier Forward- Dean Kingi 
Z J Sloane Trophy – Best all Round 
Senior Club Player- Travis Larsen 
Russell Hargreaves Family trophy for 
Senior Premier- Shane Neville 
Otamatea Hawks prize winners: Gary Kingi, Hamish Small, Nalu Tuigamala, 
 11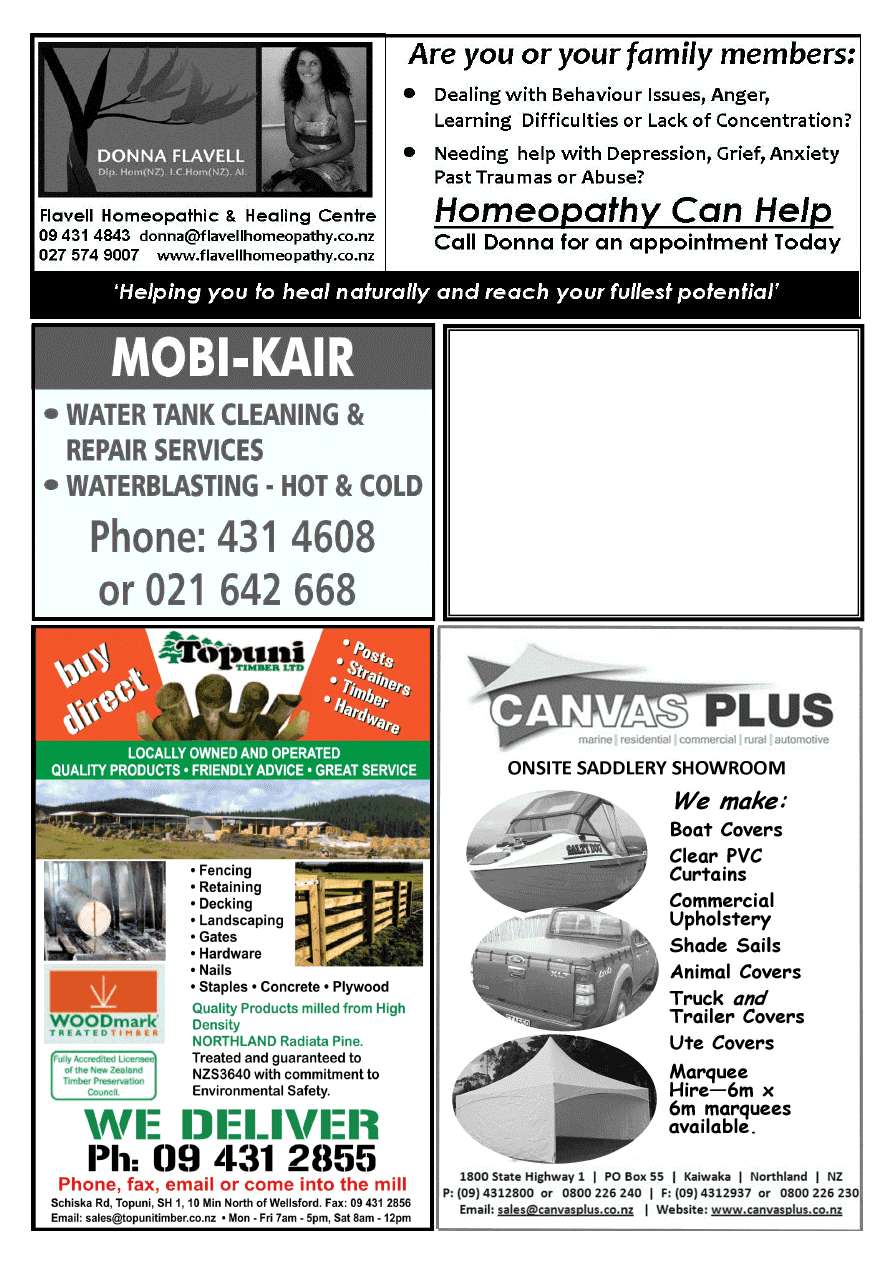 TILING 
Certified Waterproofing 
431 4533 or 021 86 33 33 
George 
MCN Property Solutionz  
Local references available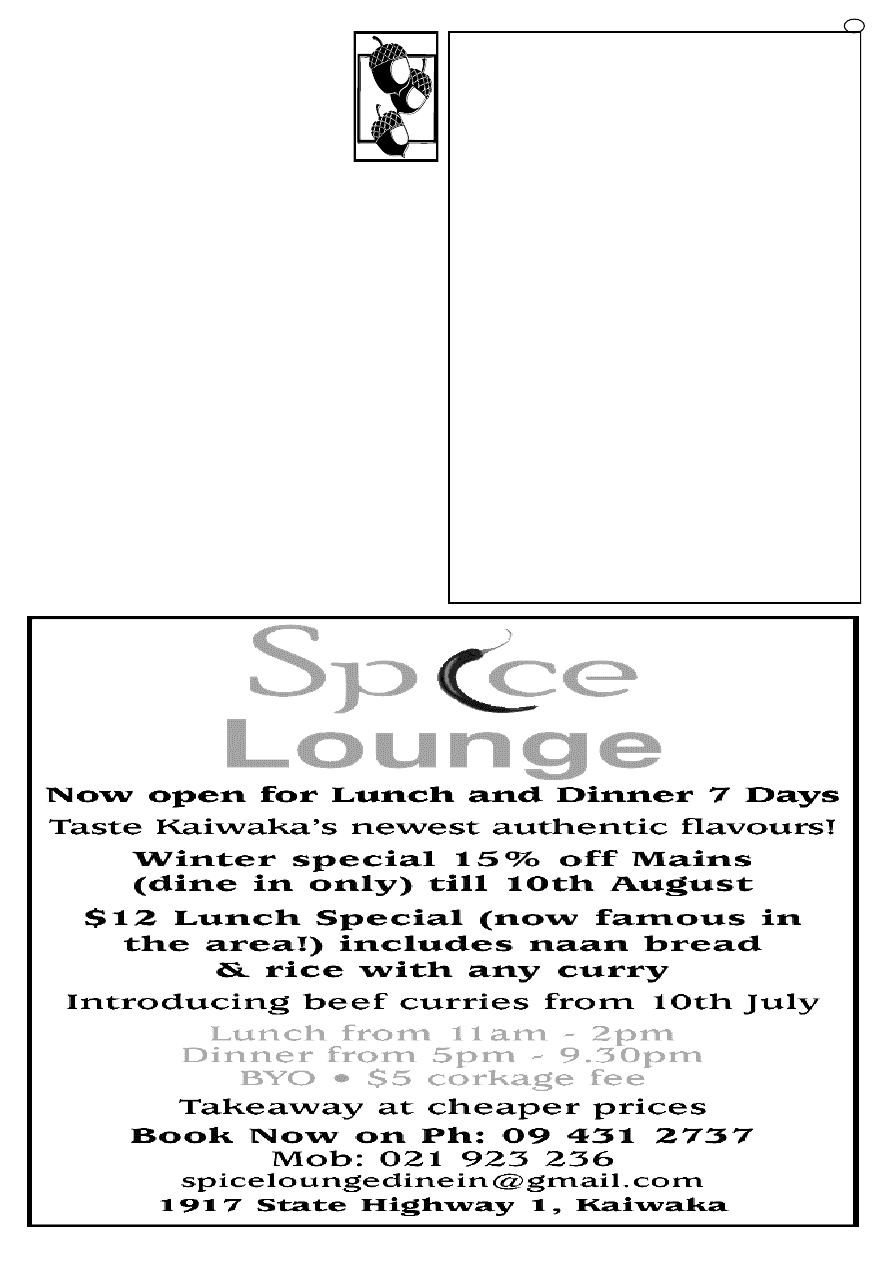 13 
PAUL SAUNDERS 
LAWNMOWING & GARDEN 
MAINTENANCE 
 
Lawns and edges 
 
Section mowing 
 
Hedging and trimming 
 
Spraying and fertilising 
 
Tree planting 
 
Green waste removal 
 
Pruning 
Friendly and reliable service guaranteed 
Call now for a free no obligation quote 
021 886 843 
09 431 2731 
Servicing Mangawhai and Kaiwaka 
and surrounding areas 
paulsaunders99@gmail.com 
...Judge nothing.... 
Someone once quipped, "Every footie team 
could use someone who knows how to play 
every  position,  is  never  off-side  and  never 
makes  an  error.  The  only  problem  is;  it"s 
hard to make him put down his burger and 
come out of the spectator stands!"  
All  of  us  need  the  advice  and  input  of  others.  But  you 
should  only  consider  the  advice  of  a  critic  when:  (1)  You 
know you are valued by the one who criticises you. (2) The 
criticism  is  not  tainted  by  his  or  her  personal  agenda.  (3) 
The  person  is  not  naturally  critical  of  everything.  (4)  The 
person will continue giving support after giving advice. (5) 
He or she has knowledge and success in the area of the criti-
cism. 
What  really  hurts  is  the  criticism  of  people  who  are  im-
portant  to  you.  It"s  hard  to  have  your  dream  criticised  by 
those  you  admire,  love  and  respect.  But  if  you  want  to 
achieve  your  dream,  you"ll  have  to  learn  how  to  pay  that 
price too. 
On the other hand, Stacy Allison, the first American woman 
to reach the summit of Mount Everest, points out that there 
are times in your life when it"s OK not to listen to what oth-
er people are saying. "If I"d listened to other people I would-
n"t have climbed Mount Everest. "If you have a God-given 
promise and purpose, and if your heart is right, then disre-
gard unjustified criticism and stand on this Scripture: "Judge 
nothing before the appointed time; wait till the Lord comes. 
He will bring to light what is hidden in darkness ….
" 1 Co-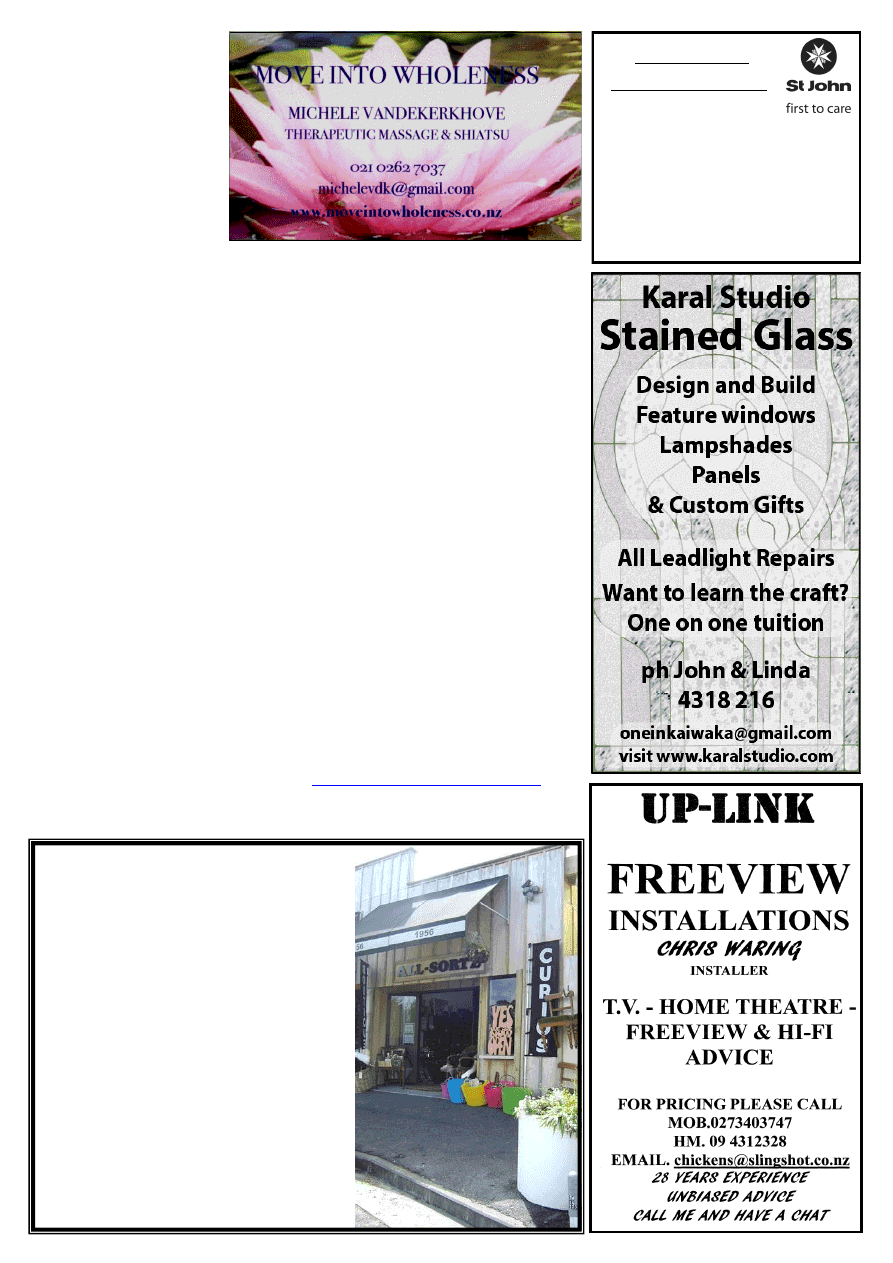 Community 
Services Officer: 
For all Community Services Forms 
see Milly at the  
Kaiwaka St John Op Shop.  
Phone 4312650 
MORE MEMBERS REQUIRED 
FOR THE KAIWAKA STATION
. 
HEADACHES
Headaches  can  have  a 
myriad  of  causes.    The 
most  common  headache 
is  the  tension  headache, 
which  arises  from  tight 
musculature  in  the  back 
of the neck and the skull. 
I  wrote  about  forward 
head posture in the previ-
ous  Bugle,  where  the 
head  is  no  longer  balanced  on  the 
spinal column and makes the posteri-
or  muscles  of  the  neck  become  hy-
pertonic.  The  posterior  muscles  will 
keep  on  contracting  to  prevent  the 
head  from  falling  on  the  chest.  Alt-
hough  bad  posture  is  not  the  sole 
producer of muscle overuse; exercis-
ing  your  favorite  sport  can  precipi-
tate  muscle  overwork.    Simply  re-
peating  a  certain  movement,  using 
the same set of muscles without rest 
will  gradually  make  those  muscles 
fatigued,  tight  and  painful.  Overuse 
is  the  result  in  both  cases  and  leads 
to  tightness  and  often  causes  pain. 
Pain is inflicted by the excessive pull 
of the involved muscles on the scalp 
and  skull  via  its  soft  tissue  attach-
ments.  As  this  pain  continues,  the 
nervous  system  will  initiate  spasms 
(contraction) in the irritated muscles. 
The spasm is there to prevent motion 
that might further aggravate or injure 
the muscle or other soft tissues. This 
is sadly the start of a chain of actions 
where the spasm increases the tight-
ness  of  the  muscle  causing  pain, 
which  consequently  leads  to  further 
tightness,  and  then  further  pain,  and 
so forth.  This  cycle is  known as the 
spasm - pain - spasm cycle. 
 ALL-SORTZ  
COLLECTABLES
   Shop 4, 1956 State Highway 1, Kaiwaka  
CURRENT WINTER HOURS  
Saturday and Sunday 
11.00am to 3.00pm  
Or by prior appointment  
Telephone 4312701 
(Business Hours) 
Or 4229221 or 0274353535 
(After Hours) 
In the case of a tension headache, all 
of  the  neck  muscles  as  well  of  the 
muscles  of  the  scalp  have  evolved 
into a state of abnormally high strain 
which  compounds  the  problem.  As 
tension  headaches  become  chronic, 
they  show  a tendency to grow more 
unrelenting, often with pain radiating 
over the frontal bone area instead of 
or in addition to the area at the base 
of the skull. 
Another type of hypertonic muscula-
ture  is  called  trigger  points  simply 
known  as  muscle  knots.  Trigger 
points  located  in  specific  places  in 
the  neck  muscles  or  in  the  upper 
shoulder muscles can show a referral 
pain pattern going to respectively the 
back,  the  front  or  the  sides  of  the 
head.  This  referral  pain  can  also  be 
experienced as a headache. 
Both  types  of  tense  musculature  de-
mand a different treatment approach 
to  successfully  reverse  the  discom-
fort they can create. 
To  find  out  more  about  the  ad-
vantages  of  the  pre-paid  treatment 
plans, please visit:  
to tab pricing. Alternatively give us a 
call on 021 0262 70 37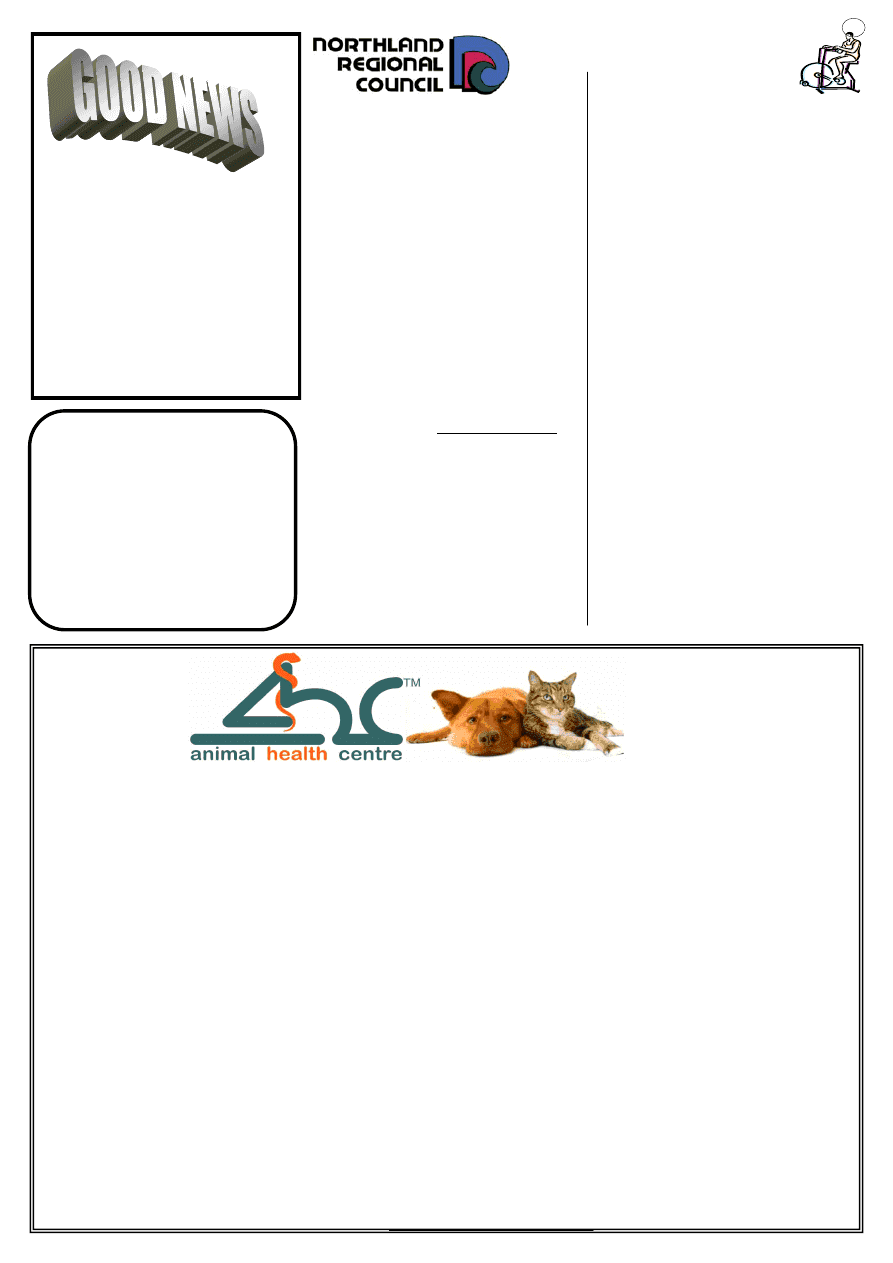 THERE'S 
 Your COMMUNITY 
CHURCH 
RECEIVE HEALING 
  RECEIVE THE LOVE OF GOD 
 Everyone warmly welcome each                                            
 
    Sunday 10am. 
Contact: Pastor John Dekker,  
09 4318203 
@ the  
Kaiwaka 
Family Church 
T.W.WRIGHT 
WATER PUMPS  
SALES & SERVICE
DEEP WELL & SUBMERSIBLE REPAIRS 
203 WHAKAPIRAU RD, WELLSFORD 
PHONE 09 4238235   
MOBILE 021 976 545 
15 
KAIWAKA  
FITNESS 
Hope  you  are  all  enjoying  the  new 
equipment;  the  last  arrived  this  week  - 
thank  you  Mark  for  putting  it  together 
and arranging for delivery. Bente and I 
have  the  fun  job  of  going  shopping 
whilst Mark has to do all the hard work. 
It appears that most of you like the new 
cable  machine;  it"s  certainly  a  lot 
smoother.  Remember  the  money  from 
fees pay for this equipment, so please be 
honest and pay your memberships. As I 
keep  saying  they  are  the  cheapest 
around.  If  you  haven't  been  to  the  gym 
you are welcome to come and see what 
we have. 
I  have  been  to  a  few  pump  classes  in 
Whangarei as my friend takes classes up 
there;  at  $12.00  a  pop  it  soon  adds  up, 
but its a nice change from cardio, and as 
I  have  a  bit  to  lose  in  the  next  few 
weeks it"s a change for bike and tread-
mill. I have been doing up to 2 hours a 
day  plus  weights  so  it  doesn't  leave 
much time for anything else at the mo-
ment. 
We  have  certainly  had  some  cold  days 
in  the  gym;  maybe  a  heat  pump  would 
be a good idea? I know I am a "sook". 
Hope  your  training  goals  are  coming 
along  well  as  summer  is  around  corner 
can't believe its August already.  
Take care, Jules 
ANIMAL HEALTH CENTRE 
Your 'natural' choice in professional animal health care  
SAVE  $$$  - up to 30% on your pets' food & health bills 
FEED REAL FOOD:  
No fillers/less poop/better absorption/pets ENJOY it! 
Choices: 
  Chicken, Veal, Tripe, Heart, Rabbit & Hare, Salmon, Beef & Game, Biscuits & Treats 
Organic, Vegan, Free-Range, Gluten-free 
Surprisingly Affordable -  Ask about our bulk buys! 
GO DRUG-FREE:   
Flea Control –dog 2 mths /cat 6 mths supply $14.90 
Safe ,effective     
Worming –  dog & cat – 5 yrs supply - $29.90 
Non-Toxic 
Vaccinations – Homeopathic Nosodes covers  same 
diseases – cats & dogs – 25mls  last a lifetime $29.90 
OUR SERVICES:   
NAIL TRIMS -  Cat & Dog Nurse specialists  $15.00 
WEIGHT CHECKS – Free checks & lifestyle advice 
MICROCHIPPING – Top quality chips, Cert.Nurses $48.00 
  DISPENSARY – Homeopathic, Herbal, Medicine, Bach Flowers  
 - a fraction of the cost of drugs 
  CONSULTATIONS – our focus is on inner wellness, not  
 propped up by drugs and supplements. 
Every owner & pet is an individual and deserves to be treated as such. 
Opp. Cheese Shop, Kaiwaka.   
OPEN 7 DAYS         Ph 431 2217 
Triennial elections for elected members 
of  all  local  authorities  throughout  New 
Zealand  are  to  be  conducted,  by  postal 
vote, on Saturday 12 October 2013. 
The  elections  are  undertaken  on  behalf 
of the regional council by the three con-
stituent territorial authorities (Far North 
District, Kaipara District and Whangarei 
District).  In  addition  to  their  own  elec-
tions  (Mayor,  Councillors  etc),  each 
constituent  territorial  authority  is  re-
quired to undertake the regional council 
and district health board elections. How-
ever, due to the appointment of commis-
sioners, there will be no Kaipara District 
Council  triennial  election  in  2013.  Its 
election is expected to be held in Octo-
ber 2015. 
It  is  recommended  that  everyone  view 
the  NRC  website  www.nrc.govt.nz  and 
watch  their  short  video  relating  to  the 
elections. Under the old system regional 
councillors were elected from the 3 con-
stituencies  (Far  North,  Kaipara  and 
Whangarei),  changes  have  been  made 
for better representation – there are now 
7  smaller  constituencies  and  there  will 
be 9 councillors. 
Note:  Kaiwaka  township  is  in  Coastal 
South constituency and the Oneriri Pen-
insula is in Kaipara
.
Nominations  for  councillor 
positions close at noon on Friday, 16 August 2013  
Landcare 
Services
Dave Hyndman  
      4312302 
      021 431238 
Trenching, Hole Boring, Land 
Levelling,  Driveways, 
Landscaping,  Post Peel,  Wood 
Chips, Contact Rolling 
Lifestyle block mowing, 
etc....also Rotary Hoeing 
For reliable and friendly 
service contact Dave 
Willow Bend
HORSE  
HOTEL 
"   
Total Horse Care 
" 
Agistment 
" 
Riding Lessons 
" 
Arena Hire (60x40) 
" 
Young Horse Starting 
" 
Re-training/Exercising 
" 
Hoof Trimming 
" 
Problem Solving
Phone Sue 09 431 2817 
or 021 623 776 
Or email sue.gray@xtra.co.nz 
Based ou
t  
Oner
iri Roa
d 
HODGETTS
CONTRACTING
Digger Work    

Driveways 

House Sites   

Dams 

Drains, etc
Also available for HIRE 

3 ton Vib Roller 

Heavy Duty Tow 

Waterblaster  

Lazer Level 
Phone Mark 
4312877 
027 447 8554
DEAN STEWART 
Registered Electrician 
021 280 4008 
09 4312911 
ATHOURISED FISHER AND PAYKEL SERVICE 
Coates  
Contracting 

D41 Bulldozer with 6 
way blade, bush rigged 
with winch 

For all tree work 

General bulldozing and  
  stick raking. 

120hp Tractor for 
ground cultivation,  

tip trailer work. 

Fencing
All enquiries phone  
Brett Coates  
094318720 or  mob 
021431872
Singing  
Lessons 
Individual sessions 
All styles of music  
All voice types 
Reasonable rates 
Phone  
Maura Flower 
021 164 8318 
OUT THERE 
GARDENS AND LAWNS 
Lawn Mowing – Any Size 
Section Clearing  
Hedge Trimming  
Spraying  
Planting 
Pruning   
Gutters Cleaned 
Chainsaw Work 
Regular Services 
General Maintenance 
Garden Waste Removal 
Free Quotes 
Get The Job Done! 
Servicing Kaiwaka/Mangawhai 
Contact Phil Jones 
027 243 5503  
A/H 431 2196  
Email: outthere09@gmail.com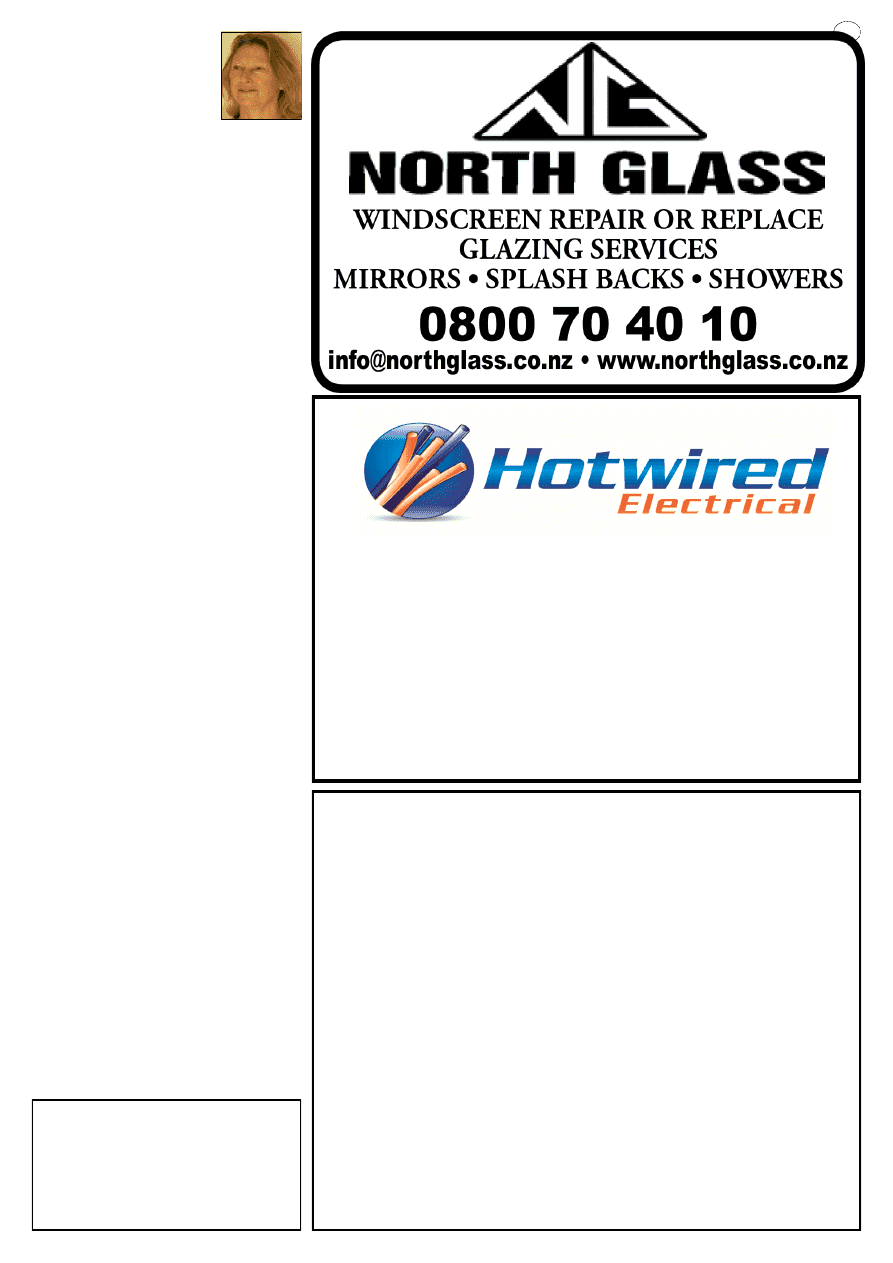 PLANNING A NEW KITCHEN? 
CONTACT NOEL McDOWELL
WELLSFORD KITCHENS 
Ph/Fax 094312888
KAIWAKA-Any time 
  QUALITY CUSTOM MADE KITCHENS  
~Personal and Prompt Service~ 
~All Workmanship Guaranteed~ 
~Over 20 Years in the Trade~ 
Indian Head 
Massage in  
Kaiwaka
For  thousands  of  years,  massage  has 
played an important role in ancient healing 
systems,  creating  harmony,  balance  and 
restoring a state of wellness. 
Massage  has  been  a  vital  part  of  family 
life in India and was practiced by barbers 
on  the  beach,  mothers  with  babies  and 
between family members. 
An  Indian  man,  Narendra  Mehta,  missed 
this  when  he  went  to  London,  and  in 
1990's adapted a form to suit Westerners. 
Now, we too are enjoying the benefits. 
It  is  soothing  to  mind  and  body,  and 
through  relaxation  all  systems  heal  and 
refresh. It is suitable for all people, all ages 
with few contraindications. 
Indian Head Massage focuses on the  
upper  back,  upper  arms,  shoulders,  neck, 
head  and  face.  The  client  is  seated,  fully 
clothed no oils are used. A massage takes 
about 25 minutes. 
Some of the benefits:
*
Whole body relaxation, feeling energised 
and refreshed. 
*Relief of neck and shoulder stiffness. 
*Relief from headaches and eye strain. 
*Improved alertness and ability to concentrate. 
*Increased hair growth and lustre. 
*Improved circulation, especially for brain 
function. 
*Increased tissue oxygen intake. 
*Movement of toxins as tight muscles 
release. 
*Improved sleep. 
Yatra
has trained in Indian Head Mas-
sage  with  two  experienced  natural  health 
practitioners,  from  Motueka.  She  worked 
for  many  years  as  an  occupational  thera-
pist  in  community  health,  mainly  with 
elderly,  people  with  disabilities  and  their 
families.  Her  holistic  approach  to  health 
has led her to learn and use natural thera-
pies, for herself and others.
Mini sessions (15 minutes) available 
with or without appointment. 
on 
Wednesday 14
th
 AUGUST
between 12.30 and 6pm.  
Just drop in that day. 
at 
'Well of Health' 
shop for $15 
Brochures now available in the shop. 
For more information and appointments con-
tact Yatra directly, especially for Wednesdays 
between 12.30 and 6pm. in Kaiwaka. Usual 
price $30, negotiable for regular appointments. 
Phone or text mob. 021 2377 678 or email: 
yatrabe@gmail.com 
Indian Head Massage
at "The Well of Health" Kaiwaka. 
Wednesdays 12.30 till 5.30pm. 
Mangawhai Markets Sat 9am to 1pm 
First appt $30, reduced follow ups. 
Contact Yatra: mob. 021 2377 6778 
or email: yatrabe@gmail.com 
For All your Electrical  Requirements 
 
Domestic small jobs 
 
Residential dwellings and alterations 
 
Commercial 
 
Industrial                 
No job too big or too small      
Contact Jason today on: 
(09) 431 5992, (021) 405 019 
www.hotwiredelectrical.co.nz 
  17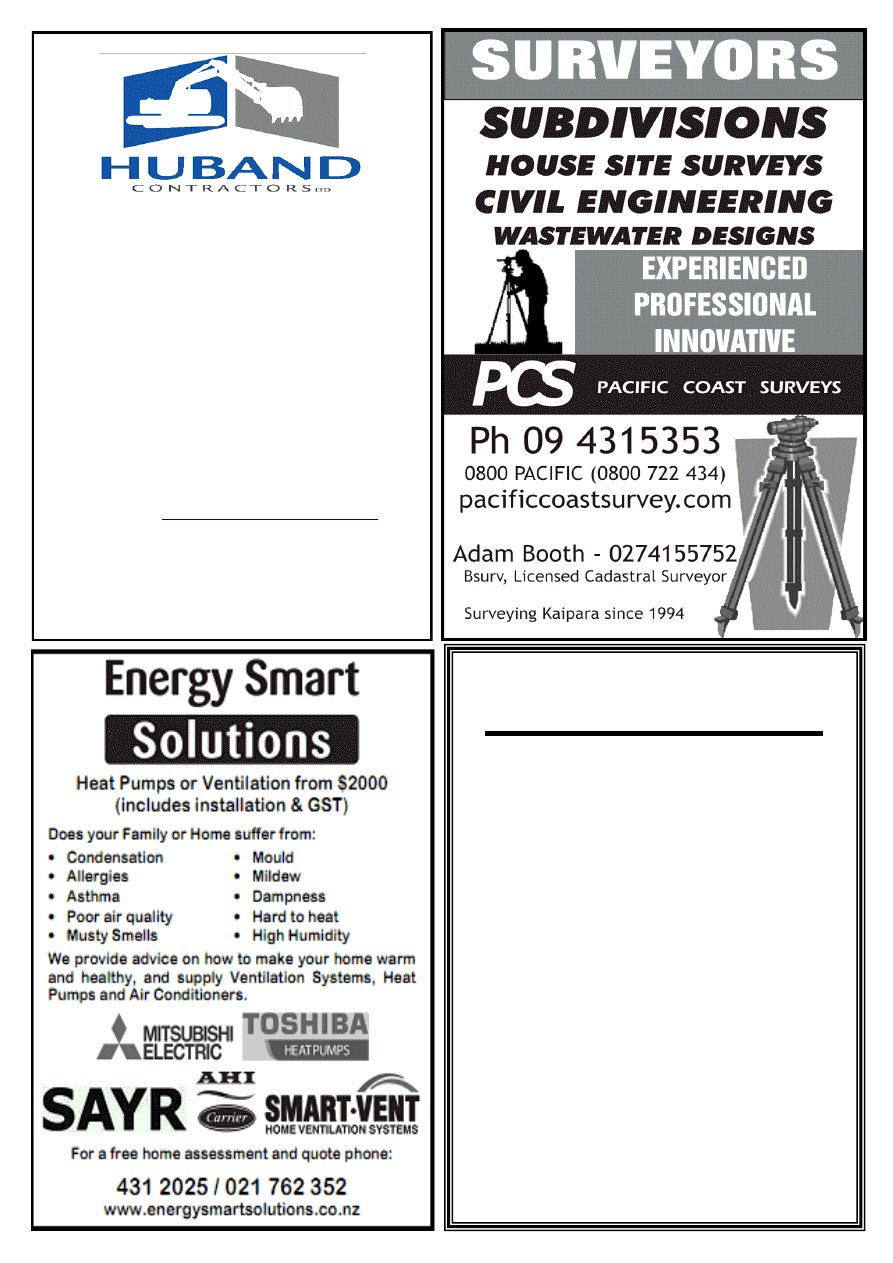 STOCKFOOD
GREAT RANGE FOR ALL YOUR LIVESTOCK  
AT GREAT PRICES 
 ALSO CHECK OUR 
DOG BISCUITS 
20 KG FOR $58.90 
LPG REFILLS 9KG 
STILL ONLY $31.50
MANGAWHAI SERVICE 
STATION 
(09) 431 4242 
44 MOIR STREET IN THE VILLAGE 
*   R O A D I N G   *   E A R T H W O R K S  
*    
*   D R A I N A G E   *   S I T E W O R K S  
*  
For any further enquiries,  
contact Shaun on: 
Cell: 021 222 0272 
Home: 09 4318339 
Shaun Huband:  Registered  
Drainlayer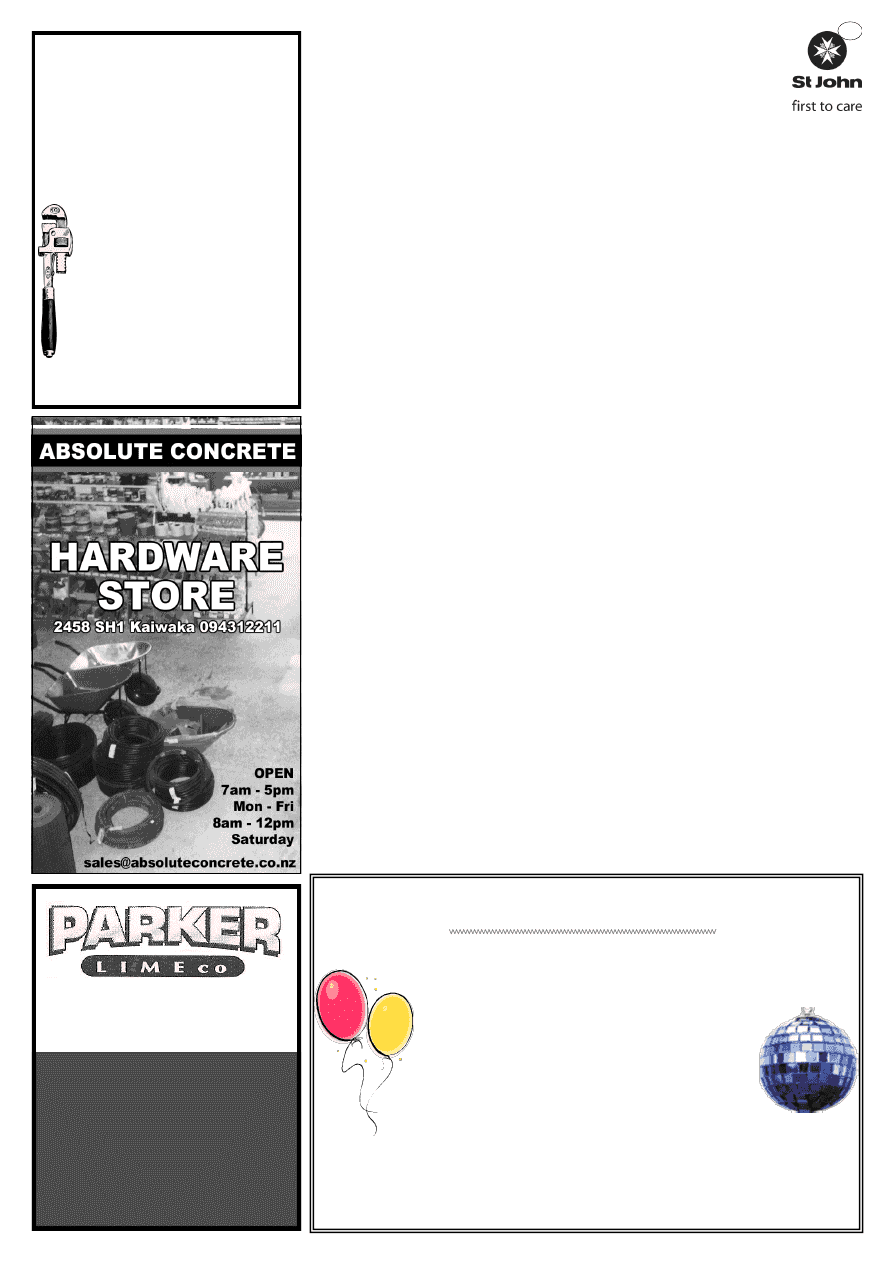 Landscape Supplies 
Bulk Cartage 
4312407 
Mob: 021 453 252  
Fax: 4312939 
 scott.parker@parkerlime.co.nz 
Gibbons Road,  
Kaiwaka 
St John is launching a volunteer  
recruitment  campaign  in  Maungaturoto 
and  Kaiwaka  area  and  it  also  wants  to 
tell people not to take the ambulance for 
granted. 
Station  Manager,  Stephen  Rosser,  says 
that the Maungaturoto and Kaiwaka  
ambulance  stations  have  always  had  a 
very  strong  volunteer  base  but  recently 
we have had an increase of job numbers 
and  volunteer"s  personal  and  family 
commitments.    Two  volunteers  have 
taken  up  paid  casual  contracts  with  St 
John,  while  another  has  moved  out  of 
the  area.  The  remaining  staff  is  putting 
in  a  lot  of  hours  to  keep  the  ambulance 
service available for the local community. 
Being a Volunteer Ambulance Officer is 
all about  being  part  of  an essential ser-
vice  within  your  community  –  local 
people  helping  their  local  community. 
However, people also need to know that 
at  the  moment  we"re  doing  it  tough  to 
provide  a  local  ambulance  service  in 
Maungaturoto and Kaiwaka area. 
The  area  we  cover  extends  from  the 
Brynderwyns in the north, to Te Hana in 
the south, almost to Ruawai in the west, 
including Tinopai peninsular and over to 
Mangawhai village in the east. 
Our existing team put a lot of effort into 
trying to cover the area but we need ad-
ditional  volunteers  to  join  our  team  so 
we  can  try  to  continue  providing  a  24 
hour service. 
When  people  call  111  and  need  ambu-
lance assistance, they will always get one, 
however  if  there  is  no  crew  available  to 
man  the  ambulance  at  Maungaturoto  or 
Kaiwaka it will take longer for an  
ambulance  to  respond  from  Whangarei, 
Bream  Bay  or  Dargaville.  "There  is  no 
doubt  that  the  ambulance  service  in 
Maungaturoto  and  Kaiwaka  is  essential 
as we responded to over 850 emergency 
call-outs  last  year  and  the  number  of 
calls have been steadily  
increasing each year". 
Long-time Ambulance Officer and  
Station Manager Stephen Rosser is  
passionate about the benefits of  
volunteering,  however  he  wants  to  see 
more people give it a go. 
He  says  "By  joining  our  ambulance 
team  you  are  helping  your  community 
and  also increasing  you  knowledge  and 
skills. These skills are also helpful both 
in your work place and your family  
environment". 
"The ambulance service in Maungaturo-
to and Kaiwaka will be in trouble with-
out more volunteers. 
Mr  Rosser  encourages  anyone  who  is 
available  but    maybe  a  little  unsure  to 
ring  him  and  discuss  the  possibilities, 
including  the  option  of  a  ride  along  on 
the ambulance to see if it"s for them. 
As  a  community  let"s  all  get  together 
and take responsibility for this very  
important service. 
Mr Rosser mentions that the opportunity 
to  join  the  ambulance  team  is  not  only 
one that people will enjoy and feel  
supported, but along with the training it 
could  also  lead  towards  a  new  career 
path. 
"I"ve  grown  in  confidence and  skills  and 
made many good friends by volunteering 
for St John at Maungaturoto. The opportu-
nities  are  there  and  we  do  balance  work 
and social activities, encouraging the  
involvement of partners and family". 
So,  get  behind  your  local  ambulance 
service now – we need your help so we 
can in turn help your community. 
To  find  out  more  about  volunteering 
with St John Ambulance in Maungatur-
oto or Kaiwaka please phone:  
Station  Manager,  Stephen  Rosser  on 
0212316836 
ST JOHN MAUNGATUROTO / KAIWAKA                                                                                
NEEDS AMBULANCE VOLUNTEERS NOW 
KIDS SOCIAL
KIDS SOCIAL
KIDS SOCIAL
Friday 23
Friday 23
rd
rd
August, 7 
August, 7 
–
–
9pm
9pm
Kaiwaka Sports Complex
Kaiwaka Sports Complex
* great music, games & prizes 
* glow items for sale 
* food & drink available 
* lolly scramble 
* $3 entry (adults & under 5's free) 
(a parent/caregiver to stay with children thanks) 
A fundraiser for the Kaiwaka Sports Association
BARRY CURTIS  
PLUMBING LTD 
REGISTERED CRAFTSMAN 
PLUMBER 
Phone 4315572      
027 257 9884 
     25 years experience 
  
Friendly reliable service 
All plumbing and maintenance 
Alterations and new housing 
New wood fire installation 
Spouting 
Competitive rates  
 
 
 PROMPT EFFICIENT  SERVICE  
19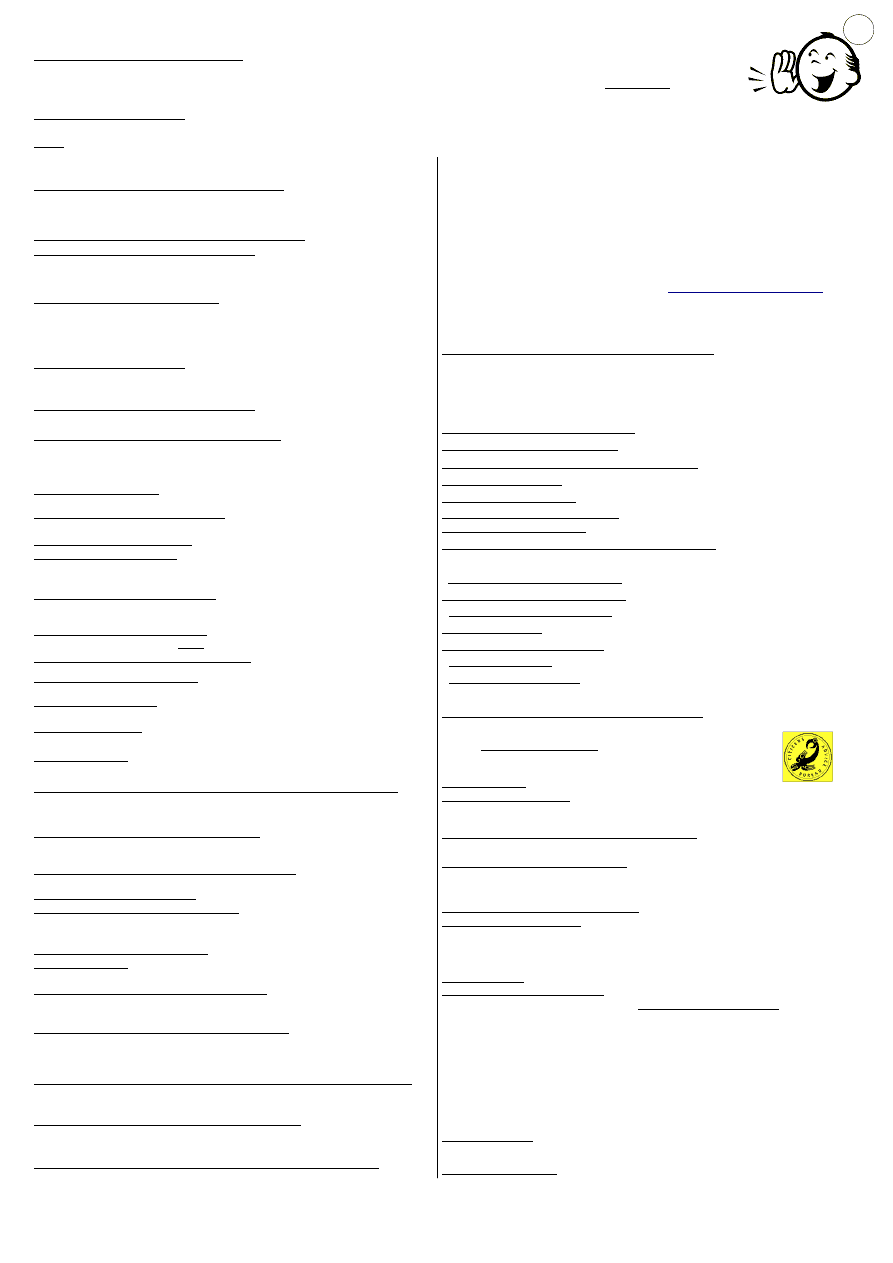 LOCAL SERVICES 
*St.John Ambulance 
111 or Freephone0800 61 0066
*Fire phone 111     *Police phone 111 or 09 4311150
WELLSFORD DOCTORS: Ph: 4238 086 
A A: Meets Wed., 8pm Kaiwaka Ph: 4312228, 4315543, 0800229 6757   
AL ANON: In recess, contact Ph: 4312228 
AgriQuality (MAF) Livestock Consultant 
Phone 09 4311 820 or 021518257 
CAB-Citizens Advice Bureau.Wellsford Ph: 4237333. 
BUDGETING SERVICE,OTAMATEA:Free confidential advice & 
support - all areas of  personal finance Ph: 09 4318173 or 094318117
FAMILY SUPPORT SERVICES responding to the needs in our 
community  Counselling/Family Therapy/Seminars/Youth Work/
Probation/Osteopathy/Govt.Day Agencies/Community Information  
Ph: 4312661 Hours: 9am-5pm. Mon - Fri (funded & CYFS approved) 
FUNERAL SERVICES: Morris & Morris Ltd, 
Whangarei - Bev Jaques Ph:4312367 or 0800667747 
Grandparents Raising Grandchildren: Sarah Rogers Ph: 4312194 
HAKARU LANDFILL/Transfer Station:Open everyday except 
Tuesday10am-4pm.Ph4312629 Cost-$55 trailer load up to 1 cubic 
metre. Ph:4258567 - office 
INLAND REVENUE: Last Friday each month, 
11-3pm Ph4312661 
KAIWAKA KOHANGA REO:
Ph:4312620 Mon.-Fri. 8.30am-2.30pm 
KAIWAKA CEMETERY: Ph: 4312045 
KAIWAKA LIBRARY: kaiwaka.library@gmail.com  
Mon. 4-6pm; Wed., Thurs., Fri., Sat.  10am-2pm Ph:4312539
KAIWAKA PLAYCENTRE: Ph: 4312286. Hastie Lane 
Monday to  Friday  9.00am 
- 
12 noon.
KAIWAKA POST OFFICE:
Ph:4312 626 Fax: 4312287  
Post Code: 0573  for RD2  and  0542 for all Kaiwaka Post Office mail 
KAIWAKA PRIMARY SCHOOL : Ph: 4312309 
KAIWAKA SPORTS ASSN: Ph 4312005; 4312129 gym 
KAIWAKA STJOHN: Manager Steve Rosser 09 4318403, 021 2316836 
NORTHPOWER: Faults Kaiwaka area 0800 104040 
PARENTPORT: Free, practical family support servicePuhoi to Paparoa 
Ph:  Sharon Mehana, Co-ordinator. 4259357 or 027 280 5093 
PERSONAL DEVELOPMENT COACHING, GROUP FACILITATION:  
Sabine Druckler 4312231 
 
PLUNKET  KAIWAKA/MANGAWHAI:  Ph:
094318187 
or  0
276753488 
Kaiwaka Mobile Clinic once a month– appointments necessary;  
Mangawhai (next Domain) 
1st & 3rd Thursday & Coffee Morning; 
PLUNKET CARSEAT CO-ORDINATOR:  
Pat Scott Ph 4314530 or 
0272881635 
PLUNKET FREEPHONE -0800 933 922 
PLUNKET -MAUNGATUROTO  Clinic every 2nd & 
4thThursday. Ph: 09 4318187 
PUBLIC HEALTH NURSE: Gloria Reid Ph: 094327634  
HOMEOPATH: Donna Flavell Ph: 
4314843 
RETURNED AND SERVICES ASSN 733 Settlement Rd.Hakaru 
Ph.4312176 Bill Kerr (President) Ph.4314719 
TE KOROWAI AROHA O NGATIWHATUA 
(The Cloak of Love of Ngatiwhatua) Support and Maori Consultancy.  
Ph: 4239481 (Wellsford) 
WOMEN"S WELFARE LEAGUE & Reaching Out For Youth:  
4 Kaiwaka-Mangawhai Rd, M Morgan 4312293 
VETERINARY SERVICE MANGAWHAI: 
Ph: 4314535 Mon-Fri 8.30-4.30, Sat 9-12, a/h appt. 
KAIPARA DISTRICT COUNCIL www.kaipara.govt.nz:  
Help Desk FREEPHONE 0800 727 059  
Service Centre Mangawhai 4313161 
Dog/Stock/Noise 0800 105 890 
 
WHAT"S ON
PLEASE ~ do let me know what is on - email 
kaiwakabugle@kaiwaka.co.nz 
Advertising in WHAT'S ON is FREE  
Mondays: 8-2.30pm Kaiwaka Tramping Group  Karen 4312090 
Mondays: Rock & Roll Lessons, Wellsford 7.30pm Ph: Berni 4238024 
Tuesdays: Rhythm&Riggle 10am Christ the King Church Mangawhai. 
*7Aug~Kaiwaka Sports Assn meeting, 7.30pm Sports Complex 
*16Aug~Otamatea High School OPEN DAY, 9.45am onward 
*16 Aug~ Dance of Life freestyle dance 8pm KWMHall  4312408   
*23Aug~KSA Kids Social. 7-9pm, Sports Complex 
*31Aug~ LATIN FUN CLASS, 7.30 pm, KWMHall, 4312408   
*7 Sep~ Northland Solar Energy Conference, 9.30 am - 4.30 pm, 
KWMHall, 4312408, 021 02231700, 
See www.kaiwaka.co.nz for upcoming events. 
Drink can 'tear tabs' - for Starship Hospital-Ph. 4312625   
HOUSEHOLD  RUBBISH  COLLECTION  -  Kaiwaka    Pick  up-
Mondays=Green bags are picked up by Northland Waste-queries to 
them 09 4303273,Wednesdays=Blue  bags and yellow recycling (at 
Jaques  $3.00 and $1.40)  are picked up by Kaurilands 09 4392146.  
 
*OTAMATEA GREY POWER-09 431 8138 Joan Hoggard  
*KAIWAKA BADMINTON -Tuesdays 7.30pm Ph: 4312345 
*KAIWAKA GARDEN & FLORAL Grp:
2nd Thursday in month Ph: 4314767 
*KAIWAKA 
CUBS-Thursdays 5.30-7pm, Hakaru  Ph:Bruce  4312542
*KAIWAKA SQUASH -Mondays 7pm,  Ph: Barbara Thomas 4315905 
*GYMNASTICS OTAMATEA -  Tuesday Ph: Stephanie 022 3624998 
*HAKARU PONY CLUB-Ph: Dianne Christianson  4314315 
*
MANGAWHAI COMBINED PROBUS CLUB
: 2pm,3rd Thursday 
month in the Senior Citizens Hall Mangawhai. Ph: 4315777
*PT CURTIS CRUISING CLUB - Jean Ph: 4312246 
*WAIPU GENEALOGYGROUP -4th Monday in month Ph: 4312725 
*NZ GENEALOGY-Wellsford - 1st Thursday in month Ph: 4237033 
*CRAFT GROUP
:2nd & 4th Tuesday, 10am, Wellsford Ph 4238547
*RSA,Hakaru & Dist.Women- meet 1.30pm 4th Thurs in month 4312668  
*OWEN STEVENS at Kate"s Place Ph:4312661   
*Diabetes Support Group-for Kaiwaka, Mangawhai, Wellsford -10am, 
 
3rd Friday of month Ph:A.Pert 4238242; J.Gardner 4238060 
*WELLSFORD CITIZEN ADVICE BUREAU:  
0800 367 222 
Ph: 4237333 Wellsford Community Centre   
Email: cab.wells@xtra.co.nz
CHURCHES:
*Gateway Worship Centre-St Mary's Church Nathan Rd off Oneriri Rd, Kaiwaka 
Services, 10.30am 1st & 3rd Sunday of every month. Contact: Rev David Gage 
4312528 or 0212354282 
*Kaiwaka Family Church-Your Community Church Sundays, l0am 
Home Group every Wed evening, Pastor John.Dekker Ph: 4318203 
*Kaiwaka Services.Anglican & Co-op at StPauls Church  - 1st Sun. 9.30am
(Anglican),3rd Sun. 4pm (Co-op).  Contacts: Parish Office 09 4318193, M.Hargreaves 
4312295, C.Bygrave 4312057  
*Church of Christ the King, Mangawhai 9.30am every Sunday 
*St.Mary"s Catholic Church:
Maungaturoto – Griffins Road, Saturday evening Vigil 
Mass 6pm; Mangawhai – Senior Citizens Hall, Sunday Mass 8:30am; Wellsford – 
Matheson Road, Sunday Mass 10:30am; Mid-week Mass times and all enquires to Fr. 
Bill Fletcher – phone 423 8170 
*Baptist Church: Sun. 10.30am Mangawhai Snr Cit.Hall.Ph:4312339 
*Cause Way Church Mangawhai – Sundays 10.15am, Mangawhai Community Recre-
ation Centre, Insley St. Ph: 09 4314782  www.causewaychurch.org.nz
*St.Pauls Archie Bull Hall HIRE  $20 half day, $40 full day per hire 
 Contact G. Jaques 4312048 
*Kaiwaka War Memorial Hall HlRE - Phone 4312725 or 
Email  kaiwaka.hall.bookings@gmail.com 
*Hakaru Community Hall HIRE -Ph.  4312256 or 4312110 
*Te Pounga Marae queries -A.Gage 4312528, 4312527 
*Kaiwaka Sports Association hire/queries- C. Anderson 4312051 
Justice of Peace: B.FJaques; L.Donaldson; A.F.Hargreaves  -please phone to 
make sure they are available 
Marriage Celebrants: L.Donaldson; A.F.Hargreaves; Judith Knights  
09 4315765      
Next Bugle Deadline Friday 16 August 2013
 20