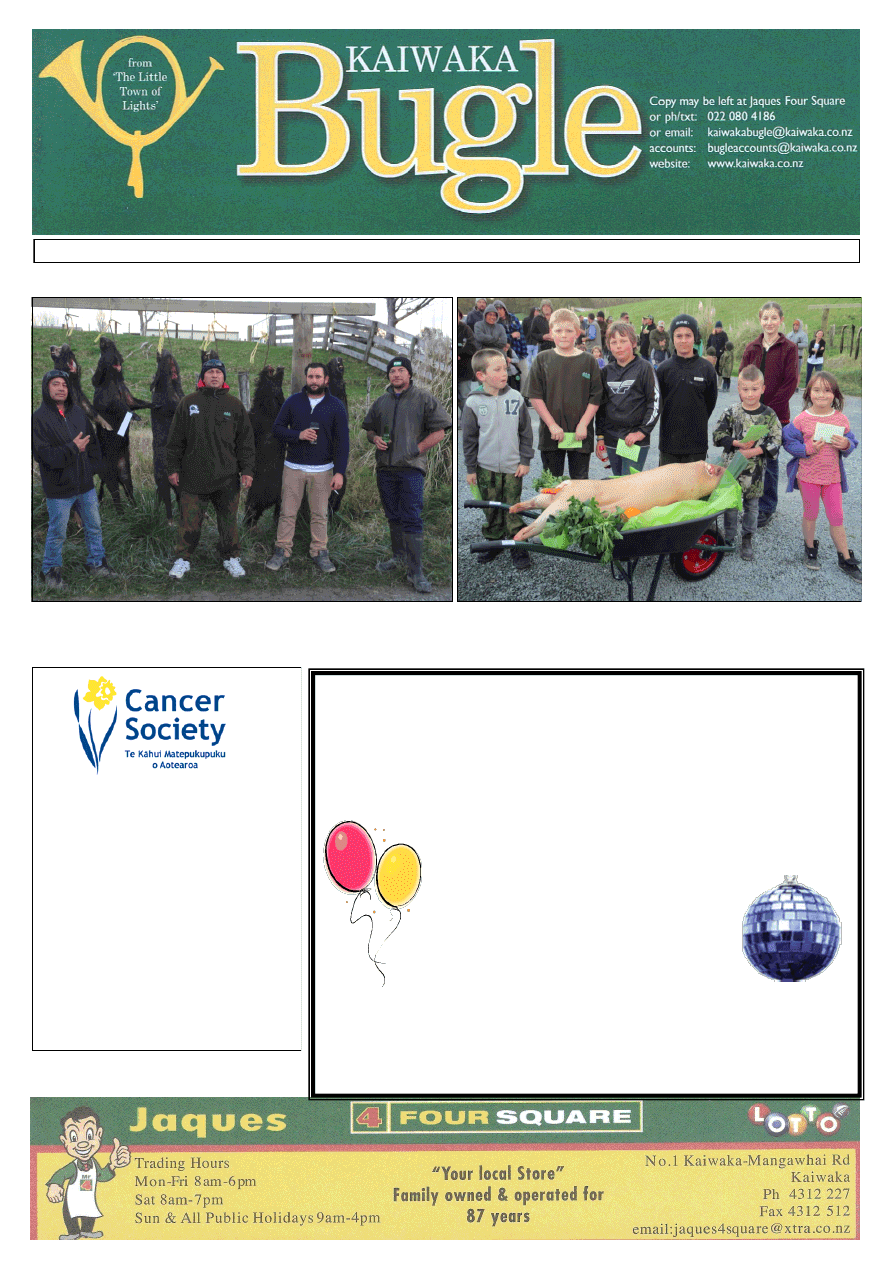 No: 16 
20/8/2013 
Check out Kaiwaka on Facebook 
Bugle 17 will appear 3 September 2013 
KAIWAKA SPORTS ASSN
KAIWAKA SPORTS ASSN
KAIWAKA SPORTS ASSN
KIDS SOCIAL
KIDS SOCIAL
KIDS SOCIAL
Friday 23
Friday 23
rd
rd
August, 7 
August, 7 
–
–
9pm
9pm
Kaiwaka Sports Complex
Kaiwaka Sports Complex
* great music, games & prizes 
* glow items for sale 
* food & drink available 
* lolly scramble 
* $3 entry (adults & under 5's free) 
(a parent/caregiver to stay with children thanks) 
A fundraiser for the Kaiwaka Sports Association
 POINT CURTIS  CRUISING CLUB PRIZE WINNERS 
Photo, left:  Senior Boar Winners-Karl Neho, Syd Bristow, Chas Enright, Lawrence Cherrington 
Right: Junior Winners (Left to right) Johnny Woolley, Jayden Wilson, Koby Worsell,  Mitchell Long, Baylee Addison,  
Hannah Mills (Behind), Erica Jordan  (Report further over) 
Daffodil Day   
Friday 30
th
 August 
"Daffodil Day is vital to ensure that 
Cancer Society Supportive Care is 
always there for people going 
through cancer treatment".   
KAIWAKA COLLECTION POINTS: 

Outside Jaques Four Square  

Outside La Nonna Bakery
 ALL-SORTZ 
COLLECTABLES
Shop 4,  
1956 State Highway 1,  
Kaiwaka   
Phone 09 431 2701 
CURRENT WINTER HOURS 
Saturday and Sunday 
11.00am to 3.00pm 
Or by prior appointment 
Telephone 4312701 (Business 
Hours) Or 4229221 or 
0274353535 (After Hours) 
On the 2
nd
 Sunday of each 
month 
Kaiwaka War Memorial Hall 
Sunday 8 September 
Sunday 13 October 
A variety of new & pre-loved 
LANDLORDS
...
Is your house  
being used as a P- Lab? 
Do you live in a P- lab House? 
Thinking of buying a house?  
Don"t take the risk...it will damage your health and your wal-
let If you ignore it. 
High accuracy, low cost MethDNA test from as little as 
$99+GST will give you the answer. 
Tests facilitated by Independent Certified Samplers and  
samples are analysed in an environmental testing lab. 
Book a test now at: www.methsolutions.co.nz  
or for more info call me:  09 4312234  or 021 2154495   
I am a local Independent Certified Sampler for MethSolutions.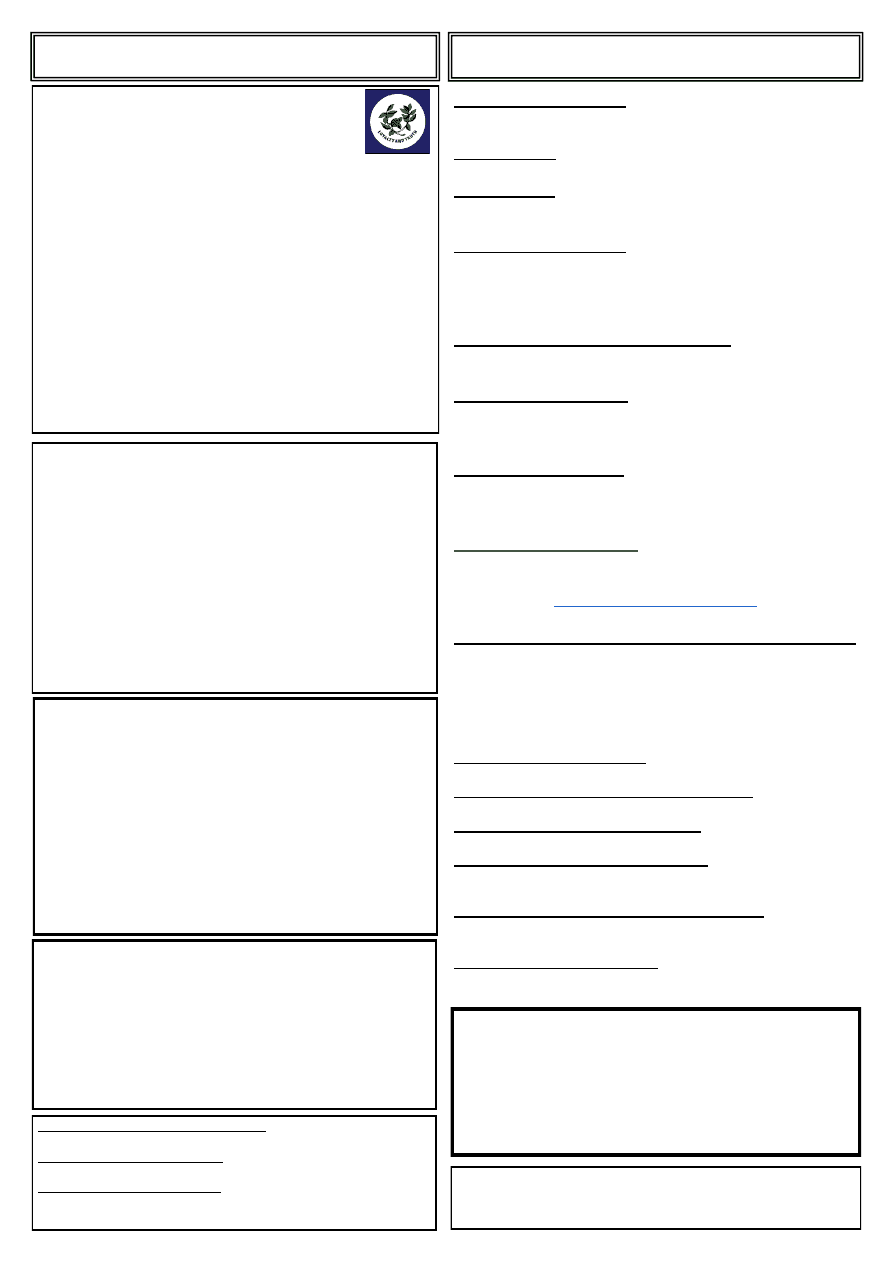 PUBLIC NOTICES 
CLASSIFIED 
WANTED  TO  BUY: 
Large  Plastic  Water  Tank.  Any 
condition considered. Please phone Karen 4312090 
FOR  RENT: 
Sunny studio room to rent. Includes power, 
meals, internet. 5 mins to town. Ph: 4312296
FOR  RENT: 
Farm house. Oneriri. 10kms from Kaiwaka. 
Tidy 3 bedroom. Separate garage. $200 per week.  
Ph: 4312660 
HOUSE  FOR  RENT:  3 bedrooms with carpet, 11kms 
west  of  Kaiwaka-10  min drive.  Floor  &  ceiling  recently 
insulated.  Private,  quiet,  lots  of  room  for  kids.  Sunny, 
fenced  garden  area.  Ref  required.  Sorry,  no  dogs.  $200 
pw. Please phone 4312042
LIFESTYLE HOUSE FOR RENT: 4 bedroom, dble 
garage, close to school & town, 5 acres, only $380 pw. 
Ph: 0220609028
HOUSE  FOR  RENT:  Sunny,  clean  and  tidy  2  bed-
room  townhouse  with  garage  underneath  on  Marshall 
Road.  $290pw  inc  lawns.    Ref  required.    Please  call 
Sheridan 09 410 4870 Mob 0276 879 459 
HOUSE  FOR  RENT: 
Small 4 bedroom with car port 
1/2 km down settlement road. $250 per week. Contact 
021 139 1474 
SITUATION VACANT
: Jenny's Rural Cleaning Services -
Looking  for  Part  time  Cleaner.  Must  be  reliable  & 
trustworthy  with  full  clean  Drivers  Licence.
BUSINESS  FOR  SALE  OR  SHOP  FOR  LEASE: 
All-Sortz  Collectables,  Shop  4,  1956  SH1  (opposite Café 
Eutopia).  40sqm  of  refurbished  space  with  shared  kitchen 
and toilet facilities. Lots of foot traffic. Very successful life-
style business. Current owner wishes to retire "down on the 
farm", but is no hurry to vacate. Ph: 09 422 9221. 
CLEANER  AVAILABLE:  Honest  and  reliable  $20  p/hr. 
Phone Jill 431 2080 
HOLISTIC  ANIMAL  PRACTITIONER:    Horses,  Pets, 
Farm Animals. www.allcreatures.co.nz or Jill 4312080 
CRANIO SACRAL THERAPIST: for People and Horses, 
$45 experienced practitioner. Jill Shires 431 2080 
EXPERIENCED  CAREWORKER  requires  work.    My 
name is Cindy Cotton and I have been working in the area 
for about 12 years.  Ph: 4312006 
CLOTHING ALTERATIONS & REPAIRS: 
Zips,  hems,  dressmaking  &  dress  design.  Phone  Win 
4312027 or 0274448358 
FREE  GRAZING  WANTED:   Small or large block.  Can do 
some fencing or water. Phone after 6pm  4312006
PROVERBS: 
19:18-Discipline your children while 
you still have the chance; indulging them destroys them.
Kaiwaka Bugle Advertisements 2013: 
Classified $2; 1/8 or 1/9 page $5; 1/4 page $10; 1/2 page $20;  
bugleaccounts@kaiwaka.co.nz 
Payments can be online, posted or left at Jaques 4sq Store. 
kaiwakabugle@kaiwaka.co.nz  for queries or copy. 
The Kaiwaka Bugle is a community newspaper run by volunteers.   
Articles, etc. printed are not necessarily the opinion of the Bugle Team  
KAIWAKA -MANGAWHAI  
TRAMPING GROUP 
We are a group of ladies who enjoy the outdoors and 
maintaining our fitness. 
Every Monday 9-3pm we tramp local walkways, 
farms and coastal tracks. If you would like to join us, 
please phone Maria 4312234, Karen 4312090 or Gail 
4315174 
Indian Head Massage
at "The Well of Health" Kaiwaka. 
Wednesdays 12.30 till 6pm. 
Mangawhai Markets Sat 9am to 1pm 
$30 negotiable for regular appointments. 
Contact Yatra: mob. 021 2377 6778 
or email: yatrabe@gmail.com 
Kaiwaka School PTA  
Calf/Lamb Fundraising Scheme 
Is anybody in the district able to donate a weaned  
(eg 3months plus) calf or lamb to the Kaiwaka School 
PTA, please? 
Funds raised through this scheme will be used to  
purchase computer equipment for the children.  
We will arrange pick up from and sale of the animals 
in late November. 
Please contact Michelle on 09 4312 940 
Your kind donation will be greatly appreciated. 
TE POUNGA MARAE 
KAIWAKA 
ANNUAL GENERAL MEETING 
TO ELECT TWO TRUSTEES 
NATHAN ROAD, KAIWAKA 
SUNDAY 1st September 2013, 10.30am 
Nominations to: 
The Secretary, 
Te Pounga Marae, 10 South Road, Waipu 
Phone: 021 1867382 
An Invitation to the  
Otamatea High School community 
A function to recognise 
Haydyn Hutching's 
service as Principal of Otamatea High School  
will be held on 
Saturday 31st August. 
4pm  Otamatea Marae - Batley Road, Maungaturoto 
Powhiri and light refreshments
7pm  Kaiwaka Sports Association - Gibbons Road, Kaiwaka 
Function to include speeches, entertainment and a light supper. 
Our invitation is open to all those who have been associated 
with Haydn during his time at Otamatea High School. 
Please contact the school office to register your attendance 
before 4pm Tuesday 27th August. 
Phone: 09 4318230 Email: ohs@otamateaschool.nz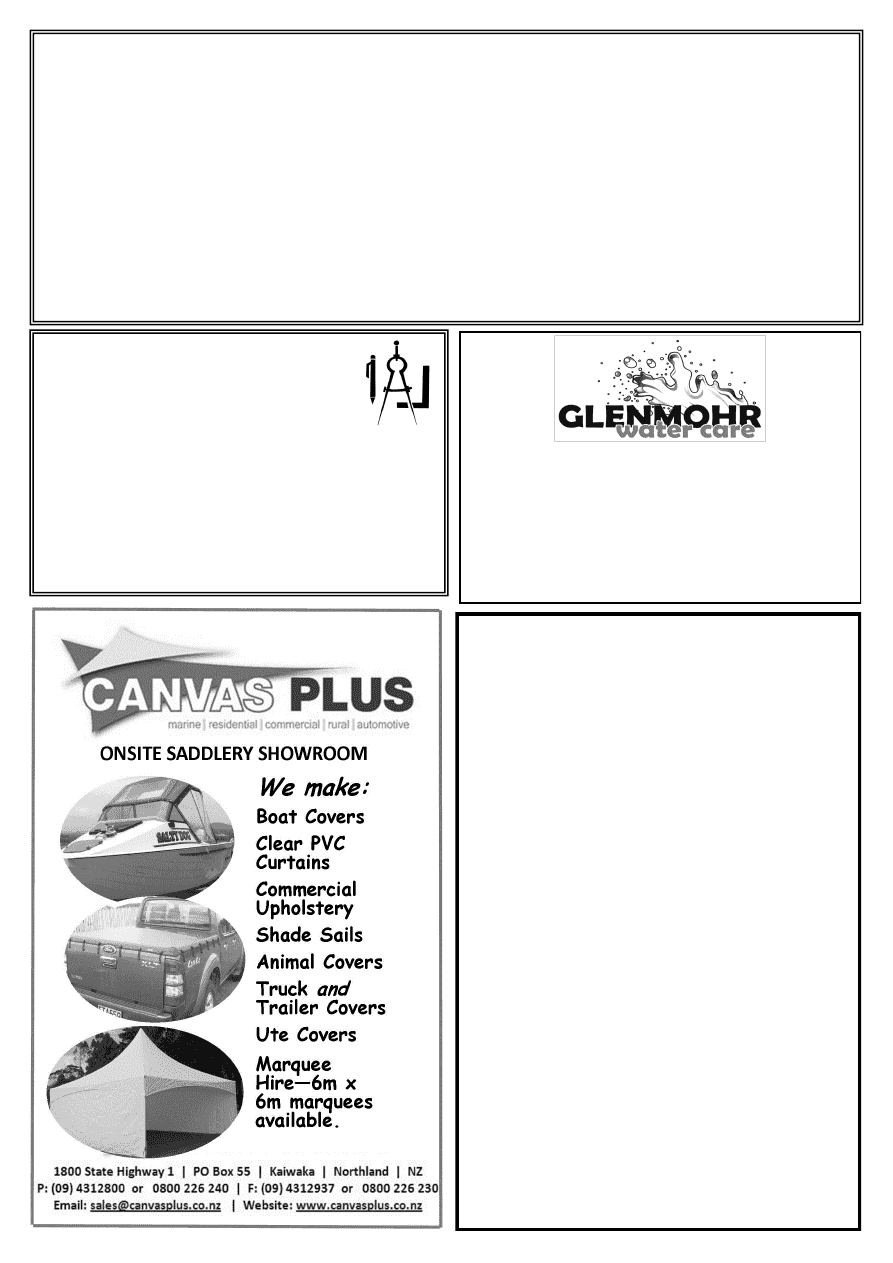 RANGANUI EARTHMOVERS 
 
16T Excavator   
(tilt, thumb & ROPS cab)   
Transport Trailer 
2 x 6 Wheeler Tip Trucks 
Suppliers of All Grades of Metal & Topsoil 
 
If you want a proper job done with an experienced operator ring 
Grant on    A/H 431-2131        Email  ranganui.dev@xtra.co.nz 
   Mob  021845-246 
Driveways, House Sites,  
Drainage Dams, 
Section Clearing,  
Tree Work,  Rock Retaining Walls,  
Quarry Work, 
Basically Anything That a Digger Can Do 
design drafting 
service 
Retired builder and manufacturer with over 40 years  
experience in the building industry is offering a design 
drafting service  
for domestic housing, sleepouts and sheds.  
Plans formulated in consultation with clients, with 
working drawings completed and submitted to  
council for processing.  Extensive practical experience,  
able to identify & resolve problems. 
Please ring Mike Lean on 
09 431 2260  
Water Tank Cleaning 
" 
 Keep your water safe & clean   
 
Removal of sediment, silt etc. 
 
Vacuum or full scrub 
 
Minimal water loss 
Phone Mark (09) 432 0655 or 0274 707607 
PLANNING A NEW 
KITCHEN? 
 CONTACT NOEL McDOWELL 
WELLSFORD 
KITCHENS
Ph/Fax 094312888  
KAIWAKA-Any time 
  QUALITY CUSTOM MADE 
KITCHENS  
~Personal and Prompt Service~ 
~All Workmanship Guaranteed~ 
~Over 20 Years in the Trade~  
~Free Design & Quote~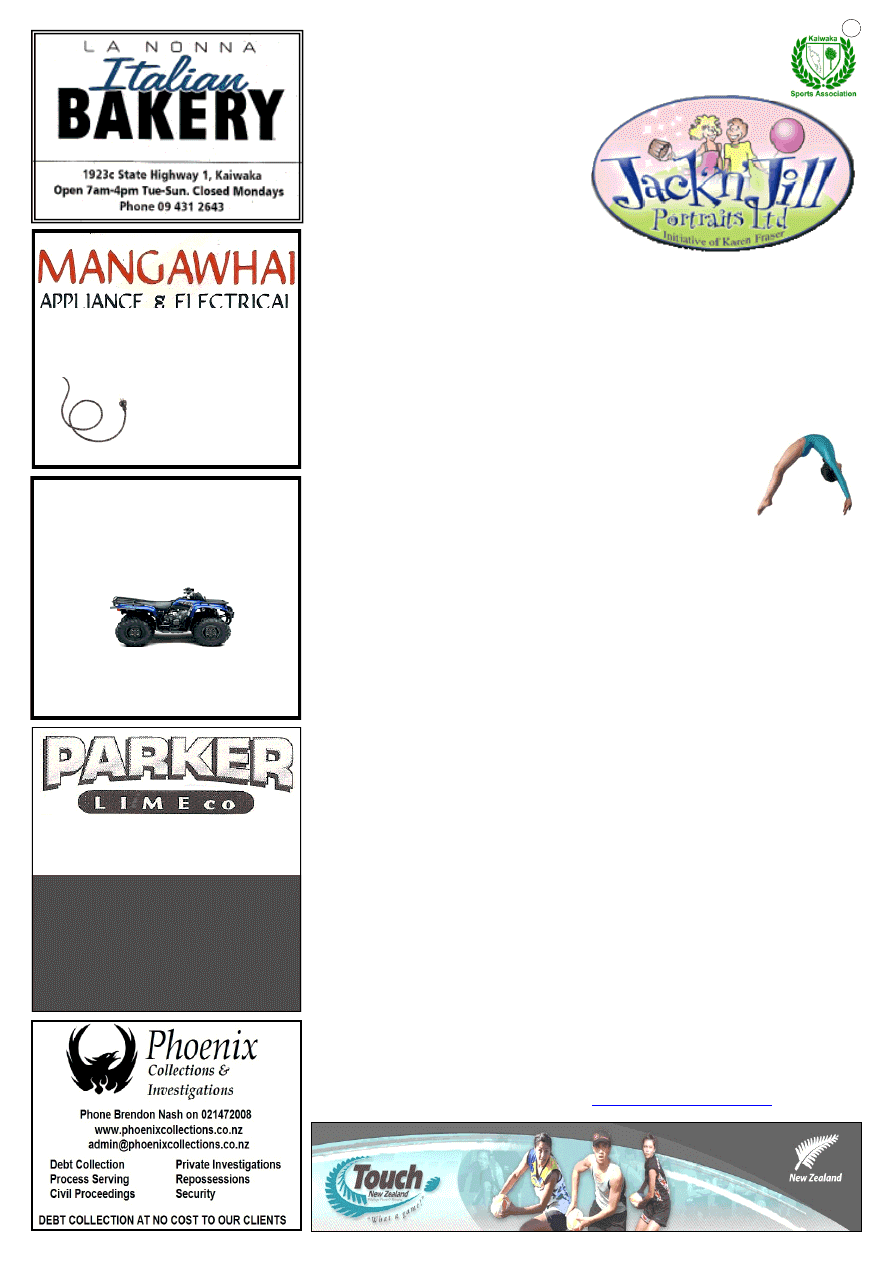 Landscape Supplies 
Bulk Cartage 
4312407 
Mob: 021 453 252  
Fax: 4312939 
scott.parker@parkerlime.co.nz 
Gibbons Road, Kaiwaka 
  KAIWAKA SPORTS ASSOCIATION
KAIWAKA  MOTOR 
CYCLES LTD 
SALES SERVICE SPARES
FARM BIKE SPECIALIST
Phone 431 2127 
Kaiwaka-Mangawhai Rd 
Kaiwaka 
DEAN STEWART 
Registered Electrician 
021 280 4008 
09 4312 911 
AUTHOURISED FISHER AND PAYKEL SERVICE 
Children's Social  
This  Friday  there  will  be  a  children's 
social  at  the  Sports  Complex  –  great 
music, dancing, games and prizes, glow 
items  for  sale,  lolly  scramble, food and 
drink for sale. The social will be from 7 
–  9pm  (a  parent/caregiver  to  remain 
with  children  thanks).  Children  $3 
(adults  and  under  5's  are  free).  A fund-
raiser  for  the  KSA.  Bring  the  kids  out 
for a fun evening! 
Junior Rugby 
Our JMB club Eastern United celebrated 
the end of their season with a prizegiv-
ing  at  the  Sports  Complex  last  week. 
Congratulations to all prize winners and 
thank  you  to  Jennie  Reynolds  and  her 
team of helpers for running a successful 
season. 
On  Saturday  14
th
  September  we  will 
host  an  Under  18s  rep  match  –  King 
Country  vs  Vikings.  Kickoff  will  be  at 
1pm, spectators welcome. 
Junior Netball 
Our junior netball club will celebrate the 
end  of  their  season  with  a  prizegiving 
and BBQ at the Sports Complex on Fri-
day  30
th
  August  from  5pm.  Can  all 
tracksuits  and  uniforms  be  returned  to 
Melissa  or  Sharlene  before  this  date 
please? 
Soccer 
Our  soccer  club,  the  Kaipara  Knights, 
will hold their end of season prizegiving 
at  the  Complex  on  Saturday  21
st
  Sep-
tember at 11.30am. Please bring a plate 
for a shared lunch. 
Farewell for OHS Principal 
A  function  to  recognise  Haydn  Hutch-
ing's  service  as  Principal  of  Otamatea 
High  School  will  be  held  on  Saturday 
31
st
 August, starting at 4pm at Otamatea 
Marae  then  from  7pm  at  our  Sports 
Complex.  To  register  your  attendance 
please 
contact 
the 
school 
on 
Portrait Fundraiser 
I  am  organising  a  Portrait  sitting  day 
with  well  known  New  Zealand  photog-
raphers  Jack  'n'  Jill  Portraits  as  a  fund-
raiser for the KSA. For just $10 you will 
receive  a  free  sitting  and  a  free  10"  x 
13" colour (or black and white) photo of 
your  family.  The  photographers  will  be 
at  the  Sports  Complex  on  Sunday  29
th
September,  so  families  simply  ring  me 
to  book  in  which  time  slot  they  would 
like.  Then  approximately  two  weeks 
later families return to collect their $10 
photo  and  decide  if  they  would  like  to 
purchase additional photos. At no times 
are families obligated to purchase addi-
tional  photos.  You  can  check  out  sam-
ples  of  Jack  'n'  Jills  portraits  on  their 
website 
.  Family 
portraits  are  a  wonderful  keepsake  and 
are  also  a  great  gift  idea  for  family 
members!  To  make  a  booking,  please 
get  in  touch  with  me  (contact  details 
below.) 
Great News! 
I applied for funding to 
the  ASB  Trust  for 
$4,000  for  a  Tum-
bletrak  Air  Floor  Pro, 
this  is  an  inflatable  tumbling  strip  that 
would be very valuable for our gymnas-
tics  club.  We  were  all  thrilled  to  hear 
that  the  grant  has  been  approved,  so  a 
big thank you to the ASB Trust for their 
support. 
Summer Touch 
I am considering running a Touch mod-
ule at the Sports Complex over the sum-
mer, but am wanting to gauge interest in 
the idea first. The module would be over 
10  weeks,  probably  on  a  Sunday  after-
noon  and  would  be  a  casual,  friendly 
competition  for  mixed  teams  of  men, 
women  and  teenagers.  If  you  might  be 
interested  in  participating  please  let  me 
know (contact details below.) 
Advance Notice 
2014  may  seem  like  a  long  time  away, 
but  it  will  roll  around  quickly  enough! 
Our  two  major  events  to  be  held  early 
next year are the Otamatea Tennis Tour-
nament held at our courts over Anniver-
sary  Weekend  and  our  annual  multi-
sport  challenge  the  Top  of  the  Rock 
which will be held on Sunday 9
th
 Febru-
ary. It's not too early to start your train-
ing
! 
Cheryl Anderson,  
Kaiwaka Sports Association 
09 4312 051 
021 3462702 
5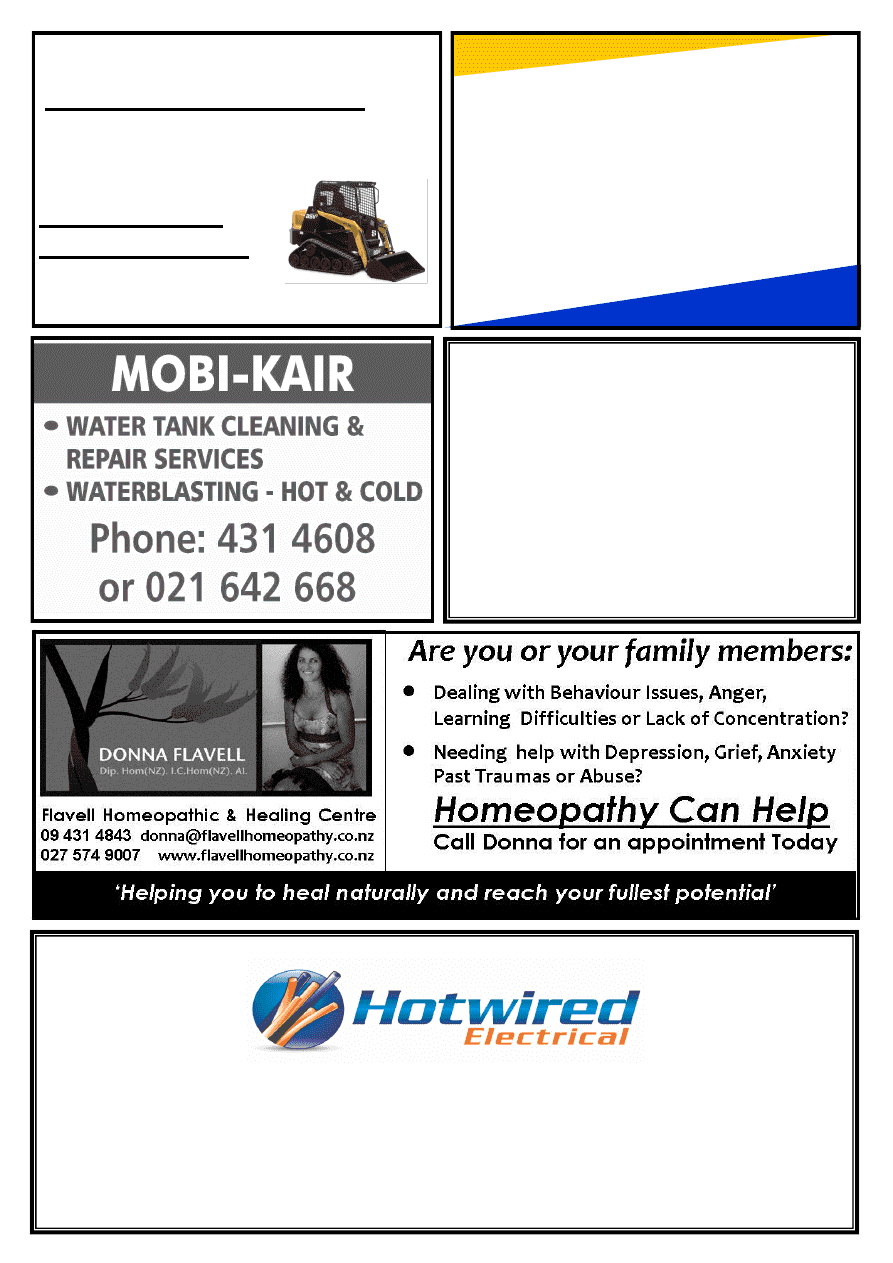 CONCRETE 
If it's concrete we do it 
Full Preparation & Pour by 
Experienced Local Team 
Phone Phil Keen Contractors  
027 659 2376 
TILING 
Certified Waterproofing 
431 4533 or 021 86 33 33 
George 
MCN Property Solutionz  
Local references available 
For All your Electrical  Requirements 
 
Domestic small jobs 
 
Residential dwellings and alterations 
 
Commercial              
No job too big or too small
 
Industrial                       
Contact Jason today on: 
(09) 431 5992, (021) 405 019 
www.hotwiredelectrical.co.nz 
Natural Earth Ltd 
 Landscape and Bobcat services 
 : Driveways  :Landscaping  :Retaining Walls 
 : Hole Boring: Land Leveling :Trenching 
 : Decks :Fences :Sections Cleared: Plus much more 
Tel   09 4312885 
Mob 02102391280  
For  A  fast  friendly 
Service Contact Tim Hicks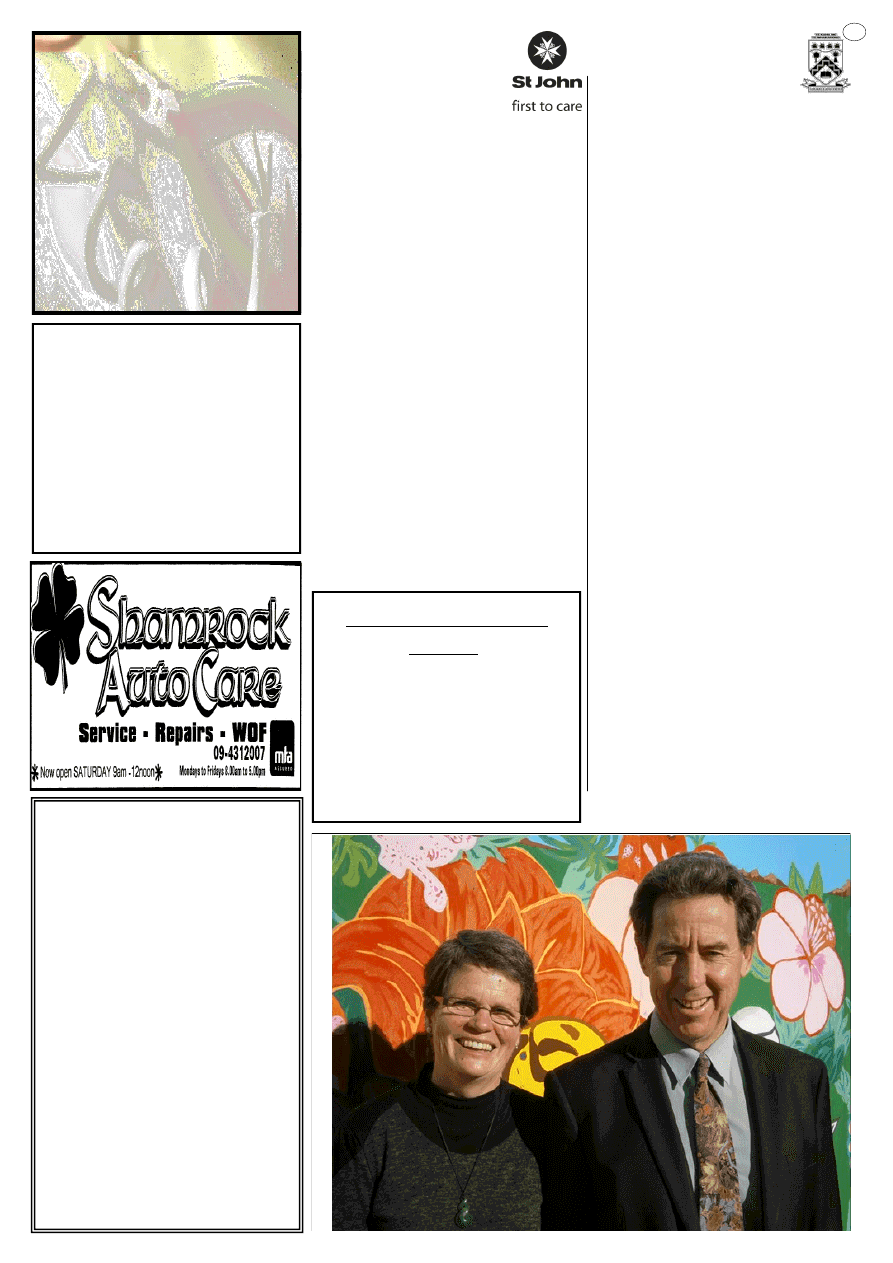 AMBER'S 
Q Cafe &  
Restaurant  
All day breakfast, 8am - 5.30pm.     
Home made Pizza, take away or eat in from 8am to late. 
 Light lunches, 11.am - 5.30pm, 
Dinner Menu at 5.30pm to late 
 Toasted Sandwiches and Sandwiches made to order. 
All day, Pies, Chowder & Soups 
 Milkshakes, Kiwi Ice cream, Slushie Fruit drink, Tea, 
Coffee 
 Closed Mondays.....except Observed Holidays 
 Sunday to Thursday: 8am - 8pm 
 Friday: 8am - 8.30pm, Saturdays 8am- 9pm 
4315226 
Trevor & Amber 
41 Moir Street, Shop 5-6  
Mangawhai Village 
Next to Carters Building Supplies 
 LEABOURNS 
Passenger Service 
Car & Van Hire 
Bus & Coach Charters 
Airport Transfers 
 Monthly Shopper Bus 
Phone (09) 4237416 
Paul Greig Electrical Ltd 
Residential • Farm 
 • Commercial 
Paul Greig 
Registered Electrician 
  Ph: 431 2223  
Mob:021 230 2717 
Reliable & Professional 
Quality Service 
Based in Kaiwaka 
RODNEY  
COLLEGE 
Rodney College Principal Retires 
Principal  of  Rodney  College,  Dave  Or-
mandy has decided to retire from teach-
ing  at  the  end  of  the  2013  school 
year.    The  college  has  made  excellent 
progress over the last five years, with a 
lot of people working extremely hard to 
move  the  college  from  strength  to 
strength.    Earlier  this  year  ERO  con-
firmed  the  strong  position  of  Rodney 
College so it is an ideal time for a new 
principal to take the college to the next 
level.  
Dave Ormandy says "Being Principal of 
Rodney College has been the most satis-
fying  position  of  all  my  teaching  ca-
reer.    Having  taught  at  Bay  of  Islands 
College,  Christchurch,  Dargaville  High 
School,  Rosehill  College  and  Rodney 
College for a total of 36 years, with 27 
years  in  Senior  Leadership,  including  5 
as Principal of Rodney College, the time 
is now right for me to retire.  The Rod-
ney  College  community  have  been  a 
delight  to  work  with.    The  students  are 
great and I have very much appreciated 
the  support  from  the  parents,  the  hard 
working  staff,  Board  of  Trustees  and 
community members." 
Mrs Ormandy, who also teaches at Rod-
ney College will also retire at the end of 
the year.  "We are keen to do a number 
of  things  while  we  enjoy  good  health 
and  before  we  get  too  old.    We  enjoy 
having  adventures  and  have  plans  in-
cluding  a  trip  to  the  sub-Antarctic  and 
more offshore sailing."  
The Board of Trustees have set a time-
line  to  appoint  a  new  principal  for  the 
start of 2014.  Rodney College is a very 
desirable school and will attract a strong 
field for the position. 
ST JOHN  
OP SHOP 
Message from Milly: 
:We  are  in  need  of  baby  boys  clothes, 
from newborn to 7 years old. We do get 
a lot of girls clothes, but at the moment 
we really need boys clothes as well. 
"DIRTY CLOTHING & GOODS" 
For the umpteenth time– People, please 
stop  dumping  your  rubbish  outside  our 
shop; STOP using us as the Dump. And 
to  those  who  smoke,  please  stop  drop-
ping your cigarette butts outside the Op 
Shop - this is a "NO Smoking " Zone (Is 
that  what  you  do  outside  you  own 
home?). 
FOR SALE: 
3 Seater Lounge Suite in lovely  
   condition $300 ono. 
Golf  Bags,  complete,  with  trolleys 
(Nikea) 
Come in, Browse and Buy 
Thank  you  again,  everyone,  for  your 
continued support, Milly 
Phone: 4312650 Shop 
  4312423 Home 
Shop Hours 
Tuesday -  Friday 
10am - 3pm (only) 
Community Services 
Officer: 
For all Community Services Forms 
see Milly at the  
Kaiwaka St John Op Shop.  
Phone 4312650 
MORE MEMBERS REQUIRED 
FOR THE KAIWAKA STATION
. 
 7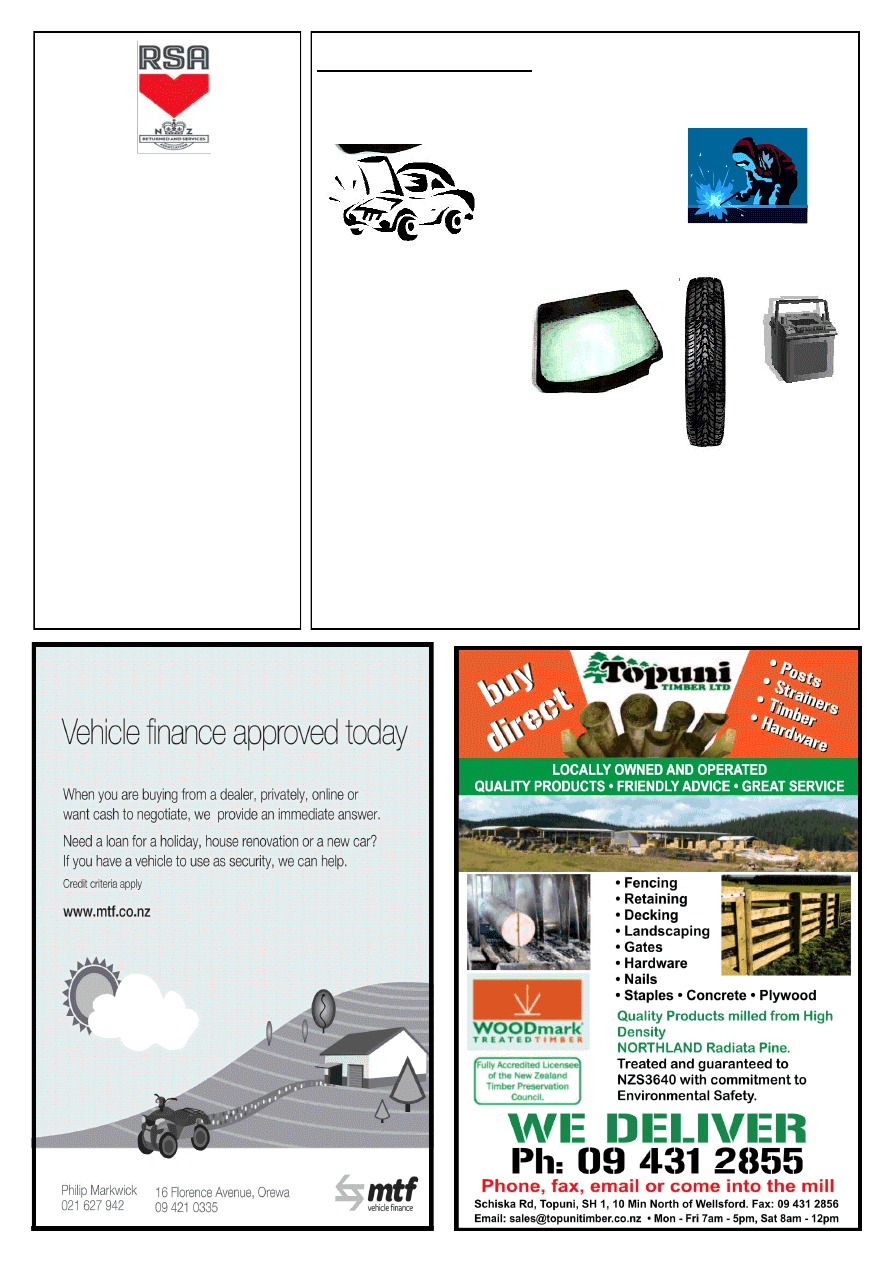 HAKARU RSA
Women's Section 
2nd Friday of the 
Month 
from 6.30pm 
Roast of the Day $12.00 
Fish n Chips      $10.00 
Pea Pie Mash    $6.00   
Includes salads 
Desserts  $3.00 
Phone Heather 4314668 
Jan 4314512 
Want it done? 
Bring it to 
Twinkle Tow 'n' Tyre 
*W.O.F. 
*Tyres 
*Windscreen replacement 
*Chip repairs 
*Bulk Oil 
*Batteries 
*Welding 
*Custom built trailers 
*Trailer hire 
Think you"ll get a better deal in the city? 
Go on, ring us; it won"t cost anything! 
1837 State Highway 1, Kaiwaka       
Phone 431 2823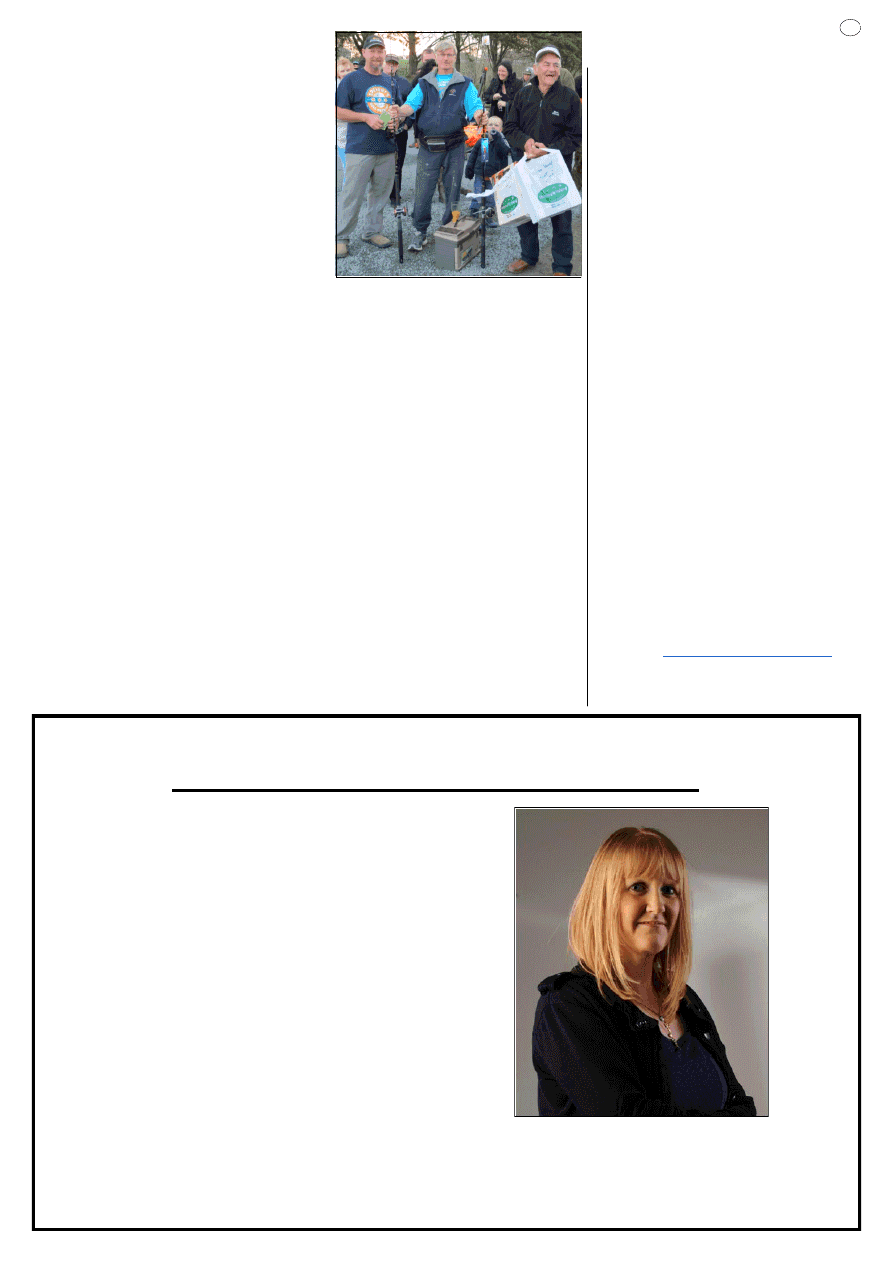 Point Curtis Cruising Club 
Results of 2nd annual Boar Hunt, held on10 
and 11 August:   
Senior Section - BOAR 
Heaviest Boar 1st: Lawrence Cherrington , 
56.5kg,  2nd  Chas Enright, 53kg,  3rd  Syd  
Bristow, 50kg,  4th Karl Neho, 46kg. 
Average Weight: Karl Neho 
 Heaviest Boar (Saturday):  Syd Bristow , 50kg 
Measured Best Tusk: Syd Bristow, 27.5 
Mystery Weight: Aaron Underwood, 39.5kg 
Saturday Lucky Ticket Draw:  Steve Pond,  $500 
worth of dog biscuits 
Sunday Lucky Ticket Draw: Phil Keen $500 Game 
Gear Package. 
SNAPPER 
1st: Mickey Renton 5.934kg, 2nd: Gravy  3.697kg, 3rd: Gravy 3.521kg 
Average Weight: Peter Hutch, 1.744kg 
Junior Section: 
EEL: 1st: Hannah Mills  6.308kg, 2nd: Mitchell Long  5.560kg, 3rd: Erica Jordan  4.251kg 
OPOSSUM: 1st: Johnny Woolley  2.884kg, 2nd: Koby Worsell 2.658kg, 3rd: Jayden Wilson 2.470kg 
SNAPPER: 1st: Baylee Addison 0.546kg, 2nd: Baylee Addison  0.388kg, 3rd: Baylee Addison 0.379kg 
 
A huge thank you to all of the sponsors for this contest:  
NZ  Hunting  Products,  TB  Free  New  Zealand,  Game  Gear,  PGG  Wrightson-
Wellsford, Hunting & Fishing-Warkworth, Mike Renton Roofing, Three Furlongs 
Hotel, Independent Liquor, Kaiwaka Clothing, Phil Keen Concrete, Reel Roofing, 
La  Nonna  Bakery,  Paul  Greig  Electrical,  Northland  Recreational  Pig  Hunting 
Group, Wellsford Sports & Leisure, Bridgestone-Wellsford, Wharehine, Coast to 
Coast Vets, Farmlands-Wellsford, CJ Autos-Wellsford, RD1 Wellsford & Maun-
gaturoto, Spot On Liquor, Elders-Wellsford, Twinkle Tow n Tyre. 
Thank you to all who helped out over the very busy weekend.  There are too many 
of you to name individually but you all know who you are!  I will say a HUGE 
thank you to Vic and Mont Birkenhead who organised this successful event again 
this year, what an outstanding job they did, Thank you! 
Looking forward to next year and our 3rd Annual Boar Hunt! 
Fish of the month: Kahawai (until 10 September). 
Next committee meeting 10 September, 7pm at 3 Furlongs Hotel, Kaiwaka 
Wayne Leslie, Commodore 
9 
Family History Month in Waipu 
Angela McCarthy will be speaking at the 
 
Waipu Fire Station 
Nova Scotia Drive 
Monday 26 August 2013 
11:00am
 
$2 door fee 
Lunch provided
Please RSVP for catering purposes – email Waipu@genealogy.org.nz or contact 
Wendy on 09 431 2725 or 027 480 6275. 
FAMILY HISTORY  
August  is  Family  History  Month  in 
New  Zealand.  As  part  of  the  celebra-
tions, the genealogy group in Waipu is 
hosting  Professor  Angela  McCarthy 
from Otago University on Monday 26 
August,  11am  at  the  Waipu  Fire  Sta-
tion on Nova Scotia Drive, Waipu. 
Angela  is  Professor  of  Scottish  and 
Irish  History  in  the  Department  of 
History  and  Art  History  where  she 
teaches  Scottish  history  and  Irish  and 
Scottish  migration.  A  graduate  of 
Trinity  College,  Dublin,  she  has 
worked at the Universities of Hull and 
Aberdeen  and  held  fellowships  at  the 
Stout Research Centre, Victoria  
University of Wellington, and the  
National  Maritime  Museum,  Green-
wich. She is also Visiting Professor at 
the Scottish Centre for Diaspora Stud-
ies  at  the  University  of  Edinburgh. 
Angela  has  also  done  extensive  work 
on  the  history  of  migrants  in  mental 
institutions. 
Lunch  will  be  provided  after  Angela's 
talk,  so  we  are  asking  people  to  let  us 
know  that they're  coming  -  it  would  be 
terrible to run out of food because there 
were  more  people  attending  than  ex-
pected!  -  and  there  is  a  $2  door  charge 
to help cover the costs of the meeting. 
Please contact the group convener, Kai-
waka's  own  Wendy  Howard,  if  you're 
going  to  come  along.  You  can  send  an 
email  to 
,  or 
phone her on 4312 725, or send a text to 
027 480 6275. 
We look forward to seeing you there! 
Senior Snapper Winners: Mickey Renton and  Gravy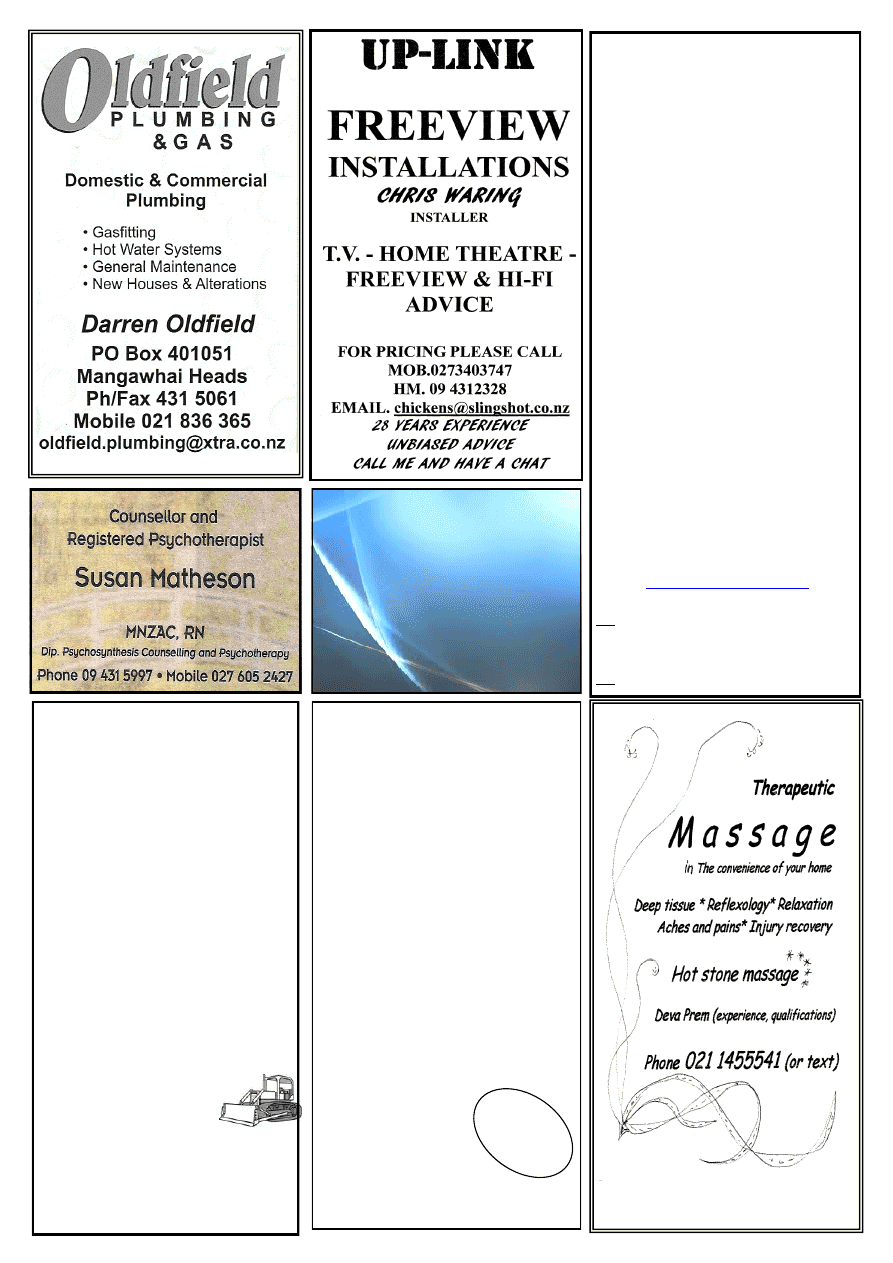 www.mangawhaimassage.co.nz 
Based ou
t  
Oner
iri Roa
d 
HODGETTS
CONTRACTING
Digger Work    

Driveways 

House Sites   

Dams 

Drains, etc
Also available for HIRE 

3 ton Vib Roller 

Heavy Duty Tow 

Waterblaster  

Lazer Level 
Phone Mark 
4312877 
027 447 8554
BONJOUR MESDAMES ET 
MESSIEURS!! 
Need that extra help to feel...fully on top of 
things? You guessed it...  
 I can help!...with all those winter niggles.
Monsieur Masseur .... 
RELAXING  
MASSAGE
..... Juste pour vous" 
Here's feedback from happy clients: 
"Pete's treatment works.  I have Pete to 
thank for getting me back to work. I am so 
much happier and more confident in my-
self.  I can thoroughly recommend him." 
"When Pete massages me, I can feel the 
energy coming through. Strong energy 
comes through. Awesome release."
Call for an appointment now!
Pete Worsfold 
4312 009 (evenings)  or    
021 825970   
Flat 1 1933 SH1 
Or  Book at "The Well of Health" 
for an appt. 09 4312 799 
 
Or mobile service available 
Coates  
Contracting 
 
D41 Bulldozer with 6 
way blade, bush rigged 
with winch 
 
For all tree work 
 
General bulldozing and  
  stick raking. 
 
120hp Tractor for 
ground cultivation,  
 
tip trailer work. 
 
Fencing
All enquiries phone  
Brett Coates  
094318720 or mob 
021431872 
Freeview  
Installations 
Richard Te Haara 
25 Marram Place 
Mangawhai Heads 
021 1104056 
kiwipride@xtra.co.nz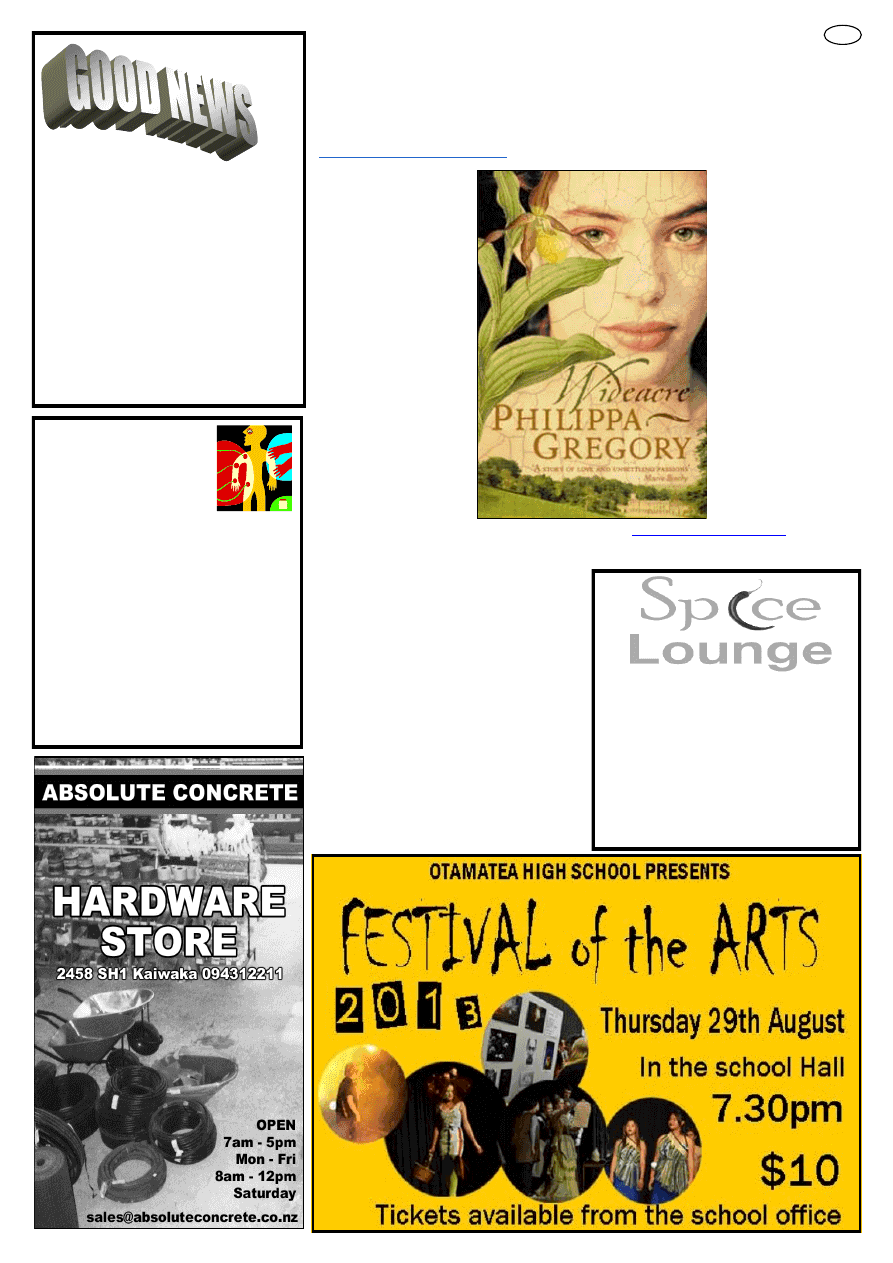 @ the  
Kaiwaka Family 
Church 
Your COMMUNITY CHURCH 
RECEIVE HEALING 
  RECEIVE THE LOVE OF GOD 
  Everyone warmly welcome each                                            
 
    Sunday 10am. 
Contact: Pastor John Dekker,  
09 4318203 
THERE'S 
OWEN STEVENS 
Osteo Therapist
For careful 
adjustments to bones 
and joints 
Treatment for  humans and their 
pets 
Clinics: Kate's Place, Kaiwaka: 
Last Friday of month 
Warkworth Showground:  
2nd Thursday, monthly          
For  bookings:  9.00am-5.00pm  
Phone 
09 4312661 
 Or phone Owen   
09 4317123  anytime 
KAIWAKA LIBRARY  
The call for a new library volunteer has 
been answered - thank you Claire. 
If you would like to register your inter-
est  in  joining  our  team  one  day  please 
send 
me 
an 
email 
(
)  to  intro-
duce yourself.  
MAGAZINES 
There  are  new  maga-
zines  in  the  library, 
some  to  borrow  and 
some  to  keep.  Do 
check  the  boxes  just 
inside  the  door  for 
ones  that  are  free  to  a 
good home, and on the 
shelves  you  will  also 
find 
New 
Zealand 
Memories,Consumer, 
and  The  New  Zealand 
Genealogist  ready  to 
be borrowed. 
WIDEACRE 
Recently 
I"ve  
read  Wideacre by 
Philippa 
Gregory. 
Beatrice  Lacey  is  the 
daughter  of  a  Quality 
household,  growing  up  on  the  estate 
called  Wideacre,  in  Sussex  between 
London  and  Chichester,  in  the  eight-
eenth  century.  Her  father  teaches  her 
about  the  land  by  taking  her  out  and 
about as he oversees the land and work-
ers,  and  she  dreams  of  it  -  and  all  the 
people  who  live  on  it  -  one  day  being 
hers.  She  adores  her  father,  she  loves 
Wideacre,  and  the  people  love  "Miss 
Beatrice". 
But her world view shatters into a mil-
lion pieces, when one day she discovers 
that it is her ........  but this one morning 
she  sleeps  in,  and  is  too  late........  And 
this  is  just  the  beginning.  A  review  on 
the  back  of  the  book  says  it  all  -  "for 
11 
single-mindedness, 
tempestuousness, 
passion,  amorality,  sensuality  and  plain 
old-fashioned  evil,  [Beatrice  Lacey] 
knocks Scarlett O'Hara into short cotton 
socks". 
I  hadn't  quite  finished  this  book  as  I 
wrote this review, but 
was  been  enthralled 
by  it  from  the  start  - 
just  what  I'd  expect 
from  a  book  by  this 
author. It's the first of 
three  books  in  the 
Wideacre  series,  The 
Favoured  Child  and 
Meridon  being  parts 
two and three respec-
tively,  and  they're  all 
on the fiction shelves 
in the library. 
Wendy  Howard,  Li-
brarian  
Kaiwaka Library, cnr State 
Highway  1  and  Kaiwaka 
Mangawhai Road. PO Box 
89, Kaiwaka 0542.  
Phone 4312539 
Email 
Sat  10am-2pm,  Mon  4-6pm.  Membership  is 
available to all residents in the Kaiwaka area.
Open for Lunch and Dinner 7 Days 
Lunch from 11am ~ 2pm 
Dinner from 5pm ~ 9.30pm 
TAKEAWAYS  
Ph: 4312737  or  021 923 236 
spiceloungedinein@gmail.com 
1917 State Highway 1, Kaiwaka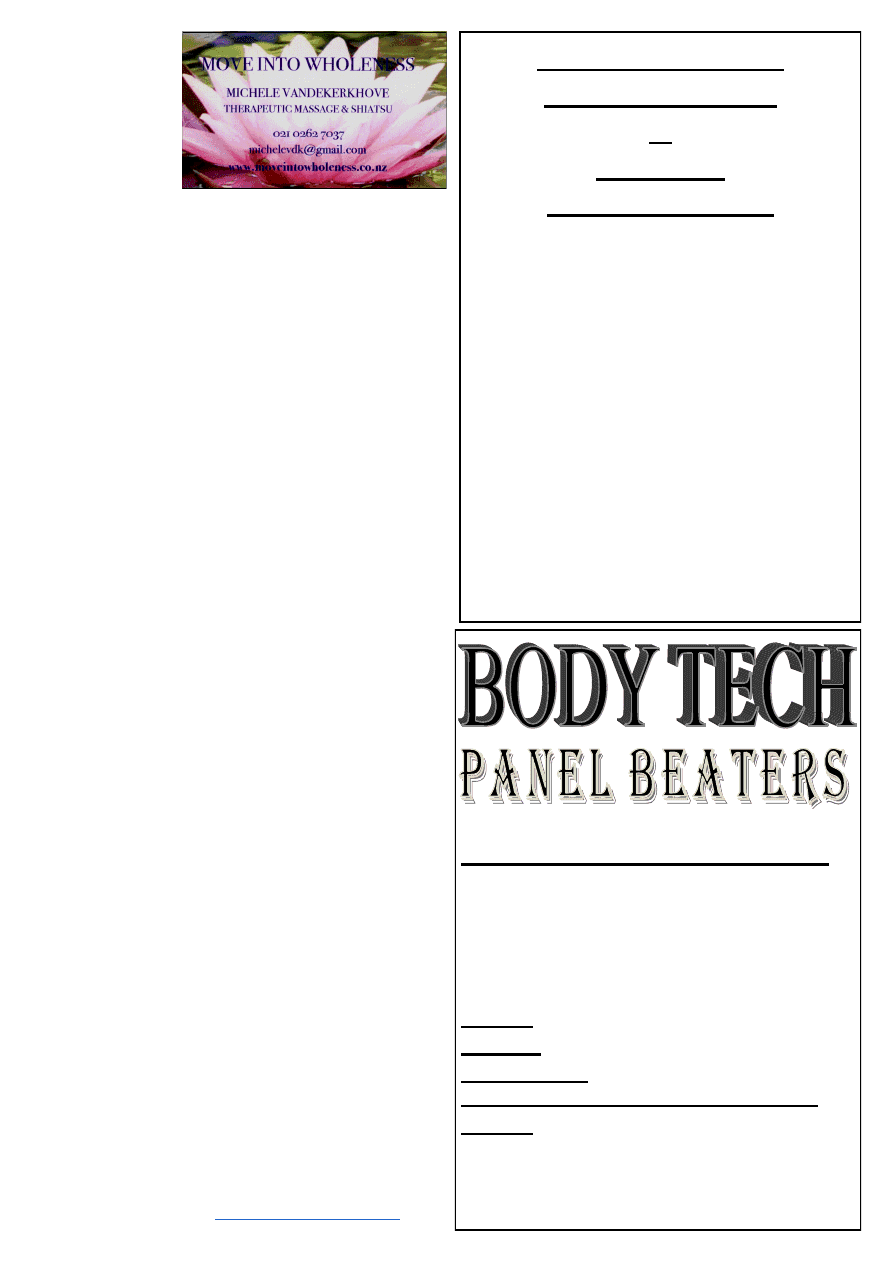 How can  
shiatsu serve 
you?
Next  to  therapeutic 
massage which focuses 
on  treating  musculo-
skeletal  injuries  and 
pain, I also offer shiat-
su.    Shiatsu  (Japanese 
for "finger pressure") has its origins in the Far Eastern philosophy. It 
is based on Taoism (yin/yang) and on what the early Chinese medi-
cal  theorists  mapped  as  the  movement  of  Chi  (Qi  or  energy)  and 
Blood in a network of meridians running on the back, the sides and 
the front of the body.  Shiatsu is above all a Japanese style of body-
work  where  centuries  of  practice  brought  forth  their  own  original 
(school of thought and ) theories in addition to the Traditional Chi-
nese Medicine principles.
The  concept    Chi (Qi)    in Traditional  Chinese Medicine is used  to 
tell  us  more  about  the  active,  actual  manifesting  and  directed  life 
energy  there  is  available  in  an  individual.  This  energy  embraces 
emotional  activity,  all  the  customary  life  functions  like  breathing, 
digesting food, physical movements and all other biological process-
es. The energy in the meridians runs in a denser fashion. Disturbance 
of the Chi (Qi) and Blood in that circuit is perceived as the source of 
disease.  Alternatively,  good  health  means  that  the  energy  flows 
freely and harmoniously throughout the body.
In the Far Eastern medicine, all life forms and energetic spheres are 
intertwined. Shiatsu is based on the premise that body and mind are 
one.  The body and mind is created, maintained and is able to func-
tion thanks to the  flow of electromagnetic  energy. Illnesses, symp-
toms  and  afflictions  are  associated  with  each  other  and  therefore 
reveal deeper imbalances in the energetic system. This is related to 
problems on the physical, emotional or spiritual level.
Shiatsu  regulates  the  function  of  the  nervous  system,  increases  the 
immunity of the body, improves the blood circulation, detoxifies the 
tissues,  and  relaxes  the  body.  The  end  result  is  that  the  available 
energy  becomes  balanced.  Physical  and  emotional  symptoms  can 
thereby partially or completely disappear.
The touch is the essence of shiatsu. Like massage, applying pressure 
on the acupuncture points means touching the skin, which sets of a 
series of internal reactions. Our central nervous system receives the 
stimulus  from  our  senses,  and  they  get  transferred  to  our  brain  for 
interpretation.  The  very  same  stimulus  also  gets  picked  up  by  our 
energy systems and adjusts accordingly to create balance. When the 
skin is touched the central nervous system creates a response which 
incite a stimuli in the meridians and chakras. This reaction generate 
changes  which  then  leads  to  adjustments  in  the  chemical  composi-
tion of  the  organ or vital system. These  adjustments influences the 
central nervous system which changes the reaction to the touch. 
Our energy network receives constantly invisible waves, images and 
thought forms and they are translated by the central nervous system 
to affect the physical body. The central nervous system has two sub-
divisions : the sensory somatic nervous system deals with the volun-
tary actions, while  the autonomic nervous system, deals largely with 
involuntary  actions.  The  latter  has  also  two  subdivisions  being  the 
(ortho-) sympathetic nervous system and the parasympathetic nerv-
ous  system.  Parasympathetic  system  is  responsible  for  the  body's 
ability  to  relax,  to  accumulate  energy  and  to  experience  an  union 
with  body,  emotions  and  environment.  Whenever  the  parasympa-
thetic nervous system is more active (like when you receive shiatsu 
for example)  the Chi (Qi) seems to melt, harmonize, regenerate and 
function as one.
Shiatsu  treats  the  whole  person  and  not  just  the  symptoms.  We  all 
share  the  innate  natural  basic  activity  of  creating  balance.  When 
energy gets blocked, the supportive touch of the practitioner in times 
of stress and pain, aids in restoring the balance. The practitioner can 
wake up and activate your self-healing power. The client can experi-
ence  a  heightened  feeling  of  wellbeing  and  oneness  of  body,  soul 
and mind, which equals a balanced energetic system.
During the session the client lies clothed on a futon while the practi-
tioner applies compression with thumbs, fingers, palms, elbows and 
knees to specific pressure points. Stretching and pulsing is also uti-
lized, with the goal of assisting the flow of energy in the body. The 
application  of  those  techniques  can  revitalize  the  Chi  (Qi)  in  the 
parts where the energy flow is stagnated: the tension eases and sim-
ultaneously the weaker parts gets stimulated.
Shiatsu  has  proven  to  be  beneficial  for  treating  various  conditions 
like back pain, insomnia, digestive problems, anxiety...
For  more  information  visit  : 
us on 021 0262 70 37
PAUL SAUNDERS 
LAWNMOWING  
&  
GARDEN 
MAINTENANCE 
 
Lawns and edges 
 
Section mowing 
 
Hedging and trimming 
 
Spraying and fertilising 
 
Tree planting 
 
Green waste removal 
 
Pruning 
Friendly and reliable service guaranteed 
Call now for a free no obligation quote 
021 886 843 
09 431 2731 
Servicing Mangawhai and Kaiwaka  
and surrounding areas 
paulsaunders99@gmail.com 
For all your body repair needs!! 
We do: 
Rust repairs 
Insurance work 
Anti-corrosion treatment         
 
Hours: 8.30am-5pm Monday-Friday  
Mobile: 021 118 0462 
After hours: 09 431 2384 
Phone: Craig or Call in for a free Quote 
e-mail: 
bodytech_panelbeaters@yahoo.com
We are located at 1837 SH1 Kaiwaka, behind Twinkle 
Tow "n" Tyre call in anytime for a free quote.  
Large and minor vehicle  
  repairs 
Industrial vehicles 
Full Cut and polishes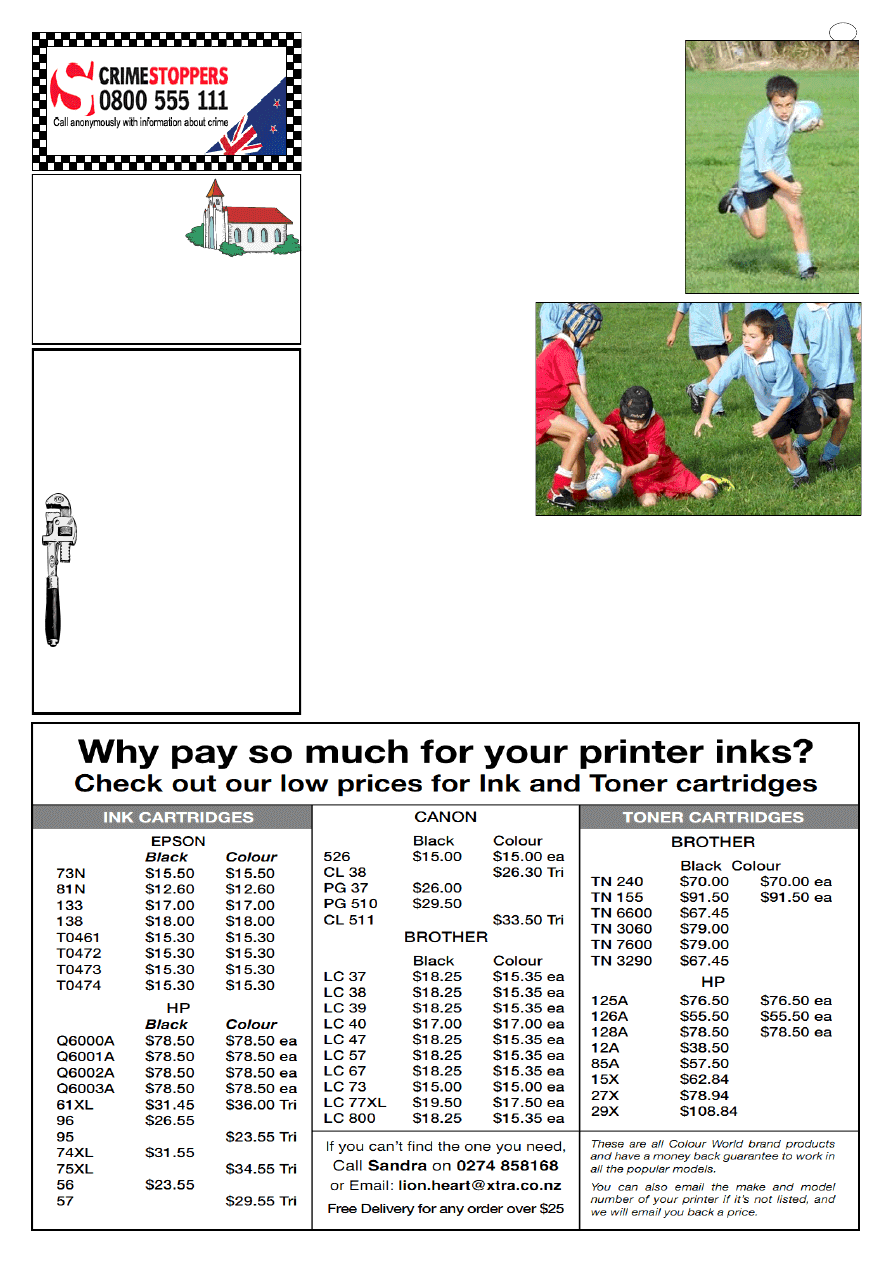 13 
BARRY CURTIS  
PLUMBING LTD 
REGISTERED CRAFTSMAN 
PLUMBER 
Phone 4315572      
027 257 9884 
  25 years experience   
        Friendly reliable service 
        All plumbing & maintenance 
        Alterations and new housing 
        New wood fire installation 
        Spouting 
Competitive rates 
PROMPT EFFICIENT  SERVICE 
ST PAUL"S  
SUNDAY  
SERVICES
First Sunday 9.30am, third Sunday 4pm  
Paparoa Anglican and Wellsford  Co-op Parishes 
StPauls Church: Kaiwaka-Mangawhai Rd.  
Contacts:M.Hargreaves 4312295, C.Bygrave 4312057  
1st Sun. (Anglican),3rd Sun. (Co-op). 
EASTERN UNITED JMB RUGBY 
We have had a great season with some wins and some 
losses  with  all  players  gaining  more  confidence  and 
skills. We  also  have  had  7  players  picked  for  the  rep 
teams, so well done to them. 
We had a major fundraising project selling chocolates 
which has been hard going but are just about there, we 
still  have  some  to  sell  so  just  get  in  touch.  We  were 
hoping to have a trip with this money but as it is the 
end of the season we will now have it as a pre season 
trip next year. 
Thank you to our sponsors for "Player of the Day" – 
Jaques Four Square and The Coffee Pot. 
We had our prize giving on 14
th
 August at the Kaiwaka 
Sports Complex.  
Winners were  
Under 7's 
Most improved: Keidis de Ridder 
Team Spirit: Leayah Buxton  
Player of the Year: DJ Brain, 
Under 9's 
Most improved: Damin Edwards 
Team Spirit: Niah Quirk  
Player of the Year: Takerai Neil 
Under 11's 
Most improved: Jacob Butler 
Team spirit: Jessie Tautari 
Player of the year: Jonathon  
McIsaak 
Finally, I would like to thank all the people who have helped over this season with 
kitchen,  coaches,  managers,  selling  chocolates,  etc.  I  would  like  to  give  a  big 
thanks to Hannah Mills who has always stepped forward to help when we were in 
need of help, she has been great. 
See you all next season, Jennie Reynolds, President JMB 
Photos:  Top-Damin  Edwards  with  ball  in  hand;  Bottom-Niah  Quirk,  against  Tomarata , 
reaching for the ball.  
TANIWHA  SHIELD: 
At the Rodney-Otamatea Prizegiving both Kaiwaka 
boys gained awards, Xavier Brown won the prize for selling the most Raffle  
Tickets in the fundraising and Devan Gabbitas was the winner of the Most  
Improved Player trophy. Well done to both of you.
STOCKFOOD
GREAT RANGE FOR ALL YOUR LIVESTOCK  
AT GREAT PRICES 
 ALSO CHECK OUR 
DOG BISCUITS 
20 KG FOR $58.90 
LPG REFILLS 9KG 
STILL ONLY $31.50
MANGAWHAI SERVICE 
STATION 
(09) 431 4242 
44 MOIR STREET IN THE VILLAGE 
ARCHITECTURAL 
BUILDING PLANS 
AND DESIGNS 
20% Reduced Cost - design and planning. 
If you are thinking of building, then you need 
to make use of cost savings in architectural 
design as well as having a good and well experienced designer. 
This applies if you are considering a new home, any alterations or any 
building additions/farm buildings, sheds, alterations, whatsoever. 
There are many things that are frustrating if you are not totally 
familiar with what all details are required by Councils -especially 
with new regulations in force to ensure everything runs smoothly - 
e.g. Resource and Building Consents, planning restraints, new 
building materials ,applying for building permits, dealing with 
building contractors to name a few -you need a capable,  
experienced and professional designer with a clear knowledge of 
all the processes. 
WE CAN HELP YOU CLARIFY ALL OF THESE ITEMS 
 
AND MAKE LIFE RUN MORE SMOOTHLY. 
Brian of Wright Design has been helping and organising all these 
facets of design and building for over 40 years. 
With needs of family changing and the economy - building require-
ments constantly being reorganized and made more complex, it"s very 
important to obtain professional advice for any building project - no 
matter what size. 
Brian advises on design, materials, permit applications, builders 
and subcontractors for any project - no matter how small or large 
ALL THIS AT A REDUCED COST so YOUR DOLLAR    
GOES FURTHER  
Wright Design offers free visits, consultations and all the advice 
you need on planning. Design, building, contractors, council  
permit applications, guaranteed permit plan acceptance. 
QUALIFICATIONS 
Brian is a qualified designer (NZCAD) with over 40 years of varied 
experience in all types of building and is a registered and Licensed 
Building Practitioner in Design - L.B.P. 117345 
He ensures you will achieve the best from your budget with  
recommended excellent local contractors ready to competitively 
price and build your personal project quickly and efficiently. 
EXPERIENCE 
Brian"s practical building and 40+ years of design experience 
means he can give you excellent advice and all the guidance need-
ed for all your building needs, 
FEES: To help you attain your project Brian has reduced his 
costs by 20%, giving you extra funds for the rest of your project. 
ENGINEER: Brian can arrange engineering for a reasonable cost. 
THIS IS AN ABSOLUTELY GENUINE FEE REDUCTION!! 
Qualified and inexpensive designer – N.Z.CAD., LBP 117345 
Guaranteed design and working drawings 
Free site visit to your home or property 
Great service 
Obtain a free quote with 20% Discount. 
PROJECTS 
Additions, alterations, basements, new houses, motels, bed and 
breakfast commercial buildings and shop fit outs are a few pro-
jects he has been involved with. 
Brian can show you many of his projects in the area to emphasise 
his versatility 
WHAT TO DO FROM NOW 
Call Brian   
Arrange a visit 
Discuss your needs 
Obtain great advice.  
Obtain a free quotation - with a true 20% discount 
Make a decision based on the facts - You Won"t Be Disappoint-
ed! 
MAKE GOOD USE OF HIS EXPERIENCE AND THIS 
GREAT OFFER OF REDUCED FEES OF 20% 
Brian can offer plan printing-from A4 to AO (2 x A1 size) 
WRIGHT DESIGN 
Brian"s office is at: 360 Oneriri Road, Kaiwaka, Northland 0573  
Call in for a chat and a coffee, or he will call on you at your home  
if preferred. 
WRIGHT DESIGN: Office 09-4312544 
Mobile 021 276 7389 
Email: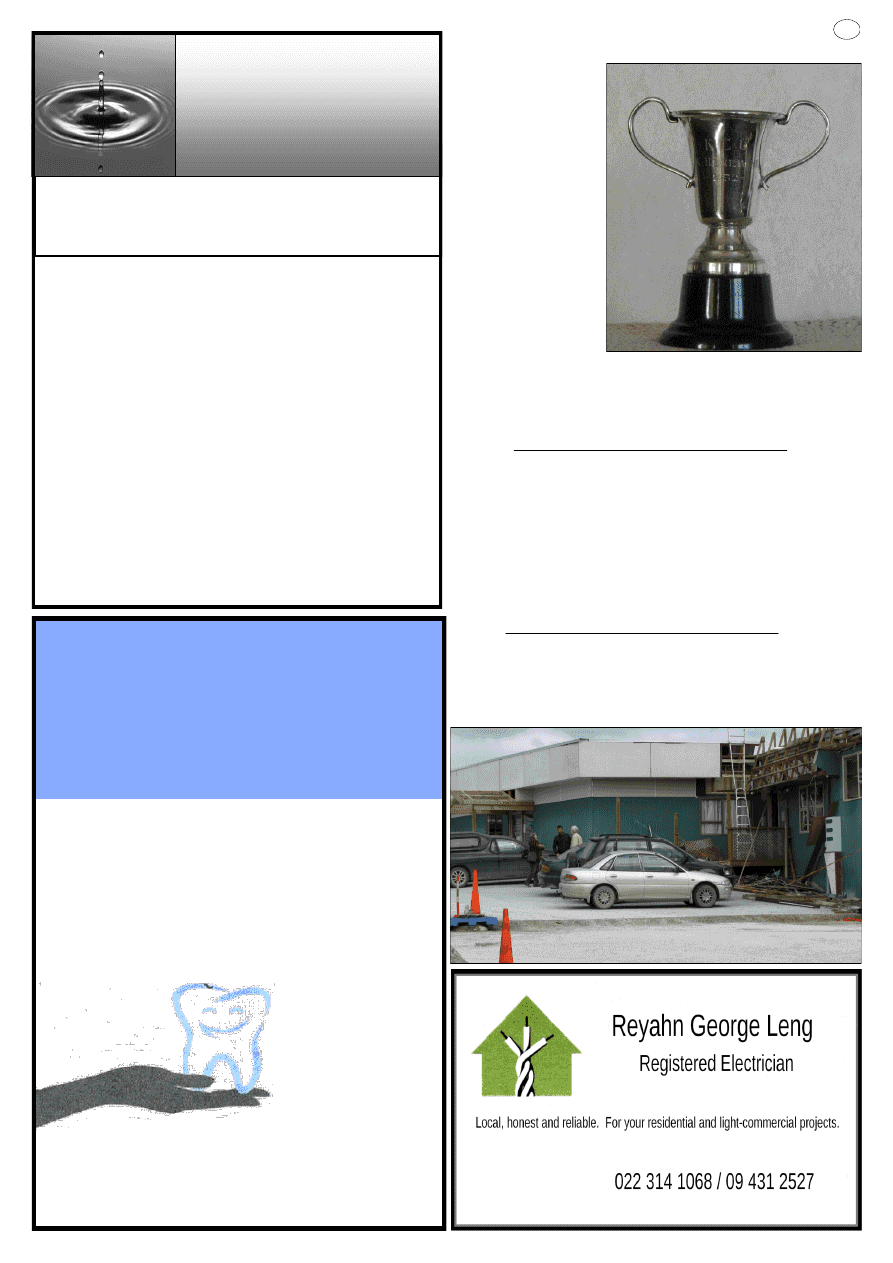 FOR 
15 
 PETE WORSFOLD M. Soc. Sc. 
Student Counsellor 
 
 peteworsfold@xtra.co.nz 
 021 825 970 
Professional Service 
Variety of Modalities 
By Appointment Only 
Saturdays 
By 
Arrangement 
Open  
Mon-Fri  
8am-5pm  
Gentle Dental 
Ruakaka 
We love to see you smile 
" 
General  & Cosmetic Dentistry 
" 
Emergency & ACC Treatment 
" 
Denture & Hygienist Services 
" 
Senior Citizen Discounts 
" 
Free Adolescent Care 
" 
Free WINZ Quote 
Ph:  432 8139 
19 Ruakaka Town Centre 
Dr Sim Sood & Associates 
You're in gentle hands
PRIVATE COUNSELLING  
AVAILABLE 
MODALITIES: 
CBT  
Grief 
Gestalt 
Relationship 
Person-Centred  
Trauma 
Solution Focussed 
Couples 
Behavioural 
Adolescents 
Careers 
Call for Appointment 
At "The Well of Health" 
09 4312799 or 021 825 970 
DO YOU KNOW the HISTORY of THIS 
TROPHY? 
This wee silver cup, 
just 10 cm (4") tall, 
was found recently and 
given to the Kaiwaka 
War Memorial Hall 
committee. 
It is engraved on the 
front: 
KCC 
K. HEREWINI 
1952 
On the back: 
1953 A.REDDY 
1954 F.WRIGHT 
1955 A McCLEAN 
1955 A. REDDY 
It has been suggested that it was presented by Kelly Herewini 
for the 500 Card Club. 
Please,  if  you  have  information,  or  stories,  relating  to  this 
trophy  or  about  Kelly,  call  Ad  Clarijs  4312234  or  Lindsey 
Hargreaves 4312045. 
 PETE WORSFOLD M. Soc. Sc. 
Student Counsellor 
 
 peteworsfold@xtra.co.nz 
 021 825 970 
KAIWAKA SCHOOL 
Rakou Whakato: On Tuesday 13 August all the students were 
involved in planting trees, shrubs, bulbs and new flowers on 
the newly cleared bank (above the Kaiwaka Sports complex). 
The plants were donated by the Te Uri o Hau Trust and  
organised by Mikaera Miru. 
Kaiwaka School Agricultural Day will be held on Monday 21 
October.  For  further  information  contact  Kate  Packard 
4312585 or Rebecca Blissett 4312085. 
LA NONNA COMPLEX 
The concrete carpark at the block of shops and businesses, on 
the southern end of Kaiwaka, is soon to be completed, along 
with the upgrade of the buildings.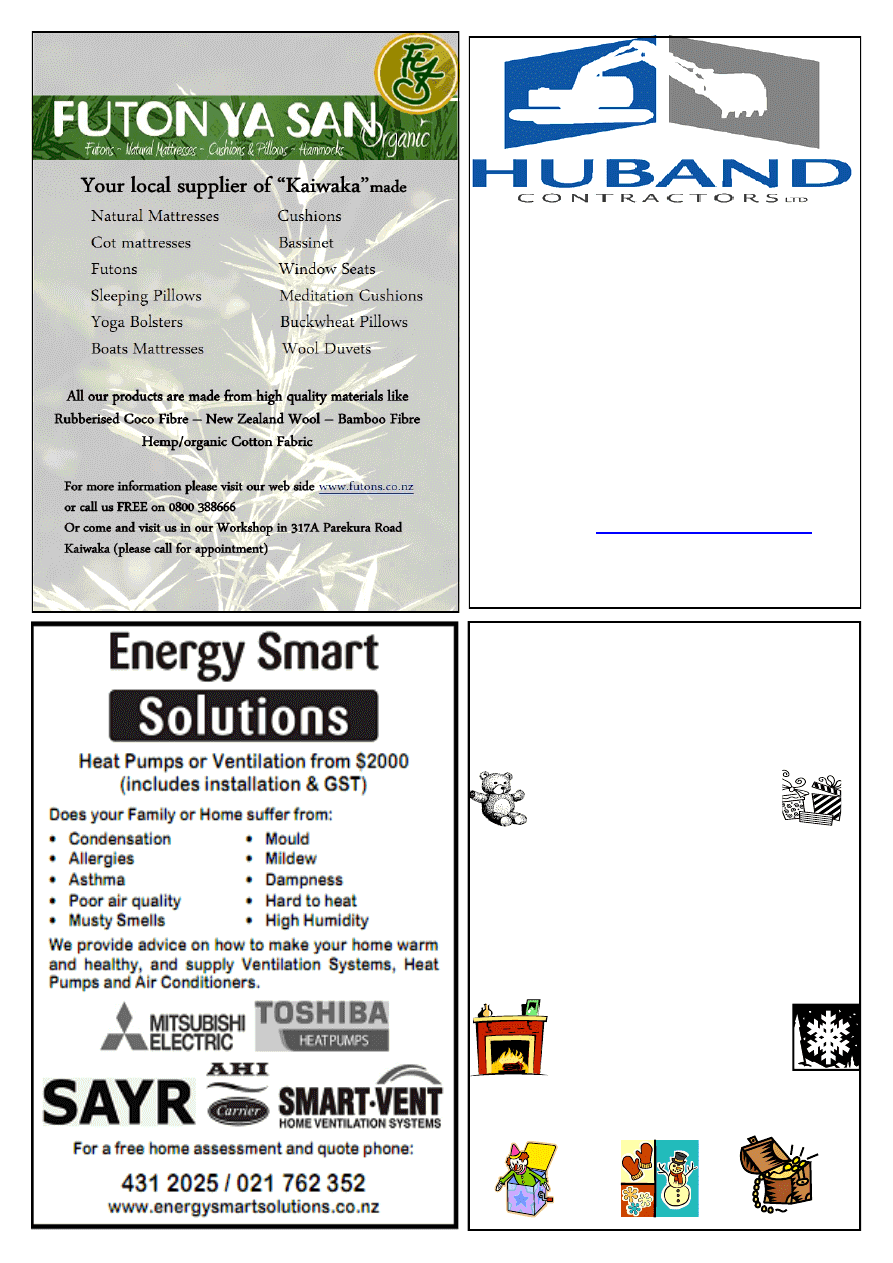 Celena's Gifts 
1925 State Highway 1 
KAIWAKA (next to Italian Bakery) 
      Ph: 09 4312741 
  CLOSED MONDAYS DURING WINTER 
We stock:- 
Baby Gifts  
Jewellery     Toys 
Kitchenware 
Toiletries     Photo Frames               
NZ Souvenirs 
Candles 
   ... and much more! 
Winter Warmer Specials  
   in  Store                                                                   
July and August 
Come and have a look 
*   R O A D I N G   *   E A R T H W O R K S  
*    
*   D R A I N A G E   *   S I T E W O R K S  
*  
For any further enquiries, contact 
Shaun on: 
Cell: 021 222 0272 
Home: 09 4318339 
Email:   
Shaun Huband: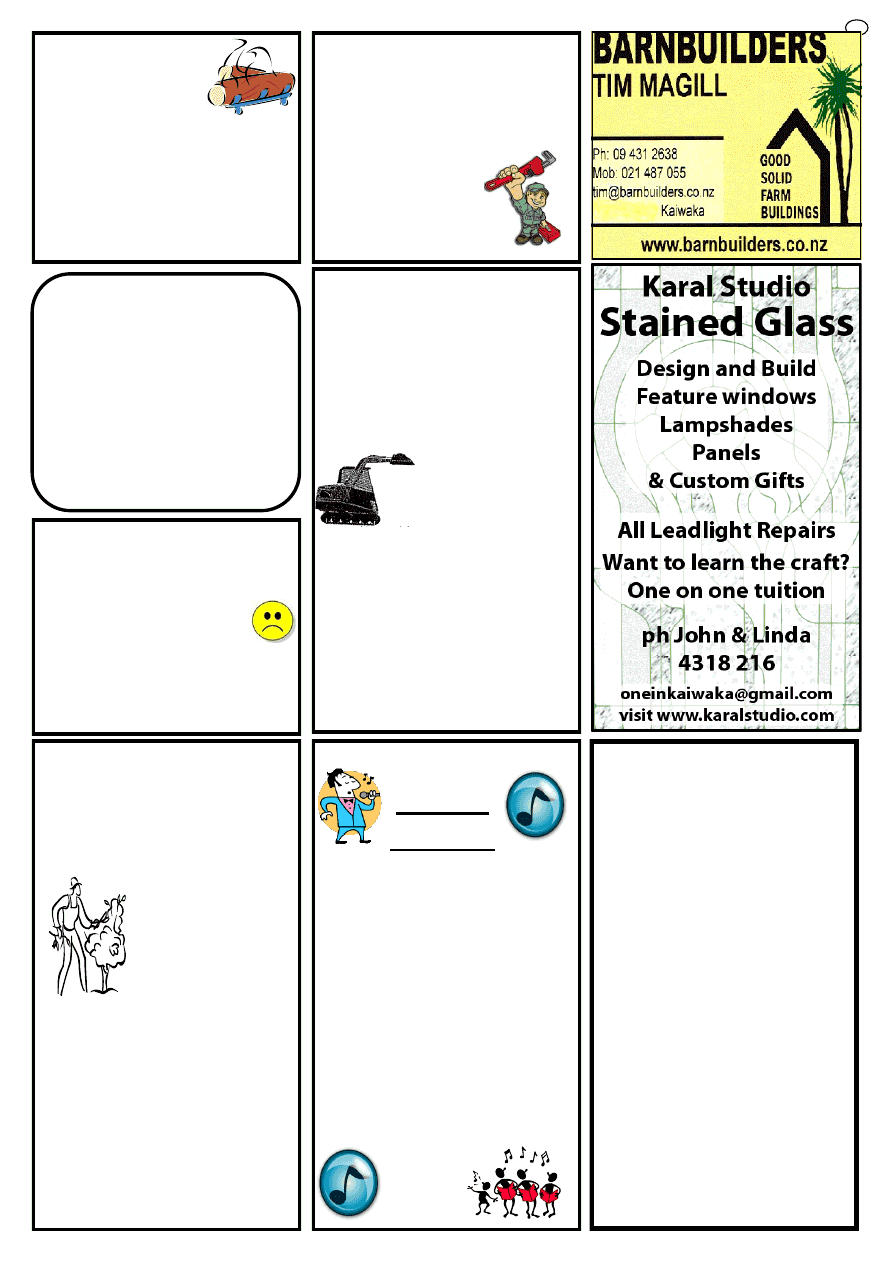 Ross Murphy 
PLUMBER 
Certifying Plumber 
09 431 7510 
021 424 252 
Paparoa Based
+
New Housing 
Willow Bend
HORSE  
HOTEL 
"   
Total Horse Care 
" 
Agistment 
" 
Riding Lessons 
" 
Arena Hire (60x40) 
" 
Young Horse Starting 
" 
Re-training/Exercising 
" 
Hoof Trimming 
" 
Problem Solving 
Phone Sue 09 431 2817 
or 021 623 776 
Or email sue.gray@xtra.co.nz 
 17 
OUT THERE 
GARDENS AND LAWNS 
Lawn Mowing – Any Size 
Section Clearing  
Hedge Trimming  
Spraying  
Planting 
Pruning   
Gutters Cleaned 
Chainsaw Work 
Regular Services 
General Maintenance 
Garden Waste Removal 
Free Quotes 
Get The Job Done! 
Servicing Kaiwaka/Mangawhai 
Contact Phil Jones 
027 243 5503  
A/H 431 2196  
Email: outthere09@gmail.com 
Singing 
Lessons 
Individual sessions 
All styles of music  
All voice types 
Reasonable rates 
Phone  
Maura Flower 
      021 164 8318 
Landcare 
Services
Dave Hyndman  
     4312302 
   021 431238
Trenching, Hole Boring, Land 
Levelling,  Driveways, 
Landscaping,  Post Peel,  Wood 
Chips, Contact Rolling 
Lifestyle block mowing, 
etc....also Rotary Hoeing 
For reliable and friendly service 
contact Dave 
T.W.WRIGHT 
WATER PUMPS  
SALES & SERVICE 
DEEP WELL & SUBMERSIBLE REPAIRS 
203 WHAKAPIRAU RD, WELLSFORD 
PHONE 09 4238235   
MOBILE 021 976 545 
FIREWOOD 
FOR SALE 
Simply the best  
dry, seasoned totara
$90
 CUBIC METRE  
DELIVERED 
Phone Lyn 0220708674  
Or Ray 0212274420
KEV's CASKETS 
Stylish, BUDGET Accommodation 
Takeaways (8 available)  
or made to order 
  Featuring 2 styles and  
Different finishes. 
        Also O/S and Infant size 
     Phone Kev in Kaiwaka  
021 1322 671 
Or come and visit my showroom 
271 Rodney St. Wellsford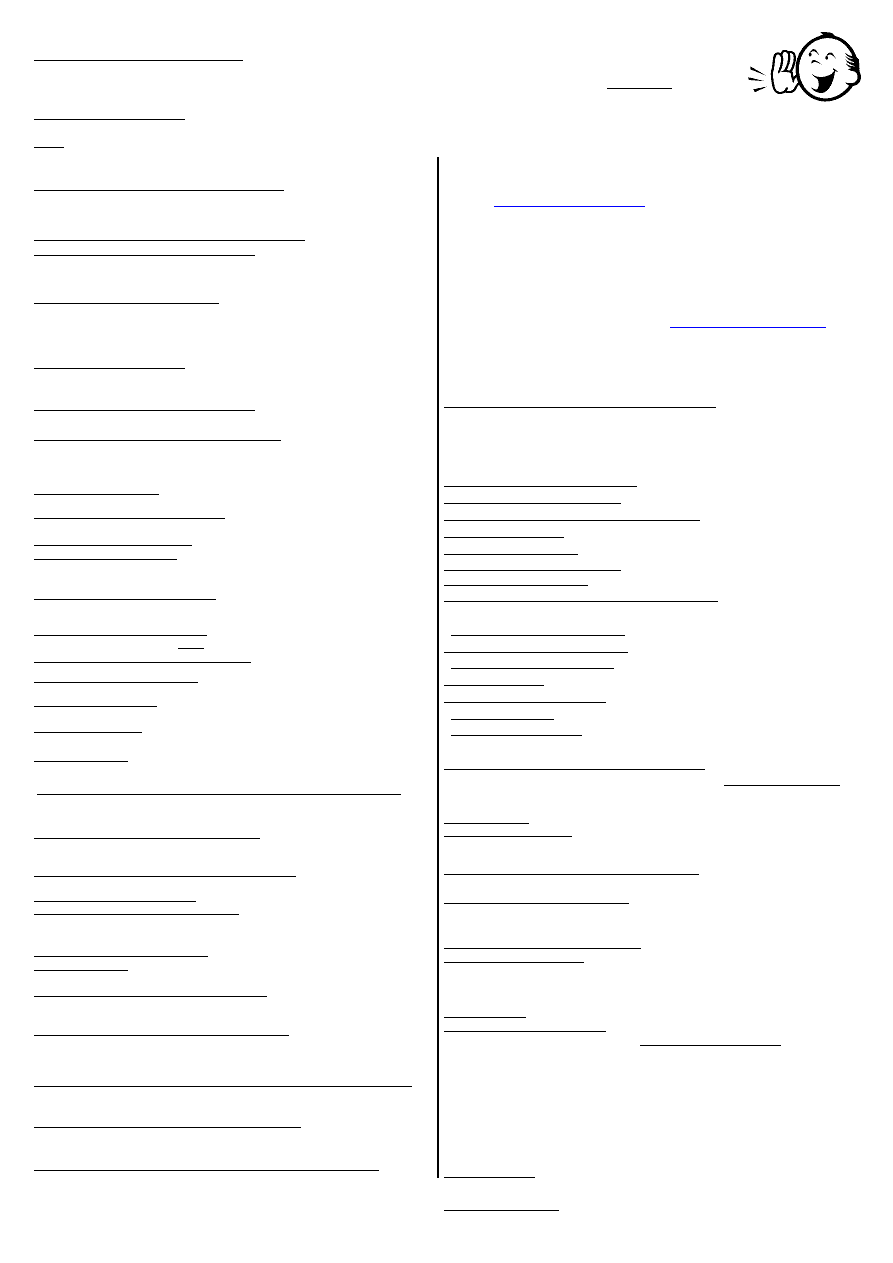 LOCAL SERVICES 
*St.John Ambulance 
111 or Freephone0800 61 0066
*Fire phone 111     *Police phone 111 or 09 4311150
WELLSFORD DOCTORS: Ph: 4238 086 
A A: Meets Wed., 8pm Kaiwaka Ph: 4312228, 4315543, 0800229 6757   
AL ANON: In recess, contact Ph: 4312228 
AgriQuality (MAF) Livestock Consultant 
Phone 09 4311 820 or 021518257 
CAB-Citizens Advice Bureau.Wellsford Ph: 4237333. 
BUDGETING SERVICE,OTAMATEA:Free confidential advice & 
support - all areas of  personal finance Ph: 09 4318173 or 094318117
FAMILY SUPPORT SERVICES responding to the needs in our 
community  Counselling/Family Therapy/Seminars/Youth Work/
Probation/Osteopathy/Govt.Day Agencies/Community Information  
Ph: 4312661 Hours: 9am-5pm. Mon - Fri (funded & CYFS approved) 
FUNERAL SERVICES: Morris & Morris Ltd, 
Whangarei - Bev Jaques Ph:4312367 or 0800667747 
Grandparents Raising Grandchildren: Sarah Rogers Ph: 4312194 
HAKARU LANDFILL/Transfer Station:Open everyday except 
Tuesday10am-4pm.Ph4312629 Cost-$55 trailer load up to 1 cubic 
metre. Ph:4258567 - office 
INLAND REVENUE: Last Friday each month, 
11-3pm Ph4312661 
KAIWAKA KOHANGA REO:
Ph:4312620 Mon.-Fri. 8.30am-2.30pm 
KAIWAKA CEMETERY: Ph: 4312045 
KAIWAKA LIBRARY: kaiwaka.library@gmail.com  
Mon. 4-6pm; Wed., Thurs., Fri., Sat.  10am-2pm Ph:4312539
KAIWAKA PLAYCENTRE: Ph: 4312286. Hastie Lane 
Monday to  Friday  9.00am 
- 
12 noon.
KAIWAKA POST OFFICE:
Ph:4312 626 Fax: 4312287  
Post Code: 0573  for RD2  and  0542 for all Kaiwaka Post Office mail 
KAIWAKA PRIMARY SCHOOL : Ph: 4312309 
KAIWAKA SPORTS ASSN: Ph 4312005; 4312129 gym 
KAIWAKA STJOHN: Manager Steve Rosser 09 4318403, 021 2316836 
NORTHPOWER: Faults Kaiwaka area 0800 104040 
PARENTPORT: Free, practical family support servicePuhoi to Paparoa 
Ph:  
027 280 5093 Linda.
PERSONAL DEVELOPMENT COACHING, GROUP FACILITATION:  
Sabine Druckler 4312231 
 
PLUNKET  KAIWAKA/MANGAWHAI:  Ph:
094318187 
or  0
276753488 
Kaiwaka Mobile Clinic once a month– appointments necessary;  
Mangawhai (next Domain) 
1st & 3rd Thursday & Coffee Morning; 
PLUNKET CARSEAT CO-ORDINATOR:  
Pat Scott Ph 4314530 or 
0272881635 
PLUNKET FREEPHONE -0800 933 922 
PLUNKET -MAUNGATUROTO  Clinic every 2nd & 
4thThursday. Ph: 09 4318187 
PUBLIC HEALTH NURSE: Gloria Reid Ph: 094327634  
HOMEOPATH: Donna Flavell Ph: 
4314843 
RETURNED AND SERVICES ASSN 733 Settlement Rd.Hakaru 
Ph.4312176 Bill Kerr (President) Ph.4314719 
TE KOROWAI AROHA O NGATIWHATUA 
(The Cloak of Love of Ngatiwhatua) Support and Maori Consultancy.  
Ph: 4239481 (Wellsford) 
WOMEN"S WELFARE LEAGUE & Reaching Out For Youth:  
4 Kaiwaka-Mangawhai Rd, M Morgan 4312293 
VETERINARY SERVICE MANGAWHAI: 
Ph: 4314535 Mon-Fri 8.30-4.30, Sat 9-12, a/h appt. 
KAIPARA DISTRICT COUNCIL www.kaipara.govt.nz:  
Help Desk FREEPHONE 0800 727 059  
Service Centre Mangawhai 4313161 
Dog/Stock/Noise 0800 105 890 
WHAT'S ON
PLEASE ~ do let me know what is on - email 
kaiwakabugle@kaiwaka.co.nz 
Advertising in WHAT'S ON is FREE 
Mondays: 8-2.30pm Kaiwaka Tramping Group  Karen 4312090 
Mondays: Rock & Roll Lessons, Wellsford 7.30pm Ph: Berni 4238024 
Tuesdays: Rhythm&Riggle 10am Christ the King Church Mangawhai. 
KAIWAKA MARKET  2
nd
 Sunday of month Kaiwaka Hall 10am–
1.30pm 
 09 4318717 
 
*23Aug~KSA Kids Social. 7-9pm,  Kaiwaka Sports Complex 
*24-25Aug~Organic Gardening ACE course, $50 Ph: 4315161 
*31Aug~Function for Hayden Hutching, KSA, 7pm 
*31Aug~ LATIN FUN CLASS, 7.30 pm, KWMHall, 4312408   
*7 Sep~ Northland Solar Energy Conference, 9.30 am - 4.30 pm, 
KWMHall, 4312408, 021 02231700, 
*13Sep~Dance of Life freestyle dance 8pm KWMHall  4312408   
See www.kaiwaka.co.nz for upcoming events. 
Drink can 'tear tabs' - for Starship Hospital-Ph. 4312625   
HOUSEHOLD  RUBBISH  COLLECTION  -  Kaiwaka    Pick  up-
Mondays=Green bags are picked up by Northland Waste-queries to 
them 09 4303273,Wednesdays=Blue  bags and yellow recycling (at 
Jaques  $3.00 and $1.40)  are picked up by Kaurilands 09 4392146.  
 
*OTAMATEA GREY POWER-09 431 8138 Joan Hoggard  
*KAIWAKA BADMINTON -Tuesdays 7.30pm Ph: 4312345 
*KAIWAKA GARDEN & FLORAL Grp:
2nd Thursday in month Ph: 4314767 
*KAIWAKA 
CUBS-Thursdays 5.30-7pm, Hakaru  Ph:Bruce  4312542
*KAIWAKA SQUASH -Mondays 7pm,  Ph: Barbara Thomas 4315905 
*GYMNASTICS OTAMATEA -  Tuesday Ph: Stephanie 022 3624998 
*HAKARU PONY CLUB-Ph: Dianne Christianson  4314315 
*
MANGAWHAI COMBINED PROBUS CLUB
: 2pm,3rd Thursday 
month in the Senior Citizens Hall Mangawhai. Ph: 4315777
*PT CURTIS CRUISING CLUB - Jean Ph: 4312246 
*WAIPU GENEALOGYGROUP -4th Monday in month Ph: 4312725 
*NZ GENEALOGY-Wellsford - 1st Thursday in month Ph: 4237033 
*CRAFT GROUP
:2nd & 4th Tuesday, 10am, Wellsford Ph 4238547
*RSA,Hakaru & Dist.Women- meet 1.30pm 4th Thurs in month 4312668  
*OWEN STEVENS at Kate"s Place Ph:4312661   
*Diabetes Support Group-for Kaiwaka, Mangawhai, Wellsford -10am, 
 
3rd Friday of month Ph:A.Pert 4238242; J.Gardner 4238060 
*WELLSFORD CITIZEN ADVICE BUREAU:  
0800 367 222 
Ph: 4237333 Wellsford Community Centre  Email: cab.wells@xtra.co.nz
CHURCHES:
*Gateway Worship Centre-St Mary's Church Nathan Rd off Oneriri Rd, Kaiwaka 
Services, 10.30am 1st & 3rd Sunday of every month. Contact: Rev David Gage 
4312528 or 0212354282 
*Kaiwaka Family Church-Your Community Church Sundays, l0am 
Home Group every Wed evening, Pastor John.Dekker Ph: 4318203 
*Kaiwaka Services.Anglican & Co-op at StPauls Church  - 1st Sun. 9.30am
(Anglican),3rd Sun. 4pm (Co-op).  Contacts: Parish Office 09 4318193, M.Hargreaves 
4312295, C.Bygrave 4312057  
*Church of Christ the King, Mangawhai 9.30am every Sunday 
*St.Mary"s Catholic Church:
Maungaturoto – Griffins Road, Saturday evening Vigil 
Mass 6pm; Mangawhai – Senior Citizens Hall, Sunday Mass 8:30am; Wellsford – 
Matheson Road, Sunday Mass 10:30am; Mid-week Mass times and all enquires to Fr. 
Bill Fletcher – phone 423 8170 
*Baptist Church: Sun. 10.30am Mangawhai Snr Cit.Hall.Ph:4312339 
*Cause Way Church Mangawhai – Sundays 10.15am, Mangawhai Community Recre-
ation Centre, Insley St. Ph: 09 4314782  www.causewaychurch.org.nz
*St.Pauls Archie Bull Hall HIRE  $20 half day, $40 full day per hire 
 Contact G. Jaques 4312048 
*Kaiwaka War Memorial Hall HlRE - Phone 4312725 or 
Email  kaiwaka.hall.bookings@gmail.com 
*Hakaru Community Hall HIRE -Ph.  4312256 or 4312110 
*Te Pounga Marae queries -A.Gage 4312528, 4312527 
*Kaiwaka Sports Association hire/queries- C. Anderson 4312051 
Justice of Peace: B.FJaques; L.Donaldson; A.F.Hargreaves  -please phone to 
make sure they are available 
Marriage Celebrants: L.Donaldson; A.F.Hargreaves; Judith Knights  
Next Bugle Deadline Friday 30 August 2013