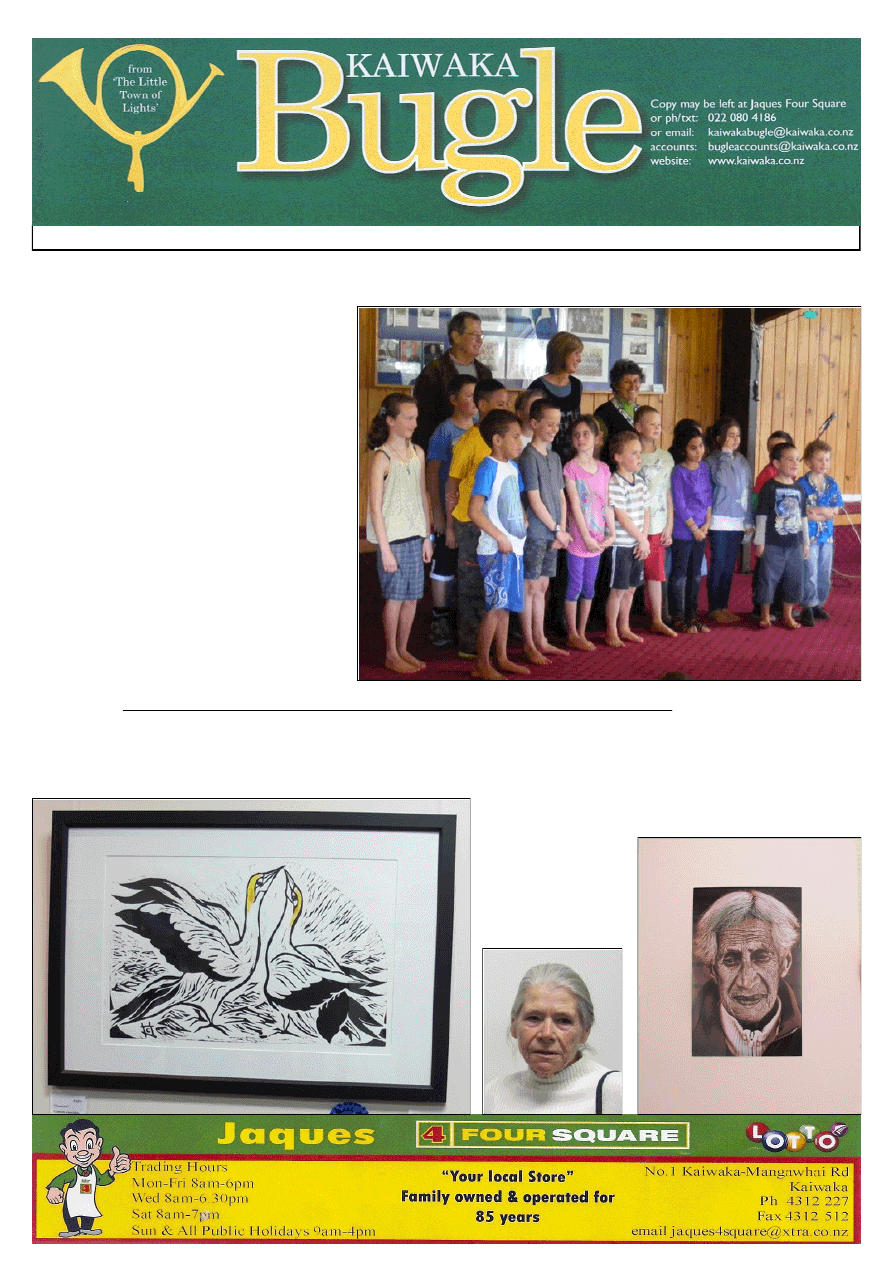 No: 17 
  3/9/2013 
KAIWAKA SCHOOL SPEECHES: 
A FANTASY LIFE 
How would YOU behave if your dad was Hollywood rubber-faced funnyman Jim Carrey? 
Kaiwaka  Primary  School  pupil  Ryan  Stirling 
last  week  treated  an  audience  of  a  hundred  or 
so fellow pupils, teachers, and a pride of mums, 
dads and assorted relatives to his fantasy "What 
if I were Jim Carrey"s Son" to become overall 
winner  of  the  school"s  annual  public  speaking 
contest. 
Calling  upon  a  truly  Carreyesque  array  of 
snorts, funny voices and facial expressions, the 
Year 2 urchin left the audience in no doubt that 
a  life  following  in  the  steps  of  such  a  highly 
improbable dad would be "sweet as". The audi-
ence,  possibly  more  captured  by  the  comedy 
than swayed by the force of Ryan"s manic rhet-
oric, agreed equally enthusiastically. 
Eighteen  pupils  –  three  each  from  Year  1  to 
Year 6 – took part in the annual contest, held in 
Kaiwaka  Sports  Association"s  pavilion.  Full 
results were: 
Year 1 – Anahera Whakataka-Tutauhu; Year 2 
–  Ryan  Stirling;  Year  3  –  Gareth  Ferguson; 
Year 4 – Tyla Stonex; Year 5 – Matthew Ever-
son; Year 6 – Raymond Taito; Overall winner – 
Ryan Stirling. 
THE KAURI MUSEUM SHOWCASES LOCAL ARTISTS 
The 2013 Gilmore Brown Kaipara Community Art Awards were presented on Friday 30
th
 August 2013. 
The prize winner in the photography section won by Alistair Morrow from Wellsford with his photograph titled "Kuia (2)". 
Wendy Clifford (photo below), from Kaiwaka, won 2
nd
 prize in the photograph section with her photo titled "Gannets".  
These are part of an open-themed exhibition and compe-
tition showcasing the creativity of the Kaipara.   
The  Exhibition  at  the 
Kauri Museum in  
Matakohe,  continues 
until  Wednesday  25 
September. 
Photo: Kaiwaka Primary School speech finalists with the judges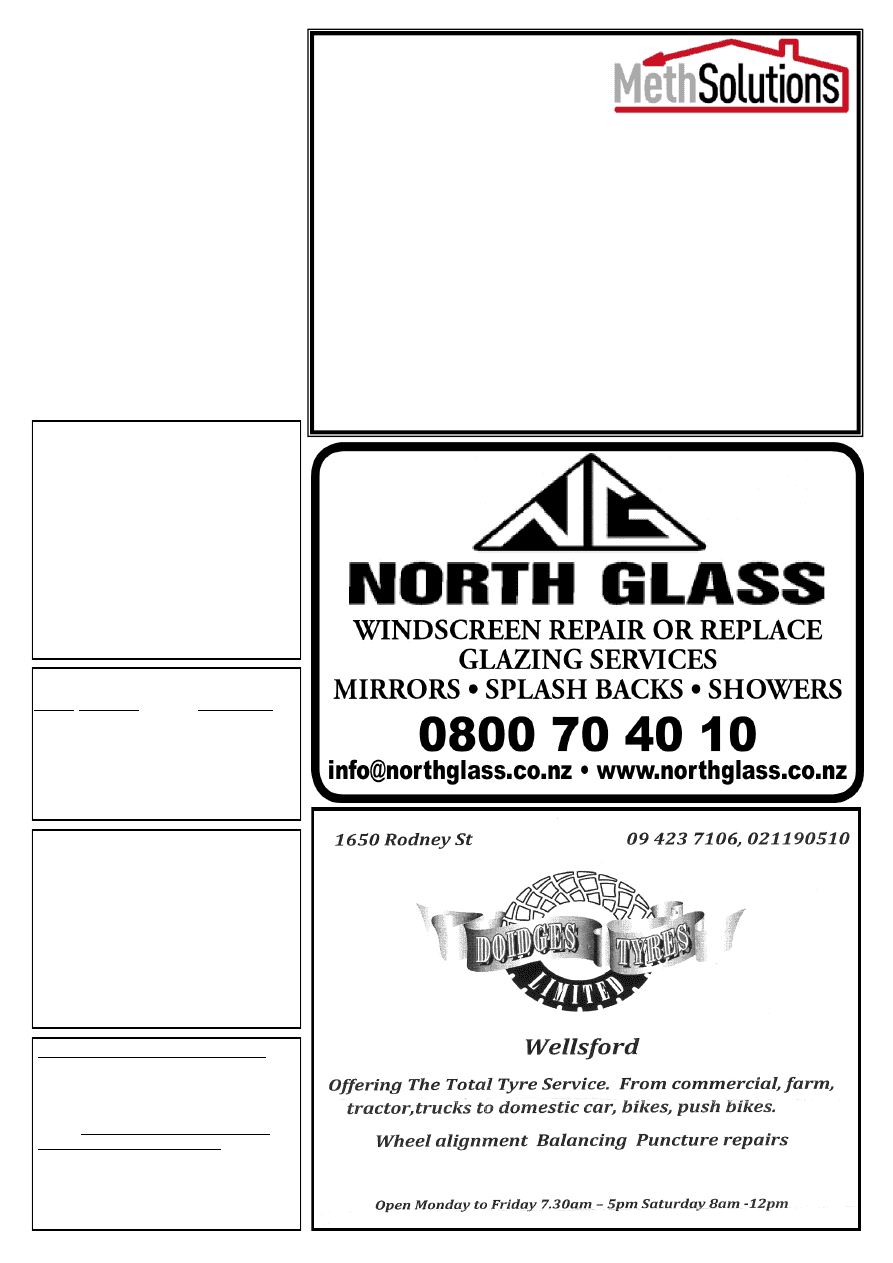 Bugle 18 will appear 17 September 
Advertisers and contributors please 
note that ads and copy need to be in by 
2pm on the Friday before going to print 
on Monday. Unfortunately it is very 
difficult to include late copy and ads 
therefore anything received after close 
off time may not be published but will 
be included in the  
following issue. 
The earlier the better ! 
Kaiwaka Bugle Advertisements 2013: 
Classified  $2;  1/8  or  1/9  page  $5;  1/4  page 
$10; 1/2 page $20;  
Payments  can  be  online,  posted  or  left  at 
Jaques Four Square Store - 
contact bugleaccounts@kaiwaka.co.nz 
kaiwakabugle@kaiwaka.co.nz    for  queries 
or copy. 
The Kaiwaka Bugle is a community newspaper 
run by volunteers.   
Articles,  etc.  printed  are  not  necessarily  the 
opinion of the Bugle Team  
Deadlines for next few Bugles 
Bugle Deadline           Publication 
 18 
Friday 13 Sept   Tuesday 17 Sept 
 19 
Friday 27 Sept   Tuesday 1 Oct 
 20 
Friday 11 Oct    Tuesday 15 Oct  
 21 
Friday 25 Oct    Tuesday 29 Oct 
 22 
Friday 8 Nov     Tuesday 8 Nov
LANDLORDS
...
Is your house  
being used as a P- Lab? 
Do you live in a P- lab House? 
Thinking of buying a house?  
Don"t take the risk...it will damage your health and your wal-
let If you ignore it. 
High accuracy, low cost MethDNA test from as little as 
$99+GST will give you the answer. 
Tests facilitated by Independent Certified Samplers and  
samples are analysed in an environmental testing lab. 
Book a test now at: www.methsolutions.co.nz  
or for more info call me:  09 4312234  or 021 2154495   
I am a local Independent Certified Sampler for MethSolutions. 
The  new  revised  AA  Defensive  Driv-
ing  Course  is  now  being  run  in  Sep-
tember  in  the  last  two  weeks  of  this 
school  term.    It  is  now  available  to 
Learner    Licence  holders  as  well  as 
Restricted Licence holders.  The clas-
ses are four, two hours sessions (2 per 
week) after school at a reduced cost of 
$180.00.    Any interests and enquiries 
can contact Rosanne Davies on 09 431 
4994 or 027 697 8824.  Seating is lim-
ited.  
Please be quick. 
KAIWAKA BUGLE No: 17 
3rd September 2103 
 
Page3: Public Notices; Classifieds 
Page 5: Kaiwaka Weather; LP Books 
Page 7: Kaiwaka Sports Assn. News 
Page 9: Otamatea High School 
Page 11: Fitness; Garden Club 
Page 13: Night Sky; Family History 
Page 15: The Kelly Herewini Trophy 
Page 17: Daffodil Day 
Page 19: Kaiwaka School 
Page 21: Local Government Elections 
BRICK/BLOCKLAYER            
All aspects of masonry:  
Fireplaces, 
Restoration & Remedial Work. 
JAMES EAGLETON 
Tel. (09) 431 2514  
Mob. 0274 749 232 
jajueagles@yahoo.com.au 
210A Pukenui Road, RD2 Kaiwaka 0573
PUBLIC NOTICES 
CLASSIFIED 
FOR  SALE:  Proteus  Exercycle  in  very  good  condition. 
$125 Ph: 4312541 
HOUSE  FOR  RENT:  3 bedrooms with carport, 11kms 
west  of  Kaiwaka-10  min  drive.  Floor  &  ceiling  recently 
insulated.  Private,  quiet,  lots  of  room  for  kids.  Sunny, 
fenced garden area. Ref required. Sorry, no dogs. $200 pw. 
Please phone 4312042 
HOUSE FOR RENT: Sunny, clean and tidy 2 bedroom 
townhouse  with  garage  underneath  on  Marshall  Road. 
$260pw inc lawns.  Ref required.  Please call Sheridan 
09 410 4870 Mob 0276 879 459 
CLOTHING ALTERATIONS & REPAIRS: 
Hems, Zips, Dressmaking Ph: Win 4312027  or 027 444 8358 
Winsome Designs. 
CRANIO SACRAL THERAPIST: 
for People and Hors-
es, $45 experienced practitioner. Jill Shires 431 2080 
HOLISTIC  ANIMAL  PRACTITIONER:   
Horses, 
Pets, Farm Animals. www.allcreatures.co.nz or Jill 4312080 
WANTED FREE GRAZING: Small or large block. Can do 
some fencing or water. Phone after 6pm  4312006 
PROVERBS: 
12:1 - To learn you must want to be 
taught. To refuse reproof is stupid. 
. 
FIREWOOD  FOR SALE 
Simply the best dry, 
seasoned totara
$90
CUBIC METRE DELIVERED 
Phone Lyn 0220708674  
Or Ray 0212274420
 3 
THANK YOU 
Thank  you  to  the  wonderful  lady  who  lives  in  Mountain 
Road,  who  left  knitting  for  me  at  the  Kaiwaka  Library. 
Your  generous  contribution  to  the  knitting  I  supply  into 
Middlemore is greatly appreciated. This project is ongoing 
as Middlemore deals with 80,000 admissions each year into 
Kids First. 09 431 2522 
Epic
Friday 13
th
 September 
Kaiwaka Sports Complex, 7pm 
Adults $4, children $2 (yr 9 & under) 
Fun, family-friendly movie! 
K A I P A R A     D I S T R I C T     C O U N C I L 
PROPOSED TEMPORARY ROAD CLOSURE 
Pursuant to the Transport (Vehicular Traffic Road Closure) 
Regulations 1965, the Kaipara District Council hereby gives 
notice that the Hibiscus Coast Motorsport Club have made an 
application to have the following road temporarily closed on 
the day and at the time below for the holding of a Hillclimb.  
Sunday 20 October 2013 -9.00.a.m. to  6.00.p.m. (earlier if 
finished before) 
Pritchard Road from its junction with Valley Road 
to the Kaipara District boundary.  
 Any objections to this proposal should be in the hands of the Kai-
para District Council by 5.00.p.m. on Monday 30 September 2013 
KAIPARA DISTRICT COUNCIL  
DARGAVILLE 
BUSINESS FOR SALE OR SHOP FOR LEASE:  
All-Sortz Collectables, Shop 4, 1956 SH1  
(opposite  Café  Eutopia).  40sqm  of  refurbished  space  with 
shared kitchen and toilet facilities. Lots of foot traffic. Very 
successful lifestyle business. Current owner wishes to retire 
"down on the farm", Ph: 09 422 9221. 
The Work Camps..Night Train 
 Beside La Nonna Bakery...Kaiwaka 
 Introduction to Beekeeping:  Wed 4
th
 September , 7.00pm 
Come and hear Adrian Bonner give a 1 night talk on how 
Beekeeping may be good for you. 
 Fire Arms Safety:  Wed 11
th
 September 7.00pm.    
By popular demand, Graeme Stevenson will take us through 
the theory which is required for gaining a license. He peppers 
the safety training with some tales of his hunting exploits.  
 A gold coin will be required to assist with power & a 
cuppa.  No need to book...just turn up.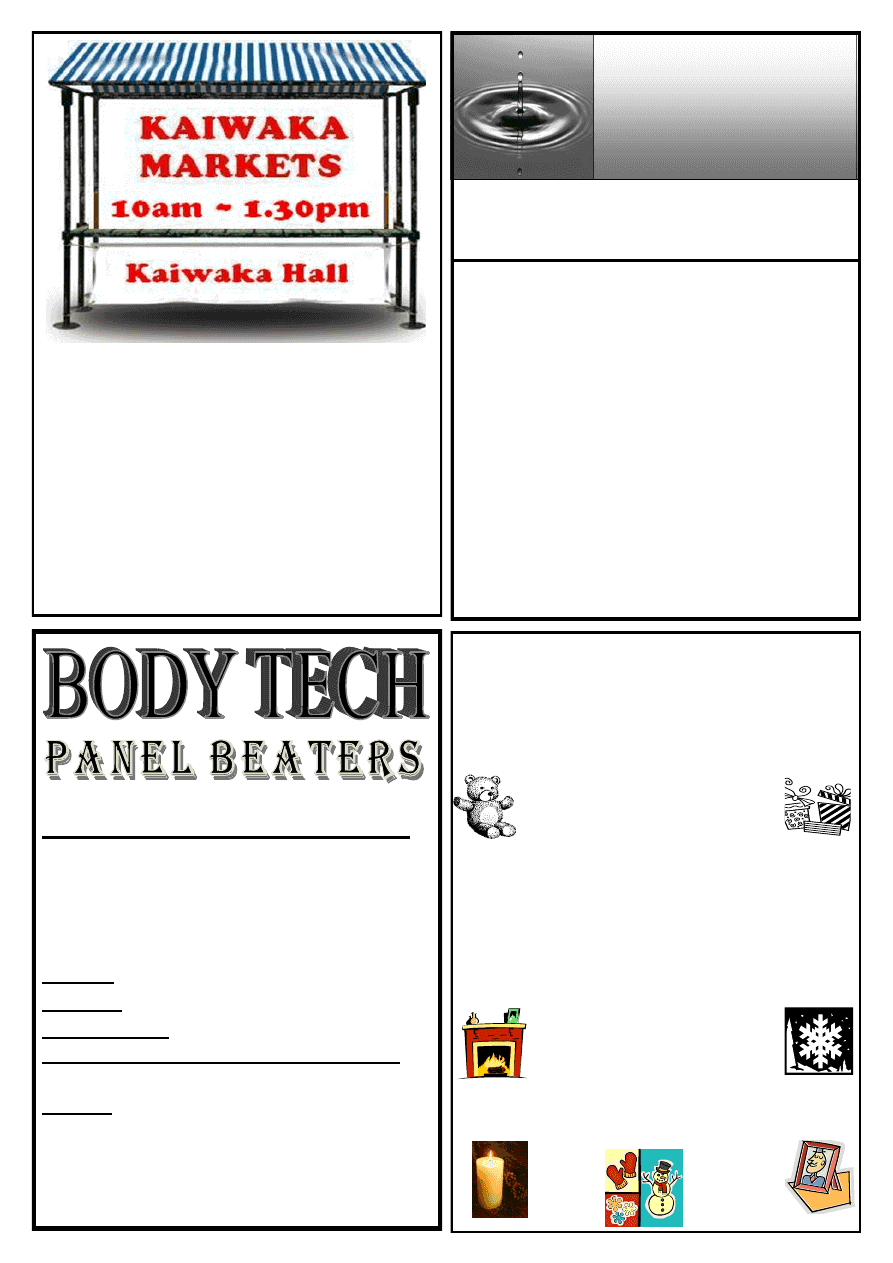 For all your body repair needs!! 
We do: 
 
Rust repairs 
 
Insurance work 
 
Anti-corrosion treatment     
Hours: 8.30am-5pm Monday-Friday  
Mobile: 021 118 0462 
After hours: 09 431 2384 
Phone: Craig or Call in for a free Quote 
 
Email: 
bodytech_panelbeaters@yahoo.com
We are located at 1837 SH1 Kaiwaka, behind Twinkle 
Tow "n" Tyre call in anytime for a free quote.  
 
Large and minor vehicle 
repairs
 
Industrial vehicles
 
Full Cut and polishes
Celena's Gifts 
1925 State Highway 1 
KAIWAKA (next to Italian Bakery) 
      Ph: 09 4312741 
  CLOSED MONDAYS DURING WINTER 
We stock:- 
Baby Gifts  
Jewellery     Toys 
Kitchenware 
Toiletries     Photo Frames               
NZ Souvenirs 
Candles 
   ... and much more! 
Winter Warmer Specials  
        in  Store                                                                   
 
July and August   
   Come and have a look 
On the 2
nd
 Sunday of each month 
In the Kaiwaka War Memorial 
Hall 
Sunday 08 September 
A variety of new & pre-loved goods 
Enquiries to:  
 PETE WORSFOLD M. Soc. Sc. 
Student Counsellor 
 
 peteworsfold@xtra.co.nz 
 021 825 970 
Professional Service 
Variety of Modalities 
By Appointment Only 
PRIVATE COUNSELLING  
AVAILABLE 
MODALITIES: 
  Individual – one on one counselling      
    FOR 
CBT  
Grief 
Gestalt 
Relationship 
Person-Centred  
Trauma 
Solution Focussed 
Couples 
Behavioural 
Adolescents 
Careers 
Call for Appointment 
At "The Well of Health" 
09 4312799 or 021 825 970 
 PETE WORSFOLD M. Soc. Sc. 
Student Counsellor 
 
 peteworsfold@xtra.co.nz 
 021 825 970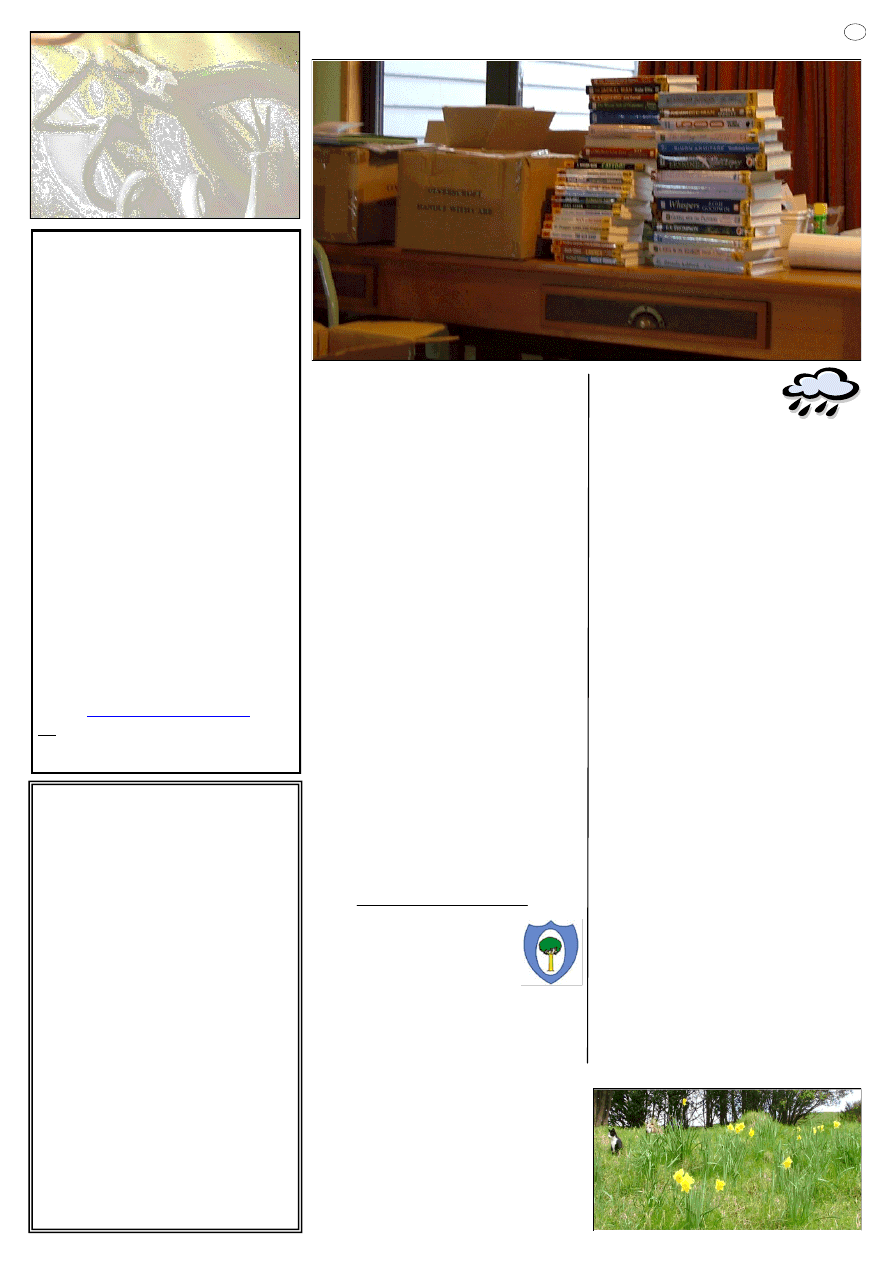 Paul Greig Electrical Ltd 
Residential • Farm • Commercial 
Paul Greig 
Registered Electrician 
Ph: 431 2223  
Mob:021 230 2717 
Reliable & Professional Quality Service 
Based in Kaiwaka 
AMBER'S 
Q Cafe &  
Restaurant 
All day breakfast, 8am - 5.30pm.     
 Home made Pizza, take away or eat in from 8am to 
late. 
 Light lunches, 11.am - 5.30pm, 
Dinner Menu at 5.30pm to late 
 Toasted Sandwiches and Sandwiches made to order. 
All day, Pies, Chowder & Soups 
 Milkshakes, Kiwi Ice cream, Slushie Fruit drink, Tea, 
Coffee 
 Closed Mondays.....except Observed Holidays 
 Sunday to Thursday: 8am - 8pm 
 Friday: 8am - 8.30pm, Saturdays 8am- 9pm 
4315226 
Trevor & Amber 
41 Moir Street, Shop 5-6  
Mangawhai Village 
Next to Carters Building Supplies 
5 
Bonjour, tous les mondes! 
Not a fully functioning person...with those 
niggles, aches and pains? You guessed it.  
 I can help!
Monsieur Masseur .... 
RELAXING  
MASSAGE
..... Juste pour vous" 
Here's feedback from a happy client 
"Pete's treatment works. He identified 
long standing injuries no one else 
could fix and relieved years of chronic 
pain, fatigue and headaches.  I have 
Pete to thank for getting me back to 
work. I am so much happier and more 
confident in myself.  I can thoroughly 
recommend him." 
 
Call for an appointment now!
Pete Worsfold 
4312 152  or   021 825970   
Or  Ph. "The Well of Health" 
For an appt. 09 4312 799 
NORTHLAND RUGBY UNION 
2013 ITM CUP DRAW  
Home Games  
at Toll Stadium, Whangarei 
Sun 8th Sept 4.35pm Northland vs. 
Wellington 
Thurs 26th Sept 7.35pm Northland vs. 
Tasman  
Wed 9th Oct 7.35pm Northland vs. 
Otago 
Sat l2th October 5.35pm Northland vs. 
Bay of Plenty 
Away Games 
Sun 15th  4.35pm Hawkes Bay vs. 
Northland, Napier 
Thurs 19th Sept  7.35pm Auckland vs. 
Northland, Auckland 
Fri 4th Oct  7.35pm Manawatu vs. 
Northland, Palmerston North
KAIWAKA 
WEATHER 
Welcome to Spring folks.    
What  a  beautiful  way  to  end  winter  with  a 
partly cloudy sky and  light winds and some 
beautiful sun. 
Our daffodils and spring flowers are still 
blooming, as last year by this time they 
had all finished.  The ground around us 
now  is  very  wet  and  I  notice  the  pad-
docks  around  are  all  sloppy  and  mud-
dy.  The  days  are  so  much  longer now, 
however  only  4  weeks  until  daylight 
saving starts.  Our kowhai and magnolia 
were very slow to come into bloom this 
year but have flowered well and now to 
pick  up  the  petals  although  they  look 
lovely under the tree until they die.   
Our  rain  we  recorded   for  August  was 
191mm compared to 193mm for August 
2012.   We  had  18  out  of  31  days  with 
showers  or  rain.   For  the  first  8months 
including  August  we  had  830mm  com-
pared to 994mm for 2012.   
The  wettest  August  since  1987  was 
1989  with  318mm  and  the  driest  was 
2011 with 54mm.   
The wettest first 8mnths since 1987 was 
1987  with  1373mm  and  the  driest  was 
1994 with 612mm.   
We  have  had  a  relatively  mild  winter 
although  you  would  not  think  so  at 
times.   I hope for the animals sake they 
have  all  finished  having  little  ones  and 
yes  their  carers  can  get  down  to  other 
jobs and get in the warm a bit sooner in 
the  day.   For  everyone  else  out  there 
keep warm and take care.  Regards, Bev 
See beautiful Spring photo enlarged and 
in colour on www.kaiwaka.co.nz. 
Hastie's dining table groaning under the weight 
of newly catalogued and covered books
Large Print Books 
Deb  Hastie,  treasurer  and  co-ordinator 
of  Northland  Libraries  Large  Print 
Books,  recently  purchased  106  new 
large print books, spending a $4502 of a 
Lottery  Northland  Community  Funding 
grant. 
Northland  Libraries  Network  Inc  dis-
tributes these new books, and previous-
ly purchased books, between 10 North-
land  libraries,  Kaiwaka  being  the  fur-
thest  south  and  Mangonui  the  furthest 
north.  
Large  Print  book  publishing  in  English 
began  in  1964  in  Leicester,  England 
when  Frederick  Thorpe,  a  retired  book 
and  magazine  distributor,  decided  to 
meet  the  needs  of  elderly  poor-sighted 
readers by reprinting older classic books 
in  editions  with  the  type  enlarged  to 
about  twice  the  size  of  the  original 
printing. 
Large  print  books  and  audio  books  are 
swapped  twice  a  year  at  Easter  and  in 
October. Librarians and volunteers from 
each  of  the  10  libraries  meet  in  Keri 
Keri  (Easter)  and  Whangarei  (October) 
and swap the large print books and au-
dio  books  that  have  been  on  their 
shelves for the past 6 months.
NORTHLAND LIBRARIES NETWORK INC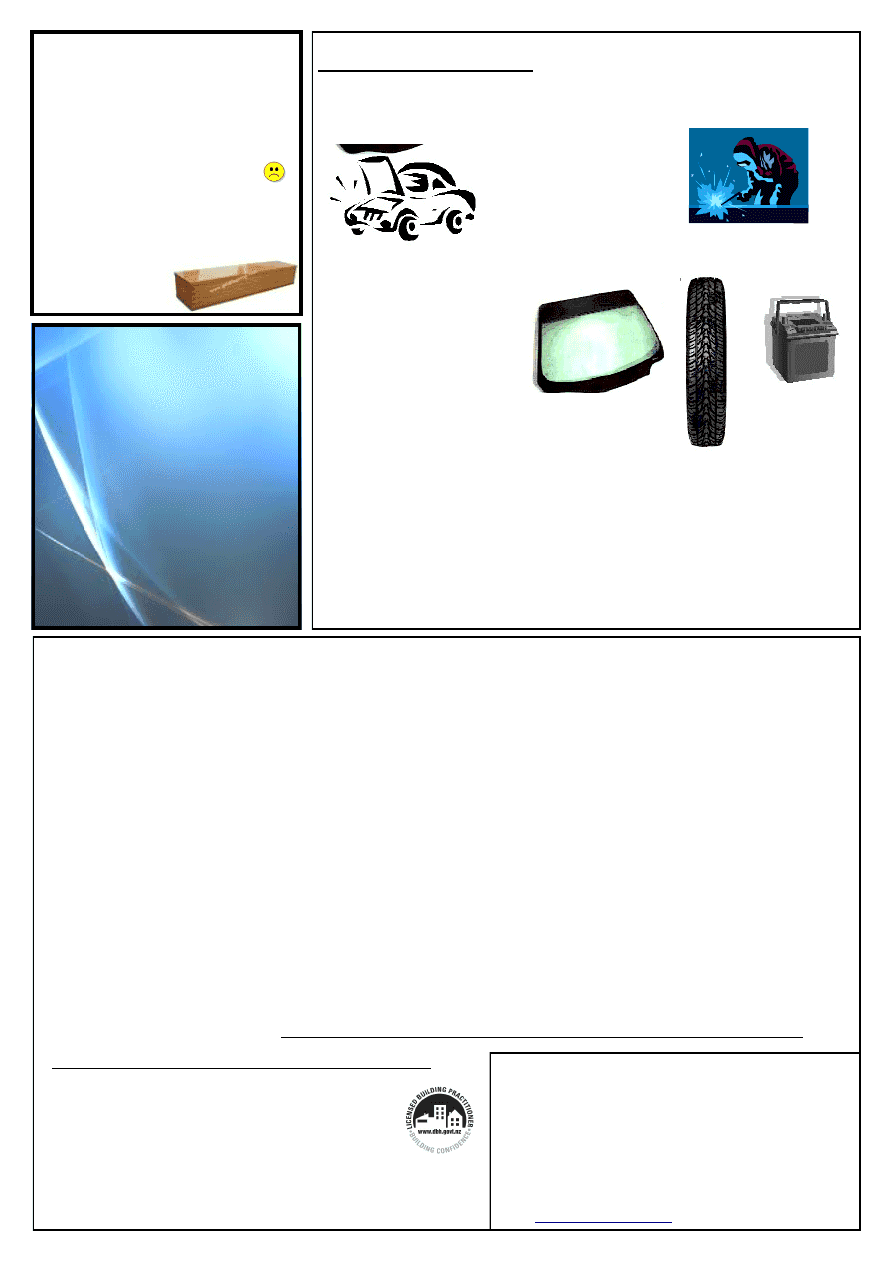 Freeview  
Installations 
Richard Te Haara 
25 Marram Place 
Mangawhai Heads 
021 1104056 
kiwipride@xtra.co.nz
KEV's CASKETS 
Stylish, BUDGET Accommodation 
Takeaways (8 available)  
or made to order 
  Featuring 2 styles and  
Different finishes. 
        Also O/S and Infant size 
     Phone Kev in Kaiwaka  
021 1322 671 
Or come and visit my showroom 
271 Rodney St. Wellsford 
Want it done? 
Bring it to 
Twinkle Tow 'n' Tyre 
*W.O.F. 
*Tyres 
*Windscreen replacement 
*Chip repairs 
*Bulk Oil 
*Batteries 
*Welding 
*Custom built trailers 
*Trailer hire 
Think you"ll get a better deal in the city? 
Go on, ring us; it won"t cost anything! 
1837 State Highway 1, Kaiwaka       
Phone 431 2823 
ARCHITECTURAL BUILDING PLANS AND DESIGNS 
20% Reduced Cost - design and planning. 
If you are thinking of building, then you need to make use of cost savings in architectural design as well as having a good and well experi-
enced designer. This applies if you are considering a new home, any alterations or any building additions/farm buildings, sheds, alterations, 
whatsoever. There are many things that are frustrating if you are not totally familiar with what all details are required by Councils -
especially with new regulations in force to ensure everything runs smoothly - e.g. Resource and Building Consents, planning restraints, 
new building materials ,applying for building permits, dealing with building contractors to name a few -you need a capable,  
experienced and professional designer with a clear knowledge of all the processes. 
WE CAN HELP YOU CLARIFY ALL OF THESE ITEMS  AND MAKE LIFE RUN MORE SMOOTHLY.  
Brian of Wright Design has been helping and organising all these facets of design and building for over 40 years. 
With needs of family changing and the economy - building requirements constantly being reorganized and made more complex, it"s very im-
portant to obtain professional advice for any building project - no matter what size. 
Brian advises on design, materials, permit applications, builders and subcontractors for any project - no matter how small or large 
ALL THIS AT A REDUCED COST so YOUR DOLLAR GOES FURTHER  
Wright Design offers free visits, consultations and all the advice you need on planning. Design, building, contractors, council  
permit applications, guaranteed permit plan acceptance. 
QUALIFICATIONS 
Brian is a qualified designer (NZCAD) with over 40 years of varied experience in all types of building and is a registered and Licensed Build-
ing Practitioner in Design - L.B.P. 117345 
He ensures you will achieve the best from your budget with recommended excellent local contractors ready to competitively price and 
build your personal project quickly and efficiently. 
EXPERIENCE 
Brian"s practical building and 40+ years of design experience means he can give you excellent advice and all the guidance needed for 
all your building needs, 
FEES: To help you attain your project Brian has reduced his costs by 20%, giving you extra funds for the rest of your project. 
ENGINEER: Brian can arrange engineering for a reasonable cost. 
THIS IS AN ABSOLUTELY GENUINE FEE REDUCTION!! 
Qualified and inexpensive designer – N.Z.CAD., LBP 117345 
Guaranteed design and working drawings 
Free site visit to your home or property 
Great service 
Obtain a free quote with 20% Discount. 
PROJECTS 
Additions, alterations, basements, new houses, motels, bed and breakfast 
commercial buildings and shop fit outs are a few projects he has been  
involved with. 
MAKE GOOD USE OF HIS EXPERIENCE AND THIS GREAT  
WHAT TO DO FROM NOW 
Call Brian   
Arrange a visit 
Discuss your needs 
Obtain great advice.  
Obtain a free quotation - with a true 20% discount 
WRIGHT DESIGN 
Brian"s office is at: 360 Oneriri Road, Kaiwaka, Northland 0573  
Call in for a chat and a coffee, or he will call on you at your home if  
preferred. 
WRIGHT DESIGN: Office 09-4312544 
Mobile 021 276 7389 
Email: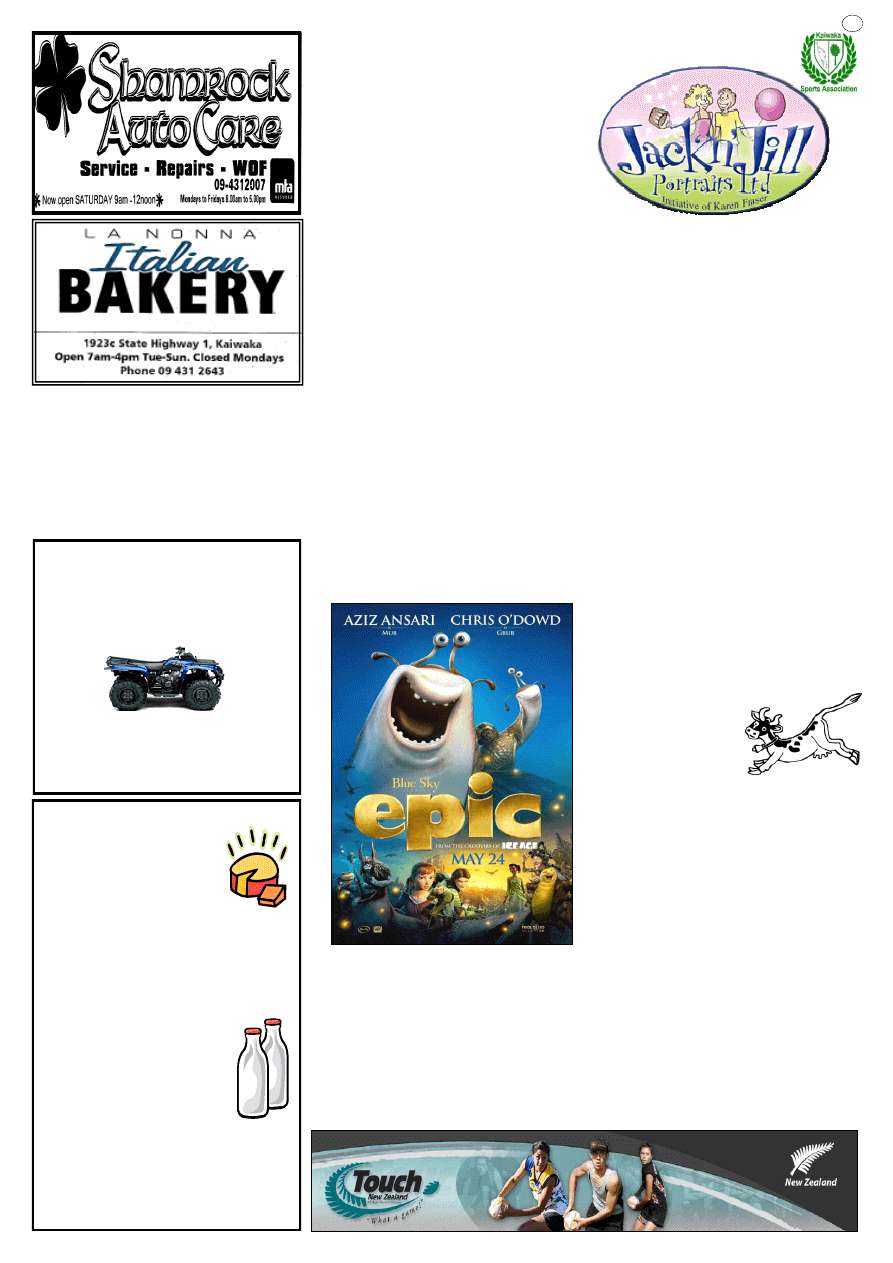 Hands On    
CHEESEMAKING  
WORKSHOPS  
are  On Again  
SATURDAYS    
14th September & 21st September 
( 9am to appx.3 pm, incl. lunch)  
GOUDA (Hard Cheese) and  
Camembert Style (soft cheese) 
Other dates by  
arrangement… 
Or....  if YOU supply the 
Milk ...I can make the 
Cheese for YOU. 
 
For More Info  
or Bookings   
Contact: 
Ad ...... 
(Kaiwaka Cheese Shop Founder) 
09-4312234 or 0212154495 
7 
KAIWAKA SPORTS ASSOCIATION 
KAIWAKA  MOTOR 
CYCLES LTD 
SALES SERVICE SPARES
FARM BIKE SPECIALIST
Phone 431 2127  
Kaiwaka-Mangawhai Rd 
Kaiwaka 
Portrait Fundraiser 
I  am  organising  a  Portrait  sitting  day 
with  well  known  New  Zealand  photog-
raphers  Jack  'n'  Jill  Portraits  as  a  fund-
raiser for the KSA. For just $10 you will 
receive a sitting and a 10" x 13" colour 
(or black and white) photo of your fami-
ly valued at $79. The photographers will 
be  at  the  Sports  Complex  on  Sunday 
29
th
  September, so families  simply  ring 
me to book in. Then approximately two 
weeks  later  families  return  to  collect 
their $10 photo and decide if they would 
like to purchase additional photos. At no 
times are families obligated to purchase 
additional  photos.  You  can  check  out 
samples of Jack 'n' Jills portraits on their 
website 
.  Family 
portraits  are  a  wonderful  keepsake  and 
with Christmas not too far away are also 
a  great  gift  idea!  To  make  a  booking, 
please  get  in  touch  with  me  (contact 
details below.) 
Rugby 
On  Saturday  14
th
  September  we  will 
host  an  Under  18s  rep  match  –  King 
Country  vs Vikings. Kickoff will be at 
1pm  and  spectators  are  welcome.  Last 
chance to watch some rugby in Kaiwaka 
for the season! 
Movie 
As  a  fundraiser  for  the  KSA,  we  will 
show  the  animated  movie  Epic  at  the 
Sports Complex on Friday 13
th
 Septem-
ber at 7pm. Adults $4, children $2 (year 
9 and under). An inexpensive, enjoyable 
evening out for the whole family. 
Soccer 
Our  soccer  club,  the  Kaipara  Knights, 
will hold their end of season prizegiving 
at  the  Complex  on  Saturday  21
st
  Sep-
tember at 11.30am. Please bring a plate 
for a shared lunch. 
High School Netball 
The  high  school  netball  club  will  cele-
brate  the  end  of  their  season  with  a 
prizegiving  at  the  Sports  Complex  on 
Sunday  22
nd
  September  from  2pm.  All 
netball families are welcome to attend. 
Summer Touch 
I am considering running a Touch mod-
ule at the Sports Complex over the sum-
mer, but am wanting to gauge interest in 
the idea first. The module would be over 
10  weeks,  probably  on  a  Sunday  after-
noon  and  would  be  a  casual,  friendly 
competition  for  mixed  teams  of  men, 
women  and  teenagers.  If  you  might  be 
interested  in  participating  please  let  me 
know (contact details below.) 
Kitchen Hirage 
Did you know that our kitchen is availa-
ble  for  hire?  If  you  require  a  licensed 
kitchen  eg:  if  you  are  wanting  to  make 
food to sell to the public, then our kitch-
en can be hired out for $10 per hour. To 
make a booking, just give me a call. 
Agricultural Events 
Kaiwaka  School  will 
hold  their  Agricultural 
Day  (Calf  Club  Day) 
at  the  Sports  Complex 
on  Monday  21
st
  Octo-
ber,  and  Group  Day 
(regional Agricultural Day) will also be 
held  at  our  Complex  a  week  later  on 
Monday 28
th
 October. These are enjoya-
ble  days  watching  the  young  children 
show off their beloved calves and lambs 
and spectators are most welcome. 
Advance Notice 
Back  by  popular  demand  –  Fright 
Night!  This  is  a  Halloween  inspired 
evening  where  children  dress  up  in 
scary  costumes,  there's  music,  dancing 
&  games  and  then  after  dark  the  chil-
dren can take a walk through the haunt-
ed house! Mark it in your diary – Satur-
day 2
nd
 November. 
Cheryl Anderson, Kaiwaka Sports Association 
09 4312 051 
021 3462702 
Q: Which runs faster, hot or cold water? 
A: Hot, because you can catch cold. 
Q: What did one tooth say to the other 
tooth? 
A: The dentist is taking me out tonight. 
Q: What did the lawyer name his daughter? 
A: Sue. 
Q: What kind of dress can't be worn? 
A: Address.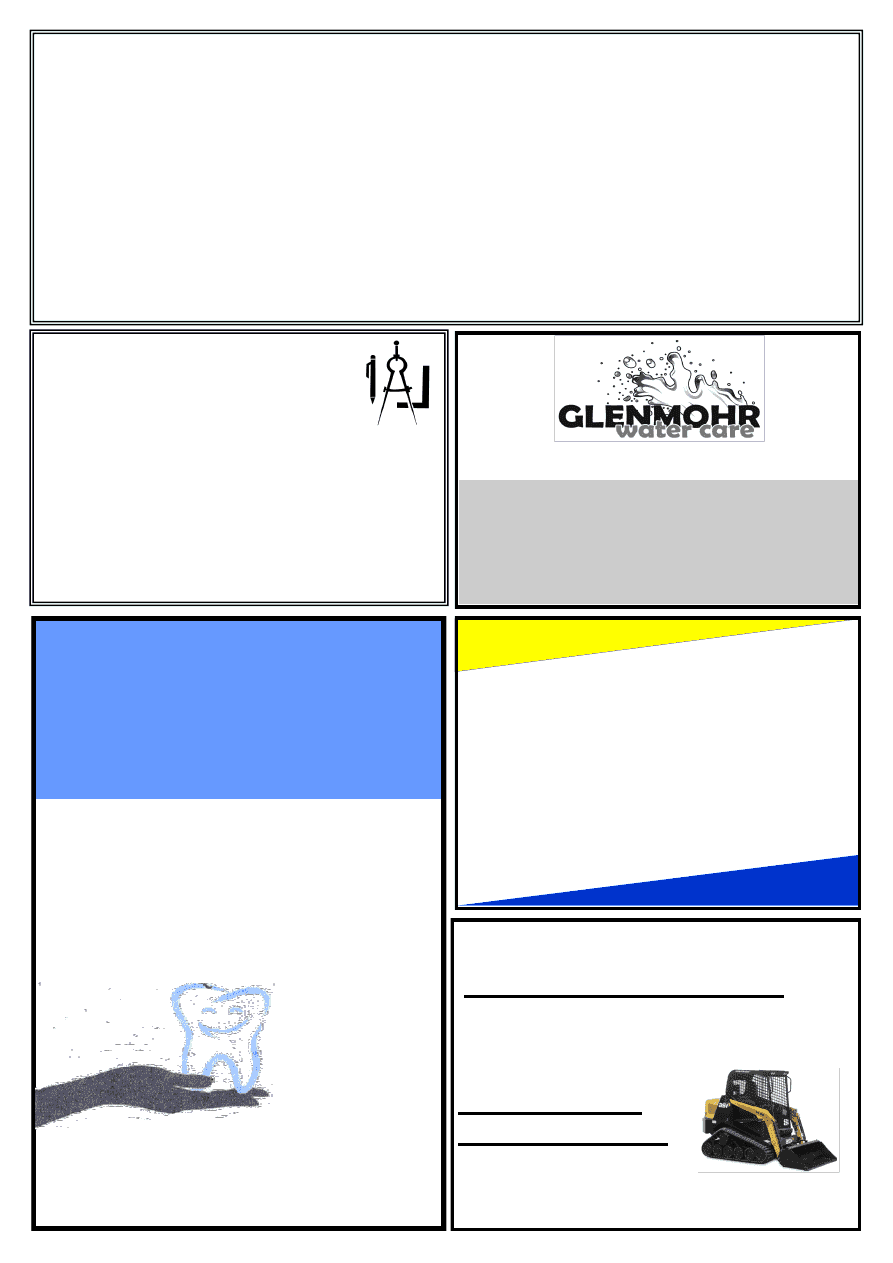 RANGANUI EARTHMOVERS 
 
16T Excavator   
(tilt, thumb & ROPS cab)   
Transport Trailer 
2 x 6 Wheeler Tip Trucks 
Suppliers of All Grades of Metal & Topsoil 
 
If you want a proper job done with an experienced operator ring 
Grant on    A/H 431-2131        Email  ranganui.dev@xtra.co.nz 
   Mob  021845-246 
Driveways, House Sites,  
Drainage Dams, 
Section Clearing,  
Tree Work,  Rock Retaining Walls,  
Quarry Work, 
Basically Anything That a Digger Can Do 
C O N C R E T E  
If it's concrete we do it 
Full Preparation & Pour by 
Experienced Local Team 
Phone Phil Keen Contractors  
027 659 2376 
design drafting 
service 
Retired builder and manufacturer with over 40 years  
experience in the building industry is offering a design 
drafting service  
for domestic housing, sleepouts and sheds.  
Plans formulated in consultation with clients, with 
working drawings completed and submitted to  
council for processing.  Extensive practical experience,  
able to identify & resolve problems. 
Please ring Mike Lean on 
09 431 2260  
or 
021 431 196 
Water Tank Cleaning 
" 
Keep your water safe & clean   
" 
Removal of sediment, silt etc 
" 
Vacuum or full scrub 
" 
Minimal water loss 
Phone Mark (09) 432 0655 or 0274 707607 
Saturdays 
By 
Arrangement 
Open  
Mon-Fri  
8am-5pm  
Gentle Dental 
Ruakaka 
We love to see you smile 
" 
General  & Cosmetic Dentistry 
" 
Emergency & ACC Treatment 
" 
Denture & Hygienist Services 
" 
Senior Citizen Discounts 
" 
Free Adolescent Care 
" 
Free WINZ Quote 
Ph:  432 8139 
19 Ruakaka Town Centre 
Dr Sim Sood & Associates 
You're in gentle hands
Saturdays 
By 
Arrangement 
Open  
Mon-Fri  
8am-5pm  
Gentle Dental 
Ruakaka 
We love to see you smile 
" 
General  & Cosmetic Dentistry 
" 
Emergency & ACC Treatment 
" 
Denture & Hygienist Services 
" 
Senior Citizen Discounts 
" 
Free Adolescent Care 
" 
Free WINZ Quote 
Ph:  432 8139 
19 Ruakaka Town Centre 
Dr Sim Sood & Associates 
You're in gentle hands
Natural Earth Ltd 
 Landscape and Bobcat services 
 : Driveways  :Landscaping  :Retaining Walls 
 : Hole Boring: Land Leveling :Trenching 
 : Decks :Fences :Sections Cleared: Plus much more 
Tel   09 4312885 
Mob 02102391280  
For A fast friendly  
Service Contact Tim Hicks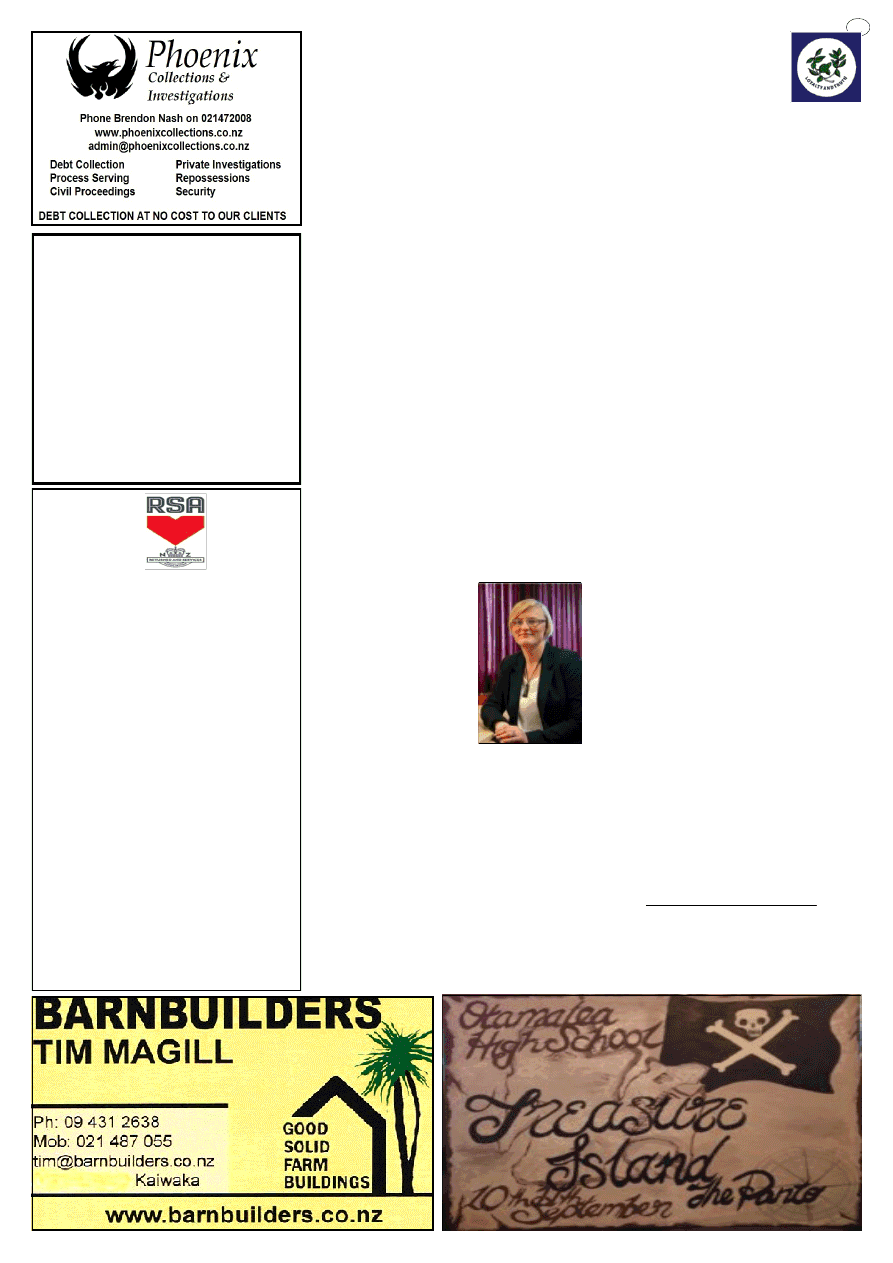 HAKARU RSA
Women's Section 
2nd Friday of the 
Month 
from 6.30pm 
Roast of the Day $12.00 
Fish n Chips      $10.00 
Pea Pie Mash    $6.00   
Includes salads 
Desserts  $3.00 
Phone Heather 4314668 
Jan 4314512 
 LEABOURNS 
Passenger Service 
Car & Van Hire 
Bus & Coach Charters 
Airport Transfers 
 Monthly Shopper Bus 
Phone (09) 4237416 
9
OTAMATEA HIGH SCHOOL 
Assembly last  week  focussed  on  Ota-
matea  High  School being our place of 
standing,  belonging  and  connection.  
The Māori  concept  of  Tūrangawawae  
was  introduced;  this concept  is  about  
belonging  to  a  place  where  we  feel 
empowered and connected.   My vision 
is that all members of  Otamatea  High  
School  experience  this  feeling  of em-
powerment,    belonging    and    connec-
tion.      Students  were  also    encouraged  
to  develop  a  sense  of  pride  and  ma-
na through  taking responsibility. Partic-
ipating  in  inter-house  competitions, 
wearing  uniform  with  pride  and  having 
respectful interactions are all ways  that 
students  can  demonstrate  a  sense  of 
pride and mana.  The Kapa Haka group 
led the school in singing Anei Te  Iwi O 
Ngati  Whatua.    This  waiata  acknowl-
edges our place of belonging in the Kai-
para region.   
Two  very  important  developments  are  
due  to  start  over  the  next  couple  of  
weeks  at  the school.  Firstly the SNUP 
(School Network Upgrade) will see our 
computer  network  upgraded  to  provide  
us  with    access    to    ultra-fast    broad-
band.  This work begins today and is set  
to be completed by  the  
beginning    of    Term 
Four.    The  second  de-
velopment  is  the  build-
ing project which  is set  
to  start    on  Monday 
September 2nd, starting 
with  the  upgrade  to  A 
Block.  
Rachel 
Clothier-
Simmonds, Principal 
JOHN BRUCE 
Otamatea  High  School  and  John  Bruce 
cordially  invite  the  wider  school  com-
munity to a celebration of 27 ½ years of 
teaching  service  at  Otamatea  High 
School.  
Especially  welcome  are  past  teaching 
staff,  past  Board  of  Trustees  members, 
past  students  and  parents  of  past  and 
present  students  taught  by  John  Bruce. 
A separate address will be given to pre-
sent day students at assembly 
 on Monday 9th September.  
It would be lovely to see past members 
of sports teams coached by John Bruce. 
That is OHS Boys 1st XV Rugby, OHS 
Boys  1st XI Cricket, OHS Girls 1st XI 
Cricket,  OHS  Girls  1st  XI  Hockey  and 
OHS Girls 1st XI Soccer.  
The  function  will  be  held  at  the  Ota-
matea  High  School  Assembly  Hall  at 
4pm on Thursday 5th September where 
John Bruce will make his final address. 
This  will  be followed  by  a  complimen-
tary afternoon tea in E Block.   
If  you  wish  to  attend  please  ring  Ota-
matea  High  School    09  431  8230  or 
0800  682  628  to  confirm  your  attend-
ance  as  we  need  to  know  numbers  for 
catering purposes.     
"TREASURE ISLAND" 
 Otamatea High School Senior and Year 
10 Drama students  are proud to present:    
Treasure Island the Pantomime  
Written by Richard Lloyd.    
 This  production,  based  on  the  Rob-
ert    Louis    Stevenson  classic,    is  pro-
duced  by    arrangement  with  Samuel  
French  Ltd.    A    swashbuckling    romp  
with  all  the  wonderful conventions  of  
pantomime,  including  the  outrageous  
dame,  a  handsome  hero  and  a  beau-
tiful  courageous heroine,  two bumbling  
fools and some  raucous pirates in  
search  of  treasure.  The  audience  will 
participate.  "Oh  no  they  won"t!  Oh  yes 
they will!" Just watch out for that pesky 
parrot  Captain  Haddock    who  knows 
where he might  turn up.    
SCHOOL  MATINEES  10th,  11th  of 
SEPTEMBER AT 12 noon    
SPECIAL  PRICE  of  $2  PER  CHILD 
(under 13)  $5 ADULTS  
Book  through  the  Otamatea  High 
School Office  09 4318230  
Evening performances 6.00 pm Tuesday 
10th and Wednesday 11th   
$5.00 per student and $ 10.00 an adult.  
Otamatea  High  School  will  be  closed  for 
tuition  on  Friday  6th  September  due  to 
teachers  attending    Professional  Develop-
ment workshops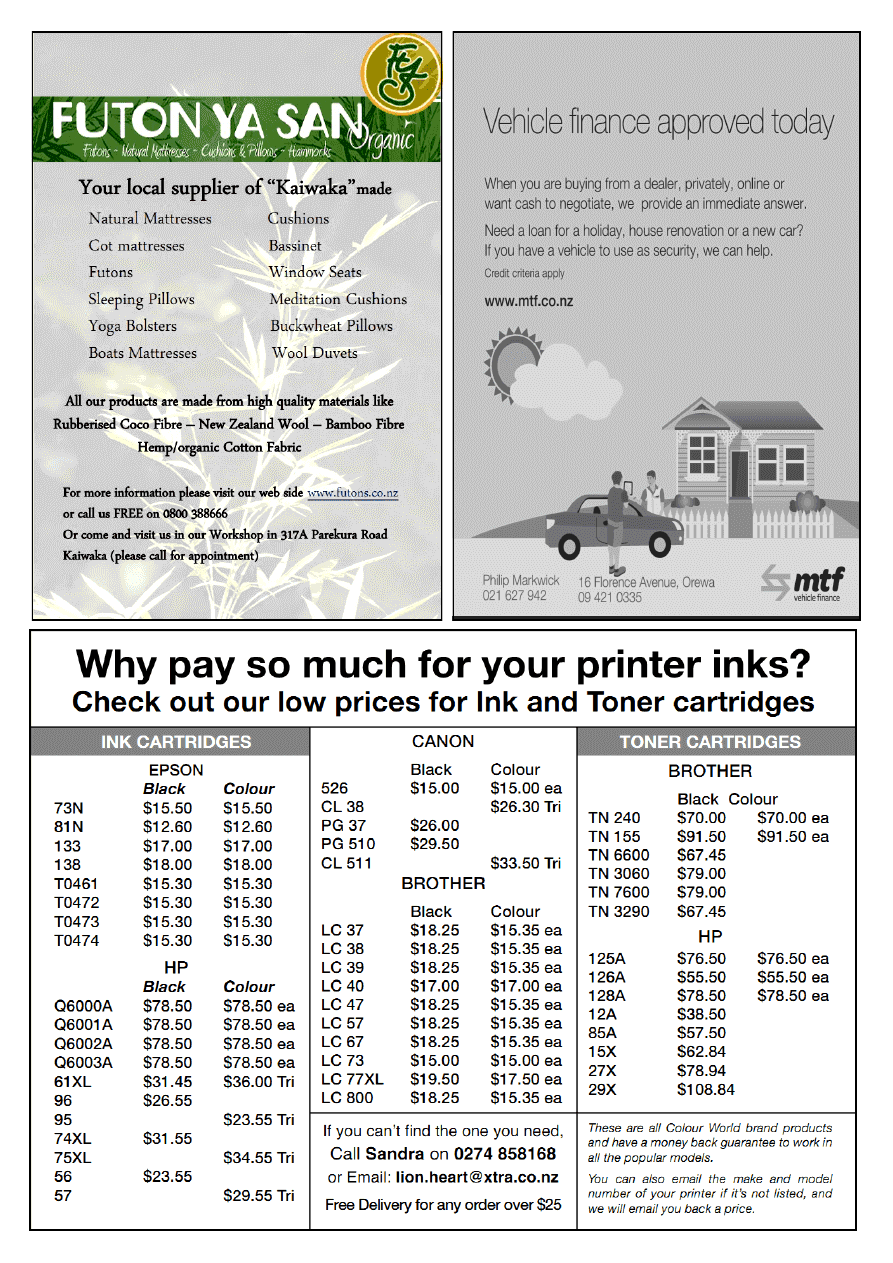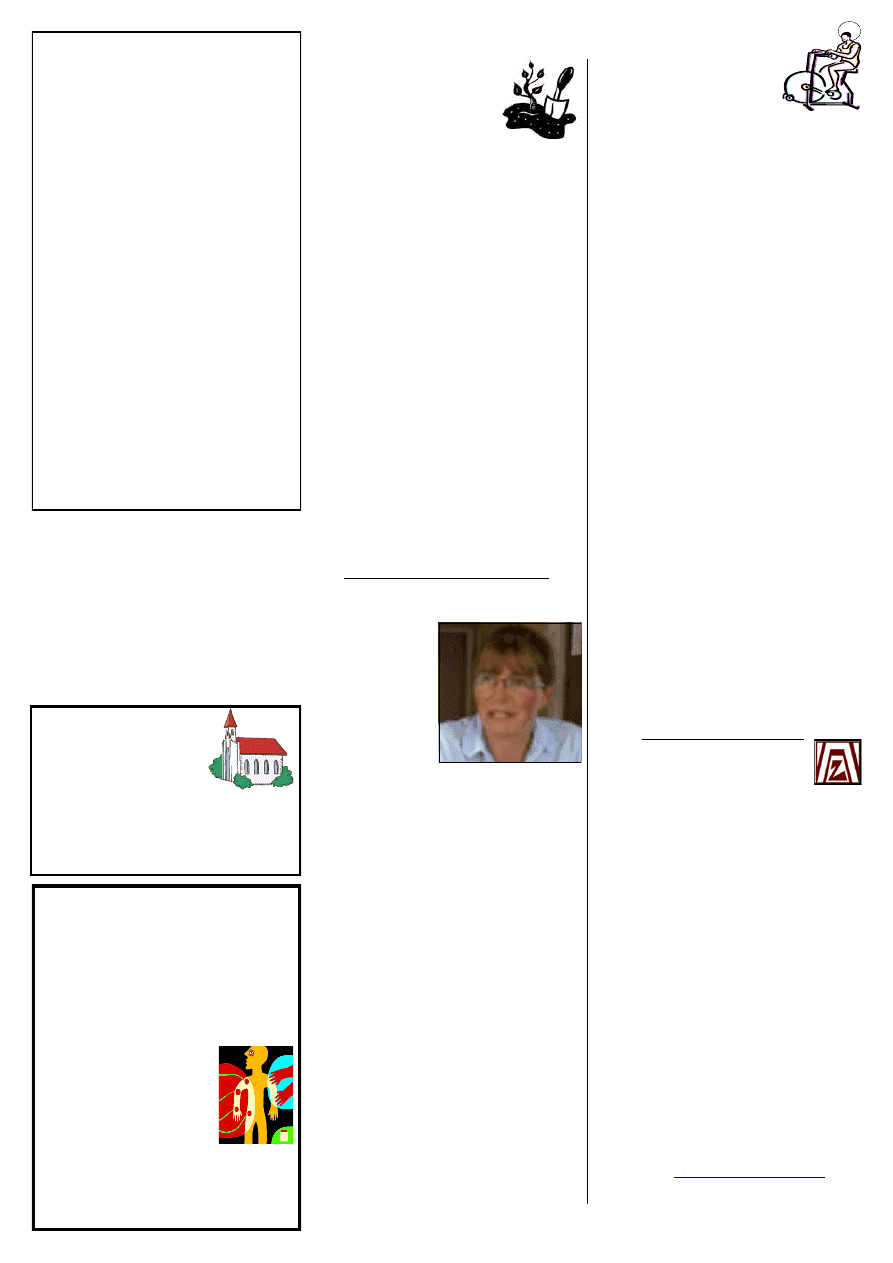 ST PAUL"S  
SUNDAY  
SERVICES
First Sunday 9.30am, third Sunday 4pm  
Paparoa Anglican and Wellsford  Co-op Parishes 
StPauls Church: Kaiwaka-Mangawhai Rd.  
Contacts: M. Hargreaves 4312295, C. Bygrave 4312057  
1st Sun. (Anglican), 3rd Sun. (Co-op). 
OWEN STEVENS 
Osteo Therapist
For careful adjustments to  
bones and joints 
Treatment for humans and their pets 
Clinics:  
Kate's Place, Kaiwaka: 
Last Friday of month 
Warkworth Showground:  
2
nd
 Thursday, monthly
For bookings:  9.00am-
5.00pm 
Phone 09 4312661  
Or phone Owen  09 4317123    
 11
KAIWAKA  FLORAL  & 
GARDEN CLUB 
The  August  Meeting  was 
held  at  Milestone  cottages 
conference  room,  where 
Martina Tschirky answered 
questions  on  A.C.E courses  she  will  be 
running in the future. These courses fea-
ture, pruning, floral arranging, and wine 
making plus other topics. Gael McCona-
chy  was  originally  meant  to  be  our 
speaker but due to illness was unable to 
attend we hope you are better now Gael. 
The  competitions  for  this  month  were 
"Wild Card" only results as follows 
Most Outstanding Gale Matheson's Camellia. 
Bloom -  Lorraine Lusty's Orchid 1st ,  with 
Glynis Smith's Azalea 2nd 
Vege  -1st  Rosemary  Brown's  cauliflower 
2nd Adrienne Osmon's beetroot 
Next  month's  meeting  will  be  at  Lor-
raine  Lusty's;  entries  in  by  1.15  p.m at 
15 Robert Street. Phone 4314182. 
Flower  of  the  month  -  Flower  from  a 
bulb. 
Vege.-Herbs done in a bouquet. 
Floral Arrangement - "Springtime" 
Fruit Citrus. 
Enquiries- A Dowson Ph: 4315913 
KAIWAKA  
FITNESS 
It"s  been  a  very  busy  time 
for  me  over  the  last  few 
weeks, getting ready to compete at Tau-
po with up to 3 hours of exercise a day 
plus work. 
I finally got there last weekend and did 
better  than  I  thought  by  winning  Over 
50yrs,Open  and  the  Overall  champ  for 
bodybuilding,  absolutely  stoked  that  all 
my hard work paid off, so I have a bit of 
down time this week then back into it to 
compete at NZIFFB in Hamilton on the 
21st then onto Nationals. 
We had a really good weekend catching 
up with Lisa Cameron-a bonus. She has 
not  changed  one  bit.  She had  8  girls in 
the  show  so  was  running  around  after 
them.  It  was  an  extremely  long  day 
starting  with  registration  at  9am,then 
briefing  at  12,  show  started  at  2pm,we 
finally  finished  at  10.30pm  just  in  time 
to catch burger fuel before it closed- so 
have been stuffed all week. 
People always  say  to  me  that  it  is  easy 
for  me  because  I  am  so  disciplined  but 
it"s  just  as  hard  for  me  as  anyone  else, 
the  only  thing  that  keeps  me  going  is 
that  I  have  to  wear  that  bikini  which 
hides  nothing  and  the  fact  I  don't  want 
to get up on stage with wobbly bits, so I 
say to you, you need to focus on a goal 
and  the  results  will  follow  with  hard 
work. 
Membership  at  the  gym  continues  to 
grow with a few new people this year -
Welcome and enjoy.  
Till  next  time  work  hard  focus  and  the 
results will come, Jules 
Dr A Macaulay DC 
Maungaturoto  
Chiropractic  
Clinic 
3 Gorge Road 
Maungaturoto 
HOURS 
Monday 9am -6pm 
Wednesday 9am-7.30pm 
Thursday 7am-6pm 
For Appointments  
Phone 09 4318019 
DANIELLE HAWKINS 
If  you  watched 
"Country  Calen-
dar"  on  the  17th 
August  you  may 
have  recognised 
the  couple  fea-
tured  in  this  pro-
gramme. 
Danielle 
Haw-
kins  nee  Cowan,  came  to  Mangawhai 
Vet  Services  after  qualifying  as  a  vet 
(with Hons no less), and worked around 
the Mangawhai – Kaiwaka area, particu-
larly  enjoying  the  large  animal  part  of 
the job although she did miss sheep hav-
ing  come  from  a  sheep  farm  in  Oto-
rohanga. 
When  the  Otamatea  Veterinary  Club 
took  over  the  practice  Danielle  contin-
ued  "vetting"  in  this  district  where  she 
met  her  husband,  Jarrod  Hawkins,  past 
pupil at Rodney College and very much 
a dairy farmer, son of one too from Sil-
verhill.    Shortly  after  they  married  the 
decision  was  made  to  depart  south  to 
Danielle"s  family  farm  which  was  a 
steep learning curve for Jarrod as it is a 
sheep farm. 
The  "Country  Calendar"  programme 
focused  on  that  farm,  where  4  genera-
tions  live  now,  with  their  various  in-
volvements,  family,  conservation  pro-
jects,  managing  drought,  part  time  vet 
and mother and also a published author 
of one novel with a second due out later 
this year. 
Paddy  and  Murphy  were  building  a 
fence. Paddy looks at each nail carefully 
before hammering it in but throws half 
the nails away. Murphy asks, 'Paddy why 
are  you  throwing  those  nails  away?' 
Paddy says, 'They have the head on the 
wrong  side.'  Murphy  exclaims,  'Paddy 
you  idiot,  those  are  for  the  other  side 
of the fence.'
The Zonta Club  
of Mangawhai 
is delighted to offer 
our 3rd Annual Award for young women in 
the area in the form of a 10 Day Youth De-
velopment Voyage on the Spirit of Adven-
ture. Criteria for application are as follows: 
"The applicant is a young woman from 15-18 years 
of age 
"Is  a New Zealand citizen or permanent resident of 
New Zealand 
"Is  a resident of Mangawhai, Tomarata, Wellsford, 
Kaiwaka, Maungaturoto or Waipu area 
"has  shown  leadership  potential  or  would  like  to 
develop leadership skills 
"meets the medical criteria of the Spirit of Adven-
ture Trust 
"must  be  able  to  swim  100  metres  unaided  will 
report  back to the Zonta Club of  Mangawhai after 
the voyage 
Application to include letter from applicant outlining 
reasons for application  e.g. involvement in commu-
nity activities or associations? How does the voyage 
fit  into  your  personal  goals  and  how  do  you  think 
this  experience  will  help  you  achieve  them?  How 
you  will  share  your  voyage  experiences  with  your 
school or local community.  
Application to include 2 referees (not a family mem-
ber) 
Application forms are available by request 
or ph Sue on 027 555 6636 
Application  forms  are  due  by  Friday  4 
October 2013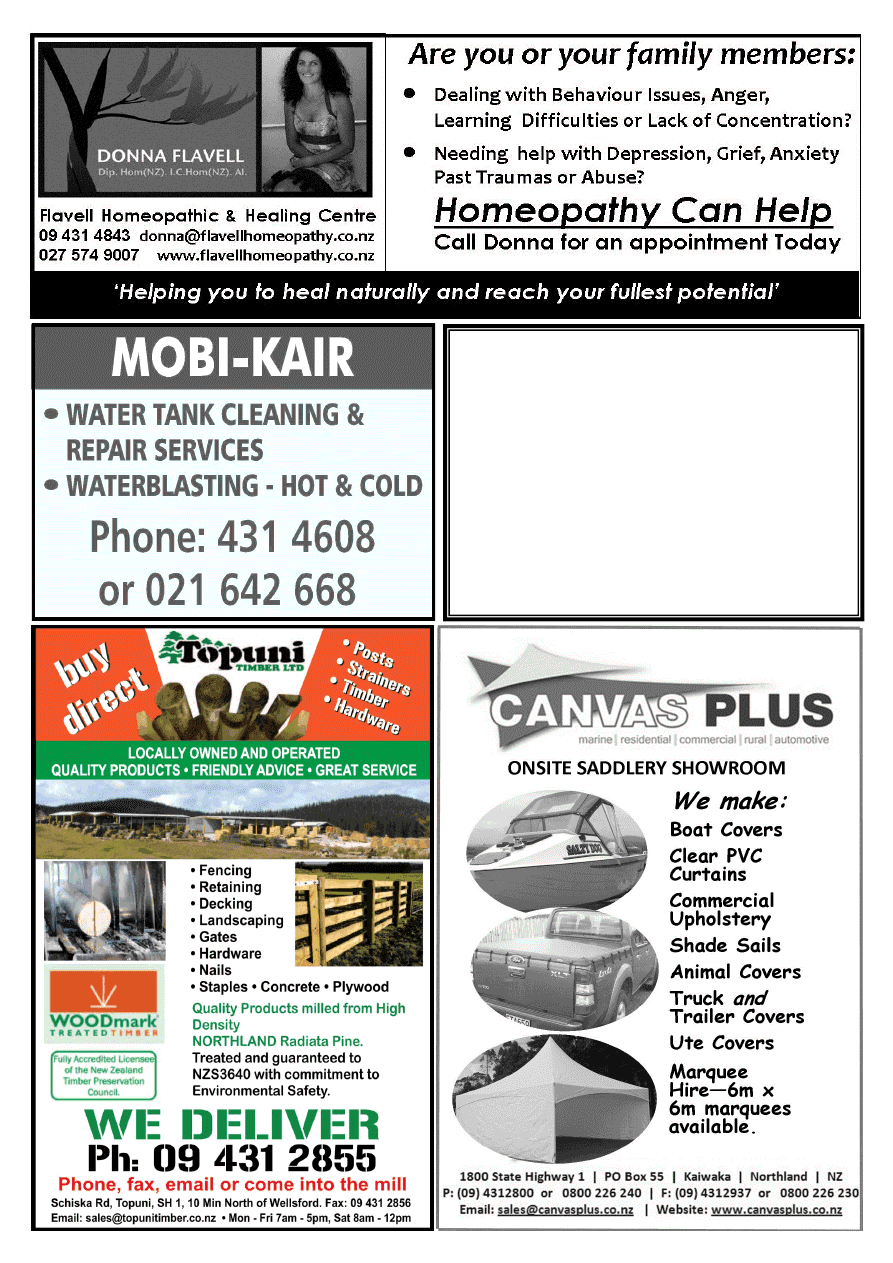 TILING 
Certified Waterproofing 
431 4533 or 021 86 33 33 
George 
MCN Property Solutionz  
Local references available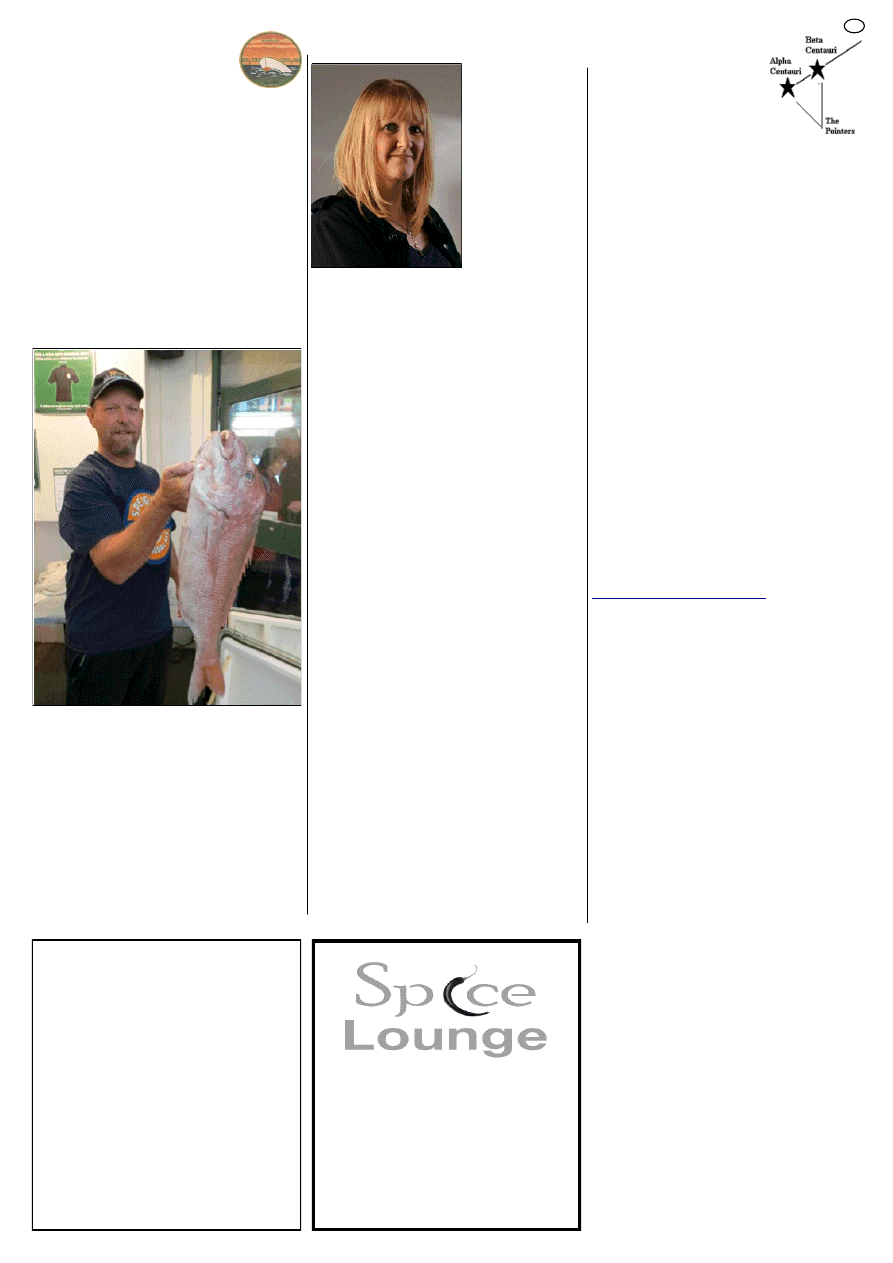 13 
POINT CURTIS  
CRUISING CLUB 
Committee members please note change 
of  date  for  next  committee  meet-
ing.  Meeting is Thursday 12th Septem-
ber, 7pm at 3 Furlongs Hotel.   
Fish  of  the  month  is  KAHAWAI  until 
next committee meeting. 
Pool challenges coming up: 
15  September  at  Maungaturoto  Hotel 
against Maungaturoto. 
22 September at 3 Furlongs Hotel, Kai-
waka against Mangawhai. 
Wayne Leslie, Commodore 
Photo: Mickey Renton and winning snapper 
(5.934kg) from this year's Snapper section 
at annual boar hunt. 
Open for Lunch and Dinner 7 Days 
Lunch from 11am ~ 2pm 
Dinner from 5pm ~ 9.30pm 
TAKEAWAYS  
Ph: 312737  or  021 923 236 
spiceloungedinein@gmail.com 
1917 State Highway 1, Kaiwaka 
Indian Head Massage
for anyone with tension 
Gentle on upper back, shoulders, 
neck, head and face 
Effective in relaxing whole body. 
You are clothed and seated. No oils 
used. 
25 – 30 minutes $30, negotiable fol-
low ups. 
Wed pm at "The Well of Health" 
shop, Kaiwaka 
by appointment with Yatra 
mob: 021 2377678  
or email: yatrabe@gmail.com 
FAMILY HISTORY 
Waipu  Informal 
Genealogy 
Group  held  a 
very  successful 
contribution  to 
Family  History 
Month in Waipu 
on  the  26
th
  Au-
gust.  Professor 
Angela  McCar-
thy  from  Otago 
University  was 
guest  speaker  – 
her  topic  being  the  emigration  and  set-
tlement  of  Irish  and  Scots  around  the 
world.        Angela  introduced  herself  to 
the  large  audience  by  explaining  her 
interest  and  ancestry  in  Celtic  migra-
tion.  She herself is a descendant of the 
early settlers at Whangarei Heads.  
Interesting aspects of Angela"s talk were 
the  reasons  for  migration  and  the  im-
pressions  that  migrants  left  in  the  foot-
steps  of  history.    The  Scots  were 
deemed to be more industrious and edu-
cated, with a desire to get on and be self 
sufficient,  not  so  with  the  Irish  mi-
grants.    Also  interesting,  was  the  men-
tion  of  the  emphasis  put  on  the  Irish 
famine.  Ireland lost around one quarter 
of  its  entire  population  during  the  fam-
ine  and  with  a  total  population  of  just 
over  eight  million,  the  impact  on  fami-
lies,  commerce  and  the  country  in  gen-
eral  was  devastating.  In  comparison 
with some African countries with much 
larger  populations,  famine  deaths 
reached 
between 
200,000 
and 
400,000.    That  seemed  to  put  the  Irish 
famine in perspective. 
Also  interesting  was  an  example  of  the 
records  available  for  some  migrants  in 
mental  institutions.    These  provided  an 
enormous  amount  of  detail  of  the  indi-
viduals  concerned.    Not  all  of  the  rec-
ords  from  our  mental  institutions  have 
been  archived,  but  for  those  interested, 
National Archives should be able to of-
fer some advice. 
A  very  interesting  morning  concluded 
with lunch and general chat. 
NIGHT SKY 
OVER THE  
LITTLE TOWN 
OF LIGHTS 
The  main  part  of  the  Milky  Way  (Ara 
Matua/Te  Waka  o  Maui)  will  be  over-
head  as  the  sun  sets,  and  in  Kaiwaka 
away  from  the  street  lights  this  will  be 
easy to see. If you look to the southwest 
it will be easy to see Alpha Centauri and 
Beta  Centauri,  known  as  the  two 
"Pointer  Stars".  (Te  taura  o  te  waka  o 
Tama-rereti)  Drawing  a  line  through 
them  will  lead  to  the  Southern  Cross, 
also known as the Crux (Taki-o-Autahi) 
Towards  the  east,  Capricornus  (the  sea 
goat) will be rising, following Sagittari-
ous. Capricornus is a faint constellation, 
however there are three relatively bright 
stars  which  mark  out  a  triangle,  which 
help to identify it from its surroundings. 
Throughout  September,  Scorpious  will 
be  setting  earlier  each  day.  It  dips  into 
the  western  horizon  head  first.  It  was 
said by some Maori to be the fish hook 
that  the  demigod  Maui  used  to  fish  up 
Te Ika a Maui, which is now known at 
the North Island. 
~ Kaiwaka Star Gazer  
Please let me know if I have any of the 
Maori names wrong, I am always keen to 
learn.  
SEPTEMBER 2013 
Day  Hour Events 
1 
3 am  Jupiter 4.4
o
N of moon 
5 
11 pm 
New Moon 
6 
2 pm  Venus 1.6
o
N of Spica 
9 
2 am  Spica 0.7
o
S of moon 
9 
Sunset Saturn with Venus 0.5
o
N 
of moon 
10 
3 am  Saturn 1.3
o
N of moon 
13 
5 am  First quarter 
13 
6 am  Moon furthest south (-19.7
o
) 
16 
4 am  Moon at perigee 
19 
8 am  Venus 3.5
o
S of Saturn 
19 
11 pm 
Full Moon 
23 
8 am  Spring Equinox 
25 
1 pm  Mercury 0.7
o
N of Spica 
25 
3 pm  Aldebaran 2.8
o
S of moon 
26 
12 pm Moon furthest North (19.6
o
) 
27 
3 pm  Last Quarter 
28 
5 am  Moon at apogee 
28 
7 pm  Jupiter 4.8
o
N of moon 
29 
2 am  Daylight savings start 
Glossary: 
Perigee =  the point in any orbit nearest 
to the body being orbited. Perigee of the 
moon  is  when  the  moon  is  closest  to 
Earth 
Apogee =  the point in any orbit furthest 
from the body being orbited. Apogee of 
HEADLINES: 
" 
Plane Too Close to Ground, Crash Probe 
Told 
"
Iraqi Head Seeks Arms 
" 
Man Struck by Lightning Faces Battery 
Charge 
" 
Something Went Wrong in Jet Crash, 
Expert Says 
"
Safety Experts Say School Bus  
   Passengers Should Be Belted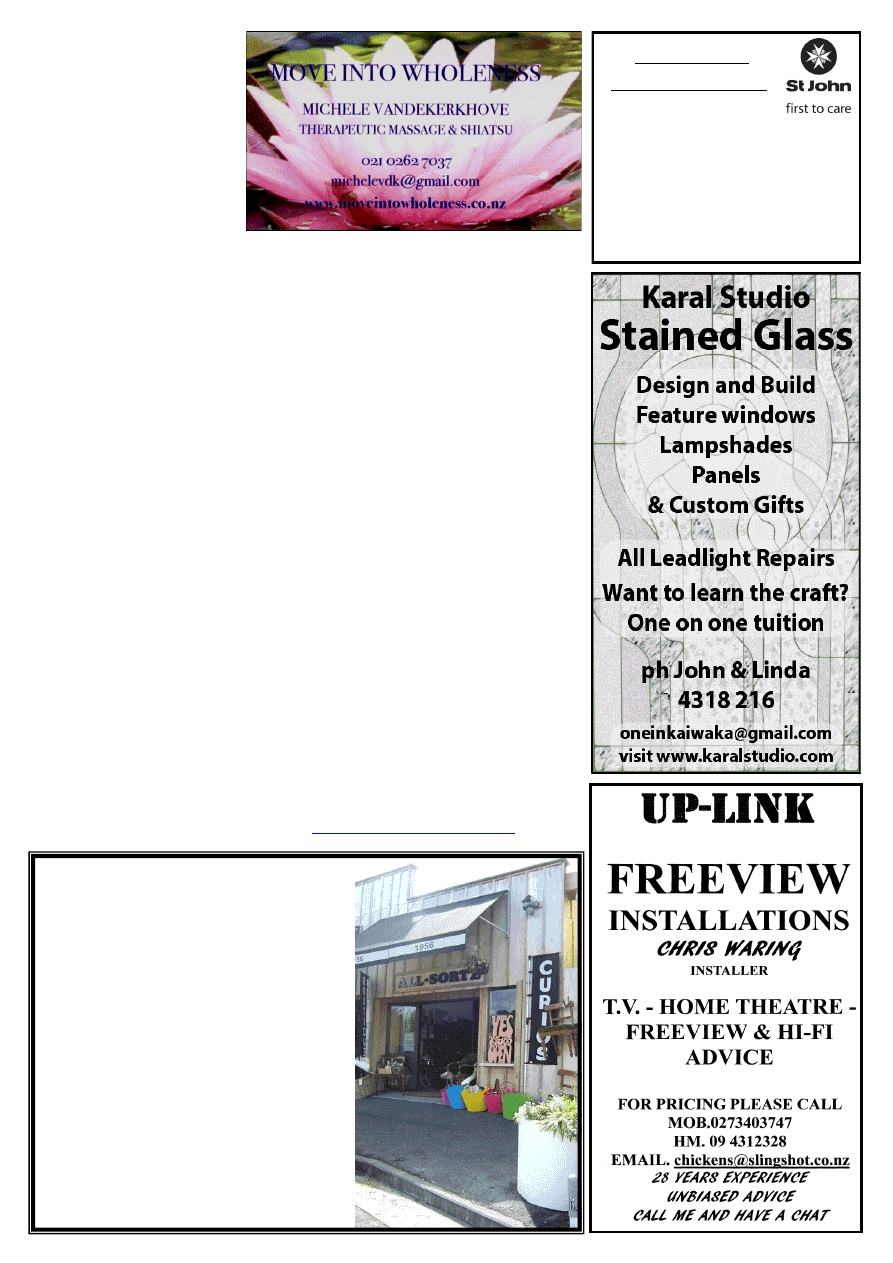 Community 
Services Officer: 
For all Community Services Forms 
see Milly at the  
Kaiwaka St John Op Shop.  
Phone 4312650 
MORE MEMBERS REQUIRED 
FOR THE KAIWAKA STATION
. 
OUR PRECIOUS 
JOINTS. 
Another example of a common 
complaint  in  my  practise  is 
osteoarthritis.  Osteoarthritis  is 
defined as a degenerative con-
dition where the articular carti-
lage  in  the  joint  is  eroding. 
Without  going  deep  into  it"s 
chemical  composition,  articu-
lar  cartilage  is  made  up  of  an 
amorphous  gel-like  substance 
riddled  with  predominantly  proteogly-
cans  (a  protein  that  gives  elasticity  to 
the  cartilage)  and  is  interwoven  with 
collagen  fibres.  Osteoarthritis  is  diag-
nosed when the collagen fibres are start-
ing to break down making the cartilage 
thinner and reducing the space between 
the joint surfaces. If the breakdown con-
tinues then the bone right under the car-
tilage  becomes  exposed.  The  conse-
quently  bone  on  bone  contact  polishes 
the  surfaces  resulting  in  the  develop-
ment of micro fractures and cysts, right 
below the surfaces weakening the bone. 
As  an  attempt  to  deal  with  the  loss  of 
the articulation between the bones, bony 
outgrowths starts to occur at the margins 
of  the  joint  called  bone  spurs.    Bone 
spurs can significantly change the shape 
of the joint. 
Articular  cartilage  does  not  have  it"s 
own blood supply and as a result of this 
the  cartilage  does  not  heal  well  after  it 
has  been  damaged.  Next  to  having  no 
blood vessels it also has no nerves. For 
that  reason  the  articular  cartilage  does 
not  register  pain  but  the  bone  immedi-
ately  under  the  cartilage,  on  the  other 
hand, is pain sensitive. That is why the 
early  stages  of  osteoarthritis  does  not 
necessarily  result  in  pain  or  incapacita-
tion.  
As  with  many  conditions,  osteoarthritis 
has  a  list  of  possible  causes.  Examples 
are  injury,  overuse,  lifestyle  choices 
creating  chemical  imbalances  in  the 
 ALL-SORTZ  
COLLECTABLES
   Shop 4, 1956 State Highway 1, Kaiwaka  
CURRENT WINTER HOURS  
Saturday and Sunday 
11.00am to 3.00pm  
Or by prior appointment  
Telephone 4312701 
(Business Hours) 
Or 4229221 or 0274353535 
(After Hours) 
body,  genetic  predisposition  and  so 
on.  One major contributing factor is the 
exposure  of  the  joint  to  repeated  stress 
which  exacerbate  the  breakdown  of  the 
collagen  fibres.  Chronically  tight  mus-
cles  pulling  continually  on  their  bony 
attachments, creating an excessive phys-
ical stress on the joints, can augment the 
advancement  of the  arthritic  changes in 
the joint. 
Whether  the  condition  is  in  its  early 
phase or in the later stage, in both cases 
bodywork  will  be  beneficial.  However 
as  the  arthritis  is  progressing  into  the 
later stages,  then  we are  dealing  with  a 
chronic  condition  requiring  ongoing 
treatment to manage it.  
Both the disciplines (shiatsu / therapeu-
tic massage) I practise, offers each spe-
cific  techniques  to  address  osteoarthri-
tis.  
The  treatment  could  focus  on  treating 
the  imbalances  of  the  muscles    around 
the joint. 
Or on freeing any obstruction 
of the 
Qi in the joint. Or on using joint 
play  techniques  to  encourage  the  circu-
lation  of  the  synovial  fluid  in  the  joint 
capsule. Synovial fluid contains the nu-
trients which the cartilage cells feed up-
on.  
The  label  osteoarthritis  caries  a  heavy 
load  of  finality  but  within  the  different 
stages of the arthritic changes, shiatsu or 
therapeutic  massage  can  assist  in  help-
ing the joint.  
For 
more 
information 
visit 
: 
on 021 0262 70 37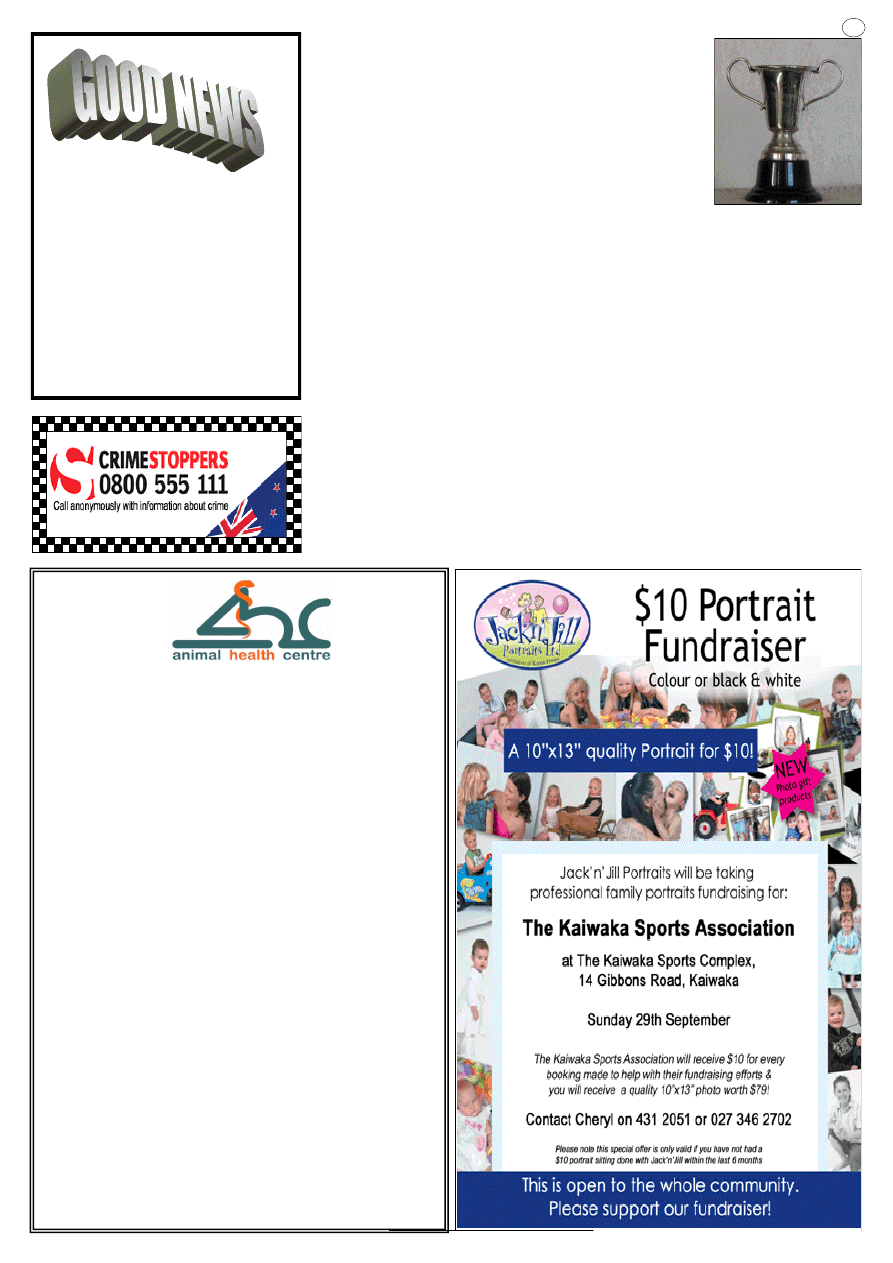 THERE'S 
 Your COMMUNITY 
CHURCH 
RECEIVE HEALING 
  RECEIVE THE LOVE OF GOD 
 Everyone warmly welcome each                                            
 
    Sunday 10am. 
Contact: Pastor John Dekker,  
09 4318203 
@ the  
Kaiwaka 
Family Church 
15 
THE ANIMAL HEALTH CENTRE 
presents 
CANINE HEALTH & BEHAVIOUR 
What the ... Woof .. is it really all about? 
A commonsense perspective 
Keeping healthy on a tight budget 
Getting the relationship right  
Sarndra G Urwin - Dip NAH (Hons) Dip Cl.Hyp. 
NZ's most respected Animal Naturopath 
Darran Rowe BSC (Hons) PGCE 
Intuitive Dog Trainer 
Kaiwaka War Memorial Hall 
SUNDAY 22nd Sept. 2-4pm 
$10.00pp.  $15 for 2 
Bookings Essential 
Phone 09 4312217 or 0800 NATPET 
Fresh Pet Food -
1
/
2
 Price on the day!
THE KELLY HEREWINI  TROPHY 
Kelly Herewini, who presented the trophy noted in the last 
Bugle, was  "very polite, "a lovely man", "a caring and kind 
man" - were some of the brilliant number of responses re-
ceived for the reason behind the trophy. 
1952 was the year the Kaiwaka War Memorial and Com-
munity Centre was opened (the name was shortened to the 
KCC  at  the  time)  and  there  were  two  theories  as  to  what 
sport the cup was presented for 1. Indoor bowls and 2. Flag 
500 card game. 
It seems that the folk named on the trophy - A.REDDY twice (which could be An-
drew or his wife Alice), F.WRIGHT (Fred) and A McCLEAN (Archie) were all 
keen on the winter evening social events at this time, especially indoor bowls and 
cards, including Kelly. Descendants, and the majority of friends, who knew these 
recipients are fairly certain that the trophy was for Flag 500. 
Flag  500  was  played  by  4  players  and  the  winner  won  a  small  paper  flag.  One 
player then to moved to the next table. The highest number of flags held gave the 
evening"s winner, and a record was kept to find the season"s winner. 
Kelly Herewini was born in Te Hapua in 1912 and remained a bachelor all his life. 
About  1950,  after  a life  of  droving  on  Ninety  Mile Beach,  he  biked  (push bike) 
south to find another job. The story goes that it was very hot when he reached Kai-
waka and was pushing his bicycle up the hill passed the end of Settlement Road 
where Romaine Dowson was making hay (yes, it was paddock in the area around 
Mark and Pam Ottaway"s house!). Romaine called out "Do you want a job?" Kelly 
began his farming career in Kaiwaka. Kelly milked cows, fenced, grubbed gorse 
and thistles, continued making hay-he was always ready to lend a hand. Over the 
time he worked for a number of local farmers- the Buckles, the Mills family, the 
Dowsons, the Wrights. He always rode a bike-later in life he bought a small mo-
torbike. 
Kelly died at the age of 74 and is buried in the Kaiwaka Cemetery. 
His trophy will be displayed in the Kaiwaka War Memorial Hall.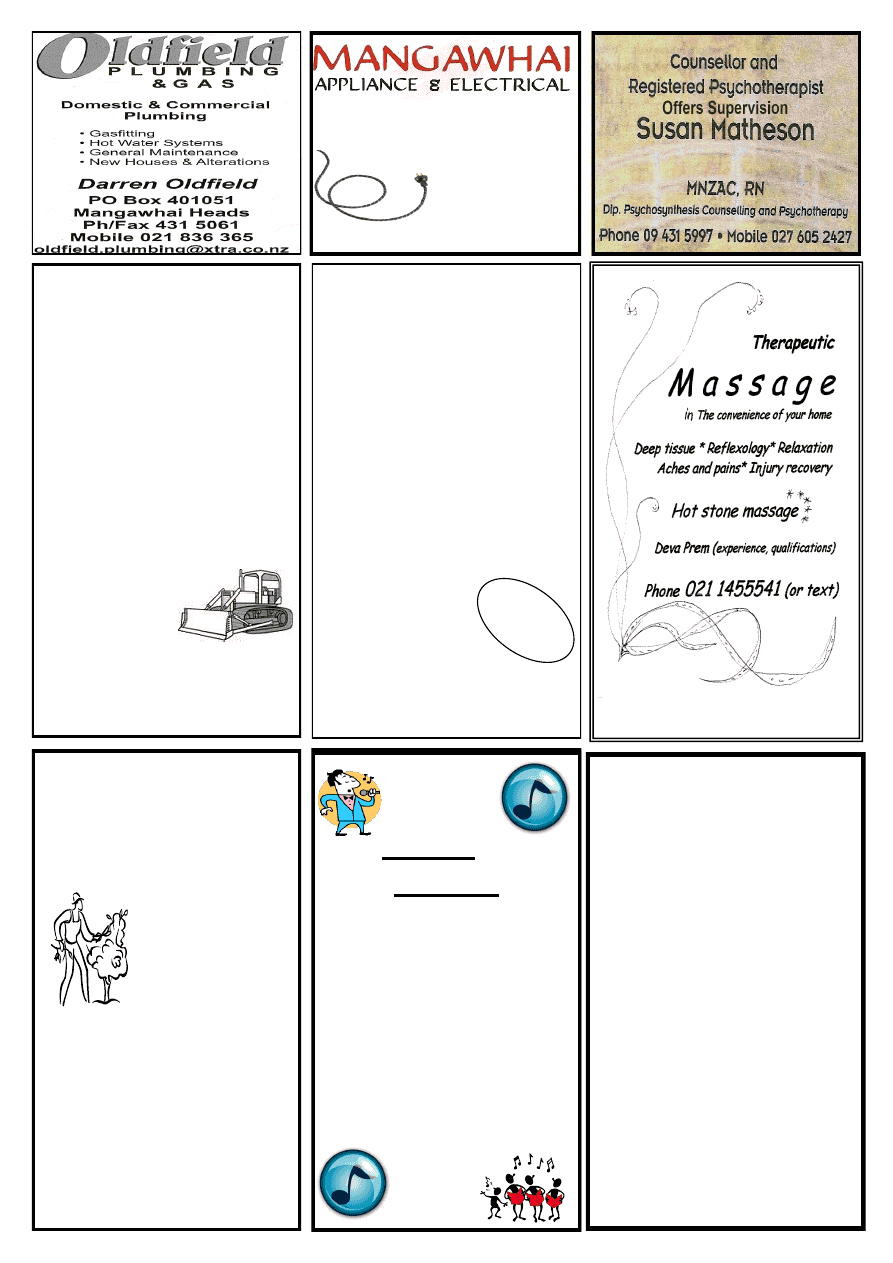 Willow Bend
HORSE  
HOTEL 
"   
Total Horse Care 
" 
Agistment 
" 
Riding Lessons 
" 
Arena Hire (60x40) 
" 
Young Horse Starting 
" 
Re-training/Exercising 
" 
Hoof Trimming 
" 
Problem Solving
Phone Sue 09 431 2817 
or 021 623 776 
Or email sue.gray@xtra.co.nz 
Based ou
t  
Oner
iri Roa
d 
HODGETTS
CONTRACTING
Digger Work    

Driveways 

House Sites   

Dams 

Drains, etc
Also available for HIRE 

3 ton Vib Roller 

Heavy Duty Tow 

Waterblaster  

Lazer Level 
Phone Mark 
4312877 
027 447 8554
DEAN STEWART 
Registered Electrician 
021 280 4008 
09 4312911 
ATHOURISED FISHER AND PAYKEL SERVICE 
Coates  
Contracting 

D41 Bulldozer with 6 
way blade, bush rigged 
with winch 

For all tree work 

General bulldozing and  
  stick raking. 

120hp Tractor for 
ground cultivation,  

tip trailer work. 

Fencing
All enquiries phone  
Brett Coates  
094318720 or  mob 
021431872
Singing  
Lessons 
Individual sessions 
All styles of music  
All voice types 
Reasonable rates 
Phone  
Maura Flower 
021 164 8318 
OUT THERE 
GARDENS AND LAWNS 
Lawn Mowing – Any Size 
Section Clearing  
Hedge Trimming  
Spraying  
Planting 
Pruning   
Gutters Cleaned 
Chainsaw Work 
Regular Services 
General Maintenance 
Garden Waste Removal 
Free Quotes 
Get The Job Done! 
Servicing Kaiwaka/Mangawhai 
Contact Phil Jones 
027 243 5503  
A/H 431 2196  
Email: outthere09@gmail.com 
www.mangawhaimassage.co.nz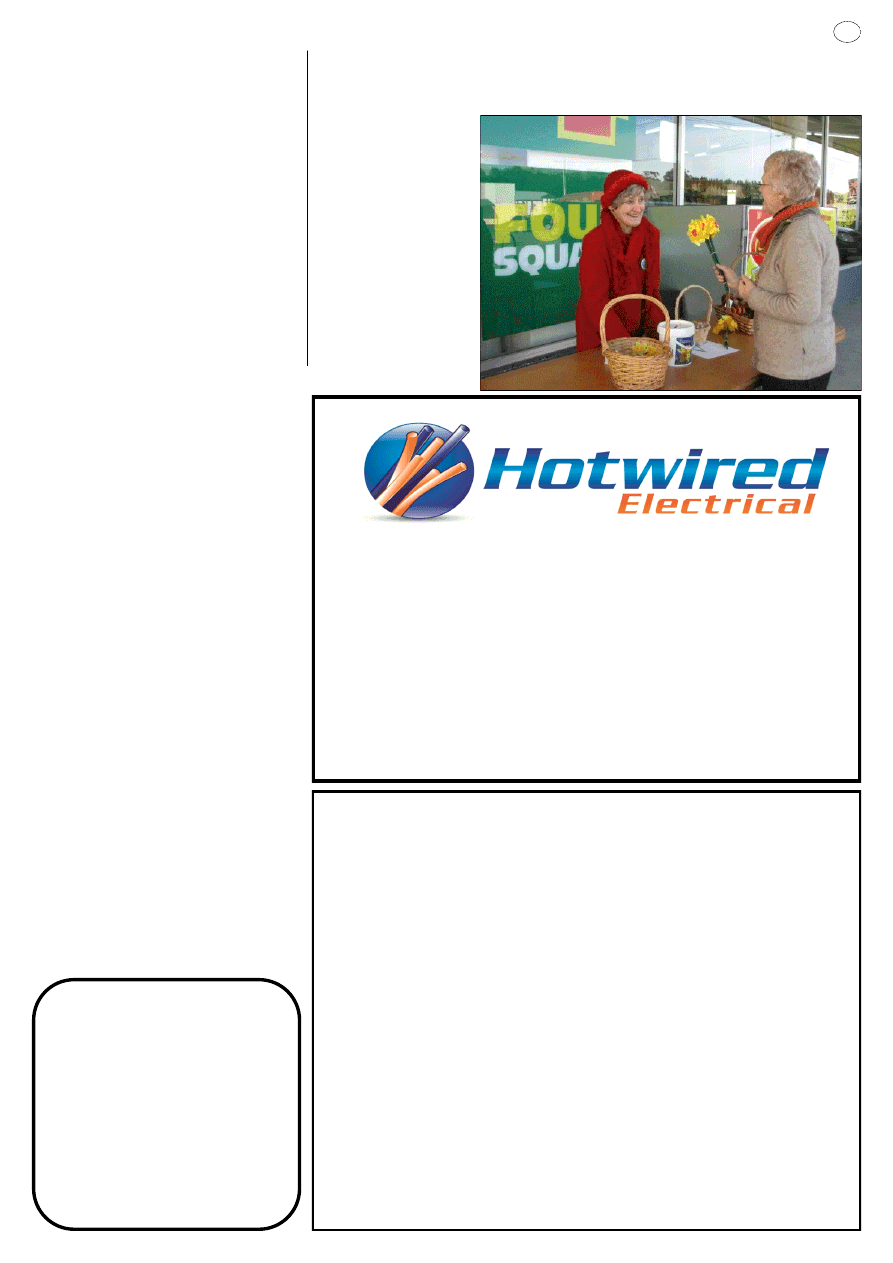 PLANNING A NEW KITCHEN? 
CONTACT NOEL McDOWELL
WELLSFORD KITCHENS 
Ph/Fax 094312888
KAIWAKA-Any time 
  QUALITY CUSTOM MADE KITCHENS  
~Personal and Prompt Service~ 
~All Workmanship Guaranteed~ 
~Over 20 Years in the Trade~ 
For All your Electrical  Requirements 
 
Domestic small jobs 
 
Residential dwellings and alterations 
 
Commercial 
 
Industrial                 
No job too big or too small      
Contact Jason today on: 
(09) 431 5992, (021) 405 019 
www.hotwiredelectrical.co.nz 
  17 
"It"s  Not  OK"  project 
for Wellsford 
Making the Wellsford area a safer place 
is the aim of a new "It"s not Ok" project 
focused  on  reducing  family  violence  in 
the greater Wellsford area. Anyone who 
supports  this  aim  is  being  invited  to  a 
Public Meeting to be held at the Wells-
ford  Community  Centre  from  6pm  on 
Tuesday September the 17
th
. 
"We  are  inviting  every  person  in  our 
community to  get involved and  support 
making this a safer place, especially for 
women and children" says Judy Kenne-
dy of Te Ha Oranga. 
"We want to make sure everyone in our 
community  knows  where  they  can  get 
help  to  stop  abuse  and  where  they  can 
get  help  to  be  safe.    There  are  lots  of 
things  we  can  all  do  to  change  what"s 
happening.  The  research  is  really  clear 
that family violence hurts children, ruins 
relationships  and  only  makes  problems 
worse  for  families.  We  also  want  to 
spread  the  message  that  "it"s  ok  to  ask 
for  help".  There  are  local  groups  who 
really  can  help  find  ways  to  change 
things and the whole community can all 
play a role in making sure people get the 
help they need" says Mandi Gregory of 
Te Rito Rodney family violence preven-
tion initiative.  
The  project  aims  to  get  wide  involve-
ment from all parts of the community to 
support the "It"s not OK" message. Invi-
tations are going out to local businesses, 
Marae, sports clubs, churches, play cen-
tres,  schools,  community  organisations 
and individuals to come and hear about 
the project and join in supporting it. 
"We  all  ready  have  about  15  different 
local  organisations  involved  in  launch-
ing  the  project.  But  we  want  to  spread 
that  a  lot  wider.  Family  violence  hap-
pens  right  across  our  society  and  that"s 
why  we  want  involvement  from  every-
one who wants to be part of making our 
community safer" says Quentin Jukes of 
Homebuilders Family Services 
For more information about the meeting 
or the project please contact: Judy Ken-
nedy  on  423  8538  or  Quentin Jukes  on 
425 7048 or 0210426442. 
T.W.WRIGHT 
WATER PUMPS  
SALES & SERVICE
DEEP WELL & SUBMERSIBLE REPAIRS 
203 WHAKAPIRAU RD, WELLSFORD 
PHONE 09 4238235   
MOBILE 021 976 545 
Daffodil Day: Friday 30
th
 August 
Daffodil  collectors,  Mary  Hargreaves  and  Lyn  Coates,  photographed  outside 
Jaques  Four  Square  Store.  Gay  Young,  organiser  for  the  Kaiwaka  Daffodil  Day 
collection,  wishes  to 
say  thank  you  to  all 
who gave so generously 
to  this  years  Daffodil 
Day appeal. 
Thanks  also  to  the  vol-
unteer collectors, and to 
Jaques Supermarket, La 
Nonna  Bakery,  Sham-
rock  Service  Station, 
and    Gateway  Motor 
Lodge for their support.  
A  total  of  $879.50  was 
collected.  These  funds 
will  be  used  for  cancer 
support in Northland.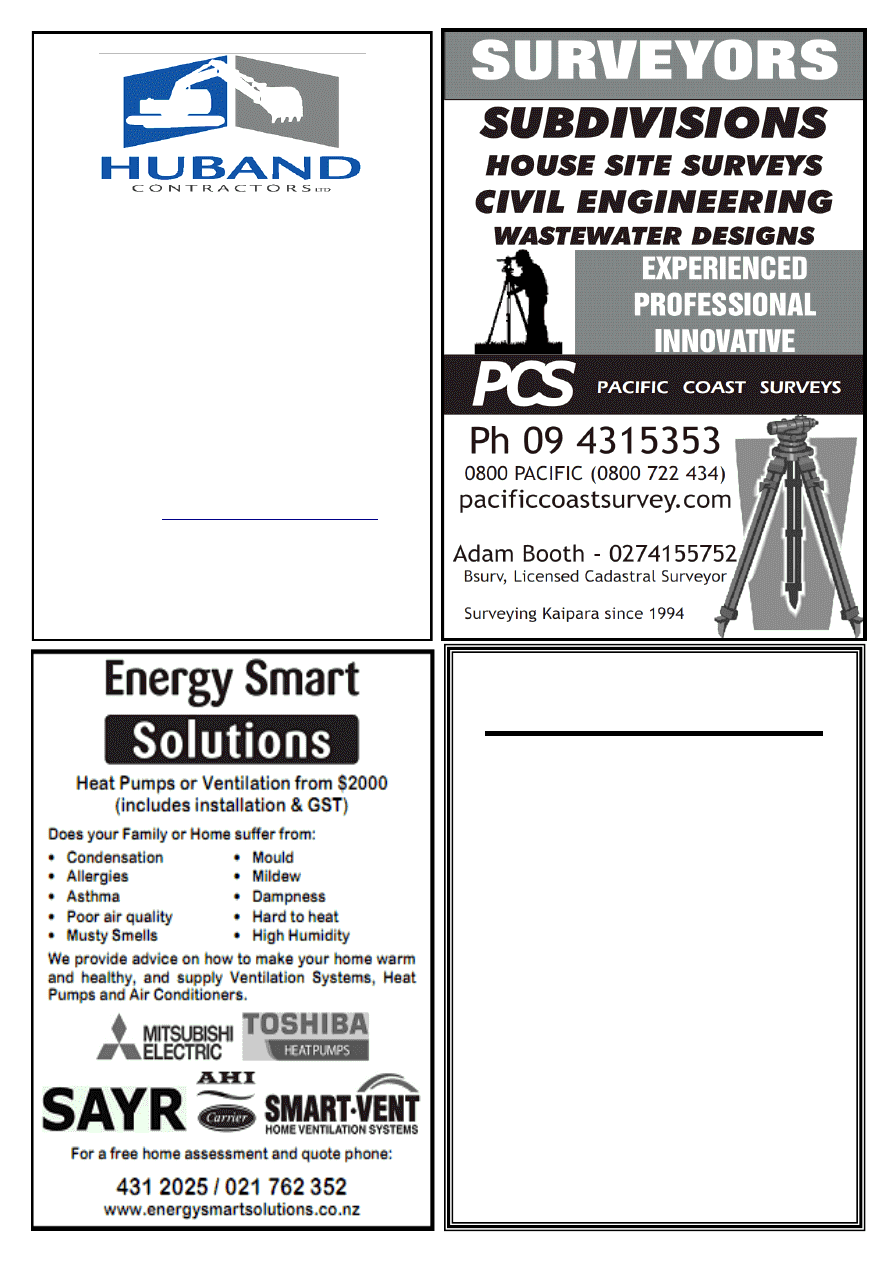 STOCKFOOD
GREAT RANGE FOR ALL YOUR LIVESTOCK  
AT GREAT PRICES 
 ALSO CHECK OUR 
DOG BISCUITS 
20 KG FOR $58.90 
LPG REFILLS 9KG 
STILL ONLY $31.50
MANGAWHAI SERVICE 
STATION 
(09) 431 4242 
44 MOIR STREET IN THE VILLAGE 
*   R O A D I N G   *   E A R T H W O R K S  
*    
*   D R A I N A G E   *   S I T E W O R K S  
*  
For any further enquiries,  
contact Shaun on: 
Cell: 021 222 0272 
Home: 09 4318339 
Shaun Huband:  Registered  
Drainlayer 
Everyone Welcome 
Te Waka Rangimarie 
Kaiwaka School Kapa Haka Performance 
26 September 2013 
6.00 
Kaiwaka War Memorial Hall  
Gold Coin Donation  
Sausage Sizzle available – to fundraise for Kaiwaka 
School 
KAIWAKA SCHOOL 
We are into Term 3 now and it is a busy one indeed!! 
We have just had the Speech Finals congratulations to all 
the students who participated in the speeches; Year 1-Vinni Reid, Jalahn Burndred
-Dawson, Anahera Whakataka-Tutauhu; Year 2-Sammy Wakeling, Ryan Stirling, 
Ashley  Greig;  Year  3-Destiny  Paikea,  Leonie  Beyer,  Gareth  Ferguson;  Year  4-
Max Tournquist, Maia Fairburn, Tyla Stonex;  Year 5-Mahara Nathan-Pene, Sarah 
Everson, Matthew Everson; Year 6  -Hamish Ferguson, Paige Kenyon, Raymond 
Taito. 
We give thanks to the Whanau Committee, Mikaera Miru and Te Uri o Hau Trust 
for organising the gifting and planting of trees, shrubs and flowers for our school. 
The tamariki  and  school  whanau  enjoyed  planting    these  on  the  13
th
  and  17
th
  of 
August 
We would also like to acknowledge and thank the PTA for the donation of a gen-
erous  sum  of  $3500  to  the  school  for  the  purchase  of  some  tablet  devices  as  a 
teaching  resource  for  each  class,  the  children  will  no  doubt  be  very  enthused  to 
learn this way! 
On  Friday  the  16
th
  14  Year  6  students  went  to  an  open  day  at  Otamatea  High 
School and came away very excited to be starting next year which was a very posi-
tive outcome, the day was thoroughly enjoyed by the students, Mrs Tornquist and 
parents that attended. 
Term 3 sees a weekly gymnastics program being run, the kids are 
having a challenging and fun time, thank you for all the support of 
the parent helpers that enable this to happen. 
Up and coming events include 
Grandparents  Day  is on the 6
th
 of September which is a special 
day where the school will host grandparents, senior family or sen-
ior family friends  
There will be a kapahaka dress rehearsal on the 26
th
 September in 
preparation for the annual Kaipara  Festival  which is being held 
this year at Whangaparoa. The Whanau Committee will  have sau-
sages  available  for  purchase  for  $2  at  the  rehearsal,  please  come 
along and support our talented tamariki. 
Kaiwaka  School  Agricultural  Day  is on October the 21
st
, please 
contact the school for information 
Naomi Walker, on behalf of Kaiwaka School Board of Trustees 
19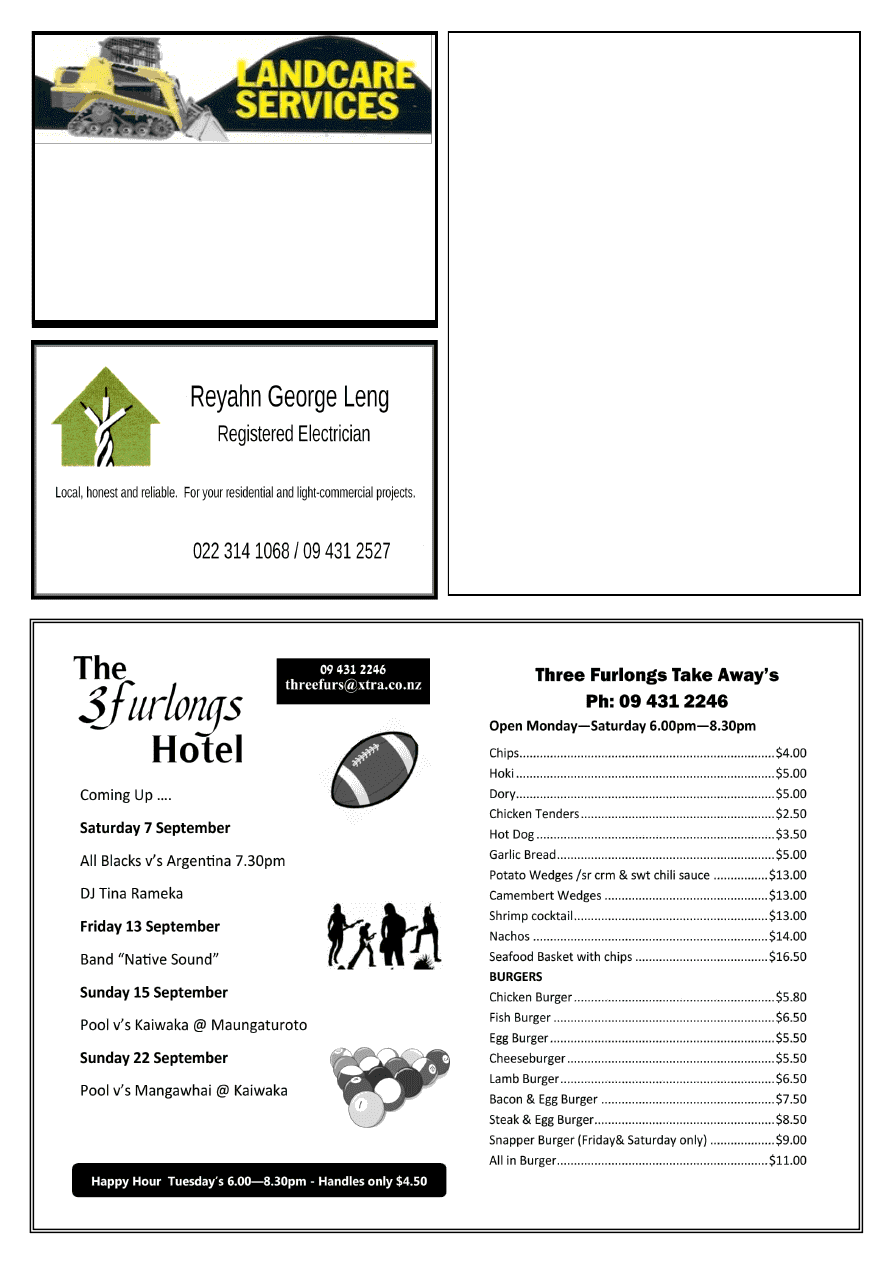 PAUL SAUNDERS 
LAWNMOWING & GARDEN 
MAINTENANCE 
 
Lawns and edges 
 
Section mowing 
 
Hedging and trimming 
 
Spraying and fertilising 
 
Tree planting 
 
Green waste removal 
 
Pruning 
Friendly and reliable service guaranteed 
Call now for a free no obligation quote 
021 886 843 
09 431 2731 
Servicing Mangawhai and Kaiwaka 
and surrounding areas 
paulsaunders99@gmail.com 
Dave Hyndman 
 
KAIWAKA 
PH: 09 4312302 
MOB: 021 431 238 
LANDSCAPING 
4 IN 1 BUCKET 
TRENCHER 
POLE HOLES 
ROTARY HOE 
COMPACT ROLLER 
OFFAL HOLES 
CAN SUPPLY WOODCHIP & POST PEEL 
5 TON TIPPER 
FOR RELIABLE AND FRIENDLY SERVICE CONTACT DAVE 
Dave Hyndman 
 
KAIWAKA 
PH: 09 4312302 
MOB: 021 431 238 
Landscape Supplies 
Bulk Cartage 
4312407 
Mob: 021 453 252  
Fax: 4312939 
 scott.parker@parkerlime.co.nz 
Gibbons Road,  
Kaiwaka 
BARRY CURTIS  
PLUMBING LTD 
REGISTERED CRAFTSMAN 
PLUMBER 
Phone 4315572      
027 257 9884 
     25 years experience 
  
Friendly reliable service 
All plumbing and maintenance 
Alterations and new housing 
New wood fire installation 
Spouting 
Competitive rates  
 
 
 PROMPT EFFICIENT  SERVICE  
21 
NORTHLAND REGIONAL 
COUNCIL NOMINEE for 
COASTAL SOUTH 
 Jan Vaudrey 
Objective:    to 
work  towards 
achievement  of 
the 
Regional 
Council"s  goals 
and 
future 
plans; 
make 
Northland  the 
known 
best 
place  to  live, 
work, visit. 
Home:  Kaiwaka for seven happy years, 
deepest  south  of  Coastal  South  –  most 
civically  "under-looked"  area  in  North-
land; even many occupants of the daily 
7900  to  11000  passing  vehicles  don"t 
know where they are! 
Special  interests:  marine environment; 
Civil  Defence;  tourism;  community 
orientated. 
Best qualification: I'm not a  
politician! 
Working  life  -  Navy;  marine  industry; 
yachting administration. 
Studied:  SC English, Typing; Univer-
sity  English  Stage  1;  25  NZQA  pass-
es,  mostly  communication  and  radio; 
TESOL; Diversional Therapy. 
Personal:    wide  interests;  self-
employed;  adult  family;  grandchildren; 
Christian with capital C. 
I"m  an  "anyone".    Who  hasn"t  asked:  
"why  doesn"t  someone  (anyone)  do 
something  about  this/that?"  This  time, 
instead  of  asking,  I"m  taking  up  the 
challenge  of  trying  to  find  answers.  
Authorised by E Coates, 233a Baldrock Road, Kaiwaka 
The  local  gov-
ernment 
elec-
tions will be dif-
ferent  this  time 
in  Kaipara  as 
there  will  be  no 
District  Council 
elections,  so  the 
level  of  interest 
and  media  cov-
erage  will  be 
less. But we will 
still  have  both  Regional  Council  and 
District Health Board elections, and it is 
important that we vote in these elections 
to ensure we have the right people rep-
resenting  us  on  these  Northland  wide 
organisations. 
Libby  Jones  from  Paparoa  (photo 
above) is standing again for the board of 
Northland  District  Health  Board  and 
encourages  all  voters  to  complete  and 
return  their  voting  papers  by  12  Octo-
ber,  which  will  be  posted  out  from  20 
September.  Voters  can  check  out 
www.vote.co.nz  as this is where candi-
dates  can  provide  information  about 
themselves and why they are standing. 
For voters wanting to know more about 
Libby and what has been achieved over 
the  last  three  year  term  they  can  visit 
www.libbyjones.co.nz  or  Face  book 
page  Re  Elect  Libby  Jones  for  North-
land  District  Health  Board,  or  contact 
her on  4316822  
VOTING IN LOCAL GOVERNMENT ELECTIONS  
LOCAL GOVERNMENT 
COMMISION 
The  Chair  of  the 
Local  Government 
Commission,  Basil 
Morrison 
(photo) 
and  commissioner, 
Anne  Carter    met 
with  locals  in  the 
Maungaturoto  Cen-
tennial  Hall  on  20 
August. 
The  Local  Govern-
ment Commission is 
considering    the 
change  of  structure 
to the northern councils-Far North, Whan-
garei  and  Kaipara  District  Councils  and 
the Northland Regional Council. 
The Far North District Council  made the 
first  application  for  change  to  local  gov-
ernment  in  their  area.  The  Commission 
has since received forty-one responses. 
Further information on the structure reor-
ganisation can be seen on  the local gov-
ernment  website  www.lgc.govt.nz    then 
open  Far  North  District  Council:    Reor-
ganisation. 
The draft proposal for  the community to 
view,  and  submit  submissions,  will  be 
available by December. 
The  Northland  Regional  Council  has  a 
arranged panel led by former Prime Min-
ister  Sir  Geoffrey  Palmer  for  a  public 
meeting  in  Kerikeri  on  Monday  23  Sep-
tember at 7pm in the Turner Centre. 
Under  the  regional  council"s  alternative 
proposal, local boards could be supported 
by a single regional body, made up of nine 
councillors  (elected  from  seven  wards) 
and  a  single  mayor,  elected  from  across 
the entire region. www.nrc.govt.nz 
LOCAL SERVICES 
*St.John Ambulance 
111 or Freephone0800 61 0066
*Fire phone 111     *Police phone 111 or 09 4311150
WELLSFORD DOCTORS: Ph: 4238 086 
A A: Meets Wed., 8pm Kaiwaka Ph: 4312228, 4315543, 0800229 6757   
AL ANON: In recess, contact Ph: 4312228 
AgriQuality (MAF) Livestock Consultant 
Phone 09 4311 820 or 021518257 
CAB-Citizens Advice Bureau.Wellsford Ph: 4237333. 
BUDGETING SERVICE,OTAMATEA:Free confidential advice & 
support - all areas of  personal finance Ph: 09 4318173 or 094318117
FAMILY SUPPORT SERVICES responding to the needs in our 
community  Counselling/Family Therapy/Seminars/Youth Work/
Probation/Osteopathy/Govt.Day Agencies/Community Information  
Ph: 4312661 Hours: 9am-5pm. Mon - Fri (funded & CYFS approved) 
FUNERAL SERVICES: Morris & Morris Ltd, 
Whangarei - Bev Jaques Ph:4312367 or 0800667747 
Grandparents Raising Grandchildren: Sarah Rogers Ph: 4312194 
HAKARU LANDFILL/Transfer Station:Open everyday except 
Tuesday10am-4pm.Ph4312629 Cost-$55 trailer load up to 1 cubic 
metre. Ph:4258567 - office 
INLAND REVENUE: Last Friday each month, 
11-3pm Ph4312661 
KAIWAKA KOHANGA REO:
Ph:4312620 Mon.-Fri. 8.30am-2.30pm 
KAIWAKA CEMETERY: Ph: 4312045 
KAIWAKA LIBRARY: kaiwaka.library@gmail.com  
Mon. 4-6pm; Wed., Thurs., Fri., Sat.  10am-2pm Ph:4312539
KAIWAKA PLAYCENTRE: Ph: 4312286. Hastie Lane 
Monday to  Friday  9.00am 
- 
12 noon.
KAIWAKA POST OFFICE:
Ph:4312 626 Fax: 4312287  
Post Code: 0573  for RD2  and  0542 for all Kaiwaka Post Office mail 
KAIWAKA PRIMARY SCHOOL : Ph: 4312309 
KAIWAKA SPORTS ASSN: Ph 4312005; 4312129 gym 
KAIWAKA STJOHN: Manager Steve Rosser 09 4318403, 021 2316836 
NORTHPOWER: Faults Kaiwaka area 0800 104040 
PARENTPORT: Free, practical family support servicePuhoi to Paparoa 
Ph:  Sharon Mehana, Co-ordinator. 4259357 or 027 280 5093 
PERSONAL DEVELOPMENT COACHING, GROUP FACILITATION:  
Sabine Druckler 4312231 
 
PLUNKET  KAIWAKA/MANGAWHAI:  Ph:
094318187 
or  0
276753488 
Kaiwaka Mobile Clinic once a month– appointments necessary;  
Mangawhai (next Domain) 
1st & 3rd Thursday & Coffee Morning; 
PLUNKET CARSEAT CO-ORDINATOR:  
Pat Scott Ph 4314530 or 
0272881635 
PLUNKET FREEPHONE -0800 933 922 
PLUNKET -MAUNGATUROTO  Clinic every 2nd & 
4thThursday. Ph: 09 4318187 
PUBLIC HEALTH NURSE: Gloria Reid Ph: 094327634  
HOMEOPATH: Donna Flavell Ph: 
4314843 
RETURNED AND SERVICES ASSN 733 Settlement Rd.Hakaru 
Ph.4312176 Bill Kerr (President) Ph.4314719 
TE KOROWAI AROHA O NGATIWHATUA 
(The Cloak of Love of Ngatiwhatua) Support and Maori Consultancy.  
Ph: 4239481 (Wellsford) 
WOMEN"S WELFARE LEAGUE & Reaching Out For Youth:  
4 Kaiwaka-Mangawhai Rd, M Morgan 4312293 
VETERINARY SERVICE MANGAWHAI: 
Ph: 4314535 Mon-Fri 8.30-4.30, Sat 9-12, a/h appt. 
KAIPARA DISTRICT COUNCIL www.kaipara.govt.nz:  
Help Desk FREEPHONE 0800 727 059  
Service Centre Mangawhai 4313161 
Dog/Stock/Noise 0800 105 890 
 
WHAT"S ON
PLEASE ~ do let me know what is on - email 
kaiwakabugle@kaiwaka.co.nz 
Advertising in WHAT'S ON is FREE  
Mondays: 8-2.30pm Kaiwaka Tramping Group  Karen 4312090 
Mondays: Rock & Roll Lessons, Wellsford 7.30pm Ph: Berni 4238024 
Tuesdays: Rhythm&Riggle 10am Christ the King Church Mangawhai. 
*6Sep~Kaiwaka School Grandparents Day 
 *7 Sep~ Northland Solar Energy Conference, 9.30 am - 4.30 pm,  
KWMHall, 4312408, 021 02231700, 
*8Sep~KAIWAKA MARKET Kaiwaka Hall 10am – 1.30pm 09 431 8717 
*10-11Sep~Treasure Island Pantomine, Otamatea High Ph:4318230 
*13Sep~EPIC, movie, Kaiwaka Sports Complex, 7pm 
*13Sep~Dance of Life,freestyle dance, 8 pm, Kaiwaka War Mem. 
Hall, 4312408/ 021 2968794
*28Sep~ LATIN FUN CLASS, 7.30 pm, KWMHall, 4312408   
See www.kaiwaka.co.nz for upcoming events. 
Drink can 'tear tabs' - for Starship Hospital-Ph. 4312625   
HOUSEHOLD  RUBBISH  COLLECTION  -  Kaiwaka    Pick  up-
Mondays=Green bags are picked up by Northland Waste-queries to 
them  09  4303273,Wednesdays=Blue  bags  and  yellow  recycling  (at 
Jaques  $3.00 and $1.40)  are picked up by Kaurilands 09 4392146.  
 
*OTAMATEA GREY POWER-09 431 8138 Joan Hoggard  
*KAIWAKA BADMINTON -Tuesdays 7.30pm Ph: 4312345 
*KAIWAKA GARDEN & FLORAL Grp:
2nd Thursday in month Ph: 4314767 
*KAIWAKA 
CUBS-Thursdays 5.30-7pm, Hakaru  Ph:Bruce  4312542
*KAIWAKA SQUASH -Mondays 7pm,  Ph: Barbara Thomas 4315905 
*GYMNASTICS OTAMATEA -  Tuesday Ph: Stephanie 022 3624998 
*HAKARU PONY CLUB-Ph: Dianne Christianson  4314315 
*
MANGAWHAI COMBINED PROBUS CLUB
: 2pm,3rd Thursday 
month in the Senior Citizens Hall Mangawhai. Ph: 4315777
*PT CURTIS CRUISING CLUB - Jean Ph: 4312246 
*WAIPU GENEALOGYGROUP -4th Monday in month Ph: 4312725 
*NZ GENEALOGY-Wellsford - 1st Thursday in month Ph: 4237033 
*CRAFT GROUP
:2nd & 4th Tuesday, 10am, Wellsford Ph 4238547
*RSA,Hakaru & Dist.Women- meet 1.30pm 4th Thurs in month 4312668  
*OWEN STEVENS at Kate"s Place Ph:4312661   
*Diabetes Support Group-for Kaiwaka, Mangawhai, Wellsford -10am, 
 
3rd Friday of month Ph:A.Pert 4238242; J.Gardner 4238060 
*WELLSFORD CITIZEN ADVICE BUREAU:  
0800 367 222 
Ph: 4237333 Wellsford Community Centre   
Email: cab.wells@xtra.co.nz
CHURCHES:
*Gateway Worship Centre-St Mary's Church Nathan Rd off Oneriri Rd, Kaiwaka 
Services, 10.30am 1st & 3rd Sunday of every month. Contact: Rev David Gage 
4312528 or 0212354282 
*Kaiwaka Family Church-Your Community Church Sundays, l0am 
Home Group every Wed evening, Pastor John.Dekker Ph: 4318203 
*Kaiwaka Services.Anglican & Co-op at StPauls Church  - 1st Sun. 9.30am
(Anglican),3rd Sun. 4pm (Co-op).  Contacts: Parish Office 09 4318193, M.Hargreaves 
4312295, C.Bygrave 4312057  
*Church of Christ the King, Mangawhai 9.30am every Sunday 
*St.Mary"s Catholic Church:
Maungaturoto – Griffins Road, Saturday evening Vigil 
Mass 6pm; Mangawhai – Senior Citizens Hall, Sunday Mass 8:30am; Wellsford – 
Matheson Road, Sunday Mass 10:30am; Mid-week Mass times and all enquires to Fr. 
Bill Fletcher – phone 423 8170 
*Baptist Church: Sun. 10.30am Mangawhai Snr Cit.Hall.Ph:4312339 
*Cause Way Church Mangawhai – Sundays 10.15am, Mangawhai Community Recre-
ation Centre, Insley St. Ph: 09 4314782  www.causewaychurch.org.nz
*St.Pauls Archie Bull Hall HIRE  $20 half day, $40 full day per hire 
 Contact G. Jaques 4312048 
*Kaiwaka War Memorial Hall HlRE - Phone 4312725 or 
Email  kaiwaka.hall.bookings@gmail.com 
*Hakaru Community Hall HIRE -Ph.  4312256 or 4312110 
*Te Pounga Marae queries -A.Gage 4312528, 4312527 
*Kaiwaka Sports Association hire/queries- C. Anderson 4312051 
Justice of Peace: B.FJaques; L.Donaldson; A.F.Hargreaves  -please phone to 
make sure they are available 
Marriage Celebrants: L.Donaldson; A.F.Hargreaves;   
Next Bugle Deadline Friday 13 September