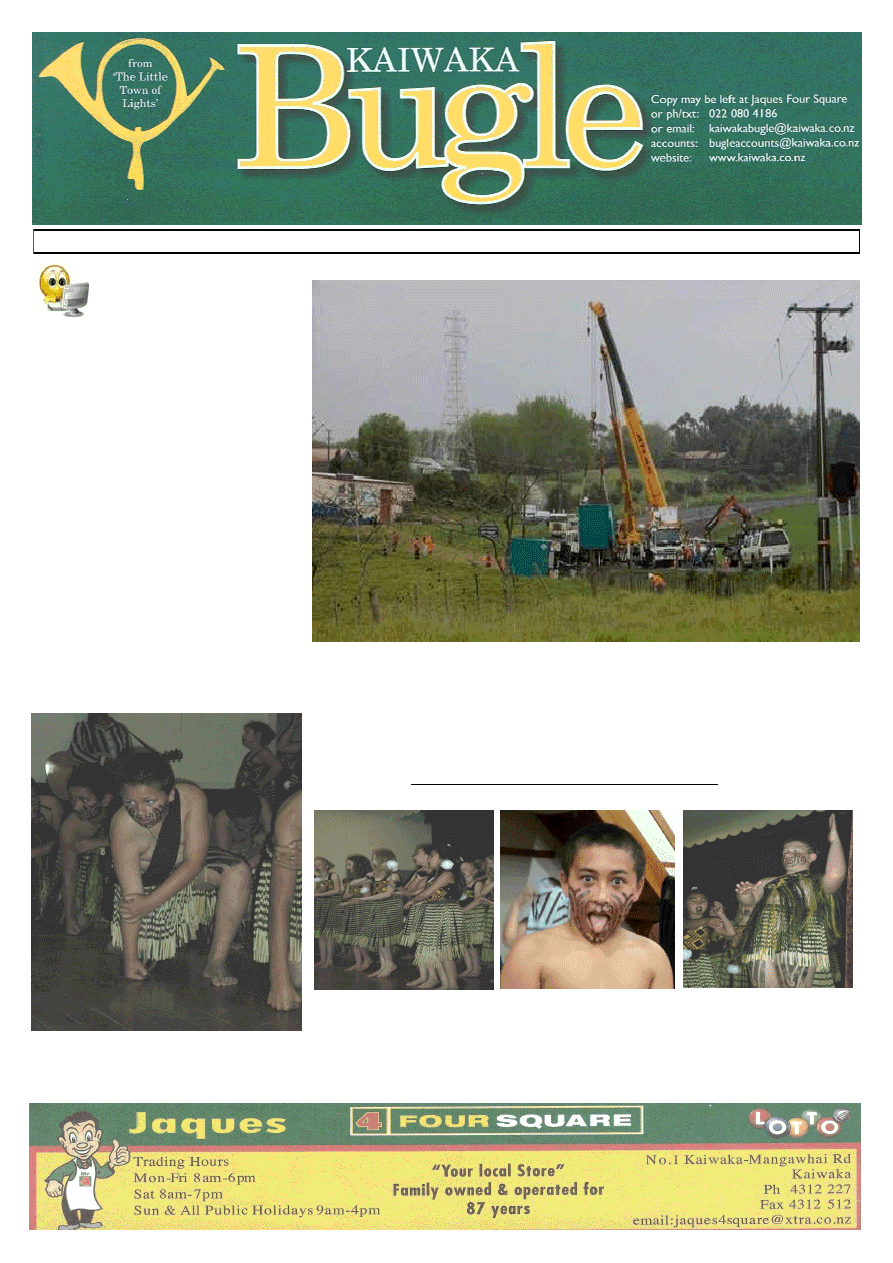 No: 19 
01/10/2013 
Photos above and right by Jennie Reynolds
Check out Kaiwaka on Facebook
Bugle 20 will appear 15 October 2013 
TRUCK AND TRAILER LEAVE THE ROAD IN KAIWAKA 
―Two cranes clearing away the truck and trailer unit which left the road and 
rolled on its side into the paddock below the Saddlery in Kaiwaka, about 6.30pm 
on Friday night, 20 September.‖ Traffic management lady told the photographer 
Saturday morning that the driver was OK – had a coughing fit.  She said he was 
very lucky as the power lines had cut the top off the truck.  Power was out for 
about 1/2hr – late dinner for locals!  SH1 closed for over 5 hours Saturday morn-
ing, and power board still fixing lines, and people and vehicles still clearing 
freight out of the paddock at 2pm Saturday.         Copy and Photo: Jan Vaudrey 
On  September  26
th
  the  students  at  Kaiwaka  School  Kapahaka  Group  put  on  a 
performance for the Kaiwaka Community in the War Memorial Hall.  
This was a dress rehearsal performance in preparation for the Kaipara Festival in 
which they are performing on 19 October.   
The  performance  included  poi,  haka,  and  wonderful  singing,  and  the  students 
were polished and confident. The school was very proud of them.  
The evening finished with a sausage sizzle, which was enjoyed by everyone.  
 Thank you to those wonderful  
 folk who turned up to work on   
 the gardens under the bridge on 
 Sunday in Kaiwaka. People like 
you really make a difference. 
Have  you  checked  out  the  gorgeous 
new  concrete  parking  area  in  the  La 
Nonna  Complex?  The  upgrade  of  the 
buildings  in  the  complex  is  almost 
completed.  Exterior  painting  happen-
ing any day now. Very nice. 
Watch this space for information about 
take away pizzas coming soon to Kai-
waka.  Predicted  launch  date  Labour 
Weekend.   
Ann 
KAIWAKA BUGLE No: 19 
List of Contents: 
Page 3: Public Notices; Classifieds 
Page 5: Kaiwaka Sports Assn.  
Page 7: Kaiwaka Garden & Dog Trials 
Page 9: Community Food Bank 
Page 11: Letters to Editor  
Page 13: Fitness; Library 
Page 15: Point Curtis Cruising Club 
Page 17: Items of Community Interest 
Page 19: Local NRC Elections 
KAIWAKA KIDS PERFORM KAPA HAKA FOR COMMUNITY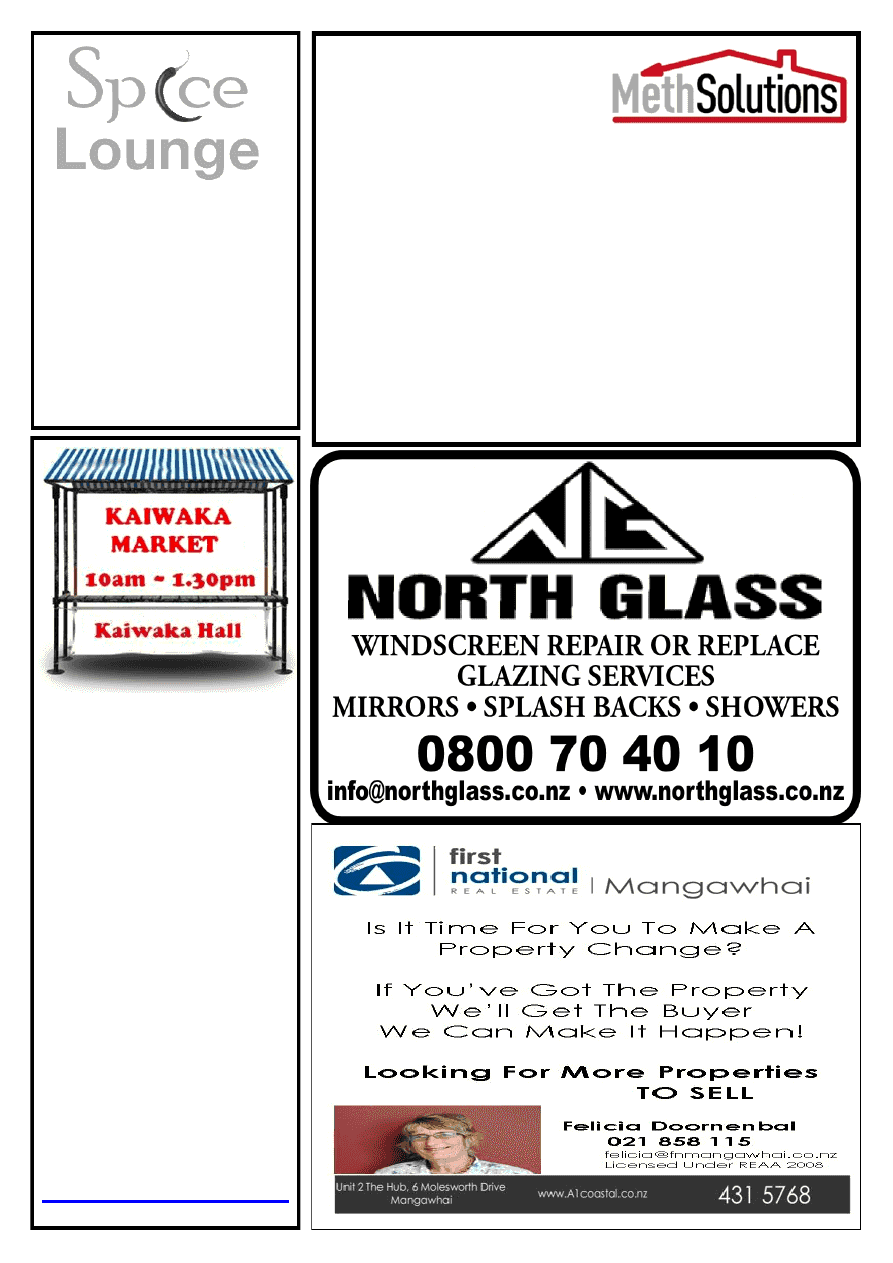 LANDLORDS
...
Is your house  
being used as a P- Lab? 
Do you live in a P- lab House? 
Thinking of buying a house?  
Don't take the risk...it will damage your health and your wal-
let If you ignore it. 
High accuracy, low cost MethDNA test from as little as 
$99+GST will give you the answer. 
Tests facilitated by Independent Certified Samplers and  
samples are analysed in an environmental testing lab. 
Book a test now at: www.methsolutions.co.nz  
or for more info call me:  09 4312234  or 021 2154495   
I am a local Independent Certified Sampler for MethSolutions. 
Open for Lunch and Dinner 7 Days 
Lunch from 11am ~ 2pm 
Dinner from 5pm ~ 9.30pm 
TAKEAWAYS  
Ph: 4312737  or  021 923 236 
spiceloungedi-
nein@gmail.com 
1917 State Highway 1,  
Kaiwaka 
On the 2
nd
 Sunday of 
each month 
In the Kaiwaka War 
Memorial Hall 
Sunday 13 Oct 
Sunday 10 Nov 
New, Preloved, Pro-
duce, Seafood, 
Clothing, Art & 
Crafts,  Books, 
Plants, Jewellery, 
Freeview Boxes & 
more 
Enquiries to: Mandy 
09 431 8717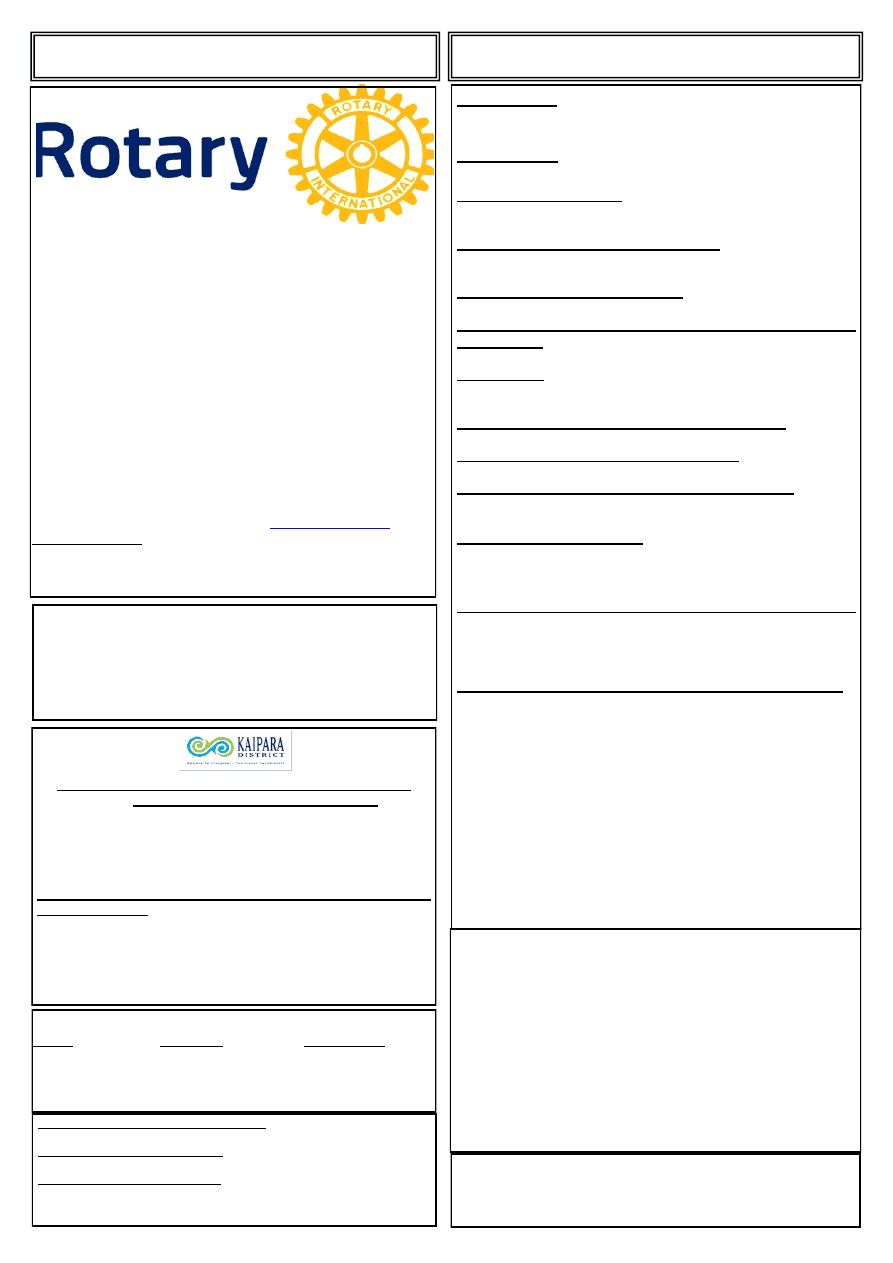 PUBLIC NOTICES 
CLASSIFIED 
FOR  SALE: 
Brown Shaver Hens. 18months old, end of 
first lay hens. $5 each. Available 7th October. Please ring E 
& L. Coates 4312020 to order. Limited number,  be quick!! 
FOR  SALE: 
Nuffield  Tractor  1060  F.E.L.  Diesel  Ideal 
boat or lifestyle $3500 Ph. 0211246829 
HOUSE  TO  RENT: 
Marshall  Road,  Kaiwaka.  3  bed-
rooms, carport. $250 per week. Refs please. Phone 4315657 
or 0212385922
COSY  CARAVAN  FOR  RENT: 
As  well  as lounge/
study.    Suit  student.  On  bus  route,  near  town.  Ph: 
0212537661
BEE  SWARMS  REMOVED:
 Free jar of Manuka hon-
ey per swarm. Pls phone Adrian 4312296
RUBBISH  AND  GREENWASTE  REMOVAL 
SERVICE: 
Phone or text friendly Bow. Free job inspec-
tion  Phone 0220751979.
WANTED: 
Grazing for heifers and calves up to 100 acres 
to  lease.    Anything  considered  in  Kaiwaka  or  surrounding 
areas Ph: 021933598
HOLISTIC  ANIMAL  PRACTITIONER:   
Horses, 
Pets, Farm Animals. www.allcreatures.co.nz or Jill 4312080 
CRANIO  SACRAL  THERAPIST
:  for  People  and 
Horses, $45 experienced practitioner. Jill Shires 431 2080
CLOTHING ALTERATIONS & REPAIRS: 
Zips,  hems,  dressmaking  &  dress  design.  Phone  Win 
4312027 or 0274448358
SINGING  LESSONS: 
Want  a  better  voice?  Feel  shy 
about singing? Teaching 39 years in NZ  music industry at 
all  levels.    Phone  Robyn  Hill  on  09  4319159  or  0274 
725610
THE  LOCAL  VOCALS  AND  WELLSFORD  YUKES: 
A musical feast, Kaiwaka War Memorial Hall, Saturday, 5 
October, 7 pm, gold coin admission for concert, supper pro-
vided  for  gold  coin  donation;  contact:  Sally  Randall  423 
9393. All welcome. 
REFURBISHMENT OF THE ARCHIE BULL HALL. 
Recently this hall has had something of a revamp/makeover, 
in the hopes that by making it a little more user friendly we 
can invite the people of Kaiwaka to hire or use our Hall a 
little more.  
We  have  installed  a  heat  pump,  a  new  fullsize  oven  and 
lovely  drapes  to  keep  the  warmth  in,  along  with  foam 
squabs for the window seats to make the seating more com-
fortable. A floor rug will help to keep the hall warm. Rates 
for Hire are :  $20.00 Half Day 
$40.00 Full Day.  Please contact Gay Jaques  4312048  
PROVERBS: 
28:2-  When there is moral rot within a 
nation, its government topples easily; but with honest, sensi-
ble leaders there is stability.  
Kaiwaka Bugle Advertisements 2013: 
Classified $2; 1/8 or 1/9 page $5; 1/4 page $10; 1/2 page $20;  
bugleaccounts@kaiwaka.co.nz 
Payments can be online, posted or left at Jaques 4sq Store. 
kaiwakabugle@kaiwaka.co.nz  for queries or copy. 
The Kaiwaka Bugle is a community newspaper run by volunteers.   
Articles, etc. printed are not necessarily the opinion of the Bugle Team  
Deadlines for next few Bugles
Bugle  
Deadline 
    Publication 
 20   
     Friday 11  Oct  
Tuesday 15  Oct  
 21 
Friday 25  Oct  
Tuesday 29  Oct 
 22 
Friday 08  Nov  
Tuesday 12 Nov 
Rotary Club of Maungaturoto 
& Districts (Inc) 
‗Puhoi to Wellsford  
Road of National Significance'  
Come along and hear Project Manager Patrick Kelly 
from New Zealand Transport Agency address the  
subject. 
When 
Tuesday 15
th
 October, 7pm 
Where  
Kaiwaka Sports Complex,  
Gibbons Road, Kaiwaka 
Cost   
$10 with all proceeds to Rotary 
local and international  
community projects 
*Seating limited to 150. Register at 
 09 - 431 - 4121.   All  registrations  go  in  the  draw  for  3  x 
$500 Education Grants on the Night.  
K A I P A R A     D I S T R I C T     C O U N C I L 
TEMPORARY ROAD CLOSURE 
Pursuant to the Transport (Vehicular Traffic Road Closure) 
Regulations  1965,  the  Kaipara  District  Council  hereby 
gives  notice  that  the  following  road  will  be  temporarily 
closed on the day and at the times below for the purpose of 
holding a rally sprint. 
Sunday 20 October 2013 – 9.00.am to 6.00 pm (earlier if 
finished before)  Pritchard  Road  from  its  junction 
with Valley Road to the Kaipara District boundary  
Further information, if required, relating to this temporary 
road closure can be obtained from Customer Services, Lo-
cal Government Centre, Dargaville.
Business Opportunity 
Ladies Designer Clothing For Sale 
Great opportunity to take over shop lot of mostly ladies 
clothing shoes and accessories. Has been sold for several 
years on a regular basis at local markets but could also be 
suitable for ―Pop Up Shop or permanent New & Once Worn 
Clothing Boutique. Over 1,000 items of New or Nearly New 
Designer Tops Dresses Trousers Jeans Jackets Shoes Bags 
Summer/Winter All Sizes. 
Racks and Hangers included. $2000 
Phone 0277132625 for more info. 
Maungaturoto Market .  .  .  
Friday 11 October from 4 pm - 7 pm 
                           in the Centennial Hall 
Arts   .   Crafts   .   Produce   .    Plants  . and MORE! 
second Friday this month as St John Trash n Treasure is this week.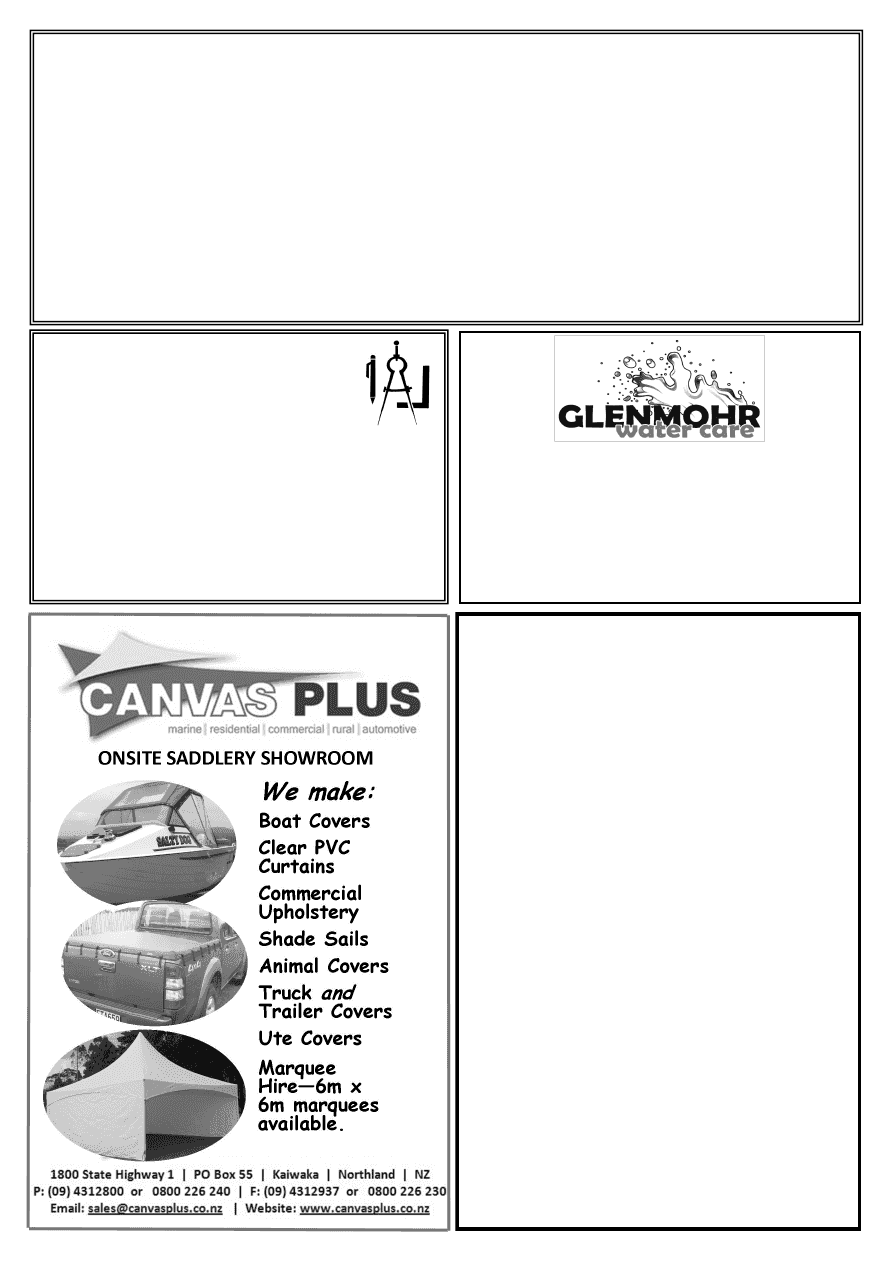 RANGANUI EARTHMOVERS 
16T Excavator   
(tilt, thumb & ROPS cab)   
Transport Trailer 
2 x 6 Wheeler Tip Trucks 
Suppliers of All Grades of Metal & Topsoil 
If you want a proper job done with an experienced operator ring 
Grant on    A/H 431-2131        Email  ranganui.dev@xtra.co.nz 
   Mob  021845-246 
Driveways, House Sites,  
Drainage Dams, 
Section Clearing,  
Tree Work,  Rock Retaining Walls,  
Quarry Work, 
Basically Anything That a Digger Can Do 
design drafting 
service 
Retired builder and manufacturer with over 40 years  
experience in the building industry is offering a design 
drafting service  
for domestic housing, sleepouts and sheds.  
Plans formulated in consultation with clients, with 
working drawings completed and submitted to  
council for processing.  Extensive practical experience,  
able to identify & resolve problems. 
Please ring Mike Lean on 
09 431 2260  
Water Tank Cleaning 
" 
 Keep your water safe & clean   
 
Removal of sediment, silt etc. 
 
Vacuum or full scrub 
 
Minimal water loss 
Phone Mark (09) 432 0655 or 0274 707607 
PLANNING A NEW 
KITCHEN? 
 CONTACT NOEL McDOWELL 
WELLSFORD 
KITCHENS
Ph/Fax 094312888  
KAIWAKA-Any time 
  QUALITY CUSTOM MADE 
KITCHENS  
~Personal and Prompt Service~ 
~All Workmanship Guaranteed~ 
~Over 20 Years in the Trade~  
~Free Design & Quote~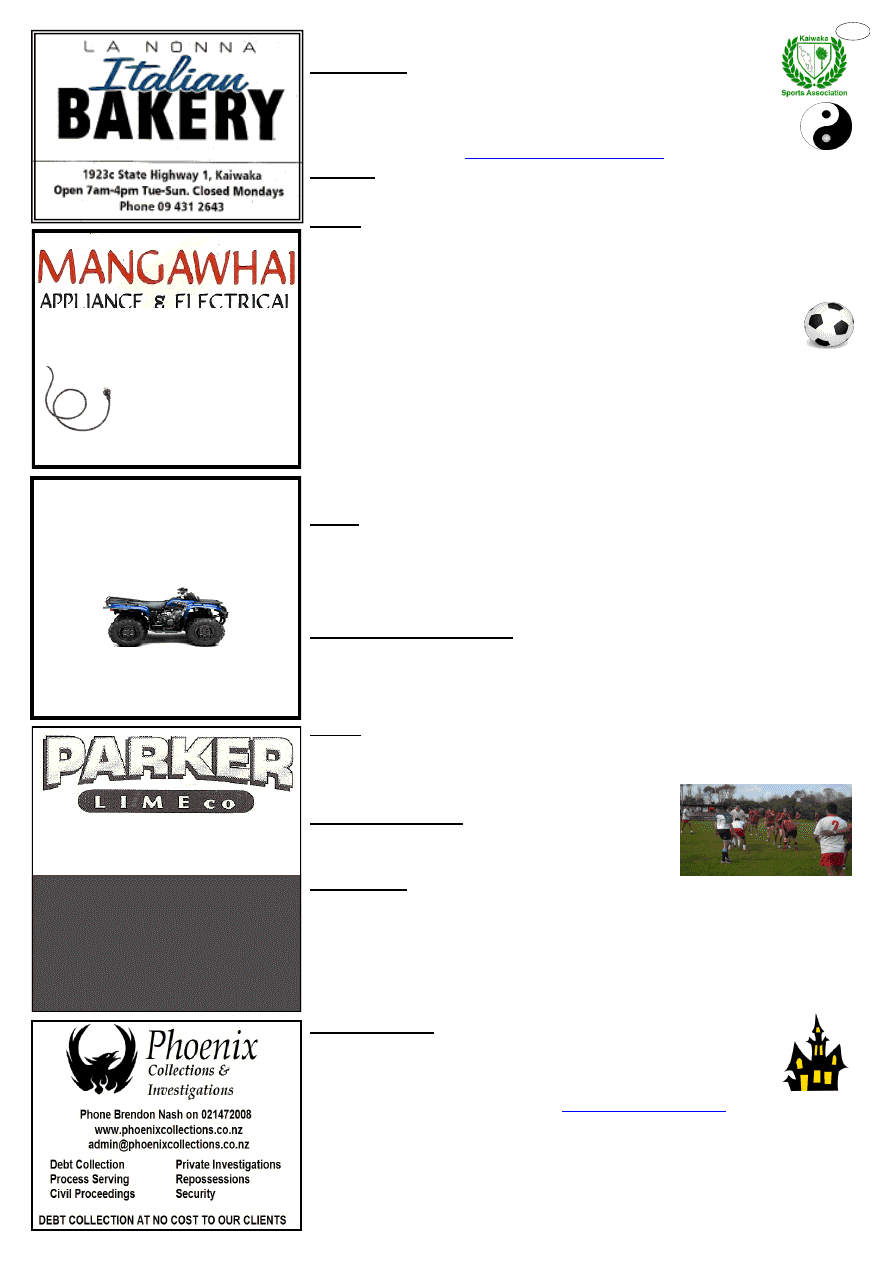 Landscape Supplies 
Bulk Cartage 
4312407 
Mob: 021 453 252  
Fax: 4312939 
scott.parker@parkerlime.co.nz 
Gibbons Road, Kaiwaka 
  KAIWAKA SPORTS ASSOCIATION
  THE OTAMATEA HAWKS 
KAIWAKA  MOTOR 
CYCLES LTD 
SALES SERVICE SPARES
FARM BIKE SPECIALIST
Phone 431 2127 
Kaiwaka-Mangawhai Rd 
Kaiwaka 
DEAN STEWART 
Registered Electrician 
021 280 4008 
09 4312 911 
AUTHOURISED FISHER AND PAYKEL SERVICE 
5 
Martial Arts 
Following on from the popularity of its classes, our Martial Arts club 
is starting up a new Tai Chi class. This will be held out of our gymnasium on Wednesday 
mornings, 7 – 8am. The club is currently offering free introductory classes for 
both Tai Chi and Kempo (spaces are limited). The club is also now taking enrol-
ments for Term 4. For all Martial Arts enquiries please contact instructor Craig 
Bennetts on 4315 170 or  
Netball 
Our senior netball club, Otamatea-Ex, will hold their prizegiving at the Sports Complex on 
Saturday 19
th
 October, 6.30pm. Enquiries to Mirna Manuell on 4237 767
.
Soccer 
Congratulations  to  the  following  trophy  winners  at  the  Kaipara  Knights  Soccer 
Club prizegiving held recently: 
6
th
 Grade:   Most Improved – Evan Fisher; Sportsperson of the Year – DJ 
Brain; Player of the Year – Liam Van Harlingen 
8
th
 Grade:   Most  Improved  –  Chloe  Comer;  Sportsperson  of  the 
Year – Emma Browne; Player of the Year – Jared Brain 
10
th
 Grade:   Most Improved – Abby Cant; Sportsperson of the Year 
– Trista Comer; Player of the Year – Franklin Fisher 
12
th
 Grade:   Most  Improved  –  Matt  Hamilton;  Sportsperson  of  the  Year  – 
Suzy Hames; Player of the Year – Tyler Flannagan 
17
th
 Grade:   Most Improved – Mathias Damsted; Sportsperson of the Year 
– Ruby-Rose Hallamore; Player of the Year – Cameron Gill 
Open Grade:  
Most  Improved  –  Aaron  Preston;  Sportsperson  of  the 
Year – Elliott Millar; Player of the Year – Sean Bradley 
Coach of the Year:  
Niki le Mesurier 
Congratulations  to  the  following  players  who  were  selected  for  age-group  representative 
teams to participate in Northern Football Federation tournaments: Hamish Ferguson, Tyler 
Flannagan, Matt Hamilton and Arjan Pedersen.  
Touch 
Thank  you  to  those  people  who  have  let  me  know  they  would  be  interested  in 
playing in a Touch module over the summer months. I still need more interest in 
the idea for me to go ahead with it. The module would be held over 10 weeks on a 
Sunday afternoon and would be a casual, friendly competition for mixed teams of 
men, women and teenagers. If you might be interested in participating please let 
me know.
General Managers Course 
New legislation coming into effect on 18
th
 December requires all staff serving alo-
cohol on licenced premises to hold a General Managers certificate. We are hosting 
a course at the Kaiwaka Sports Complex for people who wish to gain this qualifi-
cation, on Sunday 20
th
 October, 8.30 – 5.30pm, $225 per person. Spaces are lim-
ited. To register, please contact me (details below). 
Rugby 
A swirling wind on Saturday made conditions difficult for the players in the U18's 
Vikings vs King Country match. The Vikings were victorious coming out on top 
26 – 13. Many thanks to the Playcentre parents who 
catered for the aftermatch meal.
Portrait Fundraiser 
Thank you to the thirty families who took advantage of 
our portrait fundraiser – the KSA made $300. The day 
to collect your photos is Thursday 17
th
 October.
Fright Night 
Coming up Saturday 2
nd
 November – Fright Night! This is a Halloween inspired 
evening where children dress up in costumes, there's music, dancing, games, a lol-
ly scramble and glow items for sale. Parents bring 'spooky' food for supper and the 
children  can  take  a  walk  through  the  haunted  house!  I  am  wanting  to  make  the 
haunted house even scarier this year, so if you have any suggestions, offers of help 
or any props I could borrow, please get in touch with me.  
I  am  running  a  competition  for  primary  aged  children  to  see  who  can  come  up 
with 
the 
scariest 
flyer 
for 
Fright 
Night  
Top of the Rock 
Planning is underway for next years multi-sport challenge the Top of 
the  Rock.  Featuring  run,  walk  and  mountain  bike  options,  this  event 
caters to the casual participant as well as the more serious competitor. 
Mark it in your diary – Sunday 9
th
 February.
Cheryl Anderson 4312 051, 021 3462702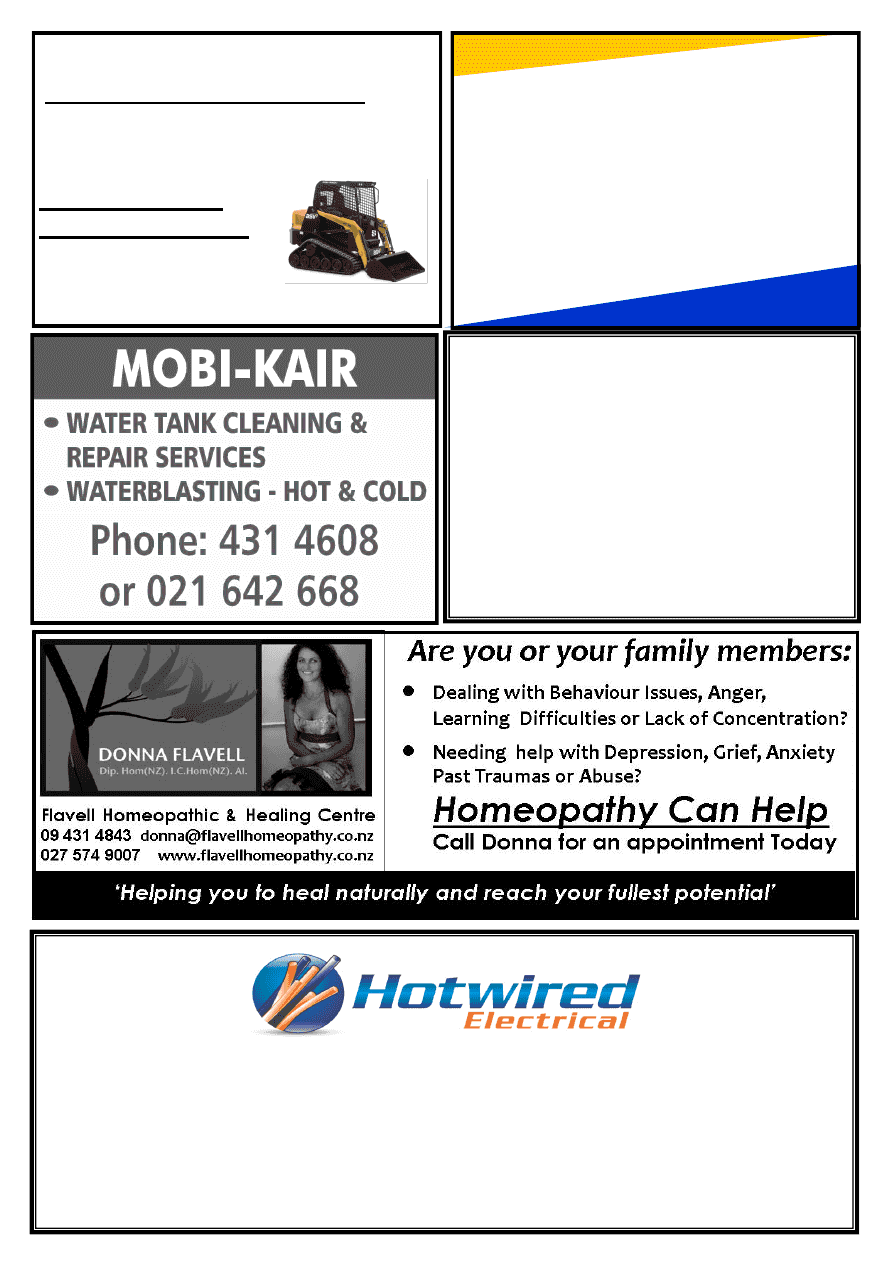 CONCRETE 
If it's concrete we do it 
Full Preparation & Pour by 
Experienced Local Team 
Phone Phil Keen Contractors  
027 659 2376 
TILING 
Certified Waterproofing 
431 4533 or 021 86 33 33 
George 
MCN Property Solutionz  
Local references available 
For All your Electrical  Requirements 
 
Domestic small jobs 
 
Residential dwellings and alterations 
 
Commercial              
No job too big or too small
 
Industrial                       
Contact Jason today on: 
(09) 431 5992, (021) 405 019 
www.hotwiredelectrical.co.nz 
Natural Earth Ltd 
 Landscape and Bobcat services 
 : Driveways  :Landscaping  :Retaining Walls 
 : Hole Boring: Land Levelling :Trenching 
 : Decks :Fences :Sections Cleared: Plus much more 
Tel   09 4312885 
Mob 02102391280  
For  A  Fast  Friendly 
Service Contact  
Tim Hicks 
AMBER'S 
Q Cafe &  
Restaurant  
All day breakfast, 8am - 5.30pm.     
Home made Pizza, take away or eat in from 8am to late. 
 Light lunches, 11.am - 5.30pm, 
Dinner Menu at 5.30pm to late 
 Toasted Sandwiches and Sandwiches made to order. 
All day, Pies, Chowder & Soups 
 Milkshakes, Kiwi Ice cream, Slushie Fruit drink, Tea, 
Coffee 
 Closed Mondays.....except Observed Holidays 
 Sunday to Thursday: 8am - 8pm 
 Friday: 8am - 8.30pm, Saturdays 8am- 9pm 
4315226 
Trevor & Amber 
41 Moir Street, Shop 5-6  
Mangawhai Village 
Next to Carters Building Supplies 
 LEABOURNS 
Passenger Service 
Car & Van Hire 
Bus & Coach Charters 
Airport Transfers 
 Monthly Shopper Bus 
Phone (09) 4237416 
Paul Greig Electrical Ltd 
Residential • Farm 
 • Commercial 
Paul Greig 
Registered Electrician 
  Ph: 431 2223  
Mob:021 230 2717 
Reliable & Professional 
Quality Service 
Based in Kaiwaka 
DOG  TRIAL  UPDATE 
With no events in the North until the Bay of Islands Show in Novem-
ber our dog triallists have been doing some big kilometres to follow 
their sport. 
I  had  three  days  judging  some  220  dogs  at  Hawera  in  their  indoor 
arena, it was pleasing to see 17 dogs from Northland competing there.  Only one 
of  them  made  it  into  the  Finals,  Pete  Campbell  and  Dime,  from  Okaihau.    The 
winner  was  Gary  Denize  with  Vickie.  Vickie's  former  owner,  Bruce  Harvey 
dropped  dead  whilst  taking  part  in  this  event  two  years  earlier  so  well  done  to 
Gary for his success with Vickie. 
The next trial was at Ohingaiti where ten dogs from the North braved the cold! 
(They tell me the weather was balmy!), Merv Cameron and Bonnie and Cyril Ball 
with Jazz, nearly locals from Maungturoto, made it into the finals but neither pair-
ing quite able to get it right in the second round. 
Last  weekend  it  was  to  Cambridge  for  their  ‗Classic';  an  English  type  hill  tri-
al.    This  is  an  event  which  tests  the  all-round  ability  of  our  heading/eye 
dogs.  First a runout (gather) pulling 4 sheep home then taking them around the 
handler next driving them away some 150 metres through a 7 metre gap between 
2 gates then across the side of a hill and through another 7 metre gap and bringing 
them back, penning them then releasing them and shedding (separating) into 2x2 
sheep. 
In  the  final  the  start  is  the  same  with  5  sheep  but  half  way  home  you  stop  the 
sheep and dog then re-cast your dog to the left and get 5 more sheep pulling these 
to join the first (waiting) 5.  The 10 are then driven around the course as for the 
first run.  Three of the 10 sheep have red collars on and at the shedding ring you 
have to drop off the uncollared sheep (no more than 3 at a time) until you are left 
with the 3 with collars which you have to pen, and all this must be done within 20 
minutes. 
Dash and I qualified 2nd in the first round and were drawn to go first in the fi-
nals.  With a few nervous moments we ended up with our 10 sheep negotiating all 
obstacles to the shedding ring.  Dash is fleet of foot and sometimes her ears ap-
pear to be painted on but that sunny Sunday afternoon she was totally focused and 
we had a successful shed then it was to the pen.  Dash by this stage had the 3 col-
lared sheep well contained and made a great job of penning them to complete the 
run.  We ended up a close second to Art Eastman with Finnegan from Gisborne, 
Art  is  a  Scot  and  is  well  used  to  these  events  having  competed  many  times  in 
Scotland. 
R.H. 
BRICK/BLOCKLAYER            
All aspects of  
masonry:  
Fireplaces, 
Restoration &  
Remedial Work. 
JAMES EAGLETON 
Tel. (09) 431 2514  
Mob. 0274 749 232 
jajueagles@yahoo.com.au 
210A Pukenui Road, RD2 Kaiwaka 0573 
KAIWAKA GARDEN 
AND  
FLORAL GROUP 
15 members met at Lorraine Lusty's on 
Thursday 12th Sept. 
Jean our President welcomed new mem-
ber Agnes Tully and a visitor from Wai-
pu -  Robyn Moffit. 
Lorraine's garden looked terrific with 
colour and flowers in abundance.     
We were also lucky enough to go along 
and see Dawn  Reid's Tulips just along 
the road, which featured a magnificent 
display. 
Adrienne Osman was the Birthday girl 
this month and Sharyn Mclean from the 
month before. They were both   
presented with a posy. 
Results  of  competitions  this  month 
were:- 
Floral  arrangement  -;‖SPRING  TIME"  1st 
Lorraine Lusty, 2nd A. Dowson. 
Best  Bloom:-  1st  M.  Haverfield 
(daffodil) 2nd J. Paget's Antirrhinum 
Cluster :- 1st J. Paget's camellia, 2nd A. 
Shimmin's Freesia 
Flower  of  the  month  (Flower  from  a  Bulb) 
1st F. Burnett, 2nd  L. Lusty both daffodils. 
Herbs - 1st S. Mclean, 2nd  A. Shimmin. 
Citrus  fruit  -  1st  A.  Dowson  -  Lemon, 
2nd J. Wills -Lime. 
Wild Card -Jenny Wills Celery,  
2nd J Paget - passion fruit. 
Most Outstanding M. Haverfield's Daf-
fodil. 
Next  Month's  meeting  will  be  on 
Thursday 10th October at Fay Burnett's, 
186  Kaiwaka  Mangawhai  Road  Phone 
094312449. 
Floral Arrangement - Cup & Saucer 
Bloom - Pelargonium 
Fruit -Exotic 
Vege
- Lettuce (with roots Attached) 
plus Wild Card, single bloom and Clus-
ter or Spike. 
Please remember to bring something for 
the  sales  table  and  entries  to  be  in  be-
fore 1-15pm please. 
Enquiries ring 093415913. 
Neville and Ann Dowson 
   7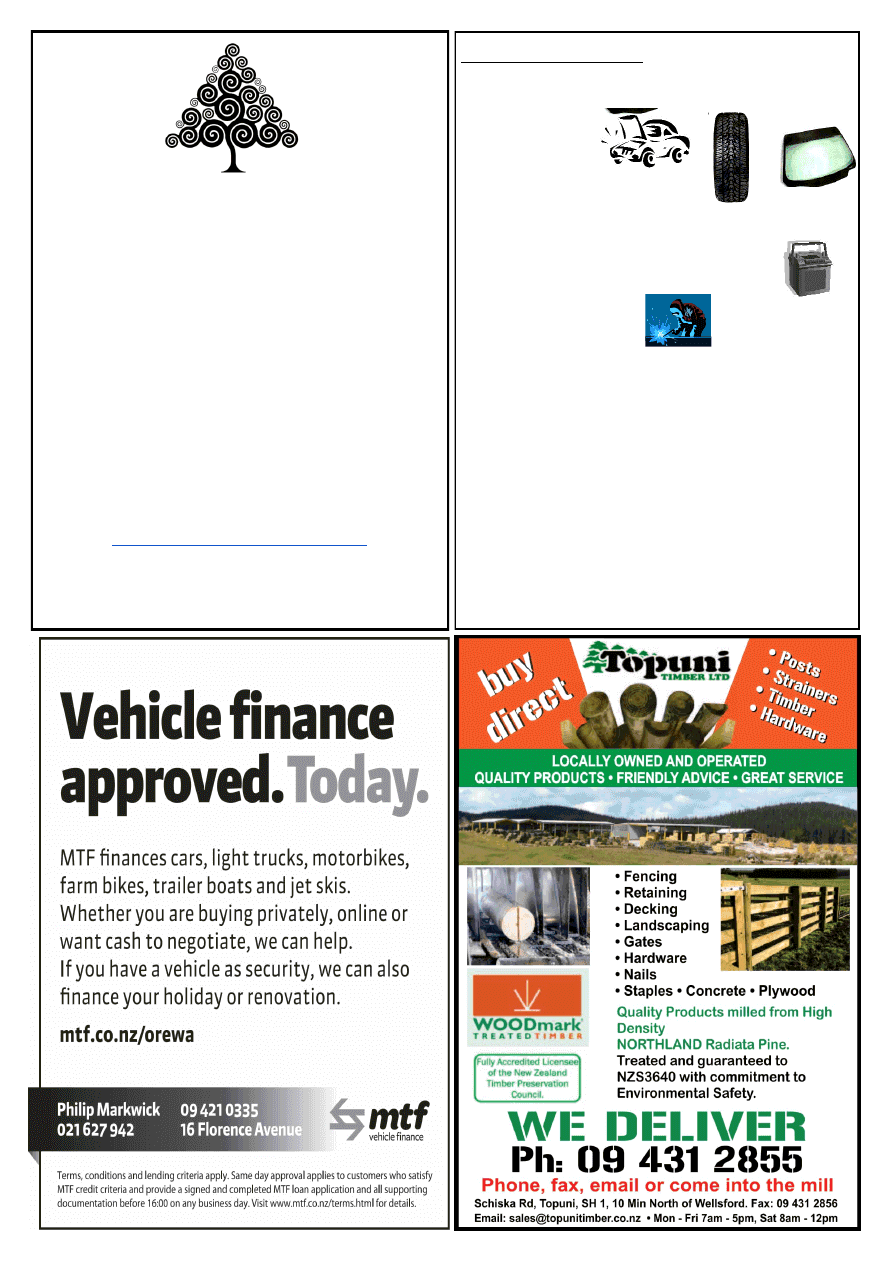 Want it done? 
Bring it to Twinkle Tow 'n' Tyre 
*W.O.F. 
*Tyres 
*Windscreen re-
placement 
*Chip repairs 
*Bulk Oil 
*Batteries 
*Welding 
*Custom built trailers 
*Trailer hire 
Think you'll get a better deal in the city? 
Go on, ring us; it won't cost  
anything! 
1837 State Highway 1, Kaiwaka       
Phone 431 2823 
Weaving your special,
unique ceremony
CELEBRANT   
CARLA ROSSEELS
Funerals
Baby namings, life transitions
Trained at the NZ Celebrant School Auckland
Highly skilled writer and facilitator
Author of several books on the power of ritual
Psychotherapeutic background
30 min check-me-out-chat for free
Phone 09 4312408
Cell 021 2968794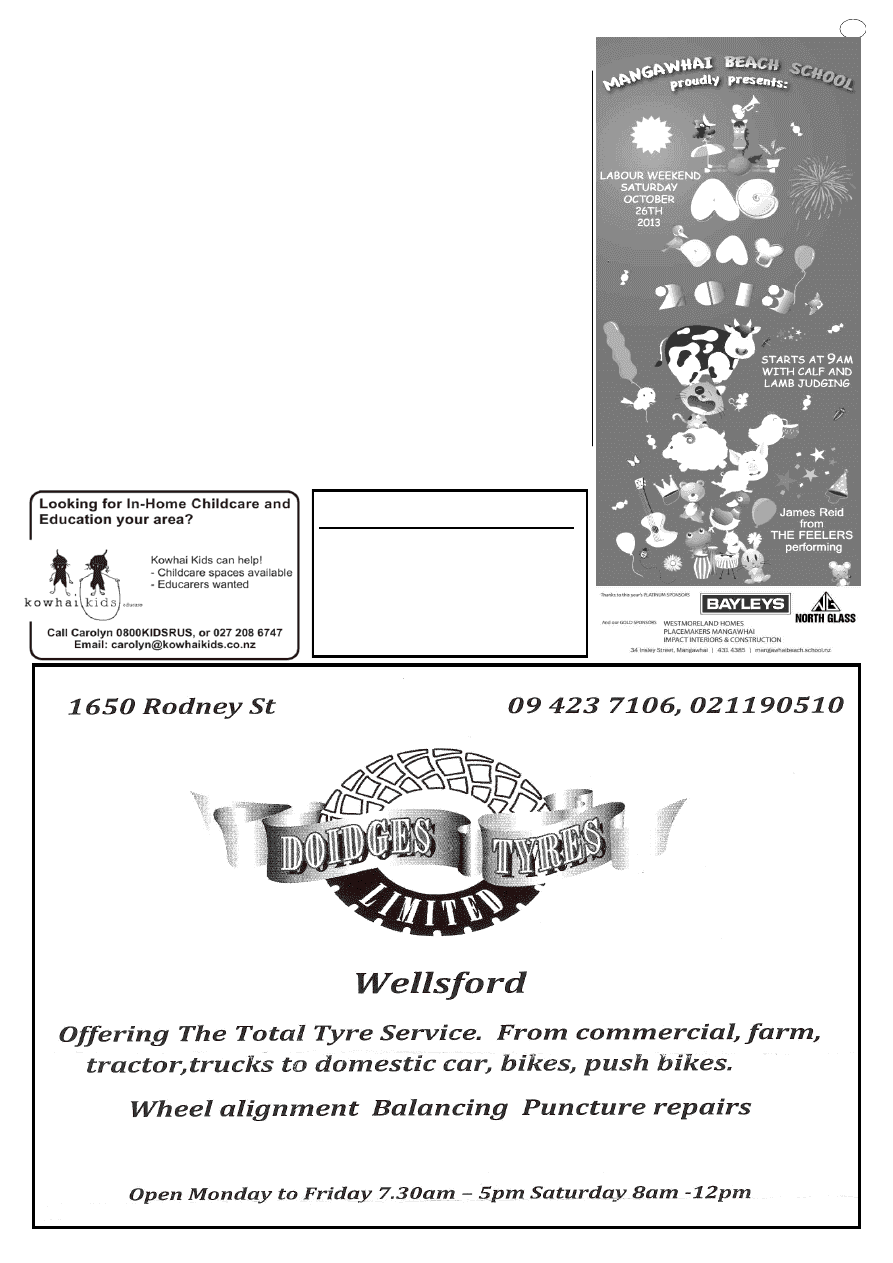 Community Services Officer: 
For all Community Services Forms see 
Milly at the  
Kaiwaka St John Op Shop.  
Phone 4312650 
MORE MEMBERS REQUIRED FOR 
THE KAIWAKA STATION
. 
9 
KAIWAKA COMMUNITY FOOD BANK 
Tena Koutou Katoa—Greetings to All 
Heartfelt thanks to all the wonderful people who donated food items and cash dona-
tions for the Food Bank.  
There are a lot of new families in Kaiwaka, many are struggling to make provision 
for their children.  It makes it harder for parents who have small children because 
they have to now attend a course to try and get themselves back into the work force. 
Some are able to cope, others are finding it hard, because these parents have to find 
a safe place or babysitters to look after their children.  Then there is a payment for 
these parents, who leave their children in care.  I would find it hard myself if I was 
a single parent. 
The  last two  weeks  have  been  hectic;  17  food  parcels  were  allocated  to families. 
That tells me there is a need.  There is a procedure families must follow.  If you are 
wanting a food parcel, you must supply your Name; Address; and Phone Number.  
This is the same procedure WINZ and other food banks  use.  If we can help in any 
way, my office will be opened after 11am Monday to Friday for the first week of 
school holidays.  If people are able to donate to the food bank you can leave items 
at Jaques Four Square.  And lastly I do not take too kindly to people who: ―USE 
and  ABUSE‖  the  Kaiwaka  Community  Food  Bank.    If  you  make  it  a  problem;  I 
will  rectify  the  problem  and  make  sure  it  does  not  happen  again.    Remember  we 
work hard for our Community; we work for aroha/love for all the youth.  Holidays 
are here; look after yourselves and keep safe. We don't want to hear about anyone 
getting into trouble.  Kapa Haka group performing at the Kaipara Festival—there 
will be a practice at Otamatea Marae next Saturday 5th October 2013. 
Ana Ruby is back. How cool's that! No Reira nga mihi—greetings to all. 
Maria Morgan, Paula Jaques and Dalleise Jaques. 
www.mangawhaimassage.co.nz 
Based ou
t  
Oner
iri Roa
d 
HODGETTS
CONTRACTING
Digger Work    

Driveways 

House Sites   

Dams 

Drains, etc
Also available for HIRE 

3 ton Vib Roller 

Heavy Duty Tow 

Waterblaster  

Lazer Level 
Phone Mark 
4312877 
027 447 8554
BONJOUR MESDAMES ET 
MESSIEURS!! 
Need that extra help to feel...fully on top of 
things? You guessed it...  
 I can help!...with all those winter niggles.
Monsieur Masseur .... 
RELAXING  
MASSAGE
..... Juste pour vous" 
Here's feedback from happy clients: 
―When I came in for a massage, I was 
stressed and my body was sore.. 
Prior to my massage, Pete counselled me, 
using positive affirmations and visualisa-
tion.. I relaxed and responded to massage 
treatment a lot quicker, I feel. I am still 
using these affirmations on a daily basis. or 
when I feel stuck..‖ 
Call for an appointment now!
Pete Worsfold 
4312 009 (evenings)  or    
021 825970   
Flat 1 1933 SH1 
Or  Book at "The Well of Health" 
for an appt. 09 4312 799 
 
Or mobile service available 
Coates  
Contracting 
 
D41 Bulldozer with 6 
way blade, bush rigged 
with winch 
 
For all tree work 
 
General bulldozing and  
  stick raking. 
 
120hp Tractor for 
ground cultivation,  
 
tip trailer work. 
 
Fencing
All enquiries phone  
Brett Coates  
094318720 or mob 
021431872 
Freeview  
Installations 
Richard Te Haara 
25 Marram Place 
Mangawhai Heads 
021 1104056 
kiwipride@xtra.co.nz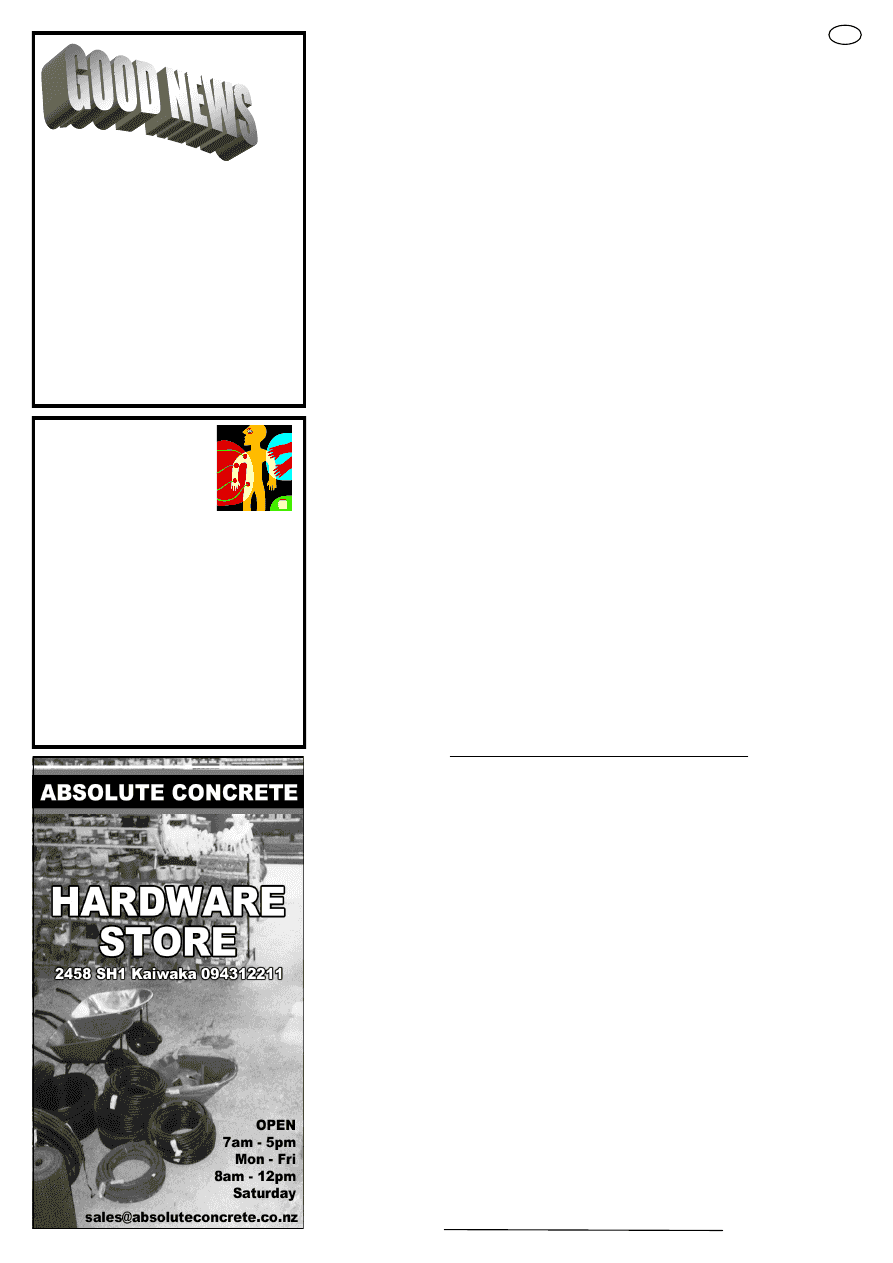 @ the  
Kaiwaka Family 
Church 
Your COMMUNITY CHURCH 
RECEIVE HEALING 
  RECEIVE THE LOVE OF GOD 
  Everyone warmly welcome each                                            
    Sunday 10am. 
Contact: Pastor John Dekker,  
09 4318203 
THERE'S 
OWEN STEVENS 
Osteo Therapist
For careful 
adjustments to bones 
and joints 
Treatment for  humans and their 
pets 
Clinics: Kate's Place, Kaiwaka: 
Last Friday of month 
Warkworth Showground:  
2nd Thursday, monthly          
For  bookings:  9.00am-5.00pm  
Phone 
09 4312661 
 Or phone Owen   
09 4317123  anytime 
11 
Time and time again we, as the ratepayers and residents of Settlement Rd., wear 
the brunt of the council's decision not  to tar seal the first kilometre. They spend 
oodles and oodles of money resealing a 3 km stretch of the Mangawhai Kaiwaka 
Rd, this road was already tar sealed, maybe a pot hole or two  to be repaired, but 
instead they  rip  it  up  and re  tar  seal  it  obviously  nothing  better to  do  with the 
roading  funds  (we  would  be  happy  to  have  a  tar  seal  road  with  a  pothole  in 
it).  Then gravel roads, with way less traffic than ours, gets sealed BUT WHY... 
OHH THATS RIGHT it was in Mangawhai, it feels like the council are tar seal-
ing roads in Mangawhai to help keep the residents there happy to help compen-
sate for the sewage system. 
this is a section of the council reply to me:
Settlement Road is a local road in our hierarchy, and carries a traffic 
load between 100-500 vehicles per day. This is significant for an un-
sealed road, but in the same instance we have other unsealed roads 
with similar traffic loads. 
I would certainly like to know the names of these roads, because I am struggling to think 
of a gravel road with up to 500 cars on it a day, so if anybody knows please let the editor 
know. The council can't win when the road is not looked after it is very dangerous due to 
its condition, then the other week they graded it and you could literally hear the sigh of 
relief from the locals, but when it has been graded it is like driving on marbles and within 
the first week there were 2 accidents, which normally results in a car taking out a power 
pole so then all us residents also have to go through the power cut stage as well.  Then 
within two weeks the road is back to the same dangerous state as before they graded it. 
 The other day as I pulled in my driveway yet another ambulance was coming up the road 
followed a short time later by the fire brigade and then later by the power truck,  unfortu-
nately, it is becoming a very regular sight to see emergency vehicles on our road,  and as 
these services in our community are volunteer it would be nice not to exhaust their ser-
vices and time with accidents that could be avoided by having a tar seal road.  
Then today they have the wires (or whatever they are called) across the road once again 
to  count  the  number  of  cars  that  use  the  road.......  all  I  can  say  is  what  for?...  Council 
have done this numerous times just to give them vehicle figures its not as if they do any-
thing about it, or is it another thing for them to use as an excuse saying we are looking 
into it and checking its vehicle usage.  
Council have fobbed me off by saying they have no money for roading, but every council 
in New  Zealand apply to the  RTA  for  funds  for roading so they  have  that  money plus 
their own, plus the developers money that have paid towards roading .......so once again 
where is the money gone and where is our tar seal road we have been promised for the 
last five years.  
AND  IS  IT  GOING  TO  TAKE  THE  NEXT  ACCIDENT  TO  KILL  SOMEONE  BE-
FORE COUNCIL DO ANYTHING ABOUT IT?  
Fiona of Settlement Road   
       LETTERS TO THE EDITOR, etc.   
Council invites Settlement Proposal 
Commissioners at the Kaipara District Council have invited the Mangawhai Ratepayers 
and Residents Association (MRRA) to drop its proceedings against the Council in return 
for Council formally acknowledging past errors by way of a series of declarations before 
the High Court. 
Chair of Commissioners John Robertson advises that Council has instructed its legal 
Counsel, David Goddard QC, to approach the Counsel for MRRA to nut out a way for-
ward to settle the action. "This initiative has been taken in order to try to bring an end to 
the very expensive legal proceedings underway," said Mr Robertson. "Commissioners 
have always regretted the Court action taken by MRRA. Judicial Review proceedings are 
very expensive. We prefer to spend rates on road maintenance and community develop-
ment, rather than legal and Court costs. "It has become clear in recent weeks that vari-
ous members of the Executive of MRRA seek a way that brings these proceedings to an 
end. Commissioners have been asked to help find a way to such a settlement. "There are 
many issues that Council and the MRRA agree on that do not need Court involvement – 
the history of poor decision-making is acknowledged by both organisations," said Mr 
Robertson. While MRRA determines its response, the Kaipara District Council has lodged 
an appeal against a Court decision to decline the Council's application for strike-out in 
relation to the protected transaction issue. 
"Council needs the Court to provide a determination on the interpretation of the pro-
tected transaction clauses within the Local Government Act. This is a relatively narrow 
but very important point that is being challenged by the MRRA. It is however a key point 
of law. It is about whether or not Council can set rates to repay the debt incurred by the 
Mangawhai Community Wastewater Scheme. 
"Our legal advice is very clear and we are very confident of our position on this issue. 
Saying that, we would far prefer not to be involved in court proceedings at all," said Mr 
Robertson
.                     For more information contact Barbara Ware on 09 439 3123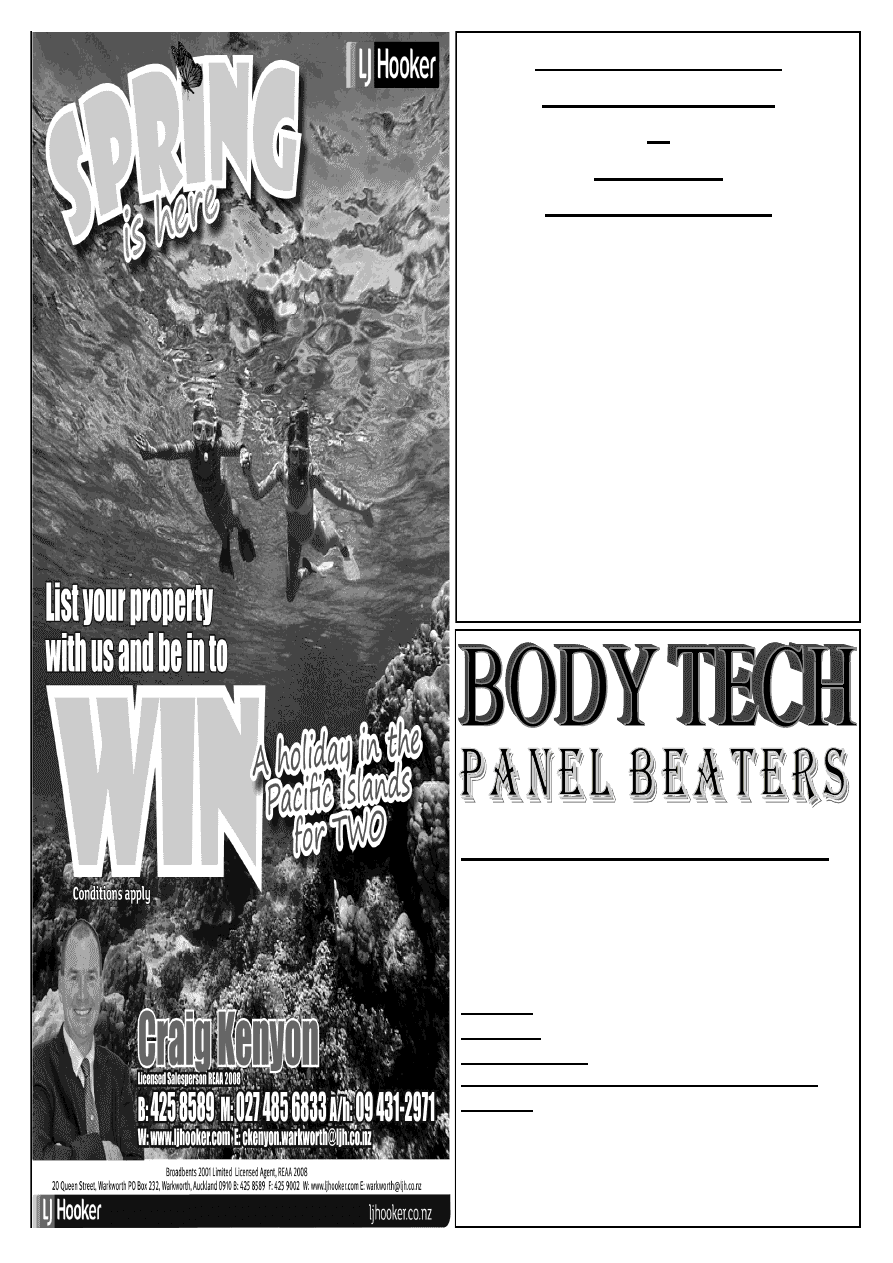 PAUL SAUNDERS 
LAWNMOWING  
&  
GARDEN 
MAINTENANCE 
 
Lawns and edges 
 
Section mowing 
 
Hedging and trimming 
 
Spraying and fertilising 
 
Tree planting 
 
Green waste removal 
 
Pruning 
Friendly and reliable service guaranteed 
Call now for a free no obligation quote 
021 886 843 
09 431 2731 
Servicing Mangawhai and Kaiwaka  
and surrounding areas 
paulsaunders99@gmail.com 
For all your body repair needs!! 
We do: 
Rust repairs 
Insurance work 
Anti-corrosion treatment         
Hours: 8.30am-5pm Monday-Friday  
Mobile: 021 118 0462 
After hours: 09 431 2384 
Phone: Craig or Call in for a free Quote 
e-mail: 
bodytech_panelbeaters@yahoo.com
We are located at 1837 SH1 Kaiwaka, behind Twinkle 
Tow ‗n' Tyre call in anytime for a free quote.  
Large and minor vehicle  
  repairs 
Industrial vehicles 
Full Cut and polishes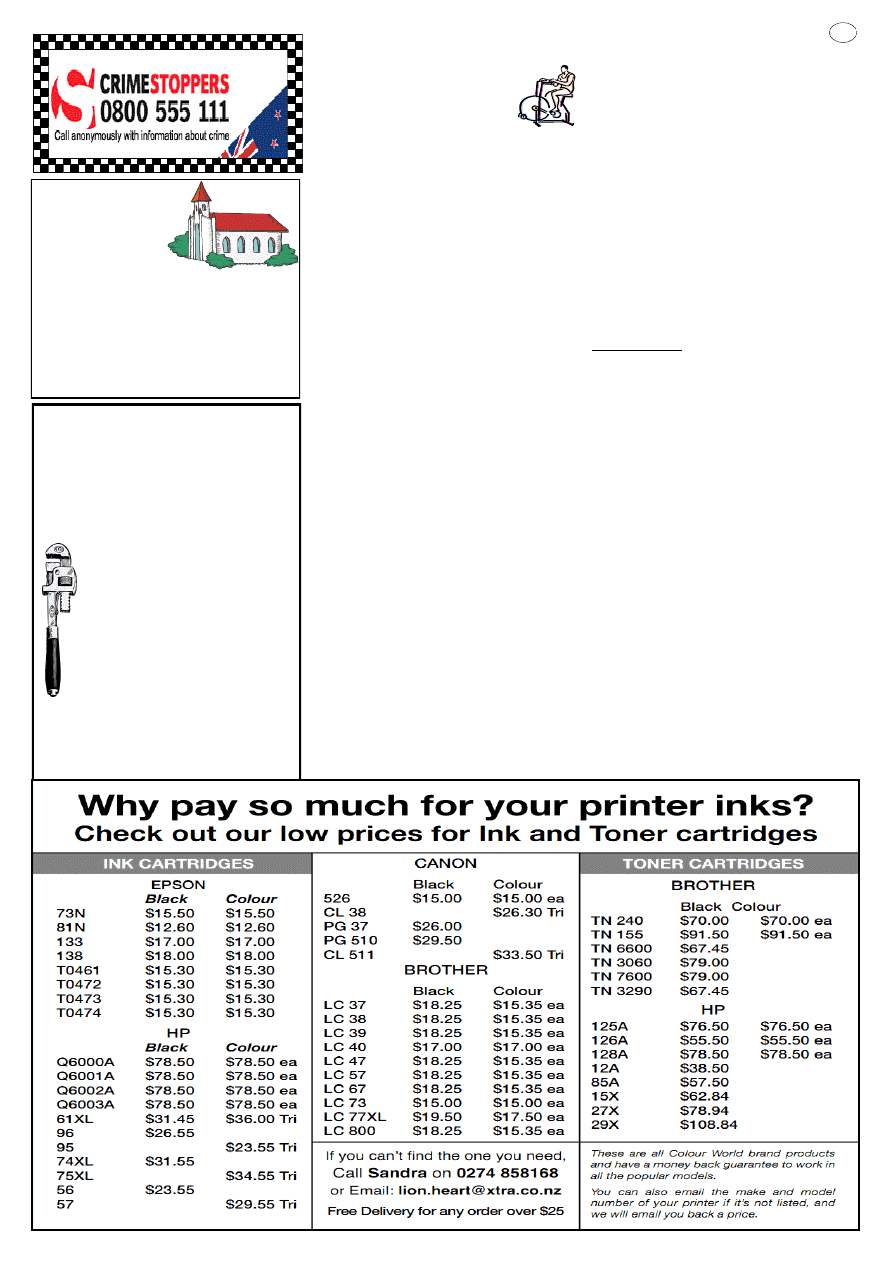 13 
BARRY CURTIS  
PLUMBING LTD 
REGISTERED CRAFTSMAN 
PLUMBER 
Phone 4315572      
027 257 9884 
  25 years experience   
        Friendly reliable service 
        All plumbing & maintenance 
        Alterations and new housing 
        New wood fire installation 
        Spouting 
Competitive rates 
PROMPT EFFICIENT  SERVICE 
ST PAUL'S  
SUNDAY  
SERVICES
First Sunday 9.30am, third Sunday 9.30am  
 Paparoa Anglican   
St Pauls Church: Kaiwaka-Mangawhai Rd.  
1st Sun. (Anglican), 3rd Sun. (Family Service) 
Contacts:M.Hargreaves 4312295, C.Bygrave 4312057  
KAIWAKA FITNESS 
Hi Everyone, 
Hope you are getting over the 
loss of the America's Cup. All 
in  the  name  of  sport  I  guess.  
It was good watching it at the 
gym  whilst  doing  cardio.  Took  the 
nervous  energy  away  and  the  time 
went fast. I said last time I would give 
you some info on supplements so here 
goes.  Basically  for  Joe  Bloggs  who  is 
going to gym you don't need anything, 
but  food  around  training  is  important 
but then again depending on what you 
are  training  for,  also  comes  into  ac-
count.  If  doing  weights  you  want  a 
good  protein  and  carb  about  1  hr  be-
fore you start. If just doing cardio noth-
ing for 2 hrs before so that you burn fat 
and not the food you consumed on the 
way  to  the  gym.  Then  you  want  to  be 
eating  1/2  hr  after  training  with  good 
protein and fast acting carbs to replace 
and  repair.  If  you  are  using  supple-
ments  to  help  you  with  your  training 
you need to read labels carefully; some 
pre  and  post  work  out  supps  have  the 
same  ingredients  so  not  only  are  you 
wasting  your  money  you  are  doubling 
up  on  the  same  supps  which  can  be 
harmful.  Basic  ones  in  your  cupboard 
should  be  HMB,  BCCA's  Glutamine 
and a good protein powder. For women 
I find Clinician's DIM very helpful as 
it's a natural women hormone replace-
ment, it is good for mood ,weight loss, 
and  general  well  being.  I  could  go  on 
for  hours,  if  you  want  to  know  more 
just ask. I have done the Waikato show 
and  now  heading  for  Nationals  on  the 
12th  Oct  so  the  training  continues  on. 
Keep working hard and the results will 
show.                                          Jules 
KAIWAKA LIBRARY 
The Large Print & Audio book swap is 
next week. Have you returned all of the-
se books yet? Please do by Saturday 5th 
October.  Would  you  like  to  come  to 
Kerikeri with us and help select the next 
set of books? There may be one or two 
spaces in our cars, and enthusiastic peo-
ple  are  welcome  to  fill  any  vacancies. 
Because of the long drive we'll be leav-
ing  Kaiwaka  by  7:30am,  and  we'll  be 
back  mid-afternoon.  Phone  me  (4312 
530 in the library or 4312 725 at home) 
if you're interested. 
The  next  book  swap  after  that  is  the 
Dargaville  one  in  early  December.  If 
you  haven't  picked  over  those  shelves 
yet,  now's  a  good  time  to  get  in  before 
they disappear! 
Book Review 
Barbara said: Yesterday was a foul day, 
cold  wet  and  miserable.  I  decided  to 
light the fire, watch the US Tennis Open 
-  one  of  my  very  favourite  players  was 
in action - and to multi-task by reading 
Toni  Jordan's crime story Fall Girl, on 
loan from Dargaville. Sadly, by the time 
I'd finished the book the tennis was but 
a distant background noise and we were 
onto  another  game.  The  fire  had  gone 
out and the cattle were bellowing to be 
moved. 
Usually  I  find  when  there  are  pages  of 
praise  for  an  author  it  means  they  are 
pretty average and the publisher is hyp-
ing it up to help sales. Also in my expe-
rience  most  stories  focusing  on  fraud, 
scams,  theft,  deception  and  dishonesty 
are from the 'goodies' point of view. Not 
so in this instance, here we have a fami-
ly with generations of con-artistry at the 
peak of their powers.  
… continues on page 18
STOCKFOOD
GREAT RANGE FOR ALL YOUR LIVESTOCK  
AT GREAT PRICES 
 ALSO CHECK OUR 
DOG BISCUITS 
20 KG FOR $58.90 
LPG REFILLS 9KG 
STILL ONLY $31.50
MANGAWHAI SERVICE 
STATION 
(09) 431 4242 
44 MOIR STREET IN THE VILLAGE 
ARCHITECTURAL 
BUILDING PLANS 
AND DESIGNS 
20% Reduced Cost - design and planning. 
If you are thinking of building, then you need 
to make use of cost savings in architectural 
design as well as having a good and well experienced designer. 
This applies if you are considering a new home, any alterations or any 
building additions/farm buildings, sheds, alterations, whatsoever. 
There are many things that are frustrating if you are not totally 
familiar with what all details are required by Councils -especially 
with new regulations in force to ensure everything runs smoothly - 
e.g. Resource and Building Consents, planning restraints, new 
building materials ,applying for building permits, dealing with 
building contractors to name a few -you need a capable,  
experienced and professional designer with a clear knowledge of 
all the processes. 
WE CAN HELP YOU CLARIFY ALL OF THESE ITEMS 
 
AND MAKE LIFE RUN MORE SMOOTHLY. 
Brian of Wright Design has been helping and organising all these 
facets of design and building for over 40 years. 
With needs of family changing and the economy - building require-
ments constantly being reorganized and made more complex, it's very 
important to obtain professional advice for any building project - no 
matter what size. 
Brian advises on design, materials, permit applications, builders 
and subcontractors for any project - no matter how small or large 
ALL THIS AT A REDUCED COST so YOUR DOLLAR    
GOES FURTHER  
Wright Design offers free visits, consultations and all the advice 
you need on planning. Design, building, contractors, council  
permit applications, guaranteed permit plan acceptance. 
QUALIFICATIONS 
Brian is a qualified designer (NZCAD) with over 40 years of varied 
experience in all types of building and is a registered and Licensed 
Building Practitioner in Design - L.B.P. 117345 
He ensures you will achieve the best from your budget with  
recommended excellent local contractors ready to competitively 
price and build your personal project quickly and efficiently. 
EXPERIENCE 
Brian's practical building and 40+ years of design experience 
means he can give you excellent advice and all the guidance need-
ed for all your building needs, 
FEES: To help you attain your project Brian has reduced his 
costs by 20%, giving you extra funds for the rest of your project. 
ENGINEER: Brian can arrange engineering for a reasonable cost. 
THIS IS AN ABSOLUTELY GENUINE FEE REDUCTION!! 
Qualified and inexpensive designer – N.Z.CAD., LBP 117345 
Guaranteed design and working drawings 
Free site visit to your home or property 
Great service 
Obtain a free quote with 20% Discount. 
PROJECTS 
Additions, alterations, basements, new houses, motels, bed and 
breakfast commercial buildings and shop fit outs are a few pro-
jects he has been involved with. 
Brian can show you many of his projects in the area to emphasise 
his versatility 
WHAT TO DO FROM NOW 
Call Brian   
Arrange a visit 
Discuss your needs 
Obtain great advice.  
Obtain a free quotation - with a true 20% discount 
Make a decision based on the facts - You Won't Be Disappoint-
ed! 
MAKE GOOD USE OF HIS EXPERIENCE AND THIS 
GREAT OFFER OF REDUCED FEES OF 20% 
Brian can offer plan printing-from A4 to AO (2 x A1 size) 
WRIGHT DESIGN 
Brian's office is at: 360 Oneriri Road, Kaiwaka, 
Northland 0573  
Call in for a chat and a coffee, or he will call on you at your 
home  if preferred. 
WRIGHT DESIGN: Office 09-4312544 
Mobile 021 276 7389 
Email: 
ww.wrightdesign.co.nz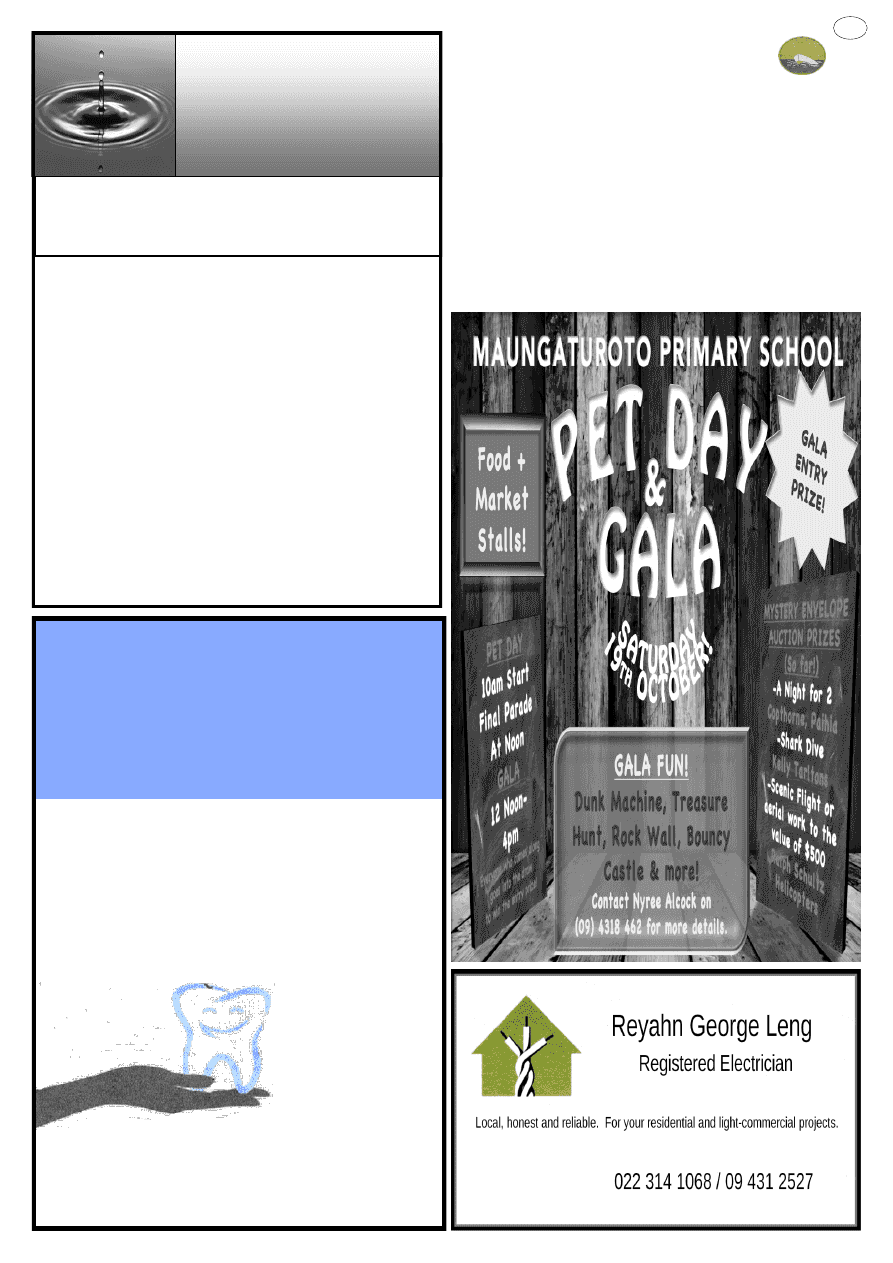 15 
 PETE WORSFOLD M. Soc. Sc. 
Student Counsellor 
 
 peteworsfold@xtra.co.nz 
 021 825 970 
Professional Service 
Variety of Modalities 
By Appointment Only 
Saturdays 
By 
Arrangement 
Open  
Mon-Fri  
8am-5pm  
Gentle Dental 
Ruakaka 
We love to see you smile 
" 
General  & Cosmetic Dentistry 
" 
Emergency & ACC Treatment 
" 
Denture & Hygienist Services 
" 
Senior Citizen Discounts 
" 
Free Adolescent Care 
" 
Free WINZ Quote 
19 Ruakaka Town Centre 
Dr Sim Sood & Associates 
You're in gentle hands 
Ph:  432 8139 
FOR 
INDIVIDUAL ONE-ON-ONE 
COUNSELLING 
MODALITIES: 
CBT  
Grief 
Gestalt 
Relationship 
Person-Centred  
Trauma 
Solution Focussed 
Couples 
Behavioural 
Adolescents 
Careers 
Call for Appointment 
At "The Well of Health" 
09 4312799 or 021 825 970 
 PETE WORSFOLD M. Soc. Sc. 
Student Counsellor 
 
 peteworsfold@xtra.co.nz 
 021 825 970 
Point Curtis Cruising Club 
We have two fish of the month contests running until the 8th 
of  October.    Snapper  and  Largest  live  scallop  shell.    Get 
your  snapper  and  scallops  weighed  and  measured  at  the  3 
Furlongs Hotel before the cut off at 7pm on the 8th October. 
Pool competitions!!! Our pool club travelled to Maungaturo-
to on the 15th September and had a convincing win!  On the 
22nd  September  Mangawhai  pool club  came  to  3  Furlongs 
Hotel and played us,  another win to us!!! Next pool comp 
against Wellsford on Sunday 27th October at 3 Furs.  If you 
are keen to play, sign up at 3 Furlongs.   
Next  committee  meeting  Tuesday  8th  October,  7pm  at  3 
Furlongs Hotel. 
Wayne Leslie, Commodore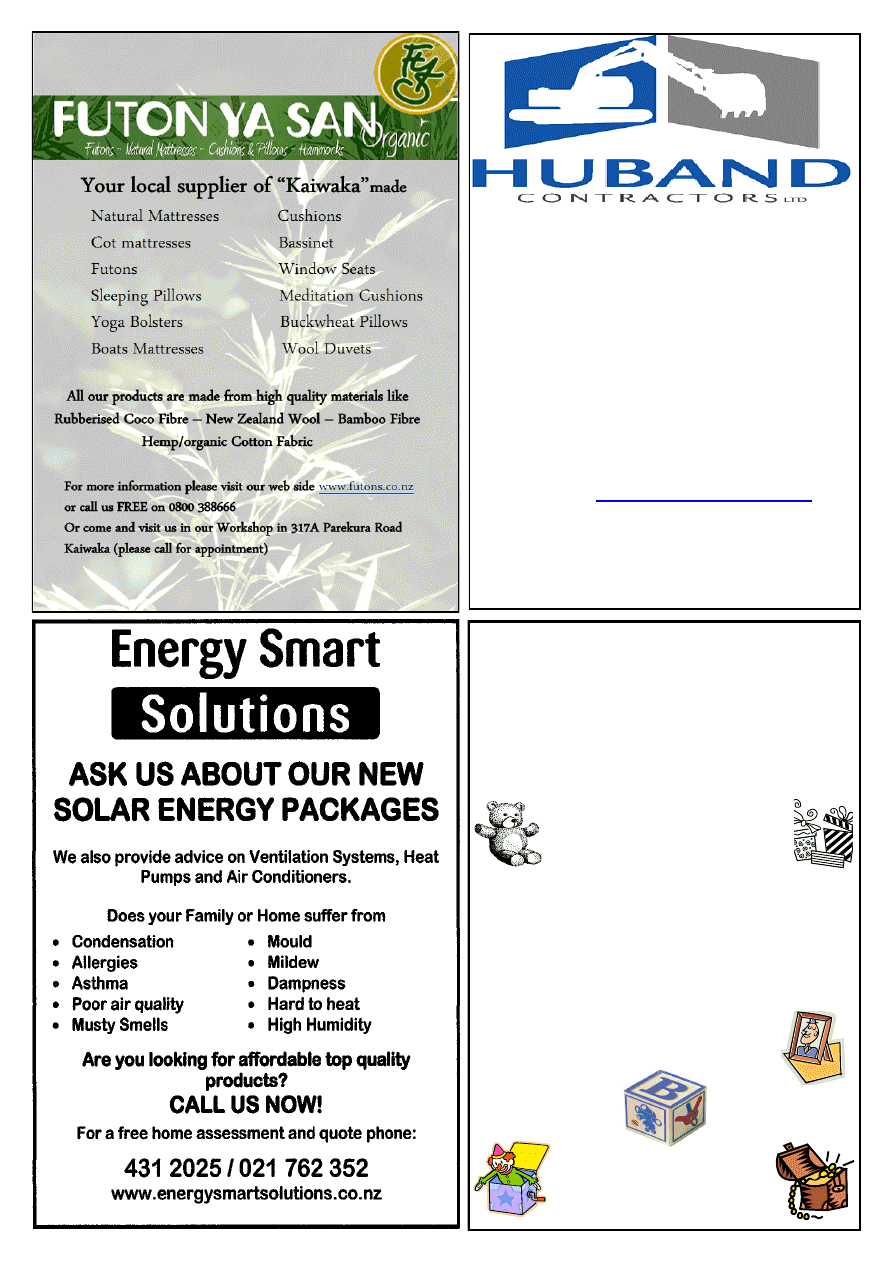 Celena's Gifts 
1925 State Highway 1 
KAIWAKA (next to Italian Bakery) 
Ph: 09 4312741
     CLOSED MONDAYS                                                                                                                              
             DURING WINTER 
We stock:- 
Baby Gifts 
Jewellery    Toys 
Kitchenware  Toiletries    Photo Frames               
NZ Souvenirs  Candles     ... and much 
more! 
*   R O A D I N G   *   E A R T H W O R K S  
*    
*   D R A I N A G E   *   S I T E W O R K S  
*  
For any further enquiries, contact 
Shaun on: 
Cell: 021 222 0272 
Home: 09 4318339 
Email:   
Shaun Huband:   
Registered Drainlayer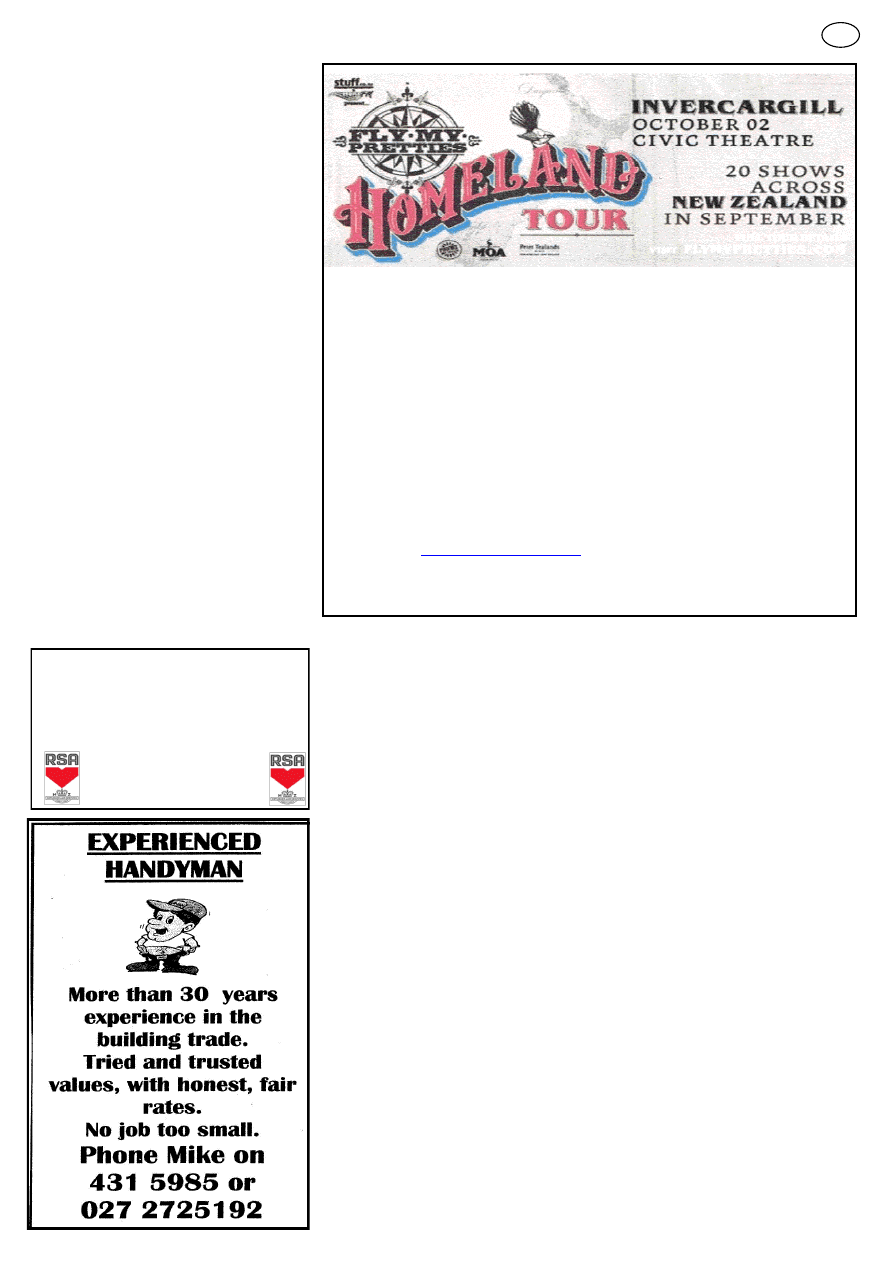 History of the Archie Bull Hall  
– the little Hall behind St Paul's Church Kaiwaka  
'Haeramai' 
This  Hall was named in remembrance of Archie Bull , after he and his wife 
Kathleen gave decades of their  life serving others in the Kaiwaka community.  
Archie originally trained for the ministry, but after being diagnosed with tuber-
culosis in his early twenties , was advised to go farming. They settled on a 
property  a little way down Oneriri Road ( now farmed by Brian McLean) with 
the homestead (now owned by Pete and Trish Worsfold) just   before the rail-
way tracks.  The farm was 180 acres and covered with scrub and bracken .As a 
new bride in the early 1930s Kathleen waited for weeks for visitors – no one 
called or left a card.  She came to the realization she would have to be the one 
to do the calling.  Sometimes she would visit people several  times before her 
visits were reciprocated . ― Taking the initiative helped overcome my shyness 
and was the making of me‖  she later told daughters Heather and Naomi. Kath-
leen had never thought she would be a farmer's wife – she who was so scared 
of animals was put in charge of feeding the calves and milking.  In winter the 
cowshed was a sea of mud.  ―It was a difficult but rich life‖, she said. Their 
farm was called ―Haeremai" – perhaps  because of the generosity, kindness 
and hospitality that Archie and Kathleen  were renowned for. As an unpaid 
Minister, with a rather difficult farm and indifferent health. Archie supplement-
ed their income by droving. It was Archie Bull who encouraged the Nathan 
family to build the Chapel of St Mary on Nathan's Road, and he often took 
services there.  Mrs Nathan showed Kathleen how to plant, grow and store ku-
mara.  Five hundred people attended Archie's funeral in 1964 at St Paul's 
Church Kaiwaka. The large number of mourners ―showed the position Archie 
occupied in both Church and community and the wonderful leadership he exer-
cised‖ said Brian Jenkins, Priest in Charge of the Parish at that time. The peo-
ple of St Pauls led by Tom Coates and Brian Linnell, mindful of Archie's inter-
ests in youth and Sunday school decided to build a Church Hall in his memory.  
In 1968 The Archie Bull Hall was opened by his widow Kathleen, and dedicat-
ed by Archie's brother Max Bull. 
Taken from ―Paddock to Pulpit‖ by Chris Barfoot. 
Researched by Peter Linnell. 
I'm the youth ambassador for 
"Creative  Northland" 
and my job is 
to encourage people to go to performances within Northland.  
 
Review of Fly My Pretties 2013 Homeland Tour 
The town hall of Dargaville filled with a mishmash of NZ's finest sounds on 
Sunday (the 8
th
 Sept) because Fly My Pretties had dropped by and I must admit 
the group harmonies and stage lighting effects made the night's performance. 
Right  from  the  start, the members  engaged  the  audience  with their  first song 
that welcomed us to the night's show. The performers worked like clockwork; 
each musician took the spot light and the others adjusted or adapted to a new 
instrument which was cool to see. There was a variety of music to suit every-
one's taste. I must applaud the lighting technicians who dressed the stage visu-
ally creating the atmosphere for each song; the projected images in the back-
ground were a nice touch. The music and effects combined were just awesome. 
Fly My Pretties is touring NZ form North to South you can check out venues 
and tickets at 
. This tour happens once a year and with 
different  kiwi  artists  too.  It's  great  entertainment  and  you  find  new  artists  to 
like.     
Elizabeth H  
17 
ITEMS OF COMMUNITY INTEREST 
Musical Feast in  
Kaiwaka 
The  Local  Vocals,  a  community  choir 
based in  Wellsford  will present  a  musi-
cal feast in Kaiwaka on Saturday 5 Oc-
tober. 
With  over  60  members,  the  choir  has 
been  participating  in  a  10-week  singing 
course  led  by  Max  Maxwell  and  Denis 
Newhook  and  supported  by  Creative 
Communities Auckland. 
Singing  in  four-part  harmony  the  choir 
has  learnt  a  variety  of  musical  styles, 
from  pop  to  Taize  to  Maori  (with  poi 
twirlers) to Macedonian and more; look 
out for a special performance of the Cup 
Song with an outstanding teen cup crew! 
The Wellsford Yukulele Players  will  also 
be performing. 
The  Local  Vocals  presented  their  first 
concert for the season last Sunday at the 
Wellsford  Community  Centre,  and  if 
you  missed  that,  here  is  another  chance 
to hear it. Come along, enjoy your local 
choir  and  join  in  the  community  sing-
along at the end. 
Kaiwaka War Memorial Hall,  
7  pm,  Saturday  5  October;  gold  coin 
donation.  Supper  provided  (also  gold 
coin  donation).  For  further  infor-
mation: Sally Randall 423 9393 or vis-
it www.facebook.com/singlvc 
Includes salads 
Desserts  $3.00 
HAKARU RSA
Women's Section 
2nd Friday of the Month 
from 6.30pm 
Roast of the Day $12.00 
Fish n Chips      $10.00 
Pea Pie Mash    $6.00   
Phone Heather 4314668 
Jan 4314512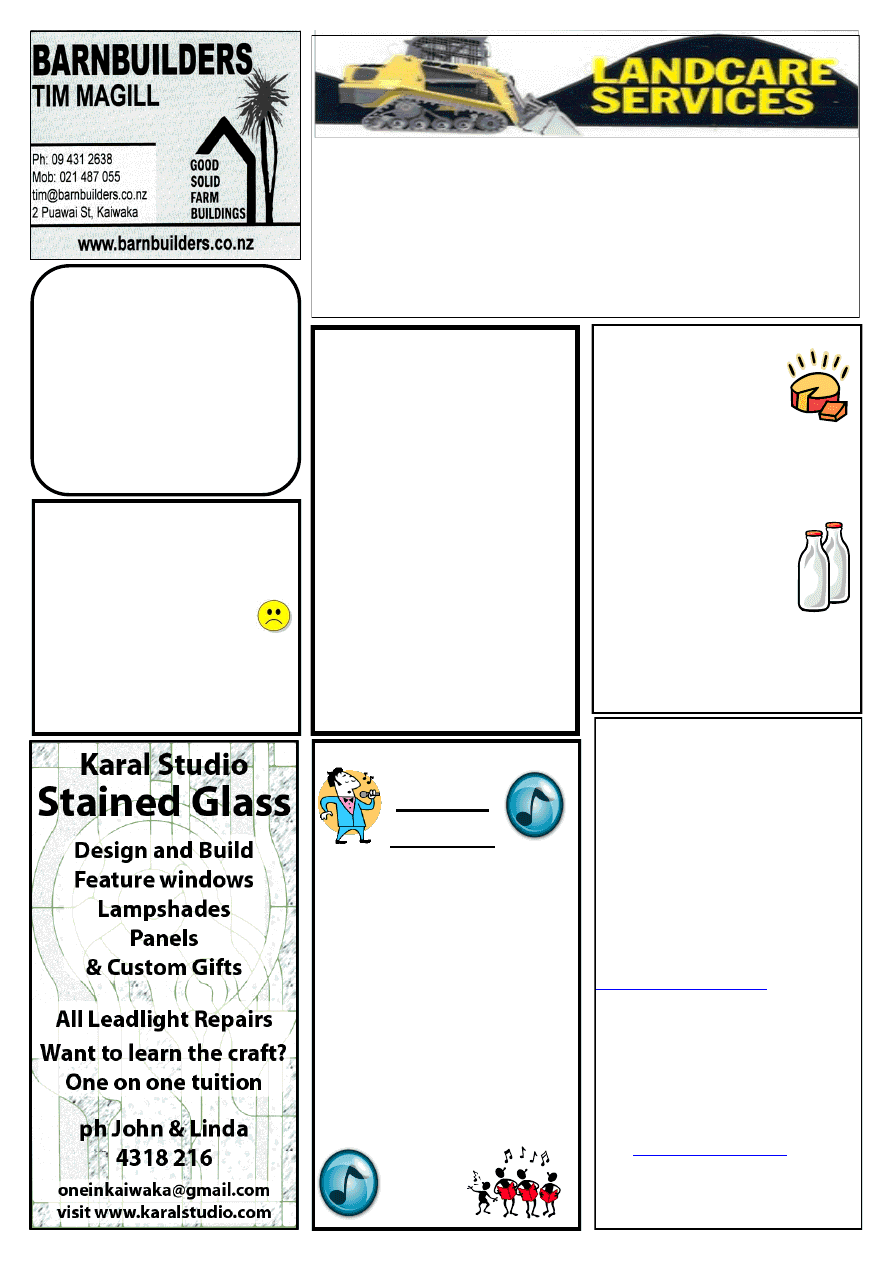 Willow Bend
HORSE  
HOTEL 
"   
Total Horse Care 
" 
Agistment 
" 
Riding Lessons 
" 
Arena Hire (60x40) 
" 
Young Horse Starting 
" 
Re-training/Exercising 
" 
Hoof Trimming 
" 
Problem Solving 
Phone Sue 09 431 2817 
Singing 
Lessons 
Individual sessions 
All styles of music  
All voice types 
Reasonable rates 
Phone  
Maura Flower 
      021 164 8318 
T.W.WRIGHT 
WATER PUMPS  
SALES & SERVICE 
DEEP WELL & SUBMERSIBLE REPAIRS 
203 WHAKAPIRAU RD, WELLSFORD 
PHONE 09 4238235   
MOBILE 021 976 545 
KEV's CASKETS 
Stylish, BUDGET Accommodation 
Takeaways (8 available)  
or made to order 
  Featuring 2 styles and  
Different finishes. 
        Also O/S and Infant size 
     Phone Kev in Kaiwaka  
021 1322 671 
Or come and visit my showroom 
271 Rodney St. Wellsford 
LANDSCAPING 
4 IN 1 BUCKET 
TRENCHER 
POLE HOLES 
ROTARY HOE 
COMPACT ROLLER 
OFFAL HOLES 
CAN SUPPLY WOODCHIP & POST PEEL         5 TON TIPPER 
FOR RELIABLE AND FRIENDLY SERVICE CONTACT DAVE 
Dave Hyndman 
 
KAIWAKA 
PH: 09 4312302 
MOB: 021 431 238 
 Hands On    
CHEESEMAKING  
WORKSHOPS  
are  On Again  
SATURDAYS    
5th and 12th October 
( 9am to appx.3 pm, incl. lunch)  
GOUDA (Hard Cheese) and  
Camembert Style (soft cheese) 
Other dates by  
arrangement… 
Or....  if YOU supply the 
Milk ...I can make the 
Cheese for YOU. 
For More Info  
or Bookings   
Contact: 
Ad ...... 
(Kaiwaka Cheese Shop Founder) 
09-4312234 or 0212154495 
KAIWAKA LIBRARY CONTINUES... 
We  get  inside  their  minds  and  read  about 
the extraordinary lengths they will go to in 
achieving their goals. Big companies could 
learn a lot about teamwork from this lot. 
It is well written, face paced and not with-
out  humour.  However,  by  the  end  of  the 
yarn  much  has  unravelled,  and  you  dear 
reader  will  be  told  no  more  except  you 
must concentrate, especially on the last few 
pages where there are more twists and turns 
in the tale than in the tennis game I missed. 
Thank  you  for  that  review,  Barbara  -  it's 
good  to  hear  what  books  library  members 
have enjoyed. We welcome reviews of any 
of our books -  you can drop it in to the li-
brary, or email it to me at  
published  anonymously  if  you  wish,  but 
you  must  put  your  name  to  it  in  the  first 
instance  so  I  can  contact  you  if  needed. 
Reviews  are  published  on  our  Facebook 
page and at Google+, and selected reviews 
make  it to the  Bugle. I'm also looking into 
putting  a  folder  of  reviews  in  the  library 
some  time  soon. 
See you in the library! Wen-
dy  Howard,  Kaiwaka  Library,  cnr  State  High-
way 1 and Kaiwaka Mangawhai  Road. PO Box 
89,  Kaiwaka  0542.  Phone  4312  539. 
email 
  Open  Wed-
Sat  10am-2pm,  Mon  4-6pm.  Membership  is 
available to all residents in the Kaiwaka area.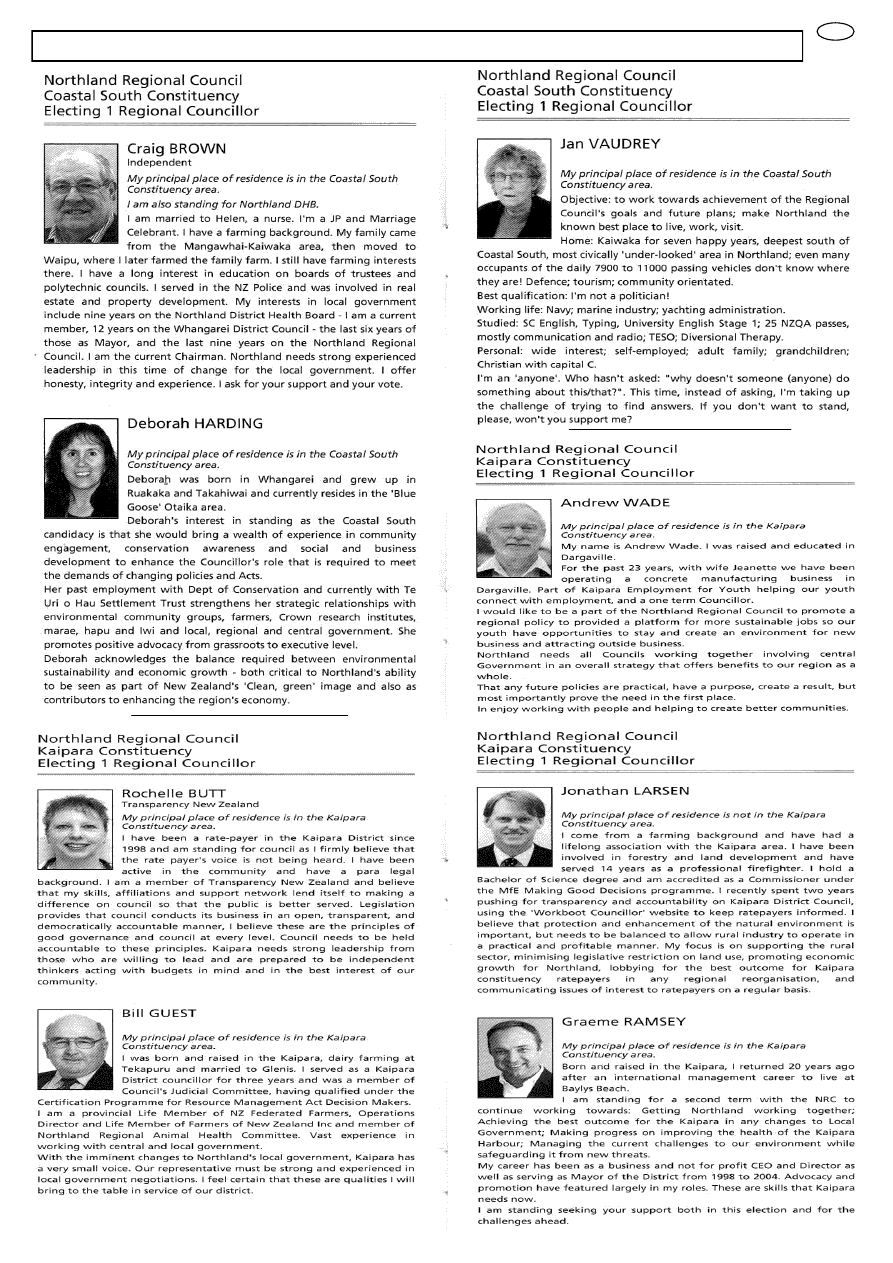 19 
CANDIDATES FOR THE NRC LOCAL ELECTIONS 
(Voting closes 12 Oct noon)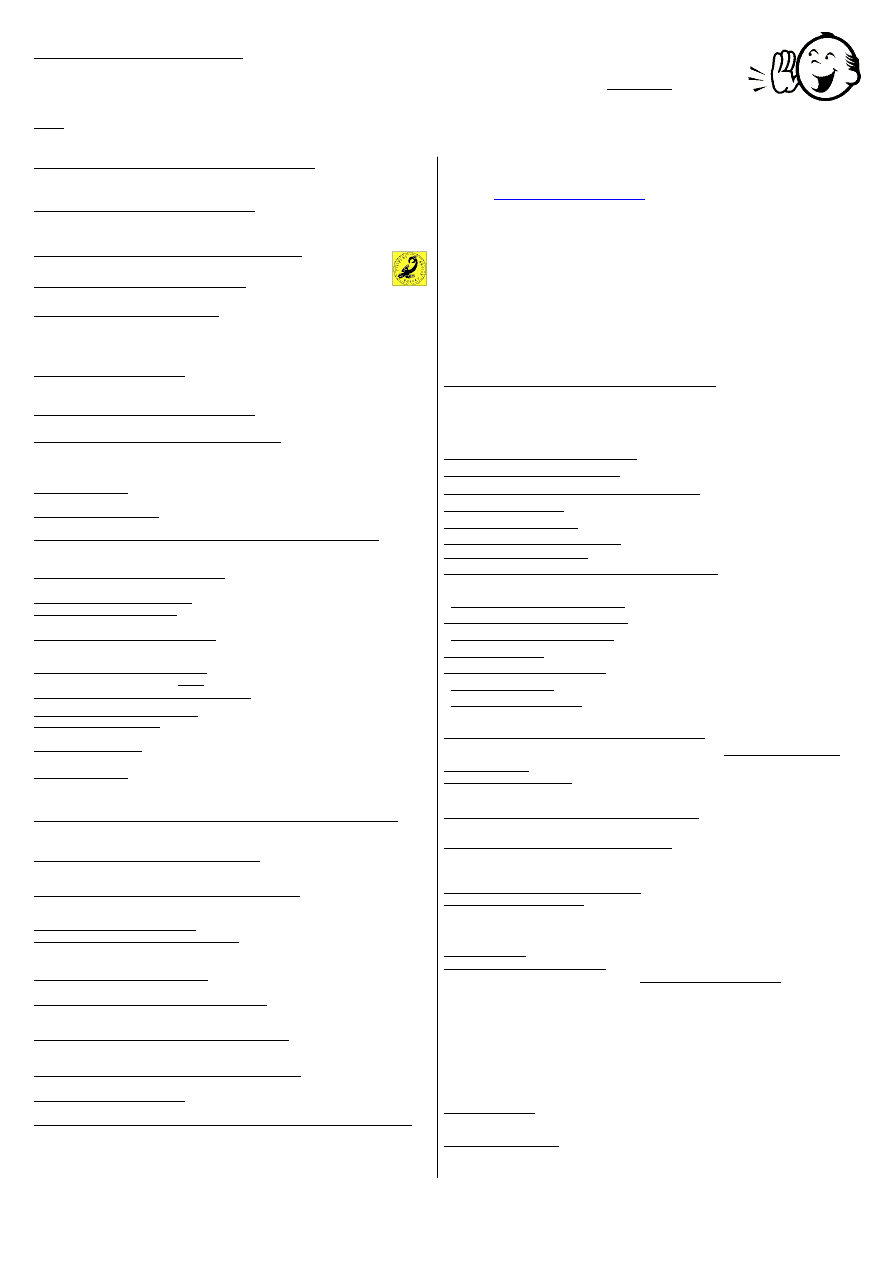 LOCAL SERVICES 
*St.John Ambulance 
111 or Freephone0800 61 0066
*Fire phone 111     *Police phone 111 or 09 4311150 
A A: Meets Wed., 8pm Kaiwaka Ph: 4312228, 4315543, 0800229 6757   
AL ANON: In recess, contact Ph: 4312228 
AGRIQUALITY (MAF) Livestock Consultant 
Phone 09 4311 820 or 021518257  
BUDGETING SERVICE,OTAMATEA:Free confidential advice & 
support - all areas of  personal finance Ph: 09 4318173 or 094318117
CAB-
Citizens Advice Bureau.Wellsford Ph: 4237333.
DOG/STOCK /NOISE CONTROL 0800 105 890 
FAMILY SUPPORT SERVICES responding to the needs in our 
community  Counselling/Family Therapy/Seminars/Youth Work/
Probation/Osteopathy/Govt.Day Agencies/Community Information  
Ph: 4312661 Hours: 9am-5pm. Mon - Fri (funded & CYFS approved) 
FUNERAL SERVICES: Morris & Morris Ltd, 
Whangarei - Bev Jaques Ph:4312367 or 0800667747 
Grandparents Raising Grandchildren: Sarah Rogers Ph: 4312194 
HAKARU LANDFILL/Transfer Station:Open everyday except 
Tuesday10am-4pm.Ph4312 
629 Cost-$55 trailer load up to 1 cubic metre. Ph:4258567 - office 
HOMEOPATH: Donna Flavell Ph: 
4314843
INLAND REVENUE: Last Friday each month, 
11-3pm Ph4312661 
KAIPARA DISTRICT COUNCIL www.kaipara.govt.nz:  
Help Desk FREEPHONE 0800 727 059  
Service Centre Mangawhai 4313161
KAIWAKA KOHANGA REO:
Ph:4312620 Mon.-Fri. 8.30am-2.30pm 
KAIWAKA CEMETERY: Ph: 4312045 
KAIWAKA LIBRARY: kaiwaka.library@gmail.com  
Mon. 4-6pm; Wed., Thurs., Fri., Sat.  10am-2pm Ph:4312539 
KAIWAKA PLAYCENTRE: Ph: 4312286. Hastie Lane 
Monday to  Friday  9.00am 
- 
12 noon.
KAIWAKA POST OFFICE:
Ph:4312 626 Fax: 4312287  
Post Code: 0573  for RD2  and  0542 for all Kaiwaka Post Office mail 
KAIWAKA PRIMARY SCHOOL : Ph: 4312309 
KAIWAKA SPORTS ASSN: Ph 4312005; 4312129 gym 
KAIWAKA ST JOHN: Manager Steve Rosser 09 4318403, 021 2316836 
NORTHPOWER: Faults Kaiwaka area 0800 104040 
PARENTPORT: Free, practical family support servicePuhoi to Paparoa 
Ph:  Sharon Mehana, Co-ordinator. 4259357 or 027 280 5093 
PERSONAL DEVELOPMENT COACHING, GROUP FACILITATION:  
Sabine Druckler 4312231 
PLUNKET  KAIWAKA/MANGAWHAI:  Ph:
094318187 
or  0
276753488 
Kaiwaka Mobile Clinic once a month– appointments necessary;  
Mangawhai (next Domain) 
1st & 3rd Thursday & Coffee Morning; 
PLUNKET CAR SEAT CO-ORDINATOR:  
Pat Scott Ph 4314530 
or 0272881635 
PLUNKET FREEPHONE -0800 933 922 
PLUNKET -MAUNGATUROTO  Clinic every 2nd & 
4thThursday. Ph: 09 4318187 
PUBLIC HEALTH NURSE: Gloria Reid Ph: 094327634  
RETURNED AND SERVICES ASSN 733 Settlement Rd.Hakaru 
Ph.4312176 Bill Kerr (President) Ph.4314719 
TE KOROWAI AROHA O NGATIWHATUA 
(The Cloak of Love of Ngatiwhatua) Support and Maori Consultancy.  
Ph: 4239481 (Wellsford) 
VETERINARY SERVICE MANGAWHAI: 
Ph: 4314535 Mon-Fri 8.30-4.30, Sat 9-12, a/h appt. 
WELLSFORD DOCTORS: Ph: 4238 086 
WOMEN'S WELFARE LEAGUE & Reaching Out For Youth:  
4 Kaiwaka-Mangawhai Rd, M Morgan 4312293 
WHAT'S ON
PLEASE ~ do let me know what is on - email 
kaiwakabugle@kaiwaka.co.nz 
Advertising in WHAT'S ON is FREE 
Mondays: 8-2.30pm Kaiwaka Tramping Group  Karen 4312090 
Mondays: Rock & Roll Lessons, Wellsford 7.30pm Ph: Berni 4238024 
Tuesdays: Rhythm&Riggle 10am Christ the King Church Mangawhai. 
KAIWAKA MARKET  2
nd
 Sunday of month Kaiwaka Hall 10am–
1.30pm 
 09 4318717 
*05 Oct ~ Music Feast Kaiwaka War M Hall 7pm Gold coin entry 
*08 Oct ~ Pt Curtis Cruising Club Committee Mtg 7pm 3 Furlongs 
*09 Oct ~10-3pm
Kaiwaka Spiritual Centre.F/raiser 094312120 
*11 Oct ~ DANCE OF LIFE, freestyle dance, 8 pm, Kaiwaka Hall, 
09 4312408 / 021 2968794
*13Oct ~ KAIWAKA MARKET Kaiwaka Hall 10am–1..30pm 
094318717 
*16 Oct ~ OCS AGM, 7.30pm at St John Hall Maungaturoto  
*19&26 OCTOBER ~ RENEWABLE ENERGY FUNDAMEN-
TALS, Resonz, 09 4312408 / 021 2231700 
See www.kaiwaka.co.nz for upcoming events. 
Drink can 'tear tabs' - for Starship Hospital-Ph. 4312625   
HOUSEHOLD  RUBBISH  COLLECTION  -  Kaiwaka    Pick  up-
Mondays=Green bags are picked up by Northland Waste-queries to 
them 09 4303273,Wednesdays=Blue  bags and yellow recycling (at 
Jaques  $3.00 and $1.40)  are picked up by Kaurilands 09 4392146.  
*OTAMATEA GREY POWER-09 431 8138 Joan Hoggard  
*KAIWAKA BADMINTON -Tuesdays 7.30pm Ph: 4312345 
*KAIWAKA GARDEN & FLORAL Grp:
2nd Thursday in month Ph: 4314767 
*KAIWAKA 
CUBS-Thursdays 5.30-7pm, Hakaru  Ph:Bruce  4312542
*KAIWAKA SQUASH -Mondays 7pm,  Ph: Barbara Thomas 4315905 
*GYMNASTICS OTAMATEA -  Tuesday Ph: Stephanie 022 3624998 
*HAKARU PONY CLUB-
Secretary Julie Rynne 09 4314520 
*
MANGAWHAI COMBINED PROBUS CLUB
: 2pm,3rd Thursday 
month in the Senior Citizens Hall Mangawhai. Ph: 4315777
*PT CURTIS CRUISING CLUB - Jean Ph: 4312246 
*WAIPU GENEALOGYGROUP -4th Monday in month Ph: 4312725 
*NZ GENEALOGY-Wellsford - 1st Thursday in month Ph: 4237033 
*CRAFT GROUP
:2nd & 4th Tuesday, 10am, Wellsford Ph 4238547
*RSA,Hakaru & Dist.Women- meet 1.30pm 4th Thurs in month 4312668  
*OWEN STEVENS at Kate's Place Ph:4312661   
*Diabetes Support Group-for Kaiwaka, Mangawhai, Wellsford -10am, 
 
3rd Friday of month Ph:A.Pert 4238242; J.Gardner 4238060 
*WELLSFORD CITIZEN ADVICE BUREAU:  
0800 367 222 
Ph: 4237333 Wellsford Community Centre  Email: cab.wells@xtra.co.nz
CHURCHES:
*Gateway Worship Centre-St Mary's Church Nathan Rd off Oneriri Rd, Kaiwaka 
Services, 10.30am 1st & 3rd Sunday of every month. Contact: Rev David Gage 
4312528 or 0212354282 
*Kaiwaka Family Church-Your Community Church Sundays, l0am 
Home Group every Wed evening, Pastor John.Dekker Ph: 4318203 
*Kaiwaka Services.Anglican & Family Service at St Pauls Church  - 1st Sun. 9.30am
(Anglican),3rd Sun. 9.30am (Family Service).  Contacts: Parish Office 09 4318193, 
M.Hargreaves 4312295, C.Bygrave 4312057  
*Church of Christ the King, Mangawhai 9.30am every Sunday 
*St.Mary's Catholic Church:
Maungaturoto – Griffins Road, Saturday evening Vigil 
Mass 6pm; Mangawhai – Senior Citizens Hall, Sunday Mass 8:30am; Wellsford – 
Matheson Road, Sunday Mass 10:30am; Mid-week Mass times and all enquires to Fr. 
Bill Fletcher – phone 423 8170 
*Baptist Church: Sun. 10.30am Mangawhai Snr Cit.Hall.Ph:4312339 
*Cause Way Church Mangawhai – Sundays 10.15am, Mangawhai Community Recre-
ation Centre, Insley St. Ph: 09 4314782  www.causewaychurch.org.nz
*St.Pauls Archie Bull Hall HIRE  $20 half day, $40 full day per hire 
 Contact G. Jaques 4312048 
*Kaiwaka War Memorial Hall HlRE - Phone 4312725 or 
Email  kaiwaka.hall.bookings@gmail.com 
*Hakaru Community Hall HIRE -Ph.  4312256 or 4312110 
*Te Pounga Marae queries -A.Gage 4312528, 4312527 
*Kaiwaka Sports Association hire/queries- C. Anderson 4312051 
Justice of Peace: B.FJaques; L.Donaldson; A.F.Hargreaves  -please phone to 
make sure they are available 
Marriage Celebrants: L.Donaldson; A.F.Hargreaves;  
Next Bugle Deadline Friday 11 October 2013