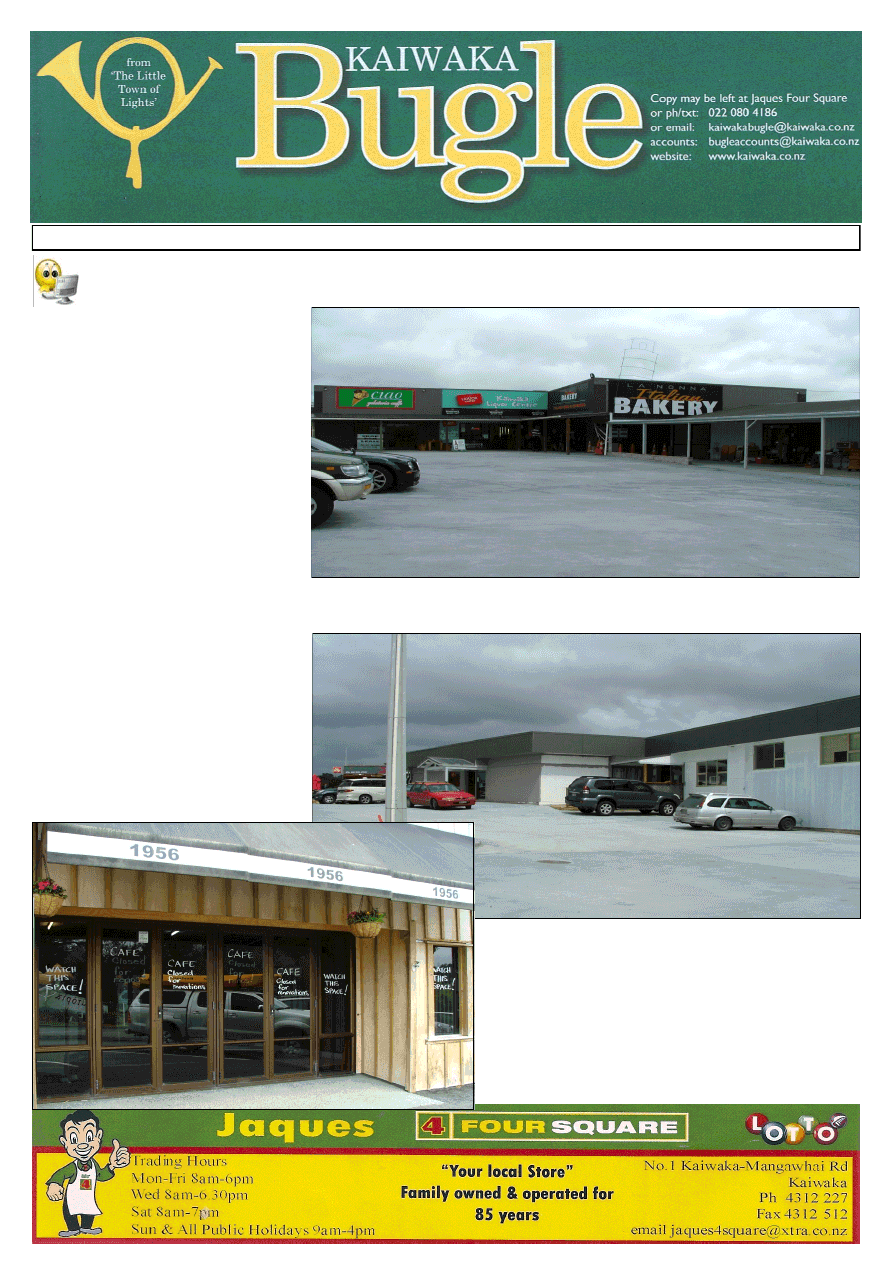 No: 20 
  15/10/2013 
Bugle 21 will appear 29 October 2013 
Please  note  there  is  a  question-
naire  on  page  17  which  gives 
you a chance to let the Kaiwaka 
War  Memorial  Hall  Committee 
know  what  kind,  and  what  time/price 
you  would  like  to  see  movies  running/
costing in Kaiwaka.  Please complete it, 
cut it out and drop it in the Library slot 
or in the Bugle envelope at Jaques Four 
Square.    This  is  your  chance  to  have 
your say for your community. 
Aging ain't for the feint hearted! I hit a 
BIG number last weekend and it caused 
me some grief, I have to say.  But also 
lots of laughs.  One thing I know, with 
all this newly gained wisdom, is laugh-
ter  and  tena  pads  will  always  get  me 
through! 
Prayer for Senility: 
God grant me the senility 
to forget the people I never liked anyway, 
the good fortune to run into the ones I do, 
and the eyesight to tell the difference. 
And here are some don'ts: 
Don't let aging get you down--it's too 
hard to get back up! 
Don't worry about age--it's ugly you 
have to watch out for. 
Don't worry about avoiding temptation-
-as you grow older, it starts avoiding 
you. 
Don't worry about wrinkles, they're just 
antique smiles. 
Cheers Ann 
KAIWAKA"S NEW LOOK 
No more muddy puddles at "La Nonna" Complex... 
The  word  around 
town is that Labour Weekend could 
be the unofficial opening of the refurbished cafe situated 
at  1956  State  Highway  One  (photo  left),  opposite  Cafe 
Eutopia.  Peeking  through  the  windows  you  can  see  big 
changes taking place.  We can hardly wait to hear more. 
Watch this space!
Jacky C, the landlord of the 1956 site, 
asks...Does anyone  have  photographs  of Kaiwaka  and/or 
environs  taken  during  the  1950s  that  they  would  like  to 
donate? They would be greatly appreciated. They are for a 
wall of memorabilia (not for sale) and can be left either at 
Buy the Way or All-Sortz . 
… and below the new space for lease is having a facelift.  If 
you are interested, contact Ilia at the Italian Bakery. 
Kaiwaka Bugle Advertisements 2013: 
Classified  $2;  1/8  or  1/9  page  $5;  1/4  page 
$10; 1/2 page $20;  
Payments  can  be  online,  posted  or  left  at 
Jaques Four Square Store - 
contact bugleaccounts@kaiwaka.co.nz 
kaiwakabugle@kaiwaka.co.nz    for  queries 
or copy. 
The Kaiwaka Bugle is a community newspaper 
run by volunteers.   
Articles,  etc.  printed  are  not  necessarily  the 
opinion of the Bugle Team  
Deadlines for next few Bugles 
Bugle Deadline           Publication 
 21 
Friday 25 Oct    Tuesday 29 Oct 
 22 
Friday 08 Nov   Tuesday 12 Nov 
 23 
Friday 22 Nov   Tuesday 26 Nov
LANDLORDS
...
Is your house  
being used as a P- Lab? 
Do you live in a P- lab House? 
Thinking of buying a house?  
Don't take the risk...it will damage your health and your wallet 
If you ignore it. 
High accuracy, low cost MethDNA test from as little as 
$99+GST will give you the answer. 
Tests facilitated by Independent Certified Samplers and  
samples are analysed in an environmental testing lab. 
Book a test now at: www.methsolutions.co.nz  
or for more info call me:  09 4312234  or 021 2154495  
I am a 
local Independent Certified Sampler for MethSolutions. 
KAIWAKA BUGLE No: 20 
15th October 2013 
Page 3: Public Notices; Classifieds 
Page 5: Hakaru RSA Women's Section 
Page 7: Kaiwaka Sports Association 
Page 9: Night Sky in October 
Page 11: Kaiwaka Fitness & Gardening 
Page 13: Kaipara Tide Times 
Page 15: Kaiwaka Weather & PCCC 
Page 17: Questionnaire for Movies 
Page 19: LJ Hooker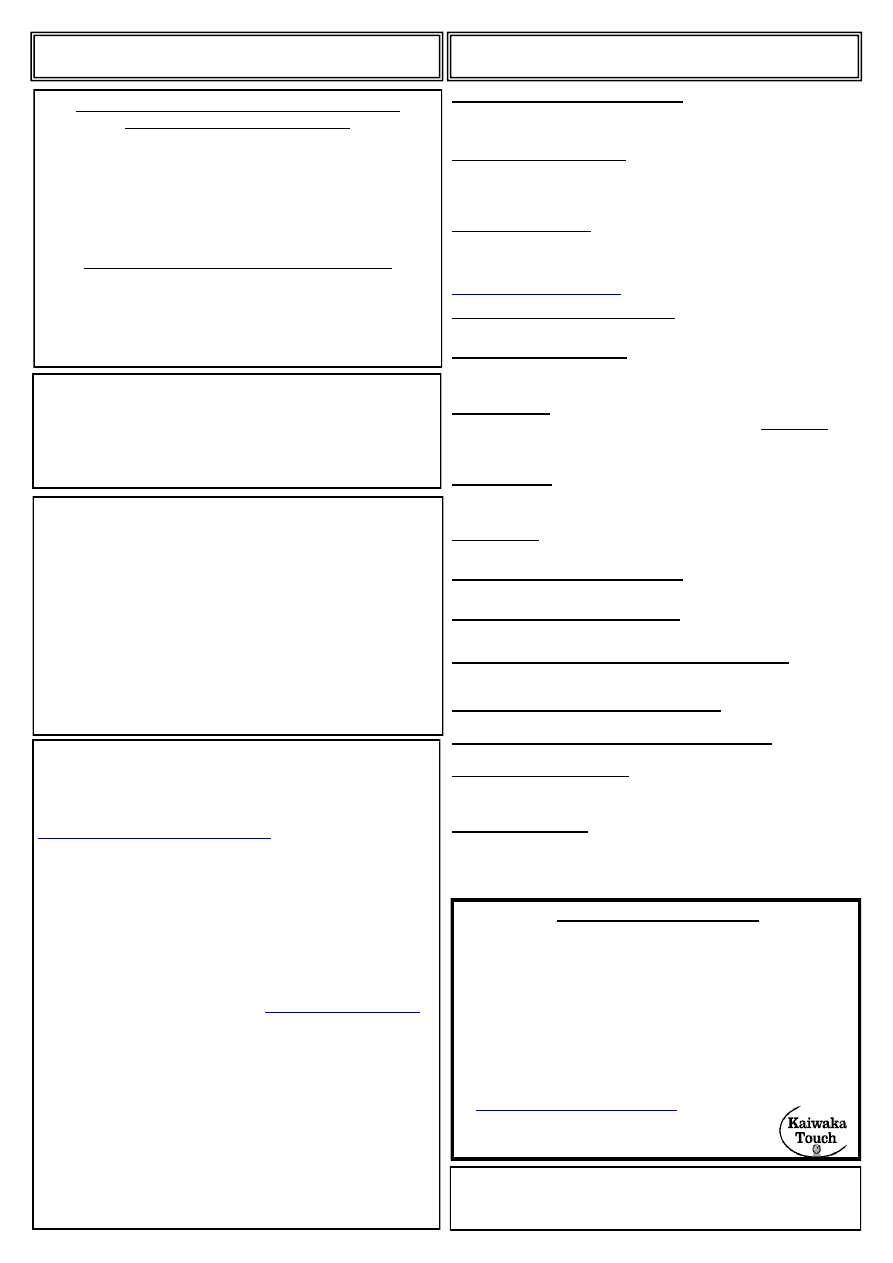 PUBLIC NOTICES 
CLASSIFIED 
FARMHOUSE  FOR  RENT:  10kms  from  Kaiwaka. 
Tidy 3 bdrm., separate carport/shed. Quiet. $200 wk  
Phone 4312660
HOUSE  FOR  RENT: 
Sunny, clean and tidy 2 bedroom 
townhouse  with  garage  underneath  on  Marshall  Road. 
$260pw  incl.  lawns.    Ref required.    Please call  Sheridan  09 
410 4870 Mob 0276 879 459
ROOM  TO  LET:
 One room available in Kaiwaka Medical 
Centre,  $100  per  month  (plus  GST).  Shared  common/
reception area and toilet.  If interested please contact Ad Cla-
rijs (4312234) or Wendy Howard (4312725) or email
SUNNY  ROOM  TO  RENT:
 near town. Internet. $150 p/
wk incl. pwr & meals. Phone 09 4312296/0212537661
WANTED TO  RENT
:  Rural 2/3 Bedroom house.  OK for 
dog  &  cat.    Long  term  approx.  $200/week  Please  phone  09 
405 8710
FOR  SALE:
 2 x interior doors 61cm x 183cm; 2 x inte-
rior doors 81cm x 198cm unhung $20 each. Flooring 2cm 
thick.  Varying  sizes.  $15  each  solid  kauri  door.  Unhung 
$150 Phone 09 4312188
FOR  SALE:
  Everything  floral  -gifts,  cards,  paintings  and 
plants. Tea/coffee and cake  ALL  Labour  Weekend  10am-
5pm. 331 Brown Road, Kaiwaka
WANTED:
  Lease  block.  Anything  considered.  Wanted 
Milk for calves Ph 021 733305
FREE  GRAZING  WANTED
 Small or large block. Can 
do some fencing or water.  Phone after 6pm 4312006
BEE  SWARMS  REMOVED
 Free jar of manuka honey 
per swarm. Pls Phone Adrian 09 4312296 or 0212537661 
CLOTHING ALTERATIONS & REPAIRS: 
Hems, Zips, Dressmaking Phone: Win 4312027  or 027 444 
8358 Winsome Designs.
CRANIO SACRAL THERAPIST: 
for People and Hors-
es, $45 experienced practitioner. Jill Shires 431 2080
HOLISTIC ANIMAL PRACTITIONER: 
Horses, Pets, 
Farm Animals. www.allcreatures.co.nz or Jill 4312080
SINGING  LESSONS: 
Want  a  better  voice?  Feel  shy 
about singing? Teaching 39 years in NZ music industry at all 
levels.  Phone Robyn Hill on 09 4319159 or 0274 725610 
GARAGE SALE: 
SAT.19th OCTOBER 
10am-12 Noon. 
Two  wooden  round  dining  room  tables,  upright  fridge/
freezer,  a  large  assortment  of  kitchen  equipment,  and  much 
more. Lot 11, 306 Oneriri Rd, Kaiwaka (follow the signs
)
PROVERBS:
16:32-  It is better to be slow-tempered 
than famous; it is better to have self-control than to control 
an army. 
K A I P A R A     D I S T R I C T     C O U N C I L 
TEMPORARY ROAD CLOSURE 
Pursuant to the Transport (Vehicular Traffic Road Closure) 
Regulations 1965, the Kaipara District Council hereby gives 
notice that the Hibiscus Coast Motorsport Club have made an 
application to have the following road temporarily closed on 
the day and at the time below for the holding of a Hillclimb.  
Sunday 20 October 2013 -9.00.a.m. to  6.00.p.m. 
 (earlier if finished before) 
Pritchard Road from its junction with Valley Road 
to the Kaipara District boundary.  
KAIPARA DISTRICT COUNCIL DARGAVILLE 
KAIWAKA WAR MEMORIAL HALL  
AGM  
WEDNESDAY 13 NOVEMBER, 
5.00PM 
SUPPER ROOM IN HALL 
HAKARU COMMUNITY HALL  
& DOMAIN SOCIETY Inc 
740 Settlement Road Hakaru 
AGM TUESDAY 29 OCTOBER 7.30PM
As after ELEVEN YEARS of ‗negotiations' with Council, 
the Hakaru Hall is almost back in community ownership, it is 
very important that the required 14 member committee be 
filled by local persons interested in maintaining and develop-
ing this valuable community asset. 
Dear Ed, 
It is very important for the residents of Kaiwaka to 
voice their complaints in writing to the KDC and 
one free way of doing this is through the KDC web-
site as follows:  
Once in the website go to the tab  "Have Your Say" 
it will come up "Your Feedback" Once in this section the 
residents can fill in their name, street address, email, sub-
ject, summary of complaint, by what means they wish to be 
contacted.  Once this is all completed and sent off this is 
logged by KDC.    
The reason for contacting you dear Ed is to advertise the 
fact that the more logged in complaints the KDC get about 
Settlement Road the more notice KDC have to take note. 
Logged in Complaints then get noted on the Chief Execu-
tive's monthly reports.  The Chief Executive's Monthly re-
ports can be read by the public at 
tab "Your Council" tab "Council Buisness" tab Chief Execu-
tive Reports".  
We would encourage all our Settlement Road neighbours to 
use this medium to contact KDC about the appalling grad-
ing that took place last week on Settlement Road and the 
lack of clean up of the water courses along Settlement 
Road.  Also to keep hounding KDC about sealing Settlement 
Road. Every time the road is graded we need to tell KDC 
what a terrible job as so far it has never been good.
from two of your avid Kaiwaka Bugle readers and Settle-
ment Road residents.  Thanks. 
Touch Co-ordinator Wanted 
A Touch module will be held at the Kaiwaka Sports  
Complex for 10 weeks over summer on a Sunday afternoon. 
I am seeking a Touch Co-ordinator to assist in running the 
module. With thanks to a $600 grant from COGS this will 
be a paid position. 
You will need to have a good knowledge of touch and be a 
competent referee. 
Duties: take team registrations, set the draw, be present each 
Sunday to run the module, organise referees, adjudicate, 
help organise rally day and prizegiving. 
Please contact Cheryl Anderson on 4312 051, 027 3462702 
Applications close Friday 8
th
 November.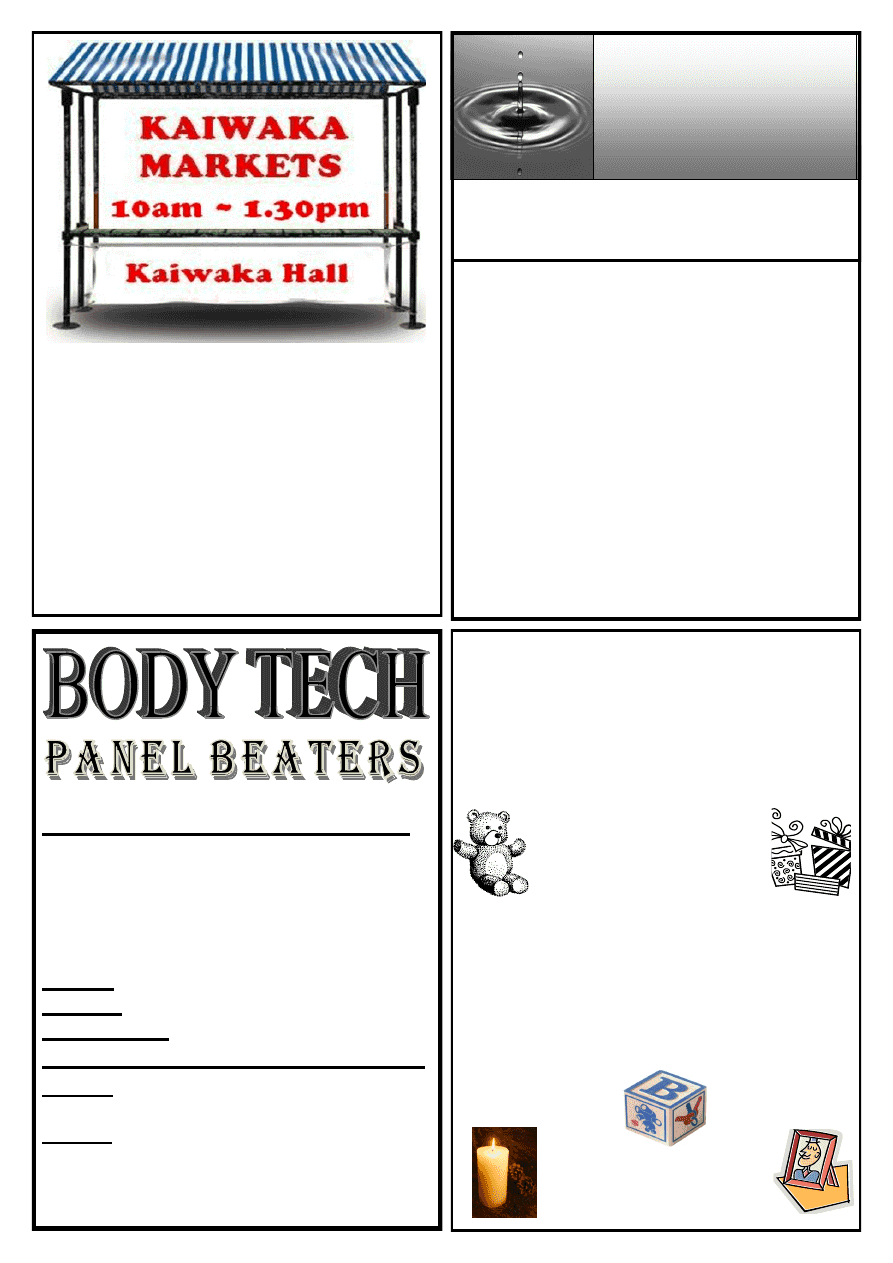 For all your body repair needs!! 
We do: 
 
Rust repairs 
 
Insurance work 
 
Anti-corrosion  
   treatment   
Hours: 8.30am-5pm Monday-Friday  
Mobile: 021 118 0462 
After hours: 09 431 2384 
Phone: Craig or Call in for a free 
Quote 
Email: 
bodytech_panelbeaters@yahoo.com
We are located at 1837 SH1 Kaiwaka, behind Twinkle 
Tow ‗n' Tyre call in anytime for a free quote.  
 
Large and minor vehicle 
repairs
 
Industrial vehicles
 
Full Cut and polishes
Celena's Gifts 
1925 State Highway 1 
KAIWAKA (next to Italian Bakery) 
      Ph: 09 4312741 
               CLOSED MONDAYS                                
DURING WINTER 
We stock:- 
Baby Gifts 
Jewellery    Toys 
Kitchenware  Toiletries    Photo Frames               
NZ Souvenirs  Candles     ... and much more! 
On the 2
nd
 Sunday of each month 
In the Kaiwaka War Memorial 
Hall 
Sunday 10 November 
A variety of new & pre-loved goods 
Enquiries to:  
 PETE WORSFOLD M. Soc. Sc. 
Student Counsellor 
 
 peteworsfold@xtra.co.nz 
 021 825 970 
Professional Service 
Variety of Modalities 
By Appointment Only 
PRIVATE COUNSELLING  
AVAILABLE 
MODALITIES: 
  Individual – one on one counselling      
FOR 
CBT  
Grief 
Gestalt 
Relationship 
Person-Centred  
Trauma 
Solution Focussed 
Couples 
Behavioural 
Adolescents 
Careers 
Call for Appointment 
At "The Well of Health" 
09 4312799 or 021 825 970 
 PETE WORSFOLD M. Soc. Sc. 
Student Counsellor 
 
 peteworsfold@xtra.co.nz 
 021 825 970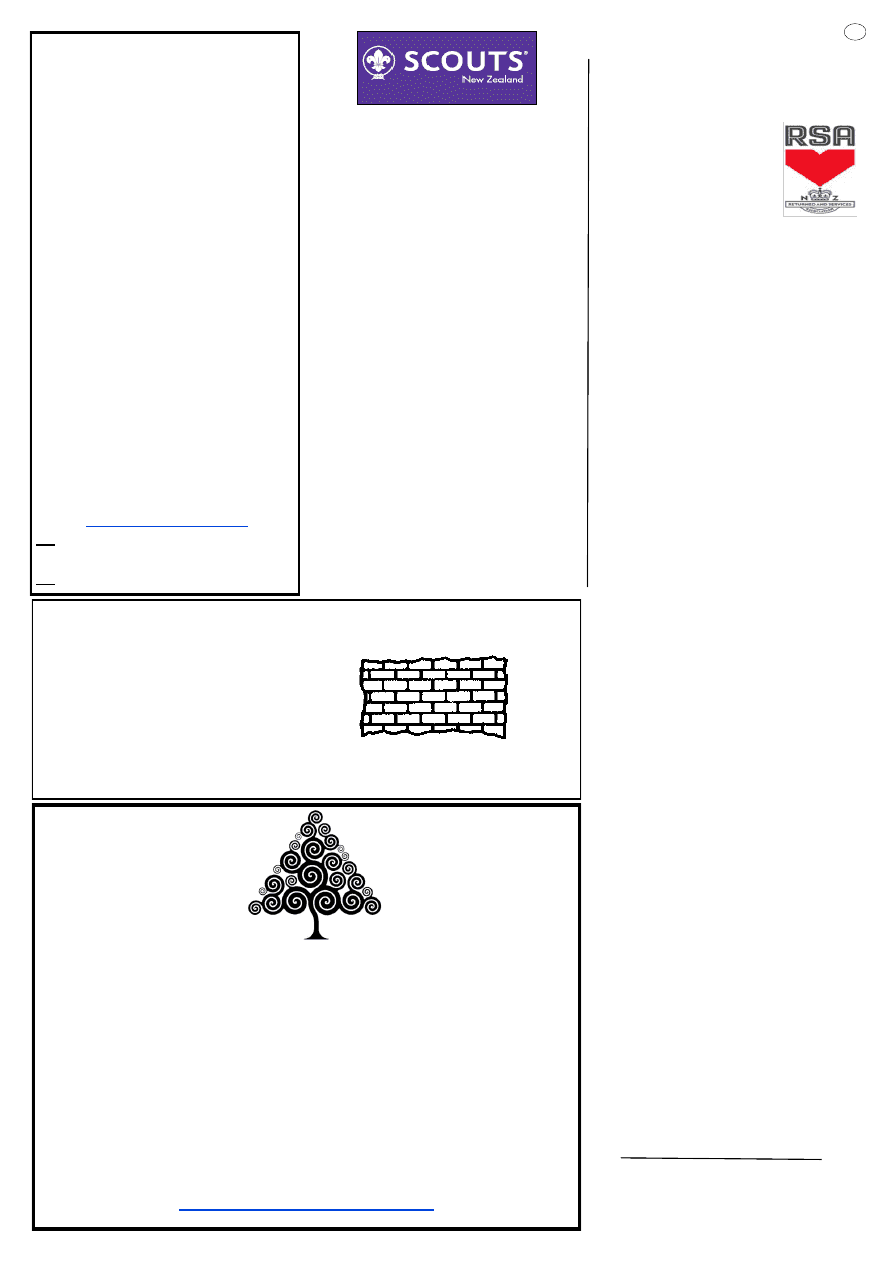 BRICK/BLOCKLAYER            
All aspects of masonry:  
Fireplaces, 
Restoration & Remedial Work. 
JAMES EAGLETON 
Tel. (09) 431 2514  
Mob. 0274 749 232 
jajueagles@yahoo.com.au 
210A Pukenui Road, RD2 Kaiwaka 0573 
5 
Bonjour, tous les mondes! 
Not a fully functioning person...with those 
niggles, aches and pains? You guessed it.  
 I can help!
Monsieur Masseur .... 
RELAXING  
MASSAGE
..... Juste pour vous" 
Here's feedback from a happy client 
―When I came in for a massage, I was 
stressed and my body was sore.. 
Prior to my massage, Pete counselled me, 
using positive affirmations and visualisa-
tion.. I relaxed and responded to massage 
treatment a lot quicker, I feel. I am still 
using these affirmations on a daily basis. or 
when I feel stuck.‖ 
Call for an appointment now!
Pete Worsfold 
4312 152  or   021 825970   
Or  Ph. "The Well of Health" 
For an appt. 09 4312 799 
Or mobile service available 
Weaving your special,
unique ceremony
CELEBRANT   
CARLA ROSSEELS
Funerals, Baby namings, life transitions
Trained at the NZ Celebrant School Auckland
Highly skilled writer and facilitator
Author of several books on the power of ritual
Psychotherapeutic background
30 min check-me-out-chat for free
Phone 09 4312408 
Cell 021 2968794
Hakaru & Districts 
Memorial RSA (Inc) 
WOMEN"S  
SECTION
16  Members  attended  the 
September meeting. 
4  Members  travelled  to 
Pukekohe  to  attend  their 
Birthday  and  had  an  en-
joyable  time;  they  even  managed  to 
bring home a couple of raffle prizes. 
We  are  looking  forward  to  the  Puke-
kohe  Womens  section  visiting  us  in 
March.Heather used to be a member at 
Pukekohe. 
We  have  an  invite  to  attend  Whanga-
rei's 68th Birthday on Wednesday 9th 
Oct.  $14  p.p.  at  Flanders  Restau-
rant.    Any  member  wishing  to  attend 
please phone Jan or Heather. 
The  Birthday  girl  for  this  month  was 
Margaret  Schutt and on  a sadder  note 
we all send our condolences to Marga-
ret & Ashley and family on the loss of 
their daughter Suzanne who was living 
in Australia. 
We  are  all  sorry  to  hear  of  Robbie 
Marchant's  death  and  our  Deepest 
sympathy  to  Bettie  and  Family.  Rob-
bie  will  be  missed  greatly  at  the 
RSA    he  will  never  be  "Forgotten"  a 
Brave Sailor" put to rest. 
The  catering  for  the  Airforce  Re-
Union went off well and from now on 
they  will  meet  at  Hakaru  once  a  year 
in September. 
Our 38th Birthday will be on 24th Oc-
tober.  Members  please  get  Items  for 
raffles  to  Heather  or  Jan,  and  please 
remember to bring a plate on the day. 
Northern Area Womens Section bowls 
will be hosted by us on 4th November 
at 10 a.m. so  come along and support 
our  Members  and  also  bring  a  plate 
please. 
Our  Christmas  Dinner  this  year  is  to 
be held at the Alamar Crescent Fishing 
Club  rooms  by  the  boat  ramp 
on    Tuesday  26th  November.  Cost 
Members  $18-50  Partners  $28-50  be 
there  by  12  noon,  please  phone  your 
names  to  Jan  Mann  4314512  or 
Heather 4314668. 
Lena  gave  a  report  on  NWA  agm  at 
Kawakawa. Angel Erstich is President 
again  Lena  is  one  of  the  Vice  Presi-
dents  and  Valerie  Kerr  is  Secretary/
Treasurer, congratulations ladies. 
The  raffle  for  this  month  was  won 
by    Frances Wearing   
Next meeting is on Thursday 24th Oc-
tober,  the  day  of  our  BIRTHDAY  so 
members please remember to be there 
before  10  a.m.  with  all  your  goodies 
for the Sales Table ! 
Any 
enquiries 
Phone 
Heather 
4314668. 
Fundraising for Kaiwaka 
Cubs and Scouts 
The Kaiwaka Cubs and Scouts are rais-
ing  money  for  their  troop  by  running  a 
books  fundraiser.  Through  Hyndman 
Publishing we are offering a selection of 
cooking and gardening books as well as 
calendars  and  gift  cards  at  a  special 
fundraising price. The troop will receive 
a few dollars from each item ordered. 
You can pick up a brochure from Jaques 
Four  Square  or  give  me  a  call  and  I'll 
arrange  for  a  Scout  to  drop  one  off  to 
your  home.  With  Christmas  not  too  far 
away,  these  books  would  make  great 
gifts! 
Please  post  your  order  form  with  pay-
ment (cash or a cheque payable to Kai-
waka Scouts) to:  
Cheryl Anderson 
233 Baldrock Rd, RD2, 
Maungaturoto  
or drop it off in the box at the checkout 
at the Four Square. Deadline for orders 
is 21
st
 November. 
Any queries please phone Cheryl on 
4312 051 or 027 3462702. 
Thank you for your support!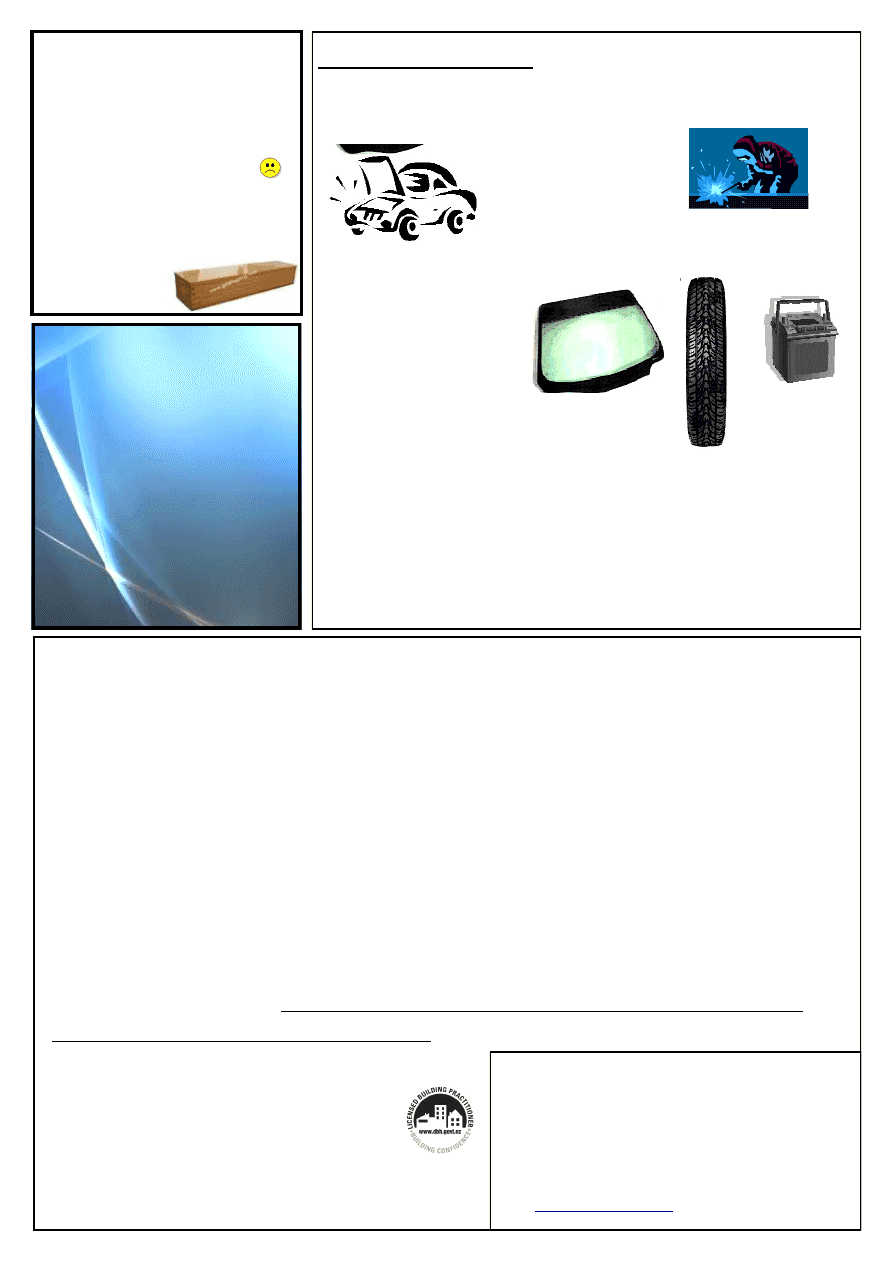 Freeview  
Installations 
Richard Te Haara 
25 Marram Place 
Mangawhai Heads 
021 1104056 
kiwipride@xtra.co.nz
KEV's CASKETS 
Stylish, BUDGET Accommodation 
Takeaways (8 available)  
or made to order 
  Featuring 2 styles and  
Different finishes. 
        Also O/S and Infant size 
     Phone Kev in Kaiwaka  
021 1322 671 
Or come and visit my showroom 
271 Rodney St. Wellsford 
Want it done? 
Bring it to 
Twinkle Tow "n" Tyre 
*W.O.F. 
*Tyres 
*Windscreen replacement 
*Chip repairs 
*Bulk Oil 
*Batteries 
*Welding 
*Custom built 
trailers 
*Trailer hire 
Think you'll get a better deal in the city? 
Go on, ring us; it won't cost anything! 
1837 State Highway 1, Kaiwaka       
Phone 431 2823 
ARCHITECTURAL BUILDING PLANS AND DESIGNS 
20% Reduced Cost - design and planning. 
If you are thinking of building, then you need to make use of cost savings in architectural design as well as having a good and well experi-
enced designer. This applies if you are considering a new home, any alterations or any building additions/farm buildings, sheds, alterations, 
whatsoever. There are many things that are frustrating if you are not totally familiar with what all details are required by Councils -
especially with new regulations in force to ensure everything runs smoothly - e.g. Resource and Building Consents, planning restraints, 
new building materials ,applying for building permits, dealing with building contractors to name a few -you need a capable,  
experienced and professional designer with a clear knowledge of all the processes. 
WE CAN HELP YOU CLARIFY ALL OF THESE ITEMS  AND MAKE LIFE RUN MORE SMOOTHLY.  
Brian of Wright Design has been helping and organising all these facets of design and building for over 40 years. 
With needs of family changing and the economy - building requirements constantly being reorganized and made more complex, it's very im-
portant to obtain professional advice for any building project - no matter what size. 
Brian advises on design, materials, permit applications, builders and subcontractors for any project - no matter how small or large 
ALL THIS AT A REDUCED COST so YOUR DOLLAR GOES FURTHER  
Wright Design offers free visits, consultations and all the advice you need on planning. Design, building, contractors, council  
permit applications, guaranteed permit plan acceptance. 
QUALIFICATIONS 
Brian is a qualified designer (NZCAD) with over 40 years of varied experience in all types of building and is a registered and Licensed Build-
ing Practitioner in Design - L.B.P. 117345 
He ensures you will achieve the best from your budget with recommended excellent local contractors ready to competitively price and 
build your personal project quickly and efficiently. 
EXPERIENCE 
Brian's practical building and 40+ years of design experience means he can give you excellent advice and all the guidance needed for 
all your building needs, 
FEES: To help you attain your project Brian has reduced his costs by 20%, giving you extra funds for the rest of your project. 
ENGINEER: Brian can arrange engineering for a reasonable cost. 
THIS IS AN ABSOLUTELY GENUINE FEE REDUCTION!! 
Qualified and inexpensive designer – N.Z.CAD., LBP 117345 
Guaranteed design and working drawings 
Free site visit to your home or property 
Great service 
Obtain a free quote with 20% Discount. 
PROJECTS 
Additions, alterations, basements, new houses, motels, bed 
and breakfast commercial buildings and shop fit outs are a 
few projects he has been  
involved with. 
MAKE GOOD USE OF HIS EXPERIENCE AND THIS GREAT  
OFFER OF REDUCED FEES OF 20%
WHAT TO DO FROM NOW 
Call Brian   
Arrange a visit 
Discuss your needs 
Obtain great advice.  
Obtain a free quotation - with a true 20% discount 
WRIGHT DESIGN 
Brian's office is at: 360 Oneriri Road, Kaiwaka, Northland 0573  
Call in for a chat and a coffee, or he will call on you at your home if  
preferred. 
WRIGHT DESIGN: Office 09-4312544 
Mobile 021 276 7389 
Email: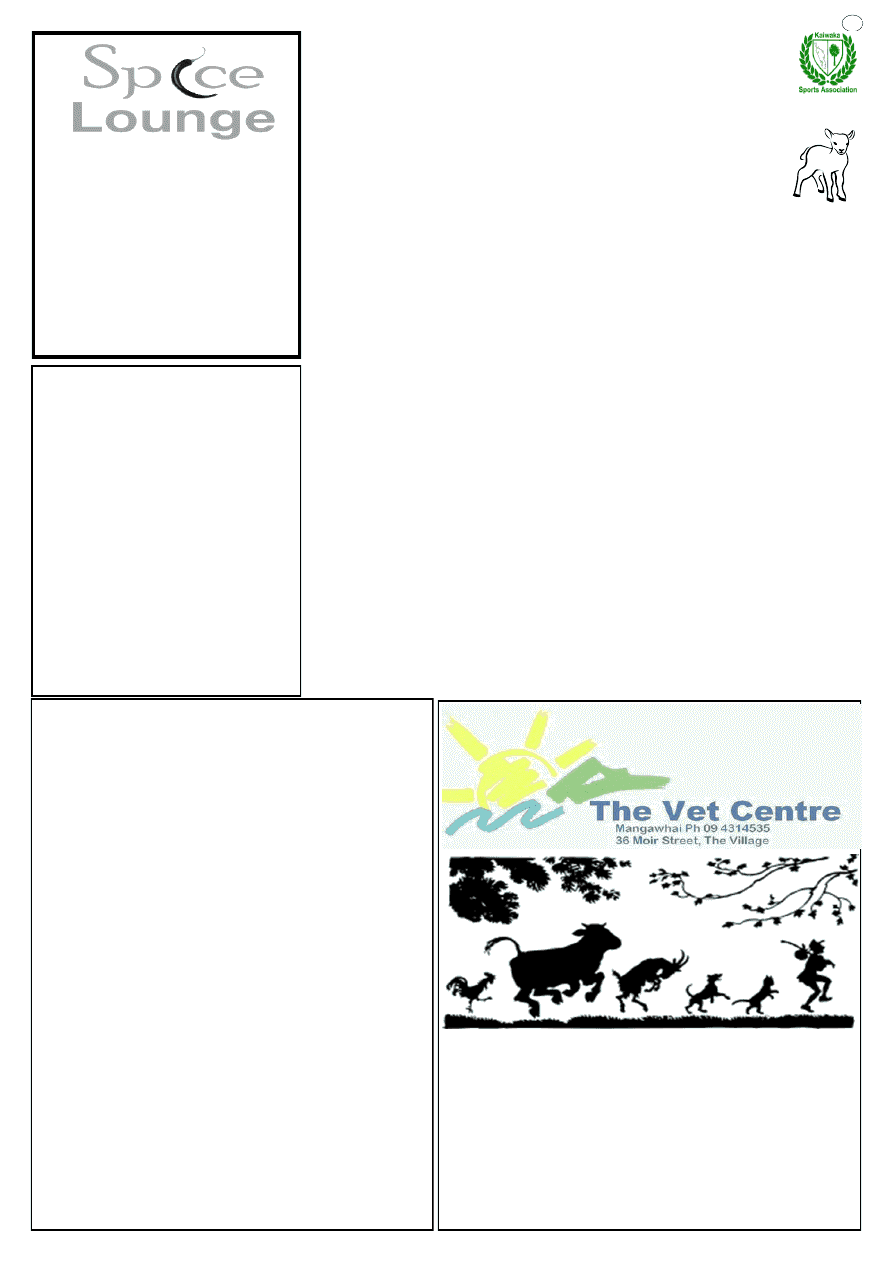 7 
Open for Lunch and Dinner 7 Days 
Lunch from 11am ~ 2pm 
Dinner from 5pm ~ 9.30pm 
TAKEAWAYS  
Ph: 312737  or  021 923 236 
spiceloungedinein@gmail.com 
1917 State Highway 1, Kaiwaka 
Indian Head Massage 
for anyone with tension 
Gentle on upper back, shoul-
ders, neck, head and face 
Effective in relaxing whole 
body. 
You are clothed and seated.  
No oils used. 
25 – 30 minutes $25,  
Wed pm at "The Well of Health" 
shop, Kaiwaka 
by appointment with Yatra 
mob: 021 2377678  
or email: yatrabe@gmail.com 
KAIPARA  FLOORING  CO 
32 HURNDALL ST MAUNGATUROTO 
Ph 09 9469886 or 021 515 415 
Carpet, vinyl, laminate wood look  
flooring, vinyl planking, sanding  
& polyurethane service. 
Carpet Short Ends from $79pm + GST 
Vinyl D.I.Y. peel n stick tiles $10sq mtr + GST. 
Free measure & quote.   
Mobile Service 
Phone Christine or Howard anytime 
Open Saturdays by arrangement. 
~ Our comprehensive team is here to care 
for  
all your large & small animal needs ~ 
24 HOUR EMERGENCY SERVICE 
Ph:  09 431 4535
KAIWAKA SPORTS ASSOCIATION 
Touch 
I am organising a Touch  module which 
will be held at the Sports Complex over 
10 weeks in summer on a Sunday after-
noon.  This  will  be  a  casual,  friendly 
competition  for  mixed  teams  of  men, 
women  and  teenagers.  Touch  is  easy  to 
learn  and  just  about  anyone  can  play. 
Touch is a family game - kids, their par-
ents and even grandparents can all partic-
ipate in the same team!  If you might be 
interested  in  entering  a  team  please  let 
me know. 
A  position  is  open  for  a  Touch  co-
ordinator  to  help  run  the  module.  With 
thanks to a $600 grant from COGS, this 
will  be  a  paid  position.  Please  see  the 
notice  in  this  edition  of  the  Bugle  for 
details. 
Junior Rugby 
Our  junior  rugby  club  Eastern  United 
JMB will be celebrating the end of their 
season with a trip to the Whangarei hot 
pools  on  Saturday  30
th
  November.  This 
trip  was  made  possible  by  some  great 
fundraising  from  the  JMB  families.  En-
quiries  to  Jennie  Reynolds  on  021 
02764171. 
Senior Rugby 
The  Otamatea  Hawks  will  hold  their 
AGM  at  the  Sports  Complex  on  Thurs-
day 21
st
 November at 7pm. All welcome. 
Netball 
Our  senior  netball  club,  Otamatea-Ex, 
will  hold  their  prizegiving  at  the  Sports 
Complex  this  Saturday  at  6.30pm.  En-
quiries to Mirna Manuell on 4237 767.
Fundraising Photos 
The day for people to view their Jack 'n 
Jill  Fundraiser  photos  is  this  Thursday 
17
th
.  Please  note  that  due  to  a  funeral 
being  held  in  the  pavilion  the  photo 
viewing will now be held in the gymna-
sium. 
Agricultural Day 
Feel free to pop down to the  
Sports Complex on Monday  
21
st
  to  support  the  school  children  show-
ing  their  lambs  and  calves  for 
Kaiwaka  Schools  Agricultural 
Day.  And  the  following  Mon-
day  at  the  Complex  is  Group 
Day  (the  regional  Agricultural 
Day).
NZTA Information Evening 
The Maungaturoto Rotary Club is hosting 
an  information  evening  on  the  Puhoi  to 
Wellsford Road of National Significance. 
Patrick  Kelly,  project  manager  for  NZ 
Transport Agency, will be speaking from 
7pm at the Sports Complex this Tuesday. 
Seating is limited to 150, so you need to 
book  in  advance  by  ringing  4314  121  or 
emailing  admin@otsl.co.nz.  There  is  a 
charge  of  $10.  This  is  an  opportunity  to 
get  a  factual  update  on  plans  and  have 
some of your questions answered.  
Fright Night 
Coming up on Saturday 2nd November – 
Fright Night! This is a Halloween inspired 
evening  where  children  dress  up  in  cos-
tumes  (there  are  prizes  for  the  best  boy, 
girl  and  adult),  there's  music,  dancing, 
games,  a  lolly  scramble  and  glow  items 
for  sale.  Parents  bring  'spooky'  food  for 
supper  (there  will  be  a  prize  for  the  best 
plate)  and  the  children  can  take  a  walk 
through  the  haunted  house!  Just  $3  entry 
fee (adults and pre-schoolers are free). 
I  am  looking  for  some  ―scarers‖  for  the 
haunted house – adults/teenagers to dress 
up  and  jump  out  at  the  children  as  they 
walk past. Can you help? Let me know. 
Our Fright Night is always a very popular 
evening for families – hope you can make it! 
Cheryl Anderson, 4312 051, 021 3462702 
kaiwakasports@gmail.com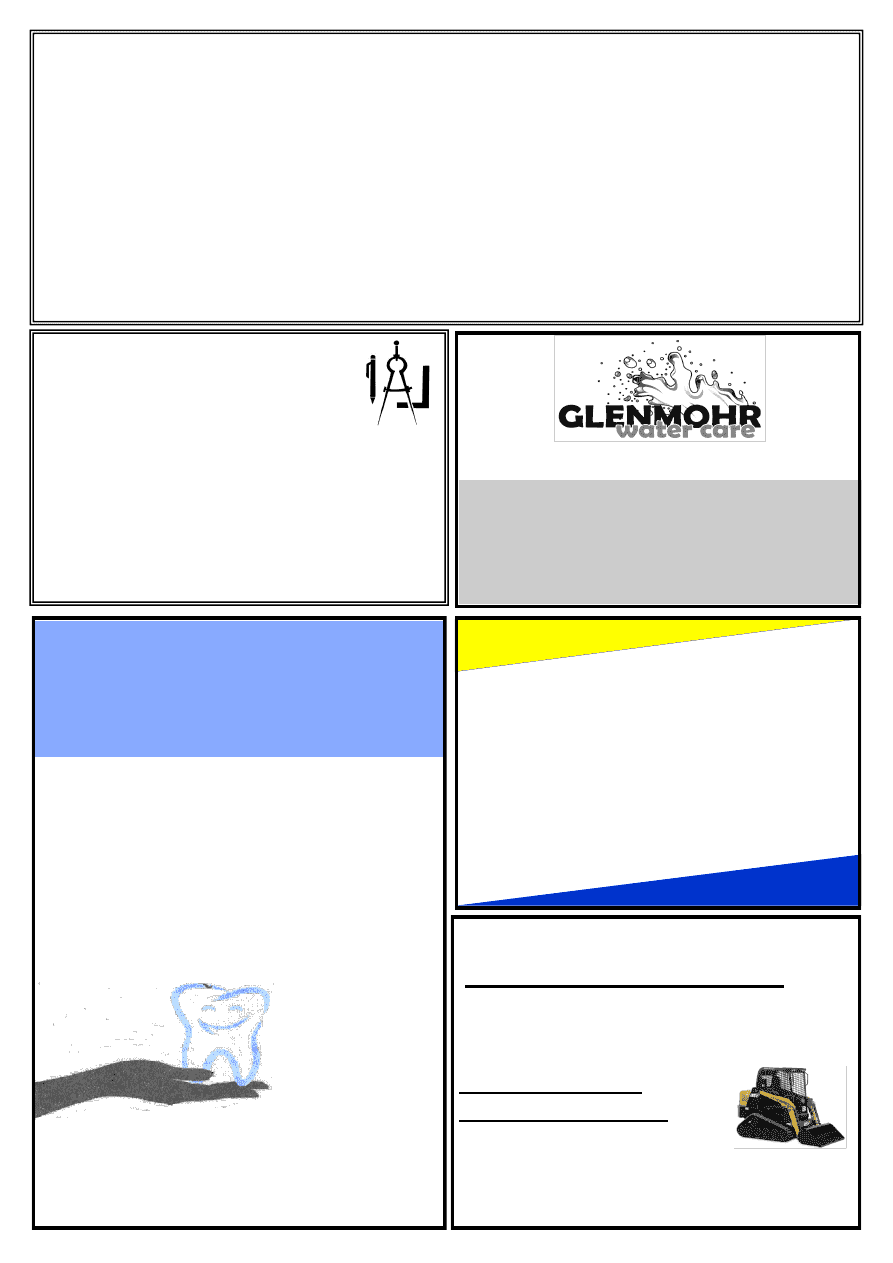 RANGANUI EARTHMOVERS 
16T Excavator   
(tilt, thumb & ROPS cab)   
Transport Trailer 
2 x 6 Wheeler Tip Trucks 
Suppliers of All Grades of Metal & Topsoil 
If you want a proper job done with an experienced operator ring 
Grant on    A/H 431-2131        Email  ranganui.dev@xtra.co.nz 
   Mob  021845-246 
Driveways, House Sites,  
Drainage Dams, 
Section Clearing,  
Tree Work,  Rock Retaining Walls,  
Quarry Work, 
Basically Anything That a Digger Can Do 
C O N C R E T E  
If it's concrete we do it 
Full Preparation & Pour by 
Experienced Local Team 
Phone Phil Keen Contractors  
027 659 2376 
design drafting 
service 
Retired builder and manufacturer with over 40 years  
experience in the building industry is offering a design 
drafting service  
for domestic housing, sleepouts and sheds.  
Plans formulated in consultation with clients, with 
working drawings completed and submitted to  
council for processing.  Extensive practical experience,  
able to identify & resolve problems. 
Please ring Mike Lean on 
09 431 2260  
or 
021 431 196 
Water Tank Cleaning 
" 
Keep your water safe & clean   
" 
Removal of sediment, silt etc 
" 
Vacuum or full scrub 
" 
Minimal water loss 
Phone Mark (09) 432 0655 or 0274 707607 
Gentle Dental 
Ruakaka 
We love to see you smile 
" 
General  & Cosmetic Dentistry 
" 
Emergency & ACC Treatment 
" 
Denture & Hygienist Services 
" 
Senior Citizen Discounts 
" 
Free Adolescent Care 
" 
Free WINZ Quote 
19 Ruakaka Town Centre 
Dr Sim Sood & Associates 
Ph:  432 8139 
Saturdays 
By 
Arrangement 
Open  
Mon-Fri  
8am-5pm  
Gentle Dental 
Ruakaka 
We love to see you smile 
" 
General  & Cosmetic Dentistry 
" 
Emergency & ACC Treatment 
" 
Denture & Hygienist Services 
" 
Senior Citizen Discounts 
" 
Free Adolescent Care 
" 
Free WINZ Quote 
Natural Earth Ltd 
 Landscape and Bobcat services 
 : Driveways  :Landscaping  :Retaining Walls 
 : Hole Boring: Land Levelling :Trenching 
 : Decks :Fences :Sections Cleared: Plus much more 
Tel   09 4312885 
Mob 02102391280  
For A Fast Friendly  
Service Contact Tim Hicks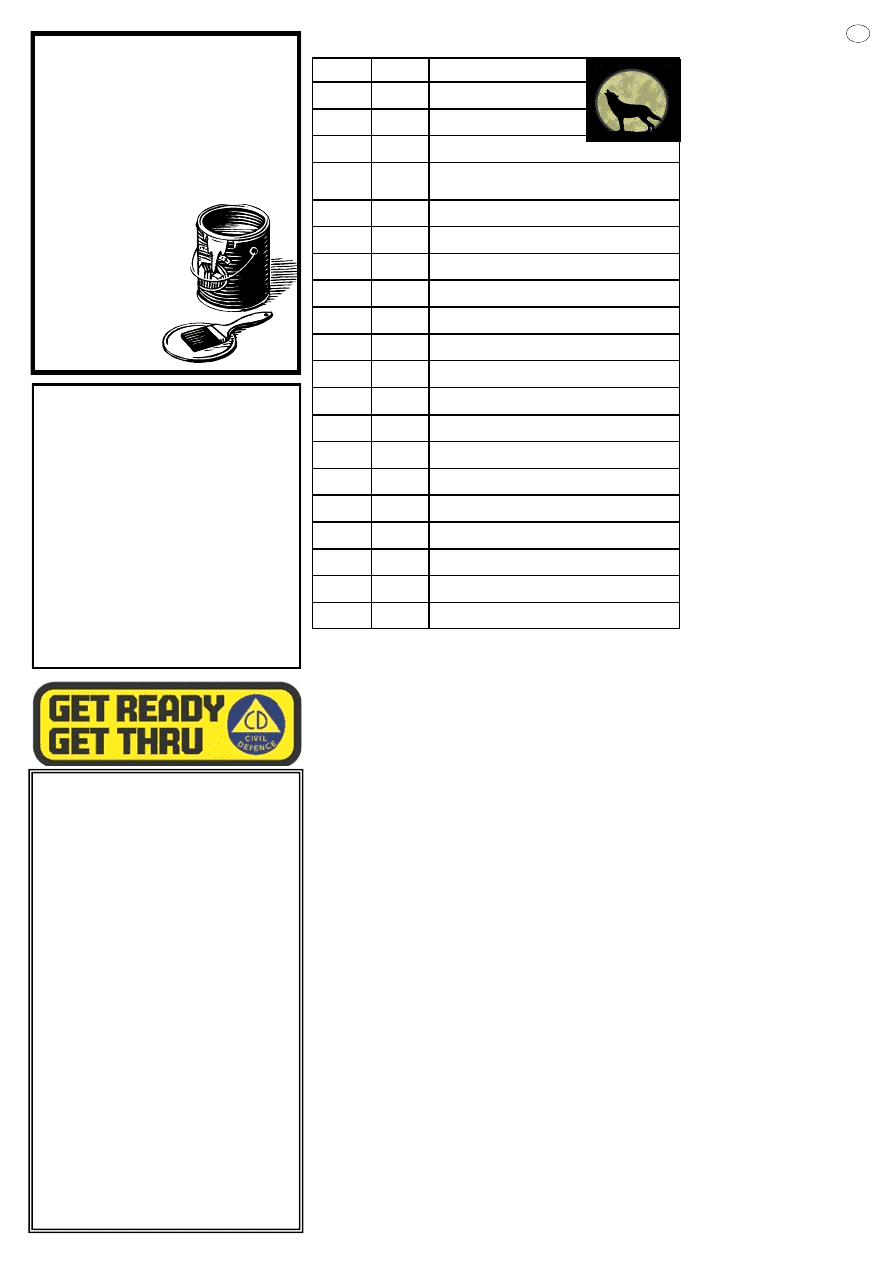 AMBER'S 
Q Cafe &  
Restaurant 
All day breakfast, 8am - 5.30pm.     
 Home made Pizza, take away or eat in from  
8am to late. 
 Light lunches, 11.am - 5.30pm, 
Dinner Menu at 5.30pm to late 
 Toasted Sandwiches and Sandwiches made to order. 
All day, Pies, Chowder & Soups 
 Milkshakes, Kiwi Ice cream, Slushie Fruit drink, Tea, 
Coffee 
 Closed Mondays.....except Observed Holidays 
 Sunday to Thursday: 8am - 8pm 
 Friday: 8am - 8.30pm, Saturdays 8am- 9pm 
4315226 
Trevor & Amber 
41 Moir Street, Shop 5-6  
Mangawhai Village 
Next to Carters Building Supplies 
LEABOURNS 
Passenger Service 
Car & Van Hire 
Bus & Coach  
Charters 
Airport Transfers 
 Monthly Shopper 
Bus
Phone (09) 4237416 
9
Glossary 
Opposition:  The  instant 
when, from Earth, the Sun 
and an object are 180 de-
grees  apart  on  the  sky. 
For  practical  purposes, 
the object rises as the Sun 
sets 
Elongation:  The  angle  in 
the  sky  between  the  Sun 
and  an  object.  It  is  meas-
ured  in  degrees,  east  or 
west from the Sun. When 
the angle is zero, we have 
an  inferior  conjunction 
and  when  it  is  180  de-
grees we call it a superior 
conjunction. 
Highlights of the month 
This  is  the  month  of  the 
Orionids  –  a  meteor 
shower 
lasting 
right 
through  to  the  beginning 
of  November  but  peaking 
on  October  21
st
,  and 
sometimes  surprising  as-
tronomers  with  a  second 
peak on other nights.  
The 
early 
morning 
(around  2am)  is  the  best 
time  for  picking  out  the 
meteors, 
corresponding 
with  the  highest  point  of 
the  constellation  Orion 
where they seem to origi-
nate  from.  The  Orionids 
are  small  particles  from 
Comet  Halley,  left  in  the  path  of  the  Earth's  orbit.  These  small  rocky  remains 
strike  the  Earth's  atmosphere  at  speeds  of  up  to  80km  per  second  causing  the 
streak  of light  we  can  see.  Meteors  burn  up  more  than  80km  above  the  Earth's 
surface. Another highlight this month will be the conjunction of Mercury, Saturn, 
Venus and the moon on 7
th
 October, visible from soon after sunset. In the early 
evening Aquarius (the Water Bearer) is well up in the north. Its brightest star, beta 
Aquarii, is a rare yellow supergiant. 
A prominent beacon in the northern sky is the bright star, Altair. It is the brightest 
star in the constellation, Aquila, and is flanked on either side by two fainter stars. 
Nearby is the compact but easily found constellation of Delphinus (the Dolphin). 
In 1967 a nova appeared in Delphinus which remained visible to the naked eye 
for weeks. Much fainter now, this star is still studied by astronomers. 
Passing  nearly  overhead  in  northern  New  Zealand  is  the  star,  Fomalhaut,  the 
brightest star in the constellation, Piscis Austrinus (the Southern Fish). Fomalhaut 
is currently a subject of intense study by astronomers using the largest telescopes 
available,  including  the  Hubble  Space  Telescope.  The  star  is  surrounded  by  a 
dusty disc, but claims that several planets have been detected remain controver-
sial. It is quite close by lying at a distance of only 25 light years. 
Also close to Fomalhaut is the distinctive constellation of Grus (the Crane). Well 
displaced from the plane of the Milky Way galaxy, here we are looking out of the 
galaxy into the depths of intergalactic space. Large telescopes see more galaxies 
in this region of the sky than they do stars. 
This month the earth reaches its closed point to Uranus, providing the best oppor-
tunity for spotting this ‗ice giant' planet. The planet usually appears to be slightly 
green. It can be spotted with the naked eye but usually you will need binoculars or 
a telescope. 
mercury Difficult to pick out in the twilight glare after the sun sets to the west 
mars Rises before dawn close to Regulus in Leo 
venus bright and alongside Antares in Scorpius to the west after sunset. 
saturn setting just after the sun to the west. Difficult to spot. 
jupiter visible in the early morning rising in the east in Gemini. 
If you are interested in finding out where the international space station is the fol-
lowing is a good website to track this object :   
http://spotthestation.nasa.gov/home.cfm 
Date 
Hour 
 Events 
2 
7 
Regulus 5.3
o
N of moon 
4 
3 
Uranus at opposition 
5 
13 
New Moon 
7 
Sun-
set 
Mercury, Saturn, Venus and the moon 
9 
2 
Venus 4.6
o
S of moon 
9 
10 
Mercury 5.6
o
S of Saturn 
9 
19 
Mercury greatest elongation E(25
o
) 
10 
12 
Moon furthest south (-19.6
o
) 
11 
12 
Moon at perigree 
12 
12 
First quarter 
16 
1 
Mars 0.9
o
N of Regulus 
17 
10 
Venus 1.5
o
N of Antares 
19 
12 
Full Moon 
21 
Peak of Orionid Meteor Shower 
22 
24 
Aldebaran 2.7
o
S of moon 
23 
22 
Moon furthest North (19.6
o
) 
26 
2 
Moon at apogee 
26 
9 
Jupiter 5.0
o
N of moon 
27 
12 
Last quarter 
29 
16 
Regulus 5.3
o
N of moon 
Night sky over "the little town of lights" October 2013 
Colour It 
    Painter Decorators 
30 years Painting Experience 
Old & New Homes 
Top Quality Job 
Very High Standard of Workmanship 
Phone: 
09 4312208 
Darryl Fisher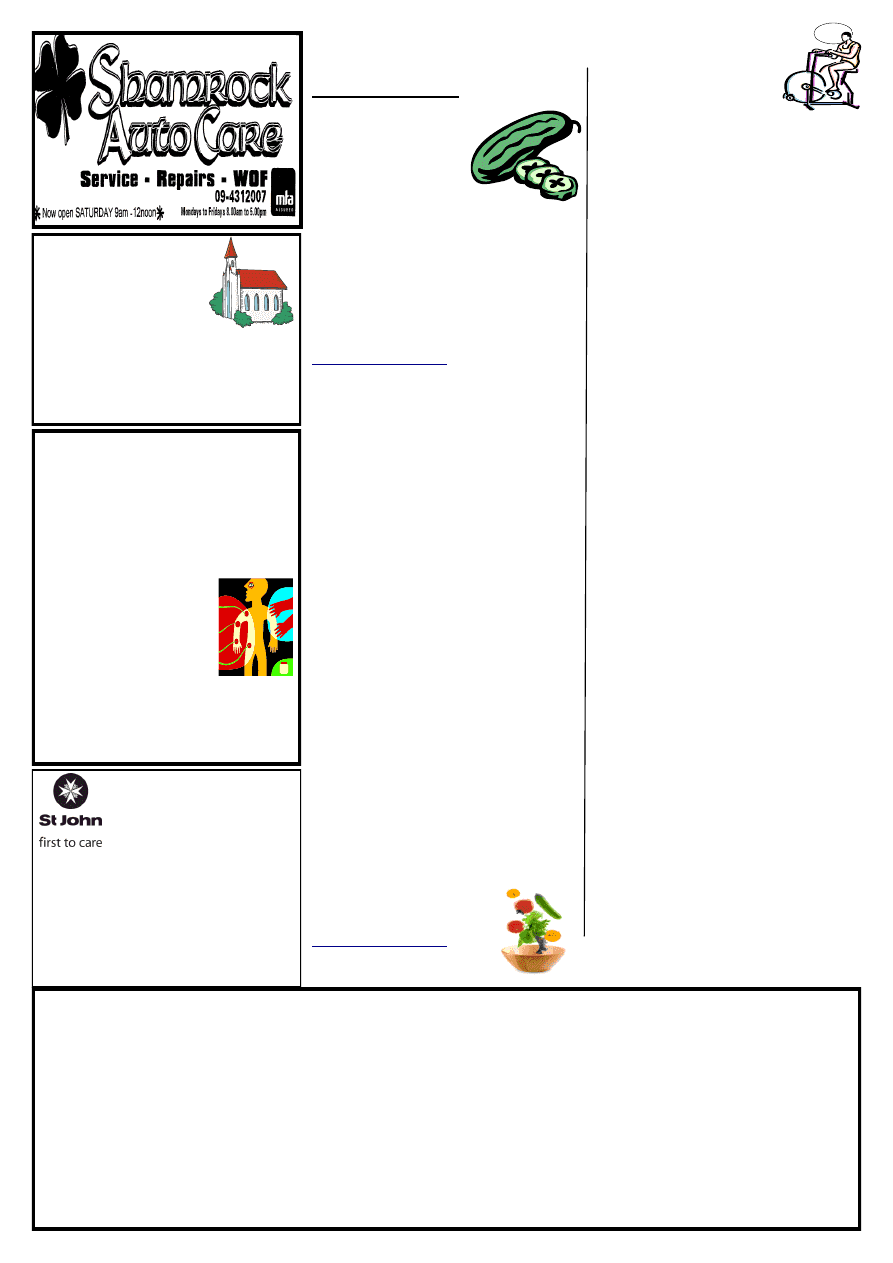 OWEN STEVENS 
Osteo Therapist
For careful adjustments to  
bones and joints 
Treatment for humans and their pets 
Clinics:  
Kate's Place, Kaiwaka: 
Last Friday of month 
Warkworth Showground:  
2
nd
 Thursday, monthly
For bookings:  9.00am-5.00pm 
Phone 09 4312661 
Or phone Ow
en  
09 4317123    
 11 
KAIWAKA  
FITNESS 
H
i  Everyone.  First  off  I 
would  like  to  thank  Laurie 
for  going  around  and  tightening  bolts 
screws  etc.,  it's  nice  to  have  a  member 
help  out  instead  of  moaning  about  what 
needs to be done, so thanks again Laurie. 
I thought as this is my last week before 
Nationals on the 12th I would show you 
what I have to do in the last week: 
Monday:  the  start  of  dehydrating,  4 
litres  of  water  +  4  meals  of  120gms 
chicken, 200gms of veges, oats and pro-
tein powder for breaky, the highlight of 
the  day,  and  then  protein  powder  and 
fruit at night. 
Tuesday:  water  down  to  4  litres  that's 
everything,  water  in  porridge,  coffee 
etc, hard when you normally drink up to 
2  litres  when  training,  food  the  same. 
Wednesday:  3  litres  total  water,  last 
day  for  weights,  cardio  continues  1  hr. 
Waxing  to  remove  most  if  not  all  from 
body.  
Thursday:  carb  loading,  oats  and 
fruit,2rice  crackers,2  tea  peanut  butter 
and  1/3  HPLC  BAR,100  grams  chick-
en,100  kumara,100  gram  vege  this  is 
repeated for the rest of the day and Fri-
day.  Start  tanning,  cardio  and  routine 
practice.  Note  to  self:  don't  do  night 
before comp again.  
Friday:  same  food,  down  to  750mls 
water,  the  peanut  butter  sticks  to  the 
roof of your mouth and the rice crackers 
taste  like  paper,  being  dehydrated  and 
all. Saturday comp day up at 6, tanning 
makeup,  breaky,  oats  don't  taste  the 
same  without  water,  sips  only  today. 
Get  food ready  for  the  day  100gms  ba-
nana chips,100gms cashews 1 Hplc bar, a 
bit  of  wine  and  that's  to  last  the  whole 
day. Get to venue by 8.30 for tanning and 
pre reg, show starts at 10am and might be 
lucky  to  get  out  by  10pm.Then  its  home 
for  a  big  glass  of  wine,  diet  coke  AND 
coffee,  and  something  to  eat,  usually  not 
much  as  its  a  bit  like  a  kiddy  in  a  lolly 
shop  OHH  what  do  I really want.  Sunday 
day off rehydrate, Monday back to it as next 
comp not far away. Oh why do I do it, certainly 
not for prizes, a medal and that's it, but because 
I like the way you can change your body shape 
in a short time and the great people you meet. 
Let  you  know  how  I  get  on  next  time. 
Take care and keep training. 
Jules 
Dr A Macaulay DC 
Maungaturoto Chiropractic Clinic 
3 Gorge Road, Maungaturoto 
HOURS: Monday 9am -6pm Wednesday 9am-7.30pm 
Thursday 7am-6pm 
For Appointments Phone 09 4318019 
Goods required for 
St John OP Shop.  
We are now in need of kitch-
enware, towels, bric 'n brac, ornaments, 
garden pots small and large, and any-
thing else you can give us.  We really  
appreciate your support. 
SUMMER HOURS we are now open  
Tuesday to Friday  10am to 4pm. 
Shop   4312650      Home 4312423       
Milly and Staff 
OCTOBER  
GARDENING TIPS 
Climbing cucumbers 
In  my  mind  cucumbers 
are  a  classic  summer 
fruit. The telegraph and 
short  green  varieties 
taste great in salads and 
sandwiches  and,  the 
apple  variety  tastes  so 
good on its own all I do is slice and add 
a little bit of salt to eat.  
If you're keen to add this vine-growing 
fruit  to  your  meals  this  summer,  then 
now is the perfect time to plant.  
Grab  your  cucumber  seedlings  from 
your  local  supermarket,  the  Warehouse 
or Bunnings.  
Alternatively, 
head 
online 
to 
 and get your seed-
lings delivered direct to your door. 
Once you've got your plants, look for a 
warm,  sunny  and  dry  spot  in  your  gar-
den. If you're not prepared to stake your 
telegraph and short green as they grow, 
make  sure  you  plant  them  near  some-
thing  they  can  grow  up  –  like  a  trellis. 
Personally,  I  prefer  to  use  a  simple  to-
mato  stake  poked  into  the  ground  next 
to  my  cucumber  plant  at  a  45-degree 
angle – this works really well. 
Apple  cucumbers  will  grow  along  the 
ground and work nicely next to zucchini 
because  they  like  the  same  conditions. 
Sometimes  cucumber  can  have  a  little 
trouble  fruiting  because  they  haven't 
been  pollinated  due  to  a  lack  of  bees. 
So,  I  like  to  grow  mine  next  to  plants 
like lavender that attract their fair share 
of our honey making friends.  
Dig in some compost or leftover potting 
mix  to  the  soil  making  sure  it's  friable 
or  breaks  up  in  your  hand.  Then  plant 
your seedlings. 
If  you  do  end  up  having  pollination 
problems  (you  can  tell  because  the 
flowers  will  fall  off  but  no  fruit  will 
have developed) then put a paintbrush  
on  the  pollen  in  the  flowers  on  each 
plant.  This  will  spread  the  pollen  from 
one  flower to  the  next  pollinating  your 
plants.In  around  10  to  12  weeks  this 
tasty  summer  fruit  will  be 
ready to harvest. 
Tod Palenski,  
Awapuni Nurseries 
ST PAUL'S  
SUNDAY  
SERVICES
First Sunday 9.30am, third Sunday 9.30am  
 Paparoa Anglican 
St Pauls Church: Kaiwaka-Mangawhai Rd.  
1st Sun. (Anglican), 3rd Sun. (Family Service) 
Contacts:M.Hargreaves 4312295, C.Bygrave 4312057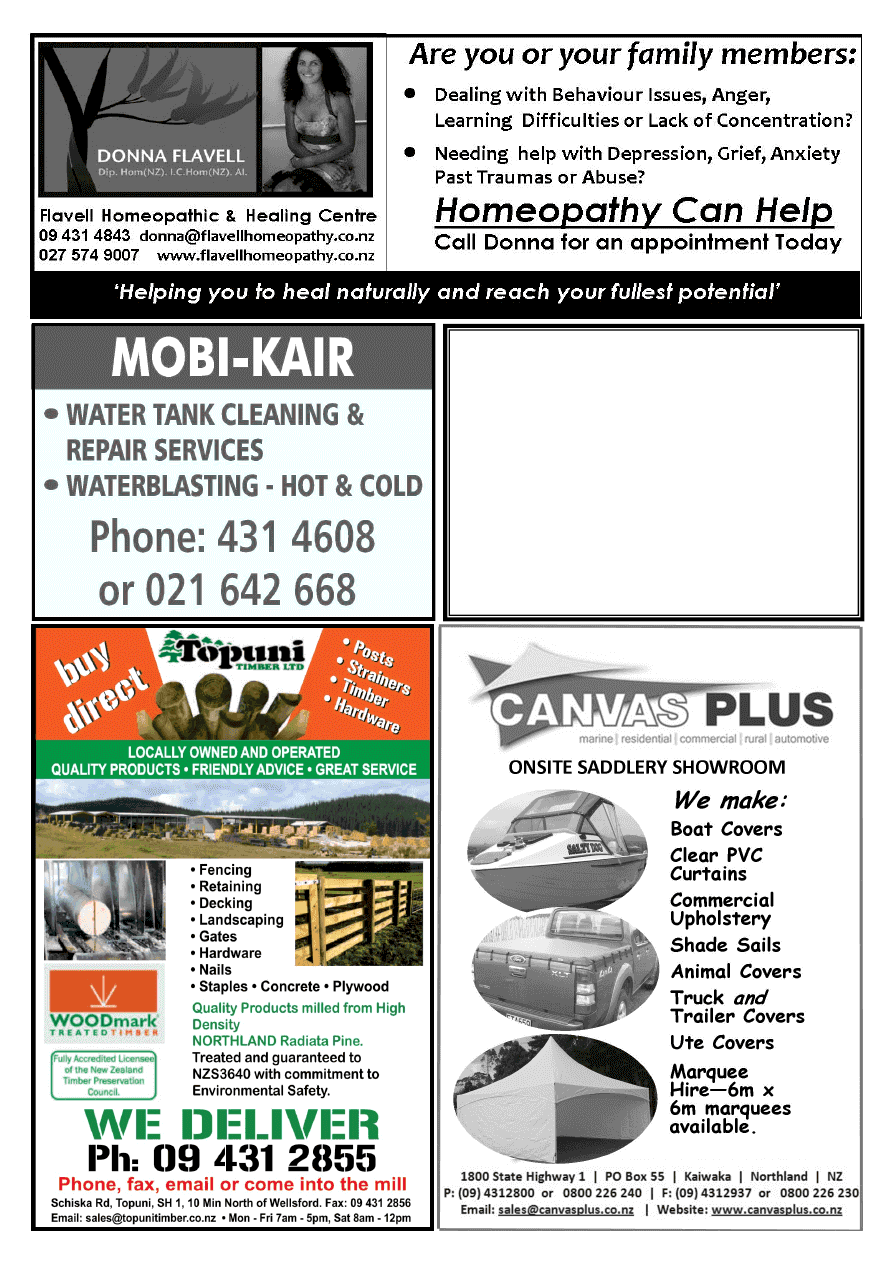 TILING 
Certified Waterproofing 
431 4533 or 021 86 33 33 
George 
MCN Property Solutionz  
Local references available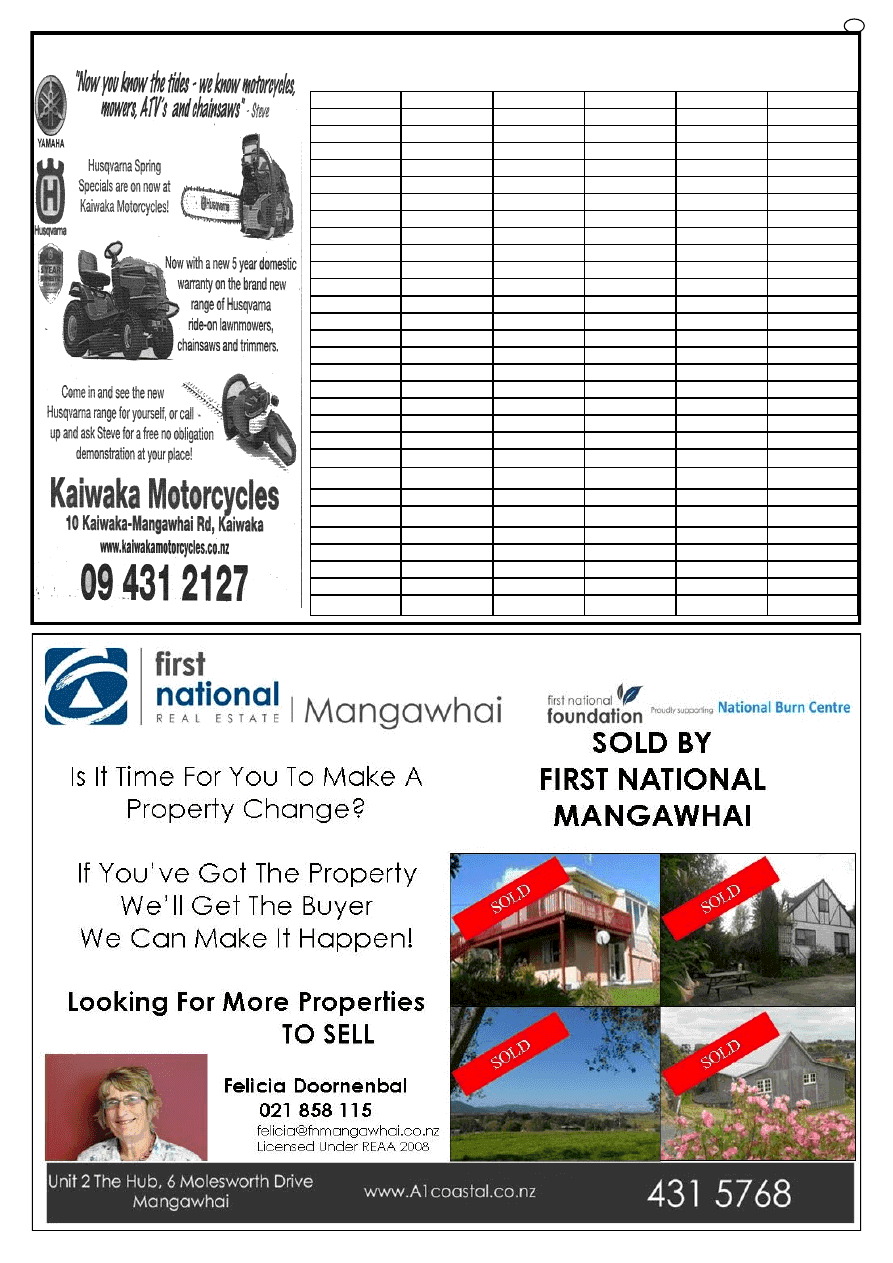 13 
Date 
High 
Low 
High 
Low 
High 
Mon 14 Oct 
- 
00:34 
06:53 
13:03 
19:28 
Tue  15 Oct 
- 
01:43 
08:04 
14:11 
20:31 
Wed 16 Oct 
- 
02:43 
09:03 
15:09 
21:24 
Thu  17 Oct 
- 
03:35 
09:54 
15:58 
22:10 
Fri  18  Oct 
- 
04:22 
10:38 
16:42 
22:52 
Sat  19 Oct 
- 
05:04 
11:19 
17:24 
23:32 
Sun 20 Oct 
- 
05:44 
11:57 
18:03 
- 
Mon 21 Oct 
00:10 
06:23 
12:34 
18:41 
- 
Tue 22 Oct 
00:47 
07:00 
13:09 
19:19 
- 
Wed 23 Oct 
01:24 
07:36 
13:46 
19:59 
- 
Thu 24 Oct 
02:02 
08:14 
14:25 
20:41 
- 
Fri 25 Oct 
02:45 
08:55 
15:10 
21:29 
- 
Sat 26 Oct 
03:35 
09:43 
16:04 
22:25 
- 
Sun 27 Oct 
04:32 
10:40 
17:08 
23:27 
- 
Mon 28 Oct 
05:37 
11:47 
18:15 
- 
- 
Tue 29 Oct 
- 
00:31 
06:44 
12:55 
19:18 
Wed 30 Oct 
- 
01:30 
07:45 
13:56 
20:11 
Thu 31 Oct 
- 
02:22 
08:38 
14:47 
20:58 
Fri 01 Nov 
- 
03:09 
09:24 
15:32 
21:41 
Sat 02 Nov 
- 
03:53 
10:07 
16:14 
22:22 
Sun 03 Nov 
- 
04:35 
10:48 
16:56 
23:04 
Mon 04Nov 
- 
05:18 
11:30 
17:39 
23:48 
Tue 05 Nov 
- 
06:01 
12:12 
18:24 
- 
Wed 06Nov 
00:33 
06:47 
12:58 
19:12 
- 
Thu 07 Nov 
01:22 
07:34 
13:46 
20:03 
- 
Fri 08 Nov 
02:14 
08:25 
14:39 
20:58 
- 
Sat 09 Nov 
03:12 
09:20 
15:38 
21:59 
- 
Sun 10 Nov 
04:14 
10:22 
16:44 
23:04 
- 
Mon 11Nov 
05:22 
11:59 
17:54 
- 
- 
 KAIPARA TIDE TIMETABLE  
SPONSORED BY 
 Kaiwaka Motorcycles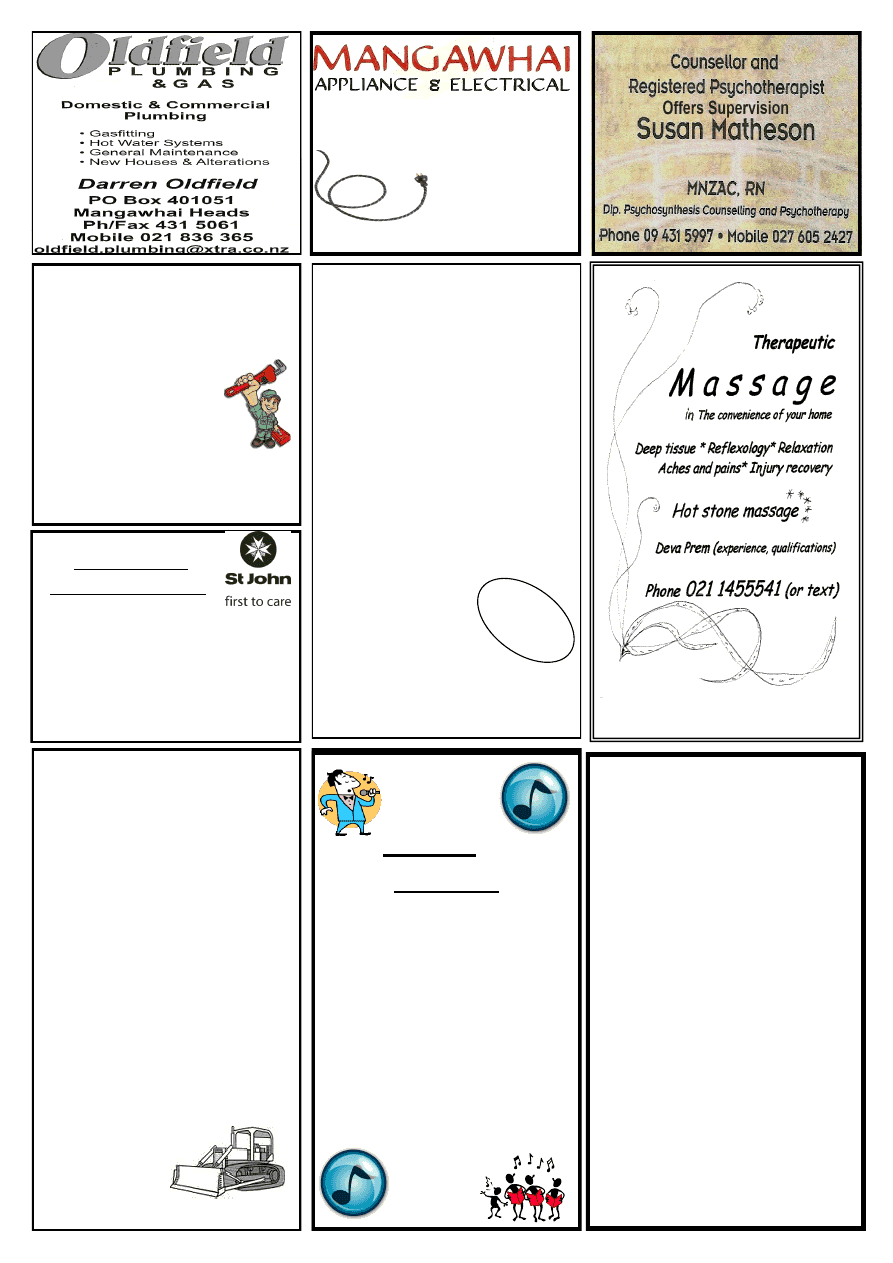 Willow Bend
HORSE  
HOTEL 
"   
Total Horse Care 
" 
Agistment 
" 
Riding Lessons 
" 
Arena Hire (60x40) 
" 
Young Horse Starting 
" 
Re-training/Exercising 
" 
Hoof Trimming 
" 
Problem Solving
Phone Sue 09 431 2817 
or 021 623 776 
Or email sue.gray@xtra.co.nz 
Based ou
t  
Oner
iri Roa
d 
HODGETTS
CONTRACTING
Digger Work    

Driveways 

House Sites   

Dams 

Drains, etc
Also available for HIRE 

3 ton Vib Roller 

Heavy Duty Tow 

Waterblaster  

Lazer Level 
Phone Mark 
4312877 
027 447 8554
DEAN STEWART 
Registered Electrician 
021 280 4008 
09 4312911 
ATHOURISED FISHER AND PAYKEL SERVICE 
Coates  
Contracting 

D41 Bulldozer with 6 
way blade, bush rigged 
with winch 

For all tree work 

General bulldozing and  
  stick raking. 

120hp Tractor for 
ground cultivation,  

tip trailer work. 

Fencing
All enquiries phone  
Brett Coates  
094318720 or  mob 
021431872
Singing  
Lessons 
Individual sessions 
All styles of music  
All voice types 
Reasonable rates 
Phone  
Maura Flower 
021 164 8318 
Community 
Services Officer: 
For all Community Services Forms 
see Milly at the  
Kaiwaka St John Op Shop.  
Phone 4312650 
MORE MEMBERS REQUIRED FOR 
THE KAIWAKA STATION
. 
www.mangawhaimassage.co.nz 
Ross Murphy 
PLUMBER 
Certifying 
Plumber 
09 431 7510 
021 424 252 
Paparoa Based 
+
New Housing  +Renovations  
+Maintenance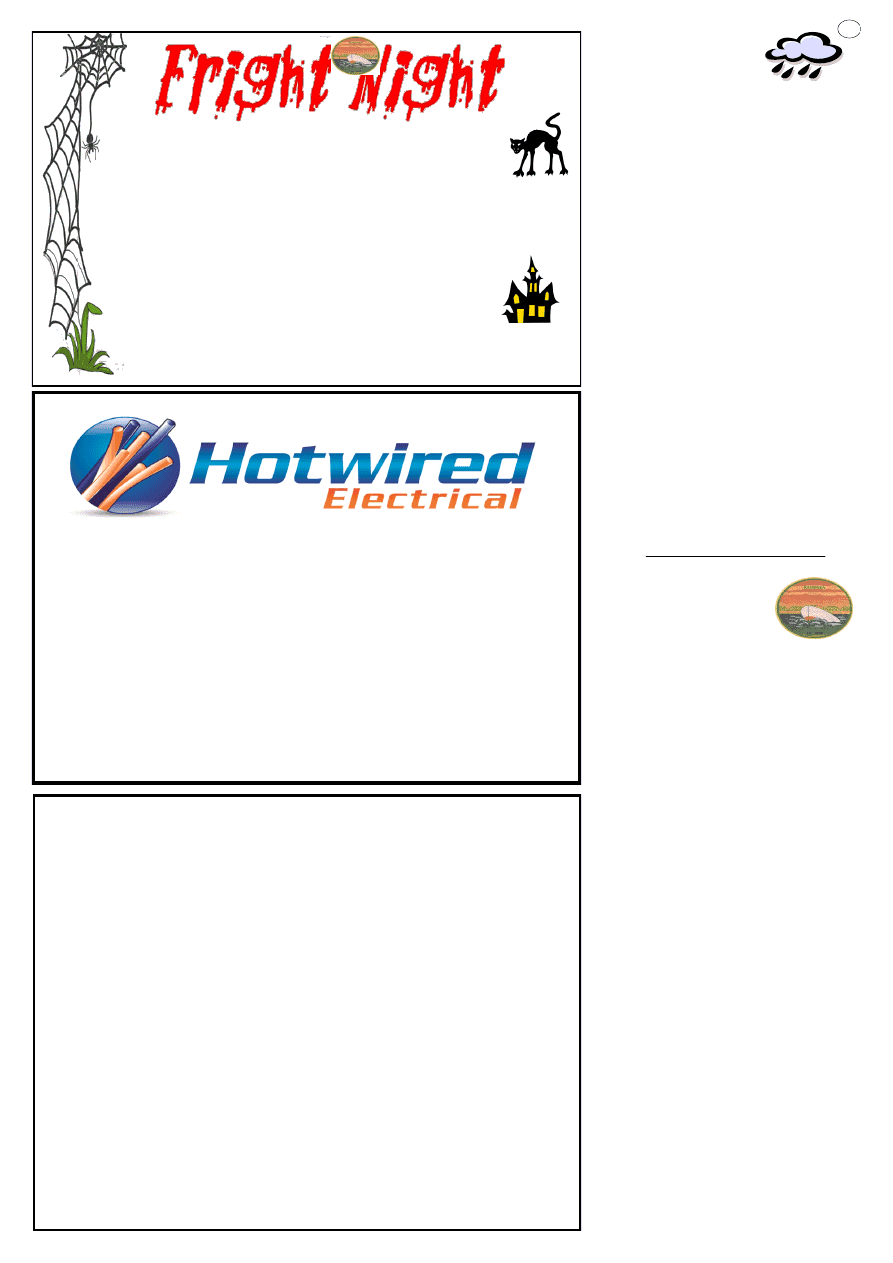 PLANNING A NEW KITCHEN? 
CONTACT NOEL McDOWELL
WELLSFORD KITCHENS 
Ph/Fax 094312888
KAIWAKA-Any time 
  QUALITY CUSTOM MADE KITCHENS  
~Personal and Prompt Service~ 
~All Workmanship Guaranteed~ 
~Over 20 Years in the Trade~ 
~Free Design & Quote~ 
For All your Electrical  Requirements 
 
Domestic small jobs 
 
Residential dwellings and alterations 
 
Commercial 
 
Industrial                 
No job too big or too small      
Contact Jason today on: 
(09) 431 5992, (021) 405 019 
www.hotwiredelectrical.co.nz 
 15 
KAIWAKA 
WEATHER 
Well,  we  have  survived 
the  winter  and  now  looking  forward  to 
the  warm  days  again.    If  today  is  any-
thing  to  go  by,  bring  it  on.  We  did  ok 
rain wise until about 3 parts through the 
month  and  then  it  turned  it  on.    The 
ground got very sodden.   
I felt it was not too bad wind wise most-
ly.  I feel the equinox came very late in 
the  month.    Our  Kowhai  and  Magnolia 
were 3 weeks flowering which tells me 
we are about 3 weeks late with our sea-
son.  You  may  have  different  thoughts 
on this.  
For  September  we  had  175mm  rain  at 
our  house  and  2012  we  had  152mm. 
Our  wettest  September  since  1987  was 
1989  with  249mm.  Our  driest  Septem-
ber was 2000 with 40mm.  Our driest 1
st
9  months  was  1987  with  687mm  and 
the  wettest  1
st
  9months  was  2008  with 
1439mm.  For  the  1
st
  9months  of  this 
year we had 1005mm and 2012 we had 
1146mm.  We recorded rain on 11 days 
this month. (
This  weather  report  is  late  this 
month as the Bugle was printed before the month 
had  ended  for  the  weather).   
Take care out 
there and especially on the roads. Bev. 
Kaiwaka Sports Complex 
     Saturday 2
nd
 November, 7.30pm
Fun, music & games 
 prizes for scariest costumes – boy, girl & adult 
  take a walk through the haunted house - if you dare... 
       glow items for sale, lolly scramble 
$3 entry (adults & under 5's free)  
           please bring a plate for supper – halloween inspired food would be great! 
POINT CURTIS  
CRUISING  
CLUB 
Congratulations  to  the  following  win-
ners of our Fish Of The Month Competi-
tion 
Snapper: 
1st:  Gravy  10.284kg,  2nd:  Aaron 
Kemp 
6.841kg, 
3rd: 
Pete 
Worsell  5.910kg 
Largest Live Scallop: 
1st: Micky Renton 132mm, 2nd: Trevor 
Wright 130mm, 3rd: Dr Vic 129mm 
New  Fish  of  Month  is  SNAPPER  until 
next meeting. 
Pool Competition: Sunday 27th October 
from  1pm  at  3  Furlongs,  Kaiwaka 
against  Wellsford.      Come  along  for  a 
fun afternoon, please bring a salad! 
Club 
members 
only 
Fishing 
Comp:    16th  and  17th  November 
2013.    Prizes  for  heaviest  Snapper, 
Kingfish  and  Kahawai.    As  this  is  a 
members  only  contest  you  must  be  a 
paid  up  member  of  the  Point  Curtis 
Cruising Club.  If you wish to become a 
member or renew your membership subs 
must  be  paid  by  the  9th  of  Novem-
ber.  $20 single or $30 family, subs can 
be  paid  at  3  Furlongs  Hotel  or  to  Jean 
Mcleish  (Secretary/Treasurer),  C/-  Kai-
waka PDC, Kaiwaka (09) 4312520. 
Next  committee  meeting  Tuesday  12 
November,  7pm  at  3  Furlongs  Hotel, 
Kaiwaka 
Wayne Leslie, Commodore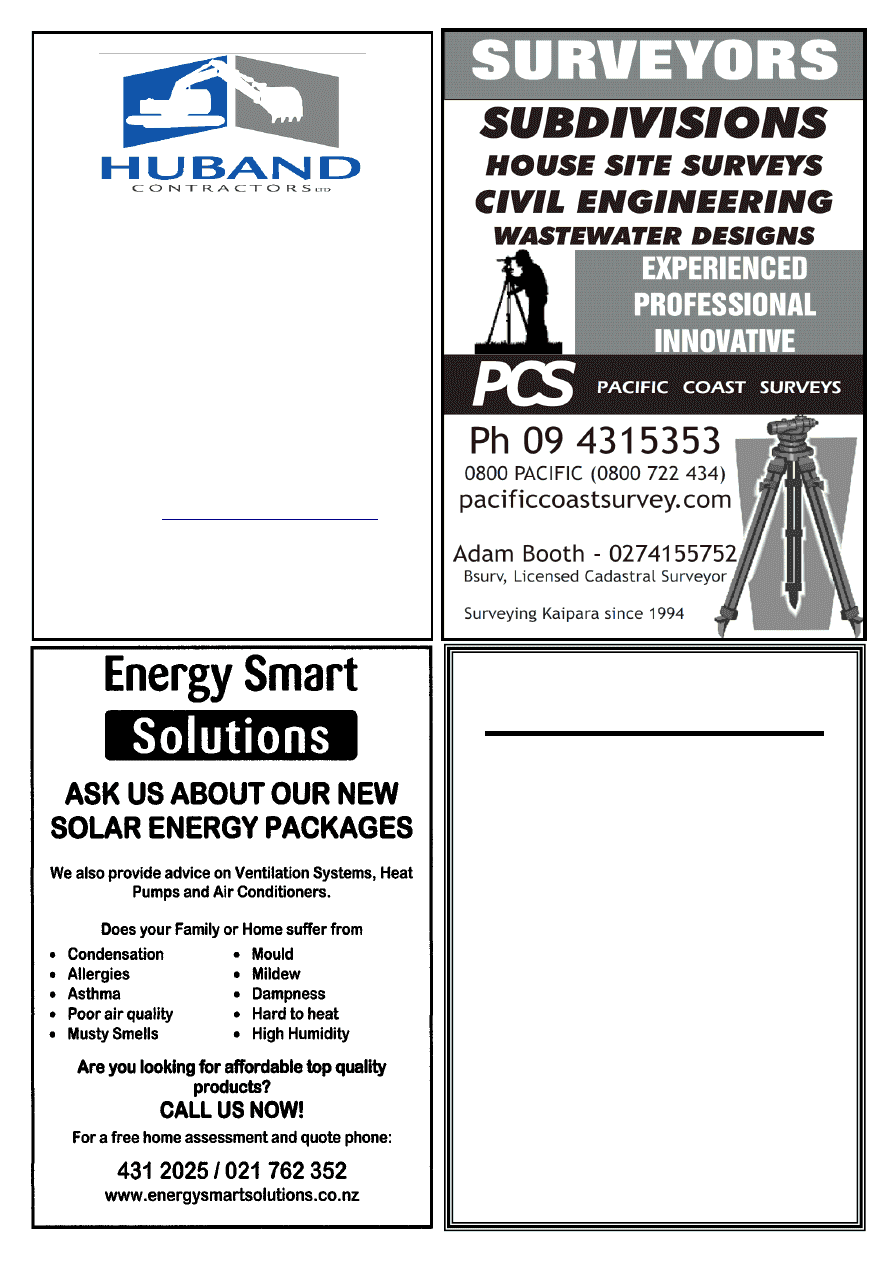 STOCKFOOD
GREAT RANGE FOR ALL YOUR LIVESTOCK  
AT GREAT PRICES 
 ALSO CHECK OUR 
DOG BISCUITS 
20 KG FOR $58.90 
LPG REFILLS 9KG 
STILL ONLY $31.50
MANGAWHAI SERVICE 
STATION 
(09) 431 4242 
44 MOIR STREET IN THE VILLAGE 
*   R O A D I N G   *   E A R T H W O R K S  
*    
*   D R A I N A G E   *   S I T E W O R K S  
*  
For any further enquiries,  
contact Shaun on: 
Cell: 021 222 0272 
Home: 09 4318339 
Shaun Huband:  Registered  
Drainlayer 
17 
QUESTIONNAIRE   FOR   MOVIES   AT    
KAIWAKA   WAR   MEMORIAL   HALL 
With our new digital Movie set up we can now screen Blu Ray Movies in high definition on 
our 6 metre cinema screen. 
We also invested in new comfortable chairs and an awesome surround sound system. 
We would like your input in what you would like us to screen i.e. time, how often, and at 
what price. 
We invite you to complete our questionnaire below: 
Please circle the one you choose 
1. How often would like movies screened? Weekly Fortnightly Monthly 
2. Which day of the week?   Mon. Tue. Wed. Thu. Fri. Sat. Sun 
3. What time.   Day or Night 
4. What would you expect to pay? Kids  .........Dollars,   Adults........Dollars 
5. What kind of movies would you like to see screened? (You can circle more than one.)  
KIDS/FAMILY, ADVENTURE, SCI-FI, DRAMA, ROMANCE, THRILLER, HORROR, 
NATURE, DOCUMENTARY, OTHER.......... 
6. What do you think about a film club? Good idea?  YES OR NO 
7. Would you be interested in helping or joining the club? YES OR NO 
8. Write down any suggestions/ideas you would like to give us… 
9. Write down your email address so we can keep in touch and send you info of what is hap-
pening and what is going to be screened. 
........................................................................................... 
Questionnaire can be dropped off in the slot at the library or at Jaques 4 Square Store. 
Thank you 
The Kaiwaka War Memorial Hall Committee.                                                
Council Briefs: 
Community Assistance Policy 
A  Community  Assistance  Policy  will  ensure  a  fairer  and  more 
transparent  method  of  supporting  community  organisations  in 
Kaipara.    The  Annual  Plan  budgets  $70,000  for  grants  and  a  further  $7500  for 
events in the current financial year.  The policy includes guidelines for four cate-
gories of assistance: Occupying Council land and buildings, Contracts for services, 
Discretionary  grants  and  Mangawhai  Endowment  Lands  Account  grants.    There 
will also be a Mayoral Fund to allow funds to be granted to groups which cannot 
wait for formal applications or other special circumstances.  The policy has been 
developed in response to requests for a fairer and more transparent allocation sys-
tem.  Consultation on the draft Policy included three public meetings and attracted 
nine submissions, many welcoming the overdue idea. 
Speed Limits 
Speed limits have been reduced to 80kph at both the Kaiwaka and Hakaru ends of Set-
tlement Road.  Following requests in Annual Plan submissions Council has reviewed 
the 7.8km, mostly unsealed, road.  At the Kaiwaka end it was decided to reduce the 
present 100kph to 80kph for 1km from the junction with State Highway 1. The same 
will apply for the first 500m at the Hakaru end (which includes the Hakaru Pony 
Club and RSA).  The new limits will come into force within the next month. 
Remission of Wastewater Charges 
Kaiwaka Wastewater System's targeted area of benefit will be re-drawn to exclude 
the Kaiwaka Sports Association which is not utilising the full benefit of the system 
as its holding tanks are acting as septic tanks.  The complex was this year charged 
for nine pans in place of the previous one, but the Council has agreed to write off 
last year's and this year's targeted rate once a separate connection agreement has 
been negotiated with the Association. 
Building Consents  
Forty  one  building  consents  worth  a  total  of  $12.87  million  were  processed  by 
Council in August.  $3.317 million of this was for new homes.  All but two of the 
consents were processed within 20 days.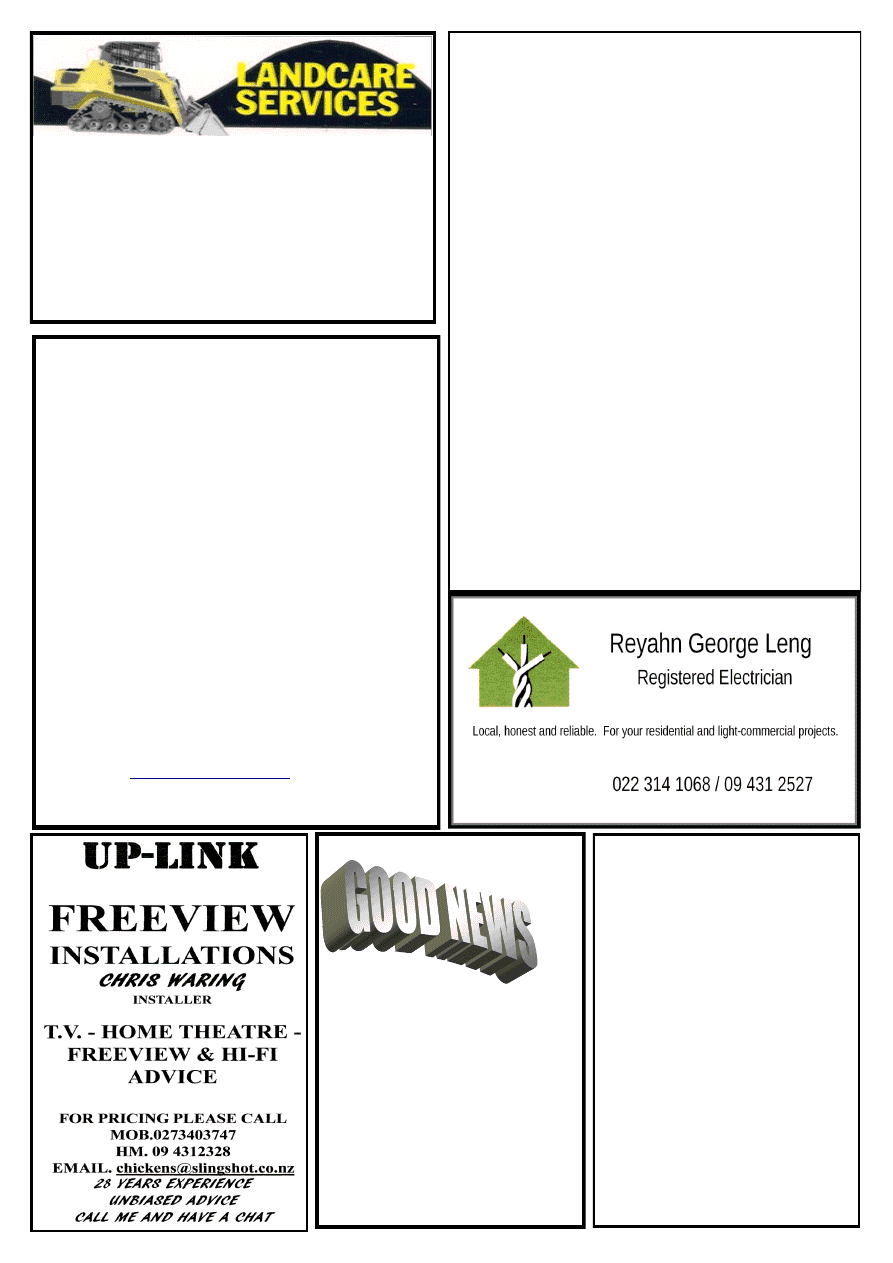 THERE'S 
 Your COMMUNITY 
CHURCH 
RECEIVE HEALING 
  RECEIVE THE LOVE OF GOD 
 Everyone warmly welcome each                                            
    Sunday 10am. 
Contact: Pastor John Dekker,  
09 4318203 
@ the  
Kaiwaka 
Family Church 
PAUL SAUNDERS 
LAWNMOWING & GARDEN 
MAINTENANCE 
 
Lawns and edges 
 
Section mowing 
 
Hedging and trimming 
 
Spraying and fertilising 
 
Tree planting 
 
Green waste removal 
 
Pruning 
Friendly and reliable service guaranteed 
Call now for a free no obligation quote 
021 886 843 
09 431 2731 
Servicing Mangawhai and Kaiwaka 
and surrounding areas 
paulsaunders99@gmail.com 
Dave Hyndman 
 
KAIWAKA 
PH: 09 4312302 
MOB: 021 431 238 
LANDSCAPING 
4 IN 1 BUCKET 
TRENCHER 
POLE HOLES 
ROTARY HOE 
COMPACT ROLLER 
OFFAL HOLES 
CAN SUPPLY WOODCHIP & POST PEEL 
5 TON TIPPER 
FOR RELIABLE AND FRIENDLY SERVICE CONTACT DAVE 
Dave Hyndman 
 
KAIWAKA 
PH: 09 4312302 
MOB: 021 431 238 
AVON
  AVON  
AVON 
AVON 
AVON 
Hi Everyone, 
 Brochure 18 is now available with orders due on 16th October 
with delivery the following week. There are many specials com-
ing up to Christmas. Decorations, Something for everyone. Gift 
packs SSS 4 for $26.00, Imari Set All 4 for $30.00. Eye Shadow 
Quad with Infinitize Mascara and Cosmic Eyeliner 3 for $26.00, 
Ultimate Day Cream for $60 and receive FREE Cleanser, Night 
Cream and Cosmetic Bag. For Him Black Suede Toupch Set 4 
for $38.00 and much much more. 
PINK RIBBON FUND RAISER DAY 17th October at Sugar-
belles Café, Maungaturoto at 11.30 til 1.30pm. Come along and 
help this great cause. 
I am having a complete stock sale at my home 450 Lawrence Rd 
off Kaiwaka-Mangawhai Rd on 24th October from 9.00 til 
4.00pm. This is excess product which includes Clothing, 
Shoes, Jewellery, Handbags, Make -up, f 
Fragrance, Book and Toys, and bath and body. Everything is re-
duced. Stock up for Christmas.  
Advance Notice: 
Christmas Sale Day at Gateway North Motel Conference Room 
15th November 9.00 - 4.00pm. For all your Christmas gifts for all 
the family. 
 For more information regarding any of the products just contact  
Gale Matheson 4314827 
KAIWAKA SPIRITUAL 
CENTRE 
Corner State Highway 1 & Vipond 
Road. 
Wednesday Readings 
23/10/2013 
10:00am – 3:00pm 
Tarot-Tea Cup - Healing 
Color Therapy - Numerology 
$ 30.00 per reading 
Julie - Dianne - Essy - Netty 
(Monthly Meeting) 
Clairevoyance 
Saturday: 26/10/2013  
Guest Speakers: 
Graham & Elizabeth Rogerson 
Healing available & Cuppa 
$ 5.00 entry fee 
ALL WELCOME 
 2:00pm               Ph: 09432120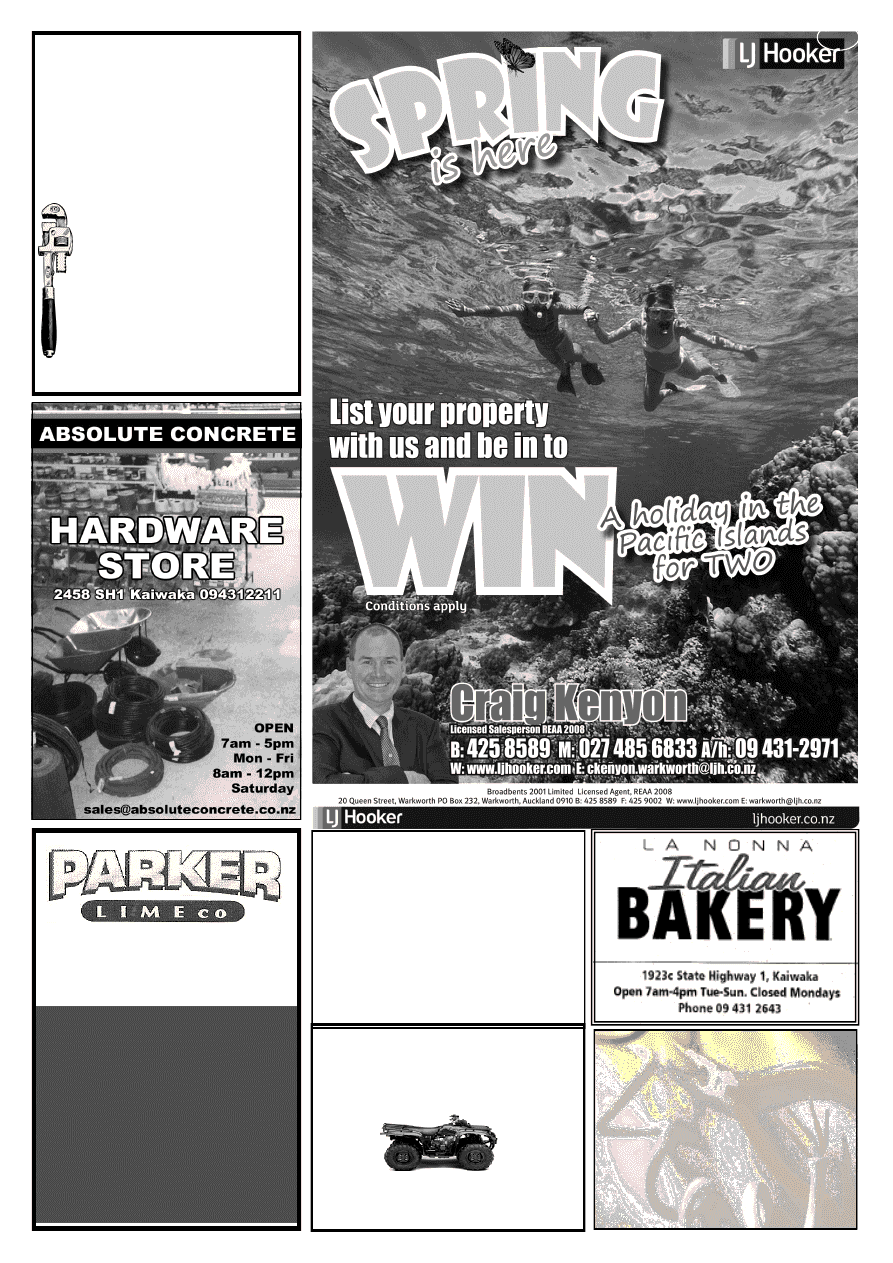 T.W.WRIGHT 
WATER PUMPS  
SALES & SERVICE 
DEEP WELL & SUBMERSIBLE REPAIRS 
203 WHAKAPIRAU RD, WELLSFORD 
MOBILE 021 976 545 
Landscape Supplies 
Bulk Cartage 
4312407 
Mob: 021 453 252  
Fax: 4312939 
 scott.parker@parkerlime.co.nz 
Gibbons Road,  
Kaiwaka 
Paul Greig Electrical Ltd 
Residential • Farm • Commercial 
Paul Greig 
Registered Electrician 
Ph: 431 2223  
Mob:021 230 2717 
Reliable & Professional Quality Service 
Based in Kaiwaka 
KAIWAKA  MOTOR 
CYCLES LTD 
SALES SERVICE SPARES 
FARM BIKE SPECIALIST 
Phone 431 2127  
Kaiwaka-Mangawhai Rd
Kaiwaka 
BARRY CURTIS  
PLUMBING LTD 
REGISTERED CRAFTSMAN 
PLUMBER 
Phone 4315572      
027 257 9884 
     25 years experience 
  
Friendly reliable service 
All plumbing and maintenance 
Alterations and new housing 
New wood fire installation 
Spouting 
Competitive rates  
 
 
 PROMPT EFFICIENT  SERVICE  
  19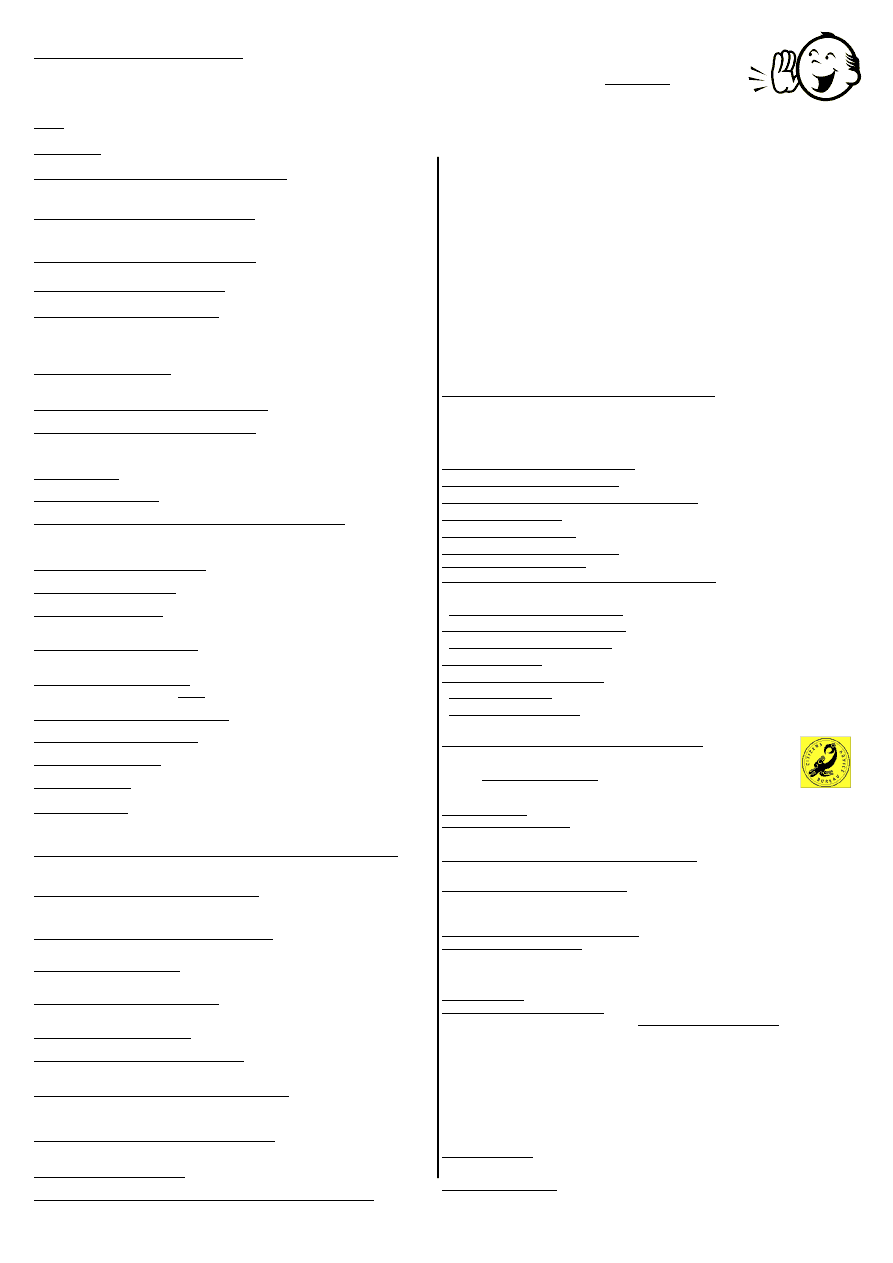 LOCAL SERVICES 
*St.John Ambulance 
111 or Freephone0800 61 0066
*Fire phone 111     *Police phone 111 or 09 4311150 
A A: Meets Wed., 8pm Kaiwaka Ph: 4312228, 4315543, 0800229 6757   
AL ANON: In recess, contact Ph: 4312228 
AGRIQUALITY (MAF) Livestock Consultant 
Phone 09 4311 820 or 021518257  
BUDGETING SERVICE,OTAMATEA:Free confidential advice & 
support - all areas of  personal finance Ph: 09 4318173 or 094318117 
CAB-Citizens Advice Bureau.Wellsford Ph: 4237333. 
DOG/STOCK /NOISE CONTROL 0800 105 890 
FAMILY SUPPORT SERVICES responding to the needs in our 
community  Counselling/Family Therapy/Seminars/Youth Work/
Probation/Osteopathy/Govt.Day Agencies/Community Information  
Ph: 4312661 Hours: 9am-5pm. Mon - Fri (funded & CYFS approved) 
FUNERAL SERVICES: Morris & Morris Ltd, 
Whangarei - Bev Jaques Ph:4312367 or 0800667747 
GRANDPARENTS Raising Grandchildren: Sarah Rogers Ph: 4312194 
HAKARU LANDFILL/Transfer Station:Open everyday except 
Tuesday10am-4pm.Ph4312629 Cost-$55 trailer load up to 1 cubic metre. 
Ph:4258567 - office 
HOMEOPATH: Donna Flavell Ph: 4314843 
INLAND REVENUE: Last Friday each month, 11-3pm Ph4312661 
KAIPARA DISTRICT COUNCIL www.kaipara.govt.nz:  
Help Desk FREEPHONE 0800 727 059  
Service Centre Mangawhai 4313161 
KAIWAKA KOHANGA REO:Ph:4312620 Mon.-Fri. 8.30am-2.30pm 
KAIWAKA CEMETERY: Ph: 4312045 
KAIWAKA LIBRARY: kaiwaka.library@gmail.com  
Mon. 4-6pm; Wed., Thurs., Fri., Sat.  10am-2pm Ph:4312539 
KAIWAKA PLAYCENTRE: Ph: 4312286. Hastie Lane 
Monday to  Friday  9.00am - 12 noon. 
KAIWAKA POST OFFICE:Ph:4312 626 Fax: 4312287  
Post Code: 0573  for RD2  and  0542 for all Kaiwaka Post Office mail 
KAIWAKA PRIMARY SCHOOL : Ph: 4312309     
KAIWAKA SPORTS ASSN: Ph 4312005; 4312129 gym 
KAIWAKA ST JOHN: Manager Steve Rosser 09 4318403, 021 2316836 
NORTHPOWER: Faults Kaiwaka area 0800 104040 
PARENTPORT: Free, practical family support servicePuhoi to Paparoa 
Ph:  Sharon Mehana, Co-ordinator. 4259357 or 027 280 5093 
PERSONAL DEVELOPMENT COACHING, GROUP FACILITATION:  
Sabine Druckler 4312231 
PLUNKET  KAIWAKA/MANGAWHAI:  Ph:094318187  or  0276753488 
Kaiwaka Mobile Clinic once a month– appointments necessary;  
Mangawhai (next Domain) 1st & 3rd Thursday & Coffee Morning; 
PLUNKET CAR SEAT CO-ORDINATOR:  Pat Scott Ph 4314530 or 
0272881635 
PLUNKET FREEPHONE -0800 933 922 
PLUNKET -MAUNGATUROTO  Clinic every 2nd & 4thThursday. Ph: 
09 4318187 
PUBLIC HEALTH NURSE: Gloria Reid Ph: 094327634  
RETURNED AND SERVICES ASSN 733 Settlement Rd.Hakaru 
Ph.4312176 Bill Kerr (President) Ph.4314719 
TE KOROWAI AROHA O NGATIWHATUA 
(The Cloak of Love of Ngatiwhatua) Support and Maori Consultancy.  
Ph: 4239481 (Wellsford) 
VETERINARY SERVICE MANGAWHAI: 
Ph: 4314535 Mon-Fri 8.00-5.00, Sat 9-12, a/h appt. 
WELLSFORD DOCTORS: Ph: 4238 086 
WOMEN'S WELFARE LEAGUE & Reaching Out For Youth:  
4 Kaiwaka-Mangawhai Rd, M Morgan 4312293 
WHAT'S ON
PLEASE ~ do let me know what is on - email 
kaiwakabugle@kaiwaka.co.nz 
Advertising in WHAT'S ON is FREE  
 
Mondays: 8-2.30pm Kaiwaka Tramping Group  Karen 4312090 
Mondays: Rock & Roll Lessons, Wellsford 7.30pm Ph: Berni 4238024 
Tuesdays: Rhythm&Riggle 10am Christ the King Church Mangawhai. 
*16 Oct ~ The Work Camp Mountain Safety 7.00pm Ph4312638 
*19&26 Oct ~ RENEWABLE ENERGY FUNDAMENTALS, 
Resonz, 09 4312408 / 021 2231700  
*23 Oct ~ The Work Camp Bone Carving 7.00pm Ph 4312638 
*26,27,28 Oct ~ Floral Sale and Tea/coffee/cake in country garden 
331 Brown Road 10am—5pm daily all Labour Weekend 
* 29 Oct ~ Hakaru Community Hall AGM 7.30pm 740 Settlement  
* 12 Nov ~ Pt Curtis Cruising Club Committee Mtg 7pm 3 Furlongs 
* 13 Nov ~ Kaiwaka War Memorial Hall Committee AGM 5pm 
See www.kaiwaka.co.nz for upcoming events. 
Drink can "tear tabs" - for Starship Hospital-Ph. 4312625   
HOUSEHOLD  RUBBISH  COLLECTION  -  Kaiwaka    Pick  up-
Mondays=Green bags are picked up by Northland Waste-queries to 
them  09  4303273,Wednesdays=Blue  bags  and  yellow  recycling  (at 
Jaques  $3.00 and $1.40)  are picked up by Kaurilands 09 4392146.  
*OTAMATEA GREY POWER-09 431 8138 Joan Hoggard  
*KAIWAKA BADMINTON -Tuesdays 7.30pm Ph: 4312345 
*KAIWAKA GARDEN & FLORAL Grp:
2nd Thursday in month Ph: 4314767 
*KAIWAKA 
CUBS-Thursdays 5.30-7pm, Hakaru  Ph:Bruce  4312542
*KAIWAKA SQUASH -Mondays 7pm,  Ph: Barbara Thomas 4315905 
*GYMNASTICS OTAMATEA -  Tuesday Ph: Stephanie 022 3624998 
*HAKARU PONY CLUB-Secretary Julie Rynne 09 4314520 
*
MANGAWHAI COMBINED PROBUS CLUB
: 2pm,3rd Thursday 
month in the Senior Citizens Hall Mangawhai. Ph: 4315777
*PT CURTIS CRUISING CLUB - Jean Ph: 4312246 
*WAIPU GENEALOGYGROUP -4th Monday in month Ph: 4312725 
*NZ GENEALOGY-Wellsford - 1st Thursday in month Ph: 4237033 
*CRAFT GROUP
:2nd & 4th Tuesday, 10am, Wellsford Ph 4238547
*RSA,Hakaru & Dist.Women- meet 1.30pm 4th Thurs in month 4312668  
*OWEN STEVENS at Kate's Place Ph:4312661   
*Diabetes Support Group-for Kaiwaka, Mangawhai, Wellsford -10am, 
 
3rd Friday of month Ph:A.Pert 4238242; J.Gardner 4238060 
*WELLSFORD CITIZEN ADVICE BUREAU:  
0800 367 222 
Ph: 4237333 Wellsford Community Centre   
Email: cab.wells@xtra.co.nz
CHURCHES:
*Gateway Worship Centre-St Mary's Church Nathan Rd off Oneriri Rd, Kaiwaka 
Services, 10.30am 1st & 3rd Sunday of every month. Contact: Rev David Gage 
4312528 or 0212354282 
*Kaiwaka Family Church-Your Community Church Sundays, l0am 
Home Group every Wed evening, Pastor John.Dekker Ph: 4318203 
*Kaiwaka Services.Anglican & Co-op at StPauls Church  - 1st Sun. 9.30am
(Anglican),3rd Sun. 4pm (Co-op).  Contacts: Parish Office 09 4318193, M.Hargreaves 
4312295, C.Bygrave 4312057  
*Church of Christ the King, Mangawhai 9.30am every Sunday 
*St.Mary's Catholic Church:
Maungaturoto – Griffins Road, Saturday evening Vigil 
Mass 6pm; Mangawhai – Senior Citizens Hall, Sunday Mass 8:30am; Wellsford – 
Matheson Road, Sunday Mass 10:30am; Mid-week Mass times and all enquires to Fr. 
Bill Fletcher – phone 423 8170 
*Baptist Church: Sun. 10.30am Mangawhai Snr Cit.Hall.Ph:4312339 
*Cause Way Church Mangawhai – Sundays 10.15am, Mangawhai Community Recre-
ation Centre, Insley St. Ph: 09 4314782  www.causewaychurch.org.nz
*St.Pauls Archie Bull Hall HIRE  $20 half day, $40 full day per hire 
 Contact G. Jaques 4312048 
*Kaiwaka War Memorial Hall HlRE - Phone 4312725 or 
Email  kaiwaka.hall.bookings@gmail.com 
*Hakaru Community Hall HIRE -Ph.  4312256 or 4312110 
*Te Pounga Marae queries -A.Gage 4312528, 4312527 
*Kaiwaka Sports Association hire/queries- C. Anderson 4312051 
Justice of Peace: B.FJaques; L.Donaldson; A.F.Hargreaves  -please phone to 
make sure they are available 
Marriage Celebrants: L.Donaldson; A.F.Hargreaves;   
Next Bugle Deadline Friday 25 October