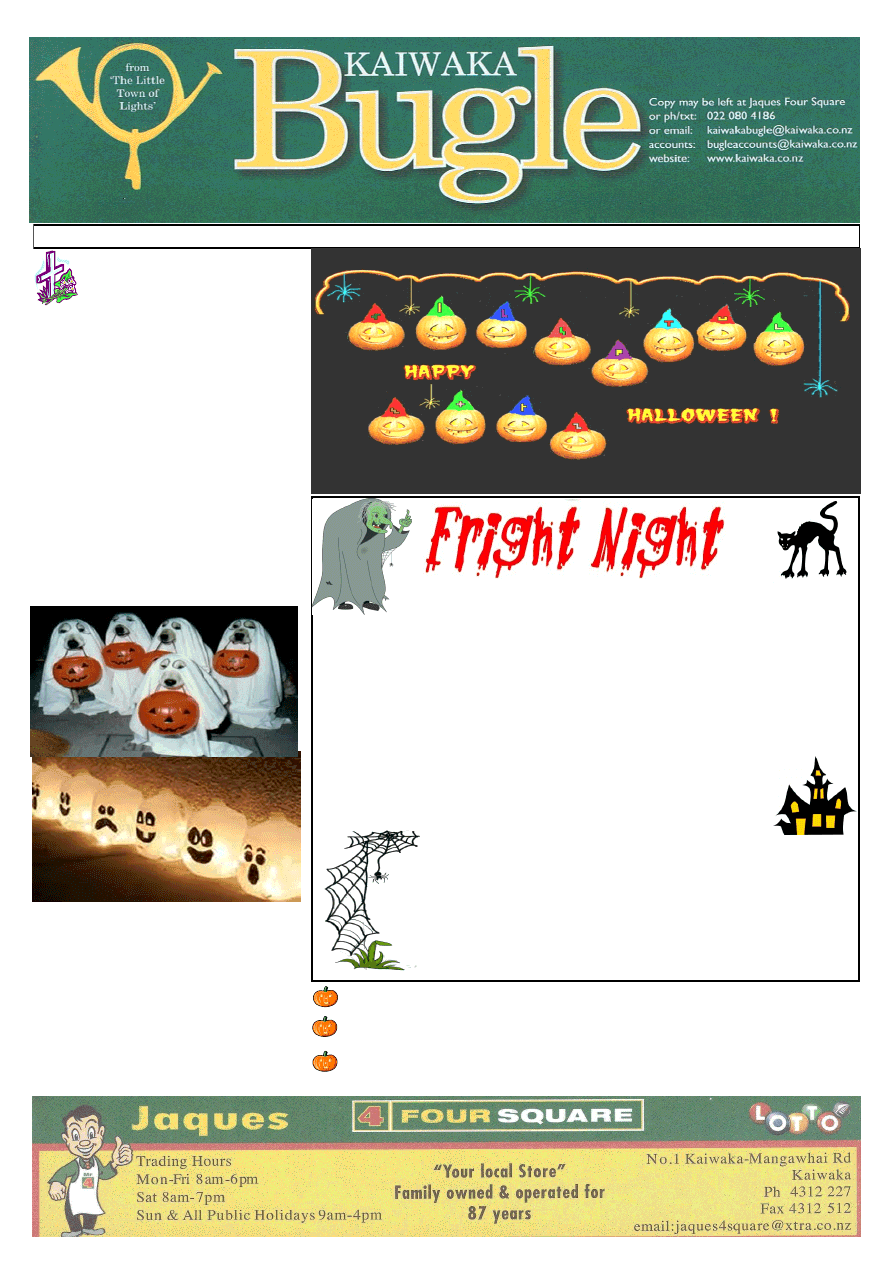 No: 21 
29/10/2013 
Bugle 22 will appear 1 2 November 13 
What would you get if you crossed a vampire and a teacher? Lots of blood 
tests! 
Why did Dracula's mother give him cough medicine? Because he was having a 
coffin fit. 
Why did the vampire's lunch give him heartburn?  It was a stake sandwich.
Our condolences go out to  
the  Hastie  family  for  their  re-
cent loss of Margaret (Pocock);  
to the Biddle and Leslie families 
for the tragic  loss  of  Dean;  and to the 
Worsfold family for the loss of Brenda 
Jackson.  Kaiwaka has also lost a local 
of  many  years,  Ross  Hall  of  Gibbons 
Road. R.I.P 
Above: do it yourself Halloween decora-
tions using your pets and sheets, milk con-
tainers or paper bags and tea lights. See 
Fright Night flyer on front page. 
Halloween One-liners 
What do you call serious rocks? 
Grave stones. 
What do you call pretend rocks? 
Shamrocks 
TABLE OF CONTENTS 
Page 3: Public Notices; Classifieds 
Page 5: Kaiwaka Sports Assn.  
Page 7: Kaiwaka Garden & Dog Trials 
Page 9: Scouts and Fright Night 
Page 11: Otamatea High School 
Page 13: Fitness; Library 
Page 15: Point Curtis Cruising Club 
Page 17: Community Interest Items  
Page 19: Library continues 
Page 21: Live Music Comes to Kaiwaka 
Kaiwaka Sports Complex 
 Saturday 2
nd
 November, 7.30pm  
 music, dancing, games, face painting
prizes for scariest costumes – boy, girl & adult 
take a walk through the haunted house - if you dare...
       glow items for sale, lolly scramble 
$3 entry (adults & under 5's free)  
           please bring a plate for supper –  
halloween inspired food would be great!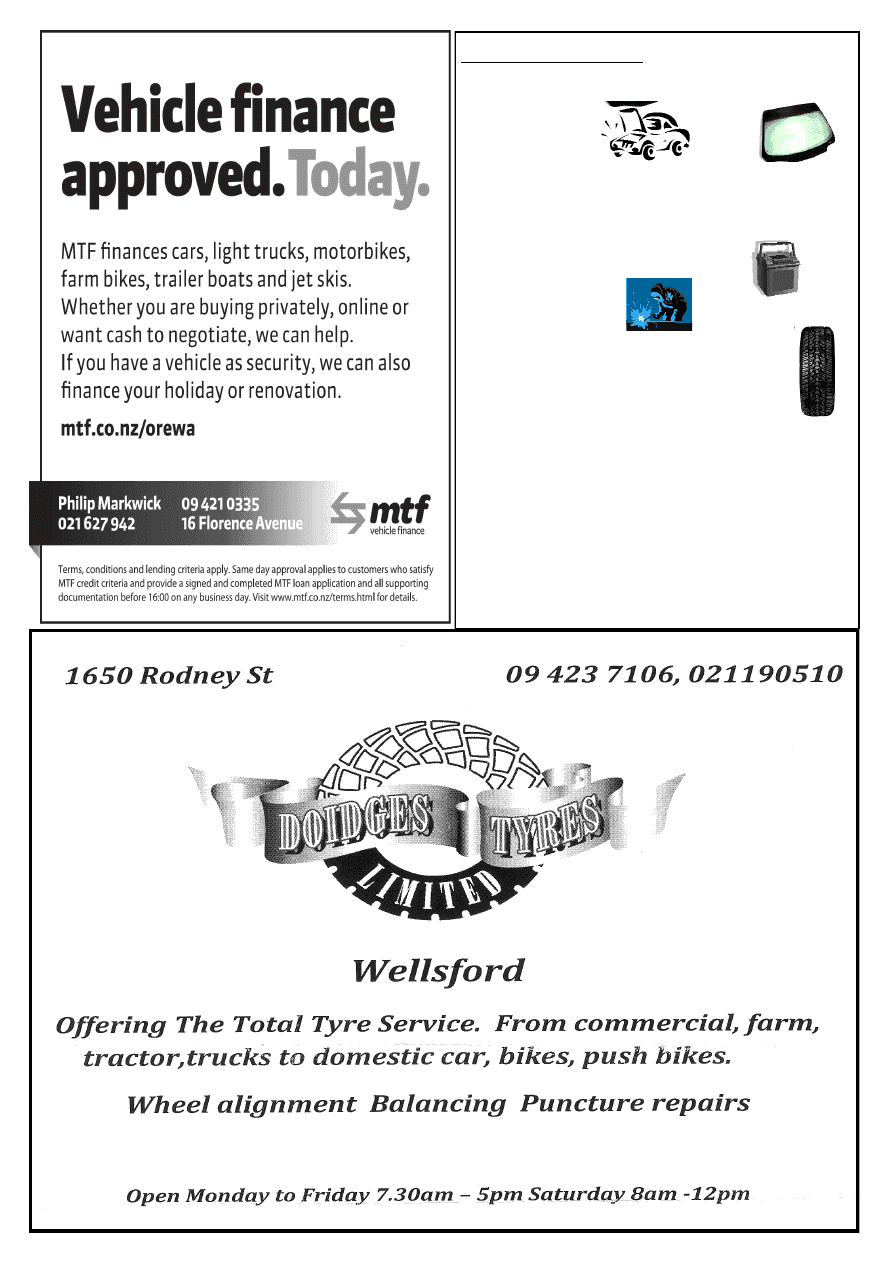 Want it done? 
Bring it to Twinkle Tow 'n' Tyre 
*W.O.F. 
*Tyres 
*Windscreen replacement 
*Chip repairs 
*Bulk Oil 
*Batteries 
*Welding 
*Custom built trailers 
*Trailer hire 
Think you'll get a better deal in 
the city? 
Go on, ring us; it won't cost  
anything! 
1837 State Highway 1, Kaiwaka       
Phone 431 2823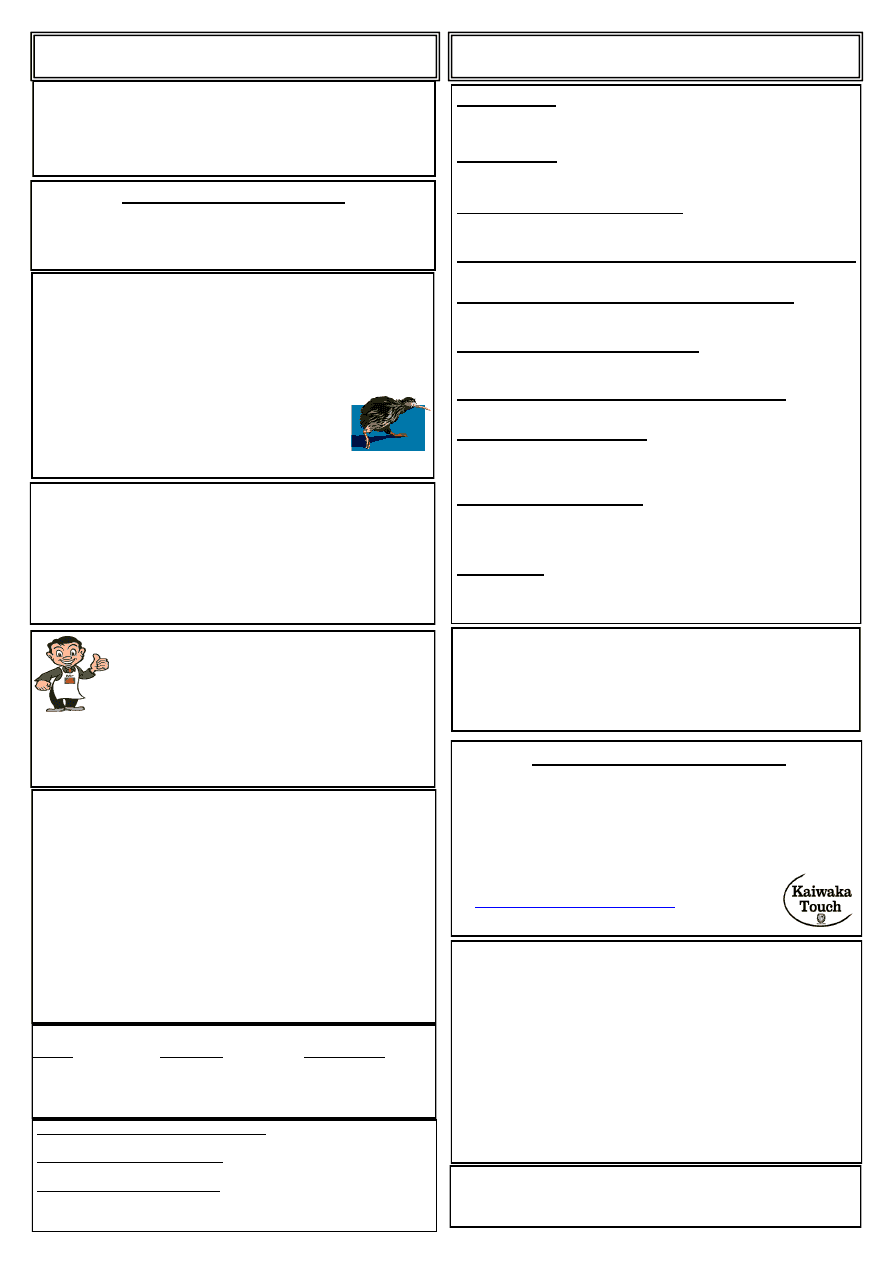 PUBLIC NOTICES 
CLASSIFIED 
FOR  SALE:  N
uffield 1060 diesel tractor F.E.L. suit life-
style  or  boat.  $3500  or  swap  6  weaner  calves  Ph 
0211246829 
FOR  SALE:  Clothes  Dryer  AEG  'Lavatherm'  Digi-
tronic 3300. Made in Germany $75 v. reliable Ph. Jen-
ny 0274 767 814  
BEE  SWARMS  REMOVED:
 Free jar of Manuka hon-
ey per swarm. Pls phone Adrian 4312296 
CRANIO  SACRAL  THERAPIST  &  MASSAGE
: 
for Horses and People. $45 Jill  431 2080 or 021 0506 0592 
CLOTHING ALTERATIONS & REPAIRS: 
Zips,  hems,  dressmaking  &  dress  design.  Phone  Win 
4312027 or 0274448358 
FREE  GRAZING  WANTED:
  Small  or  large  block. 
Can do some fencing or water. Phone after 6pm 4312006 
HOLISTIC  ANIMAL  PRACTITIONER:   
Horses, 
Pets, Farm Animals. www.allcreatures.co.nz or Jill 4312080 
RUBBISH  REMOVAL:
  6am—6pm  service.    Free  job 
inspection. Green waste removal too. Phone or text friendly 
Bow 022 0751979 No probs. 
SINGING  LESSONS: 
Want  a  better  voice?  Feel  shy 
about singing? Teaching 39 years in NZ  music industry at 
all  levels.    Phone  Robyn  Hill  on  09  4319159  or  0274 
725610
WANTED: 
Grazing for heifers and calves up to 100 acres 
to  lease.    Anything  considered  in  Kaiwaka  or  surrounding 
areas Ph: 021933598
PROVERBS: 
27:21 - The purity of silver and gold is 
tested by putting them in the fire; the purity of human hearts 
is tested by giving them a little fame.
Kaiwaka Bugle Advertisements 2013: 
Classified $2; 1/8 or 1/9 page $5; 1/4 page $10; 1/2 page $20;  
bugleaccounts@kaiwaka.co.nz 
Payments can be online, posted or left at Jaques 4sq Store. 
kaiwakabugle@kaiwaka.co.nz  for queries or copy. 
The Kaiwaka Bugle is a community newspaper run by volunteers.   
Articles, etc. printed are not necessarily the opinion of the Bugle Team  
Deadlines for the last few Bugles of 2013
Bugle  
Deadline 
    Publication 
 22   
     Friday 08  Nov  
Tuesday 12 Nov 
 23   
     Friday 22  Nov  
Tuesday 26 Nov 
 24 (last one)    Friday 06  Dec  
Tuesday 10 Dec
For Sale 
Large round Wooden Dining table with centre pedestal 
$75.00 
Large round wooden Dining table $50.00 
Blue Lounge suite 1x3 seater, 1x2 seater $200.00 
Green 2 seater settee $75.00 
Small Microwave $25.00 
Lots of Kitchen items, pots, toasters, cutlery, cups and sau-
cers and more. 
All prices negotiable For more information  
ph. 094312225 or txt 0210705049 
Letter to the Editor: 
My congratulations to Craig Brown on his re-election to the 
Northland Regional Council; and to Deborah Harding on polling 
so well (highest of any woman standing in Northland for the 
NRC).   
To those who voted for me, an unknown ‗anybody', I thank each 
of you for your support.  My special thanks to Eddie and Lynne 
Coates, along with Norm Brown and the Kaiwaka Bugle for as-
sistance with the ‗campaigning'! 
I actually quite enjoyed the experience and at least we showed 
that Kaiwaka does exist!  I hope one of you reading this will pick 
up the baton for next time. 
Jan Vaudrey, Former candidate for Coastal South 
KAIWAKA WAR MEMORIAL HALL  
AGM  
WEDNESDAY 13 NOVEMBER, 5.00PM 
SUPPER ROOM IN HALL 
Touch Co-ordinator Wanted 
A Touch module will be held at the Kaiwaka Sports  
Complex for 10 weeks over summer on a Sunday afternoon. 
I am seeking a Touch Co-ordinator to assist in running the 
module. With thanks to a $600 grant from COGS this will be 
a paid position. You will need to have a good knowledge of 
touch and be a competent referee. 
Please apply to Cheryl Anderson on 4312 051,  
or 
Applications close Friday 8
th
 November. 
New at Jaques Four Square and 
Rocket Video 
- a Great selection of 
DVD's for Hire. 
New Releases $7 each or 2 for $12 Over-
night hire. Others $4 each or 3 for $10 for 3 days hire. 
DVD's must be returned by midday. Great Value enter-
tainment. Check out the new titles in store. 
Annual General Meeting 
The Kaiwaka Sports Association's AGM will be on 
Wednesday 20
th
 November, 7.30pm at the Sports 
Complex. All welcome. 
 BEYONDSEMBLE 
returns for a night of great music. 
 Sunday, 10
th
 November. 7.30. $20 at the door or $15 
pre-paid from Kaiwaka Cheese Shop. Venue is Absur-
distan Community Hall. 317A Parekura Rd, Kaiwaka. 
Info from Shanta  02102589015 or shantafo@yahoo.co.nz
First kiwi eggs laid in the brynderwyns
For the first time in almost fifty years, eggs have been laid 
by kiwi in the Brynderwyns.  Back in April fourteen North-
land brown kiwi raised on Motuora Island were released at 
Marunui Conservation, a private property on the south side 
of the Brynderwyn Hills.  For Marunui it represents the cul-
mination of years of hard work to restore and 
protect the habitat to a level that can provide a 
home for and sustain these iconic birds.
Well done Marunui. 
Media Release 
RETAIL  OR  OFFICE  FOR  LEASE 
– Shop 1, 1956 
State Highway 1.  Adjacent to the new "Café 1956" with 
potential  to  have  doors  open  between  (subject  to 
agreement).  Available end of November.  Phone Jacky 
or Norman on 09 422 9221 or 0274 35 35 35.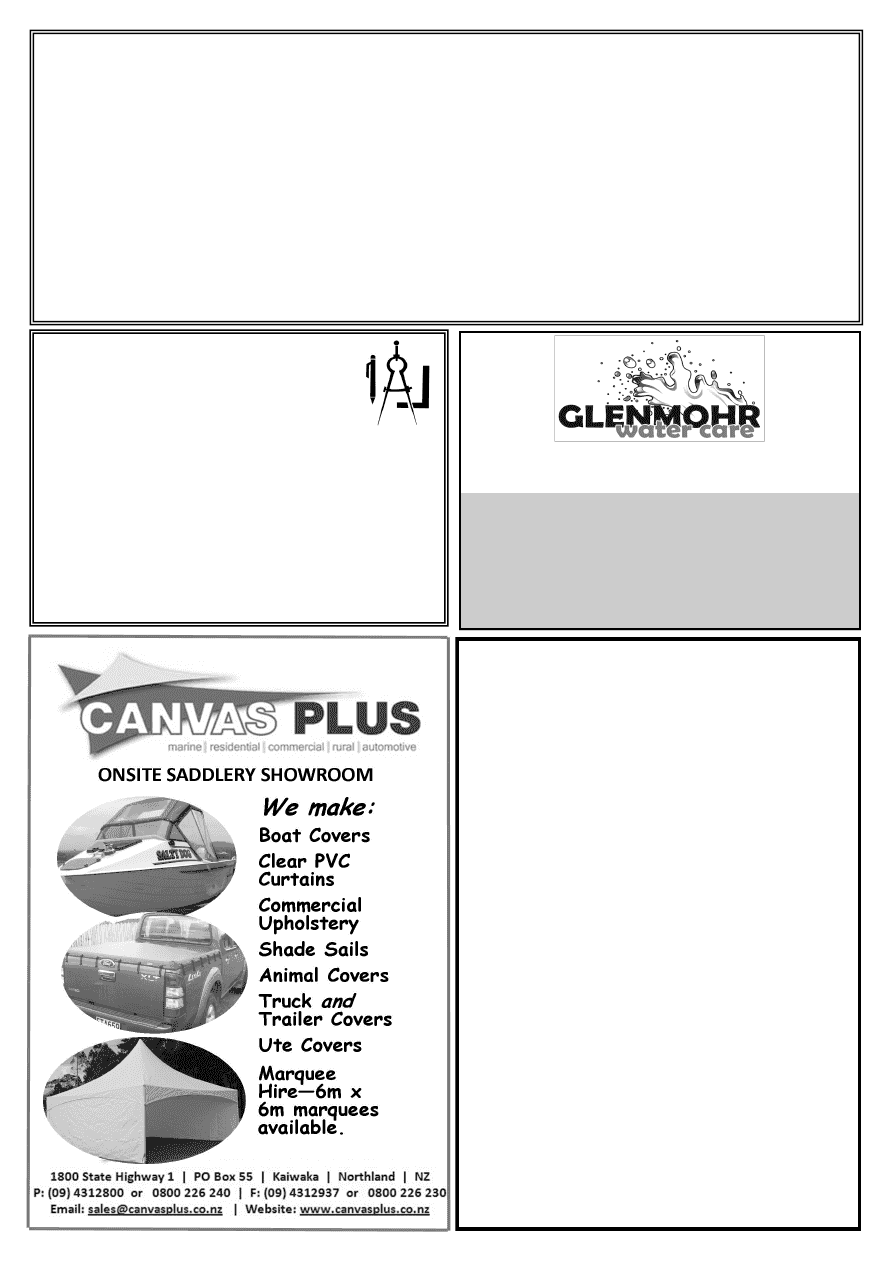 RANGANUI EARTHMOVERS 
16T Excavator   
(tilt, thumb & ROPS cab)   
Transport Trailer 
2 x 6 Wheeler Tip Trucks 
Suppliers of All Grades of Metal & Topsoil 
If you want a proper job done with an experienced operator ring 
Grant on    A/H 431-2131        Email  ranganui.dev@xtra.co.nz 
   Mob  021845-246 
Driveways, House Sites,  
Drainage Dams, 
Section Clearing,  
Tree Work,  Rock Retaining Walls,  
Quarry Work, 
Basically Anything That a Digger Can Do 
design drafting 
service 
Retired builder and manufacturer with over 40 years  
experience in the building industry is offering a design 
drafting service for domestic housing, sleepouts and 
sheds.  
Plans formulated in consultation with clients, with 
working drawings completed and submitted to  
council for processing.  Extensive practical experience,  
able to identify & resolve problems. 
Please ring Mike Lean on 
09 431 2260  
or 
021 431 196 
Water Tank Cleaning 
" 
 Keep your water safe & clean   
 
Removal of sediment, silt etc. 
 
Vacuum or full scrub 
 
Minimal water loss 
Phone Mark (09) 432 0655 or 0274 707607 
PLANNING A NEW 
KITCHEN? 
 CONTACT NOEL McDOWELL 
WELLSFORD 
KITCHENS
Ph/Fax 094312888  
KAIWAKA-Any time 
  QUALITY CUSTOM MADE 
KITCHENS  
~Personal and Prompt Service~ 
~All Workmanship Guaranteed~ 
~Over 20 Years in the Trade~  
~Free Design & Quote~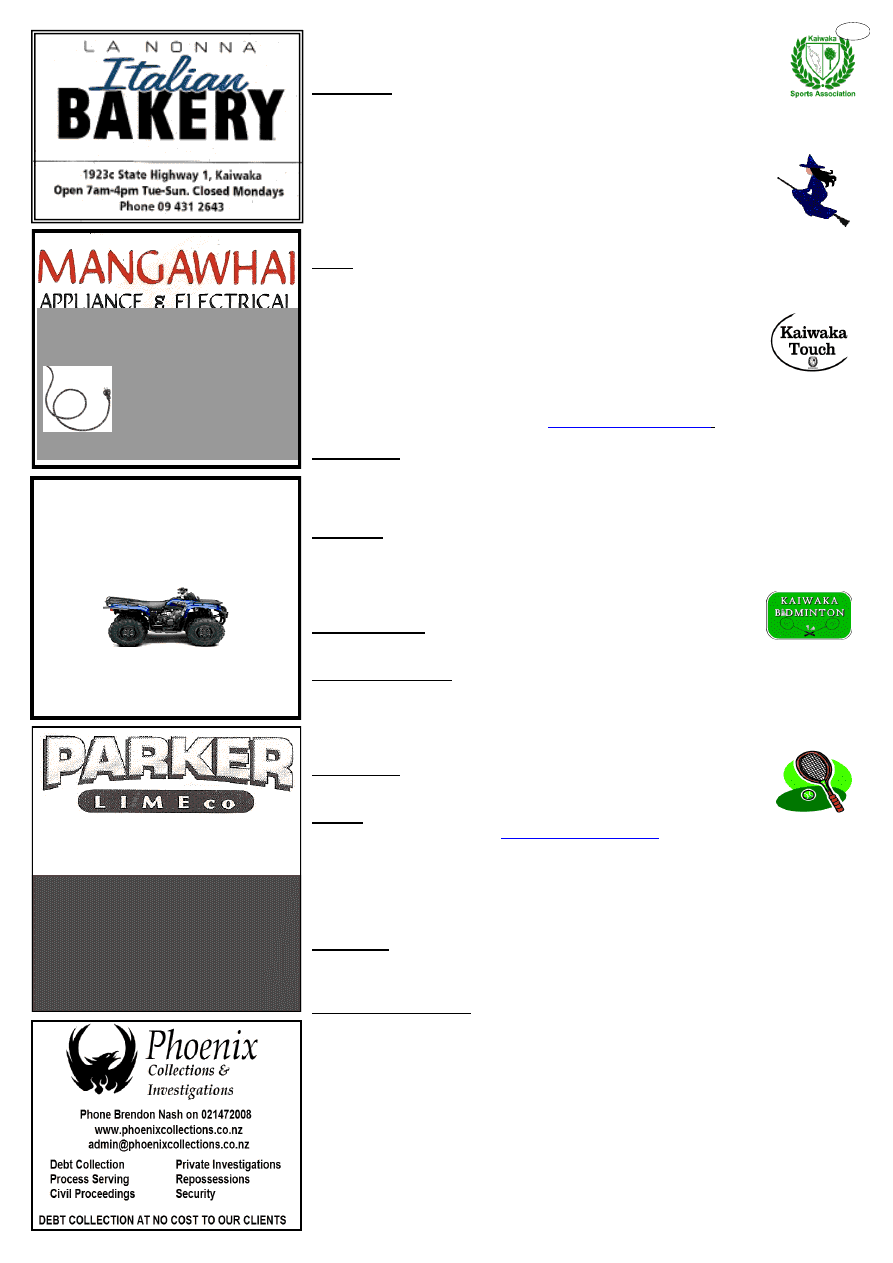 Landscape Supplies 
Bulk Cartage 
4312407 
Mob: 021 453 252  
Fax: 4312939 
scott.parker@parkerlime.co.nz 
Gibbons Road, Kaiwaka 
  KAIWAKA SPORTS ASSOCIATION
KAIWAKA  MOTOR 
CYCLES LTD 
SALES SERVICE SPARES
FARM BIKE SPECIALIST
Phone 431 2127 
Kaiwaka-Mangawhai Rd 
Kaiwaka 
DEAN STEWART 
Registered Electrician 
021 280 4008 
09 4312 911 
AUTHOURISED FISHER AND PAYKEL SERVICE 
5 
Fright Night 
This Saturday is Fright Night! This is a Halloween inspired evening where people dress up 
in costumes (there are prizes for the best boy, girl and adult), there's music, dancing, 
games, a lolly scramble and glow items for sale. Parents bring 'spooky' food for supper 
(there will be a prize for the best plate) and the children can take a walk 
through the haunted house!  
New this year - we are lucky to have a professional make-up artist who will 
be doing facepainting on the children – something scary or just whatever 
they would like! 
Just $3 entry fee (adults and pre-schoolers are free). 
Our Fright Night is always a very popular evening for families – hope you can make it! 
Touch 
I am organising a Touch module which will be held at the Sports Complex over 10 weeks 
in summer on a Sunday afternoon. This will be a casual, friendly competition for mixed 
teams of men, women and teenagers. Touch is easy to learn and just about 
anyone can play. Touch is a family game - kids, their parents and even 
grandparents can all participate in the same team!  If you might be interest-
ed in entering a team please let me know. 
With thanks to a grant from COGS, I have $600 to pay someone to assist 
me in running the module. I can run the administrative side of the module but I need some-
one to help me who has a good knowledge of Touch and is a competent referee. Interest-
ed? Please apply to me on 4312 051 or 
. Applications close 
Friday 8
th
 Nov. 
Junior Rugby 
Our junior rugby club Eastern United JMB will be celebrating the end of their season with 
a trip to the Whangarei hot pools on Saturday 30
th
 November. This trip was made possible 
by some great fundraising from the JMB families. Enquiries to Jennie Reynolds on 021 
02764171. 
Badminton 
It's been great to see an increase in numbers turning up for our Badminton Club Night. 
Players of all ages and abilities are welcome so if you are keen, simply turn up to our gym-
nasium on Tuesdays from 7.30pm. Only $3 per person, play as long as you like, please 
wear soft soled shoes and club rackets are available for you to borrow at no 
cost. For more information please phone Kaye Fleming on 4312 345. 
Fitness Challenge 
There is a 6 week Fitness Challenge held at the KSA fields on Wednesday's 
at 5.30pm. Suitable for everyone, cost is $7 per class. 
Kaiwaka Tennis Club 
Our junior Tennis Club is calling for registrations of interest. The tennis club has 6 astro-
turf courts at the Kaiwaka Sports Complex and offers coaching and interclub (Rodney ar-
ea) for all school age students up to Year 13. Last season the club ran Saturday mornings 
during Term 4 with a break over the holidays, and in Term 1 ran Monday afternoon coach-
ing plus Saturdays. Please phone Lindell Ferguson 4312 542 (evenings).  
Senior Rugby 
The Otamatea Hawks will hold their AGM at the Sports Complex on Thurs-
day 21
st
 November, 7pm at the Sports Complex. All welcome. 
Website 
Did you know that our website 
mation on our 11 affiliated clubs as well as information on venue hirage and upcoming 
special events. Many thanks to Steve Campbell who does a great job keeping the website 
up-to-date, comprehensive and attractive. Entry forms for our Otamatea Tennis tournament 
on Anniversary Weekend are now on the site and once we have finalised a couple of spon-
sorship details then our Top of the Rock entry forms will be posted also. If you're a Face-
book user, you can also check out my Top of the Rock page. 
Bar Licence 
Many thanks to the five KSA volunteers who gave up their Sunday recently to sit an 8 
hour bar course. We really appreciate the efforts of people who offer their time to help out 
the Association. 
Annual General Meeting 
The Kaiwaka Sports Association's AGM will be on Wednesday 20
th
 November, 7.30pm at 
the Sports Complex. All welcome. 
P.S. We are looking for our two missing 20 litre water containers, they have KSA written 
on them. If you have seen them, please contact me. 
Cheryl Anderson 
4312 051, 021 3462702 kaiwakasports@gmail.com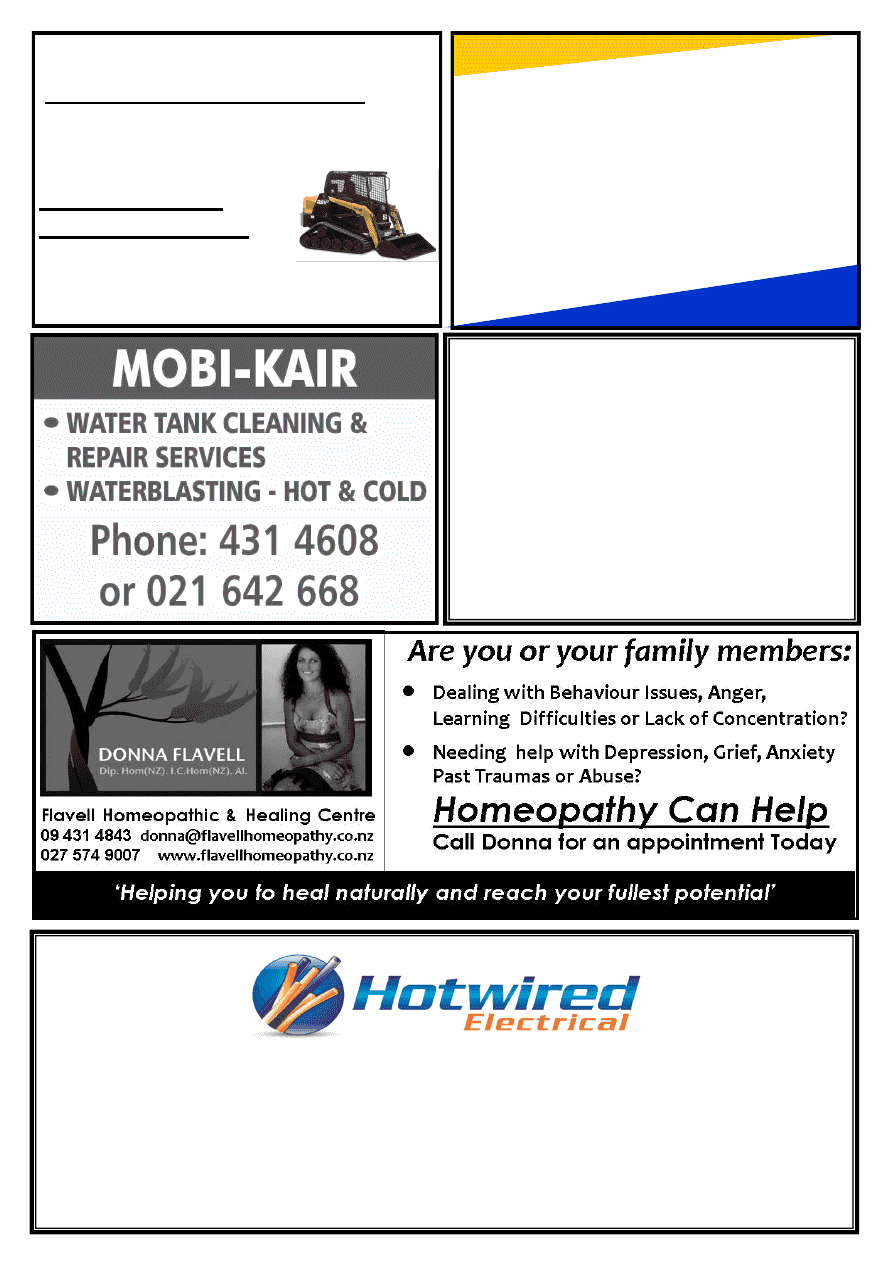 CONCRETE 
If it's concrete we do it 
Full Preparation & Pour by 
Experienced Local Team 
Phone Phil Keen Contractors  
027 659 2376 
TILING 
Certified Waterproofing 
431 4533 or 021 86 33 33 
George 
MCN Property Solutionz  
Local references available 
For All your Electrical  Requirements 
 
Domestic small jobs 
 
Residential dwellings and alterations 
 
Commercial              
No job too big or too small
 
Industrial                       
Contact Jason today on: 
(09) 431 5992, (021) 405 019 
www.hotwiredelectrical.co.nz 
Natural Earth Ltd 
 Landscape and Bobcat services 
 : Driveways  :Landscaping  :Retaining Walls 
 : Hole Boring: Land Levelling :Trenching 
 : Decks :Fences :Sections Cleared: Plus much more 
Tel   09 4312885 
Mob 02102391280  
For  A  Fast  Friendly 
Service Contact Tim Hicks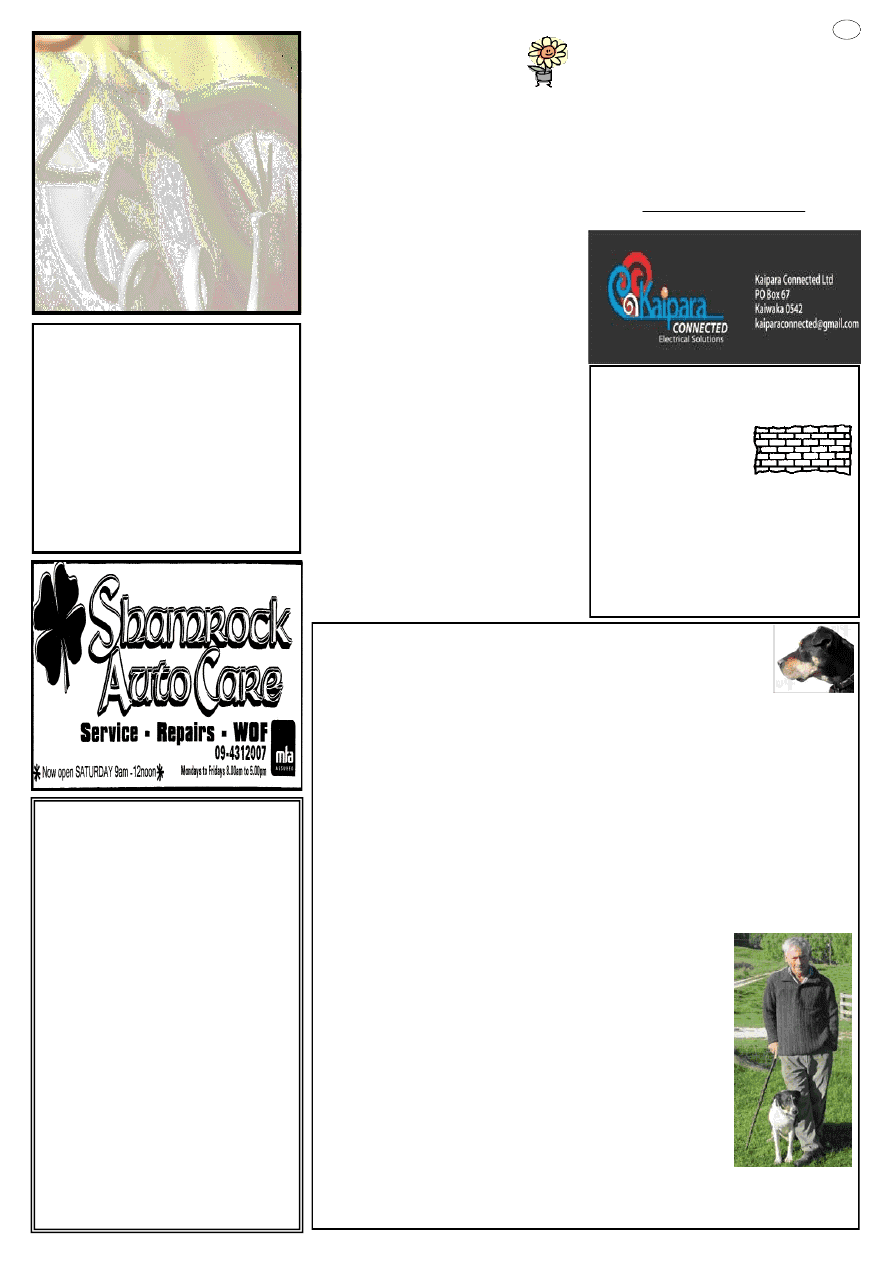 AMBER'S 
Q Cafe &  
Restaurant  
All day breakfast, 8am - 5.30pm.     
Home made Pizza, take away or eat in from 8am to late. 
 Light lunches, 11.am - 5.30pm, 
Dinner Menu at 5.30pm to late 
 Toasted Sandwiches and Sandwiches made to order. 
All day, Pies, Chowder & Soups 
 Milkshakes, Kiwi Ice cream, Slushie Fruit drink, Tea, 
Coffee 
 Closed Mondays.....except Observed Holidays 
 Sunday to Thursday: 8am - 8pm 
 Friday: 8am - 8.30pm, Saturdays 8am- 9pm 
4315226 
Trevor & Amber 
41 Moir Street, Shop 5-6  
Mangawhai Village 
Next to Carters Building Supplies 
 LEABOURNS 
Passenger Service 
Car & Van Hire 
Bus & Coach Charters 
Airport Transfers 
 Monthly Shopper Bus 
Phone (09) 4237416 
Paul Greig Electrical Ltd 
Residential • Farm 
 • Commercial 
Paul Greig 
Registered Electrician 
  Ph: 431 2223  
Mob:021 230 2717 
Reliable & Professional 
Quality Service 
Based in Kaiwaka 
DOG  TRIAL  UPDATE 
In a word – dedication – as some 23 dogs and their owners from all 
over  Northland  made the long  trip  to  Gisborne last weekend.   On 
the drive it was nice to see the hills green although some cattle are in lighter con-
dition.  The flats were being cultivated and new season's crops were visible in 
places.  After my previous visits to Gisborne which have been after dry summers 
it was nice to see the contrast. 
Poverty Bay Show and the Tux Yarding Challenge was our target where in ex-
cess  of  250  dogs  were  competing  and  after  3  days  of  judging  the  15  Finalists 
were found.  Two pairings from the North were amongst them, Colin Jay with 
Blaze and our own Tony Hargreaves with Steele.  What happened to the writer, 
well both my dogs performed creditably and 96 points sounded good until Tony 
and Steele qualified on Friday with 98, so we just made up the numbers. 
Tony  drew  number  one  run  in  the  Finals  and  was  faultless  through  the  first  3 
obstacles, then to the Maltese Cross where one of the 2 tooth ewes decided to 
challenge Steele's authority, this act of defiance created a penalty that the Judge 
would have been quite severe on.  Completing the Maltese Cross and on to the 
pen where Steele was very keen to re-establish his dominance which resulted in 
the  sheep  being  very  difficult  to  put  in,  but  they  eventually 
responded  and  the  run  was  completed  with  93  points  which 
gave  a  12th  place.    Colin  and  Blaze  completed  a  very  con-
trolled run gaining 97 points which put them into 4th Place. 
The sad part of this trip was learning of the death of my sister, 
Margaret,  who,  along  with  her  husband  Dick  have  become 
very  much  part  of  the  team  of  helpers  at  Molesworth  Club 
over recent years. 
Don't  forget  the  Bay  of  Islands  Show  at  Waimate  North  on 
Saturday 9th November.  This is the oldest A and P Show in 
New Zealand and well worth going to for a great day out in a 
beautiful setting and they do include Dog Trials.       R.H. 
Tony  &  Steele  did  so 
         well, I am told, because Duncan had to work! Ed. 
BRICK/BLOCKLAYER            
All aspects of masonry:  
Fireplaces, 
Restoration &  
Remedial Work. 
JAMES EAGLETON 
Tel. (09) 431 2514  
Mob. 0274 749 232 
jajueagles@yahoo.com.au 
210A Pukenui Road, RD2 Kaiwaka 0573 
KAIWAKA GARDEN 
AND  
FLORAL GROUP 
On Thursday 10th October 18 members 
enjoyed their visit to Fay Burnett's Gar-
den.  It  was  especially  interesting  for 
some of our earlier members who visit-
ed the Garden when it belonged to Eve 
Wright  a  foundation  member  and  ex 
Patron. 
The garden was ablaze with colour with 
cineraria's  forming  a  massive  carpet 
under the trees. 
The Birthday Girls for this month were 
Lorraine  Lusty  and  Jean  Black,  hope 
you both had happy days. 
On a Sadder note we send our Deepest 
Sympathy to Bettie Atkin-Cooke whose 
Husband Charles passed away recently. 
Judges  for  the  competitions  were  Jean 
Paget and Fay Burnett who came to the 
following decisions:- 
Best  bloom  –1st  R  Browne  –  Poppy, 
2nd= L Lusty Iris and A Dowson – rose. 
Spike  1st  Sue  H/Wallace  –campanula, 
2nd A Dowson – Gladioli 
Flower of the month- Pelagonium – 1st 
A Dowson, 2nd J Wills.  
Vege –lettuce 1st M Haverfield. 
Cup  &  Saucer  Arrangement  –  1st  S  H/
Wallace, 2nd A Dowson. 
Most  Outstanding  Sue  &  Ann's  Cup 
and Saucers. 
Wildcard- 1st = G Matheson – camellia, 
and R Browne's cauliflower.  
The next meeting will be at Jean Paget's 
on  Thursday  7th  Nov.  (NB  1  WEEK 
EARLY) to  practice arrangements for 
entry  in  the  Mangawhai  CWI  Flow-
er  Show  on  Friday  15th  Nov.    Bring 
flowers and your containers you intend 
to  use.  Only  one  competition  which 
will be a Shoulder spray. 
We  will  now  go  to  the  Waipu  Golf 
Club  for  Christmas  dinner  in  Decem-
ber.  
                          The Dowson Duo 
7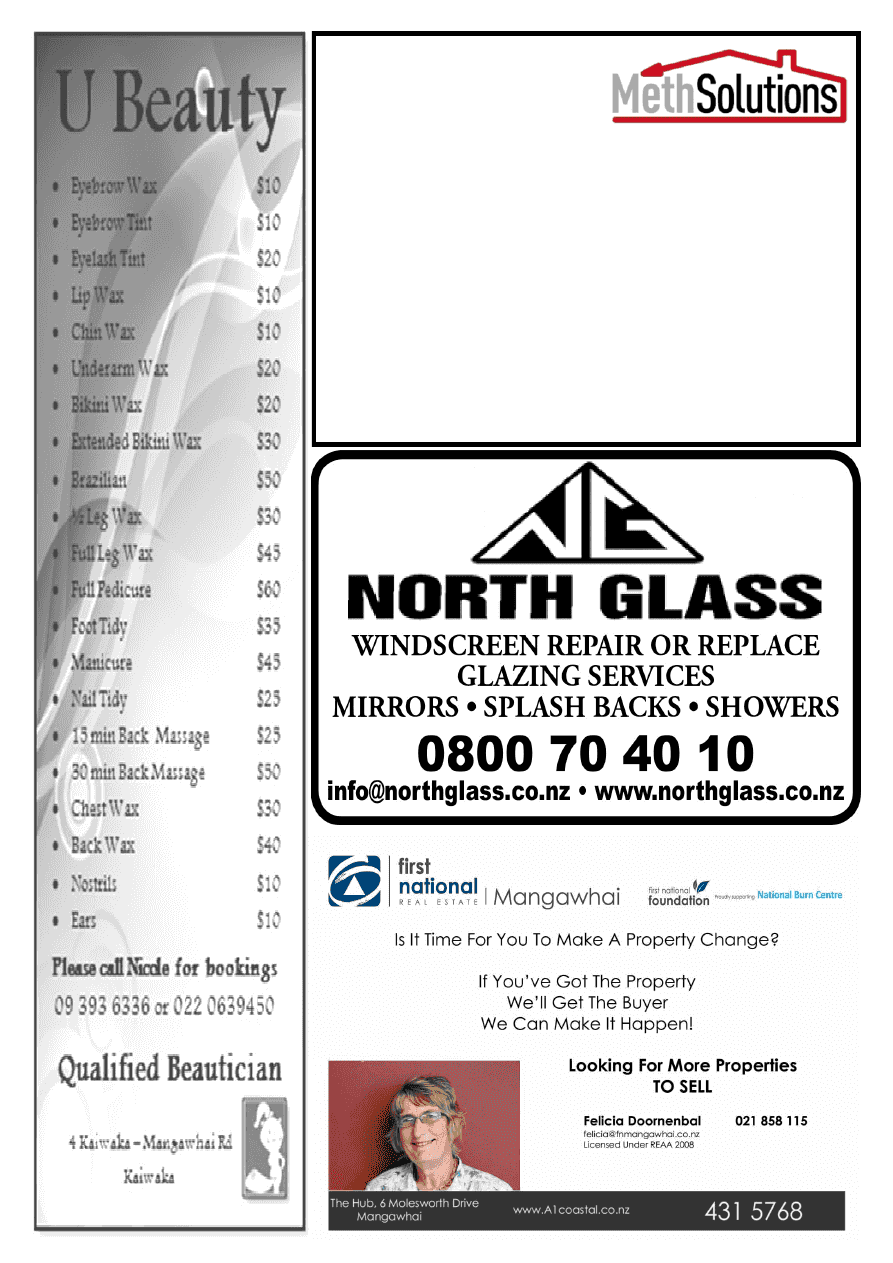 LANDLORDS
...
Is your house  
being used as a P- Lab? 
Do you live in a P- lab House? 
Thinking of buying a house?  
Don't take the risk...it will damage your health and your wal-
let If you ignore it. 
High accuracy, low cost MethDNA test from as little as 
$99+GST will give you the answer. 
Tests facilitated by Independent Certified Samplers and  
samples are analysed in an environmental testing lab. 
Book a test now at: www.methsolutions.co.nz  
or for more info call me:  09 4312234  or 021 2154495   
I am a local Independent Certified Sampler for MethSolutions.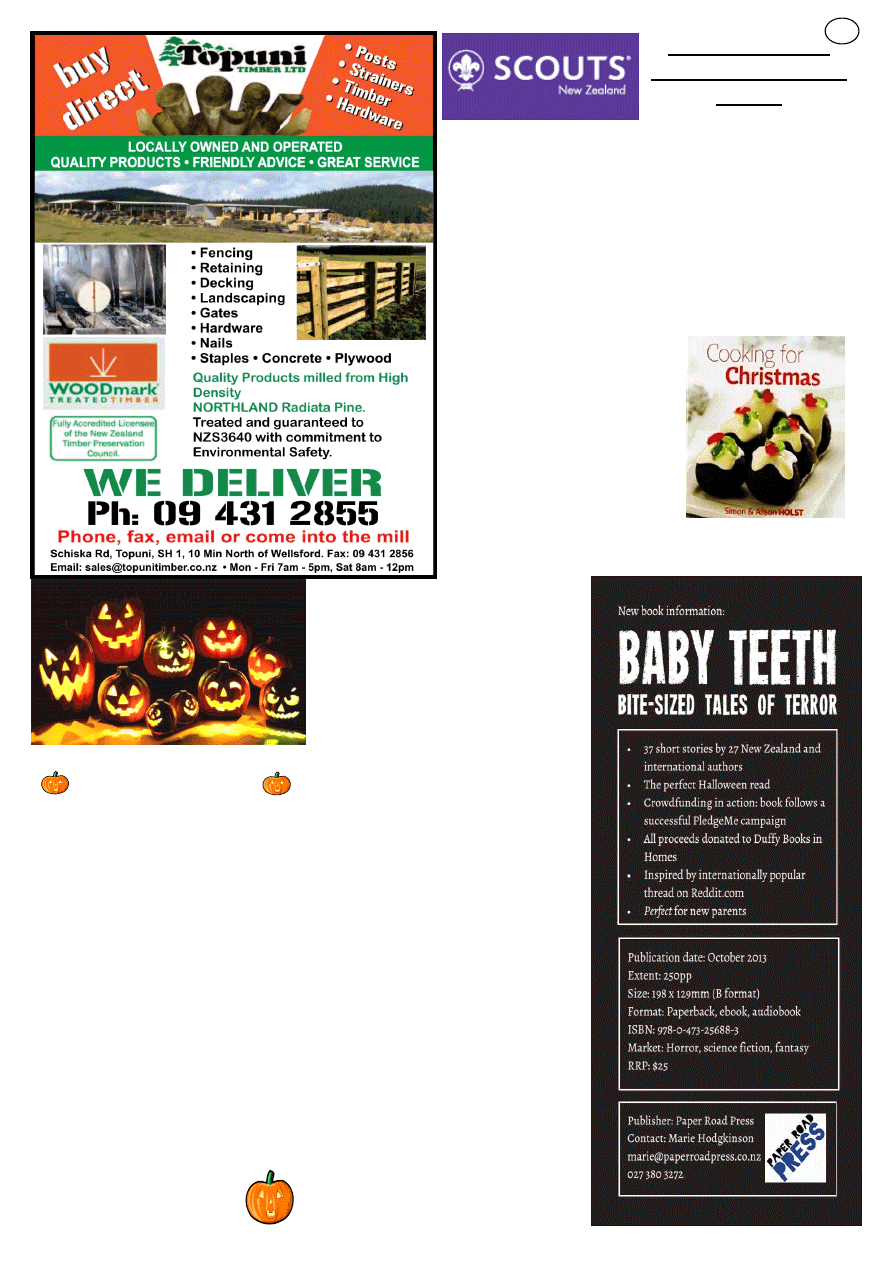 9
Fundraising for  
Kaiwaka Cubs and 
Scouts 
The  Kaiwaka  Cubs  and  Scouts  are  raising  money  for  their 
troop by running a books fundraiser. Through Hyndman Pub-
lishing  we  are  offering  a  selection  of  cooking  and  gardening 
books as well as calendars and gift cards at a special fundrais-
ing price. The troop will receive a few dollars from each item 
ordered. 
You can pick up a brochure from Jaques Four Square or give 
me a call and I'll arrange for a Scout to drop one off to your 
home.  With  Christmas  not  too  far  away,  these  books  would 
make great gifts! 
Please  post  your  order  form  with  payment  (cash  or  a  cheque 
payable to Kaiwaka Scouts) to:  
Cheryl Anderson 
233 Baldrock Rd,  
RD2, 
Maungaturoto  
or drop it off in the box at the check-
out at the Four Square. Deadline for 
orders is 21
st
 November. 
Any queries please phone Cheryl on 
4312 051 or 027 3462702. 
Thank you for your support! 
Halloween  scares  aplenty 
from new publisher of NZ 
horror. 
New publisher Paper Road 
Press  is  launching  its  first  title,  Baby 
Teeth:  Bite-sized  Tales  of  Terror,  in 
time for Halloween. 
Baby  Teeth  is  an  anthology  of  short 
stories based on creepy things real chil-
dren  say,  inspired  by  a  thread  on  Red-
dit.com  and  written  by  a  collection  of 
Kiwi  authors.  Editors  Lee  Murray  and 
Dan  Rabarts  warn  that,  although  the 
stories  are  about  children,  the  intended 
readership is strictly adult: 
―Some of the stories in this book dare to 
take  that  extra  step,‖  says  Murray. 
―They're  Danté-esque.  Readers  should 
expect  to  be  terrified!‖  Rabarts  agrees. 
―But  horror  also  has  a  deeper  purpose: 
shining  a  light  into  the  darker  places 
that  people  so  often  don't  want  to  look 
at, and trying to put into words the aw-
ful  things  that  can  be  found  there.‖ 
All  proceeds  from  the  sale  of  Baby 
Teeth will be donated to Duffy Books in 
Homes,  which  provides  free  books  to 
children  across  New  Zealand.  Baby 
Teeth: Bite-sized Tales of Terror retails 
at $25 in print and $10 in ebook and is 
available  in  bookshops  and  online.  Pa-
per  Road  Press  seeks  out  the  strange 
and  out-of-the-way  in  New  Zealand 
fiction  –  and  we  are  accepting  submis-
sions  now,  so  spread  the  word!‖  Paper 
Road  Press  publisher  Marie  Hodgkin-
son  says:  ―I  chose  Baby  Teeth  as  our 
first  title  because  it's  so  deliciously 
creepy. 
Media  contact:  Elizabeth  Heritage 
022 6523981 
Origin of Jack-o-Lantern 
Legend 
It's  unlikely  that  pumpkins  grew  in  the 
Celtic heartlands, so our ancestors prob-
ably  made  lanterns  by  hollowing  out 
turnips  and  placing  a  candle  inside.  
There is an enduring Irish story based on 
the  Jack-o-Lantern  characters.    In  the 
story, Jack tricks the Devil into climbing 
up an apple tree with a promise of cider. 
Then  mischievously,  Jack  carved  the 
sign  of  the  cross  into  the  apple  tree's 
trunk.  This  infuriates  the  Devil  as  he 
dare  not  climb  down  and  touch  the 
cross. 
Years later Jack dies, but because of his 
life of mischief, drunkenness and worse, 
there's no chance of him going to heav-
en.  Reluctantly, Jack heads for hell, but 
the Devil remembers his prank with the 
cross on the apple tree, and consequently 
refuses Jack entry to hell.  Thus Jack is 
left  to  roam  the  netherworld,  and  the 
only  time  of  the  year  when  he  can  be-
come visible is at Halloween, 
hence Jack-o-Lantern. 
BABY TEETH 
BOOK JACKET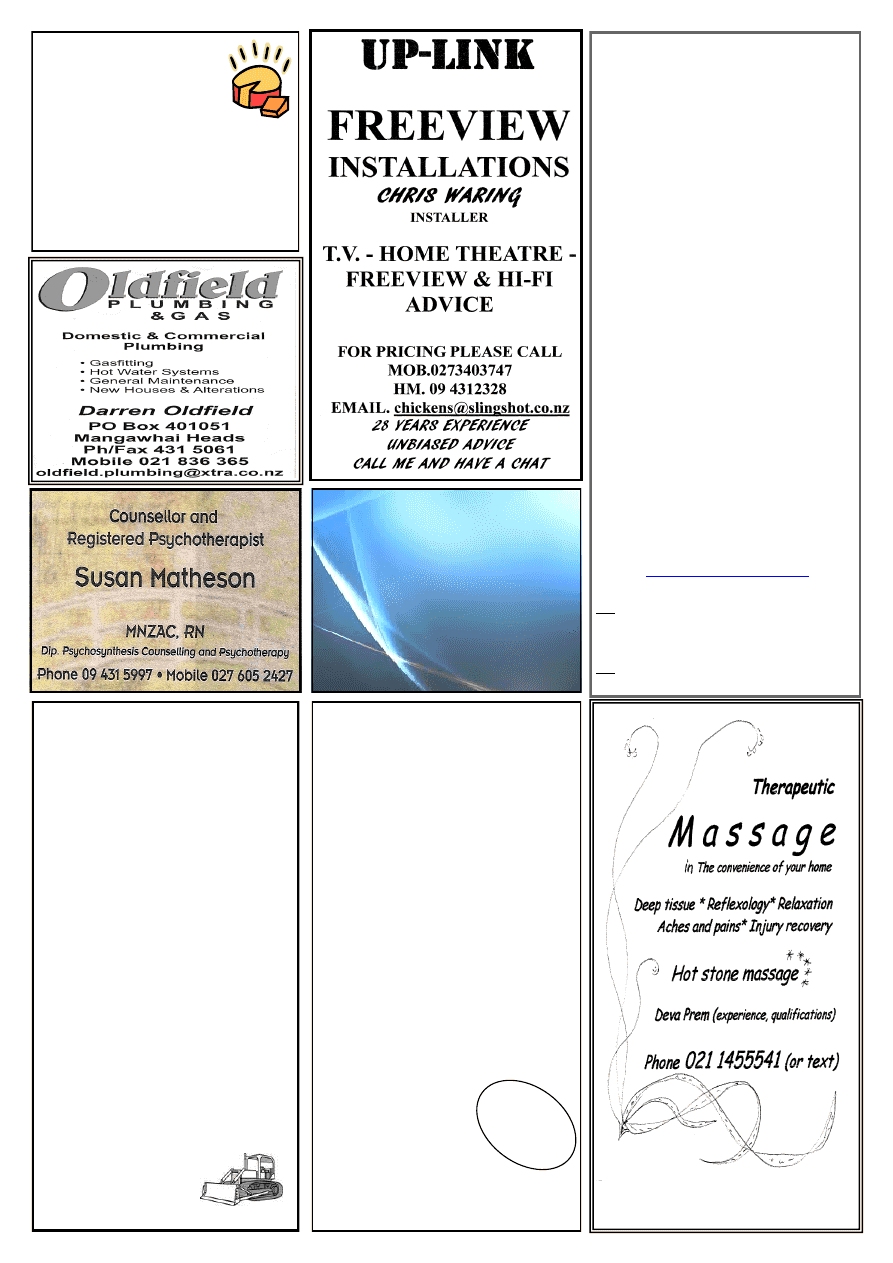 www.mangawhaimassage.co.nz 
Based ou
t  
Oner
iri Roa
d 
HODGETTS
CONTRACTING
Digger Work    

Driveways 

House Sites   

Dams 

Drains, etc
Also available for HIRE 

3 ton Vib Roller 

Heavy Duty Tow 

Waterblaster  

Lazer Level 
Phone Mark 
4312877 
027 447 8554
BONJOUR MESDAMES ET 
MESSIEURS!! 
Need that extra help to feel...fully on top of 
things? You guessed it...  
 I can help!...with all those winter niggles.
Monsieur Masseur .... 
RELAXING  
MASSAGE
..... Juste pour vous" 
Here's feedback from happy clients: 
―When I came in for a massage, I was 
stressed and my body was sore.. 
Prior to my massage, Pete counselled me, 
using positive affirmations and visualisa-
tion.. I relaxed and responded to massage 
treatment a lot quicker, I feel. I am still 
using these affirmations on a daily basis. or 
when I feel stuck..‖ 
Call for an appointment now!
Pete Worsfold 
4312 009 (evenings)  or    
021 825970   
Flat 1 1933 SH1 
Or  Book at "The Well of Health" 
for an appt. 09 4312 799 
 
Or mobile service available 
Coates  
Contracting 
 
D41 Bulldozer with 6 
way blade, bush rigged 
with winch 
 
For all tree work 
 
General bulldozing and  
  stick raking. 
 
120hp Tractor for 
ground cultivation,  
 
tip trailer work. 
 
Fencing
All enquiries phone  
Brett Coates  
094318720 or mob 
021431872 
Freeview  
Installations 
Richard Te Haara 
25 Marram Place 
Mangawhai Heads 
021 1104056 
kiwipride@xtra.co.nz
Hands On    
CHEESEMAKING  
WORKSHOPS  
are  On Again  
SATURDAYS  
For More Info  
or Bookings  
 Contact: 
Ad ...... 
(Kaiwaka Cheese Shop Founder) 
09-4312234 or 0212154495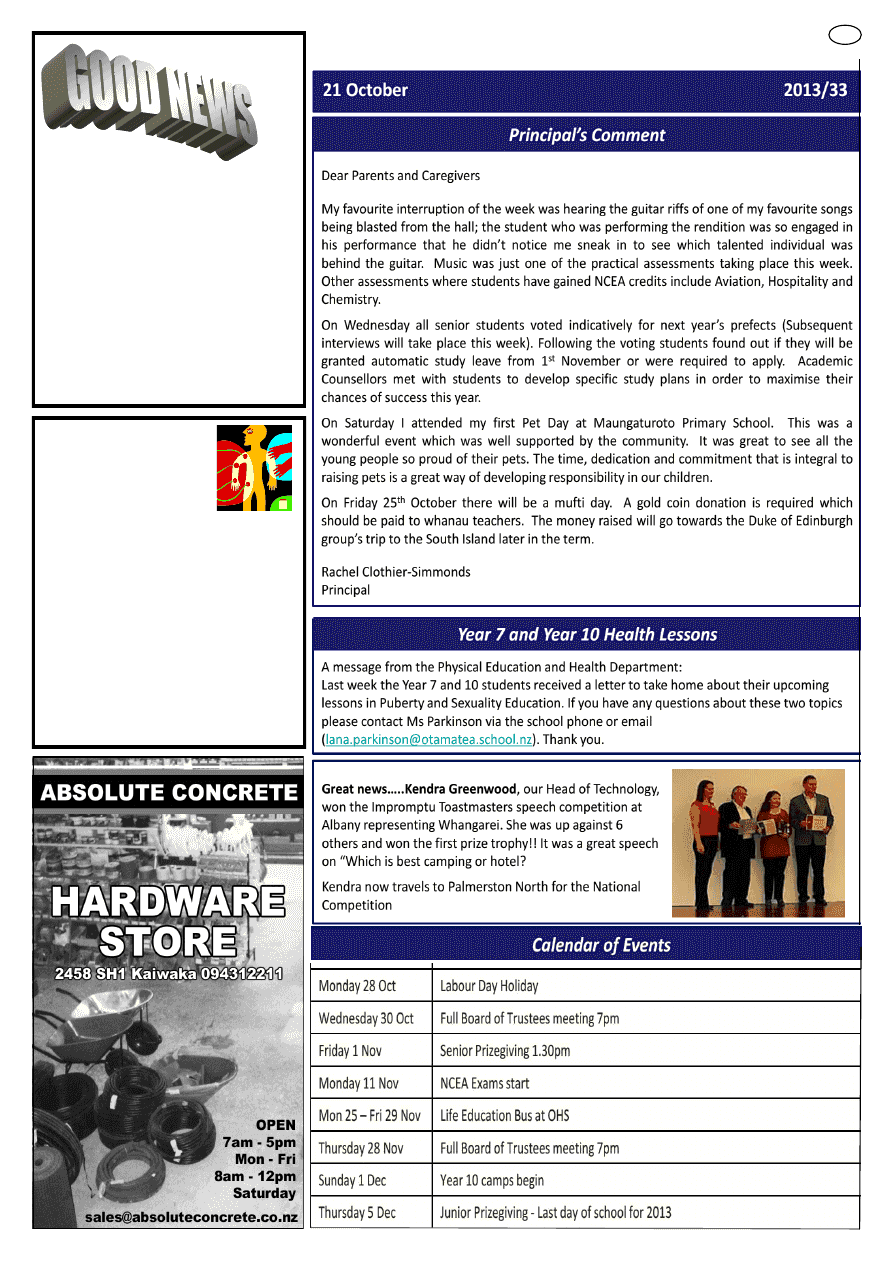 @ the  
Kaiwaka Family 
Church 
Your COMMUNITY CHURCH 
RECEIVE HEALING 
  RECEIVE THE LOVE OF GOD 
  Everyone warmly welcome each                                            
    Sunday 10am. 
Contact: Pastor John Dekker,  
09 4318203 
THERE'S 
OWEN STEVENS 
Osteo Therapist
For careful 
adjustments to bones 
and joints 
Treatment for  humans and their 
pets 
Clinics: Kate's Place, Kaiwaka: 
Last Friday of month 
Warkworth Showground:  
2nd Thursday, monthly          
For  bookings:  9.00am-5.00pm  
Phone 
09 4312661 
 Or phone Owen   
09 4317123  anytime 
11 
       OTAMATEA HIGH SCHOOL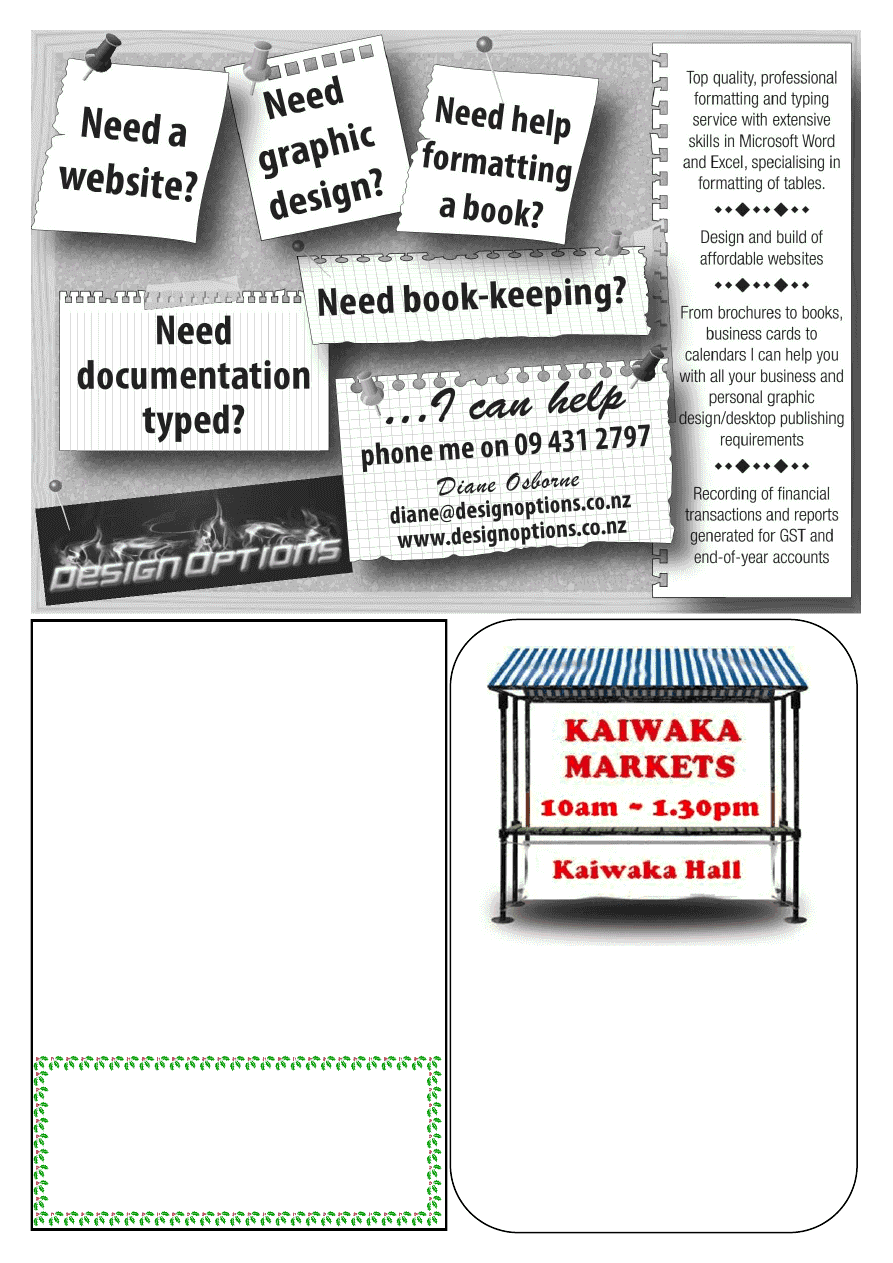 Held every 2
nd
 Sunday of the month 
In the Kaiwaka War Memorial Hall 
Sunday 10 Nov
Produce, fish, clothing, art, new & 
used goods + much more 
Enquiries to:  
Mandy 09 431 8717 
Celena's Gifts 
-
gifts for all occasions 
NOW OPEN 7 DAYS 
1925 State Highway 1 
KAIWAKA  
Ph: 09 4312741 
We stock:- 
Greeting Cards 
        Party Accessories 
Novelty Items   
        Jewellery  
Baby Gifts 
        NZ Souvenirs   
Gift wrap & ribbons 
Kitchenware 
   ... and much more! 
Get in Early 
Layby NOW for  
Christmas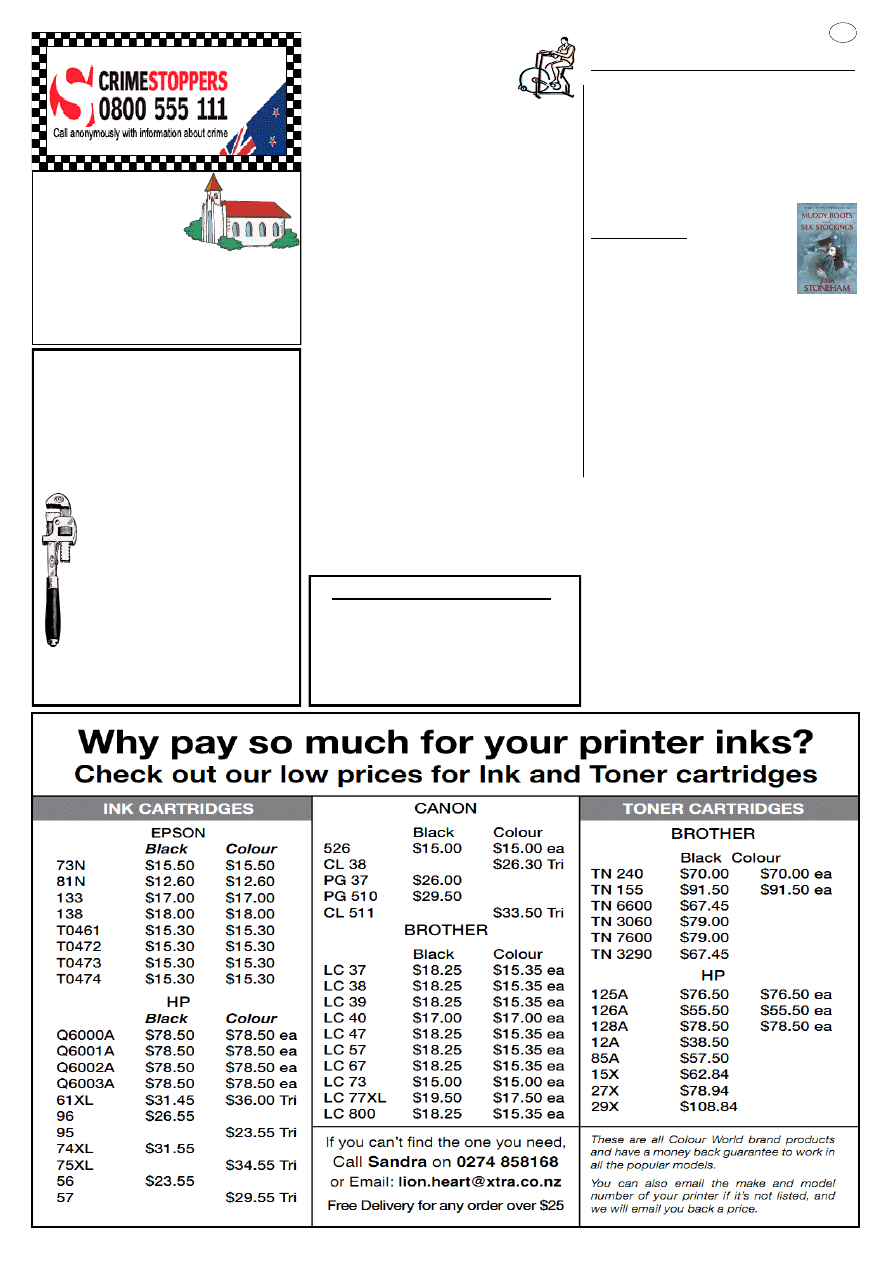 KAIWAKA LIBRARY 
Large Print & Audio book swap next month 
Due to circumstances beyond our control, 
we missed the book swap the other 
week.  So we still have the same Large Print 
and Audio books as before - which means 
that you still have time to come in and get 
the books you didn't have time for before! 
I'm reading one now, and will post a review 
to our Facebook and Google+ pages when 
I'm finished.
Book Reviews 
Recently  I've  read  Muddy 
Boots  and  Silk  Stockings  by 
Julia  Stoneham.  England  in 
1943  is  in  the  grips  of  World 
War  2.  So  many  of  the  men  are  away 
fighting, and the women left behind are 
doing  what  they  can  to  keep  the  place 
going.  Alice  Todd  is  abandoned  by  her 
husband when his work moves to anoth-
er  town  and  he  chooses  to  move  there 
alone  -  or  rather,  with  his  mistress  in-
stead of his wife and young son. Need-
ing  something  to  occupy  her  time  and 
provide  an  income,  Alice  signs  up  as  a 
warden  for  the  Land  Army  and  soon 
finds  herself  in  charge  of  eight-to-ten 
girls who labour all day and come back 
to their home at Lower Post Stone Farm 
in  Devon  absolutely  exhausted.  At  the 
start Alice is fully occupied just getting 
the girls out the door each morning and 
then  fed  at  night,  but  slowly  as  she  ac-
customs  to  the  work  she  gets  to  know 
each  of  her  charges  and  others  in  the 
area. I'm not usually one to notice such 
things, but this book could have done  
...Continues on page 19 
13 
BARRY CURTIS  
PLUMBING LTD 
REGISTERED CRAFTSMAN 
PLUMBER 
Phone 4315572      
027 257 9884 
  25 years experience   
        Friendly reliable service 
        All plumbing & maintenance 
        Alterations and new housing 
        New wood fire installation 
        Spouting 
Competitive rates 
PROMPT EFFICIENT  SERVICE 
ST PAUL'S  
SUNDAY  
SERVICES
First Sunday 9.30am, third Sunday 9.30am  
 Paparoa Anglican   
St Pauls Church: Kaiwaka-Mangawhai Rd.  
1st Sun. (Anglican), 3rd Sun. (Family Service) 
Contacts:M.Hargreaves 4312295, C.Bygrave 4312057  
Community Services Officer: 
For all Community Services Forms see 
Milly at the  
Kaiwaka St John Op Shop.  
Phone 4312650 
MORE MEMBERS REQUIRED FOR 
THE KAIWAKA STATION. 
KAIWAKA FITNESS 
Hi Everyone, Well the weath-
er  is  warming  up  and  people 
are  starting  to  think  of  Sum-
mer  coming  and  the  need  to 
lose  a  few  kilos  so  they  can  hit  the 
beach.  So  you  need  to  get  out  and  do 
some  exercise  anything  is  better  than 
none at all. Diet is also very important 
you  can  exercise  like  a  demon  but  if 
your diet is no good it's going to be a 
slow process to drop the weight. If you 
need help give me a call. 
The lateral pulldown machine now has 
new  cable  so  should  be  all  good,  w  e 
do try to fix things as soon as possible, 
but there being only  me, Mark, Bente 
on  the  committee  it  can  take  a  bit  of 
time  as  we  all  have  other  commit-
ments. 
The  Nationals  was  a  long  day  ,got 
there  at  8.45am  and  didn't  get  out  till 
10.30pm.  A  lot  of  hanging  around. 
And  to  top  it  off  no  bodybuilders  so 
another National title for me. I am go-
ing up to do the Whangarei show as a 
warm up to the U.S.A,WHICH IS ON-
LY  2  WEEKS  AWAY.  Panic  button 
on.  Thanks  to  everyone  for  their  sup-
port  especially  Bente  who  has  helped 
me a lot. Listening to my ranting being 
number  1.  Train  hard  and  the  results 
will come.    Jules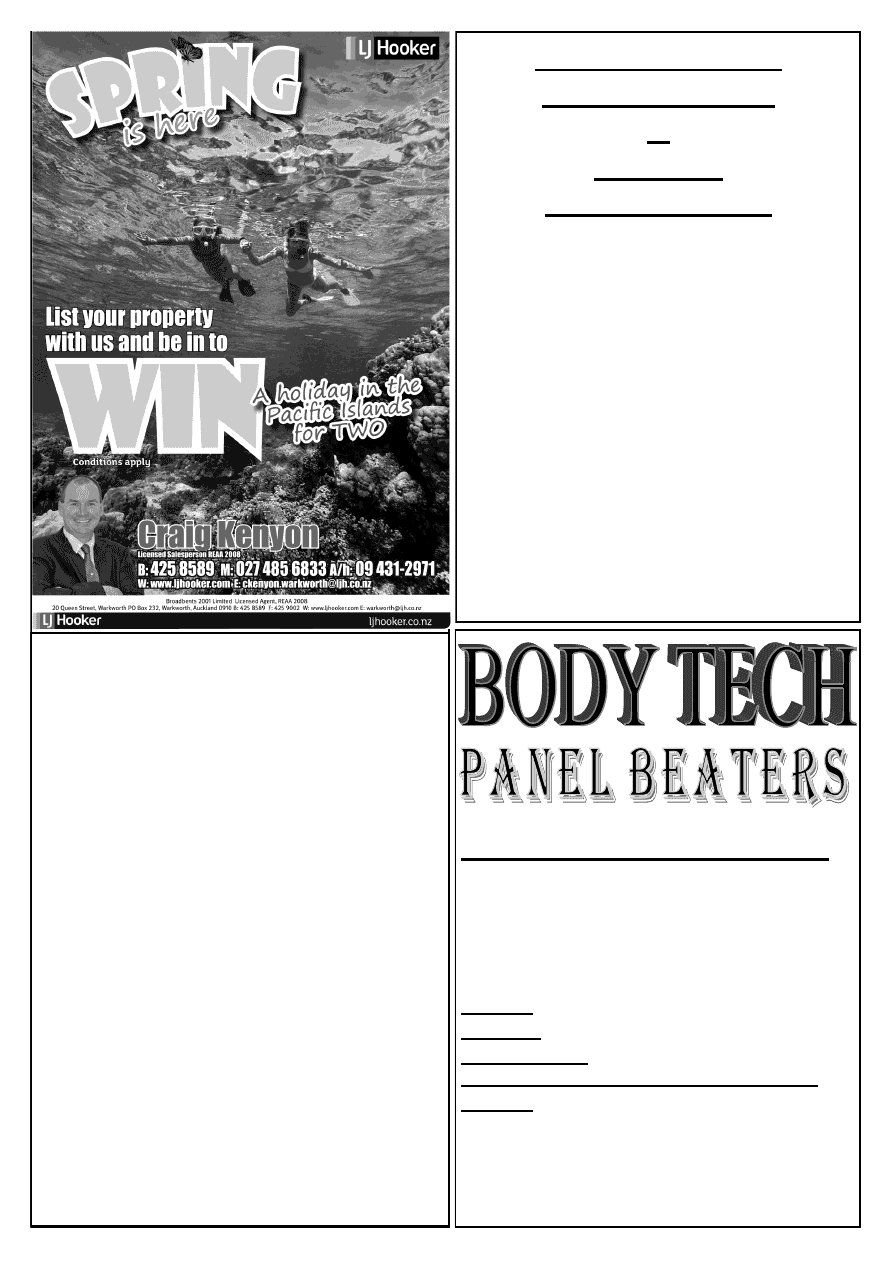 PAUL SAUNDERS 
LAWNMOWING  
&  
GARDEN 
MAINTENANCE 
 
Lawns and edges 
 
Section mowing 
 
Hedging and trimming 
 
Spraying and fertilising 
 
Tree planting 
 
Green waste removal 
 
Pruning 
Friendly and reliable service guaranteed 
Call now for a free no obligation quote 
021 886 843 
09 431 2731 
Servicing Mangawhai and Kaiwaka  
and surrounding areas 
paulsaunders99@gmail.com 
For all your body repair needs!! 
We do: 
Rust repairs 
Insurance work 
Anti-corrosion treatment         
Hours: 8.30am-5pm Monday-Friday  
Mobile: 021 118 0462 
After hours: 09 431 2384 
Phone: Craig or Call in for a free Quote 
e-mail: 
bodytech_panelbeaters@yahoo.com
We are located at 1837 SH1 Kaiwaka, behind Twinkle 
Tow ‗n' Tyre call in anytime for a free quote.  
Large and minor vehicle  
  repairs 
Industrial vehicles 
Full Cut and polishes 
KAIPARA  FLOORING  CO 
32 HURNDALL ST MAUNGATUROTO 
Ph: 09 9469886 or 021 515 415 
Carpet, vinyl, laminate wood look  
flooring, vinyl planking, sanding  
& polyurethane service. 
Carpet Short Ends from $79pm + GST 
Vinyl D.I.Y. peel n stick tiles $10sq mtr + GST. 
Free measure & quote.   
Mobile Service 
Phone Christine or Howard anytime 
Open Saturdays by arrangement.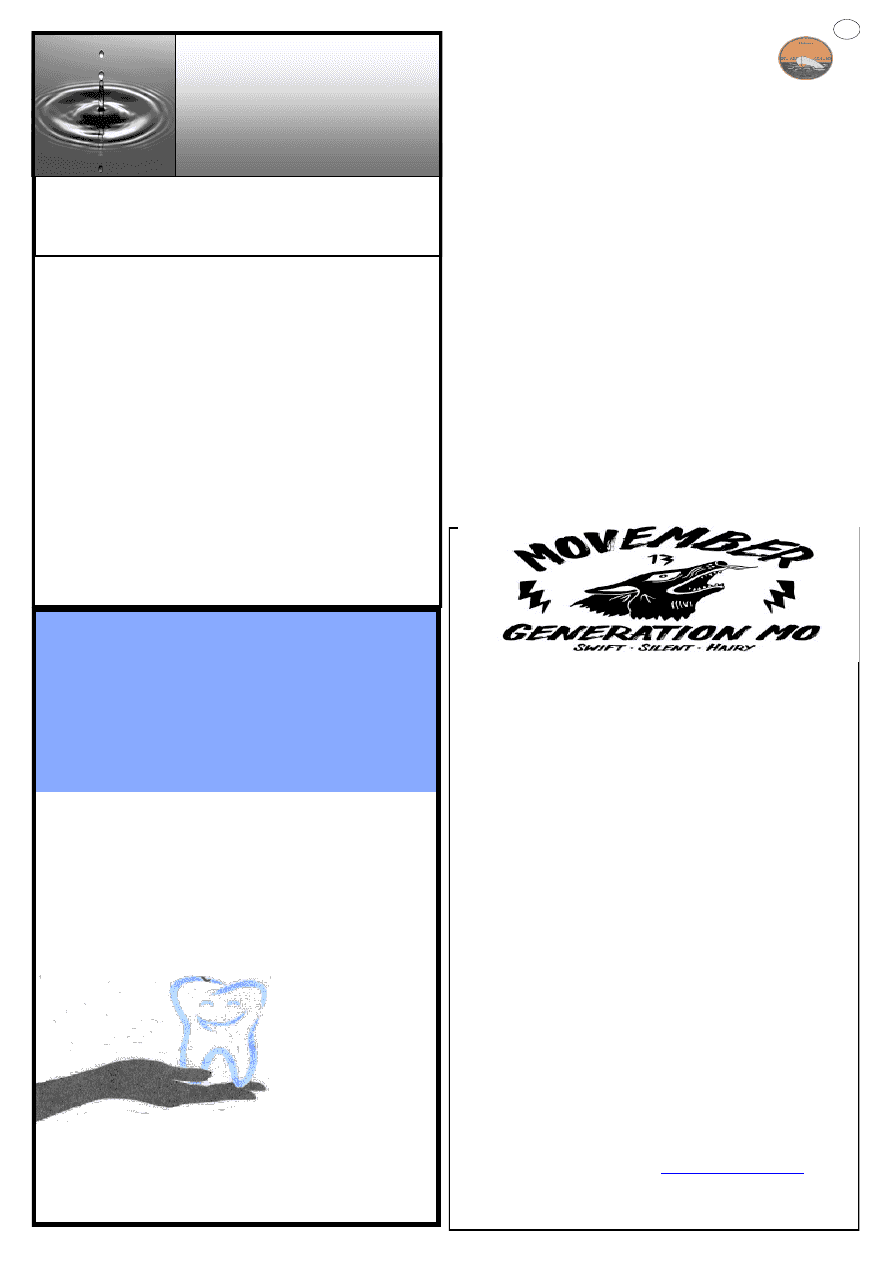 15 
 PETE WORSFOLD M. Soc. Sc. 
Student Counsellor 
 
 peteworsfold@xtra.co.nz 
 021 825 970 
Professional Service 
Variety of Modalities 
By Appointment Only 
Saturdays 
By 
Arrangement 
Open  
Mon-Fri  
8am-5pm  
Gentle Dental 
Ruakaka 
We love to see you smile 
" 
General  & Cosmetic Dentistry 
" 
Emergency & ACC Treatment 
" 
Denture & Hygienist Services 
" 
Senior Citizen Discounts 
" 
Free Adolescent Care 
" 
Free WINZ Quote 
19 Ruakaka Town Centre 
Dr Sim Sood & Associates 
You're in gentle hands 
Ph:  432 8139 
FOR 
INDIVIDUAL ONE-ON-ONE 
COUNSELLING 
MODALITIES: 
CBT  
Grief 
Gestalt 
Relationship 
Person-Centred  
Trauma 
Solution Focussed 
Couples 
Behavioural 
Adolescents 
Careers 
Call for Appointment 
At "The Well of Health" 
09 4312799 or 021 825 970 
 PETE WORSFOLD M. Soc. Sc. 
Student Counsellor 
 
 peteworsfold@xtra.co.nz 
 021 825 970 
Point Curtis Cruising Club 
Point Curtis Cruising Club Inc Club Members  
Only Fishing Competition 
Start  time  6am  Saturday  16th  November  and  finish  time 
6pm Sunday 17th November 
Weigh In each day 5pm - 6pm at 3 Furlongs Hotel, Kaiwaka 
Maximum weigh in 2 per species per angler per day 
Final weigh in 5pm - 6pm, Sunday 17th November at 3 Fur-
longs Hotel, Kaiwaka 
Prize Giving 6.30pm.  BBQ 7pm Sunday 17th November 
Adults: Entry Fee $20 per angler 
Species: Snapper, Kingfish & Kahawai 
Heaviest Snapper:1st Prize $300, 2nd & 3rd prizes: Fishing 
Gear 
1st, 2nd & 3rd prizes for other species: Fishing Gear 
Juniors (Under 15) Entry Fee $10 per angler 
Species: Snapper, Kingfish, Kahawai and Eel 
Separate Junior Prize Giving: 1st, 2nd & 3rd for each Spe-
cies 
Tickets available from Jean Mcleish (09) 4312520 or from 3 
Furlongs Hotel. 
Anglers must be paid up club members.  Subs must be paid 
by 9th November. $20 single sub and $30 for family.  Subs 
can  be  paid  at  3  Furlongs  Hotel  or  to  Jean  Mcleish 
(Secretary/Treasurer). 
Fish of the month is Snapper, cut off date 12 November. 
Next  committee  meeting  Tuesday  12  November,  7pm  at  3 
Furlongs Hotel.                Wayne Leslie, Commodore 
Movember 2013: Supporting Men's 
Health
Throughout the nation the preparation has begun. Positive 
revolutionaries are gathering and putting grooming plans in 
place, ready to march into towns to fight the good fight that 
sees both hair and money raised for Movember 2013: Gener-
ation Moustache.   
Last year New Zealand raised $1.57 million out of a global 
$176 million for men's health awareness and research. An 
impressive 15,052 Mo Bros and Mo Sistas took part in New 
Zealand alone. Movember country manager Robert Dunne 
says 2012 was a fantastic result, but there's still significant 
work to be done. 
―Movember was overwhelmed of the success of last year's 
campaign and would love to get 20,000 Mo Bros and Sistas 
registered in 2013,‖ he says. On average, men are dying al-
most four years younger than women are. The suicide rate is 
nearly three times higher for men than women, and one man 
passes away prematurely every three hours from potentially 
preventable illnesses.―Movember is about creating conversa-
tion and a strong community of understanding around men's 
health issues. The funds New Zealand raised in 2012 have 
gone directly to our partners, the Mental Health Foundation 
of New Zealand and the Cancer Society,‖ says Dunne.  
―We work with these groups throughout the year together in 
a collaborative partnership, developing opportunities for ed-
ucation awareness, research and survivorship strategies,‖ he 
says.  The New Zealand Movember team works with their 
charity partners to ensure funding gets to the programs that 
count. Participation is integral for Movember to successfully 
continue its journey and this is where we hope you will join 
in.  Movember 2013:  We stand to change the face of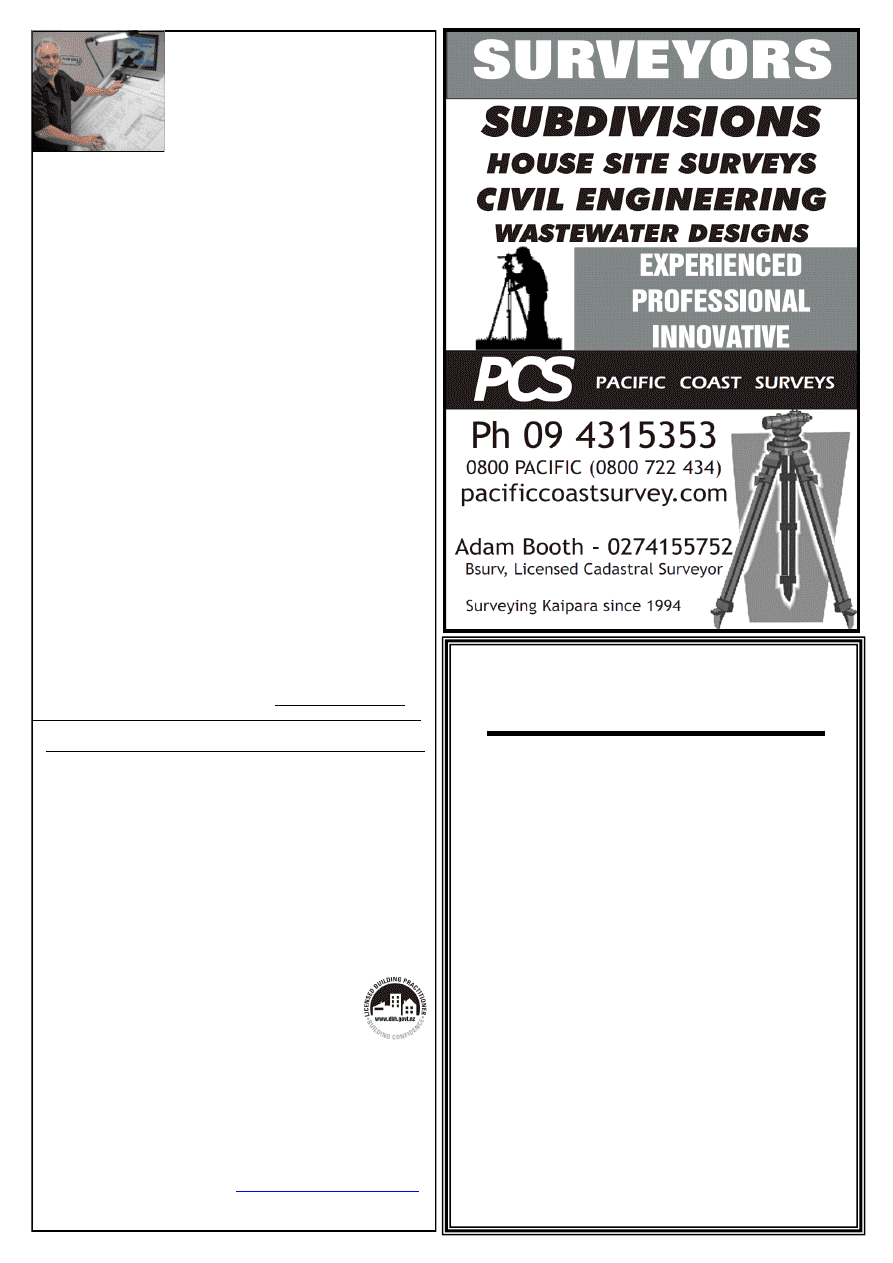 STOCKFOOD
GREAT RANGE FOR ALL YOUR LIVESTOCK  
AT GREAT PRICES 
 ALSO CHECK OUR 
DOG BISCUITS 
20 KG FOR $58.90 
LPG REFILLS 9KG 
STILL ONLY $31.50
MANGAWHAI SERVICE 
STATION 
(09) 431 4242 
44 MOIR STREET IN THE VILLAGE 
ARCHITECTURAL 
BUILDING PLANS 
AND DESIGNS 
20% Reduced Cost - design and planning. 
If you are thinking of building, then you need 
to make use of cost savings in architectural 
design as well as having a good and well experienced designer. 
This applies if you are considering a new home, any alterations or any 
building additions/farm buildings, sheds, alterations, whatsoever. 
There are many things that are frustrating if you are not totally 
familiar with what all details are required by Councils -especially 
with new regulations in force to ensure everything runs smoothly - 
e.g. Resource and Building Consents, planning restraints, new 
building materials ,applying for building permits, dealing with 
building contractors to name a few -you need a capable,  
experienced and professional designer with a clear knowledge of 
all the processes. 
WE CAN HELP YOU CLARIFY ALL OF THESE ITEMS 
 
AND MAKE LIFE RUN MORE SMOOTHLY. 
Brian of Wright Design has been helping and organising all these 
facets of design and building for over 40 years. 
With needs of family changing and the economy - building require-
ments constantly being reorganized and made more complex, it's very 
important to obtain professional advice for any building project - no 
matter what size. 
Brian advises on design, materials, permit applications, builders 
and subcontractors for any project - no matter how small or large 
ALL THIS AT A REDUCED COST so YOUR DOLLAR    
GOES FURTHER  
Wright Design offers free visits, consultations and all the advice 
you need on planning. Design, building, contractors, council  
permit applications, guaranteed permit plan acceptance. 
QUALIFICATIONS 
Brian is a qualified designer (NZCAD) with over 40 years of varied 
experience in all types of building and is a registered and Licensed 
Building Practitioner in Design - L.B.P. 117345 
He ensures you will achieve the best from your budget with  
recommended excellent local contractors ready to competitively 
price and build your personal project quickly and efficiently. 
EXPERIENCE 
Brian's practical building and 40+ years of design experience 
means he can give you excellent advice and all the guidance need-
ed for all your building needs, 
FEES: To help you attain your project Brian has reduced his 
costs by 20%, giving you extra funds for the rest of your project. 
ENGINEER: Brian can arrange engineering for a reasonable cost. 
THIS IS AN ABSOLUTELY GENUINE FEE REDUCTION!! 
Qualified and inexpensive designer – N.Z.CAD., LBP 117345 
Guaranteed design and working drawings 
Free site visit to your home or property 
Great service 
Obtain a free quote with 20% Discount. 
PROJECTS 
Additions, alterations, basements, new houses, motels, bed and 
breakfast commercial buildings and shop fit outs are a few pro-
jects he has been involved with. 
Brian can show you many of his projects in the area to emphasise 
his versatility 
WHAT TO DO FROM NOW 
Call Brian   
Arrange a visit 
Discuss your needs 
Obtain great advice.  
Obtain a free quotation - with a true 20% discount 
Make a decision based on the facts - You Won't Be  
Disappointed! 
MAKE GOOD USE OF HIS EXPERIENCE AND 
THIS   GREAT OFFER OF REDUCED FEES OF 
20% 
Brian can offer plan printing-from A4 to AO (2 x A1 size) 
WRIGHT DESIGN 
Brian's office is at: 360 Oneriri Road, Kaiwaka, North-
land 0573  
Call in for a chat and a coffee, or he will call on you at your 
home if preferred. 
WRIGHT DESIGN: Office 09-4312544   
Mobile 021 276 7389 
Email: 
www.wrightdesign.co.nz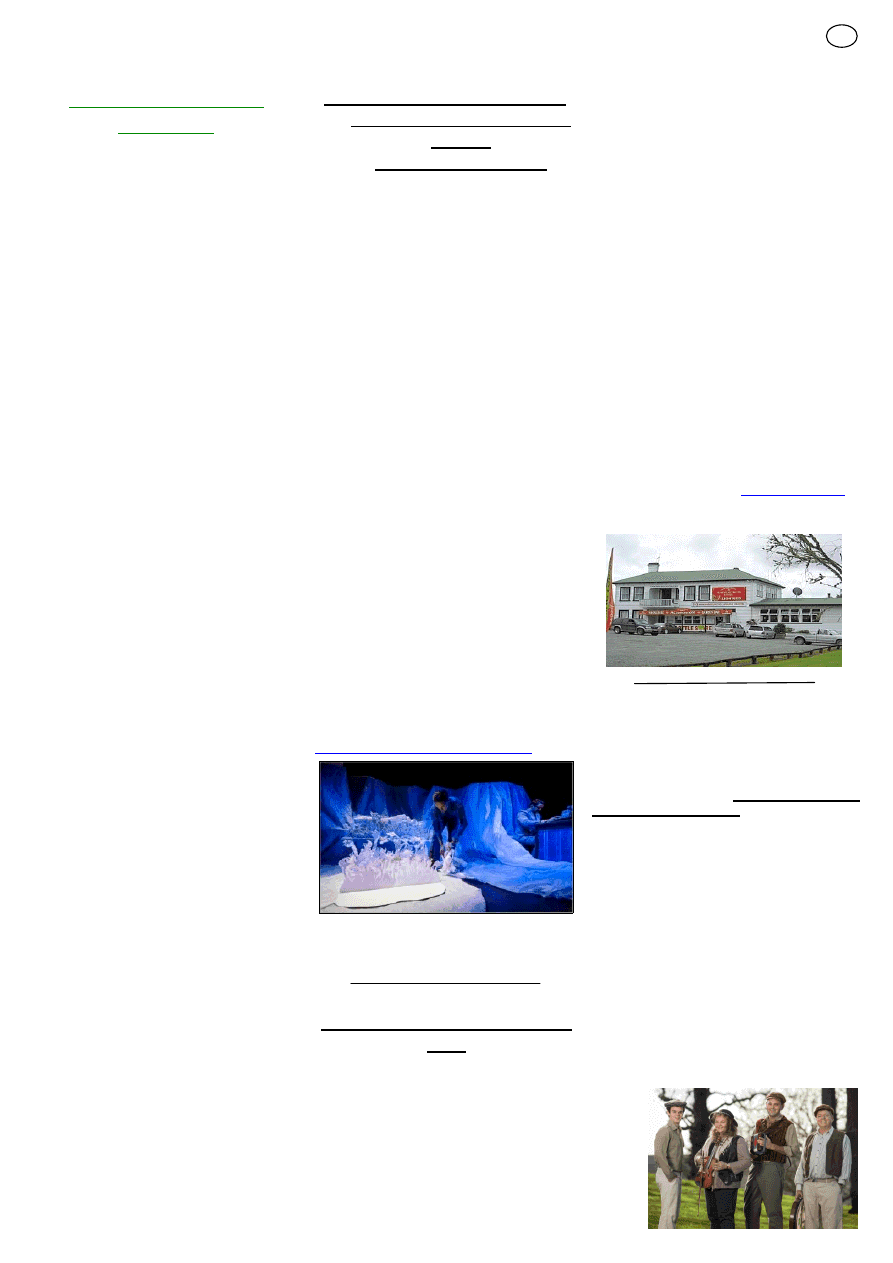 17 
ITEMS OF COMMUNITY INTEREST 
The Wellsford Country  
Music Club  
The  Wellsford  Country  Music  Club 
was  formed  on  the  1st  of  April  1969. 
Its  main  goals  were,  and  still  are,  to 
promote the performing of country and 
other popular music in a social setting. 
WCMC,  after  44  years,  is  still  rolling 
along.  Like  all  other  enduring  clubs 
and  organizations  it  has  weathered 
challenging  times  and  seen  the  rise, 
fall  and  rise  again  of  the  tides  of 
change. All while striving to meet the 
aspirations of each new generation and 
the needs of its members.  
The strengths of the club are based on 
a  genuine  love  of  musical  perfor-
mance;  a  willingness  to  include  all 
genre of popular music. An acceptance 
of  others  through  genuine  friendship 
and  fun  that  the  club  membership  ex-
tends to visitors and members alike. 
Club  members  and  performers  come 
from all over, and include North Rod-
ney,  Ruakaka,  lower  Kaipara  –  Papa-
roa  –  Kaiwaka  and  Mangawhai  areas. 
Often  visitors  from  other  music  clubs 
pop in and show case their talents. Last 
October club day we had visitors from 
the Bay of Islands, Hibiscus Coast and 
Auckland City.  
WCMC  wishes  to  raise  awareness  in 
the  wider  community    of  an  estab-
lished, functioning, and well resourced 
music  club  based  in  Wellsford..  With 
its  own  band  and  a  lovely  older  hall 
designed  to  be  a  performing  venue, 
well able  to support a wide variety of 
popular musical styles. A place where 
anybody  can  have  a  go  doing  stand-
ards,  popular  or  original  material.  A 
place to hone those skills that are need-
ed, before presenting to wider regional 
audiences. 
For  those  who  are  still learning  or re-
quire  confidence  building  and  would 
prefer  to  practice  their  talents  in  a 
learning environment we host a  work-
shop  once  a  month.  This  can  include 
tuition  for  voice,  performance  and  
musical  instruments  with  seasoned 
performers.  And  age  is  not  a  re-
striction, from 5 to 95 it's all good.  
Not  everyone  performs,  a  lot  like  to 
socialize, and be entertained, so there's 
something for everyone. 
 Club information 
The WCMC performance and training 
venue  is    the  Wellsford  Co-Operating 
Parish hall 253 Rodney St Wellsford.  
Meetings  are  once  a  month  for  both 
2nd  Sunday  club  day  of  the  month  
start 1.00pm 
Last Wednesday evening of the month 
workshop 7.00pm 
For more information Contact  Andrew 
Young 027 327 6604 President 
Andrea Black 027 276 4515 Secretary 
Red Leap Theatre presents 
"PAPER SKY" brought to 
you by  
Creative Northland
Paper  Sky  is  a  magical  story  about 
Henry  a  writer  struggling  to  let  go  of 
his  fears  from  the  past  that  seep  into 
his novel. This constricts him to move 
on and to come to terms with the fact 
he  is  in  love  with  his  new  neighbour 
Louise.  Red  leap  theatre  is  image  and 
movement based it uses puppetry and 
little dialogue to tell a story and Paper 
Sky  is no exception. The  set was clev-
erly  made;  I  especially  liked  the  mas-
sive sheets of tissue paper that let the 
audience  see  the  story  Henry  was 
writing  also  the  white  puppets  and 
pop-up  forests  worked  really  well  un-
der  the  UV  lights.  The  sliding  card-
board  walls  made  the  scenes  flow 
effortlessly.  The  3  actors  who  played 
Henry's  fears,  thoughts  and  emotions 
within  him,  gave  comic  relief  which 
the  audience  enjoyed.  The  cast  really 
worked as a team, you could really tell 
how  much  thought  and  effort  went 
into the piece. Great job Red Leap.  
If you want to find out where they are 
performing next and would like to 
book tickets 
(bookings@redleaptheatre.co.nz) 
or 
if you just want to know more about 
them, here's their website.  
http://www.redleaptheatre.co.nz/
  They 
also  have  a  Facebook  page  too.     
  Elizabeth  H.  (Youth  Ambassador  for 
Creative Northland) 
The  ‗Scandalous'  play  is  an  historical 
and factually true  story  of the  building 
of the Maungaturoto Hotel, set in 1902, 
and the facts behind the granting of the 
liquor  licence,  reflecting  the  nature  of 
the  community  and  the  country  as  a 
whole,  at  that  time.    That  the  hotel  li-
cence  was  imposed  on  the  people  of 
Maungaturoto,  against  the  majority's 
wishes,  was  indeed  scandalous  at  the 
time and made national headlines. 
Hours  of  research  have  been  spent  - 
reading through old documents and re-
ports  –  to  create  this  dramatised 
‗documentary-style'  work,  for  our  en-
joyment, and to pay tribute to the tenac-
ity  of  the  early  settlers  who  helped 
make  Maungaturoto  such  a  fine  com-
munity. 
Four performances only  – October 31
st
@ 7.30pm, Nov 1
st
 @ 8pm, Nov 2
nd
 @ 
2pm and Nov 3
rd
 @ 2pm  
Tickets  are  $20  each  and  are  available 
at  First  National  Real  Estate  in  Maun-
Presenting the Daytime Concert Series 
next nationwide tour: 
---If You're Irish, come 
into the parlour!--- 
Performing 
at 
Central 
Baptist 
Church,  Whangarei  –  Friday  15th 
November, 11am.  
We  have  prize  packs  to  give  away  in-
cluding  double  passes,  books  &  CDs. 
Please contact us if you are interested. 
We couldn't be more pleased with how 
this tour is going. Marian Burns is tak-
ing the country by storm with her trusty 
fiddle and Irish band. We've had stand-
ing  ovations  and  rave  reviews  from  all 
over  New  Zealand.  Tickets  are  selling 
fast  with  many  of  our  venues  already 
fully  sold  out!!!  Ph:  0508266237  (toll 
free)  Presenting  award  winning  fid-
dler  Marian  Burns  and  Friends (see 
below) in 
an 
Irish extravaganza of fren-
zied  playing,  with  the  occasional  slow 
ballad thrown in while we all 
catch  our 
breath!  
ORT Produces 'Scandalous' 
Play 
It is very fitting that Otamatea Reperto-
ry  Theatre  should  celebrate  the  Maun-
gaturoto  150
th
  by  producing  an  historic 
play  -  ―The  Scandalous  Maungaturoto 
Hotel  Licensing  Affair‖.      And  it  is 
equally fitting that Peter Flower, who is 
the  great-grandson  of  one  of  the  key 
players  in  this  story,  Harold  Flower, 
should write and direct this play.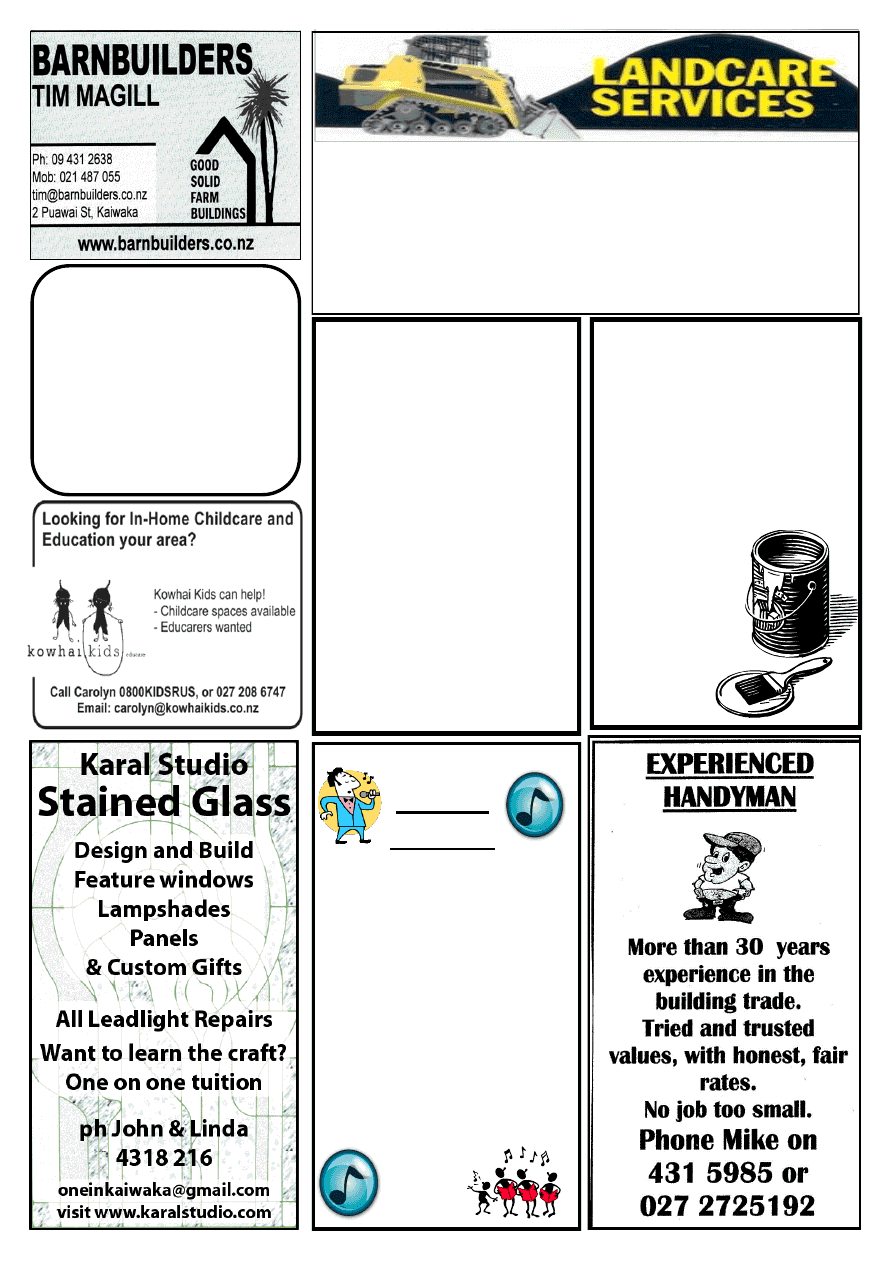 Willow Bend
HORSE  
HOTEL 
"   
Total Horse Care 
" 
Agistment 
" 
Riding Lessons 
" 
Arena Hire (60x40) 
" 
Young Horse Starting 
" 
Re-training/Exercising 
" 
Hoof Trimming 
" 
Problem Solving 
Phone Sue 09 431 2817 
or 021 623 776 
Or email sue.gray@xtra.co.nz 
Singing 
Lessons
Individual sessions 
All styles of music  
All voice types 
Reasonable rates 
Phone  
Maura Flower 
      021 164 8318 
T.W.WRIGHT 
WATER PUMPS  
SALES & SERVICE 
DEEP WELL & SUBMERSIBLE REPAIRS 
203 WHAKAPIRAU RD, WELLSFORD 
PHONE 09 4238235   
MOBILE 021 976 545 
LANDSCAPING 
4 IN 1 BUCKET 
TRENCHER 
POLE HOLES 
ROTARY HOE 
COMPACT ROLLER 
OFFAL HOLES 
CAN SUPPLY WOODCHIP & POST PEEL         5 TON TIPPER 
FOR RELIABLE AND FRIENDLY SERVICE CONTACT DAVE 
Dave Hyndman 
 
KAIWAKA 
PH: 09 4312302 
MOB: 021 431 238 
Colour It 
    Painter Decorators 
30 years Painting Experience 
Old & New Homes 
Top Quality Job 
Very High Standard of  
Workmanship 
Phone: 
09 4312208 
Darryl Fisher 
0278111821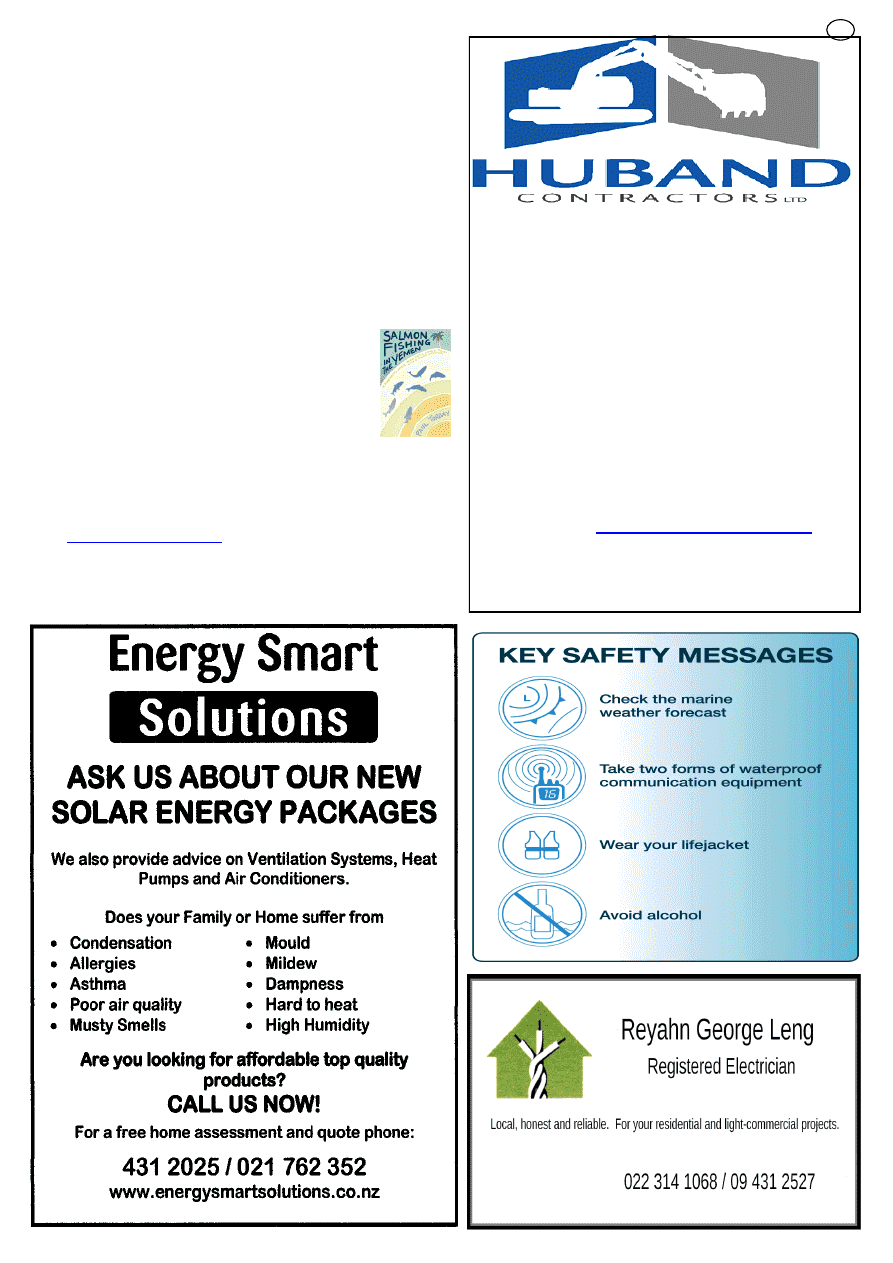 *   R O A D I N G   *   E A R T H W O R K S  
*    
*   D R A I N A G E   *   S I T E W O R K S  
*  
For any further enquiries, contact 
Shaun on: 
Cell: 021 222 0272 
Home: 09 4318339 
Email:   
Shaun Huband:  
Registered Drainlayer 
LIBRARY REPORT CONTINUES from page 13…. 
with a good editor at the helm - the writing is a bit awkward in 
places. Having said that, I enjoyed the tale and am looking for-
ward to the next book, "The Girl at the Farmhouse Gate". Both 
books are on the Rental Fiction shelves in the library. 
I've also read Salmon Fishing in the Yemen by Paul Tor-
day. Dr Alfred Jones is a quiet, unassuming fisheries scientist. 
He is given the job of helping to create a salmon fishery in the 
highlands of Yemen, for a very wealthy sheik who has discov-
ered salmon fishing at his Scottish Highland retreat and has a 
vision of bringing peace to his people through the calming sport. 
At first Fred thinks the idea is absurd and couldn't possibly be 
made to work, but is persuaded to pursue the concept after it 
catches the eye of some senior political figures in England. And 
so he works on making the unthinkable a reality, and the project 
takes on a life of its own. 
This tale is told through diary entries, email ex-
changes, and other written forms, and is an engaging 
tale. It certainly doesn't end as you might expect, 
though I'm not going to give it away here. I recom-
mend this book. It has also been made into a movie, 
starring Ewan McGregor and Emily Blunt. This 
book is on the Fiction shelves in the library. 
See you in the library!
Wendy Howard, Librarian 
Kaiwaka Library, cnr State Highway 1 and Kaiwaka Mangawhai Road. PO 
Box 89, Kaiwaka 0542. Phone 4312 539. 
Email 
 Open Wed-Sat 10am-2pm, Mon 4-6pm. 
Membership is available to all residents in the Kaiwaka area.
19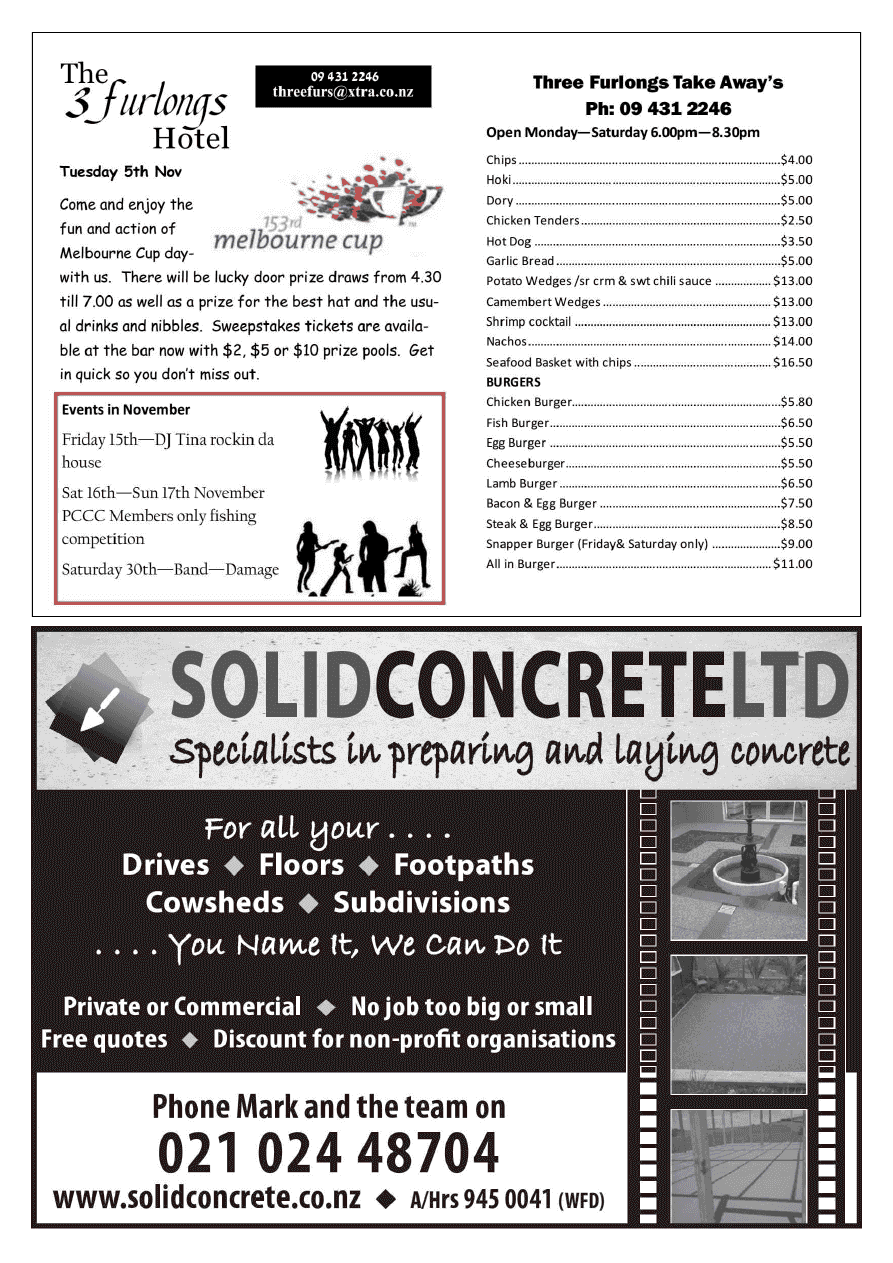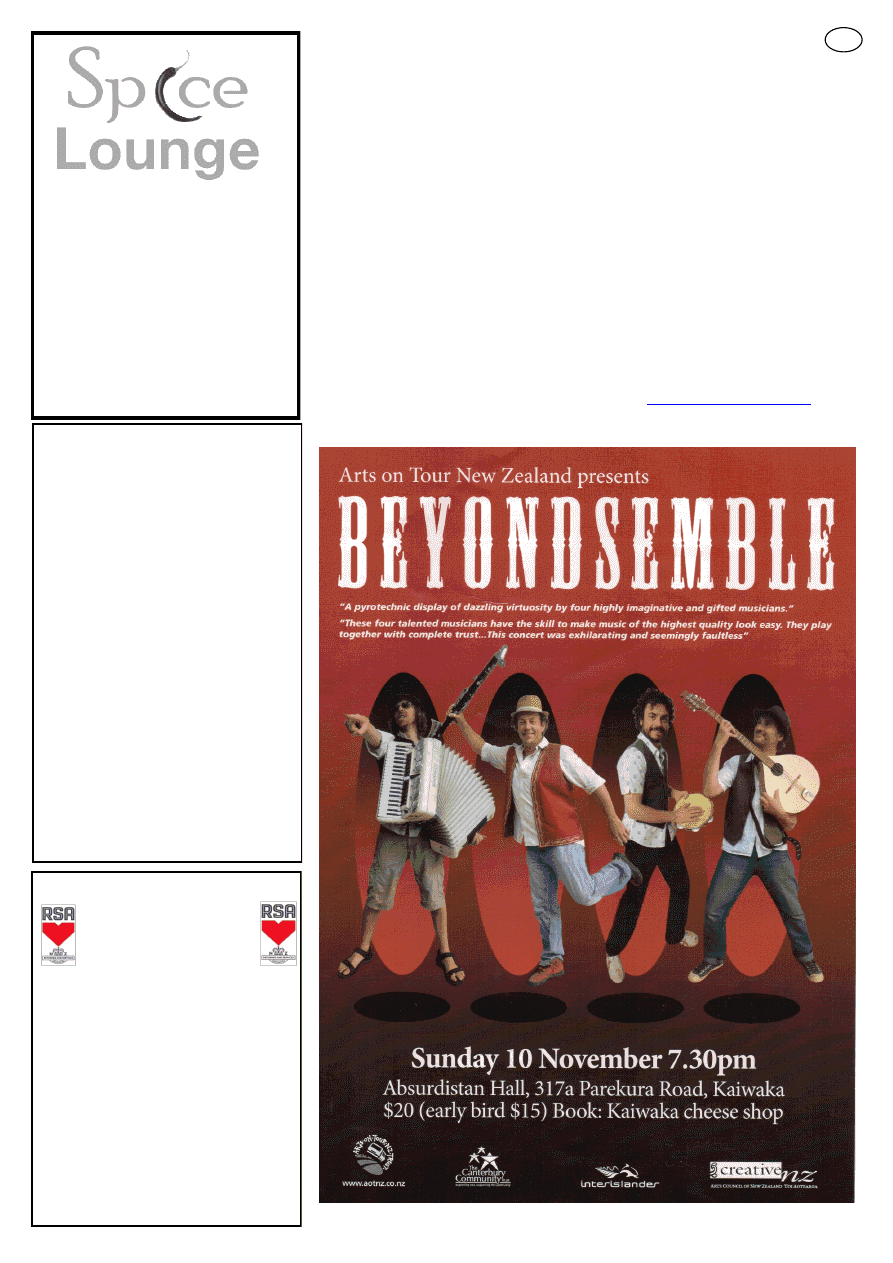 Open for Lunch and Dinner 7 Days 
Lunch from 11am ~ 2pm 
Dinner from 5pm ~ 9.30pm 
TAKEAWAYS  
Ph: 4312737  or  021 923 236 
spiceloungedinein@gmail.com 
1917 State Highway 1,  
Kaiwaka 
HAKARU & DISTRICTS  
RSA  inc
2nd Friday of the Month 
Roast Special 
Served from 6.30pm 
        Come along and enjoy 
our Hospitality  
For more information 
   Ring Heather 431466 
or Jan 4314512 
 21 
An insatiable love of making music-and audiences' love of Beyondsemble- 
has led to another Arts on Tour for this band and we are very fortunate that 
Kaiwaka is part of their national tour. 
This 4 piece band will be performing their mix of original and improvised 
music, merging Celtic, Latin, Jazz and Gypsy rhythms with their own crea-
tivity. These musicians love what  they do  – and it's infectious! The band 
won the ‗people's choice' competition to perform at the 2013 WOMAD NZ 
festival.  
Beyondsemble  has  toured  the  country  every  year  since  its  inception  in 
2009.  Its  members  have  frequently  performed  in  Europe  and  the  whole 
band takes on a three months European tour in 2014. 
For a great night out, come along and hear accordion, piano, guitar, ukulele, 
saxophone, clarinet and more, played by four masterly musicians. 
Sunday, 10
th
 November at 7.30. 
Absurdistan Hall.    317A Parekura Rd. Kaiwaka. 
$20  at  the  door.  $15  pre-paid.  Tickets  available  from  Kaiwaka  Cheese 
Shop. 
Cakes for sale at interval. 
Information from Shanta:      02102589015 or 
BEYONDSEMBLE RETURNS TO KAIWAKA. 
KAIWAKA SPIRITUAL  
CENTRE 
Corner State Highway 1 and 
Vipond Road. 
Wednesday Readings 
06/11/2013 - 20/11/2013 
10:00am – 3:00pm 
Tarot-Tea Cup - Healing 
  Colour Therapy - Numerology 
$ 30.00 per reading 
Julie - Dianne - Essy - Netty 
(Monthly Meeting) 
Clairevoyance
Saturday: 30/11/2013  
Guest Speakers: 
Bronson Young 
Healing available & Cuppa 
$ 5.00 entry fee 
ALL WELCOME 
2:00pm     Ph: 094312120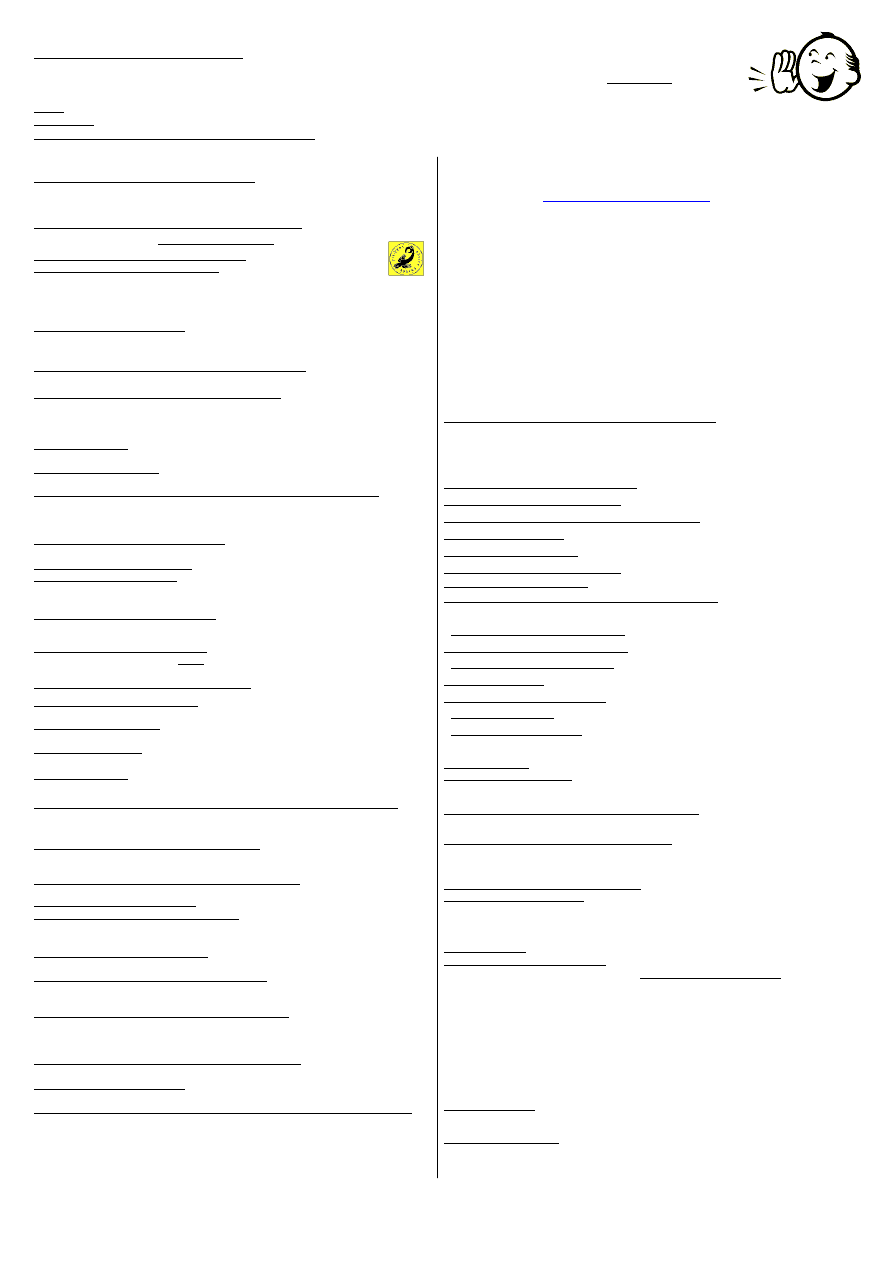 LOCAL SERVICES 
*St.John Ambulance 
111 or Freephone0800 61 0066
*Fire phone 111     *Police phone 111 or 09 4311150 
A A: Meets Wed., 8pm Kaiwaka Ph: 4312228, 4315543, 0800229 6757   
AL ANON: In recess, contact Ph: 4312228 
AGRIQUALITY (MAF) Livestock Consultant 
Phone 09 4311 820 or 021518257  
BUDGETING SERVICE,OTAMATEA:Free confidential advice & 
support - all areas of  personal finance Ph: 09 4318173 or 094318117
CAB-
Citizens Advice Bureau.Wellsford Ph: 4237333.
0800 367 222 email:
DOG/STOCK /NOISE CONTROL 0800 105 890 
FAMILY SUPPORT SERVICES responding to the needs in our 
community  Counselling/Family Therapy/Seminars/Youth Work/
Probation/Osteopathy/Govt.Day Agencies/Community Information  
Ph: 4312661 Hours: 9am-5pm. Mon - Fri (funded & CYFS approved) 
FUNERAL SERVICES: Morris & Morris Ltd, 
Whangarei - Bev Jaques Ph:4312367 or 0800667747 
GRANDPARENTS  Raising  Grandchildren:  Sarah  Rogers  Ph: 
4312194 
HAKARU LANDFILL/Transfer Station:Open everyday except 
Tuesday10am-4pm.Ph4312 
629 Cost-$55 trailer load up to 1 cubic metre. Ph:4258567 - office 
HOMEOPATH: Donna Flavell Ph: 
4314843
INLAND REVENUE: Last Friday each month, 
11-3pm Ph4312661 
KAIPARA DISTRICT COUNCIL www.kaipara.govt.nz:  
Help Desk FREEPHONE 0800 727 059  
Service Centre Mangawhai 4313161 
KAIWAKA KOHANGA REO:
Ph:4312620 Mon.-Fri. 8.30am-2.30pm 
KAIWAKA CEMETERY: Ph: 4312045 
KAIWAKA LIBRARY: kaiwaka.library@gmail.com  
Mon. 4-6pm; Wed., Thurs., Fri., Sat.  10am-2pm Ph:4312539
KAIWAKA PLAYCENTRE: Ph: 4312286. Hastie Lane 
Monday to  Friday  9.00am 
- 
12 noon.
KAIWAKA POST OFFICE:
Ph:4312 626 Fax: 4312287  
Post Code: 0573  for RD2  and  0542 for all Kaiwaka Post Office mail 
KAIWAKA PRIMARY SCHOOL : Ph: 4312309 
KAIWAKA SPORTS ASSN: Ph 4312005; 4312129 gym 
KAIWAKA ST JOHN: Manager Steve Rosser 09 4318403, 021 2316836 
NORTHPOWER: Faults Kaiwaka area 0800 104040 
PARENTPORT: Free, practical family support servicePuhoi to Paparoa 
Ph:  Sharon Mehana, Co-ordinator. 4259357 or 027 280 5093 
PERSONAL DEVELOPMENT COACHING, GROUP FACILITATION:  
Sabine Druckler 4312231 
PLUNKET  KAIWAKA/MANGAWHAI:  Ph:
094318187 
or  0
276753488 
Kaiwaka Mobile Clinic once a month– appointments necessary;  
Mangawhai (next Domain) 
1st & 3rd Thursday & Coffee Morning; 
PLUNKET CAR SEAT CO-ORDINATOR:  
Pat Scott Ph 4314530 
or 0272881635 
PLUNKET FREEPHONE -0800 933 922 
PLUNKET -MAUNGATUROTO  Clinic every 2nd & 
4thThursday. Ph: 09 4318187 
PUBLIC HEALTH NURSE: Gloria Reid Ph: 094327634  
RETURNED AND SERVICES ASSN 733 Settlement Rd.Hakaru 
Ph.4312176 Bill Kerr (President) Ph.4314719 
TE KOROWAI AROHA O NGATIWHATUA 
(The Cloak of Love of Ngatiwhatua) Support and Maori Consultancy.  
Ph: 4239481 (Wellsford) 
VETERINARY SERVICE MANGAWHAI: 
Ph: 4314535 Mon-Fri 8.30-4.30, Sat 9-12, a/h appt. 
WELLSFORD DOCTORS: Ph: 4238 086 
WOMEN'S WELFARE LEAGUE & Reaching Out For Youth:  
4 Kaiwaka-Mangawhai Rd, M Morgan 4312293 
WHAT'S ON
PLEASE ~ do let me know what is on - email 
kaiwakabugle@kaiwaka.co.nz 
Advertising in WHAT'S ON is FREE 
Mondays: 
8-2.30pm Kaiwaka Tramping Group  Karen 4312090
Mondays: 
Rock & Roll Lessons, Wellsford 7.30pm Ph: Berni 4238024 
Tuesdays: 
Rhythm&Riggle 10am Christ the King Church Mangawhai.
KAIWAKA MARKET  2
nd
 Sunday of month Kaiwaka Hall 
*02 Nov ~ Solar Hot Water Systems, Resonz 09  4312408 021              
2231700 
*03 Nov ~ Kaiwaka Scout & Cub Church Parade St Paul's 
Church 9.30am  
*08 Nov ~ Dance of Life, freestyle dance, 8pm Kaiwaka Hall 
4312408, 021 2968794 
*10 Nov ~ WCMC Club day 2nd Sunday of month 1.00pm
*12 Nov ~ PCCC Committee Mtg, 3 Furlongs Hotel 7pm 
*16-17 Nov ~ Pt Curtis Members Only Fishing Comp. 6am 
*27 Nov ~ WCMC last Wed night of month workshop 7.00pm 
See www.kaiwaka.co.nz for upcoming events. 
Drink can 'tear tabs' - for Starship Hospital-Ph. 4312625   
HOUSEHOLD  RUBBISH  COLLECTION  -  Kaiwaka    Pick  up-
Mondays=Green bags are picked up by Northland Waste-queries to 
them 09 4303273,Wednesdays=Blue  bags and yellow recycling (at 
Jaques  $3.00 and $1.40)  are picked up by Kaurilands 09 4392146.  
*OTAMATEA GREY POWER-09 431 8138 Joan Hoggard  
*KAIWAKA BADMINTON -Tuesdays 7.30pm Ph: 4312345 
*KAIWAKA GARDEN & FLORAL Grp:
2nd Thursday in month Ph: 4314767 
*KAIWAKA 
CUBS-Thursdays 5.30-7pm, Hakaru  Ph:Bruce  4312542
*KAIWAKA SQUASH -Mondays 7pm,  Ph: Barbara Thomas 4315905 
*GYMNASTICS OTAMATEA -  Tuesday Ph: Stephanie 022 3624998 
*HAKARU PONY CLUB-
Secretary Julie Rynne 09 4314520 
*
MANGAWHAI COMBINED PROBUS CLUB
: 2pm,3rd Thursday 
month in the Senior Citizens Hall Mangawhai. Ph: 4315777
*PT CURTIS CRUISING CLUB - Jean Ph: 4312246 
*WAIPU GENEALOGYGROUP -4th Monday in month Ph: 4312725 
*NZ GENEALOGY-Wellsford - 1st Thursday in month Ph: 4237033 
*CRAFT GROUP
:2nd & 4th Tuesday, 10am, Wellsford Ph 4238547
*RSA,Hakaru & Dist.Women- meet 1.30pm 4th Thurs in month 4312668  
*OWEN STEVENS at Kate's Place Ph:4312661   
*Diabetes Support Group-for Kaiwaka, Mangawhai, Wellsford -10am, 
 
3rd Friday of month Ph:A.Pert 4238242; J.Gardner 4238060 
CHURCHES:
*Gateway Worship Centre-St Mary's Church Nathan Rd off Oneriri Rd, Kaiwaka 
Services, 10.30am 1st & 3rd Sunday of every month. Contact: Rev David Gage 
4312528 or 0212354282 
*Kaiwaka Family Church-Your Community Church Sundays, l0am 
Home Group every Wed evening, Pastor John.Dekker Ph: 4318203 
*Kaiwaka Services.Anglican & Family Service at St Pauls Church  - 1st Sun. 9.30am
(Anglican),3rd Sun. 9.30am (Family Service).  Contacts: Parish Office 09 4318193, 
M.Hargreaves 4312295, C.Bygrave 4312057  
*Church of Christ the King, Mangawhai 9.30am every Sunday 
*St.Mary's Catholic Church:
Maungaturoto – Griffins Road, Saturday evening Vigil 
Mass 6pm; Mangawhai – Senior Citizens Hall, Sunday Mass 8:30am; Wellsford – 
Matheson Road, Sunday Mass 10:30am; Mid-week Mass times and all enquires to Fr. 
Bill Fletcher – phone 423 8170 
*Baptist Church: Sun. 10.30am Mangawhai Snr Cit.Hall.Ph:4312339 
*Cause Way Church Mangawhai – Sundays 10.15am, Mangawhai Community Recre-
ation Centre, Insley St. Ph: 09 4314782  www.causewaychurch.org.nz
*St.Pauls Archie Bull Hall HIRE  $20 half day, $40 full day per hire 
 Contact G. Jaques 4312048 
*Kaiwaka War Memorial Hall HlRE - Phone 4312725 or 
Email  kaiwaka.hall.bookings@gmail.com 
*Hakaru Community Hall HIRE -Ph.  4312256 or 4312110 
*Te Pounga Marae queries -A.Gage 4312528, 4312527 
*Kaiwaka Sports Association hire/queries- C. Anderson 4312051 
Justice of Peace: B.FJaques; L.Donaldson; A.F.Hargreaves  -please phone to 
make sure they are available 
Marriage Celebrants: L.Donaldson; A.F.Hargreaves;  
Next Bugle Deadline Friday 08 November 13