No: 22 
  12/11/2013 
KAIWAKA SCHOOL AGRICULTURAL DAY 
Kaiwaka  School  held  our  annual  Agricultural  Day  on  Mon-
day 21 October. It was a fabulous day and there were lots of 
entries.  All  the  students  enjoyed  seeing  lambs  and  calves  at 
school. We thank our Kaiwaka Sports association especially, 
for providing the PTA with funds to purchase 2 new gazebos, 
which  offered  welcome  relief  from  the  sun  for  both  people 
and the lambs.  The day was organized by Rebecca Blissett, 
with  help  from  Kate  Packard,  and  we  thank  them  most  sin-
cerely for doing this for the school. ~ Rosemarie Ellis 
Photo: Kaiwaka prize winners with Tim Holdgate, ANZ Rural  
Advisor and great supporter of Kaiwaka events. 
OTAMATEA GROUP DAY  
A  large  group  of  Kaiwaka  children  participated  in  the  Ota-
matea  Group  Day  agricultural  day  on  Labour  Day  Monday, 
with  most  children  winning  a  ribbon  with  their  lamb,  calf  or 
goat. They were William Holden, Bella Holden, Lucy Gilligan, 
Nathan Gilligan, Leayah Buxton, Hamish Ferguson, Brenda Fer-
guson, Gareth Ferguson, Tara Moyle, Katie Ferguson, Michael 
Ferguson,  Brayden  Mills,  Ashley  Greig,  Casey  Greig,  Leyton 
Greig, Sammy Wakeling and Zac Wakeling. It was not possible to obtain individual section results at short notice. During the prize-
givings the following results were achieved: Lucy Gilligan champion overall wool lamb; Zac Wakeling preschool champion lamb; 
Leayah Buxton junior champion lamb; Casey Greig calf reserve champion rearing; Gareth Ferguson calf junior reserve champion 
leading, Ashley Greig calf junior champion leading; Sammy Wakeling calf overall champion beef type, and champion overall beef 
leading.  Congratulations  to  all  participants  on  a  creditable  achievement  competing  against  school  children  in  the  district  from 
Matakohe and Waipu south to Tomarata and Tauhoa, including those of college age
. 
There were a good number of participants at 
this event maybe because it was the first time it has been held on a long weekend, and that there were also several visitors who 
just came for a look. 
Photo: Robert Hastie judging the lambs at the Otamatea Group Day at the Kaiwaka Sports Complex. (More photos on www.kaiwaka.c o.nz) 
OUR LOCAL CHAMPION 
Photo left: Champion of Champions Women's D 
Grade  Mirna Manuell, Northland, at the Nation-
al Finals. 
source www.nzsquash.co.nz 
YOUNG FARMERS 
Photo right: Competing in the fencing section of 
the  Lower  North  YFC  competition-on  Roest's 
farm, Oneriri Road. ~ K Brewer 
OTAMATEA GYMNASTS 
Photo far right: Extension Class gymnasts on the 
new Air Track Pro at the Kaiwaka Sports gym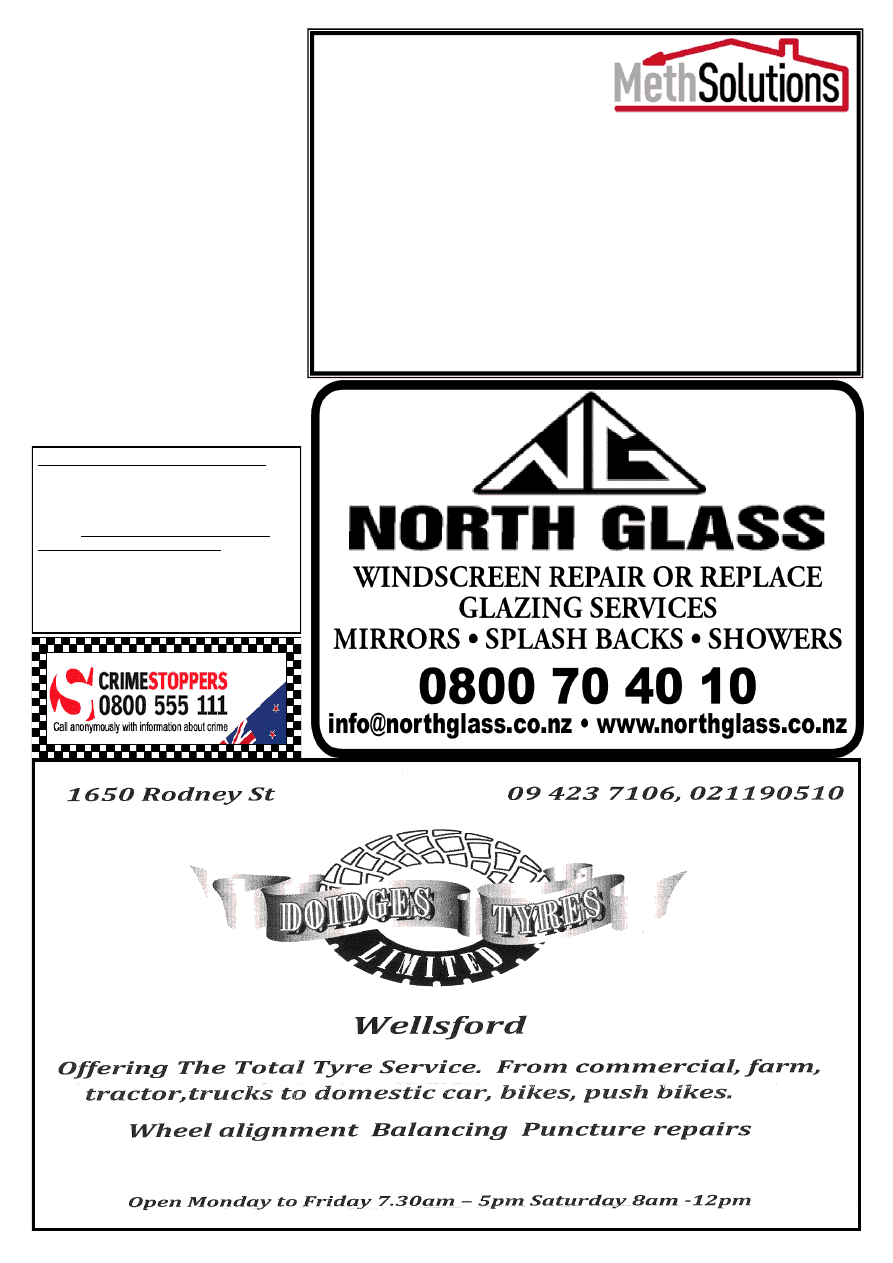 Kaiwaka Bugle Advertisements 2013: 
Classified  $2;  1/8  or  1/9  page  $5;  1/4  page 
$10; 1/2 page $20;  
Payments  can  be  online,  posted  or  left  at 
Jaques Four Square Store - 
contact bugleaccounts@kaiwaka.co.nz 
kaiwakabugle@kaiwaka.co.nz    for  queries 
or copy. 
The Kaiwaka Bugle is a community newspaper 
run by volunteers.   
Articles,  etc.  printed  are  not  necessarily  the 
opinion of the Bugle Team  
LANDLORDS
...
Is your house  
being used as a P- Lab? 
Do you live in a P- lab House? 
Thinking of buying a house?  
Don't take the risk...it will damage your health and your wallet 
If you ignore it. 
High accuracy, low cost MethDNA test from as little as 
$99+GST will give you the answer. 
Tests facilitated by Independent Certified Samplers and  
samples are analysed in an environmental testing lab. 
Book a test now at: www.methsolutions.co.nz  
or for more info call me:  09 4312234  or 021 2154495  
I am a 
local Independent Certified Sampler for MethSolutions. 
KAIWAKA BUGLE No: 22 
12th November 2013 
 
Page 3: Public Notices; Classifieds 
Page 5: Kaiwaka Scouts & Cubs; RSA 
Page 7: KSA Fright Night 
Page 9: Night Sky in November 
Page 11: Dog Trials;  Pt Curtis Cruising 
Page 12: Kaipara Tide Times 
Page 13: KWMHall; Kaiwaka Weather  
Page 15: Kaiwaka Library   
Page 17: Kaiwaka Sports Association 
Page 19: Zonta;  Census Update 
Page 21: Otamatea High School 
 
DEADLINE Bugle 23: 22 November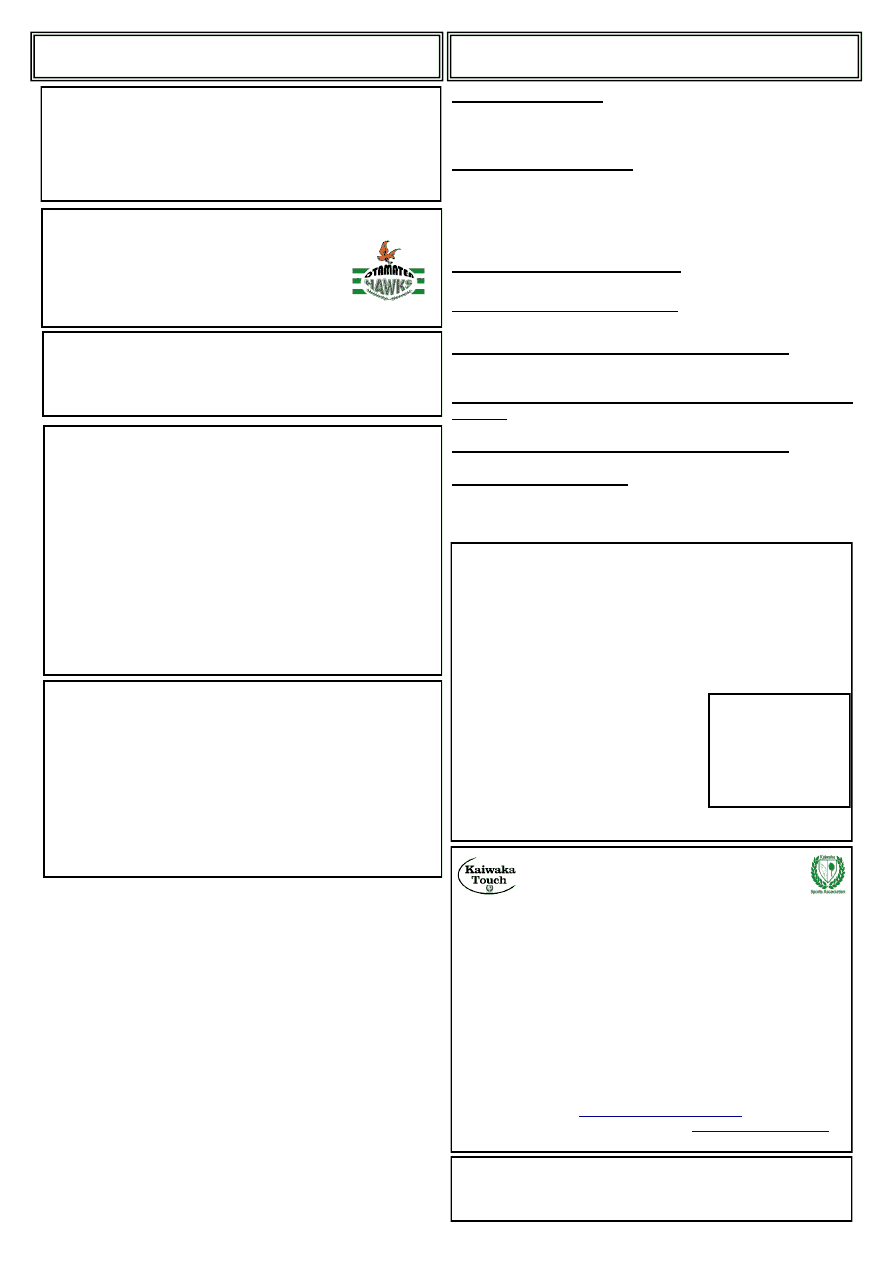 PUBLIC NOTICES 
CLASSIFIED 
LAWN  MOWING:  Residential  sections;  Kaiwaka 
Mangawhai area; Good rates and Quality work. Please 
phone Catherine 4312047 or 0272295997 
NURSERY  for  RENT:
  Need  space  and  shade  to  store 
your precious plants? OR do you want to grow plants on a 
commercial scale for extra income? Nursery at 126 Oneriri 
Rd, Kaiwaka; benches, shade houses and irrigation system. 
For appt. to view nursery, phone Pete Worsfold 021 825970 
FREE  GRAZING  WANTED
 Small or large block. Can 
do some fencing or water.  Phone after 6pm 4312006
BEE  SWARMS  REMOVED
 Free jar of manuka honey 
per swarm. Pls Phone Adrian 09 4312296 or 0212537661 
CLOTHING ALTERATIONS & REPAIRS: 
Hems, Zips, Dressmaking Phone: Win 4312027  or 027 444 
8358 Winsome Designs.
CRANIO  SACRAL  THERAPIST  AND  MAS-
SAGE: 
for Horses and People, $45 experienced practition-
er. Jill Shires 431 2080
HOLISTIC  ANIMAL  PRACTITIONER: 
Horses, 
Pets, Farm Animals. www.allcreatures.co.nz or Jill 4312080
SINGING  LESSONS: 
Want  a  better  voice?  Feel  shy 
about  singing?  Teaching  39  years  in  NZ  music  industry  at 
all levels.  Phone Robyn Hill on 09 4319159 or  
0274 725610 
PROVERB 3:5+6: 
Trust in the Lord with all your heart 
and  lean  not  on  your  own  understanding;  in  all  your  ways 
acknowledge Him and he will direct your 
paths. 
Bugle 23 will appear 26 November 13 
KAIWAKA WAR MEMORIAL HALL  
Annual General Meeting  
WEDNESDAY 13 NOVEMBER, 
5.00PM 
SUPPER ROOM IN HALL 
ABOUT TOWN 
. . . .  
Congratulations, Mirna Manuell, on winning the Champion 
of Champions Women's D Grade at the National Finals in 
Christchurch. 
Well done to Maria Christini and the Lower North Young 
Farmers for a successful District YFC Final-photos on Fa-
cebook Northern Region Young Farmers 
Our condolences to Tim Magill on the passing of his wife, 
Minnie; also to the family of Geoff Belshaw, late of Oner-
iri. 
Welcome to Oscar William Wattam (a Leslie descendent). 
Chris Dent will be playing at Eutopia on the 29th Novem-
ber  
Kaipara Sports Awards results-see 
The Kaiwaka War Memorial Hall movie set up looks and 
sounds brilliant-let Ad know what movies you would like to 
see, email kaiwaka.hall@gmail.com 
Otamatea Hawks Rugby Club  
Annual General Meeting 
Thursday 21st November 2013, 7pm  
at Kaiwaka Sports Association 
All welcome 
KNIT FOR NORTHLAND 
Whangarei Hospital has the need of Knee Rugs, 
Scarves, Beanies and Slippers. These are to be give to 
Elderly Patients to take home with them after their 
stay on hospital. The Children also require Beanies, 
Scarves, Slippers and any other knitted or crocheted 
items. 
If you knit or crochet and want to be part of this 
group come along to the Coffee Pot Cafe, Gateway 
North Motel Complex, on State Highway 1 in Kai-
waka on November 26th at 10.00am. 
For more information contact Gale Matheson 
4314827 or 0274149576 
TOUCH RALLY DAY 
Sunday 8
th
 Dec, 12.30pm 
Kaiwaka Sports Complex 
Register your team for Touch!  
This will be played at Kaiwaka on Sundays, 12.30pm 
*Mixed teams of men, women & teenagers, max 6 on field, 
no more than 3 males, $100 per team 
* Lots of other activities on the day: our squash & tennis 
courts will be open (BYO racquets), our gymnasium will be 
open for basketball (BYO ball) & table tennis also available 
* there'll be a softball pitching machine & the pool will be 
open 
* food stalls, refreshments 
Enquiries to Cheryl Anderson 4312 051  
or 
Bridgette Sampson 021 1727947 or 
THANK YOU 
This  is  a  big  thank-you  to  the  many  people  in  this 
fine town who have supported me after the passing of 
my wife Minnie May Magill.  
To Kaiwaka Fire Service and  St. Johns Ambulance,  
I am also extremely grateful for your efforts and  
support.    With  all  of  this  help,  and  the  help  of  my 
whanau,  I  feel  like  I  have  been  both  devastated  and 
uplifted. 
~ Tim Magill 
LANDSCAPING 
Do you have an unsightly Grey Water/Septic Field at 
your place? 
You guessed it . . . I can help 
I'll turn it into a Tropical Paradise . .  
Aesthetic and functional . . . .  Planted with Native 
trees and shrubs 
Pete Worsfold 
'Sound Landscapes' 
Ph: 021 825970 
Email: petewordfold@xtra.co.nz 
FREE FIRST SITE VISIT 
ALSO: Mulching,  
spraying,  
gardening,  
planning, project 
management 
"Under the Bridge" Working Bee, Kaiwaka 
Sunday 24 November, 10am 
Bring gloves, digging/weeding tools. Pete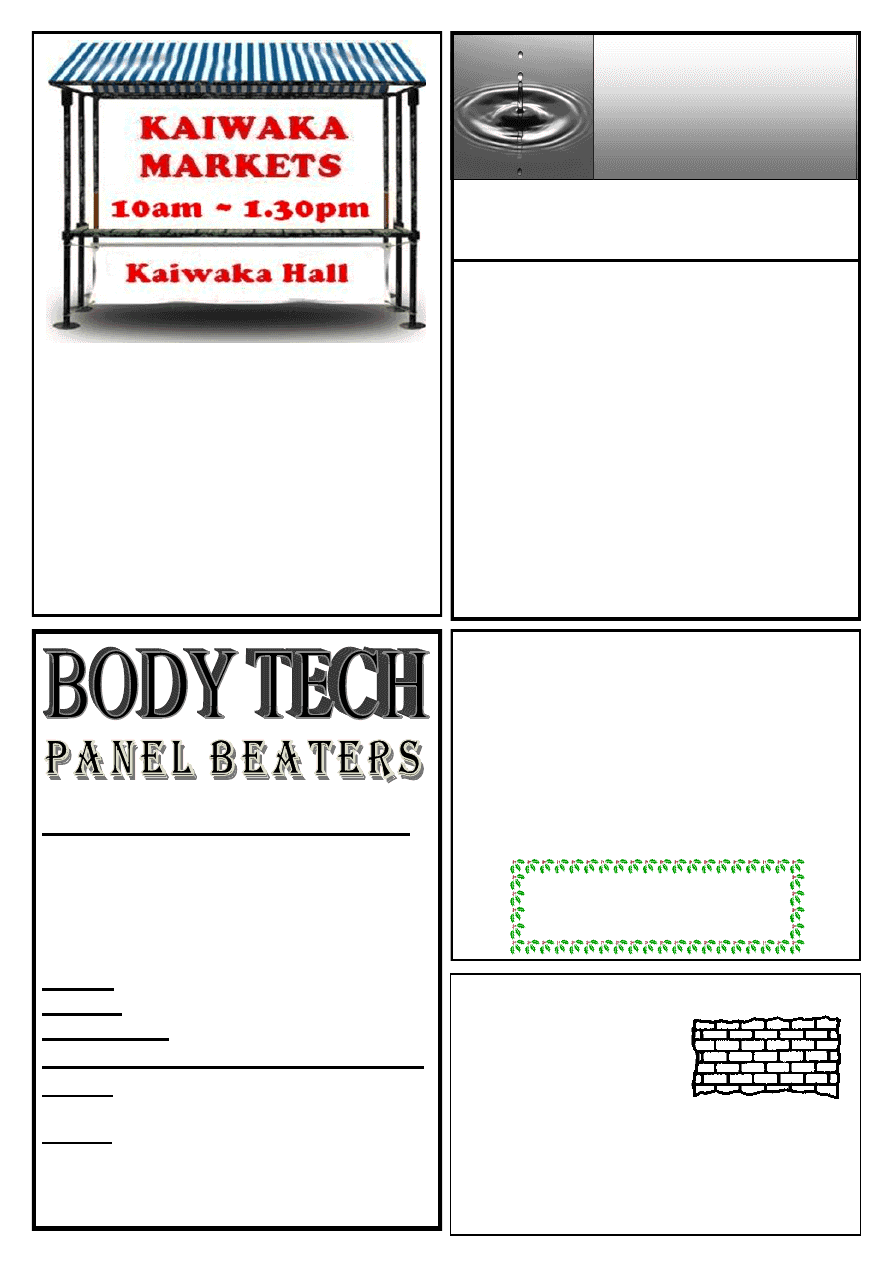 For all your body repair needs!! 
We do: 
 
Rust repairs 
 
Insurance work 
 
Anti-corrosion  
   treatment   
Hours: 8.30am-5pm Monday-Friday  
Mobile: 021 118 0462 
After hours: 09 431 2384 
Phone: Craig or Call in for a free 
Quote 
Email: 
bodytech_panelbeaters@yahoo.com
We are located at 1837 SH1 Kaiwaka, behind Twinkle 
Tow ‗n' Tyre call in anytime for a free quote.  
 
Large and minor vehicle 
repairs
 
Industrial vehicles
 
Full Cut and polishes
Celena's Gifts
             - Gifts for all occasions
1925 State Highway 1 Kaiwaka  Ph: 09 4312741 
NOW OPEN 7 DAYS 
We stock:- 
Greeting Cards   
Party Accessories 
Novelty Items 
Jewellery      
Baby Gifts  
NZ Souvenirs 
Gift wrap & ribbons  Kitchenware... 
and much more! 
On the 2
nd
 Sunday of each month 
In the  
Kaiwaka War Memorial Hall 
Sunday 8 December 
A variety of new & pre-loved goods 
Enquiries to:  
 PETE WORSFOLD M. Soc. Sc. 
Student Counsellor 
 
 peteworsfold@xtra.co.nz 
 021 825 970 
Professional Service 
Variety of Modalities 
By Appointment Only 
PRIVATE COUNSELLING  
"It's coming up to Christmas" - Questions? 

Do I want to resolve longstanding issues with family? 

Why is it that I don't get on with my brother/
father/mother/sister/aunt? 

Can we forget all our family quarrels and 
 differences and have Christmas together? 
"You guessed it . . I can help! Let's sort these issues  
out together!" 
Phone now  for an Appointment 
Pete Worsfold 
 021 825 970 or peteworsfold@xtra.co.nz 
I use a variety of modalities according to your 
particular needs 
 PETE WORSFOLD M. Soc. Sc. 
Student Counsellor 
 
 peteworsfold@xtra.co.nz 
 021 825 970 
Get in Early 
Layby NOW for Christmas 
BRICK/BLOCKLAYER            
All aspects of masonry:  
Fireplaces, 
Restoration &  
Remedial Work. 
JAMES EAGLETON 
Tel. (09) 431 2514  
Mob. 0274 749 232 
jajueagles@yahoo.com.au 
210A Pukenui Road, RD2 Kaiwaka 0573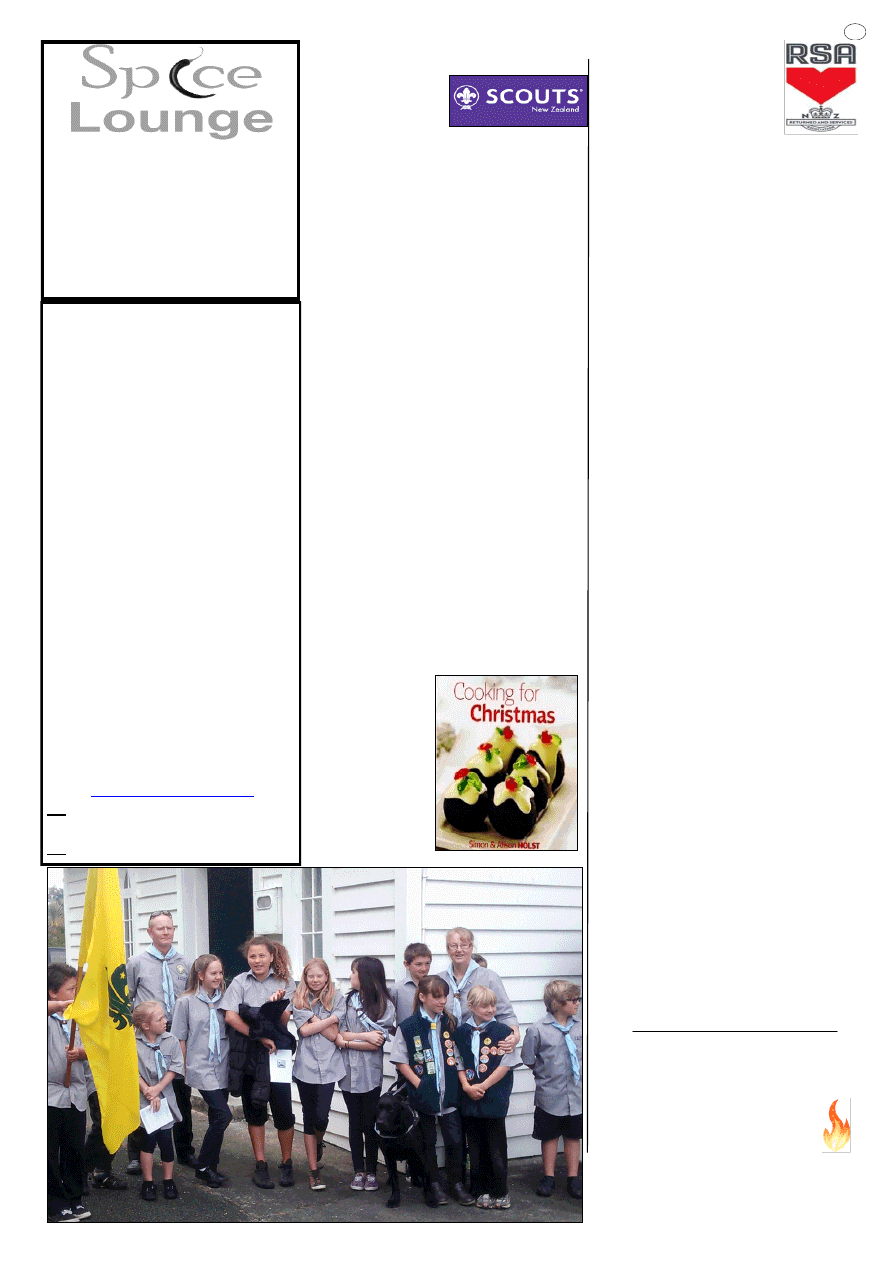 Bonjour, tous les mondes! 
Not a fully functioning person...with those 
niggles, aches and pains? You guessed it.  
 I can help!
Monsieur Masseur .... 
RELAXING  
MASSAGE
..... Juste pour vous" 
Here's feedback from a happy client 
―When I came in for a massage, I was 
stressed and my body was sore.. 
Prior to my massage, Pete counselled me, 
using positive affirmations and visualisa-
tion.. I relaxed and responded to massage 
treatment a lot quicker, I feel. I am still 
using these affirmations on a daily basis. 
or when I feel stuck.‖ 
Call for an appointment now!
Pete Worsfold 
4312 152  or   021 825970   
Or  Ph. "The Well of Health" 
For an appt. 09 4312 799 
Or mobile service available 
Open for Lunch and Dinner 7 Days 
Lunch from 11am ~ 2pm 
Dinner from 5pm ~ 9.30pm 
TAKEAWAYS  
Ph: 312737  or  021 923 236 
spiceloungedinein@gmail.com 
1917 State Highway 1, Kaiwaka 
Women"s Section
 ~ 
Hakaru  &  Districts 
Memorial 
RSA 
(Inc) 
from the ―Girls!‖ at 
Hakaru.  
We  have  had  a  busy  time  lately  with 
the 47th Birthday on 24th October, at 
which  most  of  Northland  Women's 
Sections  were  represented  and  to  the 
south  Pukekohe  sent  members,  Sil-
verdale,  Warkworth,  and  Wellsford 
plus  most  of  our  own  members  so  a 
very  successful  day  was  had  by  all. 
Jan  made  the  cake  and  Lena  made  a 
great  job  of  icing  it,  and  Bettie 
Marchant,  ex  President  for  many 
years, did the honours of cutting it for 
us.  Reg  Jaques  kept  everyone  enter-
tained with his lovely music and Mar-
garet Schutt  sang and Angel Erstich, 
our New Zealand President, also sang. 
The  Mangawhai  Singers  also  sang  a 
few  group  songs  and solos,  and  were 
much appreciated especially Maureen 
Mennie  -the  group's  ‗Nightingale'. 
The  raffles  and  sales  table  was  well 
patronised  -  thank  you  everyone  who 
contributed  to  make  the  day  a  great 
success. The only thing to mar the day 
was  the  absence  of  our  Patron  Joan 
Leslie. We missed you, Joan, and our 
love  and  sympathy  goes  out  to  you, 
Pam  and  Ron  and  all  the  relatives  of 
Dean  Biddle  whose  funeral  was  held 
on the 23rd October. 
Our next mission was to organise and 
cater for the Northern Centre WSRSA 
bowls on Monday 4th November. The 
winning  teams  were:-  1st  Warkworth 
skipped  by  Phyl  Hollis,  2nd  Waipu 
skipped  by  Sharon  Rudman,  3rd 
Kaitaia with Liz Munu ―at the helm‖ - 
congratulations girls, Fay Wintle did a 
good  job  as  skip  for  Hakaru.  Man-
gawhai  excelled  itself  weather-
wise  and  congratulations  to  all  who 
won raffles organised by Heather who 
always does a great job, and to every-
one who helped on the day. 
Tuesday 26th November is our Christ-
mas lunch at the Fishing Club by the 
Pontoon  if  you  haven't  given  your 
names  to  Helen,  members  please  do 
so byo, fizz and a glass. We are sorry 
our  President  Heather  will  not  be 
there to celebrate with us but Heather 
and David are taking a ―Well earned‖ 
break  and  we  wish  them  all  the  best 
and a safe and happy holiday as they 
head South. 
That's  all  from  the  Hakaru  Team  for 
now, we wish you all a Merry Christ-
mas  and  a  Happy  and  Healthy  2014. 
Yours" Aye", Ann. 
KAIWAKA CUBS and 
SCOUTS 
Last  Sunday  the 
Kaiwaka Cubs and 
Scouts  and  their 
families attended a church service at St 
Pauls to commemorate All Saints Day. 
Following the flag parade, children did 
readings  in  front  of  the  congregation 
and  then  enjoyed  a  morning  tea  with 
the  parishioners  in  the  Archie  Bull 
Hall. Photo below 
Fundraising  for  Kaiwaka  Cubs  and 
Scouts 
The Kaiwaka Cubs and Scouts are rais-
ing money for their troop by running a 
books  fundraiser.  Through  Hyndman 
Publishing  we  are  offering  a  selection 
of  cooking  and  gardening  books  as 
well  as  calendars  and  gift  cards  at  a 
special  fundraising  price.  With  Christ-
mas  not  too  far  away,  these  books 
would make great gifts! 
You  can  pick  up  a  brochure  from 
Jaques  Four  Square,  or  give  me  a  call 
and I'll arrange for a Scout to drop one 
off to your home. 
Please  post  your  order  form  with  pay-
ment (cash or a cheque payable to Kai-
waka Scouts) to:  
Cheryl Anderson,  
233 Baldrock Rd, RD2,  
Maungaturoto  
or drop it off in the box at the checkout 
at the Four Square.  
Deadline for orders is 21
st
 November.  
Any 
queries 
please 
phone 
Cheryl on  
4312 051 or  
027 3462702. 
Thank  you  for 
your support! 
KAIWAKA FIRE BRIGADE 
Our  volunteers  have  had  10  call  outs 
in 11 days, including an alleged P Lab 
explosion  in  Mangawhai,  a  house 
fire, a 4WD fire, a serious SH1 car 
accident ...... 
SCRAP  METAL:  The  depot  for 
scrap  metal  has  changed-phone  John 
4312248 
VOLUNTEERS: Become a fireman! 
5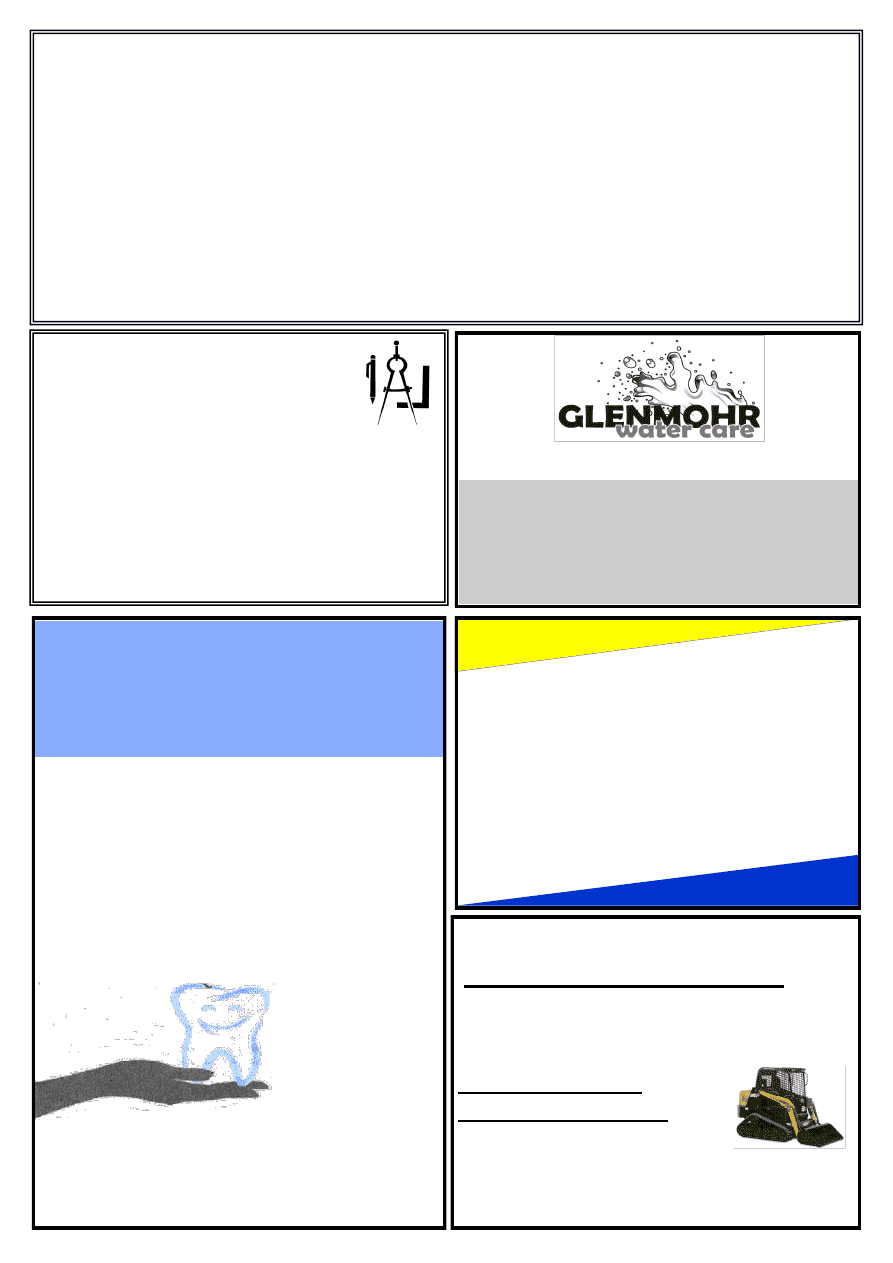 RANGANUI EARTHMOVERS 
16T Excavator   
(tilt, thumb & ROPS cab)   
Transport Trailer 
2 x 6 Wheeler Tip Trucks 
Suppliers of All Grades of Metal & Topsoil 
If you want a proper job done with an experienced operator ring 
Grant on    A/H 431-2131        Email  ranganui.dev@xtra.co.nz 
   Mob  021845-246 
Driveways, House Sites,  
Drainage Dams, 
Section Clearing,  
Tree Work,  Rock Retaining Walls,  
Quarry Work, 
Basically Anything That a Digger Can Do 
C O N C R E T E  
If it's concrete we do it 
Full Preparation & Pour by 
Experienced Local Team 
Phone Phil Keen Contractors  
027 659 2376 
design drafting 
service 
Retired builder and manufacturer with over 40 years  
experience in the building industry is offering a design 
drafting service  
for domestic housing, sleepouts and sheds.  
Plans formulated in consultation with clients, with 
working drawings completed and submitted to  
council for processing.  Extensive practical experience,  
able to identify & resolve problems. 
Please ring Mike Lean on 
09 431 2260  
or 
021 431 196 
Water Tank Cleaning 
" 
Keep your water safe & clean   
" 
Removal of sediment, silt etc 
" 
Vacuum or full scrub 
" 
Minimal water loss 
Phone Mark (09) 432 0655 or 0274 707607 
Gentle Dental 
Ruakaka 
We love to see you smile 
" 
General  & Cosmetic Dentistry 
" 
Emergency & ACC Treatment 
" 
Denture & Hygienist Services 
" 
Senior Citizen Discounts 
" 
Free Adolescent Care 
" 
Free WINZ Quote 
19 Ruakaka Town Centre 
Dr Sim Sood & Associates 
Ph:  432 8139 
Saturdays 
By 
Arrangement 
Open  
Mon-Fri  
8am-5pm  
Gentle Dental 
Ruakaka 
We love to see you smile 
" 
General  & Cosmetic Dentistry 
" 
Emergency & ACC Treatment 
" 
Denture & Hygienist Services 
" 
Senior Citizen Discounts 
" 
Free Adolescent Care 
" 
Free WINZ Quote 
Natural Earth Ltd 
 Landscape and Bobcat services 
 : Driveways  :Landscaping  :Retaining Walls 
 : Hole Boring: Land Levelling :Trenching 
 : Decks :Fences :Sections Cleared: Plus much more 
Tel   09 4312885 
Mob 02102391280  
For A Fast Friendly  
Service Contact Tim Hicks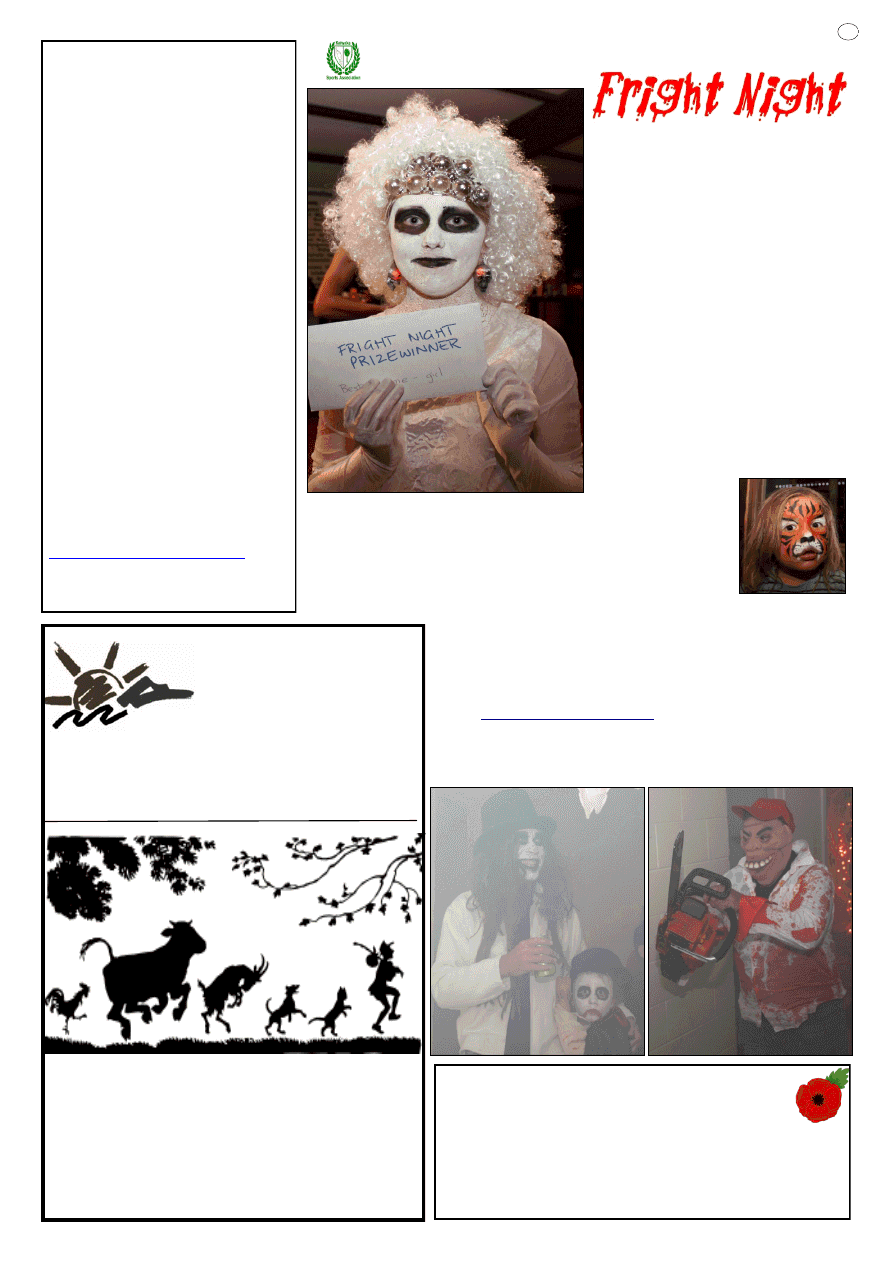 7 
KAIWAKA SPORTS ASSOCIATION 
A hair-raising horde of ghosts, goblins 
and ghouls descended on the Kaiwaka 
Sports Complex on Saturday night for 
the  Sports  Association's  annual  Fright 
Night. Over 200 people attended mak-
ing  this  our  most  successful  Fright 
Night ever! 
New  this  year,  we  offered  free  face-
painting  to  the  children.  With  thanks 
to  our  professional  make-up  artists 
Jacinta  Driver  and  Missy  Tilby,  chil-
dren could choose whether they'd like 
a  gory  gash,  a  scary  scar  or  maybe 
something  a  little  more  traditional. 
Following a lolly scramble and games, 
we opened up our 'haunted house'. We 
had transformed our downstairs chang-
ing rooms into a spooky walk designed 
to scare the yell out of you! It sounded 
like the highlight for the children was 
the  blood-soaked  maniac  with  the 
chainsaw! 
Congratulations  to 
the prize-winners: 
Best costume:   
Girl  Lillie McCarthy  (family pass Sheepworld) Photo above 
Boy      Ryan Stirling  (2 superpasses Rainbows End) 
Adult    Natalie Richards(2 passes Spookers) 
Best supper plate: Jess Leslie (family pass Motat) 
The evening wound up with supper and people had put so much effort into their 
Halloween-inspired  plates  –  we  had  chocolate  spiders,  blood-
shot eyeball eggs, cobweb cupcakes, deadman finger sandwich-
es and more! 
Many thanks to all the helpers and an especially big thank you 
to Mark Ottaway who did such as fabulous job decorating the 
haunted house. Steve Campbell's photos can be viewed on our 
website 
. Thank you to everyone who 
came along – we hope you had a frightful time! 
Photos below: Left Neal and Ryan Stirling in the haunted 
house; Right: The scarer!
The Vet Centre
36 Moir Street, Mangawhai 
~ Our comprehensive team 
 is here to care for  
all your large & small animal needs ~ 
24 HOUR EMERGENCY SERVICE 
Ph:  09 431 4535
AVON  AVON  AVON  
Christmas is fast approaching.  

 have 2 Demo and Sale days 
coming up:  

15th November 9.00am til 
4.00pm at Gateway North  
Conference Room, State  
Highway 1 in Kaiwaka  
 
and the other on 
 

 22nd November at the  
at Maungaturoto 9.00am til 
4.00pm.  

You are all most welcome to 
come along and see what Avon 
has to offer for Christmas. 

Also Brochure 2 is now available 
and all deliveries will be before 
Christmas. 
Just give me a call on 094314827 
or 0274149576 
Armistice Day 
The  11th  hour  of  the  11th  day  of  the  11th  month 
marks  the  moment  when  hostilities  ceased  on  the 
Western Front in 1918, following the signing of the 
Armistice between the Allies and Germany was celebrated in 
many  
cities  and  towns  around  New  Zealand.  Enthusiasm  was 
dampened, though, by the ongoing impact of the influenza  
pandemic ravaging our country. ~ nzhistory.net.nz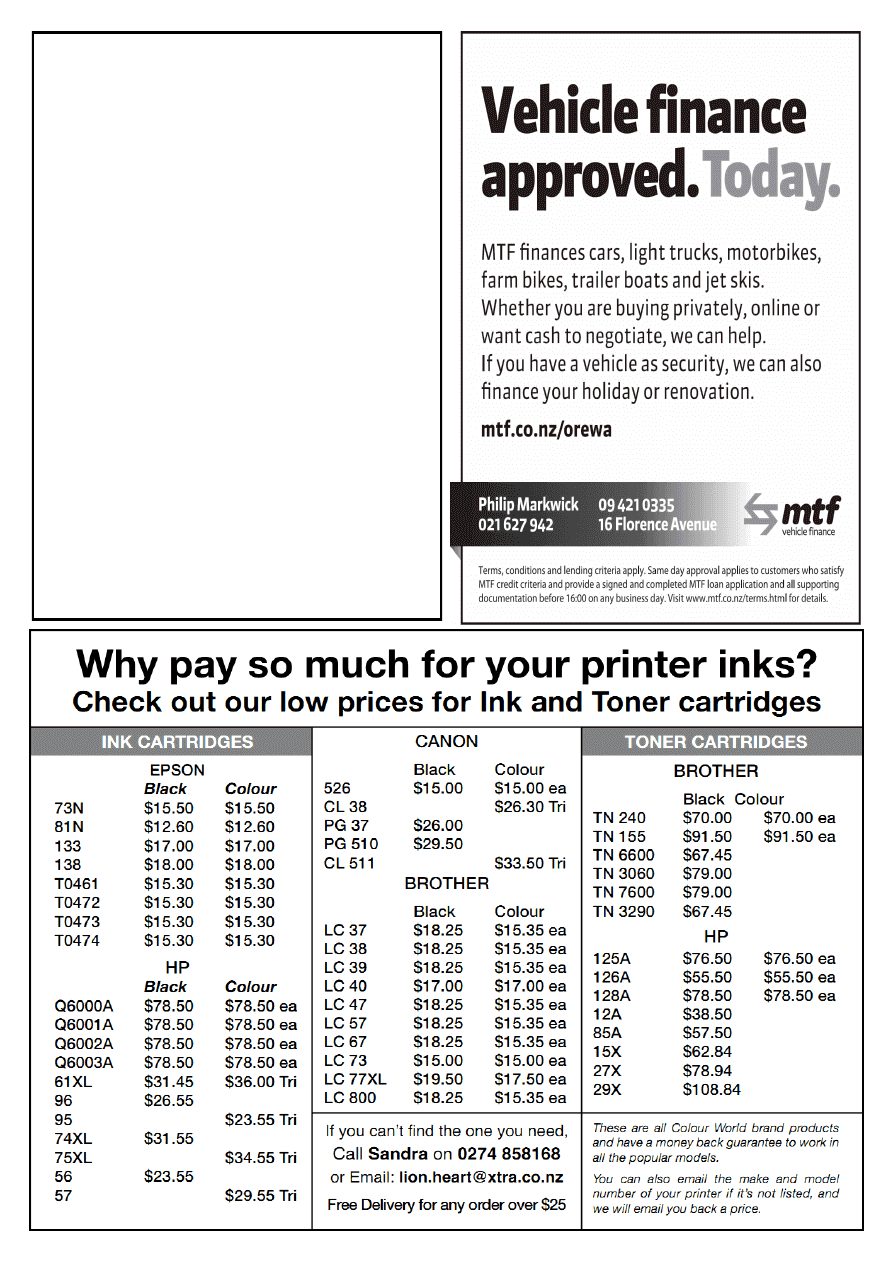 PLANNING A NEW KITCHEN? 
CONTACT NOEL McDOWELL
WELLSFORD KITCHENS 
Ph/Fax 094312888
KAIWAKA-Any time 
  QUALITY CUSTOM MADE KITCHENS  
~Personal and Prompt Service~ 
~All Workmanship Guaranteed~ 
~Over 20 Years in the Trade~ 
~Free Design & Quote~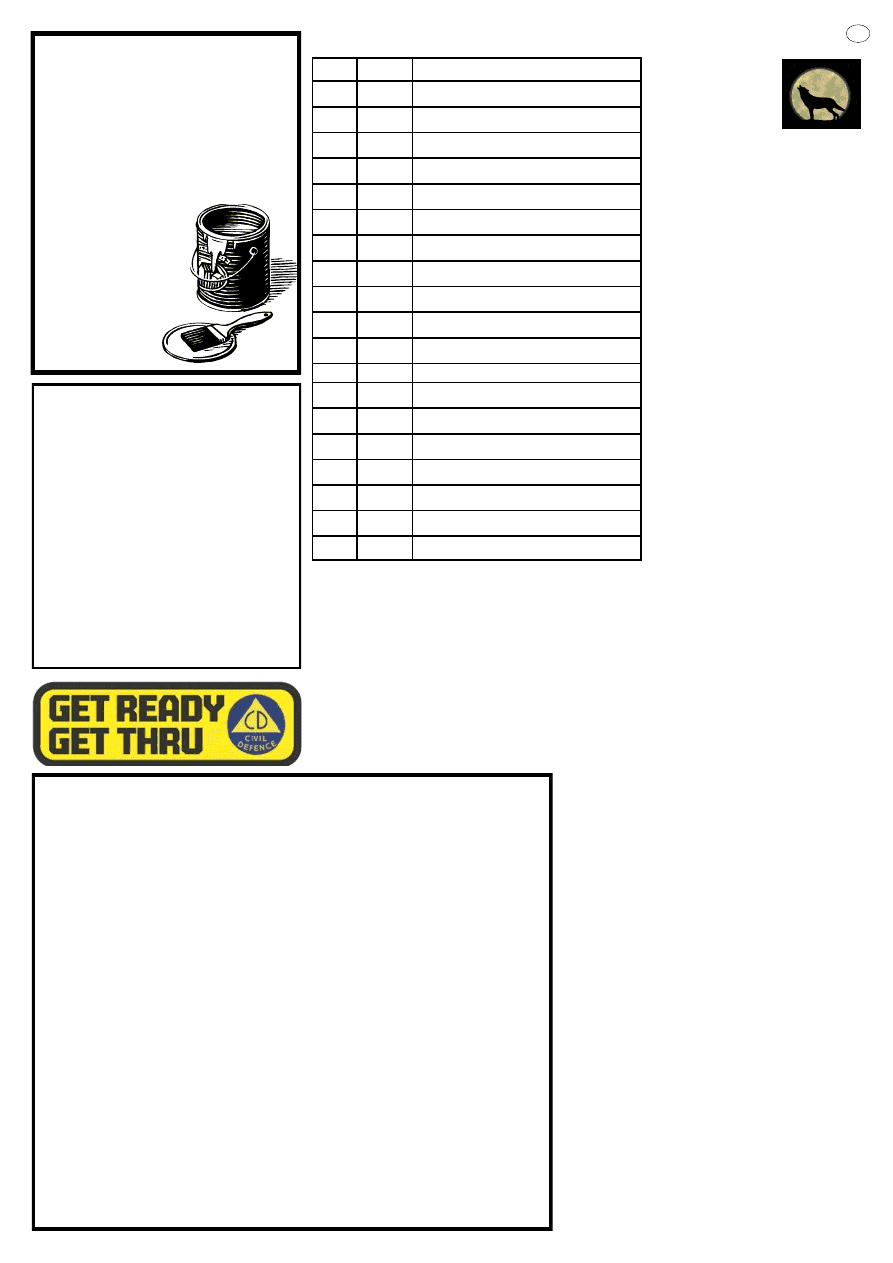 LEABOURNS 
Passenger Service 
Car & Van Hire 
Bus & Coach  
Charters 
Airport Transfers 
 Monthly Shopper 
Bus
Phone (09) 4237416 
9
Night Sky over "the little town of lights" November 
Colour It 
    Painter Decorators 
30 years Painting Experience 
Old & New Homes 
Top Quality Job 
Very High Standard of Workmanship 
Phone: 
09 4312208 
Darryl Fisher 
0278111821 
Glossary 
Conjunction    = 
the  instant  when 
two  objects  have 
the  same  celestial 
longitude, or right ascension. 
Perigee  =  The  point in any  or-
bit  nearest  to  the  body  being 
orbited. 
Elongation  =    the  angle  in  the 
sky  between  the  Sun  and  an 
object.  
Apogee = The point in any or-
bit furthest from the body being 
orbited  
Highlights 
The moon passes next to sever-
al  planets  and  stars  this  month 
and  these  conjunctions  are 
worth watching out for, in par-
ticular, the moon passes by the 
brilliant  planet  Venus  on  6  /  7 
November  and  the  bright  star 
Spica  from  5am  on  30
th
  No-
vember. 
This  month  is  a  good  time  to 
pick out the bright stars of Peg-
asus (the winged horse) – mak-
ing  an  asterism  known  as  the 
―Square of Pegasus‖. To the east of Pegasus, the constellation of Aries is easy to 
locate.  Trailing off the northern (lower) edge of the Square is a line of stars form-
ing the constellation of Andromeda. On a dark night it is possible to spot the fa-
mous Andromeda galaxy (M31) with the naked eye although it is much easer with 
binoculars. While one of the treasures of the Northern Hemisphere, M31 only rises 
20 degrees above the northern horizon in Auckland. 
High  overhead  are the  bright  southern stars,  Achernar and  Fomalhaut,  which to-
gether  with  the  constellation  Grus  are  the  most  prominent  feature  of  our  spring 
night sky. 
Along    the  ecliptic  plane,  the  relatively  inconspicuous  zodiac  constellations  of 
Capricornus, Aquarius, Pisces and Aries can be picked out using some bright stars 
like Fomalhaut and Achernar as guides. The-
se  constellations  span  an  area  of  sky  away 
from  the  plane  of  the  Milky  Way  (Ara 
Matua) which has few bright stars. 
Rising in the east, Cetus (the Whale) almost 
grazes the line of the ecliptic but is not a sign 
of the zodiac. It represents a giant sea mon-
ster or whale of Greek myth. 
In  the  south,  two  naked  eye  galaxies  –  the 
large and the small Magellanic Clouds (LMC 
(Kokirikiri and SMC) – are rising during the 
early  part  of  the  night  and  lie  roughly  be-
tween Achernar and Canopus. This is a good 
time  of  year  to  seek  them  out,  aided  with 
binoculars. 
mercury
  Rising  close  to  the  sun  in  the 
early morning. Very difficult to see. 
mars 
Rises before  dawn  after  Regulus  in 
the constellation of Leo 
venus 
Brilliant in  the  west  after sunset in 
Sagittarius 
saturn
  Too close to the sun to see 
jupiter 
Visible  in  the  east  rising  before 
1am.  Well  placed  in  the  north  before 
dawn.  
Date  Hour 
 Events 
1 
18 
Venus greatest elongation E(47°) 
2 
 9 
Mercury inferior conjunction 
4 
1 
New Moon—Eclipse 
6 
19 
Moon furthest south (-19.6
o
) 
6 
22 
Moon at perigee 
6 
24 
Saturn at conjunction 
7 
Sunset  Venus and the moon 
10 
19 
Moon first quarter 
18 
4 
Full Moon 
19 
8 
Aldebaran 2.7
o
S of moon 
20 
6 
Moon furthest north (19.6
o
) 
22 
17 
Jupiter 5.0
o
N of moon 
22 
22 
Moon at apogee 
26 
1 
Regulus 5.3
o
N of moon 
26 
8 
Moon last quarter 
26 
14 
Mercury 0.3
o
S of Saturn 
26 
Dawn  Mercury with Saturn 
27 
24 
Mars 5.3
o
N of moon 
30 
6 
Spica 0.9
o
S of moon 
Dr A Macaulay DC 
Maungaturoto Chiropractic Clinic 
3 Gorge Road, Maungaturoto 
HOURS: Monday 9am -6pm  
Wednesday 9am-7.30pm 
Thursday 7am-6pm 
For Appointments Phone 09 4318019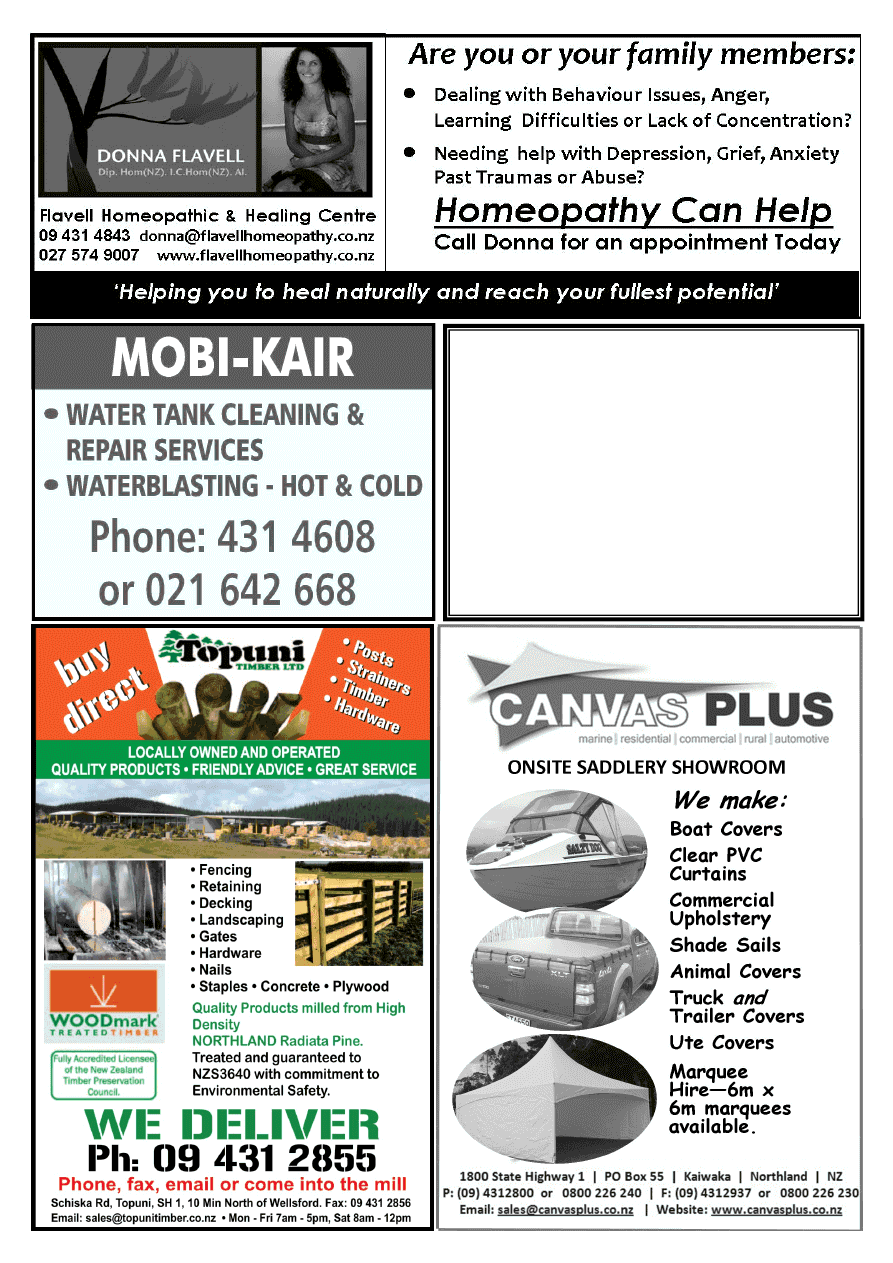 TILING 
Certified Waterproofing 
431 4533 or 021 86 33 33 
George 
MCN Property Solutionz  
Local references available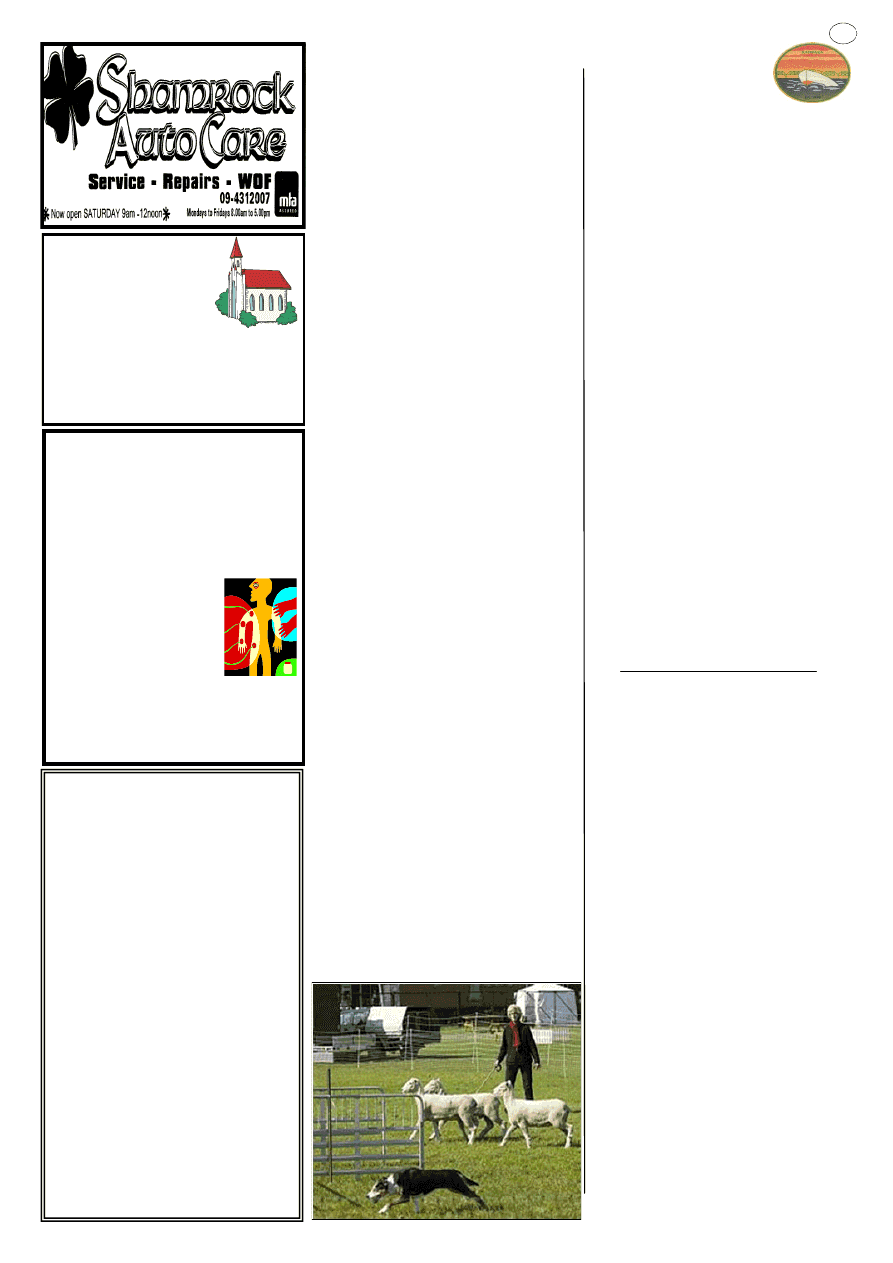 AMBER'S 
Q Cafe &  
Restaurant 
All day breakfast, 8am - 5.30pm.     
 Home made Pizza, take away or eat in from  
8am to late. 
 Light lunches, 11.am - 5.30pm, 
Dinner Menu at 5.30pm to late 
 Toasted Sandwiches and Sandwiches made to order. 
All day, Pies, Chowder & Soups 
 Milkshakes, Kiwi Ice cream, Slushie Fruit drink, Tea, 
Coffee 
 Closed Mondays.....except Observed Holidays 
 Sunday to Thursday: 8am - 8pm 
 Friday: 8am - 8.30pm, Saturdays 8am- 9pm 
4315226 
Trevor & Amber 
41 Moir Street, Shop 5-6  
Mangawhai Village 
Next to Carters Building Supplies 
OWEN 
STEVENS 
Osteo Therapist
For careful adjustments to  
bones and joints 
Treatment  for  humans 
and their pets 
Clinics:  
Kate's Place, Kaiwaka: 
Last Friday of month 
Warkworth Showground:  
2
nd
 Thursday, monthly
ST PAUL'S  
SUNDAY  
SERVICES
First Sunday 9.30am, third Sunday 
9.30am  
 Paparoa Anglican 
St Pauls Church: Kaiwaka-Mangawhai Rd.  
1st Sun. (Anglican), 3rd Sun. (Family Service) 
Contacts:M.Hargreaves 4312295, C.Bygrave 4312057  
POINT CURTIS  
CRUISING  
CLUB 
Point Curtis Cruising Club Inc Club  
Members Only Fishing Competition 
Start time 6am Saturday 16th November and 
finish time  
6pm Sunday 17th November 
Weigh In each day 5pm - 6pm at 3  
Furlongs Hotel, Kaiwaka 
Maximum  weigh  in  2  per  species  per 
angler per day 
Final  weigh  in  5pm  -  6pm,  Sunday 
17th  November  at  3  Furlongs  Hotel, 
Kaiwaka 
Prize Giving 6.30pm.   
BBQ 7pm Sunday 17th November 
Adults: Entry Fee $20 per angler 
Species: Snapper, Kingfish & Kahawai 
Heaviest  Snapper:1st  Prize  $300,  2nd 
& 3rd prizes: Fishing Gear 
1st, 2nd & 3rd prizes for other species:  
Fishing Gear 
Juniors (Under 15) Entry Fee $10 per angler 
Species:  Snapper,  Kingfish,  Kahawai  and 
Eel 
Separate Junior Prize Giving: 1st, 2nd & 3rd 
for each Species 
Tickets  available  from  Jean  Mcleish 
(09) 4312520 or from 3 Furlongs Hotel. 
Anglers must be paid up club members.  
Fish  of  the  month  is  Snapper,  cut  off 
date 12 November. 
Next  committee  meeting  Tuesday  12 
November, 7pm at 3 Furlongs Hotel 
Wayne Leslie, Commodore 
DOG  TRIAL   
UPDATE 
The Waikato Show at Claudelands was 
our  destination  this  time.   Just  a  small 
team,  Ian  McKinnon  and  I  made  an 
early  start  on  Friday  1st  November  to 
beat  the  Auckland  traffic.   We  were 
pleased  that  we  had  taken  our  warm 
jackets  as  the  breeze  in  Hamilton  was 
quite cool.
The sheep had been worked, perhaps a 
bit  too  much  prior  to  the  trials  and 
along  with  being  somewhat  hungry  it 
made them rather ‗bolshie' to handle.
Dash was first to go and well up to the 
challenge for the first half of the course 
before  she  took  the  law  into  her  own 
‗hands' and took a firm grip of one of 
the ewe's noses.  Action she got but the 
sort  of  thing  that  is  frowned  on  by 
Judges, so I chose early retirement and 
retreated to the ute.
Ian and Tess followed soon after.  This 
pairing  has  had  success  in  the  past, 
Tess  is  very  careful  and  somewhat 
light and the ewes she drew were soon 
to  take  advantage  of  her  so  they  were 
lucky to complete the course.
Two hours later it was Jack's turn and 
he  took  great  delight  in  showing  his 
dominance  over  the  ewes  we  had 
drawn  and  completed  with  95  points 
(out of 100), which put us in 2nd place 
for the day.  This meant we were in the 
Run-Off being held on Saturday after-
noon  with  9  pairings  lining  up  for 
it.   Jack  and  I  had  drawn  number  one 
run  so  the  pressure  was  on  with  ewes 
that were a real challenge giving us all 
sorts  of  trouble.   We  made  it  to  the 
Maltese Cross to find that the wind had 
blown  the  hurdles  together  leaving  no 
space for the sheep to go so the Judge 
ordered  that  we  had  another  run.   By 
this  stage,  although  the  next  3  ewes 
were a lot more co-operative, Jack was 
extremely keen to assert his dominance 
quickly  which  was  to  our  detriment, 
showing  in  the  final  results  where  we 
finished 4th with 96 points.
It  was  an  enjoyable  trip  with  the  best 
Chinese Technology of the 21st centu-
ry,  in  Ian's  Great  Wall  which  perhaps 
lacks  the  comfort  and  power  when 
compared with their Japanese counter-
parts!!
~R.H. 
 Photo below: Ngaire  Deans, one of many 
women, competing at the Waikato Show.
FOOD BANK APPEAL 
Kia ora, Greetings to All 
Maria, Paula, Dalliese would like to take 
this  opportunity  to  thank  all  our  Sponsors 
who  have  helped  to  keep  our  Food  Bank 
going:  John  Bowmar,  Kaiwaka  Family 
Church, Ratana Church, Shelford Whanau, 
many more people who I don't know, and 
the wider community. 
It has been a busy year for the Food Bank. 
We  always  seem  to  help  those  in  need, 
sometimes  we  are  scraping  the  bottom  of 
the barrel, but through the generosity of the 
community we are able to help families in 
need. 
Times are getting harder for families. 
We  are  asking  you  for  help.  We  are  in 
great need of food donations: meat, tinned 
food, cereals, bread, milk 
Food can be left at Jaques Four Square in 
Kaiwaka. 
If  you  have  perishables  please  can  they 
wait until I do up the Food parcels on 23rd 
December. 
We also need Christmas gifts for children 
aged 3-15 years old. 
I know we can rely on our Community to 
support those in need. 
Thank you to the caring people who have 
been the backbone of the Community Pro-
ject 
God bless ~ Maria, Paula Dalliese 
 11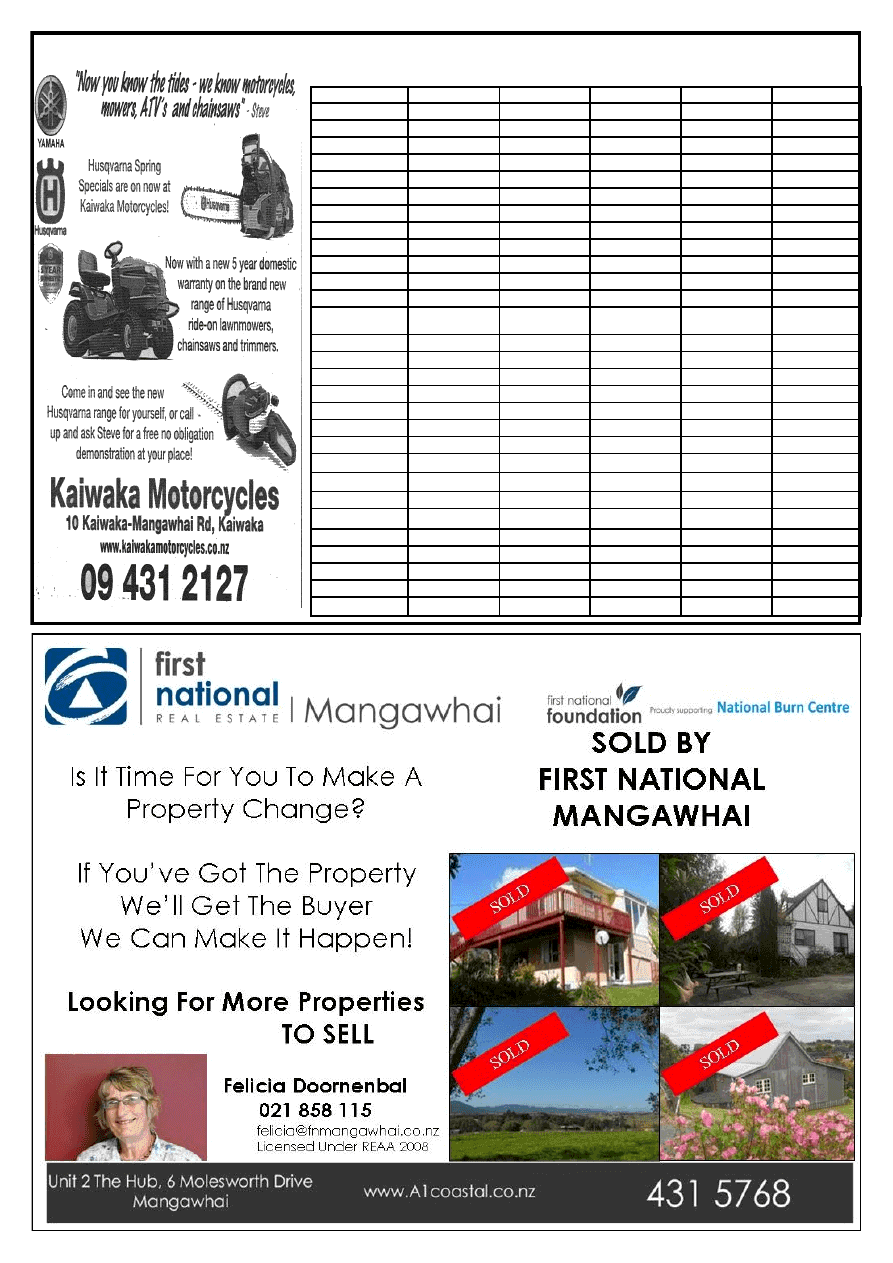 KAIPARA TIDE TIMETABLE  
SPONSORED BY 
 Kaiwaka Motorcycles 
Date 
High 
Low 
High 
Low 
High 
Tue  12 Nov 
- 
00:12 
06:33 
12:40 
19:03 
Wed 13 Nov 
- 
01:19 
07:41 
13:48 
20:06 
Thu 14 Nov 
- 
02:19 
08:42 
14:47 
21:00 
Fri   15 Nov 
- 
03:13 
09:33 
15:37 
21:47 
Sat  16 Nov 
- 
04:00 
10:18 
16:22 
22:30 
Sun 17 Nov 
- 
04:43 
10:59 
17:04 
23:10 
Mon 18 Nov 
- 
05:23 
11:37 
17:43 
23:48 
Tue 19 Nov 
- 
06:00 
12:13 
18:21 
- 
Wed 20 Nov 
00:25 
06:37 
12:48 
18:58 
- 
Thu 21 Nov 
01:02 
07:12 
13:23 
19:36 
- 
Fri 22 Nov 
01:39 
07:48 
14:01 
20:16 
- 
Sat 23 Nov 
02:20 
08:27 
14:41 
20:59 
- 
Sun 24 Nov 
03:04 
09:09 
15:28 
21:47 
- 
Mon 25 Nov 
03:53 
09:58 
16:20 
22:39 
- 
Tue 26 Nov 
04:48 
10:54 
17:19 
23:36 
- 
Wed 27 Nov 
05:49 
11:57 
18:19 
- 
- 
Thu 28 Nov 
- 
00:34 
06:50 
13:01 
19:18 
Fri 29 Nov 
- 
01:32 
07:50 
14:01 
20:13 
Sat 30 Nov 
- 
02:27 
08:45 
14:56 
21:04 
Sun 01 Dec 
- 
03:19 
09:36 
15:46 
21:54 
Mon 02 Dec 
- 
04:09 
10:24 
16:35 
22:43 
Tue 03 Dec 
- 
04:57 
11:11 
17:23 
23:32 
Wed 04 Dec 
- 
05:45 
11:59 
18:12 
- 
Thu 05 Dec 
00:22 
06:34 
12:47 
19:01 
- 
Fri 06 Dec 
01:13 
07:22 
13:36 
19:53 
- 
Sat 07 Dec 
02:06 
08:13 
14:28 
20:46 
- 
Sun 08 Dec 
03:00 
09:06 
15:24 
21:42 
- 
Mon 09 Dec 
03:57 
10:02 
16:23 
22:41 
- 
Tue 10 Dec 
04:57 
11:04 
17:26 
23:43 
-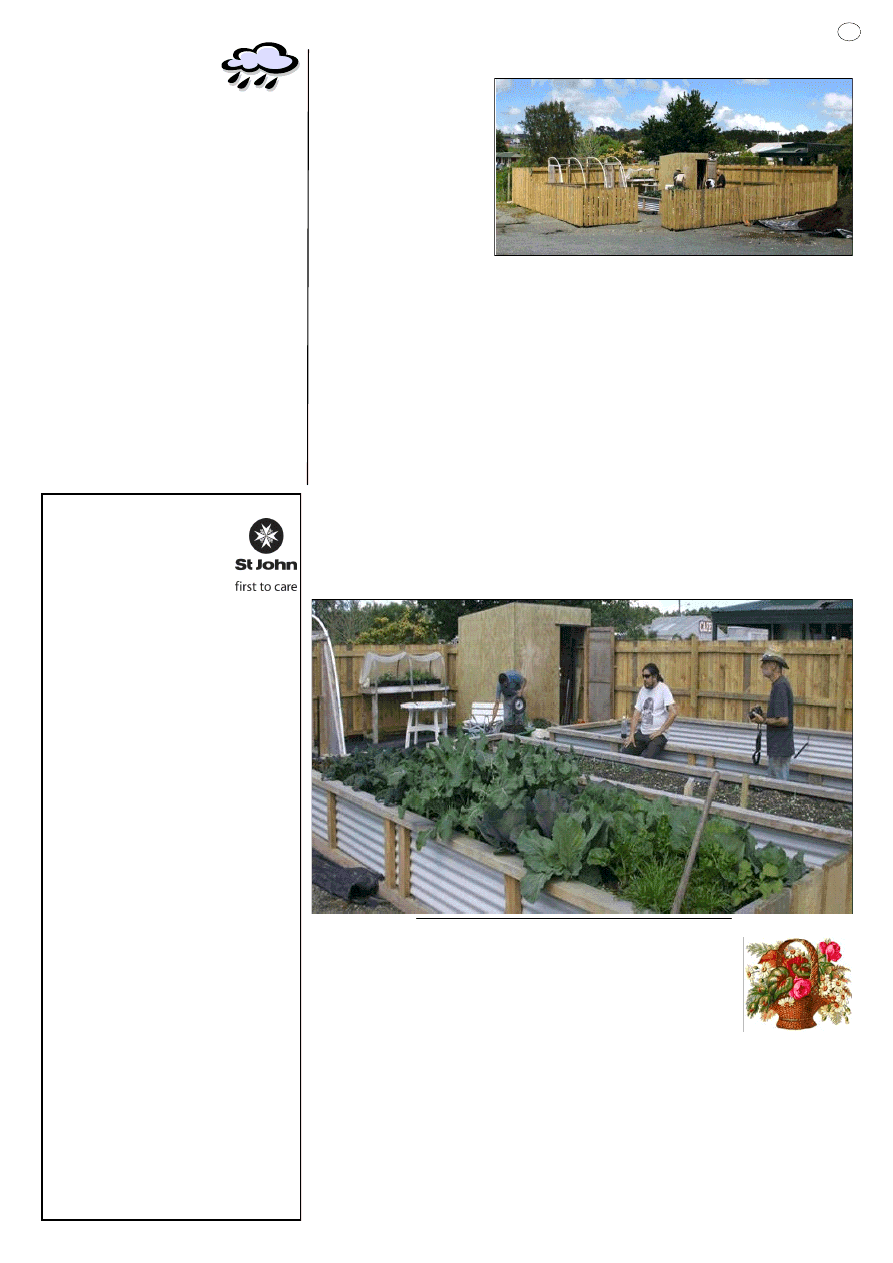 KAIWAKA 
WEATHER 
October  was  a  normal  month  with 
windy  patches  and  not  a  lot  of  rain, 
worse luck and definitely short of sun-
shine  but some  pleasant days.    I  have 
not  heard  of  anything  too  major 
weather-wise in our region and no one 
has reported me anything.   
In  October  we  had  19  mm  of  rain  at 
our  house  and  October  last  year  we 
had  59mm.  There  were  only  6  days 
last month we recorded rain.   
The  wettest  October  since  1958  was 
2006  with  176mm  and  the  driest  was 
2000  with  17mm.  The  first  10months 
of  this  year  we  had  1024mm  and  last 
year we had 1205mm.   
The  wettest  first  10months  was  2008 
with  1582mm  and  driest  first 
10months was 1991 with 691mm.  
I see there has been a lot of harvesting 
done  and  the  maize  and  turnip  crops 
are going in.   
Wishing you well and keep safe. Bev. 
Kaiwaka War Memorial Hall Update 
Movies 
Kaiwaka  War  Memorial 
Hall had a couple of brief 
Open  Days  recently  to 
demonstrate  the  quality 
of  our  new  projection 
equipment,  the  awesome 
new  surround-sound  sys-
tem,  and  our  lovely  new 
comfy chairs. Some peo-
ple  also  got  to  see  what 
the  Hall  can  offer  in 
terms of facilities for conferences, weddings, dances, theatre, etc. 
Despite the fact that it wasn't well advertised we had quite a few people come in 
and enjoy what they saw, especially on the Sunday afternoon. Reactions were all 
very  positive,  and  with  a  good  number  of  completed  questionnaires  from  the 
Bugle we have a very good idea now about what the community wants. 
We thank the people who made an effort to come along and/or return the ques-
tionnaire. 
We will start screening movies again... soon. Watch this space! 
Courses and development 
On the land behind the Hall (part of the Hall's property), the Kaiwaka Communi-
ty  Garden  is  taking  shape.  This  was  the  project  favoured  by  NorthTec  for  the 
Sustainable  Rural  Development  Course.  They  started  from  nothing...  and  now 
there is this lovely garden, created by the students on the course and their tutor 
James, with help from the NorthTec carpentry course run by Tim, with top soil 
donations and a little money from the Hall Committee for some of the materials. 
This could be a great asset! It  looks great, and I am hearing that there will be a 
follow-up course starting in February. 
Painting 
The painting of the Hall exterior is nearly finished. 
 ~ Ad Clarijs, Chairman Kaiwaka War Memorial Hall Committee
The Mangawhai Women's Institute  
Floral and Craft Show: 
This will be in the Mangawhai Library Hall, cnr Moir & Insley 
Street, in the Village on Friday 15th November.  The doors will 
be  open  on  the  Thursday  night  between  7  -  8pm  for  receiving 
entries. 
There are different categories of entries: 
Cut Flowers; Vegetables; Flowers decorative, this year Halloween, Twilight ar-
rangement  or  Christmas  Splendor;  Cooking  :  Xmas  cake,  un-ice,  2  decorative 
cup  cakes,  date  loaf,  jar  jelly,  jar  marmalade  or  pickled  fruit/vegetable; 
Handcraft; knitting, an article made with wood, metal or ceramics; art; Photog-
raphy 
There are people on the door accepting entries till 10.45am and judging begins at 
11am sharp 
Doors open to the public at 12.30 at a cost of $3 which includes afternoon tea.
Judges  comments  at  1pm,  prize  giving  at  2.30pm  followed  by  drawing  of  the 
raffles
. ~ 
Margaret Walshe
St John Op 
Shop 
Kaiwaka 
Hours: 
Tuesday to Friday  10am to 4pm. 
Now open Saturdays 9am-2pm 
Has anyone some spare flower plants 
or flowers? 
Furniture  needed,  and  other  goods 
will be appreciated. 
LOST? We have a Photo Album with 
family photos taken on the Coroman-
del  showing  Walker,  Robison,  An-
drews and Underwood families. 
VOLUNTEERS  NEEDED:  Police 
checks  done.  Can  you  spare  2-4 
hours, one day per week? It would be 
great. 
XMAS  HAMPER  RAFFLE  will  be 
starting this week. 
Thank  you  everyone  for  our  contin-
ued support to my great team of Vol-
unteers 
 ~ Arohanui, Milly 
Shop   4312650      Home 4312423       
CLOTHING SALE 
Saturday 16 November 
(Weather permitting) 
9am Start 
$2 per Bag full! 
 13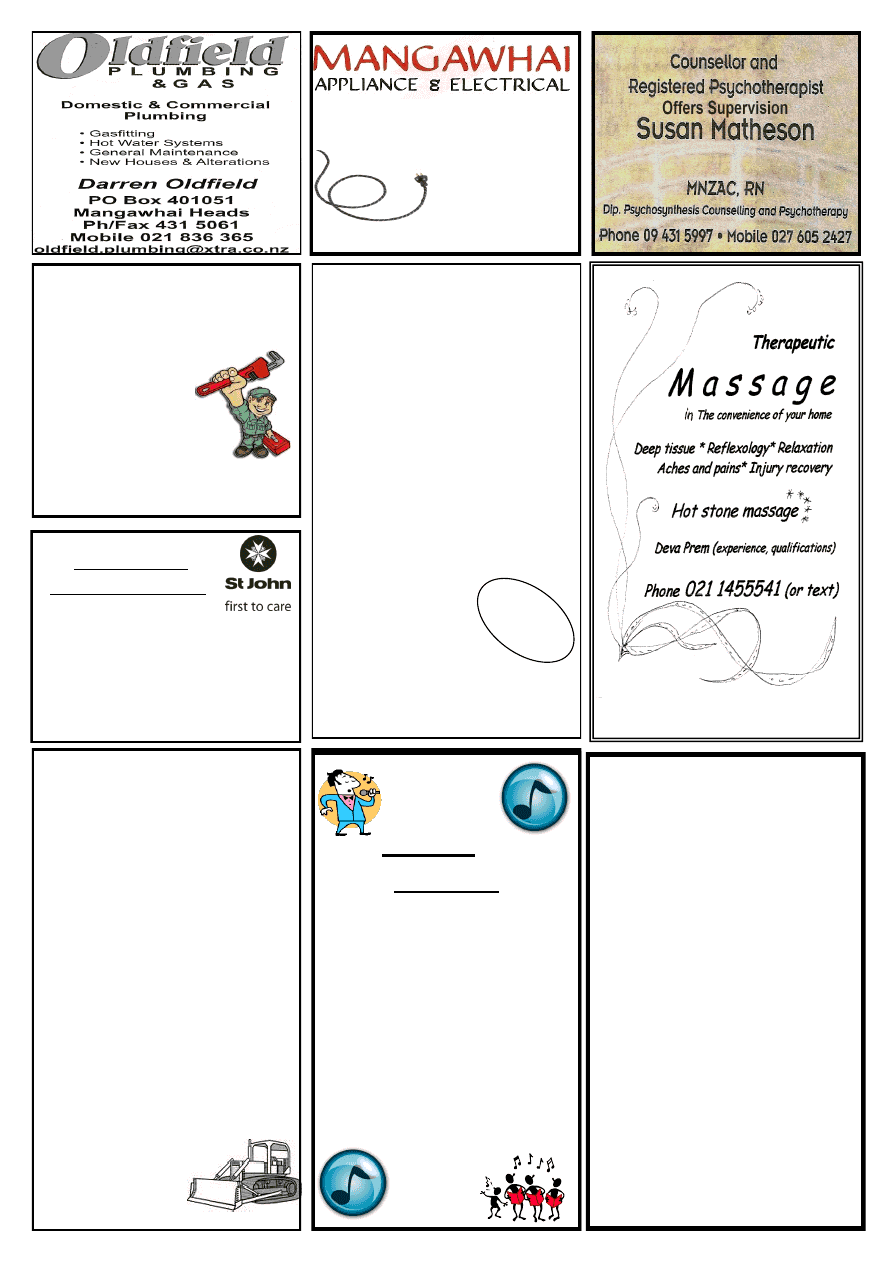 Willow Bend
HORSE  
HOTEL 
"   
Total Horse Care 
" 
Agistment 
" 
Riding Lessons 
" 
Arena Hire (60x40) 
" 
Young Horse Starting 
" 
Re-training/Exercising 
" 
Hoof Trimming 
" 
Problem Solving
Phone Sue 09 431 2817 
or 021 623 776 
Or email sue.gray@xtra.co.nz 
Based ou
t  
Oner
iri Roa
d 
HODGETTS
CONTRACTING
Digger Work    

Driveways 

House Sites   

Dams 

Drains, etc
Also available for HIRE 

3 ton Vib Roller 

Heavy Duty Tow 

Waterblaster  

Lazer Level 
Phone Mark 
4312877 
027 447 8554
DEAN STEWART 
Registered Electrician 
021 280 4008 
09 4312911 
ATHOURISED FISHER AND PAYKEL SERVICE 
Coates  
Contracting 

D41 Bulldozer with 6 
way blade, bush rigged 
with winch 

For all tree work 

General bulldozing and  
  stick raking. 

120hp Tractor for 
ground cultivation,  

tip trailer work. 

Fencing
All enquiries phone  
Brett Coates  
094318720 or  mob 
021431872
Singing  
Lessons 
Individual sessions 
All styles of music  
All voice types 
Reasonable rates 
Phone  
Maura Flower 
021 164 8318 
Community 
Services Officer: 
For all Community Services Forms 
see Milly at the  
Kaiwaka St John Op Shop.  
Phone 4312650 
MORE MEMBERS REQUIRED FOR 
THE KAIWAKA STATION
. 
www.mangawhaimassage.co.nz 
Ross Murphy 
PLUMBER 
Certifying 
Plumber 
09 431 7510 
021 424 252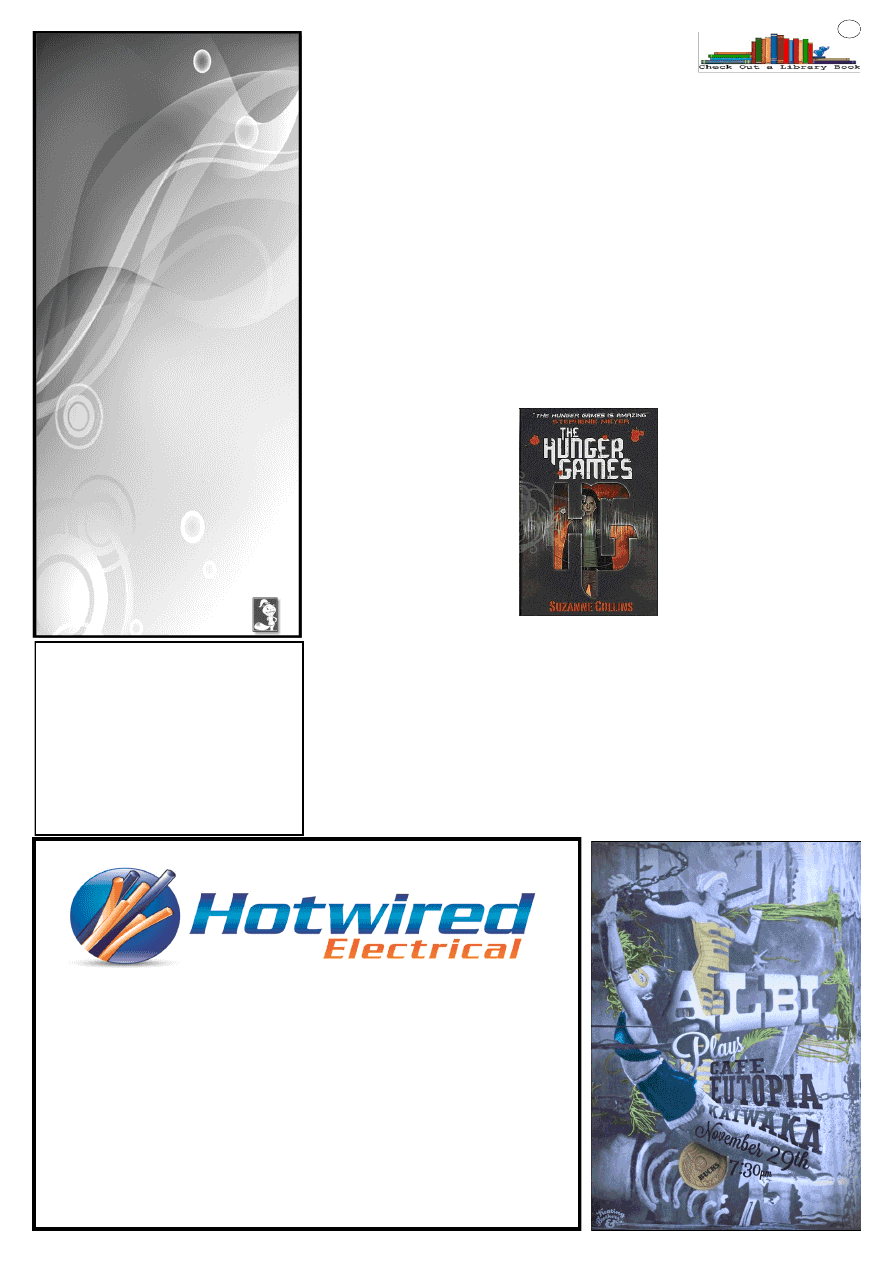 T.W.WRIGHT 
WATER PUMPS  
SALES & SERVICE 
DEEP WELL & SUBMERSIBLE REPAIRS 
203 WHAKAPIRAU RD, WELLSFORD 
MOBILE 021 976 545 
For All your Electrical  Requirements 
 
Domestic small jobs 
 
Residential dwellings and alterations 
 
Commercial 
 
Industrial                 
No job too big or too small      
Contact Jason today on: 
(09) 431 5992, (021) 405 019 
www.hotwiredelectrical.co.nz 
U Beauty 
 Eyebrow Wax 
$10 
 Eyebrow Tint 
$10 
 Eyelash Tint 
$20 
 Lip Wax 
$10 
 Chin Wax 
$10 
 Underarm Wax  
$20 
 Bikini Wax 
$20 
 Extended Bikini Wax 
$30 
 Brazilian 
$50 
 ½ Leg Wax 
$30 
 Full Leg Wax 
$45 
 Full Pedicure 
$60 
 Foot Tidy  
$35 
 Manicure 
$45 
 Nail Tidy 
$25 
 15 min Back  Massage 
$25 
 30 min Back Massage 
$50 
 Chest Wax 
$30 
 Back Wax 
$40 
 Nostrils 
$10 
 Ears 
$10 
Please call Nicole for bookings 
09 393 6336 or 022 0639450 
Qualified Beautician 
4 Kaiwaka – Mangawhai Rd 
Kaiwaka 
KAIWAKA LIBRARY 
The  next  book  swap  is  comi
ng up 
soon  -  we  will  be  swapping  the  Dar-
gaville  books  in  the  first  week  of  De-
cember. Now is the time to get in and 
take  a  good  look  at  the  current  selec-
tion  before  it  disappears,  they  don't 
have  to  be  back  before  the  swap,  so 
you  can  have  them  for  the  usual  31 
days. 
Book Reviews 
I have been gathering up old book re-
views, printing them and putting them 
in  a  binder so  they  can  be  read  in  the 
library.  This  is  all  the  recent  reviews 
published  on  Facebook  and  Google+, 
not just those that make it to the Bugle. 
You'll  find  the  folder  on  the  table  in 
the library if you'd like to take a look. 
Review 
Recently I've read The Hunger Games 
by  Suzanne  Collins.  In  the  not-so-
distant future, after some sort 
of  rebellion,  North  America 
is  divided  into  twelve  dis-
tricts,  strictly  ruled  from  the 
Capitol  which  is  located 
somewhere  near  the  Rocky 
Mountains.  District  12,  the 
district  furthest  from  the 
Capitol,  is  in  the  vicinity  of 
the  Appalachian  Mountains, 
and  most  of  its  workers  are 
coal  miners.  Life  is  tough, 
and tends to be short. 
Katniss  Everdeen  lives  with 
her  mother  and  younger  sister,  Prim. 
Their  father  died in  a  mining  accident 
that left their mother withdrawn to the 
point  of  neglecting  her  children,  and 
they  come  close  to  starving  to  death 
before  Katniss  realises  she  must  use 
the  skills  her  father  taught  her,  and 
sneak beyond the electrified fence con-
taining  the  town  to  poach  game  and 
gather  plants  to  keep  them  all  alive. 
Somehow,  16-year-old  Katniss  not 
only  survives,  but  flourishes  in  her 
own way as she gains confidence sell-
ing  excess  meat  to  others  in  the  black 
market. 
But  there  is  a  darkness  overshadowing 
everyone  in  the  districts  -  the  Hunger 
Games.  Every  child  aged  between  12 
and  18  must  enter  the  draw  for  the 
games  each  year,  from  which  one  boy 
and  one  girl  from  each  of  the  twelve 
districts  is  chosen.  These  tributes  to  go 
to the Capitol and fight each other until 
only  one  is  left  alive,  all  for  the  enter-
tainment of everyone else. Or rather, for 
the  entertainment  of  those  in  the  Capi-
tol, since none of their children have to 
take part, while those in the districts are 
forced  to  watch  the  televised  competi-
tion  and  see  their  own  be  slaughtered. 
To make  matters worse, the children of 
poor families can earn extra food to help 
their  families  survive  by  entering  their 
names more times, making it more like-
ly  that  they  will  be  selected 
than  children  of  more  well-
off families - and those extra 
entries  are  carried  over  and 
added to each year. 
The  book  starts  on the reap-
ing  day,  the  day  the  tributes 
are  selected.  Katniss  has 
gone  through  this  a  few 
times  already,  but  it's  her 
sister's first time. She's terri-
fied  for  her  sister,  even 
though she knows Prim's one 
chance  of  being  selected  is 
very  small  compared  to  her 
own.  Katniss  has  been  taking  extra  en-
tries  to  help  feed  her  family  since  she 
turned  12,  and  now  has  20  entries  this 
year. But chance is a funny thing... 
Even  though  I've  seen  the  movie  made 
of this book, I really enjoyed it. It was a 
gripping  read  from  start  to  finish.  I'm 
looking  forward  to  the  next  two  books 
in this series! This book is on the Rental 
Fiction shelves in the library. 
See you in the library!
Wendy Howard, Librarian  
 15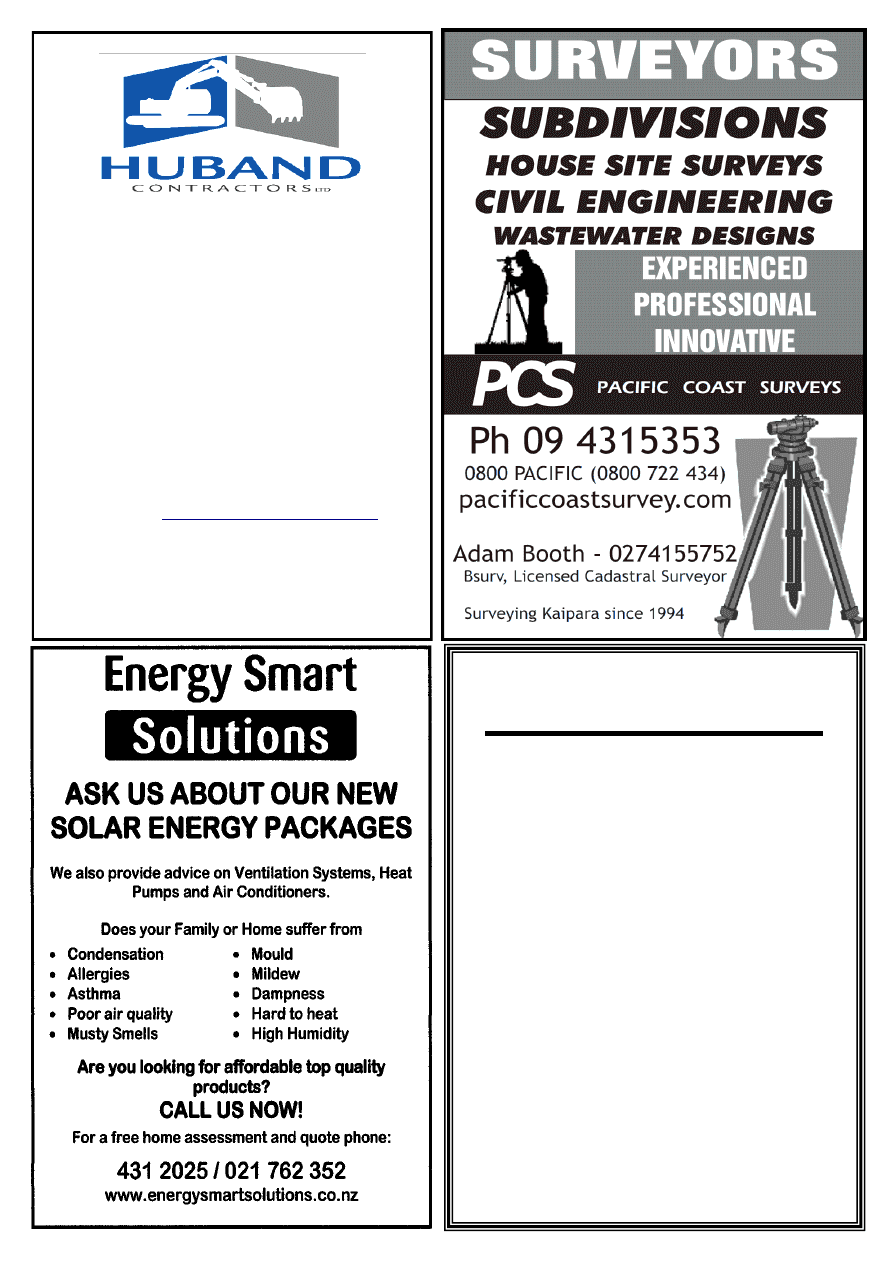 STOCKFOOD
GREAT RANGE FOR ALL YOUR LIVESTOCK  
AT GREAT PRICES 
 ALSO CHECK OUR 
DOG BISCUITS 
20 KG FOR $58.90 
LPG REFILLS 9KG 
STILL ONLY $31.50
MANGAWHAI SERVICE 
STATION 
(09) 431 4242 
44 MOIR STREET IN THE VILLAGE 
*   R O A D I N G   *   E A R T H W O R K S  
*    
*   D R A I N A G E   *   S I T E W O R K S  
*  
For any further enquiries,  
contact Shaun on: 
Cell: 021 222 0272 
Home: 09 4318339 
Shaun Huband:  Registered  
Drainlayer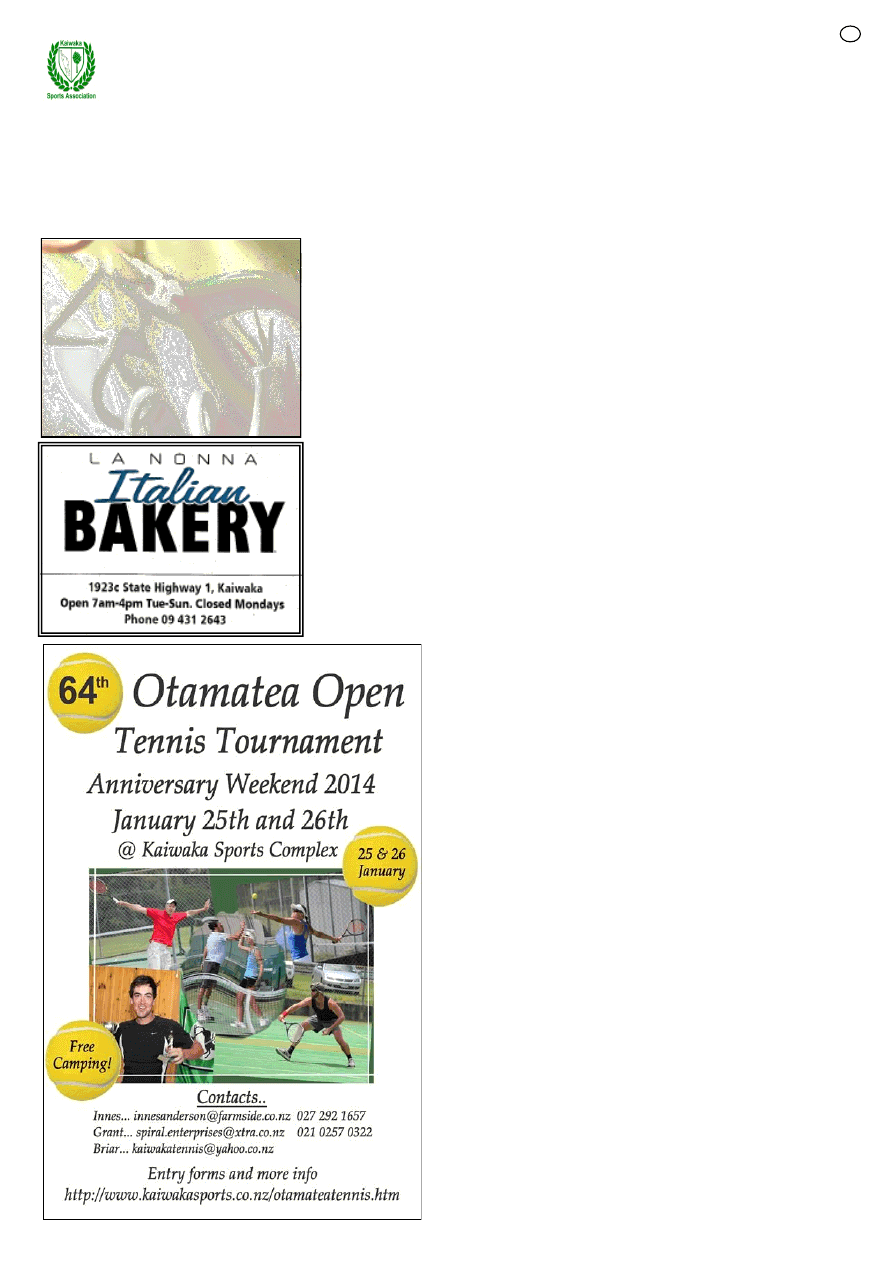 Paul Greig Electrical Ltd 
Residential • Farm • Commercial 
Paul Greig 
Registered Electrician 
Ph: 431 2223  
Mob:021 230 2717 
Reliable & Professional Quality Service 
Based in Kaiwaka 
KAIWAKA SPORTS ASSOCIATION 
Fright Night 
  Our annual Fright Night was a 
wonderful  success!  Over  200  kids  (and 
big  kids!)  enjoyed  a  spooky  evening  at 
the Sports Complex. You can read more 
about the night in the report in this edi-
tion of the Bugle. 
Touch 
Thank  you  to  Bridgette  Sampson  who 
will help me run a Touch module which 
will  be  held  at  the  Sports  Complex  for 
nine  weeks  on  a  Sunday  afternoon  start-
ing on Sunday 2nd February. This will be 
a  casual,  friendly  competition  for  mixed 
teams  of  men,  women  and  teenagers. 
Touch is easy to learn and just about any-
one can play. There will be a Touch Rally 
Day at the Sports Complex on Sunday 8th 
December,  from  12.30pm.  As  well  as 
registering  your  team  for  the  module, 
there'll be lots of other activities to do  – 
so bring the whole family along! You can 
read more about the Touch Rally Day in 
the flyer in the edition of the Bugle. 
Fitness Challenge 
There is a Fitness Challenge being held at 
the  KSA  fields  on  Wednesday's  at 
5.30pm. Suitable for everyone, cost is $7 
per class. 
Badminton 
It's wonderful to see an increase in num-
bers  turning  up  for  our  badminton  club 
night. Players of all ages and abilities are 
welcome so if you are keen, simply turn 
up to our  gymnasium on  Tuesdays from 
7.30pm. Only $3 per person, play as long 
as you like, please wear soft soled shoes 
and club rackets are available for you to 
borrow at no cost. If there's enough inter-
est  the  club  may  start  up  a  second  bad-
minton session on Saturdays. Keen? Ring 
Steve Campbell on 4312 779. 
Annual General Meeting 
The Kaiwaka Sports Association's AGM 
will  be  on  Wednesday  20th  November, 
7.30pm  at  the  Sports  Complex.  All  wel-
come. 
Athletics 
Our  Athletics  Club  is 
now  taking  registra-
tions,  all  ages  are  wel-
come  at  the  club.  To 
register  your  interest 
please  contact  Eileen 
Parsons 
on 
021 
1420357.  
In  January,  Athletics 
Northland will host the 
North  Island  Colgate 
Games, for 7  - 14 year 
olds,  in  Whangarei. 
Over 1,000 competitors 
and their supporters are 
expected over the three 
day event. Deadline for 
entries  is  18th  Novem-
ber. 
Rugby 
The  Otamatea  U14's 
rugby  team  will  hold  a 
meeting at the Maunga-
turoto Country Club on 
Thursday  21st  Novem-
ber  at  7.30pm.  They 
need a good turn out of 
parents/supporters 
to 
ensure  this  team  goes 
ahead  next  season.  It 
would be a shame if the 
boys  who  are  keen  to 
play  had  to  miss  out 
just because there is not 
enough  adult  support, 
 17 
so please come along and offer your help 
where  you  can.  For  any  queries  please 
contact Brett Coates on 021 431872. 
The  Otamatea  Hawks  Rugby  Club  will 
hold their AGM at the Sports Complex 
on Thursday 21st November, 7pm at the 
Sports Complex. All welcome. 
Thank you 
Many  thanks  to  the  Kaiwaka  Cubs  and 
Scouts who picked up rubbish from the 
Sports Complex grounds recently as part 
of  their  community  service  –  much  ap-
preciated! 
Gymnastics 
Stephanie  and  her team  at our  gymnas-
tics club are pleased that the long await-
ed Air Track Pro has finally arrived! Our 
gymnasium  could  not  have  an  inbuilt 
spring floor due to its multiple users, so 
this is a good substitute. Many thanks to 
the ASB Community Trust for their gen-
erous grant. 
Photo front page: Extension Class gym-
nasts on the new Air Track Pro 
Congratulations Gary 
Congratulations  to  Gary  Kingi,  one  of 
the  managers  of  the  Otamatea  Rugby 
Club,  who  was  nominated  by  the  KSA 
in  the  Lotto  Volunteers  Award  for  his 
significant contribution to the club. Gary 
won $500. 
Kaiwaka Tennis Club 
Last  seasons  tennis  coach  is  no  longer 
available so the club is looking for some-
one who could take over this role. This 
would  involve  taking  the  juniors  for  an 
hour or so on Mondays from 4pm. You 
don't need to be a qualified coach – you 
just  have  to  have  a  bit  of  tennis  ability 
and an affinity with children. If you can 
help out, please phone Lindell Ferguson 
4312 542 (evenings).  
Otamatea Tennis Tournament 
Our  annual  tennis  tournament  will  be 
held  at  our  courts  over  Anniversary 
Weekend.  This  tournament  attracts  top 
quality  players  from  all  over  Northland 
and  Auckland  and  we  also  have  places 
for  locals  to  compete.  So  dust  off  that 
racquet and get in some practice! Entry 
forms 
are 
on 
our 
website 
www.kaiwakasports.co.nz. For any tour-
nament  enquiries,  please  contact  Briar 
Jaques on kaiwakatennis@yahoo.co.nz 
Top of the Rock 
Our  annual  multi-sport  challenge  the 
Top of the Rock will be held on Sunday 
9th February next year – mark it in your 
diary! This event is for the casual partici-
pant as well as the serious competitor as 
there  are  a  range  of  options:  5km  or 
10km  walk  or  run,  10km  run  +  14km 
mountain bike ride and a 30km moun-
tain bike route. Entry forms will be on 
our website shortly.  
Cheryl Anderson 
4312 051, 021 3462702 
kaiwakasports@gmail.com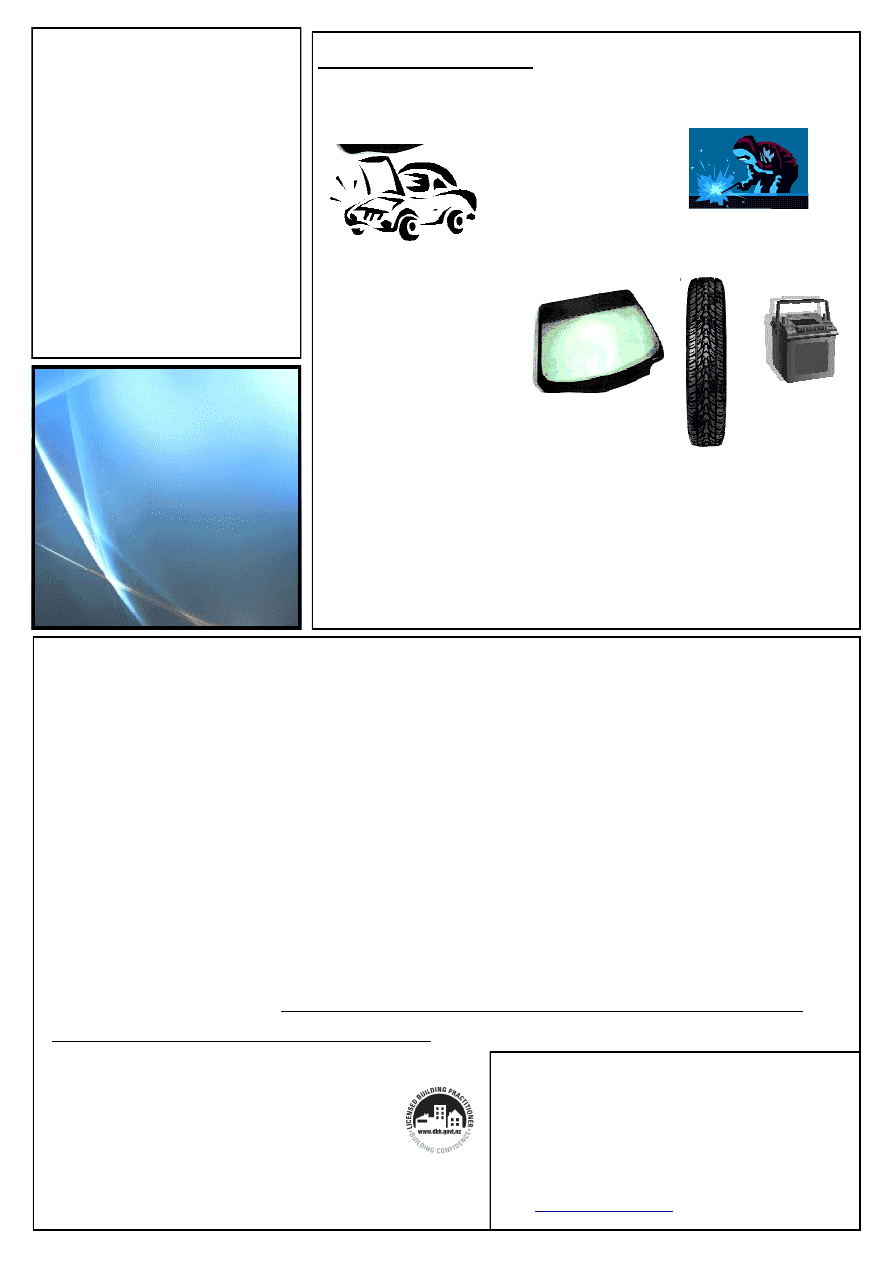 Freeview  
Installations 
Richard Te Haara 
25 Marram Place 
Mangawhai Heads 
021 1104056 
kiwipride@xtra.co.nz
Want it done? 
Bring it to 
Twinkle Tow "n" Tyre 
*W.O.F. 
*Tyres 
*Windscreen replacement 
*Chip repairs 
*Bulk Oil 
*Batteries 
*Welding 
*Custom built 
trailers 
*Trailer hire 
Think you'll get a better deal in the city? 
Go on, ring us; it won't cost anything! 
1837 State Highway 1, Kaiwaka       
Phone 431 2823 
ARCHITECTURAL BUILDING PLANS AND DESIGNS 
20% Reduced Cost - design and planning. 
If you are thinking of building, then you need to make use of cost savings in architectural design as well as having a good and well experi-
enced designer. This applies if you are considering a new home, any alterations or any building additions/farm buildings, sheds, alterations, 
whatsoever. There are many things that are frustrating if you are not totally familiar with what all details are required by Councils -
especially with new regulations in force to ensure everything runs smoothly - e.g. Resource and Building Consents, planning restraints, 
new building materials ,applying for building permits, dealing with building contractors to name a few -you need a capable,  
experienced and professional designer with a clear knowledge of all the processes. 
WE CAN HELP YOU CLARIFY ALL OF THESE ITEMS  AND MAKE LIFE RUN MORE SMOOTHLY.  
Brian of Wright Design has been helping and organising all these facets of design and building for over 40 years. 
With needs of family changing and the economy - building requirements constantly being reorganized and made more complex, it's very im-
portant to obtain professional advice for any building project - no matter what size. 
Brian advises on design, materials, permit applications, builders and subcontractors for any project - no matter how small or large 
ALL THIS AT A REDUCED COST so YOUR DOLLAR GOES FURTHER  
Wright Design offers free visits, consultations and all the advice you need on planning. Design, building, contractors, council  
permit applications, guaranteed permit plan acceptance. 
QUALIFICATIONS 
Brian is a qualified designer (NZCAD) with over 40 years of varied experience in all types of building and is a registered and Licensed Build-
ing Practitioner in Design - L.B.P. 117345 
He ensures you will achieve the best from your budget with recommended excellent local contractors ready to competitively price and 
build your personal project quickly and efficiently. 
EXPERIENCE 
Brian's practical building and 40+ years of design experience means he can give you excellent advice and all the guidance needed for 
all your building needs, 
FEES: To help you attain your project Brian has reduced his costs by 20%, giving you extra funds for the rest of your project. 
ENGINEER: Brian can arrange engineering for a reasonable cost. 
THIS IS AN ABSOLUTELY GENUINE FEE REDUCTION!! 
Qualified and inexpensive designer – N.Z.CAD., LBP 117345 
Guaranteed design and working drawings 
Free site visit to your home or property 
Great service 
Obtain a free quote with 20% Discount. 
PROJECTS 
Additions, alterations, basements, new houses, motels, bed 
and breakfast commercial buildings and shop fit outs are a 
few projects he has been  
involved with. 
MAKE GOOD USE OF HIS EXPERIENCE AND THIS GREAT  
OFFER OF REDUCED FEES OF 20%
WHAT TO DO FROM NOW 
Call Brian   
Arrange a visit 
Discuss your needs 
Obtain great advice.  
Obtain a free quotation - with a true 20% discount 
WRIGHT DESIGN 
Brian's office is at: 360 Oneriri Road, Kaiwaka, Northland 0573  
Call in for a chat and a coffee, or he will call on you at your home if  
preferred. 
WRIGHT DESIGN: Office 09-4312544 
Mobile 021 276 7389 
Email: 
Indian Head Massage 
for anyone with tension 
Gentle on upper back, shoul-
ders, neck, head and face 
Effective in relaxing whole 
body. 
You are clothed and seated.  
No oils used. 
25 – 30 minutes $25,  
Wed pm at "The Well of Health" 
shop, Kaiwaka 
by appointment with Yatra 
mob: 021 2377678  
or email: yatrabe@gmail.com 
LANDSCAPING 
4 IN 1 BUCKET 
TRENCHER 
POLE HOLES 
ROTARY HOE 
COMPACT ROLLER 
OFFAL HOLES 
CAN SUPPLY WOODCHIP & POST PEEL 
5 TON TIPPER 
FOR RELIABLE AND FRIENDLY SERVICE CONTACT DAVE 
Dave Hyndman 
 
KAIWAKA 
PH: 09 4312302 
MOB: 021 431 238 
19 
The Zonta Club of  
Mangawhai are pleased to 
announce  the  2013  Spirit 
of  Adventure  scholarship 
goes to Charlene Kahotea-
Smith  who  will  be  taking 
her  voyage  in  2014.  We 
wish  her  bon  voyage  and 
look forward to hearing all 
about it on her return. 
 Also  coming  to  a  town 
near  you  in  November 
will  be  some  very  special 
visitors - our orange  
advocacy dolls.  
The  Mangawhai  Zonta 
club is part of the interna-
tional  ‗Zonta  Says  No' 
project, which is taking place all over the world at the end of November. Its aim 
is to bring attention to the horrific statistics of domestic violence, which, in New 
Zealand, have reached an alarming level and to promote the message that domes-
tic violence is not OK. The Zonta promotion is linking nationally with the ‗White 
Ribbon' and ‗It's Not OK' campaign. 
The dolls had their first outing on Saturday 26
th
 October where Zonta teamed up 
with Judy Kennedy from Te Ha at Mangawhai Beach School Gala Day to pro-
mote the upcoming area initiative to raise awareness of domestic violence. See 
the photo above. During November the dolls will be covering Kaiwaka, Maunga-
turoto, Waipu, Mangawhai and Ruakaka. So keep a look out for them.  On Satur-
day 23
rd
 November at the Bream Bay  Community Centre in Ruakaka the dolls 
will be supporting the White Ribbon bike riders as they leave for their ride onto 
Whangarei.  The  bikers  will  be  leaving  at  10am,  so  come  along  and  help  us  to 
give them a good send off. 
Before that  on  Saturday  9
th
  and  Sunday  10
th
  Nov  the  Man-
gawhai  Zonta  group  will  again  be  providing  delicious  high 
teas  at  Tara  Lodge  on  both  afternoons  as  part  of  the  Man-
gawhai Garden Ramble. This year there will be craft stalls as 
well  so  come  along  and  support  three  worthy  causes.  The 
Zonta group will also have an information stall if you wish 
to find out more about Zonta. 
Kaipara District and Area Units 
Census Usually Resident Population Counts:     2001, 2006, and 2013 Censuses 
            Area 
Census usually resident population count 
Population change  
Kaipara District 
2001 
2006 
2013 
2006-2013 
   504400 Te Kopuru 
480 
453 
465 
12 
   504501 Kaipara Coastal 
3,048 
2,985 
2,955 
-30 
   504502 Maungaru 
1,662 
1,725 
1,692 
-33 
   504600 Dargaville 
4,530 
4,455 
4,251 
-204 
   504700 Maungaturoto 
750 
837 
756 
-81 
   504800 Ruawai 
453 
426 
432 
6 
   504900 Kaiwaka 
534 
537 
576 
39 
   505010 Rehia-Oneriri 
4,599 
4,947 
5,415 
468 
   505021 Mangawhai 
681 
918 
1,329 
411 
   505022 Mangawhai Heads 
720 
855 
1,086 
231 
   615302 Inlet-Mangawhai Harbour  0 
0 
0 
0 
Total Kaipara District 
17,457 
18,135 
18,960 
825 
Note: Owing to rounding, individual figures do not always sum to the stated totals. Source: Statistics New Zealand 
Zonta Club of Mangawhai  
QUICK STATS about KAIPARA DISTRICT  
Number  of  dwellings:  There are 7,044 occupied dwellings 
and 2,316 unoccupied dwellings in Kaipara District.   
Internet/cellphone  access:  48.9  percent  of  households  in 
Kaipara  District  have  access  to  the  Internet,  compared  with 
60.5 percent of households throughout New Zealand. In Kai-
para District 68.4 percent of households have access to a cell-
phone,  compared  with  74.2  percent  of  households  for  New 
Zealand as a whole. 
To  view  the  boundaries  for  Kaiwaka  and  for  Rehia-Oneriri  see 
 or the Statistics New Zealand website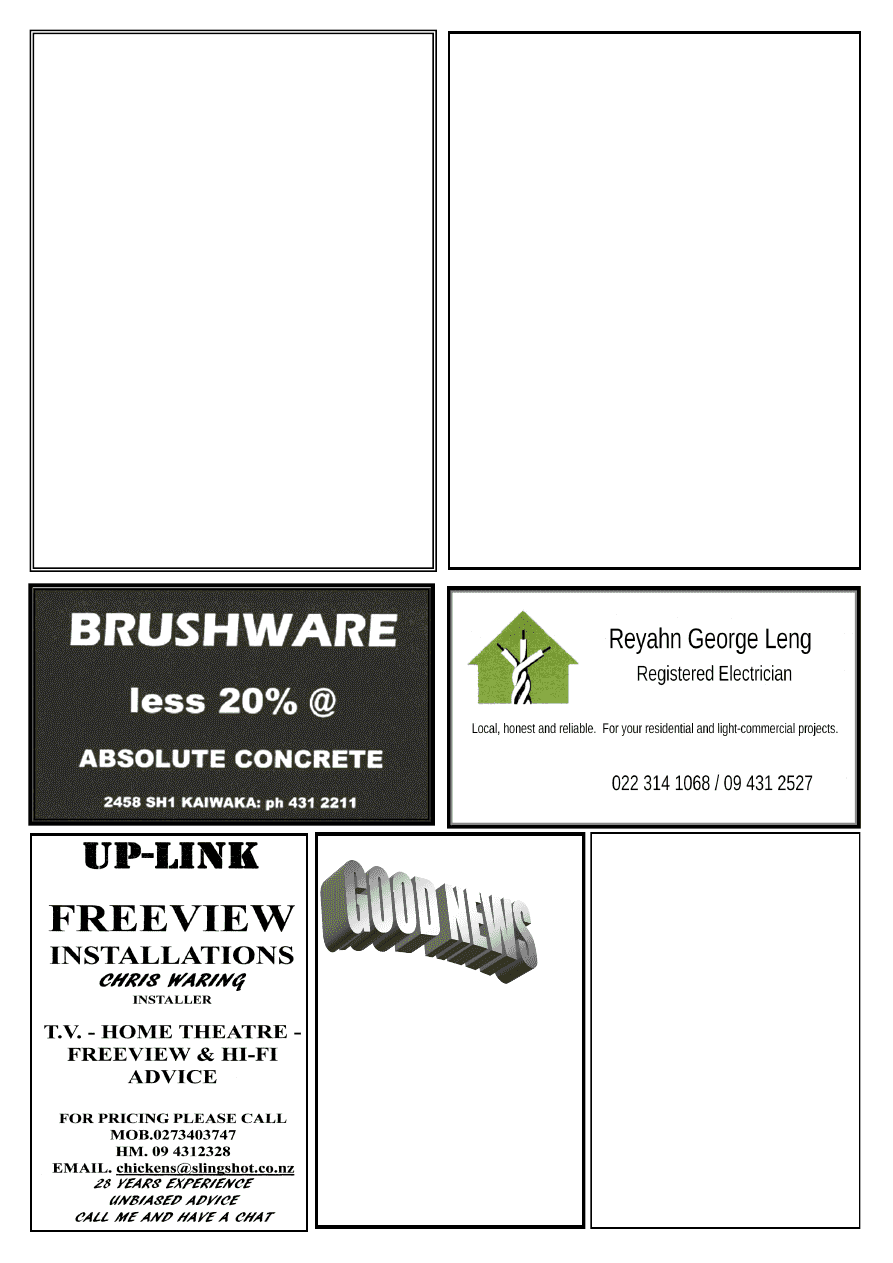 THERE'S 
 Your COMMUNITY 
CHURCH 
RECEIVE HEALING 
  RECEIVE THE LOVE OF GOD 
 Everyone warmly welcome each                                            
    Sunday 10am. 
Contact: Pastor John Dekker,  
09 4318203 
@ the  
Kaiwaka Family 
Church 
PAUL SAUNDERS 
LAWNMOWING & GARDEN 
MAINTENANCE 
 
Lawns and edges 
 
Section mowing 
 
Hedging and trimming 
 
Spraying and fertilising 
 
Tree planting 
 
Green waste removal 
 
Pruning 
Friendly and reliable service guaranteed 
Call now for a free no obligation quote 
021 886 843 
09 431 2731 
Servicing Mangawhai and Kaiwaka 
and surrounding areas 
paulsaunders99@gmail.com 
KAIPARA  FLOORING  CO 
32 HURNDALL ST MAUNGATUROTO 
Ph 09 9469886 or 021 515 415 
Carpet, vinyl, laminate wood look  
flooring, vinyl planking, sanding  
& polyurethane service. 
Carpet Short Ends from $79pm + GST 
Vinyl D.I.Y. peel n stick tiles $10sq mtr + GST. 
Free measure & quote.   
Mobile Service 
Phone Christine or Howard anytime 
Open Saturdays by arrangement. 
KAIWAKA SPIRITUAL 
CENTRE 
Corner State Highway 1 & Vipond Rd 
Wednesday Readings 
6/11/2013 - 20/11/2013 
10:00am – 3:00pm 
Tarot-Tea Cup - Healing 
Color Therapy - Numerology
$ 30.00 
per reading
Julie - Dianne - Essy - Netty 
(Monthly Meeting) 
Clairvoyance
Saturday: 30/11/2013, 2:00pm           
Guest Speakers: Bronson Young 
Healing available & Cuppa 
$ 5.00 entry fee 
ALL WELCOME 
Ph: 094312120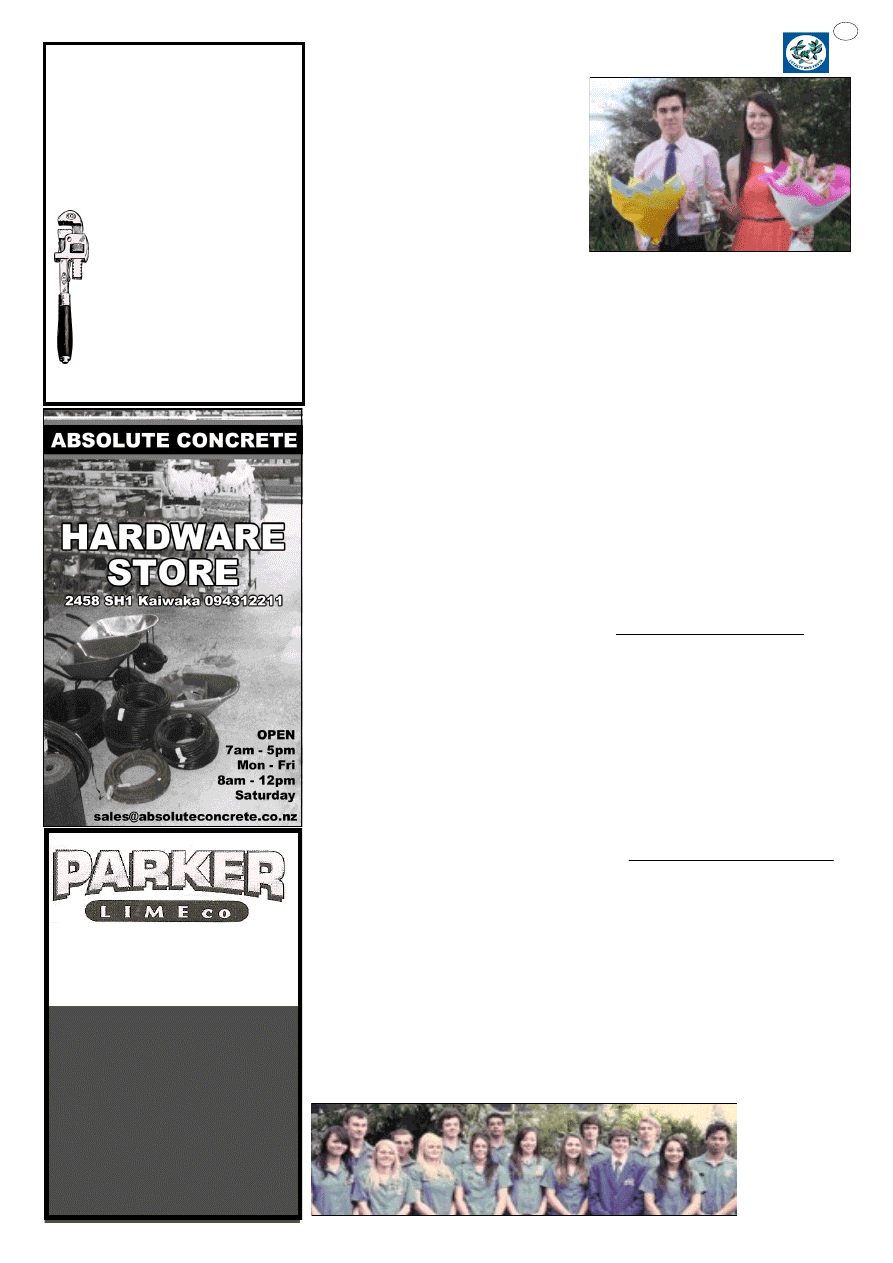 Landscape Supplies 
Bulk Cartage 
4312407 
Mob: 021 453 252  
Fax: 4312939 
 scott.parker@parkerlime.co.nz 
Gibbons Road,  
Kaiwaka 
BARRY CURTIS  
PLUMBING LTD 
REGISTERED CRAFTSMAN 
PLUMBER 
Phone 4315572      
027 257 9884 
     25 years experience  
Friendly reliable service 
All plumbing and mainte-
nance 
Alterations and new housing 
New wood fire installation 
Spouting 
Competitive rates  
 
 PROMPT EFFICIENT  SERVICE  
  19 
Thank  you  to  all  the  family  members 
who attended the  Senior Prize Giving.  
It  was  a  wonderful  celebration  of  the 
hard  work,  commitment  and  achieve-
ments  of  the  2014  academic  year.  
Congratulations  to  all  the  prize  win-
ners.   
Well done to all students for the beauti-
ful  singing,  great  standard  of  uniform 
and  behaviour.  I  felt   extremely  proud 
of  you  all.    Thanks  to  Kay  Fell  and 
Roy  Fletcher  for  their  organisation  of 
the event.    
I wish the Year 13 school leavers every 
success in the future.  
2013 Dux   
Congratulations to Jake Powell and  
Stacey  Lewin  on receiving the honour 
of  becoming  Dux  of  2013 
(photo  top 
right).   
Congratulations to the 2014 prefects 
who received their badges.   
They are:  
Head Boy: James Finlay,  
Head Girl: Shelby Ata,  
Deputy  Head    Boy:    Alex    Damsted,  
Deputy  Head  Girl:  Bayley Coates,   
BOT  Representative  and  Manukura:  
Kelsey Orford,   
Arts  Prefect:  Jim  Bokma,   
Environmental  Prefect:    Harri  Millar,  
Teaching and Learning  Prefect: Ellen Nelder,   
Sports  Prefect:  Leslie  Shum,   
Senior Welfare  Prefect:  Lulu  Smith,  
Community Services Prefect: Kaitlin  Kaire 
Whatua    House   Captain:   Brent  Sew-
ell,  Ngapuhi  House  Captain:  Cameron 
Gill,  Arawa  House    Captain:    Dylan  
Sims,    Maniapoto  House  Captain: 
Michelle Schimanski. 
Junior Students:  
This  week  the  junior  students  will  sit 
their exams.  Later in the term there are  
events  being  planned  for  junior  stu-
dents as follows:  
• Camps for Year 10 boys and Year 10 
girls to Kai Iwi lakes  
• An activity day for Years 8 and 9  
• A series of activity days for Year 7  
You  will  receive  permission  forms  re-
garding these trips over the next week. 
Please  ensure  that  these  permission 
slips are brought back as soon as possi-
ble as this assists our planning. If you  
wish  the  payment  to  go  onto  your  
AP  please  contact  Kay  Robinson  on  
kay@otamatea.school.nz.      If  you  do 
not  wish  your  child  to  attend  they  are 
expected to be at school and an alterna-
tive  programme  will  be  provided  for 
them.  
Deon  Muir  holds  rugby  training  for 
OHS students  
Last Friday we had the pleasure of hav-
ing an ex Waikato, ex Chief, ex Maori 
All  Black  rugby  captain  and  ex  Ota-
matea student  Deon Muir come to our 
school and coach some of us boys that 
play  the  game.  Deon  showed  us  some 
new  techniques  and  also  taught  us  the 
values  of  working  as  a  team,  whilst 
teaching us some new games. It was a 
very  enjoyable  training  that  everyone 
got something out of.  
Ashton Coates  
ENVIRONSCHOOLS  
CHALLENGE  
BECOME A RECYCLING HERO  
Recycle  unwanted  TVs  responsibly  and 
help  your  Enviroschool  win  a  fantastic 
technology package from Samsung.   
OTA  is  taking  on  the  challenge  of  recy-
cling as many televisions as we can.  
―WE NEED YOUR  HELP.‖   
Nominate Otamatea High School as your 
Enviroschool and help us gain points  
(1 TV = 1 point)  
Sorry only TV's can be recycled at this stage.   
OUR DROP OFF LOCATION IS:  
Maungaturoto, 100% Fergus Appliances, 
149 Hurndall 
Street,  
Maungaturoto 
09 4318999  
COST $5.00 per 
television   
2014 Planning:    
The term dates for 2014 are as follows:   
Term  1:  Tuesday  28th  January  – 
Thursday 17th April   
Term  2: Monday 5th May – Friday 4th 
July  
Term  3:  Monday  21st    July  –  Friday 
26th September  
Term  4:  Monday  13th  October  – 
Thursday 11th December  
There will be 5  staff only days during  
the  year.   The purpose of  these  staff 
only days  is  for professional  learning  
and  development,  and  administration.   
The    school  will    be    closed    for  in-
struction  during  staff  only  days  and  
they will  be  signalled  at  the  begin-
ning  of  each  term through the news-
letter.  In mid-January you will receive 
a    letter  signalling  the  specifics  about 
the  start  of  year  procedures,  stationery 
lists and school fees for 2014.  
Rachel Clothier-Simmonds, Principal  
OTAMATEA HIGH SCHOOL 
21 
LOCAL SERVICES 
*St.John Ambulance 
111 or Freephone0800 61 0066
*Fire phone 111     *Police phone 111 or 09 4311150 
A A: Meets Wed., 8pm Kaiwaka Ph: 4312228, 4315543, 0800229 6757   
AL ANON: In recess, contact Ph: 4312228 
AGRIQUALITY (MAF) Livestock Consultant 
Phone 09 4311 820 or 021518257  
BUDGETING SERVICE,OTAMATEA:Free confidential advice & 
support - all areas of  personal finance Ph: 09 4318173 or 094318117 
CAB-Citizens Advice Bureau.Wellsford Ph: 4237333. 
DOG/STOCK /NOISE CONTROL 0800 105 890 
FAMILY SUPPORT SERVICES responding to the needs in our 
community  Counselling/Family Therapy/Seminars/Youth Work/
Probation/Osteopathy/Govt.Day Agencies/Community Information  
Ph: 4312661 Hours: 9am-5pm. Mon - Fri (funded & CYFS approved) 
FUNERAL SERVICES: Morris & Morris Ltd, 
Whangarei - Bev Jaques Ph:4312367 or 0800667747 
GRANDPARENTS Raising Grandchildren: Sarah Rogers Ph: 4312194 
HAKARU LANDFILL/Transfer Station:Open everyday except 
Tuesday10am-4pm.Ph4312629 Cost-$55 trailer load up to 1 cubic metre. 
Ph:4258567 - office 
HOMEOPATH: Donna Flavell Ph: 4314843 
INLAND REVENUE: Last Friday each month, 11-3pm Ph4312661 
KAIPARA DISTRICT COUNCIL www.kaipara.govt.nz:  
Help Desk FREEPHONE 0800 727 059  
Service Centre Mangawhai 4313161 
KAIWAKA KOHANGA REO:Ph:4312620 Mon.-Fri. 8.30am-2.30pm 
KAIWAKA CEMETERY: Ph: 4312045 
KAIWAKA LIBRARY: kaiwaka.library@gmail.com  
Mon. 4-6pm; Wed., Thurs., Fri., Sat.  10am-2pm Ph:4312539 
KAIWAKA PLAYCENTRE: Ph: 4312286. Hastie Lane 
Monday to  Friday  9.00am - 12 noon. 
KAIWAKA POST OFFICE:Ph:4312 626 Fax: 4312287  
Post Code: 0573  for RD2  and  0542 for all Kaiwaka Post Office mail 
KAIWAKA PRIMARY SCHOOL : Ph: 4312309     
KAIWAKA SPORTS ASSN: Ph 4312005; 4312129 gym 
KAIWAKA ST JOHN: Manager Steve Rosser 09 4318403, 021 2316836 
NORTHPOWER: Faults Kaiwaka area 0800 104040 
PARENTPORT: Free, practical family support servicePuhoi to Paparoa 
Ph:  Sharon Mehana, Co-ordinator. 4259357 or 027 280 5093 
PERSONAL DEVELOPMENT COACHING, GROUP FACILITATION:  
Sabine Druckler 4312231 
PLUNKET  KAIWAKA/MANGAWHAI:  Ph:094318187  or  0276753488 
Kaiwaka Mobile Clinic once a month– appointments necessary;  
Mangawhai (next Domain) 1st & 3rd Thursday & Coffee Morning; 
PLUNKET CAR SEAT CO-ORDINATOR:  Pat Scott Ph 4314530 or 
0272881635 
PLUNKET FREEPHONE -0800 933 922 
PLUNKET -MAUNGATUROTO  Clinic every 2nd & 4thThursday. Ph: 
09 4318187 
PUBLIC HEALTH NURSE: Gloria Reid Ph: 094327634  
RETURNED AND SERVICES ASSN 733 Settlement Rd.Hakaru 
Ph.4312176 Bill Kerr (President) Ph.4314719 
TE KOROWAI AROHA O NGATIWHATUA 
(The Cloak of Love of Ngatiwhatua) Support and Maori Consultancy.  
Ph: 4239481 (Wellsford) 
VETERINARY SERVICE MANGAWHAI: 
Ph: 4314535 Mon-Fri 8.00-5.00, Sat 9-12, a/h appt. 
WELLSFORD DOCTORS: Ph: 4238 086 
WOMEN'S WELFARE LEAGUE & Reaching Out For Youth:  
4 Kaiwaka-Mangawhai Rd, M Morgan 4312293 
WHAT'S ON
PLEASE ~ do let me know what is on - email 
kaiwakabugle@kaiwaka.co.nz 
Advertising in WHAT'S ON is FREE  
 
Mondays: 8-2.30pm Kaiwaka Tramping Group  Karen 4312090 
Mondays: Rock & Roll Lessons, Wellsford 7.30pm Ph: Berni 4238024 
Tuesdays: Rhythm&Riggle 10am Christ the King Church Mangawhai. 
KAIWAKA MARKET 2nd Sunday of month @ Kaiwaka Hall 10am—
1.30pm markets@slingshot.co.nz 09 4318717 
*12 Nov ~ Pt Curtis Cruising Club Committee Mtg 7pm 3 Furlongs 
*13 Nov ~ Kaiwaka War Memorial Hall Committee AGM 5pm 
*20 Nov~ Kaiwaka Sports Assn AGM, KSA, 7.30pm 
*21 Nov ~ HAWKS Rugby AGM, KSA, 7pm 
*24 Nov~ Kaiwaka Under Bridge Gardening, 10am
See www.kaiwaka.co.nz for upcoming events. 
Drink can "tear tabs" - for Starship Hospital-Ph. 4312625   
HOUSEHOLD  RUBBISH  COLLECTION  -  Kaiwaka    Pick  up-
Mondays=Green bags are picked up by Northland Waste-queries to 
them  09  4303273,Wednesdays=Blue  bags  and  yellow  recycling  (at 
Jaques  $3.00 and $1.40)  are picked up by Kaurilands 09 4392146.  
*OTAMATEA GREY POWER-09 431 8138 Joan Hoggard  
*KAIWAKA BADMINTON -Tuesdays 7.30pm Ph: 4312345 
*KAIWAKA GARDEN & FLORAL Grp:
2nd Thursday in month Ph: 4314767 
*KAIWAKA 
CUBS-Thursdays 5.30-7pm, Hakaru  Ph:Bruce  4312542
*KAIWAKA SQUASH -Mondays 7pm,  Ph: Barbara Thomas 4315905 
*GYMNASTICS OTAMATEA -  Tuesday Ph: Stephanie 022 3624998 
*HAKARU PONY CLUB-Secretary Julie Rynne 09 4314520 
*
MANGAWHAI COMBINED PROBUS CLUB
: 2pm,3rd Thursday 
month in the Senior Citizens Hall Mangawhai. Ph: 4315777
*PT CURTIS CRUISING CLUB - Jean Ph: 4312246 
*WAIPU GENEALOGYGROUP -4th Monday in month Ph: 4312725 
*NZ GENEALOGY-Wellsford - 1st Thursday in month Ph: 4237033 
*CRAFT GROUP
:2nd & 4th Tuesday, 10am, Wellsford Ph 4238547
*RSA,Hakaru & Dist.Women- meet 1.30pm 4th Thurs in month 4312668  
*OWEN STEVENS at Kate's Place Ph:4312661   
*Diabetes Support Group-for Kaiwaka, Mangawhai, Wellsford -10am, 
 
3rd Friday of month Ph:A.Pert 4238242; J.Gardner 4238060 
*WELLSFORD CITIZEN ADVICE BUREAU:  
0800 367 222 
Ph: 4237333 Wellsford Community Centre   
Email: cab.wells@xtra.co.nz
CHURCHES:
*Gateway Worship Centre-St Mary's Church Nathan Rd off Oneriri Rd, Kaiwaka 
Services, 10.30am 1st & 3rd Sunday of every month. Contact: Rev David Gage 
4312528 or 0212354282 
*Kaiwaka Family Church-Your Community Church Sundays, l0am 
Home Group every Wed evening, Pastor John.Dekker Ph: 4318203 
*Kaiwaka Services.Anglican & Family Service at St Pauls Church  - 1st Sun. 9.30am
(Anglican),3rd Sun. 9.30am (Family Service).  Contacts: Parish Office 09 4318193, 
M.Hargreaves 4312295, C.Bygrave 4312057  
*Church of Christ the King, Mangawhai 9.30am every Sunday 
*St.Mary's Catholic Church:
Maungaturoto – Griffins Road, Saturday evening Vigil 
Mass 6pm; Mangawhai – Senior Citizens Hall, Sunday Mass 8:30am; Wellsford – 
Matheson Road, Sunday Mass 10:30am; Mid-week Mass times and all enquires to Fr. 
Bill Fletcher – phone 423 8170 
*Baptist Church: Sun. 10.30am Mangawhai Snr Cit.Hall.Ph:4312339 
*Cause Way Church Mangawhai – Sundays 10.15am, Mangawhai Community Recre-
ation Centre, Insley St. Ph: 09 4314782  www.causewaychurch.org.nz
*St.Pauls Archie Bull Hall HIRE  $20 half day, $40 full day per hire 
 Contact G. Jaques 4312048 
*Kaiwaka War Memorial Hall HlRE - Phone 4312725 or 
Email  kaiwaka.hall.bookings@gmail.com 
*Hakaru Community Hall HIRE -Ph.  4312256 or 4312110 
*Te Pounga Marae queries -A.Gage 4312528, 4312527 
*Kaiwaka Sports Association hire/queries- C. Anderson 4312051 
Justice of Peace: B.FJaques; L.Donaldson; A.F.Hargreaves  -please phone to 
make sure they are available 
Marriage Celebrants: L.Donaldson; A.F.Hargreaves;   
Next Bugle Deadline Friday 22 November