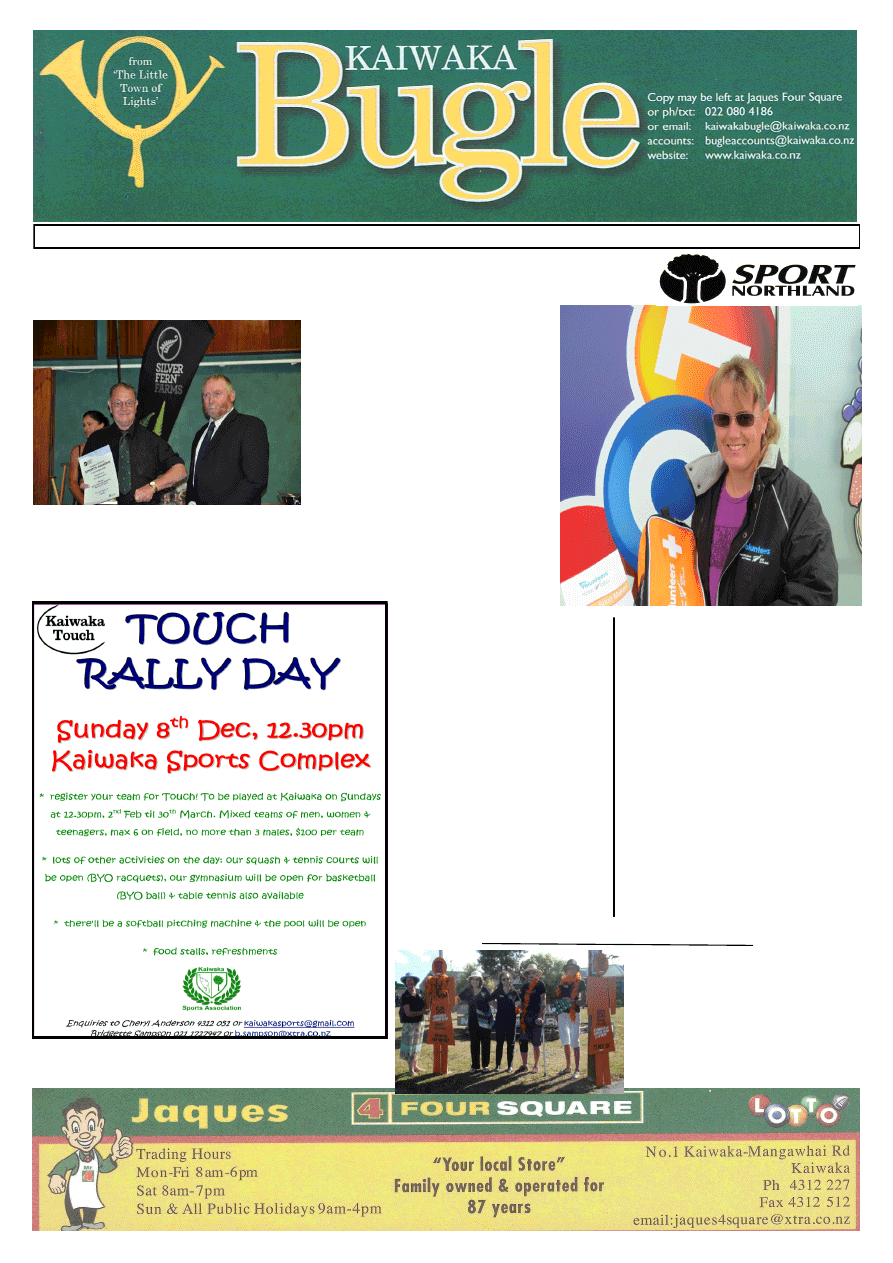 No: 23 
26/11/2013 
Bugle 24 will appear 10 December and is the last one 
for the year.  So get your Xmas adverts in soon! 
Tell us about your role
? I am a 
coach and administrator at 
the Kaipara Knights Soccer 
Club. I am also the secretary 
and organiser of the Kaiwaka 
Tennis Junior's and help out 
at Kaiwaka Primary school 
across a number of areas in-
cluding sport. 
Why do you like to volunteer? 
As a parent I feel that if my 
children are involved in sport 
then I should be as involved 
as possible, it is an important 
part of belonging to a small 
community.
What are some challenges you 
face in the role? 
There are 
never enough volunteers to 
help across all the roles 
needed in a club, including 
As part of our volunteer recognition 
programme  we  are  working  in  con-
junction  with  Lotto  to  award  Sport-
makers  in  Northland for their  work. 
Basically these are people who make 
sport happen in the region. 
All nominees are put into a monthly 
draw  and  a  winner  is  drawn  from 
each  of  three  districts  –  Far  North, 
Whangarei  and  Kaipara.  The  No-
vember  winner  of  the  award  was 
Lindell  Ferguson  from  Kaiwaka. 
Photo  (right)  of  Lindell  with  the 
prizes  she  received  –  a  great  jacket 
and  1
st
  aid  kit.  Following  are  some 
questions  Sport  Northland  asked 
Lindell about volunteering. 
Janine Gilmore, Sport Northland 
LOTTO 
and Sport Northland 
honour local Sport Maker 
administration and coaching.
How does your family support 
your volunteering? 
The chil-
dren help out with chores i.e. 
washing, dinner etc., we all need 
to be well organised to enable 
them to participate in a wide 
range of sporting activities.
So what's the best part of being a 
Sport Maker? 
Definitely as a 
coach seeing the improvements 
and development of skills in the 
children, along with watching 
them having fun participating.
What do other people say about                                                                                                                                                      
      Lindell? 
―The players' parents 
      felt that Lindell  had done a great 
      job of encouraging the young  
      players, taking a great personal 
      approach, and achieving  a fant- 
      astic result.‖        
Janine Gilmore             
Congratulations  to  Rugby  club  stalwart 
Pete  Hargreaves  (pictured  above)  on 
being awarded a Service to Sport award 
for his many years of service to Eastern 
United, Otamatea Hawks and Northland 
Rugby.  
KAIPARA SPORTS AWARDS 
KSA clubs and members did well at the 
Kaipara Sports Awards held recently in 
Maungaturoto.  See page
 5
Zonta Mangawhai Group 
give 
a guard of honour to wave the White 
Ribbon Bikers off on thier ride from 
Ruakaka to Whangarei. One of the 
orange dollies is going to accompany 
the riders as they bike all around the 
country with their anti-violence mes-
sage. The Zonta group look forward to 
receiving photos of her progress. 
Want it done? 
Bring it to Twinkle Tow 'n' Tyre 
*W.O.F. 
*Tyres 
*Windscreen replacement 
*Chip repairs 
*Bulk Oil 
*Batteries 
*Welding 
*Custom built trailers 
*Trailer hire 
Think you'll get a better deal in 
the city? 
Go on, ring us; it won't cost  
anything! 
1837 State Highway 1, Kaiwaka       
Phone 431 2823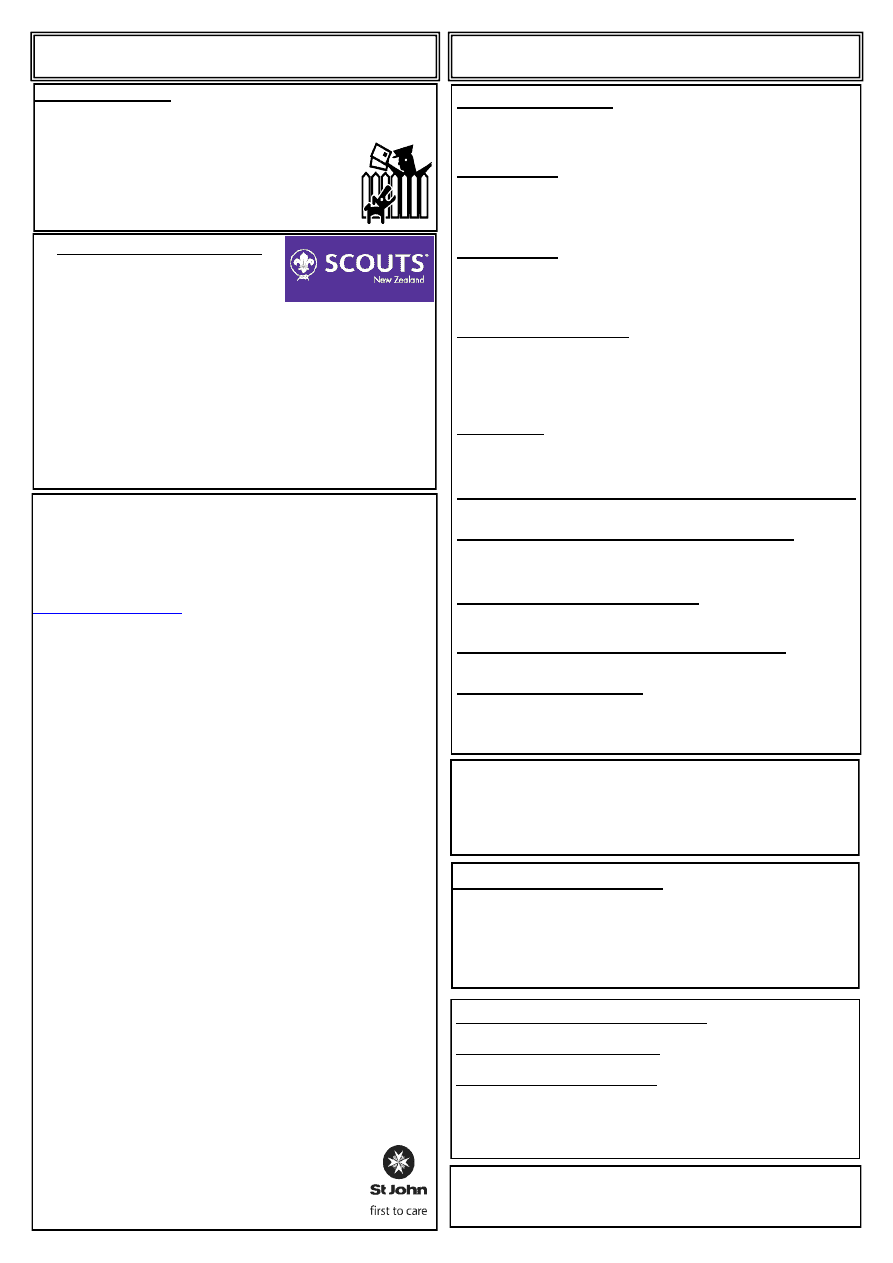 PUBLIC NOTICES 
CLASSIFIED 
SALE SALE SALE:
 30% off selected soft toys. 
Also 30%  off   Buzzy Bee Characters. (Excludes the Buzzy 
Bee) @  the Kaiwaka Postcentre, Kaiwaka.  Ph 4312626 
FOR  SALE:
  Dry  sheep  manure,  $7  per  sack,  great  for 
your  garden,  available  from  1
st
  Dec.  Please  phone  Carol 
Mills 4312 044 or Steve Strong 4314 806. A fundraiser for 
the Kaiwaka Cubs & Scouts. 
FOR  RENT:
 2 room studio & 1 1/2 rooms available. $150 
&  $125  per  week  incls  pwr  &  meals.  Close  to  town,  rural 
views,  SAT  TV,  Internet  connection.  Phone  09 
4312296/0212537661 
HOUSE  FOR  RENT:
 Three bedrooms, with carport. 11 
kms  west  of Kaiwaka—10  mins  drive.  Floor  &  ceiling  re-
cently insulated. Private, quiet, lots of room for kids to run 
around. Sunny, with fenced off garden area. References re-
quired.  Sorry, no dogs. $200 pw. Ph. 4312042 
WANTED:
  Any  sized  jars  with  lids.  Please  drop  off  at 
―Paddy's  Op  Shop‖  for  free  jar  of  honey  per  20  jars,  or 
phone Adrian 09 4312296 
CRANIO  SACRAL  THERAPIST  &  MASSAGE
: 
for Horses and People. $45 Jill  431 2080 or 021 0506 0592 
CLOTHING ALTERATIONS & REPAIRS: 
Zips,  hems,  dressmaking  &  dress  design.  Phone  Win 
4312027 or 0274448358 
FREE  GRAZING  WANTED:
  Small  or  large  block. 
Can do some fencing or water. Phone after 6pm 4312006 
HOLISTIC  ANIMAL  PRACTITIONER:   
Horses, 
Pets, Farm Animals. www.allcreatures.co.nz or Jill 4312080 
SINGING  LESSONS: 
Want  a  better  voice?  Feel  shy 
about singing? Teaching 39 years in NZ  music industry at 
all  levels.    Phone  Robyn  Hill  on  09  4319159  or  0274 
725610
PROVERBS: 
19:27-  Stop listening to teaching that 
contradicts what you know is right! 
Kaiwaka Bugle Advertisements 2013: 
Classified $2; 1/8 or 1/9 page $5; 1/4 page $10; 1/2 page $20;  
bugleaccounts@kaiwaka.co.nz 
Payments can be online, posted or left at Jaques 4sq Store. 
kaiwakabugle@kaiwaka.co.nz  for queries or copy. 
The Kaiwaka Bugle is a community newspaper run by vol-
unteers.   
Articles,  etc.  printed  are  not  necessarily  the  opinion  of  the 
Bugle Team  
RETAIL  OR OFFICE FOR LEASE 
– Shop 1, 1956 
State  Highway  1.    Adjacent  to  the  new  "Café  1956" 
with potential to have doors open between (subject to 
agreement).    Available  end  of  November.    Phone 
Jacky or Norman on 09 422 9221 or 0274 35 35 35. 
BIG THANK YOU 
To all of you who sent: flowers, cards, cooking and best 
wishes.  To all who visited me during my stay in hospital 
and when I returned home; thank you for all the 
support given and offered to my family.  I am on 
the road to recovery and will see you all very 
soon. Cheers and thank you again. 
Norm (Postie RD 2) 
GARAGE  SALE: 12 Puawai Street 
Kaiwaka.    Saturday  30th  November 
from 0830.  Household goods, tools, 
books, games etc. 
Kaiwaka Cubs and Scouts 
A big thank you to the Rural Com-
munities Trust who granted us $800 
for new Scout shirts – we appreciate 
the support!   Thank you also to everyone who placed an 
order with our Books Fundraiser. The books should arrive 
mid-December and will be delivered to your home by a 
Scout. 
The cubs and scouts will be gathering sheep manure this 
weekend and then selling it as a fundraiser for the troop. 
This stuff is magic for your garden! To purchase a sack of 
dry sheep manure please contact either Carol Mills on 4312 
044 or Steve Strong on 4314 806. Just $7 a sack and availa-
ble from 1
st
 December. 
LETTERS TO THE EDITOR 
Dear Ann and Bugle, 
I used to email back and forth several years ago with Yoshi-
masa  (Yoshi)  Sakurai  of  112  Gibbons  Road,  RD  2,  Experi-
mental House, (Ecohouse), Kaiwaka at  
 about our mutual interest in farming. 
Where  is  he  and  or  his  wife?  No  one  answers  his  phone 
number  of  09  431  2729  nor  do  I  get  any  response  from 
there to my emails, lately. 
My name is Jack Thomas and my land line phone number is 
06  323  9949  and  my  mobile  number  is  027  483  4919  and 
you may ring  me collect/reverse the charges and  I  will ac-
cept  those  charges  and  or  you  can  email  me  to  this  email 
address.  It  is  urgent  as  I  have  urgent  farm  questions  that 
Yoshi or his wife can only answer as they are experts in this 
crop. Yoshi wants  us to grow rice  in mass in New  Zealand 
(NZ)  and  we  have  the  good  land  for  it,  water,  money  and 
equipment, and much farming experience and some experi-
ence with rice, but we need to ask some advice of Yoshi, the 
foremost expert on this in NZ. 
Please publish this email in your next issue which is the 26th 
of November 2013 I believe  
Thank You. Kindest Regards, Jack Thomas 
Dear Editor 
I  write  in  acknowledgement  of  all  St  John  volunteers  and 
join with them to celebrate International Volunteer Day (5 
December). Our dedicated St John volunteers give so much 
time on our behalf in caring for their local communities. 
Without our volunteers, St John would not be able to deliver 
the level of vital emergency ambulance services and valued 
community programmes that we currently provide. Our vol-
unteers frequently go above and beyond the call of duty. 
I also give thanks to the families and friends of our volun-
teers who help and support in the background enabling our 
volunteers to contribute as they do. 
With the Christmas break fast approaching, we ask for your 
readers,  your  publication  and  all  our  members  to  take  care 
on the roads, and look after themselves and their 
loved ones this holiday season. 
Kind Regards, Gary Salmon, General Manager, 
St John Northern Region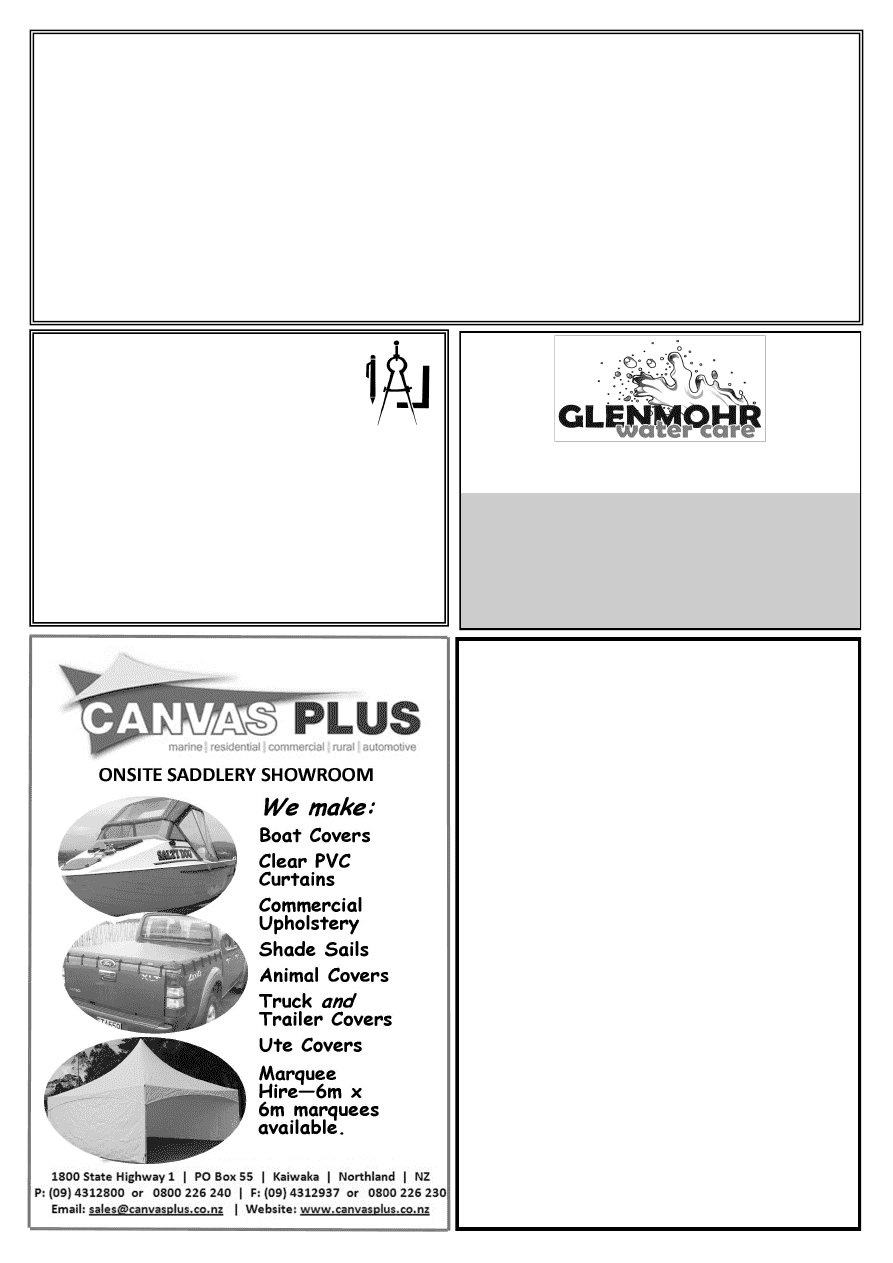 RANGANUI EARTHMOVERS 
16T Excavator   
(tilt, thumb & ROPS cab)   
Transport Trailer 
2 x 6 Wheeler Tip Trucks 
Suppliers of All Grades of Metal & Topsoil 
If you want a proper job done with an experienced operator ring 
Grant on    A/H 431-2131        Email  ranganui.dev@xtra.co.nz 
   Mob  021845-246 
Driveways, House Sites,  
Drainage Dams, 
Section Clearing,  
Tree Work,  Rock Retaining Walls,  
Quarry Work, 
Basically Anything That a Digger Can Do 
design drafting 
service 
Retired builder and manufacturer with over 40 years  
experience in the building industry is offering a design 
drafting service for domestic housing, sleepouts and 
sheds.  
Plans formulated in consultation with clients, with 
working drawings completed and submitted to  
council for processing.  Extensive practical experience,  
able to identify & resolve problems. 
Please ring Mike Lean on 
09 431 2260  
or 
021 431 196 
Water Tank Cleaning 
" 
 Keep your water safe & clean   
 
Removal of sediment, silt etc. 
 
Vacuum or full scrub 
 
Minimal water loss 
Phone Mark (09) 432 0655 or 0274 707607 
PLANNING A NEW 
KITCHEN? 
 CONTACT NOEL McDOWELL 
WELLSFORD 
KITCHENS
Ph/Fax 094312888  
KAIWAKA-Any time 
  QUALITY CUSTOM MADE 
KITCHENS  
~Personal and Prompt Service~ 
~All Workmanship Guaranteed~ 
~Over 20 Years in the Trade~  
~Free Design & Quote~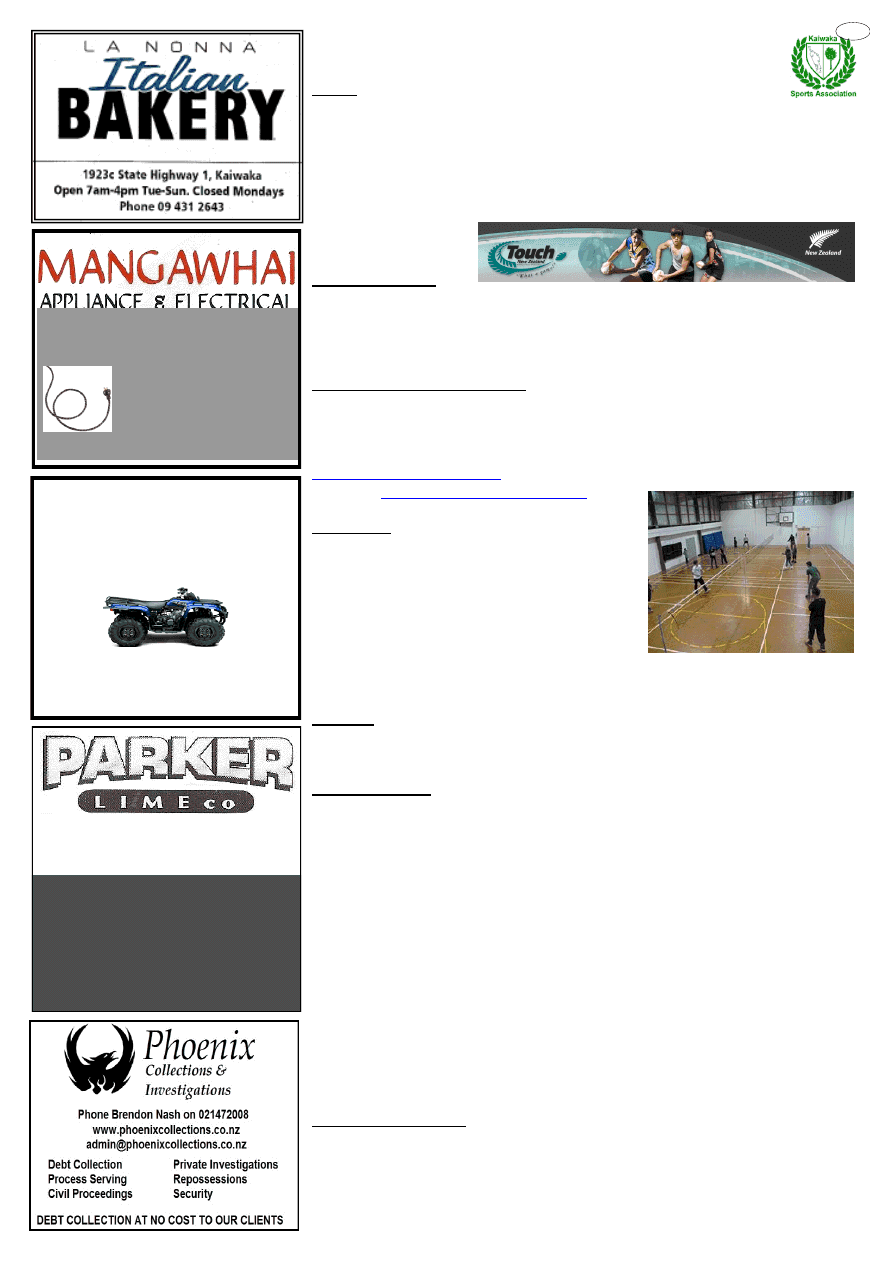 Landscape Supplies 
Bulk Cartage 
4312407 
Mob: 021 453 252  
Fax: 4312939 
scott.parker@parkerlime.co.nz 
Gibbons Road, Kaiwaka 
  KAIWAKA SPORTS ASSOCIATION
KAIWAKA  MOTOR 
CYCLES LTD 
SALES SERVICE SPARES
FARM BIKE SPECIALIST
Phone 431 2127 
Kaiwaka-Mangawhai Rd 
Kaiwaka 
DEAN STEWART 
Registered Electrician 
021 280 4008 
09 4312 911 
AUTHOURISED FISHER AND PAYKEL SERVICE 
5 
Touch 
There will be a Touch module held at the Sports Complex over the summer 
months on Sundays from 12.30pm. Thank you to Bridgette Sampson who will 
help me run the module. This will be a casual, friendly competition for mixed 
teams of men, women and teenagers.  
If you are keen to enter a team, come along to our Rally Day on Sunday 8
th
 Dec at 
12.30pm. Bring the whole family along because there'll be lots of other activities 
as well as touch – tennis, softball, squash, basketball, table tennis, swimming and 
there'll also be food and 
drink available.  
Fitness Challenge 
There is a Fitness Challenge being held at our fields on Wednesday's at 5.30pm. 
Suitable for everyone, cost is $7 per class. There has been talk about starting a 
Fitness Challenge for children also – if you know of anyone who might be keen to 
run this, please contact Jennie Reynolds on 021 02764171.  
Otamatea Tennis Tournament 
Our annual tennis tournament will be held at our courts over Anniversary Week-
end. This tournament attracts top quality players from all over Northland and 
Auckland and we also have places for locals to compete. So dust off that racquet 
and get in some practice! Entry forms are on our website 
. For any tournament enquiries, please contact Briar 
Jaques on 
Badminton 
It's been great to see an increase in numbers turn-
ing up for our badminton club nights. Players of 
all ages and abilities are welcome so if you are 
keen, simply turn up to the gymnasium on Tues-
days from 7.30pm. Only $3 per person, play as 
long as you like, please wear soft soled shoes and 
club rackets are available for you to borrow at no 
cost. There has been so much interest that the club has now started up a second 
session – on Saturday's from 3 til 5pm. For enquiries please phone Steve Campbell 
on 4312 779. 
Athletics 
Our Athletics Club is now taking registrations, all ages are welcome at the club. 
To register your interest please contact Eileen Parsons on 021 1420357.  
Recent accolades 
KSA clubs and members did well at the Kaipara Sports Awards held recently in 
Maungaturoto. Congratulations to:    
* rugby club stalwart Pete Hargreaves on being awarded a Service to Sport 
award for his many years of service to Eastern United, Otamatea Hawks and 
Northland Rugby 
* senior netball club president Mirna Manuell on winning a code award for 
her achievements in squash 
* rugby club president Kevin Robinson on winning a code award for his 
achievements in bowls 
* our gymnastics club for their 'Contribution to the Community by a Club' 
award. 
Congratulations also to our Fitness Centre president Julie Harris who recently 
competed in the INBA Natural Olympia championships held in San Diego. Julie 
came away with two gold medals – in the Masters and Open body building clas-
ses. 
And well done to the secretary of our soccer club Lindell Ferguson who recently 
won a Sport Northland Sport Maker award for her contributions to soccer and ten-
nis. 
Kaiwaka Tennis Club 
Last seasons tennis coach is no longer available so the club is looking for someone 
who could take over this role. This would involve taking the juniors for an hour or 
so on Mondays from 4pm. You don't need to be a qualified coach – you just have 
to have a bit of tennis ability and be good with children. If you can help out, please 
phone Lindell Ferguson 4312 542.              … Continues on page 7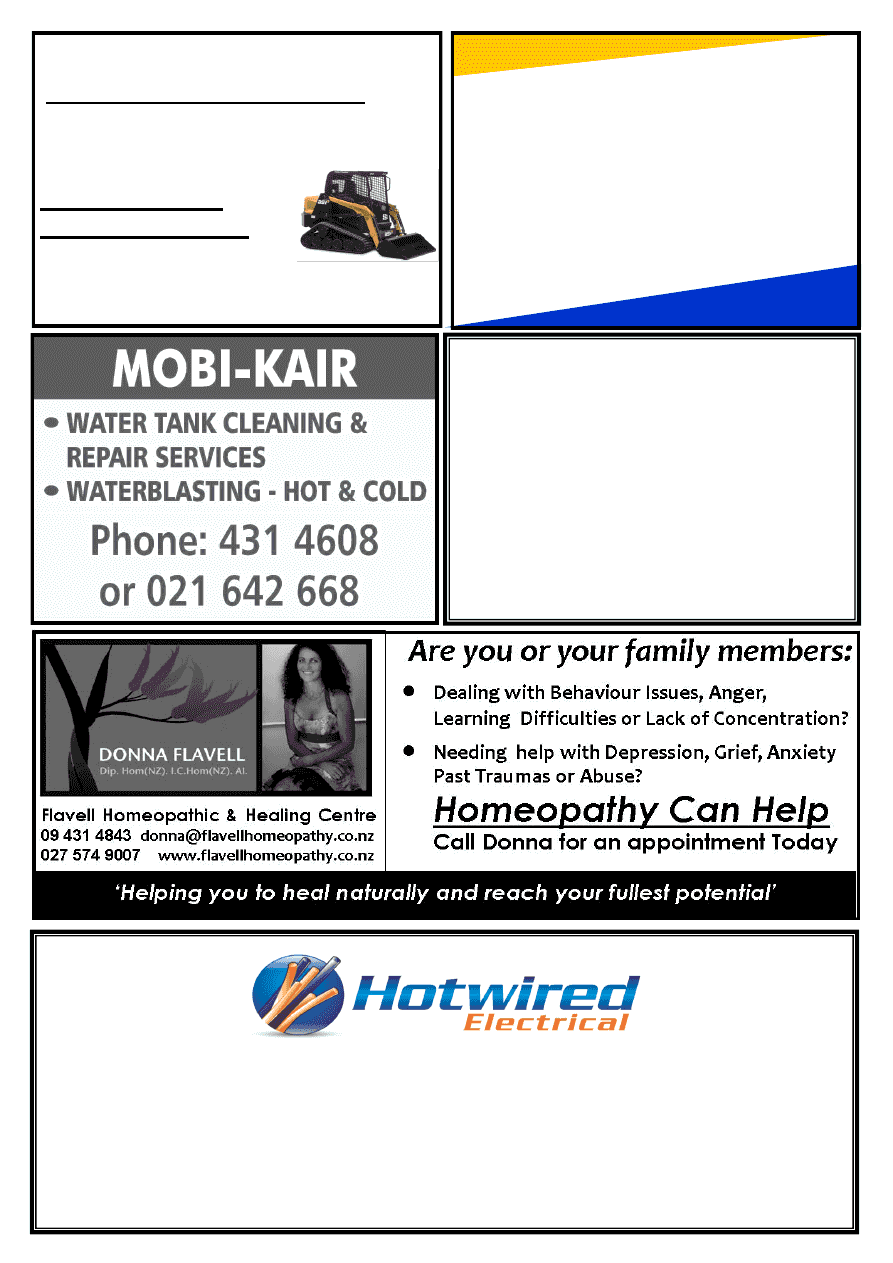 CONCRETE 
If it's concrete we do it 
Full Preparation & Pour by 
Experienced Local Team 
Phone Phil Keen Contractors  
027 659 2376 
TILING 
Certified Waterproofing 
431 4533 or 021 86 33 33 
George 
MCN Property Solutionz  
Local references available 
For All your Electrical  Requirements 
 
Domestic small jobs 
 
Residential dwellings and alterations 
 
Commercial              
No job too big or too small
 
Industrial                       
Contact Jason today on: 
(09) 431 5992, (021) 405 019 
www.hotwiredelectrical.co.nz 
Natural Earth Ltd 
 Landscape and Bobcat services 
 : Driveways  :Landscaping  :Retaining Walls 
 : Hole Boring: Land Levelling :Trenching 
 : Decks :Fences :Sections Cleared: Plus much more 
Tel   09 4312885 
Mob 02102391280  
For  A  Fast  Friendly 
Service Contact Tim Hicks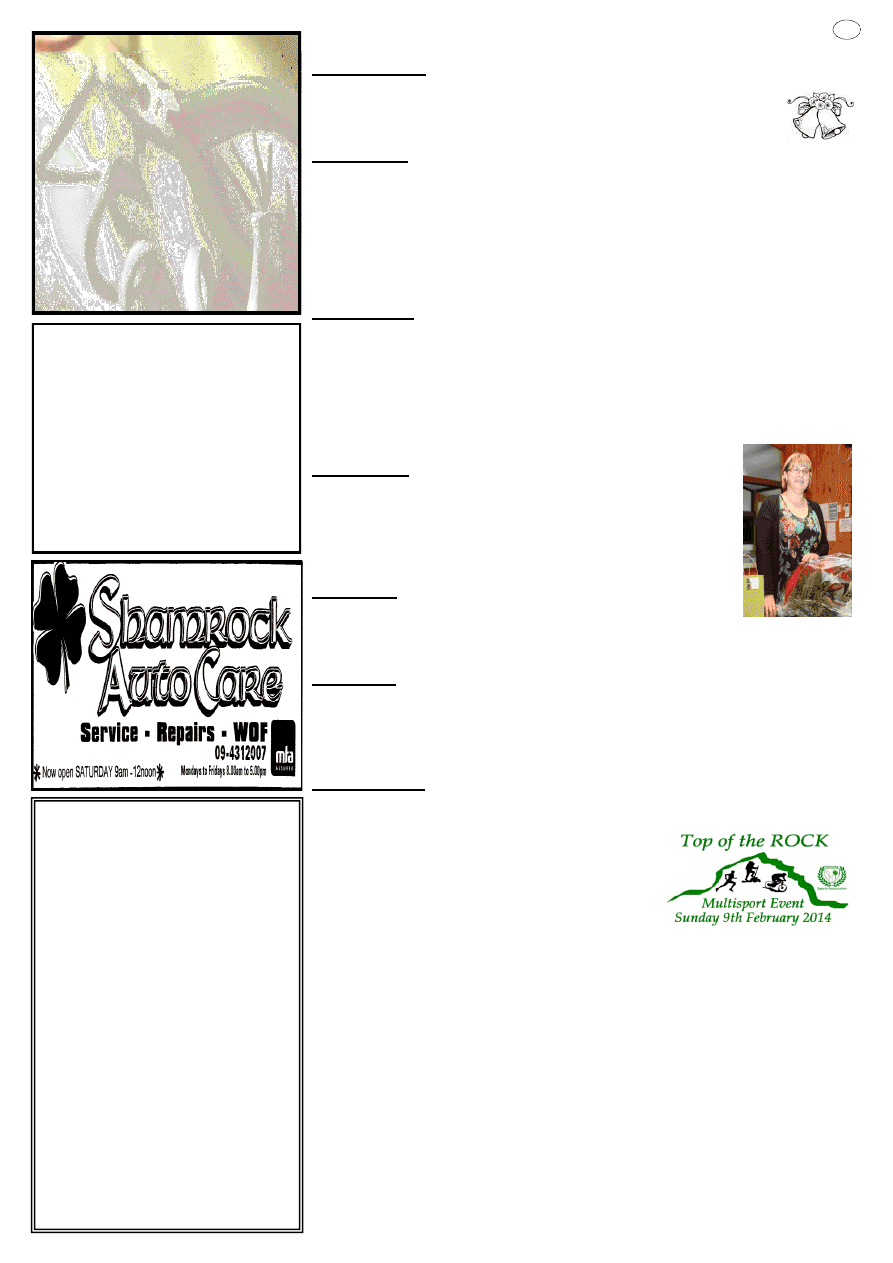 AMBER'S 
Q Cafe &  
Restaurant  
All day breakfast, 8am - 5.30pm.     
Home made Pizza, take away or eat in from 8am to late. 
 Light lunches, 11.am - 5.30pm, 
Dinner Menu at 5.30pm to late 
 Toasted Sandwiches and Sandwiches made to order. 
All day, Pies, Chowder & Soups 
 Milkshakes, Kiwi Ice cream, Slushie Fruit drink, Tea, 
Coffee 
 Closed Mondays.....except Observed Holidays 
 Sunday to Thursday: 8am - 8pm 
 Friday: 8am - 8.30pm, Saturdays 8am- 9pm 
4315226 
Trevor & Amber 
41 Moir Street, Shop 5-6  
Mangawhai Village 
Next to Carters Building Supplies 
 LEABOURNS 
Passenger Service 
Car & Van Hire 
Bus & Coach Charters 
Airport Transfers 
 Monthly Shopper Bus 
Phone (09) 4237416 
Paul Greig Electrical Ltd 
Residential • Farm 
 • Commercial 
Paul Greig 
Registered Electrician 
  Ph: 431 2223  
Mob:021 230 2717 
Reliable & Professional 
Quality Service 
Based in Kaiwaka 
KAIWAKA SPORTS ASSOCIATION Continues… 
Congratulations 
Congratulations to Justine Keighley (daughter of KSA founder John 
Keighley) and Anthony Nathan who got married at the Sports Complex 
last week. All the best for your life together! 
Senior Rugby 
Welcome to Dean Kenny who was the successful applicant for the position of the 
Otamatea Hawks Premier coach for 2014. Dean is a former All Black and comes 
with a wealth of coaching experience so we look forward to having him on board. 
Planning is well underway for the 2014 season with coaching seminars and pre-
season matches being organised – more details to follow.  
Thank you to Jean McLeish for her contribution as club secretary and we welcome 
new secretary Jennie Reynolds. 
Fitness Centre 
Our Fitness Centre is available 24/7 and provides extensive exercise equipment as 
well as toilets, showers and a sunbed. The Centre now offers 6 monthly subs in-
stead of a yearly sub. The cost is $85 and the changeover months are November 
and May so if you've ever thought about joining the Fitness Centre now is a good 
time to do it! Memberships and a key can be purchased from Jaques Four Square. 
Fitness Centre president Julie Harris can provide a structured fitness programme 
for individuals or groups. For all Fitness Centre enquiries please contact Julie on 
027 6504540.  
Thanks Paula 
Many thanks to Paula Jaques for her 10 years of service as KSA 
treasurer. At last weeks AGM Paula was presented with flowers 
and a gift from the KSA and our affiliated clubs to show our ap-
preciation for the time and effort she has put into the role. We 
give a warm welcome to our new treasurer Carolyn Dymock.  
JMB Rugby 
The junior rugby families will enjoy an end-of season trip to the 
Whangarei Hot Pools with thanks to the extensive fundraising done by families 
over the year. The bus will leave from the KSA carpark at 10am this Saturday. 
IMB Rugby 
Next season IMB will field two teams – an under 14's and an under 15's. If you 
have a boy within these age ranges who would like to play rugby, ring Brett 
Coates on 021 431872. There will be a meeting after Christmas to sort out details 
for the upcoming season  - more information to follow. 
Top of the Rock 
Entry forms for our Top of the Rock multisport event to be held on Sun 9th Feb 
are now on our website www.kaiwakasports.co.nz - just click on Special Events. 
This event is for the casual participant as well as the 
more serious competitor as there are a range of op-
tions: 
    *  5 or 10km run or walk 
    * 10km run + 15km mountain bike 
    * 30km mountain bike only route 
Don't let age or ability be a barrier to entering - last year there were Mums with 
babies in strollers walking the 5km route as well as competitive athletes tackling 
the more challenging routes and we had participants ranging in age from a three 
year old to a 82 year old! The routes go through some of Kaiwaka's most scenic 
countryside – lakes, bush, farmland – and of course there's the once-a-year oppor-
tunity to climb iconic Baldrock Mountain. There will be prizes for placegetters 
plus lots of spot prizes - including a mountain bike!  
New this year we are offering two 'earlybird' prize draws for participants who en-
ter before 9th Jan – a bag of cycling accessories for those who enter a biking event 
and a voucher for a stay at the Bay of Islands Copthorne Resort for those who en-
ter a run or walk event.  
We had over 300 participants last time and it would be great if we can beat that 
record, so please mark it in your diary! 
Cheryl Anderson 
4312 051, 021 3462702, kaiwakasports@gmail.com 
 7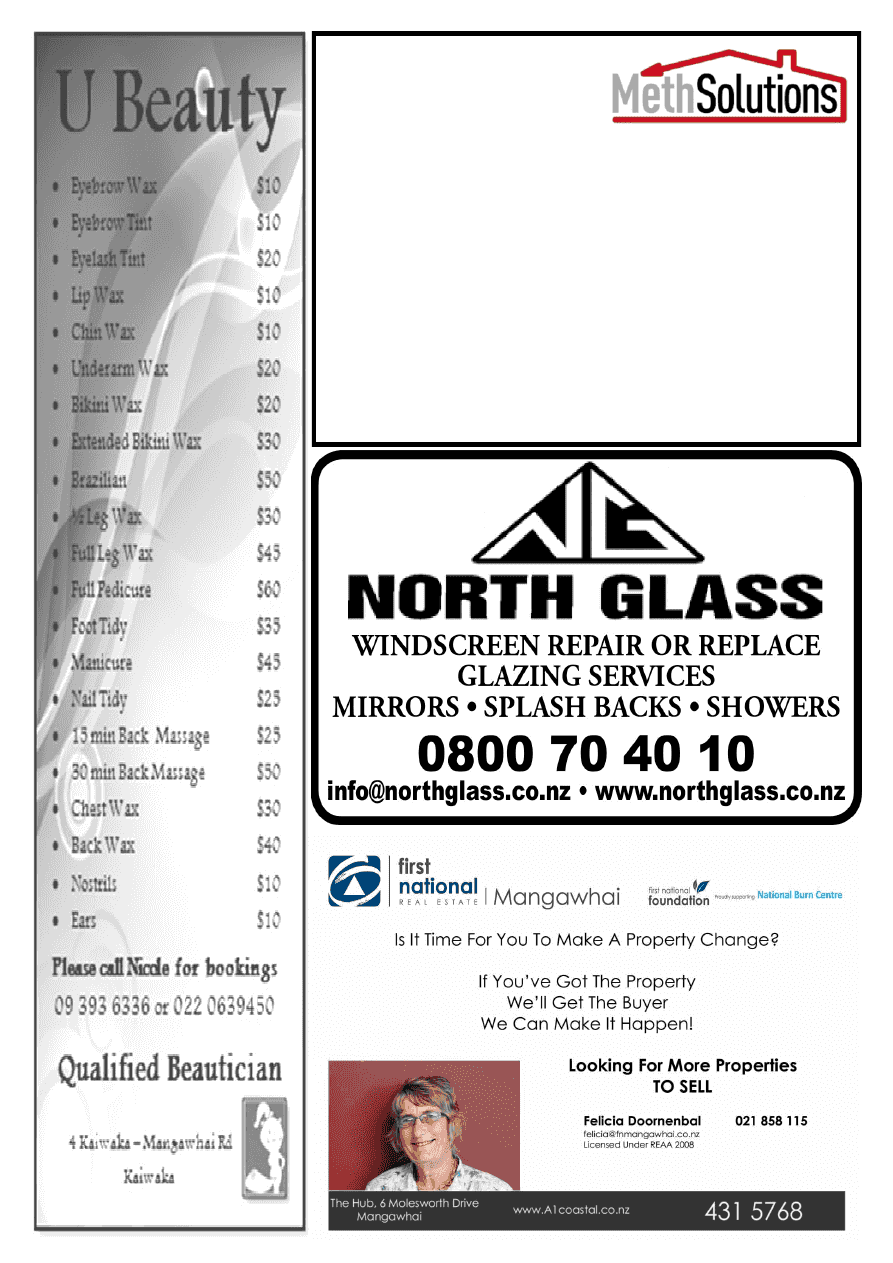 LANDLORDS
...
Is your house  
being used as a P- Lab? 
Do you live in a P- lab House? 
Thinking of buying a house?  
Don't take the risk...it will damage your health and your wal-
let If you ignore it. 
High accuracy, low cost MethDNA test from as little as 
$99+GST will give you the answer. 
Tests facilitated by Independent Certified Samplers and  
samples are analysed in an environmental testing lab. 
Book a test now at: www.methsolutions.co.nz  
or for more info call me:  09 4312234  or 021 2154495   
I am a local Independent Certified Sampler for MethSolutions.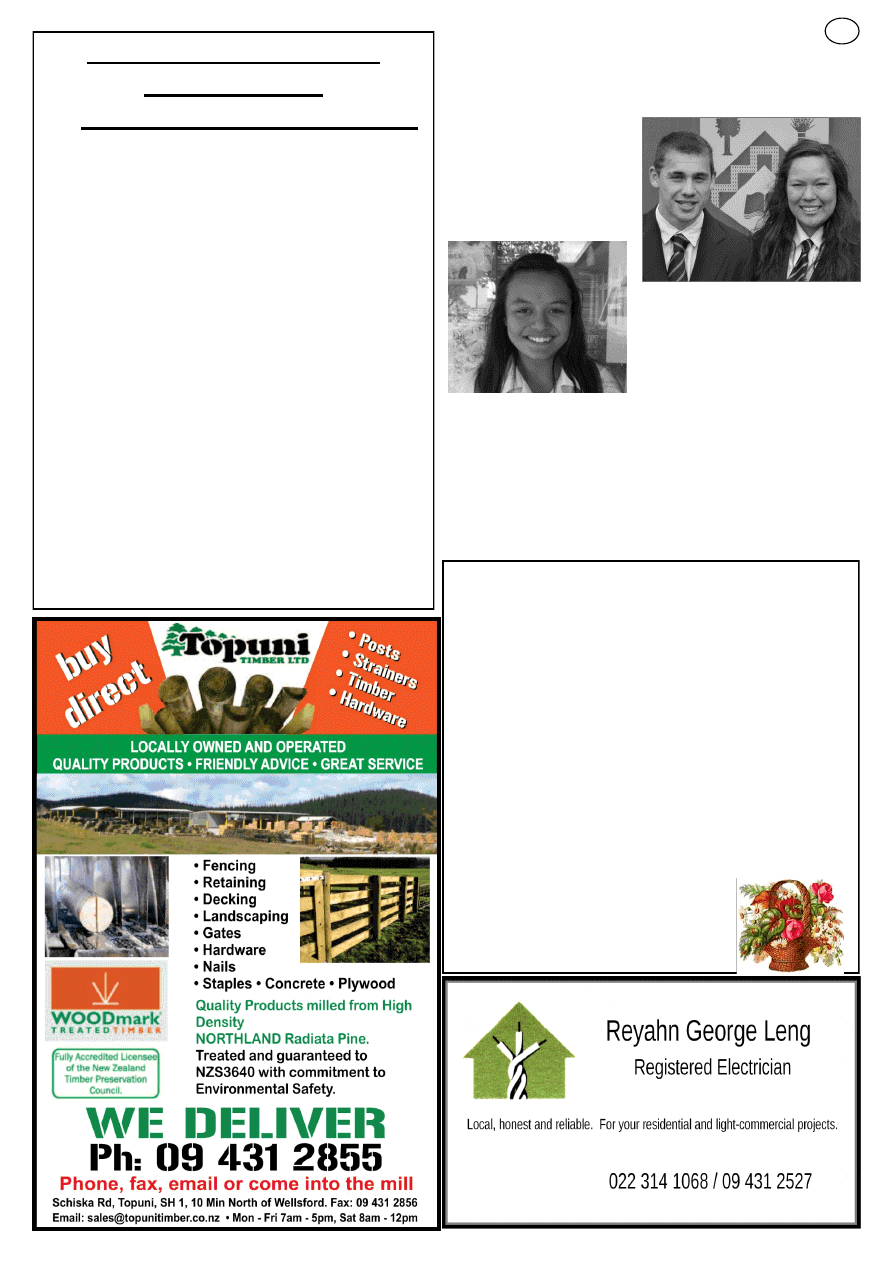 RODNEY COLLEGE  
Rodney College had their Senior Prizegiving where their 2014 
Student Leaders were appointed.   
Bronson  Young  was  named 
Head Boy and Tyra-Li 
Humfrey, Head Girl (pictured 
right),  Zak  Flintoff  was  Dux 
and  Renee  de  Theirry,  Prox-
ime Accessit
.  
Melanie  Mayall-Nahi  was  select-
ed  along  with  six  other  students 
to  represent  New  Zealand  at  a 
Bluelight Leadership camp. Mela-
nie  flew  out  to  Australia  this 
morning for the week long train-
ing camp. 
Haze, a Rodney College band which performed at the Region-
al  Finals  in  July,  has  won  the  Warkworth  RSA  Talent  Quest, 
winning  four  gigs  at  various  RSAs,  $500  advertising,  $1000 
cash and $500 grocery vouchers.  
Haze  consists  of  Mitch  Levet  (guitar  and vocals) Leah  Main-
land  (bass),  Jakob  Young  (guitar)  and  Jim  Bokma  (Drums) 
from Otamatea College.   
      Jo Warahi 
9
*MASSAGE * NAILS *   
NUTRITION* 
@ THE SALON, KAIWAKA
 
Full  hour  and  half  hour  massage 
TAILORED  to  suit  YOUR  needs, 
ALSO  mini  massages  and  chair 
massage available.  Businesses – ask 
about  my  on-site  massage  service 
for your staff  
 
Full set of acrylic nails for both fin-
gers  and  toes  –  wonderful  solution 
for nail biters!  PLUS manicures and 
pedicures also available 
 
Weight loss and nutrition – lets work 
on this together… Call me today for 
a free wellness evaluation to achieve 
your nutritional goals.
CINDY SAUNDERS 
Fully qualified masseuse and  
Surmanti acrylic nail technician  
Call
or text 021 296 9819 or  431 2731  
The Mangawhai Women's Institute  
Floral and Craft Show 2013:
These are the results of the Flower show held in Mangawhai 
on 15th November.  
Craig Bowl *most points cut flowers+ Judy Whelan 
Bennett Shield *most points intermediate decorative+ Judy 
Whelan 
Foote Bowl *most points open decorative+ Sharon McLeod 
and Mary Wightman 1st equal 
Davis Tray *most outstanding exhibit in decorative+ Margaret 
Schutt 
W.D.F. Trophy * most points over whole show+ Judy Whelan 
  
I would also like to thank our sponsors Mangawhai Memo, 
Molesworth 4 Square and Mangawhai Pharmacy for their 
help in donating  prizes and raffles 
Thank you 
Margaret Walshe 
Flower Show Secretary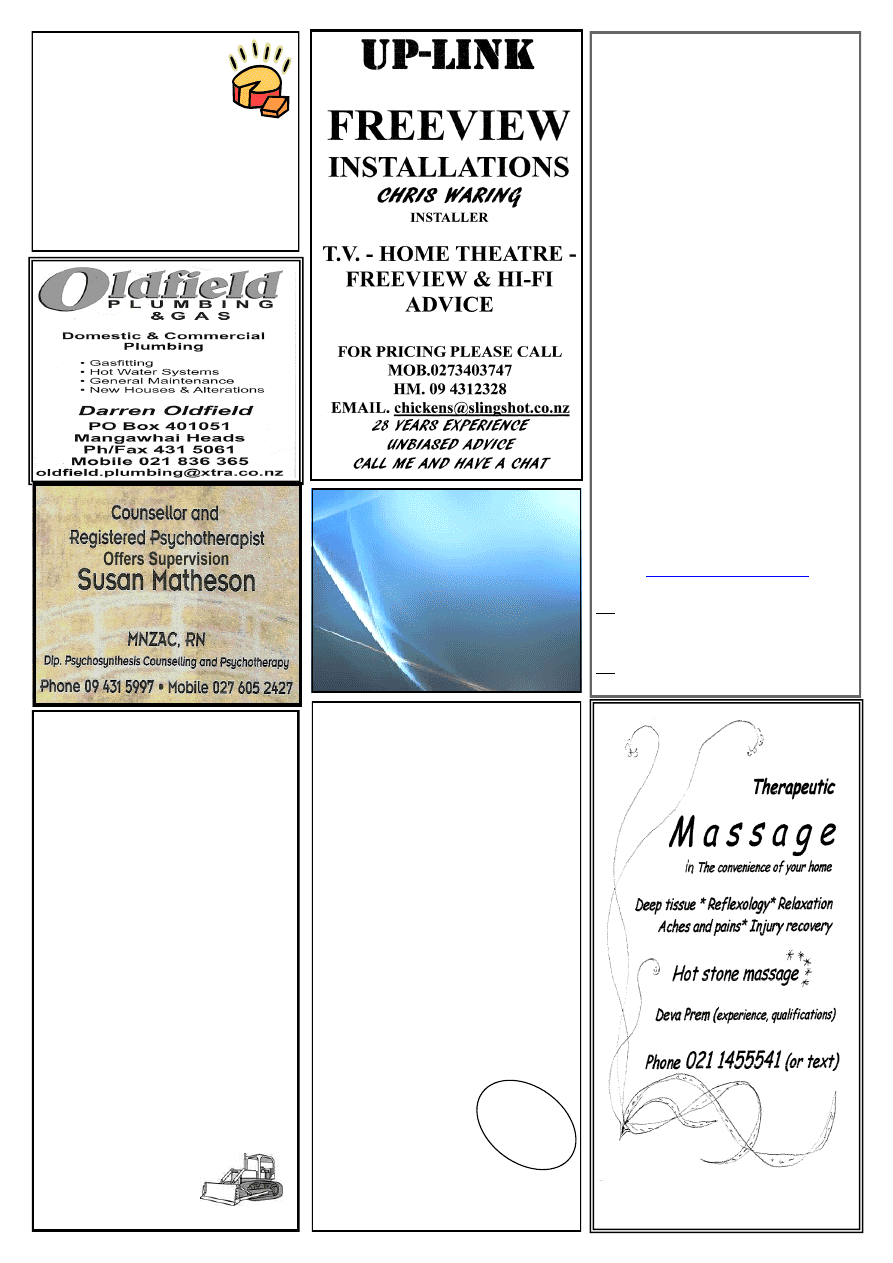 www.mangawhaimassage.co.nz 
Based ou
t  
Oner
iri Roa
d 
HODGETTS
CONTRACTING
Digger Work    

Driveways 

House Sites   

Dams 

Drains, etc
Also available for HIRE 

3 ton Vib Roller 

Heavy Duty Tow 

Waterblaster  

Lazer Level 
Phone Mark 
4312877 
027 447 8554
BONJOUR MESDAMES ET 
MESSIEURS!! 
Need that extra help to feel...fully on top of 
things? You guessed it...  
 I can help!...with all those winter niggles.
Monsieur Masseur .... 
RELAXING  
MASSAGE
..... Juste pour vous" 
Here's feedback from happy clients: 
―When I came in for a massage, I was 
stressed and my body was sore.. 
Prior to my massage, Pete counselled me, 
using positive affirmations and visualisa-
tion.. I relaxed and responded to massage 
treatment a lot quicker, I feel. I am still 
using these affirmations on a daily basis. or 
when I feel stuck..‖ 
Call for an appointment now!
Pete Worsfold 
4312 009 (evenings)  or    
021 825970   
Flat 1 1933 SH1 
Or  Book at "The Well of Health" 
for an appt. 09 4312 799 
 
Or mobile service available 
Coates  
Contracting 
 
D41 Bulldozer with 6 
way blade, bush rigged 
with winch 
 
For all tree work 
 
General bulldozing and  
  stick raking. 
 
120hp Tractor for 
ground cultivation,  
 
tip trailer work. 
 
Fencing
All enquiries phone  
Brett Coates  
094318720 or mob 
021431872 
Freeview  
Installations 
Richard Te Haara 
25 Marram Place 
Mangawhai Heads 
021 1104056 
kiwipride@xtra.co.nz
Hands On    
CHEESEMAKING  
WORKSHOPS  
are  On Again  
SATURDAYS  
For More Info  
or Bookings  
 Contact: 
Ad ...... 
(Kaiwaka Cheese Shop Founder) 
09-4312234 or 0212154495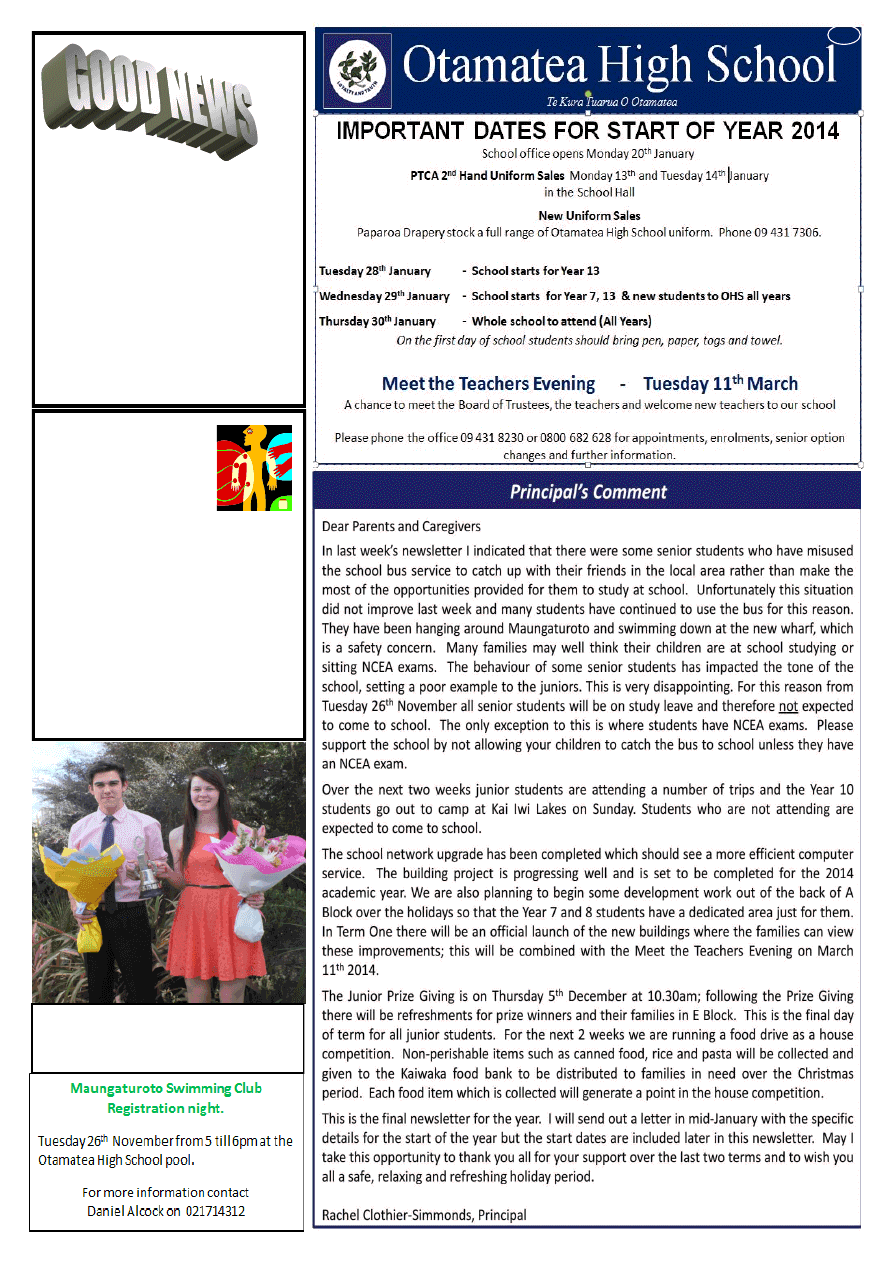 @ the  
Kaiwaka Family 
Church 
Your COMMUNITY CHURCH 
RECEIVE HEALING 
  RECEIVE THE LOVE OF GOD 
  Everyone warmly welcome each                                            
    Sunday 10am. 
Contact: Pastor John Dekker,  
09 4318203 
THERE'S 
OWEN STEVENS 
Osteo Therapist
For careful 
adjustments to bones 
and joints 
Treatment for  humans and their 
pets 
Clinics: Kate's Place, Kaiwaka: 
Last Friday of month 
Warkworth Showground:  
2nd Thursday, monthly          
For  bookings:  9.00am-5.00pm  
Phone 
09 4312661 
 Or phone Owen   
09 4317123  anytime 
11 
Congratulations to both Stacey Lewin and 
Jake Powell (photo left) who were awarded 
Joint Dux at the Otamatea High School Sen-
ior Prizegiving.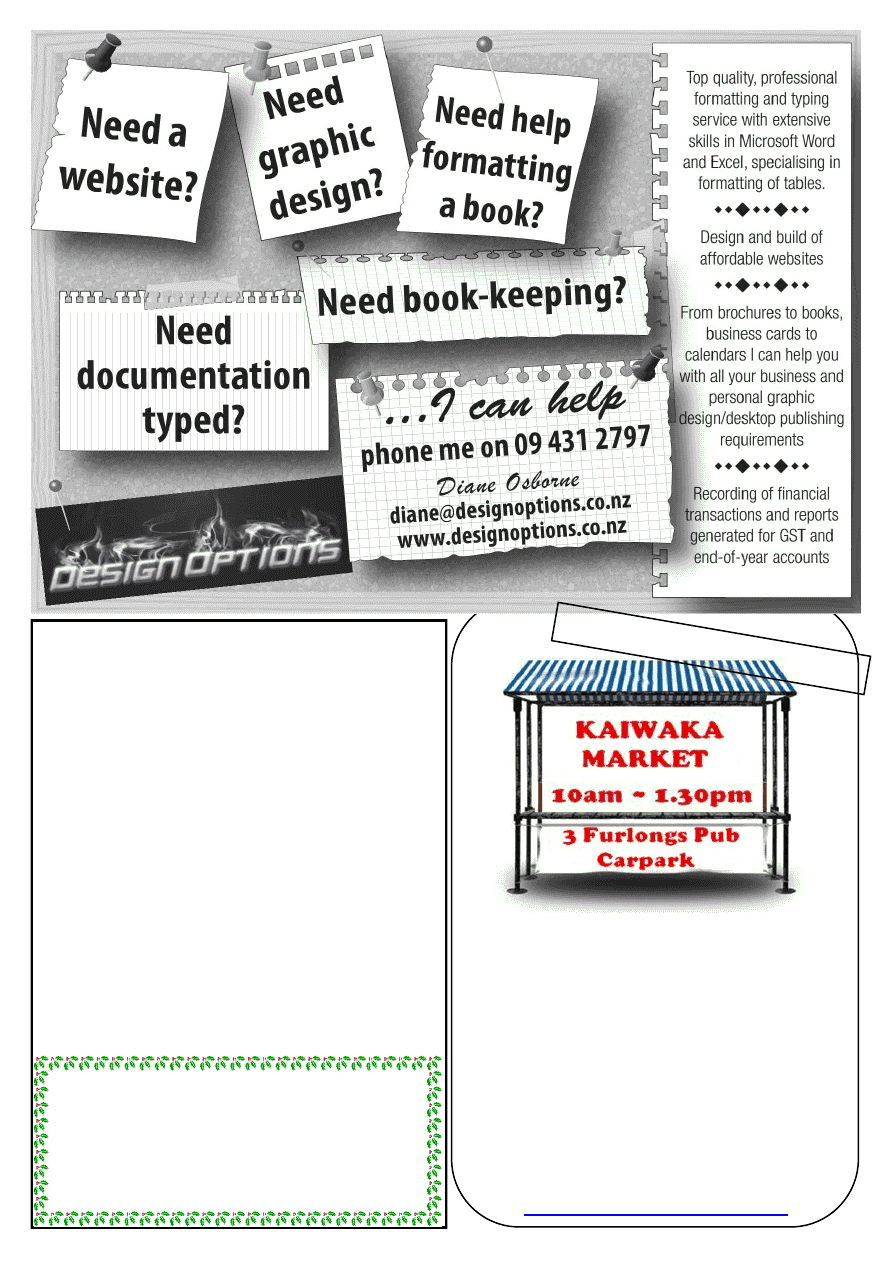 On the 2
nd
 Sunday of each month 
3 Furlongs Hotel Carpark 
Sunday 8 December 
Sunday 12 January 
New, Preloved, Produce, Seafood, 
Clothing, Art & Crafts,  Books, Plants, 
Jewellery, Freeview Boxes & more 
Enquiries to:  
Mandy 09 431 8717 
Celena's Gifts 
-
gifts for all occasions 
NOW OPEN 7 DAYS 
1925 State Highway 1 
KAIWAKA  
Ph: 09 4312741 
We stock:- 
Greeting Cards 
        Party Accessories 
Novelty Items   
        Jewellery  
Baby Gifts 
        NZ Souvenirs   
Gift wrap & ribbons 
Kitchenware 
   ... and much more! 
Get in Early 
Layby NOW for  
Christmas 
NOTE CHAN
GE OF VENUE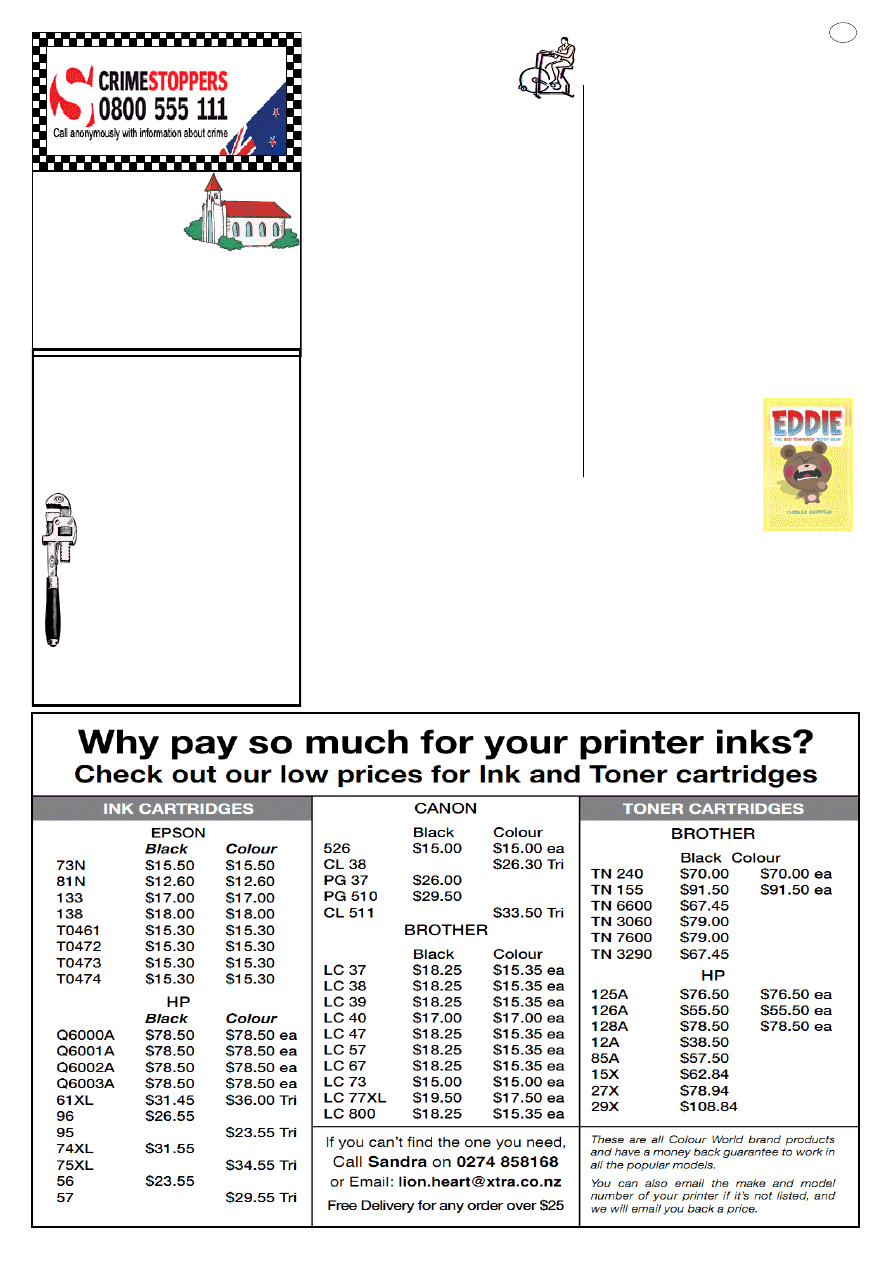 KAIWAKA LIBRARY 
The next Dargaville book swap is coming 
up, we'll be swapping the books on 3 De-
cember and the new titles will be available 
shortly after that day.  Now is the time to 
come and check the great titles we have 
right now before they've gone.  No need to 
return the Dargaville books for the swap, 
they can come back by their due date so 
you've got the full month they're issued to 
enjoy them. 
And I hate to say it, but it's time to start 
thinking about Christmas and making plans. 
As usual the library will be closing for a two
-week holiday. Our last day open in 2013 
will be Saturday 21 December, and we will 
reopen on Monday 6 January 2014. Don't 
forget to stock up on books to read while 
we're off enjoying the break; each library 
member may borrow up to 10 books at a 
time, and they're issued for a month. 
Recently I've read Eddie the 
bad tempered teddy bear by 
Charles Griffiths, better 
known around Kaiwaka as 
Andy Griffiths, the illustra-
tor husband of our former 
library volunteer Amy. He 
designed the mice you can 
see on the Kaiwaka Cheese Shop's wall. 
Andy and Amy have donated a copy of this 
gorgeous children's picture book to the li-
brary (thank you very much for that!). As 
with many local books we've acquired over 
the years, our copy won't be going on the 
shelves for a while, to encourage sales. You 
can get your own copy from Amazon.com or 
download a digital copy from Andy's web 
…..Continues on page 19           
13 
BARRY CURTIS  
PLUMBING LTD 
REGISTERED CRAFTSMAN 
PLUMBER 
Phone 4315572      
027 257 9884 
  25 years experience   
        Friendly reliable service 
        All plumbing & maintenance 
        Alterations and new housing 
        New wood fire installation 
        Spouting 
Competitive rates 
PROMPT EFFICIENT  SERVICE 
ST PAUL'S  
SUNDAY  
SERVICES
First Sunday 9.30am, third Sunday 9.30am  
 Paparoa Anglican   
St Pauls Church: Kaiwaka-Mangawhai Rd.  
1st Sun. (Anglican), 3rd Sun. (Family Service) 
Contacts:M.Hargreaves 4312295, C.Bygrave 4312057  
KAIWAKA FITNESS 
Hi Everyone, Well its been a year 
and a half for me. As you know I 
went to San Diego a week ago to 
compete in the INBA Natural Olympias 
where, to my surprise and pride, I won 2 
gold medals in the 2 classes in which I 
competed. This really was the icing on the 
top after a long hard season, starting in 
June. August 2 golds and Overalls, at Tau-
po.  INBA South Pacific and invited to 
compete in States. September NZIFFB 
Waikato Show 2 golds, NZIFFB Nationals 
1 gold, October Whangarei show 2 golds 
and Overalls. I am so proud of myself, the 
oldy for Kaiwaka. Thanks to you all for 
your support and the Sports Association. 
Time for a bit of relaxing. My people do-
ing10 week challenge have had some good 
results and not so good. I guess if you want 
it badly enough and stick to the plan the 
results will come. 
Time to start training for the annual Top of 
The Rock run/bike /walk to be held on the 
9th of Feb, would love to put a team in 
from the gym so let me know if you are 
interested. 
Thanks to Paula for all your support and 
input over the last 10 years, if you don't 
know yet Paula has stood down from the 
Treasurers position for the Sports associa-
tion, you will be missed by all clubs. 
Lastly I would just like to say again Kai-
waka you are a very lucky community with 
what the Sports Association has to offer 
and the service they do in the community 
and all from a very small but committed 
group of people, you should all be proud of 
what you have. Use and help where you 
can. Take care Train hard Jules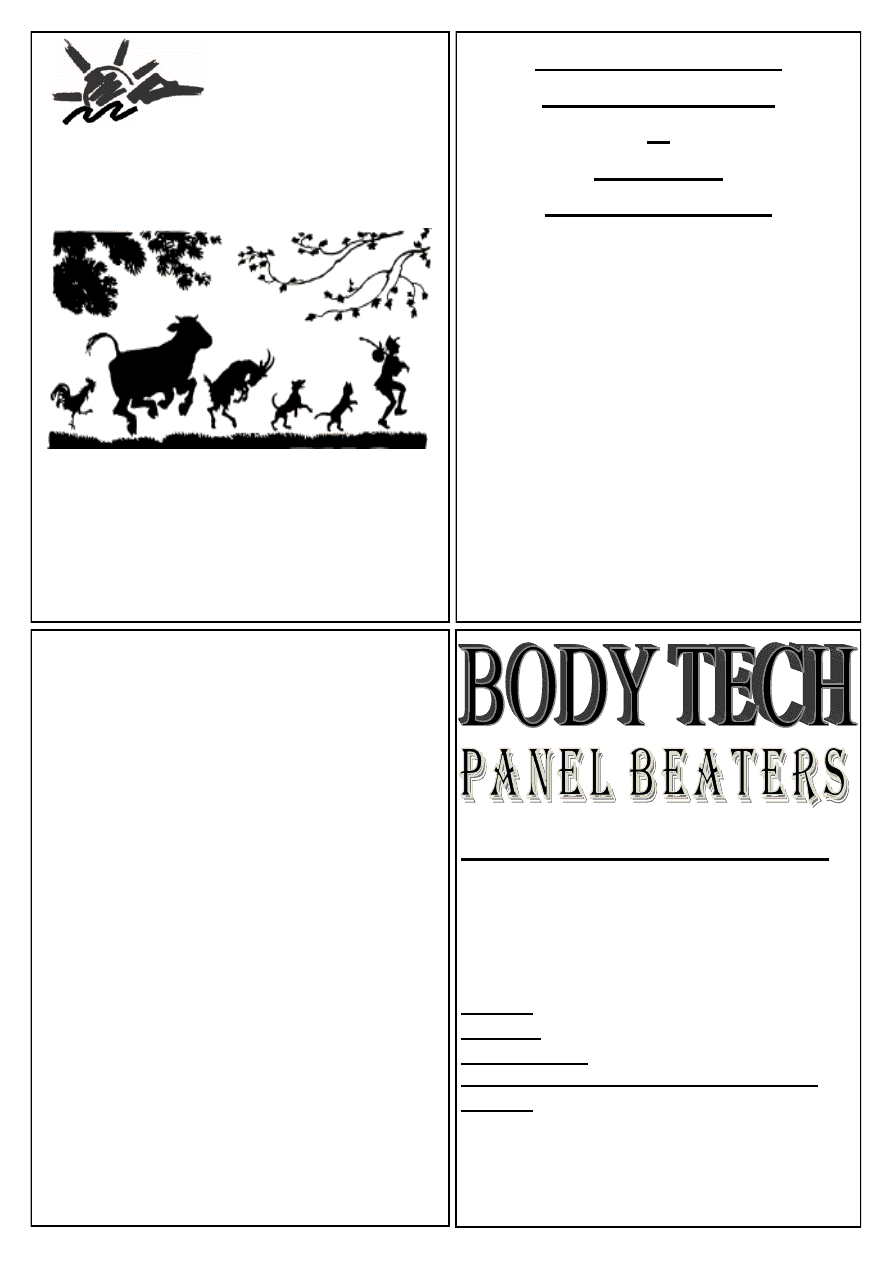 PAUL SAUNDERS 
LAWNMOWING  
&  
GARDEN 
MAINTENANCE 
 
Lawns and edges 
 
Section mowing 
 
Hedging and trimming 
 
Spraying and fertilising 
 
Tree planting 
 
Green waste removal 
 
Pruning 
Friendly and reliable service guaranteed 
Call now for a free no obligation quote 
021 886 843 
09 431 2731 
Servicing Mangawhai and Kaiwaka  
and surrounding areas 
paulsaunders99@gmail.com 
For all your body repair needs!! 
We do: 
Rust repairs 
Insurance work 
Anti-corrosion treatment         
Hours: 8.30am-5pm Monday-Friday  
Mobile: 021 118 0462 
After hours: 09 431 2384 
Phone: Craig or Call in for a free Quote 
e-mail: 
bodytech_panelbeaters@yahoo.com
We are located at 1837 SH1 Kaiwaka, behind Twinkle 
Tow ‗n' Tyre call in anytime for a free quote.  
Large and minor vehicle  
  repairs 
Industrial vehicles 
Full Cut and polishes 
KAIPARA  FLOORING  CO 
32 HURNDALL ST MAUNGATUROTO 
Ph: 09 9469886 or 021 515 415 
Carpet, vinyl, laminate wood look  
flooring, vinyl planking, sanding  
& polyurethane service. 
Carpet Short Ends from $79pm + GST 
Vinyl D.I.Y. peel n stick tiles $10sq mtr + GST. 
Free measure & quote.   
Mobile Service 
Phone Christine or Howard anytime 
Open Saturdays by arrangement. 
The Vet Centre
36 Moir Street, Mangawhai 
~ Our comprehensive team 
 is here to care for  
all your large & small animal needs ~ 
24 HOUR EMERGENCY SERVICE 
Ph:  09 431 4535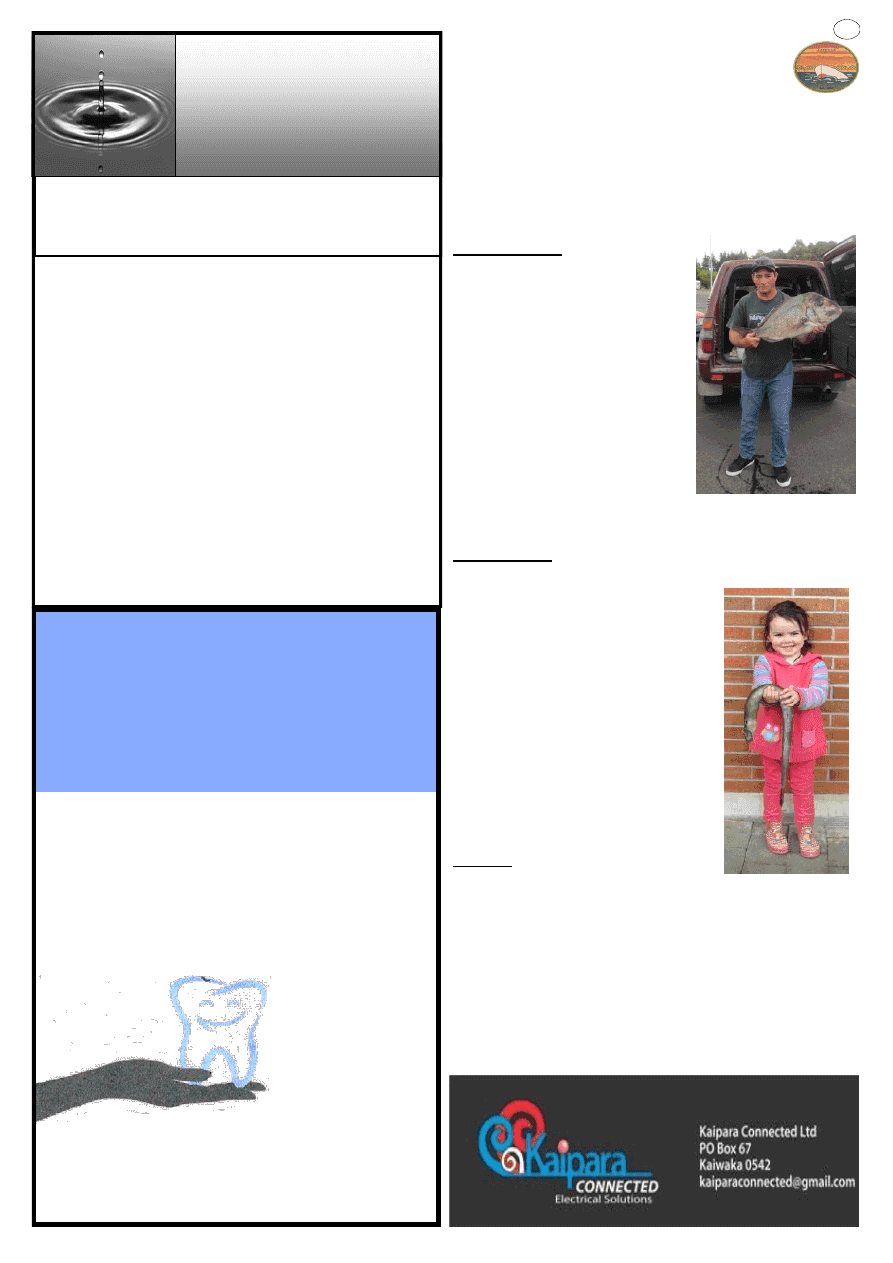 15 
 PETE WORSFOLD M. Soc. Sc. 
Student Counsellor 
 
 peteworsfold@xtra.co.nz 
 021 825 970 
Professional Service 
Variety of Modalities 
By Appointment Only 
Saturdays 
By 
Arrangement 
Open  
Mon-Fri  
8am-5pm  
Gentle Dental 
Ruakaka 
We love to see you smile 
" 
General  & Cosmetic Dentistry 
" 
Emergency & ACC Treatment 
" 
Denture & Hygienist Services 
" 
Senior Citizen Discounts 
" 
Free Adolescent Care 
" 
Free WINZ Quote 
19 Ruakaka Town Centre 
Dr Sim Sood & Associates 
You're in gentle hands 
Ph:  432 8139 
FOR 
INDIVIDUAL ONE-ON-ONE 
COUNSELLING 
MODALITIES: 
CBT  
Grief 
Gestalt 
Relationship 
Person-Centred  
Trauma 
Solution Focussed 
Couples 
Behavioural 
Adolescents 
Careers 
Call for Appointment 
At "The Well of Health" 
09 4312799 or 021 825 970 
 PETE WORSFOLD M. Soc. Sc. 
Student Counsellor 
 
 peteworsfold@xtra.co.nz 
 021 825 970 
Point Curtis Cruising Club 
Results of the Point Curtis Cruising Club Inc  
Members Only Fishing Contest held on 16th  
& 17th November 2013 
Well what a fantastic weekend for fishing!!  We 
could not have asked for better weather.  We had a 
record number of entries for a Club tournament. 
There was 39 Adult competitors and 62 fish 
weighed in. In the kids division we had 14 Kids enter 
and 24 fish weighed in. 
The winners were: 
Adult Section  
Snapper:  Justin Walker – 
7.793kgs  
  Gene Wintle – 5.559kgs  
  Renna Brown – 4.898kgs  
King Fish:  Pongo – 10.620kgs  
                Nikita Butler – 
6.490kgs  
Kahawai:   Andrew Kenny  -
2.965kgs  
    Alan Walker - 2.718kgs  
    Justin Walker –2.710kgs 
Mystery Weights – Nikita Butler 
                          - Kevin Ries   
Kids Section 
Snapper:   Max Tornquist – 2.538kgs 
                Patrick Butler - 
2.034kgs 
                Jacob Butler – 2.009kgs 
Kahawai: Jessika Wintle – .349kg 
               Brayden Wintle – .327kg 
               Jessika Wintle - .313kg 
Eel:      Caleesto Mills – 1.927kgs  
               Hannah Mills – 1.380kgs  
               Brayden Wintle – 
1.175kgs  
Mystery Weight – Hunter Ries  
Raffles 
Meat Pack – won by Pongo 
3 Chopping boards – Made by and 
donated by Gravy – won by Linda 
Leslie, Jewel Mills and Tony Smith. 
Also a date to remember – We have a Pool Challenge 
with Mangawhai Tavern at Mangawhai Tavern on 
Sunday 1st December 2013. 
Sandra Shaw 
Wellsford Sports & Leisure  
Alexus Tamati with 
her eel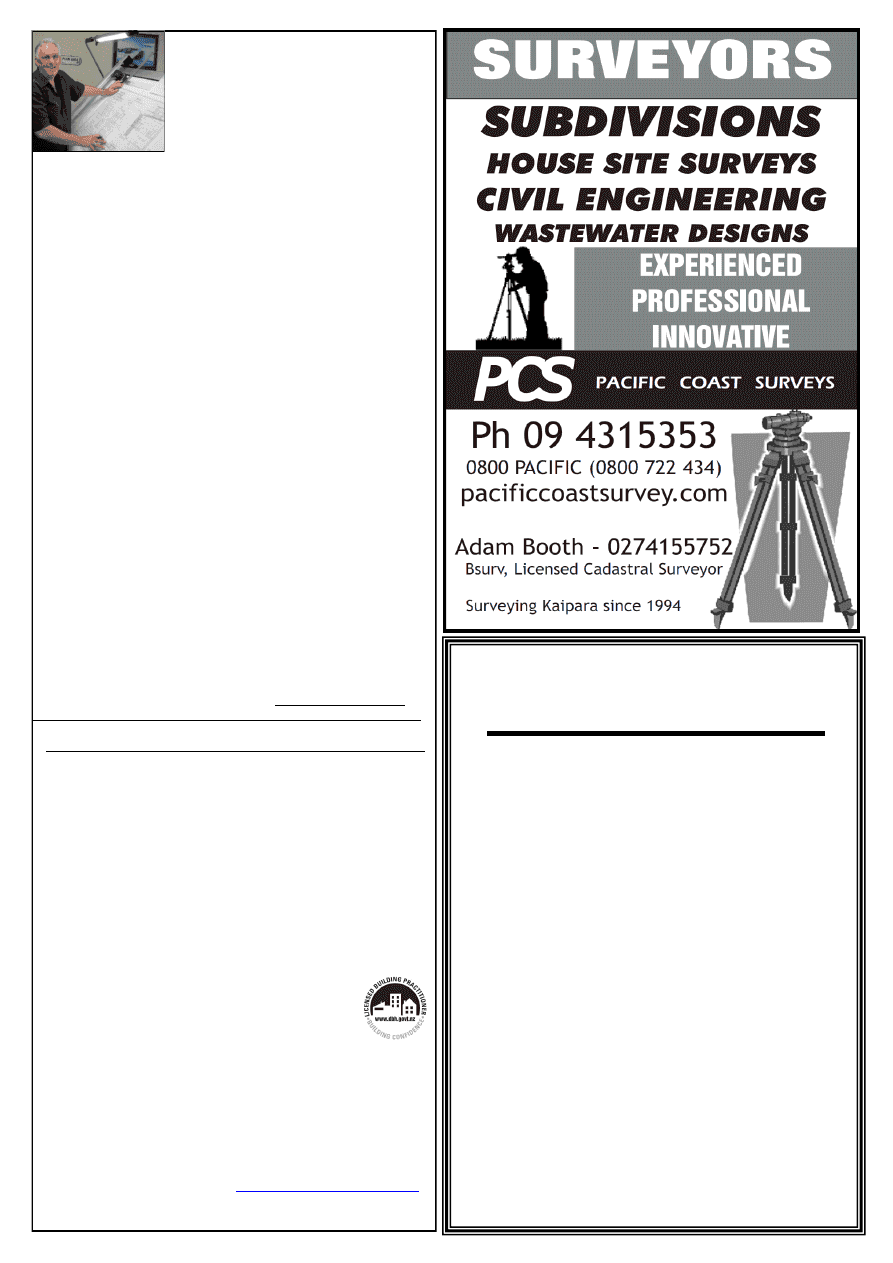 STOCKFOOD
GREAT RANGE FOR ALL YOUR LIVESTOCK  
AT GREAT PRICES 
 ALSO CHECK OUR 
DOG BISCUITS 
20 KG FOR $58.90 
LPG REFILLS 9KG 
STILL ONLY $31.50
MANGAWHAI SERVICE 
STATION 
(09) 431 4242 
44 MOIR STREET IN THE VILLAGE 
ARCHITECTURAL 
BUILDING PLANS 
AND DESIGNS 
20% Reduced Cost - design and planning. 
If you are thinking of building, then you need 
to make use of cost savings in architectural 
design as well as having a good and well experienced designer. 
This applies if you are considering a new home, any alterations or any 
building additions/farm buildings, sheds, alterations, whatsoever. 
There are many things that are frustrating if you are not totally 
familiar with what all details are required by Councils -especially 
with new regulations in force to ensure everything runs smoothly - 
e.g. Resource and Building Consents, planning restraints, new 
building materials ,applying for building permits, dealing with 
building contractors to name a few -you need a capable,  
experienced and professional designer with a clear knowledge of 
all the processes. 
WE CAN HELP YOU CLARIFY ALL OF THESE ITEMS 
 
AND MAKE LIFE RUN MORE SMOOTHLY. 
Brian of Wright Design has been helping and organising all these 
facets of design and building for over 40 years. 
With needs of family changing and the economy - building require-
ments constantly being reorganized and made more complex, it's very 
important to obtain professional advice for any building project - no 
matter what size. 
Brian advises on design, materials, permit applications, builders 
and subcontractors for any project - no matter how small or large 
ALL THIS AT A REDUCED COST so YOUR DOLLAR    
GOES FURTHER  
Wright Design offers free visits, consultations and all the advice 
you need on planning. Design, building, contractors, council  
permit applications, guaranteed permit plan acceptance. 
QUALIFICATIONS 
Brian is a qualified designer (NZCAD) with over 40 years of varied 
experience in all types of building and is a registered and Licensed 
Building Practitioner in Design - L.B.P. 117345 
He ensures you will achieve the best from your budget with  
recommended excellent local contractors ready to competitively 
price and build your personal project quickly and efficiently. 
EXPERIENCE 
Brian's practical building and 40+ years of design experience 
means he can give you excellent advice and all the guidance need-
ed for all your building needs, 
FEES: To help you attain your project Brian has reduced his 
costs by 20%, giving you extra funds for the rest of your project. 
ENGINEER: Brian can arrange engineering for a reasonable cost. 
THIS IS AN ABSOLUTELY GENUINE FEE REDUCTION!! 
Qualified and inexpensive designer – N.Z.CAD., LBP 117345 
Guaranteed design and working drawings 
Free site visit to your home or property 
Great service 
Obtain a free quote with 20% Discount. 
PROJECTS 
Additions, alterations, basements, new houses, motels, bed and 
breakfast commercial buildings and shop fit outs are a few pro-
jects he has been involved with. 
Brian can show you many of his projects in the area to emphasise 
his versatility 
WHAT TO DO FROM NOW 
Call Brian   
Arrange a visit 
Discuss your needs 
Obtain great advice.  
Obtain a free quotation - with a true 20% discount 
Make a decision based on the facts - You Won't Be  
Disappointed! 
MAKE GOOD USE OF HIS EXPERIENCE AND 
THIS   GREAT OFFER OF REDUCED FEES OF 
20% 
Brian can offer plan printing-from A4 to AO (2 x A1 size) 
WRIGHT DESIGN 
Brian's office is at: 360 Oneriri Road, Kaiwaka, North-
land 0573  
Call in for a chat and a coffee, or he will call on you at your 
home if preferred. 
WRIGHT DESIGN: Office 09-4312544   
Mobile 021 276 7389 
Email: 
www.wrightdesign.co.nz 

17 
Local Government Reform in Northland - Commission's preferred 
option announced.
Joint statement on behalf  of  Far North, Kaipara and Whangarei District and Northland  
Regional Councils 
12 November 2013
Today's announcement on potential local government reform has been received by Northland's local body leaders who are 
pledging to work together to ensure the resulting outcome is best for Northland as a whole – irrespective of their council's 
individual position on the issue. The Local Government Commission today announced its preferred model for Northland; a 
single unitary body supported by community boards.  Its decision does not ultimately rule out the use of local boards as 
allowed for under new legislation introduced to Parliament recently. 
The commission became involved after an application during the previous term of the Far North District Council for a uni-
tary authority based around its existing district boundaries.  This body would encompass the powers and responsibilities of 
both a district and regional council. Since that application was filed the region's political landscape has changed markedly, 
with new mayors in both the Far North (John Carter) and Whangarei Districts (Sheryl Mai) and a new chairman for the 
Northland Regional Council (Bill Shepherd). All three political leaders – and John Robertson, Chairman of Commissioners 
for the Kaipara District Council – were at Waitangi today (Tues 12 Nov) for the commission's announcement, delivering a 
joint statement in its wake. 
The four, together with senior management across all four councils, met at Waitangi today as the Northland Mayoral Forum 
and agreed to form a working party to collectively examine the implications of today's recommendation going forward. 
The four say while their individual councils will still now need to meet to look at the implications for them and their ratepay-
ers, collectively they are pleased that in one regard the commission's recommendation ends months of uncertainty. 
The four leaders say the challenge now is to work to ensure Northlanders collectively are educated to the pros and cons of 
the option as outlined by the commission and empowered to make the decisions they feel are best for them. And they say 
irrespective of what that outcome may ultimately be, they want to work collectively as much as possible to ensure the best 
result for Northland.  
All four representatives say while it is still early days, there are also a number of opportunities to work more closely and 
productively under the current local government arrangements in the region. 
They paid tribute to the commission for the efforts it had gone to address the views expressed by the community during the 
process to date. 
Do we want Kaiwaka to stay together? 
S i g h…I know politics is boring, but do please listen. 
Those of you who voted in the local body elections last month (and many who didn't) will know that for the Northland Re-
gional Council, Kaiwaka was cut in half by the boundary changes.  Oneriri Peninsula remained in Kaipara and the rest of us 
became part of Coastal South. 
This change came about around the beginning of the year with virtually no publicity.  There had been some small mention 
in a couple of papers towards the end of last year but somehow it just slipped by and with hardly any submissions received, 
an ―arbitrary decision‖ (direct quote made to me) was made on the new boundaries. 
Now that the new Northland Unitary Authority proposal has been made public those same boundary lines have been used, 
dividing us forever until someone makes a new proposal in the future – unless we make a submission ourselves. 
I would like some feedback from people in Kaiwaka/Oneriri/Topuni/Mountain Road or anywhere else relevant as to wheth-
er you want to stay in Kaipara District or be part of Coastal South. 
Even if the LGC (Local Government Commission) Proposal does go through (though there is a lot of opposition on the oth-
er side of the Brynderwyn's to ―taking on Kaipara's debt‖) Kaiwaka will still be cut in half. 
Please email your views to 
  so we can work towards putting our town back together. 
Jan Vaudrey 
NORTHLAND REORGANISATION PUBLIC MEETINGS 
I only spotted one advert in the Dargaville News dated 20 November for the above Kaipara District Council hosted  meet-
ings to assist ratepayers to understand the implications of the Local Government Commissions proposal for Local Govern-
ment Reorganisation in Northland.  If you didn't see it, you have already missed the three public meetings.   The meetings 
were addressed by a panel of local people and attendees were given information about making a submission.  The more 
submissions, the better the ―authorities‖ know how we feel and what we want; and maybe we can keep Kaiwaka the way it 
is. 
Jan Vaudrey (see above) would like to get some feedback on whether you want to stay in Kaipara or join the rest of Kai-
waka in Coastal South.  Or the other way round.  If enough people want to change she'll look into how we go about putting 
in  a  submission  to  the  LGC  in  changing  the  boundary  they  imposed  on  us  earlier  in  the  year!    You  can  email  Jan  
at    
Cheers Ann (Ed.)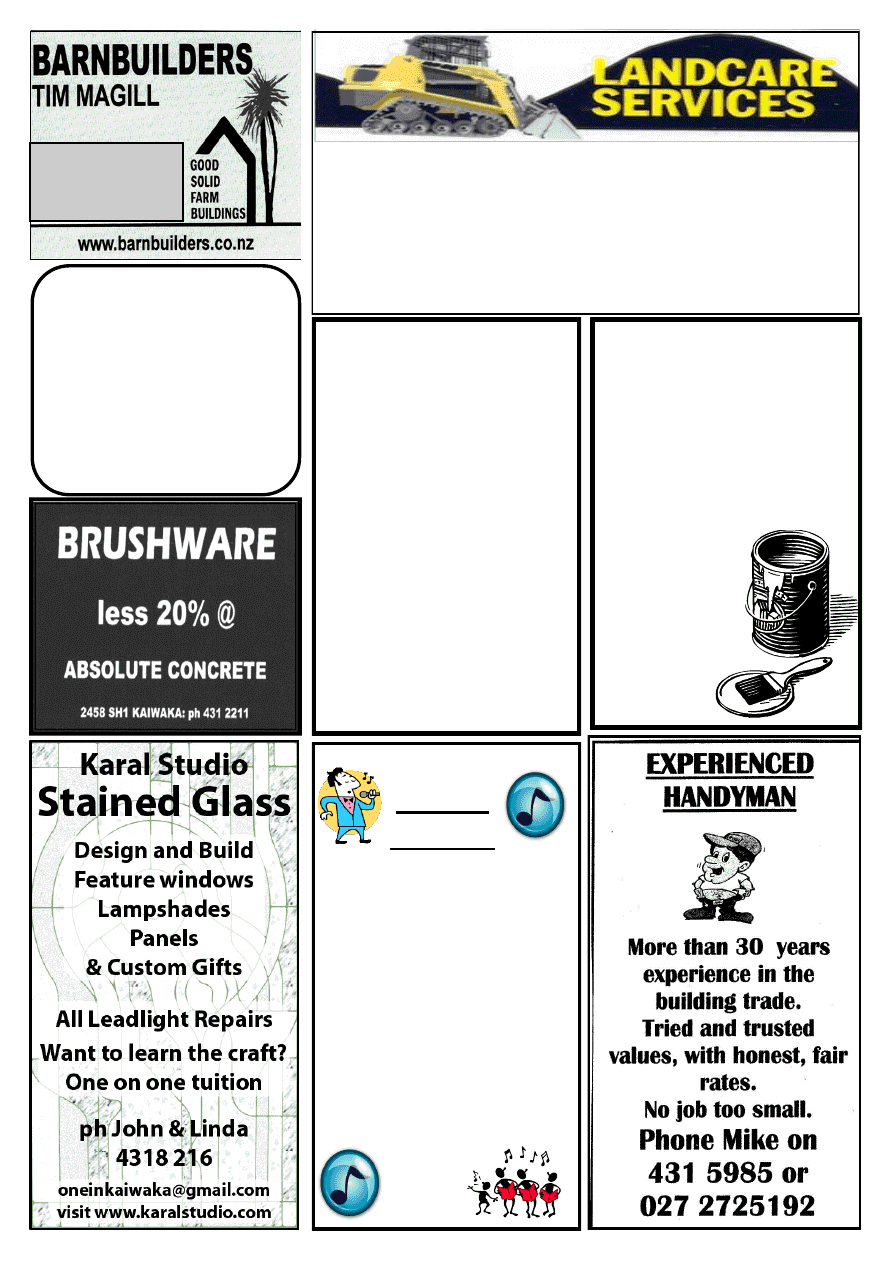 Willow Bend
HORSE  
HOTEL 
"   
Total Horse Care 
" 
Agistment 
" 
Riding Lessons 
" 
Arena Hire (60x40) 
" 
Young Horse Starting 
" 
Re-training/Exercising 
" 
Hoof Trimming 
" 
Problem Solving 
Phone Sue 09 431 2817 
or 021 623 776 
Or email sue.gray@xtra.co.nz 
Singing 
Lessons
Individual sessions 
All styles of music  
All voice types 
Reasonable rates 
Phone  
Maura Flower 
      021 164 8318 
T.W.WRIGHT 
WATER PUMPS  
SALES & SERVICE 
DEEP WELL & SUBMERSIBLE REPAIRS 
203 WHAKAPIRAU RD, WELLSFORD 
PHONE 09 4238235   
MOBILE 021 976 545 
LANDSCAPING 
4 IN 1 BUCKET 
TRENCHER 
POLE HOLES 
ROTARY HOE 
COMPACT ROLLER 
OFFAL HOLES 
CAN SUPPLY WOODCHIP & POST PEEL         5 TON TIPPER 
FOR RELIABLE AND FRIENDLY SERVICE CONTACT DAVE 
Dave Hyndman 
 
KAIWAKA 
PH: 09 4312302 
MOB: 021 431 238 
Colour It 
    Painter Decorators 
30 years Painting Experience 
Old & New Homes 
Top Quality Job 
Very High Standard of  
Workmanship 
Phone: 
09 4312208 
Darryl Fisher 
0278111821 
Ph: 09 431 2638 
Mob: 021 487 055 
tim@barnbuilders.co.nz 
Beside Italian Bakery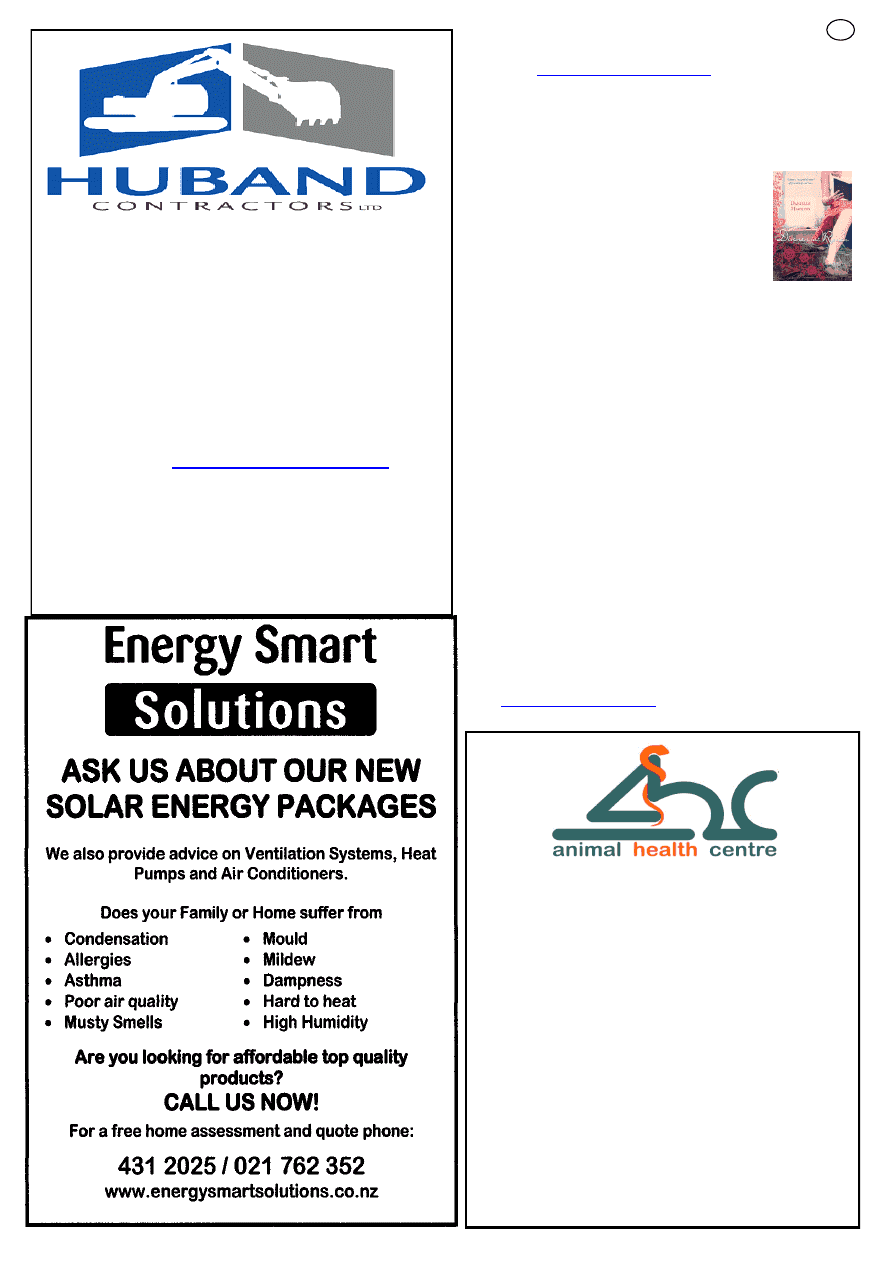 *   R O A D I N G   *   E A R T H W O R K S   *    
*   D R A I N A G E   *   S I T E W O R K S   *  
For any further enquiries, contact Shaun 
on: 
Cell: 021 222 0272 
Home: 09 4318339 
Shaun Huband:  
Registered Drainlayer 
site shop at 
where you can choose to pay whatever you like for it. 
Eddie is much as the title tells you - he looses his cool easi-
ly.  This story is about his walk in the woods one day, and the 
adventure he has along the way.  I'm sure this will be popular 
with the little ones! 
I've also read Dinner at Rose's by Danielle Haw-
kins. From the book cover: "In the wake of an 
unfortunate best-friend-and-boyfriend-caught-
having-sex-in-a-chair incident, Jo Donnelly flees 
her civilised city life to take up a temporary job at 
the physiotherapy clinic in her small home town. 
Jo is ineptly assisted at work by a receptionist who 
divides her time between nail care and surfing the internet. Mean-
while, her new flatmate is a joyless couch potato who hogs the 
TV and is vigilant in her quest to prevent excessive electricity 
consumption. Life would seem a bit grim if not for Jo's eccentric 
honorary Aunty Rose, who lives up the valley with her pet piglet, 
four dogs and two sheep. Rose was a wise and infinitely patient 
friend to both Jo and her bona fide nephew, Matthew, while they 
were growing up. And when Rose is hit by illness Jo moves in to 
look after her, while Matt helps out as much as his farming duties 
allow. But illness aside, it's not long before the mischievous Rose 
is playing cupid..." 
If you are a watcher of Country Calender, you may have seen the 
author in one of this year's programs with her husband and chil-
dren on their Otorohanga farm. Danielle is also a vet - you may 
also remember her from the Mangawhai vets' where she worked 
some years ago (and helped us look after our goat who ate some 
rhododendron - and lived to tell the tale!). I loved this book, 
which is not a recommendation I give often. Within the first few 
pages I felt right at home, as if I lived in this King Country town 
myself and knew the locals. I can't wait for Danielle to write an-
other book. This book is on the Rental Fiction shelves in the li-
brary. 
See you in the library!
Wendy Howard, Librarian 
Kaiwaka Library, cnr State Highway 1 and Kaiwaka Mangawhai Road. 
PO Box 89, Kaiwaka 0542. Phone 4312 539. 
6pm. Membership is available to all residents in the Kaiwaka area.
19 
LIBRARY REPORT CONTINUES…. 
The Animal Health Centre has 
moved premises and can now be 
found next to the Italian Bakery.   
Enjoy the same great service from Sandra 
and the girls but with lots more space and 
parking.  Check out the new shop at 
1925 State Highway 1 
Phone 09 4312217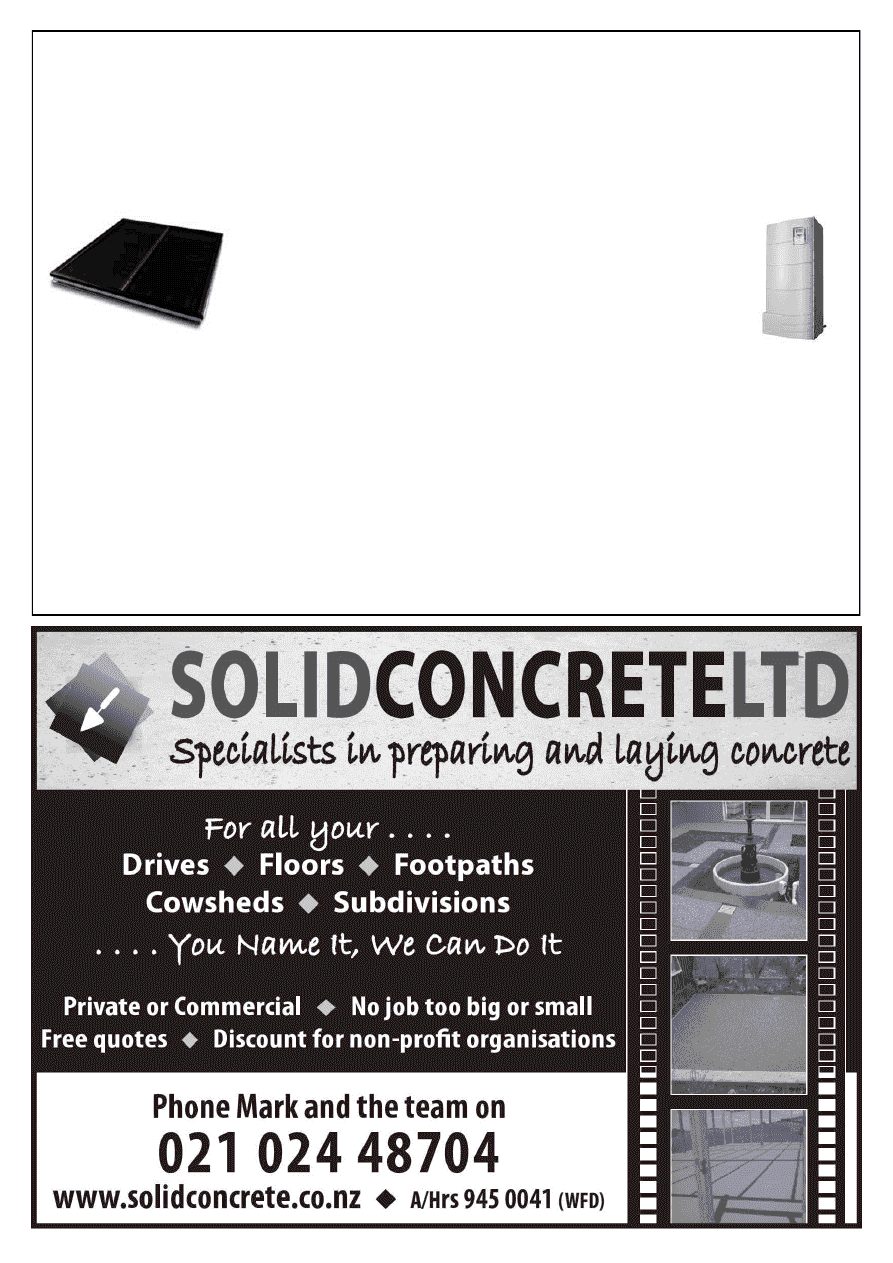 WANT TO SAVE ON YOUR ENERGY BILL? 
GROUP PURCHASE OF 20 SOLAR HOT WATER SYSTEMS 
EXCEPTIONAL CONDITIONS! 
Interested? Come to our ENERGY CO-OP MEETING in KAIWAKA! 
DATE: 13 December 2013 at 7 pm 
VENUE: Resonz 4, Windmill Lane  
ENROLMENT: 09 431 24 08 / 021 022 31 70 
EMAIL: resonzschool@gmail.com 
Installing a Solar Hot Water System is the way to save 70 % on your hot water bill. This 
group purchase makes it possible to buy the best available technology (advanced flat 
plate collector + plug-and play solar collector) at a strongly reduced cost. Local energy 
expert Eric Jansseune has carefully selected the solar equipment, imported from Eu-
rope with worldwide certification and a proven lifespan of 30 years. Payment conditions 
are exceptional, with no hidden cost and affordable installation prices. 
DON'T MISS THIS UNIQUE OPPORTUNITY!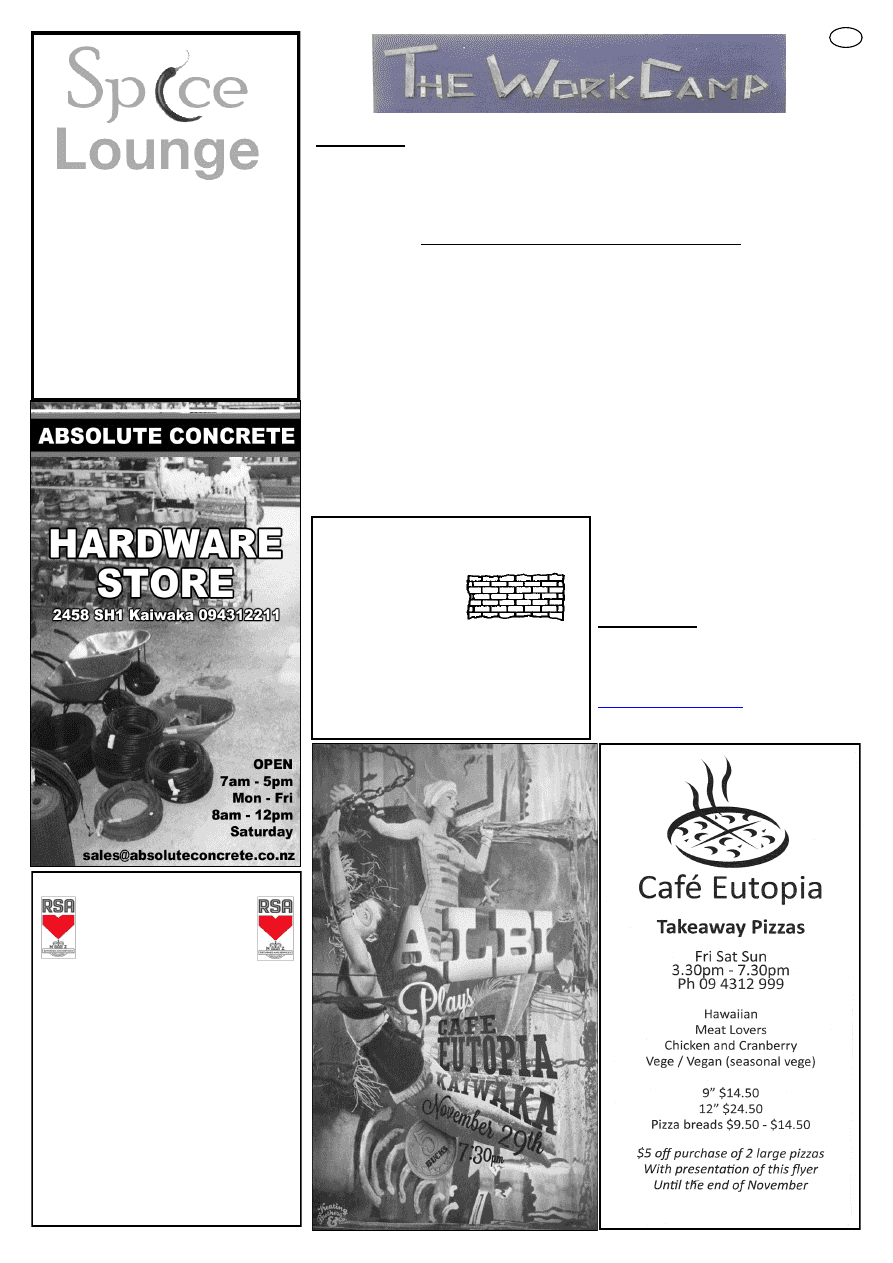 Open for Lunch and Dinner 7 Days 
Lunch from 11am ~ 2pm 
Dinner from 5pm ~ 9.30pm 
TAKEAWAYS  
Ph: 4312737  or  021 923 236 
spiceloungedinein@gmail.com 
1917 State Highway 1,  
Kaiwaka 
BRICK/BLOCKLAYER            
All aspects of masonry:  
Fireplaces, 
Restoration &  
Remedial Work. 
JAMES EAGLETON 
Tel. (09) 431 2514  
Mob. 0274 749 232 
jajueagles@yahoo.com.au 
210A Pukenui Road, RD2 Kaiwaka 0573 
HAKARU & DISTRICTS  
RSA  inc
2nd Friday of the Month 
Roast Special 
Served from 6.30pm 
        Come along and enjoy 
our Hospitality  
For more information 
   Ring Heather 431466 
or Jan 4314512 
 21 
What Now: 
The way from here is forward. Minnie was as keen to help with our employment 
efforts as us. To quote a Dragon song ―our wings were drying in the sun‖. We 
have learnt a lot in a year about tutoring for North Tec. And with TheWork-
Camp, helping to find ways to use these skills. 
                    Employment Initiatives and Life Skills 
That's about what we are.  
Work for graduates, fire arms licences, drivers licenses, designing/building cheap 
alternative living arrangements. If we get clever at making what we do interest-
ing enough, we are sure we can get some good work for our group.  North Tec's 
Jarrod McKelvie  and the Student painters are getting through a lot of ―out there‖ 
Community Work painting while on the Painting Course: Maungaturoto RSA; 
Pukearenga Te Kohunga Reo; Maungaturoto Centennial Hall. Some of them are 
taking on private work now as self employed brush hands. They can take on ex-
tra new work currently being picked up by outsiders.
Our Construction Course: Hall repairs and Community Garden fence in Kai-
waka. Wharf,  and  Cemetery Display Board at Maungaturoto. Our graduates are 
also taking on some small construction jobs and constructing outdoor furniture 
which we will sell. About 10 from both courses have C.V.'s going up to Whan-
garei this week to a construction seminar.  WINZ are confident there is full time 
work for this group.  This is our last 
week of tutoring for the year. It is good 
there seem to be some good work op-
portunities about. 
Night Trains:   
We will resume as 
things settle. Firearms and Homekill 
skills will be back. 
Contact:  Tim 021 487 055  
060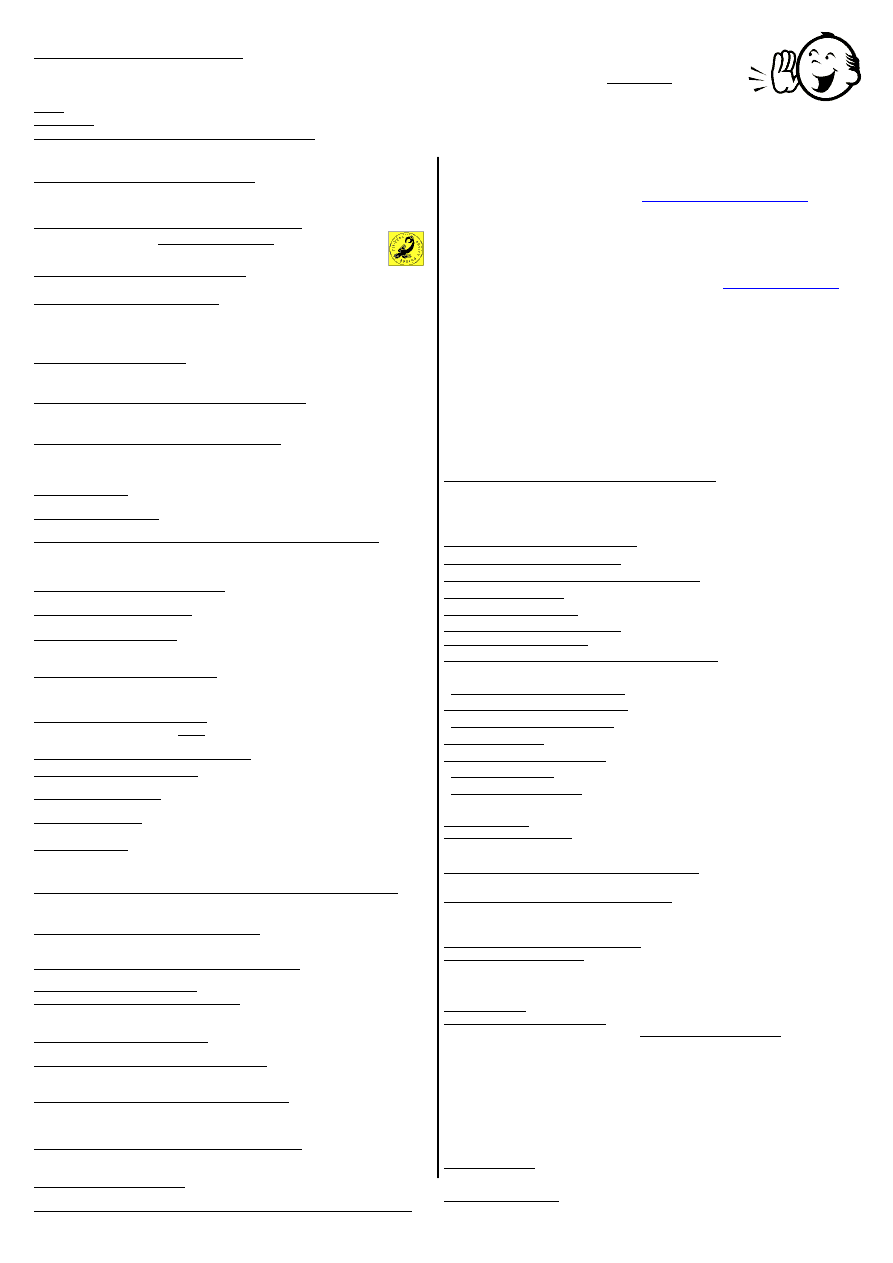 LOCAL SERVICES 
*St.John Ambulance 
111 or Freephone0800 61 0066
*Fire phone 111     *Police phone 111 or 09 4311150 
A A: Meets Wed., 8pm Kaiwaka Ph: 4312228, 4315543, 0800229 6757   
AL ANON: In recess, contact Ph: 4312228 
AGRIQUALITY (MAF) Livestock Consultant 
Phone 09 4311 820 or 021518257  
BUDGETING SERVICE,OTAMATEA:Free confidential advice & 
support - all areas of  personal finance Ph: 09 4318173 or 094318117
CAB-
Citizens Advice Bureau.Wellsford Ph: 4237333.
0800 367 222 email:
DOG/STOCK /NOISE CONTROL 0800 105 890 
FAMILY SUPPORT SERVICES responding to the needs in our 
community  Counselling/Family Therapy/Seminars/Youth Work/
Probation/Osteopathy/Govt.Day Agencies/Community Information  
Ph: 4312661 Hours: 9am-5pm. Mon - Fri (funded & CYFS approved) 
FUNERAL SERVICES: Morris & Morris Ltd, 
Whangarei - Bev Jaques Ph:4312367 or 0800667747 
GRANDPARENTS  Raising  Grandchildren:  Sarah  Rogers  Ph: 
4312194 
HAKARU LANDFILL/Transfer Station:Open everyday except 
Tuesday10am-4pm.Ph4312 
629 Cost-$55 trailer load up to 1 cubic metre. Ph:4258567 - office 
HOMEOPATH: Donna Flavell Ph: 
4314843
INLAND REVENUE: Last Friday each month, 
11-3pm Ph4312661 
KAIPARA DISTRICT COUNCIL www.kaipara.govt.nz:  
Help Desk FREEPHONE 0800 727 059  
Service Centre Mangawhai 4313161 
KAIWAKA KOHANGA REO:
Ph:4312620 Mon.-Fri. 8.30am-2.30pm 
KAIWAKA CEMETERY: Ph: 4312045 
KAIWAKA LIBRARY: kaiwaka.library@gmail.com  
Mon. 4-6pm; Wed., Thurs., Fri., Sat.  10am-2pm Ph:4312539
KAIWAKA PLAYCENTRE: Ph: 4312286. Hastie Lane 
Monday to  Friday  9.00am 
- 
12 noon. 
KAIWAKA POST OFFICE:
Ph:4312 626 Fax: 4312287  
Post Code: 0573  for RD2  and  0542 for all Kaiwaka Post Office mail 
KAIWAKA PRIMARY SCHOOL : Ph: 4312309 
KAIWAKA SPORTS ASSN: Ph 4312005; 4312129 gym 
KAIWAKA ST JOHN: Manager Steve Rosser 09 4318403, 021 2316836 
NORTHPOWER: Faults Kaiwaka area 0800 104040 
PARENTPORT: Free, practical family support servicePuhoi to Paparoa 
Ph:  Sharon Mehana, Co-ordinator. 4259357 or 027 280 5093 
PERSONAL DEVELOPMENT COACHING, GROUP FACILITATION:  
Sabine Druckler 4312231 
PLUNKET  KAIWAKA/MANGAWHAI:  Ph:
094318187 
or  0
276753488 
Kaiwaka Mobile Clinic once a month– appointments necessary;  
Mangawhai (next Domain) 
1st & 3rd Thursday & Coffee Morning; 
PLUNKET CAR SEAT CO-ORDINATOR:  
Pat Scott Ph 4314530 
or 0272881635 
PLUNKET FREEPHONE -0800 933 922 
PLUNKET -MAUNGATUROTO  Clinic every 2nd & 
4thThursday. Ph: 09 4318187 
PUBLIC HEALTH NURSE: Gloria Reid Ph: 094327634  
RETURNED AND SERVICES ASSN 733 Settlement Rd.Hakaru 
Ph.4312176 Bill Kerr (President) Ph.4314719 
TE KOROWAI AROHA O NGATIWHATUA 
(The Cloak of Love of Ngatiwhatua) Support and Maori Consultancy.  
Ph: 4239481 (Wellsford) 
VETERINARY SERVICE MANGAWHAI: 
Ph: 4314535 Mon-Fri 8.30-4.30, Sat 9-12, a/h appt. 
WELLSFORD DOCTORS: Ph: 4238 086 
WOMEN'S WELFARE LEAGUE & Reaching Out For Youth:  
4 Kaiwaka-Mangawhai Rd, M Morgan 4312293 
WHAT'S ON
PLEASE ~ do let me know what is on - email 
kaiwakabugle@kaiwaka.co.nz 
Advertising in WHAT'S ON is FREE 
Mondays: 
8-2.30pm Kaiwaka Tramping Group  Karen 4312090
Mondays: 
Rock & Roll Lessons, Wellsford 7.30pm Ph: Berni 4238024 
Tuesdays: 
Rhythm&Riggle 10am Christ the King Church Mangawhai.
KAIWAKA MARKET  2
nd
 Sunday of month 3 Furlongs 
Hotel Carpark 10am–1.30pm 
4318717 
*27 Nov ~ WCMC last Wed night of month workshop 7.00pm 
*06 Dec ~ DANCE OF LIFE, freestyle dance, 8 pm, Kai-
waka Hall, 09 4312408 / 021 2968794 
*07 Dec ~ PASSIVE SOLAR DESIGN, 
4 Windmill Lane, 09 4312408 / 021 2231700  
*08 Dec ~ 
KAIWAKA MARKET at the 3 Furlongs Hotel Carpark 
10am – 1.30pm 09 431 8717
*13 Dec ~ MEETING GROUP PURCHASE SOLAR HOT 
WATER, 7 pm, Resonz, 4 Windmill Lane, 09 4312408 / 021 
2231700 
*14 Dec~ WORLD DANCE PARTY - DJ Carlita, 8 pm, 
Waipu Boat Club, 09 4312408 / 021 2231700  
See www.kaiwaka.co.nz for upcoming events. 
Drink can 'tear tabs' - for Starship Hospital-Ph. 4312625   
HOUSEHOLD  RUBBISH  COLLECTION  -  Kaiwaka    Pick  up-
Mondays=Green bags are picked up by Northland Waste-queries to 
them 09 4303273,Wednesdays=Blue  bags and yellow recycling (at 
Jaques  $3.00 and $1.40)  are picked up by Kaurilands 09 4392146.  
*OTAMATEA GREY POWER-09 431 8138 Joan Hoggard  
*KAIWAKA BADMINTON -Tuesdays 7.30pm Ph: 4312345 
*KAIWAKA GARDEN & FLORAL Grp:
2nd Thursday in month Ph: 4314767 
*KAIWAKA 
CUBS-Thursdays 5.30-7pm, Hakaru  Ph:Bruce  4312542
*KAIWAKA SQUASH -Mondays 7pm,  Ph: Barbara Thomas 4315905 
*GYMNASTICS OTAMATEA -  Tuesday Ph: Stephanie 022 3624998 
*HAKARU PONY CLUB-
Secretary Julie Rynne 09 4314520 
*
MANGAWHAI COMBINED PROBUS CLUB
: 2pm,3rd Thursday 
month in the Senior Citizens Hall Mangawhai. Ph: 4315777
*PT CURTIS CRUISING CLUB - Jean Ph: 4312246 
*WAIPU GENEALOGYGROUP -4th Monday in month Ph: 4312725 
*NZ GENEALOGY-Wellsford - 1st Thursday in month Ph: 4237033 
*CRAFT GROUP
:2nd & 4th Tuesday, 10am, Wellsford Ph 4238547
*RSA,Hakaru & Dist.Women- meet 1.30pm 4th Thurs in month 4312668  
*OWEN STEVENS at Kate's Place Ph:4312661   
*Diabetes Support Group-for Kaiwaka, Mangawhai, Wellsford -10am, 
 
3rd Friday of month Ph:A.Pert 4238242; J.Gardner 4238060 
CHURCHES:
*Gateway Worship Centre-St Mary's Church Nathan Rd off Oneriri Rd, Kaiwaka 
Services, 10.30am 1st & 3rd Sunday of every month. Contact: Rev David Gage 
4312528 or 0212354282 
*Kaiwaka Family Church-Your Community Church Sundays, l0am 
Home Group every Wed evening, Pastor John.Dekker Ph: 4318203 
*Kaiwaka Services.Anglican & Family Service at St Pauls Church  - 1st Sun. 9.30am
(Anglican),3rd Sun. 9.30am (Family Service).  Contacts: Parish Office 09 4318193, 
M.Hargreaves 4312295, C.Bygrave 4312057  
*Church of Christ the King, Mangawhai 9.30am every Sunday 
*St.Mary's Catholic Church:
Maungaturoto – Griffins Road, Saturday evening Vigil 
Mass 6pm; Mangawhai – Senior Citizens Hall, Sunday Mass 8:30am; Wellsford – 
Matheson Road, Sunday Mass 10:30am; Mid-week Mass times and all enquires to Fr. 
Bill Fletcher – phone 423 8170 
*Baptist Church: Sun. 10.30am Mangawhai Snr Cit.Hall.Ph:4312339 
*Cause Way Church Mangawhai – Sundays 10.15am, Mangawhai Community Recre-
ation Centre, Insley St. Ph: 09 4314782  www.causewaychurch.org.nz
*St.Pauls Archie Bull Hall HIRE  $20 half day, $40 full day per hire 
 Contact G. Jaques 4312048 
*Kaiwaka War Memorial Hall HlRE - Phone 4312725 or 
Email  kaiwaka.hall.bookings@gmail.com 
*Hakaru Community Hall HIRE -Ph.  4312256 or 4312110 
*Te Pounga Marae queries -A.Gage 4312528, 4312527 
*Kaiwaka Sports Association hire/queries- C. Anderson 4312051 
Justice of Peace: B.FJaques; L.Donaldson; A.F.Hargreaves  -please phone to 
make sure they are available 
Marriage Celebrants: L.Donaldson; A.F.Hargreaves;  
Next Bugle Deadline Friday 06 December 13