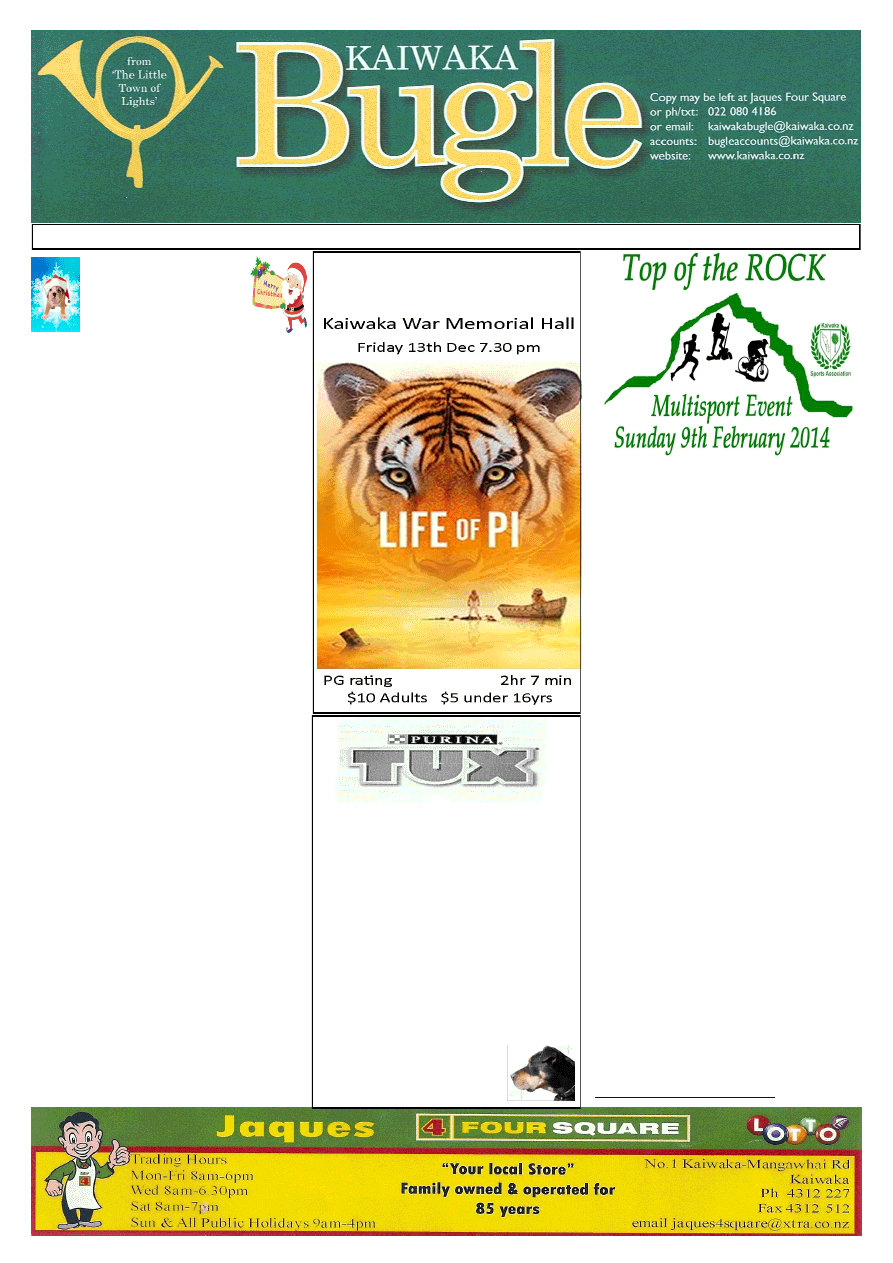 No: 24 
  10/12/2013 
HANDY  DOG
SUNDAY  12  JANUARY,       
2014
OTIORO  ROAD 
HASTIES  FARM
        LIGHT  REFRESHMENTS  AVAILABLE 
  COMPETING  DOGS  MUST  HAVE   
CURRENT  DOSING  CERTIFICATES. 
   (Sorry but only competing dogs allowed) 
Enquiries to:-  
Rob H 4312192 or  
Tony H 4312045 
The Kaiwaka Sports Associa-
tion's annual multi-sport 
event, the Top of the Rock, 
will be held on Sunday 9
th
February.  
This event is for the casual participant 
as well as the more serious competitor 
as there are a range of options: 
 
5km or 10km walk or run 
 
10km run + 15km mountain bike 
ride 
 
30km mountain bike  
Routes travel through some of Kai-
waka's most scenic countryside – bush, 
lakes and farmland – and of course you 
get the opportunity to climb iconic Bal-
drock Mountain (and can you really 
call yourself a local if you've never 
been up Baldrock?...)  
Don't let age or ability be a barrier to 
entering - last year there were Mums 
with babies in strollers walking the 
5km route as well as competitive ath-
letes tackling the challenging routes. 
Participants ranged in age from a three 
year old to an 82 year old!  
New this year, they are offering two 
'earlybird' prize draws for people who 
enter before 9
th
 January. The biking 
participants will be in with a chance to 
win a pack of cycling accessories, and 
the run or walk participants will go in a 
draw for an overnight stay and break-
fast at the Bay of Islands Copthorne 
Resort.   
For enquiries please contact 
Cheryl Anderson on 4312 051 or  
Merry Christmas,  
Kaiwaka! 
And a very Happy 
 New Year 
Christmas,  and  the  time  leading  up  to 
it, is a special time of year. A time for 
thank yous to those who give up their 
precious time regularly throughout the 
year to make the Bugle and other pro-
jects happen.  A BIG thank you to Ad 
Clarijs  for  bringing  movies  back  to 
Kaiwaka—enhanced  beyond  belief! 
Thanks to the Bugle collating team: (in 
no particular order) Kelvin, Pete, Pam, 
Jane,  Corina,  Tony  &  Lindsey, 
Heather,  Wendy,    Eddie  &  Lynne, 
Mary & David, Deb & Rob, and Dun-
can  &  Heather.    Thank  you  to  those 
who  send  in  reports  and  news,  espe-
cially  Bill,  Cheryl,  Bev,  Jean,  Nikki, 
Wendy,  Lynne,  Ann,  Jules,  Elizabeth, 
Rob, and Rachel; and those with little 
extras-keeping us up-to-date with what 
is happening in our great little commu-
nity; thank you to our ‗posties'-Norm, 
Ann, Alan, and Pam; And last, but by 
no  means  least,  thank  you  to  our  ad-
vertisers-your  support  and  encourage-
ment we can't do without! 
Here's  just  one  of  the  kind  emails  I  have 
received from the community (in case any-
one  needs  reminding  that  what  we  all  do, 
is appreciated!)         Merry HoHo ,  
Ann 
Dear Ann and the Bugle Team 
As the year draws to a close and the team 
looks at publishing the final Bugle for 2013 
I would like to say a big thank you to you 
all  for  producing  such  a  top  quality  local 
paper. The news, photos and information 
in  the  Bugle,  pertaining  to  our  local  area 
and  people  is  most  informative  ...and  I 
would  imagine  for  any  new  comer  to  our 
community a most helpful guide to all that 
is  happening  in  and  around  Kaiwaka.  It 
sometimes  amazes  me  how  many  busi-
nesses  and  enterprises,  clubs  and  organi-
sations,    we  have  in  our  community.    I 
especially  enjoy  the  little  snippets  and 
stories  submitted  by  our  local  identities, 
these add a real human interest aspect to 
the paper!  I encourage more people and 
organisations  to  'put  it  in  the  Bugle'  ...it 
can only be in print if someone has taken 
the time to inform the Editor.  
I  wish  you  all  a  Happy  and  Safe  Christ-
mas  ...and  look  forward  to  receiving 
my  Bugle in 2014.                Sara McAulay 
Movies Return to  
Kaiwaka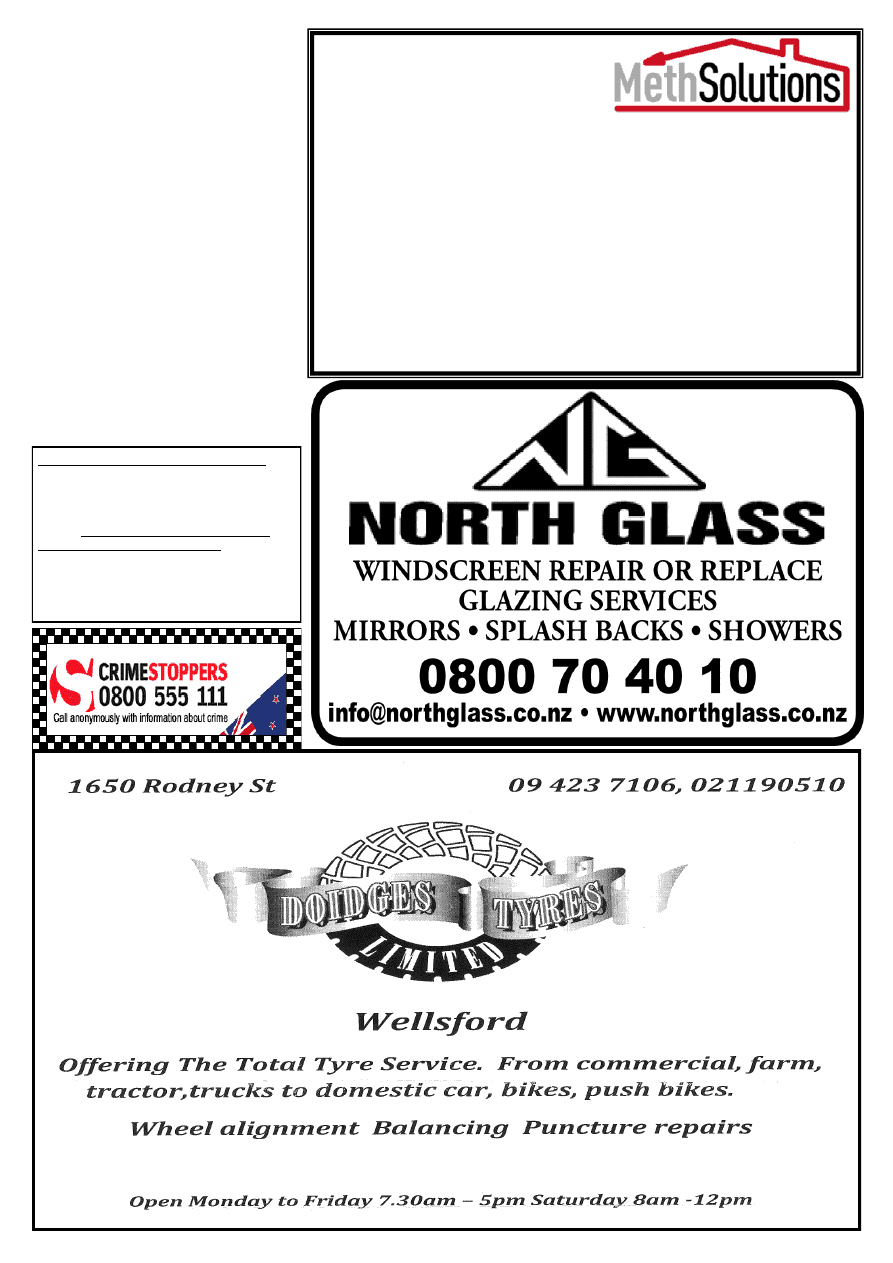 Kaiwaka Bugle Advertisements 2013: 
Classified  $2;  1/8  or  1/9  page  $5;  1/4  page 
$10; 1/2 page $20;  
Payments  can  be  online,  posted  or  left  at 
Jaques Four Square Store - 
contact bugleaccounts@kaiwaka.co.nz 
kaiwakabugle@kaiwaka.co.nz    for  queries 
or copy. 
The Kaiwaka Bugle is a community newspaper 
run by volunteers.   
Articles,  etc.  printed  are  not  necessarily  the 
opinion of the Bugle Team  
LANDLORDS
...
Is your house  
being used as a P- Lab? 
Do you live in a P- lab House? 
Thinking of buying a house?  
Don't take the risk...it will damage your health and your wallet 
If you ignore it. 
High accuracy, low cost MethDNA test from as little as 
$99+GST will give you the answer. 
Tests facilitated by Independent Certified Samplers and  
samples are analysed in an environmental testing lab. 
Book a test now at: www.methsolutions.co.nz  
or for more info call me:  09 4312234  or 021 2154495  
I am a 
local Independent Certified Sampler for MethSolutions. 
KAIWAKA BUGLE No: 24 
10th December 2013 
Page 3: Public Notices; Classifieds 
Page 5: Kaiwaka Primary School 
Page 7: Kaiwaka Sports Association 
Page 9: OHS & Hakaru RSA 
Page 11: Op Shop & Library Report 
Page 13: Kaipara Tide Times & KSA 
Page 15: Kaiwaka Weather & PCCC 
Page 17: Sheep Dog Trial Update 
Page 19: Santa at the Fire Station 
Bugle 1 for 2014 will appear 21 Jan.  
I couldn't fit this on the front page 
but I would like to say a big THANK 
YOU SO MUCH to YKW for being 
my proof reader! I wouldn't have 
made it thru the year without you.  xx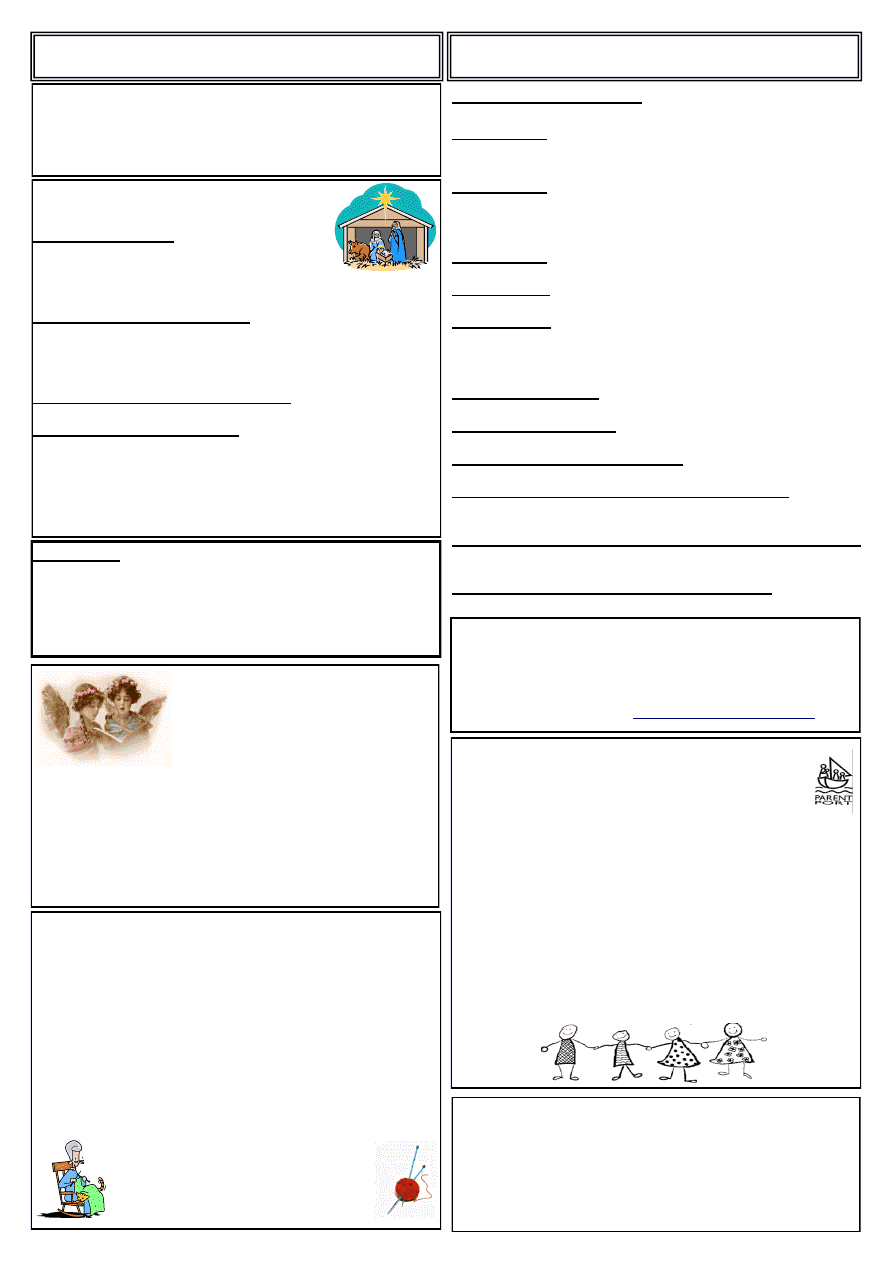 PUBLIC NOTICES 
CLASSIFIED 
NURSERY FOR RENT: 
 auto irrigation, benches, shade 
houses. Ring Pete Worsfold for appt now! 021825970
FOR SALE: 
Dog Kennel and Run. Fibreglass house and 
wooden floor run. Suit small dog $100.00. Phone 094314827 
or
 0274149576
FOR SALE:
 Dry sheep manure, $7 per sack, great for your 
garden, available from 1
st
 Dec. Please phone Carol Mills 
4312 044 or Steve Strong 4314 806. A fundraiser for Kai-
waka Cubs & Scouts.
FOR SALE:
 Clothes Dryer, German AEG very reliable $75 
Ph. Jenny 0274 767 814
FOR  SALE:
 Electric LazyBoy Recliner, Dk Brown velour, 
excellent condition $300 Ph. Phil 431 2155
FOR  SALE:
 Portable Cot. Mothers' Choice brand. Comes 
with  quality  bedding,  carry  bag  and  built  in  trundle wheels. 
Blue colour $70 Ph. 4312 706 
YOUNG  PERSON
 interested in bee work (no contact with 
bees required) $15 per hour. Phone Adrian 09 4312296
WANTED  TO  BUY:
 DVD collections (in good condition) 
for archive collector (me) Plse ph. Adrian 09 4312296
FREE  GRAZING  WANTED
 Small or large block. Can 
do some fencing or water.  Phone after 6pm 4312006
CLOTHING ALTERATIONS & REPAIRS: 
Hems, Zips, Dressmaking Phone: Win 4312027  or 027 444 
8358 Winsome Designs.
CRANIO SACRAL THERAPIST AND MASSAGE: 
for  Horses  and  People,  $45  experienced  practitioner.  Jill 
Shires 431 2080
HOLISTIC ANIMAL PRACTITIONER: 
Horses, Pets, 
Farm Animals. www.allcreatures.co.nz or Jill 4312080 
CHRISTMAS SCRIPTURES: 
Isaiah 9:6-  For 
unto us a child is born; unto us a child is given; and the gov-
ernment shall be upon his shoulder. These will be his royal 
titles: "Wonderful", "Counsellor", "The Mighty God", "The 
Everlasting Father", "The Prince of Peace." 
JESUS IS THE REASON FOR THE SEASON!     
WISE MEN / WOMEN AND CHILDREN STILL SEEK HIM! 
PAPAROA PARISH  
CHRISTMAS SERVICES 
St Paul's Kaiwaka  
Sunday 15 December 7.30pm Carols & 
Christingles. Supper 
Wednesday 25 December 9.30am Christmas Day  
Holy Communion 
Christ The King Mangawhai 
Tuesday 17 December 7pm Blue Christmas Service 
[ for those for whom Christmas is difficult ] 
Wednesday 25 December 8am & 9.30am Christmas 
Day Family Communion 
St Michael's & All Angles Hakaru 
Sunday 22 December 7pm Carols & Readings Supper 
Holy Trinity Maungaturoto 
Wednesday 18 December 7pm Carols with Christmas 
Trees 
Tuesday 24 December 8pm Christmas Eve Service 
Wednesday 25 December 9.30am Christmas Day 
Service & Holy Communion 
         Do come and join us! Everyone very welcome 
KAIWAKA MEDIA GROUP 
AGM 
on Wednesday 15 January 2014, 5pm
Kaiwaka War Memorial Hall
Parent Port 
This is a FREE service for families with 
pre-school children 
Our friendly local Parent Port worker will 
assist you with things like 
Childcare  
Basic housework 
Washing   
Cooking 
In times when you may be feeling 
Tired 
Stress   
Illness 
Family crisis 
If you feel this service can help 
Contact: Linda 09: 425 9357  or   
027 280 5093 
SPECIAL CHRISTMAS 
CAROL SERVICE at 
ST MICHAEL'S & ALL 
ANGELS CHURCH at 
HAKARU 
7 pm SUNDAY 22nd December 
Light refreshments on conclusion of  
Service 
See YOU there. 
―The Team Hakaru‖ 
Please leave donations of knitting                    
yarn 
Wool - synthetic - cotton etc 
in the box provided at Jaques store. 
       A local group is knitting for  
patients 
Prems - babies - children - elderly - 
At Whangarei Hospital. 
For further information  
phone Gale 431 4827 
WANTED:
 More leaders for our cubs & scouts troops. 
Have heaps of fun with the children in our awesome new  
den at Hakaru: Thursdays 5.30 – 7.30pm. 
No experience necessary, any age welcome (may suit retired 
people with a bit more time on their hands!) 
Keen to help out? Please ring Bruce Ferguson on 4312 542. 
Civil Defence Community Response Group 
Wednesday 11 December 2013 
7:00pm at the Kaiwaka Fire Station 
Meeting for committee and all who are interested - 
we need more people involved! 
Contact Sarah 4312 351 or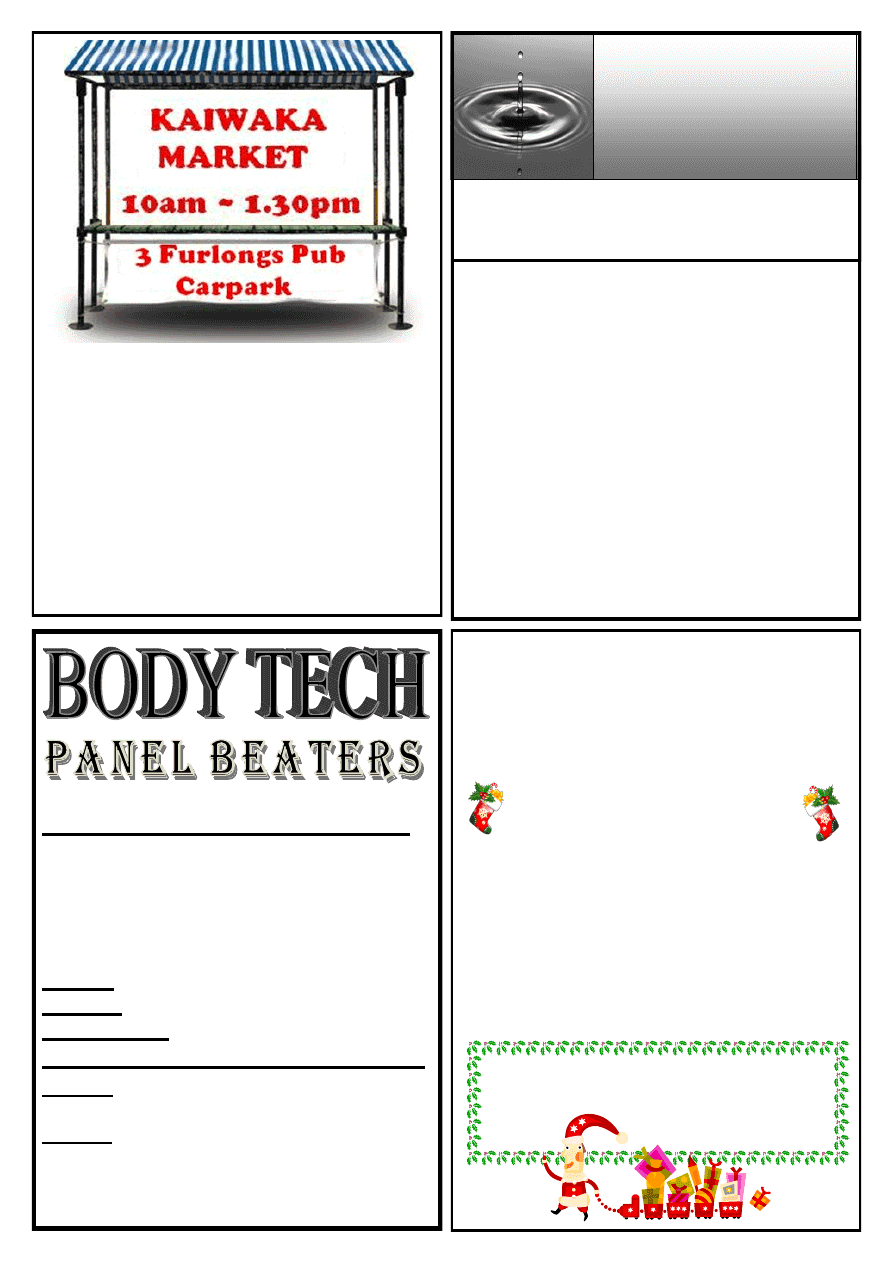 For all your body repair needs!! 
We do: 
 
Rust repairs 
 
Insurance work 
 
Anti-corrosion  
   treatment   
Hours: 8.30am-5pm Monday-Friday  
Mobile: 021 118 0462 
After hours: 09 431 2384 
Phone: Craig or Call in for a free 
Quote 
Email: 
bodytech_panelbeaters@yahoo.com
We are located at 1837 SH1 Kaiwaka, behind Twinkle 
Tow ‗n' Tyre call in anytime for a free quote.  
 
Large and minor vehicle 
repairs
 
Industrial vehicles
 
Full Cut and polishes
Celena's Gifts 
- Gifts for all occasions 
    1925 State Highway 1 Kaiwaka  Ph: 09 4312741 
NOW OPEN 7 DAYS 
We stock:- 
Greeting Cards   
Party Accessories 
Novelty Items 
Jewellery 
Baby Gifts   
NZ Souvenirs 
Gift wrap & ribbons  Kitchenware... and 
much more! 
On the 2
nd
 Sunday of each month 
In the 3 Furlongs Pub Carpark 
Sunday 12 January 
A variety of new & pre-loved goods 
Enquiries to:  
 PETE WORSFOLD M. Soc. Sc. 
Student Counsellor 
 
 peteworsfold@xtra.co.nz 
 021 825 970 
Professional Service 
Variety of Modalities 
By Appointment Only 
PRIVATE COUNSELLING  
AVAILABLE 
MODALITIES: 
  Individual – one on one counselling      
FOR 
CBT  
Grief 
Gestalt 
Relationship 
Person-Centred  
Trauma 
Solution Focussed 
Couples 
Behavioural 
Adolescents 
Careers 
Call for Appointment 
At "The Well of Health" 
09 4312799 or 021 825 970 
 PETE WORSFOLD M. Soc. Sc. 
Student Counsellor 
 
 peteworsfold@xtra.co.nz 
 021 825 970 
Get in Early 
Layby NOW for Christmas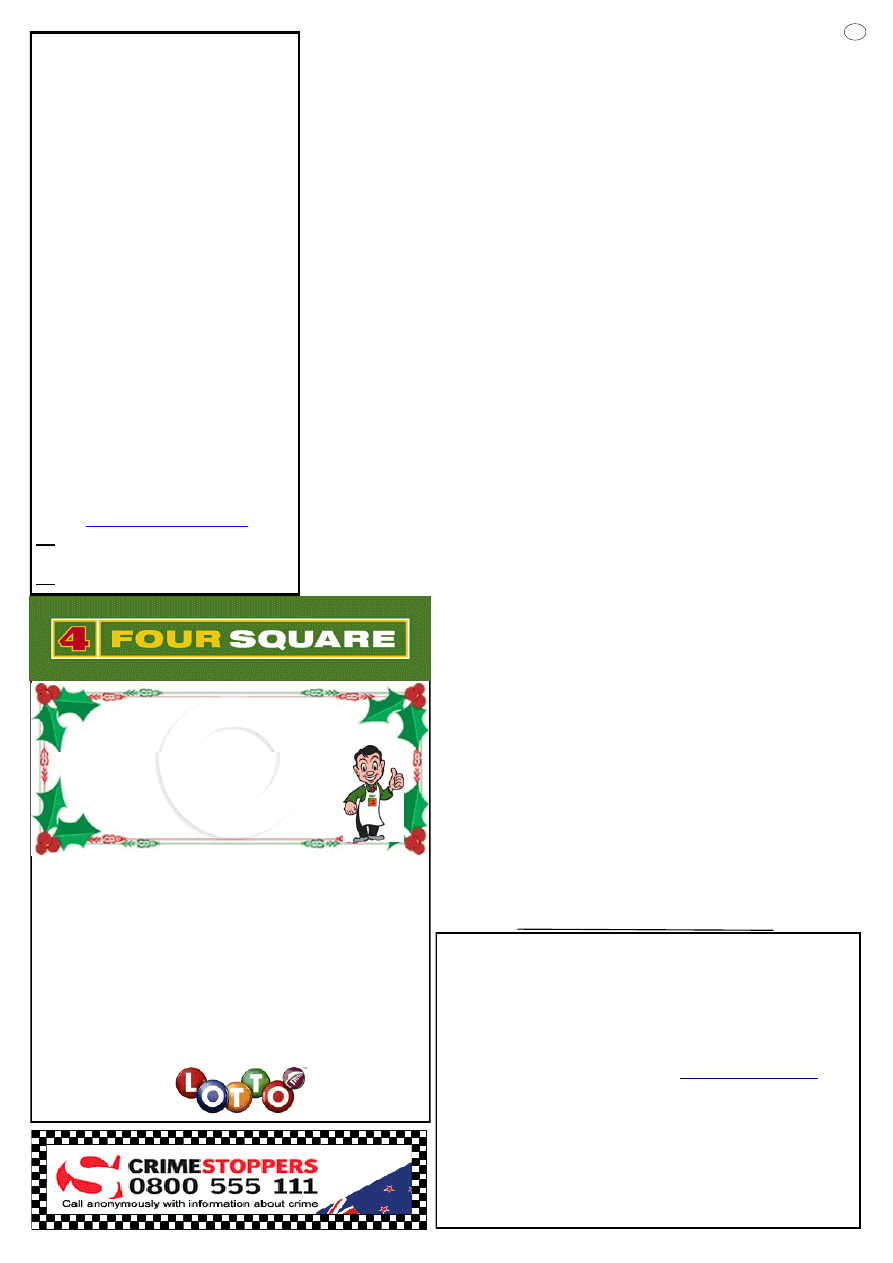 5 
Bonjour, tous les mondes! 
Not a fully functioning person...with those 
niggles, aches and pains? You guessed it.  
 I can help!
Monsieur Masseur .... 
RELAXING  
MASSAGE
..... Juste pour vous" 
Here's feedback from a happy client 
―When I came in for a massage, I was 
stressed and my body was sore.. 
Prior to my massage, Pete counselled me, 
using positive affirmations and visualisa-
tion.. I relaxed and responded to massage 
treatment a lot quicker, I feel. I am still 
using these affirmations on a daily basis. or 
when I feel stuck.‖ 
Call for an appointment now!
Pete Worsfold 
4312 152  or   021 825970   
Or  Ph. "The Well of Health" 
For an appt. 09 4312 799 
Or mobile service available 
Opening Hours for Christmas and New Year
Wednesday 25
th
 December   
CLOSED
Thursday 26
th
 December 
CLOSED
Friday 27
th
 December 
8am - 6pm
Saturday 28
th
 December  
8am - 7pm
Sunday 29
th
 December  
9am - 4pm
Monday & Tuesday 30
th
 & 31
st
 December   
8am - 6pm
Wednesday 1
st
 January 2014  OPEN 
9am - 4pm
Thursday 2
nd
 January                                             8am - 6pm 
Wishing all our valued 
customers a very  
Merry Christmas and 
a Happy New Year 
from the team at 
Jaques Four Square
KAIWAKA PRIMARY SCHOOL 
Kia Ora Everyone, 
As I write this the school year is rapidly closing and what a busy time it has been 
with more to come!! 
 
Firstly we would like to give a brief overview of two groups that are vital to 
the running and unique make-up of Kaiwaka Primary School – meetings for both 
groups  are  held  after  school  and  new  faces  (parents/caregivers/family  of  stu-
dents) are always welcome with tea, coffee and the occasional biscuit provided!!  
There is the Parent Teacher Association, usually referred to as the PTA which is 
a volunteer based non-profit organization whose aim is making a partnership be-
tween school and home for the benefit of all students. Our PTA is often responsi-
ble  for  fundraising  with  the  money  raised  going  on  things  like  buses  for  trips, 
resources such as the traditional books to the progressive tablets, and gazebos for 
school events to name a few. 
 
The other group is the Whanau Support Committee (Whanau  Committee) 
and is another valuable link between home and school with a particular focus on 
the Nga Tumanako/Kapa Haka groups and provides direction and support for the 
tamariki, staff and whanau. The whanau committee also does fundraising in the 
form of the weekly toastie orders, sausage sizzles at events, selling CDs with our 
children's  Waiata  for  example,  these  funds  are  then  put  directly  back  into  the 
Nga Tumanako/Kapa Haka in the form of money towards things such as the No-
ho Marae so that a big subsidy is available for participating students and the pur-
chase of the templates for the moko which are applied for performances – these 
look amazing and the audience is always impressed! On this note we would like 
to extend a big thank you to Whaea Mina, Luke Connelly and the Whanau Com-
mittee for the support and awhi they have given our Kapahaka group which was 
shown to all at their recent performance at the 2013 Kaipara Festival. There were 
many  comments  about  how  fantastic  the  performance  was  and  how  proud  so 
many people were to be associated with our tamariki. Those of us who attended 
were also lucky to witness an awesome spine-tingling tautoko haka from the Ota-
matea  High  School  Kapahaka  Roopu  –  in  which  many  ex-Kaiwaka  Primary 
School students were featured, and as they performed immediately after our chil-
dren, we were able to watch their performance and it was fabulous to hear how 
inspired our children were.
 
The annual Noho Marae was held on the 14
th
 and 15
th
 of November, this in-
volved  the  Nga  Tumanako  group  staying  over  night  and  the 
Kereru  Group  coming  down  for  a  day  trip.  The  children  and 
also staff/parental help apparently had a great time with lots of 
fun  integrated  with  learning  and  consolidation  in  this  unique 
cultural environment at Otamatea Marae. 
 
We have also had the ―Ag Day‖ early in the term which was 
thoroughly  enjoyed  by  the  animal  ‗owners'  and  the  spectators 
from the school! I believe the full results and photos were fea-
ture in a recent Bugle edition. 
 
Up and coming events include a Junior Tabloid Sports Day 
at Maungaturoto and Creative Craft Day on the 2
nd
 of December 
at our school, School Prizegiving on the 11
th
 of December and 
maybe one of the most exciting events for the children will be 
the opening of the School Pool in the near future. 
The  final  day  for  the  Kaiwaka  School  Students  is  the  12
th
  of 
December 
Finally  on  the  behalf  of  Kaiwaka  Primary  School  Board  of 
Trustees, we wish you all a safe and happy holiday period.  
Naomi Walker. 
DID YOU GET YOUR VOTING PAPERS FOR THE 
REFERENDUM? 
 Voting papers for the Citizens Initiated Referendum have now been 
posted to voters, and replacement voting papers are available for eli-
gible voters who need them.  
 ―If you are on the electoral roll and have not received your voting 
papers, or if you spoilt, destroyed or lost them you can request re-
placement papers,‖ says Robert Peden, Chief Electoral Officer.  
―You can request replacement papers at 
. For 
more information about replacement papers, please call 0800 36 76 
56 (from within New Zealand) or +64 9 909 4182 (from overseas),‖ 
says Mr Peden. 
 Only people enrolled on the electoral roll by 21 November 2013 are 
eligible to vote in the referendum. If you were not enrolled by that 
date, the Electoral Commission can't issue you a voting paper.  
Voting closes on December 13, and voters should post their voting 
papers back no later than Thursday December 12 for them to 
arrive in time.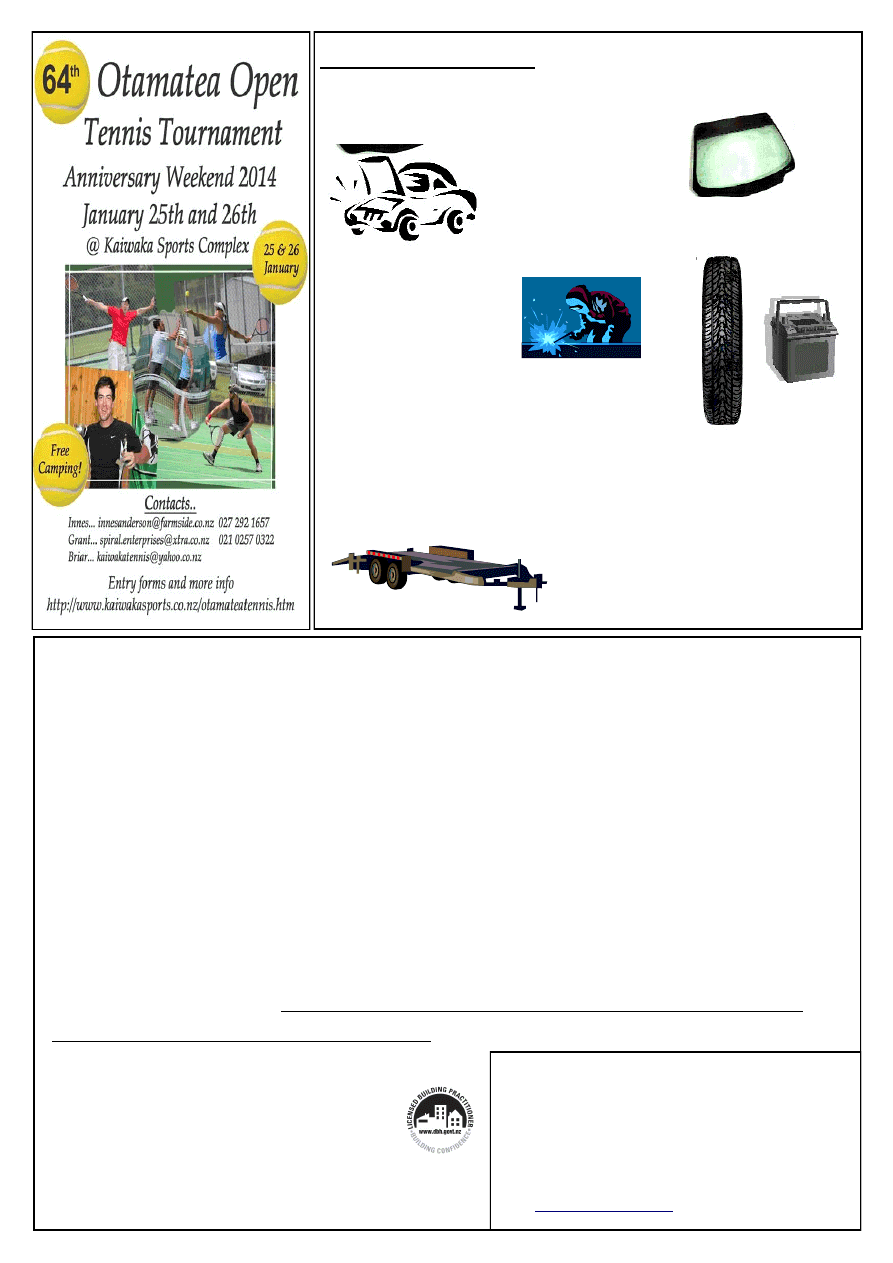 Want it done? 
Bring it to 
Twinkle Tow 'n' Tyre 
*W.O.F. 
*Tyres 
*Windscreen replacement 
*Chip repairs 
*Bulk Oil 
*Batteries 
*Welding 
*Custom built trailers 
*Trailer hire 
Think you'll get a better deal in the city? 
Go on, ring us; it won't cost anything! 
1837 State Highway 1, Kaiwaka       
Phone 431 2823 
ARCHITECTURAL BUILDING PLANS AND DESIGNS 
20% Reduced Cost - design and planning. 
If you are thinking of building, then you need to make use of cost savings in architectural design as well as having a good and well experi-
enced designer. This applies if you are considering a new home, any alterations or any building additions/farm buildings, sheds, alterations, 
whatsoever. There are many things that are frustrating if you are not totally familiar with what all details are required by Councils -
especially with new regulations in force to ensure everything runs smoothly - e.g. Resource and Building Consents, planning restraints, 
new building materials ,applying for building permits, dealing with building contractors to name a few -you need a capable,  
experienced and professional designer with a clear knowledge of all the processes. 
WE CAN HELP YOU CLARIFY ALL OF THESE ITEMS  AND MAKE LIFE RUN MORE SMOOTHLY.  
Brian of Wright Design has been helping and organising all these facets of design and building for over 40 years. 
With needs of family changing and the economy - building requirements constantly being reorganized and made more complex, it's very im-
portant to obtain professional advice for any building project - no matter what size. 
Brian advises on design, materials, permit applications, builders and subcontractors for any project - no matter how small or large 
ALL THIS AT A REDUCED COST so YOUR DOLLAR GOES FURTHER  
Wright Design offers free visits, consultations and all the advice you need on planning. Design, building, contractors, council  
permit applications, guaranteed permit plan acceptance. 
QUALIFICATIONS 
Brian is a qualified designer (NZCAD) with over 40 years of varied experience in all types of building and is a registered and Licensed Build-
ing Practitioner in Design - L.B.P. 117345 
He ensures you will achieve the best from your budget with recommended excellent local contractors ready to competitively price and 
build your personal project quickly and efficiently. 
EXPERIENCE 
Brian's practical building and 40+ years of design experience means he can give you excellent advice and all the guidance needed for 
all your building needs, 
FEES: To help you attain your project Brian has reduced his costs by 20%, giving you extra funds for the rest of your project. 
ENGINEER: Brian can arrange engineering for a reasonable cost. 
THIS IS AN ABSOLUTELY GENUINE FEE REDUCTION!! 
Qualified and inexpensive designer – N.Z.CAD., LBP 117345 
Guaranteed design and working drawings 
Free site visit to your home or property 
Great service 
Obtain a free quote with 20% Discount. 
PROJECTS 
Additions, alterations, basements, new houses, motels, bed 
and breakfast commercial buildings and shop fit outs are a 
few projects he has been  
involved with. 
MAKE GOOD USE OF HIS EXPERIENCE AND THIS GREAT  
OFFER OF REDUCED FEES OF 20%
WHAT TO DO FROM NOW 
Call Brian   
Arrange a visit 
Discuss your needs 
Obtain great advice.  
Obtain a free quotation - with a true 20% discount 
WRIGHT DESIGN 
Brian's office is at: 360 Oneriri Road, Kaiwaka, Northland 0573  
Call in for a chat and a coffee, or he will call on you at your home if  
preferred. 
WRIGHT DESIGN: Office 09-4312544 
Mobile 021 276 7389 
Email: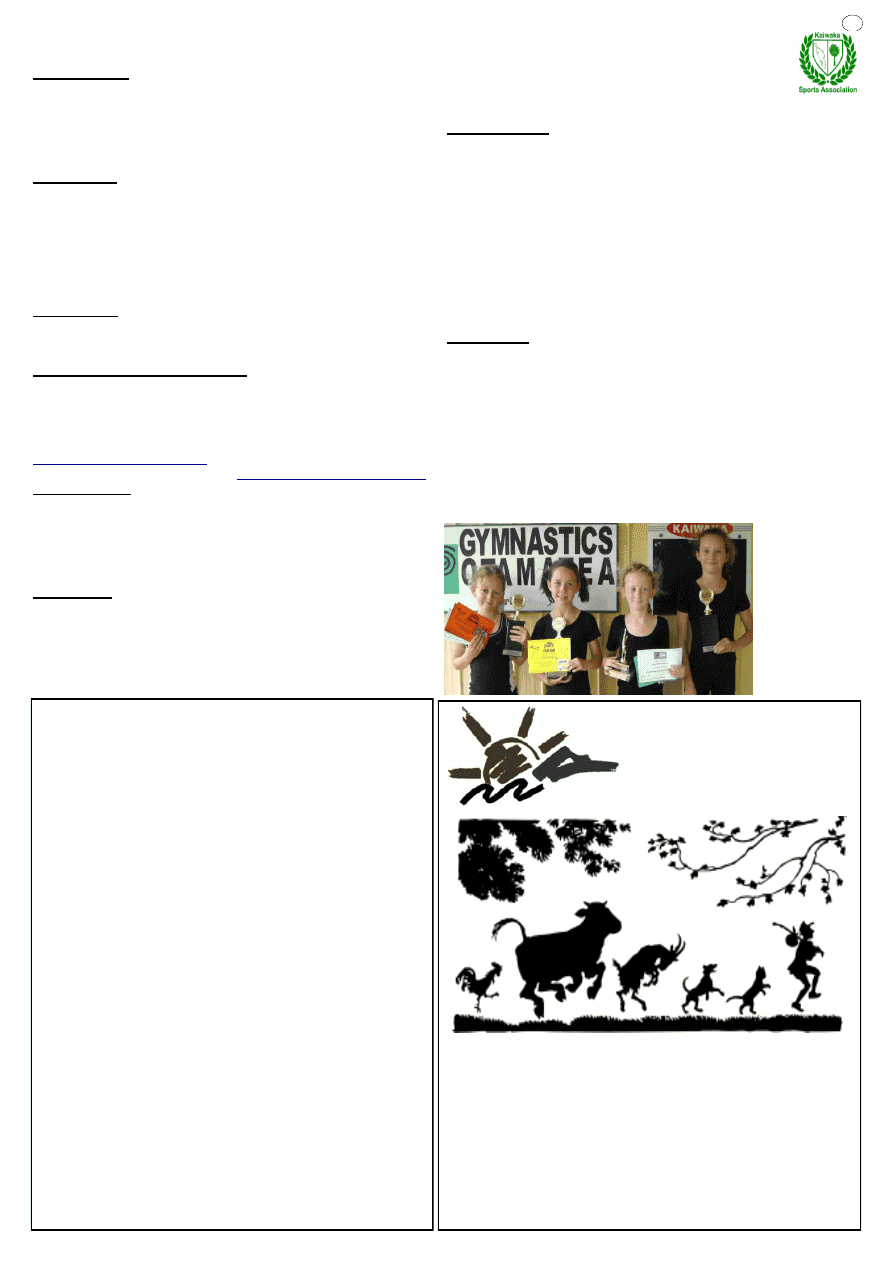 7 
The Vet Centre 
36
 Moir Street, Mangawhai
~ Our comprehensive team 
 is here to care for  
all your large & small animal needs ~ 
24 HOUR EMERGENCY SERVICE 
Ph:  09 431 4535
KAIPARA  FLOORING  CO 
32 HURNDALL ST MAUNGATUROTO 
Ph 09 9469886 or 021 515 415 
Carpet, vinyl, laminate wood look  
flooring, vinyl planking, sanding  
& polyurethane service. 
Carpet Short Ends from $79pm + GST 
Vinyl D.I.Y. peel n stick tiles $10sq mtr + GST. 
Free measure & quote.   
Mobile Service 
Phone Christine or Howard anytime 
Open Saturdays by arrangement. 
KAIWAKA SPORTS ASSOCIATION 
Senior Rugby 
Welcome to Dean Kenny who was the successful applicant 
for the position of the Otamatea Hawks Premier coach for 
2014. Dean is a former All Black and comes with a wealth 
of  coaching  experience  so we  look  forward  to  having  him 
on board. You can meet Dean at our Rally Day at the Sports 
Complex this Saturday at 1pm. 
IMB Rugby 
Next season IMB will field two teams – an under 14's and 
an  under  15's.  If  you  have  a  boy  within  these  age  ranges 
who would like to play rugby, please ring Brett Coates on 
021 431872.  
There will be an IMB meeting at the Maungaturoto Country 
Club  on  23
rd
 January,  7.30pm  for  all  parents,  and  the  date 
for  the  muster  has  been  set  at  8
th
  February,  10am  at  the 
Maungaturoto Country Club. 
JMB Rugby 
Our  junior  rugby  children  enjoyed  their  end-of-season  trip 
to  the  Whangarei  Hot  Pools  –  they  had  lots  of  fun  swim-
ming and eating pizza! 
Otamatea Tennis Tournament 
Our annual tennis tournament will be held at our courts over 
Anniversary Weekend. This tournament attracts top quality 
players from all over Northland and Auckland and we also 
have places for locals to compete. So dust off that racquet 
and  get  in  some  practice!  Entry  forms  are  on  our  website 
.  For  any  tournament  enquiries, 
please contact Briar Jaques on 
Junior Tennis 
Our  tennis  club  is  pleased  to  offer  coaching,  with  John 
White,  on  Mondays  4  -  5pm  at  the  KSA  courts,  for  all 
school age children. After a break over the holidays, we will 
begin again 10
th
 February. It would be great to see the club 
grow and players develop with skilled guidance. Inquiries to 
Lindell Ferguson 4312 542 (evenings). 
Badminton 
It's been great to see an increase in numbers turning up for 
our badminton club nights. Players of all ages and abilities 
are welcome so if you are keen, simply turn up to the gym-
nasium on Tuesdays from 7.30pm. Only $3 per person, play 
as  long  as  you  like,  please  wear  soft  soled  shoes  and  club 
rackets are available for you to borrow at no cost.  
There has been so much interest that the club has now  
started up a second session – on Saturday's from 3 til 5pm.  
For enquiries please phone Steve Campbell on 4312 779. 
Fitness Centre 
Our Fitness Centre is available 24/7 and provides extensive 
exercise equipment as well as toilets, showers and a sunbed. 
The Centre now offers 6 monthly subs instead of a yearly sub. 
The cost is $85 and the changeover months are November and 
May so if you've ever thought about joining the Fitness Centre 
now is a good time to do it!  
Memberships and a key can be purchased from Jaques Four 
Square. Fitness Centre president Julie Harris can provide a 
structured fitness programme for individuals or groups. For all 
Fitness Centre enquiries please contact Julie on 027 6504540 
or check out our new Facebook page. 
Gymnastics 
Over 130 family members and supporters came to our Ota-
matea Gymnastics prizegiving last week. The highlight was 
seeing parents join in with their children using the equipment 
and watching them have so much fun together as families. 
Congratulations to the trophy winners: 
Billie leMesurier Cowbourne - Most Improved Senior  
Gymnast 
Grace Richards - Most Improved Recreational Junior 
Brooklyn Patterson - Outstanding Club Spirit Recreational 
Paige Kenyon - Outstanding Club Spirit Senior  
Many thanks to 
Stephanie and 
her team who 
do such a great 
job running 
this large club. 
Continues on 
page 13...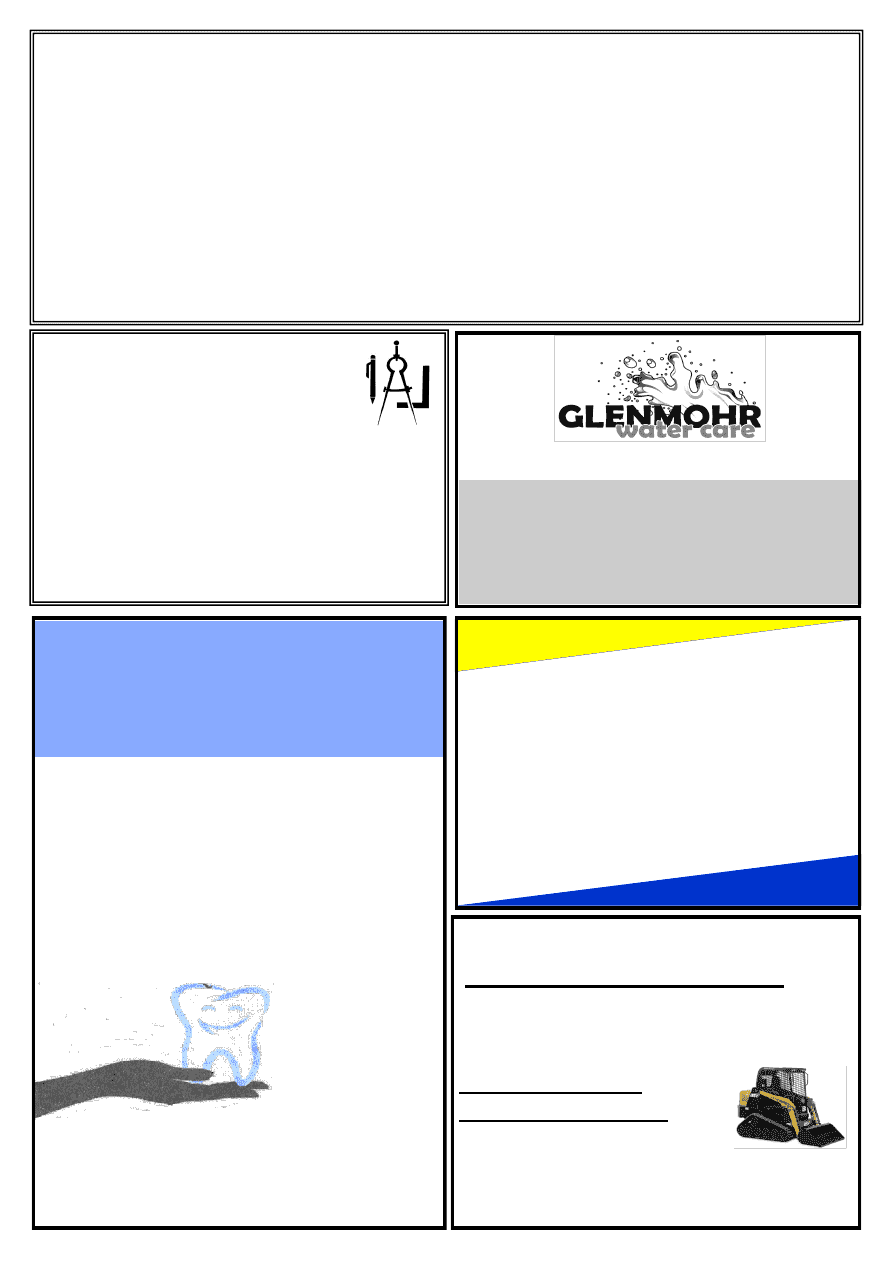 RANGANUI EARTHMOVERS 
16T Excavator   
(tilt, thumb & ROPS cab)   
Transport Trailer 
2 x 6 Wheeler Tip Trucks 
Suppliers of All Grades of Metal & Topsoil 
If you want a proper job done with an experienced operator ring 
Grant on    A/H 431-2131        Email  ranganui.dev@xtra.co.nz 
   Mob  021845-246 
Driveways, House Sites,  
Drainage Dams, 
Section Clearing,  
Tree Work,  Rock Retaining Walls,  
Quarry Work, 
Basically Anything That a Digger Can Do 
C O N C R E T E  
If it's concrete we do it 
Full Preparation & Pour by 
Experienced Local Team 
Phone Phil Keen Contractors  
027 659 2376 
design drafting 
service 
Retired builder and manufacturer with over 40 years  
experience in the building industry is offering a design 
drafting service  
for domestic housing, sleepouts and sheds.  
Plans formulated in consultation with clients, with 
working drawings completed and submitted to  
council for processing.  Extensive practical experience,  
able to identify & resolve problems. 
Please ring Mike Lean on 
09 431 2260  
or 
021 431 196 
Water Tank Cleaning 
" 
Keep your water safe & clean   
" 
Removal of sediment, silt etc 
" 
Vacuum or full scrub 
" 
Minimal water loss 
Phone Mark (09) 432 0655 or 0274 707607 
Gentle Dental 
Ruakaka 
We love to see you smile 
" 
General  & Cosmetic Dentistry 
" 
Emergency & ACC Treatment 
" 
Denture & Hygienist Services 
" 
Senior Citizen Discounts 
" 
Free Adolescent Care 
" 
Free WINZ Quote 
19 Ruakaka Town Centre 
Dr Sim Sood & Associates 
Ph:  432 8139 
Saturdays 
By 
Arrangement 
Open  
Mon-Fri  
8am-5pm  
Gentle Dental 
Ruakaka 
We love to see you smile 
" 
General  & Cosmetic Dentistry 
" 
Emergency & ACC Treatment 
" 
Denture & Hygienist Services 
" 
Senior Citizen Discounts 
" 
Free Adolescent Care 
" 
Free WINZ Quote 
Natural Earth Ltd 
 Landscape and Bobcat services 
 : Driveways  :Landscaping  :Retaining Walls 
 : Hole Boring: Land Levelling :Trenching 
 : Decks :Fences :Sections Cleared: Plus much more 
Tel   09 4312885 
Mob 02102391280  
For A Fast Friendly  
Service Contact Tim Hicks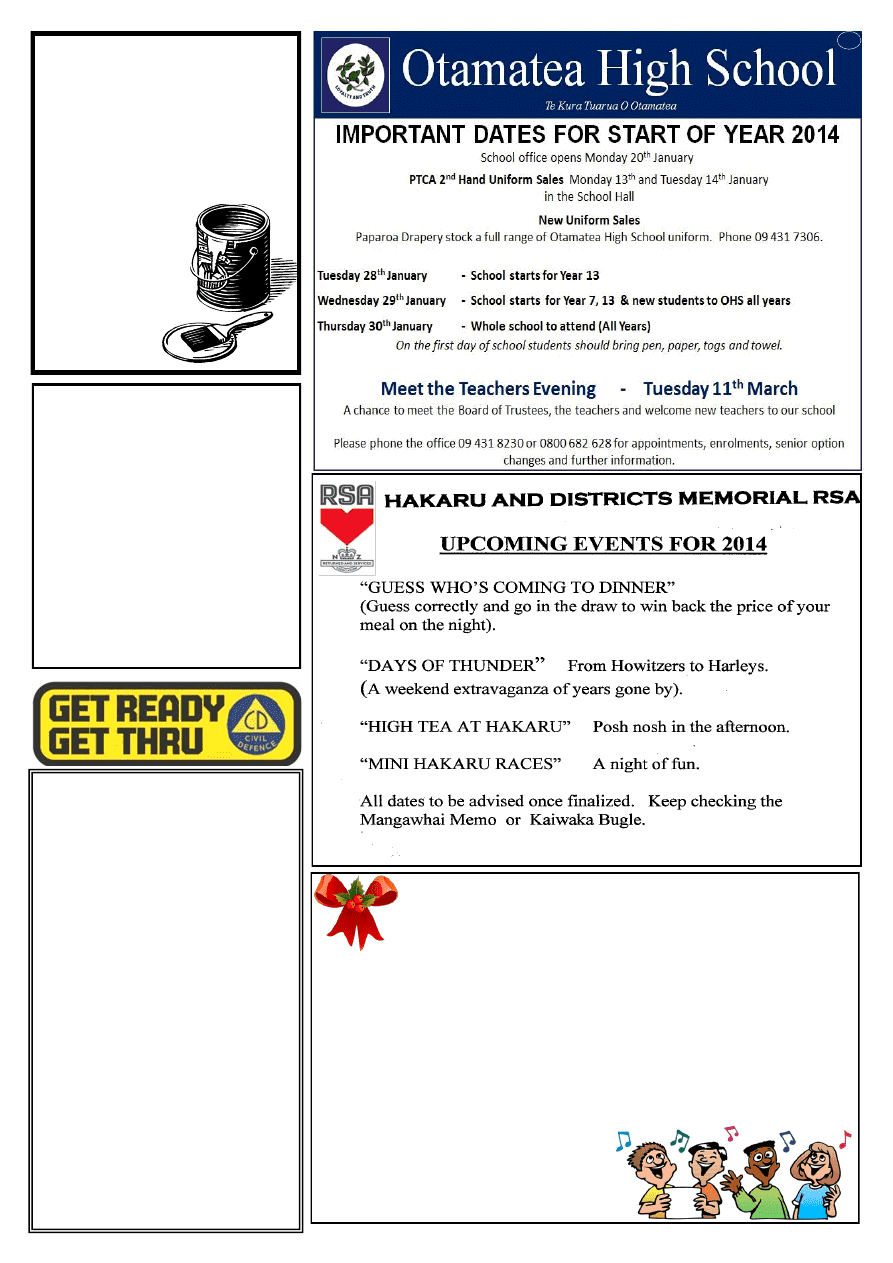 AMBER'S 
Q Cafe &  
Restaurant 
All day breakfast, 8am - 5.30pm.     
 Home made Pizza, take away or eat in from  
8am to late. 
 Light lunches, 11.am - 5.30pm, 
Dinner Menu at 5.30pm to late 
 Toasted Sandwiches and Sandwiches made to order. 
All day, Pies, Chowder & Soups 
 Milkshakes, Kiwi Ice cream, Slushie Fruit drink, Tea, 
Coffee 
 Closed Mondays.....except Observed Holidays 
 Sunday to Thursday: 8am - 8pm 
 Friday: 8am - 8.30pm, Saturdays 8am- 9pm 
4315226 
Trevor & Amber 
41 Moir Street, Shop 5-6  
Mangawhai Village 
Next to Carters Building Supplies 
LEABOURNS 
Passenger Service 
Car & Van Hire 
Bus & Coach  
Charters 
Airport Transfers 
 Monthly Shopper 
Bus
Phone (09) 4237416 
Colour It 
    Painter Decorators 
30 years Painting Experience 
Old & New Homes 
Top Quality Job 
Very High Standard of Workmanship 
Phone: 
09 4312208 
Darryl Fisher 
0278111821 
     CHRISTMAS CAROLS 
    AT THE NEW MUSEUM! 
         Molesworth Drive 
                         Come and Celebrate the 
                         Christmas Season with  
                         songs and Carols of Christmas 
With The MANGAWHAI SINGERS
Wednesday 18th December 7.30pm 
No charge, but Donations for the 
Mangawhai Fire Brigade will be 
appreciated
. 
9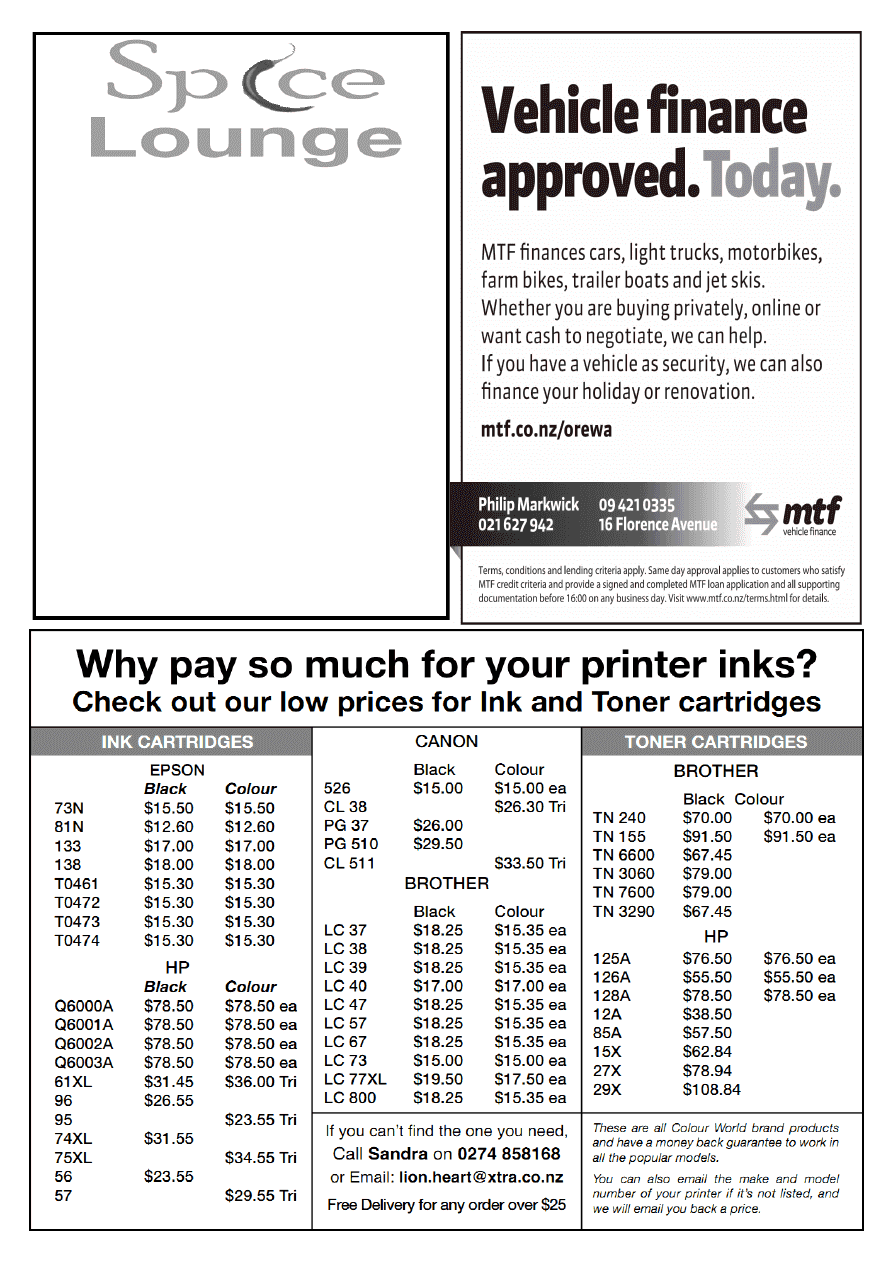 "Spice Lounge is celebrating Christmas and            
New Year with mind blowing specials"
1) Fish and Chips Only  $8 (Take away only) 
2) Introducing happy hours from 5 pm to  7 pm with 
Speights/Steinlager classic Beer only $4 per bottle. En-
joy the Sun with beer in hand on deck with lovely 
view. 
3) Any two mains curry with (chic/lamb/beef)+ 1 Plain 
Naan Bread + Bottle of Wine (White Cliff Red/White) 
only $50    (Valid for 2 persons only)
All the Specials valid from 20th December 2013 until 
10 Jan 2014.
Merry Christmas and Happy New year to all 
the local community from Spice Lounge  
Management.
Ph: 4312737  or  021 923 236 
spiceloungedinein@gmail.com 
1917 State Highway 1, Kaiwaka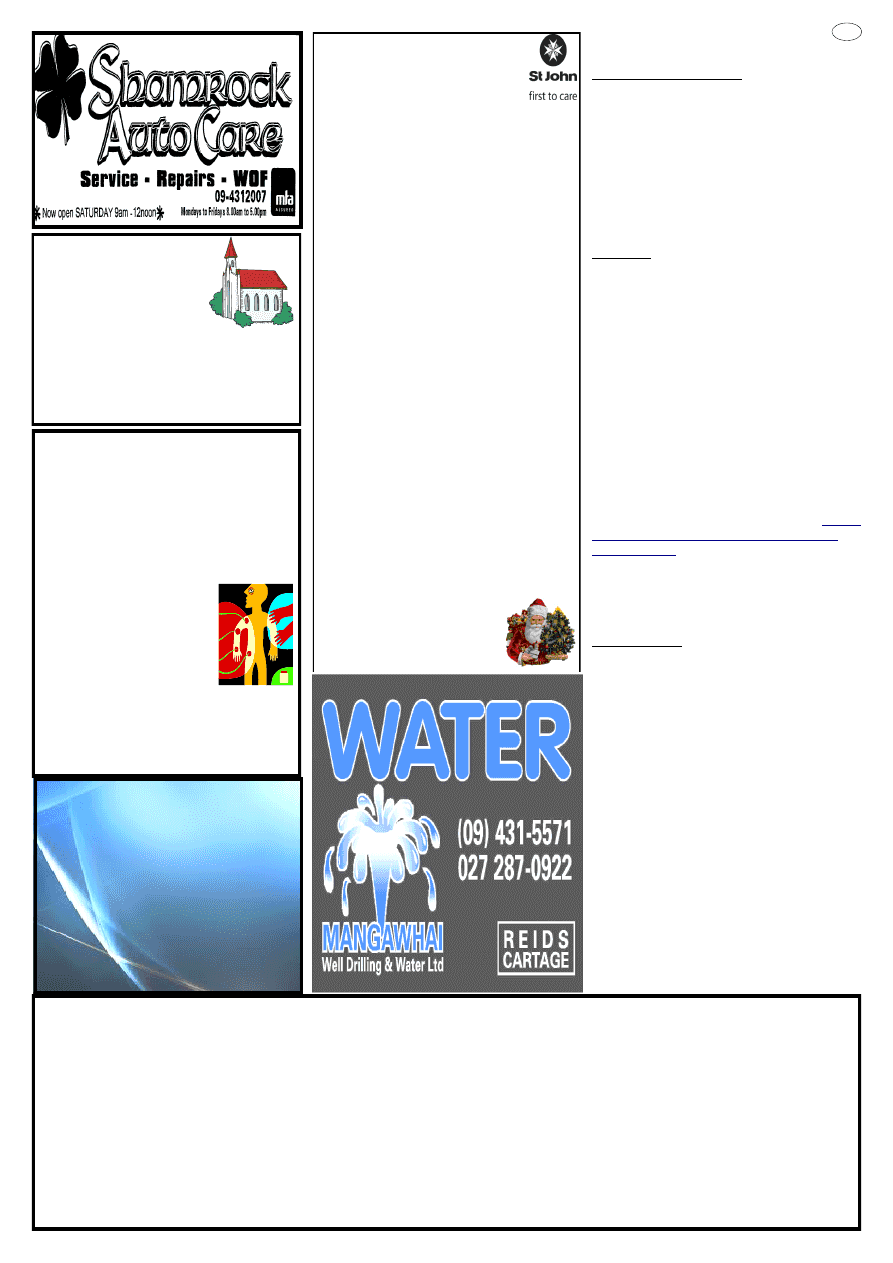 Freeview  
Installations 
Richard Te Haara 
25 Marram Place 
Mangawhai Heads 
021 1104056 
kiwipride@xtra.co.nz
OWEN STEVENS 
Osteo Therapist
For careful adjustments to  
bones and joints 
Treatment for humans and their pets 
Clinics:  
Kate's Place, Kaiwaka: 
Last Friday of month 
Warkworth Showground:  
2
nd
 Thursday, monthly
For bookings:  9.00am-
5.00pm 
Phone 09 4312661 
Or phone Ow
en  
09 4317123    
11
KAIWAKA LIBRARY 
Dargaville Book Swap 
Many  thanks  to  the  library  volunteers 
who  came  along  and  helped  with  the 
book swap at Dargaville Public Library 
last  week,  your  help  made  the  day  go 
quickly  and  we  had  a  lot  of  fun  along 
the  way.  There  are  now  more  than  300 
new books and DVDs in the library for 
you  to  select  your  reading  (and  a  little 
watching) from - come on in and take a 
look.    We  have  these  items  until  June 
2014. 
Holidays 
The  library  will  be  closed  from  2pm 
Saturday 21 December, and will reopen 
at 4pm Monday 6 January.  Each library 
member may take up to ten items out at 
a  time,  so  stock  up  for  your  holiday 
reading before it is too late. 
Books  are  issued  for  their  normal  31 
days - anything issued in the past couple 
of  weeks  is  due  back  while  we're 
closed.    Please  keep  an  eye  on  those 
dates,  and  return  or  renew  them  as 
they're  due.  There's  a  slot  beside  the 
doors  on  Kaiwaka  Mangawhai  Road 
where  you  can  return  your  books  if 
we're not open. 
If you've set a PIN on your library card 
you  can  renew  books  online  via  the 
KDC 
web 
site 
(
www.kaipara.govt.nz/Service++Info/
),  or  you  can  send  me  an 
email to ask to have them renewed and 
I'll take care of it for you. 
Magazines and DVDs have shorter lend-
ing  times,  so  keep  an  eye  on  the  due 
dates for 
those. 
Book Review 
Recently I've read Call  the  Midwife by 
Jennifer  Worth.  Nurse  Jenny  Lee 
joined the Nonnatus House midwives in 
the 1950's, working with the poor living 
in  London's  East  End. This  book  is  the 
first of her memoirs, describing the peo-
ple  and  living  conditions  she  saw  in 
those early days of her service there. If 
you've  seen  the  TV  series  of  the  same 
name,  you  will  recognise  at  least  some 
of the stories told here. Seeing the pro-
gramme before reading the book did not 
detract from the stories, instead I could 
see  what  good  casting  choices  they'd 
made to find actresses who came across 
largely as described in the book  - that's 
often  not  the  case  with  dramatisation. 
There  are  funny  stories,  poignant  sto-
ries, all told by Jenny Lee (now Worth) 
when  she  was  in  her  70s  or  80s.  I  en-
joyed  reading  it.  This  book,  and  two 
more  by  the  same  author,  are  on  the 
Rental  Non-Fiction  shelves  in  the  library. 
Dr A Macaulay DC 
Maungaturoto Chiropractic Clinic 
3 Gorge Road, Maungaturoto 
HOURS: Monday 9am -6pm Wednesday 9am-7.30pm 
Thursday 7am-6pm 
For Appointments Phone 09 4318019 
ST PAUL'S  
SUNDAY  
SERVICES
First Sunday 9.30am, third Sunday 9.30am  
 Paparoa Anglican 
St Pauls Church: Kaiwaka-Mangawhai Rd.  
1st Sun. (Anglican), 3rd Sun. (Family Service) 
Contacts:M.Hargreaves 4312295, C.Bygrave 4312057  
St John Op Shop 
Kaiwaka 
I'd like to say a huge THANK 
YOU to everyone near and far for their 
tremendous support over the last three 
and a half years.  Our little shop of 
goodies has done tremendously well, 
and as we head to another year I hope 
you will continue the support. 
To the Bugle, thank you for our adver-
tisements.  To Denise and Melissa 
Mangawhai, thank you dearly for your 
support of me.  To Reg, our ―pick up‖ 
man, to whom I've given headaches 
now and again  - having you to lean on 
has been a great relief.  To Darin up the 
road, thanks so much for all your help 
also.  To Steve and the boys, many 
thanks for all your help.  Thank you to 
my fab staff whose support helps to 
keep the shop flourishing. We all work 
hard and because of that the shop has 
done well. Finally, the shop will close 
on Friday 20 December through to 
Tuesday 14 January 2014. 
As the shop will be closed, please do 
NOT leave anything outside as it may 
disappear. I will be away spending time 
with our daughter who has terminal 
cancer.  So please hold on to any goods 
you may have until we open. 
Merry Xmas to everyone.  
Have a safe journey.  Be 
kind to everyone. 
Love Milly & Staff 
TILING 
Certified Waterproofing 
431 4533 or 021 86 33 33 
George 
MCN Property Solutionz  
Local references available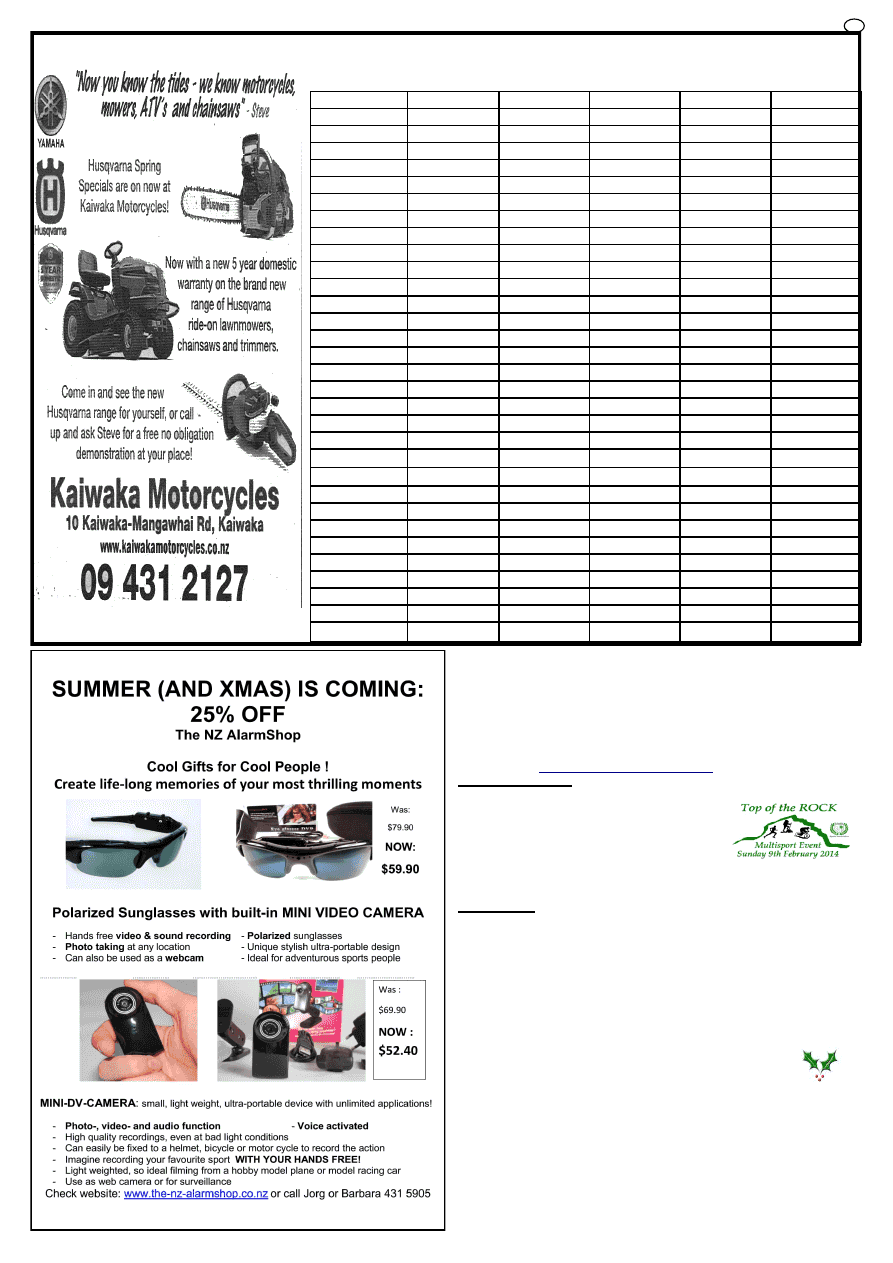 13 
Date 
High 
Low 
High 
Low 
High 
Tue  10 Dec 
04:57 
11:04 
17:26 
23:43 
- 
Wed 11 Dec 
06:03 
12:10 
18:30 
- 
- 
Thu 12 Dec 
- 
00:47 
07:10 
13:18 
19:34 
Fri   13 Dec 
- 
01:50 
08:15 
14:21 
20:32 
Sat  14 Dec 
- 
02:48 
09:11 
15:16 
21:24 
Sun 15 Dec 
- 
03:38 
09:59 
16:04 
22:10 
Mon 16 Dec 
- 
04:23 
10:41 
16:46 
22:52 
Tue 17 Dec 
- 
05:04 
11:19 
17:26 
23:31 
Wed 18 Dec 
- 
05:42 
11:55 
18:04 
- 
Thu 19 Dec 
00:08 
06:18 
12:30 
18:40 
- 
Fri 20 Dec 
00:44 
06:52 
13:04 
19:16 
- 
Sat 21 Dec 
01:20 
07:26 
13:39 
19:53 
- 
Sun 22 Dec 
01:57 
08:02 
14:15 
20:31 
- 
Mon 23 Dec 
02:35 
08:39 
14:54 
21:12 
- 
Tue 24 Dec 
03:17 
09:21 
15:38 
21:57 
- 
Wed 25 Dec 
04:03 
10:09 
16:28 
22:47 
- 
Thu 26 Dec 
04:57 
11:05 
17:25 
23:43 
- 
Fri 27 Dec 
05:57 
12:09 
18:27 
- 
- 
Sat 28 Dec 
- 
00:44 
07:03 
13:17 
19:30 
Sun 29 Dec 
- 
01:47 
08:08 
14:22 
20:32 
Mon 30 Dec 
- 
02:49 
09:09 
15:22 
21:31 
Tue 31 Dec 
- 
03:47 
10:05 
16:17 
22:27 
Wed 01 Jan 
- 
04:41 
10:57 
17:09 
23:21 
Thu 02 Jan 
- 
05:32 
11:46 
18:00 
- 
Fri 03 Jan 
00:12 
06:21 
12:35 
18:49 
- 
Sat 04 Jan 
01:02 
07:09 
13:24 
19:39 
- 
Sun 05 Jan 
01:52 
07:57 
14:13 
20:29 
- 
Mon 06 Jan 
02:42 
08:46 
15:03 
21:19 
- 
Tues 07 Jan 
03:33 
09:38 
15:56 
22:12 
- 
Wed 08 Jan 
04:27 
10:33 
16:51 
23:08 
- 
Thu 09 Jan 
05:26 
11:35 
17:52 
- 
- 
 KAIPARA TIDE TIMETABLE  
SPONSORED BY 
 Kaiwaka Motorcycles 
KAIWAKA SPORTS ASSOCIATION 
...Continues from page 7 
Not  only  does  Stephanie  provide  gymnastics  opportunities 
to  our  club  members,  she  also  takes  in  many  community 
groups  throughout  the  year,  allowing  children  to  enjoy  a 
sport they might not otherwise be able to experience. If you 
would like to enrol your child in gymnastics for 2014, visit 
our website 
Top of the Rock 
Planning is well underway for our multi-sport challenge the 
Top of the Rock, to be held on Sunday 
9
th
 February. With two 'earlybird' prizes 
draws  on  offer,  now  is  a  good  time  to 
get your entry in - it might seem like a 
long  time  away  but  time  rolls  around 
pretty quickly at this time of year! More details in the arti-
cle in this edition of the Bugle. 
Thank you 
Many thanks to all the KSA committee members and club 
committee members who have worked hard throughout the 
year  to  provide  sporting  and  recreational  opportunities  for 
our  community.  And  a  special  thank  you  to  my  daughter 
Holly  who  has  been  a  big  help to  me  with  KSA events    - 
thanks Holly! 
On  behalf  of  the  Kaiwaka  Sports  Association  I'd  like  to 
wish everyone a Merry Christmas and we look forward to 
another busy and successful year of sport in Kaiwaka. 
Cheryl Anderson 
4312 051, 021 3462702 
kaiwakasports@gmail.com 
OTAMATEA HAWKS 
RALLY DAY / MEET THE NEW COACH 
Sat 14th Dec, 1 pm 
Kaiwaka Sports Complex 
Come along & enjoy a family day with bbq 
Everyone welcome: new & present players,  
people interested in becoming part of our club & 
supporters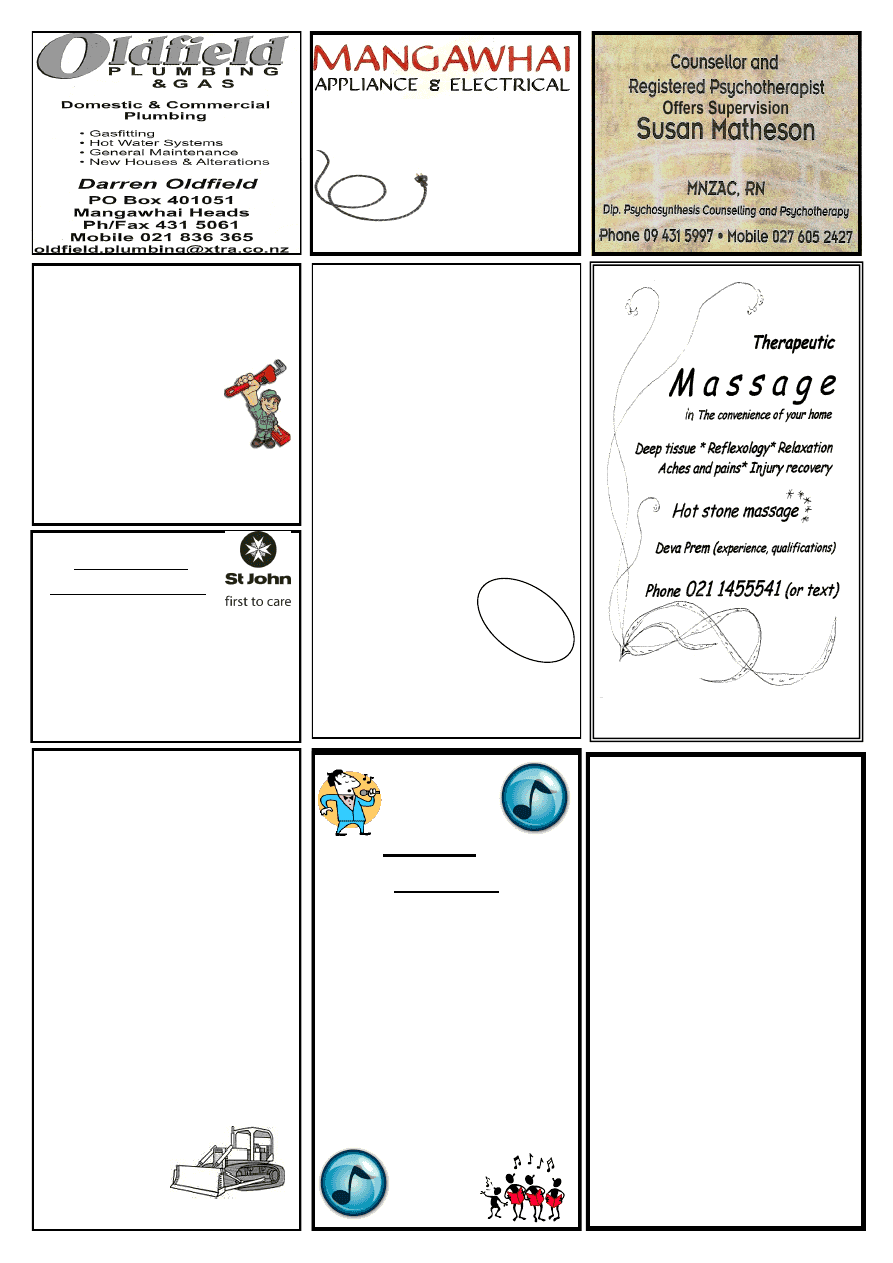 Willow Bend
HORSE  
HOTEL 
"   
Total Horse Care 
" 
Agistment 
" 
Riding Lessons 
" 
Arena Hire (60x40) 
" 
Young Horse Starting 
" 
Re-training/Exercising 
" 
Hoof Trimming 
" 
Problem Solving
Phone Sue 09 431 2817 
or 021 623 776 
Or email sue.gray@xtra.co.nz 
Based ou
t  
Oner
iri Roa
d 
HODGETTS
CONTRACTING
Digger Work    

Driveways 

House Sites   

Dams 

Drains, etc
Also available for HIRE 

3 ton Vib Roller 

Heavy Duty Tow 

Waterblaster  

Lazer Level 
Phone Mark 
4312877 
027 447 8554
DEAN STEWART 
Registered Electrician 
021 280 4008 
09 4312911 
ATHOURISED FISHER AND PAYKEL SERVICE 
Coates  
Contracting 

D41 Bulldozer with 6 
way blade, bush rigged 
with winch 

For all tree work 

General bulldozing and  
  stick raking. 

120hp Tractor for 
ground cultivation,  

tip trailer work. 

Fencing
All enquiries phone  
Brett Coates  
094318720 or  mob 
021431872
Singing  
Lessons 
Individual sessions 
All styles of music  
All voice types 
Reasonable rates 
Phone  
Maura Flower 
021 164 8318 
Community 
Services Officer: 
For all Community Services Forms 
see Milly at the  
Kaiwaka St John Op Shop.  
Phone 4312650 
MORE MEMBERS REQUIRED FOR 
THE KAIWAKA STATION
. 
www.mangawhaimassage.co.nz 
Ross Murphy 
PLUMBER 
Certifying 
Plumber 
09 431 7510 
021 424 252 
Paparoa Based 
+
New Housing  +Renovations  
+Maintenance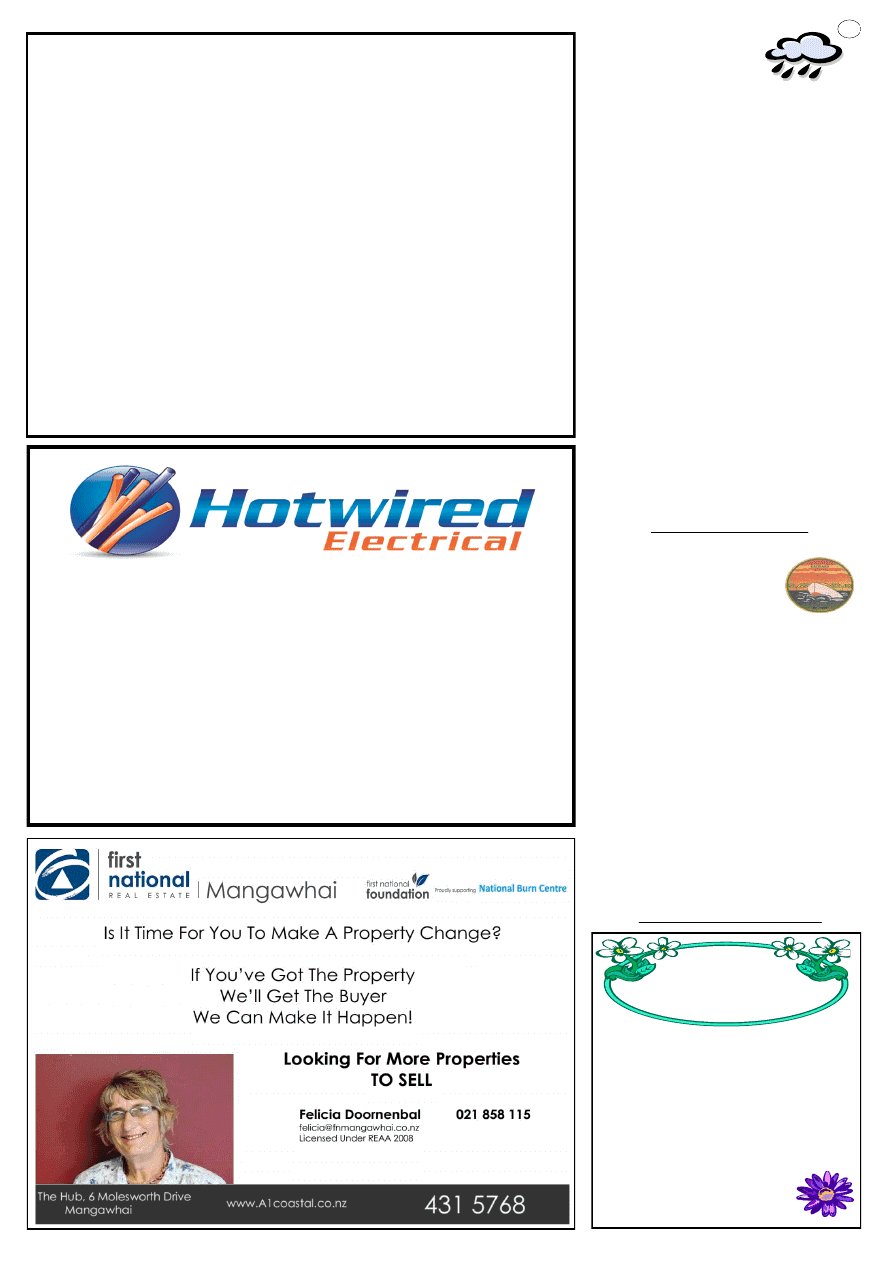 For All your Electrical  Requirements 
 
Domestic small jobs 
 
Residential dwellings and alterations 
 
Commercial 
 
Industrial                 
No job too big or too small      
Contact Jason today on: 
(09) 431 5992, (021) 405 019 
www.hotwiredelectrical.co.nz 
PLANNING A NEW KITCHEN? 
CONTACT NOEL McDOWELL
WELLSFORD KITCHENS 
Ph/Fax 094312888
KAIWAKA-Any time 
  QUALITY CUSTOM MADE KITCHENS  
~Personal and Prompt Service~ 
~All Workmanship Guaranteed~ 
~Over 20 Years in the Trade~ 
~Free Design & Quote~ 
 15 
KAIWAKA 
WEATHER 
Greetings People.    Most everybody is 
smiling  at  the  moment.  Welcome 
rain.  What a lovely November.  Most 
sun we have seen for a while on a reg-
ular  basis.    The  farmers  were  able  to 
harvest  without  a  lot  of  trouble.    The 
way things are going there will be an-
other  growth  spurt  and  more  harvest-
ing  can  be  done.  There  was  not  too 
much terrible wind, at least not where 
we are.  Our rainfall for November this 
year was 72mm and 2012 was 38. The 
first  11  months  for  2013  we  had 
1096mm and first 11 months for 2012 
was  1243mm.    The  driest  November 
we have recorded since 1987 was 1994 
with 20mm and the wettest November 
was  1999  with  340mm.    From  Jan  to 
end of November the wettest year was 
November 2008 with 1645mm and the 
driest  was  1994mm  with  884mm.  We 
had rain on 7 days last month.  I have 
not had any weather reports from any-
one  so  guess  things  are  ok  with  you 
all.    Just  keep  mowing  those  lawns 
now.    Have  a  lovely  Christmas  wher-
ever  you  may  be  and  take  care  out 
there.  Remember share the road. Bev. 
POINT CURTIS  
CRUISING  
CLUB 
Fish of the month is KAHAWAI.  Cut 
off is 7pm, 10 December 
2013.  Members weigh in your kahawai 
to be in to win prizes. 
Thank you very much to Kaiwaka Mo-
torcycles, Jaques 4 Square and La 
Nonna Italian Bakery for sponsoring 
our monthly competition. 
New members are always welcome to 
join our fishing club.  Subs are very 
reasonable, $20 single membership and 
$30 for a family.  Subs are payable at 3 
Furlongs Hotel or by posting to Jean 
Mcleish (Secretary/Treasurer), C/- Kai-
waka PDC, Kaiwaka 0542. 
Next committee meeting date is 7pm, 
10 December 2013 at 3 Furlongs Ho-
tel, Kaiwaka. 
Wayne Leslie, Commodore 
`In Harmony With Nature` 
Hurry- Xmas is not far away! 
`You guessed it...I Can Help!` 
Planting… Mulching… Garden-
ing… Maintenance… W/Eating 
Ring Pete Worsfold now 
For an appt. 021825970 
Sound  
 Landscapes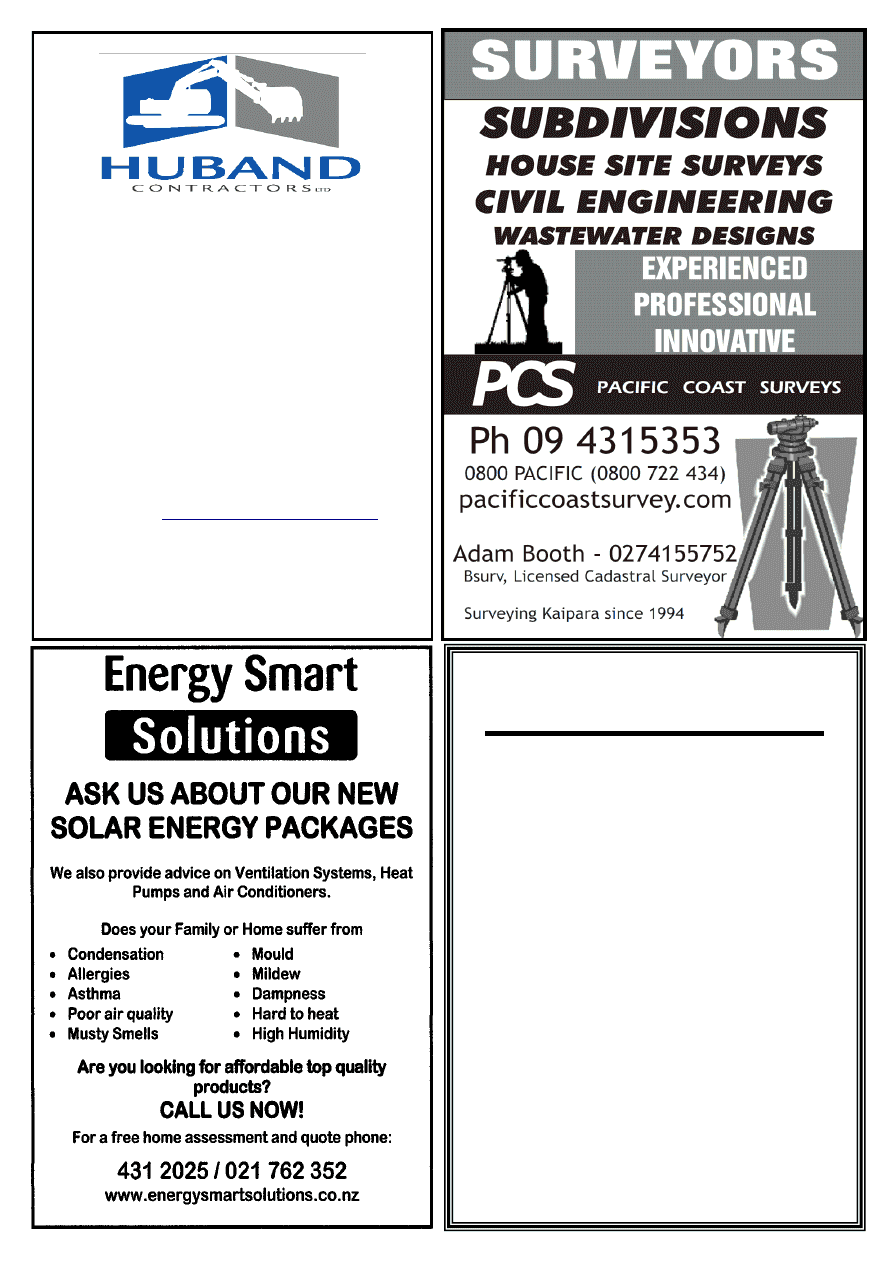 STOCKFOOD
GREAT RANGE FOR ALL YOUR LIVESTOCK  
AT GREAT PRICES 
 ALSO CHECK OUR 
DOG BISCUITS 
20 KG FOR $58.90 
LPG REFILLS 9KG 
STILL ONLY $31.50
MANGAWHAI SERVICE 
STATION 
(09) 431 4242 
44 MOIR STREET IN THE VILLAGE 
*   R O A D I N G   *   E A R T H W O R K S  
*    
*   D R A I N A G E   *   S I T E W O R K S  
*  
For any further enquiries,  
contact Shaun on: 
Cell: 021 222 0272 
Home: 09 4318339 
Shaun Huband:  Registered  
Drainlayer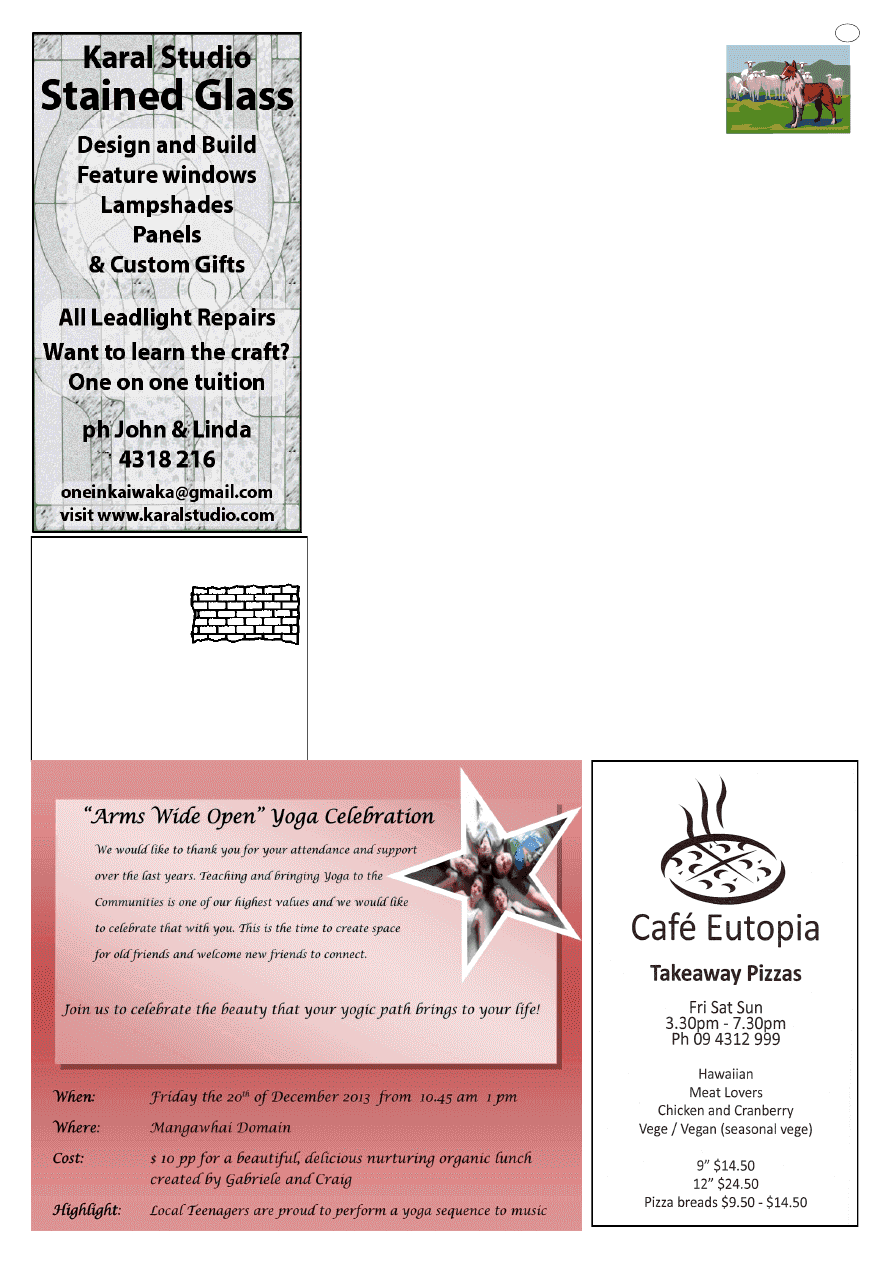 17 
BRICK/BLOCKLAYER            
All aspects of masonry:  
Fireplaces, 
Restoration &  
Remedial Work. 
JAMES EAGLETON 
Tel. (09) 431 2514  
Mob. 0274 749 232 
jajueagles@yahoo.com.au 
210A Pukenui Road, RD2 Kaiwaka 
0573 
Sheep Dog Trial Update 
We  can  look  back  on  2013  with  a  sense  of  pride  on  our 
members performances through the North and throughout 
the  country.    The  latest  success  coming  in  the  deep  South 
(Gore).  Lindsey convinced Tony that a trip to have an early Christmas with fam-
ily  in  South  Canterbury  was  needed  and  Tony  soon  found  room  in  the  ute, 
amongst the Xmas goodies, for Steele, Shrew and Hail.  After some happy family 
time it was off to 'Jeff Farm' where a Tux Yarding and Handy Dog event was tak-
ing place.    Steele and Shrew were  very competitive  in the Yarding but  missed 
out on making the Finals by decimal points.  Then it was Hail's turn in the Handy 
Dog event where his skill in handling the Southland sheep was great to watch. 
Apart  from  another  competitor's  misdemeanour,  cruelly  missed  by  the  judge, 
Hail  would  have  finished much  higher  than 4th, sadly  in  dog trials  there  is  no 
video  referee.  Tony,  however,  still  had  to  take  some  good  natured  ribbing 
about  bringing  prize  money  back  to  the  North.    Never  mind  Hail  is  still  in  his 
youth and I am sure he will feature in these events in the future. 
Hail comes from a long line of Huntaway dogs that have succeeded in this type 
of competition, especially his sire Rogue.  Hail's great, great grandmother, Meg, 
competed at the very first Handy Dog Event held at Bream Tail Farm in 1997.  A 
number  of Meg  descendants  have  had  success  in  this  event as well  as on  the 
standard Hill Trials with one, BeauTye winning a N.Z. Championship. 
If  you  would  like  to  watch  a  Handy  Dog  event  put  a  ring  around  SUNDAY 
12TH    JANUARY  2014  and  come  to  the  Hastie  Farm on  Otioro  Road,  just  look 
out for the Tux signs.  There will also be a Heading arena in action at the same 
time. 
There  will  be  training  evenings  prior  to  the  12th  for  anyone  who  wishes  to 
come along to try out for this event.  For more information contact one of these 
people, Tony 4312045, Rob 4312192 or Scott 4315561.  Please remember if you 
do bring your dog it is a requirement that they are dosed prior to arrival, thank 
you. 
The  next  event  where  Molesworth  members  will  be  competing  is  in  the  Tux 
Yarding event being held at Kaitaia on 13th and 14th December. 
Wednesday 4th December was our Club's chance to show all our helpers a big 
'Thank You' with a bus taking us all from Kaiwaka to Maungaturoto Hotel for a 
dinner, an evening that was thoroughly enjoyed by all those who attended. 
A little 'trivia' when Molesworth club was formed in the late 1940's the Annual 
Sub was set at 5/- (shillings) now in 2013 it is 50 cents – what price inflation!! 
Rob H.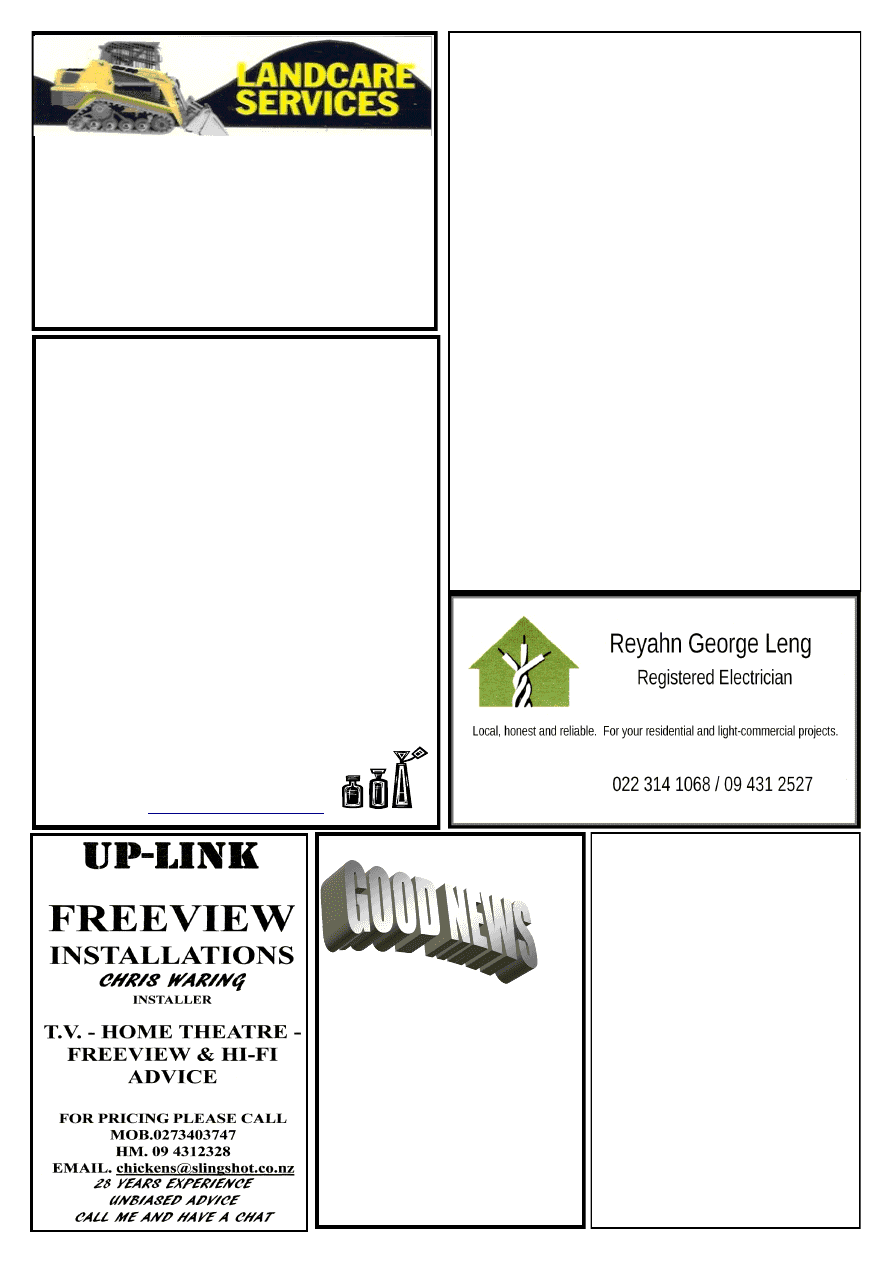 THERE'S 
 Your COMMUNITY 
CHURCH 
RECEIVE HEALING 
  RECEIVE THE LOVE OF GOD 
 Everyone warmly welcome each                                            
    Sunday 10am. 
Contact: Pastor John Dekker,  
09 4318203 
@ the  
Kaiwaka 
Family Church 
PAUL SAUNDERS 
LAWNMOWING & GARDEN 
MAINTENANCE 
 
Lawns and edges 
 
Section mowing 
 
Hedging and trimming 
 
Spraying and fertilising 
 
Tree planting 
 
Green waste removal 
 
Pruning 
Friendly and reliable service guaranteed 
Call now for a free no obligation quote 
021 886 843 
09 431 2731 
Servicing Mangawhai and Kaiwaka 
and surrounding areas 
paulsaunders99@gmail.com 
Dave Hyndman 
 
KAIWAKA 
PH: 09 4312302 
MOB: 021 431 238 
LANDSCAPING 
4 IN 1 BUCKET 
TRENCHER 
POLE HOLES 
ROTARY HOE 
COMPACT ROLLER 
OFFAL HOLES 
CAN SUPPLY WOODCHIP & POST PEEL 
5 TON TIPPER 
FOR RELIABLE AND FRIENDLY SERVICE CONTACT DAVE 
Dave Hyndman 
 
KAIWAKA 
PH: 09 4312302 
MOB: 021 431 238 
AVON
  AVON  
AVON 
AVON 
AVON 
Hi Everyone, 
Christmas is almost upon us. I would like to take this op-
portunity to say a big thank you to you all and wish you a 
Merry Christmas and Happy New Year. 
I will be home most of the holiday season and will still be 
putting out brochures. I still have Gift Packs available as 
well as the Summer Essentials - Sunscreen 250ml Pump 
$16.99, 50ml Roll-On $4.99, Aloe Vera Gel $5.99 or All 3 
for $24.00. 
SSS Bug Guard all 3 for $22.00 - Insect Repellent with SPF 
30, Moisturising Spray Mosquito Repellent and Soothing 
Spray. 
Naturals Shower Gels, 2n1 Shampoo/Conditioner, Sham-
poo and Conditioner $3.00 each. I have assorted Footworks 
products and Anew and Solutions Skin Care Ranges. These 
make great gifts for that hard to buy for member of the 
family. 
I also have some Fragrance Packs available as well as 
Christmas Decorations and gifts. 
I can deliver, so give me a call if there is anything I can 
help with. 
Gale Matheson 
094314827 
0274149576      
KAIWAKA SPIRITUAL 
CENTRE 
Corner State Highway 1 & Vipond 
Road 
North Te Hana 
Wednesday Readings 
18/12/13 & 08/01 & 22/01/2014 
10:00am – 3:00pm 
Tarot-Tea Cup - Healing 
Color Therapy - Numerology 
$ 30.00 per reading 
Julie - Dianne - Essy - Netty 
(Monthly Meeting) 
Clairevoyance 
Saturday: 14/12/2013  
Guest Speakers: 
             Mandy   Horton 
Healing available & Cuppa 
$ 5.00 entry fee 
ALL WELCOME 
 2:00pm            Ph: 09 4312120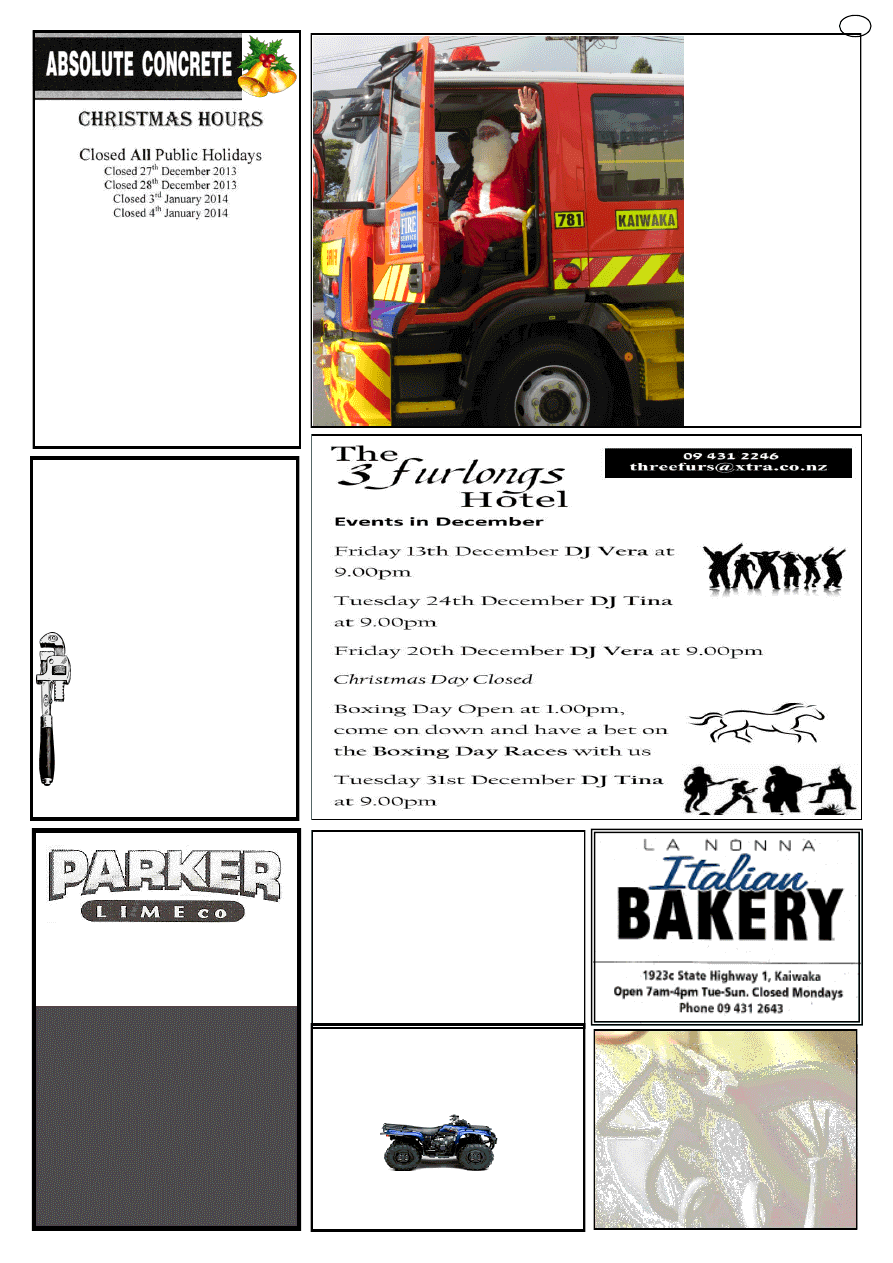 T.W.WRIGHT 
WATER PUMPS  
SALES & SERVICE 
DEEP WELL & SUBMERSIBLE REPAIRS 
203 WHAKAPIRAU RD, WELLSFORD 
MOBILE 021 976 545 
Landscape Supplies 
Bulk Cartage 
4312407 
Mob: 021 453 252  
Fax: 4312939 
 scott.parker@parkerlime.co.nz 
Gibbons Road,  
Kaiwaka 
Paul Greig Electrical Ltd 
Residential • Farm • Commercial 
Paul Greig 
Registered Electrician 
Ph: 431 2223  
Mob:021 230 2717 
Reliable & Professional Quality Service 
Based in Kaiwaka 
KAIWAKA  MOTOR 
CYCLES LTD 
SALES SERVICE SPARES 
FARM BIKE SPECIALIST 
Phone 431 2127  
Kaiwaka-Mangawhai Rd
Kaiwaka 
BARRY CURTIS  
PLUMBING LTD 
REGISTERED CRAFTSMAN 
PLUMBER 
Phone 4315572      
027 257 9884 
     25 years experience 
  
Friendly reliable service 
All plumbing and maintenance 
Alterations and new housing 
New wood fire installation 
Spouting 
Competitive rates  
 
 
 PROMPT EFFICIENT  SERVICE  
A BUSY SANTA 
IS GIVEN A LIFT!  
Phil Christini is the Fire-
man driver but who is the 
svelte dude beside him?
Kaiwaka Kids were happy 
to see Santa Saturday 
afternoon at the local Fire 
Station where children 
met Santa before sharing 
a wonderful dinner with 
family,and friends and fire 
brigade supporters. Fire 
Chief, John Bowmar, 
thanked all present for 
their help throughout the 
year.
A BIG thank you as al-
ways to John Bowmar 
and our local volunteer 
firemen who have been 
kept busy during the year 
with a number of emer-
gencies. 
19 
WE APPRECIATE THE BUSINESS AND SUPPORT 
ALL OUR CUSTOMERS HAVE GIVEN OVER 
2013 
AND WE LOOK FORWARD TO BEING OF SERVICE 
TO YOU DURING THE COMING YEAR. 
MERRY CHRISTMAS
Absolute Concrete (09) 431 2211 
2458 State Highway One, Kaiwaka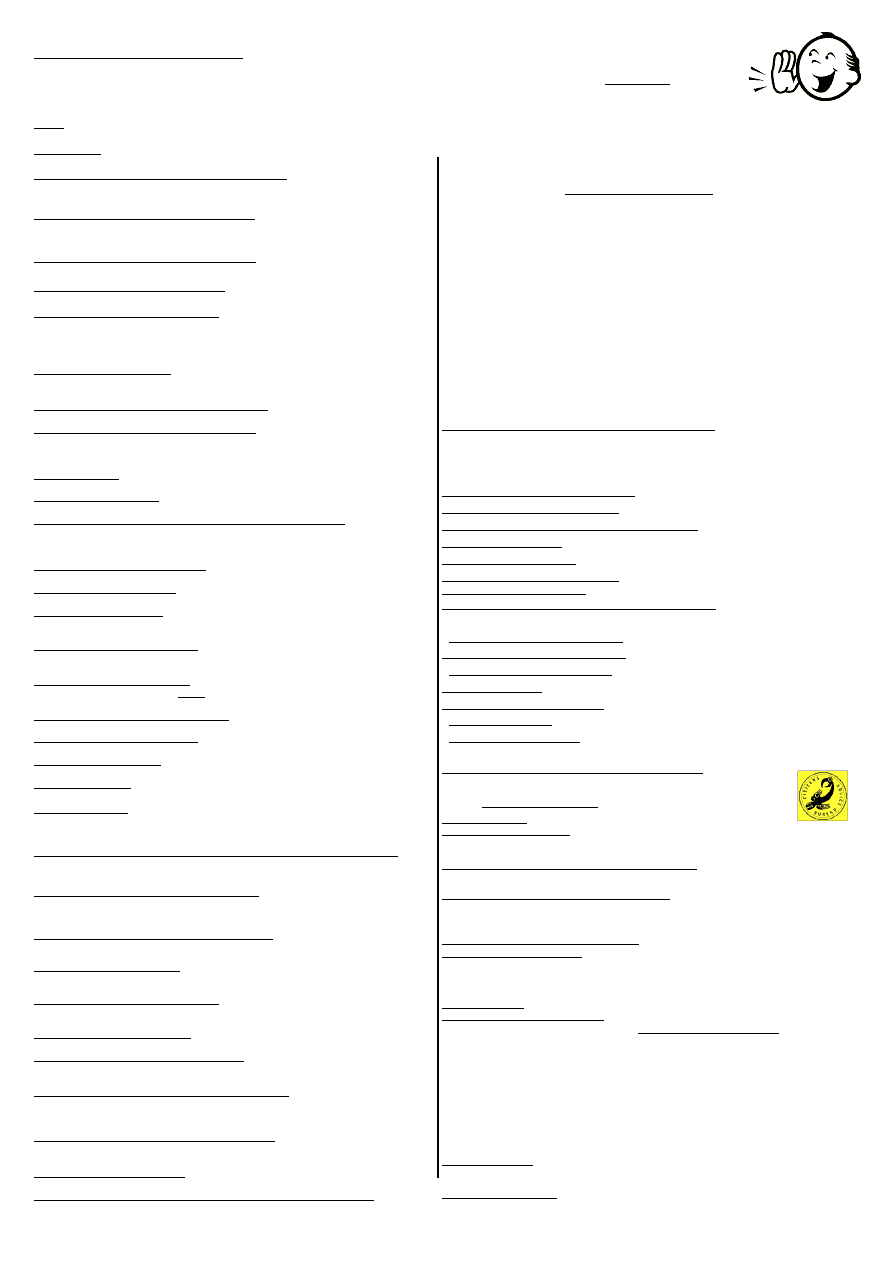 LOCAL SERVICES 
*St.John Ambulance 
111 or Freephone0800 61 0066
*Fire phone 111     *Police phone 111 or 09 4311150 
A A: Meets Wed., 8pm Kaiwaka Ph: 4312228, 4315543, 0800229 6757   
AL ANON: In recess, contact Ph: 4312228 
AGRIQUALITY (MAF) Livestock Consultant 
Phone 09 4311 820 or 021518257  
BUDGETING SERVICE,OTAMATEA:Free confidential advice & 
support - all areas of  personal finance Ph: 09 4318173 or 094318117 
CAB-Citizens Advice Bureau.Wellsford Ph: 4237333. 
DOG/STOCK /NOISE CONTROL 0800 105 890 
FAMILY SUPPORT SERVICES responding to the needs in our 
community  Counselling/Family Therapy/Seminars/Youth Work/
Probation/Osteopathy/Govt.Day Agencies/Community Information  
Ph: 4312661 Hours: 9am-5pm. Mon - Fri (funded & CYFS approved) 
FUNERAL SERVICES: Morris & Morris Ltd, 
Whangarei - Bev Jaques Ph:4312367 or 0800667747 
GRANDPARENTS Raising Grandchildren: Sarah Rogers Ph: 4312194 
HAKARU LANDFILL/Transfer Station:Open everyday except 
Tuesday10am-4pm.Ph4312629 Cost-$55 trailer load up to 1 cubic metre. 
Ph:4258567 - office 
HOMEOPATH: Donna Flavell Ph: 4314843 
INLAND REVENUE: Last Friday each month, 11-3pm Ph4312661 
KAIPARA DISTRICT COUNCIL www.kaipara.govt.nz:  
Help Desk FREEPHONE 0800 727 059  
Service Centre Mangawhai 4313161 
KAIWAKA KOHANGA REO:Ph:4312620 Mon.-Fri. 8.30am-2.30pm 
KAIWAKA CEMETERY: Ph: 4312045 
KAIWAKA LIBRARY: kaiwaka.library@gmail.com  
Mon. 4-6pm; Wed., Thurs., Fri., Sat.  10am-2pm Ph:4312539 
KAIWAKA PLAYCENTRE: Ph: 4312286. Hastie Lane 
Monday to  Friday  9.00am - 12 noon. 
KAIWAKA POST OFFICE:Ph:4312 626 Fax: 4312287  
Post Code: 0573  for RD2  and  0542 for all Kaiwaka Post Office mail 
KAIWAKA PRIMARY SCHOOL : Ph: 4312309     
KAIWAKA SPORTS ASSN: Ph 4312005; 4312129 gym 
KAIWAKA ST JOHN: Manager Steve Rosser 09 4318403, 021 2316836 
NORTHPOWER: Faults Kaiwaka area 0800 104040 
PARENTPORT: Free, practical family support servicePuhoi to Paparoa 
Ph:  Sharon Mehana, Co-ordinator. 4259357 or 027 280 5093 
PERSONAL DEVELOPMENT COACHING, GROUP FACILITATION:  
Sabine Druckler 4312231 
PLUNKET  KAIWAKA/MANGAWHAI:  Ph:094318187  or  0276753488 
Kaiwaka Mobile Clinic once a month– appointments necessary;  
Mangawhai (next Domain) 1st & 3rd Thursday & Coffee Morning; 
PLUNKET CAR SEAT CO-ORDINATOR:  Pat Scott Ph 4314530 or 
0272881635 
PLUNKET FREEPHONE -0800 933 922 
PLUNKET -MAUNGATUROTO  Clinic every 2nd & 4thThursday. Ph: 
09 4318187 
PUBLIC HEALTH NURSE: Gloria Reid Ph: 094327634  
RETURNED AND SERVICES ASSN 733 Settlement Rd.Hakaru 
Ph.4312176 Bill Kerr (President) Ph.4314719 
TE KOROWAI AROHA O NGATIWHATUA 
(The Cloak of Love of Ngatiwhatua) Support and Maori Consultancy.  
Ph: 4239481 (Wellsford) 
VETERINARY SERVICE MANGAWHAI: 
Ph: 4314535 Mon-Fri 8.00-5.00, Sat 9-12, a/h appt. 
WELLSFORD DOCTORS: Ph: 4238 086 
WOMEN'S WELFARE LEAGUE & Reaching Out For Youth:  
4 Kaiwaka-Mangawhai Rd, M Morgan 4312293 
WHAT'S ON
PLEASE ~ do let me know what is on - email 
kaiwakabugle@kaiwaka.co.nz 
Advertising in WHAT'S ON is FREE  
Mondays: 8-2.30pm Kaiwaka Tramping Group  Karen 4312090 
Mondays: Rock & Roll Lessons, Wellsford 7.30pm Ph: Berni 4238024 
Tuesdays: Rhythm&Riggle 10am Christ the King Church Mangawhai. 
KAIWAKA MARKET 2nd Sunday of month @ 3 Furlongs Pub Car-
park 10am—1.30pm markets@slingshot.co.nz 09 4318717 
*11 Dec ~ Kaiwaka School Prizegiving & Civil Defence CRG 7pm Fire 
Station, Kaiwaka 
*12 Dec ~ Kaiwaka School last day 
*13 Dec ~ Mtg Group Purchase Solar Hot Water 7pm Ph. 4312408 
*14 Dec ~ World Dance Party, DJ Carlita, 8pm Waipu Boat Club 09 
4312408/021 2231700  
*15 Dec ~ Carols & Christingles 7.30pm St Paul's Church 
*20 Dec ~ ARMS WIDE OPEN yoga celebration 1045-1pm Domain 
*25 Dec ~ Christmas Day Service 9.30am St Paul's Church H.C 
*12 Jan ~ Sheep Dog Trials, Otioro Road  
*25/26 Jan ~ Otamatea Open Tennis Tournament, KSA 
See www.kaiwaka.co.nz for upcoming events. 
Drink can 'tear tabs' - for Starship Hospital-Ph. 4312625   
HOUSEHOLD  RUBBISH  COLLECTION  -  Kaiwaka    Pick  up-
Mondays=Green bags are picked up by Northland Waste-queries to 
them  09  4303273,Wednesdays=Blue  bags  and  yellow  recycling  (at 
Jaques  $3.00 and $1.40)  are picked up by Kaurilands 09 4392146.  
*OTAMATEA GREY POWER-09 431 8138 Joan Hoggard  
*KAIWAKA BADMINTON -Tuesdays 7.30pm Ph: 4312345 
*KAIWAKA GARDEN & FLORAL Grp:
2nd Thursday in month Ph: 4314767 
*KAIWAKA 
CUBS-Thursdays 5.30-7pm, Hakaru  Ph:Bruce  4312542
*KAIWAKA SQUASH -Mondays 7pm,  Ph: Barbara Thomas 4315905 
*GYMNASTICS OTAMATEA -  Tuesday Ph: Stephanie 022 3624998 
*HAKARU PONY CLUB-Secretary Julie Rynne 09 4314520 
*
MANGAWHAI COMBINED PROBUS CLUB
: 2pm,3rd Thursday 
month in the Senior Citizens Hall Mangawhai. Ph: 4315777
*PT CURTIS CRUISING CLUB - Jean Ph: 4312246 
*WAIPU GENEALOGYGROUP -4th Monday in month Ph: 4312725 
*NZ GENEALOGY-Wellsford - 1st Thursday in month Ph: 4237033 
*CRAFT GROUP
:2nd & 4th Tuesday, 10am, Wellsford Ph 4238547
*RSA,Hakaru & Dist.Women- meet 1.30pm 4th Thurs in month 4312668  
*OWEN STEVENS at Kate's Place Ph:4312661   
*Diabetes Support Group-for Kaiwaka, Mangawhai, Wellsford -10am, 
 
3rd Friday of month Ph:A.Pert 4238242; J.Gardner 4238060 
*WELLSFORD CITIZEN ADVICE BUREAU:  
0800 367 222 
Ph: 4237333 Wellsford Community Centre   
Email: cab.wells@xtra.co.nz
CHURCHES:
*Gateway Worship Centre-St Mary's Church Nathan Rd off Oneriri Rd, Kaiwaka 
Services, 10.30am 1st & 3rd Sunday of every month. Contact: Rev David Gage 
4312528 or 0212354282 
*Kaiwaka Family Church-Your Community Church Sundays, l0am 
Home Group every Wed evening, Pastor John.Dekker Ph: 4318203 
*Kaiwaka Services.Anglican & Family Service at St Pauls Church  - 1st Sun. 9.30am
(Anglican),3rd Sun. 9.30am (Family Service).  Contacts: Parish Office 09 4318193, 
M.Hargreaves 4312295, C.Bygrave 4312057  
*Church of Christ the King, Mangawhai 9.30am every Sunday 
*St.Mary's Catholic Church:
Maungaturoto – Griffins Road, Saturday evening Vigil 
Mass 6pm; Mangawhai – Senior Citizens Hall, Sunday Mass 8:30am; Wellsford – 
Matheson Road, Sunday Mass 10:30am; Mid-week Mass times and all enquires to Fr. 
Bill Fletcher – phone 423 8170 
*Baptist Church: Sun. 10.30am Mangawhai Snr Cit.Hall.Ph:4312339 
*Cause Way Church Mangawhai – Sundays 10.15am, Mangawhai Community Recre-
ation Centre, Insley St. Ph: 09 4314782  www.causewaychurch.org.nz
*St.Pauls Archie Bull Hall HIRE  $20 half day, $40 full day per hire 
 Contact G. Jaques 4312048 
*Kaiwaka War Memorial Hall HlRE - Phone 4312725 or 
Email  kaiwaka.hall.bookings@gmail.com 
*Hakaru Community Hall HIRE -Ph.  4312256 or 4312110 
*Te Pounga Marae queries -A.Gage 4312528, 4312527 
*Kaiwaka Sports Association hire/queries- C. Anderson 4312051 
Justice of Peace: B.FJaques; L.Donaldson; A.F.Hargreaves  -please phone to 
make sure they are available 
Marriage Celebrants: L.Donaldson; A.F.Hargreaves;   
Next Bugle Deadline Friday 17 January 2014