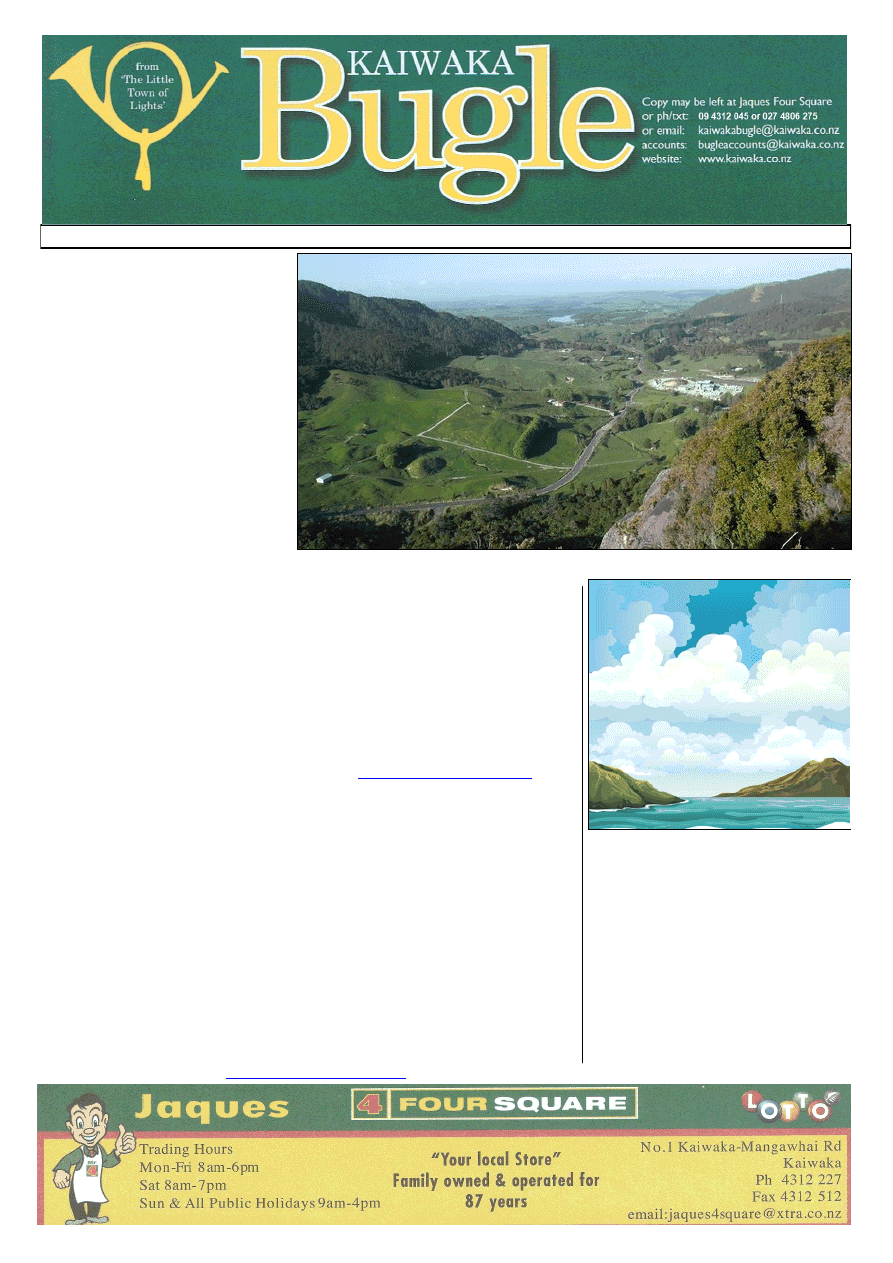 No: 1 
21/1/2014 
HELP 
Missing Murals 
Two  murals  have  gone  missing  in  the 
last week. They have been given to the 
Kaiwaka  School  and  community  and 
were  hung  on  the  Kaiwaka  Sports 
Assn  end  of  the  school  swimming 
pool. 
Does anyone have any idea where they 
maybe? If you do please leave a mes-
sage for the Bugle. 
One is pictured above, the other one is 
pictured at the bottom of page 9. 
XXXXXXXX 
Ph: 09 4312045 
Txt:  0274 8062 75 
TOP OF THE ROCK 
The  Kaiwaka  Sports  Association's 
fourth  annual  multi-sport  event, 
the  Top  of  the  Rock,  will  be  held 
on Sunday 9
th
 February.  
The event caters for walkers, runners 
and mountain bikers, both recreation-
al  and  competitive  as  there  are  a 
range of options: 

5km or 10km walk or run 

10km run + 15km mountain bike ride 

30km mountain bike  
Routes travel through some of  
Kaiwaka's most scenic countryside – 
bush,  lakes  and  farmland.  And  you 
get  the  once-a-year  opportunity  to 
climb iconic Baldrock Mountain, which is easier than the daunting 
view from the road suggests, as there is a well formed track which spirals around 
the mountain. 
You don't need to be concerned about your fitness level as there is no time limit 
on  completing  the  events  and  they  have  marshalls  in  utes  following  the 
tailenders who will give you a ride back if you get tired! Participants of all ages 
enter Top of the Rock, from pre-schoolers upwards – last year the $50 prize for 
the oldest participant went to an 82 year old! 
TV3's  Brendon  'Money  Man'  Johnson  will  host the prizegiving  with  prizes  for 
placegetters as well as lots of great spot prizes, including a mountain bike spon-
sored by My Bike in Whangarei. A raffle will also be drawn for a lawnmower, 
kindly donated by Steve from Kaiwaka Motorcycles.  
Last year there were over 300 participants and they are hoping to build on that 
number this time. Entry forms can be found on 
be picked up from: 

Jaques Four Square 

Kaiwaka Motorcycles 

Skelton"s Drapery, Paparoa 

Mangawhai Vet Centre 

Wellsford Sports & Leisure 

Maungaturoto Carters 
Many thanks to the generous sponsors: 
Jaques Four Square; L J Hooker; My Bike; John & Jan Hargreaves;  Apple Basket; Well of 
Health; Doug & Lenore Donaldson; Copthorne Resort Bay of Islands; Carters Mangawhai; 
Kaiwaka Cheese Shop; Tony & Lindsey Hargreaves; Sport Northland; Ranganui Develop-
ments (Grant Hyndman); Silver Fern Farms; Robert Leslie Logging; Bryce & Ann Cullen; 
Rob Whitehead; Mangawhai Vet Centre; Kaiwaka Sports Association; ANZ Bank; Neil 
Jones; Bryan & Isobel McClean ; Parker Lime; Kaiwaka Motorcycles; NZ Alarm Shop; Da-
vid & Mary Hargreaves; Wellsford Sports & Leisure; Landcare Services (David Hyndman); 
Agridustrial; Grind Coffee; Absolute Concrete; Bavage & Chapman; Power Farming; Rob 
& Deb Hastie; RD1 Wellsford; Rural Design; Overviews NZ; Paul Greig Electrical; More 
FM; Kauri Springs; Mangawhai Tyres; McLennan Groundspread; Olsen Contracting; 
Laughing Dog Computers; Kaiwaka Media Group  
Enquiries contact Cheryl Anderson 
The view from Baldrock Mountain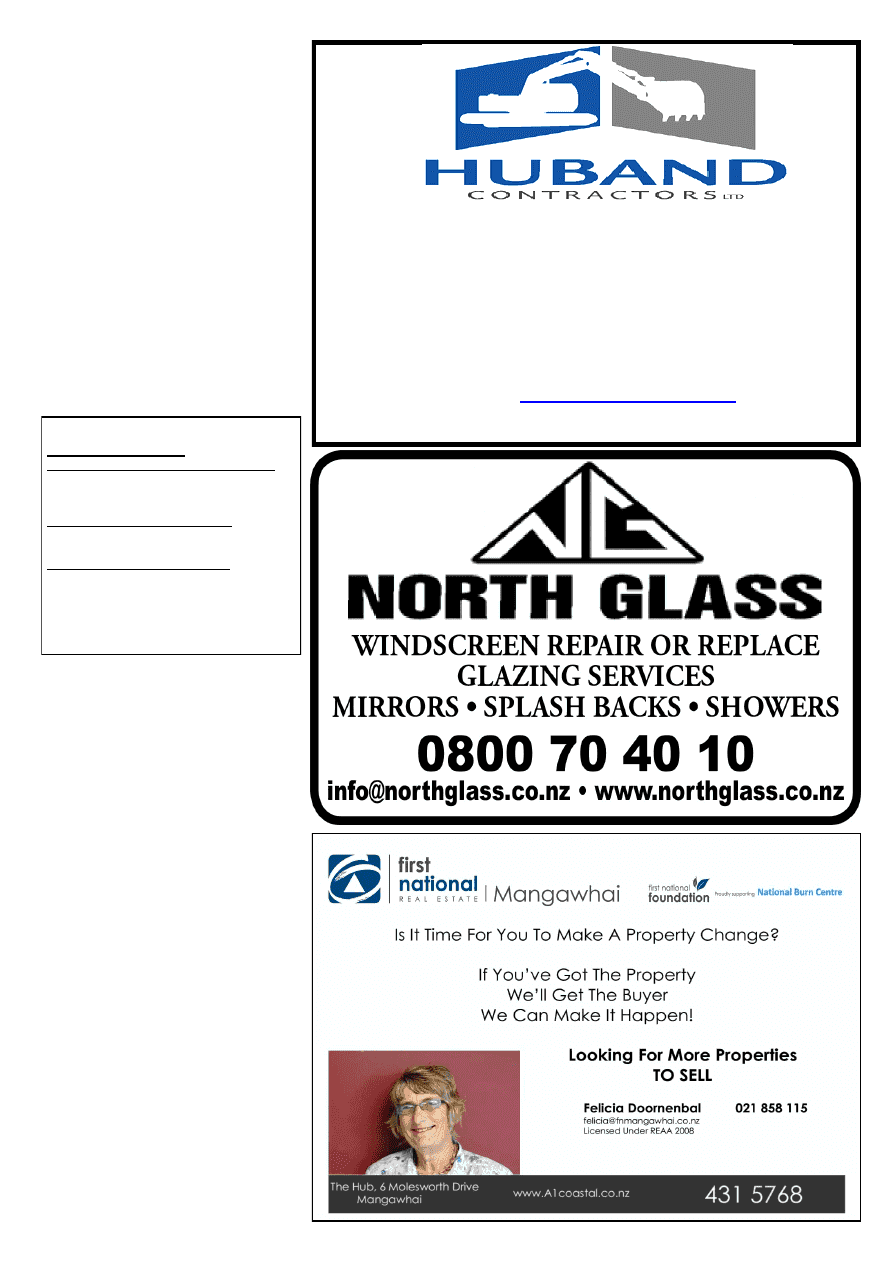 NEW PRICES: 
Kaiwaka Bugle Advertisements 2014: 
Classified $3; 1/8 page $6; 1/4 page $12; 1/2 
page  $24;  in  special  circumstances  whole 
page adverts are available-cost $100 
bugleaccounts@kaiwaka.co.nz 
Payments can be online, posted or left at 
Jaques Four Square Store. 
kaiwakabugle@kaiwaka.co.nz  for  
queries or copy. 
The  Kaiwaka  Bugle  is  a  community 
newspaper run by volunteers.   
Articles,  etc.  printed  are  not  necessarily  the 
opinion of the Bugle Team  
*   R O A D I N G   *   E A R T H W O R K S   *    
*   D R A I N A G E   *   S I T E W O R K S   *  
For any further enquiries, contact Shaun on: 
Cell: 021 222 0272 
Home: 09 4318339 
Shaun Huband:  Registered Drainlayer 
KAIWAKA BUGLE  
No. 1 - 21 January 2014 
CONTENTS 
Page 3: Public Notices; Classifieds 
Page  5:  Kaiwaka  War  Memorial  and 
Movies; Kauri Museum display 
Page 7: Kaiwaka Weather;  Dog Trials 
Page 9: Kaiwaka Scouts; St Johns 
Page 11: Kaiwaka Library 
Page  13:  Kaiwaka  Fitness;  Kaiwaka 
Community Gardens 
Page 15: Otamatea Repertory Theatre 
Page 17: Kaiwaka Sports Association  
Page 19: Hakaru & Districts RSA  
Bugle 2 will appear 4 February  
Contact for advertising, reports, arti-
cles or information can be made by 
Email: kaiwakabugle@kaiwaka.co.nz 
Ph: 09 4312 045   
Txt:  0274 806 275   
KAIWAKA MEDIA 
GROUP 
From the annual meeting held last 
Wednesday 15 January: 
Chairman: T Hargreaves 
Secretary: J Stace 
Treasurer: H Nash 
Webmaster: C Ross 
Editor: L Hargreaves 
Printer: W Howard 
Advertising Prices 
To cover increasing cost advertisement 
prices are now: 
Classified $3.00 
1/8 page $6.00 
1/4 page $12.00 
1/2 page $24.00 
Business card adverts can now be add-
ed to the KMG website– email contact 
tokaiwakaonline@kaiwaka.co.nz 
The  Kaiwaka  Media  Group  continues 
as a voluntary crew with the Kaiwaka 
Bugle 
and 
the 
website 
www.kaiwaka.co.nz  and  endeavour  to 
"control"  the  noticeboard  outside  the 
Kaiwaka War Memorial Hall. 
The chairman thanked Ann Jeffries for 
her  Bugle  publications  of  the  last  12 
months.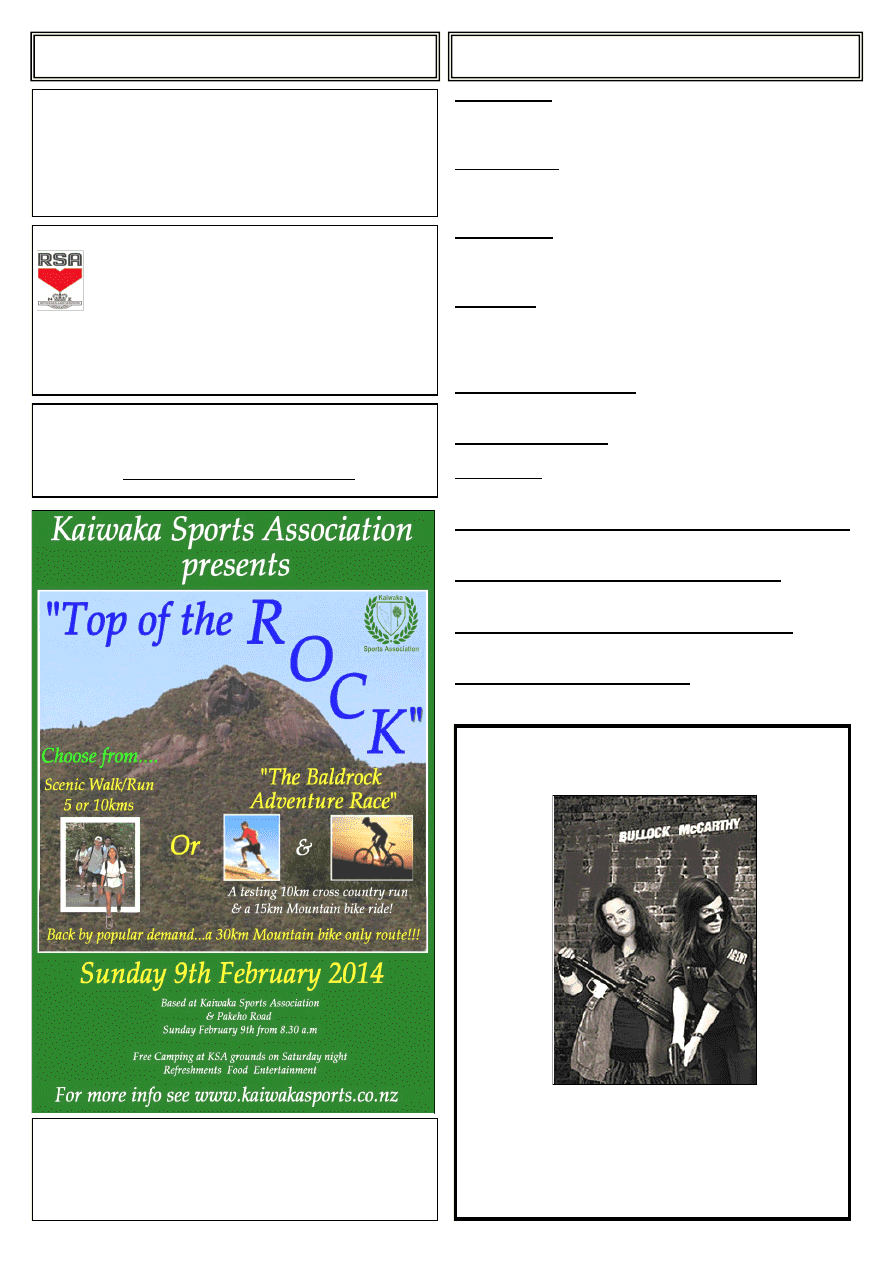 PUBLIC NOTICES 
CLASSIFIED 
FOR SALE: Dry sheep manure, $7 per sack, great for 
your  garden.  Please  phone  Carol  Mills  4312  044  or 
Steve  Strong  4314  806.  A  fundraiser  for  Kaiwaka 
Cubs & Scouts. 
FOR  SALE:    Wrought  Iron  Table,  white,  65cm 
across  $25;  Glazes  strawberry  planter,  8  pouches 
38cm  high  $20;  Large  glazed  plant/palm  pots  round, 
40x45cm $25 & 15x41cm $15. Ph: 4312188 
FOR  SALE: As new double bunk with safety rails & 
thick  new  mattresses  $150  OR  swap  CD  walkman/
multi  function  sound  system,  with  remote.  Please 
phone Adrian 4312296 
WANTED:  Kitchen  helpers  for  the  Tennis  Tourna-
ment this weekend at  the Kaiwaka courts.  If  you can 
spare  a  couple  of  hours  to  help  cook  toasties,  make 
filled rolls etc, then please phone Lindell Ferguson on 
4312 542.  
BOARD  AVAILABLE:  In  large  studio,  with  attic. 
$150  per  week  includes  power  and  meals-per  house-
keeper. Phone Adrian 4312296 or 021 2537661  
MUSIC LESSONS: Piano, keyboard, guitar and sing-
ing. Ph: 4312700 or 021 1618446 
WANTED: Grazing for heifers and calves up to 100 
acres  to  lease.    Anything  considered  in  Kaiwaka  or 
surrounding areas Ph: 021933598 
CRANIO  SACRAL  THERAPIST  &  MASSAGE: 
for Horses and People. $45 Jill  431 2080 or 021 0506 
0592 
HOLISTIC  ANIMAL  PRACTITIONER:    Horses, 
Pets,  Farm  Animals.  www.allcreatures.co.nz  or  Jill 
4312080 
CLOTHING ALTERATIONS & REPAIRS: 
Zips,  hems,  dressmaking  &  dress  design.  Phone  Win 
4312027 or 0274448358 
FREE  GRAZING  WANTED: Small or large block. 
Can  do  some  fencing  or  water.  Phone  after  6pm 
4312006 
Kaiwaka Community Cinema 
Presents 
Kaiwaka War Memorial Hall 
Thursday January 30  7:30pm 
Adults $10 Under 16yo $5 Family Pass $25 
(2 Adults & 3 children max) 
Rating:  R 13     
Time:  1hr 56min 
Eastern United Rugby JMB 
ANNUAL GENERAL MEETING 
Tuesday 18th February 2014 at 5.00pm 
At Kaiwaka Sports Complex 
All Welcome to attend. 
Contact Jennie 9450502 Or 02102764171
HAKARU & DISTRICTS MEMORIAL RSA (Inc) 
WOMENS SECTION 
ANNUAL GENERAL MEETING. 
To be held in the  
Hakaru RSA CLUB ROOMS Settlement Road,  
27th February 2014 at 1.30 p.m. 
All Welcome, financial members only, eligible to vote. 
Nomination  Form  for  Officers  and  committee  on  notice 
board at RSA. 
KAIWAKA SCHOOL PHOTO ALBUM 
I can"t remember who I lent it to, to add names to the 
old photos. If it is you please can you contact Jennie 
9450502 orjenniereynolds@vodafone.co.nz 
PROVERBS 3:5-6
Trust in the Lord with all your heart. Never rely on what 
you think you know.  Remember the Lord in everything 
you do, and he will show you the right way.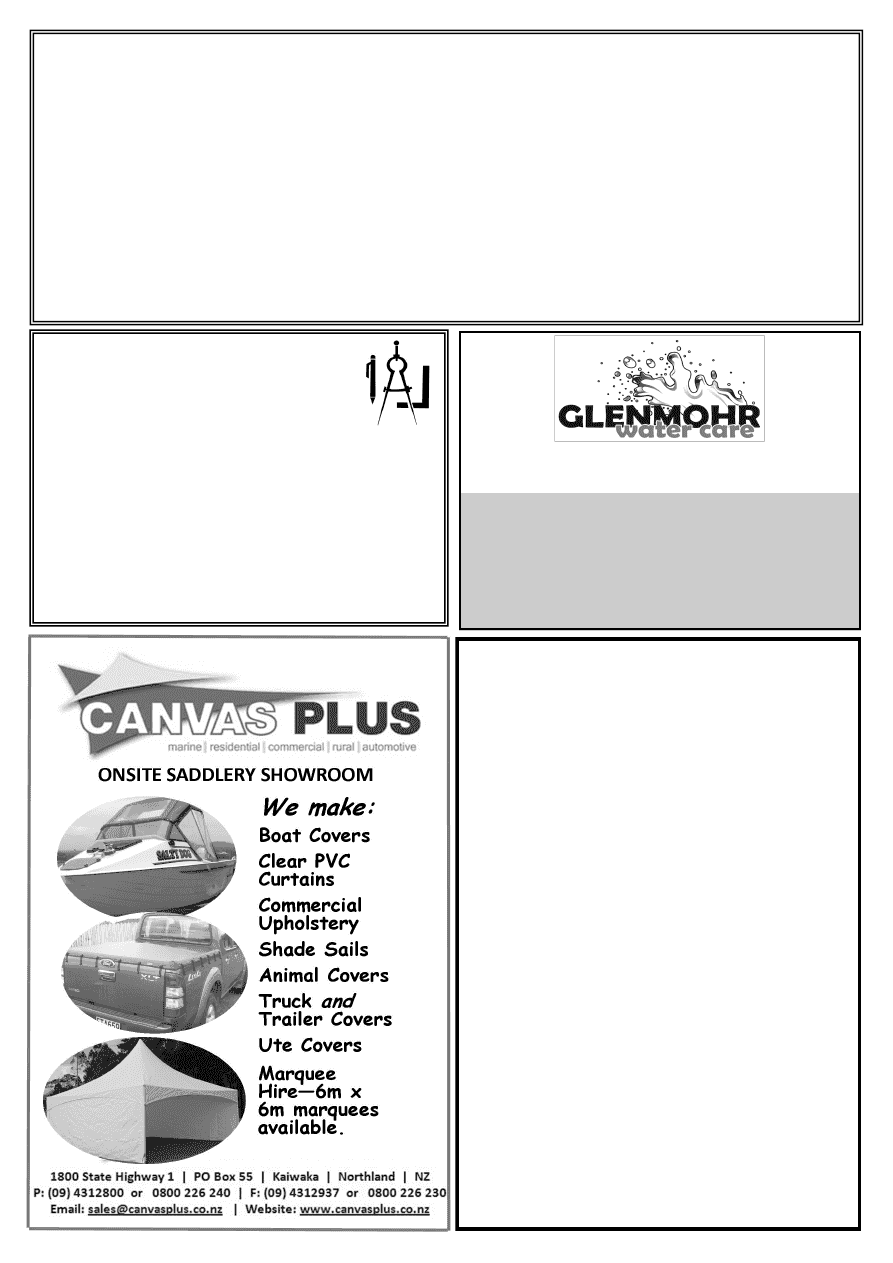 RANGANUI EARTHMOVERS 
16T Excavator   
(tilt, thumb & ROPS cab)   
Transport Trailer 
2 x 6 Wheeler Tip Trucks 
Suppliers of All Grades of Metal & Topsoil 
If you want a proper job done with an experienced operator ring 
Grant on    A/H 431-2131        Email  ranganui.dev@xtra.co.nz 
   Mob  021845-246 
Driveways, House Sites,  
Drainage Dams, 
Section Clearing,  
Tree Work,  Rock Retaining Walls,  
Quarry Work, 
Basically Anything That a Digger Can Do 
design drafting 
service 
Retired builder and manufacturer with over 40 years  
experience in the building industry is offering a design 
drafting service for domestic housing, sleepouts and 
sheds.  
Plans formulated in consultation with clients, with 
working drawings completed and submitted to  
council for processing.  Extensive practical experience,  
able to identify & resolve problems. 
Please ring Mike Lean on 
09 431 2260  
or 
021 431 196 
Water Tank Cleaning 
" 
 Keep your water safe & clean   
 
Removal of sediment, silt etc. 
 
Vacuum or full scrub 
 
Minimal water loss 
Phone Mark (09) 432 0655 or 0274 707607 
PLANNING A NEW 
KITCHEN? 
 CONTACT NOEL McDOWELL 
WELLSFORD 
KITCHENS
Ph/Fax 094312888  
KAIWAKA-Any time 
  QUALITY CUSTOM MADE 
KITCHENS  
~Personal and Prompt Service~ 
~All Workmanship Guaranteed~ 
~Over 20 Years in the Trade~  
~Free Design & Quote~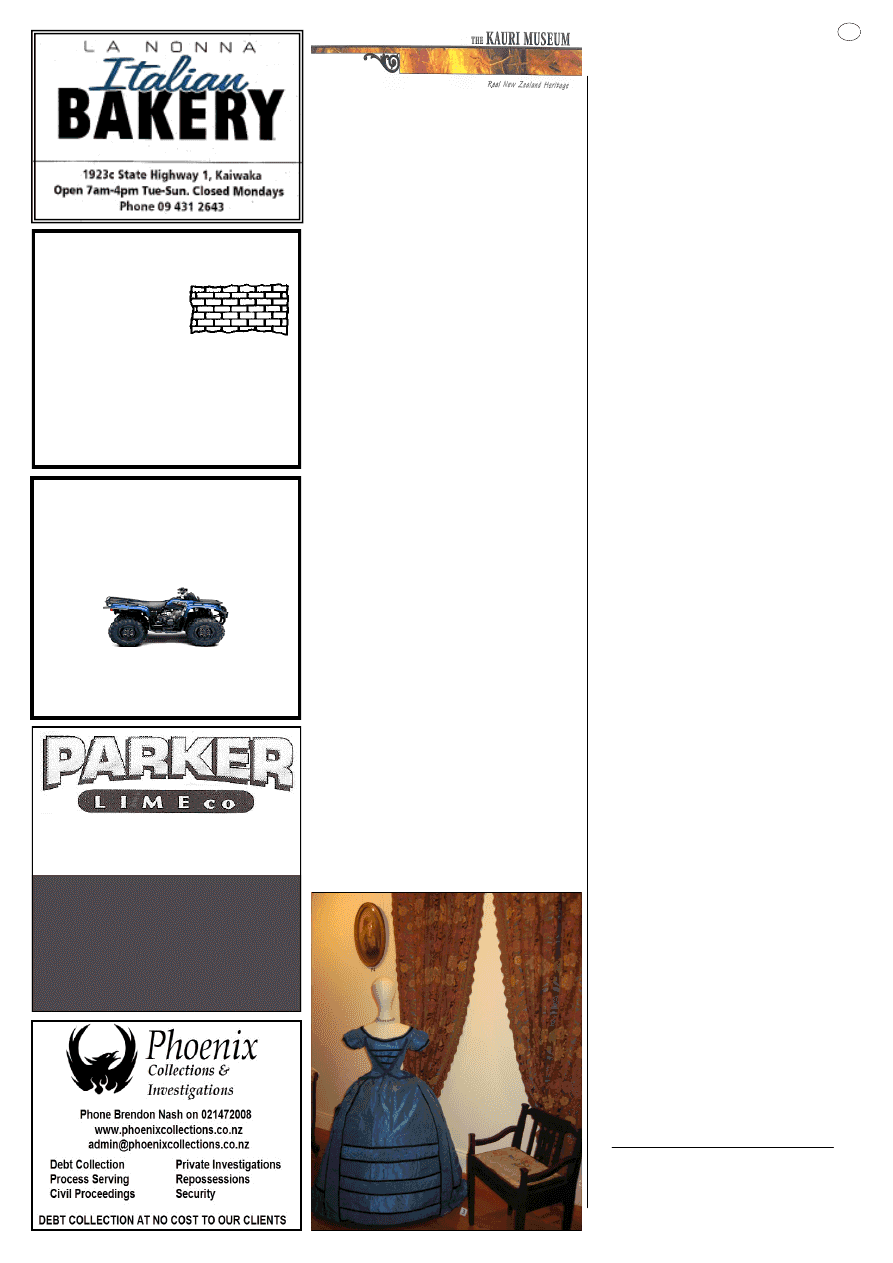 Landscape Supplies 
Bulk Cartage 
4312407 
Mob: 021 453 252  
Fax: 4312939 
scott.parker@parkerlime.co.nz 
Gibbons Road, Kaiwaka 
KAIWAKA  MOTOR 
CYCLES LTD 
SALES SERVICE SPARES
FARM BIKE SPECIALIST
Phone 431 2127 
Kaiwaka-Mangawhai Rd 
Kaiwaka 
5 
BRICK/BLOCKLAYER            
All aspects of masonry:  
Fireplaces, 
Restoration  
& Remedial Work. 
JAMES EAGLETON 
Tel. (09) 431 2514  
Mob. 0274 749 232 
jajueagles@yahoo.com.au 
210A Pukenui Road, RD2 Kaiwaka 0573 
NEW EXHIBITION  
SEVEN  GENERATIONS  OF  TEXTILES 
FROM THE STERLING FAMILY 
A  rare  and  beautiful  display  of  seven 
generations  of  textiles  from  one  family 
has  opened  at  The  Kauri  Museum  on 
18
th
 December 2013.  These come from 
the Sterling family home "Big Hollow" 
and are on loan from Kae Bond who is 
the daughter of Mervyn Sterling, found-
er of The Kauri Museum. 
The  textile  ladies,  who  are  a  group  of 
enthusiastic volunteers, have spent end-
less hours preparing this wonderful dis-
play.  The  descendants  wonderful  old 
portraits, as well as the furnishings from  
"Big  Hollow",    adorn  the  walls  of  the 
exhibition.   
The  early  settler  George  and  Jeannie 
Lamberton Thomson arrived in Matako-
he in 1863 with their four children.  One 
of these children was Eliza, who in 1887 
married David the eldest son of Richard 
and  Catherine  McLaren  Smith.    They 
built  the  family  home  of  "Big  Hollow" 
and had two daughters, Mary, who died 
at age five and Jeannie.  Jeannie married 
Joseph  Sterling  and  they  had  four  chil-
dren Mervyn, Nederick, Darcy and Fio-
na (Ferguson). 
Nederick  never  married,  Darcy  was 
killed  in  WW11,  Mervyn"s  family  are 
Darcy,  Kae and Jo,    Fiona"s  family  are 
Allister, Geoffrey and Keith. 
Darcy, Kae and Jo"s children and grand-
children"s clothing are also displayed in 
this  exhibition,  along  with  their  ances-
tors" clothing  -  a total of seven genera-
tions in all. 
Betty  Nelley,  CEO  of  The  Kauri  Muse-
um  said  that  it  was  a  privilege  to  have 
such  a  wonderful  display  and  was  so 
grateful for the generosity of Kae Bond 
to  share  the  beautiful  treasures  with 
those that may visit The Kauri Museum.  
At  the  opening  of  the  exhibition  tribute 
was  also  paid  to  the  textile  Volunteers 
ladies  led  by  Lyn  Franklin  who  put  to-
gether such a top class exhibition.  It is 
simply gorgeous Betty said.  
KAIWAKA WAR  
MEMORIAL HALL 
The committee has been working hard 
to  ensure  the  Hall  will  be  good  for 
another 25 years… 
As I write this, the outside painting of 
the Hall is nearly finished and is look-
ing  great  in  its  Art  Deco  colours.  A 
new sign will go up soon and will also 
have  Art  Deco  features  in  keeping 
with  the  Hall's  style.  It  is  all  coming 
together nicely. We aim to get the Hall 
painted and refreshed inside this year; 
a start has been made with new light-
blocking blinds to replace the old cur-
tains. 
The Northtec Sustainable Rural Devel-
opment  course  starting  in  February 
will continue to look after the amazing
-looking community garden. 
The movies are on again!  
After  the  survey  forms  that  were  re-
turned  (thank  you!)  a  new  group  of 
keen  volunteers  was  formed,  and  are 
now  managing  the  movies,  called  the 
Kaiwaka  Community  Cinema.  They 
will  pick,  plan  and  run  the  movies  to 
be  screened  in  the  Hall's  cinema,  in 
high definition (HD) with a top quality 
5.1 surround sound system. The movie 
experience is pretty awesome, accord-
ing to the visitors of our first two mov-
ies, Life of Pi and The Hobbit: An Un-
expected Journey.  
We've  got  new  comfy  chairs,  so  no 
need  to  bring  pillows,  and  there's  an 
interval  with  drinks  and  nibbles  for 
sale halfway through each movie. 
Note: The next movie 
The  Heat 
 is 
on a Thursday evening and is an R13 
(no children under 13 years admitted). 
MOVIES 
COMING SOON 
The Heat  
Comedy action,  
Thursday 30 January 7:30 pm  
(NB. R13) 
The Croods  
Animated family comedy 
 Saturday 8 February 2:00 pm 
Argo  
Thriller/drama, winner of 3 Oscars 
Friday 21 February  7:30 pm 
Ideas and suggestions are always  
welcome - email me at  
windmillkiwi@gmail.com 
Ad Clarijs 
for Kaiwaka War Memorial Hall Assn 
and Kaiwaka Community Cinema. 
Q: What kind of car does Mickey Mouse's wife 
drive? 
A: A Minnie van! 
Q. Why couldn"t the little pony sing? 
A. Because he was a little hoarse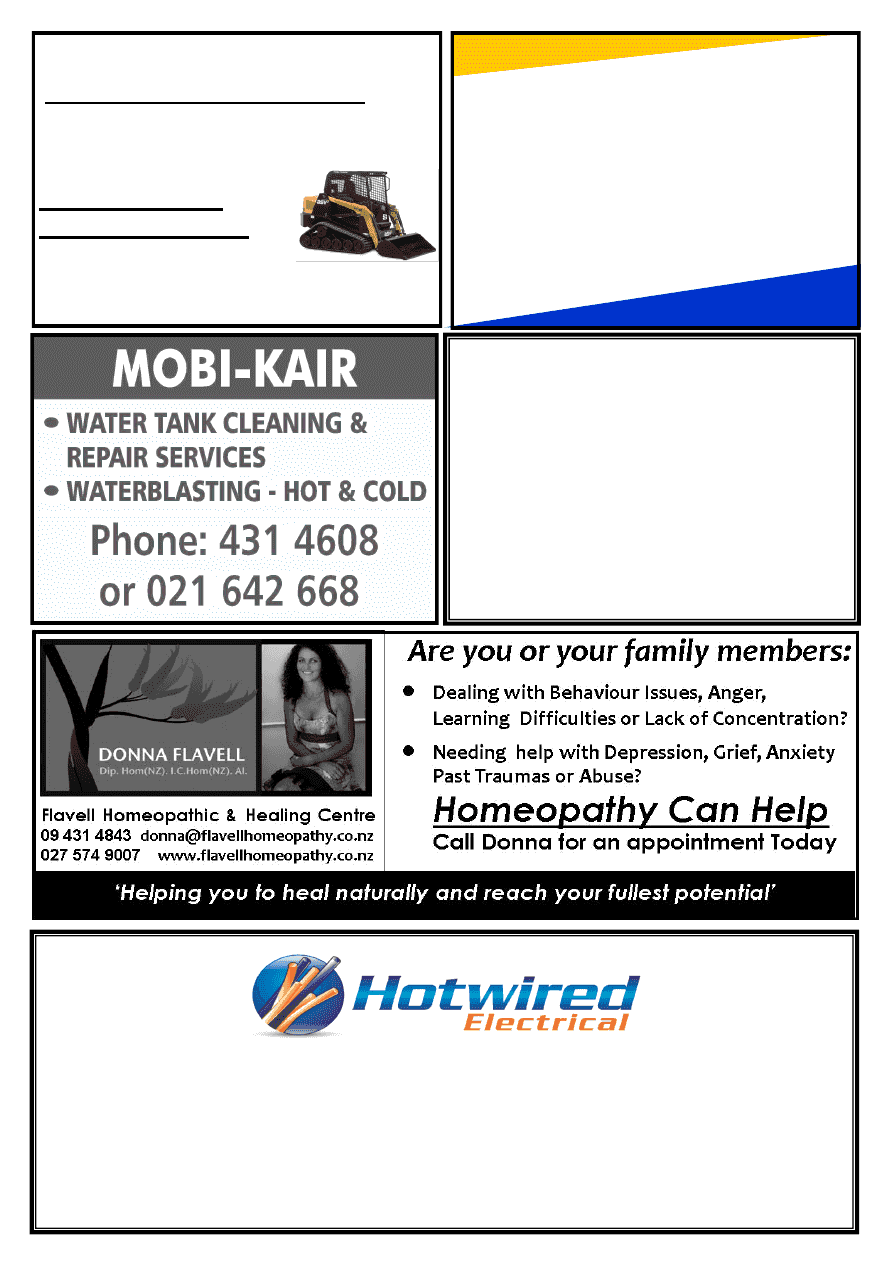 CONCRETE 
If it's concrete we do it 
Full Preparation & Pour by 
Experienced Local Team 
Phone Phil Keen Contractors  
027 659 2376 
TILING 
Certified Waterproofing 
431 4533 or 021 86 33 33 
George 
MCN Property Solutionz  
Local references available 
For All your Electrical  Requirements 
 
Domestic small jobs 
 
Residential dwellings and alterations 
 
Commercial              
No job too big or too small
 
Industrial                       
Contact Jason today on: 
(09) 431 5992, (021) 405 019 
www.hotwiredelectrical.co.nz 
Natural Earth Ltd 
 Landscape and Bobcat services 
 : Driveways  :Landscaping  :Retaining Walls 
 : Hole Boring: Land Levelling :Trenching 
 : Decks :Fences :Sections Cleared: Plus much more 
Tel   09 4312885 
Mob 02102391280  
For  A  Fast  Friendly 
Service Contact Tim Hicks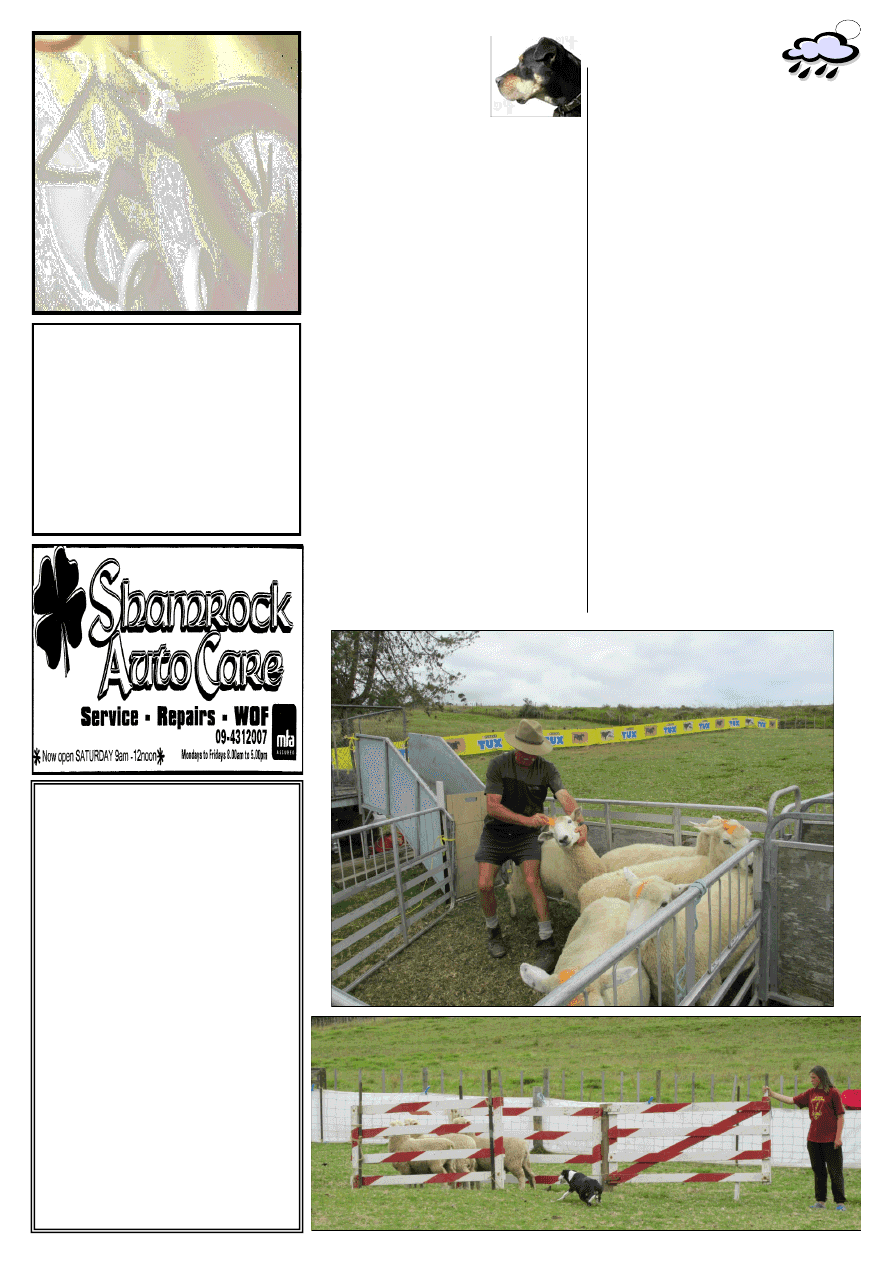 AMBER'S 
Q Cafe &  
Restaurant  
All day breakfast, 8am - 5.30pm.     
Home made Pizza, take away or eat in from 8am to late. 
 Light lunches, 11.am - 5.30pm, 
Dinner Menu at 5.30pm to late 
 Toasted Sandwiches and Sandwiches made to order. 
All day, Pies, Chowder & Soups 
 Milkshakes, Kiwi Ice cream, Slushie Fruit drink, Tea, 
Coffee 
 Closed Mondays.....except Observed Holidays 
 Sunday to Thursday: 8am - 8pm 
 Friday: 8am - 8.30pm, Saturdays 8am- 9pm 
4315226 
Trevor & Amber 
41 Moir Street, Shop 5-6  
Mangawhai Village 
Next to Carters Building Supplies 
 LEABOURNS 
Passenger Service 
Car & Van Hire 
Bus & Coach Charters 
Airport Transfers 
 Monthly Shopper Bus 
Phone (09) 4237416 
Paul Greig Electrical Ltd 
Residential • Farm 
 • Commercial 
Paul Greig 
Registered Electrician 
  Ph: 431 2223  
Mob:021 230 2717 
Reliable & Professional 
Quality Service 
Based in Kaiwaka 
NORTHLAND 
HANDY DOG 
There  was  a  great  turn-
out for the Handy Dog at 
Hasties  on  12  January. 
Competitors came from Te Paki in the 
north  to  Turangi  in  the  south.  Leo 
Jecentho and Storm from the far North 
winning – the best performed local was 
Brett Wilson and his dog Sonny taking 
third prize. 
The North Island finals are in Taupo on 
Anniversary  Weekend.  This  also  the 
last  chance  for  any  dogs  not  already 
qualified.  The  Hastie  and  Hargreaves 
dog  teams  are  among  those,  but  are 
ever hopeful of making a late charge. 
Two locals filled places in the Heading 
arena on Handy Dog day- Scott McRae 
and Elle and Duncan Gilligan and Tim 
filled  4
th
  and  5
th
.  They  are  heading  to 
the  Warkworth  Showgrounds  this 
weekend for the Show trials. 
The Club trials get underway at the end 
of  January.  First  up  is  in  Helensville, 
which is also the Northland Sheep Dog 
Trial Centre Championship. It seems a 
bit  hardcase  to  start  the  season  with  a 
championship  but  clubs  host  these  by 
rotation.  Photos:  
7
KAIWAKA 
WEATHER 
Welcome  to  the  New  Year  every-
one.   
Well,  December  was  pretty  good 
really  I  think.  A  bit  of  nasty  wind 
however we had welcome rain at the 
beginning  and  end  of  December.    I 
believe out the end of Oneriri Penin-
sula  was  not  so  lucky  and  a  bit  fur-
ther in also missed the rain. It was a 
shame  Christmas  Day  had  to  do  its 
usual  wet  thing,  although  we  do  get 
nice ones sometimes.   
Well, on with the job. For December 
2013  we  had  149mm  at  Santa"s 
house  and  December  2012  we  had 
101mm;  we  recorded  9  days  of  rain 
in 2013 and 12 days of rain in 2012. 
Our  wettest  December  since  1987 
was 1988 with 210mm and the driest 
was 1984 with 4mm. 
For  the  year  2013  we  recorded 
1245mm  rain  and  the  year  2012  we 
recorded 1344mm.  
Our  wettest  12  months  since  1987 
was 2011 with 1736mm and the dri-
est was 1994 with 892mm.  
That is my lot until my February re-
port  (scary  isn"t  it)  soon  we  will  be 
turning  the  calendar  pages  over 
again.    Please  take  care  out  there. 
Think of others around you and those 
birds  and  animals  would  like  some 
water to drink and also a bit of shade 
will help if possible. 
Bev.
Top: Local Duncan Gilligan chalking 
the sheep to be drafted off by the next 
competitor 
Bottom: 13 year old Erin Ball, of Maun-
gaturoto,  and  Speed  penning  the  sheep 
in the heading dog competition.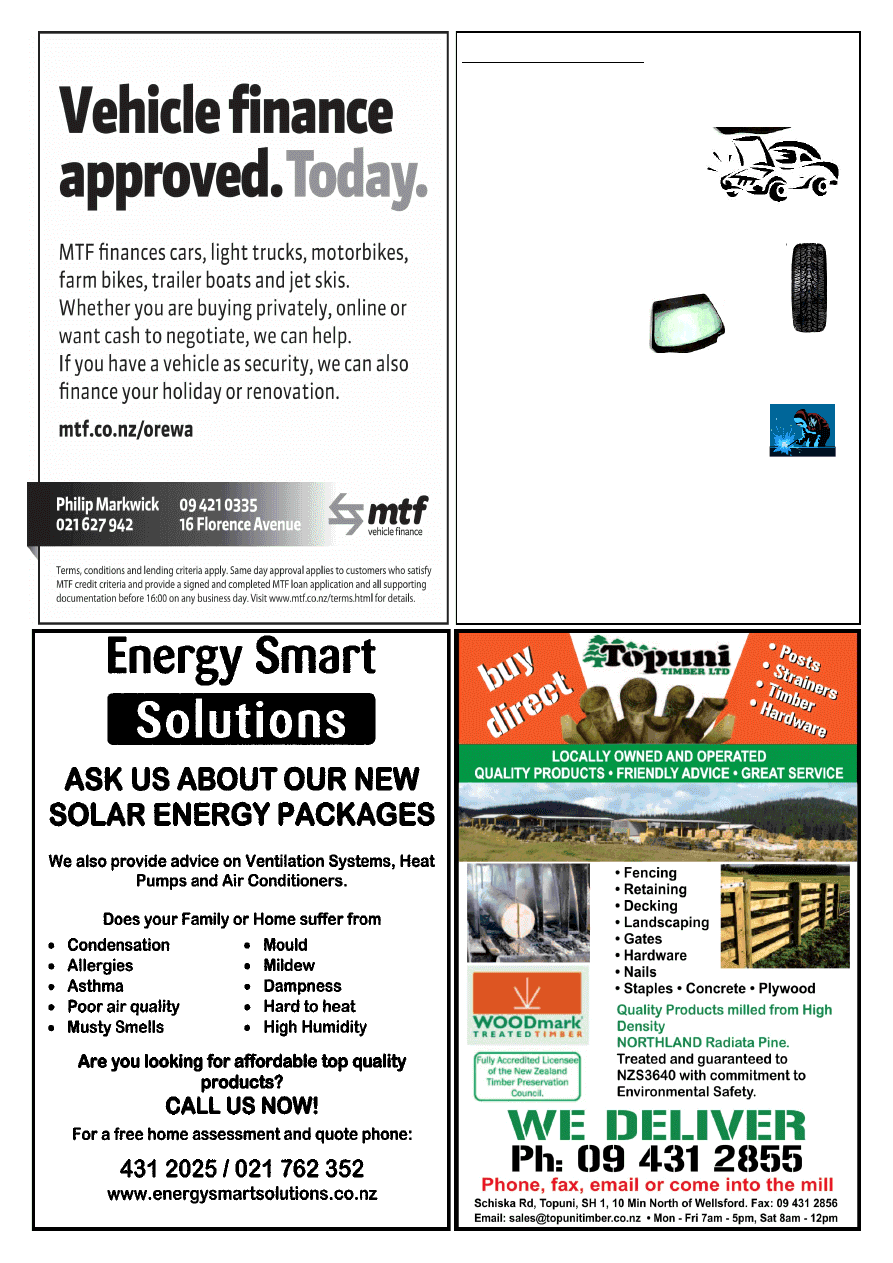 Want it done? 
Bring it to  
Twinkle Tow "n" Tyre 
*W.O.F. 
*Tyres 
*Windscreen replacement 
*Chip repairs 
*Bulk Oil 
*Batteries 
*Welding 
*Custom 
built 
trailers 
*Trailer hire 
Think you"ll get a better deal in the city? 
Go on, ring us; it won"t cost  
anything! 
1837 State Highway 1, Kaiwaka       
Phone 431 2823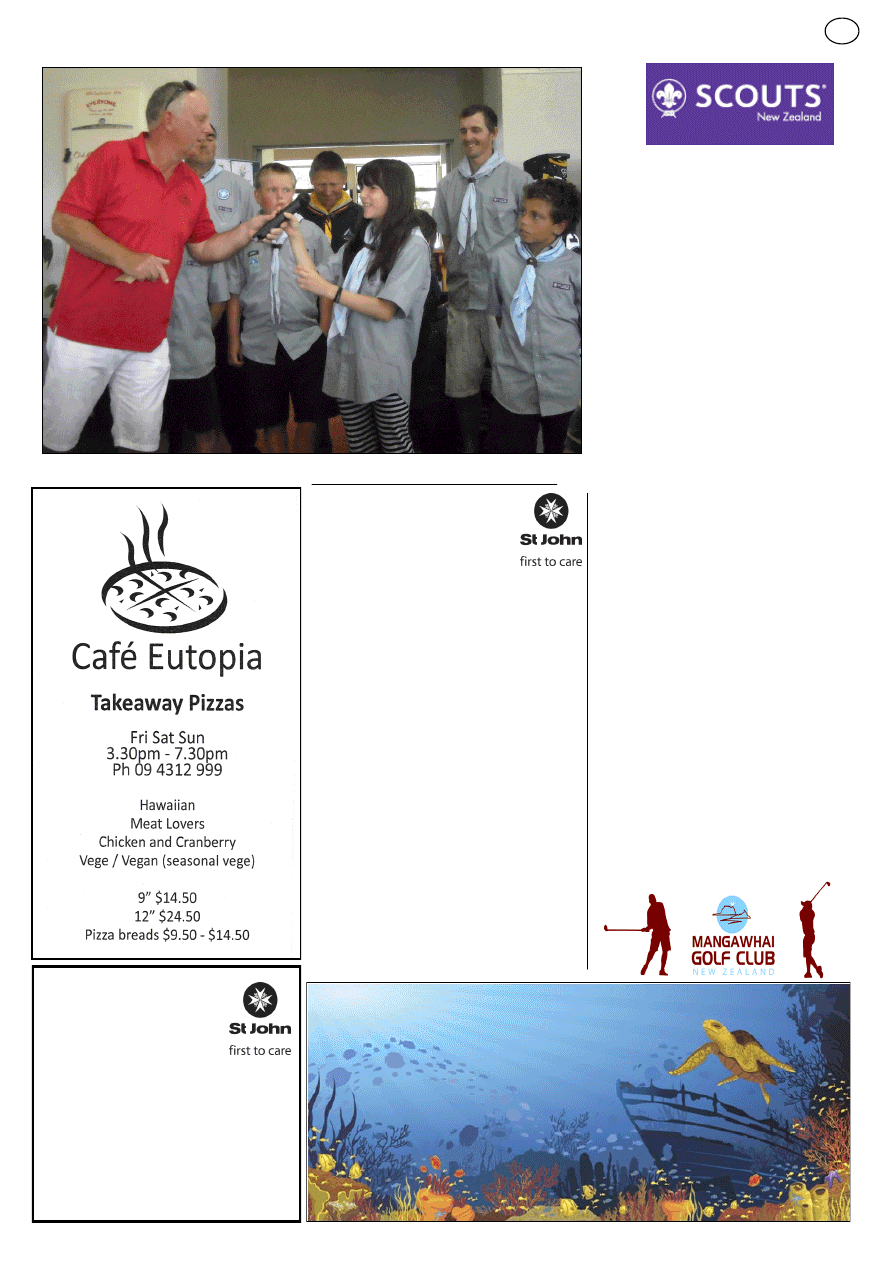 When you need St.John 
members at your 
function …... 
Get a Community 
Services Form 
….. see Milly at the  
Kaiwaka St John  
Op Shop.  
Phone 4312650 
MORE MEMBERS REQUIRED FOR 
THE KAIWAKA STATION. 
9
This  year  Mangawhai  Golf  Club 
President  Mike  Howard  supported 
two  worthy  causes  with  his  charity 
golf tournament held on Friday – the 
Kaiwaka/Mangawhai  Scout  Troop 
and the Mangawhai Activity Zone. 
A large contingent of golfers enjoyed 
a  day  out  on  the  course  and  then 
gathered  at  the  clubrooms  for  prize-
giving  and  a  chance  to  bid  on  an 
amazing  array  of  donated  prizes. 
Items  included:  a  signed  and  framed 
2011 All Blacks Tri Nations jersey, a 
day  on  the  Hauraki  Gulf  for  four 
friends  aboard  a  luxury  launch,  a 
week in Queenstown for four friends 
in a modern 3 bedroom home with a 
4  wheel  drive  vehicle,  a  round  for 
four  people  at  Kauri  Cliffs  golf 
course  with  use  of  a  BMW  for  the 
weekend, and more! 
The majority of the funds were raised 
from  the  charity  auction  but  also 
came from entry fees, hole sponsors, 
target  hole,  a  sausage  sizzle  and 
drinks  sales.  The  exact  amount  of 
money  raised  is  yet  to  be  tallied  but 
the 
Kaiwaka/Mangawhai 
Scout 
Troop  was  thrilled  to  hear  that  they 
will  be  receiving  approximately 
$10,000! 
Scout  Group  Leader  Bruce  Ferguson 
thanked Mike Howard for his efforts 
and outlined that the Scouts will use 
some of this money on much needed 
resources for the troop and on camp-
ing  and  tramping  opportunities  for 
the  children.  Scouts  Holly  Anderson 
and Bob Mills also thanked the golf-
ers on behalf of their Troop. 
This was a well organised, successful 
tournament 
and 
the 
Kaiwaka/
Mangawhai  Scout  families  are  very 
appreciative  of  Mike  and  the  Man-
gawhai Golf Club for their support – 
thank you! 
SCOUTS BENEFIT FROM CHARITY GOLF TOURNAMENT 
Mike Howard, President Mangawhai Golf Club handing over to Scout Holly Anderson 
ST JOHN OP SHOP 
Happy New Year, Everyone. 
We are now open again.  
Our volunteer staff had  
earned the rest! 
Shop hours are:  
10am-4pm Tuesday –Friday 
A NEW time for Saturday 10am-1pm. 
We will trial this time as the Saturday 
afternoons  have  not  been  busy  (too 
much on elsewhere?) 
Dirty Donations! 
As I have always said, "We are not the 
Dump!"  You  wouldn"t  buy  things  that 
are dirty, stained or broken. Odd shoes 
and  socks  aren"t  good  to  anyone,  so 
please don"t bring them here. 
In future we may have to check articles 
while  you  are  still  present-that  way 
there isn"t an added expense for the Op 
Shop. 
Xmas Raffle 
Our Xmas raffle was drawn by Dalleise 
at Jaques Store, and won by Rhonda of 
Rotorua. Thank you for your support. 
More Goods 
We  have  been  really  busy  since  we 
opened  again,  so  we  would  appreciate 
any  goods  you  may  have.  Thank  you.
~ Milly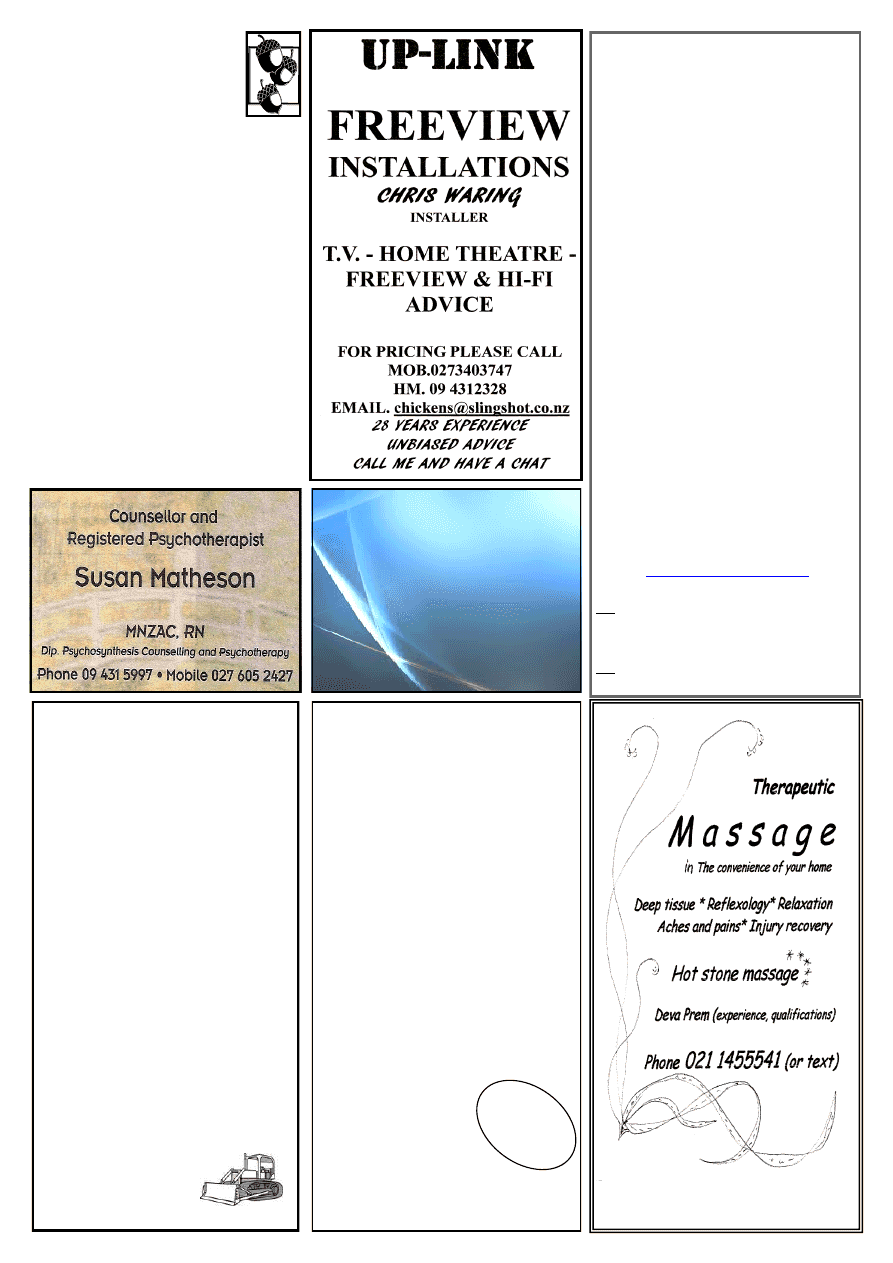 www.mangawhaimassage.co.nz 
Based ou
t  
Oner
iri Roa
d 
HODGETTS
CONTRACTING
Digger Work    

Driveways 

House Sites   

Dams 

Drains, etc
Also available for HIRE 

3 ton Vib Roller 

Heavy Duty Tow 

Waterblaster  

Lazer Level 
Phone Mark 
4312877 
027 447 8554
BONJOUR MESDAMES ET 
MESSIEURS!! 
Need that extra help to feel...fully on top of 
things? You guessed it...  
 I can help!...with all those winter niggles.
Monsieur Masseur .... 
RELAXING  
MASSAGE
..... Juste pour vous" 
Here's feedback from happy clients: 
"When I came in for a massage, I was 
stressed and my body was sore.. 
Prior to my massage, Pete counselled me, 
using positive affirmations and visualisa-
tion.. I relaxed and responded to massage 
treatment a lot quicker, I feel. I am still 
using these affirmations on a daily basis. or 
when I feel stuck.." 
Call for an appointment now!
Pete Worsfold 
4312 009 (evenings)  or    
021 825970   
Flat 1 1933 SH1 
Or  Book at "The Well of Health" 
for an appt. 09 4312 799 
 
Or mobile service available 
Coates  
Contracting 
 
D41 Bulldozer with 6 
way blade, bush rigged 
with winch 
 
For all tree work 
 
General bulldozing and  
  stick raking. 
 
120hp Tractor for 
ground cultivation,  
 
tip trailer work. 
 
Fencing
All enquiries phone  
Brett Coates  
094318720 or mob 
021431872 
Freeview  
Installations 
Richard Te Haara 
25 Marram Place 
Mangawhai Heads 
021 1104056 
kiwipride@xtra.co.nz
Offers Supervision
A NEW ATTITUDE 
For  things  to  change  for  the 
better,  you  must  "change  the 
way  you  think."  For  example: 

View setbacks as detours, not 
dead  ends.  Winners  don"t  just  face  ad-
versity;  they  embrace  it,  knowing  it 
leads to future success.  

Tune out the critics and focus on doing 
your  best.  Anybody  who  accomplishes 
anything  worthwhile  has  to  overcome 
naysayers. 

Instead of complaining, work on iden-
tifying solutions, and more will come to 
you.  

When  you"re  distracted focus on  your 
breathing,  take  a  walk  and  clear  your 
mind,  think  on  what  you  can  control, 
and surrender the rest to God.  

When you"re fatigued, take time to rest
-but never ever give up! Finish strong in 
everything you do.  

When you"re under pressure and under 
scrutiny,  smile  and  have  fun.  You  only 
live  once.  Life  is  short...  so  seize  the 
moment!  
~ from 'The Word for Today' RBG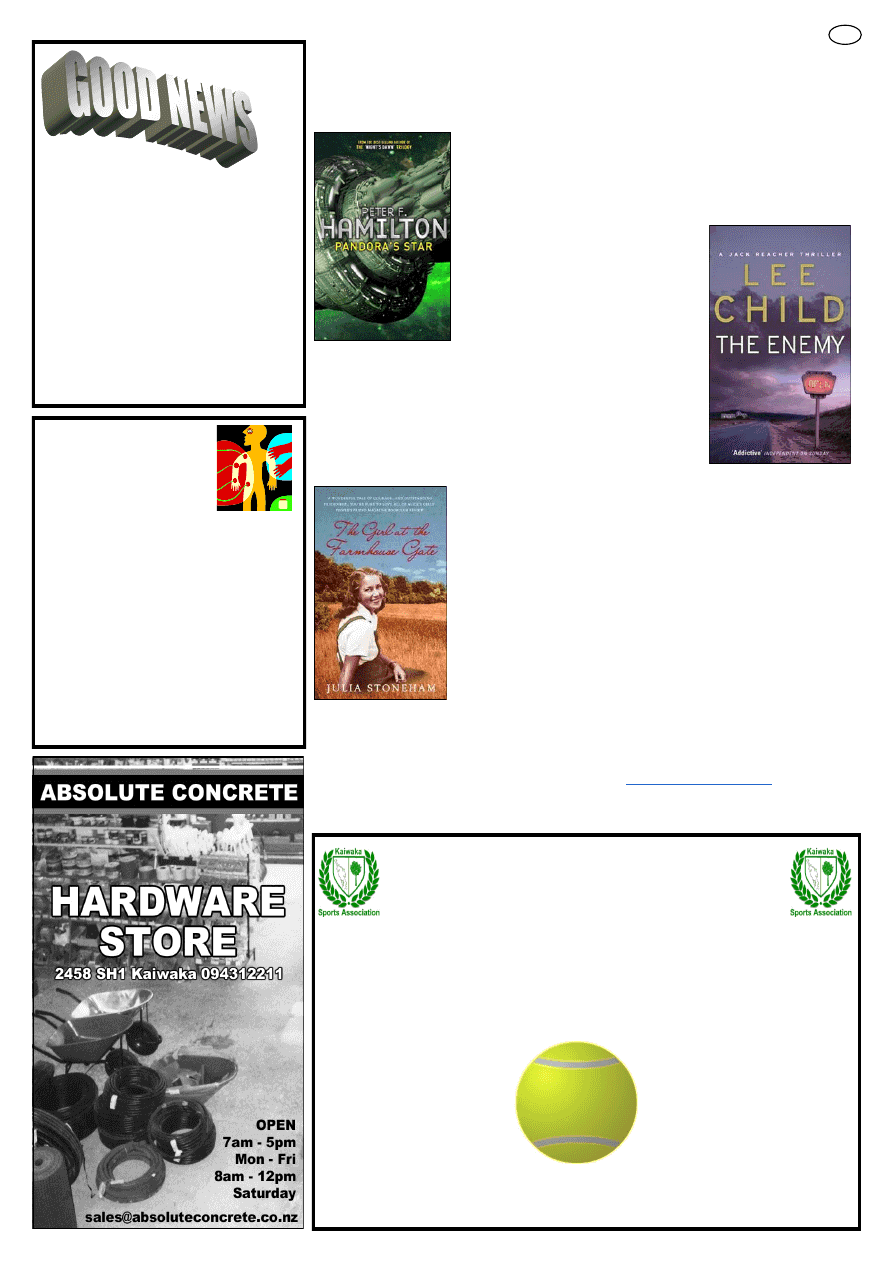 @ the  
Kaiwaka Family 
Church 
Your COMMUNITY CHURCH 
RECEIVE HEALING 
  RECEIVE THE LOVE OF GOD 
  Everyone warmly welcome each                                            
    Sunday 10am. 
Contact: Pastor John Dekker,  
09 4318203 
THERE'S 
OWEN STEVENS 
Osteo Therapist
For careful 
adjustments to bones 
and joints 
Treatment for  humans and their 
pets 
Clinics: Kate's Place, Kaiwaka: 
Last Friday of month 
Warkworth Showground:  
2nd Thursday, monthly          
For  bookings:  9.00am-5.00pm  
Phone 
09 4312661 
 Or phone Owen   
09 4317123  anytime 
11 
OTAMATEA  
TENNIS TOURNAMENT 
Anniversary Weekend 
Kaiwaka Sports Complex 
Spectators are very welcome, so come 
along to watch some quality tennis! 
I hope everyone had a good festive sea-
son  and  are  now  refreshed,  ready  to 
read a new load of books! 
If  you're  looking 
for  ideas,  don't 
forget  to  check 
out  the  folder  of 
book  reviews  in 
the library - there 
are  more  than 
160 
reviews 
there, 
gathered 
over  the  years 
from  the  contri-
butions 
posted 
here,  on  Face-
book and Google+, including the 1100-
page  book  I  read  over  the  Christmas 
break!  It  only  took  me  three  weeks  to 
read,  and  I'm  now  more  than  halfway 
through the sequel which is 100 pages 
longer  -  I  love  Peter  F.  Hamil-
ton books! 
Over  the  break  I 
also read The Girl 
At  The  Farm-
house 
Gate, 
by  Julia  Stone-
ham. 
Starting 
where 
"Muddy 
Boots  and  Silk 
Stockings" 
left 
off,  Alice  is  cele-
brating  her  first 
anniversary 
as 
warden  in  the 
Lower Post Farm hostel for Land Army 
girls. As she's gained more confidence 
in  her  job,  she's  gotten  to  know  the 
girls  in  her  care  and  the  neighbours 
better,  and  becomes  entwined  in  their 
lives.  There's  a  lot  of  looking  back  to 
the events of the first book to see how 
KAIWAKA LIBRARY 
current happenings came about, which 
gets  a  little  tedious  in  the  recapping, 
but  otherwise  I  enjoyed  this  tale.  It's 
the  second  of  three  books,  the  third 
will appear in the library when I locate 
a reasonably-priced copy. This book is 
on  the  Rental  Fiction  shelves  in  the 
library. 
I 
also 
re-
read  The  Ene-
my,  by  Lee 
Child. 
New 
Year's 
Eve, 
1989.  The  Ber-
lin  Wall  is  fall-
ing.  Two  days 
ago 
Reacher 
was 
removed 
from his assign-
ment in Panama 
to  Fort  Bird, 
North  Carolina 
and tonight he is pulling the unwanted 
overnight  duty  officer  shift.  A  soldier 
is  dead  in  a  motel  room.  A  two-star 
general, no less. He didn't see the new 
year  in.  It  appears  he  hadn't  been 
alone,  and  his  briefcase  is  missing. 
This is the eighth Reacher book, but it 
was one of the first of the series I read 
- you don't need to read them in order. 
It  is  good,  typical  Reacher,  and  I  en-
joyed reading it again. This book is on 
the Rental Fiction shelves. 
See you in the library! 
Wendy Howard, Librarian
Kaiwaka Library, cnr State Highway 1 and Kai-
waka Mangawhai Road. PO Box 89, Kaiwaka 
0542. Phone 4312 539. 
 Open Wed-Sat 
10am-2pm, Mon 4-6pm. Membership is available 
to all residents in the Kaiwaka area.
Saturdays 
By 
Arrangement 
Open  
Mon-Fri  
8am-5pm  
Gentle Dental 
Ruakaka 
We love to see you smile 
" 
General  & Cosmetic Dentistry 
" 
Emergency & ACC Treatment 
" 
Denture & Hygienist Services 
" 
Senior Citizen Discounts 
" 
Free Adolescent Care 
" 
Free WINZ Quote 
19 Ruakaka Town Centre 
Dr Sim Sood & Associates 
You're in gentle hands 
Ph:  432 8139 
Celena's Gifts 
-
gifts for all occasions 
NOW OPEN 7 DAYS 
1925 State Highway 1 
KAIWAKA  
Ph: 09 4312741
High Capacity Charger & Jump Starter – bring your own power! 
 
This incredible, light weight POWER BANK can not only jump start your car (Ladies: make yourself independent of male help! Is 
safer too!), but can also charge your mobile, iPhone, iPad, , iPod, Tablet, Laptop, mobile CD player…. 
So use it when hiking, biking or have it handy in the car/motor home/boat  whenever you need it: 
POWER ANYTIME, ANYWHERE! 
LIFESAVING FUNCTIONS: 
Hammer:  to crash the wind screen in case of an accident and you are stuck in 
the car 
LED flash light, torch, a flashing light or SOS signal! 
NO more flat mobiles, laptops, tablets………….. 
 
Once charged, it keeps its power for MANY applications (eg: it can charge an 
iPhone4 at least 5 times, started my car: 2.2l, 115kW, 150hp 45 times!). 
Introductory price $199. For more info please visit: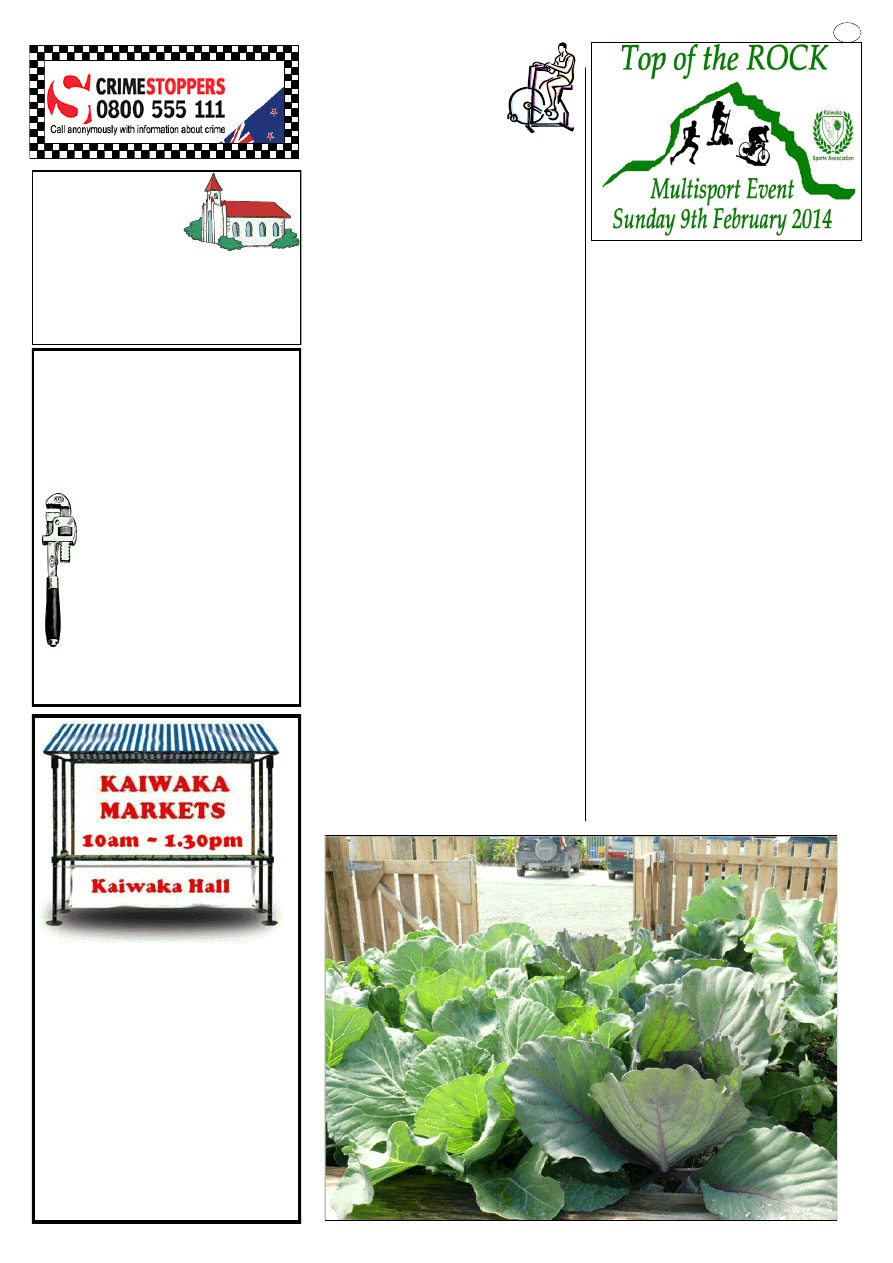 BARRY CURTIS  
PLUMBING LTD 
REGISTERED CRAFTSMAN 
PLUMBER 
Phone 4315572      
027 257 9884 
  25 years experience   
        Friendly reliable service 
        All plumbing & maintenance 
        Alterations and new housing 
        New wood fire installation 
        Spouting 
Competitive rates 
PROMPT EFFICIENT  SERVICE 
ST PAUL"S  
SUNDAY  
SERVICES
First Sunday 9.30am, third Sunday 9.30am  
 Paparoa Anglican   
St Pauls Church: Kaiwaka-Mangawhai Rd.  
1st Sun. (Anglican), 3rd Sun. (Family Service) 
Contacts:M.Hargreaves 4312295, C.Bygrave 4312057  
KAIWAKA  
FITNESS 
Happy New Year to you all, 
I  hope  you  all  had  a  good 
Christmas  and  New  Year 
and had a break away like me. I spent 8 
lovely days away in Coromandel town-
ship  with  my  mum,  brother,  sister  in 
law and of course Jack and my fat dog, 
not so fat now after many a long walk 
through beautiful bush. 
We are so lucky that local government 
and  councils  are  now  opening  up  the 
country  side  with  such  walks.6  am  in 
the  morning  looking  over  the  Coro-
mandel  harbour,  beautiful  to  say  the 
least.  I  also  managed  a  few  gym  ses-
sions  but  after  the  4th  morning  I 
thought  that  was  probably  enough  by 
the look on my mum"s face. Took Jack 
fishing most days not many fish caught 
but it was nice just sitting watching the 
ocean. 
Now back to reality and plans for 2014. 
Thanks  to  Anna  for  looking  after  the 
gym while I was away and making sure 
there was plenty of loo paper. 
If you have missed the early bird entry 
to  The  Top  of  the  Rock  you  can  still 
enter, I have talked my mum into it at 
73years, if she can do it I am sure you 
can too. 
If you need a hand to put a plan in ac-
tion for the New Year, I am willing to 
help you with a plan of action, just give 
me  a  call.  With  the  weather  being  so 
hot at the moment it is hard to get mo-
tivated,  I  find  getting  up  early  to  my 
cardio works best, at least then you can 
relax  for  the  rest  of  the  day  knowing 
you have done something constructive. 
If you are not a morning person, try in 
the evening when it cools down a bit. 
We now have a face book page thanks 
to Steve, check it out. 
Like I say if you need a hand give me a 
call.  
~ 
All for now, Jules 
Held every 2
nd
 Sunday 
of the month 
In the Three Furlongs 
Hotel Carpark 
Sunday  
9 February
Produce, fish, clothing, 
art, new & used goods 
+ much more 
Enquiries to:  
Mandy 09 431 8717 
Promoting the learning 
and sharing of organic 
gardening skills in our 
community. 
The  Kaiwaka  Community  Garden  is 
up and running!  Carpark space behind 
the  Kaiwaka  Memorial  Hall  has  been 
converted by locals on Northtec cours-
es  into  beautiful  food  gardens.    Stu-
dents on successive Carpentry courses 
built  the  tool  shed  and  fence  and  the 
Sustainable Rural Development (SRD) 
course  built  the  garden  beds  and 
greenhouse.  The free topsoil provided 
by  Shane  Cullen  and  post  peel  from 
Parkers was much appreciated. 
The garden will be managed in an on-
going  partnership  between  the  local 
community  and  Northtec.    Food  from 
the  garden  will  be  eaten  by  those 
working  in  it,  and  surplus  will  go  to 
either food boxes or the Op Shop.   
If you are interested in being involved, 
come  along  on  Sunday  afternoons 
from  4–6pm,  to  do  some  gardening 
and share ideas.   
Northtec  are  running  more  courses 
starting in February if you are interest-
ed  in  the  SRD  course  contact  James 
Andrews  on:  4313109.      For  the  Car-
pentry course, contact Tim Magill on: 
021 487 055  
Photo  below  of  cabbages  in  the  Kaiwaka 
Community Garden 
13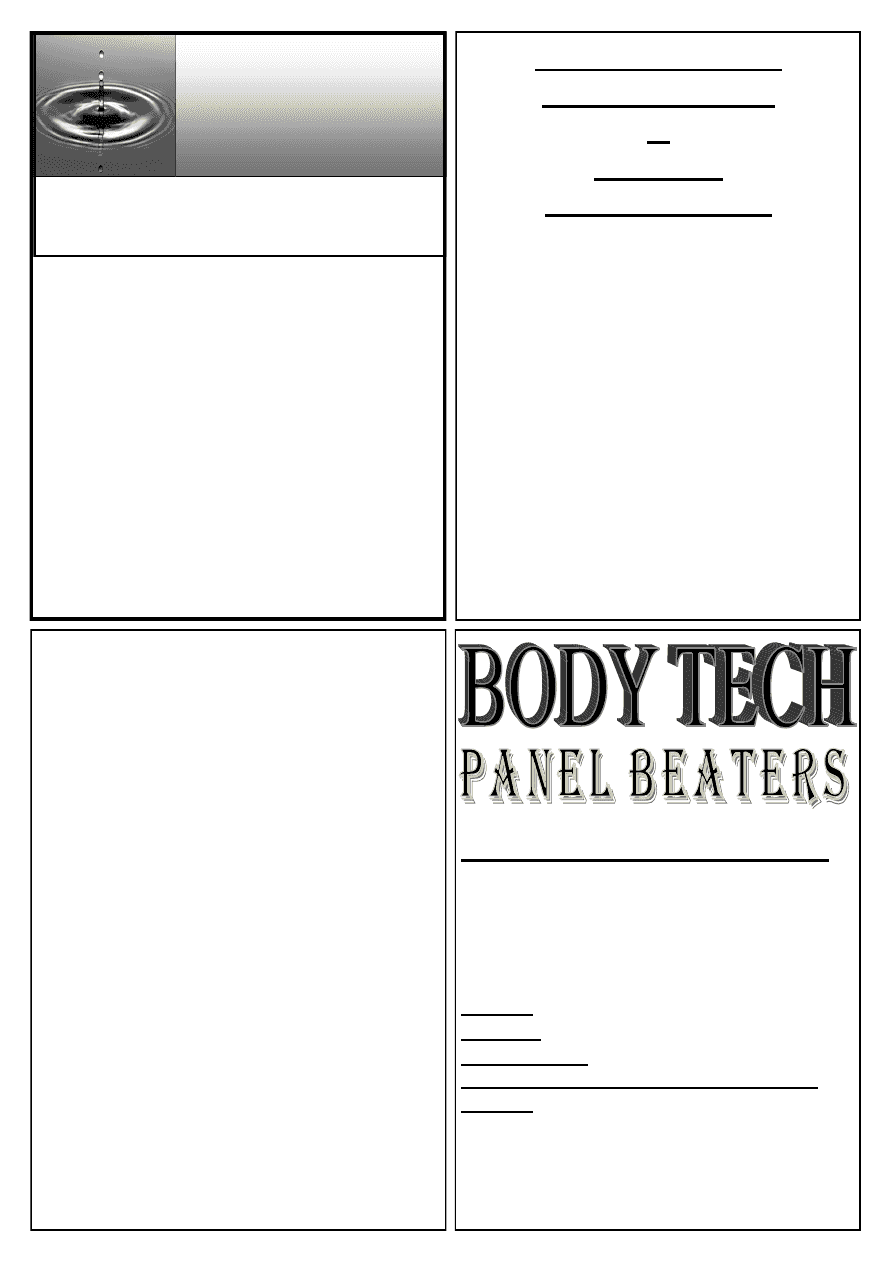 PETE WORSFOLD M. Soc. Sc. 
Student Counsellor 
 
 peteworsfold@xtra.co.nz 
 021 825 970 
Professional Service 
Variety of Modalities 
By Appointment Only 
PAUL SAUNDERS 
LAWNMOWING  
&  
GARDEN 
MAINTENANCE 
 
Lawns and edges 
 
Section mowing 
 
Hedging and trimming 
 
Spraying and fertilising 
 
Tree planting 
 
Green waste removal 
 
Pruning 
Friendly and reliable service guaranteed 
Call now for a free no obligation quote 
021 886 843 
09 431 2731 
Servicing Mangawhai and Kaiwaka  
and surrounding areas 
paulsaunders99@gmail.com 
For all your body repair needs!! 
We do: 
Rust repairs 
Insurance work 
Anti-corrosion treatment         
Hours: 8.30am-5pm Monday-Friday  
Mobile: 021 118 0462 
After hours: 09 431 2384 
Phone: Craig or Call in for a free Quote 
e-mail: 
bodytech_panelbeaters@yahoo.com
We are located at 1837 SH1 Kaiwaka, behind Twinkle 
Tow "n" Tyre call in anytime for a free quote.  
Large and minor vehicle  
  repairs 
Industrial vehicles 
Full Cut and polishes 
FOR 
INDIVIDUAL ONE-ON-ONE 
COUNSELLING 
MODALITIES: 
CBT  
Grief 
Gestalt 
Relationship 
Person-Centred  
Trauma 
Solution Focussed 
Couples 
Behavioural 
Adolescents 
Careers 
Call for Appointment 
At "The Well of Health" 
09 4312799 or 021 825 970 
KAIPARA  FLOORING  CO 
32 HURNDALL ST MAUNGATUROTO 
Ph: 09 9469886 or 021 515 415 
Carpet, vinyl, laminate wood look  
flooring, vinyl planking, sanding  
& polyurethane service. 
Carpet Short Ends from $79pm + GST 
Vinyl D.I.Y. peel n stick tiles $10sq mtr + GST. 
Free measure & quote.   
Mobile Service 
Phone Christine or Howard anytime 
Open Saturdays by arrangement.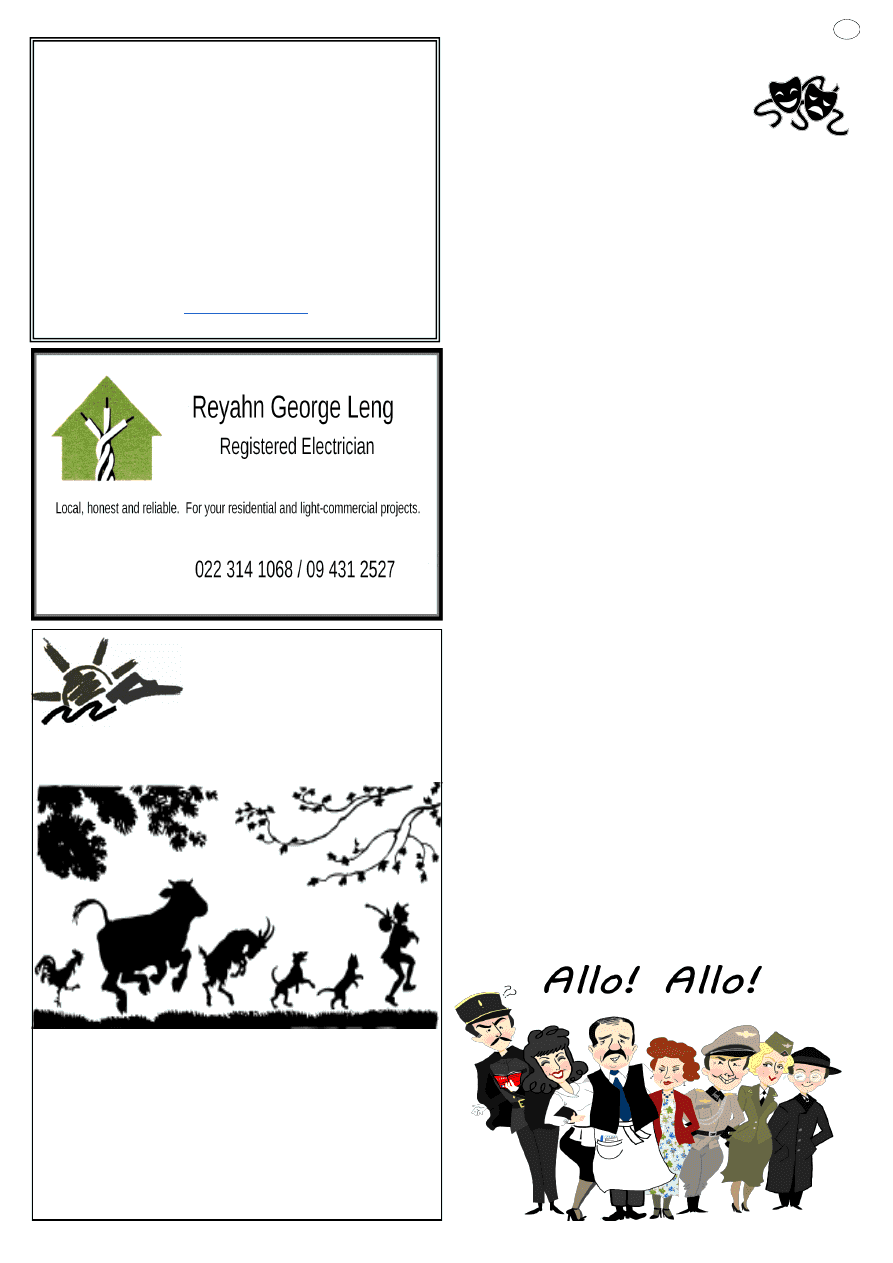 15 
~ Our comprehensive team 
 is here to care for  
all your large & small animal needs ~ 
24 HOUR EMERGENCY SERVICE 
Ph:  09 431 4535
Otamatea Repertory Theatre Inc 
"1001 Arabian Nights" 
Another  great  show  to  end  2013,  a  year  of 
feverish activity by ORT! 
Congratulations  to  all  cast  and  crew  of  the 
pantomime  and  of  course to  the  first-time  director,  Sasha 
Dyer. 
"SHOWTIME" 
At last, the series has been screened and we trust that you 
enjoyed watching local people on national television. It is 
to be hoped that New Zealand is now aware of Maungatur-
oto and that we have one of the finest "professional" ama-
teur theatre groups in the country! 
Which also means that ORT is always looking for "support 
members" who may not wish to be on stage but have some 
attribute that could contribute to a show, such as:  

The design of costumes and/or sew? 

Design, build and paint sets? 

Join the make up department. 

Operate lighting or sound systems or wish to learn? 

Could you work Backstage? 

Be part of the Front of House team?  A very important 
part of the theatre. 

Have promotional expertise or ability 
If  you  think  that  you  may  have  something  to  contribute, 
come along to the theatre or contact a member of the ORT 
committee. 
"Listen  very  carefully,  I  shall  say  ziss  only 
once."  
"Allo  Allo"  returns  to  ORT  for  another  season  with  a 
whole "NEW" cast. All your favourite characters are there 
and will be giving a great performance for your entertain-
ment "or else zey vill be taken to Berlin and shot" 
Show dates are March 21 & 28 at 7.30pm and 22, 23, 29 
and 30 at 2.00pm. 
Bookings  open  mid-February  and  will  be  available  at  the 
usual  outlets,  Tony"s  in  Maungaturoto  and  on  line  at 
www.ort.org.nz 
One Act Play Festival. 
This year ORT will be commemorating the 100 years since 
the  beginning  of  World  War  One  with  a  wartime  theme 
incorporated in the One Act Play Festival. Now is the time 
to  consider  writing  a  play  or  to  become  involved  in  this 
exciting activity at your theatre. 
There will be a "Find Out About It" night at the theatre to 
explain what is involved in the festival. 
Please contact ORT or a committee member for more in-
formation. 
Programme for 2014. 
The remaining programme for 2014 includes the "Wizard 
of Oz" in July. "Arts on Tour" will be back in June with 
the New Zealand play "Breeches, Bonnets and Big Balls". 
Look 
out 
for 
auditions 
and 
show 
dates. 
Visit our website www.ort.org.nz 
Indian Head Massage
'Relaxing the body and mind' 
with a focus on upper back, shoulders, neck, head and face 
25 minutes seated and clothed  
no oils used. 
At several local clinics and markets. 
$25 
  Brochure and Gift Vouchers at Well of Health shop. 
 Call Yatra on 021 2377678 
The Vet Centre
36 Moir Street, Mangawhai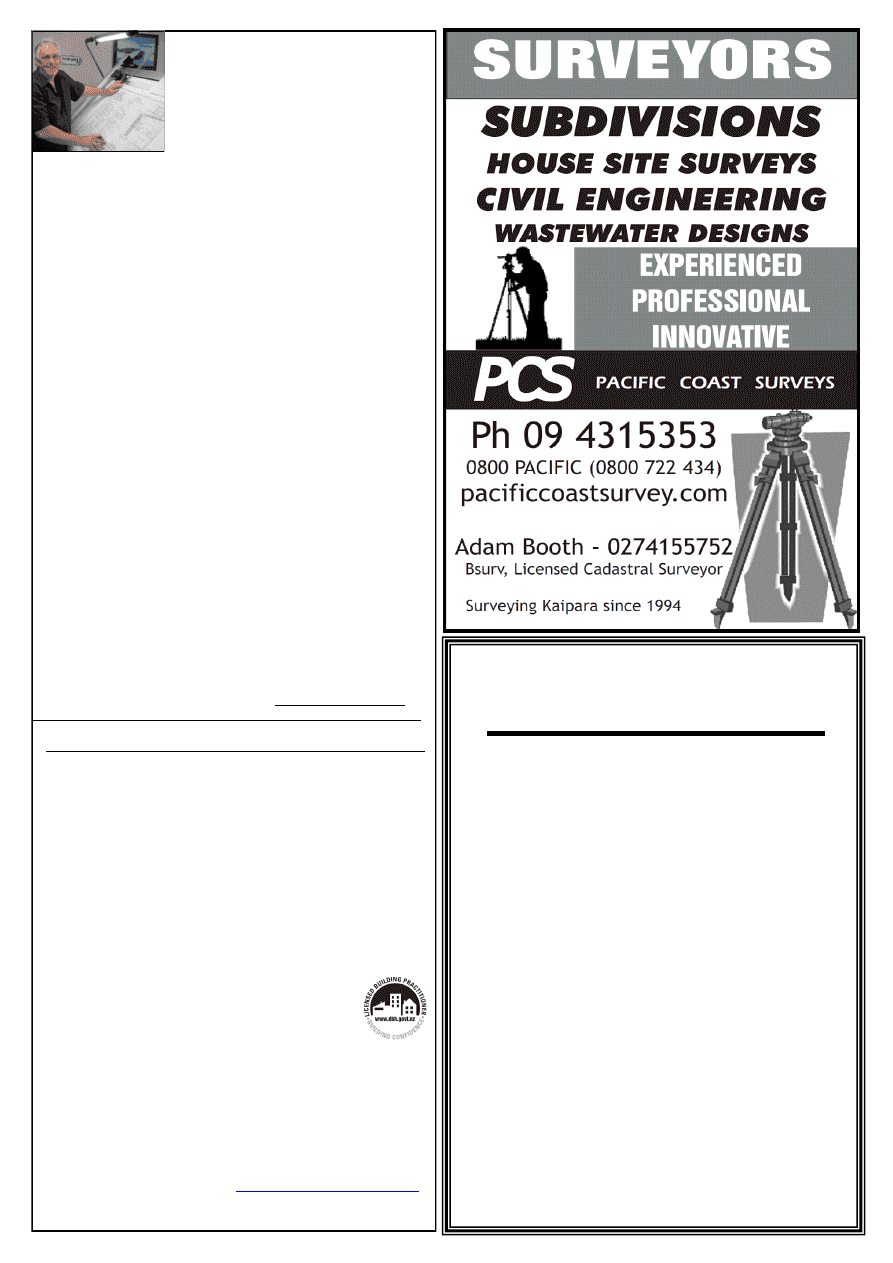 STOCKFOOD
GREAT RANGE FOR ALL YOUR LIVESTOCK  
AT GREAT PRICES 
 ALSO CHECK OUR 
DOG BISCUITS 
20 KG FOR $58.90 
LPG REFILLS 9KG 
STILL ONLY $31.50
MANGAWHAI SERVICE 
STATION 
(09) 431 4242 
44 MOIR STREET IN THE VILLAGE 
ARCHITECTURAL 
BUILDING PLANS 
AND DESIGNS 
20% Reduced Cost - design and planning. 
If you are thinking of building, then you need 
to make use of cost savings in architectural 
design as well as having a good and well experienced designer. 
This applies if you are considering a new home, any alterations or any 
building additions/farm buildings, sheds, alterations, whatsoever. 
There are many things that are frustrating if you are not totally 
familiar with what all details are required by Councils -especially 
with new regulations in force to ensure everything runs smoothly - 
e.g. Resource and Building Consents, planning restraints, new 
building materials ,applying for building permits, dealing with 
building contractors to name a few -you need a capable,  
experienced and professional designer with a clear knowledge of 
all the processes. 
WE CAN HELP YOU CLARIFY ALL OF THESE ITEMS 
 
AND MAKE LIFE RUN MORE SMOOTHLY. 
Brian of Wright Design has been helping and organising all these 
facets of design and building for over 40 years. 
With needs of family changing and the economy - building require-
ments constantly being reorganized and made more complex, it"s very 
important to obtain professional advice for any building project - no 
matter what size. 
Brian advises on design, materials, permit applications, builders 
and subcontractors for any project - no matter how small or large 
ALL THIS AT A REDUCED COST so YOUR DOLLAR    
GOES FURTHER  
Wright Design offers free visits, consultations and all the advice 
you need on planning. Design, building, contractors, council  
permit applications, guaranteed permit plan acceptance. 
QUALIFICATIONS 
Brian is a qualified designer (NZCAD) with over 40 years of varied 
experience in all types of building and is a registered and Licensed 
Building Practitioner in Design - L.B.P. 117345 
He ensures you will achieve the best from your budget with  
recommended excellent local contractors ready to competitively 
price and build your personal project quickly and efficiently. 
EXPERIENCE 
Brian"s practical building and 40+ years of design experience 
means he can give you excellent advice and all the guidance need-
ed for all your building needs, 
FEES: To help you attain your project Brian has reduced his 
costs by 20%, giving you extra funds for the rest of your project. 
ENGINEER: Brian can arrange engineering for a reasonable cost. 
THIS IS AN ABSOLUTELY GENUINE FEE REDUCTION!! 
Qualified and inexpensive designer – N.Z.CAD., LBP 117345 
Guaranteed design and working drawings 
Free site visit to your home or property 
Great service 
Obtain a free quote with 20% Discount. 
PROJECTS 
Additions, alterations, basements, new houses, motels, bed and 
breakfast commercial buildings and shop fit outs are a few pro-
jects he has been involved with. 
Brian can show you many of his projects in the area to emphasise 
his versatility 
WHAT TO DO FROM NOW 
Call Brian   
Arrange a visit 
Discuss your needs 
Obtain great advice.  
Obtain a free quotation - with a true 20% discount 
Make a decision based on the facts - You Won"t Be  
Disappointed! 
MAKE GOOD USE OF HIS EXPERIENCE AND 
THIS   GREAT OFFER OF REDUCED FEES OF 
20% 
Brian can offer plan printing-from A4 to AO (2 x A1 size) 
WRIGHT DESIGN 
Brian"s office is at: 360 Oneriri Road, Kaiwaka, North-
land 0573  
Call in for a chat and a coffee, or he will call on you at your 
home if preferred. 
WRIGHT DESIGN: Office 09-4312544   
Mobile 021 276 7389 
Email: 
www.wrightdesign.co.nz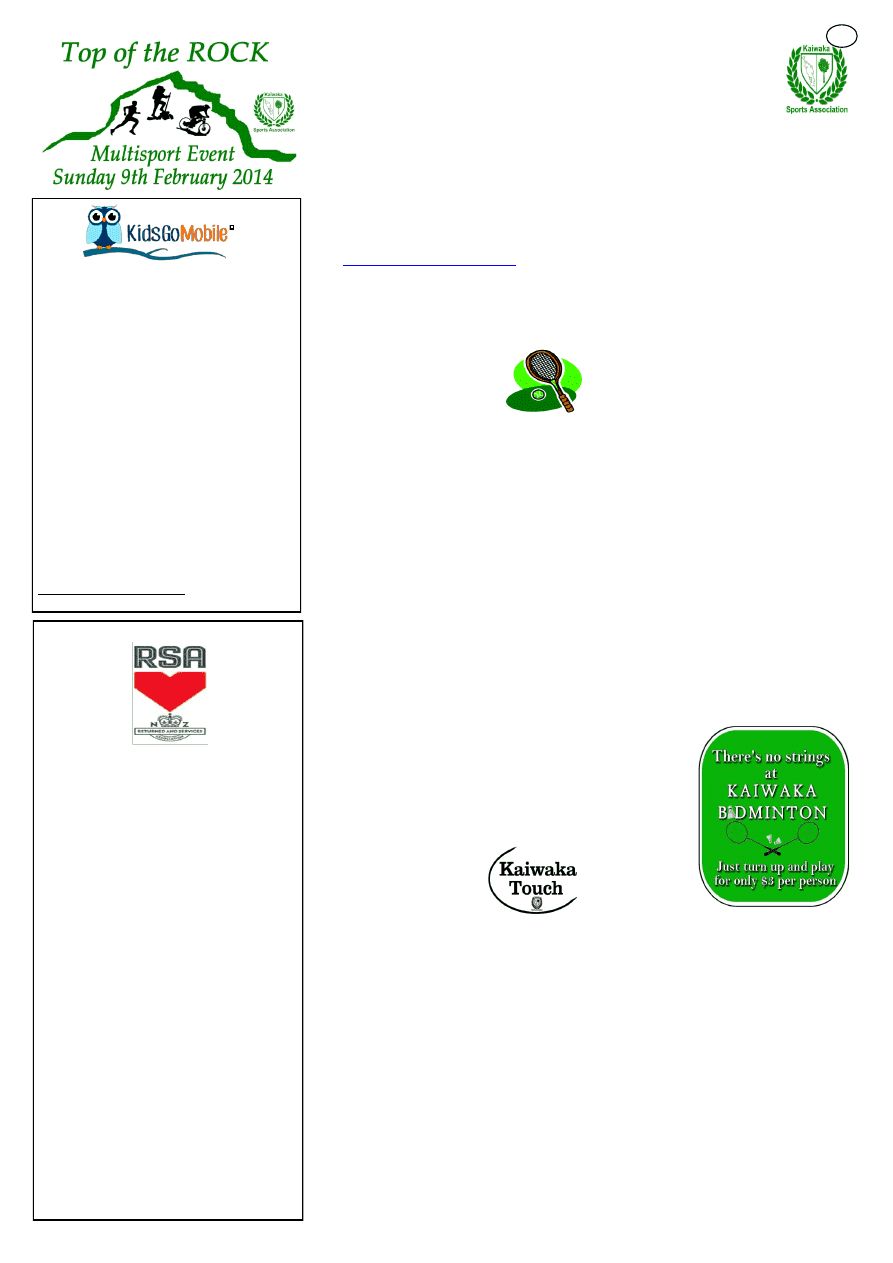 17 
KAIWAKA SPORTS ASSOCIATION
HAKARU  
& DISTRICTS  RSA  Inc 
Each Friday night 
From 6.30pm 
Meals will be served 
 2nd Friday of the Month 
Is Roast Dinner Special 
Come along and enjoy  
our Hospitality  
For more information 
   Ring Heather 431466 
or Jan 4314512 
Reynolds on 9450 502. 
Rugby–Intermediate 
Any  boys  wishing  to  play  Under  14's 
or Under 16's for the 2014 rugby sea-
son must attend the Rally Day on Sat-
urday February 8
th
, 10am at the Maun-
gaturoto  Country  Club  with  your 
parent/caregiver. Parents please do not 
drop off your son off and leave  - it is 
very important you remain for the du-
ration. 
There  will  be  a  meeting  for  all  IMB 
parents  to  discuss  the  new  season  on 
23
rd
  January,  7:30pm  at  the  Maunga-
turoto 
Country 
Club. 
Any  IMB  enquiries,  please  ring  Brett 
Coates on 4318 720.  
Rugby – Senior 
New  Otamatea  Hawks  coach  Dean 
Kenny  and  the  club  committee  are 
well  underway  in  planning  for  the 
2014  season.  Trainings  will  begin  on 
Tuesday 21
st
 January at 6.30pm at the 
Kaiwaka grounds – past and new play-
ers welcome.  
The  Hawks  will  play  pre-season 
matches  against  East  Coast  Bays  on 
Saturday  22
nd
  February  at  the  Sports 
Complex, at noon and 3pm – why not 
come  along  to  see  how  the  guys  are 
shaping up for the season? 
There will be a club meeting on Thurs-
day  23
rd
 January  at 7pm  at  the  Sports 
Complex in preparation for the begin-
ning  of  the  season  on  Saturday  1
st
March.  
Any Hawks queries, please ring Kevin 
Robinson on 4318 280. 
Badminton 
Badminton  has 
started up again 
for  the  new 
year. Players of 
all  ages  and 
abilities 
are 
welcome  so  if 
you  are  keen, 
simply  turn  up 
to our gymnasi-
um  on  Tues-
days 
from 
7.30pm.  Only  $3  per  person,  play  as 
long  as  you  like  (please  wear  soft 
soled  shoes).  Club  rackets  are  availa-
ble  for  you  to  borrow  at  no  cost  and 
coaching  available.  And  due  to  popu-
lar  demand,  the  club  has  now  opened 
up  a  second  session:  Saturdays  3  – 
5pm. 
Any  badminton  queries,  please  ring 
Kaye Fleming on 4312 345. 
Cheryl Anderson 
4312 051, 021 3462702 
kaiwakasports@gmail.com 

Otamatea Tennis Tournament 
Anniversary Weekend 

Top of the Rock 
9th February 
The  newly  developed  KidsGoMobile 
application  helps  parents  keep  their  kids 
safe  on  internet-enabled  devices  such  as 
iPods, smartphones, iPads and tablets. 
KidsGoMobile is an online digital parent-
ing  platform  where  parents  can  manage 
their preteens device activity, set notifica-
tion  triggers  when  children  engage  in 
risky  activity  and  receive  best  practice 
advice for mitigating risks. The company 
was  founded  in  early  2013  by  Pamela 
Ward and Saskia Wallace with a vision to 
see the next generation grow up with the 
tools  and  support  they  need  to  become 
safe, responsible digital citizens. 
KidsGoMobile  is  based  in  Wellington, 
New  Zealand and  has recently  graduated 
from New Zealand"s first digital accelera-
tor  programme  –  Lightning  Lab.  
For 
more 
information 
about 
KidsGoMobile,  please  visit  our  website 
or  follow  us  on  social  media: 
Top of the Rock 
Our  annual  multi-sport  challenge  the 
Top  of  the  Rock  will  be  held  on  Sun-
day 9th February – I already have near-
ly  100  entries  so  it's  shaping  up  to  be 
another successful event! 
Prices are very reasonable for a enjoya-
ble  day  out  –  for  example  the  5km  or 
10km run/walk is $15 for adults, $5 for 
children and preschoolers are free. 
Entry forms can be found on our web-
site 
 You can 
read  the  article  in  this  edition  of  the 
Bugle for further details. 
Otamatea Tennis Tournament 
Our  annual  tennis  tournament  will  be 
held at our courts this week-
end.  This  tournament  at-
tracts  quality  players  from 
all  over  Northland  and 
Auckland  so  feel  free  to 
come  along  to  watch  some  top  tennis. 
There will be food and drink available 
throughout the day. We are looking for 
some volunteers to help in the kitchen - 
cooking  toasties,  making  filled  rolls 
etc,  so  if  you  can  spare  a  couple  of 
hours  please  phone  Lindell  Ferguson 
on 4312 542.  
There  will  be  a  social  on  the  Saturday 
night,  so  you  are  welcome  to  come 
along to the pavilion to join in the fun! 
Junior Tennis 
Tennis  coaching  by  John  White  starts 
up  again  on  Monday  10
th
  February  at 
4pm at our courts. This is for all school 
age players, new members are welcome 
and we have club racquets available for 
your use. 
If  you have a child who may be inter-
ested in playing tennis, please ring Lin-
dell Ferguson on 4312 542. 
Touch 
If  you'd  like  to  play  in  our  Summer 
Touch Module, there's still time to reg-
ister – you can either en-
ter  a  team  or  enter  as  a 
single  and  you'll  be 
placed  in  a  team.  The 
Touch  module  will  be 
held  at  the  Sports  Com-
plex for eight weeks on a Sunday after-
noon starting on Sunday 2nd February. 
This  is  a  casual,  friendly  competition 
for  mixed  teams  of  men,  women  and 
teenagers.  Touch  is  easy  to  learn  and 
just  about  anyone  can  play.  Keen  to 
play? Let me know (contact details be-
low). 
Rugby – Junior 
Our  junior  rugby  club  Eastern  United 
JMB will hold their AGM at the Sports 
Complex  on  Tuesday  18
th
  February  at 
5pm.  All  welcome.  Plans  are  already 
underway for the new season, so watch 
this space for details on their upcoming 
Rally Day.  
Any  JMB  queries,  please  ring  Jennie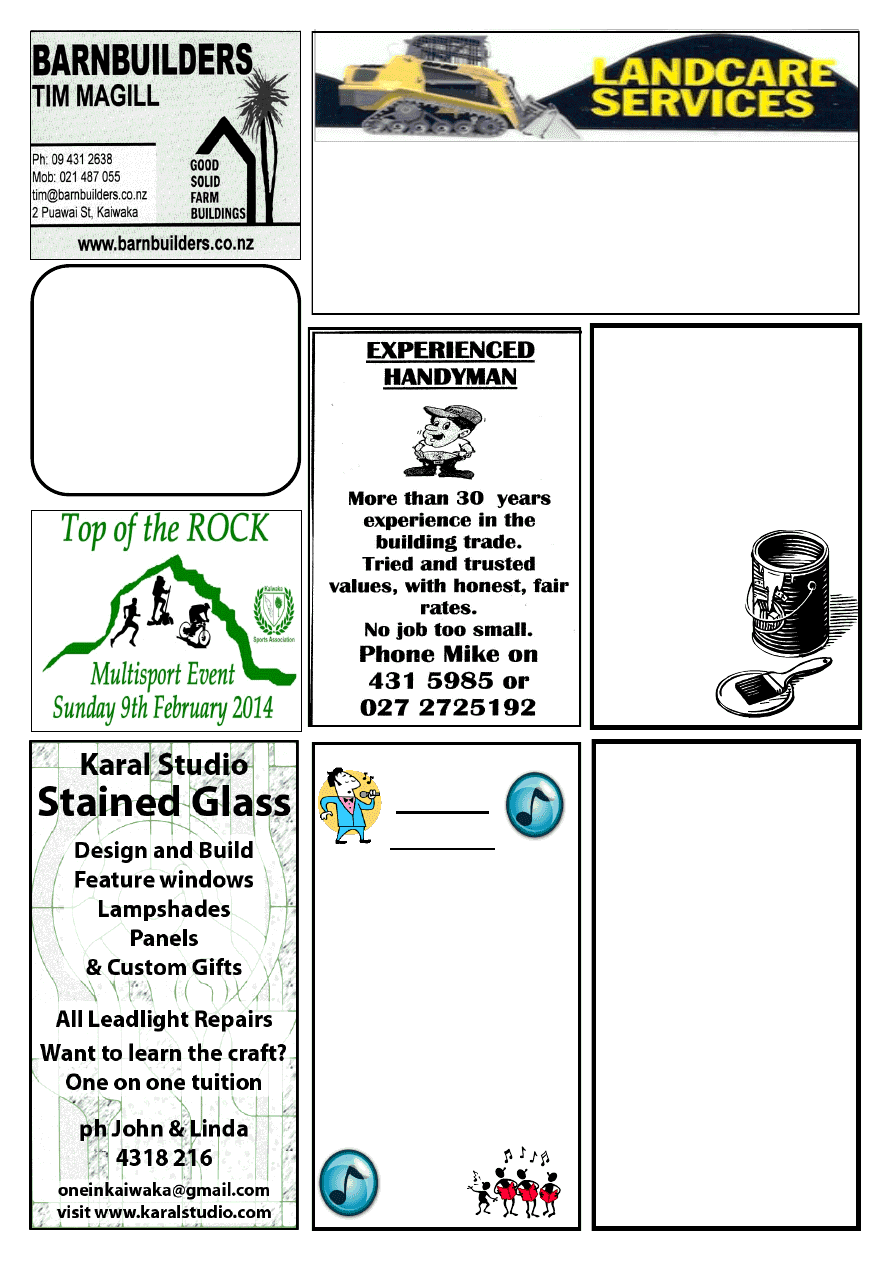 Willow Bend
HORSE  
HOTEL 
"   
Total Horse Care 
" 
Agistment 
" 
Riding Lessons 
" 
Arena Hire (60x40) 
" 
Young Horse Starting 
" 
Re-training/Exercising 
" 
Hoof Trimming 
" 
Problem Solving 
Phone Sue 09 431 2817 
or 021 623 776 
Or email sue.gray@xtra.co.nz 
Singing 
Lessons
Individual sessions 
All styles of music  
All voice types 
Reasonable rates 
Phone  
Maura Flower 
      021 164 8318 
T.W.WRIGHT 
WATER PUMPS  
SALES & SERVICE 
DEEP WELL & SUBMERSIBLE REPAIRS 
203 WHAKAPIRAU RD, WELLSFORD 
PHONE 09 4238235   
MOBILE 021 976 545 
LANDSCAPING 
4 IN 1 BUCKET 
TRENCHER 
POLE HOLES 
ROTARY HOE 
COMPACT ROLLER 
OFFAL HOLES 
CAN SUPPLY WOODCHIP & POST PEEL         5 TON TIPPER 
FOR RELIABLE AND FRIENDLY SERVICE CONTACT DAVE 
Dave Hyndman 
 
KAIWAKA 
PH: 09 4312302 
MOB: 021 431 238 
Colour It 
    Painter Decorators 
30 years Painting Experience 
Old & New Homes 
Top Quality Job 
Very High Standard of  
Workmanship 
Phone: 
09 4312208 
Darryl Fisher 
0278111821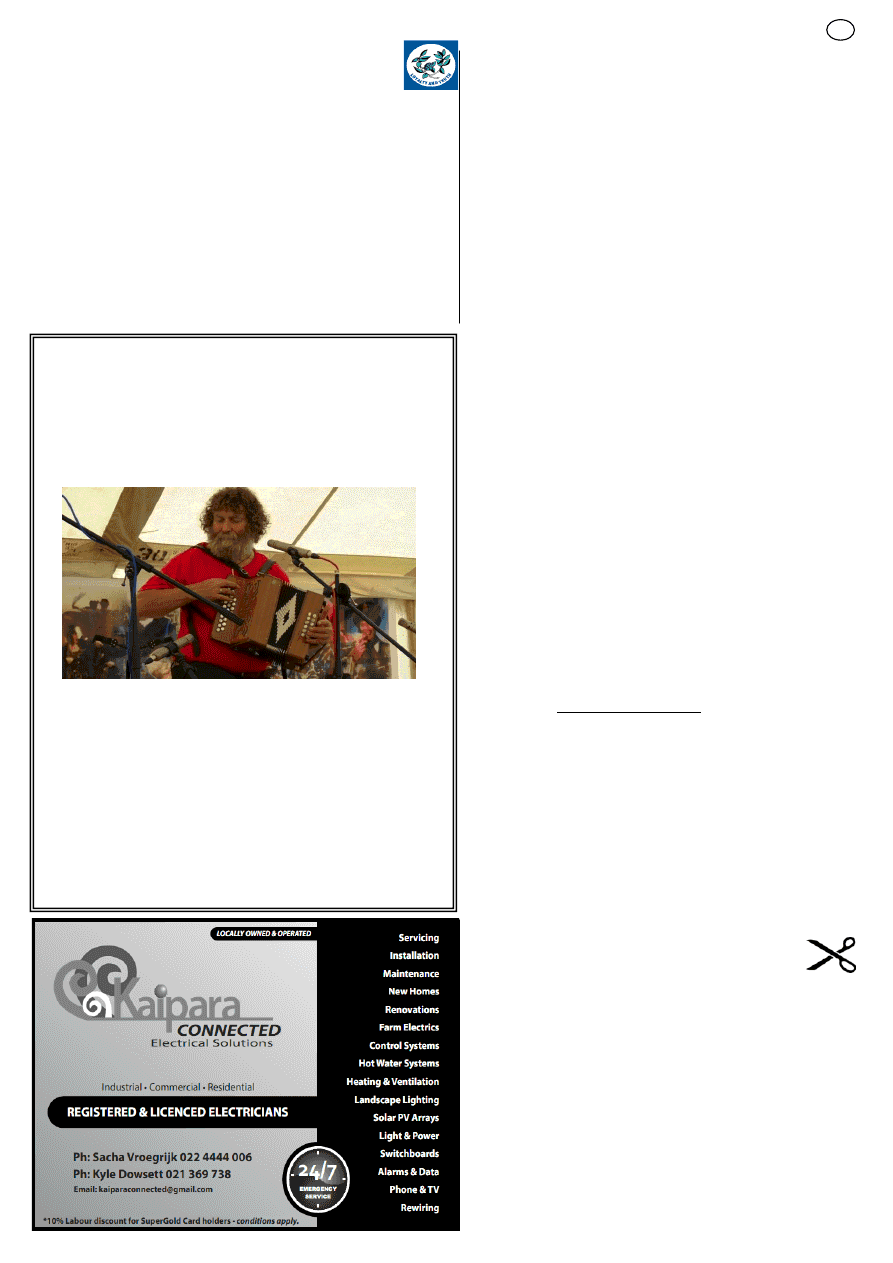 OTAMATEA HIGH SCHOOL 
19 
HAKARU & DISTRICTS RSA 
"GUESS WHO"S COMING TO DIN-
NER" 
(First of several planned for this year ) 
FRIDAY 21st FEBRUARY 2014 - from 4pm 
ALL SPORTS FANS WELCOME  
DOOR ENTRY $5 PER PERSON 
(Children under 10 Free but must be accompanied by an adult). 
MEALS WILL BE AVAILABLE ON THE NIGHT. 
MAKE UP A GROUP AND COME & CHAT TO OUR 
GUEST IN A RELAXED INFORMAL ATMOSPHERE. 
FIND OUT WHAT REALLY WENT ON, ON TOUR. 
TRY ENTERING OUR COMPETITION: 
GUESS CORRECTLY AS TO WHO OUR GUEST IS 
AND GO IN THE DRAW TO WIN FREE ENTRY 
PLUS YOUR MEAL ON THE NIGHT INCLUDING 
YOUR FIRST GLASS OF REFRESHMENT. (Must be 
present on the night to qualify).  
ONE ENTRY PER PERSON.  
ENTRIES CLOSE 5p.m. FRIDAY 14th February 2014. 
ENTRIES CAN BE LEFT AT THE FOLLOWING: 
* Entry box at Jaques Four Square - Kaiwaka 
* Entry box at the Hakaru RSA. 
* Entry box at Mangawhai Tyres - Mangawhai 
* Post to:- Hakaru RSA 733 Settlement Road 
Kaiwaka. R.D. 5 Wellsford 0975. 
Or 
* Email to: hakarursa@xtra.co.nz Put "Guess who"s 
coming to dinner" in the subject line. Put your name 
and phone number in the body of your email along with 
who you think our guest will be. 
HERE"S A HINT: Our first guest has, four times, been a 
NZ International Sporting Representative. 
Ex ALL BLACK - Ex NZ MAORI ALL BLACK 
Ex NZ SEVENS RUGBY - Ex KIWI RUGBY LEAGUE 
Also played Rugby in France and Rugby League in 
England for the Wigan Club. 
CONTACT: Sheryl 431 2697 
.
........................................................
ENTRY FORM:
"GUESS WHO"S COMING TO DINNER" at the 
HAKARU RSA on 21st FEBRUARY 2014. 
.........................................................GUESTS NAME 
..........................................................YOUR NAME 
...............................................CONTACT PHONE No.  
(Entries close 5p.m. Friday 14th February 2014) 
TERM ONE 2014 
Tuesday 28 January: School starts for Year 13 
Wednesday  29  January:  School starts for Year 7, 13 & new 
students to OHS all years 
Thursday 30 January: Whole school to attend (All Years) 
On the first day of school students should bring pen, paper, togs 
and towel 
Tuesday  11  March:  Meet the Teachers Evening, a chance to 
meet  the  Board  of  Trustees,  the  teachers  and  welcome  new 
teachers to our school. 
New  Uniform  Sales:  Paparoa  Drapery  stock  a  full  range  of 
Otamatea High School Uniform. Phone 09 4317306 
Please phone the office 09 4318230 or 0800 682 628 for  
appointments,  enrolments,  senior  option  changes  and  further 
information. 
Café Eutopia,  
Kaiwaka 
Presents: All the way from the UK
Pete Grassby 
Songs, dancing and laughter. 
A great family night out in the wonderful 
setting of the café. 
Sunday 9th Feb 2014 
Doors open 6:30        Music from 7:pm 
Adults $10         Family $20 (2+2) 
Info: 09 431 2999 (Food available)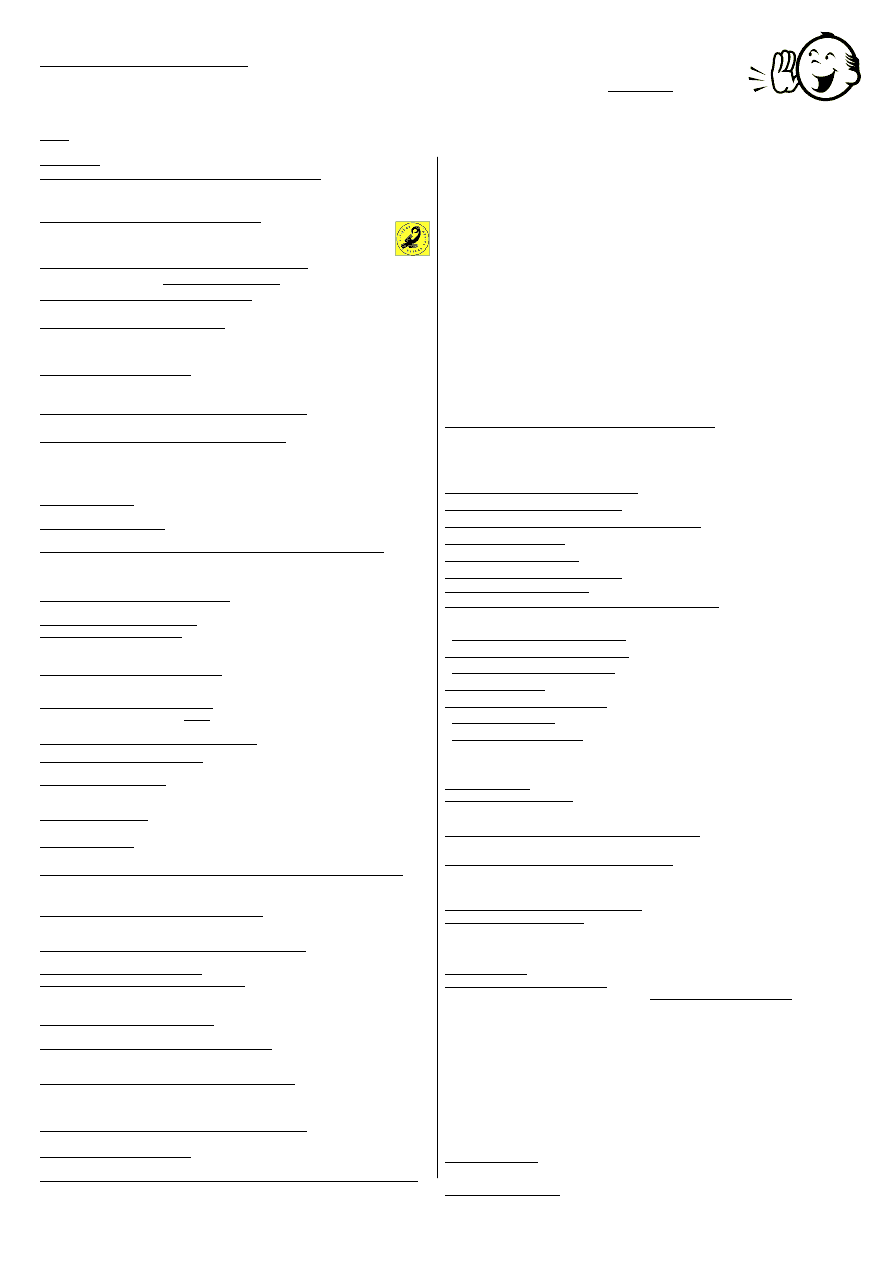 LOCAL SERVICES 
*St.John Ambulance 
111 or Freephone0800 61 
0066
*Fire phone 111     *Police phone 111 or 09 4311150 
A A: Meets Wed., 8pm Kaiwaka Ph: 4312228, 4315543, 0800229 
6757   
AL ANON: In recess, contact Ph: 4312228 
AGRIQUALITY (MAF) Livestock Consultant 
Phone 09 4311 820 or 021518257  
BUDGETING SERVICE,OTAMATEA:Free confidential advice & 
support - all areas of  personal finance Ph: 09 4318173 or 094318117
CAB-
Citizens Advice Bureau.Wellsford Ph: 4237333.
0800 367 222 email:
DOG/STOCK /NOISE CONTROL 0800 105 890 
FAMILY SUPPORT SERVICES responding to the needs in our 
community  Counselling/Family Therapy/Seminars/Youth Work/
Probation/Osteopathy/Govt.Day Agencies/Community Information  
Ph: 4312661 Hours: 9am-5pm. Mon - Fri (funded & CYFS approved) 
FUNERAL SERVICES: Morris & Morris Ltd, 
Whangarei - Bev Jaques Ph:4312367 or 0800667747 
GRANDPARENTS  Raising  Grandchildren:  Sarah  Rogers  Ph: 
4312194 
HAKARU LANDFILL/Transfer Station:Open everyday except 
Tuesday10am-4pm.Ph4312 
629 Cost-$55 trailer load up to 1 cubic metre. Ph:4258567 - 
office 
HOMEOPATH: Donna Flavell Ph: 
4314843
INLAND REVENUE: Last Friday each month, 
11-3pm Ph4312661 
KAIPARA DISTRICT COUNCIL www.kaipara.govt.nz:  
Help Desk FREEPHONE 0800 727 059  
Service Centre Mangawhai 4313161 
KAIWAKA KOHANGA REO:
Ph:4312620 Mon.-Fri. 8.30am-2.30pm 
KAIWAKA CEMETERY: Ph: 4312045 
KAIWAKA LIBRARY: kaiwaka.library@gmail.com  
Mon. 4-6pm; Wed., Thurs., Fri., Sat.  10am-2pm Ph:4312539
KAIWAKA PLAYCENTRE: Ph: 4312286. Hastie Lane 
Monday to  Friday  9.00am 
- 
12 noon.
KAIWAKA POST OFFICE:
Ph:4312 626 Fax: 4312287  
Post Code: 0573  for RD2  and  0542 for all Kaiwaka Post Office mail 
KAIWAKA PRIMARY SCHOOL : Ph: 4312309 
KAIWAKA SPORTS ASSN: Ph 4312005; 4312129 gym 
KAIWAKA ST JOHN: Manager Steve Rosser 09 4318403, 021 
2316836 
NORTHPOWER: Faults Kaiwaka area 0800 104040 
PARENTPORT: Free, practical family support servicePuhoi to Paparoa 
Ph:  Sharon Mehana, Co-ordinator. 4259357 or 027 280 5093 
PERSONAL DEVELOPMENT COACHING, GROUP FACILITATION:  
Sabine Druckler 4312231 
PLUNKET KAIWAKA/MANGAWHAI: Ph:
094318187 
or 0
276753488 
Kaiwaka Mobile Clinic once a month– appointments necessary;  
Mangawhai (next Domain) 
1st & 3rd Thursday & Coffee Morning; 
PLUNKET CAR SEAT CO-ORDINATOR:  
Pat Scott Ph 
4314530 or 0272881635 
PLUNKET FREEPHONE -0800 933 922 
PLUNKET -MAUNGATUROTO  Clinic every 2nd & 
4thThursday. Ph: 09 4318187 
PUBLIC HEALTH NURSE: Gloria Reid Ph: 094327634  
RETURNED AND SERVICES ASSN 733 Settlement 
Rd.Hakaru Ph.4312176 Bill Kerr (President) Ph.4314719 
TE KOROWAI AROHA O NGATIWHATUA 
(The Cloak of Love of Ngatiwhatua) Support and Maori Consultancy.  
Ph: 4239481 (Wellsford) 
VETERINARY SERVICE MANGAWHAI: 
Ph: 4314535 Mon-Fri 8.30-4.30, Sat 9-12, a/h appt. 
WELLSFORD DOCTORS: Ph: 4238 086 
WOMEN"S WELFARE LEAGUE & Reaching Out For Youth:  
4 Kaiwaka-Mangawhai Rd, M Morgan 4312293
WHAT"S ON
PLEASE ~ do let me know what is on - email 
kaiwakabugle@kaiwaka.co.nz 
Advertising in WHAT'S ON is FREE 
Mondays: 8-2.30pm Kaiwaka Tramping Group  Karen 4312090. 
KAIWAKA MARKET  2
nd
 Sunday of month  Ph:09 4318717 
*25-26Jan~Otamatea Tennis Tournament, Kaiwaka Sports Complex 
*28Jan~Year 13 OHS Tern 1 starts 
*29Jan~Year 7, 13 & new students all Years, start OHS Term 1 
*30Jan~OHS Term I starts for Whole school 
*30Jan~
The Heat  
7.30pm Kaiwaka War Memorial Hall-
movie
*3Feb~Kaiwaka School begins Term1 
*8Feb~'The Croods 2pm 
Kaiwaka War Memorial Hall-movie
*9Feb~TOP of the ROCK multi sport event 
*18Feb~Eastern JMB Rugby AGM, 5pm Kaiwaka Sports Complex 
*21Feb~Hakaru RSA "Guess who is Coming to Dinner" 
Ph:4312697  
*27Feb~Hakaru RSA Women's Section AGM, 1.30pm Clubrooms 
See www.kaiwaka.co.nz for upcoming events and great photos. 
Drink can "tear tabs" - for Starship Hospital-Ph. 4312625   
HOUSEHOLD  RUBBISH  COLLECTION  -  Kaiwaka    Pick  up-
Mondays=Green bags are picked up by Northland Waste-queries to 
them 09 4303273,Wednesdays=Blue bags and yellow recycling (at 
Jaques  $3.00 and $1.40)  are picked up by Kaurilands 09 4392146.  
*OTAMATEA GREY POWER-09 431 8138 Joan Hoggard  
*KAIWAKA BADMINTON -Tuesdays 7.30pm Ph: 4312345 
*KAIWAKA GARDEN & FLORAL Grp:
2nd Thursday in month Ph: 4314767 
*KAIWAKA 
CUBS-Thursdays 5.30-7pm, Hakaru  Ph:Bruce  4312542
*KAIWAKA SQUASH -Mondays 7pm,  Ph: Barbara Thomas 4315905 
*GYMNASTICS OTAMATEA -  Tuesday Ph: Stephanie 022 3624998 
*HAKARU PONY CLUB-
Secretary Julie Rynne 09 4314520 
*
MANGAWHAI COMBINED PROBUS CLUB
: 2pm,3rd Thursday 
month in the Senior Citizens Hall Mangawhai. Ph: 4315777
*PT CURTIS CRUISING CLUB - Jean Ph: 4312246 
*WAIPU GENEALOGYGROUP -4th Monday in month Ph: 4312725 
*NZ GENEALOGY-Wellsford - 1st Thursday in month Ph: 4237033 
*CRAFT GROUP
:2nd & 4th Tuesday, 10am, Wellsford Ph 4238547
*RSA,Hakaru & Dist.Women- meet 1.30pm 4th Thurs in month 4312668  
*OWEN STEVENS at Kate"s Place Ph:4312661   
*Diabetes Support Group-for Kaiwaka, Mangawhai, Wellsford -10am, 
 
3rd Friday of month Ph:A.Pert 4238242; J.Gardner 4238060 
CHURCHES:
*Gateway Worship Centre-St Mary's Church Nathan Rd off Oneriri Rd, Kaiwaka 
Services, 10.30am 1st & 3rd Sunday of every month. Contact: Rev David Gage 
4312528 or 0212354282 
*Kaiwaka Family Church-Your Community Church Sundays, l0am 
Home Group every Wed evening, Pastor John.Dekker Ph: 4318203 
*Kaiwaka Services.Anglican & Family Service at St Pauls Church  - 1st Sun. 9.30am
(Anglican),3rd Sun. 9.30am (Family Service).  Contacts: Parish Office 09 4318193, 
M.Hargreaves 4312295, C.Bygrave 4312057  
*Church of Christ the King, Mangawhai 9.30am every Sunday 
*St.Mary"s Catholic Church:
Maungaturoto – Griffins Road, Saturday evening Vigil 
Mass 6pm; Mangawhai – Senior Citizens Hall, Sunday Mass 8:30am; Wellsford – 
Matheson Road, Sunday Mass 10:30am; Mid-week Mass times and all enquires to 
Fr. Bill Fletcher – phone 423 8170 
*Baptist Church: Sun. 10.30am Mangawhai Snr Cit.Hall.Ph:4312339 
*Cause Way Church Mangawhai – Sundays 10.15am, Mangawhai Community Rec-
reation Centre, Insley St. Ph: 09 4314782  www.causewaychurch.org.nz 
 
*St.Pauls Archie Bull Hall HIRE  $20 half day, $40 full day per hire 
 Contact G. Jaques 4312048 
*Kaiwaka War Memorial Hall HlRE - Phone 4312725 or 
Email  kaiwaka.hall.bookings@gmail.com 
*Hakaru Community Hall HIRE -Ph.  4312256 or 4312110 
*Te Pounga Marae queries -A.Gage 4312528, 4312527 
*Kaiwaka Sports Association hire/queries- C. Anderson 4312051 
 
Justice of Peace: B.FJaques; L.Donaldson; A.F.Hargreaves   -please phone 
to make sure they are available 
Marriage Celebrants: L.Donaldson; A.F.Hargreaves 
Next Bugle Deadline Friday 31 January 2014