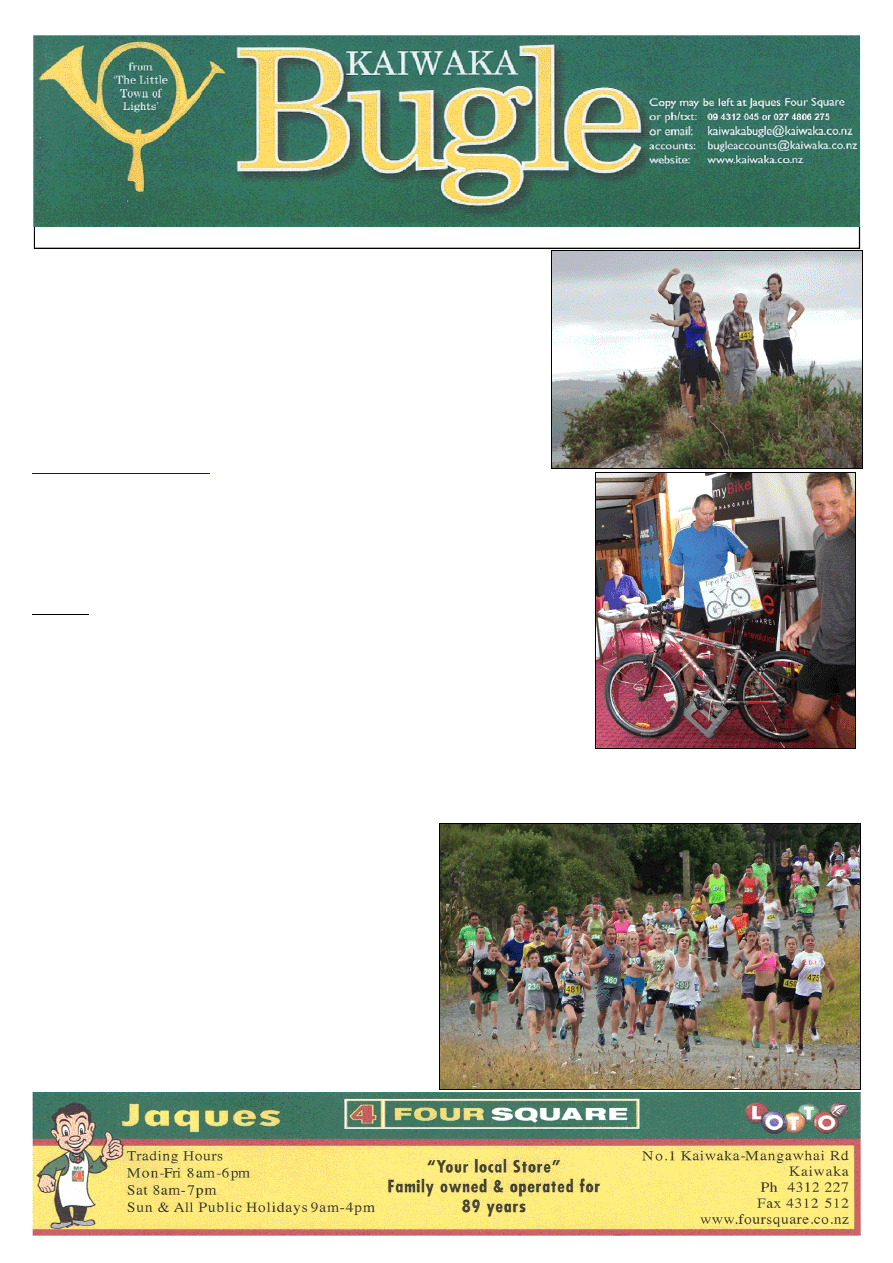 No: 3 
18/2/2014 
A  lawnmower,  generously  donat-
ed  by  Steve  Elliott  of  Kaiwaka 
Motorcycles,  was  raffled  off  and 
went to Robert Bruce. 
 
A  special  prize  was  given  to  Aus-
tin  Puckett,  a  competitor  in  the 
30km  mountain bike race – at just 
12  years  old  Austin  was  the 
youngest  person  in  this  event  by 
far! 
The main spot prize of a mountain bike, 
kindly sponsored by My Bike in Whan-
garei,  was  won  by  Bryce  Lupton,  from 
Maungaturoto. 
 
Kaiwaka  Sports  Association  President 
Evan Wright first came up with the idea 
of putting on a multi-sport event in Kai-
waka  and  Evan  and  his  wife  Michelle 
do much of the work organising it each 
year. However, as with most communi-
ty  events  this  is  also  a  team  effort,  so 
thank you to: 
 the  many  marshals  and  registration 
officials 
 Kaiwaka  Playcentre  and  Kaiwaka 
School PTA for the food stalls 
 Kaiwaka  Netball  club  for  the  pool 
supervision 
 Kaiwaka  Fire  Brigade  for  the  route 
supervision 
 Coates  Family 
Trust  for  per-
mission 
to 
climb  Baldrock 
Mountain 
 bar  staff  and 
photographers 
 and  the  many 
landowners 
who  gave  per-
mission  for  the 
routes  to  go 
over  their  farm-
land. 
TOP OF THE ROCK 
The Kaiwaka Sports Association's fourth annual Top of the Rock  
multi-sport event was a great success! 
There  were  over  300  entries  –  we  had 
competitors  from  Kerikeri  in  the  north 
to  Tauranga  in  the  south  as  well  as  lots 
of entries from locals. Some competitors 
tackled  the  challenging  10km  run  + 
15km mountain bike course or the 30km 
mountain  bike  route  while  the  majority 
entered  the  10  or  5km  run  or  walk 
course.  Photos  can  be  viewed  on 
www.kaiwakasports.co.nz.
 
TV3's  Brendon  'The  Money  Man'  John-
son presided over the prizegiving. There 
were  over 90 prizes up for grabs – win-
ners got first choice from the prize table, 
then  the  remaining  prizes  were  given 
out by a draw.  
 
Results: 
Run + bike - male  Graham Norman 
Run + bike - female Rhian Pierce 
Team  run  +  bike  Evan  &  Hayden 
Wright 
30km bike   
Matt Andrew 
10km run - male  Andrew Cave 
10km run - female Georgia Brierly 
5km run - male 
Ollie Koutlang 
5km run - female  Holly Kenyon 
Mangawhai  Tyres  kindly  donated  $50 
for the oldest competitor. This was won, 
for  the  second  year  in  a  row,  by  Maun-
gaturoto's  Trevor  Brljevich,  83  years 
old, who in his prizegiving speech made 
mention  of  the  fantastic  view  from  the 
top  of  Baldrock  Mountain.  Pictured 
right  is  Trevor  with  other  competitors 
on top of the mountain. 
New  this  year,  we  had  offered  two 
'earlybird' prize draws to encourage peo-
ple  to  register  early.  A  prize  pack  of 
cycling  accessories  went  to  Nikita  Os-
borne and a voucher for a weekend stay 
at  the  Bay  of  Islands  Copthorne  Resort 
was  won  by  an  appreciative  Peter  Boti-
ca. 
This  year  there  were  over  forty  volun-
teers helping run the  event  – the  winner 
of  the  volunteers  prize  draw  was  Roger 
Farr. 
Top: Trevor Brljevich & his family 
L-R: Cheryl Anderson, Bryce Lupton with 
his new bike, Evan Wright 
Below: around the lakes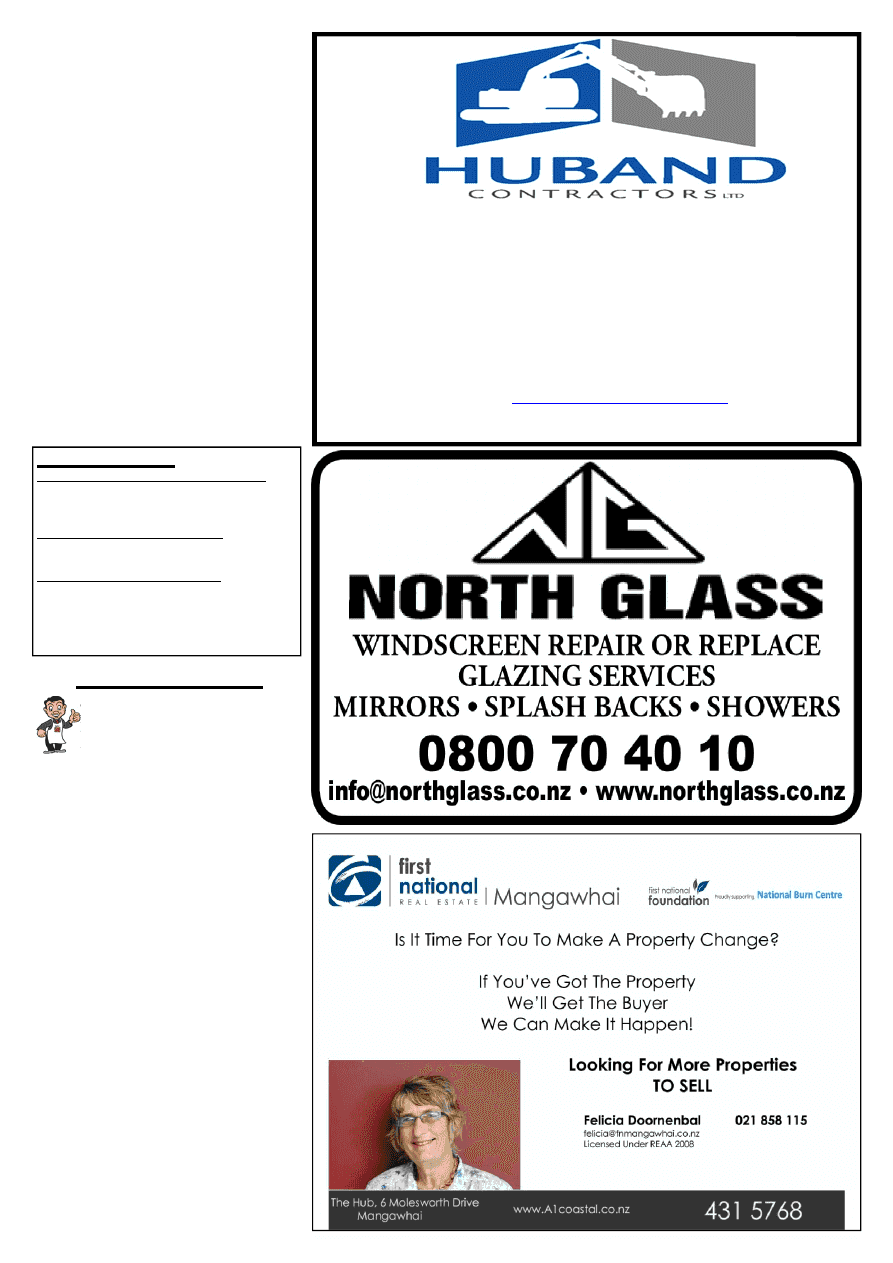 ABOUT TOWN 
 
Thank  you  Jaques  Four  Square  for 
providing our 'Bugle' front page. 
 
Well  done  to  Kaiwaka  Sports  Asso-
ciation  for  another  successful  Top  of  the 
Rock event! 
 
Check out the upcoming movies:  Argo, The 
Last  Ocean,  Smurfs  2.  See  the  ads  in  this 
paper for details. There's also a survey - cut 
the coupon on page 5 with your answer. 
 
Northland Reorganisation Proposal: submis-
sions  deadline  is  21  February  2014,  can  be 
emailed  to  info@lgc.govt.nz  or  posted  to 
Local  Government  Commission,  P  O  Box 
5362, Wellington 6145. 
 
Get  your bulbs order in, they  will  look gor-
geous next spring. See page 11. 
 
Winter  sports  are  now  underway.  Are  you 
and/or your kids taking part? 
 
Did you know that there is a Kaiwaka com-
munity  group  on  Facebook?  It's  a  great 
place  to  get  to  know  other  locals  and  hear 
about  what's  going  on  around  the  place, 
including items for sale. 
 
Good  to  see  the  NorthTec  'Sustainable  Ru-
ral  Development  Course'  back  in  town, 
starts this week. More info 431 3109. 
 
"We are all in the gutter, but some of us are 
looking at the stars." Oscar Wilde 
NEW PRICES: 
Kaiwaka Bugle Advertisements 2014: 
Classified $3; 1/8 page $6; 1/4 page $12; 1/2 
page  $24;  in  special  circumstances  whole 
page adverts are available-cost $100 
bugleaccounts@kaiwaka.co.nz 
Payments  can  be  online,  posted  or  left  at 
Jaques Four Square Store. 
kaiwakabugle@kaiwaka.co.nz  for queries 
or copy. 
The Kaiwaka Bugle is a community news-
paper run by volunteers.   
Articles,  etc.  printed  are  not  necessarily  the 
opinion of the Bugle Team  
*   R O A D I N G   *   E A R T H W O R K S   *    
*   D R A I N A G E   *   S I T E W O R K S   *  
For any further enquiries, contact Shaun on: 
Cell: 021 222 0272 
Home: 09 4318339 
Email:   
shaun@huband.co.nz
Shaun Huband:  Registered Drainlayer 
KAIWAKA BUGLE No. 3  
18 February 2014 
CONTENTS 
Page 3: Public Notices; Classifieds 
Page 5: The Hoots; Kaiwaka Movies 
Page 7: Kaiwaka Sports Association 
Page 9: Taonga Gardens 
Page 11: KSA Bulbs; JMB Rally 
Page 13: Kaiwaka Fitness; Pt Curtis 
Cruising Club 
Page 15: Top of the Rock 
Page 17: Mangawhai Walking Weekend 
Page 19: Otamatea High School 
 
Bugle 4 will appear 4 March 
Contact for advertising, reports, articles 
or information can be made by 
Email kaiwakabugle@kaiwaka.co.nz 
Ph: 09 4312045 
Txt:  0274 8062 75 
Copy may be left at Jaques Four Square. 
 
View the Bugle online at: 
www.kaiwaka.co.nz/Bugle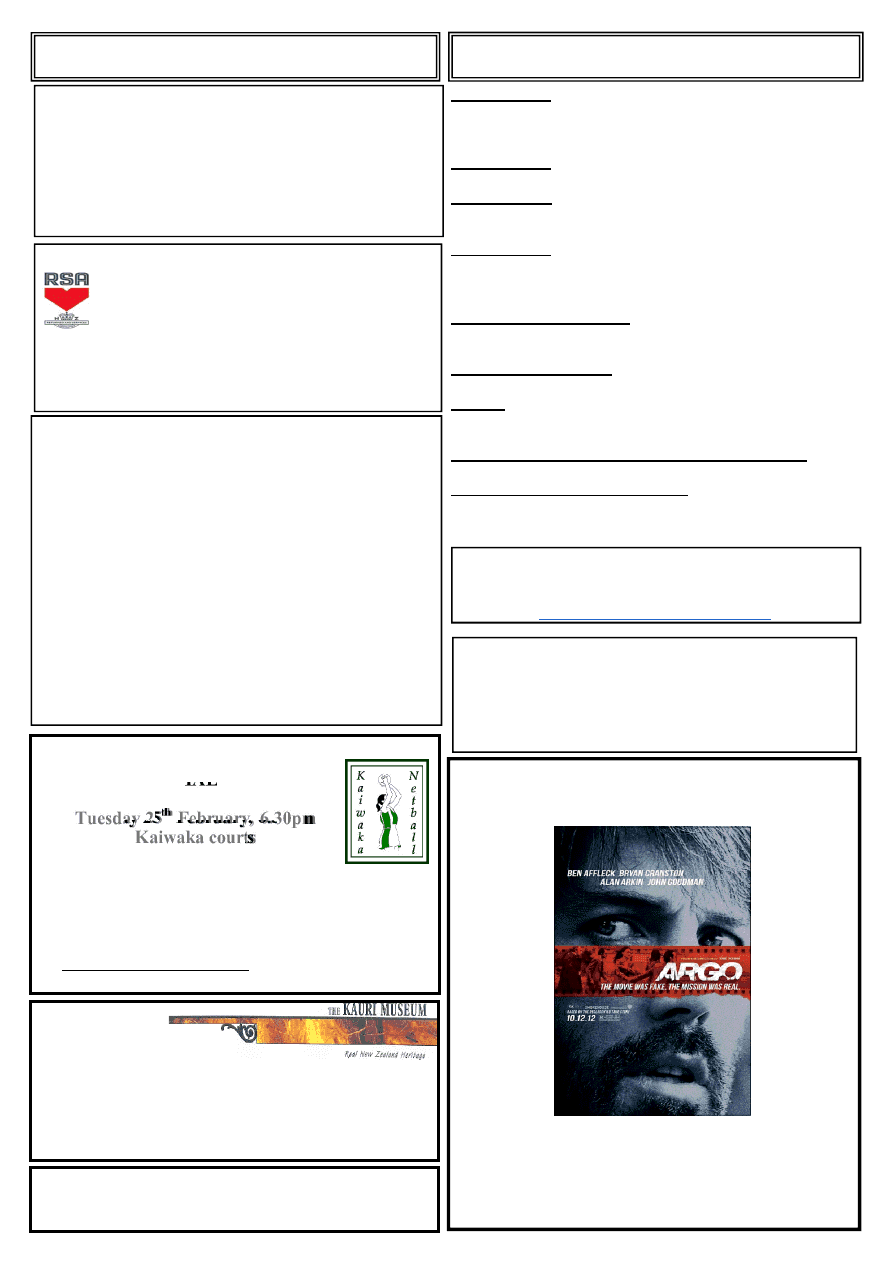 PUBLIC NOTICES 
CLASSIFIED 
FOR  SALE:  Dry  sheep  manure,  $7  per  sack,  great 
for  your  garden.  Please  phone  Carol  Mills  4312  044  or 
Steve Strong 4314 806. A fundraiser  for  Kaiwaka Cubs 
& Scouts. 
FOR  SALE:  Piano,  Arther  Allison  $100.  Tuned  by 
Chris Davidson. Ph: 4312296 
FOR  SALE:  Cnr  lounge  suite-can  be  joined  or  2x3 
seaters  &  1x2  seater  $1500;  Very  large  TV  unit  $500. 
Both as new, ex condition Ph: 4312949 or 0274953488 
FOR  SALE:  Wiltshire  Rams,  self  shedding,  8  mths 
old $150 each. Ph: 4315589 
 
 
BOARD  AVAILABLE:  Large room,  sunny,  near  Kai-
waka  $175  per  week  includes  power  and  meals.  Phone 
Adrian 4312296 
MUSIC  LESSONS:  Piano,  keyboard,  guitar  and 
singing. Reasonable rates. Ph: 4312700 or 02111618446 
FREE:  Free  jar  of  honey  for  20  label-less  jars  (jam/
preserving) or 30 with. Ph: Adrian 4312296 
 
CLOTHING  ALTERATIONS  &  REPAIRS:  Zips, 
hems, dressmaking. Phone Win 4312027 or 0274448358 
FREE  GRAZING  WANTED:  Small  or  large  block. 
Can  do  some  fencing  or  water.  Phone  after  6pm 
4312006 
Kaiwaka Community Cinema 
Presents 
Kaiwaka War Memorial Hall 
Friday 21st February 7:30pm 
Adults $10 Under 16yo $5 Family Pass $25 
(2 Adults & 3 children max) 
Ra ng:  M  
Time:  2hrs 
HAKARU & DISTRICTS MEMORIAL RSA (Inc) 
WOMENS SECTION 
ANNUAL GENERAL MEETING. 
To be held in the  
Hakaru RSA CLUB ROOMS Settlement Road,  
27th February 2014 at 1.30 p.m. 
All Welcome, financial members only, eligible to vote. 
Nomination  Form  for  Officers  and  committee  on  notice 
board at RSA. 
KAIWAKA SCHOOL PHOTO ALBUM 
I can't remember who I lent it to, to add names to the 
old photos. If it is you please can you contact Jennie 
9450502 or
jenniereynolds@vodafone.co.nz
Eastern United Rugby JMB 
ANNUAL GENERAL MEETING 
Tuesday 18th February 2014 at 5:00pm 
Kaiwaka Sports Complex 
All welcome to attend-interested 
parents are encouraged to 
come as there is a lot to discuss. The decisions made at this meet-
ing will affect your child. You won't get a job unless you want one. 
Contact Jennie 9450502 or 02102764171 
OTAMATEA-EX NETBALL CLUB 
TRIALS 
Tuesday 25
th
 February, 6.30pm 
Kaiwaka courts 
Please turn up ready to play.  
We are also keen to hear from any interested  
coaches/umpires.  
If  you  are  interested  in  being  part  of  our  club,  but 
cannot make this day, please contact Mirna to  
register your interest: 021 544229  
or kenandmirna@gmail.com  
Proverbs 14:25-   
Anxious hearts are heavy, but a 
word of encouragement does wonders!  
The Kauri Museum is putting together a WW1  
exhibition and has asked if anyone in our local com-
munity have any POSTERS of this time (era). 
They would like a loan for about one or two weeks. 
Please contact Adrian on 4312296 or 0212537661 
HAKARU & DISTRICTS RSA 
 "GUESS WHO'S COMING TO DINNER" 
 FRIDAY 21st FEBRUARY 2014 - from 4pm 
 ALL SPORTS FANS WELCOME  
 DOOR ENTRY $5 PER PERSON 
(Children under 10 Free but must be accompanied by an adult). 
 MEALS WILL BE AVAILABLE ON THE NIGHT. 
Your chance to meet our first guest FRANO BOTICA who 
has, four times, been a NZ International Sporting Representa-
tive: Ex ALL BLACK, Ex NZ MAORI ALL BLACK, Ex 
NZ SEVENS RUGBY, Ex KIWI RUGBY LEAGUE and 
also played Rugby in France and Rugby League in England 
for the Wigan Club. 
Get your questions ready for our guest. Come and chat to him 
in a relaxed, informal atmosphere. It will be a fun night and 
you can find out what went on, on tour.  
(Competition closed 14 February 2014) 
RUAWAI LIONS CLUB  
ANNUAL CHARITY AUCTION 
Saturday 15 March 2014 Kaipara Kumara Forecourt 
9:30am viewing starts, 10am auction starts. 
Contact Jim & Dorothy Simpson 09 4392557 or 
jdsimpson@slingshot.co.nz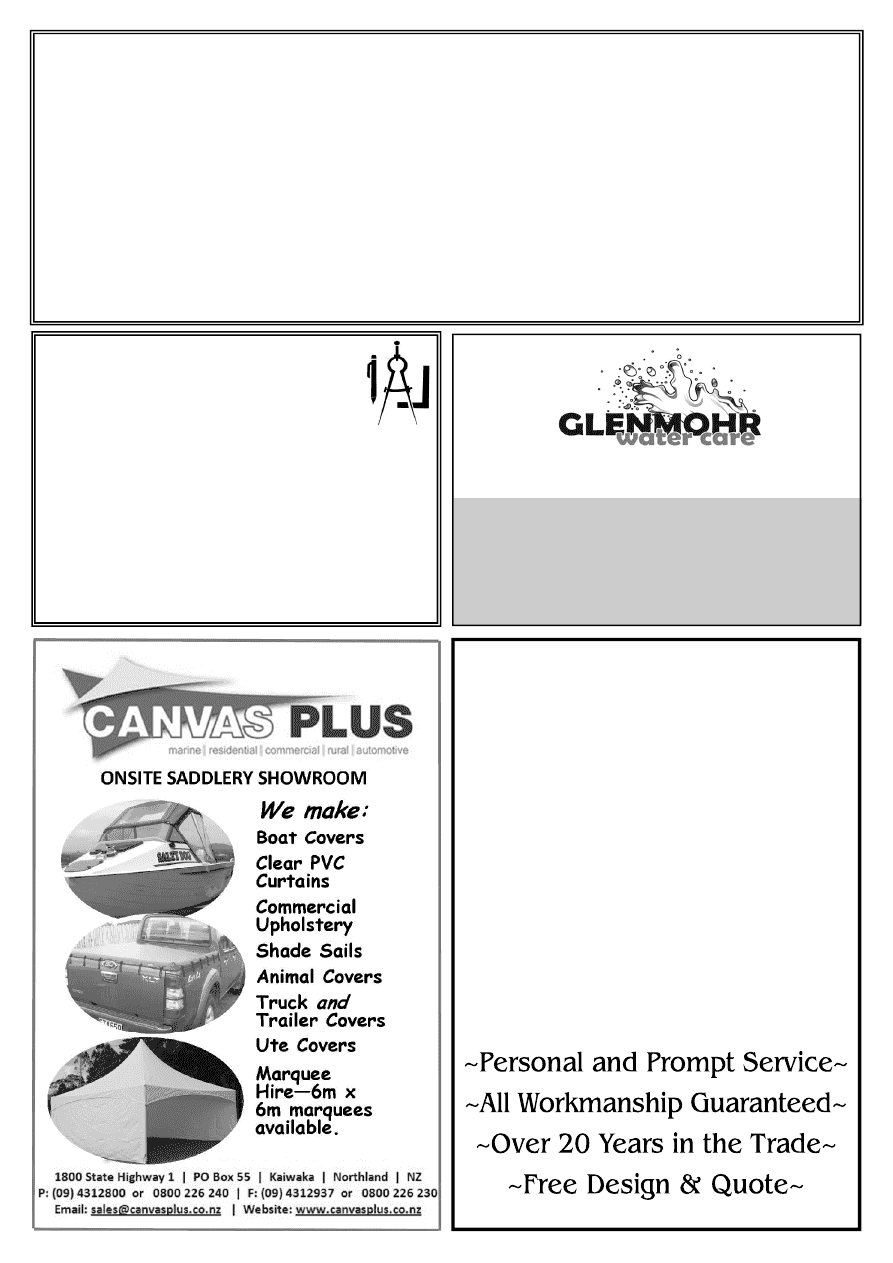 RANGANUI EARTHMOVERS 
 
16T Excavator   
(tilt, thumb & ROPS cab)   
Transport Trailer 
2 x 6 Wheeler Tip Trucks 
Suppliers of All Grades of Metal & Topsoil 
If you want a proper job done with an experienced operator ring 
Grant on    A/H 431-2131        Email  ranganui.dev@xtra.co.nz 
   Mob  021845-246 
Driveways, House Sites,  
Drainage Dams, 
Section Clearing,  
Tree Work,  Rock Retaining Walls,  
Quarry Work, 
Basically Anything That a Digger Can Do 
design drafting 
service 
Retired builder and manufacturer with over 40 years  
experience in the building industry is offering a design 
drafting service for domestic housing, sleepouts and 
sheds.  
Plans formulated in consultation with clients, with 
working drawings completed and submitted to  
council for processing.  Extensive practical experience,  
able to identify & resolve problems. 
Please ring Mike Lean on 
09 431 2260  
or 
021 431 196 
Water Tank Cleaning 
 
Keep your water safe & clean   
 
Removal of sediment, silt etc. 
 
Vacuum or full scrub 
 
Minimal water loss 
Phone Mark (09) 432 0655 or 0274 707607 
PLANNING A NEW 
KITCHEN? 
 CONTACT NOEL McDOWELL 
WELLSFORD 
KITCHENS
Ph/Fax 094312888  
KAIWAKA-Any time 
  QUALITY CUSTOM MADE 
KITCHENS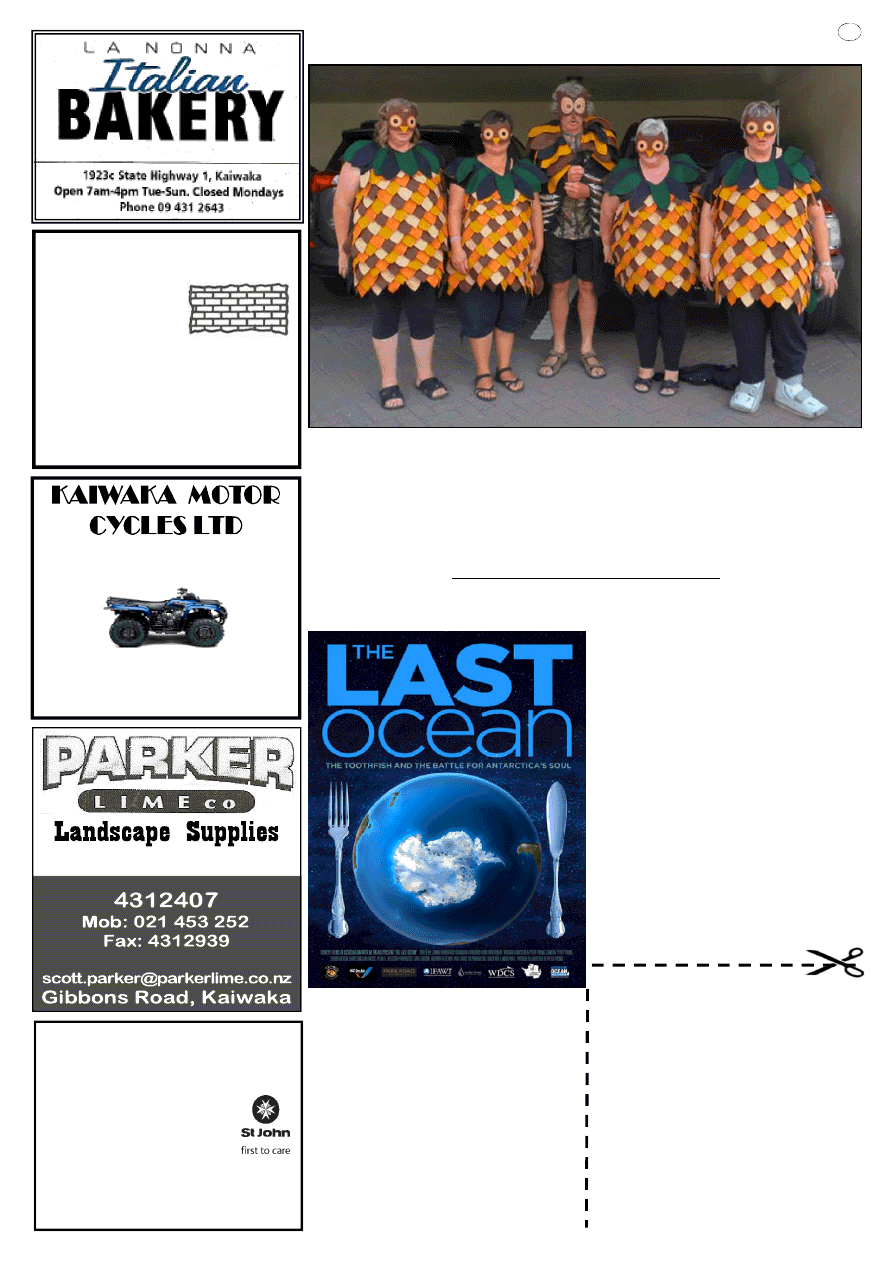 Bulk Cartage 
SALES SERVICE SPARES
FARM BIKE SPECIALIST
Phone 431 2127 
Kaiwaka-Mangawhai Rd 
Kaiwaka 
When you need St.John 
members at your function …... 
Get a Community Services Form 
….. see Mill
y at the  
Kaiwaka St John  
Op Shop.
Phone 4312650 
MORE MEMBERS REQUIRED FOR 
THE KAIWAKA STATION. 
5 
BRICK/BLOCKLAYER            
All aspects of masonry:  
Fireplaces, 
Restoration  
& Remedial Work. 
JAMES EAGLETON 
Tel. (09) 431 2514  
Mob. 0274 749 232 
jajueagles@yahoo.com.au 
210A Pukenui Road, RD2 Kaiwaka 0573 
YOUR OPINION COUNTS! 
 
Would you like to come to a BluRay 
screening of a live concert of the Dutch 
violinistcomposer/entertainer  
 
ANDRE RIEUX? 
 
The sound will be awesome and you 
will probably dance the night away!! 
If there is enough interest we will 
screen it, normal adult ticket price of 
$10.00 will apply. 
 
If you like  to see this fill in your name 
and contact details please., and return 
the coupon below to Jaques Four 
Square. 
 
 
 
I am interested in watching a screening 
of an Andre Rieux performance. 
 
 
NAME: 
 
 
 
Email and/or phone: 
A  group  of  friends  from  the  Kaiwaka/Wellsford  area  have  been  regulars  to  the 
Wellington  Sevens  over  the  past  ten  years.    Each  year  they  make  their  own  cos-
tumes  by  hand  and  have  featured  in  many  Wellington  newspapers  and  websites. 
This year the 5 Owl costumes took over 200 hours to produce but a lot of fun was 
had and they say making the costumes is all part of going to the Wellington 7s. 
This  year  however  they  had  their  best  result  by  being  awarded  Runner-Up  in  the 
Group Division of the 
Museum Art Hotel Costume Catwalk. 
Pictured from left to right are: "The Hoots"- Lynette Gubb, Edwina Came, Wayne 
& Linda Leslie, Sandra Shaw  
KAIWAKA MOVIES
 at Kaiwaka War Memorial Hall
THE 'HOOTS' 
Friday 28 February 7:00 pm 
The  Ross  Sea  Antarctica  is the  most  pris-
tine  stretch  of  ocean  on  Earth.  Scientists 
describe it as  our last 'living laboratory', a 
place that can teach us about the workings 
of  all  marine  ecosystems.  But  the  fishing 
industry recently found its way to the Ross 
Sea,  targeting  Antarctic  Toothfish  and 
unless stopped,  the  natural balance  of  this 
unique ecosystem will be lost forever. The 
Last Ocean follows the race to protect the 
Ross  Sea  from  our  insatiable  appetite  for 
fish, and raises the simple ethical question: 
do we fish Earth's last untouched ocean or 
do we protect it?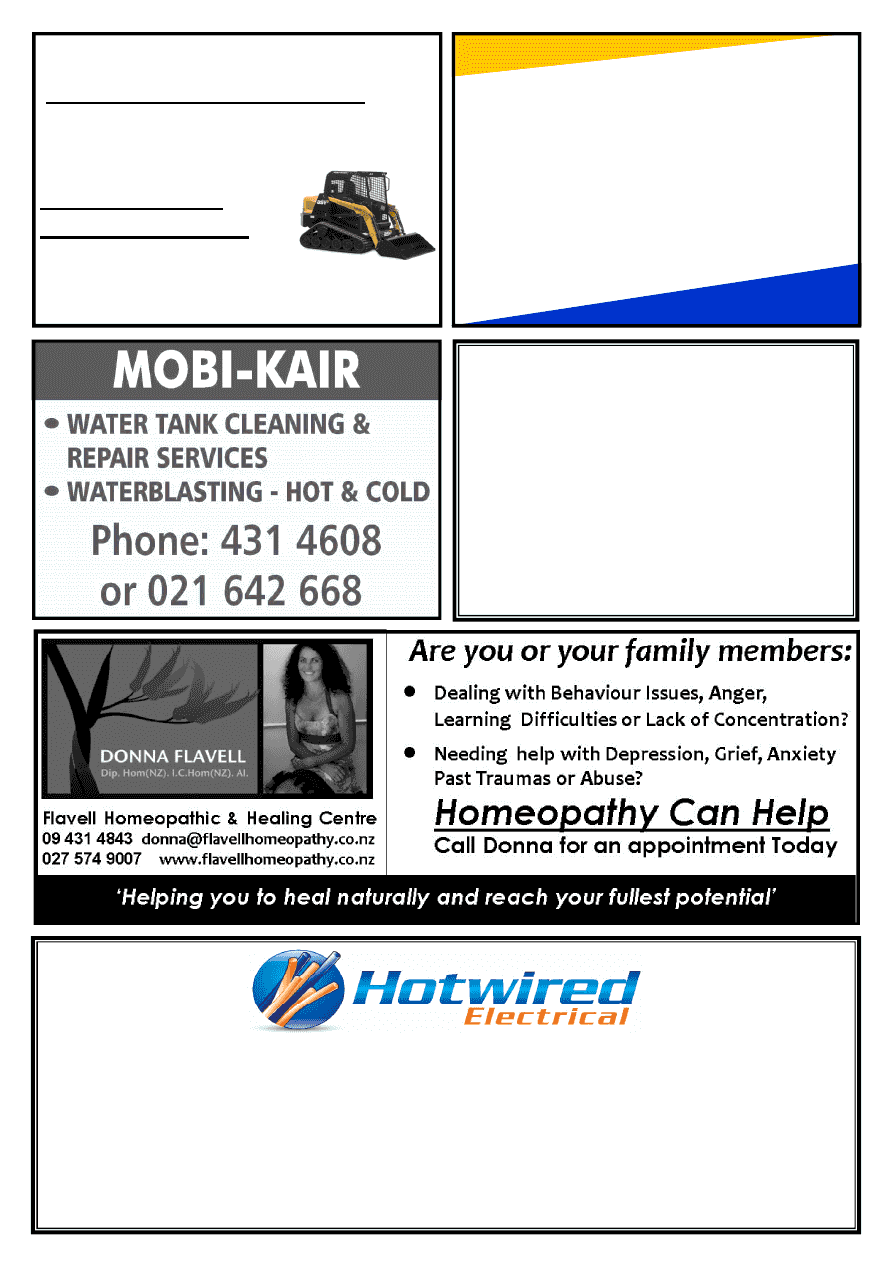 CONCRETE 
If it's concrete we do it 
Full Preparation & Pour by 
Experienced Local Team 
Phone Phil Keen Contractors  
027 659 2376 
TILING 
Certified Waterproofing 
431 4533 or 021 86 33 33 
George 
MCN Property Solutionz  
Local references available 
Natural Earth Ltd 
 Landscape and Bobcat services 
 : Driveways  :Landscaping  :Retaining Walls 
 : Hole Boring: Land Levelling :Trenching 
 : Decks :Fences :Sections Cleared: Plus much more 
Tel   09 4312885 
Mob 02102391280  
For  A  Fast  Friendly 
Service Contact Tim Hicks 
For All your Electrical  Requirements 
No job too big or too small
Contact Jason today on: 
(09) 431 5992, (021) 405 019 
 
Domestic small jobs
 
Residential dwellings and alterations
 
Commercial
 
Industrial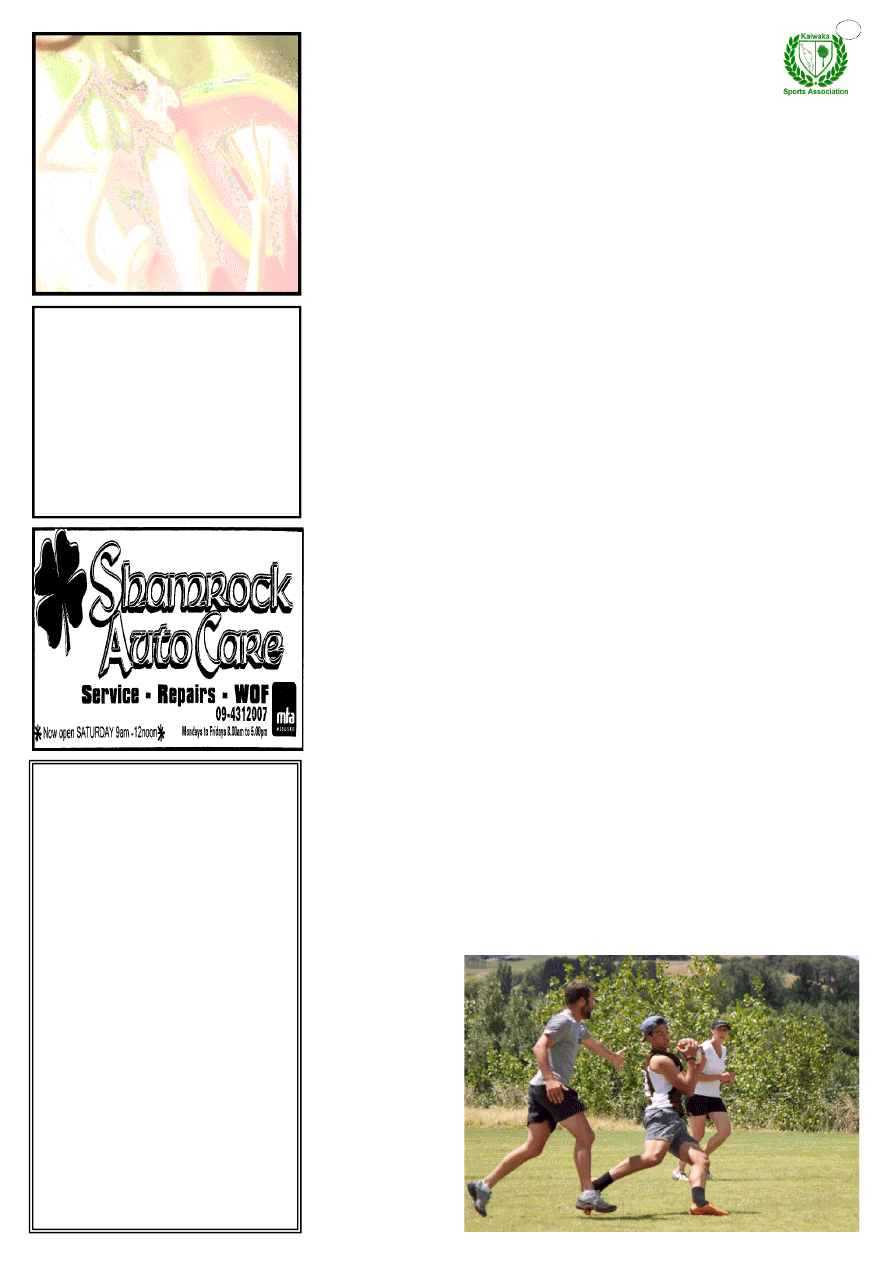 AMBER'S 
Q Cafe &  
Restaurant  
All day breakfast, 8am - 5.30pm.     
Home made Pizza, take away or eat in from 
8am to late. 
 Light lunches, 11.am - 5.30pm, 
Dinner Menu at 5.30pm to late 
 Toasted Sandwiches and Sandwiches made to 
order. All day, Pies, Chowder & Soups 
 Milkshakes, Kiwi Ice cream, Slushie Fruit drink, 
Tea, Coffee 
 Closed Mondays.....except Observed Holidays 
 Sunday to Thursday: 8am - 8pm 
 Friday: 8am - 8.30pm, Saturdays 8am- 9pm 
4315226 
Trevor & Amber 
41 Moir Street, Shop 5-6  
Mangawhai Village 
Next to Carters Building Supplies 
 LEABOURNS 
Passenger Service 
Car & Van Hire 
Bus & Coach Charters 
Airport Transfers 
 Monthly Shopper Bus 
Phone (09) 4237416 
Paul Greig Electrical Ltd 
Residential • Farm 
 • Commercial 
Paul Greig 
Registered Electrician 
  Ph: 431 2223  
Mob:021 230 2717 
Reliable & Professional 
Quality Service 
Based in Kaiwaka 
KAIWAKA SPORTS ASSOCIATION
Top of the Rock 
Our  annual  multi-sport  challenge  the 
Top  of  the  Rock  was  a  wonderful  suc-
cess  with  the  highest  number  of  com-
petitors ever! Many thanks to everyone  
involved  for  their  support.  My  report 
on  the  day  is  on  the  front  page  of  this 
edition of the Bugle. 
Tennis 
Tennis coaching for juniors is on Mon-
days at 3.30pm (note earlier start time). 
This  is  for  all  school  age  players,  new 
members  are  welcome  and  we  have 
club racquets available for your use. 
If  you  have  a  child  who  may  be  inter-
ested in playing tennis, please ring Lin-
dell Ferguson on 021 02233749. 
Rugby – Junior 
Our  junior  rugby  club  Eastern  United 
JMB  will  hold  their  Rally  Day  at  the 
Sports Complex this Tuesday at 5pm. If 
you  have  a  boy  or  girl  interested  in 
playing  rugby  this  season,  please  bring 
them  along.  JMB  caters  for  ages  from 
Under  7s  through  to  Under  13s.  The 
club will also hold their AGM this day, 
all welcome.  
Any  JMB  queries,  please  ring  Jennie 
Reynolds on 9450 502. 
Rugby – Intermediate 
Trainings for our Under 14s and Under 
16s  teams  are  already  underway  –  at 
Maungaturoto  on  Mondays  at  6pm  and 
at  Kaiwaka  on  Thursdays  at  6.30pm. 
If  you  have  a  son  who  is  interested  in 
playing  rugby  this  season,  please  ring 
Brett Coates on 4318 720.  
Rugby – Senior 
A Rugby Smart coaching course will be 
held at the Kaiwaka Sports Complex on 
Monday 3
rd
 March at 6.30pm. This is a 
requirement  for  all  coaches  of  rugby 
teams from Under 14s and above. 
Many  thanks  to  Kay  Robinson  for  her 
years  of  service  as  Club  Treasurer  and 
thank  you  to  Jennie  Reynolds  who  has 
taken over this position. 
The  Otamatea  Hawks  will  play  pre-
season  matches  against  East  Coast 
Bays  on  Saturday  22
nd
  February  at  the 
Sports  Complex,  at  noon  and  3pm  – 
why  not  come  along  to  see  how  the 
guys are shaping up for the season? 
Kaiwaka Sports Awards 
For  our  annual  Sports  Awards,  our  af-
filiated  clubs  nominate  their  members 
in the 
categories  of  Senior 
Sportsperson  of  the 
Year,  Junior  Sports-
person  of  the  Year, 
Service  to  Sport  and 
the Greg McRae Me-
morial  Trophy.  This 
year  will  be  particu-
larly  special  as  it  is 
the  30
th
  anniversary 
of  the  awards.  Did 
you know that (to my 
knowledge)  Kaiwaka 
is  the  smallest  town 
in  New  Zealand  to 
hold  its  own  Sports 
Awards.  The  date  of  the 
awards  evening  will be  pub-
lished in the next Bugle. 
Martial Arts 
Our  Martial  Arts  club,  led  by  black  belt 
instructor  Craig  Bennetts,  offers  Kempo 
& Tai Chi classes out of our gymnasium.  
Kempo is held on Wednesday's: 
5 – 9 yrs      
3:15 – 4pm 
10 – 15 yrs     
4:15 – 5:15pm 
16+ yrs    
5:30 – 6:30pm 
Tai Chi classes are held on Wednesdays 
7 – 8am and on Sundays 8:30 – 10am. 
Check out the Martial Arts flyer on 
www.kaiwakasports.co.nz for the oppor-
tunity to redeem a free offer. 
For  more  information  on  Martial  Arts 
please  contact  Craig  on  4315  170  or 
craig.b@farmside.co.nz 
Touch 
The Kaiwaka Touch Module got off to a 
great  start  with  8  registered  teams.    The 
results  table  and  draw  can  be  found  on 
our website 
 www.kaiwakasports.co.nz.  A  couple  of 
teams  still  have spaces  for  more  players 
so if you are keen to play Touch in Kai-
waka  on  Sunday  afternoons,  please  let 
me know (contact details below). 
Senior Netball 
Ladies  are  you  keen  to  play  netball  this 
season?  Our  senior  netball  club  Ota-
matea-Ex  will  hold  their  trials  on  Tues-
day  25
th
  February,  6pm  at  our  courts. 
The  club  would  also  love  to  hear  from 
any interested coaches/umpires.  
For  Otamatea-Ex  queries,  please  contact 
Mirna Manuell on 021 544229. 
Bulbs Fundraiser 
I  am  selling  spring  bulbs as  a fundraiser 
for the KSA. Bulbs are easy to plant, fun 
to grow and will reward you with beauti-
ful flowers year after year! 
Prices are less than normal retail and the 
KSA  will  make  30%  profit  on  all  sales. 
Your  order  will  be  delivered  to  your 
home  along  with  a  planting  guide.  An 
order form is in this edition of the Bugle 
and 
can 
also 
be 
found 
on 
www.kaiwakasports.co.nz  and  at  Jaques 
Four Square.  
 
Cheryl Anderson  
 
4312 051, 021 3462702  
or kaiwakasports@gmail.com 
7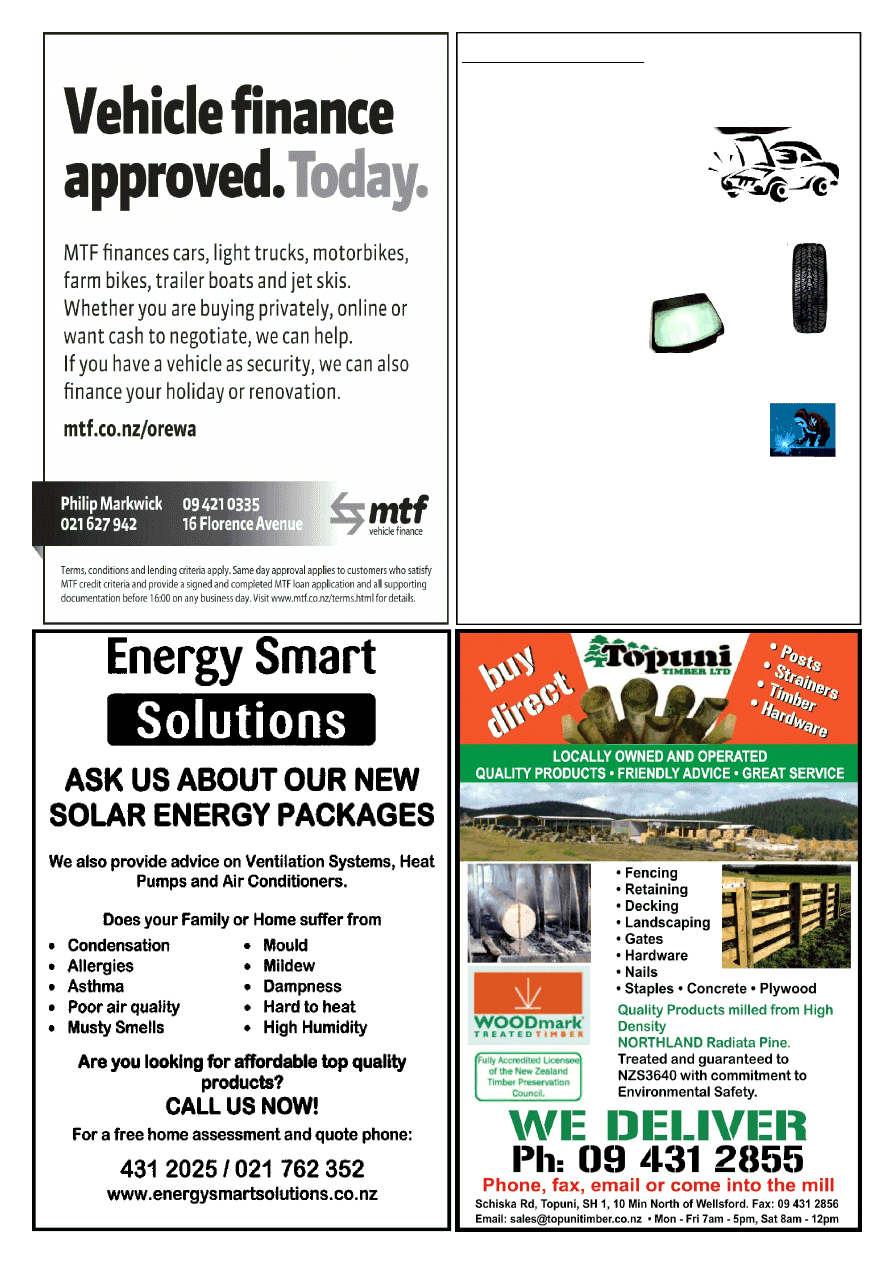 Want it done? 
Bring it to  
Twinkle Tow 'n' Tyre 
*W.O.F. 
*Tyres 
*Windscreen replacement 
*Chip repairs 
*Bulk Oil 
*Batteries 
*Welding 
*Custom 
built 
trailers 
*Trailer hire 
Think you'll get a better deal in the city? 
Go on, ring us; it won't cost  
anything! 
1837 State Highway 1, Kaiwaka       
Phone 431 2823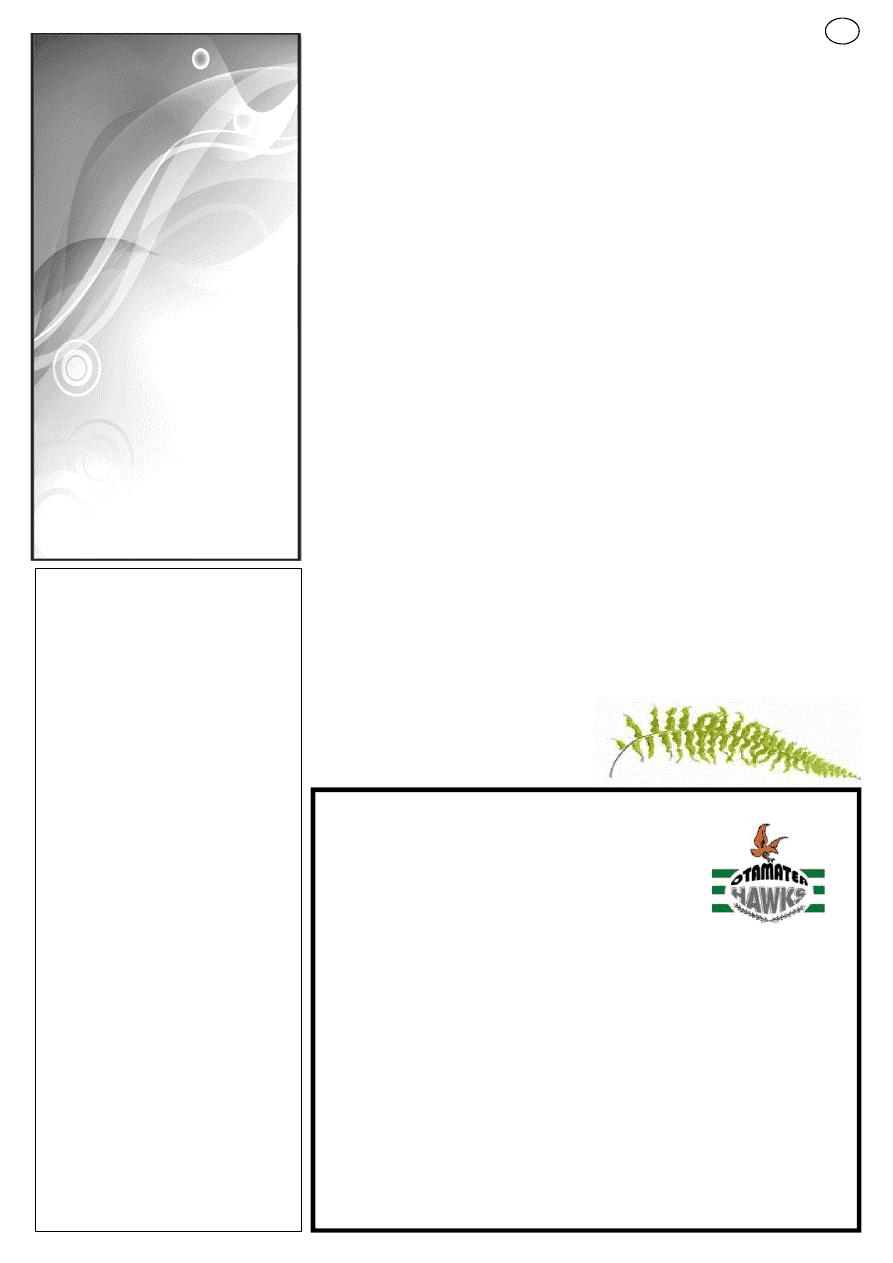 9
KAIWAKA  
SPIRITUAL  
CENTRE 
Corner State Highway 1  
& Vipond Road, North  Te Hana 
Wednesday Readings 
19/02/2014 
10:00am – 3:00pm 
Tarot-Tea Cup - Healing 
Color Therapy - Numerology
$
 30.00 per reading
Julie - Dianne - Essy - Netty 
Monthly Meeting 
Clairevoyance
Saturday: 22/02/2014  
2:00pm    
Guest Speaker: 
Denise Palmer (Penny) 
Healing available & Cuppa 
$ 5.00 entry fee 
ALL WELCOME 
Ph: 09 4312120  
Having a philosophy that abundant har-
monious  living  for  all  is  achievable 
through  'Earthkind"  practices,  a  belief 
that  knowledge  allows  people  to  make 
more  beneficial  decisions,  and  with 
much  input  from  like-minded  people 
we  developed  the  concept  of  Taonga 
Gardens.    Although  we  operate  from 
the  old  Koanga  Gardens/Kaiwaka  Or-
ganics  site  at  2395  State  Highway  1, 
Nth  of  Kaiwaka,  we  are  a  new  enter-
prise and  have no affiliation  with them. 
Our contact number is 09 4312 732. 
Our passion and enjoyment for growing 
dynamic  life-enhancing  organic  food, 
preserving the variety of such food, and 
our  intent  to  create  a  knowledge-
sharing  hub  for  a  diverse  range  of  top-
ics involving 'Earthkind' practices, nat-
ural  healing,  Human  Rights  etc.  whilst 
providing  service  to  community,  gave 
rise  to  the  creation  that  is  Taonga  Gar-
dens. 
 
Hence  our  intent  is  to  make  available  a 
wide  range  of  heritage  seeds  and  trees, 
to  promote  abundant  living  through 
'Earthkind'  practices,  enhance  commu-
nity 
involvement, 
to 
share 
our 
knowledge, and to work collaboratively 
with  others  who  also  share  our  passion 
for living as naturally and 'Earthkindly' 
as practicable. 
  
Taonga  Gardens  has  now  become  a  re-
ality,  when  on  January  12
th
  2014,  upon 
completion  of  stage  1  of  a  major  reno-
vation, we opened our doors for trading.  
Our trading hours are 7 days 9 to 5 Sun-
day to Thursday, and 9 to 6 Friday and 
Saturday.  Practically  speaking,  we  are 
open while the OPEN flag flies. 
 
 
U Beauty 
 Eyebrow Wax 
$10 
 Eyebrow Tint 
$10 
 Eyelash Tint 
$20 
 Lip Wax 
$10 
 Chin Wax 
$10 
 Underarm Wax  
$20 
 Bikini Wax 
$20 
 Extended Bikini Wax 
$30 
 Brazilian 
$50 
 ½ Leg Wax 
$30 
 Full Leg Wax 
$45 
 Full Pedicure 
$60 
 Foot Tidy  
$35 
 Manicure 
$45 
 Nail Tidy 
$25 
 15 min Back  Massage 
$25 
 30 min Back Massage 
$50 
 Chest Wax 
$30 
 Back Wax 
$40 
 Nostrils 
$10 
 Ears 
$10 
Please call Nicole for bookings 
09 393 6336 or 022 0639450 
Qualified Beautician 
4 Kaiwaka – Mangawhai Rd, Kaiwaka 
We  offer  a  wide  range  of  trees  and 
plants,  organic  seeds,  seasonal  seed-
lings,  herbs,  and  fresh  produce  when 
available.    We  also  provide  Daltons 
Organic  compost,  seed  raising  mixes 
and  fertilisers,  among  others.  Garden-
ing  gloves  and  tools,  including  Ni-
washi, and other necessities for the  dy-
namic  gardener.    Also  a  wide  range  of 
new  and  pre-owned  books  on  garden-
ing,  cookery,  and  natural  healing, 
among others and some great gift ideas 
for  adults  and  children  alike,  including 
calendars  by  world  renowned  NZ  pho-
tographer Craig Potton. 
 
Taonga  is  a  work  in  progress.    As  of 
now  our  web-site  is  under  construction 
and  we  are  taking  personal  details  for 
those  who  wish  to  become  part  of  our 
mailing  list.  Your  details  will  not  be 
knowingly  shared  with  another  except 
by  your  agreement.    In  the  near  future 
we  will  begin  providing  workshops  on 
various  facets  of  gardening,  permacul-
ture,  abundant  living  and  small  block 
management, 
also 
some 
evening 
presentations  and  discussions  on  vari-
ous  topics  including  community  based 
alternative  energy  systems,  water  puri-
fication, Law and legislation, establish-
ing  Local  Community  Councils,  Con-
stitutional  Order  and  Rule  of  Law,  our 
Human Rights and Responsibilities and 
self-determination in NZ. 
 
Please feel  welcome to stop by to have 
a look and a chat, and to  enjoy Taonga 
Gardens. 
The Twinkle Tow 'n' Tyre
OTAMATEA 
HAWKS 
Supported by Phil Keen Concrete 
Invite all supporters and sponsors to the  
Hawks vs East Coast Bays 
pre-season match:     Sat  22
nd
 Feb, 12 pm & 3 pm 
Kaiwaka Sports Complex 
 
Northern Rugby Union Southern Districts Premier games: 
Round 1:Starts:  March 1
st
 Mid Western vs Otamatea - Away 
Round 2 : Otamatea vs Wellsford - Home 
Round 3 : Kamo vs Otamatea - Away 
 
Join us for the 2014 Season  
Become a paid up sponsor or part of our supporter's club  
Contact: Secretary Jennie 021 027 64 171 
President Kevin 027 47 93 659  or Coach Dean: 021 61 20 41
WELCOME TO TAONGA GARDENS 
(Taonga:- that which is precious.)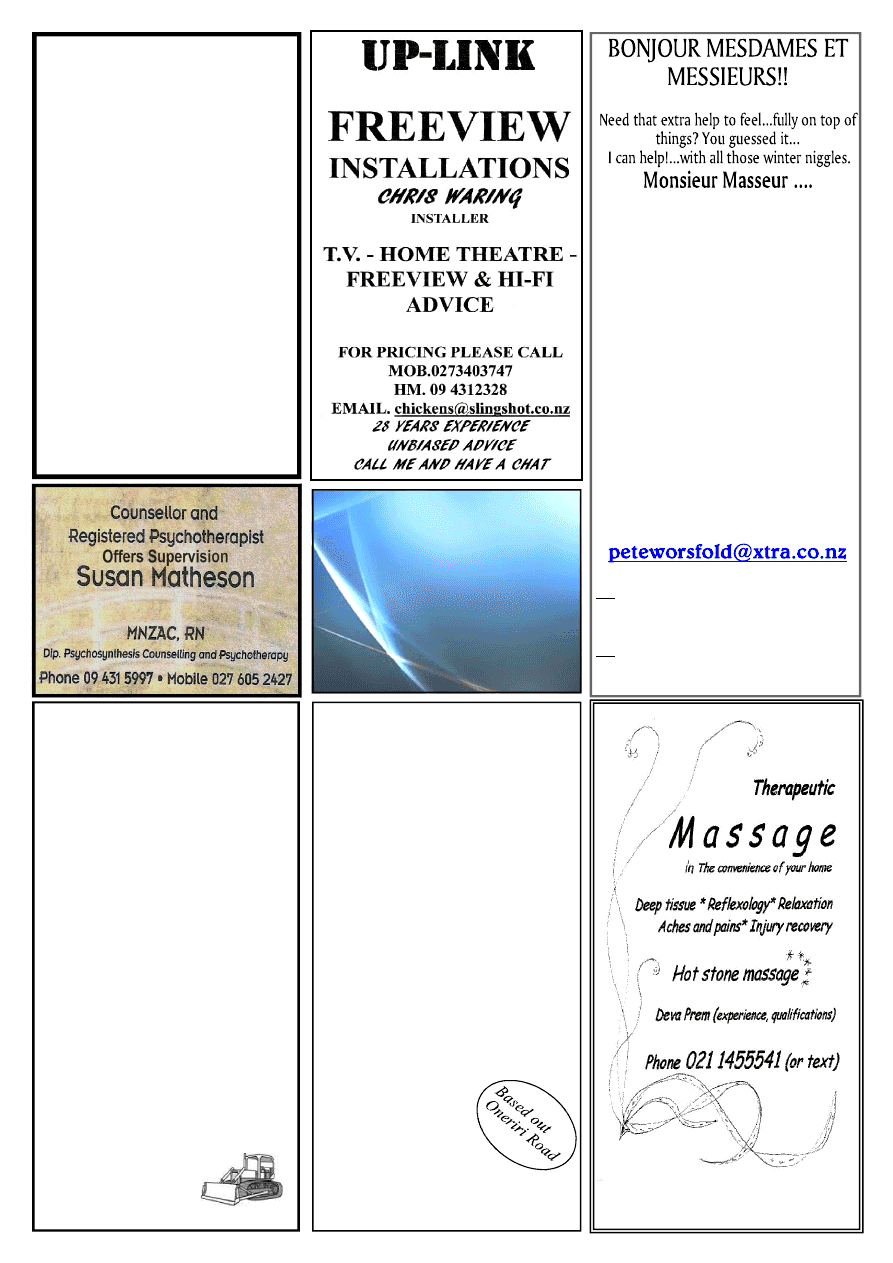 www.mangawhaimassage.co.nz 
HODGETTS
CONTRACTING
Digger Work    

Driveways 

House Sites   

Dams 

Drains, etc
Also available for HIRE 

3 ton Vib Roller 

Heavy Duty Tow 

Waterblaster  

Lazer Level 
Phone Mark 
4312877 
027 447 8554
RELAXING  
MASSAGE
..... Juste pour vous" 
Here's feedback from happy clients: 
"When I came in for a massage, I was 
stressed and my body was sore.. 
Prior to my massage, Pete counselled me, 
using positive affirmations and visualisa-
tion.. I relaxed and responded to massage 
treatment a lot quicker, I feel. I am still 
using these affirmations on a daily basis. or 
when I feel stuck.." 
Call for an appointment now!
Pete Worsfold 
4312 009 (evenings)  or    
021 825970   
Flat 1 1933 SH1 
Or  Book at "The Well of Health" 
for an appt. 09 4312 799 
 
Or mobile service available 
Coates  
Contracting 
 
D41 Bulldozer with 6 
way blade, bush rigged 
with winch 
 
For all tree work 
 
General bulldozing and  
  stick raking. 
 
120hp Tractor for 
ground cultivation,  
 
tip trailer work. 
 
Fencing
All enquiries phone  
Brett Coates  
094318720 or mob 
021431872 
Freeview  
Installations 
Richard Te Haara 
25 Marram Place 
Mangawhai Heads 
021 1104056 
kiwipride@xtra.co.nz
Willow Bend
HORSE  
HOTEL 
"   
Total Horse Care 
" 
Agistment 
" 
Riding Lessons 
" 
Arena Hire (60x40) 
" 
Young Horse Starting 
" 
Re-training/Exercising 
" 
Hoof Trimming 
" 
Problem Solving 
Phone Sue 09 431 2817 
or 021 623 776 
Or email sue.gray@xtra.co.nz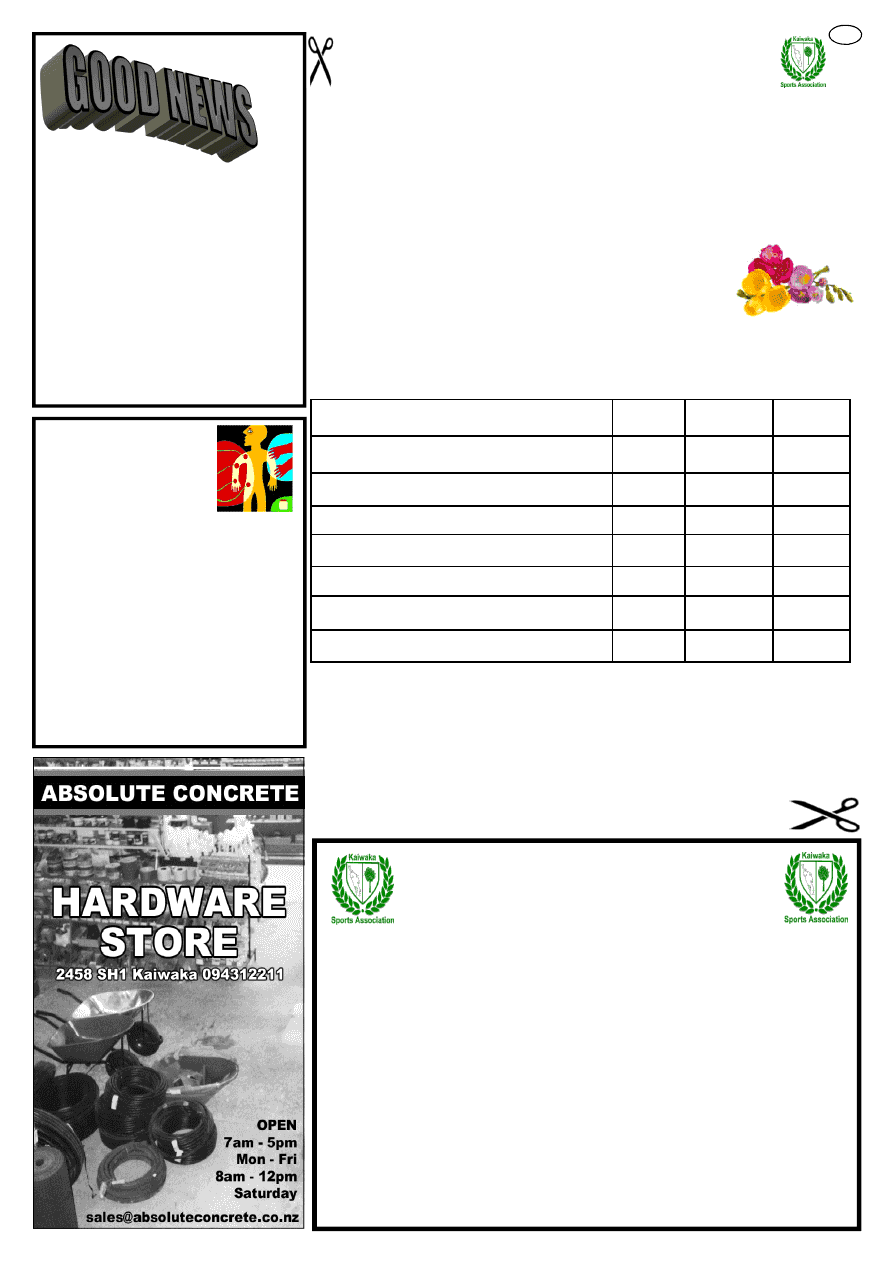 JUNIOR RUGBY 
RALLY DAY 
Tuesday 18th Feb, 5pm 
Kaiwaka Sports Complex 
*  Do you have a boy or girl interested in playing rugby? 
* Under 7's, Under 9's, Under 11's & Under 13's 
*  come along to Eastern United JMB's Rally Day to find out more! 
 
AGM will also be held, all welcome 
Enquiries to Jennie Reynolds on 9450 502 or 021 02764171 
@ the  
Kaiwaka Family 
Church 
Your COMMUNITY CHURCH 
RECEIVE HEALING 
  RECEIVE THE LOVE OF GOD 
  Everyone warmly welcome each                                            
 
    Sunday 10am. 
Contact: Pastor John Dekker,  
09 4318203 
THERE'S 
OWEN STEVENS 
Osteo Therapist
For careful 
adjustments to bones 
and joints 
Treatment for  humans and their 
pets 
Clinics: Kate's Place, Kaiwaka: 
Last Friday of month 
Warkworth Showground:  
2nd Thursday, monthly          
For  bookings:  9.00am-5.00pm  
Phone 
09 4312661 
 Or phone Owen   
09 4317123  anytime 
11 
BULBS FUNDRAISER 
Fundraising for the Kaiwaka Sports Association 
Here's a great opportunity to purchase spring flowering bulbs and seeds. Bulbs are 
easy  to  plant,  fun  to  grow  and  will  reward  you  with  beautiful  flowers  year  after 
year! 
 
Bulbs  are  supplied  by  Garden  Post  who  source  bulbs  from  New  Zealand's  best 
growers. Prices offered here are less than normal retail and the KSA will make 30% 
profit on all sales. Your order will be delivered to your home and a planting guide 
will  be  enclosed  with  each  order. To  order  please  return  this  form  with  your  pay-
ment by 15
th
 March. Delivery will be the following week. Any enquiries to Cheryl 
Anderson on 4312 051. 
Bulb Order Form 
Name:   _______________________________________ 
 
Address:   _____________________________________ 
 
Phone number: _______________ 
Payment options: Cash / Cheque (payable to KSA) / Bank direct 
060365002247200 (use reference bulbs and your full name)  
Ways to return form: 
 
Post to Cheryl Anderson, 233 Baldrock Rd, RD2, Maungaturoto, 0587. 
 
Drop off in box at Jaques Four Square. 
 
Scan and email to Cheryl at 
kaiwakasports@gmail.com
Bulb type
Price
# packs
$ total
10 Golden Trumpet Daffodils
$8.50 
10 Fragrant Daffodils 
$8.50 
10 Tulips Mixed 
$10 
10 Fragrant Double Freesias 
$6 
10 Dutch Iris - Blue Magic 
$7 
Edible Flower Seed Mix 3 grams 
$5 
TOTAL 
Saturdays 
By 
Arrangement 
Open  
Mon-Fri  
8am-5pm  
Gentle Dental 
Ruakaka 
We love to see you smile 
" 
General  & Cosmetic Dentistry 
" 
Emergency & ACC Treatment 
" 
Denture & Hygienist Services 
" 
Senior Citizen Discounts 
" 
Free Adolescent Care 
" 
Free WINZ Quote 
19 Ruakaka Town Centre 
Dr Sim Sood & Associates 
You're in gentle hands 
Ph:  432 8139 
Celena's Gifts 
-
gifts for all occasions 
Closed Mondays 
1925 State Highway 1 
KAIWAKA  
Ph: 09 4312741
*MASSAGE * NAILS *   
*  NUTRITION* 
@ The Salon, Kaiwaka
Full hour and half hour massage  
TAILORED to suit YOUR needs,  
ALSO mini massages and chair  
massage available.
Businesses – ask about my on-site  
massage service for your staff. 
Full set of acrylic nails for both fingers 
and  toes  –  wonderful  solution  for  nail 
biters!    PLUS  manicures  and pedicures 
also available 
Weight loss and nutrition – lets work on 
this together… Call me today for a free 
wellness evaluation to achieve your  
nutritional goals. 
CINDY SAUNDERS 
Fully qualified masseuse and Surmanti 
trained acrylic nail technician 
Call or text 021 296 9819 or  431 2731  
Gift vouchers available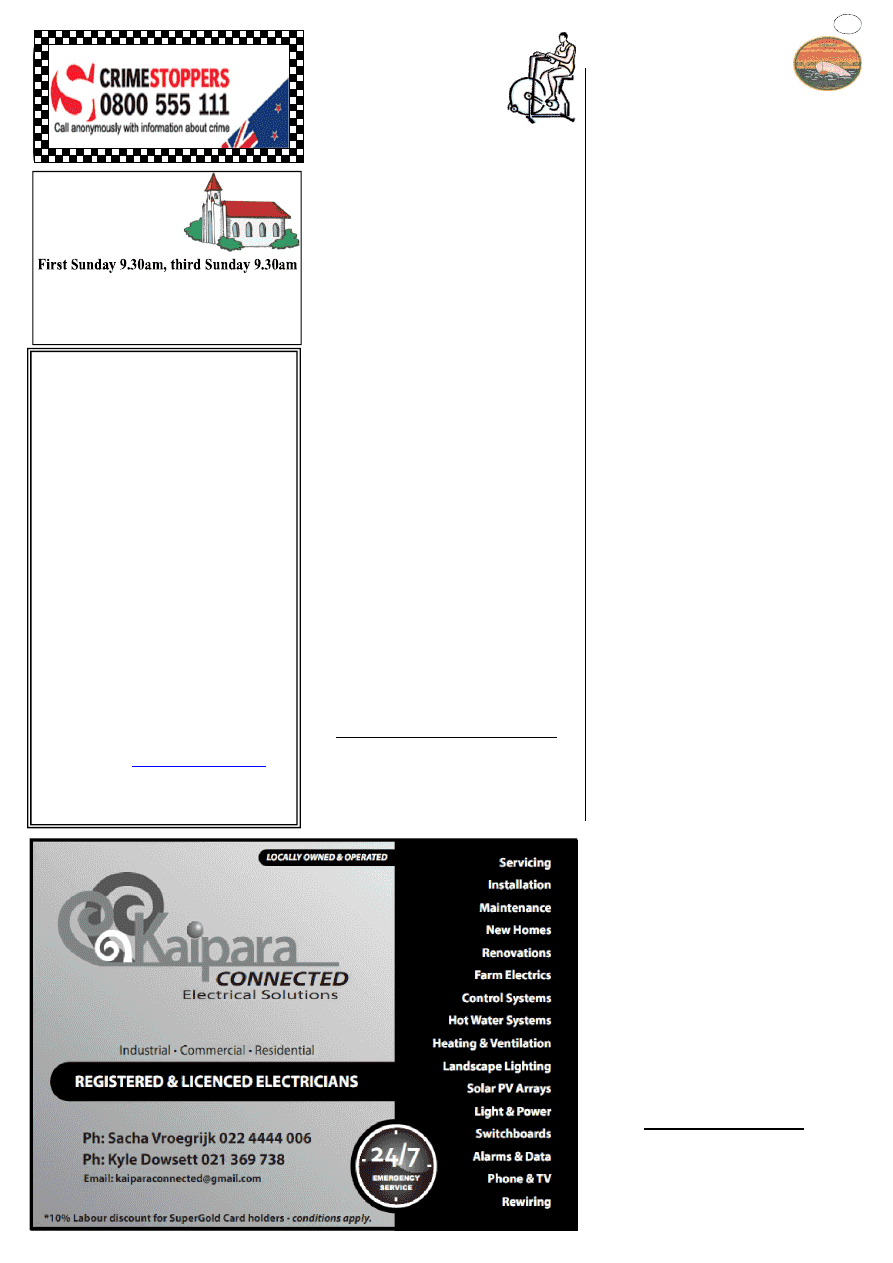 ST PAUL'S  
SUNDAY  
SERVICES
 Paparoa Anglican   
St Pauls Church: Kaiwaka-Mangawhai Rd.  
1st Sun. (Anglican), 3rd Sun. (Family Service) 
Contacts:M.Hargreaves 4312295, C.Bygrave 4312057
KAIWAKA  
FITNESS 
I  do  hope  those  that  did  the 
Top  of  the  Rock  had  a  good 
time,  the  view  was  worth  it 
though the  going  down  was a bit on the 
slippery  side.  Thanks  to  the  members 
that  turned  up  and  the  girls  from  work, 
they enjoyed the day. A lot of them will 
be  in  the  Northland  Run/Walk  Series 
that start on the 2nd of March, so if you 
are interested you can enter on line, ends 
up with the 1/2 at Kerikeri in November. 
Also  thanks  to  the  Sports  Association 
for  all  your  hard  work  in  organising  the 
day, not an easy task. 
Fitness Membership 
Membership  is  now  down  to  $50.00  till 
the end of May, it's a good time to try it 
out. 
Weights 
Please  members  be  considerate  of  other 
members, it's been good for a while but 
either  you  have  slipped  back  into  old 
habits  or  you  are  a  new  member  who 
doesn't  know  the  rules    about  putting 
your  weights  back  from  where  you  got 
them. I have spent my training time put-
ting  things  back  where  they  belong.  I 
will  be  looking  at  cameras  again  if  it 
continues. 
Kaiwaka  Sports  awards  are  coming  up 
in  April  so  if  you  have  nominations,  let 
me know. 
Annual General Meeting 
Also A.G.M. will be coming up in April 
so  please  come  along  and  get  involved, 
remember it's your gym. About time we 
had  a  change  of  President???  I  have 
been  doing  it for 10  years and it would 
be  good  to  hand  over  the  position,  new 
ideas etc. 
Keep training hard, Jules 
I was visiting my daughter last night when 
I asked if I could borrow a newspaper. 
"Dad this is the 21st century," she said. 
"We don't waste money on newspapers. Here, use 
my iPad." 
I can tell you this. That fly never knew what hit him. 
Indian Head  
Massage
'Relaxing body and mind' 
Enjoy a gentle, tension relieving, 
upper body massage 
without use of oils, as you sit in a 
chair, clothed. 
At Mangawhai and Waipu Boutique 
markets and 
"Well of Health" by appointment in 
Kaiwaka.
Brochure and gift vouchers  
available at 'Well of Health' shop.
Call Yatra on 021 2377678  
or email  
yatrabe@gmail.com
13 
KAIWAKA 
POINT CURTIS  
CRUISING CLUB 
Open Fishing Competition 
6am Saturday 8th March until 6pm 
Sunday 9th March 2014. 
Weigh Ins Each day 5pm-6pm at 3 Fur-
longs Hotel (No Late Weigh Ins) 
Maximum  Weigh  In:  2  per  species  per 
angler per day (to be gilled and gutted) 
All people on boat must have purchased 
a ticket for this competition. 
There  is  a  maximum  of  2  hooks  per 
line. 
No  nets,  longlines,  kontikis,  kites  or 
similar. 
MAF  rules  and  regulations  apply,  ex-
cept  snapper  must  measure  30cm  or 
more. 
Prize  giving:  6.30pm  on  Sunday  9th 
March 2014 
Auction to follow prize giving 
BBQ  to  follow  auction  (Please  bring  a 
plate) 
Ticket 
outlets: 
Jean 
Mcleish 
09 
4312520, 3 Furlongs Hotel, Kaiwaka 09 
4312246,  Wellsford  Sports  &  Leisure 
09 4238873 
Adults: Entry Fee $25 
Species: Snapper, Kingfish & Kahawai 
Heaviest Snapper 1st Prize $300, 2nd & 
3rd prizes: Fishing Gear. 
Juniors (Aged Under 15): Entry Fee $5 
Species:Snapper,  Kingfish,  Kahawai  & 
Eel 
Separate Junior Prize Giving 
All  Snapper  weighed  in  goes  into  the 
draw for the average weight prize. 
The  decision  of  the  Weigh  Master  is 
final. 
All fish  weighed  in (must be  gilled and 
gutted)  will  be  kept  by  the  Point  Curtis 
Cruising  Club Inc  to  be  auctioned  after 
the prizegiving. 
This  is  a  fundraiser  for  the  Rangiora 
Boat Ramp Carpark. 
Claybird Shoot 
Open Claybird Shoot at Pongo & Linda 
Leslie's  farm,  314  Settlement  Road, 
Kaiwaka.   BBQ  to  follow  (venue  to  be 
confirmed  for  BBQ)   Please  bring  a 
plate. 
East  v  West  Open  Fishing  Competi-
tion 
4th, 5th and 6th April 2014. 
Opening  Day  for  Game  Shooting  & 
End of Year Prizegiving 
Saturday 3rd May 2014. 
Congratulations  to  our   Fish  Of  The 
Month  Prize  Winners:  (Snapper)  1st: 
Renna  Brown  7.011kg,  2nd:  Renna 
Brown 
5.451kg, 
3rd: 
Lance 
Kemp  5.016kg. 
New fish of the month: SNAPPER until 
next meeting. 
Next   committee  meeting  4th  March 
2014, 7pm at 3 Furlongs Hotel. 
Wayne Leslie, Commodore 
 
Man:  Can  I  have  a  fly  rod  and  reel  for  my 
son? 
Fishing  Shop  Owner:  Sorry  sir  we  don't  do 
trades 
Where do fish stay on a campsite? 
…In tentacles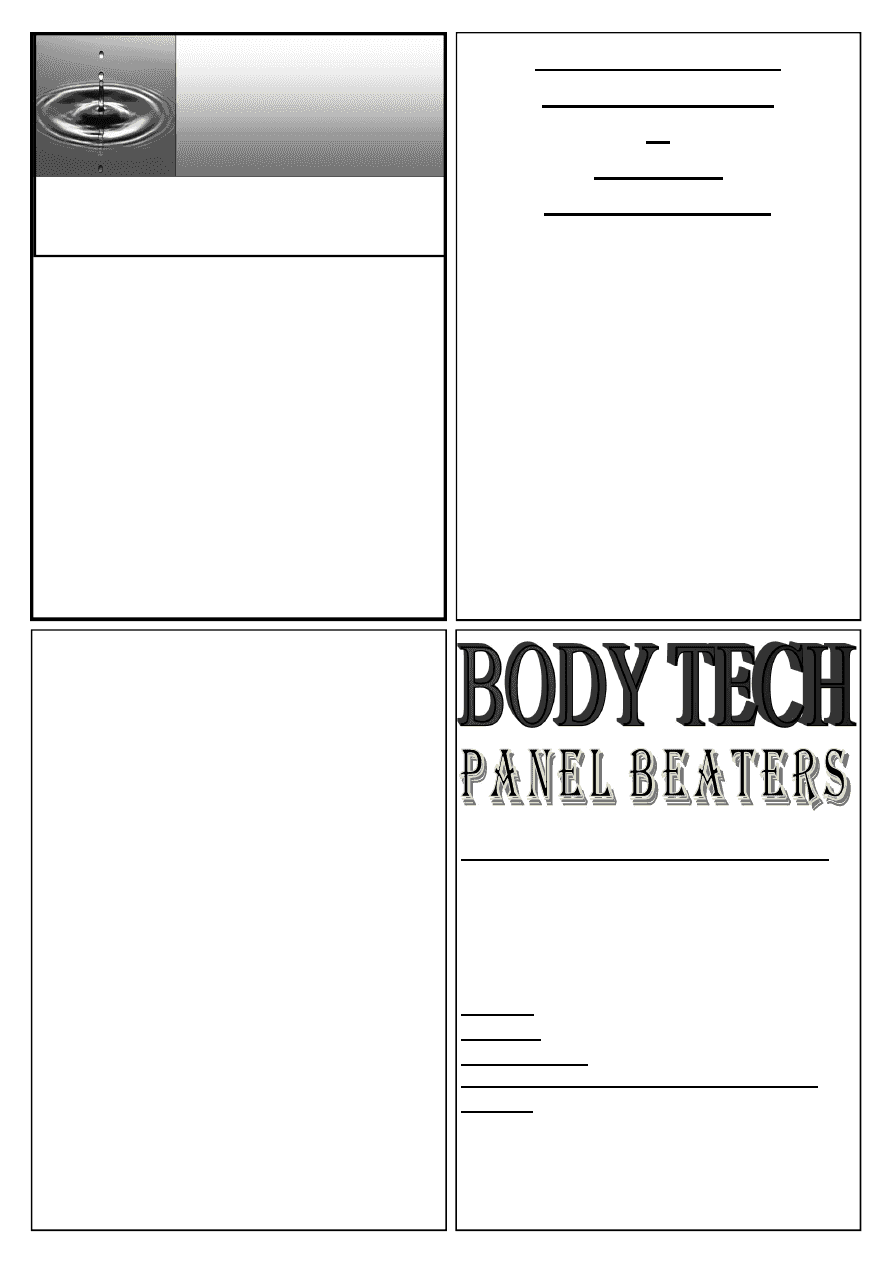 PETE WORSFOLD M. Soc. Sc. 
Student Counsellor 
 peteworsfold@xtra.co.nz 
 021 825 970 
Professional Service 
Variety of Modalities 
By Appointment Only 
PAUL SAUNDERS 
LAWNMOWING  
&  
GARDEN 
MAINTENANCE 
 
Lawns and edges 
 
Section mowing 
 
Hedging and trimming 
 
Spraying and fertilising 
 
Tree planting 
 
Green waste removal 
 
Pruning 
Friendly and reliable service guaranteed 
Call now for a free no obligation quote 
021 886 843 
09 431 2731 
Servicing Mangawhai and Kaiwaka  
and surrounding areas 
paulsaunders99@gmail.com 
For all your body repair needs!! 
We do: 
Rust repairs 
Insurance work 
Anti-corrosion treatment         
 
Hours: 8.30am-5pm Monday-Friday  
Mobile: 021 118 0462 
After hours: 09 431 2384 
Phone: Craig or Call in for a free Quote 
e-mail: 
bodytech_panelbeaters@yahoo.com
We are located at 1837 SH1 Kaiwaka, behind Twinkle 
Tow 'n' Tyre call in anytime for a free quote.  
Large and minor vehicle  
  repairs 
Industrial vehicles 
Full Cut and polishes 
FOR 
INDIVIDUAL ONE-ON-ONE 
COUNSELLING 
MODALITIES: 
CBT   
Grief 
Gestalt 
Relationship 
Person-Centred  
Trauma 
Solution Focussed 
Couples 
Behavioural 
Adolescents 
Careers 
Call for Appointment 
At "The Well of Health" 
09 4312799 or 021 825 970 
KAIPARA  FLOORING  CO 
32 HURNDALL ST MAUNGATUROTO 
Ph: 09 9469886 or 021 515 415 
Carpet, vinyl, laminate wood look  
flooring, vinyl planking, sanding  
& polyurethane service. 
Carpet Short Ends from $79pm + GST 
Vinyl D.I.Y. peel n stick tiles $10sq mtr + GST. 
Free measure & quote.   
Mobile Service 
Phone Christine or Howard anytime 
Open Saturdays by arrangement.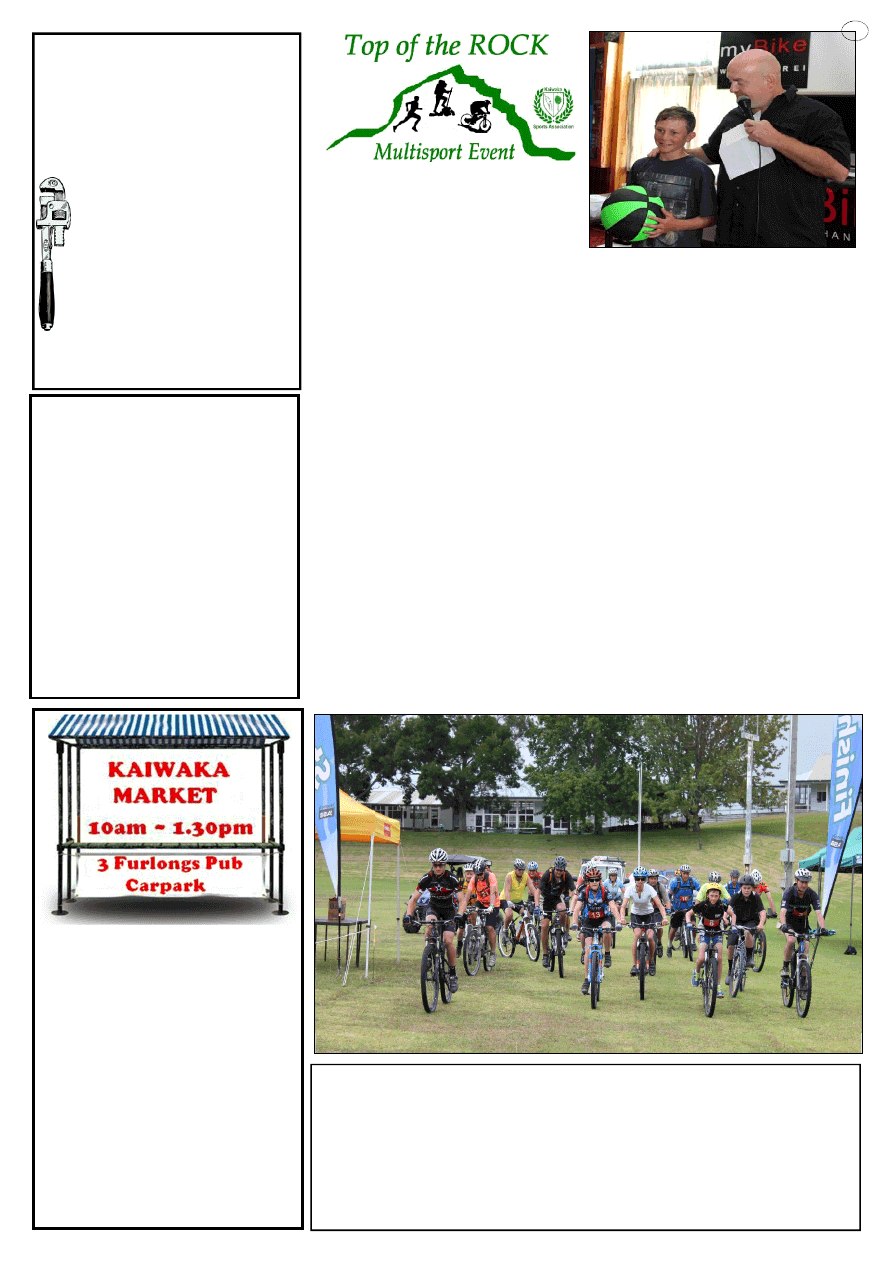 BARRY CURTIS  
PLUMBING LTD 
REGISTERED CRAFTSMAN 
PLUMBER 
Phone 4315572      
027 257 9884 
  25 years' experience   
        Friendly reliable service 
        All plumbing & maintenance 
        Alterations and new housing 
        New wood fire installation 
        Spouting 
 
Competitive rates
PROMPT EFFICIENT  SERVICE 
Held every 2
nd
 Sunday 
of the month 
In the Three Furlongs 
Hotel Carpark 
Sunday  
9 March
Produce, fish, clothing, 
art, new & used goods 
+ much more 
Enquiries to:  
Mandy 09 431 8717 
 
 
 
 
 
 
 
Many thanks to our  
generous sponsors: 
 Jaques Four Square, Parker Lime, L J 
Hooker, Kaiwaka Motorcycles, My 
Bike Olsen Contracting, NZ Alarm 
Shop, David & Mary Hargreaves, Ap-
ple Basket, Wellsford Sports & Leisure, 
Well of Health, Landcare Services 
(David Hyndman), Doug & Lenore 
Donaldson, Agridustrial, Copthorne 
Resort Bay of Islands, The Kaiwaka 
Salon, Carters Mangawhai, Absolute 
Concrete, Kaiwaka Cheese Shop, Ba-
vage & Chapman, Tony & Lindsey 
Hargreaves, Power Farming, Sport 
Northland, Rob & Deb Hastie, Ranga-
nui Developments (Grant Hyndman), 
RD1 Wellsford, Silver Fern Farms, Ru-
ral Design, Robert Leslie Logging, 
Overviews NZ, Bryce & Ann Cullen, 
Paul Greig Electrical, Rob Whitehead, 
More FM, Mangawhai Vet Centre, 
Kauri Springs, Kaiwaka Sports Associ-
ation, Mangawhai Tyres, ANZ Bank, 
McLennan Groundspread, Neil Jones, 
John & Jan Hargreaves, Bryan & Isobel 
McClean, Laughing Dog Computers, 
Kaiwaka Media Group. 
Some feedback received from the 
competitors after the event: 
"A great event – so few community 
based events like this around now, was 
a wonderful day, very friendly and well 
organised."  
  
"Just want to congratulate your team 
on a very well organised event. The 
prize giving was the best I have been to, 
they usually drag on too long, but this 
was just perfect. Enough time to thank 
the sponsors, acknowledge the winners 
and smoothly distribute the spot prizes. 
I hope the event continues to grow, it 
was really good to see all the kids join-
ing in – well done!" 
  
"My dad and I took part in the 10km 
walk yesterday - what an awesome 
event! Thank you all! We will definitely 
be back." 
  
"A great day! Thank you all for your 
efforts. We always find TOTR a great 
event; it is amazing how the route 
comes together, good sponsors and a 
lot of fun."   
Kaiwaka Library 
Membership is available to all residents in 
the Kaiwaka area.  
Hours: 
Wed-Sat 10am-2pm, 
Mon 4-6pm. 
PO Box 89, Kaiwaka 0542 
Phone 4312 539. 
Email kaiwaka.library@gmail.com 
Follow us on Facebook and Google+ 
Above: Austin Puckett & Brendon Johnson 
RUAWAI LIONS CLUB invites you to… 
MUSIC IN THE GARDEN 
Saturday 8 March 
3-6 pm
At Evan & Brenda Robinson's place at  143 Dunn Road, RUAWAI 
Featuring *R&B Connec on* Otherwise Fair * and more 
Proceeds to Northland Electricity Rescue Helicopter fund 
Food and refreshments available, Raffle, BYO alcohol 
Further info: ph 09 4392557 or 
jdsimpson@slingshot.co.nz
15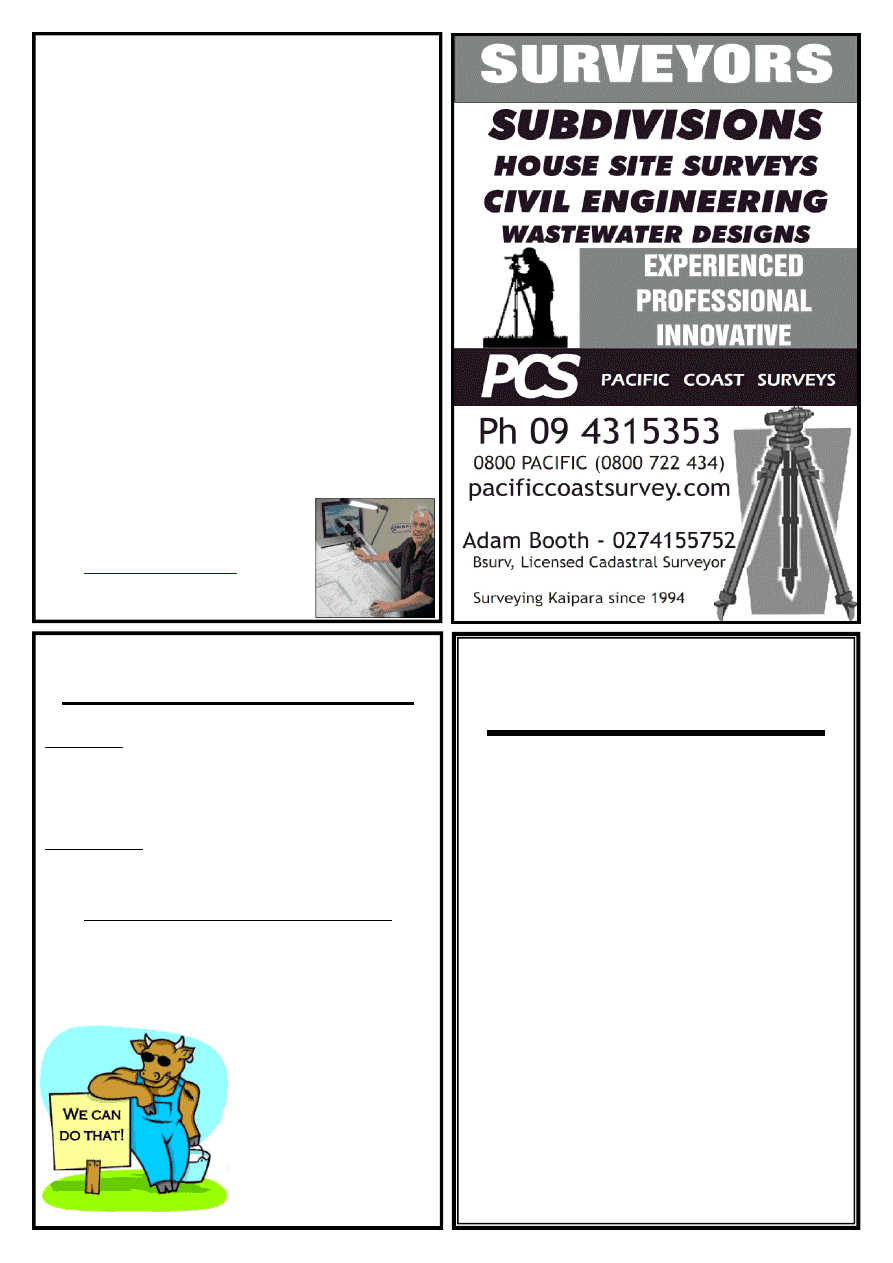 STOCKFOOD
 GREAT RANGE FOR ALL YOUR 
LIVESTOCK AT GREAT PRICES 
 ALSO CHECK OUR 
DOG BISCUITS 
20 KG FOR $58.90 
LPG REFILLS 9KG 
STILL ONLY $31.50
MANGAWHAI SERVICE 
STATION 
(09) 431 4242 
44 MOIR STREET IN THE VILLAGE 
 ARCHITECTURAL BUILDING 
PLANS AND DESIGNS 
WRIGHT DESIGN 
 QUALIFICATIONS 
Brian is a qualified designer (NZCAD) with over 40 years of var-
ied experience in all types of building and is a registered and Li-
censed Building Practitioner in Design - L.B.P. 117345 
He ensures you will achieve the best from your budget with rec-
ommended excellent local contractors ready to competitively 
price and build your personal project quickly and efficiently. 
 EXPERIENCE 
Brian's practical building and 40+ years of design experience 
means he can give you excellent advice and all the guidance need-
ed for all your building needs 
v Wright Design offers free visits, consultations and all the advice 
you need on planning, design, building, contractors, council per-
mit applications, etc. 
 
"  Qualified and inexpensive designer – N.Z.CAD., LBP 117345 
"  Guaranteed design and working drawings 
"  Free site visit to your home or property 
"  Great service 
"  Great problem solver 
 
Call Brian ~Arrange a visit to discuss your needs  and obtain great 
advice and free quotation 
MAKE GOOD USE OF HIS EXPERIENCE and KNOWLEDGE 
WRIGHT DESIGN:  
360 Oneriri Road, Kaiwaka
Office 09 4312544   
Mobile 021 276 7389  
Email: 
brianwright@clear.net.nz
www.wrightdesign.co.nz 
Call A Farmer
Fencing
 
Post & Rail 
 
Boundary 
 
Electric 
Spraying
 
Gorse 
 
Blackberry 
On Call Services For Lifestyle Blocks 
See our website for more services 
    www.callafarmer.co.nz 
Office 09 423 7585 
027 625 5383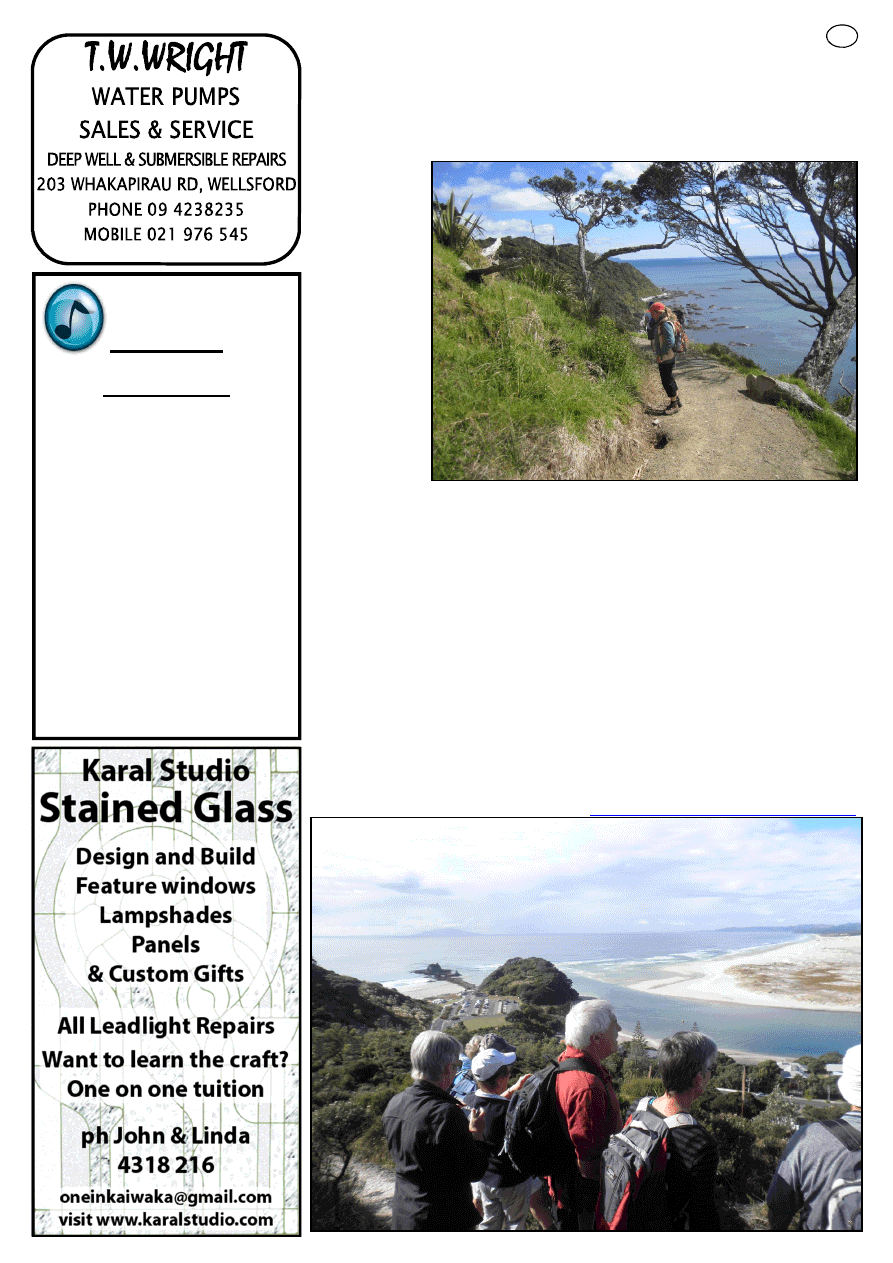 17 
The fifteenth year  
Dates 28th - 30th March 
Entries are flowing in so we are looking 
forward  to  another  busy  and  energetic 
weekend. 
Troubadour 
Trail 
Followers  will 
be  pleased  to 
have  the  return 
of  the  Japanese 
Drummers. 
Each  year  on 
this unique walk 
we spend Friday 
afternoon  walk-
ing  the  spectac-
ular  cliffs  and 
beach 
of 
the 
estuary.  Along 
the  way  we  stop 
and  relax  in  the 
sun  to  watch 
and 
listen 
to 
entertainers.  For 
$10  (at  Alamar 
Boat  Ramp  on  the  day  or  tickets  at 
Bammas  or  Mangawhai  Books  and 
Gifts)  this  is  a  great  way  to  open  the 
Weekend  and  enjoy  outdoor  entertain-
ment.  Departure  times  are  2.30,  3.00 
and 3.30pm. Family tickets available. 
Boot Camp 
Weekly,  large  numbers  of  Mangawhai 
people look forward to Thursdays when 
Shirley takes the popular fitness classes. 
At the Walking Weekend she is going to 
introduce  a  Boot  Camp  hour  of  circuit 
exercise  that  will  also  include  walking. 
How about giving it a go? She, with her 
knowledge  of  exercise,  will  make  sure 
you  work  at  your  own  level.  This  is 
your  chance  to  experience  this  popular 
form of exercise in safe company.  
Food and Wine Festival 
The  increasing  range  of  locally  grown 
produce  will  be  reflected  in  the  food 
available at the Food and Wine Festival. 
With the food and the local great wines 
and  beers  everyone  will  be  well  satis-
fied.  It  is  anticipated  that  the  dancing 
will  be  as  vigorous  as  ever  with  the 
Mermaids  to  keep  the  afternoon  swing-
ing  along.  Tickets  $25  at  Bammas  and 
Mangawhai Books and Gifts 
Web page 
Check  the  web  page  for  the  list  of  over 
thirty  guided  walks;  too  many  to  de-
scribe  here.  Walk  numbers  are  limited 
with  the  Takekaha  Falls  walk  already 
full for both days. Book and pay on line. 
Art trail 
The  Mangawhai  Artists'  studios  and 
display  venues  will  be  open  for  their 
biannual Art Trail. This is a special part 
of the total Walking Weekend.  
Brochure 
Collect a brochure from the Mangawhai 
Information  Centre  or  local  shops.  Join 
the walking community for a fun week-
end.  
Jean Goldschmidt 09 4315096 
www.mangawhaiwalkingweekend.co.nz
Singing 
Lessons 
Individual sessions 
All styles of music  
All voice types 
Reasonable rates 
Phone  
Maura Flower 
      021 164 8318
MANGAWHAI WALKING WEEKEND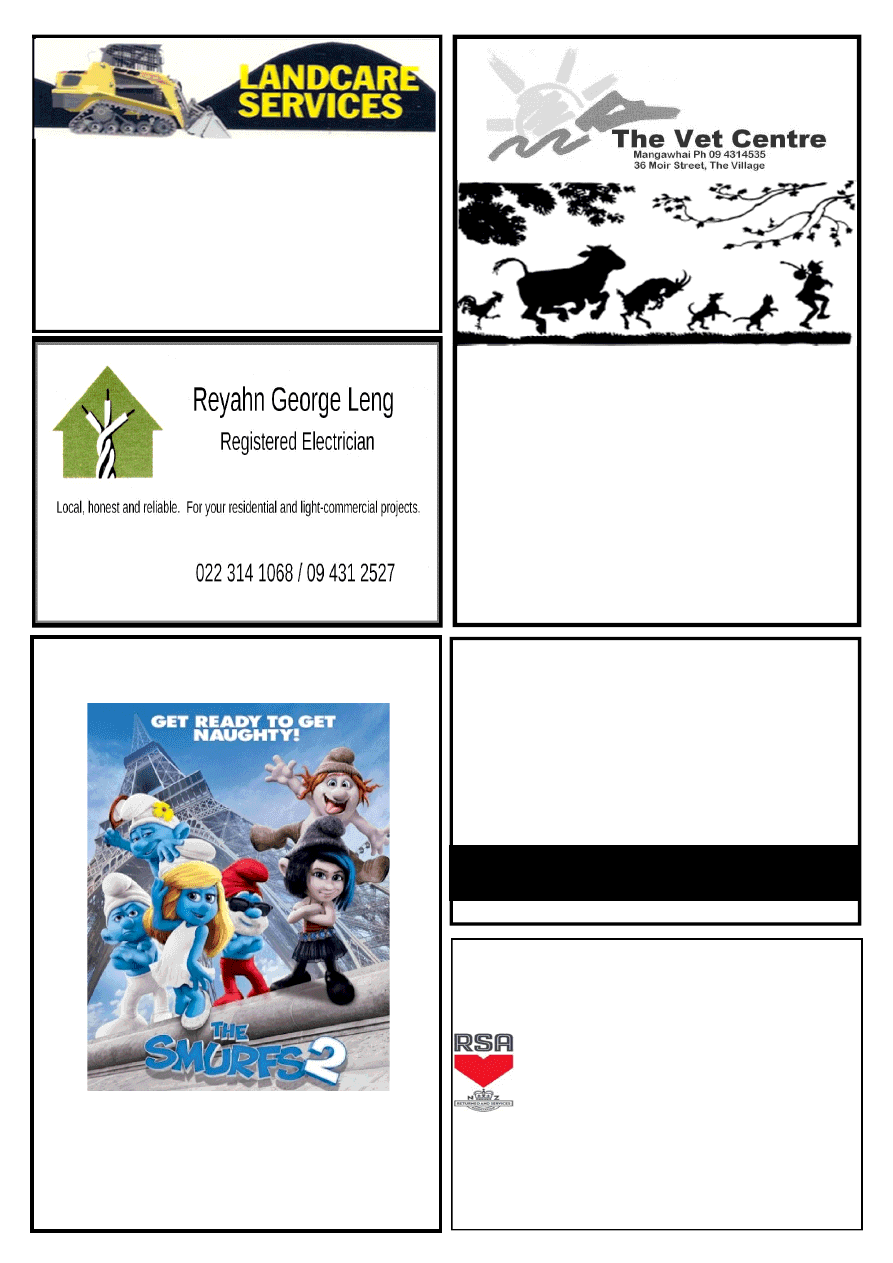 HAKARU  
& DISTRICTS  RSA  Inc 
Each Friday night from 6.30pm 
Meals will be served
2nd Friday of the Month 
Is Roast Dinner Special 
Come along and enjoy our Hospitality 
For more information 
   Ring Heather 431466 
or Jan 4314512 
LANDSCAPING 
4 IN 1 BUCKET 
TRENCHER 
POLE HOLES 
ROTARY HOE 
COMPACT ROLLER 
OFFAL HOLES 
CAN SUPPLY WOODCHIP & POST PEEL 
5 TON TIPPER 
FOR RELIABLE AND FRIENDLY SERVICE CONTACT DAVE 
Dave Hyndman 
 
KAIWAKA 
PH: 09 4312302 
MOB: 021 431 238 
~ Comprehensive large and  
small animal service ~ 
Monday to Friday 8.00am to 5.00pm 
& Saturday 9.00am to 12.00 noon 
24 HOUR EMERGENCY SERVICE 
Ph:  09 431 4535 
RESIDENTIAL 
PAINTING 
30 years' experience 
Ph Shane 022 378 0702 
Kaiwaka Community Cinema 
Presents
Kaiwaka War Memorial Hall 
Sunday 2 March 2pm 
Adults $10 Under 16yo $5  
Family Pass $25 
(2 Adults & 3 children max) 
Ra ng:  PG     
Time:  1hr 45min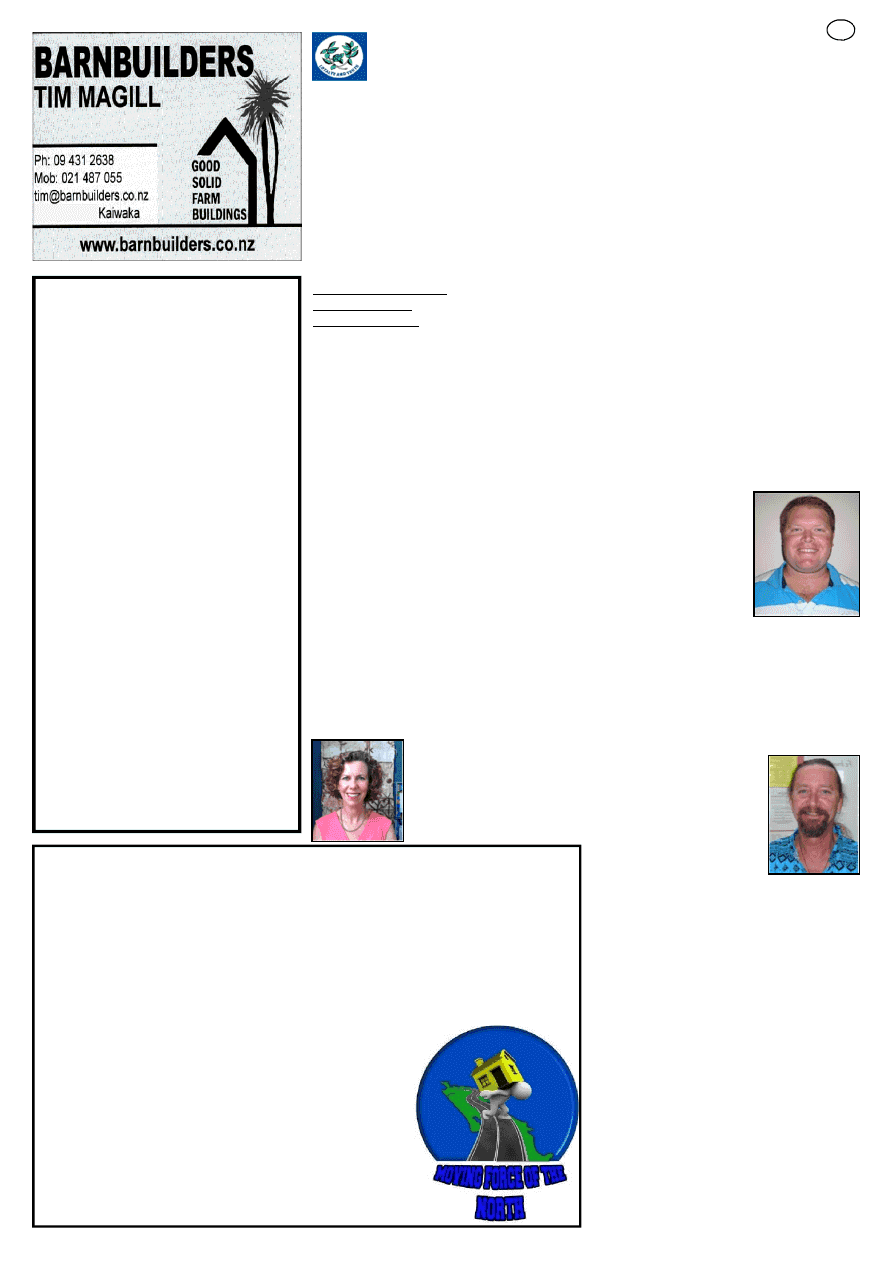 OTAMATEA HIGH SCHOOL 
19 
We  are  very  proud  of  the 
achievements  of  a  number  of 
our  senior  students  who  have  gained 
NCEA  excellence  endorsements  in 
2013. Each year NZQA recognises high 
achieving  students  by  awarding  various 
'endorsements'.  Students  who  gain  50 
credits  overall  at  excellence  (or  merit) 
level  have  their  NCEA  certificate  en-
dorsed with excellence (or merit). It is a 
considerable honour to be awarded such 
an  endorsement.  In  2013,  the  following 
students  all  gained  overall  excellence 
endorsements: 
NCEA 
Level 
3: 
Stacey 
Lewin                    
NCEA Level 2: James Finlay 
NCEA  Level  1:    Jordan  Smith,  Dylan 
Sims,  Nina  Linnell,  Jordan  Hyland  and 
Tayla Perkinson. 
Congratulations  also  goes  out  to  all 
those  students  who  gained  merit  en-
dorsements.  Across  all  NCEA  levels  1, 
2 and 3, 34 students were awarded over-
all  merit  endorsements.  The  following 
students  all  received  overall  merit  en-
dorsements. 
Level 
3: 
Renee 
Mooney, 
Suzie 
Katavich,  Jake  Powell,  Tayla  Eager, 
Thomas Nordmeier, Caitlin Foster, Jack 
Williamson, Jamie Mace 
Level  2:  Bayley  Coates,  Sophia  Butler, 
Ly  Sang  Kim,  Matthew  McRae,  Eliza-
beth  Harris,  Izzie  Porter,  Ellen  Nelder, 
Edhen  Hockenhull  Church,  Jessica 
Beeler 
Level  1:  Banyon  Carnell,  Tyler  Hey-
wood,  Cameron  Gill,  Michael  Parker, 
Thomas  Macdonald,  Ayla  Wehi,  Mur-
phy  Linehan,  Krystal  Reyland,  Blake 
Porteous,  Jamie  Manuell,  Crystal  Mil-
lar,  Caleb  Young,  Haydn  Dyer,  Emma 
Garnett,  Breanna  Taito,  George  God-
dard, Courtney Mottram. 
Meet Our Teachers 
Kia  Ora.  I  am  Phillipa 
Randell 
and 
a 
new 
teacher  to  Otamatea  High 
School.  My  husband  Ow-
en  and  I  have  recently 
HIGHWAY HOUSE MOVERS 
2 story character villa with a lot of old style charm, with solid 
kauri floors and high ceilings. This 2 story villa is in very origi-
nal condition would make a nice stately home.  $92,000 resited 
subject to site inspection. 
  
Double Bay Villa, 3 beds and laundry, in good solid original 
condition, will make a lovely home. 
$82,000 resited  subject to site inspection. 
  
Reclad, very original 2 bed home with kauri 
floors and many interesting features this is a 
great buy at $47,000 resited subject to site 
inspection. 
 
Phone: 0508 HSE MVR or 022 354 2696 
moved  from  West  Auckland  to  Man-
gawhai  and  I  am  delighted  to  be  now 
teaching  at  Otamatea.  I  previously  was 
Assistant Principal and classroom teach-
er  of  Years  7  and  8  in  a  small  full  Pri-
mary  School  in  Riverhead,  West  Auck-
land. We have left a 16 acre property for 
a  smaller  3  acres  in  Mangawhai.  But 
kune  kune  pigs,  hens,  dogs  and  cats 
have  all  relocated  as  well!  We  have  3 
adult  daughters  who  are  busy  pursuing 
careers  in  Journalism,  Psychology  and 
the  Arts.  We  have  been  holidaying  at 
Waipu  Cove  for  years  and  love  North-
land.  I  am  really  appreciative  of  the 
warm  welcome  that  I  have  received  by 
both  students  and  staff  at  Otamatea.  I 
am  Homeroom  teacher  for  one  of  the 
Year 8 classes and my teaching subjects 
are:  English,  Maths  and  Inquiry.  I  have 
lots  of  previous  experience  teaching  the 
Intermediate  years.  I  love  teaching  this 
age  group  and  know  how  important 
these  are.  I  look  forward  to  getting  to 
know  community  and  to  a  wonderful 
year of teaching and learning. 
Kia ora, my name is Bruce Alison and I 
am the new PE teacher 
at 
Otamatea 
High 
School. I have recently 
graduated  as  a  teacher 
and  am  relishing  the 
opportunity  of  work-
ing  at  such  a  fantastic 
school. I am interested 
in  all  sports  and  am 
keen  on    any  outdoors  activities,  I  fish, 
dive, and hunt whenever I can, I am also 
an  avid  power-lifter  and  am  enjoying 
the wonderful community gym facilities 
the  school  has  on  offer.  I  look  forward 
to  working  with  students  and  parents 
and the great staff here at Otamatea. 
My  name  is  Steve  Davie-Martin  and  I 
am  the  Ngapuhi  Dean, 
Year 7 homeroom teach-
er,  and  Geography  and 
Tourism  teacher.  I  was 
born  and  bred  in  Wark-
worth  area,  where  my 
parents  had  a  dairy 
farm..  I  travelled  exten-
sively  in  Europe  and  the  Middle  East 
when  in  my  20's.  I  have  also  travelled 
widely  in  New  Zealand.  I  attended  Lin-
coln University and Dunedin College  of 
education. I have 3 teenage children and 
a 12 year old step-son to be. I have been 
teaching for 10 years in Dargaville. I am 
looking  forward  to  getting  to  know  the 
Otamatea High School community. 
                                 
You are all invited to our  
MEET THE TEACHERS EVENING 
 A great opportunity to view our new 
classrooms, meet with your child's 
teachers  
and to welcome new staff members and 
families to our school.  
Come along and join us – we would 
love you to be involved in our school 
community. 
Otamatea High School Hall at 7pm on 
Tuesday 18
th
 March,  2014 
 Yang Style Tai Chi 
Classes For Beginner 
And Practitioners  
At The 
Kaiwaka Memorial Hall 
Ever Tuesday Starting 
at 10.30 am 
Come Along And Have 
Some Fun While Improv-
ing Your Balance Health 
And Fitness 
For More Information
Contact Andrew 
Young 09 4223424 
taichi@pl.net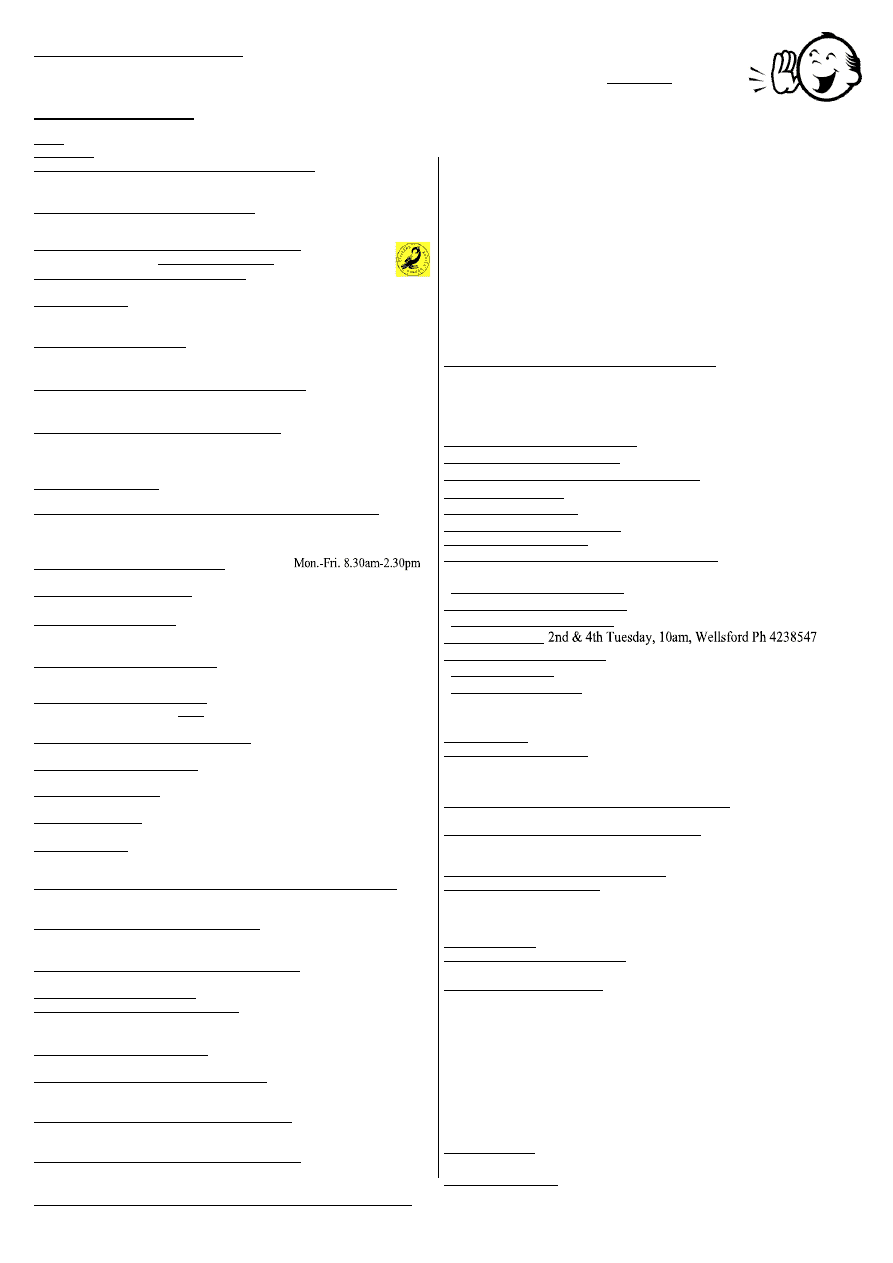 LOCAL SERVICES 
*St.John Ambulance 
111 or Freephone0800 61 0066
*Fire phone 111     *Police phone 111 or 09 4311150 
 
WELLSFORD DOCTORS: Ph: 4238 086 
 
A A: Meets Wed., 8pm Kaiwaka Ph: 4312228, 4315543, 0800229 6757   
AL ANON: In recess, contact Ph: 4312228 
AGRIQUALITY (MAF) Livestock Consultant 
Phone 09 4311 820 or 021518257  
 
BUDGETING SERVICE,OTAMATEA:Free confidential advice & 
support - all areas of  personal finance Ph: 09 4318173 or 094318117
CAB-
Citizens Advice Bureau.Wellsford Ph: 4237333.
0800 367 222 email:
cab.wells@xtra.co.nz
DOG/STOCK /NOISE CONTROL 0800 105 890 
 
KATE'S PLACE with Govt.Day Agencies/Community Information /
Osteopathy/ IRD / Probation, etc Ph: 4312661 Hours: 9am-3pm. Mon - Fri 
 
FUNERAL SERVICES: Morris & Morris Ltd, 
Whangarei - Bev Jaques Ph:4312367 or 0800667747 
 
GRANDPARENTS  Raising  Grandchildren:  Sarah  Rogers  Ph: 
4312194 
 
HAKARU LANDFILL/Transfer Station:Open everyday except 
Tuesday10am-4pm.Ph4312629 Cost-$55 trailer load up to 1 cubic 
metre. Ph:4258567 - office 
 
INLAND REVENUE: Last Friday each month, 
11-3pm Ph4312661 
KAIPARA DISTRICT COUNCIL www.kaipara.govt.nz:  
Help Desk FREEPHONE 0800 727 059  
Service Centre Mangawhai 4313161 
KAIWAKA KOHANGA REO:
Ph:4312620 
KAIWAKA CEMETERY: Ph: 4312045 
 
KAIWAKA LIBRARY: kaiwaka.library@gmail.com  
Mon. 4-6pm; Wed., Thurs., Fri., Sat.  10am-2pm Ph:4312539
 
KAIWAKA PLAYCENTRE: Ph: 4312286. Hastie Lane 
Monday to  Friday  9.00am 
- 
12 noon.
KAIWAKA POST OFFICE:
Ph:4312 626 Fax: 4312287  
Post Code: 0573  for RD2  and  0542 for all Kaiwaka Post Office mail 
 
KAIWAKA PRIMARY SCHOOL : Ph: 4312309 
 
KAIWAKA SPORTS ASSN: Ph 4312005; 4312129 gym 
 
KAIWAKA ST JOHN: Manager Steve Rosser 09 4318403, 021 2316836 
 
NORTHPOWER: Faults Kaiwaka area 0800 104040 
 
PARENTPORT: Free, practical family support servicePuhoi to Paparoa 
Ph:  Sharon Mehana, Co-ordinator. 4259357 or 027 280 5093 
 
PERSONAL DEVELOPMENT COACHING, GROUP FACILITATION:  
Sabine Druckler 4312231 
 
PLUNKET  KAIWAKA/MANGAWHAI:  Ph:
094318187 
or  0
276753488 
Kaiwaka Mobile Clinic once a month– appointments necessary;  
Mangawhai (next Domain) 
1st & 3rd Thursday & Coffee Morning; 
PLUNKET CAR SEAT CO-ORDINATOR:  
Pat Scott Ph 4314530 
or 0272881635 
PLUNKET FREEPHONE -0800 933 922 
PLUNKET -MAUNGATUROTO  Clinic every 2nd & 
4thThursday. Ph: 09 4318187 
 
PUBLIC HEALTH NURSE: Gloria Reid Ph: 094327634  
RETURNED AND SERVICES ASSN 733 Settlement Rd.Hakaru 
Ph.4312176 Bill Kerr (President) Ph.4314719 
TE KOROWAI AROHA O NGATIWHATUA Ph: 4312675 
(The Cloak of Love of Ngatiwhatua) Support and Maori Consultancy.  
 
VETERINARY SERVICE MANGAWHAI: 
Ph: 4314535 Mon-Fri 8.30-4.30, Sat 9-12, a/h appt. 
 
WOMEN'S WELFARE LEAGUE & Reaching Out For Youth:  
4 Kaiwaka-Mangawhai Rd, M Morgan 4312293
WHAT'S ON
PLEASE ~ do let me know what is on - email 
kaiwakabugle@kaiwaka.co.nz 
Advertising in WHAT'S ON is FREE 
Mondays: 8-2.30pm Kaiwaka Tramping Group  Karen 4312090. 
KAIWAKA MARKET  2
nd
 Sunday of month  Ph:09 4318717 
 
*18Feb~Eastern JMB Rugby AGM, 5pm Kaiwaka Sports Complex 
*21Feb~'Argo' Kaiwaka Movies 7:30pm 
*21Feb~Hakaru RSA 'Guess who is Coming to Dinner' Ph:4312697  
*25Feb~Otamatea-Ex netball trials KSA Complex 6:30pm 
*27Feb~Hakaru RSA Women's Section AGM, 1:30pm Clubrooms 
*28Feb~'The Last Ocean' Kaiwaka Movies 7pm 
*2Mar~'Smurfs 2' Kaiwaka Movies 2pm 
*7Mar~'Gravity' Kaiwaka Movies 7:30pm 
   
See www.kaiwaka.co.nz for upcoming events and great photos. 
 
Drink can 'tear tabs' - for Starship Hospital-Ph. 4312625   
HOUSEHOLD  RUBBISH  COLLECTION  -  Kaiwaka    Pick  up-
Mondays=Gr een bags ar e picked up by Nor thland Waste-queries 
to  them  09  4303273,Wednesdays=Blue  bags  and  yellow  recycling 
(at  Jaques    $3.00  and  $1.40)    are  picked  up  by  Kaurilands  09 
4392146.  
*OTAMATEA GREY POWER-09 431 8138 Joan Hoggard  
*KAIWAKA BADMINTON -Tuesdays 7.30pm Ph: 4312345 
*KAIWAKA GARDEN & FLORAL Grp:
2nd Thursday in month Ph: 4314767 
*KAIWAKA 
CUBS-Thursdays 5.30-7pm, Hakaru  Ph:Bruce  4312542
*KAIWAKA SQUASH -Mondays 7pm,  Ph: Barbara Thomas 4315905 
*GYMNASTICS OTAMATEA -  Tuesday Ph: Stephanie 022 3624998 
*HAKARU PONY CLUB-
Secretary Julie Rynne 09 4314520 
*
MANGAWHAI COMBINED PROBUS CLUB
: 2pm,3rd Thursday 
month in the Senior Citizens Hall Mangawhai. Ph: 4315777
*PT CURTIS CRUISING CLUB - Jean Ph: 4312246 
*WAIPU GENEALOGYGROUP -4th Monday in month Ph: 4312725 
*NZ GENEALOGY-Wellsford - 1st Thursday in month Ph: 4237033 
*CRAFT GROUP
:
*RSA,Hakaru & Dist.Women- meet 1.30pm 4th Thurs in month 4312668  
*OWEN STEVENS at Kate's Place Ph:4312661   
*Diabetes Support Group-for Kaiwaka, Mangawhai, Wellsford -10am, 
 
3rd Friday of month Ph:A.Pert 4238242; J.Gardner 4238060 
CHURCHES:
*Gateway Worship Centre-St Mary's Church Nathan Rd off Oneriri Rd, 
Kaiwaka 
Services, 10.30am 1st & 3rd Sunday of every month. Contact: Rev David 
Gage 4312528 or 0212354282 
*Kaiwaka Family Church-Your Community Church Sundays, l0am 
Home Group every Wed evening, Pastor John.Dekker Ph: 4318203 
*Kaiwaka Services.Anglican & Family Service at St Pauls Church  - 1st 
Sun. 9.30am(Anglican),3rd Sun. 9.30am (Family Service).  Contacts: Parish 
Office 09 4318193, M.Hargreaves 4312295, C.Bygrave 4312057  
*Church of Christ the King, Mangawhai 9.30am every Sunday 
*St.Mary's Catholic Church: Maungaturoto – Griffins Road, Saturday even-
ing Vigil Mass 6pm; Mangawhai – Senior Citizens Hall, Sunday Mass 
8:30am; Wellsford – Matheson Road, Sunday Mass 10:30am; Mid-week 
Mass times and all enquires to Fr. Bill Fletcher – phone 423 8170 
*Baptist Church: Sun. 10.30am Mangawhai Snr Cit.Hall.Ph:4312339 
*Cause Way Church Mangawhai – Sundays 10.15am, Mangawhai Commu-
nity Recreation Centre, Insley St. Ph: 09 4314782  
www.causewaychurch.org.nz 
 
*St.Pauls Archie Bull Hall HIRE  $20 half day, $40 full day per hire 
 Contact G. Jaques 4312048 
*Kaiwaka War Memorial Hall HlRE - Phone 4312725 or 
Email  kaiwaka.hall.bookings@gmail.com 
*Hakaru Community Hall HIRE -Ph.  4312256 or 4312110 
*Te Pounga Marae queries -A.Gage 4312528, 4312527 
*Kaiwaka Sports Association hire/queries- C. Anderson 4312051 
 
Justice of Peace: B.FJaques; L.Donaldson; A.F.Hargreaves  -please phone to 
make sure they are available 
Marriage Celebrants: L.Donaldson; A.F.Hargreaves 
 
Next Bugle Deadline Friday 28 February 2014