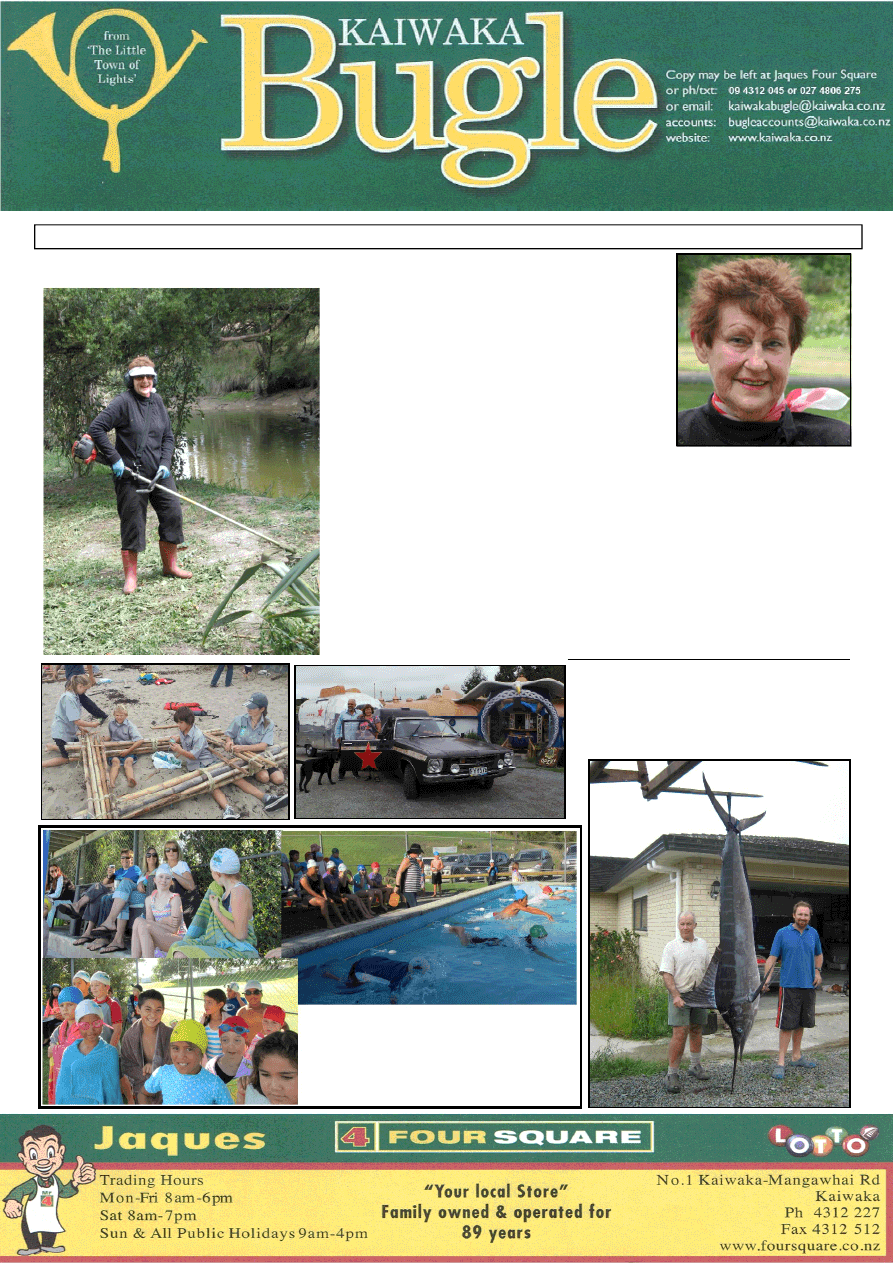 No: 4 
4 March 2014 
THE BUGLE'S GOOD SORT: ELIZABETH PRESTON 
Kaiwaka  School  swimming  sports  on 
Wednesday 26th February at the school 
pool.  Thanks  to  the  Larissa  Bonham, 
the  teacher  in  charge  of  Sports,  for  or-
ganising this day.  
Two  or  three  times  a  week  Elizabeth  Preston 
spends  hours  working  at  the  Kaiwaka  Rest  Area. 
This NZTA rest area is next to the Gateway North 
Motel and is a very well used stopping place. 
Elizabeth,  who  will  be  80  years  old  next  year,  is 
passionate  about  keeping  the  area  clean  and  tidy 
for those who stop here. She meets a lot of the folk 
who stop and as she says "there are so many lovely 
people.  Today  a  number  have  stopped  for  a  lunch 
stop, including a young family  who laid  out a pic-
nic on their blanket". They do appreciate the  work 
she  does.  She  is  a  very  keen  gardener  who  likes  to  keep  fit  so  enjoys  being 
able to give to the community. 
Just this week she has picked up a large bag of litter - everything you can think 
of, as a messy place attracts more mess.  She also picks up the broken branch-
es and sticks as it makes it easier for the mower man to make a good job. The 
young poplars that are sprouting up and the dead branches these hide are frus-
trating her, as are messes left under the big trees. 
To add to keeping things tidy Elizabeth takes her trusty weedeater to the park 
(yes, it is beginning to look park-like with her attention) once a month or may-
be  two  months  depending  on  the  growth  and  works  away  –  always  with  a 
smile. 
We of the Bugle Team are so impressed with Elizabeth's efforts we nominate 
her as our first "Good Sort"! 
Far  left:  Some  members  of  the  Scout Troop  build-
ing their raft. Left: Pic's Peanut Butter Big Toaster 
Tour   came   to   Kaiwaka,   seen   here with  Café  
Eutopia's Karen Harris. Below:  Roger  (left)  and 
Andrew  Farr  with  the  92kg  marlin  Roger  caught    
just outside Kaipara Harbour last week. 
ABOUT TOWN 
......... 
Congratulation Matt Mould and Daniel 
Hawkins  on  making  the    Blues  Devel-
opment Squad 
 
February  rainfall:  Kaiwaka  58.5mm; 
Oneriri 18mm 
 
Northland  local  government  reorgani-
sation - did you have your say? 
 
Kaipara  District  Council  draft  annual 
plan  appears  4  March  –  check  your 
rates  to  see  how  they  will  change. 
www.kaipara.govt.nz 
 
The photos on the front page look even 
better on our website! 
KAIWAKA BUGLE No: 4 
4th March 2014
Page 2: Kaiwaka Movies 
Page 3: Public Notices; Classifieds 
Page 5: Kaiwaka Library; Kaiwaka  
 
School 
Page 7:Pt Curtis Fishing; Gardening;  
 
Cubs/Scouts;St John  
Page 9: Kaiwaka/Mangawhai Scouts 
Page 11: Kaiwaka history 
Page 13: Kaiwaka Sports 
Page 15: Zonta; Otamatea High School 
Page 17: Kaiwaka Sports 
Page 19: Linking Hands; Rugby
Bugle 5 will appear 18 March  
Contact for advertising, reports, articles 
or information can be made by 
Email kaiwakabugle@kaiwaka.co.nz 
Ph: 09 4312045 
Txt:  0274 8062 75 
Business card adverts can now be added 
to the KMG website– email contact to: 
kaiwakaonline@kaiwaka.co.nz 
NEW PRICES: 
Kaiwaka Bugle Advertisements 2014: 
Classified $3; 1/8 page $6; 1/4 page $12; 1/2 
page  $24;  in  special  circumstances  whole 
page adverts are available-cost $100 
bugleaccounts@kaiwaka.co.nz 
Payments  can  be  online,  posted  or  left  at 
Jaques Four Square Store. 
kaiwakabugle@kaiwaka.co.nz  for queries 
or copy. 
The  Kaiwaka  Bugle  is  a  community 
newspaper run by volunteers.   
Articles,  etc.  printed  are  not  necessarily 
the opinion of the Bugle Team. 
KAIWAKA MOVIES
     at Kaiwaka War Memorial Hall
We  have  had  a  great  start  to  the  new 
Kaiwaka  Cinema.  We  have  screened 
great movies, and a dedicated group  of 
volunteers meet every month to put the 
programme together. The group of vol-
unteers  also  take  care  of  setting  up  the 
sound  system,  setting  up  the  chairs, 
getting  the  coffee,  tea,  drinks  and 
snacks  ready  and  clean  everything  up 
afterwards,  and  all  the  computer  stuff 
and  posters.  Without  volunteers  we 
would  not  have  a  cinema  -  thank  you 
all. 
So far we have  had a total  of 115 peo-
ple  visiting  and  we  are  pretty  pleased 
about  that.  We  have  screened  thrillers, 
kids,  family,  comedy,  animated  -  and 
the comments were are all like: "great" 
and  "excellent",  "awesome  sound", 
"nice to have intervals back", "sound is 
much  better  than  the  'old'  movies". 
There  was  also  applause  at  the  end  of 
the  movie  Argo  just  last  week.  Those 
comments are encouraging, thank you. 
Friday  night  is  now  "movie  night"  in 
Kaiwaka.  Every  1st  and  3rd  Friday  we 
will  screen  a  movie  and  one  Sunday 
afternoon  matinee  for  the  family,  usu-
ally the Sunday after the first Friday. 
Keeping in Touch 
We  have  a  dedicated  Facebook  group 
called  'Kaiwaka  Community  Cinema'  - 
see  you  there!  If  you  would  like  to  be 
on  a  mailing  list  send  an  email  to  cla-
rijsam@xtra.co.nz  Also  on  the  Kai-
waka  web  site  -  www.kaiwaka.co.nz 
click on movies. 
 
Special theme  nights are a possibility  - 
we  will  rely  on  input  from  the  public 
for  these,  so  get  in  touch  if  you  have 
ideas. 
Coming Up: 
7 March - The Great Gatsby 
21 March - Captain Phillips 
4  April  -  Beyond  the  Edge  (Ed  Hillary 
story) 
6 April - Mary Poppins 
25  April  -  Anzac  Day  special  -  watch 
this space 
Friday 7 March 7:30pm 
Friday 21 March 7:30pm 
Kaiwaka Bugle 
Founded May 1978 
Copies available in Kaiwaka at Jaques Four 
Square, Kaiwaka Postal Centre, Shamrock 
Service Station, Celena's Gifts 
Also outlets in Maungaturoto, Mangawhai 
and Paparoa. 
Can be viewed online at www.kaiwaka.co.nz/
Bugle 
Or a copy can be posted to you if you supply 
stamped, self-addressed DLE envelopes.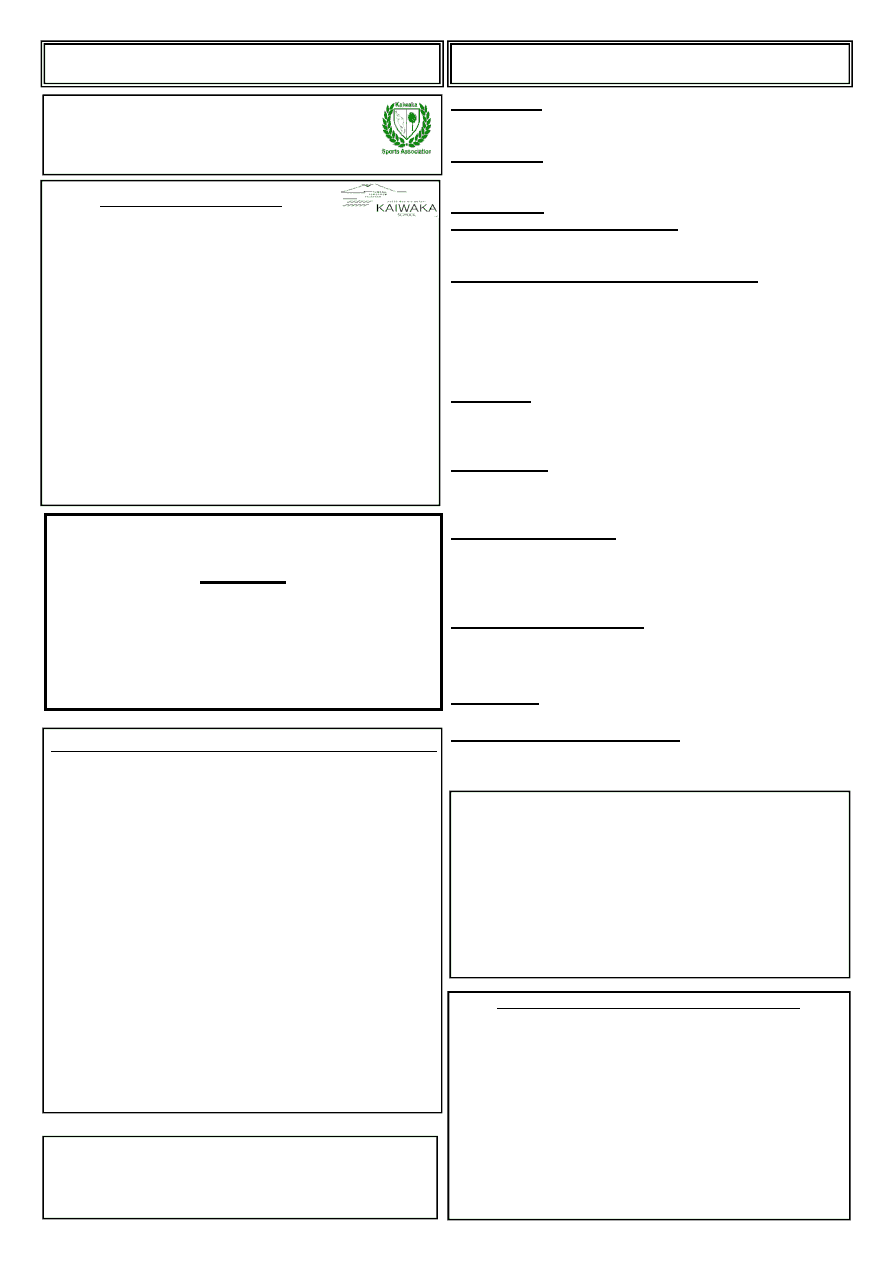 SITUATION VACANT 
 
School Secretary and Finance Administrator required. 
This position is for 25 hours per week. Experience, 
training and qualifications preferred. Duties include: 
  Reception 
  Communication with our school community 
  Enrolments and Student Data Entry 
  Managing the School Finances 
  Publishing the School Newsletter 
  Updating the School Website 
  Managing Payroll 
Applications close 12 March 2014. Please send a letter 
of application and your CV to: The Principal, Kaiwaka 
School, PO Box 104, Kaiwaka 0542.   
PUBLIC NOTICES 
CLASSIFIED 
FOR  SALE one desk, good condition, 940mm width  
x  600mm  depth  standard  height.  $35  ono.  Can  be 
viewed at the Kaiwaka Postcentre. 4312626 
FOR  SALE:  Dry sheep manure, $7 per sack, great for 
your  garden.  Please  phone  Carol  Mills  4312  044.  A 
fundraiser for Kaiwaka Cubs & Scouts. 
FOR  SALE  60  large preserving  jars 50c each,  also 
FREE  TO  GOOD  HOME  sm  black  male  cat 
18mths, neutered, vac & chipped. Ph Pat 0212547040 
 
GARAGE  SALE-SAT  15
th
  MARCH:  Loads  of 
Blokes  goodies-building/fishing  gear;  odds  &  sods; 
Household  assorted;  Chn's  assorted-toys,  clothes; 
Morris & James tiles; blue couch 1x2 seater, 1x3 seat-
er.    8  Pakeho  Rd  (off  Baldrock  Rd),  Kaiwaka.  NOT 
before 8.30am . Ph: Neal 0276023776 
 
RABBITS:  free  to  good  home  cute  little  half  lop- 
eared bunnies white & speckled brown assorted mark-
ings. 2x metal hutches $20 ea. 1 x wooden with insula-
tion $45. Ph Megan 4312971 or 0274373694 
LOST  CAT  Baldrock  Rd  eastern  end,  ginger  & 
white neutered male with regrowing fur from vet's vis-
it, lost 20 Feb. Ph Bronwyn 0278417979 or 099747969 
 
HOUSE  FOR  RENT 3-brm w carport, 11km west of 
Kwk - 10min drive. Floor & ceiling rec. insulated, pri-
vate,  quiet,  room  for  kids,  sunny,  fenced-off  garden 
area, refs rqd, no dogs. $200pw Ph 4312042 
 
SITUATIONS VACANT - Café staff wanted for cas-
ual part-time positions, for refurbished Kaiwaka café. 
Experience preferred. References required. Ph Bianca 
0210447508 
CLEANER Housewor k etc, local lady friendly and 
honest $18 Ph Jill 431 2080 
FREE  GRAZING  WANTED Small or  large block. 
Can  do  some  fencing  or  water.    Phone  after  6pm 
4312006
Thought for the day: 
Ill-gotten gain brings no lasting happiness; right 
living does.  Proverbs 10:2 
Kaiwaka Library 
Vacancy 
2nd Saturday of the month, 10am to 2pm 
Must be familiar with using Microsoft Windows. Full training 
given. 
Apply by sending an email to kaiwaka.library@gmail.com  
expressing your interest. 
Point Curtis Open Fishing Competition 
8 and 9 March 2014 
Snapper, Kahawai and Kingfish. 
$300 first prize for heaviest snapper. 
All fish weighed in to be gilled and gutted. 
Adult Tickets $25, Junior Tickets (Under 15) $5.   
Public auction to follow prizegiving. 
All Snapper, Kahawai and Kingfish weighed in 
will be auctioned. 
Auction proceeds to Rangiora Boat Ramp 
Carpark project. 
Please refer to column further in Bugle for contest rules, ticket 
outlets and further information. 
KNITTING FOR WHANGAREI HOSPITAL
We are a Group of Knitters and Crocheters and  meet 
at the Apple Basket on the 2nd Tuesday of the month 
at  10.00am.The  idea  is  to  make  garments,  beanies, 
scarves,  jumpers,  knee  rugs  and  shawls  to  donate  to 
Whangarei  Hospital  so  they  can  be  given  to  patients 
when  they  leave.  Many  of  the  patients  go  home  to 
cold homes with very little warm clothing or anything 
to keep them warm.  
So if we can make a difference the garments we make 
will  be  given  to  Children  and  Babies  as  well  to  the 
Elderly.  
We  will  also  be  making  Prem  Baby  Clothes  for  the 
Neo  Natal  Department  for  those  who  like  to  make 
very  little  things.  We  will  share  patterns  and  ideas 
over  a  cuppa,  and  discuss  what  the  needs  are  each 
month.  
If  you  are  interested,  come  along  and  see  how  it 
works. 
For  more  information  contact  Gale  Matheson 
094314827 or 0274149576 
KAIWAKA SPORTS ASSOCIATION 
MEETING 
Wednesday 12
th
 March, 7.30pm 
Kaiwaka Sports Complex 
KAIWAKA SPORTS ASSOCIATION 
SPORTS AWARDS
SPORTS AWARDS  
Monday 14
th
 April, 6.30pm 
Kaiwaka Sports Complex 
Emcee: More FM's John Markby 
Join us for a walk down memory lane to commemo-
rate  
the 30
th
 anniversary of the awards 
                  Adults   $25    Children (Year 9 & under)   $10 
Tickets available from Jaques Four Square, KSA club delegates 
or phone Cheryl Anderson on 4312 051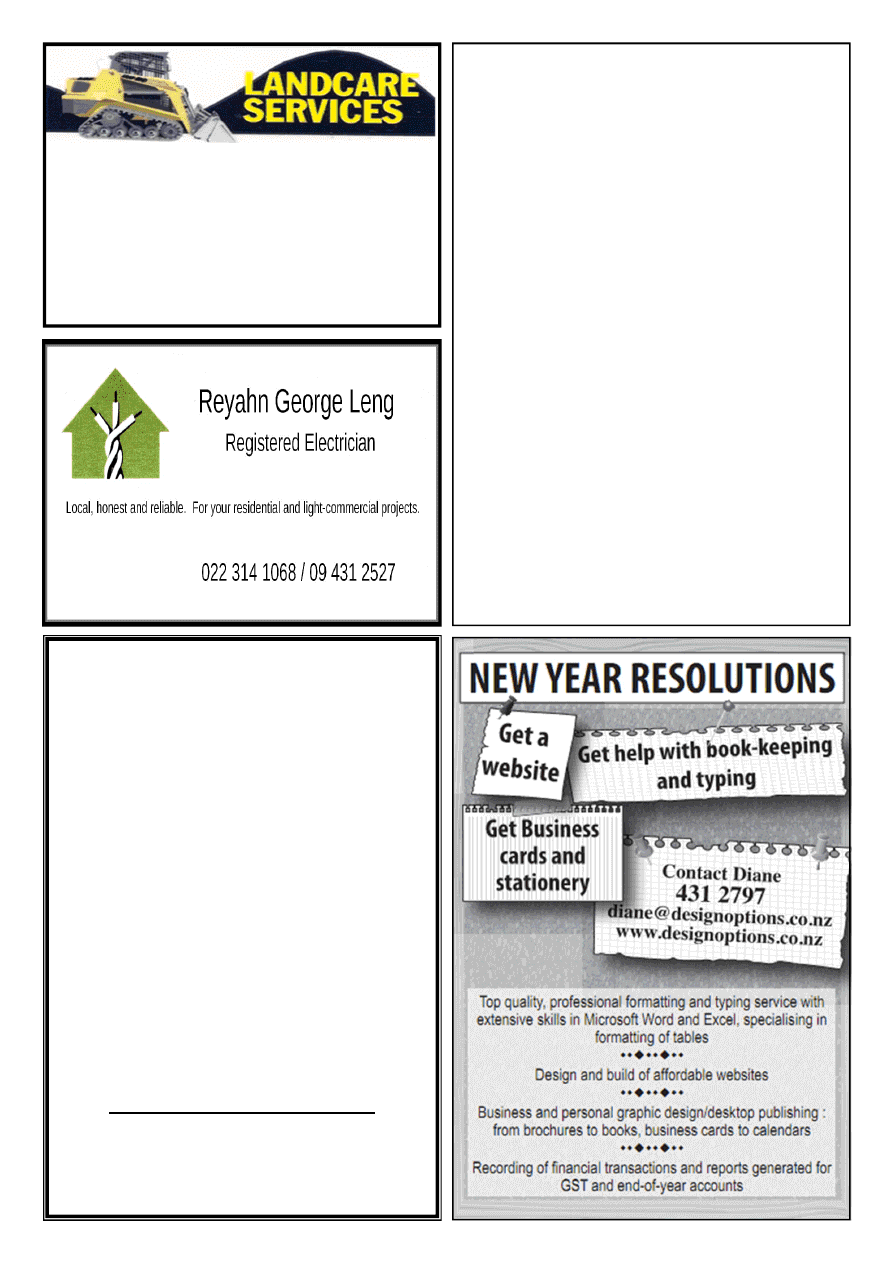 PAUL SAUNDERS 
LAWNMOWING & GAR-
DEN 
MAINTENANCE 
 
Lawns and edges 
 
Section mowing 
 
Hedging and trimming 
 
Spraying and fertilising 
 
Tree planting 
 
Green waste removal 
 
Pruning 
Friendly and reliable service guaranteed 
Call now for a free no obligation 
quote 
021 886 843 
09 431 2731 
Servicing Mangawhai and Kaiwaka 
and surrounding areas 
paulsaunders99@gmail.com 
LANDSCAPING 
4 IN 1 BUCKET 
TRENCHER 
POLE HOLES 
ROTARY HOE 
COMPACT ROLLER 
OFFAL HOLES 
CAN SUPPLY WOODCHIP & POST PEEL 
5 TON TIPPER 
FOR RELIABLE AND FRIENDLY SERVICE CONTACT DAVE 
Dave Hyndman 
 
KAIWAKA 
PH: 09 4312302 
MOB: 021 431 238 
* MASSAGE * NAILS *   
*  NUTRITION * 
@ The Salon, Kaiwaka
Full hour and half hour massage  
TAILORED to suit YOUR needs, 
ALSO mini massages  
and chair massage available.   
Businesses  –   ask   about   my   on-site 
massage service for your staff. 
Full set of acrylic nails for both fingers 
and  toes  –  wonderful  solution  for  nail 
biters!    PLUS  manicures  and pedicures 
also available. 
Weight loss and nutrition – lets work on 
this together… Call me today for a free 
wellness   evaluation   to   achieve  your  
nutritional goals. 
CINDY SAUNDERS 
Fully qualified masseuse and Surmanti 
trained acrylic nail technician 
Call or text 021 296 9819 or  431 2731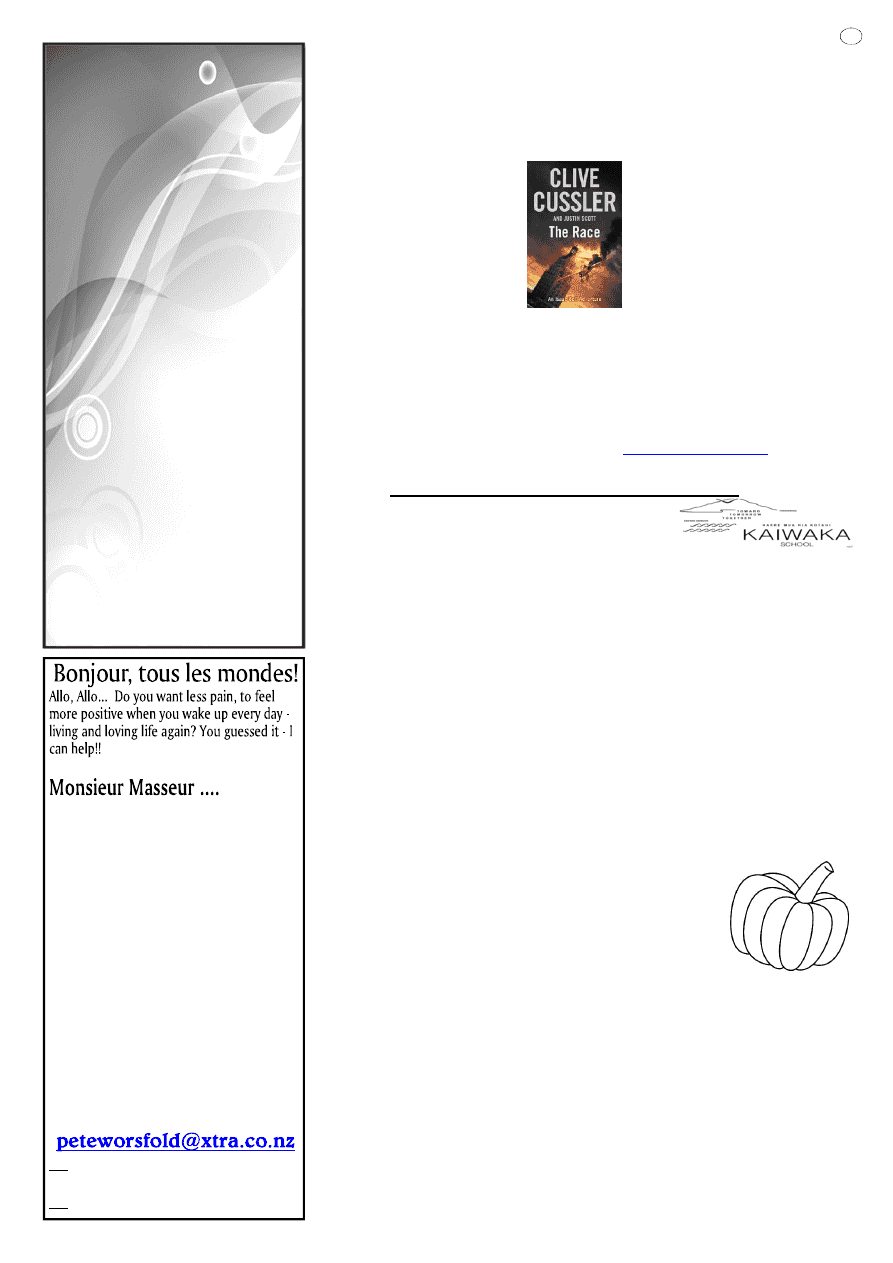 5 
RELAXING  
MASSAGE
..... Juste pour vous" 
Here are 2 satisfied clients after they had 
a relaxing massage with M. Masseur... 
"Thanx for last night, slept so well, and 
feel great 2day! Its put a spring in my 
step" 
"Good morning Pete - I have a beautifully 
relaxed jaw, face & neck. Thank you so 
much - it's helped a lot." 
Call for an appointment now!
Pete Worsfold 
4312 152  or   021 825970   
Or  Ph. "The Well of Health" 
For an appt. 09 4312 799 
Or mobile service available 
KAIWAKA LIBRARY 
U Beauty 
 Eyebrow Wax 
$10 
 Eyebrow Tint 
$10 
 Eyelash Tint 
$20 
 Lip Wax 
$10 
 Chin Wax 
$10 
 Underarm Wax  
$20 
 Bikini Wax 
$20 
 Extended Bikini Wax 
$30 
 Brazilian 
$50 
 ½ Leg Wax 
$30 
 Full Leg Wax 
$45 
 Full Pedicure 
$60 
 Foot Tidy  
$35 
 Manicure 
$45 
 Nail Tidy 
$25 
 15 min Back  Massage 
$25 
 30 min Back Massage 
$50 
 Chest Wax 
$30 
 Back Wax 
$40 
 Nostrils 
$10 
 Ears 
$10 
Please call Nicole for bookings 
09 393 6336 or 022 0639450 
Qualified Beautician 
4 Kaiwaka – Mangawhai Rd 
Kaiwaka 
Does anyone know Lee Kingi? I'm looking 
for  her  overdue  book  "Potiki"  by  Patricia 
Grace,  and  a  disk  from  an  audio  book 
"Blue  Smoke".  If  you  can  return  these  for 
her, it would be greatly appreciated. 
Book Review 
Recently  I've  read  The  Race  by 
Clive  Cussler  and  Justin  Scott. 
It's  1910,  only  a  handful  of  years 
since  the  Wright  Brothers  made 
their historic first flight in a pow-
ered  aircraft.  In  a  bid  to  promote 
and  extend  flight to  the  people  of 
the  United  States  of  America, 
newspaper  tycoon  Preston  White-
way  puts  up  $50,000  for  the  first 
airplane  to  cross  the  country  in 
under  50  days.  He's  even  sponsoring  a 
plane  himself  -  the  daring  and  beautiful 
aviatrix  Josephine  Frost.  There's  only  one 
snag in that idea - Josephine witnessed her 
husband shooting her lover - and builder of 
her  aircraft  -  and  her  very-rich-but-still-a-
thug husband has vowed to kill her. No-one 
has managed to catch him yet, and the Van 
Dorn  Detective  Agency  has  been  trying 
since  he  first  started  bashing  his  way  into 
the  newspaper  business  some  years  ago. 
Isaac  Bell  is  brought  in  to  protect  Jose-
phine  and  catch  Frost,  and  brings  in  Van 
Dorn men from all over the country to help 
-  and  ends  up  flying  the  entire race  course 
himself  as her  escort.  Not  that he has  ever 
flown before,  but  since when has that  ever 
stopped anyone?! He drives an auto-
mobile  and  can  drive  a  steam  loco-
motive - how hard can it  be? This is 
a  rollicking  good  yarn,  exactly  what 
I expected from these authors as I've 
read  a  few  books  in  this  series  be-
fore.  This  is  the  fourth  one  written, 
but it's not necessary to read them in 
order, I've found. This book is on the 
Dargaville shelves in the library until 
early June. 
Vacancy 
There is a vacancy in the library team, for a 
Saturday.  If  you'd  like  to  join  us,  please 
check  the  advertisement  in  this  Bugle  for 
details. 
See you in the library!
Wendy Howard, Librarian 
Kaiwaka  Library,  cnr  State  Highway  1  and  Kai-
waka  Mangawhai  Road.  PO  Box  89,  Kaiwaka 
0542. 
Phone 
4312 
539. 
Email 
kaiwaka.library@gmail.com
  Open  Wed-Sat 
10am-2pm,  Mon  4-6pm.  Membership  is  available 
to all residents in the Kaiwaka area.
the  proper-
ty/people 
managing it with RESPECT. 
On  the  topic  of  the  pool  we  had  our 
school  swimming  sports  on  the  26
th
  of 
February  followed  by  the  Bream  Bay 
Swimming  Sports  on  the  6
th
  of  March 
for the rep level. 
Keep your eyes on the School Newslet-
ter  for  information  about  the  Winter 
Sports  and  their  Clubs –  the  season  for 
Netball  (school  team),  Rugby  (Eastern 
Rugby  Club)  and  Soccer  (Kaipara 
Knights) is fast approaching. 
Naomi  Walker  on  behalf  of  Kaiwaka 
School's BOT 
The 4th Kaiwaka School Annual 
Giant Pumpkin Competition 
The date has been set: 16th April 12pm, 
at Kaiwaka School. 
Come along & sup-
port  the  Kaiwaka 
kids  -  $1  coin  vote 
for  your  favourite 
Arty Farty dressed-
up  pumpkin.  All 
welcome, tell fami-
ly & friends. The most coins wins!! 
Our champion for the last two years has 
been  Michael  Ferguson,  66.5kg  last 
year's entry. 
The entries this year's for prizes are: 
Big Bay-heaviest for trophy 
Arty Farty-dress up and name ($1 vote) 
Ugly Fugly-small or deformed 
Rolly Polly-down-hill roll 
An  extra this  year: The  Scarecrow-Mrs 
Alice to judge. 
So good luck to all. Please come & sup-
port  these  dedicated  growers.  See  you 
there. 
Megan Little Ph 4312 971  
KAIWAKA SCHOOL 
By now Term 1 2014 is well underway 
– we started the New Year with 12 new 
enrollments  which  was  fantastic.  Now 
the  children  and  staff  (teachers,  the 
principal  and  our  various  support  staff) 
are  settled  into  their  classes  and  rou-
tines.  This  term  we  have  a  swimming 
program running everyday and a Keep-
ing  Ourselves  Safe  (KOS)  program 
commencing  on  the  24
th
  of  February  – 
run by our Police Education Officer Ian 
Anderson. 
The  PTA  and  Whanau  groups  have 
commenced  their  regular  meetings;  all 
parents are welcome to attend. 
The BOT would like to briefly mention 
Kaiwaka  Schools  Teaching  Philosophy 
which you may have heard being talked 
about  in  the  acronym  form  of  SHARE 
hand. This is the  kaupapa where  we all 
SHARE  the  responsibility  to  be  Safe, 
Helpful,  do  all  things  with  Aroha,  Re-
spect  and  Encouragement.  At  Kaiwaka 
School  we  expect  this  from  our  staff 
and  our  children  and  we  would  like  to 
invite  the  wider  school  community  to 
embrace  this  concept.  This  is  particu-
larly  relevant  to  our  school  grounds 
after  hours  and  our  school  pool.  As 
most  of  you  are  probably  aware  we 
give  the  people  of  our  community  the 
opportunity  to  purchase  school  pool 
keys for the swimming season for a fee 
and an agreement (by reading and sign-
ing)  to  follow  the  pool  rules.  Unfortu-
nately there have been several incidenc-
es  over  this  current  swimming  season 
of  these  rules  being  broken,  without 
further elaboration we would appreciate 
it  if  all  the  people  who  use  our  school 
pool  do so in a SAFE manner and treat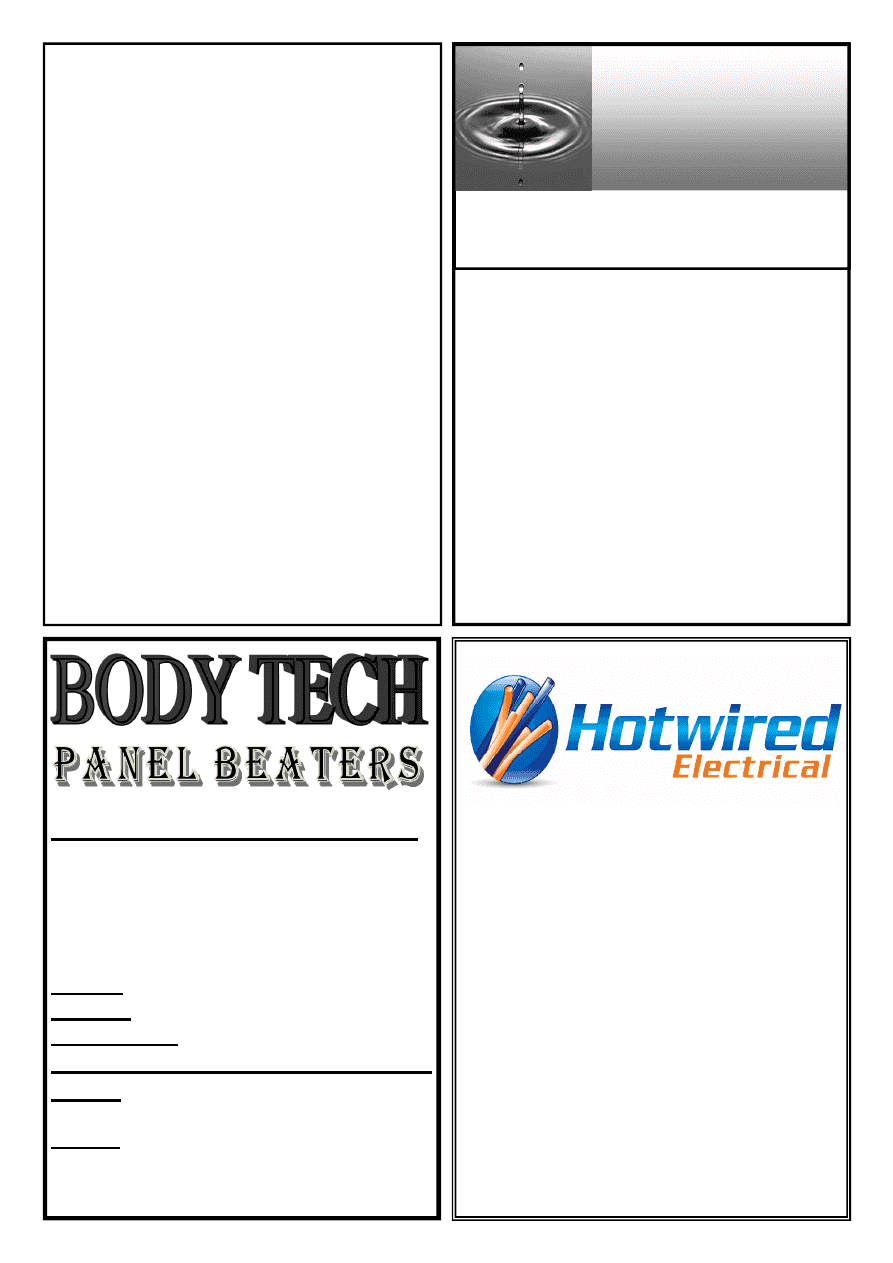 PETE WORSFOLD M. Soc. Sc. 
Student Counsellor 
 peteworsfold@xtra.co.nz 
 021 825 970 
Professional Service 
Variety of Modalities 
By Appointment Only 
PRIVATE COUNSELLING  
AVAILABLE 
MODALITIES: 
 Individual – one on one counselling      
FOR 
CBT   
Grief 
Gestalt 
Relationship 
Person-Centred  
Trauma 
Solution Focussed 
Couples 
Behavioural 
Adolescents 
Careers 
Call for Appointment 
At "The Well of Health" 
09 4312799 or 021 825 970 
 PETE WORSFOLD M. Soc.Sc. 
Student Counsellor 
 peteworsfold@xtra.co.nz 
 021 825 970 
For all your body repair needs!! 
 
We do: 
 
Rust repairs 
 
Insurance work 
 
Anti-corrosion  
   treatment   
 
Hours: 8.30am-5pm Monday-Friday  
Mobile: 021 118 0462 
After hours: 09 431 2384 
Phone: Craig or Call in for a free 
Quote 
Email: 
bodytech_panelbeaters@yahoo.com
We are located at 1837 SH1 Kaiwaka, behind Twin-
kle Tow 'n' Tyre call in anytime for a free quote.  
 
Large and minor vehi-
cle repairs
 
Industrial vehicles
 
Full Cut and polishes
For All your  
Electrical  Requirements 
 
Domestic small jobs 
 
Residential dwellings and alterations 
 
Commercial 
 
Industrial                 
No job too big  
or too small    
Contact Jason today on: 
(09) 431 5992, (021) 405 019 
www.hotwiredelectrical.co.nz 
PLANNING A NEW 
KITCHEN? 
CONTACT NOEL McDOWELL
WELLSFORD 
KITCHENS
Ph/Fax 094312888
KAIWAKA-Any time 
  QUALITY CUSTOM MADE 
KITCHENS 
~Personal and Prompt Service~ 
~All Workmanship Guaranteed~ 
~Over 20 Years in the Trade~ 
~Free Design & Quote~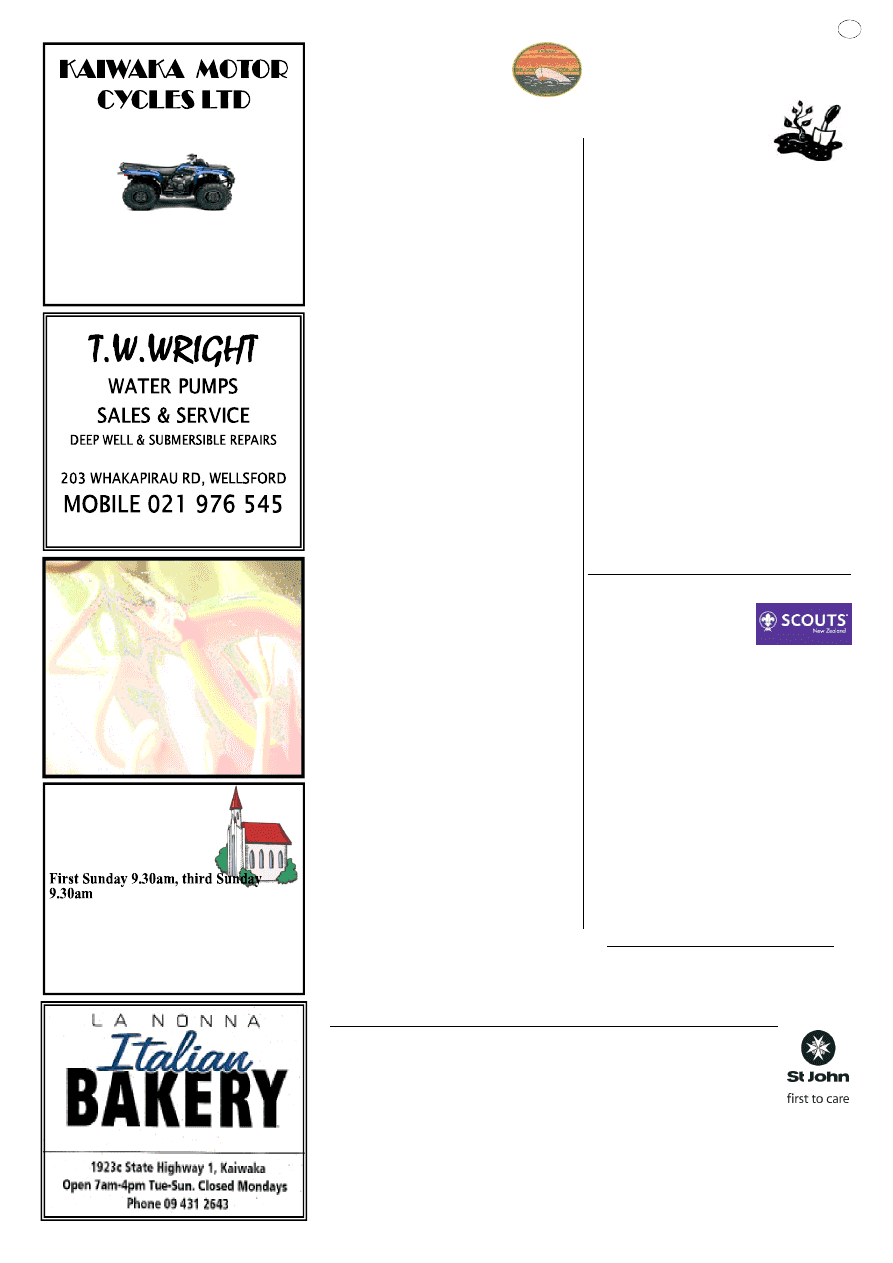 SALES SERVICE SPARES 
FARM BIKE SPECIALIST 
Phone 431 2127  
Kaiwaka-Mangawhai Rd
Kaiwaka 
7 
ST PAUL'S  
SUNDAY  
SERVICES
 Paparoa Anglican 
St Pauls Church: Kaiwaka-Mangawhai Rd.  
1st Sun. (Anglican), 3rd Sun. (Family Service) 
Contacts:M.Hargreaves 4312295, C.Bygrave 4312057  
Paul Greig Electrical Ltd 
Residential • Farm • Commercial 
Paul Greig 
Registered Electrician 
Ph: 431 2223  
Mob:021 230 2717 
Reliable & Professional Quality Service 
Based in Kaiwaka 
As of Tuesday 11th March we will be hav-
ing a sale on Ladies' & Men's clothing. All 
1/2  price.    Shoes  &  handbags  will  also  be 
included  at  1/2  price.  We  have  a  price  re-
duction  on  some  furniture.  Children's  will 
not  be  included  because  we  don't  have 
enough to replace.  
Wanted:  plants,  fr uit,  veges  and  mor e 
jars and anything else you may like to give. 
We are still receiving a lot of dirty clothes. 
You  will  be asked to wait  while 
we check - this has got to stop. 
Shop  hours  Tues  -  Fri  10am  -  4pm 
Saturdays CLOSED - too much happening 
elsewhere.  Will  be  looking  at  trialling 
Mondays soon. 
Shop phone 4312650 
Home 4312423 
Thanks for your continued support. 
~ Milly & Staff 
KAIWAKA 
POINT CURTIS 
CRUISING CLUB 
FISHING  COMPETITION:    Open 
Fishing  Competition  6am  Saturday  8th 
March  until  6pm  Sunday  9th  March 
2014. 
Weigh  Ins:  Each  day  5pm-6pm  at  3 
Furlongs Hotel (No Late Weigh Ins) 
Maximum  Weigh  In:  2  per  species  per 
angler  per  day  (MUST  BE  GILLED 
AND GUTTED) 
All  people  on  boat  must  have  pur-
chased a ticket for this competition. 
There  is  a  maximum  of  2  hooks  per 
line.  No  nets,  longlines,  kontikis,  kites 
or  similar.  MAF  rules  and  regulations 
apply,  except  snapper  must  measure 
30cm or more. 
Prize  giving:  6.30pm  on  Sunday  9th 
March 2014 
Auction to follow prize giving. BBQ to 
follow auction (Please bring a plate) 
Ticket  outlets:  Jean  Mcleish  09 
4312520,  3  Furlongs  Hotel,  Kaiwaka 
09  4312246,  Wellsford  Sports  &  Lei-
sure 09 4238873 
Adults: Entry Fee $25 
Species: Snapper, Kingfish & Kahawai 
Heaviest  Snapper  1st  Prize  $300,  2nd 
& 3rd prizes: Fishing Gear. 
Juniors (Aged Under 15): Entry Fee $5 
Species:Snapper, Kingfish, Kahawai & 
Eel 
Separate Junior Prize Giving 
All  Snapper  weighed  in  goes  into  the 
draw for the average weight prize. 
The  decision  of  the  Weigh  Master  is 
final. 
All fish weighed in (must be gilled and 
gutted) will be kept by the Point Curtis 
Cruising Club Inc to be auctioned after 
the prizegiving. 
This  is  a  fundraiser  for  the  Rangiora 
Boat Ramp Carpark. 
CLAYBIRD  SHOOT:  Open  Claybird 
Shoot  at Pongo  &  Linda  Leslie's farm, 
314  Settlement  Road,  Kaiwaka.    BBQ 
to  follow  (venue  to  be  confirmed  for 
BBQ)  Please bring a plate. 
EAST  V  WEST  OPEN  FISHING 
COMPETITION:  4th,  5th  and  6th 
April 2014. 
OPENING 
DAY 
FOR 
GAME 
SHOOTING  &  END  OF  YEAR 
PRIZE  GIVING:  Saturday  3rd  May 
2014. 
New fish of the  month: SNAPPER un-
til next meeting. 
Next    committee  meeting  4th  March 
2014, 7pm at 3 Furlongs Hotel. 
Wayne Leslie, Commodore 
KAIWAKA GARDEN & 
FLORAL GROUP 
The 
gardening 
girls 
played  hookey  in  Febru-
ary,  our  first  get-together 
in  the  new  year, and  went 
on  a  Garden  visit  organ-
ised  by  Rosemary  Browne  who  ar-
ranged  a great day for us. 
About 23 of us met in Waipu Cove and  
visited  three  gardens.  Marvin  Smith's 
where  we  had  lunch,  and  Dariens  gar-
den, both had beautiful sea views; Dar-
ien  also  had  a  bush  walk  which  some 
were  able  to  do  while  others  lingered  
enjoying  the  beautiful  garden  especial-
ly the many varieties of bromeliads, the 
third  garden  was  the  Podgora  gardens 
at  Shoemaker  Road  where  we  had  af-
ternoon tea amongst the roses. 
Our  next  meeting  will  be  on  Thursday 
13th March at Sue Hamilton Wallace's, 
41  Gumdigger  Lane  entries  in  by  1:15 
p.m. 
Flower of  month: Hibiscus; Vegetable: 
3 beans; Fruit: passion fruit or apple; 
Arrangement:  Table  arrangement  – 
Beach scene. 
If your potted plant is ready, bring that 
along  also,  and  please  remember  the 
sales  table,  and  also  a  best  bloom  and 
spike or cluster, and wild card. 
Kaiwaka/Mangawhai Cubs 
and Scouts 
The  Cubs  and  Scouts 
have  been  busy  gathering  sheep  ma-
nure  and  are  selling  it  as  a  fundraiser 
for  their  troop.  This  is  magic  for  your 
garden!  To  purchase  a  sack  of  dry 
sheep  manure  please  contact  Carol 
Mills on 4312 044. Just $7 a sack. 
Many thanks to the Infinity Foundation 
who  recently  granted  our  Scout  Troop 
$1,260  to  go  towards  subsidising  the 
national  affiliation  fees,  we  appreciate 
the support. 
Our Scouts recently went on a weekend 
trip to Auckland, enjoying raft building 
and  racing  and  a  visit  to  the  Westpac 
Trust  Rescue  helicopter  as  part  of  the 
Founders  Day  celebrations.  Thank  you 
to  the  Kaiwaka  Sports  Association  for 
the  use  of  their  van  to  transport  the 
children.
What do you call an Irishman who keeps 
bouncing off of walls?  Rick O' Shea! 
How do you confuse an Irishman,? Put two 
shovels against a wall, and tell him to take his 
Pick... 
ST JOHN OP SHOP 
SALE  SALE  SALE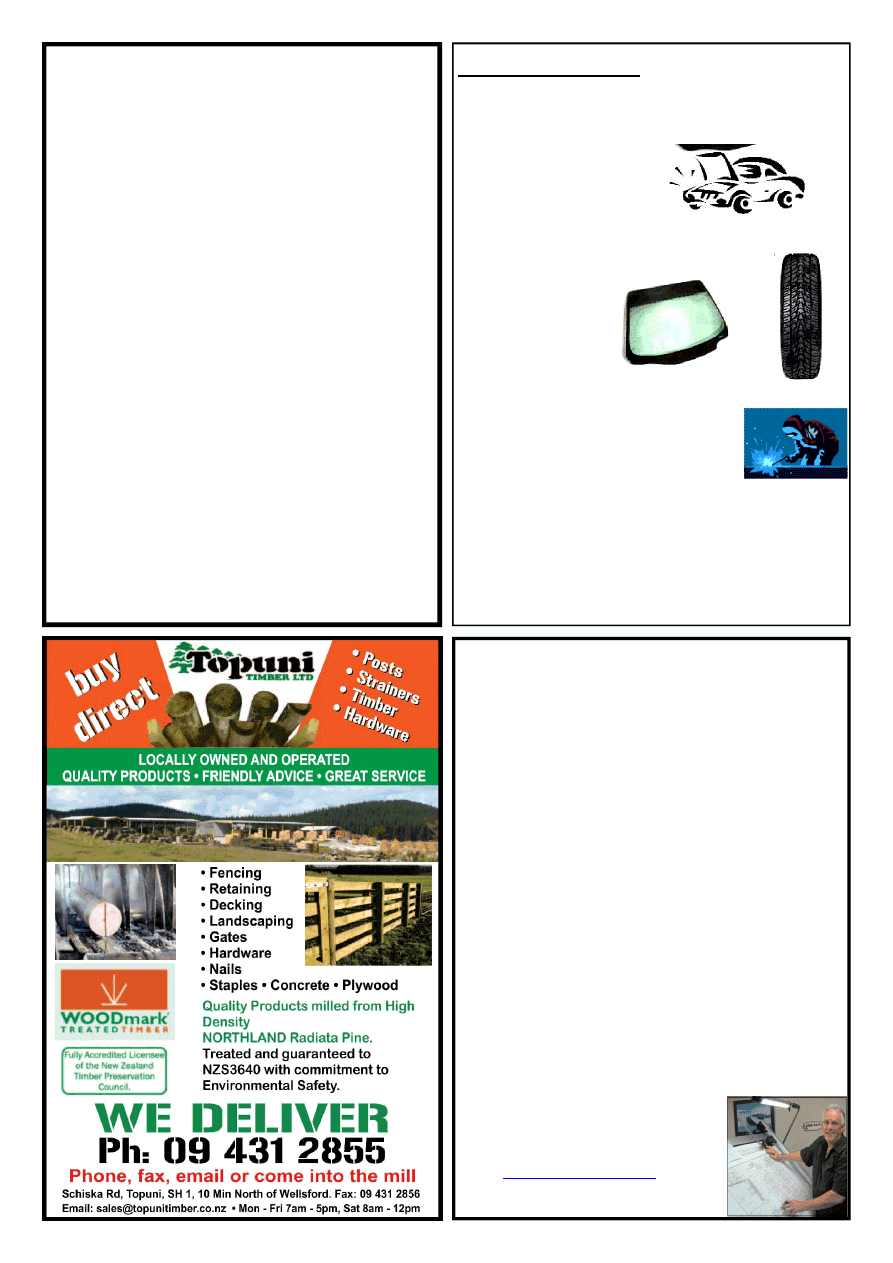 Want it done? 
Bring it to  
Twinkle Tow 'n' Tyre 
*W.O.F. 
*Tyres 
*Windscreen replacement 
*Chip repairs 
*Bulk Oil 
*Batteries 
*Welding 
*Custom built trailers 
*Trailer hire 
Think you'll get a better deal in the city? 
Go on, ring us; it won't cost any-
thing! 
1837 State Highway 1, Kaiwaka       
ARCHITECTURAL BUILDING 
PLANS AND DESIGNS 
WRIGHT DESIGN 
 QUALIFICATIONS 
Brian is a qualified designer (NZCAD) with over 40 years of 
varied experience in all types of building and is a registered and 
Licensed Building Practitioner in Design - L.B.P. 117345 
He ensures you will achieve the best from your budget with 
recommended excellent local contractors ready to competitively 
price and build your personal project quickly and efficiently. 
 EXPERIENCE 
Brian's practical building and 40+ years of design experience 
means he can give you excellent advice and all the guidance 
needed for all your building needs 
v Wright Design offers free visits, consultations and all the ad-
vice you need on planning, design, building, contractors, coun-
cil permit applications, etc. 
 
"  Qualified and inexpensive designer – N.Z.CAD., LBP 117345 
"  Guaranteed design and working drawings 
"  Free site visit to your home or property 
"  Great service 
"  Great problem solver 
 
Call Brian ~Arrange a visit to discuss your needs  and obtain 
great advice and free quotation 
MAKE GOOD USE OF HIS EXPERIENCE and 
KNOWLEDGE 
WRIGHT DESIGN:  
360 Oneriri Road, Kaiwaka
Office 09 4312544   
Mobile 021 276 7389  
Email: 
brianwright@clear.net.nz
www.wrightdesign.co.nz 
PART-TIME WORK 
WANTED 
Kaiwaka / Mangawhai / Wellsford area 
 
Active, versatile & hard-working male (mid-
50s) is seeking work for 2-3 days a week.  
Experience in building, landscape  
construction, grounds maintenance and  
project management (amongst other things). 
 
Computer literate, results-driven, high  
standards with Class 1, 2 & 4 licenses and a 
good sense of humour. 
 
I can turn my hand to most things,  
and I learn quickly. 
 
Cellphone coverage at home is somewhat er-
ratic but text and email contact is reliable. 
 
Phone Terry 021 109 3559 
Email: onyabike.tez@gmail.com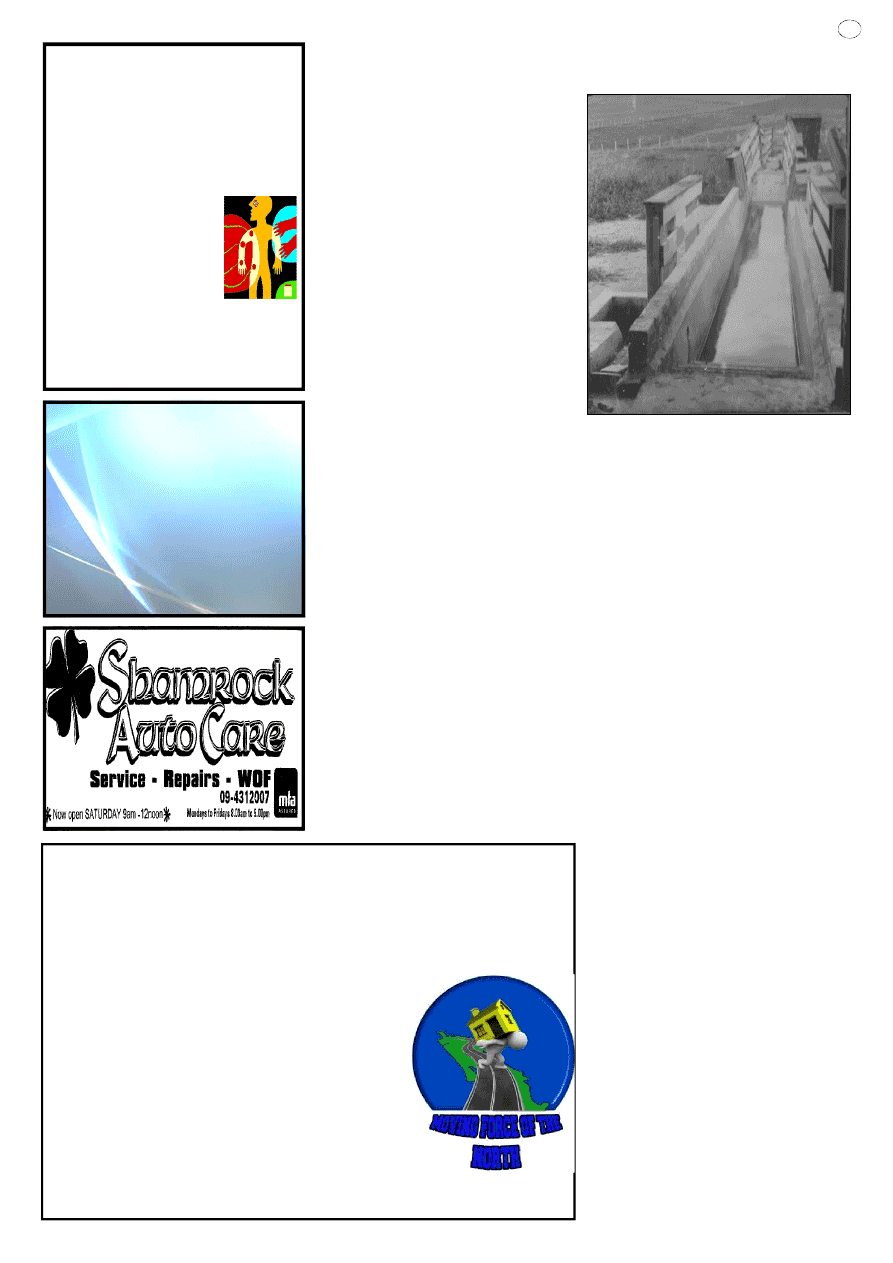 Freeview  
Installations 
Richard Te Haara 
25 Marram Place 
Mangawhai Heads 
021 1104056 
kiwipride@xtra.co.nz
OWEN 
STEVENS 
Osteo Therapist
For careful adjustments to  
bones and joints 
Treatment  for  humans 
and their pets 
Clinics: 
Kate's Place, Kaiwaka: 
Last Friday of month 
Warkworth Showground:  
2
nd
 Thursday, monthly
For bookings:   
While  the  cattle  tick  is  still  a  problem 
in  the  area,  it  does  not  cause  the  con-
cern that was sweeping the North from 
1910  until  the  mid  1940s.  The  cattle 
tick as we call it, not only infests cattle 
but  also  sheep,  dogs,  horses  and  even 
cats, and is very hard on baby deer that 
are now in the district. The tick in large 
numbers  on  a  beast  not  only  causes 
stress  and  even  death,  but  also  does 
much damage to pelts and skins. While 
there  are  seven  types  of  native  tick, 
they are mostly found as small lice type 
creatures  on  our  native  birds,  and  so 
there  is  some conjecture  as  to  how  the 
cattle  tick  arrived  in  NZ  I  was  always 
told  that  they  arrived  in  the  saddle 
blankets  and  saddles  brought  back  by 
the NZ Rough Riders who fought in the 
Boer War. 
A letter in the Northern Advocate writ-
ten  in  1921  by  a  farmer  said  he  first 
noticed  ticks  about  1910  after  he  had 
sown some imported paspalum seed he 
had  got  from  Australia.  He  also  said 
the  starlings  were  doing  a  great  job 
eating them and should be protected. 
The  worst  affected  area  in  the  North 
was  the  Bay  of  Islands  and  there  was 
agitation  from  the  farmers  for  govern-
ment  help  from  1916  on.  Dipping  in 
NZ was not new as it had been carried 
out  mainly  to  combat  lice,  keds  and 
scabby  mouth.  The  main  ingredient  of 
the  early  dips  was  tobacco  and  was 
used at the rate of 6kg to a drum of wa-
ter, and so large farms  were using tons 
of tobacco every year. It was found that 
this dip did not work on cattle tick. 
There  are  letters  in  most  daily  papers 
voicing  concern  from  1916  and  one 
person  wrote  in  1917  that  dogs  in  the 
Parua  Bay  were  being  badly  affected. 
Matakana and Puhoi had ticks in 1917, 
which  resulted  in  a  farmers'  meeting 
being  called  at  Warkworth  in  January 
1918. At  the  meeting  the  farmers  were 
told  that  the  Govt  would  grant  £150 
towards  the  costs  of  building  dips  and 
that  North  Auckland  would  be  a  pre-
scribed  area  with  inspectors  to  be  ap-
pointed. By 1920 there were 47 dips in 
North Auckland (Helensville north), 20 
in  the  Bay  of  Islands.  Helensville  got 
its public dip in 1921. 
I  do  not  know  when  the  public  dips 
were  built  on  Settlement  Road,  but  I 
can  remember  one  of  them  during  the 
1940s as I trudged past it on my way to 
Hakaru School.  It  was  almost  opposite 
the  Valley  Road  turnoff  on  the  Hakaru 
side  of  Dip  Bridge,  hence  the  bridge's 
name  still  used  by  us  oldies. The  other 
I can only  dimly remember, but cousin 
Doug  knew  it  well  as  he  walked  past 
on  his  way  to  Kaiwaka  School  and  it 
was situated near the creek past, but on 
the  same  side  as,  Wattle  Lane  as  one 
comes  along  Settlement  Road.  Dips 
were  always  situated  near  creeks  as 
they needed a lot of water. 
Halfway  along  Settlement  Road  my 
grandfather had a private sheep dip and 
I  can  remember  watching  this  being 
used  a  couple  of  times.  As  sheep  dips 
and kids didn't go well together (many 
kids  were  drowned  in  sheep  dips),  it 
may  have  been  used  more  often  than  I 
saw.  To  a  youngster  seeing  the  sheep 
pushed  under,  with  the  occasional  one 
staying under was a great talking point 
at school. The dip that was used had an 
arsenic base, so the two houses that are 
built  near  the  Settlement  Road  Public 
Dips should never have a tick problem. 
I  cannot  remember  the  public  dips  in 
use  and  one  reason  they  ceased  in  the 
1940s  was  a  lack  of  manpower  due  to 
the war , but they are a part of our his-
tory and  no doubt there are others who 
will  know of  other sites so they can be 
recorded, even if it is to prevent houses 
being  built  on  top  of  them.  I  certainly 
wouldn't  want  my  lettuces  growing  in 
arsenic-saturated dirt. 
As  a  footnote,  one  gentleman  wrote  in 
the  NZ  Herald  in  1920  stating  that  he 
had  found  a  sick  seagull  with  six  ticks 
on  it  and  did  the  government  intend  to 
dip all the seagulls also? 
Bill Leslie 
Photo: Early Oneriri sheep dip 
HIGHWAY HOUSE MOVERS 
2 story character villa with a lot of old style charm, with solid 
kauri floors and high ceilings. This 2 story villa is in very 
original condition would make a nice stately home.  $92,000 
resited subject to site inspection. 
  
Double Bay Villa, 3 beds and laundry, in 
good solid original condition, will make a 
lovely home. 
$82,000 resited  subject to site inspection. 
  
Reclad, very original 2 bed home with 
kauri floors and many interesting features 
this is a great buy at $47,000 resited  
subject to site inspection. 
Phone: 0508 HSE MVR or 022 354 2696 
WHEN LIVING IN THE AREA MEANT 
HAVING A PUBLIC DIP WAS COMPULSORY! 
9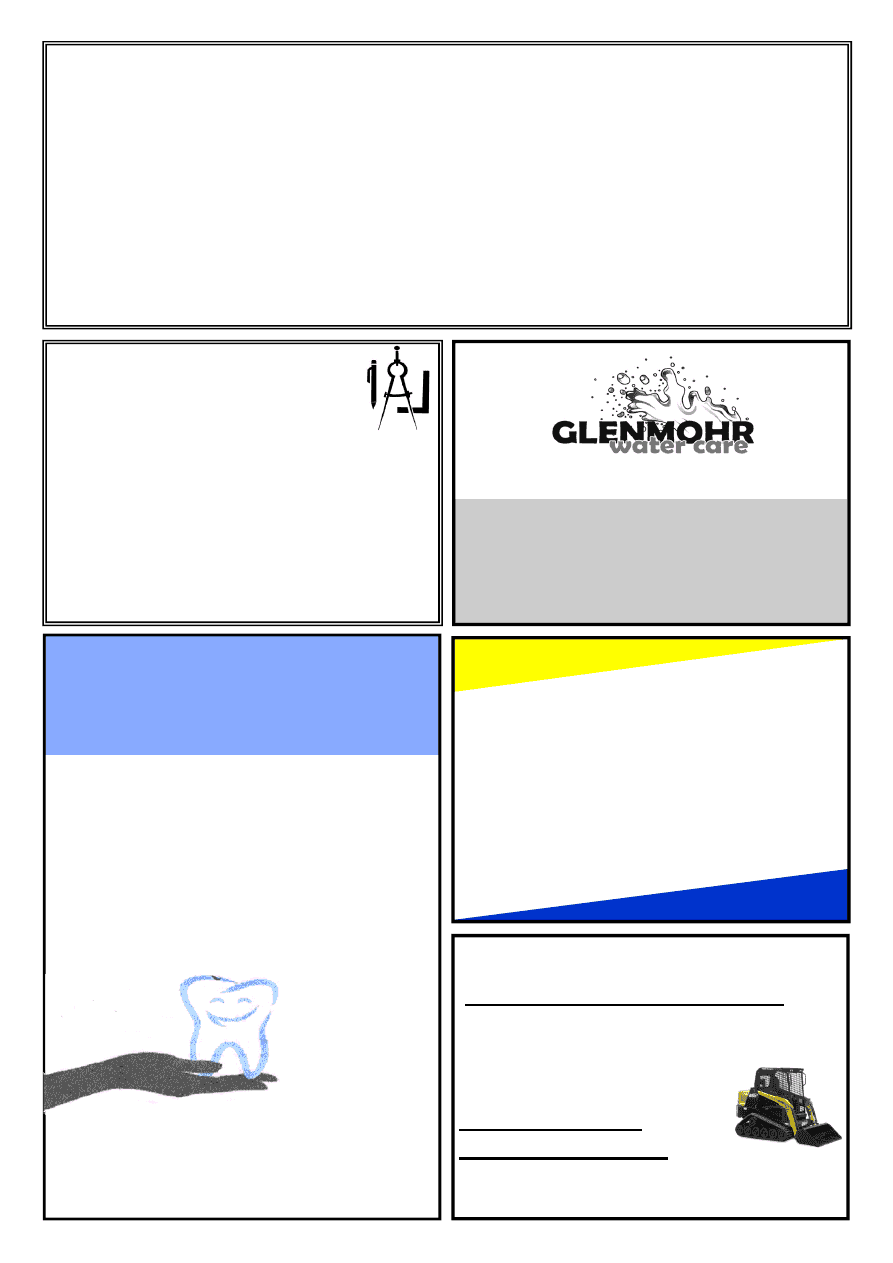 RANGANUI EARTHMOVERS 
16T Excavator 
Driveways, House Sites, 
(tilt, thumb & ROPS cab) 
Drainage Dams, Section Clearing, 
Transport Trailer 
Tree Work,  Rock Retaining Walls, 
2 x 6 Wheeler Tip Trucks 
Quarry Work, 
Suppliers of All Grades of Metal & Topsoil 
Basically Anything That a Digger Can Do 
If you want a proper job done with an experienced operator ring 
Grant on    A/H 431-2131           Email  ranganui.dev@xtra.co.nz 
             Mob  021845-246 
C O N C R E T E  
If it's concrete we do it 
Full Preparation & Pour by 
Experienced Local Team 
Phone Phil Keen Contractors  
027 659 2376 
design drafting 
service 
Retired builder and manufacturer with over 40 years  
experience in the building industry is offering a design 
drafting service  
for domestic housing, sleepouts and sheds.  
Plans formulated in consultation with clients, with 
working drawings completed and submitted to  
council for processing.  Extensive practical experience,  
able to identify & resolve problems. 
Please ring Mike Lean on 
09 431 2260  
or 
021 431 196 
Water Tank Cleaning 
" 
Keep your water safe & clean   
" 
Removal of sediment, silt etc 
" 
Vacuum or full scrub 
" 
Minimal water loss 
Phone Mark (09) 432 0655 or 0274 707607 
Gentle Dental 
Ruakaka 
We love to see you smile 
" 
General  & Cosmetic Dentistry 
" 
Emergency & ACC Treatment 
" 
Denture & Hygienist Services 
" 
Senior Citizen Discounts 
" 
Free Adolescent Care 
" 
Free WINZ Quote 
19 Ruakaka Town Centre 
Dr Sim Sood & Associates 
Ph:  432 8139 
Saturdays 
By 
Arrangement 
Open  
Mon-Fri  
8am-5pm  
Natural Earth Ltd 
 Landscape and Bobcat services 
 : Driveways  :Landscaping  :Retaining Walls 
 : Hole Boring: Land Levelling :Trenching 
 : Decks :Fences :Sections Cleared: Plus much 
more 
Tel   09 4312885 
Mob 02102391280  
For A Fast Friendly  
Service Contact Tim Hicks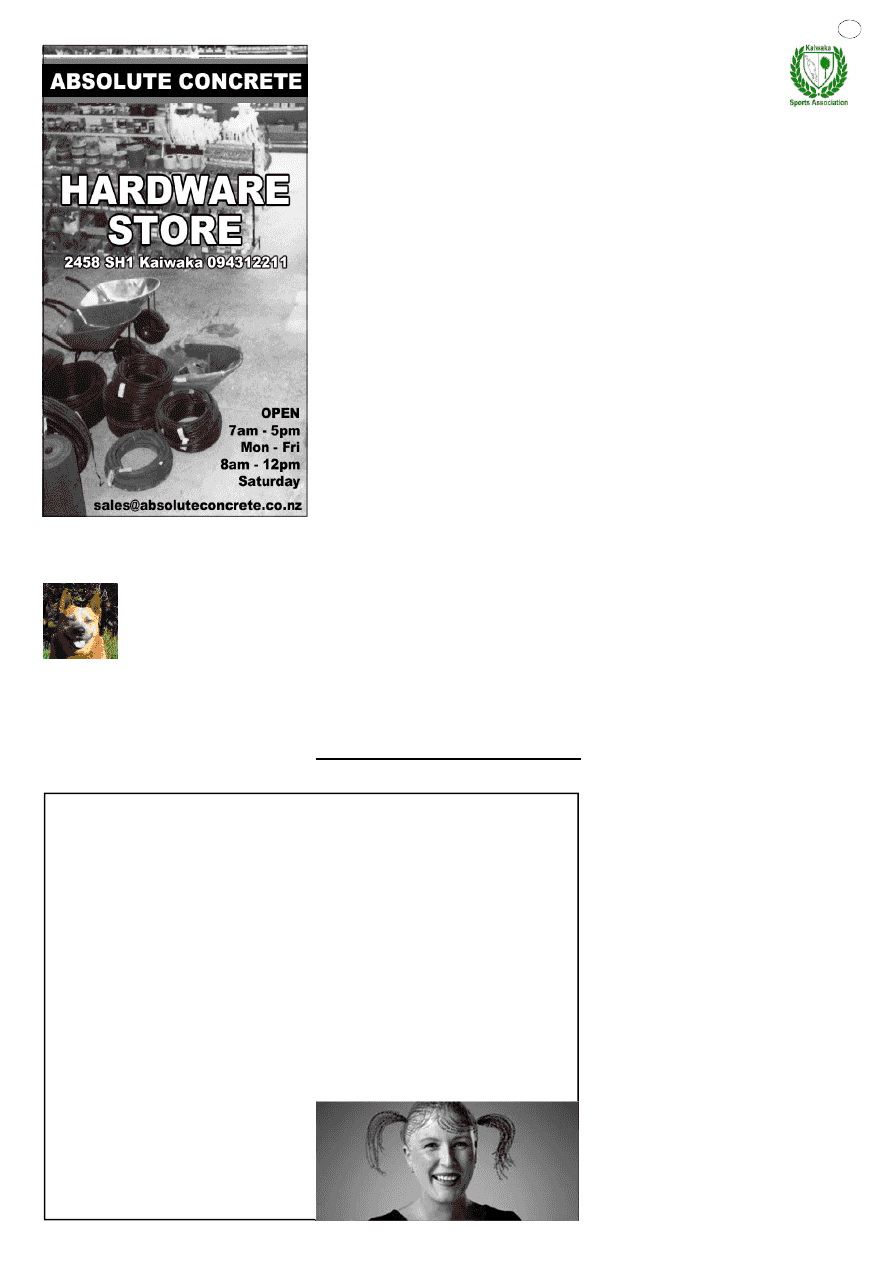 11
KAIWAKA SPORTS ASSOCIATION 
Applications for grant 
funding  
are  being  accepted  for  the  following 
periods -  MARCH-APRIL 
 
APPLICATION PROCESS- HOW TO APPLY: 
Applicants  can  uplift  a  KSA  application  form 
from  The Three  Furlongs  Hotel  operating  KSA 
gaming machines or www.kaiwakasports.co.nz 
Forms can also be requested directly from KSA. 
All relevant details are displayed below and are 
also displayed at the venue. 
Venue: The Three Furlongs Hotel 
Postal: PO Box 62 , Kaiwaka 
Tel: 094312329 
Fax: 094312229 

You must return the application form and any 
associated  documentation  to  the  Association  at 
the address printed on the application form. 

The  application  form  contains  a  checklist  of 
important  information  that  must  be  included 
with  the  application  in  order  for  funding  to  be 
considered.  Failure  to  supply  all  Information 
requested  may  result  in  the  application  being 
declined or returned to you unprocessed. 

Applications  are  checked  for  completeness 
and  considered  by  the  Grants  Committee  on  a 
regular basis. 

An  application  may  take  up  to  6  weeks  to  be 
processed.  
 
CRITERIA: 
1.  Applications  are  checked  for  compliance 
against the criteria of the Department of Internal 
Affairs  and  the  definition  of  Authorised 
Purposes as set out in the Gambling Act 2003. 
2. Funding is distributed in the local community 
area - 
a.  Provision,  maintenance  and  development  of 
club  buildings,  furniture,  fittings,  grounds  and 
equipment.  Excludes  any  bar  area  and/or 
facilities; b.  Assist  sporting  adjuncts  within  the 
club  through  the  provision  of  uniforms, 
equipment,  premises  and  the  actual  and 
reasonable expenses to travel to and compete in 
tournaments  with  kindred  groups.  Excludes 
professional sports people/teams. 
 c.  Funds  for  the  promotion  of  amateur  sport 
within  the  local  community.  Excludes  the 
payment of wages/salaries  
d.  Donations  to  support  recognized  community 
organisations  within  the  local  community  with 
the  provision  of  facilities.    Excludes  bar  area 
and/or facilities. 
Applicants  should  be  aware  that  the  ultimate 
decision on funding rests with the Association's 
Grants  Committee  and  that  there  are  no 
guarantees  that  the  full  amount  of  the 
application  will  be  supported  or  indeed  the 
application will be supported at all.  
 
WHO WILL CONSIDER APPLICATIONS: 
All  applications  will  be  considered  by  the 
Grants  Committee  which  is  made  up  of  KSA 
Trustees. 
Applications are generally considered in the 
week following the closing date. Applicants are 
usually  notified in writing within 10 Days.  
The Trustees of KSA are: 
Brian Jaques JP. QSM - Managing Director, 
Kaiwaka 
Evan Wright -Farmer, Kaiwaka 
Tony Hargreaves, JP -Farmer, Kaiwaka 
Wayne Leslie - Farmer, Kaiwaka 
Mark Ottaway  QSM - Baker. Kaiwaka 
Innes Anderson –Farmer, Kaiwaka 
Paula Jaques-Manager, Kaiwaka 
 
COMPLAINTS POLICY: 
Any  complaints  regarding  the  distribution  of 
grant  proceeds  must  be  sent  in  writing 
addressed to: 
The Principal Officer/Complaints.  
KSA. PO Box 62. Kaiwaka 
Complaints  received  in  this  manner  will  be 
acknowledged in writing.
Poker Machine Grants made 
for 2013 
Nga Hoe Uranga 
$3000.00          
Kaiwaka Library 
$2000.00 
Kaiwaka JMB 
$631.56 
Kaiwaka School PTA 
$1250.00 
Kaiwaka Scout Group 
$720.00 
Kaiwaka Family Support 
$500.00 
Kaiwaka JMB Netball 
$600.00 
Otamatea RFC 
$1166.25 
Pt Curtis Cruising Club 
$4600.00 
Kaiwaka Sports Assn 
$12471.00 
Otamatea RFC 
$3750.00 
Mangawhai Golf Club 
$500.00 
Otamatea High School 
$1000.00 
Otamatea High School 
$1500.00 
Kaiwaka Playcentre 
$1000.00 
Otamatea JMB Taniwha 
$1139.19 
Otamatea High School 
$99.99 
Otamatea Community Services $320.00 
Kaiwaka Sports Assn 
$7329.17 
Kaiwaka Sports Assn 
$13260.83 
Mangawhai Historical Soc 
$1047.79 
Otamatea High School 
$650.00 
Otamatea High School 
$550.00 
KSA 
$500.00 
Kaiwaka Playcentre 
$763.15 
Kaiwaka School 
$1982.00 
KSA 
$4479.29 
KSA 
$9732.00 
 
Declined: 
Northland Roller Mills Team 
Northern Wairoa A&P Society 
Maungaturoto Squash club 
Artie Fartie Community Connections 
Otamatea X Netball 
SHAVE FOR A CURE 
Brave a Shave, become a hero
Shave  for  a  Cure  is  Leukaemia  &  Blood  Cancers  signature  fundraising 
event. Every year thousands of individuals, schools and businesses across 
the  country  whip  out  the  clippers  and  shave  their  locks  in  a  bid  to  help 
the 6 Kiwis a day diagnosed with a blood cancer or related condition.  
On  Saturday  22nd March,  7.30pm  at  the Kaiwaka  Sports Complex, 
people will gather to lop off their locks to support this worthy cause. 
•  if  you'd  like to 'brave a shave' then please register  with Pat Buxton on 
4312  677.  You  will  then  become  part  of  our  group  called  the  Kaiwaka 
Kina's!  
•  if  you  don't  dare to  bare then  please  consider  donating  to  a  Shavee  or 
make  a  general  donation  to  the  cause.  Please  ring  Cheryl  Anderson  on 
4312 051 for details on how you can donate. 
• if you'd like to help out in any way, please attend our meeting this Tues-
day,  5.30pm  at  the  Sports  Complex 
with  your  ideas  on  how  we  can 
make this event a great success! 
Laughing Dog 
Computers
022 4344448
www.laughingdog.co.nz 
Hardware and Software 
Service and Repair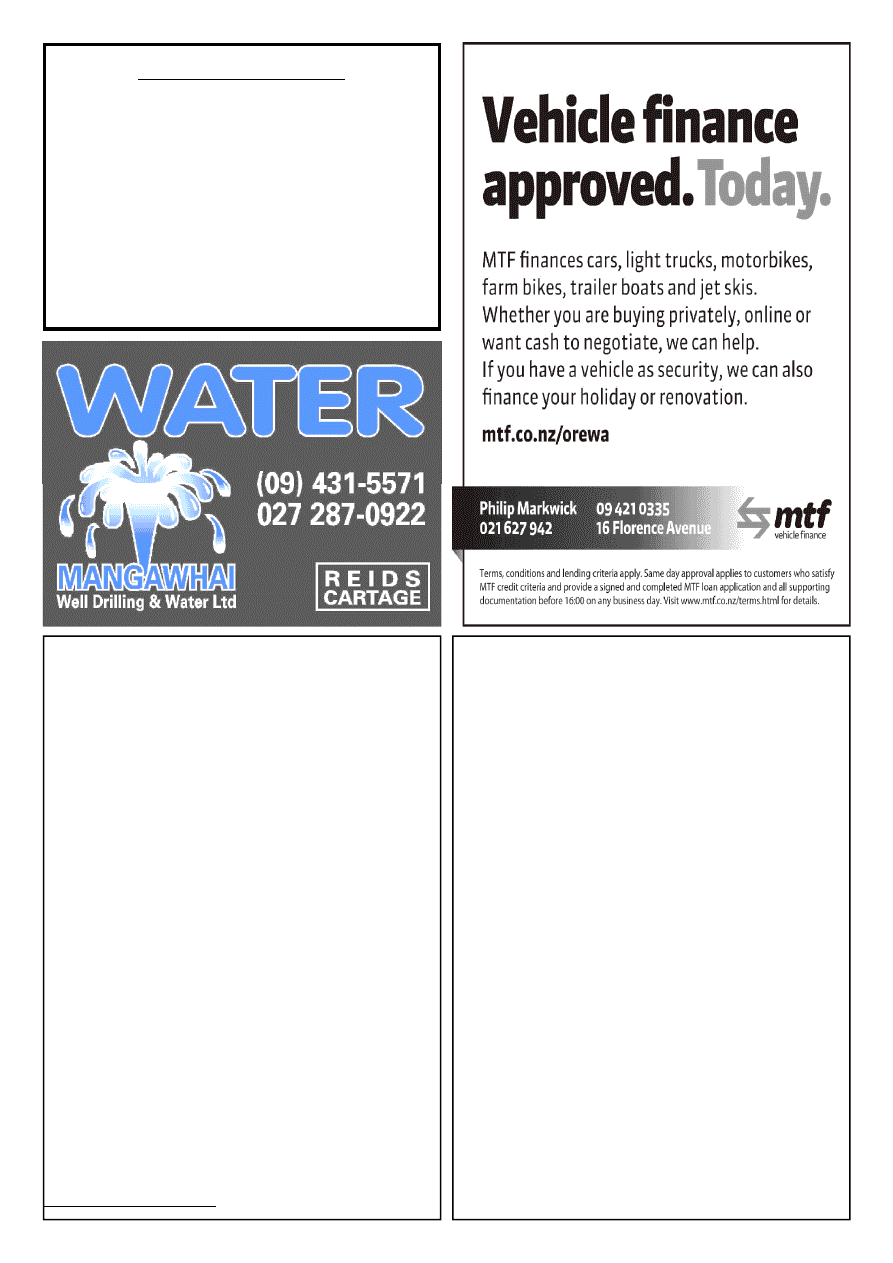 KAIPARA  FLOORING  CO 
32 HURNDALL ST MAUNGATUROTO 
Phone 09 9469886  
or 021 515 415 
Carpet, vinyl, laminate wood look  
flooring, vinyl planking, sanding  
& polyurethane service. 
Carpet Short Ends from $79pm + GST 
Vinyl D.I.Y. peel n stick tiles $10sq mtr + GST. 
Free measure & quote.   
Mobile Service 
Phone Christine or Howard anytime 
Open Saturdays by arrangement. 
Taonga Gardens 
2395 State Highway 1, Kaiwaka. Tel 4312 770
As  summer  holidays  have  now  past  and  we  are  moving 
into  Autumn  we are  adjusting  our  hours  of  trading.    This 
will also  enable us to complete  phase 2 of  our renovation 
before  winter  sets  in.    Many  thanks  for  all  your  support 
during our first 6 weeks of trading.   
It  has  been  really  encouraging  to  meet  so  many  of  our 
fellow  locals,  and  to  hear  your  ideas  on  all  manner  of 
things.  
Autumn /Winter Trading Hours:  
Thursday to Sunday and  
Public Holidays - 9am - 5pm.  
Open - Flag up to flag down. 
AVON AVON AVON 
 
Brochure 8 is now available. Avon are introducing a great 
Anew Day Cream and Night Cream. They are both 30gm 
jars and cost $55.00 each (Brochure Price is $59.00) and 
you receive a Faux Crystal Cuff Watch FREE with each 
one. I have some on hand for you to try now so be in quick. 

The SUPER SAVERS are Touch by Black Suede After-
shave, or Imari Seduction or Solutions Youth Minerals Day 
Cream or Skin Good Minerals Loose Powder Foundation 
any one for $12.99 when you spend $15.00. Also for $29.99 
is the Mirrored Jewellery Stand when you spend $15.00. 

Try the Ideal Flawless BB Cream, it is luxurious and great 
on your skin, $16.99.  Little Gold Dress Eau de  
Parfum is $29.99 plus a free Perfume Atomiser.   

Don't forget the Crazy for Lips Scratch Card when you 
purchase the New Ultra Color Absolute Lipstick. You 
could win a trip to Sydney for a Make-Over and the chance 
to win a car. 

Also Mothers' Day is coming up so keep an eye out for 
the great specials. I do have some of the new Purfum that is 
coming in Brochure 10. 'Only Imagine' is a wonderful blend 
of Green Apple and Florals. It is lovely. I have  
samples and also 4 sets available for instant purchase. Buy 
a Eau de Purfum for $65.00 and receive FREE - Only Imag-
ine Shower Gel, Only Imagine Purse Spray and a Butterfly 
Necklace.  

Why not have an Autumn Make-over. I do the work and 
you and your friends have some fun. Everyone will receive 
an attendance gift and for all orders over $100.00 you  
receive an additional 10% discount and the Hostess will 
receive 15% on her order.  
Give me a call Gale Matheson 094314827, 0274149576 or 
galematheson@gmail.com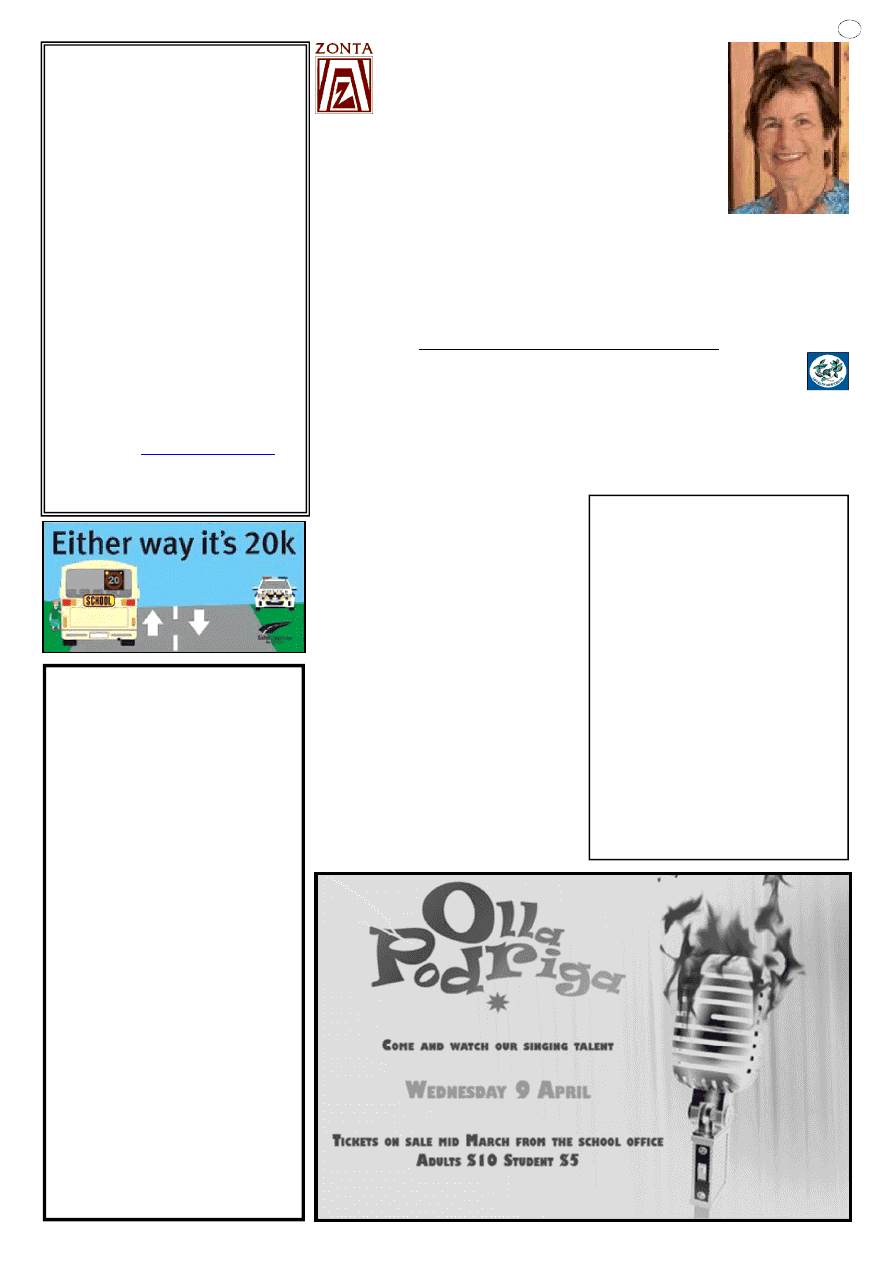 13 
OTAMATEA HIGH SCHOOL 
 Yang Style Tai Chi 
Classes For Beginner 
And Practitioners  
At The 
Kaiwaka Memorial Hall 
Ever Tuesday  
Starting at 10.30 am 
Come Along And Have 
Some Fun While Improv-
ing Your Balance Health 
And Fitness 
For More Information
Contact Andrew 
Young 09 4223424 
taichi@pl.net
Indian Head  
Massage
'Relaxing body and mind' 
Enjoy a gentle, tension relieving, 
upper body massage 
without use of oils, as you sit in a 
chair, clothed. 
At Mangawhai and Waipu Boutique 
markets and 
"Well of Health" by appointment in 
Kaiwaka.
Brochure and gift vouchers  
available at 'Well of Health' shop.
Call Yatra on 021 2377678  
or email  
yatrabe@gmail.com
ZONTA 
The  Zonta  Club  of  Man-
gawhai  would  like  to  an-
nounce  the  recipient  of  the 
Yellow Rose  Award for 2014 is Chris-
tine  Bygrave,  who  has  been  President 
of  the  Historical Society  for  the  past  6 
years. Christine has also been in charge 
of the exhibition space for the museum 
project,  driven  fundraising  and  the  up 
skilling of the  museum  volunteers. She 
was  the  first  woman  president  of  the 
golf  club  and  established  "  the  Man-
gawhai  Singers"  who  have  presented 
several concerts as fund raisers for var-
ious community causes. The award will 
be  presented  at  Yellow  Rose  Day 
Breakfast,  open  to  all,  which  will  be 
held 
on 
Friday 
7th  March 7:30 am 
at  Harvest  Cafe. 
All  are  welcome  to 
attend,  just  phone 
the  cafe  to  let  them 
know  you  are  com-
ing. 
The  latest  activity 
of  the  Mangawhai  Zonta  group  in-
volves  recent  donations  of  continental 
quilts,  rugs,  duvet  covers,  sheets,  pil-
low  cases,  women's  clothing  and  chil-
dren's  toys  being  dispatched  to  the 
Women's  Refuge  in  Wellsford.  Part  of 
the Mangawhai Zonta group's on going 
support to such facilities. 
Lower North Swimming Gala 
On  Thursday  20th  February the  school 
sent  their  swimming  team  off  to  Rod-
ney  College  for  the  annual  swim 
sports.  The  weather  was  kind  to  us, 
after some wet days, and the gala went 
ahead without delays. 
The  team  were  a  credit  to  Otamatea  in 
their  behaviour  effort  and  attitude.  For 
many  of  these  swimmers  this  is  the 
only  time  that  they  will  race  in  a  gala 
of  this  size  against  swimmers  who  are 
training  regularly  four  to  six  times  a 
week.  The  performances  of  these 
swimmers  were  outstanding  and  16 
Lower North records were broken. 
Dylan  Sims  an  elite  member  of  this 
group broke two of those records in the 
backstroke.  He  beat  Bradley  Kemp's 
100m  record  set  in  2010  and  the  50 
metre  record  also  set  in  2010  by  Rod-
ney  student  Chris  Turnbull.  He  also 
won the 100 metres medley to give him 
three victories on the day. 
The  schools  other  two  victories  also 
came in the back stroke. The sub-junior 
girls  of  Alice  Paton  (50m)  and  Hayley 
Linton (25m) winning their races 
in fine style. 
Well done to all students for their time 
and effort on this day and also to Brid-
get Paton for her help on the day. 
Paul Chambers, HOD Physical Education 
You are all invited to our  
MEET  THE  TEACHERS  
EVENING 
A great opportunity to view our 
new classrooms, meet with your 
child's teachers and to welcome 
new staff members and families to 
our school. 
Come along and join us. 
We would love you to be involved 
in our school community. 
Otamatea High School Hall – 7pm  
Tuesday 18th March,  2014 
Call A Farmer
 Fencing
 
Post & Rail 
 
Boundary 
 
Electric 
 Spraying
 
Gorse 
 
Blackberry 
On Call Services For Lifestyle Blocks 
See our website for more services 
    www.callafarmer.co.nz 
Office 09 423 7585 
027 625 5383 
TILING 
Certified Waterproofing 
431 4533 or 021 86 33 33 
George 
MCN Property Solutionz  
Local references available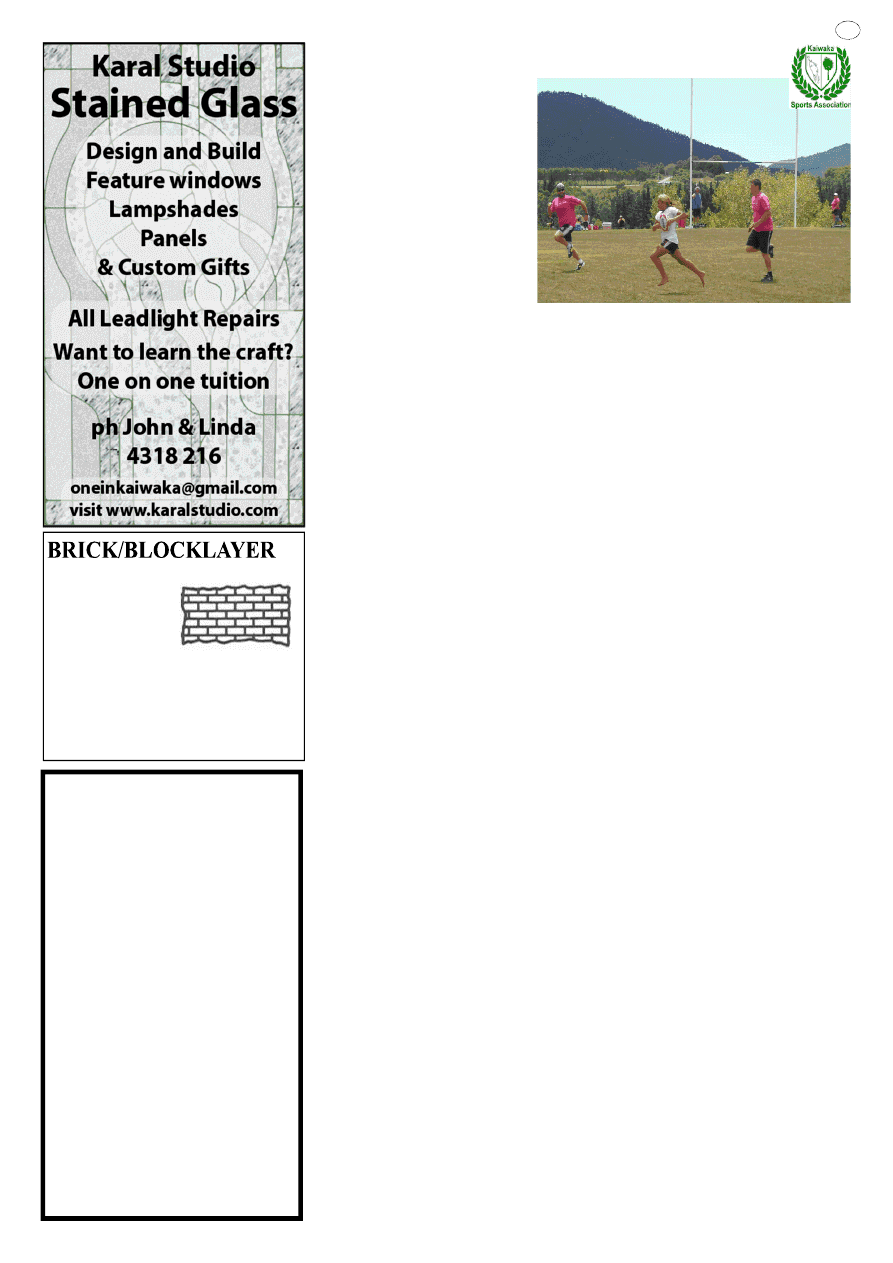 All aspects of masonry:  
Fireplaces, 
Restoration &  
Remedial Work. 
JAMES EAGLETON 
Tel. (09) 431 2514  
Mob. 0274 749 232 
jajueagles@yahoo.com.au 
210A Pukenui Road, RD2 Kaiwaka 
 15 
Celena's 
Gifts 
Gifts for all occasions 
Closed Mondays 
1925 State Highway 1 
KAIWAKA  
Ph: 09 4312741
Touch 
Our  Touch  Module  is  going 
well,  with  around  100  enthusi-
astic  players  turning  up  to  the 
Sports  Complex  each  Sunday. 
The  results  table  and  draw  for 
the Module can be found on our 
website. A couple of teams still 
have spaces for more players so 
if you are keen to play Touch in 
Kaiwaka on Sunday afternoons, 
please  let  me  know  (contact 
details  below).  This  is  not  a 
overly 
serious, 
competitve 
Module  –  players  are  friendly 
and  supportive,  so  why  not  give  it  a 
go! 
Tennis 
Tennis coaching for juniors is on Mon-
days  at  3.30pm.  This  is  for  all  school 
age  players,  new  members  are  wel-
come and we have club racquets avail-
able for your use. 
If  you  have  a  child  who  may  be  inter-
ested  in  playing  tennis,  please  ring 
Lindell Ferguson on 4312 542. 
Gymnastics 
Gymnastics  Otamatea  has  started  the 
year with a team of experienced coach-
es, a full roll and a waiting list. Classes 
run  on  Tuesdays  and  accommodate  all 
ages  from  2  years  upwards.  If  you'd 
like  to  join  our  club,  please  visit  our 
website 
www.kaiwakasports.co.nz
, 
click  on  affiliated  clubs,  gymnastics, 
then save the registration form to your 
computer.  Once  you  have  emailed  the 
form 
to 
gymnas-
ticsotamatea@gmail.com 
we will enter 
your  name  on  the  waiting  list  and 
Stephanie  will  confirm  your  place  as 
soon  as  possible.  Netball  –  primary 
school 
Practices for junior netball will be held 
on  Tuesday  and  Friday  lunchtimes  at 
the  school.  Many  thanks  to  Sharlene 
Tornquist  who  has  offered  to  coach 
this year again. A registration form can 
be  found  on  our  website.  If  you  can 
offer  support  to  the  club  in  any  way  - 
fundraising, 
coaching, 
umpiring, 
transport  etc,  please  give  club  presi-
dent Melissa Watts a ring on 4312 239. 
Netball – high school 
The  Otamatea  High  School  Netball 
Club  will  be  holding  trials  on  the  fol-
lowing dates: 
Seniors:  
Trial 1  Weds 5
th
 March 4 – 6pm at OHS  
Trial 2  Sat 8
th
 March 9 – 12pm at KSA 
Trial 3  Tues 11
th
 March 4 – 6pm at OHS 
Juniors:     
Trial 1  Sat 8
th
 March 10.30 – 1pm at KSA 
Trial 2  Weds 12
th
 March 4 – 6pm at OHS 
For any  netball  enquiries please phone 
Mel Coates on 027 4765324. 
Netball - senior 
Ladies  if  you  are  keen  to  play  netball 
this  season  but  missed  last  weeks  tri-
als,  you  have  a  final  chance  to  trial  – 
this Tuesday at 6.30pm at our courts. 
The club would also love to hear from 
any  interested  coaches/umpires,  please 
register  your  interest  with  Mirna  Ma-
nuell on 021 544229.  
Soccer 
Anyone keen to play soccer this season 
is invited to attend the Kaipara Knights 
Registration  Day  on  Saturday  22 
March  at  the  Maungaturoto  Country 
Club  at  11.30am  –  there  will  be  a  free 
BBQ,  boot/uniform  swap  and  some 
friendly games. The soccer season runs 
from  10
th
  May  until  early  September 
and  games  are  played  on  Saturdays  at 
the  Port  Albert  Domain.  The  Kaipara 
Knights  Soccer  Club  involves  players 
from Matakohe to Kaiwaka, from about 
4  years  old  to  adults.  Over  17s  play 
open  grade  and  all  teams  are  mixed 
gender. For any soccer enquiries please 
contact  Lindell  Ferguson  on  4312  542 
or Mark Flannagan on 027 2240488. 
The  Kaipara  Knights  will  hold  their 
AGM  at  the  Sports  Complex  on  Tues-
day 11
th
 March, 7.30pm. All welcome.  
Meeting 
There  will  a  Kaiwaka  Sports  Associa-
tion  meeting  on  Wednesday  12
th
March,  held  at  the  Sports  Complex  at 
7.30pm. All welcome. 
Kaiwaka Sports Awards 
Our annual Sports Awards will be held 
on Monday 14
th
 April and this year will 
be  particularly  special  as  it  is  the  30
th
anniversary of the awards. The evening 
which  will  be  emceed  by  More  FM's 
John  Markby  will  include  profiles  of 
the  nominees,  a  sports  trivia  quiz,  a 
commemorative  walk  down  memory 
lane  and  of  course  one  of  Mark  and 
Pam's  delicious  dinners!  Tickets  are 
$25 per adult and $10 per child (Year 9 
and  under)  and  can  be  purchased  at 
Jaques  Four  Square  or  from  KSA  club 
delegates or simply phone me. 
Bulbs Fundraiser 
I am selling spring bulbs as a fundrais-
er for the KSA. Bulbs are easy to plant, 
fun  to  grow  and  will  reward  you  with 
beautiful flowers year after year! 
Prices are less than normal retail and 
the KSA will make 30% profit on all 
sales. Your order will be delivered to 
your home along with a handing guide. 
An order form can be found in this edi-
tion of the Bugle and also on 
www.kaiwakasports.co.nz
 and at 
Jaques Four Square.
Cheryl Anderson 
4312 051, 021 3462702 
KAIWAKA SPORTS ASSOCIATION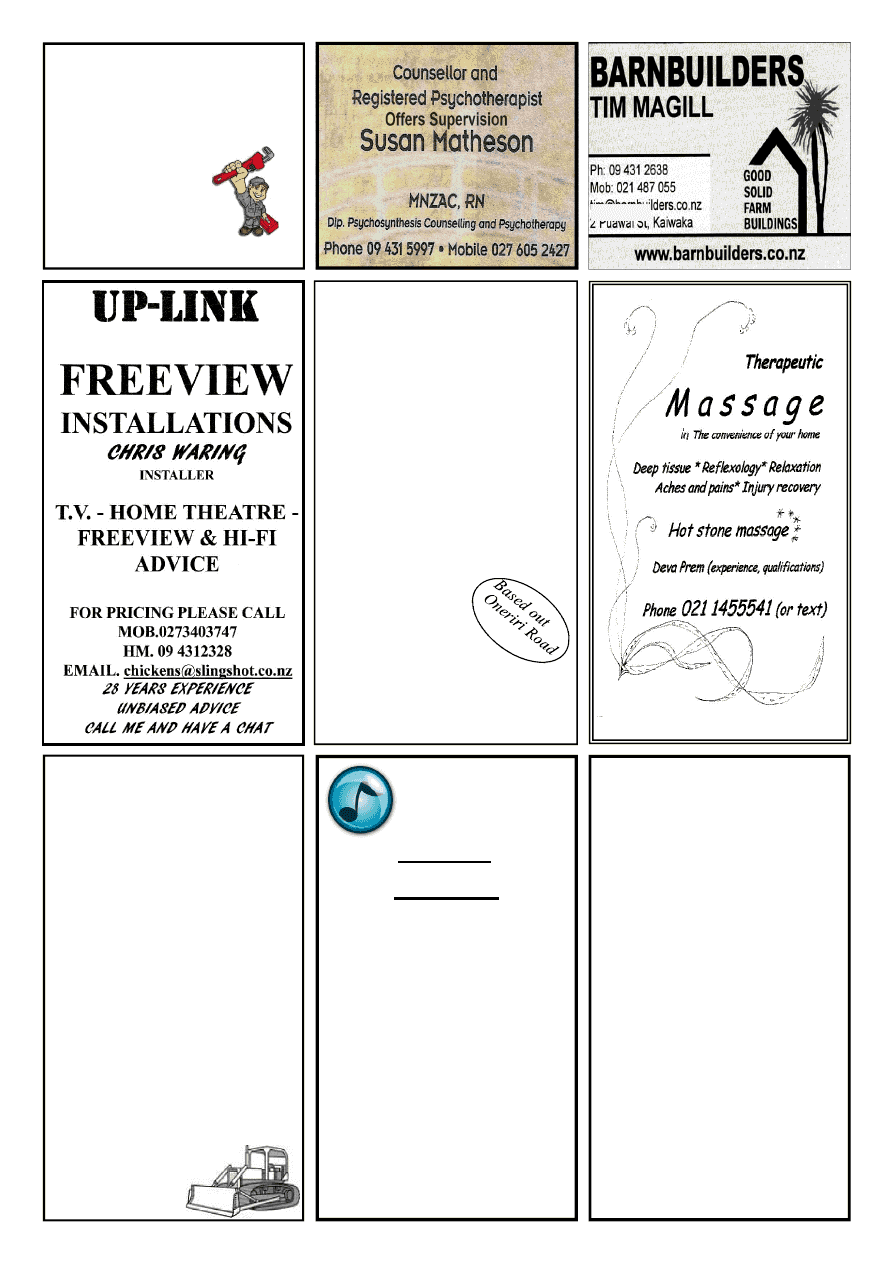 Singing  
Lessons
Individual sessions 
All styles of music  
All voice types 
Reasonable rates 
Phone  
Maura Flower 
021 164 8318
Willow Bend
HORSE  
HOTEL 
"   
Total Horse Care 
" 
Agistment 
" 
Riding Lessons 
" 
Arena Hire (60x40) 
" 
Young Horse Starting 
" 
Re-training/Exercising 
" 
Hoof Trimming 
" 
Problem Solving
Phone Sue 09 431 
2817 or 021 623 776 
Or email sue.gray@xtra.co.nz 
HODGETTS
CONTRACTING
Digger Work    

Driveways 

House Sites   

Dams 

Drains, etc
Also available for HIRE 

3 ton Vib Roller 

Heavy Duty Tow 

Waterblaster  

Lazer Level 
Phone Mark 
4312877 
027 447 8554
Coates  
Contracting 

D41 Bulldozer with 6 
way blade, bush rigged 
with winch 

For all tree work 

General bulldozing and  
  stick raking. 

120hp Tractor for 
ground cultivation,  

tip trailer work. 

Fencing
All enquiries phone  
Brett Coates  
094318720  
or  
 021431872
www.mangawhaimassage.co.nz 
Ross Murphy 
PLUMBER 
Certifying Plumber 
09 431 7510 
021 424 252 
Paparoa Based 
+
New Housing  
+
+Renovations  
+
+Maintenance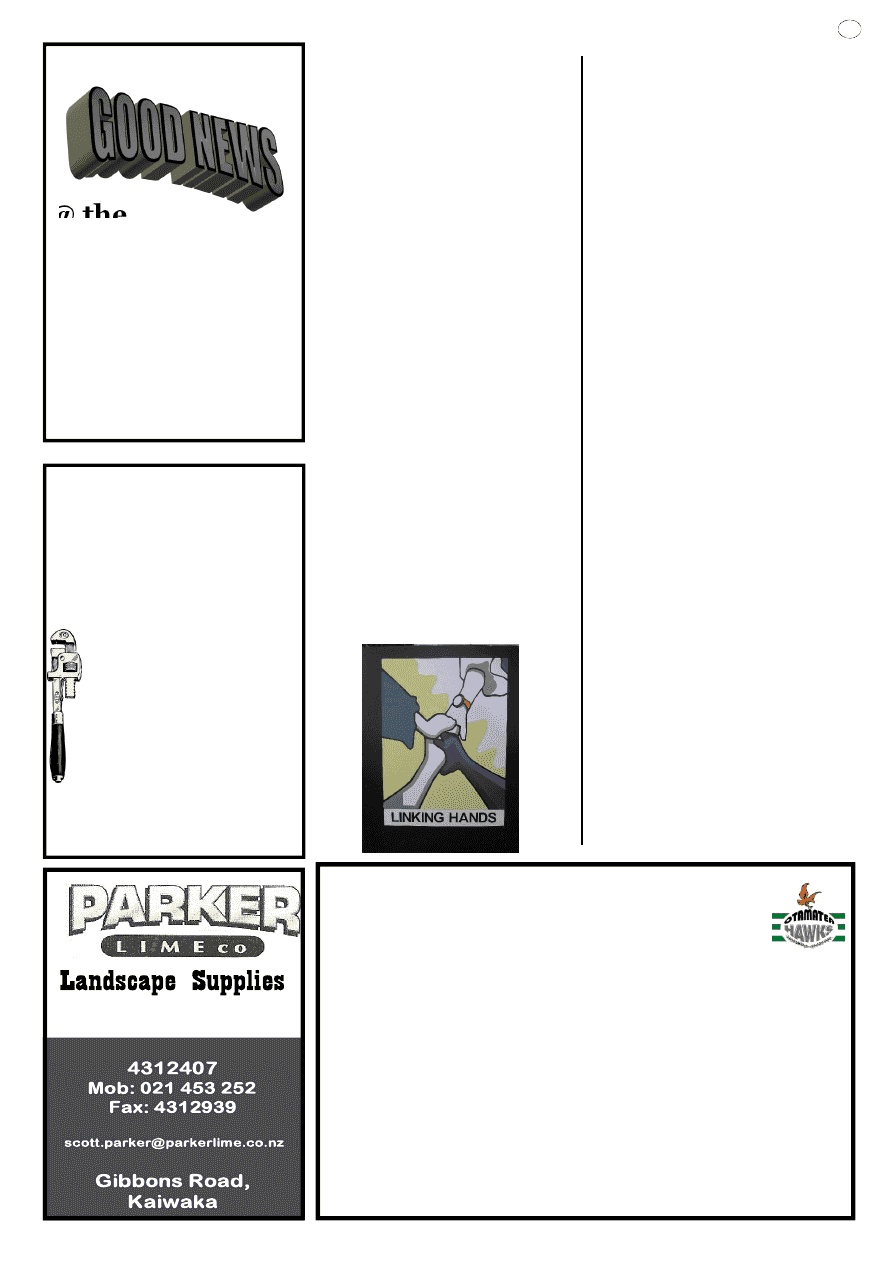 THERE'S 
 
 
 
 
@ the  
Kaiwaka Family 
Church 
Your COMMUNITY CHURCH 
RECEIVE HEALING 
  RECEIVE THE LOVE OF GOD 
 Everyone warmly welcome each                                            
 
    Sunday 10am. 
Contact: Pastor John Dekker,  
09 4318203 
Bulk Cartage 
BARRY CURTIS  
PLUMBING LTD 
REGISTERED CRAFTSMAN 
PLUMBER 
Phone 4315572      
027 257 9884 
     25 years experience 
  
Friendly reliable service 
All plumbing and maintenance 
Alterations and new housing 
New wood fire installation 
Spouting 
Competitive rates  
 
 
 PROMPT EFFICIENT  SERVICE  
17 
LINKING HANDS Inc 
 
This  voluntary  organisation  has  been 
running  the  Health  Shuttle  service  out 
of  Mangawhai  for  4  years  transporting 
people,  young  and  old,  to  and  from 
medical 
facilities 
in 
Mangawhai, 
Whangarei, Warkworth and Wellsford. 
 
In  2013  we  transported  264  people, 
mainly  to  Whangarei,  resulting  in  our 
Mangawhai  vehicle  having  clocked  up 
some  370,000  km.  We  are  currently 
seeking  funds  to  enable  us  to  find  a 
suitable replacement vehicle. 
 
We  receive  funding  support  from  the 
likes of: ASB Trust Anglican Op Shop, 
Coast  to  Coast  Health,    Catholic  Car-
ing,  COGS,  Lotteries  Commission, 
Mangawhai  Club,  Lions,  Rotary,  to 
assist  with  the  day-to-day  running  of 
the  Shuttle  Service  operation  which 
includes  Maungaturoto,  Kaiwaka  and 
Bream Bay as well as Mangawhai.  
 
However  sourcing  money  to  replace 
our ageing fleet  of  vehicles is  difficult. 
If  you  belong  to  an  organisation  that 
would  be  able  to  assist  financially  or 
individually,  we  would  be  pleased  to 
hear from you. 
 
Ken  Littlejohn  (ph  4314121)  is  the  lo-
cal coordinator for Linking Hands, so if 
you  want  to  learn  more  about  our  ser-
vice please give him a call. 
KAIWAKA SPORTS 
RUGBY
Rugby – junior 
If  you  have  a  boy  or  girl  interested  in 
playing  rugby  this  season,  but  you 
missed our Rally Day, you have anoth-
er  chance  this  Tuesday. Turn  up  to  the 
Complex  at  5pm  for  a  BBQ,  a  boots 
swap, a game of Touch, ball skills with 
players  from  the  Otamatea  Hawks  as 
well  as  two  players  from  Northland's 
Taniwha  team,  a  meeting,  and  ice-
blocks. Parents please bring nibbles. 
The  club  is  looking  for  a  coach  for 
their  Under  11's  team,  please  ring  Jen-
nie Reynolds on 9450 502. 
A  Small  Blacks  coaching  course  will 
be held at the Kaiwaka Sports Complex 
on  Wednesday  19
th
  March  at  6.30pm. 
This  is  a  requirement  for  all  Under 
7's→Under 13's rugby coaches. 
 Rugby–intermediate 
Trainings for the Under 14's and Under 
16's  teams  are  well  underway  –  at  the 
Maungaturoto  Country  Club  on  Mon-
days 
and 
Thursdays 
at 
6pm. 
If  you  have  a  son  who  is  interested  in 
playing  rugby  this  season,  please  ring 
Brett Coates on 4318 720.  
Rugby – senior 
The  Otamatea  Hawks  held  pre-season 
matches  last  Saturday  against  East 
Coast  Bays  and  Eden  –  scores  weren't 
kept  as  the  teams  were  alternating 
quarters  but  our  boys  look  to  be  shap-
ing up well! 
The next Hawks match is this Saturday 
at  the  KSA  against  old  arch  enemies 
Wellsford.  Our  Reserves  will  take  the 
field  at  12pm  and  our  Premiers  will 
kick  off  at  2.15pm.  These  should  be  a 
couple  of  hard  fought  matches,  so 
come  along  to  show  your  support  for 
the Hawks! 
The  next  Otamatea  Rugby  Club  meet-
ing  will  be  on  Tuesday  18
th
  March, 
7pm. 
And  congratulations  to  Hawks  players 
Daniel Hawkins and Matt Moulds who 
have  made  the  Blues  Development 
Squad – great news! 
The Twinkle Tow 'n' Tyre
OTAMATEA HAWKS 
Supported by Phil Keen Concrete 
Invite all supporters and sponsors to the first 
home match 
Hawks vs Wellsford  
Saturday 8 March, 12.30 & 2.15pm 
Kaiwaka Sports Complex 
 Join us for the 2014 Season –become a paid up sponsor or part  
of our supporter's club  
Contact: Secretary Jennie 021 027 64 171 
President Kevin 027 47 93 659  or Coach Dean: 021 61 20 41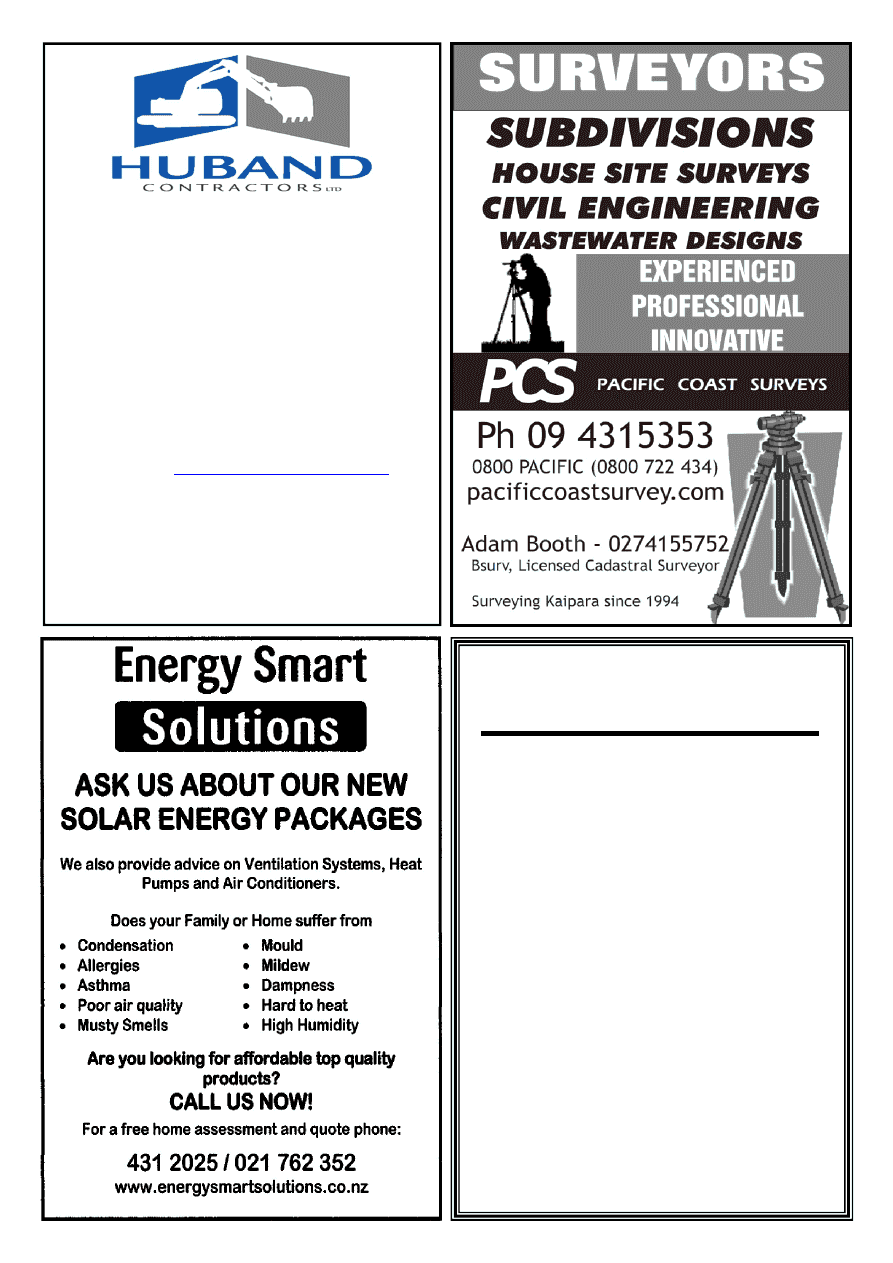 STOCKFOOD
GREAT RANGE FOR ALL YOUR LIVESTOCK  
AT GREAT PRICES 
 ALSO CHECK OUR 
DOG BISCUITS 
20 KG FOR $58.90 
LPG REFILLS 9KG 
STILL ONLY $31.50
MANGAWHAI SERVICE 
STATION 
(09) 431 4242 
44 MOIR STREET IN THE VILLAGE 
*   R O A D I N G   *   E A R T H W O R K S *    
*   D R A I N A G E   *   S I T E W O R K S   *  
For any further enquiries,  
contact Shaun on: 
Cell: 021 222 0272 
Home: 09 4318339 
Email:   
shaun@huband.co.nz
Shaun Huband:  Registered  
Drainlayer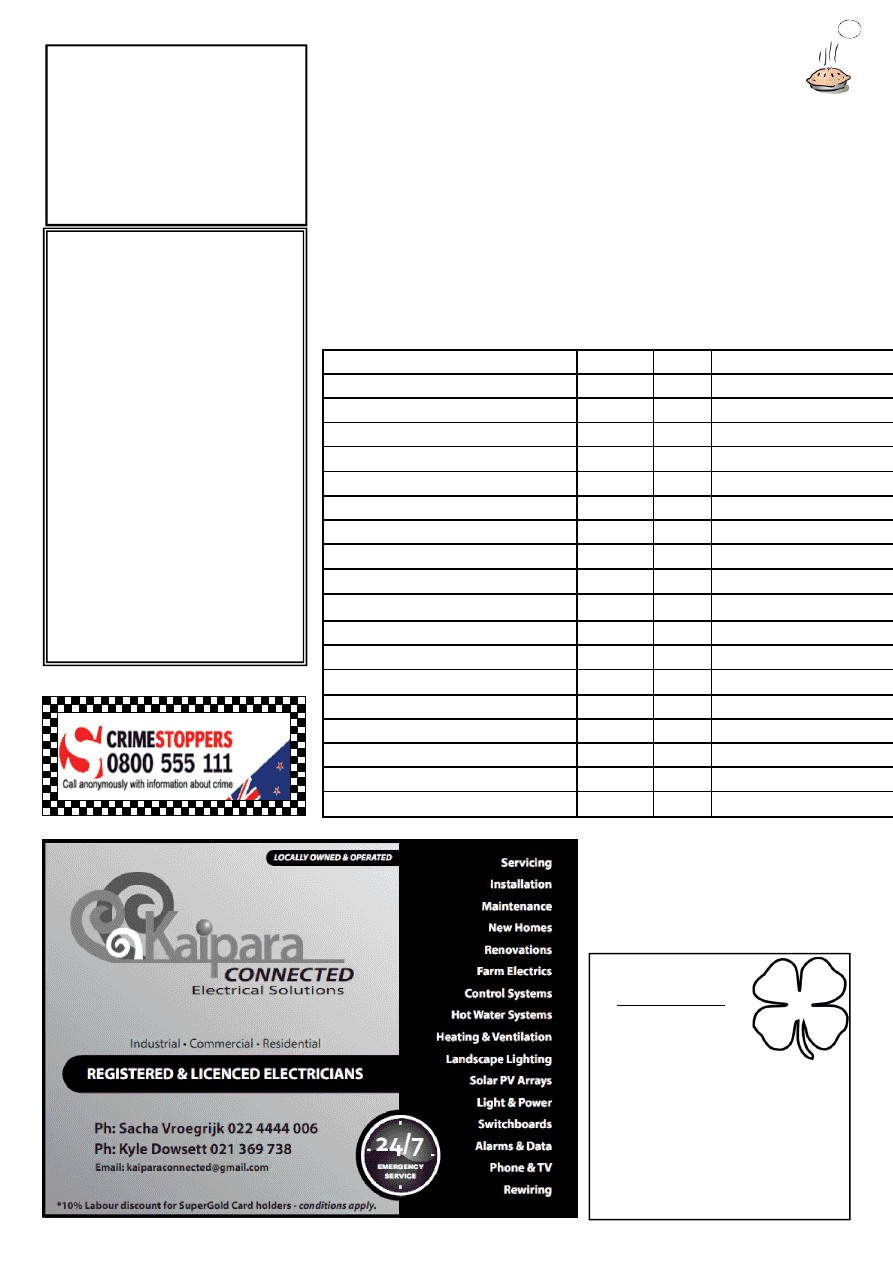 AMBER'S 
Q Cafe &  
Restaurant 
All day breakfast, 8am - 5.30pm.     
 Home made Pizza, take away or eat in from  
8am to late. 
 Light lunches, 11.am - 5.30pm, 
Dinner Menu at 5.30pm to late 
 Toasted Sandwiches and Sandwiches made  
to order. All day, Pies, Chowder & Soups 
 Milkshakes, Kiwi Ice cream, Slushie Fruit drink, 
Tea, Coffee 
 Closed Mondays.....except Observed Holidays 
 Sunday to Thursday: 8am - 8pm 
 Friday: 8am - 8.30pm, Saturdays 8am- 9pm 
4315226 
Trevor & Amber 
41 Moir Street, Shop 5-6  
Mangawhai Village 
Next to Carters Building Supplies 
LEABOURNS 
Passenger Service 
Car & Van Hire 
Bus & Coach Charters 
Airport Transfers 
Monthly Shopper Bus
Phone (09) 4237416 
19 
Payment options:           Cash        Cheque 
(payable to Kaiwaka/Mangawhai Scouts)        
Bank direct 020484002253901 
  (use reference pies and your full name)  
 
Return form to: Cheryl Anderson, 233  
Baldrock Rd, RD2, Maungaturoto, 0587.  
Order Form 
Name:   _________________________________________ 
 
Address:______________________________________________ 
 
Phone number:   __________________________________ 
Food type 
Price 
# 
$ total 
Lamingtons (6 pack) - Chocolate 
$5 
                                     - Raspberry 
$5 
Sausage Rolls (5 pack) 
$7.50 
Lunch Pies (5 pack) - Mince 
$10 
                                 - Mince & Cheese 
$10 
Family Pies - Mince 
$7 
                   - Mince & Cheese 
$7 
                   - Bacon & Egg 
$7 
                   - Steak 
$7 
                   - Steak & Cheese 
$7 
                   - Steak & Onion 
$7 
                   - Steak & Kidney 
$7 
                   - Pepper Steak 
$7 
                   - Apple 
$7 
                   - Apple Crumble 
$7 
                   - Apple & Blackberry 
$7 
                   - Rhubarb 
$7 
TOTAL 
PIES FUNDRAISER 
Fundraising for the Kaiwaka/Mangawhai 
Scouts 
Here's a great opportunity to purchase delicious pies, sausage rolls and 
lamingtons through the Oxford Pies Fundraiser. The Kaiwaka/Mangawhai 
Scout Troop will make $1 on each item ordered. To order please return 
this form with your payment by 3
rd
 April. A Scout will deliver your order 
to your home within the following fortnight. Any enquiries to 
St Patrick's Day 
 
 
 
May  you  have  the  hind-
sight  to  know  where  you've  been,  the 
foresight  to  know  where  you  are  go-
ing, and the insight to know when you 
have gone too far. 
 
(St Patrick's Day is Monday March 17th)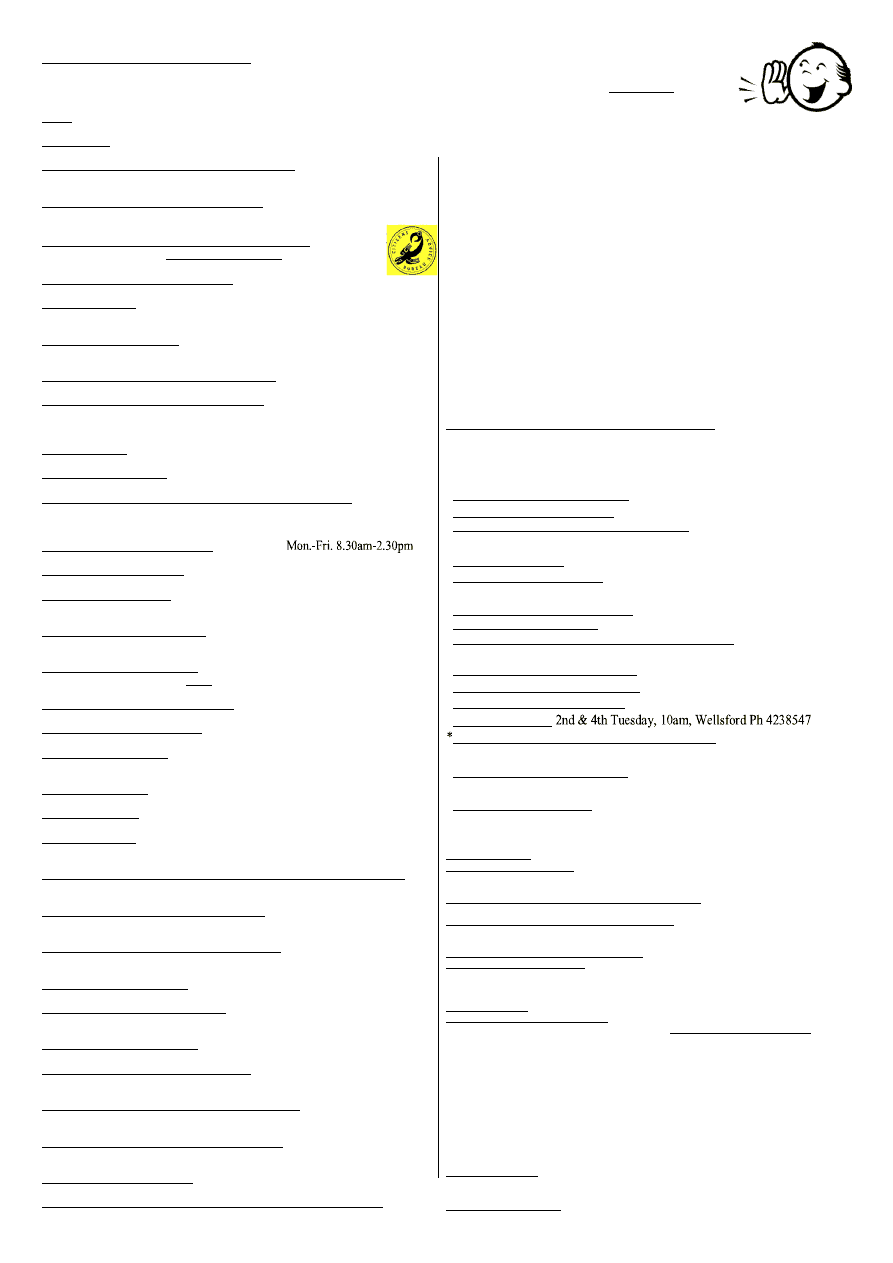 LOCAL SERVICES 
*St.John Ambulance 
111 or Freephone0800 61 0066
*Fire phone 111     *Police phone 111 or 09 4311150 
A A: Meets Wed., 8pm Kaiwaka Ph: 4312228, 4315543, 0800229 6757 
AL ANON: In recess, contact Ph: 4312228 
AGRIQUALITY (MAF) Livestock Consultant 
Phone 09 4311 820 or 021518257  
BUDGETING SERVICE,OTAMATEA:Free confidential advice & 
support - all areas of  personal finance Ph: 09 4318173 or 094318117 
CAB-
Citizens Advice Bureau.Wellsford Ph: 4237333.
0800 367 222 email:
cab.wells@xtra.co.nz
DOG/STOCK /NOISE CONTROL 0800 105 890 
KATE'S PLACE with Govt.Day Agencies/Community Information /
Osteopathy/ IRD / Probation, etc Ph: 4312661 Hours: 9am-3pm. Mon - Fri 
FUNERAL SERVICES: Morris & Morris Ltd, 
Whangarei - Bev Jaques Ph:4312367 or 0800667747 
GRANDPARENTS Raising Grandchildren: Sarah Rogers Ph: 4312194 
HAKARU LANDFILL/Transfer Station:Open everyday except 
Tuesday10am-4pm.Ph4312629 Cost-$55 trailer load up to 1 cubic me-
tre. Ph:4258567 - office 
HOMEOPATH: Donna Flavell Ph: 4314843 
INLAND REVENUE: Last Friday each month, 11-3pm Ph4312661 
KAIPARA DISTRICT COUNCIL www.kaipara.govt.nz:  
Help Desk FREEPHONE 0800 727 059  
Service Centre Mangawhai 4313161 
KAIWAKA KOHANGA REO: Ph:4312620 
KAIWAKA CEMETERY: Ph: 4312045 
KAIWAKA LIBRARY: kaiwaka.library@gmail.com  
Mon. 4-6pm; Wed., Thurs., Fri., Sat.  10am-2pm Ph:4312539 
KAIWAKA PLAYCENTRE: Ph: 4312286. Hastie Lane 
Monday to  Friday  9.00am - 12 noon. 
KAIWAKA POST OFFICE:Ph:4312 626 Fax: 4312287  
Post Code: 0573  for RD2  and  0542 for all Kaiwaka Post Office mail 
KAIWAKA PRIMARY SCHOOL: Ph: 4312309     
KAIWAKA SPORTS ASSN: Ph 4312005; 4312129 gym 
KAIWAKA ST JOHN: Manager Steve Rosser 09 4318403, 021 
2316836 
LINKING HANDS Health Shuttle service Ph Ken Littlejohn 4314121 
NORTHPOWER: Faults Kaiwaka area 0800 104040 
PARENTPORT: Free, practical family support servicePuhoi to Paparoa 
Ph:  Sharon Mehana, Co-ordinator. 4259357 or 027 280 5093 
PERSONAL DEVELOPMENT COACHING, GROUP FACILITATION:  
Sabine Druckler 4312231 
PLUNKET  KAIWAKA/MANGAWHAI: Ph:094318187 or 0276753488 
Kaiwaka Mobile Clinic once a month– appointments necessary;  
Mangawhai (next Domain) 1st & 3rd Thursday & Coffee Morning; 
PLUNKET CAR SEAT CO-ORDINATOR:  Pat Scott Ph 4314530 or 
0272881635 
PLUNKET FREEPHONE -0800 933 922 
PLUNKET -MAUNGATUROTO  Clinic every 2nd & 4thThursday. Ph: 
09 4318187 
PUBLIC HEALTH NURSE: Gloria Reid Ph: 094327634  
RETURNED AND SERVICES ASSN 733 Settlement Rd. Hakaru 
Ph.4312176 Bill Kerr (President) Ph.4314719 
TE KOROWAI AROHA O NGATIWHATUA Ph: 4312675 
(The Cloak of Love of Ngatiwhatua) Support and Maori Consultancy.  
VETERINARY SERVICE MANGAWHAI: 
Ph: 4314535 Mon-Fri 8.00-5.00, Sat 9-12, a/h appt. 
WELLSFORD DOCTORS: Ph: 4238 086 
WOMEN'S WELFARE LEAGUE & Reaching Out For Youth:  
4 Kaiwaka-Mangawhai Rd, M Morgan 4312293
WHAT'S ON
PLEASE ~ do let me know what is on - email 
kaiwakabugle@kaiwaka.co.nz 
Advertising in WHAT'S ON is FREE  
Mondays: 8-2.30pm Kaiwaka Tramping Group  Karen 4312090 
Tuesdays: Yoga 6.15 pm, Kaiwaka WM Hall 4312408, 
021 2968794  
Fridays: Yoga 8.30am, Kaiwaka WM Hall 4312408, 021 2968794 
 
*7Mar~Gatsby 7:30pm Kaiwaka War Memorial Hall 
*8Mar~Otamatea Hawks v Wellsford 12:30 & 2:15pm KSA 
*8-9Mar~Point Curtis Fishing Competition 
*11Mar~St John Op Shop sale starts 
*12Mar~Kaiwaka Sports Assn meeting 7:30pm KSA 
*18Mar~Meet the teachers 7pm Otamatea High School Hall 
*21Mar~Captain Phillips 7:30pm Kaiwaka War Memorial Hall 
*22Mar~ Shave For A Cure 7:30pm Kaiwaka Sports Complex 
*4Apr~Beyond The Edge 7:30pm Kaiwaka War Memorial Hall 
*6Apr~Mary Poppins 2pm Kaiwaka War Memorial Hall 
*9Apr~Olla Podriga Otamatea High School 
See www.kaiwaka.co.nz for upcoming events. 
 
Drink can 'tear tabs' - for Starship Hospital-Ph. 4312625   
HOUSEHOLD  RUBBISH  COLLECTION  -  Kaiwaka    Pick  up-
Mondays=Gr een  bags  ar e  picked  up  by  Nor thland  Waste-
queries  to  them  09  4303273,Wednesdays=Blue  bags  and  yellow 
recycling (at Jaques  $3.00 and $1.50)  are picked up by Kaurilands 
09 4392146.  
*OTAMATEA GREY POWER-09 431 8138 Joan Hoggard  
*KAIWAKA BADMINTON -Tuesdays 7.30pm Ph: 4312345 
*KAIWAKA GARDEN & FLORAL Grp:2nd Thursday in month 
 Ph: 4314767 
*KAIWAKA CUBS-Thursdays 5.30-7pm, Hakaru  Ph:Bruce  4312542 
*KAIWAKA  SQUASH  -Mondays  7pm,    Ph:  Barbara  Thomas 
4315905 
*GYMNASTICS OTAMATEA -  Tuesday Ph: Stephanie 022 3624998 
*HAKARU PONY CLUB-Secretary Julie Rynne 09 4314520 
*MANGAWHAI COMBINED PROBUS CLUB: 2pm,3rd Thursday 
month in the Senior Citizens Hall Mangawhai. Ph: 4315777 
*PT CURTIS CRUISING CLUB - Jean Ph: 4312246 
*WAIPU GENEALOGYGROUP -4th Monday in month Ph: 4312725 
*NZ GENEALOGY-Wellsford - 1st Thursday in month Ph: 4237033 
*CRAFT GROUP:
KNITTING FOR WHANGAREI HOSPITAL - 2nd Tuesday in 
month, Apple Basket 10am Ph 4314827 
*RSA,Hakaru  &  Dist.Women-  meet  1.30pm  4th  Thurs  in  month 
4312668  
*Diabetes Support Group-for Kaiwaka, Mangawhai, Wellsford -10am, 
 
3rd Friday of month Ph:A.Pert 4238242; J.Gardner 4238060 
CHURCHES:
*Gateway Worship Centre-St Mary's Church Nathan Rd off Oneriri Rd, Kaiwaka 
Services, 10.30am 1st & 3rd Sunday of every month. Contact: Rev David Gage 
4312528 or 0212354282 
*Kaiwaka Family Church-Your Community Church Sundays, l0am 
Home Group every Wed evening, Pastor John.Dekker Ph: 4318203 
*Kaiwaka Services.Anglican & Family Service at St Pauls Church  - 1st Sun. 
9.30am(Anglican),3rd Sun. 9.30am (Family Service).  Contacts: Parish Office 09 
4318193, M.Hargreaves 4312295, C.Bygrave 4312057  
*Church of Christ the King, Mangawhai 9.30am every Sunday 
*St.Mary's Catholic Church:
Maungaturoto – Griffins Road, Saturday evening Vigil 
Mass 6pm; Mangawhai – Senior Citizens Hall, Sunday Mass 8:30am; Wellsford – 
Matheson Road, Sunday Mass 10:30am; Mid-week Mass times and all enquires to 
Fr. Bill Fletcher – phone 423 8170 
*Baptist Church: Sun. 10.30am Mangawhai Snr Cit.Hall.Ph:4312339 
*Cause Way Church Mangawhai – Sundays 10.15am, Mangawhai Community 
Recreation Centre, Insley St. Ph: 09 4314782  www.causewaychurch.org.nz 
 
*St.Pauls Archie Bull Hall HIRE  $20 half day, $40 full day per hire 
 Contact G. Jaques 4312048 
*Kaiwaka War Memorial Hall HlRE - Phone 4312725 or 
Email  kaiwaka.hall.bookings@gmail.com 
*Hakaru Community Hall HIRE -Ph.  4312256 or 4312110 
*Te Pounga Marae queries -A.Gage 4312528, 4312527 
*Kaiwaka Sports Association hire/queries- C. Anderson 4312051 
Justice  of  Peace:  B.FJaques; L.Donaldson;  A.F.Hargreaves  -please  phone 
to make sure they are available 
Marriage Celebrants: L.Donaldson; A.F.Hargreaves;  C.Rosseels 
Next Bugle Deadline Friday 14 March 2014