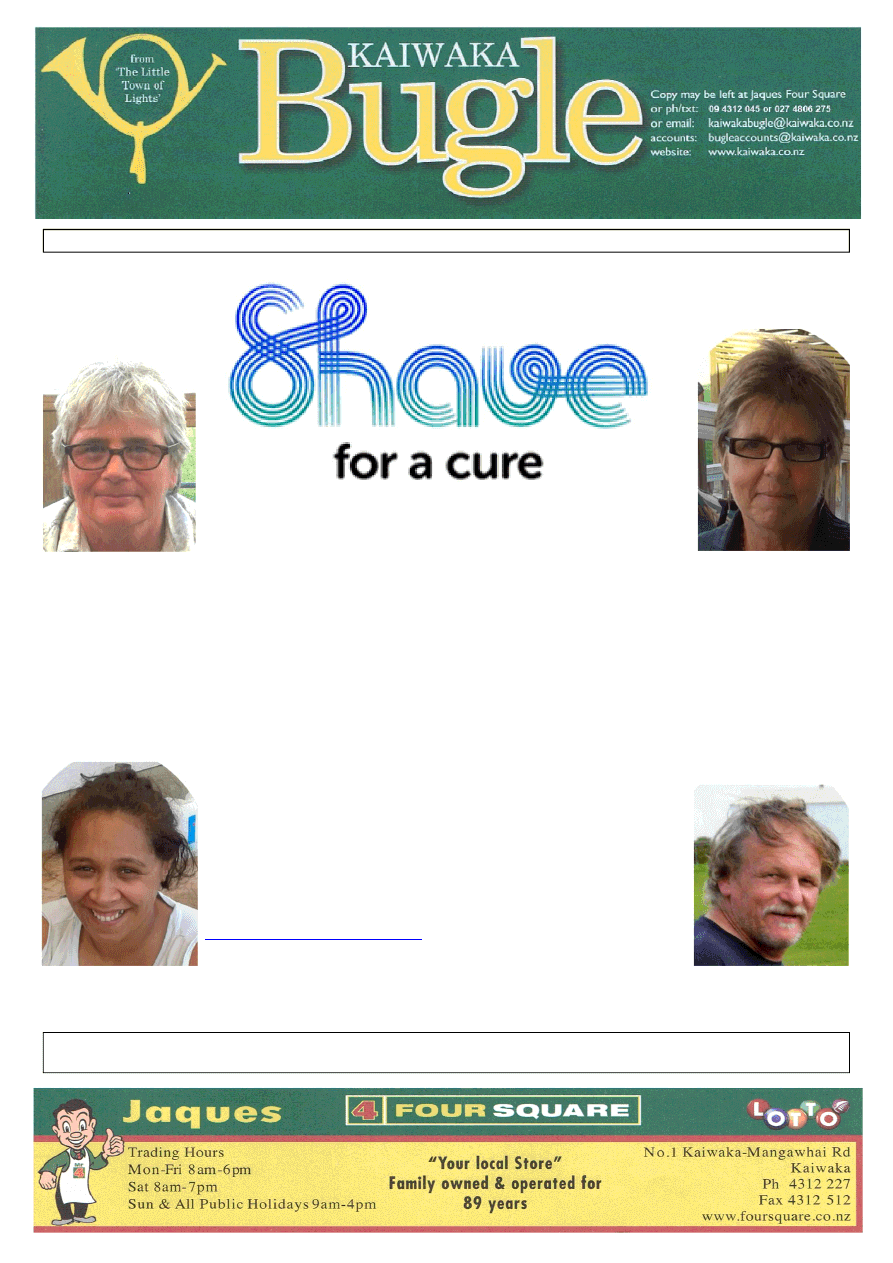 No: 5 
18/3/2014 
Shave For A Cure is coming to Kaiwaka!
On Saturday 22
nd
 March, 7.30pm at the Kaiwaka Sports Complex, brave locals will gather to 
lop off their locks to support this worthy cause.
 
Please come along to support our locals! There will be music, a sausage sizzle, drinks 
and silent auctions. The Kaiwaka Fire Brigade will be there taking donations.
 
Our group, the Kaiwaka Kinas, has already raised 
over $2,000! The Shave For A Cure website features a 
sponsorship leaderboard and out of all of the groups in 
New Zealand who are running an event we are coming 
10
th
 – not too bad for little 'ol Kaiwaka!
 
 
If you would like to support our group, please visit 
www.shaveforacure.co.nz
 and click on donate. 
Pictured are some of our locals who will be shaving their hair : 
                                      Trevor Linnell, Sara McAulay, Patricia Buxton, Corina Ross.
Shave for a Cure is Leukaemia & Blood Cancer's signature 
fundraising event. Every year thousands of individuals, 
schools and businesses across the country whip out the clip-
pers and shave their locks in a bid to help the six Kiwis a day 
diagnosed with a blood cancer or related condition.
Due to unforeseen circumstances, the Kaiwaka Postal Agency office will be open reduced hours for the time being. 
Mail will be sorted and delivered as usual. Thank you for your understanding.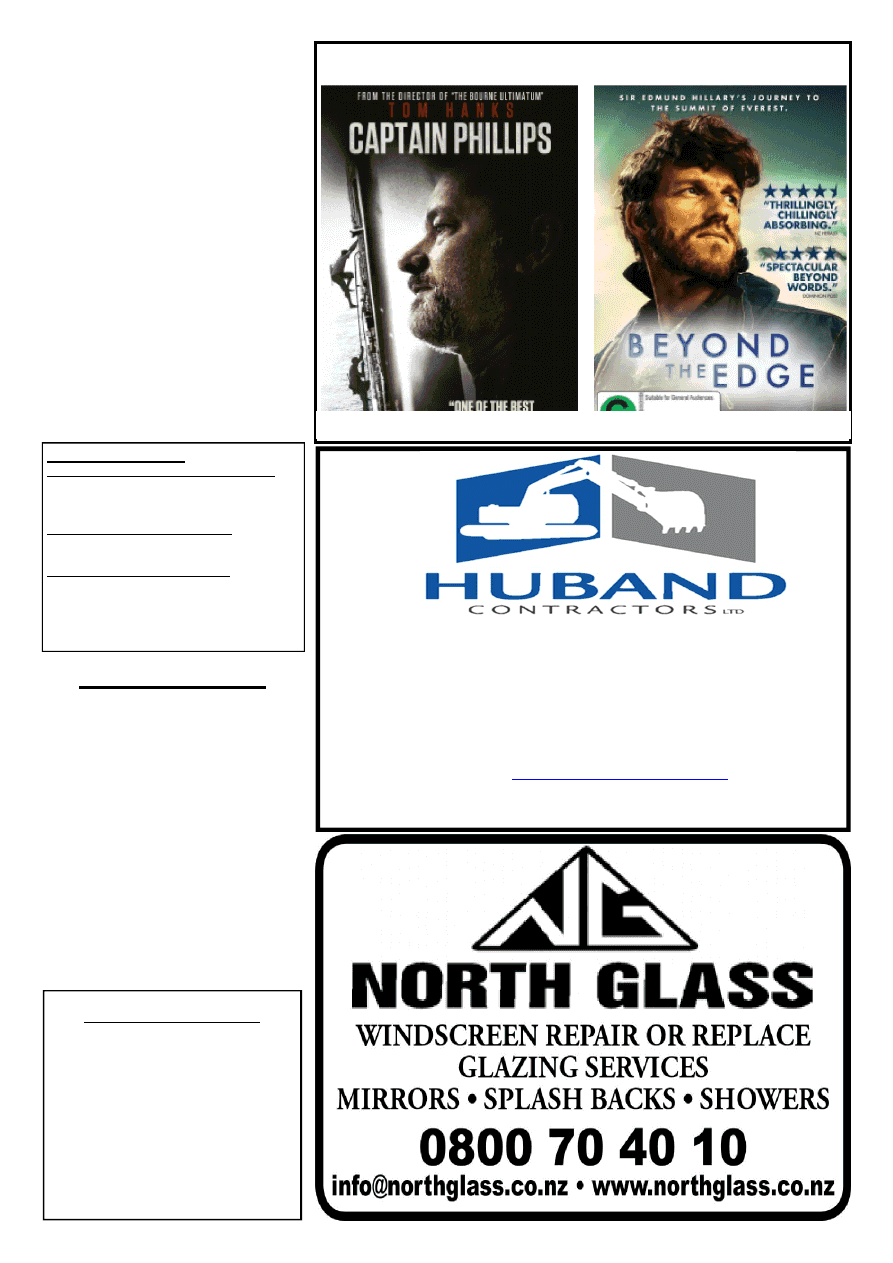 ABOUT TOWN 
 Great to see Café Bianca next to Buy 
The Way open - have had a delicious 
lunch  from  there  on  their  first  day 
open. 
 Don't  miss  the  Kaipara  District 
Council's public meeting on the draft 
annual plan on Wednesday 26 March, 
5:30pm in the KWM Hall 
 The council will be holding their reg-
ular  meeting  at  The  Club  in  Man-
gawhai  on  25  March  at  10am  -  a 
chance  to  see  them  in  action  without 
having  to  go  all  the  way  to  Dar-
gaville. 
"The  stupid  never  forgive  nor  forget; 
the  naïve  forgive  and  forget;  the  wise 
forgive  but  never  forget"  Thomas 
Szasz 
NEW PRICES: 
Kaiwaka Bugle Advertisements 2014: 
Classified $3; 1/8 page $6; 1/4 page $12; 1/2 
page  $24;  in  special  circumstances  whole 
page adverts are available-cost $100 
bugleaccounts@kaiwaka.co.nz 
Payments  can  be  online,  posted  or  left  at 
Jaques Four Square Store. 
kaiwakabugle@kaiwaka.co.nz    for  que-
ries or copy. 
The  Kaiwaka  Bugle  is  a  community 
newspaper run by volunteers.   
Articles,  etc.  printed  are  not  necessarily  the 
opinion of the Bugle Team  
*   R O A D I N G   *   E A R T H W O R K S   *    
*   D R A I N A G E   *   S I T E W O R K S   *  
For any further enquiries, contact Shaun on: 
Cell: 021 222 0272 
Home: 09 4318339 
Email:   
shaun@huband.co.nz
Shaun Huband:  Registered Drainlayer 
KAIWAKA BUGLE No. 5 
18 March 2014 
CONTENTS 
Page 3: Classifieds & Notices 
Page 5: Hakaru RSA 
Page 7: Otamatea High School 
Page 9: NorthTec;Pt Curtis Cruising 
Page 11: Kaiwaka Sports Association 
Page 13: Kaiwaka Fitness; Weather 
Page 15: Kaiwaka Primary School 
Page 17: Sports 
 
Bugle 6 will appear 1 April 
Contact for advertising, reports, articles 
or information can be made by 
Email kaiwakabugle@kaiwaka.co.nz 
Ph: 09 4312 045 
Txt:  0274 806 275 
Copy may be left at Jaques' Four 
Square. 
View the Bugle online at: 
www.kaiwaka.co.nz/Bugle 
Kaiwaka Bugle 
Founded May 1978 
Copies available in Kaiwaka at Jaques Four 
Square, Kaiwaka Postal Centre, Shamrock 
Service Station, Celena's Gifts 
Also outlets in Maungaturoto, Mangawhai 
and Paparoa. 
Can be viewed online at www.kaiwaka.co.nz/
Bugle 
Or a copy can be posted to you if you supply 
stamped, self-addressed DLE envelopes. 
KAIWAKA MOVIES
     at Kaiwaka War Memorial Hall
Adults $10.00, Kids (under 16) $5.00, Family Pass (2 adults + 3 children) $25.00 
Friday 21 March 7:30pm 
Friday 4 April 7:30pm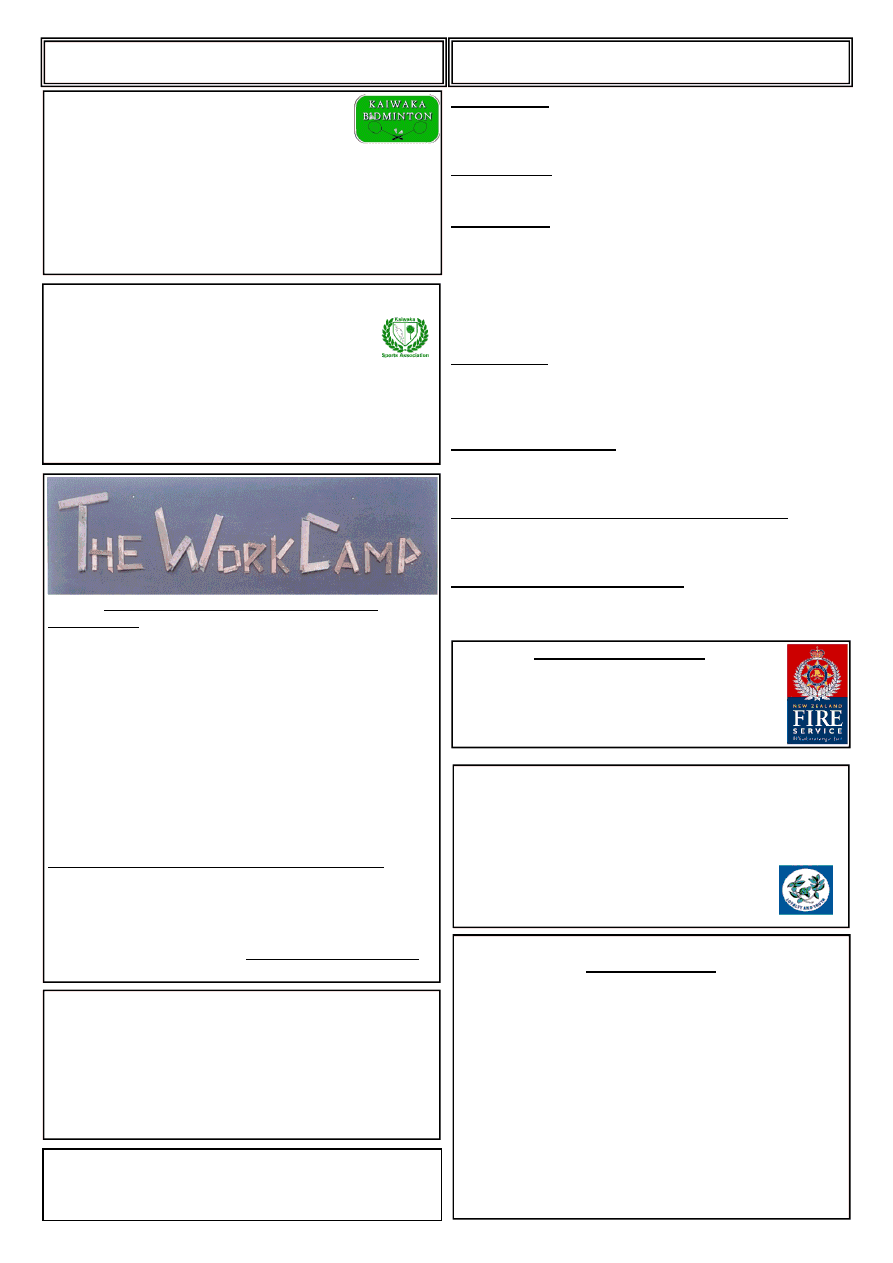 PUBLIC NOTICES 
CLASSIFIED 
FOR  SALE:  Dry  sheep  manure,  $7  per  sack,  great 
for your garden. Please phone Carol Mills 4312 044 or 
Steve  Strong  4314  806.  A  fundraiser  for  Kaiwaka 
Cubs & Scouts. 
FOR  SALE:  Strawberry  plants  for  sale.  Still  in  the 
ground  busy  flowering  and  fruiting.  50c  per  plant. 
Phone Elizabeth 431 2522  
FOR  SALE:  X-large  family  home,  5  bdrm,  3  bthrm, 
kit/din/liv,  but.  pantry,  mudroom,  xtra  fam/tv  room, 
dbl grge, solar HW and Eco-Septic system w grey wa-
ter  irrign,  2x5000  gallon  concrete  watertanks.  Xtra 
6x8m  Versatile  Garage  (2.4m  stud)  for  boat  or  busi-
ness.  2.9  acres  lifestyle-block  on  tar-seal,  sch  bus  at 
gate.  Private  sale  $595,000.  Ph  4312234  or 
0212154495 
FOR  SALE: Slow cooker, Zip 312, large 6.5l capac-
ity,  instruction  booklet,  used  only  a  couple  of  times, 
excellent condition, $40, please phone Cheryl on 4312 
051 
 
HOUSE  FOR  RENT 3-brm w carport, 11km west of 
Kwk - 10min drive. Floor & ceiling rec. insulated, pri-
vate,  quiet,  room  for  kids,  sunny,  fenced-off  garden 
area, refs rqd, no dogs. $200pw Ph 4312042 
CLOTHING ALTERATIONS & REPAIRS: 
Hems,  Zips,  Dressmaking  Phone:  Win  4312027    or 
027 444 8358 Winsome Designs. 
 
FREE  GRAZING  WANTED: Small or large block. 
Can  do  some  fencing  or  water.  Phone  after  6pm 
4312006 
Proverbs 25:27 
Just as it is harmful to eat too much 
honey, so also it is bad for men/ (women/children) to think 
about all the honours they deserve!  
RUAWAI LIONS CLUB 
ANNUAL CHARITY AUCTION 
Postponed until 
SATURDAY 29 MARCH 
VENUE:  
Kaipara Kumara Forecourt 
VIEWING OF GOODS:  9.30 am 
AUCTION STARTS: 10.00 am 
Food and refreshments available.  Trading table 9 am 
Contact: Jim Simpson 09 4392557 
or jdsimpson@slingshot.co.nz 
KAIWAKA BADMINTON 
Annual General Meeting 
 at the badminton courts 
Tuesday 1
st
 April @ 8pm 
All welcome 
The  club has had  a  great  season  playing  all the  way  through the 
summer  months  with  a  short  break  over  Xmas/New  Year.  
Thanks  very  much  to  Steve.  We  have  seen  lots  of  new  players 
who  have  hopefully  enjoyed  improving  their  badminton  skills. 
The  AGM is a  chance  to  get  involved  with  this  enjoyable  sport. 
See you then – club night will continue after the meeting. 
All enquiries phone Kaye evenings 4312345 
KAIWAKA SPORTS ASSOCIATION 
SPORTS AWARDS  
Monday 14th April, 6.30pm,  
Kaiwaka Sports Complex 
Emcee: More FM's John Markby 
Join  us  for  a  walk  down  memory  lane  to  commemo-
rate the 30th anniversary of the awards. 
Adults - $25, Children (Year 9 & under) - $10 
Tickets available from Jaques Four Square, KSA club 
delegates or phone Cheryl Anderson on 4312 051 
SITUATION VACANT 
Office Assistant to cover Otamatea High School of-
fice 3 mornings a week (Monday, Wednesday, Friday) 
from 9am until 1pm. Apply by letter outlining rele-
vant experience and the names and contact details of 2 
referees to ohs@otamatea.school.nz. 
Applications close: 9am, Friday 28 March. 
GARAGE SALE 
Sat 5th April 
8 Pakeho Road (off Baldrock Rd), Kaiwaka 
HANDYMAN AND BUILDER ASSORTED 
HOUSEHOLD ASSORTED 
CHILDRENS ASSORTED-TOYS,CLOTHES 
MORRIS AND JAMES TILES 
BASSINET,COT ETC
NOT BEFORE 8.30 
ph Neal on 0276023776 
Employment Initiatives and Life Skills 
Night Trains:      
The  last  Firearms  License  night  saw  11  turn 
up and all walk away with their  theory ticked off so 
they can apply  for the next part.  Graeme  is doing a 
lot of us a good tern and is entertaining with his hunt-
ing yarns. 
Nick  Butterworth  was  at  our  first  firearms 
night.  He  is  a  butcher  and  has  offered  to  show  us 
some tips on cutting up a  mutton or goat, (properly). 
Plus all students on our courses are given the 
chance to sit whichever part of their Driver's License 
they  need.  We will assist with transport and encour-
agement  and  hope  that  as  a  group  they  can  do  the 
rest.  
At Kaiwaka Workshop 7pm - Gold Coin Koha 
Wednesday 19
th
 March: Homekill Tips 
Nick Butterworth 
Wednesday 16
th
 April: Firearms Safety 
Graeme Stevenson 
Contact: Tim 021 487 055  tim@barnbuilders.co.nz 
 
Jarrod 027 2800 060 
Kaiwaka Fire Brigade 
Still looking for scrap metal for fundraising. 
A load is being sent off at the end of March, 
we'd love to fill it. 
Contact John 4312 248 or Mike 027 294 0519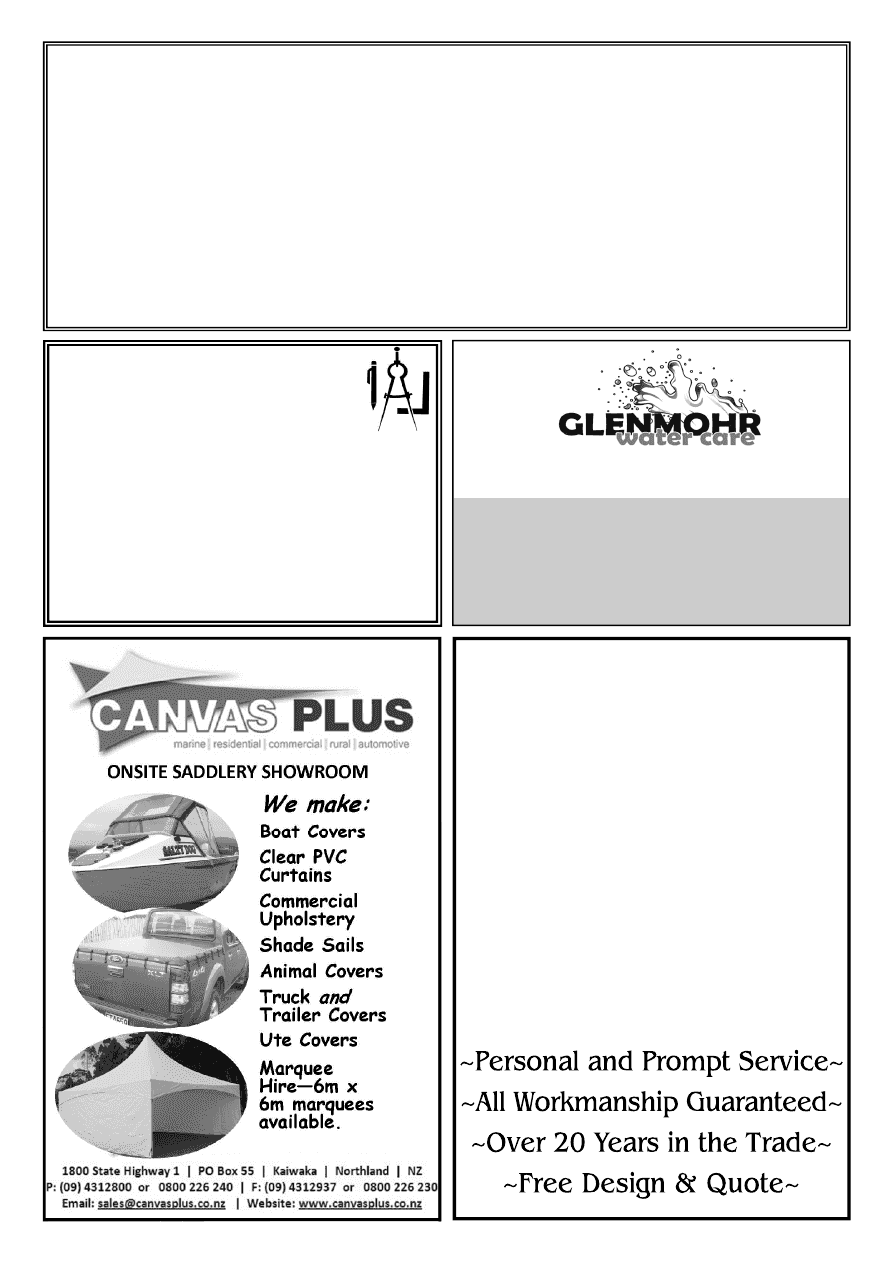 RANGANUI EARTHMOVERS 
16T Excavator   
(tilt, thumb & ROPS cab)   
Transport Trailer 
2 x 6 Wheeler Tip Trucks 
Suppliers of All Grades of Metal & Topsoil 
If you want a proper job done with an experienced operator ring 
Grant on:  A/H  431-2131   
Email  ranganui.dev@xtra.co.nz 
Mob  021845-246 
Driveways, House Sites,  
Drainage Dams, 
Section Clearing,  
Tree Work,  Rock Retaining Walls,  
Quarry Work, 
Basically Anything That a Digger Can Do 
design drafting 
service 
Retired builder and manufacturer with over 40 years  
experience in the building industry is offering a design 
drafting service for domestic housing, sleepouts and 
sheds.  
Plans formulated in consultation with clients, with 
working drawings completed and submitted to  
council for processing.  Extensive practical experience,  
able to identify & resolve problems. 
Please ring Mike Lean on 
09 431 2260  
          or 
021 431 196 
Water Tank Cleaning 
 
Keep your water safe & clean   
 
Removal of sediment, silt etc. 
 
Vacuum or full scrub 
 
Minimal water loss 
Phone Mark (09) 432 0655 or 0274 707607 
PLANNING A NEW 
KITCHEN? 
 CONTACT NOEL McDOWELL 
WELLSFORD 
KITCHENS
Ph/Fax 094312888  
KAIWAKA-Any time 
  QUALITY CUSTOM MADE 
KITCHENS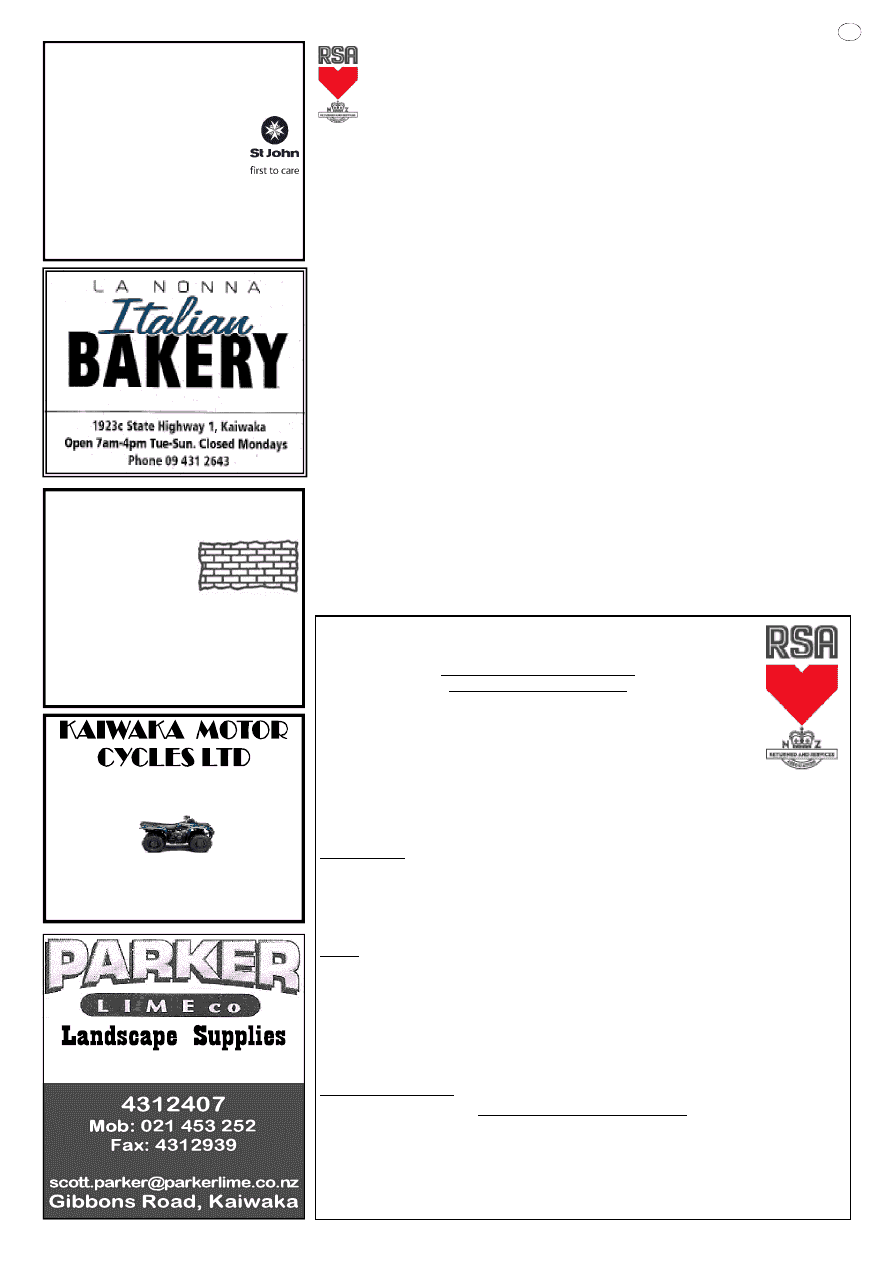 BRICK/BLOCKLAYER 
All aspects of masonry:  
Fireplaces, 
Restoration  
& Remedial Work. 
JAMES EAGLETON 
Tel. (09) 431 2514  
Mob. 0274 749 232 
jajueagles@yahoo.com.au 
210A Pukenui Road, RD2 Kaiwaka 0573 
Bulk Cartage 
SALES SERVICE SPARES
FARM BIKE SPECIALIST
Phone 431 2127  
Kaiwaka-Mangawhai Rd 
Kaiwaka 
When you need St.John 
members at your function … 
Get a Community Services 
Form 
….. see Mill
y at the  
Kaiwaka St John  
Op Shop.
Phone 4312650 
MORE MEMBERS REQUIRED FOR 
THE KAIWAKA STATION. 
5 
HAKARU RSA WOMEN'S SECTION
A  very  successful  Bowls  day  was 
held  on  Monday  17th  February  at 
the  Mangawhai  Club,  Members 
from  Kaitaia,  Warkworth,  Hakaru, 
Dargaville and Waipu competed. 
The  following  were  lucky  enough  to  get 
prizes: 
Leads:  1st  -  Irene  Donaldson,  2nd  -  Lynn 
Harnett, 3rd - Anna Greenwood, 4th - Rose 
Rowe.  Two's:  1st  -  Kath  Wright,  2nd  - 
Lorraine Brown, 3rd - Dawn Powell. Skips: 
1st=  Shelia  Hodgson  and  Sharon  Rudman, 
2nd  -  June  Wilson,  3rd  -  May  Evans. 
Touchers:  Lois  Bird,  Lorraine  Brown, 
Sheila  Hodgson,  Jill  Stewart,  Barbara 
Howard  and  Jane  Walker.  Consolation 
Prizes:  Skip -  Diane  Stevenson, Two  -  Jo-
anna  from  Kaitaia,  Lead  -  Kathy  Leese, 
Scratchy Donation - Kathy Leese,  Spider - 
Kath. 
The  raffle  was  very  well  supported,  prizes 
looked  lovely  as  usual  thanks  to  Heather, 
and a nice afternoon tea was served to fin-
ish up – well done to all who helped on the 
day. 
AGM 
The AGM was held on Thursday 27th Feb-
ruary  and  was  well  attended.  In  her  report 
Heather thanked members for their support 
throughout  the  year,  and  to  all  who  come 
and help  with the meals  on the 2nd  Friday 
of each month and more help especially on 
ANZAC day and the Birthday. 
The  Birthday  Girls  for  this  month  were 
Tania  Creek,  Dawn  Powell  and  Bev 
Ogilvy,  congratulations  Ladies  and  hope 
you  all  had  a  Happy  day.  The  Raffle  was 
won by Lorraine Lusty. 
The  following  were  elected  to  the  Execu-
tive and committee 
Patron  –  Joan  Leslie,  President  –  Heather 
Small,  Vice  President  –  Lena  Carleton, 
Secretary  –  Jan  Mann,  Treasurer  –  Helen 
Hawkens,  Delegate  to  NWA  –  Lena  Car-
leton,  Reporter  –  Ann  Dowson.  Commit-
tee:- Shirley De Vries, Fay Wintle, Doreen 
Woodhouse,  Trish  Black,  Pat  Judd,  Ann 
Dowson. 
President  Bill Kerr thanked Women's Sec-
tion members for all their help both manual 
and  monetary 
with  special  projects 
throughout  the  year  and  mentioned  about 
the  special  Thunder  Promotion  the  first 
weekend in May which will a busy time for 
all  but  a  "Fun"  time  as  well,  dedicated  to 
the Services. 
Coming Up 
Bill  also  pointed  out  that  Anzac  Day  is 
only  a  few  weeks  away  with  Poppy  Day 
being  Friday  17th  April.  On  26th  March 
Pukekohe  RSA  members  are  coming  to 
lunch, Hakaru members please join them to 
make  it  a  happy  day.  $10  visitors  and  $5 
Hakaru members plus a plate. 
Lena  gave  her  report  as  NWA  Delegate 
and  said  a  remit  is  going  forward  to  the 
N.Z  conference  to  change  50  years'  Long 
Service  to  20  years  and  anyone  belonging 
to another RSA then shifting to another, all 
their  time  as  a  Women's  Section  member 
will be counted. 
 
That is all for now, take care & keep well. 
~Ann 
DAYS OF THUNDER 
TO COMMEMORATE 100 YEARS 
SINCE START OF WW1 (1914)  
TO BE HELD IN HAKARU RSA GROUNDS 
733 Se lement Road. Kaiwaka 
ALL WELCOME
SATURDAY       3
rd
 MAY 2014        9.30a.m  to  3.30p.m. 
SUNDAY          4
th
 MAY 2014           9.30a.m  to  3.00p.m
GATE ENTRY $10 PER PERSON
 – 
CHILDREN UNDER 10 FREE 
(All Children must be accompanied by an adult)
FEATURING:  Sta c  displays,  mock  ba le 
(weather permi ng)
,  firepower 
demonstra ons  by  WWII  re-enactment  socie es  (21
st
  Ba alion  -  Kiwi 
Units based ex Auckland in WWII, 82nd All-American Airborne, The Fall-
schirmjager Regt. 3 – German Paratroopers). 
 
ALSO:   
    *  A Sta c Display by The Mangawhai Cadet Unit 
    *  Private Collec ons of An que and/or Historical Weapons 
    *  Military Memorabilia from Private Collec ons 
    *  WW11 Military Vehicles  * Vintage Cars 
    *  Motorbikes & Hotrods born of yesteryear. 
 
EVERYTHING from  -  military handguns to a Howitzer (1960's) 
SOMETHING FOR EVERYONE 
Look for the Kaiwaka & Mangawhai Cub & Scout Troops' 
Sausage Sizzle. 
Also enjoy a Devonshire Tea hosted by the Mangawhai Cadet Unit.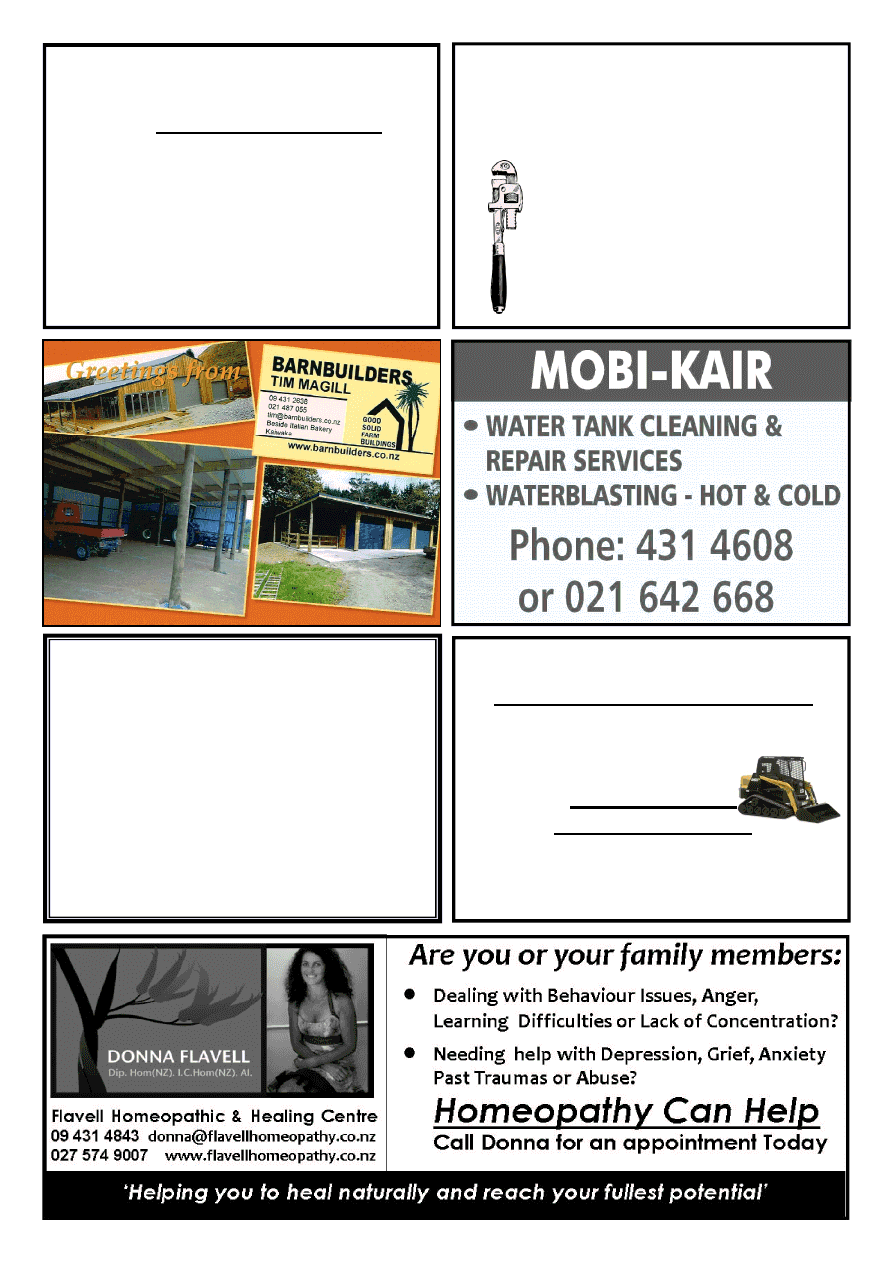 TILING 
Certified Waterproofing 
431 4533 or 021 86 33 33 
George 
MCN Property Solutionz  
Local references available 
Natural Earth Ltd 
Landscape and Bobcat services 
 : Driveways  :Landscaping  :Retaining Walls 
 : Hole Boring: Land Levelling :Trenching 
 : Decks :Fences :Sections Cleared 
 : Plus much more 
Tel 09 4312 885 
Mob 02102391280 
For A Fast Friendly Service  
Contact Tim Hicks 
BARRY CURTIS PLUMBING LTD 
REGISTERED CRAFTSMAN PLUMBER 
Phone 431 5572 
027 257 9884 
25 years' experience 
Friendly reliable service 
All plumbing & maintenance 
Alterations and new housing 
New wood fire installation 
Spouting 
Competitive rates
PROMPT EFFICIENT  SERVICE 
Yang Style Tai Chi Classes  
For Beginner And Practitioners  
At The Kaiwaka War Memorial Hall 
Every Tuesday Starting at 10.30 am 
Come Along And Have Some Fun While Improving 
Your Balance Health And Fitness 
For More Information Contact
Andrew Young 
09 4223424   
taichi@pl.net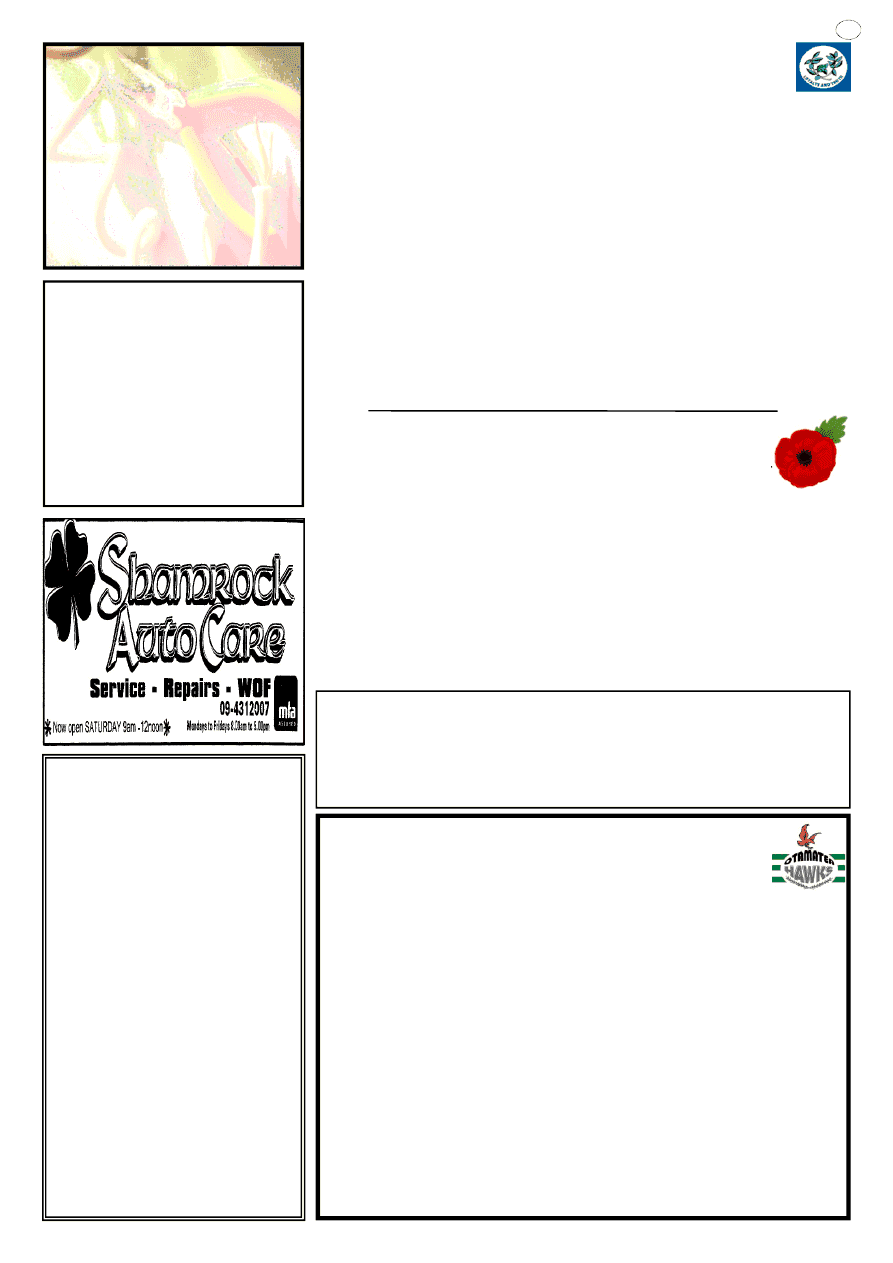 AMBER'S 
Q Cafe &  
Restaurant  
All day breakfast, 8am - 5.30pm.     
Home made Pizza, take away or eat in from 
8am to late. 
 Light lunches, 11.am - 5.30pm, 
Dinner Menu at 5.30pm to late 
 Toasted Sandwiches and Sandwiches made 
to order. All day, Pies, Chowder & Soups 
 Milkshakes, Kiwi Ice cream, Slushie Fruit 
drink, Tea, Coffee 
 Closed Mondays.....except Observed Holidays 
 Sunday to Thursday: 8am - 8pm 
 Friday: 8am - 8.30pm, Saturdays 8am- 9pm 
4315226 
Trevor & Amber 
41 Moir Street, Shop 5-6  
Mangawhai Village 
Next to Carters Building Supplies 
 LEABOURNS 
Passenger Service 
Car & Van Hire 
Bus & Coach Charters 
Airport Transfers 
 Monthly Shopper Bus 
Phone (09) 4237416 
Paul Greig Electrical Ltd 
Residential • Farm 
 • Commercial 
Paul Greig 
Registered Electrician 
  Ph: 431 2223  
Mob:021 230 2717 
Reliable & Professional Quality 
Service 
Based in Kaiwaka 
The  Royal New  Zealand RSA is encour-
aging  Kiwis  to  wear  their  poppies  from 
Poppy  Day,  April  17,  through  to  Anzac 
Day  this  year.  RSA  Chief  Executive, 
David  Moger,  says  2014  is  particularly 
significant  because  it  heralds the  start  of 
World  War  One  centenary  commemora-
tions. England  declared war on Germany 
in August 1914, and the empire followed 
shortly after.  
"Rather  than  wear  a  poppy  for  one  day, 
we  are  encouraging  New  Zealanders  to 
display it on their lapel through to Anzac 
Day,  April  25,  as  a  mark  of 
respect and remembrance."  
Poppy  Day  is  the  RSA's  biggest  annual 
fundraiser.  "Veterans  from  World  War 
Two,  now  in  their  80s  and  90s,  face  a 
range of health related issues and need an 
increased level of care". 
The  RSA  also  provides  support  and  as-
sistance  to the  men and  women involved 
in more recent conflicts. One example of 
support  provided  is  the  delivery  of  care 
packages  to  nearly  300  Defence  Force 
personnel  deployed  overseas  on  Christ-
mas Day. 
OTAMATEA HIGH SCHOOL 
7
Meet the Teachers Evening  
Tuesday, March 18th at 7 pm 
We  are  following  a  different  format  this 
year  and  we  would  like  to  invite  all  care-
givers to our "Meet the Teachers" evening. 
We  are  very  excited  about  the  building 
upgrades  in  the  school  and  would  like  all 
caregivers  to  have  an  opportunity  to  visit 
the  upgraded  classrooms.  As  well  as  intro-
ducing  new  staff,  we  will  share  with  the 
community  the  school's  strategic  direction 
and the goals for 2014. 
In addition, we will run sessions on NCEA 
(for  those  parents  new  to  NCEA):  the 
Maths  Whizz  program  and how  it  will  op-
erate in the school  this year; Cyber Safety; 
The  Learning  Centre  and  student  support. 
As some of these sessions will be run at the 
same  time  I  would  encourage  more  than 
one caregiver from each family to come so 
that  families  are  able  to  attend  more  than 
one session if they wish. 
There  will  be  drinks  and  nibbles  provided 
and there will be an opportunity to 
mix  and  mingle  with  staff.  Care-
givers may wish to introduce themselves to 
their child's teachers. 
This  is  a  great  opportunity  to  look  at  the 
school and meet the staff so we would love 
to see as many families here as possible. 
Tako  High  School  visiting  OHS  -  Sun  23 
March to Fri 28 March. 
School  Variety  Concert  and  Talent  contest 
OLLA PODRIGA - Wednesday 9 April. 
Please  feel  free  to  contact  your  child's 
Dean if you have any queries or concerns 
Whatua - Guy Smith  
guy.smith@otamatea.school.nz 
Maniapoto - Nicky Cotching  
nicky.cotching@otamatea.school.nz  
Ngapuhi - Steve Davie-Martin 
steve.davie-martin@otamatea.school.nz 
Arawa - Paul Chambers 
paul.chambers@otamatea.school.nz 
 
~Nikki Donaldson 
The Twinkle Tow 'n' Tyre
OTAMATEA HAWKS 
Supported by Phil Keen Concrete 
Invite all supporters and sponsors to the next 
home matches 
Hawks vs Western Sharks 
Saturday 22 March, 12.30 & 2.15pm 
Hawks vs Waipu 
Saturday 29 March, 12.30 & 2.15pm 
Sponsors & Supporters Day 
Kaiwaka Sports Complex 
 Join us for the 2014 Season –become a paid up sponsor or part  
of our supporter's club  
Contact: Secretary Jennie 021 027 64 171 
President Kevin 027 47 93 659  or Coach Dean: 021 61 20 41
KAIWAKA BUSINESS AND COMMUNITY ORGANISATIONS 
DIRECTORY
This is being updated now. Please send all amendments and new entry 
details to kaiwakabugle@kaiwaka.co.nz or leave written information at 
Jaques' Four Square. 
RSA ENCOURAGES WEEK LONG 
DISPLAY OF POPPIES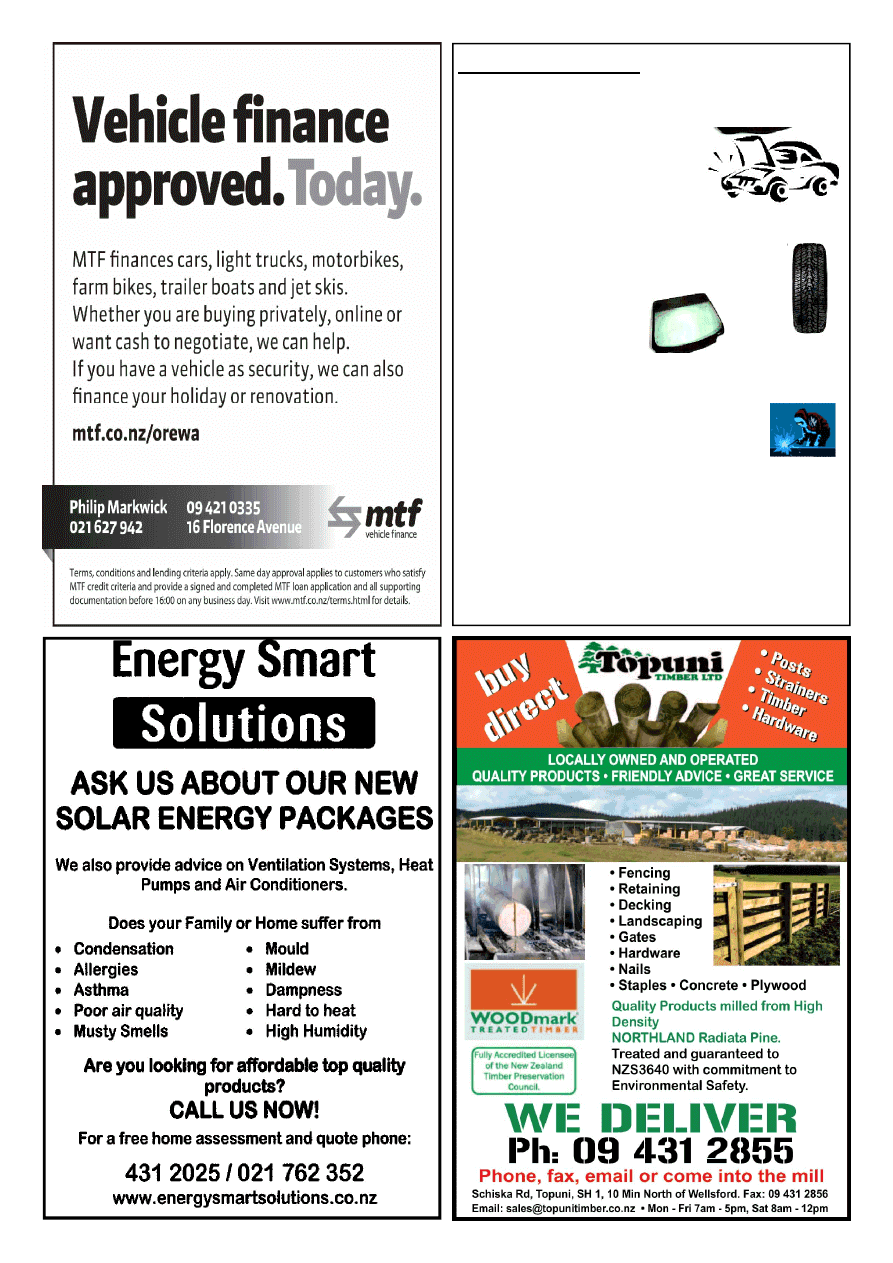 Want it done? 
Bring it to  
Twinkle Tow 'n' Tyre 
*W.O.F. 
*Tyres 
*Windscreen replacement 
*Chip repairs 
*Bulk Oil 
*Batteries 
*Welding 
*Custom built trailers 
*Trailer hire 
Think you'll get a better deal in 
the city? 
Go on, ring us; it won't cost  
anything! 
1837 State Highway 1, Kaiwaka       
Phone 431 2823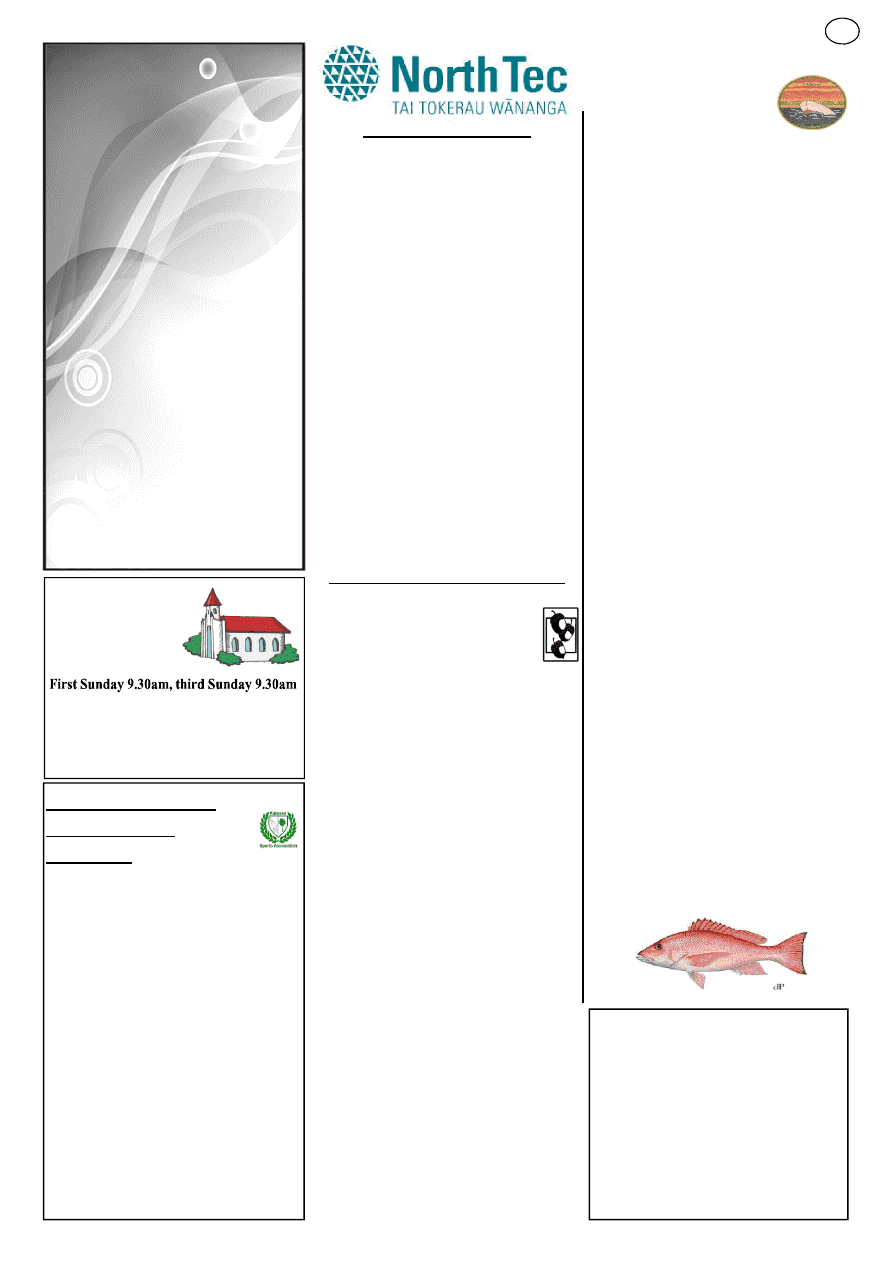 ST PAUL'S 
SUNDAY 
SERVICES
Paparoa Anglican 
St Pauls Church: Kaiwaka-Mangawhai Rd. 
1st Sun. (Anglican), 3rd Sun. (Family Service) 
Contacts:M.Hargreaves 4312295,  
C.Bygrave 4312057  
9
POINT CURTIS 
CRUISING 
CLUB 
Congratulations to all win-
ners at last weekends open fishing 
competition. 
Results for Junior Section: 
Snapper: 1st: Patrick Butler  2.293kg, 
2nd: Max Tornquist 1.295kg, 3rd: 
Sonya Steiner  1,238kg 
Kahawai: 1st: Jacob Butler 2.236kg, 
2nd: Tai Walker 2.037kg, 3rd: Patrick 
Butler 1.877kg 
Eel: 1st: Caleesto Mills 2.787kg, 2nd: 
Bob Mills 2.465kg, 3rd: Caleesto Mills 
2.338kg 
Results for Senior Section: 
Snapper: 1st: Paul Mills 3.025kg, 2nd: 
Kraig Steiner 2.512kg, 3rd: Iraia Max-
well 2.448kg 
Kingfish: 1st: Tracy O'Donoghue 
10.347kg, 2nd: Linda Leslie 10.011kg 
Kahawai: 1st: Paul Tornquist 2.108kg, 
2nd: Paul Mills 2.084kg, 3rd: Craig 
Butler 2.081kg 
Average snapper weight:Jacob Butler 
(1.138kg) 
Lucky Ticket Prize (Ticket 20) Rachel 
Blackie, Raffle: Meat pack and chop-
ping board (donated by Gravy) (Ticket 
1) Russell Kemp 
A total of 37 adult competitors and 20 
junior competitors entered this contest.  
Thank you for all your support.  
Thanks to those who supported the 
auction.  This went very well with all 
funds raised going towards a new car-
park at the Rangiora Road Boat Ramp. 
Also thanks to Dave Lincoln 
(Auctioneer), Frank Steiner, all who 
helped throughout the weekend and 
Russell, Barb, Tracy and Staff at 3 Fur-
longs. 
Upcoming events: 
Pool comp at Wellsford, Saturday 22nd 
March. 
East West open fishing comp, 4,5 and 
6th April. 
End of season prizegiving and opening 
day duck shoot 3rd May 
Next committee meeting 1st April, 
7pm at 3 Furlongs Hotel, Kaiwaka 
~Wayne Leslie, Commodore 
KAIWAKA 
U Beauty 
 Eyebrow Wax 
$10 
 Eyebrow Tint 
$10 
 Eyelash Tint 
$20 
 Lip Wax 
$10 
 Chin Wax 
$10 
 Underarm Wax  
$20 
 Bikini Wax 
$20 
 Extended Bikini Wax 
$30 
 Brazilian 
$50 
 ½ Leg Wax 
$30 
 Full Leg Wax 
$45 
 Full Pedicure 
$60 
 Foot Tidy  
$35 
 Manicure 
$45 
 Nail Tidy 
$25 
 15 min Back  Massage 
$25 
 30 min Back Massage 
$50 
 Chest Wax 
$30 
 Back Wax 
$40 
 Nostrils 
$10 
 Ears 
$10 
Please call Nicole for bookings 
09 393 6336 or 022 0639450 
Qualified Beautician 
4 Kaiwaka – Mangawhai Rd, Kaiwaka 
"How long have you been driving without a 
tail light?" asked the policeman after pulling 
over a motorist. 
 
The driver jumped out, ran to the rear of 
his car and gave a long, painful groan and put 
his face in his hands. 
 
He seemed so upset that the cop was 
moved to ease up on him a bit. 
 
"Come on, now," he said, "you don't have to 
take it so hard. It isn't that serious." 
 
"It isn't?" cried the motorist. "Then you 
know what happened to my boat and trailer?" 
KAIWAKA SPORTS 
ASSOCIATION 
Bookings 
If  you  would  like  to  book  the  Sports 
Complex  for  a  private  func on  and 
have the bar open, I need to apply for 
a  Special  Licence.  The  me  the  KDC 
takes  to  process  this  has  now  been 
extended to 6 weeks - so if you would 
like  to  book  an  event  where  alcohol 
will be served, you need to give me at 
least 6 weeks no ce. 
 
A  Special  Licence  will  only  be 
granted for an  event  where  substan-
al food will be supplied to the guests 
ie:  a  full  meal,  not  just  nibbles  & 
snacks.  So  this  is  something  to  keep 
in  mind  before  you  book  an  event 
with us. 
 
For any ques ons  on licensing  re-
quirements,  please  ring  Cheryl  on 
4312 051. 
2014 Up and Running 
It  feels  great  to  be  back.  With  another 
good  batch  of  students  we  fly  into  the 
theory and practical parts of each unit.  
Carpenters  and  painters  are  all  coming 
in to the Workshop on Mondays, Tues-
days and Wednesdays. This helps a lot 
with sharing the transport costs. 
James 
and 
his 
growing 
team 
(Sustainable Rural Development) are at 
the  Hall  on  Wednesdays  and  Thurs-
days. 
We  receive  good  comments  and  feed-
back 
from 
students, 
locals 
and 
NorthTec, so if we  work  hard we can  
keep these courses happening here. 
Recruiting is key to this so please help 
us by letting people know about us.  
 
Call in and check us out!!! Have a  free 
cuppa... 
 
Painting:  Level  2.  Contact  Jarrod 
McKelvie 027 2800 060 
Construction:  Level  2.  Contact  Tim 
Magill 021 487 055  
Sustainable  Rural  Development:  Level 
3.  Contact  James  Andrews  021  0224 
1950 
FOCUS ON OPPORTUNITIES, 
NOT ON RIGHTS 
People  and  circumstances  don't 
determine your attitude, you do! 
To  win  in  life  you  must  learn  to 
focus  on  your  opportunities,  not  your 
rights.   
One of the biggest causes of discontent 
is  our  constant  struggle  to  'secure  our 
rights'.  Have  you  been  wronged?  Do 
you  feel  like  you  haven't  received  a 
fair  shake?  That's  because  you  live  in 
an imperfect world. And as long as you 
do,  you  won't  see  a  time  when  every-
thing  you  do  is  justly  rewarded.  So 
you're faced with a decision: 
Are  you  going  to  spend  your  time  and 
energy  on  what  should  have  been,  or 
get  over  it  and  focus  on  what  can  be? 
Even  when  truth  and  justice  are  on 
your  side,  you  may  never  be  able  to 
right  all  your  wrongs.  But  ultimately 
God will, so leave it in His hands. Con-
tinually  'fighting  for  your  rights'  just 
makes  you  angry  and  resentful,  be-
cause  these  destructive  emotions  sap 
your  energy  and  make  you  negative. 
And  besides,  when  you  focus  on  your 
rights  you're  usually  looking  back-
ward.  You  can't  make  progress  when 
you're facing the wrong way! 
Only when you focus in the right direc-
tion  will  you  move  in  the  right  direc-
tion. Now this doesn't mean you won't 
experience  pain;  it  just  means  you 
choose  to  forgive,  and  zero  in  on  what 
you  can  control:  your  attitudes  and 
your opportunities.  
~ from Word For the Day, RBG.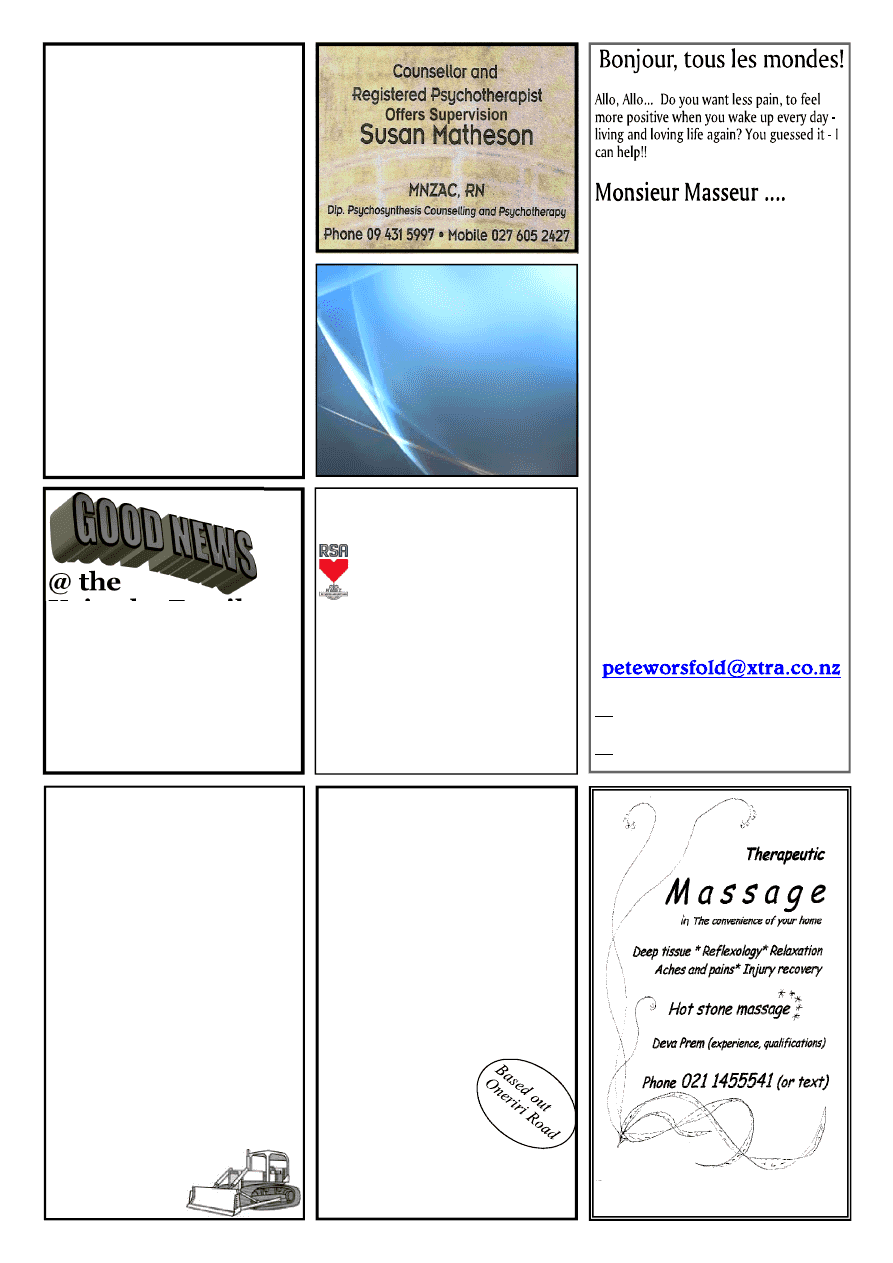 www.mangawhaimassage.co.nz 
HODGETTS 
CONTRACTING
Digger Work    

Driveways 

House Sites   

Dams 

Drains, etc
Also available for HIRE 

3 ton Vib Roller 

Heavy Duty Tow 

Waterblaster  

Lazer Level 
Phone Mark 
4312877 
027 447 8554
RELAXING  
MASSAGE
..... Juste pour vous" 
Here are 2 satisfied clients after they had 
a relaxing massage with M. Masseur... 
 
"Thanx for last night, slept so well, and 
feel great 2day! Its put a spring in my 
step" 
 
"Good morning Pete - I have a beautifully 
relaxed jaw, face & neck. Thank you so 
much - it's helped a lot." 
Call for an appointment now!
Pete Worsfold 
4312 152  or   021 825970 
 
Or  Ph. "The Well of Health" 
For an appt. 09 4312 799 
Or mobile service available 
Freeview  
Installations 
Richard Te Haara 
25 Marram Place 
Mangawhai Heads 
021 1104056 
kiwipride@xtra.co.nz
Willow Bend
HORSE  
HOTEL 
"   
Total Horse Care 
" 
Agistment 
" 
Riding Lessons 
" 
Arena Hire (60x40) 
" 
Young Horse Starting 
" 
Re-training/Exercising 
" 
Hoof Trimming 
" 
Problem Solving 
Phone Sue 09 431 
2817 or 021 623 776 
Or email sue.gray@xtra.co.nz 
Coates  
Contracting 

D41 Bulldozer with 6 
way blade, bush rigged 
with winch 

For all tree work 

General bulldozing and  
  stick raking. 

120hp Tractor for 
ground cultivation,  

tip trailer work. 

Fencing
All enquiries phone  
Brett Coates  
 094318720  
or 
 021431872
HAKARU & 
DISTRICTS RSA Inc 
Each Friday night 
from 6.30pm 
Meals will be served 
2nd Friday of the Month 
Is Roast Dinner Special 
Come along and enjoy our 
Hospitality  
For more information 
Ring Heather 431466 
or Jan 4314512 
@ the  
Kaiwaka Family 
Church 
Your COMMUNITY CHURCH 
RECEIVE HEALING 
RECEIVE THE LOVE OF GOD 
Everyone warmly welcome 
each Sunday 10am. 
Contact: Pastor John Dekker,  
09 4318203 
THERE'S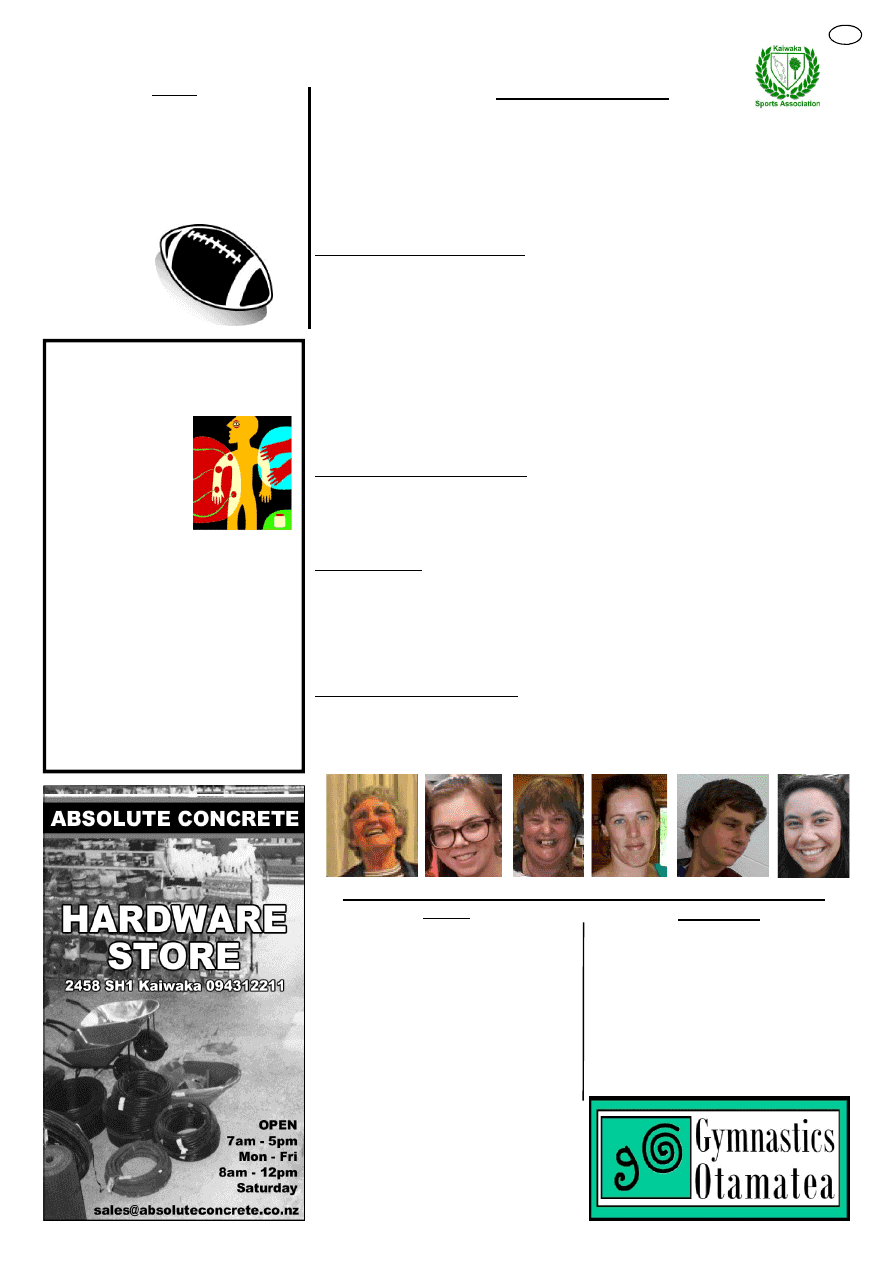 OWEN STEVENS 
Osteo Therapist
For careful 
adjustments to 
bones and joints 
Treatment for  
humans and their 
pets 
Clinics: 
Kate's Place, Kaiwaka: 
Last Friday of month 
For  bookings:9.00am-5.00pm  
Phone 
09 4312661 
Or phone Owen   
09 4317123  anytime 
11 
KAIWAKA SPORTS ASSOCIATION
Kaiwaka Sports Awards 
Our annual Sports Awards will be held on Monday 14
th
 April and this year will 
be particularly special as it is the 30
th
 anniversary of the awards. The evening 
which will be emceed by More FM's John Markby will include profiles of the 
nominees, a sports trivia quiz, a commemorative walk down memory lane and 
of course one of Mark and Pam's delicious dinners! Tickets are $25 per adult 
and $10 per child (Year 9 and under) and can be purchased at Jaques Four 
Square or from KSA club delegates. 
Congratulations to the nominees: 
Junior Sportsperson of the Year 
 
Brayden Mills   
Kaiwaka Badminton 
Raymond Taito  
Eastern United JMB 
Rhys Shadbolt   
Otamatea IMB 
Jesse Manuell    
Kaiwaka Squash 
Gareth Ferguson   
Kaipara Knights Soccer 
Jasmine Sampson   
OHS Netball 
Ashton Coates   
Kaiwaka Touch 
Sophie Gribble   
Kaiwaka School Netball 
Logan Eager  
OHS Hockey 
Alice Paton   
Kaiwaka Athletics 
Paige Kenyon   
Kaiwaka School 
Danyon Tana   
Kaiwaka Tennis 
Billie le Mesurier Cowbourne  Otamatea Gymnastics 
Senior Sportsperson of the Year 
 
Shane Neville   
Otamatea Hawks Rugby 
Mirna Manuell   
Kaiwaka Squash 
Tracy Kemp  
Kaiwaka Touch 
Innes Anderson  
Kaiwaka Tennis 
Julie Harris   
Kaiwaka Fitness Centre 
Service to Sport 
 
Christy Brown   
Otamatea Gymnastics 
Jennie Reynolds   
Eastern United JMB 
Eileen Parsons   
Kaiwaka Athletics 
Sandra Shaw 
Otamatea-Ex Netball 
Tina Ball  
OHS Netball 
Trevor Linnell   
Otamatea Hawks Rugby 
Wayne Maclennan  
OHS Hockey 
Greg McRae Memorial Award 
 
Tayler Jaques   
Otamatea Gymnastics 
Maia Fairburn   
Kaiwaka School Netball 
Caitlin Foster   
OHS Netball   
Touch 
 
Our Touch Module will finish in a cou-
ple  of  weeks  and  the  prizemoney  for 
the winning teams has been set at: 1
st
 - 
$300,  2
nd
  -  $200  and  3
rd
  $100.  Many 
thanks  to  Kauri  Springs  who  donated 
several  boxes  of  bottled  water  to  the 
Module.  
Soccer 
 
Anyone keen to play soccer this season 
is invited to attend the Kaipara Knights 
Registration  Day  this  Saturday  at  the 
Maungaturoto 
Country 
Club 
at 
11.30am  –  there  will  be  a  free  BBQ, 
boot/uniform  swap  and  some  friendly 
games.  The  soccer  season  runs  from 
10
th
  May  until  early  September  and 
games  are  played  on  Saturdays  at  the 
Port  Albert  Domain.  The  Kaipara 
Knights  Soccer  Club  involves  players 
from  Matakohe  to  Kaiwaka,  from 
about  4  years  old  to  adults.  Over  17s 
play  open  grade  and  all  teams  are 
mixed gender. For any soccer enquiries 
please  contact  Lindell  Ferguson  on 
4312  542  or  Mark  Flannagan  on  027 
2240488.  
Gymnastics 
 
Our gymnastics club greatly appreci-
ates the efforts of our volunteer coach-
es and recognises their valuable contri-
bution to the club. Many thanks to Me-
gan Little, Linda Cowbourne, Andrew 
Swadling, Stephanie Brown, Christy 
Brown, Amalie Brown, Holly Ander-
son and Holly Kenyon. 
L-R: Eileen Parsons, Tayler Jaques, Sandra Shaw, Mirna Manuell, Rhys Shadbolt, Caitlin Foster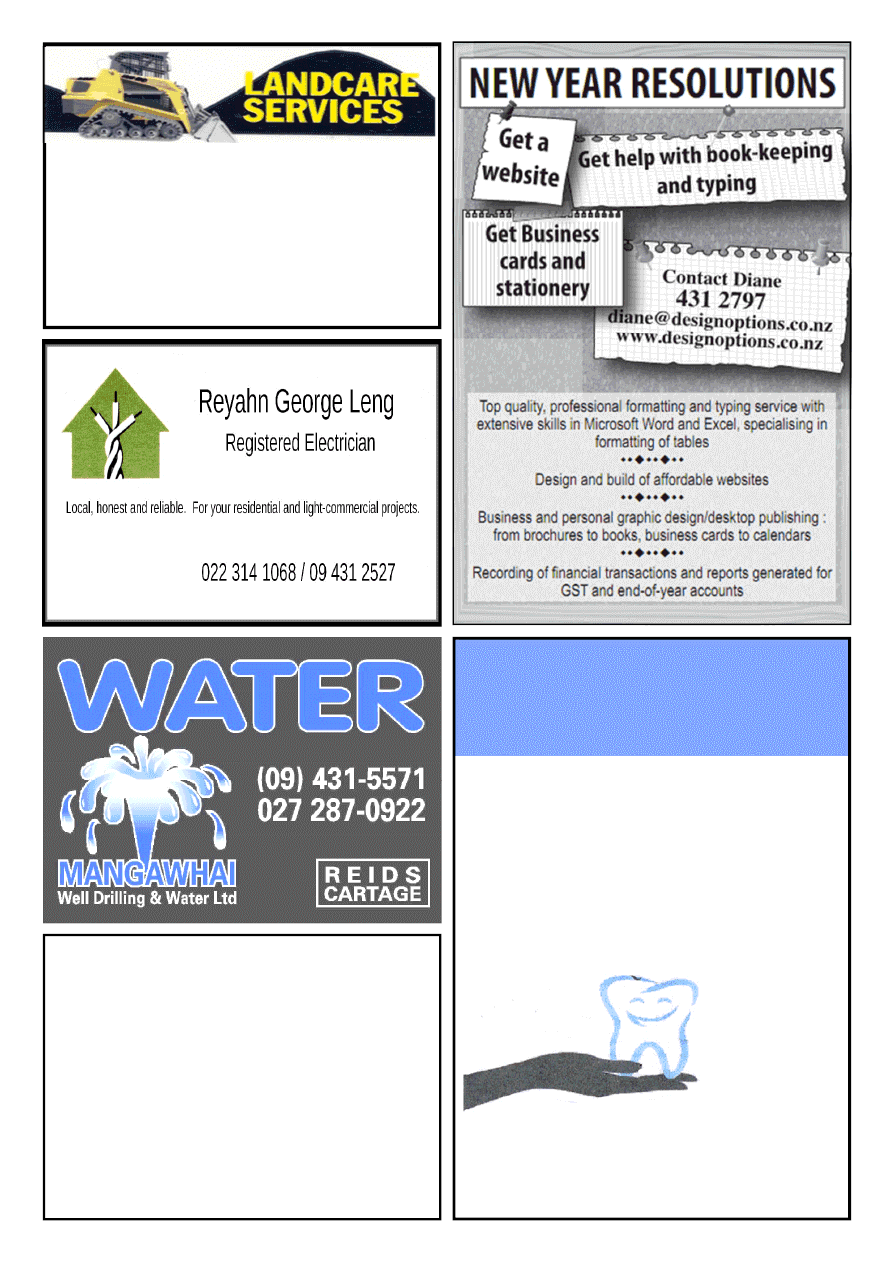 Celena's Gifts 
-
gifts for all occasions 
Closed Mondays 
1925 State Highway 1 
KAIWAKA  
Ph: 09 4312741
LANDSCAPING 
4 IN 1 BUCKET 
TRENCHER 
POLE HOLES 
ROTARY HOE 
COMPACT ROLLER 
OFFAL HOLES 
CAN SUPPLY WOODCHIP & POST PEEL 
5 TON TIPPER 
FOR RELIABLE AND FRIENDLY SERVICE CONTACT DAVE 
Dave Hyndman 
 
KAIWAKA 
PH: 09 4312302 
MOB: 021 431 238 
Gentle Dental 
Ruakaka 
We love to see you smile 
" 
General  & Cosmetic Dentistry 
" 
Emergency & ACC Treatment 
" 
Denture & Hygienist Services 
" 
Senior Citizen Discounts 
" 
Free Adolescent Care 
" 
Free WINZ Quote 
19 Ruakaka Town Centre 
Dr Sim Sood & Associates 
Ph:  432 8139 
Saturdays 
By 
Arrangement 
Open  
Mon-Fri  
8am-5pm  
13 
DRAFT ANNUAL PLAN 2014/2015 
Public Meeting 
Kaiwaka War Memorial Hall 
5.30-6.30pm 
Wednesday 26 March 
Call Anna Curnow on 09 439 3123 or 0800 727 059 for more information. 
Kaipara  District  Council  has  signalled  through  its  Draft  Annual  Plan 
that the Kaiwaka community may be affected by a higher than average 
rate increase. For more information and to understand why this is being 
proposed  we  invite  you  to  a  public  meeting  at  which  Commissioners 
and staff will be available to answer questions. 
KAIWAKA FITNESS 
CENTRE 
Thanks  to  Mark  for  adjusting  the 
mirror,  it  looks  great  and  we've  had 
plenty  of  good  feed  back  from  mem-
bers  -  don't  know  why  it  wasn't  that 
high  to  start  with.  And  also  thanks  to 
Mark  and  Bente  for  going  out  and 
picking  up  a secondhand  sunbed,  I  am 
sure  those  that  use  it  will  be  very  hap-
py.  And  lastly  thanks  to  the  Fire  Bri-
gade  for  cleaning  out  the  office,  it's 
great not to be jumping over things. 
I am in Auckland for a few days catch-
ing up with a few people, and hopeful-
ly  a  little  shopping  for  the  gym,  also 
going  to  NZIFFB  Pro  show  Saturday, 
which  I  am  looking  forward  to,  more 
talking  and  catching  up.  Hope  every-
one survives the weekend weather. 
The  Annual  General  Meeting  will  be 
early  April  so  will  let  you  know  date 
and  time  soon.  Don't  forget  the  Sports 
Awards Monday 14th April. 
Need  motivation  to  exercise?  Invest  in 
a  dog  -  that's  the  only  reason  I  get  out 
to  the  beach  nearly  every  day,  the  fat 
one  follows  me  around  looking  at  me 
with a pitiful face till I take her out. 
All for now, off to hit the town. 
~ Jules 
KAIWAKA 
WEATHER 
My  sincere  apologies  to  my  avid  read-
ers.  Mind  you,  you  did  not  give  me  a 
rev  up.  The  year  has  gone  all  too  fast 
for  me  so  here  is  a  short  version  for 
January 2014. 
January 
We  had  a  lot  of  wind  in  January  and 
some  welcome  rain  which  was  rather 
local as a lot of folk missed out. It was 
a  very  sapping  wind  taking  the  mois-
ture out of the ground. At our house we 
had 44mm of rain and for January 2013 
we had 10mm. Our driest January since 
1989  was  2013  with  10mm  and  the 
wettest was 1989 with 343mm. 
February 
February  was  a  rather  hot  month  as  it 
should  be.  We  had  a  lot  of  wind  from  
all  directions  this  year.  We  had  some 
good  rain  at  our  house,  there  again  I 
know  of  people  that  never  got  any  at 
all.  The  water  tanks  were  suffering 
again  and  the  water  truck's  busy.  The 
harvesters  have  been  working  hard 
over the last few  months. At our house 
we  had  66mm  rain  and  February  last 
year  there  was  35mm.  Our  driest  Feb-
ruary was 1990 with 3mm and our wet-
test  was  2004  with  260mm.  For  the 
first  2  months  of  2014  we  have  had 
110mm and 2013 we had 45mm. 
Well  take  care  out  there  and  be  aware 
of slippery roads when it rains after the 
hot dry summer. 
~Bev 
Update: Kaiwaka has come through ex-
Cyclone Lusi relatively unscathed. 
~Editor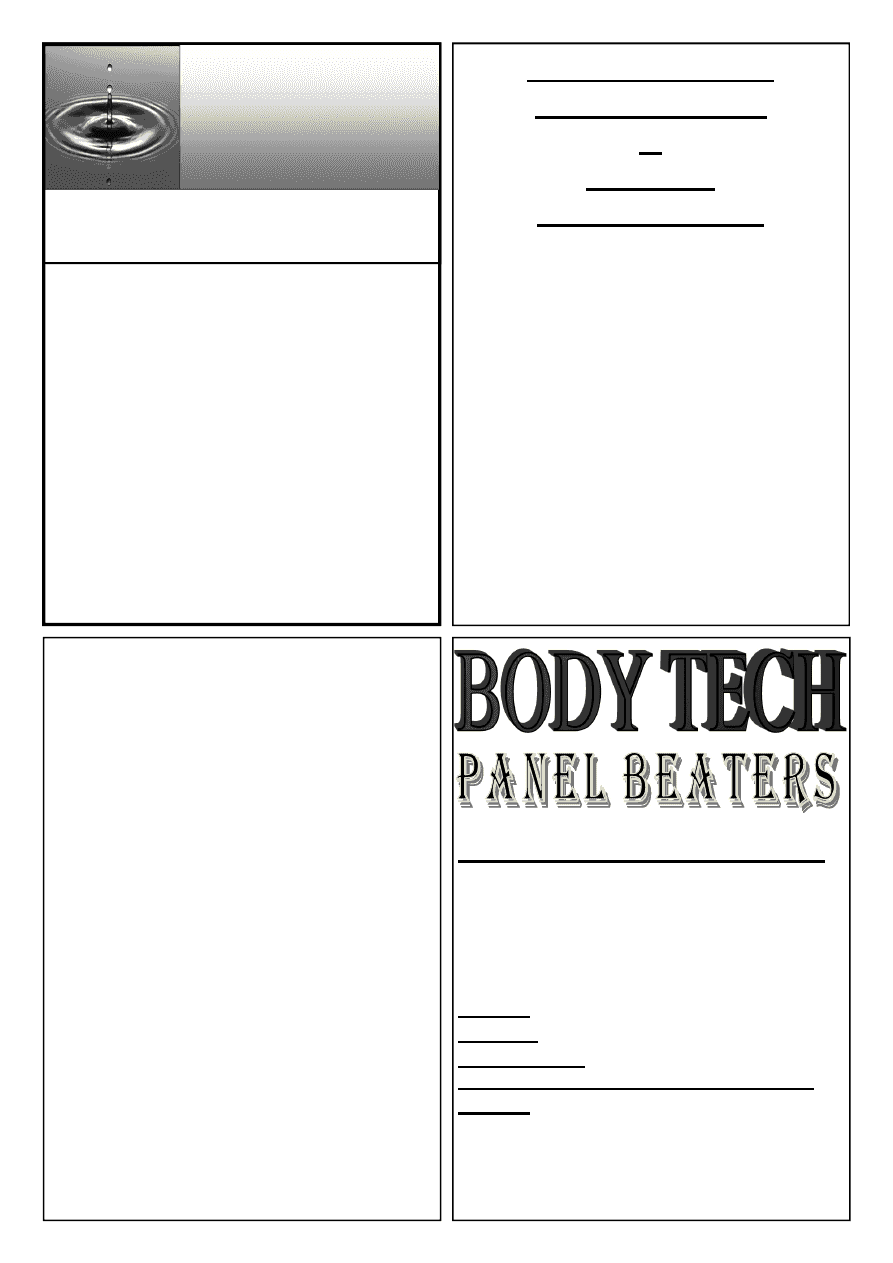 PETE WORSFOLD M. Soc.Sc. 
Student Counsellor 
 peteworsfold@xtra.co.nz 
 021 825 970 
Professional Service 
Variety of Modalities 
By Appointment Only 
PAUL SAUNDERS 
LAWNMOWING  
&  
GARDEN 
MAINTENANCE 
 
Lawns and edges     
 
Section mowing 
 
Hedging and trimming 
 
Spraying and fertilising 
 
Tree planting 
 
Green waste removal 
 
Pruning 
Friendly and reliable service guaranteed 
Call now for a free no obligation quote 
021 886 843 
09 431 2731 
Servicing Mangawhai and Kaiwaka  
and surrounding areas 
paulsaunders99@gmail.com 
For all your body repair needs!! 
We do: 
Rust repairs 
Insurance work 
Anti-corrosion treatment         
 
Hours: 8.30am-5pm Monday-Friday  
Mobile: 021 118 0462 
After hours: 09 431 2384 
Phone: Craig or Call in for a free Quote 
e-mail: 
bodytech_panelbeaters@yahoo.com
We are located at 1837 SH1 Kaiwaka, behind Twin-
kle Tow 'n' Tyre call in anytime for a free quote.  
Large and minor vehicle  
  repairs 
Industrial vehicles 
Full Cut and polishes 
INDIVIDUAL ONE-ON-ONE 
COUNSELLING 
 
MODALITIES:    FOR: 
  CBT              Grief 
  Gestalt            Relationship 
  Person-Centred     Trauma 
  Solution Focussed    Couples 
  Behavioural        Adolescents 
                  Careers 
Call for Appointment 
At "The Well of Health" 
09 4312799 or 021 825 970 
KAIPARA  FLOORING  
CO 
32 HURNDALL ST MAUNGATUROTO 
Ph: 09 9469886 or 021 515 415 
Carpet, vinyl, laminate wood look  
  flooring, vinyl planking, sanding  
& polyurethane service. 
Carpet Short Ends from $79pm + GST 
Vinyl D.I.Y. peel n stick tiles $10sq mtr + GST. 
Free measure & quote.   
Mobile Service 
Phone Christine or Howard anytime 
Open Saturdays by arrangement.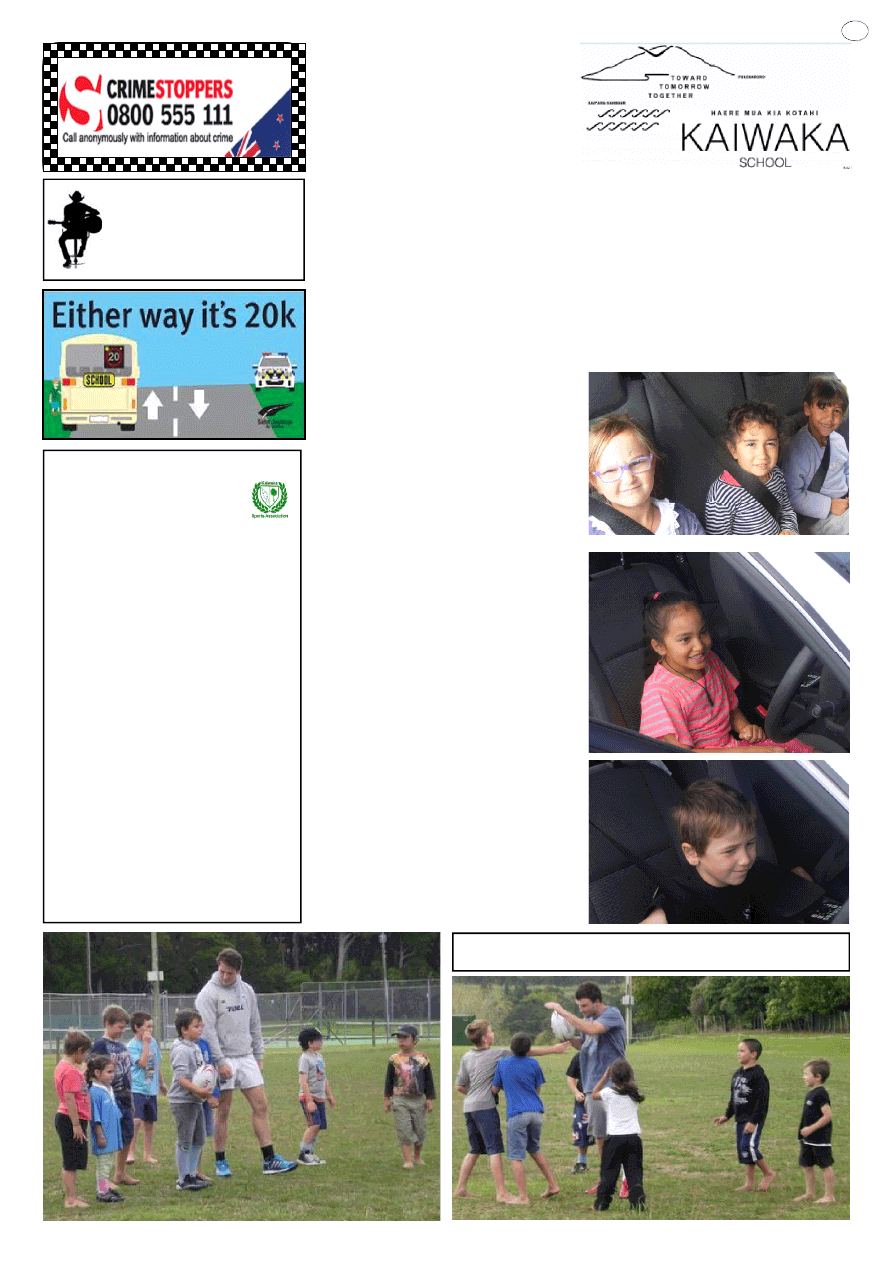 KAIWAKA SCHOOL 
All the Kaiwaka Kids Helping Other 
Kids  
We have been invited by Small Poppies 
to  participate  in  their  fundraiser  for 
Cure  Child  Cancer.  They  have  a  little 
girl enrolled who has undergone cancer 
treatment  over  the  last  18  months.  She 
is  the  sister  of  two  of  our  boys  at 
school.  We  would  love  to  be  a  part  of 
this fundraiser and invite you to join us 
too.  Playcentre  have  been  invited  also. 
It  would  be  great  if  this  is  a  whole 
community event.  
Who:  All  the  childr en  in  Kaiwaka  – 
Pre-schoolers  from  Poppies,  the  Play 
Centre  and  all  our  Students.    Parents, 
Caregivers  and  all  community  mem-
bers.  
What:  Fancy  Dr ess  Par ade  Food: 
Sausage Sizzle  
 
When: Fr iday 4th Apr il at 11.00am.  
 
Where:  Kaiwaka  Spor ts  Association 
Grounds  
 
Cost:  Students  ar e  asked  to  br ing  a 
gold  coin  for  a  copper  trail  donation, 
plus  money  for  the  sausage  sizzle. 
Adults are asked to bring a donation. 
 
Board of Trustee News  
There  is  a  casual  vacancy  for  a  new 
member.  The  term  is  until  September 
2014.  This  is  a  very  powerful  way  of 
helping all of our children.  
 
Happy Birthday Dr Seuss  
We  are  celebrating  the  110th  birthday 
of Dr Seuss - author of The Cat in The 
Hat,  The  Lorax  and  many  other  titles. 
Come  into  the  library  to see  a wonder-
ful  display  of  his  books,  his  art,  our 
students'  celebrations  and  lots  of  other 
activities.  You  can  view  some  of  these 
on our website too. 
http://www.kaiwaka.school.nz/ 
 
Parent  Interviews  ar e  scheduled  for  
Wednesday  9th  and  Thursday  10th 
April. These will be 15 minutes each,  
commencing  at  2.45pm.  The  evening 
interviews will be on the Thursday.  
Seat Belts 
Year  1  students  learned  about  safety 
with  Senior  Constable  Ian  Anderson 
from  the  NZ  Police.  He  gave  them  a 
turn  at  sitting  in  his  Police  Car,  trying 
out  the  different  sirens,  and  making 
sure  they  could  all  do  up  safety  belts. 
They really loved it and a positive atti-
tude  towards  those  in  the  community 
that  help  us  keep  safe  has  been  fos-
tered.   
15 
Matt Moulds & Dan Hawkins came to the JMB registration day 
and played a game of touch with the kids. 
Kaiwaka Sports 
Association 
Emergency 
Accessway 
 
Please note that the gate in our 
carpark  which  leads  onto  the 
field  (next  to  the  swimming 
pool)  is  our  emergency  access-
w a y  
f o r  
a m b u l a n c e s . 
There have been two occasions 
recently  where  a  car  was 
parked  in  front  of  this  gate 
blocking  access  to  the  fields, 
and  on both  occasions, an  am-
b u l a n c e  
w a s  
r e q u i r e d . 
We will be painting this gate to 
make  it  more  obvious that  it  is 
an accessway but in the mean-
time, please remember to keep 
clear. 
~
Cheryl 
Wellsford Country Music Club 
2nd Sunday of month - club day 
1:00pm 
Last Wednesday - workshop 7:00pm 
Wellsford Co-op Parish Hall 
Contact 027 327 6604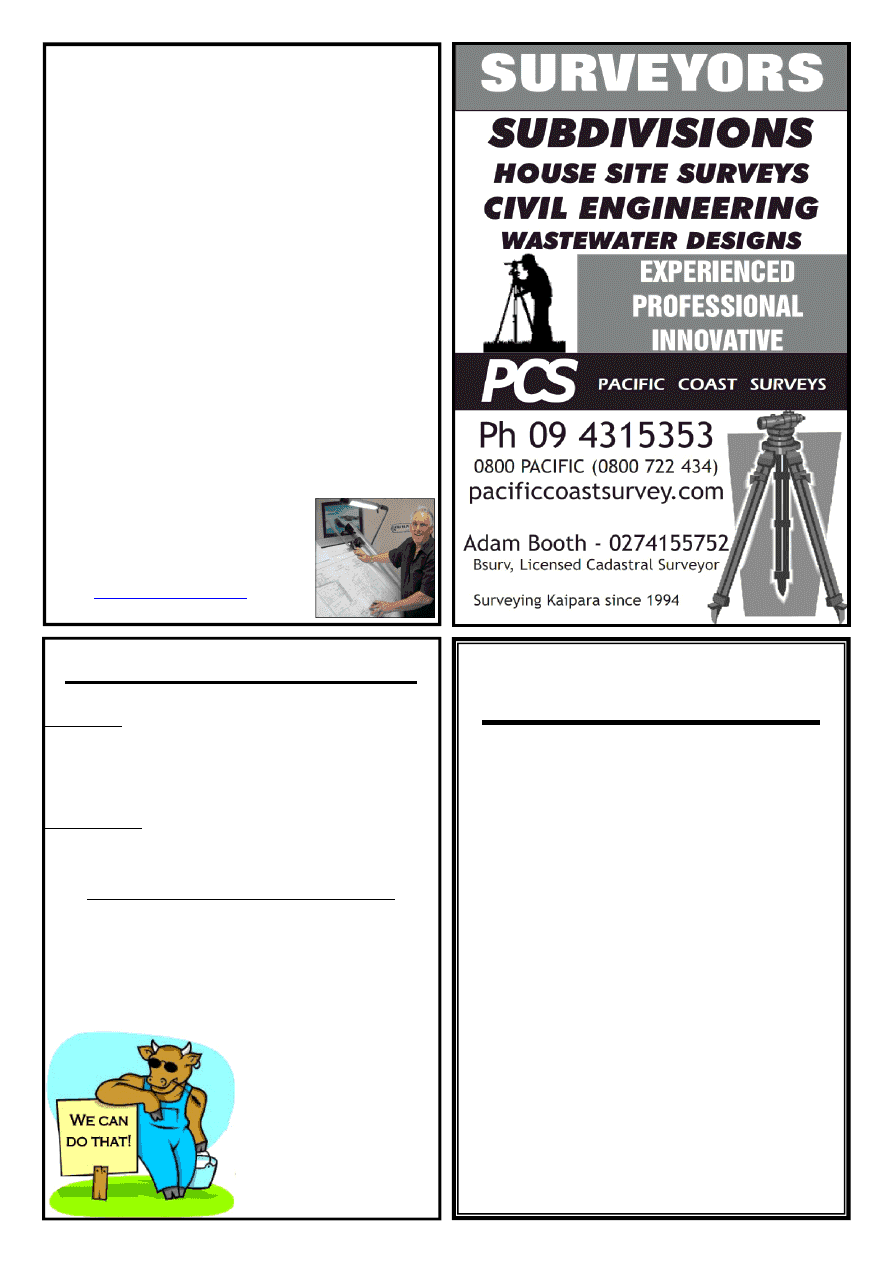 Call A Farmer
Fencing
 
Post & Rail 
 
Boundary 
 
Electric 
Spraying
 
Gorse 
 
Blackberry 
On Call Services For Lifestyle Blocks 
See our website for more services 
          www.callafarmer.co.nz 
              Office  09 423 7585 
                      027 625 5383 
STOCKFOOD
 GREAT RANGE FOR ALL YOUR 
LIVESTOCK AT GREAT PRICES 
 ALSO CHECK OUR 
DOG BISCUITS 
20 KG FOR $58.90 
LPG REFILLS 9KG 
STILL ONLY $31.50
MANGAWHAI SERVICE 
STATION 
(09) 431 4242 
44 MOIR STREET IN THE VILLAGE 
 ARCHITECTURAL BUILDING 
PLANS AND DESIGNS 
WRIGHT DESIGN 
 QUALIFICATIONS 
Brian is a qualified designer (NZCAD) with over 40 years of 
varied experience in all types of building and is a registered and 
Licensed Building Practitioner in Design - L.B.P. 117345 
He ensures you will achieve the best from your budget with 
recommended excellent local contractors ready to competitively 
price and build your personal project quickly and efficiently. 
 EXPERIENCE 
Brian's practical building and 40+ years of design experience 
means he can give you excellent advice and all the guidance 
needed for all your building needs 
v Wright Design offers free visits, consultations and all the ad-
vice you need on planning, design, building, contractors, coun-
cil permit applications, etc. 
 
"  Qualified and inexpensive designer – N.Z.CAD., LBP 117345 
"  Guaranteed design and working drawings 
"  Free site visit to your home or property 
"  Great service 
"  Great problem solver 
 
Call Brian ~Arrange a visit to discuss your needs  and obtain 
great advice and free quotation 
MAKE GOOD USE OF HIS EXPERIENCE and 
KNOWLEDGE 
WRIGHT DESIGN:  
360 Oneriri Road, Kaiwaka
Office 09 4312544   
Mobile 021 276 7389  
Email: 
brianwright@clear.net.nz
www.wrightdesign.co.nz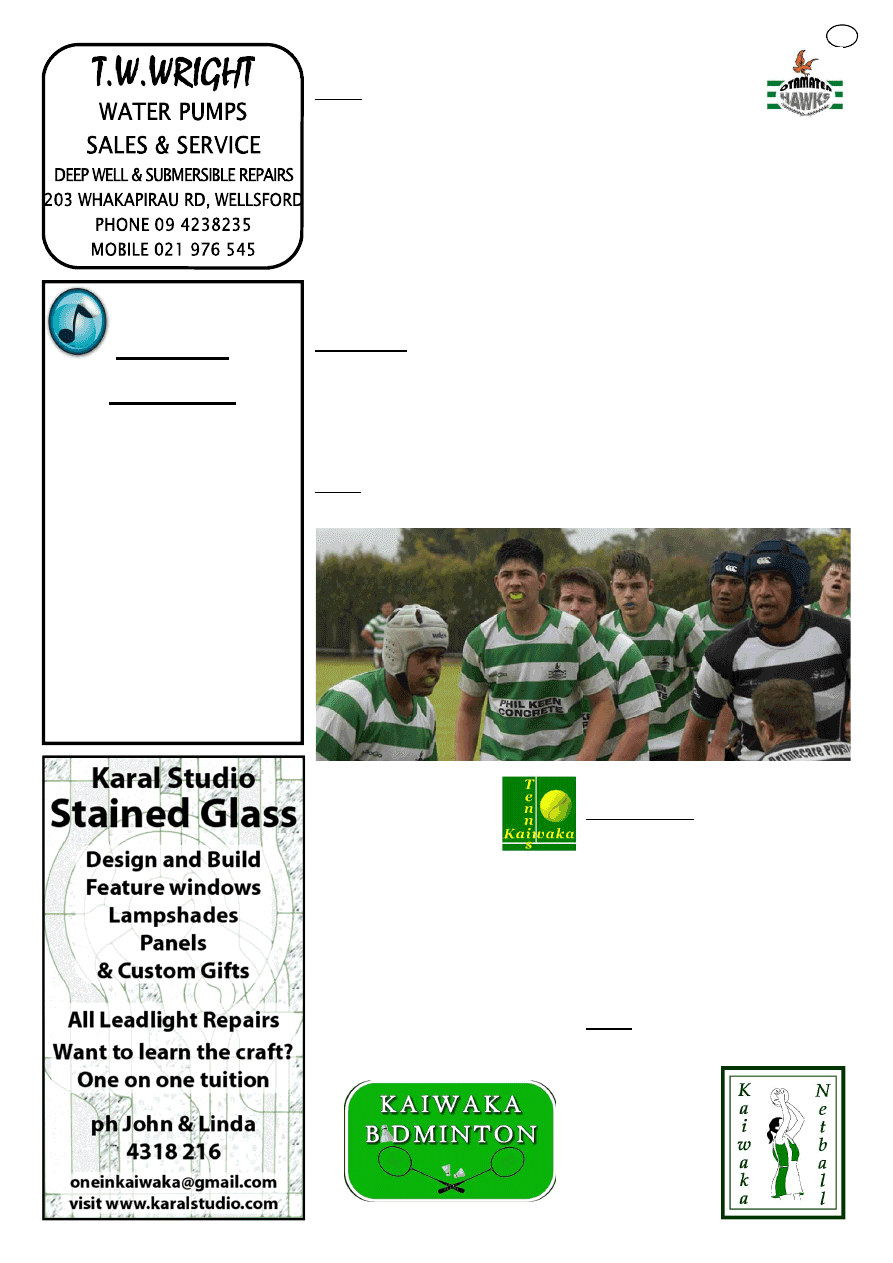 17 
Singing 
Lessons 
Individual sessions 
All styles of music  
All voice types 
Reasonable rates 
Phone  
Maura Flower 
      021 164 8318
Junior 
If  you  have  a  boy  or  girl  interested  in 
playing  rugby  this  season,  but  you 
missed  our Rally Day, please ring Jen-
nie Reynolds on 9450 502. 
The  club  is  looking  for  a  coach  for 
their  Under  11's  team,  if  you  know  of 
anyone  who  may  be  keen  please  con-
tact Jennie. 
A  Small  Blacks  coaching  course  will 
be  held  at  the  Kaiwaka  Sports  Com-
plex  on  Wednesday  19
th
  March  at 
6.30pm.  This  is  a  requirement  for  all 
coaches of rugby teams from Under 7's 
→ Under 13's. 
 
Intermediate 
Trainings for the Under 14's and Under 
16's  teams  are  well  underway  –  at  the 
Maungaturoto  Country  Club  on  Mon-
days 
and 
Thursdays 
at 
6pm. 
If  you  have  a  son  who  is  interested  in 
playing  rugby  this  season,  please  ring 
Brett Coates on 4318 720.  
 
Senior 
The  last  Hawks  match  at  the  Sports 
Complex  saw  our  Reserves  scrape  a 
win  over  Wellsford,  36 – 
33. Tries to Toby Phillips 
(2),  Daniel  Kawana-Pool 
(2), Adam Scott and Ryan Fisher.  
Our Premiers went down 10 – 17, with 
a try apiece to  Adrien Thomazo and to 
young  up-and-coming  player  Terry 
Baldwin. 
Saturday  15th  March,  Hawks  played 
Kamo. They played in atrocious weath-
er  at  the  Kamo  High  School  grounds 
where  there  were  no  clubrooms  for 
changing.  Both  teams  lost  -  Reserves 
30-5, Premiers  24-5  where  Kamo  used 
the  wind  well  in  the  first  half,  gaining 
19 points. 
The next Hawks match is this Saturday 
at  the  Sports  Complex  against  the 
Western  Sharks.  Our  Reserves  will 
take  the  field  at  12.30pm  and  our 
Premiers  will  kick  off  at  2.15pm.  Feel 
free  to  come  along  to  show  your  sup-
port for the Hawks!   
 
The  next  Otamatea  Rugby  Club  meet-
ing  will  be  this  Tuesday,  7pm  at  the 
Sports Complex. 
RUGBY 
NETBALL 
Primary school 
Kaiwaka  Junior  Netball  practices  have 
started,  and  are  held  at  lunchtimes  on 
Tuesdays  and  Wednesdays  at  Kaiwaka 
School. 
The  season  starts  10th  May,  and  as  al-
ways  if  you  are  interested  in  helping 
with  coaching,  umpiring  or  fundrais-
ing,  we  are  interested  in  hearing  from 
you.  Please  phone  club  President 
Melissa Watts on 4312 239. 
 
Senior 
Our  senior  netball  club  would  love  to 
hear  from  any  interested  coaches  or 
umpires, 
please 
register  your  inter-
est  with  club  Pres-
ident  Mirna  Ma-
nuell 
on 
021 
544229.  
TENNIS 
Tennis  is  only  a  few 
weeks away from winding 
up, but if you have a child 
who would like to give it a 
go,  you're  still  welcome  to  bring  them 
along!  Turn  up  to  our  courts  on  Mon-
days at 3.30pm (we have club racquets 
available for your use). 
 
BADMINTON 
Our Badminton Club will hold their 
Annual General Meeting on Tuesday 
1
st
 April, at 8pm in the gymnasium. All 
welcome.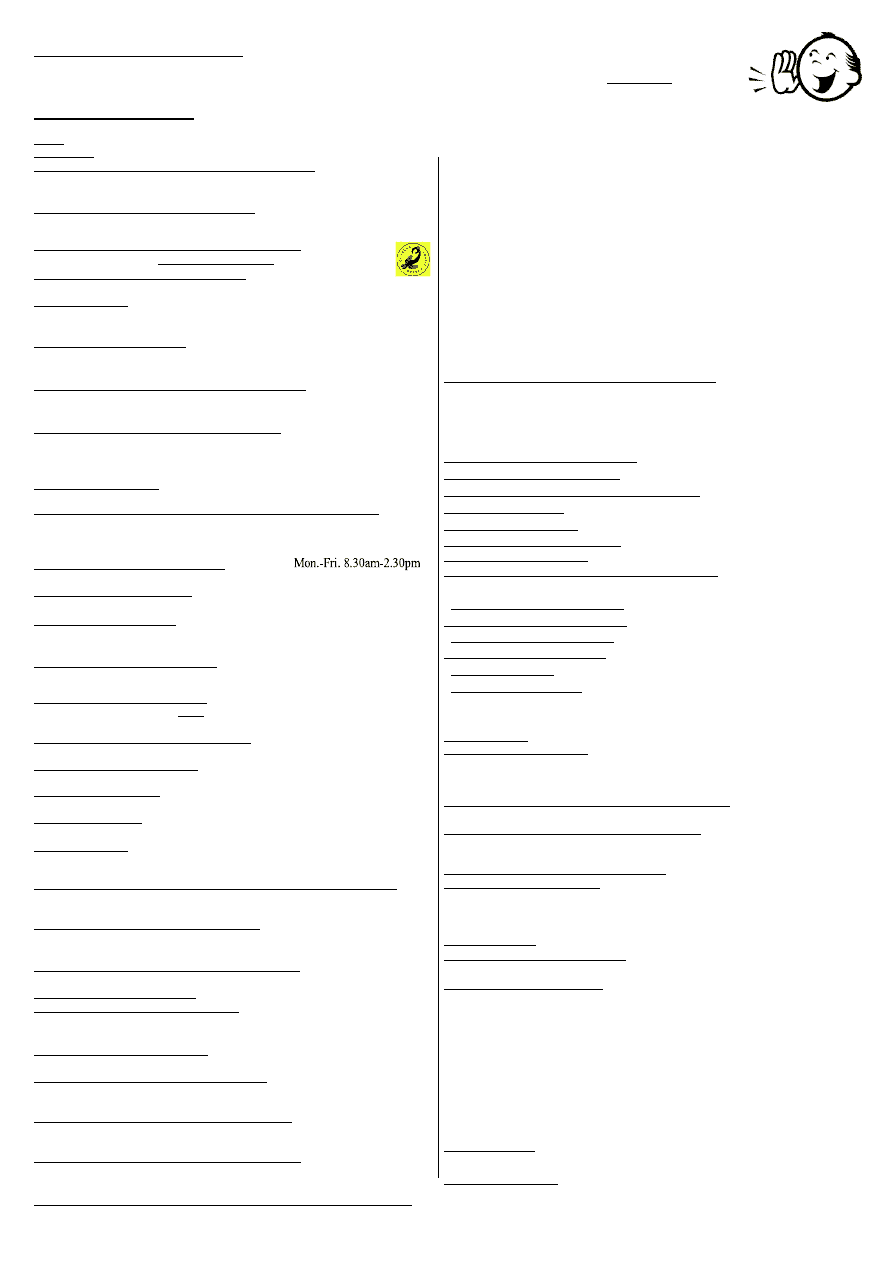 LOCAL SERVICES 
*St.John Ambulance 
111 or Freephone0800 61 0066
*Fire phone 111     *Police phone 111 or 09 4311150 
 
WELLSFORD DOCTORS: Ph: 4238 086 
 
A A: Meets Wed., 8pm Kaiwaka Ph: 4312228, 4315543, 0800229 6757   
AL ANON: In recess, contact Ph: 4312228 
AGRIQUALITY (MAF) Livestock Consultant 
Phone 09 4311 820 or 021518257  
 
BUDGETING SERVICE,OTAMATEA:Free confidential advice & 
support - all areas of  personal finance Ph: 09 4318173 or 094318117
CAB-
Citizens Advice Bureau.Wellsford Ph: 4237333.
0800 367 222 email:
cab.wells@xtra.co.nz
DOG/STOCK /NOISE CONTROL 0800 105 890 
 
KATE'S PLACE with Govt.Day Agencies/Community Information /
Osteopathy/ IRD / Probation, etc Ph: 4312661 Hours: 9am-3pm. Mon - Fri 
 
FUNERAL SERVICES: Morris & Morris Ltd, 
Whangarei - Bev Jaques Ph:4312367 or 0800667747 
 
GRANDPARENTS  Raising  Grandchildren:  Sarah  Rogers  Ph: 
4312194 
 
HAKARU LANDFILL/Transfer Station:Open everyday except 
Tuesday10am-4pm.Ph4312629 Cost-$55 trailer load up to 1 cubic 
metre. Ph:4258567 - office 
 
INLAND REVENUE: Last Friday each month, 
11-3pm Ph4312661 
KAIPARA DISTRICT COUNCIL www.kaipara.govt.nz:  
Help Desk FREEPHONE 0800 727 059  
Service Centre Mangawhai 4313161 
KAIWAKA KOHANGA REO:
Ph:4312620 
KAIWAKA CEMETERY: Ph: 4312045 
 
KAIWAKA LIBRARY: kaiwaka.library@gmail.com  
Mon. 4-6pm; Wed., Thurs., Fri., Sat.  10am-2pm Ph:4312539
 
KAIWAKA PLAYCENTRE: Ph: 4312286. Hastie Lane 
Monday to  Friday  9.00am 
- 
12 noon.
KAIWAKA POST OFFICE:
Ph:4312 626 Fax: 4312287  
Post Code: 0573  for RD2  and  0542 for all Kaiwaka Post Office mail 
 
KAIWAKA PRIMARY SCHOOL : Ph: 4312309 
 
KAIWAKA SPORTS ASSN: Ph 4312005; 4312129 gym 
 
KAIWAKA ST JOHN: Manager Steve Rosser 09 4318403, 021 2316836 
 
NORTHPOWER: Faults Kaiwaka area 0800 104040 
 
PARENTPORT: Free, practical family support servicePuhoi to Paparoa 
Ph:  Sharon Mehana, Co-ordinator. 4259357 or 027 280 5093 
 
PERSONAL DEVELOPMENT COACHING, GROUP FACILITATION:  
Sabine Druckler 4312231 
 
PLUNKET  KAIWAKA/MANGAWHAI:  Ph:
094318187 
or  0
276753488 
Kaiwaka Mobile Clinic once a month– appointments necessary;  
Mangawhai (next Domain) 
1st & 3rd Thursday & Coffee Morning; 
PLUNKET CAR SEAT CO-ORDINATOR:  
Pat Scott Ph 4314530 
or 0272881635 
PLUNKET FREEPHONE -0800 933 922 
PLUNKET -MAUNGATUROTO  Clinic every 2nd & 
4thThursday. Ph: 09 4318187 
 
PUBLIC HEALTH NURSE: Gloria Reid Ph: 094327634  
RETURNED AND SERVICES ASSN 733 Settlement Rd.Hakaru 
Ph.4312176 Bill Kerr (President) Ph.4314719 
TE KOROWAI AROHA O NGATIWHATUA Ph: 4312675 
(The Cloak of Love of Ngatiwhatua) Support and Maori Consultancy.  
 
VETERINARY SERVICE MANGAWHAI: 
Ph: 4314535 Mon-Fri 8.30-4.30, Sat 9-12, a/h appt. 
 
WOMEN'S WELFARE LEAGUE & Reaching Out For Youth:  
4 Kaiwaka-Mangawhai Rd, M Morgan 4312293
WHAT'S ON
PLEASE ~ do let me know what is on - email 
kaiwakabugle@kaiwaka.co.nz 
Advertising in WHAT'S ON is FREE 
Mondays: 8-2.30pm Kaiwaka Tramping Group  Karen 4312090. 
 
*21Mar~Captain Phillips, 7:30pm Kaiwaka War Memorial Hall 
*22Mar~Rugby - Hawks v Western Sharks, KSA 
*22Mar~ Shave for a Cure, 7:30pm Kaiwaka Sports Complex 
*26Mar~KDC Draft Annual Plan meeting, 5:30pm KWM Hall 
*28Mar~Dance of Life, 8pm Kaiwaka War Memorial Hall 4312 408 
*1Apr~Badminton AGM 8pm Badminton courts 
*4Apr~Kaiwaka School-Cure Child Cancer fundraiser, 11am KSA 
*4Apr~Beyond the Edge, 7:30pm Kaiwaka War Memorial Hall 
*4,5,6Apr~East West fishing competition, ph:4312 520 
*9Apr~Olla Podriga, Otamatea High School 
   
See www.kaiwaka.co.nz for upcoming events and great photos. 
 
Drink can 'tear tabs' - for Starship Hospital-Ph. 4312625   
HOUSEHOLD  RUBBISH  COLLECTION  -  Kaiwaka    Pick  up-
Mondays=Gr een bags ar e picked up by Nor thland Waste-queries 
to  them  09  4303273,Wednesdays=Blue  bags  and  yellow  recycling 
(at  Jaques    $3.00  and  $1.40)    are  picked  up  by  Kaurilands  09 
4392146.  
*OTAMATEA GREY POWER-09 431 8138 Joan Hoggard  
*KAIWAKA BADMINTON -Tuesdays 7.30pm Ph: 4312345 
*KAIWAKA GARDEN & FLORAL Grp:
2nd Thursday in month Ph: 4314767 
*KAIWAKA 
CUBS-Thursdays 5.30-7pm, Hakaru  Ph:Bruce  4312542
*KAIWAKA SQUASH -Mondays 7pm,  Ph: Barbara Thomas 4315905 
*GYMNASTICS OTAMATEA -  Tuesday Ph: Stephanie 022 3624998 
*HAKARU PONY CLUB-
Secretary Julie Rynne 09 4314520 
*
MANGAWHAI COMBINED PROBUS CLUB
: 2pm,3rd Thursday 
month in the Senior Citizens Hall Mangawhai. Ph: 4315777
*PT CURTIS CRUISING CLUB - Jean Ph: 4312246 
*WAIPU GENEALOGYGROUP -4th Monday in month Ph: 4312725 
*NZ GENEALOGY-Wellsford - 1st Thursday in month Ph: 4237033 
*RSA,Hakaru & Dist.Women- meet 1.30pm 4th Thurs in month 4312668  
*OWEN STEVENS at Kate's Place Ph:4312661   
*Diabetes Support Group-for Kaiwaka, Mangawhai, Wellsford -10am, 
 
3rd Friday of month Ph:A.Pert 4238242; J.Gardner 4238060 
CHURCHES:
*Gateway Worship Centre-St Mary's Church Nathan Rd off Oneriri Rd, 
Kaiwaka 
Services, 10.30am 1st & 3rd Sunday of every month. Contact: Rev David 
Gage 4312528 or 0212354282 
*Kaiwaka Family Church-Your Community Church Sundays, l0am 
Home Group every Wed evening, Pastor John.Dekker Ph: 4318203 
*Kaiwaka Services.Anglican & Family Service at St Pauls Church  - 1st 
Sun. 9.30am(Anglican),3rd Sun. 9.30am (Family Service).  Contacts: Parish 
Office 09 4318193, M.Hargreaves 4312295, C.Bygrave 4312057  
*Church of Christ the King, Mangawhai 9.30am every Sunday 
*St.Mary's Catholic Church: Maungaturoto – Griffins Road, Saturday even-
ing Vigil Mass 6pm; Mangawhai – Senior Citizens Hall, Sunday Mass 
8:30am; Wellsford – Matheson Road, Sunday Mass 10:30am; Mid-week 
Mass times and all enquires to Fr. Bill Fletcher – phone 423 8170 
*Baptist Church: Sun. 10.30am Mangawhai Snr Cit.Hall.Ph:4312339 
*Cause Way Church Mangawhai – Sundays 10.15am, Mangawhai Commu-
nity Recreation Centre, Insley St. Ph: 09 4314782  
www.causewaychurch.org.nz 
 
*St.Pauls Archie Bull Hall HIRE  $20 half day, $40 full day per hire 
 Contact G. Jaques 4312048 
*Kaiwaka War Memorial Hall HlRE - Phone 4312725 or   
Email  
kaiwaka.hall.bookings@gmail.com 
*Hakaru Community Hall HIRE -Ph.  4312256 or 4312110 
*Te Pounga Marae queries -A.Gage 4312528, 4312527 
*Kaiwaka Sports Association hire/queries- C. Anderson 4312051 
 
Justice of Peace: B.FJaques; L.Donaldson; A.F.Hargreaves  -please phone to 
make sure they are available 
Marriage Celebrants: L.Donaldson; A.F.Hargreaves 
 
Next Bugle Deadline Friday 28 March 2014