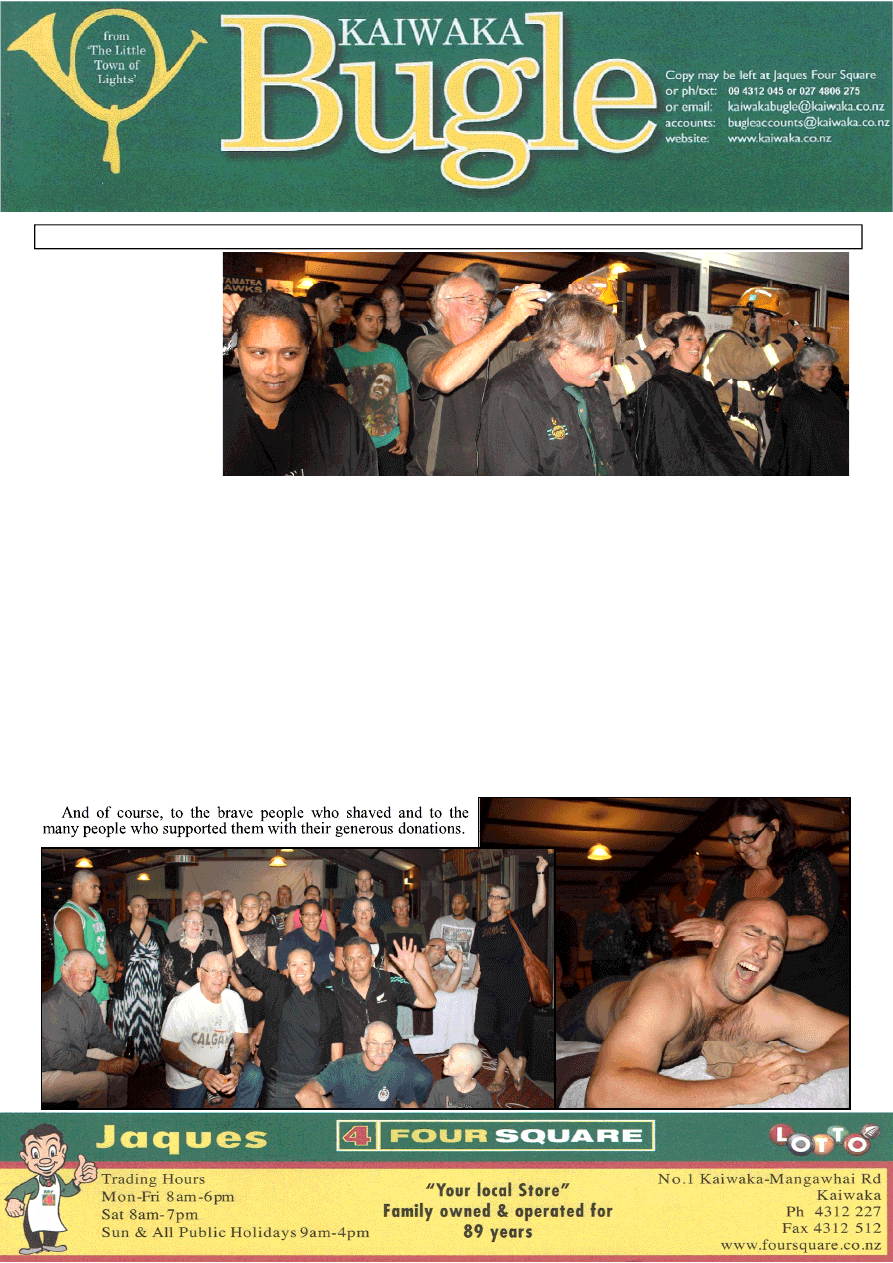 No: 6 
1 April 2014 
Shave for 
a Cure  
On 
Saturday 
22nd 
March,  nearly  30  people 
gathered  at  the  Kaiwaka 
Sports  Complex  to  shave 
their  heads  to  support  a 
worthy  cause  –  the  Leu-
kaemia  &  Blood  Cancer 
Foundation. 
What a wonderful  night  - 
lots of extra people showed up to lose their locks  (age ranged from Brooklyn Ottaway, 7, to Philip Whiting, 80)and the 
people who came to support the shavees were very generous with their donations! A few tears were shed with the emotion 
of the evening as people remembered their loved ones who had suffered with cancer. 
The Kaiwaka Kina's raised $4,000 online prior to the fundraiser and another $2,300 was collected on the night. 
Shavees above, from left: Pat Buxton, Trevor Linnell, Sara McAulay and Corina Ross 
One  of  the  highlights  of  the  evening  was  when  the  Leefe  family  from  Whangarei  turned  up.  They  had  heard  about  the 
Kaiwaka Kina's fundraiser on Facebook and had spent several weeks collecting donations from family, friends and neigh-
bours. They brought along a shoebox with over $1,000 in it! 
Daniel  Alcock  (photo  below  right)  from  Maungaturoto  decided  he  would  wax  his  back  in  support  of  the  fundraiser.  He 
raised over $800 in sponsorship, which just goes to show he obviously has a lot of friends who wanted to see him in pain! 
Kaiwaka  businesses  donated  items  for  a silent  auction,  which  was  won  by  Lindsey  Hargreaves,  and  the  door  prize  was 
won by Dawn Haywood. 
We are very grateful to the many people who made this fundraiser such a success:   
  * Our four hairdressers: Sean Burnett, Mary-ann Scott, Caz Blundell & Megan Roberts 
  * Kaiwaka Playcentre for donating the proceeds from their sausage sizzle 
  * Nicole Stonex from U Beauty for donating her 'back waxing' expertise 
  * The Kaiwaka Fire Brigade for taking donations and helping shave 
  * Tony Hargreaves, emcee 
  * Our sponsors: The Kaiwaka Salon, Cafe Bianca, Selena's Gifts, Kaiwaka Suzuki,  Caz's  Cutz,  Kaiwaka  St  Johns,  The   
Kaiwaka Cheese Shop, Jaques Four Square, Buy the Way and U Beauty 
  * Pat Buxton who came up with the idea of this fundraiser 
  *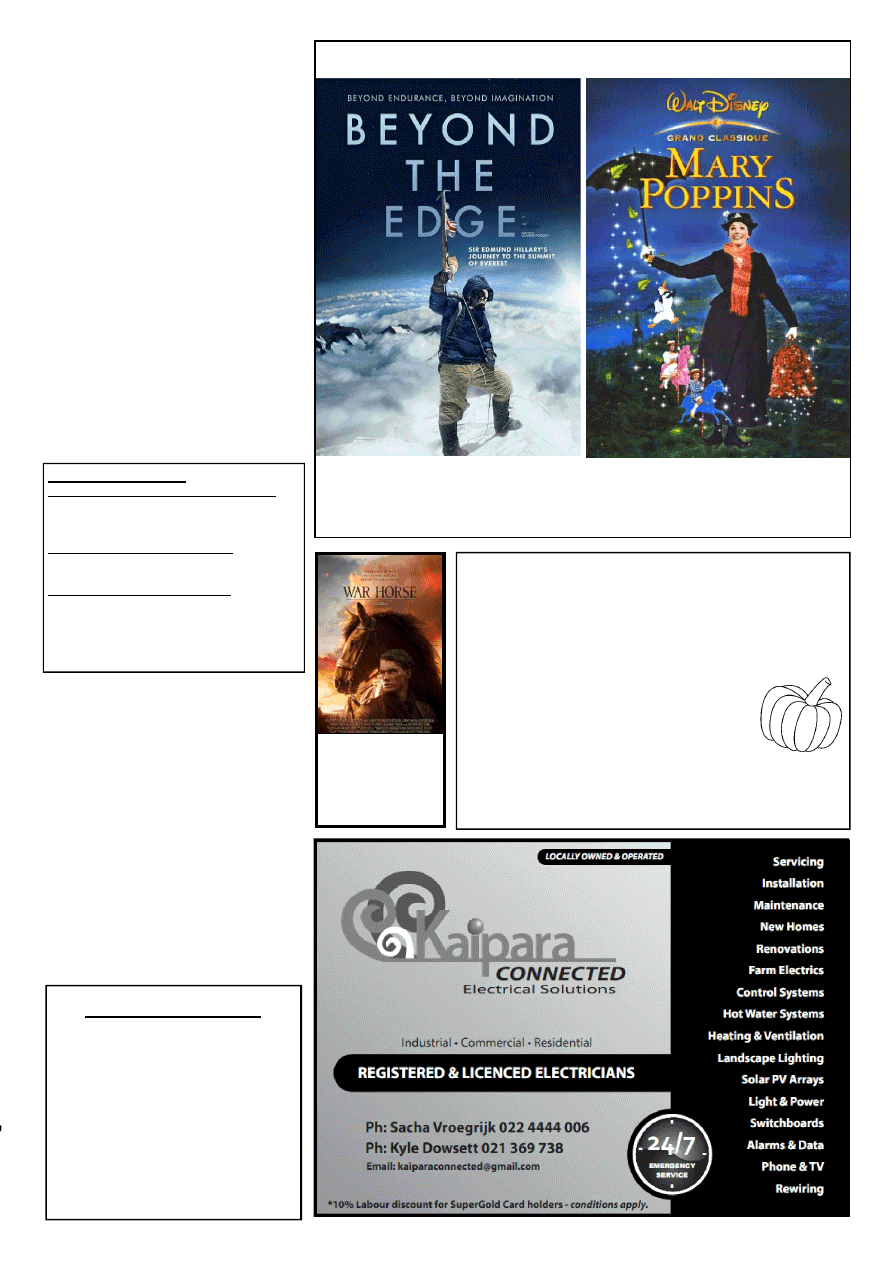 ABOUT TOWN 
......... 

Watch  out  for  SH1  being  closed  at 
the  Brynderwyns  overnight  between 
6:45pm  &  5am  on  1-2   and  7-10  April 
for  road  works;  diversions  will  be  in 
place. Per NZTA notice. 

Drink can tear tabs, a Starship Hospi-
tal  fundraiser,  can  be  dropped  in  the 
mailbox  at  98  Kaiwaka  Mangawhai 
Road. 

Thank  you  for  Karen  for  your  years 
at  Café  Eutopia.  Welcome  to  Robert,  
Marijke and Anton. 

Well  done  to  Kaiwaka  Kinas~great 
shaving! A well done to Sara McAulay 
who  wore  her  lovely  BRAVE  shirt  as 
she  among  the  first  500  in  NZ  to  raise 
$500! 
KAIWAKA BUGLE No: 6 
1st April 2014
Page 2: Kaiwaka Movies 
Page 3: Public Notices; Classifieds 
Page 5: Kaiwaka School, Fitness, 
 
Garden Club 
Page 7:Kaiwaka Library 
Page 9: Otamatea Hawks 
Page 11: Otamatea High School 
Page 13: Kaiwaka Sports Association 
Page 15: St Johns 
Page 17: Pt Curtis Cruising Club, Ota-
matea Day Camp 
Page 19: Shave for a Cure, Days of 
Thunder
Bugle 7 will appear 15 April 
Contact for advertising, reports, articles 
or information can be made by 
Email kaiwakabugle@kaiwaka.co.nz 
Ph: 09 4312045 
Txt:  0274 8062 75
Business card adverts can now be added 
to the KMG website– email contact to: 
kaiwakaonline@kaiwaka.co.nz 
NEW PRICES: 
Kaiwaka Bugle Advertisements 2014: 
Classified $3; 1/8 page $6; 1/4 page $12; 1/2 
page  $24;  in  special  circumstances  whole 
page adverts are available-cost $100 
bugleaccounts@kaiwaka.co.nz 
Payments  can  be  online,  posted  or  left  at 
Jaques Four Square Store. 
kaiwakabugle@kaiwaka.co.nz  for queries 
or copy. 
The  Kaiwaka  Bugle  is  a  community 
newspaper run by volunteers.   
Articles,  etc.  printed  are  not  necessarily 
the opinion of the Bugle Team. 
KAIWAKA MOVIES
     at Kaiwaka War Memorial Hall
Friday 4 April 7:30pm 
Adults $10, under 16yrs $5 
Family pass $25 
(2 adults & 3 kids max) 
Sunday 6 April 2:00pm 
Kids & parents all $5.00 
The 4th Kaiwaka School Annual Giant Pumpkin 
Competition 
The  date  has  been  set:  16th  April  12pm,  at  Kaiwaka 
School. Come along & support the Kaiwaka kids - $1 coin 
vote for your favourite Arty Farty dressed-up pumpkin. All 
welcome, tell family & friends. The most coins wins!! 
Our champion for the last two years has been Michael Fer-
guson, 66.5kg last year's entry. 
The entries this year's for prizes are: 
Big Bay-heaviest for trophy 
Arty Farty-dress up and name ($1 vote) 
Ugly Fugly-small or deformed 
Rolly Polly-down-hill roll 
An extra this year: The Scarecrow-Mrs Alice to judge. 
So good luck to all. Please come & support these dedicated 
growers. See you there. 
Megan Little Ph 4312 971   
Kaiwaka Bugle 
Founded May 1978 
Copies available in Kaiwaka at Jaques Four 
Square, Kaiwaka Postal Centre, Shamrock 
Service Station, Celena's Gifts 
Also outlets in Maungaturoto, Mangawhai 
and Paparoa. 
Can be viewed online at www.kaiwaka.co.nz/
Bugle 
Or a copy can be posted to you if you supply 
stamped, self-addressed DLE envelopes. 
Coming up: 
Friday 25 April 
ANZAC Day  
War Horse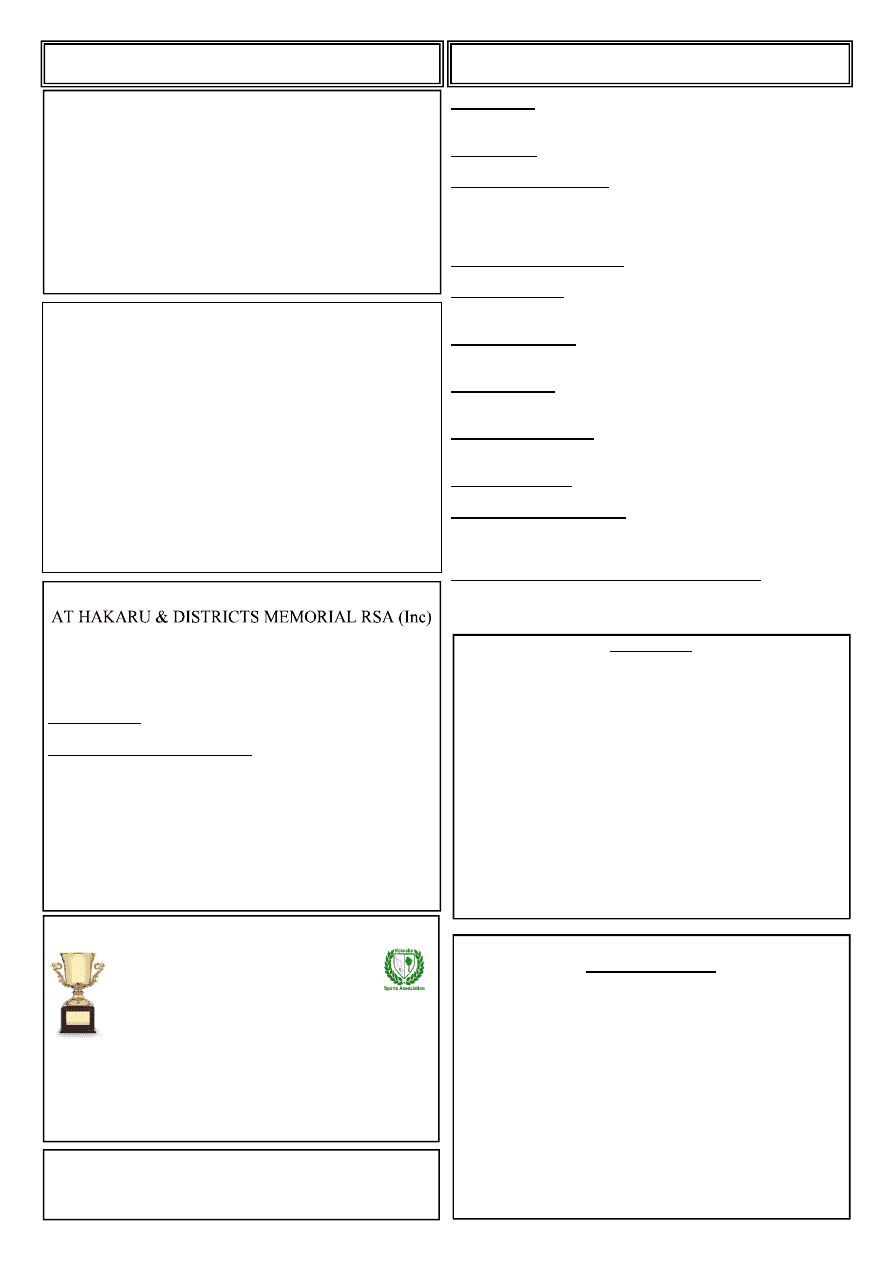 PUBLIC NOTICES 
CLASSIFIED 
FOR  SALE:  Dry sheep manure, $7 per sack, great for your 
garden.  Please  phone  Carol  Mills  4312  044.  A  fundraiser 
for Kaiwaka Cubs & Scouts. 
FOR  SALE:  25,000  litre  water  tanks,  brand  new,  plastic, 
sand colour $2,500. Phone 021 848032 Can be delivered.  
TRAMPING  GROUP  Kaiwaka/Mangawhai    -  We  are  a 
group  of  ladies  who  enjoy  the  outdoors  every  Monday 
9.00am--2.30pm,  and  tramp  the  local  tracks,  farms  and 
coastal  areas.  If  you  would  like  to  join  us:  Ph  Maria 
4312234, Gail 4315174, or Karen 4312090. 
CLEANING  SERVICE:  Housewor k,  Gar dening,  Odd 
Jobs, $18 p/h. Fast, friendly and reliable. Jill 09 431 2080  
PIANO - FREE: tuned, in excellent condition. Must pick 
up, I can provide muscle to help move. Ph Adrian 4312 296 
or 021 253 7661 
HELP WANTED: Young per son r eq'd to help with cook-
ing  6  days  -  alternate  weeks  (at  first)  and  shopping.  Ph 
Adrian 4312 296 or 021 253 7661 
GARDENERS: now is the time to plant your  winter  veg-
etables,  full  range  of  seeds  and  seedlings  at  GAS  Man-
gawhai, 44 Moir Street, Mangawhai. 
VEGETABLE  MIX: Special, Tui 40L usually $15.00 per  
bag, be quick for 3 bags for $36.00 at GAS Garden Centre, 
44 Moir Street, Mangawhai 
TUI  COMPOST:  40L  bags  5  for   $45.00  at  GAS  Man-
gawhai, 44 Moir Street, Mangawhai. 
SITUATION  VACANT:  Jenny's  Rural  Cleaning  Services 
is looking for a casual to part-time worker. Must have clean 
driver licence, be reliable and trustworthy. Phone after 7pm 
on 431 2826 or email jennychellew@hotmail.com 
CLOTHING ALTERATIONS & REPAIRS: 
Hems, Zips, Dressmaking Phone: Win 4312027  or 027 444 
8358 Winsome Designs. 
KAIWAKA SPORTS ASSOCIATION 
SPORTS AWARDS
SPORTS AWARDS  
Monday 14
th
 April, 6.30pm 
Kaiwaka Sports Complex 
Emcee: More FM's John Markby 
Join us for a walk down memory lane to  
commemorate the 30
th
 anniversary of the awards 
Adults   $25    Children (Year 9 & under)   $10 
Tickets available from Jaques Four Square, KSA club delegates 
or phone Cheryl Anderson on 4312 051 
Thought for the day: 
Proverbs 11:13 Gossips betray a confidence, but 
the trustworthy keep a secret.
(NIV)
GARAGE SALE 
Sat 5th April 
8 Pakeho Road (off Baldrock Rd), Kaiwaka 
HANDYMAN AND BUILDER ASSORTED 
HOUSEHOLD ASSORTED 
CHILDRENS ASSORTED-TOYS,CLOTHES 
MORRIS AND JAMES TILES 
BASSINET,COT ETC
NOT BEFORE 8.30 
ph Neal on 0276023776 
CAFÉ EUTOPIA 
Karen is delighted to announce that Café Eutopia, the 
premises and café, have been sold to Robert, Marijke 
and  Anton.  They  are  looking  forward  to  giving  the 
place an extensive facelift.  
The café will be temporarily closed during the imme-
diate  work  but  people  are  welcome  to  pop  by  and 
check progress. 
Karen  and  the  team  at  Café  Eutopia  wish  to  thank 
everyone  for  their  support  over  the  years  and  wish 
Marijke, Robert and Anton all the best. 
KAIWAKA SCHOOL BOARD OF TRUSTEES 
Casual Vacancy for an Elected Trustee 
A  casual  vacancy  has  occurred  on the  board of  trus-
tees for an elected parent representative. 
The board has resolved under section 105 of the Edu-
cation Act 1989 to fill the vacancy by selection. 
If ten percent or more of eligible voters on the school 
roll ask the board, within 28 days of this notice being 
published,  to  hold  a  by-election  to  fill  the  vacancy, 
then a by-election will be held. 
Any  eligible  voter  who  wishes  to  ask  the  board  to 
hold a by-election should write to: 
Chairperson: John Ferguson, Board of Trustees, 
Kaiwaka School, PO Box 104, Kaiwaka 0542 
by: 21st April 2014 
BARN DANCE
at 733 Settlement Road, Kaiwaka 
From 7pm SATURDAY 12th APRIL 2014 
DOOR ENTRY $15 PER PERSON - INCLUDES GRITS 
& JOWLS (SUPPER) 
FEATURING:  "Otherwise  Fine"  -  our  favourite  Country 
& Western / Bluegrass Band 
BUT WAIT THERE'S MORE: If you feel like joining in, 
some  of  us,  with  the  help  of  local  Square  Dance  caller 
Derek  Mason,  are  going  to  have  a  go  at  Square  Dancing 
(should be a good laugh) 
Dress  Code  is  -  Jeans,  Shirt  or  Blouse,  Scarf, Straw  Hat, 
Hanky  in  your  pocket,  Boots  (sorry,  no  gumboots)  and  a 
Big Smile on your face.  YEEEEEE HAAAA!!! 
COME JOIN US FOR THIS  
GOOD OLD FASHIONED BARN DANCE  
AND HAVE SOME FOOT STOMPIN' FUN 
FOR SALE 
 
DIY DJing & Karaoke with an as new Sony quadrophonic 
CD system, 250x4rms, 11000 p.m.p.o. Plug in your MP4, 
mic or play cassettes (record) and 3 CDs on table. There 
are built in disco lights that flash while it's playing. Ideal 
party all round-sound set-up. $650. 
 
Yamaha keyboard in as new order with all the sounds, 
comes with bag & stand (very portable) $700. 
 
All riding tack you require for your first horse. $450 lot. 
 
Printer/scanner (Canon) in good order. $50. 
 
Ph or txt 021 183 1856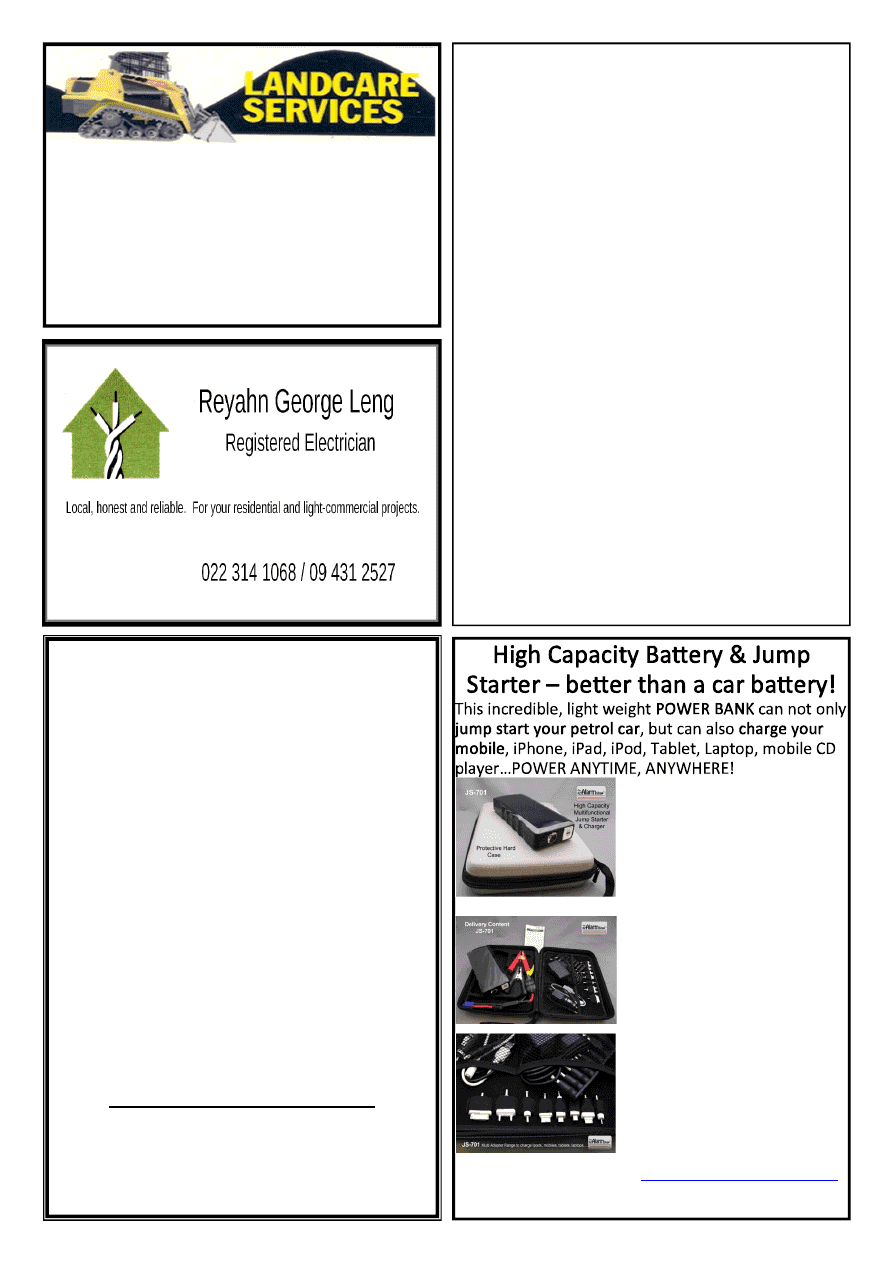 PAUL SAUNDERS 
LAWNMOWING 
& GARDEN 
MAINTENANCE 
 
Residential and commercial 
 
Lawns and edges    
 
Section mowing 
 
Garden makeovers 
 
Hedging and trimming 
 
Spraying 
Friendly and reliable service guaranteed 
Call now for a free no obligation 
quote 
021 886 843 
09 431 3318 
Servicing Mangawhai and Kaiwaka 
and surrounding areas 
paulsaunders99@gmail.com 
LANDSCAPING 
4 IN 1 BUCKET 
TRENCHER 
POLE HOLES 
ROTARY HOE 
COMPACT ROLLER 
OFFAL HOLES 
CAN SUPPLY WOODCHIP & POST PEEL 
5 TON TIPPER 
FOR RELIABLE AND FRIENDLY SERVICE CONTACT DAVE 
Dave Hyndman 
 
KAIWAKA 
PH: 09 4312302 
MOB: 021 431 238 
* MASSAGE * NAILS * 
* NUTRITION * 
In Mangawhai Heads
 
Full  hour  and  half  hour  massage  TAI-
LORED to suit your needs, ALSO mini 
massages  and  chair  massage  available. 
Businesses  –      ask     about      my      on-
site massage service for your staff. 
 
Full set of acrylic nails for both fingers 
and  toes  –  wonderful  solution  for  nail 
biters!    PLUS  manicures  and  pedi-
cures. 
 
Healthy  nutrition,  weight  loss,  sports 
nutrition and healthy ageing – we offer 
solutions  so  lets  work  on  this  togeth-
er…  Call  me  today  for  a  free  wellness 
evaluation  to  achieve  your  wellness 
goals.  
CINDY SAUNDERS 
Fully qualified masseuse and Surmanti 
trained acrylic nail technician 
Call or text 021 296 9819 or  431 3318 
Gift Vouchers available  
So use it when hiking, biking or 
have it handy in the car/motor 
home/boat whenever you need 
it, it's ready!  
 
LIFESAVING FUNCTIONS: 

Hammer:  to break the wind-
screen in an accident when you 
are trapped in the car. 

SOS signal and LED flashlight, 
torch, or flashing light! 

NO more flat mobiles, laptops, 
always able to contact somebody 
 
Once charged, it keeps its power 
for MANY applica ons (eg: it 
started my car: 2.2l, 115kW, 
150hp 45  mes!). 
Available in black or white, hard 
case pink or silver.          
          
For more info please visit: 
www.the-nz-alarmshop.co.nz
or call Jorg 4315905 
Introductory price $199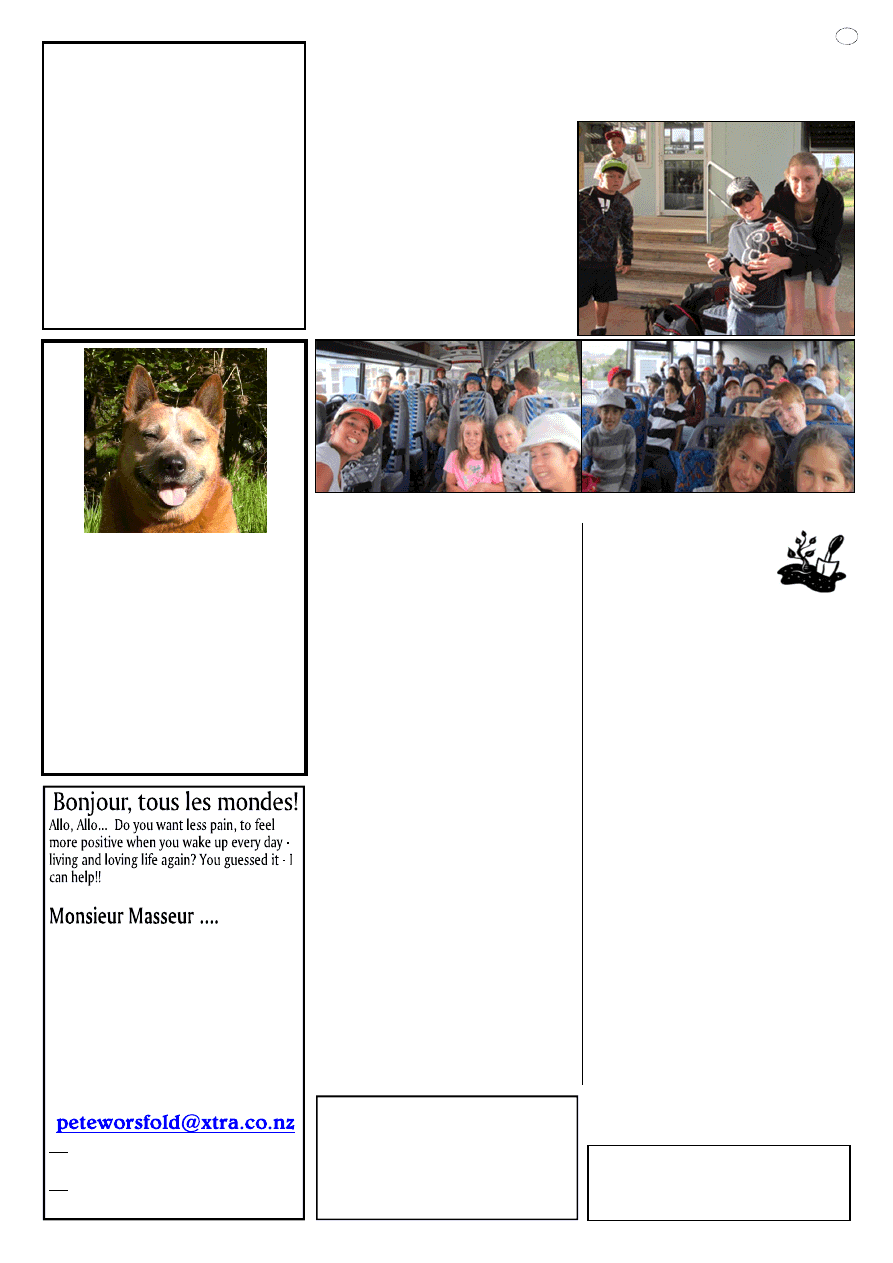 5 
RELAXING  
MASSAGE
..... Juste pour vous" 
Call for an appointment now!
Pete Worsfold 
4312 152  or   021 825970   
Or  Ph. "The Well of Health" 
For an appt. 09 4312 799 
Or mobile service available 
KAIWAKA  GARDEN  & 
FLORAL GROUP 
The  March  meeting  was 
held  at  Sue  Hamilton-
Wallace's,  the  garden  was 
looking  great  as  usual  with  Sue's  spe-
cial touches here and there. 
The  Birthday  Girls  for  February  and 
March  were  Helen  Thwaites,  Robyn 
Moffat, Anne Shimmin and Agnes  
Tully,  and  March,-  Dawn  Be  Hague 
and Fay Burnett. Hope you all had nice 
days! 
The  results  of  the  competitions  which 
were well supported were:- 
Best Bloom:1st B A-Cooke, 2nd D Alexan-
der 
Hibiscus: 1st L Lusty, 2nd Sue H-Wallace 
3 beans: 1st H Small, 2nd R Browne 
Fruit: 1st S Mclean, 2nd S H-Wallace 
Beach Scene –Table arrangement: 
1st M Haverfield, 2nd J Paget. 
Wild card: A Shimmin 
We  also  brought  along  our  potted 
plants  and  talked  on  their  significance 
e.g In Memory, uses, smell etc. 
Our meeting in April, which is also the 
A.G.M,    will  be  held  at  Elenor  Robin-
son's  at  150  Devich  Road  on 
WEDNESDAY 
9th 
April 
(Note 
CHANGE  OF  DATE  &  DAY)    at  1 
pm;  entries  in  by  1:15pm;  meeting, 
1:30pm  (change  of  date  due  to  Probus 
trip). 
Competition:- 
Flower  of  month:  Gerani-
um  or  Pelargonium.  /  Vege:  whole  pump-
kin  with  wedge  cut  out  to  display.  / 
Fruit:  Feijoa / Arrangement in a Tea Cup. 
That's  all  for  now,  good  gardening,    any 
queries phone Ann at 4315913.  
KAIWAKA SCHOOL 
Last week our senior school students went to Marsden Bay Christian Camp for 
their annual school camp experience. 60 students, from Years 3-6, left first thing 
Wednesday morning for a few days of kayaking, rock climbing, spotlight, water 
sliding,  orienteering  and  being  away 
from  home  and  family.  They  visited 
the  Oil  Refinery  on  the  way  back  to 
school  on  Friday.  They  were  all  very 
excited  and  enjoyed  new  challenges 
with their school mates.  
We  thank  their  teachers  Sharlene 
Tornquist, Anna Elworthy and  
Larissa  Bonham,  as  well  as  a  lot  of 
willing  parents  who  accompanied 
them, for making this excellent learn-
ing  opportunity  available  to  our  stu-
dents.  
Rosemarie Ellis, Principal 
Kaiwaka Library 
Autumn 
Book Sale 
$1 each or 3 for $2 
Discarded library books 
and donations only 
Laughing Dog 
Computers 
www.laughingdog.co.nz 
0224344448 
Hardware and Software 
Service and Repair 
KAIWAKA FITNESS 
The  weeks  are  just  flying  by,  I  can't 
believe its April already.  
Voting  for  the  Sports  Awards  has  now 
been  done,  and  I  can  say  there  are 
some  very  talent  kids  out  there  and 
some  devoted  parents  that  get  them  to 
all their sports events, I take my hat off 
to  you.  So  come  along  to  the  Sports 
Awards  Monday  the  14th  of  April.  I 
have some tickets or you may get them 
at  Jaques  Four  Square.  It  should  be  a 
good  night,  as  they  are  celebrating  30 
years. 
Our  AGM  is  going  to  be  held  at  the 
gym  at  11am  on  Monday  the  7th  of 
April.  Please  come  along  and  have 
your  say,  or  join  the  committee.  Is 
there  any  one  out  there  keen  for  the 
President  position  as  I  feel  its  time  to 
move  on  and  get  some  new  blood  and 
ideas. 
To the young guys using a knife to gain 
access  to  the  gym,  pay  up  or  keep  out. 
Any  other  members  supporting  them 
also  risk  losing  their  membership. 
Thanks to the  locals for reporting their 
actions  -  we  cannot  be  there  24/7  so 
thanks for your help. 
Shopping  for  gear  didn't  go  well,  but 
pro  show  was  great.  I  will  try  again 
soon,  as  I  am  looking  at  replacing  old 
DB  and  BB,  but  they  are  hard  to 
source. 
All for now hope to see you at meeting 
or sports awards, Jules 
"Learn  from  the mistakes  of  others.  You 
can't  live  long  enough  to  make  them  all 
yourself"  
~ Eleanor Roosevelt 
KAIPARA YOUNG FARMERS 
CLUB  
Open  to  anyone  in  the  region  aged  30 
years  or  younger-for  fun  and  learning. 
Contact  Colin  or  Isabella  on  027  433 
1053 or find them on Facebook.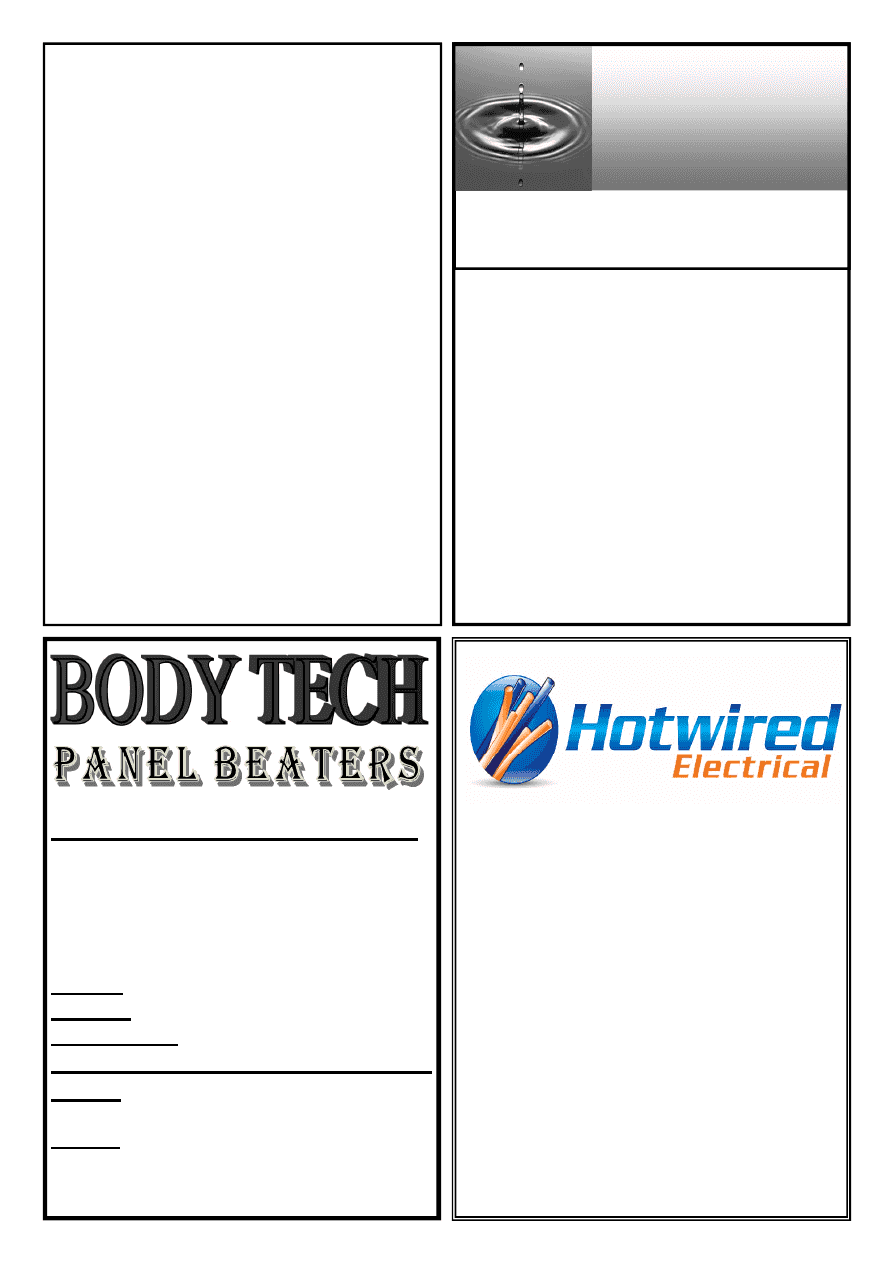 PETE WORSFOLD M. Soc. Sc. 
Student Counsellor 
 peteworsfold@xtra.co.nz 
 021 825 970 
Professional Service 
Variety of Modalities 
By Appointment Only 
PRIVATE COUNSELLING  
AVAILABLE 
MODALITIES: 
   Individual – one on one counselling      
                FOR 
  CBT          Grief 
  Gestalt        Relationship 
  Person-Centred     Trauma 
  Solution Focussed    Couples 
  Behavioural      Adolescents 
            Careers 
Call for Appointment 
At "The Well of Health" 
09 4312799 or 021 825 970 
 PETE WORSFOLD M. Soc.Sc. 
Student Counsellor 
 peteworsfold@xtra.co.nz 
 021 825 970 
For all your body repair needs!! 
 
We do: 
 
Rust repairs 
 
Insurance work 
 
Anti-corrosion  
   treatment   
 
Hours: 8.30am-5pm Monday-Friday  
Mobile: 021 118 0462 
After hours: 09 431 2384 
Phone: Craig or Call in for a free 
Quote 
Email: 
bodytech_panelbeaters@yahoo.com
We are located at 1837 SH1 Kaiwaka, behind Twin-
kle Tow 'n' Tyre call in anytime for a free quote.  
 
Large and minor vehi-
cle repairs
 
Industrial vehicles
 
Full Cut and polishes
For All your  
Electrical  Requirements 
 
Domestic small jobs 
 
Residential dwellings and alterations 
 
Commercial 
 
Industrial                 
No job too big  
or too small    
Contact Jason today on: 
(09) 431 5992, (021) 405 019 
www.hotwiredelectrical.co.nz 
PLANNING A NEW 
KITCHEN? 
CONTACT NOEL McDOWELL
WELLSFORD 
KITCHENS
Ph/Fax 094312888
KAIWAKA-Any time 
  QUALITY CUSTOM MADE 
KITCHENS 
~Personal and Prompt Service~ 
~All Workmanship Guaranteed~ 
~Over 20 Years in the Trade~ 
~Free Design & Quote~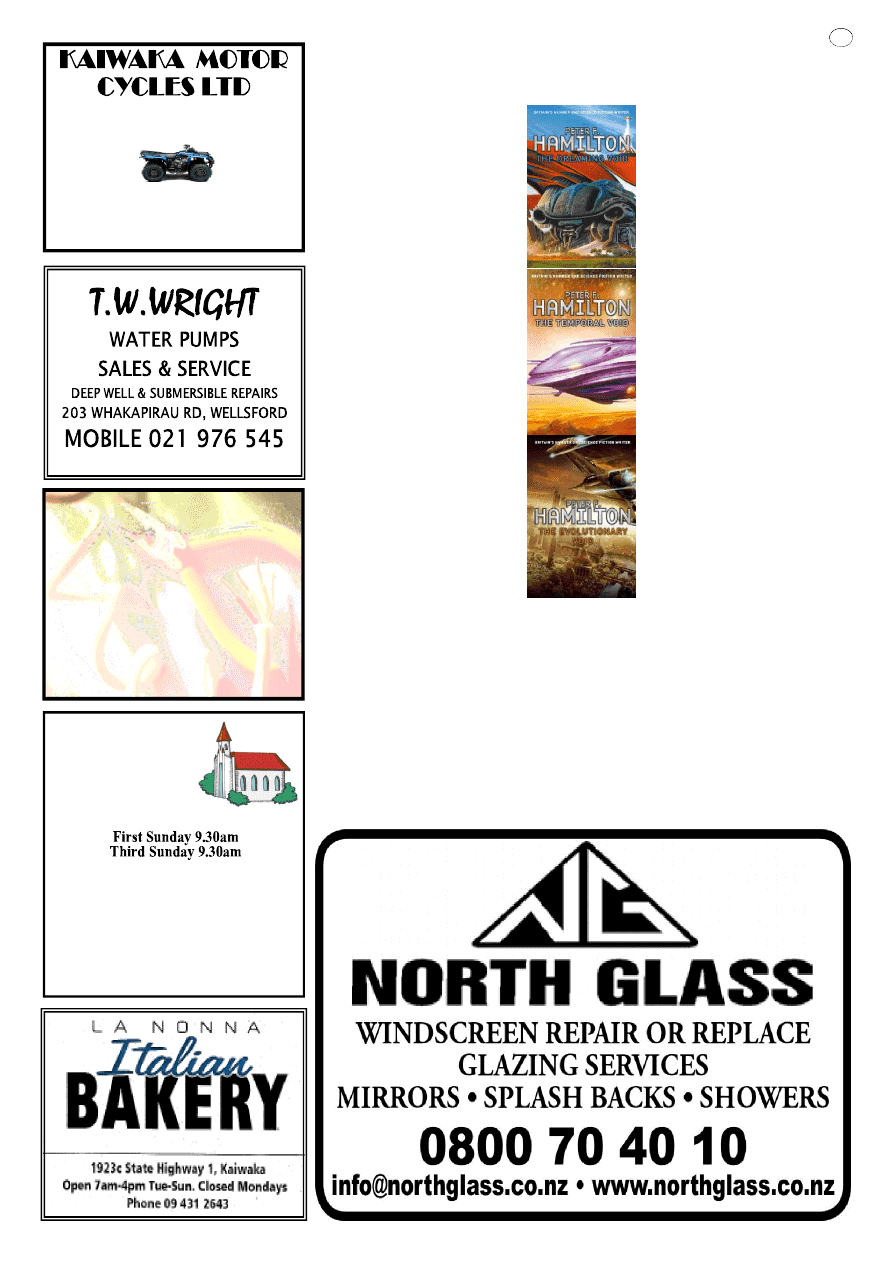 7 
KAIWAKA LIBRARY 
ST PAUL'S  
SUNDAY  
SERVICES
 Paparoa Anglican 
St Pauls Church: Kaiwaka-Mangawhai Rd.  
1st Sun. (Anglican), 3rd Sun. (Family Service) 
Contacts:M.Hargreaves 4312295, C.Bygrave 4312057  
Paul Greig Electrical Ltd 
Residential • Farm • Commercial 
Paul Greig 
Registered Electrician 
Ph: 431 2223  
Mob:021 230 2717 
Reliable & Professional Quality Service 
Based in Kaiwaka 
SALES SERVICE SPARES
FARM BIKE SPECIALIST
Phone 431 2127  
Kaiwaka-Mangawhai Rd 
Kaiwaka 
Welcome  to  Linda,  the  newest  member  of 
the library team. 
Next Book Swap 
It's  April  already  -  where  has  the 
time gone? Our next book swap is 
later  this  month,  when  the  Large 
Print  and  Audio  books  will  be 
returned  and  new  titles  brought 
back.  Now  is  the  time  to  get  in 
and  borrow  any  you've  been 
meaning  to  read/listen  to,  as  we 
will  need  them  all  back  at  the  li-
brary by Sunday 27 April, please. 
Interloans 
It's great to see our members mak-
ing  good  use  of  the  library  inter-
loan  service.  We  get  regular  re-
quests  for  books  held  on  the 
shelves  of  other  libraries  in  the 
district, and there is no charge for 
this.  If  you  have  access  to  the 
internet you can search the library 
catalogue across the entire district 
via  the  Kaipara  District  Council 
web  site  before  coming  in  to  see 
us  -  go  to  www.kaipara.govt.nz 
and  scroll  down  to  the  bottom  of 
the  home  page  click  on  the  Li-
brary link in the menu there.  You 
can  also  download  free  audio 
books  and  e-books  from  there, 
too, if you have set a PIN on your 
library  card  -  come  in  to  the  li-
brary  and  ask  to  do  that  if  you 
need  to.  Otherwise  come  on  in  to 
the  library  with  your  title  or  au-
thor  or  subject  and  we  can  search 
the catalogue for you. If you want 
a  book  that  is  not  held  within  the  district, 
we  can  source  it  for  you  for  a  charge;  the 
amount  depends  on  how  much  we're 
charged  by  the  loaning  library,  but  should 
not be more than $10-$25. 
Book Review 
Recently I've been reading The V oid Trilo-
gy: The  Dreaming  Void,  The  Temporal 
Void,  and  The  Evolutionary  Void,  by  Pe-
ter F Hamilton. It is 1500 year s since the 
time 
of 
the 
Commonwealth 
Saga 
(Pandora's  Star  and  Judas  Unchained). 
Mankind has progressed a long way - phys-
ically  and  technologically,  and  inhabiting 
over  a  thousand  star  systems  -  since  the 
story  of  the  Starflyer  War  told  in  those 
books.  When  we  start,  the  Living 
Dream  movement  are  appointing 
their  next  Cleric  Conservator  to 
lead the many  believers across the 
galaxy. Not that it will do much to 
progress their cause, since the only 
person who can take them into the 
Void  is  Inigo himself,  Dreamer  of 
the  dreams  of  Edeard  and  life  in 
Makkathran,  and  he  disappeared 
long  ago.  Non-believers  do  not 
want  Living  Dream  to  succeed  at 
all  -  entering  the  Void  will  likely 
destroy  the rest  of  the  known  gal-
axy. The Raiel have been blocking 
access to the Void for thousands of 
years  now,  to  prevent  just  that 
from  happening.  But  suddenly 
someone  else  is  Dreaming,  and 
talking to the Skylords in the Void 
-  could  the  Second  Dreamer  lead 
the  movement  to  their  fulfilment? 
For  all  that  this  is  a  huge  story 
(2000+  pages  across  the  three 
books)  it  is  fast-paced  and  grip-
ping,  and  hard  to  put  down  -  I'll 
have it finished and returned to the 
library  by  the  time  you  read  this 
review in the Bugle. In my experi-
ence,  Peter  F  Hamilton  never  dis-
appoints!  Do  read  the  Common-
wealth  Saga  before  starting  the 
Void  Trilogy,  and  read  the  books 
in  order.  My  first  attempt  at  The 
Dreaming  Void took me a week to 
read  50  pages  as  I  tried  to  absorb 
so  much  that  was  new  to  me  (before  dis-
covering  I  needed  to  read  the  Saga  first), 
but having that behind me made my second 
attempt  much  easier  and  more  enjoyable, 
as  I  had  that  history  in  mind.  Great  stuff! 
All  five  books  mentioned  here  are  on  the 
Fiction shelves in the library. 
 
See you in the library! 
Wendy Howard, Librarian 
Kaiwaka Library, cnr State Highway 1 and Kai-
waka Mangawhai Road. PO Box 89, Kaiwaka 
0542. Phone 4312 539. 
Email kaiwaka.library@gmail.com Open Wed-Sat 
10am-2pm, Mon 4-6pm. Membership is available 
to all residents in the Kaiwaka area.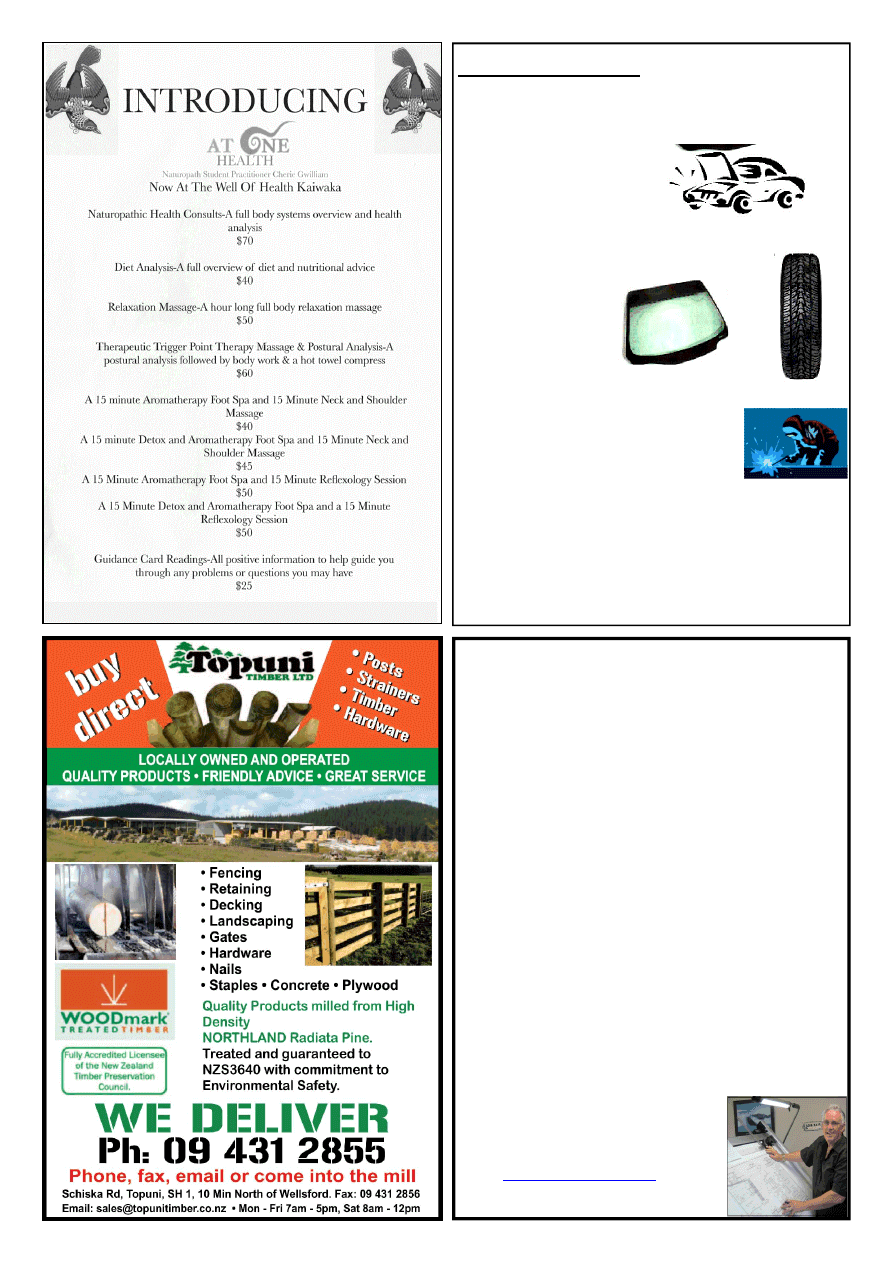 Want it done? 
Bring it to  
Twinkle Tow 'n' Tyre 
*W.O.F. 
*Tyres 
*Windscreen replacement 
*Chip repairs 
*Bulk Oil 
*Batteries 
*Welding 
*Custom built trailers 
*Trailer hire 
Think you'll get a better deal in the city? 
Go on, ring us; it won't cost anything! 
1837 State Highway 1, Kaiwaka 
Phone 431 2823 
ARCHITECTURAL BUILDING 
PLANS AND DESIGNS 
WRIGHT DESIGN 
 QUALIFICATIONS 
Brian is a qualified designer (NZCAD) with over 40 years of 
varied experience in all types of building and is a registered and 
Licensed Building Practitioner in Design - L.B.P. 117345 
He ensures you will achieve the best from your budget with 
recommended excellent local contractors ready to competitively 
price and build your personal project quickly and efficiently. 
 EXPERIENCE 
Brian's practical building and 40+ years of design experience 
means he can give you excellent advice and all the guidance 
needed for all your building needs 
v Wright Design offers free visits, consultations and all the ad-
vice you need on planning, design, building, contractors, coun-
cil permit applications, etc. 
 
" Qualified and inexpensive designer – N.Z.CAD., LBP 117345 
" Guaranteed design and working drawings 
" Free site visit to your home or property 
" Great service 
" Great problem solver 
 
Call Brian ~Arrange a visit to discuss your needs  and obtain 
great advice and free quotation 
MAKE GOOD USE OF HIS EXPERIENCE and 
KNOWLEDGE 
WRIGHT DESIGN:  
360 Oneriri Road, Kaiwaka
Office 09 4312544  
Mobile 021 276 7389  
Email: 
brianwright@clear.net.nz
www.wrightdesign.co.nz 
Phone 021 151 4004. www.facebook.com/AtOneHealth, Cherie@at-one-health.co.nz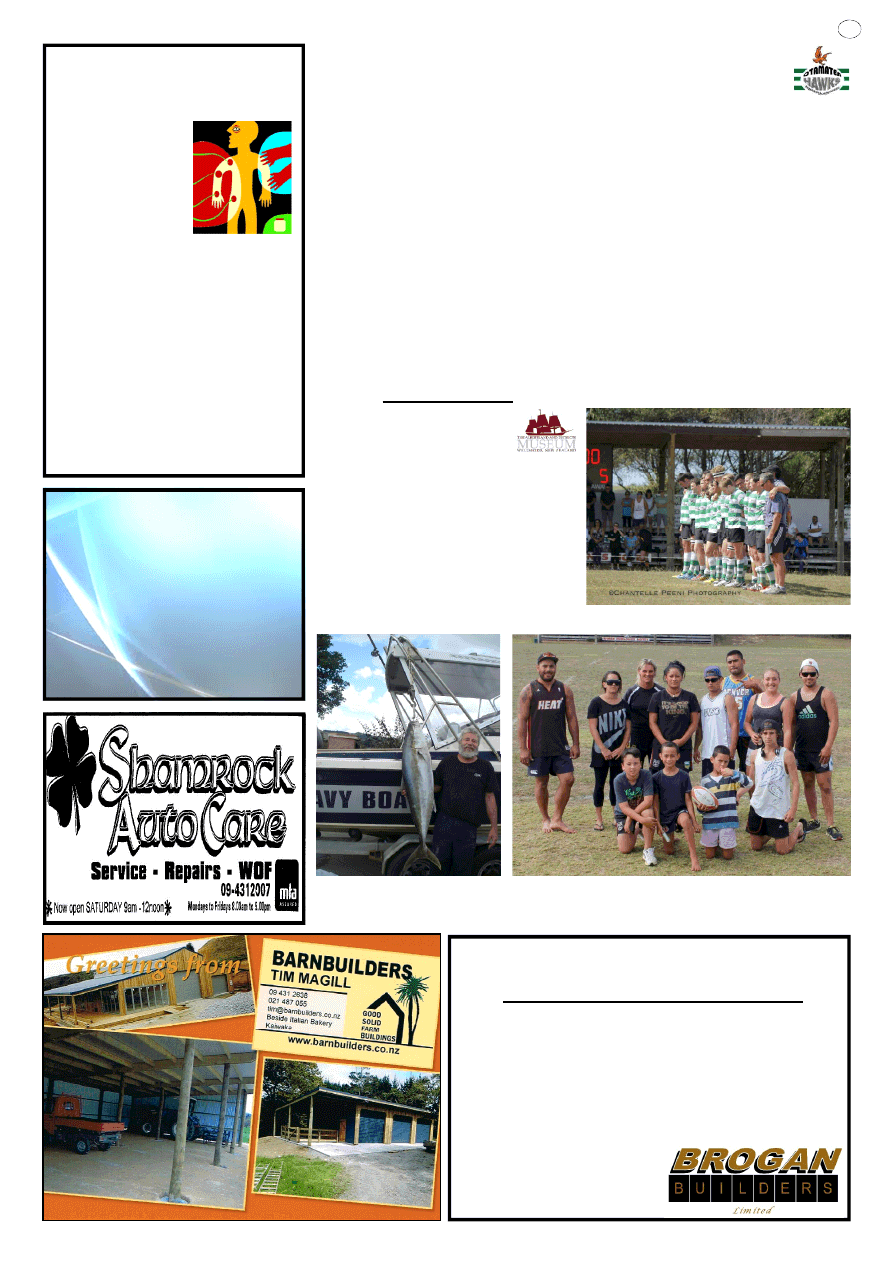 Freeview  
Installations 
Richard Te Haara 
25 Marram Place 
Mangawhai Heads 
021 1104056 
kiwipride@xtra.co.nz
9
v Western Sharks 22 March 
Otamatea  started  well  scoring  a  couple 
of  good  tries  keeping  the  game  close. 
Handling errors cost us, and the Sharks 
capitalised on  our mistakes scoring out 
wide  with  good  back  line  moves. 
Hawks  tries:  Patrick  Grundy,  Jordan 
Linnell;  conversion    and  penalties  Dan 
Hawkins. 
Reserves  lost  16-24,  this  young  side 
performed  well  against  the  more  expe-
rienced  Sharks  team.  Justin  Walker 
lead again from the front. 
v Waipu 29 March 
Another very hot, humid, dry and dusty 
day  saw  two  great  games  on  a  hard 
paddock.  Before  play  started  both 
teams  and  supporters  showed  a 
minute's  silence  for  James  Connelly 
(Jimo)  whose  children  Hemi  and  Blos-
som  are  both  great  supporters  of  our 
Club. 
Otamatea  Hawks  won  33-
26.  The  Premiers  kept  to  their  game 
plan,  stuck  it  out  after  12-12  score  at 
half time. The second half was a tit-for-
tat  half,  a  feisty  Waipu  played  some 
outstanding 
moves 
but 
a 
well-
deserving  Hawks  team  came  out  win-
ners. 
Reserves  won  26-5.  Tries:  Mike 
Tuheke,  Daniel  Kawana-Pool,  Adam 
Scott. Two conversions by Adam Scott. 
International  player  from  Tanzania, 
Blake  Worsfold,  controlled  the  game 
well  from  1st  five,  getting  Otamatea 
good  territory  through  good  control 
forward and back play. They were able 
to turn this advantage into points.  
 
Next  game:  v  Hikur angi  at  Hiku-
rangi 5 April 12:30pm. 
OWEN STEVENS 
Osteo Therapist
For careful 
adjustments to 
bones and joints 
Treatment for  
humans and their 
pets 
Clinics: 
Kate's Place, Kaiwaka: 
Last Friday of month 
For  bookings:9.00am-5.00pm  
Phone 
09 4312661 
Or phone Owen   
09 4317123  anytime 
Insurance Valuations 
Insurance Valuations completed by our  
Registered Quantity Surveyor. 
Call us today or send an email  
to book an appointment. 
GRANT MOB: 0274 743 856    
OFFICE PH: (09) 431 8018 
EMAIL: GRANT@BROGANBUILDERS.CO.NZ 
Andrew Kenny with 27kg King-
fish caught in Kaipara Harbour 
off the Gravyboat on 23 March 
ALBERTLAND 
MUSEUM 
The  Albertland  and  Districts  Museum  and 
Heritage  Centre-  an  urgent  plea  for  volun-
teers  to  help  man  the  museum  in  Wells-
ford.  The  most  urgent  need  is  for  help  on 
Saturdays.  The  hours  beginning  in  April 
are from 11am to 3pm. Full training will be 
given,  and  no-one  is  expected  to  be  at  the 
museum alone and without another experi-
enced volunteer. If you wish to know more 
about  helping  us  at  the  museum,  please 
contact Jill at jill@earley.co.nz or phone 09
-4238324. 
Winning Touch team, the Spartans, on the finals day held at 
the Sports Complex on 30 March 
OTAMATEA HAWKS 
A minute's silence for James Connelly. 
RANGANUI EARTHMOVERS 
16T Excavator 
Driveways, House Sites, 
(tilt, thumb & ROPS cab) 
Drainage Dams, Section Clearing, 
Transport Trailer 
Tree Work,  Rock Retaining Walls, 
2 x 6 Wheeler Tip Trucks 
Quarry Work, 
Suppliers of All Grades of Metal & Topsoil 
Basically Anything That a Digger Can Do 
If you want a proper job done with an experienced operator ring 
Grant on    A/H 431-2131          Email  ranganui.dev@xtra.co.nz 
                     Mob  021845-246 
design drafting 
service 
Retired builder and manufacturer with over 40 years  
experience in the building industry is offering a design 
drafting service  
for domestic housing, sleepouts and sheds.  
Plans formulated in consultation with clients, with 
working drawings completed and submitted to  
council for processing.  Extensive practical experience,  
able to identify & resolve problems. 
Please ring Mike Lean on 
09 431 2260  
          or 
021 431 196 
Water Tank Cleaning 
" 
Keep your water safe & clean   
" 
Removal of sediment, silt etc 
" 
Vacuum or full scrub 
" 
Minimal water loss 
Phone Mark (09) 432 0655 or 0274 707607 
Gentle Dental 
Ruakaka 
We love to see you smile 
 
General  & Cosmetic Dentistry 
 
Emergency & ACC Treatment 
 
Denture & Hygienist Services 
 
Senior Citizen Discounts 
 
Free Adolescent Care 
 
Free WINZ Quote 
19 Ruakaka Town Centre 
Dr Sim Sood & Associates 
Ph:  432 8139 
Saturdays 
By 
Arrangement 
Open  
Mon-Fri  
8am-5pm  
Natural Earth Ltd 
 Landscape and Bobcat services 
 : Driveways  :Landscaping  :Retaining Walls 
 : Hole Boring: Land Levelling :Trenching 
 : Decks :Fences :Sections Cleared: Plus much 
more 
Tel   09 4312885 
Mob 02102391280  
For A Fast Friendly  
Service Contact Tim Hicks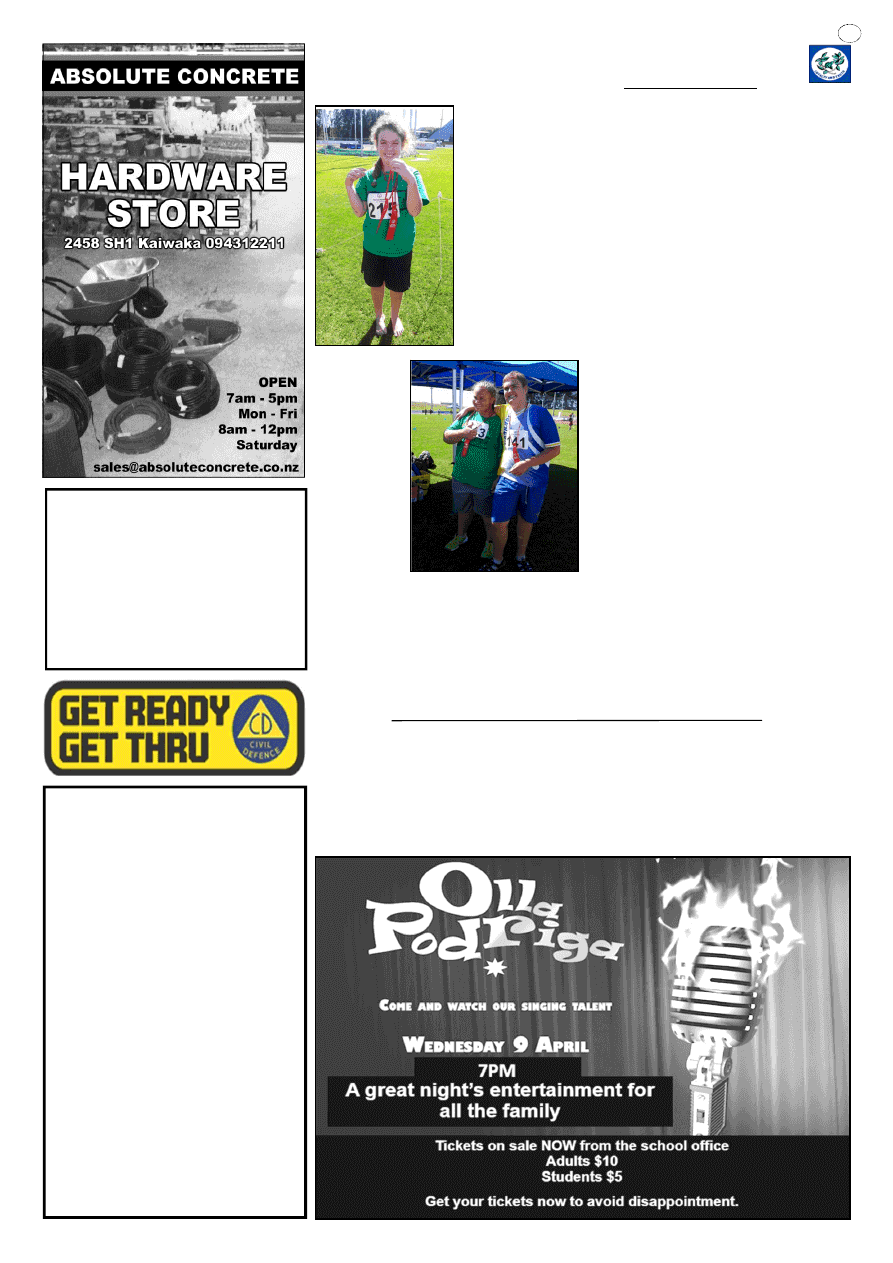 AMBER'S 
Q Cafe &  
Restaurant 
All day breakfast, 8am - 5.30pm.     
 Home made Pizza, take away or eat in from  
8am to late. 
 Light lunches, 11.am - 5.30pm, 
Dinner Menu at 5.30pm to late 
 Toasted Sandwiches and Sandwiches made  
to order. All day, Pies, Chowder & Soups 
 Milkshakes, Kiwi Ice cream, Slushie Fruit drink, 
Tea, Coffee 
 Closed Mondays.....except Observed Holidays 
 Sunday to Thursday: 8am - 8pm 
 Friday: 8am - 8.30pm, Saturdays 8am- 9pm 
4315226 
Trevor & Amber 
41 Moir Street, Shop 5-6  
Mangawhai Village 
Next to Carters Building Supplies 
LEABOURNS 
Passenger Service 
Car & Van Hire 
Bus & Coach Charters 
Airport Transfers 
Monthly Shopper Bus
Phone (09) 4237416 
11
OTAMATEA HIGH SCHOOL 
It's a BIG DEAL for Otamatea High School 
It's a BIG DEAL for our community 
Otamatea High School Walk for Life 
Friday 4
th
 April 5pm – Saturday 5
th
 April 5pm.  
Maungaturoto Country Club
Please bring your own snacks and water along with you and a few dollars to donate to 
The Cancer Society. Please contact Nikki Donaldson at Otamatea High School  
for further details 09 4318230. 
Special  Olympics  Athletics  -  North 
Harbour  Stadium  Another   year   of 
Special 
Olym-
pics  has  com-
menced  with  our 
team 
attending 
Athletics 
at 
North 
Harbour 
Stadium. 
They 
had  a  fantastic 
day 
competing 
against  the  other 
schools. 
We  left  OTA 
with cloudy skies 
and  arrived  in 
muggy  heat  in 
Auckland. 
The 
day 
consisted  of 
long  jump, 
running  rac-
es,  walking 
races,  jave-
lin  throwing 
along 
with 
other 
fun 
sports.  Plac-
ings  ranged 
in  different 
events  from 
1
st
  place  to 
3
rd
 place. Well done students! 
The  students  showed  great  team  work 
and  made  it  a  pleasurable  day  for  all. 
~ Ladene Hunter 
The  Northland  Relay  for  Life  was 
introduced  to  Otamatea  High  School  5 
years  ago  by  Mr  and  Mrs  Perry.  The 
staff (OTA Strollers) have attended and 
celebrated the event each year. 
Visit 
http://www.relay.org.nz/
 to  
learn about the Relay for Life event. 
It  was  at  an  assembly  on  a  Monday 
morning early in 2012 that the Prefects 
asked the students in the hall to stand if 
they  had  been  affected  in  any  way  by 
cancer.    In  silence  more  than  ¾  of  our 
young  students  stood.    OTA  Kids  was 
born. 
Each  year  our  Year  13  students  (OTA 
Kids)  and  staff  (OTA  Strollers)  join 
hundreds  of  people  at  Relay  for  Life 
Northland. 
This  year,  thanks  to  Cyclone  Luci's 
terrible weather OTA Kids were unable 
to  attend  Relay  for  Life,  Northland. 
Not to be beaten we will be walking for 
24 hours around the field at the Maun-
gaturoto  Country  Club  and  we  want 
you  to  join  us  for  Otamatea  High 
School's Walk for Life. 
Come  and  walk  the  field,  remember 
those  lost  to  cancer,  celebrate  those 
who  are  fighting  cancer  and  celebrate 
those who have beaten cancer. 
We  encourage  you  all  to  pop  down  to 
the  club  at  any time  throughout  the  24 
hours. Walk for as long as you like.  
The  highlight  of  the  24  hours  will  be 
the  candle  bag  walk  (held  at  8pm) 
where  we  would  love  you to  join  us.  It 
really is an amazing experience. 
Purchase  a  candle  bag  from  Otamatea 
High  School,  Maungaturoto  Primary 
School  or  Maungaturoto  Pharmacy  for 
$5 (funds go to the Cancer Society).   
Decorate  your  candle  bag  in  memory 
of  loved  one/s.    Bring  it  along  to  the 
Country  Club  to  be  placed  around  the 
walking  track  with  a  lit  tealight  candle 
(supplied  on  the  night)  and  walk  the 
track with us.  
Great sportsmanship from Te 
Whakakotahitanga Jenkins, on 
left 
Maddy Bond showing her 
ribbons for first place 50m 
run, first place 50m walk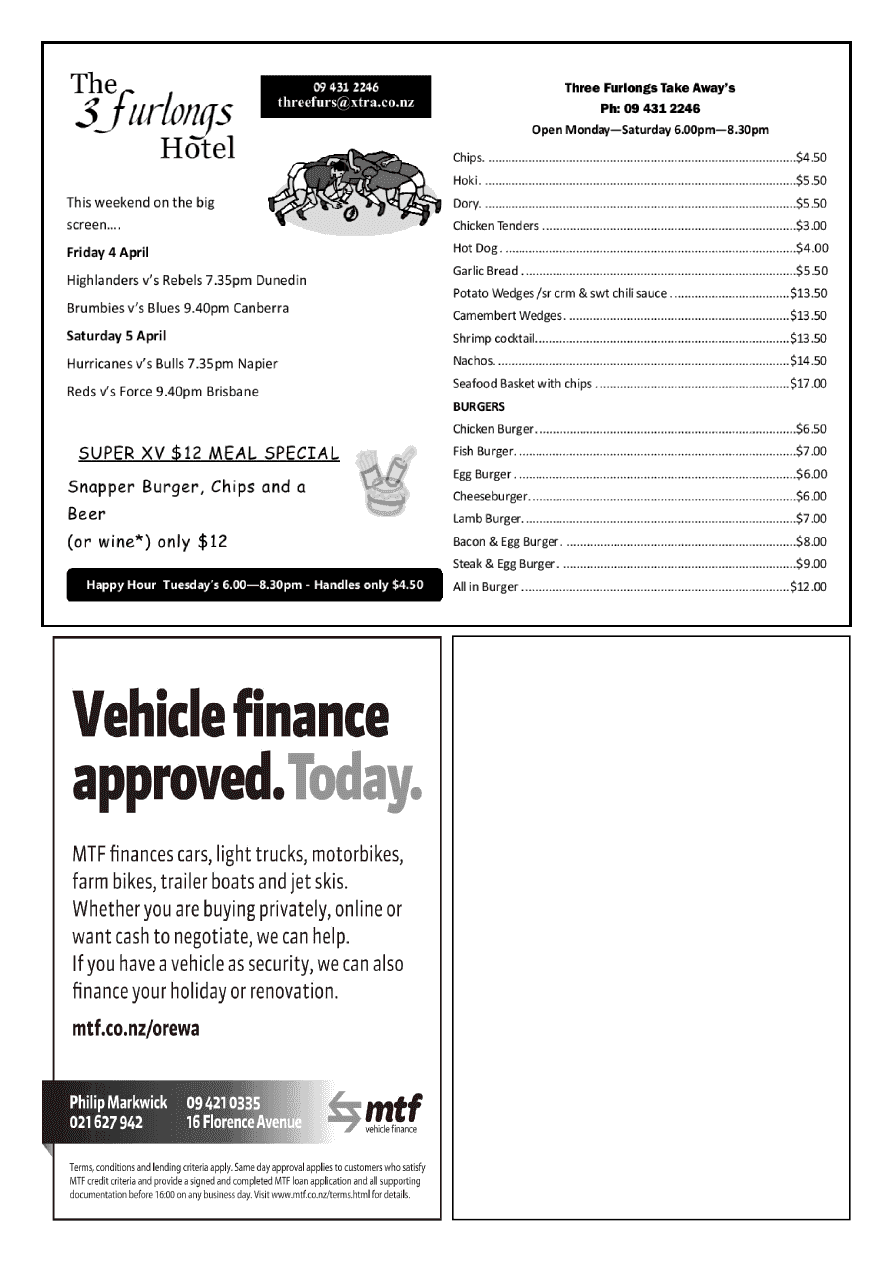 KAIPARA  FLOORING  CO 
32 HURNDALL ST MAUNGATUROTO 
Phone 09 9469886  
or 021 515 415 
Carpet, vinyl, laminate wood look  
  flooring, vinyl planking, sanding  
& polyurethane service. 
Carpet Short Ends from $79pm + GST 
Vinyl D.I.Y. peel n stick tiles $10sq mtr + GST. 
Free measure & quote.   
Mobile Service 
Phone Christine or Howard anytime 
Open Saturdays by arrangement.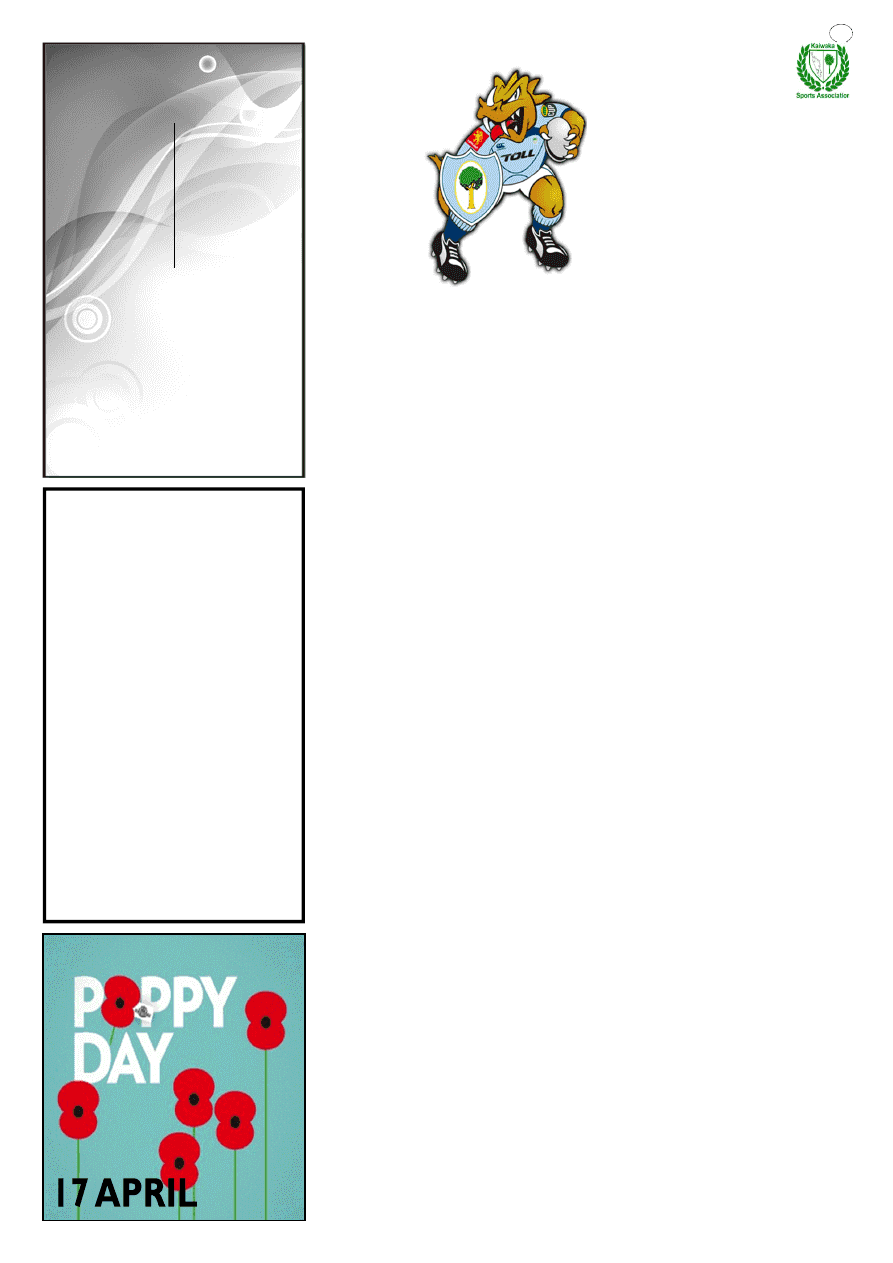 U Beauty 
Please call Nicole for bookings 
09 393 6336 or 022 0639450 
Qualified Beautician 
4 Kaiwaka – Mangawhai Rd 
Kaiwaka 
Eyebrow Wax  $10 
Eyebrow Tint  $10 
Eyelash Tint 
$20 
Lip Wax 
$10 
Chin Wax 
$10 
Bikini Wax 
$20 
Brazilian 
$50 
½ Leg Wax 
$30 
Full Leg Wax  $45 
Full Pedicure 
$60 
Foot Tidy  
$35 
Manicure 
$45 
Nail Tidy 
$25 
Chest Wax 
$30 
Back Wax 
$40 
Nostrils 
$10 
Ears 
$10 
Underarm Wax  
$20 
Extended Bikini Wax 
$30 
15 min Back  Massage 
$25 
30 min Back Massage 
$50 
 13 
KAIWAKA SPORTS ASSOCIATION 
 Yang Style Tai Chi 
Classes For Beginner 
And Practitioners  
At The 
Kaiwaka War Memorial Hall 
Every Tuesday  
Starting at 10.30 am 
Come Along And Have Some 
Fun While Improving Your 
Balance Health And Fitness
For More Information
Contact Andrew Young 
09 4223424 
taichi@pl.net
Taniwha 
Shield 
We  are  pleased 
to 
announce 
that the  
Kaiwaka  Sports 
Association will 
host the prestig-
ious  Northland 
Taniwha  Shield 
rugby  
tournament. 
The 
Taniwha 
Shield  is  a  5 
day  long  tournament  for  Years  7  &  8 
representative  rugby  teams  from  all 
over  Northland  and  will  be  held  over 
the  last  week  of  the  July  school  holi-
days.  
This  will  be  great  for  our  town  as  it 
will bring in a huge influx of visitors – 
players,  management,  parents  and  sup-
porters.  
This will be a very big job to organise! 
If  you  are  keen  to  help  me  out,  please 
let me know (contact details below). 
Fitness Centre 
The  Kaiwaka  Fitness  Centre  Annual 
General  Meeting  will  he  held  on  Mon-
day  7
th
  April  at  11am  in  the  Fitness 
Centre. All welcome. 
Soccer 
Our  Kaipara  Knights  Soccer  Club  is 
asking  all  people  interested  in  playing 
soccer  this  season  to  make  urgent  con-
tact. Teams must be registered by East-
er  to  be  included  in  the  ROSA  draw. 
The  soccer  season  runs  from  Saturday 
10
th
 May until early September. Games 
are  played  on  Saturdays  at  Port  Albert 
Domain, usually at the same time  each 
week.  The  Kaipara  Knights  Soccer 
Club  involves  players  from  Matakohe 
to  Kaiwaka,  from  about  4  years  old  to 
adults,  and  over  17's  play  open  grade. 
All  teams  are  mixed  gender.  Fees  start 
from $40 per player and include a fam-
ily  concession.  Please  phone  secretary 
Lindell  Ferguson  431  2542  (evenings) 
or  email  blferguson@vodafone.co.nz 
or  phone  president  Mark  Flannagan 
431  8900  (evenings)  or  email  mflan-
nagan@xtra.co.nz.  
Rippa Rugby 
An  inter-schools  Rippa  Rugby  tourna-
ment  will  be  held  at  our  Complex  on 
Wednesday 9
th
 April from 10am. Com-
peting schools are Kaiwaka, Wellsford, 
Maungaturoto  and  Mangawhai  Beach. 
Spectators welcome. 
Gymnastics 
Thinking  of  gymnastics  as  an  after 
school activity for term two? Please go 
to our website  
www.kaiwakasports.co.nz  to  download 
a registration form and then  email  it to 
gymnasticsotamatea@gmail.com 
as 
soon as possible, as over the next week 
classes  will  be  rearranged  to  try  to  ac-
commodate  the  waiting  list  for  term 
two. Any enquiries to Stephanie Brown 
022 362 4998.  
Rugby – junior 
The  junior  rugby  season  gets 
underway  with  an  Opening 
Day  at  our  Complex  on  Saturday  5
th
April,  from  9am.  Teams  competing 
include  the  U7's,  U9's  and  U11's  from 
Tomarata,  Eastern  United,  Wellsford, 
Paparoa  and  Maungaturoto.  Come 
along to support our little fellas! 
Rugby – senior 
The  next  home  game  for  the  Otamatea 
Hawks will be against Old Boys Marist 
on Saturday 19
th
 April at the KSA. Re-
serves kick-off at 12.30pm, Premiers at 
2.15pm.  Hometown  support  appreciat-
ed! 
The  next  Otamatea  Rugby  Club  meet-
ing  will  be  Tuesday  15
th
  April,  7pm  at 
the Sports Complex. 
Badminton 
Our  Badminton  Club  will  hold  their 
AGM  on  Tuesday  1
st
  April,  at  8pm  in 
the gymnasium. All welcome. 
Parking 
Lines have now been painted in our car 
park  to  better  indicate  the  No  Parking 
areas.  There  is  no  parking  in  front  of 
the  gate  by  the  swimming  pool  (this  is 
the access way for ambulances) and no 
parking  on  the  concreted  area  between 
the  gymnasium  and  the  noticeboard. 
Thank you. 
Sports Awards 
Our annual Sports Awards will be held 
on Monday 14
th
 April and this year will 
be  particularly  special  as  it  is  the  30
th
anniversary of the awards. The evening 
which  will  be  emceed  by  More  FM's 
John  Markby  will  include  profiles  of 
the 28 nominees, a sports trivia quiz, a 
commemorative  cake,  a  slide  show 
presentation  of  some  of  our  past  win-
ners,  and  of  course  Mark  and  Pam's 
delicious  dinner!  Tickets  are  $25  per 
adult  and  $10  per  child  (Year  9  and 
under)  and  can  be  purchased  at  Jaques 
Four  Square  or  from  KSA  club  dele-
gates. 
Touch 
After  eight  weeks  of  a  friendly  but 
competitive  Touch  Module,  the  finals 
were  held  on  Sunday  -  congratulations 
to the winning teams: 
  1
st
  $300  The Spartans 
  2
nd
 $200  Illuminati 
  3
rd
 $100  Butterfingers 
Thank  you  to  photographers  Teresa 
Brown  and  Chantelle  Peeni,  to  Kauri 
Springs  for  their  donation  of  bottled 
water,  to  finals  referees  Mike,  Gerrin, 
Rose  and  Hira,  to  Luke  Connelly  for 
providing  the  prizegiving  hangi  and  to 
Holly  Anderson  for  her  help  through-
out the Module. 
Although the Touch Module was origi-
nally  just  going  to  be  a  one-off,  feed-
back  from  all  of  the  eight  teams  is 
greatly  in  favour  of  having  another 
Module  next  summer  –  so  that's  what 
we'll do! 
 
Cheryl Anderson 
4312 051, 021 3462702 
kaiwakasports@gmail.com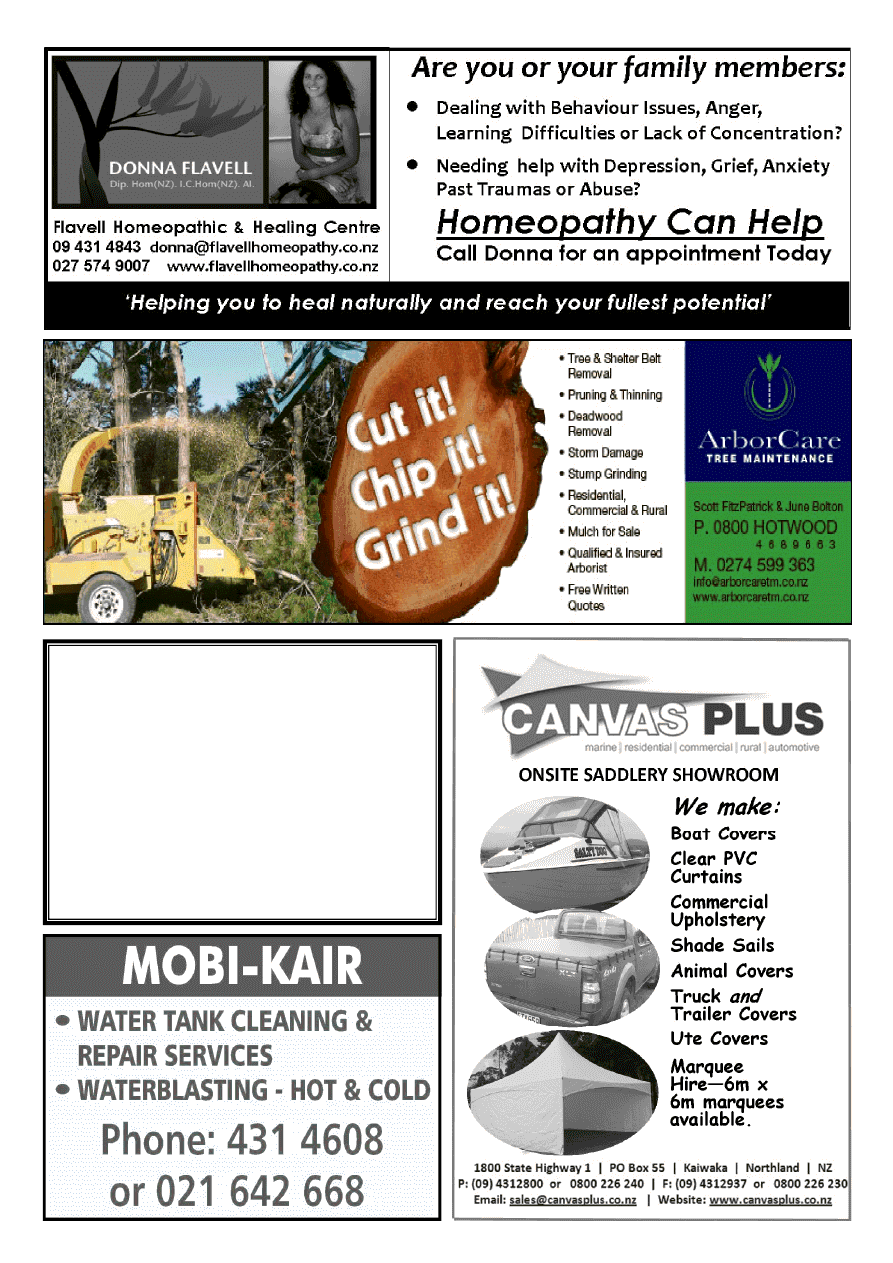 TILING 
Certified Waterproofing 
431 4533 or 021 86 33 33 
George 
MCN Property Solutionz  
Local references available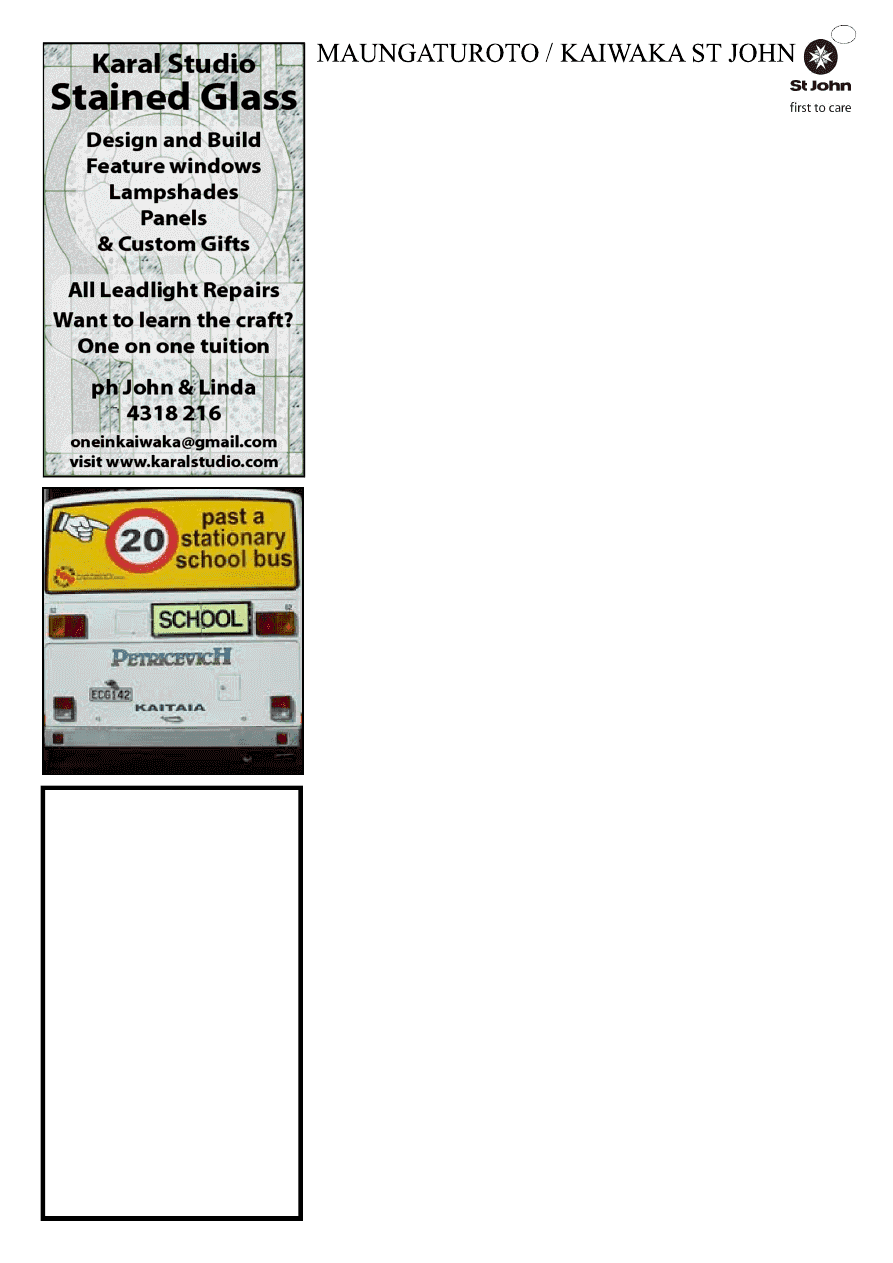 Celena's 
Gifts 
Gifts for all occasions 
Closed Mondays 
1925 State Highway 1 
KAIWAKA  
Ph: 09 4312741
 15 
Operations: 
2013 was a very busy and diverse year 
where  we  attended  over  950  calls  in 
our  area.  We  averaged  around  80  calls 
per  month  with  our  busiest  month  be-
ing  July  with  97  jobs  (we  didn't  quite 
crack  the  100).    Our  medical  callouts 
ranged from cardiac issues, respiratory, 
abdominal,  stroke,  seizures,  allergic 
reactions, back and  neck problems and 
much  more  and  unfortunately  some 
cardiac  arrests.    As  well  as  medical 
callouts,  we  also  attended  trauma  calls 
such  as  motor  vehicle  crashes,  sports, 
farming  and  home injuries.  These  jobs 
always  present  their  own  challenges 
particularly if the patients are trapped.  
We as a team would like to give a huge 
thanks  to  the  local  Maungaturoto  and 
Kaiwaka  Fire  Services,  the  Paparoa 
Rural  Fire  Party  and  the  local  Police 
who often work alongside us.  Without 
the team effort on these calls we would 
not  achieve  the  great  results  that  we 
have. 
Operating an ambulance service can be 
very costly and we would like to thank 
all those that have supported  our fund-
raising efforts.  These included sausag-
es sizzles, Trash and Treasure fundrais-
er,  the  Kaiwaka  Opportunity  Shop  and 
of  course  the  ever  popular  Christmas 
Trees. 
Although we have a paid officer cover-
ing  Monday  to  Friday  during  the  day, 
we  have  a  huge  reliance  on  volunteer 
officers  to  help  cover  the  24/7  roster.  
At  present  we  have  20  Operational 
Volunteers  covering  both  stations, 
many of who have gained their Nation-
al  Diploma  in  Ambulance  Practice 
qualification  over  the  last  year.    Alt-
hough  we  have  this  dedicated  band  of 
volunteers  we  urgently  require  addi-
tional  people  to  come  forward  to  en-
sure we can provide fulltime cover.   
We  cover  a  very  large  area,  from 
Brynderwyns  in  the  north  to  Te  Hana 
in  the  south  and  from  Mangawhai  Vil-
lage in the east to Tinopai in the west. 
 
Some  of  our  Activities  and  Services 
include: 
Recruiting: 
We  are  always  looking  to  recruit  new 
ambulance  officers  and  right  now 
Maungaturoto and Kaiwaka needs you. 
So  if  you  have  a  full  drivers  licence,  a 
clean  Police  record  and  the  ability  to 
give  an  average  of  one  shift  a  week 
(either  day  or  night)  and  have  a  good 
level  of  fitness,  please  phone  Maunga-
turoto  Station  on  09  431  8403  or  the 
Station  Manager  on  021  355734  and 
ask for an information pack.  
If  accepted  you  will  become  part  of  a 
very dedicated, skilled and professional 
team  of  ambulance  officers.    You  will 
be  given  free  training  which  equips 
you 
with 
important 
skills 
and 
knowledge,  gives  you  confidence  and 
could lead to employment with St John 
in the future.  
Area Committee: 
All ambulance stations are  
supported by an Area  
Committee  which  is  a  group  of  people 
from  the  local  community  and  busi-
nesses.  Our Otamatea Area Committee 
is  a  dedicated  group  of  individuals  fo-
cussed  on  looking  at  ways  to  improve 
our  station  and  provide  for  our  volun-
teers.    This year we will be calling for 
Area  Committee  nominations  so  if 
there  is  anybody  out  there  that  would 
like  to  be  part  of  this  team  and  feel 
they  have  something  to  contribute 
phone  the  station  to  find  out  more. 
Meetings  are  held  every  third  Monday 
of  the  month  to  discuss  station  busi-
ness. 
Supporters Scheme: 
Many  of  you  belong  to  the  Otamatea 
Area  Supporter's  Scheme  and  again 
thank  you  for  your  on-going  support. 
The  part  charge  for  an  ambulance  trip 
is  $88.00  and  this  only  goes  a  small 
way  in  meeting  the  actual  running 
costs of an ambulance.  The Supporters 
Scheme is priced at $45.00 for an indi-
vidual and $60.00 for a family living at 
the  same  address.  This  covers  any 
emergency  trips  anywhere  in  NZ.    As 
well  as  helping  cover  ambulance  calls 
any  additional  funds  goes  towards  the 
running of the station and support of its 
staff and other activities.  This includes 
the  upkeep  of  the  accommodation  for 
our  night  shift  volunteers,  volunteer 
training  tools,  study  books,  computers 
and  supporting  officers  that  attend 
training opportunities and seminars. 
For  more  information  on  this  Scheme 
please  phone  Pam  Foster  on  09  431 
8211. 
Caring Caller: 
Would you like to be a St John  
Caring Caller? 
Everyone needs someone to chat to and 
our Caring Caller service provides that 
one on one contact on a daily basis.  If 
you are good at talking to people, have 
some spare time and would like to real-
ly make a difference in someone's life, 
then call us today.  Even if you are able 
to give ten minutes of your time a day, 
you  can  form  a  long  term  friendship 
with someone over the phone. 
Sometimes  as  we  get  older  we  lose 
contact  with  people  whose  company 
we  enjoy.    Making  friends  to  fill  the 
gap  can  be  difficult  and  we  find  we 
become  lonely.    St  John  Caring  Caller 
is  a  free  long  term  friendship  service 
that  puts  you  in  touch  with  someone 
who cares.  
If  you,  or  know  someone  who  would 
benefit  from  regular  telephone  contact 
either as a programme member or Call-
er  and  would  like  more  information 
please  phone  on  0800  780  780  or  con-
tact Len on 09 431 8810. 
 
For any  information  please  feel  free  to 
drop  in  to  the  Station  or  phone  09 
4318403 or 021 355734. 
Singing  
Lessons
Individual sessions 
All styles of music  
All voice types 
Reasonable rates 
Phone  
Maura Flower 
021 164 8318
Willow Bend
HORSE  
HOTEL 
"  
Total Horse Care 
" 
Agistment 
" 
Riding Lessons 
" 
Arena Hire (60x40) 
" 
Young Horse Starting 
" 
Re-training/Exercising 
" 
Hoof Trimming 
" 
Problem Solving
Phone Sue 09 431 
2817 or 021 623 776 
Or email sue.gray@xtra.co.nz 
HODGETTS
CONTRACTING
Digger Work   

Driveways 

House Sites  

Dams 

Drains, etc
Also available for HIRE 

3 ton Vib Roller 

Heavy Duty Tow 

Waterblaster  

Lazer Level 
Phone Mark 
4312877 
027 447 8554
Coates  
Contracting 

D41 Bulldozer with 6 
way blade, bush rigged 
with winch 

For all tree work 

General bulldozing and  
  stick raking. 

120hp Tractor for 
ground cultivation,  

tip trailer work. 

Fencing
All enquiries phone  
Brett Coates  
094318720  
or  
 021431872
www.mangawhaimassage.co.nz 
Ross Murphy 
PL U M B ER  
Certifying Plumber 
09 431 7510 
021 424 252 
Paparoa Based 
+
New Housing  
+
Renovations  
+
Maintenance
BRICK/BLOCKLAYER 
All aspects of masonry:  
Fireplaces, 
Restoration  
& Remedial Work.
JAMES EAGLETON 
Tel. (09) 431 2514  
Mob. 0274 749 232 
jajueagles@yahoo.com.au 
210A Pukenui Road, RD2 Kaiwaka 0573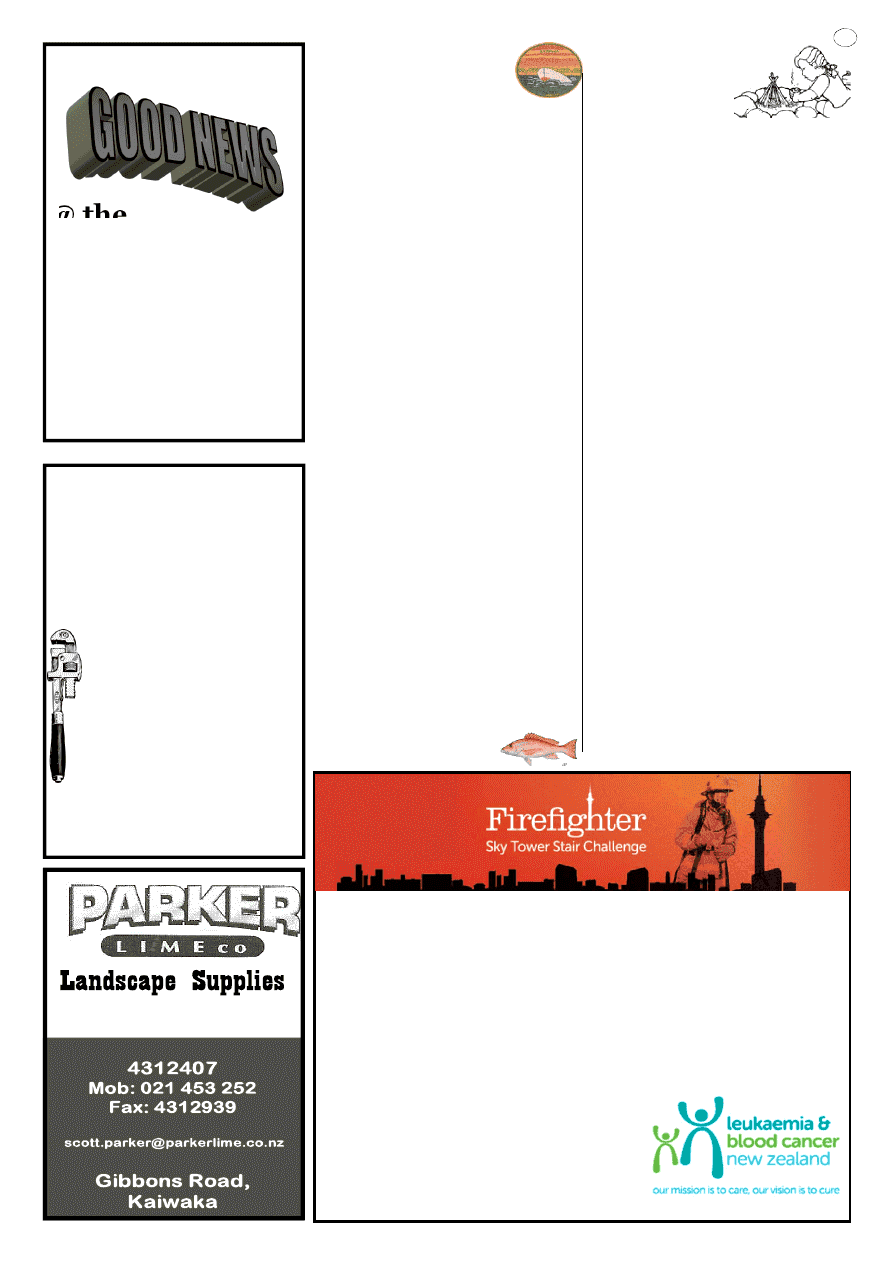 THERE'S 
 
 
 
 
@ the  
Kaiwaka Family 
Church 
Your COMMUNITY CHURCH 
RECEIVE HEALING 
  RECEIVE THE LOVE OF GOD 
 Everyone warmly welcome each                                            
      Sunday 10am. 
Contact: Pastor John Dekker,  
09 4318203 
Bulk Cartage 
BARRY CURTIS  
PLUMBING LTD 
REGISTERED CRAFTSMAN 
PLUMBER 
Phone 4315572      
027 257 9884 
     25 years experience 
  
Friendly reliable service 
All plumbing and maintenance 
Alterations and new housing 
New wood fire installation 
Spouting 
Competitive rates  
 
 
 PROMPT EFFICIENT  SERVICE  
17 
POINT CURTIS 
CRUISING CLUB 
Point Curtis Cruising Club Inc  
East VS West  
Open 3 Day Fishing Competition 
4th, 5th and 6th April 2014 
Start Time: 6am Friday 4th April 2014 
Finish  Time:  5pm  Sunday  6th  April 
2014 
Weigh  In:  Each  day  4pm  to  5pm  at  3 
Furlongs Hotel Kaiwaka 
Maximum  Weigh  In:  2  per  species  per 
angler per day 
Prize Giving: 6pm on Sunday 6th April 
at 3 Furlongs Hotel 
BBQ: To follow prizegiving on Sunday 
6th  April  at  3  Furlongs  Hotel  (please 
bring a plate) 
Ticket  Outlets:  3  Furlongs  Hotel  Kai-
waka 4312246, Jean Mcleish 4312520, 
Wellsford Sports and Leisure 4238873 
Adults: Entry Fee $30 
Species:  Snapper,  Kingfish,  Kahawai, 
Tarakihi, Trevally, Gurnard, John Dory, 
Crayfish & Spearfish 
Heaviest  Snapper:  1st  prize  $300,  2nd 
prize $200, 3rd prize $100 
All  Other  Species:  1st,  2nd  &  3rd: 
Fishing Rods & reels, or fishing equip-
ment or clothing or vouchers 
Juniors:  (Aged  under  15):  Entry  Fee 
$10 
Species:  Snapper,  Kingfish,  Kahawai, 
Tarakihi, Trevally, Gurnard, John Dory, 
Crayfish & Eel 
1st,  2nd  &  3rd  prizes:  Fishing  equip-
ment,  clothing  or  vouchers  for  each 
species 
Please  see  tickets  and  posters  for  rules 
and disclaimer 
Next  committee  meeting  Tuesday  1st 
April, 7pm at 3 Furlongs Hotel 
Wayne Leslie, Commodore 
KAIWAKA 
OTAMATEA  
DAY  
CAMP  
We  have  set  the  dates  for  Otamatea 
Day  Camp  2014!!    Mark  those  calen-
dars… Tuesday 22
nd
 April through to 
Thursday  24
th
  April.  For   those  who 
have  not  had  the  whole  Day  Camp  ex-
perience  before  this  is  what  you  have 
been missing out on.   
Otamatea Day Camp is run by the local 
churches  and  has  been  running  for  11 
years  now  and  it  is  3  days  of  being  in 
the great outdoors with about 150 other 
kids and a whole bunch of teen leaders 
and  countless  adults  that  are  needed  to 
run this event.   
You  will  experience…  a  Bible  based 
tent  programme  and  songs,  bush  hut 
building, building a campfire and cook-
ing your sausage and marshmallows on 
it, hiking, watersliding, games and then 
on top of that you get to choose 2 elec-
tives  from  a  list  that  include  archery, 
dam  building,  crafts  of  various  kinds, 
sheep  shearing,  making  flax  canoes, 
fire  arms  safety,  woodcraft,  making 
things  from  cans  and  the  list  goes  on.  
We  provide  buses  to  get  you  there  and 
back  each  day  or  you  can  come  by  car 
out into the back of beyond! 
So  does  this  sound  like  something  you 
would like to be involved in, then keep 
an  eye  out  for  the  registrations  forms 
that  are  out  and  in  your  community. 
Your  school  office  (Kaiwaka,  Matako-
he,  Paparoa,  Maungaturoto  and  the 
Christian  School)  will  have  the  forms 
as  will  Kaiwaka  Post  Office,  Paparoa 
Drapery,  Dreams  and  100%  Fergus 
Electrical  or  you  can  ring  Ruth  Rosser 
(09)4318491  or  Debbie  Blythen  (09)
4316892.  So hope to hear from you in 
the not too distant future.   
SKY TOWER STAIR CHALLENGE 
The Kaiwaka Fire Brigade will be competing in the Sky Tower Stair 
Challenge in May to raise funds for the Leukaemia and Blood Cancers 
Foundation. 
Local fire fighters Mickey Renton, Mike Law and Tim Brown will race 
up the 1,103 stairs in Auckland's Sky Tower wearing 25kg of kit to help 
raise money for this worthy cause. Last year they did it in 22 minutes – 
can they beat that record this time? 
To donate, either to an individual or to the 
team as a whole, please visit 
www.firefightersclimb.org.nz 
Thank you for your support!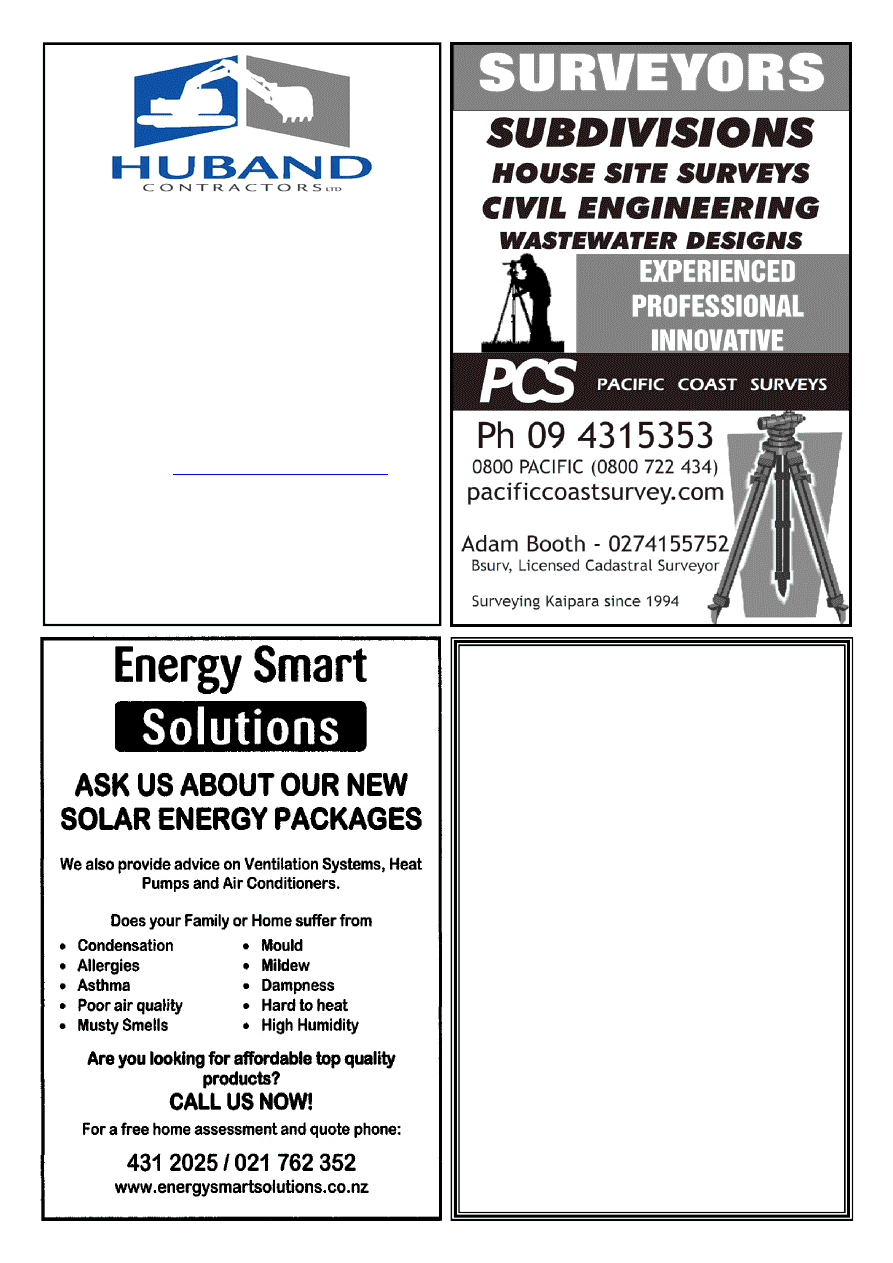 *   R O A D I N G   *   E A R T H W O R K S *    
*   D R A I N A G E   *   S I T E W O R K S   *  
For any further enquiries,  
contact Shaun on: 
Cell: 021 222 0272 
Home: 09 4318339 
Email:   
shaun@huband.co.nz
Shaun Huband:  Registered  
Drainlayer 
g.a.s. 
Mangawhai 
we have now opened a 
GARDEN CENTRE 
for all your gardening needs 
Also a great range of 
STOCKFOOD 
Wide range of 
ORGANICS AND 
 FRESH LOCAL PRODUCE 
All your motoring needs are taken care of by 
our friendly staff check us out... 
44 Moir Street, Mangawhai (09)431 4242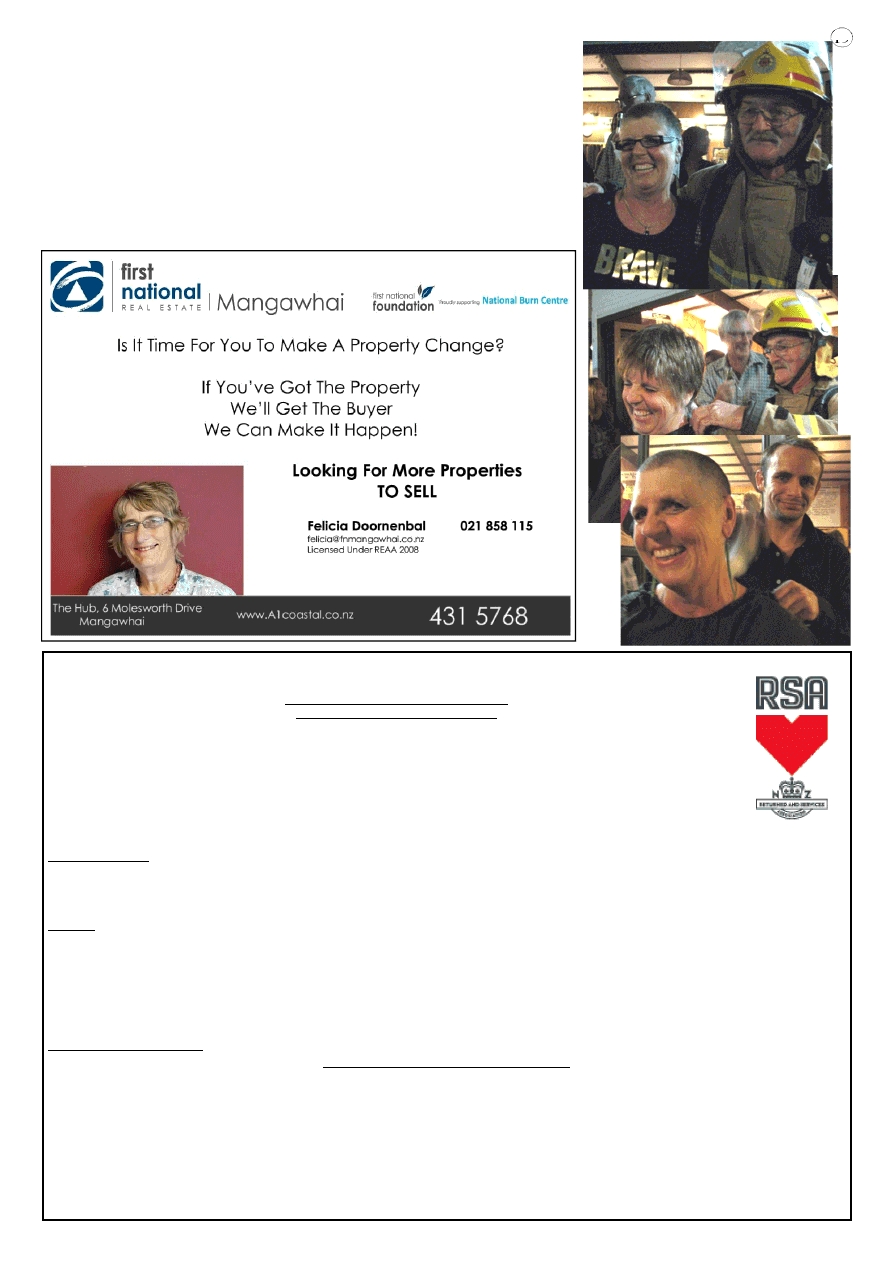 19 
DAYS OF THUNDER 
TO COMMEMORATE 100 YEARS 
SINCE START OF WW1 (1914)  
TO BE HELD IN HAKARU RSA GROUNDS 
733 Settlement Road, Kaiwaka 
ALL WELCOME
SATURDAY       3
rd
 MAY 2014        9.30a.m  to  3.30p.m. 
SUNDAY          4
th
 MAY 2014           9.30a.m  to  3.00p.m
GATE ENTRY $10 PER PERSON
 – 
CHILDREN UNDER 10 FREE 
(All Children must be accompanied by an adult)
FEATURING:  Static  displays,  mock  battle 
(weather permitting)
,  firepower  demonstrations  by  WWII  re-enactment 
societies  (21
st
  Battalion  -  Kiwi  Units  based  ex  Auckland  in  WWII,  82nd  All-American  Airborne,  The  Fall-
schirmjager Regt. 3 – German Paratroopers). 
 
ALSO:  
    * A Static Display by The Mangawhai Cadet Unit 
    * Private Collections of Antique and/or Historical Weapons 
    * Military Memorabilia from Private Collections 
    * WW11 Military Vehicles  * Vintage Cars 
    * Motorbikes & Hotrods born of yesteryear. 
 
EVERYTHING from  -  military handguns to a Howitzer (1960's) 
SOMETHING FOR EVERYONE 
Look for the Kaiwaka & Mangawhai Cub & Scout Troops' 
Sausage Sizzle. 
Also enjoy a Devonshire Tea hosted by the Mangawhai Cadet Unit. 
PARKING AVAILABLE OPPOSITE RSA GROUNDS. 
THE WEEKEND IS A FUNDRAISER FOR OUR RSA WELFARE WORK, BUILDING MAINTENANCE, THE MANGAWHAI 
CADET UNIT AND 
KAIWAKA / MANGAWHAI CUBS & SCOUTS GROUP. 
SHAVE FOR A CURE 
To Everyone Who Supported Me ...and the Shave for a Cure Team 
  
Thank  you to everyone  who supported  me  – financially and with words  of  en-
couragement  – for my head shave last weekend as part of a "Shave for a Cure". 
To  Mike  Law,  a special  thanks  for  being  as  gentle  and  as  careful  as  you  were 
when you shaved my head. 
To  everyone  that  came  along  to  watch,  and  those  who  joined  in  and  had  their 
heads shaved – good on you! 
To Pat Buxton who came up with the original idea of the Kaiwaka Kinas – well 
done for having  the vision that we could do it!! And we did!!! 
Sara McAulay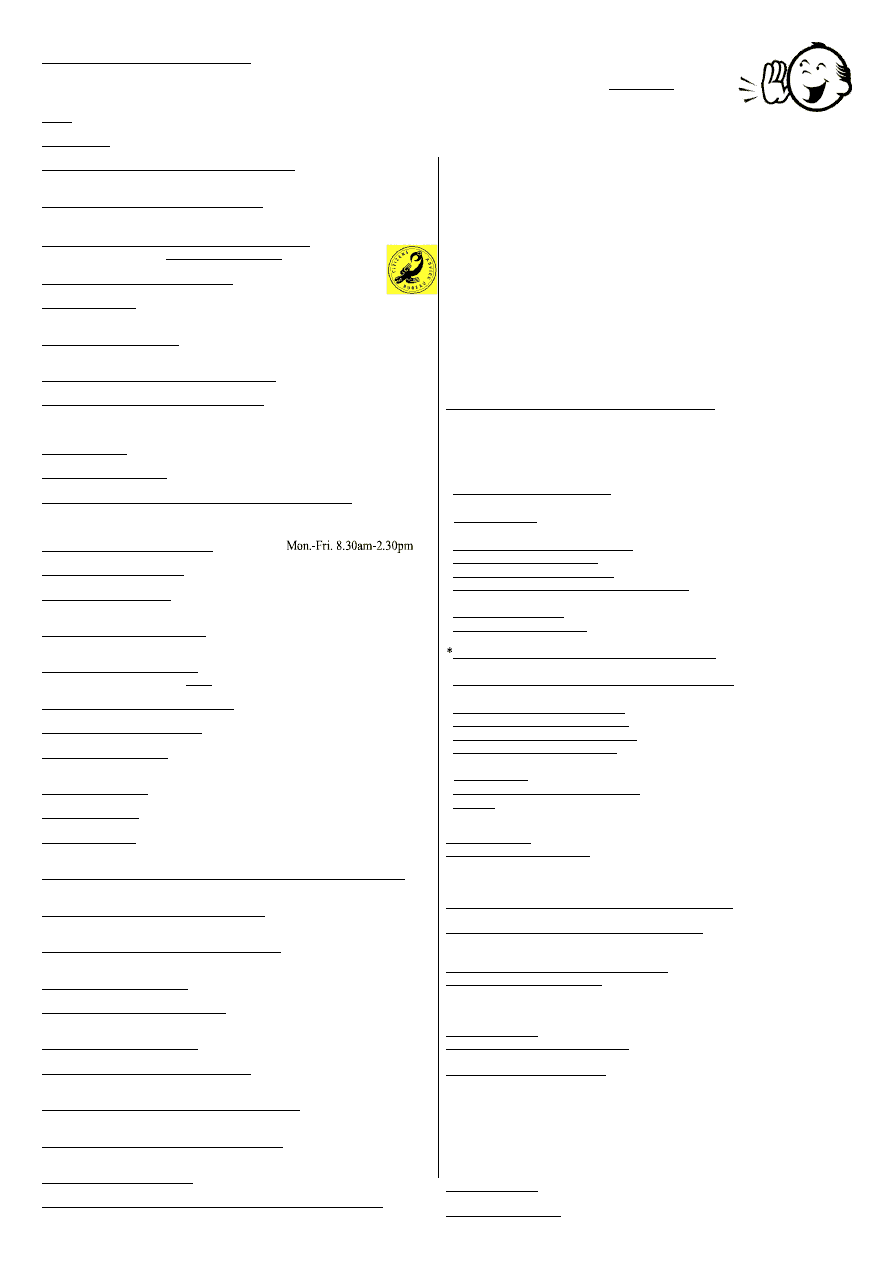 LOCAL SERVICES 
*St.John Ambulance 
111 or Freephone0800 61 0066
*Fire phone 111     *Police phone 111 or 09 4311150 
A A: Meets Wed., 8pm Kaiwaka Ph: 4312228, 4315543, 0800229 6757 
AL ANON: In recess, contact Ph: 4312228 
AGRIQUALITY (MAF) Livestock Consultant 
Phone 09 4311 820 or 021518257  
BUDGETING SERVICE,OTAMATEA:Free confidential advice & 
support - all areas of  personal finance Ph: 09 4318173 or 094318117 
CAB-
Citizens Advice Bureau.Wellsford Ph: 4237333.
0800 367 222 email:
cab.wells@xtra.co.nz
DOG/STOCK /NOISE CONTROL 0800 105 890 
KATE'S PLACE with Govt.Day Agencies/Community Information /
Osteopathy/ IRD / Probation, etc Ph: 4312661 Hours: 9am-3pm. Mon - Fri 
FUNERAL SERVICES: Morris & Morris Ltd, 
Whangarei - Bev Jaques Ph:4312367 or 0800667747 
GRANDPARENTS Raising Grandchildren: Sarah Rogers Ph: 4312194 
HAKARU LANDFILL/Transfer Station:Open everyday except 
Tuesday10am-4pm.Ph4312629 Cost-$55 trailer load up to 1 cubic me-
tre. Ph:4258567 - office 
HOMEOPATH: Donna Flavell Ph: 4314843 
INLAND REVENUE: Last Friday each month, 11-3pm Ph4312661 
KAIPARA DISTRICT COUNCIL www.kaipara.govt.nz:  
Help Desk FREEPHONE 0800 727 059  
Service Centre Mangawhai 4313161 
KAIWAKA KOHANGA REO: Ph:4312620 
KAIWAKA CEMETERY: Ph: 4312045 
KAIWAKA LIBRARY: kaiwaka.library@gmail.com  
Mon. 4-6pm; Wed., Thurs., Fri., Sat.  10am-2pm Ph:4312539 
KAIWAKA PLAYCENTRE: Ph: 4312286. Hastie Lane 
Monday to  Friday  9.00am - 12 noon. 
KAIWAKA POST OFFICE:Ph:4312 626 Fax: 4312287  
Post Code: 0573  for RD2  and  0542 for all Kaiwaka Post Office mail 
KAIWAKA PRIMARY SCHOOL: Ph: 4312309     
KAIWAKA SPORTS ASSN: Ph 4312005; 4312129 gym 
KAIWAKA ST JOHN: Manager Steve Rosser 09 4318403, 021 
2316836 
LINKING HANDS Health Shuttle service Ph Ken Littlejohn 4314121 
NORTHPOWER: Faults Kaiwaka area 0800 104040 
PARENTPORT: Free, practical family support servicePuhoi to Paparoa 
Ph:  Sharon Mehana, Co-ordinator. 4259357 or 027 280 5093 
PERSONAL DEVELOPMENT COACHING, GROUP FACILITATION:  
Sabine Druckler 4312231 
PLUNKET  KAIWAKA/MANGAWHAI: Ph:094318187 or 0276753488 
Kaiwaka Mobile Clinic once a month– appointments necessary;  
Mangawhai (next Domain) 1st & 3rd Thursday & Coffee Morning; 
PLUNKET CAR SEAT CO-ORDINATOR:  Pat Scott Ph 4314530 or 
0272881635 
PLUNKET FREEPHONE -0800 933 922 
PLUNKET -MAUNGATUROTO  Clinic every 2nd & 4thThursday. Ph: 
09 4318187 
PUBLIC HEALTH NURSE: Gloria Reid Ph: 094327634  
RETURNED AND SERVICES ASSN 733 Settlement Rd. Hakaru 
Ph.4312176 Bill Kerr (President) Ph.4314719 
TE KOROWAI AROHA O NGATIWHATUA Ph: 4312675 
(The Cloak of Love of Ngatiwhatua) Support and Maori Consultancy.  
VETERINARY SERVICE MANGAWHAI: 
Ph: 4314535 Mon-Fri 8.00-5.00, Sat 9-12, a/h appt. 
WELLSFORD DOCTORS: Ph: 4238 086 
WOMEN'S WELFARE LEAGUE & Reaching Out For Youth:  
4 Kaiwaka-Mangawhai Rd, M Morgan 4312293
WHAT'S ON
PLEASE ~ do let me know what is on - email 
kaiwakabugle@kaiwaka.co.nz 
Advertising in WHAT'S ON is FREE 
*4Apr~Kaiwaka School-Cure Child Cancer fundraiser, 11am KSA 
*4Apr~Beyond the Edge, 7:30pm Kaiwaka War Memorial Hall 
*4,5,6Apr~East v West fishing competition, ph:4312 520 
*4-5Apr~Walk For Life, 5pm Maungaturoto Country Club 
*5Apr~Junior Rugby Opening Day, 9am, Kaiwaka Sports Complex 
*6Apr~Mary Poppins 2pm Kaiwaka War Memorial Hall 
*7Apr~Kaiwaka Fitness AGM, 11am Fitness Centre 
*9Apr~Rippa Rugby inter-schools, 10am Kaiwaka Sports Complex 
*9Apr~Olla Podriga, 7pm Otamatea High School 
*12Apr~Barn Dance, 7pm Hakaru RSA 
*14Apr~Kaiwaka Sports Awards, 6:30pm Sports Complex 
*16Apr~Giant Pumpkin Competition, 12pm Kaiwaka School 
*16Apr~Firearms Safety workshop, 7pm The Work Camp 
*17Apr~Poppy Day 
*19Apr~Otamatea Hawks v Old Boys Marist, 12:30pm KSC 
*25Apr~War Horse, 7pm Kaiwaka War Memorial Hall 
*3-4May~Days of Thunder, Hakaru RSA 9:30am-3:30pm 
See www.kaiwaka.co.nz for upcoming events. 
 
HOUSEHOLD  RUBBISH  COLLECTION  -  Kaiwaka    Pick  up-
Mondays=Gr een  bags  ar e  picked  up  by  Nor thland  Waste-
queries  to  them  09  4303273,Wednesdays=Blue  bags  and  yellow 
recycling (at Jaques  $3.00 and $1.50)  are picked up by Kaurilands 
09 4392146.  
 
*DIABETES Support Group -for Kaiwaka, Mangawhai, Wellsford 
   10am, 3rd Friday of month Ph:A.Pert 4238242; J.Gardner 4238060 
*DRINK CAN 'tear tabs' - for Starship Hospital- please collect - 
    98 Kaiwaka Mangawhai Rd, leave in mailbox, Ph. 4312625  
*GYMNASTICS OTAMATEA -  Tuesday Ph: Stephanie 022 3624998 
*HAKARU PONY CLUB-Secretary Julie Rynne 09 4314520 
*KAIWAKA BADMINTON -Tuesdays 7.30pm Ph: 4312345 
*KAIWAKA GARDEN & FLORAL Grp:2nd Thursday in month 
   Ph: 4314767 
*KAIWAKA CUBS-Thursdays 5.30-7pm, Hakaru  Ph:Bruce  4312542 
*KAIWAKA SQUASH -Mondays 7pm,  Ph: Barbara Thomas  
   4315905 
KNITTING FOR WHANGAREI HOSPITAL - 2nd Tuesday in  
   month, Apple Basket 10am Ph 4314827 
*MANGAWHAI COMBINED PROBUS CLUB: 2pm,3rd Thursday  
   month in the Senior Citizens Hall Mangawhai. Ph: 4315777 
*NZ GENEALOGY-Wellsford - 1st Thursday in month Ph: 4237033 
*OTAMATEA GREY POWER-09 431 8138 Joan Hoggard  
*PT CURTIS CRUISING CLUB - Jean Ph: 4312 246 
*RSA,Hakaru & Dist.Women- meet 1.30pm 4th Thurs in month  
   Ph: 4312 668  
*TRAMPING- Mondays 9am-2:30pm  Karen Ph: 4312 090 
*WAIPU GENEALOGYGROUP -4th Monday in month Ph: 4312725 
*YOGA- Tuesdays 6:15pm, Friday 8:30am Kaiwaka WM Hall Carla  
   Ph: 4312 408, 021 296 8794 
CHURCHES:
*Gateway Worship Centre-St Mary's Church Nathan Rd off Oneriri Rd, 
Kaiwaka 
Services, 10.30am 1st & 3rd Sunday of every month. Contact: Rev David 
Gage 4312528 or 0212354282 
*Kaiwaka Family Church-Your Community Church Sundays, l0am 
Home Group every Wed evening, Pastor John.Dekker Ph: 4318203 
*Kaiwaka Services.Anglican & Family Service at St Pauls Church  - 1st 
Sun. 9.30am(Anglican),3rd Sun. 9.30am (Family Service).  Contacts: Par-
ish Office 09 4318193, M.Hargreaves 4312295, C.Bygrave 4312057  
*Church of Christ the King, Mangawhai 9.30am every Sunday 
*St.Mary's Catholic Church: Maungaturoto – Griffins Road, Saturday 
evening Vigil Mass 6pm; Mangawhai – Senior Citizens Hall, Sunday Mass 
8:30am; Wellsford – Matheson Road, Sunday Mass 10:30am; Mid-week 
Mass times and all enquires to Fr. Bill Fletcher – phone 423 8170 
*Baptist Church: Sun. 10.30am Mangawhai Snr Cit.Hall.Ph:4312339 
*Cause Way Church Mangawhai – Sundays 10.15am, Mangawhai Com-
munity Recreation Centre, Insley St. Ph: 09 4314782  
www.causewaychurch.org.nz 
 
*St.Pauls Archie Bull Hall HIRE  $20 half day, $40 full day per hire 
 Contact G. Jaques 4312048 
*Kaiwaka War Memorial Hall HlRE - Phone 4312725 or      Email    kai-
waka.hall.bookings@gmail.com 
*Hakaru Community Hall HIRE -Ph.  4312256 or 4312110 
*Te Pounga Marae queries -A.Gage 4312528, 4312527 
*Kaiwaka Sports Association hire/queries- C. Anderson 4312051 
Justice  of  Peace:  B.FJaques; L.Donaldson;  A.F.Hargreaves  -please  phone 
to make sure they are available 
Marriage Celebrants: L.Donaldson; A.F.Hargreaves;  C.Rosseels 
Next Bugle Deadline Friday 11 April 2014