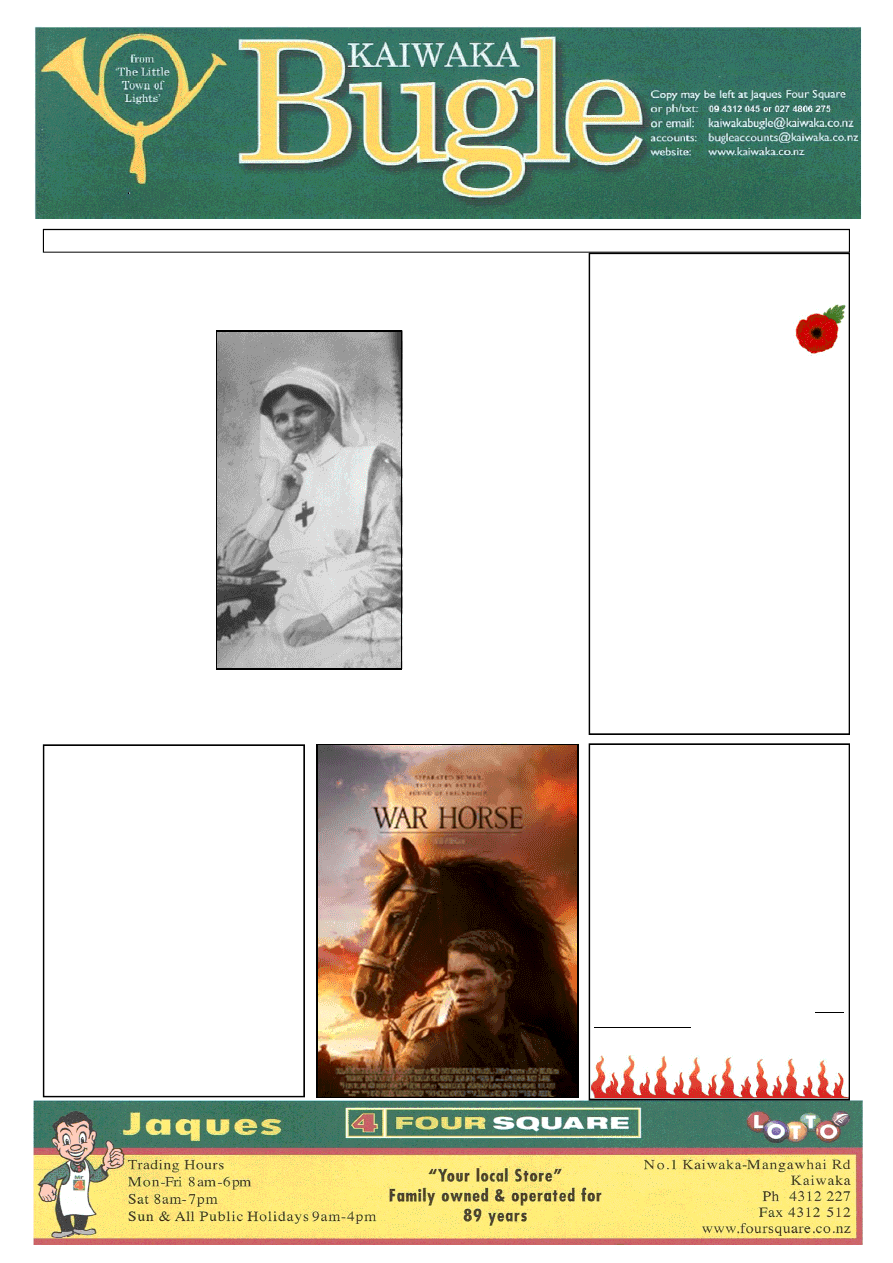 No: 7 
15/4/2014 
HAKARU AND DISTRICTS 
MEMORIAL RSA 
The  Hakaru  RSA  is  looking  for  cop-
ies of photos of soldiers whose names 
are on the Hakaru RSA and Kaiwaka 
War  Memorial  Hall  WW1  Honours 
boards.  
 
If  you  have  relatives  whose  names 
appear  on  these  boards,  we  would 
like to know: 
 Their full names,  
 Where they served, 
 The name of the unit they served 
with. 
Please  contact  either  Sheryl  Botica 
4312 697 or Karen Stewart 4312 240. 
We would like to have these (if possi-
ble)  before  ANZAC  Day  or  before 
our big weekend of:
DAYS OF THUNDER 
RESTRICTED FIRE SEASON 
The  restriction  will  remain  in  force 
until weather conditions and fire dan-
ger  indicators  warrant  it's  uplifting, 
and applies to all land in the Kaipara 
District. 
The lighting of fires in the open air is 
restricted  and  permits  are  required. 
All  fires  in  the  open  air  require  per-
mits with the exception of the follow-
ing:  Commercially  constructed  bar-
becues,  incinerators  (complying  with 
NZS  5262,  5435  and  5442),  cooking 
fires  such  as  umu,  hangi  and  spit 
fires, subject certain conditions 
To  obtain  a  permit  apply  on  line  - 
www.kaipara.govt.nz 
at 
hav-
ingafire.org.nz  or  telephone  Forest 
Protection Services (09) 430 7707 
ANZAC DAY 
SERVICE DETAILS
          HAKARU
Assemble    10:00  am  at  the 
Hakaru Returned Servicemen's Asso-
ciation, Settlement Rd, Kaiwaka 
Parade Fall In – in car park 10:20 am 
March On/Wreath Laying/ 
Last Post and Reveille 10:30 am 
Service in Club Rooms 11:00 am 
Light Luncheon / Bar open 12:00 pm 
ALL WELCOME  
Members  of  the  public  may  wear 
their forbear's medals on the RIGHT 
breast. 
 
MAUNGATUROTO  
A Dawn Service will be held at the 
Lawn Cemetery, View Street, Maun-
gaturoto.  Assemble at 5.45am parade 
at 6.00am 
MATAKOHE 
Paparoa  Returned  Servicemen's  As-
sociation  and  The  Kauri  Museum 
Service  begins  at  10.30am  with  fall-
in  at  the  Matakohe  War  Memorial 
Hall 
WE REMEMBER THEM 
First in  a series  of  articles  on  men  and 
women of World War One... 
Five  members of George and Margaret 
Thornton's family of ten 
served  overseas.  They 
were  among  Kaiwaka's 
early settlers and farmed 
near  the  Kaiwaka  Man-
gawhai  Road;  the  chil-
dren  attended  Kaiwaka 
Primary  School.  Those 
known  to  have  travelled 
overseas were  - Katheri-
na,  known  as  Ina  (b. 
1871), 
Clara 
Jane 
(b.1875), James William 
(b.1879), 
Kenneth 
(b.1884),  and  George 
Alfred  (b.1888).  George 
died of  wounds received 
at,  Etaples,  France,  and 
Clara's  occupation  was 
noted  as  'Nurse'  when 
she  sailed  to  England  in 
1915;  sadly  she  died  in 
London  in  1917.  Ina,  who  married 
Lieutenant  (later  Colonel)  F.  H.  Saun-
ders  in  1890,  served  as  a  VAD 
(Voluntary  Aid  Detachment)  and  was 
matron  of  the  Codford  Military  Hospi-
tal, England. 
From  Anne  Picketts,  Waipu  Muse-
um:  "Mrs  Ina  Saunders 
was awarded the M.B.E. 
on  3rd  June  1918,  be-
coming a Member of the 
Most  Excellent  Order  of 
the  British  Empire,  "for 
services  in  connection 
with 
the 
War" 
as 
"V.A.D.,  New  Zealand 
Expeditionary 
Force".    His  Majesty's 
Birthday  Honours  were 
listed  in  the  Third  Sup-
plement  dated  7  June 
1918,  to  The  London 
Gazette 
of 
4 
June 
1918.    Her  badge  with 
ribbon  is  held  at  the 
Waipu  House  of  Memo-
ries,  having  been  donat-
ed  by  her  nieces,  the 
Spurdle sisters." 
The Saunders returned to New Zealand 
and  went  to  live  at  Okataina.  Ina  died 
in  1934  and  is  buried  in  the  Rotorua 
RSA cemetery.
      Photo: Ina Saunders 
KAIWAKA ANZAC DAY SPECIAL 
7:30PM Kaiwaka War Memorial Hall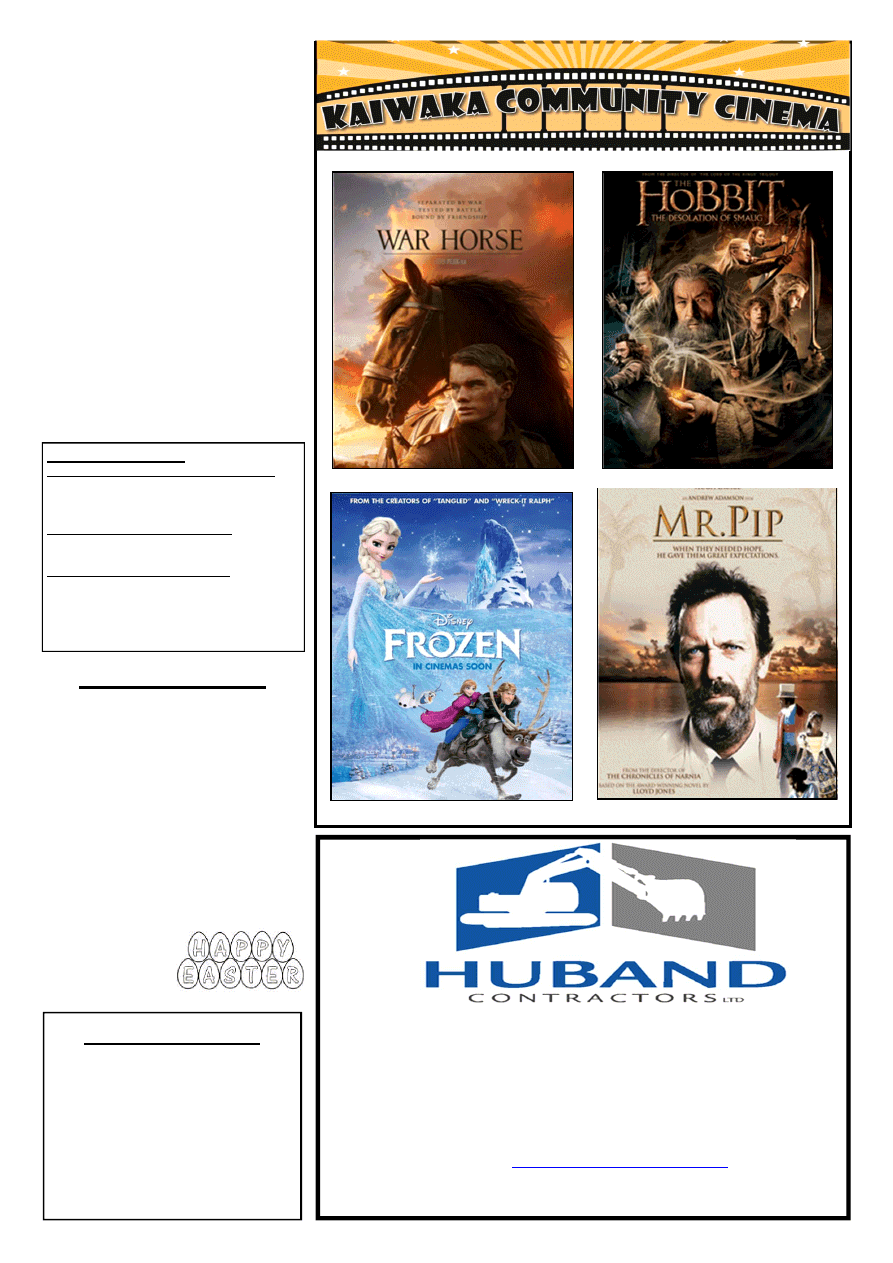 Sunday 4 May 2:00pm     (PG) $5 
Friday 16 May 7:30pm (M) 
ABOUT TOWN 

Two 28m
2
 cabins built  on the Oneriri 
Peninsula  have  been  named  HOME 
magazine's 'Home  of the  Year 2014' - 
$15,000  prize  for  architect  Nat  Chesh-
ire. 

ANZAC  Day  service  -  Kaiwaka  War 
Memorial Hall, 7:30pm. Take a look at 
the  Honours'  Boards  while  you're 
there. 

Support  the  Hawks'  rugby  on  Thurs-
day night at KSA Complex 

Got rubbish to burn? Don't forget the 
restricted  fire  season  is  still  in  place  - 
get a permit before you light your fire. 

Drive  safely  on 
the  roads  over  the 
Easter 
holidays, 
and  don't  eat  too 
much chocolate! 
NEW PRICES: 
Kaiwaka Bugle Advertisements 2014: 
Classified $3; 1/8 page $6; 1/4 page $12; 1/2 
page  $24;  in  special  circumstances  whole 
page adverts are available-cost $100 
bugleaccounts@kaiwaka.co.nz 
Payments  can  be  online,  posted  or  left  at 
Jaques Four Square Store. 
kaiwakabugle@kaiwaka.co.nz    for  que-
ries or copy. 
The  Kaiwaka  Bugle  is  a  community 
newspaper run by volunteers.   
Articles,  etc.  printed  are  not  necessarily  the 
opinion of the Bugle Team  
*   R O A D I N G   *   E A R T H W O R K S   *    
*   D R A I N A G E   *   S I T E W O R K S   *  
For any further enquiries, contact Shaun on: 
Cell: 021 222 0272 
Home: 09 4318339 
Email:   
shaun@huband.co.nz
Shaun Huband:  Registered Drainlayer 
KAIWAKA BUGLE No. 7 
15 April 2014 
CONTENTS 
Page 3: Classifieds & Notices 
Page 5: Fitness, Days of Thunder 
Page 7: Kaiwaka Weather 
Page 9: Kaiwaka Sports Assn 
Page 11: 1914, Pt Curtis 
Page 13: Kaiwaka Scouts 
Page 15: Easter 
Page 17: Kaiwaka Library 
Page 19: Small Poppies 
Bugle 8 will appear 29 April 
Contact for advertising, reports, articles 
or information can be made by 
Email kaiwakabugle@kaiwaka.co.nz 
Ph: 09 4312 045 
Txt:  0274 806 275 
Copy may be left at Jaques' Four 
Square. 
View the Bugle online at: 
www.kaiwaka.co.nz/Bugle 
Kaiwaka Bugle 
Founded May 1978 
Copies available in Kaiwaka at Jaques Four 
Square, Kaiwaka Postal Centre, Shamrock 
Service Station, Celena's Gifts 
Also outlets in Maungaturoto, Mangawhai 
and Paparoa. 
Can be viewed online at www.kaiwaka.co.nz 
Or a copy can be posted to you if you supply 
stamped, self-addressed DLE envelopes. 
Friday
 25 April, 7.30 pm Anzac Day 
Friday 2 May 7:30pm (PG 13) 
At Kaiwaka War Memorial Hall . Adults $10, Chn (under 16) $5, Family Pa ss (2 adults +  3 children) $25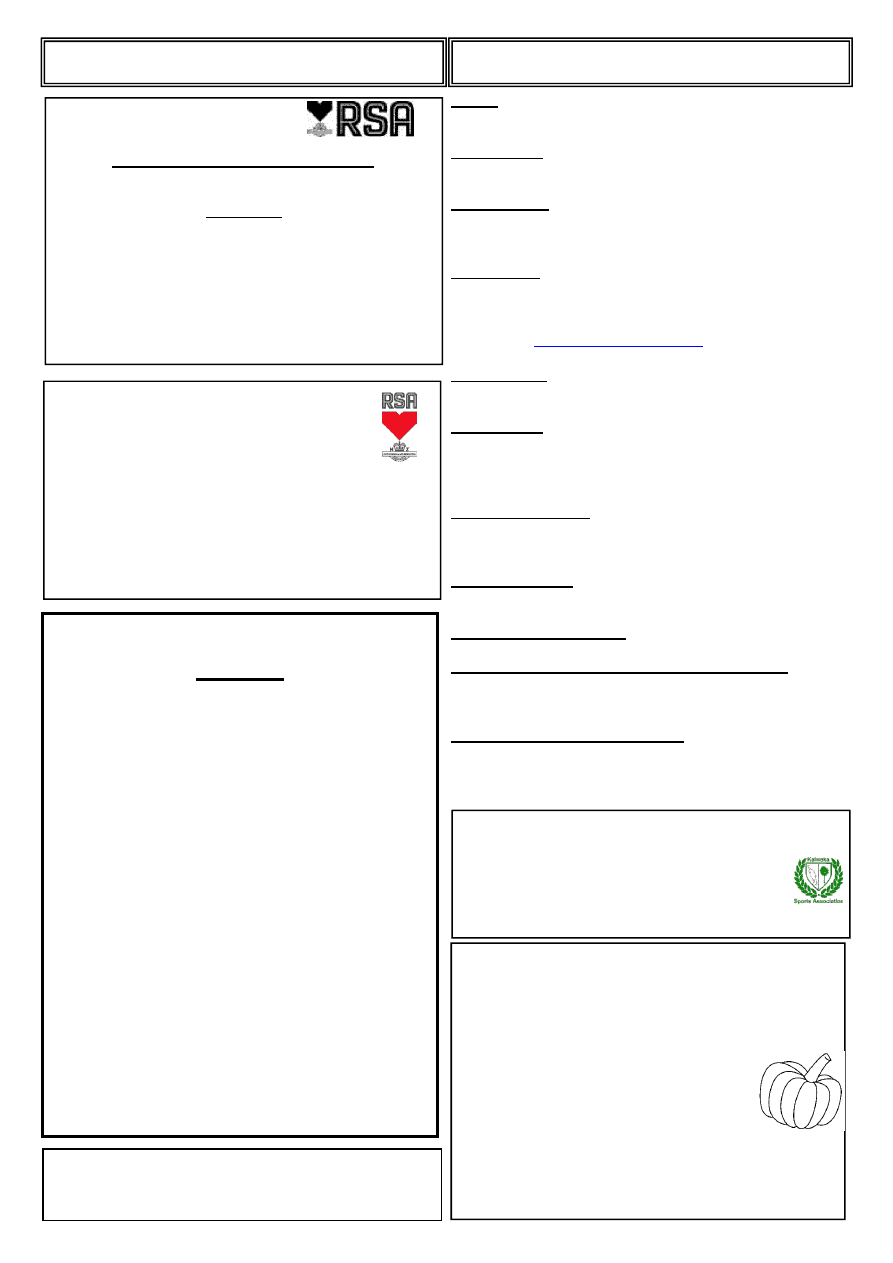 PUBLIC NOTICES 
CLASSIFIED 
SALE NZ pottery sale 19-21 April Kaiwaka War Me-
morial Hall. For details ph Adrian 09 4312 296  
 
FOR  SALE lifestyle block 4.5 acres, 1922 house, 3-
brm,  sleepout,  2-car  carport,  fireplace,  2  tanks,  dish-
washer. $399,000. Ph 020 4032 2748 
FOR  SALE:  Dry  sheep  manure,  $7  per  sack,  great 
for your garden. Please phone Carol Mills 4312 044 or 
Steve  Strong  4314  806.  A  fundraiser  for  Kaiwaka 
Cubs & Scouts. 
FOR SALE J ill Shires Holistic Animal Therapies. 
Herbal Remedies, Bach Flowers, Ointments, Diatoma-
ceous Earth, Bentonite Clay, Cranio Sacral Therapy, 
Skin Conditions, Arthritis, Laminitis, Mud Fever 
Cream etc. 
www.allcreatures.co.nz
 or 09 431 2080   
 
FOR  RENT  Sunny  warm  room  plus  caravan  with 
little garden. $150 pw, incl power & meals. Ph Adrian 
09 4312 296  
FOR RENT: At Oneriri -large farm house, 4 bdrms, 
2 bathrms, 2 lounges, great views, on 425Ha. Kaipara 
access to clean beach front. Rent / Bond negotiable. 
Contact Owners' Representative 02 12 84 66 76  
 
HELP  WANTED  Energetic  unclumsy  young  per-
son  required  to  help  set  up  &  clean  exhibits  for  sale. 
$12.50 per hour. 18 April, pm. Ph Adrian 09 4312 296  
 
BAR  PERSON  required,  please  contact  Barbara 
4312 246 
 
BOARDER WANTED near Kaiwaka. Ph 4312664 
 
CLOTHING ALTERATIONS & REPAIRS: 
Hems,  Zips,  Dressmaking  Phone:  Win  4312027    or 
027 444 8358 Winsome Designs. 
 
FREE  GRAZING  WANTED: Small or large block. 
Can  do  some  fencing  or  water.  Phone  after  6pm 
4312006 
KAIWAKA SQUASH 
Annual General Meeting & Opening Night 
Monday 28 April, 7pm. 
Kaiwaka Sports Complex 
New players welcome  
Enquiries to: Innes Anderson 4312250 
Proverbs 
16:20 
- 
God blesses those who obey Him; 
happy the man (woman/child) who puts their trust in 
the Lord. 
HAKARU
ANNUAL GENERAL MEETING 
25
th
 May 2014 at 1.30pm  
in the Club Rooms 
AGENDA 
Notices of motion 
Apologies 
Obituaries 
Minutes 
Election of officers 
General business 
ONLY FINANCIAL MEMBERS ARE 
  PERMITTED TO ATTEND  
HAKARU AND DISTRICTS  
MEMORIAL RSA 
Is there anyone out there who has any war  
memorabilia in their private collections?  
Would  you  be  willing  and  able  to  bring  these  items 
along  for  display  on  either  one  or  both  days  of  the 
weekend  of  3rd  and  4th  of  May  for  "DAYS  OF 
THUNDER" WW1 commemorations?  
Please contact either Sheryl Botica (4312 697) or  
Karen Stewart (4312 240).  
The 4th Kaiwaka School Annual Giant Pumpkin 
Competition 
The  date  has been CHANGED to Wednesday  16  April  at 
9am,  at  Kaiwaka  School.  Come  along  &  suppor t  the 
Kaiwaka kids  - $1 coin  vote for your favourite  Arty Farty 
dressed-up pumpkin. All welcome, tell family and friends. 
The most coins wins!! 
The entries this year's for prizes are: 
Big Bay-heaviest for trophy 
Arty Farty-dress up and name ($1 vote) 
Ugly Fugly-small or deformed 
Rolly Polly-down-hill roll 
An extra this year: The Scarecrow-Mrs Alice to judge. 
So good luck to all. Please come & support these dedicated 
growers. See you there. 
Remember to bring your gold coin! 
Megan Little Ph 4312 971    
LOST  
Black & Tan Huntaway 
female working dog 
from Otioro Rd/Topuni/
Kaiwaka area. 
Reward offered.  
Ph Geoff  
4312 710 
021 045 0151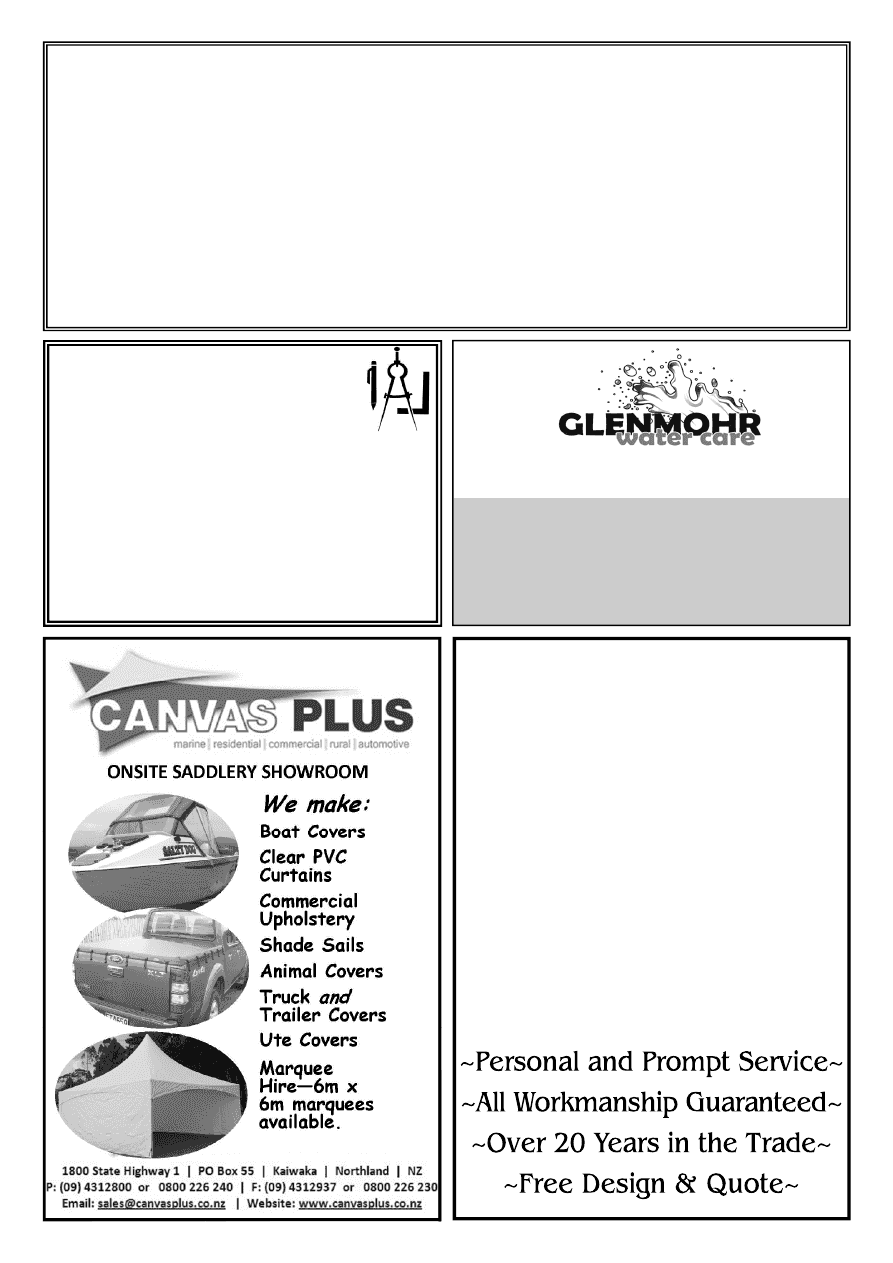 RANGANUI EARTHMOVERS 
16T Excavator   
(tilt, thumb & ROPS cab)   
Transport Trailer 
2 x 6 Wheeler Tip Trucks 
Suppliers of All Grades of Metal & Topsoil 
If you want a proper job done with an experienced operator ring 
Grant on:  A/H  431-2131   
Email  ranganui.dev@xtra.co.nz 
Mob  021845-246 
Driveways, House Sites,  
Drainage Dams, 
Section Clearing,  
Tree Work,  Rock Retaining Walls,  
Quarry Work, 
Basically Anything That a Digger Can Do 
design drafting 
service 
Retired builder and manufacturer with over 40 years  
experience in the building industry is offering a design 
drafting service for domestic housing, sleepouts and 
sheds.  
Plans formulated in consultation with clients, with 
working drawings completed and submitted to  
council for processing.  Extensive practical experience,  
able to identify & resolve problems. 
Please ring Mike Lean on 
09 431 2260  
          or 
021 431 196 
Water Tank Cleaning 
 
Keep your water safe & clean   
 
Removal of sediment, silt etc. 
 
Vacuum or full scrub 
 
Minimal water loss 
Phone Mark (09) 432 0655 or 0274 707607 
PLANNING A NEW 
KITCHEN? 
 CONTACT NOEL McDOWELL 
WELLSFORD 
KITCHENS
Ph/Fax 094312888  
KAIWAKA-Any time 
  QUALITY CUSTOM MADE 
KITCHENS  
BRICK/BLOCKLAYER 
All aspects of masonry:  
Fireplaces, 
Restoration  
& Remedial Work. 
JAMES EAGLETON 
Tel. (09) 431 2514  
Mob. 0274 749 232 
jajueagles@yahoo.com.au 
210A Pukenui Road, RD2 Kaiwaka 0573 
Bulk Cartage 
SALES SERVICE SPARES
FARM BIKE SPECIALIST
Phone 431 2127  
Kaiwaka-Mangawhai Rd 
Kaiwaka 
When you need St.John 
members at your function … 
Get a Community Services 
Form 
….. see Mill
y at the  
Kaiwaka St John  
Op Shop.
Phone 4312650 
MORE MEMBERS REQUIRED FOR 
THE KAIWAKA STATION. 
5 
KAIWAKA  
FITNESS  
CENTRE 
Thank  you  to  those  who  turned  up  for 
the  AGM,  the  most  we  have  had  for  a 
while.  President  remains  the  same-
Jules;  Vice  President  -  Greg  Nathan; 
Secretary/Treasurer  -  Bente  Henry, 
Equipment  and  maintenance    -  Mark 
Ottaway.  
We  will  be  looking  at  getting  a  few 
new  toys  over  the  next  few  weeks. 
Open Day 
Open Day, change of keys and renewal 
of  memberships  will  be  the  13th  May, 
5-7  pm,  wine  and  cheese,  greet  and 
meet as usual.  
Membership Fees  
The  membership  fees  will  stay  the 
same.  Please  don't  abuse  as  they  must 
be  the  cheapest  in  New  Zealand.  Our 
Fitness  Centre  is  a  great  facility  so 
PLEASE  treat  it  with  respect.  Any 
problems you can contact me or Greg. 
Weight Loss  
Just  as  a  side  line  thought,  I  am  asked 
so  many  times  about  weight  loss  and 
getting  rid  of  belly  and  leg  fat.  Please 
always  remember  it's  80%  diet/life 
style  changes  and  20%  exercise,  so 
really  to  move  the  weight  it  is  what 
goes  in the  mouth that  makes the  most 
difference.  Train  hard,  eat  well  and 
clean.                                          ~ Jules 
DAYS OF THUNDER 
TO COMMEMORATE 100 YEARS 
SINCE START OF WW1 (1914)  
TO BE HELD IN HAKARU RSA GROUNDS 
733 Se lement Road. Kaiwaka 
ALL WELCOME
SATURDAY       3
rd
 MAY 2014        9.30a.m  to  3.30p.m. 
SUNDAY          4
th
 MAY 2014           9.30a.m  to  3.00p.m
GATE ENTRY $10 PER PERSON
 – 
CHILDREN UNDER 10 FREE 
(All Children must be accompanied by an adult)
FEATURING:  Sta c  displays,  mock  ba le 
(weather permi ng)
,  firepower 
demonstra ons  by  WWII  re-enactment  socie es  (21
st
  Ba alion  -  Kiwi 
Units based ex Auckland in WWII, 82nd All-American Airborne, The Fall-
schirmjager Regt. 3 – German Paratroopers). 
 
ALSO:   
    *  A Sta c Display by The Mangawhai Cadet Unit 
    *  Private Collec ons of An que and/or Historical Weapons 
    *  Military Memorabilia from Private Collec ons 
    *  WW11 Military Vehicles  * Vintage Cars 
    *  Motorbikes & Hotrods born of yesteryear. 
 
EVERYTHING from  -  military handguns to a Howitzer (1960's) 
SOMETHING FOR EVERYONE 
Look for the Kaiwaka & Mangawhai Cub & Scout Troops' 
Sausage Sizzle. 
Also enjoy a Devonshire Tea hosted by the Mangawhai Cadet Unit. 
ILLONA WHITEHEAD 
1934-2014 
Illona  and  her  family  (husband  John, 
sons  Cliff,  Robert,  Clay,  Geoff,  and 
Tommy, and daughter Karen), came to 
Kaiwaka  from  working  on  Lands  and 
Survey Department farms up and down 
the line. 
John soon became involved in the local 
dog trialling club, for the short time he 
was  here  before  he  passed  away,  and 
Illona was right there too, helping with 
catering and  other admin tasks to  keep 
it  all  moving  along,  resulting  in  more 
than 40 years' service; she was made a 
life  member  of  the  Molesworth  Sheep 
Dog Trial Club, and  was very proud of 
her Life Member badge. 
Her  later  life  was  very  involved  with 
her  16  grandchildren  and  many  great-
grandchildren. 
Picture: Illona at Kaiwaka Library this year.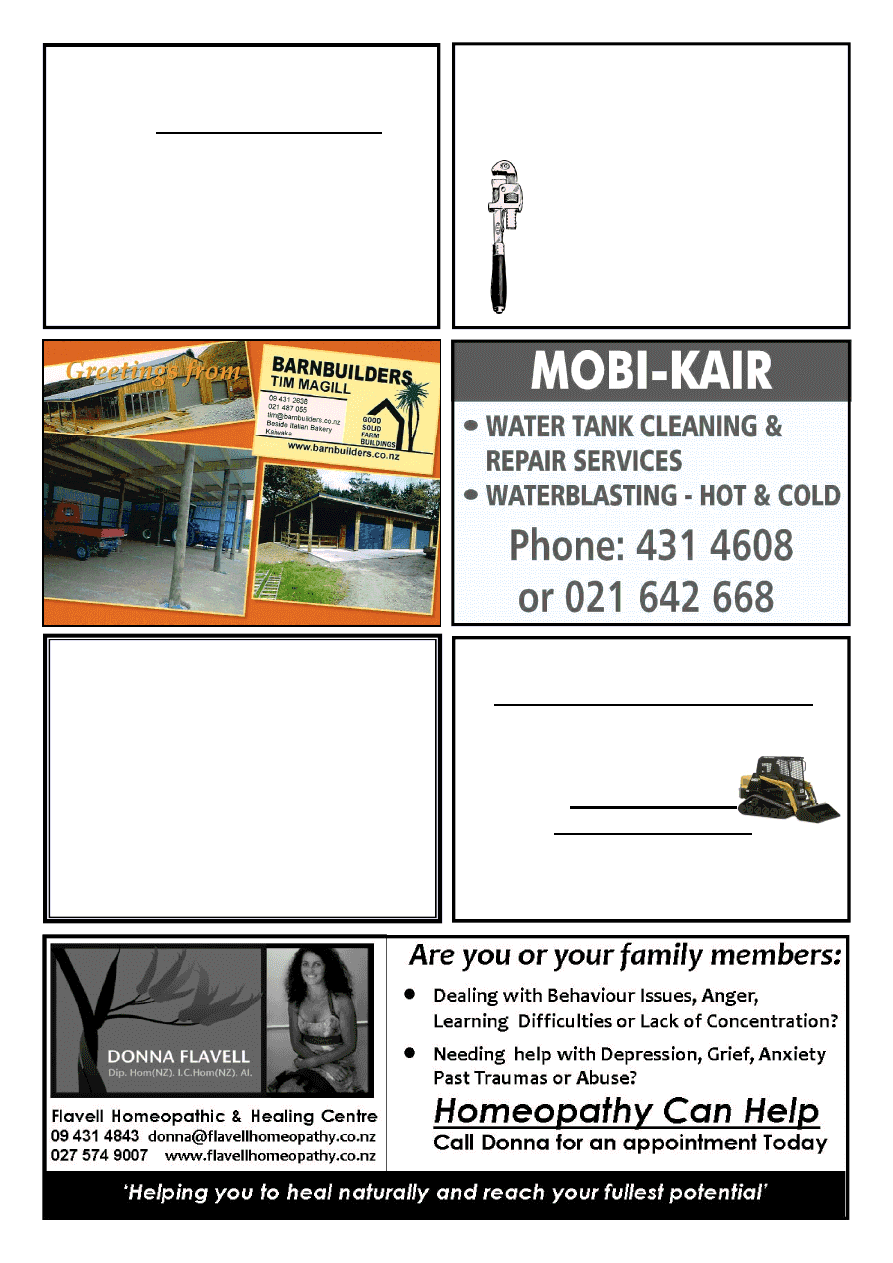 TILING 
Certified Waterproofing 
431 4533 or 021 86 33 33 
George 
MCN Property Solutionz  
Local references available 
Natural Earth Ltd 
Landscape and Bobcat services 
 : Driveways  :Landscaping  :Retaining Walls 
 : Hole Boring: Land Levelling :Trenching 
 : Decks :Fences :Sections Cleared 
 : Plus much more 
Tel 09 4312 885 
Mob 02102391280 
For A Fast Friendly Service  
Contact Tim Hicks 
BARRY CURTIS PLUMBING LTD 
REGISTERED CRAFTSMAN PLUMBER 
Phone 431 5572 
027 257 9884 
25 years' experience 
Friendly reliable service 
All plumbing & maintenance 
Alterations and new housing 
New wood fire installation 
Spouting 
Competitive rates
PROMPT EFFICIENT  SERVICE 
Yang Style Tai Chi Classes  
For Beginner And Practitioners  
At The Kaiwaka War Memorial Hall 
Every Tuesday Starting at 10.30 am 
Come Along And Have Some Fun While Improving 
Your Balance Health And Fitness 
For More Information Contact
Andrew Young 
09 4223424   
taichi@pl.net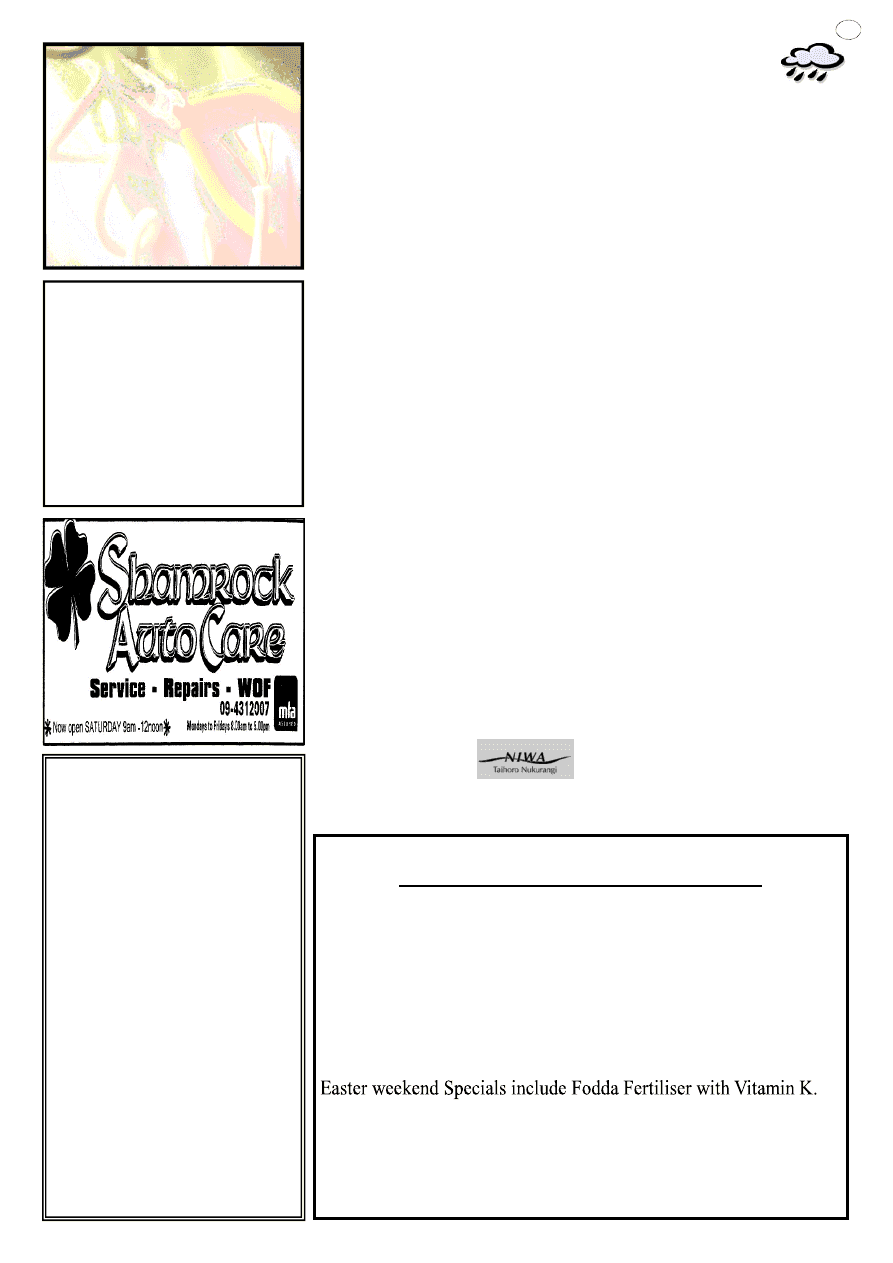 AMBER'S 
Q Cafe &  
Restaurant  
All day breakfast, 8am - 5.30pm.     
Home made Pizza, take away or eat in from 
8am to late. 
 Light lunches, 11.am - 5.30pm, 
Dinner Menu at 5.30pm to late 
 Toasted Sandwiches and Sandwiches made 
to order. All day, Pies, Chowder & Soups 
 Milkshakes, Kiwi Ice cream, Slushie Fruit 
drink, Tea, Coffee 
 Closed Mondays.....except Observed Holidays 
 Sunday to Thursday: 8am - 8pm 
 Friday: 8am - 8.30pm, Saturdays 8am- 9pm 
4315226 
Trevor & Amber 
41 Moir Street, Shop 5-6  
Mangawhai Village 
Next to Carters Building Supplies 
 LEABOURNS 
Passenger Service 
Car & Van Hire 
Bus & Coach Charters 
Airport Transfers 
 Monthly Shopper Bus 
Phone (09) 4237416 
Paul Greig Electrical Ltd 
Residential • Farm 
 • Commercial 
Paul Greig 
Registered Electrician 
  Ph: 431 2223  
Mob:021 230 2717 
Reliable & Professional Quality 
Service 
Based in Kaiwaka 
7
Welcome  to  April.  Yes,  I  realise  it  is 
already  half  gone  now,  however  I 
could not have the report in last time as 
we  still  had  1  day  in  March  to  go.    I 
could see we were not going to get any 
rain but that is not how it works.   
March  this  year  started  off  cold  and 
showery  and  got  windier  as  the  days 
went  on.   Then  we  got  hot,  humid  and 
sunny  with  moderate    easterlies.  Then 
cyclone  Lusi  paid  us  a  visit,  of  course 
we  got  the  wind  and  not  a  lot  of  rain. 
In  fact  some  people  never  got  any.    It 
seems  we  always  have  to  get  the  wind 
and  it  did  hang  around  for  a  few 
days.    Out  of  that  lot  we  got  at  our 
house 45mm.  
March  did  straighten  itself  towards  the 
end with some lovely sunny days and a 
lot  of  calm.    The  temperatures  are 
dropping  and  it  is  a  lot  cooler  in  the 
mornings now.  
All  up  this  March  we  had  50mm  rain 
and  for  2013  we  had  24mm.  We  rec-
orded rain on 5 days of the month.  The 
first  three  months  this  year  we  had 
183mm and for the first 3 months 2013 
we  had  69mm  and  this  year  we  had 
160mm.    Our  driest  March  since  1987 
was  2004  with  8mm  and  the  wettest 
was  2007  with  260mm.    Our  wettest 
first  3  months  of  any  year  was  2011 
with  520mm  and  the  driest  was  2013 
with  69mm.  March  usually  sees  us 
with  a  tropical  storm  or  residues  of  a 
storm during the month of March.  Bo-
la  was  a  bad  one  on  4
th
  March 
1988.  Still no sign  of rain or anything 
of significance.  Please keep those ani-
mals  and  birds  watered  and  consider 
another tank to catch more water when 
we  get  some.    Take  care  out  there.        
~Bev 
 
NIWA:  
March Climate Summary 
March  2014  was  characterised  by 
anomalously  high  pressure  over  much 
of  New  Zealand, and  in  par-
ticular,  over  the  South  Island.   In  spite 
of  the  overall  surface  pressure  regime 
being  abnormally  high,  there  were  pe-
riods of lower pressure, which contrib-
uted to the occurrence of a few moder-
ate-to-heavy  rainfall  events  during  the 
month. 
  
For the most part, with regards to rain-
fall  on  the  North  Island,  March  picked 
up where February ended as abnormal-
ly  dry  conditions  were  experienced  for 
the  start  of  autumn.    Well  below  nor-
mal  rainfall  (less  than  50%  of  March 
normal)  occurred  for a sizeable  part  of 
the North Island between the Manawa-
tu-Wanganui  and  Auckland  regions. 
 
   In  fact, numerous  locations  placed  in 
their top three for driest March on rec-
ord.    This  includes  Hamilton,  which 
experienced its second driest March on 
record with only 6 mm of rain accumu-
lating  for  the  month  (records  go  back 
to  1935).    There  were  patches  of  near 
normal (within 20% of normal) rainfall 
on the North Island including the Wel-
lington  and  eastern  Hawke's  Bay  re-
gions.    Isolated  areas  of  above  rainfall 
(120-149%  of  normal)  or  well  above 
normal  rainfall  (more  than  149%  of 
March  normal)  occurred  on  the  hills 
around  the  Coromandel  Peninsula, 
largely  due  to  the  impacts  of  ex-
tropical cyclone Lusi during the middle 
part of the month.   
 
NIWA Outlook: April-June 2014 
April-June temperatures are likely (35-
40%  chance)  to  be  average  or  below 
average  for  the  north  and  west  of  both 
Islands,  while  near  average  tempera-
tures  are  most  likely  (40-45%)  for  the 
eastern  regions  of  both  islands.  Cold 
snaps  and  frosts  can  be  expected  in 
many  parts  of  the  country  as  autumn 
progresses. 
KAIWAKA WEATHER 
Taonga Gardens 
2395 State Highway 1, Kaiwaka  
Tel 09 4312 732 taongagardens@gmail.com 
Autumn  is  upon  us  and  our  range  of  winter  seeds  and  seed-
lings in now in stock. It's time to prepare for planting and our 
Tree list is available via email or at the shop.  
Be in early to secure your trees for June delivery as we have 
limited numbers 
Many  thanks  for  all  your  support  and  encouragement,  the 
shop is now moving into the 2
nd
 stage.   
Free gift when you spend over $50 or $100 Dollars
Autumn /Winter Trading Hours:  
Thursday to Sunday and  
Public Holidays - 9am - 5pm.  
Open - Flag up to flag down.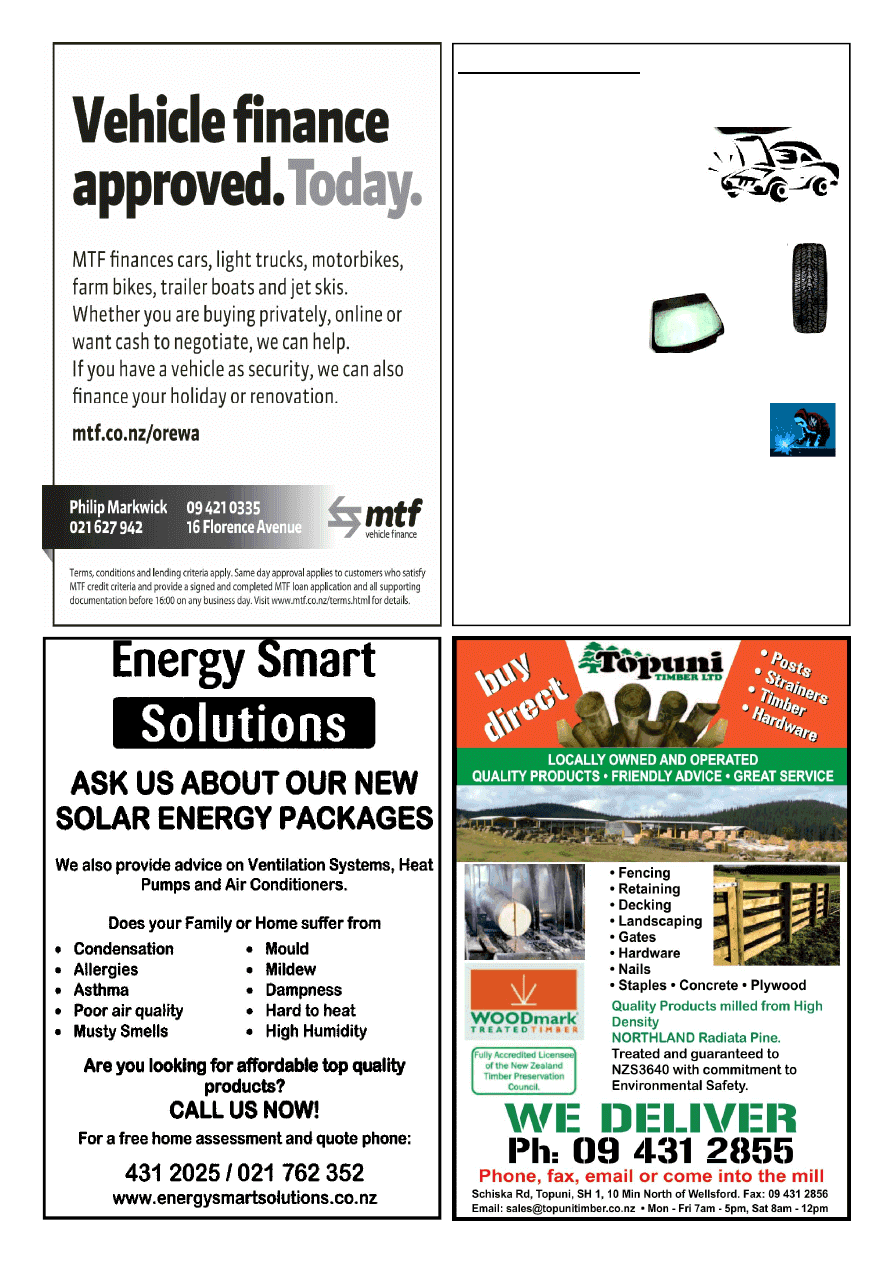 Want it done? 
Bring it to  
Twinkle Tow 'n' Tyre 
*W.O.F. 
*Tyres 
*Windscreen replacement 
*Chip repairs 
*Bulk Oil 
*Batteries 
*Welding 
*Custom built trailers 
*Trailer hire 
Think you'll get a better deal in 
the city? 
Go on, ring us; it won't cost  
anything! 
1837 State Highway 1, Kaiwaka       
Phone 431 2823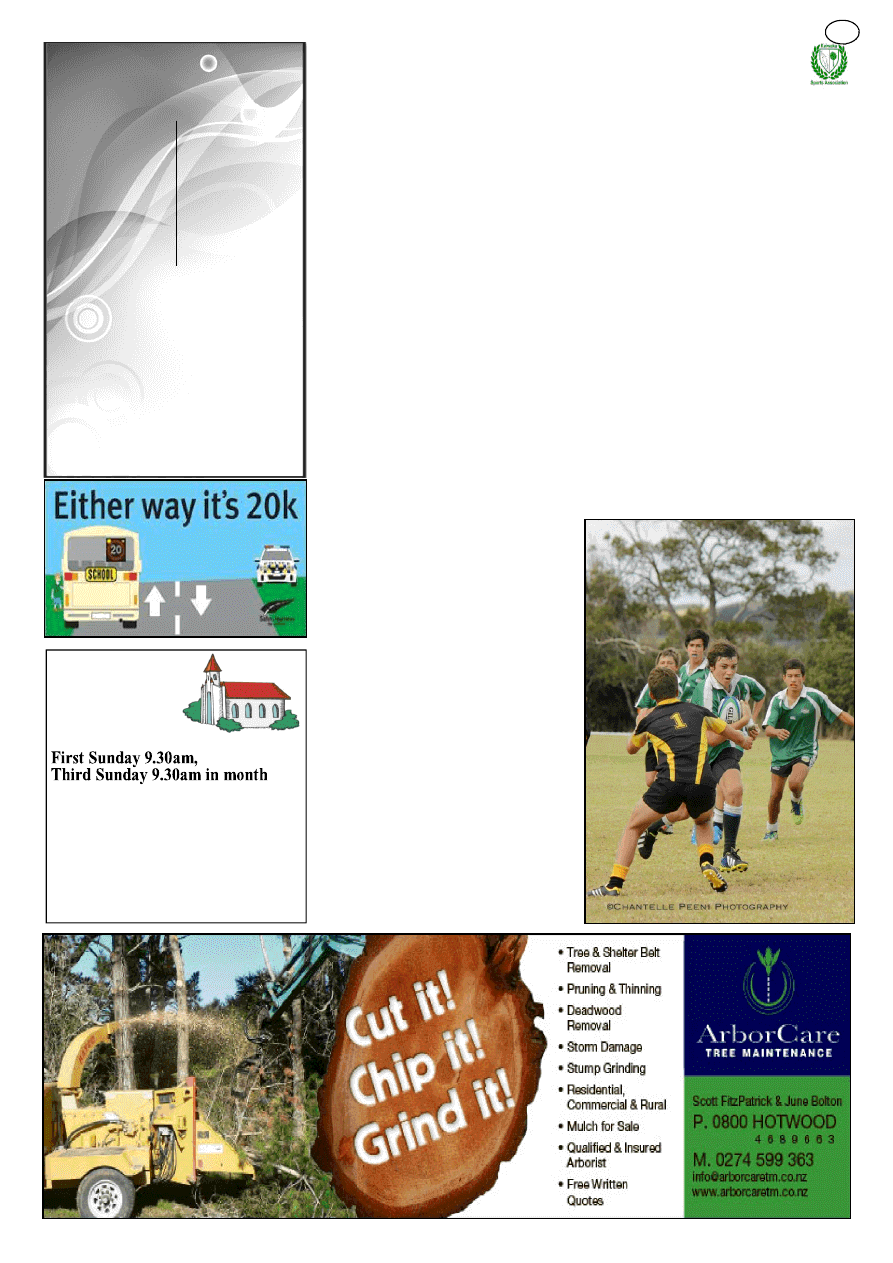 ST PAUL'S 
SUNDAY 
SERVICES
Paparoa Anglican 
St Pauls Church 
Kaiwaka-Mangawhai Rd. 
1st Sun. (Anglican), 3rd Sun. (Family 
Service) 
Contacts:M.Hargreaves 4312295,  
C.Bygrave 4312057  
KAIWAKA SPORTS ASSOCIATION
9
U Beauty 
Please call Nicole for bookings 
09 393 6336 or 022 0639450 
Qualified Beautician 
4 Kaiwaka – Mangawhai Rd 
Kaiwaka 
Underarm Wax  
$20 
Extended Bikini Wax 
$30 
15 min Back  Massage 
$25 
Eyebrow Wax  $10 
Eyebrow Tint  $10 
Eyelash Tint 
$20 
Lip Wax 
$10 
Chin Wax 
$10 
Bikini Wax 
$20 
Brazilian 
$50 
½ Leg Wax 
$30 
Full Leg Wax  $45 
Full Pedicure 
$60 
Foot Tidy  
$35 
Manicure 
$45 
Nail Tidy 
$25 
Chest Wax 
$30 
Back Wax 
$40 
Nostrils 
$10 
Ears 
$10 
Rugby – junior 
The JMB season kicked off with a bang 
with  a  combined  opening  day  at  our 
Sports  Complex.  U7's,  U9's  and  U11's 
from  Tomarata,  Maungaturoto,  Eastern 
United,  Paparoa  and  Wellsford  clubs 
all  played  throughout  the  morning.  A 
huge  crowd  of  supporters  came  along 
to cheer on the boys and girls! 
Rugby – senior 
The  next  home  game  for  the  Otamatea 
Hawks will be against Old Boys Marist 
this Thursday  evening at the KSA. Re-
serves  kick-off  at  6.30pm  then  Prem-
iers at 8pm. Home crowd support much 
appreciated! 
The  next  Otamatea  Rugby  Club  meet-
ing  will  be  Tuesday  15
th
  April,  7pm  at 
the Sports Complex. 
Soccer 
The  first  practices  for  the  Kaipara 
Knights  Soccer  club  are  Wednesday 
16
th
  April,  3pm  at  the  Maungaturoto 
Primary  School  for  10
th
  grade  and 
younger  and  4pm  at  Otamatea  High 
School for 12
th
 grade. 
All people interested in playing for our 
club  this  season  who  have  not  yet  reg-
istered  are  asked  to  make  urgent  con-
tact. Teams must be registered by East-
er  to  be  included  in  the  ROSA  draw. 
The  soccer  season  runs  from  Saturday 
10
th
 May until early September. Games 
are  played  on  Saturdays  at  Port  Albert 
Domain, usually at the same time each 
week.  The  Kaipara  Knights  Soccer 
Club  involves  players  from  Matakohe 
to  Kaiwaka,  from  about  4  years  old  to 
adults.  Over  17s  play  open  grade.  All 
teams  are  mixed  gender.  Fees  start 
from  $40  per  player,  and  include  a 
family  concession.  To  register  please 
contact  Lindell  Ferguson  on  4312542 
or  email 
blferguson@vodafone.co.nz
or  contact  Mark  Flannagan  on  4318 
900 or email 
mflannagan@xtra.co.nz
.  
Gymnastics 
Thinking  of  gymnastics  as  an  after 
school activity for term two? Please go 
to 
our 
website 
www.kaiwakasports.co.nz
  to  download 
a registration form and then  email it to 
gymnasticsotamatea@gmail.com 
as 
soon as possible, as over the next week 
classes  will  be  rearranged  to  try 
to  accommodate  the  waiting  list  for 
term  two.  Any  enquiries  to  Stephanie 
Brown 022 362 4998.  
Thank you 
To Phil Keen for concreting around our 
playground  and  to  Mark  Ottaway  for 
redoing  our  stone  garden  and  painting 
'No Parking' lines in the carpark. 
Sports Awards 
By  the  time  you  read  this  our  annual 
Sports  Awards  will  have  been  held.  A 
full  report  in  the  next  edition  of  the 
Bugle. 
Parking 
Lines  have  now  been  painted  in  our 
carpark  to  better  indicate  the  No  Park-
ing  areas.  There  is  no  parking  in  front 
of the  gate by the swimming pool (this 
is  the  access  way  for  ambulances)  and 
no  parking  on  the  concreted  area  be-
tween  the  gymnasium  and  the  notice-
board. Thank you. 
Cheryl Anderson 
4312 051, 027 346 2702 
kaiwakasports@gmail.com 
 
Photo  below:  Simon  Parker  (ball  in  hand), 
Kalani Wehi (right) for Otamatea IMB.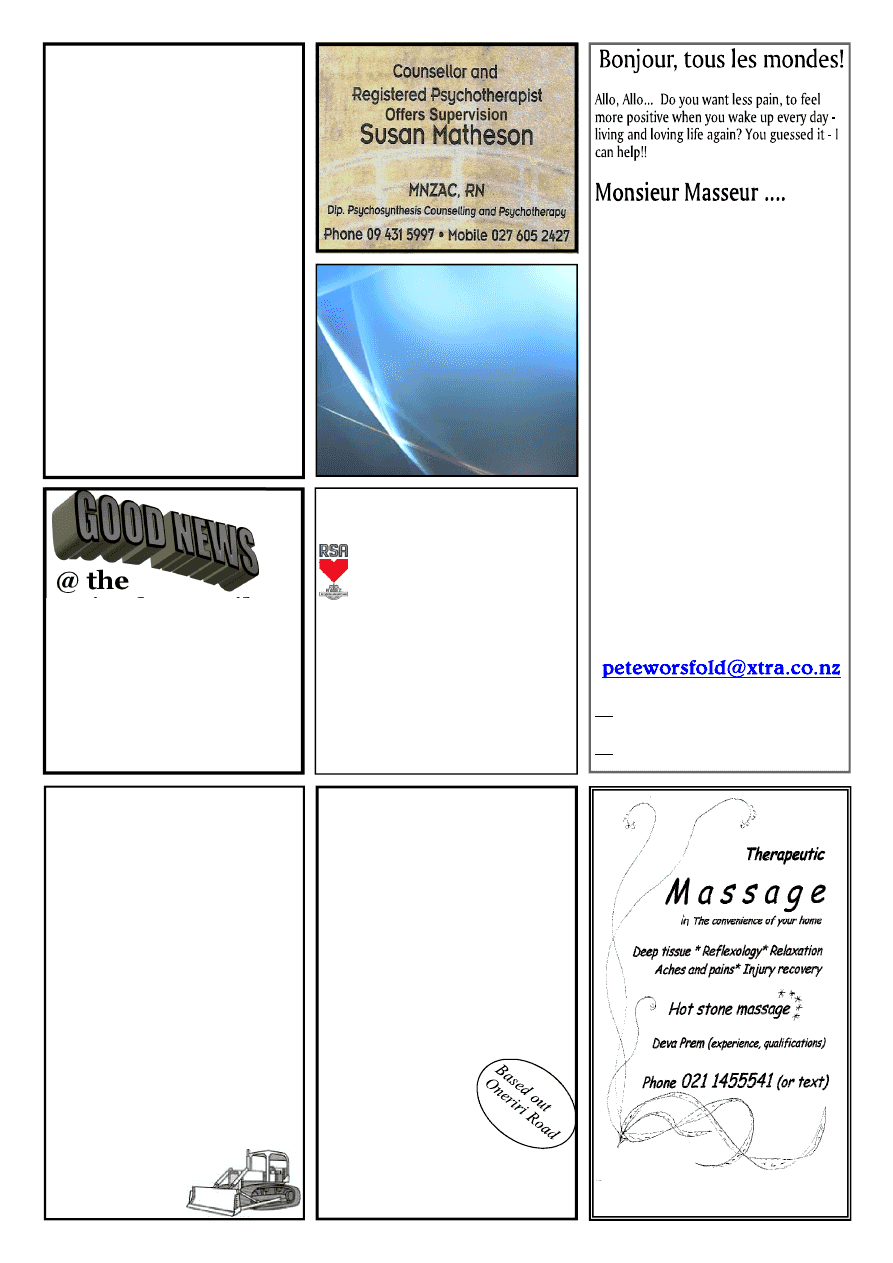 www.mangawhaimassage.co.nz 
HODGETTS 
CONTRACTING
Digger Work    

Driveways 

House Sites   

Dams 

Drains, etc
Also available for HIRE 

3 ton Vib Roller 

Heavy Duty Tow 

Waterblaster  

Lazer Level 
Phone Mark 
4312877 
027 447 8554
RELAXING  
MASSAGE
..... Juste pour vous" 
Here are 2 satisfied clients after they had 
a relaxing massage with M. Masseur... 
 
"Thanx for last night, slept so well, and 
feel great 2day! Its put a spring in my 
step" 
 
"Good morning Pete - I have a beautifully 
relaxed jaw, face & neck. Thank you so 
much - it's helped a lot." 
Call for an appointment now!
Pete Worsfold 
4312 152  or   021 825970 
 
Or  Ph. "The Well of Health" 
For an appt. 09 4312 799 
Or mobile service available 
Freeview  
Installations 
Richard Te Haara 
25 Marram Place 
Mangawhai Heads 
021 1104056 
kiwipride@xtra.co.nz
Willow Bend
HORSE  
HOTEL 
"  
Total Horse Care 
" 
Agistment 
" 
Riding Lessons 
" 
Arena Hire (60x40) 
" 
Young Horse Starting 
" 
Re-training/Exercising 
" 
Hoof Trimming 
" 
Problem Solving 
Phone Sue 09 431 
2817 or 021 623 776 
Or email sue.gray@xtra.co.nz 
Coates  
Contracting 

D41 Bulldozer with 6 
way blade, bush rigged 
with winch 

For all tree work 

General bulldozing and  
  stick raking. 

120hp Tractor for 
ground cultivation,  

tip trailer work. 

Fencing
All enquiries phone  
Brett Coates  
 094318720  
or 
 021431872
HAKARU & 
DISTRICTS RSA Inc 
Each Friday night 
from 6.30pm 
Meals will be served 
2nd Friday of the Month 
Is Roast Dinner Special 
Come along and enjoy our 
Hospitality  
For more information 
Ring Heather 431466 
or Jan 4314512 
@ the  
Kaiwaka Family 
Church 
Your COMMUNITY CHURCH 
RECEIVE HEALING 
RECEIVE THE LOVE OF GOD 
Everyone warmly welcome 
each Sunday 10am. 
Contact: Pastor John Dekker,  
09 4318203 
THERE'S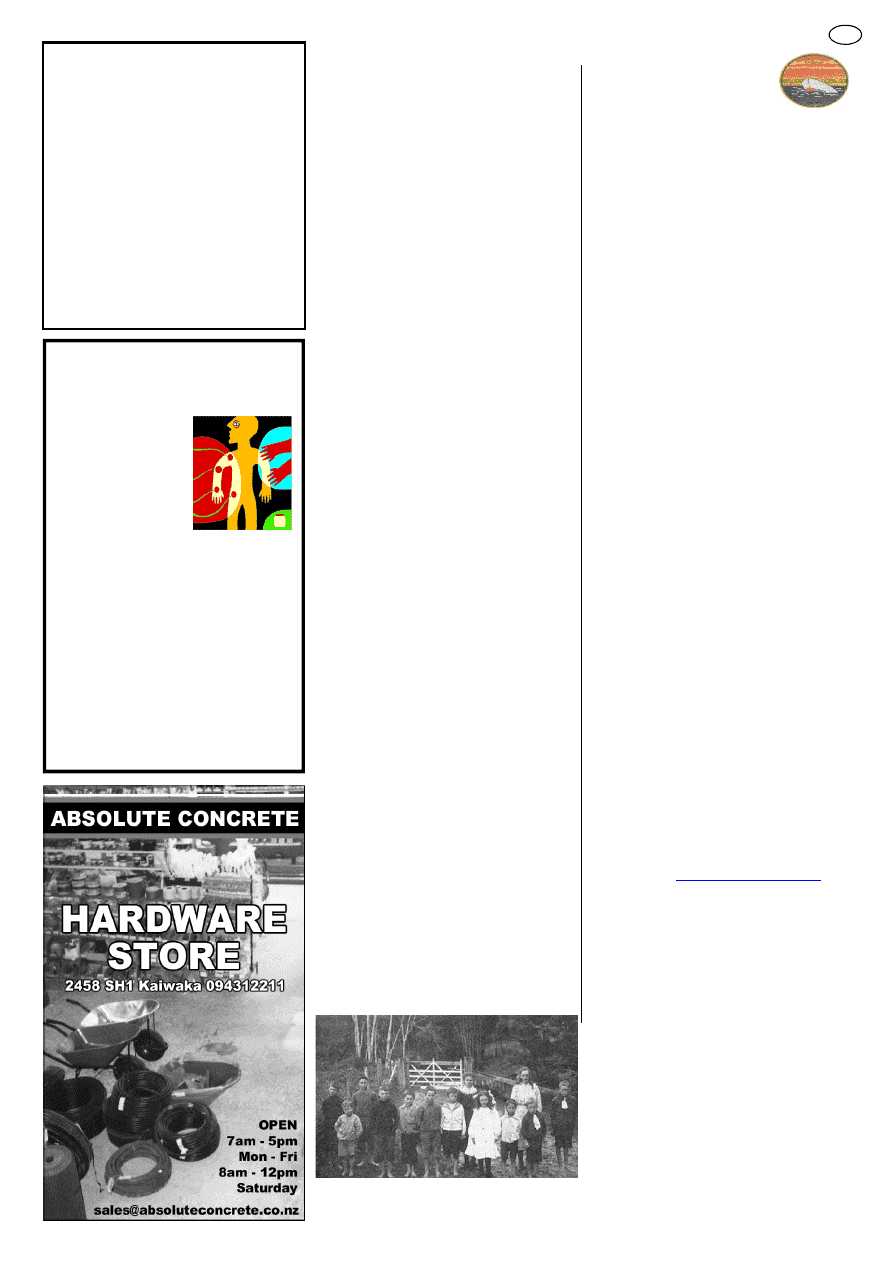 OWEN STEVENS 
Osteo Therapist
For careful 
adjustments to 
bones and joints 
Treatment for  
humans and their 
pets 
Clinics: 
Kate's Place, Kaiwaka: 
Last Friday of month 
For  bookings:9.00am-5.00pm  
Phone 
09 4312661 
Or phone Owen   
09 4317123  anytime 
11 
POINT CURTIS 
CRUISING 
CLUB 
Results for East vs West Fishing  
Contest 4th, 5th and 6th April 2014 
Seniors: 
Snapper:  1st:  Craig  Andrews  3.737kg, 
2nd:  Warwick  3.481kg,  3rd:  Carol 
Mills  3.452kg 
Kingfish: 1st: Linda Leslie 5.590kg 
Kahawai:  1st:  Pongo  2.622kg,  2nd: 
Tim  Worsell  2.168kg,  3rd:  Tim 
Worsell 2.142kg 
Trevally: 1st: Gravy 1.562kg, 2nd: Lin-
da  Leslie  1.355kg,  3rd:  Brent  An-
drews  0.657kg 
Gurnard: 1st: Gravy 0.898kg, 2nd: An-
drew  Kenny  0.898kg,  3rd:  Andrew 
Kenny  0.896kg    (First  fish  weighed 
in  wins when same weight) 
Crayfish: 1st Kraig Steiner 0.475kg 
Average  Weight  prize  for  Snapper: 
Brent Andrews 1.405kg 
Juniors: 
Snapper:  1st  Brayden  Mills  1.346kg, 
2nd:  Koby  Worsell  1.167kg,  3rd:  Cae-
lin Ritchie 1.140kg 
Kahawai:  1st  Caelin  Ritchie  2.591kg, 
2nd:  Jacob  Butler  2.002kg,  3rd:  Koby 
Worsell 1.899kg 
Trevally: 1st: Grace Eramiha 0.545kg 
Gurnard:  1st:  Caelin  Ritchie  0.781kg, 
2nd: Caelin Ritchie 0.733kg 
Eel:  1st:  Caleesto  Mills  1.080kg,  2nd: 
Hannah  Mills  0.725kg,3rd:  Koby 
Worsell 0.320kg 
Thanks  to  all  competitors.  Thanks  to 
Russell, Barb, Tracy and staff at 3 Fur-
longs.  Thank you also to weighmasters 
for  the  weekend,  raffle  sellers  and  to 
Claire  and  Robyn  for  helping  with  the 
food. 
Raffle  1:  Meat  pack  and  chopping 
board (donated by Gravy): Winner #20 
Andrew Kenny 
Raffle 2: Leg of lamb (donated by Pon-
go): Winner #36 Pongo 
Club  Polo  Shirts  ar e  for   sale  $30 
each.  Orders taken by Sandy at Wells-
ford  Sports  and  Leisure  Ph:  09  423 
8873, e-mail 
wfdsports@xtra.co.nz
CLAYBIRD  SHOOT:  Sunday  20th 
April  at  Pongo  and  Linda  Leslie's 
Farm,  314  Settlement  Road,  Kaiwaka. 
Start  time  12  noon.  BBQ  to  fol-
low.  Please bring a plate. 
OPENING 
DAY 
FOR 
GAME 
SHOOTING:  Saturday 3rd May.  You 
must  be  a  current  member  of  Point 
Curtis Cruising Club or register 7 days 
prior  to  Opening  Day  to  participate  in 
our competition. 
CLUB  END  OF  YEAR  PRIZEGIV-
ING:  Saturday  3rd  May  at  3  Furlongs 
Hotel. 
3RD 
ANNUAL 
BOAR 
HUNT:  Friday  8th,  Saturday  9th  and 
Sunday 10th August. 
Next  Committee  Meeting:  13th  May, 
7pm at 3 Furlongs Hotel. 
~Wayne Leslie, Commodore 
KAIWAKA 
1914 NOTES 
SCHOOLS 
Pukekaroro  school  was  aided  by  Kai-
waka  in  the  years  1908-1923,  and 
Hakaru was run under the same system 
from 1901-1916. Each school was gov-
erned  by  the  Kaiwaka  Committee,  but 
had separate teachers. 
During these years, Pukekaroro school-
ing  was  carried  out  in  the  disused 
Coates  and  Kendall  store.  It  was  most 
unsuitable for the children, as it was so 
cold  and  miserable;  so  Thos.  Coates 
offered  a  site  (near  to  where  Taonga 
Gardens  are  now  located  on  SH1),  on 
which  a  single-room  school  was  built 
in  1914.  While  building  operations 
were being carried out at Pukekaroro in 
1914-15 a marquee  was used as a tem-
porary school.  In 1943 the school  was 
moved  to  Hakaru,  where  the  R.S.A. 
Hall  now  stands.  Prior  to  this  children 
were  taught  in  the  Hakaru  hall.  When 
the  children  from  Hakaru  came  to  the 
Kaiwaka  consolidated  school  in  1950 
the  building  was  sold.  All  equipment 
was brought to Kaiwaka. 
Ranganui  School:  with  the  progress  of 
the  Kaiwaka  district  and  the  temporary 
increase  in  the  number  of  children 
brought about by the public works dur-
ing  railway  construction  in  1913-14,  a 
school  at  Ranganui  became  necessary. 
At  one  time  there  were  up  to  40  chil-
dren  attending,  the  teacher  there  being 
Mr  Johnston  assisted  by  Miss  Vergie 
Donaldson. The  desks from this school 
were  brought  to  Kaiwaka  School  in 
1926. 
Further  advancement  came  in  1924 
when  a  portion  of  disused  road  was 
fenced  in  for  the  grazing  of  the  chil-
dren's horses. 
TELEPHONE 
In  1914  Kaiwaka  was  connected  to  the 
Otamatea  Private  Telephone  Associa-
tion,  with  Carl  Stewart  as  the  local 
linesman  and  troubleman.  The  ex-
change  for  this  was  housed  in  Mrs 
McClean's Post Office (on the land just 
north of the Kaiwaka Cheese Shop) and 
was  operated  by  her  and  her  daughters 
until  December  1936,  when  the  Gov-
ernment  took  it  over  with  82  subscrib-
ers.    By  August,  1956  there  were  234 
subscribers,  and  at  the  time  (1959)  of 
this  going  to  press  there  are  250  num-
bers in the Kaiwaka Directory.  
Sources: "Centennial of Kaiwaka 1859
-1959", "Skye to Timber Mountain" by 
Desmond Stewart 
Kaiwaka Library 
Autumn 
Book Sale 
$1 each or 3 for $2 
Discarded library books 
and donations only 
Pukekaroro school children 
early 1900s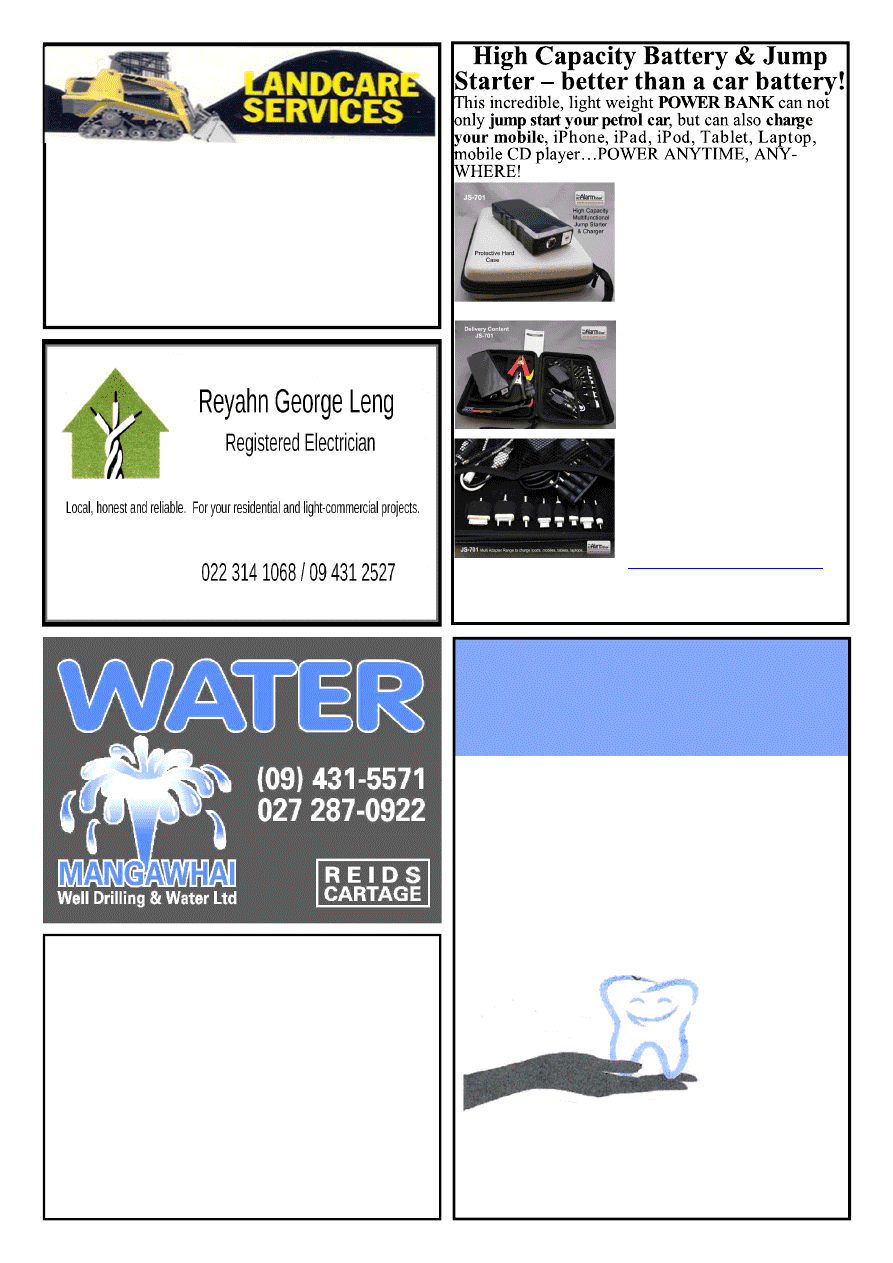 Celena's Gifts 
-
gifts for all occasions 
Closed Mondays 
1925 State Highway 1 
KAIWAKA  
Ph: 09 4312741
LANDSCAPING 
4 IN 1 BUCKET 
TRENCHER 
POLE HOLES 
ROTARY HOE 
COMPACT ROLLER 
OFFAL HOLES 
CAN SUPPLY WOODCHIP & POST PEEL 
5 TON TIPPER 
FOR RELIABLE AND FRIENDLY SERVICE CONTACT DAVE 
Dave Hyndman 
 
KAIWAKA 
PH: 09 4312302 
MOB: 021 431 238 
Gentle Dental 
Ruakaka 
We love to see you smile 
 
General  & Cosmetic Dentistry 
 
Emergency & ACC Treatment 
 
Denture & Hygienist Services 
 
Senior Citizen Discounts 
 
Free Adolescent Care 
 
Free WINZ Quote 
19 Ruakaka Town Centre 
Dr Sim Sood & Associates 
Ph:  432 8139 
Saturdays 
By 
Arrangement 
Open  
Mon-Fri  
8am-5pm  
So use it when hiking, biking or 
have it handy in the car/motor 
home/boat whenever you need it, 
it's ready!  
 
LIFESAVING FUNCTIONS: 

Hammer:  to br eak the wind-
screen in an accident when you 
are trapped in the car. 

SOS signal and LED flash-
light, tor ch, or  flashing light! 

NO more flat mobiles, lap-
tops, always able to contact 
somebody 
 
Once charged, it keeps its power 
for MANY applications (eg: it 
started my car: 2.2l, 115kW, 
150hp 45 times!). 
Available in black or white, hard 
case pink or silver.          
          
For more info please visit: 
www.the-nz-alarmshop.co.nz
 or 
call Jorg 4315905 
Introductory price $199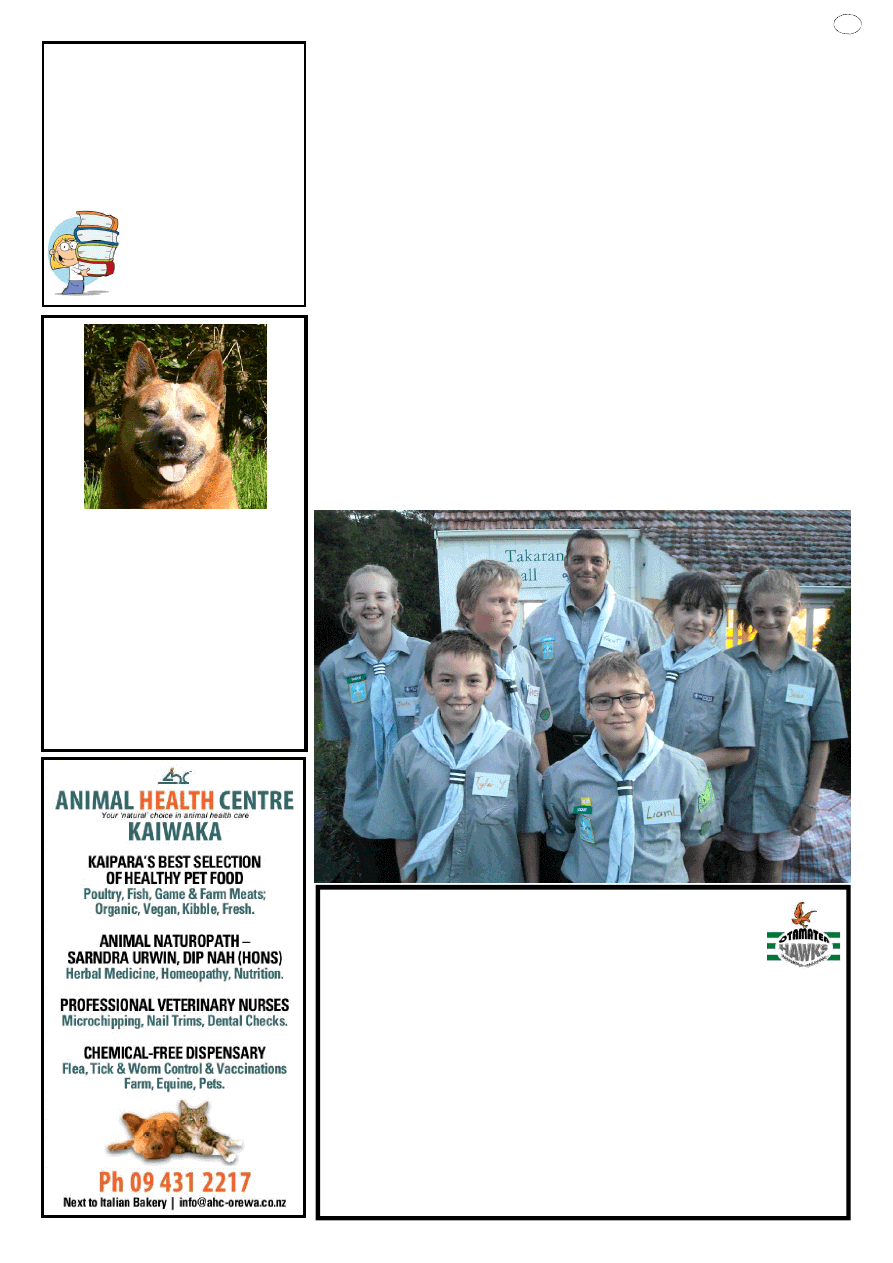 13 
The Twinkle Tow 'n' Tyre
OTAMATEA HAWKS 
Supported by Phil Keen Concrete 
Invite all supporters and sponsors to the next 
home matches 
Hawks vs Old Boys Marist 
Thursday 17 April , 6.30pm & 8.30pm 
Sponsors & Supporters Day 
Kaiwaka Sports Complex 
 Join us for the 2014 Season –become a paid up sponsor or part  
of our supporter's club  
Contact: Secretary Jennie 021 027 64 171 
President Kevin 027 47 93 659  or Coach Dean: 021 61 20 41
Laughing Dog 
Computers 
www.laughingdog.co.nz 
0224344448 
Hardware and Software 
Service and Repair 
The Cubs and Scouts will be gathering 
more sheep manure shortly so they can 
continue  selling  it  as  a  fundraiser  for 
their troop. This is magic for your gar-
den! To place an order, please ring Ste-
phen  Strong  on  4314  806.  Just  $7  a 
sack. 
Many  thanks  to  the  Kathmandu  Foun-
dation  who  recently  granted  our  Scout 
Troop  heavily  discounted  pricing 
which  we  have  used  to  purchase  back 
packs  for  when  the  children  go  on 
tramps. 
Patrol  leaders  and  assistant  leaders 
from our Troop recently went to Auck-
land  for  a  weekend  leadership  course. 
Thank  you  to  the  Kaiwaka  Sports  As-
sociation  for  the  use  of  their  van  to 
transport the children. 
We  greatly  appreciate  the  support  of 
different  groups  in  our  community  – 
thank you to: 
The  Mangawhai  Tramping  Group  for 
teaching  the  Scouts  map  reading  and 
GPS skills 
St Johns for teaching the Scouts basic 
first aid and personal hygiene 
The Mangawhai Surf Lifesaving Club 
for teaching the Cubs rescue breathing 
and  
Thank  you  to  the  many  people  who 
placed  orders  for  pies  with  us  –  we 
raised nearly $500! 
To  commemorate  100  years  since  the 
start  of  World  War  One,  the  Hakaru 
RSA  is    putting  on  a  Days  of  Thunder 
event.  This  will  be  held  at  the  RSA 
grounds on the 3
rd
 and 4
th
 of May. Our 
Scouts  and  Cubs  will  be  providing 
food and drink stalls as a fundraiser for 
our Troop, so please bring along a few 
dollars! 
Our Troop has so many children on the 
waiting list that we are wanting to open 
another  session  to  accommodate  them. 
This  will  be  on  a Tuesday,  5.30 -  7pm 
at  the  Hakaru  Den  and  we  are  looking 
at  doing  sessions  for  Cubs,  Keas  and 
Scouts.  But  we  need  help!  If  you  can 
assist us by offering to be a patrol lead-
er,  an  assistant  leader  or  just  any  sup-
port at all, please contact Bruce Fergu-
son on 4312 542 or 021 431254.  
KAIWAKA/MANGAWHAI CUBS 
and 
SCOUTS 
Kaiwaka Library 
Large Print & 
Audio Book 
Swap 
Please have all your 
books from these 
collections returned 
to the library by 
Sunday 27 April.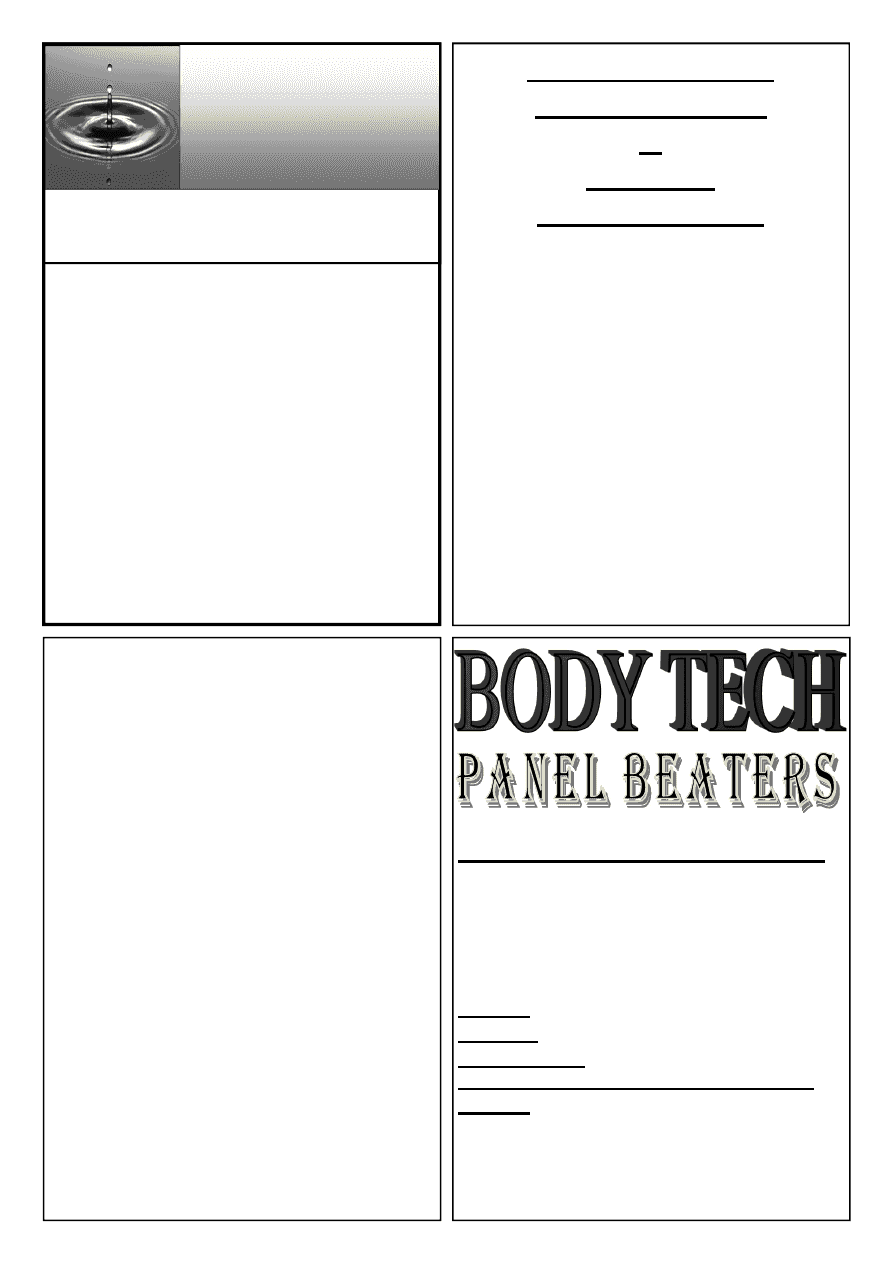 PETE WORSFOLD M. Soc.Sc. 
Student Counsellor 
 peteworsfold@xtra.co.nz 
 021 825 970 
Professional Service 
Variety of Modalities 
By Appointment Only 
PAUL SAUNDERS 
LAWNMOWING  
&  
GARDEN 
MAINTENANCE 
 
Lawns and edges     
 
Section mowing 
 
Hedging and trimming 
 
Spraying and fertilising 
 
Tree planting 
 
Green waste removal 
 
Pruning 
Friendly and reliable service guaranteed 
Call now for a free no obligation quote 
021 886 843 
09 431 2731 
Servicing Mangawhai and Kaiwaka  
and surrounding areas 
paulsaunders99@gmail.com 
For all your body repair needs!! 
We do: 
Rust repairs 
Insurance work 
Anti-corrosion treatment         
 
Hours: 8.30am-5pm Monday-Friday  
Mobile: 021 118 0462 
After hours: 09 431 2384 
Phone: Craig or Call in for a free Quote 
e-mail: 
bodytech_panelbeaters@yahoo.com
We are located at 1837 SH1 Kaiwaka, behind Twin-
kle Tow 'n' Tyre call in anytime for a free quote.  
Large and minor vehicle  
  repairs 
Industrial vehicles 
Full Cut and polishes 
INDIVIDUAL ONE-ON-ONE 
COUNSELLING 
 
MODALITIES:    FOR: 
  CBT              Grief 
  Gestalt            Relationship 
  Person-Centred     Trauma 
  Solution Focussed    Couples 
  Behavioural        Adolescents 
                  Careers 
Call for Appointment 
At "The Well of Health" 
09 4312799 or 021 825 970 
KAIPARA  FLOORING  
CO 
32 HURNDALL ST MAUNGATUROTO 
Ph: 09 9469886 or 021 515 415 
Carpet, vinyl, laminate wood look  
  flooring, vinyl planking, sanding  
& polyurethane service. 
Carpet Short Ends from $79pm + GST 
Vinyl D.I.Y. peel n stick tiles $10sq mtr + GST. 
Free measure & quote.   
Mobile Service 
Phone Christine or Howard anytime 
Open Saturdays by arrangement.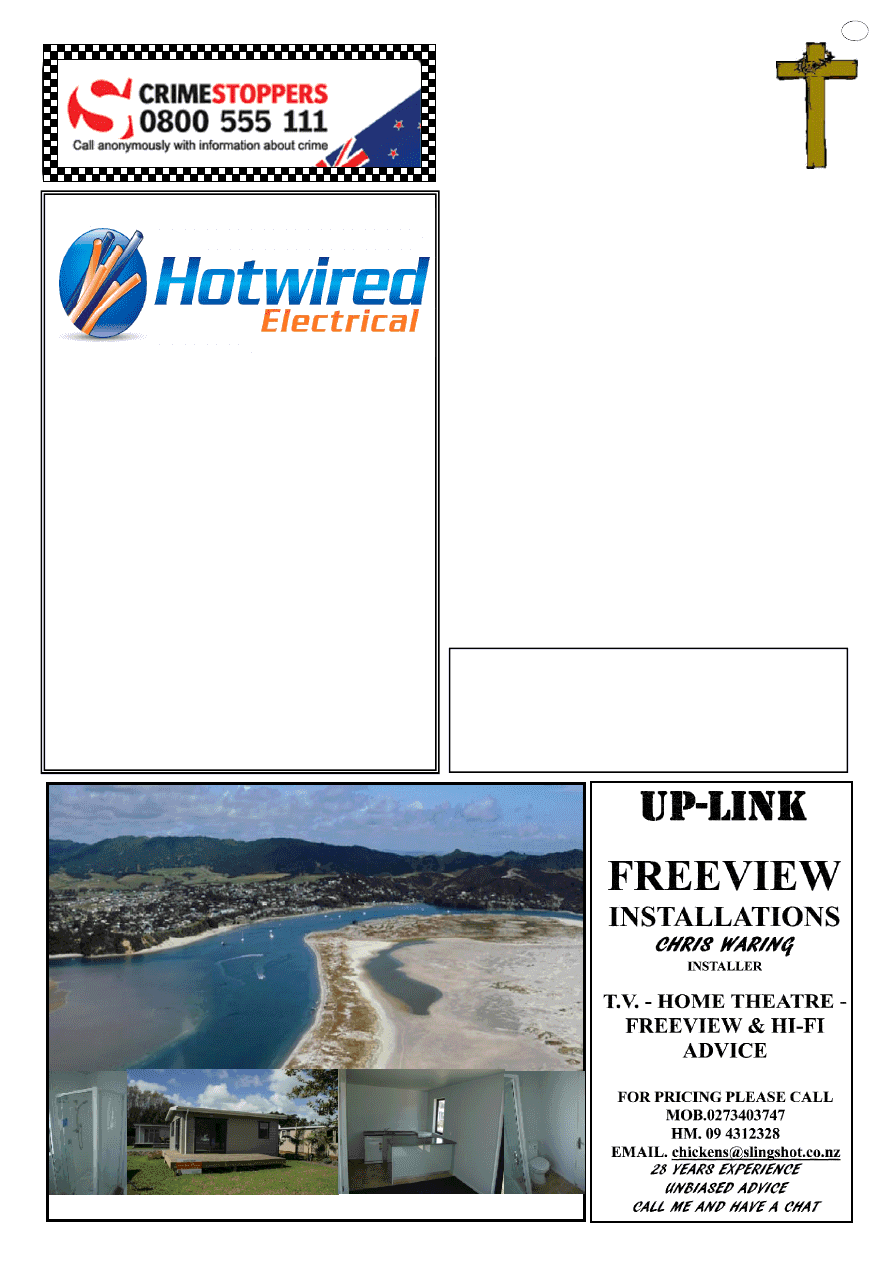 15 
BRAND NEW @ MANGAWHAI PARK
North Facing One Bedroom Bach / Cabin
36m
2
with full Bathroom, Kitchen, Laundry & King Size 
Bedroom 
Space for Storage, Large Wardrobe. Large Deck  3mtrs Wide 
Freehold Site: Lot 11, CT451679, DP408620.  
Swimming Pool (heated all year) 
Walk to the Beach, Village Shops & Restaurants.  
Site secured& Managed 24/7 
Ability to Place Cabin in Rental Pool.  
Total Rates & Outgoings $2,238.00 + GST. 
Asking: $149,000.00  Owner: 02 12 84 66 76        asset.nz@gmail.com 
For All your  
Electrical  Requirements 
 
Domestic small jobs 
 
Residential dwellings and alterations 
 
Commercial 
 
Industrial                 
No job too big  
or too small    
Contact Jason today on: 
(09) 431 5992, (021) 405 019 
www.hotwiredelectrical.co.nz 
EASTER 
With an ANZAC Theme 
'One for the Team' 
This story was told by an old priest one Sunday.  
It is a true story of when he served in the military. 
One day their drill sergeant came out and threw a  
hand grenade into a group of young soldiers. The men all ran 
away  and  took  cover  away  from  the  grenade.  Then  the  drill 
sergeant  told  them  that  the  grenade  was  not  set  to  explode 
and he just did it to see their reaction. The next day a newly 
recruited soldier joined the group. The drill sergeant told the 
other  soldiers  not  to  tell  the  new  soldier  what  was  going  to 
happen. 
As the drill sergeant came out and threw the grenade into the 
crowd  of  soldiers,  the  new  soldier,  not  knowing  it  wasn't 
going to explode, threw himself on top of the grenade to pre-
vent it from killing the other men. He  was willing to die for 
his fellow soldiers. 
That  year  the  young  man  was  awarded  the  only  medal  for 
courage  and  bravery  that  had  not  been  won  during  battle.  ~ 
Kim Noone  
It is said that Winston Churchill planned  his  own funeral in 
St.Paul's Cathedral. He included great hymns of the church. 
After  the  Benediction  a  bugler  positioned  high  in  the  dome 
played the Last Post, the bugle is played at all military funer-
als.  Next,  another  bugler,  placed  on  the  other  side  of  the 
great dome, played Reveille. 'It's time to get up. It's time to 
get up. It's time to get up in the morning.' 
On Easter morning Jesus rose from the dead, heaven sound-
ed  Reveille,  and  the  promise  was  fulfilled:  'Because  I  live, 
you will live also.' John 14:19 
 
KAIWAKA EASTER CHURCH SERVICES: 
St.Pauls ~ Easter Sunday Service. 9.30am 
Kaiwaka  Family  Church~  a  Special  Family  Easter  Service, 
with all the children involved. 10.00am 
KAIWAKA BUSINESS AND COMMUNITY  
ORGANISATIONS DIRECTORY 
This is being updated now. Please send all  
amendments and new entry details to  
kaiwakabugle@kaiwaka.co.nz  
or leave written information at Jaques' Four Square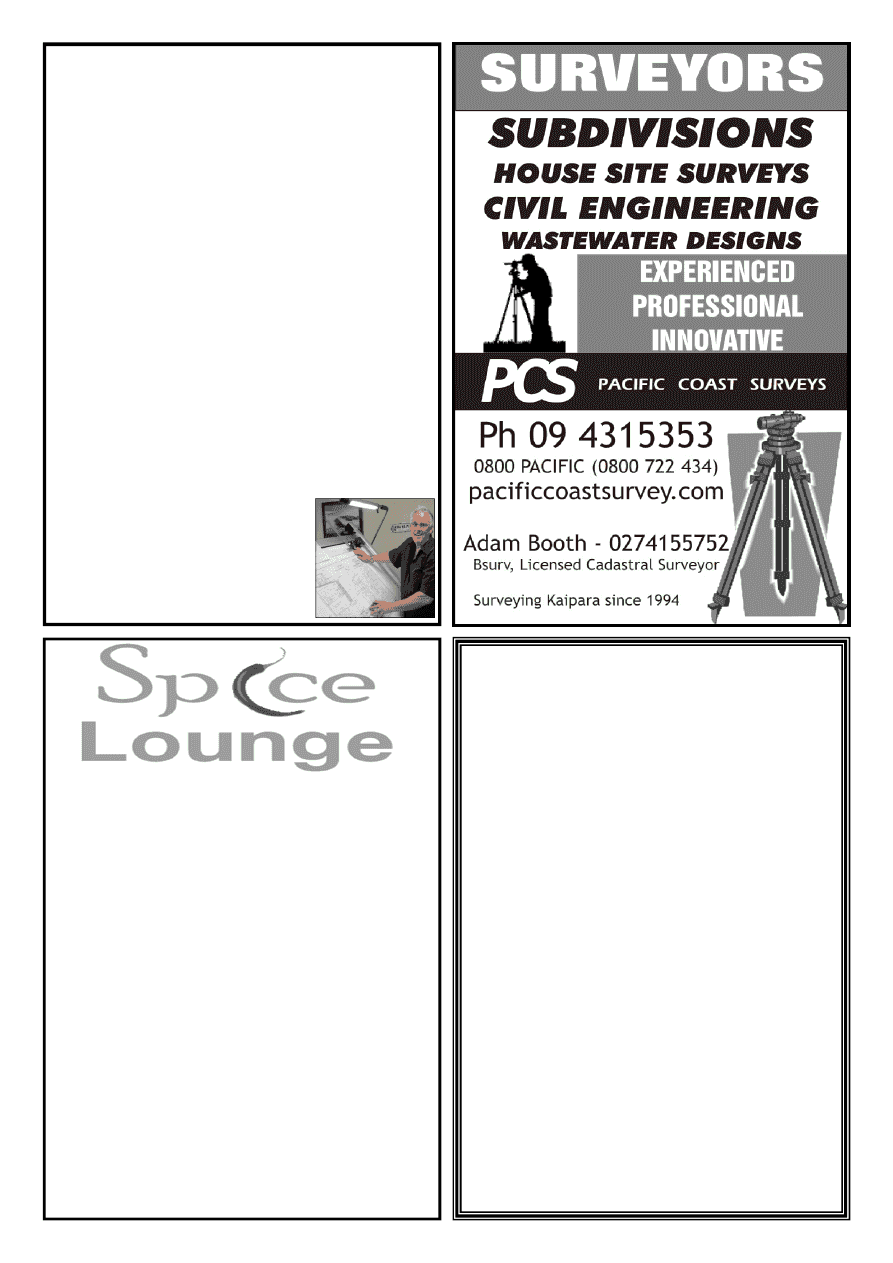 ARCHITECTURAL BUILDING 
PLANS AND DESIGNS 
WRIGHT DESIGN 
 QUALIFICATIONS 
Brian is a qualified designer (NZCAD) with over 40 years of 
varied experience in all types of building and is a registered and 
Licensed Building Practitioner in Design - L.B.P. 117345 
He ensures you will achieve the best from your budget with 
recommended excellent local contractors ready to competitively 
price and build your personal project quickly and efficiently. 
 EXPERIENCE 
Brian's practical building and 40+ years of design experience 
means he can give you excellent advice and all the guidance 
needed for all your building needs 
v Wright Design offers free visits, consultations and all the ad-
vice you need on planning, design, building, contractors, coun-
cil permit applications, etc. 
 
" Qualified and inexpensive designer – N.Z.CAD., LBP 117345 
" Guaranteed design and working drawings 
" Free site visit to your home or property 
" Great service 
" Great problem solver 
 
Call Brian ~Arrange a visit to discuss your needs  and obtain 
great advice and free quotation 
MAKE GOOD USE OF HIS EXPERI-
ENCE and KNOWLEDGE 
WRIGHT DESIGN:  
360 Oneriri Road, Kaiwaka
Office 09 4312544   
Mobile 021 276 7389  
g.a.s. 
Mangawhai 
we have now opened a 
GARDEN CENTRE 
for all your gardening needs 
Also a great range of 
STOCKFOOD 
Wide range of 
ORGANICS AND 
 FRESH LOCAL PRODUCE 
All your motoring needs are taken care of by 
our friendly staff check us out... 
44 Moir Street, Mangawhai (09)431 4242 
SPICE UP YOUR EASTER 
 AT SPICE LOUNGE KAIWAKA 
* Celebrating Easter with 10% DISCOUNT  
on DINE-IN and TAKEAWAY'S  
over Easter Holidays * 
Offer valid from 17th April to 20th April 
* Awesome Response on new introduction- 
MANGO CHIC CURRY * 
* FISH & CHIPS available for fish lovers 
only $8 in Happy Hours * 
* Happy Hours from 5 pm to 7 pm  
- Speights and Steinlager Classic $4 only * 
* Yummy PORK SPARE RIBS as always * 
* Phone no for booking and takeaways orders- 
09 4312737 * 
"C U GUYS AT SPICE LOUNGE" 
1917 State Highway 1, Kaiwaka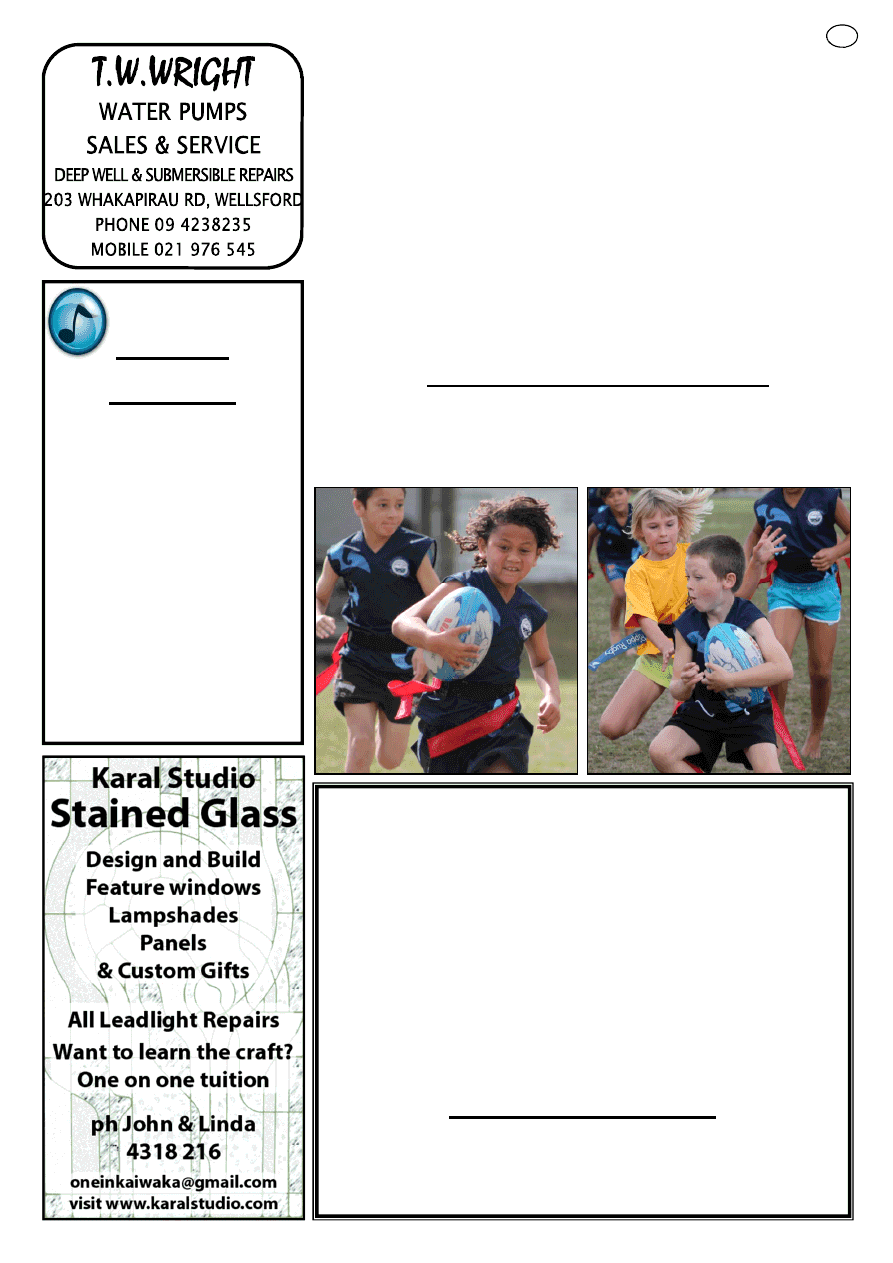 17 
Singing 
Lessons 
Individual sessions 
All styles of music  
All voice types 
Reasonable rates 
Phone  
Maura Flower 
      021 164 8318
* MASSAGE * NAILS * 
* NUTRITION * 
In Mangawhai Heads
 
Full  hour  and  half  hour  massage  TAILORED  to  suit  your 
needs,  ALSO  mini  massages  and  chair  massage  available. 
Businesses  –   ask   about   my   on-site massage service for 
your staff. 
 
Full set of acrylic nails for both fingers and toes – wonderful 
solution for nail biters!  PLUS manicures and pedicures. 
 
Healthy  nutrition,  weight  loss,  sports  nutrition  and  healthy 
ageing  –  we  offer  solutions  so  lets  work  on  this  together… 
Call  me today for a free wellness evaluation to achieve  your 
wellness goals.  
CINDY SAUNDERS 
Fully qualified masseuse and Surmanti trained acrylic nail 
technician 
Call or text 021 296 9819 or  431 3318 
Gift Vouchers available  
EASTERN UNITED JMB RUGBY   
Week  One  5  April:  The  day  was  held  at  Kaiwaka  with  all  Clubs  playing 
here. A great day was had by all.   
Kaiwaka  Midgets  A  played  Tomarata  Red  -  we  had  a  loss  4-6;  Breez  Robson 
was Player of the Day 
Kaiwaka  Midgets  B  played  Maungaturoto  B,  another  loss  6-7;  Zac  Wakeling 
was Player of the Day 
Under  9's  played  Tomarata  Red.  Player  of  the  Day  was  Daniel  Robson  for 
'smashing  it  up  the  middle  and  tackling  like  a  boss';  although  the  score  0-6  it 
did not reflect the domination we held up front. 
Week Two 12 April: 
Midgets played Tomarata (not sure of the score).  
Under 9's played Tomarata Devils in Wellsford - it was a fun game with 3 tries 
by Branden Edwards ( Player of the Day) but the Devils came out on top 6-3. 
Under 11's combined with Paparoa as both teams were struggling with numbers 
to  play  Maungaturoto.  We  had  some  fine  runs  with  the  ball  but  it  was  not 
enough on the day. 
Week Three 19 April:  This is Easter Saturday, ALL Eastern games are at 
Kaiwaka 
NB.  Otamatea Hawks Pr emier s had a close win against Mid Northern, 41-39, 
on Saturday 12 April.   
RIPPA RUGBY 
An  inter-schools  Rippa  Rugby  tournament,  organised  by  the  Northland  Rugby 
Union,  was  held  at  the  Kaiwaka  Sports  Complex  recently.  Competing  schools 
were Kaiwaka, Wellsford, Maungaturoto and Mangawhai Beach. Thank you to 
Kaiwaka Playcentre parents for providing the sausage sizzle.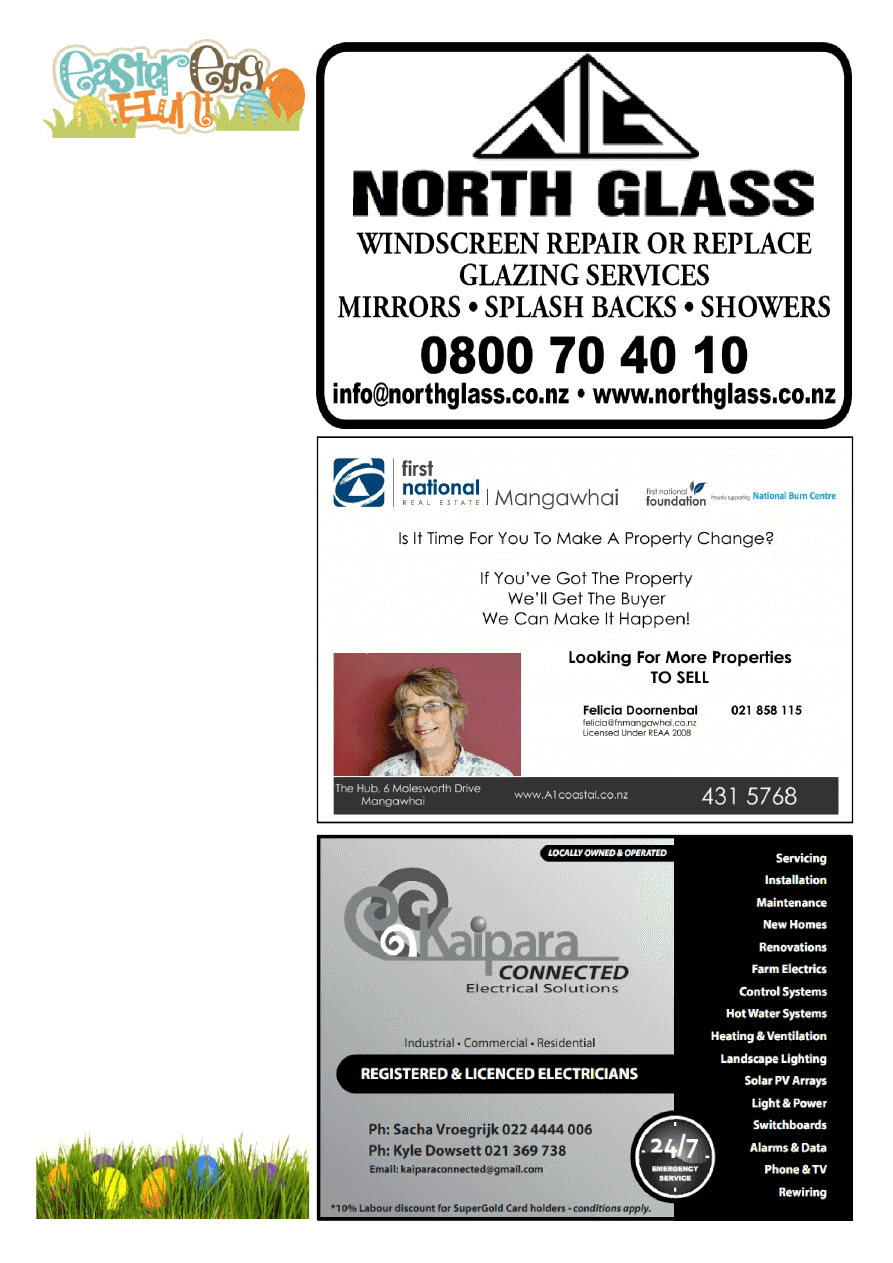 EASTER EGG HUNT 
CLUES 
Ideas for your family fun 
 
The Easter Bunny's been today 
He dropped some eggs along the way-
Follow the clues - you need to be wise-
As they will lead you to your prize 
 
When you come to me you are dirty, 
when you leave me you are clean. What 
am I? ~Bath/Shower  
 
I am paper, but you can't write on me. 
You look for me when you are running. 
What am I? ~Tissue  
 
When you find me you will find 
yourself. What am I? ~Mirror  
 
You can fire me up, then have a deli-
cious lunch ~Barbeque  
 
When it is morning, you get out of 
me, when it is night you get in me? 
~Bed  
 
You put me inside a pot to let me 
grow, do you know what I am? 
~Flower/Plant  
 
Mine is shiny, I wear it when I want 
to protect myself from water. ~Rain 
coat  
 
Rub rub rubadub where there's wash-
ing but not in the tub? ~Washing ma-
chine  
 
This is where you get the latest news? 
~Newspaper  
 
You wonder what the weather will be 
like, what do you turn on to find out? 
~TV or computer or radio 
 
One of your greatest memories are 
framed in what? ~Picture frame  
 
When you can't read in the dark, what 
do you do to be able to read at night? 
~Turn on night light 
 
When it is a summer day and you are 
sweating what do you do to prevent or 
lessen the sweating? ~Turn on the AC 
or a fan 
 
(see also http://www.netmums.com/
activities/galleries/view/easter-egg-hunt
-clues for ideas)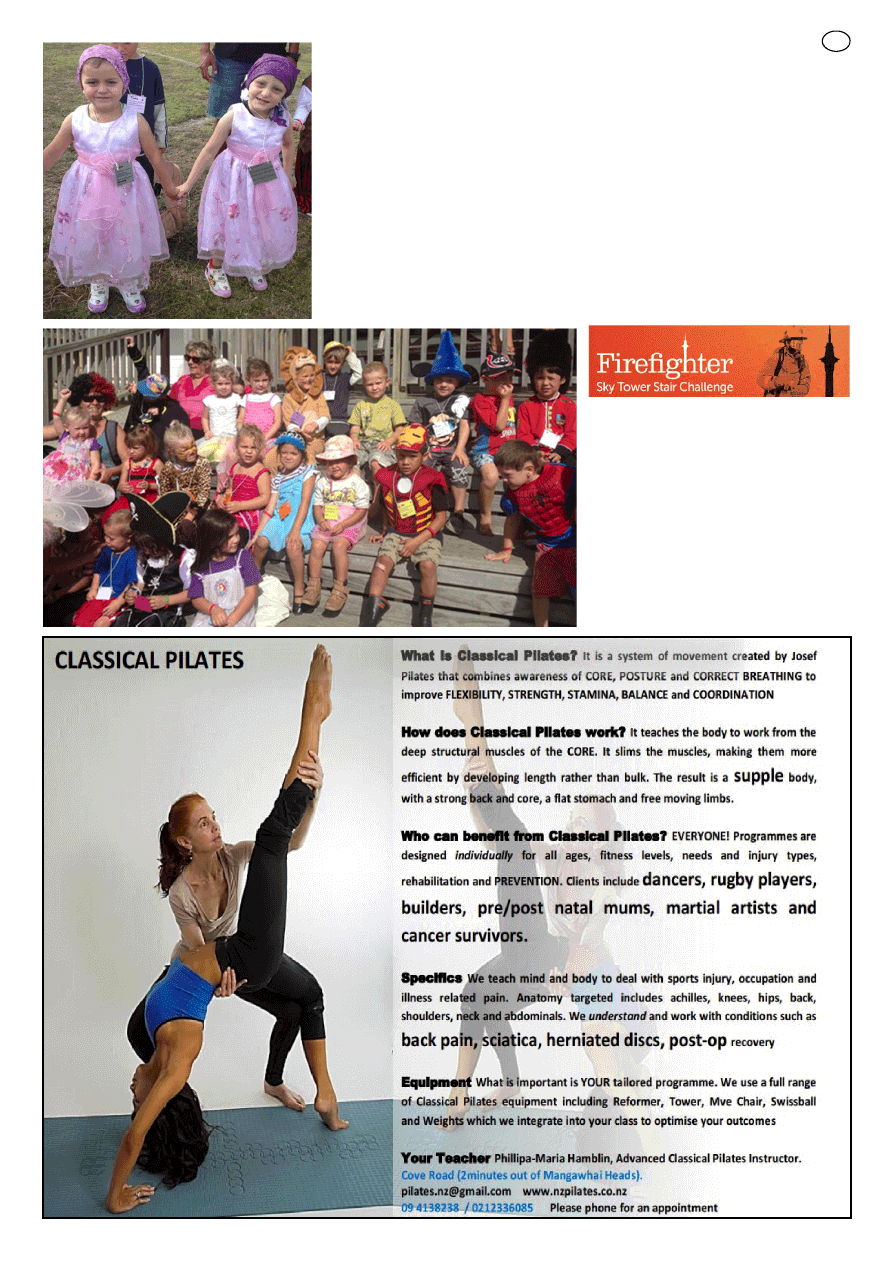 19 
Small Poppies fundraised for the Child 
Cancer Foundation as one of our Small 
Poppies  children,  Heidi  Holden,  was 
diagnosed  with  cancer  in  March  last 
year.  We  got  in  touch  with  Kaiwaka 
Primary  School  and  Kaiwaka  Playcen-
tre to get involved too. 
On Friday 4th of April, all the children 
made a gold coin donation and dressed 
up.    The  Small  Poppies  children,  with 
the  help of parents'  help, walked up to 
Kaiwaka  Primary  School  where  they 
paraded  their  costumes,  had  a  sausage 
sizzle and a coin trail. 
Afterwards, two of the volunteers from 
Country  Caters  and  John  Lee  from 
Small  Poppies,  sold  the  left  over  sau-
sages  outside  Jaques  Four  Square  in 
Kaiwaka.  Bread,  sausages,  sauce,  nap-
kins and man power were kindly donat-
ed  by  Bidvest,  Country  Caterers, 
Jaques Four Square, Penguin and Small 
Poppies. 
Parents,  family  and  friends  came  to 
watch  the  Fancy  Dress  parade  at  the 
Kaiwaka Sports Complex. 
 
Total Raised:  $1085.95 
Photos:  (top)  Heidi  (right)  and  her  twin  sister 
Bella,  (bottom)  the  Small  Poppies  children 
dressed up. 
SMALL POPPIES FUNDRAISING 
Saturday 17 May 2014 
The  Kaiwaka  Fire  Brigade  will  be 
competing  in  the  Sky  Tower  Stair 
Challenge  to  raise  funds  for  the  Leu-
kaemia and Blood Cancers Foundation. 
 
Local  fire  fighters  Mickey  Renton, 
Mike Law and Tim Brown will race up 
the  1,103  stairs  in  Auckland's  Sky 
Tower  wearing  25kg  of  kit  to  help 
raise money for this worthy cause. Last 
year  they  did  it  in  22  minutes  –  can 
they beat that record this time? 
www.firefightersclimb.org.nz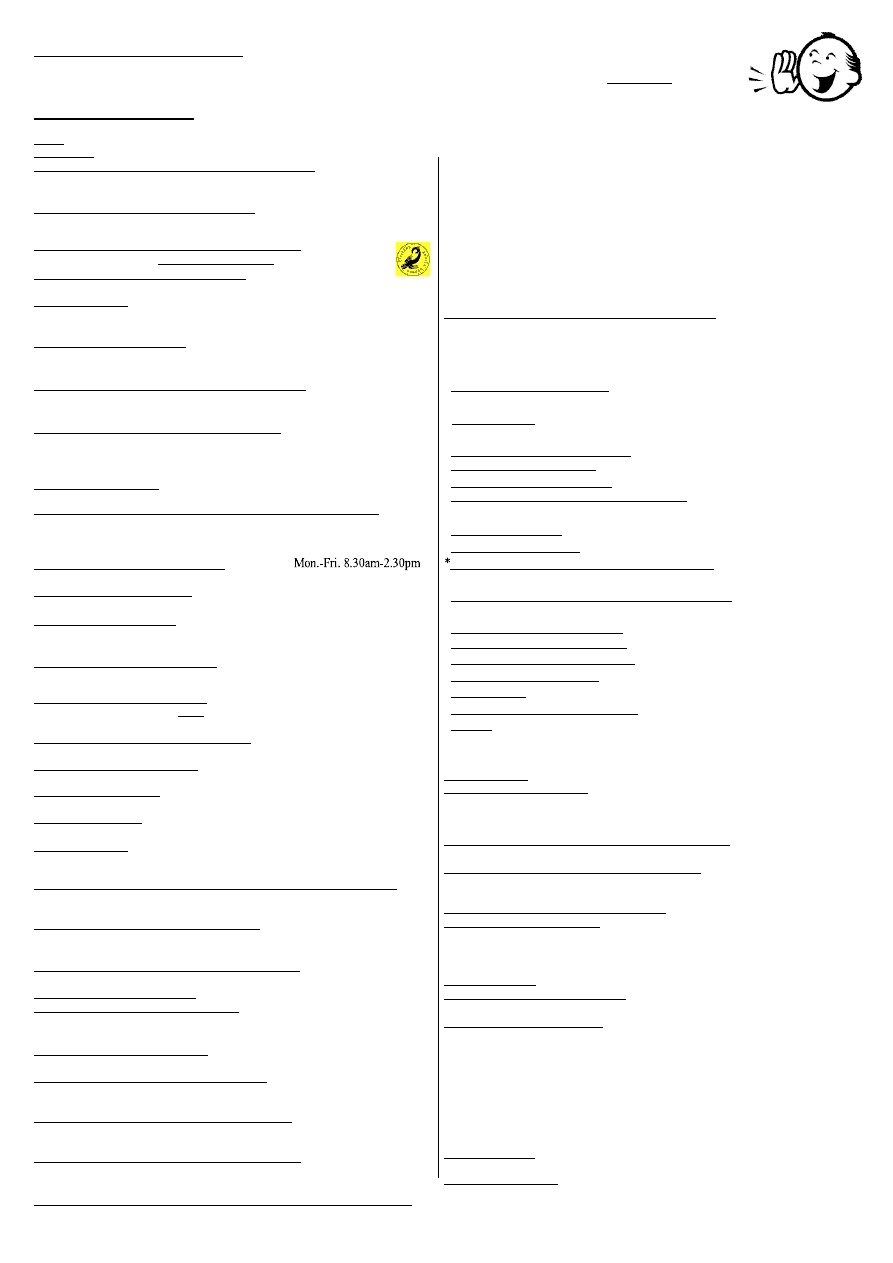 LOCAL SERVICES 
*St.John Ambulance 
111 or Freephone0800 61 0066
*Fire phone 111     *Police phone 111 or 09 4311150 
 
WELLSFORD DOCTORS: Ph: 4238 086 
 
A A: Meets Wed., 8pm Kaiwaka Ph: 4312228, 4315543, 0800229 6757   
AL ANON: In recess, contact Ph: 4312228 
AGRIQUALITY (MAF) Livestock Consultant 
Phone 09 4311 820 or 021518257  
 
BUDGETING SERVICE,OTAMATEA:Free confidential advice & 
support - all areas of  personal finance Ph: 09 4318173 or 094318117
CAB-
Citizens Advice Bureau.Wellsford Ph: 4237333.
0800 367 222 email:
cab.wells@xtra.co.nz
DOG/STOCK /NOISE CONTROL 0800 105 890 
 
KATE'S PLACE with Govt.Day Agencies/Community Information /
Osteopathy/ IRD / Probation, etc Ph: 4312661 Hours: 9am-3pm. Mon - Fri 
 
FUNERAL SERVICES: Morris & Morris Ltd, 
Whangarei - Bev Jaques Ph:4312367 or 0800667747 
 
GRANDPARENTS  Raising  Grandchildren:  Sarah  Rogers  Ph: 
4312194 
 
HAKARU LANDFILL/Transfer Station:Open everyday except 
Tuesday10am-4pm.Ph4312629 Cost-$55 trailer load up to 1 cubic 
metre. Ph:4258567 - office 
 
INLAND REVENUE: Last Friday each month, 
11-3pm Ph4312661 
KAIPARA DISTRICT COUNCIL www.kaipara.govt.nz:  
Help Desk FREEPHONE 0800 727 059  
Service Centre Mangawhai 4313161 
KAIWAKA KOHANGA REO:
Ph:4312620 
KAIWAKA CEMETERY: Ph: 4312045 
 
KAIWAKA LIBRARY: kaiwaka.library@gmail.com  
Mon. 4-6pm; Wed., Thurs., Fri., Sat.  10am-2pm Ph:4312539
 
KAIWAKA PLAYCENTRE: Ph: 4312286. Hastie Lane 
Monday to  Friday  9.00am 
- 
12 noon.
KAIWAKA POST OFFICE:
Ph:4312 626 Fax: 4312287  
Post Code: 0573  for RD2  and  0542 for all Kaiwaka Post Office mail 
 
KAIWAKA PRIMARY SCHOOL : Ph: 4312309 
 
KAIWAKA SPORTS ASSN: Ph 4312005; 4312129 gym 
 
KAIWAKA ST JOHN: Manager Steve Rosser 09 4318403, 021 2316836 
 
NORTHPOWER: Faults Kaiwaka area 0800 104040 
 
PARENTPORT: Free, practical family support servicePuhoi to Paparoa 
Ph:  Sharon Mehana, Co-ordinator. 4259357 or 027 280 5093 
 
PERSONAL DEVELOPMENT COACHING, GROUP FACILITATION:  
Sabine Druckler 4312231 
 
PLUNKET  KAIWAKA/MANGAWHAI:  Ph:
094318187 
or  0
276753488 
Kaiwaka Mobile Clinic once a month– appointments necessary;  
Mangawhai (next Domain) 
1st & 3rd Thursday & Coffee Morning; 
PLUNKET CAR SEAT CO-ORDINATOR:  
Pat Scott Ph 4314530 
or 0272881635 
PLUNKET FREEPHONE -0800 933 922 
PLUNKET -MAUNGATUROTO  Clinic every 2nd & 
4thThursday. Ph: 09 4318187 
 
PUBLIC HEALTH NURSE: Gloria Reid Ph: 094327634  
RETURNED AND SERVICES ASSN 733 Settlement Rd.Hakaru 
Ph.4312176 Bill Kerr (President) Ph.4314719 
TE KOROWAI AROHA O NGATIWHATUA Ph: 4312675 
(The Cloak of Love of Ngatiwhatua) Support and Maori Consultancy.  
 
VETERINARY SERVICE MANGAWHAI: 
Ph: 4314535 Mon-Fri 8.30-4.30, Sat 9-12, a/h appt. 
 
WOMEN'S WELFARE LEAGUE & Reaching Out For Youth:  
4 Kaiwaka-Mangawhai Rd, M Morgan 4312293
WHAT'S ON
PLEASE ~ do let me know what is on - email 
kaiwakabugle@kaiwaka.co.nz 
Advertising in WHAT'S ON is FREE  
*16Apr~Giant Pumpkin Competition, 9am Kaiwaka School 
*16Apr~Firearms Safety workshop, 7pm The Work Camp 
*17Apr~Poppy Day 
*17Apr~Otamatea Hawks v Old Boys Marist, 6:30pm KSC 
*25Apr~War Horse, 7pm Kaiwaka War Memorial Hall 
*25Apr~DANCE of LIFE, freestyle dance, 8 pm, Senior Citizens 
Hall. Mangawhai Heads, 09 4312408 / 021 2968794 
*26-27Apr~Molesworth Dog Trials, Oneriri Road 
*28Apr~Kaiwaka Squash, AGM & Opening Night, 7pm 
*3-4May~Days of Thunder, Hakaru RSA 9:30am-3:30pm 
 
See www.kaiwaka.co.nz for upcoming events. 
 
HOUSEHOLD  RUBBISH  COLLECTION  -  Kaiwaka    Pick  up-
Mondays=Gr een bags ar e picked up by Nor thland Waste-queries 
to  them  09  4303273,Wednesdays=Blue  bags  and  yellow  recycling 
(at  Jaques    $3.00  and  $1.50)    are  picked  up  by  Kaurilands  09 
4392146.  
*DIABETES Support Group -for Kaiwaka, Mangawhai, Wellsford 
   10am, 3rd Friday of month Ph:A.Pert 4238242; J.Gardner 4238060 
*DRINK CAN 'tear tabs' - for Starship Hospital- please collect - 
    98 Kaiwaka Mangawhai Rd, leave in mailbox, Ph. 4312625  
*GYMNASTICS OTAMATEA -  Tuesday Ph: Stephanie 022 3624998 
*HAKARU PONY CLUB-Secretary Julie Rynne 09 4314520 
*KAIWAKA BADMINTON -Tuesdays 7.30pm Ph: 4312345 
*KAIWAKA GARDEN & FLORAL Grp:2nd Thursday in month 
   Ph: 4314767 
*KAIWAKA CUBS-Thursdays 5.30-7pm, Hakaru  Ph:Bruce  4312542 
*KAIWAKA SQUASH -Mondays 7pm Ph: Barbara Thomas    4315905 
KNITTING FOR WHANGAREI HOSPITAL - 2nd Tuesday in  
   month, Apple Basket 10am Ph 4314827 
*MANGAWHAI COMBINED PROBUS CLUB: 2pm,3rd Thursday  
   month in the Senior Citizens Hall Mangawhai. Ph: 4315777 
*NZ GENEALOGY-Wellsford - 1st Thursday in month Ph: 4237033 
*OTAMATEA GREY POWER-09 431 8138 Joan Hoggard  
*PT CURTIS CRUISING CLUB - Jean Ph: 4312 246 
*RSA,Hakaru & Dist.Women- meet 1.30pm 4th Thurs in month Ph: 4312 668  
*TRAMPING- Mondays 9am-2:30pm  Karen Ph: 4312 090 
*WAIPU GENEALOGYGROUP -4th Monday in month Ph: 4312725 
*YOGA- Tuesdays 6:15pm, Friday 8:30am Kaiwaka WM Hall Carla  
   Ph: 4312 408, 021 296 8794
CHURCHES:
*Gateway Worship Centre-St Mary's Church Nathan Rd off Oneriri Rd, 
Kaiwaka 
Services, 10.30am 1st & 3rd Sunday of every month. Contact: Rev David 
Gage 4312528 or 0212354282 
*Kaiwaka Family Church-Your Community Church Sundays, l0am 
Home Group every Wed evening, Pastor John.Dekker Ph: 4318203 
*Kaiwaka Services.Anglican & Family Service at St Pauls Church  - 1st 
Sun. 9.30am(Anglican),3rd Sun. 9.30am (Family Service).  Contacts: Parish 
Office 09 4318193, M.Hargreaves 4312295, C.Bygrave 4312057  
*Church of Christ the King, Mangawhai 9.30am every Sunday 
*St.Mary's Catholic Church: Maungaturoto – Griffins Road, Saturday even-
ing Vigil Mass 6pm; Mangawhai – Senior Citizens Hall, Sunday Mass 
8:30am; Wellsford – Matheson Road, Sunday Mass 10:30am; Mid-week 
Mass times and all enquires to Fr. Bill Fletcher – phone 423 8170 
*Baptist Church: Sun. 10.30am Mangawhai Snr Cit.Hall.Ph:4312339 
*Cause Way Church Mangawhai – Sundays 10.15am, Mangawhai Commu-
nity Recreation Centre, Insley St. Ph: 09 4314782  
www.causewaychurch.org.nz 
 
*St.Pauls Archie Bull Hall HIRE  $20 half day, $40 full day per hire 
 Contact G. Jaques 4312048 
*Kaiwaka War Memorial Hall HlRE - Phone 4312725 or   
Email  
kaiwaka.hall.bookings@gmail.com 
*Hakaru Community Hall HIRE -Ph.  4312256 or 4312110 
*Te Pounga Marae queries -A.Gage 4312528, 4312527 
*Kaiwaka Sports Association hire/queries- C. Anderson 4312051 
 
Justice of Peace: B.FJaques; L.Donaldson; A.F.Hargreaves  -please phone to 
make sure they are available 
Marriage Celebrants: L.Donaldson; A.F.Hargreaves; C.Rosseels 
 
Next Bugle Deadline Friday 25 April 2014