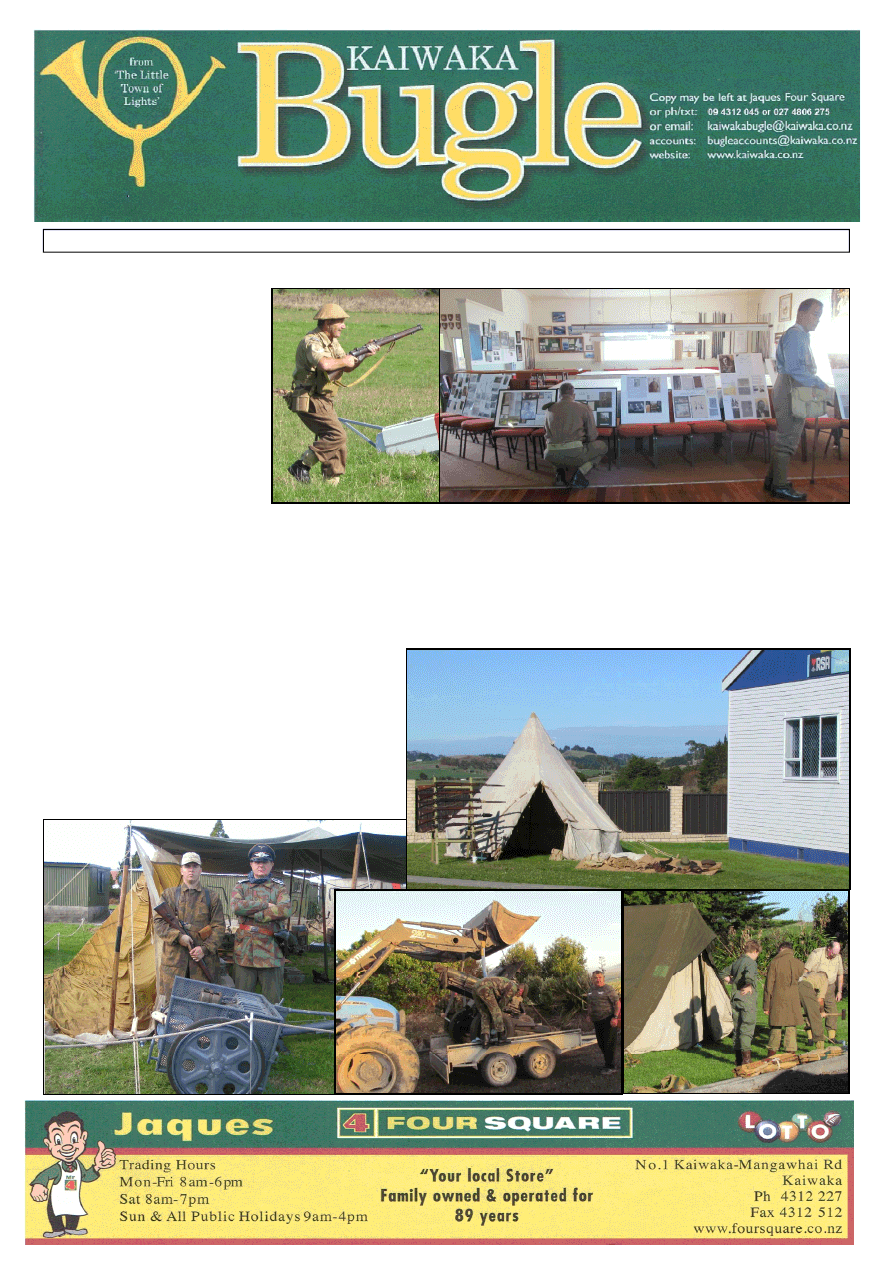 "DAYS OF THUNDER" 
  No: 9 
13/05/2014 
On the weekend of 3rd and 4th of 
May the Hakaru RSA held one of 
the biggest events of its history.  
"Days  of  Thunder"  was  held  to  
commemorate  100  years  since 
the  start  of  WW1.  A  display  of 
photos  and  history  of  local  club 
members  past  and  present  was 
displayed  in  the  clubrooms,  
spanning  from  WWI  to  WWII 
including  the  local  home  guard. 
This 
was 
supported 
by  
re-enactment  societies  of  WWI, 
WWII,  the 
American  101st  
Airborne  and  the  Fallschirmjager 
Regt 3 – German paratroopers. 
Each  day  there  was  a  Firepower 
demonstration  at  which  a  local  RSA 
member  was  invited  to  take  part  in.  A 
mock  battle  was  held  each  afternoon 
and  members  of  the  Mangawhai  Cadet 
Unit  were  selected  to  join  the  
re-enactors  which  was  a  real  highlight 
for both the cadets and their parents. 
The  RSA  sincerely  thanks  those  who 
added  something  special  to  the  day  by 
way  of  providing  vintage  cars  and  
motorbikes,  hot  rods  and  even  a  huge 
truck  for  the  people  to  drool  over. The 
Patriots  Motorcycle  Club  (all  ex  
service  men  and  women)  dropped  by 
for  a  couple  of  hours  on  the  Saturday. 
Many  thanks  to  the  Mangawhai  Cadet 
Unit and the Kaiwaka Cubs and Scouts 
for  providing  food  and  drinks.  We 
would  also  like  to  thank  the  Hakaru 
Pony  Club  for  providing  parking  for 
visitors.  The  Re-enactment  Societies 
have  expressed  interest  in  wanting  to 
return to the Hakaru RSA for the 2015 
100  year  commemoration  of  Gallipoli 
and  have  assured  us  they  will  bring 
three  to  four  times  as  many  military 
displays  including  military  vehicles  of 
all 
types. 
Our  thanks 
go 
to 
a 
friend of one 
of 
our  
committee 
members  for  
allowing  us 
to  have  his 
105 
Pack 
Howitzer  on 
show  as  part  of  the  Vietnam  War  
display.  It  looks  like  2015  is  going  to 
be one huge event. 
Last  but  not  least  we  would  like  to 
thank  the  Bugle  for  supporting  our  
advertising  campaign,  leading  up  to 
that weekend. 
~Hakaru RSA 
Walking With Dinosaurs 
Sunday 8 June 2pm (PG) 
Free for kids with accompanying parents $5 
The Book Thief 
Friday 20 June 7:30pm(PG) 
ABOUT TOWN 

Well  done  to  the  Hakaru  RSA  mem-
bers for their brilliant displays at 'Days 
of Thunder'. 

Great to know that the Hakaru Hall is 
now owned by their community. 

 You  are  welcome  to  their  Barn 
Dance on 24 May. 

Kaiwaka  Squash  is  now  up  and  run-
ning;  Kaiwaka  Fitness  Centre  has  an 
Open Day on 13 May 

The  first  of  Steve  Campbell's  excel-
lent  Photography  series  begins  in  this 
issue. 

Follow  our  Kaiwaka  firefighters  on 
the Sky Stair challenge on 17 May. 

 Check the excellent range of LARGE 
PRINT  and  audio  books  now  available 
in the Kaiwaka library 
NEW PRICES: 
Kaiwaka Bugle Advertisements 2014: 
Classified $3; 1/8 page $6; 1/4 page $12; 1/2 
page  $24;  in  special  circumstances  whole 
page adverts are available-cost $100 
bugleaccounts@kaiwaka.co.nz 
Payments  can  be  online,  posted  or  left  at 
Jaques Four Square Store. 
kaiwakabugle@kaiwaka.co.nz    for  que-
ries or copy. 
The  Kaiwaka  Bugle  is  a  community 
newspaper run by volunteers.   
Articles,  etc.  printed  are  not  necessarily  the 
opinion of the Bugle Team  
*   R O A D I N G   *   E A R T H W O R K S   *    
*   D R A I N A G E   *   S I T E W O R K S   *  
For any further enquiries, contact Shaun on: 
Cell: 021 222 0272 
Home: 09 4318339 
Email:   
shaun@huband.co.nz
Shaun Huband:  Registered Drainlayer 
KAIWAKA BUGLE No. 9 
13 MAY 2014 
CONTENTS 
Page 3: Classifieds & Notices 
Page 5:Squash; Fitness; Cubs & Scouts 
Page 7: Photography 
Page 9: Kaiwaka Library 
Page 11: Kaiwaka Sports Association 
Page 13: The School Journal 
Page 15: Kaiwaka School 
Page 17: Cruising Club 
Page 19: Cooking Competition 
 
Bugle 10 will appear 27 May 
Contact for advertising, reports, articles 
or information can be made by 
Email kaiwakabugle@kaiwaka.co.nz 
Ph: 09 4312 045 
Txt:  0274 806 275 
Copy may be left at Jaques' Four 
Square. 
View the Bugle online at: 
www.kaiwaka.co.nz/Bugle 
Kaiwaka Bugle 
Founded May 1978 
Copies available in Kaiwaka at Jaques Four 
Square, Kaiwaka Postal Centre, Shamrock 
Service Station, Celena's Gifts 
Also outlets in Maungaturoto, Mangawhai 
and Paparoa. 
Can be viewed online at www.kaiwaka.co.nz 
Or a copy can be posted to you if you supply 
stamped, self-addressed DLE envelopes. 
Mr. Pip 
Friday 16 May 7:30pm (M) 
Gravity 
Friday 6 June 7:30pm(M) 
At Kaiwaka War Memorial Hall . Adults $10, Chn (under 16) $5, Family Pa ss (2 adults +  3 children) $25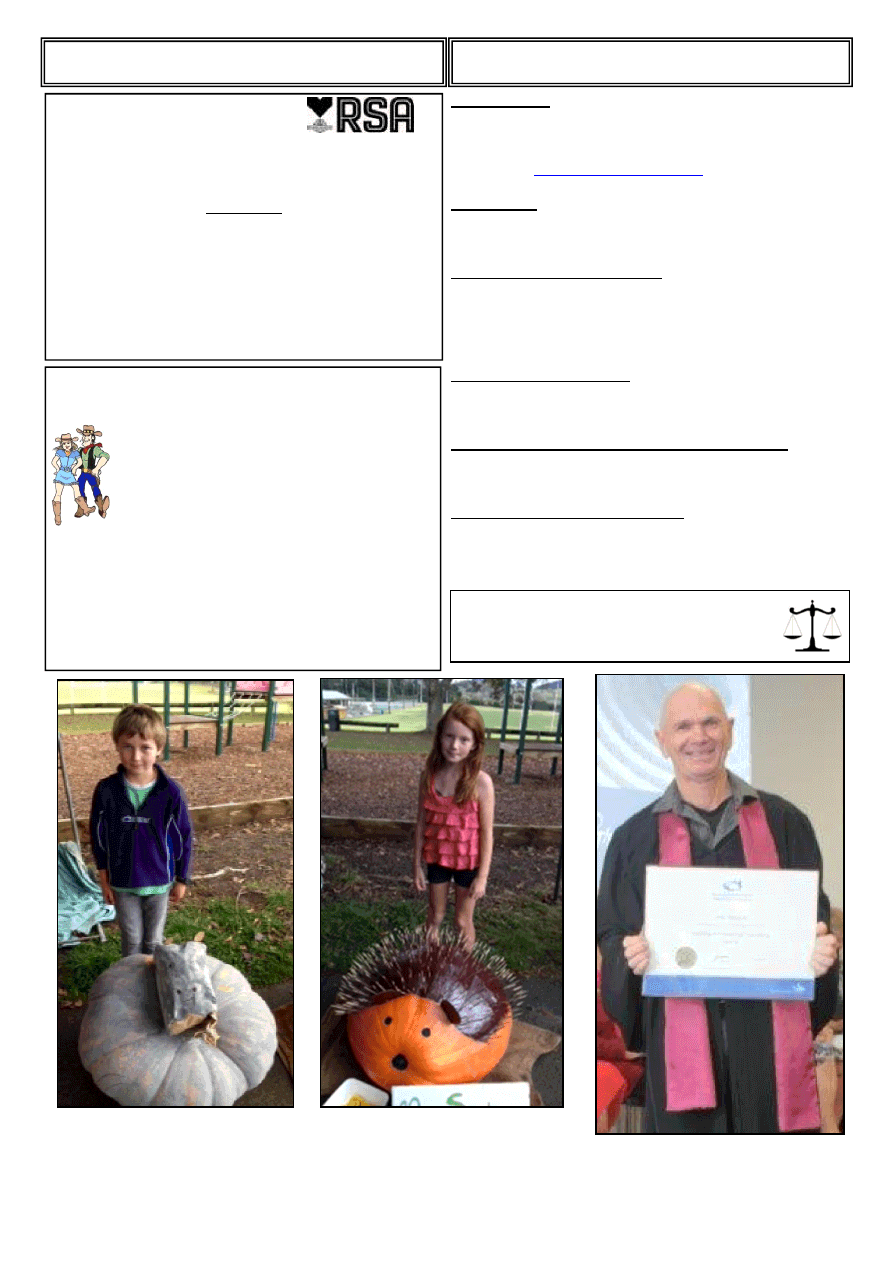 Come have some fun at the 
BARN DANCE AT HAKARU 
7:30  -  10:30 PM
Saturday 24
TH
 MAY 2014 
HAKARU  HALL 
742  SETTLEMENT ROAD 
HAKARU 
DRESS IN YOUR BEST WESTERN OUTFIT FOR 
COUNTRY AND WESTERN SQUARE DANCING 
INFO   09 431 2256 
BYO DRINKS AND SUPPER PLATE TO SHARE 
Tea and Coffee Supplied 
$10 per adult  $25 per family 
MONEY RAISED TO PAINT OUR  
COMMUNITY HALL 
PUBLIC NOTICES 
CLASSIFIED 
FOR  SALE:  J ill  Shires  Holistic  Animal  Therapies. 
Herbal Remedies, Bach Flowers, Ointments, Diatoma-
ceous  Earth,  Bentonite  Clay,  Cranio  Sacral  Therapy, 
Skin  Conditions,  Arthritis,  Laminitis,  Mud  Fever 
Cream etc. 
www.allcreatures.co.nz
 or 09 4312 080 
 
TO RENT: Old colonial gatehouse, Kaiwaka - 
Mangawhai Rd. $150pw incl power & meals. Ph 4312 
296 or 021 253 7661 
 
SITUATIONS  VACANT:    fit  and  able-bodied  
people, basic chainsaw skills and experience, join bush 
gangs  for  general  scrub  and  regenerated  pine  clearing 
in  young  pine  forest.  All  equipment  supplied.  Phone: 
431 2855 for more information.   
 
BERYL 
NOZEDAR:  (Middleton) 
International  
Clairvoyant. 
Numerology, 
Tarot, 
Clairvoyance,  
Mediumship. $60 for hour includes CD. Ph: 4312 080 
 
CLOTHING ALTERATIONS & REPAIRS: 
Hems,  Zips,  Dressmaking  Phone:  Win  4312  027    or 
027 444 8358 Winsome Designs. 
 
FREE  GRAZING  WANTED: Small or large block. 
Can  do  some  fencing  or  water.  Phone  after  6pm  
4312 006 
Proverbs  18:17- Any  story  sounds 
true until someone tells the other side 
and sets the record straight. 
HAKARU
ANNUAL GENERAL MEETING 
25
th
 May 2014 at 1.30pm  
in the Club Rooms 
AGENDA 
Notices of motion 
Apologies 
Obituaries 
Minutes 
Election of officers 
General business 
ONLY FINANCIAL MEMBERS ARE 
  PERMITTED TO ATTEND  
Pete Worsfold graduated from 
New Zealand Institute of Professional 
Counselling (NZIPC) last month with 
a Diploma of Prof Couns. 
Kaiwaka  School  5th  Annual  Giant  Pumpkin  Competition  Winners:  Heaviest  -  "Big  Boy"  -  1st  
Michael Ferguson 72kg, 2nd Summer Kenyon 68.8kg, 3rd Benito Beyer 49.4kg; Arty Farty - "Mrs 
Spikey" - Summer Kenyon; Ugly Fugly - "Disco Puoro" - Gilligan Family; Rolly Polly - "Richie 
McCow"  -  Sophie  Gribble.  Thank  you  to:  Kaiwaka  Cheese  Shop,  LJ  Hooker  and  Jaques  Four 
Square  for  donations  of  prizes;  Maungaturoto  Vet  Centre  for the use  of  their  scales  to  weigh the 
pumpkins; Wellsford Farmland and the Ferguson family for the seeds and a big thank you to all my 
parent helpers on the day.  A fun day was enjoyed by all. Highlight - the smashing pumpkins! Could-
n't have done it without you all. ~Megan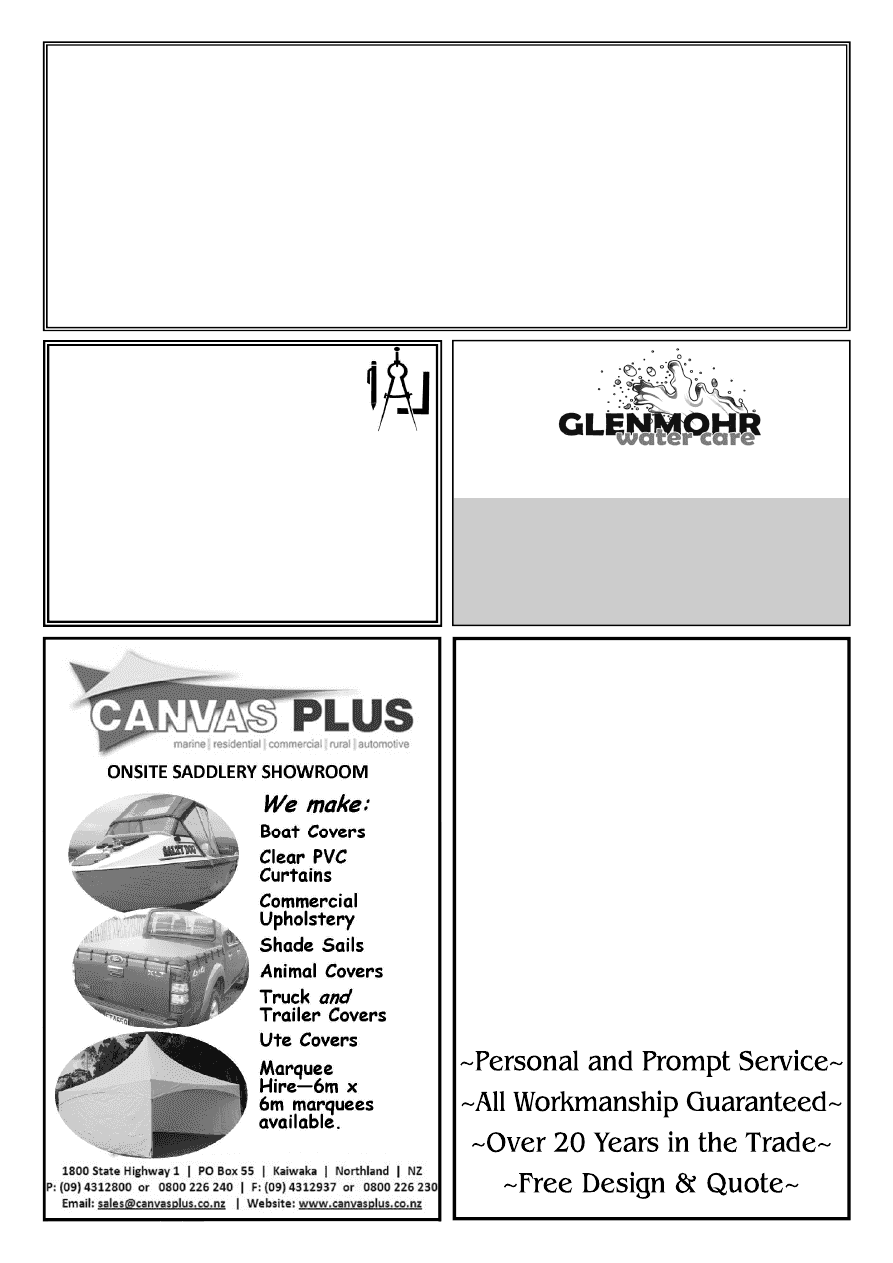 RANGANUI EARTHMOVERS 
16T Excavator   
(tilt, thumb & ROPS cab)   
Transport Trailer 
2 x 6 Wheeler Tip Trucks 
Suppliers of All Grades of Metal & Topsoil 
If you want a proper job done with an experienced operator ring 
Grant on:  A/H  431-2131   
Email  ranganui.dev@xtra.co.nz 
Mob  021845-246 
Driveways, House Sites,  
Drainage Dams, 
Section Clearing,  
Tree Work,  Rock Retaining Walls,  
Quarry Work, 
Basically Anything That a Digger Can Do 
design drafting 
service 
Retired builder and manufacturer with over 40 years  
experience in the building industry is offering a design 
drafting service for domestic housing, sleepouts and 
sheds.  
Plans formulated in consultation with clients, with 
working drawings completed and submitted to  
council for processing.  Extensive practical experience,  
able to identify & resolve problems. 
Please ring Mike Lean on 
09 431 2260  
          or 
021 431 196 
Water Tank Cleaning 
 
Keep your water safe & clean   
 
Removal of sediment, silt etc. 
 
Vacuum or full scrub 
 
Minimal water loss 
Phone Mark (09) 432 0655 or 0274 707607 
PLANNING A NEW 
KITCHEN? 
 CONTACT NOEL McDOWELL 
WELLSFORD 
KITCHENS
Ph/Fax 094312888  
KAIWAKA-Any time 
  QUALITY CUSTOM MADE 
KITCHENS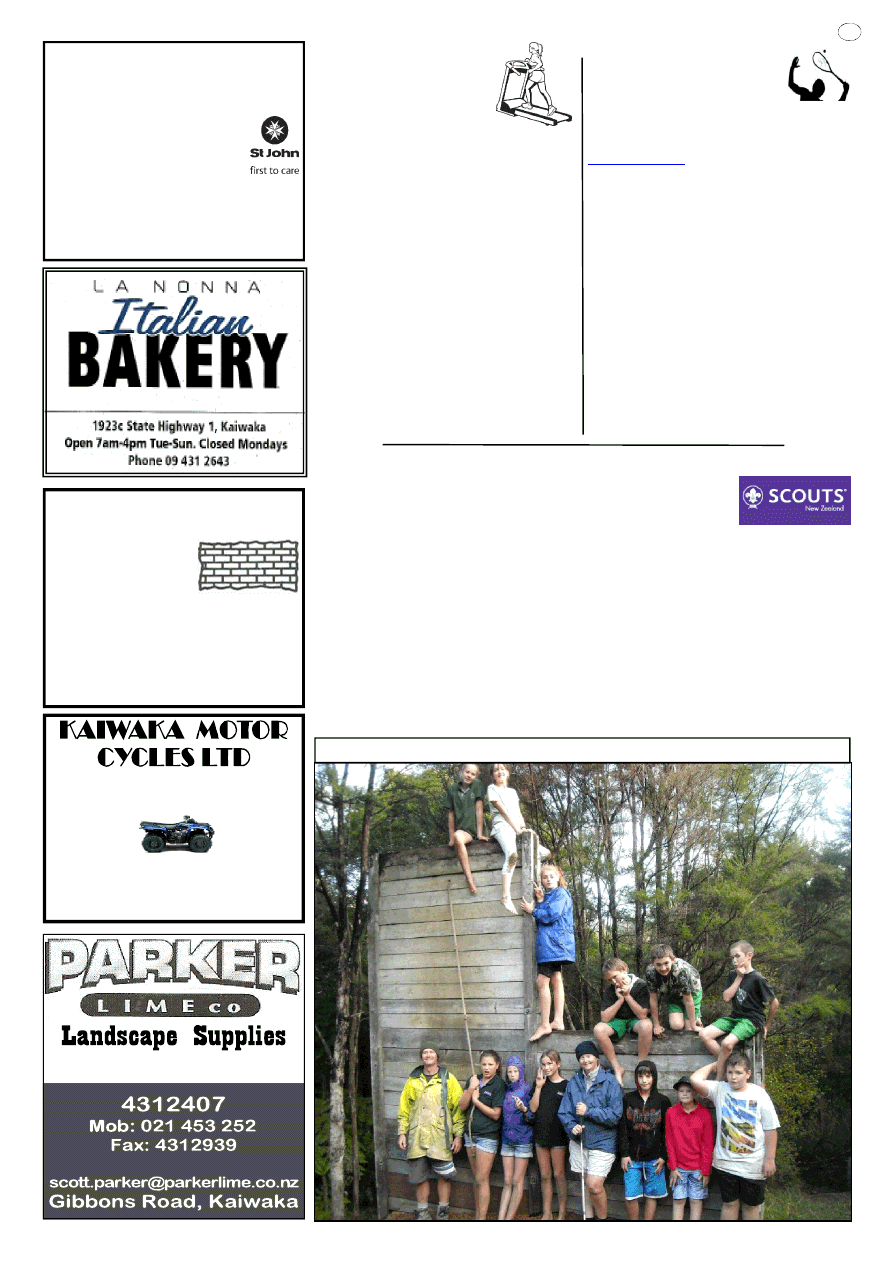 BRICK/BLOCKLAYER 
All aspects of masonry:  
Fireplaces, 
Restoration  
& Remedial Work. 
JAMES EAGLETON 
Tel. (09) 431 2514  
Mob. 0274 749 232 
jajueagles@yahoo.com.au 
210A Pukenui Road, RD2 Kaiwaka 0573 
Bulk Cartage 
SALES SERVICE SPARES
FARM BIKE SPECIALIST
Phone 431 2127  
Kaiwaka-Mangawhai Rd 
Kaiwaka 
When you need St.John 
members at your function … 
Get a Community Services 
Form 
….. see Mill
y at the  
Kaiwaka St John  
Op Shop.
Phone 4312650 
MORE MEMBERS REQUIRED FOR 
THE KAIWAKA STATION. 
5 
KAIWAKA  
FITNESS  
CENTRE 
Short and sweet this time.  
Open  Day  Tuesday  13th  May  5-7pm  at 
gym,  wine  and  cheese,  renew  member-
ships,  and  hopefully  I  will  have  some  of 
the new equipment up.  
Key change over 20th of May.  
Memberships  will  remain  the  same  as  last 
year. 
Big  thanks  goes  out  to  Jaques  for  taking 
delivery  of  new  equipment,  that  was  
fantastic and I really appreciated it.  
Thanks  to  Greg  for  helping  me  move  
sunbeds around. To Mark and Pam and the 
clan,  hope  you  all  had  a  good  trip,  
welcome back.  
Hope to see you all Tuesday
~ Jules 
 KAIWAKA FITNESS CENTRE 
OPEN DAY 
Tuesday 13 May 5-7pm 
Kaiwaka Sports Complex 
Our  Scouts  spent  three  days  at  the 
Tangihua Lodge in the school holidays, 
enjoying  tramping,  cooking,  making 
campfires  and  huts,  and  doing  a  
challenging obstacle course.  
The  three  Scout  troop  leaders  had  
organised  the  camp  activities  and  also 
had  to  run  them  on  the  day  (the  adults 
had to sit on their hands!), so this was a 
great  leadership  experience  for  the 
children.  
Well  done  to  Jade  Tornquist,  Holly 
Anderson and Tyler Young. And many 
thanks 
to 
the 
Kaiwaka 
Sports  
Association for the use of their van. 
Also  
'WELL  DONE!'  to 
our  Cubs  and  Scouts 
who  sold  food  at  the  Hakaru  RSA's 
Days  of  Thunder  event  to  raise  money 
for their troop. 
 
Our  Scouts  joined  other  Lower  North 
Scout  troops  at  Warkworth  on  Sunday 
and  had  a  great  afternoon  shooting 
down  the  super  long  mudslide.  So  the 
Scout  mums  had  a  wonderful  time  for 
Mothers  Day  -  watching  their  kids 
have fun, and then going home to wash 
a pile of mud caked clothes..... 
KAIWAKA/MANGAWHAI CUBS 
and 
SCOUTS 
KAIWAKA 
SQUASH CLUB 
...is up and running!  
Come  on  down  to  the  courts  on  Monday 
nights  to  have  a  game  or  contact  Phillip 
Tana  on  (027)6811265  or  email  him  
ptana@lic.co.nz
 to be in the draw. 
We had the club AGM on the 28
th
 of April 
and  the  elected  committee  is  as  follows: 
President:  Paul  Greig,  Treasurer:  Karla 
Tana,  Secretary:  Heather  Lupton,  Club 
Captain:  Phil  Tana,  Sports  Assn  Delegate: 
Innes Anderson. 
Subs will be staying the same this year and 
are  a  bargain  at  $60  for  senior  players, 
$100  for  a  family  and  $40  for  school-age 
students.  We  hope  to  build  numbers  and 
then will look at having challenges against 
Wellsford,  Maungaturoto  and  possibly 
Dargaville.  Phillip  has  also  kindly  offered 
to  do  some  coaching  so  talk  to him  if  you 
are keen. 
 
Dig  out  the  squash  shoes,  dust  off  the  
racket  and  we  will  see  you  at  the  courts 
Monday. First games at 6pm. 
Photo below: Scouts on the obstacle course at Tangihua Lodge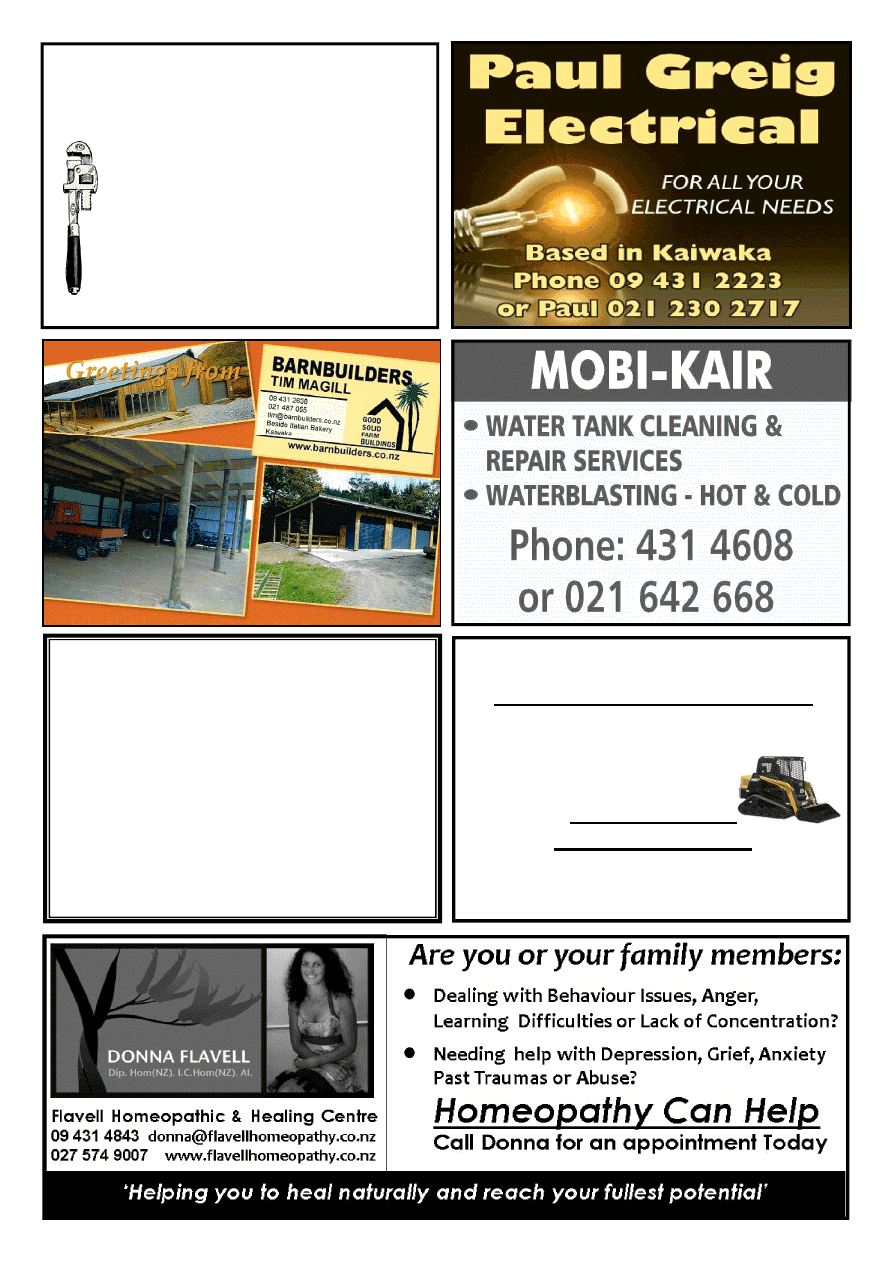 TILING 
Certified Waterproofing 
431 4533 or 021 86 33 33 
George 
MCN Property Solutionz  
Local references available 
Natural Earth Ltd 
Landscape and Bobcat services 
 : Driveways  :Landscaping  :Retaining Walls 
 : Hole Boring: Land Levelling :Trenching 
 : Decks :Fences :Sections Cleared 
 : Plus much more
Tel 09 4312 885 
Mob 02102391280 
For A Fast Friendly Service  
Contact Tim Hicks 
BARRY CURTIS PLUMBING LTD 
REGISTERED CRAFTSMAN PLUMBER 
Phone 431 5572 
027 257 9884 
25 years' experience 
Friendly reliable service 
All plumbing & maintenance 
Alterations and new housing 
New wood fire installation 
Spouting 
Competitive rates
PROMPT EFFICIENT  SERVICE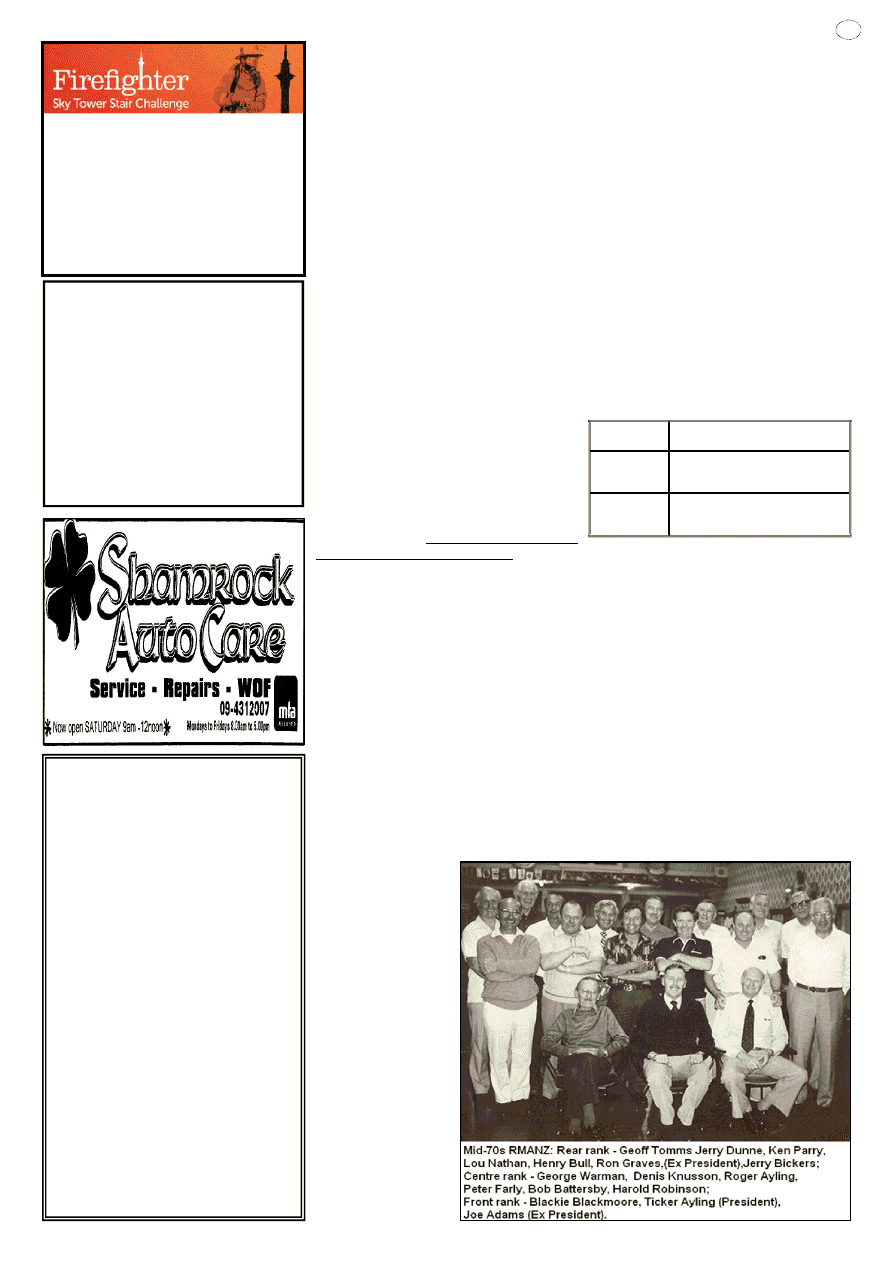 AMBER'S 
Q Cafe &  
Restaurant  
All day breakfast, 8am - 5.30pm.     
Home made Pizza, take away or eat in from 
8am to late. 
 Light lunches, 11.am - 5.30pm, 
Dinner Menu at 5.30pm to late 
 Toasted Sandwiches and Sandwiches made 
to order. All day, Pies, Chowder & Soups 
 Milkshakes, Kiwi Ice cream, Slushie Fruit 
drink, Tea, Coffee 
 Closed Mondays.....except Observed Holidays 
 Sunday to Thursday: 8am - 8pm 
 Friday: 8am - 8.30pm, Saturdays 8am- 9pm 
4315226 
Trevor & Amber 
41 Moir Street, Shop 5-6  
Mangawhai Village 
Next to Carters Building Supplies 
 LEABOURNS 
Passenger Service
Car & Van Hire 
Bus & Coach Charters 
Airport Transfers 
 Monthly Shopper Bus 
Phone (09) 4237416 
7
Saturday 17 May 2014 
Kaiwaka  fire  fighters  Mickey  Renton, 
Mike Law and Tim Brown will race up the 
1,103  stairs  in    in  the  Sky  Tower  Stair 
Challenge to raise funds for the Leukaemia 
and  Blood  Cancers Foundation.  Last  year 
they  did  it  in  22  minutes  –  can  they  beat 
that record this time?    
          www.firefightersclimb.org.nz 
PHOTOGRAPHY 
Memories of yesterday, treasures of tomorrow 
DON'T PANIC
Start off by washing your hands, a real 
good scrub and get them properly dry.
OK  now  you  have  removed  a  major 
source  of  grease  and  dirt  build  up  that 
would have attacked your photos.
Next go and get your photos and with a 
soft  lead  pencil  (4b  or  softer)  lightly 
write  a  number  on  the  back  in  the  
corner.  Start with 00001.
Once all your photos are numbered get 
a  notepad  or  better  still  start  a "Word" 
type  document  on  your  computer  and 
for  each  number  write  up  the  photo 
number  and  what  you  know  about  the 
photo like this… 
 
Store your notepad separate from your 
photos to reduce acid transfer.
From  a  historical  and  genealogy  
perspective  this  information  is  GOLD 
so  the  more  information  you  get  the 
better.    Later  generations  will  be  so 
grateful  that  you  took  the  time  and  
effort  on  their  behalf...if  you  don't  
believe me just ask any genealogist!
Next  time  I'll  share  with  you  some  
digital  techniques  for  scanning  and 
annotating your 
 photos 
so 
the  
information  is  both  clear,  permanent 
and non damaging, like this... 
~Steve Campbell 
09 4312 779 
Photo # 
Information 
00001 
Aunt Annie's prize winning 
lamb Kaiwaka  Feb1924 
00002 
The great flood of winter 
1899 at Hakaru Bridge 
Photography  has  been  in  New 
Zealand  for  most  of  our  young 
life.   
The  memories  that  photographs  record 
are  like  no  other,  they  carry  a  special 
place in our hearts.  
These  memories  need  to  be  protected 
and  over  the  next  few  months  we'll 
look  at  what  you  can  do  to  preserve, 
repair,  share  and  generally  get  more 
out of these "time capsules".
We'll  start  today  with  old  photos;  
everybody  has  them  and  99%  of  your 
photos  will  have  nothing  on  them  to 
say  when,  what  or  who  they  are,  am  I 
right?
….Whoa there...hold on a minute.
Before  you  get  your  pen  out  and  
interrogate  the  family.."is  that  Uncle 
Jack  or  Aunt  Ena,  they  both  had  a 
beard"  read this on marking photos...
"Do  not  write  on  the  back  of  your  
photos with standard ball-point or felt-
tip  ink  pens.  Unless  it  is  marked  
specifically for use on photos, most ink 
contains  acids  which  will  eat  away  at 
and stain your photos over time. If you 
must  mark  a  photo  and  don't  have  an 
acid-free photo marking pen available, 
then  write  lightly  with  a  soft  lead  
pencil on the back of the image."
OK that's good advice from a respected 
source...  We'll  look  at  better  ways  to 
write up photo content in a moment.
Also  while  we're  on  the  subject  of  old 
photos; bad handling, acid and light are 
the  main  killers  of  these  precious  
images. 
We  all  know  the  famous  Shoebox  
storage system... but boxes are made of 
cardboard  and  card-
board  contains  acid. 
Your shoebox is OK 
in the short term but 
an  acid  free  storage 
system  is way the to 
go  if  you  want  the  
photos  to  outlive 
you. 
Also  a  word  on  
paper clips, adhesive 
tapes,  rubber  bands 
and glues…don't use 
them…  ever…  just 
don't!  They  are  all 
like  Kryptonite  to 
photographs.
So  now  that  I've 
scared 
you 
into  
running 
to 
the  
cupboard… 
what 
now?  well  firstly…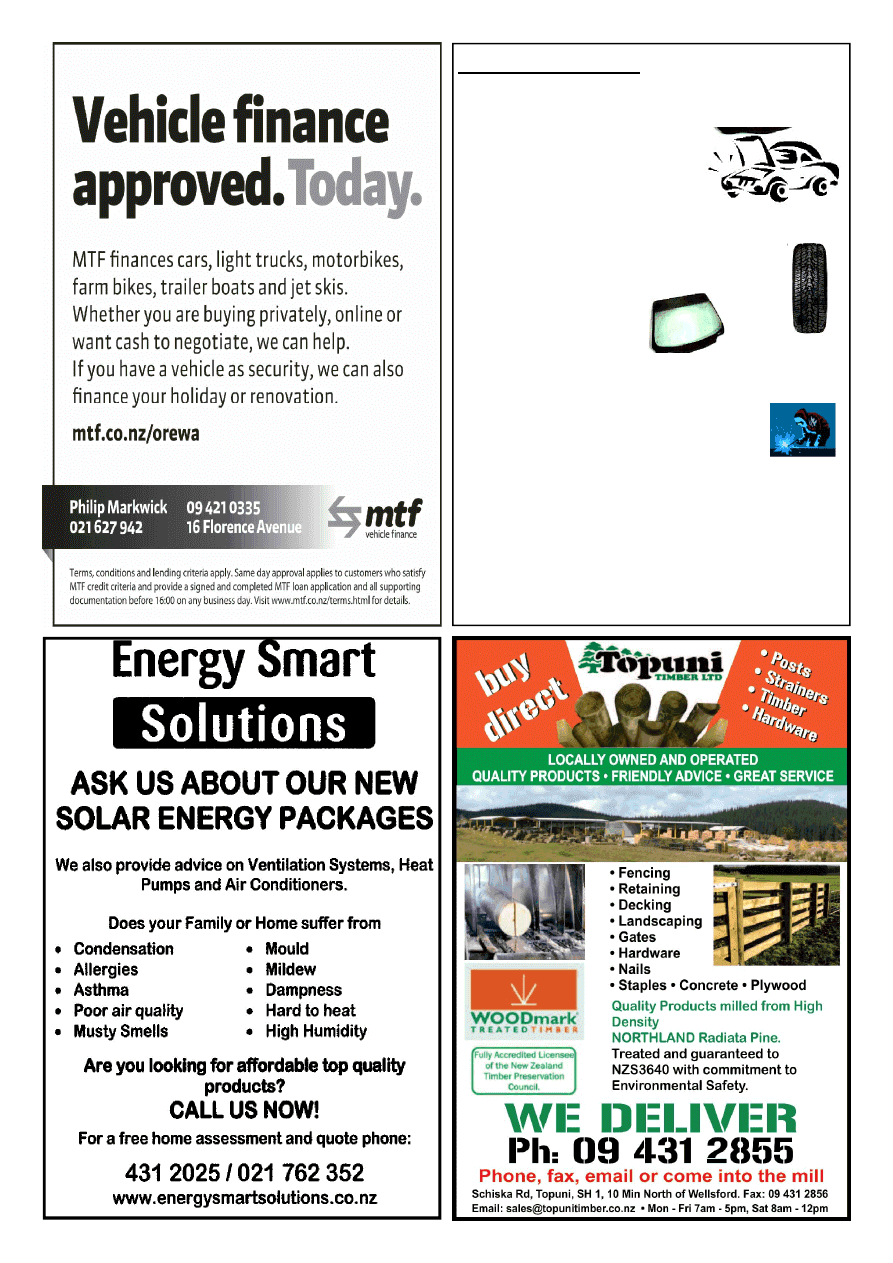 Want it done? 
Bring it to  
Twinkle Tow 'n' Tyre 
*W.O.F. 
*Tyres 
*Windscreen replacement 
*Chip repairs 
*Bulk Oil 
*Batteries 
*Welding 
*Custom built trailers 
*Trailer hire 
Think you'll get a better deal in 
the city? 
Go on, ring us; it won't cost  
anything! 
1837 State Highway 1, Kaiwaka       
Phone 431 2823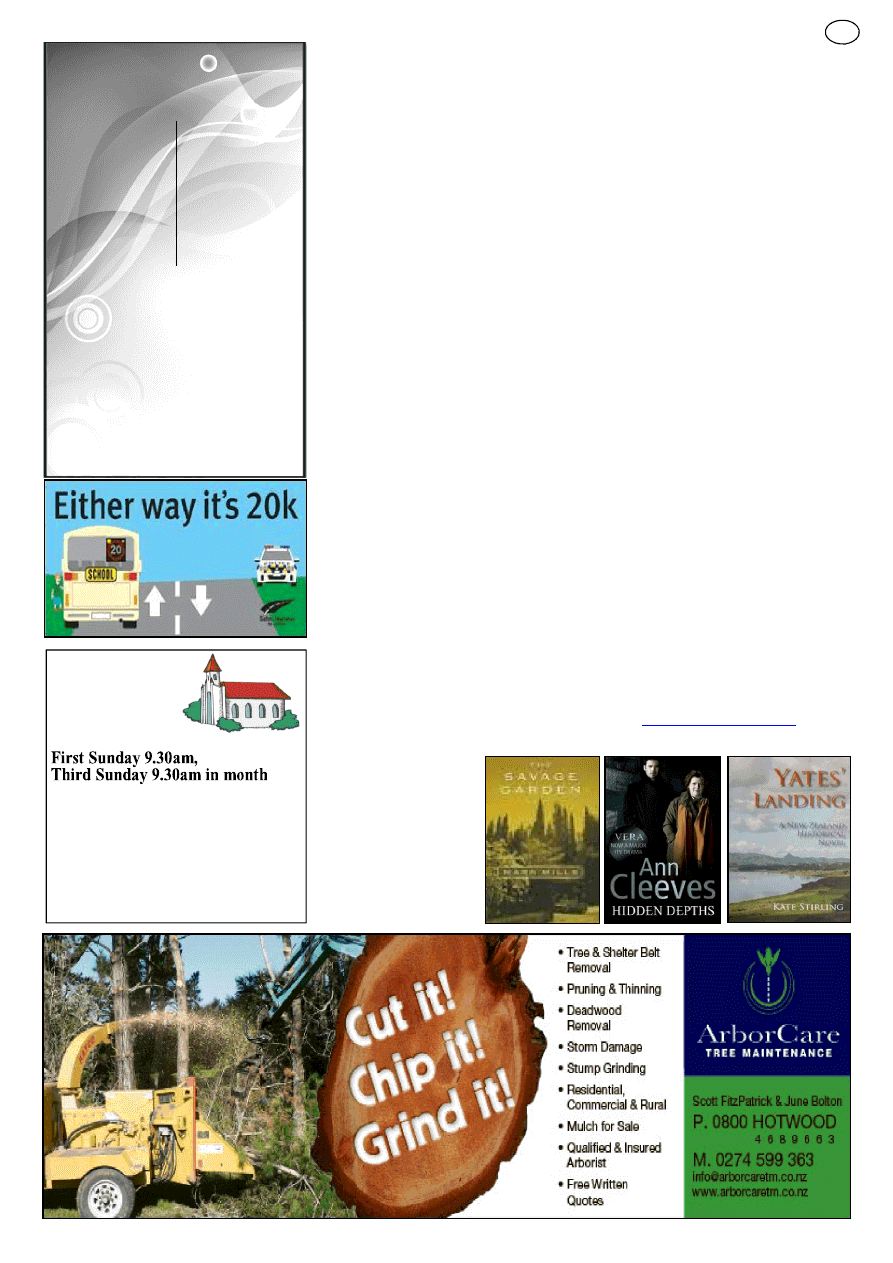 ST PAUL'S 
SUNDAY 
SERVICES
Paparoa Anglican 
St Pauls Church 
Kaiwaka-Mangawhai Rd. 
1st Sun. (Anglican), 3rd Sun. (Family 
Service) 
Contacts:M.Hargreaves 4312295,  
C.Bygrave 4312057  
9
U Beauty 
Please call Nicole for bookings 
09 393 6336 or 022 0639450 
Qualified Beautician 
4 Kaiwaka – Mangawhai Rd 
Kaiwaka 
Underarm Wax  
$20 
Extended Bikini Wax 
$30 
15 min Back  Massage 
$25 
Eyebrow Wax  $10 
Eyebrow Tint  $10 
Eyelash Tint 
$20 
Lip Wax 
$10 
Chin Wax 
$10 
Bikini Wax 
$20 
Brazilian 
$50 
½ Leg Wax 
$30 
Full Leg Wax  $45 
Full Pedicure 
$60 
Foot Tidy  
$35 
Manicure 
$45 
Nail Tidy 
$25 
Chest Wax 
$30 
Back Wax 
$40 
Nostrils 
$10 
Ears 
$10 
KAIWAKA LIBRARY
Have  you  taken  a  look  at  all  the  new 
Large  Print  and  Audio  books  on  our 
shelves  following  the  swap  the  other 
week? There are some great titles there. 
Next book swap 
Our  next  swap  is  with  Dargaville  
library in mid-June. Now is the time to 
make  sure  you've  borrowed  all  the  
titles  from  that  set  of  shelves  before 
they  have  to  go  back.  No  need  to  have 
the  Dargaville  books  back  before  the 
swap,  they  can  be  returned  to  our  
library on their usual due date. 
Book reviews 
Recently I've read The  Savage  Garden 
by  Mark  Mills.  Adam  is  a  student  at 
Cambridge  in  the  late  1950s,  a  bit  
aimless  and  always  keen  to  shirk  from 
his  studies,  until  his  professor  puts  the 
hard  word  on  him  to  get  started  on  his 
thesis, and suggests he visit a garden in 
Tuscany,  Italy,  that  he  knows.  The  
garden  is  owned  by  the  aristocratic 
Docci family, ruled over by the  elderly 
Signora,  and  was  laid  out  hundreds  of 
years  ago  in  memory  of  a  late  wife  - 
but  there's  something  odd  going  on 
there  that  piques  Adam's  interest.  The 
Signora's  granddaughter  holds  his  
interest,  too!  I've  read  and  enjoyed  a 
couple  of  books  by  this  author  before 
(Armagansett  and  The  Information 
Officer,  both  on  our  F iction  shelves), 
and was not disappointed. This book is 
on the Large Print shelves in the library 
until October. 
 
Hidden  Depths,  by  Ann  Cleeves.  A 
solo  mother  arrives  home  from  a  rare 
date, to find her son laid out dead in the 
bathtub,  covered  in  flowers.  It  is  
quickly  established  after  the  police  
arrive  that  the  poor  boy 
was  strangled,  and  so  
begins a manhunt. With-
in  a  few  days,  a  seem-
ingly  unconnected  stu-
dent  teacher  is  found  on 
a  beach,  also  strangled 
and  also  covered  with  
flowers…  This  is  the 
third book in the Inspec-
tor  Vera  Stanhope  se-
ries, but it is not necessary to read them 
in  order.  I've  enjoyed  all  three  so  far, 
and look forward to more. This book is 
on  the  Rental  Fiction  shelves  in  the 
library. 
 
Yates'  Landing,  by  Kate  Stirling.  
"When  Chloe  Mainwell,  the  pampered 
only  child  of  an  ambitious  British  
politician  goes  to  France  for  her  debut 
into society, she discovers life to be far 
more  unbelievable  than  she  could  ever 
have  imagined.  After  leaving  France 
and  marrying  'under  a  cloud',  her  
arrival  in  New  Zealand  at  the  turn  of 
the 20th century leaves her in no doubt 
of  how  different  and  how  difficult  life 
can  be.  From  a  pampered  child  to  a 
strong  woman,  her  metamorphosis  is 
complete  as  she  discovers  there  is 
strength and support aplenty where she 
least  expects  it.  Yates'  Landing  is  a 
romantic  novel  set  on  the  Kaipara  
Harbour  against  a  background  of  
historical  events  of  the  period."  (book 
cover) Ignore the fact that this is a self-
published  book,  with  everything  that 
entails,  and  enjoy  the  story.  It  is  
delightful  and  inspiring,  and  I'm  still 
trying to picture just where on the coast 
of  the  Kaipara  Harbour  it  is  set!  This 
book  is  on  the  Fiction  shelves  in  the 
library. 
 
See you in the library! 
~Wendy Howard, Librarian  
Kaiwaka  Library,  cnr  State  Highway  1  and  
Kaiwaka  Mangawhai  Road.  PO  Box  89,  
Kaiwaka 0542. Phone 4312 539.  
 
Email 
kaiwaka.library@gmail.com
Open  
Wed-Sat  10am-2pm,  Mon  4-6pm.  Membership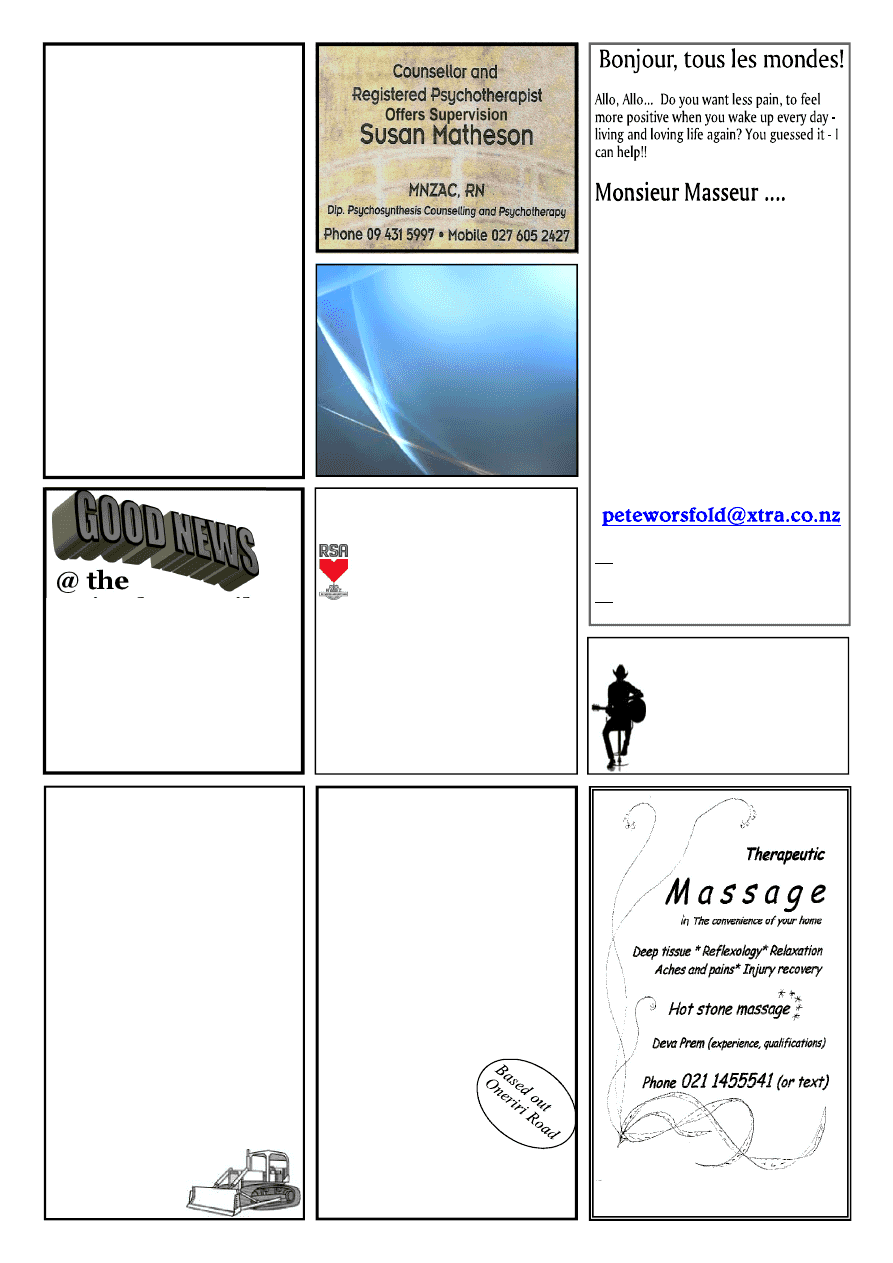 www.mangawhaimassage.co.nz 
HODGETTS 
CONTRACTING
Digger Work    

Driveways 

House Sites   

Dams 

Drains, etc
Also available for HIRE 

3 ton Vib Roller 

Heavy Duty Tow 

Waterblaster  

Lazer Level 
Phone Mark 
4312877 
027 447 8554
RELAXING  
MASSAGE
 
..... Juste pour vous" 
Call for an appointment now!
Pete Worsfold 
4312 152  or   021 825970 
 
Or  Ph. "The Well of Health" 
For an appt. 09 4312 799 
Or mobile service available 
Freeview  
Installations 
Richard Te Haara 
25 Marram Place 
Mangawhai Heads 
021 1104056 
kiwipride@xtra.co.nz
Willow Bend
HORSE  
HOTEL 
"   
Total Horse Care 
" 
Agistment 
" 
Riding Lessons 
" 
Arena Hire (60x40) 
" 
Young Horse Starting 
" 
Re-training/Exercising 
" 
Hoof Trimming 
" 
Problem Solving 
Phone Sue 09 431 
2817 or 021 623 776 
Or email sue.gray@xtra.co.nz 
Coates  
Contracting 

D41 Bulldozer with 6 
way blade, bush rigged 
with winch 

For all tree work 

General bulldozing and  
  stick raking. 

120hp Tractor for 
ground cultivation,  

tip trailer work. 

Fencing
All enquiries phone  
Brett Coates  
 094318720  
or 
 021431872
HAKARU & 
DISTRICTS RSA Inc 
Each Friday night 
from 6.30pm 
Meals will be served 
2nd Friday of the Month 
Is Roast Dinner Special 
Come along and enjoy our 
Hospitality  
For more information 
Ring Heather 431466 
or Jan 4314512 
@ the  
Kaiwaka Family 
Church 
Your COMMUNITY CHURCH 
RECEIVE HEALING 
RECEIVE THE LOVE OF GOD 
Everyone warmly welcome 
each Sunday 10am. 
Contact: Pastor John Dekker,  
09 4318203 
THERE'S 
Wellsford Country Music Club 
2nd Sunday of month - club day 
1:00pm 
Last Wednesday - workshop 
7:00pm 
Wellsford Co-op Parish Hall 
Contact 027 327 6604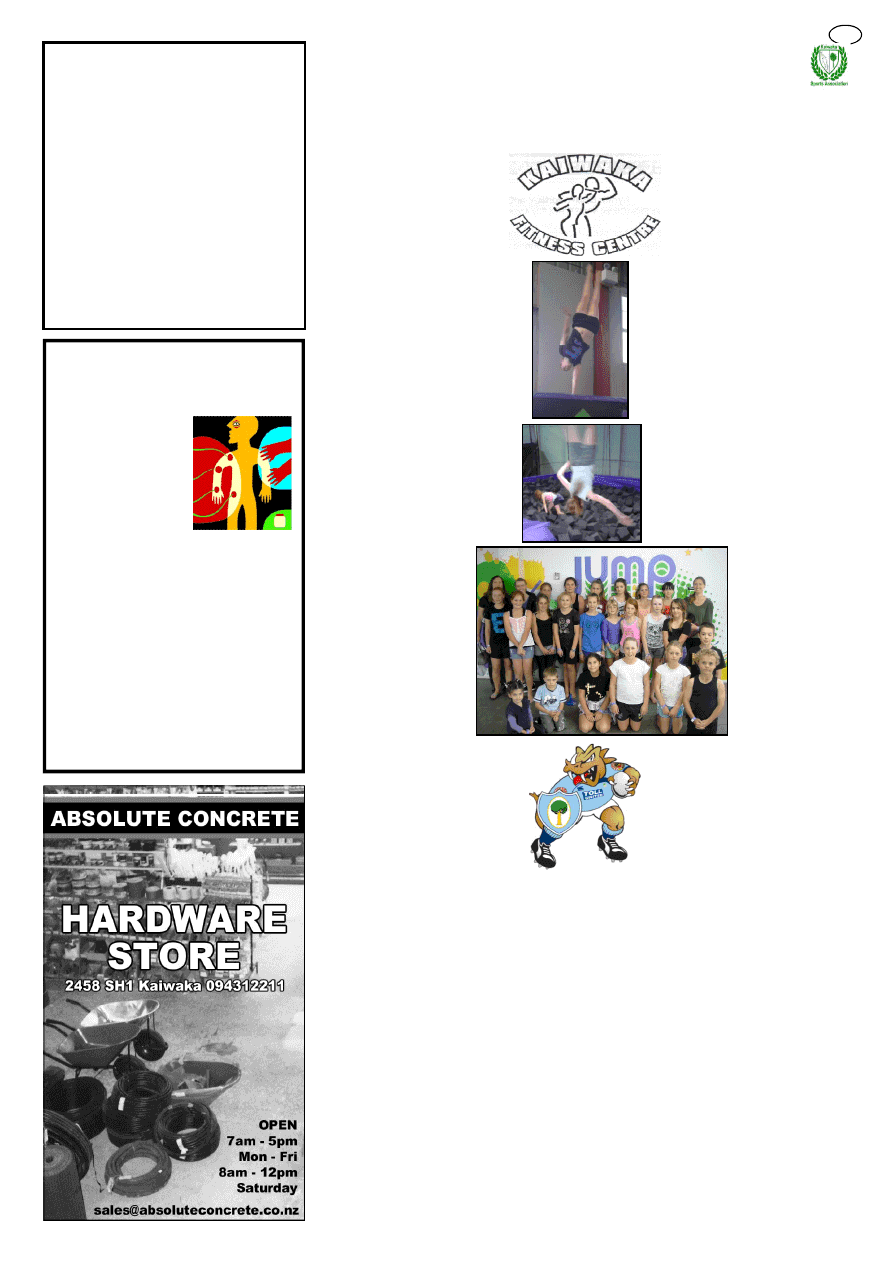 OWEN STEVENS 
Osteo Therapist
For careful 
adjustments to 
bones and joints 
Treatment for  
humans and their 
pets 
Clinics: 
Kate's Place, Kaiwaka: 
Last Friday of month 
For  bookings:9.00am-5.00pm  
Phone 
09 4312661 
Or phone Owen   
09 4317123  anytime 
11 
KAIWAKA SPORTS ASSOCIATION
Fitness Centre 
Our  Fitness  Centre  is  holding  an  Open 
Day  this  Tuesday  13
th
,  from  5  –  7pm.  
Come 
along 
to 
renew 
your  
membership (or start a new one!) Wine 
and  cheese  provided.  Subs 
are  an  annual  fee  of  just 
$140  for  a  single  or  $230 
for  a  family  (2  adults  +  2  
students). 
For 
more  
information  on  the  Fitness 
Centre,  please  contact  Julie 
Harris  on  4321  755  or  027 
6504540. 
Rugby – rippa 
We  are  hosting  another  Inter-
schools 
Rippa 
Rugby  
tournament  on  Wednesday  21
st
May  from  9.30am.  Spectators 
welcome. 
Rugby – junior 
We  are  looking  forward  to  
another  big  day  of  junior  
rugby  at  our  Sports  Complex 
this Friday 16
th
. There will be 
U7's,  U9's  and  U11's  teams 
from 
Maungaturoto,  
Tomarata,  Wellsford,  Eastern 
and  Paparoa all  playing,  so  it 
will  be  a  very  busy  evening! 
Matches  start  at  6pm, 
and  there  will  be  food 
and  drink  available,  so 
come  along  to  cheer 
on the boys and girls! 
Rugby – intermediate 
Our  Under  14's  went 
up  against  Hora  Hora 
last  Saturday  at  the 
Sports  Complex  and 
had  a  very  convincing 
win:  81  –  15.  Well 
done boys! 
Rugby – senior 
The  next  home  match  for  the 
Hawks 
will 
be 
against  
Hikurangi  on  Saturday  14
th
June,  the  clubs  sponsors  will 
be  invited  and  the  curtain  
raiser will be JMB matches, so 
this  will  be  a  great  day,  more 
details to follow.  
The  next  Otamatea  Rugby  Club  meet-
ing will be at the Complex on Tuesday 
27
th
 May at 7pm. 
Netball – primary school 
Junior 
netball 
has 
now 
started.  
Kaiwaka  Netball  has  two  junior  teams 
this  year.  We  are  pleased  to  have  Pat 
Buxton  as  coach  of  Kaiwaka  1  and 
Sharlene  Tornquist  as  coach  of  
Kaiwaka 2. The club would also like to 
acknowledge  Noeline  Anderson  who 
regularly  supports  them  by  umpiring 
games on a Saturday.  
Netball – high school 
The  season  has  got  off  to  a  great  start 
with  a  good  number  of  girls  trialling 
for  reps.  The  club  would  like  to  say 
thank  you  to  Mark  &  Pam  Ottaway 
who  have  offered  to  use  the  $500 
Sportmaker  voucher  that  they  won  
recently  towards  helping  the  club  
replace  their  netball  uniforms 
and gear which were destroyed in a fire 
several  months  ago.  If  you  have  any 
offers  of  help  for  the  club,  please  
contact 
President 
Tina 
Ball 
on 
t.ball@xtra.co.nz
. 
Your 
support  would  be  much 
appreciated. 
Gymnastics 
There  was  plenty  to  jump 
up  and  down  about  last  
Saturday  when  a  group  of 
30  gymnasts  and  coaches 
visited  Auckland's  trampoline 
park 
JUMP. 
Foam 
pits,  
trampolines  wall to  wall, and on 
walls  created  an  amazing  place 
to  practice  tumbling  in  a  
relatively  safe  environment.  It 
was  an  invaluable  time  for  
challenging  our  gymnasts  to  try 
new  skills  that  were  on  their 
goal  lists. They'll  now  be  able 
to  use  that  confidence  to  
continue  their  goals  in  the 
gymnasium  and  we  are  very 
grateful to the Kaiwaka Sports 
Association  for  their  generous 
grant  which  allowed  us  to  
subsidise this trip 
and  make  it  a 
reality.  
Taniwha Shield 
Did  you  know 
that  the  Kaiwaka 
Sports  Associa-
tion  is  hosting 
Northlands  pres-
tigious  Taniwha 
Shield 
rugby 
tournament.  The 
Taniwha  Shield 
is  a  5  day  long 
tournament  for  Years  7  &  8  
representative  teams  from  all 
over  Northland  and  will  be 
held  in  the  first  week  of  the 
July school holidays.  
Congratulations  to  Mike  Peeni 
from  Maungaturoto  who  has 
been  appointed  as  the  coach 
for the Rodney/Otamatea team 
for the Taniwha Tournament. 
Here  is  a  fundraising  opportunity  for 
local  groups:  we  need to have the  gear 
washed  for  22  players  for  the  8  teams 
over 4 days (8
th
, 9
th
, 10
th
 and 11
th
 July), 
so  that  is  a  total  of  704  washes.  Per 
player, there  will be 1 pair of shorts, 1 
jersey  (they  are  light  weight,  not  the 
old heavy material) and 1 pair of socks. 
You  will  need  to  pick  up  the  jerseys 
from  the  KSA  after  each  days  play 
(around  mid-afternoon)  and  wash,  dry 
and fold them, and then return them to 
the 
KSA 
by 
early 
morning. 
If  you  are  interested  in  putting  in  a  
tender,  please  email  me  by  Monday 
19
th
  with  your  offer  (lowest  tender  not 
necessarily accepted.) 
Cheryl Anderson 
4312 051, 027 346 2702 
kaiwakasports@gmail.com 
Kaiwaka Library
Autumn
Book Sale
$1 each or 3 for $2
Discarded library books and  
dona ons only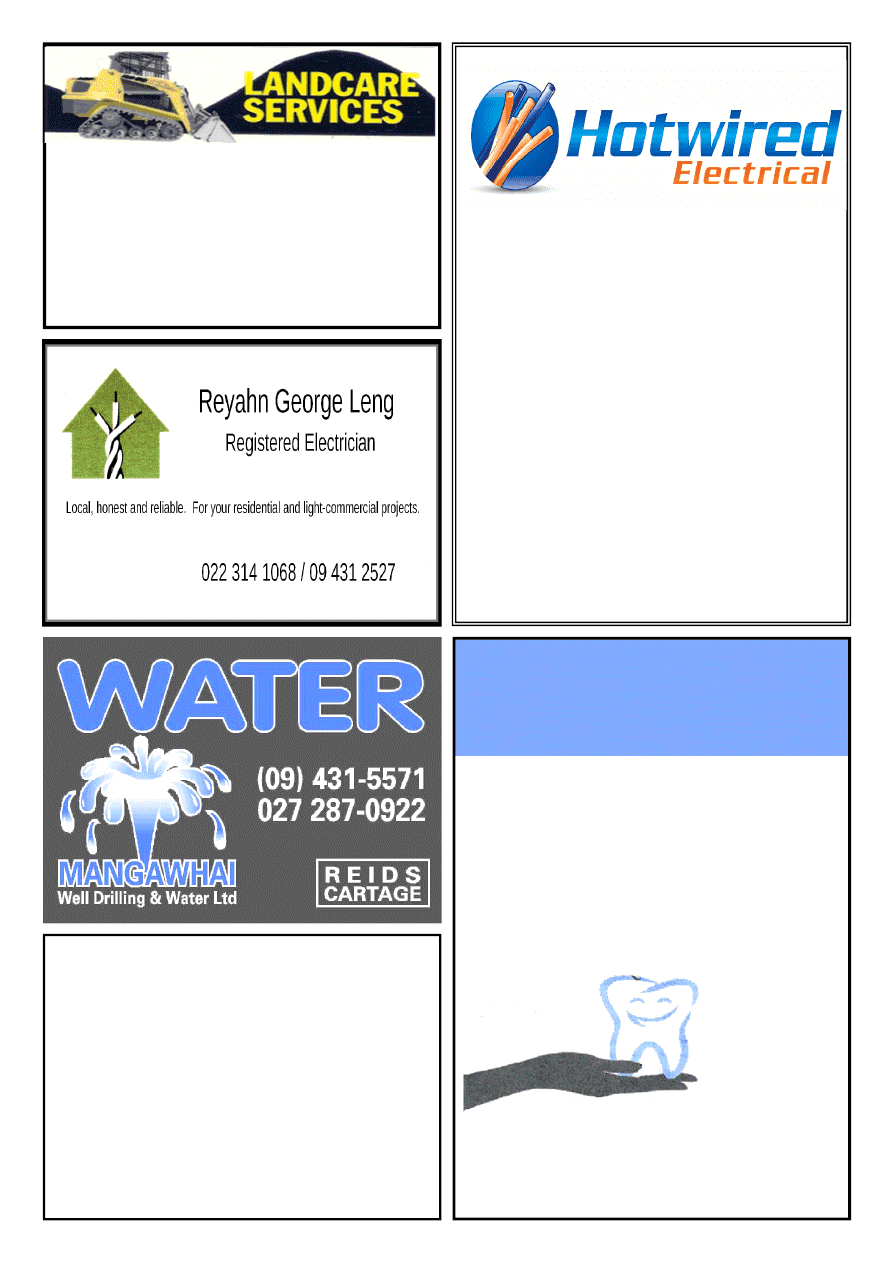 Celena's Gifts 
-
gifts for all occasions 
Closed Mondays 
1925 State Highway 1 
KAIWAKA  
Ph: 09 4312741
LANDSCAPING 
4 IN 1 BUCKET 
TRENCHER 
POLE HOLES 
ROTARY HOE 
COMPACT ROLLER 
OFFAL HOLES 
CAN SUPPLY WOODCHIP & POST PEEL 
5 TON TIPPER 
FOR RELIABLE AND FRIENDLY SERVICE CONTACT DAVE 
Dave Hyndman 
 
KAIWAKA 
PH: 09 4312302 
MOB: 021 431 238 
Gentle Dental 
Ruakaka 
We love to see you smile 
 
General  & Cosmetic Dentistry 
 
Emergency & ACC Treatment 
 
Denture & Hygienist Services 
 
Senior Citizen Discounts 
 
Free Adolescent Care 
 
Free WINZ Quote 
19 Ruakaka Town Centre 
Dr Sim Sood & Associates 
Ph:  432 8139 
Saturdays 
By 
Arrangement 
Open  
Mon-Fri  
8am-5pm  
For All your  
Electrical  Requirements 
 
Domestic small jobs 
 
Residential dwellings and alterations 
 
Commercial 
 
Industrial                 
No job too big  
or too small    
Contact Jason today on: 
(09) 431 5992, (021) 405 019 
www.hotwiredelectrical.co.nz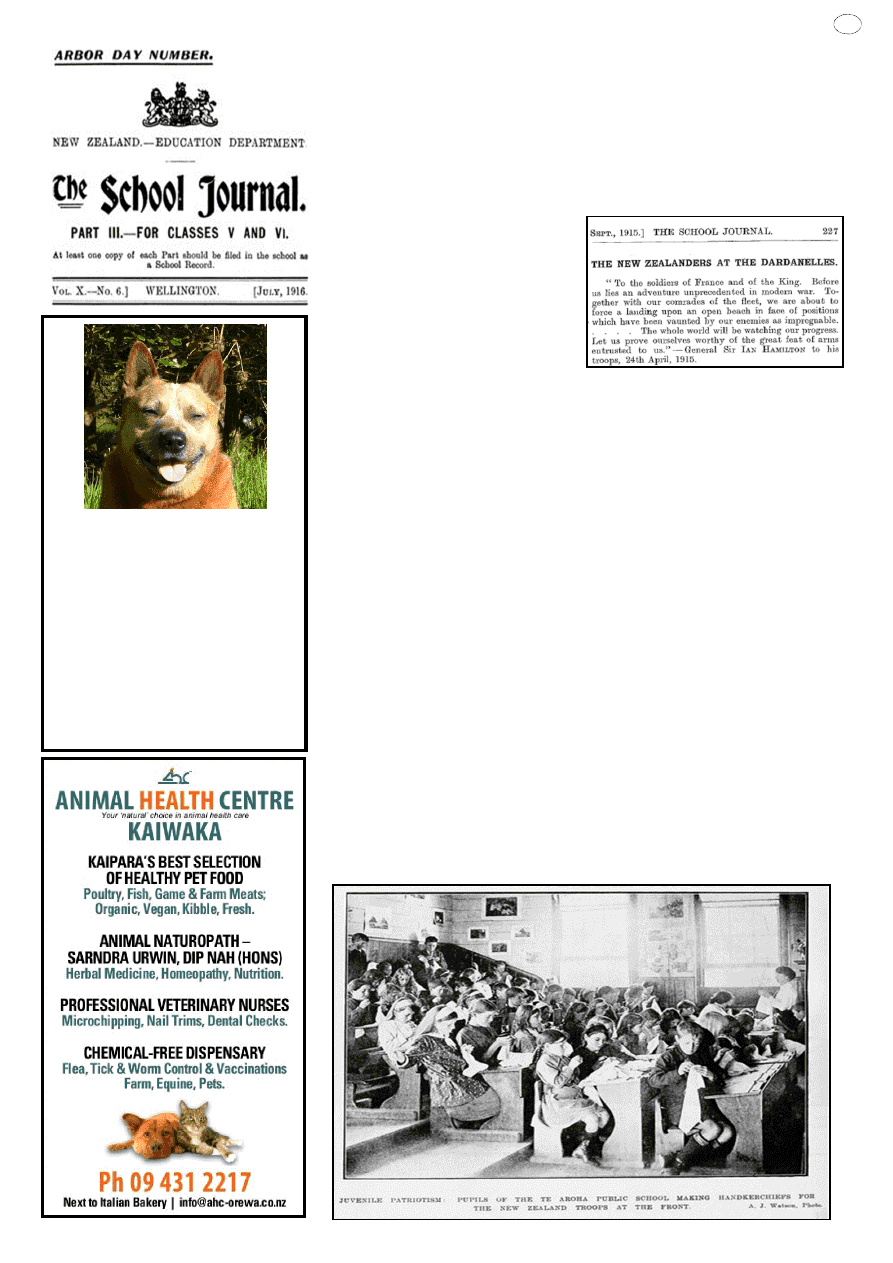 13 
Laughing Dog 
Computers 
www.laughingdog.co.nz 
0224344448 
Hardware and Software 
Service and Repair 
In May 1907 New Zealand pupils were 
for the first time able to read a school-
book  published  in  their  own  country. 
The  quarterly  School  Journal  was  
initiated 
by 
Inspector-General 
of 
Schools  George  Hogben  as  a  free  
publication  containing  information  on 
history, geography and civics. This was 
a  cheaper  option  than  publishing  
several separate textbooks. 
Until 1939, when a School Publications 
Branch was formed, the School Journal 
was  the  Department  of  Education's 
sole  publication  for  children.  From 
1993 until 2013 the School Journal was 
published  by  Learning  Media  for  the 
Ministry  of  Education,  but  has  since 
moved  to  a  private  publisher,  Lift  
Education.  Believed  to  be  the  longest-
running  serial  publication  for  children 
in  the  world,  the  Journal  continues  to 
provide  seven–  to  13-year-olds  with 
New  Zealand-based  reading  material 
that  is  relevant  to  their  lives.  Around 
750,000  copies  of  the  School  Journal 
are published annually in four parts. 
Many  of  New  Zealand's  foremost  
authors  and  illustrators  have  had  their 
work  published  in  the  School  Journal 
over  the  past  century.  They  include 
Rita  Angus,  James  K.  Baxter,  Alistair 
Campbell, Russell Clark, Jack Lasenby 
and E. Mervyn Taylor. 
During  the  First  World  War  the 
School  Journal  played  an  important 
role  in  encouraging  'patriotism',  'self-
sacrifice',  'obedience'  and  support  for 
the  war  effort  among  schoolchildren. 
There 
were 
feature 
sections 
on  
Gallipoli  and  the  Western  Front,  and 
reports 
on 
children's 
fundraising  
efforts.  In  July  1915,  as  the  casualties 
at  Gallipoli  mounted,  the  Journal  
included  a  stirring  letter  by  the  Earl  of 
Liverpool,  Governor  of  New  Zealand, 
on  the  importance  of  children's  
contributions  to  the  war  effort:  "
You 
children  previously  helped  by  subscribing  the 
handsome  sum  of  £2,289  for  ambulance  
equipment  on  land.  With  this  sum  motor  
ambulances  and other  requisites  were  bought, 
but  at the  present  me  it  is  impossible  to give 
full  details.  In  response  to  His  Excellency's  
appeal,  too,  many  of  you  have  worked  
devotedly  making  ar cles  that  were  so  much 
needed.  May  your  labor  of  love  reap  its  full 
reward in the comfort and relief it brings to our 
sick  and  wounded."  ~ 
Earl  of  Liverpool, 
New  Zealand  School  Journal,  July 
1915 
The Gallipoli account in the School 
Journal: 
By  1915  children  could  read  about  the 
trenches that had become  homes for so 
many  men.  The  Journal  noted  that  
living  conditions  could  be  rough,  and 
reminded  children  that  the  soldiers 
were  'very  thankful  to  anyone  who 
tries  to  make  their  life  more  pleasant.' 
First World War battles were named in 
the  'key  dates'  section  of  the  School 
Journal  as  significant  days  or  months 
that  should  be  acknowledged  and  
commemorated  in  classroom  and 
school ceremonies. 
Many  teachers  pinned  maps  onto  the 
walls  of  the  classrooms  and  tracked 
progress  at  the  'Front'.  Children  were 
constantly  reminded  in  class  or  at  
special assemblies of the sacrifices that 
'old  boys'  and  brothers  and  fathers 
were  making  in their name. They  were 
also reminded that when they  were  old 
enough  they  could  be  expected  to  be 
called upon to make the same sacrifices. 
The  School  Journal  increasingly  found 
subject  material  in  the  war,  mixing 
moral  fables,  stories  of  heroism  and 
battles,  and  poems  and  songs  to  pro-
mote patriotism in the schoolyard. 
'First School Journal published', URL: http://
www.nzhistory.net.nz/first-school-journal-published
, 
(Ministry for Culture and Heritage), updated 9-May-2014 
First School Journal published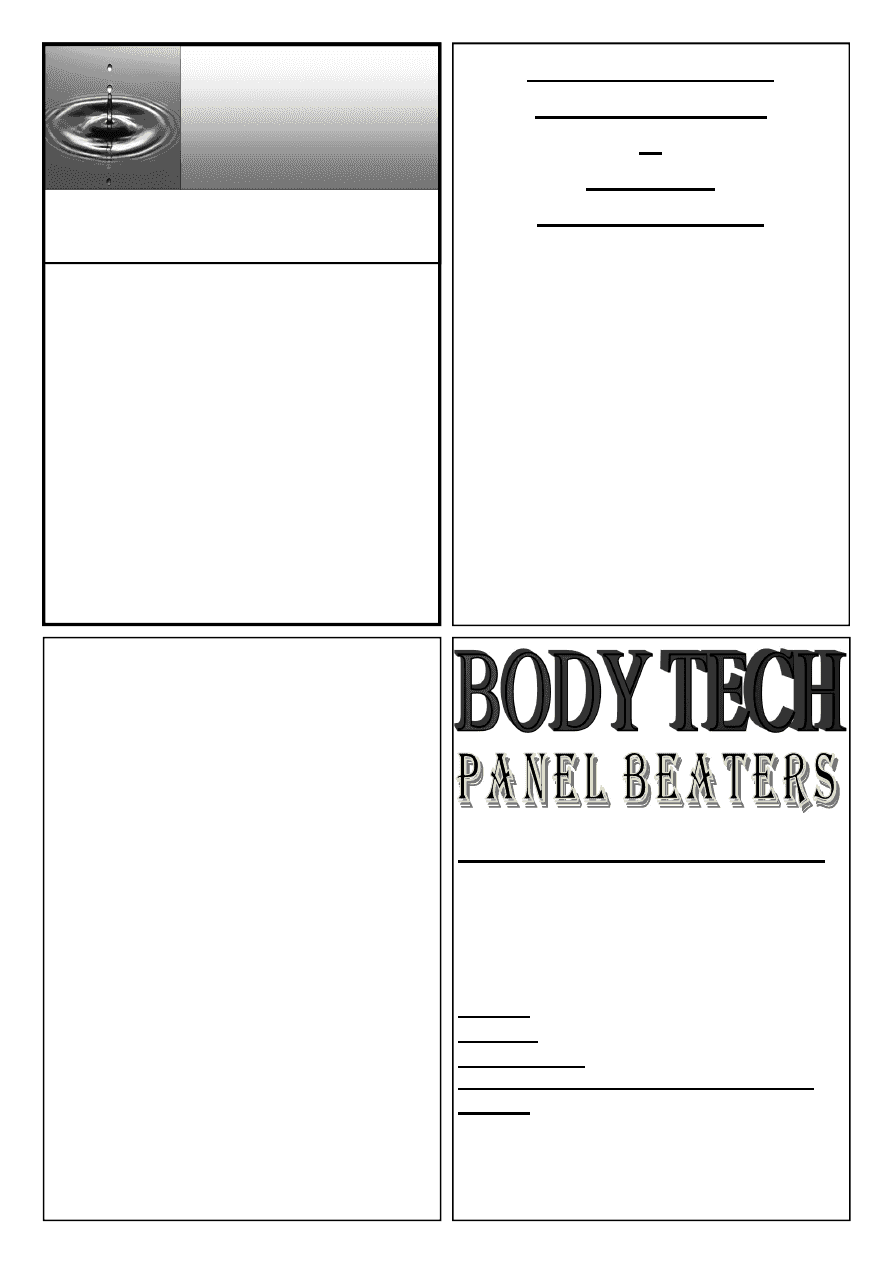 PETE WORSFOLD  
B. Soc.Sc. M. Soc.Sc. Diploma of Prof Couns. 
Counsellor
peteworsfold@xtra.co.nz 
 021 825 970 
Professional Service 
Variety of Modalities 
By Appointment Only 
PAUL SAUNDERS 
LAWNMOWING  
&  
GARDEN 
MAINTENANCE 
 
Lawns and edges     
 
Section mowing 
 
Hedging and trimming 
 
Spraying and fertilising 
 
Tree planting 
 
Green waste removal 
 
Pruning 
Friendly and reliable service guaranteed 
Call now for a free no obligation quote 
021 886 843 
09 431 2731 
Servicing Mangawhai and Kaiwaka  
and surrounding areas 
paulsaunders99@gmail.com 
For all your body repair needs!! 
We do: 
Rust repairs 
Insurance work 
Anti-corrosion treatment         
 
Hours: 8.30am-5pm Monday-Friday  
Mobile: 021 118 0462 
After hours: 09 431 2384 
Phone: Craig or Call in for a free Quote 
e-mail: 
bodytech_panelbeaters@yahoo.com
We are located at 1837 SH1 Kaiwaka, behind Twin-
kle Tow 'n' Tyre call in anytime for a free quote.  
Large and minor vehicle  
  repairs 
Industrial vehicles 
Full Cut and polishes 
INDIVIDUAL ONE-ON-ONE 
COUNSELLING 
 
MODALITIES:    FOR: 
  CBT              Grief 
  Gestalt            Relationship 
  Person-Centred     Trauma 
  Solution Focussed    Couples 
  Behavioural        Adolescents 
                  Careers 
Call for Appointment 
At "The Well of Health" 
09 4312799 or 021 825 970 
KAIPARA  FLOORING  
CO 
32 HURNDALL ST MAUNGATUROTO 
Ph: 09 9469886 or 021 515 415 
Carpet, vinyl, laminate wood look  
  flooring, vinyl planking, sanding  
& polyurethane service. 
Carpet Short Ends from $79pm + GST 
Vinyl D.I.Y. peel n stick tiles $10sq mtr + GST. 
Free measure & quote.   
Mobile Service 
Phone Christine or Howard anytime 
Open Saturdays by arrangement.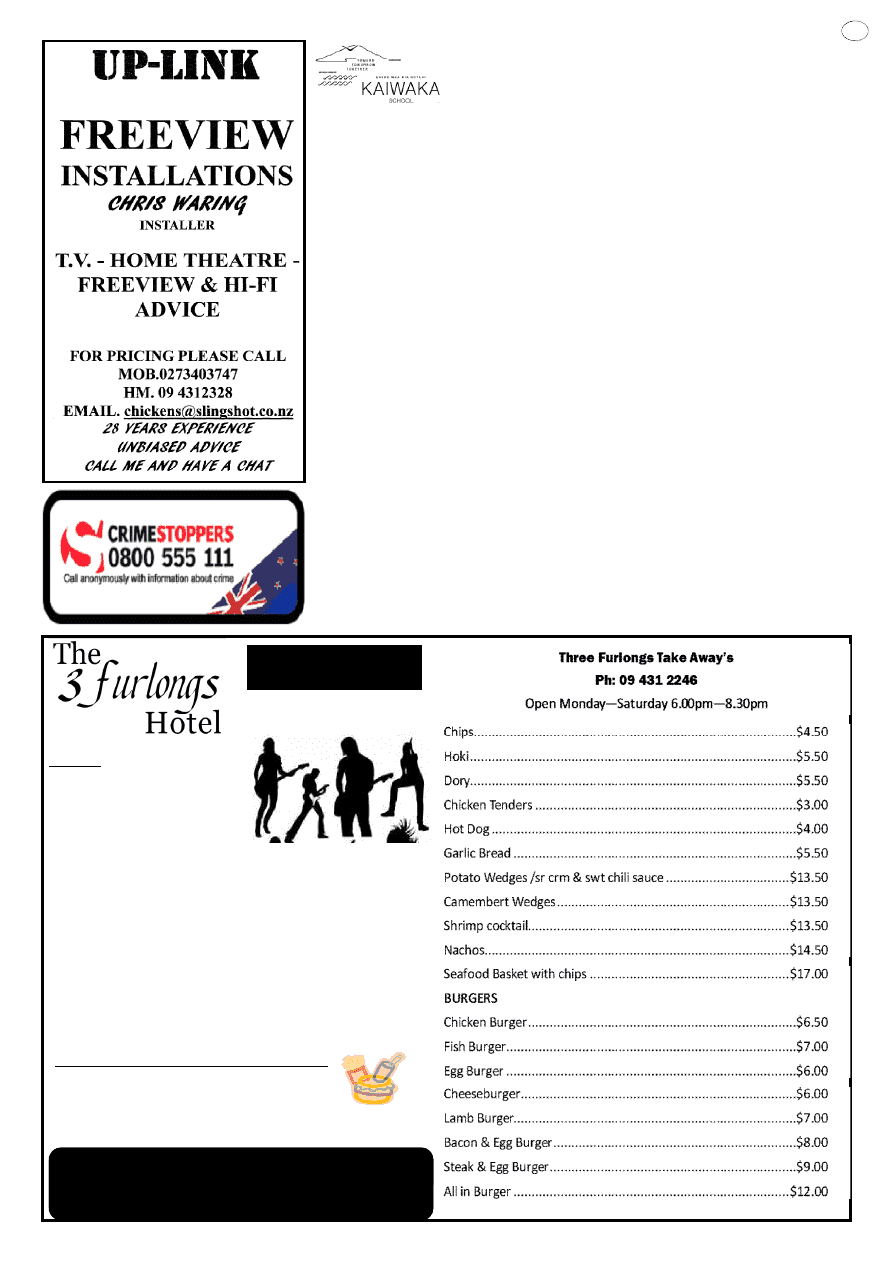 Term  1  has  quickly 
closed  to  an  end, 
with  students  and  teachers  alike  
looking  forward  to  a  well-deserved 
break!  
The 
senior 
school 
has 
recently  
completed  a two  day  camp  at  Marsden 
Bay which was thoroughly enjoyed and 
included  such  activities  as  kayaking, 
flying fox, a giant waterslide, beaching 
and  games  to  name  a  few.  Thank  you 
for  all  the  support  that  enabled  this 
camp to go ahead.  
The junior school went on a day trip to 
Whangarei  to  the  Kiwi  House  and  the 
pools  with  the  children  coming  home 
with  interesting  facts  such  as  "did  you 
know  the  Kiwi  has  nostrils  so  it  can 
smell the insects when it sticks its long 
beak  in  the  ground"  and  also  fun  
accounts of swimming too!  
This week we  look  forward to a whole 
school  trip  to  Wellsford  to  support  the 
Otamatea  High  School  Kapa  Haka 
group  as  they  perform  in  the  Te  Tai 
Tokerau  Kapa  Haka  Festival,  massive 
thanks  to  Luke  Connelly  who  fund-
raised the money for the cost of the bus 
-  making  it  free  for  all  of  our  children 
to attend.  
The  children  were  all  very  impressed 
by  Otamatea's  performance  (of  which 
many  of  our  past  students  were  a  part 
of ) particularly the modern waiata and 
'hardcore' haka! 
In  this  Bugle  edition  we  (the  Board  of 
Trustees  or  BOT)  thought  we  would 
include a brief overview of the purpose 
and  function  of  the  BOT  (information 
from 
New 
Zealand 
Trustees  
Association). 
 
First and foremost, school boards are 
a c c o u n t a b l e   f o r   s t u d e n t  
achievement  through  providing  an 
environment that allows the delivery 
of quality education 
 
The  BOT  focuses  on  strategic  
planning  for  improving  student 
achievement,  educational  programs 
and teaching (using data to identify 
strengths and weaknesses)  
 
T h e  B OT   h a s   t h e  o v e ra l l  
responsibility for the school including 
certain  legal  obligations  covering 
responsibility  for  property,  staff, 
management  of  school  finances,  re-
porting  to  the  Ministry  and  the 
school  community  and  the  school 
charter. 
 
School  boards  ensure  the  effective 
delivery of the school curriculum, are 
the  employer  of  all  school  staff,  
establish  long  term  goals,  approve 
annual  plan  objectives  and  targets, 
develop and review policies, monitor 
performance,  and  employ,  support 
and manage the principle 
~Naomi Walker 
on behalf of Kaiwaka School BOT 
15 
09 431 2246 
threefurs@xtra.co.nz 
Tuesday 6.30 & 8.00pm Two Handle Club Beer Draws 
Friday 5.00—7.00 $60 Bar Tab Draw 
SUPER XV $12 MEAL SPECIAL 
Snapper Burger, Chips and a Beer 
(or wine*) only $12
BAND 
Sat 24th at 9.00pm 
Local band 
Hash Tag
Free entry—come and 
check them out 
SUPER XV GAMES 
Call in for a beer and watch the game with us 
 
Fri 16 May 
Hurricanes v's Highlanders 
Sat 17 May 
Crusaders v's Sharks 
Fri 23 May 
Blues v's Sharks  
Sat 24 May 
Highlanders v's Crusaders
KAIWAKA SCHOOL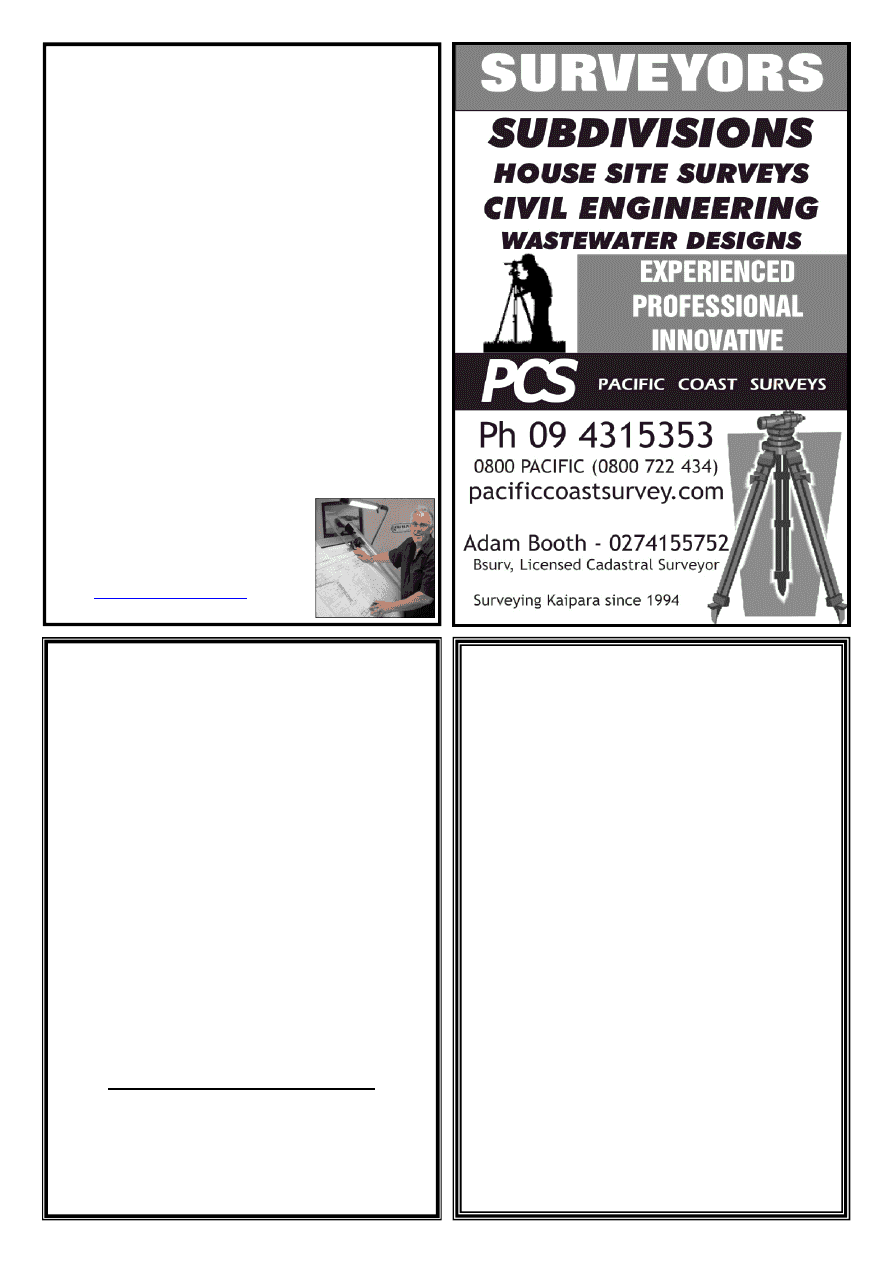 ARCHITECTURAL BUILDING 
PLANS AND DESIGNS 
WRIGHT DESIGN 
 QUALIFICATIONS 
Brian is a qualified designer (NZCAD) with over 40 years of 
varied experience in all types of building and is a registered and 
Licensed Building Practitioner in Design - L.B.P. 117345 
He ensures you will achieve the best from your budget with 
recommended excellent local contractors ready to competitively 
price and build your personal project quickly and efficiently. 
 EXPERIENCE 
Brian's practical building and 40+ years of design experience 
means he can give you excellent advice and all the guidance 
needed for all your building needs 
v Wright Design offers free visits, consultations and all the ad-
vice you need on planning, design, building, contractors, coun-
cil permit applications, etc. 
 
"  Qualified and inexpensive designer – N.Z.CAD., LBP 117345 
"  Guaranteed design and working drawings 
"  Free site visit to your home or property 
"  Great service 
"  Great problem solver 
 
Call Brian ~Arrange a visit to discuss your needs  and obtain 
great advice and free quotation 
MAKE GOOD USE OF HIS EXPERIENCE and 
KNOWLEDGE 
WRIGHT DESIGN:  
360 Oneriri Road, Kaiwaka
Office 09 4312544   
Mobile 021 276 7389  
Email: 
brianwright@clear.net.nz
www.wrightdesign.co.nz 
g.a.s. 
Mangawhai 
we have now opened a 
GARDEN CENTRE 
for all your gardening needs 
Also a great range of 
STOCKFOOD 
Wide range of 
ORGANICS AND 
 FRESH LOCAL PRODUCE 
All your motoring needs are taken care of by 
our friendly staff check us out... 
44 Moir Street, Mangawhai (09)431 4242 
* MASSAGE * NAILS * 
* NUTRITION * 
In Mangawhai Heads
 
Full 
hour 
and 
half 
hour 
massage  
TAILORED to suit your needs, ALSO mini 
massages  and  chair  massage  available. 
Businesses    –      ask      about      my      on-site 
massage 
service 
for 
your 
staff. 
 
Full set of acrylic nails for both fingers and 
toes  –  wonderful  solution  for  nail  biters!  
PLUS 
manicures 
and 
pedicures. 
 
Healthy  nutrition,  weight  loss,  sports  
nutrition  and  healthy  ageing  –  we  offer  
solutions  so  lets  work  on  this  together… 
Call  me  today  for  a  free  wellness  
evaluation to achieve your wellness goals. 
CINDY SAUNDERS 
Fully qualified masseuse and Surmanti 
trained acrylic nail technician 
Call or text 021 296 9819 or  431 3318 
Gift Vouchers available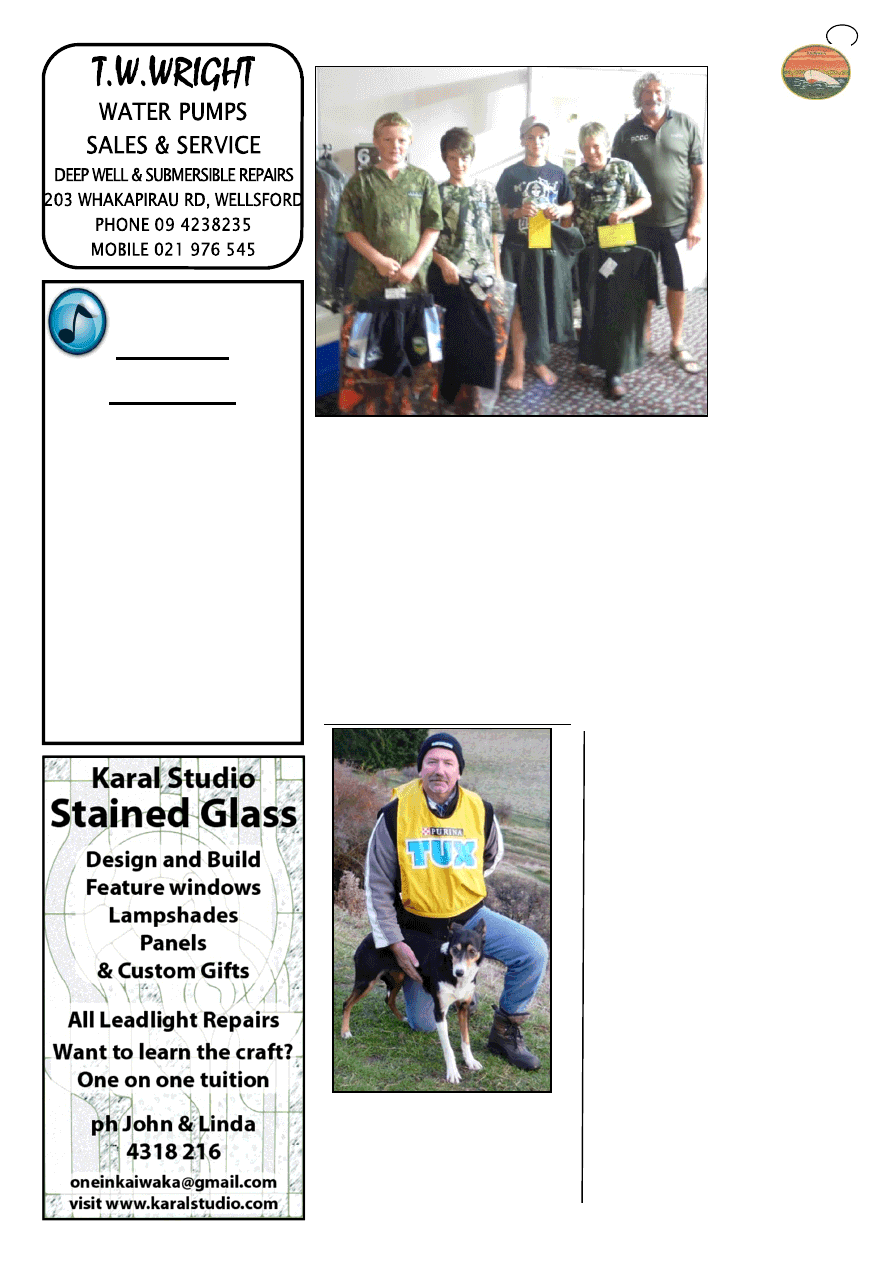 17 
Mills  
4.560kg; 
Pukeko: 
Pongo 
1.388kg; 
Swan  (Black):  Dave 
Kennedy 6.700kg. 
Junior 
Section: 
Snapper:  Bob  Mills  
3.730kg;  Kahawai: 
Jacob 
Butler 
2.509kg;  John  Dory: 
Jacob  Butler  2.13; 
Trevally: 
Patrick 
Butler  0.98kg;  Gur-
nard:  Caelin  Ritchie 
0.781kg;  Eel:  Han-
nah  Mills    6.308kg; 
Mallard: 
Bradley 
Kennedy 
1.269kg; 
Parry:  Bradley  Ken-
nedy 
1.774kg; 
Pheasant: 
Bradley 
Kennedy 
1.370kg; 
Pukeko:  Koby  Worsell    0.956kg;  Swan 
(Black): Bradley Kennedy 5.601kg. 
 
Results for Opening Duck Shoot 
3rd May 2014: 
Senior  Section:  Mallard:  1st:  Hayden 
Smith  1.559kg,  2nd:  Fred  Renata 
1.444kg,  3rd:  Mark  Nimmo  1.437kg; 
Grey:  1st:  Tony  Smith  1.044kg,  2nd: 
Dozey  1.005kg,  3rd:  Mark  Nimmo 
0.931kg; Parry: 1st: Dozey 1.834kg, 2nd: 
Dozey 1.804kg, 3rd: Paul Mills 1.796kg; 
Pheasant:  1st:  Nigel  Ball  1.450kg,  2nd: 
Nigel  Ball  1.212kg;  Pukeko:  1st:  Dave 
Kennedy  1.122kg,  2nd:  Dave  Kennedy 
1.108kg,  3rd:  Brent  Andrews  1.078kg; 
Swan  (Black):  1st:  Hayden  Smith 
6.052kg,  2nd:  Tony  Smith  5.454kg, 3rd: 
Mark Nimmo 4.241kg. 
Junior  Section:  Mallard:  1st:  J ayden  
Wilson  1.228kg,  2nd:  Koby  Worsell 
1.118kg, 3rd: Bradley Kennedy 1.115kg; 
Parry:  1st:  Jayden  Wilson  1.609kg, 2nd: 
Rip  Linehan  1.581kg,  3rd:  Rip  Linehan 
1.371kg;  Pukeko:  1st:  Bradley  Kennedy 
1.002kg, 2nd; Bradley Kennedy 0.873kg, 
3rd: Koby Worsell 0.805kg. 
Raffles:  #1  Green  #8-  Barbara  Kemp  - 
Meat Pack; #2 Orange #30 - Tracy Kemp 
-  Jacket  kindly  donated  by  Kaiwaka 
Clothing  and  Chopping  Board  kindly 
donated by Gravy. 
Thanks  to  all  who  helped  out  over  the 
weekend,  the  weighmasters,  the  raffle 
sellers, thanks to Russell, Barb and Tracy 
(and  staff)  at  3  Furlongs.    Congratula-
tions to all winners. 
 
SUBS  ARE  DUE  1ST  JUNE!!!    $20 
single  and  $30  family.    Please  pay  at  3 
Furlongs Hotel, Kaiwaka or post to Jean 
Mcleish 
(Secretary/Treasurer), 
C/-  
Kaiwaka PDC, Kaiwaka. 
 
POOL  COMPETITION:  Sunday  25th 
May, at Mangawhai. 
Next  committee  meeting,  Tuesday  13th 
May  2014,  7pm  at  3  Furlongs  Hotel,  
Kaiwaka. 
~Wayne Leslie, Commodore 
KAIWAKA 
Singing 
Lessons 
Individual sessions 
All styles of music  
All voice types 
Reasonable rates 
Phone  
Maura Flower 
      021 164 8318
2014 Opening day Junior Duck Shoot 
Prizewinners, Left to right: Jayden Wilson, 
Bradley Kennedy, Rip Linehan, Koby 
Worsell, Wayne Leslie (Commodore)  
Congratulations to 2014  End  Of  Season 
Prizewinners: 
Senior 
Section:  Snapper :  Gravy  
10.284kg;  Kingfish:  Andrew  Kenny  
27kg; 
Kahawai: 
Andrew 
Kenny 
2.965kg;  Terekihi:  Tracey  O'Donoghue 
0.961kg;  John  Dory:  Rachel  Blackie 
0.80kg;  Trevally:  Rachel  Blackie  2.6kg; 
Gurnard:  Trevor  Wright  1.291kg;  Cray-
fish:  Dave  Kennedy  3.923kg;  Spearfish: 
Dave  Kennedy  1.900kg;  Boar:  Dr  Vic 
35kg;  Mallard:  Dave  Kennedy  1.556kg; 
Grey:  Trevor  Wright  1.22kg;  Parry: 
Keith  Mills    1.949kg;  Pheasant:  Trevor 
Wright    1.545kg;  Canadian  Goose:  Paul 
POINT CURTIS CRUISING CLUB 
Scott McRae and Elle Finalists 
2014 North Island NZ Sheep Dog  
Trial Championships in Taumarunui. 
Scott,  chairman  of  the  local  dog  trial 
club  -  Molesworth,  and  Elle  qualified 
2nd in the shorthead (out of 220 dogs) 
for  the  'run-off'.  There  they  drew  a 
very pesky lamb and were placed 7th.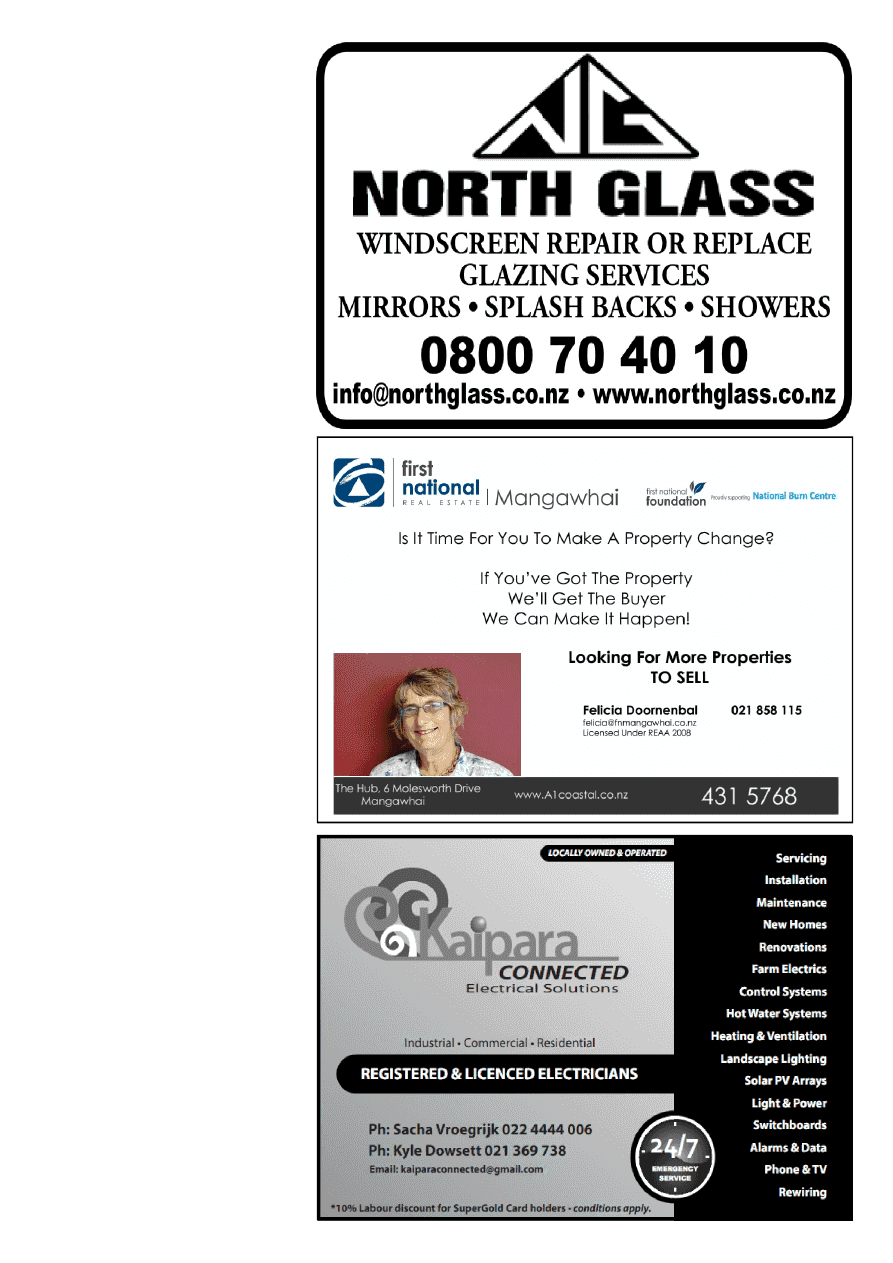 HOW MANY DIETS? 
HOW MANY TIMES? 
IT IS ALL TOO 
MUCH! 
Look at this… 
 
THE  
LANTERN PROGRAMME 
 
Quantum 
Approach 
to 
Wellness and Weight loss 
 
What  is  it  that  keeps  you 
hanging 
onto 
weight,  
making  you  over  eat  and 
guilt 
eat 
with 
regular  
occurrence? 
 
The  Lantern  Programme 
offers  support  and  self-
exploration 
with 
no  
judgments  made.  Simple 
tools  are  given  to  clear  
cellular  memory,  to  allow 
space  to  let  go  and  allow 
our  bodies  to  align  with 
who we are" BODY, MIND 
and  SPIRIT  -  Singing  in 
Harmony. 
 
Eating  good  wholesome 
food  is  easy,  clearing  the 
stuff  of  life  is  not  so  
simple! 
 
The  Lantern  Programme 
changes  the  programme 
of  'doing'  weight  through 
clearing  the  stuff  of  life!  
Interested… 
 
Time  and  Place:  to  be 
confirmed 
(living  in  a  small 
community,  it  will  be  subject  to 
interest and numbers) 
 
Please  call  me  for  more 
information and to register 
your interest. 
Maggie:  431  3055  or  021 
2573119 
Email:
maggie.kays@gmail.com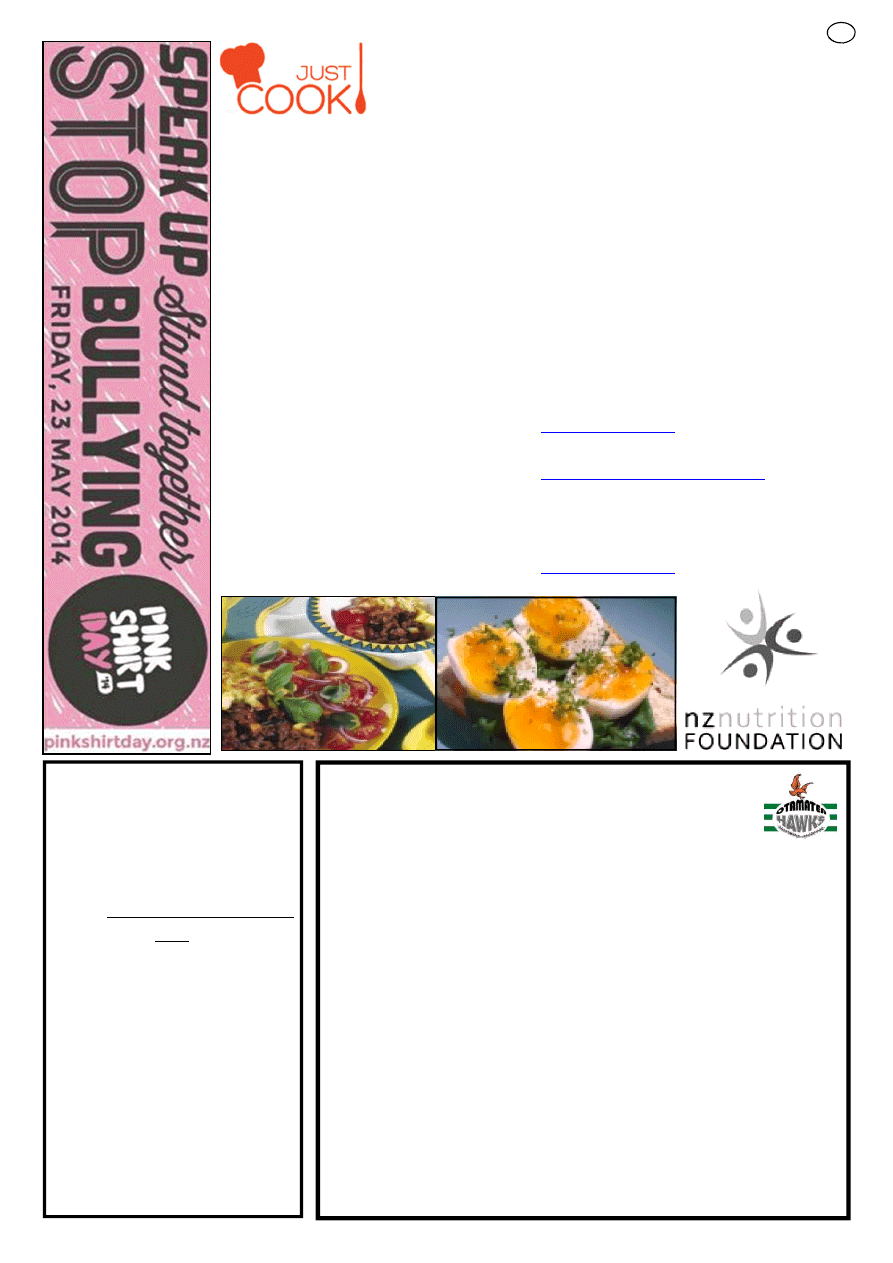 19 
Yang Style Tai Chi 
Classes  
For Beginner And 
Practitioners  
At The Kaiwaka War Memorial 
Hall 
Every Tuesday Starting at 
10.30 am 
Come Along And Have Some Fun 
While Improving Your Balance 
Health And Fitness 
For More Information Contact
Andrew Young 
09 4223424   
taichi@pl.net 
The Twinkle Tow 'n' Tyre 
OTAMATEA HAWKS 
Supported by Phil Keen Concrete 
Invite all supporters and sponsors to the next 
home matches 
Curtainraisers: Our JMB  
Hawks vs Hikurangi 
Saturday 14 June, 12.15pm & 2pm 
Sponsors & Supporters Day 
Kaiwaka Sports Complex 
Next Otamatea Rugby Club meeting will be at the Kaiwaka Sports 
Complex on Tuesday 27
th
 May at 7pm. 
Contact: Secretary Jennie 021 027 64 171 
President Kevin 027 47 93 659  or Coach Dean: 021 61 20 41
The challenge is on for 
Kiwi  school  students 
to get into the kitchen and start cooking for the 
New  Zealand  Nutrition  Foundation's  (NZNF) 
2014  Just  Cook  Create  a  Family  Meal  
Challenge. 
The  Challenge,  which  is  now  in  its  fourth 
year,  encourages  young  Kiwi's  to  create  a 
simple, delicious and affordable meal for their 
family,  all  while  building  their  confidence  in 
the  kitchen.  Students  must  create  an  original 
recipe,  for  a  family  of  five,  based  on  the  
ingredients  from  the  Just  Cook  Food  List –  a 
selection 
of 
pantry 
and 
fridge/freezer  
essentials  that  all  New  Zealand  households 
should  have  on  hand as compiled by the New 
Zealand Nutrition Foundation. 
This year, students have the option of entering 
five different categories: 
1.    Nature's  Superfoods  from  our  NZ  
Waters  Challenge:  Cr eate  a  family  dish  to 
share  featuring  New  Zealand  Salmon  or 
Greenshell Mussels 
2.  I  Love  Eggs  Challenge: Feed the Family 
with Eggs  - Create a  meal featuring  eggs as a 
main ingredient.  
3.    Tegal  Challenge:  Affor dable  Family  
Favourites  with  Frozen  Chicken  -  Create  a 
meal using Tegal frozen chicken pieces 
4.      Sanitarium  Challenge:  Plant  Based 
Family  Meals  -  Create  a  vegetarian  meal  to 
appeal to a family with teenagers.  
5.   Beef and Lamb NZ Challenge:  Meat in 
a Flash - Create a meal starring NZ beef or 
lamb that can be on the table in 30 minutes. 
 
There  are  also  two  bonus  prize  draws.    Each 
recipe  using  San  Remo  pasta  will  go  into  the 
draw  to  win  one  of  four  $150  Prezzy  Cards 
and  every  recipe  including  two  or  more  types 
of vegetables will be in the running to win one 
of  4  colourful  iPod  Nanos  as  part  of  the 
Wattie's Colour Your Plate with Veg draw. 
Each category  winner of the Just Cook Create 
a  Family  Meal  Challenge  will  receive  $300 
and  their  recipe  published  in  Healthy  Food 
Guide, New Zealand's best-selling food maga-
zine.    One  of  the  five  category  winners  will 
also be chosen to win $1000 for their school to 
put towards cooking equipment and there are a 
number  of  bonus  prizes  of  Prezzy  cards  and 
iPod Nanos up for grabs. 
Students 
can 
enter 
online 
at 
www.justcook.co.nz
  or  by  downloading  an 
entry  form  and  sending  their  recipe,  along 
with an attached photo of their dish to  
sarah@nutritionfoundation.org.nz
  or  by  mail-
ing  their  entry  to  The  New  Zealand  Nutrition 
Foundation,  PO  Box  331  366,  Takapuna, 
Auckland 0740. Entries close Monday 30 June 
at 5pm and the  winners will be announced  on 
Monday  28  July.  For  more  details  go  to 
www.justcook.co.nz
.  
TIME FOR KIWI SCHOOL CHILDREN TO GET 
COOKING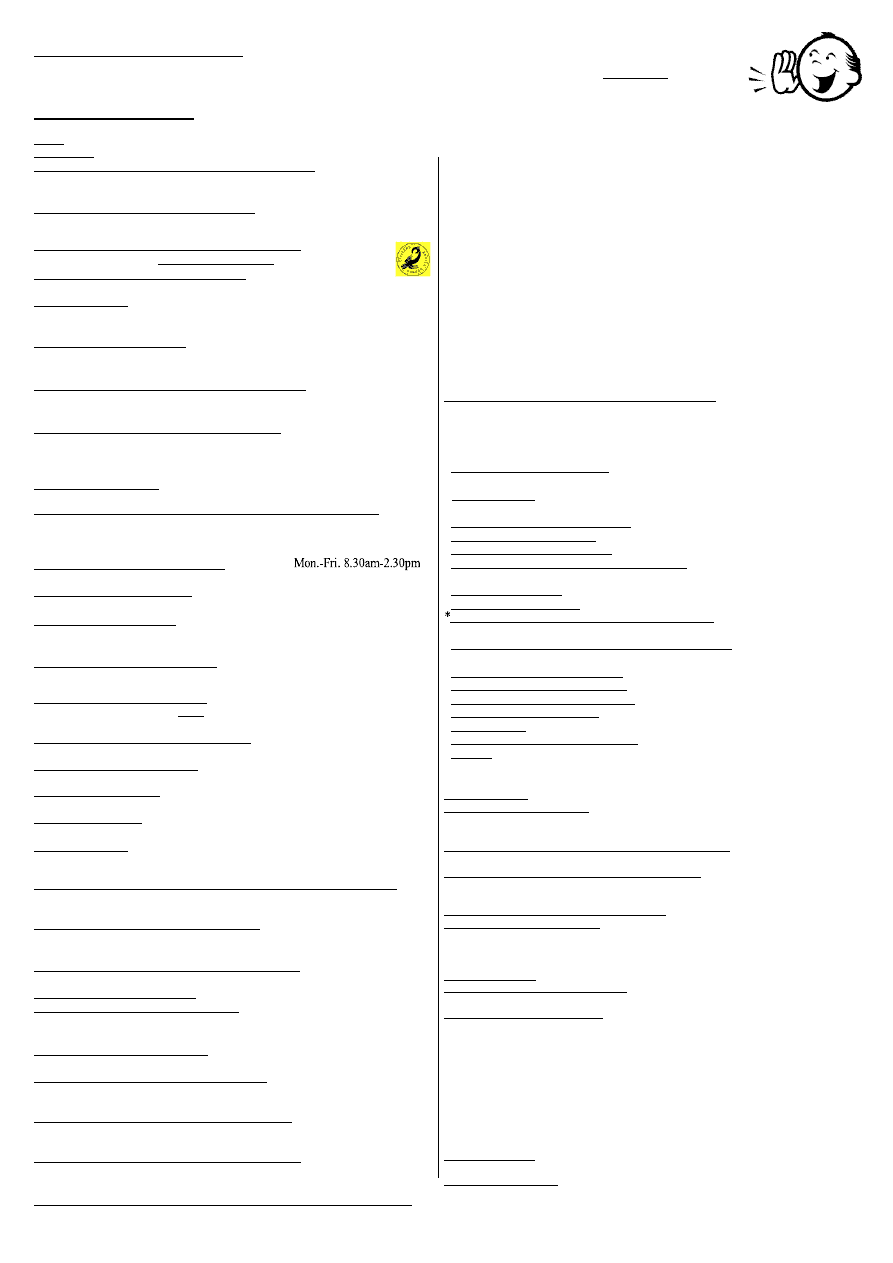 LOCAL SERVICES 
*St.John Ambulance 
111 or Freephone0800 61 0066
*Fire phone 111     *Police phone 111 or 09 4311150 
 
WELLSFORD DOCTORS: Ph: 4238 086 
 
A A: Meets Wed., 8pm Kaiwaka Ph: 4312228, 4315543, 0800229 6757   
AL ANON: In recess, contact Ph: 4312228 
AGRIQUALITY (MAF) Livestock Consultant 
Phone 09 4311 820 or 021518257  
 
BUDGETING SERVICE,OTAMATEA:Free confidential advice & 
support - all areas of  personal finance Ph: 09 4318173 or 094318117
CAB-
Citizens Advice Bureau.Wellsford Ph: 4237333.
0800 367 222 email:
cab.wells@xtra.co.nz
DOG/STOCK /NOISE CONTROL 0800 105 890 
 
KATE'S PLACE with Govt.Day Agencies/Community Information /
Osteopathy/ IRD / Probation, etc Ph: 4312661 Hours: 9am-3pm. Mon - Fri 
 
FUNERAL SERVICES: Morris & Morris Ltd, 
Whangarei - Bev Jaques Ph:4312367 or 0800667747 
 
GRANDPARENTS  Raising  Grandchildren:  Sarah  Rogers  Ph: 
4312194 
 
HAKARU LANDFILL/Transfer Station:Open everyday except 
Tuesday10am-4pm.Ph4312629 Cost-$55 trailer load up to 1 cubic 
metre. Ph:4258567 - office 
 
INLAND REVENUE: Last Friday each month, 
11-3pm Ph4312661 
KAIPARA DISTRICT COUNCIL www.kaipara.govt.nz:  
Help Desk FREEPHONE 0800 727 059  
Service Centre Mangawhai 4313161 
KAIWAKA KOHANGA REO:
Ph:4312620 
KAIWAKA CEMETERY: Ph: 4312045 
 
KAIWAKA LIBRARY: kaiwaka.library@gmail.com  
Mon. 4-6pm; Wed., Thurs., Fri., Sat.  10am-2pm Ph:4312539
 
KAIWAKA PLAYCENTRE: Ph: 4312286. Hastie Lane 
Monday to  Friday  9.00am 
- 
12 noon.
KAIWAKA POST OFFICE:
Ph:4312 626 Fax: 4312287  
Post Code: 0573  for RD2  and  0542 for all Kaiwaka Post Office mail 
 
KAIWAKA PRIMARY SCHOOL : Ph: 4312309 
 
KAIWAKA SPORTS ASSN: Ph 4312005; 4312129 gym 
 
KAIWAKA ST JOHN: Manager Steve Rosser 09 4318403, 021 2316836 
 
NORTHPOWER: Faults Kaiwaka area 0800 104040 
 
PARENTPORT: Free, practical local support service for families in crisis 
Phone or Text Dianne 027 280 5093 
 
PERSONAL DEVELOPMENT COACHING, GROUP FACILITATION:  
Sabine Druckler 4312231 
 
PLUNKET  KAIWAKA/MANGAWHAI:  Ph:
094318187 
or  0
276753488 
Kaiwaka Mobile Clinic once a month– appointments necessary;  
Mangawhai (next Domain) 
1st & 3rd Thursday & Coffee Morning; 
PLUNKET CAR SEAT CO-ORDINATOR:  
Pat Scott Ph 4314530 
or 0272881635 
PLUNKET FREEPHONE -0800 933 922 
PLUNKET -MAUNGATUROTO  Clinic every 2nd & 
4thThursday. Ph: 09 4318187 
 
PUBLIC HEALTH NURSE: Gloria Reid Ph: 094327634  
RETURNED AND SERVICES ASSN 733 Settlement Rd.Hakaru 
Ph.4312176 Bill Kerr (President) Ph.4314719 
TE KOROWAI AROHA O NGATIWHATUA Ph: 4312675 
(The Cloak of Love of Ngatiwhatua) Support and Maori Consultancy.  
 
VETERINARY SERVICE MANGAWHAI: 
Ph: 4314535 Mon-Fri 8.30-4.30, Sat 9-12, a/h appt. 
 
WOMEN'S WELFARE LEAGUE & Reaching Out For Youth:  
4 Kaiwaka-Mangawhai Rd, M Morgan 4312293
WHAT'S ON
PLEASE ~ do let us know what is on - email 
kaiwakabugle@kaiwaka.co.nz 
Advertising in WHAT'S ON is FREE  
*13May~
Open Day Kaiwaka Fitness Centre, 5pm 
*16May~Junior rugby from 6pm, KSA 
*
16May~Mr Pip 7:30pm KWMH
*17May~Firefighters Sky Tower Stair Challenge 
*21May~Interschools Rippa Rugby tournament 9:30am KSA 
*23May~Pink Shirt Day, stop bullying, pinkshirt.org.nz 
*24May~Barn Dance, Hakaru Hall 
*25May~Hakaru & Districts RSA AGM,1.30pm 
*27May~Otamatea Rugby Club meeting 7pm, KSA 
*30May~Dance of Life, freestyle dance, KWMH,  
4312408 / 021 2968794  
*6Jun~Gravity 7:30pm KWMH 
*8Jun~Walking with Dinosaurs 2pm KWMH 
*14Jun~HAWKS v Hikurangi, KSA 
*20Jun~The Book Thief, 7:30pm KWMH 
*8-12Jul~Taniwha Cup, KSA 
KWMH=Kaiwaka War Memorial Hall 
KSA=Kaiwaka Sports Association Complex 
 
See www.kaiwaka.co.nz for upcoming events. 
 
HOUSEHOLD  RUBBISH  COLLECTION  -  Kaiwaka    Pick  up-
Mondays=Gr een bags ar e picked up by Nor thland Waste-queries 
to  them  09  4303273,Wednesdays=Blue  bags  and  yellow  recycling 
(at  Jaques    $3.00  and  $1.50)    are  picked  up  by  Kaurilands  09 
4392146.  
*DIABETES Support Group -for Kaiwaka, Mangawhai, Wellsford 
   10am, 3rd Friday of month Ph:A.Pert 4238242; J.Gardner 4238060 
*DRINK CAN 'tear tabs' - for Starship Hospital- please collect - 
    98 Kaiwaka Mangawhai Rd, leave in mailbox, Ph. 4312625  
*GYMNASTICS OTAMATEA -  Tuesday Ph: Stephanie 022 3624998 
*HAKARU PONY CLUB-Secretary Julie Rynne 09 4314520 
*KAIWAKA BADMINTON -Tuesdays 7.30pm Ph: 4312345 
*KAIWAKA GARDEN & FLORAL Grp:2nd Thursday in month 
   Ph: 4314767 
*KAIWAKA CUBS-Thursdays 5.30-7pm, Hakaru  Ph:Bruce  4312542 
*KAIWAKA SQUASH -Mondays 7pm Ph: Barbara Thomas    4315905 
KNITTING FOR WHANGAREI HOSPITAL - 2nd Tuesday in  
   month, Apple Basket 10am Ph 4314827 
*MANGAWHAI COMBINED PROBUS CLUB: 2pm,3rd Thursday  
   month in the Senior Citizens Hall Mangawhai. Ph: 4315777 
*NZ GENEALOGY-Wellsford - 1st Thursday in month Ph: 4237033 
*OTAMATEA GREY POWER-09 431 8138 Joan Hoggard  
*PT CURTIS CRUISING CLUB - Jean Ph: 4312 246 
*RSA,Hakaru & Dist.Women- meet 1.30pm 4th Thurs in month Ph: 4312 668  
*TRAMPING- Mondays 9am-2:30pm  Karen Ph: 4312 090 
*WAIPU GENEALOGYGROUP -4th Monday in month Ph: 4312725 
*YOGA- Tuesdays 6:15pm, Friday 8:30am Kaiwaka WM Hall Carla  
   Ph: 4312 408, 021 296 8794
CHURCHES:
*Gateway Worship Centre: St Mary's Church Nathan Rd off Oneriri Rd, 
Kaiwaka Services, 10.30am 1st & 3rd Sunday of every month. Contact: Rev 
David Gage 4312528 or 0212354282 
*Kaiwaka Family Church-Your Community Church:Sundays, l0am 
Home Group every Wed evening, Pastor John.Dekker Ph: 4318203 
*Kaiwaka Services.Anglican & Family Service at St Pauls Church  - 1st 
Sun. 9.30am(Anglican),3rd Sun. 9.30am (Family Service).  Contacts: Parish 
Office 09 4318193, M.Hargreaves 4312295, C.Bygrave 4312057  
*Church of Christ the King, Mangawhai:9.30am every Sunday 
*St.Mary's Catholic Church: Maungaturoto – Griffins Road, Saturday even-
ing Vigil Mass 6pm; Mangawhai – Senior Citizens Hall, Sunday Mass 
8:30am; Wellsford – Matheson Road, Sunday Mass 10:30am; Mid-week 
Mass times and all enquires to Fr. Bill Fletcher – phone 423 8170 
*Baptist Church: Sun. 10.30am Mangawhai Snr Cit.Hall.Ph:4312339 
*Cause Way Church Mangawhai: Sundays 10.15am, Mangawhai Communi-
ty Recreation Centre, Insley St. Ph: 09 4314782  
www.causewaychurch.org.nz 
 
*St.Pauls Archie Bull Hall HIRE  $20 half day, $40 full day per hire 
 Contact G. Jaques 4312048 
*Kaiwaka War Memorial Hall HlRE - Phone 4312725 or   
Email  
kaiwaka.hall.bookings@gmail.com 
*Hakaru Community Hall HIRE -Ph.  4312256 or 4312110 
*Te Pounga Marae queries -A.Gage 4312528, 4312527 
*Kaiwaka Sports Association hire/queries - C. Anderson 4312051 or 
Email kaiwakasports@gmail.com
 
Justice of Peace: B.FJaques; L.Donaldson; A.F.Hargreaves  -please phone to 
make sure they are available 
Marriage Celebrants: L.Donaldson; A.F.Hargreaves; C.Rosseels 
Next Bugle Deadline Friday 23 May 2014