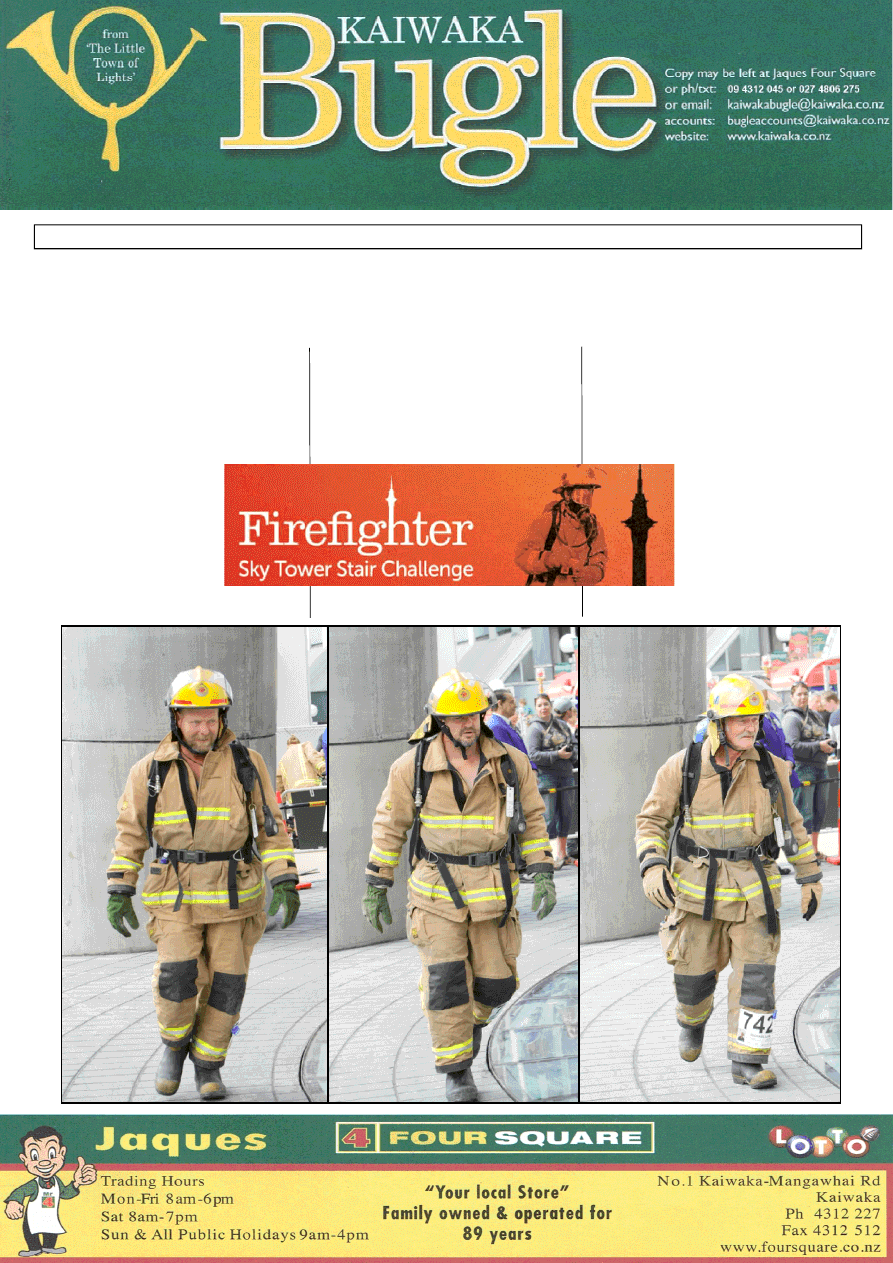 No: 10 
27 May 2014 
KAIWAKA VOLUNTEER FIRE BRIGADE 
and the  
SKY TOWER STAIR CHALLENGE 
Three of our fit, brave Fire Brigade 
members  took  on  the  Sky  Tower 
Stair  Challenge  on  Saturday  17 
May.  Firefighters  participate  from 
around  New  Zealand,  Australia  and 
the USA, competing in a race up 51 
flights,  or  1,103  Sky  Tower  steps 
with 
participants  
wearing  full  firefighting 
kit  weighing  25kg.  Our 
three 
started 
and  
finished  together,  and 
say they will be doing it 
again next year! Mickey  
Renton's 
time 
was 
23:59    (Position  34  in  Masters 
Donned  Section),  Tim  Brown's 
time  was  23:52  (Position  30  in  
Masters Donned Section), and Mike 
Law's  time  was  24:34  (Position  15 
in  Grand  Masters  Donned  Section). 
$1,142 was raised for Leukaemia & 
Blood New Zealand. 
Well done guys! 
The Kaiwaka Fire Brigade is run by 
volunteers  for  our  community. 
There  are  17  in  the  Brigade  at  the 
moment,  with  ages  ranging  from 
about 
17 
to 
65. 
The 
only  
requirement, 
other 
than 
a  
willingness  and  a  little  fitness,  is 
passing  a  police  check. 
If  you  are  interested 
contact  John  Bowmar 
on  4312  248.  The  
brigade  is  fundraising 
for  new  equipment  by  
collecting scrap  metal - 
if  you  have  a  donation 
contact John, or Mike on 09 945 0477.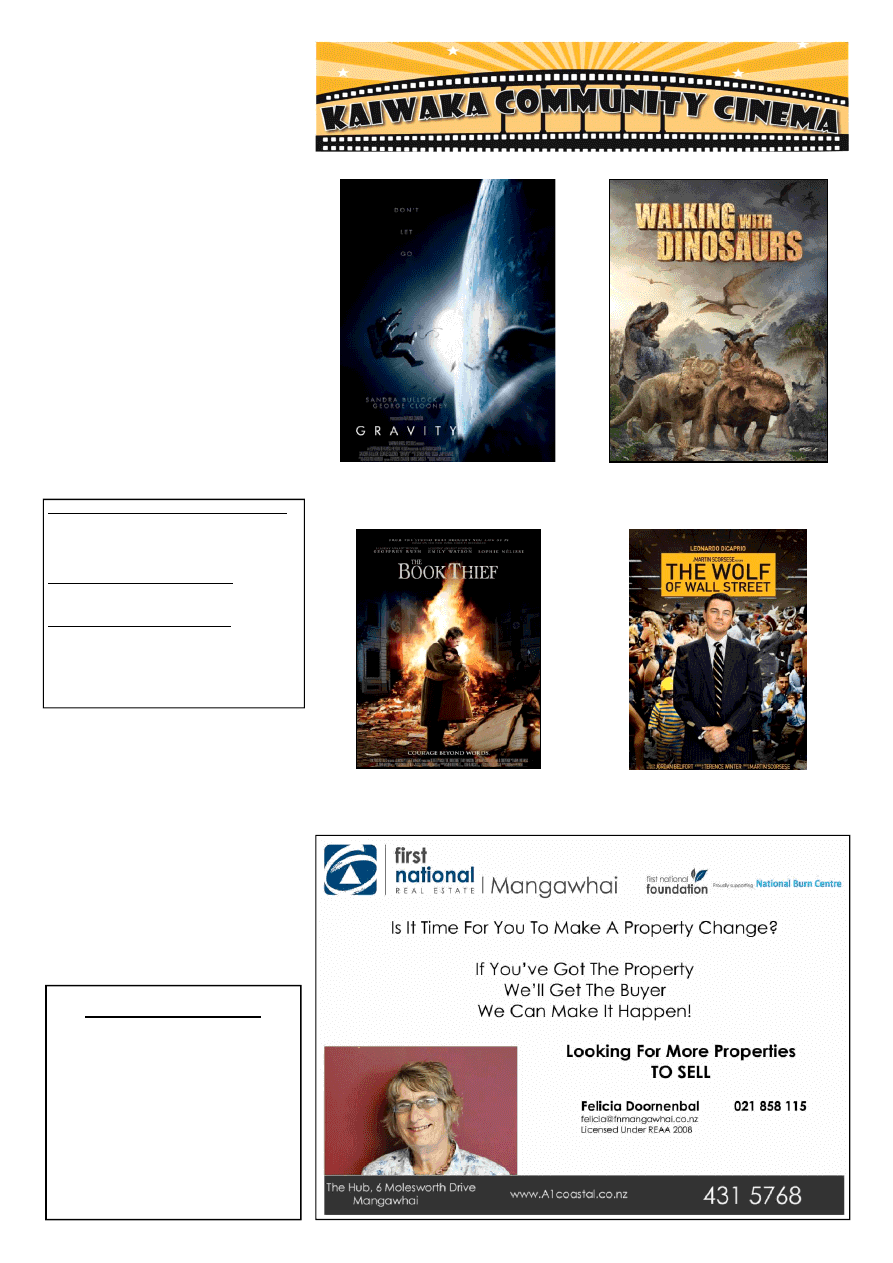 ABOUT TOWN 
......... 

 Our  condolences  to  John  McClean 
and  family  for  the  passing  of  Enid  last 
week. 
 

Congratulations  to  Mickey  Renton, 
Tim  Brown  and  Mike  Law  on  their 
achievements  in  the  Sky  Tower  Stair 
Challenge. 
 

Watch  out  for  Kaiwaka's  Got  Talent 
on 5 June - see page 9 for details. 
KAIWAKA BUGLE No: 10 
27th May 2014
Page 2: Kaiwaka Movies 
Page 3: Public Notices; Classifieds 
Page 5: Kaiwaka Weather, Otamatea 
Hawks, Hakaru RSA Women's 
Section 
Page 7: Kaiwaka Sports Association 
Page 9: Kaiwaka Library 
Page 11: Otamatea High School 
Page 13: Kaiwaka War Memorial Hall, 
Kaiwaka Garden & Floral Club, 
Point Curtis Cruising Club 
Page 15: Kaiwaka Library cont. 
Page 17: advertising 
Bugle 11 will appear 10 June 
 
Contact for advertising, reports, articles 
or information can be made by 
Email kaiwakabugle@kaiwaka.co.nz 
Ph: 09 4312045 
Txt:  0274 8062 75
 
Business card adverts can now be added 
to the KMG website– email contact to: 
kaiwakaonline@kaiwaka.co.nz 
Kaiwaka Bugle Advertisements 2014: 
 
Classified $3; 1/8 page $6; 1/4 page $12; 1/2 
page  $24;  in  special  circumstances  whole 
page adverts are available-cost $100 
bugleaccounts@kaiwaka.co.nz 
Payments  can  be  online,  posted  or  left  at 
Jaques Four Square Store. 
kaiwakabugle@kaiwaka.co.nz  for queries 
or copy. 
The  Kaiwaka  Bugle  is  a  community 
newspaper run by volunteers.   
Articles,  etc.  printed  are  not  necessarily 
the opinion of the Bugle Team. 
Gravity 
Friday 6 June 7:30pm(M) 
Walking With Dinosaurs 
Sunday 8 June 2pm (PG) 
Free for kids with accompanying parents $5
Kaiwaka Bugle 
Founded May 1978 
Copies available in Kaiwaka at Jaques Four 
Square, Kaiwaka Postal Centre, Shamrock 
Service Station, Celena's Gifts 
Also outlets in Maungaturoto, Mangawhai 
and Paparoa. 
Can be viewed online at www.kaiwaka.co.nz/
Bugle 
Or a copy can be posted to you if you supply 
stamped, self-addressed DLE envelopes. 
The Book Thief 
Friday 20 June 7:30pm(PG) 
The Wolf of Wall Street 
Friday 4 July 7:30pm  (R18) 
Please note classification - under-18s not admitted 
At Kaiwaka War Memorial Hall . Adults $10, Chn (under 16) $5, Family Pa ss (2 adults +  3 children) $25 
PUBLIC NOTICES 
CLASSIFIED 
FOR  SALE:  Jill  Shires  Holistic  Animal  Therapies. 
Herbal 
Remedies, 
Bach 
Flowers, 
Ointments,  
Diatomaceous  Earth,  Bentonite  Clay,  Cranio  Sacral 
Therapy,  Skin  Conditions,  Arthritis,  Laminitis,  Mud 
Fever 
Cream 
etc. 
www.allcreatures.co.nz 
or  
09 431 2080 
GARAGE  SALE  31st  May,1st  &  2nd  J une,  11am-
4pm.  Baby  and  Pre-schoolers  furniture  toys  and  
clothing. KIOSK @ Swinging Cow Café 
 
PLANT  NURSERY  FOR  RENT  -  looking  for  a 
place  to  grow  your  favourite  plants?  Turning  an  
enjoyable  experience  into  cash?  "You  guessed  it  ...  I 
can  help!!"  Ph  Pete  Worsfold  021  825  970  or  email 
peteworsfold@xtra.co.nz  For  an  onsite  appt.  at  126 
Oneriri Rd, Kaiwaka 
WANTED:  Spinning  wheel,  Ashford  Kiwi  2  or   
similar 2-peddle . Ph Paulla-Jean 027 499 1818 
BERYL 
NOZEDAR:  (Middleton)  International  
Clairvoyant. 
Numerology, 
Tarot, 
Clairvoyance,  
Mediumship. $60 for hour includes CD. Ph: 4312 080 
 
CLOTHING ALTERATIONS & REPAIRS: 
Hems,  Zips,  Dressmaking  Phone:  Win  4312027    or 
027 444 8358 Winsome Designs. 
FREE  GRAZING  WANTED: Small or large block. 
Can  do  some  fencing  or  water.  Phone  after  6pm 
4312006 
FREE:  If  anyone  would  like  some  crab-apples  for 
jelly-making,  ph  Jan  431  2416.  One  heaped  colander 
full of fruit makes about 4 std and 5 sml jars. 
Thought for the day: 
Jealousy is more dangerous than anger. 
Proverbs 27:4 
PART TIME 
FARM WORK 
I am looking for someone experienced in all 
aspects of the handling of cattle (no dogs!) and 
great with farm machinery to help run a small 
breeding/finishing operation in Oneriri. 
Experience with spraying, fencing, water  
systems and tractors and implements is  
essential. 
Hours will vary depending upon an agreed 
work programme but a minimum per month 
will be negotiated. 
Person will be physically fit, patient and caring 
towards the animals (and the farm  
equipment!), easy to get on with, reliable and 
trust-worthy. 
Ideally the person will supply their own quad 
and petrol and the hourly rate will reflect this. 
For further information please call Andrew on 
027 514 1100. 
FOR RENT 
852 Oneriri Road, Kaiwaka 
Rural lifestyle 
Grazing available as option 
2 bedroom unit 
Wet back wood burner 
Single internal access garage 
Cat and small dog OK 
Available now 
$200.00 per week 
Please ring Tyler Jones 09 4315 295  021 0204 3001 
Point Curtis Cruising Club Inc 
Annual General Meeting 
17 June 2014 
7pm at 3 Furlongs Hotel, Kaiwaka 
All welcome 
Tripe & Onion Luncheon 
To be held at the RSA Clubrooms Hakaru 
on Sunday 22nd June at 1pm 
(There will be alternative choices for those 
who are not tripe fans) 
$10 per meal, all welcome 
PLEASE PHONE Heather Small 4314 668 
and leave your name for catering purposes. 
KAIWAKA KNITTERS FOR 
WHANGAREI HOSPITAL 
Meet  2nd  Tuesday  each  month  10.00am  at the  Apple 
Basket.  Come  along  and  join  our  group  as  we  make 
and  discuss  what  we  will  do  for  the  Children's  Ward 
and the Elderly in Whangarei. 
We  would  greatly  appreciate  any  spare  yarn  that  
anyone has to go towards making these garments. 
If you would like to make anything to help we require 
beanies,  jerseys,  scares,  socks  for  children.  Capes, 
shawls, beanies, knee rugs and scarves for the Elderly 
and  baby  clothes    and  car  seat  blankets  -  these  are 
about 2 foot 6 inch squares. 
For  more  information  contact  Gale  Matheson 
094314827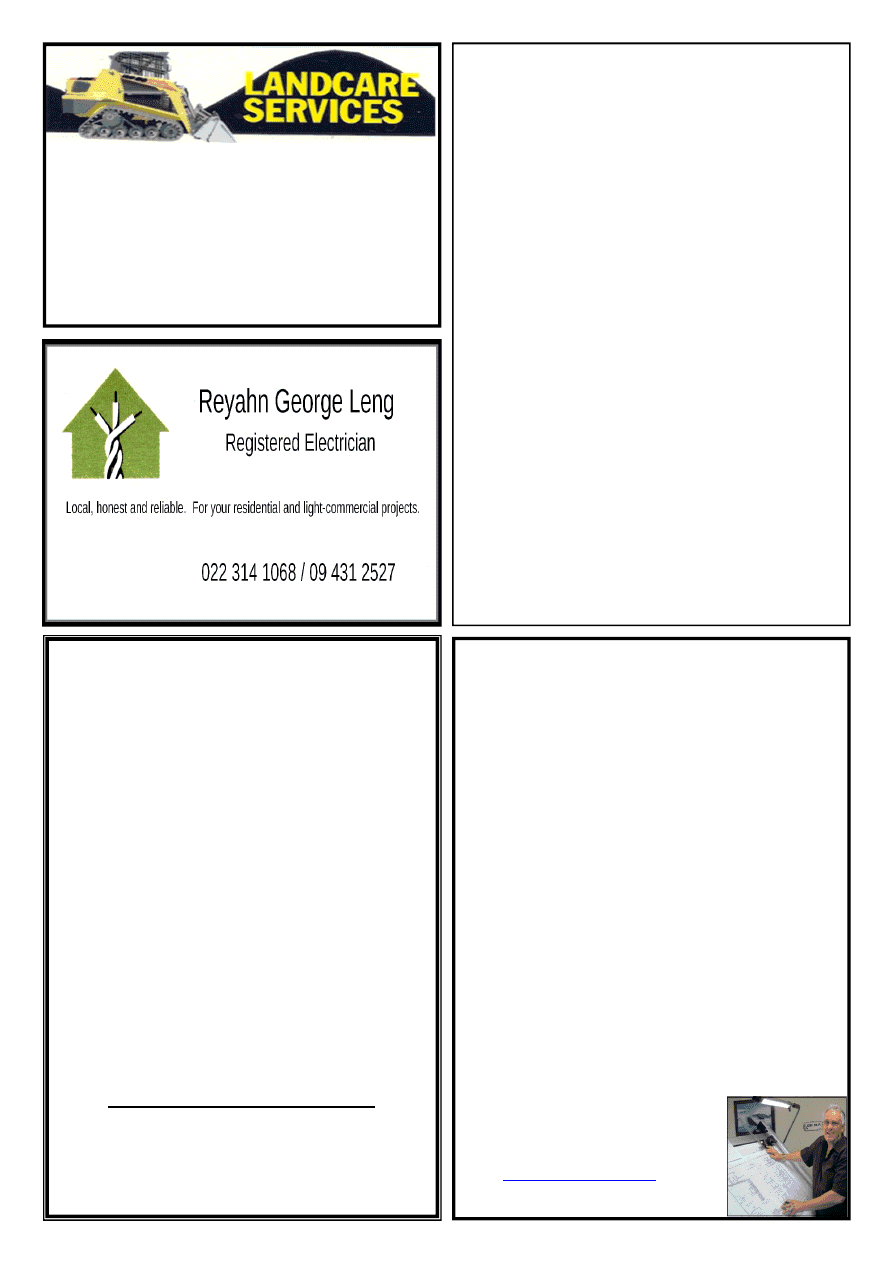 PAUL SAUNDERS 
LAWNMOWING 
& GARDEN 
MAINTENANCE 
 
Residential and commercial 
 
Lawns and edges    
 
Section mowing 
 
Garden makeovers 
 
Hedging and trimming 
 
Spraying 
Friendly and reliable service guaranteed 
Call now for a free no obligation 
quote 
021 886 843 
09 431 3318 
Servicing Mangawhai and Kaiwaka 
and surrounding areas 
paulsaunders99@gmail.com 
LANDSCAPING 
4 IN 1 BUCKET 
TRENCHER 
POLE HOLES 
ROTARY HOE 
COMPACT ROLLER 
OFFAL HOLES 
CAN SUPPLY WOODCHIP & POST PEEL 
5 TON TIPPER 
FOR RELIABLE AND FRIENDLY SERVICE CONTACT DAVE 
Dave Hyndman 
 
KAIWAKA 
PH: 09 4312302 
MOB: 021 431 238 
* MASSAGE * NAILS * 
* NUTRITION * 
In Mangawhai Heads
 
Full  hour  and  half  hour  massage  TAI-
LORED to suit your needs, ALSO mini 
massages  and  chair  massage  available. 
Businesses  –      ask     about      my      on-
site massage service for your staff. 
 
Full set of acrylic nails for both fingers 
and  toes  –  wonderful  solution  for  nail 
biters!    PLUS  manicures  and  pedi-
cures. 
 
Healthy  nutrition,  weight  loss,  sports 
nutrition and healthy ageing – we offer 
solutions  so  lets  work  on  this  togeth-
er…  Call  me  today  for  a  free  wellness 
evaluation  to  achieve  your  wellness 
goals.  
CINDY SAUNDERS 
Fully qualified masseuse and Surmanti 
trained acrylic nail technician 
Call or text 021 296 9819 or  431 3318 
Gift Vouchers available  
ARCHITECTURAL BUILDING 
PLANS AND DESIGNS 
WRIGHT DESIGN 
 QUALIFICATIONS 
Brian is a qualified designer (NZCAD) with over 40 years of 
varied experience in all types of building and is a registered and 
Licensed Building Practitioner in Design - L.B.P. 117345 
He ensures you will achieve the best from your budget with 
recommended excellent local contractors ready to competitively 
price and build your personal project quickly and efficiently. 
 EXPERIENCE 
Brian's practical building and 40+ years of design experience 
means he can give you excellent advice and all the guidance 
needed for all your building needs 
v Wright Design offers free visits, consultations and all the ad-
vice you need on planning, design, building, contractors, coun-
cil permit applications, etc. 
 
" Qualified and inexpensive designer – N.Z.CAD., LBP 117345 
" Guaranteed design and working drawings 
" Free site visit to your home or property 
" Great service 
" Great problem solver 
 
Call Brian ~Arrange a visit to discuss your needs  and obtain 
great advice and free quotation 
MAKE GOOD USE OF HIS EXPERIENCE and 
KNOWLEDGE 
WRIGHT DESIGN:  
360 Oneriri Road, Kaiwaka
Office 09 4312544  
Mobile 021 276 7389  
Email: 
brianwright@clear.net.nz
www.wrightdesign.co.nz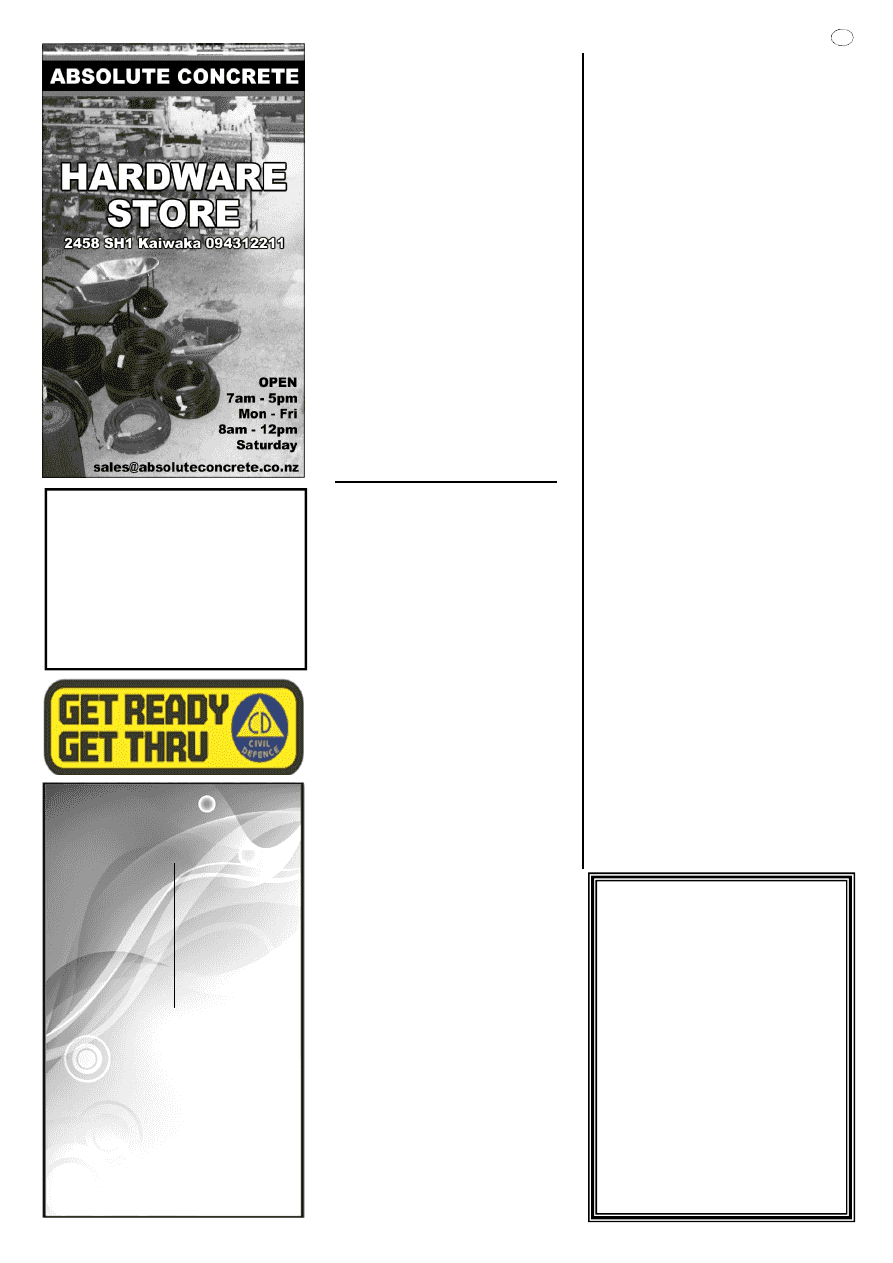 LEABOURNS 
Passenger Service 
Car & Van Hire 
Bus & Coach Charters 
Airport Transfers 
Monthly Shopper Bus
Phone (09) 4237416 
5 
KAIWAKA WEATHER
April  was  very  pleasant  for  the  most 
part. Then  came  that  dreadful  storm  of 
which  no  warnings  had  been  given. 
Being  a  follower  of  the  weather  report 
on  the  computer  I  could  see  that  one 
coming.  We  were  taking  a  break  and 
on the day before the storm got here we 
were 
heading 
away. 
Reports  
followed  us  of  how  bad  it  had  really 
been.  We  did  feel  sorry  those  badly  
affected.  Well,  April  this  year  saw  us 
with 121mm of rain over 12 days of the 
month  and  for  2013  we  had  124mm 
over 11 days. For the last 4 months we 
have  had  281mm  compared  to  193mm 
for  2013.  Since  1987  we  have  3  years 
with  the  driest  total,  being  2012  with 
28mm also 2010 and 2005. The wettest 
year  for  April  1988  with  222mm.  I 
thank  the  neighbours  for  keeping  track 
of the rainfall over April when we were 
away.  Hopefully  you  are  sleeping  
better with the much cooler weather. 
Take care out there.  
~Bev 
U Beauty 
Please call Nicole for bookings 
09 393 6336 or 022 0639450 
Qualified Beautician 
4 Kaiwaka – Mangawhai Rd 
Kaiwaka 
Eyebrow Wax  $10 
Eyebrow Tint  $10 
Eyelash Tint 
$20 
Lip Wax 
$10 
Chin Wax 
$10 
Bikini Wax 
$20 
Brazilian 
$50 
½ Leg Wax 
$30 
Full Leg Wax  $45 
Full Pedicure 
$60 
Foot Tidy  
$35 
Manicure 
$45 
Nail Tidy 
$25 
Chest Wax 
$30 
Back Wax 
$40 
Nostrils 
$10 
Ears 
$10 
Underarm Wax  
$20 
Extended Bikini Wax 
$30 
15 min Back  Massage 
$25 
30 min Back Massage 
$50 
HAKARU RSA 
WOMEN'S SECTION 
 
17  members  attended  the  April  
meeting;  prior  to  the  meeting  we  all 
made  posies  for  Returned  Services 
graves  and  wreaths.  Many  thanks  to 
Sue  Hamilton-Wallace  who  came  to 
help,  Sue  is  a  member  of  our  Garden 
Club.  We  hope  Pat  Judd  is  well  again 
now  and  that  Jan  Mann  and  Doreen 
Woodhouse both had Happy Birthdays. 
5  members  attended  the  Silverdale 
Birthday,  and  enjoyed  their  day  out. 
The  RSA  Club  has  had  a  lot  of  use  
lately  what  with  ANZAC  day  and 
"Days of Thunder" very well organised 
by the "Botica twins" and  many others 
well  done  gang.  Many  thanks  to  all 
who supported the "Poppy Day " sales 
and  Heather  thanked  the  sellers,  also 
many of which were Women's' Section 
members.  On  Sunday  8th  June  at  2-30 
there will be an over 80's afternoon tea 
to which you will have been invited by 
the  time  this  goes  to  print  -  as  many  
Under  80's  to  come  to  help  would  be 
appreciated  with  a  plate  of  course!  On 
22nd  June  Sunday  is  the  Tripe  and  
Onion  Luncheon,  with  an  alternative 
menu, this starts at 1 p.m. all welcome. 
$10  pp.    Please  phone  Heather  Small 
4314668 if you are attending. Women's 
section  have  planned  our  mid  year 
Christmas  Dinner  to  be  held  at  the 
Whangarei  Tec  on  19th  June  11-30, 
travel arrangements  etc to be arranged, 
just  keep  the  date  free  $30  pp  visitors 
welcome.  Please  contact  Heather  on 
4314668  if  you  plan  to  attend.  The  
raffle  was won by Bettie Marchant our 
expert  on  firing  Lee  Enfield  rifles! 
Well done Bettie we are proud of you! 
~Ann 
OTAMATEA HAWKS 
The  Otamatea  Hawks  thank  our  2014 
Sponsors  and  acknowledge  that  the 
club  would  not  be  able  to  run  without 
your  support.  The  Hawks 
have  
improved  this  year  and  are  at  the  top 
half  of  the  point  table.  We  are  a  
growing  club  and  with  the  support 
from  our  sponsors  and  supporters  we 
will continue only to improve. 
 
Twinkle  Tow  n  Tyre,  Phil  Keen  
Concrete,  Bruce  and  Jan  Robertson, 
Pizza 
Barn, 
Absolute 
Concrete,  
Wharehine  Ready  Mix  Concrete, 
Jaques  Four  Square,  Rural  Design,  
Brian  and  Isabel  McClean,  Parker 
Lime  Transport,  Tony  and  Lindsey 
Hargreaves,  Kaiwaka  Motorcycles, 
Three  Furlongs  Hotel,  Maungaturoto 
Butchery,  Kaiwaka  Liquor  Centre,  
Steven  Jaques  Accountant,  Barry 
Wright  Butcher,  Evan  and  Michelle 
Wright,  Jim  Leslie,  Paul  and  Carol 
Mills,  Mark  Guy,  Paddy  and  Debbie 
Thornton,  Craig  and  Desma  Hanna, 
Wayne 
and 
Linda 
Leslie, 
Pete  
Hargreaves,  Northpine,  La  Nonna  
Bakery,  Podium  Sport,  Oxford  Sport 
Trust. 
 
And  all  our  local  supporters  that  come 
and  watch  us  each  week,  it  is  very 
much appreciated. 
 
2014 SPONSORS  
Twinkle  Tow  n  Tyre,  Phil  Keen  
Concrete,  Bruce  and  Jan  Robertson, 
Wharehine  Ready  Mix  Concrete, Tony 
and  Lindsey  Hargreaves,  Absolute 
Concrete,  Jaques  Four  Square,  Pizza 
Barn,  Jim  Leslie,  Brian  and  Isabel 
McClean,  Parker  Lime  Transport,  
Kaiwaka  Motorcycles,  Three  Furlongs 
Hotel,  Maungaturoto  Butchery,  Steven 
Jaques  Accountant,  Kaiwaka  Liquor 
Centre,  Barry  Wright  Butcher,  Evan 
and  Michelle  Wright,  Paul  and  Carol 
Mills,  Paddy  and  Debbie  Thornton, 
Graig  and  Desma  Hanna,  Wayne  and 
Linda  Leslie,  Pete  Hargreaves,  Rural 
Design. 
The Twinkle Tow 'n' Tyre 
OTAMATEA HAWKS 
Supported by Phil Keen Concrete 
Sponsor's Day 
Saturday  14
th
 June 2014 
Otamatea Hawks 
v 
Hikurangi 
Kaiwaka Sports Complex 
12.30 pm    and  2.15 pm 
Join us for the 2014 Season – 
become a Paid Up Sponsor or 
part of our Supporter's Club  
Contact Jennie 021 027 64 171 
Club Contact: Kevin 027 47 93 659 
Player to Dean 021 61 20 41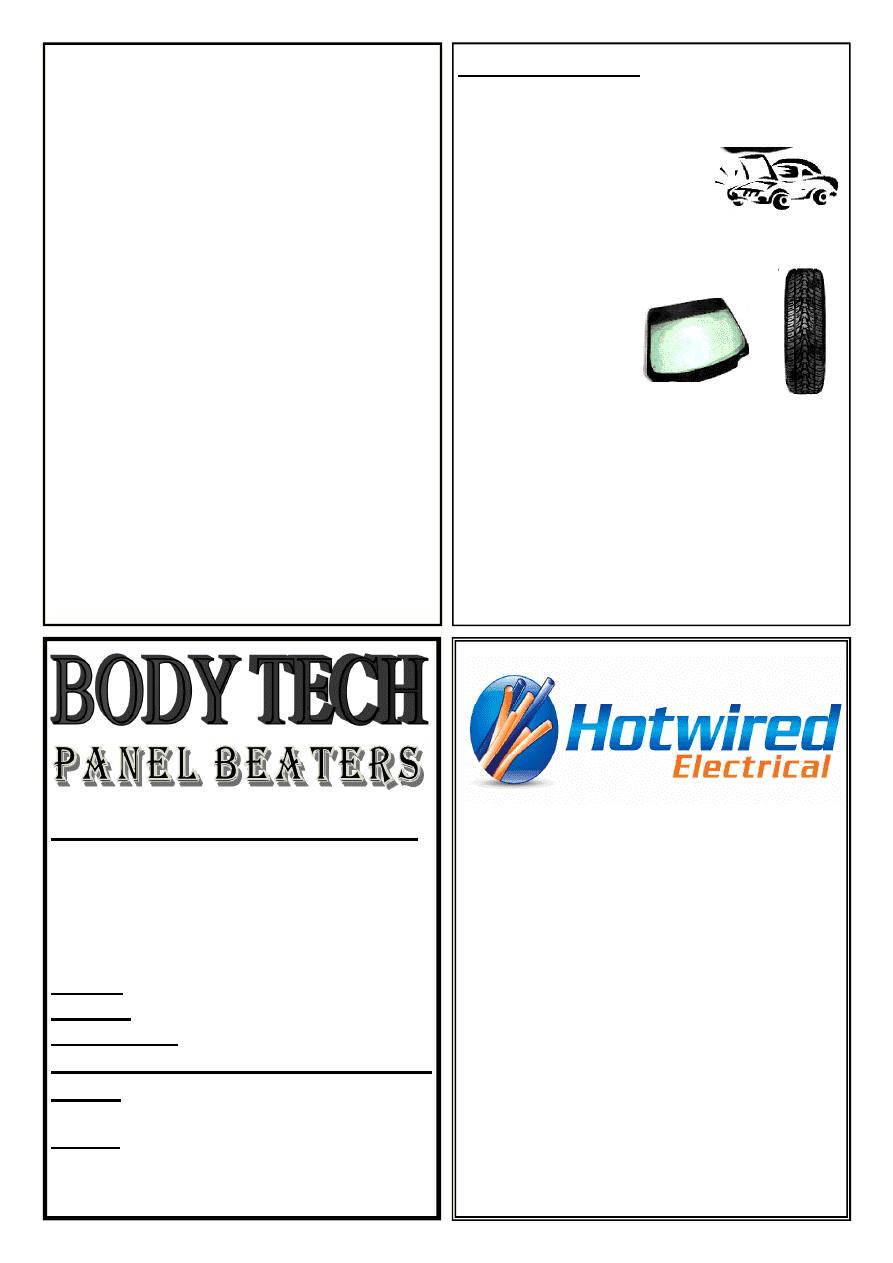 For all your body repair needs!! 
 
We do: 
 
Rust repairs 
 
Insurance work 
 
Anti-corrosion  
   treatment   
 
Hours: 8.30am-5pm Monday-Friday  
Mobile: 021 118 0462 
After hours: 09 431 2384 
Phone: Craig or Call in for a free 
Quote 
Email: 
bodytech_panelbeaters@yahoo.com
We are located at 1837 SH1 Kaiwaka, behind Twin-
kle Tow 'n' Tyre call in anytime for a free quote.  
 
Large and minor vehi-
cle repairs
 
Industrial vehicles
 
Full Cut and polishes
For All your  
Electrical  Requirements 
 
Domestic small jobs 
 
Residential dwellings and alterations 
 
Commercial 
 
Industrial                 
No job too big  
or too small    
Contact Jason today on: 
(09) 431 5992, (021) 405 019 
www.hotwiredelectrical.co.nz 
PLANNING A NEW 
KITCHEN? 
CONTACT NOEL McDOWELL
WELLSFORD 
KITCHENS
Ph/Fax 094312888
KAIWAKA-Any time 
  QUALITY CUSTOM MADE 
KITCHENS 
~Personal and Prompt Service~ 
~All Workmanship Guaranteed~ 
~Over 20 Years in the Trade~ 
~Free Design & Quote~ 
Want it done? 
Bring it to  
Twinkle Tow 'n' Tyre 
*W.O.F. 
*Tyres 
*Windscreen replacement 
*Chip repairs 
*Bulk Oil 
*Batteries 
*Welding 
*Custom built trailers 
*Trailer hire 
Think you'll get a better deal in the city? 
Go on, ring us; it won't cost anything! 
1837 State Highway 1, Kaiwaka 
Phone 431 2823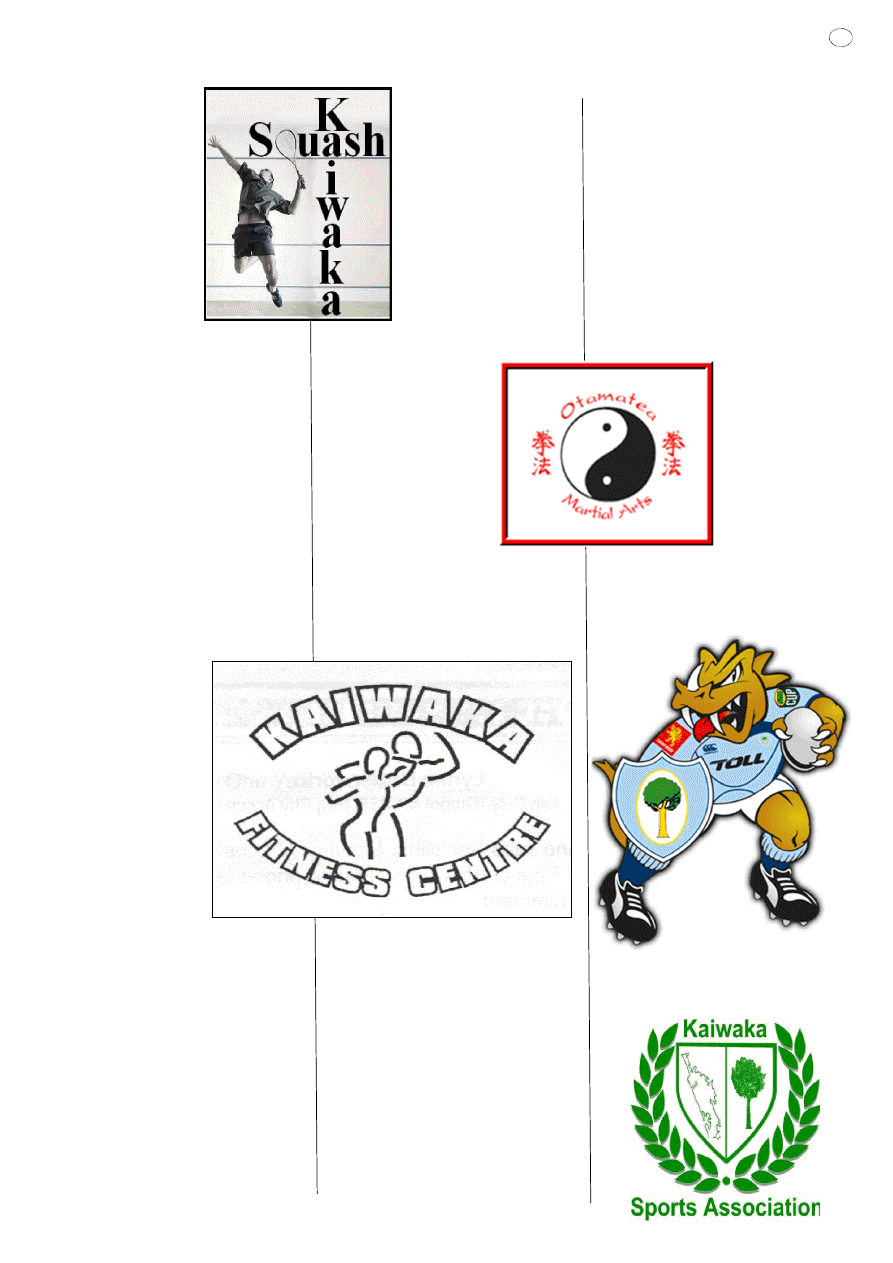 7 
Squash 
Our  squash  club  is  up 
and  running  again,  and 
with  a  group  of  new, 
enthusiastic  people  on 
the  committee  it  looks 
like  it  will  be  a  great 
season! 
Squash  is  a  wonderful 
game  for  your  fitness, 
so  if  you're  keen  to 
give  it  a  try,  just  turn 
up 
to 
our 
newly  
upgraded 
courts 
on 
Monday 
evenings, 
from  6pm.  If  you  are 
interested  in  getting 
some  coaching,  please  email  Phillip 
Tana on ptana@lic.co.nz. 
Our  annual  sub  is  $60  (seniors),  $40 
(school  age)  or  $100  (family).  Your 
sub  buys  you  a  key  which  gives  you 
access to the courts 24/7. 
For  any  enquiries  about  squash,  please 
contact  Heather  Lupton  on  021 
841115. 
Rugby – senior 
The next Hawks match at the KSA will 
be  against  Hikurangi  on  Saturday  14th 
June, the clubs sponsors will be invited 
and  the  curtain  raiser  will  be  JMB 
matches,  so  this  will  be  a  great  day, 
more details to follow.  
The  next  Otamatea  Rugby  Club  
meeting  will  be  at  the  Complex  this 
Tuesday at 7pm. 
Fitness Centre 
Keys  to  our  Fitness  
Centre 
have 
just 
changed  over,  so  if 
you've 
ever 
thought 
about  taking  out  a sub – 
now  is  the  perfect  time 
to do it! 
Subs  are  an  annual  fee 
of  just  $140  for  a single 
or  $230  for  a  family  (2 
adults + 2 students). For 
more  information  on  the 
Fitness  Centre,  please 
contact  Julie  Harris  on 
4321 
755 
or 
027 
6504540. 
Netball - junior 
The  two  Kaiwaka  teams 
have been playing their grading games, 
and  the  competition  rounds  will  start 
Saturday 7th June. 
Kaiwaka  Netball  were  successful  in 
receiving  funding  from  the  Kaipara 
Rural Travel  fund,  this  funding  will  be 
used  to  provide  a  bus  to  transport  
players  and  supporters  to  and  from  the 
courts. 
The club would like to thank Mark and 
Pam  Ottaway  who  have  donated  two 
netballs  to  be  used  as  prizes  for  the 
club  goal-a-thon  which  is  coming  up 
later in the season. 
We  are  looking  forward  to  a  good  
season  ahead  and  we  are  very  
appreciative  of  all  the  support  we  get 
from  the  community  and 
our regular spectators. 
Martial Arts 
The club's first 10 students 
will  be  graded  to  Green 
Belt in the coming weeks – 
this  is  an  exciting  time  for 
the  students  as  it  indicates 
the  midway  point  to  black 
belt,  and  they  will  now  be 
exposed  to  a  level  of  
training 
and 
discipline 
more  indicative  of  their 
positions  within  the  ranks. 
These  students  have  been 
with  the  club  since  day  1 
and  are  all  very  enthusias-
tic and dedicated kempo students.  
Our  Tai  Chi  program  
remains  our  most  popular 
class  amongst  the  adult 
students, 
with 
many  
professing 
to 
a 
huge  
improvement in feelings of 
general 
health 
and 
wellbeing,  less  stress  and 
higher  levels  of  energy 
since  joining  the  group. 
We  currently  have  around 
20  regular  students  on  a 
Sunday 
morning 
and 
would  welcome  anyone 
who  is  
interested to join us for a couple of free 
classes  to  see  what  we  are  all  about. 
For  more  information  please  contact 
black  belt  instructor  Craig  Bennetts  on 
otamatea.kempo@farmside.co.nz.  
Gymnastics 
Our Gymnastics Club is grateful to the 
several  volunteer  coaches.  Megan  
Little has been coaching at Gymnastics 
Otamatea  for  the  last  seven  years. 
Starting  off  in  the  PlayGym  class,  she 
helped  establish  PlayGym  in  Kaiwaka 
and then went on to coach our primary-
aged  classes.  Her  own  girls  are  now  in 
the  Extension  class,  but  Megan  
continues to coach the younger classes, 
and  has  this  year  started  to  help  with 
the 
training 
of 
junior 
coaches.  
Coaching  is  on  a  volunteer  basis  and 
we  are  grateful  for  Megan's  continued 
availability  to  help  the  children  in  our 
community enjoy exercise and discover 
new strengths.  
Congratulations 
to 
Gymnastics  
President 
Stephanie 
Brown 
who  
recently  won  a  Lotto  Sportmaker 
award,  in  recognition  of  her  dedicated 
service 
to 
the 
gymnastics 
club.  
Stephanie  won  a  $500  voucher  and 
used  it  to  donate  clothing  and  balls  to 
people  who  have  been  long-term  
supporters of Gymnastics Otamatea.  
Taniwha Shield 
Planning  is  well  underway  for  the  
Taniwha Shield rugby tournament to be 
held at the KSA in the first week of the 
July  school  holidays.    The  Taniwha 
Shield  is  a  5  day  tournament  for  eight 
Years 7 & 8 representative rugby teams 
from all over Northland. 
This will be great for our community as 
it  will  bring  in  a 
huge 
influx 
of  
visitors  –  players, 
management,  par-
ents and supporters.  
We  have  a  very 
small  budget  for 
running  the  whole 
tournament,  so    if 
any  of  our  local 
businesses  are  in  a 
position  to  donate 
items,  that  would 
be  much  appreciated.  We  need  to  
provide 800 lunches, so any food items 
would  be  gratefully  accepted!  Please 
contact me (details below). 
~Cheryl Anderson 
4312 051, 027 3462702 
kaiwakasports@gmail.com 
KAIWAKA SPORTS ASSOCIATION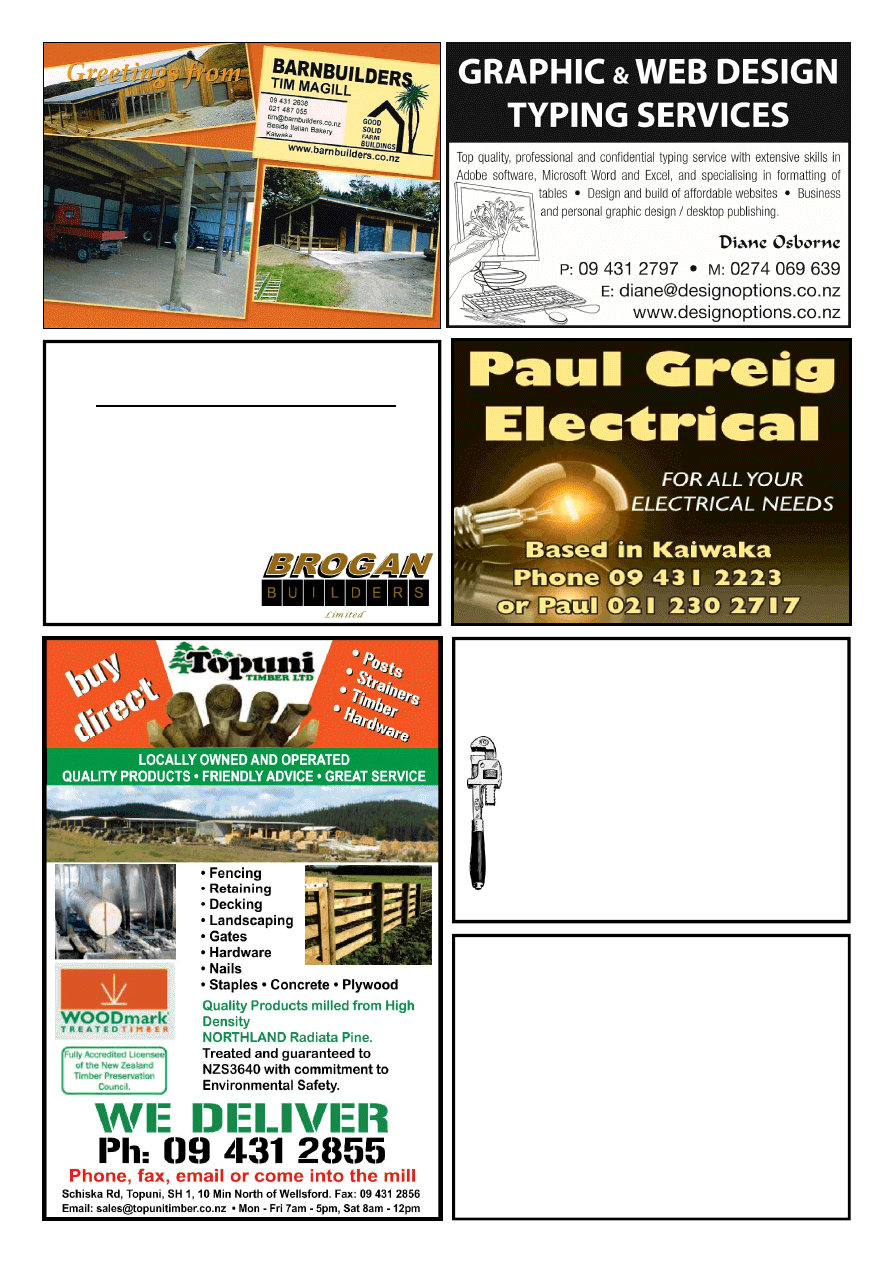 Insurance Valuations 
Insurance Valuations completed by our  
Registered Quantity Surveyor. 
Call us today or send an email  
to book an appointment. 
GRANT MOB: 0274 743 856    
OFFICE PH: (09) 431 8018 
EMAIL: GRANT@BROGANBUILDERS.CO.NZ 
BARRY CURTIS PLUMBING LTD 
REGISTERED CRAFTSMAN PLUMBER 
Phone 4315572 
027 257 9884 
25 years experience 
Friendly reliable service 
All plumbing and maintenance 
Alterations and new housing 
New wood fire installation 
Spouting 
Competitive rates 
PROMPT EFFICIENT  SERVICE 
AMBER'S 
Q Cafe & Restaurant
All day breakfast, 8am - 5.30pm. 
Home made Pizza, take away or eat in from 8am to late. 
Light lunches, 11.am - 5.30pm, Dinner Menu at 5.30pm to late 
Toasted Sandwiches and Sandwiches made to order. 
All day, Pies, Chowder & Soups, Milkshakes, Kiwi Ice cream, Slushie 
Fruit drink, Tea, Coffee 
Closed Mondays.....except Observed Holidays 
Sunday to Thursday: 8am - 8pm,  
Friday: 8am - 8.30pm, Saturdays 8am- 9pm 
4315226 
Trevor & Amber 
41 Moir Street, Shop 5-6,Mangawhai Village 
Next to Carters Building Supplies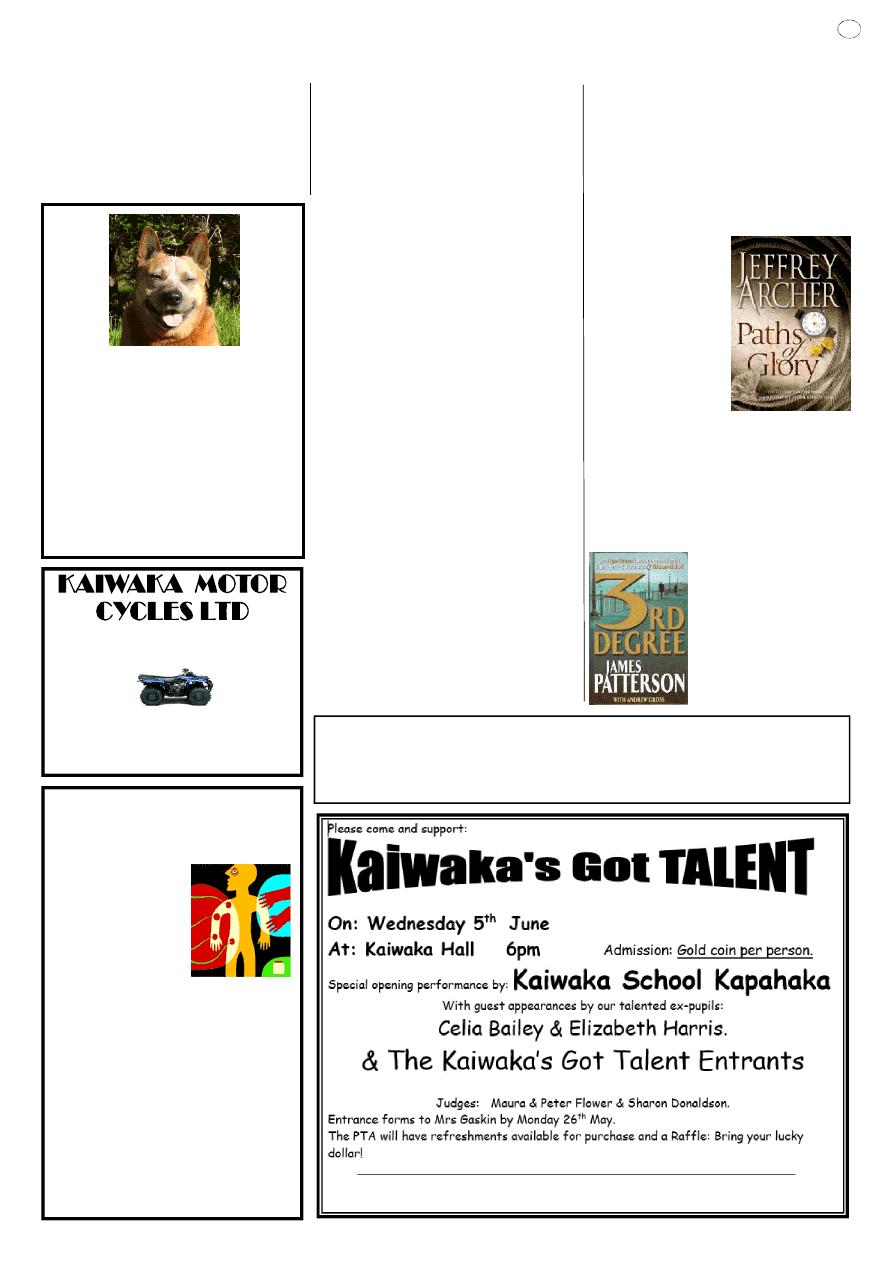 KAIWAKA LIBRARY 
9
OWEN STEVENS 
Osteo Therapist
For careful 
adjustments to 
bones and joints 
Treatment for  
humans and their 
pets 
Clinics: 
Kate's Place, Kaiwaka: 
Last Friday of month 
For  bookings:9.00am-5.00pm  
Phone 
09 4312661 
Or phone Owen   
09 4317123  anytime 
Laughing Dog 
Computers 
www.laughingdog.co.nz 
0224344448 
Hardware and Software 
Service and Repair 
bic  Library  on  Tuesday  17  June.  No 
need  to  rush  and  return  any  of  these 
books  before  that  date  -  they're  still 
due back 31 days after they were issued 
to you as usual - but time is running out 
to  take  a  look  at  what  you've  not  yet 
seen.  Come  and  check  out  this  great 
collection  of  books  soon!  Of  course, 
after  this  date  there  will  be  a  whole 
new selection of great books, too. 
Free books to download 
Don't  forget  that  you  can  download 
free  e-books  and  audio  books  from  the 
Dargaville  Library  page  on  the  KDC 
web  site.  You  need  to  set  a  PIN  on 
your  account  first  -  come  in  to  the  
library to do that, and we will also give 
you  a  sheet  of  instructions  to  get  you  
started. 
More online 
Do you use Facebook or Google+? We 
have  pages  on  both,  where  book  
reviews  and  lists  of  new  acquisitions 
are posted as they're available. 
Book reviews 
Barbara has recently read Paths of Glo-
ry  by  Jeffrey  Archer.  She says  "many 
New  Zealanders  have  no  doubt  read 
books  such  as  Man  of  Everest 
(Norgay's  autobiography)  and  various 
accounts of the British Climbing Expe-
dition  of  1953,  but  very  little  mention 
is  made  of  an  earlier  attempt  in  the 
1920s  in  which  there  has  always  been 
the  real  possibility  that  Mallory  and 
Irvine  made  it  to  the  top  of 
Chomolungma  and  sadly  perished  on 
the  way  down.  Jeffrey  Archer  puts  
together  a  convincing  account  of 
George  Mallory's  life  and  climbing 
career. The result is an intriguing blend 
of fact and historical information which 
falls  in  the  gaps  following  the  
discovery of his body in 1999. The 400 
pages  are  filled  with  compelling  
descriptions  of  the  main  players;  how 
they  think,  how  they  plan,  prepare  and 
execute.  It  gives  insight  into  their  
character, their  families  and  I  certainly 
now  feel  I  know  a  lot  more  about 
climbing,  its  terrors 
and  rewards.  Archer 
is  a  master  writer 
and 
seems 
even 
sharper  following  a 
stint  enjoying  board 
and  lodging  at  the  
British 
taxpayers' 
expense.  A  warning 
once 
you 
start  
reading  this  book  - 
it's hard to put down, 
you  just  want  to  know  what  happens 
next…" This novel is on the Dargaville 
shelves until the end of June. 
I've been reading 3rd Degree, by James 
Patterson 
with 
Andrew 
Gross.  
Detective  Lindsay  Boxer  is  jogging 
along  a  street  in  San  Francisco,  when 
she  stops  to  admire  a  house  she  likes 
the  look  of.  As  she's 
watching,  the  house 
explodes.  Lindsay  has 
no  regard  for  her  own 
safety  as  she  plunges 
into 
the 
burning  
building 
to 
see 
if  
anyone  needs  rescuing, 
finds three dead people, 
SALES SERVICE SPARES
FARM BIKE SPECIALIST
Phone 431 2127  
Kaiwaka-Mangawhai Rd 
Kaiwaka 
There was a deep-running river with a man on each side. The younger man on 
one side of the river yells across the river, "How do I get across to the other side"? 
The older gentleman looks up and down the river and answers,  
"You ARE on the other side"  
Despite the lovely days we've had late-
ly, winter is definitely on its way! It's a 
good  time  to  snuggle  up  and  read  a 
good  book  -  and  I  know  where  you 
might find one or two!   
Next book swap 
Our  next  book  swap  is  now  fast  
approaching.  It  is  with  Dargaville  Pu-
continued on page 15...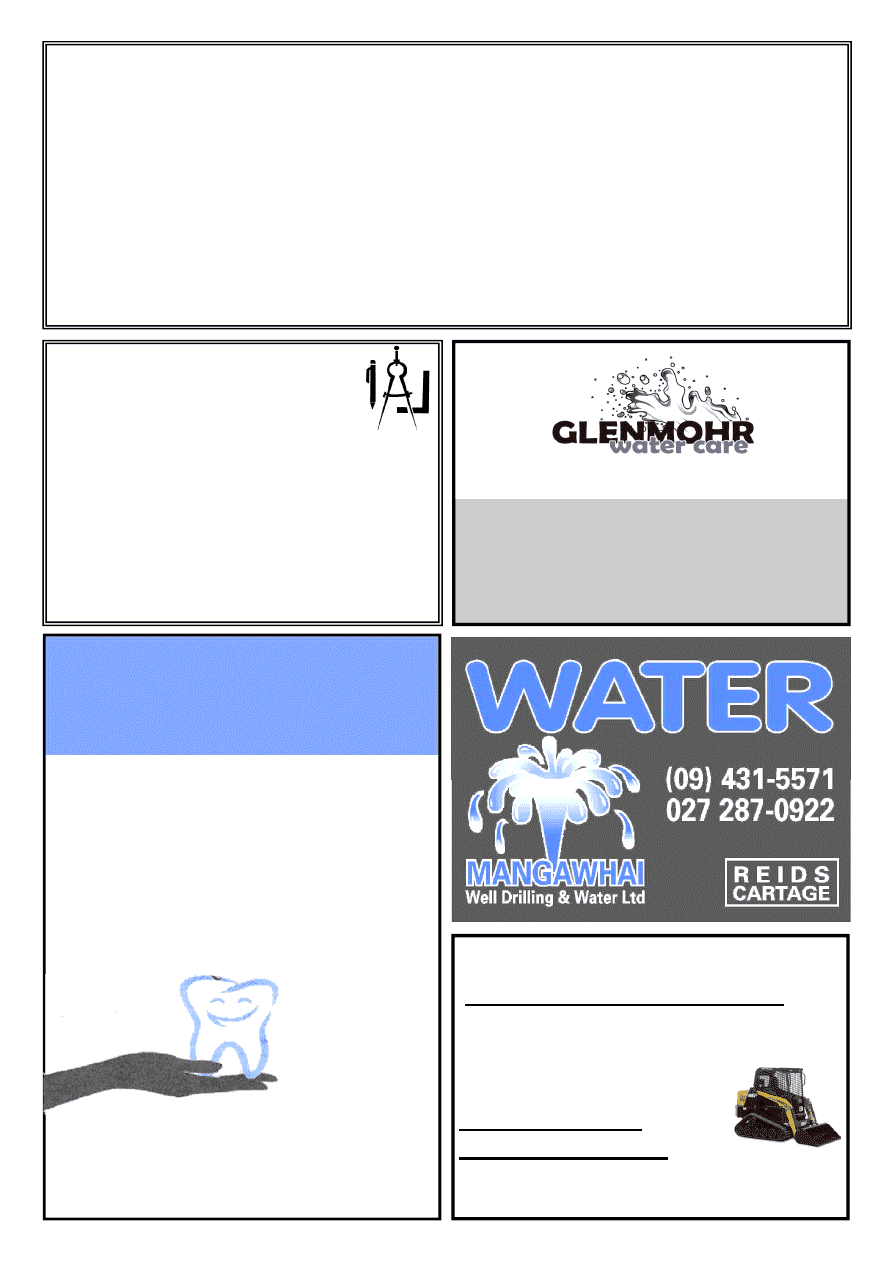 RANGANUI EARTHMOVERS 
16T Excavator 
Driveways, House Sites, 
(tilt, thumb & ROPS cab) 
Drainage Dams, Section Clearing, 
Transport Trailer 
Tree Work,  Rock Retaining Walls, 
2 x 6 Wheeler Tip Trucks 
Quarry Work, 
Suppliers of All Grades of Metal & Topsoil 
Basically Anything That a Digger Can Do 
If you want a proper job done with an experienced operator ring 
Grant on    A/H 431-2131          Email  ranganui.dev@xtra.co.nz 
                     Mob  021845-246 
design drafting 
service 
Retired builder and manufacturer with over 40 years  
experience in the building industry is offering a design 
drafting service  
for domestic housing, sleepouts and sheds.  
Plans formulated in consultation with clients, with 
working drawings completed and submitted to  
council for processing.  Extensive practical experience,  
able to identify & resolve problems. 
Please ring Mike Lean on 
09 431 2260  
          or 
021 431 196 
Water Tank Cleaning 
" 
Keep your water safe & clean   
" 
Removal of sediment, silt etc 
" 
Vacuum or full scrub 
" 
Minimal water loss 
Phone Mark (09) 432 0655 or 0274 707607 
Gentle Dental 
Ruakaka 
We love to see you smile 
 
General  & Cosmetic Dentistry 
 
Emergency & ACC Treatment 
 
Denture & Hygienist Services 
 
Senior Citizen Discounts 
 
Free Adolescent Care 
 
Free WINZ Quote 
19 Ruakaka Town Centre 
Dr Sim Sood & Associates 
Ph:  432 8139 
Saturdays 
By 
Arrangement 
Open  
Mon-Fri  
8am-5pm  
Natural Earth Ltd 
 Landscape and Bobcat services 
 : Driveways  :Landscaping  :Retaining Walls 
 : Hole Boring: Land Levelling :Trenching 
 : Decks :Fences :Sections Cleared: Plus much 
more 
Tel   09 4312885 
Mob 02102391280  
For A Fast Friendly  
Service Contact Tim Hicks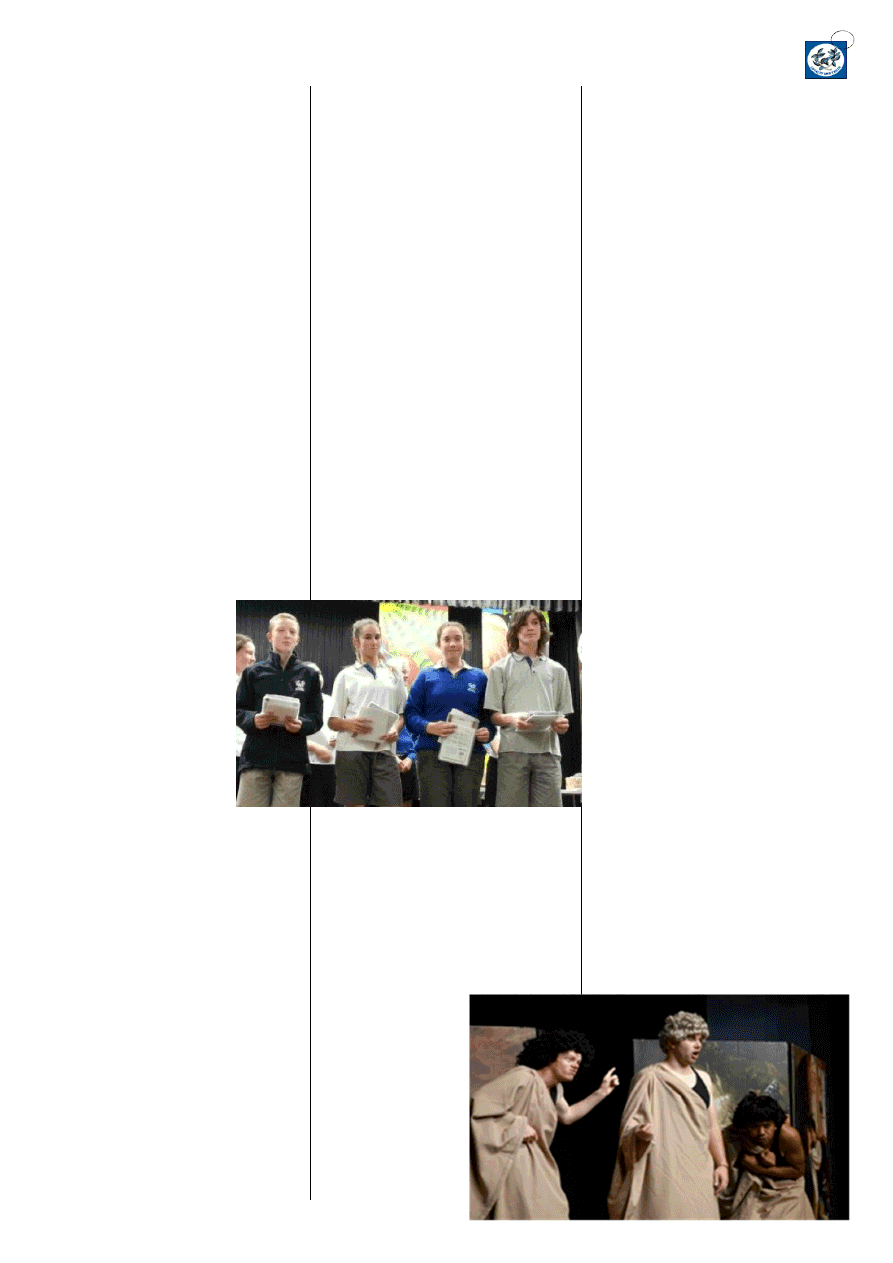 It was great to see so  many  families in 
the  school  at  the  recent  academic  
counselling  interviews;  the  Parent  – 
Student  –  Teacher  interviews  were  a 
great  way  of  reinforcing  the  partner-
ships required to ensure that our young 
people  achieve  to  their  potential.  The 
feedback 
from 
the 
day 
was  
overwhelmingly positive. Over the next 
couple of weeks senior students will be 
sitting  their  practical  assessments  and 
mid-year  exams;  preparing  fully  for 
these  is  a  priority  at  this  time  of  the 
year. 
This  term  many  students  are  raising 
money  for  the  World  Vision  40  hour 
famine;  some  students  will  be  going 
without  (such  as  food,  technology,  
talking!)  for  40  hours  in  order  to  help 
those  less  fortunate  than  themselves. 
Each  whanau  group  is  also  creating  an 
outfit  to  be  modelled  in  a  recycled 
fashion  show.  All  funds  raised  will  go 
towards  the  work  of  World  Vision  in 
Malawi.  Students  heard  about  the  
reality  of  life  in  Malawi  at  a  recent  
assembly. 
Winters sports are off to a great start; I 
enjoyed  watching  the  soccer  teams  in 
their first games of the season; the boys 
drew  1  -1,  whilst  the  girls  beat  local 
rivals Ruawai College in an impressive 
5  –  1  win.  Many  of  our  students  are 
playing 
in 
the 
local  
competitions; 
Otamatea 
Netball  Club  teams  are 
playing  on  Friday  evenings 
(seniors) 
and 
Saturday 
mornings  (juniors)  at  the 
Rodney  Netball  Centre  and 
the  Otamatea  Hawks  Rugby 
teams  (under  14s  and  under 
16s) 
play 
on 
Saturday  
mornings. 
The  school  has  started  a 
breakfast 
club 
every 
Wednesday  morning  which 
starts 
at 
7.00am. 
Students 
are  
encouraged  to  come  along  for  some 
training and free advise to help achieve 
their  goals  and  have  a  free  breakfast 
afterwards.  Activities  include  squash, 
badminton,  strength  training,  group 
fitness,  running  and  circuit  training. 
This  is  a  great  opportunity  for  our  
students  to  try  something  new.  The 
netball  teams  also  run  sessions  on 
Monday  and  Wednesday  mornings  for 
the  Senior  A  team  and  Thursday  
mornings for the Senior B team. 
Work  has  been  started  on  the  area  at 
the  back  of  the  Year  7  and  8  class-
rooms; this area will be fully developed 
over  the  next  couple  of  terms  and  will 
provide  a  great  area  for  our  younger 
students  to  have  a  real  sense  of  
connection  and  belonging,  as  this  will 
be  exclusively  their  area.  The  Year  13 
students  have  also  started  painting  the 
Horticulture  Shed  as  this  will  serve  as 
their new common room. 
We  are  selling  some  new  uniform 
items  at  the  school  at  the  following 
prices:  Shoes  (boys:  $40,  girls:  $20), 
socks (boys: $13, girls: $3), white short 
sleeved  v  neck  thermals  ($20),  jerseys 
($50). 
The  PTCA  continues  to  sell  second 
hand uniform and is open  every Friday 
from  8:30  -  9:30am.  Please  see  the  
advert  in  the  school  newsletter  for  
prices and contact details.  
We currently have two vacancies at the 
school 
(Sports 
Co-ordinator 
and 
Kaiawhina)  and  are  looking  for  the 
right  people  to  join  our  team.  Please 
see  the  adverts  in  the  newsletter  for 
more details. 
On Tuesday 3rd June (the day after the 
Queen's  Birthday)  the  school  has  a 
staff  only  day.  The  school  will  there-
fore be closed for instruction. 
~Rachel Clothier-Simmonds, Principal 
Mathex 
Otamatea High School competed in the 
Northland  Mathex  competition  held 
Friday  16th  May  at  Whangarei  Boys 
High School. 
Mathex  Y9  1st  place  -  Natalie  Birt, 
Annmarie  Holst,  Ewan  Smith  and 
Claude Smyth. Mathex Y8 2nd place – 
Mason  Wintle,  Pasindu  Mudannayaka, 
Mya Lawrence and Jeremy McCallum. 
Year 9's Rocked It! 
On  a  warm  autumn  day  we  gracefully 
journeyed  to  WBHS.  It  was  a  
wonderful  place,  filled  with  the  best 
young  mathematicians  from  across 
Northland. The competition was fierce, 
and  the  questions  hard.  Without  our 
trusty  friend,  the  calculator,  we  were 
not  sure  if  we  could  get  through  the 
struggle.  However,  we  persevered  and 
took  the  crown  once  again!  We  look 
forward  to  going  to  the  joyous  place 
again,  and  competing  for  the  win  as 
Year 10's next year.  
~Ewan Smith (Y9) 
Chromebooks 
in 
Classrooms 
Students  in  selected 
classes 
can 
now  
integrate 
their  
computer  access  with 
their 
class 
work 
quicker  and  easier. 
Since  the  purchase  of 
12  Chromebooks,  a 
trial  is  being  run  on 
how 
these 
much 
cheaper  laptop  computers  can  enhance 
the use of technology in the classroom. 
A  Chromebook  is  a  smallish  laptop  
computer  which  has  an  8-hour  battery 
life, allows students to save work in the 
cloud  so  that  they  can  continue  
working on it when at home, only uses 
google  applications  and  cost  less  than 
$400 each. 
The 
Chromebooks 
have 
been  
implemented  by  Mrs  Morrison  in  her 
food technology and hospitality classes 
from  year  9  to  year  13, Mr  Maclennan 
in  his  year  9  social  science  class  and 
Mrs  van  den  Berg  in  her  senior  textile 
technology 
classes 
and 
all 
are  
unanimous  that  the  students  can  get  to 
work  within  seconds  and  benefit  from 
the ease of finding internet information 
in  class.  The  Chromebooks  are 
equipped with a camera and sound. 
Kelly  Mace  Year  11:  I  like  using  the 
Chromebooks  because  they  are  quick 
and  easy  to  use  and  you  don't  have  to 
go  to  the  computer  room  and  bother 
with  booking  times  and  dates.  I  also 
like  them  because  they  don't  take  long 
to set up and they are easy to use. 
Ugly 
Shakespeare 
was 
Pretty  
Awesome 
We  had  two  great  performances  from 
the Ugly Shakespeare theatre company, 
at  Otamatea  High,  on  their  2014  tour 
visiting  schools  around  New  Zealand. 
This  is  the  company's  19th  national 
tour  as  they  started  in  1996.  This  year 
the  seniors  enjoyed  the  hilarious  
rendition of 'The Merchant of Venice,' 
and  the  juniors  busted  a  lung  watching 
the  comical  spinoff  of  'Julius  Caesar.' 
The  company  uses  accessible  content  
utilising 
Shakespeare's 
works  
incorporated  with  modern  cultural  
references,  slap  stick,  music  and  
frenetic  humour.  This  includes  using 
current  teen  vernacular,  references  to 
spoof  of  modern  TV  programmes  and 
films  or  music  that  is  a  relevant  trend. 
They also involve the audience onstage 
through  participation.  The  company  is 
sponsored  by  Waikato  University;  so  a 
big  thanks  to  them  and  the  team  of  
actors for entertaining OTA's students. 
We  certainly  had  fun  learning  a  little 
bit about Shakespeare work. 
~Elizabeth  Harris  (Year  13  drama  
student) 
11
OTAMATEA HIGH SCHOOL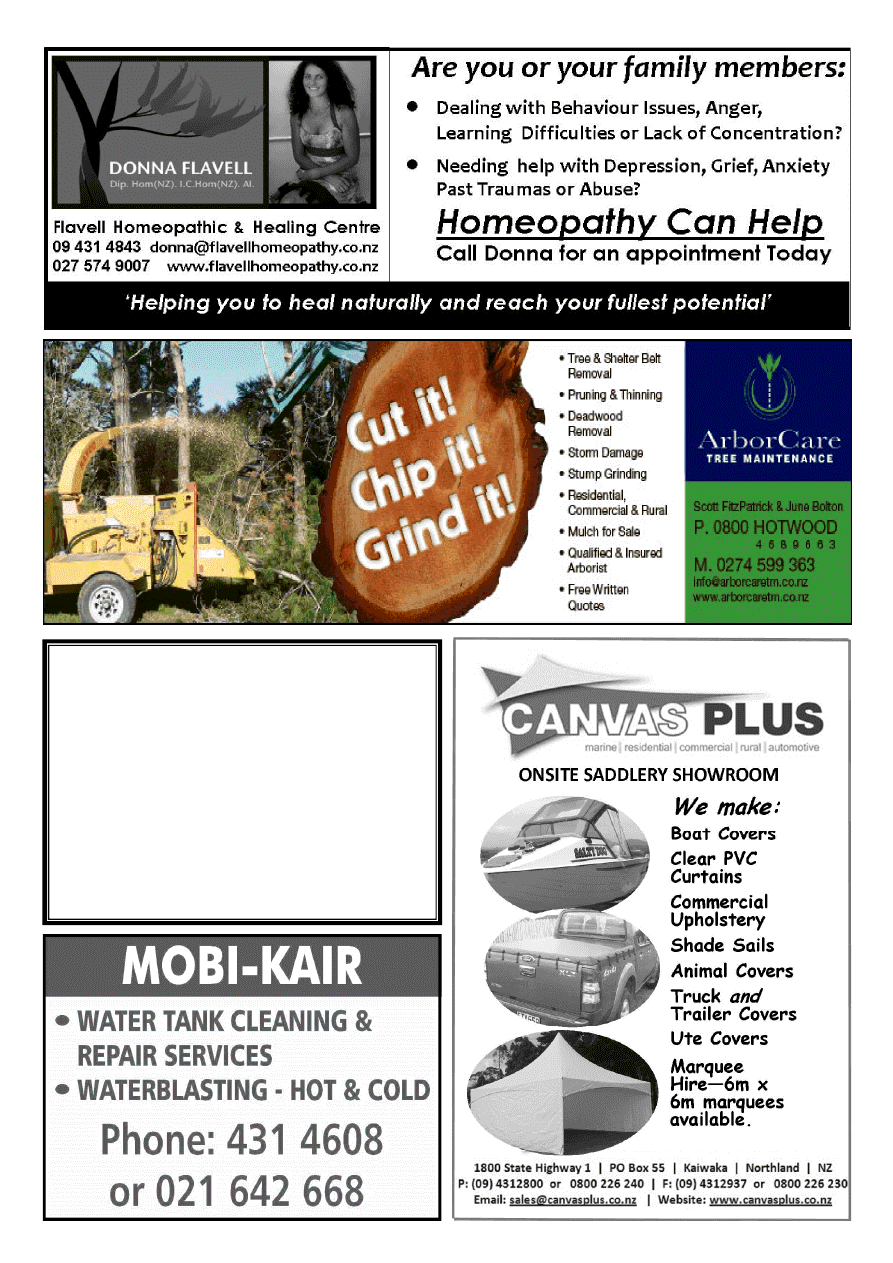 TILING 
Certified Waterproofing 
431 4533 or 021 86 33 33 
George 
MCN Property Solutionz  
Local references available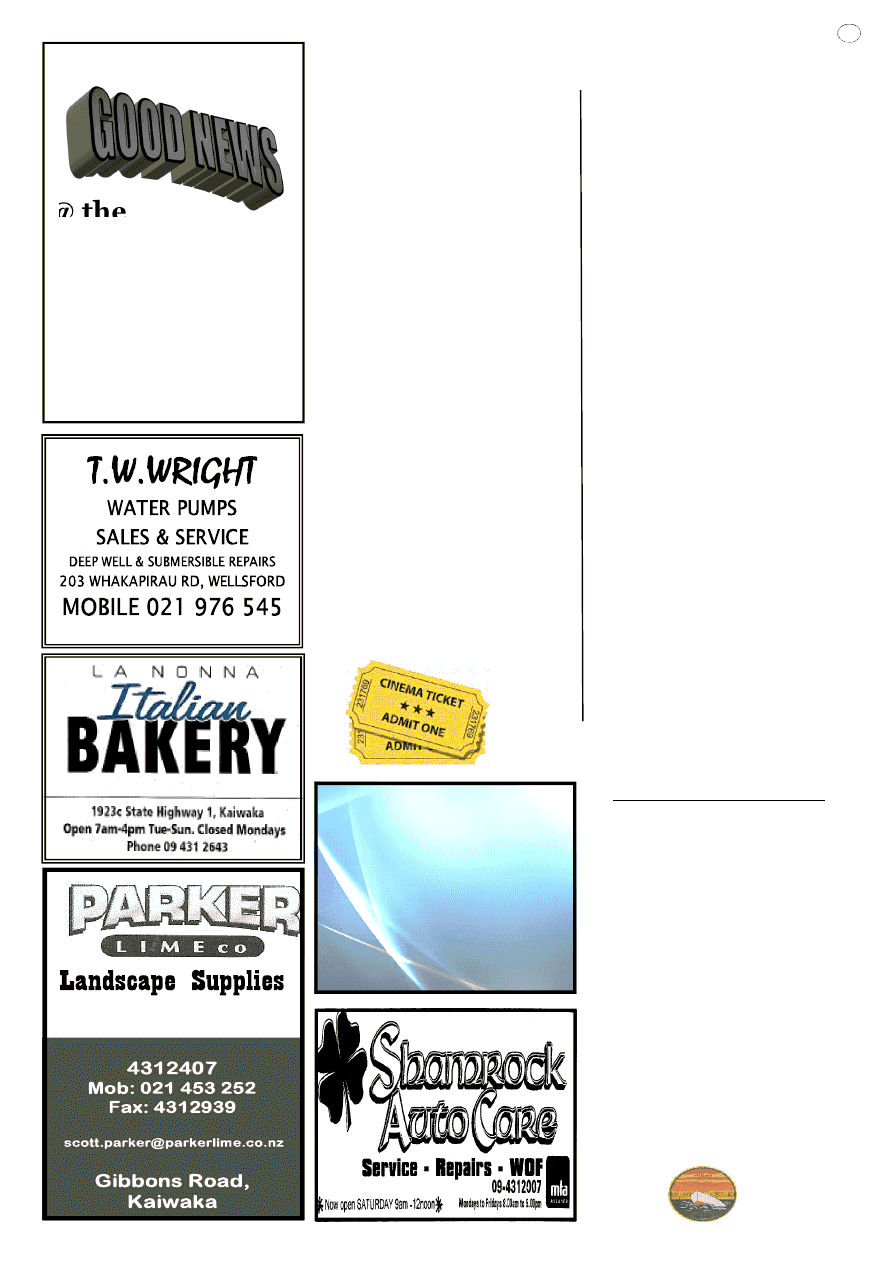 THERE'S 
 
 
 
 
@ the  
Kaiwaka Family 
Church
Your COMMUNITY CHURCH 
RECEIVE HEALING 
RECEIVE THE LOVE OF GOD 
Everyone warmly welcome 
each Sunday 10am. 
Contact: Pastor John Dekker, 
09 4318203 
Bulk Cartage 
 13 
POINT CURTIS 
CRUISING CLUB  
Congratulations  to  our  Fish  Of  The 
Month  winners  for  last  months  Snap-
per  contest: 1st: Renna  Brown  8.63kg, 
2nd:  Gravy  6.169kg,  3rd:  Andrew 
Kenny  5.891kg.  New  fish  of  the 
month: KAHAWAI until next meeting.  
BOAR  HUNT:  8th,  9th  and  10th  Au-
gust  2014.  More  details  to  follow  in 
later  Bugles.  END  OF  SEASON 
DUCK  SHOOT:  28th  and  29th  June 
2014.  Subs  are  due  1st  June:  $20  sin-
gle or $30 family. Please pay at 3 Fur-
longs  Hotel  or  by  posting  to  Jean 
Mcleish 
(Secretary/Treasurer), 
C/- 
Kaiwaka  PDC,  Kaiwaka.  Next  meet-
ing:  AGM  17th  June,  7pm  at  3  Fur-
longs Hotel. 
~Wayne Leslie, Commodore
KAIWAKA GARDEN 
& FLORAL CLUB 
 
The  May  meeting  was  held  at  Neville 
&  Ann  Dowson's  home,  where  Vice 
President 
Sue 
Hamilton-Wallace 
chaired  the  meeting  welcoming  18 
members  including  a  new  member  
Caron Bastable. Jean Black was unable 
to  attend  due  to  a  fall,  hope  you  are 
well  soon  Jean,  we  missed  you.  There 
was  only  one  Birthday  this  month, 
hope  it  was  Happy  Petronella.  Quite  a 
few  raffle  prizes  were  added  to  the  
raffle  box  thank  you  members,  anyone 
who  has  yet  to  contribute  please  do  so 
next  month.  Winners  of  raffle  this 
month  were  Betty  Atkin-Cooke  and 
Jenny 
Chellew. 
Results 
of  
competitions:  Autumn  splendour  -    1st 
L Lusty, 2nd H Small; Wild card  - 1st 
A  Dowson  –lettuce,  2nd  A  Tully  –  
cauliflower;  Best  bloom  –  1st  G Smith 
azalea,  2nd  S H/Wallace – rose; Spike 
or cluster – 1st M Haverfield – crucifix 
orchid,  2nd  M  Ballard  Alstroemeria; 
Chrysanthemum    1st  H  Small,    2nd  M 
Haverfield; Lemon 1st H Small, 2nd M 
Ballard;  silverbeet  -1st Sue  H/Wallace, 
other  entries not in water. 
Judges  commented  that  all  flowers 
must  be  in  bottles  full  of  water.  Next 
month  we  plan  to  meet  at  Black 
Swamp  Road  at  the  Riverside  Motor 
Camp  on Thursday 12th June at 1 p.m. 
in  the  hall.  We  will  be  practising 
"Dried  Arrangements"  so  please  bring 
material  for  these  plus  containers,  etc. 
There  will  be  no  other  competitions, 
there  will  be  a  raffle  and  sales  table. 
Subs of $10 now due. Those on waiting 
list and future members are welcome to 
attend  this  meeting.  That's  all  for  now 
any  queries  phone  Ann  4315913  or 
Rosemary 4314744. Happy Gardening. 
~Ann 
KAIWAKA WAR 
MEMORIAL HALL 
 
We're  pleased  to  see  the  outside  
painting  (nearly)  finished,  a  few  very 
difficult areas still to be tackled. 
Painting  inside  has  begun,  NorthTec 
Painting  Course  students  have  taken 
this  on  as  their  next  project…  all  the 
walls  and  doors  including  the  stage 
entrance  area,  office,  stage  walls  and 
some  ceiling  areas.  It  will  look  fresh 
and clean when it's finished. 
Kaiwaka Movies 
The  movies  have  been  successful  and 
well  enjoyed  by  well  over  420  visitors 
so  far,  some  from  as  far  away  as  
Whakapirau  and  Warkworth!  Great  to 
see. The latest movies were Frozen and 
The Hobbit: The Desolation of Smaug. 
Frozen  attracted  nearly  100  people, 
which  is  very  cool  for  the  volunteers 
who  give  their  time  setting  up  and  
taking down the equipment and chairs, 
selling  hot  and  cold  drinks  and  other 
refreshments,  and  cleaning  up  after-
wards.  If  you  haven't  been  in  to  expe-
rience  the  movies  in  the  Hall,  come 
in…  our  next  big  blockbuster  is 
GRAVITY.  J oin  us  on  F acebook 
(Kaiwaka Community Cinema) to keep 
up with the what's coming up.  
  
Thanks  again  to  all  the  volunteers  and 
visitors. 
RUN  BY  THE  COMMUNITY  FOR 
THE COMMUNITY. 
~Ad Clarijs 
KAIWAKA 
Freeview  
Installations 
Richard Te Haara 
25 Marram Place 
Mangawhai Heads 
021 1104056 
kiwipride@xtra.co.nz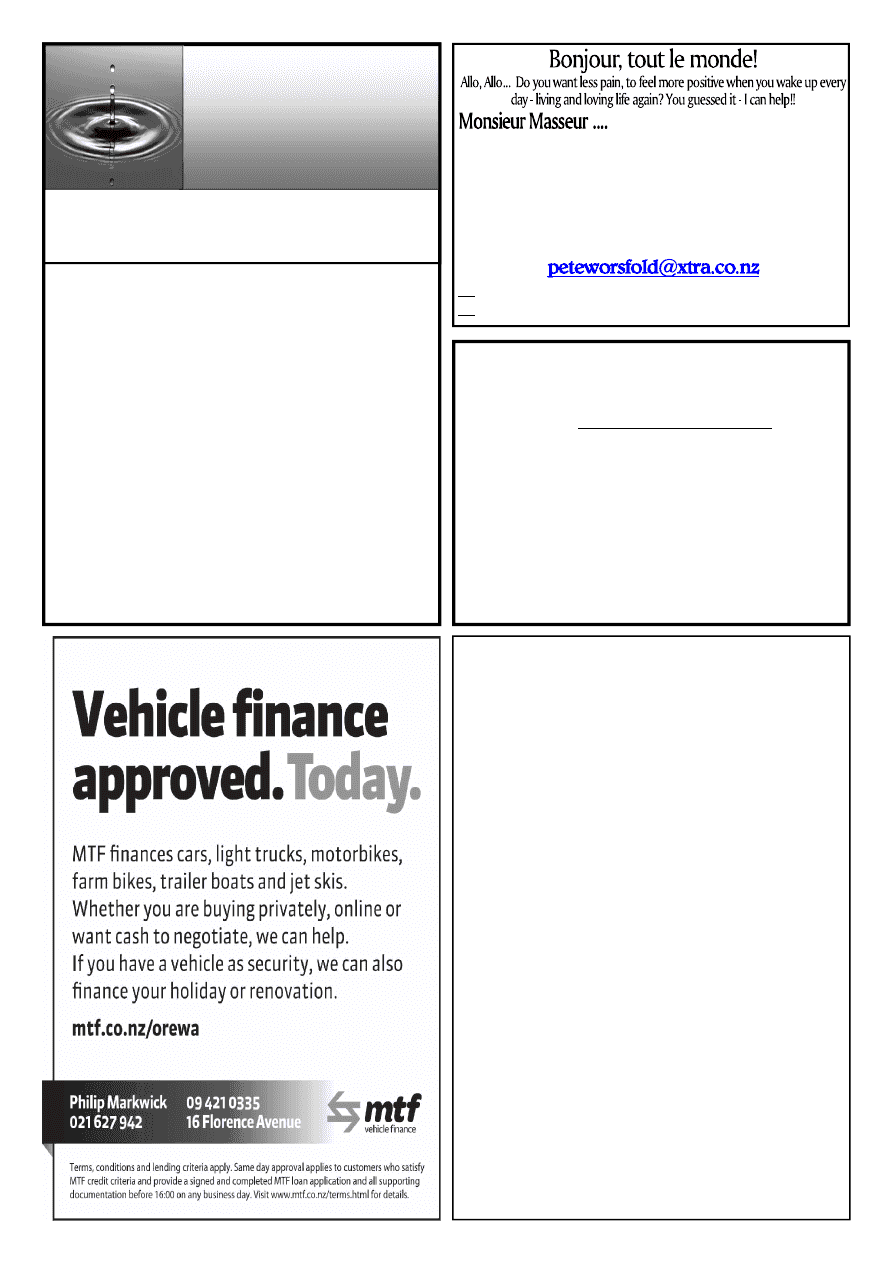 KAIPARA  FLOORING  CO 
32 HURNDALL ST MAUNGATUROTO 
Phone 09 9469886  
or 021 515 415 
Carpet, vinyl, laminate wood look  
  flooring, vinyl planking, sanding  
& polyurethane service. 
Carpet Short Ends from $79pm + GST 
Vinyl D.I.Y. peel n stick tiles $10sq mtr + GST. 
Free measure & quote.   
Mobile Service 
Phone Christine or Howard anytime 
Open Saturdays by arrangement. 
 Yang Style Tai Chi 
Classes For 
Beginner And Practitioners  
At The Kaiwaka War Memorial Hall 
Every Tuesday  Starting at 10.30 am 
Come Along And Have Some Fun While Im-
proving Your Balance Health And Fitness
For More Information
Contact An-
drew Young 09 4223424 
taichi@pl.net
PETE WORSFOLD  
B. Soc.Sc. M. Soc.Sc. Diploma of Prof Couns. 
Counsellor
peteworsfold@xtra.co.nz 
 021 825 970 
Professional Service 
Variety of Modalities 
By Appointment Only 
INDIVIDUAL ONE-ON-ONE 
COUNSELLING 
Call for Appointment 
At "The Well of Health" 
09 4312799 or 021 825 970 
MODALITIES: 
  CBT 
  Gestalt 
  Person-Centred  
  Solution Focussed 
  Behavioural
FOR: 
  Grief 
  Relationship 
  Trauma 
  Couples 
  Adolescents 
   Careers
RELAXING MASSAGE
..... Juste pour vous" 
Call for an appointment now!
Pete Worsfold 
4312 152  or  021 825970  
Or  Ph. "The Well of Health" for an appt. 09 4312 799 
Or mobile service available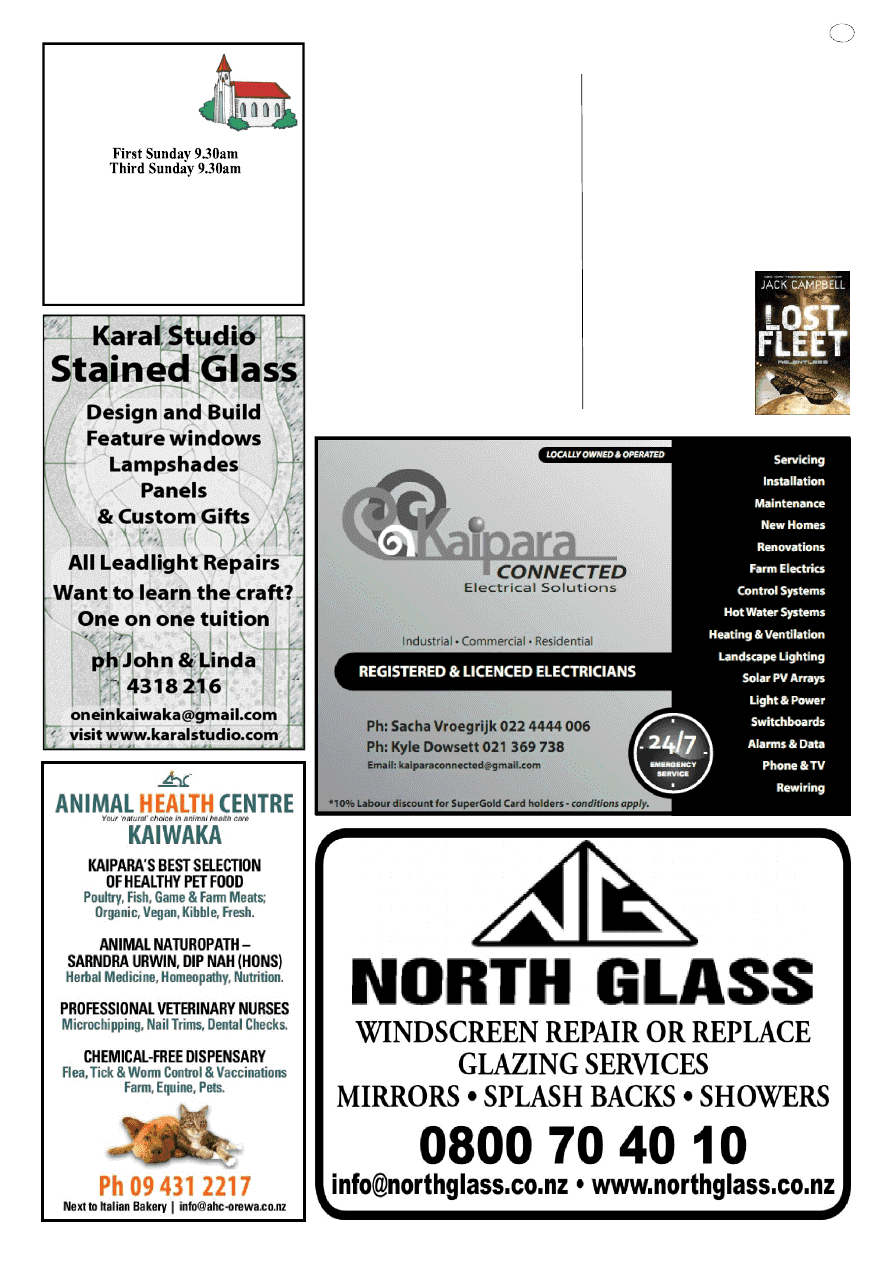 15 
ST PAUL'S  
SUNDAY  
SERVICES
 Paparoa Anglican 
St Pauls Church: Kaiwaka-Mangawhai Rd.  
1st Sun. (Anglican), 3rd Sun. (Family Service) 
Contacts:M.Hargreaves 4312295, C.Bygrave 4312057  
KAIWAKA LIBRARY 
(continued from page 9) 
and  rescues  a  child.  Here  begins  the 
third tale in the 'Women's Murder Club' 
series.  Another  murder  is  connected  to 
this  explosion  when  'August  Spies' 
takes  credit  for  them  both.  Lindsay 
teams  up  with  her  friends  -  medical 
examiner  Claire,  assistant  district  
attorney  Jill  and  reporter  Cindy  -  to 
figure  out what is going  on and  who is 
behind it all. Little do they know when 
they start on this case that the murderer 
has  one  of  the  four  in  his  sights...  I 
have  read  these  books  in  order  so  far, 
and  will  continue  to  do  so  though  I  
expect each would stand up well on its 
own.  It  is  a  chronologic  series,  and  I 
like  having  that  history  behind  me  as  I 
read.  Can't  wait  for  the  next  one!  This 
book  is  on  the  Free  Fiction  shelves  in 
the library. 
Relentless,  by  Jack  Campbell.  The 
Alliance  fleet  is  almost  home  from  its 
perilous journey through Syndic space, 
yet there is still a lot that can go wrong 
before  they  are  safe...  In  one  star  
system  they  discover  that  a  large  
number  of  Alliance  prisoners  of  war 
are being held - but they also know that 
there  are  many  Syndic  ships  here,  too, 
and  while they want to rescue as many 
as they can, they can't afford to engage 
in  furious  battle  as  their  fuel  supplies 
are dangerously  low.  And then there  is 
the  threat  of  sabotage  within  their  own 
ranks.  This  is  the  fifth 
book  in  the  "Lost  Fleet" 
series, and I recommend 
reading them in order as 
they  are  chronological. 
Can't  wait  for  the  next 
one! This book is on the 
Rental  Fiction  shelves 
in the library. 
~Wendy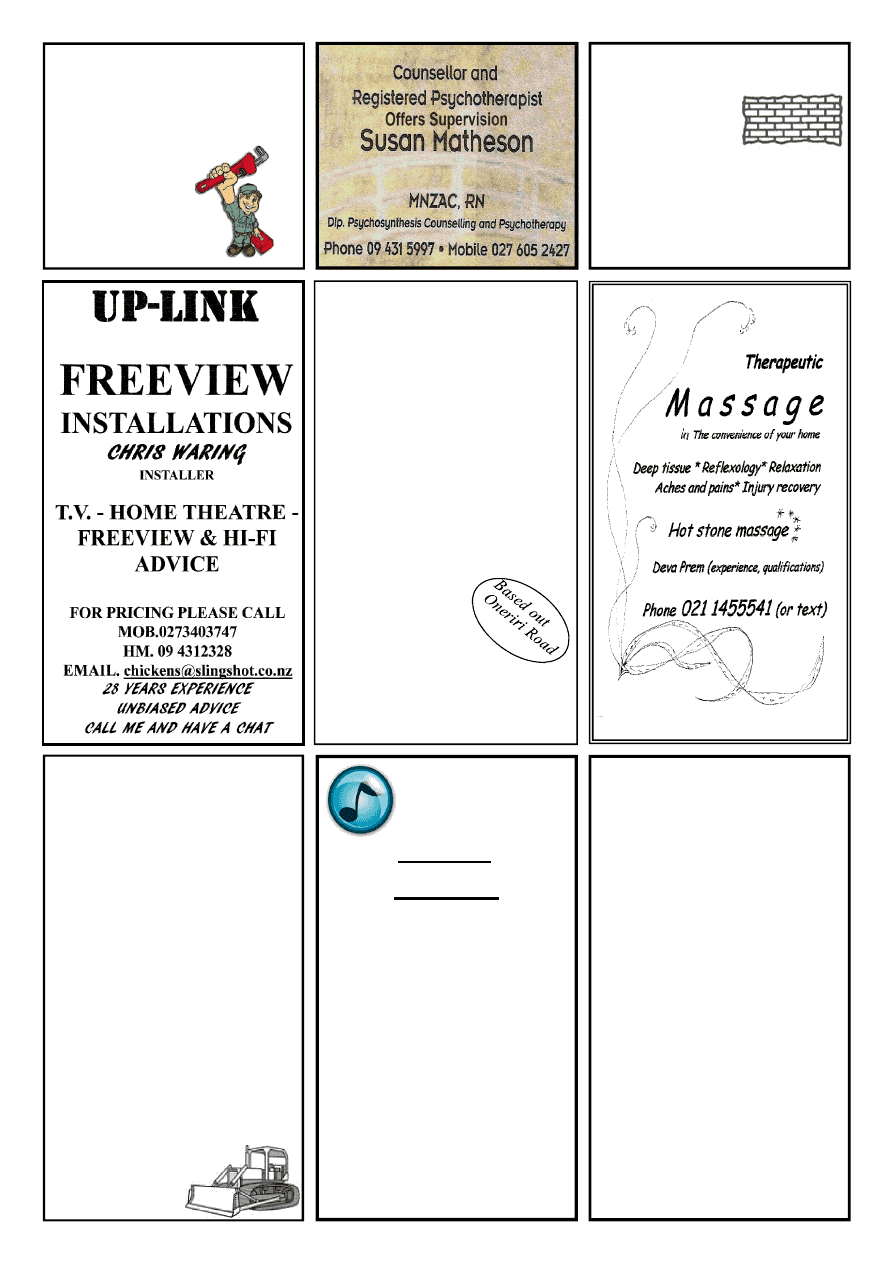 Singing  
Lessons
Individual sessions 
All styles of music  
All voice types 
Reasonable rates 
Phone  
Maura Flower 
021 164 8318
Willow Bend
HORSE  
HOTEL 
"  
Total Horse Care 
" 
Agistment 
" 
Riding Lessons 
" 
Arena Hire (60x40) 
" 
Young Horse Starting 
" 
Re-training/Exercising 
" 
Hoof Trimming 
" 
Problem Solving
Phone Sue 09 431 
2817 or 021 623 776 
Or email sue.gray@xtra.co.nz 
HODGETTS
CONTRACTING
Digger Work   

Driveways 

House Sites  

Dams 

Drains, etc
Also available for HIRE 

3 ton Vib Roller 

Heavy Duty Tow 

Waterblaster  

Lazer Level 
Phone Mark 
4312877 
027 447 8554
Coates  
Contracting 

D41 Bulldozer with 6 
way blade, bush rigged 
with winch 

For all tree work 

General bulldozing and  
  stick raking. 

120hp Tractor for 
ground cultivation,  

tip trailer work. 

Fencing
All enquiries phone  
Brett Coates  
094318720  
or  
 021431872
www.mangawhaimassage.co.nz 
Ross Murphy 
PL U M B ER  
Certifying Plumber 
09 431 7510 
021 424 252 
Paparoa Based 
+
New Housing  
+
Renovations  
+
Maintenance
BRICK/BLOCKLAYER 
All aspects of masonry:  
Fireplaces, 
Restoration  
& Remedial Work.
JAMES EAGLETON 
Tel. (09) 431 2514  
Mob. 0274 749 232 
jajueagles@yahoo.com.au 
210A Pukenui Road, RD2 Kaiwaka 0573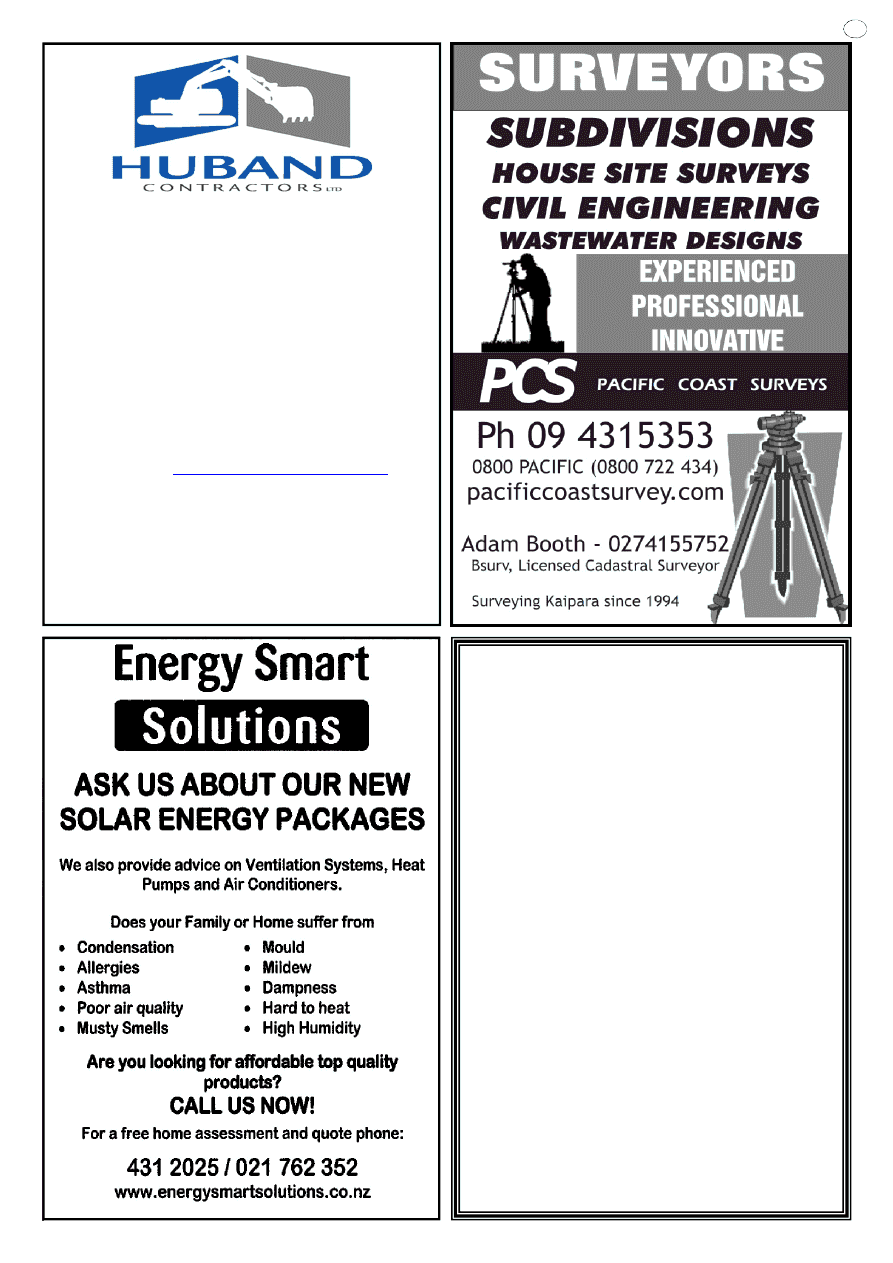 *   R O A D I N G   *   E A R T H W O R K S *    
*   D R A I N A G E   *   S I T E W O R K S   *  
For any further enquiries,  
contact Shaun on: 
Cell: 021 222 0272 
Home: 09 4318339 
Email:   
shaun@huband.co.nz
Shaun Huband:  Registered  
Drainlayer 
17 
g.a.s. 
Mangawhai 
we have now opened a 
GARDEN CENTRE 
for all your gardening needs 
Also a great range of 
STOCKFOOD 
Wide range of 
ORGANICS AND 
 FRESH LOCAL PRODUCE 
All your motoring needs are taken care of by 
our friendly staff check us out... 
44 Moir Street, Mangawhai (09)431 4242 LOCAL SERVICES 
*St.John Ambulance 
111 or Freephone0800 61 0066
*Fire phone 111     *Police phone 111 or 09 4311150 
A A: Meets Wed., 8pm Kaiwaka Ph: 4312228, 4315543, 0800229 6757 
AL ANON: In recess, contact Ph: 4312228 
AGRIQUALITY (MAF) Livestock Consultant 
Phone 09 4311 820 or 021518257  
BUDGETING SERVICE,OTAMATEA:Free confidential advice & 
support - all areas of  personal finance Ph: 09 4318173 or 094318117 
CAB-
Citizens Advice Bureau.Wellsford Ph: 4237333.
0800 367 222 email:
cab.wells@xtra.co.nz
DOG/STOCK /NOISE CONTROL 0800 105 890 
KATE'S PLACE with Govt.Day Agencies/Community Information /
Osteopathy/ IRD / Probation, etc Ph: 4312661 Hours: 9am-3pm. Mon - Fri 
FUNERAL SERVICES: Morris & Morris Ltd, 
Whangarei - Bev Jaques Ph:4312367 or 0800667747 
GRANDPARENTS Raising Grandchildren: Sarah Rogers Ph: 4312194 
HAKARU LANDFILL/Transfer Station:Open everyday except 
Tuesday10am-4pm.Ph4312629 Cost-$55 trailer load up to 1 cubic me-
tre. Ph:4258567 - office 
HOMEOPATH: Donna Flavell Ph: 4314843 
INLAND REVENUE: Last Friday each month, 11-3pm Ph4312661 
KAIPARA DISTRICT COUNCIL www.kaipara.govt.nz:  
Help Desk FREEPHONE 0800 727 059  
Service Centre Mangawhai 4313161 
KAIWAKA KOHANGA REO: Ph:4312620 
KAIWAKA CEMETERY: Ph: 4312045 
KAIWAKA LIBRARY: kaiwaka.library@gmail.com  
Mon. 4-6pm; Wed., Thurs., Fri., Sat.  10am-2pm Ph:4312539 
KAIWAKA PLAYCENTRE: Ph: 4312286. Hastie Lane 
Monday to  Friday  9.00am - 12 noon. 
KAIWAKA POST OFFICE:Ph:4312 626 Fax: 4312287  
Post Code: 0573  for RD2  and  0542 for all Kaiwaka Post Office mail 
KAIWAKA PRIMARY SCHOOL: Ph: 4312309     
KAIWAKA SPORTS ASSN: Ph 4312005; 4312129 gym 
KAIWAKA ST JOHN: Manager Steve Rosser 09 4318403, 021 
2316836 
LINKING HANDS Health Shuttle service Ph Ken Littlejohn 4314121 
NORTHPOWER: Faults Kaiwaka area 0800 104040 
PARENTPORT: Free, practical family support service Puhoi to Paparoa 
Ph or txt:  Dianne 027 2085093 
PERSONAL DEVELOPMENT COACHING, GROUP FACILITATION:  
Sabine Druckler 4312231 
PLUNKET  KAIWAKA/MANGAWHAI: Ph:094318187 or 0276753488 
Kaiwaka Mobile Clinic once a month– appointments necessary;  
Mangawhai (next Domain) 1st & 3rd Thursday & Coffee Morning; 
PLUNKET CAR SEAT CO-ORDINATOR:  Pat Scott Ph 4314530 or 
0272881635 
PLUNKET FREEPHONE -0800 933 922 
PLUNKET -MAUNGATUROTO  Clinic every 2nd & 4thThursday. Ph: 
09 4318187 
PUBLIC HEALTH NURSE: Gloria Reid Ph: 094327634  
RETURNED AND SERVICES ASSN 733 Settlement Rd. Hakaru 
Ph.4312176 Bill Kerr (President) Ph.4314719 
TE KOROWAI AROHA O NGATIWHATUA Ph: 4312675 
(The Cloak of Love of Ngatiwhatua) Support and Maori Consultancy.  
VETERINARY SERVICE MANGAWHAI: 
Ph: 4314535 Mon-Fri 8.00-5.00, Sat 9-12, a/h appt. 
WELLSFORD DOCTORS: Ph: 4238 086 
WOMEN'S WELFARE LEAGUE & Reaching Out For Youth:  
4 Kaiwaka-Mangawhai Rd, M Morgan 4312293
WHAT'S ON
PLEASE ~ do let me know what is on - email 
kaiwakabugle@kaiwaka.co.nz 
Advertising in WHAT'S ON is FREE 
*6Jun-Gravity 7:30pm Kaiwaka War Memorial Hall 
*8 Jun~Walking with Dinosaurs, 2pm Kaiwaka War Memorial Hall 
*14Jun~Hawks v Hikurangi, KSA 
*17Jun~Pt Curtis Cruising Club AGM 7pm 3 Furlongs 
*20Jun~The Book Thief, 7:30pm Kaiwaka War Memorial Hall 
*22Jun~Tripe & Onion Lunch, 1pm Hakaru RSA,  
      RSVP to Heather 4314668 
*4Jul~The Wolf of Wall Street, 7:30pm KWMH 
KSA=Kaiwaka Sports Association Complex 
 
See www.kaiwaka.co.nz for upcoming events. 
 
HOUSEHOLD  RUBBISH  COLLECTION  -  Kaiwaka    Pick  up-
Mondays=Gr een  bags  ar e  picked  up  by  Nor thland  Waste-
queries  to  them  09  4303273,Wednesdays=Blue  bags  and  yellow 
recycling (at Jaques  $3.00 and $1.50)  are picked up by Kaurilands 
09 4392146.  
 
*DIABETES Support Group -for Kaiwaka, Mangawhai, Wellsford 
   10am, 3rd Friday of month Ph:A.Pert 4238242; J.Gardner 4238060 
*DRINK CAN 'tear tabs' - for Starship Hospital- please collect - 
    98 Kaiwaka Mangawhai Rd, leave in mailbox, Ph. 4312625  
*GYMNASTICS OTAMATEA -  Tuesday Ph: Stephanie 022 3624998 
*HAKARU PONY CLUB-Secretary Julie Rynne 09 4314520 
*KAIWAKA BADMINTON -Tuesdays 7.30pm Ph: 4312345 
*KAIWAKA GARDEN & FLORAL Grp:2nd Thursday in month 
   Ph: 4314767 
*KAIWAKA CUBS-Thursdays 5.30-7pm, Hakaru  Ph:Bruce  4312542 
*KAIWAKA SQUASH -Mondays 7pm,  Ph: Barbara Thomas  
   4315905 
KNITTING FOR WHANGAREI HOSPITAL - 2nd Tuesday in  
   month, Apple Basket 10am Ph 4314827 
*MANGAWHAI COMBINED PROBUS CLUB: 2pm,3rd Thursday  
   month in the Senior Citizens Hall Mangawhai. Ph: 4315777 
*NZ GENEALOGY-Wellsford - 1st Thursday in month Ph: 4237033 
*OTAMATEA GREY POWER-09 431 8138 Joan Hoggard  
*PT CURTIS CRUISING CLUB - Jean Ph: 4312 246 
*RSA,Hakaru & Dist.Women- meet 1.30pm 4th Thurs in month  
   Ph: 4312 668  
*TRAMPING- Mondays 9am-2:30pm  Karen Ph: 4312 090 
*WAIPU GENEALOGYGROUP -4th Monday in month Ph: 4312725 
*YOGA- Tuesdays 6:15pm, Friday 8:30am Kaiwaka WM Hall Carla  
   Ph: 4312 408, 021 296 8794 
CHURCHES: 
*Gateway Worship Centre-St Mary's Church Nathan Rd off Oneriri 
Rd, Kaiwaka. Services, 10.30am 1st & 3rd Sunday of every month. 
Contact: Rev David Gage 4312528 or 0212354282 
*Kaiwaka Family Church-Your Community Church Sundays, l0am 
Home Group every Wed evening, Pastor John.Dekker Ph: 4318203 
*Kaiwaka Services.Anglican & Family Service at St Pauls Church  
- 1st Sun. 9.30am(Anglican),3rd Sun. 9.30am (Family Service).  
Contacts: Parish Office 09 4318193, M.Hargreaves 4312295, 
C.Bygrave 4312057  
*Church of Christ the King, Mangawhai 9.30am every Sunday 
*St.Mary's Catholic Church: Maungaturoto – Griffins Road, Satur-
day evening Vigil Mass 6pm; Mangawhai – Senior Citizens Hall, 
Sunday Mass 8:30am; Wellsford – Matheson Road, Sunday Mass 
10:30am; Mid-week Mass times and all enquires to Fr. Bill Fletcher 
– phone 423 8170 
*Baptist Church: Sun. 10.30am Mangawhai Snr 
Cit.Hall.Ph:4312339 
*Cause Way Church Mangawhai – Sundays 10.15am, Mangawhai 
Community Recreation Centre, Insley St. Ph: 09 4314782  
www.causewaychurch.org.nz 
*St.Pauls Archie Bull Hall HIRE $20 half day, $40 full day per hire 
    Contact G. Jaques 4312048 
*Kaiwaka War Memorial Hall HlRE - Phone 4312725 or Email  
    kaiwaka.hall.bookings@gmail.com 
*Hakaru Community Hall HIRE -Ph.  4312256 or 4312110 
*Te Pounga Marae queries -A.Gage 4312528, 4312527 
*Kaiwaka Sports Association hire/queries- C. Anderson 4312051 
Justice of Peace: B.FJaques; L.Donaldson; A.F.Hargreaves 
    -please phone to make sure they are available 
Marriage Celebrants: L.Donaldson; A.F.Hargreaves;  C.Rosseels
Next Bugle Deadline Friday 6 June 2014