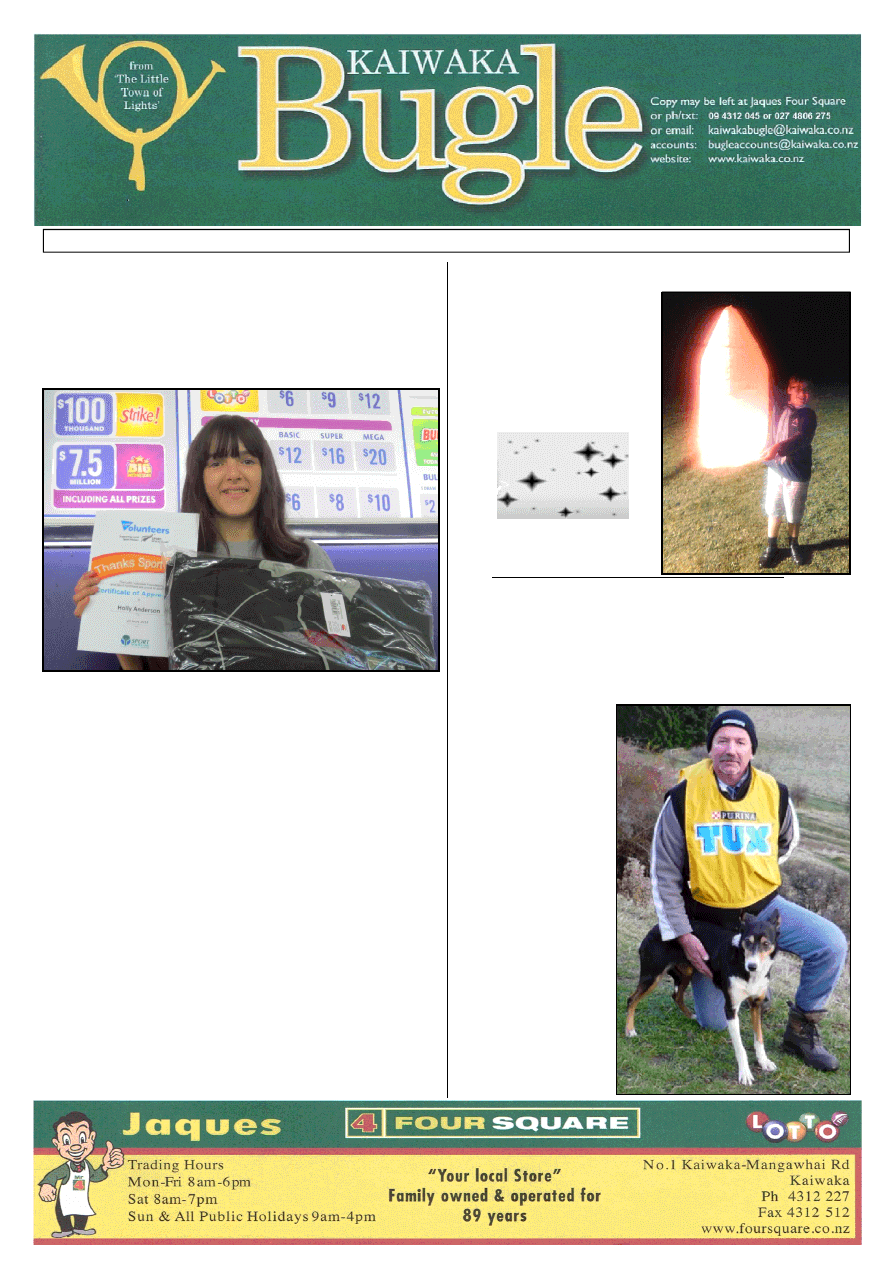 No: 11 
10/06/2014 
Twelve  year old Holly  Anderson  is the  latest recipient of a 
Sport Maker  award  in  the  Otamatea  District. Sport Makers 
are  volunteers  who  provide  their  time  and  experience  to 
make sport happen across New Zealand. 
 
Holly  Anderson  has  been  a  volunteer  coach  for  the  
Otamatea  Gymnastics  club  for  a  couple  of  years.  Holly 
helps  coach  the  primary-aged  Gym  Fun  class  every  
Tuesday afternoon.  
Gymnastics President Stephanie Brown says that Holly is a 
dedicated,  supportive  coach  whose  friendly,  encouraging 
manner is appreciated by the children and parents. 
Holly  also  spends  many  hours  at  the  pavilion  helping  out 
during  Kaiwaka  Sports  Association    events  and  other  
functions  –  serving  customers  with  a  friendly  smile,  
stocking the bar, setting out tables and chairs, helping out at 
fundraisers, clearing away rubbish etc. Holly also helps her 
Mother behind the scenes with some administrative jobs for 
the Sports Association. 
Holly  loves  being  a  volunteer  and  helping  our  in  the  
community.  She  was  approached  by  her  gymnastics  coach 
and believed this was a great opportunity for her. She loves 
being able to help and seeing the smiles on the faces of the 
kids she coaches. 
Holly  has  been  involved  in  many  sports,  including  
gymnastics,  rugby,  soccer,  hockey  and  basketball.  Holly 
acknowledges  her  mum  Cheryl  as  her  inspiration  as  she  is 
always volunteering in the community.  
~Janine Gilmore, Otamatea Community Sport Advisor, 
Sport Northland 
HOLLY ANDERSON WINS 
SPORT MAKER AWARD 
REPEAT PERFOMANCE 
Scott McRae and Elle,  made the top seven at the New Zea-
land  2014  Sheep  Dog  Trial  Championships  in    held  in 
Waihi Gorge, Geraldine. 
Scott,  chairman  of  the  local  dog  trial  club  -  Molesworth, 
and Elle qualified 6th in the shorthead (out of 249 qualified 
dogs)  for  the  'run-off'.  
In the run-off Scott and 
Elle  made  a  very  tidy 
job  of  bringing  their 
trio  of  Drysdale    sheep 
off  the  rocky  hill  and 
down  to  the  pen.  This 
part  had  proved  diffi-
cult  all  week  and  Scott 
and  Elle  had  to  settle 
for  an  unpenned  run 
which  dropped  them 
down to 7th in the New 
Zealand final. 
This  was  the  culmina-
tion  of  a  great  season 
for Scott having placed 
at  the  N.Is.  Champion-
ships  just  three  weeks 
ago.  A  New  Zealand 
title would be a worthy 
reward  if  the  combo 
could  pull  it  off  in  the 
next couple of years.  
KAIWAKA/MANGAWHAI CUBS 
and 
SCOUTS 
Scouts had a great session last 
week  celebrating  Matariki  by 
making  flax  flowers  and 
lighting lanterns and watching 
them  float  up  into  the  night 
sky-pretty  impressive!  The 
attached  photo  is  of  Liam 
Leslie holding his lantern. 
 
 
 
 
 
 
(See  page  5  for  more  about 
Matariki)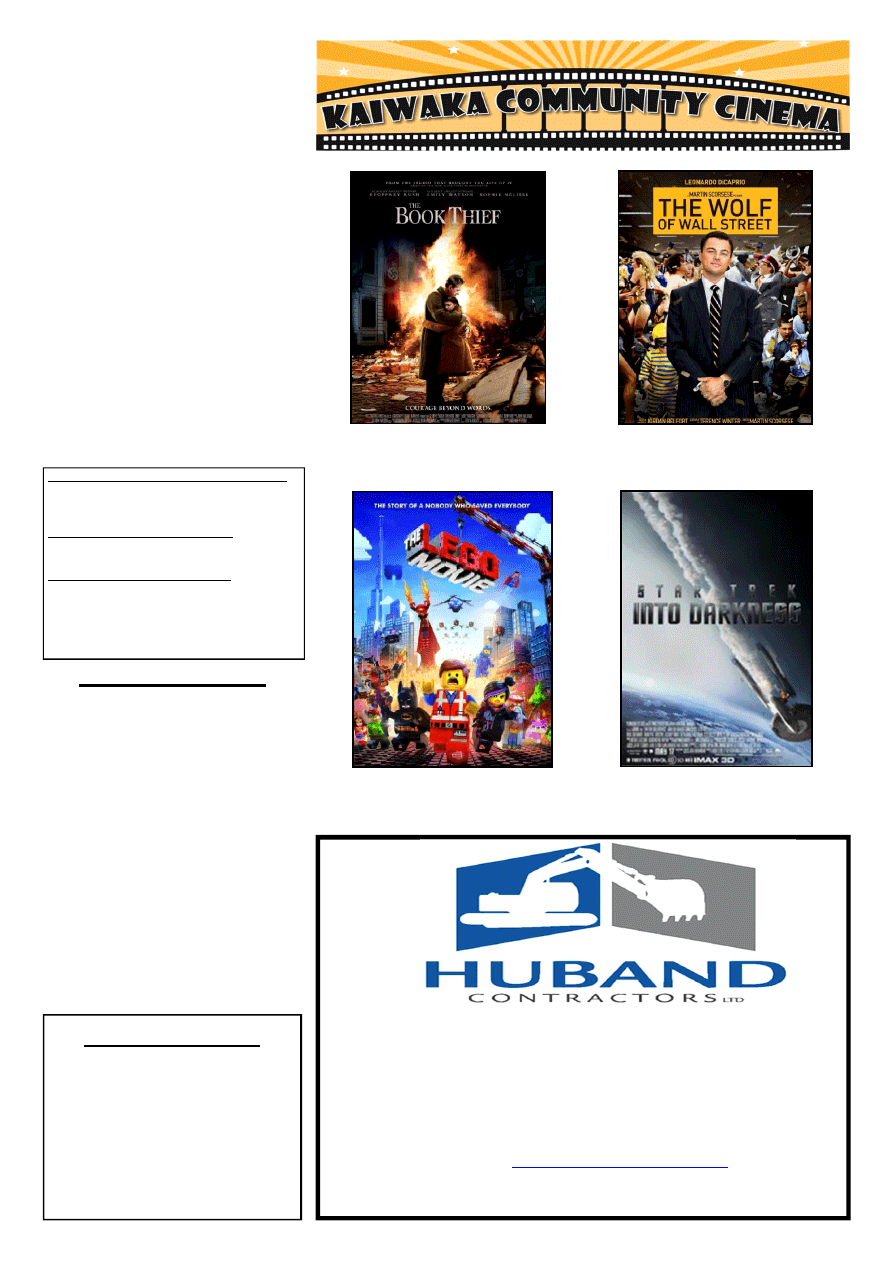 The Book Thief 
Friday 20 June 7:30pm(PG) 
The Wolf of Wall Street 
Friday 4 July 7:30pm  (R18) 
Please note classification - under-18s not admitted 
ABOUT TOWN 

Want  to  shout  about  a  success  like 
Holly's  on  the  front  page?  Send  a  
photo  and  description  to  us  here  at  the 
Bugle! 
Email 
to  
kaiwakabugle@kaiwaka.co.nz  or  leave 
at Jaques Four Square. Please include a 
contact  phone  number.  If  you  want 
your photo back, just let us know when 
you leave it for us. 

From St. John's: a solar light on your 
RAPID number makes for easy finding 
of your place in an emergency at night. 

Winter  solstice  -  the  longest  night  of 
the year. Summer is coming! 

Did  you  see  Kaiwaka  featured  in  the 
Advocate  supplement  the  other  week? 
The  article  was  written  by  yours  truly. 
 
*   R O A D I N G   *   E A R T H W O R K S   *    
*   D R A I N A G E   *   S I T E W O R K S   *  
For any further enquiries, contact Shaun on: 
Cell: 021 222 0272 
Home: 09 4318339 
Email:   
shaun@huband.co.nz
Shaun Huband:  Registered Drainlayer 
KAIWAKA BUGLE No. 11 
10 JUNE 2014 
CONTENTS 
Page 3: Classifieds & Notices 
Page 5: June Night Sky, Playcentre 
Page 7: D-Day, Kaiwaka War  
 
Memorial Hall 
Page 9: St John's 
Page 11: Photography 
Page 13: Zonta 
Page 15: Weather, Fieldays, Pt Curtis  
 
Cruising Club 
Page 17: Kaiwaka Sports Association 
Page 19: Kaiwaka Library 
 
Bugle 12 will appear 24 June 
Contact for advertising, reports, articles 
or information can be made by 
Email kaiwakabugle@kaiwaka.co.nz 
Ph: 09 4312 045 
Txt:  0274 806 275 
Copy may be left at Jaques' Four 
Square. 
View the Bugle online at: 
www.kaiwaka.co.nz/Bugle 
Kaiwaka Bugle 
Founded May 1978 
Copies available in Kaiwaka at Jaques Four 
Square, Kaiwaka Postal Centre, Shamrock 
Service Station, Celena's Gifts 
Also outlets in Maungaturoto, Mangawhai 
and Paparoa. 
Can be viewed online at www.kaiwaka.co.nz 
Or a copy can be posted to you if you supply 
stamped, self-addressed DLE envelopes. 
The Lego Movie 
Sunday 6 July 2pm(PG) 
$5 per person 
Star Trek, into Darkness 
Saturday 12 July 7:30pm(M) 
At Kaiwaka War Memorial Hall . Adults $10, Chn (under 16) $5, Family Pa ss (2 adults +  3 children) $25 
Kaiwaka Bugle Advertisements 2014: 
Classified $3; 1/8 page $6; 1/4 page $12; 1/2 
page  $24;  in  special  circumstances  whole 
page adverts are available-cost $100 
bugleaccounts@kaiwaka.co.nz 
Payments  can  be  online,  posted  or  left  at 
Jaques Four Square Store. 
kaiwakabugle@kaiwaka.co.nz  for queries 
or copy. 
The  Kaiwaka  Bugle  is  a  community 
newspaper run by volunteers.   
Articles,  etc.  printed  are  not  necessarily 
the opinion of the Bugle Team.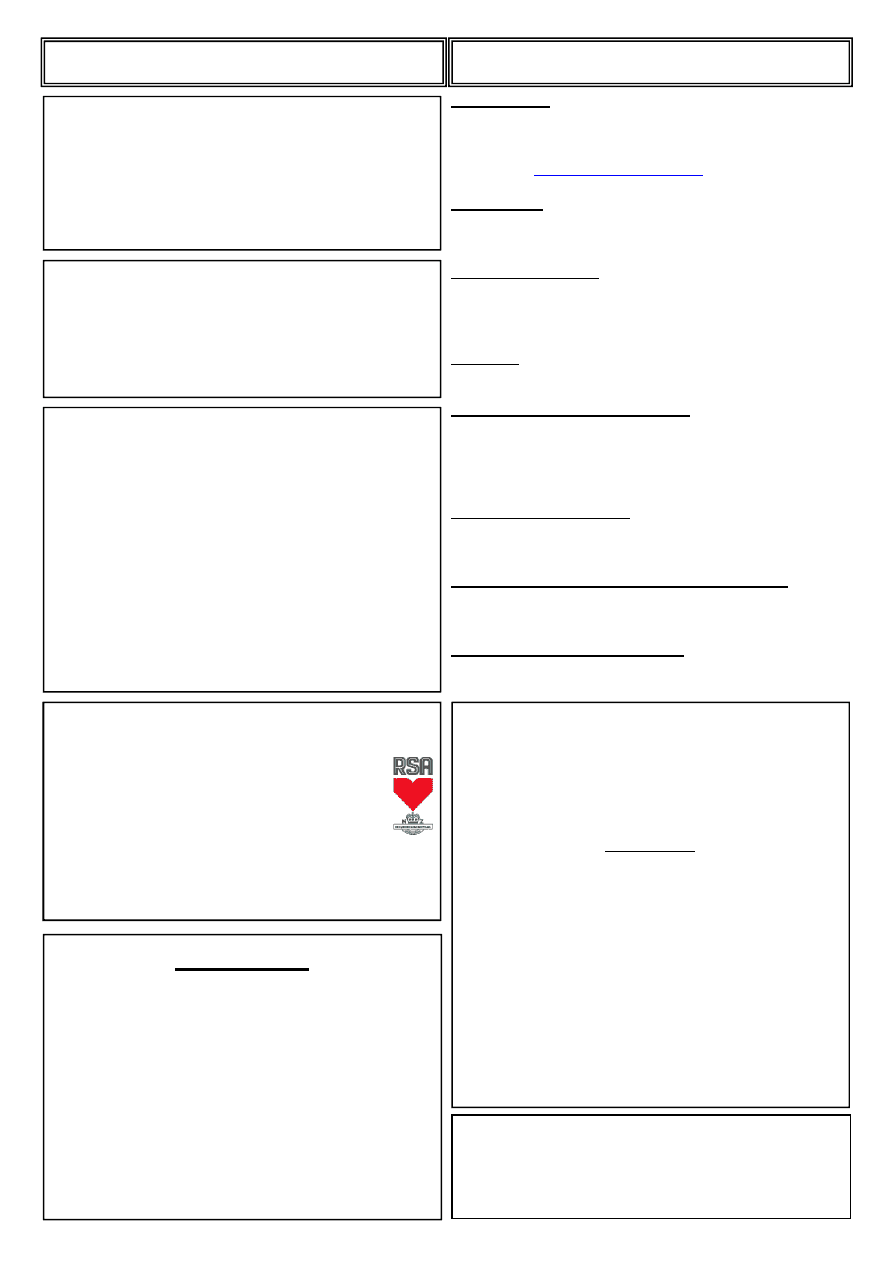 PUBLIC NOTICES 
CLASSIFIED 
FOR  SALE:  J ill  Shires  Holistic  Animal  Therapies. 
Herbal Remedies, Bach Flowers, Ointments, Diatoma-
ceous  Earth,  Bentonite  Clay,  Cranio  Sacral  Therapy, 
Skin  Conditions,  Arthritis,  Laminitis,  Mud  Fever 
Cream etc. 
www.allcreatures.co.nz
 or 09 4312 080 
 
FOR  SALE: 2 sheets plywood unused, $15 ea. Sony 
mini hi-fi component system, good sound, hardly used, 
$80. Ph 4312 188 
 
HOUSE for  RENT: Kaiwaka Sunny, clean and tidy 
2 bedroom townhouse with garage underneath on Mar-
shall Road. $260pw inc lawn. Ref required. Please call 
Roxanne 0272 714 875 
 
TO  LET: 2-bedroom cottage, Oneriri, warm & sunny, 
rural outlook. $200 wk. Ph Sue 0221 597 043. 
 
HOUSE  WANTED  TO  RENT: 2-3 brm for 2 adults, 
1 child. Rural, ideally w. grazing for show calves/cow 
&  pony.  Ex-farmers,  can  watch  stock  etc;  house  on 
runoff  ok.  Also  looking  for  grazing  block.  Ph  Rosalie 
021 900 324 
 
BERYL 
NOZEDAR:  (Middleton) 
International  
Clairvoyant. 
Numerology, 
Tarot, 
Clairvoyance,  
Mediumship. $60 for hour includes CD. Ph: 4312 080 
 
CLOTHING ALTERATIONS & REPAIRS: 
Hems,  Zips,  Dressmaking  Phone:  Win  4312  027    or 
027 444 8358 Winsome Designs. 
 
FREE  GRAZING  WANTED: Small or large block. 
Can  do  some  fencing  or  water.  Phone  after  6pm  
4312 006 
Proverbs 
28:13- A man (or woman or child) 
who refuses to admit his mistakes can never 
be successful. But if he confesses and for-
sakes them, he gets another chance. 
Point Curtis Cruising Club Inc 
Annual General Meeting 
17 June 2014 
7pm at 3 Furlongs Hotel, Kaiwaka 
All welcome 
THE MAUNGATUROTO CHIROPRACTIC 
CLINIC 
Will be closed from Wednesday July 16th  
and will reopen 
Wednesday August 13th  
because Dr. Macaulay will be 
attending a postgraduate course at this time. 
FOR RENT 
852 Oneriri Road, Kaiwaka 
Rural lifestyle 
Grazing available as option 
2 bedroom unit 
Wet back wood burner 
Single internal access garage 
Cat and small dog OK 
Available now 
$200.00 per week 
Please ring Tyler Jones 09 4315 295  021 0204 3001 
Tripe & Onion Luncheon
To be held at the RSA Clubrooms 
Hakaru on Sunday 22nd June at 1pm 
(There will be alternative choices for 
those who are not tripe fans) 
$10 per meal, all welcome 
PLEASE PHONE Heather Small 4314 668 
and leave your name for catering purposes. 
FOR SALE 
Wooden-framed windows complete with surrounds/
sills/slimline blinds 2 windows also with snow-glass. 
All in great condition. Take offers. 
Keyboard as new with stand & carry-bag $500. 
15" mags universal $30 each 
Large stereo system with mic/mp3/remotes,  
quadrophonic speakers. Great for those parties. $450 
Contact 021 183 1856 
St John Op Shop 
Shop Hours: Mon-Fri 10am-4pm 
 
Blankets,  pillows  needed  please,  and  anything  else 
greatly appreciated. 
 
Thank you: 
 
To  my  staff  for  taking  care  of  the  ship  while  I  was 
away  in  Rotorua  during  the  death  of  our  eldest  child 
Debbie  Michelle  who  is  now  with  her  only  brother 
Dean 2nd eldest. 
 
To  the  people  who  looked  after  Ray  who  was  unwell 
to go back to Rotorua. 
 
To  those  who travelled  from  Kaiwaka  to  support  me. 
Also those who rang, sent cards. 
 
Love Milly, Ray, Rhonda & Tina.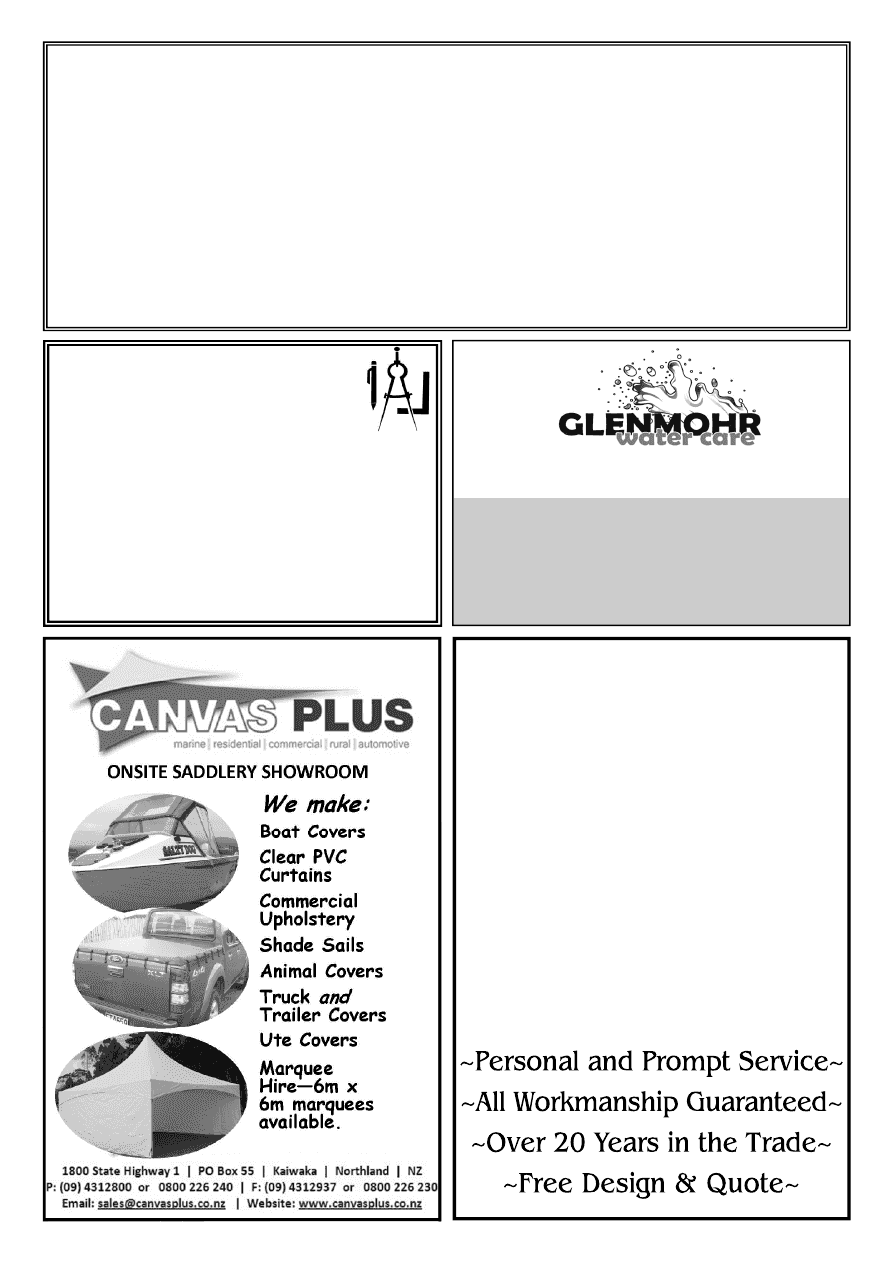 RANGANUI EARTHMOVERS 
16T Excavator   
(tilt, thumb & ROPS cab)   
Transport Trailer 
2 x 6 Wheeler Tip Trucks 
Suppliers of All Grades of Metal & Topsoil 
If you want a proper job done with an experienced operator ring 
Grant on:  A/H  431-2131   
Email  ranganui.dev@xtra.co.nz 
Mob  021845-246 
Driveways, House Sites,  
Drainage Dams, 
Section Clearing,  
Tree Work,  Rock Retaining Walls,  
Quarry Work, 
Basically Anything That a Digger Can Do 
design drafting 
service 
Retired builder and manufacturer with over 40 years  
experience in the building industry is offering a design 
drafting service for domestic housing, sleepouts and 
sheds.  
Plans formulated in consultation with clients, with 
working drawings completed and submitted to  
council for processing.  Extensive practical experience,  
able to identify & resolve problems. 
Please ring Mike Lean on 
09 431 2260  
          or 
021 431 196 
Water Tank Cleaning 
 
Keep your water safe & clean   
 
Removal of sediment, silt etc. 
 
Vacuum or full scrub 
 
Minimal water loss 
Phone Mark (09) 432 0655 or 0274 707607 
PLANNING A NEW 
KITCHEN? 
 CONTACT NOEL McDOWELL 
WELLSFORD 
KITCHENS
Ph/Fax 094312888  
KAIWAKA-Any time 
  QUALITY CUSTOM MADE 
KITCHENS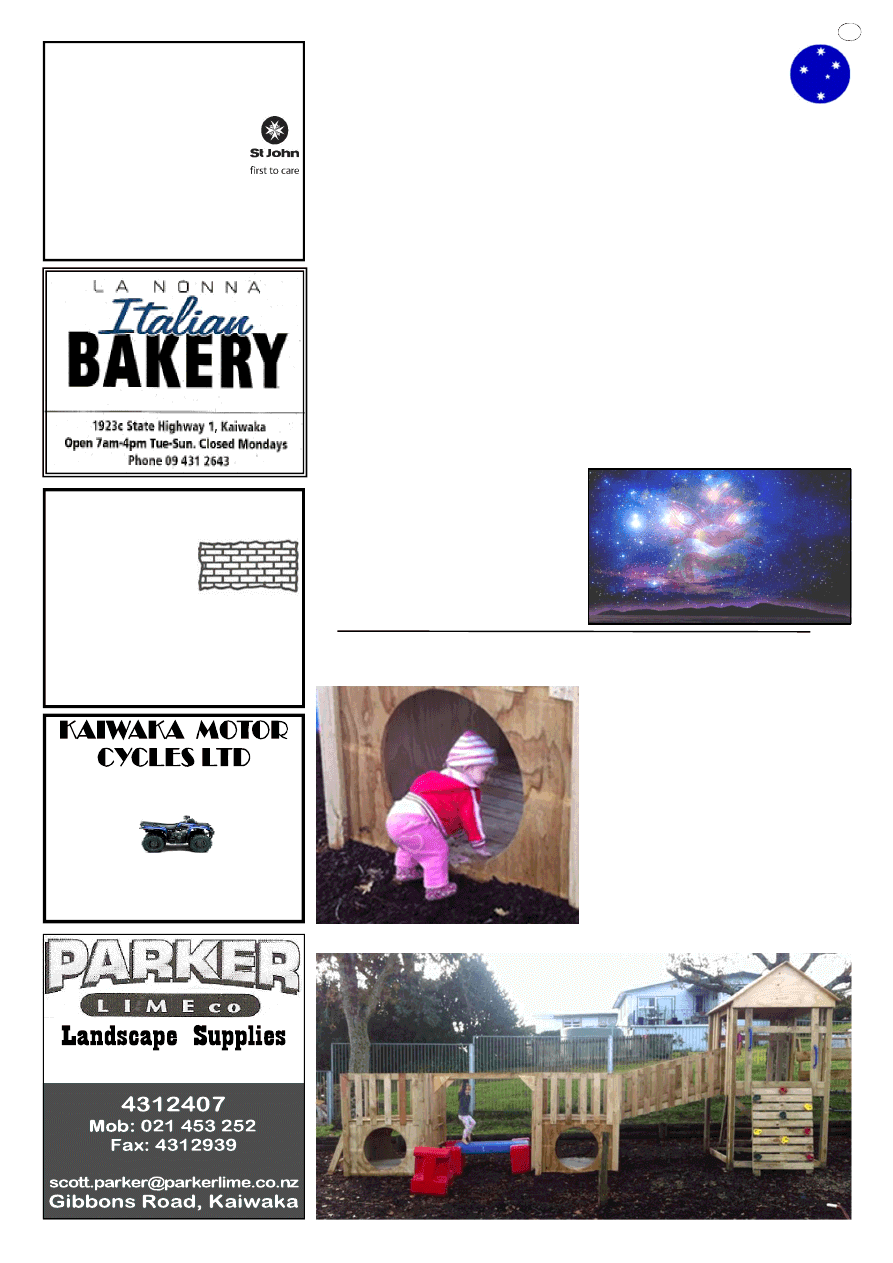 BRICK/BLOCKLAYER 
All aspects of masonry:  
Fireplaces, 
Restoration  
& Remedial Work. 
JAMES EAGLETON 
Tel. (09) 431 2514  
Mob. 0274 749 232 
jajueagles@yahoo.com.au 
210A Pukenui Road, RD2 Kaiwaka 0573 
Bulk Cartage 
SALES SERVICE SPARES
FARM BIKE SPECIALIST
Phone 431 2127  
Kaiwaka-Mangawhai Rd 
Kaiwaka 
When you need St.John 
members at your function … 
Get a Community Services 
Form 
….. see Mill
y at the  
Kaiwaka St John  
Op Shop.
Phone 4312650 
MORE MEMBERS REQUIRED FOR 
THE KAIWAKA STATION. 
5 
Day  Hour  Event 
1 
Dusk  Jupiter, Mercury & Moon 
3 
16 
Moon at Apogee 
5 
2 
Regulus 4.8
o
N of moon 
6 
8 
First quarter of the moon 
8 
Dusk  Jupiter, Mercury, Mars 
  and Moon 
11  Dusk  Saturn with the moon 
13  16 
Full moon 
13  18 
Moon furthest south 
 (-19.0
o
) 
15  15 
Moon at perigee 
20  6 
Last quarter of the moon 
21  22 
Winter Solstice 
25  Dawn Venus with the moon 
25  18 
Aldebaran 1.9
o
S of Moon 
25  21 
Moon furthest north  
 (19.0
o
) 
27  20 
New Moon 
29  Dusk  Jupiter with the Moon 
 
Matariki and the winter Solstice 
The  Maori  know  the  beautiful  star 
cluster  in  Taurus  as  Matariki.  It  is 
known  to  Europeans  as  the  Pleiades' 
or  the  Seven  Sisters,  but  many  other 
cultures have their own names for it as 
well. Astronomers usually call it M45. 
About  seven  stars  are  usually  seen 
with the naked eye but many more can 
be seen with binoculars.  
The  Maori  calendar  is  based  on  the 
Moon so  it needs to be realigned  each 
year  to  the  seasons.  With  the  sighting 
of  Matariki,  in  the  dawn  sky 
around  mid  June,  the  calen-
dar is restarted on the next new moon. 
Matariki  is  also  a  celebratory  period 
lasting about a month, that is very im-
portant in the Maori culture. 
Looking  south  in  early  winter,  the 
spectacular  constellations  of  Crux, 
Centaurus  and  Carina  are  high  up  and 
the further south you are the better the 
view.  These  regions  are  richly  packed 
with  stars  and  star  clusters  that  are 
well worth exploring with binoculars.  
The 
southern 
hemisphere 
winter  
solstice  marks  the  time  when  the  sun 
reaches  its  northern  most  point  in  our 
sky  –  and  therefore  the  lowest  in  the 
sky  at  noon.  In  2014  the  solstice  falls 
on  21  June  (at  10.51  pm  (NZST)  and 
signals  the  shortest  day  of  the  year. 
After  that time  the  sun  begins  moving 
south  again,  extending  our  days  and 
shortening the nights. 
~Elizabeth 
JUNE NIGHT SKY OVER KAIWAKA 
Kaiwaka  Playcentre  has  put  in  a  new 
playground. 'YAY'. Many thanks to all 
the  supporters  and  grants  and  our  
Rotary 
Club 
for 
your 
help 
in 
this project. 
Our fort was put in last Thursday 5th of 
June and  was  a  big  surprise  for  our  
kiddies  when  they  arrived  at  the  centre 
the next day. 
In  our  photos  we  have    Anaya  on  the  
monkey  bars,  Mahaliyah  crawling 
through the tunnels. 
 
Kaiwaka  Playcentre  times:  Monday  & 
Friday Open session for all ages 9am-12 
midday;  Tuesday  &  Thursday  for  an 
Extended session with an ECE teacher. 
KAIWAKA PLAYCENTRE'S NEW FORT
TILING 
Certified Waterproofing 
431 4533 or 021 86 33 33 
George 
MCN Property Solutionz  
Local references available 
Natural Earth Ltd 
Landscape and Bobcat services 
 : Driveways  :Landscaping  :Retaining Walls 
 : Hole Boring: Land Levelling :Trenching 
 : Decks :Fences :Sections Cleared 
 : Plus much more
Tel 09 4312 885 
Mob 02102391280 
For A Fast Friendly Service  
Contact Tim Hicks 
BARRY CURTIS PLUMBING LTD 
REGISTERED CRAFTSMAN PLUMBER 
Phone 431 5572 
027 257 9884 
25 years' experience 
Friendly reliable service 
All plumbing & maintenance 
Alterations and new housing 
New wood fire installation 
Spouting 
Competitive rates
PROMPT EFFICIENT  SERVICE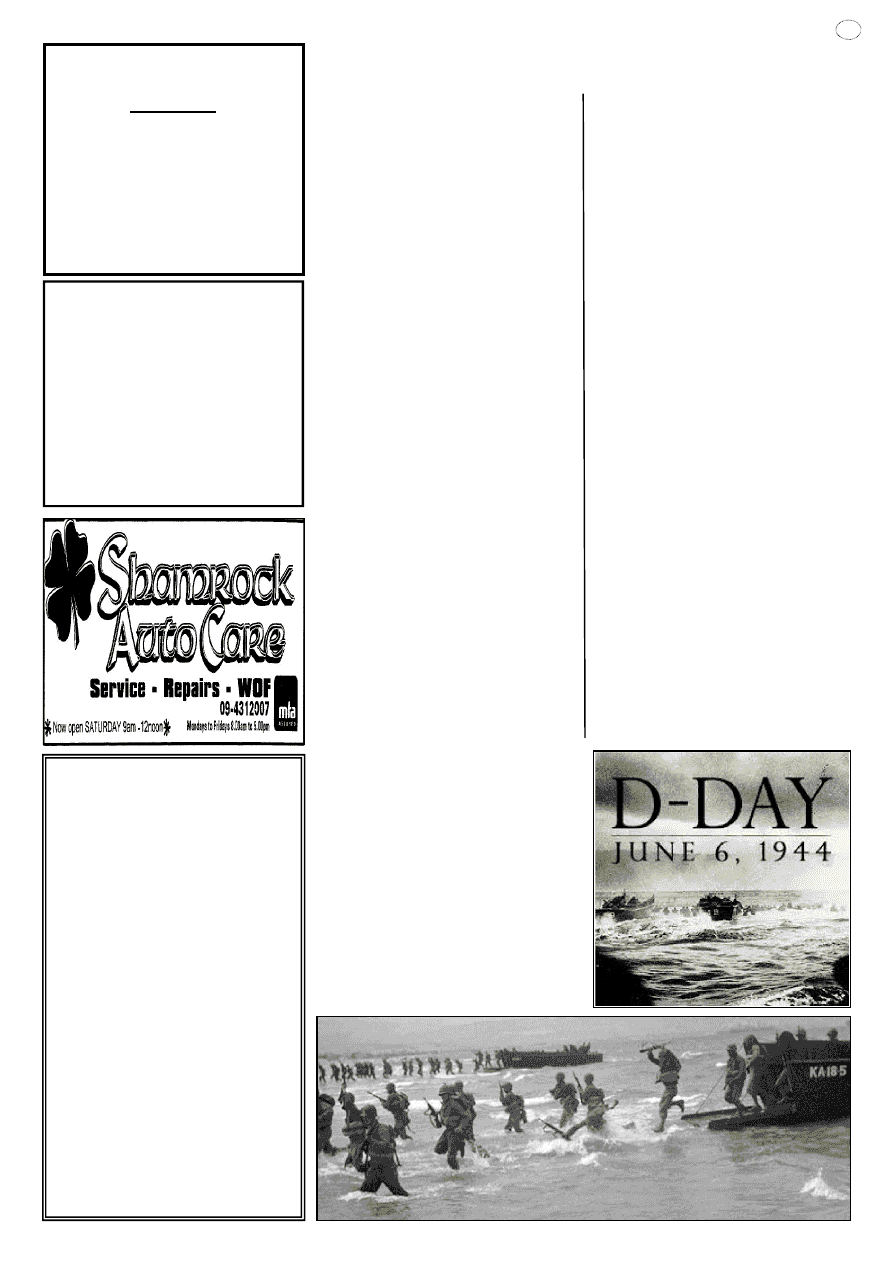 AMBER'S 
Q Cafe &  
Restaurant  
All day breakfast, 8am - 5.30pm.     
Home made Pizza, take away or eat in from 
8am to late. 
 Light lunches, 11.am - 5.30pm, 
Dinner Menu at 5.30pm to late 
 Toasted Sandwiches and Sandwiches made 
to order. All day, Pies, Chowder & Soups 
 Milkshakes, Kiwi Ice cream, Slushie Fruit 
drink, Tea, Coffee 
 Closed Mondays.....except Observed Holidays 
 Sunday to Thursday: 8am - 8pm 
 Friday: 8am - 8.30pm, Saturdays 8am- 9pm 
4315226 
Trevor & Amber 
41 Moir Street, Shop 5-6  
Mangawhai Village 
Next to Carters Building Supplies 
 LEABOURNS 
Passenger Service
Car & Van Hire 
Bus & Coach Charters 
Airport Transfers 
 Monthly Shopper Bus 
Phone (09) 4237416 
7
KAIWAKA WAR  
MEMORIAL HALL  
A  big  spruce-up  is  happening  inside 
the  Hall.  The  NorthTec  students  are 
doing  a  great  job  with  the  painting  
inside  and  transforming  it  into  a  fresh 
looking  hall.    This  could  be  a  start  of 
more to come. 
Have 
you 
visited 
the 
Kaiwaka  
Community  Gardens  yet?  They're  on 
the  south  side  of  the  hall,  next  to  the 
parking  area.  The  materials  for  this 
project  on  Hall  land  have  been  funded 
by  the  Hall  Committee  and  the  labour 
to  build  the  fences  and  the  actual  
gardens  have  been  part  of  NorthTec's 
Building 
and 
Sustainable 
Rural  
Development  courses.  And  what  a 
great  job  they  have  done.  Thanks  to 
Tim  (Building),  Jarred  (Painting)  and 
James (Gardens) and all the students. 
Kaiwaka 
War 
Memorial 
Hall  
committee say a thank you to everyone 
involved  and  we  will  be  screening  a 
"real  NZ" movie  The  Pa  Boys  for  you 
soon. 
Kaiwaka Movies  
More  movies  are  planned  for  July  and 
August.  W olf  of  W all  Street  with  
Leonardo  DiCaprio  on  Friday  4  July, 
and  for  the  school  holidays  The  Lego 
Movie  Sunday  6  July,  and  a  special 
screening  of  Star  Trek  Into  Darkness 
on Saturday 12 July. 
The  movies  are  alive  and  well  in  the 
region,  and  we  have  more  and  more 
requests 
coming 
in 
for 
special  
screenings 
and 
fundraising  
possibilities. 
Thanks  to  all  the  volunteers  who  run 
the  Kaiwaka  War  Memorial  Hall  and 
Kaiwaka Movies.  
Run by the community for the community. 
~ Ad Clarijs 
GIVING THE NEWS 
How  different it is today  where we are 
able  to  see  and  hear  of  the  services  of 
remembrance  for  D-Day  in  Europe. 
Seventy  years  ago  cablegrams  and  ra-
dio  reports  bought  the  news  for  our 
families on the other side of the world.  
The  following  is  an  extract  from  the 
NZ  Herald  sharing  the  atmosphere  in 
London:  
SUPPRESSED EXCITEMENT  
ATTITUDE IN LONDON 
 "WEIGHT OFF SHOULDERS"  
"I  am  astonished  everything  is  so  nor-
mal,"  states  an  Aucklander,  Mrs.  Ellie 
Bailey,  in  a  private  cablegram  to 
friends  in  Auckland,  describing  Lon-
don's reactions to D-Day.  
"Trains,  buses  and  undergrounds  are 
running  as  usual.  I  there  are  no  large 
crowds  in  the  streets,  but  queues  are 
formed  at  all  newspaper  stands.  Shops 
are almost empty.  
"Westminster Abbey services are being 
held  at  usual  times,  but  large  numbers 
of  worshippers  are  passing  in  and  out, 
pausing always at the Unknown Warri-
or's tomb. I saw the Dean  in the centre 
aisle  reading  a  newspaper  over  the 
shoulders of two American soldiers.  
"St.  Margaret's,  Westminster,  parish 
church of the Empire, is still and quiet. 
I  saw  one  Home  Guard  praying  -an 
elder  I  v  man,  his  grey  head  bent,  and 
with trembling  hands  gripping the pew 
top. 
 "City  workers  and  office  girls,  sacri-
ficing  their  lunch  hour,  attended  a  ser-
vice  in  St.  Paul's,  the  women  wearing 
handkerchiefs  on  their  heads.  At  St. 
Martin's,  Trafalgar  Square,  worship-
pers  were  mostly  American  soldiers 
and  elderly  women,  while  the  bombed 
Church  of  St.  James,  Piccadilly,  had  a 
congregation  of  many  nations,  in  and 
out of uniform, all looking very proud.  
"People  in  the  streets  are  walking  up-
right  as  though  a  weight  were  lifted 
from  their  shoulders.  Passers-by  are 
friendly.  Everyone  is  outwardly  calm, 
but  their  inward  excitement  is  evident. 
In hotels the scene is as normal.  
"During  the  one  o'clock  news  to-day 
everyone  was  spellbound  as  though 
swept by a magic wand, inducing quiet. 
There  was  no  sound  except  for  the 
wireless,  and  no  movement.  "The  tea-
shops  are  full  of  chattering  crowds. 
There is an air of cheerful purpose eve-
rywhere." 
New Zealand Herald, Volume 81, Issue 24914, 8 June 
1944, Page 6. ~ paperspast.natlib.govt.nz  
Kaiwaka Library 
Vacancy 
3rd Wednesday of the month,  
10am to 2pm. 
Must be familiar with using  
Microsoft Windows. 
Full training given. 
Apply by sending an email to  
kaiwaka.library@gmail.com  
expressing your interest.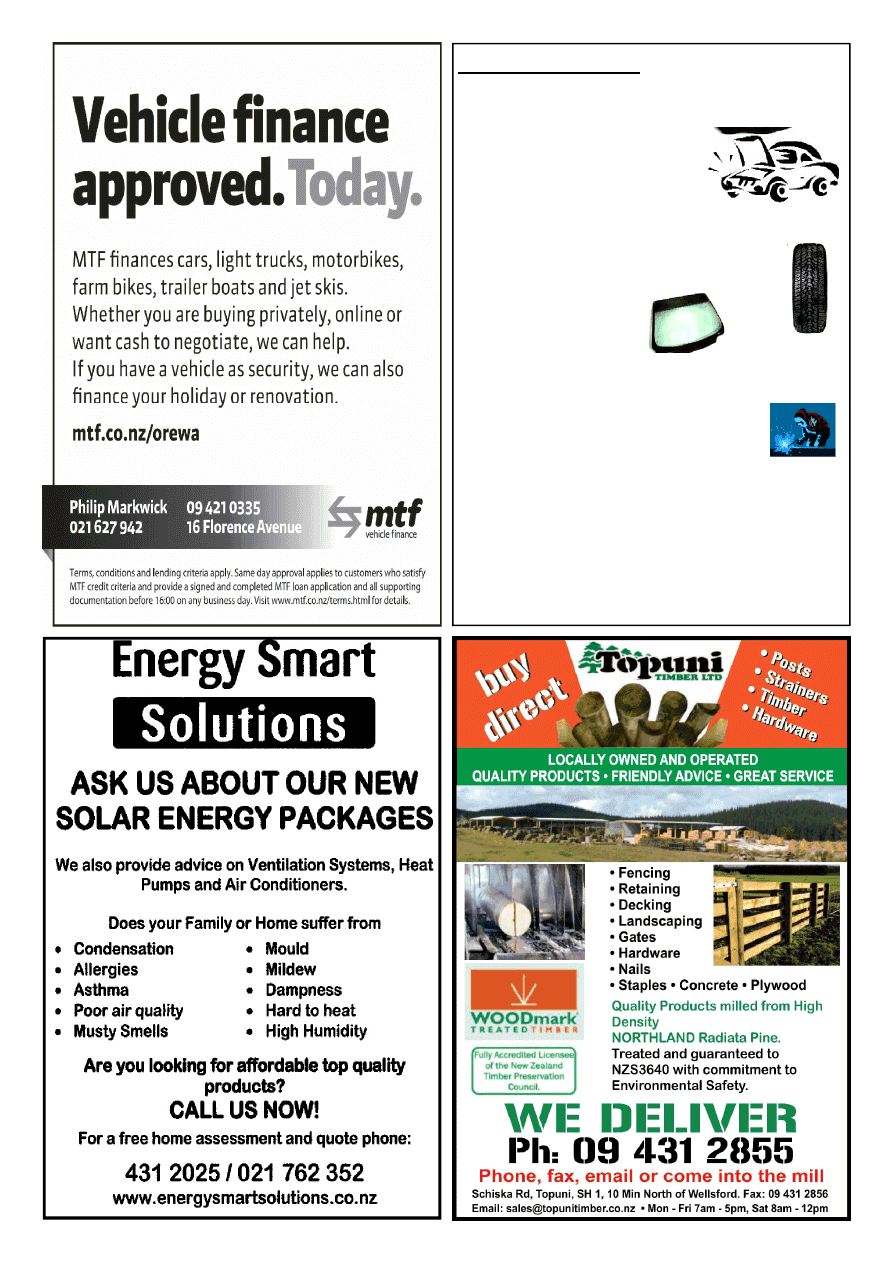 Want it done? 
Bring it to  
Twinkle Tow 'n' Tyre 
*W.O.F. 
*Tyres 
*Windscreen replacement 
*Chip repairs 
*Bulk Oil 
*Batteries 
*Welding 
*Custom built trailers 
*Trailer hire 
Think you'll get a better deal in 
the city? 
Go on, ring us; it won't cost  
anything! 
1837 State Highway 1, Kaiwaka       
Phone 431 2823 
ST PAUL'S 
SUNDAY 
SERVICES
Paparoa Anglican 
St Pauls Church 
Kaiwaka-Mangawhai Rd. 
1st Sun. (Anglican), 3rd Sun. (Family 
Service) 
Contacts:M.Hargreaves 4312295,  
C.Bygrave 4312057  
9
U Beauty 
Please call Nicole for bookings 
09 393 6336 or 022 0639450 
Qualified Beautician 
4 Kaiwaka – Mangawhai Rd 
Kaiwaka 
Underarm Wax  
$20 
Extended Bikini Wax 
$30 
15 min Back  Massage 
$25 
Eyebrow Wax  $10 
Eyebrow Tint  $10 
Eyelash Tint 
$20 
Lip Wax 
$10 
Chin Wax 
$10 
Bikini Wax 
$20 
Brazilian 
$50 
½ Leg Wax 
$30 
Full Leg Wax  $45 
Full Pedicure 
$60 
Foot Tidy  
$35 
Manicure 
$45 
Nail Tidy 
$25 
Chest Wax 
$30 
Back Wax 
$40 
Nostrils 
$10 
Ears 
$10 
Congratulations to Steve Barr who has 
passed  his  National  Diploma  in  
Ambulance Procedures.  So that makes 
4  of  us  who  have  reached  this  level 
(Denise,  Judy  and  myself,  as  well  as 
Steve).    To  pass  this  takes  up  to  two 
years  of  intense  class  work  and  study, 
culminating  in  an  assessment  which 
determines  whether  or  not  you  are 
competent  to  practice  your  skills.    We 
are  now  called  Emergency  Medical 
Technicians 
(EMT's 
- 
or 
the  
equivalent  of  the  Ambulance  Officer).  
Yay - well done Steve. Along with that 
Wolfgang  Heipe  has  passed  his  First 
Responder  course.  This  means  that  he 
is  a  competent  back  up  person  to  our 
new  EMTs.  PLUS:  Catherine  Byers 
has  passed  her  Advanced  Paramedic 
course  and  now  needs  road  time.  She 
is  practicing  as  an  EMT  until  she  gets 
more experience. 
Since  the  beginning  of  this  year,  the 
inside  of  the  station  has  been  painted. 
Man,  what  a  difference  this  makes. 
After all these years it now looks like a 
new  building  inside  and  gives  us  a 
sense  of  pride  when  people  come  in 
and use our building. 
The  elections  for  our  new  Area  Com-
mittee  have  come  and  gone.  Thanks 
must  go  to  Doug  Donaldson  who  has 
put  in  many  years  of  service  to  our 
community on behalf of St John. Doug 
has  stood  down  this  year  and  we  
welcome  aboard  Denise  McMonagle 
for  Kaiwaka.    She  joins  Reg  Jaques 
and Norm Brown on this committee to 
represent us at the monthly Area Com-
mittee meetings. Part of their brief is to 
ensure  our  community  and  all  our  
volunteers,  are  looked  after,  and  to 
help  recruit  new  members.  It  is  a  
committee  of  around  12  people,  with 
the rest of the committee coming from 
Maungaturoto. 
We  are  once  again  looking  for  more 
recruits  to  our  station.    At  present  we 
have  5  of  us  who  have  been  here  a 
long  time,  and  we  welcome  Maria 
Gibson and Vivienne Goldsmith to our 
team.  Both  are  First  Responders,  and 
they  have  transferred  from  Wellsford 
to  be  with  us,  so  that  is  awesome.  We 
are  waiting  for  Amilla 
Ranken  to  go  through  her 
interview  and  acceptance, 
and  then  we  will  have  an-
other  person  ready  to  come  out  on  the 
road  with  us.    We  cannot  cover  our 
area  24/7  with  this  number  of  people, 
so  please  get  in  touch  with  any  one  of 
us  and  we  can  set  you  in  the  right  di-
rection  to  get  started.  At  present  we 
have  4  of  our  members  on  leave, 
which leaves us very short staffed. 
At  present  this  area  (from  Tinopai  to 
Mangawhai,  to  the  Brynderwyns,  to 
Ross  Road)  is  covered  24/7  but  
Kaiwaka  is  only  on  Tuesday,  Thurs-
day,  every  2nd  Friday  and  Saturday 
nights  and  some  days.  The  rest  is  
covered  by  Maungaturoto.    So  as  you 
can  see,  although  we  are  covered,  it 
may take some time to get to you when 
you  need  us,  depending  on  who  is  on 
duty and where we have to come from. 
Our aim for Kaiwaka is to be  on 24/7.  
With  new  members  we  can  do  that.  If 
you  can  help  at  all,  please  call  Steve 
Rosser  on  022355734  or  094318403, 
or  contact  any  of  us  here  at  Kaiwaka.  
We would love to hear from you. 
Just a little 'heads up', if you don't feel 
well,  see  your  doctor  as  soon  as  
possible, 
especially 
if 
you 
are  
experiencing  discomfort  in  your  chest 
or just don't feel like  you normally do.  
This  could  save  your  life.  Also,  to 
help us find you easier, make sure your 
number on your letter box can be seen 
clearly.  At  night  we  sometimes  have 
problems. Those solar lights are cheap 
to  purchase,  and  if  they  are  placed 
where  they  highlight  your  rapid  
response  number,  this  may  make  a 
huge difference in the time we actually 
find you. 
Watch  out  for  us  at  the  station.  We 
will be performing free blood pressure 
readings  and  blood  sugar  level  
readings  from  time 
to  time.    Come  in 
and see us :) 
That's  all  for  now.  
Keep safe and well. 
~Marj Steiner 
KAIWAKA ST JOHN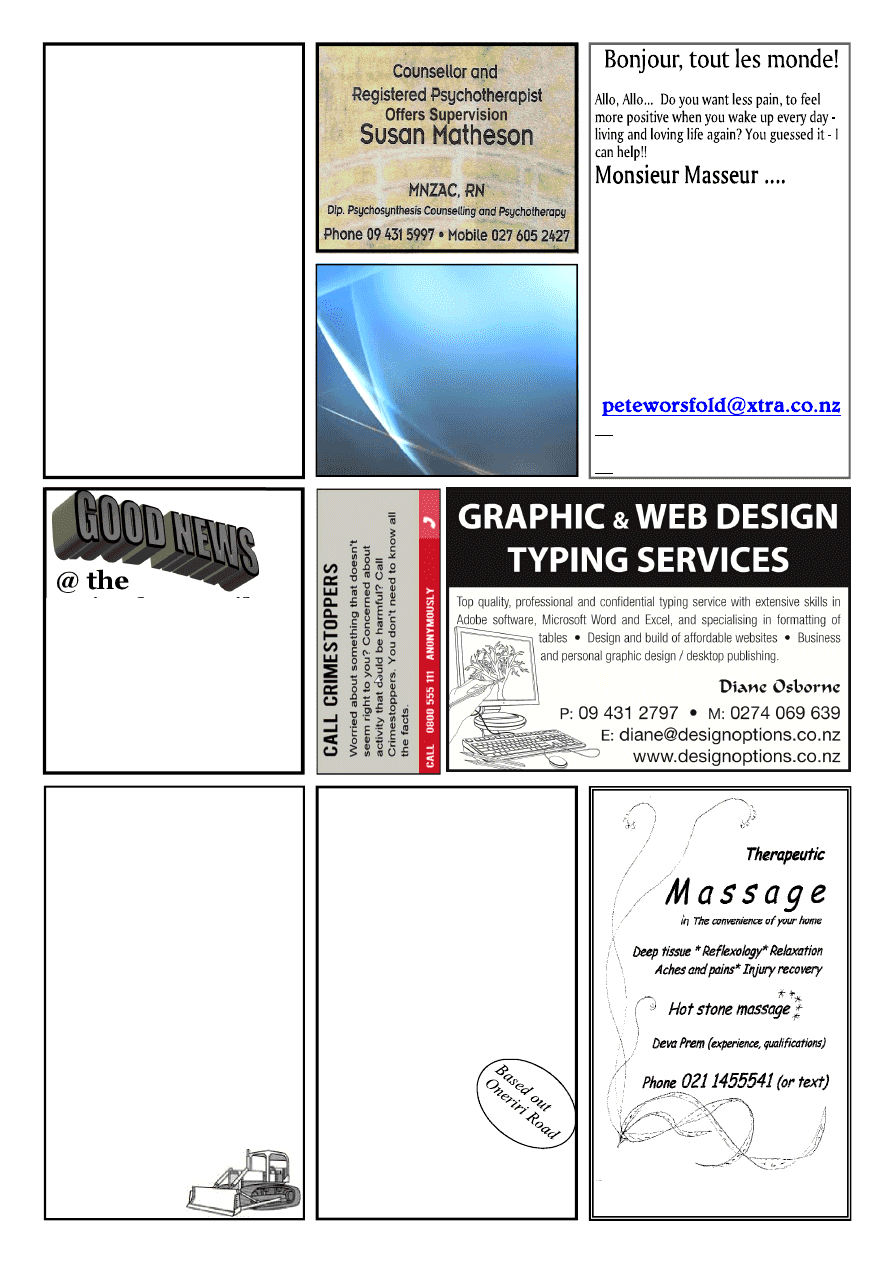 www.mangawhaimassage.co.nz 
HODGETTS 
CONTRACTING
Digger Work    

Driveways 

House Sites   

Dams 

Drains, etc
Also available for HIRE 

3 ton Vib Roller 

Heavy Duty Tow 

Waterblaster  

Lazer Level 
Phone Mark 
4312877 
027 447 8554
RELAXING  
MASSAGE
..... Juste pour vous" 
Call for an appointment now!
Pete Worsfold 
4312 152  or   021 825970 
Or  Ph. "The Well of Health" 
For an appt. 09 4312 799 
Or mobile service available 
Freeview  
Installations 
Richard Te Haara 
25 Marram Place 
Mangawhai Heads 
021 1104056 
kiwipride@xtra.co.nz
Willow Bend
HORSE  
HOTEL 
"   
Total Horse Care 
" 
Agistment 
" 
Riding Lessons 
" 
Arena Hire (60x40) 
" 
Young Horse Starting 
" 
Re-training/Exercising 
" 
Hoof Trimming 
" 
Problem Solving 
Phone Sue 09 431 
2817 or 021 623 776 
Or email sue.gray@xtra.co.nz 
Coates  
Contracting 

D41 Bulldozer with 6 
way blade, bush rigged 
with winch 

For all tree work 

General bulldozing and  
  stick raking. 

120hp Tractor for 
ground cultivation,  

tip trailer work. 

Fencing
All enquiries phone  
Brett Coates  
 094318720  
or 
 021431872
@ the  
Kaiwaka Family 
Church 
Your COMMUNITY CHURCH 
RECEIVE HEALING 
RECEIVE THE LOVE OF GOD 
Everyone warmly welcome 
each Sunday 10am. 
Contact: Pastor John Dekker,  
09 4318203 
THERE'S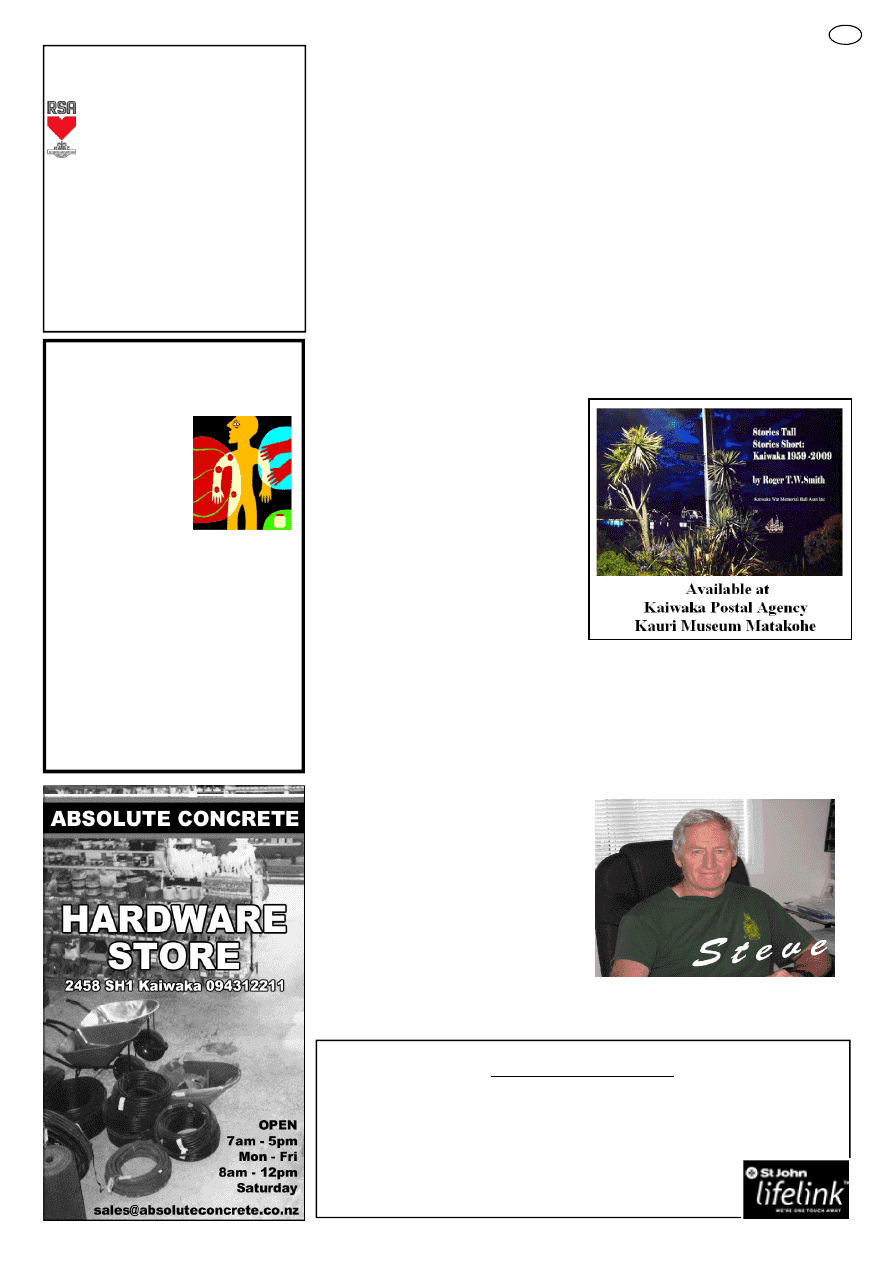 OWEN STEVENS 
Osteo Therapist
For careful 
adjustments to 
bones and joints 
Treatment for  
humans and their 
pets 
Clinics: 
Kate's Place, Kaiwaka: 
Last Friday of month 
For  bookings:9.00am-5.00pm  
Phone 
09 4312661 
Or phone Owen   
09 4317123  anytime 
11 
HAKARU & 
DISTRICTS RSA Inc 
Each Friday night 
from 6.30pm 
Meals will be served 
2nd Friday of the Month 
Is Roast Dinner Special 
Come along and enjoy our 
Hospitality  
For more information 
Ring Heather 431466 
or Jan 4314512 
PHOTOGRAPHY 
Who is that next to Aunty Ena??? 
Are you ready for more?  Let's get to it 
then. 
Last  time  we  looked  at  cataloguing 
your photos with a simple number and 
description process. That's a great start 
but you do need to keep that record in 
a  safe  place  so  you  can  refer  to  it  as 
needed.  
However,  if  you  have  a  computer  and 
scanner/printer  then  you  can  now 
move  on  to  the  clever  stuff.    For  this 
you'll 
need 
some 
imaging  
software…  no  don't  rush  out  and  buy 
Photoshop for 3 squillion dollars… go 
to  this  web  address  and  download  a 
free editor called Photofiltre7...  
www.photofiltre-studio.com/pf7-en.htm 
Photofiltre7  is  a  cut  down  version  of 
their  professional  studio  program  and 
for what we are about to  do  it is  more 
than  adequate…  much  more,  and  it's 
free, did I already mention that? 
Once  PF7  is  on  your  computer  run  it 
and  click  Tools,  Preferences,  Saving. 
Make  your  default  format  .JPEG  if 
you  want  to  share  the  photos  online 
easily or .Tiff for a higher quality (but 
less easily shared) option. 
Also 
in 
Tools, 
Other, 
un-tick 
"Autoselect  layer" or  it  will  drive  you 
nuts! 
Now  we  create  a  work-flow  to  make 
your  job  easier.  A  work-flow  is  just  a 
list of steps to achieve your goal. 
Make  sure  your  scanner  is  on  before 
you run PF7 
1.  Click  new  and  create  a  blank  
image  30cm  X  30cm  at  600dpi 
This  will  be  your  background  
layer. 
2.  Insert  your  first  photo  face  side 
down centrally in your scanner 
3.  Click the acquire image Icon  
4.  Choose  a  high  resolution...  600dpi 
works fine 
5.  Select  a  colour  scan  (yes  even  for 
black and white photos) 
6.  Scan your image 
7.  The  scan  will  then  be  transferred 
to PF7 
8.  Click  edit  &  copy  to  copy  the 
scanned image 
9.  Click  your  plain  background  
image and the  edit paste your scan 
into it. 
10. Click the selection tool and  drag a 
box  to  pick  up  your  photo  and  an 
area  round  it  to  put  your  notes  in, 
right click and crop. 
11.  Click  the  text  icon  and  copy  and 
paste  the  photo  number  and  the 
text from your catalogue 
12.  Click  and  drag  the  text  to  where 
you want it, resize it etc. 
13.  Click the selection tool and drag it 
to  cover  your  selected  area.  Right 
click and crop the selected area 
14.  Click  Layer,  Merge  all  layers  and 
then  finally  save  your  file  to  a 
known place and please use a good 
description 
in 
the 
filename  
("untitled  998"  is  not  a  good 
name) 
Now  bear  in  mind  that  you  are  only 
working  on  a  scan  you  can  get  as  
artistic  as  you  like  here  and  PF7  will 
allow  you  a  lot  of  options  to  do  just 
that. 
This photo/advert above is an example 
for  you,  the  colour  was  enhanced,  the 
wording  was  inserted  and  the  bulbs 
that  were  blown  were  digitally  
replaced, all using Photofiltre. 
 
If  you  have  any  questions  so  far  then 
email me at info@overviewsnz.com or 
call me on 09 4312 779. 
 
Next time: 
 DIGITAL RESTORATION ! 
ST JOHN LIFELINK 
For those of you who are living on your own, or if you have a condition that 
could require urgent assistance, call 0800 50 23 23.
This is the number of the St John Lifelink.  Once you have one of these 
gadgets you can feel reassured that help will be immediately on the way 
should you feel the need to activate it.
This service operates 24 hours, 7 days a week.
To find out more, give St John a call on the above number.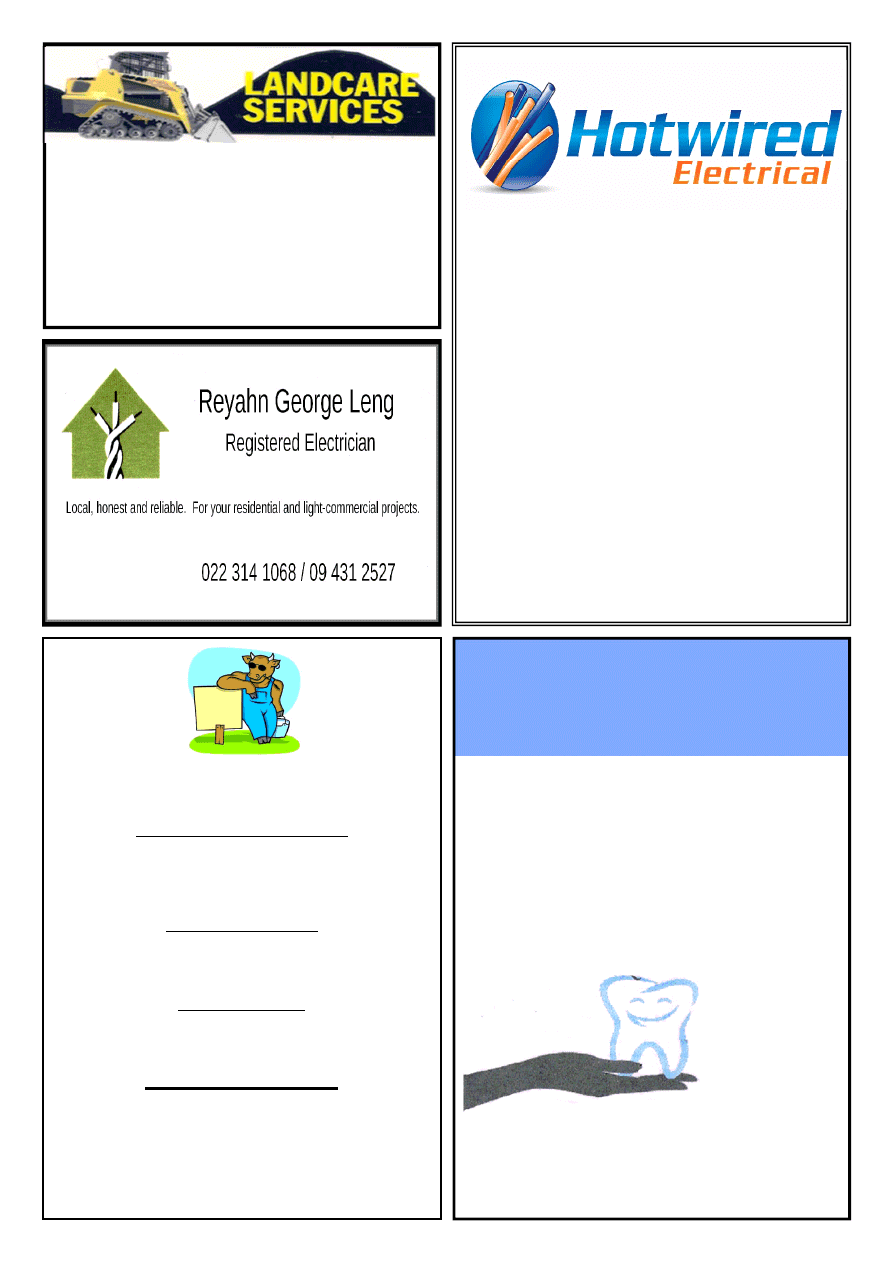 LANDSCAPING 
4 IN 1 BUCKET 
TRENCHER 
POLE HOLES 
ROTARY HOE 
COMPACT ROLLER 
OFFAL HOLES 
CAN SUPPLY WOODCHIP & POST PEEL 
5 TON TIPPER 
FOR RELIABLE AND FRIENDLY SERVICE CONTACT DAVE 
Dave Hyndman 
 
KAIWAKA 
PH: 09 4312302 
MOB: 021 431 238 
Gentle Dental 
Ruakaka 
We love to see you smile 
 
General  & Cosmetic Dentistry 
 
Emergency & ACC Treatment 
 
Denture & Hygienist Services 
 
Senior Citizen Discounts 
 
Free Adolescent Care 
 
Free WINZ Quote 
19 Ruakaka Town Centre 
Dr Sim Sood & Associates 
Ph:  432 8139 
Saturdays 
By 
Arrangement 
Open  
Mon-Fri  
8am-5pm  
For All your  
Electrical  Requirements 
 
Domestic small jobs 
 
Residential dwellings and alterations 
 
Commercial 
 
Industrial                 
No job too big  
or too small    
Contact Jason today on: 
(09) 431 5992, (021) 405 019 
www.hotwiredelectrical.co.nz 
CALL A FARmeR
Winter Broad Acre Weed Spraying 
Thistles, Buttercup and other broad leaf weeds 
Now is the time to spray 
Ground based spray application 
We can get where others can't 
Fertiliser/Urea Spreading 
Low impact ATV and tandem spreader application 
We can get there when your tractor can't 
No tractor tracks through your new grass! 
Pro-gibb Application 
Get that grass growing! 
We cover Farms and Lifestyle Blocks    
BOOK NOW!!
See our website for more services 
www.callafarmer.co.nz 
Office 09 423 7585
027 625 5383 
We can 
do that!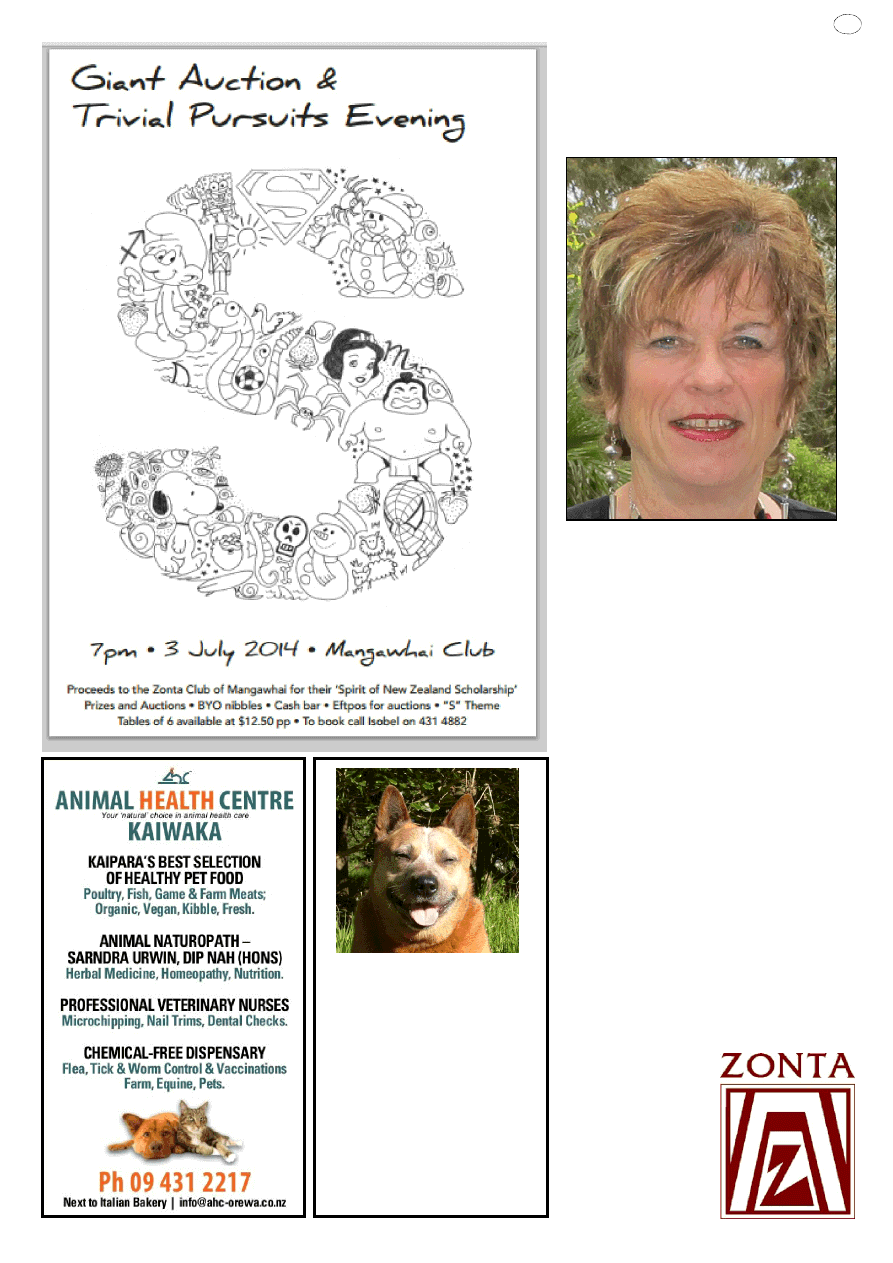 13 
Laughing Dog 
Computers 
www.laughingdog.co.nz 
0224344448 
Hardware and Software 
Service and  
Repair 
ZONTA 
Liz Holsted,  co-founder  of  the  Zonta  group 
of  Mangawhai,  has  been  selected  as  the  
Area 1 Director for the 2014-16 biennium. 
When Liz moved to Mangawhai she missed 
the  camaraderie  and  spirit  of  her  North 
Shore Zonta. So she set about setting up her 
own  Zonta  club  in  Mangawhai  which  was 
chartered  with  21  members  in  May  2010. 
Since  then  Liz  has  been  the  Club  President 
(2010  –  2012)  and  the  District  Conference 
Chair  (2013)  pulling  together  the  national 
conference of 190 attendees in Queenstown. 
Liz says "I am passionate about the ideals of 
Zonta and the progress that can be made  on 
so  many fronts  when an international  group 
of  women  work  towards  one  goal,  the  
advancement  of  the  status  of  women  
globally  through  service  and  advocacy.  
After  10  years, it  still  excites  me  that  as  an 
organisation,  we  make  such  a  difference  to 
the lives of so many women and children at 
a local, national and international level." 
The  new  role  involves  working  with  the 
nine  clubs  north  of  South  Auckland  to  
assist  them  in  all  aspects  of  their  work.  I 
report  to  the  national  executive  at  regular 
board  meetings  and  am  looking  forward  to 
visiting  all  9  clubs  several  times  over  the 
next  two  years.  I  also  thank  my  own  club 
here  in  Mangawhai  for  their  support  and 
enthusiasm. 
The  next  major  event  for  the  Zonta  
Mangawhai  club  is  the  fundraising  Giant 
Auction  and  Trivial  Pursuits  Evening  at the 
Mangawhai  club  on 
3rd  July
.  All  proceeds 
from  this  evening  goes  towards  sending  a 
young  woman  on  a  voyage  with  the  "Spirit 
of  New  Zealand"  tallship.  The  experience 
helps 
to 
build  
confidence  and  leader-
ship skills in the young  
women. 
So 
please  
support  the  club  in 
raising  funds  towards 
this scholarship. Tables 
of  6  are  available  at 
$12.50  per  person.  To 
book 
please 
phone  
Isobel on 431 4882.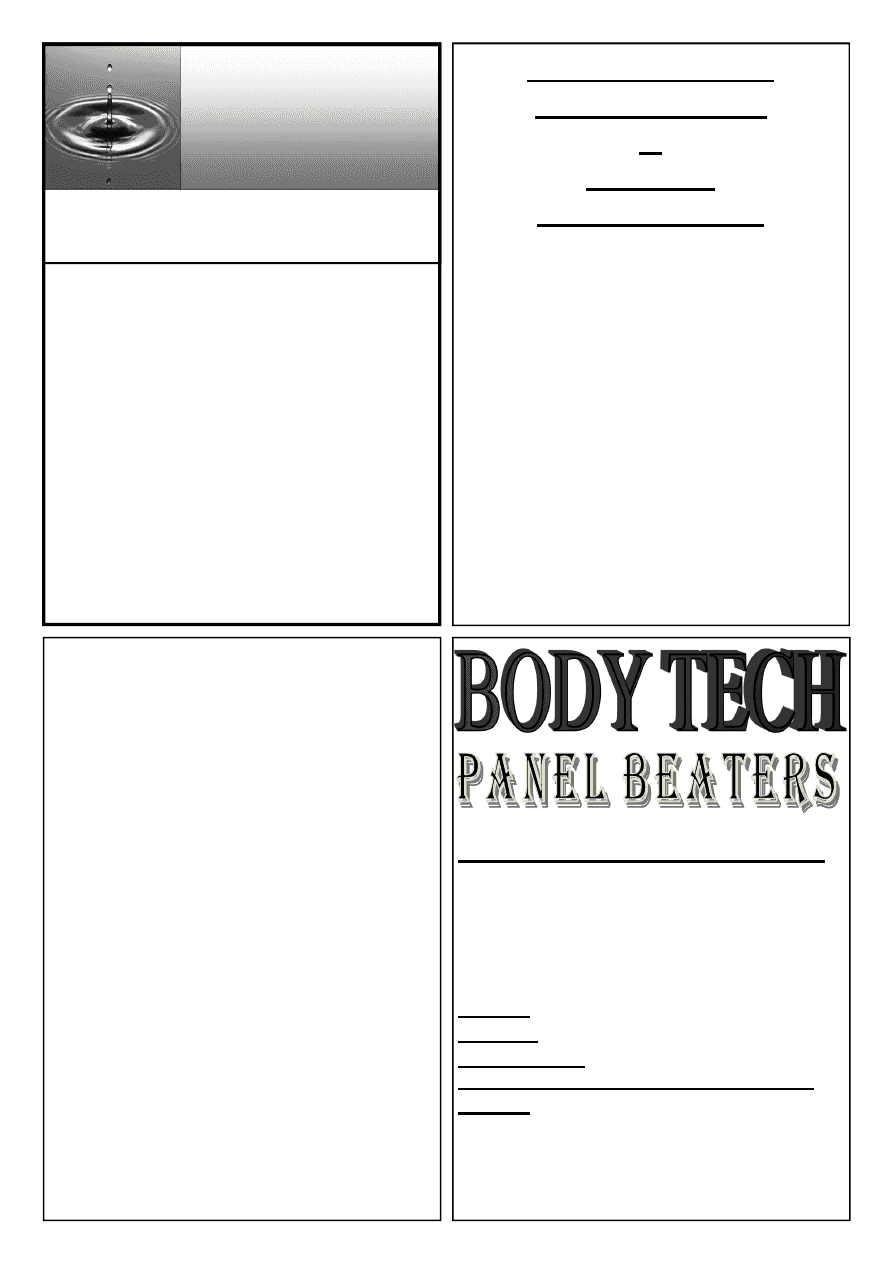 PETE WORSFOLD  
B. Soc.Sc. M. Soc.Sc. Diploma of Prof Couns. 
Counsellor
peteworsfold@xtra.co.nz 
 021 825 970 
Professional Service 
Variety of Modalities 
By Appointment Only 
PAUL SAUNDERS 
LAWNMOWING  
&  
GARDEN 
MAINTENANCE 
 
Lawns and edges     
 
Section mowing 
 
Hedging and trimming 
 
Spraying and fertilising 
 
Tree planting 
 
Green waste removal 
 
Pruning 
Friendly and reliable service guaranteed 
Call now for a free no obligation quote 
021 886 843 
09 431 2731 
Servicing Mangawhai and Kaiwaka  
and surrounding areas 
paulsaunders99@gmail.com 
For all your body repair needs!! 
We do: 
Rust repairs 
Insurance work 
Anti-corrosion treatment         
 
Hours: 8.30am-5pm Monday-Friday  
Mobile: 021 118 0462 
After hours: 09 431 2384 
Phone: Craig or Call in for a free Quote 
e-mail: 
bodytech_panelbeaters@yahoo.com
We are located at 1837 SH1 Kaiwaka, behind Twin-
kle Tow 'n' Tyre call in anytime for a free quote.  
Large and minor vehicle  
  repairs 
Industrial vehicles 
Full Cut and polishes 
INDIVIDUAL ONE-ON-ONE 
COUNSELLING 
 
MODALITIES:    FOR: 
  CBT              Grief 
  Gestalt            Relationship 
  Person-Centred     Trauma 
  Solution Focussed    Couples 
  Behavioural        Adolescents 
                  Careers 
Call for Appointment 
At "The Well of Health" 
09 4312799 or 021 825 970 
KAIPARA FLOORING CO 
32 HURNDALL ST MAUNGATUROTO 
Ph: 09 9469886 or 021 515 415 
Carpet, vinyl, laminate wood look  
  flooring, vinyl planking, sanding  
& polyurethane service. 
Carpet Short Ends from $79pm + GST 
Vinyl D.I.Y. peel n stick tiles $10sq mtr + GST. 
Free measure & quote.   
Mobile Service 
Phone Christine or Howard anytime 
Open Saturdays by arrangement.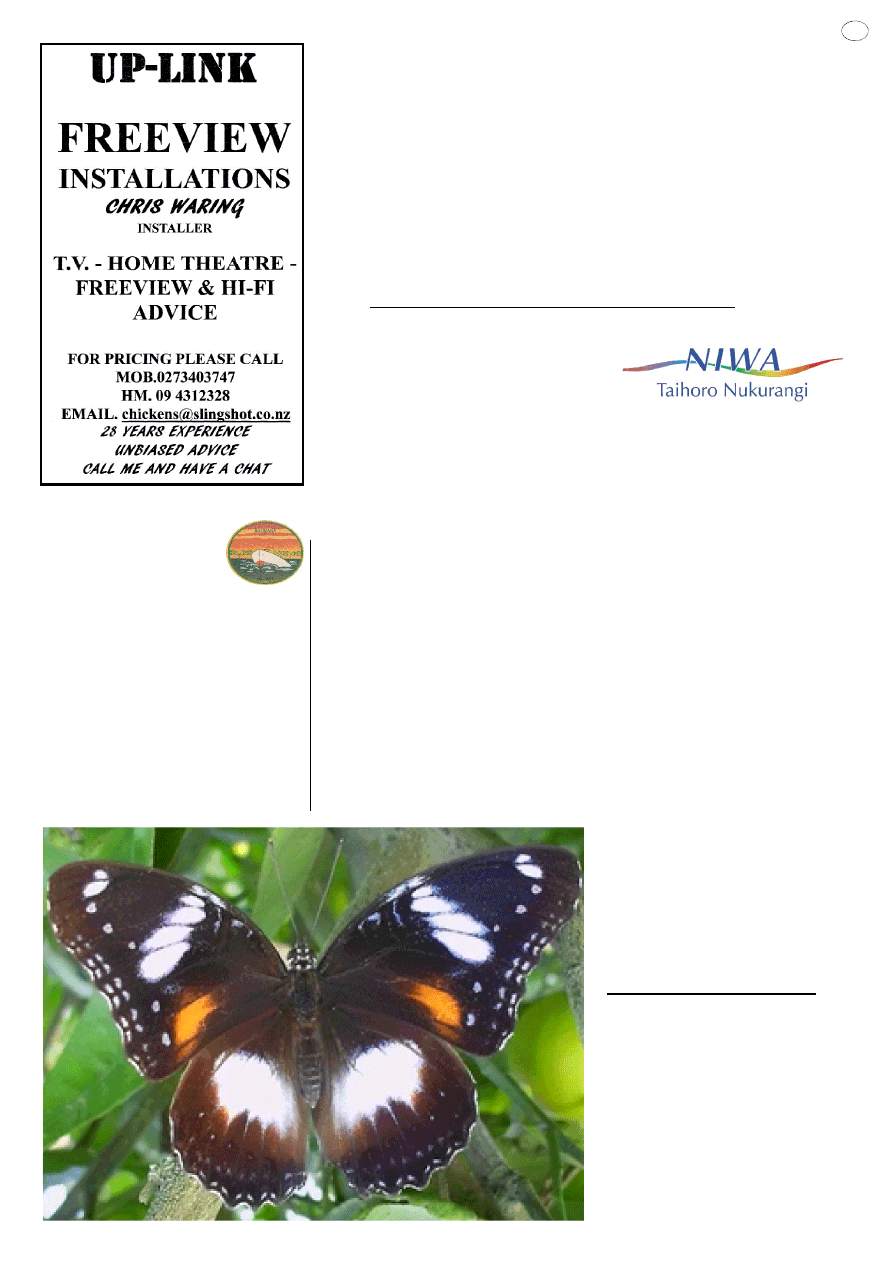 15 
KAIWAKA WEATHER 
POINT CURTIS 
CRUISING 
CLUB 
Fish of the month:  
KAHAWAI until next meeting. 
3rd  annual  boar  hunt:  8th, 9th  and 
10th  August,  2014.    Watch  out  for 
more information to come! 
End  of  season  duck  shoot:  28th and 
29th June 2014. 
Subs are due NOW! $20 single  or $30 
family. Please pay at 3 Furlongs Hotel, 
or  by  posting  to  Jean  Mcleish 
(Secretary/Treasurer),  C/-  Kaiwaka 
PDC, Kaiwaka. 
Next  meeting:  AGM,  Tuesday  17th 
June,  7pm  at  3  Furlongs  Hotel.    All 
welcome.  
~Wayne Leslie, Commodore 
KAIWAKA 
The  official  forecaster  of  the  New  
Zealand National Agricultural Fieldays 
which  starts  at  Mystery  Creek  on 
Wednesday,  NIWA  will  be  on  site 
providing  accurate,  up-to-date  weather 
information  to  help  people  plan  their 
visit. 
Doing  the  forecasting  is  NIWA's  
newest 
meteorologist 
Chris  
Brandolino. 
He's 
been 
tracking  
weather  systems  moving  towards  
Mystery Creek, just south of Hamilton, 
and predicts showers for the first day. 
"It  shouldn't  be  a  washout,  but  there 
will be the threat of showers. The good 
news  is  that  it  will  be  a  mild  day  for 
this time of the year." 
From  Wednesday,  Chris,  a  former  US 
TV  weatherman  and  talk  show  host, 
will  be  broadcasting  live  on  the  hour 
every  hour  from  Fieldays.  Visitors  are 
welcome  to  watch  Chris  in  action  at 
NIWA's purpose-built TV studio in the 
main pavilion – no umbrella necessary. 
Chris will be using new state-of-the-art 
weather graphics specially designed for 
NIWA  that  tell  you  everything  you 
need  to  know  about  what  the  weather 
will 
do 
in 
super 
fine 
detail. 
This  is  Chris'  first  time  at  Fieldays  in 
New  Zealand  but  he's  a  veteran  of  
agricultural  shows  in  the  US  and  can't 
wait to get to Mystery Creek. 
NIWA  will  also  have  Chris'  forecasts 
on  its  website  www.niwa.co.nz  or  on 
Facebook 
at 
https://
www.facebook.com/nzniwa or you can 
follow him  on Twitter @NiwaWeather 
And while at Fieldays, NIWA will also 
be  demonstrating  FarmMet,  a  brand 
new high resolution forecasting tool for 
farmers.  Visitors  to  its  stand  have  an 
opportunity to go into a draw to win an 
iPad  and  one  year's  subscription  to 
FarmMet. 
Be  weather  smart  and  visit  NIWA  in 
the  main  pavilion  at  Mystery  Creek 
next week. 
NIWA's autumn  climate summary is 
completed and highlights include: 

A  warm  and  sunny  autumn  for  much 
of the North Island 

Wet  down  south  with  parts  of  
Southland  getting  more  than  150% 
more rain than normal 

Especially  dry  in  Kerikeri  and  
Whangarei 

Highest  autumn  temperature  30.8°C 
on 16 March observed at Upper Hutt 

Masterton  sets  a  temperature  record 
and  Christchurch  has  its  wettest  au-
tumn ever. 
A  Blue  Moon  Butterfly  was  seen  and  
photographed in an orange tree in a Wind-
mill  Lane  (Settlement  Road)  garden  last 
Saturday  afternoon.  (Photo:  Ad  &  Maria 
Clarijs) 
"An  eye-catching  butterfly  often  seen  on 
the  west  coast  from  March  to  May,  some-
times  into  winter  in  sheltered  spots.  They 
are  usually  seen  in  New  Zealand  when 
there  are  large  southwards  migrations  in 
Australia.  In  years  when  sizable  numbers 
come  to  New  Zealand,  then  they  are more 
likely to been seen east of the North Island 
ranges...  They  are  native  to  India,  South-
East Asia, Pacific Islands and Australia." 
www.butterfly.info 
A good kind of May was had by all. A 
real  mixture  of  weather,  a  little  bit  of 
everything ending up with those frosts, 
especially the one on the 28th. It has to 
be very heavy for us to get it, and what 
a stunning day that followed. Have you 
noticed 
the 
waterfall 
on 
the 
Brynderwyns?  There  is  hardly  any  fall 
at all - our taps run faster that that. This 
is a sign the  water tables are  very  low. 
Having a round of golf on Wednesday, 
and  one  of  our  group  (no,  not  me)  hit 
his  golf  ball  into  what  is  usually  a  
water  feature,  up  to  waist-height,  but 
he was able to get in and hit it out. The 
ball  is  often  swallowed  up  with  the 
water  and  you  are  unable  to  get  it  out. 
So  I  guess  farmers  some  of  your  dams 
etc are drying up. 
For  May  this  year  we  had  46mm  rain 
and  May  2013  we  had  194mm.  We 
have  recorded  7  days  of  rain  at  our 
house and last year we recorded rain on 
14 days. For the first 5 months of 2014 
we  had  345mm  rain  and  last  year  we 
had  387mm.  May  1987  total  was 
28mm  and  the  wettest  May  since  then 
was 2001 with 281mm. 
Enjoy the weather while we have it and 
keep warm. Take care out there.   ~Bev 
OFF TO FIELDAYS?
We don't want to dampen your spirits 
but… 
NIWA has a message for opening 
day visitors to the rural sector's biggest 
event of the year: go prepared.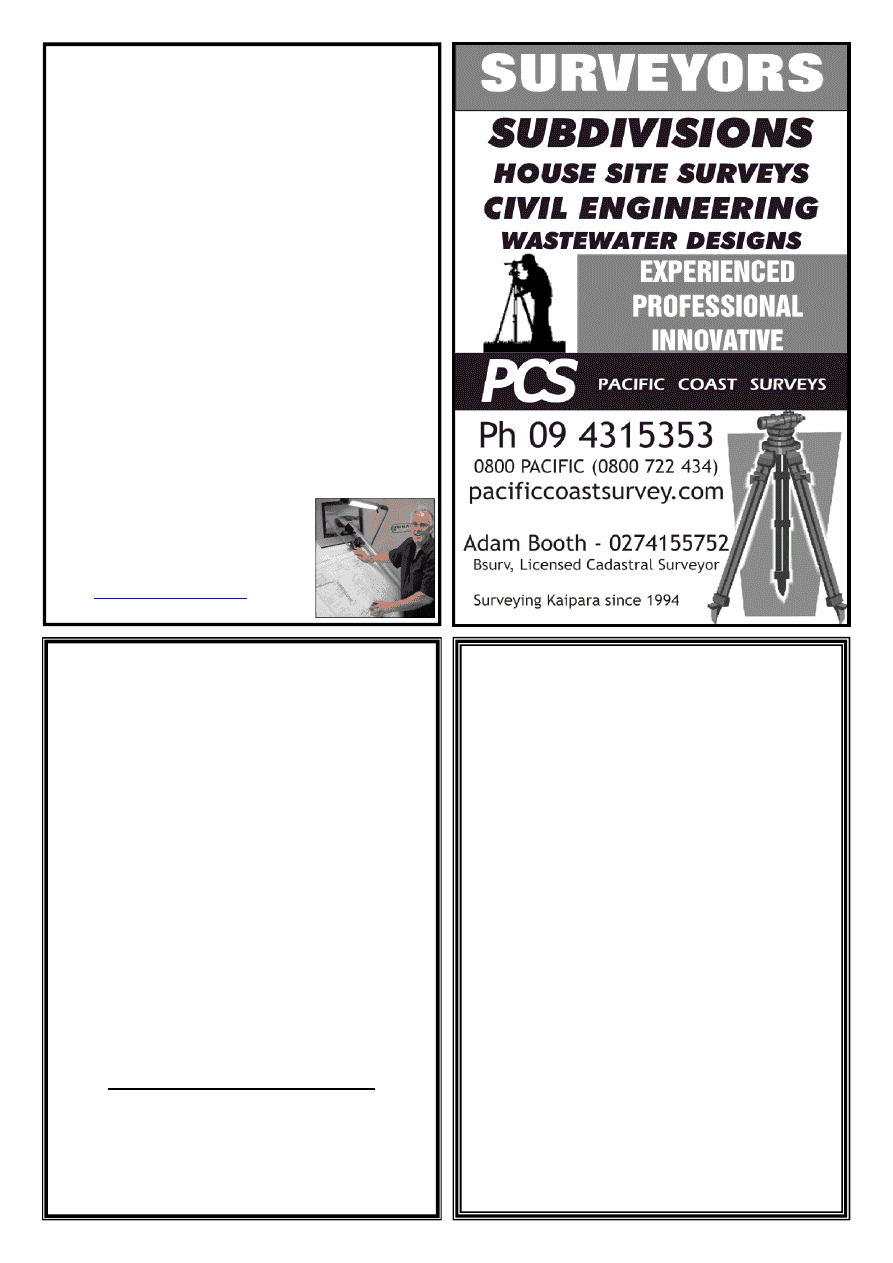 ARCHITECTURAL BUILDING 
PLANS AND DESIGNS 
WRIGHT DESIGN 
 QUALIFICATIONS 
Brian is a qualified designer (NZCAD) with over 40 years of 
varied experience in all types of building and is a registered and 
Licensed Building Practitioner in Design - L.B.P. 117345 
He ensures you will achieve the best from your budget with 
recommended excellent local contractors ready to competitively 
price and build your personal project quickly and efficiently. 
 EXPERIENCE 
Brian's practical building and 40+ years of design experience 
means he can give you excellent advice and all the guidance 
needed for all your building needs 
v Wright Design offers free visits, consultations and all the ad-
vice you need on planning, design, building, contractors, coun-
cil permit applications, etc. 
 
"  Qualified and inexpensive designer – N.Z.CAD., LBP 117345 
"  Guaranteed design and working drawings 
"  Free site visit to your home or property 
"  Great service 
"  Great problem solver 
 
Call Brian ~Arrange a visit to discuss your needs  and obtain 
great advice and free quotation 
MAKE GOOD USE OF HIS EXPERIENCE and 
KNOWLEDGE 
WRIGHT DESIGN:  
360 Oneriri Road, Kaiwaka
Office 09 4312544   
Mobile 021 276 7389  
Email: 
brianwright@clear.net.nz
www.wrightdesign.co.nz 
g.a.s. 
Mangawhai 
we have now opened a 
GARDEN CENTRE 
for all your gardening needs 
Also a great range of 
STOCKFOOD 
Wide range of 
ORGANICS AND 
 FRESH LOCAL PRODUCE 
All your motoring needs are taken care of by 
our friendly staff check us out... 
44 Moir Street, Mangawhai (09)431 4242 
* MASSAGE * NAILS * 
* NUTRITION * 
In Mangawhai Heads
 
Full 
hour 
and 
half 
hour 
massage  
TAILORED to suit your needs, ALSO mini 
massages  and  chair  massage  available. 
Businesses    –      ask      about      my      on-site 
massage 
service 
for 
your 
staff. 
 
Full set of acrylic nails for both fingers and 
toes  –  wonderful  solution  for  nail  biters!  
PLUS 
manicures 
and 
pedicures. 
 
Healthy  nutrition,  weight  loss,  sports  
nutrition  and  healthy  ageing  –  we  offer  
solutions  so  lets  work  on  this  together… 
Call  me  today  for  a  free  wellness  
evaluation to achieve your wellness goals. 
CINDY SAUNDERS 
Fully qualified masseuse and Surmanti 
trained acrylic nail technician 
Call or text 021 296 9819 or  431 3318 
Gift Vouchers available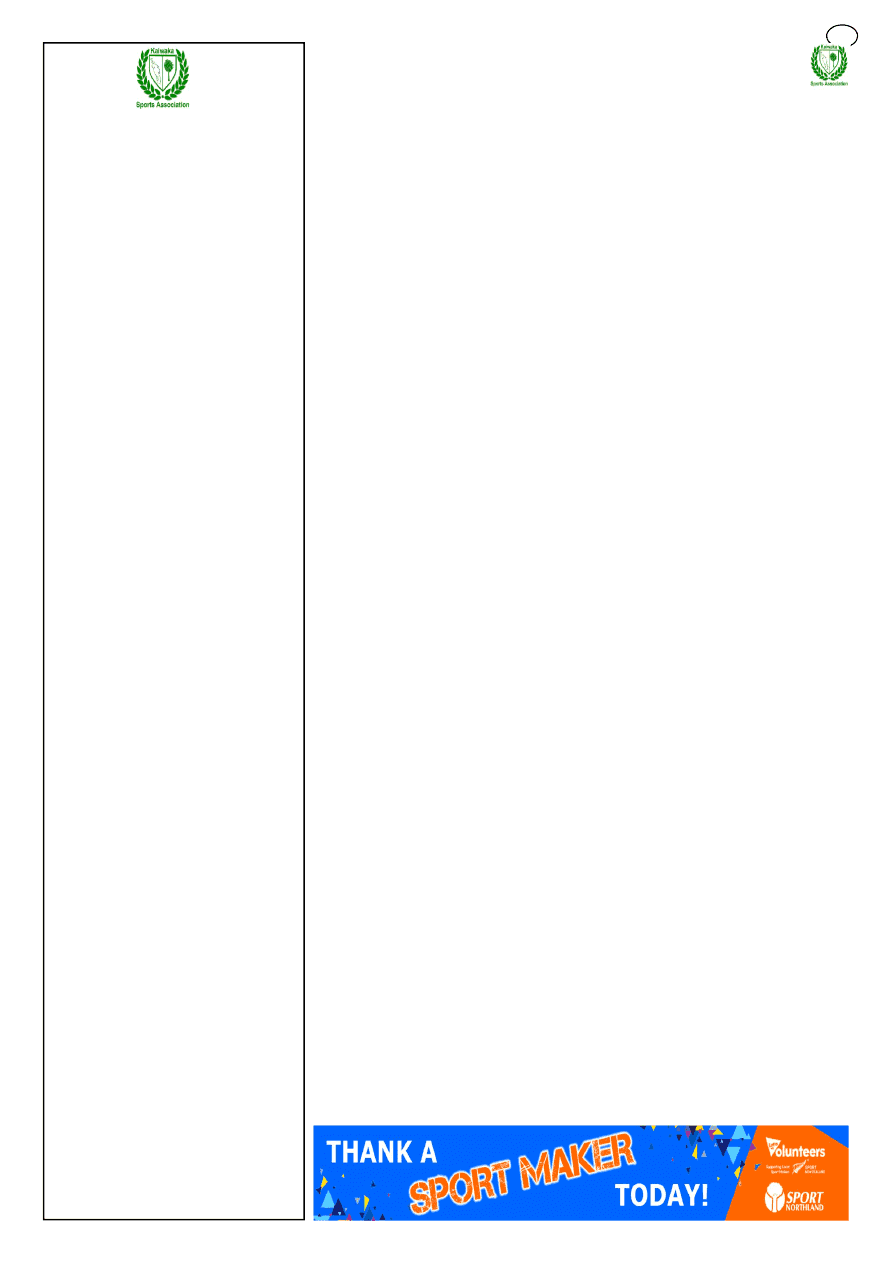 17 
KAIWAKA SPORTS ASSOCIATION
KAIWAKA  
SPORTS  
ASSOCIATION
invites  
spectators to  
a big day of 
rugby!  
Kaiwaka 
Sports  
Complex 
Saturday  
14
th
 June 
* 9am Eastern vs 
Maungaturoto U7's 
 
* 9am Eastern vs 
Tomarata Roosters 
U9's 
 
* 9am Eastern/
Paparoa vs Wellsford 
U11's 
 
* 10am Otamatea vs 
Marist U14's 
 
* 11.15am Otamatea 
vs Kamo U16's 
 
* 12.30pm Otamatea 
Hawks vs Hikurangi 
Reserves 
 
* 2.15pm Otamatea 
Hawks vs Hikurangi 
Premiers 
Rugby 
We have seven matches of rugby at the 
Sports  Complex  this  Saturday  for  you 
to  enjoy.  Starting  off  with  JMB,  we 
have  Kaiwaka's  club  Eastern  United 
playing  Maungaturoto  (Under  7's), 
Eastern  United  playing  Tomarata 
Roosters  (Under  9's)  and  an  Eastern 
United/Paparoa 
Under 
11's 
team  
playing  Wellsford.  All  JMB  matches 
kick off at 9am. 
At 10am, our Otamatea Under 14's will 
square 
off 
against 
Marist, 
then  
following 
that 
at 
11.15am, 
our  
Otamatea  Under  16's  will  take  on  
Kamo. 
Our  senior  Hawks  teams  will  be  up 
next  against  Hikurangi,  with  the  
Reserves  kicking  off  at  12.30pm  and 
the Premiers kicking off at 2.15pm. All 
sponsors  and  supporters  are  warmly 
invited  to  attend,  food  and  drink  
available. 
If  you're  looking  for  a  day  out  for  the 
family  on  Saturday,  bring  them  along 
to the rugby!  
Fitness Centre 
Keys  to  our  Fitness  Centre  have  
recently changed over, so if you've ever 
thought about taking out a sub – now is 
the perfect time to do it! 
Subs are an annual fee  of  just $140 for 
a single or $230 for a family (2 adults + 
2  students).  For  more  information  on 
the  Fitness  Centre,  please  contact  Julie 
Harris on 4321 755 or 027 6504540. 
Resignation 
It was with sadness that we heard of the 
resignation 
of 
Sport 
Northland's  
Otamatea  Sports  Co-ordinator  Janine 
Gilmore. Janine has been a great source 
of  help  and  support  to  our  affiliated 
sports clubs over the years and we  will 
all  be  sorry  to  see  her  go.  All  the  best 
for your future endeavours Janine. 
Squash 
Have fun, get fit, play squash! 
If you're  keen to give squash a try, just 
turn  up  to  our  courts  on  Monday  
evenings,  from  6pm  (the  door  to  the 
squash  area  is  opposite  the  tennis 
courts).  If  you  are  interested  in  getting 
some  coaching,  please  email  Phillip 
Tana on 
ptana@lic.co.nz
. 
Our  annual  sub  is  $60  (seniors),  $40 
(school age) or $100 (family). Your sub 
buys you a key which gives you access 
to the  courts 24/7 so this is  great value 
for money. 
For  any  enquiries  about  squash,  please 
contact Heather Lupton on 021 841115. 
Sportmaker Award 
Congratulations  to  Holly  Anderson, 
Kaipara's  latest  winner  of  Sport  
Northland's  Sportmaker  Award.  Holly 
won this award for her contribution as a 
volunteer gymnastics coach.  
The  Lotto  Volunteer  Foundation 
and  Sport  NZ  have  teamed  up  to 
support 
and 
celebrate 
the 
sport  
volunteers in our community who make 
sport happen  - the Sport Makers. From 
the  coaches  and  officials,  to  the  
uniform  washers  and  administrators,  a 
Sport 
Maker 
is 
someone 
who  
volunteers  their  time  and  effort  for 
sport in the Northland region.  
Thanking  a  sport  volunteer  is  easy. 
Sport  Northland  is  encouraging  people 
to  say  thank  you  to  a  Sport  Maker  by 
sending  them  an  e-card  to  show  your 
appreciation. 
Details 
at 
www.sportnorthland.co.nz
.  
Taniwha Shield 
Planning  is  well  underway  for  the  
Taniwha Shield rugby tournament to be 
held  at  the  Sports  Complex  in  the  first 
week  of  the  July  school  holidays.  The 
Taniwha 
Shield 
is 
a 
five 
day  
tournament  for  Years  7  and  8  (Form  1 
and 2) representative rugby teams from 
all  over  Northland.  There  are  eight 
teams  who  are  all  staying  around  
Kaiwaka  for  the  duration  of  the  
tournament. 
To  find  out  more  about  the  Taniwha 
Shield  (history,  draw,  rules  etc)  please 
visit  us  at 
www.kaiwakasports.co.nz
and  click  on  the  Taniwha  logo.  And 
you  can  also  keep  up  to  date  with  
Taniwha news on Facebook. 
We  have  a  limited  budget  to  run  the 
tournament  so  we  are  looking  for  help 
with some things: 
we need to provide a packed lunch for 
each  of  the  200  boys  each  day  and 
we're  hoping  to  pop  a  piece  of  fruit  in 
each  lunch  box.  Would  you  have  any 
trees  that  might  bear  extra  fruit  next 
month  that  you  would  be  happy  to  
donate to the boys?  
we  need to provide a hangi to  each of 
the boys on finals day. Would you be in 
a  position  to  donate  any  hangi  
ingredients,  to  help  us  keep  our  costs 
down? 
we  need  to  organise  an  opening  
ceremony  with  a  guest  speaker  –  do 
you  have  contacts  with  a  well  known 
rugby  personality  who  you  might  be 
able to convince to come along? 
we  will  be  publishing  a  Taniwha 
Shield  booklet  and  the  400  copies  will 
be  distributed  to  players,  parents  and 
supporters. If you own a local business 
and  might  be  interested  in  sponsoring 
the  tournament  in  return  for  an  adver-
tisement  in  the  booklet,  please  let  me 
know. 
If  you  can  help  out  with  any  of  these, 
please contact me (details below). Your  
support would be much appreciated! 
~Cheryl Anderson 
4312 051, 027 3462702, kaiwakasports@gmail.com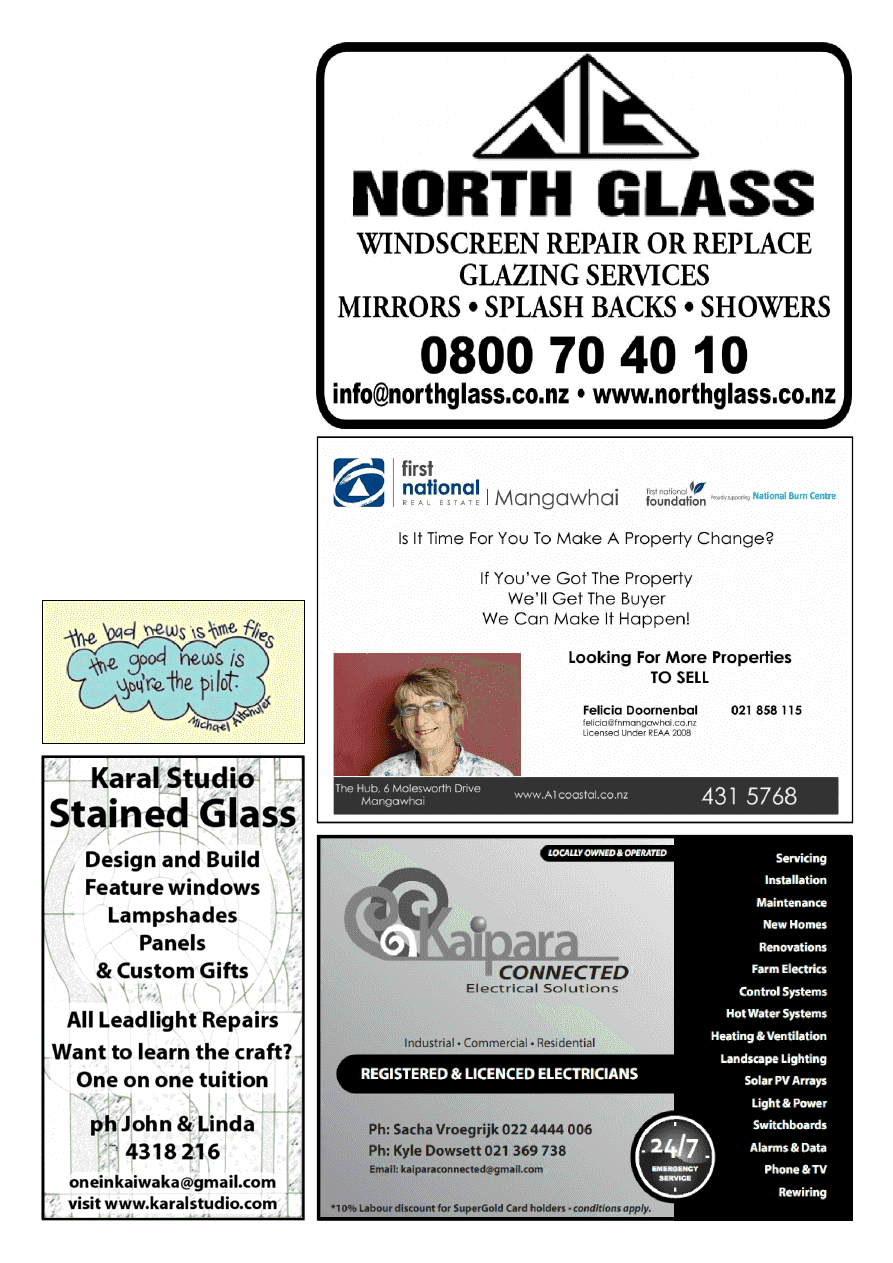 Whose report will you 
believe? 
Frank Furedi documented an increasing 
use of fear in the media by counting the 
appearances  of  the  term  'at  risk'  in 
British  newspapers.  In  1994  the  term 
appeared  2,037  times.  By  the  end  of 
the  next  year  the  total  had  doubled. 
During  the  year  2000,  'at  risk'  was 
printed more than 18,000 times.  
Now,  did  world  danger  increase  nine 
fold in six years? Or are we just getting 
the bad news faster, in real time? 
'Information  overload'  has  produced 
the  most  medicated  generation  known 
to  man.  Not  only  do  we  need  antide-
pressants  and  tranquilisers,  our  chil-
dren  do  too.  Even  our  pets  are  taking 
them!  Thank  God  for  increased  medi-
cal  knowledge,  but  you  have  to  ask', 
How  did  folks  in  the  old  days  get  by? 
What  did  they  do  when  they  were 
stressed out?' 
Here are words some  of them  woke up 
with  every  morning  and  went  to  bed 
with  every  night:  "Don't  worry  about 
the  wicked  or  envy  those  who  do 
wrong.  For  like  grass  they  soon  fade 
away.  Like  spring  flowers  they  soon 
wither.  Trust  ….  See  Psalms  37:  1-7, 
39-40.  
~  from  Word  for  the  Day  RBG  New 
Zealand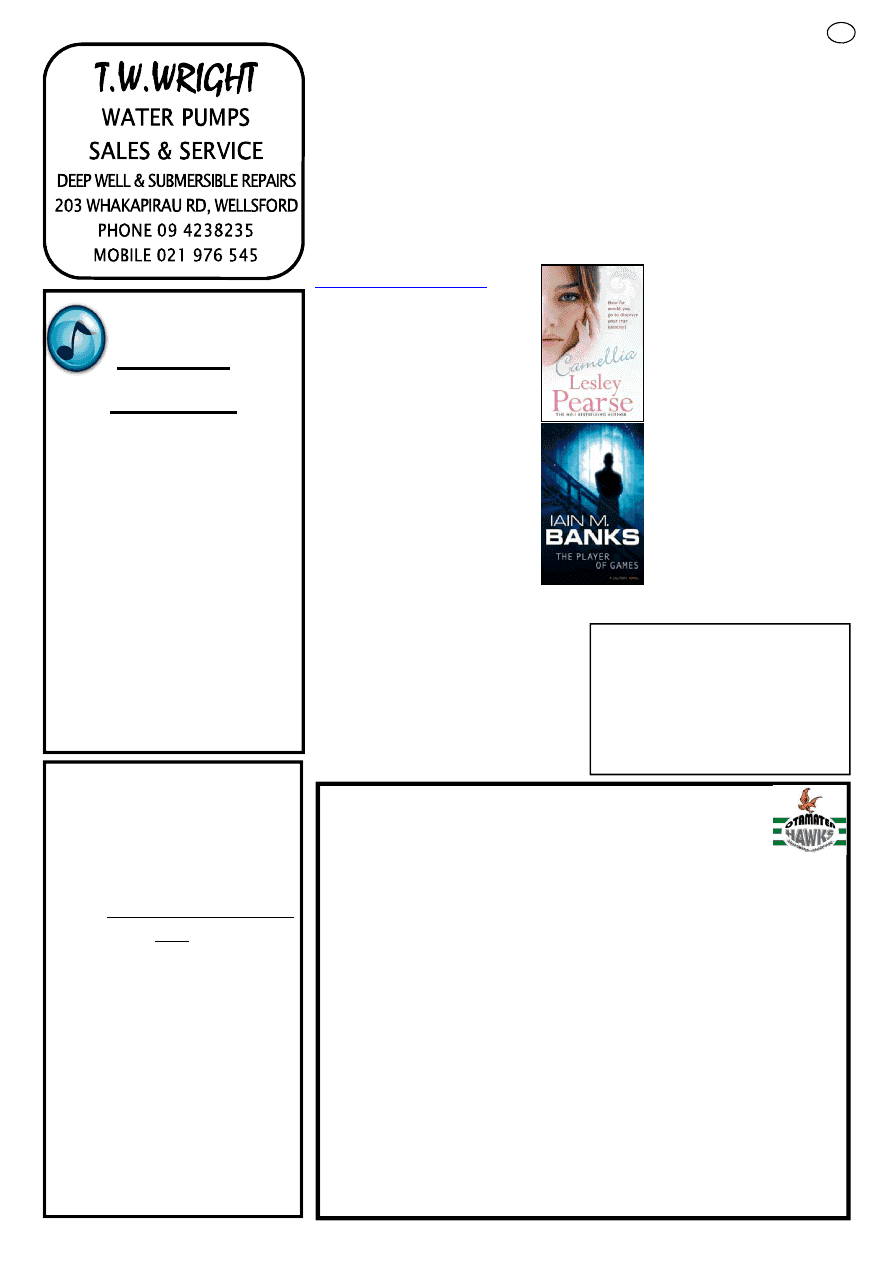 19 
Yang Style Tai Chi 
Classes  
For Beginner And 
Practitioners  
At The Kaiwaka War Memorial 
Hall 
Every Tuesday Starting at 
10.30 am 
Come Along And Have Some Fun 
While Improving Your Balance 
Health And Fitness 
For More Information Contact
Andrew Young 
09 4223424   
taichi@pl.net 
The Twinkle Tow 'n' Tyre 
OTAMATEA HAWKS 
Supported by Phil Keen Concrete 
Invite all supporters and sponsors to the next 
home matches 
Curtainraisers: Our JMB  
Hawks vs Hikurangi 
Saturday 14 June, 12.15pm & 2pm 
Sponsors & Supporters Day 
Kaiwaka Sports Complex 
Next Otamatea Rugby Club meeting will be at the Kaiwaka Sports 
Complex on Tuesday 27
th
 May at 7pm. 
Contact: Secretary Jennie 021 027 64 171 
President Kevin 027 47 93 659  or Coach Dean: 021 61 20 41
KAIWAKA LIBRARY
Singing 
Lessons 
Individual sessions 
All styles of music  
All voice types 
Reasonable rates 
Phone  
Maura Flower 
      021 164 8318
Now  that  it's  winter  and  it's  cold  and  wet 
outside,  the  best  way  to  cope  is  escaping 
with a good book! 
Many thanks to Deb for the time and effort 
she  has  put  into  the  library  over  the  years 
that  she  has  been  a  volunteer  with  us,  we 
appreciate all she has done. 
We  are  in  need  of  a  new  volunteer  to  
cover  the  3rd  Wednesday  of  each  month. 
You  need  to  know  how  to  use  a  Windows 
computer and have regular access to emails 
to  keep  in  touch.  Full  training  will  be  
given.  If  you'd  like  to  join  our  friendly 
team,  send  an  email  to  me  at  
kaiwaka.library@gmail.com
  to  let 
me know. 
The  Dargaville  book  swap  is  just  a 
week away now,  on 17 June. Get in 
now  to  check  over  what  we've  got 
before they're packed up, and take a 
look  at  the  new  selection  once 
they're on the shelves after the 17th. 
There's always a great range of titles 
and topics to choose from. 
Recently  I've  read  Camellia  by  
Lesley  Pearse.  " Camellia  Nor ton 
is  orphaned  at  fifteen  when  her 
mother's body is  fished from a river 
in  rural  Sussex.  And  when  she  
discovers a cache of letters amongst 
her mother's effects, she realises that 
the past she has always been so sure 
of has  been  built  on a  tissue  of  lies. 
Devastated,  she  runs  away  to  
London,  and  loses  herself  in  a  
metropolis 
that 
offers 
every  
opportunity, 
temptation 
and 
danger,  
especially  to  a  young  girl  hungry  for  love 
and  acceptance.  But  her  past  won't  stay 
buried  for  ever,  and  eventually  Camellia 
begins 
the 
long 
journey 
towards  
uncovering the truth about her background, 
and also, ultimately, about herself." (book's 
back  cover)  I  knew  Lesley  Pearse  was  a 
popular  author  amongst  our  library  
members  when  I  picked  up  this  book,  so 
expected to like it - but did not expect to be 
drawn into it as I was, not wanting to put it 
down until it was finished. It was very easy 
to read, and despite the tragedy in it  was a 
lovely  story.  I  have  no  hesitation  in  
recommending  it.  This  book  is  on  the  
Rental Fiction shelves in the library. 
The  Player  of  Games  by  Iain  M  Banks. 
Jernau  Morat  Gurgeh  is  a  master  game 
player,  one  of  the  best  in  the  Culture  
society.  He  can  play  virtually  every  game 
known, and is amongst the best at them. He 
has a comfortable life surrounded by games 
and  gamers.  But  he's  a  little  bored  by  it. 
Then  along  comes  an  opportunity  to  learn 
and  play  a  new  game.  A  game  played  in  a 
far  away  empire,  and  taken  so 
seriously  by  its  people  that  the 
winner 
of 
the 
tournament  
becomes  Emperor.  Azad  players 
grow up with the game, spend all 
their lives learning its subtleties - 
and Gurgeh has just two years to 
learn  it  while  travelling  there, 
with  the help  of  the  ship and  the 
diplomatic  drone  accompanying 
him.  This  is  the  second  book 
Banks  wrote  in  the  Culture  
civilisation,  though  it  is  not  
necessary  to  read  them  in  order, 
I've  found.  Each  is  a  separate 
story  with  different  characters. 
This  was  an  engaging  tale,  
another  hard-to-put-down  book 
(I've  had  a  few  of  these  lately!), 
and I recommend it. This book is 
on  the  Rental  Fiction  shelves  in 
the library. 
 
See you in the library! 
~Wendy 
Even  though  I  was  an  engineering  
student  at  the  University  of  Maryland, 
chemistry  was  a  required  course.  The 
professor,  on  the  first  day  of  class,  asked 
everyone  to  name  the  most  outstanding 
contribution  chemistry  had  made  to  
society.  
When my turn came, I answered, "Blondes!"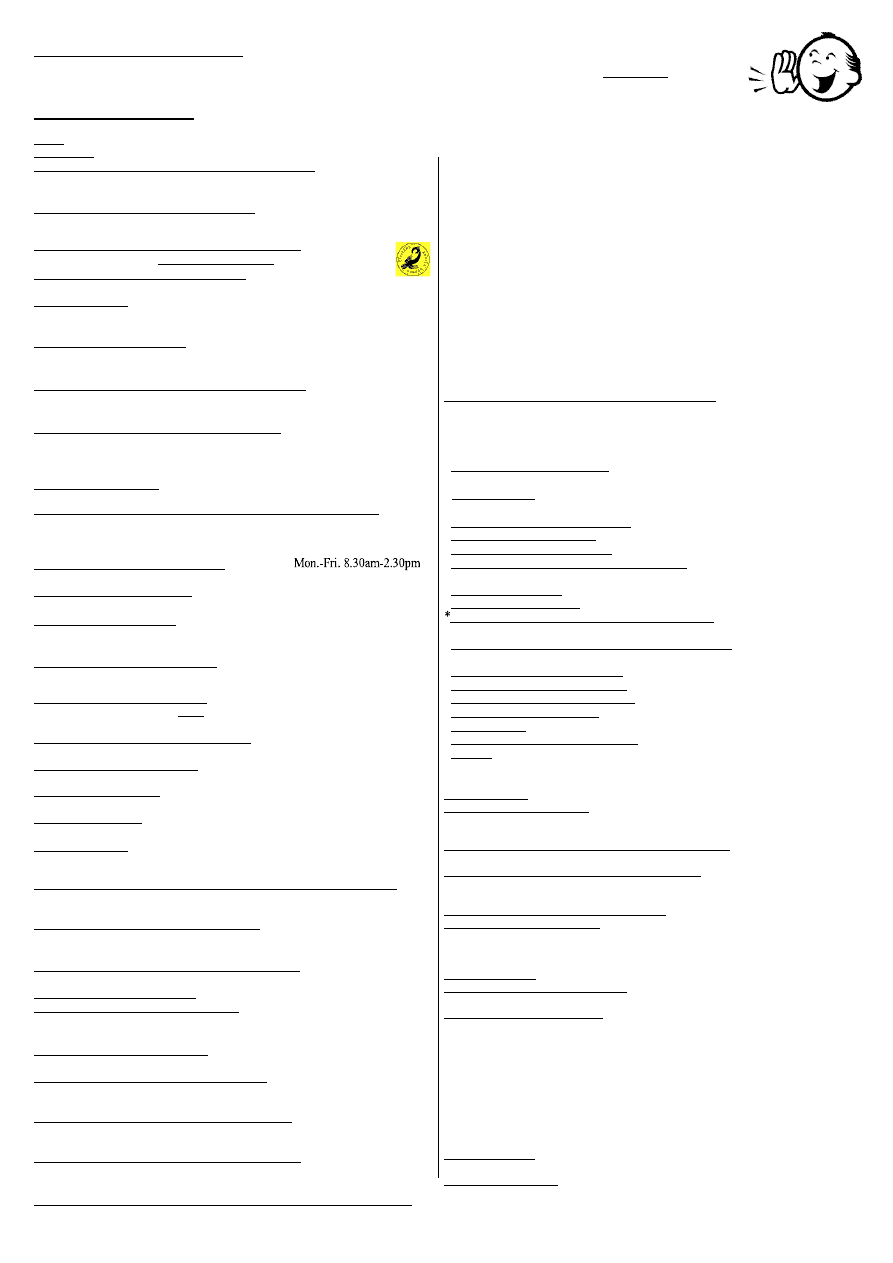 LOCAL SERVICES 
*St.John Ambulance 
111 or Freephone0800 61 0066
*Fire phone 111     *Police phone 111 or 09 4311150 
 
WELLSFORD DOCTORS: Ph: 4238 086 
 
A A: Meets Wed., 8pm Kaiwaka Ph: 4312228, 4315543, 0800229 6757   
AL ANON: In recess, contact Ph: 4312228 
AGRIQUALITY (MAF) Livestock Consultant 
Phone 09 4311 820 or 021518257  
 
BUDGETING SERVICE,OTAMATEA:Free confidential advice & 
support - all areas of  personal finance Ph: 09 4318173 or 094318117
CAB-
Citizens Advice Bureau.Wellsford Ph: 4237333.
0800 367 222 email:
cab.wells@xtra.co.nz
DOG/STOCK /NOISE CONTROL 0800 105 890 
 
KATE'S PLACE with Govt.Day Agencies/Community Information /
Osteopathy/ IRD / Probation, etc Ph: 4312661 Hours: 9am-3pm. Mon - Fri 
 
FUNERAL SERVICES: Morris & Morris Ltd, 
Whangarei - Bev Jaques Ph:4312367 or 0800667747 
 
GRANDPARENTS  Raising  Grandchildren:  Sarah  Rogers  Ph: 
4312194 
 
HAKARU LANDFILL/Transfer Station:Open everyday except 
Tuesday10am-4pm.Ph4312629 Cost-$55 trailer load up to 1 cubic 
metre. Ph:4258567 - office 
 
INLAND REVENUE: Last Friday each month, 
11-3pm Ph4312661 
KAIPARA DISTRICT COUNCIL www.kaipara.govt.nz:  
Help Desk FREEPHONE 0800 727 059  
Service Centre Mangawhai 4313161 
KAIWAKA KOHANGA REO:
Ph:4312620 
KAIWAKA CEMETERY: Ph: 4312045 
 
KAIWAKA LIBRARY: kaiwaka.library@gmail.com  
Mon. 4-6pm; Wed., Thurs., Fri., Sat.  10am-2pm Ph:4312539
 
KAIWAKA PLAYCENTRE: Ph: 4312286. Hastie Lane 
Monday to  Friday  9.00am 
- 
12 noon.
KAIWAKA POST OFFICE:
Ph:4312 626 Fax: 4312287  
Post Code: 0573  for RD2  and  0542 for all Kaiwaka Post Office mail 
 
KAIWAKA PRIMARY SCHOOL : Ph: 4312309 
 
KAIWAKA SPORTS ASSN: Ph 4312005; 4312129 gym 
 
KAIWAKA ST JOHN: Manager Steve Rosser 09 4318403, 021 2316836 
 
NORTHPOWER: Faults Kaiwaka area 0800 104040 
 
PARENTPORT: Free, practical local support service for families in crisis 
Phone or Text Dianne 027 280 5093 
 
PERSONAL DEVELOPMENT COACHING, GROUP FACILITATION:  
Sabine Druckler 4312231 
 
PLUNKET  KAIWAKA/MANGAWHAI:  Ph:
094318187 
or  0
276753488 
Kaiwaka Mobile Clinic once a month– appointments necessary;  
Mangawhai (next Domain) 
1st & 3rd Thursday & Coffee Morning; 
PLUNKET CAR SEAT CO-ORDINATOR:  
Pat Scott Ph 4314530 
or 0272881635 
PLUNKET FREEPHONE -0800 933 922 
PLUNKET -MAUNGATUROTO  Clinic every 2nd & 
4thThursday. Ph: 09 4318187 
 
PUBLIC HEALTH NURSE: Gloria Reid Ph: 094327634  
RETURNED AND SERVICES ASSN 733 Settlement Rd.Hakaru 
Ph.4312176 Bill Kerr (President) Ph.4314719 
TE KOROWAI AROHA O NGATIWHATUA Ph: 4312675 
(The Cloak of Love of Ngatiwhatua) Support and Maori Consultancy.  
 
VETERINARY SERVICE MANGAWHAI: 
Ph: 4314535 Mon-Fri 8.30-4.30, Sat 9-12, a/h appt. 
 
WOMEN'S WELFARE LEAGUE & Reaching Out For Youth:  
4 Kaiwaka-Mangawhai Rd, M Morgan 4312293
WHAT'S ON
PLEASE ~ do let us know what is on - email 
kaiwakabugle@kaiwaka.co.nz 
Advertising in WHAT'S ON is FREE  
*13Jun~Full Moon 4pm 
*14Jun~HAWKS v Hikurangi, KSA 
*17Jun~Pt Curtis Cruising Club AGM 7pm 3 Furlongs 
*20Jun~Last Quarter Moon 6am 
*20Jun~The Book Thief, 7:30pm KWMH 
*21Jun~Winter Solstice 
*22Jun~Tripe & Onion Lunch, 1pm Hakaru RSA,  
RSVP to Heather 4314668 
*27Jun~New Moon 8pm 
*3Jul~Zonta Giant Auction & Trivial Pursuits, 7pm Mangawhai  
Club, to book ph Isobel 431 4482 
*4Jul~The Wolf of Wall Street, 7:30pm KWMH 
*6Jul~The Lego Movie, 2pm KWMH 
*8-12Jul~Taniwha Cup, KSA 
KWMH=Kaiwaka War Memorial Hall 
KSA=Kaiwaka Sports Association Complex 
 
See www.kaiwaka.co.nz for upcoming events. 
 
HOUSEHOLD  RUBBISH  COLLECTION  -  Kaiwaka    Pick  up-
Mondays=Gr een bags ar e picked up by Nor thland Waste-queries 
to  them  09  4303273,Wednesdays=Blue  bags  and  yellow  recycling 
(at  Jaques    $3.00  and  $1.50)    are  picked  up  by  Kaurilands  09 
4392146.  
*DIABETES Support Group -for Kaiwaka, Mangawhai, Wellsford 
   10am, 3rd Friday of month Ph:A.Pert 4238242; J.Gardner 4238060 
*DRINK CAN 'tear tabs' - for Starship Hospital- please collect - 
    98 Kaiwaka Mangawhai Rd, leave in mailbox, Ph. 4312625  
*GYMNASTICS OTAMATEA -  Tuesday Ph: Stephanie 022 3624998 
*HAKARU PONY CLUB-Secretary Julie Rynne 09 4314520 
*KAIWAKA BADMINTON -Tuesdays 7.30pm Ph: 4312345 
*KAIWAKA GARDEN & FLORAL Grp:2nd Thursday in month 
   Ph: 4314767 
*KAIWAKA CUBS-Thursdays 5.30-7pm, Hakaru  Ph:Bruce  4312542 
*KAIWAKA SQUASH -Mondays 7pm Ph: Barbara Thomas    4315905 
KNITTING FOR WHANGAREI HOSPITAL - 2nd Tuesday in  
   month, Apple Basket 10am Ph 4314827 
*MANGAWHAI COMBINED PROBUS CLUB: 2pm,3rd Thursday  
   month in the Senior Citizens Hall Mangawhai. Ph: 4315777 
*NZ GENEALOGY-Wellsford - 1st Thursday in month Ph: 4237033 
*OTAMATEA GREY POWER-09 431 8138 Joan Hoggard  
*PT CURTIS CRUISING CLUB - Jean Ph: 4312 246 
*RSA,Hakaru & Dist.Women- meet 1.30pm 4th Thurs in month Ph: 4312 668  
*TRAMPING- Mondays 9am-2:30pm  Karen Ph: 4312 090 
*WAIPU GENEALOGYGROUP -4th Monday in month Ph: 4312725 
*YOGA- Tuesdays 6:15pm, Friday 8:30am Kaiwaka WM Hall Carla  
   Ph: 4312 408, 021 296 8794
CHURCHES:
*Gateway Worship Centre: St Mary's Church Nathan Rd off Oneriri Rd, 
Kaiwaka Services, 10.30am 1st & 3rd Sunday of every month. Contact: Rev 
David Gage 4312528 or 0212354282 
*Kaiwaka Family Church-Your Community Church:Sundays, l0am 
Home Group every Wed evening, Pastor John.Dekker Ph: 4318203 
*Kaiwaka Services.Anglican & Family Service at St Pauls Church  - 1st 
Sun. 9.30am(Anglican),3rd Sun. 9.30am (Family Service).  Contacts: Parish 
Office 09 4318193, M.Hargreaves 4312295, C.Bygrave 4312057  
*Church of Christ the King, Mangawhai:9.30am every Sunday 
*St.Mary's Catholic Church: Maungaturoto – Griffins Road, Saturday even-
ing Vigil Mass 6pm; Mangawhai – Senior Citizens Hall, Sunday Mass 
8:30am; Wellsford – Matheson Road, Sunday Mass 10:30am; Mid-week 
Mass times and all enquires to Fr. Bill Fletcher – phone 423 8170 
*Baptist Church: Sun. 10.30am Mangawhai Snr Cit.Hall.Ph:4312339 
*Cause Way Church Mangawhai: Sundays 10.15am, Mangawhai Communi-
ty Recreation Centre, Insley St. Ph: 09 4314782  
www.causewaychurch.org.nz 
 
*St.Pauls Archie Bull Hall HIRE  $20 half day, $40 full day per hire 
 Contact G. Jaques 4312048 
*Kaiwaka War Memorial Hall HlRE - Phone 4312725 or   
Email  
kaiwaka.hall.bookings@gmail.com 
*Hakaru Community Hall HIRE -Ph.  4312256 or 4312110 
*Te Pounga Marae queries -A.Gage 4312528, 4312527 
*Kaiwaka Sports Association hire/queries - C. Anderson 4312051 or 
Email kaiwakasports@gmail.com
 
Justice of Peace: B.FJaques; L.Donaldson; A.F.Hargreaves  -please phone to 
make sure they are available 
Marriage Celebrants: L.Donaldson; A.F.Hargreaves; C.Rosseels 
Next Bugle Deadline Friday 20 June 2014