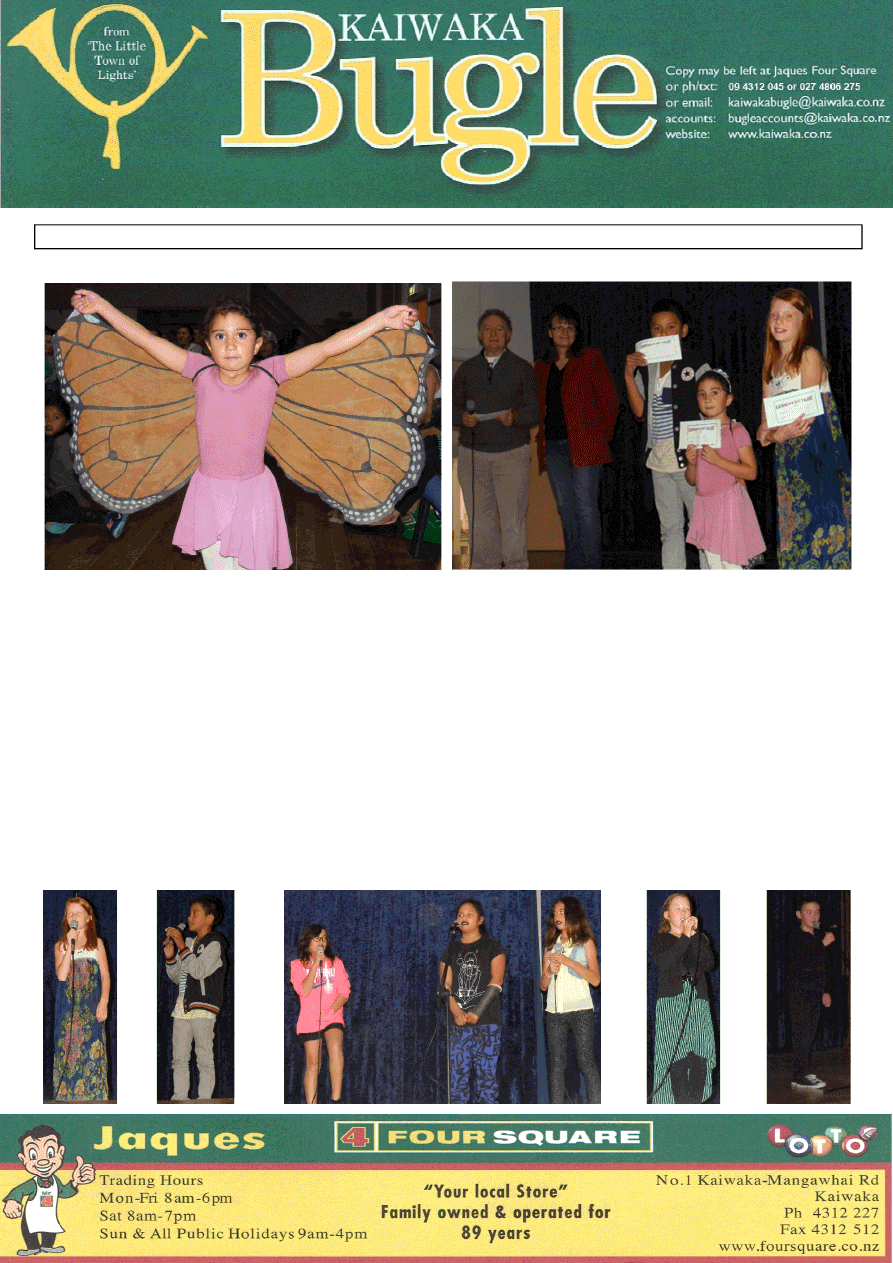 No: 12 
24 June 2014 
Congratulations to all the students who 
took  part  in  Kaiwaka's  Got  Talent  on 
Thursday  last  week.  You  are  all  so 
brave  to  stand  before  a  huge  audience 
on  that  big  stage.  Even  our  guest  stars, 
ex-pupils,  Celia  Bailey  and  Elizabeth 
Harris, have nerves.  
We  were  so  lucky  to  have  Maura  and 
Peter  Flower  judging.  Their  expertise 
in  the  performing  arts  is  legendary  and 
they  are  also  professional  singing  tu-
tors. Thank you to Peter and Maura. 
The  winner  of  the  dance  section  was 
our littlest ballerina, Willow Woodman 
–a prima donna in the making. 
The  open  section  winner  was  Summer 
Kenyon who sang a Colbie Caillat song 
called  'Bubbly'  and  played  her  own  
accompaniment  on  the  guitar  -  not  an 
easy skill. 
The  Singing  section  winner  was  Deva-
roux Watene Kapea singing a beautiful 
and  haunting  rendition  of  'Hallelujah' 
in  te  Reo  Maori  accompanied  by  his 
Dad Joe. Miharo Devaroux!  
There  can  be  no  winners  without  con-
testants.  Congratulations  then,  must 
also go to: 
Open  section:  Tyga  Daniero-    Key-
board  -'Heart & Soul' 
Dance  section:  Summer  Kenyon,  Maia 
Fairburn,  Sophie  Gribble-  'Happy'  by 
Pharrell;  Erica  Julian-  'That's  what 
makes you beautiful' by One Direction 
Singing Section: 
Tai  Walker-  'Counting  Stars'  by  One  
Republic, Latailah Parata- 'Mama Said' 
by  Moorhouse;  Aroha-lee  Connelly 
Nahi,  Deborah  Marshall  Baker,  Tiana  
Whare  Paikea-  'Take  it  Easy  by  Stan 
Walker;  Lukas Rockell-  'My  Favourite 
Things'  by  Julie  Andrews  from  the 
Sound  of  Music;  Caleesto  Mills-  'Set 
Fire to the Rain' by Adele; 
Summer  Kenyon-  'Story  of  my  Life' 
by One Direction.  
Jack and Isaac Noser who managed the 
sound  system  for  us. This  is  their  third 
KGT. 
Thanks  also  to  Mangawhai  Beach 
School who again, so kindly lent us the 
use  of  the  3  mics,  stands  and  sound 
mixer board.  
Again  our  Kapa  Haka  led  by  Whaea 
Mina  did  us  proud  with  their  opening 
performance. 
The  audience  is  the  essential  compo-
nent.  Your  support  for  our  students  is 
awesome! Thank you all. 
~Lindy Gaskin and Kaiwaka Staff 
KAIWAKA'S GOT TALENT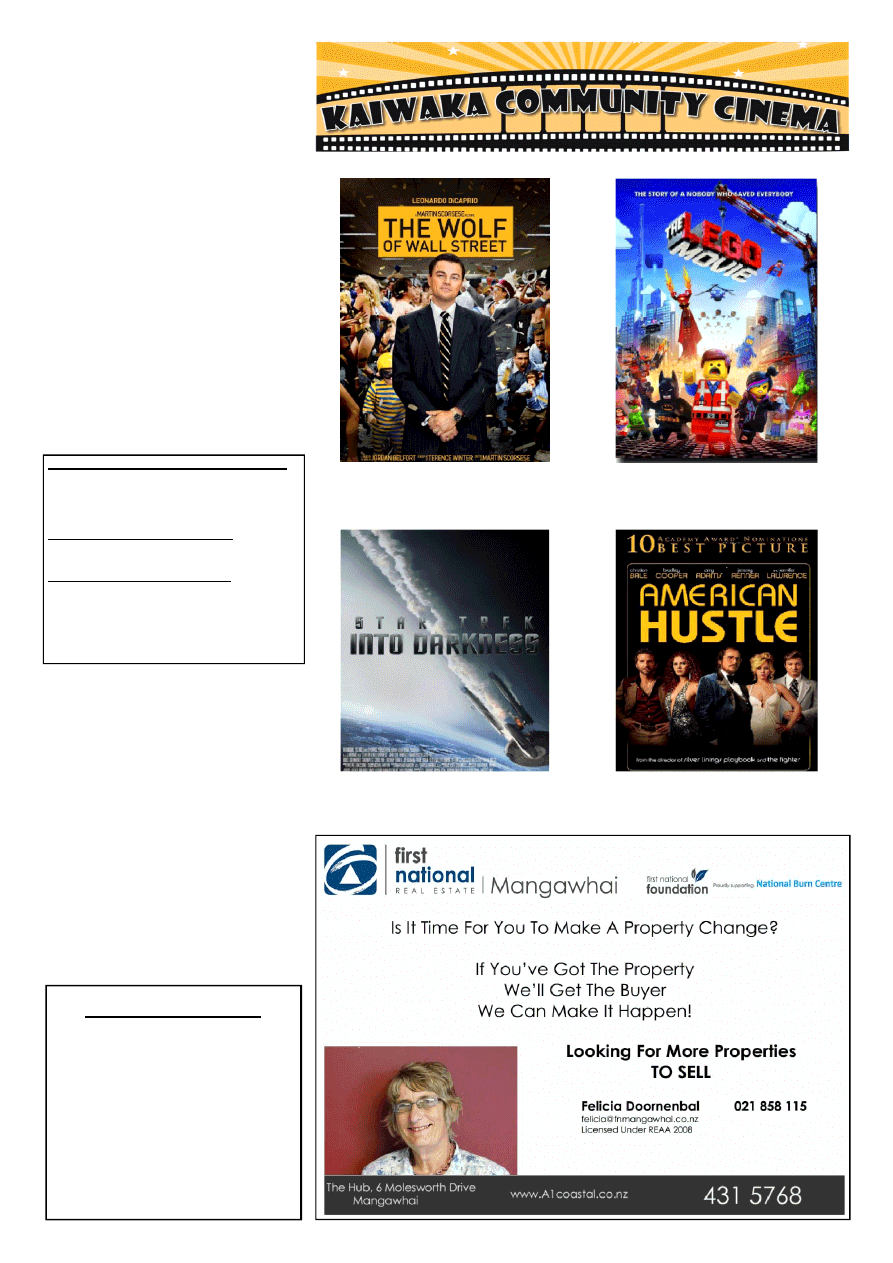 ABOUT TOWN 
......... 

 Best  wishes  for  speedy  recovery  to 
John  Dekker  who  is  in  hospital  at  the 
moment. 
 

Great to hear more and more folk are 
enjoying  the  movies  at  the  Kaiwaka 
War  Memorial  Hall.  Well  done  to  the 
'movie crew' led by Ad C. 
 

 Our  congratulations  to  Norma  and 
Doug Leslie  on the celebration  of their 
60th wedding anniversary. 
 

Last  Friday  was  a  full  moon  -  how 
old  will  you  be  when  the  next  time 
there is a full moon on Friday the 13th? 
This will be in August 2049. 
KAIWAKA BUGLE No: 12 
24th June 2014
Page 2: Kaiwaka Movies 
Page 3: Public Notices; Classifieds 
Page 5: Kaiwaka Garden & Floral;  
 
   Kaiwaka Library 
Page 7:  Otamatea High School 
Page 9:  Night Sky; History Note 
Page 11: Taniwha Cup, KSA 
Page 13: Work Camp;  
Page 15: OHS Smokefree Rockquest 
Page 17: Diamond Anniversary 
Page 19: Work Camp 
Bugle 13 will appear 8 July 
 
Contact for advertising, reports, articles 
or information can be made by 
Email kaiwakabugle@kaiwaka.co.nz 
Ph: 09 4312045 
Txt:  0274 8062 75
 
Business card adverts can now be added 
to the KMG website– email contact to: 
kaiwakaonline@kaiwaka.co.nz 
Kaiwaka Bugle Advertisements 2014: 
 
Classified $3; 1/8 page $6; 1/4 page $12; 1/2 
page  $24;  in  special  circumstances  whole 
page adverts are available-cost $100 
bugleaccounts@kaiwaka.co.nz 
Payments  can  be  online,  posted  or  left  at 
Jaques Four Square Store. 
kaiwakabugle@kaiwaka.co.nz  for queries 
or copy. 
The  Kaiwaka  Bugle  is  a  community 
newspaper run by volunteers.   
Articles,  etc.  printed  are  not  necessarily 
the opinion of the Bugle Team. 
The Wolf of Wall Street 
Friday 4 July 7:30pm  (R18) 
Please note classification - under-18s not admitted 
The Lego Movie 
Sunday 6 July 2:00pm (PG) 
Special - $5 per person 
Kaiwaka Bugle 
Founded May 1978 
Copies available in Kaiwaka at Jaques Four 
Square, Kaiwaka Postal Centre, Shamrock 
Service Station, Celena's Gifts 
Also outlets in Maungaturoto, Mangawhai 
and Paparoa. 
Can be viewed online at www.kaiwaka.co.nz/
Bugle 
Or a copy can be posted to you if you supply 
stamped, self-addressed DLE envelopes. 
Star Trek Into Darkness 
Saturday 12 July 7:30pm 
(M) 
American Hustle 
Friday 18 July 7:30pm 
(M) 
At Kaiwaka War Memorial Hall . Adults $10, Chn (under 16) $5, Family Pa ss (2 adults +  3 children) $25 
PUBLIC NOTICES 
CLASSIFIED 
FOR  SALE:  Jill  Shires  Holistic  Animal  Therapies. 
Herbal 
Remedies, 
Bach 
Flowers, 
Ointments,  
Diatomaceous  Earth,  Bentonite  Clay,  Cranio  Sacral 
Therapy,  Skin  Conditions,  Arthritis,  Laminitis,  Mud 
Fever 
Cream 
etc. 
www.allcreatures.co.nz 
or  
09 431 2080 
 
DIESEL DELIVERIES to your door available from 
GAS  MANGAWHAI phone (09) 431 4242  
 
HASHTAG  Band  for  hire.    A  lively  mix  of  covers 
and original music.  Make your night special.  Ph: 021 
623 776  
 
BERYL 
NOZEDAR:  (Middleton)  International  
Clairvoyant. 
Numerology, 
Tarot, 
Clairvoyance,  
Mediumship. $60 for hour includes CD. Ph: 4312 080 
 
CLOTHING ALTERATIONS & REPAIRS: 
Hems,  Zips,  Dressmaking  Phone:  Win  4312027    or 
027 444 8358 Winsome Designs. 
FREE  GRAZING  WANTED: Small or large block. 
Can  do  some  fencing  or  water.  Phone  after  6pm 
4312006 
Thought for the day: 
Ill-gotten gain brings no 
lasting happiness; right living does. 
Proverbs 10:2 
FOR RENT 
852 Oneriri Road, Kaiwaka 
Rural lifestyle 
Grazing available as option 
2 bedroom unit 
Wet back wood burner 
Single internal access garage 
Cat and small dog OK 
Available now 
$200.00 per week 
Please ring Tania 4312260  021 431366 
THE MAUNGATUROTO CHIROPRACTIC 
CLINIC 
Will be closed from Wednesday July 16th  
and will reopen Wednesday August 13th  
because Dr. Macaulay will be 
attending a postgraduate course at this time. 
INDOOR BOWLS 
Hakaru Community Hall 
Monday 30 June 
7:30pm 
All welcome 
Come along and have a go 
Enquiries 09 4312 256 
Relaxation Massage Therapist 
Take time out for yourself women 
Helpful for stress, tension, aches and 
pains. 
Ph Vicki Neil 
022 125 8767 
09 4312 132
Mobile available 
The 
Hakaru RSA 
would like to invite you to 
Midwinter Christmas Dinner 
at the Hakaru RSA Settlement Rd 
from 6pm Saturday 12 July $20 per person. 
Spot prizes 
Entertainment 
For more information phone 
Marlene 4315 589, Sheryl 4312 697 
Members families and friends all welcome. 
Hakaru RSA 
Settlement Road 
Friday 27 June is Roast Pork Night 
Come on up and check out our menu and enjoy a  
sing-a-long with Des Chitty playing your favourite old songs 
RSA opens at 4pm 
Dinner from 6pm 
Everyone welcome 
TE POUNGA MARAE 
ANNUAL GENERAL MEETING 
Sunday 13th July 2014, Commencing 10:30am 
Te Pounga Marae, Nathan Road, Kaiwaka 
Any enquiries please contact: 
The Secretary, Jeanette Nathan 
Ph or text 021 186 7382, 
Or home: 09 432 1217 (Waipu) 
KAIWAKA SPORTS ASSOCIATION 
MEETING 
Wednesday 25
th
 June, 7pm 
Kaiwaka Sports Complex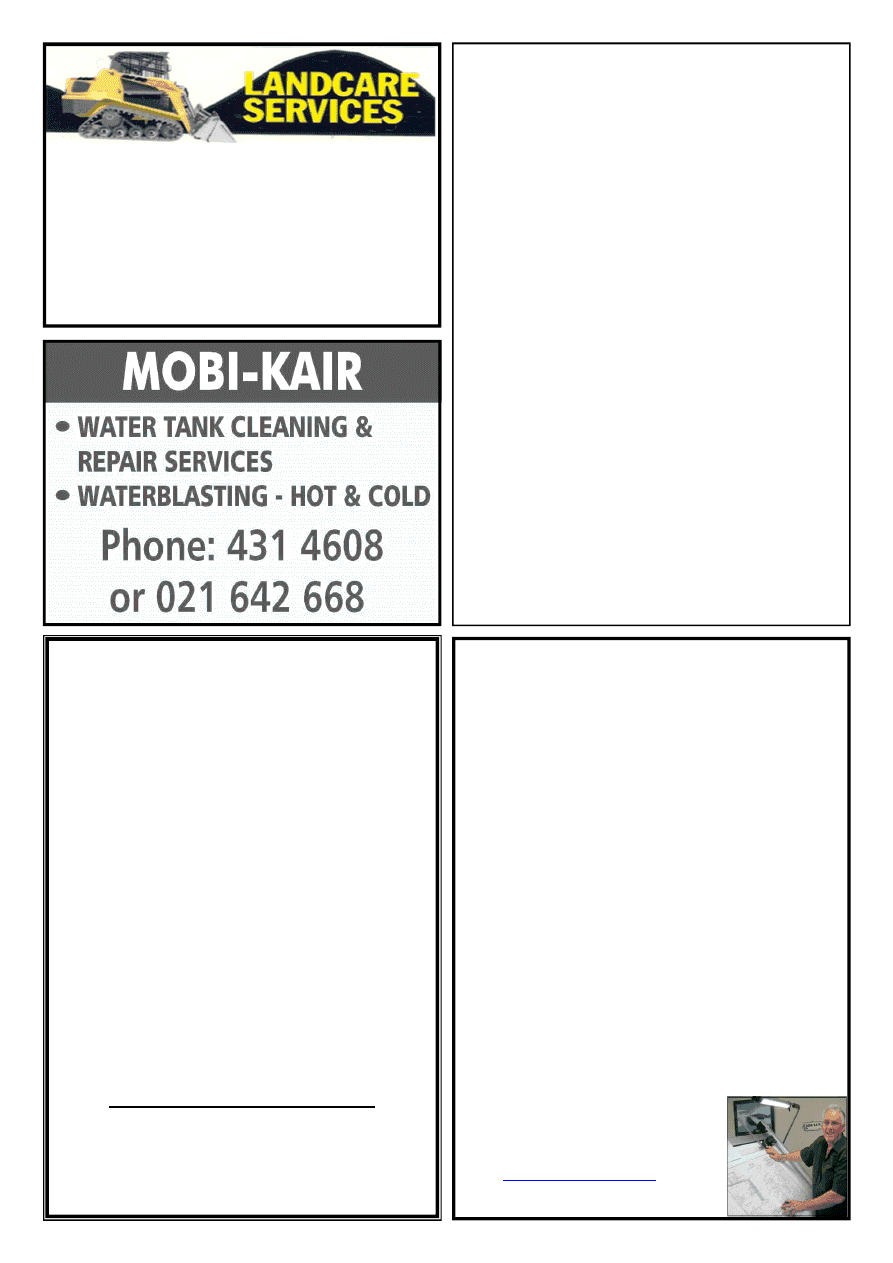 PAUL SAUNDERS 
LAWNMOWING 
& GARDEN 
MAINTENANCE 
 
Residential and commercial 
 
Lawns and edges    
 
Section mowing 
 
Garden makeovers 
 
Hedging and trimming 
 
Spraying 
Friendly and reliable service guaranteed 
Call now for a free no obligation 
quote 
021 886 843 
09 431 3318 
Servicing Mangawhai and Kaiwaka 
and surrounding areas 
paulsaunders99@gmail.com 
LANDSCAPING 
4 IN 1 BUCKET 
TRENCHER 
POLE HOLES 
ROTARY HOE 
COMPACT ROLLER 
OFFAL HOLES 
CAN SUPPLY WOODCHIP & POST PEEL 
5 TON TIPPER 
FOR RELIABLE AND FRIENDLY SERVICE CONTACT DAVE 
Dave Hyndman 
 
KAIWAKA 
PH: 09 4312302 
MOB: 021 431 238 
* MASSAGE * NAILS * 
* NUTRITION * 
In Mangawhai Heads
 
Full  hour  and  half  hour  massage  TAI-
LORED to suit your needs, ALSO mini 
massages  and  chair  massage  available. 
Businesses  –      ask     about      my      on-
site massage service for your staff. 
 
Full set of acrylic nails for both fingers 
and  toes  –  wonderful  solution  for  nail 
biters!    PLUS  manicures  and  pedi-
cures. 
 
Healthy  nutrition,  weight  loss,  sports 
nutrition and healthy ageing – we offer 
solutions  so  lets  work  on  this  togeth-
er…  Call  me  today  for  a  free  wellness 
evaluation  to  achieve  your  wellness 
goals.  
CINDY SAUNDERS 
Fully qualified masseuse and Surmanti 
trained acrylic nail technician 
Call or text 021 296 9819 or  431 3318 
Gift Vouchers available  
ARCHITECTURAL BUILDING 
PLANS AND DESIGNS 
WRIGHT DESIGN 
 QUALIFICATIONS 
Brian is a qualified designer (NZCAD) with over 40 years of 
varied experience in all types of building and is a registered and 
Licensed Building Practitioner in Design - L.B.P. 117345 
He ensures you will achieve the best from your budget with 
recommended excellent local contractors ready to competitively 
price and build your personal project quickly and efficiently. 
 EXPERIENCE 
Brian's practical building and 40+ years of design experience 
means he can give you excellent advice and all the guidance 
needed for all your building needs 
v Wright Design offers free visits, consultations and all the ad-
vice you need on planning, design, building, contractors, coun-
cil permit applications, etc. 
 
" Qualified and inexpensive designer – N.Z.CAD., LBP 117345 
" Guaranteed design and working drawings 
" Free site visit to your home or property 
" Great service 
" Great problem solver 
 
Call Brian ~Arrange a visit to discuss your needs  and obtain 
great advice and free quotation 
MAKE GOOD USE OF HIS EXPERIENCE and 
KNOWLEDGE 
WRIGHT DESIGN:  
360 Oneriri Road, Kaiwaka
Office 09 4312544  
Mobile 021 276 7389  
Email: 
brianwright@clear.net.nz
www.wrightdesign.co.nz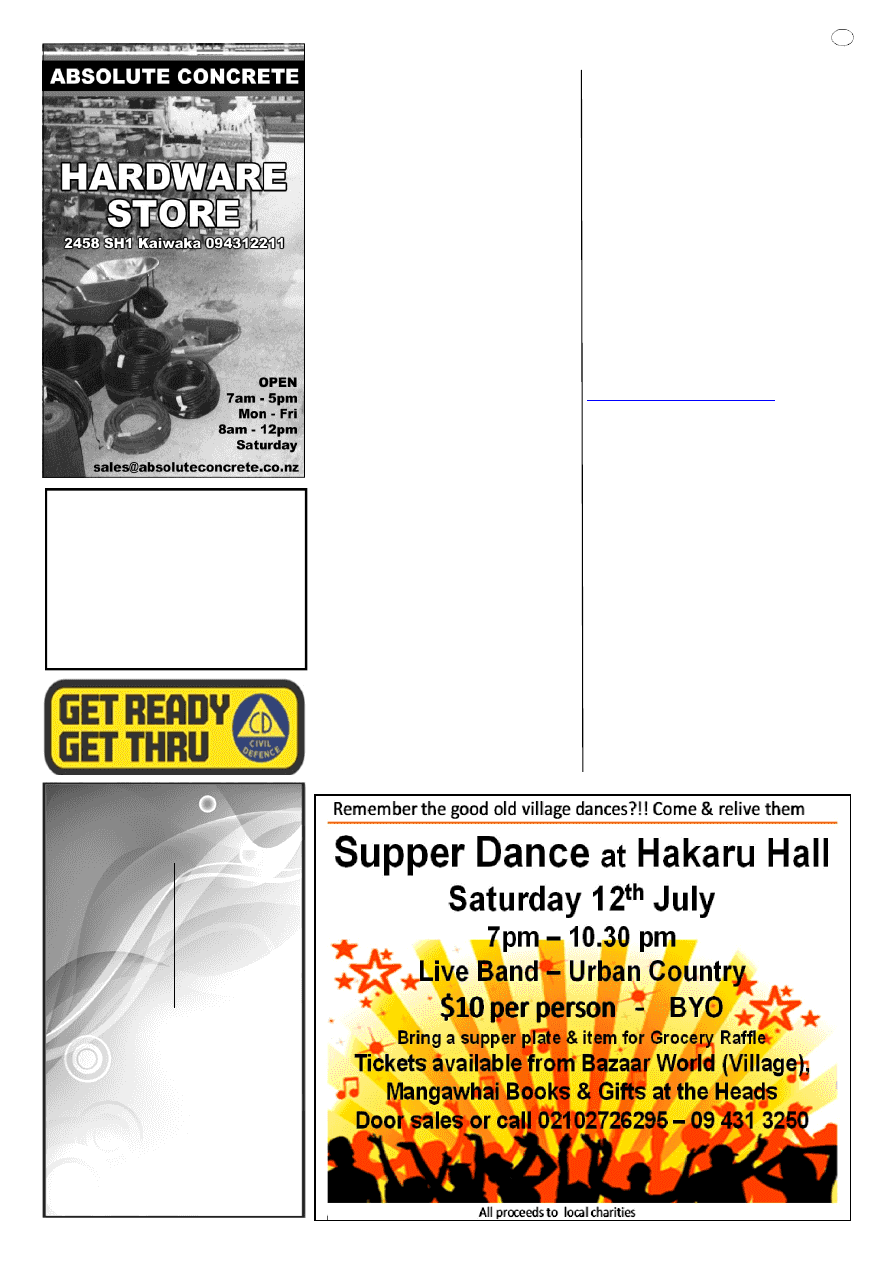 LEABOURNS 
Passenger Service 
Car & Van Hire 
Bus & Coach Charters 
Airport Transfers 
Monthly Shopper Bus
Phone (09) 4237416 
5 
KAIWAKA GARDEN 
& FLORAL CLUB 
21 members attended the June  meeting 
held  at  the  Riverside  Camp,  Black 
Swamp Road on 12th June, a very nice 
venue. 
Vouchers 
and 
certificates 
were  
presented  to  the  three  members  with 
the  most  points  for  last  year's  
competitions  –  congratulations  ladies: 
1st  place  Rosemary  Browne,  2nd  Sue 
Hamilton-Wallace,  3rd  Jenny  Wills. 
Jenny  and  Sue  also  had  birthdays  this 
month  along  with  Margaret  Haverfield 
– hope you all had great days.  
The afternoon took the form of a work-
shop  resulting  in  lots  of  amazing  dried 
flowers  and  leaves  turning  into  very 
clever  and  artistic  arrangements;  we 
didn't  realise  there  was  so  much  talent 
amongst  the  members  and  visitor  
Maree Hill  who also  helped the  others. 
I think the participants also enjoyed the 
"challenge". Well done! 
Sorry  Anne  Shimmin  and  mother  
Helen  couldn't  be  with  us  as  Helen  
suffered 
a 
fall, 
hope 
you 
are  
progressing  well  Helen,  we  missed 
you. 
Next meeting 
Next  month's  meeting  will  also  be  at 
the  same  venue  and  we  will  have  a 
speaker talking on "Gardening with the 
Moon"  as  it  is  at  its  different  stages, 
which promises to be very interesting. 
Please bring your own mugs or cups to 
this  meeting,  which  will  be  on  
Thursday 10th July at 1 p.m. There will 
still be a trading table and a Wild Card 
Vegetable  and  a  Wild  Card  Flower  
competition,  and  a  raffle  of  course 
which  incidentally  was  won  by  our  
visitor Maree last month. 
Any  queries  ring  Rosemary  our  
President – Phone  4314744. 
~Ann 
U Beauty 
Please call Nicole for bookings 
09 393 6336 or 022 0639450 
Qualified Beautician 
4 Kaiwaka – Mangawhai Rd 
Kaiwaka 
Eyebrow Wax  $10 
Eyebrow Tint  $10 
Eyelash Tint 
$20 
Lip Wax 
$10 
Chin Wax 
$10 
Bikini Wax 
$20 
Brazilian 
$50 
½ Leg Wax 
$30 
Full Leg Wax  $45 
Full Pedicure 
$60 
Foot Tidy  
$35 
Manicure 
$45 
Nail Tidy 
$25 
Chest Wax 
$30 
Back Wax 
$40 
Nostrils 
$10 
Ears 
$10 
Underarm Wax  
$20 
Extended Bikini Wax 
$30 
15 min Back  Massage 
$25 
30 min Back Massage 
$50 
KAIWAKA LIBRARY 
The Dargaville book swap is now com-
plete  -  thanks  to  Graham,  Fay,  Vera, 
Chris and Yvonne for all your efforts to 
make  it  a  success.  Come  on  in  and  see 
the  new  books  on  our  shelves  -  there's 
bound to be something for you. 
This  includes  a  new  range  of  DVDs  to 
choose  from.  Some  are  free  to  borrow, 
others  are  $3,  for  a  week.  There  are 
kids  movies  (great  for  the  school  holi-
days  that  aren't  far  away  now),  and 
movies  for  adults,  and  even  one  on 
learning massage. If you 'do' Facebook, 
you'll  find  a  list  of  them  all  posted  to 
our page there. 
We are still looking for a new volunteer 
to  run  the  library  on  the  third  Wednes-
day  each  month.  If  you're  interested  in 
joining  our  friendly  team,  send  an 
email to me at  
kaiwaka.library@gmail.com
Elizabeth  has  read  Galileo's  Daugh-
ter  by  Dava 
Sobel.  She  said 
she  "found  this  book  quite  interesting, 
and  it  came  highly  recommended.  I 
found  myself  wondering  how  I  did  not 
know  that  Galileo  had  a  daughter  let 
alone  two,  which  makes  you  wonder 
about our education. This is the story of 
Galileo's  life  based  around  letters  writ-
ten  to  him  by  his  eldest  daughter,  both 
of  which  he  placed  in  a  convent  when 
they were quite young.  
I  learned  a  lot  about  this  most  interest-
ing  man,  his  trials  and  his  life,  and 
about  life  in  Italy  in  the  17th  century. 
Of  course,  you  have  to  ask  would  he 
have  been  recognised  in  his  own  life-
time  if  he  had  lived  in  our  life-
time? Highly  recommend  this  book  for 
those  interested  in  history,  philosophy, 
astrology  and  general  life  itself."  This 
book  is  on  the  Dargaville  non-fiction 
shelves  (520  SOB)  in  our  library  until 
December. 
See you in the Library! ~ W endy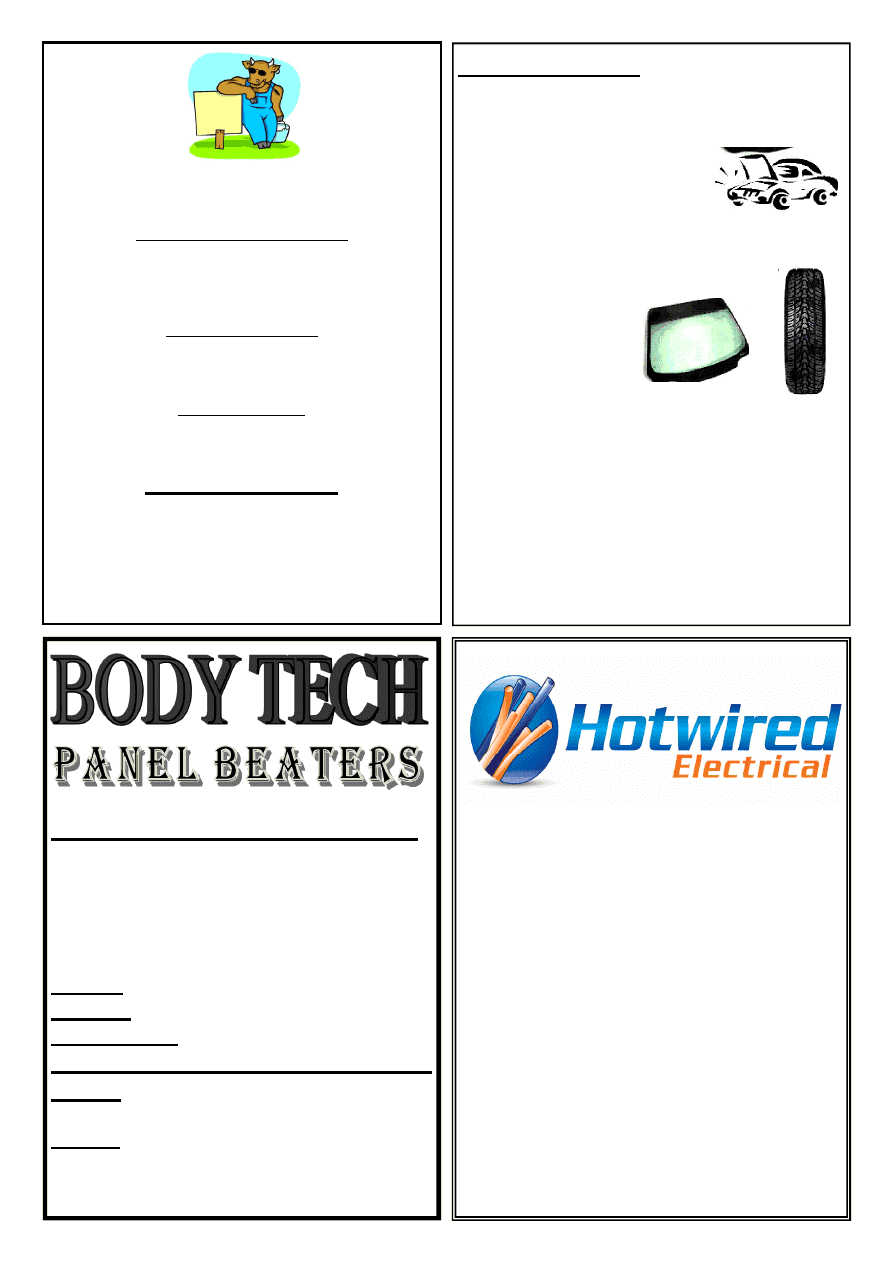 For all your body repair needs!! 
 
We do: 
 
Rust repairs 
 
Insurance work 
 
Anti-corrosion  
   treatment   
 
Hours: 8.30am-5pm Monday-Friday  
Mobile: 021 118 0462 
After hours: 09 431 2384 
Phone: Craig or Call in for a free 
Quote 
Email: 
bodytech_panelbeaters@yahoo.com
We are located at 1837 SH1 Kaiwaka, behind Twin-
kle Tow 'n' Tyre call in anytime for a free quote.  
 
Large and minor vehi-
cle repairs
 
Industrial vehicles
 
Full Cut and polishes
For All your  
Electrical  Requirements 
 
Domestic small jobs 
 
Residential dwellings and alterations 
 
Commercial 
 
Industrial                 
No job too big  
or too small    
Contact Jason today on: 
(09) 431 5992, (021) 405 019 
www.hotwiredelectrical.co.nz 
Want it done? 
Bring it to  
Twinkle Tow 'n' Tyre 
*W.O.F. 
*Tyres 
*Windscreen replacement 
*Chip repairs 
*Bulk Oil 
*Batteries 
*Welding 
*Custom built trailers 
*Trailer hire 
Think you'll get a better deal in the city? 
Go on, ring us; it won't cost anything! 
1837 State Highway 1, Kaiwaka 
Phone 431 2823 
CALL A FARmeR
Winter Broad Acre Weed Spraying 
Thistles, Buttercup and other broad leaf weeds 
Now is the time to spray 
Ground based spray application 
We can get where others can't 
Fertiliser/Urea Spreading 
Low impact ATV and tandem spreader application 
We can get there when your tractor can't 
No tractor tracks through your new grass! 
Pro-gibb Application 
Get that grass growing! 
We cover Farms and Lifestyle Blocks    
BOOK NOW!!
See our website for more services 
www.callafarmer.co.nz 
Office 09 423 7585
027 625 5383 
We can 
do that!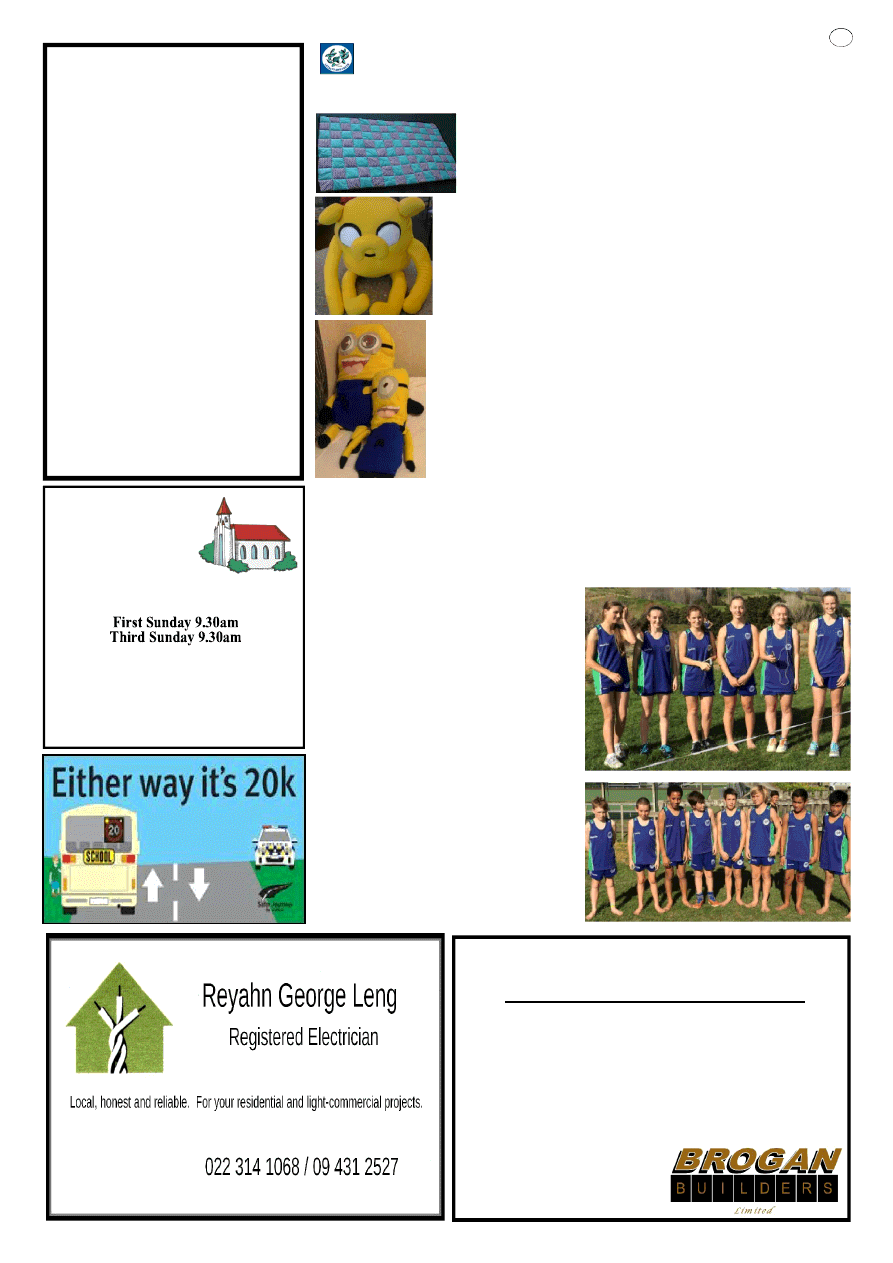 OTAMATEA HIGH SCHOOL 
7 
Insurance Valuations 
Insurance Valuations completed by our  
Registered Quantity Surveyor. 
Call us today or send an email  
to book an appointment. 
GRANT MOB: 0274 743 856    
OFFICE PH: (09) 431 8018 
EMAIL: GRANT@BROGANBUILDERS.CO.NZ 
ST PAUL'S  
ANGLICAN  
SUNDAY  
SERVICES
St Pauls Church: Kaiwaka-Mangawhai Rd.  
1st Sun - Eucharist 
3rd Sun - Family Service 
Contacts:M.Hargreaves 4312295, C.Bygrave 4312057  
TE POUNGA MARAE 
Nathan Road, Kaiwaka 
BLESSING OF HOMESTEAD 
*The Top House* 
As we prepare for  
new development. 
Service
Commencing 8am 
Followed by light breakfast 
Naumai Mai 
Haere Mai 
Contact: Secretary 
Jeane e Nathan 
Phone: 021 186 7382 
Original  Technological  Outcomes  in 
Interior Design Unit 
Level  2  Textile 
Technology  stu-
dents  studied  the 
principles 
of  
interior 
design, 
deciding  whether 
the  room  they  were 
planning  an  item  for 
needed 
harmony, 
detail,  balance,  em-
phasis, rhythm, focal 
point,  scale  or  pro-
portion. 
Then  they  had  to 
decide 
what 
they 
wanted  to  make.  This 
year  there  were  a 
number  of  very  origi-
nal  ideas  that  chal-
lenged  students'  per-
severance  and  plan-
ning.  Michaela  Kemp 
decided  to  make  a 
minion  for  her  broth-
er's  bedroom  because  he  loved  the 
movie  'Despicable  Me'.  First  she  had 
to  design  the  scale  model  to  work  out 
whether  the  fabrics  and  techniques 
were  suitable  and  then  she  could  make 
the  proper  big  one.  Mercedes  von 
Dincklage  found  a  pattern  for  Jake,  a 
dog.  She  also  made  a  scale  model  first 
testing  all  the  intricacies  of  making  it 
and  then  made  the  final  one.  A  beauti-
fully  made  quilt was Ayla Wehi's cho-
sen  article.  Ly  Sang  Kim  is  a  level  3 
student  and  she  designed  a  beautiful 
quilted  wall  hanging.  She  used  differ-
ent  basic  and  specific  kiwi  fabrics  to 
make  an  art  work  that  could  well  have 
been  painted.  The  idea  was  that  the 
wall  hanging  will  represent  New  Zea-
land  and  be  a  display  area  for  
family photos. On the frame around the 
artwork  she  sewed  photo  corners  to 
hold the photos. 
Lower North Cross Country 6th June 
Otamatea  put  in  a  strong  team  to  
compete  against  schools  in  the  area. 
Rodney, 
Bream 
Bay, 
Dargaville, 
Ruawai  and  Wellsford  Primary  all  
provided  teams  for  an  excellent  day  of 
competition.  Otamatea  had  some  very 
good 
performances. 
Best 
placed  
runners on the day were: 
Girls:  Sub  Juniors:  Hayley  Linton  3rd, 
Paige  Kenyon  5th.  Juniors:  Ocean 
Shadbolt 2nd, Rebecca Robertson 5th. 
 Intermediate:  Tyler  Porteous  3rd, 
Monica  Jaques  4th.  Seniors:  Edhen 
Church  1st,  Ellen  Nelder  4th.  Boys: 
Sub  Juniors:  Hunter  Goodfellow  1st, 
Raymond  Taito  6th.    Juniors:  Kayne 
Goodfellow  2nd,  Bradley  Hailes  3rd.  
Intermediate:  Rhys  Shadbolt  1st,   Ash-
ton  Coates  9th.  Seniors:    Dylan  Sims 
1st, Kyle Taylor 6th. 
Northland Cross Country 12th June 
Ten  runners  went  to  Barge  Park  in 
Whangarei. These runners all made the 
choice  to  run  at  these  championships 
against  schools  from  all  over  North-
land. On the day, pride of place goes to 
the  Year  7  and  8  Boys  team:  Kayne 
Goodfellow  1st,  Hunter  Goodfellow 
7th, Bradley Hailes 10th. Girls: Hayley 
Linton  10th,  Ocean  Shadbolt  15th.  Re-
becca  Robertson  was  7th  in  her  race 
and  Monica  Jaques  20th  in  the  U16 
race.  Rhys  Shadbolt  came  4th  and  
Ashton  Coates  22nd  in  the  U16  boys' 
race.  Dylan  Sims  ran  6km  faster  than 
his  5km  time  earlier  in  the  season  and 
was placed 4th in the boys race. 
AMBER'S 
Q Cafe & Restaurant
All day breakfast, 8am - 5.30pm. 
Home made Pizza, take away or eat in from 8am to late. 
Light lunches, 11.am - 5.30pm, Dinner Menu at 5.30pm to late 
Toasted Sandwiches and Sandwiches made to order. 
All day, Pies, Chowder & Soups, Milkshakes, Kiwi Ice cream, Slushie 
Fruit drink, Tea, Coffee 
Closed Mondays.....except Observed Holidays 
Sunday to Thursday: 8am - 8pm,  
Friday: 8am - 8.30pm, Saturdays 8am- 9pm 
4315226 
Trevor & Amber 
41 Moir Street, Shop 5-6,Mangawhai Village 
Next to Carters Building Supplies 
Two for One Pizza Deal 
June/July only 
Monday, Tuesday and Thursday 
between 5.30pm – 7pm 
Purchase one pizza (any size) and get a 
second Lang's Pizza (same size) 
free when dining in at 
Sail Rock Café 
Wood Street, Mangawhai Heads 
Phone 09 431 4051 
June/July hours open @ 9.30am  
CLOSED    Wednesday day/night 
Closed for Mid-Winter break 
18
th
 June reopening Monday 23
rd
 June 
PLANNING A NEW 
KITCHEN? 
CONTACT NOEL McDOWELL 
WELLSFORD 
KITCHENS
Ph/Fax 09 4312 888
KAIWAKA-Any time 
QUALITY CUSTOM MADE 
KITCHENS 
~Personal and Prompt Service~ 
~All Workmanship Guaran-
9
OWEN STEVENS 
Osteo Therapist
For careful 
adjustments to 
bones and joints 
Treatment for  
humans and their 
pets 
Clinics: 
Kate's Place, Kaiwaka: 
Last Friday of month 
For  bookings:9.00am-5.00pm  
Phone 
09 4312661 
Or phone Owen   
09 4317123  anytime 
Laughing
Dog
Computers
www.laughingdog.co.nz 
0224344448 
Hardware and Software 
Service and Repair 
SALES SERVICE SPARES
FARM BIKE SPECIALIST
Phone 431 2127  
Kaiwaka-Mangawhai Rd 
Kaiwaka 
JULY NIGHT SKY OVER KAIWAKA 
Day  Hour  Event 
1 
6 
Moon at Apogee 
2 
9 
Regulus 4.6oN of Moon 
4 
15 
Earth at aphelion 
5 
23 
First quarter of the moon 
6 
20 
Spica 2.0oS of moon 
7 
Dusk  Moon, Mars, Saturn & Spica 
11 
5 
Moon furthest south (-19.0o) 
12 
23 
Full Moon 
13 
7 
Mercury greatest elong W   
(21o) 
13 
20 
Moon at perigee 
19 
14 
Last quarter of the moon 
22 
23 
Aldebaran 1.8oS of Moon 
24 
4 
Moon Furthest north (19.0o) 
25 
8 
Jupiter in conjunction 
27 
10 
New Moon 
28 
15 
Moon at apogee 
The  zodiac constellations  of  winter  are 
Libra, 
Scorpius, 
Sagittarius 
and  
Capricornus. The first three are particu-
larly  distinctive  and  once  identified 
they won't be forgotten.  
During the winter the Sun is low in our 
daytime sky so any planets opposite the 
sun  will  be  nearly  overhead  during  the 
middle  of the  night, providing some  of 
the best planet viewing opportunities of 
the  year.  The  solid  blue  line  on  star 
charts  is  called  the  Ecliptic,  this  is  the 
plane  of  our  solar  system  on  the  sky 
along  which  the  sun  and  planets  are 
always  found.  In  2014  we  will  have 
both  Saturn  and  Mars  in  this  favoured 
position. 
Over  June  and  July,  Mars  will  slowly 
get  closer  to  Spica,  closest  around  13 
July.  Again, the red planet changes the 
familiar  pattern  of  the  constellations 
but  once  located,  you  will  be  able  to 
watch its movement.   
~Elizabeth 
THE DEATH OF CARBINE. 
Carbine, the famous racehorse, died in 
Australia  on  10  June  1914.  Carbine's 
performances as a racer, and his record 
as  a  sire,  give  him  a  place  with  the 
most  celebrated  horses  registered  in 
the  Stud  Book.  Bred  at  Sylvia  Park, 
Auckland,  in  1885.  As  a  two-year-old 
he  won  every  race  for  which  he  start-
ed,  and  in  the  hope  of  winning  the 
V.R.G.  Derby  of  1888,  he  was  trans-
ported  to  Australia,  but  in  that  race  he 
suffered  a  head  defeat.  After  winning 
seven out of the eight races he contest-
ed  in  Mr.  O'Brien's  colours,    Carbine 
was bought by Mr. Donald Wallace in 
the spring of 1888. When Carbine was 
retired  to  the  stud  in  1891,  he  had  the 
record  of  winning  33  of  the  43  races 
which  he  contested  including  the  Mel-
bourne  Cup  (which  he  won  under    the 
great  weight  of  10.7  in  record  time), 
and his earnings in stakes amounted to 
£29,476, which was the largest amount 
ever won by any horse on the Australa-
sian turf at that time. 
Carbine's  photo  from  the  Auckland  Weekly 
News 18 June 1914 p39, Sir George Grey Spe-
cial  Collections,  Auckland  Libraries,  AWNS-
19140618-39-2 
Last  week  Paul  Charman,  a  New  Zea-
land  Herald  writer  who  once  lived  in 
Kaiwaka,  wrote  about  his  six  top  tear 
jerker  songs.  One  of  them  was  a  true 
story told to songwriter and singer Eric 
Bogle  by  an  old  digger  from  WW1- 
'It's As If He Knows'. The soldier told 
him about 'Banjo', the horse he had to 
leave  in  Egypt  before  returning  home 
at the end of the war. Y ou Tube has an 
excellent rendition. 
Bill  Leslie  told  in  Bugle  issued 
11.12.2012  about  his  father's  time  in 
WW1,  "the  men  who  fought  in  Palestine 
and  Jordan  were  the  last  to  come  home  to 
N.Z.  after  four  and  a  half  years  overseas. 
The horses stayed as did some of their rid-
ers"
. 
  The  photo  below  is  of  Dick 
Leslie  leading  his  troop  to  be  the  first 
to  capture  Jericho  on  February  21st 
1918. The photograph didn't appear in 
the  Auckland  Weekly  News  until  28 
November 1918.
Taken from the supplement to the Auckland Weekly News 28 November 1918 p037 ' Sir George 
Grey Special Collections, Auckland Libraries, AWNS-19181128-37-1 ' 
HORSES: Remember Carbine?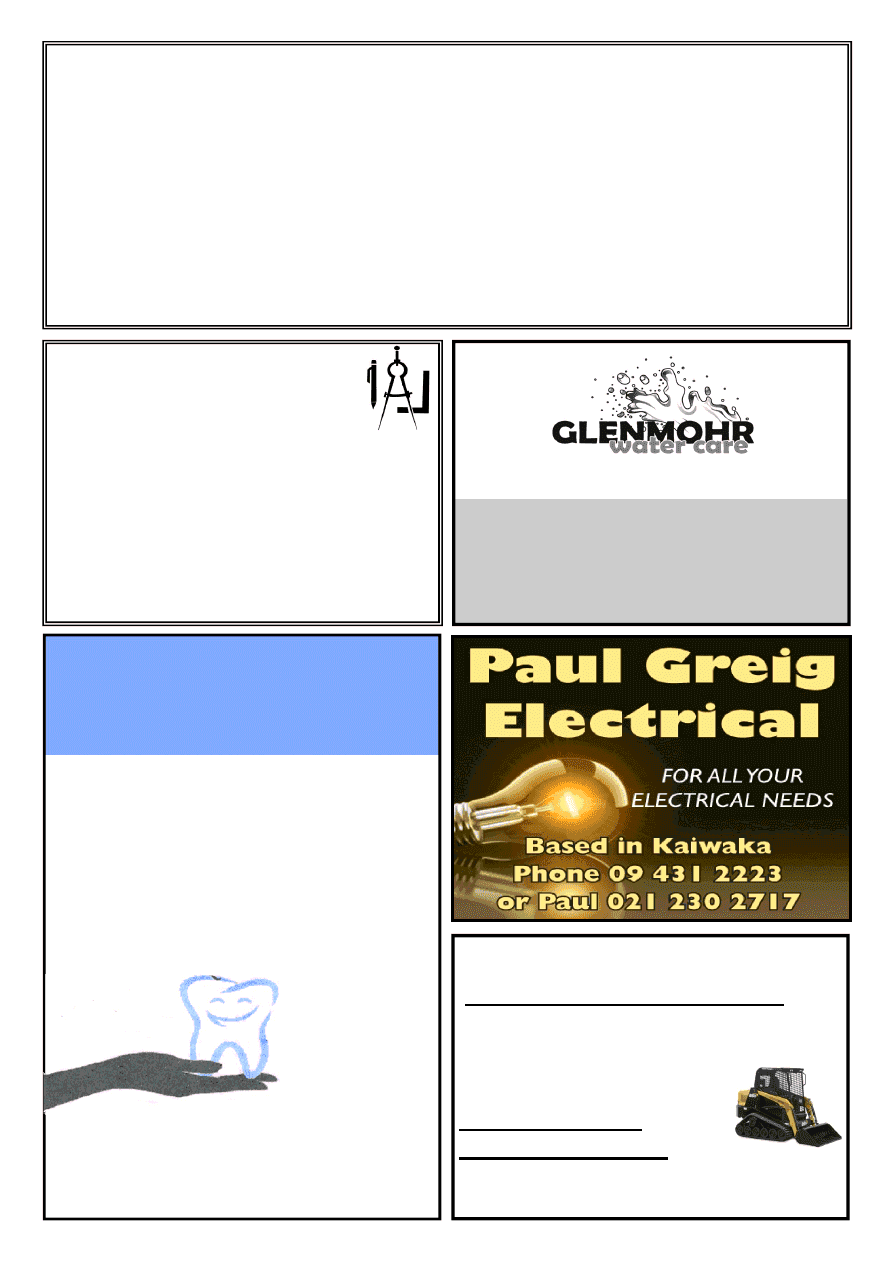 RANGANUI EARTHMOVERS 
16T Excavator 
Driveways, House Sites, 
(tilt, thumb & ROPS cab) 
Drainage Dams, Section Clearing, 
Transport Trailer 
Tree Work,  Rock Retaining Walls, 
2 x 6 Wheeler Tip Trucks 
Quarry Work, 
Suppliers of All Grades of Metal & Topsoil 
Basically Anything That a Digger Can Do 
If you want a proper job done with an experienced operator ring 
Grant on    A/H 431-2131          Email  ranganui.dev@xtra.co.nz 
                     Mob  021845-246 
design drafting 
service 
Retired builder and manufacturer with over 40 years  
experience in the building industry is offering a design 
drafting service  
for domestic housing, sleepouts and sheds.  
Plans formulated in consultation with clients, with 
working drawings completed and submitted to  
council for processing.  Extensive practical experience,  
able to identify & resolve problems. 
Please ring Mike Lean on 
09 431 2260  
          or 
021 431 196 
Water Tank Cleaning 
" 
Keep your water safe & clean   
" 
Removal of sediment, silt etc 
" 
Vacuum or full scrub 
" 
Minimal water loss 
Phone Mark (09) 432 0655 or 0274 707607 
Gentle Dental 
Ruakaka 
We love to see you smile 
 
General  & Cosmetic Dentistry 
 
Emergency & ACC Treatment 
 
Denture & Hygienist Services 
 
Senior Citizen Discounts 
 
Free Adolescent Care 
 
Free WINZ Quote 
19 Ruakaka Town Centre 
Dr Sim Sood & Associates 
Ph:  432 8139 
Saturdays 
By 
Arrangement 
Open  
Mon-Fri  
8am-5pm  
Natural Earth Ltd 
 Landscape and Bobcat services 
 : Driveways  :Landscaping  :Retaining Walls 
 : Hole Boring: Land Levelling :Trenching 
 : Decks :Fences :Sections Cleared: Plus much 
more 
Tel   09 4312885 
Mob 02102391280  
For A Fast Friendly  
Service Contact Tim Hicks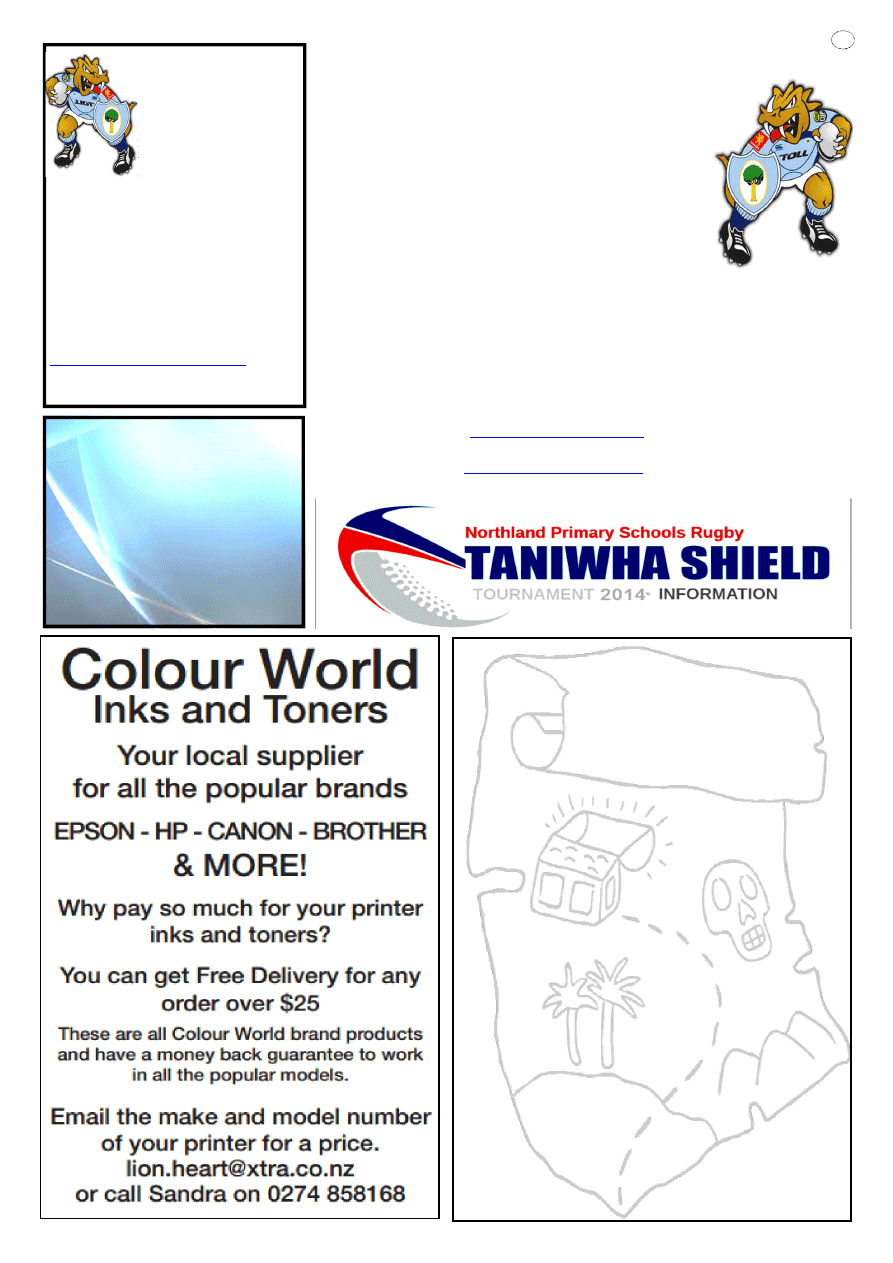 11
WANTED 
 
A couple of Otamatea 
High 
School 
girls 
have  offered  to  make 
a  papier-mâché  Taniwha  for  the 
Taniwha Shield rugby tournament 
to  be  held  in  Kaiwaka  next 
month.  
They  need  some  paintable  fabric 
(preferably  white)  and  some 
lengths  of  dowel  -  can  you  help 
out by donating either of these?  
Please contact Cheryl Anderson  
on 4312 051 or  
kaiwakasports@gmail.com
The Treasure Hunt  
Presented by the students of 
Kaiwaka School 2014 
 
Wednesday 2July  
Matinee 10.30am 
 
Wednesday 2 July  
 
Thursday 3 July 
6.30pm  
Kaiwaka Hall 
$2 at the door 
Freeview  
Installations 
Richard Te Haara 
25 Marram Place 
Mangawhai Heads 
021 1104056 
kiwipride@xtra.co.nz
THE TANIWHA IS COMING TO 
KAIWAKA! 
Northlands  prestigious  rugby  tournament,  the  Taniwha 
Shield,  will  be  played  at  the  Kaiwaka  Sports  Complex  in 
the first week  of the school  holidays, from Tuesday 8th till 
Saturday 12th July. 
Eight  teams  of  Years  7  and  8  players  from  all  over  North-
land will compete over five days for the opportunity to take 
home the coveted shield. 
Best  of  luck  to  our  local  team  Rodney/Otamatea,  coached 
by Mike Peeni. Spectators are very welcome to come along 
to support the boys. There will be food and drink available. 
We are expecting big crowds on each of the days and  
particularly Saturday (finals day), so we are asking locals to please park either in 
the school carpark or in the Three Furlongs carpark (there will be a shuttle van to 
take you to the Complex). This way, the Sports Complex carparks are available 
for the out-of-towners. 
Many  thanks  to  the  local  businesses  who  have  already  pledged  sponsorship  for 
the  tournament.  If  you  own  a  business  and  might  be  interested  in  sponsorship 
opportunities, please contact Cheryl Anderson. 
 
For more information on the Taniwha Shield you can: 
 
visit our website 
www.kaiwakasports.co.nz
 
contact Tournament Director Cheryl Anderson on 4312 051,  
  027 3462702 or 
kaiwakasports@gmail.com
 
like our Facebook page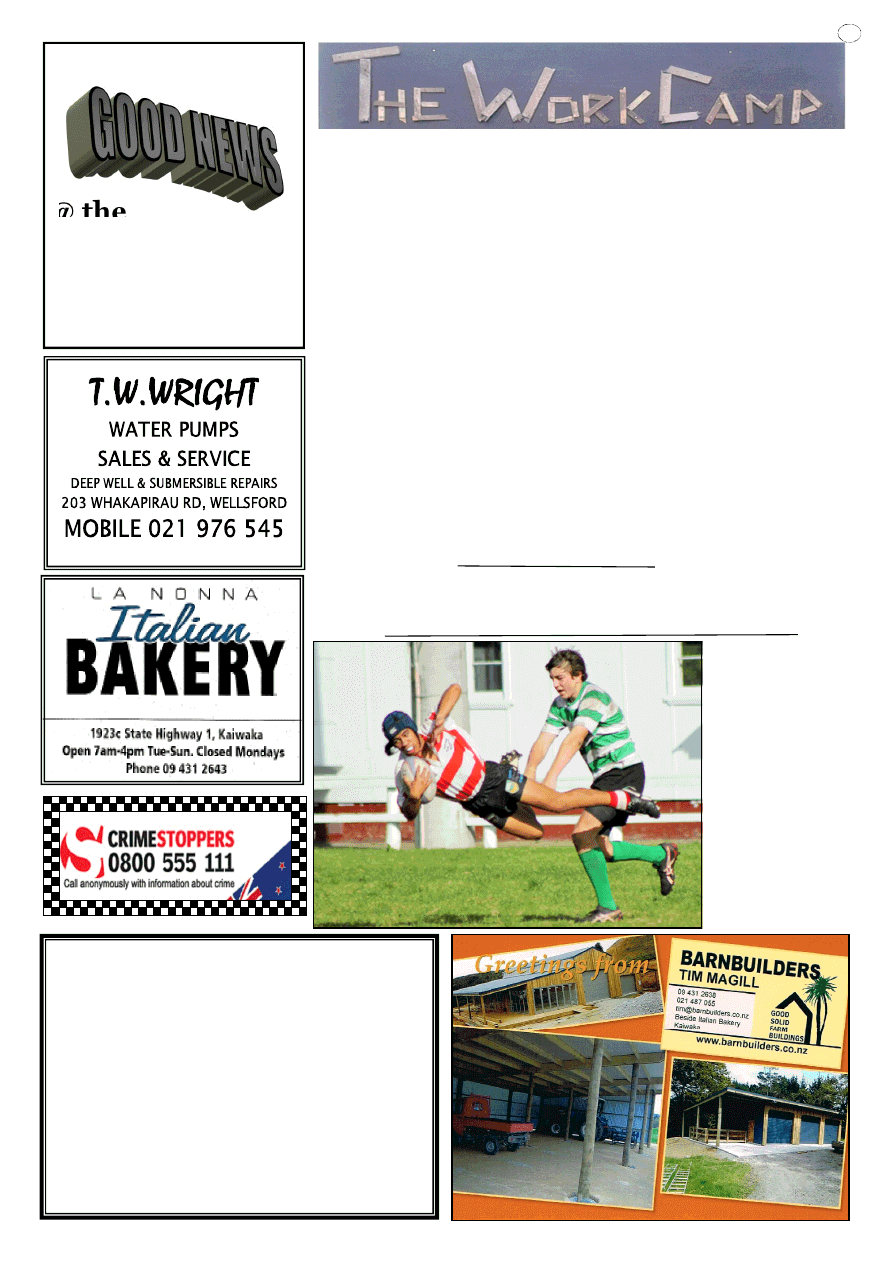 THERE'S 
 
 
 
 
@ the  
Kaiwaka Family 
Church
Your COMMUNITY CHURCH 
RECEIVE HEALING 
RECEIVE THE LOVE OF GOD 
TILING 
Certified Waterproofing 
431 4533 or 021 86 33 33 
George 
MCN Property Solutionz  
Local references available 
 13 
A  group  of  us  have  ideas  and  are  keen  to 
look  at  ways  to  help  avoid  unnecessary 
unemployment  and  take  the  chance  to  set 
up our students with more. So far it comes 
to us there isn't a lot of the good old  fash-
ion full time work which makes it hard for 
a  lot  of  our  learners  to  get  off  benefits.  
Even  Christchurch  work  is  not  always  the 
answer for many who have tried.  
We are keen to help find what work is out 
there and have a good list of skilled labour-
ers to help anyone. 
All  three  courses  in  Kaiwaka  teach  good 
life skills. Even without a job being useful 
has to help. 
Driving  legally  is  another  handy  skill  as 
well as a good work ready aid. It takes a lot 
to  get  through  all  three  stages  when  you 
don't  have  a  car  so  the  Work  Camp  helps 
where  it  can  to  show  a  group  tests  on-line 
and get people up to sit their learners driv-
ing licence.   
Night Training
The  firearms  training  has  become  a  very 
popular  training  programme.  Graeme  Ste-
venson and Lars Jansen are keen and dedi-
cated  hunters  and  instructors  from  the  NZ 
Mountain  Safety  Council.  They  are  at  the 
Work  Camp,  beside  our  workshop,  on  the 
last  Thursday  of  each  month  at  7.00pm  to 
take anyone  (gold  coin  koha)  for  the  Fire-
arms  Theory,  and  some  other  associated 
topics:  bush  craft,  ballistics  tips.    This  is 
really  popular  and  what  a  handy  skill  - 
goats, turkeys, etc. on the menu.  
The Home Kill Programme a local butcher 
Nick Butterworth gave a really good lesson 
on  the  cutting  up  and  carving  for  those  of 
us not from farming background. 
Beekeeping  and  Carving  are  some  other 
topics  we  have  had  good  speakers  talking 
about. 
We get  given things like second hand tim-
ber  and  the  Work  Camp  crew  can  see  it 
gets  used  to  make  something  that  can  be 
sold - some income pays for the labour and 
a bit left to help with some of the training.  
Tim Magill 
Adding to our NorthTec Courses 
Employment Initiatives and Life Skills 
Fire Arms Training
:
Graeme  Stevenson  and  Lars  Jansen  are  at 
the  Work  Camp  beside  our  NorthTec  Workshop,  Kaiwaka,  on  the  last 
Thursday of each month at 7.00pm 
OTAMATEA  
HAWKS 
U14'S 
The team is compet-
ing successfully this 
season. They won 
their game on Satur-
day 33-22 over Kaihu 
in Dargaville.  
Photo left:  
Simon Parker 
'dealing to' one of 
the Kaihu players. ~ 
T Brown, manager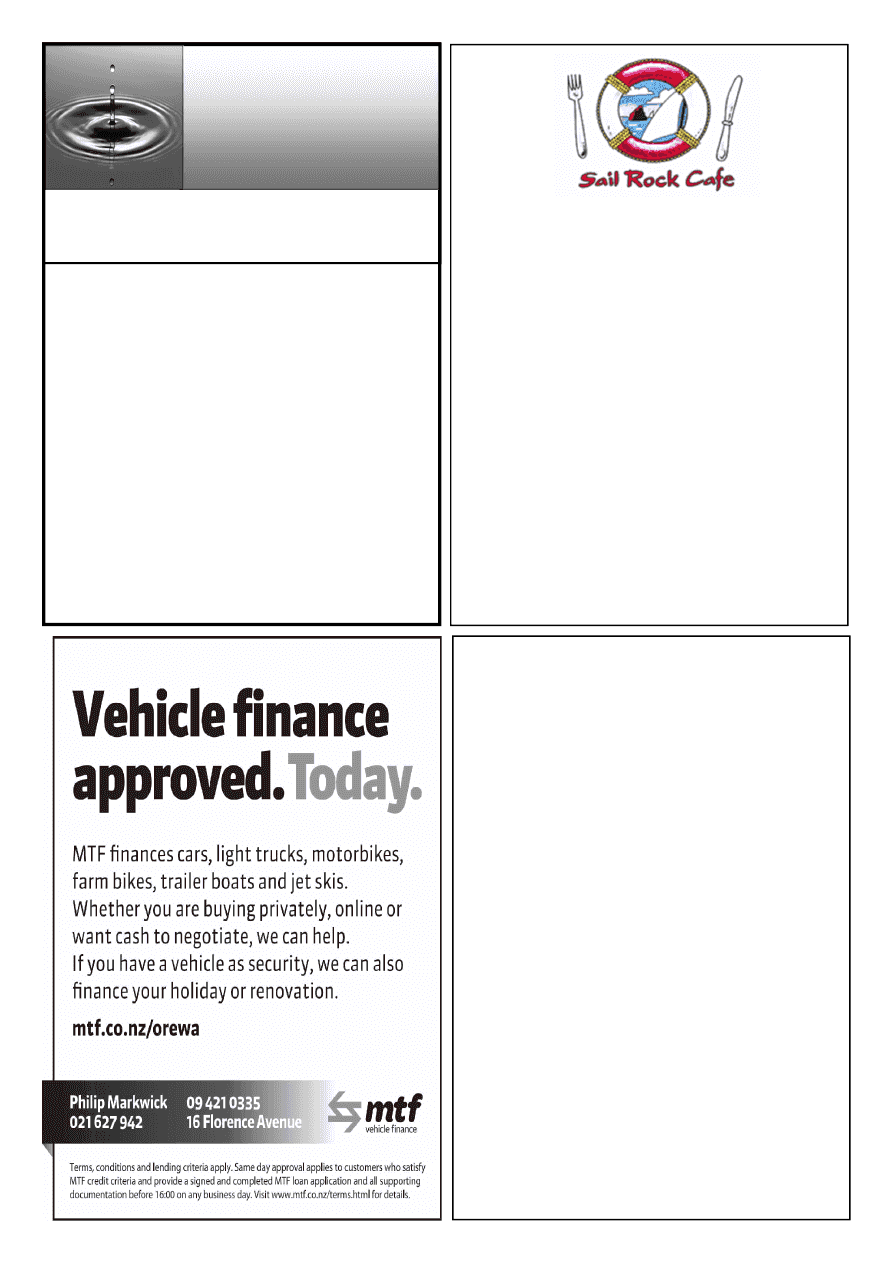 KAIPARA  FLOORING  CO 
32 HURNDALL ST MAUNGATUROTO 
Phone 09 9469886  
or 021 515 415 
Carpet, vinyl, laminate wood look  
  flooring, vinyl planking, sanding  
& polyurethane service. 
Carpet Short Ends from $79pm + GST 
Vinyl D.I.Y. peel n stick tiles $10sq mtr + GST. 
Free measure & quote.   
Mobile Service 
Phone Christine or Howard anytime 
Open Saturdays by arrangement. 
PETE WORSFOLD  
B. Soc.Sc. M. Soc.Sc. Diploma of Prof Couns. 
Counsellor
peteworsfold@xtra.co.nz 
 021 825 970 
Professional Service 
Variety of Modalities 
By Appointment Only 
INDIVIDUAL ONE-ON-ONE 
COUNSELLING 
Call for Appointment 
At "The Well of Health" 
09 4312799 or 021 825 970 
MODALITIES: 
  CBT 
  Gestalt 
  Person-Centred  
  Solution Focussed 
  Behavioural
FOR: 
  Grief 
  Relationship 
  Trauma 
  Couples 
  Adolescents 
   Careers
June/July Opening Hours 
 CLOSED    Wednesday day/night 
9.30am onwards 
Breakfast 
Lunch 
Bar Snacks 
Pizza from 5.30pm 
Dinner 
Desserts available all day 
Sail Rock Café 
Wood Street, Mangawhai Heads 
Phone 09 431 4051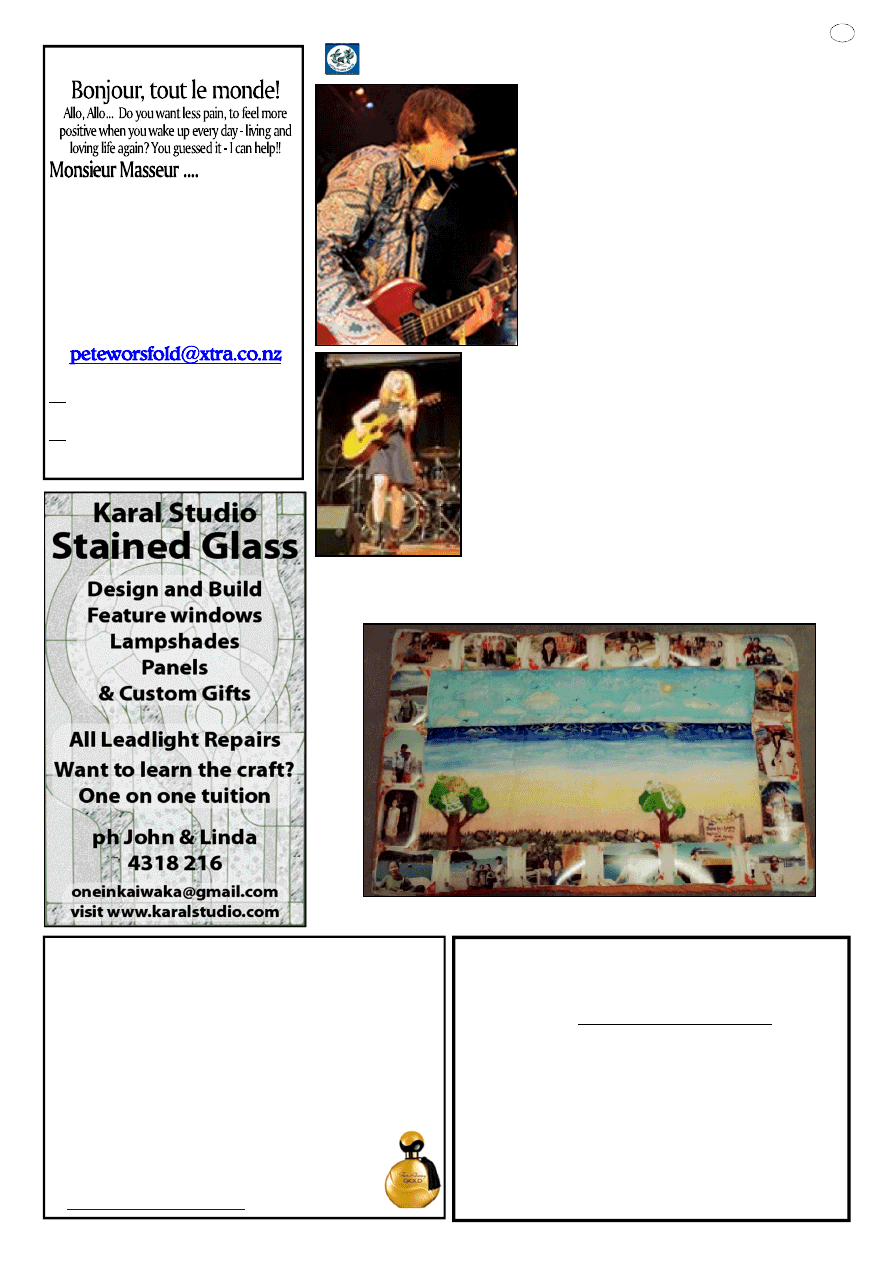 15 
 Yang Style Tai Chi 
Classes For 
Beginner And Practitioners  
At The Kaiwaka War Memorial Hall 
Every Tuesday  Starting at 10.30 am 
Come Along And Have Some Fun While Im-
proving Your Balance Health And Fitness
For More Information
Contact An-
drew Young 09 4223424 
taichi@pl.net
RELAXING  
           MASSAGE
..... Juste pour vous" 
Call for an appointment now!
Pete Worsfold 
4312 152  or  021 825970  
 
Or  Ph. "The Well of Health" for an 
appt. 09 4312 799 
Or mobile service available 
The 2014 competition has begun. It is New Zea-
land's  only  nationwide,  live,  original  music, 
youth  event.  Now  in  its  26th  year,  the  series  of 
over 40 events reaches audience  numbers in  ex-
cess of 10,000 every year. 
 Otamatea  High  School  has  a  range  of  students 
that  have  participated  in  the  Northland  regional 
heats at Forum North and have ALL got through 
to the Northland regional finals on 4th of July.  
'Alien  Weaponry,'  is  a  Bream  Bay  based  band 
that includes Ethan Trembath, a year 8 Otamatea 
student, which has made it also to the Northland 
regional finals.  
Emma  Rankin  (photo),  an  Ota student  who  per-
formed  in  the  solo/duo  category,  has  been  in 
Rockquest in 2013 Auckland regionals.  
The  band  members  of  'The  Vybes'  are  Head 
boy,  James  Finlay  (photo)  on  guitar  and  vocals,  Elias 
Giles  on  drums  and  Mathew  McRae  on  bass  guitar. This 
is their third time in Rockquest.  
Mr  Corlett,  the  head  of  the  music  department  at  OHS, 
says  students  from  Ota  have  been  involved  with 
Rockquest before he began teaching at the school and has 
said  the  competition  has  been  successfully  rewarding  for 
Ota  students  who  have  entered  throughout  the  years  and 
will  hopefully  continue  to  remain  that  way  for  years  to 
come.  
Rockquest was founded in 1989 by music teachers Glenn 
Common and Pete Rainey.  
Musical successes from the competition include Kimbra, 
Midnight Youth, Opshop, Anika Moa, Ladyhawke, 
Brooke Fraser, The Feelers, The Black Seeds and many more.  
If you would like more information on Smokefree Rockquest here's their site: 
http://www.smokefreerockquest.co.nz/about-sfrq                 ~Elizabeth Harris 
Avon Avon Avon 
Brochure 13 is now available with orders due 2nd July.  

Introducing far away gold this is a limited edition eau 
de parfum spray. $39.99 with free purse atomizer and  
compact mirror. Also enter to be in to win $10,000. 

Happy customer special 24k gold lipstick $8.99 each. 
There are plenty of Gold specials to choose from.  

Great fragrance specials as well as the 1/2 yearly sale.  

Try the skin care regimin full size set from $55 to $65 
each. Make Up - buy 2 and choose another 1 free on  
Pages 86 to 89.  

Naturals has new packaging and it looks great.  

Great deals and free gifts for hosting an Avon 
get together. Give me a call to book yours today. 
094314827   0274149576 
or 
galematheson@gmail.com
OTAMATEA HIGH SCHOOL 
Smokefree Rockquest
Photo above: Otamatea High School student Ly Sang Kim's beautiful quilted wall 
hanging represents New Zealand and is a display area for family photos.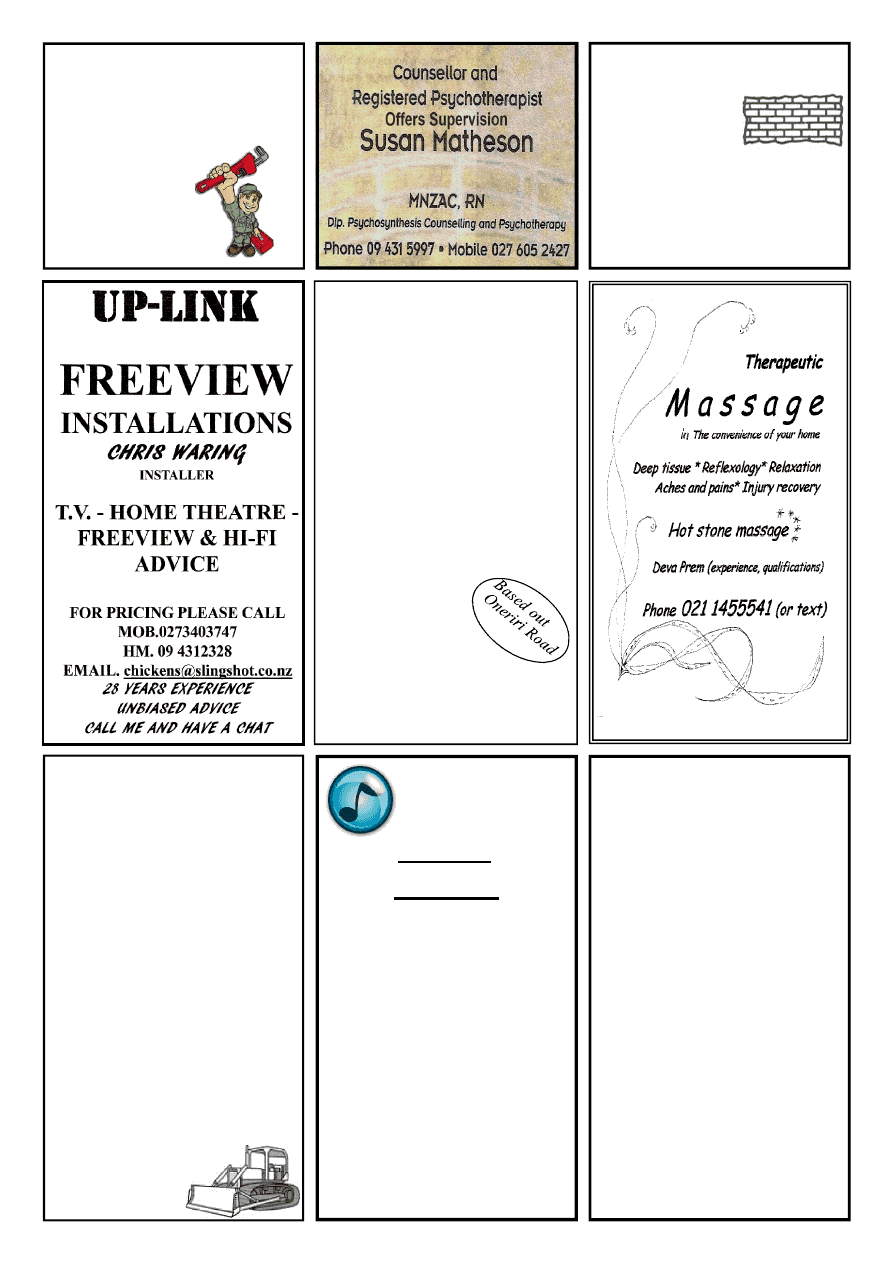 Singing  
Lessons
Individual sessions 
All styles of music  
All voice types 
Reasonable rates 
Phone  
Maura Flower 
021 164 8318
Willow Bend
HORSE  
HOTEL 
"  
Total Horse Care 
" 
Agistment 
" 
Riding Lessons 
" 
Arena Hire (60x40) 
" 
Young Horse Starting 
" 
Re-training/Exercising 
" 
Hoof Trimming 
" 
Problem Solving
Phone Sue 09 431 
2817 or 021 623 776 
Or email sue.gray@xtra.co.nz 
HODGETTS
CONTRACTING
Digger Work   

Driveways 

House Sites  

Dams 

Drains, etc
Also available for HIRE 

3 ton Vib Roller 

Heavy Duty Tow 

Waterblaster  

Lazer Level 
Phone Mark 
4312877 
027 447 8554
Coates  
Contracting 

D41 Bulldozer with 6 
way blade, bush rigged 
with winch 

For all tree work 

General bulldozing and  
  stick raking. 

120hp Tractor for 
ground cultivation,  

tip trailer work. 

Fencing
All enquiries phone  
Brett Coates  
094318720  
or  
 021431872
www.mangawhaimassage.co.nz 
Ross Murphy 
PL U M B ER  
Certifying Plumber 
09 431 7510 
021 424 252 
Paparoa Based 
+
New Housing  
+
Renovations  
+
Maintenance
BRICK/BLOCKLAYER 
All aspects of masonry:  
Fireplaces, 
Restoration  
& Remedial Work.
JAMES EAGLETON 
Tel. (09) 431 2514  
Mob. 0274 749 232 
jajueagles@yahoo.com.au 
210A Pukenui Road, RD2 Kaiwaka 0573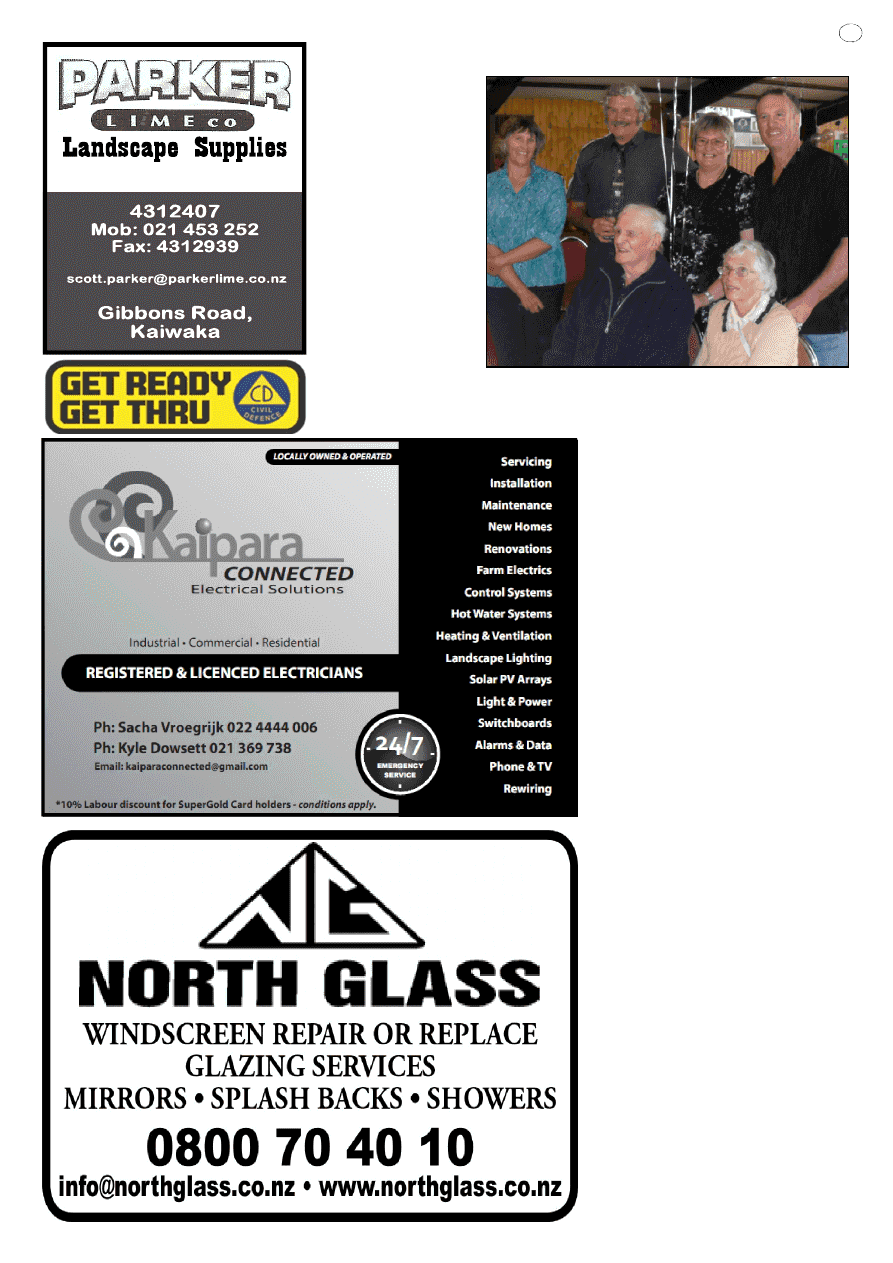 Bulk Cartage 
17 
Doug  and  Norma  Les
lie 
with about forty  
immediate family  
members present  
celebrated 
their 
60th 
wedding  anniversary  at 
the Kaiwaka Sports  
Association last  
Saturday (21 June) which 
was  a  few  days  earlier 
than  the  actual  date  they 
got married.  
When  they  first  got  mar-
ried  they  lived  in  a  small 
cottage 
in 
Settlement 
Road  and  later  moved  to 
Oruawharo  where  they 
bought  their  first  farm. 
After  4  children  Barbara, 
Wayne,  Sandra,  Allan 
this  small  farm  was  uneconomic  so 
they  bought  a farm  in  Settlement  Road 
formerly  owned  by  Nelson  Cameron. 
This  is  where  they  still  live  but  in  a 
new  house  built  by  Doug  and  David 
Clendon  -  Norma's  brother,  with  help 
from  other  family  members.  Doug  has 
been  heavily  involved  with  rugby  over 
the  years  and  a  highlight  would  have 
been  going  to  Wellington  to  represent 
Northland.  
Other highlights would have been help-
ing  raise  money  for  the  new  sports 
buildings  and  fields.  Doug  also  got  a 
big kick out of supporting the police in 
their efforts to stop the protestors trying 
to stop rugby games during the Spring-
boks  1981  tour.  Norma  spent  a  lot  of 
time  helping  in  the  kitchen  at  rugby 
and washing heaps of jerseys.  
Family has always been very important 
and  Doug  and  Norma  have  worked 
very  hard  at  their  farming  endeavours. 
Norma was a tailoress prior to marriage 
and  was  able  to  utilise  those  skills  for 
her family and give advice to others.  
Doug has always had a great vegetable 
garden  and  a  very  good  memory  for 
Kaiwaka  events  and  history.  He  was 
educated  at  Northland  College  where 
he  was  a  foundation  pupil  and  won  a 
scholarship  to  attend.  He  also  won  the 
agriculture cup both years he attended.  
Norma  was  educated  in  Wellsford. 
Doug was and is a good mathematician 
and  can  still,  despite  a  stroke  about  10 
years  ago,  do  arithmetic  quicker  in  his 
head than any of his family! He  is also 
a  well-known  party  animal  and  singer. 
One  of  his  party  tricks  is/was  to  take 
over  lead  singing  in  bands.  Another 
one  was  to  challenge  all-comers  to  50 
metre sprints.  
At  the  60th  anniversary  all  guests  said 
a  few  words  about  Doug  and  Norma 
and Wayne in particular made  mention 
of  some  of  the  many  talents  Doug  has 
eg  fencing,  building,  dairy  production, 
wood  splitting,  beef  farming,  shearing, 
in fact anything to do with farming and 
all  commented  how  good  his  farm 
looks  with  hardly  a  weed  to  be  seen. 
There are probably not many farmers in 
their 80s who like Doug and Norma are 
still working long days. 
They  have  8  grandchildren  and  6  great 
grandchildren.  
Photo:  Doug  and  Norma  with  their  chil-
dren Barbara, Wayne, Sandra and Allan 
DIAMOND ANNIVERSARY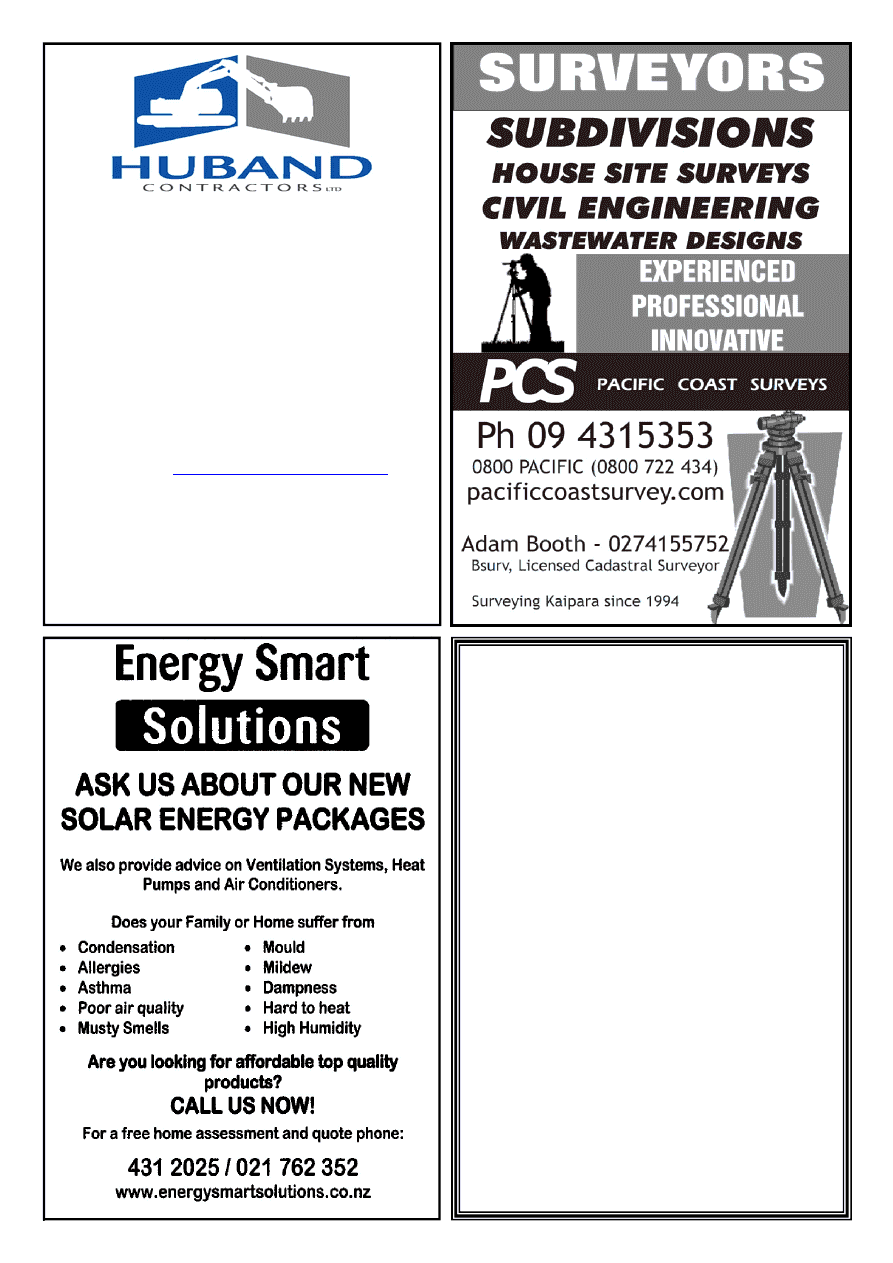 *   R O A D I N G   *   E A R T H W O R K S *    
*   D R A I N A G E   *   S I T E W O R K S   *  
For any further enquiries,  
contact Shaun on: 
Cell: 021 222 0272 
Home: 09 4318339 
Email:   
shaun@huband.co.nz
Shaun Huband:  Registered  
Drainlayer 
g.a.s. 
Mangawhai 
we have now opened a 
GARDEN CENTRE 
for all your gardening needs 
Also a great range of 
STOCKFOOD 
Wide range of 
ORGANICS AND 
 FRESH LOCAL PRODUCE 
All your motoring needs are taken care of by 
our friendly staff check us out... 
44 Moir Street, Mangawhai (09)431 4242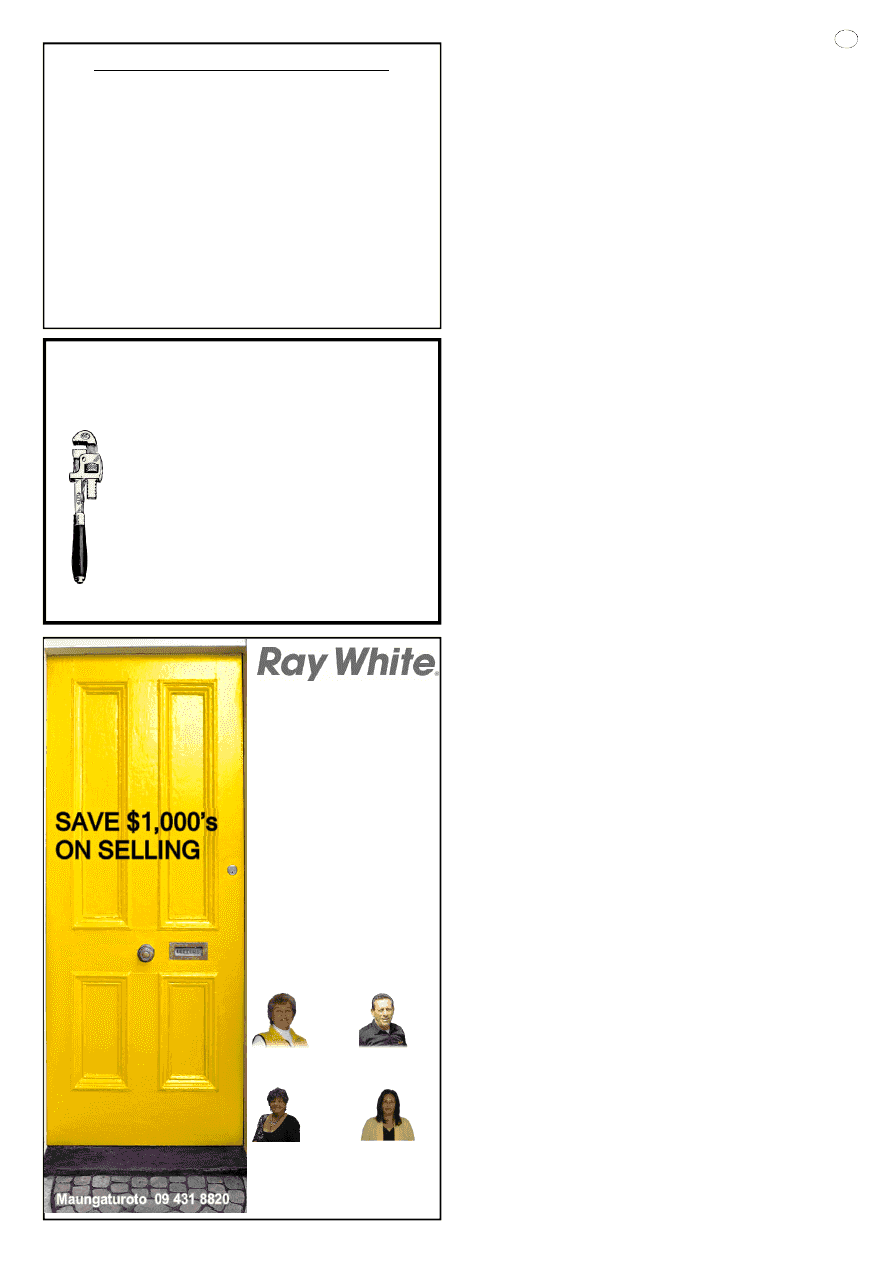 19 
Affordable Selling Fee 
2.95% + GST 
On a $400,000 property  
you could save more than  
$4,000 in fees  
compared to most major  
nationally recognised  
real estate brands. 
Selling with Ray White  
Maungaturoto doesn't make 
cents—it saves $'s - 
$1,000's of them. 
Laurel Jansen 
  Leanne Walker 
027 689 6400 
  021 431 619 
Bogue Real Estate 2014 Ltd Licensed (REAA) 
Beverley Morrison 
Keith Shadbolt 
021 288 0588 
021 402 122 
BARRY CURTIS PLUMBING LTD 
REGISTERED CRAFTSMAN PLUMBER 
Phone 4315572 
027 257 9884 
25 years experience 
Friendly reliable service 
All plumbing and maintenance 
Alterations and new housing 
New wood fire installation 
Spouting 
Competitive rates 
PROMPT EFFICIENT  SERVICE 
Jenny's Rural Cleaning Services 
Winter already:  
Opportunity in July and August. 
To get an early spring clean and save with 10% Discount 
In July and August only. 
(
Terms and
c
ondi ons apply.)
Cleaning Ovens
Windows inside & out.  
You can phone Jenny on 09 431-2826 
Or email jennychellew@hotmail.com 
Train At Kaiwaka
Where NorthTec 
C
ourses are Changing Lives 
In  the  last  18  months  students  have  been  coming 
from Kaiwaka, and as far as Tinopai and Wellsford to train 
with  NorthTec  running  Carpentry,  Painting  Cours-
es beside   La  Nonna,  and  a  Horticulture  Course  at  the  Kai-
waka  War  Memorial  Hall,  a  fantastic  opportunity  exists  to 
gain skills, and where possible, move towards employment. 
Jarrod  McKelvie  is  the  painting  tutor and  has had  plenty  of 
good results in many ways. More often training by working 
out  on  community  projects  such  as:  Maungaturoto  RSA, 
Pukearenga  Te  Kohunga  Reo,  Maungaturoto  Centennial 
Hall, St. Johns Ambulance HQ Kaiwaka, and Kaiwaka War 
Memorial Hall. Ask his students and mates; he is as keen on 
teaching as he is on fishing.   
                                                              
Tim Magill takes the carpentry and this is more a workshop 
based  course.  As  with  Jarrod  the  teaching  gets  peppered 
with  yarns  from  their  working  lives.  Designing  home  pro-
jects and swooping on timber being thrown away are exam-
ples  of  extra  tips. To  date  the  carpentry  crew  have  worked 
on the Maungaturoto Wharf, Kaiwaka War Memorial Hall,  
Kaiwaka  Community  Garden,  Oruawharo  Marae.  Tim  also 
has  heaps  of  enthusiasm  for  his  trade  and  how  much  the 
skills can benefit his learners.  
 
Carpentry and Painting:  
Both Level 2 & NZQA Approved  
Enrol and Get This! 
Good skills for future home jobs. 
A big step towards employment and a career? 
Great  way  to  meet  a  good  group  and  become  used  to 
working as a team in a work surrounding. 
Pride from  working on the Community Projects and an 
understanding of the associated Committees. 
18 week courses 3 days per week 
Free tools upon Completion  
 
A 2 day First Aid Course 
Now enrolling for 21st July 2014 start 
A feel for the increased Workplace Safety Requirements 
 
These courses at present are Fees Free 
Both filling fast so don't delay!  
Get in touch if you want to check these out: 
Painting: Call Jarrod 027 280 0060 
Carpentry: Call Tim 021 487 055 
  
Sustainable Rural Development: 
Tutor  James  Andrews  is  also  keen  to  hear  from  anyone  in-
terested in this fantastic growing type course.  The best way 
to see what he teaches is to go behind the Kaiwaka War Me-
morial Hall, and see the Community Garden. It's the sort of 
garden we would all be proud to have planted.  
On top of what they learn, gardeners feel good that they are 
feeding some of the townsfolk. 
By growing on hall land and as another Hall tenant, they are 
a  part  of  this  revitalised  and  recently  restored  community 
asset. Courses alternate between Level 2 or Level 3 at times.  
 Call James 021 0224 1950 
  
Please  help  our  areas  keep  the  courses  running  and  doing 
good for our communities.
 1. Enrol or pass the idea onto anyone who could be interest-
ed in a course.
 2.  Employ.  Our  past  or  present  students  include  a  lot  of 
smart  safety  aware  and  keen  workers.   We  as  tutors  love 
people  calling  in  and  taking  someone  casual,  work  experi-
ence, skilled labourer or fulltime.
We can see ourselves become a labour pool
.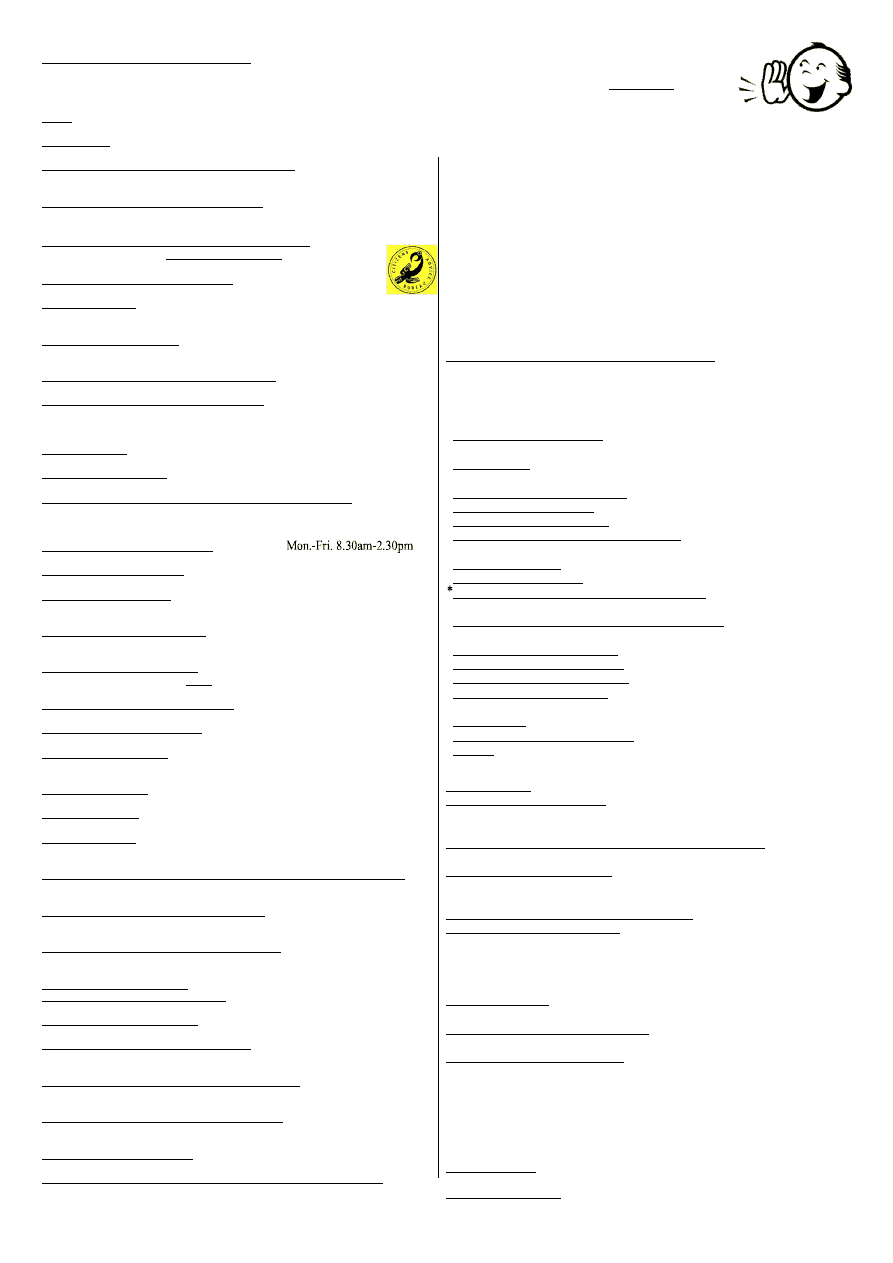 LOCAL SERVICES 
*St.John Ambulance 
111 or Freephone0800 61 0066
*Fire phone 111     *Police phone 111 or 09 4311150 
A A: Meets Wed., 8pm Kaiwaka Ph: 4312228, 4315543, 0800229 6757 
AL ANON: In recess, contact Ph: 4312228 
AGRIQUALITY (MAF) Livestock Consultant 
Phone 09 4311 820 or 021518257  
BUDGETING SERVICE,OTAMATEA:Free confidential advice & 
support - all areas of  personal finance Ph: 09 4318173 or 094318117 
CAB-
Citizens Advice Bureau.Wellsford Ph: 4237333.
0800 367 222 email:
cab.wells@xtra.co.nz
DOG/STOCK /NOISE CONTROL 0800 105 890 
KATE'S PLACE with Govt.Day Agencies/Community Information /
Osteopathy/ IRD / Probation, etc Ph: 4312661 Hours: 9am-3pm. Mon - Fri 
FUNERAL SERVICES: Morris & Morris Ltd, 
Whangarei - Bev Jaques Ph:4312367 or 0800667747 
GRANDPARENTS Raising Grandchildren: Sarah Rogers Ph: 4312194 
HAKARU LANDFILL/Transfer Station:Open everyday except 
Tuesday10am-4pm.Ph4312629 Cost-$55 trailer load up to 1 cubic me-
tre. Ph:4258567 - office 
HOMEOPATH: Donna Flavell Ph: 4314843 
INLAND REVENUE: Last Friday each month, 11-3pm Ph4312661 
KAIPARA DISTRICT COUNCIL www.kaipara.govt.nz:  
Help Desk FREEPHONE 0800 727 059  
Service Centre Mangawhai 4313161 
KAIWAKA KOHANGA REO: Ph:4312620 
KAIWAKA CEMETERY: Ph: 4312045 
KAIWAKA LIBRARY: kaiwaka.library@gmail.com  
Mon. 4-6pm; Wed., Thurs., Fri., Sat.  10am-2pm Ph:4312539 
KAIWAKA PLAYCENTRE: Ph: 4312286. Hastie Lane 
Monday to  Friday  9.00am - 12 noon. 
KAIWAKA POST OFFICE:Ph:4312 626 Fax: 4312287  
Post Code: 0573  for RD2  and  0542 for all Kaiwaka Post Office mail 
KAIWAKA PRIMARY SCHOOL: Ph: 4312309     
KAIWAKA SPORTS ASSN: Ph 4312005; 4312129 gym 
KAIWAKA ST JOHN: Manager Steve Rosser 09 4318403, 021 
2316836 
LINKING HANDS Health Shuttle service Ph Ken Littlejohn 4314121 
NORTHPOWER: Faults Kaiwaka area 0800 104040 
PARENTPORT: Free, practical family support service Puhoi to Paparoa 
Ph or txt:  Dianne 027 2085093 
PERSONAL DEVELOPMENT COACHING, GROUP FACILITATION:  
Sabine Druckler 4312231 
PLUNKET  KAIWAKA/MANGAWHAI: Ph:094318187 or 0276753488 
Kaiwaka Mobile Clinic once a month– appointments necessary;  
Mangawhai (next Domain) 1st & 3rd Thursday & Coffee Morning; 
PLUNKET CAR SEAT CO-ORDINATOR:  Pat Scott Ph 4314530 or 
0272881635 
PLUNKET FREEPHONE -0800 933 922 
PLUNKET -MAUNGATUROTO  Clinic every 2nd & 4thThursday. Ph: 
09 4318187 
PUBLIC HEALTH NURSE: Gloria Reid Ph: 094327634  
RETURNED AND SERVICES ASSN 733 Settlement Rd. Hakaru 
Ph.4312176 Bill Kerr (President) Ph.4314719 
TE KOROWAI AROHA O NGATIWHATUA Ph: 4312675 
(The Cloak of Love of Ngatiwhatua) Support and Maori Consultancy.  
VETERINARY SERVICE MANGAWHAI: 
Ph: 4314535 Mon-Fri 8.00-5.00, Sat 9-12, a/h appt. 
WELLSFORD DOCTORS: Ph: 4238 086 
WOMEN'S WELFARE LEAGUE & Reaching Out For Youth:  
4 Kaiwaka-Mangawhai Rd, M Morgan 4312293
WHAT'S ON
PLEASE ~ do let me know what is on - email 
kaiwakabugle@kaiwaka.co.nz 
Advertising in WHAT'S ON is FREE 
*27Jun~Roast Pork Night, Hakaru RSA, 4pm onwards 
*27Jun~New Moon 8pm 
*30Jun~Indoor Bowls, Hakaru Hall, 7:30pm 4312 256 
*2-3Jul~Kaiwaka School's The Treasure Hunt, KWMH 
*3Jul~Zonta Giant Auction & Trivial Pursuits, 7pm Mangawhai 
Club, to book ph Isobel 431 4482 
*4Jul~The Wolf of Wall Street, 7:30pm KWMH 
*5Jul~First Quarter Moon 11pm 
*6Jul~The Lego Movie, 2pm KWMH 
*8-12Jul~Taniwha Cup, KSA 
*8Jul~Over-80s afternoon tea, 2:30pm Hakaru RSA 
*12Jul~Mid-winter Market 9:30-12:30 Wellsford Library, Pt Albert 
Rd. Stalls $5, BYO table. Lesley.mclean@aucklandcouncil.govt.nz 
KSA=Kaiwaka Sports Association Complex 
KWMH=Kaiwaka War Memorial Hall 
See www.kaiwaka.co.nz for upcoming events.
HOUSEHOLD  RUBBISH  COLLECTION  -  Kaiwaka    Pick  up-
Mondays=Gr een  bags  ar e  picked  up  by  Nor thland  Waste-
queries  to  them  09  4303273,Wednesdays=Blue  bags  and  yellow 
recycling (at Jaques  $3.00 and $1.50)  are picked up by Kaurilands 
09 4392146.
*DIABETES Support Group -for Kaiwaka, Mangawhai, Wellsford 10am, 
3rd Friday of month Ph:A.Pert 4238242; J.Gardner 4238060 
*DRINK CAN 'tear tabs' - for Starship Hospital- please collect -  
98 Kaiwaka Mangawhai Rd, leave in mailbox, Ph. 4312625  
*GYMNASTICS OTAMATEA -  Tuesday Ph: Stephanie 022 3624998 
*HAKARU PONY CLUB-Secretary Julie Rynne 09 4314520 
*KAIWAKA BADMINTON -Tuesdays 7.30pm Ph: 4312345 
*KAIWAKA GARDEN & FLORAL Grp:2nd Thursday in month  
Ph: 4314767 
*KAIWAKA CUBS-Thursdays 5.30-7pm, Hakaru  Ph:Bruce  4312542 
*KAIWAKA SQUASH -Mondays 7pm,  Ph: Barbara Thomas 4315905 
KNITTING FOR WHANGAREI HOSPITAL - 2nd Tuesday in month, 
Apple Basket 10am Ph 4314827 
*MANGAWHAI COMBINED PROBUS CLUB: 2pm,3rd Thursday, 
Senior Citizens Hall Mangawhai. Ph: 4315777 
*NZ GENEALOGY-Wellsford - 1st Thursday in month Ph: 4237033 
*OTAMATEA GREY POWER-09 431 8138 Joan Hoggard  
*PT CURTIS CRUISING CLUB - Jean Ph: 4312 246 
*RSA,Hakaru & Dist.Women- meet 1.30pm 4th Thurs in month  
Ph: 4312 668  
*TRAMPING- Mondays 9am-2:30pm  Karen Ph: 4312 090 
*WAIPU GENEALOGYGROUP -4th Monday in month Ph: 4312725 
*YOGA- Tuesdays 6:15pm, Friday 8:30am Kaiwaka WM Hall  
Carla Ph: 4312 408, 021 296 8794
CHURCHES: 
*Gateway Worship Centre-St Mary's Church Nathan Rd off Oneriri 
Rd, Kaiwaka. Services, 10.30am 1st & 3rd Sunday of every month. 
Contact: Rev David Gage 4312528 or 0212354282 
*Kaiwaka Family Church-Your Community Church Sundays, l0am 
Home Group every Wed evening, Pastor John.Dekker Ph: 4318203 
*St Paul's Anglican Church 1st Sun. 9.30 am (Eucharist), 3rd Sun 
9.30 am (Family Service) Contacts: Church Office 09 4314122, M. 
Hargreaves 4312295, C. Bygrave 4312057 
*Church of Christ the King, Mangawhai 9.30am every Sunday 
*St.Mary's Catholic Church: Maungaturoto – Griffins Road, Satur-
day evening Vigil Mass 6pm; Mangawhai – Senior Citizens Hall, 
Sunday Mass 8:30am; Wellsford – Matheson Road, Sunday Mass 
10:30am; Mid-week Mass times and all enquires to Fr. Bill Fletcher  
Phone 423 8170 
*Baptist Church: Sun. 10.30am Mangawhai Snr Cit.Hall 
Ph:4312339 
*Cause Way Church Mangawhai – Sundays 10.15am, Mangawhai 
Community Recreation Centre, Insley St. Ph: 09 4314782  
www.causewaychurch.org.nz
*St.Pauls Archie Bull Hall HIRE $20 half day, $40 full day per hire 
    Contact G. Jaques 4312048 
*Kaiwaka War Memorial Hall HlRE - Phone 4312725 or  Email  
    kaiwaka.hall.bookings@gmail.com 
*Hakaru Community Hall HIRE -Ph.  4312256 or 4312110 
*Te Pounga Marae queries -A.Gage 4312528, 4312527 
*Kaiwaka Sports Association hire/queries- C. Anderson 4312051 
Justice of Peace: B.FJaques; L.Donaldson; A.F.Hargreaves 
    -please phone to make sure they are available 
Marriage Celebrants: L.Donaldson; A.F.Hargreaves;  C.Rosseels
Next Bugle Deadline Friday 4 July 2014