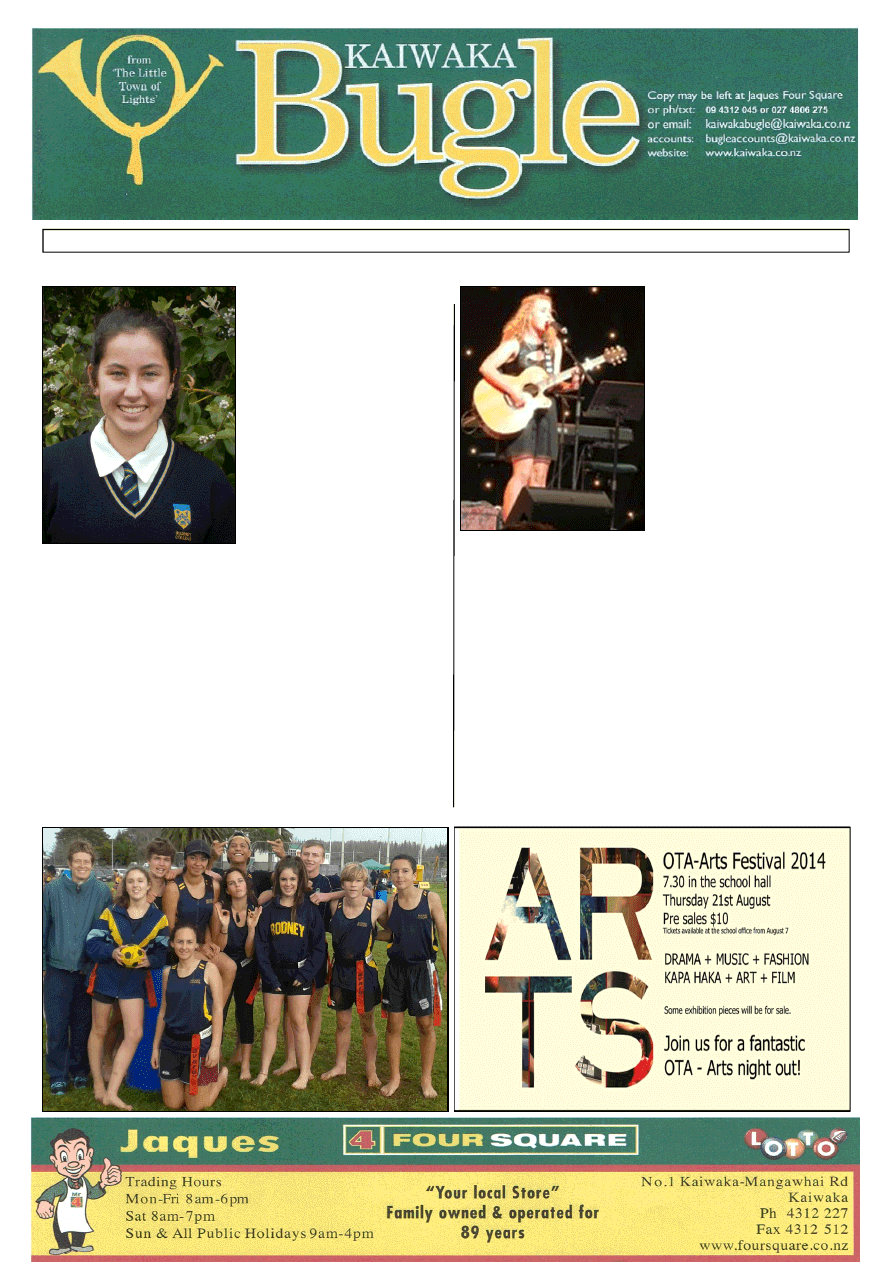 No: 13 
8 July 2014 
Language Immersion Award 
Aimee  Stevens  who  won  one 
of    fifteen  fully  funded  Lan-
guage  Immersion  Awards,  of-
fered  by  the  Ministry  of  Edu-
cation  in  conjunction  with 
AFS, is preparing to take off to 
Chile  early  this  August.    Fif-
teen  students  are  selected  na-
tionwide,  to  represent  New 
Zealand  in  different  countries 
around  the  world,  for  a  youth 
ambassador  programme  for 
senior  students  studying  lan-
guages.  After  a  year-long  pro-
cess  of  interviews,  selections 
and  preparations  Aimee  will 
head to Santo Domingo in Chile where she will stay with her 
host  family  for  a  semester  (5½  months).  Aimee  will  attend 
school and live with her host family. 
Northland Secondary Schools Ki o Rahi 
Mrs Middleton and Pete Wynwood took a Ki o Rahi Team to 
Kaikohe for the annual Ki o Rahi tournament. This is the first 
time Rodney College has sent a team.  
Mrs  Middleton  said  that  the  team  did  extremely  well  and 
stand  out  players  were  Narnia  Anderson  and  Kayla  Wood-
cock. They won 2 games, drew 1 game, and lost 1 . Overall it 
was  a really  great  day  and  a big  thank  you  to  Narnia for  or-
ganising the team. 
Photo -Back row (l to r) Mrs Alison Middleton, Alexis Bed-
ford,  Tyler  Pride,  Narnia  Anderson,  Kwyntyn  Vakatini, 
Whitney  Connolly,  Kimberley  Bartlett,  Bradley  Bowmar, 
Blake Steele, and Wade Tupp. Front row: Kayla Woodcock. 
 
RODNEY COLLEGE
Otamatea 
High 
students 
among  top  performers  at  the 
Northland 
final 
of 
the 
Smokefreerockquest  held  at 
Forum North on Friday night 
4 July. 
Congratulations  to  Emma 
Scott-Rankin 
(photo 
left) 
from  Otamatea  High  School 
who  was  placed  first  in  the 
solo/duo section. The 15 year 
old  acoustic  rock  singer  and 
songwriter  from  Mangawhai 
Heads  has  been  strongly  in-
fluenced by her Dad who is a 
drummer  and  big  fan  of  70s 
and 80s rock music.  
She  says  her  music  has  a  classic  70's  rock  base  with 
'modern  markings  and  influences'  and  her  songwriting  is 
very people focussed: "I find it so interesting how we treat 
each other and how we treat ourselves. So generally, peo-
ple  would  definitely  be  the  main  inspiration  for  my  song 
writing."  
Congratulations  also  to  second  placegetters  in  the  band 
category,    Alien  Weaponry  from Bream  Bay  College  and 
Otamatea High School; made up of Henry de Jong (drums 
and  backing  vocals)  EthanTrembath  (bass  and  backing 
vocals)  and  Lewis  de  Jong  (lead  guitar  and  vocals),  and 
third placed band,  The Vybes, Otamatea High School. 
Winner  of  People's  Choice  voted  by  text  was  Mile  Zero, 
Otamatea High School. 
Rodney College students won the APRA Lyric Award, the 
Lowdown Best Song, and the Smokefree Women's Musi-
cianship Award. 
    ~ Jacquetta Bell, for Smokefreerockquest 2014  
SMOKEFREE ROCKQUEST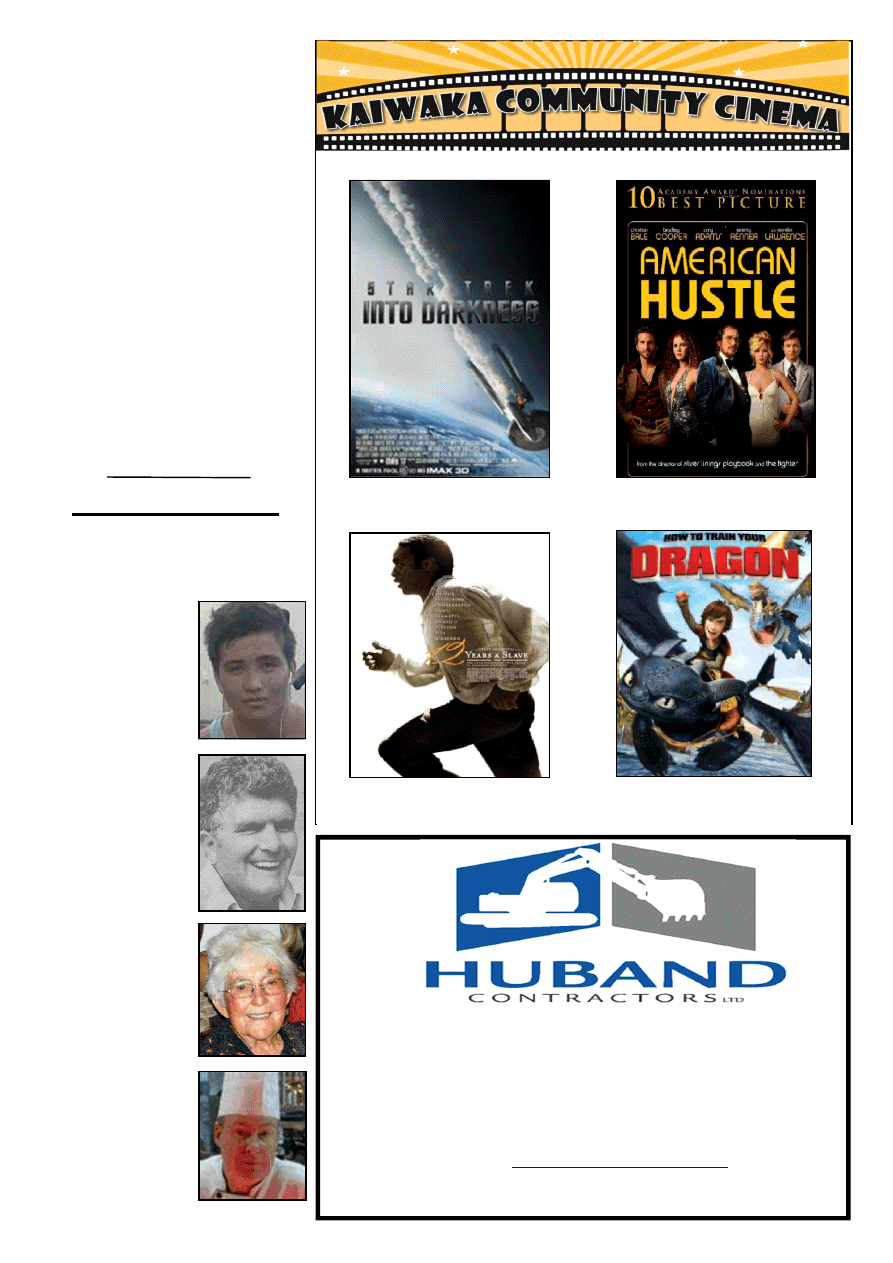 Star Trek, into Darkness 
Saturday 12 July 7:30pm(M) 
American Hustle 
Friday 18 July 7:30pm (M) 
ABOUT TOWN 
A very sad weekend - 
The  hearts  of  all  the  community  go 
out to the families for their loss. 
 
We remember: 
17  year  old  Jordan 
Kemp, 
a 
talented 
sportsman  and  Ota-
matea  Hawks  rugby 
player,  from  a  well 
known local family. 
 
John Keighley,  
Otamatea  councillor, 
the first president and 
visionary of the  
Kaiwaka  Sports  As-
sociation 
 
Pat 
Mason, 
94 
years  old,  a  wonder-
ful  community  lady 
and  former  weather 
reporter for the  
Kaiwaka Bugle 
 
Shane  Brierly,  a 
well  known  chef  and 
very  humorous  man 
who  died  suddenly  
from an accident in  
Vietnam - his adopted 
country. 
 
And also the  
motorist  who  died  on 
State Highway One in 
the  early  hours  on 
Saturday morning. 
Photos top-bottom: 
Jordan,  John,  Pat  and 
Shane 
*   R O A D I N G   *   E A R T H W O R K S   *    
*   D R A I N A G E   *   S I T E W O R K S   *  
For any further enquiries, contact Shaun on: 
Cell: 021 222 0272 
Home: 09 4318339 
Email:   
shaun@huband.co.nz
Shaun Huband:  Registered Drainlayer 
KAIWAKA BUGLE No. 13 
8 JULY 2014 
CONTENTS 
Page 3: Classifieds & Notices 
Page 5: St.Pauls Church; Point Curtis  
 
Cruising Club 
Page 7: Photography 
Page 9: Taniwha Cup at KSA 
Page 11: Hakaru Pony Club; OHS 
Page 13: Hakaru Women's RSA;  
 
Kaiwaka Fitness; Kaiwaka Weather 
Page 15: Kaiwaka St.Johns 
Page 17: Te Pounga Top House 
Page 19: Kaiwaka Primary School 
 
Bugle 14 will appear 22 July 
Contact for advertising, reports, articles 
or information can be made by 
Email kaiwakabugle@kaiwaka.co.nz 
Ph: 09 4312 045 
Txt:  0274 806 275 
Copy may be left at Jaques' Four 
Square. 
View the Bugle online at: 
www.kaiwaka.co.nz/Bugle 
12 Years A Slave 
Friday 1 August 7:30pm (R16) 
How To Train Your Dragon 
Sunday 3 August 2:00pm (PG) 
At Kaiwaka War Memorial Hall . Adults $10, Kids (under 16) $5, Family Pass (2 adults +  3 children) $25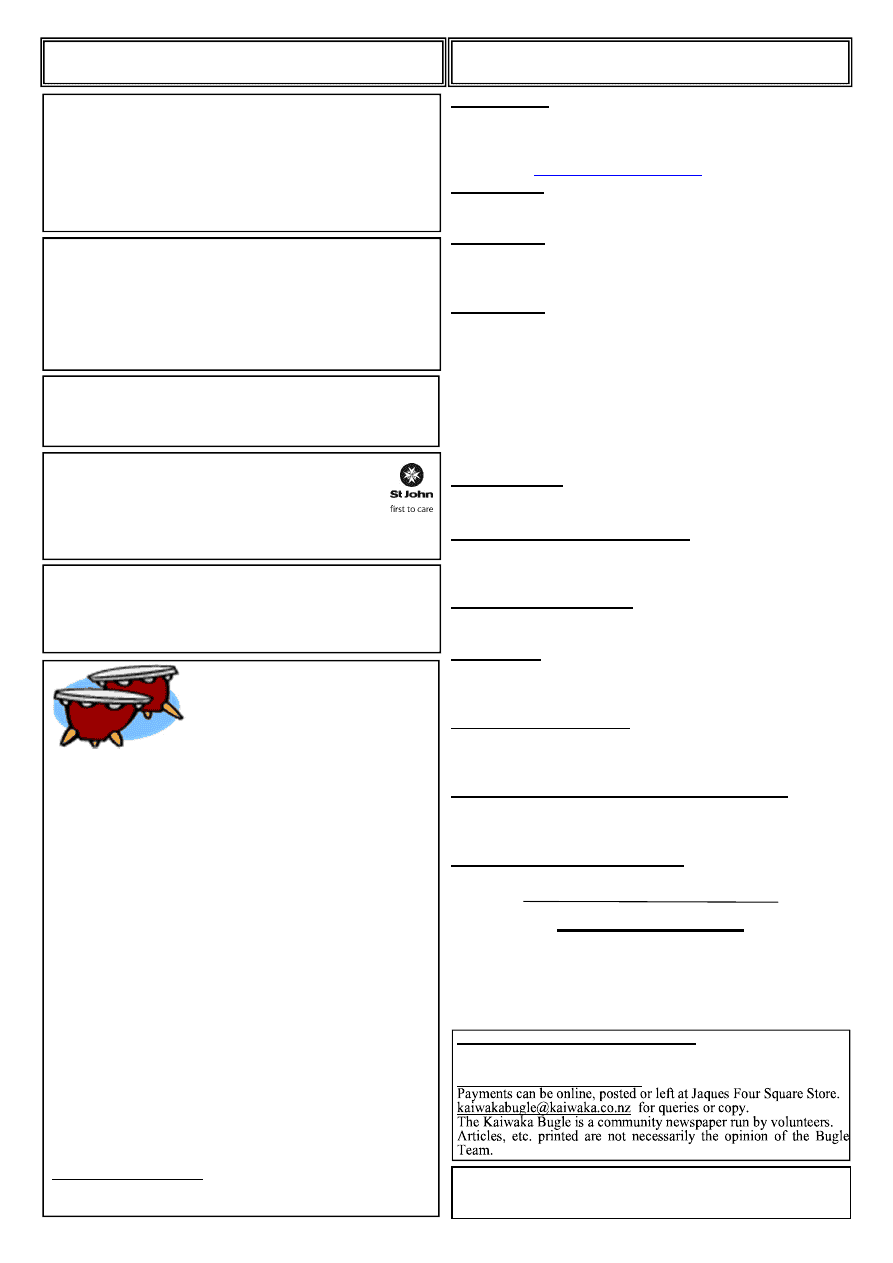 PUBLIC NOTICES 
CLASSIFIED 
FOR  SALE:  J ill  Shires  Holistic  Animal  Therapies. 
Herbal Remedies, Bach Flowers, Ointments, Diatoma-
ceous  Earth,  Bentonite  Clay,  Cranio  Sacral  Therapy, 
Skin  Conditions,  Arthritis,  Laminitis,  Mud  Fever 
Cream etc. 
www.allcreatures.co.nz
 or 09 4312 080 
FOR  SALE:  Skill  saw  $20,  alloy  extension  ladder  
$40,  Ryobi  dropsaw  (large,  had  little  use)  $250.  Ph 
4312 188 
FOR  SALE:  Cattle  -family  of  4,  two  mothers,  one 
Friesian & one Hereford cross, 2 Angus weaner calves, 
one steer & 1 heifer. If sold together, 20% discounted 
off current market value. Phone 431 2992 
FOR  SALE:  bike  26in,  5  gears  $25;computer  & 
printer-old style, working, $45;pair  large speakers, ap-
prox  10in,  $35  ono;  bike  trolley,$65ono;  folding  bed, 
metal  tube  &  wire,  with  mattress,$30;   2x  new  steam 
sauna, folding,VG winter gift,$395;  fair offers needed 
for:....kayak,black,  as  new;   dinghy,needs  tlc;  scuba 
tank; pvc plastic pipe,  new,  3/4  in,  large roll;  Anchor, 
galv,chain  &  warp  for  dinghy.  Free  -  man's  helmet; 
office  swivel  chair;  Sony  TV-  20in,  old  style,  remote, 
working. Ph: 4312992. 
AVAILABLE:  Horse  clipping.  1st  horse  $80,  2nd 
horse $60. Ph Josi 021 733 305 
 
HOUSE  WANTED  TO  RENT: Unfurn, min 2 bdrm 
& garage pref. On/close to Oneriri Rd.  Mature cpl & 1 
house-trained dog. Refs avail. Ph Jacqui 021416048  
 
DIESEL DELIVERIES to your door available from 
GAS  MANGAWHAI phone (09) 431 4242  
 
HASHTAG  Band  for  hire.    A  lively  mix  of  covers 
and original music.  Make your night special.  Ph: 021 
623 776  
 
BERYL 
NOZEDAR:  (Middleton) 
International  
Clairvoyant. 
Numerology, 
Tarot, 
Clairvoyance,  
Mediumship. $60 for hour includes CD. Ph: 4312 080 
 
CLOTHING ALTERATIONS & REPAIRS: 
Hems,  Zips,  Dressmaking  Phone:  Win  4312  027    or 
027 444 8358 Winsome Designs. 
 
FREE  GRAZING  WANTED: Small or large block. 
Can  do  some  fencing  or  water.  Phone  after  6pm  
4312 006 
Proverbs 
27:2 
Don't praise yourself; let others do it!  
Kaiwaka Bugle Advertisements 2014: 
Classified  $3;  1/8  page  $6;  1/4  page  $12;  1/2  page  $24;  in  special 
circumstances whole page adverts are available-cost $100 
bugleaccounts@kaiwaka.co.nz 
THE MAUNGATUROTO CHIROPRACTIC 
CLINIC 
Will be closed from Wednesday July 16th  
and will reopen 
Wednesday August 13th  
because Dr. Macaulay will be 
attending a postgraduate course at this time. 
THANK YOU 
As  the  cards,  flowers  are  still  coming,  thank  you  to 
all those people who continue to support us. 
Arohanui, Milly & Ray & girls. 
CHAT SPACE  
FOR PARENTS!  
Starting in July 2014 a drop in service for parents & 
caregivers of children will be launched in Kaiwaka! 
Chat Space for Parents will provide an opportunity 
to chat in an informal relaxed setting facilitated by 
Gloria. 
Launching on the 24
th
 July at Kate's Place, opposite 
Cheese Shop, this will then be held on the 2nd and 4
th
Thursdays of the month.  
Time        10.00 am - 12.00pm  
 
Coffee, Tea, Milo and fresh spring water will be availa-
ble.  From 11 am till 11.45 Gloria will facilitate a brief 
discussion and offer tips on a topic which those present 
will be able to choose.  A small koha or gold coin dona-
tion towards the maintenance of Kate's Place will be 
welcomed.    
 
Gloria is a competency assessed Social Worker with 
professional membership of ANZASW with wide expe-
rience in Parent Coaching: Pastoral Counselling: Work-
shop Facilitation: Adult Education:               
For more info contact: Gloria Ramsay MANZASW  027 
363 8833 or 09 431 2209 
www.savvynannynz.net   
ST.JOHN OP SHOP 
As  the  shop  is  empty  of  big  stuff,  furniture 
would greatly  be appreciated please and any-
thing else - crockery, bric-a-brac also short. 
See Mill
y at the St.John Op Shop or phone 4312650
TE POUNGA MARAE 
ANNUAL GENERAL MEETING 
Sunday 13th July 2014, Commencing 10:30am 
Te Pounga Marae, Nathan Road, Kaiwaka 
Any enquiries please contact: 
The Secretary, Jeanette Nathan 
Ph or text 021 186 7382, Or home: 09 432 1217 (Waipu) 
Point Curtis Cruising Club 
3rd Annual Boar Hunt:  
8th, 9th and 10th August 2014 
Senior & Junior Sections   
ABOUT TOWN 

Congratulations to David Kidd, Northland YFC, who won 
the National Young Farmer of the Year. 

Dog registration  cost for 2014 (green tag) is $52 per dog; 
forms  will posted  out  later  this  month,  with  payment  to  be 
made by 31 August.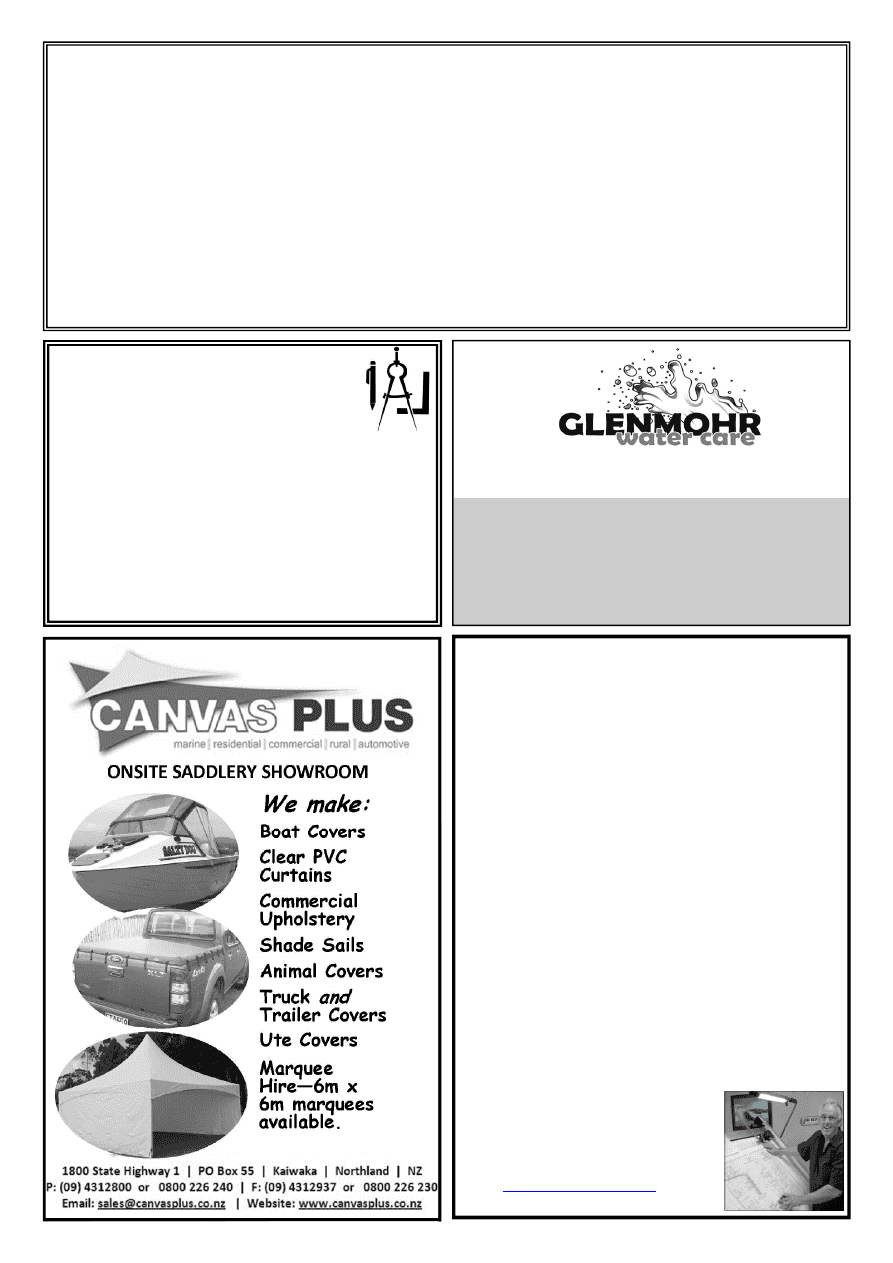 RANGANUI EARTHMOVERS 
16T Excavator   
(tilt, thumb & ROPS cab)   
Transport Trailer 
2 x 6 Wheeler Tip Trucks 
Suppliers of All Grades of Metal & Topsoil 
If you want a proper job done with an experienced operator ring 
Grant on:  A/H  431-2131   
Email  ranganui.dev@xtra.co.nz 
Mob  021845-246 
Driveways, House Sites,  
Drainage Dams, 
Section Clearing,  
Tree Work,  Rock Retaining Walls,  
Quarry Work, 
Basically Anything That a Digger Can Do 
design drafting 
service 
Retired builder and manufacturer with over 40 years  
experience in the building industry is offering a design 
drafting service for domestic housing, sleepouts and 
sheds.  
Plans formulated in consultation with clients, with 
working drawings completed and submitted to  
council for processing.  Extensive practical experience,  
able to identify & resolve problems. 
Please ring Mike Lean on 
09 431 2260  
          or 
021 431 196 
Water Tank Cleaning 
 
Keep your water safe & clean   
 
Removal of sediment, silt etc. 
 
Vacuum or full scrub 
 
Minimal water loss 
Phone Mark (09) 432 0655 or 0274 707607 
 ARCHITECTURAL BUILDING 
PLANS AND DESIGNS 
WRIGHT DESIGN 
 QUALIFICATIONS 
Brian is a qualified designer (NZCAD) with over 40 years of 
varied experience in all types of building and is a registered and 
Licensed Building Practitioner in Design - L.B.P. 117345 
He ensures you will achieve the best from your budget with 
recommended excellent local contractors ready to competitively 
price and build your personal project quickly and efficiently. 
 EXPERIENCE 
Brian's practical building and 40+ years of design experience 
means he can give you excellent advice and all the guidance 
needed for all your building needs 
v Wright Design offers free visits, consultations and all the ad-
vice you need on planning, design, building, contractors, coun-
cil permit applications, etc. 
 
"  Qualified and inexpensive designer – N.Z.CAD., LBP 117345 
"  Guaranteed design and working drawings 
"  Free site visit to your home or property 
"  Great service 
"  Great problem solver 
 
Call Brian ~Arrange a visit to discuss your needs  and obtain 
great advice and free quotation 
MAKE GOOD USE OF HIS EXPERIENCE and 
KNOWLEDGE 
WRIGHT DESIGN:  
360 Oneriri Road, Kaiwaka
Office 09 4312544   
Mobile 021 276 7389  
Email: 
brianwright@clear.net.nz
www.wrightdesign.co.nz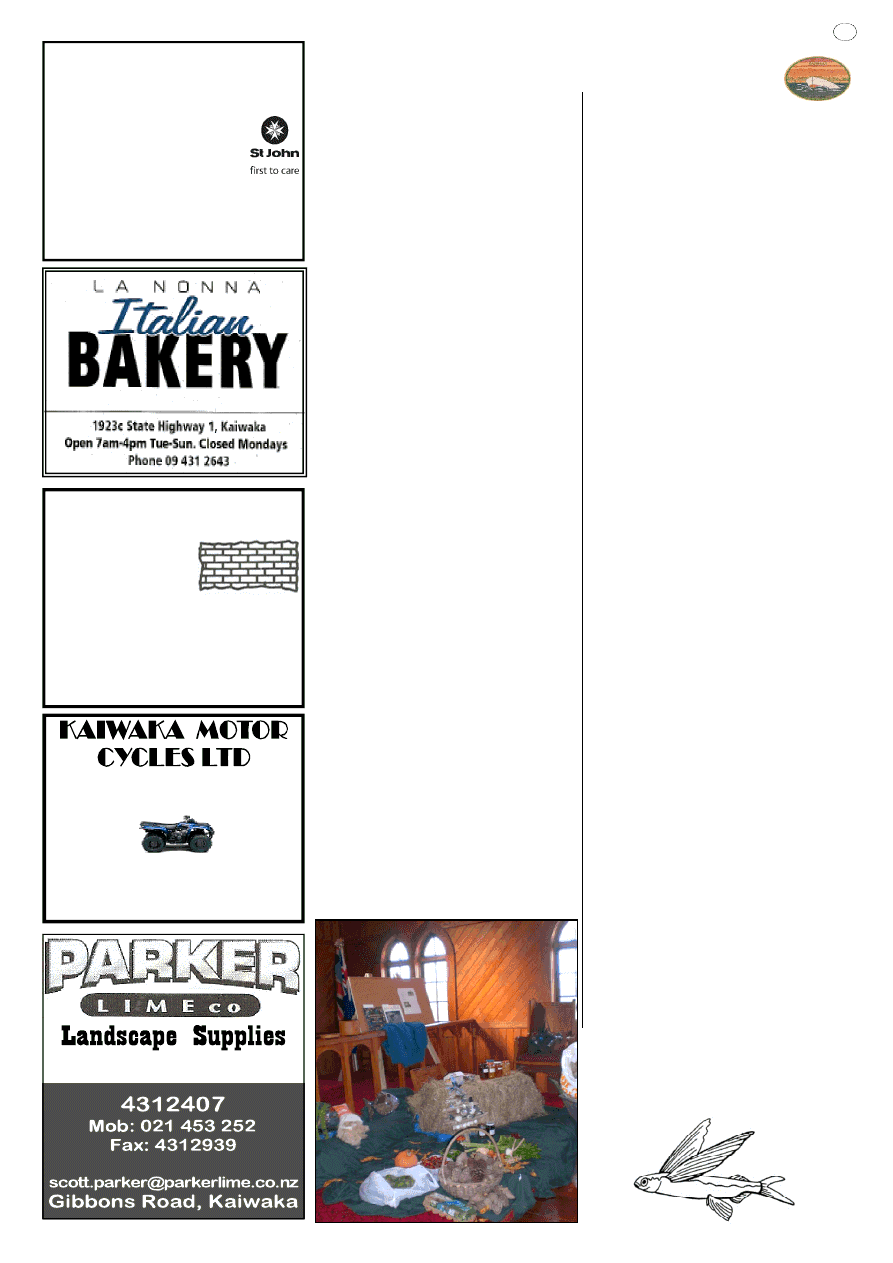 BRICK/BLOCKLAYER 
All aspects of masonry:  
Fireplaces, 
Restoration  
& Remedial Work. 
JAMES EAGLETON 
Tel. (09) 431 2514  
Mob. 0274 749 232 
jajueagles@yahoo.com.au 
210A Pukenui Road, RD2 Kaiwaka 0573 
Bulk Cartage 
SALES SERVICE SPARES
FARM BIKE SPECIALIST
Phone 431 2127  
Kaiwaka-Mangawhai Rd 
Kaiwaka 
When you need St. John 
members at your function … 
Get a Community Services 
Form 
….. see Mill
y at the  
Kaiwaka St John  
Op Shop.
Phone 4312650 
MORE MEMBERS REQUIRED FOR 
THE KAIWAKA STATION. 
5 
POINT CURTIS 
CRUISING 
CLUB 
Our  AGM  was  held  on  17th  June.  
Thank you to those who attended.  
Officers elected at AGM are:  
Commodore:  Wayne  Leslie,    Vice 
Commodore: Craig Andrews, Secretar-
y/Treasurer:  Jean  Mcleish.  We  look 
forward to the year ahead and wish the  
committee well. 
End of Season Duck Shoot Prize  
Winners - 28th and 29th June 2014: 
Senior  Section:  Mallar d:  1st:  Tony 
Smith 
1.409kg, 
2nd: 
Keith 
Mills:1.346kg. 
Grey: 
1st: 
Trevor 
Wright  1.112kg,  2nd:  Trevor  Wright 
0.960kg.  Parry:  1st:  Dave  Kennedy 
1.995kg,  2nd:  Tony  Smith  1.921kg. 
Pheasant:  1st:  Tony  Smith  1.508kg, 
2nd: Dave Kennedy 1.466kg. Canadian 
Goose:  Nigel  Clarke  3.523kg.  Pukeko: 
1st: Wayne Leslie 1.222kg, 2nd:Trevor 
Wright  1.206kg.  Black  Swan:  1st: 
Dave  Kennedy  6.308kg,  2nd:  Nigel 
Clarke 6.026kg. 
Junior  Section:  Mallar d:  1st:  J acob 
Butler 1.373kg, 2nd: Mikayla Kennedy 
1.282kg. 
Grey:1st: 
Koby 
Worsell:1.503, 
2nd:Jacob 
Butler 
1.043kg.  
Parry:  1st:  Mikayla  Kennedy  1.719kg, 
2nd:  Brayden  Mills  1.677kg.  Pukeko: 
1st:  Bradley  Kennedy  1.005kg,  Koby 
Worsell 0.975kg.  
Fish of the month competition winners: 
(Kahawai): 
1st: 
Andrew 
Kenny 
2.764kg,  2nd:  Hayden  Smith  1.719kg, 
3rd: Kraig Steiner 1.658kg. 
New fish of the month:  
GURNARD until next meeting.  Weigh 
your Gurnard in to be in to win! 
Thank you to Gravy who has donated a 
beautiful  totara  chopping  board  (it's 
really  big!). The  board  is  on  display  at 
the  3  Furlongs  Hotel  and  raffle  tickets 
to  win  it  are  on  sale  at  the  pub  for  $5 
per ticket. 
3rd Annual Boar Hunt:  
8th, 9th and 10th August 2014.   
Watch  out  for  posters  with  all  the  de-
tails! This will be our biggest boar hunt 
yet  with  Boar,  Snapper  and  Pheasant 
sections  as  well  as  Possum  and  Eel 
sections  for  the  juniors.    Great  spot 
prizes,  food,  entertainment  and  raffles 
all weekend long! 
DON'T  FORGET  TO  PAY  YOUR 
SUBS!    Subs  are  very  reasonable  at 
$30 family or $20 single sub.  Subs are 
payable  at  3  Furlongs  Hotel,  Kaiwaka 
or  by  posting  to  club  Secretary/
Treasurer  Jean  Mcleish,  C/-  Kaiwaka 
PDC, Kaiwaka. 
Next committee meeting: Tuesday 15th 
July, 2014, 7pm at 3 Furlongs Hotel. 
~Wayne Leslie, Commodore 
KAIWAKA 
ST PAUL'S 
ANGLICAN CHURCH 
Kaiwaka  joins  Mangawhai  Mission 
District 
Earlier  this  year  Paparoa  Parish  
members  voted  to  divide  the  Parish 
into  two  mission  districts,  East  and 
West.  This  resulted  in  St  Paul's  being 
incorporated 
in 
the 
Mangawhai  
Mission District. Other worship centres 
in  this  District  are  Christ  the  King, 
Mangawhai, and St Michael's, Hakaru. 
This  change  has  not  altered  St  Paul's 
services. A Eucharist service is held on 
the  first  Sunday  of  the  month  at  9.30 
am,  and  led  by  visiting  priests,  (the 
District  is  currently  awaiting  the  ap-
pointment of a new vicar). On the third 
Sunday of the month, a family worship 
service  is  held  at  9.30  am,  ably  
facilitated 
by 
the 
Rev. 
Derek  
Christensen.     
St  Paul's  recently  held  a  Harvest 
Thanksgiving  service,  with  church 
members 
bringing 
home-grown  
produce  and  flowers,  as  well  as  hand-
crafts, 
artistic 
works, 
woodwork,  
poetry,  writing,  etc.     The  front  of  the 
church  was  arranged  in  a rustic  theme, 
with  a  hay  bale,  wheelbarrow,  antique 
cream  can  and  bags  of  pine  cones.    
During 
the 
service, 
congregation  
members  shared  many  interesting  
stories  about  their  contributions.    The 
produce,  including  meat,  eggs,  fruit, 
vegies, preserves and baking was given 
to  the  Kaiwaka  Foodbank.      The  bags 
of  pine  cones  were  distributed  to  
elderly residents in Kaiwaka. 
The Archie Bull hall was upgraded late 
last  year,  with  the  addition  of  a  heat 
pump  and  oven,  along  with  drapes,  a 
carpet  square,  comfortable  squabs  for 
the window seats and new tables. 
As  part  of  the  group's  desire  to  be 
aware  of  and  sensitive  to  the  needs  of 
our  wider  community,  afternoon  tea 
was  made  for  40  participants  in  the 
Mangawhai  Walking  Weekend.  The 
proceeds are providing groceries to the 
Kaiwaka Food Bank over winter.  
Come and visit and join us for a cuppa 
after the service - everyone welcome! 
~Fay Burnett, Church Office, 431 4122  
TILING 
Certified Waterproofing 
431 4533 or 021 86 33 33 
George 
MCN Property Solutionz  
Local references available 
Natural Earth Ltd 
Landscape and Bobcat services 
 : Driveways  :Landscaping  :Retaining Walls 
 : Hole Boring: Land Levelling :Trenching 
 : Decks :Fences :Sections Cleared 
 : Plus much more
Tel 09 4312 885 
Mob 02102391280 
For A Fast Friendly Service  
Contact Tim Hicks 
BARRY CURTIS PLUMBING LTD 
REGISTERED CRAFTSMAN PLUMBER 
Phone 431 5572 
027 257 9884 
25 years' experience 
Friendly reliable service 
All plumbing & maintenance 
Alterations and new housing 
New wood fire installation 
Spouting 
Competitive rates
PROMPT EFFICIENT  SERVICE 
Two for One Pizza Deal 
June/July only 
Monday, Tuesday and Thursday 
between 5.30pm – 7pm 
Purchase one pizza (any size) and get a 
second Lang's Pizza (same size) 
free when dining in at 
Sail Rock Café 
Wood Street, Mangawhai Heads 
Phone 09 431 4051 
June/July hours open @ 9.30am  
CLOSED    Wednesday day/night 
Closed for Mid-Winter break 
18
th
 June reopening Monday 23
rd
 June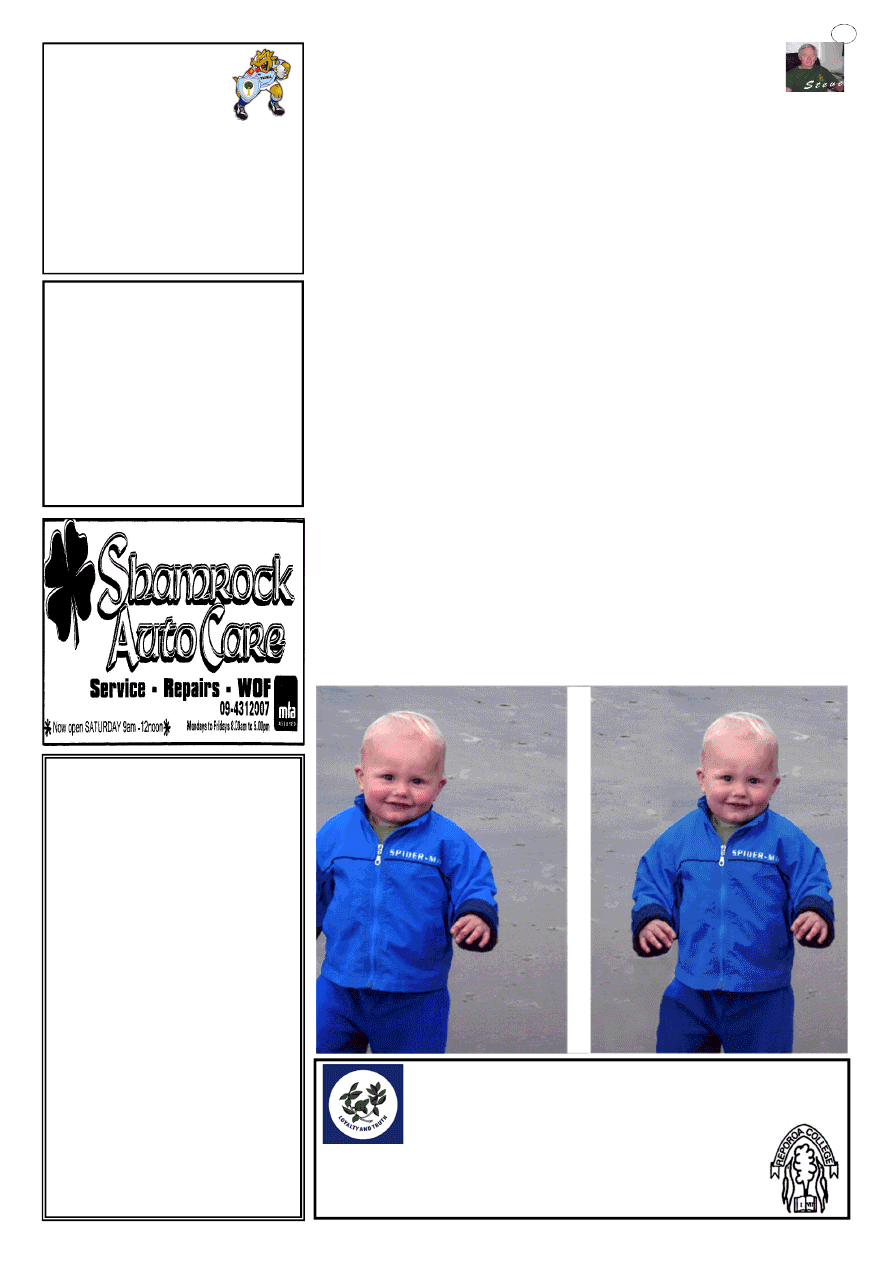 AMBER'S 
Q Cafe &  
Restaurant  
All day breakfast, 8am - 5.30pm.     
Home made Pizza, take away or eat in from 
8am to late. 
 Light lunches, 11.am - 5.30pm, 
Dinner Menu at 5.30pm to late 
 Toasted Sandwiches and Sandwiches made 
to order. All day, Pies, Chowder & Soups 
 Milkshakes, Kiwi Ice cream, Slushie Fruit 
drink, Tea, Coffee 
 Closed Mondays.....except Observed Holidays 
 Sunday to Thursday: 8am - 8pm 
 Friday: 8am - 8.30pm, Saturdays 8am- 9pm 
4315226 
Trevor & Amber 
41 Moir Street, Shop 5-6  
Mangawhai Village 
Next to Carters Building Supplies 
 LEABOURNS 
Passenger Service
Car & Van Hire 
Bus & Coach Charters 
Airport Transfers 
 Monthly Shopper Bus 
Phone (09) 4237416 
7
PHOTOGRAPHY 
and making a silken purse from a sow's ear... 
Last  time  we  got  all  technical  and  with 
good  reason,  you  now  have  some  of  the 
tools  of  digital  restoration  with  a  free  
version of  Photofiltre7.   
Another great free digital imaging program 
is  GIMP,  the  GNU  Image  Manipulation 
Program.  Gimp  is  not  so  easy  to  use  as 
Photofiltre7  so  we'll  focus  on  PF7  as  we'll 
now call it. 
So…  if  you've  been  following  this,  you'll 
now have downloaded, set up and run PF7 
and  be  quite  comfortable  with  some  of  it's 
features. 
Now  we  get  to  the  real  magic  of  imaging 
programs, making clever stuff happen. 
The  first  thing  we'll  do  is  we're  going  to 
scan something, I suggest you use the front 
page of the Bugle, it has all we need to get 
you  started  and  we  covered  scanning  last 
time so it should be fresh in your mind. 
In  the  top  left  is  the  Bugle  logo,  we're  
going to turn it around, you'll see why later 
on.  
So  with  your  scan  showing,  click  the  
selection  tool,  top  left  of  your  tool  palette 
and  click  and  drag  a  box  over  the  Bugle 
logo,  try  and  get  it  all in...if  it  goes  wrong 
click "selection" in the top menu and click 
"hide selection" then try again. 
Now we have it all in our box "right click" 
and "copy".  Next click "edit" and "paste". 
You'll  now  have  a  copy  pasted  over  the 
original,  it's  called  a  layer,  think  of  each 
layer  as  glass  slide  where  only  the  bit  we 
want  has  an  image  on,  the  rest  is  clear. 
Make  sure  the  logo  is  where  you  want  it 
and  click  "layer"  "Merge  with  previous 
layer". 
So  far  so  good    but  the  writing  is  
backwards now… no worries I say… same 
again  with  a  circular  tool  instead  of  a 
square.  The circle is actually a  stretchable 
ellipse where you can drag the sides to pick 
up the area you want, give it go, click drag, 
release  and  the  same  again  until  you  have 
all the words in the circle. Good! 
Now  just  like  we  did  earlier,  "right  click", 
"copy", click "edit" and "paste" then do the 
horizontal  flipperoony ...as if by magic it's 
all  come  good,  click  "layer"  and  merge 
with previous layer. 
Now  we're  cooking…  but  what  about  the 
staple,  that  looks  very  out  of  place…  you 
could  repeat  the  previous  steps  but  we're 
going  to  take  it  out  altogether  and  you 
won't break fingernail doing it. 
On your tool  palette click clone stamp and 
in  the box that pops up underneath select a 
size of 20. Now move your mouse over the 
page  and  you'll  see  a  white  circle,  place  it 
in  an  open  area  of  green  and  hold  CTRL 
and  click.   You have  just  selected  the  area 
you  want  to  clone  from.  Now  with  your 
mouse click drag and release in small bites 
over the staple and you'll see it disappear as 
the clone… errr clones it, clever eh?? 
It  often  pays  to  do  this  in  tiny  detail  so 
zoom  into the image using the % indicator 
in  the top  menu.    You  will  make mistakes 
cloning but if you clone  in small bites just 
press  CTRL  and  Z  to  undo  your  latest 
moves  and  redo  them  until  you're  happy. 
When you're done, click file and save it. 
OK  we  have  now  done  some  baby  steps. 
Here's  a  photo  where  the  poor  kid's  arm 
was  chopped  off    by  the  camera  and  then 
copied  and  replaced  digitally,  no  children 
were hurt in the making of this photo.  
See 
more 
examples 
on 
www.overviewsnz.com 
~Steve Campbell 09 4312 779 
Reporoa College – Otamatea High School
Sports' Exchange
Sunday 10
th
 – Tuesday 12
th
 August 
at Otamatea High Sschool
(49
th
 Annual Exchange)
Taniwha Shield 
Year 7 and 8  
Rugby Competition 
at the 
Kaiwaka Sports Complex 
Tuesday 8th - Saturday 12th July 
Spectators are very welcome  
Food and drink available.  
Tuesday: Opening Ceremony 9am  
Saturday: kick-off from 10am with the 
grand final being played at 12pm, 
Closing Ceremony to follow.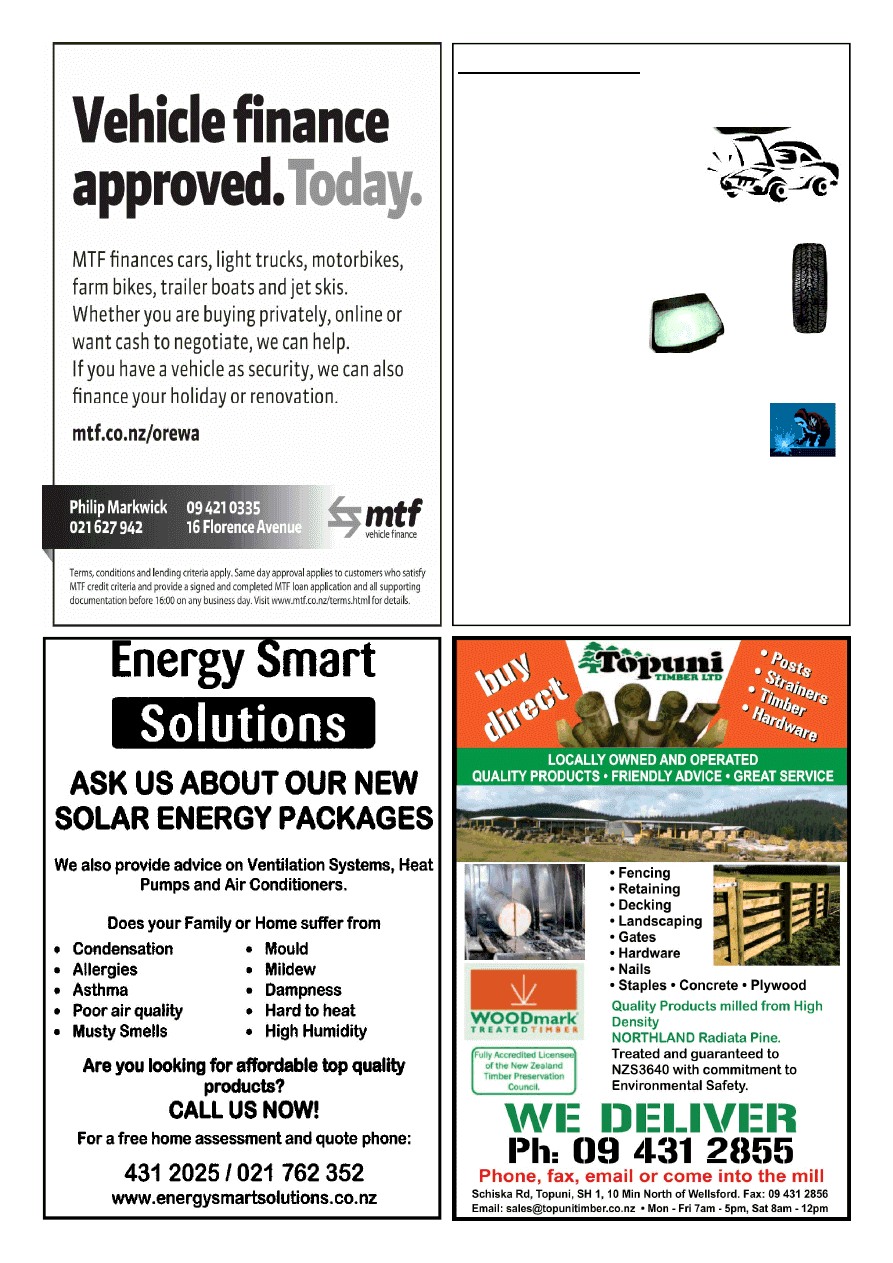 Want it done? 
Bring it to  
Twinkle Tow 'n' Tyre 
*W.O.F. 
*Tyres 
*Windscreen replacement 
*Chip repairs 
*Bulk Oil 
*Batteries 
*Welding 
*Custom built trailers 
*Trailer hire 
Think you'll get a better deal in 
the city? 
Go on, ring us; it won't cost  
anything! 
1837 State Highway 1, Kaiwaka       
Phone 431 2823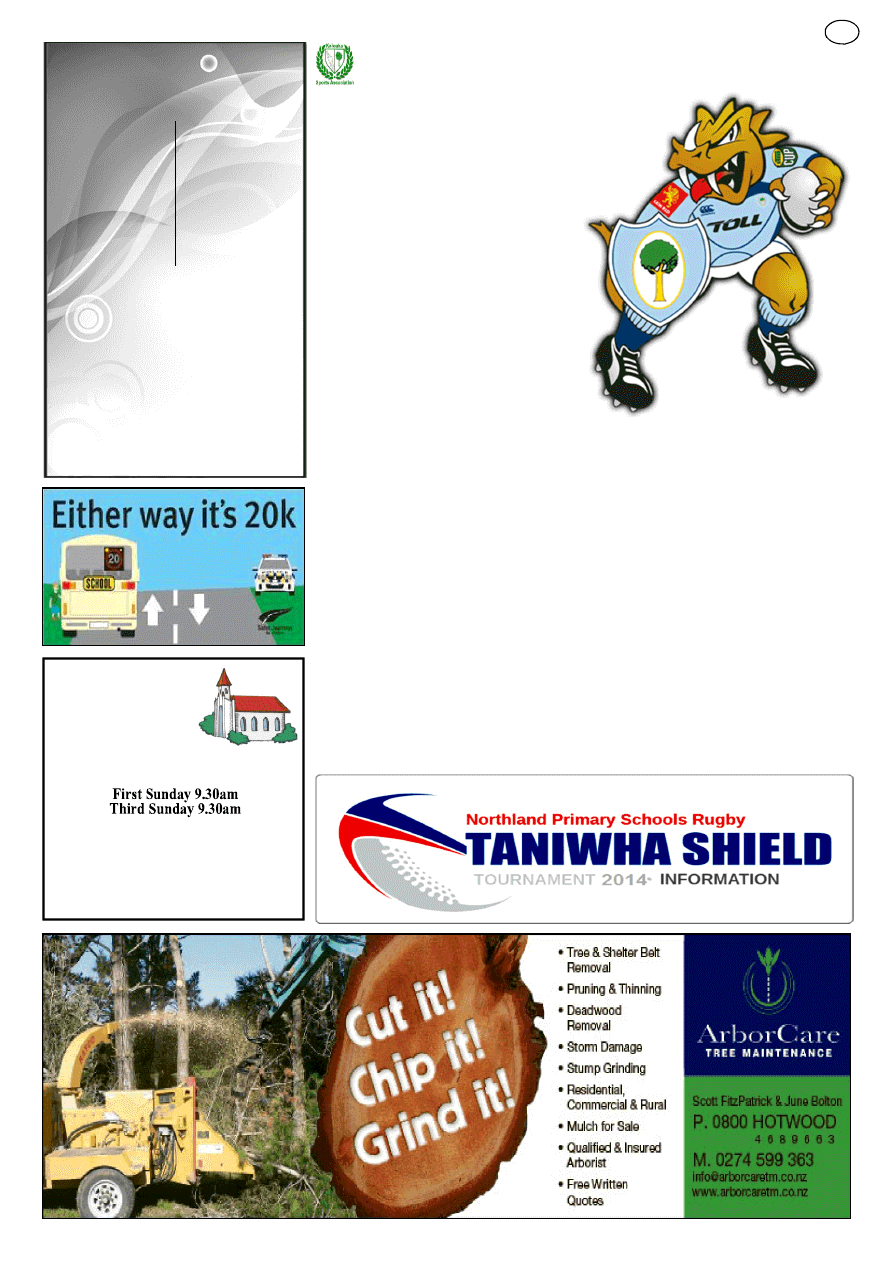 9
U Beauty 
Please call Nicole for bookings 
09 393 6336 or 022 0639450 
Qualified Beautician 
4 Kaiwaka – Mangawhai Rd 
Kaiwaka 
Underarm Wax  
$20 
Extended Bikini Wax 
$30 
15 min Back  Massage 
$25 
Eyebrow Wax  $10 
Eyebrow Tint  $10 
Eyelash Tint 
$20 
Lip Wax 
$10 
Chin Wax 
$10 
Bikini Wax 
$20 
Brazilian 
$50 
½ Leg Wax 
$30 
Full Leg Wax  $45 
Full Pedicure 
$60 
Foot Tidy  
$35 
Manicure 
$45 
Nail Tidy 
$25 
Chest Wax 
$30 
Back Wax 
$40 
Nostrils 
$10 
Ears 
$10 
KAIWAKA SPORTS ASSOCIATION 
THE TANIWHA HAS ARRIVED! 
Northland's 
prestigious 
rugby  
tournament,  the  Taniwha  Shield,  is  
being  played  at  our  Sports  Complex 
this  week,  from  Tuesday  till  Saturday, 
8th-12th July). 
Eight  teams  of  Year  7  and  8  players 
from  all  over  Northland  are  competing 
over  the  five  days  for  the  opportunity 
to take home the coveted shield. 
Best of luck to  our local team Rodney/
Otamatea,  coached  by  Mike  Peeni. 
Spectators  are  very  welcome  to  come 
along  to  support  the  boys.  There  will 
be food and drink available.  
Participating Teams:  
Pool  A:  Bay  of  Islands,  Nor ther n 
Wairoa,  Presidents  XV,  Whangarei 
Bears  
Pool  B:  Hokianga,  Mangonui,  Rod-
ney/Otamatea, Whangarei Grizzlies, .  
Rodney/Otamatea  Game,  Pool  B, 
times: 
Tues 8/7: vs Hokianga at 1pm 
Wed 9/7: vs Grizzlies at 12.45pm 
Thurs 10/7: vs Mangonui  at 11am  
Parking 
We  are  expecting  big  crowds  on  each 
of  the  days  and  particularly  Saturday 
(Finals Day), so we are asking locals to 
please  park  either  in  the  Three  Fur-
longs  carpark  (there  will  be  a  shuttle 
van to take you to the Complex) or the 
school  carpark.  This  way,  the  Sports 
Complex  carparks  are  available  for  the 
out-of-towners. 
Finals Day 
If you'd like to come along on Saturday 
to  watch  the  finals,  they  kick-off  from 
10am with the grand final being played 
at 12pm.  
Northland's  mascot  Tane  the  Taniwha 
will  be  there,  and  Toyota  Grassroots 
TV  will  be  filming  so  remember  to 
wave for the camera!  
A hangi will be for sale for $10 at 2pm. 
This  is  one  of  the  biggest  events  that 
the  KSA  has  organised,  and  hopefully 
our  local  businesses  will  experience  a 
positive spinoff from the large influx of 
visitors into our town.  
To  keep  up  to  date  with  Taniwha 
Shield  results  and  photos  throughout 
the week you can: 

visit our website 
(www.kaiwakasports.co.nz) 

like our Facebook page (https://
www.facebook.com/TaniwhaShield) 
 
 
For  any  queries  on  the  tournament, 
please  contact  Cheryl  Anderson  on 
4312 051,  
0273462702 or  
kaiwakasports@gmail.com. 
ST PAUL'S  
ANGLICAN  
SUNDAY  
SERVICES
St Pauls Church: Kaiwaka-Mangawhai Rd.  
1st Sun - Eucharist 
3rd Sun - Family Service 
Contacts:M.Hargreaves 4312295, C.Bygrave 4312057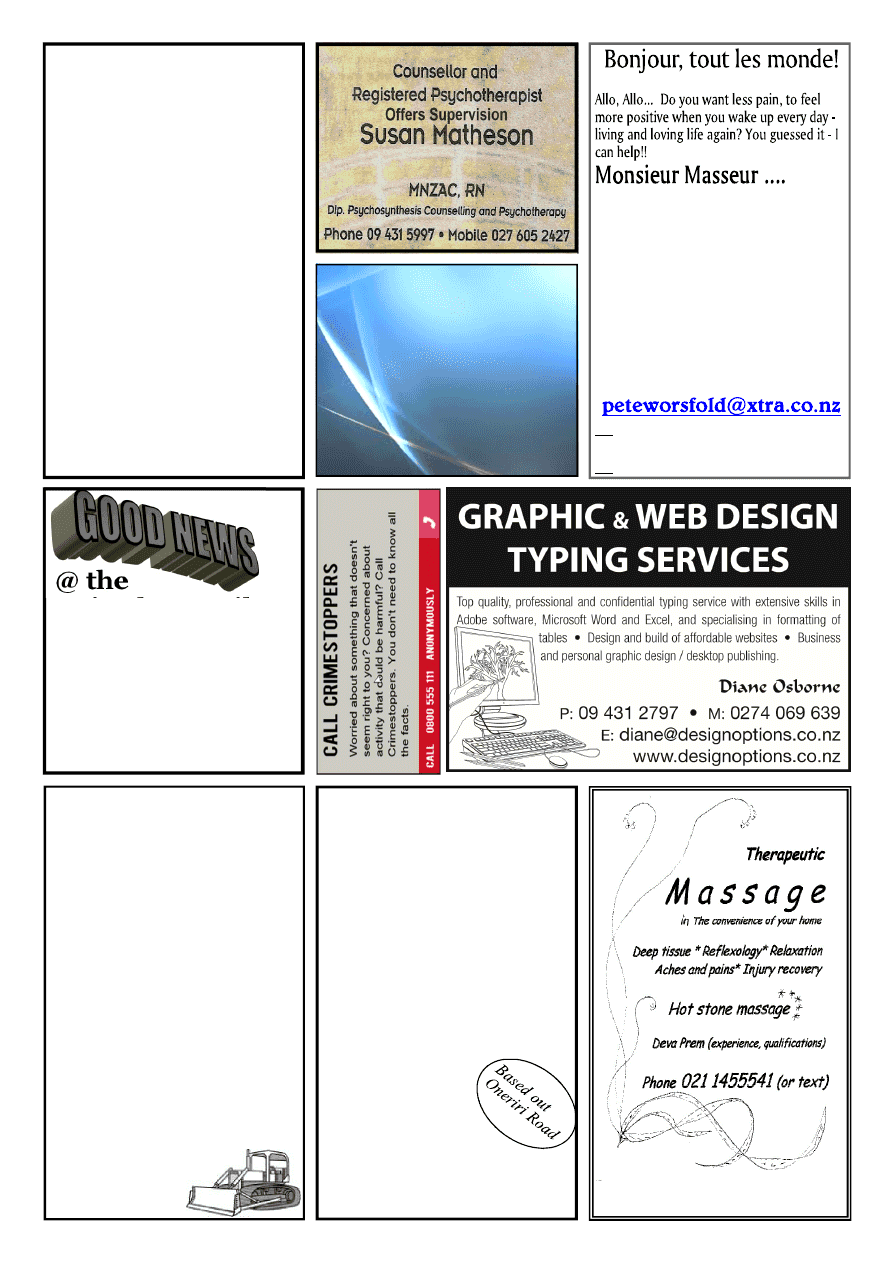 www.mangawhaimassage.co.nz 
HODGETTS 
CONTRACTING
Digger Work    

Driveways 

House Sites   

Dams 

Drains, etc
Also available for HIRE 

3 ton Vib Roller 

Heavy Duty Tow 

Waterblaster  

Lazer Level 
Phone Mark 
4312877 
027 447 8554
RELAXING  
MASSAGE
..... Juste pour vous" 
Call for an appointment now!
Pete Worsfold 
4312 152  or   021 825970 
Or  Ph. "The Well of Health" 
For an appt. 09 4312 799 
Or mobile service available 
Freeview  
Installations 
Richard Te Haara 
25 Marram Place 
Mangawhai Heads 
021 1104056 
kiwipride@xtra.co.nz
Willow Bend
HORSE  
HOTEL 
"   
Total Horse Care 
" 
Agistment 
" 
Riding Lessons 
" 
Arena Hire (60x40) 
" 
Young Horse Starting 
" 
Re-training/Exercising 
" 
Hoof Trimming 
" 
Problem Solving 
Phone Sue 09 431 
2817 or 021 623 776 
Or email sue.gray@xtra.co.nz 
Coates  
Contracting 

D41 Bulldozer with 6 
way blade, bush rigged 
with winch 

For all tree work 

General bulldozing and  
  stick raking. 

120hp Tractor for 
ground cultivation,  

tip trailer work. 

Fencing
All enquiries phone  
Brett Coates  
 094318720  
or 
 021431872
@ the  
Kaiwaka Family 
Church 
Your COMMUNITY CHURCH 
RECEIVE HEALING 
RECEIVE THE LOVE OF GOD 
Everyone warmly welcome 
each Sunday 10am. 
Contact: Pastor John Dekker,  
09 4318203 
THERE'S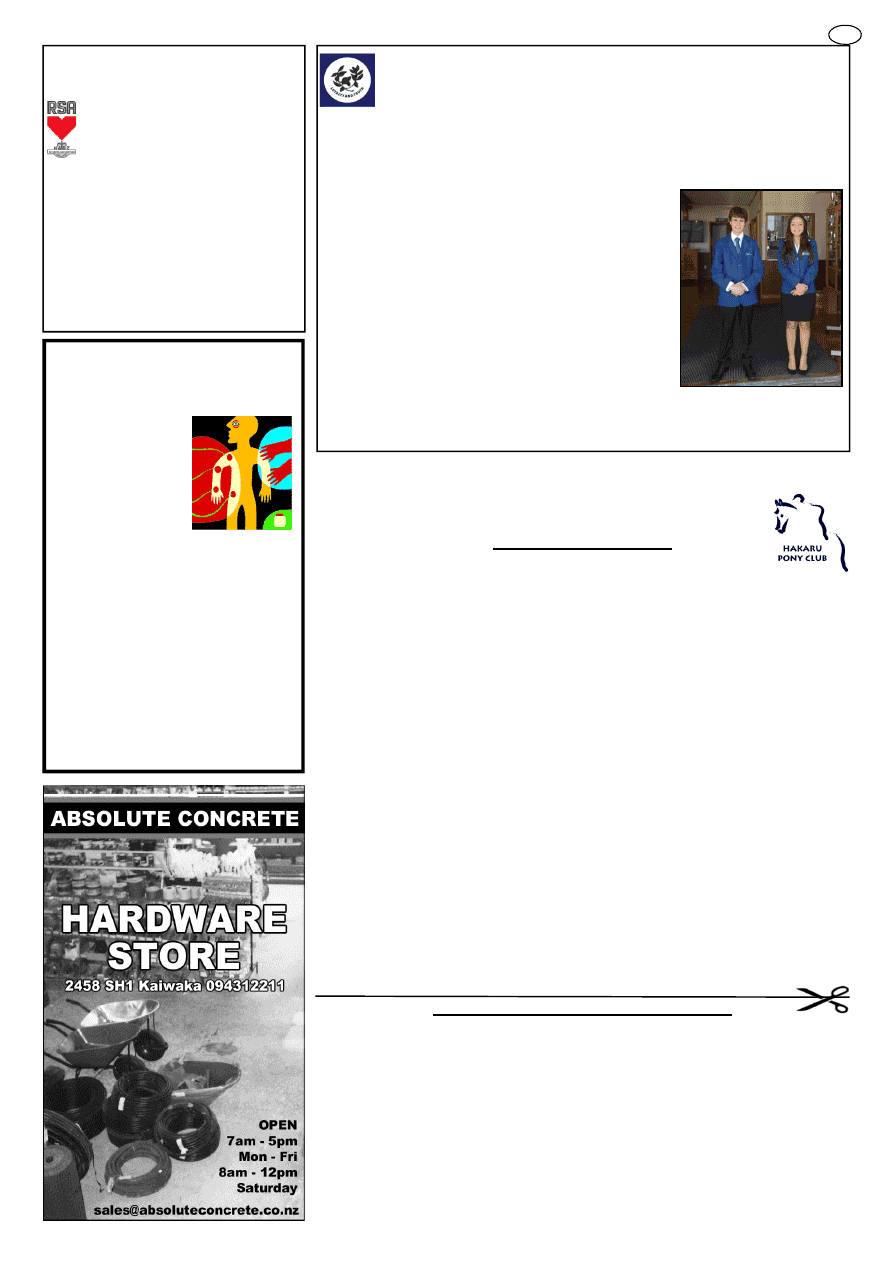 Dressage Series 
20th July, 10th August and 24th August. 
NZPCA Tests:  B and K, and ESNZ Tests: Level 2A and Level 3A.   
Same test each day  so we can see your improvement. 
If riders wish to compete at the forthcoming Area Trials for Dressage this season, the 
Juniors (16 & under), need to be able to do Level 2 tests and the seniors (17 & under 21) 
need to be able to do the level 3 tests. 
Maximum of 3 Tests per day.  All tests can be called. 
First test starting at 9:30am.  Sand arena for all tests so one test being ridden at any time. 
$10 per test.  This includes Area and ground Levy 
News Flash:  Trophies:  Test B:  13 & under, 14 and over (including adults) 
Test K, Level 2A and Level 3A:  16 & under, 17 & over – including adults. 
Separate trophies for each age group. 
Settlement Road, Kaiwaka 
Points will be awarded to first 10 placings & will be totalled at the end of the series. 
Closing date: Wednesday before the competition. 
Email entries to:  Christine Legge:  chrissylegge@maxnet.co.nz  AND 
Direct credit to: 12 3095 0236705 00 REF: dress and your first name and first letter of last name 
The draw will be emailed out to you on the Thursday before the competition 
No entries accepted without payment.  Late payment penalty of $10 will apply.   
No entries will be accepted on the day. 
Dressage NZ and NZPCA Rules Apply.  Riders ride at their own risk.   
Rosettes will be awarded for each class. 
Trophies Sponsored by:  Noir Blonde, New Dimensions Hair Studio, Kiwi Equestrian 
Farm, Melissa Wilson, Lionheart, Adele Greatorex, Hakaru Pony Club. 
Food available for purchase.  
 Absolutely No Dogs Allowed 
HAKARU BRANCH OF THE WELLSFORD 
 DISTRICT PONY CLUB INC 
OWEN STEVENS 
Osteo Therapist
For careful 
adjustments to 
bones and joints 
Treatment for  
humans and their 
pets 
Clinics: 
Kate's Place, Kaiwaka: 
Last Friday of month 
For  bookings:9.00am-5.00pm  
Phone 
09 4312661 
Or phone Owen   
09 4317123  anytime 
11 
HAKARU & 
DISTRICTS RSA Inc 
Each Friday night 
from 6.30pm 
Meals will be served 
2nd Friday of the Month 
Is Roast Dinner Special 
Come along and enjoy our 
Hospitality  
For more information 
Ring Heather 431466 
or Jan 4314512 
Entry Form – One entry form per horse please  
 
Name of Rider: ......................................... Age: …..... 
Name of Horse: ...................................................... 
 
Email Address:  ……………………………………………..…………………………… 
 
Bank Ref: ............................................ .......................... 
  
Dressage Tests:  …………………………………………………………………………. 
 
Hakaru Pony Club reserves the right to change the programme if required. 
June 2014 
Riders Ride at their own risk. 
Otamatea High School 
Te Kura O Tuarua Otamatea
Opening our Doors
Parents/Caregivers and  
prospective students are invited  
to our fully interactive 
Open Day
Friday 15
th
 August 9.45am start time 
Come along and experience the OTA Way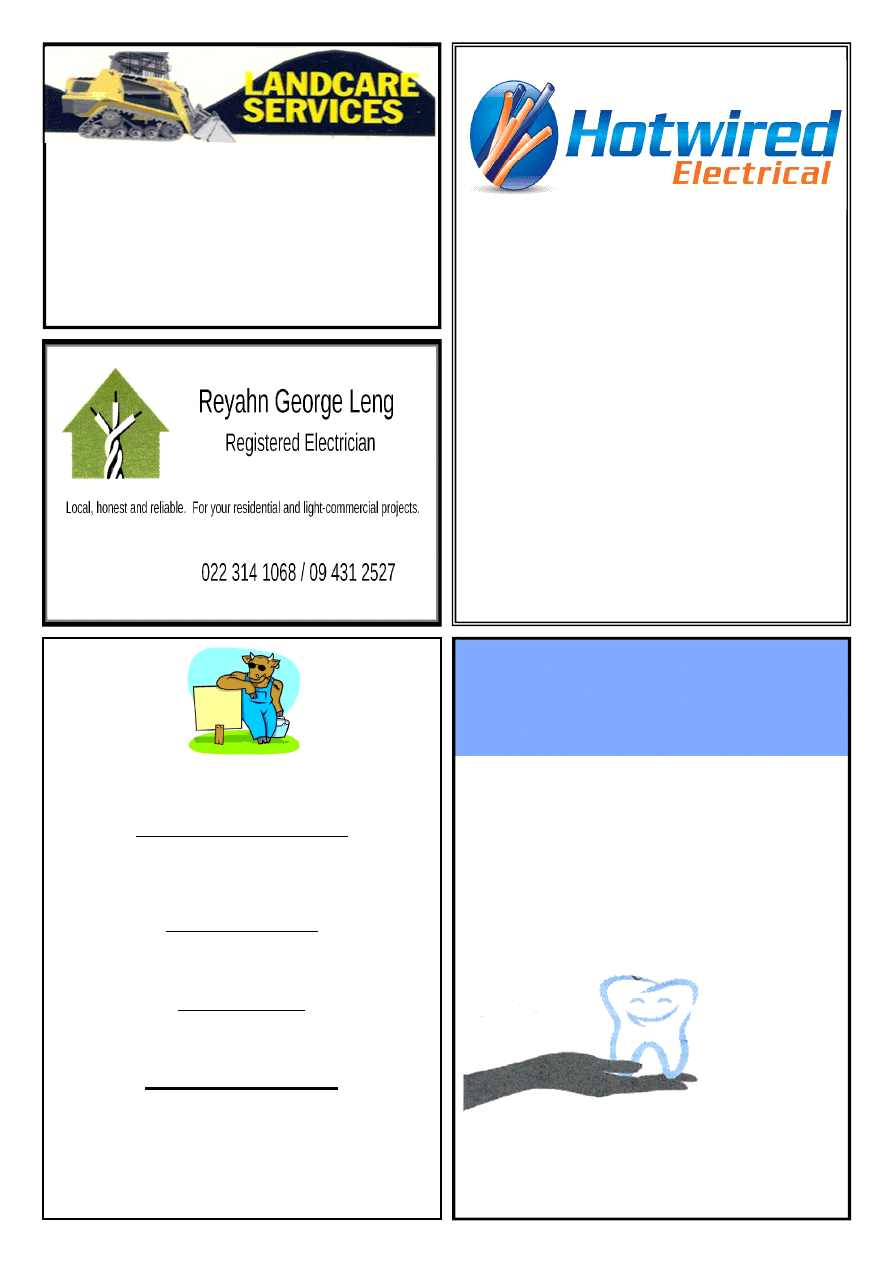 LANDSCAPING 
4 IN 1 BUCKET 
TRENCHER 
POLE HOLES 
ROTARY HOE 
COMPACT ROLLER 
OFFAL HOLES 
CAN SUPPLY WOODCHIP & POST PEEL 
5 TON TIPPER 
FOR RELIABLE AND FRIENDLY SERVICE CONTACT DAVE 
Dave Hyndman 
 
KAIWAKA 
PH: 09 4312302 
MOB: 021 431 238 
Gentle Dental 
Ruakaka 
We love to see you smile 
 
General  & Cosmetic Dentistry 
 
Emergency & ACC Treatment 
 
Denture & Hygienist Services 
 
Senior Citizen Discounts 
 
Free Adolescent Care 
 
Free WINZ Quote 
19 Ruakaka Town Centre 
Dr Sim Sood & Associates 
Ph:  432 8139 
Saturdays 
By 
Arrangement 
Open  
Mon-Fri  
8am-5pm  
For All your  
Electrical  Requirements 
 
Domestic small jobs 
 
Residential dwellings and alterations 
 
Commercial 
 
Industrial                 
No job too big  
or too small    
Contact Jason today on: 
(09) 431 5992, (021) 405 019 
www.hotwiredelectrical.co.nz 
CALL A FARmeR
Winter Broad Acre Weed Spraying 
Thistles, Buttercup and other broad leaf weeds 
Now is the time to spray 
Ground based spray application 
We can get where others can't 
Fertiliser/Urea Spreading 
Low impact ATV and tandem spreader application 
We can get there when your tractor can't 
No tractor tracks through your new grass! 
Pro-gibb Application 
Get that grass growing! 
We cover Farms and Lifestyle Blocks    
BOOK NOW!!
See our website for more services 
www.callafarmer.co.nz 
Office 09 423 7585
027 625 5383 
We can 
do that!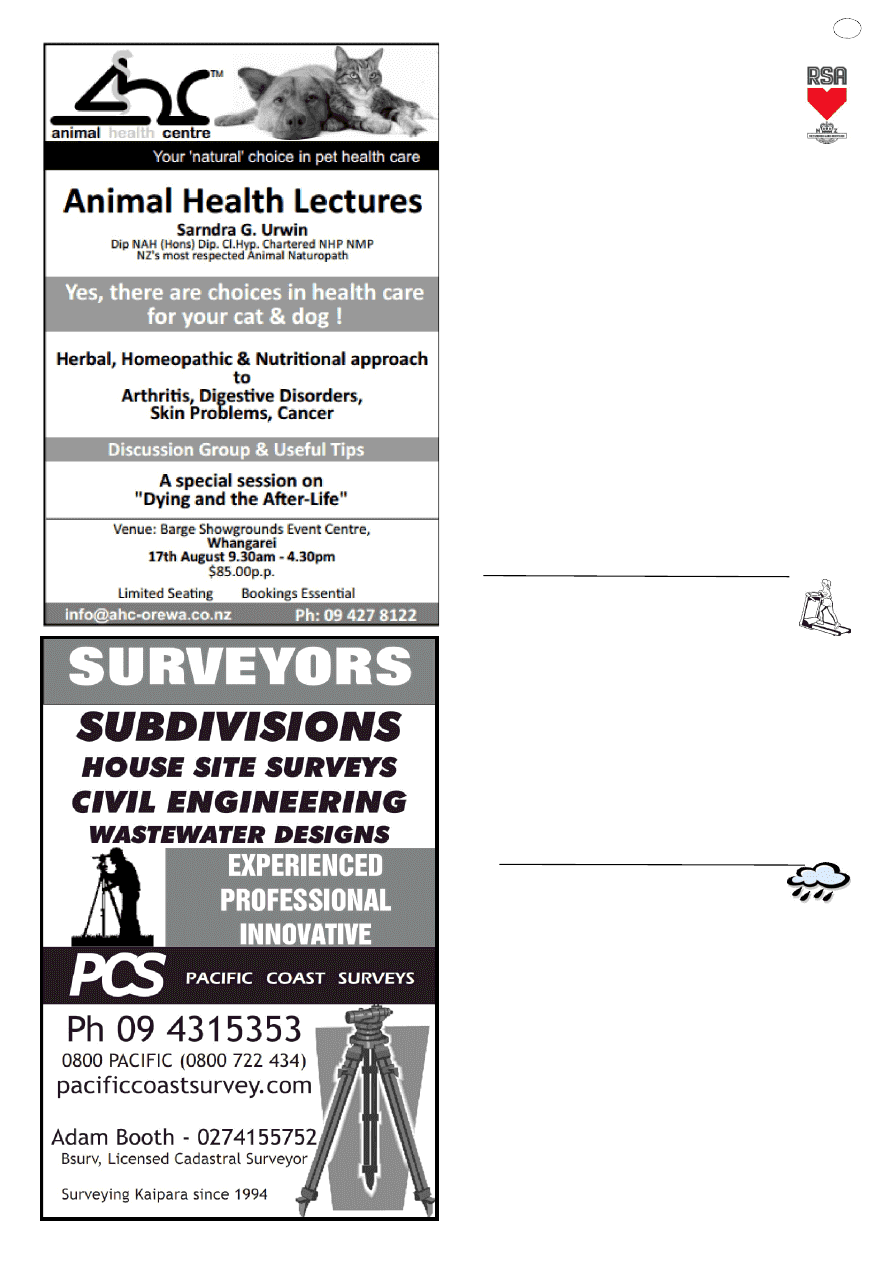 13 
HAKARU RSA WOMEN'S SECTION 
KAIWAKA WEATHER 
14 Members attended  our  monthly  meeting on  Thursday 
26th and we were thrilled to welcome our patroness Joan 
Leslie back,  and  a  new  member  Dawn  Bright. We hope  
Lena's  Bobby  continues  to  recover  to  better  health  and 
that David Small is well on the road to recovery. 
There was one birthday this month and it was a "biggee" 
- congratulations Joan on your 90th Birthday! We all attended a 
party  to  celebrate  this  occasion  on  Sunday  22nd  and  Joan 
thanked us all for attending the party and the delicious afternoon 
tea.  Fay  actually  brought  the  photograph  of  the  Brandy  Snap 
episode she told us about in the early days, and we also enjoyed 
Bill's  and  Doug's  entertaining  stories  of  Joan's  love  of  the 
bush!! It was great to catch up with the Nesbit girls whose moth-
er and father (now deceased) used to belong to our RSA. 
The recent Mid Year Dinner at Whangarei Tech was  very  nice, 
19 attended.  It was a 3 course meal  with three choices for each 
part of the menu, we are looking forward to the next one. 
No  one  was  able to  attend  the  57th  conference  this  year due  to 
unforeseen  circumstances,  but  we  are  looking  forward  to  a  re-
port about it. 
26 people attended the Tripe and Onion luncheon, a tripe lover's 
banquet!! The shepherds pie and veges was very nice too. 
Some  of  our  members  are  attending  Warkworth's  57th  Confer-
ence on 21stJuly at$12pp while others are going to Birkenhead's 
birthday  on 22nd July at 11:30, $20 pp  - some are even  attend-
ing both. 
Trish Black invited us on behalf of the Mangawhai CWI to join 
them on a bus trip to the Auckland Museum and Wintergardens 
on Tuesday 9th Sept, members of the public welcome to go too. 
Trish  also  mentioned  any  ex  CWI  members  are  welcome  to  at-
tend  an  80th  birthday  at  Kamo  on  29th  August  at  $20  pp,  this 
includes ex members from Kaiwaka and Hakaru CWI's. Contact 
Janice Harrison at Kamo 094352255 if you are interested. 
The Raffle was won by Frances Wearing.   
~Ann 
New memberships are now in full swing with lots of old 
and  new members joining up again for the new season. 
New  machines  have  been  purchased,  hope  you  are  enjoying 
them.  My  competition  season  kicks  off  next  weekend  with  a 
show in Napier,  first time with this federation so should  be in-
teresting - I am not really lean enough but should be more than 
ready for August show in Taupo.  
There  are  a  few  others  looking  at  competing  this  year  so  that 
will be good, plus I am helping some first timers in Whangarei, 
so busy, busy.  
Good luck to Cheryl for the coming week for the rugby tourna-
ment, if anyone can  help  please put your hand  up. Parking will 
also be hard, so be prepared for a walk.  
Now winter is with us please don't let all your hard work go to 
waste, it takes so much longer to lose weight than it does to put 
it  on,  keep  exercising  and  try  to  keep  diet  clean  80%  of  the 
time. Keep warm train hard.    
~Jules 
KAIWAKA FITNESS CENTRE 
How wet and cold has it been. Those that are exposed 
to  the  southwest  will  know  what  I  mean.    Rain,  yes  we  have 
had plenty. We have not had many frosts, although some of you 
may  have  had.    Driving  over  the  Brynderwyns  yesterday  we 
noticed the waterfall was really falling at last so the watertable 
must be filling up a bit. My farming friends tell me it is not too 
wet  yet  in  the  paddocks.    I  have  not  seen  much  surface  water 
around yet either.  At last we can see the sun will shine again.  I 
have  noticed  the  last  couple  of  nights  or  so  there  is  daylight 
creeping in at 6pm,  how  good is that. Even the  mornings are a 
bit  brighter  having  had  the  shortest  day  about  2  and  a  half 
weeks ago.   
For June 2014 we had 269mm of rain at our house and for 2013 
we  had  174mm.  For  the  first  6  months  of  the  year  we  had 
614mm  and  for  2013  we  had  561mm.    Our  wettest June  since 
1987  was  2009  with  301mm  and  the  driest  was  2012  with 
52mm.  Our  wettest  first  6months  since  1987  was  2011  with 
1041mm  and  the  driest  was  1987  with  333mm.    The  tempera-
tures have been down to 9 degrees and lower with the frosts or 
near  frosts.    I  hope  you  are  keeping  warm  and  looking  after 
those animals during the cold as they feel it as well.     
~ Take care out there, Bev.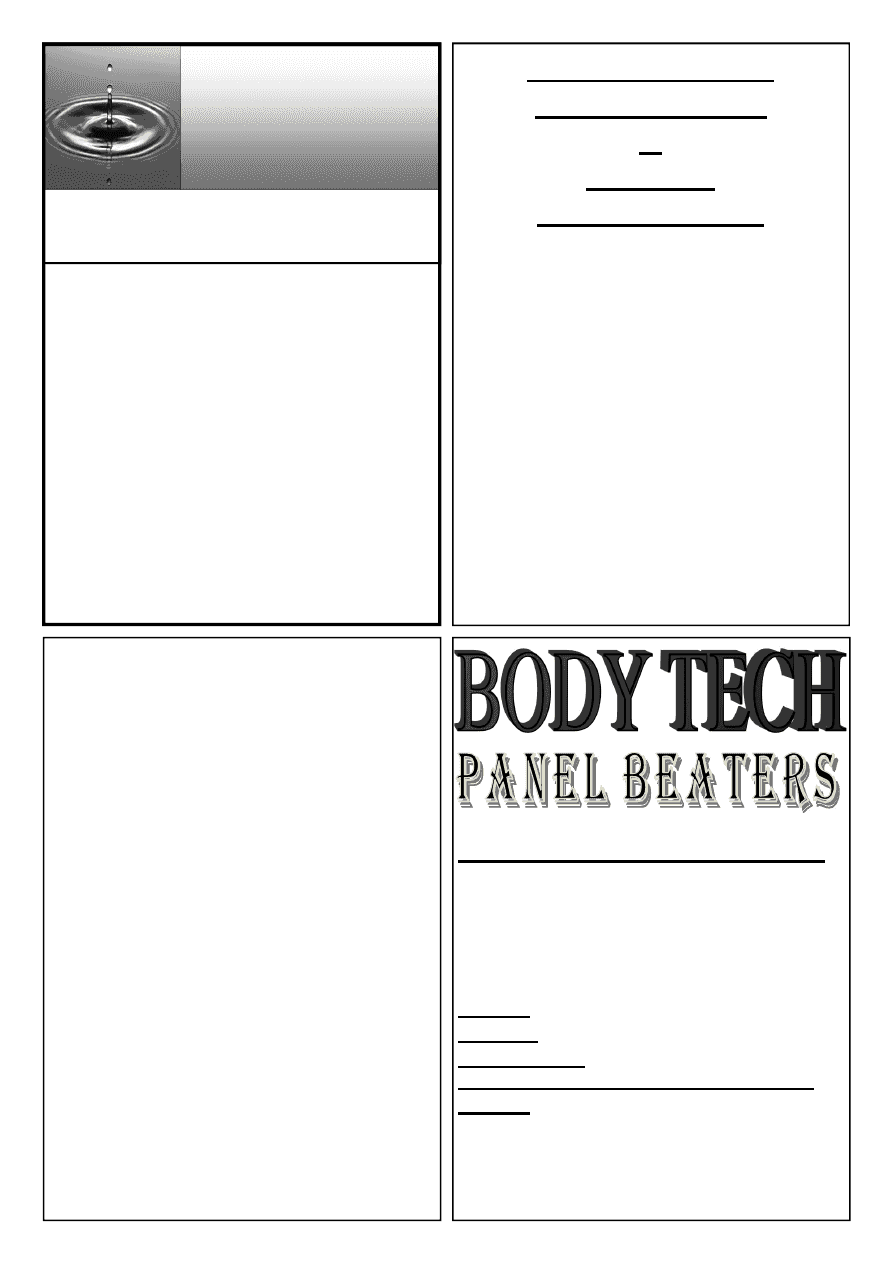 PETE WORSFOLD  
B. Soc.Sc. M. Soc.Sc. Diploma of Prof Couns. 
Counsellor
peteworsfold@xtra.co.nz 
 021 825 970 
Professional Service 
Variety of Modalities 
By Appointment Only 
PAUL SAUNDERS 
LAWNMOWING  
&  
GARDEN 
MAINTENANCE 
 
Lawns and edges     
 
Section mowing 
 
Hedging and trimming 
 
Spraying and fertilising 
 
Tree planting 
 
Green waste removal 
 
Pruning 
Friendly and reliable service guaranteed 
Call now for a free no obligation quote 
021 886 843 
09 431 3318 
Servicing Mangawhai and Kaiwaka  
and surrounding areas 
paulsaunders99@gmail.com 
For all your body repair needs!! 
We do: 
Rust repairs 
Insurance work 
Anti-corrosion treatment         
 
Hours: 8.30am-5pm Monday-Friday  
Mobile: 021 118 0462 
After hours: 09 431 2384 
Phone: Craig or Call in for a free Quote 
e-mail: 
bodytech_panelbeaters@yahoo.com
We are located at 1837 SH1 Kaiwaka, behind Twin-
kle Tow 'n' Tyre call in anytime for a free quote.  
Large and minor vehicle  
  repairs 
Industrial vehicles 
Full Cut and polishes 
INDIVIDUAL ONE-ON-ONE 
COUNSELLING 
 
MODALITIES:    FOR: 
  CBT              Grief 
  Gestalt            Relationship 
  Person-Centred     Trauma 
  Solution Focussed    Couples 
  Behavioural        Adolescents 
                  Careers 
Call for Appointment 
At "The Well of Health" 
09 4312799 or 021 825 970 
KAIPARA FLOORING CO 
32 HURNDALL ST MAUNGATUROTO 
Ph: 09 9469886 or 021 515 415 
Carpet, vinyl, laminate wood look  
  flooring, vinyl planking, sanding  
& polyurethane service. 
Carpet Short Ends from $79pm + GST 
Vinyl D.I.Y. peel n stick tiles $10sq mtr + GST. 
Free measure & quote.   
Mobile Service 
Phone Christine or Howard anytime 
Open Saturdays by arrangement.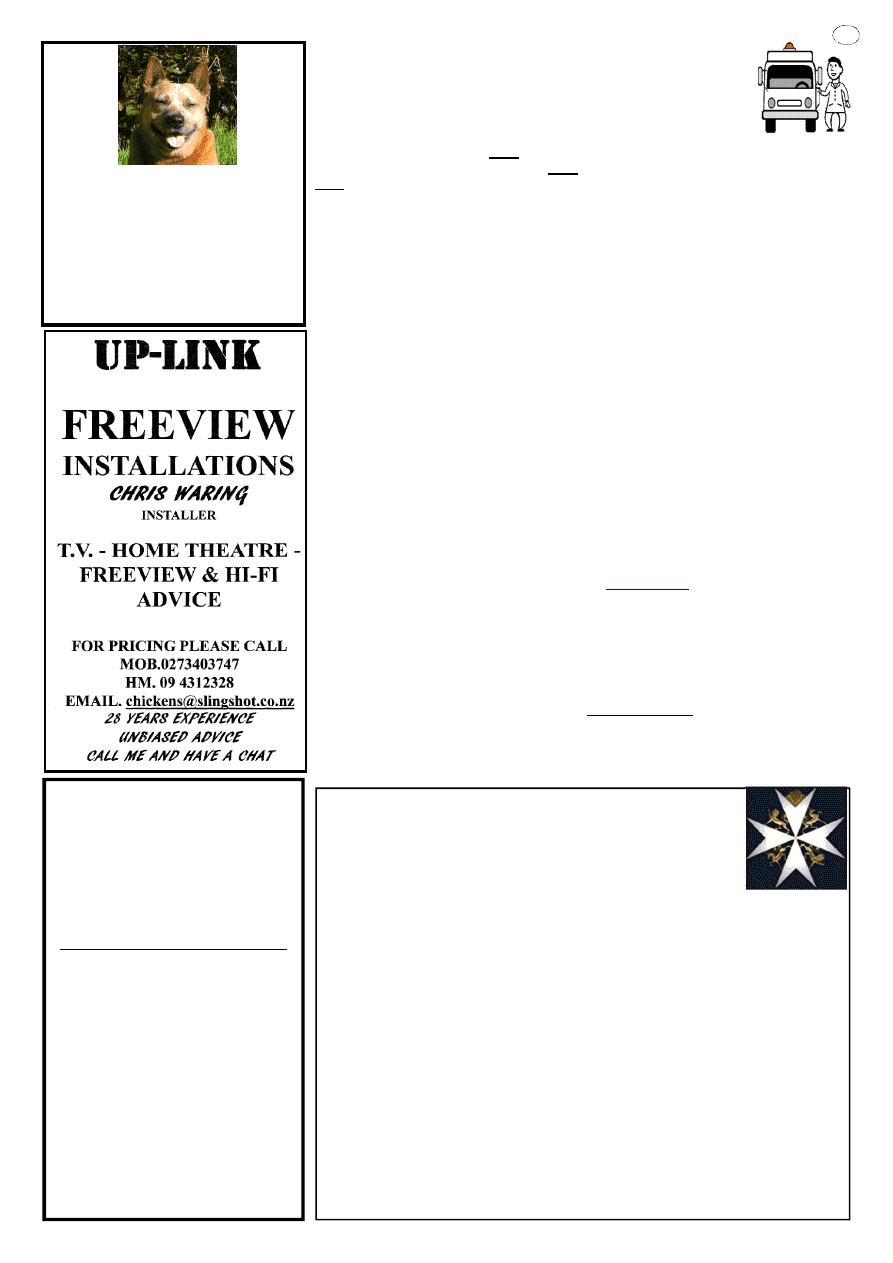 15 
Laughing Dog 
Computers 
www.laughingdog.co.nz 
0224344448 
Hardware and Software 
Service and Repair 
KAIWAKA ST JOHN News 
OTAMATEA ST JOHN 
KAIWAKA OPPORTUNITY SHOP 
 
Do you like meeting people? 
Have you several hours to give, once or twice a month? 
Do you want to help provide  finances  for  a very  worthwhile service  in 
this community? 
 
If the above relates to you, and you think you might like to work in our 
Opportunity  shop  in  Kaiwaka,  please  send  your  name  and  contact  
information to: 
 
Chairman 
Otamatea Area Committee St John 
P O Box 95 
Maungaturoto 0547 
and we will be back in touch with you.  
 
Alternatively, if you would like to talk to someone in relation to this, please call one of 
the  following:  Maungaturoto  –  Wayne  Maclennan  (Chairperson)  (09)  4318353  or  
committee  members  in  Kaiwaka  –  Reg  Jaques  (09)  4312367  or  Denise  McMonagle 
(09) 4312275 
Winter has now arrived, so it is time to 
make sure you keep warm and dry.   
Asthma and COPD 
Those  who  are  suffering  from  Asthma 
and  COPD  please  ensure  your  medica-
tion  is  up  to  date  and  you  have  your 
own  stock  handy.    Hopefully  you 
have all had your flu jabs and pneumo-
nia jabs as this has shown to be a huge 
help and a good preventative especially 
for  COPD  patients.    We  attend  some 
callouts  whereby  the  patient  is  taking 
somebody  else's  medication and this is 
not good practice as it may not suit you 
at  all.    See  your  doctor  and  get  yours 
up to date. 
Recently we had a visit from our NZ St 
John  Chief  Executive  Mr  Peter  Brad-
ley,  and  his  wife.    It  was  a  very  infor-
mal  visit  and  it  was  good  to  have  a 
chat.   He  was at  our  station  for  a short 
time  as  he  was  visiting  all  the  stations 
from  the    north  down  to  us.  He  took 
some of our suggestions and comments 
on board and it was an enjoyable visit. 
Letterbox Light and Number 
Further  to  my  comment  last  time  re 
putting a solar light onto letter boxes so 
that  we  can  see  your    street  number  a 
little  better,  one  of  our  members  has 
reminded  me  that  some  of  the  letter-
boxes  do  not  have  a  rapid  response 
number  on  them.    These  are  free  from 
the council and you are entitled to have 
them.    They  really  need  to  be  on  the 
front  of  your  letterbox  so  that  they  are 
clear  and  visible.    As  I  have  stated  be-
fore,  if  your  rapid  response  number  is 
clearly visible, we can get to your place 
a lot quicker. 
Another  way  you  can  help  us,  is  to 
have  your  driveway  as  clear  as  you 
can,  so  that  we  can  get  our  ambulance 
as  close  to  the  doorway  as  possible, 
and  be  able  to  turn 
around  to  either  drive 
away  or  to  load  our  pa-
tient.    With  these  winter 
days  and  nights,  the  weather  does  not 
always  play  nice  and  we  try  to  mini-
mize  the  time  that  our  patients  are  ex-
posed  to  the  winter  chills.    With  your 
help, we can get our patient to hospital 
without  adding  the  flu  to  whatever  ails 
them :) 
Holidays  are  here  again,  so  please  be 
safe on the road and play safe.   
Watch  out  for  us  at  the  Kaiwaka 
St.John  Station.    We  will  be  perform-
ing  free  Blood  pressure  readings  and 
Blood  Sugar  Level  readings  from  time 
to time.  Come in and see us :)  
That's all for now.  Keep safe and well.   
~ Cheers from Marj Steiner 
PS:    We  have  not  had  any  response 
from  our  plea  for  new  members,  so 
don't  be  shy.    We  are  an  awesome 
bunch  to  work  with  at  Kaiwaka,  so 
come  along  and  join  our  crew.    We 
really do need you :) 
 
[Editor  note:  New  RAPID  numbers  are 
$25; replacement  is free. Application form 
can be downloaded from KDC website. 
RAPID  is  an  acronym  for  Rural  Address 
Property IDentification, a scheme instituted 
in 
New  Zealand
  to  assist  emergency  ser-
vices in identifying and locating rural prop-
erties.However,  since the adoption of A us-
tralian/New  Zealand  Standard  4819:2003 
Geographic Information – Rural and urban 
addressing  in  2003,  this  scheme  is  now 
known as Rural Addressing.~ Wikipedia] 
 
St John Lifelink: 
For  more  information  on  the  medical 
alarm  and    assistance,  call  0800  50  23 
23.    This  service  operates  24  hours,  7 
days a week.  
Yang Style Tai Chi 
Classes  
For Beginner And 
Practitioners  
At The 
Kaiwaka War Memorial Hall 
Every Tuesday Starting at 
10.30 am 
Come Along And Have Some Fun 
While Improving Your Balance 
Health And Fitness 
For More Information Contact
Andrew Young 
09 4223424   
taichi@pl.net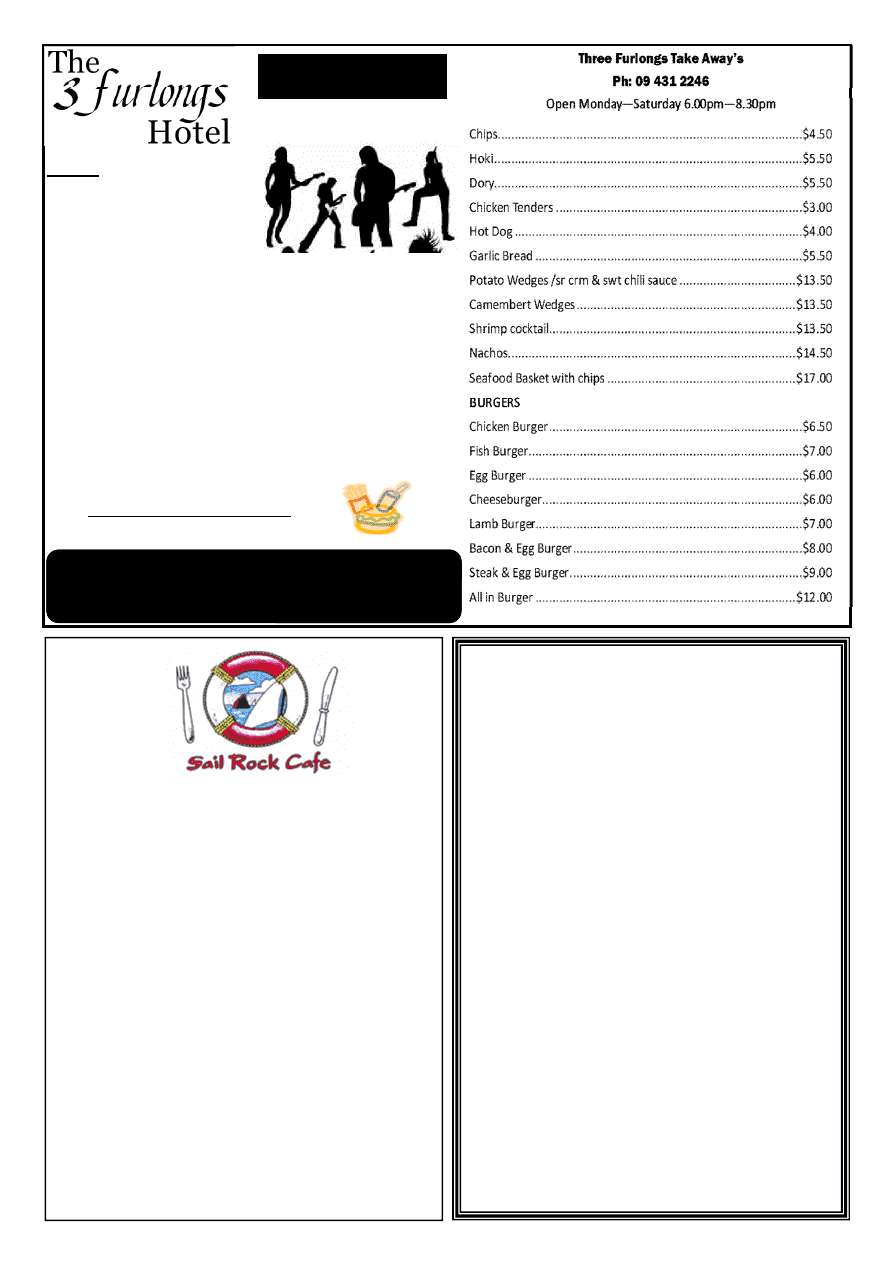 g.a.s. 
Mangawhai 
we have now opened a 
GARDEN CENTRE 
for all your gardening needs 
Also a great range of 
STOCKFOOD 
Wide range of 
ORGANICS AND 
 FRESH LOCAL PRODUCE 
All your motoring needs are taken care of by 
our friendly staff check us out... 
44 Moir Street, Mangawhai (09)431 4242 
June/July Opening Hours 
 CLOSED    Wednesday day/night 
9.30am onwards 
Breakfast 
Lunch 
Bar Snacks 
Pizza from 5.30pm 
Dinner 
Desserts available all day 
Sail Rock Café 
Wood Street, Mangawhai Heads 
Phone 09 431 4051  
09 431 2246 
threefurs@xtra.co.nz 
Tuesday 6.30 & 8.00pm Two Handle Club Beer Draws 
Friday 5.00—7.00 $60 Bar Tab Draw 
PORK ROLLS ONLY $6
BAND 
This Saturday 12th  
at 9.00pm  FAT32  
Free entry—come and 
check them out 
SUPER XV GAMES 
Call in for a beer and watch the game with us 
 
Fri 11 July  
Blues v Chiefs 
Sat 12 July  
Crusaders v Highlanders 
Fri  18 July  
Qualifying Finals TBC 
Sat 19 July 
Qualifying Finals TBC
17 
THE TOP HOUSE 
The  "Top  House"  was  the  original  church/
marae  and  there  were  many  Church  services, 
weddings  and  tangi  held  in  this  house,  and 
has  been  home  to  many  families  over  the 
years.
The  old  timber  lined  house  was  built  in 
1929, by George Dickson with the help of 
the  Nathan  family.  Ngaite  and  Paraone 
Netana  were  the  first  to  live  there  with 
their  family  -  Wiremu  (Sonny),  Kepa 
(Kemp),  Alex  (Bunny)  Len,  Perry,  Maude,  Mary,  Louie, 
Patrick, Tuhiwai (Purdy), Puhi.   
Preparation  for  the  Te  Pounga  Marae  development  is  now 
well under way. 
On Saturday 28 June Rev John Marsden led the Karakia and 
Blessing Service for the Top House at Te Pounga Marae in 
St. Mary's Church on Nathan Road.  
Whanau then went up to the Top House for a short blessing 
before  the  Kaiwaka  Fire  Brigade  began  the  demolition  by 
fire.  Thank  you  to  our  local  Fire  Brigade  for  their  assis-
tance. The land has now been made free for the new Marae 
complex. 
Photos: 
Top right: 
Paraone Netana 
Top left: St. Mary's Church. (
St.  Mary's  Church  was  the  first 
church in Kaiwaka. It was the interdenominational place of 
worship  built  in  the  early  1880s  on  the  knoll  where  the 
brick chapel  is at the Kaiwaka Cemetery. In the  mid 1950s 
it was moved to Nathan Road and the roof line was changed 
on re-siting.)
Lower left: Some of the whanau in front of the Top House 
Below: The flames reaching for the old macrocarpa trees 
Bottom: And 25 minutes later the chimney and crumpled iron was 
all that is left. 
Reference: Whanau and 
http://www.tepoungamarae.org/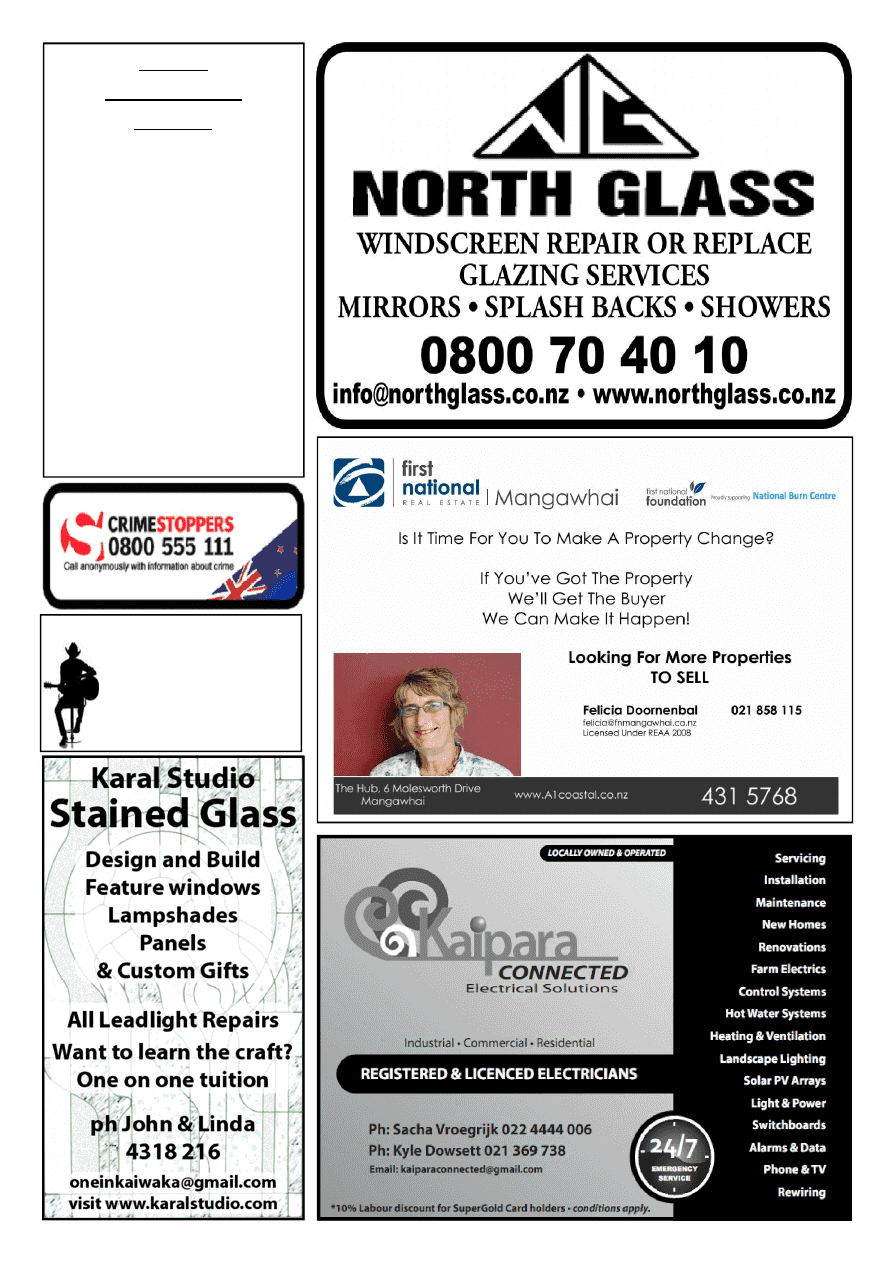 Wellsford Country Music Club 
2nd Sunday of month - club day 
1:00pm 
Last Wednesday - workshop 
7:00pm 
Wellsford Co-op Parish Hall 
Contact 027 327 6604 
Jenny's 
Rural Cleaning 
Services 
Winter already:  
Opportunity in  
July and August. 
To get an early spring clean and save with 
10% Discount 
In July and August only. 
(
Terms and
c
ondi ons apply.)
Cleaning Ovens
Windows inside & out.  
You can phone Jenny on 09 431-2826 
Or email jennychellew@hotmail.com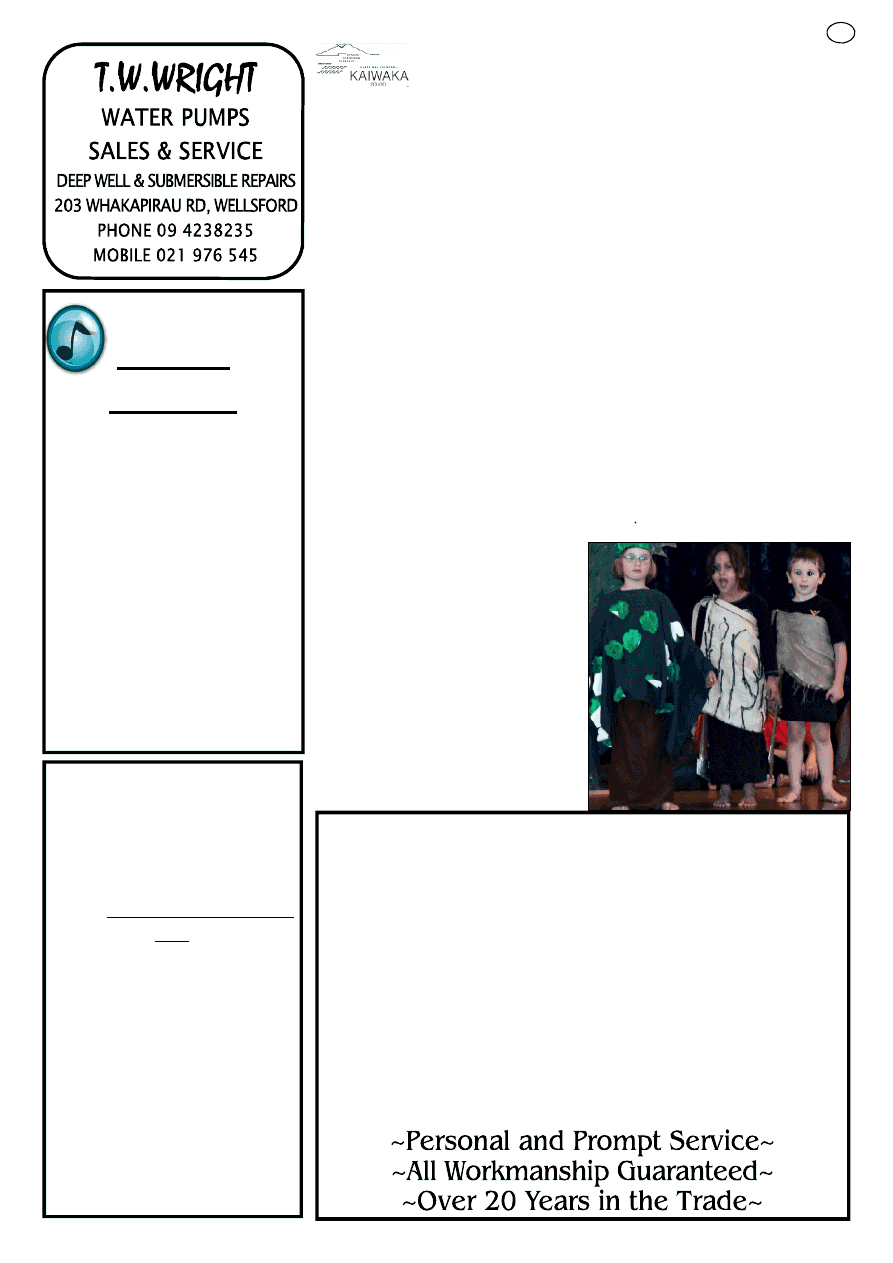 PLANNING A NEW 
KITCHEN? 
 CONTACT NOEL McDOWELL 
WELLSFORD KITCHENS
Ph/Fax 094312888  
KAIWAKA-Any time 
  QUALITY CUSTOM MADE KITCHENS  
19 
Yang Style Tai Chi 
Classes  
For Beginner And 
Practitioners  
At The Kaiwaka War Memorial 
Hall 
Every Tuesday Starting at 
10.30 am 
Come Along And Have Some Fun 
While Improving Your Balance 
Health And Fitness 
For More Information Contact
Andrew Young 
09 4223424   
taichi@pl.net 
KAIWAKA SCHOOL 
The school year is flying 
by  and  we  are  nearing 
the  end  of  Term  2,  we  have  enjoyed 
some  extra  special events  such  as  Kai-
waka's  Got  Talent  and  celebrating  one 
of  our  teachers  Larissa  Bonham  be-
coming fully registered.  
The 
Trustees 
would 
like 
to  
warmly  welcome  (and  thank)  our  
newest member Clare Borck, mother of 
Zac  and  Lily  Wing,  to  the  Board  of 
Trustees. 
At  this  time  of  year  the  weather  is  
getting  rather  wet,  wild  and  chilly. 
However,  the  children  of  Kaiwaka 
School  are  cosy  and  warm  due  to  the 
efficient new panel heaters in the class-
rooms. 
This  brings  us  onto  an  aspect  of  the 
role of the BOT; being the maintenance 
and  upgrading  as  necessary  of  school 
buildings.  You  would  have  all  noticed 
the  renovation  of  the  upper  school  in 
these last few years no doubt. Now that 
our  children's  classrooms  are  warm, 
dry  and  filled  with  natural  light  (all 
contributing  to  a  good  learning  envi-
ronment) we are refurbishing the inside 
of the schoolhouse so it is a better envi-
ronment  for  our  great  tenant  we  have. 
Our  property  team  is  frequently  can-
vassing  the  school  to  ensure  that  all 
physical  aspects  of  our  school  are  safe 
for our tamariki and community. 
A  less  visible    but  just  as  important 
aspect of the role  of the BOT concerns 
governance  -  looking  at  the  vision  for 
the school and ensuring that we comply 
with  legal  and  policy  requirements.  To 
put  it  simply,  the  overall  focus  of  the 
BOT is to enhance student achievement 
and for this to occur all the appropriate 
policies  and  procedures  need  to  be  in 
place.  
We  also  recognise  that  family/whanau 
input  is  essential.  We  will  be  inviting 
families  of  Kaiwaka  students  to  
participate  in  a  survey  this  year.  
Kaiwaka  School  and  the  BOT  could 
not  function  so  well  without  the  
continued  support  of  the  school  
families,  staff  and  PTA  so  thank  you 
all, you are appreciated.  
On  this  topic  we  would  like  to  thank 
the  families  that  donated  calves  to  the 
PTA that were then sold on and made a 
substantial  amount  of  money  for  our 
school,  to  be  spent  on  resources  to  en-
hance  the  education  of  our  kids.  So 
thanks  to  Carol  and  Paul  Mills,  Carl-
ton  and  Michelle  Smythe,  Farr  Road 
Farms  Ltd,  Bruce  and  Michelle  
Wakeling, 
Delwyn 
Lusty, 
Ken 
Hall, Innes and Tania Anderson. 
Our school is expecting a visit from the 
Education  Review  Office  (ERO)  on 
the  3rd  of  November  which  will  be 
an  interesting/exciting  process  that  
requires some preparation! 
We enjoyed seeing our fellow Kaiwaka 
School  families  and  wider  communi-
ty at our school production "The Treas-
ure  Hunt"  on  the  2nd  and  3rd  of  Ju-
ly (photo of performers below).  
Early  in  term  3  Kaiwaka  School  is 
hosting a Parent Meeting on the 23rd of  
July  with  the  aim  to  demystify  the  
reports,  testing  and  language  used  in 
education  -  this  will  be  timely  as  it  is 
coordinated  with  the  release  of  school 
reports
~  Naomi  Walker  on  behalf  of 
Kaiwaka School BOT. 
Singing 
Lessons 
Individual sessions 
All styles of music  
All voice types 
Reasonable rates 
Phone  
Maura Flower 
      021 164 8318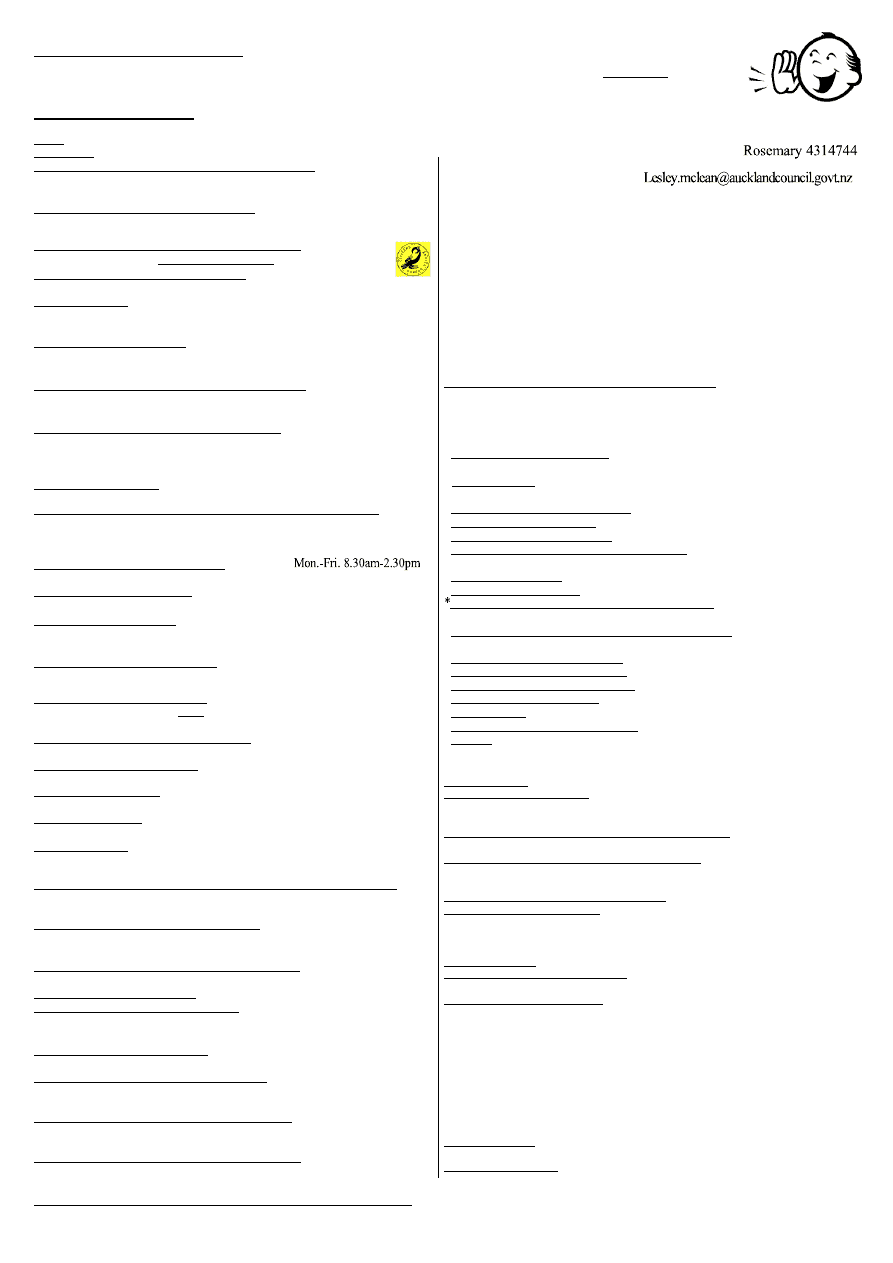 LOCAL SERVICES 
*St.John Ambulance 
111 or Freephone0800 61 0066
*Fire phone 111     *Police phone 111 or 09 4311150 
 
WELLSFORD DOCTORS: Ph: 4238 086 
 
A A: Meets Wed., 8pm Kaiwaka Ph: 4312228, 4315543, 0800229 6757   
AL ANON: In recess, contact Ph: 4312228 
AGRIQUALITY (MAF) Livestock Consultant 
Phone 09 4311 820 or 021518257  
 
BUDGETING SERVICE,OTAMATEA:Free confidential advice & 
support - all areas of  personal finance Ph: 09 4318173 or 094318117
CAB-
Citizens Advice Bureau.Wellsford Ph: 4237333.
0800 367 222 email:
cab.wells@xtra.co.nz
DOG/STOCK /NOISE CONTROL 0800 105 890 
 
KATE'S PLACE with Govt.Day Agencies/Community Information /
Osteopathy/ IRD / Probation, etc Ph: 4312661 Hours: 9am-3pm. Mon - Fri 
 
FUNERAL SERVICES: Morris & Morris Ltd, 
Whangarei - Bev Jaques Ph:4312367 or 0800667747 
 
GRANDPARENTS  Raising  Grandchildren:  Sarah  Rogers  Ph: 
4312194 
 
HAKARU LANDFILL/Transfer Station:Open everyday except 
Tuesday10am-4pm.Ph4312629 Cost-$55 trailer load up to 1 cubic 
metre. Ph:4258567 - office 
 
INLAND REVENUE: Last Friday each month, 
11-3pm Ph4312661 
KAIPARA DISTRICT COUNCIL www.kaipara.govt.nz:  
Help Desk FREEPHONE 0800 727 059  
Service Centre Mangawhai 4313161 
KAIWAKA KOHANGA REO:
Ph:4312620 
KAIWAKA CEMETERY: Ph: 4312045 
 
KAIWAKA LIBRARY: kaiwaka.library@gmail.com  
Mon. 4-6pm; Wed., Thurs., Fri., Sat.  10am-2pm Ph:4312539
 
KAIWAKA PLAYCENTRE: Ph: 4312286. Hastie Lane 
Monday to  Friday  9.00am 
- 
12 noon.
KAIWAKA POST OFFICE:
Ph:4312 626 Fax: 4312287  
Post Code: 0573  for RD2  and  0542 for all Kaiwaka Post Office mail 
 
KAIWAKA PRIMARY SCHOOL : Ph: 4312309 
 
KAIWAKA SPORTS ASSN: Ph 4312005; 4312129 gym 
 
KAIWAKA ST JOHN: Manager Steve Rosser 09 4318403, 021 2316836 
 
NORTHPOWER: Faults Kaiwaka area 0800 104040 
 
PARENTPORT: Free, practical local support service for families in crisis 
Phone or Text Dianne 027 280 5093 
 
PERSONAL DEVELOPMENT COACHING, GROUP FACILITATION:  
Sabine Druckler 4312231 
 
PLUNKET  KAIWAKA/MANGAWHAI:  Ph:
094318187 
or  0
276753488 
Kaiwaka Mobile Clinic once a month– appointments necessary;  
Mangawhai (next Domain) 
1st & 3rd Thursday & Coffee Morning; 
PLUNKET CAR SEAT CO-ORDINATOR:  
Pat Scott Ph 4314530 
or 0272881635 
PLUNKET FREEPHONE -0800 933 922 
PLUNKET -MAUNGATUROTO  Clinic every 2nd & 
4thThursday. Ph: 09 4318187 
 
PUBLIC HEALTH NURSE: Gloria Reid Ph: 094327634  
RETURNED AND SERVICES ASSN 733 Settlement Rd. Hakaru 
Ph.4312176 Bill Kerr (President) Ph.4314719 
TE KOROWAI AROHA O NGATIWHATUA Ph: 4312675 
(The Cloak of Love of Ngatiwhatua) Support and Maori Consultancy.  
 
VETERINARY SERVICE MANGAWHAI: 
Ph: 4314535 Mon-Fri 8.30-4.30, Sat 9-12, a/h appt. 
 
WOMEN'S WELFARE LEAGUE & Reaching Out For Youth:  
4 Kaiwaka-Mangawhai Rd, M Morgan 4312293
WHAT'S ON
PLEASE ~ do let us know what is on - email 
kaiwakabugle@kaiwaka.co.nz 
Advertising in WHAT'S ON is FREE  
*8-12Jul~Taniwha Cup, KSA 
*8Jul~Over-80s afternoon tea, 2:30pm Hakaru RSA 
*10Jul~ Kaiwaka Garden & Floral Club, 1pm Ph 
*12Jul~Mid-winter Market 9:30-12:30 Wellsford Library, Port  
Albert Rd. Stalls $5, BYO table. 
*12Jul~Midwinter Christmas, Hakaru RSA, 6pm, Marlene 4315 589 
*12Jul~Supper Dance, Hakaru Hall, 7pm 
*12Jul~Star Trek Into Darkness, 7:30pm KWMH 
*12Jul~Full Moon 11pm 
*13Jul~Te Pounga Marae AGM 10:30am 
*18Jul~American Hustle, 7:30pm KWMH 
*19Jul~Last Quarter Moon 2pm 
*20Jul~Dressage Series Day 1, Hakaru Pony Club, 9:30am 
KWMH=Kaiwaka War Memorial Hall 
KSA=Kaiwaka Sports Association Complex 
See www.kaiwaka.co.nz for upcoming events. 
 
HOUSEHOLD  RUBBISH  COLLECTION  -  Kaiwaka    Pick  up-
Mondays=Gr een bags ar e picked up by Nor thland Waste-queries 
to  them  09  4303273,Wednesdays=Blue  bags  and  yellow  recycling 
(at  Jaques    $3.00  and  $1.50)    are  picked  up  by  Kaurilands  09 
4392146.  
*DIABETES Support Group -for Kaiwaka, Mangawhai, Wellsford 
   10am, 3rd Friday of month Ph:A.Pert 4238242; J.Gardner 4238060 
*DRINK CAN 'tear tabs' - for Starship Hospital- please collect - 
    98 Kaiwaka Mangawhai Rd, leave in mailbox, Ph. 4312625  
*GYMNASTICS OTAMATEA -  Tuesday Ph: Stephanie 022 3624998 
*HAKARU PONY CLUB-Secretary Julie Rynne 09 4314520 
*KAIWAKA BADMINTON -Tuesdays 7.30pm Ph: 4312345 
*KAIWAKA GARDEN & FLORAL Grp:2nd Thursday in month 
   Ph: 4314767 
*KAIWAKA CUBS-Thursdays 5.30-7pm, Hakaru  Ph:Bruce  4312542 
*KAIWAKA SQUASH -Mondays 7pm Ph: Barbara Thomas    4315905 
KNITTING FOR WHANGAREI HOSPITAL - 2nd Tuesday in  
   month, Apple Basket 10am Ph 4314827 
*MANGAWHAI COMBINED PROBUS CLUB: 2pm,3rd Thursday  
   month in the Senior Citizens Hall Mangawhai. Ph: 4315777 
*NZ GENEALOGY-Wellsford - 1st Thursday in month Ph: 4237033 
*OTAMATEA GREY POWER-09 431 8138 Joan Hoggard  
*PT CURTIS CRUISING CLUB - Jean Ph: 4312 246 
*RSA,Hakaru & Dist.Women- meet 1.30pm 4th Thurs in month Ph: 4312 668  
*TRAMPING- Mondays 9am-2:30pm  Karen Ph: 4312 090 
*WAIPU GENEALOGYGROUP -4th Monday in month Ph: 4312725 
*YOGA- Tuesdays 6:15pm, Friday 8:30am Kaiwaka WM Hall Carla  
   Ph: 4312 408, 021 296 8794
CHURCHES:
*Gateway Worship Centre: St Mary's Church Nathan Rd off Oneriri Rd, 
Kaiwaka Services, 10.30am 1st & 3rd Sunday of every month. Contact: Rev 
David Gage 4312528 or 0212354282 
*Kaiwaka Family Church-Your Community Church:Sundays, l0am 
Home Group every Wed evening, Pastor John.Dekker Ph: 4318203 
*Kaiwaka Services.Anglican & Family Service at St Pauls Church  - 1st 
Sun. 9.30am(Anglican),3rd Sun. 9.30am (Family Service).  Contacts: Parish 
Office 09 4318193, M.Hargreaves 4312295, C.Bygrave 4312057  
*Church of Christ the King, Mangawhai:9.30am every Sunday 
*St.Mary's Catholic Church: Maungaturoto – Griffins Road, Saturday even-
ing Vigil Mass 6pm; Mangawhai – Senior Citizens Hall, Sunday Mass 
8:30am; Wellsford – Matheson Road, Sunday Mass 10:30am; Mid-week 
Mass times and all enquires to Fr. Bill Fletcher – phone 423 8170 
*Baptist Church: Sun. 10.30am Mangawhai Snr Cit.Hall.Ph:4312339 
*Cause Way Church Mangawhai: Sundays 10.15am, Mangawhai Communi-
ty Recreation Centre, Insley St. Ph: 09 4314782  
www.causewaychurch.org.nz 
 
*St.Pauls Archie Bull Hall HIRE  $20 half day, $40 full day per hire 
 Contact G. Jaques 4312048 
*Kaiwaka War Memorial Hall HlRE - Phone 4312725 or   
Email  
kaiwaka.hall.bookings@gmail.com 
*Hakaru Community Hall HIRE -Ph.  4312256 or 4312110 
*Te Pounga Marae queries -A.Gage 4312528, 4312527 
*Kaiwaka Sports Association hire/queries - C. Anderson 4312051 or 
Email kaiwakasports@gmail.com
 
Justice of Peace: B.FJaques; L.Donaldson; A.F.Hargreaves  -please phone to 
make sure they are available 
Marriage Celebrants: L.Donaldson; A.F.Hargreaves; C.Rosseels 
Next Bugle Deadline Friday 18 July 2014