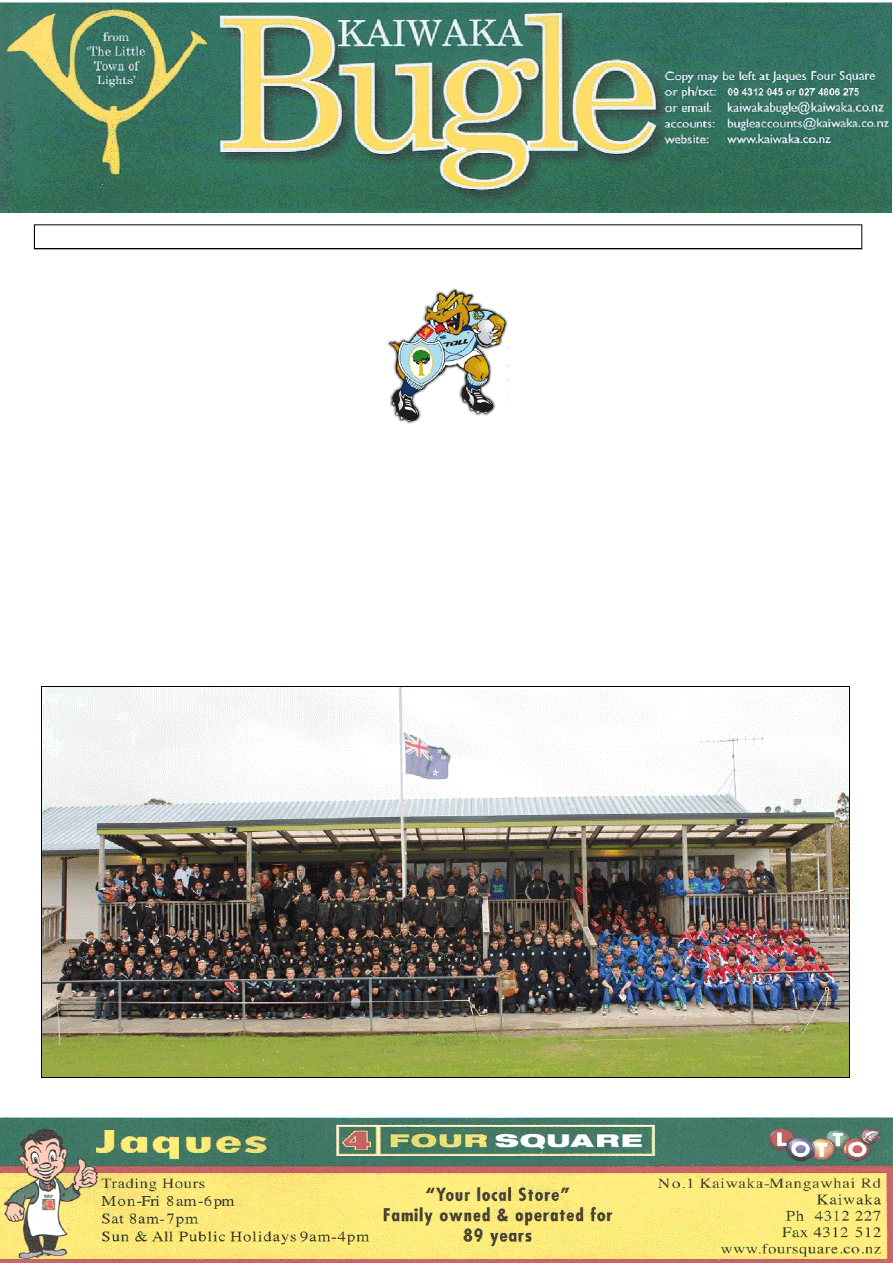 No: 14 
22 July 2014 
There  were  plenty  of  sodden  rugby  uniforms, 
muddy  boots  and  tired  bodies  at  the  Kaiwaka 
Sports  Complex  following  last  week's  five  day 
battle for the Dave Culham Taniwha Shield.  
One of the worst storms in a decade meant the eight 
teams of Year 7 and 8 players had to contend with 
raging winds and torrential rain. Power cuts on the 
first  evening  meant  the  jersey  washers  had  to  
hand wash the mud-caked jerseys, socks and shorts 
by candlelight and dry them by the fire!  
Day two of the tournament saw the winds strengthen to gale 
force  and  two  trucks  were  blown  over  south  of  Kaiwaka 
causing  a  road  closure  which  created  difficulties  for  
spectators  and  volunteers  trying  to  get  to  the  Sports  
Complex.  The  KSA  van,  which  was  being  used  to  shuttle  
supporters  from  the  pub  carpark  to  our  grounds,  had  a  
window smashed by the wind. The incessant rain ruined the  
tournament  photographer's  camera  and  communications 
were  hampered  with  the  storm  knocking  out  mobile  
networks.  The  continual  rain  meant  we  had  to  shift  the  
tournament to the Wellsford Rugby Club on days three and 
four in an attempt to preserve our fields. 
But  despite  all  these  hurdles  the  tournament  ran  smoothly. 
The  boys  seemed  oblivious  to  all  these  problems  and  just 
enjoyed playing rugby!  
One  of  the  highlights  of  the  tournament  was  how 
well the  Presidents  XV  performed.  The  Presidents 
team  is  made  up  of  those  unlucky  boys  who  miss 
out  on  being  selected  for  their  sub-unions  teams, 
and traditionally they have been the whipping boys 
of the tournament with 50+ points against them in 
most  games.  But  this  year  the  Northland  Rugby 
Union,  in  an  effort  to  make  the  team  more  
competitive, provided better resources for the team 
and  also  secured  several  Northland  ITM  Cup  players  to 
coach  the  boys.  The  team  had  several  close  matches  and 
ended up coming seventh. 
Another highlight was the camaraderie between the players. 
Although  the  Taniwha  Shield  is  an  intensely  sought-after 
prize,  the  boys  remained  supportive  of  the  other  teams. 
When  the  Hokianga  team  were  due  to  play  the  Presidents 
and  started  their  haka,  the  Mangonui  team  stood  behind 
them  to  support  them  while  the  Whangarei  Bears  stood  
behind the Presidents in support.  
The  fifth  and  final  day  was  played  in  sunshine  and  
relatively  balmy  weather.  The  main  final  saw  this  year's 
form  team,  Whangarei  Grizzlies,  proving  just  a  little  too 
much for our home team Rodney/Otamatea, in winning the 
coveted shield 22-12. This was a historical moment, as the 
Grizzlies have not won the Shield for 
TANIWHA SHIELD IN KAIWAKA 2014
After the opening ceremony, with the KSA's flag at half mast in memory of Jordan Kemp and John Keighley. 
Continued on page 5...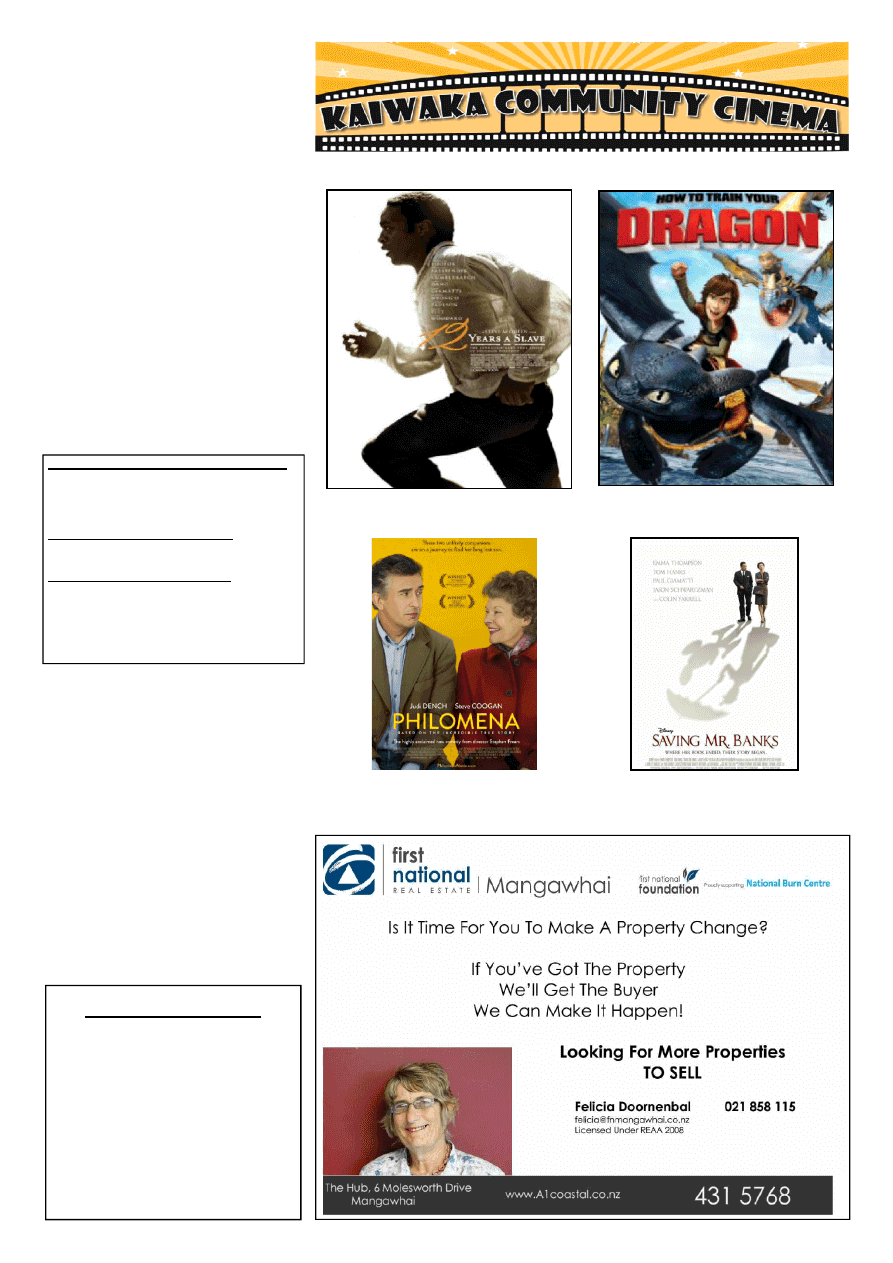 ABOUT TOWN 
......... 

 How  did  you  fare  in  the  storms? 
Even  Shakespeare  said  "For  the  rain  it 
raineth  every  day."    (Two  Gentleman  of 
Verona.)  -  thanks  for  the  quote,  Jan! 
If  you  see  any  road  damage  from  the 
storms  (or  any  other  time)  report  it  to 
Kaipara  District  Council  so  it  can  be 
repaired. 0800 727 059
Congratulations  to  Hawks  players  Matt 
Moulds, Daniel Hawkins, Kurt Davies, and 
Shane  Neville  for  making  the  Northland 
ITM rugby squad.
Well  done  to  Cheryl  for  her  outstanding 
efforts  as  Taniwha  Shield  Tournament 
Director.
KAIWAKA BUGLE No: 14 
22nd July 2014
Page 2: Kaiwaka Movies 
Page 3: Public Notices; Classifieds 
Page 5: Taniwha Shield 
Page 7:  Fitness, Night Sky 
Page 9:  KDC, Rotary 
Page 11: ToonSkool 
Page 13: Kaiwaka Sports Association 
Page 15: Go Fly, July! 
Page 17: Roll of Honour, Eloise 
Page 19: Work Camp, Pt Curtis Cruis-
ing Club 
Bugle 15 will appear 5 August 
 
Contact for advertising, reports, articles 
or information can be made by 
Email kaiwakabugle@kaiwaka.co.nz 
Ph: 09 4312045 
Txt:  0274 8062 75
 
Business card adverts can now be added 
to the KMG website– email contact to: 
kaiwakaonline@kaiwaka.co.nz 
Kaiwaka Bugle Advertisements 2014: 
 
Classified $3; 1/8 page $6; 1/4 page $12; 1/2 
page  $24;  in  special  circumstances  whole 
page adverts are available-cost $100 
bugleaccounts@kaiwaka.co.nz 
Payments  can  be  online,  posted  or  left  at 
Jaques Four Square Store. 
kaiwakabugle@kaiwaka.co.nz  for queries 
or copy. 
The  Kaiwaka  Bugle  is  a  community 
newspaper run by volunteers.   
Articles,  etc.  printed  are  not  necessarily 
the opinion of the Bugle Team. 
Kaiwaka Bugle 
Founded May 1978 
Copies available in Kaiwaka at Jaques Four 
Square, Kaiwaka Postal Centre, Shamrock 
Service Station, Celena's Gifts 
Also outlets in Maungaturoto, Mangawhai 
and Paparoa. 
Can be viewed online at www.kaiwaka.co.nz/
Bugle 
Or a copy can be posted to you if you supply 
stamped, self-addressed DLE envelopes. 
Philomena 
Saturday 15 August 7:30pm 
(M) 
Saving Mr Banks 
Friday 22 August 7:30pm 
(PG) 
At Kaiwaka War Memorial Hall . Adults $10, Chn (under 16) $5, Family Pass (2 adults +  3 children) $25 
12 Years A Slave 
Friday 1 August 7:30pm (R16) 
How To Train Your Dragon 
Sunday 3 August 2:00pm (PG)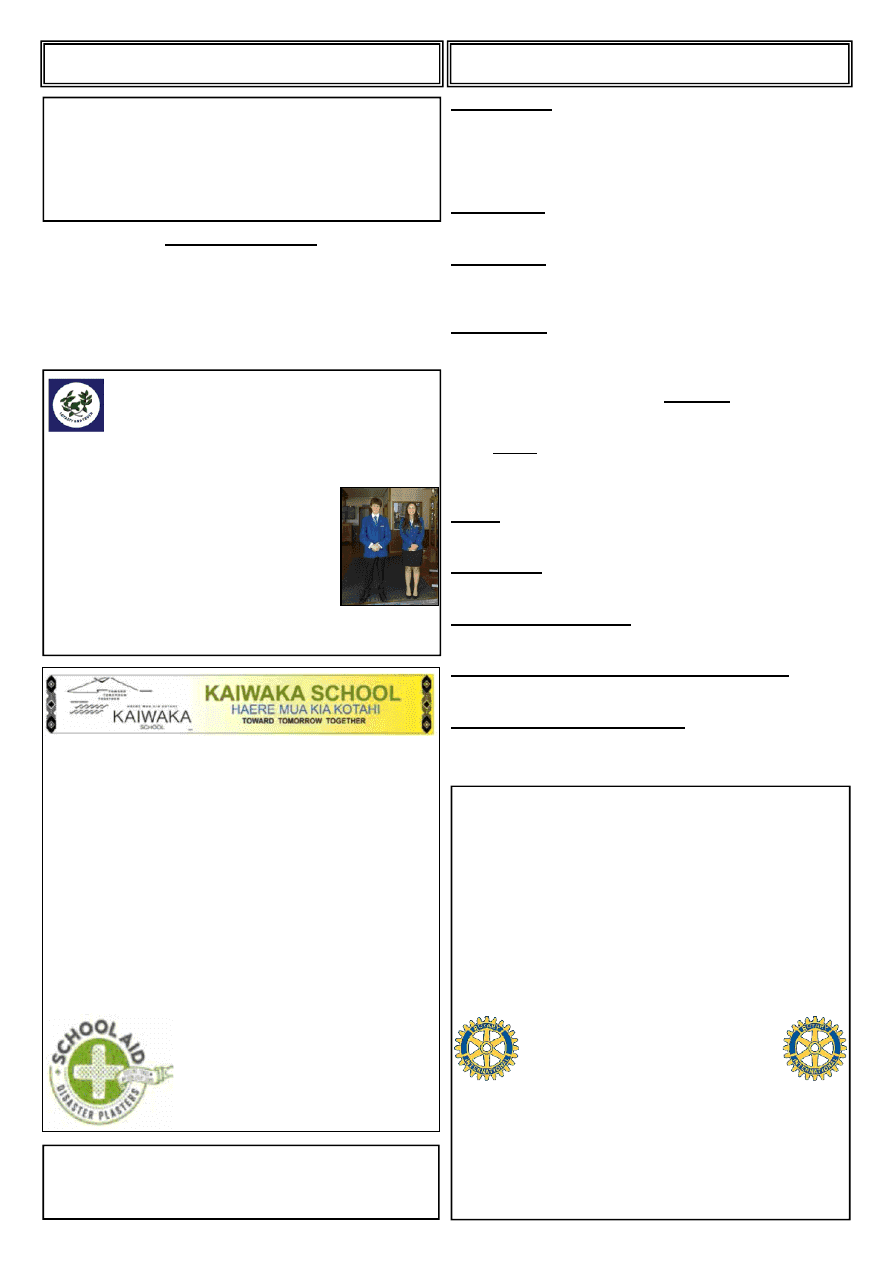 PUBLIC NOTICES 
CLASSIFIED 
FOR  SALE:  Jill  Shires  Holistic  Animal  Therapies. 
Herbal 
Remedies, 
Bach 
Flowers, 
Ointments,  
Diatomaceous  Earth,  Bentonite  Clay,  Cranio  Sacral 
Therapy,  Skin  Conditions,  Arthritis,  Laminitis,  Mud 
Fever 
Cream 
etc. 
www.allcreatures.co.nz 
or  
09 431 2080 
FOR  SALE:  Skill  saw  $20,  alloy  extension  ladder  
$40,  Ryobi  dropsaw  (large,  had  little  use)  $250.  Ph 
4312 188 
FOR  SALE:  Cattle  -family  of  4,  two  mothers,  one 
Friesian & one Hereford cross, 2 Angus weaner calves, 
one steer & 1 heifer. If sold together, 20% discounted 
off current market value. Phone 431 2992 
FOR  SALE:  bike  26"   5  gear s  $25;  computer   & 
printer old style working $45; speakers pair lge approx 
10"  $35  ono;  bike  trolley  $65ono;  folding  bed  metal 
tube  &  wire  with  mattress  $30;  2x  new  steam  sauna, 
folding  VG  winter  gift  395;  OFFERS:  kayak  black  as 
new;  dinghy  needs  tlc;  scuba  tank;  pvc  plastic  pipe 
new 3/4" large roll; anchor galv chain & warp for din-
ghy.  FREE:  helmet  red  men's;  office  swivel  chair; 
Sony  TV  approx  20"  old  style  remote  working.  Ph 
4312992 
 
FREE:  clean,  fr eshly-dug  topsoil  and  fill  available, 
free for removal. Near Kaiwaka. Ph (09) 946 9077 
 
HASHTAG  Band  for   hir e.    A  lively  mix  of  covers 
and original music.  Make your night special.  Ph: 021 
623 776  
BERYL 
NOZEDAR:  (Middleton)  International  
Clairvoyant. 
Numerology, 
Tarot, 
Clairvoyance,  
Mediumship. $60 for hour includes CD. Ph: 4312 080 
CLOTHING ALTERATIONS & REPAIRS: 
Hems,  Zips,  Dressmaking  Phone:  Win  4312027    or 
027 444 8358 Winsome Designs. 
FREE  GRAZING  WANTED: Small or  lar ge block. 
Can  do  some  fencing  or  water.  Phone  after  6pm 
312006 
Thought for the day:
 Your own soul is nourished 
when you are kind; it is destroyed when you are cruel. 
Proverbs 11:17 
THE MAUNGATUROTO CHIROPRACTIC 
CLINIC 
Will be closed from Wednesday July 16th  
and will reopen Wednesday August 13th  
because Dr. Macaulay will be 
attending a postgraduate course at this time. 
DISASTER PLASTER 
FUNDRAISER 
25 JULY - 8 AUGUST 
Kaiwaka  School  PTA  are  having  a  Disaster  Plaster 
fundraising  campaign  to  raise  funds  for  more  
computers  and  maths  equipment  for  the  students  at 
Kaiwaka School. The plasters are good quality, latex 
free and are made in NZ. 
Each box of 50 sells for $5.00 and $2.00 of that goes 
directly to Kaiwaka School. 
We  are  wanting  to  raise  $3000  with  this  campaign 
but we need your help so please support your school 
and buy a box or two, ,consider restocking the 1
st
 aid 
kit perhaps. 
 
For  orders  or  for  more  info  please 
contact  Rachel  on  0279630938  or 
099733658 
Thank you. 
Kaiwaka School PTA  
Otamatea High School 
Te Kura O Tuarua Otamatea
Opening our Doors 
Parents/Caregivers and  
prospective students are invited  
to our fully interactive 
Open Day
Friday 15
th
 August 9.45am start time 
Come along and experience the OTA Way 
St John Op Shop 
Winter Shop Hours: Mon-Fri 10am - 3pm 
Summertime will include 1/2 day Saturdays. 
For Sale: 3 Queensize beds & mattresses; single mat-
tress; wall unit; 3-seater wingback lounge. Cheap, all 
in very good condition. More goods needed. Furniture 
& anything else greatly appreciated.  
ROTARY CLUB  
of  MAUNGATUROTO and DISTRICTS (Inc)  
Serving the area from Matakohe, Paparoa, 
Maungaturoto, Waipu, Kaiwaka to Mangawhai 
Wanted!!! 
Household Goods and Furniture for 
Rotary's Biggest Fundraiser  
"The Grand Auction" 
Held Annually in March- Proceeds Going Back 
into our Community. 
Goods can be Picked up and 
Stored. 
Please Phone 
Eric Parsons 
Mangawhai 09 431 4874  
Keith Shadbolt -  Maungaturoto 021402122 
Rotary - Good people, having fun,  
doing good things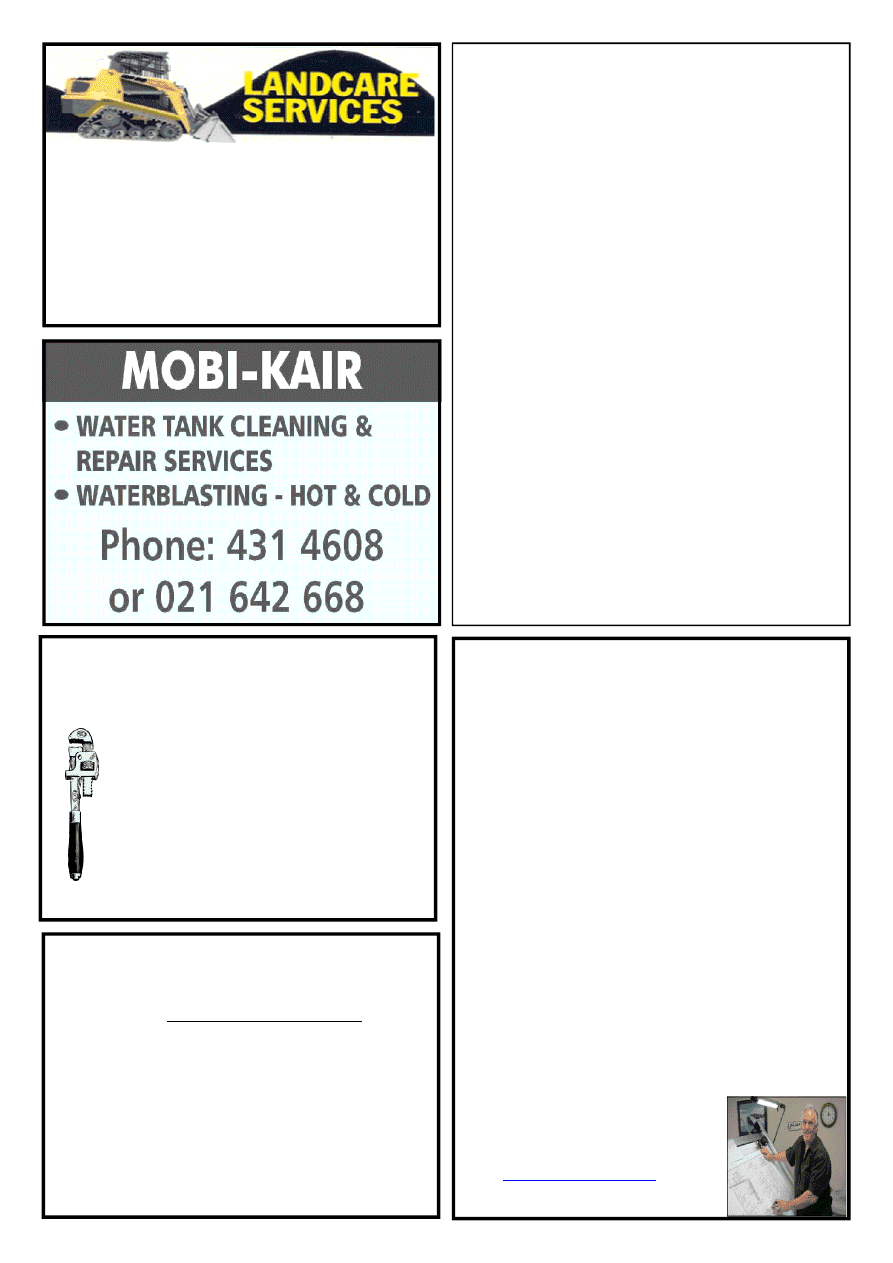 PAUL SAUNDERS 
LAWNMOWING 
& GARDEN 
MAINTENANCE 
 
Residential and commercial 
 
Lawns and edges    
 
Section mowing 
 
Garden makeovers 
 
Hedging and trimming 
 
Spraying 
Friendly and reliable service guaranteed 
Call now for a free no obligation 
quote 
021 886 843 
09 431 3318 
Servicing Mangawhai and Kaiwaka 
and surrounding areas 
paulsaunders99@gmail.com 
LANDSCAPING 
4 IN 1 BUCKET 
TRENCHER 
POLE HOLES 
ROTARY HOE 
COMPACT ROLLER 
OFFAL HOLES 
CAN SUPPLY WOODCHIP & POST PEEL 
5 TON TIPPER 
FOR RELIABLE AND FRIENDLY SERVICE CONTACT DAVE 
Dave Hyndman 
 
KAIWAKA 
PH: 09 4312302 
MOB: 021 431 238 
ARCHITECTURAL BUILDING 
PLANS AND DESIGNS 
WRIGHT DESIGN 
 QUALIFICATIONS 
Brian is a qualified designer (NZCAD) with over 40 years of 
varied experience in all types of building and is a registered and 
Licensed Building Practitioner in Design - L.B.P. 117345 
He ensures you will achieve the best from your budget with 
recommended excellent local contractors ready to competitively 
price and build your personal project quickly and efficiently. 
 EXPERIENCE 
Brian's practical building and 40+ years of design experience 
means he can give you excellent advice and all the guidance 
needed for all your building needs 
v Wright Design offers free visits, consultations and all the ad-
vice you need on planning, design, building, contractors, coun-
cil permit applications, etc. 
 
" Qualified and inexpensive designer – N.Z.CAD., LBP 117345 
" Guaranteed design and working drawings 
" Free site visit to your home or property 
" Great service 
" Great problem solver 
 
Call Brian ~Arrange a visit to discuss your needs  and obtain 
great advice and free quotation 
MAKE GOOD USE OF HIS EXPERIENCE and 
KNOWLEDGE 
WRIGHT DESIGN:  
360 Oneriri Road, Kaiwaka
Office 09 4312544  
Mobile 021 276 7389  
Email: 
brianwright@clear.net.nz
www.wrightdesign.co.nz 
BARRY CURTIS PLUMBING LTD 
REGISTERED CRAFTSMAN PLUMBER 
Phone 4315572 
027 257 9884 
25 years experience 
Friendly reliable service 
All plumbing and maintenance 
Alterations and new housing 
New wood fire installation 
Spouting 
Competitive rates 
PROMPT EFFICIENT  SERVICE 
 Yang Style Tai Chi 
Classes For 
Beginner And Practitioners  
At The Kaiwaka War Memorial Hall 
Every Tuesday  Starting at 10.30 am 
Come Along And Have Some Fun While Im-
proving Your Balance Health And Fitness
For More Information
Contact An-
drew Young 09 4223424 
taichi@pl.net
5 
U Beauty 
Please call Nicole for bookings 
09 393 6336 or 022 0639450 
Qualified Beautician 
4 Kaiwaka – Mangawhai Rd 
Kaiwaka 
Eyebrow Wax  $10 
Eyebrow Tint  $10 
Eyelash Tint 
$20 
Lip Wax 
$10 
Chin Wax 
$10 
Bikini Wax 
$20 
Brazilian 
$50 
½ Leg Wax 
$30 
Full Leg Wax  $45 
Full Pedicure  $60 
Foot Tidy  
$35 
Manicure 
$45 
Nail Tidy 
$25 
Chest Wax 
$30 
Back Wax 
$40 
Nostrils 
$10 
Ears 
$10 
Underarm Wax  
$20 
Extended Bikini Wax 
$30 
15 min Back  Massage 
$25 
30 min Back Massage 
$50 
26 years, and the emotion was clear to 
see  on  the  boys  faces  when  the  final 
whistle blew.  
During  the  closing  ceremony  Shane 
Culham, 
representing 
our 
major  
sponsor  Culham  Engineering,  handed 
out  medals  to  all  the  players  and  then 
presented  the  shield  to  the  winning 
team  the  Grizzlies.  The  Player  of  the 
Tournament  trophy  went  to  Grizzlies 
player Jordan Dwight.  
Final placings were: 
  1st Whangarei Grizzlies; 
   2nd  Rodney/Otamatea;  
  3rd  Bay of Islands; 
   4th   Northern Wairoa;  
  5th   Mangonui;  
  6th   Whangarei Bears;  
  7th   Presidents;  
  8th   Hokianga   
This  was  a  huge  event  to  organise  and 
it  was  certainly  a  team  effort.  I  have 
many people to thank: 
To 
my 
small 
but 
hard-working  
organising  committee,  in  particular 
Wayne  Leslie  for  his  support  to  my 
many  volunteers.  I  had  carpark  
attendants,  jersey  washers,  bar  staff, 
first  aiders  and  van  drivers,  as  well  as 
people  running  the  food  stalls,  taking 
photos, packing the lunches, selling the 
booklets,  making  the  paper  mache  
Taniwha,  doing  security,  recording  the 
weigh-ins, selling raffles, setting up the 
fields, cleaning the changing rooms etc. 
To the Northland Rugby Union and the 
Northland  Junior  Council  for  their  
assistance  to  the  tournaments  sponsors 
for their financial support
: 
Ballance  Agri
-Nutrients,  Came  family,  Culham  Engi-
neering, 
Eddie 
& 
Lynne 
Coates,  
Farmlands,  Jaques  Four  Square,  Kaiwaka 
Cheese  Shop,  Kaiwaka  Clothing,  Kaiwaka 
Sports  Association,  Kuntoro  Orchards,  La 
Nonna  Bakery,  Learn  To  Swim  Te  Hana, 
McDonald's  Wellsford,  Mangawhai  Books 
&  Gifts,  Mangawhai  Physiotherapy,  Man-
gawhai  Super  Liquor,  Mangawhai  Water, 
Mason  Skips,  Normans  Bus  &  Coach, 
Northland  Rugby  Union,  Ottaway  Bakery, 
Parker  Lime,  Pat  Scott,  Paul  Greig  
Electrical,  Phil  Keen  Concrete,  RD1,  Rob 
Leslie  Logging,  Rodney  Four  Square,  
Sandra 
Shaw, 
Skywork 
Helicopters, 
Smashed  Pipi  Café,  Three  Furlongs  Hotel, 
Topuni  Timber,  Twinkle  Tow  'n  Tyre, 
Wayne  &  Linda  Leslie,  Westpac  and 
Whangaripo Eggs. 
To  the  Wellsford  Rugby  Club  for  
hosting  us  at  short  notice  when  our 
fields  started  cutting  up  with  all  the 
rain. 
Results  and  photos  can  be  viewed  on 
our  website 
www.kaiwakasports.co.nz
. 
To  check  out  parents  and  supporters 
comments  and  videos  of  some  of  the 
team  hakas,  you  can  visit my  Taniwha 
Shield  Facebook  page.  Footage  of  the 
finals including interviews with Wayne 
Leslie, Russell Kemp and the Grizzlies 
and  Rodney/Otamatea  coaches  and 
captains 
will 
be 
broadcast 
by  
Grassroots  TV  on 
Prime 
and 
Sky 
Sport  1  throughout 
the week.
~Cheryl Anderson , 
Tournament Director 
TANIWHA SHIELD 
continued from front page 
Rodney/Otamatea in the final against the Grizzlies 
Well done Cheryl, from the Bugle Team and all 
those involved in the Taniwha Shield. Thank you! 
From Thursday 17 July 2014 
we will be taking 2 months off 
while Ross recovers from  
further heart surgery.
We look forward to seeing you 
again from October onwards.
Ross & Irene Richardson (and 
Zoe!), Shamrock Auto Care.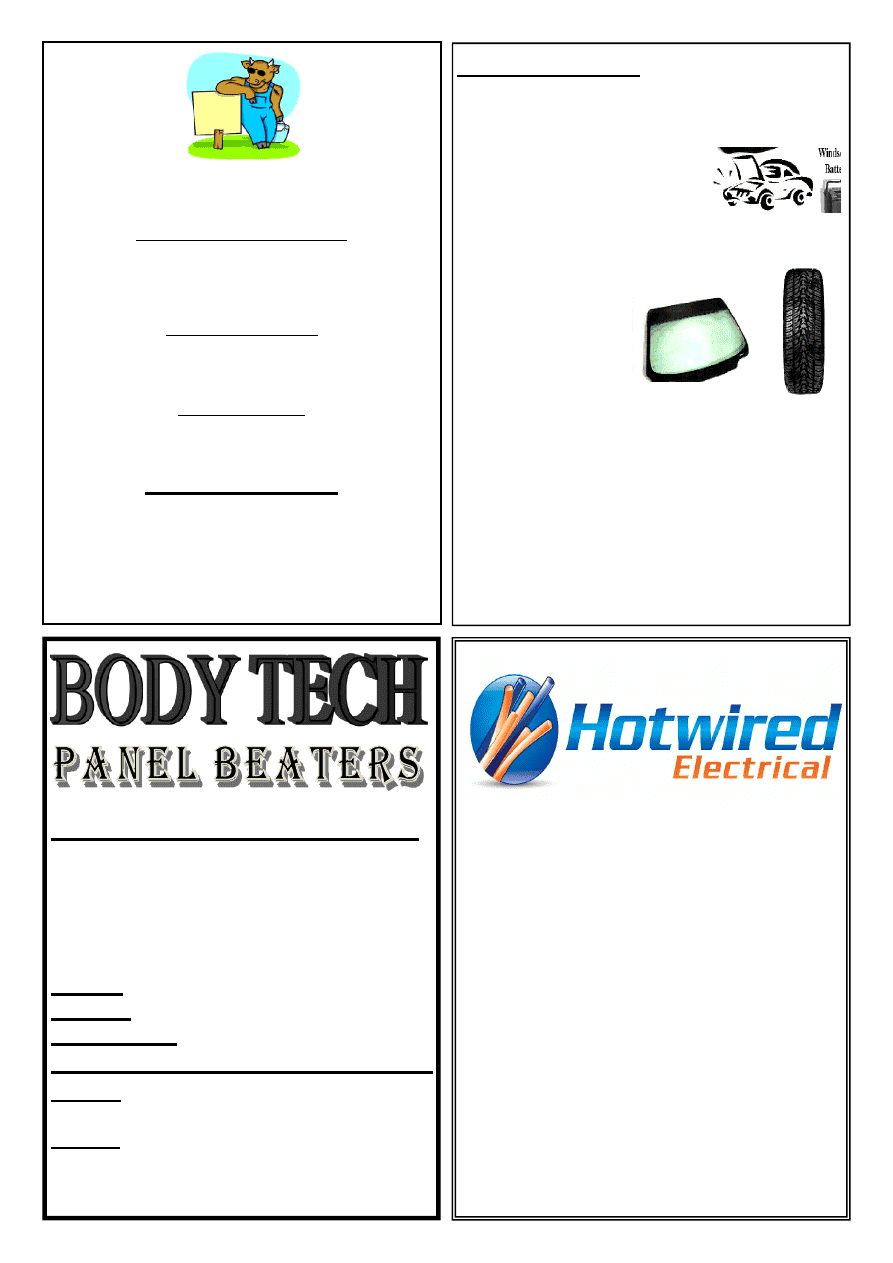 For all your body repair needs!! 
 
We do: 
 
Rust repairs 
 
Insurance work 
 
Anti-corrosion  
   treatment   
 
Hours: 8.30am-5pm Monday-Friday  
Mobile: 021 118 0462 
After hours: 09 431 2384 
Phone: Craig or Call in for a free 
Quote 
Email: 
bodytech_panelbeaters@yahoo.com
We are located at 1837 SH1 Kaiwaka, behind Twin-
kle Tow 'n' Tyre call in anytime for a free quote.  
 
Large and minor vehi-
cle repairs
 
Industrial vehicles
 
Full Cut and polishes
For All your  
Electrical  Requirements 
 
Domestic small jobs 
 
Residential dwellings and alterations 
 
Commercial 
 
Industrial                 
No job too big  
or too small    
Contact Jason today on: 
(09) 431 5992, (021) 405 019 
www.hotwiredelectrical.co.nz 
Want it done? 
Bring it to  
Twinkle Tow 'n' Tyre 
*W.O.F. 
*Tyres 
*Windscreen replacement 
*Chip repairs 
*Bulk Oil 
*Batteries 
*Welding 
*Custom built trailers 
*Trailer hire 
Think you'll get a better deal in the city? 
Go on, ring us; it won't cost anything! 
1837 State Highway 1, Kaiwaka 
Phone 431 2823 
CALL A FARmeR
Winter Broad Acre Weed Spraying 
Thistles, Buttercup and other broad leaf weeds 
Now is the time to spray 
Ground based spray application 
We can get where others can't 
Fertiliser/Urea Spreading 
Low impact ATV and tandem spreader application 
We can get there when your tractor can't 
No tractor tracks through your new grass! 
Pro-gibb Application 
Get that grass growing! 
We cover Farms and Lifestyle Blocks    
BOOK NOW!!
See our website for more services 
www.callafarmer.co.nz 
Office 09 423 7585
027 625 5383 
We can 
do that!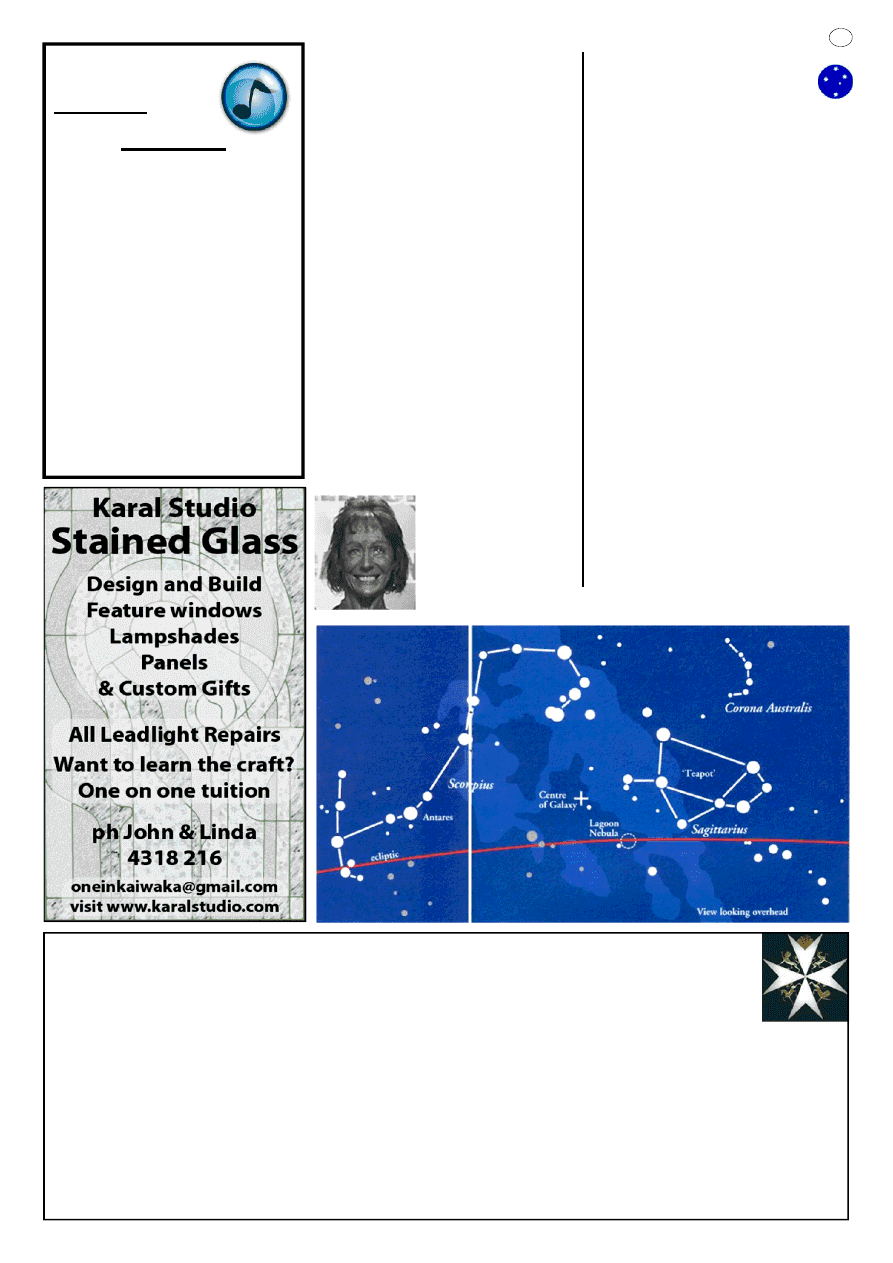 7 
OTAMATEA ST JOHN 
KAIWAKA OPPORTUNITY SHOP
Do you like meeting people?  Have you several hours to give, once or twice a month? 
Do you want to help provide finances for a very worthwhile service in this community?
If the above relates to you, and you think you might like to work in our Opportunity shop in Kaiwaka, please 
send your name and contact information to: 
Chairman, Otamatea Area Committee St John, P O Box 95, Maungaturoto 0547 
and we will be back in touch with you.  
Alternatively, if you would like to talk to someone in relation to this, please call one of the following:  
     Maungaturoto – Wayne Maclennan (Chairperson) (09) 4318353  
     or committee members in Kaiwaka – Reg Jaques (09) 4312367 or Denise McMonagle (09) 4312275 
KAIWAKA  
FITNESS 
Hope  you  all  survived  the  terrible 
weather, hard for mums home with the 
kids on school holidays.  
My  condolences  to  the  Kemp  family, 
and  John's  family,  hard  times  indeed. 
Congratulations to Cheryl on the rugby 
tournament  can't  have  been  an  easy 
job, made worse by the weather.  
To  the  guys  that  like  to  lift  heavy  and 
then  drop  weights  please  refrain  from 
this; don't think the floors will last long 
plus  it  can  be  distracting  to  others  
trying to  work  out.  If  you  can't  lift the 
weight  and  put  it  down  maybe  you 
should  think  about  a  lighter  weight, 
gains are made by good technique.  
One  comp  down  for  me  with  a  win, 
there were 6 of us that went down as a 
team  and  all  placed,  excellent  time, 
company  and  probably  the  best  run 
show I have been to. Roll on Taupo in 
5  weeks.  Safe  travels  to  Bente  who  is 
off  overseas  for  6 
weeks;  if  your  name  is 
not  on  the  membership 
board this is the reason. 
Safe and happy training  
~ Jules 
AUGUST NIGHT SKY 
OVER KAIWAKA 
 Singing  
Lessons
Individual sessions 
All styles of music  
All voice types 
Reasonable rates 
Phone  
Maura Flower 
021 164 8318
Day  Hour  Event 
3-4  Dusk  Saturn, Mars and Spica 
 
 with the moon 
4 
12 
First quarter of the moon 
7 
16  Moon furthest south 
 (-19.0
o
) 
9 
4 
Mercury superior 
 conjunction 
11  6 
Full moon 
11  6 
Moon at perigee 
16  5 
Mercury 12
o
N of Regulus 
18  0 
Last quarter of the moon 
18 
17  Venus 0.2
o
N of Jupiter 
 (low NE) 
19  5 
Aldebaran 1.6
o
S of Moon 
20  10 
Moon furthest north (18.7
o
) 
26  2 
New moon 
26  7 
Mars 3.4
o
 south of Saturn 
30  2 
Neptune at opposition 
 
You  will  notice  that  the  Ecliptic  
crosses  the  plane  of  the  Milky  Way 
near the constellations of Scorpius and 
Sagittarius. This year Saturn will be in 
Libra,  changing  the  look  of  that  con-
stellation  a  lot.  From  our  southern 
hemisphere  vantage  point  during  our 
winter,  we  will  continue  to  see  the 
ringed  planted  particularly  well  over 
the next five years or so.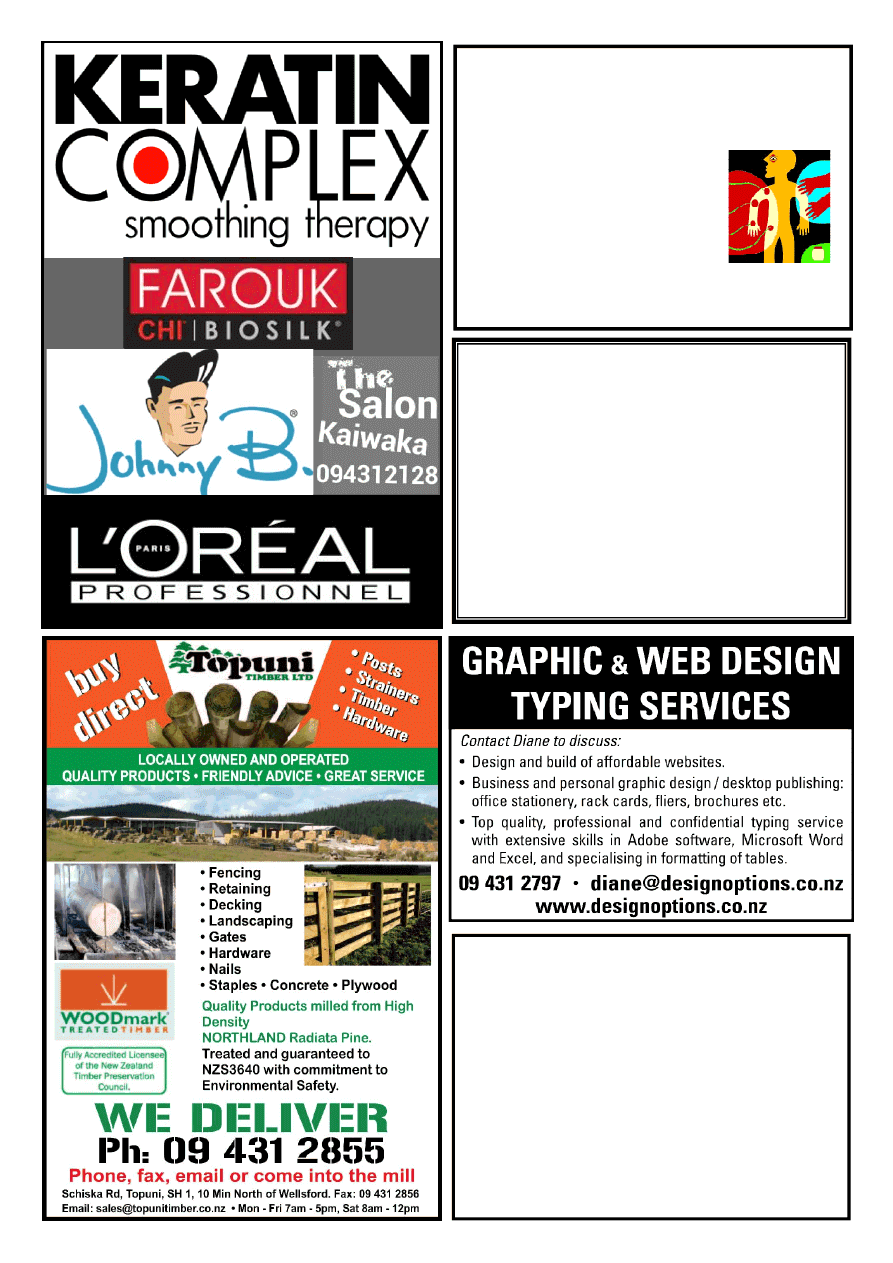 OWEN STEVENS 
Osteo Therapist
For careful adjustments to bones and joints 
Treatment for  humans and their pets 
Clinics: 
Kate's Place, Kaiwaka: 
Last Friday of month 
For bookings:9.00am-5.00pm   
Phone 
09 4312661 
Or phone Owen  09 4317123  anytime 
AMBER'S 
Q Cafe & Restaurant
All day breakfast, 8am - 5.30pm. 
Home made Pizza, take away or eat in from 8am to late. 
Light lunches, 11.am - 5.30pm, Dinner Menu at 5.30pm to late 
Toasted Sandwiches and Sandwiches made to order. 
All day, Pies, Chowder & Soups, Milkshakes, Kiwi Ice cream, Slushie 
Fruit drink, Tea, Coffee 
Closed Mondays.....except Observed Holidays 
Sunday to Thursday: 8am - 8pm,  
Friday: 8am - 8.30pm, Saturdays 8am- 9pm 
4315226 
Trevor & Amber 
41 Moir Street, Shop 5-6,Mangawhai Village 
Next to Carters Building Supplies 
TILING 
Certified Waterproofing 
431 4533 or 021 86 33 33 
George 
MCN Property Solutionz  
Local references available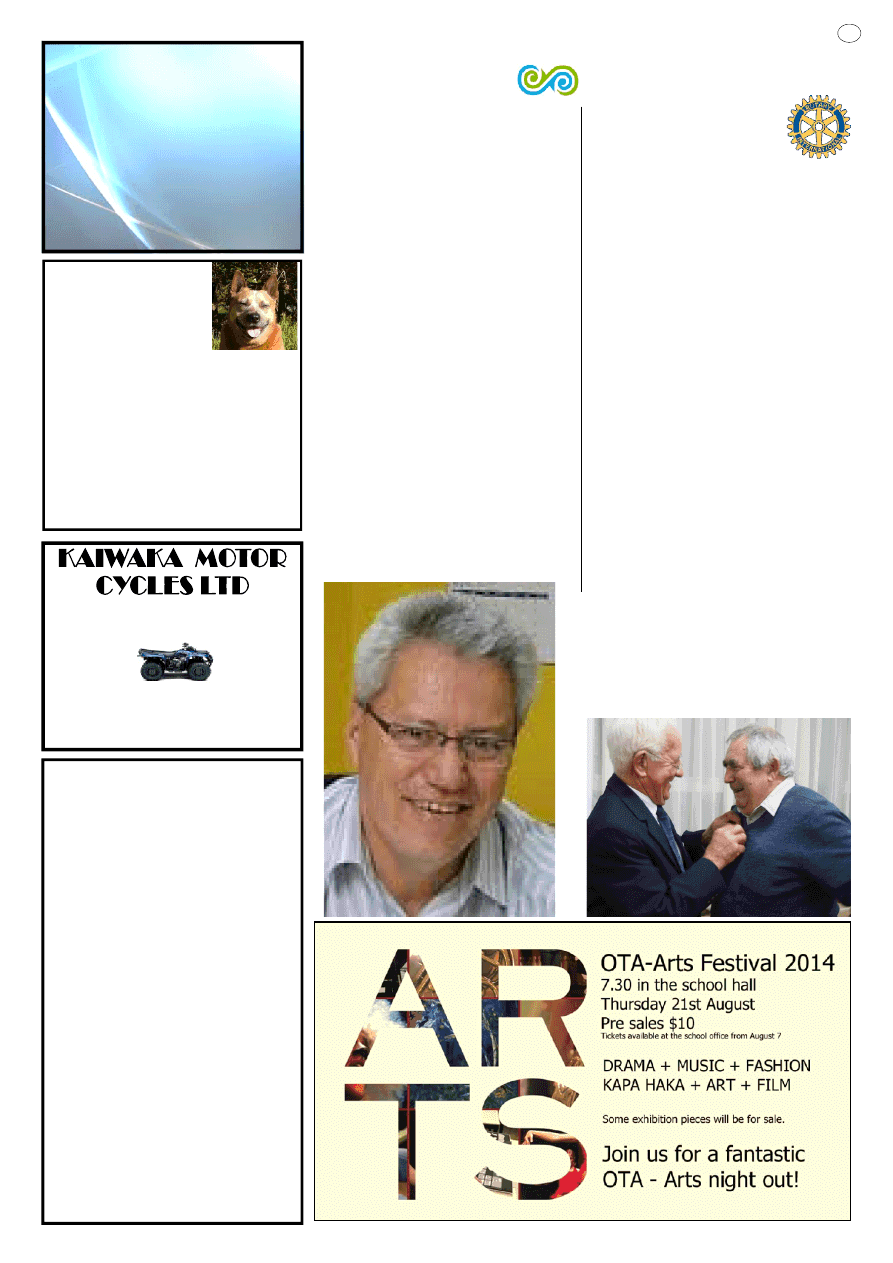 9
Laughing
Dog
Computers
www.laughingdog.co.nz 
0224344448 
Hardware and Software 
Service and Repair 
SALES SERVICE SPARES
FARM BIKE SPECIALIST
Phone 431 2127  
Kaiwaka-Mangawhai Rd 
Kaiwaka 
MAUNGATUROTO  & 
DISTRICTS  ROTARY 
CLUB 
 
Recognition  by  Rotary  with 
Paul Harris Fellow 
Eric  Parsons  and  David  Pankerd  from  
Mangawhai,    Colin  Smith  and  Albie Paton 
of Maungaturoto were awarded Paul Harris 
Fellows  at  the  Maungaturoto  and  Districts 
Rotary  Club  changeover  meeting  on  
Tuesday 1
st
 July.  
Although  not  a  member  of  a  Rotary  club, 
Albie  Paton  received  recognition  for  his 
outstanding commitment to the community 
for  organising  the  Maungaturoto  150
th
celebrations  as  well  as  other  community 
work over many years.  
Colin  Smith,  a  founding  member  of  the 
club,  was  honoured  in  a  very  special  way 
and  received  a 2
nd
 sapphire to  his existing 
PHF  pin.  He  was  awarded  this  for  
outstanding  service  and  for  his  wise  
counsel and attention to detail.  
Mangawhai  members  Eric  Parsons  and 
David  Prankerd,    have  also  showed  
outstanding  commitment  to  both  the  
community and the club. 
Paul Harris was known for founding Rotary 
International 
in 
1905, 
a 
service  
organisation  that  currently  has  over  one 
million  members  worldwide.  It  is  an  
honour  to  be  named  a  Paul  Harris  Fellow 
and club members were so delighted to see 
rewards given to  their fellow members. 
Maungaturoto  &  Districts  Rotary  Club 
serves  the  area  from  Matakohe  to  
Mangawhai, 
including 
Kaiwaka 
and  
Maungaturoto  and is known especially for 
supporting the  young people of the area. It 
meets  on  a  Tuesday  evening  with  a  dinner 
meeting  at  the  Maungaturoto  Centennial 
Hall.  
~Bet Nelley 
Willow Bend
HORSE  
HOTEL 
"  
Total Horse Care 
" 
Agistment 
" 
Riding Lessons 
" 
Arena Hire (60x40) 
" 
Young Horse Starting 
" 
Re-training/Exercising 
" 
Hoof Trimming 
" 
Problem Solving
Phone Sue 09 431 
2817 or 021 623 776 
Or email sue.gray@xtra.co.nz 
Freeview  
Installations 
Richard Te Haara 
25 Marram Place 
Mangawhai Heads 
021 1104056 
kiwipride@xtra.co.nz
KAIPARA DISTRICT 
COUNCIL 
Chief Executive Resignation 
The  resignation  of  Kaipara  District 
Council's Chief Executive Steve Ruru, 
effective  17  October  2014,  was 
 announced today.  
Mr  Ruru  is  to  become  the  Chief  
Executive 
at 
Southland 
District  
Council later this year.  
Chair 
of 
Commissioners 
John  
Robertson  said  Mr  Ruru  will  leave  a 
big gap to fill. 
"Steve has been totally dedicated in his 
role  at  Kaipara.  He  has  worked  hard 
and  has  done  a  great  job  in  often  
difficult  circumstances.  He  addressed 
the  rating,  financial,  legal  and  other 
challenges that faced the Council when 
he  arrived,  and  has  rebuilt  the  
organisation so that it is on the way to 
becoming 
the 
high 
performing  
organisation that the people of Kaipara 
deserve" Mr Robertson said.  
"In  2011,  when  he  was  recruited,  he 
brought  much  needed  Chief  Executive 
local 
government 
experience 
to  
Council.  Together  with  this  and  his 
professional accountancy skills, he was 
instrumental  in  delivering  balanced 
budgets  and  a  Long  Term  Plan  that 
achieved 
the 
goals 
that 
the  
Commissioners set."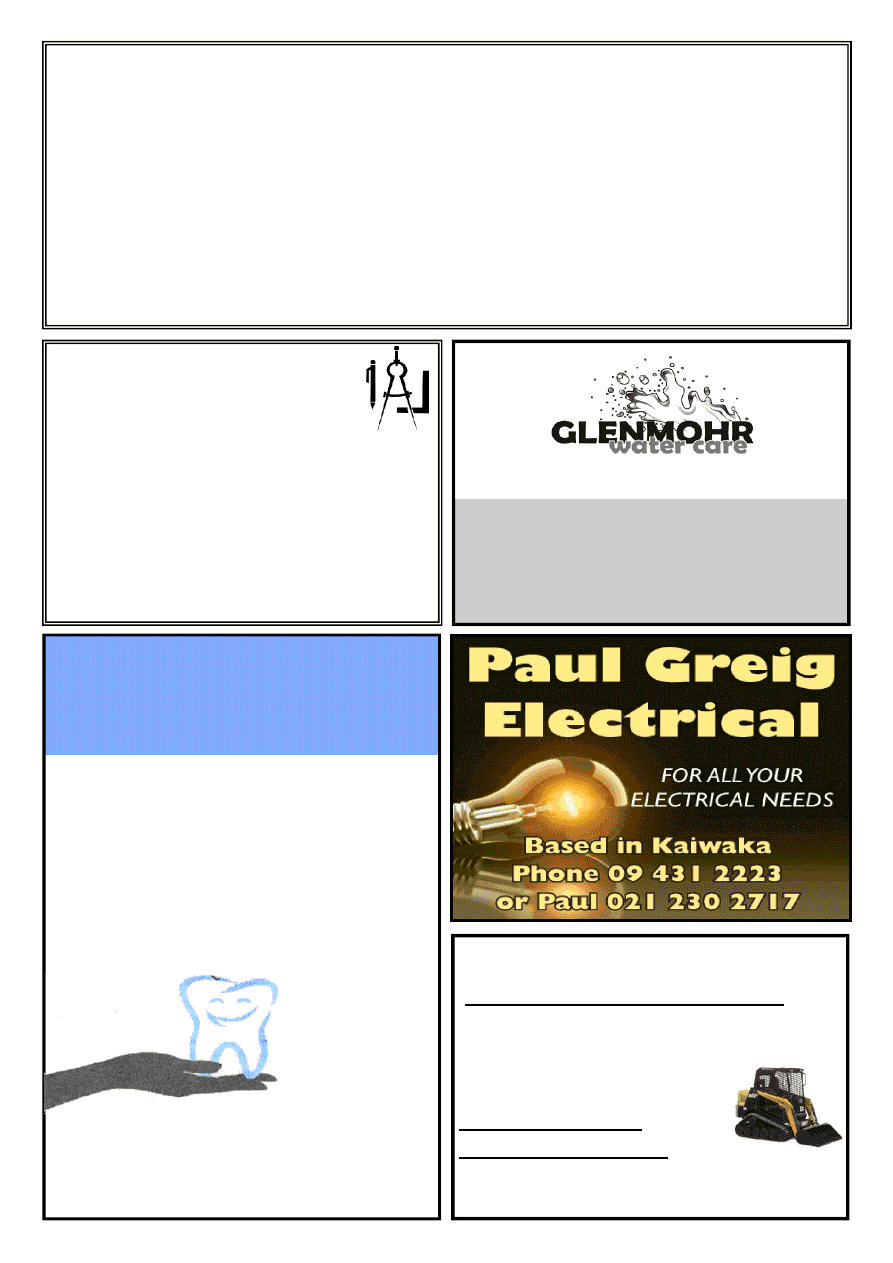 RANGANUI EARTHMOVERS 
16T Excavator 
Driveways, House Sites, 
(tilt, thumb & ROPS cab) 
Drainage Dams, Section Clearing, 
Transport Trailer 
Tree Work,  Rock Retaining Walls, 
2 x 6 Wheeler Tip Trucks 
Quarry Work, 
Suppliers of All Grades of Metal & Topsoil 
Basically Anything That a Digger Can Do 
If you want a proper job done with an experienced operator ring 
Grant on    A/H 431-2131          Email  ranganui.dev@xtra.co.nz 
                     Mob  021845-246 
design drafting 
service 
Retired builder and manufacturer with over 40 years  
experience in the building industry is offering a design 
drafting service  
for domestic housing, sleepouts and sheds.  
Plans formulated in consultation with clients, with 
working drawings completed and submitted to  
council for processing.  Extensive practical experience,  
able to identify & resolve problems. 
Please ring Mike Lean on 
09 431 2260  
          or 
021 431 196 
Water Tank Cleaning 
" 
Keep your water safe & clean   
" 
Removal of sediment, silt etc 
" 
Vacuum or full scrub 
" 
Minimal water loss 
Phone Mark (09) 432 0655 or 0274 707607 
Gentle Dental 
Ruakaka 
We love to see you smile 
 
General  & Cosmetic Dentistry 
 
Emergency & ACC Treatment 
 
Denture & Hygienist Services 
 
Senior Citizen Discounts 
 
Free Adolescent Care 
 
Free WINZ Quote 
19 Ruakaka Town Centre 
Dr Sim Sood & Associates 
Ph:  432 8139 
Saturdays 
By 
Arrangement 
Open  
Mon-Fri  
8am-5pm  
Natural Earth Ltd 
 Landscape and Bobcat services 
 : Driveways  :Landscaping  :Retaining Walls 
 : Hole Boring: Land Levelling :Trenching 
 : Decks :Fences :Sections Cleared: Plus much 
more 
Tel   09 4312885 
Mob 02102391280  
For A Fast Friendly  
Service Contact Tim Hicks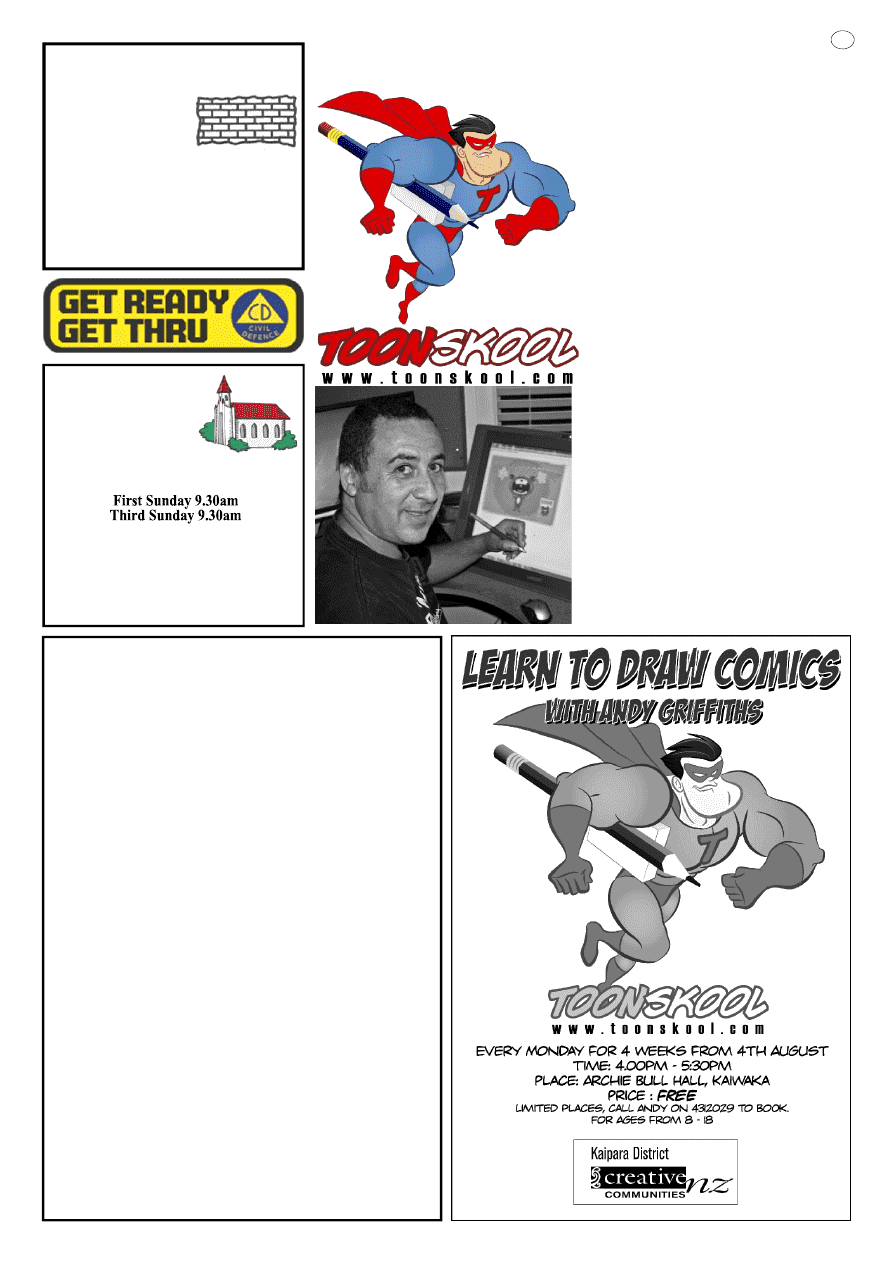 11
Are you a fan of modern day Manga or  old  school  Superman?  Have  you  ever 
thought  about  creating  your  own  
thrilling  superhero  adventures,  or  
maybe you just wanted to draw a fun-
ny  cartoon  about  something  your  pet 
dog did. 
If  you  answered  yes  to  any  of  the 
above  and  you  are  aged  between  8  to 
18,  then  get  yourself  to  skool  . 
Toonskool  that  is.  Run  by  local  
cartoonist  Andy  Griffiths.  Toonskool  
is  a  series  of  workshops  on  how  to 
draw  comics,  starting  at  the  Archie 
Bull  Hall  in  Kaiwaka  from    Monday 
4th  August  from  4:00pm  -  5:30pm. 
Best  of  all,  as  part  of  the  Creative 
Communities  NZ  scheme  the  classes 
are  free,  that's  right  FREE!  So  book 
now  to  ensure  a  place  as  numbers  are 
limited to a maximum of 12. 
Andy  currently  works    as  a  freelance 
cartoonist, 
graphic 
designer 
and  
teaching  artist.  His  websites  are 
www.andygriffiths.com 
and 
www.toonskool.com.  He  has  worked 
for  various  companies  over  the  years, 
including 
Warner 
Bros 
Feature  
animation  (On  the  Looney  Tunes  
movie  Space  Jam),  Warner  Bros  
Consumer 
Products  and 
Stephen  
Spielberg's Amblimation studios.  
Andy lives in Kaiwaka with wife Amy 
and two children, Josie and Alex. 
To  book  a  place  call  Andy  on 
4312029. 
BRICK/BLOCKLAYER 
All aspects of masonry:  
Fireplaces, 
Restoration  
& Remedial Work.
JAMES EAGLETON 
Tel. (09) 431 2514  
Mob. 0274 749 232 
jajueagles@yahoo.com.au 
210A Pukenui Road, RD2 Kaiwaka 0573 
ST PAUL'S  
ANGLICAN  
SUNDAY  
SERVICES
St Pauls Church: Kaiwaka-Mangawhai Rd. 
1st Sun - Eucharist 
3rd Sun - Family Service 
Office 4214 122 
Contacts:M.Hargreaves 4312295, C.Bygrave 4312057  
PLANNING A NEW 
KITCHEN?
CONTACT NOEL McDOWELL 
WELLSFORD 
KITCHENS
Ph/Fax 09 4312 888
KAIWAKA-Any time
QUALITY CUSTOM MADE 
KITCHENS
~Personal and Prompt Service~ 
~All Workmanship Guaranteed~ 
~Over 20 Years in the Trade~ 
~Free Design & Quote~ 
DO YOU LOVE COMICS?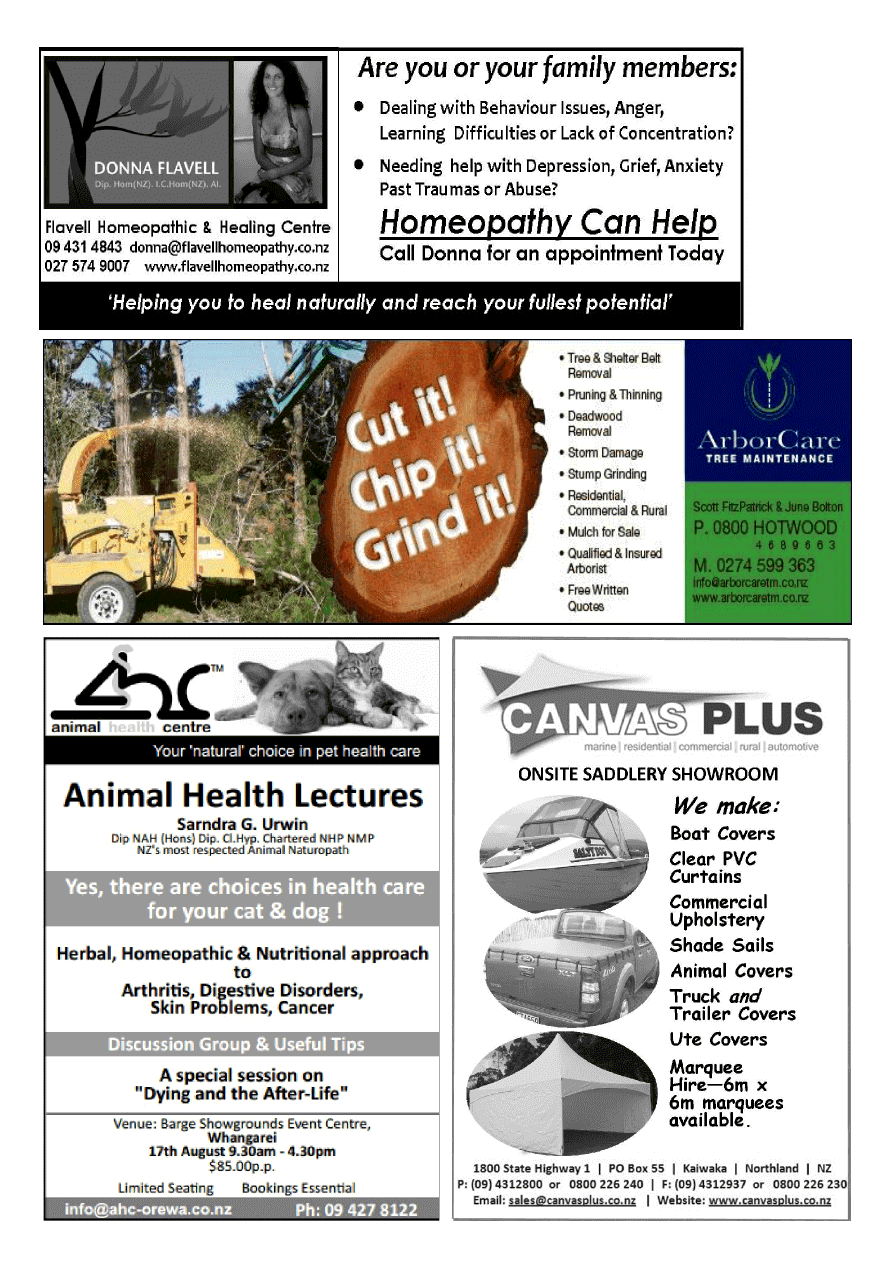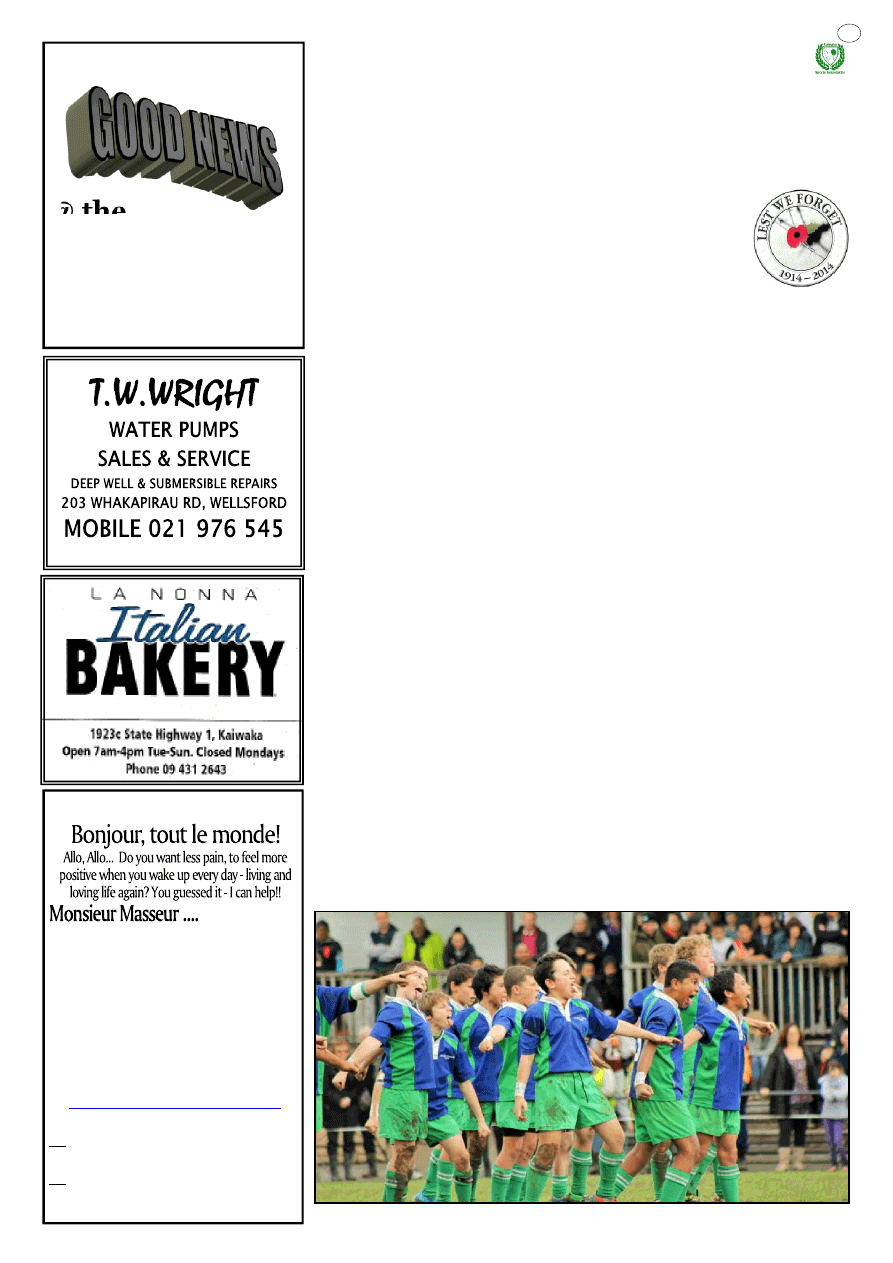 THERE'S 
 
 
 
 
@ the  
Kaiwaka Family 
Church
Your COMMUNITY CHURCH 
RECEIVE HEALING 
RECEIVE THE LOVE OF GOD 
 13 
KAIWAKA SPORTS ASSOCIATION 
RELAXING  
           MASSAGE
..... Juste pour vous" 
Call for an appointment now!
Pete Worsfold 
4312 152  or  021 825970  
peteworsfold@xtra.co.nz
 
Or  Ph. "The Well of Health" for an 
appt. 09 4312 799 
Or mobile service available 
Taniwha Shield 
The  five  days  of  the  Taniwha  Shield 
rugby  tournament  culminating  in  the 
final  between  Rodney/Otamatea  and 
the Whangarei Grizzlies resulted in the 
biggest  crowds  at  the  Sports  Complex 
that  I  have  ever  seen!  Kaiwaka  
received  a  lot  of  publicity  from  this 
tournament,  not  just  from  newspaper 
coverage but also when Grassroots TV 
aired their footage of the finals on Sky 
Sport,  Prime  and  the  Rugby  Channel. 
And hopefully our local businesses did 
well  out  of  the  large  numbers  of  
visitors.  You  can  read  more  about  the 
tournament in this edition of the Bugle. 
Netball – junior 
The primary school  netball club would 
like  to  thank  everyone  who  supported 
their  club  with  the  washing  of  the  
Taniwha  Shield  jerseys.  Netball  starts 
back  up  on  Saturday  26
th
 July.  On  this 
day, the club will be running their final 
fundraiser  for  the  season  –  a  Goal-a-
thon.  Thank  you  to  everyone  who  has 
already sponsored a player. 
Rugby – senior 
Playing  in  memory  of  Jordan  Kemp, 
our 
Otamatea 
Hawks 
B 
team  
dominated  possession  and  territory  for 
virtually  the  entire  match  against  Hora 
Hora  at  the  Maungaturoto  Country 
Club  last  Saturday.  Jordan's  fired-up 
teammates  piled  on  31  points  to  win 
their final club  game of the season 31-
7.  Our  A's  were  not  so  lucky,  going 
down  to  Hora  Hora  8  –  18.  Our  boys 
struggled  to  contain  the  opposition  for 
most  of  the  match  in  the  heavy  under-
foot conditions. A's coach Dean Kenny 
said  that  the  huge  turnout  and  sunny 
weather  were  ideal  platforms  for  a 
great  match  and  an  occasion  to  
remember young Jordan. Unfortunately 
the  loss  means  the  Hawks  have  failed 
to qualify for the semis. 
Rugby – junior 
After  a  break  over  the  school  holidays 
our  junior  rugby  club,  Eastern  United, 
will  start  up  again  this  Saturday,  with 
all games being played at Tomarata.  
The  club  will  hold  a  meeting  for  all 
parents  of  juniors  interested  in  playing 
rugby  next  year.  This  meeting  will  be 
in  the  primary  school  staffroom  this 
Thursday at 3pm. 
For all Eastern United enquiries, please 
contact  Jennie  Reynolds  on  021 
02764171. 
World War One 
In August the world will 
mark 
the 
100th  
anniversary 
of 
the  
outbreak  of  the  First 
World  War.  Here  at  the 
Kaiwaka 
Sports  
Association, we will mark the occasion 
by  hosting  a  Centennial  Dinner  on  16 
August..  
As  well  as  one  of  Mark  and  Pam's  
delicious  meals,  the  evening  will  
feature  the  Jaques  band  playing  songs 
of  the  war  and  will  involve  members 
from  the  Mangawhai  Cadet  Unit,  the 
Kaiwaka/Mangawhai  Scouts  and  the 
RSA.  Tickets  are  $25  for  adults  and 
$10  for  children  (Year  9  and  under). 
Tickets available at Jaques Four Square 
or from KSA members. 
Upcoming events 
We  may  still  be  in  the  middle  of  
winter,  but  summer  will  roll  around 
fast  enough,  so  if  you're  looking  for  a 
reason to get into shape for the warmer 
months, you could start training for one 
of our major summer sporting events: 
  *our  annual  Top  of  the  Rock  multi-
sport  event  will  be  held  on  Sunday  8
th
February  and  features  options  for  
running, cycling or walking. 
  *our 
annual 
Otamatea 
tennis  
tournament  is  held  over  Anniversary 
Weekend  in  January  and  players  can 
enter  in  the  doubles,  combines  or  
singles. 
  *the  Kaiwaka  Touch  Module  will  be 
held  over  the  summer  months.  Start 
date to be confirmed. 
  *and,  although  this  is  not  a  sporting 
event, it is one of our most popular an-
nual  events  –  yes,  it's  Fright  Night! 
Mark it in your diary, Saturday 1
st
 No-
vember. 
~Cheryl Anderson, 4312 051, 027 3462702 
kaiwakasports@gmail.com 
Rodney/Otamatea performing their haka before the final against the Grizzlies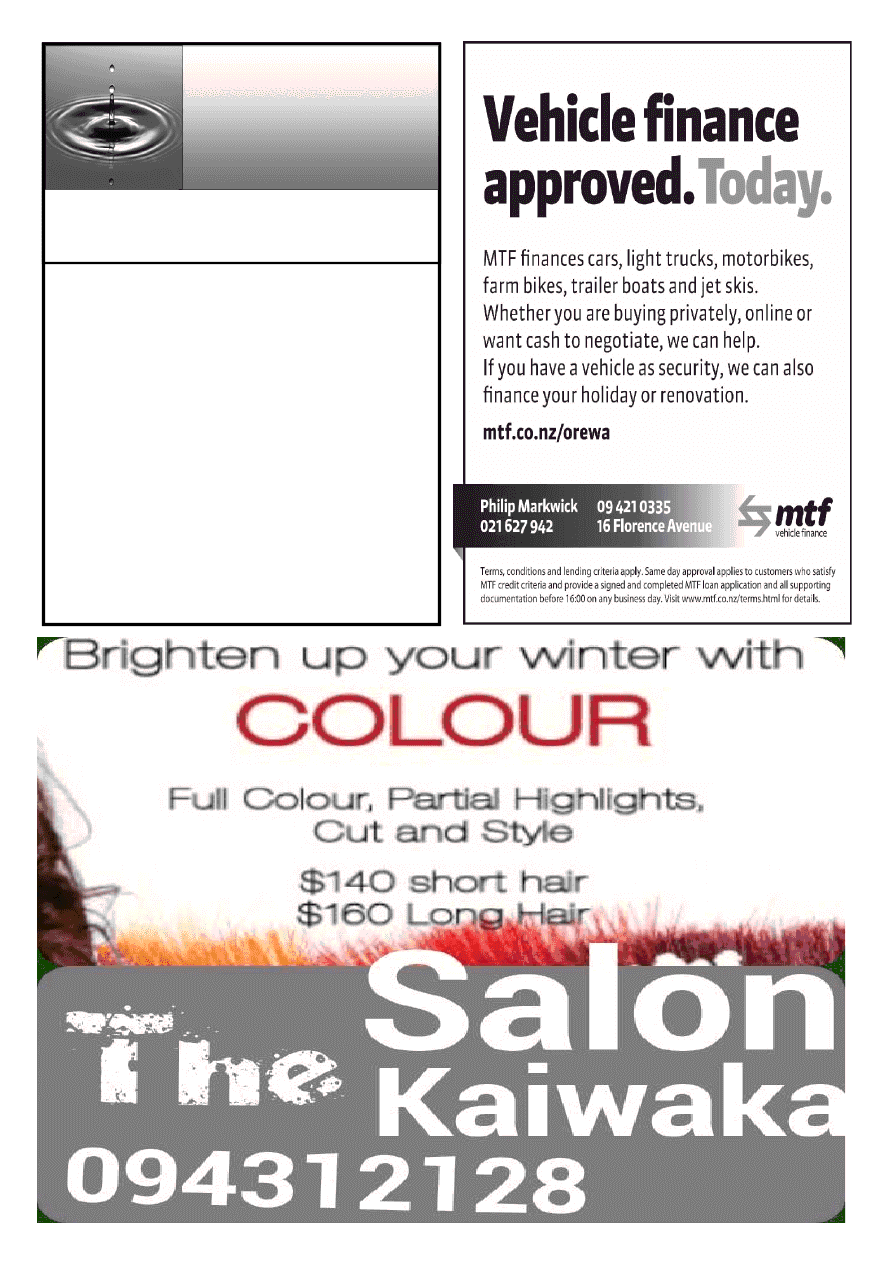 PETE WORSFOLD  
B. Soc.Sc. M. Soc.Sc. Diploma of Prof Couns. 
Counsellor
peteworsfold@xtra.co.nz 
 021 825 970 
Professional Service 
Variety of Modalities 
By Appointment Only 
INDIVIDUAL ONE-ON-ONE 
COUNSELLING 
Call for Appointment 
At "The Well of Health" 
09 4312799 or 021 825 970 
MODALITIES: 
  CBT 
  Gestalt 
  Person-Centred  
  Solution Focussed 
  Behavioural
FOR: 
  Grief 
  Relationship 
  Trauma 
  Couples 
  Adolescents 
   Careers
 15 
GO FLY, JULY! 
It's rained and it's rained; and it's rained and it's rained; 
And it's rained and it's rained and it's rained. 
It's screamed and it's roared; and ferociously poured 
Then for a change, it's rained some more.  
 
It's burbles and bubbles – have caused lots of troubles; 
soaked all our coats – and sunk a few boats; 
washed cars off the roads; and potholes? There's loads! 
When it's rained and it's rained and it's rained. 
 
Flooded paddocks by the score, but wait, there's more. 
(Washed a worm under my door onto the laundry floor, 
'Cos it's rained and it's rained and it's rained!) 
 
It's blown our umbrella to some other fella 
and filled all our boots to the brim. 
It's howled and it's hissed (and dare I say it? It's Mist!) 
Plus it's rained and it's rained and it's rained. 
 
It's leaked through our roofs; swamped horses' hoofs 
with the rain and the rain and the rain. 
Sheep dragging their fleeces, trees flying to pieces; firemen 
out in the night; 
power crews are too (as we all knew, when none of us had 
a bright light) 
While it rained and it rained and it rained. 
 
Take heart, you good folks!  Crack a few jokes! 
This might sound funny, BUT………… tomorrow may be 
sunny! 
And the rain?  Down the drain and the drain and the drain.  
~Jan Vaudrey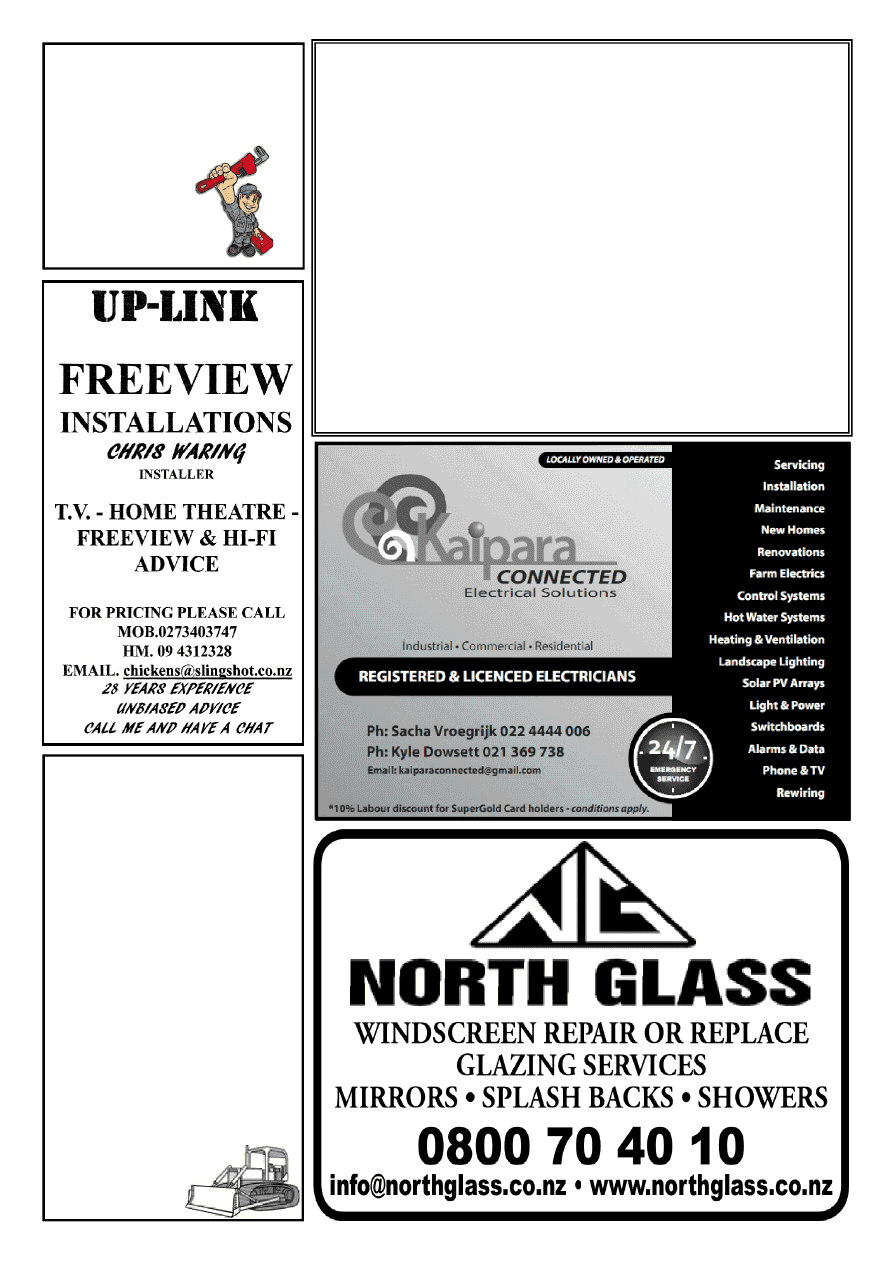 Coates  
Contracting 

D41 Bulldozer with 6 
way blade, bush rigged 
with winch 

For all tree work 

General bulldozing and  
  stick raking. 

120hp Tractor for 
ground cultivation,  

tip trailer work. 

Fencing
All enquiries phone  
Brett Coates  
094318720  
or  
 021431872
Ross Murphy 
PL U MB ER 
Certifying Plumber 
09 431 7510 
021 424 252 
Paparoa Based 
+
New Housing  
+
Renovations  
+
Maintenance
KAIPARA FLOORING CO 
32 HURNDALL ST MAUNGATUROTO 
Phone 09 9469886  
or 021 515 415 
Carpet, vinyl, laminate wood look  flooring,  
vinyl planking, sanding & polyurethane service. 
Carpet Short Ends from $79pm + GST 
Vinyl D.I.Y. peel n stick tiles $10sq mtr + GST. 
Free measure & quote.   
Mobile Service 
Phone Christine or Howard anytime 
Open Saturdays by arrangement.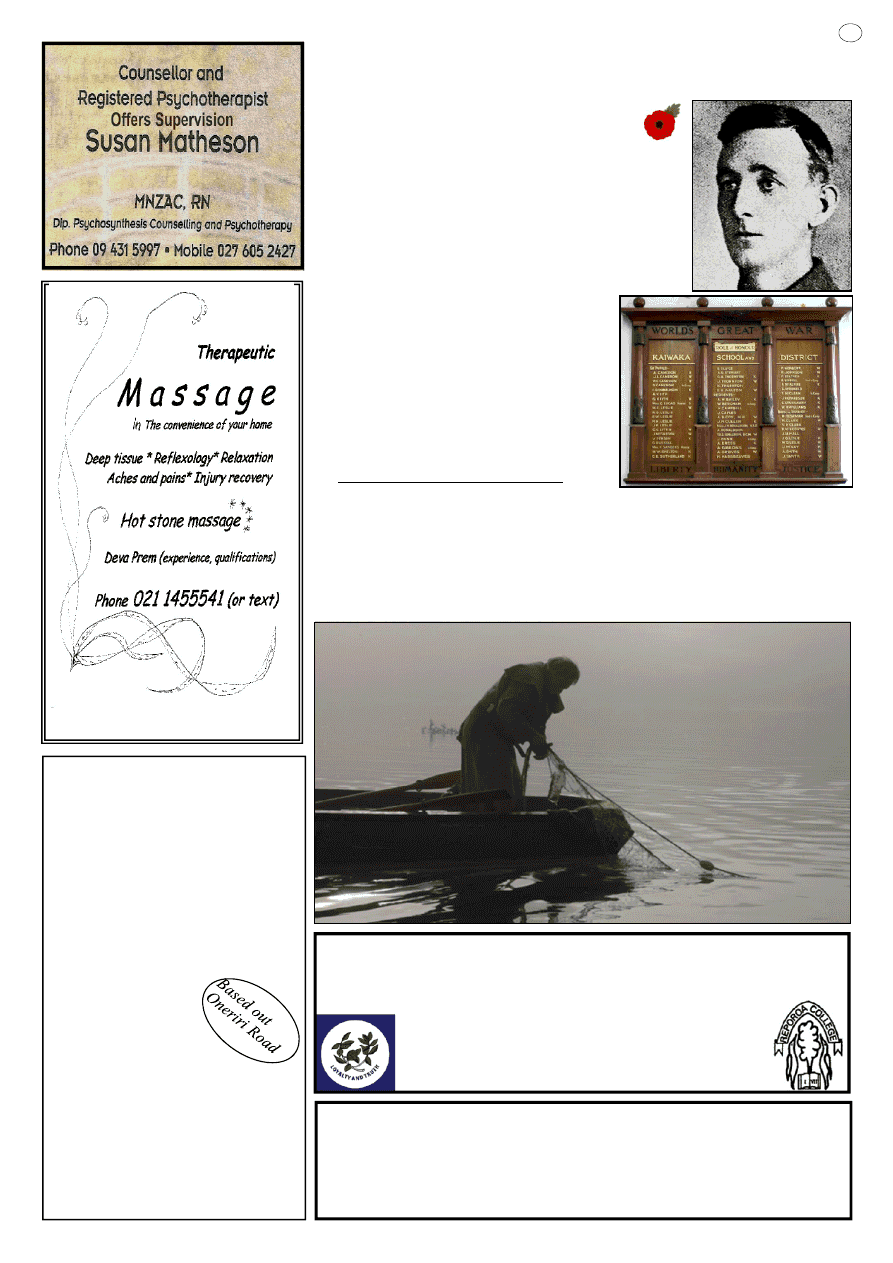 HODGETTS
CONTRACTING
Digger Work   

Driveways 

House Sites  

Dams 

Drains, etc
Also available for HIRE 

3 ton Vib Roller 

Heavy Duty Tow 

Waterblaster  

Lazer Level 
Phone Mark 
4312877 
027 447 8554
www.mangawhaimassage.co.nz 
17 
Reporoa College – Otamatea High School
Sports' Exchange
Sunday 10
th
 – Tuesday 12
th
 August 
at Otamatea High School
(49
th
 Annual Exchange)
LEABOURNS 
Passenger Service
Car & Van Hire, Bus & Coach Charters, Airport Transfers 
Monthly Shopper Bus
Phone (09) 4237416 
KAIWAKA'S ROLL OF HONOUR 
There  are  60  names  on  the  World  War  1  memorial  board  in  the  Kaiwaka  War 
Memorial  Hall.  This  is  the  first  in  an  occasional  series 
about  the  service-men  and  women  who  are 
named on that board. 
Lance Corporal Albert Henry BAILEY 
 No.13/970,  11th  North  Auckland  Mounted  Rifles, 
Expeditionary Force, was killed in action at Sulva Bay, 
Gallipoli on 8 August 1915. 
AH Bailey is listed on our Great War Roll of Honour as 
a resident of Kaiwaka.  He was born in Dublin, Ireland 
on  24  April  1885  to  Alexander  and  Anna  Bailey 
(daughter  of  Edward  Bell  of  Ireland  and  of  Opotiki, 
NZ); educated at Dublin High School and St. Andrew's 
College.  AH  came  to  New  Zealand  in  1910,  firstly 
settling in Auckland as an accountant before 
coming  to  Kaiwaka  where  he  joined  the 
North 
Auckland 
Mounted 
Rifles 
in 
December 1914. He left for Egypt in January 
1915,  then  served  with  the  Mediterranean 
Expeditionary  Force  at  Gallipoli  from  13 
July.  He  was  killed  during  the  charge  of  the 
Auckland  Mounted  Rifles.  Bailey  is  buried 
there in an unmarked grave. 
There  are  more  than  850  New  Zealanders 
dedicated 
on 
the 
CHUNUK 
BAIR 
MEMORIAL to the MISSING at Gallipoli. 
NZIFF Has Launched in Auckland 
The film 'Eloise', directed by former Kaiwaka resident Chris Todd, is screening 
with  'The  Darkside'  on  24  July  and  2  August  at  the  Academy  Theatre  in 
Auckland . 
This beautifully-shot film of a lone river man who has a strange encounter while 
navigating  a  mysterious  mangrove  forest,  has  been  filmed  on  the  Kaipara 
Harbour and stars locals Trevor and Jordan Linnell.  
http://www.christodd.co.nz/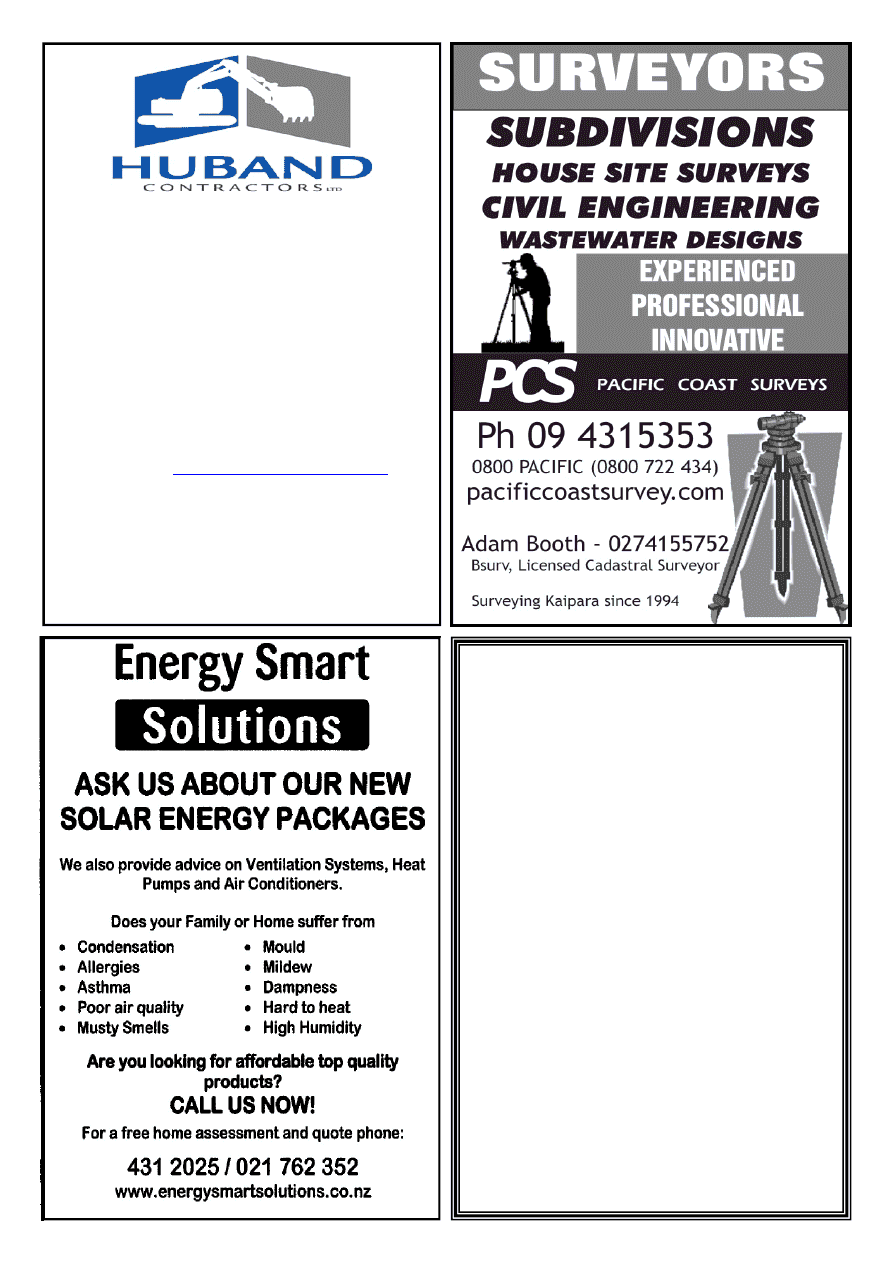 *   R O A D I N G   *   E A R T H W O R K S *    
*   D R A I N A G E   *   S I T E W O R K S   *  
For any further enquiries,  
contact Shaun on: 
Cell: 021 222 0272 
Home: 09 4318339 
Email:   
shaun@huband.co.nz
Shaun Huband:  Registered  
Drainlayer 
g.a.s. 
Mangawhai 
we have now opened a 
GARDEN CENTRE 
for all your gardening needs 
Also a great range of 
STOCKFOOD 
Wide range of 
ORGANICS AND 
 FRESH LOCAL PRODUCE 
All your motoring needs are taken care of by 
our friendly staff check us out... 
44 Moir Street, Mangawhai (09)431 4242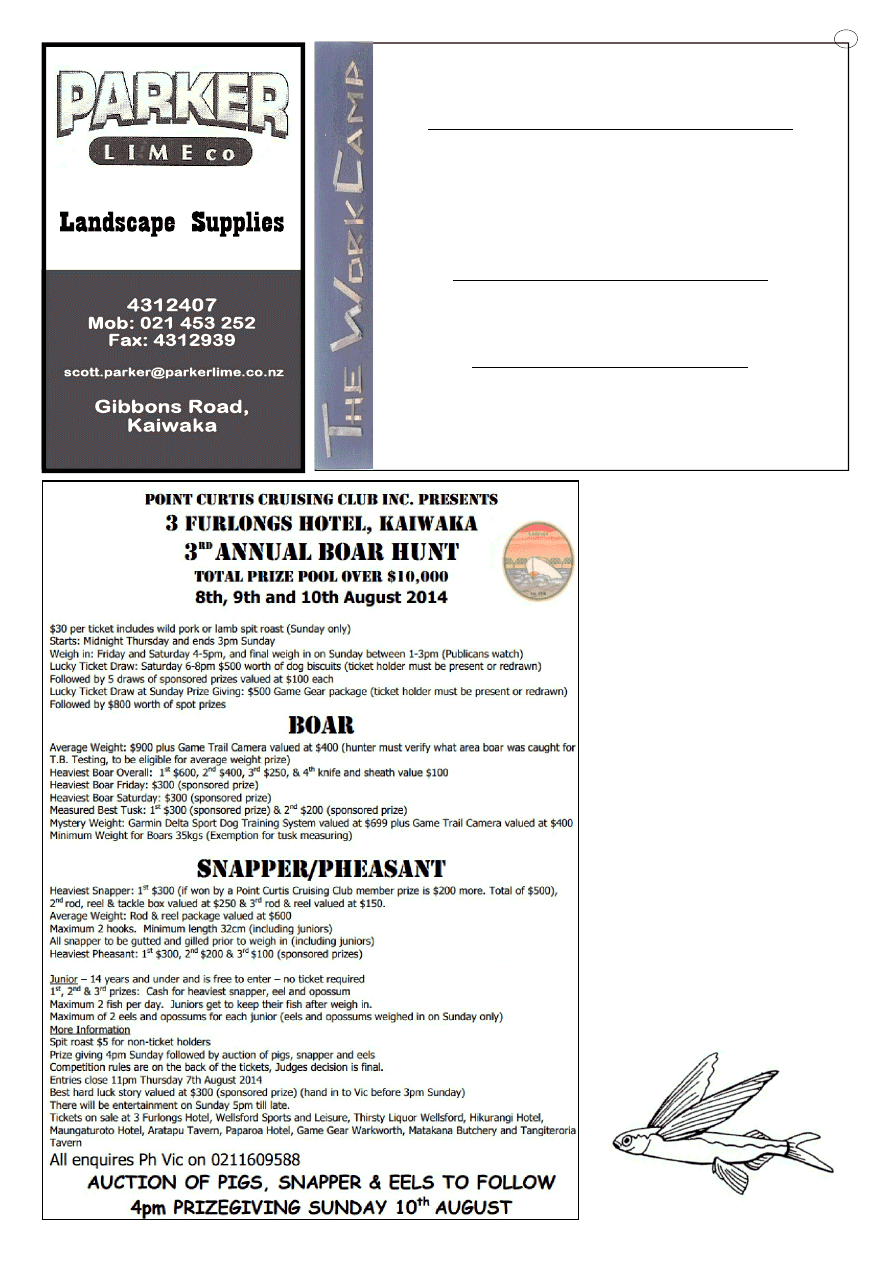 POINT CURTIS 
CRUISING CLUB  
 
Congratulations  to  Hunter  Campbell 
who  was  the  only  club  member  to 
weigh  in  a  gurnard  for  our  fish  of  the 
month  competition.  Hunter  won  a 
voucher from La Nonna Bakery for his 
gurnard which weighed 0.491kg. 
 
GURNARD is still fish of the month!! 
There  are  prizes  for  1st,  2nd  and  3rd 
heaviest  so  don't  forget  to  weigh  your 
fish in at the 3 Furlongs Hotel. 
 
Tickets  are  on  sale  for  our  3rd  annual 
Boar  Hunt  on  8th,  9th  and  10th  Au-
gust.    This  is  going  to  be  our  biggest 
boar hunt yet with Snapper and Pheas-
ant  sections  as  well  as  Boar  and  eel 
and  possum  sections  for  the  juniors!  
There will be great raffles on sale, en-
tertainment  and  yummy  food.    See 
poster  in  this  edition  of  the  bugle  for 
all  the  details  or  contact  Vic  Birken-
head with any enquiries 0211609588. 
 
Next  committee  meeting  is  a  special 
boar hunt  meeting at 3 Furlongs Hotel 
on 31st July at 7pm. 
 
~Wayne Leslie, Commodore
19 
THE WORK CAMP 
Adding to our NorthTec Courses 
Employment Initiatives and Life Skills 
Good Workers Available 
We have past students who are keen to work as 
Skilled Labourers... Casual or Full Time. 
Especially in Carpentry or Painting. 
Call: Tim 021 487 055, Jarrod 027 280 0060 
--------------------------------------------------------------- 
Firearms Training: 
Next Course Thursday 31
st
 July 
Aim to be Legal and Safe
Graeme Stevenson and Lars Jansen are at the Work 
Camp beside our NorthTec Workshop on the  
last Thursday of each month at 7.00pm 
Gold Coin Koha 
Bulk Cartage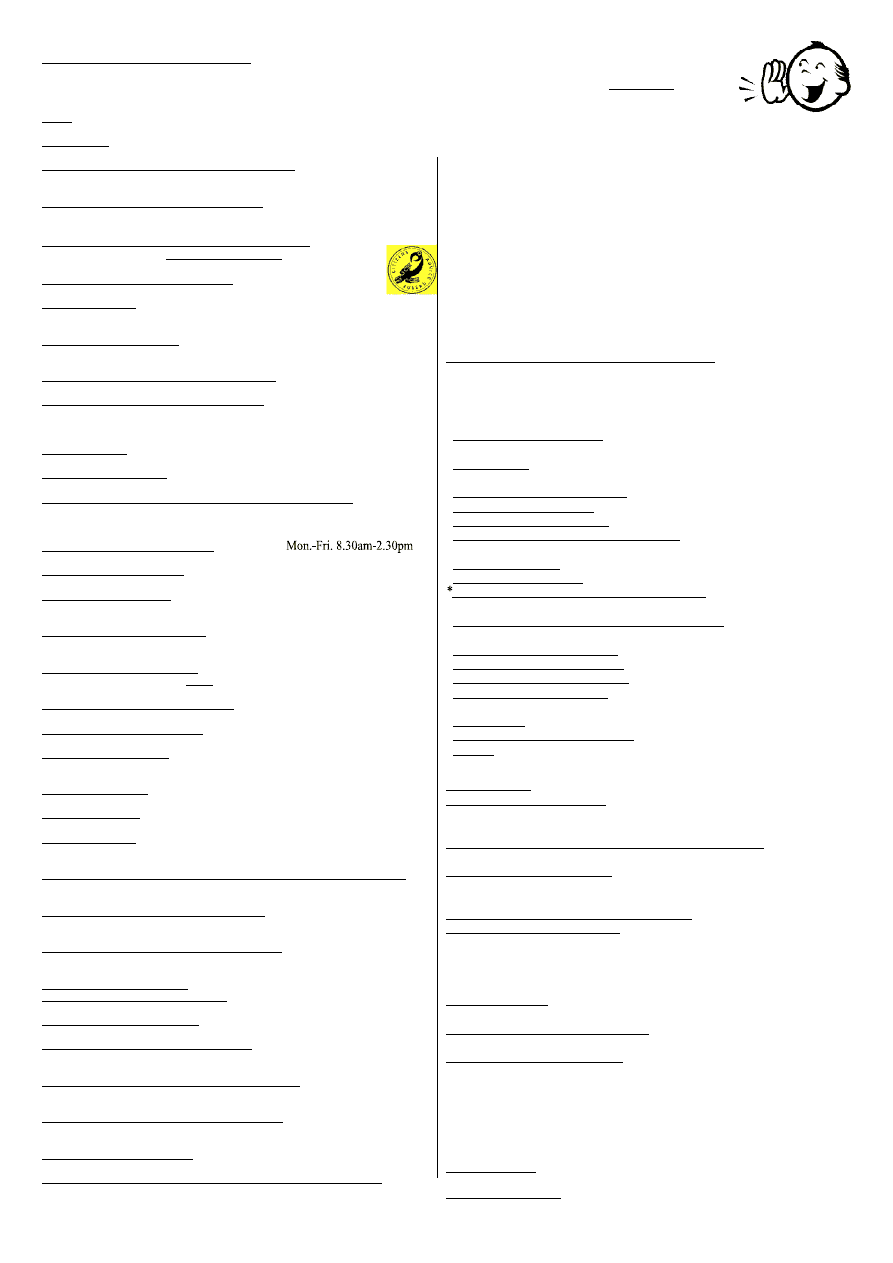 LOCAL SERVICES 
*St.John Ambulance 
111 or Freephone0800 61 0066
*Fire phone 111     *Police phone 111 or 09 4311150 
A A: Meets Wed., 8pm Kaiwaka Ph: 4312228, 4315543, 0800229 6757 
AL ANON: In recess, contact Ph: 4312228 
AGRIQUALITY (MAF) Livestock Consultant 
Phone 09 4311 820 or 021518257  
BUDGETING SERVICE,OTAMATEA:Free confidential advice & 
support - all areas of  personal finance Ph: 09 4318173 or 094318117 
CAB-
Citizens Advice Bureau.Wellsford Ph: 4237333.
0800 367 222 email:
cab.wells@xtra.co.nz
DOG/STOCK /NOISE CONTROL 0800 105 890 
KATE'S PLACE with Govt.Day Agencies/Community Information /
Osteopathy/ IRD / Probation, etc Ph: 4312661 Hours: 9am-3pm. Mon - Fri 
FUNERAL SERVICES: Morris & Morris Ltd, 
Whangarei - Bev Jaques Ph:4312367 or 0800667747 
GRANDPARENTS Raising Grandchildren: Sarah Rogers Ph: 4312194 
HAKARU LANDFILL/Transfer Station:Open everyday except 
Tuesday10am-4pm.Ph4312629 Cost-$55 trailer load up to 1 cubic me-
tre. Ph:4258567 - office 
HOMEOPATH: Donna Flavell Ph: 4314843 
INLAND REVENUE: Last Friday each month, 11-3pm Ph4312661 
KAIPARA DISTRICT COUNCIL www.kaipara.govt.nz:  
Help Desk FREEPHONE 0800 727 059  
Service Centre Mangawhai 4313161 
KAIWAKA KOHANGA REO: Ph:4312620 
KAIWAKA CEMETERY: Ph: 4312045 
KAIWAKA LIBRARY: kaiwaka.library@gmail.com  
Mon. 4-6pm; Wed., Thurs., Fri., Sat.  10am-2pm Ph:4312539 
KAIWAKA PLAYCENTRE: Ph: 4312286. Hastie Lane 
Monday to  Friday  9.00am - 12 noon. 
KAIWAKA POST OFFICE:Ph:4312 626 Fax: 4312287  
Post Code: 0573  for RD2  and  0542 for all Kaiwaka Post Office mail 
KAIWAKA PRIMARY SCHOOL: Ph: 4312309     
KAIWAKA SPORTS ASSN: Ph 4312005; 4312129 gym 
KAIWAKA ST JOHN: Manager Steve Rosser 09 4318403, 021 
2316836 
LINKING HANDS Health Shuttle service Ph Ken Littlejohn 4314121 
NORTHPOWER: Faults Kaiwaka area 0800 104040 
PARENTPORT: Free, practical family support service Puhoi to Paparoa 
Ph or txt:  Dianne 027 2085093 
PERSONAL DEVELOPMENT COACHING, GROUP FACILITATION:  
Sabine Druckler 4312231 
PLUNKET KAIWAKA/MANGAWHAI: Ph:094318187 or 0276753488 
Kaiwaka Mobile Clinic once a month– appointments necessary;  
Mangawhai (next Domain) 1st & 3rd Thursday & Coffee Morning; 
PLUNKET CAR SEAT CO-ORDINATOR:  Pat Scott Ph 4314530 or 
0272881635 
PLUNKET FREEPHONE -0800 933 922 
PLUNKET -MAUNGATUROTO  Clinic every 2nd & 4thThursday. Ph: 
09 4318187 
PUBLIC HEALTH NURSE: Gloria Reid Ph: 094327634  
RETURNED AND SERVICES ASSN 733 Settlement Rd. Hakaru 
Ph.4312176 Bill Kerr (President) Ph.4314719 
TE KOROWAI AROHA O NGATIWHATUA Ph: 4312675 
(The Cloak of Love of Ngatiwhatua) Support and Maori Consultancy.  
VETERINARY SERVICE MANGAWHAI: 
Ph: 4314535 Mon-Fri 8.00-5.00, Sat 9-12, a/h appt. 
WELLSFORD DOCTORS: Ph: 4238 086 
WOMEN'S WELFARE LEAGUE & Reaching Out For Youth:  
4 Kaiwaka-Mangawhai Rd, M Morgan 4312293
WHAT'S ON
PLEASE ~ do let me know what is on - email 
kaiwakabugle@kaiwaka.co.nz 
Advertising in WHAT'S ON is FREE 
*27Jul~New Moon 10am 
*31Jul~Firearms Training 
*1Aug~12 Years A Slave, 7:30pm KWMH 
*3Aug~How To Train Your Dragon, 2pm KWMH 
*4Aug~First quarter of the moon 
*8-10Aug~ Pt Curtis Cruising Club Boar Hunt 
*10Aug~Dressage Series Day 2, Hakaru Pony Club, 9:30am 
*10-12Aug~OHS/Reporoa College Sports Exchange, Otamatea 
High School 
*11Aug~Full moon 
*13Aug~Philomena, 7:30pm KWMH 
*15Aug~Otamatea High School Open Day, 9:45am start 
KSA=Kaiwaka Sports Association Complex 
KWMH=Kaiwaka War Memorial Hall 
See www.kaiwaka.co.nz for upcoming events.
HOUSEHOLD  RUBBISH  COLLECTION  -  Kaiwaka    Pick  up-
Mondays=Gr een  bags  ar e  picked  up  by  Nor thland  Waste-
queries  to  them  09  4303273,Wednesdays=Blue  bags  and  yellow 
recycling (at Jaques  $3.00 and $1.50)  are picked up by Kaurilands 
09 4392146.
*DIABETES Support Group -for Kaiwaka, Mangawhai, Wellsford 10am, 
3rd Friday of month Ph:A.Pert 4238242; J.Gardner 4238060 
*DRINK CAN 'tear tabs' - for Starship Hospital- please collect -  
98 Kaiwaka Mangawhai Rd, leave in mailbox, Ph. 4312625  
*GYMNASTICS OTAMATEA -  Tuesday Ph: Stephanie 022 3624998 
*HAKARU PONY CLUB-Secretary Julie Rynne 09 4314520 
*KAIWAKA BADMINTON -Tuesdays 7.30pm Ph: 4312345 
*KAIWAKA GARDEN & FLORAL Grp:2nd Thursday in month  
Ph: 4314767 
*KAIWAKA CUBS-Thursdays 5.30-7pm, Hakaru  Ph:Bruce  4312542 
*KAIWAKA SQUASH -Mondays 7pm,  Ph: Barbara Thomas 4315905 
KNITTING FOR WHANGAREI HOSPITAL - 2nd Tuesday in month, 
Apple Basket 10am Ph 4314827 
*MANGAWHAI COMBINED PROBUS CLUB: 2pm,3rd Thursday, 
Senior Citizens Hall Mangawhai. Ph: 4315777 
*NZ GENEALOGY-Wellsford - 1st Thursday in month Ph: 4237033 
*OTAMATEA GREY POWER-09 431 8138 Joan Hoggard  
*PT CURTIS CRUISING CLUB - Jean Ph: 4312 246 
*RSA,Hakaru & Dist.Women- meet 1.30pm 4th Thurs in month  
Ph: 4312 668  
*TRAMPING- Mondays 9am-2:30pm  Karen Ph: 4312 090 
*WAIPU GENEALOGYGROUP -4th Monday in month Ph: 4312725 
*YOGA- Tuesdays 6:15pm, Friday 8:30am Kaiwaka WM Hall  
Carla Ph: 4312 408, 021 296 8794
CHURCHES: 
*Gateway Worship Centre-St Mary's Church Nathan Rd off Oneriri 
Rd, Kaiwaka. Services, 10.30am 1st & 3rd Sunday of every month. 
Contact: Rev David Gage 4312528 or 0212354282 
*Kaiwaka Family Church-Your Community Church Sundays, l0am 
Home Group every Wed evening, Pastor John.Dekker Ph: 4318203 
*St Paul's Anglican Church 1st Sun. 9.30 am (Eucharist), 3rd Sun 
9.30 am (Family Service) Contacts: Church Office 09 4314122, M. 
Hargreaves 4312295, C. Bygrave 4312057 
*Church of Christ the King, Mangawhai 9.30am every Sunday 
*St.Mary's Catholic Church: Maungaturoto – Griffins Road, Satur-
day evening Vigil Mass 6pm; Mangawhai – Senior Citizens Hall, 
Sunday Mass 8:30am; Wellsford – Matheson Road, Sunday Mass 
10:30am; Mid-week Mass times and all enquires to Fr. Bill Fletcher  
Phone 423 8170 
*Baptist Church: Sun. 10.30am Mangawhai Snr Cit.Hall 
Ph:4312339 
*Cause Way Church Mangawhai – Sundays 10.15am, Mangawhai 
Community Recreation Centre, Insley St. Ph: 09 4314782  
www.causewaychurch.org.nz
*St.Pauls Archie Bull Hall HIRE $20 half day, $40 full day per hire 
    Contact G. Jaques 4312048 
*Kaiwaka War Memorial Hall HlRE - Phone 4312725 or  Email  
    kaiwaka.hall.bookings@gmail.com 
*Hakaru Community Hall HIRE -Ph.  4312256 or 4312110 
*Te Pounga Marae queries -A.Gage 4312528, 4312527 
*Kaiwaka Sports Association hire/queries- C. Anderson 4312051 
Justice of Peace: B.FJaques; L.Donaldson; A.F.Hargreaves 
    -please phone to make sure they are available 
Marriage Celebrants: L.Donaldson; A.F.Hargreaves;  C.Rosseels
Next Bugle Deadline Friday 1 August 2014