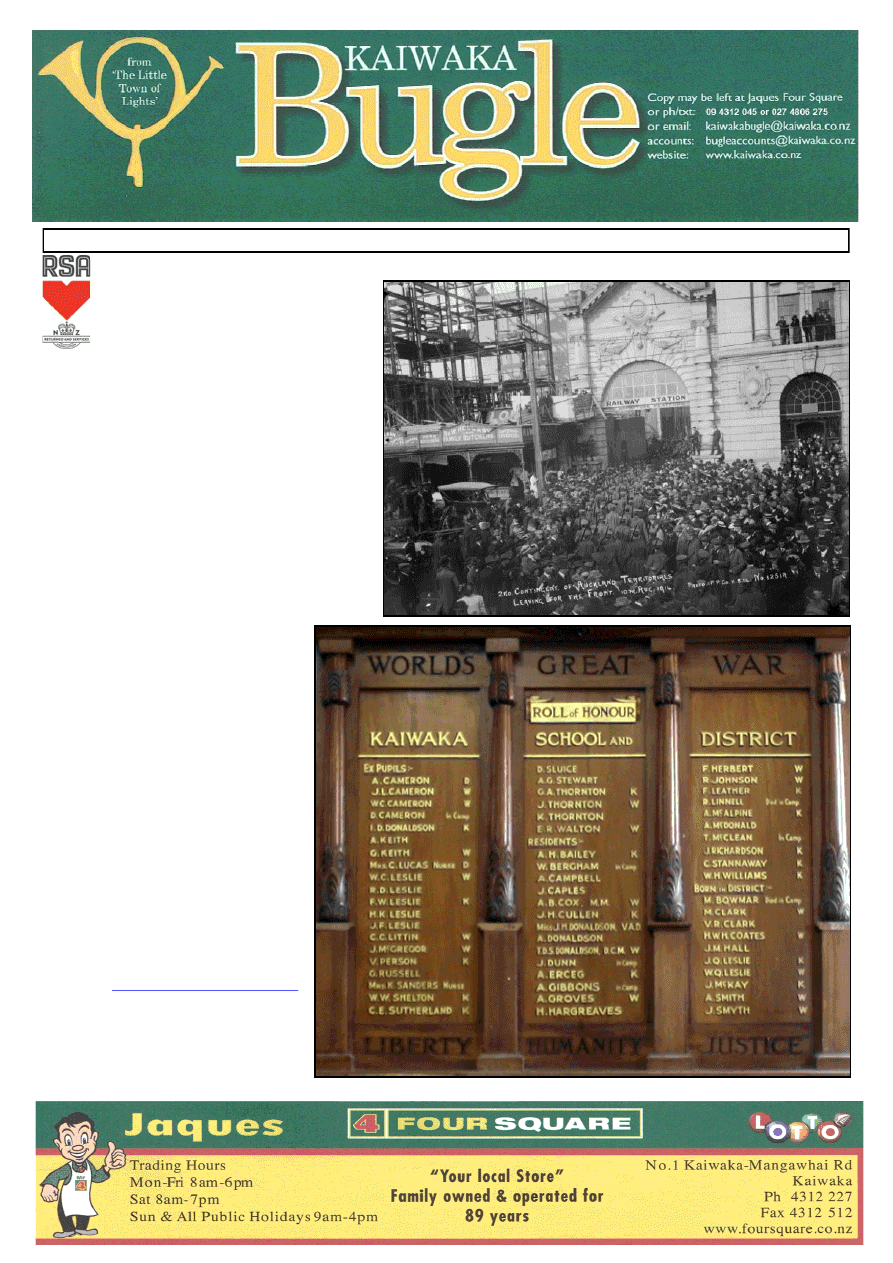 No: 15
                                                                                                                                                           5 August 2014 
Declaration of World War One was birth of nation
On  4  August  2014,  New  Zealand  will 
commemorate  the  centenary  of  Great 
Britain's  declaration  of  war  on  Germany 
and  the  beginning  of  New  Zealand's 
involvement in World War One.   
RSA  National  President,  Don  McIver,  says  that 
100  years  ago  few  New  Zealanders  could  have 
imagined the magnitude of the trauma to come, or 
the lasting impact it would have on our nation.  
"103,000  New  Zealand  men  and  women  served 
overseas  during  WWI.  Many  who  volunteered 
when  the  war  was  first  declared,  believed  they 
were  about  to  embark  on  a  great  adventure  and 
told  their  loved  ones  they'd  be  home  by 
Christmas," Mr McIver says.  
"Four  years  later,  by  the  close  of  the  war,  more 
than  18,000  New  Zealanders  had  fallen  and  we 
had lost 5% of our men of military age. Many of 
those who returned had trouble reintegrating back 
into society after the horrors of war. The price of 
international peace and security was massive for a 
small  and  pioneering  country  such  as 
we were then."  
Britain's  declaration  of  war  marks  not 
only  the  beginning  of  New  Zealand's 
involvement  in  WWI  as  part  of  the 
British  Empire,  but  also  the  birth  of 
New Zealand as a nation.  
"Today  the  RSA  champions  the  values 
that  held  us  together  during  war  and 
built  our  society  after.  Compassion, 
comradeship,  courage  and  commitment 
are  the  Anzac  values  that  we  as  Kiwis 
continue to identify with."  
Mr  McIver  believes  it's  fitting  that 
people draw together to remember their 
local stories of bravery and sacrifice in 
the ways which are most meaningful to 
them.  
Photo  top:  2nd  Contingent  of  Auckland 
Territorials, entering Queen Street Railway 
Station  leaving  for  the  Front  10  August 
1914  (R&W  Hellaby's  to  left,  Chief  Post 
Office  to  right).  ~
Price,  William  Archer,  1866-
1948  :Collection  of  post  card  negatives.  Ref:  1/2-
000184-G.  Alexander  Turnbull  Library,  Wellington, 
http://natlib.govt.nz/records/22436907
Photo  right:  The  WWI  Roll  of  Honour  for 
Kaiwaka,  positioned  to  the  right  of  the 
Kaiwaka War Memorial Hall stage. 
If  you  have  information  and/or  photographs 
about those from our community who served in 
the  Great  War  please  contact  me:  Lindsey, 
4312045 or kaiwakabugle@kaiwaka.co.nz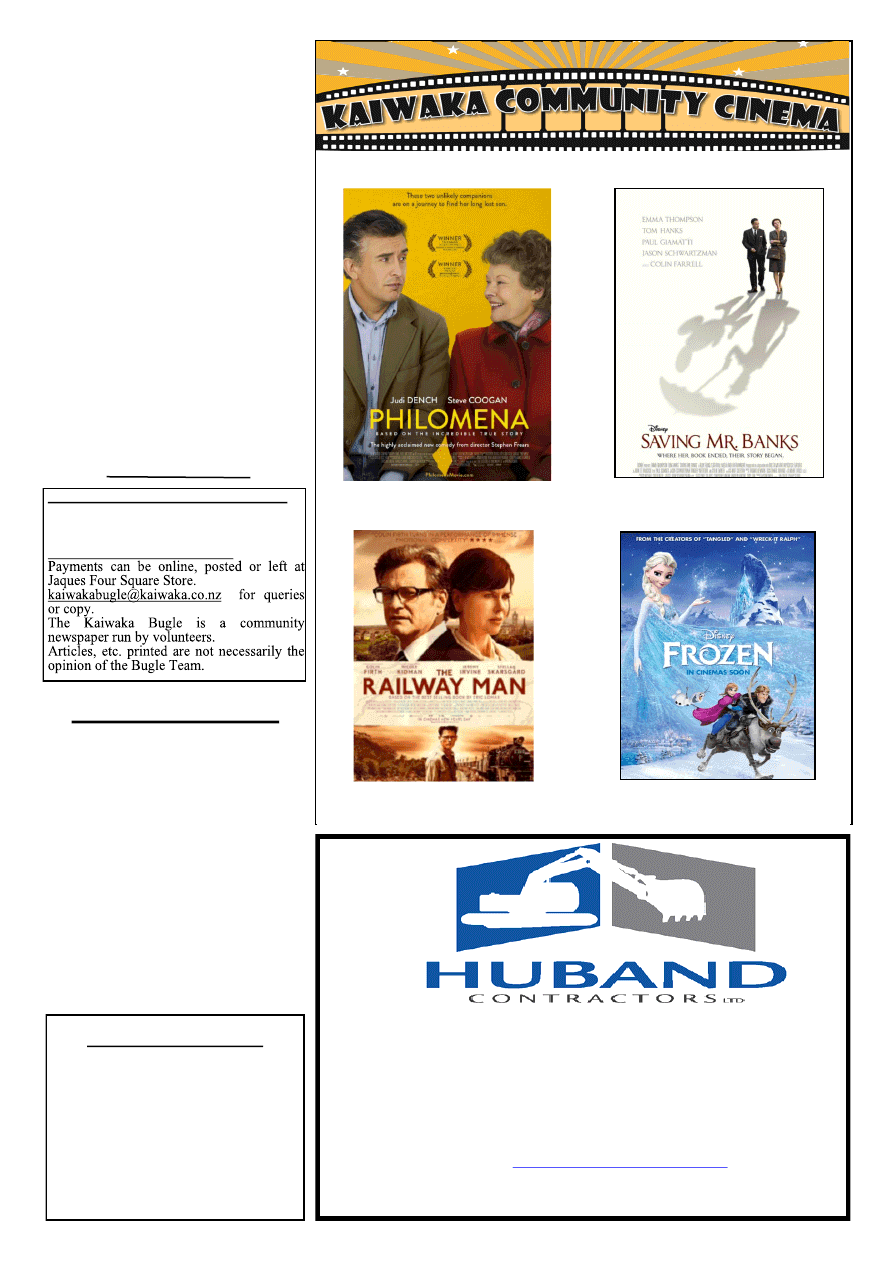 Philomena 
Friday 15 August 7:30pm 
(M) 
Saving Mr Banks 
Friday 22 August 7:30pm 
(PG) 
ABOUT TOWN 
 Full  marks  to those  who spotted the 
mistake in the movie ad for Philomena 
in  the  last  Bugle!  It  should  have  read 
FRIDAY  15  August,  7:30pm.  Our 
apologies for the error.
Would  you  like  to  help  with 
collections in Kaiwaka on Daffodil Day 
on Friday 29 August? Contact Dorothy 
Freeman 431 5950.
Great  to read  Paul  Charman's  article 
on  Pukekaroro,  Baldrock  and  the 
Rangiora  Boat  Ramp  in  NZ  Herald's 
Driven section
ToonSkool  now  has  added  a  2pm 
session  at  the  Archie  Bull  Hall  this 
August.
*   R O A D I N G   *   E A R T H W O R K S   *    
*   D R A I N A G E   *   S I T E W O R K S   *  
For any further enquiries, contact Shaun on: 
Cell: 021 222 0272 
Home: 09 4318339 
Email:   
Shaun Huband:  Registered Drainlayer 
KAIWAKA BUGLE No. 15 
5 AUGUST 2014 
CONTENTS 
Page 3: Classifieds & Notices 
Page 5: Kaiwaka Library 
Page 7: Kaiwaka Sports Association 
Page 9: KDC, Weather, Kaiwaka  
      School 
Page 11: Kaipara Seal, Rugby 
Page 13: Pt Curtis Cruising Club 
Page 15: Family History Month 
Page 17: Photography 
Page 19: KSA continued 
Bugle 16 will appear 19 August 
Contact for advertising, reports, articles 
or information can be made by 
Email kaiwakabugle@kaiwaka.co.nz 
Ph: 09 4312 045 
Txt:  0274 806 275 
Copy may be left at Jaques' Four 
Square. 
View the Bugle online at: 
www.kaiwaka.co.nz/Bugle 
Kaiwaka Bugle 
Founded May 1978 
Copies available in Kaiwaka at Jaques Four 
Square, Kaiwaka Postal Centre, Shamrock 
Service Station, Celena's Gifts 
Also outlets in Maungaturoto, Mangawhai 
and Paparoa. 
Can be viewed online at www.kaiwaka.co.nz 
Or a copy can be posted to you if you supply 
stamped, self-addressed DLE envelopes. 
Railway Man 
Friday 5 September 7:30pm (M) 
Frozen 
Sunday 7 September 2:00pm (PG) 
At Kaiwaka War Memorial Hall . Adults $10, Kids (under 16) $5, Family Pass (2 adults + 3 children) $25 
Kaiwaka Bugle Advertisements 2014: 
Classified $3; 1/8 page $6; 1/4 page $12; 1/2 
page  $24;  in  special  circumstances  whole 
page adverts are available-cost $100 
bugleaccounts@kaiwaka.co.nz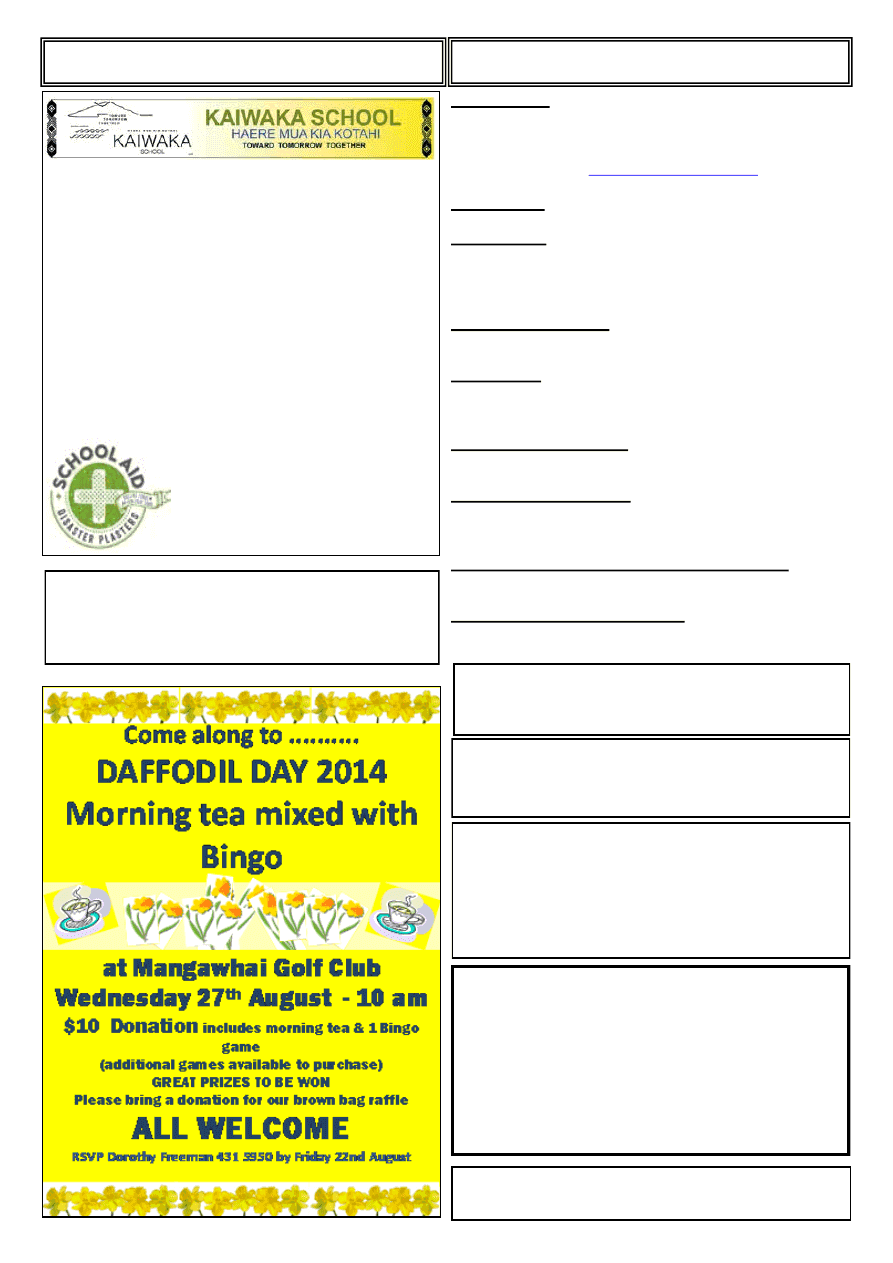 PUBLIC NOTICES 
CLASSIFIED 
FOR  SALE: Jill Shires Holistic Animal Therapies. 
Herbal  Remedies,  Bach  Flowers,  Ointments, 
Diatomaceous  Earth,  Bentonite  Clay,  Cranio  Sacral 
Therapy,  Skin  Conditions,  Arthritis,  Laminitis,  Mud 
Fever  Cream  etc. 
  or  09  4312 
080 
FOR  SALE:  Washing  machine,  top  loader,  5mths 
old, 2 year warranty, $300 ono. Ph 4312 995  
FOR  SALE:  Street  Talk  Inline  Skates,  few  scuff 
marks but otherwise in good cond, knee & elbow pads, 
wrist protectors. Size 8. $50. PLUS 24 Jigsaw Puzzles, 
$3  each  or  $50  the  lot.  All  1000  pce,  good  cond,  no 
missing pieces. Ph Cheryl 4312 051. 
LAND  FOR  SALE:  10  acres  Oneriri  Peninsula, 
$199K. On Trade Me:- property ID BDV356 or Ph 021 
237 7678 
HASHTAG  Band  for  hire.    A  lively  mix  of  covers 
and original music.  Make your night special.  Ph: 021 
623 776  
BOARDER WANTED: sleep-out, full board Ph 4312 
664 
BERYL  NOZEDAR:  (Middleton)  International  
Clairvoyant.  Numerology,  Tarot,  Clairvoyance,  
Mediumship. $60 for hour includes CD. Ph: 4312 080 
CLOTHING ALTERATIONS & REPAIRS: 
Hems,  Zips,  Dressmaking  Phone:  Win  4312  027    or 
027 444 8358 Winsome Designs. 
FREE GRAZING WANTED: Small or large block. 
Can  do  some  fencing  or  water.  Phone  after  6pm  
4312 006 
Proverbs 
19:22  
Kindness makes a man/woman/child 
attractive. And it is better to be poor than dishonest.  
Point Curtis Cruising Club 
3rd Annual Boar Hunt:  
8th, 9th and 10th August 2014 
Senior & Junior Sections   
DISASTER PLASTER 
FUNDRAISER 
25 JULY - 8 AUGUST 
Kaiwaka  School  PTA  are  having  a  Disaster  Plaster 
fundraising  campaign  to  raise  funds  for  more  
computers  and  maths  equipment  for  the  students  at 
Kaiwaka School. The plasters are good quality, latex 
free and are made in NZ. 
Each box of 50 sells for $5.00 and $2.00 of that goes 
directly to Kaiwaka School. 
We  are  wanting  to  raise  $3000  with  this  campaign 
but we need your help so please support your school 
and buy a box or two, ,consider restocking the 1
st
 aid 
kit perhaps. 
For  orders  or  for  more  info  please 
contact  Rachel  on  0279630938  or 
099733658 
Thank you. 
Kaiwaka School PTA  
Jordan Kemp 
On  behalf  of  Jordan  Kemp's  whanau  we  would  like  to 
express our gratitude and thanks to all those who attended 
Jordan's  funeral  and  gave  sympathy  cards  and  thanked 
the family personally.   
Thanks  to  everyone  that  koha'd  something  for  the  tangi 
from  cows,  sheep,  pigs,  chairs,  labour,  love  and  money. 
Our  gratitude  goes  out  to  everyone  for  their  love  and 
sympathy. 
Aoha nui, tena kotou katoa 
Aaron & Fiona Kemp and whanau. 
Kaiwaka St John Open Day  
Monday  11th  August  at  the  Kaiwaka  Station  10am  to 
2pm.  Come  along  see  the  new  look  inside  our  Station 
have  a  free  blood  pressure  check  and  a  free  Blood 
Glucose  check.  Have  a  chat  with  us  and  enjoy  some 
refreshments. We will be presenting two AED Heart Start 
devices to two Businesses for community use. 
Phone 021355734 for further details. 
EASTERN UNITED JMB 
Annual General Meeting and Prize Giving 
13th August, 4.30pm  
Kaiwaka Sports Complex  
All Welcome 
St John Op Shop 
Shop  Hrs  Mon-Friday  10am-3pm.  We  need  furniture 
big  &  small.  Towels  and  anything  else  please. 
Thanks. Milly & Staff.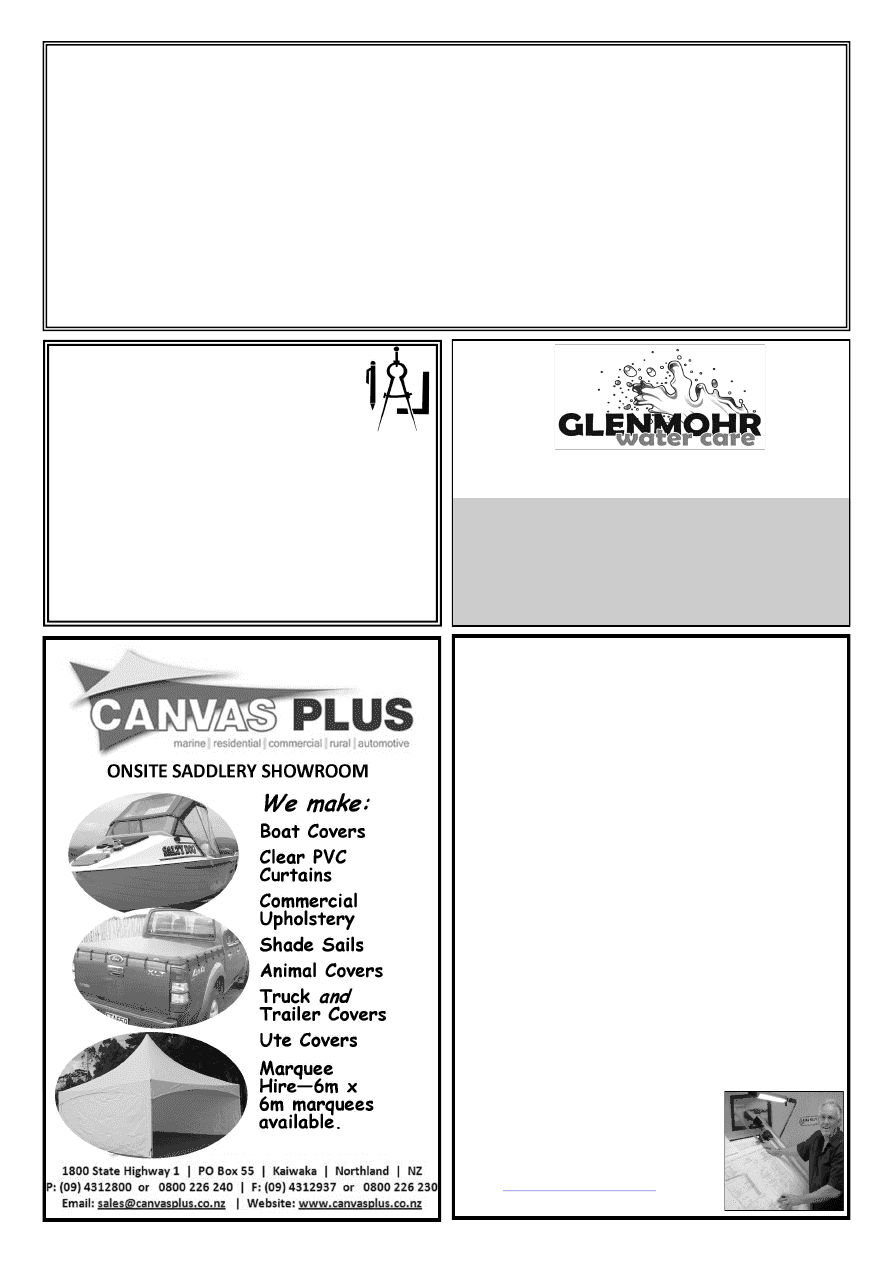 RANGANUI EARTHMOVERS 
  16T Excavator     
    (tilt, thumb & ROPS cab)     
  Transport Trailer 
  2 x 6 Wheeler Tip Trucks 
  Suppliers of All Grades of Metal & Topsoil 
If you want a proper job done with an experienced operator ring 
Grant on:  A/H  431-2131      Email  ranganui.dev@xtra.co.nz 
                      Mob  021845-246 
Driveways, House Sites,  
Drainage Dams, 
Section Clearing,  
Tree Work,  Rock Retaining Walls,  
Quarry Work, 
Basically Anything That a Digger Can Do 
design drafting 
service 
Retired builder and manufacturer with over 40 years  
experience in the building industry is offering a design 
drafting service for domestic housing, sleepouts and 
sheds.  
Plans formulated in consultation with clients, with 
working drawings completed and submitted to  
council for processing.  Extensive practical experience,  
able to identify & resolve problems. 
Please ring Mike Lean on 
09 431 2260  
          or 
021 431 196 
Water Tank Cleaning 
 
Keep your water safe & clean   
 
Removal of sediment, silt etc. 
 
Vacuum or full scrub 
 
Minimal water loss 
Phone Mark (09) 432 0655 or 0274 707607 
 ARCHITECTURAL BUILDING 
PLANS AND DESIGNS 
WRIGHT DESIGN 
 
QUALIFICATIONS 
Brian is a qualified designer (NZCAD) with over 40 years of 
varied experience in all types of building and is a registered and 
Licensed Building Practitioner in Design - L.B.P. 117345 
He ensures you will achieve the best from your budget with 
recommended excellent local contractors ready to competitively 
price and build your personal project quickly and efficiently. 
 
EXPERIENCE 
Brian's practical building and 40+ years of design experience 
means he can give you excellent advice and all the guidance 
needed for all your building needs 
v Wright Design offers free visits, consultations and all the ad-
vice you need on planning, design, building, contractors, coun-
cil permit applications, etc. 
"  Qualified and inexpensive designer – N.Z.CAD., LBP 117345 
"  Guaranteed design and working drawings 
"  Free site visit to your home or property 
"  Great service 
"  Great problem solver 
Call Brian ~Arrange a visit to discuss your needs  and obtain 
great advice and free quotation 
MAKE GOOD USE OF HIS EXPERIENCE and 
KNOWLEDGE 
WRIGHT DESIGN:  
360 Oneriri Road, Kaiwaka
Office 09 4312544   
Mobile 021 276 7389  
Email: 
www.wrightdesign.co.nz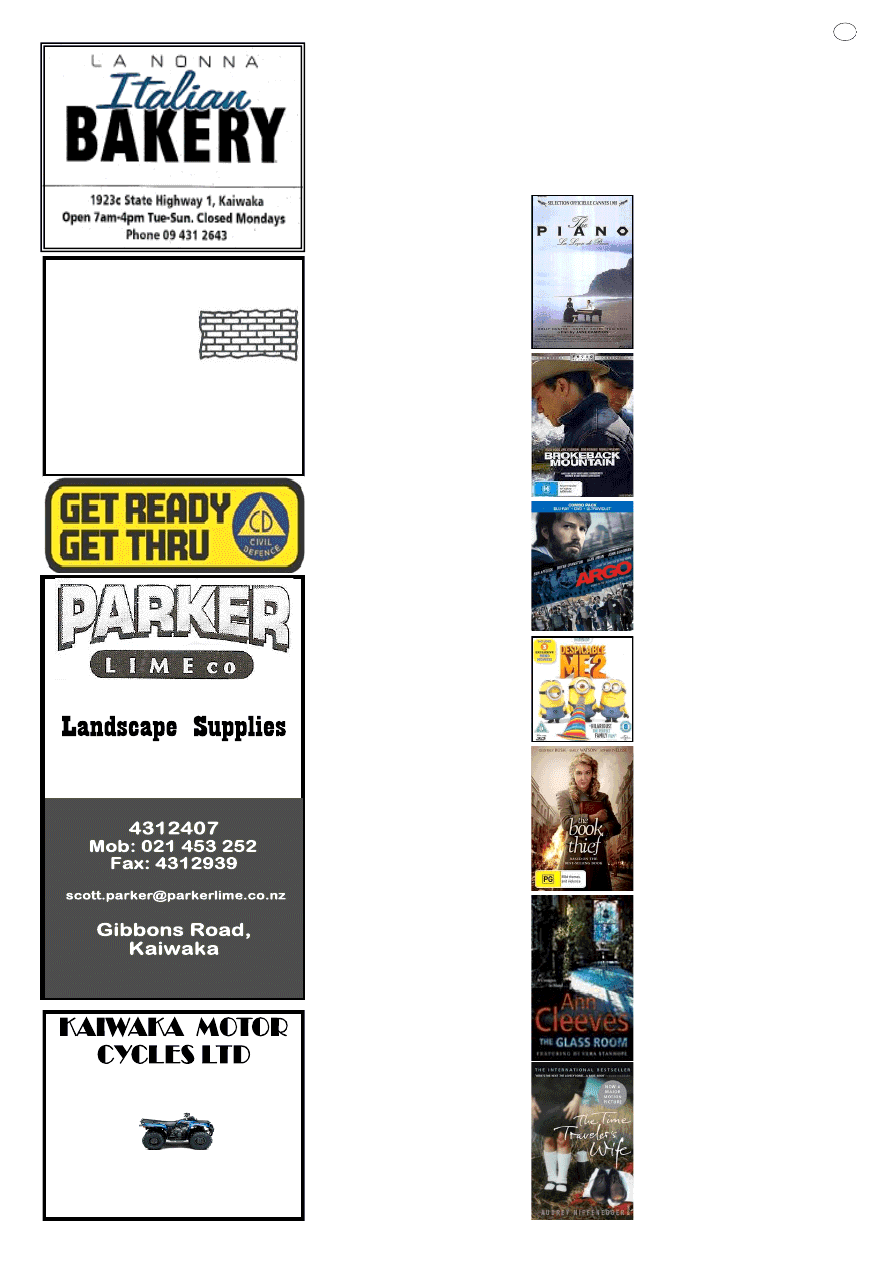 BRICK/BLOCKLAYER 
All aspects of masonry:  
Fireplaces, 
Restoration  
& Remedial Work. 
JAMES EAGLETON 
Tel. (09) 431 2514  
Mob. 0274 749 232 
jajueagles@yahoo.com.au 
210A Pukenui Road, RD2 Kaiwaka 0573 
SALES SERVICE SPARES
FARM BIKE SPECIALIST
Phone 431 2127  
Kaiwaka-Mangawhai Rd 
Kaiwaka 
5 
KAIWAKA LIBRARY
Volunteers 
Welcome  to  our  newest  volunteer, 
John, who filled the recent vacancy. If 
you would like to put your name down 
to  be  a  library  volunteer,  you  don't 
have  to  wait  until  there's  a  vacancy  - 
send an email to me any time to let me 
know you're interested, and I'll 
get  in  touch  when  there's  a 
space  to  fill  to  see  if  it  suits 
you. 
kaiwaka.library@gmail.com 
Large  Print  &  Audio  book 
swap 
Our  next  book  swap  is  just  a 
couple  of  months  away  now. 
Come in and take a look at the 
large print and audio books on 
the  shelves  while  they're  still 
there.  These  books  must  be 
back  with  us  before  the  swap, 
so don't leave it too late. There 
are some great titles there, and 
you  don't  have  to  have  poor 
eyesight, 
or 
any 
other 
impediment,  to  borrow  these 
books  -  they're  for  everyone, 
and they're free to borrow. 
Books for sale 
Don't  forget  we  have  a 
selection  of  books  for  sale, 
too.  $1  each,  or  three  for  $2. 
The  money  raised  from  these 
sales  goes  towards  buying 
more new books. Come in and 
take  a  look  -  they're  a 
bargain. 
Movies 
We've had a few DVDs on our 
shelves  for  a  while  now;  they 
get  swapped  at  the  same  time 
as  the  books  from  Dargaville 
Public Library. At the moment 
these 
include 
Brokeback 
Mountain, 
Pulp 
Fiction, 
Hairspray,  The  Piano,  and 
Whale Rider. Some of the titles 
are  free  to  borrow,  others  are 
$3 to borrow for a week. These 
disks  will  be  swapped  for  new 
titles  at  the  next  Dargaville 
exchange in December. 
Now  we  have  a  new  range  of 
movies on our shelves as well, 
which  are  ours  to  keep.  These 
are  Blu-ray  disks,  and  are  also 
$3  to  borrow  for  a  week.  The 
titles  include  Argo,  Gravity, 
The 
Book 
Thief, 
and 
Despicable  Me  2.  You  need  a 
Blu-ray  player  to  play  these 
disks. 
Come in to the library and take 
a look at these - you're sure to 
find something to watch! 
Book reviews 
Recently  I've  encountered  The 
Time  Traveller's  Wife  by 
Audrey  Niffenegger  again.  I 
first  read  it  back  in  2009  and 
was  entranced  by  it.  More 
recently, I've borrowed it from 
our  online  service  as  an  audio 
book,  and  really  enjoyed  visiting  it 
again.  Henry  is  a  time  traveller.  He 
doesn't have any choice in the matter, it 
just  happens.  Without  warning  he  will 
be  transported  in  time  and  space,  and 
after  some  undetermined  time  has 
passed 
(minutes, 
or 
days, 
or 
somewhere  in-between)  he  is 
replaced 
back 
where 
he 
vanished  from.  Naked,  as 
nothing that is not a part of him 
can  travel  through  time.  In  his 
travels  he  often  meets  Clare, 
and  they  fall  in  love.  Henry  is 
eight  years  older  than  Clare. 
But  Clare  meets  Henry  for  the 
first  time  when  she  is  six  and 
he  36,  and  Henry  meets  Clare 
for the first time when he is 28 
and  she  20.  Confused?  Don't 
be.  The  book  is  peppered  with 
the  day's  date,  and  how  old 
each  of  them  are.  It  is  written 
entirely from the viewpoints of 
Clare  and  Henry,  narrating  the 
events  that  are  happening  to 
them  at  that  time.  It  is  a  love 
story,  of a love  that  begins  in 
childhood  and  blooms  in 
adulthood.  But  Clare  must 
wait  when  Henry  disappears, 
not knowing how long he will 
be away, and in what state he 
will  return  (since  sometimes 
he must fight for his life when 
he  arrives  naked  in  another 
place  and  time).  And  both 
trying  to  lead  a  "normal"  life 
regardless.  This  book  is  on  the 
Fiction  shelves  in  the  library, 
and  available  from  Overdrive/
Novel  via  the  Kaipara  District 
Council web site - ask a library 
volunteer  about  setting  a  PIN 
on  your  library  card  next  time 
you're in the library so you can 
make use of this service. 
The  Glass  Room  by  Ann 
Cleeves.  Detective  Inspector 
Vera  Stanhope's  neighbour 
Joanna  disappears  from  her 
home,  and  her  husband  is 
concerned  enough  to  ask  Vera 
to take a look and see what she 
can  find.  Not  an  onerous  task 
for her, but as Vera approaches 
the  house  where  Joanna  is 
staying  she  hears  screams  -  a 
body has been discovered. And 
so  begins  this  tale,  which  has 
twists and turns as you'd expect 
for  a  detective/murder  mystery 
novel.  This  is  the  fifth  Vera 
Stanhope book I've read, and it 
did  not  disappoint.  It's  a  good 
read.  This  series  of  books  do 
not  need  to  be  read  in  any 
particular  order.  This  title  and 
the four before it are all on the 
Fiction shelves in the library. 
See you in the library! 
~Wendy Howard 
Librarian
Bulk Cartage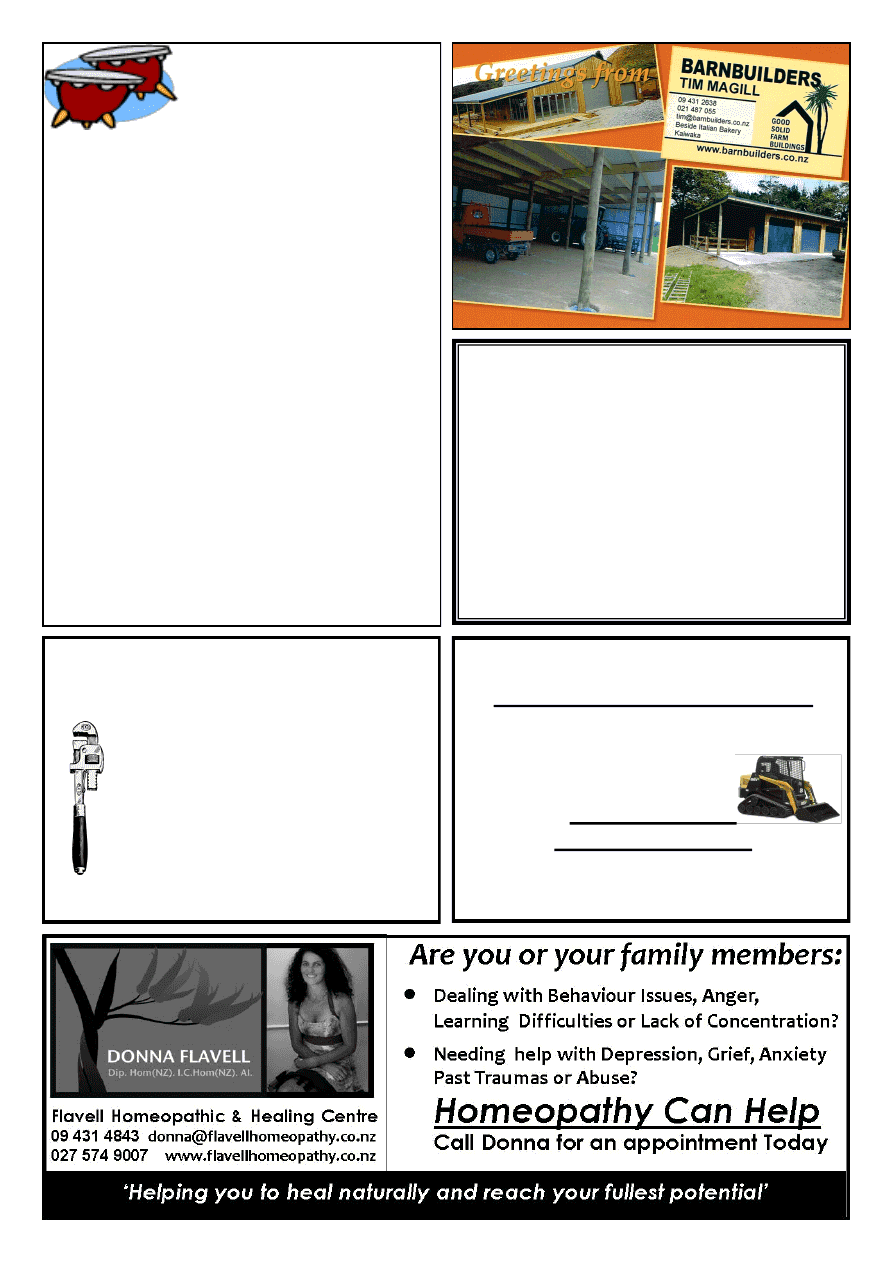 TILING 
Certified Waterproofing 
431 4533 or 021 86 33 33 
George 
MCN Property Solutionz  
Local references available 
Natural Earth Ltd 
Landscape and Bobcat services 
 : Driveways  :Landscaping  :Retaining Walls 
 : Hole Boring: Land Levelling :Trenching 
 : Decks :Fences :Sections Cleared 
 : Plus much more
Tel 09 4312 885 
Mob 02102391280 
For A Fast Friendly Service  
Contact Tim Hicks 
BARRY CURTIS PLUMBING LTD 
REGISTERED CRAFTSMAN PLUMBER 
Phone 431 5572 
027 257 9884 
25 years' experience 
Friendly reliable service 
All plumbing & maintenance 
Alterations and new housing 
New wood fire installation 
Spouting 
Competitive rates
PROMPT EFFICIENT  SERVICE 
CHAT SPACE  
FOR PARENTS! 
Chat  Space  for  Parents  provides  an  opportunity  to  chat  in 
an  informal  relaxed  setting  facilitated  by  experienced 
Parent Coach Specialist - Gloria 
Our first Chat Space for Parents was held on the 24th July and it didn't 
take long for our first small gathering of delightful enthusiastic mums 
to  discover  a  mutual  topic  of  interest.    It  was  one  that  is  a  common 
challenge  for  most  parents  at  some  time  on  their  parenting  journey. 
Getting kids to listen, respond to requests, co-operate and doing this in 
a positive way that doesn't involve bribing, threatening or punishing !  
Listening and talking to one another respectfully is a skill that we can 
coach our children to learn and to develop. It can be challenging as this 
is how we express needs, concerns, emotions like happiness, alongside 
frustration, our thoughts, our beliefs, our values,  what  is important  to 
us,  our  choices.    For  children  their  behaviour  will  frequently  be  the 
medium that is used to communicate.  
When we are calm and happy it is much easier to communicate calmly 
and  patiently.  On  the  other  hand  if  there  has  been  some  stress,  grief, 
loss,  disappointment,  worry,  anxiety  or  other  form  of  sadness  then  it 
can be a lot more challenging to communicate calmly and happily.  If 
our child has had a difficult day at school, they can sometimes be more 
likely  to  express  their  frustration  about  this  when  they  return  to  the 
safety of their home. These are some of the things that we will look at 
and  which  Gloria  will  begin  to  address  during  her  Tips  for  Parents 
section between 11 am and 11.45 am at our next gathering which will 
be Thursday the 14th August.   
If you think that you might be interested then please come along.  We 
would love to have you join us.  
Where :  Kate's Place, opposite Cheese Shop in Kaiwaka 
When:  
2nd and 4th Thursdays of the month 
Time:         10.00 am - 12.00pm  
Coffee, Tea, Milo and fresh spring water will be available. 
A small koha or gold coin donation towards the maintenance of Kate's 
Place is welcomed.    
Facilitator:  Gloria  Ramsay  MANZASW  –  Social  Worker:  Parent 
Coach Specialist: Workshop Facilitator: Adult Education:               
For more info contact: Gloria  027 363 8833 or 09 431 2209 
www.savvynannynz.net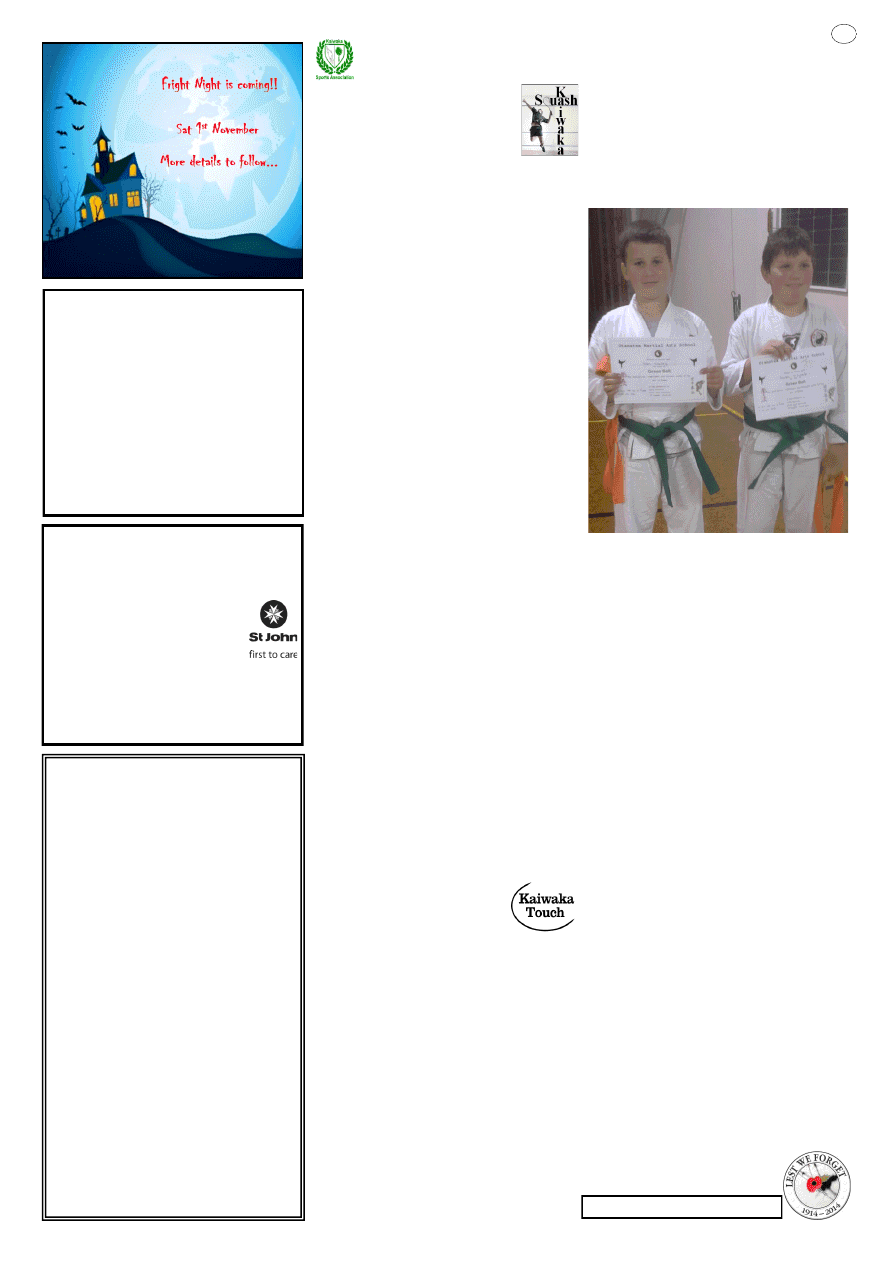 AMBER'S 
Q Cafe &  
Restaurant  
All day breakfast, 8am - 5.30pm.     
Home made Pizza, take away or eat in from 
8am to late. 
 Light lunches, 11.am - 5.30pm, 
Dinner Menu at 5.30pm to late 
 Toasted Sandwiches and Sandwiches made 
to order. All day, Pies, Chowder & Soups 
 Milkshakes, Kiwi Ice cream, Slushie Fruit 
drink, Tea, Coffee 
 Closed Mondays.....except Observed Holidays 
 Sunday to Thursday: 8am - 8pm 
 Friday: 8am - 8.30pm, Saturdays 8am- 9pm 
4315226 
Trevor & Amber 
41 Moir Street, Shop 5-6  
Mangawhai Village 
Next to Carters Building Supplies 
 LEABOURNS 
Passenger Service
Car & Van Hire 
Bus & Coach Charters 
Airport Transfers 
 Monthly Shopper Bus 
Phone (09) 4237416 
When you need St. John 
members at your function … 
Get a Community Services 
Form 
….. see Milly at the  
Kaiwaka St John  
Op Shop.  
Phone 4312650 
MORE MEMBERS REQUIRED FOR 
THE KAIWAKA STATION. 
7
KAIWAKA SPORTS ASSOCIATION
Squash 
Did  you  know  that  squash  is 
widely  considered  to  be  the 
healthiest  sport?  This  is 
because squash improves your 
aerobic  fitness,  burns  off  calories, 
boosts  flexibility  and  sprint  speed, 
improves 
hand-eye 
co-ordination, 
develops  the  strength  and  power  of 
your  muscles  and  boosts  your 
cardiovascular fitness. Whew!! 
If  you're  keen  to  give  squash  a  try, 
simply turn up to the courts on our club 
nights, Mondays from 6pm (the door to 
the squash courts is opposite the tennis 
courts). 
People  of  all  ages  and  abilities  are 
welcome  in  our  small,  friendly  club. 
Please wear non-marking soles.  
For any enquiries about squash, please 
contact  Heather  Lupton  on  021 
841115. 
Badminton 
Players  of  all  ages  and  abilities  are 
welcome at our Badminton club nights 
so  if  you  are  keen,  simply  turn  up  to 
our  gymnasium  on  Tuesdays  from 
7.30pm.  Only  $3  per  person,  play  as 
long as you like (please wear soft soled 
shoes).  Club  rackets  are  available  for 
you to borrow at no cost and coaching 
available.  
Rugby – senior 
The  prizegiving  for  the  Otamatea 
Hawks  Reserves  and  Premiers  will  be 
held  on  24th  August  at  our  Sports 
Complex. All welcome. 
Rugby – IMB 
Our  Otamatea  U14's  and  U16's  will 
celebrate the end of their season with a 
prizegiving  on  Friday  22nd  August, 
6.30pm  at  the  Maungaturoto  Country 
Club.  All  family,  friends  and 
supporters are very welcome to attend. 
Rugby – JMB 
All  family,  friends  &  supporters  of 
Eastern  United  JMB  players  are 
welcome to attend their prizegiving on 
Wednesday  13th  August  at  4.30pm.  A 
short AGM will be held before the start 
of the prizegiving.  
Touch 
It may still be the middle of 
winter,  but  the  Touch 
season  will  roll  around  fast 
enough! I'm wanting some feedback on 
our  next  Touch  Module  –  would  you 
like  the  8  week  Module  to  start  in 
February like last time? Or would you 
prefer it starts in October so it finishes 
before  Christmas.  Please  let  me  know 
your thoughts, thanks. 
Softball 
A  few  people  have  expressed  an 
interest in playing softball at the Sports 
Complex,  so  I  am  wanting  to  gauge 
interest in the idea. If this is something 
that you or your child may be keen on, 
please contact me. 
Martial Arts 
Ten  students  from  our  Martial  Arts 
club recently graduated to Green Belt – 
this  is  the  midway  point  to  black  belt, 
and they will now be exposed to a level 
of  training  and  discipline  more 
indicative  of  their  positions  within  the 
ranks.  These  students  have  been  with 
the  club  since  day  1  and  are  all  very 
enthusiastic  and  dedicated  kempo 
students.  
Pictured  are  Sam  Woolley  and  Jayden 
O'Keefe wearing their new green belts. 
Our Martial Arts club, led by black belt 
instructor  Craig  Bennetts,  offers 
Kempo  &  Tai  Chi  classes  out  of  our 
gymnasium. 
New 
members 
are 
welcome. 
For  more  information  on  the  Martial 
Arts club, please contact Craig on 4315 
170, 
021 
1524466 
or 
otamatea.kempo@farmside.co.nz 
Netball – junior 
The  Kaiwaka  Junior  Netball  club 
would  like  to  thank  everyone  who 
sponsored  players  for  their  recent 
goalathon.  Money  is  still  coming  in 
from  this  fundraiser,  with  both  teams 
achieving  great  results  on  goalathon 
day. 
The end of the netball season is in sight 
-  with  the  last  games  being  played  on 
Saturday  30  August.  The  prizegiving 
will be held on Friday 19th September, 
5pm at our Sports Complex. 
Kaiwaka  Netball  would  like  to  thank 
all  their  supporters  who  have  made  it 
along  to  games  this  season,  and  a 
special thanks to our dedicated coaches 
and umpires.  
Taniwha Shield 
The Taniwha Shield rugby tournament 
held recently at the KSA made a profit 
of  $5,000.  This  money  goes  to  the 
Rodney/Otamatea  JMB  sub-union  and 
is earmarked for future Taniwha Shield 
campaigns. 
World War One 
At the Kaiwaka Sports Association, we 
will mark the 100th anniversary of the 
outbreak  of  the  First  World 
War by hosting a Centennial 
Dinner.  
...continued on page 19...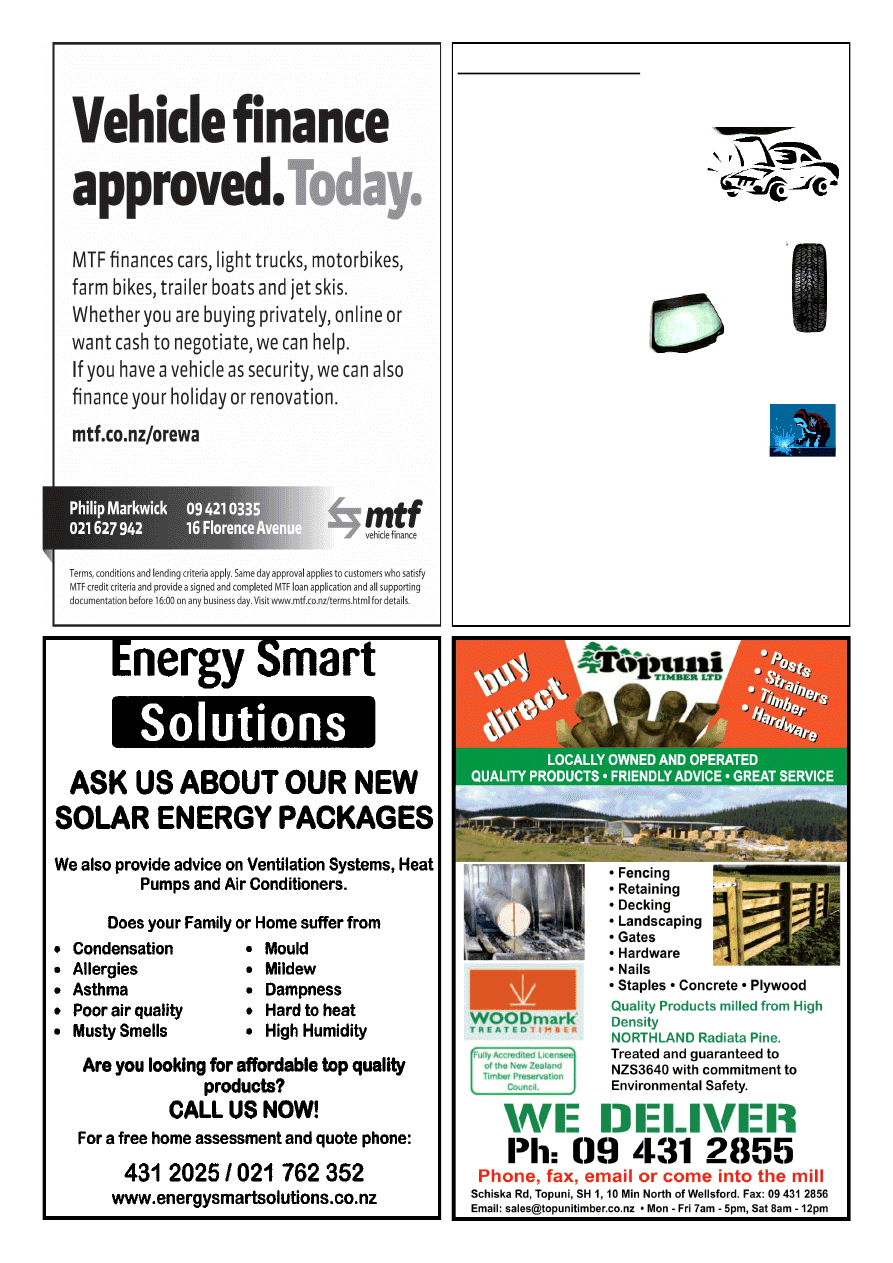 Want it done? 
Bring it to  
Twinkle Tow 'n' Tyre 
*W.O.F. 
*Tyres 
*Windscreen replacement 
*Chip repairs 
*Bulk Oil 
*Batteries 
*Welding 
*Custom built trailers 
*Trailer hire 
Think you'll get a better deal in 
the city? 
Go on, ring us; it won't cost  
anything! 
1837 State Highway 1, Kaiwaka       
Phone 431 2823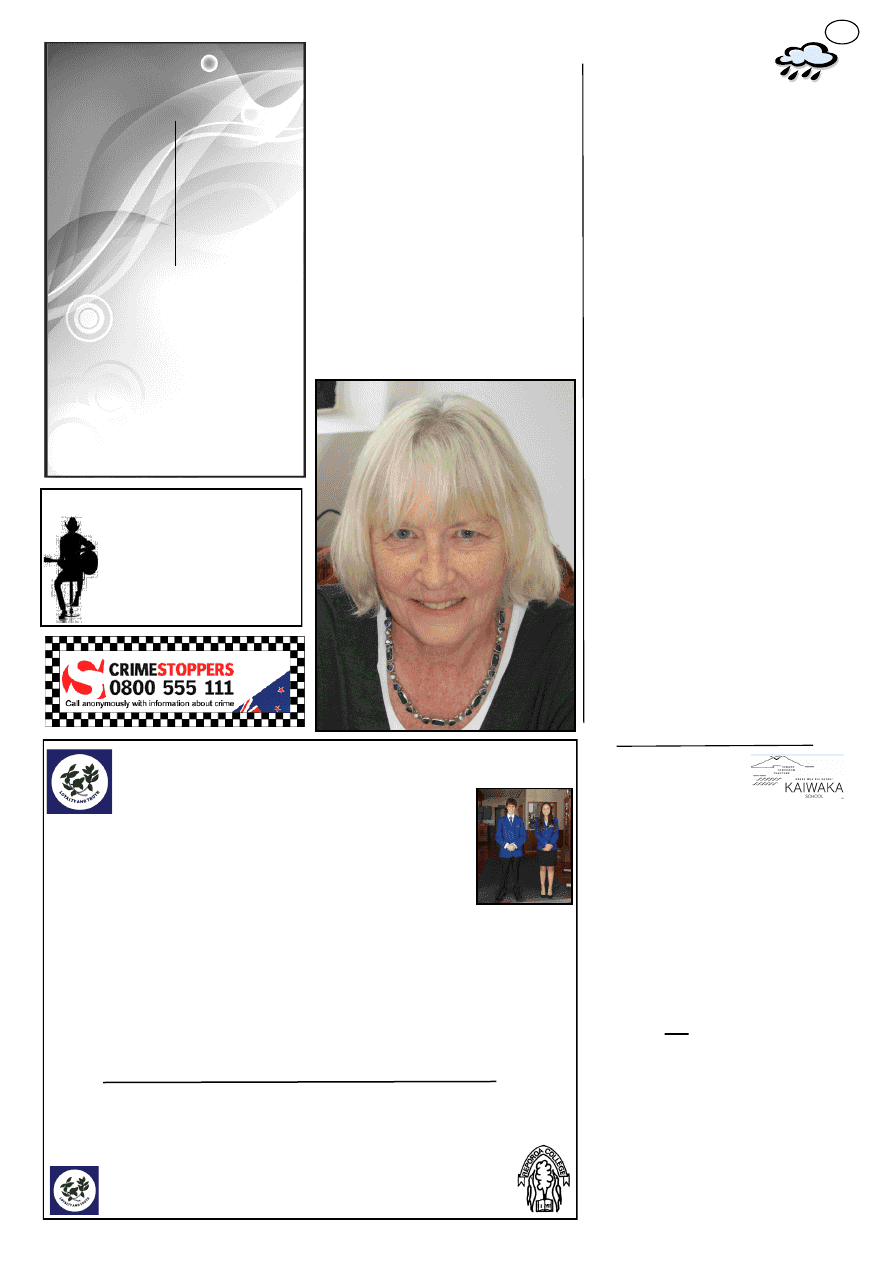 Otamatea High School 
Te Kura O Tuarua Otamatea
Opening our 
Doors
Parents/Caregivers and prospective students are invited  
to our fully interactive 
Open Day
Friday 15
th
 August 9.45am start time 
Come along and experience the OTA Way 
Reporoa College – Otamatea High School
Sports' Exchange
Sunday 10
th
 – Tuesday 12
th
 August 
at Otamatea High School
(49
th
 Annual Exchange)
9
KAIWAKA 
WEATHER 
Wellsford Country Music Club 
2nd Sunday of month - club day 
1:00pm 
Last Wednesday - workshop 
7:00pm 
Wellsford Co-op Parish Hall 
Contact 027 327 6604 
U Beauty 
Please call Nicole for bookings 
09 393 6336 or 022 0639450 
Qualified Beautician 
4 Kaiwaka – Mangawhai Rd 
Kaiwaka 
Underarm Wax  
$20 
Extended Bikini Wax 
$30 
15 min Back  Massage 
$25 
Eyebrow Wax  $10 
Eyebrow Tint  $10 
Eyelash Tint 
$20 
Lip Wax 
$10 
Chin Wax 
$10 
Bikini Wax 
$20 
Brazilian 
$50 
½ Leg Wax 
$30 
Full Leg Wax  $45 
Full Pedicure  $60 
Foot Tidy  
$35 
Manicure 
$45 
Nail Tidy 
$25 
Chest Wax 
$30 
Back Wax 
$40 
Nostrils 
$10 
Ears 
$10 
KAIWAKA 
SCHOOL 
Agricultural Day 
Monday 20 October 
Calves  enter ed  must  be  bor n  from 
July 1st to August 31st 2014 
Lambs  enter ed  must  be  born  after 
July 1st to September 20th 2014 
Beef  breeds,  bull  calves,  and  ram 
lambs are allowed. 
Note: TB certificates are required for calves and 
must be with the animal on the day. 
ENTRANTS: 
Preschool:  with  Calves  -  4  years  old 
on Agricultural Day; with lambs - Un-
der 5 years and able to lead lamb. 
Junior: under 9 on Agricultural Day 
Senior:  9  and  over   on  Agr icultural 
Day 
Copies of the Entry Form are available 
at Kaiwaka School office. 
There will be a fancy dress competition 
for the children and their animal after 
the main judging is over. 
Any queries please phone  
Jody Greig on 431223 ; or Kaiwaka School 
4312309
KAIPARA DISTRICT 
COUNCIL 
Council  Appoints  Acting  Chief 
Executive 
Commissioners  at  the  Kaipara  District 
Council  have  announced  that  Dr  Jill 
McPherson will take up the position of 
Acting  Chief  Executive  after  the 
departure  of  current  Chief  Executive, 
Steve Ruru. 
Chair 
of 
Commissioners 
John 
Robertson  said  Commissioners  were 
mindful  of  the  uncertainty  created  by 
the  possible  re-organisation  of  the 
Northland  councils.  This  is  a  matter 
still  before  the  Local  Government 
Commission. 
Dr  McPherson's  appointment  will  be 
confirmed  at  the  August  Council 
meeting.  
Well  good  August  morning  to  you. 
What  can  I  say  other  than  yes  it  is 
winter. Wet, wet, wet. It has been very 
cold most of the month (well I think so 
anyway).  It  is  good  to  see  the  sun 
waking up a bit earlier in the morning 
and  also  setting  later  in  the  evening. 
There  are  those  little  spring  animals 
everywhere  now  and  I  mean  spring  as 
you  watch  them  in  the  paddocks.  It  is 
very wet underfoot as I am sure you are 
aware. The lawns have had a couple of 
mows  lately  even  though  there  are 
tracks  left  behind.  The  ground  cannot 
get  air  and  dry  out  if  the  grass  is  too 
long.   
At our house this July we had 331mm 
of  rain  and  2013  we  had  78mm.  The 
first 7 months of 2014 we had 945mm 
and 2013 we had 639mm. The wettest 
July  we  had  since  1987  was  in  1998 
when  we  had  602mm  and  the  driest 
was 1993 with 33mm. 
I  am  not  good  at  checking  the 
temperatures  these  days  as  it  is  a  bit 
cold for this body to get out too early. I 
do  know  we  have  had  some  very  low 
temperatures. 
In 
the 
afternoons 
sometimes our highest temperature was 
11  degrees  and  a  bit  less  some  days. 
Well  you  wise  people  that  put  in  an 
extra tank for the summer water supply 
should  be  more  than  pleased  as 
probably  they  are  full  now.  I  notice  a 
lot of the dams on the farms are full to 
overflowing.  Thank  you  to  those 
people  that  read  my  weather  report. 
Please  take  care  as  winter  is  not  over 
yet.  As  I  type  out  this  report  we  are 
promised  some  rather  heavy  rain  over 
the weekend.    Cheers Bev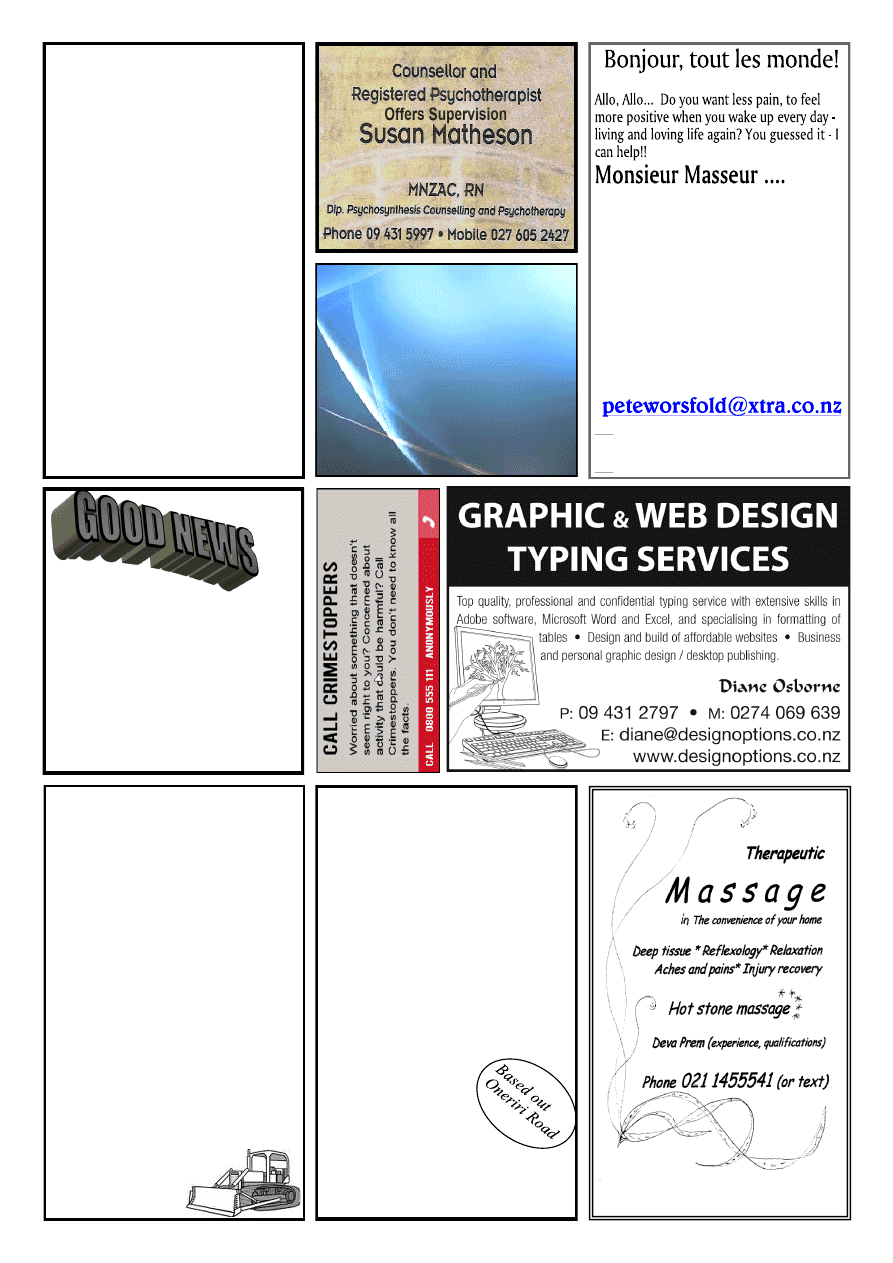 www.mangawhaimassage.co.nz 
HODGETTS 
CONTRACTING
Digger Work    

Driveways 

House Sites   

Dams 

Drains, etc
Also available for HIRE 

3 ton Vib Roller 

Heavy Duty Tow 

Waterblaster  

Lazer Level 
Phone Mark 
4312877 
027 447 8554
RELAXING  
MASSAGE
..... Juste pour vous" 
Call for an appointment now!
Pete Worsfold 
4312 152  or   021 825970 
Or  Ph. "The Well of Health" 
For an appt. 09 4312 799 
Or mobile service available 
Freeview  
Installations 
Richard Te Haara 
25 Marram Place 
Mangawhai Heads 
021 1104056 
kiwipride@xtra.co.nz
Willow Bend
HORSE  
HOTEL 
"   
Total Horse Care 
" 
Agistment 
" 
Riding Lessons 
" 
Arena Hire (60x40) 
" 
Young Horse Starting 
" 
Re-training/Exercising 
" 
Hoof Trimming 
" 
Problem Solving 
Phone Sue 09 431 
2817 or 021 623 776 
Or email sue.gray@xtra.co.nz 
Coates  
Contracting 

D41 Bulldozer with 6 
way blade, bush rigged 
with winch 

For all tree work 

General bulldozing and  
  stick raking. 

120hp Tractor for 
ground cultivation,  

tip trailer work. 

Fencing
All enquiries phone  
Brett Coates  
 094318720  
or 
 021431872
@ the  
Kaiwaka Family 
Church 
Your COMMUNITY CHURCH 
RECEIVE HEALING 
RECEIVE THE LOVE OF GOD 
Everyone warmly welcome 
each Sunday 10am. 
Contact: Pastor John Dekker,  
09 4318203 
THERE'S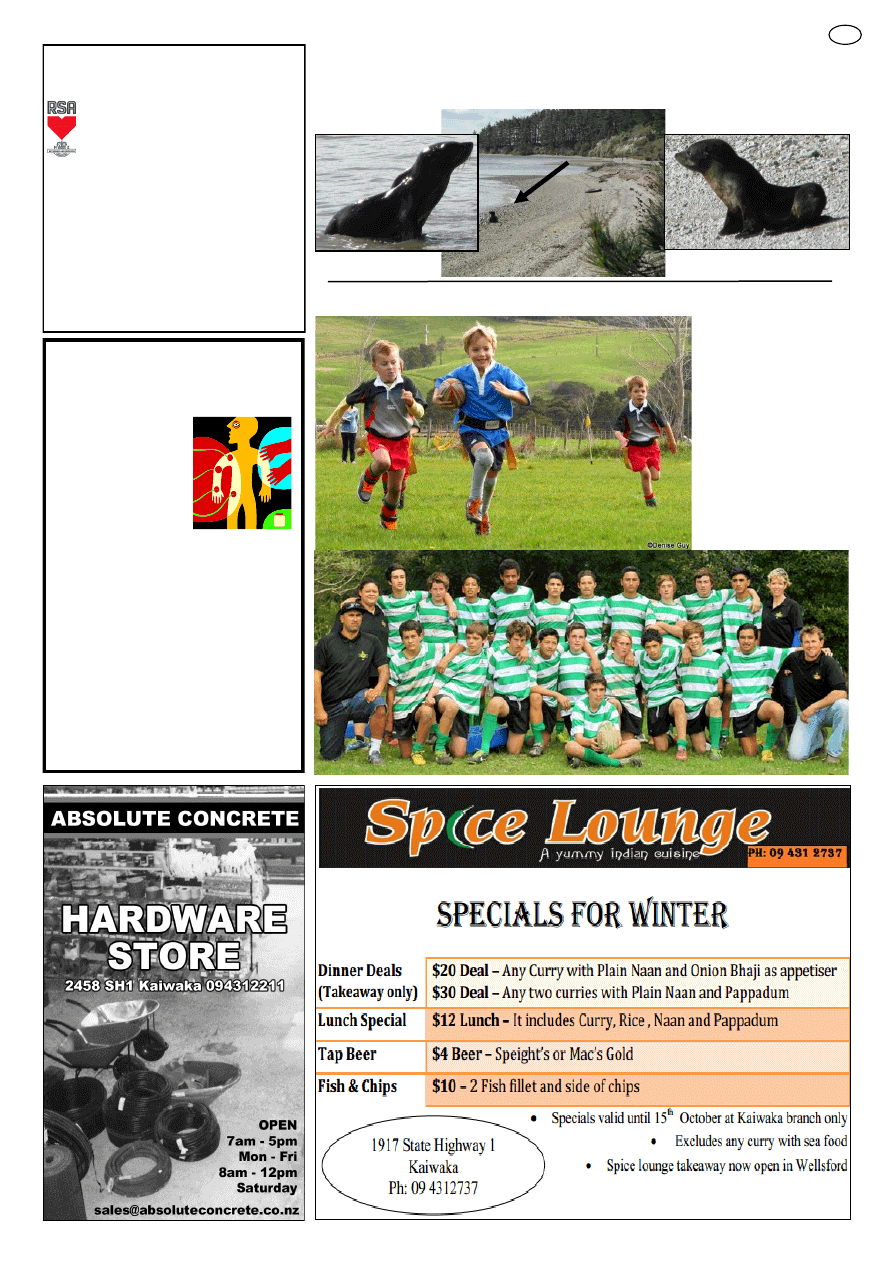 OWEN STEVENS 
Osteo Therapist
For careful 
adjustments to 
bones and joints 
Treatment for  
humans and their 
pets 
Clinics: 
Kate's Place, Kaiwaka: 
Last Friday of month 
For  bookings:9.00am-5.00pm  
Phone 
09 4312661 
Or phone Owen   
09 4317123  anytime 
11 
HAKARU & 
DISTRICTS RSA Inc 
Each Friday night 
from 6.30pm 
Meals will be served 
2nd Friday of the Month 
Is Roast Dinner Special 
Come along and enjoy our 
Hospitality  
For more information 
Ring Heather 431466 
or Jan 4314512 
KAIPARA SEAL 
Last Sunday this little fellow was spotted on the foreshore of Onoke Bay  - on 
the Oneriri Peninsular, across from Batley on the Otamatea River. 
RUGBY 
Congratulations 
to 
our  Otamatea  Under 
14's  (below)  who 
finished  3rd  in  their 
grade.  Well  done 
boys! 
Our  junior  rugby 
team  Eastern  United 
played  Maungaturoto 
today.  This  photo  
(left)  says  it  all  -  the 
pure  joy  of  playing!
Toby  Packard,  pic-
tured,  scored  3  tries 
and got Player of the 
Day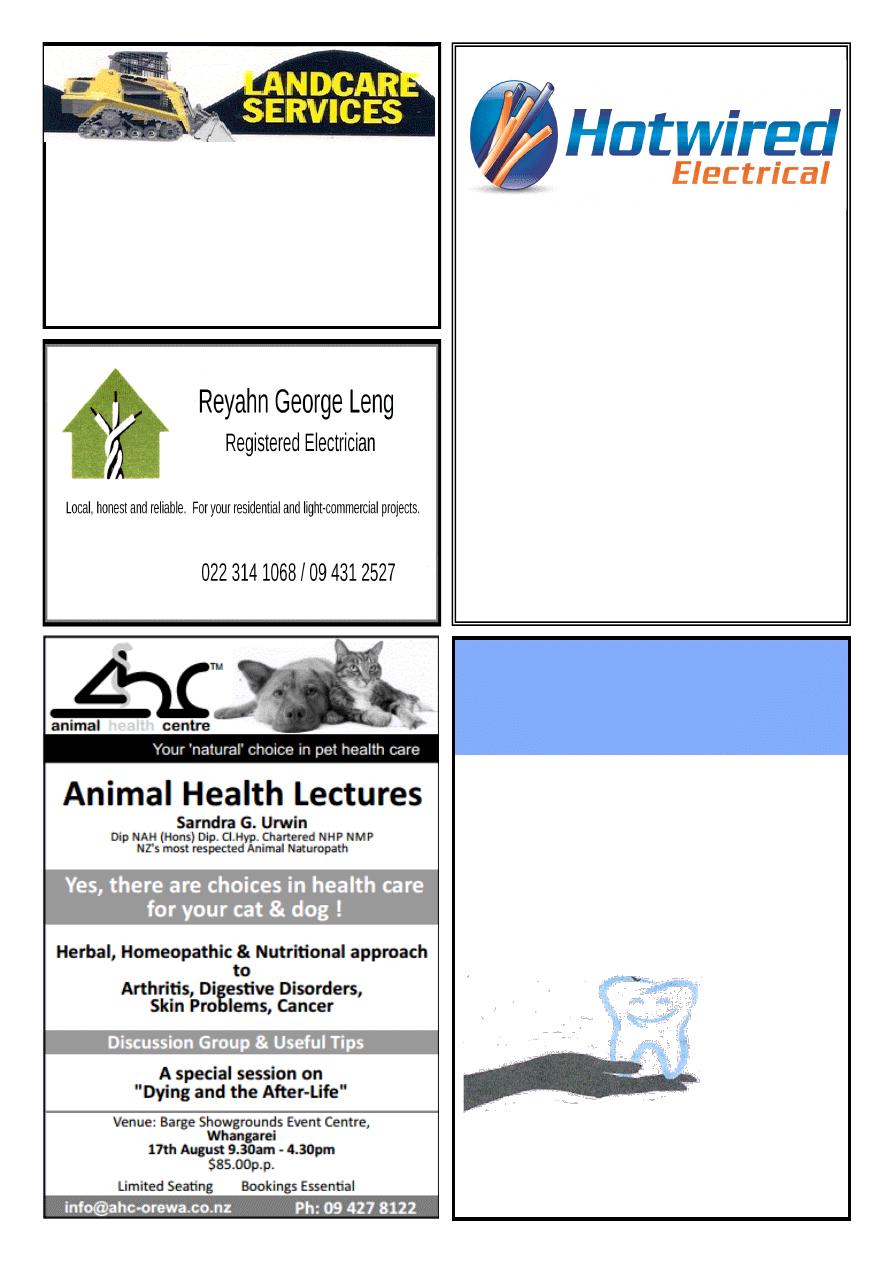 LANDSCAPING 
4 IN 1 BUCKET 
TRENCHER 
POLE HOLES 
ROTARY HOE 
COMPACT ROLLER 
OFFAL HOLES 
CAN SUPPLY WOODCHIP & POST PEEL 
5 TON TIPPER 
FOR RELIABLE AND FRIENDLY SERVICE CONTACT DAVE 
Dave Hyndman 
 
KAIWAKA 
PH: 09 4312302 
MOB: 021 431 238 
Gentle Dental 
Ruakaka 
We love to see you smile 
 
General  & Cosmetic Dentistry 
 
Emergency & ACC Treatment 
 
Denture & Hygienist Services 
 
Senior Citizen Discounts 
 
Free Adolescent Care 
 
Free WINZ Quote 
19 Ruakaka Town Centre 
Dr Sim Sood & Associates 
Ph:  432 8139 
Saturdays 
By 
Arrangement 
Open  
Mon-Fri  
8am-5pm  
For All your  
Electrical  Requirements 
 
Domestic small jobs 
 
Residential dwellings and alterations 
 
Commercial 
 
Industrial                 
No job too big  
or too small    
Contact Jason today on: 
(09) 431 5992, (021) 405 019 
www.hotwiredelectrical.co.nz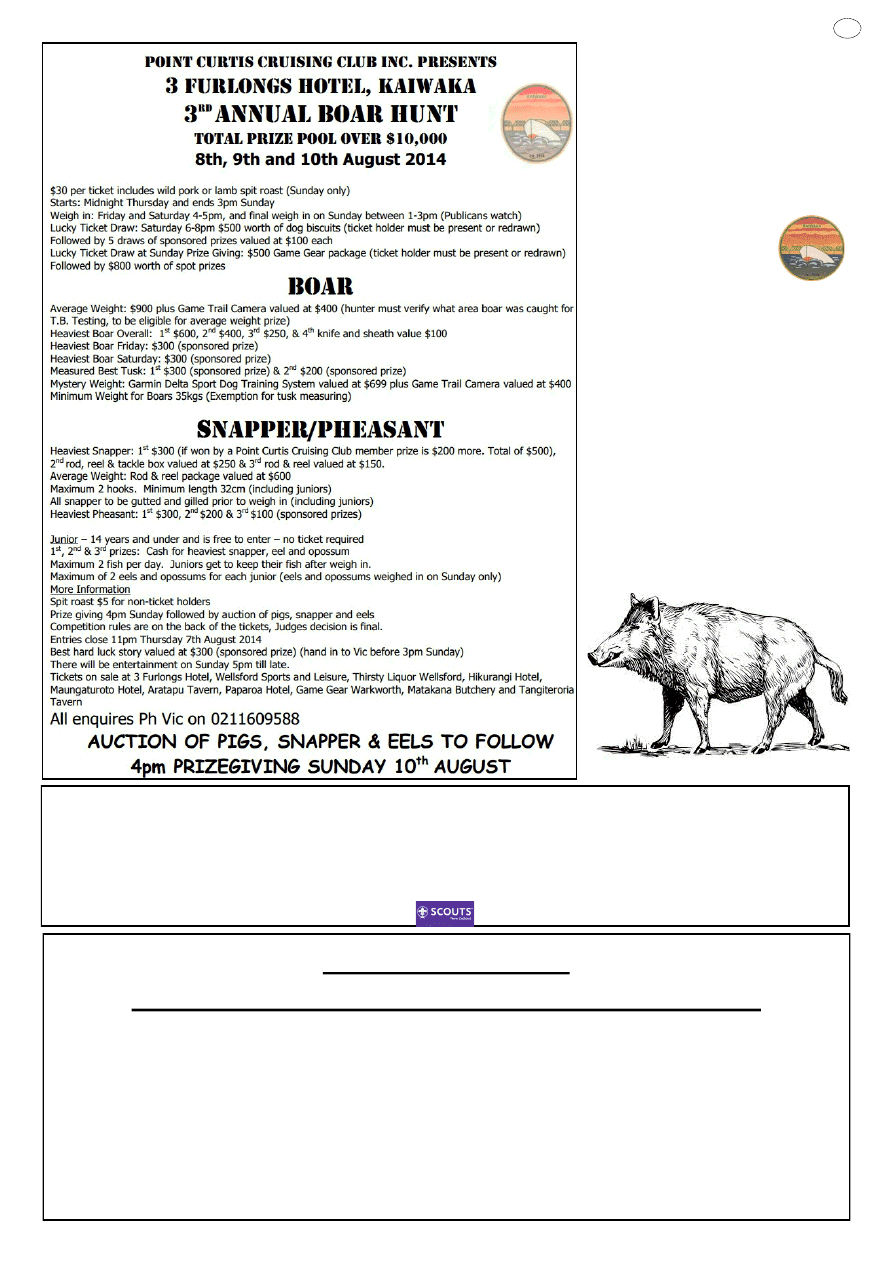 13 
POINT CURTIS 
CRUISING CLUB 
BOAR HUNT  
8, 9 AND 10 AUGUST!!! 
Ticket 
purchase  deadline  is  Thursday 
7th  August  at  11pm.    Tickets  are  $30 
and are on sale at 3 Furlongs Hotel or 
Wellsford  Sports  &  Leisure  Centre 
(other  ticket  outlets  are  stated  on  boar 
hunt  poster).  Included  in 
your  ticket  price  is  a  meal 
on Sunday after prizegiving. 
This will be a huge weekend 
for the Point Curtis Cruising 
Club.    It  is  our  3rd  annual  boar  hunt 
and  will  be  our  biggest  yet.    Come 
down to the 3 Furlongs Hotel and buy a 
raffle  ticket  to  win  a  "pig  in  a  bar-
row".    Other  raffles  with  great  prizes 
will be sold over the weekend. 
Lucky  ticket  draws  from  6  -  8pm  on 
Saturday night  (9/8/14) will draw a lot 
of  ticket  holders  in  with  the  biggest 
lucky ticket draw being $500 worth of 
dog  biscuits.    There  will  be  heaps  of 
other spot prizes as well!   
  And  don't  forget  boar,  senior  snapper 
and  eel  will  all  be  auctioned  after 
prizegiving  at  approximately  4.30pm 
on Sunday 10th August. 
Hope to see you all there to support the 
club!  Good luck with the hunting and 
fishing! ~Wayne Leslie, Commodore 
KAIWAKA 
PAUL SAUNDERS  
LAWNMOWING & GARDENMAINTENANCE 
Friendly and reliable service guaranteed 
 
Lawns and edges     

Section mowing 
 
Hedging and trimming    

Spraying and fertilising 
 
Tree planting     

Green waste removal    

Pruning 
Call now for a free no obligation quote 
021 886 843  or  09 431 3318 
Servicing Mangawhai and Kaiwaka and surrounding areas 
paulsaunders99@gmail.com 
Shake Your Groove Thang! 
Friday 29
Friday 29
th
th
  August, 7 
August, 7 ––  9pm Kaiwaka Sports Complex
9pm Kaiwaka Sports Complex
* great music, games & prizes 
* food & drink available 
(a parent/caregiver to stay with children thanks)
* lolly scramble, glow items for sale 
* $3 entry (adults & under 5's free) 
A fundraiser for the Kaiwaka/Mangawhai Scouts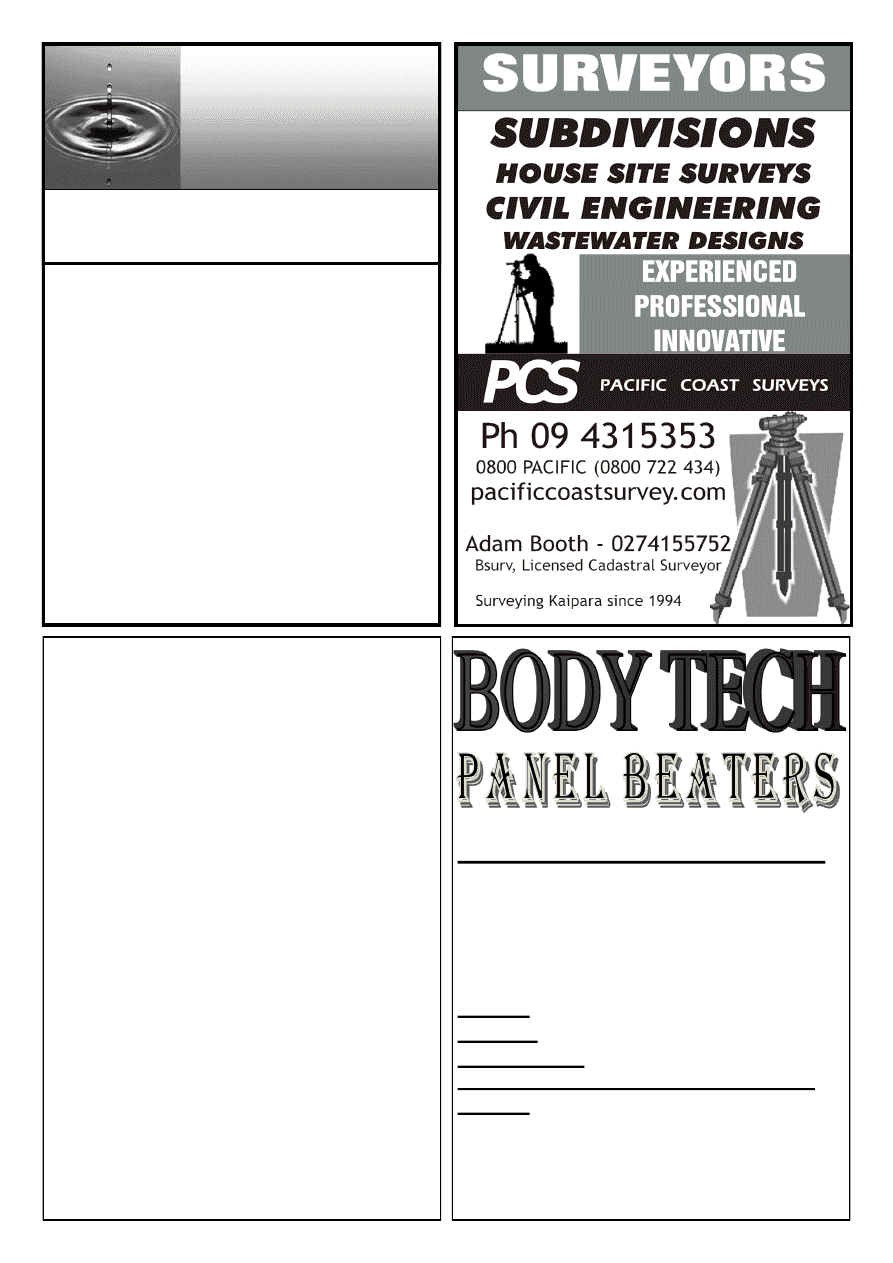 PETE WORSFOLD  
B. Soc.Sc. M. Soc.Sc. Diploma of Prof Couns. 
Counsellor
peteworsfold@xtra.co.nz 
 021 825 970 
Professional Service 
Variety of Modalities 
By Appointment Only 
For all your body repair needs!! 
We do: 
Rust repairs 
Insurance work 
Anti-corrosion treatment         
Hours: 8.30am-5pm Monday-Friday  
Mobile: 021 118 0462 
After hours: 09 431 2384 
Phone: Craig or Call in for a free Quote 
e-mail: 
bodytech_panelbeaters@yahoo.com
We are located at 1837 SH1 Kaiwaka, behind Twin-
kle Tow 'n' Tyre call in anytime for a free quote.  
Large and minor vehicle  
  repairs 
Industrial vehicles 
Full Cut and polishes 
INDIVIDUAL ONE-ON-ONE 
COUNSELLING 
 
MODALITIES:     FOR: 
  CBT              Grief 
  Gestalt            Relationship 
  Person-Centred     Trauma 
  Solution Focussed    Couples 
  Behavioural        Adolescents 
                  Careers 
Call for Appointment 
At "The Well of Health" 
09 4312799 or 021 825 970 
KAIPARA FLOORING CO 
32 HURNDALL ST MAUNGATUROTO 
Ph: 09 9469886 or 021 515 415 
Carpet, vinyl, laminate wood look  
  flooring, vinyl planking, sanding  
& polyurethane service. 
Carpet Short Ends from $79pm + GST 
Vinyl D.I.Y. peel n stick tiles $10sq mtr + GST. 
Free measure & quote.   
Mobile Service 
Phone Christine or Howard anytime 
Open Saturdays by arrangement.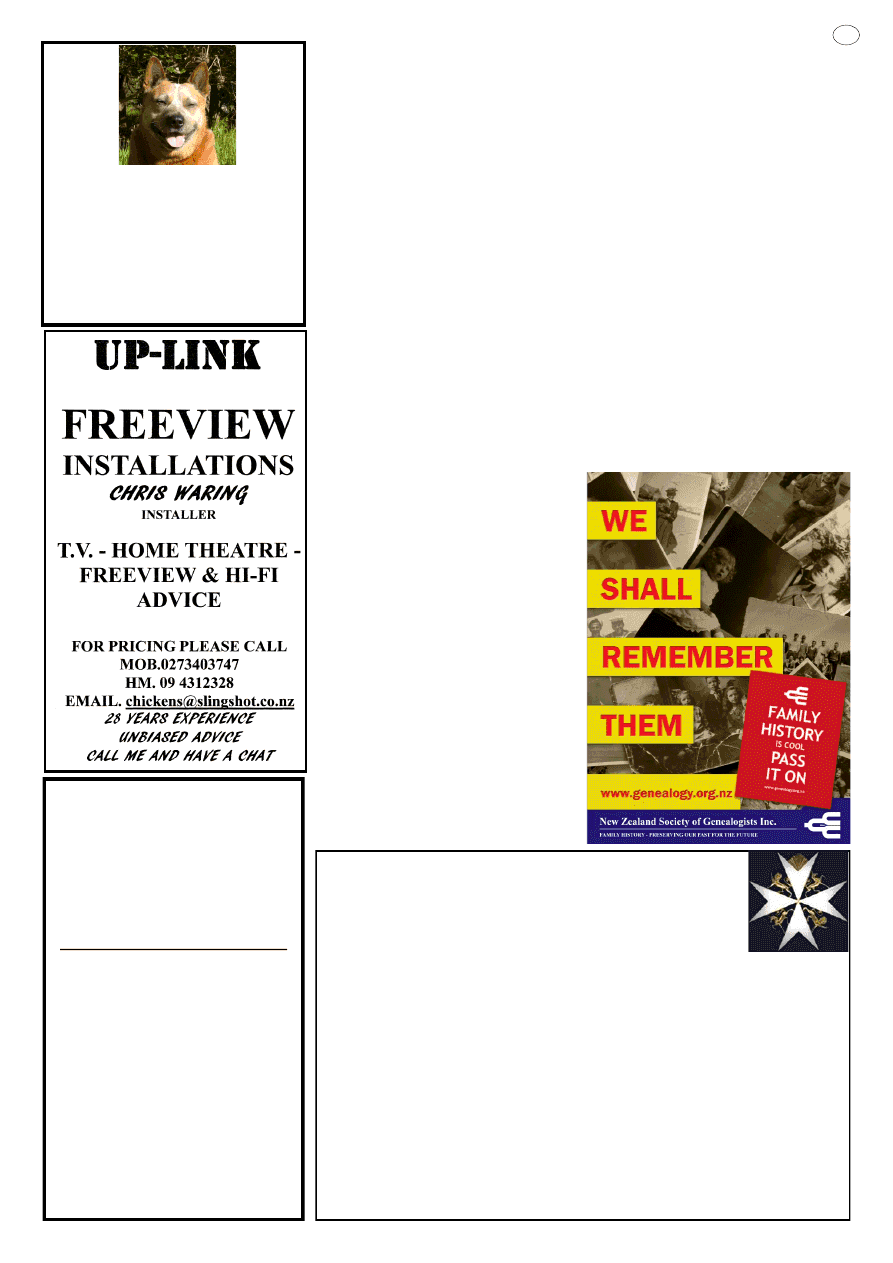 15 
Laughing Dog 
Computers 
www.laughingdog.co.nz 
0224344448 
Hardware and Software 
Service and Repair 
OTAMATEA ST JOHN 
KAIWAKA OPPORTUNITY SHOP 
Do you like meeting people? 
Have you several hours to give, once or twice a month? 
Do you want to help provide finances for a very worthwhile service in 
this community? 
If the above relates to you, and you think you might like to work in our 
Opportunity  shop  in  Kaiwaka,  please  send  your  name  and  contact  
information to: 
    Chairman 
    Otamatea Area Committee St John 
    P O Box 95 
    Maungaturoto 0547 
and we will be back in touch with you.  
Alternatively, if you would like to talk to someone in relation to this, please call one of 
the  following:  Maungaturoto  –  Wayne  Maclennan  (Chairperson)  (09)  4318353  or  
committee  members  in  Kaiwaka  –  Reg  Jaques  (09)  4312367  or  Denise  McMonagle 
(09) 4312275 
Yang Style Tai Chi 
Classes  
For Beginner And 
Practitioners  
At The 
Kaiwaka War Memorial Hall 
Every Tuesday Starting at 
10.30 am 
Come Along And Have Some Fun 
While Improving Your Balance 
Health And Fitness 
For More Information Contact
Andrew Young 
09 4223424   
STORY COMPETITION 
To  celebrate  Family  History  Month  in 
August,  Waipu  Genealogy  Group  is 
sponsoring  a  story  competition  to 
commemorate  ancestors  living  during 
the decade 1911 to 1920. 
Members  of  the  public  are  invited  to 
submit  stories  about  one  of  their 
ancestors.  The  prize  will  be  a  $100 
book  voucher.  Story  content  is  not 
limited  and  may  include  any  of  the 
following: 
- How life was during the 1911 - 1920 
decade 
-  The  effect  of  WW1  on  a  family 
member 
-  Family  members  serving  in  WW1 
-  The  effects  of  those  coming  home 
wounded 
-  WW1  Honours  and  or  decorations 
-  The  1918  influenza  epidemic 
RULES: 
-  A  maximum  of  500  words,  typed  or 
handwritten, 
which 
may 
be 
accompanied  by  copies  of  photos  and 
or documentation. Entries close on 11th 
August,  and  should  be  delivered  to:  A 
Picketts, 14 Cove Road, Waipu 0510. 
-  The  competition  is  open  to  any 
member  of  the  public,  regardless  of 
age. 
- Waipu Genealogy Group members are 
excluded  from  this  competition;  they 
are  encouraged  to  enter  the  separate 
group members' competition  
- The winner will be announced on 25th 
August at the Group's monthly meeting. 
-  The  prize  will  be  a  $100  book 
voucher. 
WELLSFORD  WAR  MEMORIAL 
LIBRARY: 
Free seminars on Tuesday 26 August: 
10am British Newspaper Archive 
11:30am Poor law 
1:30pm Hospital records 
3pm Question and answer session 
For  more  details  contact  Wellsford 
Library 
423 
7022 
or 
go 
to 
www.aucklandlibraries.govt.nz/ 
MEN and WOMEN of the GREAT WAR  
For more information about World War 
One and the centenary visit these sites: 
NZ's First World War Centenary:  
http://ww100.govt.nz/ 
NZ History Online: 
http://www.nzhistory.net.nz/war/first-world-war 
Fields of Remembrance NZ: 
http://www.fieldsofremembrance.org.nz/ 
Commonwealth War Graves Commission: 
http://www.cwgc.org/ 
Auckland War Memorial Museum: 
http://www.aucklandmuseum.com/ 
Auckland Weekly News: 
http://www.aucklandlibraries.govt.nz/ 
(or: http://bit.ly/AWNews) 
Papers Past (National Library of NZ): 
http://paperspast.natlib.govt.nz/ 
Archives New Zealand:  
http://archway.archives.govt.nz/ 
The War Graves Photographic Project: 
http://twgpp.org/ 
See  also  NZ  Herald  article  2  August 
2014: 
"WWI 
Commemorations: 
Brothers in arms".
AUGUST: FAMILY HISTORY MONTH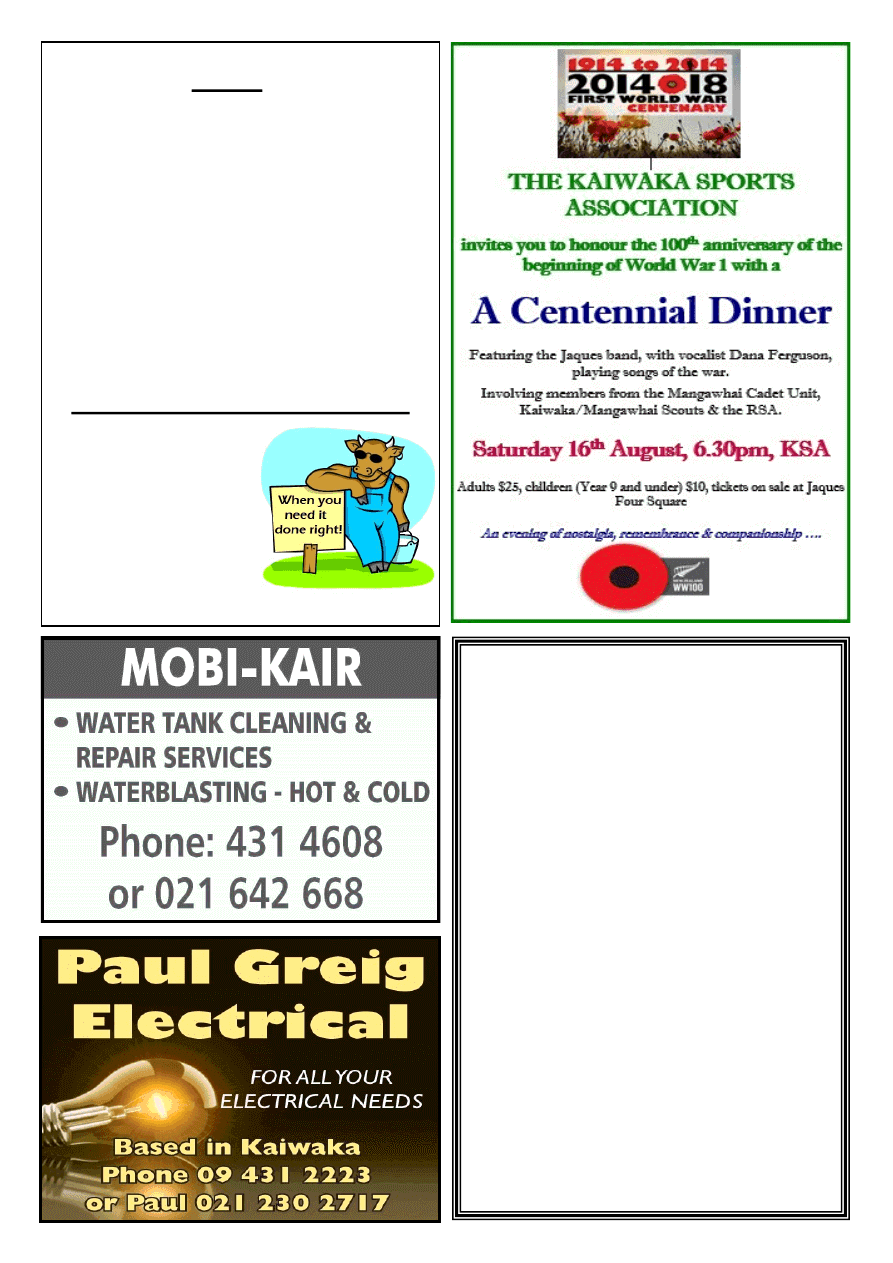 g.a.s. 
Mangawhai 
we have now opened a 
GARDEN CENTRE 
for all your gardening needs 
Also a great range of 
STOCKFOOD 
Wide range of 
ORGANICS AND 
 FRESH LOCAL PRODUCE 
All your motoring needs are taken care of by 
our friendly staff check us out... 
44 Moir Street, Mangawhai (09)431 4242 
Do 
YOU
 need
An extra pair of hands  
On your farm or lifestyle 
block?? 
Fencing, Spraying  
Firewood 
Milking, Stock work 
Any odd jobs
Call A Farmer Now!!!
09 423 7585
027 62 55 383
info@callafarmer.co.nz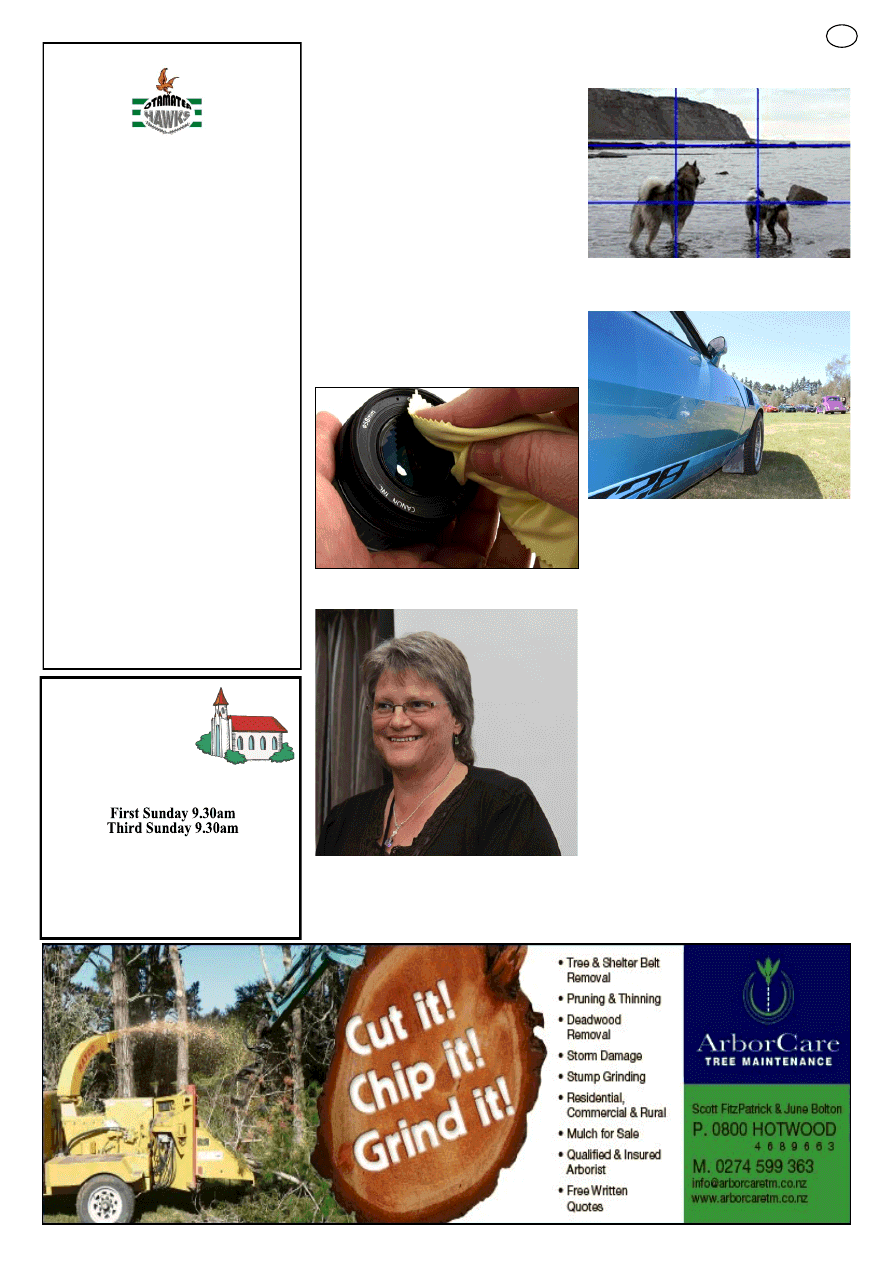 17 
ST PAUL'S  
ANGLICAN  
SUNDAY  
SERVICES
St Pauls Church: Kaiwaka-Mangawhai Rd. 
1st Sun - Eucharist 
3rd Sun - Family Service 
Office 4214 122 
Contacts:M.Hargreaves 4312295, C.Bygrave 4312057  
So far we've looked at a few aspects of 
photo conservation and repair.  
Before we go too far into digital repair 
and  restoration  though,  just  consider 
this statement I hear too often... 
"can you fix that in Photoshop?"  they 
say  when  presenting  a  bad  photo,  the 
answer is usually yes but yes comes at 
a cost whereas taking a decent photo to 
start with is waaaaaaay easier. 
"So  how  do  you  take  a  good  photo?" 
you ask. 
There's a few golden rules... 
•  Auto  setting    is  fine,  once  you've 
mastered  the  rest  of  this  then  we  can 
look at getting into  visual effects with 
manual settings. 
•  Clean  the  lens,  even  on  your 
cellphone camera! 
•  Get in close...people should not be a 
speck on the landscape 
•  Apply  the  rule  of  thirds  for  the 
focus points, that's eyes for people and 
animals,  lines  and  subjects  for  other 
photos. 
•  Here  the  photo  is  composed  using 
the  rule  of  thirds  for  the  horizon  and 
the subjects, it just looks "right!" 
•  Lines lead the eye, use them 
•  Be  steady,  use  a tripod if you  have 
one,  if  not  then  lean  or  rest  on 
something  solid...keep  your  arms 
tucked in against your body 
•  Look  at  the  scene,  really  look,  we 
don't want to see the tree appearing to 
grow  from  the  subjects  head  after  we 
have taken the photo.  
•  Squeeeeeeeeze  the  camera  shutter 
button, don't jab at it. 
•  Check the photo; every time 
•  Be  patient,  watch  the  light  as  it 
moves  and  changes,  the  shadows,  
photography  is  all  about  light,  take 
your time and you'll "see the light" too 
Google is your friend, have a search for 
"photo composition" and "photography 
techniques",  you'll  soon  be  shooting 
like a pro.   
It  also  pays  to  watch TV and  films..... 
yes  it  does,  despite  what  your  mother 
told you...watch how scenes are created 
using  the  light,  the  rule  of  thirds 
composition, the sharp images, and the 
steady platform. 
Until next time… 
~Steve Campbell 09 4312 779 
PHOTOGRAPHY 
It's easier to take a good photo than fix a bad one...  
Otamatea 
Hawks
Prize  
Giving 
Sunday,  
24
th
 August, 
1pm Kaiwaka 
Sports  Complex 
We invite our sponsors and sup-
porters to help us celebrate the 
end of the 2014 season
Thank you for your sup-
port  
See you in 2015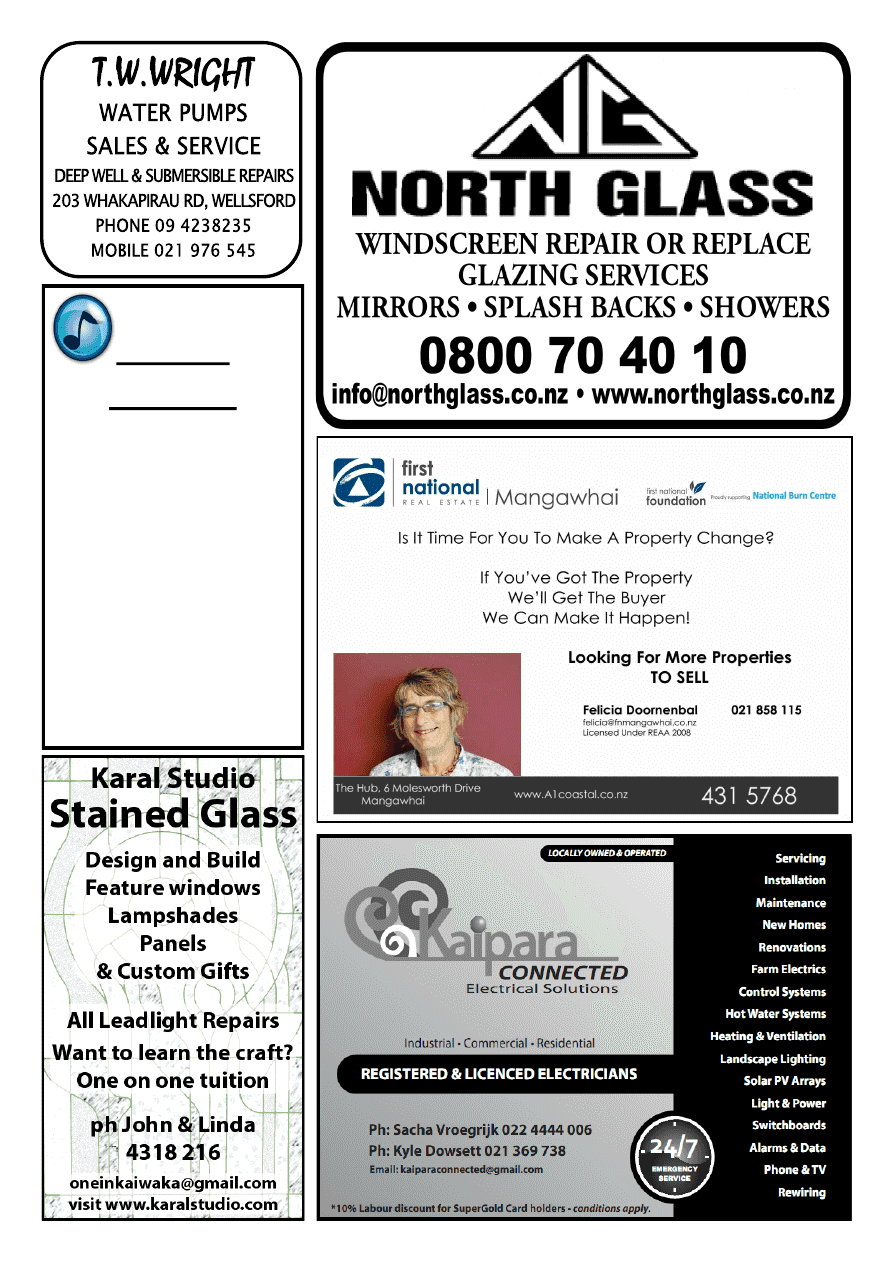 Singing 
Lessons 
Individual sessions 
All styles of music  
All voice types 
Reasonable rates 
Phone  
Maura Flower 
      021 164 8318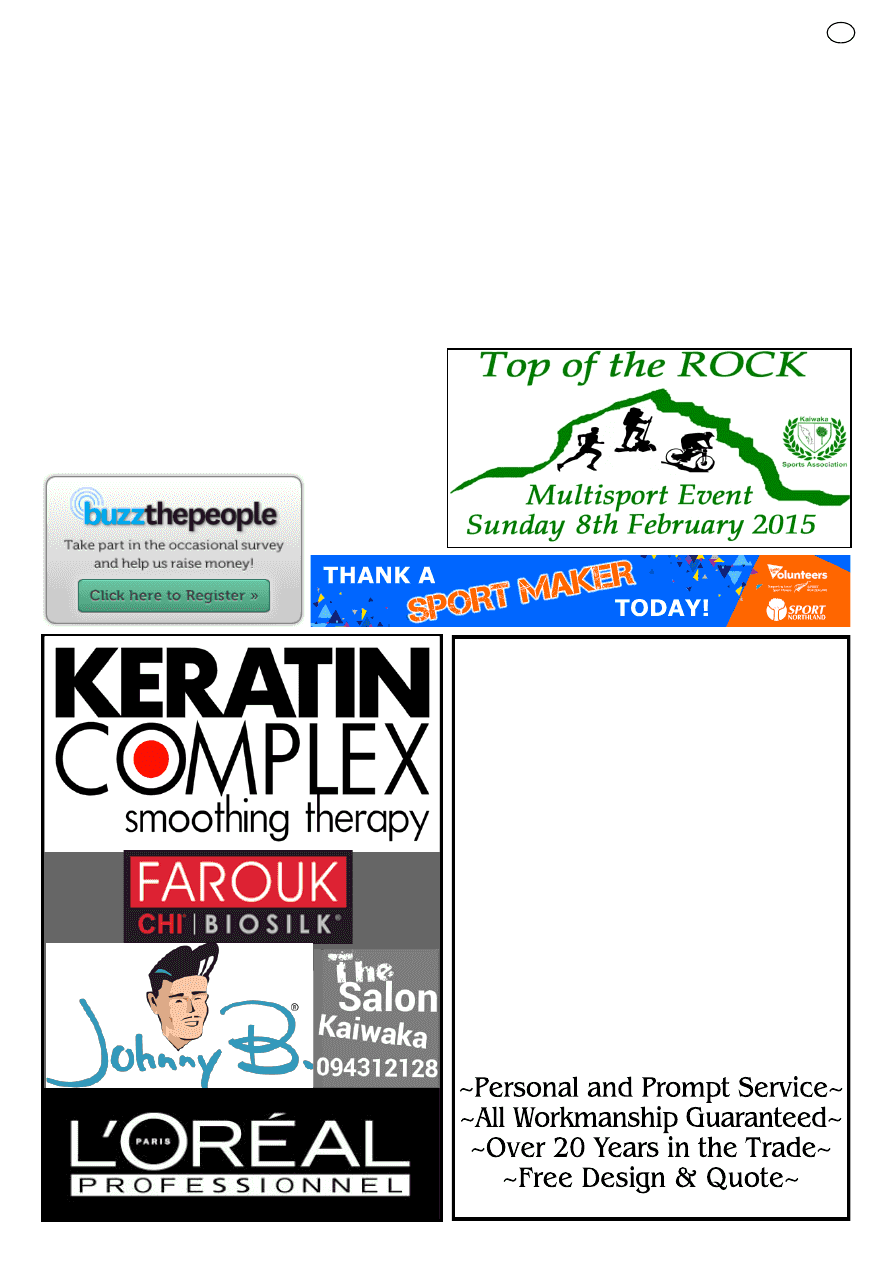 PLANNING A NEW 
KITCHEN? 
 CONTACT NOEL McDOWELL 
WELLSFORD 
KITCHENS
Ph/Fax 094312888  
KAIWAKA-Any time 
  QUALITY CUSTOM MADE 
KITCHENS  
19 
As  well  as  one  of  Mark  and  Pam's 
delicious  meals,  the  evening  will 
feature  the  Jaques  band  playing  songs 
of  the  war  and  will  involve  members 
from  the  Mangawhai  Cadet  Unit,  the 
Kaiwaka/Mangawhai  Scouts  &  the 
RSA.  Tickets  are  $25  for  adults  and 
$10  for  children  (Year  9  and  under). 
Tickets available at Jaques Four Square 
or from KSA members. 
Fundraising 
Please  help  the  Kaiwaka  Sports 
Association  raise  money  by  doing  the 
occasional survey by email. Every time 
you  complete  a  survey  we'll  get  paid 
for it! 
This  fundraising  programme  is  run 
through  a  website  called  Buzz  the 
People  and  they've  raised  nearly 
$500,000  for  NZ  charities  since  they 
started  in  2005.  When  you  do  the 
surveys  you'll also  have  the  chance to 
win  prizes  with  monthly  give-aways 
and  the  occasional  big  prize  (they've 
given  away  3  cars,  laptops,  iPhones 
and iPad + 3 lots of $10,000 cash over 
the same period). You can unsubscribe 
from Buzz any time  you like and they 
never  use  member  details  for  any 
promotional offers.  
Please  register  by  clicking  on  the  link 
on 
our 
website 
www.kaiwakasports.co.nz.  Thank  you 
for your support! 
Congratulations 
Congratulations  to  Justin  and  Naomi 
Walker  -  winners  of  Sport  Northlands 
Sport  Maker  award!  Justin  and  Naomi 
were  nominated  for  their  efforts  with 
Eastern United JMB's Under 9's. Great 
job guys!  
The  Lotto  Volunteer  Foundation  and 
Sport  NZ  have 
teamed 
up 
to 
support 
and 
celebrate  the  sport 
volunteers  in  our 
community 
who 
make sport happen 
- the Sport Makers. 
From  the  coaches 
and officials, to the 
uniform  washers 
and administrators, 
a  Sport  Maker  is 
someone who volunteers their time and 
effort for sport in the Northland region.  
Thanking  a  sport  volunteer  is  easy. 
Sport Northland is encouraging people 
to  say  thank  you  to  a  Sport  Maker  by 
sending  them  an  e-card  to  show  your 
appreciation. 
Details 
at 
www.sportnorthland.co.nz.  
Top of the Rock 
Advance  notice:  the  date  for  our  next 
Top  of  the  Rock  multi-sport  challenge 
has  been  set  at  Sunday  8th  February. 
This  is  one  of  Kaiwaka's  biggest  days 
of the year, so I hope you can join in! 
~Cheryl Anderson 
4312 051, 027 3462702 
kaiwakasports@gmail.com 
KAIWAKA SPORTS ASSOCIATION 
continued from page 7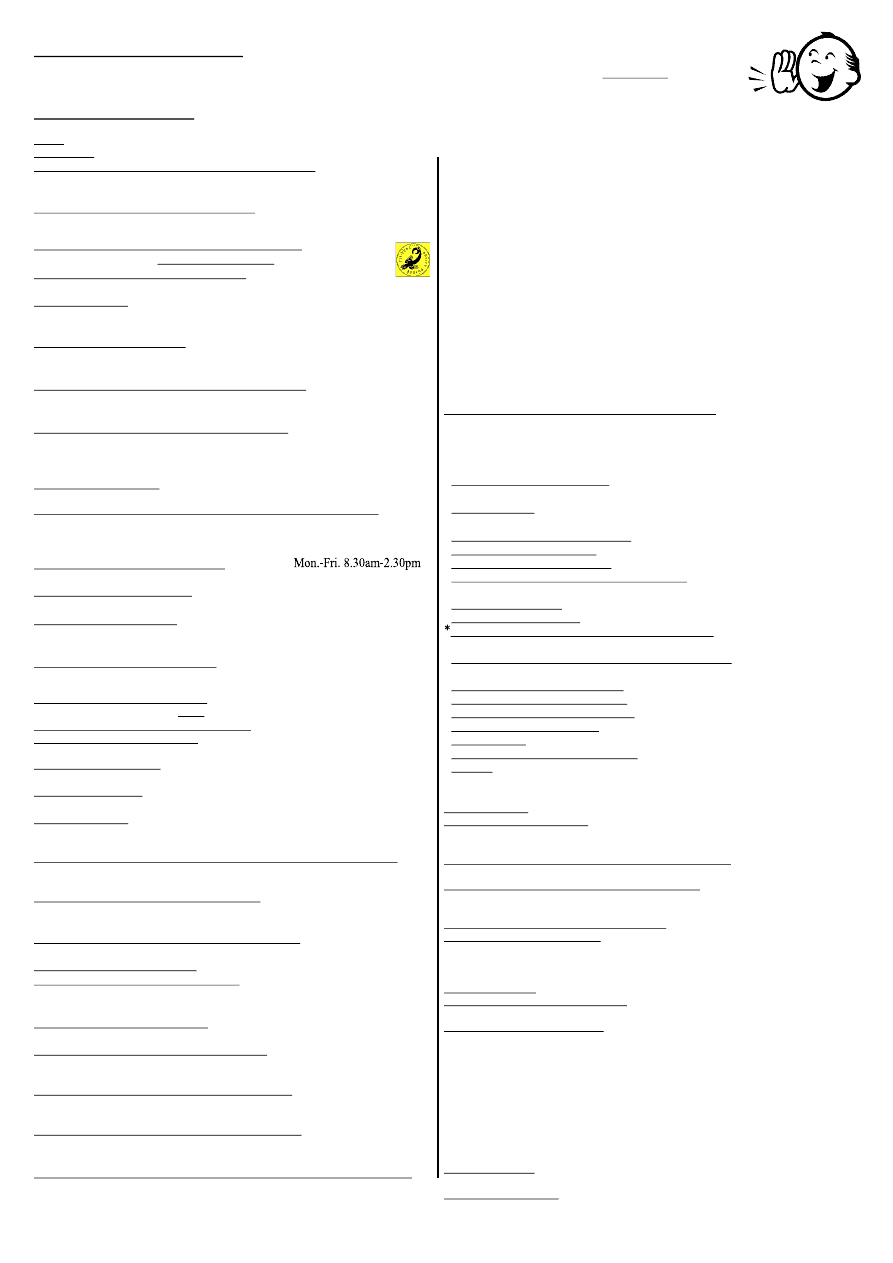 LOCAL SERVICES 
*St.John Ambulance 
111 or Freephone0800 61 0066
*Fire phone 111     *Police phone 111 or 09 4311150 
WELLSFORD DOCTORS: Ph: 4238 086 
A A: Meets Wed., 8pm Kaiwaka Ph: 4312228, 4315543, 0800229 6757   
AL ANON: In recess, contact Ph: 4312228 
AGRIQUALITY (MAF) Livestock Consultant 
Phone 09 4311 820 or 021518257  
BUDGETING SERVICE,OTAMATEA:Free confidential advice & 
support - all areas of  personal finance Ph: 09 4318173 or 094318117
CAB-
Citizens Advice Bureau.Wellsford Ph: 4237333.
0800 367 222 email:
DOG/STOCK /NOISE CONTROL 0800 105 890 
KATE'S PLACE with Govt.Day Agencies/Community Information /
Osteopathy/ IRD / Probation, etc Ph: 4312661 Hours: 9am-3pm. Mon - Fri 
FUNERAL SERVICES: Morris & Morris Ltd, 
Whangarei - Bev Jaques Ph:4312367 or 0800667747 
GRANDPARENTS  Raising  Grandchildren:  Sarah  Rogers  Ph: 
4312194 
HAKARU LANDFILL / Transfer Station:Open everyday except 
Tuesday10am-4pm.Ph4312629 Cost-$55 trailer load up to 1 cubic 
metre. Ph:4258567 - office 
INLAND REVENUE: Last Friday each month, 
11-3pm Ph4312661 
KAIPARA DISTRICT COUNCIL www.kaipara.govt.nz:  
Help Desk FREEPHONE 0800 727 059  
Service Centre Mangawhai 4313161 
KAIWAKA KOHANGA REO:
Ph:4312620 
KAIWAKA CEMETERY: Ph: 4312045 
KAIWAKA LIBRARY: kaiwaka.library@gmail.com  
Mon. 4-6pm; Wed., Thurs., Fri., Sat.  10am-2pm Ph:4312539
KAIWAKA PLAYCENTRE: Ph: 4312286. Hastie Lane 
Monday to  Friday  9.00am 
- 
12 noon.
KAIWAKA POST OFFICE:
Ph:4312 626 Fax: 4312287  
Post Code: 0573  for RD2  and  0542 for all Kaiwaka Post Office mail 
KAIWAKA PRIMARY SCHOOL : Ph: 4312309 
KAIWAKA SPORTS ASSN: Ph 4312005; 4312129 gym 
KAIWAKA ST JOHN: Manager Steve Rosser 09 4318403, 021 2316836 
NORTHPOWER: Faults Kaiwaka area 0800 104040 
PARENTPORT: Free, practical local support service for families in crisis 
Phone or Text Dianne 027 280 5093 
PERSONAL DEVELOPMENT COACHING, GROUP FACILITATION:  
Sabine Druckler 4312231 
PLUNKET  KAIWAKA/MANGAWHAI:  Ph:
094318187 
or  0
276753488 
Kaiwaka Mobile Clinic once a month– appointments necessary;  
Mangawhai (next Domain) 
1st & 3rd Thursday & Coffee Morning; 
PLUNKET CAR SEAT CO-ORDINATOR:  
Pat Scott Ph 4314530 
or 0272881635 
PLUNKET FREEPHONE -0800 933 922 
PLUNKET -MAUNGATUROTO  Clinic every 2nd & 
4thThursday. Ph: 09 4318187 
PUBLIC HEALTH NURSE: Gloria Reid Ph: 094327634  
RETURNED AND SERVICES ASSN 733 Settlement Rd. Hakaru 
Ph.4312176 Bill Kerr (President) Ph.4314719 
TE KOROWAI AROHA O NGATIWHATUA Ph: 4312675 
(The Cloak of Love of Ngatiwhatua) Support and Maori Consultancy.  
VETERINARY SERVICE MANGAWHAI: 
Ph: 4314535 Mon-Fri 8.30-4.30, Sat 9-12, a/h appt. 
WOMEN'S WELFARE LEAGUE & Reaching Out For Youth:  
4 Kaiwaka-Mangawhai Rd, M Morgan 4312293
WHAT'S ON
PLEASE ~ do let us know what is on - email 
kaiwakabugle@kaiwaka.co.nz 
Advertising in WHAT'S ON is FREE  
*8-10Aug~ Pt Curtis Cruising Club Boar Hunt 
*9Aug~Supper Dance, Hakaru Hall 7pm 
*10Aug~Dressage Series Day 2, Hakaru Pony Club, 9:30am 
*10-12Aug~OHS/Reparoa College Sports Exchange, Otamatea High 
School 
*11Aug~Full moon 
*13Aug~Philomena, 7:30pm KWMH 
*15Aug~Otamatea High School Open Day, 9:45am start 
*16Aug~TAIZE singing, Absurdistan Community, 2-8pm, register 
at www.singforjoy.org.nz 
*16Aug~Centennial Dinner, 6:30pm KSA 
*18Aug~Last quarter of the moon 
*21Aug~OTA Arts Festival 7:30pm Otamatea High School 
*22Aug~Saving Mr Banks, 7:30pm KWMH 
*24Aug~Dressage Series Day 3, Hakaru Pony Club, 9:30am 
KWMH=Kaiwaka War Memorial Hall 
KSA=Kaiwaka Sports Association Complex 
See www.kaiwaka.co.nz for upcoming events. 
HOUSEHOLD  RUBBISH  COLLECTION  -  Kaiwaka    Pick  up­
Mondays=Gr een bags ar e picked up by Nor thland Waste-queries 
to  them  09  4303273,Wednesdays=Blue  bags  and  yellow  recycling 
(at  Jaques    $3.00  and  $1.50)    are  picked  up  by  Kaurilands  09 
4392146.  
*DIABETES Support Group -for Kaiwaka, Mangawhai, Wellsford 
   10am, 3rd Friday of month Ph:A.Pert 4238242; J.Gardner 4238060 
*DRINK CAN 'tear tabs' - for Starship Hospital- please collect - 
    98 Kaiwaka Mangawhai Rd, leave in mailbox, Ph. 4312625  
*GYMNASTICS OTAMATEA -  Tuesday Ph: Stephanie 022 3624998 
*HAKARU PONY CLUB-Secretary Julie Rynne 09 4314520 
*KAIWAKA BADMINTON -Tuesdays 7.30pm Ph: 4312345 
*KAIWAKA GARDEN & FLORAL Grp:2nd Thursday in month 
   Ph: 4314767 
*KAIWAKA CUBS-Thursdays 5.30-7pm, Hakaru  Ph:Bruce  4312542 
*KAIWAKA SQUASH -Mondays 7pm Ph: Barbara Thomas    4315905 
KNITTING FOR WHANGAREI HOSPITAL - 2nd Tuesday in  
   month, Apple Basket 10am Ph 4314827 
*MANGAWHAI COMBINED PROBUS CLUB: 2pm,3rd Thursday  
   month in the Senior Citizens Hall Mangawhai. Ph: 4315777 
*NZ GENEALOGY-Wellsford - 1st Thursday in month Ph: 4237033 
*OTAMATEA GREY POWER-09 431 8138 Joan Hoggard  
*PT CURTIS CRUISING CLUB - Jean Ph: 4312 246 
*RSA,Hakaru & Dist.Women- meet 1.30pm 4th Thurs in month Ph: 4312 668  
*TRAMPING- Mondays 9am-2:30pm  Karen Ph: 4312 090 
*WAIPU GENEALOGYGROUP -4th Monday in month Ph: 4312725 
*YOGA- Tuesdays 6:15pm, Friday 8:30am Kaiwaka WM Hall Carla  
   Ph: 4312 408, 021 296 8794
CHURCHES:
*Gateway Worship Centre: St Mary's Church Nathan Rd off Oneriri Rd, 
Kaiwaka Services, 10.30am 1st & 3rd Sunday of every month. Contact: Rev 
David Gage 4312528 or 0212354282 
*Kaiwaka Family Church-Your Community Church:Sundays, l0am 
Home Group every Wed evening, Pastor John.Dekker Ph: 4318203 
*Kaiwaka Services.Anglican & Family Service at St Pauls Church  - 1st 
Sun. 9.30am(Anglican),3rd Sun. 9.30am (Family Service).  Parish Office 
9am-12pm Fri Ph 09 4318193 mangawhaichristking@xtra.co.nz 
*Church of Christ the King, Mangawhai:9.30am every Sunday 
*St.Mary's Catholic Church: Maungaturoto – Griffins Road, Saturday 
evening Vigil Mass 6pm; Mangawhai – Senior Citizens Hall, Sunday Mass 
8:30am; Wellsford – Matheson Road, Sunday Mass 10:30am; Mid-week 
Mass times and all enquires to Fr. Bill Fletcher – phone 423 8170 
*Baptist Church: Sun. 10.30am Mangawhai Snr Cit.Hall.Ph:4312339 
*Cause Way Church Mangawhai: Sundays 10.15am, Mangawhai 
Community Recreation Centre, Insley St. Ph: 09 4314782  
*St.Pauls Archie Bull Hall HIRE  $20 half day, $40 full day per hire 
 Contact G. Jaques 4312048 
*Kaiwaka War Memorial Hall HlRE - Phone 4312725 or   
Email  
kaiwaka.hall.bookings@gmail.com 
*Hakaru Community Hall HIRE -Ph.  4312256 or 4312110 
*Te Pounga Marae queries -A.Gage 4312528, 4312527 
*Kaiwaka Sports Association hire/queries - C. Anderson 4312051 or 
Email kaiwakasports@gmail.com
Justice of Peace: B.FJaques; L.Donaldson; A.F.Hargreaves  -please phone to 
make sure they are available 
Marriage Celebrants: L.Donaldson; A.F.Hargreaves; C.Rosseels
Next Bugle Deadline Friday 15 August 2014