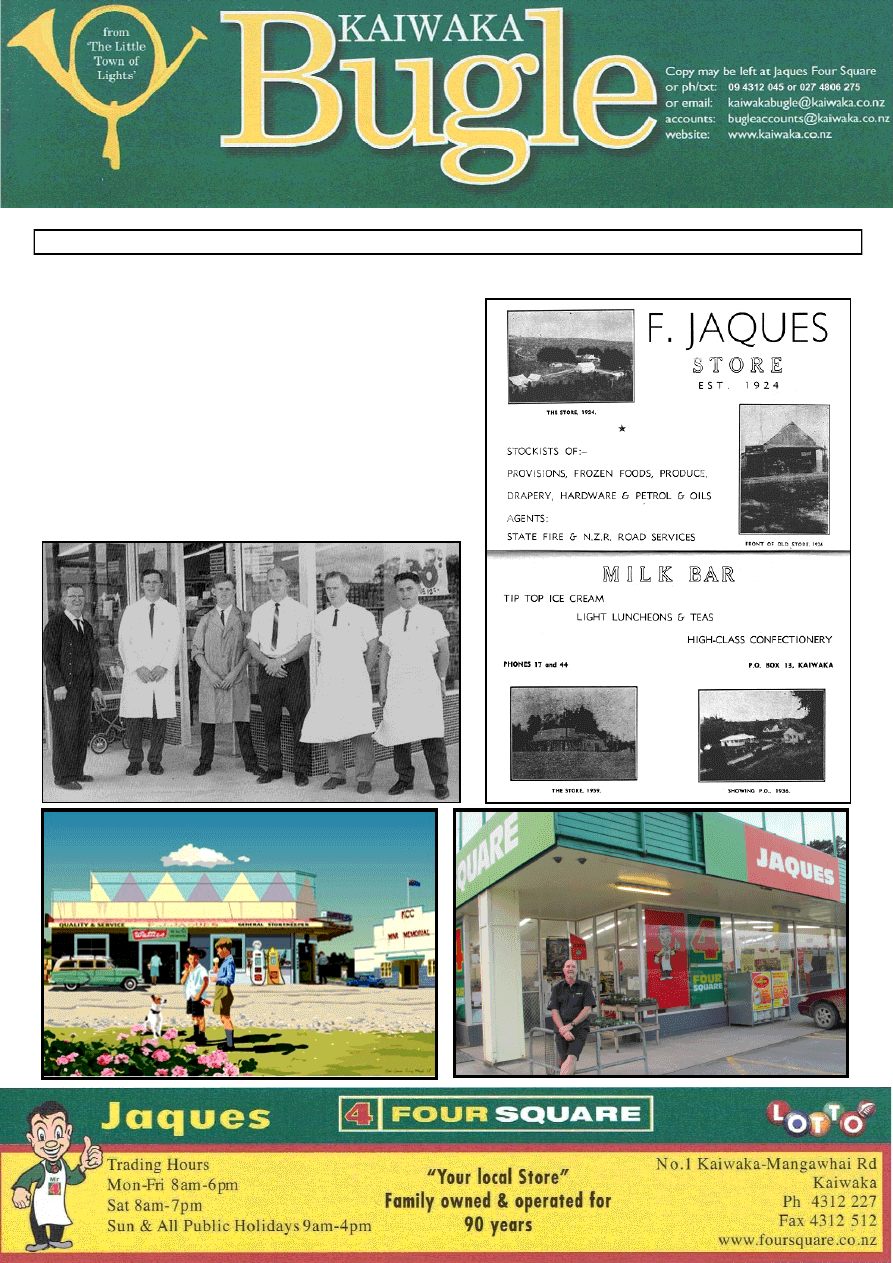 No: 16 
19 August 2014 
The closest date that can be found for the start of what is now Jaques 
Four  Square  'dynasty'  is  the  12th-13th  August  1924,  when  Frank 
Jaques  bought  the  store  from  the  previous  owner.  Glen  and  Dalleise, 
Greg and Paula, and parents  Brian and Gay  took over the  business  in 
November  1998.  The  sons  and  daughters-in-law  bought  Brian  out  of 
the business in 2000, and he continues to work 3 days per week in the 
shop. There are now fourth-generation Jaques' children working in the 
store. They are rightly extremely proud of their long-standing history. 
I  can  recommend  reading  "Welcome  to  the  Wonderstore"  pages  156-
163  written  by  Roger  Smith  in  his  book  'Stories  Tall,  Stories  Short  - 
Kaiwaka 1959-2009' as a brilliant record of the this wonderful Jaques' 
family store.  
Right: Pages  98-99 of  'Centennial  of  Kaiwaka  1959   2 page  'Advertisement' 
taken out by Frank Jaques. 
Photos - below:  Frank and his sons, Brian, Alan, Bill, Reg and Ken, outside the  
new Jaques Four Square Store 1967; below right: Greg Jaques outside the Store 
-  August  2014;  below  left:  Image  supplied  by  Contour  Creative  Studio, 
Kaiwaka., of the Store in the 1950s. 
Image supplied by Contour Creative Studio , Kaiwaka
90 YEARS: JAQUES FAMILY STORE 
Is it the longest running family owned grocery business in New Zealand?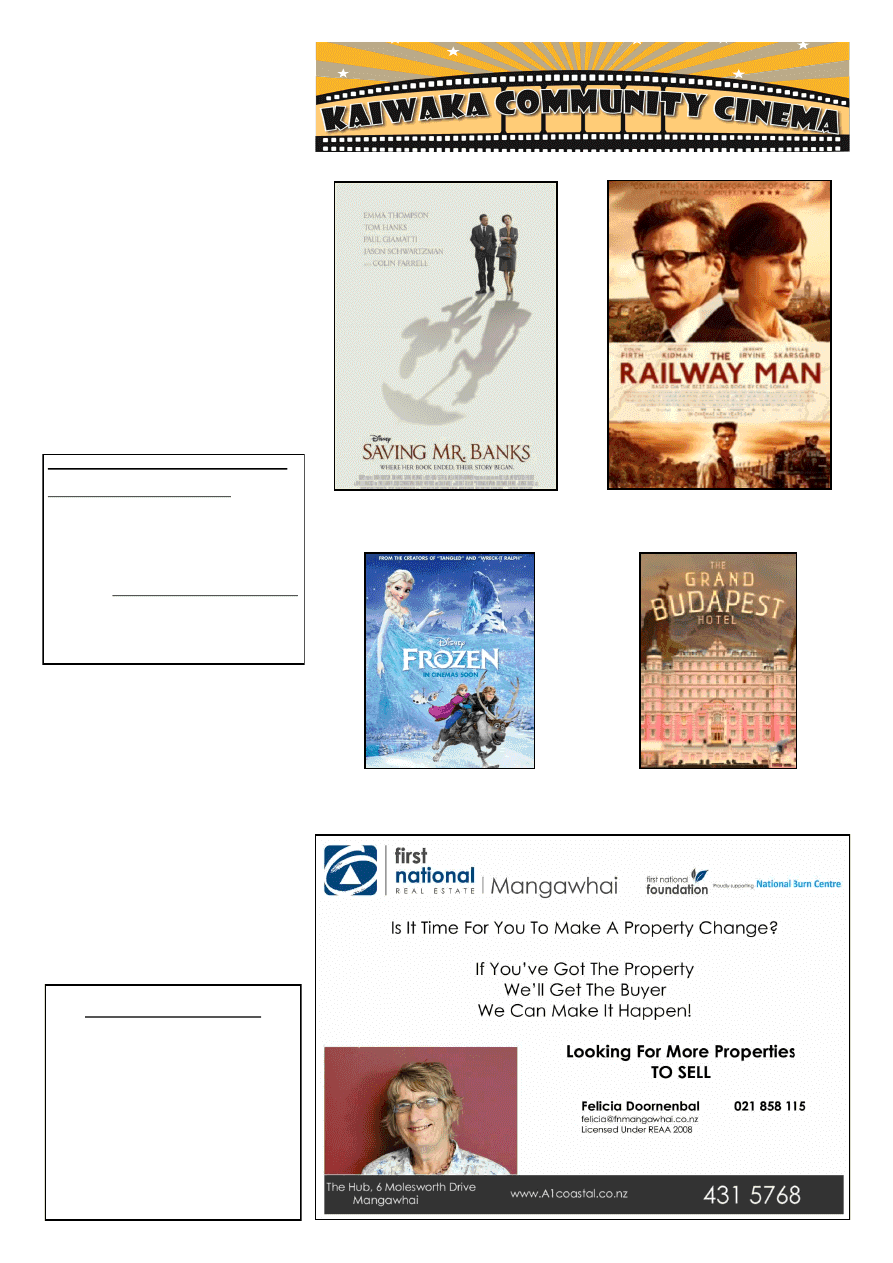 ABOUT TOWN 
......... 

 Daffodil  Day  -  volunteers  will  be 
collecting  outside  Jaques  Four  Square 
on Friday 29 August. 

 2  September,  5.30pm    -  have  your 
say  on  the  future  development  of 
Kaiwaka  -  see  the  notice  on  page  5. 
Anyone else have a feeling of déjà vu? 
I'm sure we went through this exercise 
a  few  years  back;  hope  our  hard  work 
has not been forgotten. 

Update  from  Shamrock  Auto  Care: 
Ross is recovering well from his heart 
surgery;  Irene  and  Zoe  are  doing  just 
fine, too. 
KAIWAKA BUGLE No: 16 
19th August 2014
Page 2: Kaiwaka Movies 
Page 3: Public Notices; Classifieds 
Page 5: Country Calendar, Gymnastics 
Page 7:  Kaiwaka Sports Association 
Page 9:  Kaiwaka Hockey before the 
war 
Page 11: WW1 Centennial Dinner 
Page 13: Otamatea High School 
Page 15: September Night Sky 
Page 17: Pt Curtis Cruising Club 
Page 19: Kaiwaka School 
Bugle 17 will appear 2 September 
Contact for advertising, reports, articles 
or information can be made by 
Email kaiwakabugle@kaiwaka.co.nz 
Ph: 09 4312045 
Txt:  0274 8062 75
Business card adverts can now be added 
to the KMG website– email contact to: 
kaiwakaonline@kaiwaka.co.nz 
Kaiwaka Bugle Advertisements 2014: 
All 
copy 
and 
queries 
to: 
kaiwakabugle@kaiwaka.co.nz 
Classified $3 (max 30  words);  1/8 page $6; 
1/4  page  $12;  1/2  page  $24;  in  special 
circumstances  whole  page  adverts  are 
available-cost $100 
Payments  can  be  online,  posted  or  left  at 
Jaques Four Square Store. 
Accounts: bugleaccounts@kaiwaka.co.nz 
The  Kaiwaka  Bugle  is  a  community 
newspaper run by volunteers.   
Articles,  etc.  printed  are  not  necessarily 
the opinion of the Bugle Team. 
Kaiwaka Bugle 
Founded May 1978 
Copies available in Kaiwaka at Jaques Four 
Square, Kaiwaka Postal Centre, Shamrock 
Service Station, Celena's Gifts 
Also outlets in Maungaturoto, Mangawhai 
and Paparoa. 
Can be viewed online at www.kaiwaka.co.nz/
Bugle 
Or a copy can be posted to you if you supply 
stamped, self-addressed DLE envelopes. 
Frozen 
Sunday 7 September 2:00pm (PG)
The Grand Budapest Hotel 
Friday 19 September 7:30pm 
(PG) 
At Kaiwaka War Memorial Hall . Adults $10, Chn (under 16) $5, Family Pass (2 adults + 3 children) $25 
Saving Mr Banks 
Friday 22 August 7:30pm 
(PG) 
The Railway Man 
Friday 5 September 7:30pm 
(M)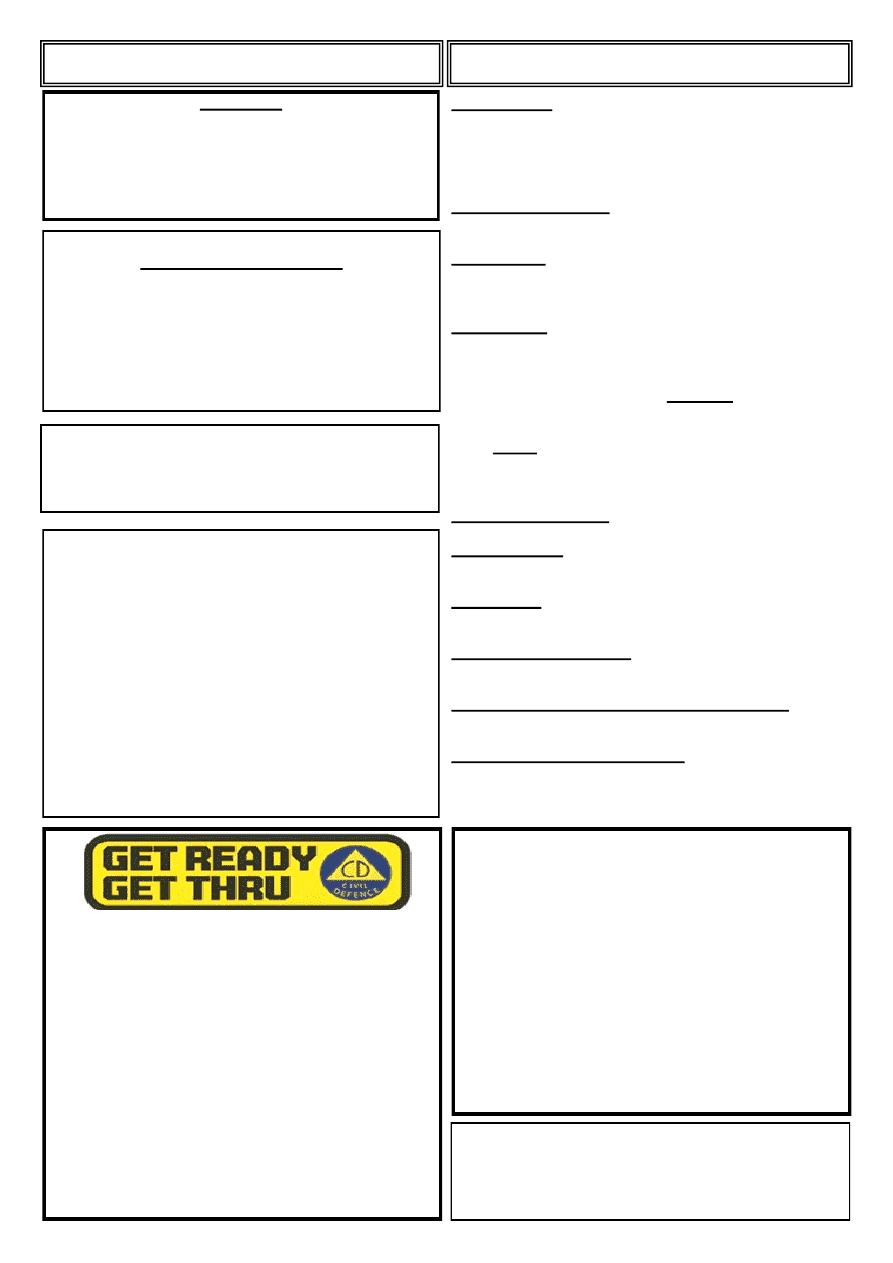 PUBLIC NOTICES 
CLASSIFIED 
FOR  SALE:  Jill  Shires  Holistic  Animal  Therapies. 
Herbal  Remedies,  Bach  Flowers,  Ointments,  
Diatomaceous  Earth,  Bentonite  Clay,  Cranio  Sacral 
Therapy,  Skin  Conditions,  Arthritis,  Laminitis,  Mud 
Fever 
Cream 
etc. 
www.allcreatures.co.nz 
or  
09 431 2080 
LAND  FOR  SALE:  10  acres  Oneriri  Peninsula, 
$199K.  On  Trade  Me:-  property  ID  BDV356  or  Ph 
021 237 7678 
FOR  SALE:  Cattle  -family  of  4,  two  mothers,  one 
Friesian & one Hereford cross, 2 Angus weaner calves, 
one steer & 1 heifer. If sold together, 20% discounted 
off current market value. Phone 431 2992 
FOR  SALE:  bike  26"   5  gears  $25;  computer  & 
printer old style working $45; speakers pair lge approx 
10"  $35  ono;  bike  trolley  $65ono;  folding  bed  metal 
tube  &  wire  with  mattress  $30;  2x  new  steam  sauna, 
folding VG winter gift $395; OFFERS: kayak black as 
new;  dinghy  needs  tlc;  scuba  tank;  pvc  plastic  pipe 
new 3/4" large roll; anchor galv chain & warp for din-
ghy.  FREE:  helmet  red  men's;  office  swivel  chair; 
Sony  TV  approx  20"  old  style  remote  working.  Ph 
4312992 
WANTED TO BUY: Fibreglass shower cubicle. Pls 
ph Adrian 09 4312 296 
SIT VACANT: Kitchen Hand wanted. Must be able 
to  work weekends and  multi-task. Ph Café  Bianca 09 
4312 327 or 021 044 7508 
HASHTAG  Band  for  hire.    A  lively  mix  of  covers 
and original music.  Make your night special.  Ph: 021 
623 776  
BERYL  NOZEDAR:  (Middleton)  International  
Clairvoyant.  Numerology,  Tarot,  Clairvoyance,  
Mediumship. $60 for hour includes CD. Ph: 4312 080 
CLOTHING ALTERATIONS & REPAIRS: 
Hems,  Zips,  Dressmaking  Phone:  Win  4312027    or 
027 444 8358 Winsome Designs. 
FREE GRAZING WANTED: Small or large block. 
Can  do  some  fencing  or  water.  Phone  after  6pm 
312006 
Thought for the day:
 The man (person) who sets a 
trap for others will get caught in it himself. Roll a boulder 
down on someone, and it will roll back and crush you! 
Proverbs 26:27 
Knit and Natter
10am Tuesday 26th August
at Cafe Bianca, SH1, Kaiwaka
Bring W.I.P.
Please support venue
Info: 431 2522  
Pat Mason 
The Mason family would like to express our thanks 
to  all  those  who  attended  Pat's  funeral  and  the 
luncheon afterwards. Our gratitude also  goes out  to 
everyone for  your sympathy cards and support, and 
those who helped on the day of the funeral. 
The Mason family 
Hakaru RSA Settlement Road presents 
Debbie Dorday & Jim Joll 
Putting on the Ritz 
A show not to be missed 
Fabulous costumes, comedy, and music 
$25pp Supper included 
Saturday 13 September 7pm 
Tickets available from: 
RSA 4312 176, Marlene 431 5589, Sheryl 4312 697, 
Heather 431 4668 
Kaiwaka War Memorial Hall Assn Inc 
Annual General Meeting 
Wednesday 10 September 2014 at 5pm 
In the Supper Room at the hall 
All welcome 
Kaiwaka's very popular 
CHEESEMAKING WORKSHOPS 
will  start  again on 30  August (9am-3 pm, incl lunch) 
OR 
You supply the milk, I make the cheese for you. 
Cheese from your own farm - can't get much better! 
For more info or bookings contact  
Ad (founder of Kaiwaka Cheese Shop)  
on 09-4312234 or 021 2154495 
Civil  Defence  emergencies  can  happen 
anywhere, even in Kaiwaka!!! 
To  help  us  be  better  prepared  the  Northland  CD  
Emergency  Management  is  holding  a  workshop  for 
South Kaipara folk on  
SATURDAY 30 AUGUST from 9.30am to 2.30pm 
in the Kaiwaka War Memorial Hall. 
After  attending  one  of  these  well-run  workshops  in 
Ruakaka  at  the  end  of  last  year,  I  can  confirm  it  is 
interesting, informative, hands-on, makes you think, 
and fun!  (Bring your acting skills.) 
Flyers outlining the programme are displayed at the 
Post Office and Jaques Four Square. 
Anyone  interested  in  attending  may  contact  any  of 
the following: Trevor Andrews trevora@nrc.govt.nz; 
Jan 4312 416;  Wendy 4312 725; or Sarah 4312 351. 
Jan Vaudrey, Kaiwaka Community Response Group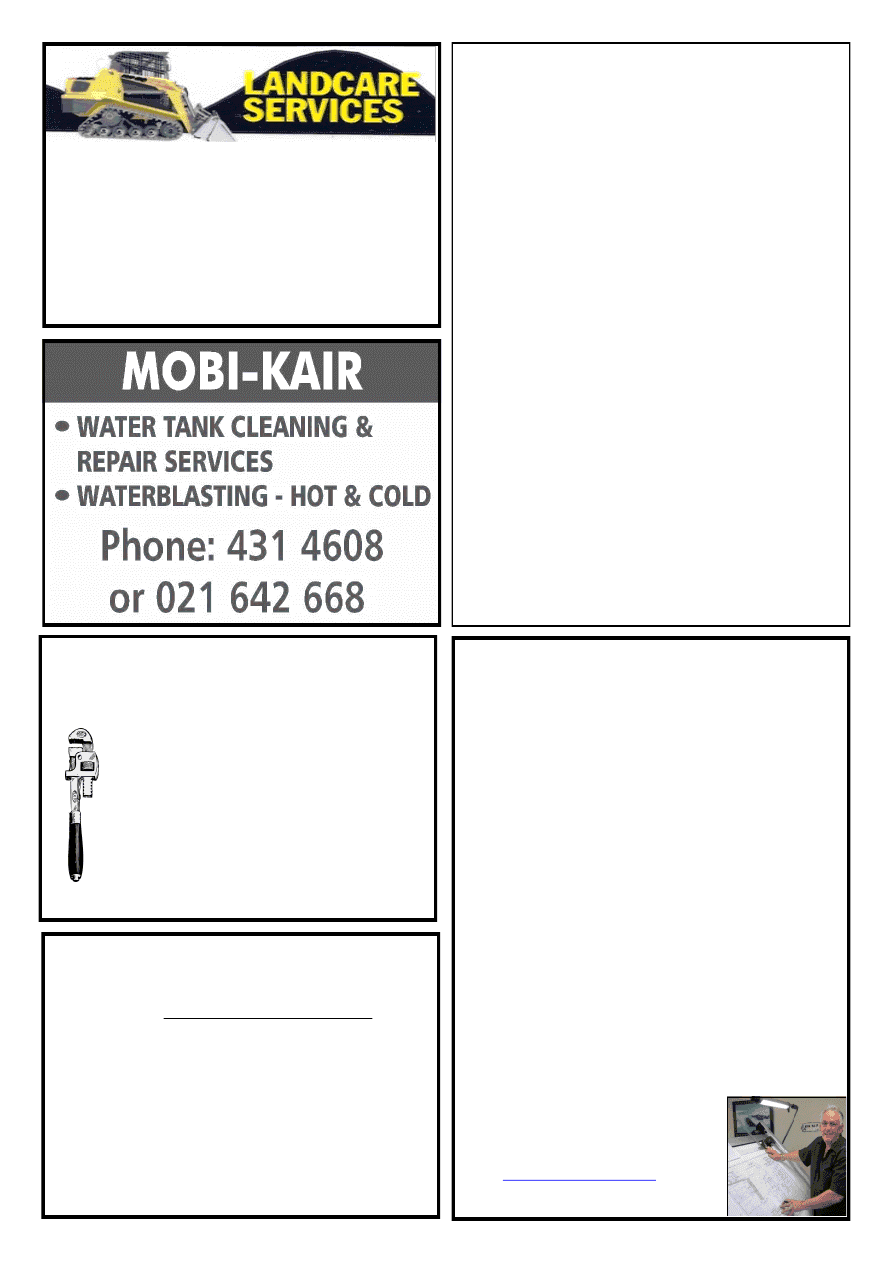 PAUL SAUNDERS 
LAWNMOWING 
& GARDEN 
MAINTENANCE 
 
Residential and commercial 
 
Lawns and edges    
 
Section mowing 
 
Garden makeovers 
 
Hedging and trimming 
 
Spraying 
Friendly and reliable service guaranteed 
Call now for a free no obligation 
quote 
021 886 843 
09 431 3318 
Servicing Mangawhai and Kaiwaka 
and surrounding areas 
paulsaunders99@gmail.com 
LANDSCAPING 
4 IN 1 BUCKET 
TRENCHER 
POLE HOLES 
ROTARY HOE 
COMPACT ROLLER 
OFFAL HOLES 
CAN SUPPLY WOODCHIP & POST PEEL 
5 TON TIPPER 
FOR RELIABLE AND FRIENDLY SERVICE CONTACT DAVE 
Dave Hyndman 
 
KAIWAKA 
PH: 09 4312302 
MOB: 021 431 238 
ARCHITECTURAL BUILDING 
PLANS AND DESIGNS 
WRIGHT DESIGN 
 
QUALIFICATIONS 
Brian is a qualified designer (NZCAD) with over 40 years of 
varied experience in all types of building and is a registered and 
Licensed Building Practitioner in Design - L.B.P. 117345 
He ensures you will achieve the best from your budget with 
recommended excellent local contractors ready to competitively 
price and build your personal project quickly and efficiently. 
 
EXPERIENCE 
Brian's practical building and 40+ years of design experience 
means he can give you excellent advice and all the guidance 
needed for all your building needs 
v Wright Design offers free visits, consultations and all the 
advice you need on planning, design, building, contractors, 
council permit applications, etc. 
 
" Qualified and inexpensive designer – N.Z.CAD., LBP 117345 
" Guaranteed design and working drawings 
" Free site visit to your home or property 
" Great service 
" Great problem solver 
Call Brian ~Arrange a visit to discuss your needs  and obtain 
great advice and free quotation 
MAKE GOOD USE OF HIS EXPERIENCE and 
KNOWLEDGE 
WRIGHT DESIGN:  
360 Oneriri Road, Kaiwaka
Office 09 4312544  
Mobile 021 276 7389  
Email: 
www.wrightdesign.co.nz 
BARRY CURTIS PLUMBING LTD 
REGISTERED CRAFTSMAN PLUMBER 
Phone 4315572 
027 257 9884 
25 years experience 
Friendly reliable service 
All plumbing and maintenance 
Alterations and new housing 
New wood fire installation 
Spouting 
Competitive rates 
PROMPT EFFICIENT  SERVICE 
 Yang Style Tai Chi 
Classes 
For Beginner And Practitioners  
At The Kaiwaka War Memorial Hall 
Every Tuesday  Starting at 10.30 am 
Come Along And Have Some Fun 
While Improving Your Balance Health 
And Fitness
For More Information
Contact 
Andrew Young 09 4223424 
Please don't change it!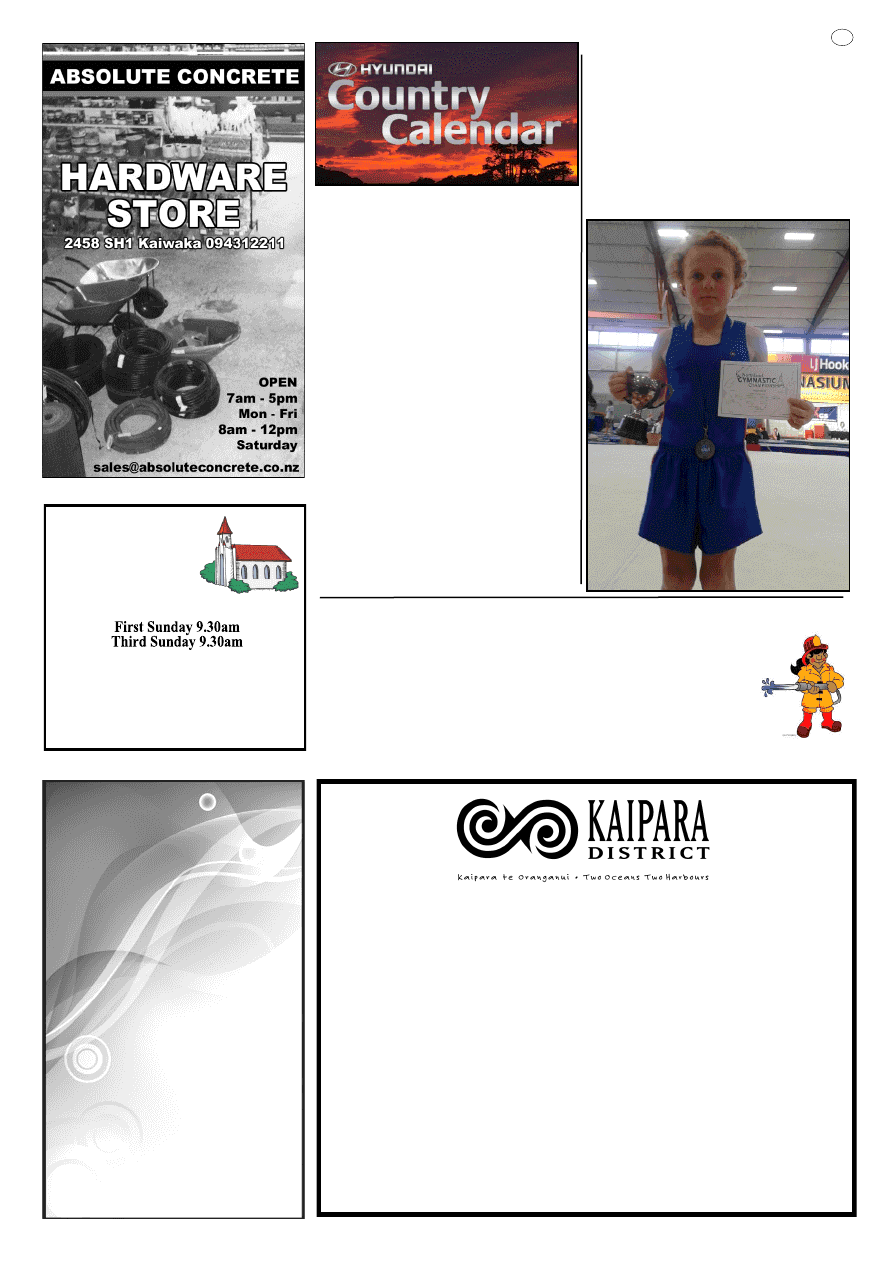 5 
U Beauty 
            Underarm Wax  
    $20 
            Extended Bikini Wax   $30 
            15 min Back  Massage  $25 
            30 min Back Massage  $50 
Please call Nicole for bookings 
09 393 6336 or 022 0639450 
Qualified Beautician 
4 Kaiwaka – Mangawhai Rd 
Kaiwaka 
Eyebrow Wax  $10 
Eyebrow Tint  $10 
Eyelash Tint 
$20 
Lip Wax 
$10 
Chin Wax 
$10 
Bikini Wax 
$20 
Brazilian 
$50 
½ Leg Wax 
$30 
Full Leg Wax  $45 
Full Pedicure  $60 
Foot Tidy  
$35 
Manicure 
$45 
Nail Tidy 
$25 
Chest Wax 
$30 
Back Wax 
$40 
Nostrils 
$10 
Ears 
$10 
Country  Calendar  is  interested  in 
finding  a  farming  family/  story  that 
connects to the war. We would like to 
put  something  to  air  next  year  during 
the  Anzac  commemorations.  It  would 
be  helpful  to  have  suggestions  of 
possible  farming  families  worth 
contacting  (as  well  as  their  contacts 
please).  They  would  need  to  be 
currently farming and have some direct 
connection  to  the  war  -  for  EG  -  they 
may  have  had  the  farm  passed  down 
from  previous  generations,  such  as 
returning soldiers who got ballot farms. 
It would also be good if they knew the 
family farm history and were interested 
in talking about it. Please let me know 
if you have any queries. 
My contacts are listed below. 
Vivienne  Jeffs,  Researcher,  Hyundai 
Country Calendar, TVNZ.  
Phone  09  419  0841,  021  246  1424  or 
okaylucyj@gmail.com 
KAIWAKA VOLUNTEER FIRE BRIGADE 
The members of our local brigade are combining their fundraising 
with their love of fishing!   
Their  open  fishing  contest  will  be  held  1st  and  2nd  November, 
with weigh-in times at 6-8pm on the Saturday and 2-4pm on the 
Sunday. 
There will be great prizes for the fish - snapper, kingfish, kahawai 
or  crayfish  -  weighed  in.  All  fish  weighed  in  or  donated  will  be 
auctioned, with proceeds being donated to our Kaiwaka Volunteer 
Fire Brigade. 
U Beauty 
            Underarm Wax  
    $20 
            Extended Bikini Wax   $30 
            15 min Back  Massage  $25 
            30 min Back Massage  $50 
Please call Nicole for bookings 
09 393 6336 or 022 0639450 
Qualified Beautician 
4 Kaiwaka – Mangawhai Rd 
Kaiwaka 
Eyebrow Wax  $10 
Eyebrow Tint  $10 
Eyelash Tint 
$20 
Lip Wax 
$10 
Chin Wax 
$10 
Bikini Wax 
$20 
Brazilian 
$50 
½ Leg Wax 
$30 
Full Leg Wax  $45 
Full Pedicure  $60 
Foot Tidy  
$35 
Manicure 
$45 
Nail Tidy 
$25 
Chest Wax 
$30 
Back Wax 
$40 
Nostrils 
$10 
Ears 
$10 
ST PAUL'S  
ANGLICAN  
SUNDAY  
SERVICES
St Pauls Church: Kaiwaka-Mangawhai Rd. 
1st Sun - Eucharist 
3rd Sun - Family Service 
Office 4214 122 
Contacts:M.Hargreaves 4312295, C.Bygrave 4312057  
Kaipara District Council 
Invites you to a
Public Meeting 
Tuesday 2 September 2014 
at 5.30pm 
Kaiwaka Sports Association Complex - Gibbons Road  
Kaipara District Council wishes to hear your ideas for Kaiwaka. 
Please come along and let us know how we can support your initiatives.  
A light supper will be provided.  
Let's work together! 
On  Saturday  16  August  Gareth 
Ferguson 
won 
the 
Northland 
Gymnastics  Championship  for  his 
level, and received the winning trophy 
for  best  points  overall  for  the  2014 
competition. 
Gareth 
has 
dual 
membership with Whangarei Academy 
of 
Gymnastics 
and 
Gymnastics 
Otamatea. 
TOP GYMNAST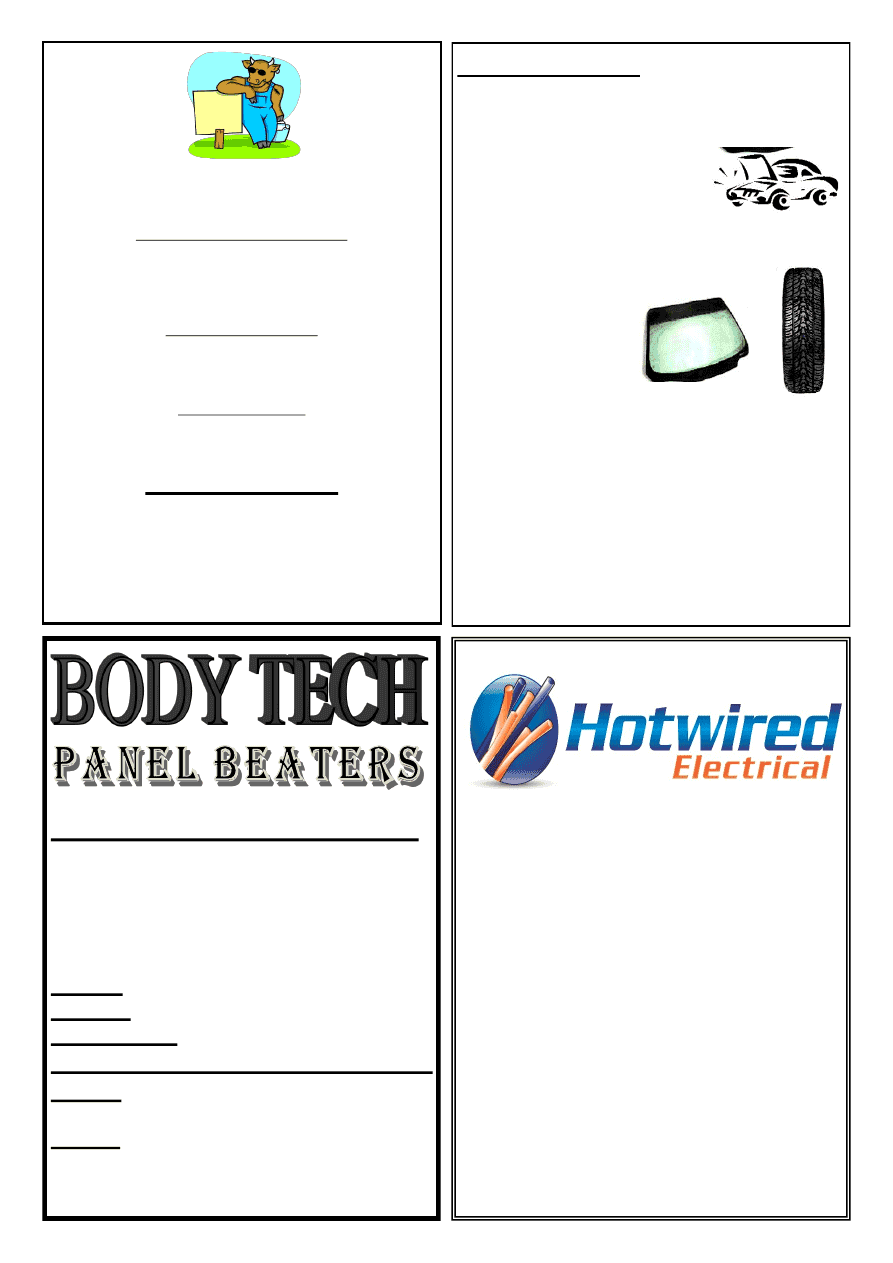 For all your body repair needs!! 
We do: 
 
Rust repairs 
 
Insurance work 
 
Anti-corrosion  
   treatment   
Hours: 8.30am-5pm Monday-Friday  
Mobile: 021 118 0462 
After hours: 09 431 2384 
Phone: Craig or Call in for a free 
Quote 
bodytech_panelbeaters@yahoo.com
We are located at 1837 SH1 Kaiwaka, behind Twin-
kle Tow 'n' Tyre call in anytime for a free quote.  
 
Large and minor vehi-
cle repairs
 
Industrial vehicles
 
Full Cut and polishes
For All your  
Electrical  Requirements 
 
Domestic small jobs 
 
Residential dwellings and alterations 
 
Commercial 
 
Industrial                 
No job too big  
or too small    
Contact Jason today on: 
(09) 431 5992, (021) 405 019 
www.hotwiredelectrical.co.nz 
Want it done? 
Bring it to  
Twinkle Tow 'n' Tyre 
*W.O.F. 
*Tyres 
*Windscreen replacement 
*Chip repairs 
*Bulk Oil 
*Batteries 
*Welding 
*Custom built trailers 
*Trailer hire 
Think you'll get a better deal in the city? 
Go on, ring us; it won't cost anything! 
1837 State Highway 1, Kaiwaka 
Phone 431 2823 
Call A Farmer
Winter Broad Acre Weed Spraying 
Thistles, Buttercup and other broad leaf weeds 
Now is the time to spray 
Ground based spray application 
We can get where others can't 
Fertiliser/Urea Spreading 
Low impact ATV and tandem spreader application 
We can get there when your tractor can't 
No tractor tracks through your new grass! 
Pro-gibb Application 
Get that grass growing! 
We cover Farms and Lifestyle Blocks    
BOOK NOW!!
See our website for more services 
www.callafarmer.co.nz 
Office 09 423 7585
027 625 5383 
We can 
do that! 
Please don't change it!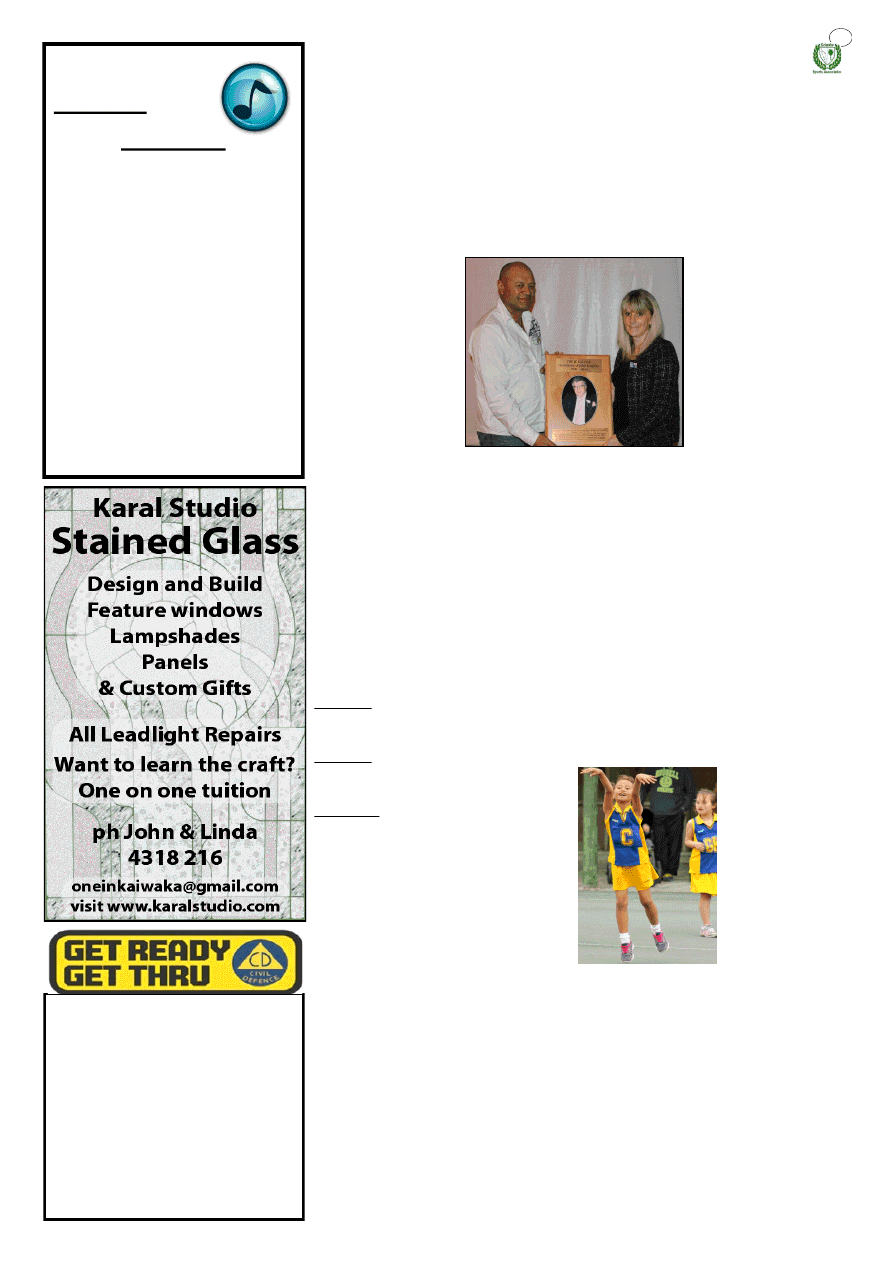 7 
KAIWAKA SPORTS ASSOCIATION 
 Singing  
Lessons
Individual sessions 
All styles of music  
All voice types 
Reasonable rates 
Phone  
Maura Flower 
021 164 8318
 LEABOURNS 
Passenger Service
Car & Van Hire 
Bus & Coach Charters 
Airport Transfers 
 Monthly Shopper Bus 
Phone (09) 4237416 
JOHN KEIGHLEY 
It  was  fitting  that  John  Keighley's 
memorial plaque was unveiled at a function 
at  the  Kaiwaka  Sports  Complex  on 
Saturday, as John was one of the founding 
members 
of 
the 
Kaiwaka 
Sports 
Association. 
John Keighley, known affectionately as JK, 
was  the  inaugural  Chairperson  of  the 
Kaiwaka  Sports  Association  and  his 
contributions  included  setting  up  the  KSA 
poker  machines  and  initiating  the 
Sweetwaters  fundraiser  in  the  late  1970's 
which 
raised 
over 
$80,000. 
John,  who  died  last 
month  after  a  long 
struggle  with  illness  in 
his 
old 
age, 
was 
involved  in  most  sports 
clubs  and  community 
groups  in  Kaiwaka. 
Every  community  has 
someone  who  does 
everything  and  gets 
things  done  -  that  was 
John for Kaiwaka.  
In  acknowledgment  of 
John's  immense  contribution  to  the 
Kaiwaka  Sports  Association,  he  was 
awarded  with  the  KSA  first  Life 
Membership  in  1981.  In  his  honour,  the 
pavilion  will  now  be  known  as  the  JK 
Lounge. 
Rugby – JMB 
Our junior rugby club, Eastern United, held 
their AGM last week. Jennie Reynolds has 
stepped down as President - many thanks to 
Jennie for her service to the club, and thank 
you to Justin Walker who has taken on the 
role.  The  end  of  season  prizegiving  was 
held  after  the  AGM,  thank  you  to  Hawks 
members  Jordan  and  Trevor  Linnell  and 
Northland  player  Daniel  Hawkins  who 
attended the prizegiving. 
Congratulations to the prizewinners: 
Under 7's 
Team Spirit: 
  Leayah Buxton 
Most Improved: 
  Zak Wakeling 
Player of the Year:    Sammy Wakeling 
Under 9's 
Team Spirit: 
  Breez Robson 
Most Improved: 
  Teina Whare-Paikea 
Player of the Year:    Branden Edwards 
Under 11's 
Team Spirit: 
  Boyd Wintle 
Most Improved: 
  Sam Woolley 
Player of the Year:    Brayden Wintle 
Rugby – senior 
The  prizegiving  for  the  Otamatea  Hawks 
Reserves  and  Premiers  will  be  held  this 
Sunday,  at  1pm,  at  our  Sports  Complex. 
All welcome. 
Rugby – IMB 
Our  Otamatea  U14's  and  U16's  will 
celebrate  the  end  of  their  season  with  a 
prizegiving  this  Friday,  6.30pm  at  the 
Maungaturoto  Country  Club.  All  family, 
friends  and  supporters  are  welcome  to 
attend. 
Taniwha Shield 
The 
Rodney/Otamatea 
team 
which 
competed  in  the  five  day  Taniwha  Shield 
rugby  tournament  held  last  month  at  the 
Sports  Complex,  held  their  prizegiving  on 
Friday. 
Congratulations 
to 
the 
prizewinners: 
Most Focused - Isaac Sheppard 
Most Improved Back - Ethan Whyte 
Most Improved Forward - Jackson Brown 
Most Promising Yr 7 Back - Brady Foster 
Most  Promising  Yr  7  Forward  -  Denzal 
Peeni 
Top Try Scorer - Brady Foster 
Best Back - Javarne Porter & Rocky Olsen 
Best Forward - Zack Hamlin 
Fairest Team Member - Blake Everson 
Players of the Tournament - Rawiri Walker 
& Isaac Sheppard 
Gymnastics 
Our  gymnastics  club  will  hold  their  AGM 
on  Tuesday  2nd  September  at  5.45pm  in 
the  gymnasium  foyer.  All  gymnastics 
families are encouraged to attend. 
Shake Your Groove Thang! 
A disco will be held at our Sports Complex 
on Friday 29th August, 7  – 9pm. This is a 
fundraiser 
for 
the 
Kaiwaka/Mangawhai 
Scout  Troop  and  is  being 
organised  by  two  of  the 
Scouts,  Holly  Anderson 
and  Jessika  Wintle.  More 
details  on  the  flyer  in  this 
edition of the Bugle. 
Park Over Property 
Did  you  know  that  the 
Kaiwaka  Sports  Complex 
is  a  registered  Park  Over 
Property?  Travellers  are 
welcome to park overnight 
at our grounds - toilets and 
showers  are  available.  A  small  donation 
left  at  Jaques  Four  Square  is  appreciated. 
Share  this  information  amongst  your  RV 
friends!  
World War One 
Our  Centennial  Dinner  on  Saturday 
marking  the  100th  anniversary  of  World 
War  1  was  a  great  success.  You  can  read 
about  the  evening  in  the  report  in  this 
edition of the Bugle. Many thanks to Mark 
Ottaway who put this evening together, and 
thanks also to the catering team who put on 
a lovely meal – Mark, Pam, Tony, Lindsey, 
Corina, Karen and Heather. Thank you also 
to  Teresa  Brown  who  took  photos 
throughout  the  evening,  the  photos  can  be 
viewed 
on 
our 
website 
www.kaiwakasports.co.nz. 
Summer Sports 
With our winter sports winding up shortly, 
we  will soon be  looking at  starting  up our 
summer  sports  –  touch  and  tennis.  More 
details to follow. 
Junior Netball 
Our  Kaiwaka  netball 
teams  joined  in  the 
festivities 
at 
Wellsford 
on 
Saturday to mark the 
50th  Jubilee  of  the 
Netball 
Rodney 
Centre.  Pictured  is 
Faith  Pene,  8  years 
old, 
playing 
for 
Kaiwaka Team 2. 
Fitness Centre 
Subs  for  our  Fitness 
Centre  are  an  annual 
fee of just $140 for a 
single  or  $230  for  a  family  (2  adults  +  2 
students). This is fantastic value as you will 
get  24/7  access  for  a  year  to  a  centre 
equipped  with  free  weights,  bikes, 
climbers, rowers, treadmills, CV machines, 
sunbed,  toilets  and  showers.  Personal 
training  also  available.  If  you  are  on 
Facebook,  please  like  the  Fitness  Centre 
page  to receive  Julie's regular training and 
nutrition tips. You can purchase a key from 
Jaques  Four  Square,  or  for  more 
information  on  the  Fitness  Centre,  please 
contact  Julie  Harris  on  4321  755  or  027 
6504540. 
~Cheryl Anderson 
4312 051, 027 3462702 
kaiwakasports@gmail.com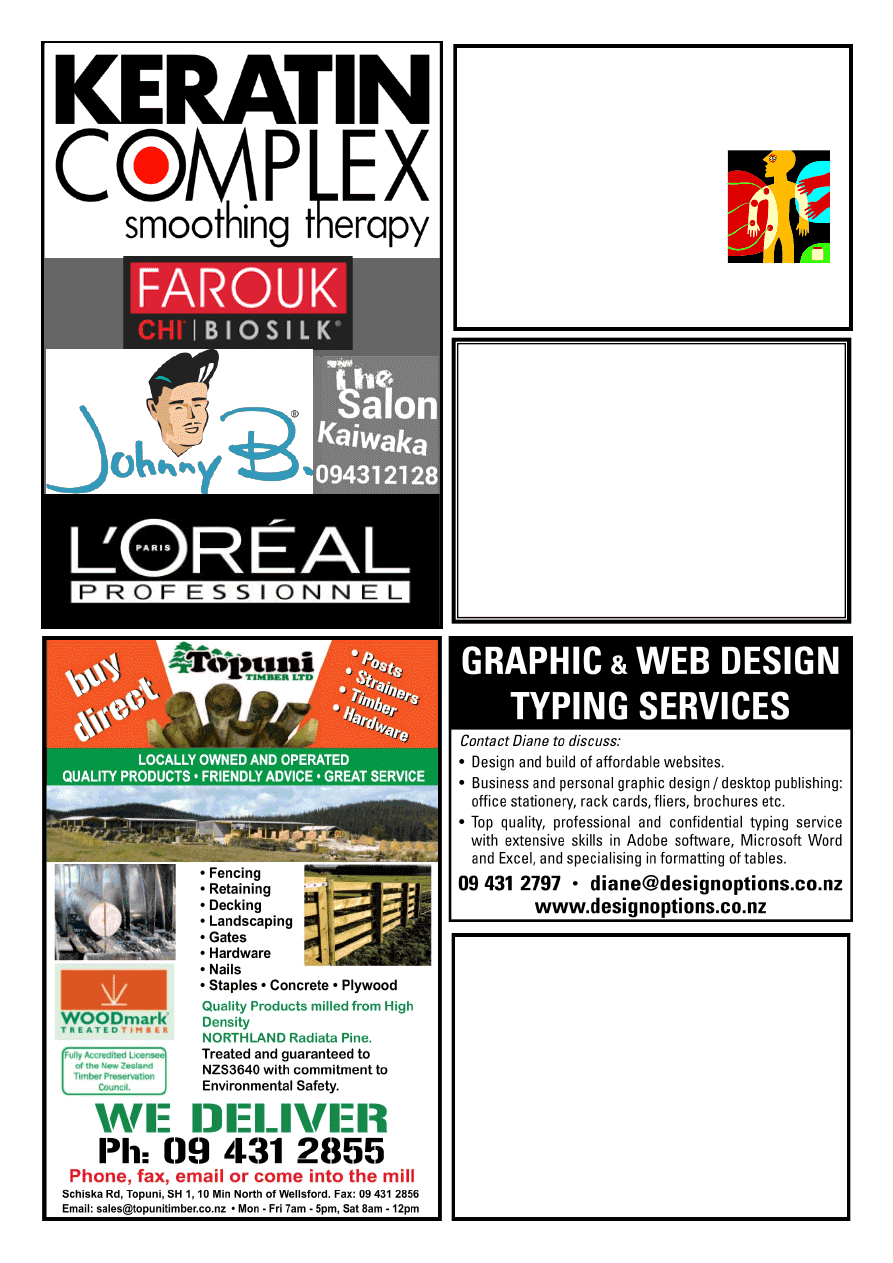 OWEN STEVENS 
Osteo Therapist
For careful adjustments to bones and joints 
Treatment for  humans and their pets 
Clinics: 
Kate's Place, Kaiwaka: 
Last Friday of month 
For bookings:9.00am-5.00pm   
Phone 
09 4312661 
Or phone Owen  09 4317123  anytime 
AMBER'S 
Q Cafe & Restaurant
All day breakfast, 8am - 5.30pm. 
Home made Pizza, take away or eat in from 8am to late. 
Light lunches, 11.am - 5.30pm, Dinner Menu at 5.30pm to late 
Toasted Sandwiches and Sandwiches made to order. 
All day, Pies, Chowder & Soups, Milkshakes, Kiwi Ice cream, Slushie 
Fruit drink, Tea, Coffee 
Closed Mondays.....except Observed Holidays 
Sunday to Thursday: 8am - 8pm,  
Friday: 8am - 8.30pm, Saturdays 8am- 9pm 
4315226 
Trevor & Amber 
41 Moir Street, Shop 5-6,Mangawhai Village 
Next to Carters Building Supplies 
TILING 
Certified Waterproofing 
431 4533 or 021 86 33 33 
George 
MCN Property Solutionz  
Local references available 
Please don't change it!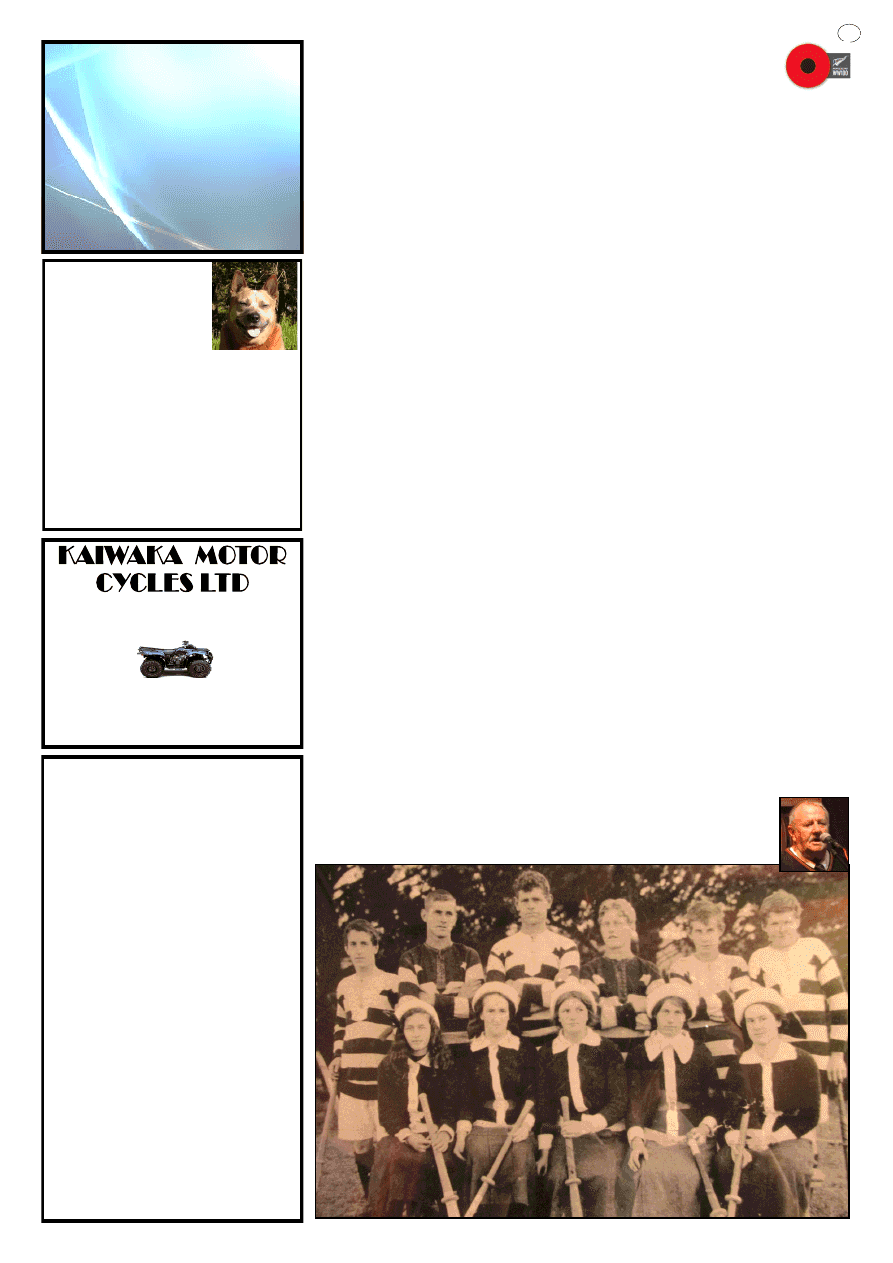 9
Laughing
Dog
Computers
www.laughingdog.co.nz 
0224344448 
Hardware and Software 
Service and Repair 
SALES SERVICE SPARES
FARM BIKE SPECIALIST
Phone 431 2127  
Kaiwaka-Mangawhai Rd 
Kaiwaka 
Willow Bend
HORSE  
HOTEL 
"  
Total Horse Care 
" 
Agistment 
" 
Riding Lessons 
" 
Arena Hire (60x40) 
" 
Young Horse Starting 
" 
Re-training/Exercising 
" 
Hoof Trimming 
" 
Problem Solving
Phone Sue 09 431 
2817 or 021 623 776 
Or email sue.gray@xtra.co.nz 
Freeview  
Installations 
Richard Te Haara 
25 Marram Place 
Mangawhai Heads 
021 1104056 
kiwipride@xtra.co.nz
Bill Leslie presented a photo of what is 
probably  one  of  the  oldest  Kaiwaka 
Sports  teams  to  the  Kaiwaka  Sports 
Association  on  the  night  of  their 
Centennial  Dinner.    Not  only  is  it  a 
very  clear  photo  but  he  told  the  story 
behind  it  and  how  WW1  changed  the 
lives  of  team  members  and  so  our 
community. 
The team would have been resplendent 
in  their  blue  and  white  jerseys  of  the 
1912  KAIWAKA  Hockey  team.  The 
Kaiwaka  Centennial  Book  tells  us that 
102  years  ago  this  group  of  people 
were running around on the KSA sports 
field  (page  107).  This  same  team  of 
people  were  also  the  founding 
members  of  Kaiwaka  Tennis  club, 
having  built  a  tennis  court  behind  the 
Cheese shop the same year. In 1913 the 
courts  were  moved  to  the  current 
Sports Assn also. We know that it was 
not the first time this land was used for 
sport  as  history  also  tells  us  that  a 
cricket  pitch  was  laid  here  in  1880.  A 
period  of  134  years  of  sport  on  this 
same ground.  
From  Bill  …  "The  photo:  The  men  in 
the photo are:  
Archie  McClean,  who unfor tunately  
had a hearing disability, so was unable 
to enlist.  
W.C.  (Charlie)  Leslie,  my uncle who 
went  overseas  in  the  main  body  of 
troops.  He  was  badly  wounded  on  
Gallipoli and spent a year in hospital in 
Egypt before returning home.  
Next  in  the  photo  is  W.W.  (Bill)  
Shelton,  a  gr eat  fr iend  of  the  Leslie 
boys. Bill died of wounds 12 July 1917 
received  at  Messines  Ridge.  Buried  in 
France  -  he  was  courting Mary  Leslie, 
sister  of  Charlie,  Dick,  Frank  and 
Margaret when he was killed. And she  
received  most  of  his  possessions.  She 
never married after losing Bill.  
Next is  R.D.  (Dick)  Leslie,  my father 
who  arrived  on  Gallipoli  on  the  12  
November 1915- his 22nd birthday. He 
spent 4 years and 4 months overseas.  
Next is J.R.  (Frank)  Leslie, my uncle, 
served  in  Palestine  and  was  invalided 
home from Egypt with malaria in 1918.  
W.H.  (Billy)  Williams  of 
Hakaru  was  working  for 
William Leslie, father of Charlie, Dick 
and Frank when he joined up. Billy was 
killed  in  action  8th  June  1917  and  is 
buried  in  Belgium.  Billy  and  Frank 
were  very  close  and  noted  as  the  
Kaiwaka  larrikins.  It  is said  that  if the 
war  had  not  started  they  would  have 
ended  up  in  jail.  Billy  was  courting 
Margaret Leslie  
Girls, in front row: 
Myrtle McClean who became Mrs. S. 
Smith.  
Daisy  McClean  who  died  l3  May 
1915. 
Ella  Leslie,  cousin  to  the  other 
Leslies, also never married but in later 
years  received  the  M.B.E.  for  her  
services as a nurse.  
Margaret  Leslie, my auntie, got over 
losing Billy Williams and became Mrs 
Waters, having 12 children.   
Beatie 
McClean 
mar r ied  and  
became Mrs Lewis. 
As  can  be  seen  the  war  affected  my 
family greatly, not only those fighting, 
but  the  girls  left  behind  as  well.  With 
such a huge loss of young men the girls 
didn't  have  as  good  a  choice  of  who 
their husbands would be.   
Most  of  the  games  they  played  were 
documented  in  the  Rodney  &  
Otamatea  Times. In one game against 
Hakaru which they lost 3-1, Kaiwaka's 
goal was scored by a brilliant shot from 
young  Leslie  playing  on  the  wing, 
which  one  was  not  given!  In  
another  match  against  Port  Albert,  the 
visitors  arrived  by  steam  launch  and 
tied  up  at  the  Kaiwaka  wharf  which 
was  below  George  Urlich's  shop  half 
way  along  Station  Rd  (beginning  of 
Oneriri Road). The weather was rough 
coming  around  Oneriri  Peninsula  and 
so  the  game  was  delayed  until  the  
visiting  girls  had  got  over  their 
seasickness.  A  dance  was  held  that 
night in the Curtis Hall and at full tide, 
at 1am, the visitors boarded 
the  boat  for  the  return  trip 
to Pt Albert."  
                  ~ Bill Leslie 
KAIWAKA HOCKEY BEFORE the WAR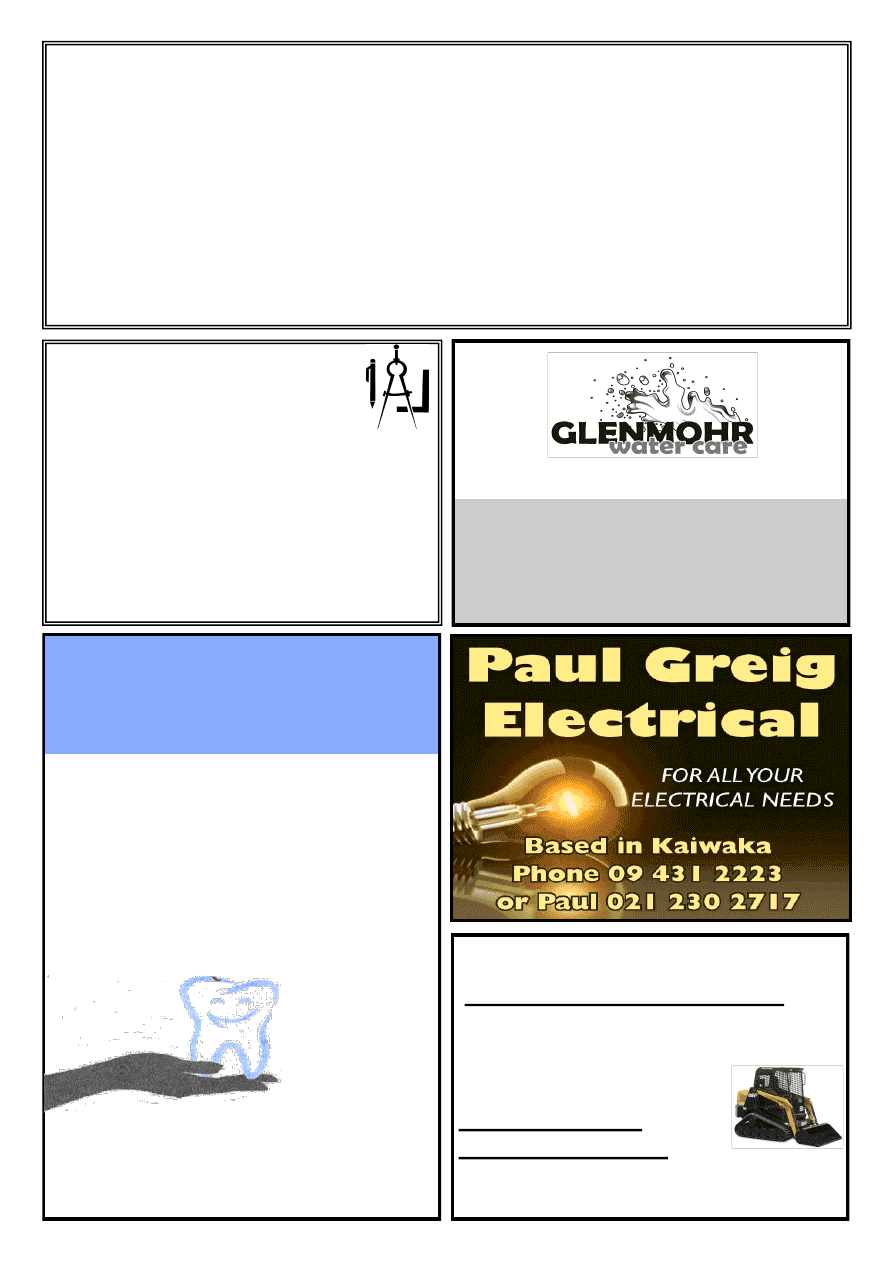 RANGANUI EARTHMOVERS 
16T Excavator 
Driveways, House Sites,
(tilt, thumb & ROPS cab) 
Drainage Dams, Section Clearing,
Transport Trailer 
Tree Work,  Rock Retaining Walls,
2 x 6 Wheeler Tip Trucks 
Quarry Work,
Suppliers of All Grades of Metal & Topsoil 
Basically Anything That a Digger Can Do
If you want a proper job done with an experienced operator ring 
Grant on    A/H 431-2131          Email  ranganui.dev@xtra.co.nz 
                     Mob  021845-246 
design drafting 
service 
Retired builder and manufacturer with over 40 years  
experience in the building industry is offering a design 
drafting service  
for domestic housing, sleepouts and sheds.  
Plans formulated in consultation with clients, with 
working drawings completed and submitted to  
council for processing.  Extensive practical experience,  
able to identify & resolve problems. 
Please ring Mike Lean on 
09 431 2260  
          or 
021 431 196 
Water Tank Cleaning 
" 
Keep your water safe & clean   
" 
Removal of sediment, silt etc 
" 
Vacuum or full scrub 
" 
Minimal water loss 
Phone Mark (09) 432 0655 or 0274 707607 
Gentle Dental 
Ruakaka 
We love to see you smile 
 
General  & Cosmetic Dentistry 
 
Emergency & ACC Treatment 
 
Denture & Hygienist Services 
 
Senior Citizen Discounts 
 
Free Adolescent Care 
 
Free WINZ Quote 
19 Ruakaka Town Centre 
Dr Sim Sood & Associates 
Ph:  432 8139 
Saturdays 
By 
Arrangement 
Open  
Mon-Fri  
8am-5pm  
Natural Earth Ltd 
 Landscape and Bobcat services 
 : Driveways  :Landscaping  :Retaining Walls 
 : Hole Boring: Land Levelling :Trenching 
 : Decks :Fences :Sections Cleared: Plus much 
more 
Tel   09 4312885 
Mob 02102391280  
For A Fast Friendly  
Service Contact Tim Hicks 
Please don't change it!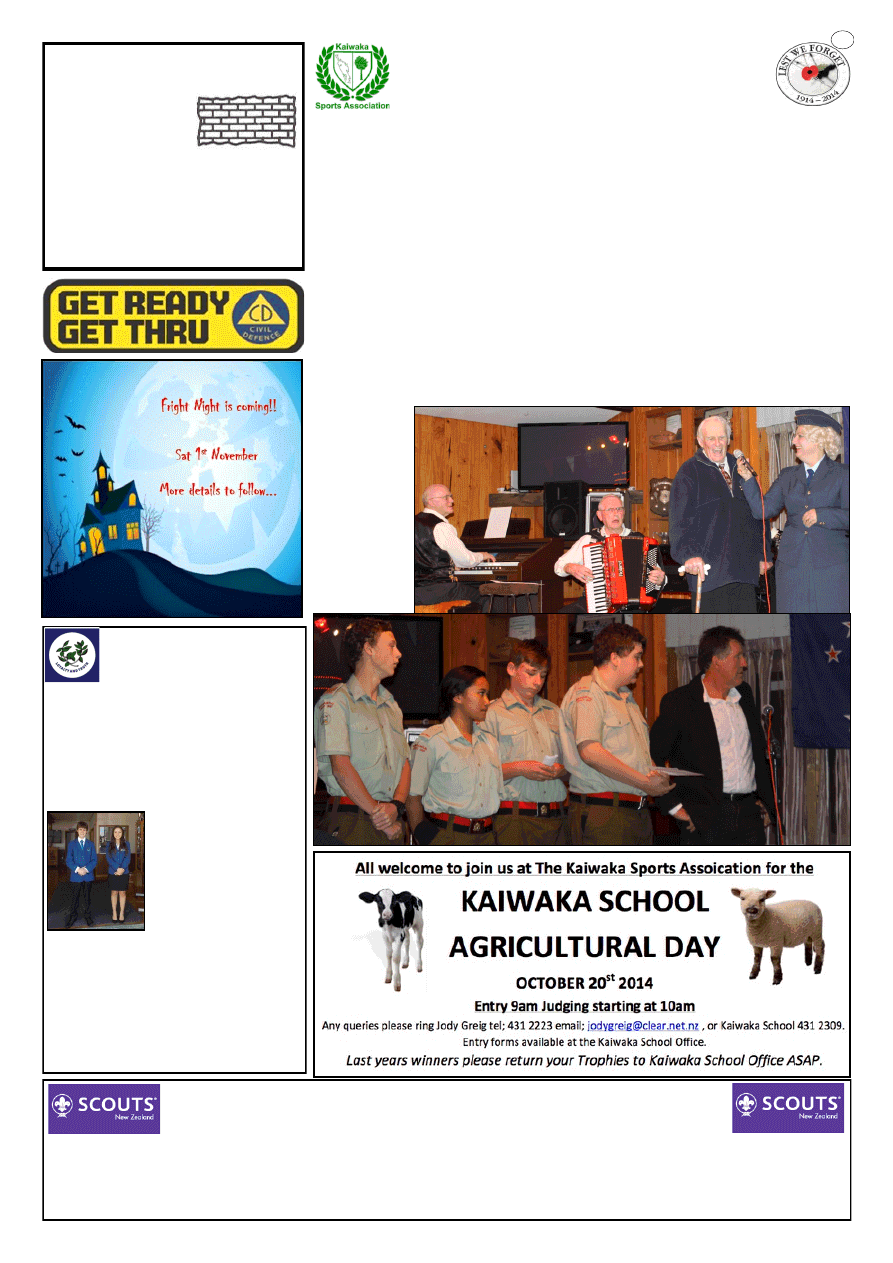 BRICK/BLOCKLAYER 
All aspects of masonry:  
Fireplaces, 
Restoration  
& Remedial Work.
JAMES EAGLETON 
Tel. (09) 431 2514  
Mob. 0274 749 232 
jajueagles@yahoo.com.au 
210A Pukenui Road, RD2 Kaiwaka 0573 
Otamatea 
High School 
Te Kura O Tuarua 
Otamatea
Opening our 
Doors 
Parents/Caregivers and  
prospective students are 
invited to our fully 
interactive 
Open Day
Friday 29
th
 August 9.45am start 
time 
Come along and experience 
the OTA Way 
Shake Your Groove Thang! 
Friday 29
Friday 29
th
th
  August, 7 
August, 7 ––  9pm Kaiwaka Sports Complex
9pm Kaiwaka Sports Complex
* great music, games & prizes 
* food & drink available 
(a parent/caregiver to stay with children thanks)
* lolly scramble, glow items for sale 
* $3 entry (adults & under 5's free) 
A fundraiser for the Kaiwaka/Mangawhai Scouts
WW1 CENTENNIAL DINNER 
The  haunting  sound  of  an  air 
raid  siren,  signalled  the 
beginning  of  the  Kaiwaka 
Sports 
Associations 
function 
to 
commemorate the 100th anniversary of the 
start of World War One. 
KSA President Evan Wright welcomed the 
crowd  of  over  80  and,  after  a  rendition  of 
God  Save  the  King,  talked  about  John 
Keighley  (JK),  a  founding  father  of  the 
Kaiwaka  Sports  Association  who  passed 
away  last  month.  JK's  daughter  Justine 
Nathan,  along  with  her  husband  Anthony 
were  present  to  view  the  unveiling  of  a 
plaque in his honour. 
Doug Leslie gave an interesting account of 
the  war  efforts  of  Kaiwaka  local  Tommy 
Donaldson  and  a  photo  board  on  display 
also outlined his honours. 
Following  a  lovely  meal,  courtesy  of  the 
KSA catering team, Bill Leslie spoke about 
the  1912  Kaiwaka  Hockey  team  who  lost  
players in the war, and presented a photo of 
the  team  to  the 
KSA.  Bill  read 
out  a  poignant 
poem  written 
by his father in 
the trenches. 
The  highlight 
for many of the 
guests 
was 
listening  to  the 
Jaques  Band. 
Did  you  know 
that  the  Jaques 
Band  has  been 
playing for 65 years! The band 
was  ably  accompanied  by 
Dana  Ferguson  who  sung 
wartime  songs (with some  assistance  from 
Doug Leslie!) 
Following  dessert,  the  poem  In  Flanders 
Fields was recited and then members from 
the  Mangawhai  Cadet  Unit  read  out  the 
names of the fallen from the Kaiwaka Roll 
of  Honour.  Members  from  the  Kaiwaka/
Mangawhai  Scout  Troop  did  a  great  job 
clearing tables and helping in the kitchen. 
The  formal  part  of  the  evening  concluded 
with  an  address  from  Hakaru  RSA 
President  Bill  Kerr  and  a  rendition  of  the 
Last Post. 
The Jaques Band continued to play on and 
guests took advantage of the opportunity to 
dance the night away. 
Photos  can  be  viewed  on  the  KSA's 
website  www.kaiwakasports.co.nz.  Many 
thanks  to  Mark  Ottaway  for  organising  a 
wonderful evening. 
11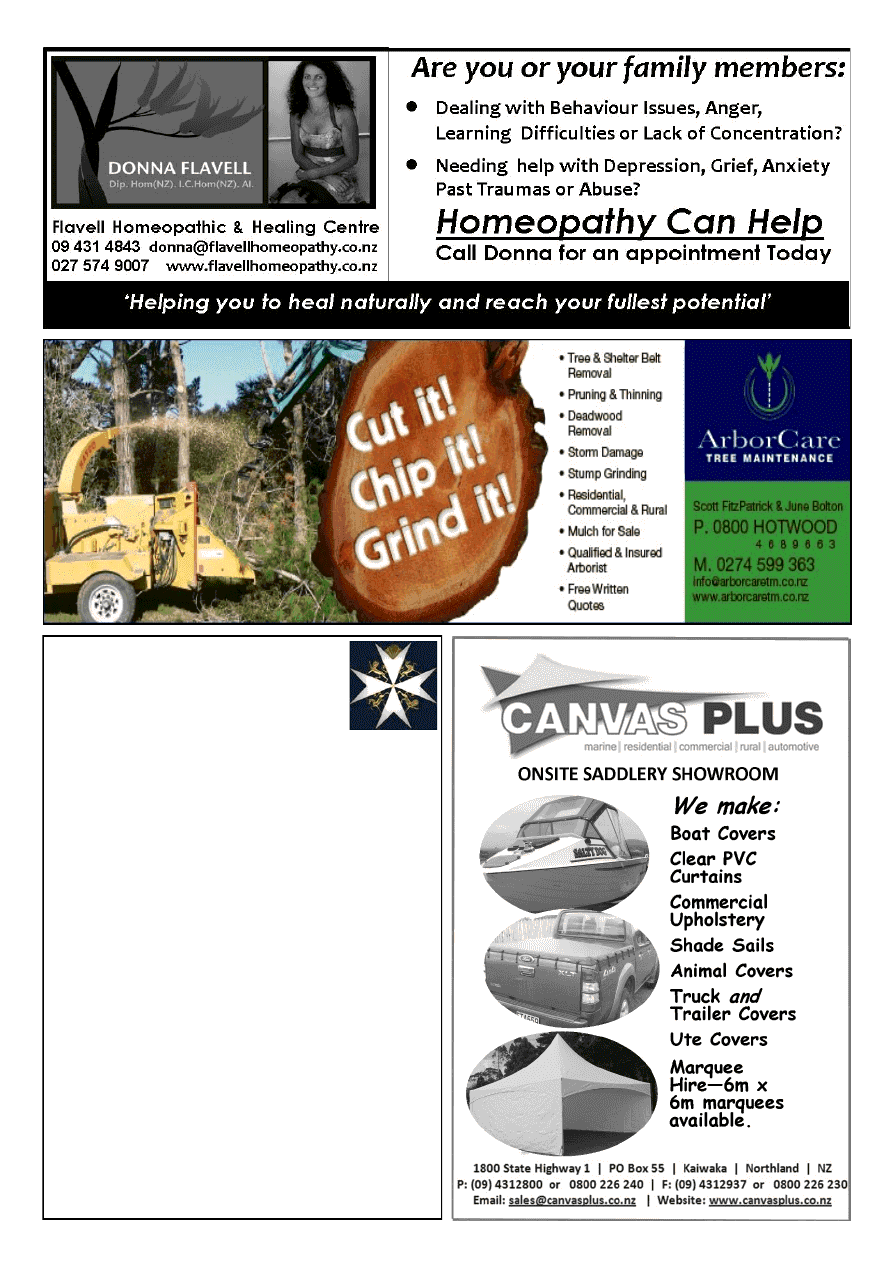 OTAMATEA ST JOHN 
KAIWAKA 
OPPORTUNITY SHOP
Do you like meeting people? 
Have you several hours to give, 
once or twice a month? 
Do you want to help provide finances for a 
very worthwhile service in this community? 
If the above relates to you, and you think you might 
like  to  work  in  our  Opportunity  shop  in  Kaiwaka, 
please send your name and contact information to: 
      Chairman,  
      Otamatea Area Committee St John,  
      P O Box 95,  
      Maungaturoto 0547 
and we will be back in touch with you.  
 
Alternatively, if you would like to talk to someone in relation to 
this, please call one of the following:  
Maungaturoto – Wayne Maclennan (Chairperson) (09) 4318353  
or committee members in Kaiwaka – Reg Jaques (09) 4312367 
or Denise McMonagle (09) 4312275 
Please don't change it!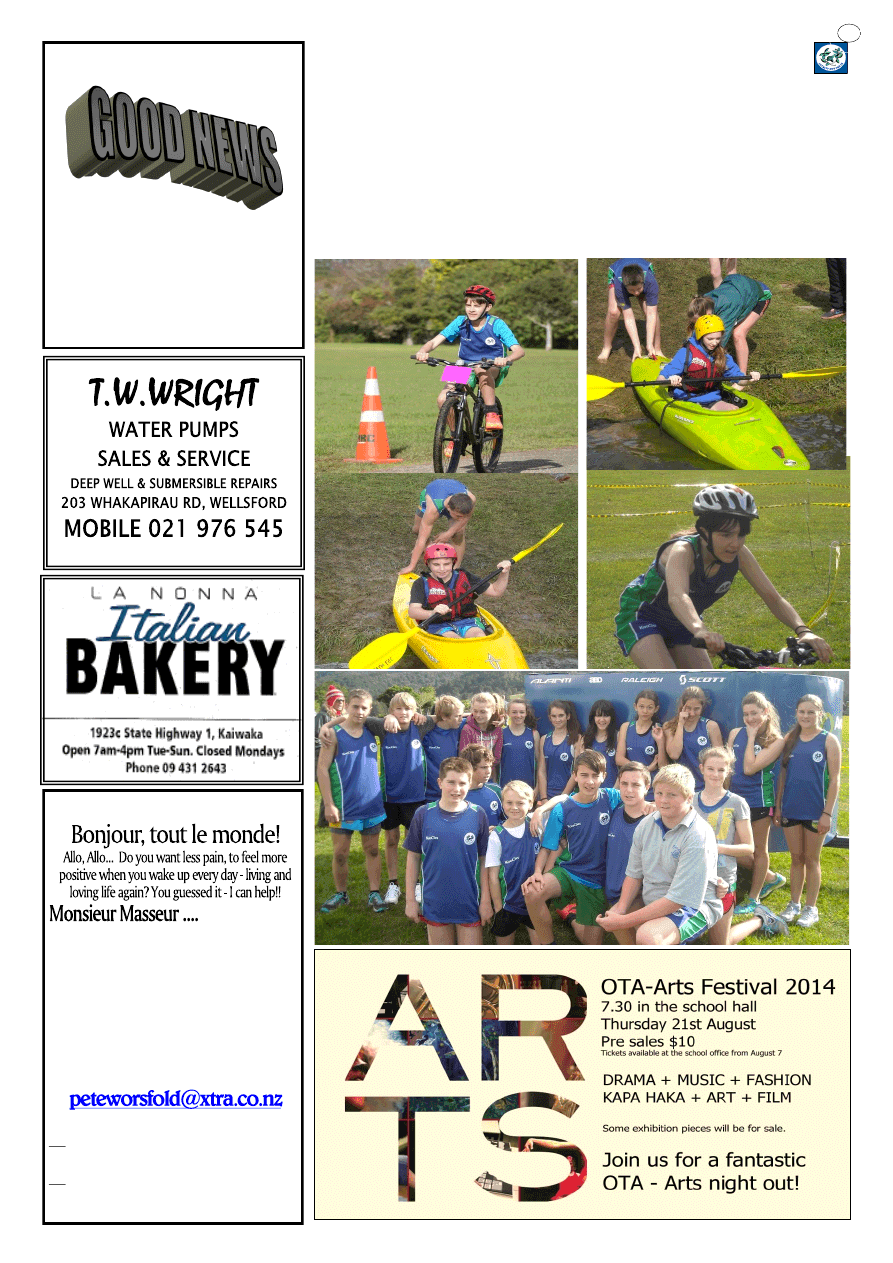 OTAMATEA HIGH SCHOOL 
THERE'S 
@ the  
Kaiwaka Family 
Church
Your COMMUNITY CHURCH 
RECEIVE HEALING 
RECEIVE THE LOVE OF GOD 
 13 
RELAXING  
           MASSAGE
..... Juste pour vous" 
Call for an appointment now!
Pete Worsfold 
4312 152  or  021 825970  
Or  Ph. "The Well of Health" for an 
appt. 09 4312 799 
Or mobile service available 
Get  2  Go  Challenge 
was held at the Northland Events Centre, Whangarei 
last  week.  Otamatea  High  School  entered  three  teams  of  Years  9  and  10 
students,  who  enjoyed  mountain  biking,  kayaking,  orienteering  and  team 
problem solving. 
The  Get2GO  Challenge  is  sponsored  by  Youthtown  and  all  of  the  events  are 
organised by The Sir Edmund Hillary Outdoor Pursuit Centre (OPC) with the 
help of sports clubs and organisations right across New Zealand. 
It's all about getting more young people into the outdoors enjoying some great 
adventure activities such as mountain biking, kayaking and rock climbing. 
The winning team from each region will be invited to the Grand Final in  
December. 
Photos: Mathias Damsted, Holly Kenyon, Patrick Butler, Holly Anderson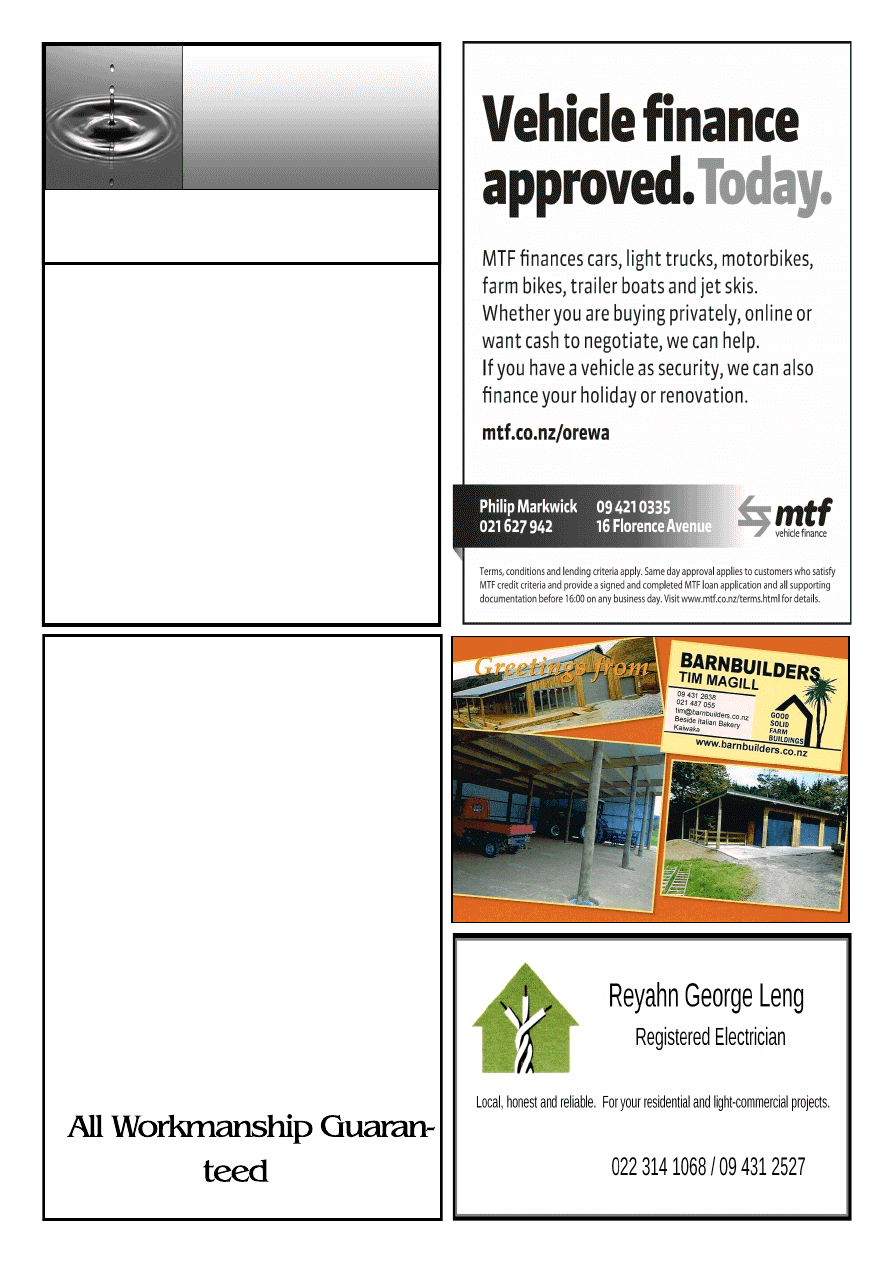 PETE WORSFOLD  
B. Soc.Sc. M. Soc.Sc. Diploma of Prof Couns. 
Counsellor
peteworsfold@xtra.co.nz 
 021 825 970 
Professional Service 
Variety of Modalities 
By Appointment Only 
INDIVIDUAL ONE-ON-ONE 
COUNSELLING 
Call for Appointment 
At "The Well of Health" 
09 4312799 or 021 825 970 
MODALITIES: 
  CBT 
  Gestalt 
  Person-Centred  
  Solution Focussed 
  Behavioural
FOR: 
  Grief 
  Relationship 
  Trauma 
  Couples 
  Adolescents 
   Careers
PLANNING A NEW 
KITCHEN?
CONTACT NOEL McDOWELL 
WELLSFORD 
KITCHENS
Ph/Fax 09 4312 888
KAIWAKA-Any time 
QUALITY CUSTOM MADE 
KITCHENS
~Personal and Prompt Service~ 
~
~ 
Please don't change it!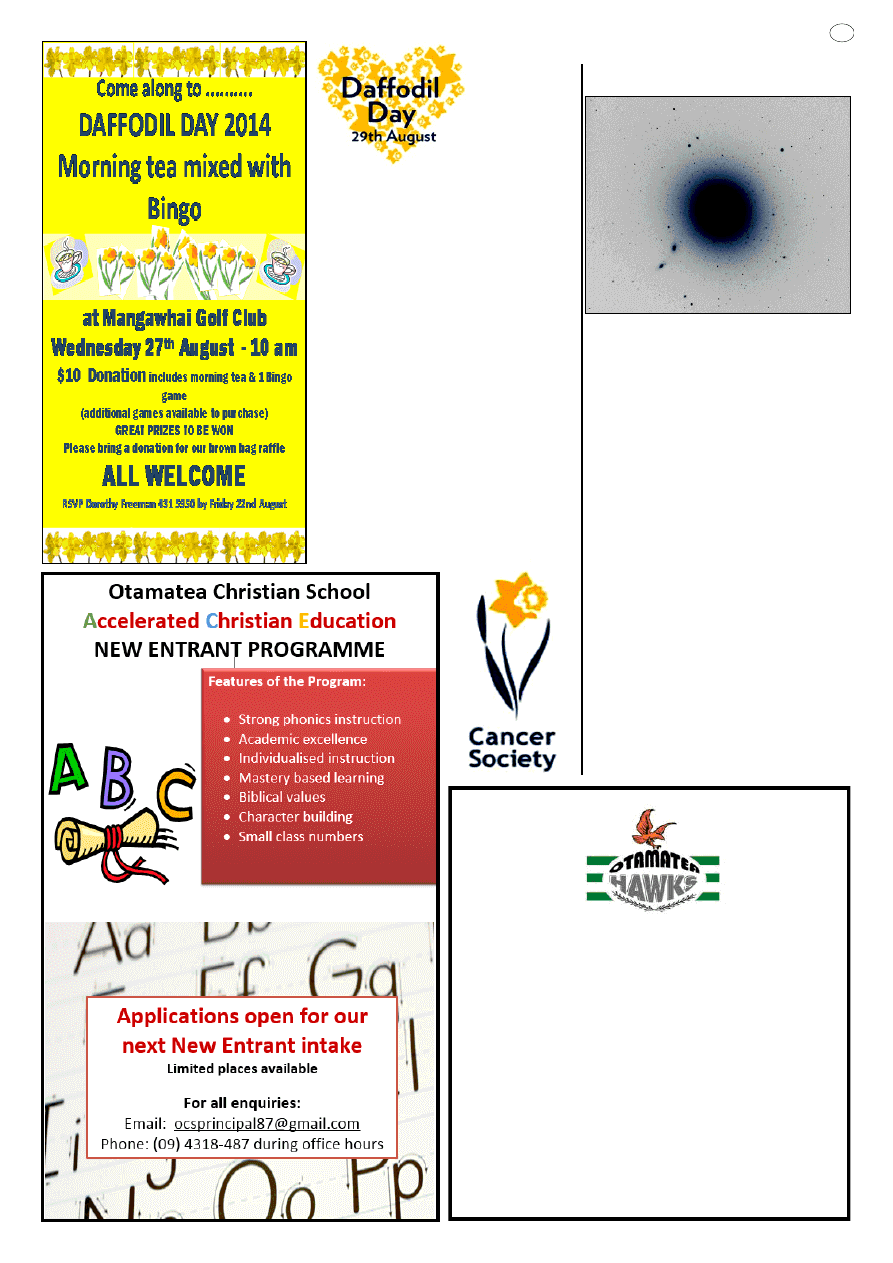 15 
SEPTEMBER NIGHT 
SKY OVER KAIWAKA 
Otamatea Hawks 
Prize Giving 
Sunday,  
24
th
 August, 1pm Kaiwaka 
Sports  Complex 
We invite our sponsors and supporters to help us celebrate 
the end of the 2014 season 
Thank you for your support  
See you in 2015
In  the  early  evening  the  Milky  Way 
runs from Scorpius in the south-east, to 
the  Southern  Cross  almost  overhead, 
and then to Orion in the west.  
To  the  north  we  look  away  from  the 
plane  of  the  Milky  Way  to  the 
constellations of Leo, Virgo and Coma 
Berenices.  This  region  of  the  sky  is  a 
window into the greater Universe. Even 
a  small  telescope  will  show  dozens  of 
distant  galaxies  a  large  telescope 
thousands. 
Our  Milky  Way  galaxy  is  part  of  a 
cluster  of  galaxies  called  the  Local 
Group.  It  consists  of  three  large  spiral 
galaxies  (the  Milky  Way,  M31  in 
Andromeda  and  M33  in  Triangulum) 
plus  about  50  dwarf  galaxies.  This 
cluster  is  itself  a  satellite    of  a  giant 
cluster  centred  some  55  million  light-
years  away  in  the  direction  of  Virgo. 
The  Virgo  Super  Cluster  contains 
hundreds  of  giant  galaxies  and 
thousands  of  dwarfs.  The  largest  of 
these  galaxies,  M87,  contains  more 
stars  than  all  the  galaxies  in  the  Local 
Group put together. 
~Elizabeth 
M87, the super galaxy in Virgo  
Daffodil 
Day  
29  
August 
2014  
Daffodil  Day  is  the  Cancer  Society's 
annual  flagship  event  and  one  of  the 
most important fundraising and aware-
ness campaigns in the country. As well 
as  providing  an  opportunity  to  raise 
awareness  of  cancer  in  New  Zealand, 
Daffodil Day is a major funding source 
for the Cancer Society.  
The daffodil is one of the first flowers 
of spring, whose bright yellow blooms 
remind  us  of  the  joys  the  new  season 
will  bring.  It  represents the  hope there 
is for the 1 in 3 New Zealanders affect-
ed by cancer. 
The  donations  we  receive  go  towards 
vital scientific research into the causes 
and treatment of all types of cancer, as 
well as providing a wide range of sup-
port  services,  information,  health  pro-
motion  and  education  programmes  to 
reduce  cancer  risk,  awareness  cam-
paigns  and  programmes  for  people  af-
fected by cancer.    
Please support the Cancer Society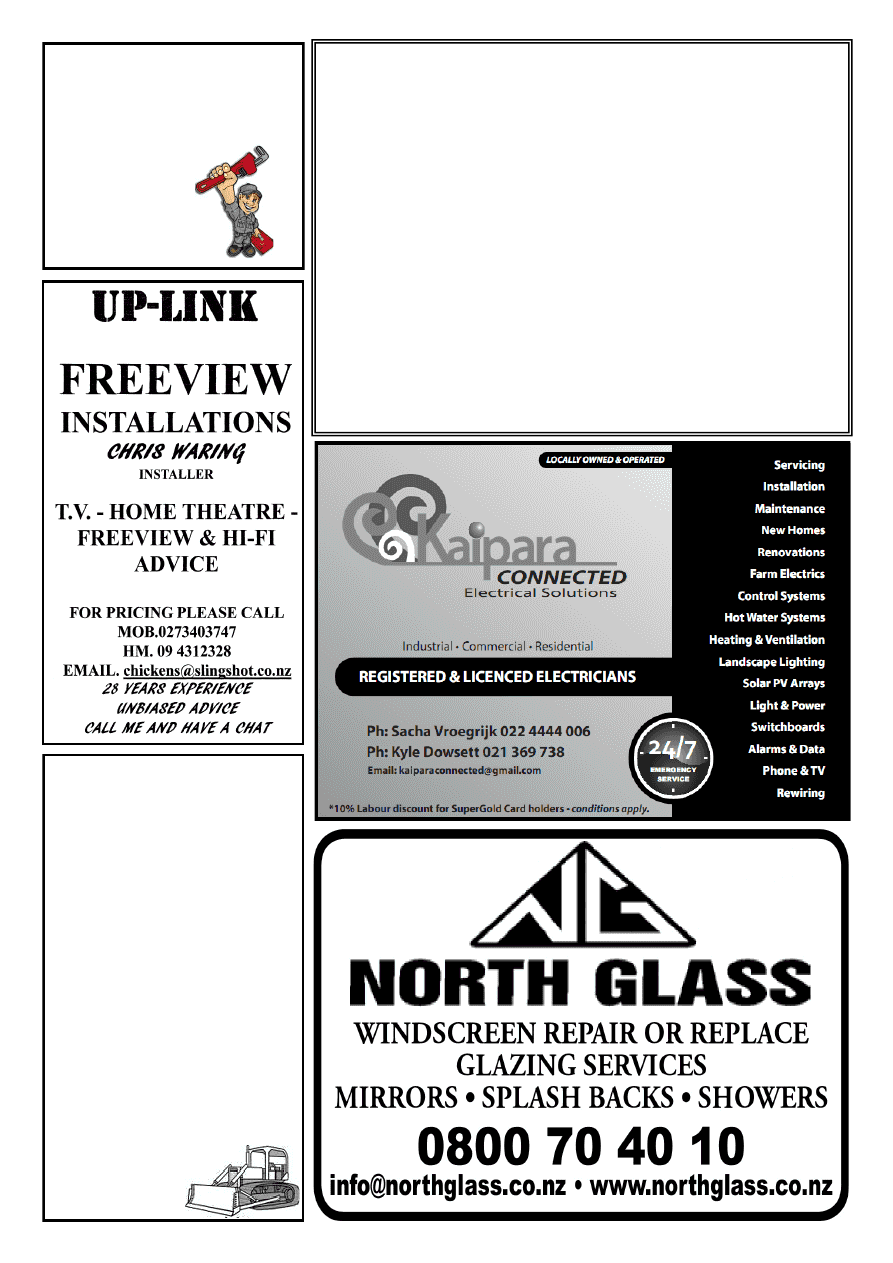 Coates  
Contracting 

D41 Bulldozer with 6 
way blade, bush rigged 
with winch 

For all tree work 

General bulldozing and  
  stick raking. 

120hp Tractor for 
ground cultivation,  

tip trailer work. 

Fencing
All enquiries phone  
Brett Coates  
094318720  
or  
 021431872
Ross Murphy 
PLUMBER 
Certifying Plumber 
09 431 7510 
021 424 252 
Paparoa Based 
+
New Housing  
+
Renovations  
+
Maintenance
KAIPARA FLOORING CO 
32 HURNDALL ST MAUNGATUROTO 
Phone 09 9469886  
or 021 515 415 
Carpet, vinyl, laminate wood look  flooring,  
vinyl planking, sanding & polyurethane service. 
Carpet Short Ends from $79pm + GST 
Vinyl D.I.Y. peel n stick tiles $10sq mtr + GST. 
Free measure & quote.   
Mobile Service 
Phone Christine or Howard anytime 
Open Saturdays by arrangement. 
Please don't change it!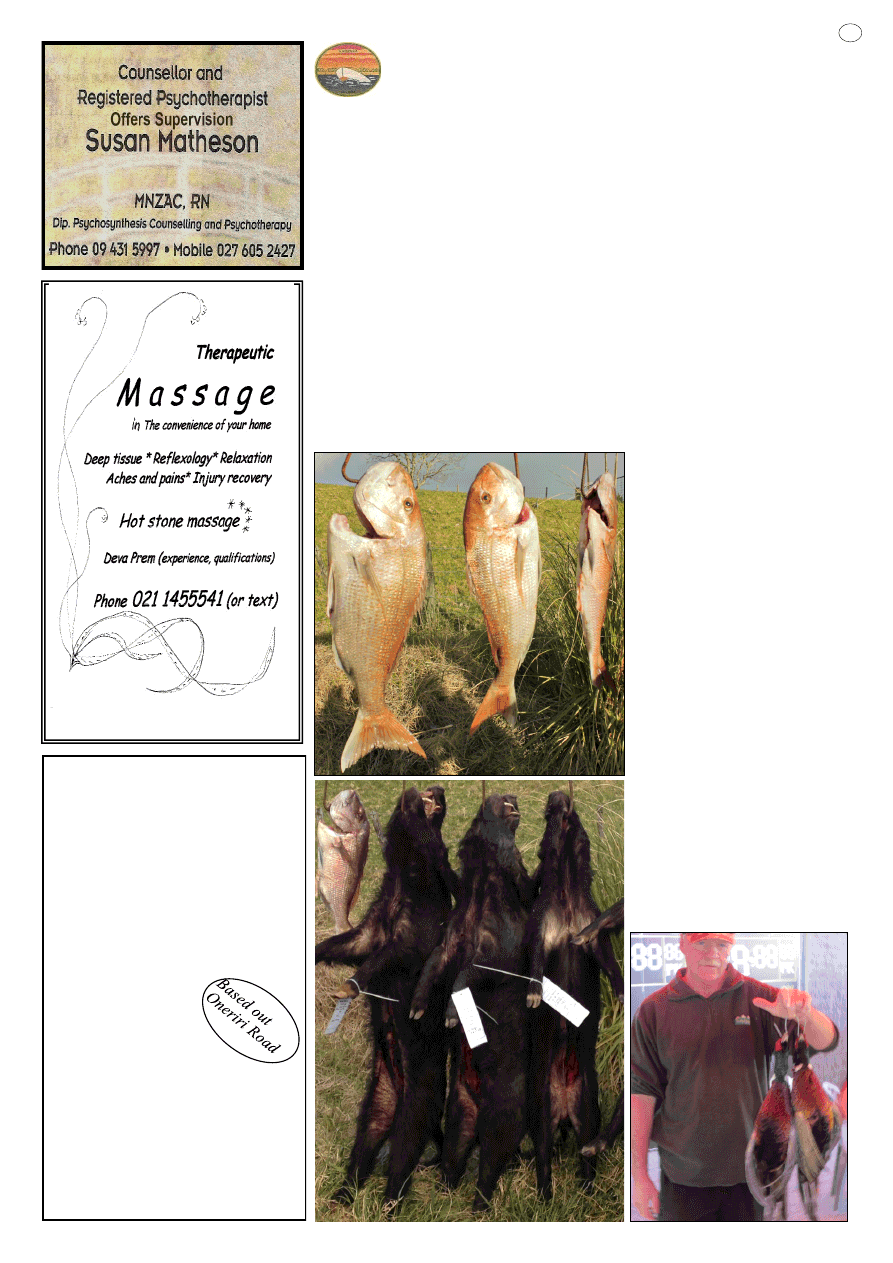 HODGETTS
CONTRACTING
Digger Work   

Driveways 

House Sites  

Dams 

Drains, etc
Also available for HIRE 

3 ton Vib Roller 

Heavy Duty Tow 

Waterblaster  

Lazer Level 
Phone Mark 
4312877 
027 447 8554
www.mangawhaimassage.co.nz 
Results  for  3rd  Annual  Boar 
Hunt 8,9 & 10 August 2014 
Junior Eel Section: 
1st:  Reid  Schrafft   7.774kg,  2nd: 
Malachi  Poutai  5.348kg,  3rd:  Caleesto 
Mills  4.929kg 
Junior Opossum Section: 
1st:  Konrad  Blackie   3.240kg,  2nd: 
Renee  Urquhart  3.034kg,  3rd:  C  J 
Hemana 2.938kg 
Junior Snapper Section: 
1st:  Kazia  Harris   3.106kg,  2nd:  Miri 
3.028kg, 3rd: Sweetie 2.963kg 
Senior Pheasant Section: 
1st:  Tony  Smith  1.419kg,  2nd:  Heath 
Worsfold   1.387kg,  3rd:  Nick  Dobbyn 
1.310kg 
Senior Snapper Section: 1st: Andr ew 
Kenny  9.443kg,  2nd:  Andrew  Kenny 
6.759kg, 3rd: Robyn Sibsten 4.526kg 
Senior Snapper Average Weight: Frank 
Steiner  2.488kg   (Average  Weight 
2.386kg) 
Senior  Boar  Section:  1st  Heaviest 
Boar: Holly Andrews 71.5kg 
2nd  Heaviest  Boar:  Simon  Walker 
70kg 
3rd 
Heaviest 
Boar: 
Lawrence 
Cherrington 62kg 
4th Heaviest Boar: Iain Ferguson 47kg 
Heaviest  Boar  Saturday:   Ngati  Kuri 
37kg 
1st  Measured  Best  Tusk:  Simon 
Walker 29cm 
2nd  Measured  Best  Tusk:  Lawrence 
Cherrington 28.2cm 
Mystery Weight: Savin Clendon 40kg 
Average  Weight:  Iain  Ferguson  47kg 
(Average Weight 47.6kg) 
Thank  you  to  all  our  sponsors  for  our 
3rd  annual  boar  hunt: 
www.gamegear, 
TB  Free  New  Zealand,  NZ  Hunting 
Products,  Dogmaster,  PGG  Wrightsons 
Wellsford,  Drivetown/Mahindra,  Game 
Gear  Tackle  &  Outdoor  Warkworth, 
Phil  Keen  Concrete,  Renton  Roofing, 
Reel  Roofing,  Wellsford  Sports  & 
Leisure,  Paul  Greig  Electrical,  Nigel 
Clarke  Plumbing  &  Drainage, 
Tangiteroria  Tavern,  Hunting  & 
Fishing 
Warkworth, 
Head 
Hunters 
Motorcycle 
Club, 
Kaiwaka  Clothing,  Wharehine 
Ready 
Mix 
Concrete, 
Fox 
Earthmovers,  Lanonna  Bakery, 
Mighty Mix, Ries Family, The Vet 
Centre  Maungi  Vet,  Farmlands, 
NZ  Morepork  Magazine,  Brown 
Family  (Rural  Posties),  Spice 
Lounge  Kaiwaka,  Liquor  Centre 
Kaiwaka,  Feral  Designs,  Twinkle 
Tow  N  Tyre,  Tony  Smith  &  Joss 
Tolley. 
Thanks  to  3  Furlongs  Hotel, 
Russell,  Barbara  and  Tracy. 
Thanks  to  Point  Curtis  Cruising 
Club  committee  members  and 
helpers. Thank you to those who 
bought  tickets  (over  150  tickets 
sold!) and also to the outlets that 
sold tickets. 
Last,  but  by  no  means  least,  a 
HUGE  thank  you  to  Vic  and 
Mont  Birkenhead  who  made  the 
boar  hunt the  big  success that  is 
was.   Keep  the  2nd  weekend  of 
August  free  in  2015  for  the  4th 
Annual Boar Hunt!!! 
~Wayne Leslie, Commodore
17 
POINT CURTIS CRUISING CLUB
KAIWAKA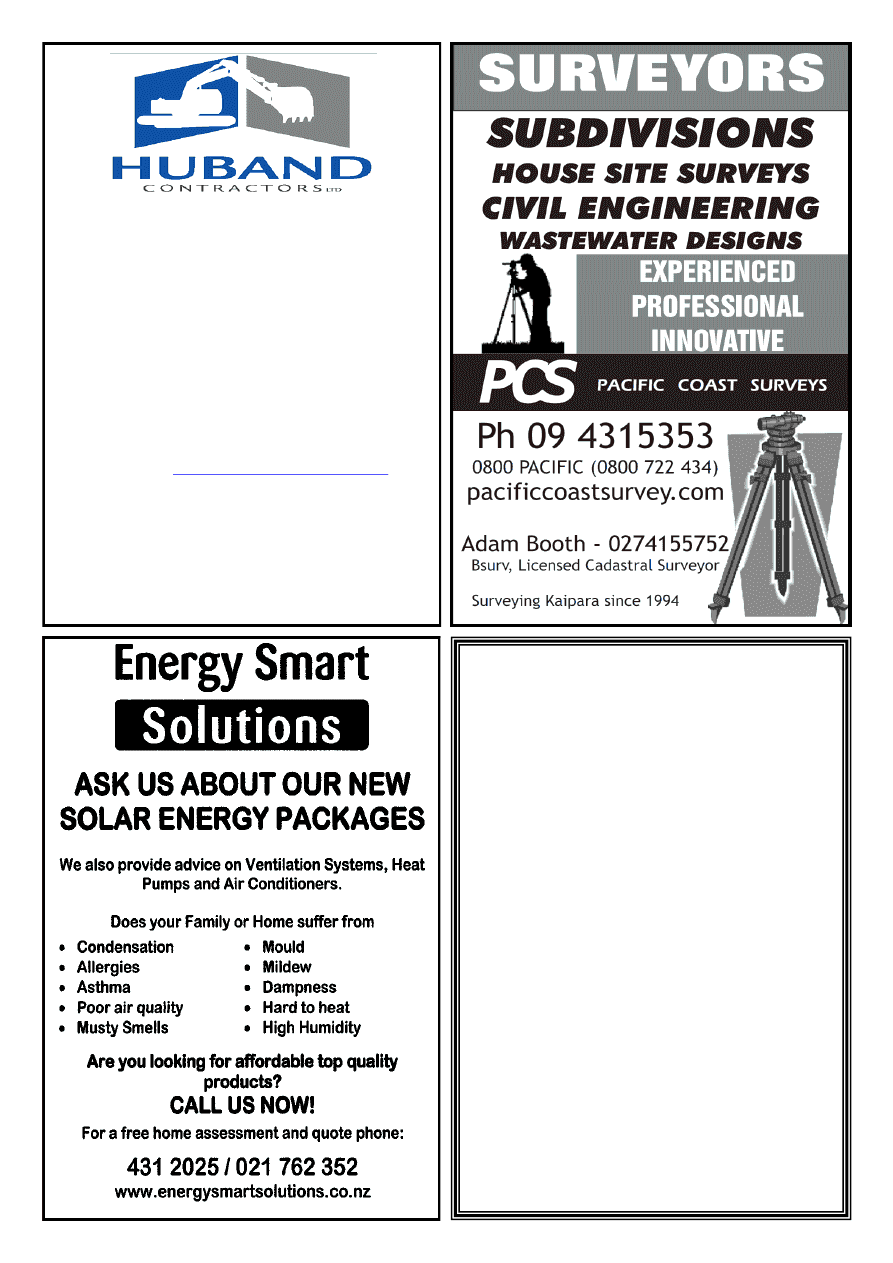 *   R O A D I N G   *   E A R T H W O R K S *    
*   D R A I N A G E   *   S I T E W O R K S   *  
For any further enquiries,  
contact Shaun on: 
Cell: 021 222 0272 
Home: 09 4318339 
Shaun Huband:  Registered  
Drainlayer 
g.a.s. 
Mangawhai 
we have now opened a 
GARDEN CENTRE 
for all your gardening needs 
Also a great range of 
STOCKFOOD 
Wide range of 
ORGANICS AND 
 FRESH LOCAL PRODUCE 
All your motoring needs are taken care of by 
our friendly staff check us out... 
44 Moir Street, Mangawhai (09)431 4242 
Please don't change it!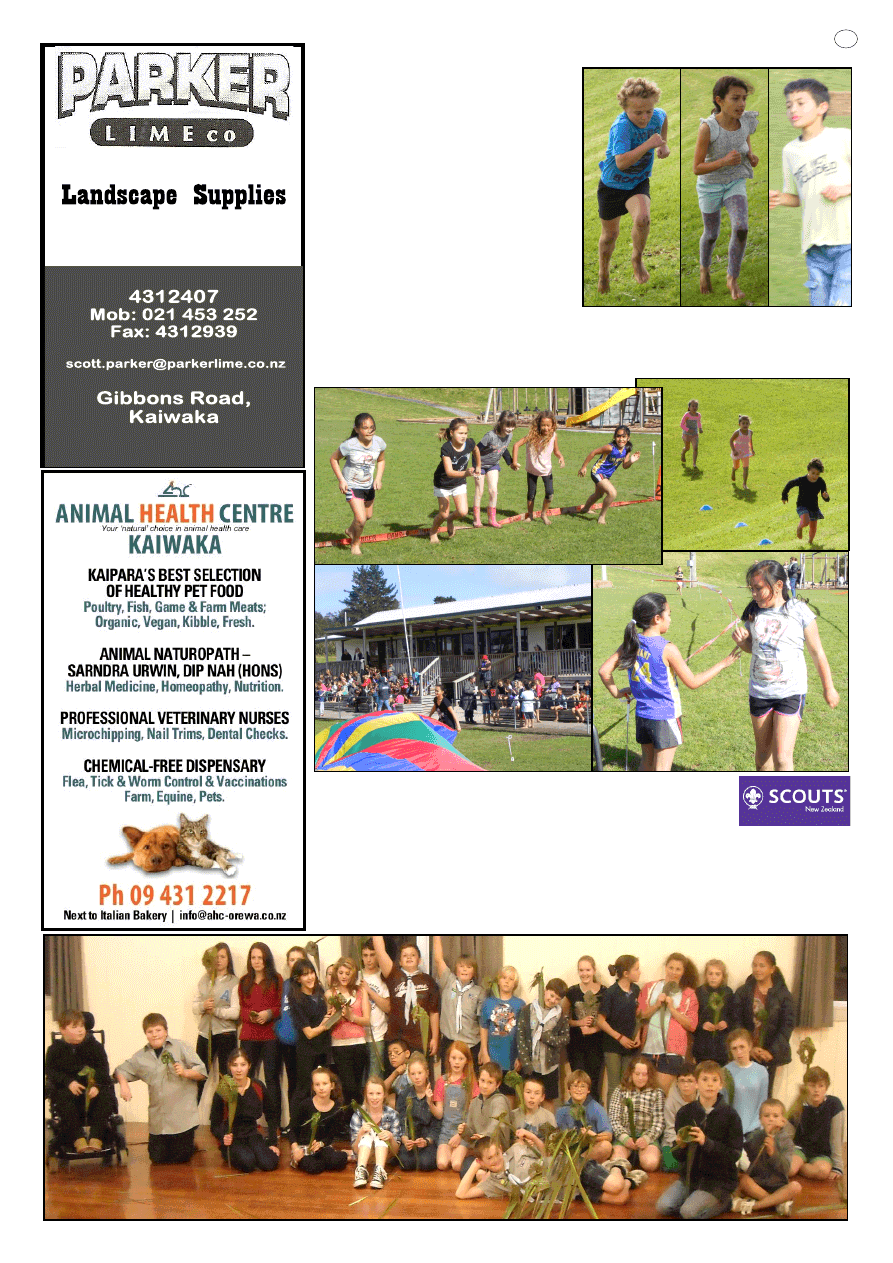 19 
Bulk Cartage 
KAIWAKA /MANGAWHAI SCOUTS 
Last  Thursday,  Scouts  from  the  Kaiwaka/Mangawhai  Troop 
had  a  "Bring  A  Friend"  day  and  each  Scout  brought  two  or 
three friends along to the session. 
The  children  enjoyed  outside  games,  making  flax  flowers  and  got  to  taste  a 
variety of international foods. 
The  Scout  Troop  meets  at  the  Hakaru  Hall  every  Thursday,  from  5.30  til 
7.30pm. If you have a boy or girl who may be keen to join, please contact Group 
Leader Bruce Ferguson on 4312 542 for more information. 
KAIWAKA SCHOOL 
Results for the Kaiwaka Cross Country: 
Five year boy = Zack 
Six year boy = Toby 
Seven year boy = Keidis 
Eight year boy = Gareth 
Nine year boy = Takerei and Branden 
Ten year boy = Benito 
Eleven year boy = Mahara 
Five year girl = Willow 
Six year girl = Dalana 
Seven year girl = Samantha 
Eight year girl = Leonie 
Nine year girl = Maia 
Ten year girl = Brenda 
Eleven year girl = Sophie 
All  students  competed  to  a  high  level. 
The rest of the school cheered on each age group and some of the older students 
supported the runners by running alongside them for some of the race. Lots of 
parents attended and shared a sausage with their children at lunch time. Thank 
you to the PTA for organising this. LOCAL SERVICES 
*St.John Ambulance 
111 or Freephone0800 61 0066
*Fire phone 111     *Police phone 111 or 09 4311150 
A A: Meets Wed., 8pm Kaiwaka Ph: 4312228, 4315543, 0800229 6757 
AL ANON: In recess, contact Ph: 4312228 
AGRIQUALITY (MAF) Livestock Consultant 
Phone 09 4311 820 or 021518257  
BUDGETING SERVICE,OTAMATEA:Free confidential advice & 
support - all areas of  personal finance Ph: 09 4318173 or 094318117 
CAB-
Citizens Advice Bureau.Wellsford Ph: 4237333.
0800 367 222 email:
DOG/STOCK /NOISE CONTROL 0800 105 890 
KATE'S PLACE with Govt.Day Agencies/Community Information /
Osteopathy/ IRD / Probation, etc Ph: 4312661 Hours: 9am-3pm. Mon - Fri 
FUNERAL SERVICES: Morris & Morris Ltd, 
Whangarei - Bev Jaques Ph:4312367 or 0800667747 
GRANDPARENTS Raising Grandchildren: Sarah Rogers Ph: 4312194 
HAKARU LANDFILL/Transfer Station:Open everyday except 
Tuesday10am-4pm.Ph4312629 Cost-$55 trailer load up to 1 cubic me-
tre. Ph:4258567 - office 
HOMEOPATH: Donna Flavell Ph: 4314843 
INLAND REVENUE: Last Friday each month, 11-3pm Ph4312661 
KAIPARA DISTRICT COUNCIL www.kaipara.govt.nz:  
Help Desk FREEPHONE 0800 727 059  
Service Centre Mangawhai 4313161 
KAIWAKA KOHANGA REO: Ph:4312620 
KAIWAKA CEMETERY: Ph: 4312045 
KAIWAKA LIBRARY: kaiwaka.library@gmail.com  
Mon. 4-6pm; Wed., Thurs., Fri., Sat.  10am-2pm Ph:4312539 
KAIWAKA PLAYCENTRE: Ph: 4312286. Hastie Lane 
Monday to  Friday  9.00am - 12 noon. 
KAIWAKA POST OFFICE:Ph:4312 626 Fax: 4312287  
Post Code: 0573  for RD2  and  0542 for all Kaiwaka Post Office mail 
KAIWAKA PRIMARY SCHOOL: Ph: 4312309     
KAIWAKA SPORTS ASSN: Ph 4312005; 4312129 gym 
KAIWAKA ST JOHN: Manager Steve Rosser 09 4318403, 021 
2316836 
LINKING HANDS Health Shuttle service Ph Ken Littlejohn 4314121 
NORTHPOWER: Faults Kaiwaka area 0800 104040 
PARENTPORT: Free, practical family support service Puhoi to Paparoa 
Ph or txt:  Dianne 027 2085093 
PERSONAL DEVELOPMENT COACHING, GROUP FACILITATION:  
Sabine Druckler 4312231 
PLUNKET KAIWAKA/MANGAWHAI: Ph:094318187 or 0276753488 
Kaiwaka Mobile Clinic once a month– appointments necessary;  
Mangawhai (next Domain) 1st & 3rd Thursday & Coffee Morning; 
PLUNKET CAR SEAT CO-ORDINATOR:  Pat Scott Ph 4314530 or 
0272881635 
PLUNKET FREEPHONE -0800 933 922 
PLUNKET -MAUNGATUROTO  Clinic every 2nd & 4thThursday. Ph: 
09 4318187 
PUBLIC HEALTH NURSE: Gloria Reid Ph: 094327634  
RETURNED AND SERVICES ASSN 733 Settlement Rd. Hakaru 
Ph.4312176 Bill Kerr (President) Ph.4314719 
TE KOROWAI AROHA O NGATIWHATUA Ph: 4312675 
(The Cloak of Love of Ngatiwhatua) Support and Maori Consultancy.  
VETERINARY SERVICE MANGAWHAI: 
Ph: 4314535 Mon-Fri 8.00-5.00, Sat 9-12, a/h appt. 
WELLSFORD DOCTORS: Ph: 4238 086 
WOMEN'S WELFARE LEAGUE & Reaching Out For Youth:  
4 Kaiwaka-Mangawhai Rd, M Morgan 4312293
WHAT'S ON
PLEASE ~ do let me know what is on - email 
kaiwakabugle@kaiwaka.co.nz 
Advertising in WHAT'S ON is FREE 
*21Aug~OTA Arts Festival 7:30pm Otamatea High School 
*22Aug~Saving Mr Banks, 7:30pm KWMH 
*24Aug~Dressage Series Day 3, Hakaru Pony Club, 9:30am 
*24Aug~Otamatea Hawks prizegiving 1pm KSA 
*26Aug~Knit & Natter, 10am Cafe Bianca 
*26Aug~New moon 
*29Aug~Daffodil Day 
*29Aug~Shake Your Groove Thang!, 7pm KSA 
*2Sep~KDC Public Meeting, 5:30pm KSA 
*5Sep~The Railway Man, 7:30pm KWMH 
*7Sep~Frozen, 2pm KWMH 
*10Sep~KWMH AGM, 5pm KWMH 
KSA=Kaiwaka Sports Association Complex 
KWMH=Kaiwaka War Memorial Hall 
See www.kaiwaka.co.nz for upcoming events.
HOUSEHOLD  RUBBISH  COLLECTION  -  Kaiwaka    Pick  up-
Mondays=Gr een  bags  ar e  picked  up  by  Nor thland  Waste-
queries  to  them  09  4303273,Wednesdays=Blue  bags  and  yellow 
recycling (at Jaques  $3.00 and $1.50)  are picked up by Kaurilands 
09 4392146.
*DIABETES Support Group -for Kaiwaka, Mangawhai, Wellsford 10am, 
3rd Friday of month Ph:A.Pert 4238242; J.Gardner 4238060 
*DRINK CAN 'tear tabs' - for Starship Hospital- please collect -  
98 Kaiwaka Mangawhai Rd, leave in mailbox, Ph. 4312625  
*GYMNASTICS OTAMATEA -  Tuesday Ph: Stephanie 022 3624998 
*HAKARU PONY CLUB-Secretary Julie Rynne 09 4314520 
*KAIWAKA BADMINTON -Tuesdays 7.30pm Ph: 4312345 
*KAIWAKA GARDEN & FLORAL Grp:2nd Thursday in month  
Ph: 4314767 
*KAIWAKA CUBS-Thursdays 5.30-7pm, Hakaru  Ph:Bruce  4312542 
*KAIWAKA SQUASH -Mondays 7pm,  Ph: Barbara Thomas 4315905 
KNITTING FOR WHANGAREI HOSPITAL - 2nd Tuesday in month, 
Apple Basket 10am Ph 4314827 
*MANGAWHAI COMBINED PROBUS CLUB: 2pm,3rd Thursday, 
Senior Citizens Hall Mangawhai. Ph: 4315777 
*NZ GENEALOGY-Wellsford - 1st Thursday in month Ph: 4237033 
*OTAMATEA GREY POWER-09 431 8138 Joan Hoggard  
*PT CURTIS CRUISING CLUB - Jean Ph: 4312 246 
*RSA,Hakaru & Dist.Women- meet 1.30pm 4th Thurs in month  
Ph: 4312 668  
*TRAMPING- Mondays 9am-2:30pm  Karen Ph: 4312 090 
*WAIPU GENEALOGYGROUP -4th Monday in month Ph: 4312725 
*YOGA- Tuesdays 6:15pm, Friday 8:30am Kaiwaka WM Hall  
Carla Ph: 4312 408, 021 296 8794
CHURCHES: 
*Gateway Worship Centre-St Mary's Church Nathan Rd off Oneriri 
Rd, Kaiwaka. Services, 10.30am 1st & 3rd Sunday of every month. 
Contact: Rev David Gage 4312528 or 0212354282 
*Kaiwaka Family Church-Your Community Church Sundays, l0am 
Home Group every Wed evening, Pastor John.Dekker Ph: 4318203 
*St Paul's Anglican Church 1st Sun. 9.30 am (Eucharist), 3rd Sun. 
9.30 am (Family Service). Contacts:  Church Office 09 431 4122; 
M. Hargreaves 431 2295; C. Bygrave 431 2057 
*Church of Christ the King, Mangawhai 9.30am every Sunday 
*St.Mary's Catholic Church: Maungaturoto – Griffins Road, Satur-
day evening Vigil Mass 6pm; Mangawhai – Senior Citizens Hall, 
Sunday Mass 8:30am; Wellsford – Matheson Road, Sunday Mass 
10:30am; Mid-week Mass times and all enquires to Fr. Bill Fletcher  
Phone 423 8170 
*Baptist Church: Sun. 10.30am Mangawhai Snr Cit.Hall 
Ph:4312339 
*Cause Way Church Mangawhai – Sundays 10.15am, Mangawhai 
Community Recreation Centre, Insley St. Ph: 09 4314782  
*St.Pauls Archie Bull Hall HIRE $20 half day, $40 full day per hire 
    Contact G. Jaques 4312048 
*Kaiwaka War Memorial Hall HlRE - Phone 4312725 or  Email  
    kaiwaka.hall.bookings@gmail.com 
*Hakaru Community Hall HIRE -Ph.  4312256 or 4312110 
*Te Pounga Marae queries -A.Gage 4312528, 4312527 
*Kaiwaka Sports Association hire/queries- C. Anderson 4312051 
Justice of Peace: B.FJaques; L.Donaldson; A.F.Hargreaves 
    -please phone to make sure they are available 
Marriage Celebrants: L.Donaldson; A.F.Hargreaves;  C.Rosseels
Next Bugle Deadline Friday 29 August 2014