No: 17
                                                                                                                                                      2 September 2014 
DAFFODIL DAY: 
$934 (up on last year) was raised in Kaiwaka. 
Thank  you  to  our  collection  points  Jaques  Store,  La  Nonna  Bakery  and 
Shamrock  Service  Station, 
The  Coffee  Pot,  and  the 
volunteers  in  Friday's  cool 
wind - all for a very worthy 
cause. 
All  money  raised  comes 
back 
to 
benefit  
Northlanders in 4 key areas: 
1. The largest source of up-
to-date  cancer  information 
2. Support i.e cancer nurses, 
0800 
Helpine, 
support 
groups, 
counselling, 
accommodation and driving 
services  3.  Research  4. 
Health promotion. 
~  Gay 
Young 
Photo:  Dawn  Marson  and  Gay 
Young outside Jaques Store  
Andrew  Griffiths  has  just  completed  a 
most successful series of cartoon drawing 
workshops  in  Kaiwaka.  They  were  so 
successful he had to run a second session 
each  week.  More  than  twenty  young 
students  from  Kaiwaka,  Otamatea  and  Maungaturoto 
attended and are keen to continue with Andy. Andy aimed 
to keep the sessions simple and fun - he used games along 
with  encouraging  them  to  create  their  own  character, 
improve  their  drawing  and  eventually  produce  their  own 
comic  strip.  The  ToonSkool  was  funded  with  the  help  of  
Kaipara District Creative Communities. 
Andy  also  has  a  pre-
schoolers  picture  book, 
'Eddie 
the 
bad 
tempered  teddy  bear'.  
It  tells  the  humorous 
story  of  a  teddy  bear 
learning  to  overcome 
the 
frustrations 
of 
everyday 
life 
with 
some  help  from  his 
friends and learn a few 
lessons 
about 
controlling  his  temper 
along the way. 
The  idea  for  the  book 
came  about  when 
he  was  trying  to 
keep  his  three  year 
old daughter Josie entertained by making up 
a story and drawing pictures for her to colour 
in.  He  kept  those  original  doodles  and 
realised  that  he  had  the  very  rough 
beginnings  of  a  children's  book.  A  few 
months later he completed all the illustrations and published 
the  book  himself  through  Amazon's  Print-on  demand 
service Createspace. 'Eddie the bad tempered teddy bear' is 
now available at The Well of Health, Kaiwaka. 
Note  that  the  author  is  Charles  Griffiths  -  "Charles"  is 
Andy's  middle  name.  This  saves  any  confusion  with  his 
namesake, Andy Griffiths, the Australian children's author. 
Andy currently works as a freelance cartoonist and graphic 
designer.    He  formerly  worked  as  an  animation  artist  and 
illustrator  for  various  companies  including  Warner  Bros 
Feature animation - he worked on the Looney Tunes movie 
Space  Jam,  Warner  Bros  Consumer  Products  and  Stephen 
Spielberg's Amblimation studios.  
KAIWAKA'S CARTOONIST: ANDY GRIFFITHS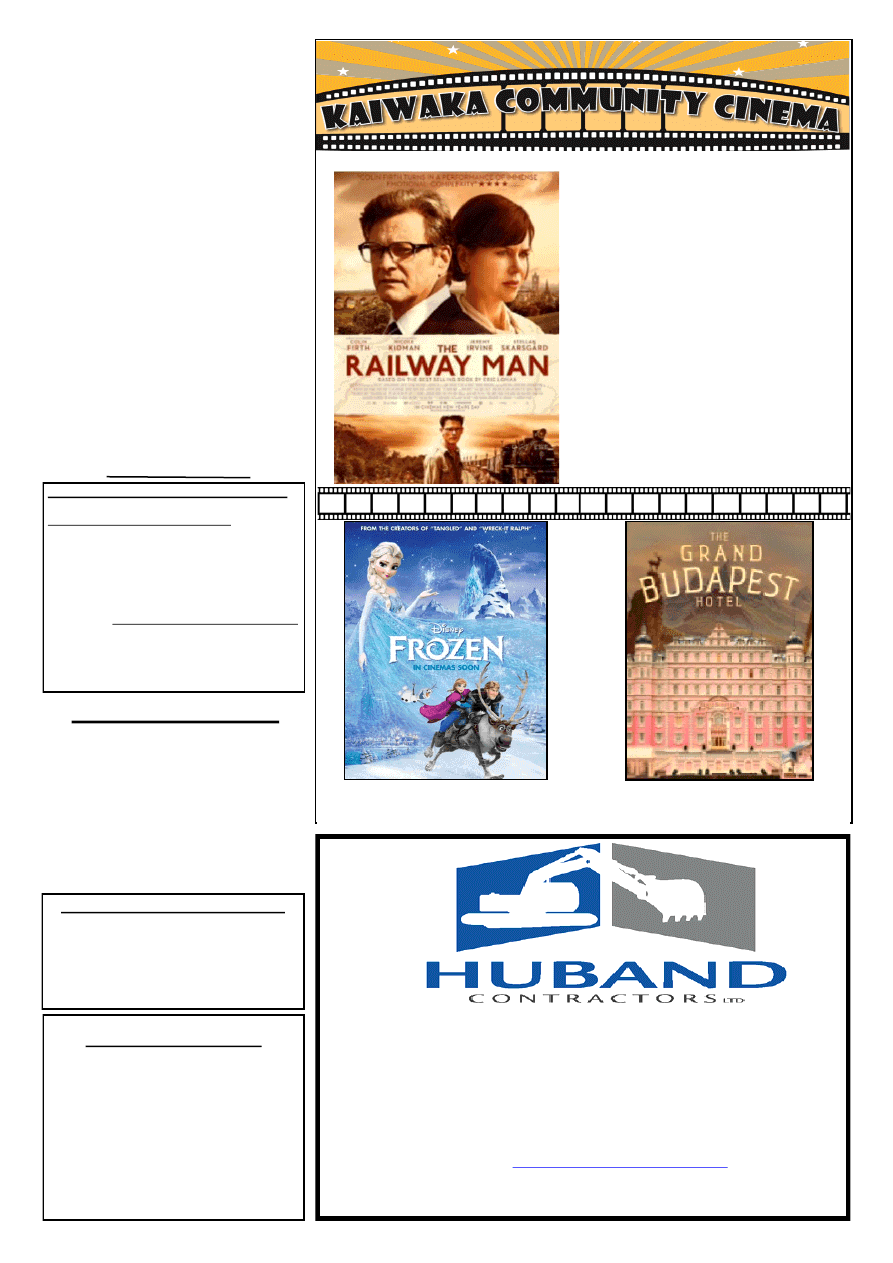 ABOUT TOWN 
 Dog registrations ended 1 September 
- have you paid yours? 
Contact Ad 4312 234 if interested in 
the Kaiwaka Community Garden 
Businesses  -  are  you  prepared  for  a 
disaster,  so  you  can  recover  and  carry 
on  as  quickly  as  possible?  Civil 
Defence  are  holding  workshops  in 
October to help you with your planning 
- more details to come. 
*   R O A D I N G   *   E A R T H W O R K S   *    
*   D R A I N A G E   *   S I T E W O R K S   *  
For any further enquiries, contact Shaun on: 
Cell: 021 222 0272 
Home: 09 4318339 
Email:   
Shaun Huband:  Registered Drainlayer 
KAIWAKA BUGLE No. 17 
2 SEPTEMBER 2014 
CONTENTS 
Page 3: Classifieds & Notices 
Page 5: Book Review, Waterways 
Page 7: Pt Curtis Cruising Club, 
Hakaru RSA Women 
Page 9: Zonta 
Page 11: Kaiwaka Sports Assn, Disco 
Page 13: Fitness Centre, KWMH, 
Knitting for Hospital 
Page 15: Garden & Floral Group, WWI 
Page 17: Otamatea High School 
Page 19: OHS cont. 
Bugle 18 will appear 16 September 
Contact for advertising, reports, articles 
or information can be made by 
Email kaiwakabugle@kaiwaka.co.nz 
Ph: 09 4312 045 
Txt:  0274 806 275 
Copy may be left at Jaques' Four 
Square. 
View the Bugle online at: 
www.kaiwaka.co.nz/Bugle 
Kaiwaka Bugle 
Founded May 1978 
Copies available in Kaiwaka at Jaques Four 
Square, Kaiwaka Postal Centre, Shamrock 
Service Station, Celena's Gifts 
Also outlets in Maungaturoto, Mangawhai and 
Paparoa. 
Can be viewed online at www.kaiwaka.co.nz 
Or a copy can be posted to you if you supply 
stamped, self-addressed DLE envelopes. 
Frozen 
Sunday 7 September 2:00pm (PG) 
The Grand Budapest Hotel 
Friday 19 September 7:30pm 
(PG) 
At Kaiwaka War Memorial Hall . Adults $10, Kids (under 16) $5, Family Pass (2 adults + 3 children) $25 
Railway Man 
Friday 5 September 7:30pm (M) 
Based  on  his  best-selling  memoir, 
the  film  tells  the  extraordinary  and 
epic  true  story  of  Eric  Lomax,  a 
British  Army  officer  who  is 
tormented as a prisoner of war at a 
Japanese labour camp during World 
War  II.  Decades  later,  Lomax 
discovers 
that 
the 
Japanese 
interpreter  he  holds  responsible  for 
much  of  his  treatment  is  still  alive 
and sets out to confront him, and his 
haunting  past.  Starring  Nicole 
Kidman and Colin Firth. 
Kaiwaka Bugle Advertisements 2014: 
All 
copy 
and 
queries 
to: 
kaiwakabugle@kaiwaka.co.nz 
Classified $3 (max 30  words);  1/8 page $6; 
1/4  page  $12;  1/2  page  $24;  in  special 
circumstances  whole  page  adverts  are 
available-cost $100 
Payments  can  be  online,  posted  or  left  at 
Jaques Four Square Store. 
Accounts: bugleaccounts@kaiwaka.co.nz 
The  Kaiwaka  Bugle  is  a  community 
newspaper run by volunteers.   
Articles,  etc.  printed  are  not  necessarily 
the opinion of the Bugle Team. 
Fathers Day - Sunday 6 September 
"When I was a boy of fourteen, my father 
was  so  ignorant  I  could  hardly  stand  to 
have the old man around. But when I got 
to be twenty-one, I was astonished at how 
much he had learned in seven years." 
~Mark Twain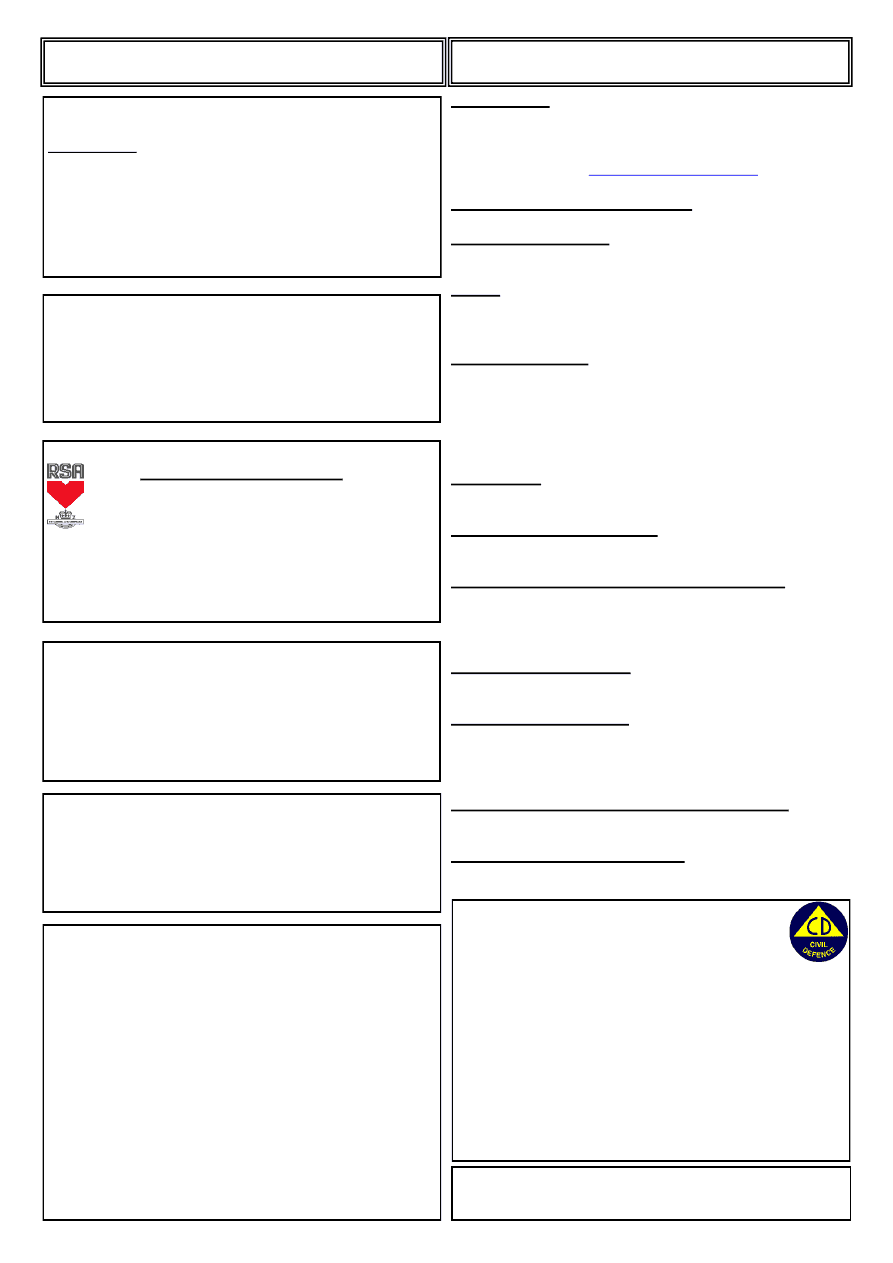 PUBLIC NOTICES 
CLASSIFIED 
FOR  SALE: Jill Shires Holistic Animal Therapies. 
Herbal  Remedies,  Bach  Flowers,  Ointments, 
Diatomaceous  Earth,  Bentonite  Clay,  Cranio  Sacral 
Therapy,  Skin  Conditions,  Arthritis,  Laminitis,  Mud 
Fever  Cream  etc. 
  or  09  4312 
080 
TOP  SOIL  &  CLEAN  FILL:  freshly  hand  dug. 
Free for removal. Ph 09 946 9077 
LAND  FOR  SALE:  10  acres  Oneriri  Peninsula, 
$199K. On Trade Me:- property ID BDV356 or Ph 021 
237 7678 
SHOP  open  every  Sat/Sun  9am-4pm.  Items  for  sale 
incl  outdoor  games,  kitchenware,  hardware,  bric-a-
brac,  cushions,  linen,  &  more.  674  Kaiwaka-
Mangawhai Rd, Hakaru 
GARAGE  SALE  13-14  Sep  9am-4pm.  Bed  settee 
$50, single bed $25, kauri fire-surround $MAO, dining 
chairs  x4  $25ea,  life  jackets  $50,  tools,  books/
magazines,  bric-a-brac,  assorted  fabrics  (ideal  for 
quilting  etc,  pieces  to  small  meterage),  Toyota  tray 
liner  $100,  round  outside  tables  x2  $50ea,  plus  lots 
more bargains. 674 Kaiwaka-Mangawhai Rd, Hakaru. 
HASHTAG  Band  for  hire.    A  lively  mix  of  covers 
and original music.  Make your night special.  Ph: 021 
623 776  
LOCAL  REVUE  TEAM  looking  for  additional 
actors. Must enjoy comedy acting plus be prepared to 
multitask. Contact yfd@xtra.co.nz  Yvette 
LOOKING  FOR  PART-TIME  WORK?  Traffic 
Controller/  STMS  Wanted!  Although  desirable,  no 
experience  is  required.  If  you  can  pass  a  pre-
employment drug test - Please forward your resume to 
emma@trafficsafe.co.nz 
BERYL  NOZEDAR:  (Middleton)  International  
Clairvoyant.  Numerology,  Tarot,  Clairvoyance,  
Mediumship. $60 for hour includes CD. Ph: 4312 080 
SPRING  PLANTING  is  here,  come  into  g.a.s 
Garden  Centre,  Mangawhai.  For  your  potted  colour, 
veggie  plants,  citrus  trees,  seeds,  Tui  compost  5  bags 
$45,  and  much  much  more.  44  Moir  Street, 
Mangawhai 
CLOTHING ALTERATIONS & REPAIRS: 
Hems,  Zips,  Dressmaking  Phone:  Win  4312  027    or 
027 444 8358 Winsome Designs. 
FREE GRAZING WANTED: Small or large block. 
Can  do  some  fencing  or  water.  Phone  after  6pm  
4312 006 
Proverbs 
27:4  Jealousy  is  more  dangerous  and 
cruel than anger.
ST JOHN OP SHOP, KAIWAKA 
Shop Hours: Mon-Fri 10am - 3pm 
Staff  Raffle:  Result  drawn  by  Glen  Jaques,  Ticket 
#39 Agnes. Thanks to those who bought our tickets. 
"Yippee Yippee" We now have Eftpos! 
We  could  do  with  some  furniture,  big  &  small. 
Kitchenware,  towels,  jewellery,  also  some  fruit  & 
garden  plants,  and  anything  else  would  be  greatly 
appreciated. Thanks everyone, Milly 
Shop: 4312 650, Home: 4312 423 
Otamatea Community Services Incorporated 
Annual General Meeting 
Wednesday 24 September 2014 
St John Hall, Hurndall Street, Maungaturoto 
3pm refreshments- business to follow 
ALL WELCOME 
Hakaru RSA Settlement Road presents 
Debbie Dorday & Jim Joll 
Putting on the Ritz 
A show not to be missed 
Fabulous costumes, comedy, and music 
$25pp Supper included 
Saturday 13 September 7pm 
Tickets available from: 
RSA 4312 176, Marlene 431 5589, Sheryl 4312 697, 
Heather 431 4668 
SPRING MARKET 
Saturday 13th September 9.30am-12.30pm 
Wellsford Library, Port Albert Road. 
Stalls $5.00. Bring your own table.  
Contact: jennymcleod101@gmail.com or  
Ph 022 088 0239 
Friends of the Wellsford Library. 
ATTENTION 'WORMERATOR' OWNERS 
Do you have the green 'coffin' shaped 
Womerator installed approx 2006-2008? 
Please call Chris 09 4312 328 or 027 340 3747 
KNIT AND NATTER 
On  a  cold  and  windy  morning,  12  ladies  joined 
together  in  Cafe  Bianca,  all  bringing  their  current 
W.I.P. (work in  progress) with  them. We had a great 
morning, talking, sharing, one of the group learning to 
crochet during the morning. We had great  coffee, tea 
and  cakes,  all  the  delicious  produce  of  Cafe  Bianca. 
One of the ladies present came from Portugal, visiting 
her daughter who lives here, and she brought the most 
exquisite  embroidery  and  crochet  work.  All  of  this 
lady's talents are being poured into creating a 'bottom' 
drawer  for  all  her  grand  daughters.  With  much 
laughter, we agreed to meet again, in Cafe Bianca on 
the last Wednesday of each month. If you would like 
to join us you would be very welcome. Further details 
can be obtained from Elizabeth on  431 2522.
Are  YOU  prepared  to  leave  YOUR  home  with 
your family at a moment's notice in the event of 
an emergency? Maybe it's time to think about it. 
Following a petrol tanker crash in the middle of 
Maungaturoto one hundred people were evacuated to the 
Kaiwaka  Welfare  Centre  in  the  Kaiwaka  War  Memorial 
Hall  –  or  so  went  the  scenario  for  the  Civil  Defence 
exercise on Saturday! 
Run  by  Kaipara  CDEM  Officer  Trevor  Andrews  and 
Claire Nyberg CDO for the NRC, the workshop attracted 
a  worthwhile  number  of  people  from  Dargaville  to 
Mangawhai  and  all  points  in-between,  and  Kaiwaka 
wasn't  disgraced  either.  The  Northland  Red  Cross  team 
with their emergency trailer were also present to assist. 
We need more people to join our local group. Contact Jan 
431 2416, Wendy 431 2725, or Sarah 431 2351 for further 
information.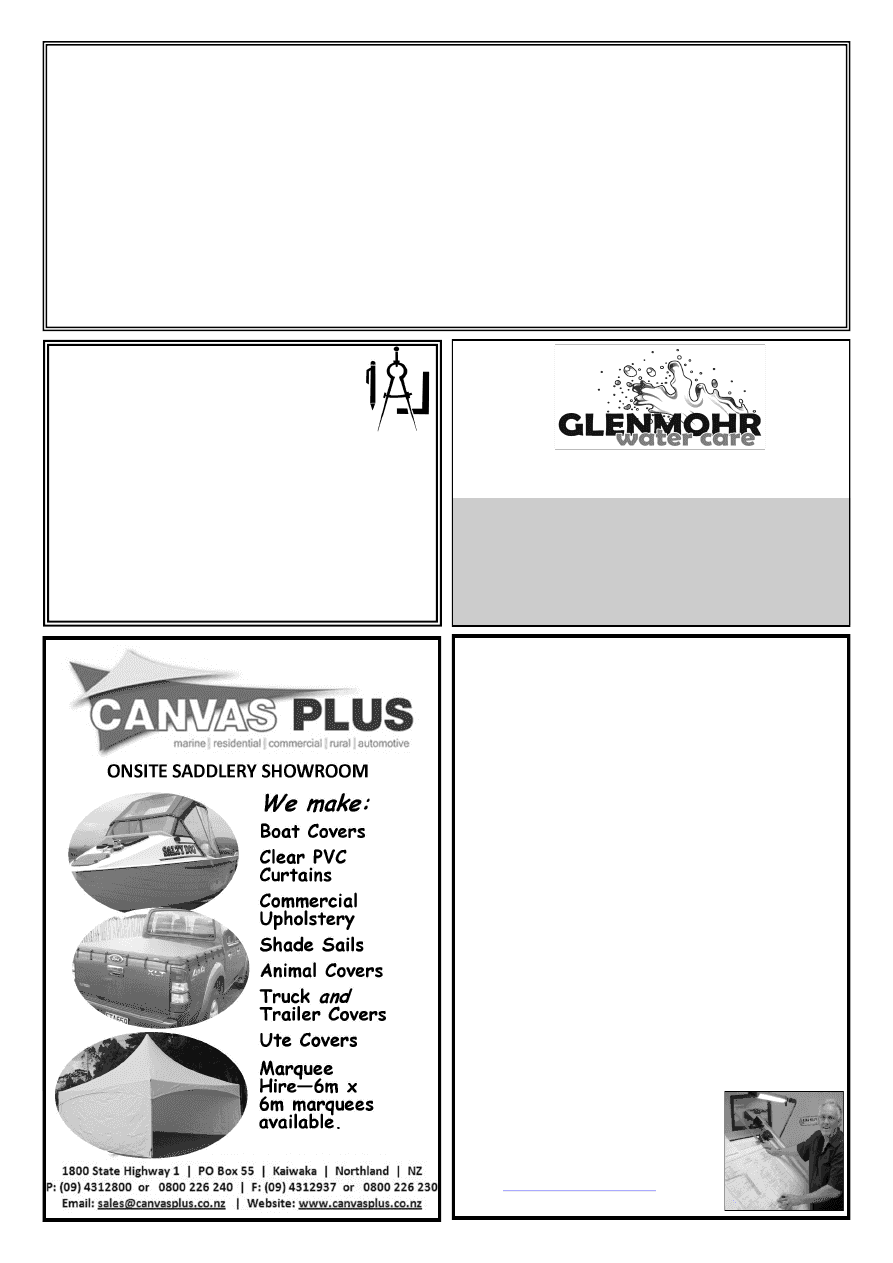 RANGANUI EARTHMOVERS 
  16T Excavator     
    (tilt, thumb & ROPS cab)     
  Transport Trailer 
  2 x 6 Wheeler Tip Trucks 
  Suppliers of All Grades of Metal & Topsoil 
If you want a proper job done with an experienced operator ring 
Grant on:  A/H  431-2131      Email  ranganui.dev@xtra.co.nz 
                      Mob  021845-246 
Driveways, House Sites,  
Drainage Dams, 
Section Clearing,  
Tree Work,  Rock Retaining Walls,  
Quarry Work, 
Basically Anything That a Digger Can Do 
design drafting 
service 
Retired builder and manufacturer with over 40 years  
experience in the building industry is offering a design 
drafting service for domestic housing, sleepouts and 
sheds.  
Plans formulated in consultation with clients, with 
working drawings completed and submitted to  
council for processing.  Extensive practical experience,  
able to identify & resolve problems. 
Please ring Mike Lean on 
09 431 2260  
          or 
021 431 196 
Water Tank Cleaning 
 
Keep your water safe & clean   
 
Removal of sediment, silt etc. 
 
Vacuum or full scrub 
 
Minimal water loss 
Phone Mark (09) 432 0655 or 0274 707607 
 ARCHITECTURAL BUILDING 
PLANS AND DESIGNS 
WRIGHT DESIGN 
 
QUALIFICATIONS 
Brian is a qualified designer (NZCAD) with over 40 years of 
varied experience in all types of building and is a registered and 
Licensed Building Practitioner in Design - L.B.P. 117345 
He ensures you will achieve the best from your budget with 
recommended excellent local contractors ready to competitively 
price and build your personal project quickly and efficiently. 
 
EXPERIENCE 
Brian's practical building and 40+ years of design experience 
means he can give you excellent advice and all the guidance 
needed for all your building needs 
v Wright Design offers free visits, consultations and all the ad-
vice you need on planning, design, building, contractors, coun-
cil permit applications, etc. 
"  Qualified and inexpensive designer – N.Z.CAD., LBP 117345 
"  Guaranteed design and working drawings 
"  Free site visit to your home or property 
"  Great service 
"  Great problem solver 
Call Brian ~Arrange a visit to discuss your needs  and obtain 
great advice and free quotation 
MAKE GOOD USE OF HIS EXPERIENCE and 
KNOWLEDGE 
WRIGHT DESIGN:  
360 Oneriri Road, Kaiwaka
Office 09 4312544   
Mobile 021 276 7389  
Email: 
www.wrightdesign.co.nz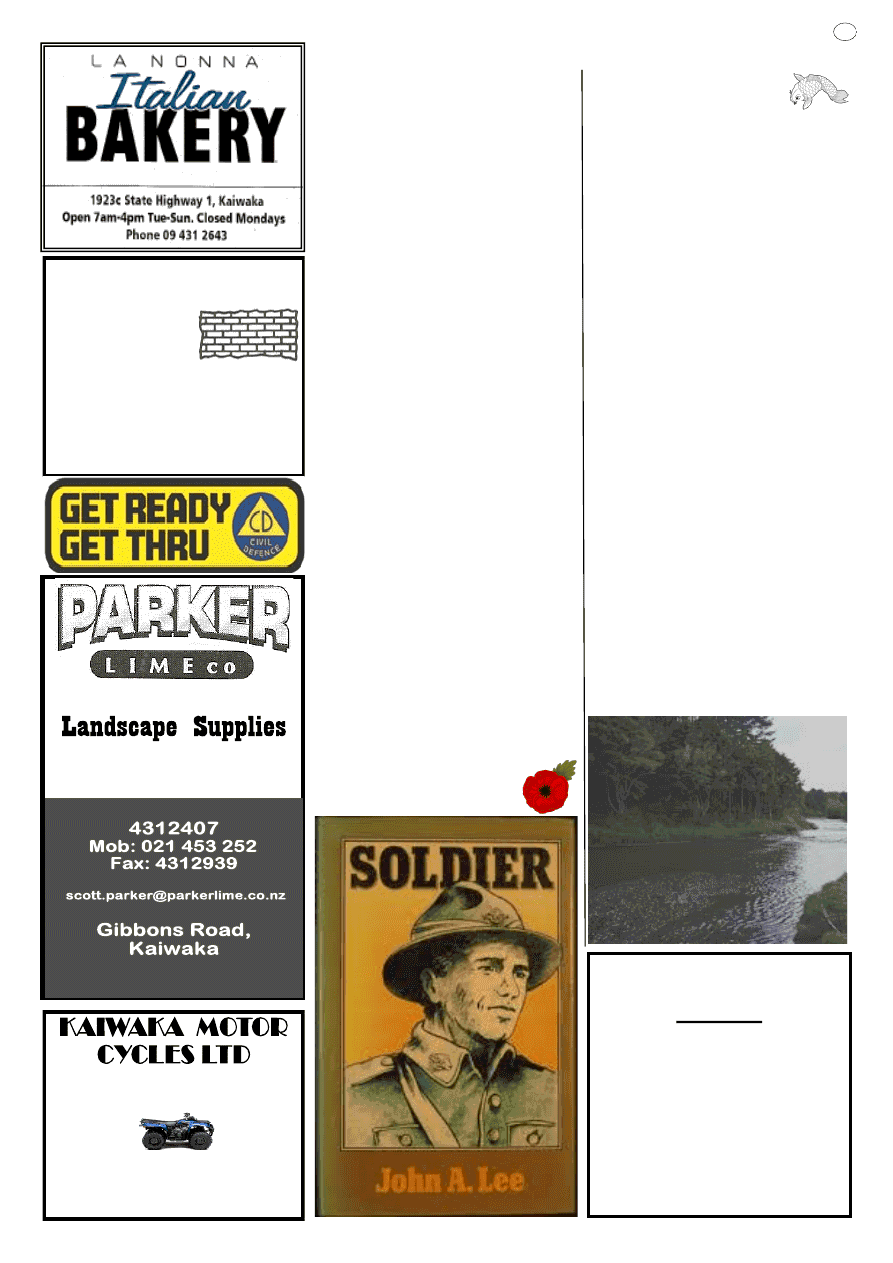 BRICK/BLOCKLAYER 
All aspects of masonry:  
Fireplaces, 
Restoration  
& Remedial Work. 
JAMES EAGLETON 
Tel. (09) 431 2514  
Mob. 0274 749 232 
jajueagles@yahoo.com.au 
210A Pukenui Road, RD2 Kaiwaka 0573 
SALES SERVICE SPARES
FARM BIKE SPECIALIST
Phone 431 2127  
Kaiwaka-Mangawhai Rd 
Kaiwaka 
5 
Bulk Cartage 
Kaiwaka Library 
Vacancy 
Voluntary Position 
3rd Wednesday of the month, 10am to 2pm 
Must be familiar with using Microsoft 
Windows. 
Full training given. 
Apply by sending an email to  
expressing your interest. 
(I don't need your CV, just tell me you'd 
like to join our team!) 
BOOK REVIEW
Soldier by John A Lee 
Private  John  Guy  is  an  ordinary  New 
Zealand  soldier  in  the  midst  of  World 
War I. He is in London on leave from 
the  trenches,  half-way  to  being  shell-
shocked and trying to make his meagre 
funds last until he has to go 
back to the 
front. 
After spending a while shacked up with 
a  young  prostitute,  new  enough  to  the 
job to not be hardened by it, his money 
runs  out  and  he  alternates  between 
walking  the  streets  of  the  famous  city 
until he's worn out and sickened by it, 
and  hanging  out  at  a  canteen  for  sol-
diers. It's there he meets a young Kiwi 
girl, stuck in England and unable to get 
home  due  to  shipping  being  unsafe, 
and  doing  her  bit to  help out  to  fill  in 
time. 
He's  attracted  to  Hawea  immediately, 
though she takes a while to soften and 
let  him  into  her  life  -  and  once  she 
does,  there's  no  going  back.  But  they 
both  know  this  is  the  equivalent  to  a 
holiday  romance,  and  he  will  have  to 
go back to war, where he is unlikely to 
survive. 
This is a story not only about war-time 
romance,  but  the  hard  facts  of  life  in 
the  trenches  to  which  John  returned. 
It's a tough read at times, but very en-
lightening. 
The  novel  was  first  published  in  the 
1970s,  but  Lee  wrote  the  first  draft  in 
1918 while he was recovering from his 
own wounds in an English hospital. He 
went on to become a famous politician 
and novellist. 
This  book  is  on  the  Fiction  shelves  in 
the library.            ~Wendy 
John A Lee: 1891 – 1982; was awarded the  
Distinguished Conduct Medal for ac-
tion at Messines in June 1917, and was 
repatriated after being wounded in 
March 1918 and losing his left arm. 
WATERWAYS 
We  have  been  doing  our  bit, 
along 
with 
many 
other 
landowners.  Firstly  in  2013  we 
fenced  off  approximately  1500  metres  of 
the  Hakaru  river  or  Topuni  creek,  which 
ever you prefer. 
Whilst enjoying a lunch break by the river, 
we  saw  a  large  "gold  fish",  this  we 
estimated  to  be  in  excess  of  700mm,  as 
said  fish  was  next  to  a  decoy  we  were 
fairly confident of its length. 
Being responsible  landowners  we  reported 
the  siting  to  the  Regional  council,  who  in 
turn  informed  DOC.  Now  some  fourteen 
months  later  they  contacted  us  wishing  to 
check out this siting. They duly arrive with 
dinghy and nets, the aim being to find out 
the distribution of unwanted pest fish in the 
district,  as  part  of  a  wider  strategy  to 
address 
freshwater 
biosecurity 
in 
Northland. 
The key species they were looking for was 
koi carp, along  with other introduced fish, 
also  the  distribution  of  native  species  was 
of  interest  to  them  as  well.  The  first  trip 
netted  a  large  goldfish.  Further  down  the 
creek a positive sighting of a Koi Carp. 
Overall  they  had  some  interesting  results, 
finding  a  range  of  species  including  Koi 
Carp,  Common  Carp,  Rudd,  Grass  Carp, 
Catfish, Gambusia, Short Fin and Long Fin 
Eels,  Inanga,  Freshwater  Shrimp,  and  two 
species of Bully. 
This  work  will  continue  into  the  future 
with  field  surveys  to  be  carried  out  next 
summer, along with community awareness, 
signage and school education programmes. 
Where did they come from? There is many 
and  varied  stories  of  the  demise  of  the 
humble  goldfish  and  other  tank  fish  that 
have  lost  their  attraction  for  what  ever 
reason. Please give it some thought before 
releasing these fish as they could well find 
their way in to our rivers and streams. 
Photo: Hakaru River    
~Rob H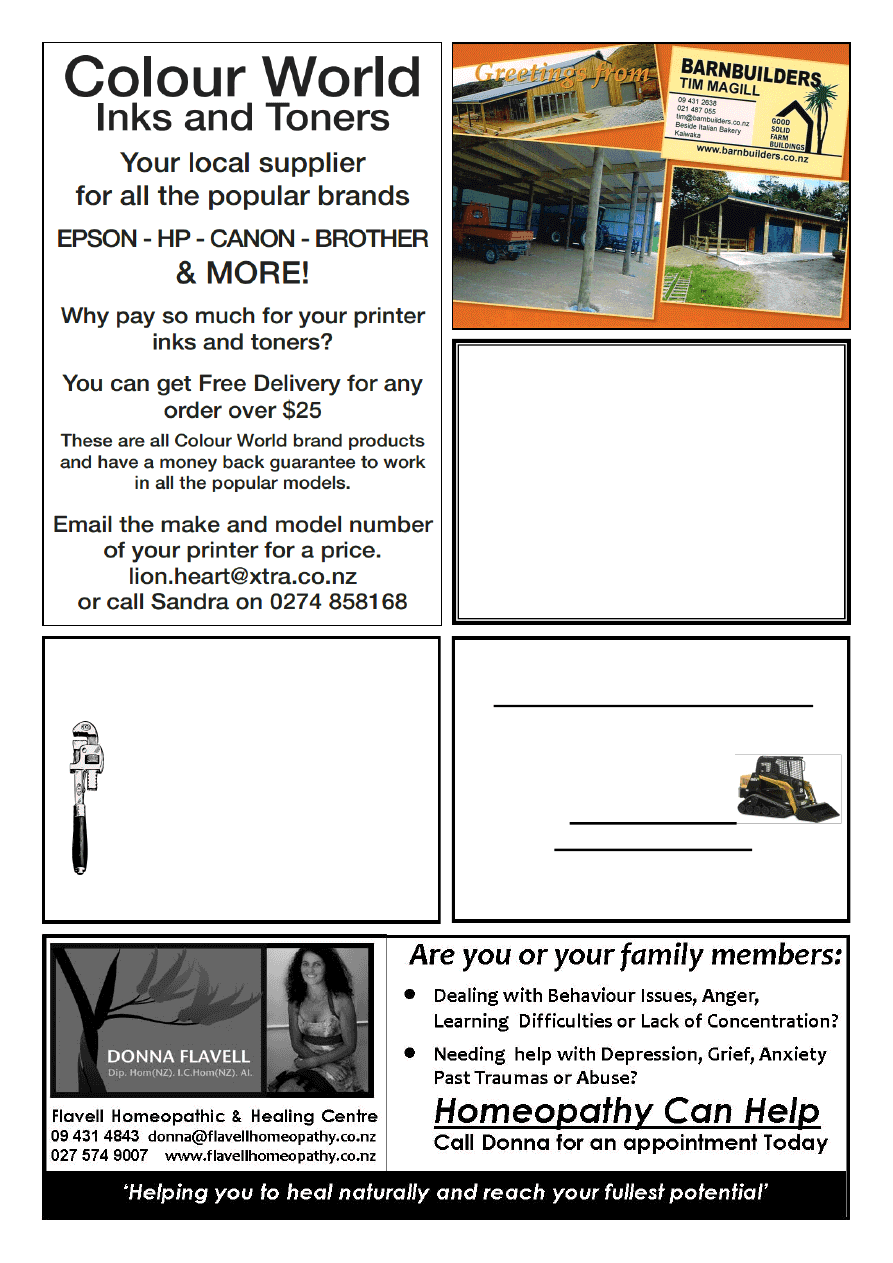 TILING 
Certified Waterproofing 
431 4533 or 021 86 33 33 
George 
MCN Property Solutionz  
Local references available 
Natural Earth Ltd 
Landscape and Bobcat services 
 : Driveways  :Landscaping  :Retaining Walls 
 : Hole Boring: Land Levelling :Trenching 
 : Decks :Fences :Sections Cleared 
 : Plus much more
Tel 09 4312 885 
Mob 02102391280 
For A Fast Friendly Service  
Contact Tim Hicks 
BARRY CURTIS PLUMBING LTD 
REGISTERED CRAFTSMAN PLUMBER 
Phone 431 5572 
027 257 9884 
25 years' experience 
Friendly reliable service 
All plumbing & maintenance 
Alterations and new housing 
New wood fire installation 
Spouting 
Competitive rates
PROMPT EFFICIENT  SERVICE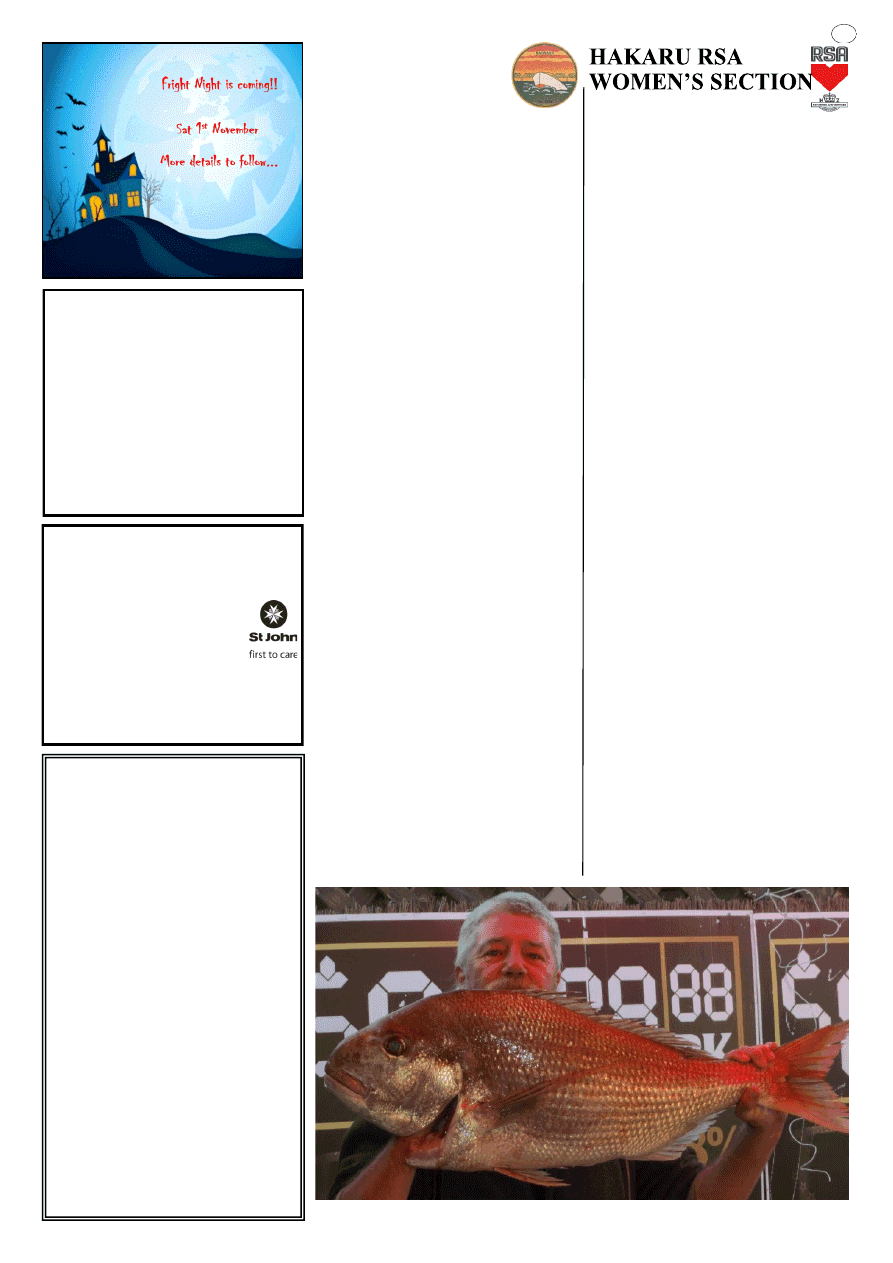 AMBER'S 
Q Cafe &  
Restaurant  
All day breakfast, 8am - 5.30pm.     
Home made Pizza, take away or eat in from 
8am to late. 
 Light lunches, 11.am - 5.30pm, 
Dinner Menu at 5.30pm to late 
 Toasted Sandwiches and Sandwiches made 
to order. All day, Pies, Chowder & Soups 
 Milkshakes, Kiwi Ice cream, Slushie Fruit 
drink, Tea, Coffee 
 Closed Mondays.....except Observed Holidays 
 Sunday to Thursday: 8am - 8pm 
 Friday: 8am - 8.30pm, Saturdays 8am- 9pm 
4315226 
Trevor & Amber 
41 Moir Street, Shop 5-6  
Mangawhai Village 
Next to Carters Building Supplies 
 LEABOURNS 
Passenger Service
Car & Van Hire 
Bus & Coach Charters 
Airport Transfers 
 Monthly Shopper Bus 
Phone (09) 4237416 
When you need St. John 
members at your function … 
Get a Community Services 
Form 
….. see Milly at the  
Kaiwaka St John  
Op Shop.  
Phone 4312650 
MORE MEMBERS REQUIRED FOR 
THE KAIWAKA STATION. 
7
POINT CURTIS 
CRUISING 
CLUB 
The  Point  Curtis  Cruising  Club  would 
like  to  acknowledge  and  thank  again 
the  amazing  sponsors  of  2014  Boar 
Hunt.  Our  apologies to  those  sponsors 
that were missed in the last publication 
of  the  Bugle,  this  was  a  genuine 
mistake! 
Big  thanks  to  all  of  our  sponsors: 
www.gamegear,  3  Furlongs  Hotel,  TB 
Free  New  Zealand,  NZ  Hunting 
Products, Dogmaster, PGG Wrightsons 
Wellsford,  Drive  Town  Mahindra, 
Game  Gear  Tackle  &  Outdoor 
Warkworth,  Phil  Keen  Concrete, 
Renton 
Roofing, 
Reel 
Roofing, 
Wellsford Sports & Leisure, Paul Greig 
Electrical,  Nigel  Clarke  Plumbing  & 
Drainage, 
Tangiteroria 
Tavern, 
Hunting  &  Fishing  Warkworth,  Head 
Hunters  Motorcycle  Club,  Kaiwaka 
Clothing,  Wharehine  Ready  Mix 
Concrete,  Fox  Earthmovers  Ltd,  La 
Nonna  Bakery,  Mighty  Mix,  Ries 
Family, The Vet Centre Maungaturoto, 
Farmlands, NZ Morepork Mag, Brown 
Family  (Rural  Posties),  Spice  Lounge 
Kaiwaka,  Hi-Way  Liquor  Kaiwaka, 
Feral  Designs,  Twinkle  Tow  N  Tyre, 
Tony 
Smith 
& 
Joss 
Tolley, 
O'Donaghue  Family,  Mark  &  Pam 
Ottaway, Bridgestone Wellsford, C & J 
Motors  Wellsford,  Shamrock  Service 
Station,  Liquor  Spot  Wellsford,  RD1 
Wellsford  &  Maungaturoto,  Carters 
Maungaturoto. 
Fish of the month is GURNARD until 
next  meeting.    Bring  those  Gurnard in 
to  the  3  Furlongs  to  be  weighed  to  be 
in  to  win  1st,  2nd  or  3rd  prize  in  our 
monthly competition. 
Pool  competition  against  Paparoa  at  3 
Furlongs  Hotel,  Kaiwaka  on  Sunday 
7th September from 1pm.  Come down 
for  a  game  or  just  to  support.    Please 
bring a salad for shared meal after the 
contest, meat will be provided! 
Next  committee  meeting  Thursday  11 
September, 7pm at 3 Furlongs Hotel. 
 ~Wayne Leslie, Commodore 
KAIWAKA 
Andrew Kenny with his 9.443kg winning snapper from this years Boar Hunt 
Hi from the Hakaru "Chicks"!  
Once  again  we  are  keeping  ourselves 
busy and warm, some of us have been 
gallivanting  about  going  to  Birthdays 
and  meetings  while  others  have  got 
their  knitting  needles  out  knitting 
beanies  and  making  toilet  bags  to  put 
essentials  in  for  underprivileged 
children going on Camps organised by 
Stand, which I will tell you more about 
after  our  Birthday  when  'The  Stand' 
organiser is coming to talk to us. 
The  Birkenhead  Birthday  was  very 
enjoyable  where  Heather  won  a 
beautiful doll (which she later gave to 
Lena  for  her  expected  first  great-
grandchild).  Bettie  Marchant,  Betty 
Aitken-Cooke  and  I  attended  also  and 
we had a great day. Thanks to Lena for 
driving us.  
On  the  6th  September  we  are  catering 
for the Air Force with a roast meal and 
sweets. 
On  the  13th  September  2  car  loads  of 
our 
members 
are 
attending 
Maungaturoto's  Birthday,    which  we 
are looking forward to, and 4 members 
are  going  to  Pukekohe's  Birthday  on 
22nd September. 
In the meantime we will be fine tuning 
our  59th  Birthday  arrangements  for 
23rd  October  at  which  we  have  a 
couple  of  surprises  in  store  all  going 
well. 
We  are  hoping  Waitakere  RSA  are 
coming  up  on  a  bus  trip  on  28th 
September.  One  of  their  stops  will  be 
our  Clubrooms  for  lunch  and 
socialising. 
Well  folks  that  is  all  for  now,  we  do 
wish  Bev  Ogilvy  a  speedy  recovery 
after her hip operation and hope she is 
back with us soon, and we do miss the 
Sherriff with his cheery face and jokes. 
Members  we  hope  you  are  busy 
producing  things for the Sales table at 
our Birthday, the visitors look forward 
to it. 
Keep  well  and  warm,  new  members 
are still most "Welcome".        ~Ann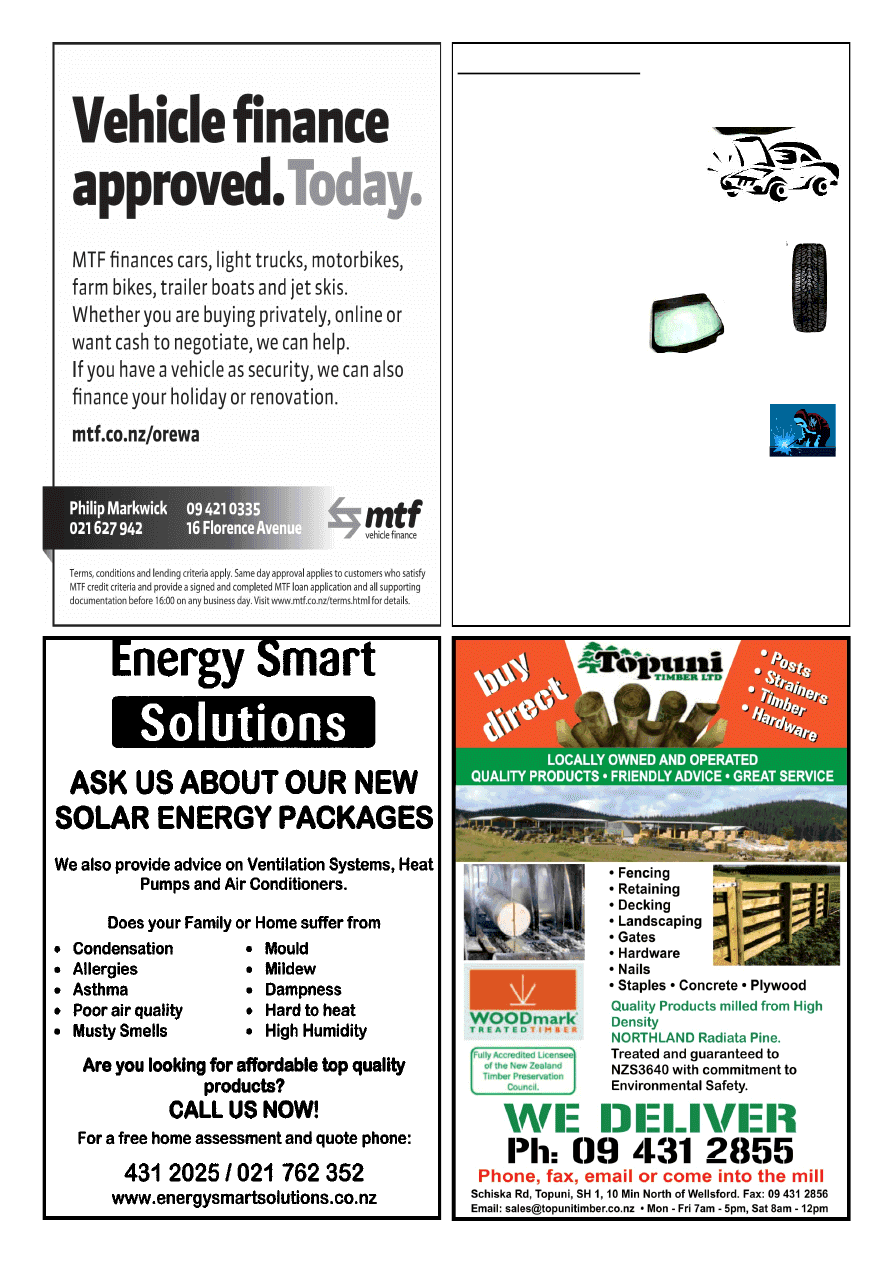 Want it done? 
Bring it to  
Twinkle Tow 'n' Tyre 
*W.O.F. 
*Tyres 
*Windscreen replacement 
*Chip repairs 
*Bulk Oil 
*Batteries 
*Welding 
*Custom built trailers 
*Trailer hire 
Think you'll get a better deal in 
the city? 
Go on, ring us; it won't cost  
anything! 
1837 State Highway 1, Kaiwaka       
Phone 431 2823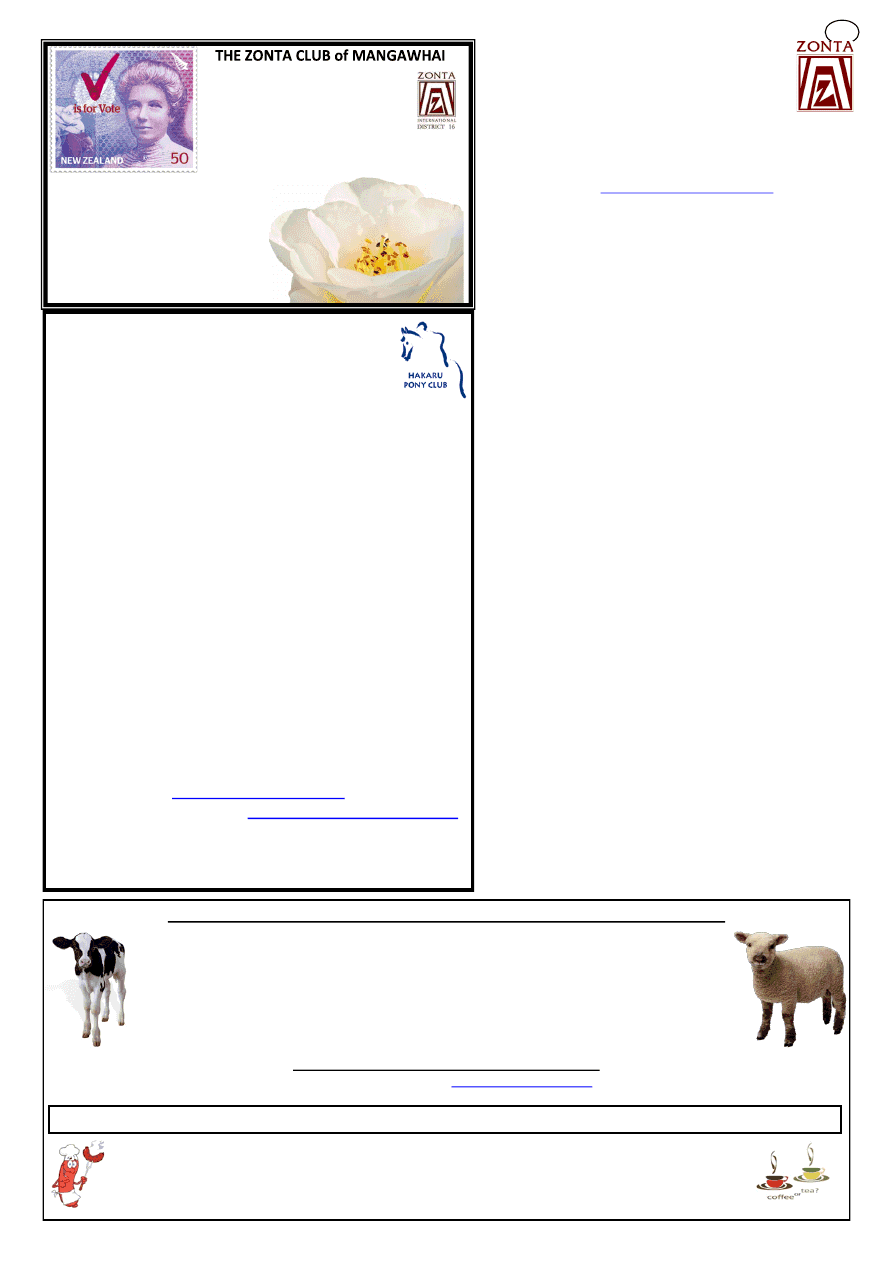 9
ZONTA 
Youth Development Voyage  
The  Zonta  Club  of  Mangawhai  are  very 
pleased to announce that applications are now 
open for the 4th annual award for young women in the 
area (from Wellsford to Bream Bay) to apply for a 10 
day  Youth  Development  Voyage  on  the  Spirit  of 
Adventure.  Application  forms  are  available  by  request 
by 
emailing 
ph 
0275556636.  The  deadline  for  applications  is  Friday 
3rd October 2014 
Right to vote  
On  Friday  19th  September  the  Zonta  Club  of 
Mangawhai  are  celebrating  121  years  of  women 
gaining  the  right  to  vote  in  New  Zealand  with  a 
breakfast at the Waipu Golf Club from 9am. Jill Mutch 
and  Sarah  Shaw  will  be  giving  speeches  at  10am  and 
the intention is to remind us all to use our hard earned 
right  to  vote  the  next  day  in  the  general  election  - 
please see attached flyer. All are welcome to attend. 
Sophie Elliott Foundation 
To  commence  a  two  year  partnership  with  the  Sophie 
Elliott  Foundation  the  Zonta  Club  of  Mangawhai  will 
be  having  a  White  Ribbon  stall  at  Saturday  Market in 
Mangawhai on 22nd of November. All funds collected 
will be passed on to the Sophie Elliot Foundation. This 
funding  is  to  assist  with  the  printing  of  a  book 
containing  practical  advice  to  help  young  people 
remain  safe  in  relationships  particularly  in  a  dating 
sense.  The  book  will  be  offered  free  of  charge  to 
students  who  participate  in  the  Loves-Me-Not 
workshops  for  Year   12  students  (girls  and  boys) 
delivered  by  three  trained  facilitators,  one  from  the 
Police,  a  local  NGO  (Non-Government  Organization) 
and  a  teacher.  This  will  be  an  interactive  day  long 
workshop  focussed  towards  teens  learning  about 
healthy and unhealthy behaviours in a relationship, how 
to  recognise  abusive  behaviours,  effective  bystander 
strategies and where to go for help.  
The common goal of both Zonta and the Sophie Elliot 
Foundation is the prevention of domestic violence and 
the  empowerment  of  women  through  education  and 
awareness.  Violence  against  women  is  a  huge  social 
issue  that  affects  all  sectors  of  New  Zealand  society. 
Since  Sophie  Elliot  died  on  9th  January  2008,  at  the 
hands  of  a  former  boyfriend,  around  80  women  have 
similarly lost their lives. The Zonta Club of Mangawhai 
is  also  planning  its  own  Awareness  evening  about 
Domestic Violence in the Mangawhai Hall on Tuesday 
25th  November  which  is  also  White  Ribbon  day. 
Speakers for this  event are  yet  to  be confirmed,  but  it 
will be on much the same lines as the workshop above. 
~ Corralie Betts, Zonta Club of Mangawhai
All welcome to join us at The Kaiwaka Sports Association for the 
KAIWAKA SCHOOL 
AGRICULTURAL DAY
OCTOBER 20
th
 2014 
Entry 9am Judging starting at 10am 
Any queries please ring Jody Greig tel; 431 2223 email; 
 , or Kaiwaka School 431 2309. 
Entry forms available at the Kaiwaka School Office. 
The PTA will be doing a Sausage Sizzle.   
Tea and Coffee will be available for a Koha/Donation. 
If you require any other food or drink please BYO.   
* The food provided in the pavilion is for Judges and Organising Committee only*
Last years winners please return your Trophies to Kaiwaka School Office ASAP. 
HAKARU BRANCH OF WELLSFORD  
DISTRICT PONY CLUB INC 
Open Day  
&
40
th
 Anniversary Celebration
Sunday 21
st
 September 12.30 - 2.30pm 
Settlement Road (off Mangawhai/Kaiwaka Rd), 
opposite the RSA
Pony Rides * Sausage Sizzle * Riding Dis-
plays * Cake Stall * Games  
 Trophy & Photo Displays
Come and join in the fun – all welcome
Past members, Parents & children, New members,  
General Public, 
This is also a great chance to see if pony club is for you – 
Junior & Adult riders 
Free car parking and entry 
Bring some cash for food or a ride – no EFTPOS available 
Any queries contact: Marj Steiner Ph: 027 294 1227 
Julie Rynne Ph: 431 4520 
Email or see the Hakaru Pony Club Facebook page for 
timing of events 
Any photos or memorabilia of years past would be great
YOUR VOICE 
YOUR CHOICE 
MAKE IT COUNT 
Celebrating 121 years of votes 
for women in New Zealand 
invite you to join us for 
SUFFRAGE DAY  
BREAKFAST 
Friday, 
September 19, at 9.00am 
at the Waipu Golf Club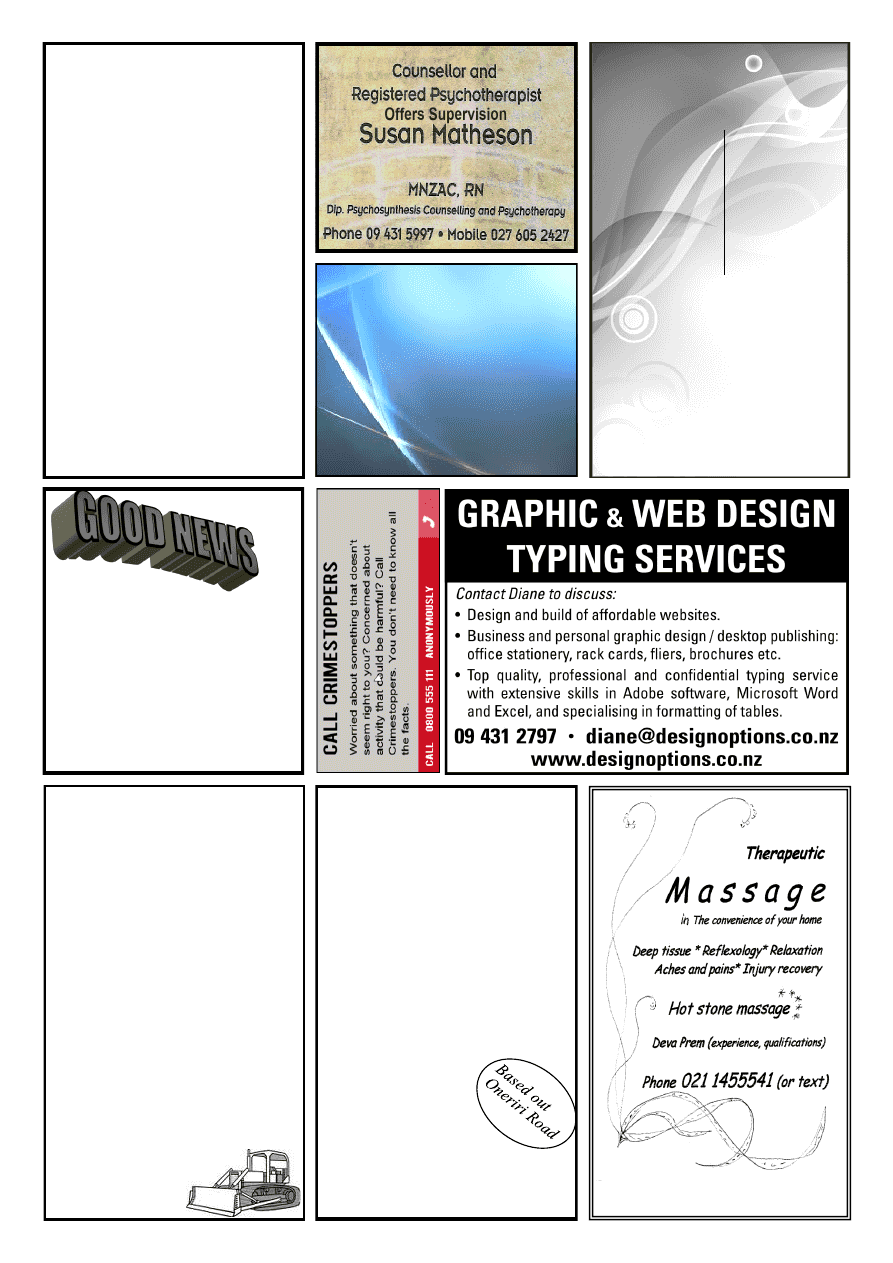 www.mangawhaimassage.co.nz 
HODGETTS 
CONTRACTING
Digger Work    

Driveways 

House Sites   

Dams 

Drains, etc
Also available for HIRE 

3 ton Vib Roller 

Heavy Duty Tow 

Waterblaster  

Lazer Level 
Phone Mark 
4312877 
027 447 8554
Freeview  
Installations 
Richard Te Haara 
25 Marram Place 
Mangawhai Heads 
021 1104056 
kiwipride@xtra.co.nz
Willow Bend
HORSE  
HOTEL 
"   
Total Horse Care 
" 
Agistment 
" 
Riding Lessons 
" 
Arena Hire (60x40) 
" 
Young Horse Starting 
" 
Re-training/Exercising 
" 
Hoof Trimming 
" 
Problem Solving 
Phone Sue 09 431 
2817 or 021 623 776 
Or email sue.gray@xtra.co.nz 
Coates  
Contracting 

D41 Bulldozer with 6 
way blade, bush rigged 
with winch 

For all tree work 

General bulldozing and  
  stick raking. 

120hp Tractor for 
ground cultivation,  

tip trailer work. 

Fencing
All enquiries phone  
Brett Coates  
 094318720  
or 
 021431872
@ the  
Kaiwaka Family 
Church 
Your COMMUNITY CHURCH 
RECEIVE HEALING 
RECEIVE THE LOVE OF GOD 
Everyone warmly welcome 
each Sunday 10am. 
Contact: Pastor John Dekker,  
09 4318203 
THERE'S 
U Beauty 
Please call Nicole for bookings 
09 393 6336 or 022 0639450 
Qualified Beautician 
4 Kaiwaka – Mangawhai Rd 
Kaiwaka 
Underarm Wax  
$20 
Extended Bikini Wax 
$30 
15 min Back  Massage 
$25 
Eyebrow Wax  $10 
Eyebrow Tint  $10 
Eyelash Tint 
$20 
Lip Wax 
$10 
Chin Wax 
$10 
Bikini Wax 
$20 
Brazilian 
$50 
½ Leg Wax 
$30 
Full Leg Wax  $45 
Full Pedicure  $60 
Foot Tidy  
$35 
Manicure 
$45 
Nail Tidy 
$25 
Chest Wax 
$30 
Back Wax 
$40 
Nostrils 
$10 
Ears 
$10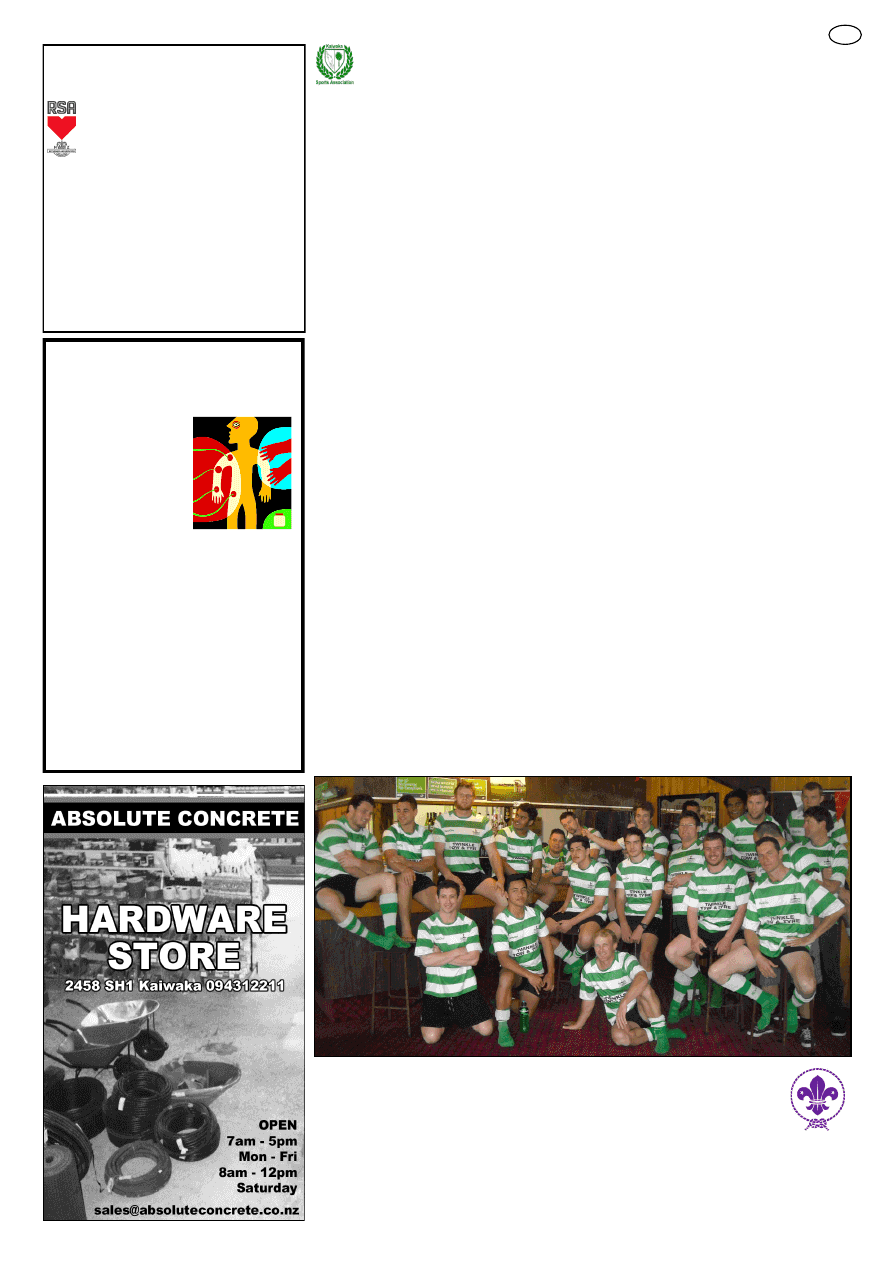 OWEN STEVENS 
Osteo Therapist
For careful 
adjustments to 
bones and joints 
Treatment for  
humans and their 
pets 
Clinics: 
Kate's Place, Kaiwaka: 
Last Friday of month 
For  bookings:9.00am-5.00pm  
Phone 
09 4312661 
Or phone Owen   
09 4317123  anytime 
11 
HAKARU & 
DISTRICTS RSA Inc 
Each Friday night 
from 6.30pm 
Meals will be served 
2nd Friday of the Month 
Is Roast Dinner Special 
Come along and enjoy our 
Hospitality  
For more information 
Ring Heather 431466 
or Jan 4314512 
KAIWAKA SPORTS ASSOCIATION
Rugby – senior 
Our Otamatea Hawks premiers and  
reserves  celebrated  the  end  of  their 
season  at  our  Sports  Complex  last 
week. 
Congratulations 
to 
the 
prizewinners: 
Most Improved Player - William Church  
U18 player (To Try is to Succeed) - Jordan 
Kemp 
U19 Player of the Year - Jayden Johnson 
U21 Player of the Year - Logan Eager & 
Terry Baldwin 
Club Spirit & Personality - Lance Nepia 
Most Conscientious Club Player - Ross 
Hargreaves 
Top Try Scorer - Matt Moulds & Adrien 
Thomazo 
Most Outstanding Achievement - Matt 
Moulds 
Reserves 
Most Improved Senior Reserve Player - 
Hugh Marychurch 
Senior Reserve Back - Daniel Kawana-
Pool 
Senior Reserve Forward - Jayden Johnson 
Senior Reserve Player of the Year - 
Bodean Mane 
Premiers 
Most Improved Senior 1st Year Player - 
Feleti Penitani 
Senior Premier Back - Dan Hawkins 
Senior Premier Forward - Shane Neville 
Best all Round Senior Club Player - Lance 
Nepia 
Senior Premier Player of the Year - Adrien 
Thomazo  
Casual HAWKS photo below. 
Rugby – IMB 
Congratulations to our Otamatea 
Hawks IMB prizewinners: 
Under 16s  
Player of the year - Joseph Perrett 
Best Back - Rhys Shadbolt 
Best Forward - Cameron Lupton 
Team Spirit - Ashton Coates 
Under 14s  
Player of the year - Simon Parker 
Best Back - Rakai Parker 
Best Forward - James Ratima 
Team Spirit - Conrad Harris 
Gymnastics 
Our  gymnastics  club  will  hold  their 
AGM  this  Tuesday  at  5.45pm  in  the 
gymnasium  foyer.  All  gymnastics 
families are encouraged to attend. 
Martial Arts 
Our  Wednesday  morning  Tai  Chi 
classes  won't  be  running  in  the  month 
of  September,  due  to  our  instructor 
having a prior commitment.  
KDC Public Meeting 
We  are  hosting  a  public  meeting  this 
Tuesday  at  5.30pm  in  the  JK  Lounge. 
Come  along  to  have  your  views  on 
Kaiwaka heard. A light supper will be 
provided. 
Winter windups 
As more of our winter sports wind up, 
we are hosting more prizegivings: 
Fri 19
th
 Sept, 5pm – Junior Netball 
Sat 20
th
 Sept, 11am – Kaipara Knights 
Soccer 
Sun  21
st
  Sept,  12pm  –  High  School 
Netball 
Fright Night 
Our annual Fright Night will be held on 
Saturday  1
st
  November.  As  part  of  the 
evening  we  transform  the  rugby 
changing  rooms  into  a  'haunted  house' 
which  children  can  choose  to  walk 
through. 
We  have  an  earlier  session  for  the 
younger  children  and  then  dial  up  the 
scare-factor  for  a  later  session  for  the 
older children! 
So,  I  am  looking  for  some  ideas  to 
make  that  later  session  really  scary!  If 
you have any suggestions, please get in 
touch with me (contact details below). 
Cheryl Anderson 
4312 051, 027 3462702 
kaiwakasports@gmail.com 
KIDS DISCO 
Thank you to everyone who came to our disco at the Kaiwaka Sports 
Complex on Friday. We hope you enjoyed the music, dancing, games 
and lolly scramble. We made $350 for our Kaiwaka/Mangawhai Scout 
Troop. 
Thank you to the Scouts parents who helped sell toasties, popcorn, drinks and 
glow items. And thank you very much to Paula from Jaques Four Square who 
donated the food ingredients. 
~Holly Anderson and Jessika Wintle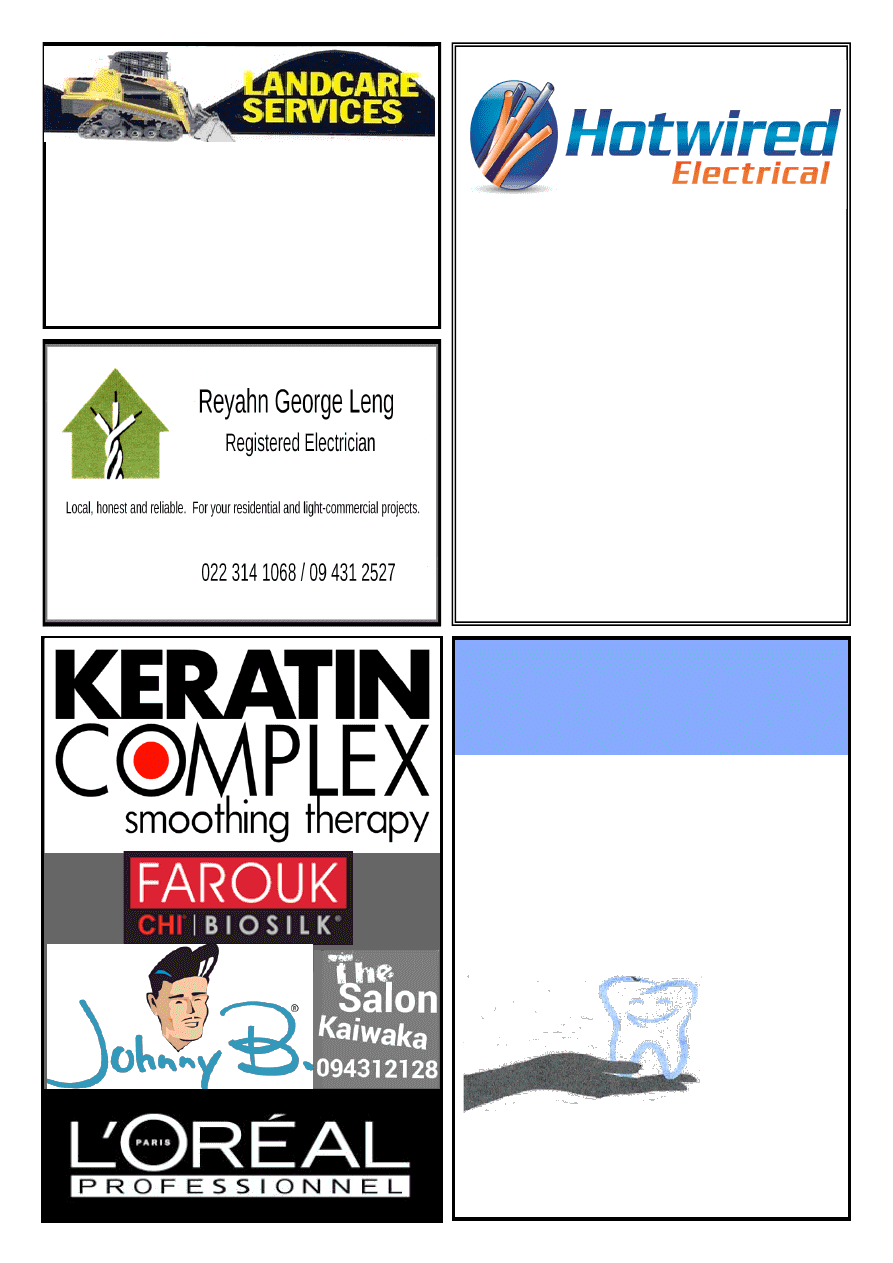 LANDSCAPING 
4 IN 1 BUCKET 
TRENCHER 
POLE HOLES 
ROTARY HOE 
COMPACT ROLLER 
OFFAL HOLES 
CAN SUPPLY WOODCHIP & POST PEEL 
5 TON TIPPER 
FOR RELIABLE AND FRIENDLY SERVICE CONTACT DAVE 
Dave Hyndman 
 
KAIWAKA 
PH: 09 4312302 
MOB: 021 431 238 
Gentle Dental 
Ruakaka 
We love to see you smile 
 
General  & Cosmetic Dentistry 
 
Emergency & ACC Treatment 
 
Denture & Hygienist Services 
 
Senior Citizen Discounts 
 
Free Adolescent Care 
 
Free WINZ Quote 
19 Ruakaka Town Centre 
Dr Sim Sood & Associates 
Ph:  432 8139 
Saturdays 
By 
Arrangement 
Open  
Mon-Fri  
8am-5pm  
For All your  
Electrical  Requirements 
 
Domestic small jobs 
 
Residential dwellings and alterations 
 
Commercial 
 
Industrial                 
No job too big  
or too small    
Contact Jason today on: 
(09) 431 5992, (021) 405 019 
www.hotwiredelectrical.co.nz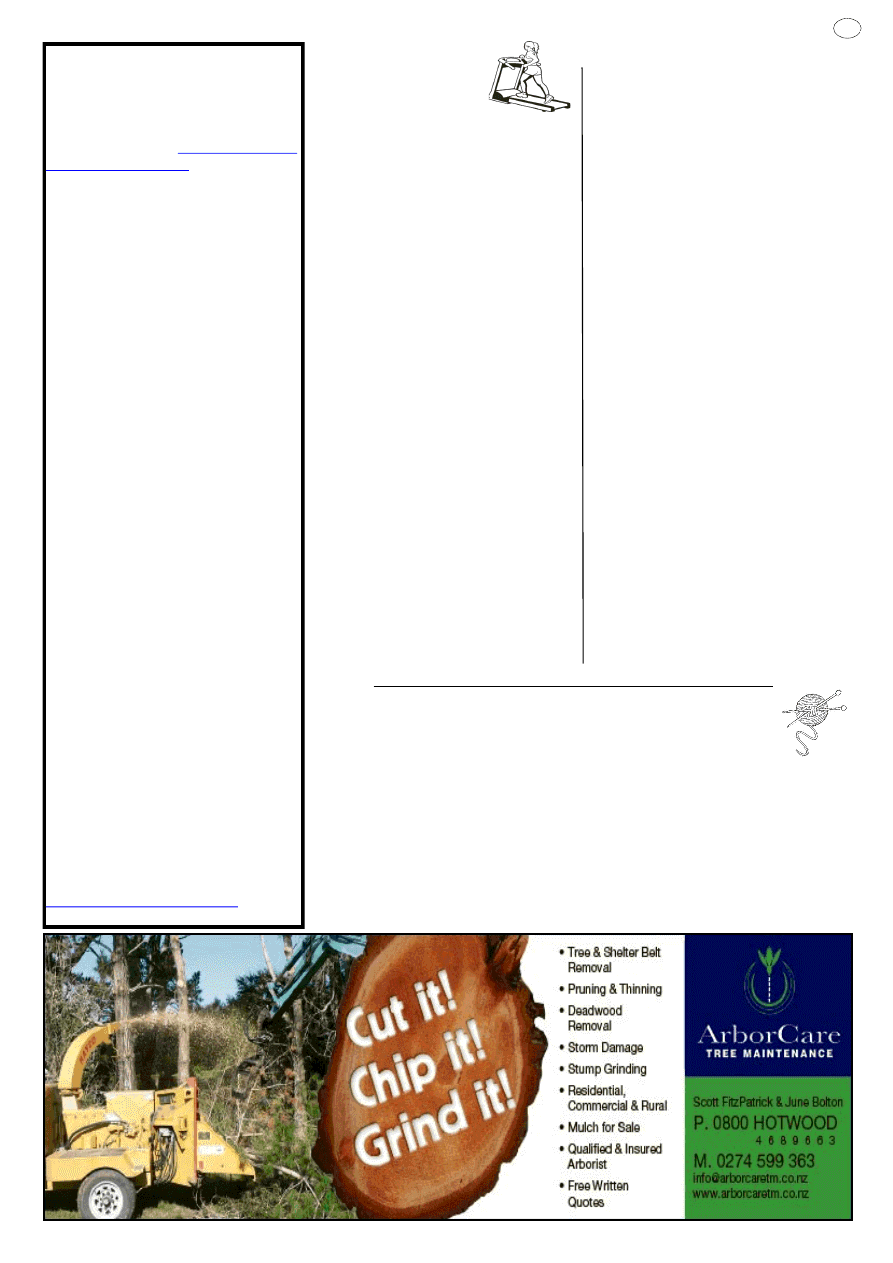 13 
KAIWAKA WAR  
MEMORIAL HALL  
An update on what is happening within 
your community hall. 
Maintenance 
The inside of the hall has been painted 
and  NorthTec  will  be  finishing  the 
doors,  skirtings,  etc,  soon.  The 
committee has plans to replace the well
-worn carpets. New curtains have been 
installed  in  the  Supper  Room.  We 
intend  to  get  the  hall  "lit  up"  on  the 
outside again, as soon as suitable lights 
have been sourced; it is proving harder 
to  get  decent-quality  lights  that  will 
last a reasonable time than it once was. 
Kaiwaka Community Garden 
Is there interest to start a group to use 
and grow your own veges and maintain 
the  gardens?  Contact  me  for  more 
information 
(4312 
234 
or 
clarijsam@xtra.co.nz). 
Kaiwaka Community Cinema Group 
So far we have had over 700 visitors to 
our movies this year, and it's becoming 
pretty  well  known  around  the  area  for 
"Friday  nights  at  the  movies  in 
Kaiwaka".  Coming  up:  for  the  kids  - 
Rio 2, Frozen (repeated due to popular 
demand);  for  the  adults  -  The  Grand 
Budapest  Hotel,  Noah,  Jersey  Boys, 
The  Dark  Horse,  and  Mrs  Brown's 
Boys  D'Movie.  Join  the  "Kaiwaka 
Community 
Cinema" 
group 
on 
Facebook  to  keep  up  to  date  and  to 
give your feedback and/or suggestions. 
The  Hall  Committee  and  Cinema 
Group  are  all  volunteers;  run  by  the 
community for the community. 
~ Ad Clarijs 
KAIWAKA 
FITNESS 
CENTRE 
Sorry I have been so slack in writing of 
late  but  it  is  full  on  competing  at  the 
moment.  Have  just  been  to  Taupo 
where I defended my titles of last year, 
off to Queenstown at the end of month, 
then  if  still  in  the  mood  NABBA 
Nationals  at  the  end  of  October  and 
finally  who  knows  back  to  San  Diego 
again to defend my titles for last year, 
so as you can see all go. 
As  for  the  gym  all  seems  to  be  going 
well.  The  new  calf  machine  has  now 
arrived.  It  can  also  be  used  as  a  squat 
machine, good for those who have sore 
backs. 
As  the  days  start  to  get  longer  and 
spring  around  the  corner  a  lot  of  you 
will  be  thinking  of  the  beach,  bikinis 
and  whether  they  still  fit  after  winter. 
Its  time  now  for  action,  by  increasing 
your activity levels and looking at what 
you are eating, remember 90% is what 
you put in your mouth, and that cutting 
calories  to  low  might  mean  you  lose 
some  weight  to  start  with  but  if  they 
are  to  low  your  metabolic  rate  will 
slow  down  making  it  harder  to  lose 
weight.  Its  a  matter  of  cutting  a  few 
things out and eating clean. 
The Sports Association has some other 
options for exercise if  you  don't  fancy 
the gym: squash, touch, tennis, walking 
is always good as well, so get out and 
move  your  tosh  and  start  making 
changes for the better. 
Train hard, eat clean  ~Jules 
AVON  AVON  AVON   
Brochure 16 is out with orders 
due to me by 4th September and de-
livery approx 15th September. 
For your convenience you can now 
shop on line 24/7. 
give it a go. 
The Anew Clinical Infinite Lift is a 
really lovely cream. $50 with a free 
gift of Eye Lift Pro, Beyond Colour 
Lip Conditioner and a Clinical Orb 
Bag Valued at $104.98. Give it a try 
and if you are not satisfied return 
for a full refund. I know you won't 
because you will love it. 
Check out the new styled Naturals 
products for your everyday essen-
tials - shampoo, conditioner, show-
er gel, body lotion, liquid hand soap, 
room spray and body sprays. Com-
pare with the supermarket and you 
will love Avon's prices. 
HOT DEAL is Argan Oil Collection 
- Shampoo, Conditioner, Light gloss 
spray, Leave in mask and Hair Wrap 
all for $30. Great buying and really 
good on frizzy and uncontrollable 
hair. Great Fragrance specials for 
both Men and Women. 
Buy One get One Free with buy 
Anew Night Creams - receive the 
Day cream free - great value. 
As an introductory special I have 
the new Clinical AF-33 Line  
Corrector Targeted Filler for the 
special Price of $55.00 with a FREE 
eyeliner of your choice. Limited 
amount available. 
Mascara on pages 102 and 103 
two for $24.00 and Mega Effects 
Mascara $22.99 with a free eyeliner. 
Christmas gifts are coming 
through 
now so give me a call for 
some ideas and stocking stuffers. 
Happy Shopping 
Gale Matheson 
0274149576  094314827    
Kaiwaka Knitting for Whangarei Hospital 
We meet on the 2nd Tuesday of the month at the Apple Basket,  
State Highway 1, Kaiwaka, 10.00-12.00. 
I  would  like  to  take  this  opportunity  to  thank  all  those  wonderful  people  who 
have donated some absolutely beautiful blankets and yarn to our group. 
Whangarei  Hospital  Staff  are  blown  away  by  the  generosity  of  everyone  who 
knits, crochets, and donates so the patients can be warm. They take home what-
ever the nurses give them so the need is almost endless. 
We are always on the lookout for more wool and people who want to help. Just 
come along. 
As a group we also make the calico dolls for the Children's Ward for the Doc-
tors to use to show the children where their procedure will be on them. We have 
decided to make at least 30 per month and we turn and stuff them on this day. So 
if you don't knit or crochet and want to help you are most welcome. 
Contact Gale Matheson 094314827 or Elaine Reddy 094312211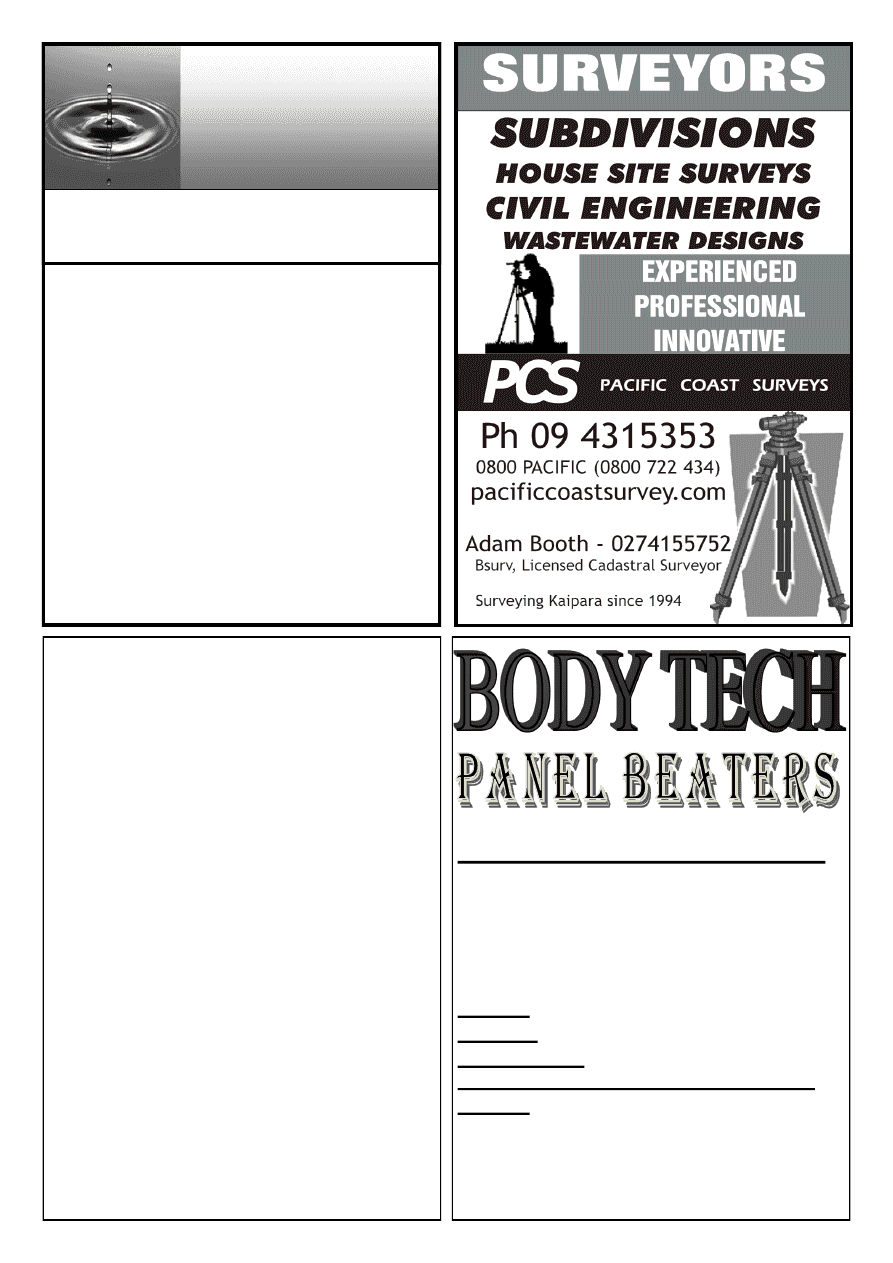 PETE WORSFOLD  
B. Soc.Sc. M. Soc.Sc. Diploma of Prof Couns. 
Counsellor
peteworsfold@xtra.co.nz 
 021 825 970 
Professional Service 
Variety of Modalities 
By Appointment Only 
For all your body repair needs!! 
We do: 
Rust repairs 
Insurance work 
Anti-corrosion treatment         
Hours: 8.30am-5pm Monday-Friday  
Mobile: 021 118 0462 
After hours: 09 431 2384 
Phone: Craig or Call in for a free Quote 
e-mail: 
bodytech_panelbeaters@yahoo.com
We are located at 1837 SH1 Kaiwaka, behind Twin-
kle Tow 'n' Tyre call in anytime for a free quote.  
Large and minor vehicle  
  repairs 
Industrial vehicles 
Full Cut and polishes 
INDIVIDUAL ONE-ON-ONE 
COUNSELLING 
 
MODALITIES:     FOR: 
  CBT              Grief 
  Gestalt            Relationship 
  Person-Centred     Trauma 
  Solution Focussed    Couples 
  Behavioural        Adolescents 
                  Careers 
Call for Appointment 
At "The Well of Health" 
09 4312799 or 021 825 970 
KAIPARA FLOORING CO 
32 HURNDALL ST MAUNGATUROTO 
Ph: 09 9469886 or 021 515 415 
Carpet, vinyl, laminate wood look  
  flooring, vinyl planking, sanding  
& polyurethane service. 
Carpet Short Ends from $79pm + GST 
Vinyl D.I.Y. peel n stick tiles $10sq mtr + GST. 
Free measure & quote.   
Mobile Service 
Phone Christine or Howard anytime 
Open Saturdays by arrangement.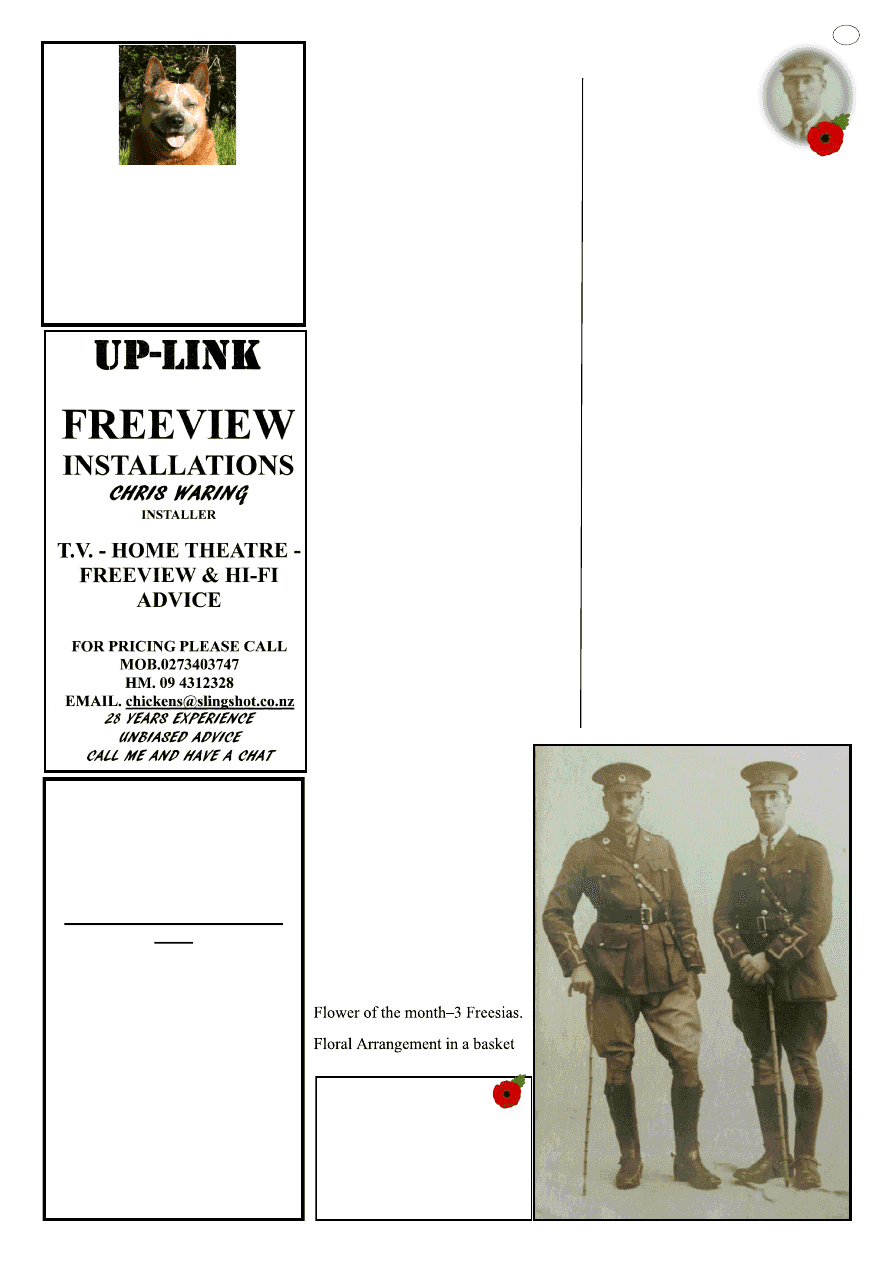 15 
Laughing Dog 
Computers 
www.laughingdog.co.nz 
0224344448 
Hardware and Software 
Service and Repair 
Yang Style Tai Chi 
Classes  
For Beginner And 
Practitioners  
at the 
Kaiwaka War Memorial 
Hall 
Every Tuesday  
Starting at 10.30 am 
Come Along And Have 
Some Fun While Improving 
Your Balance Health And 
Fitness 
For More Information Contact  
Andrew Young 
09 4223424   
HWH COATES
Hubert Coates is listed on 
the 
Kaiwaka 
War 
Memorial  Hall  WW1 
Honours  Board  under 
'Born in the District', with 
W  for  wounded  alongside  his 
name. 
The late Alex Watson, a former teacher 
and  Coates  descendant  retired  to 
Kaiwaka,  wrote  the  excellent  book 
"Hill  of  the  Seabird'.  Alex  wrote  of 
Hubert's  WW1  experience:  "Henry 
William  Hubert,  youngest  of  Thomas 
Coates'  sons  was  20  when  war  broke 
out.  He  was  living  with  his  sister, 
Olive,  at  the  parents'  home  at  Orakei. 
He  enlisted  and  went  overseas  as  a 
Lieutenant.  He  fought  in  France  and 
was  wounded  in  the  knee,  recuperated 
in  England  and  re-joined  his  infantry 
regiment. He was promoted to Captain 
in  the  field,  received  a  massive  head 
wound,  and  was  brought  out  for  dead. 
He  subsequently  disclosed  that  he 
believed  himself  blinded,  his  scalp 
having  fallen  over  his  eyes.  He  was 
invalided  back  to  Auckland,  together 
with  18  wounded  fellow  officers  and 
506 other ranks. … He married Myrtle 
Hunter  of  Mt  Albert,  Auckland,  in 
1921,  and,  on  his  return  from  Fiji,  he 
took over the management of the North 
Auckland  property  from  Edward,  and 
lived  in  Mountain  Home.  They  had  a 
family  of  one  son  and  two  daughters 
(Russell, Mary and Margaret)." 
~  from  page  205-6  of  'Hill  of  the 
Seabird' by AP Watson 
Hubert  later  farmed  in  the  Wellsford 
area.  Sadly  his  son  Charles  Russell 
Coates was killed at Cassino in WW2. 
Photo below: G
ordon and Hubert Coates 
WW1 – photo courtesy Mary Ashford 
(Hubert's daughter)
KAIWAKA GARDEN 
& FLORAL GROUP 
20 members attended the August meet-
ing held at Christ the King Church Hall 
on Thursday 14th August. 
It  was  a  real  pleasure  to  see  so  many 
entries  in  the  floral  section  and  they 
were hard to judge as they were all so 
good. 
We  are  looking  forward  to  the  Opera-
tunity  concert    titled  'from  Broadway 
to  Westend'  to  be  held  at  this  same 
venue  on  18th  September  at  10  a.m.  
tickets  $25  available  from  Heads  Gifts 
& Books and  Bammas at the village. 
The Birthday Girls for this month were 
Sharyn  Mclean  and  Meredy  Ballard 
hope you both had happy and relaxing 
Birthdays. 
The Christmas Meeting is on 11th De-
cember  and  is  to  be  a  "Mystery"  bus 
trip which sounds exciting. 
The  raffles  were  won  by  Margaret 
Whitaker and Anne Shimmin. 
This  meeting  was  a  catch-up  meeting, 
and  the  rules  up  dated  by  Rosemary 
were  handed  out  to  each  member  pre-
sent, (copies saved for those who were-
n't)  to  refresh  old    members  memories 
and inform new members. 
One  of  the  main  rules  is  that  each 
member is expected to attend at least 5 
meetings  a  year  as  we  have  a  waiting 
list knocking at the door! 
The Judges for this  month  were  Helen 
Thwaites and Ann Dowson, who came 
up with the following results:- 
Best  bloom:  1st  Jenny  Wills,  daffodil; 
2nd L Lusty,  Lilly 
Spike:  1st  Lorraine  Lusty,  orchid;  2nd 
R Browne, Freesia 
Vege:  Diane  Alexander,  Silverbeet; 
2nd R Browne, Broccolli. 
Fruit: 1st Heather Small,  
lemon;  2nd  Jenny  Wills,    Ugli 
(Orange family) 
Floral  3  flower  arrangement 
with greenery: 
Novice:  1st  Caron  Bastable; 
2nd Glyns Smith 
Senior:  1st  Agnes  Tully;  2nd 
Heather Small. 
Most  Outstanding  exhibit  Lor-
raine Lusty's orchid. 
Wild  Card:  1st  A  Tully's  pur-
ple  cauli;  2nd  S  Mclean  2  ga-
langal roots. 
Next  meeting  September  11th 
at  Jenny  Chellew's  Kaiwaka-
Mangawhai Road. 
Fruit and Vege own choice. 
. 
Happy Gardening all ~Ann 
KWMH Honours Board 
WW1: 
I am seeking further information 
and photos on other servicemen 
and women - 1. Andrew Erceg, 
who was killed in action. His 
brother was Matthew who lived in 
Maungaturoto but later moved to 
Waitara, Taranaki.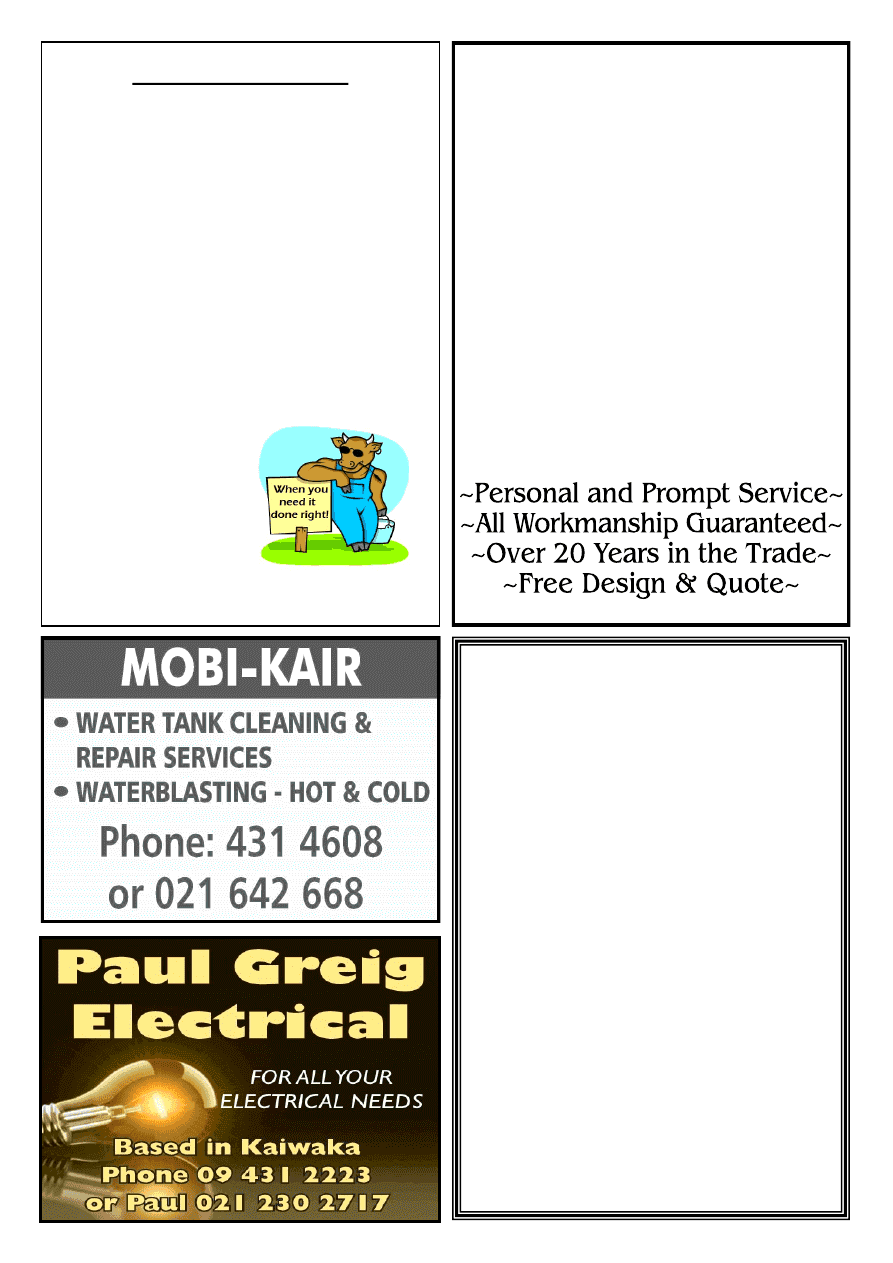 CALL A FARMER
CROP AND PASTURE SPRAYING 
SPECIALISING IN MAIZE, 
BRASSICA AND FODDERBEET 
ALSO 
GIBBERELLIC ACID, VEGETATION CONTROL 
GORSE & OTHER BRUSH WEEDS 
Tee Jet GPS Guidance and Mapping 
Computer controlled application 
11 metre spray width 
Low drift air induction nozzles 
1000 L tank capacity 
Qualified experienced applicators 
09 423 75 85
027 62 55 383 
info@callafarmer.co.nz 
PLANNING A NEW 
KITCHEN? 
 CONTACT NOEL McDOWELL 
WELLSFORD 
KITCHENS
Ph/Fax 094312888  
KAIWAKA-Any time 
  QUALITY CUSTOM MADE 
KITCHENS  
g.a.s. 
Mangawhai 
we have now opened a 
GARDEN CENTRE 
for all your gardening needs 
Also a great range of 
STOCKFOOD 
Wide range of 
ORGANICS AND 
 FRESH LOCAL PRODUCE 
All your motoring needs are taken care of by 
our friendly staff check us out... 
44 Moir Street, Mangawhai (09)431 4242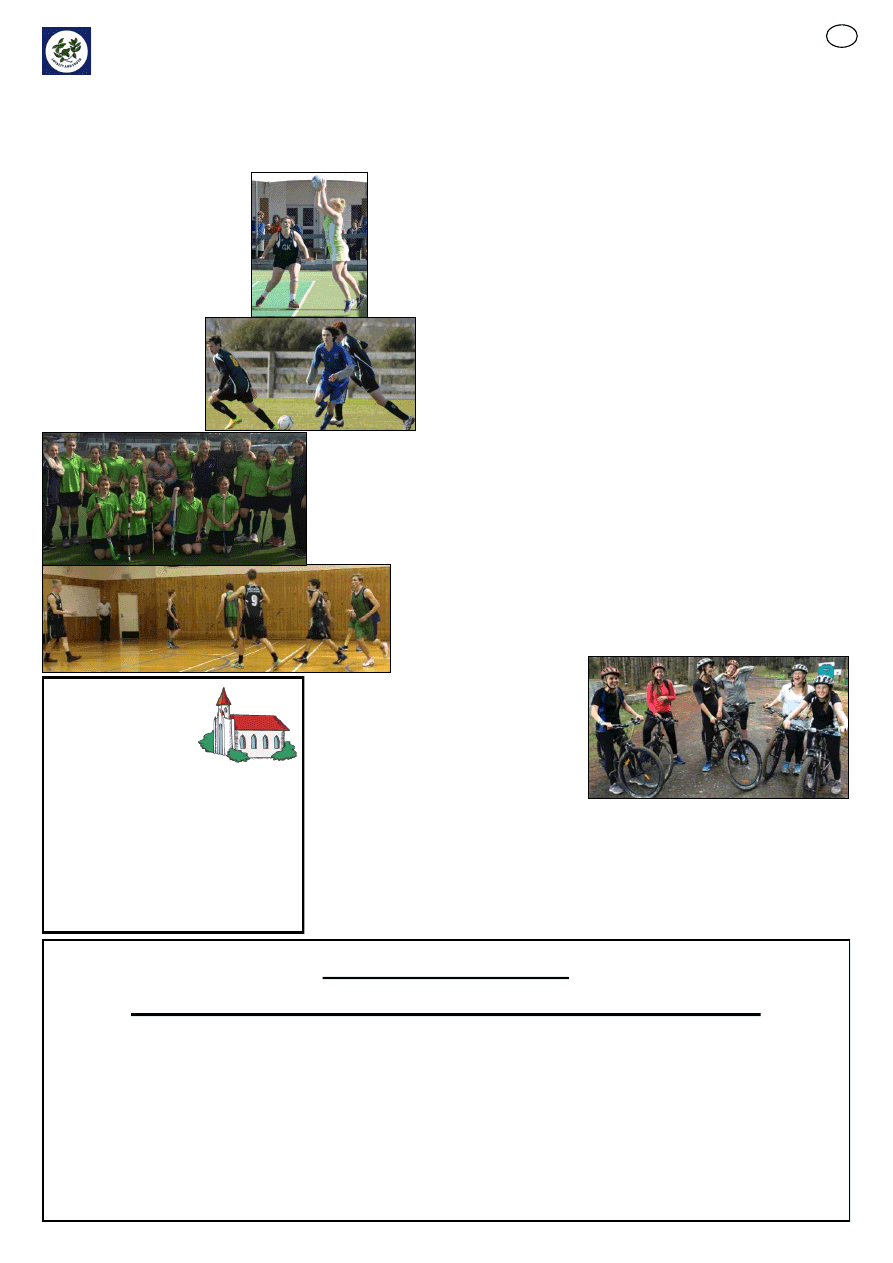 17 
ST PAUL'S  
ANGLICAN  
SUNDAY  
SERVICES
First Sunday 9.30am 
Third Sunday 9.30am  
St Pauls Church: Kaiwaka-Mangawhai Rd. 
1st Sun - Eucharist 
3rd Sun - Family Service 
Office 4214 122 
Contacts:M.Hargreaves 4312295, C.Bygrave 4312057  
PAUL SAUNDERS  
LAWNMOWING & GARDENMAINTENANCE 
Friendly and reliable service guaranteed 
 
Lawns and edges     

Section mowing 
 
Hedging and trimming    

Spraying and fertilising 
 
Tree planting     

Green waste removal    

Pruning 
Call now for a free no obligation quote 
021 886 843  or  09 431 3318 
Servicing Mangawhai and Kaiwaka and surrounding areas 
paulsaunders99@gmail.com 
OTAMATEA HIGH SCHOOL 
Reporoa  College  –  Otamatea  High 
School Sports' Exchange 
Sunday 10th – Tuesday 12th August (49th 
Annual Exchange) 
The  49th  Annual  Exchange  took  place 
from  the  10th  –  12th  August.  Reporoa 
College  had  won  the  last  two 
events and so there was mounting 
pressure for Otamatea to front up 
and achieve some success. 
On  Sunday  night  in  front  of  an 
excellent  crowd,  the  more 
experienced 
Reporoa 
teams 
showed  their  qualities  and  won 
both basketball matches. The Ota 
girls  struggled  against  a  well 
organised defence and the 
boys  were  eventually 
beaten  by  some  excellent 
3  pointers  which  seemed 
to be scored at will. 
Coming  into  the  Monday 
the school were already 2 
matches down with 5 still 
to be decided. 
The debate  was the first event on Monday 
morning  and  a  responsive  audience 
witnessed  some  lively  discussion.  The 
moot was "Smoking should be illegal" and 
Otamatea were the affirmative. Izzie Porter 
and James Finlay were excellent with facts 
and  Jordan  Smith  provided  the 
audience  entertainment  winning 
the debate. 
Next  the  1st  X1  Football  team 
were  keen  to  maintain  their 
unbeaten  season.  The  game  did 
not  start  well  with  Reporoa 
scoring  first  in  the  first  five 
minutes.  This  was  the  spur  that 
Otamatea  needed  and  from  this 
point  onward  the  team 
began  to  put  together 
some 
good 
attacking 
moves.  Cameron  Gil  and 
then 
Alex 
Damsted 
scored to put the school 2 
–  1  up  at  half  time  and 
now  in  a  commanding 
position.  Otamatea  held 
on  to  this  scoreline 
although  Reporoa  missed a penalty  with 3 
minutes  left  to  play.  My  thanks  to  Grant 
Van Dalsum for refereeing the game which 
was played in an excellent spirit. 
The  netballers  have  not  had  their  best 
season  this  year  but  Coach  Nikola  Kemp 
went  into  the  game  full  of  confidence  for 
her  team.  This  confidence  was  well 
founded  and  the  girls  played 
exceptionally  well  to  win  the 
game  52  –  36.  All  the  girls 
saw  court  time  and  they  put 
together  a  solid  performance, 
no  matter  what  combinations 
were  being  used.  The  school 
would  like  to  thank  the 
umpires 
Jodie 
Bennito 
and 
Tai 
Cunningham. 
The  hockey  girls  travelled  to  Whangarei 
and had a highly competitive game, but one 
with  no  goals  scored.  Both  coaches  were 
happy  with  their  team's  performances  and 
on  reflection  believed  that  a  draw  was  a 
fair  result.  Thanks  to  the  umpires  Tayla 
Perkinson and Melissa Underwood. 
The  rugby  was  the  final  fixture  of  the 
exchange and it was great to see Otamatea 
field a strong team for the day. Coach Brett 
Coates had his under 16's as the bulk of the 
team  with a  few of the  year  12's and  13's 
to add some bulk to 
the team. Otamatea swiftly went into a 12 – 
0 lead with tries from Kharnse Namana and 
Michael  Parker.  However,  Reporoa  hit 
back  and  were  leading  17  –  12  going  into 
the  last  quarter.  With  Reporoa  attacking 
inside  the  22  there  was  a  turn  over  and 
Rhys Shadbolt broke out, Goodwin Paikea 
carried  on  the  move  and  Anton  Herewini 
scored  in  the  corner.  Rhys  Shadbolt 
converted  to  give  the  school  a  19  –  17 
victory and victory overall in the exchange. 
Many  thanks  to  Craig  Shadbolt  for 
refereeing. 
After  a  successful  exchange  my  thanks  go 
to  Kay  Robinson  and  Tina  Holst  for  all 
their hard work and to you the parents who 
provided  the  billets.  Well  done  a  great 
Otamatea team effort. 
Paul Chambers 
Level  3  Physical  Education  Trip  to 
Woodhill Forest 
On the 20th of June the Level 3 P.E. class 
travelled  down  to  Woodhill  Forest  to  take 
part  in  the  Tree  Adventures  and  mountain 
biking  tracks  for  our  outdoor  safety 
standard.  We  left  school  at  7a.m.  arriving 
at  Woodhill  at  8:30am.  We  went  to  tree 
adventures  first  and,  after  the  safety 
briefing  and  demonstration,  we  went  and 
completed all of the 14 increasingly harder 
courses that they provided. After lunch we 
left  tree  adventures  and  went  to  get  our 
mountain  bikes,  we  formed  two  groups, 
one went with Mr Chambers and the other 
with  Ms  Parkinson,  to  bike  over 
approximately  14  of  the  120  kilometres 
that  run  through  the  forest.  We  biked 
through  the  Natures  Valley  and  the 
Auckland Eye Tracks. There were 5 levels 
of  bike  jumps  along  the  tracks,  1X,  being 
the  easiest,  through  to  5X,  which  was  the 
most  difficult,  we  spent  4  hours  on  the 
tracks, getting back to the van early enough 
to  go  to  the  Parakai  thermal  pools  before 
leaving to go home. It was such a  fun and 
active day. 
Edhen Church (Year 13) 
Level  3  Hospitality  at  Otamatea  High 
School 
Students  are  working  on  a  range  of  topics 
this year both at school and at the Country 
Club. 
Continued on page 19...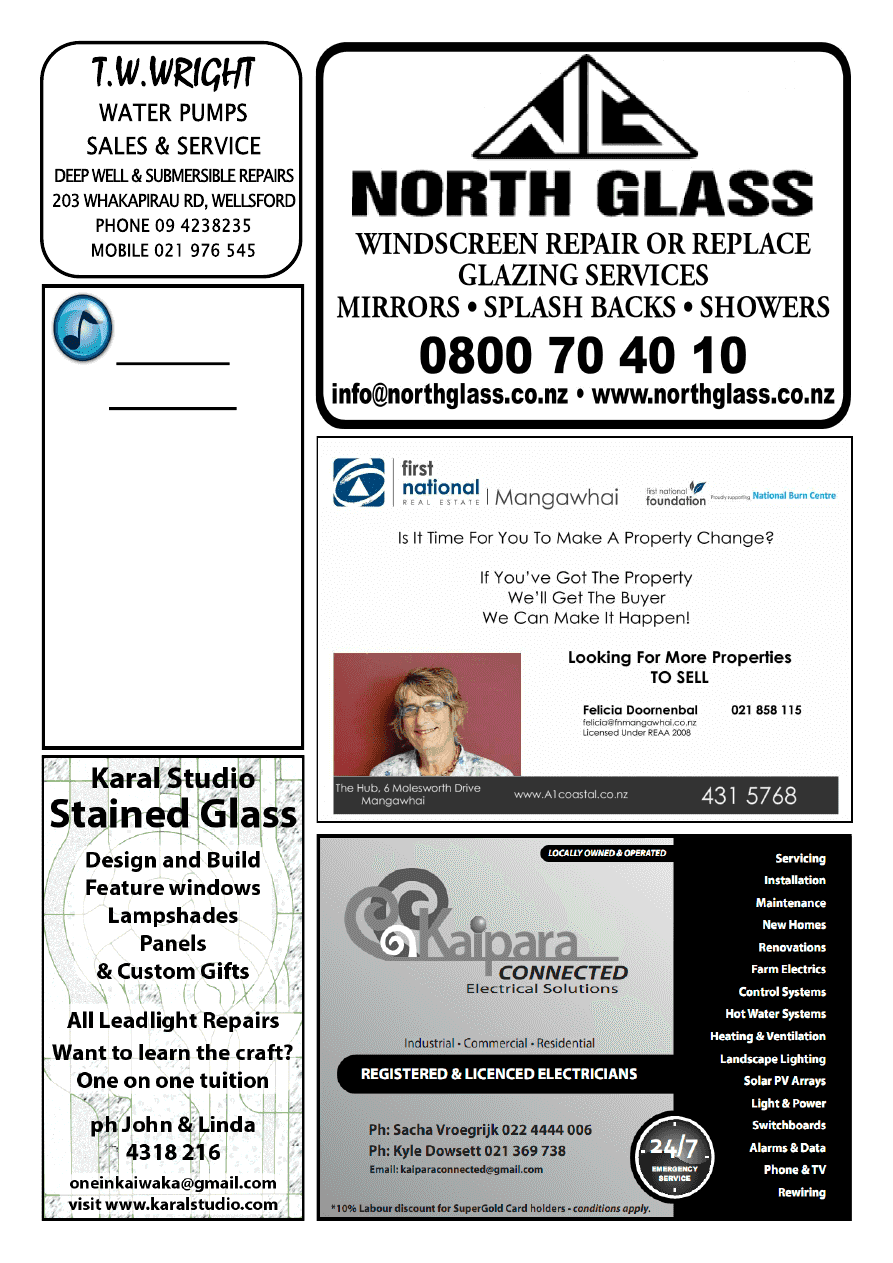 Singing 
Lessons 
Individual sessions 
All styles of music  
All voice types 
Reasonable rates 
Phone  
Maura Flower 
      021 164 8318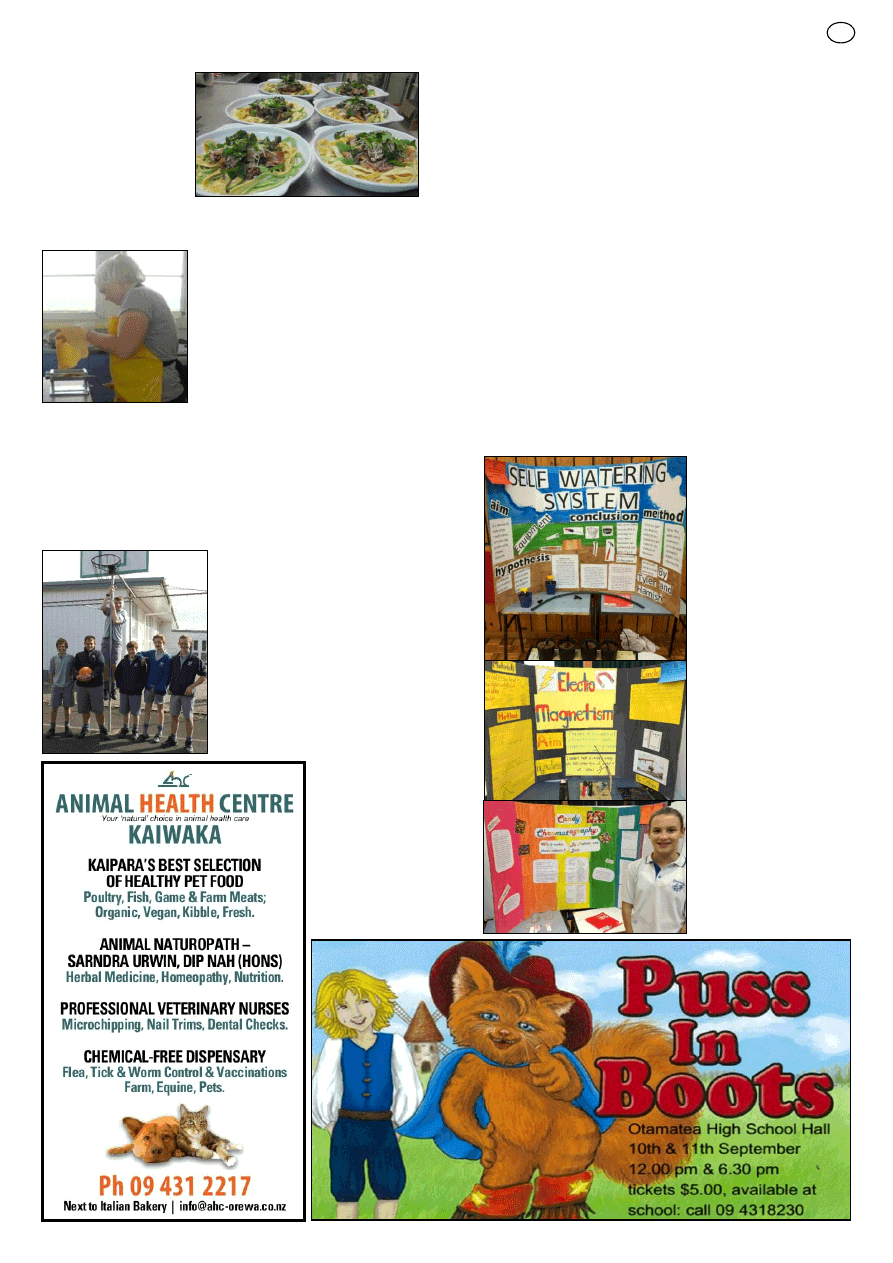 Year  7  and  8  Science 
Fair 
Last  term  the  year  7  and 
8  students  spent  their 
science  lessons  planning, 
carrying 
out 
and 
presenting  science  fair 
projects,  on  topics  of 
their 
own 
choosing. 
Students 
worked 
in 
groups of 1-3 and explored a wide range of 
topics,  from  catapults  to  vortex  cannons, 
growing  gummy  bears  to  testing  paper 
towel  strength. Last Tuesday we displayed 
their  work  in  the  hall  and  had  many 
students,  teachers  and  some  parents  come 
through to view the projects and trial some 
of the inventions. Trophies and other prizes 
will be awarded to the students on Monday 
18th at our school assembly. 
Year 7 Prize-winners: 
First  place:  Tyler  Young  and  Hamish 
Ferguson – Self-watering system. 
Second  place:  Oshani  Mudannayaka  – 
Electromagnetism. 
Third  place:  Maggie  Hames  and  Matangi 
Tito – Balloon popping. 
Presentation 
award: 
Amyee 
Sheppard 
and 
Emma  Huband  –  How  big 
can balloons blow? 
Year 8 Prize-winners: 
First 
place: 
Pasindu 
Mudannayaka  –  Simple 
motors. 
Second 
place: 
Emma 
Millard  and  Suzy  Thomas 
– Invisible ink. 
Third 
place: 
Tyler 
Flannagan  and  Jeremy 
McCallam  –  The  plastic 
bag torture. 
Presentation 
award: 
Mahina  Henry-Campbell 
and  Jade  Reid  –  Candy 
Chromatography. 
Maths Olympiad News 
Round 
3 
of 
the 
Australasian 
Problem 
Solving 
Mathematical 
Olympiads 
(APSMO) 
competition  was  held  at 
school  at  the  beginning  of 
Term  3.  The  year  7s  are 
entered  into  the  junior 
competition  and  the  Year 
8s and 9s are competing in 
the  senior  competition. 
Round  3  was  another 
tough round for the year 7s 
but Maggie Hames showed strong problem 
solving  skills  and  again  top  scored  with  3 
points.  In  the  senior  competition  Pasindu 
Mudannayaka,  Claude  Smyth  and  Ewan 
Smith  all  did  extremely  well,  scoring  4 
points  respectively.  Leading  scores  after 
the 3rd round are: 
Junior Year 7s: Maggie Hames 9 points 
Senior  Year  8s:  Pasindu  Muddanayaka  7 
points, Isaac Sheppard 5 points 
Senior  Year  9s:  Claude  Smyth  13  points, 
Ewan Smith 8 points. 
Well  done  also  to  Bradley  Hailes,  Oshani 
Muddanayaka,  Romero  Madsen,  Mya 
Lawrence,  Tyler  Flannagan,  Lucas  Beeler, 
Bradley  Hailes,  Jeremy  McCallum  and 
Mason Wintle for their efforts. 
Dirk Smyth 
Rotary  Club  Maungaturoto  Zone  5 
Speech Competition. 
The  Rotary  Club  of  Maungaturoto  and 
Districts  welcomed  speech  contestants 
from Rotary Zone 5 schools on the evening 
of  12  August  2014.  Competitors  were  as 
follows:  Otamatea  High  School  –  Ellen 
Nelder;    Rodney  College  –  Nadine  Tupp; 
Mahurangi 
College 
- 
Alana 
Hathaway, 
Elizabeth  Murphy,  Lottie 
Thompson;  Bream  Bay 
College  -  Lucy  Goffin, 
Elijah  Purnell.  All  the 
speeches  were  of  a  high 
quality  making  the  award 
by the two judges difficult 
indeed, 
especially 
on 
account  of  the  variety  of 
topics  and  the  depth  of 
information  provided  by 
the 
speakers. 
The 
impromptu  section  was 
very entertaining  with the 
topic  of,  "Should  New 
Zealand  sell  agricultural 
land 
to 
foreign 
investors?"  being  really 
challenging for the speech 
contestants  to  come  up 
with  a  valid  argument 
within  a  very  tight  time 
preparation  time  of  only 
90  seconds.  The  winner 
was  Alana  Hathaway 
from  Mahurangi  College, 
who  will  continue  to  the 
final 
Annual 
Rotary 
Speech Competition in  
Whangarei next month.  
John Laue 
19 
OTAMATEA HIGH SCHOOL 
continued from page 17
At  level  3  the  cookery 
unit  standards  require 
the  students  to  produce 
food  in  a  commercial 
kitchen that is then sold 
to  the  general  public. 
Students  work  at  the 
Country Club with their 
tutor Julie Lewis. 
Topics covered are pasta and egg cookery, 
complex  sandwiches,  and  the  baking  of 
cakes, sponges and scones. 
The skills they are 
developing  were 
evident  in  recent 
practical 
assessments run at 
school  and  at  the 
Country Club.  
Students 
also 
assist  Julie  with 
selected  in  school 
catering 
for 
different groups. 
Basketball hoop built by OHS students 
Otamatea  High  School's  Year  10 
metalwork  class  put  together  an  awesome 
effort  to  make  their  own  basketball  hoop! 
The  team  of  craftsmen  included  myself-
Lochy  Bonasich,  Jacob  Beeler,  Travis 
Flannagan,  Brody  Shadbolt,  Lee  Holst, 
Tamati  Abel  and  our  inspiring  metalwork 
teacher  Mr  Mackenzie.  This  was  a  great 
way  for  us  to 
learn 
about 
teamwork, 
metalwork, 
and 
design 
skills. 
And 
now  we  get  to 
enjoy 
our 
finished 
product. 
by Lochy 
Bonasich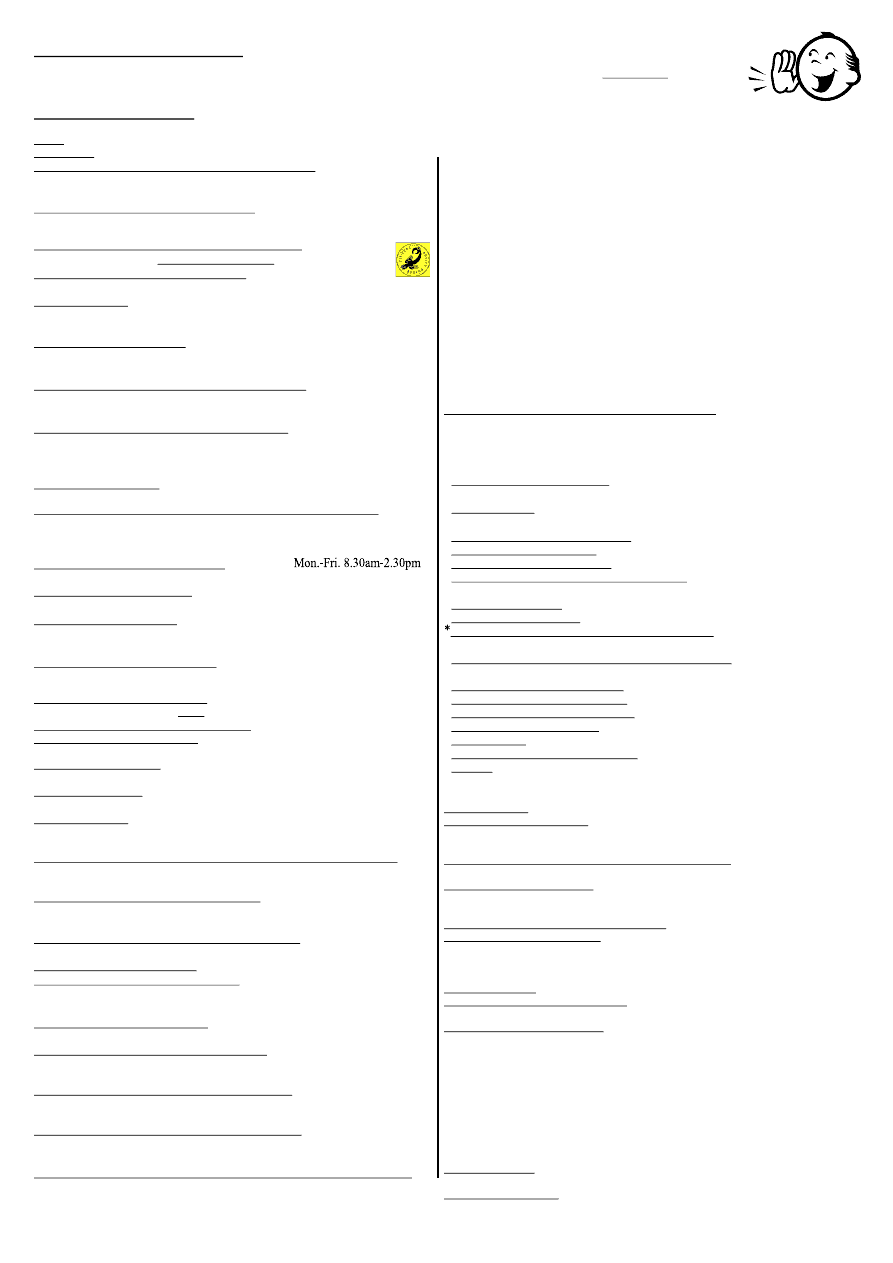 LOCAL SERVICES 
*St.John Ambulance 
111 or Freephone0800 61 0066
*Fire phone 111     *Police phone 111 or 09 4311150 
WELLSFORD DOCTORS: Ph: 4238 086 
A A: Meets Wed., 8pm Kaiwaka Ph: 4312228, 4315543, 0800229 6757   
AL ANON: In recess, contact Ph: 4312228 
AGRIQUALITY (MAF) Livestock Consultant 
Phone 09 4311 820 or 021518257  
BUDGETING SERVICE,OTAMATEA:Free confidential advice & 
support - all areas of  personal finance Ph: 09 4318173 or 094318117
CAB-
Citizens Advice Bureau.Wellsford Ph: 4237333.
0800 367 222 email:
DOG/STOCK /NOISE CONTROL 0800 105 890 
KATE'S PLACE with Govt.Day Agencies/Community Information /
Osteopathy/ IRD / Probation, etc Ph: 4312661 Hours: 9am-3pm. Mon - Fri 
FUNERAL SERVICES: Morris & Morris Ltd, 
Whangarei - Bev Jaques Ph:4312367 or 0800667747 
GRANDPARENTS  Raising  Grandchildren:  Sarah  Rogers  Ph: 
4312194 
HAKARU LANDFILL / Transfer Station:Open everyday except 
Tuesday10am-4pm.Ph4312629 Cost-$55 trailer load up to 1 cubic 
metre. Ph:4258567 - office 
INLAND REVENUE: Last Friday each month, 
11-3pm Ph4312661 
KAIPARA DISTRICT COUNCIL www.kaipara.govt.nz:  
Help Desk FREEPHONE 0800 727 059  
Service Centre Mangawhai 4313161 
KAIWAKA KOHANGA REO:
Ph:4312620 
KAIWAKA CEMETERY: Ph: 4312045 
KAIWAKA LIBRARY: kaiwaka.library@gmail.com  
Mon. 4-6pm; Wed., Thurs., Fri., Sat.  10am-2pm Ph:4312539
KAIWAKA PLAYCENTRE: Ph: 4312286. Hastie Lane 
Monday to  Friday  9.00am 
- 
12 noon.
KAIWAKA POST OFFICE:
Ph:4312 626 Fax: 4312287  
Post Code: 0573  for RD2  and  0542 for all Kaiwaka Post Office mail 
KAIWAKA PRIMARY SCHOOL : Ph: 4312309 
KAIWAKA SPORTS ASSN: Ph 4312005; 4312129 gym 
KAIWAKA ST JOHN: Manager Steve Rosser 09 4318403, 021 2316836 
NORTHPOWER: Faults Kaiwaka area 0800 104040 
PARENTPORT: Free, practical local support service for families in crisis 
Phone or Text Dianne 027 280 5093 
PERSONAL DEVELOPMENT COACHING, GROUP FACILITATION:  
Sabine Druckler 4312231 
PLUNKET  KAIWAKA/MANGAWHAI:  Ph:
094318187 
or  0
276753488 
Kaiwaka Mobile Clinic once a month– appointments necessary;  
Mangawhai (next Domain) 
1st & 3rd Thursday & Coffee Morning; 
PLUNKET CAR SEAT CO-ORDINATOR:  
Pat Scott Ph 4314530 
or 0272881635 
PLUNKET FREEPHONE -0800 933 922 
PLUNKET -MAUNGATUROTO  Clinic every 2nd & 
4thThursday. Ph: 09 4318187 
PUBLIC HEALTH NURSE: Gloria Reid Ph: 094327634  
RETURNED AND SERVICES ASSN 733 Settlement Rd. Hakaru 
Ph.4312176 Bill Kerr (President) Ph.4314719 
TE KOROWAI AROHA O NGATIWHATUA Ph: 4312675 
(The Cloak of Love of Ngatiwhatua) Support and Maori Consultancy.  
VETERINARY SERVICE MANGAWHAI: 
Ph: 4314535 Mon-Fri 8.30-4.30, Sat 9-12, a/h appt. 
WOMEN'S WELFARE LEAGUE & Reaching Out For Youth:  
4 Kaiwaka-Mangawhai Rd, M Morgan 4312293
WHAT'S ON
PLEASE ~ do let us know what is on - email 
kaiwakabugle@kaiwaka.co.nz 
Advertising in WHAT'S ON is FREE  
*5Sep~The Railway Man, 7:30pm KWMH 
*7Sep~Frozen, 2pm KWMH 
*9Sep~Knitting for Whangarei Hospital, 10am-12pm Apple Basket 
Ph Gale 431 4827 
*10Sep~KWMH AGM, 5pm KWMH 
*13Sep~Putting On The Ritz, 7pm Hakaru RSA 
*19Sep~Zonta Suffrage Day Breakfast 9am Waipu Golf Club 
*19Sep~The Grand Budapest Hotel, 7:30pm KWMH 
*21Sep~Open Day, 12:30-2:30pm Hakaru Pony Club Ph Marj 027 
294 1227 
*24Sep~Knit & Natter, Ph Elizabeth 4312 522 
*24Sep~Otamatea Community Services AGM 3pm St John Hall 
Maungaturoto 
*26Sep~last day of Term 3 
*27-28Sep~Mangawhai Art Trail 10am-5pm 
KWMH=Kaiwaka War Memorial Hall 
KSA=Kaiwaka Sports Association Complex 
See www.kaiwaka.co.nz for upcoming events. 
HOUSEHOLD  RUBBISH  COLLECTION  -  Kaiwaka    Pick  up­
Mondays=Gr een bags ar e picked up by Nor thland Waste-queries 
to  them  09  4303273,Wednesdays=Blue  bags  and  yellow  recycling 
(at  Jaques    $3.00  and  $1.50)    are  picked  up  by  Kaurilands  09 
4392146.  
*DIABETES Support Group -for Kaiwaka, Mangawhai, Wellsford 
   10am, 3rd Friday of month Ph:A.Pert 4238242; J.Gardner 4238060 
*DRINK CAN 'tear tabs' - for Starship Hospital- please collect - 
    98 Kaiwaka Mangawhai Rd, leave in mailbox, Ph. 4312625  
*GYMNASTICS OTAMATEA -  Tuesday Ph: Stephanie 022 3624998 
*HAKARU PONY CLUB-Secretary Julie Rynne 09 4314520 
*KAIWAKA BADMINTON -Tuesdays 7.30pm Ph: 4312345 
*KAIWAKA GARDEN & FLORAL Grp:2nd Thursday in month 
   Ph: 4314767 
*KAIWAKA CUBS-Thursdays 5.30-7pm, Hakaru  Ph:Bruce  4312542 
*KAIWAKA SQUASH -Mondays 7pm Ph: Barbara Thomas    4315905 
KNITTING FOR WHANGAREI HOSPITAL - 2nd Tuesday in  
   month, Apple Basket 10am Ph 4314827 
*MANGAWHAI COMBINED PROBUS CLUB: 2pm,3rd Thursday  
   month in the Senior Citizens Hall Mangawhai. Ph: 4315777 
*NZ GENEALOGY-Wellsford - 1st Thursday in month Ph: 4237033 
*OTAMATEA GREY POWER-09 431 8138 Joan Hoggard  
*PT CURTIS CRUISING CLUB - Jean Ph: 4312 246 
*RSA,Hakaru & Dist.Women- meet 1.30pm 4th Thurs in month Ph: 4312 668  
*TRAMPING- Mondays 9am-2:30pm  Karen Ph: 4312 090 
*WAIPU GENEALOGYGROUP -4th Monday in month Ph: 4312725 
*YOGA- Tuesdays 6:15pm, Friday 8:30am Kaiwaka WM Hall Carla  
   Ph: 4312 408, 021 296 8794
CHURCHES:
*Gateway Worship Centre: St Mary's Church Nathan Rd off Oneriri Rd, 
Kaiwaka Services, 10.30am 1st & 3rd Sunday of every month. Contact: Rev 
David Gage 4312528 or 0212354282 
*Kaiwaka Family Church-Your Community Church:Sundays, l0am 
Home Group every Wed evening, Pastor John.Dekker Ph: 4318203 
*St Paul's Anglican Church 1st Sun. 9.30 am (Eucharist), 3rd Sun. 9.30 am 
(Family Service). Contacts:  Church Office 09 431 4122; M. Hargreaves 431 
2295; C. Bygrave 431 2057 
*Church of Christ the King, Mangawhai:9.30am every Sunday 
*St.Mary's Catholic Church: Maungaturoto – Griffins Road, Saturday 
evening Vigil Mass 6pm; Mangawhai – Senior Citizens Hall, Sunday Mass 
8:30am; Wellsford – Matheson Road, Sunday Mass 10:30am; Mid-week 
Mass times and all enquires to Fr. Bill Fletcher – phone 423 8170 
*Baptist Church: Sun. 10.30am Mangawhai Snr Cit.Hall.Ph:4312339 
*Cause Way Church Mangawhai: Sundays 10.15am, Mangawhai 
Community Recreation Centre, Insley St. Ph: 09 4314782  
*St.Pauls Archie Bull Hall HIRE  $20 half day, $40 full day per hire 
 Contact G. Jaques 4312048 
*Kaiwaka War Memorial Hall HlRE - Phone 4312725 or   
Email  
kaiwaka.hall.bookings@gmail.com 
*Hakaru Community Hall HIRE -Ph.  4312256 or 4312110 
*Te Pounga Marae queries -A.Gage 4312528, 4312527 
*Kaiwaka Sports Association hire/queries - C. Anderson 4312051 or 
Email kaiwakasports@gmail.com
Justice of Peace: B.FJaques; L.Donaldson; A.F.Hargreaves  -please phone to 
make sure they are available 
Marriage Celebrants: L.Donaldson; A.F.Hargreaves; C.Rosseels
Next Bugle Deadline Friday 29 August 2014