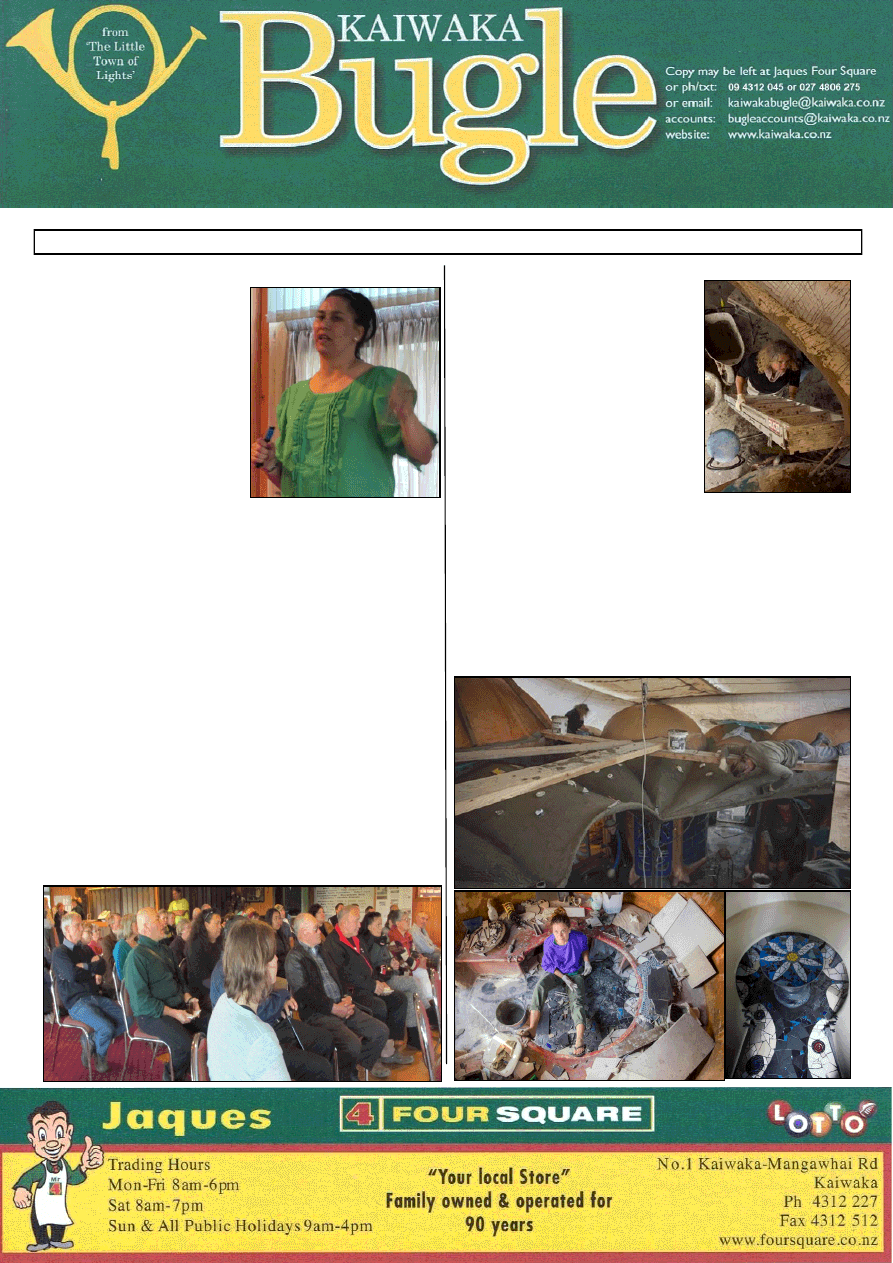 No: 18 
16 September 2014 
KAIWAKA MEETS COUNCIL 
More  than  forty  residents 
from  Kaiwaka  and  the 
surrounding  area  met  with 
Kaipara 
District 
Council 
commissioners  and  some 
staff members at the Kaiwaka 
Sports  Assn.  complex  last 
week. 
KDC  Commissioners  John 
Robertson and Richard Booth 
both  spoke  on  Council 
operations. 
Darlene 
Lang, 
KDC 
Community  Facilitator,  led 
the discussion by asking what 
were the things people like about their district and town and 
what  were  the  greatest  concerns.  The  points  brought 
forward  were  very  similar  to  those  made  at  the  2011 
Council  meeting  held  in  the  Sports  Assn.  complex  for  the 
'Kaiwaka Structure Plan Discussion Document May 2011'. 
Roading  was  well  discussed  -  from  the  need  for  skilled 
grader drivers and more metal on rural roads to the need to 
improve accessibility around the township. Rubbish would 
have  come  in  next  -  a  regular  'gate  collection'  in  a  wider 
area would do away with rat-infested or non-paying bags at 
rubbish  collection  points  and  be  just  as  cost  effective. 
Drainage,  an  attractive  business  centre,  effective  services 
and an active community group were further improvements 
that could be made. 
Council  want  to  know  when  you  have  a  problem  or  see  a 
problem  developing  -  send  in  a  Service  Request  by  phone 
0800  727  059,  email  council@kaipara.co.nz  or  in  person;  
the  nearest  office  is  at  The  Hub,  Molesworth  Drive 
Mangawhai. 
Darlene  (photo  above)  has  put  an  action  plan  in  place 
following  this  meeting  and  sent  this  information  to  those 
attendees  who  listed  their  email  addresses.  If  you  would 
like  to  be  put  onto  that  email  list  and  receive  this 
information 
please 
contact 
Darlene 
Lang 
on 
dlang@kaipara.govt.nz.  
EUTOPIA CAFÉ 
Café Eutopia is now Eutopia Café - 
only  a  small  change  but  it  flows 
well for the new owners Robert and 
Marijke. 
They  are  nearly  six  months  into 
their  rebuild  /  renovations  and  are 
finding  there  are  not  enough  hours 
in the day or days without rain! The 
weather  has  slowed  their  progress 
more  than  expected.  Marijke  had 
planned  to  re-open  the  café  by 
October but now it seems it will be 
nearer  Christmas  time  -  in  their 
words, 'under new ownership and is 
currently  closed  for  a  massive 
refit, overhaul  and  completion  project  that  is running  way 
over schedule'. 
The  cafe  was  started  by  Kiwi  author  and  artist  Peter 
Harris  and  began  operating  in  2002.  This  novel  icon  has 
attracted  visitors  from  all  over  the  world  and  is  possibly 
one of the most photographed parts of Kaiwaka. 
The existing dome structures and courtyard are now being 
modified  and  finished;  a  new  covered  area  has  been  built 
over  the  courtyard,  and  among  a  lot  of  other  work  many 
wall faces are receiving new relief carvings in the plaster 
You  can  follow  the  work  at  the  café  on  Facebook  or 
www.eutopia.kiwi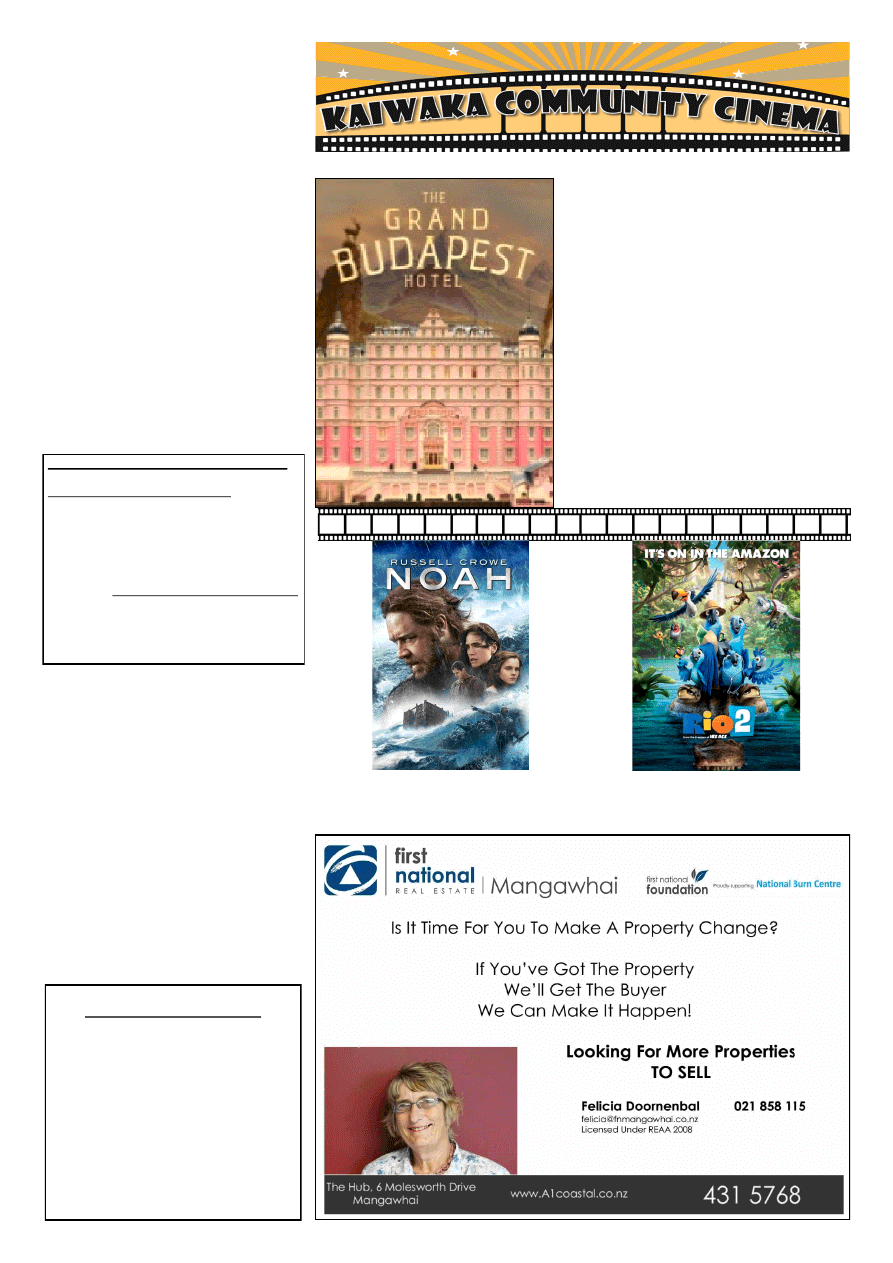 ABOUT TOWN 
......... 

 Kaiwaka  Polling  Booth  is  in  the 
Kaiwaka  Primary  School  on  Saturday 
20  September  -  remember  to  vote  and 
have your say. 

Don't  forget  to  put  your  clocks 
forward  on  Sunday  28  September. 
Remember  -  "spring  forward,  fall 
back". 

…  and  remember  to  change  the 
battery  in  your  smoke  alarm  at  the 
same time. Smoke alarms save lives. 

Check  out  the  motorcycles  at  the 
Kaiwaka  Fire  Station  on  Sunday  21 
September - a great fundraiser. 
KAIWAKA BUGLE No: 18 
16th September 2014
Page 2: Kaiwaka Movies 
Page 3: Public Notices; Classifieds 
Page 5: Night Sky, Pt Curtis, Fire 
Brigade 
Page 7:  Kaiwaka Sports Association 
Page 9:  Kaiwaka Fitness, Voting 
Page 11: Weather, Rodney College 
Page 13: Otamatea High School 
Page 15: Kaiwaka School BOT 
Page 17: Celtic Music, WW1 
Page 19: Fire Brigade, NCEA 
Bugle 19 will appear 30 September 
Contact for advertising, reports, articles 
or information can be made by 
Email kaiwakabugle@kaiwaka.co.nz 
Ph: 09 4312045 
Txt:  0274 8062 75
Business card adverts can now be added 
to the KMG website– email contact to: 
kaiwakaonline@kaiwaka.co.nz 
Kaiwaka Bugle Advertisements 2014: 
All 
copy 
and 
queries 
to: 
kaiwakabugle@kaiwaka.co.nz 
Classified $3 (max 30  words);  1/8 page $6; 
1/4  page  $12;  1/2  page  $24;  in  special 
circumstances  whole  page  adverts  are 
available-cost $100 
Payments  can  be  online,  posted  or  left  at 
Jaques Four Square Store. 
Accounts: bugleaccounts@kaiwaka.co.nz 
The  Kaiwaka  Bugle  is  a  community 
newspaper run by volunteers.   
Articles,  etc.  printed  are  not  necessarily 
the opinion of the Bugle Team. 
Kaiwaka Bugle 
Founded May 1978 
Copies available in Kaiwaka at Jaques Four 
Square, Kaiwaka Postal Centre, Shamrock 
Service Station, Celena's Gifts 
Also outlets in Maungaturoto, Mangawhai 
and Paparoa. 
Can be viewed online at www.kaiwaka.co.nz/
Bugle 
Or a copy can be posted to you if you supply 
stamped, self-addressed DLE envelopes. 
Noah 
Friday 3 October 7:30pm (M)
Rio 2 
Sunday 5 October 2:00pm 
(PG) 
At Kaiwaka War Memorial Hall . Adults $10, Chn (under 16) $5, Family Pass (2 adults + 3 children) $25 
The Grand Budapest Hotel 
Friday 19 September 7:30pm  
(PG)
Recounting the adventures of Gustave, a 
legendary  concierge  at  a  famous 
European  hotel  between  the  wars,  and 
Zero  Moustafa,  the  lobby  boy  who 
becomes  his  most  trusted  friend.  The 
story involves the theft and recovery of 
a priceless Renaissance painting and the 
battle  for  an  enormous  family  fortune  - 
all  against  the  back-drop  of  a  suddenly 
and dramatically changing Continent.
A  star-studded  cast  includes  Ralph 
Fiennes,  F  Murray  Abraham,  Willem 
Dafoe,  Jeff  Goldblum,  and  Harvey 
Keitel.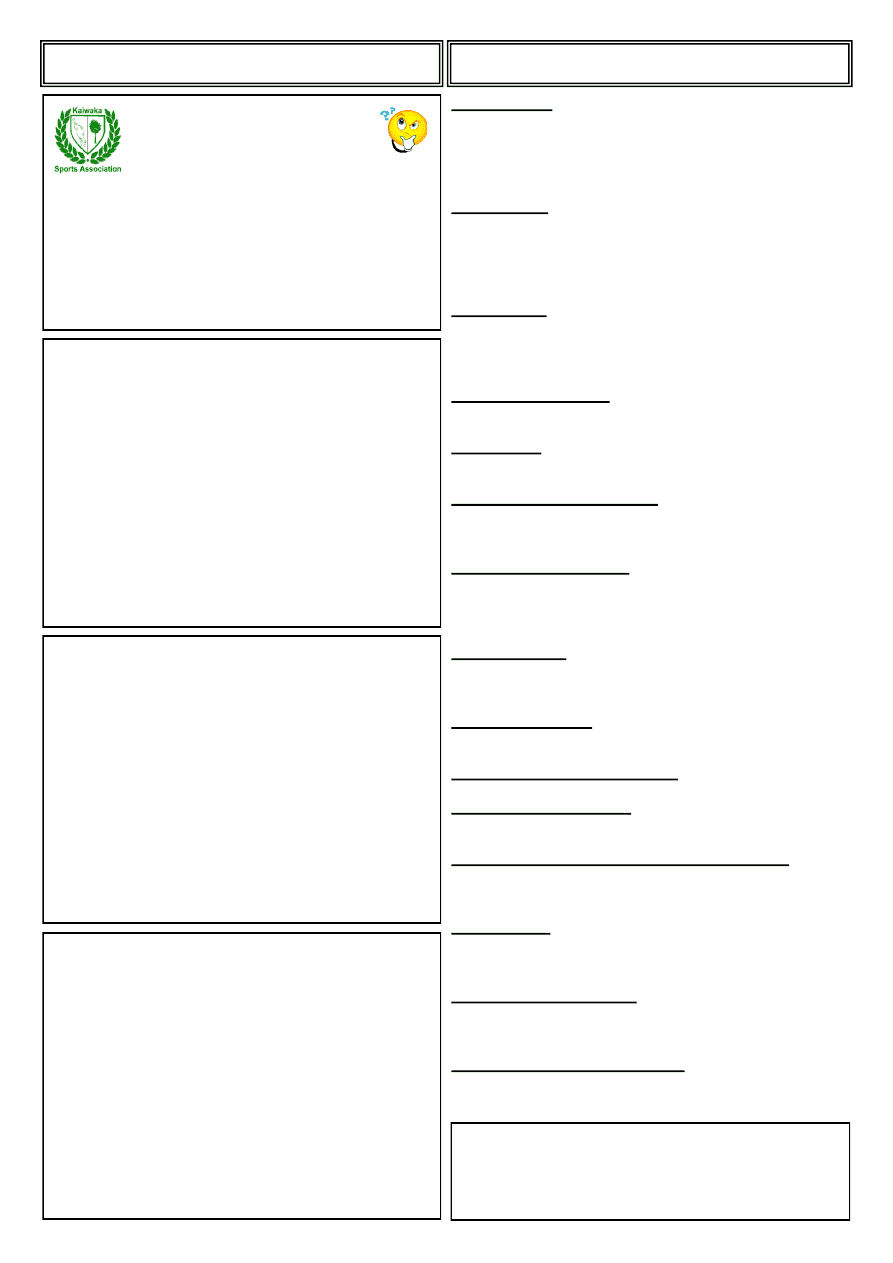 QUIZ NIGHT 
Saturday 4th October, 7pm 
Kaiwaka Sports Complex 
* teams of 4 - 6 people 
* prizes for top 3 teams plus lots of spot prizes 
* supper provided, bar open 
* $15 per head 
Pre-registered teams only. 
Contact Cheryl Anderson to register on 4312 051 or 
kaiwakasports@gmail.com 
A fundraiser for the Kaiwaka Sports Association 
PUBLIC NOTICES 
CLASSIFIED 
FOR  SALE:  Jill  Shires  Holistic  Animal  Therapies. 
Herbal  Remedies,  Bach  Flowers,  Ointments,  
Diatomaceous  Earth,  Bentonite  Clay,  Cranio  Sacral 
Therapy,  Skin  Conditions,  Arthritis,  Laminitis,  Mud 
Fever 
Cream 
etc. 
www.allcreatures.co.nz 
or  
09 431 2080 
FOR  SALE:  Pr ecision  10"  bench  table  saw  $50; 
Hadyn  extension  pole  1.35m-2.4m  fibreglass/
aluminium for roller painting as new $40; Formica-top 
sewing machine table, space for machine 80x170cm ex 
con  $50;  Spa  bath  suitable  for  goldfish  etc  $15.  All 
negotiable. Ph 09 4312 188  
FOR  SALE:  Set  of  4  vintage  bowling  balls  with 
case, $30. Crown Lynn nursery bowl, good condition, 
stamp  on  bottom:  Bunny  By  Crown  Lynn,  Pat  No. 
778,  New  Zealand,  $20.    Ph  Cheryl  Anderson  4312 
051 
LAND  FOR  SALE:  10  acres  Oneriri  Peninsula, 
$199K.  On  Trade  Me:-  property  ID  BDV356  or  Ph 
021 237 7678 
HASHTAG  Band  for  hire.    A  lively  mix  of  covers 
and original music.  Make your night special.  Ph: 021 
623 776  
LOCAL  REVUE  TEAM  looking  for  additional 
actors. Must enjoy comedy acting plus be prepared to 
multitask.  Contact  yjd@xtra.co.nz    Yvette  (note 
corrected email address. Ed.) 
SPRING  PLANTING  is  here,  come  into  g.a.s 
Garden  Centre,  Mangawhai.  For  your  potted  colour, 
veggie  plants,  citrus  trees,  seeds,  Tui  compost  5  bags 
$45,  and  much  much  more.  44  Moir  Street, 
Mangawhai 
SIT  VACANT:  Coffeepot  Café  &  Gateway  North 
Motor  Lodge  has  an  opening  for  a  summer  position, 
must  be  flexible,  multi-skilled  all  round  worker  with 
Barista experience. Ph 09 4312 389 
HELP  WANTED:  Light  work.  Board  incl  meals 
available.  Suit  young  person.  Ph  09  4312  296  or  021 
253 7661 after 7pm 
BEE  SWARMS  REMOVED: Please ph Adrian 09 
4312 296 
BERYL  NOZEDAR:  (Middleton)  International  
Clairvoyant.  Numerology,  Tarot,  Clairvoyance,  
Mediumship. $60 for hour includes CD. Ph: 4312 080 
CLOTHING ALTERATIONS & REPAIRS: 
Hems,  Zips,  Dressmaking  Phone:  Win  4312027    or 
027 444 8358 Winsome Designs. 
LOST  DOG:  missing  from  Baldrock  Road,  older 
heading  bitch  Flo.  Predominately  white,  fading  black 
on head, scars on back legs, has a limp. Ph Rob or Deb 
on 4312 192 
GRAZING  OFFERED:  for  6wks  or  so,  suit  2 
horses,  1.5-2  acres,  fenced,  water,  had  horses  alpaca 
calves in past. Grass needs chewing down. Oneriri Ph 
4312 322 or txt 021 165 7158 
FREE GRAZING WANTED: Small or large block. 
Can  do  some  fencing  or  water.  Phone  after  6pm 
4312006 
Thought for the day:
Any story sounds true until someone tells the other 
side and sets the record straight. 
 Proverbs 18:17 
Boxwood Trio 
Celtic Music  
from Nova Scotia 
(Cape Breton Scottish, Acadian, Irish, French) 
and baroque music from the 18th century 
7:30 pm Saturday 4 October 
Absurdistan 
317A Parekura Road RD1 Kaiwaka Northland 0573 
Tickets: $15 earlybird (at the Kaiwaka Cheese Shop) 
$20 door 
Information: 021 237 7678 
HAVE A GO AT BOWLS DAY
Saturday 4th October from 9.30am - 12.30pm
Maungaturoto Bowling club, who are celebrating 
their centennial year, will be running a Have A Go 
At Bowls Day.
Our greens are located at the Maungaturoto Country 
Club in Bickerstaffe Road. In recent times bowls has 
become a more family orientated sport so bring the 
whole family and have a go.
Please wear flat sole footwear.
For further information phone the President, 
Mr Ted Mooney on 09 4318249 
FREEMASONRY 
Interested in finding out about it? Come along and 
talk to us, bring your family and friends to a 
presentation by Rodney College on their WW100 
project, field hockey team trip to Europe to mark the 
100th Anniversary of the start of World War 1. 
All unattached Masons also welcome. 
18
th
 September, 7:30pm 
Wellsford Marsden 169 
Lodge Room 
The Masonic Village, Hanover Street, Wellsford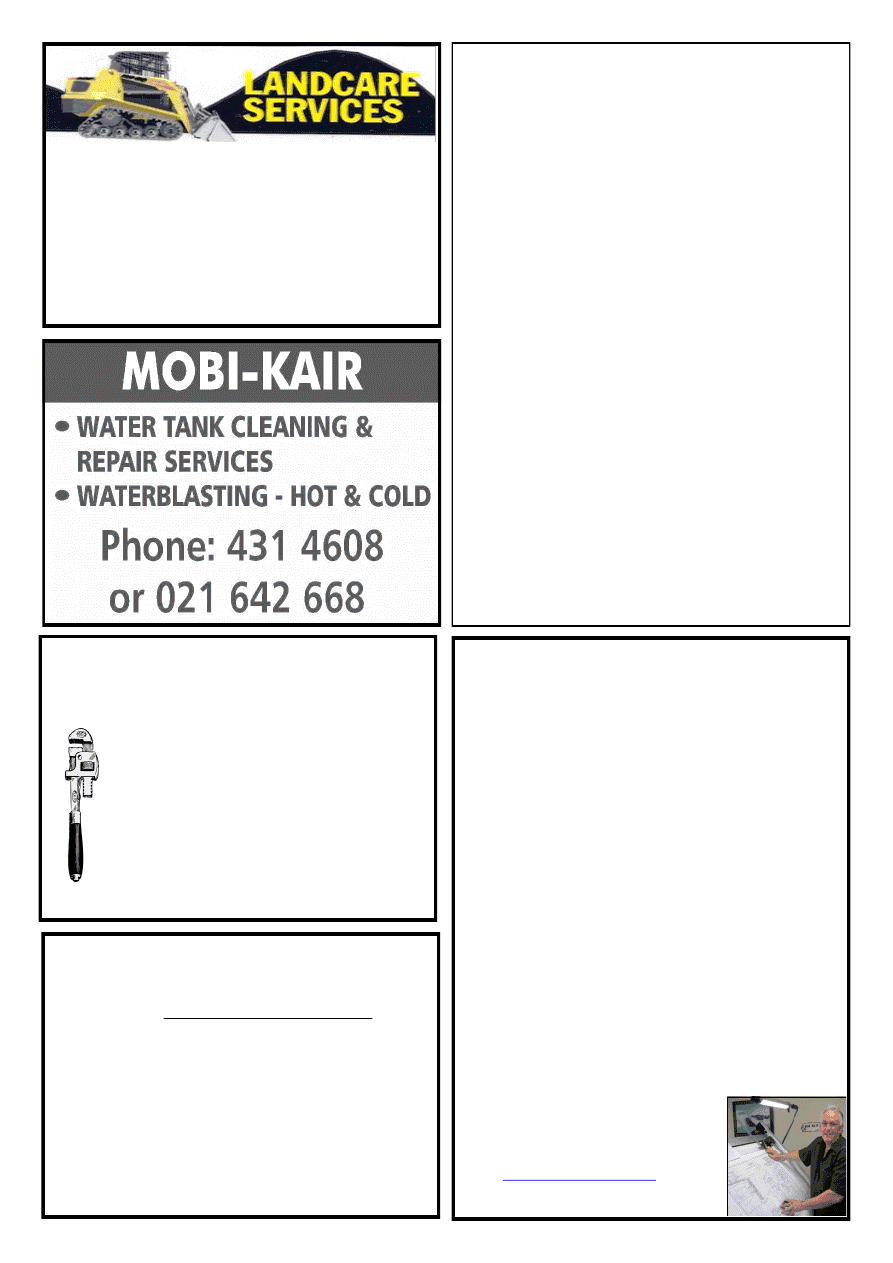 PAUL SAUNDERS 
LAWNMOWING 
& GARDEN 
MAINTENANCE 
 
Residential and commercial 
 
Lawns and edges    
 
Section mowing 
 
Garden makeovers 
 
Hedging and trimming 
 
Spraying 
Friendly and reliable service guaranteed 
Call now for a free no obligation 
quote 
021 886 843 
09 431 3318 
Servicing Mangawhai and Kaiwaka 
and surrounding areas 
paulsaunders99@gmail.com 
LANDSCAPING 
4 IN 1 BUCKET 
TRENCHER 
POLE HOLES 
ROTARY HOE 
COMPACT ROLLER 
OFFAL HOLES 
CAN SUPPLY WOODCHIP & POST PEEL 
5 TON TIPPER 
FOR RELIABLE AND FRIENDLY SERVICE CONTACT DAVE 
Dave Hyndman 
 
KAIWAKA 
PH: 09 4312302 
MOB: 021 431 238 
ARCHITECTURAL BUILDING 
PLANS AND DESIGNS 
WRIGHT DESIGN 
 
QUALIFICATIONS 
Brian is a qualified designer (NZCAD) with over 40 years of 
varied experience in all types of building and is a registered and 
Licensed Building Practitioner in Design - L.B.P. 117345 
He ensures you will achieve the best from your budget with 
recommended excellent local contractors ready to competitively 
price and build your personal project quickly and efficiently. 
 
EXPERIENCE 
Brian's practical building and 40+ years of design experience 
means he can give you excellent advice and all the guidance 
needed for all your building needs 
v Wright Design offers free visits, consultations and all the 
advice you need on planning, design, building, contractors, 
council permit applications, etc. 
 
" Qualified and inexpensive designer – N.Z.CAD., LBP 117345 
" Guaranteed design and working drawings 
" Free site visit to your home or property 
" Great service 
" Great problem solver 
Call Brian ~Arrange a visit to discuss your needs  and obtain 
great advice and free quotation 
MAKE GOOD USE OF HIS EXPERIENCE and 
KNOWLEDGE 
WRIGHT DESIGN:  
360 Oneriri Road, Kaiwaka
Office 09 4312544  
Mobile 021 276 7389  
Email: 
www.wrightdesign.co.nz 
BARRY CURTIS PLUMBING LTD 
REGISTERED CRAFTSMAN PLUMBER 
Phone 4315572 
027 257 9884 
25 years experience 
Friendly reliable service 
All plumbing and maintenance 
Alterations and new housing 
New wood fire installation 
Spouting 
Competitive rates 
PROMPT EFFICIENT  SERVICE 
 Yang Style Tai Chi 
Classes 
For Beginner And Practitioners  
At The Kaiwaka War Memorial Hall 
Every Tuesday  Starting at 10.30 am 
Come Along And Have Some Fun 
While Improving Your Balance Health 
And Fitness
For More Information
Contact 
Andrew Young 09 4223424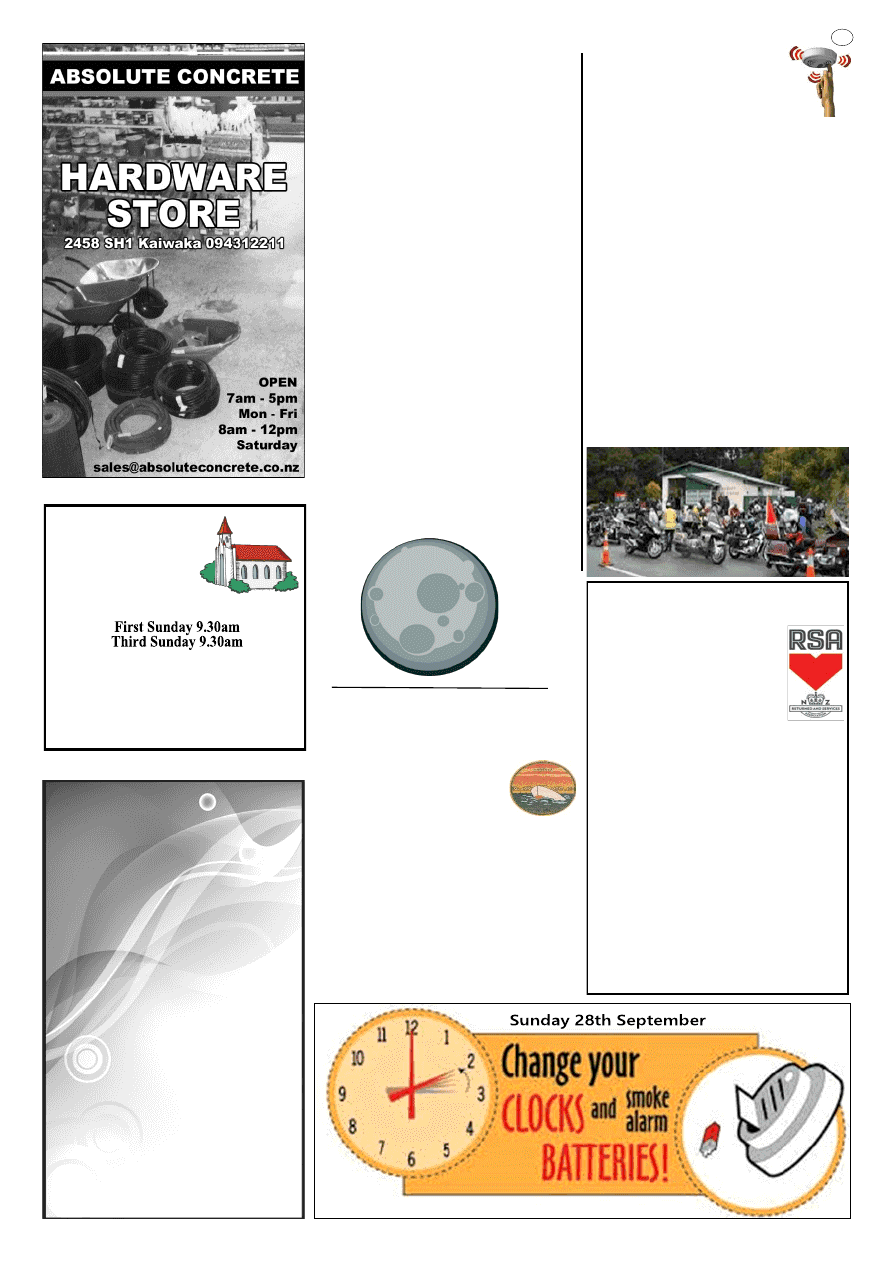 HAKARU & 
DISTRICTS   
RSA  Inc 
Each Friday night 
From 6.30pm 
Meals will be served 
 2nd Friday of the Month 
Is Roast Dinner Special 
Come along and enjoy  
our Hospitality  
For more information 
   Ring Heather 431466 
or Jan 4314512 
5 
U Beauty 
            Underarm Wax  
    $20 
            Extended Bikini Wax   $30 
            15 min Back  Massage  $25 
            30 min Back Massage  $50 
Please call Nicole for bookings 
09 393 6336 or 022 0639450 
Qualified Beautician 
4 Kaiwaka – Mangawhai Rd 
Kaiwaka 
Eyebrow Wax  $10 
Eyebrow Tint  $10 
Eyelash Tint 
$20 
Lip Wax 
$10 
Chin Wax 
$10 
Bikini Wax 
$20 
Brazilian 
$50 
½ Leg Wax 
$30 
Full Leg Wax  $45 
Full Pedicure  $60 
Foot Tidy  
$35 
Manicure 
$45 
Nail Tidy 
$25 
Chest Wax 
$30 
Back Wax 
$40 
Nostrils 
$10 
Ears 
$10 
U Beauty 
            Underarm Wax  
    $20 
            Extended Bikini Wax   $30 
            15 min Back  Massage  $25 
            30 min Back Massage  $50 
Please call Nicole for bookings 
09 393 6336 or 022 0639450 
Qualified Beautician 
4 Kaiwaka – Mangawhai Rd 
Kaiwaka 
Eyebrow Wax  $10 
Eyebrow Tint  $10 
Eyelash Tint 
$20 
Lip Wax 
$10 
Chin Wax 
$10 
Bikini Wax 
$20 
Brazilian 
$50 
½ Leg Wax 
$30 
Full Leg Wax  $45 
Full Pedicure  $60 
Foot Tidy  
$35 
Manicure 
$45 
Nail Tidy 
$25 
Chest Wax 
$30 
Back Wax 
$40 
Nostrils 
$10 
Ears 
$10 
ST PAUL'S  
ANGLICAN  
SUNDAY  
SERVICES
St Pauls Church: Kaiwaka-Mangawhai Rd. 
1st Sun - Eucharist 
3rd Sun - Family Service 
Office 4214 122 
Contacts:M.Hargreaves 4312295, C.Bygrave 4312057  
KAIWAKA 
KAIWAKA FIRE  
BRIGADE 
Red Knights Motorcycle Club 
The Annual Burns Ride 
10am Sunday 21st September  
at the Kaiwaka Fire Station 
The  members  are  mainly  firefighters 
and ex firefighters; last year  more than 
120 bikes arrived in Kaiwaka. 
They will be raising funds for Children 
Burns  Unit  at  Middlemore  Hospital, 
and have badges for sale. 
And  28th  September  is  the  beginning 
of Daylight Saving so please, 
CHECK YOUR SMOKE ALARM 
Note  from  our  local  fireman  -  cheap 
new  batteries  do  just  as  well  as  dear 
batteries for your smoke alarms. 
SCRAP METAL 
Scrap  metal  still  being  accepted  for 
fundraising. Phone John 4312248 
FISHING  
Open  Fishing  Contest  on  1st  and  2nd 
November - see page 19 for details. 
POINT CURTIS 
CRUISING CLUB 
Fish of the month results for Gurnard 
1st: Gravy: 1.125kg 
2nd: Colin Heath: 1.111kg 
3rd: Gravy: 1.093kg 
New fish of the month:  
SNAPPER.  Cut off date next meeting. 
Subs  are  due  now,  don't  forget  to  pay 
your  subs.    $20  single  or  $30  for  a 
family  sub.    Subs  are  payable  at  3 
Furlongs  Hotel,  or  by  posting  to  Jean 
Mcleish  (Secretary/Treasurer),  C/- 
Kaiwaka PDC, Kaiwaka. 
Next  committee  meeting  14th  October 
2014, 7pm at 3 Furlongs Hotel,  
Kaiwaka. 
~Wayne Leslie, Commodore 
SEPTEMBER NIGHT 
SKY OVER KAIWAKA 
For  the  rest  of  September  the  celestial 
events are: 
Day  Hour  Event 
20th  19 
Jupiter 5.2oN of Moon 
21st  2 
Moon at apogee 
22nd 5 
Mercury greatest elong E(26o) 
23rd  14 
Spring Equinox 
24th  18 
New Moon 
26-30th 
Dusk  Mercury. Saturn, Mars 
 with the moon 
Where  to  find  the  planets  in  the  night 
sky: 
Mercury  is  low  in  the  night  sky  after  sun 
set.  Venus  is  too  close  to  the  sun  for 
observation. Mars is moving up the western 
sky after sunset, away from the sun. Jupiter 
will  be  in  the  northeast  dawn  sky  rising 
earlier each day. Saturn with the Mars and 
the  Moon  on  1st  September,  in  the  west, 
and setting earlier each evening as it moves 
towards the sun. 
October events: 
The  partial  solar  eclipse  in  October  (23rd) 
will be visible over North America, eastern 
Siberia, and part of the northern Pacific. 
Total Lunar Eclipse:  8th/9th  October. This 
eclipse happens close to midnight when the 
moon  is  near  its  highest  point.  With  good 
weather  conditions  the  eclipse  will  be 
visible. 
~Elizabeth 
In Spring clocks go forward - 2am becomes 3am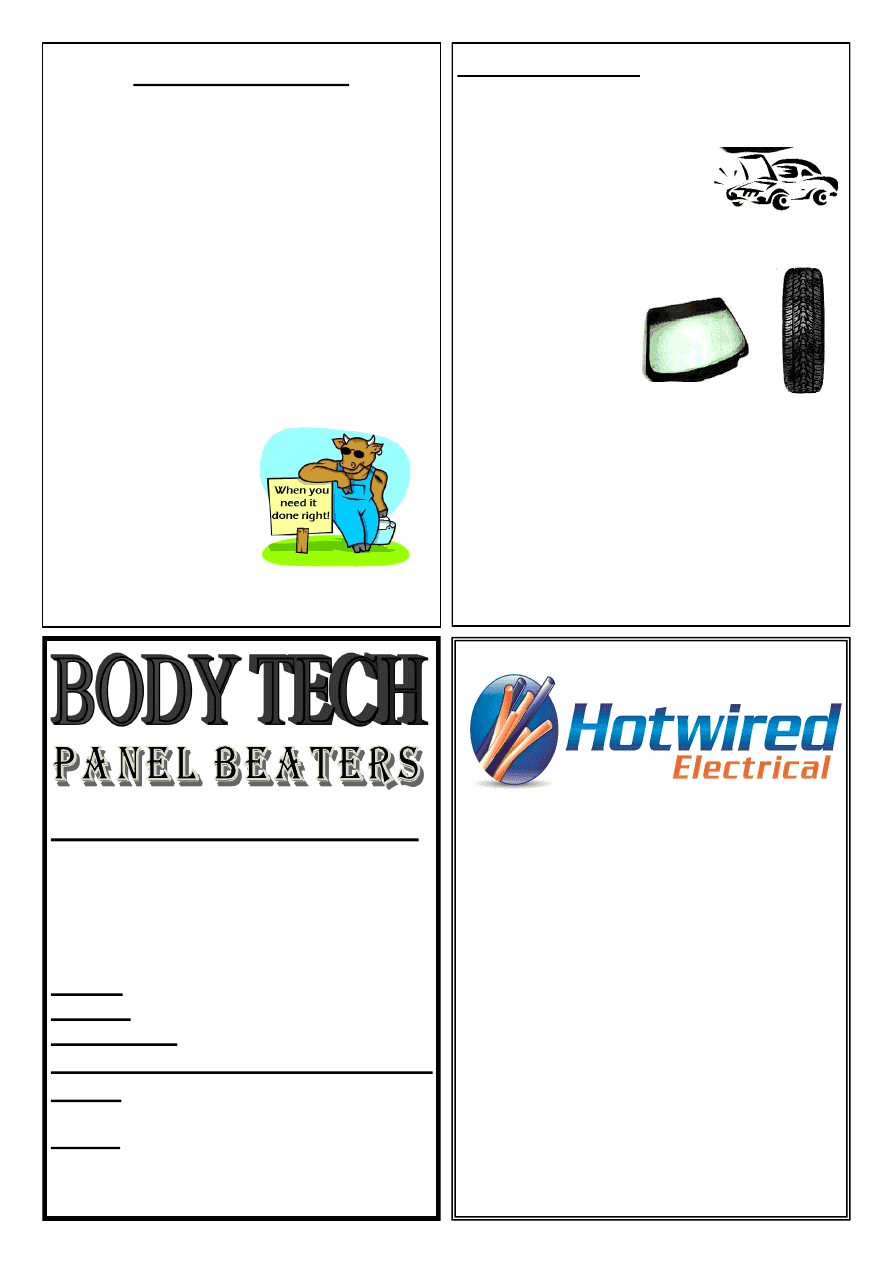 For all your body repair needs!! 
We do: 
 
Rust repairs 
 
Insurance work 
 
Anti-corrosion  
   treatment   
Hours: 8.30am-5pm Monday-Friday  
Mobile: 021 118 0462 
After hours: 09 431 2384 
Phone: Craig or Call in for a free 
Quote 
bodytech_panelbeaters@yahoo.com
We are located at 1837 SH1 Kaiwaka, behind Twin-
kle Tow 'n' Tyre call in anytime for a free quote.  
 
Large and minor vehi-
cle repairs
 
Industrial vehicles
 
Full Cut and polishes
For All your  
Electrical  Requirements 
 
Domestic small jobs 
 
Residential dwellings and alterations 
 
Commercial 
 
Industrial                 
No job too big  
or too small    
Contact Jason today on: 
(09) 431 5992, (021) 405 019 
www.hotwiredelectrical.co.nz 
Want it done? 
Bring it to  
Twinkle Tow 'n' Tyre 
*W.O.F. 
*Tyres 
*Windscreen replacement 
*Chip repairs 
*Bulk Oil 
*Batteries 
*Welding 
*Custom built trailers 
*Trailer hire 
Think you'll get a better deal in the city? 
Go on, ring us; it won't cost anything! 
1837 State Highway 1, Kaiwaka 
Phone 431 2823 
CALL A FARMER
CROP AND PASTURE SPRAYING 
SPECIALISING IN MAIZE, 
BRASSICA AND FODDERBEET 
ALSO 
GIBBERELLIC ACID, VEGETATION CONTROL 
GORSE & OTHER BRUSH WEEDS 
Tee Jet GPS Guidance and Mapping 
Computer controlled application 
11 metre spray width 
Low drift air induction nozzles 
1000 L tank capacity 
Qualified experienced applicators 
09 423 75 85
027 62 55 383 
info@callafarmer.co.nz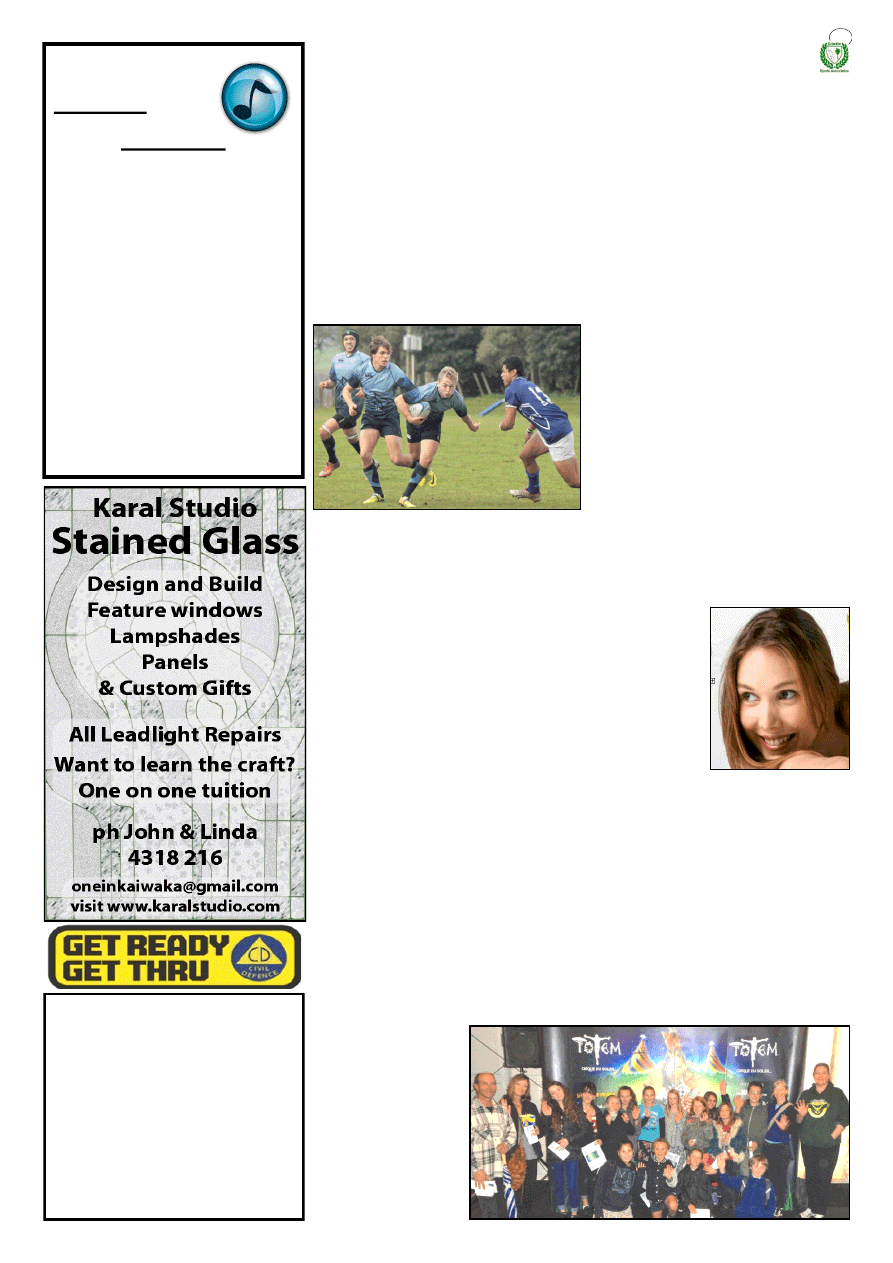 7 
KAIWAKA SPORTS ASSOCIATION 
 Singing  
Lessons
Individual sessions 
All styles of music  
All voice types 
Reasonable rates 
Phone  
Maura Flower 
021 164 8318
 LEABOURNS 
Passenger Service
Car & Van Hire 
Bus & Coach Charters 
Airport Transfers 
 Monthly Shopper Bus 
Phone (09) 4237416 
Representative rugby 
On 
Saturday 
we 
hosted 
two  
representative  rugby  matches,  first  up 
was a Roller Mills match (Under 13's), 
this  was  Northland  coming  up  against 
Thames Valley. There was a mixed bag 
of  weather  but  the  boys  coped  well 
with 
the 
changing 
conditions. 
Northland had a great win over Thames 
Valley 48 - 5.  
Following  the  Roller  Mills  match,  the 
reps  Under  16's  took  the  field, 
Northland  South  vs  Auckland  South. 
This  was  a  closely  fought  and  injury-
ridden  match  with  Northland  going 
down to Auckland 10 - 19.  
Otamatea  IMB  player  Ashton  Coates  (ball  in 
hand) playing for Northland South 
Squash 
Our  Kaiwaka  squash  club  played  the 
Maungaturoto  Squash  Club  last  week 
for  the  prestigious  purple  potty!  
A  great  night  was  had  by  both  clubs, 
with Kaiwaka taking out the challenge 
8 wins to 3. 
Touch 
I  am  helping  organise  the  Whanaunga 
Touch  Tournament  to  be  held  at  the 
KSA  on  10
th
  January.  This  is  a 
fundraiser for the Otamatea Marae and 
descendants  from  the  marae  are  given 
first priority to enter. Keen to register a 
team?  Contact  me  and  I  will  send  you 
the registration form. 
Gymnastics 
With  thanks  to  a  generous  grant  from 
the  KSA,  some  members  from  the 
Otamatea  Gymnastics  club  visited  the 
Cirque  Du  Soleil  show  Totem  in 
Auckland  last  week.  The  show  was 
amazing and the group of 19 gymnasts 
and  coaches  had  a  very  memorable 
evening! Photo below. 
Winter sports prizegivings 
As  more  of  our  winter  clubs  wind  up 
their  season,  we  continue  to  host 
prizegivings: 
this Fri, 5pm – Junior Netball 
this Sat, 11am – Kaipara 
Knights Soccer 
this Sun, 12pm – High 
School Netball 
Kaipara 
Sports 
Awards 
Nominations  for  the 
2014 
Silver 
Fern 
Farms  Kaipara  Sports 
Awards are now open. 
The  awards  aim  to 
recognise 
the 
achievements  and  service  to  sport  by 
people  from  throughout  the  Kaipara 
District.  It  is  an  opportunity  to 
showcase  some  of  the  amazing  people 
involved  in  sport.  The  awards  night 
will  be  held  in  Dargaville  on  7
th
November.  For  more  information  and 
to  submit  a  nomination  please  visit 
Fright Night 
Fright  Night  will  be  held  on  Saturday 
1
st
  November  –  check  out  the  flyer  in 
this edition of the Bugle for details. As 
part  of  the  evening  we  transform  the 
rugby  changing  rooms  into  a  'haunted 
house'  which  children  can  choose  to 
walk through. 
We  have  an  earlier  session  for  the 
younger  children  and  then  dial  up  the 
scare-factor  for  a  later  session  for  the 
older children! 
So,  I  am  looking  for  some  ideas  to 
make  that  later  session really  scary!  If 
you have any suggestions, please get in 
touch with me (contact details below). 
Quiz Night 
Back  by  popular  demand!  An 
entertaining evening of trivia questions 
on  Saturday  4
th
  October,  7pm  at  the 
KSA.  Supper  &  nibbles  provided,  bar 
open,  prizes  for  the  top  three  teams 
plus lots of great spot prizes! Teams of 
4  –  6,  $15  per  person,  pre-registered 
teams  only.  Please  register  your  team 
with me. 
Yulia 
Very 
exciting 
news!  We  have 
secured  Yulia  to 
sing  at  a  charity 
concert 
as 
a 
fundraiser for the 
KSA!  For  those 
of  you  who  don't 
know  of  Yulia, 
she  is  a  Russian-born  New  Zealander 
now  based  in  Australia  who  sings  all 
over  the  world  and  has  won  many 
singing  awards.  We  are  going  to 
perform a show 'Yulia and Friends' and 
so  I  am  looking  for  local  talent  to  be 
part of the concert. If you know of any 
local  singers  who  would  be  keen  to 
perform at this concert, and maybe sing 
a  duet  with  Yulia,  please  contact  me. 
The concert will be in mid-Feb (date to 
be confirmed).  
~Cheryl Anderson 
4312 051, 027 3462702 
kaiwakasports@gmail.com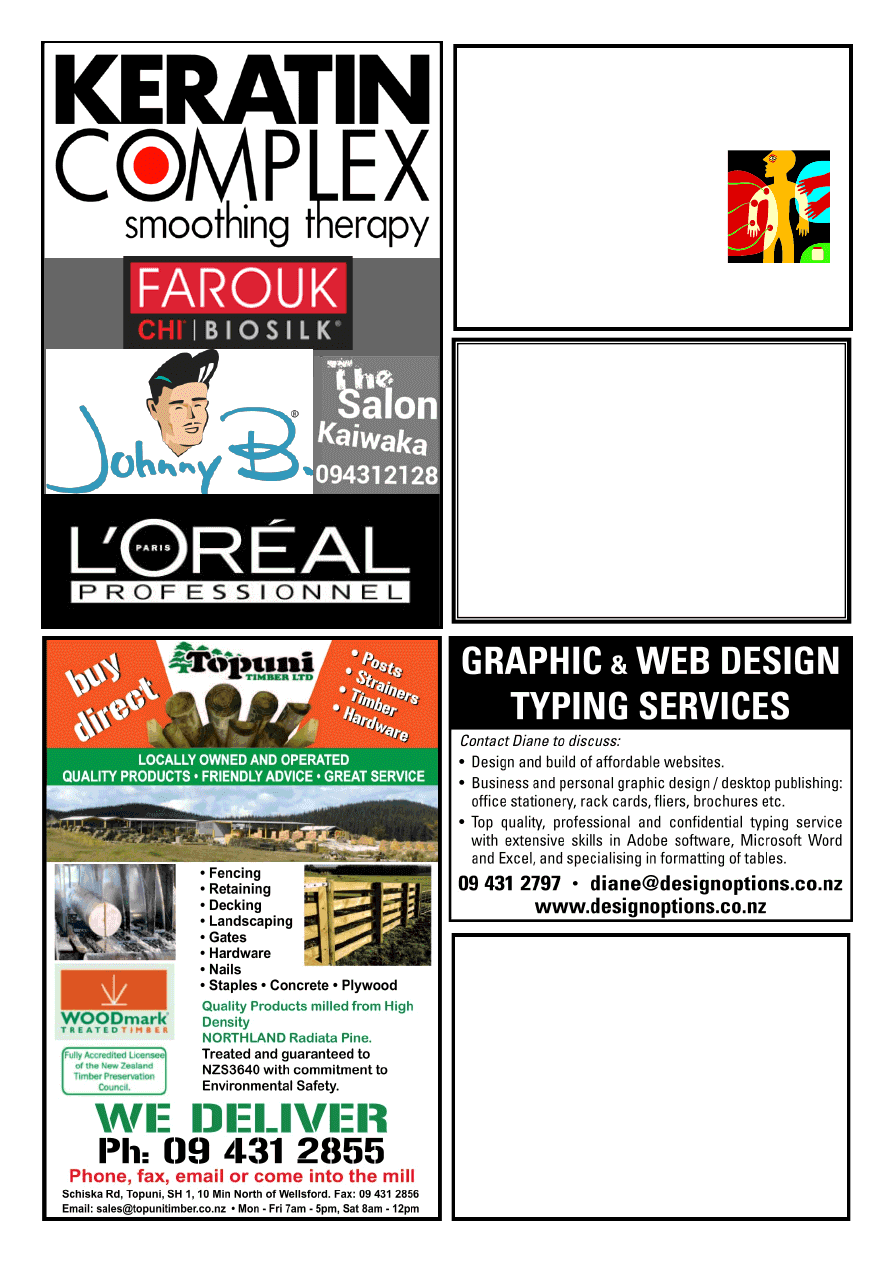 OWEN STEVENS 
Osteo Therapist
For careful adjustments to bones and joints 
Treatment for  humans and their pets 
Clinics: 
Kate's Place, Kaiwaka: 
Last Friday of month 
For bookings:9.00am-5.00pm   
Phone 
09 4312661 
Or phone Owen  09 4317123  anytime 
AMBER'S 
Q Cafe & Restaurant
All day breakfast, 8am - 5.30pm. 
Home made Pizza, take away or eat in from 8am to late. 
Light lunches, 11.am - 5.30pm, Dinner Menu at 5.30pm to late 
Toasted Sandwiches and Sandwiches made to order. 
All day, Pies, Chowder & Soups, Milkshakes, Kiwi Ice cream, Slushie 
Fruit drink, Tea, Coffee 
Closed Mondays.....except Observed Holidays 
Sunday to Thursday: 8am - 8pm,  
Friday: 8am - 8.30pm, Saturdays 8am- 9pm 
4315226 
Trevor & Amber 
41 Moir Street, Shop 5-6,Mangawhai Village 
Next to Carters Building Supplies 
TILING 
Certified Waterproofing 
431 4533 or 021 86 33 33 
George 
MCN Property Solutionz  
Local references available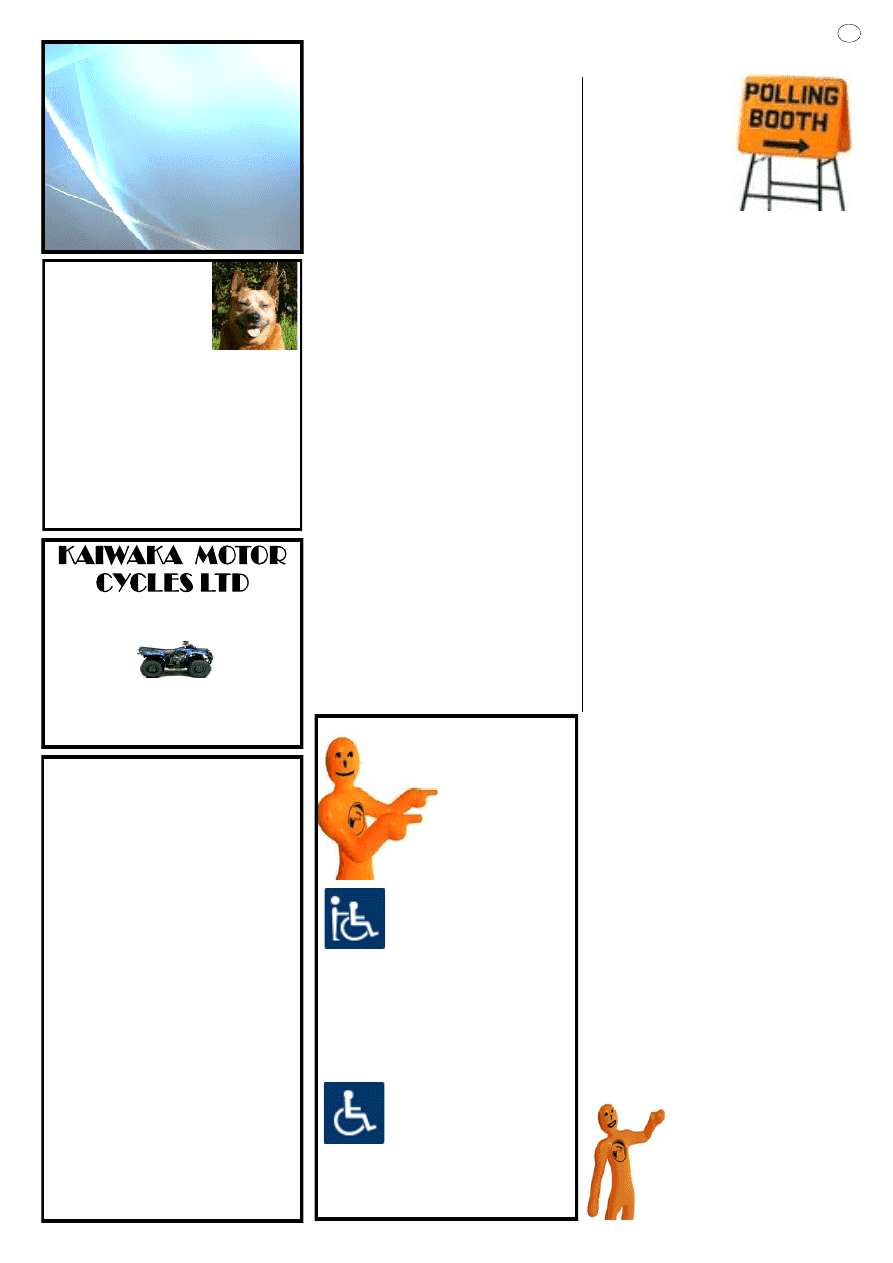 9
KAIWAKA  
FITNESS 
Believe it or not Summer is on the way 
and  the  way  the  gym  has  been  some 
mornings its like you all have realised 
this and decided to do something about 
getting that summer bod.  
Just a few points to remember: 
1.Doing  hours  of  cardio  isn't  going  to 
work unless you change what you eat. 
2.  Cutting  your  food  intake  drastically 
isn't going to work either.  
3.  New  fad  diets  might  work  for  a 
while but not in the long term.  
You  need  to  do  things  slowly  and 
change  things  slowly,  not  too  slowly, 
so that your plan is for the long run not 
short term. It's no good doing heaps of 
cardio  then  going  home  and  eating  a 
packet  of  chocolate  biscuits  because 
you think, 'oh well I have worked out, I 
can  afford  to  have  a  little  treat';  your 
little  treat  might  well  be  as  many 
calories as you have just burned off, so 
then  you  start  thinking  'well  this  isn't 
working, I am doing all this cardio and 
not  losing  any  weight'.  This  is  where 
little  steps  help,  and  always  make  a 
plan.  
Plan  your  food,  your  workout,  how 
much you can do, what you like doing. 
No  good  saying  'I  am  going  to  run 
everyday'  if  you  hate  running,  it  will 
last a week and that will be that. Also 
remember  you  need  a  minimum 
number  of  calories  to  lose  weight,  if 
you  go  below  that  your  whole 
metabolic system slows down and that 
makes  it  twice  as  hard  to  lose  any 
weight.  Be  sensible,  ask  advice  and 
enjoy.                                   ~ Jules 
Laughing
Dog
Computers
www.laughingdog.co.nz 
0224344448 
Hardware and Software 
Service and Repair 
SALES SERVICE SPARES
FARM BIKE SPECIALIST
Phone 431 2127  
Kaiwaka-Mangawhai Rd 
Kaiwaka 
Willow Bend
HORSE  
HOTEL 
"  
Total Horse Care 
" 
Agistment 
" 
Riding Lessons 
" 
Arena Hire (60x40) 
" 
Young Horse Starting 
" 
Re-training/Exercising 
" 
Hoof Trimming 
" 
Problem Solving
Phone Sue 09 431 
2817 or 021 623 776 
Or email sue.gray@xtra.co.nz 
Freeview  
Installations 
Richard Te Haara 
25 Marram Place 
Mangawhai Heads 
021 1104056 
kiwipride@xtra.co.nz
Voting Places 
   around 
Kaiwaka 
                20 September 2014 
            9am - 7pm 
Accessible with assistance 
- may have step, steep 
ramp etc (Contact your 
Returning Officer for 
details of accessibility) 
 
Kaiwaka School,  
        33 Mangawhai Road  
 
Mangawhai Community Centre, 
Fagan Place 
 
Wellsford School,  
        47 School Road 
Accessible - independent 
access to and within this 
building 
 
Mangawhai Beach School,  
        34 Insley Street 
 
Maungaturoto School,  
        8 Gorge Road 
WHERE TO VOTE  
The best place for a 
polling booth in 
Kaiwaka? 
I  wrote  to  the 
Northland  electorate 
returning  officer  in 
November 
2011 
about two issues: 
1)  the  address  for 
Kaiwaka School (33 Mangawhai Road) 
was  not  correct  and  could  lead  to 
people not being able to find the place 
on the day, and 
2)  the  school  is  not  the  best  place  for 
the  local  polling  booth,  given  the  hill-
climb  involved,  especially  when  the 
town's  hall  was  more  centrally  placed 
(ie  more  visible  from  the  town  centre) 
and was fully accessible. 
I  had  a  reply  from  the  Returning 
Officer,  saying  thank  you  for  pointing 
out the mistake with the road name and 
"adjustments  have  been  made  in  our 
system  in  this  regard",  and  that  they 
would  "investigate  the  use  of  other 
premises, though they are bound to use 
schools  wherever  possible,  however 
exceptions can be made". 
This time around, nothing has changed. 
The  wrong  address  is  still  being 
published,  and  nothing  has  been  done 
to  improve  accessibility  for  the  lesser-
abled voters. 
The  address  may  not  seem  a  big  deal, 
but how many times have you heard of 
people  going  to  Mangawhai  Road 
which  runs  between  Te  Hana  and 
Mangawhai,  instead  of  going  to 
Kaiwaka-Mangawhai Road which runs 
between  Kaiwaka  and  Mangawhai? 
Type  the  given  address  into  Google 
Maps  (and  no  doubt  in-car  navigators, 
too)  and  you'll  be  shown  a  spot  near 
the  end  of  Lower  Silver  Hill  Road  in 
Wellsford. Sometimes I think our road 
needs  a  complete  change  of  name  to 
something  unique  to  stop  this 
confusion. 
Do you think it is okay that people with 
limited mobility are faced with either a 
steep  uphill  climb  to  get  to  the  local 
booth  at  the  school,  or  drive  15-20 
minutes to a neighbouring town where 
access  is  easier?  Two  elections  ago,  I 
drove  my  elderly  (90+  at  the  time) 
neighbour  to  Mangawhai  because  she 
could not manage the walk at Kaiwaka. 
While  it  was  nice  to  spend  the  time 
with her, how did she feel about putting 
me  out  like  that,  even  though  I  was 
happy  to  do  it?  It  shouldn't  have  been 
necessary. 
Who do you talk to about this? Send an 
email  to  Northland@electorate.govt.nz  
or  write to the Electoral Commission, 
Private  Bag  99  9061, 
Whangarei  Mail  Centre, 
Whangarei 
0148, 
and 
explain  your  thoughts  and 
how  things  could  be 
improved  for  the  voters  in 
Kaiwaka.               
~Wendy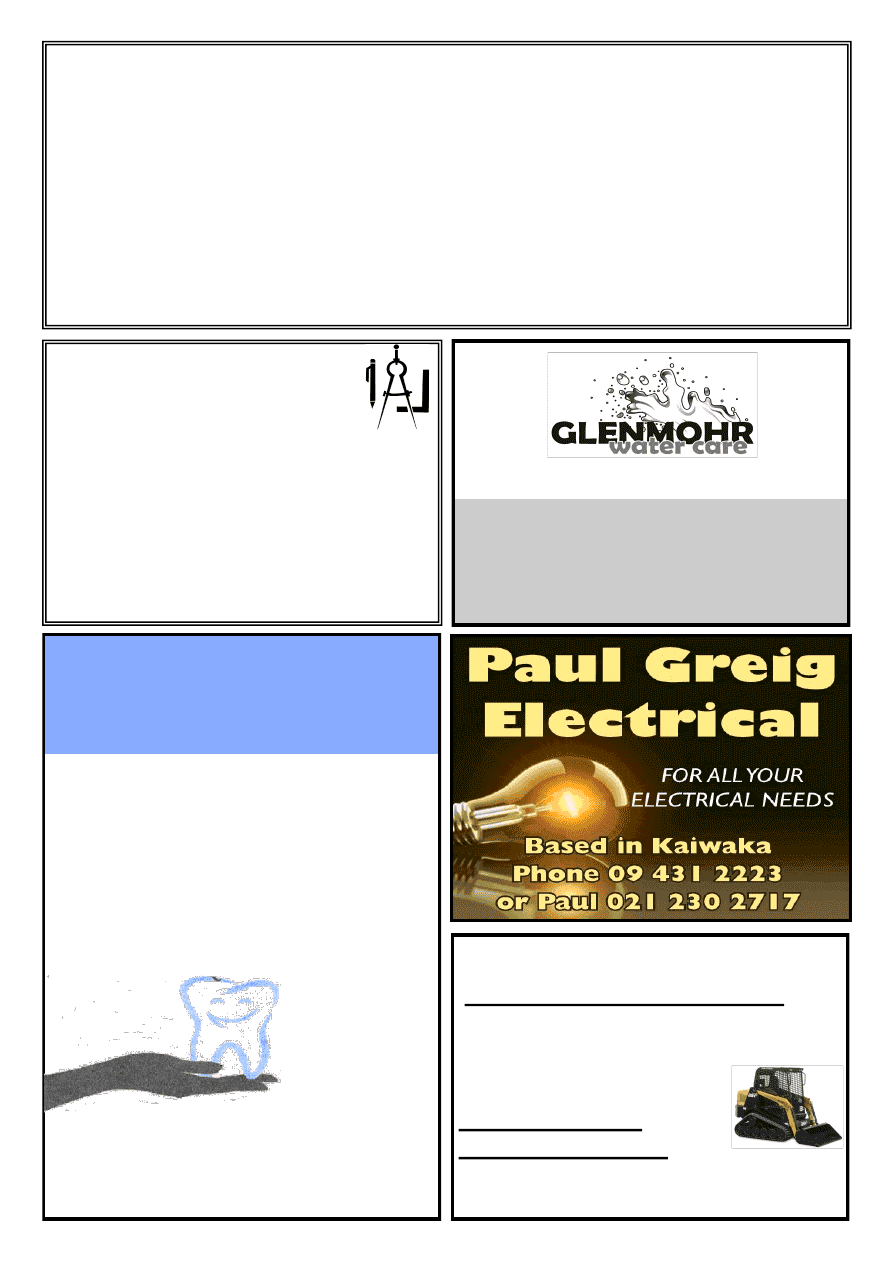 RANGANUI EARTHMOVERS 
16T Excavator 
Driveways, House Sites,
(tilt, thumb & ROPS cab) 
Drainage Dams, Section Clearing,
Transport Trailer 
Tree Work,  Rock Retaining Walls,
2 x 6 Wheeler Tip Trucks 
Quarry Work,
Suppliers of All Grades of Metal & Topsoil 
Basically Anything That a Digger Can Do
If you want a proper job done with an experienced operator ring 
Grant on    A/H 431-2131          Email  ranganui.dev@xtra.co.nz 
                     Mob  021845-246 
design drafting 
service 
Retired builder and manufacturer with over 40 years  
experience in the building industry is offering a design 
drafting service  
for domestic housing, sleepouts and sheds.  
Plans formulated in consultation with clients, with 
working drawings completed and submitted to  
council for processing.  Extensive practical experience,  
able to identify & resolve problems. 
Please ring Mike Lean on 
09 431 2260  
          or 
021 431 196 
Water Tank Cleaning 
" 
Keep your water safe & clean   
" 
Removal of sediment, silt etc 
" 
Vacuum or full scrub 
" 
Minimal water loss 
Phone Mark (09) 432 0655 or 0274 707607 
Gentle Dental 
Ruakaka 
We love to see you smile 
 
General  & Cosmetic Dentistry 
 
Emergency & ACC Treatment 
 
Denture & Hygienist Services 
 
Senior Citizen Discounts 
 
Free Adolescent Care 
 
Free WINZ Quote 
19 Ruakaka Town Centre 
Dr Sim Sood & Associates 
Ph:  432 8139 
Saturdays 
By 
Arrangement 
Open  
Mon-Fri  
8am-5pm  
Natural Earth Ltd 
 Landscape and Bobcat services 
 : Driveways  :Landscaping  :Retaining Walls 
 : Hole Boring: Land Levelling :Trenching 
 : Decks :Fences :Sections Cleared: Plus much 
more 
Tel   09 4312885 
Mob 02102391280  
For A Fast Friendly  
Service Contact Tim Hicks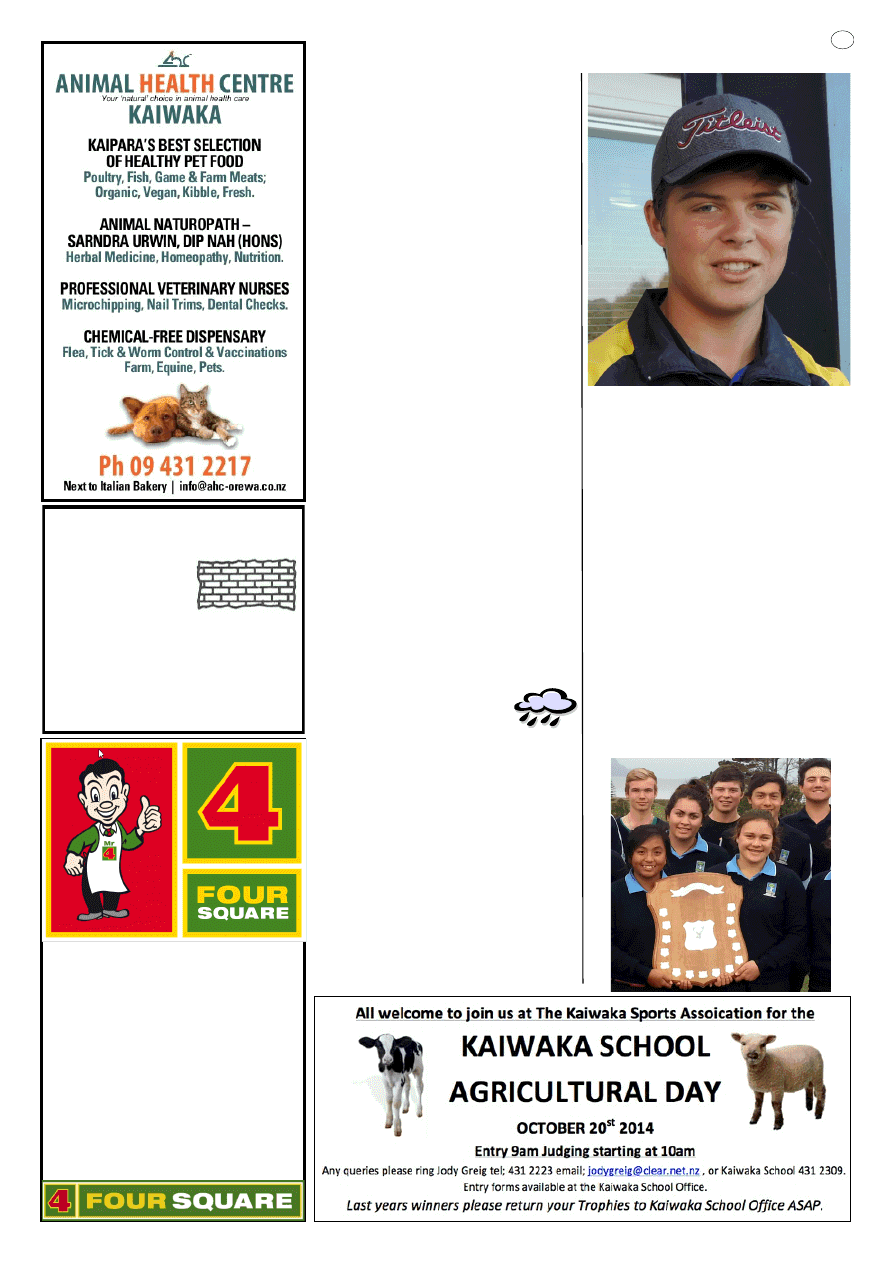 BRICK/BLOCKLAYER 
All aspects of masonry:  
Fireplaces, 
Restoration  
& Remedial Work.
JAMES EAGLETON 
Tel. (09) 431 2514  
Mob. 0274 749 232 
jajueagles@yahoo.com.au 
210A Pukenui Road, RD2 Kaiwaka 0573 
11
Toy Clearance.  
Need room for new 
stock. Up to 50% off.  
Jaques Four Square  
Phone: 4312227  
No1 Kaiwaka-Mangawhai Road,  
Kaiwaka.
Rodney  College  Year  12  student, 
Jamie Thomas has had another great 
year  with  his  golf.  His  list  of 
achievements  is  long.    On  the  23 
August  Jamie  played  in  the  Waitangi 
36  Hole  Stroke  Play  Championship 
where  he  was  Division  I  Nett  Winner. 
He  played  in  the  Northland  Junior 
Development  Team  against  North 
Harbour winning his game 13.5-4.5 and 
again when they played N.S.W Juniors. 
Jamie, who is 16 years old, belongs to 
both  Wellsford  Golf  Club  and  his 
secondary club Mangawhai Golf Club.  
He has been playing golf since 11 years 
of age. 
Other accomplishments: 
Top  of  Harbour  (junior)  Div  1  Net 
Winner;  Northland  Classic  Under  23 
Tournament  Div  2  Nett  Winner; 
Kerikeri 36 hole Citrus Open Men Div 
2  Nett  Winner;  Selected  in  Booth 
Shield (Northland team) 
KAIWAKA WEATHER 
Our winter is leaving us with a remind-
er  of  what  the  weather  has  been  like.  
We survived it even though it has been 
boggy  and  windy  and  all  the  other 
things.  I did like the few nice days we 
had this month. Great to see the spring 
flowers  and  new  life  all  around  us.    I 
saw  where  spring  will  be warmer  than 
usual and wetter as well this year.  Oh 
well  I  guess  we  will  be  having  a  late 
garden  as  the  ground  is  too  wet  and 
will take time to dry out.  
At  our  house  this  August  we  recorded 
187mm  rain  and  for  2013  we  had 
191mm.  It  rained  on  13  days  of  the 
month  with  a  couple  of  extremely 
heavy lots.   
For  the  first  8  months  of  this  year  we 
recorded 1132mm and 2013 we record-
ed 830mm.  Our driest August we had 
was  2011  with  54mm  and  the  wettest 
was  1989  with  318mm.  The  driest  8 
months  of  the  year  since  1987  was 
1994  with  612mm  and  the  wettest  8 
months  since  1987  was  1987  with 
1373mm. 
The  Brynderwyn  waterfall  is  surely 
falling now. All that beautiful water go-
ing  to  waste.    We  remember  a  gentle-
man who lived in Kaiwaka many years 
ago and he was a home brewer and the 
only  water  he  used  for  making  his 
home  brew  was  from  the  Brynderwyn 
Waterfall. Clean as. You would have to 
take  your  life in  your hands  nowadays 
with  the  amount  of  traffic  on  the  road 
to try that. 
Looking  forward  now  to  some  warm 
weather. Take care out there.       
~Bev 
NIWA 
August Climate Summary  
Highlights:  
Rain  in  Whangarei  and  Gisborne 
200% above normal 
Particularly sunny in Waikato, Bay of 
Plenty, Southern Canterbury, Otago 
Christchurch wins highest temperature 
of month 
Whakatane  miles  ahead  in  race  for 
this year's sunniest spot. 
Seasonal Climate Outlook for  
September to November:   
Temperatures  likely  to  average  or 
above  average  in  North  Island  and  top 
of the South Island. 
Rainfall likely to be normal. 

The chances of El Nino are lessening.
RODNEY COLLEGE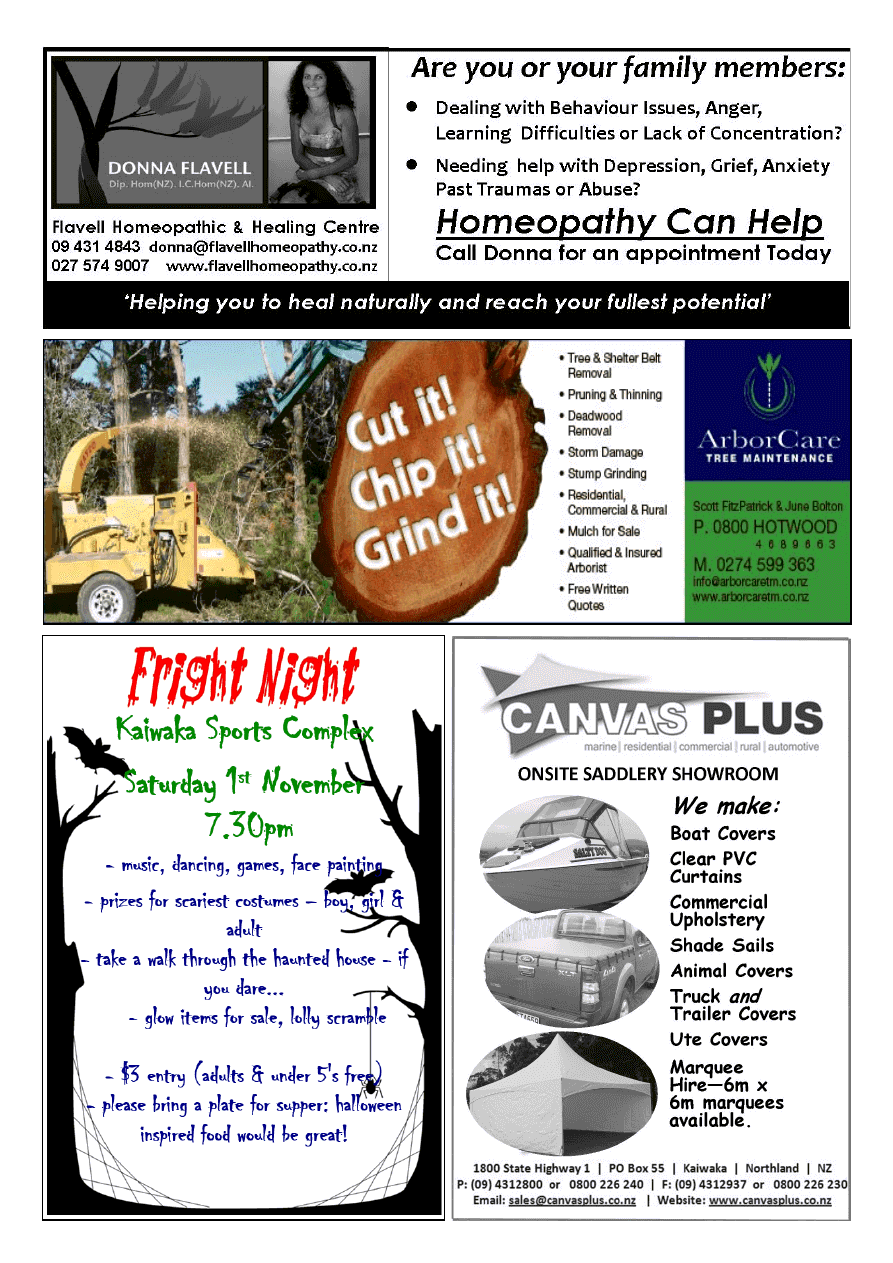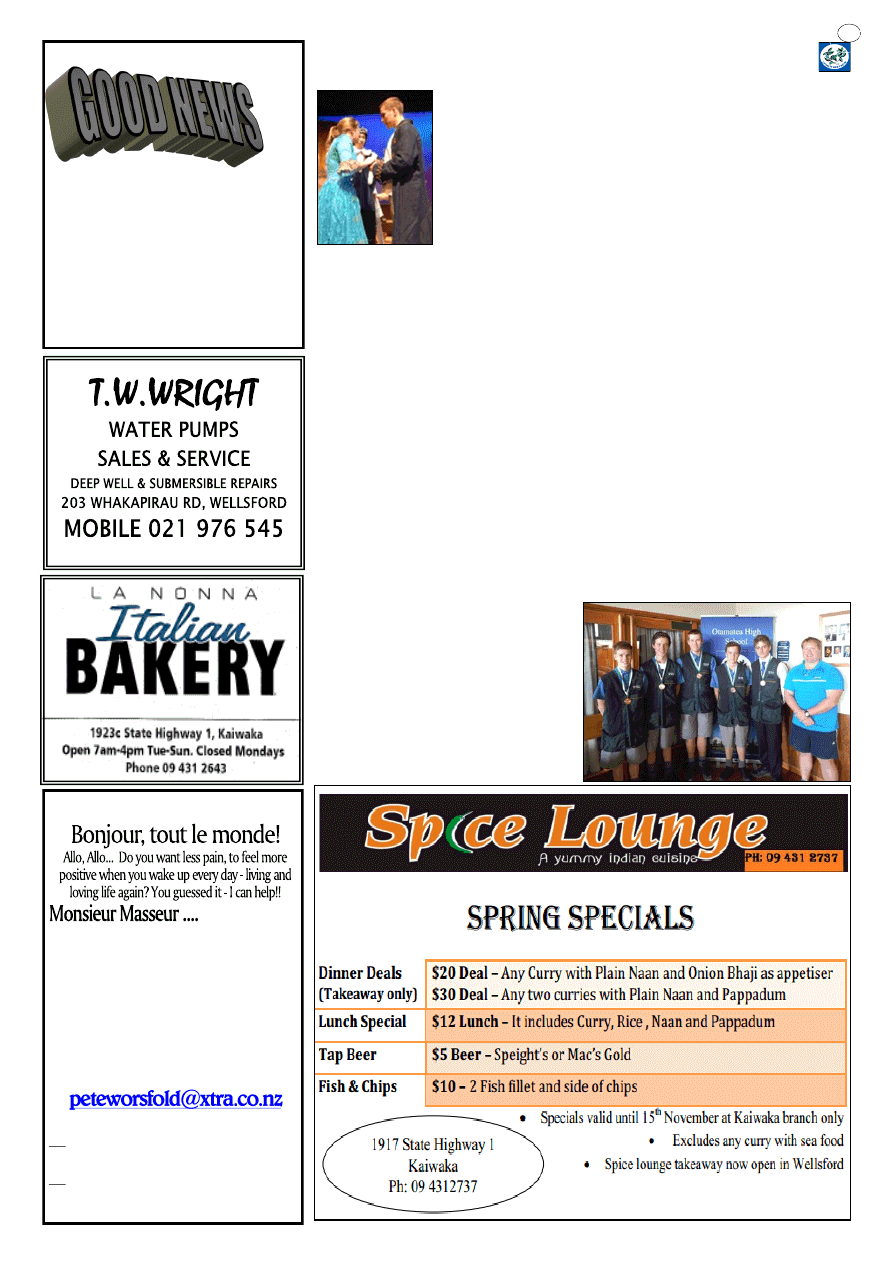 Puss n Boots Production  
Our 
major 
senior 
productions are always 
fabulous  and  this  year 
was 
no 
exception. 
Surrounding  primary 
schools  are  invited  to 
attend  and  we  had  a 
good  turn  out  from 
Kaiwaka  Primary  and 
Tauroroa  Area  School. 
Mrs  Clist  interviewed 
some  of  our  junior 
students  after  they  had  watched  a  matinee 
session… they said 'it was really cool', 'it 
was  choice',  'I  liked  the  ogre;  he  was  so 
funny'.  While  each  actor/actress  played 
their part the stage was vibrantly decorated 
with glorious forest scenery, majestic royal 
gardens      and  colourful  lighting.  Each 
scene  transitioned  seamlessly  and  it  was 
finished  before  one  noticed  time  passing. 
Well done to Mrs Walters and her amazing 
drama team!  
New Digital Technology Courses 
Next  year  Digital  technology  is  branching 
into  three  different  areas  to  cater  for 
student 
interest 
and 
future 
job 
opportunities.   
The  first  course  is  Digital  Media  Studies 
and will be available on NCEA levels 1, 2 
and  3.  Students  will  learn  to  make 
websites,  music  videos  and  by  level  3, 
websites  that  require  content  management 
as  well  as  film  reviews  on  YouTube. 
Students with these skills could find jobs in 
graphic  design,  branding,  marketing  and 
advertising  and  video  game  design.  It  can 
also  be  used  for  entering  graphic  design 
and other tertiary courses. 
The  second  course  is  Programming  and 
Computer Science and is aimed at students 
who  want  to  go  into  jobs  as  games 
programmers,  business  analysts,  database 
managers,  software  engineers,  IT  support 
and network managers and further study in 
these directions at university. 
The  third  course  actually  sits  outside  of 
digital technology in the sense that it does 
not use the computer to make technological 
outcomes  such  as  games  or  programs,  but 
the computer is used to manage tasks. This 
2-year  course  is  called  Computeracy  and 
students will be able to attain the National 
Certificate  in  Computing  at  Level  2.  The 
skills  students  will  learn  will  be  as  varied 
as  applying  for  a  job  online,  using  e-mail 
and  social  media  effectively,  recording 
bookings, typing documents  and using  the 
internet.    With  these  skills  students  can 
become  receptionists,  data  entry  clerks, 
administration clerks jobs, as well as being 
able  to  use  computer  effectively  in 
everyday life and further study.  
Bronze for the 2014 shooting season  
March  this  year  saw  the  formation  of  the 
Otamatea High School shooting team. The 
team  has  been  travelling  to  clay  target 
clubs  around  Northland,  Including  Kaeo, 
Kaitaia, 
Kaikohe, 
Dargaville, 
and 
Whangarei. The team scored an impressive 
1773 points for the season, which put them 
in 3rd overall. The last shoot in Whangarei 
was on  Saturday and  the  team placed 
3rd scoring 411 points, 2nd place was only 
one point ahead of us on 412.  
 Year 13 student Jake Hamlin took out the 
top  spot on  Saturday scoring  91  out  of  95 
placing him first overall and 3rd overall in 
the  single  barrel  event.  Year  11  student 
Lachlan Sidwell took out the single barrel 
section which was decided in a shootout. 
A  huge  thank  you to Treena  McCaroll for 
all  her  work  and  support,  Phil  Cotching 
and  Bryce  Lupton  for  their  assistance  and 
Richard  Westlake  for  the  use  of  his  farm 
and shooting facilities.  
OTAMATEA HIGH SCHOOL 
           THERE'S 
@ the  
Kaiwaka Family 
Church
Your COMMUNITY CHURCH 
RECEIVE HEALING 
RECEIVE THE LOVE OF GOD 
Everyone warmly welcome 
each Sunday 10am. 
Contact: Pastor John Dekker, 
09 4318203 
 13 
RELAXING  
           MASSAGE
..... Juste pour vous" 
Call for an appointment now!
Pete Worsfold 
4312 152  or  021 825970  
Or  Ph. "The Well of Health" for an 
appt. 09 4312 799 
Or mobile service available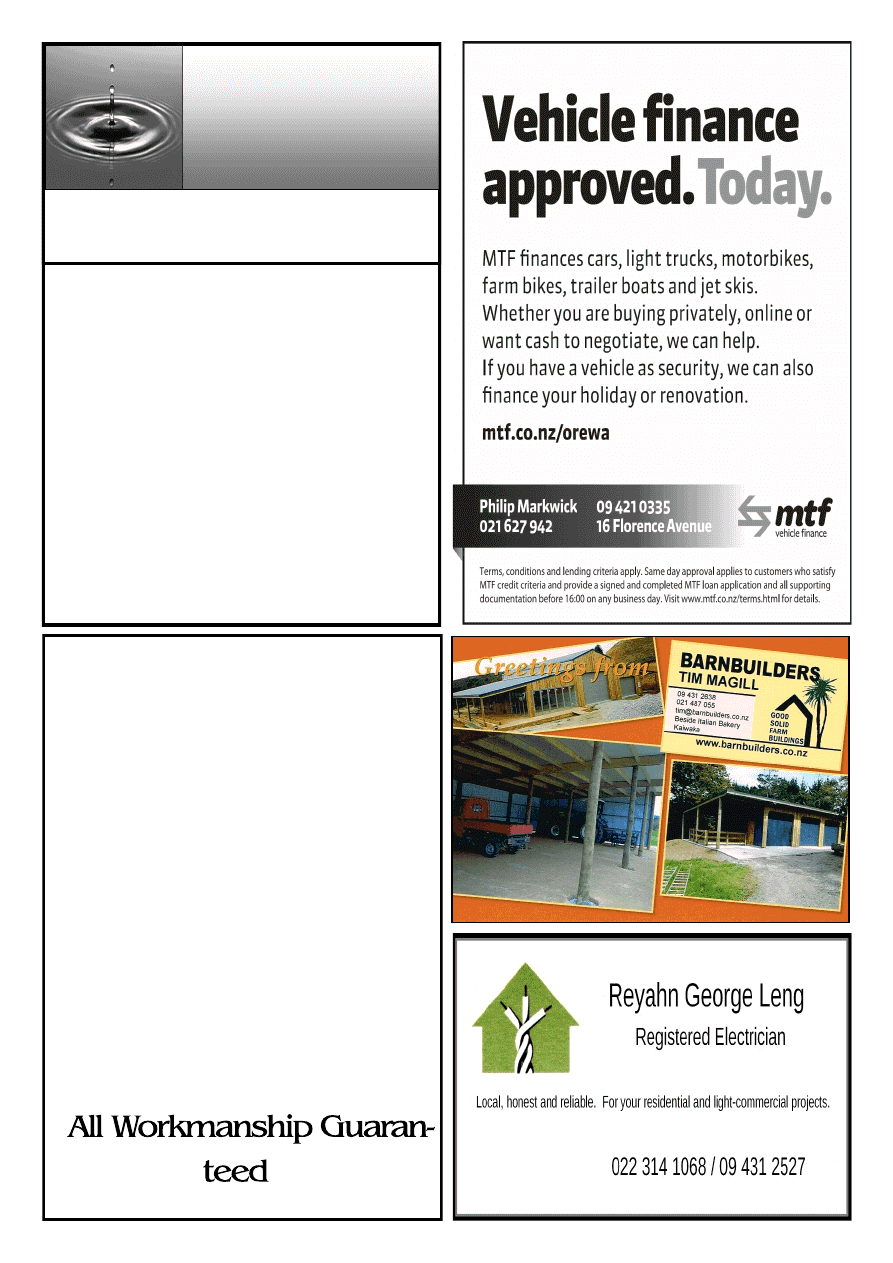 PETE WORSFOLD  
B. Soc.Sc. M. Soc.Sc. Diploma of Prof Couns. 
Counsellor
peteworsfold@xtra.co.nz 
 021 825 970 
Professional Service 
Variety of Modalities 
By Appointment Only 
INDIVIDUAL ONE-ON-ONE 
COUNSELLING 
Call for Appointment 
At "The Well of Health" 
09 4312799 or 021 825 970 
MODALITIES: 
  CBT 
  Gestalt 
  Person-Centred  
  Solution Focussed 
  Behavioural
FOR: 
  Grief 
  Relationship 
  Trauma 
  Couples 
  Adolescents 
   Careers
PLANNING A NEW 
KITCHEN?
CONTACT NOEL McDOWELL 
WELLSFORD 
KITCHENS
Ph/Fax 09 4312 888
KAIWAKA-Any time 
QUALITY CUSTOM MADE 
KITCHENS
~Personal and Prompt Service~ 
~
~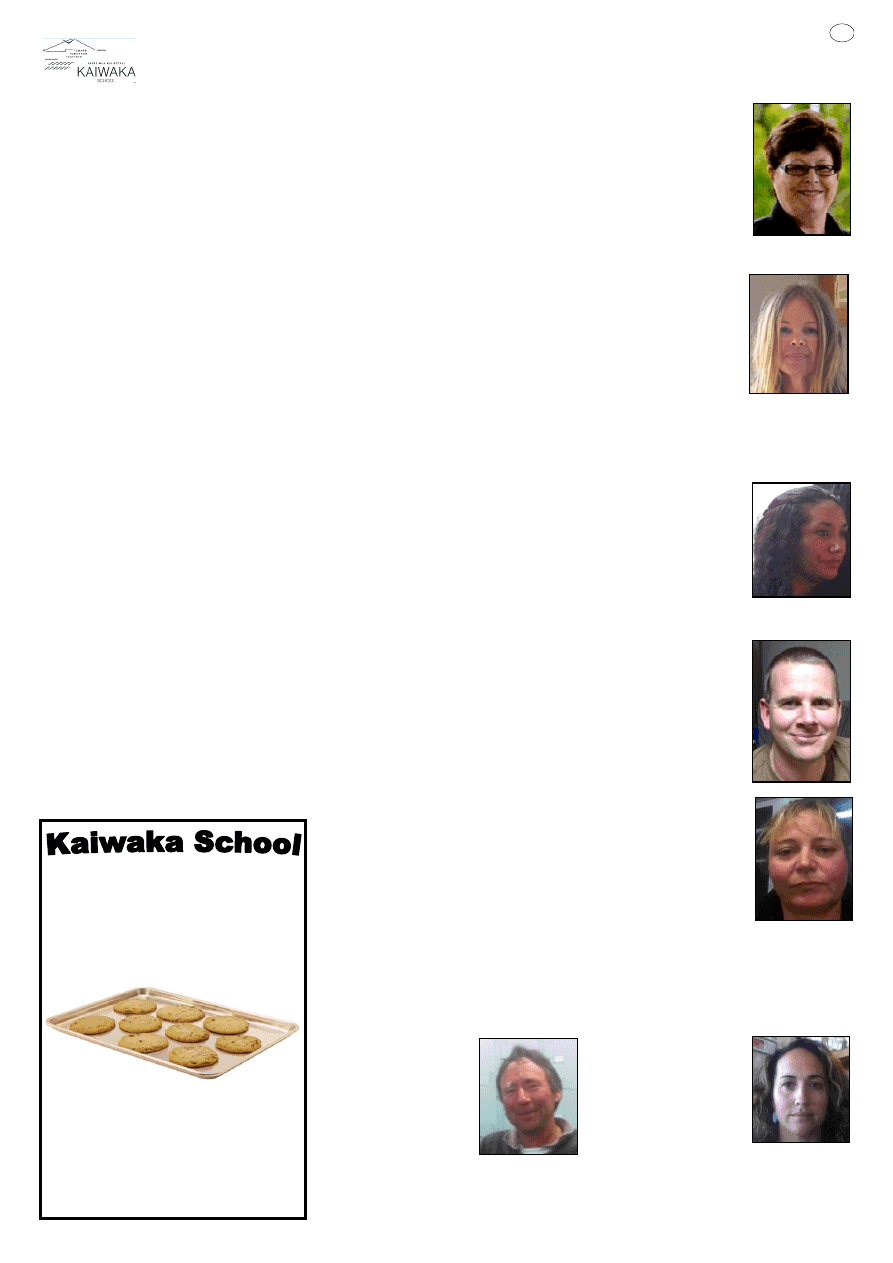 School Entrance 
As  all  families  of  Kaiwaka  Primary 
students  would  have  no  doubt  noticed 
the  entrance  of  the  school  looks  much 
different with the removal of the boiler 
house  and  the  dental  clinic.  Both  are 
now  surplus  to  requirements  due  to 
room  specific  heating  and  the  mobile 
dental caravan. Plans are underway for 
a  permanent  path  parallel  to  the  staff 
car park, in the meantime thank you for 
using the temporary zone that Craig has 
provided. 
Prior  to  the  school  reports  being 
released early this term, the school held 
a parent  information  evening  with the 
aim of demystifying some of the jargon 
used within education (including in our 
school  reports)  and  the  ways  in  which 
different 
topics/ages 
are 
tested. 
Feedback from those who attended was 
positive,  thank  you  to  those  who 
attended  and  presented  –  this  is 
something we would like to hold again 
at a future date. 
"Disaster Plaster" campaign 
The PTA has been busy fundraising as 
usual  –  with  the  latest  being  the 
"Disaster Plaster" campaign; this raised 
a  large  sum  of  money,  thanks  to those 
families  who  sold  the  plasters  and  to 
Rachel  Stirling  and  the  PTA  for 
bringing  this  to  our  school.  Also  a 
special  thanks  to  George  Te  Hira  who 
has  donated  3  calves  for  the  school  to 
sell – it is much appreciated. 
The  Whanau  Group  Committee 
needs  more  attendees.  If  anybody  is 
interested  please  contact  the  school. 
The  purpose  of  the  whanau  committee 
is  to  support  those  students  that 
participate in Nga Tumanako and Kapa 
Haka  –  which  is  90%  of  our  students! 
The  school  is  open  to  suggestions 
regarding  meeting  times  etc.  that  may 
improve  attendance.  The  Whanau 
Committee  is  warm  and  welcoming  to 
all  people,  it  is  not  necessary  to  be 
Maori to attend.  The Kaipara  Festival 
will  be  held  at  Mahurangi  College 
(Warkworth)  this  year  on  the  1st  of 
November,  the  Annual  School  Noho 
Marae trip to Otamatea Marae will also 
take place in the 4th term. 
Congratulations  to  all  students  that 
participated  in  our  recent  school  cross 
country  and  those  that  went  on  to 
represent us at a lower Northland level. 
We  have  school  speeches  and  "Ag 
Day"  coming  up  soon  so  keep  an  eye 
out  on  the  newsletter  for  more 
information. 
Recently  BOT  members  attended 
training  at  Otamatea  High  School  that 
focused  on  effective  governance  and 
student achievement as the BOTs main 
focus.  This  workshop  was  interesting 
and  helped  to  develop  trustee's  skills 
and 
understanding 
of 
the 
responsibilities for student progress and 
achievement  and  how  we  can  use  this 
information 
to 
improve 
our 
governance.  Governance  encompasses 
goals  and  priorities  that  are  used  to 
describe  what  is  to  be  achieved  and 
developed for the school. 
The election is looming on the 20th of 
September,  as  per  usual  Kaiwaka 
School  is  used  a  voting  premises,  this 
year we have decided to have a Cake  & 
Bake  Stall  as  a  fundr aiser ,  any 
families  that  would  like  to  donate 
baked goodies (jams, preserves etc. are 
also  welcome)  would  be  much 
appreciated  and  can  be  dropped  off  at 
school  on  Friday  the  19th.  If  anybody 
would like to help with the sales on the 
day (approximately 10am-12pm) please 
contact the school. 
Thank  you  for  the  whanau  who 
completed  and  returned  the  recent 
survey put out by the BOT, as you are 
aware  there  was  a summary  of  themes 
reported  by  Melissa  Watts  in  the  first 
week of September school newsletter – 
the information obtained from this will 
be  used  to  contribute  to  forward 
planning  for  our  school.  We  will  soon 
be getting two notice boards for school 
use,  one  at  the  entrance  of  the  school 
(just  before  Room  1)  and  another 
community  notice  board  down  by  the 
hall  –  thanks  to  Ad  Clarijs  for 
organising this for us.  
Board of Trustees 
As  an  initial  response  to  the  school 
survey below is a photo of each current 
BOT  member  and  some  brief 
information. 
 John Ferguson 
I  run  a  sheep  and  beef 
farm 
at 
Oneriri, 
together 
with 
my 
partner, 
Andrea 
Mitcheson.  We  have  a 
daughter, 
Katie, 
at 
Otamatea  High  School,  and  a  son, 
Michael,  at  Kaiwaka  School.  I  have 
been on the Board of Trustees for about 
six years. Currently I am the chairman 
and  my  portfolios  are  property  and 
finance. 
Rosemarie Ellis 
This  is  my  second  year 
as  the  Principal  of 
Kaiwaka School. I came 
from  Wellington  to 
Kaiwaka 
with 
my 
husband, who teaches at 
Waipu  Primary.  We 
have 
4 
grown-up 
children.  I  am  enjoying  our  Kaiwaka 
School and community. 
Sharlene Tornquist 
My  name  is  Sharlene 
Tornquist and I am the 
Staff Representative on 
the Board of Trustees. I 
have been a member of 
the BOT for six years. 
Melissa Watts 
I have been on the Kaiwaka BOT since 
2006.I  have  one  daughter  still  at 
Kaiwaka  school  (Yr  5)  and  another 
daughter at Otamatea High School (Yr 
9). I have held various positions on the 
Board  during  my  time 
and 
have 
been 
responsible 
for 
the 
Human 
Resources 
Portfolio. I also manage 
the  Kaiwaka  Netball 
Club and have done for 
the last 8 years. 
Adrian Buxton 
I've  lived  in  Kaiwaka  for  just  a  little 
over 6 yrs, I have 6 kids 
from  3  to  18  and  3  at 
Kaiwaka school. I work 
at 
Fonterra 
dairy 
Factory 
in 
Maungaturoto  and  have 
been  in  the  industry 
over  21  yrs.    I  am  also 
in the local fire brigade 
and  have  over  20  years 
service. 
Clare Borck 
Hi  I'm  Clare  Borck,  I 
was  brought  up  in 
Kaiwaka  and  I  attended 
Kaiwaka  School  then 
went  to  Otamatea  High 
School. I was in banking 
for  7  years  and  now 
have  returned  to  Kaiwaka  to  live  with 
my  2  children  who  now  attend 
Kaiwaka School.  I am working in my 
family  business  (Borck  Contracting 
Limited)  where  I  am  the  office 
manager.  I  have  been  on  the  Board  of 
Trustees for 4 Months 
Naomi Walker 
Kia  Ora,  my  name  is 
Naomi,  my  husband 
Justin  and  I  have  lived 
in  Kaiwaka  for  almost 
10yrs  and  have  two 
boys at Kaiwaka School 
(yrs  5  &  2)  and  one  preschooler,  I  am 
also a registered nurse.  I have been on 
the BOT since early 2013 and I am the 
communications rep for the BOT. 
 15 
KAIWAKA SCHOOL B.O.T. 
Cakes & Bakes Stall 
on Election Day 
@ Kaiwaka Primary School 
20th September 10am-12pm 
Come along and support our 
local school fundraiser by 
purchasing some yummy 
homemade baking while 
casting your vote.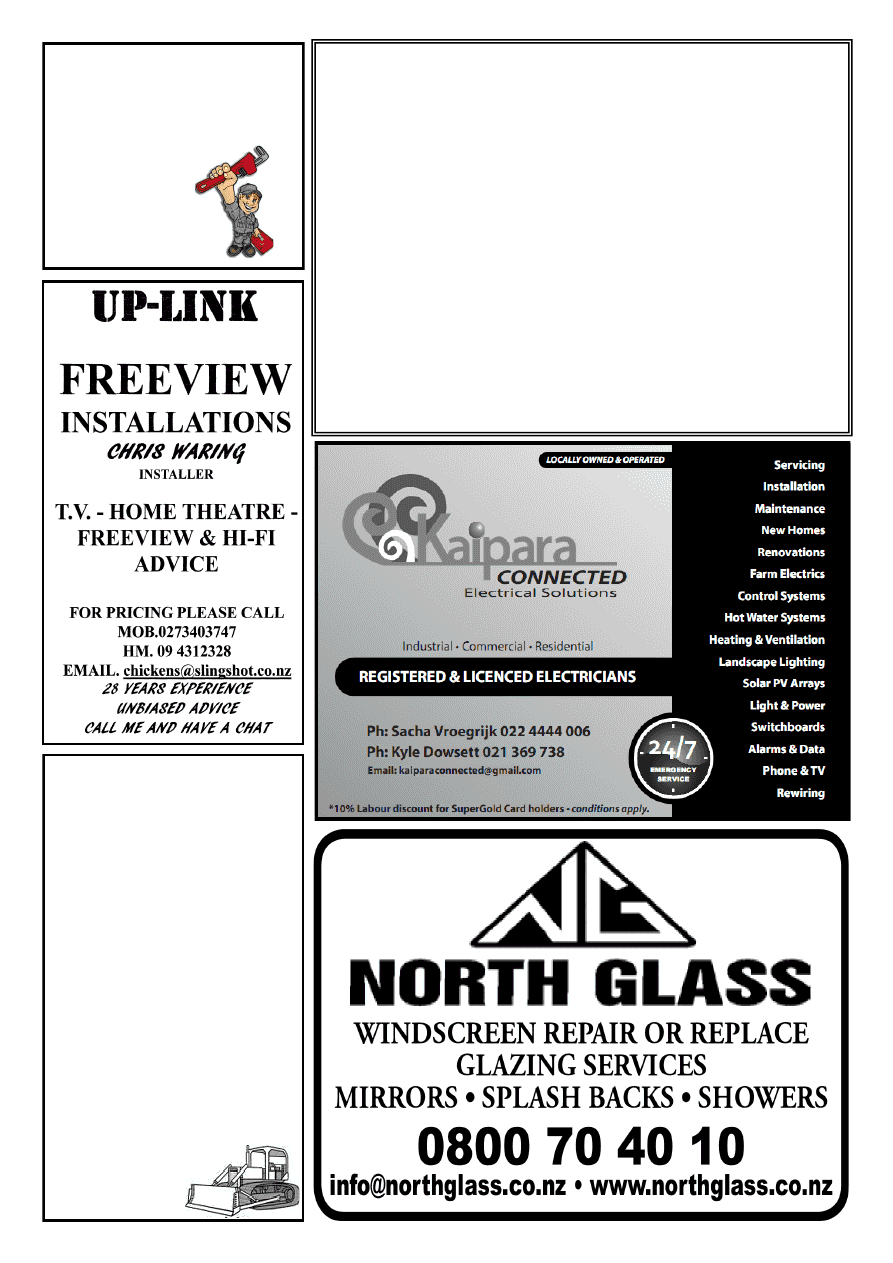 Coates  
Contracting 

D41 Bulldozer with 6 
way blade, bush rigged 
with winch 

For all tree work 

General bulldozing and  
  stick raking. 

120hp Tractor for 
ground cultivation,  

tip trailer work. 

Fencing
All enquiries phone  
Brett Coates  
094318720  
or  
 021431872
Ross Murphy 
PLUMBER 
Certifying Plumber 
09 431 7510 
021 424 252 
Paparoa Based 
+
New Housing  
+
Renovations  
+
Maintenance
KAIPARA FLOORING CO 
32 HURNDALL ST MAUNGATUROTO 
Phone 09 9469886  
or 021 515 415 
Carpet, vinyl, laminate wood look  flooring,  
vinyl planking, sanding & polyurethane service. 
Carpet Short Ends from $79pm + GST 
Vinyl D.I.Y. peel n stick tiles $10sq mtr + GST. 
Free measure & quote.   
Mobile Service 
Phone Christine or Howard anytime 
Open Saturdays by arrangement.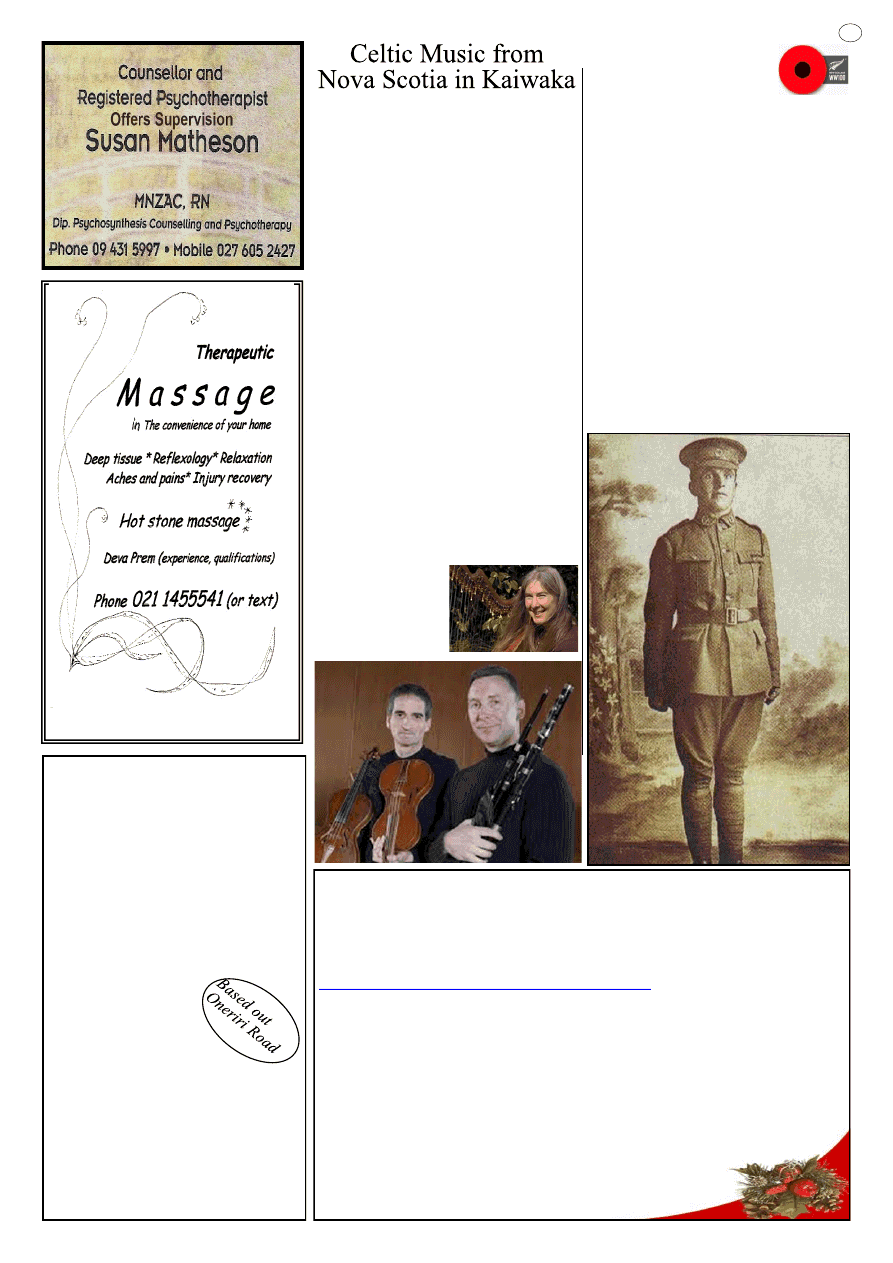 HODGETTS
CONTRACTING
Digger Work   

Driveways 

House Sites  

Dams 

Drains, etc
Also available for HIRE 

3 ton Vib Roller 

Heavy Duty Tow 

Waterblaster  

Lazer Level 
Phone Mark 
4312877 
027 447 8554
www.mangawhaimassage.co.nz 
17 
The  Boxwood  Trio  from  Canada  are 
coming  to  play  at  the  Absurdistan 
community  near  Kaiwaka  next  month. 
The  famous  ensemble  holds  a  music 
school  and  performs  concerts  every 
spring  in  Waipu,  and  this  year  are 
including  our  little  town  in  their 
itinerary.  
The  trio  –  David  Greenberg  on  violin, 
Chris  Norman  on  flute  and  Shelley 
Phillips on harp and oboe – play Cape 
Breton  Celtic  (a  mixture  of  Scottish, 
Acadian,  Irish  and  French  Canadian 
music) as well as 18th century baroque. 
They  have  received  rave  reviews  both 
overseas and here in New Zealand, and 
have 
been 
described 
as 
'the 
consummate 
entertainment 
package'  (Bay  Chronicle,  9/10).  The 
concert  will  be  a  rare  opportunity  to 
hear  something  different  as  well  as 
beautiful.  
Boxwood  will  be  performing  at  the 
Absurdistan community,  
317A Parekura Road, Kaiwaka  
at 7:30 pm on Saturday, 4 October.  
Tickets are available from the Kaiwaka 
Cheese Shop at $15, or $20 at the door. 
For  further  information  call  021  237 
7678 or 021 036 4246. 
Photos: 
right 
- 
Shelley Phillips;  
below 
- 
David 
Greenberg and Chris 
Norman. 
KWMH Honours Board 
WW1: 
A ERCEG 
Private 
Andrew 
Erceg, 
23993,  was  born    28  December  1886; 
son  of  Mr.  and  Mrs.  Ivan  Erceg,  of 
P.O. Lupa Selo, Rascane, Jugo-Slavia.  
Andrew is listed on the Honours Board 
as  a  Kaiwaka  resident.  He  was  single 
and  was a driver for the Public Works 
Department. 
He joined the NZ Machine Gun Corps, 
NZ  Expeditionary  Force.  Left  for 
England  27  May  1916  and    there  to 
France. 
Andrew  was  killed  in  action,  in  the 
field at Ypres, Belgium on 4
th
 October 
1917 (within the Third Battle of Ypres 
or  "Passchendaele")  and  is  buried  at 
Bedford  House  Cemetery,  Ieper, 
Belgium. 
There 
are 
17 
New 
Zealanders buried in this cemetery. 
His brother, Matthew  (Mate) Erceg of 
Maungaturoto  is  noted  as  his  next  of 
kin (Matthew moved to Taranaki after 
Andrew's enlistment). 
AVON AVON  AVON  AVON 
Brochure 17 is now available with great specials for Christmas.  
Orders due by 24th September. For your copy of the Brochure you 
can pick one up at Jaques or the Post Office, give me a call or 
www.shop.avon.co.nz/store/galematheson
 my Avon online Store. 
As a preview there will be an Avon Christmas Demo Day at the 
Coffee Pot Conference Room State Highway 1 on Friday 19th 
September 2014. 9.00-3-30pm. Come along and take a look at what 
is special this Christmas and try some of the latest products. Bring a 
Friend.  
Everyone who comes along will receive a free gift and have entry 
into the free door prize. If you are interested in joining Avon then 
you can talk to the District Sales Manager Donna Read and find out 
more information. 
Phone Gale Matheson on 094314827 or 0274149576 
District Sales Manager  Donna Read 021492503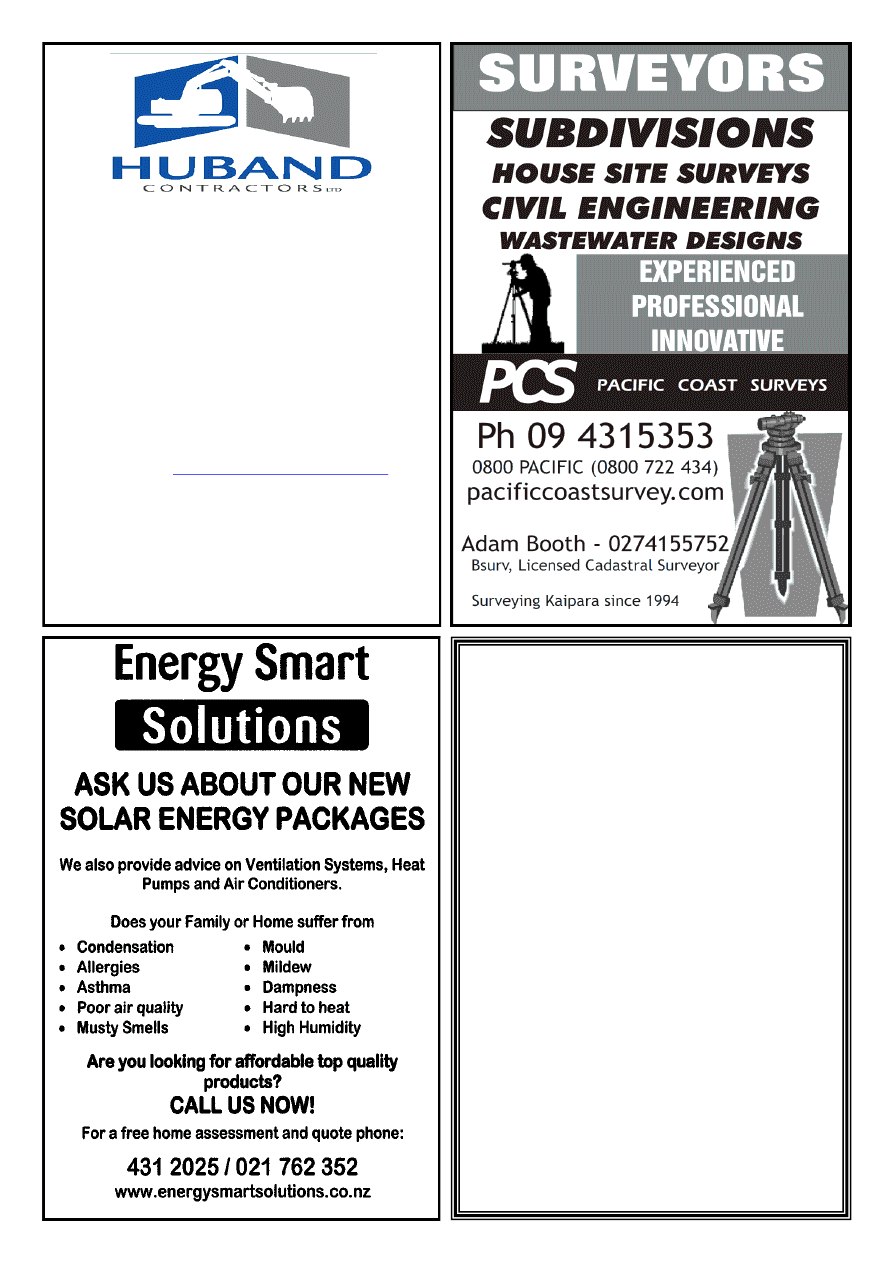 *   R O A D I N G   *   E A R T H W O R K S *    
*   D R A I N A G E   *   S I T E W O R K S   *  
For any further enquiries,  
contact Shaun on: 
Cell: 021 222 0272 
Home: 09 4318339 
Shaun Huband:  Registered  
Drainlayer 
g.a.s. 
Mangawhai 
we have now opened a 
GARDEN CENTRE 
for all your gardening needs 
Also a great range of 
STOCKFOOD 
Wide range of 
ORGANICS AND 
 FRESH LOCAL PRODUCE 
All your motoring needs are taken care of by 
our friendly staff check us out... 
44 Moir Street, Mangawhai (09)431 4242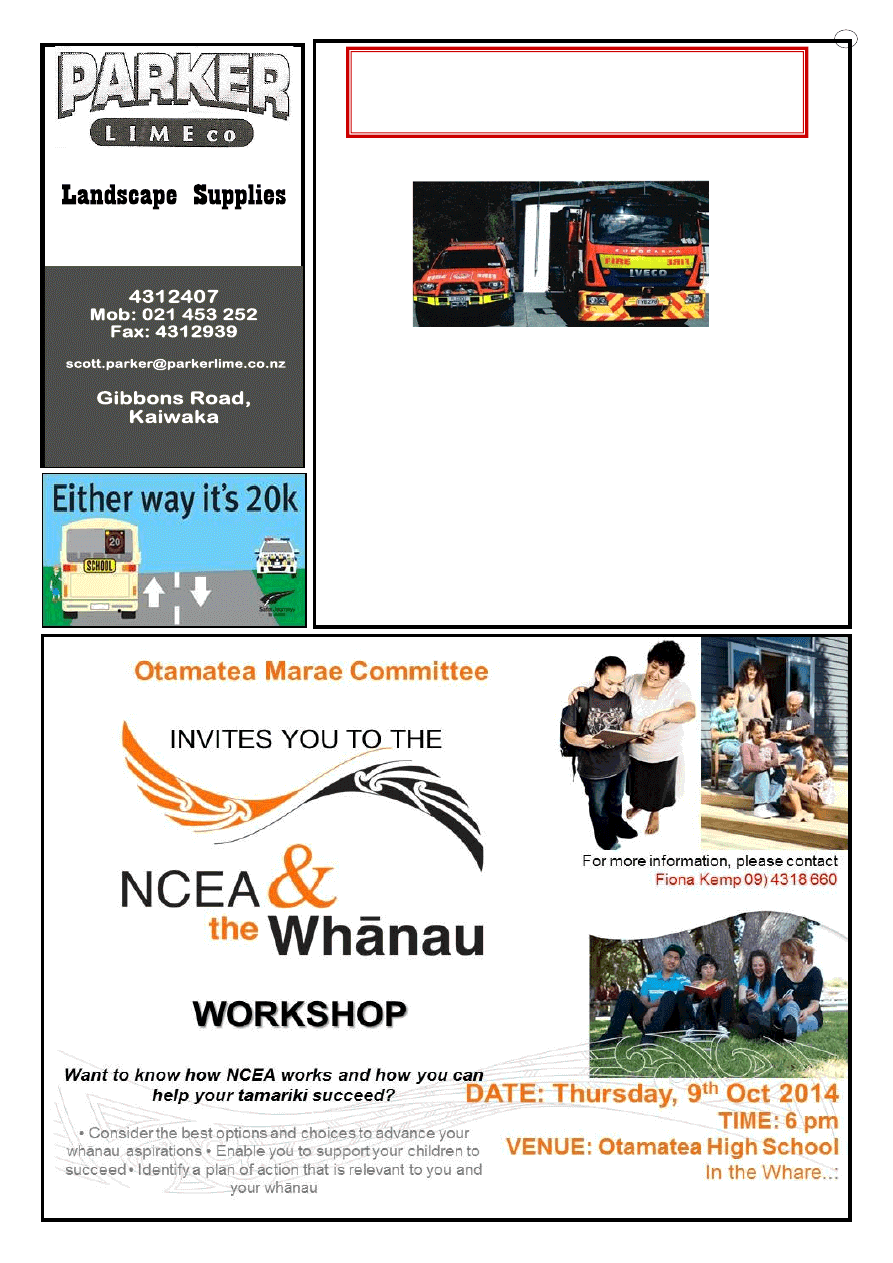 19 
Bulk Cartage 
Kaiwaka Volunteer Fire Brigade 
Open Fishing Contest 
Saturday the 1st & Sunday the 2nd November 2014 
Start time 12am on Saturday 1st. 
Adult species: Snapper, Kingfish, Kahawai & Crayfish 
1st Prize Snapper Category $1000, 1st Prize Kingfish category 1/2 beast 
1st Prize Kahawai category 1/4 beast, 1st Prize Crayfish $300.00 
Mystery Weight prize 1/4 beast. Junior prizes for Snapper & Kahawai 
Free BBQ. 
OPEN FISHING CONTEST         
Weigh in times at Kaiwaka Fire Station.  
6PM to 8PM Saturday 1st November 2014 
2PM to 4PM Sunday 2nd November 2014 
 

Auction and prizegiving to follow weigh in Sunday 2nd around 5pm. 

All people on boats must hold tickets. MAF rules and regulations apply. Maximum 2 hooks per line.  
Decisions of weigh master are final. In the events of 2 or more fish the same weight 1st weighed in wins. 

Boundaries are anywhere North of Omaha (on either coast). Kaiwaka Volunteer Fire Brigade accepts 
no liability for any damages or loss of property or injury to any person. 

All fish weighed in or donated to be auctioned accept that the proceeds are to be donated to the  
Kaiwaka Volunteer Fire Brigade and used to purchase on going equipment. All fish to be gutted and gilled 
before weigh in. 
No Tickets, No Weigh in! 
Adults $30 / Junior $10 (15 years and under) 
Anyone in line at 4pm on Sunday will be counted. 
Tickets available at Caltex Service Station, Jaques 4 
Square or Fire Brigade personnel. 
Contact John Bowmar 09 4312248 or  
Micky 021 1337269 
LOCAL SERVICES 
*St.John Ambulance 
111 or Freephone0800 61 0066
*Fire phone 111     *Police phone 111 or 09 4311150 
A A: Meets Wed., 8pm Kaiwaka Ph: 4312228, 4315543, 0800229 6757 
AL ANON: In recess, contact Ph: 4312228 
AGRIQUALITY (MAF) Livestock Consultant 
Phone 09 4311 820 or 021518257  
BUDGETING SERVICE,OTAMATEA:Free confidential advice & 
support - all areas of  personal finance Ph: 09 4318173 or 094318117 
CAB-
Citizens Advice Bureau.Wellsford Ph: 4237333.
0800 367 222 email:
DOG/STOCK /NOISE CONTROL 0800 105 890 
KATE'S PLACE with Govt.Day Agencies/Community Information /
Osteopathy/ IRD / Probation, etc Ph: 4312661 Hours: 9am-3pm. Mon - Fri 
FUNERAL SERVICES: Morris & Morris Ltd, 
Whangarei - Bev Jaques Ph:4312367 or 0800667747 
GRANDPARENTS Raising Grandchildren: Sarah Rogers Ph: 4312194 
HAKARU LANDFILL/Transfer Station:Open everyday except 
Tuesday10am-4pm.Ph4312629 Cost-$55 trailer load up to 1 cubic me-
tre. Ph:4258567 - office 
HOMEOPATH: Donna Flavell Ph: 4314843 
INLAND REVENUE: Last Friday each month, 11-3pm Ph4312661 
KAIPARA DISTRICT COUNCIL www.kaipara.govt.nz:  
Help Desk FREEPHONE 0800 727 059  
Service Centre Mangawhai 4313161 
KAIWAKA KOHANGA REO: Ph:4312620 
KAIWAKA CEMETERY: Ph: 4312045 
KAIWAKA LIBRARY: kaiwaka.library@gmail.com  
Mon. 4-6pm; Wed., Thurs., Fri., Sat.  10am-2pm Ph:4312539 
KAIWAKA PLAYCENTRE: Ph: 4312286. Hastie Lane 
Monday to  Friday  9.00am - 12 noon. 
KAIWAKA POST OFFICE:Ph:4312 626 Fax: 4312287  
Post Code: 0573  for RD2  and  0542 for all Kaiwaka Post Office mail 
KAIWAKA PRIMARY SCHOOL: Ph: 4312309     
KAIWAKA SPORTS ASSN: Ph 4312005; 4312129 gym 
KAIWAKA ST JOHN: Manager Steve Rosser 09 4318403, 021 
2316836 
LINKING HANDS Health Shuttle service Ph Ken Littlejohn 4314121 
NORTHPOWER: Faults Kaiwaka area 0800 104040 
PARENTPORT: Free, practical family support service Puhoi to Paparoa 
Ph or txt:  Dianne 027 2085093 
PERSONAL DEVELOPMENT COACHING, GROUP FACILITATION:  
Sabine Druckler 4312231 
PLUNKET KAIWAKA/MANGAWHAI: Ph:094318187 or 0276753488 
Kaiwaka Mobile Clinic once a month– appointments necessary;  
Mangawhai (next Domain) 1st & 3rd Thursday & Coffee Morning; 
PLUNKET CAR SEAT CO-ORDINATOR:  Pat Scott Ph 4314530 or 
0272881635 
PLUNKET FREEPHONE -0800 933 922 
PLUNKET -MAUNGATUROTO  Clinic every 2nd & 4thThursday. Ph: 
09 4318187 
PUBLIC HEALTH NURSE: Gloria Reid Ph: 094327634  
RETURNED AND SERVICES ASSN 733 Settlement Rd. Hakaru 
Ph.4312176 Bill Kerr (President) Ph.4314719 
TE KOROWAI AROHA O NGATIWHATUA Ph: 4312675 
(The Cloak of Love of Ngatiwhatua) Support and Maori Consultancy.  
VETERINARY SERVICE MANGAWHAI: 
Ph: 4314535 Mon-Fri 8.00-5.00, Sat 9-12, a/h appt. 
WELLSFORD DOCTORS: Ph: 4238 086 
WOMEN'S WELFARE LEAGUE & Reaching Out For Youth:  
4 Kaiwaka-Mangawhai Rd, M Morgan 4312293
WHAT'S ON
PLEASE ~ do let me know what is on - email 
kaiwakabugle@kaiwaka.co.nz 
Advertising in WHAT'S ON is FREE 
*18Sep~Freemasons 7:30pm Masonic Village, Wellsford 
*19Sep~Zonta Suffrage Day Breakfast 9am Waipu Golf Club 
*19Sep~The Grand Budapest Hotel, 7:30pm KWMH 
*20Sep~Election Day, 9am-7pm 
*20Sep~Cakes & Bakes Stall, 10am-12pm Kaiwaka School 
*21Sep~Red Knights Motorcycle Club, 10am Kaiwaka Fire Station 
*21Sep~Open Day, Hakaru Pony Club Ph Marj 027 294 1227 
*24Sep~Knit & Natter, Ph Elizabeth 4312 522 
*24Sep~Otamatea Community Services AGM 3pm St John Hall Mgto 
*24Sep~New Moon 
*26Sep~last day of Term 3 
*27-28Sep~Mangawhai Art Trail 10am-5pm 
*28Sep~DAYLIGHT SAVING begins - clocks forward 1 hour 
KSA=Kaiwaka Sports Association Complex 
KWMH=Kaiwaka War Memorial Hall 
See www.kaiwaka.co.nz for upcoming events.
HOUSEHOLD  RUBBISH  COLLECTION  -  Kaiwaka    Pick  up-
Mondays=Gr een  bags  ar e  picked  up  by  Nor thland  Waste-
queries  to  them  09  4303273,Wednesdays=Blue  bags  and  yellow 
recycling (at Jaques  $3.00 and $1.50)  are picked up by Kaurilands 
09 4392146.
*DIABETES Support Group -for Kaiwaka, Mangawhai, Wellsford 10am, 
3rd Friday of month Ph:A.Pert 4238242; J.Gardner 4238060 
*DRINK CAN 'tear tabs' - for Starship Hospital- please collect -  
98 Kaiwaka Mangawhai Rd, leave in mailbox, Ph. 4312625  
*GYMNASTICS OTAMATEA -  Tuesday Ph: Stephanie 022 3624998 
*HAKARU PONY CLUB-Secretary Julie Rynne 09 4314520 
*KAIWAKA BADMINTON -Tuesdays 7.30pm Ph: 4312345 
*KAIWAKA GARDEN & FLORAL Grp:2nd Thursday in month  
Ph: 4314767 
*KAIWAKA CUBS-Thursdays 5.30-7pm, Hakaru  Ph:Bruce  4312542 
*KAIWAKA SQUASH -Mondays 7pm,  Ph: Barbara Thomas 4315905 
KNITTING FOR WHANGAREI HOSPITAL - 2nd Tuesday in month, 
Apple Basket 10am Ph 4314827 
*MANGAWHAI COMBINED PROBUS CLUB: 2pm,3rd Thursday, 
Senior Citizens Hall Mangawhai. Ph: 4315777 
*NZ GENEALOGY-Wellsford - 1st Thursday in month Ph: 4237033 
*OTAMATEA GREY POWER-09 431 8138 Joan Hoggard  
*PT CURTIS CRUISING CLUB - Jean Ph: 4312 246 
*RSA,Hakaru & Dist.Women- meet 1.30pm 4th Thurs in month  
Ph: 4312 668  
*TRAMPING- Mondays 9am-2:30pm  Karen Ph: 4312 090 
*WAIPU GENEALOGYGROUP -4th Monday in month Ph: 4312725 
*YOGA- Tuesdays 6:15pm, Friday 8:30am Kaiwaka WM Hall  
Carla Ph: 4312 408, 021 296 8794
CHURCHES: 
*Gateway Worship Centre-St Mary's Church Nathan Rd off Oneriri 
Rd, Kaiwaka. Services, 10.30am 1st & 3rd Sunday of every month. 
Contact: Rev David Gage 4312528 or 0212354282 
*Kaiwaka Family Church-Your Community Church Sundays, l0am 
Home Group every Wed evening, Pastor John.Dekker Ph: 4318203 
*St Paul's Anglican Church 1st Sun. 9.30 am (Eucharist), 3rd Sun. 
9.30 am (Family Service). Contacts:  Church Office 09 431 4122; 
M. Hargreaves 431 2295; C. Bygrave 431 2057 
*Church of Christ the King, Mangawhai 9.30am every Sunday 
*St.Mary's Catholic Church: Maungaturoto – Griffins Road, Satur-
day evening Vigil Mass 6pm; Mangawhai – Senior Citizens Hall, 
Sunday Mass 8:30am; Wellsford – Matheson Road, Sunday Mass 
10:30am; Mid-week Mass times and all enquires to Fr. Bill Fletcher  
Phone 423 8170 
*Baptist Church: Sun. 10.30am Mangawhai Snr Cit.Hall 
Ph:4312339 
*Cause Way Church Mangawhai – Sundays 10.15am, Mangawhai 
Community Recreation Centre, Insley St. Ph: 09 4314782  
*St.Pauls Archie Bull Hall HIRE $20 half day, $40 full day per hire 
    Contact G. Jaques 4312048 
*Kaiwaka War Memorial Hall HlRE - Phone 4312725 or  Email  
    kaiwaka.hall.bookings@gmail.com 
*Hakaru Community Hall HIRE -Ph.  4312256 or 4312110 
*Te Pounga Marae queries -A.Gage 4312528, 4312527 
*Kaiwaka Sports Association hire/queries- C. Anderson 4312051 
Justice of Peace: B.FJaques; L.Donaldson; A.F.Hargreaves 
    -please phone to make sure they are available 
Marriage Celebrants: L.Donaldson; A.F.Hargreaves;  C.Rosseels
Next Bugle Deadline Friday 26 September 2014