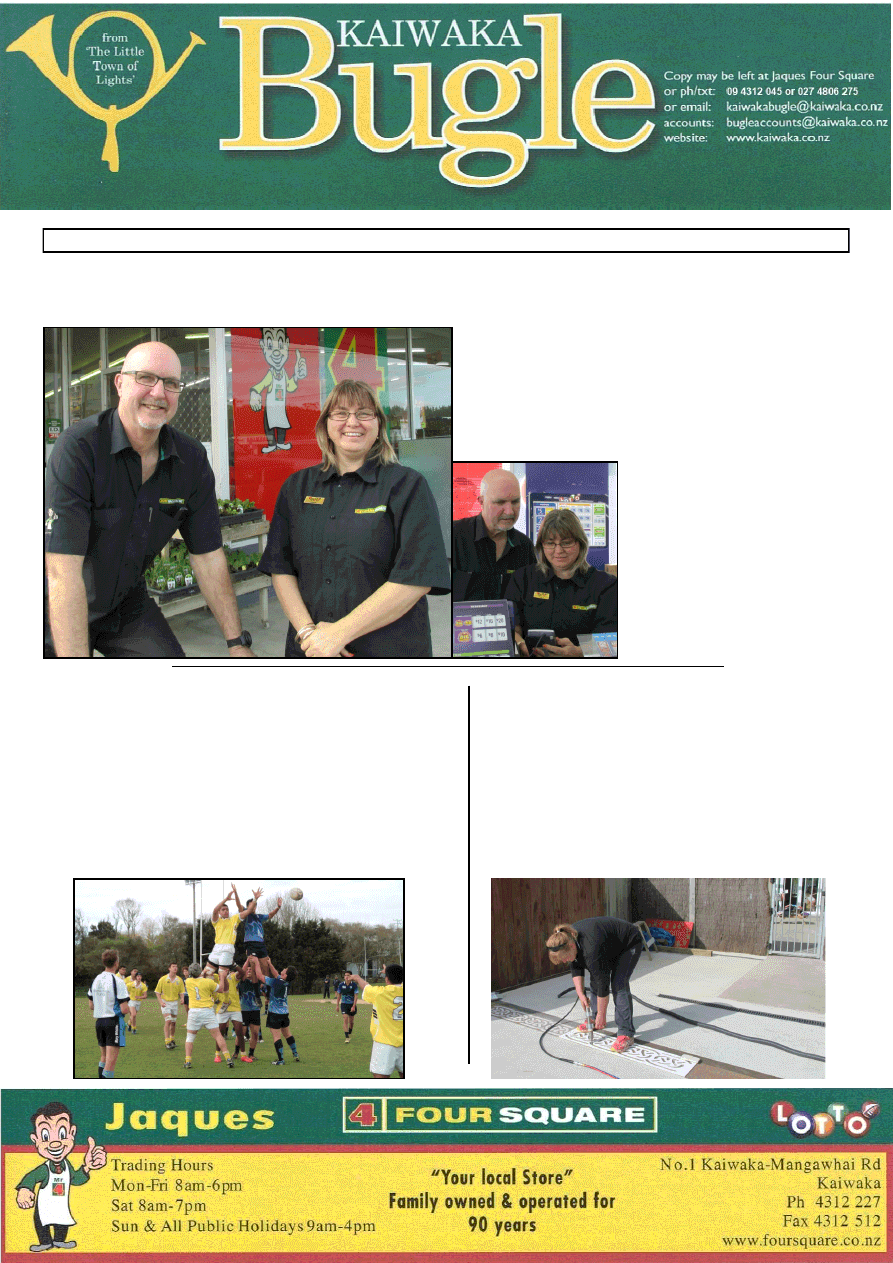 KAIWAKA HOST REP RUGBY 
Saturday  27  September  Kaiwaka  Sports  Assn  hosted  two 
representative Under 16 matches. First up was Northland North 
vs  Auckland  Central.  The  Auckland  boys  were  too  big  and 
powerful for the Northland boys and the score blew out to 80 – 
10.  The  second  match,  Northland  South  took  on  Auckland 
East. Again the Northland boys were outmanoeuvred and went 
down 5 - 67.  
KSA wish to thank the volunteers who did the catering for the 
day:  Lorena,  Lish,  Jennie,  Karen  and  Corina;  and  for  those 
involved in the event preparation.
Photo: Northland North vs Auckland Central 
SPOTTED: Hard At Work 
Lynda  Loughnane  (below)  is  working  on  the  concrete 
entrance  to Kaiwaka's preschool centre. She is using the 
Aristocrete  concrete  engraving  equipment  to  create  a 
welcoming  pathway  to  the  centre.  The  design  includes 
the  icon  chosen  by  the  new  owners,  Lynley  Johns  and 
her  sister  Katie,  as  part  of  the  renaming  of  Small 
Poppies.  This  new  name  will  be  revealed  on  1st 
November. Folk are welcome to visit to find out more. 
Lynda and her husband Phil, of Gibbons Road Kaiwaka, 
have taken on this new business - Aristocrete Concrete 
Re-Finishing (4312526) 
  No: 19
                                                                                                                                                   30 September 2014 
JAQUES FOUR SQUARE: PAULA and GREG at the HELM 
As of 1st September Paula and Greg Jaques have become the 'new' owners of Jaques Four Square. 
Their  enthusiasm  for  their  grocery  business  certainly 
shows when they talk of the job: Paula says she loves the 
community  and  being  part  of  it.  Greg  really  enjoys 
meeting the people, such as one customer this week who 
knew  his  grandfather  Frank  Jaques,  the  founder  of  the 
store  90  years  ago.  And  as  with  Frank,  service  is 
important to Greg. 
Paula  says  the  work  is  'full  on'  and  they  are  both  very 
busy.  They  have  plans  to  reorganise  and  make  a  few 
changes  -  the  addition  of  a 
delicatessen  chiller,  live  mussels, 
designated  organic  and  gluten-
free goods area. 
Their team - Lee, Milly, Jodie and 
Jean 
will 
take 
on 
more 
responsibility  around  the  shop 
and  will  be  assisted  by  six 
secondary school students. 
We  wish  Glen  and  Dalleise 
Jaques, who were part-owners, all 
the best for their future plans.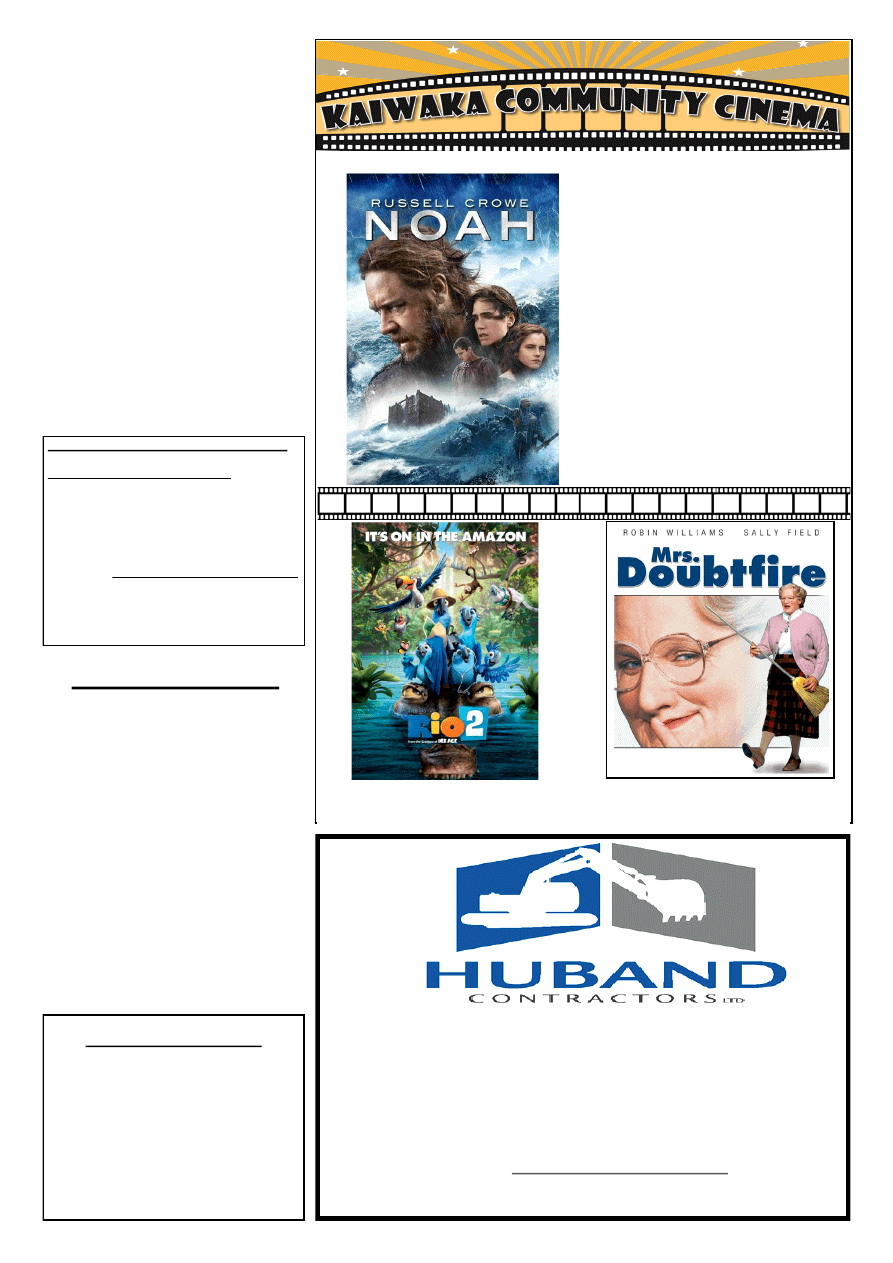 ABOUT TOWN 
 Watch  for  the  total  lunar  eclipse 
around  midnight  on  Wednesday  8 
October. 
A  bouquet  and  thanks  to  the  KDC 
clean-up  crew  for  removing  animal 
remains  and  other  rubbish  from  the 
Oneriri  Rd  Topuni  Forest  entrance.  It 
was  dumped  illegally  by  some  lowlife, 
and  our  rates  have  had  to  be  spent 
cleaning it up - what a waste. 
Missing Celina's shop by the bakery? 
Allsortz,  the  antiques  shop,  moved 
three  doors  up  to  the  other  side  of 
Bianca's Café, and Celina has moved to 
that  newly-vacant  shop  between 
Mormor's and Buy The Way. 
Small Poppies Kaiwaka is under new 
ownership;  now  offering  free  sessions 
for 3-5 year olds. 
*   R O A D I N G   *   E A R T H W O R K S   *    
*   D R A I N A G E   *   S I T E W O R K S   *  
For any further enquiries, contact Shaun on: 
Cell: 021 222 0272 
Home: 09 4318339 
Email:   
Shaun Huband:  Registered Drainlayer 
KAIWAKA BUGLE No. 19 
30 SEPTEMBER 2014 
CONTENTS 
Page 3: Classifieds & Notices 
Page 5: Kaiwaka School 
Page 7: Kaiwaka Sports Association 
Page 9: Library, Hadyn Dyer 
Page 11: Pt Curtis, KSA cont 
Page 13: Night Sky 
Page 15: Fitness, Garden Group 
Page 17: WWI 
Page 19: Mangawhai Garden Ramble 
Bugle 20 will appear 14 October 
Contact for advertising, reports, articles 
or information can be made by 
Email kaiwakabugle@kaiwaka.co.nz 
Ph: 09 4312 045 
Txt:  0274 806 275 
Copy may be left at Jaques' Four 
Square. 
View the Bugle online at: 
www.kaiwaka.co.nz/Bugle
Kaiwaka Bugle 
Founded May 1978 
Copies available in Kaiwaka at Jaques Four 
Square, Kaiwaka Postal Centre, Shamrock 
Service Station, Celena's Gifts 
Also outlets in Maungaturoto, Mangawhai and 
Paparoa. 
Can be viewed online at www.kaiwaka.co.nz 
Or a copy can be posted to you if you supply 
stamped, self-addressed DLE envelopes. 
Rio 2 
Sunday 5 October 2:00pm (PG) 
Mrs Doubtfire 
Friday 10 October 7:30pm 
(M) 
At Kaiwaka War Memorial Hall . Adults $10, Kids (under 16) $5, Family Pass (2 adults + 3 children) $25 
Kaiwaka Bugle Advertisements 2014: 
All 
copy 
and 
queries 
to: 
kaiwakabugle@kaiwaka.co.nz 
Classified $3 (max 30  words);  1/8 page $6; 
1/4  page  $12;  1/2  page  $24;  in  special 
circumstances  whole  page  adverts  are 
available-cost $100 
Payments  can  be  online,  posted  or  left  at 
Jaques Four Square Store. 
Accounts: bugleaccounts@kaiwaka.co.nz 
The  Kaiwaka  Bugle  is  a  community 
newspaper run by volunteers.   
Articles,  etc.  printed  are  not  necessarily 
the opinion of the Bugle Team. 
Noah 
Friday 3 October 7:30pm (M) 
Human barbarism and warfare have ravaged 
the  landscape.  Noah  (Russell  Crowe),  a 
peaceful man, just wants to live a righteous 
life with his family. Every night, Noah has 
visions  of  death  by  water,  followed  by 
renewed life on Earth. 
He's sent word from the Creator that a great 
flood is coming that will destroy the world 
and  all  life.  When  Noah  begins  to  build  a 
giant ark in order to save himself, his loved 
ones  and  two  of  every  species  from  the 
impending  flood,  he's  approached  by  an 
army of men who want to take over the boat 
in an effort to save themselves.
Also starring Jennifer Connelly, Ray Winstone, 
Anthony Hopkins, and Emma Watson.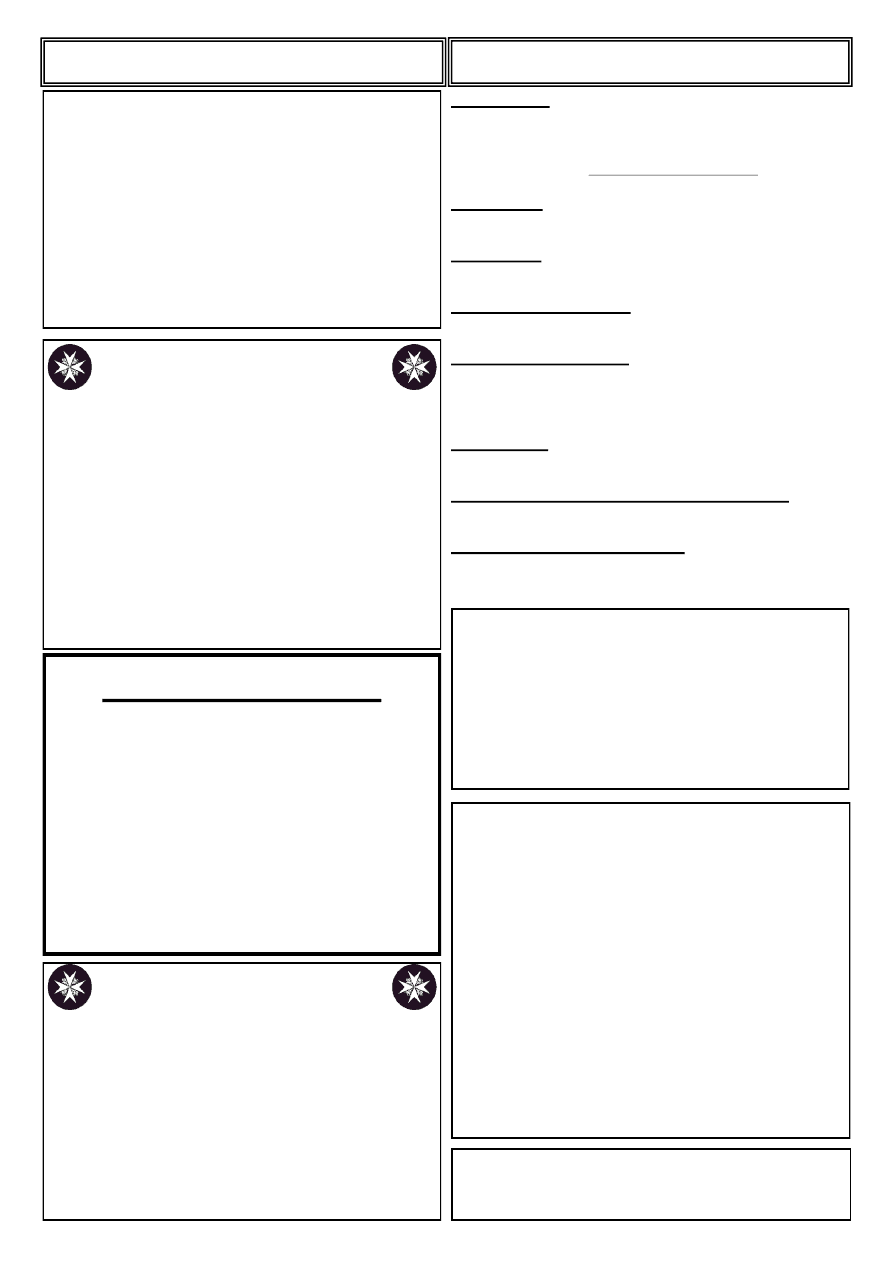 PUBLIC NOTICES 
CLASSIFIED 
FOR  SALE: Jill Shires Holistic Animal Therapies. 
Herbal  Remedies,  Bach  Flowers,  Ointments, 
Diatomaceous  Earth,  Bentonite  Clay,  Cranio  Sacral 
Therapy,  Skin  Conditions,  Arthritis,  Laminitis,  Mud 
Fever  Cream  etc. 
  or  09  4312 
080 
FOR SALE: 1997 Nissan Primera s/w auto, 183,000 
km, $3,200 ono. Tower fan as new $25. Ph 4312 647 
or 021 052 2386 
HASHTAG  Band  for  hire.    A  lively  mix  of  covers 
and original music.  Make your night special.  Ph: 021 
623 776  
BERYL  NOZEDAR:  (Middleton)  International  
Clairvoyant.  Numerology,  Tarot,  Clairvoyance,  
Mediumship. $60 for hour includes CD. Ph: 4312 080 
SPRING  PLANTING  is  here,  come  into  g.a.s 
Garden  Centre,  Mangawhai.  For  your  potted  colour, 
veggie  plants,  citrus  trees,  seeds,  Tui  compost  5  bags 
$45,  and  much  much  more.  44  Moir  Street, 
Mangawhai 
FOR  RENT:  4  bedroom  house  available  for  rent. 
$250  per  week.  Call/Text  021-556-086  for  further 
information. 
CLOTHING ALTERATIONS & REPAIRS: 
Hems,  Zips,  Dressmaking  Phone:  Win  4312  027    or 
027 444 8358 Winsome Designs. 
FREE GRAZING WANTED: Small or large block. 
Can  do  some  fencing  or  water.  Phone  after  6pm  
4312 006 
Proverbs  23:4-5 
Don't WEARY yourself trying to 
get rich. Why waste your time? For riches can  
disappear as though they had wings of a bird! 
GROUP DAY – AGRICULTURAL DAY 
for the district is  
Monday 27 October (Labour Day)  
at Kaiwaka Sports Association.  
Children from preschool age to Year 13 living in the 
area are welcome to enter their calf, lamb or goat. It 
is  not  necessary  to  have  won  ribbons  or  even 
competed  at  a  school  agricultural  day  event  to 
participate  –  as  long  as  they  fit  the  entry  criteria. 
Rules  and  entry  forms  will  soon  be  available.  Each 
school  should  have  a  representative  on  the  Group 
Day  committee.  Any  questions  or  pre-registrations 
from Kaiwaka families to Bruce Ferguson 431 2542. 
ST.JOHN OTAMATEA  AREA   
COMMITTEE 
TRASH  AND  TREASURE 
TO  BE  HELD  6 – 10  OCTOBER 
MAUNGATUROTO CENTENNIAL  HALL 
You  can  bring  good  quality  items  in  on  Sunday  5th 
October  between  12  noon  and  4pm  or  during  the 
week  (preferably  before  Thursday).  If  you  can  do 
this, it would be appreciated. 
We have limited storage available but if you require 
items  to  be  collected  prior  to  (or  during  the  event) 
this will be arranged as transport is available. Please 
leave contact  details  with  Eileen  – 021 142 0357  or 
email me at: b.parsons@xtra.co.nz 
This  is  our  major  fundraiser  for  the  year,  so  please 
support us if you can. Baking, produce and plants are 
also an acceptable addition during the week. 
ST.JOHN OTAMATEA  AREA  
COMMITTEE 
ANNUAL  APPEAL 
Please  note  that  our  annual  appeal  will  be  in  a 
different  format  this  year.  You  will  notice  that  your 
Householder  looks  different  and  is  to  be  sent  to  an 
Auckland  St  John  address.  You  can  be  assured  that 
the  money  that  you  send,  whether  it  be  as  a 
Supporter,  Donation  or  both,  will  come  back  to  the 
Otamatea  area.  We  are  endeavouring  to  create  a 
much more efficient system within the Region.  
The  costs  will  still  be  the  same:  $45  for  and 
individual, $60 for Joint (husband and wife) and $75 
for a family. 
OPENING SOON 
Jenny's Rural Craft Shop 
Looking for local craft people 
to sell their crafts in the shop. 
Contact Jenny: 
 09 431 2826 
jennychellew@hotmail.com 
KAIWAKA SCHOOL 
BOARD OF TRUSTEES ELECTION. 
Nominations  are  invited  for  the  election  of  2  (two) 
parent representatives to the Board of Trustees. 
A nomination form and a notice calling for  
nominations will be posted to all eligible voters. 
Additional  nomination  forms  can  be  obtained  from 
the school office. 
Nominations close at noon on October 17
th
 2014 and 
may be accompanied by a signed candidate's  
statement. 
The  voting  roll  is  open  for  inspection  at  the  school 
and can be viewed during normal school hours. 
There will also be a list of candidates' names, as they 
come to hand, for inspection at the school. 
Voting closes at noon on 14 November 2014. 
Sara McAulay 
Returning Officer.  
KAIWAKA WAR MEMORIAL HALL 
New Prices from September 2014 
(except existing bookings to end of 2014) 
Full hall including kitchen 
$24 per hour 
Full hall without kitchen 
$12 per hour 
Party 
$200 per day 
      plus 
$200 bond
 (refundable)
All booking enquiries to Wendy: 4312 725 or 
kaiwaka.hall.bookings@gmail.com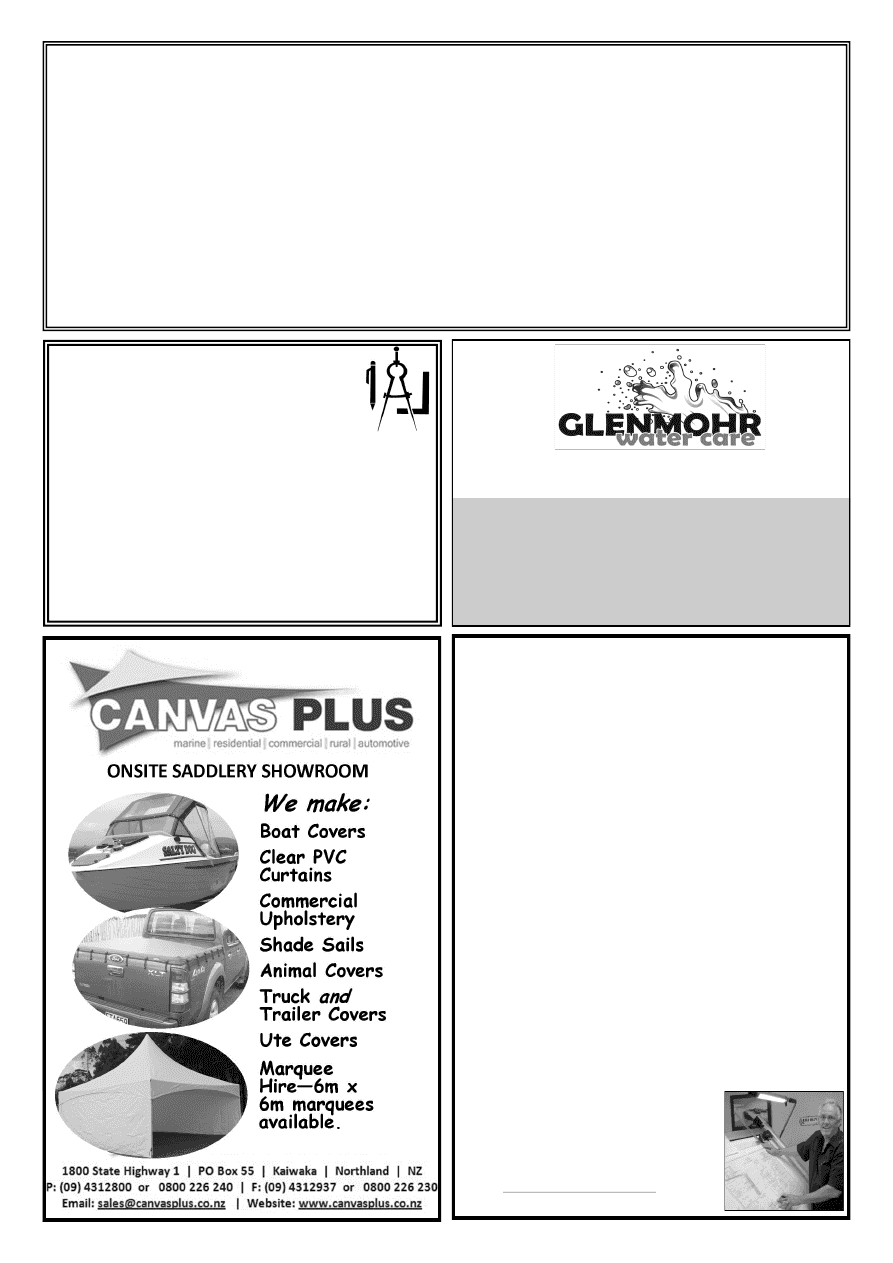 RANGANUI EARTHMOVERS 
  16T Excavator     
    (tilt, thumb & ROPS cab)     
  Transport Trailer 
  2 x 6 Wheeler Tip Trucks 
  Suppliers of All Grades of Metal & Topsoil 
If you want a proper job done with an experienced operator ring 
Grant on:  A/H  431-2131      Email  ranganui.dev@xtra.co.nz 
                      Mob  021845-246 
Driveways, House Sites,  
Drainage Dams, 
Section Clearing,  
Tree Work,  Rock Retaining Walls,  
Quarry Work, 
Basically Anything That a Digger Can Do 
design drafting 
service 
Retired builder and manufacturer with over 40 years  
experience in the building industry is offering a design 
drafting service for domestic housing, sleepouts and 
sheds.  
Plans formulated in consultation with clients, with 
working drawings completed and submitted to  
council for processing.  Extensive practical experience,  
able to identify & resolve problems. 
Please ring Mike Lean on 
09 431 2260  
          or 
021 431 196 
Water Tank Cleaning 
 
Keep your water safe & clean   
 
Removal of sediment, silt etc. 
 
Vacuum or full scrub 
 
Minimal water loss 
Phone Mark (09) 432 0655 or 0274 707607 
 ARCHITECTURAL BUILDING 
PLANS AND DESIGNS 
WRIGHT DESIGN 
 QUALIFICATIONS 
Brian is a qualified designer (NZCAD) with over 40 years of 
varied experience in all types of building and is a registered and 
Licensed Building Practitioner in Design - L.B.P. 117345 
He ensures you will achieve the best from your budget with 
recommended excellent local contractors ready to competitively 
price and build your personal project quickly and efficiently. 
 EXPERIENCE 
Brian's practical building and 40+ years of design experience 
means he can give you excellent advice and all the guidance 
needed for all your building needs 
v Wright Design offers free visits, consultations and all the ad-
vice you need on planning, design, building, contractors, coun-
cil permit applications, etc. 
"  Qualified and inexpensive designer – N.Z.CAD., LBP 117345 
"  Guaranteed design and working drawings 
"  Free site visit to your home or property 
"  Great service 
"  Great problem solver 
Call Brian ~Arrange a visit to discuss your needs  and obtain 
great advice and free quotation 
MAKE GOOD USE OF HIS EXPERIENCE and 
KNOWLEDGE 
WRIGHT DESIGN:  
360 Oneriri Road, Kaiwaka
Office 09 4312544   
Mobile 021 276 7389  
Email: 
www.wrightdesign.co.nz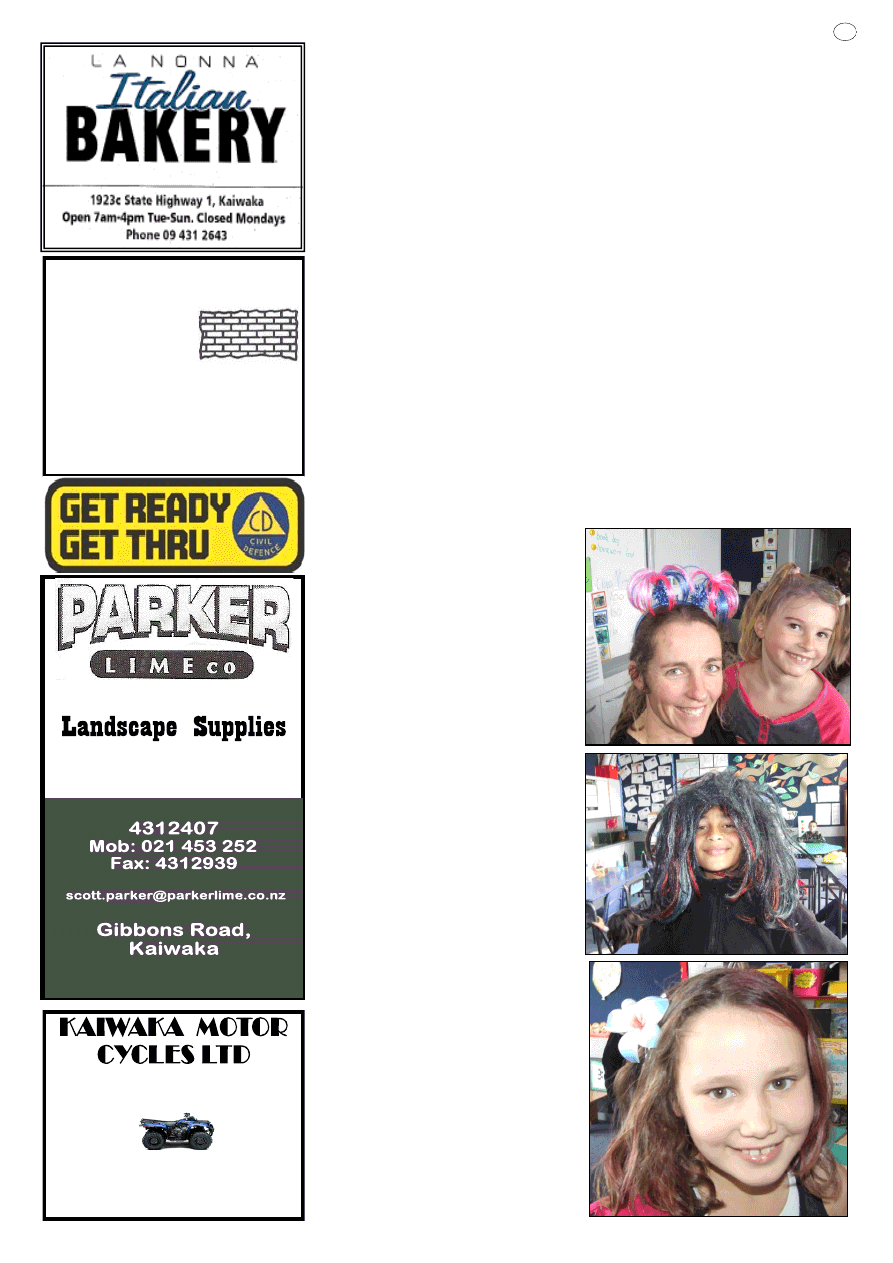 BRICK/BLOCKLAYER 
All aspects of masonry:  
Fireplaces, 
Restoration  
& Remedial Work. 
JAMES EAGLETON 
Tel. (09) 431 2514  
Mob. 0274 749 232 
jajueagles@yahoo.com.au 
210A Pukenui Road, RD2 Kaiwaka 0573 
SALES SERVICE SPARES
FARM BIKE SPECIALIST
Phone 431 2127  
Kaiwaka-Mangawhai Rd 
Kaiwaka 
5 
Bulk Cartage 
KAIWAKA SCHOOL 
Wacky Hair Day 
The  children  at  Kaiwaka  School  were 
invited  to  create  zany  and  unique 
hairstyles  for  Wacky  hair  Day.  This 
was  a  fundraising  event  for  the  PTA, 
who  will  put  the  money  collected 
towards  increasing  the  school's  ICT. 
We  thank  all  the  children  who 
participated  and  all  the  parents  who 
allowed  them  to  bring  a  gold  coin 
donation. 
Swimming Pool Operators course 
Any  volunteers  to  attend  a  small  pool 
operators course on November the 20th 
from  8:30am  to  4:00pm?  The  school 
will  pay  the  $350  if  the  person  being 
trained is happy to be rostered on as a 
'doser'  for  the  school  pool  over  the 
summer  holidays.  We  can  only  keep 
the school pool open over the holidays 
with  volunteers  from  the  community. 
This 
gives 
local 
children 
the 
opportunity  to  become  familiar  with 
the water in a safe pool. 
Giant Pumpkin Competition 
Spring  is  here  and  time  to  get  your 
patch  ready  for  the  "Kaiwaka  School 
Annual  Giant  Atlantic  Pumpkin 
Competition"! Seeds are available from 
the  office  after  the  holidays.  "Weigh 
In"  is  in  Autumn  in  term  two  2015! 
Lots of categories and prizes. This is a 
great  experience  for  your  children. 
Please  support  them.  Lots  of  info  of 
how to grow them on the web. 
~Megan Little – Organiser. 
Cake Stall 
Thank you very much to everyone who 
contributed  to  the  Cake  Stall  we  held 
on  Saturday  at  the  school.  This  was  a 
most successful fundraising event, and 
$489.50  was  raised.  There  have  been 
many,  many  compliments  on  the 
beautiful  cakes,  delicious  baking  and 
wonderful jams and preserves that were 
for  sale.  Thank  you  to  the  trustees  for 
manning the stall. 
~Rosie Ellis 
Board of Trustees Elections 2014. 
Compiling the electoral roll. 
One of my jobs as Returning Officer is 
to  compile  the  electoral  roll  for  the 
BOARD OF TRUSTEES ELECTION. 
All PARENTS of children at Kaiwaka 
School are eligible to be on the roll ie 
mother, father, guardian of *immediate 
caregiver. 
*Immediate caregiver is defined as: 
(i)  the  spouse  of  a  parent,  who  is  not 
the student's mother or father 
(ii) any person who has turned 20, has 
day to day responsibility of the student 
and lives in the household that includes 
the  student's  mother  or  father  and  no 
spouse. 
(iii)  In  a  household  that  does  not 
include  the  student's  father  or  mother, 
means  any  person  who  has  turned  20 
and  has  day  to  day  responsibility  for 
the  student  clearly  greater  that  that  of 
any other person. 
Parents  and  caregivers  if  you  think 
there  is  someone  in  your  household 
that  qualifies  to  be  on  the  Electoral 
Roll  for  the  BOARD  of  TRUSTEE 
ELECTION  at  KAIWAKA  SCHOOL 
please  let  me  know  (in  confidence  if 
preferred)  so  I  can  make  any  changes 
needed. 
Ideally the roll should be closed by the 
15th  October  2014,  although  there  are 
provisions  for  a  supplementary  roll  up 
to 29th October 2014. 
MEANTIME  I  ENCOURAGE  YOU 
ALL  TO  BE  THINKING  ABOUT 
NOMINIATIONS 
FOR 
THE 
ELECTION.  THESE  CANDIDATES 
WILL  BE  REPRESENTING  YOU 
AND 
YOUR 
CHILDREN 
AT 
KAIWAKA SCHOOL. 
Photos below: 
1. Lily Wing and her teacher Anna 
Elworhty 
2. Benito Beyer  
3. Ashley Greig 
Monday 13 October: Term Four begins  
Monday 20 October: Agricultural Day 
Monday 27 October: Group Day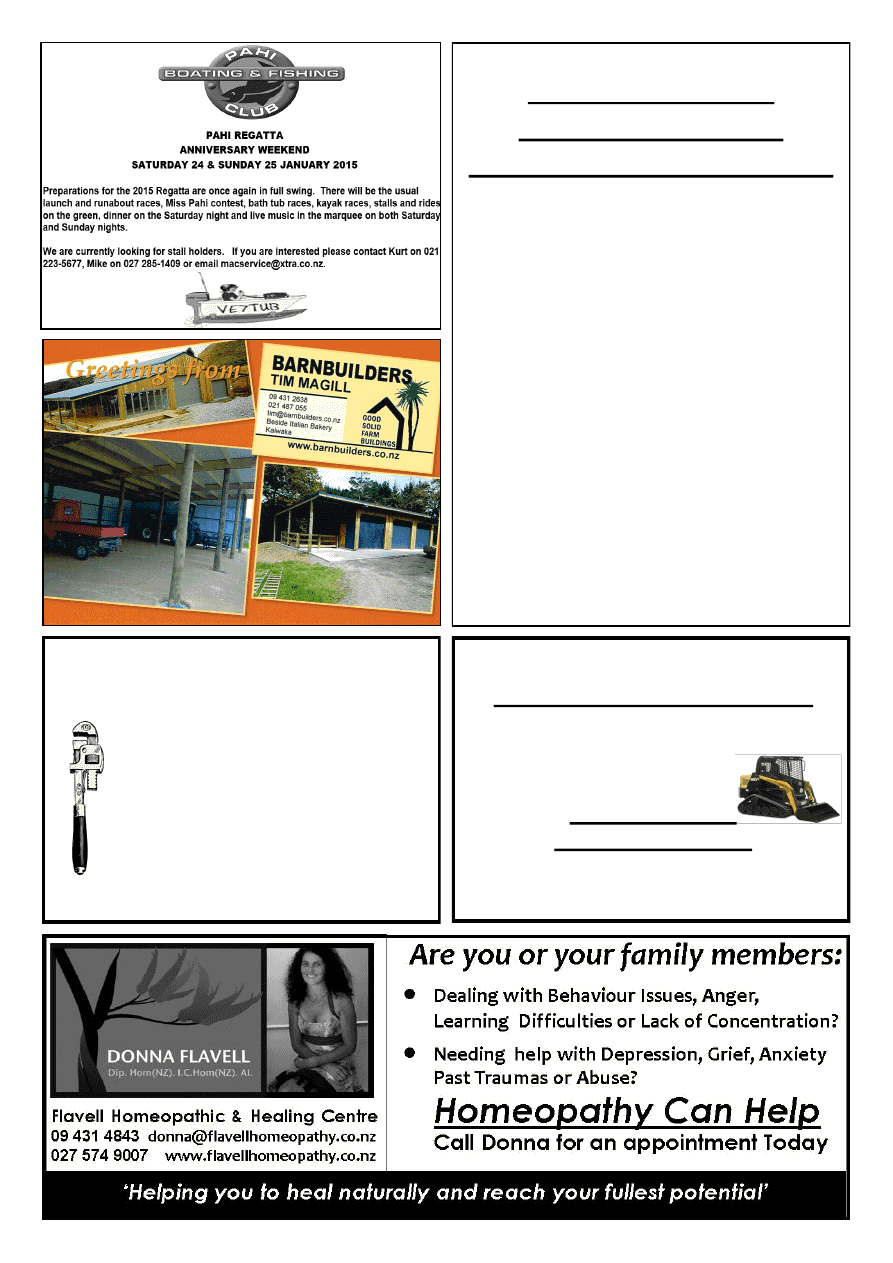 Natural Earth Ltd 
Landscape and Bobcat services 
 : Driveways  :Landscaping  :Retaining Walls 
 : Hole Boring: Land Levelling :Trenching 
 : Decks :Fences :Sections Cleared 
 : Plus much more
Tel 09 4312 885 
Mob 02102391280 
For A Fast Friendly Service  
Contact Tim Hicks 
BARRY CURTIS PLUMBING LTD 
REGISTERED CRAFTSMAN PLUMBER 
Phone 431 5572 
027 257 9884 
25 years' experience 
Friendly reliable service 
All plumbing & maintenance 
Alterations and new housing 
New wood fire installation 
Spouting 
Competitive rates
PROMPT EFFICIENT  SERVICE 
PAUL SAUNDERS  
LAWNMOWING &  
GARDEN MAINTENANCE 
Friendly and reliable service guaranteed 

Lawns and edges       

Section mowing 

Hedging and trimming      

Spraying and fertilising 

Tree planting       

Green waste removal     

Pruning 
Call now for a 
free no obligation quote 
021 886 843   
or  09 431 3318 
Servicing Mangawhai and Kaiwaka and 
surrounding areas 
paulsaunders99@gmail.com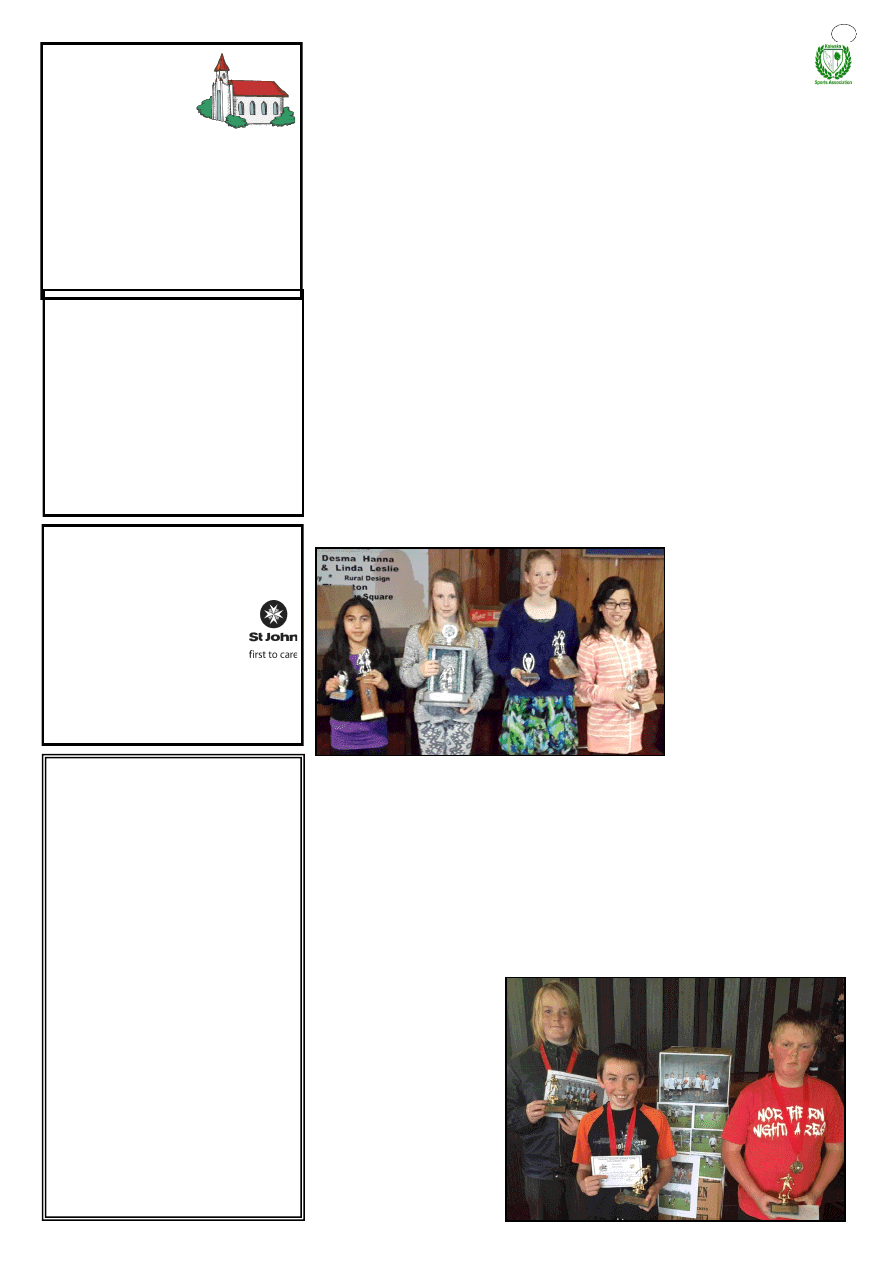 AMBER'S 
Q Cafe &  
Restaurant  
All day breakfast, 8am - 5.30pm.     
Home made Pizza, take away or eat in from 8am to 
late. 
 Light lunches, 11.am - 5.30pm, 
Dinner Menu at 5.30pm to late 
 Toasted Sandwiches and Sandwiches made to order. 
All day, Pies, Chowder & Soups 
 Milkshakes, Kiwi Ice cream, Slushie Fruit drink, Tea, 
Coffee 
 Closed Mondays.....except Observed Holidays 
 Sunday to Thursday: 8am - 8pm 
 Friday: 8am - 8.30pm, Saturdays 8am- 9pm 
4315226 
Trevor & Amber 
41 Moir Street, Shop 5-6  
Mangawhai Village 
Next to Carters Building Supplies 
 LEABOURNS 
Passenger Service
Car & Van Hire 
Bus & Coach Charters 
Airport Transfers 
When you need St. John 
members at your function … 
Get a Community Services 
Form 
….. see Milly at the  
Kaiwaka St John  
Op Shop.  
Phone 4312650 
MORE MEMBERS REQUIRED FOR 
THE KAIWAKA STATION. 
7
KAIWAKA SPORTS ASSOCIATION
ST PAUL'S  
ANGLICAN  
SUNDAY  
SERVICES
First Sunday 9.30am 
Third Sunday 9.30am  
St Pauls Church: Kaiwaka-Mangawhai Rd. 
1st Sun - Eucharist 
3rd Sun - Family Service 
Office 4214 122 
Contacts:M.Hargreaves 4312295, C.Bygrave 4312057  
Touch 
I  am  helping  organise  the  Whanaunga 
Touch Tournament to be held at the Sports 
Complex  on  10
th
  January.  This  is  a 
fundraiser  for  the  Otamatea  Marae  and 
descendants from the marae are given first 
priority  to  enter.  Keen  to  register  a  team? 
Contact  me  and  I  will  send  you  the 
registration form. 
Kaipara Sports Awards 
Nominations  for  the  2014  Silver  Fern 
Farms  Kaipara  Sports  Awards  are  now 
open.  The  awards  aim  to  recognise  the 
achievements  and  service  to  sport  by 
people  from  throughout  the  Kaipara 
District.  It  is  an  opportunity  to  showcase 
some  of  the  amazing  people  involved  in 
sport.  The  awards  night  will  be  held  in 
Dargaville  on  7
th
  November.  To  submit  a 
nomination please visit: 
Junior Netball 
Our  junior  netball  club  wrapped  up  their 
successful season with a prizegiving at the 
Sports  Complex  recently.  Many  thanks  to 
Club  president  Melissa  Watts  for  her 
efforts over the year. Congratulations to the 
winners: 
Team Kaiwaka 1: 
Player of the year: Sophie Gribble 
Most Consistent Player: Maia Fairburn 
Shining  Star  Award:  Aroha-Lee  Connelly-
Nahi 
Most Improved Player: Toni Tornquist 
Team Kaiwaka 2: 
Most Outstanding Player: Faith Pene 
Fair Play Award: Caleesto Mills 
Shining Star Award: Tyla Stonex 
Most Improved Player: Mina Fairburn 
Rodney Results: 
Team  Kaiwaka  1:  third  in  their  grade  for 
the 2014 season 
Team Kaiwaka 2: runner up trophy winners 
for kiwi-grade 
Melissa 
Watts: 
umpiring 
centre theory pass  
High School Netball 
Congratulations 
to 
the 
Otamatea High School Netball 
Club 
winners 
from 
the 
prizegiving  held  at  the  Sports 
Complex last week: 
Team 1: 
Most 
Improved: 
Bayley 
Coates 
Most Dedicated: Diva Ratu 
Most 
Valuable: 
Michelle 
Schimanski 
Team 2: 
Most 
Improved: 
Kezrah 
Powley-Anderson 
Most Dedicated: Rebecca Robertson 
Most  Valuable:  Shontal  Rika/Shontay 
Morunga 
Team 3: 
Most  Improved:  Crishla  Kemp  & 
McKenzie Rose 
Most  Dedicated:  Erin  Monney  &  Kelly 
Mace 
Most Valuable: Cheyanne Fisher 
Team 4: 
Most Improved: Jader Fairburn 
Most Dedicated: Chantal Shadbolt 
Most Valuable: Ngapaea Morgan 
Team 5: 
Most Improved: Ocean Shadbold & Emma 
Millard 
Most Dedicated: Tasha Perrett 
Most  Valuable:  Jayme  Curtis  &  Julianne 
Cunningham 
Team 6: 
Most Improved: Emma Huband 
Most  Dedicated:  Paige  Kenyon  &  Mahina 
Henry Campbell 
Most Valuable: Maggie Hames 
Team 7: 
Most Improved Kelly Huband 
Most Dedicated: Paris Rika 
Most Valuable: Jenna Swadling 
Senior Netball 
Our  senior  netball  club  Otamatea-Ex  will 
hold their end of season prizegiving at the 
Sports  Complex  on  Friday 
24
th
  October  at  5.30pm.  All 
welcome. 
Kaipara Knights Soccer 
Congratulations 
to 
the 
winners  from  our  Kaipara 
Knights  Soccer  prizegiving 
held  at  the  Sports  Complex 
last week: 
8th Grade 
Most Improved: Evan Fisher 
Sportsperson  of  the  Year: 
Emma Browne 
Player  of  the  Year:  Chloe 
Comer 
10th Grade  
Most Improved: Joshua Stephens 
Sportsperson of the Year: Lucy Gilligan 
Player  of  the  Year:  Billie  le  Mesurier-
Cowbourne 
12th Grade: 
Most Improved: Ethan Trembath 
Sportsperson  of  the  Year:  Hamish 
Ferguson 
Player of the Year: Tyler Young 
Coach of the Year 
8th  Grade  coaches  Linda  Cowbourne  and 
Marie Fisher.  
Ethan Trembath, Tyler Young & Hamish Ferguson 
Maia Fairburn, Sophie Gribble, Toni Tornquist, Aroha-Lee Connelly-Nahi. 
Continued on page 11...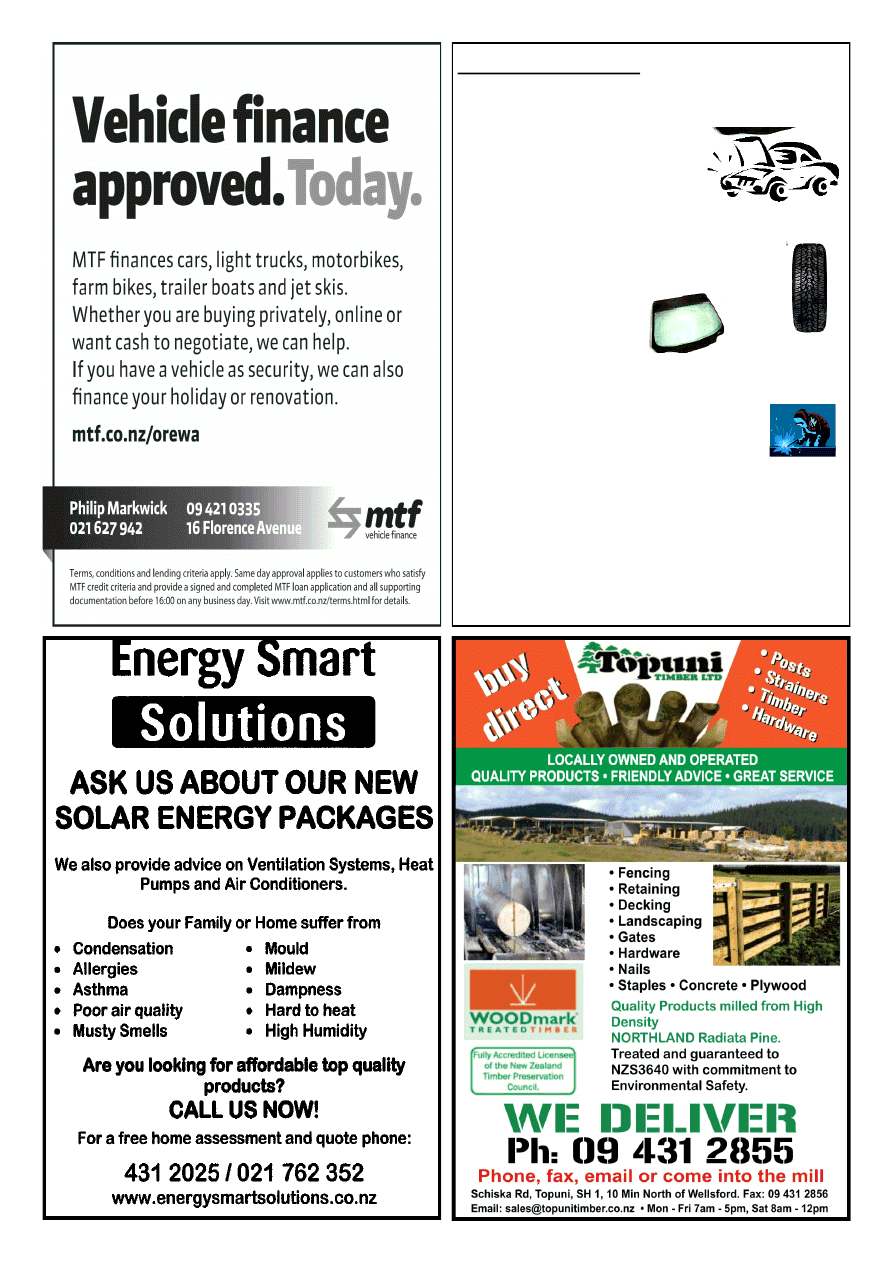 Want it done? 
Bring it to  
Twinkle Tow 'n' Tyre 
*W.O.F. 
*Tyres 
*Windscreen replacement 
*Chip repairs 
*Bulk Oil 
*Batteries 
*Welding 
*Custom built trailers 
*Trailer hire 
Think you'll get a better deal in 
the city? 
Go on, ring us; it won't cost  
anything! 
1837 State Highway 1, Kaiwaka       
Phone 431 2823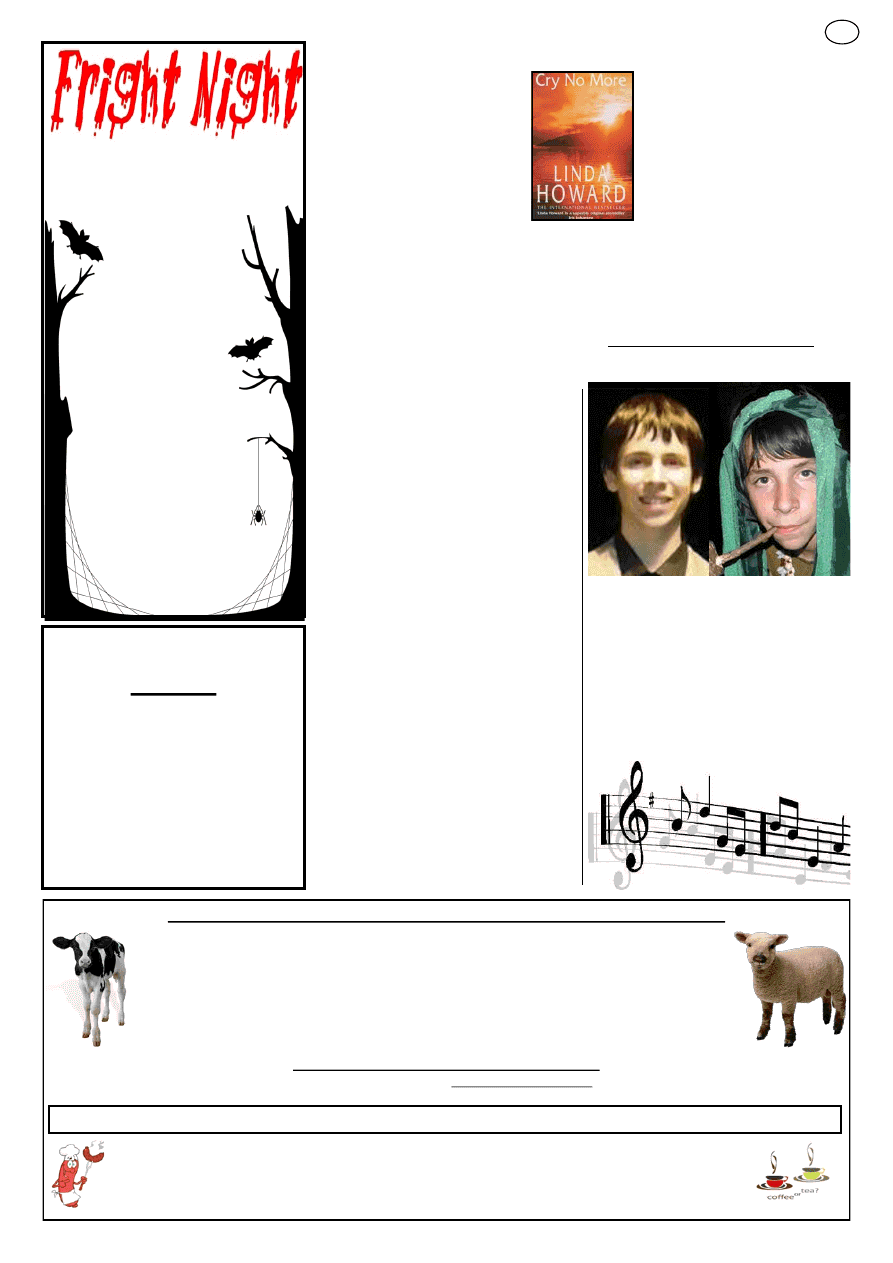 9
KAIWAKA LIBRARY
All welcome to join us at The Kaiwaka Sports Association for the 
KAIWAKA SCHOOL 
AGRICULTURAL DAY
OCTOBER 20
th
 2014 
Entry 9am Judging starting at 10am 
Any queries please ring Jody Greig tel; 431 2223 email; 
 , or Kaiwaka School 431 2309. 
Entry forms available at the Kaiwaka School Office. 
The PTA will be doing a Sausage Sizzle.   
Tea and Coffee will be available for a Koha/Donation. 
If you require any other food or drink please BYO.   
* The food provided in the pavilion is for Judges and Organising Committee only*
Last years winners please return your Trophies to Kaiwaka School Office ASAP. 
Kaiwaka Library 
Vacancy 
Voluntary Position 
3rd Wednesday of the month, 10am to 2pm 
Must be familiar with using Microsoft 
Windows. 
Full training given. 
Apply by sending an email to  
expressing your interest. 
(I don't need your CV, just tell me you'd 
like to join our team!) 
Spring has sprung, the grass is 
'rizz',  it's  all  too  hard  -  time 
to read a book and escape! 
Book Swap 
It's that time once again, when 
we  need  all  the  Large  Print 
and  Audio  books  returned  to 
the  library  in  preparation  of 
the  next  swap.  Please  have 
them  back  at  the  library  by 
Sunday 5 October. 
I'll  be  taking  these  books  off  the 
shelves  about  a  week  ahead  of  the 
swap, so now is the time to get in and 
take a good look before they disappear. 
Vacancy 
There is a gap in our team - would you 
like  to  join  our  friendly  group  of 
volunteers? It's the third Wednesday of 
the month that's vacant, 10am to 2pm.  
You  need  to  know  how  to  use  a 
Windows  computer  (ie  click  on  icons 
to  start  a  program,  etc,  nothing  too 
strenuous)  and  have  regular  access  to 
emails; full training will be given. Drop 
me 
a 
line 
at 
kaiwaka.library@gmail.com  to  tell  me 
you're  interested,  and  we'll  talk  about 
it. 
Book Review 
Cry  No  More by Linda  Howard - For 
ten  years  Milla  Edge  has  searched  for 
her son.  He  was  stolen  from  her  when 
just a few weeks old, as she shopped in 
a  Mexican  market  near  where she  was 
living  with  her  husband  at  the  time. 
Even  though  she  was  stabbed  in  the 
kidney, she managed to scratch out the 
eye of her attacker and scour his cheek, 
and she will never forget what he looks 
like.  It's  such  an  obsession  that  Milla 
has created a living from searching for 
missing people - she and her team help 
to find other missing people as well as 
look  for  young  Justin.  Then  she 
receives an anonymous call to say that 
Diaz,  a  person  she  thinks  is  connected 
to the kidnapping maybe even the man 
she  maimed,  will  be  at  a  meeting  in  a 
Mexican  town  that  night,  and  drops 
everything  to  be  there  in  time  to 
witness  it  -  an  extremely  dangerous 
thing  to  do,  so  it  needs  to  be 
done  carefully.  She  takes  a 
partner,  and  all  is  going 
smoothly  as  they  hide  in  the 
dark  watching  an  exchange, 
until  she  recognises  the  man 
who  stole  her  baby  and  she 
starts  to  panic...  This  is  my 
second  Linda  Howard  book, 
and  I  enjoyed  them  both. 
Despite  the  heavy  topic  of  this  one, 
they're  light  and  easy  to  read.  This 
book  is  on  the  Dargaville  Fiction 
shelves  in  the  library  until  early 
December. 
See you in the library! 
~Wendy 
HAYDN DYER 
Congratulations  to  Otamatea  High 
School student Haydn Dyer of Kaiwaka 
for winning four trophies for singing at 
the  Performing  Arts  Festival  this 
month, 
including 
the 
Overall 
Intermediate  Championship!  Fantastic 
result,  especially  when  you  consider 
that  Haydn  has  a  hearing  impairment 
and wears a hearing aid. His teacher is 
Maura  Flower  of  Maungaturoto,  who 
advertises here in the Bugle. 
Kaiwaka Sports Complex 
Saturday 1
st
 November 
 7.30pm 
Music, dancing, games,  
face painting 
 Prizes for scariest costumes  
– boy, girl & adult 
  Take a walk through the  
haunted house - if you dare 
Glow items for sale,  
Lolly scramble 
- $3 entry (adults & under 5's free) 
     Please bring a plate for supper: 
Halloween inspired food  
would be great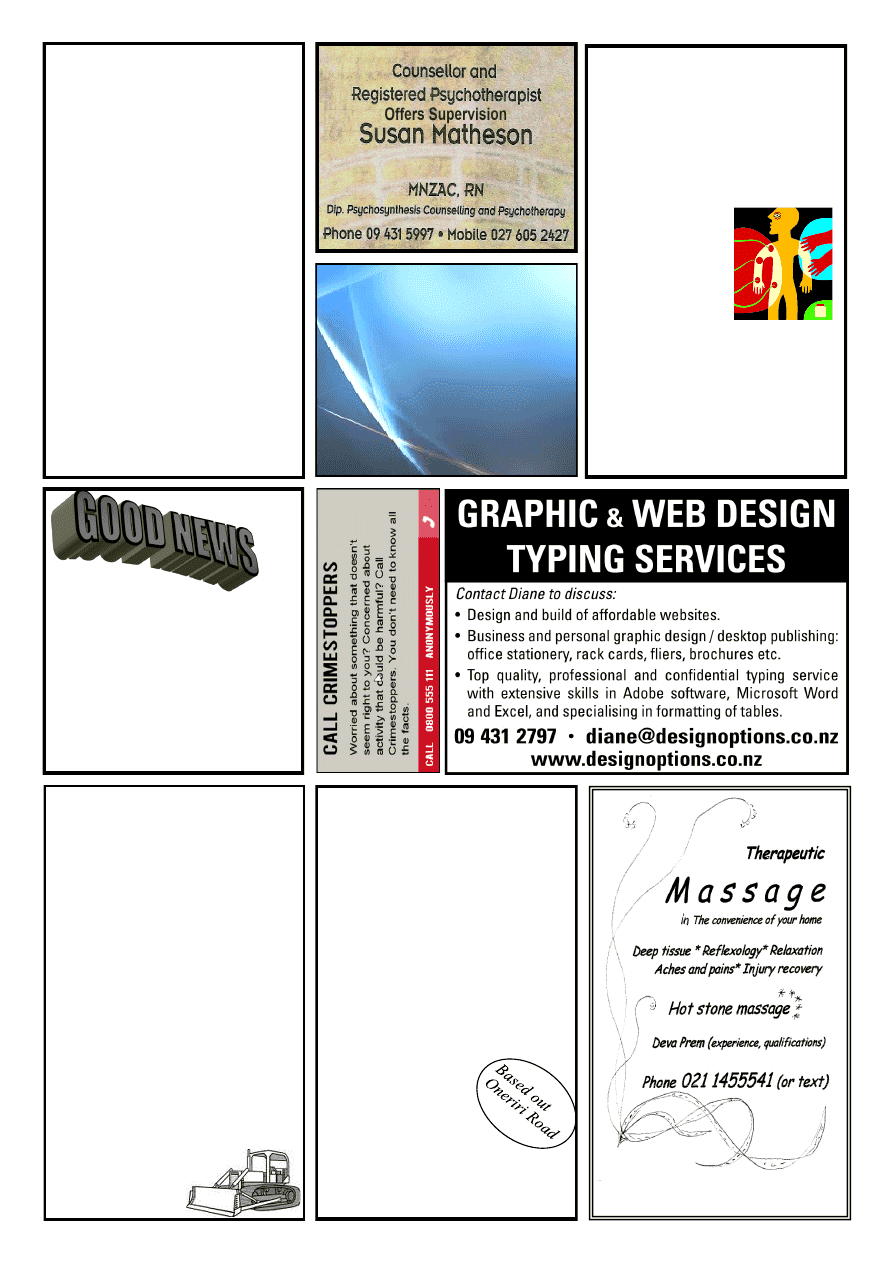 www.mangawhaimassage.co.nz 
HODGETTS 
CONTRACTING
Digger Work    

Driveways 

House Sites   

Dams 

Drains, etc
Also available for HIRE 

3 ton Vib Roller 

Heavy Duty Tow 

Waterblaster  

Lazer Level 
Phone Mark 
4312877 
027 447 8554
OWEN STEVENS 
Osteo Therapist
For careful adjustments to bones 
and joints 
Treatment for  humans and their 
pets 
Clinics: 
Kate's Place, 
Kaiwaka: 
Last Friday of 
month 
For bookings: 
9.00am-5.00pm   
Phone 
09 4312661 
Or phone Owen   
09 4317123  anytime 
Freeview  
Installations 
Richard Te Haara 
25 Marram Place 
Mangawhai Heads 
021 1104056 
kiwipride@xtra.co.nz
Willow Bend
HORSE  
HOTEL 
"   
Total Horse Care 
" 
Agistment 
" 
Riding Lessons 
" 
Arena Hire (60x40) 
" 
Young Horse Starting 
" 
Re-training/Exercising 
" 
Hoof Trimming 
" 
Problem Solving 
Phone Sue 09 431 
2817 or 021 623 776 
Or email sue.gray@xtra.co.nz 
Coates  
Contracting 

D41 Bulldozer with 6 
way blade, bush rigged 
with winch 

For all tree work 

General bulldozing and  
  stick raking. 

120hp Tractor for 
ground cultivation,  

tip trailer work. 

Fencing
All enquiries phone  
Brett Coates  
 094318720  
or 
 021431872
@ the  
Kaiwaka Family 
Church 
Your COMMUNITY CHURCH 
RECEIVE HEALING 
RECEIVE THE LOVE OF GOD 
Everyone warmly welcome 
each Sunday 10am. 
Contact: Pastor John Dekker,  
09 4318203 
THERE'S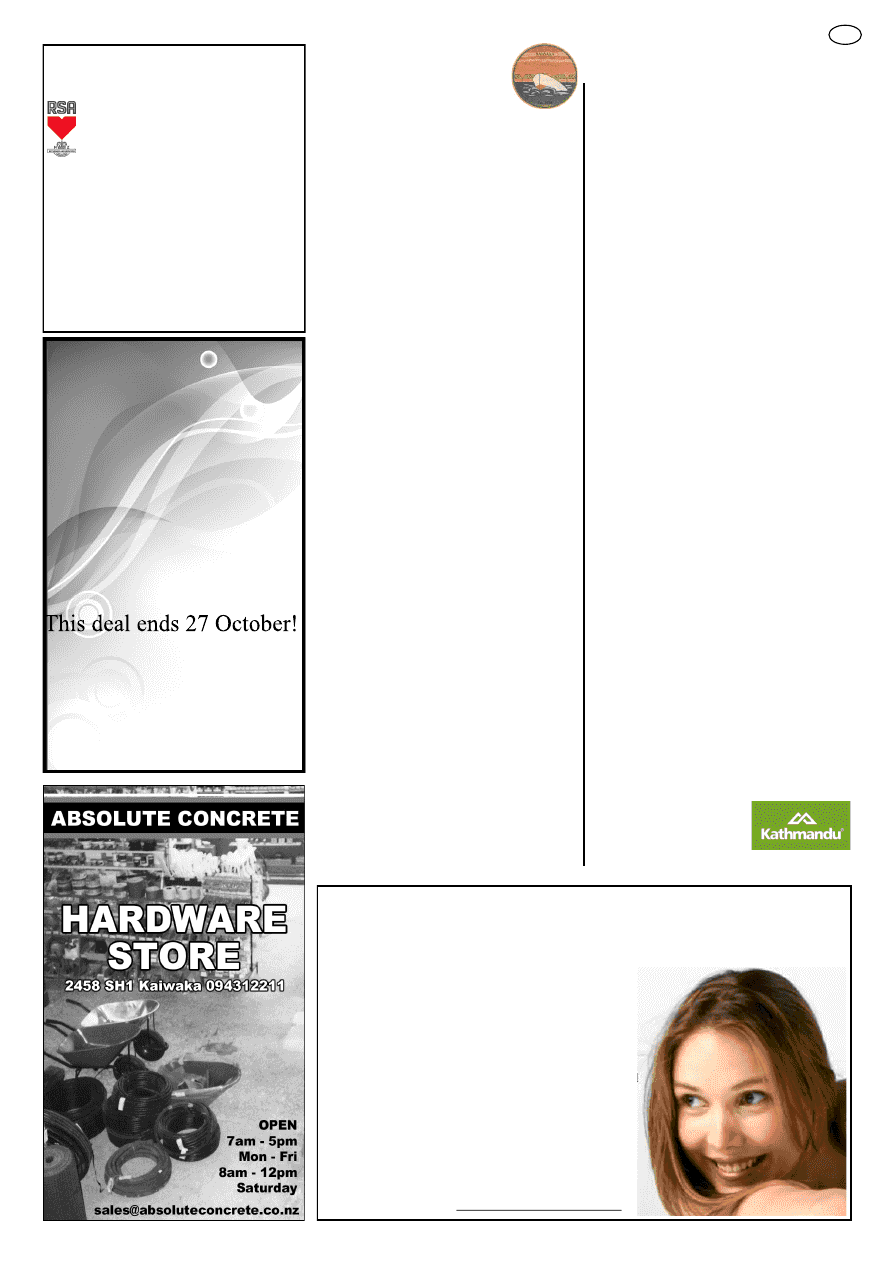 POINT CURTIS 
CRUISING 
CLUB 
Point  Curtis  Cruising  Club  Inc  Club 
Members Only Fishing Competition 
15th & 16th November 2014 
Start Time: 6am 15th November 2014 
Finish  Time:  6pm  16th  November 
2014 
Weigh  In:  5pm  to  6pm  each  day  at  3 
Furlongs Hotel 
Maximum  weigh  in:2  species  per 
angler per day 
Prizegiving: 6.30pm  
Sunday 16th November 2014 
BBQ:  Following  prizegiving.  Please 
bring a plate 
Ticket  Outlets:  3  Furlongs  Hotel, Jean 
Mcleish, Wellsford Sports & Leisure 
Seniors: Entry Fee: $20 
Species: Snapper, Kingfish & Kahawai 
(only  rod  &  reel  or  handline  fishing 
with a maximum of 2 hooks) 
Senior Prizes: Snapper 1st: $300, 2nd: 
$200, 3rd: $100 
All other species gift vouchers for 1st, 
2nd & 3rd 
Juniors  (aged  under  15):  Entry  Fee: 
$10 
Species:  Snapper,  Kingfish,  Kahawai 
&  Eel  (only  rod  &  reel  or  handline 
fishing with a maximum of 2 hooks) 
Junior Prizes: 1st, 2nd & 3rd prizes for 
all species 
ALL SNAPPER WEIGHED IN GOES 
INTO  THE  DRAW  FOR  THE 
AVERAGE WEIGHT PRIZE 
Competitors  must  be  fully  paid  up 
members of this club for 7 days prior to 
the  start  of  this competition.   Subs  are 
$20 single or $30 for a family sub and 
are  payable  at  3  Furlongs  Hotel  or  to 
Jean Mcleish (Secretary/Treasurer), C/- 
Kaiwaka PDC, Kaiwaka 
Please  see  poster  and  tickets  for  rules 
and disclaimer. 
Fish  of  the  month:  Snapper.   Cut  off 
date 14 October 2014. 
Next committee meeting: Tuesday 14th 
October,  7pm  at  3  Furlongs  Hotel, 
Kaiwaka.  ~Wayne Leslie, Commodore 
11 
HAKARU & 
DISTRICTS RSA Inc 
Each Friday night 
from 6.30pm 
Meals will be served 
2nd Friday of the Month 
Is Roast Dinner Special 
Come along and enjoy our 
Hospitality  
For more information 
Ring Heather 431466 
or Jan 4314512 
U Beauty 
SPRING SPECIAL 
$60.00 
Please call Nicole for bookings 
09 393 6336 or 022 0639450 
Qualified Beautician 
4 Kaiwaka – Mangawhai Rd 
Kaiwaka 
KAIWAKA 
 
Nails Painted 
 
Facial Cleanse 
 
Eye Lash Tint 
 
Eye Brow Shape 
Junior Tennis 
Our  junior  tennis  club  is  calling  for 
registrations of interest. The tennis club has 
6  astroturf  courts  and  offers  coaching  and 
inter  club  for  all  school  age  students.  The 
tennis  season  runs  during  term  time, 
starting  October  and  finishing  around 
March. Fees start from $30 per player. We 
need  to  know  which  day  and  time  would 
suit you best. (Last season we ran two age-
group  lessons  on  Monday  afternoons.) 
Please  phone  Lindell  Ferguson  on  431 
2542 or email 
Fright Night 
Fright  Night  will  be  held  on  Saturday  1
st
November  –  check  out  the  flyer  in  this 
edition of the Bugle for details. As part of 
the  evening  we  transform  the  rugby 
changing  rooms  into  a  'haunted  house' 
which children can choose to walk through. 
We  have  an  earlier  session 
for  the 
younger  children  and  then  dial  up  the 
scare-factor  for  a  later  session  for  the 
older children! 
So,  I  am  looking  for  some  ideas  to 
make that later session really scary!  If 
you have any suggestions, please get in 
touch with me (contact details below). 
Quiz Night 
Quiz Night is this Saturday! This is an 
entertaining 
evening 
of 
trivia 
questions.  Supper  &  nibbles  provided, 
bar open, prizes for the top three teams 
plus lots of great spot prizes! Teams of 
4  –  6,  $15  per  person,  pre-registered 
teams  only.  Please  register  your  team 
with me ASAP. 
Top of the Rock 
Advance  notice  –  our  annual  multi-
sport event the Top of the Rock will be 
held  on  Sunday  8
th
  February.  This  is 
the KSA's biggest event of the year, so 
if you'd like to participate, please note 
it in  your  diary.  My  application  to  the 
Kathmandu  Community  Grant  was 
successful and we have received 10 gas 
burners to use as prizes for the winners 
– 
many 
thanks 
Kathmandu! 
Cheryl Anderson 
4312 051, 027 3462702 
kaiwakasports@gmail.com 
Yulia 
Very exciting news! The Kaiwaka Sports Association has secured Yulia 
to sing at a charity concert as a fundraiser!  
For those of you who don't know of Yulia, 
she is a Russian-born New Zealander now 
based in Australia who sings all over the 
world and has won many singing awards. 
The KSA are going to put on a show 
called 'Yulia and Friends' and so I am 
looking for local talent to be part of the 
concert. If you know of any local singers 
who would be keen to perform at this 
concert, and maybe sing a duet with 
Yulia, please contact me. The concert will 
be in mid-Feb (date to be confirmed).  
Cheryl Anderson 
4312 051, 027 3462702, cherylanderson051@gmail.com 
KAIWAKA SPORTS 
Continued from page 7 ….. 
LANDSCAPING 
4 IN 1 BUCKET 
TRENCHER 
POLE HOLES 
ROTARY HOE 
COMPACT ROLLER 
OFFAL HOLES 
CAN SUPPLY WOODCHIP & POST PEEL 
5 TON TIPPER 
FOR RELIABLE AND FRIENDLY SERVICE CONTACT DAVE 
Dave Hyndman 
 
KAIWAKA 
PH: 09 4312302 
MOB: 021 431 238 
Gentle Dental 
Ruakaka 
We love to see you smile 
 
General  & Cosmetic Dentistry 
 
Emergency & ACC Treatment 
 
Denture & Hygienist Services 
 
Senior Citizen Discounts 
 
Free Adolescent Care 
 
Free WINZ Quote 
19 Ruakaka Town Centre 
Dr Sim Sood & Associates 
Ph:  432 8139 
Saturdays 
By 
Arrangement 
Open  
Mon-Fri  
8am-5pm  
For All your  
Electrical  Requirements 
 
Domestic small jobs 
 
Residential dwellings and alterations 
 
Commercial 
 
Industrial                 
No job too big  
or too small    
Contact Jason today on: 
(09) 431 5992, (021) 405 019 
www.hotwiredelectrical.co.nz 
13 
Men of Steel 
NZ's Premier Male Review Show 
The ultimate ladies night out - for ladies of all ages! 
$25 
Saturday 11th October 
Doors open 8:15pm   
Showtime 8:30pm 
BYO drinks and food 
Kaiwaka War Memorial Hall 
4-6 Kaiwaka Mangawhai Road
Courtney  021 266 7946 
Pat      027 823 9628 
OCTOBER NIGHT SKY 
OVER KAIWAKA 
The last Sunday in September saw a shift in the time we all 
live in, by the arbitrary change for daylight saving. I, like a 
lot  of  other  people  take  a  wee  while  to  adjust  our  natural 
body clocks to this change, however the stars and the planets 
continue  in  their  immutable  ways  and  move  across  the 
heavens. For a time it will be darker earlier until everything 
realigns itself.  
As  we  transition  into  Spring,  we  start  to  lose  Scorpius  and 
Sagittarius earlier in the western sky. The highlight of Spring 
will be the second total eclipse of the Moon of 2014, visible 
across all of the country if we get clear skies. 
Spring Highlights 
Our  Spring  sky  features the  setting  of  the important winter 
constellations  of  Libra,  Scorpius  and  Sagittarius.  Scorpius 
will be seen plunging head first into the western horizon and 
as it does so, Orion, the major constellation of our summer 
night  sky,  is  rising  in  the  east.  Following  Sagittarius  along 
the ecliptic line are the Spring constellations of Capricornus, 
Aquarius,  Pisces  and  Aries.  None  are  as  striking  as  the 
winter ones we are losing in the west. 
Over the Spring, Mars continues this moving east, which can 
be seen almost from night to night.. As the night goes on, as 
with the passing of days, Crux will be found lower and lower 
in our southern sky. Crux never actually sets in Aotearoa – it 
just  skims  the  southern  horizon  when  viewed  from  Cape 
Reinga but in Invercargill it is noticeably higher. Remember 
though that when Crux is near its lowest point in the sky, it 
may  be  hidden  by  trees,  buildings  or  hills,  depending  on 
your location. 
The Great Galaxy in Andromeda, M31, is due north around 
midnight on an October evening 
The two bright stars of the southern sky to learn are Canopus 
and  Achernar.  To  find  Acher nar ,  it  is  easiest  just  to 
imagine  a  line  extended  through  the  long  axis  of  the 
Southern  Cross.  Because  they  are  on  opposite  sides  of  the 
southern  circumpolar sky,  when  one is low  on the  horizon, 
the other is at its highest point. 
Canopus is also easy to see because it's the second brightest 
star  in  the  sky  after  Sirius.  The  catch  with  Canopus  is  that 
for a brief period Canopus dips below the southern horizon, 
at  least  in  the  North  Island.  Apart  from  that,  during  early 
evenings  in  Spring,  Canopus  will  be  the  found  low  in  the 
southeast. During these times when it's close to the horizon, 
the motion of the Earth's atmosphere can cause Canopus to 
flash different colours and possibly also jiggle about. While 
this  is  a  common  meteorological  phenomenon  called 
'scintillation', it frequently causes Canopus to be reported as 
a  UFO.  While  this  is  seen  for  any  bright  star  close  to  the 
horizon,  the  scintillation  is  more  obvious  on  bright  white 
stars like Canopus. 
Jupiter 
Jupiter will be in the northeast dawn sky, rising earlier each 
day.  It  is  moving  from  Cancer  into  Leo.  Well  placed  for 
observation in November. 
Saturn 
Sets earlier each night as it moves closer to the Sun, getting 
harder to see in October and too close to the Sun in November. 
Total eclipse of the Moon 2014 October 8/9 
This  eclipse  of  the  moon  is  even  better  placed  for  viewing 
from New Zealand than the 
April  eclipse.  The  moon 
starts  to  move  into  the 
Earth's  penumbral  (partial) 
shadow at 9:15 pm, about 2 
hours  after  the  moon  rises. 
As a result all stages of the 
eclipse  are  visible  from 
New  Zealand.  The  total 
phase  of  the  eclipse  is  just 
under  an  hour  long,  from 
11:25pm to 12:24am. 
    AVON  AVON  AVON   
Brochure 18 is now available with orders due 17th 
October. 

It is Breast Cancer Awareness Month and I am 
having a stall outside Jaques on the 4th October 
11.00am til 2.00pm and another one at the Coffee Pot 
on the 10th October 9.00am til 3.00pm. 

Come along and support this wonderful cause. I 
will have the new Earring 3 pce set for $4.99 each 
and the Pen, pencil, mug, bears, pins, Christmas 
Bauble, manicure set and compact mirror all $3.99 
each. All proceeds go to the NZ Breast Cancer 
Foundation. Last year we raised $75,000 and this 
year we are trying to double this and with your help, 
we can. Thank you. 

Start your Christmas shopping early with many 
ideas for all the family. Daily needs are all good 
deals with Naturals Shower Gel 750ml $8.99 and 2n1 
shampoo and conditioner 200ml $3.49, Naturals 
Spray Sachet Room Spray $4.99.  

Start your summer sun protection with the New and 
Improved Sun Collection. 

Fragrance sets to suit all ages and tastes. 

Have an Avon Get Together and try before you buy 
and have fun with friends. Give me a call and make a 
date and time. 
Gale Matheson 09 4314827  
You can shop on-line at  
www.shop.avon.co.nz/store/galematheson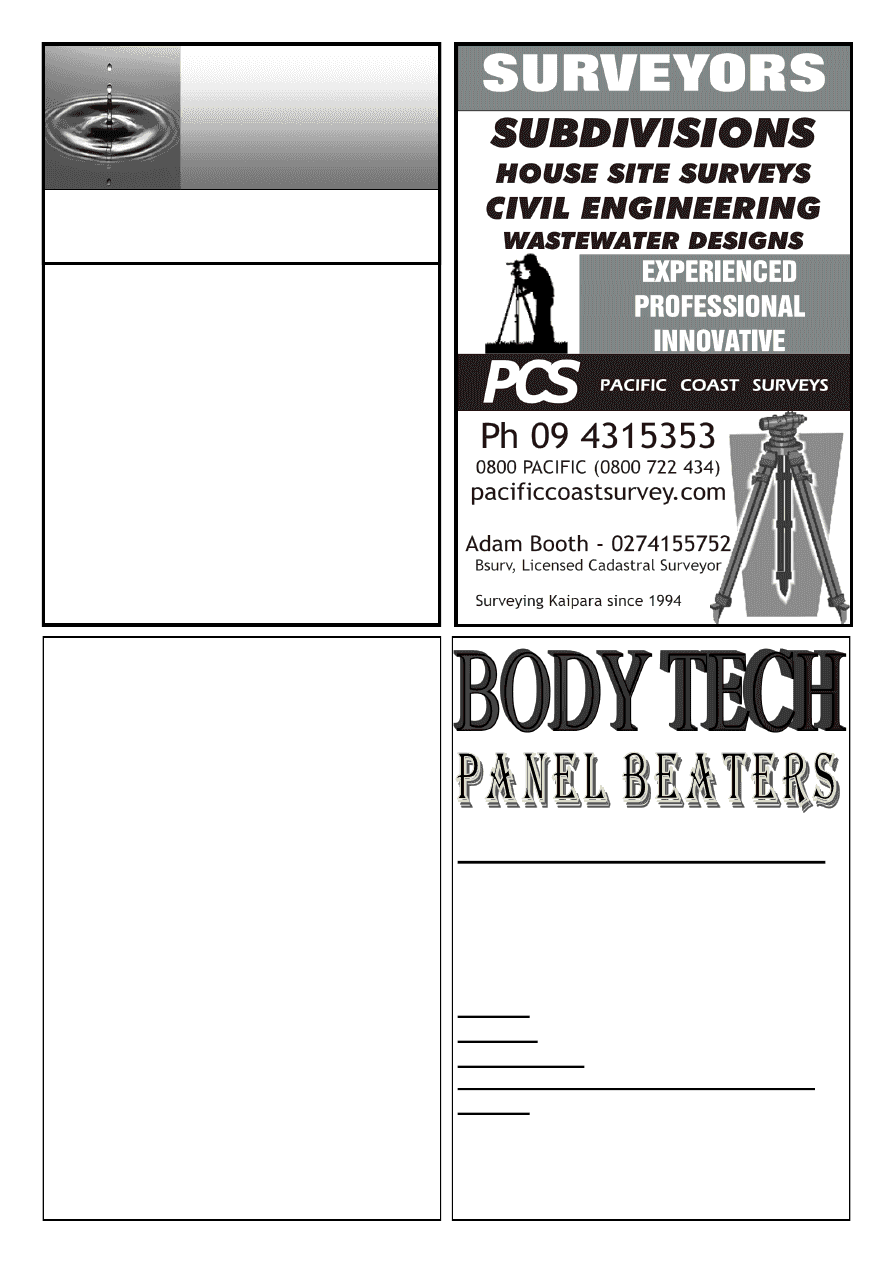 PETE WORSFOLD  
B. Soc.Sc. M. Soc.Sc. Diploma of Prof 
Couns. 
Counsellor
peteworsfold@xtra.co.nz 
 021 825 970 
Professional Service 
Variety of Modalities 
By Appointment Only 
For all your body repair needs!! 
We do: 
Rust repairs 
Insurance work 
Anti-corrosion treatment         
Hours: 8.30am-5pm Monday-Friday  
Mobile: 021 118 0462 
After hours: 09 431 2384 
Phone: Craig or Call in for a free Quote 
e-mail: 
bodytech_panelbeaters@yahoo.com
We are located at 1837 SH1 Kaiwaka, behind Twin-
kle Tow 'n' Tyre call in anytime for a free quote.  
Large and minor vehicle  
  repairs 
Industrial vehicles 
Full Cut and polishes 
INDIVIDUAL ONE-ON-ONE 
COUNSELLING 
 
MODALITIES:     FOR: 
  CBT              Grief 
  Gestalt            Relationship 
  Person-Centred     Trauma 
  Solution Focussed    Couples 
  Behavioural        Adolescents 
                  Careers 
Call for Appointment 
At "The Well of Health" 
09 4312799 or 021 825 970 
KAIPARA FLOORING CO 
32 HURNDALL ST MAUNGATUROTO 
Ph: 09 9469886 or 021 515 415 
Carpet, vinyl, laminate wood look  
  flooring, vinyl planking, sanding  
& polyurethane service. 
Carpet Short Ends from $79pm + GST 
Vinyl D.I.Y. peel n stick tiles $10sq mtr + GST. 
Free measure & quote.   
Mobile Service 
Phone Christine or Howard anytime 
Open Saturdays by arrangement.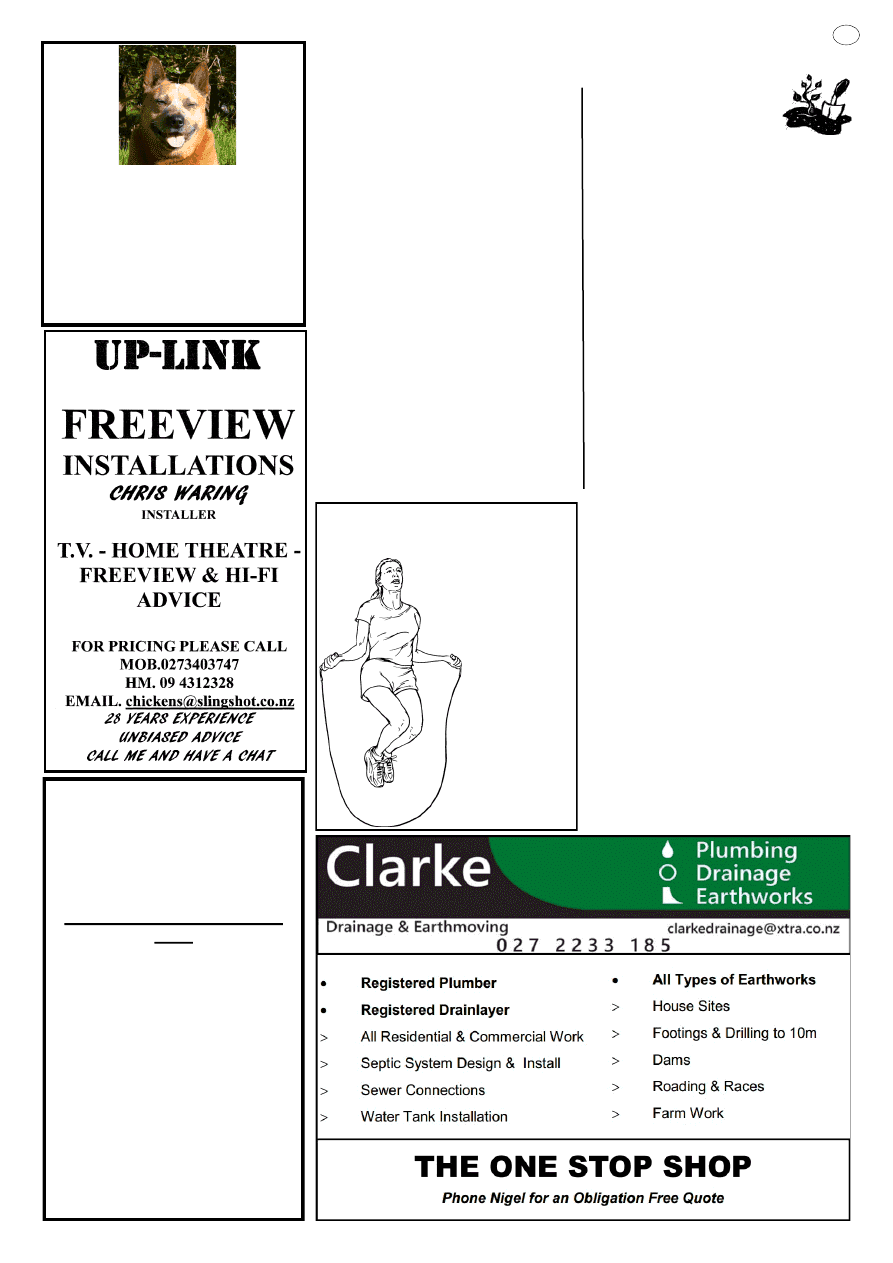 15 
Laughing Dog 
Computers 
www.laughingdog.co.nz 
0224344448 
Hardware and Software 
Service and Repair 
KAIWAKA FITNESS 
CENTRE 
Looks like spring has finally come with 
the weather getting a little warmer and 
Daylight  Saving  starting,  yepee.  Time 
to  get  out  after  dinner  with  the  family 
for a walk along the beach, love it! 
I  am  not  going  to  be  around  for  the 
next  week  or  so,  so  if  you  have  any 
problems  at  the  gym  you  can  contact 
Greg  0210335260  or  Bente  4237198. 
I'm off to Queenstown to compete then 
back to Auckland for another.  
Please  -  the  fees  for  the  gym  are  as 
they  are  on  the  form.  So  please  don't 
ring to see if you can get a better deal, 
because  it  won't  happen,  they  are  as 
'cheap  as  chips'  as  it  is  and  I  find  it 
hard  telling  people  they  are  what  they 
are,  and  I  am  sure  the  staff  at  Jaques 
Four Square do too.  
Lots of things happening at the Sports 
Association next few months so try and 
support  them  when  you  can.  There  is 
Quiz  Night,  Fright  Night  for  the  kids, 
touch and annual fun run, watch out for 
notices. All for now, ~Jules 
Yang Style Tai Chi 
Classes  
For Beginner And 
Practitioners  
at the 
Kaiwaka War Memorial 
Hall 
Every Tuesday  
Starting at 10.30 am 
Come Along And Have 
Some Fun While Improving 
Your Balance Health And 
Fitness 
For More Information Contact  
Andrew Young 
09 4223424   
KAIWAKA GARDEN 
& FLORAL 
GROUP 
17  members  attended  the 
September  meeting  held  at 
Jenny  Chellew's,  Kaiwaka-Mangawhai 
Road.  Jenny  has  an  extensive  garden 
into which a lot of hard work has gone, 
making 
it 
very 
colourful 
and 
interesting. Many members went home 
clutching 
cuttings 
Jenny 
very 
generously  gave  to  those  who  wanted 
them. 
Happy  Birthday  Caron  Bastable  and 
Adrienne  Osman  hope  you  both  had 
nice  days.  We  do  hope  Jean  Paget's 
broken  arm  heals  well  after  her  fall 
down her son's stairs. 
The  Judges  were  Helen  Shimmin  (ex 
NZ  floral  Judge)  and  Lorraine  Lusty 
and  the  results  for  this  month  are  as 
follows:- 
Best  bloom:  1st  Meredy  Ballard,  2nd 
Sue Hamilton Wallace;  
Cluster  -  1st  Lorraine  Lusty,  2nd  = 
Agnes Tully and Glynis Smith; 3  
Freesias  -  1st  Agnes,  2nd  Meredy; 
Vege - 1st Caron Bastable, 2nd Agnes; 
Fruit - 1st Lorraine, 2nd Heather Small; 
Floral  –  basket  arrangement:  Novice  - 
1st  Glynis  Smith,  2nd  Rosemary 
Browne;  Senior  -  1st  Sue  Hamilton 
Wallace, 2nd Agnes Tully;  
Most Outstanding - Agnes's Freesias. 
We  were  thrilled  with  the  number  of 
entries, especially the floral baskets and 
encourage  all  to  enter  in  the  CWI 
flower show on 21st November.  
Those 
who 
are 
able 
check 
Mangawhai's  Facebook  page  to  view 
the floral baskets.  
Next  month  on  Thursday  9th  October 
we are all to meet at "The Club" to car 
pool  to  local  gardens  ending  up  at 
Margaret  Whitaker's  home  in    Park 
Avenue  Village  with  the  meeting  and 
afternoon  tea  in  the  Park's  Social 
Room. You are most welcome. 
~ Ann 
Instead of the John, I call 
my bathroom the Jim… 
 
That way it 
sounds 
better 
when I go 
to the Jim 
first thing 
every 
morning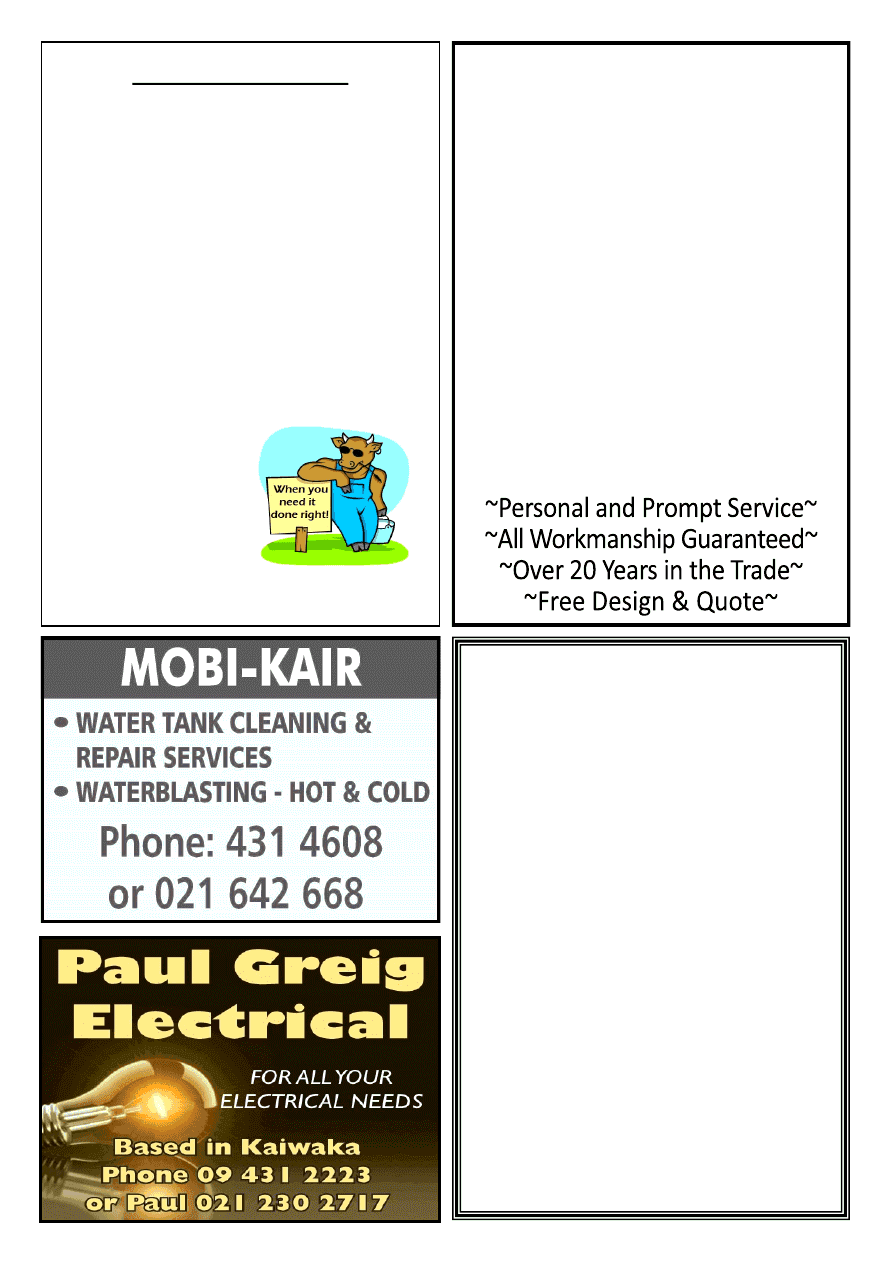 CALL A FARMER
CROP AND PASTURE SPRAYING 
SPECIALISING IN MAIZE, 
BRASSICA AND FODDERBEET 
ALSO 
GIBBERELLIC ACID, VEGETATION CONTROL 
GORSE & OTHER BRUSH WEEDS 
Tee Jet GPS Guidance and Mapping 
Computer controlled application 
11 metre spray width 
Low drift air induction nozzles 
1000 L tank capacity 
Qualified experienced applicators 
09 423 75 85
027 62 55 383 
info@callafarmer.co.nz 
PLANNING A NEW 
KITCHEN? 
 CONTACT NOEL McDOWELL 
WELLSFORD 
KITCHENS
Ph/Fax 094312888  
KAIWAKA-Any time 
  QUALITY CUSTOM MADE 
KITCHENS  
g.a.s. 
Mangawhai 
we have now opened a 
GARDEN CENTRE 
for all your gardening needs 
Also a great range of 
STOCKFOOD 
Wide range of 
ORGANICS AND 
 FRESH LOCAL PRODUCE 
All your motoring needs are taken care of by 
our friendly staff check us out... 
44 Moir Street, Mangawhai (09)431 4242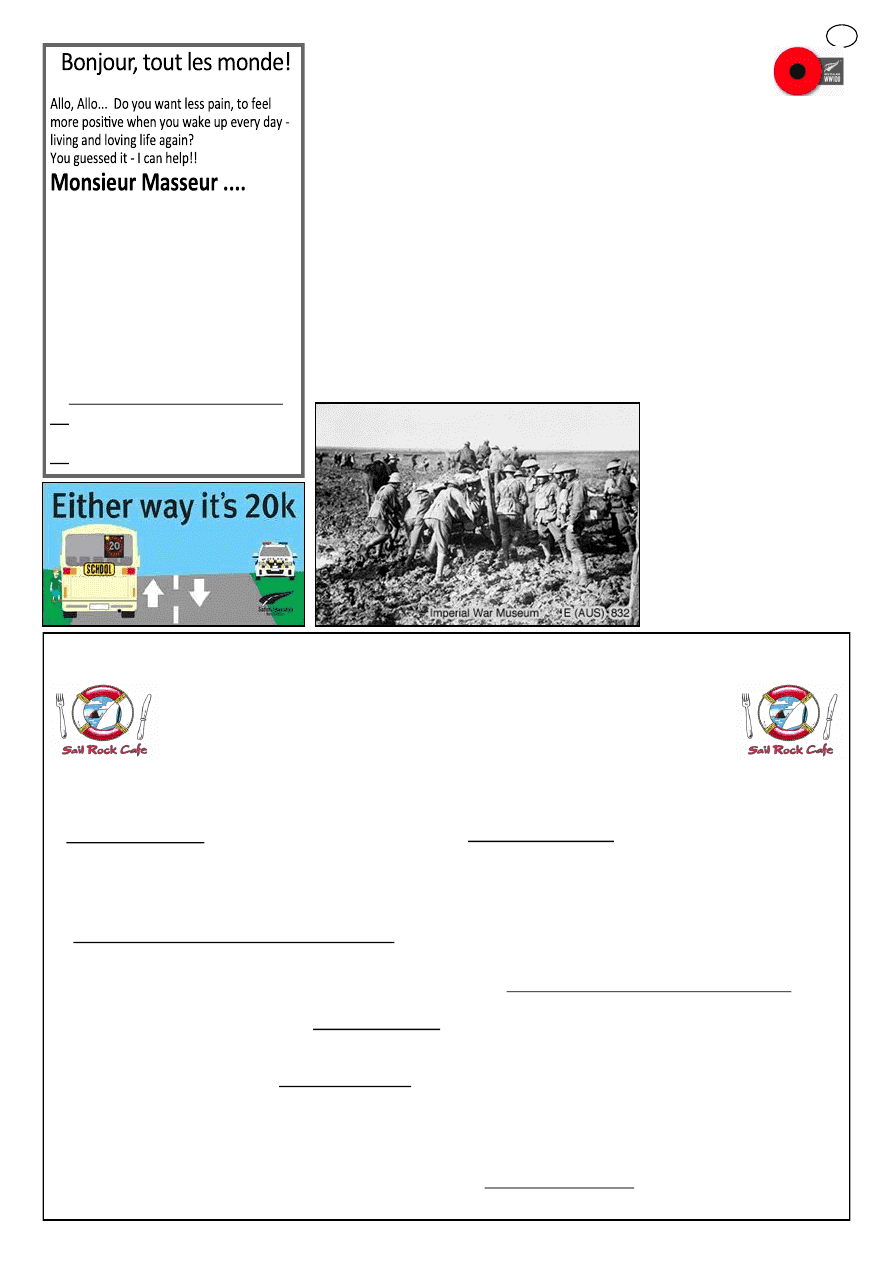 Sail Rock Café, Bar & Restaurant 
    6 days    -   6 nights  
Closed Wednesdays 
 Breakfast - Lunch – Dinner -Bar Snacks - Kid's Menu 
Pizza 
eat in or take out  
  5.30pm onwards 
 
Friday 17
th
 October:  Allanah May & Laurie 
Allanah May & Laurie will be returning every 3
rd
 Friday of the month.  7-9pm 
Enjoy Allanah May's originals and covers.   Accompanied by Laurie on the Congo Drums 
 
Sunday 19
th
 October:   Max Maxwell' Grande Uke Jam 
Join Max Maxwell from 3 – 5pm.  $5 per person 
Hawkes Bay Brewery Craft Beers on Tap  ~   Guinness  
 On   Tap
Great selection of local and NZ wines by the glass and bottle 
An extensive range of Gluten Free meal options 
Email sailrockcafe@xtra.co.nz        www.sailrockcafe.co.nz 
Phone 09 431 4051           Wood Street Shops,  Mangawhai Heads 
RELAXING  
MASSAGE
   ..... Juste pour vous" 
Call for an appointment now!
Pete Worsfold 
4312 152  or   021 825970 
Or  Ph. "The Well of Health" 
For an appt. 09 4312 799 
Or mobile service available 
17 

T
uesday 7
th
 October : 
       Mangawhai Music Makers (open mic night) 
1
st
 Tuesday of the month   7 – 9 pm     $2 pp charge 
Maura and Peter Flower lead this.    Come and join the locals 
from near and far. 
Poetry, song or music,   all are welcome 
 
Friday 10 October  Maura & Peter Flower  7-9pm 
Easy listening acoustic music.     
Large repertoire ranging from old jazz  
Ballard favourites to more contemporary numbers 
 
Monday 13
th
 October : 
Mangawhai Heads Antique Road Show 
Reputable Valuers on site       2 – 6pm 
Max Campbell (30 years' experience with Cordy's), 
Logan Campbell and Mike  
All will be on site and happy to appraise, value or advise what 
your treasures are worth!! 
Registration        $5 for 2 pieces    $10 for 5 pieces 
When ordering food on the day (min. value of $12 per registration) you 
will receive a 50% discount off your registration cost 
Register your interest phone Margaret 4315176 
On the memorial board he is listed as F 
Leather,  resident.   It should be G A 
Leather, but he was known to locals as 
Fred.  He  worked  for  Mr  Thomas 
Coverdale  at  Totara  Downs  as  a 
gardener,  just  north  of  Kaiwaka.  
Totara  Downs  is  now  owned  by  Dan 
and Jewel Mills. 
Fred  was  born  in Middlesex,  England.  
According  to  his  War  Record  his 
parents  were  William  and  Mary 
Leather, and he was one of 4 children.
On  12  December  1900  he  married 
Alice  May  Bowley  (1870-1954)  and 
they  had  one  daughter,  Dora  Gladys, 
born  at  South  Hall.  Dora  married 
Albert R S Rogers in 1936. 
The  1901  English  census  has  Fred 
listed  as  a  Market  Gardener  with 
workers  in  Norwood,  Middlesex;  the 
1911 English census shows Alice aged 
41  and  living  with  her 
brother  and  sister-in-law 
Alfred and Alice Fletcher in Newbury; 
her husband was abroad. War Records 
show he listed his wife as next of kin; 
she  was  living  at  2  Sachbrack  Rd 
Middlesex. 
By the time war broke out Fred was in 
New  Zealand;  he  enlisted,  and    on  23 
August 1916 he was  in Featherson. 
His  War  Record  states  that  he  was  5' 
9" with blue eyes, weighed 161 pounds 
and was a Methodist; he was a Private 
with  the  NZEF,  20
th
  Reinforcements 
Auckland  Infantry  Battalion,  "A" 
Company. 
He  embarked  on  7  December  1916 
from  Wellington  on  board  the  Port 
Lyttelton, 
destination 
Plymouth, 
England.  On 6  October it is  written in 
his  War  Record  -  "Missing  Believed 
Wounded  4
th
  October  1917"; 
on  11  October  1917  "Now 
Reported  Killed  in  Action  4
th
October  1917".  This  was  in 
Ypres, Belgium.
Andrew  Erceg  (Bugle  17  16/9/14)  was 
also  killed  at  Ypres  on  4  October  1917 
(within the Third Battle of Ypres at the Battle of 
Broodseinde  –  see  Commonwealth  War 
Graves  Commission  website-  The  Ypres 
Salient, photo included). 
Fred  is  remembered  at  Tyne 
Cot  Memorial,  Tyne  Cot 
Cemetery,  Zonnebeke,  West 
Vlaanderen,  Belgium.  Ref: 
NZ. Aspe, Panel 1. 
KWMH Honours Board WW1: 
George Alfred Leather, 30822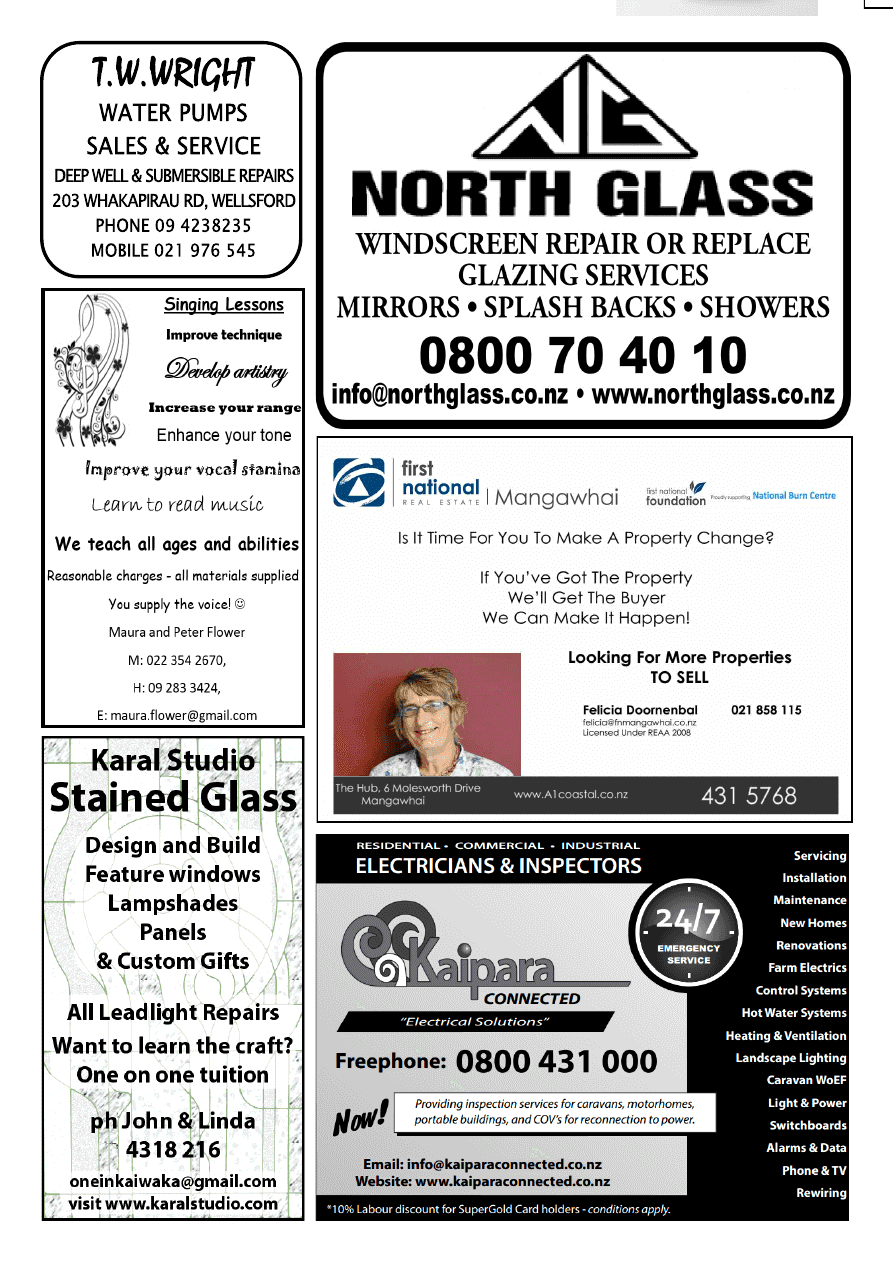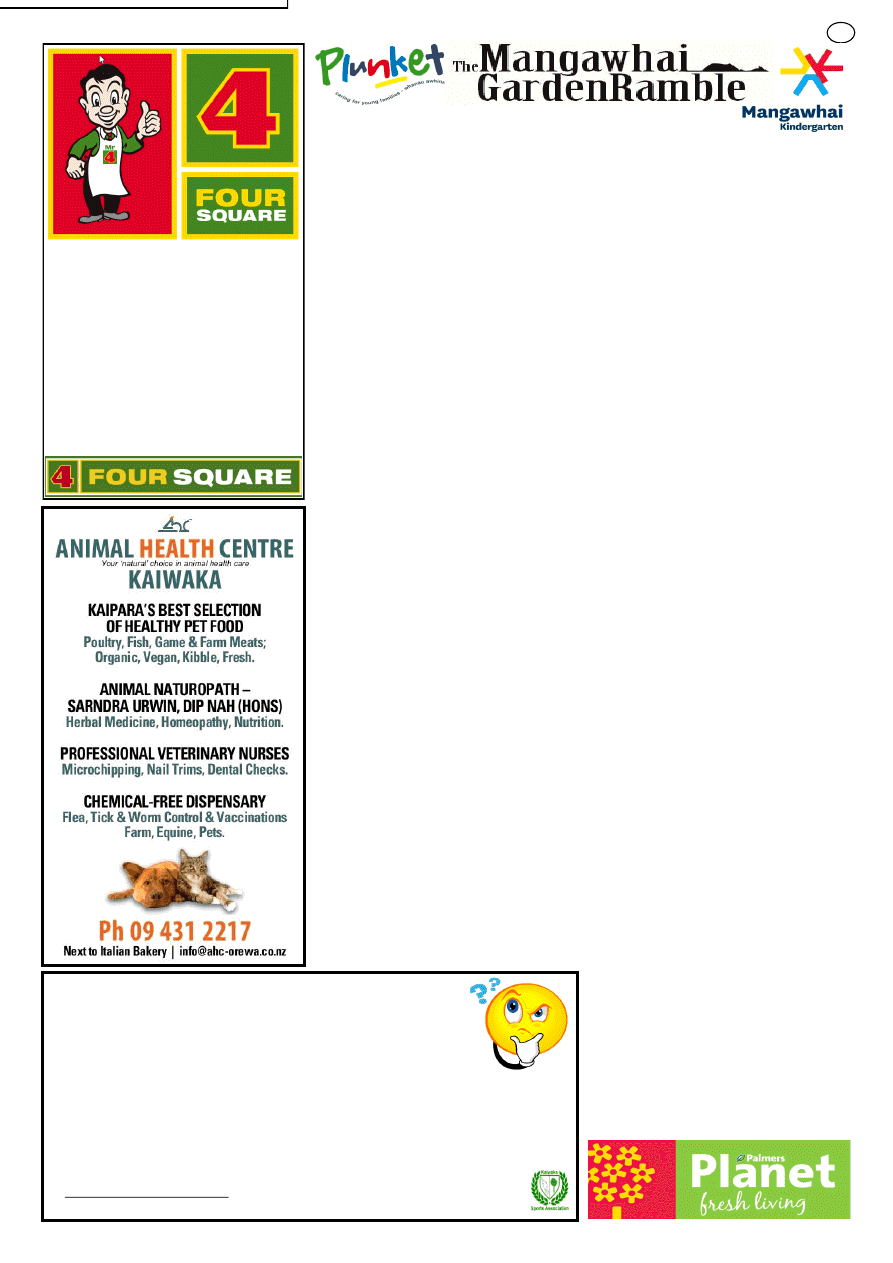 19 

Rug Doctor now available at Jaques; 
clean your carpets & upholstery from 
$39.99 four hours hire plus cleaning 
products.  

2015 Collins dairies in store now get 
organised for next year.    

Alcatel one touch mobile phone with 
Vodafone sim included $19.99.   
Jaques Four Square  
Phone: 4312227  
No1 Kaiwaka-Mangawhai Road,  
Kaiwaka. 
The  11th  Annual 
Palmers  Planet 
Mangawhai  Garden  Ramble  is  on 
Saturday  and  Sunday,  8th  and  9th 
November this year. 
First  held  in  2003  this  popular  event 
attracts loyal participants from the local 
area  as  well  as  those  from  further 
afield.    The  2014  Garden  Ramble 
includes  a  great  selection  of  20 
properties  on  show,  including  old 
favourites  like  Nova  Podgora  in 
Tomarata  and  nine  new  gardens.  The 
gardens  are  of  varying  size,  style  and 
age,  and  several  have  special 
attractions  including  ponds,  artwork 
and  historic  buildings.    This  year  has 
also  attracted  the  support  of  several 
local  artists  who  will  have  their 
artwork  displayed  throughout  some  of 
the gardens. 
The  Palmers  Planet  Mangawhai 
Garden Ramble continues to be a major 
fundraiser  for  children  in  the  local 
community.  Money  raised  goes 
towards  operational  expenses  for  the 
Mangawhai  Kindergarten  and  the 
Kaiwaka/Mangawhai  Plunket  Society. 
A  few  words  from  these  two 
organisations  about  the  importance  of 
this local fundraiser… 
"The Palmers Planet Garden Ramble is 
Mangawhai 
Kindergarten's 
main 
fundraiser  for  the  year.  Mangawhai 
Kindergarten 
is 
a 
non-profit 
organisation so without fundraising we 
would  not  be  able  to  provide  the 
children  with  high  quality  educational 
resources.  We  are  always  so  touched 
by  the  generosity  of  the  Mangawhai 
community and how they open up their 
gardens for  this  event.  We  are  also so 
grateful  to  the  parents  who  give  their 
time freely to organise this fundraiser. 
Between Plunket and the Kindergarten, 
most  of  the  young  children  in 
Mangawhai  will  benefit  from  this 
awesome Garden Ramble fundraiser."  
–  Michelle  Fogarty,  Head  teacher, 
Mangawhai Kindergarten. 
"Fundraising  efforts  such  as  this  are 
vital for the provision and maintenance 
of  Plunket  services  in  our  community.  
Plunket  is  a  national,  not-for-profit 
organisation  which  relies  heavily  on 
local 
fundraising 
ventures.    Our  local 
Plunket  committee  and  Plunket  nurse, 
work  hard  to  meet  the  needs  of  the 
young  families  in  our  area.  The  funds 
raised  through  The  Palmers  Planet 
Garden  Ramble  are  used  to  maintain 
the Plunket Building and increase and 
improve  the  range  of  services  we  are 
able to provide." 
–  Anna  Kingi,  President  of  the 
Mangawhai/Kaiwaka 
Plunket 
Committee 
KEY  INFORMATION:  PALMERS 
PLANET  MANGAWHAI  GARDEN 
RAMBLE 
Dates:   8th and 9th November, 2014 
Tickets:  $15  (early  bird  price  until 
Labour Weekend); $20 thereafter 
Children  12  years  and  under  free  with 
accompanying  paying  adult.  Close 
supervision  needed  due  to  some 
properties  with  ponds  and  other 
obstacles. 
Your  ticket  provides  access  to  both 
days,  has  full  details  of  each  garden 
and a map.  
Available at:   Fresh  -  Mangawhai; 
Mangawhai  Books  &  Gifts;  Jaques 
Superstore  -  Kaiwaka;  Woody's 
Winners -    Wellsford; 
Hammer 
Hardware  -  Waipu;  Palmers  Planet  - 
Albany; Hair Studio - Warkworth   
By  direct  credit:  ASB  12-3209-
0229336-00  Please  include  your  name 
and phone number as reference  
Postal Sales:   Phone 
Mangawhai 
Kindergarten  on  09  431-4333.  Make  a 
cheque 
out 
to 
'Mangawhai 
Kindergarten'     and  post  to  Garden 
Ramble 
Fundraiser, 
Mangawhai 
Kindergarten, 
36 
Insley 
Street, 
Mangawhai    Village.  Please 
include your name, phone number and 
address (a ticket will be posted)  
Updates: Join  us  on  Facebook/Palmers 
Planet Mangawhai Garden Ramble 
Contact:  For  sales  or  media  enquiries, 
please  email  the  Garden  Ramble 
Committee at  
    mangawhai@aka.org.nz 
or 
phone  Mangawhai  Kindergarten  (09) 
431-4333.   
Our  main  sponsor:  Palmers  Planet  is 
the  latest  in  garden  centre  innovation, 
open in Albany. At Palmers Planet, you 
will  be  able  to  get  all  your  gardening 
needs,  fresh  cut  flowers  from  the  in-
store  florist,  shop  for  kitchenware, 
home  décor,  gift  items,  and  outdoor 
furniture,  plus  take  some  time  to 
unwind in the cafe.  
To 
find 
out 
more 
go 
to 
www.palmersplanet.co.nz 
QUIZ NIGHT 
Saturday 4
th
 October, 7pm 
Kaiwaka Sports Complex 
* teams of 4 - 6 people 
* prizes for top 3 teams plus lots of spot prizes 
* supper provided, bar open 
* $15 per head 
Pre
-registered teams only. 
Contact Cheryl Anderson to register on 4312 051  
or kaiwakasports@gmail.com 
A fundraiser for the Kaiwaka Sports Association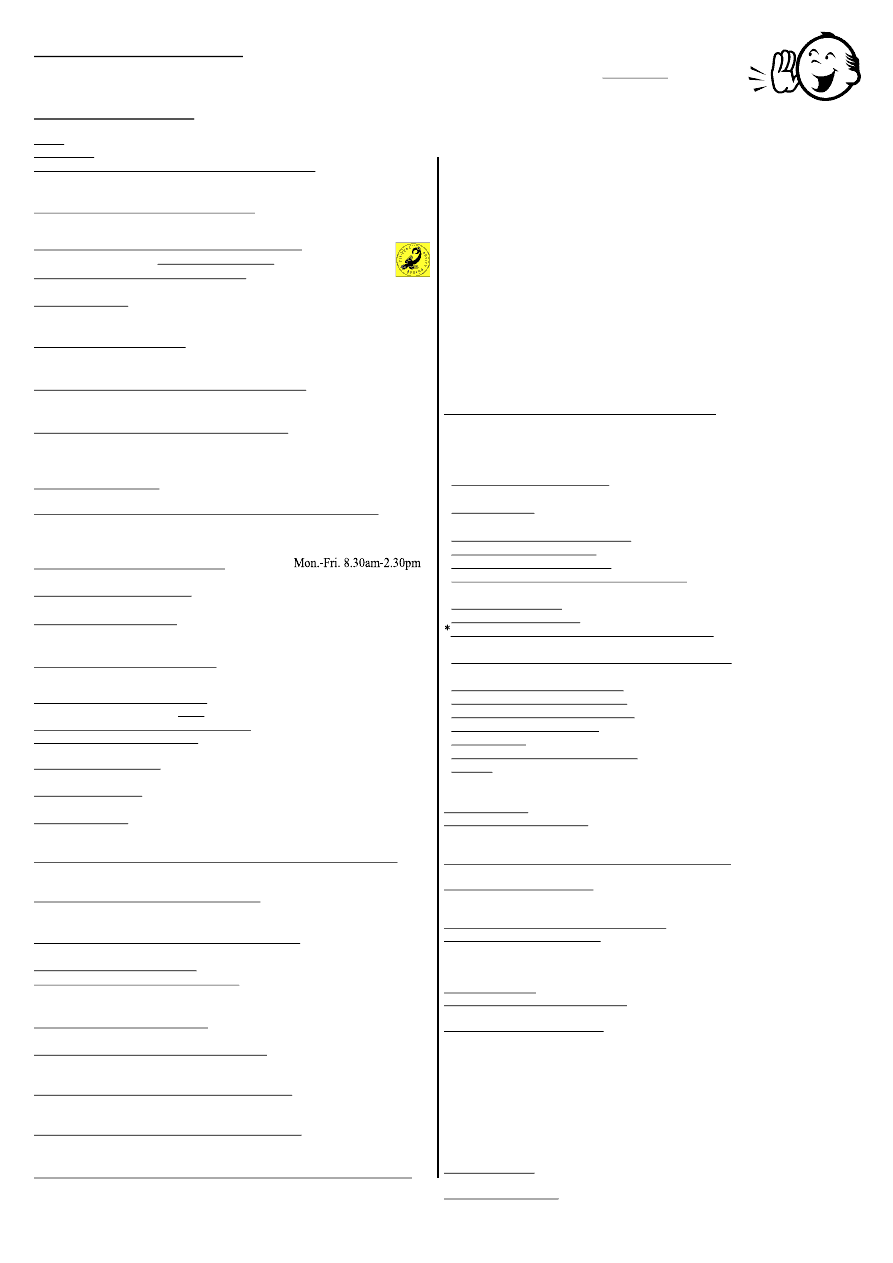 LOCAL SERVICES 
*St.John Ambulance 
111 or Freephone0800 61 0066
*Fire phone 111     *Police phone 111 or 09 4311150 
WELLSFORD DOCTORS: Ph: 4238 086 
A A: Meets Wed., 8pm Kaiwaka Ph: 4312228, 4315543, 0800229 6757   
AL ANON: In recess, contact Ph: 4312228 
AGRIQUALITY (MAF) Livestock Consultant 
Phone 09 4311 820 or 021518257  
BUDGETING SERVICE,OTAMATEA:Free confidential advice & 
support - all areas of  personal finance Ph: 09 4318173 or 094318117
CAB-
Citizens Advice Bureau.Wellsford Ph: 4237333.
0800 367 222 email:
DOG/STOCK /NOISE CONTROL 0800 105 890 
KATE'S PLACE with Govt.Day Agencies/Community Information /
Osteopathy/ IRD / Probation, etc Ph: 4312661 Hours: 9am-3pm. Mon - Fri 
FUNERAL SERVICES: Morris & Morris Ltd, 
Whangarei - Bev Jaques Ph:4312367 or 0800667747 
GRANDPARENTS  Raising  Grandchildren:  Sarah  Rogers  Ph: 
4312194 
HAKARU LANDFILL / Transfer Station:Open everyday except 
Tuesday10am-4pm.Ph4312629 Cost-$55 trailer load up to 1 cubic 
metre. Ph:4258567 - office 
INLAND REVENUE: Last Friday each month, 
11-3pm Ph4312661 
KAIPARA DISTRICT COUNCIL www.kaipara.govt.nz:  
Help Desk FREEPHONE 0800 727 059  
Service Centre Mangawhai 4313161 
KAIWAKA KOHANGA REO:
Ph:4312620 
KAIWAKA CEMETERY: Ph: 4312045 
KAIWAKA LIBRARY: kaiwaka.library@gmail.com  
Mon. 4-6pm; Wed., Thurs., Fri., Sat.  10am-2pm Ph:4312539
KAIWAKA PLAYCENTRE: Ph: 4312286. Hastie Lane 
Monday to  Friday  9.00am 
- 
12 noon.
KAIWAKA POST OFFICE:
Ph:4312 626 Fax: 4312287  
Post Code: 0573  for RD2  and  0542 for all Kaiwaka Post Office mail 
KAIWAKA PRIMARY SCHOOL : Ph: 4312309 
KAIWAKA SPORTS ASSN: Ph 4312005; 4312129 gym 
KAIWAKA ST JOHN: Manager Steve Rosser 09 4318403, 021 2316836 
NORTHPOWER: Faults Kaiwaka area 0800 104040 
PARENTPORT: Free, practical local support service for families in crisis 
Phone or Text Dianne 027 280 5093 
PERSONAL DEVELOPMENT COACHING, GROUP FACILITATION:  
Sabine Druckler 4312231 
PLUNKET  KAIWAKA/MANGAWHAI:  Ph:
094318187 
or  0
276753488 
Kaiwaka Mobile Clinic once a month– appointments necessary;  
Mangawhai (next Domain) 
1st & 3rd Thursday & Coffee Morning; 
PLUNKET CAR SEAT CO-ORDINATOR:  
Pat Scott Ph 4314530 
or 0272881635 
PLUNKET FREEPHONE -0800 933 922 
PLUNKET -MAUNGATUROTO  Clinic every 2nd & 
4thThursday. Ph: 09 4318187 
PUBLIC HEALTH NURSE: Gloria Reid Ph: 094327634  
RETURNED AND SERVICES ASSN 733 Settlement Rd. Hakaru 
Ph.4312176 Bill Kerr (President) Ph.4314719 
TE KOROWAI AROHA O NGATIWHATUA Ph: 4312675 
(The Cloak of Love of Ngatiwhatua) Support and Maori Consultancy.  
VETERINARY SERVICE MANGAWHAI: 
Ph: 4314535 Mon-Fri 8.30-4.30, Sat 9-12, a/h appt. 
WOMEN'S WELFARE LEAGUE & Reaching Out For Youth:  
4 Kaiwaka-Mangawhai Rd, M Morgan 4312293
WHAT'S ON
PLEASE ~ do let us know what is on - email 
kaiwakabugle@kaiwaka.co.nz 
Advertising in WHAT'S ON is FREE  
*3Oct~Noah, 7:30pm KWMH 
*4Oct~Have a go at Bowls, 9:30am-12:30pm Maungaturoto 
Bowling Club 
*4Oct~Quiz Night, KSA 
*4Oct~Boxwood Trio, 7:30pm Absurdistan 
*5Oct~Rio 2, 2pm KWMH 
*6-10Oct~St John's Trash & Treasure, Mgto Centennial Hall 
*8Oct~Total eclipse of the moon 11:25pm to 12:24am 
*9Oct~NCEA & the Whanau workshop, 6pm Otamatea High School 
Ph Fiona 09 4318 660 
*10Oct~Mrs Doubtfire, 7:30pm KWMH 
*13Oct~Term 4 starts 
*16Oct~Civil Defence business workshops Ph Kim 09 470 1218 
*20Oct~Agricultural Day, Kaiwaka School 
*27Oct~Group Day Agricultural Day, KSA, Ph Bruce 4312 542 
KWMH=Kaiwaka War Memorial Hall 
KSA=Kaiwaka Sports Association Complex 
See www.kaiwaka.co.nz for upcoming events. 
HOUSEHOLD  RUBBISH  COLLECTION  -  Kaiwaka    Pick  up­
Mondays=Gr een bags ar e picked up by Nor thland Waste-queries 
to  them  09  4303273,Wednesdays=Blue  bags  and  yellow  recycling 
(at  Jaques    $3.00  and  $1.50)    are  picked  up  by  Kaurilands  09 
4392146.  
*DIABETES Support Group -for Kaiwaka, Mangawhai, Wellsford 
   10am, 3rd Friday of month Ph:A.Pert 4238242; J.Gardner 4238060 
*DRINK CAN 'tear tabs' - for Starship Hospital- please collect - 
    98 Kaiwaka Mangawhai Rd, leave in mailbox, Ph. 4312625  
*GYMNASTICS OTAMATEA -  Tuesday Ph: Stephanie 022 3624998 
*HAKARU PONY CLUB-Secretary Julie Rynne 09 4314520 
*KAIWAKA BADMINTON -Tuesdays 7.30pm Ph: 4312345 
*KAIWAKA GARDEN & FLORAL Grp:2nd Thursday in month 
   Ph: 4314767 
*KAIWAKA CUBS-Thursdays 5.30-7pm, Hakaru  Ph:Bruce  4312542 
*KAIWAKA SQUASH -Mondays 7pm Ph: Barbara Thomas    4315905 
KNITTING FOR WHANGAREI HOSPITAL - 2nd Tuesday in  
   month, Apple Basket 10am Ph 4314827 
*MANGAWHAI COMBINED PROBUS CLUB: 2pm,3rd Thursday  
   month in the Senior Citizens Hall Mangawhai. Ph: 4315777 
*NZ GENEALOGY-Wellsford - 1st Thursday in month Ph: 4237033 
*OTAMATEA GREY POWER-09 431 8138 Joan Hoggard  
*PT CURTIS CRUISING CLUB - Jean Ph: 4312 246 
*RSA,Hakaru & Dist.Women- meet 1.30pm 4th Thurs in month Ph: 4312 668  
*TRAMPING- Mondays 9am-2:30pm  Karen Ph: 4312 090 
*WAIPU GENEALOGYGROUP -4th Monday in month Ph: 4312725 
*YOGA- Tuesdays 6:15pm, Friday 8:30am Kaiwaka WM Hall Carla  
   Ph: 4312 408, 021 296 8794
CHURCHES:
*Gateway Worship Centre: St Mary's Church Nathan Rd off Oneriri Rd, 
Kaiwaka Services, 10.30am 1st & 3rd Sunday of every month. Contact: Rev 
David Gage 4312528 or 0212354282 
*Kaiwaka Family Church-Your Community Church:Sundays, l0am 
Home Group every Wed evening, Pastor John.Dekker Ph: 4318203 
*St Paul's Anglican Church 1st Sun. 9.30 am (Eucharist), 3rd Sun. 9.30 am 
(Family Service). Contacts:  Church Office 09 431 4122; M. Hargreaves 431 
2295; C. Bygrave 431 2057 
*Church of Christ the King, Mangawhai:9.30am every Sunday 
*St.Mary's Catholic Church: Maungaturoto – Griffins Road, Saturday 
evening Vigil Mass 6pm; Mangawhai – Senior Citizens Hall, Sunday Mass 
8:30am; Wellsford – Matheson Road, Sunday Mass 10:30am; Mid-week 
Mass times and all enquires to Fr. Bill Fletcher – phone 423 8170 
*Baptist Church: Sun. 10.30am Mangawhai Snr Cit.Hall.Ph:4312339 
*Cause Way Church Mangawhai: Sundays 10.15am, Mangawhai 
Community Recreation Centre, Insley St. Ph: 09 4314782  
*St.Pauls Archie Bull Hall HIRE  $20 half day, $40 full day per hire 
 Contact G. Jaques 4312048 
*Kaiwaka War Memorial Hall HlRE - Phone 4312725 or   
Email  
kaiwaka.hall.bookings@gmail.com 
*Hakaru Community Hall HIRE -Ph.  4312256 or 4312110 
*Te Pounga Marae queries -A.Gage 4312528, 4312527 
*Kaiwaka Sports Association hire/queries - C. Anderson 4312051 or 
Email kaiwakasports@gmail.com
Justice of Peace: B.FJaques; L.Donaldson; A.F.Hargreaves  -please phone to 
make sure they are available 
Marriage Celebrants: L.Donaldson; A.F.Hargreaves; C.Rosseels
Next Bugle Deadline Friday 10 October 2014