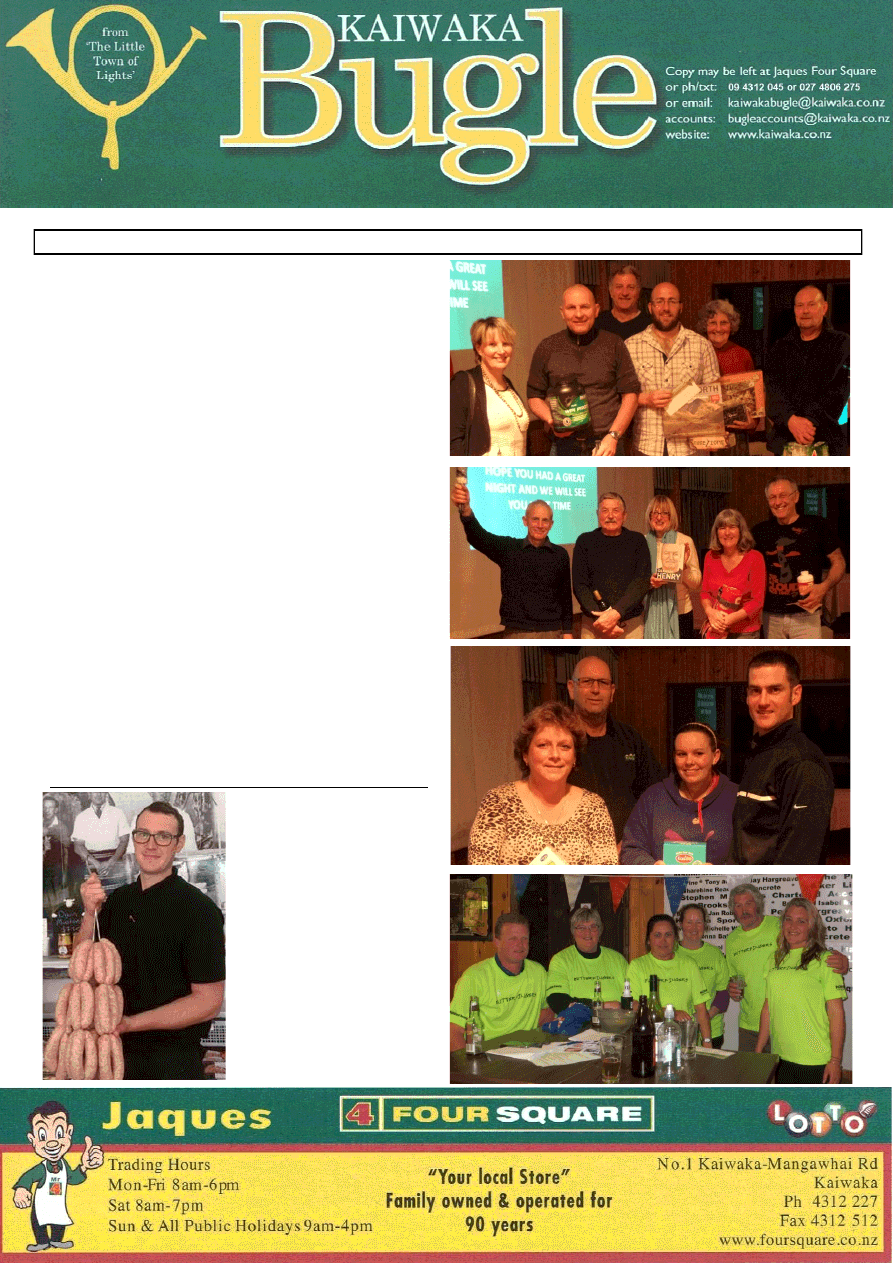 No: 20 
14 October 2014 
KAIWAKA QUIZ NIGHT 
A great crowd turned up on Saturday 4 October for Quiz 
night,  a  fundraiser  for  the  Kaiwaka  Sports  Association. 
Ten teams 'nutted' their way through questions on music, 
sport, general knowledge and more. 
Congratulations  to  the  top  teams  who  had  their  choice 
from the prize table: 
1
st
 100 2 One;   2
nd
  Market Forces; 3
rd
 Ref's Final Decision          
Three spot prizes were given out and the remaining prizes 
were  given  out  by  a  draw:  a  Kaiwaka  Salon  voucher, 
valued  at  $80  –  won  by  Rob  Hastie;  a  Kaiwaka  Cheese 
Shop voucher, valued at $40 – won by Hayden Prujean; a 
coffee  table  book  "Molesworth  Station",  valued  at  $70  – 
won by Daniel Alcock. 
Thank  you  to  emcee  Tony  Hargreaves  and  to  scorers 
Corina Ross and Lindsey Hargreaves. Many thanks also to 
Jane Stace and Bridget Sewell for putting on supper and to 
Jessika  Wintle,  Holly  Anderson,  Shyla  Hodge  and  Quinn 
Hargreaves  for  being  the  runners.  (Ed-  thank  you  too  to 
Cheryl for all your organisation of this and other events!) 
Thank you to our generous sponsors: 
Jaques  Four  Square;  Phil  Keen  Concrete;  Wellsford  Sports  & 
Leisure; Kaiwaka Salon; Three Furlongs; Kaiwaka Cheese Shop;  
Parker Lime; Kaiwaka Fitness Centre; Hi-Way Liquor; Otamatea 
Kempo; Avon – Gale Matheson; Garden Post; Northland Rugby 
Union; Hansen; L'Art Beauty; Powa Products; NZ Fishing World 
magazine; Lifestream; Craig Potton Publishing; Balance Sports; 
My Vet; Underground Coffee; Edugames; Ti Point Reptile Park; 
Harper Collins; Crombie & Price; NZ Fishing News magazine. 
Photos,  from  top:  1.  Winning  team:  100  2  One;  2.  Market 
Forces;  3.  Ref's  Final  Decision;  4.  Quiz  Night  team 
Butterfingers.  In  their  words:  "Not  the  winning  team  but 
definitely  the  brightest!"-  see  these  photos  in  all  their  brilliant 
colour online at http://kaiwaka.co.nz/Bugle/Bugle.html 
DAN KLINK 
Congratulations  to  Kaiwaka's 
own  Dan  Klink  of  the 
Mangawhai  Meat  Shop  for 
winning the Gold Medal in the 
Continental Fresh Category of 
the  annual  Devro  New 
Zealand  Sausage  Competition 
with  his  Toulouse  sausage  - 
well done! We can testify they 
are very tasty indeed. 
New  Zealand's  top  sausage 
will be announced on Tuesday 
14  October  following  the 
Final  in  Auckland,  where  the 
22  gold  medallist  sausages 
will be judged. 
ABOUT TOWN 
......... 

Condolences 
to 
the 
family  of  Terry  Leabourn 
on his recent passing. Terry 
was  the  Chief  of  the 
Kaiwaka  Fire  Brigade  for 
39 years. 

Looks  like  a  new  tenant 
is  moving  in  beside  the 
Italian Bakery: 
KAIWAKA BUGLE No: 20 
14th October 2014
Page 2: Kaiwaka Movies 
Page 3: Public Notices; Classifieds 
Page 5: Weather, Fitness 
Page 7:  Pt Curtis Cruising Club 
Page 9:  Kaiwaka Sports Association 
Page 11: Kaiwaka Library 
Page 13: Library cont. 
Page 15: WWI Honours 
Page 17: October Night Sky 
Page 19: Fishing Contest 
Bugle 21 will appear 28 October 
Contact for advertising, reports, articles 
or information can be made by 
Email kaiwakabugle@kaiwaka.co.nz 
Ph: 09 4312045 
Txt:  0274 8062 75
Business card adverts can now be added 
to the KMG website– email contact to: 
kaiwakaonline@kaiwaka.co.nz 
Kaiwaka Bugle Advertisements 2014: 
All 
copy 
and 
queries 
to: 
kaiwakabugle@kaiwaka.co.nz 
Classified $3 (max 30  words);  1/8 page $6; 
1/4  page  $12;  1/2  page  $24;  in  special 
circumstances  whole  page  adverts  are 
available-cost $100 
Payments  can  be  online,  posted  or  left  at 
Jaques Four Square Store. 
Accounts: bugleaccounts@kaiwaka.co.nz 
The  Kaiwaka  Bugle  is  a  community 
newspaper run by volunteers.   
Articles,  etc.  printed  are  not  necessarily 
the opinion of the Bugle Team. 
Kaiwaka Bugle 
Founded May 1978 
Copies available in Kaiwaka at Jaques Four 
Square, Kaiwaka Postal Centre, Shamrock 
Service Station, Celena's Gifts 
Also outlets in Maungaturoto, Mangawhai 
and Paparoa. 
Can be viewed online at www.kaiwaka.co.nz/
Bugle 
Or a copy can be posted to you if you supply 
stamped, self-addressed DLE envelopes. 
Chef 
Friday 31 October 7:30pm (M)
Mr Peabody & Sherman 
Sunday 2 November 2:00pm 
(PG) 
At Kaiwaka War Memorial Hall . Adults $10, Chn (under 16) $5, Family Pass (2 adults + 3 children) $25 
Heat 
Friday 17 October 7:30pm  
(R16)
In  Top  100  Movie  of  all  time,  a  great 
classic. 
HEAT  is  a  riveting  story  about  an  intense 
rivalry between expert thief Neil McCauley 
and volatile cop Vincent Hanna. McCauley 
will stop at nothing to do what he does best 
and  neither  will  Hanna,  even  though  it 
means  destroying  everything  around  them, 
including the people they love. 
Review comments: Masterful on all counts.  
Truly  Epic.  One  of  the  best  crime  films  of 
all time. Pacino and de Niro together - just 
great. 
Warning: Coarse language may offend.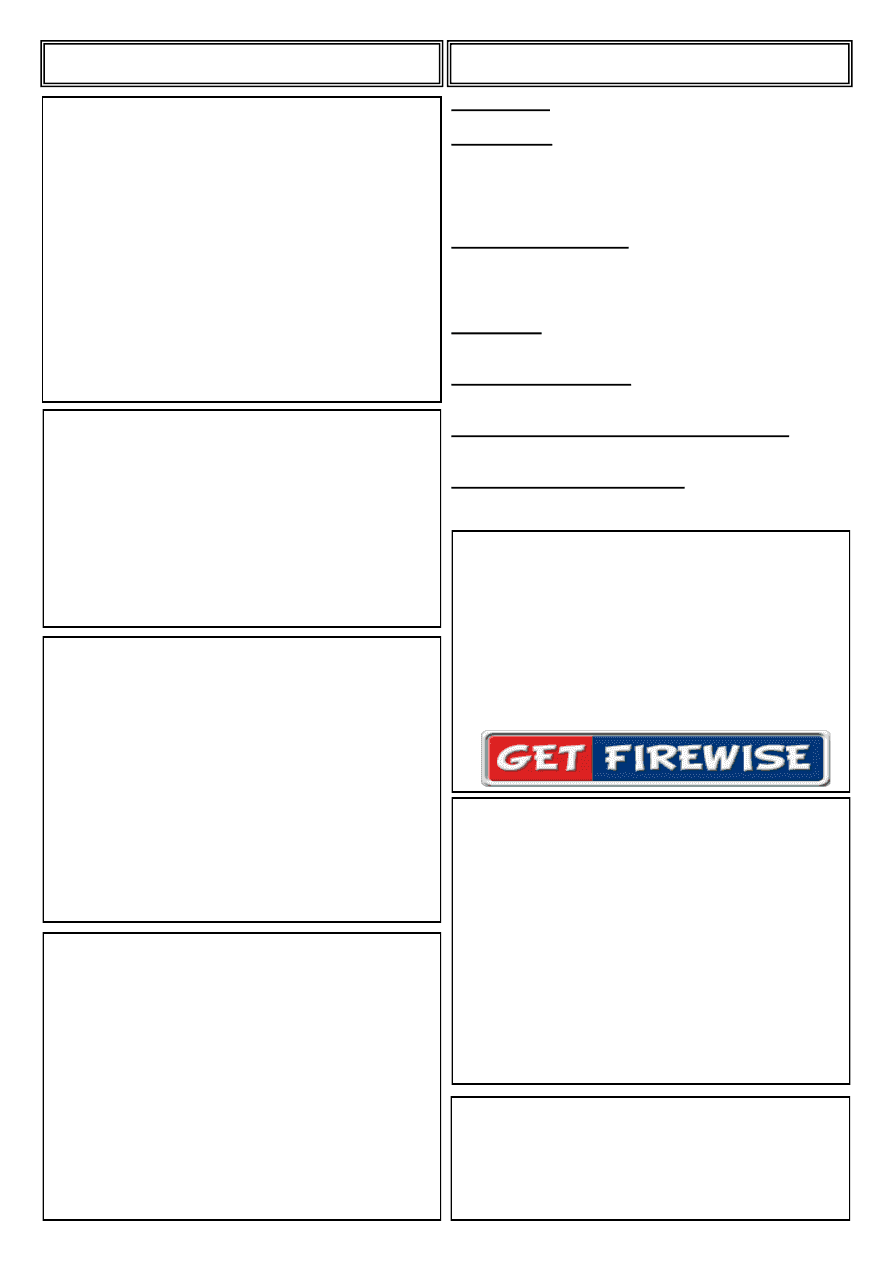 PUBLIC NOTICES 
CLASSIFIED 
FOR  SALE: Strawberry plants, 5 for $2. Rhubarb 
Plants $2 each. Please ring 431 2522 for details. 
FOR  SALE:  Jill  Shires  Holistic  Animal  Therapies. 
Herbal  Remedies,  Bach  Flowers,  Ointments,  
Diatomaceous  Earth,  Bentonite  Clay,  Cranio  Sacral 
Therapy,  Skin  Conditions,  Arthritis,  Laminitis,  Mud 
Fever 
Cream 
etc. 
www.allcreatures.co.nz 
or  
09 431 2080 
PART-TIME  WORK:  Traffic  Controller/STMS 
Wanted!  Although  desirable,  no  experience  is 
required. If you can pass a pre-employment drug test - 
Please 
forward 
your 
resume 
to 
emma@trafficsafe.co.nz 
HASHTAG  Band  for  hire.    A  lively  mix  of  covers 
and original music.  Make your night special.  Ph: 021 
623 776  
BERYL  NOZEDAR:  (Middleton)  International  
Clairvoyant.  Numerology,  Tarot,  Clairvoyance,  
Mediumship. $60 for hour includes CD. Ph: 4312 080 
CLOTHING ALTERATIONS & REPAIRS: 
Hems,  Zips,  Dressmaking  Phone:  Win  4312027    or 
027 444 8358 Winsome Designs. 
FREE GRAZING WANTED: Small or large block. 
Can  do  some  fencing  or  water.  Phone  after  6pm 
4312006 
Thought for the day:
Trust in the Lord with all your heart and lean not unto 
your own understanding; in all your ways acknowledge 
Him and He will direct your paths 
 Proverbs 3:5+6 
Kaiwaka School 
Board of Trustees Election. 
Nominations are invited for the election of 2 (two) parent 
representatives to the Board of Trustees. 
A  nomination  form  and  a  notice  calling  for  nominations 
will be posted to all eligible voters. 
Additional  nomination  forms  can  be  obtained  from  the 
school office. 
Nominations close at noon on October  31
st
  2014 and may 
be accompanied by a signed candidate's statement. 
The voting roll is open for inspection at the school and can 
be viewed during normal school hours. 
There  will  also  be  a  list  of  candidates'  names,  as  they 
come to hand, for inspection at the school. 
Voting closes at noon on 14 November 2014. 
Sara McAulay 
Returning Officer.  
GARAGE SALE 
Daily 1pm-5pm; Every Weekend 9am-4pm 
'Till all sold (signs will be out if open) 
Bed Settee $50, Single Bed $25, Avon, Dining 
Chairs (4) $25 ea, Magazines, Life Jackets $45, 
Adult Bike $25, Tools, Books, Bric-a-brac, Assorted 
Fabrics, Trailer wobble roller quad set $130, Craft 
Stuff, Plus lots more bargains. 
674 Kaiwaka-Mangawhai Road, Hakaru 
WRITERS' GROUP 
Do  you  have  a  book  in  your  head  begging  to  escape 
through  your  fingers  and  onto  a  page?  Might  you  fancy 
getting  together  with  a  few  others  once  a  month  to  help 
that book become a reality?  Even maybe . . . published? 
Well, here's your opportunity to get started - it's not about 
correct spelling, punctuation, perfect grammar, etc - rather 
it would be about sharing ideas and thoughts, encouraging 
creativity  and  spontaneity,  and  generally  enjoying  the 
company of others sharing an interest in developing their 
written  'voices',  be  they  prose  or  poetry.  So  meet 
Elizabeth  at  the  Kaiwaka  Library  on  Tuesday  21st 
October, at 10am. 
Need more info then ring Elizabeth on 431 2522. 
Jenny's Rural Craft Shop 
Opening  Day 
Saturday 25th October 
10.00am to 4.30.pm 
Come and see all the crafts from local people from 
local towns 
Eftpos Available 
Shop hours after Labour Day: Wednesday to Sunday 
10:00am to 3:00pm 
134 Kaiwaka-Mangawhai Road, Kaiwaka 
St Johns Op Shop 
Shop Hours 10am-4pm Monday - Friday 
Towels,  crockery,  bric-a-brac  and  anything  else  would  be 
greatly  appreciated.  Flower  plants,  pot  plants  &  garden  pots 
(preferably pottery ones), cuttings. 
For Sale: CD stands, single bed & roll-out with mattress; single 
bed base & mattress, vg condition. 
Thanks to those people you have donated plum sauce and guava 
jam. Thanks to Sandy who put out the challenge. 
Thank  you  to  Mr  &  Mrs  Christensen  for  your  beautiful  card 
regarding the loss of our late daughter Debbie. 
Thanks once again, 
Milly & Staff. 
KAIWAKA FIRE BRIGADE 
REMINDER:  Have  you  checked  your  smoke  alarm 
batteries? 
WANTED:  An  old  car  body.  The  fire  brigade 
members  have  a  practise  exercise  coming  up  and 
need an old car to use. Please contact Fire Chief John 
Bowmar before Friday 31 October on 4312248 if you 
can help. 
OPEN FISHING COMPETITION 
1st and 2nd November - see details on page 19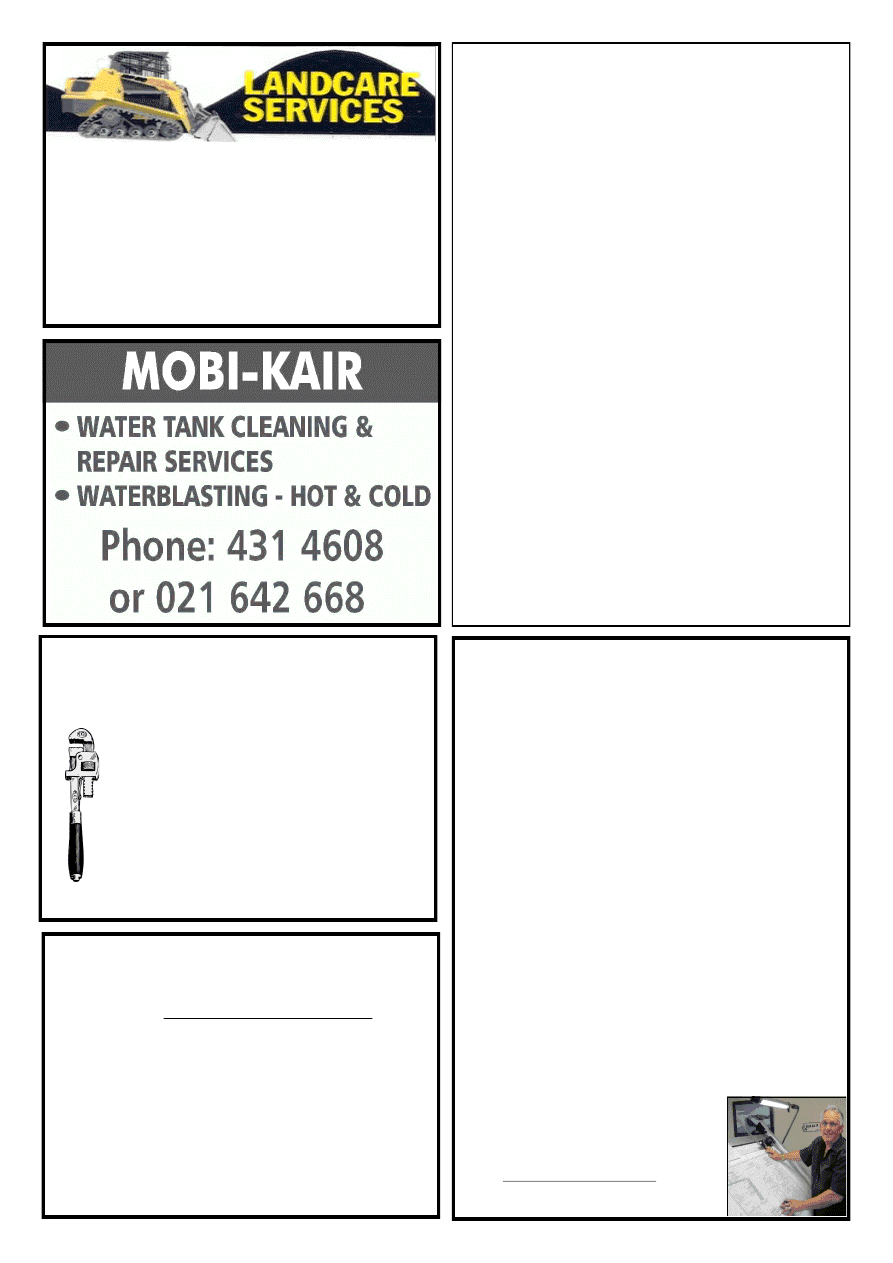 PAUL SAUNDERS 
LAWNMOWING 
& GARDEN 
MAINTENANCE 
 
Residential and commercial 
 
Lawns and edges    
 
Section mowing 
 
Garden makeovers 
 
Hedging and trimming 
 
Spraying 
Friendly and reliable service guaranteed 
Call now for a free no obligation 
quote 
021 886 843 
09 431 3318 
Servicing Mangawhai and Kaiwaka 
and surrounding areas 
paulsaunders99@gmail.com 
LANDSCAPING 
4 IN 1 BUCKET 
TRENCHER 
POLE HOLES 
ROTARY HOE 
COMPACT ROLLER 
OFFAL HOLES 
CAN SUPPLY WOODCHIP & POST PEEL 
5 TON TIPPER 
FOR RELIABLE AND FRIENDLY SERVICE CONTACT DAVE 
Dave Hyndman 
 
KAIWAKA 
PH: 09 4312302 
MOB: 021 431 238 
ARCHITECTURAL BUILDING 
PLANS AND DESIGNS 
WRIGHT DESIGN 
 QUALIFICATIONS 
Brian is a qualified designer (NZCAD) with over 40 years of 
varied experience in all types of building and is a registered and 
Licensed Building Practitioner in Design - L.B.P. 117345 
He ensures you will achieve the best from your budget with 
recommended excellent local contractors ready to competitively 
price and build your personal project quickly and efficiently. 
 EXPERIENCE 
Brian's practical building and 40+ years of design experience 
means he can give you excellent advice and all the guidance 
needed for all your building needs 
v Wright Design offers free visits, consultations and all the 
advice you need on planning, design, building, contractors, 
council permit applications, etc. 
 
" Qualified and inexpensive designer – N.Z.CAD., LBP 117345 
" Guaranteed design and working drawings 
" Free site visit to your home or property 
" Great service 
" Great problem solver 
Call Brian ~Arrange a visit to discuss your needs  and obtain 
great advice and free quotation 
MAKE GOOD USE OF HIS EXPERIENCE and 
KNOWLEDGE 
WRIGHT DESIGN:  
360 Oneriri Road, Kaiwaka
Office 09 4312544  
Mobile 021 276 7389  
Email: 
www.wrightdesign.co.nz 
BARRY CURTIS PLUMBING LTD 
REGISTERED CRAFTSMAN PLUMBER 
Phone 4315572 
027 257 9884 
25 years experience 
Friendly reliable service 
All plumbing and maintenance 
Alterations and new housing 
New wood fire installation 
Spouting 
Competitive rates 
PROMPT EFFICIENT  SERVICE 
 Yang Style Tai Chi 
Classes 
For Beginner And Practitioners  
At The Kaiwaka War Memorial Hall 
Every Tuesday  Starting at 10.30 am 
Come Along And Have Some Fun 
While Improving Your Balance Health 
And Fitness
For More Information
Contact 
Andrew Young 09 4223424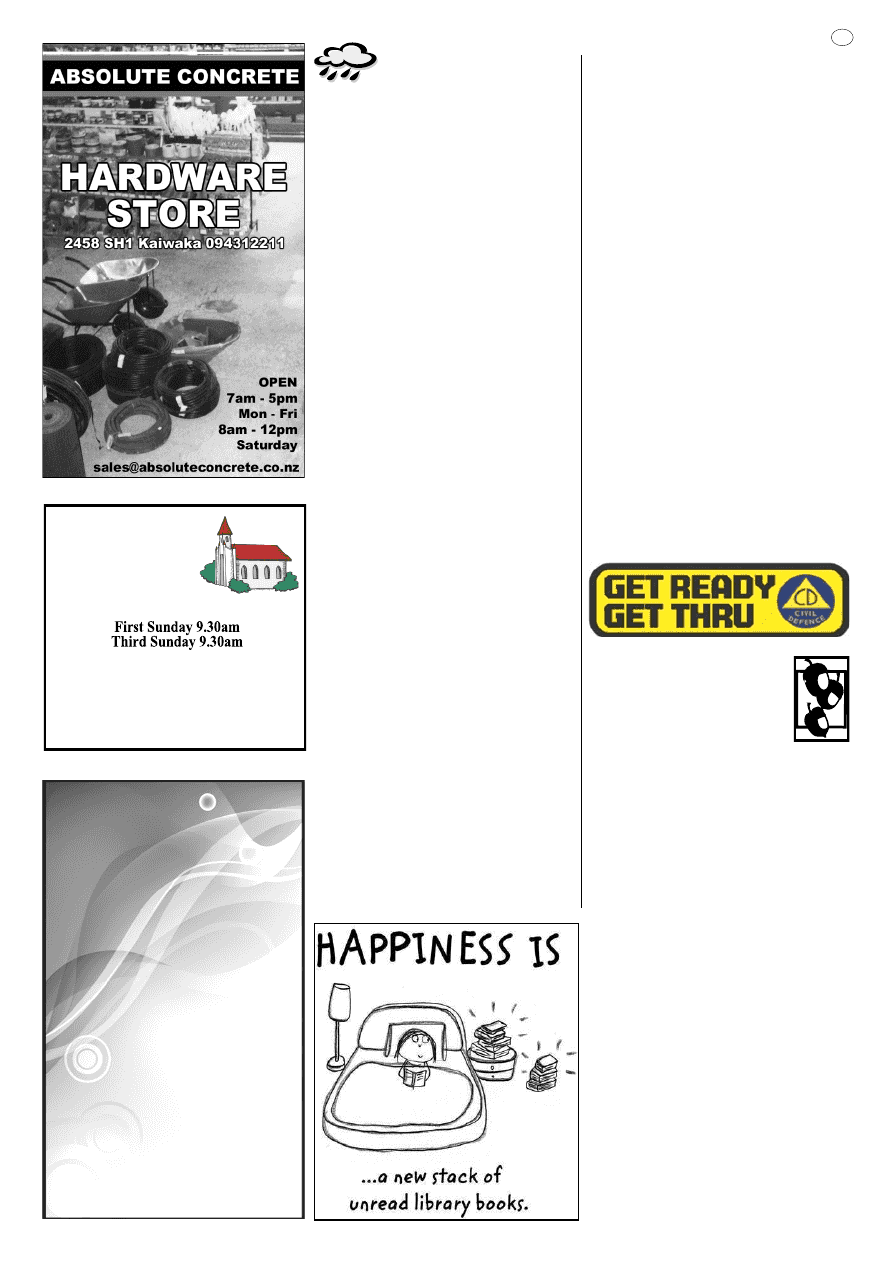 5 
U Beauty 
            Underarm Wax  
    $20 
            Extended Bikini Wax   $30 
            15 min Back  Massage  $25 
            30 min Back Massage  $50 
Please call Nicole for bookings 
09 393 6336 or 022 0639450 
Qualified Beautician 
4 Kaiwaka – Mangawhai Rd 
Kaiwaka 
Eyebrow Wax  $10 
Eyebrow Tint  $10 
Eyelash Tint 
$20 
Lip Wax 
$10 
Chin Wax 
$10 
Bikini Wax 
$20 
Brazilian 
$50 
½ Leg Wax 
$30 
Full Leg Wax  $45 
Full Pedicure  $60 
Foot Tidy  
$35 
Manicure 
$45 
Nail Tidy 
$25 
Chest Wax 
$30 
Back Wax 
$40 
Nostrils 
$10 
Ears 
$10 
U Beauty 
            Underarm Wax  
    $20 
            Extended Bikini Wax   $30 
            15 min Back  Massage  $25 
            30 min Back Massage  $50 
Please call Nicole for bookings 
09 393 6336 or 022 0639450 
Qualified Beautician 
4 Kaiwaka – Mangawhai Rd 
Kaiwaka 
Eyebrow Wax  $10 
Eyebrow Tint  $10 
Eyelash Tint 
$20 
Lip Wax 
$10 
Chin Wax 
$10 
Bikini Wax 
$20 
Brazilian 
$50 
½ Leg Wax 
$30 
Full Leg Wax  $45 
Full Pedicure  $60 
Foot Tidy  
$35 
Manicure 
$45 
Nail Tidy 
$25 
Chest Wax 
$30 
Back Wax 
$40 
Nostrils 
$10 
Ears 
$10 
ST PAUL'S  
ANGLICAN  
SUNDAY  
SERVICES
St Pauls Church: Kaiwaka-Mangawhai Rd. 
1st Sun - Eucharist 
3rd Sun - Family Service 
Office 4214 122 
Contacts:M.Hargreaves 4312295, C.Bygrave 4312057  
KAIWAKA 
WEATHER 
I do hope you are well and enjoying the 
spring weather that has sprung upon us.  
We  have  had  some  rather  nice  days 
along with one or two not so good.  At 
last we can get out and do stuff (as the 
Y generation would say). 
The  nights  are  getting  warmer  and  we 
have some sun now.  Shame on me as I 
did  not  know  how  light  it  is  5.30am. 
(Sorry  my  cow  cocky  friends  and  any 
early  risers).  That  will  be  6.30am  by 
the time you read this. I did this report 
a couple of days ago and was just going 
to put the rain measurements in - well, 
the  last  couple  of  days  of  September 
were  anything  but  spring-like,  almost 
back to winter.   
For  September  2014  we  had  162mm 
rain; 2013 we had 175mm rain.  
The  first  9  months  for  2014  we 
recorded  1294mm  and  the  first  9 
months for 2013 we recorded 1005mm. 
Our wettest September since 1987 was 
1989 with 249mm and driest was 2000 
with  40mm.  Our  driest  first  9  months 
was 1987 with 687mm and the wettest 
was 2008 with 1439mm.  
We  recorded  12  days  with  rain  for 
September. 
You  may  find  a  discrepancy  between 
August  and  September  if  you  record 
the  rain  -  however  the  rainfall  is  read 
the morning after, therefore the last day 
of August is recorded in September and 
so on. 
Enjoy  the  spring  and  look  forward 
those  long  hot  lazy  hazy  days  of 
summer. Take care out there. 
~Bev 
NIWA Seasonal Climate Outlook for 
October to December  
Highlights include:  
El Nino returns - weaker but 
lingering. 
Temperatures above average for parts 
of the North Island but below average 
in southwest and east of the South 
Island. 
Rain - below average in the east of the 
North Island, above average in South 
Island 
KAIWAKA  
FITNESS 
This will be the last time I write a post 
as I am standing down as President and 
cleaner  of  the  Fitness  Centre  as  of  the 
end of the month.  
I  would  like  to  thank  those  for  their 
support  over  the  years,  the  Kaiwaka 
Sports Association for their support and 
the  great,  fantastic  facilities,  as  I  have 
said  many  times  KAIWAKA,  you  are 
very lucky to have such an asset, make 
the most of it. 
On  the  positive  I  feel  with  the  help  of 
Bente  and  Mark  that  over  the  past  10 
years  the  Fitness  Centre  has  grown, 
with most machines replaced, fees have 
stayed  the  same,  all  equipment  has 
been bought from fees of the members 
and  not  grants.  May  it  continue  this 
way.  
All the best to everyone, I will still be 
training, but that is all. I hope to do my 
Nutrition  course  next  year  and  finish 
the one I have already started as this is 
a  passion  of  mine,  fighting  the 
increasing obesity in my job as a nurse 
and  in the  community.  A  meeting  will 
be held once everyone is back on deck, 
look out for notice.        ~ Jules 
LISTEN  MORE, 
SAY LESS 
Talking  instead  of  listening 
— will get you into trouble.  
Two geese were preparing to fly south 
when  a  frog  asked  if  he  could  go 
along. They questioned how he could 
do it. 'Easy,' he said. 'You guys hold 
a  stick  between  your  beaks  and  I'll 
hang  on  with  my  mouth.'  Off  they 
went  as  people  looked  up,  admiring 
their  teamwork.  The  trio  was  making 
great  progress  until  somebody  below 
shouted,  'Great idea!  Whose  was  it?' 
That's  when  the  frog  opened  his 
mouth and yelled, 'Miiiiiiiine!'  
Every  time  you  open  your  mouth 
there  are  consequences!  So  learn  to 
listen. 
Plutarch  said,  'The  talkative  listen  to 
no  one,  for  they  are  ever  speaking. 
And  the  first  evil  that  attends  those 
who know not how to be silent is that 
they  hear  nothing.'  Listening  without 
having  to  air  your  knowledge  or 
interject  your  opinion  is  a  quality  of 
character that proves you're mature.  
Television host Larry King once said, 
'I  remind  myself  every  morning: 
nothing  I  say  this  day  will  teach  me 
anything.  So  if  I'm  going  to  learn,  I 
must do it by listening.'  
Listening is often more effective than 
talking.  
Be a ready listener~ James 1:19 
For all your body repair needs!! 
We do: 
 
Rust repairs 
 
Insurance work 
 
Anti-corrosion  
   treatment   
Hours: 8.30am-5pm Monday-Friday  
Mobile: 021 118 0462 
After hours: 09 431 2384 
Phone: Craig or Call in for a free 
Quote 
bodytech_panelbeaters@yahoo.com
We are located at 1837 SH1 Kaiwaka, behind Twin-
kle Tow 'n' Tyre call in anytime for a free quote.  
 
Large and minor vehi-
cle repairs
 
Industrial vehicles
 
Full Cut and polishes
For All your  
Electrical  Requirements 
 
Domestic small jobs 
 
Residential dwellings and alterations 
 
Commercial 
 
Industrial                 
No job too big  
or too small    
Contact Jason today on: 
(09) 431 5992, (021) 405 019 
www.hotwiredelectrical.co.nz 
Want it done? 
Bring it to  
Twinkle Tow 'n' Tyre 
*W.O.F. 
*Tyres 
*Windscreen replacement 
*Chip repairs 
*Bulk Oil 
*Batteries 
*Welding 
*Custom built trailers 
*Trailer hire 
Think you'll get a better deal in the city? 
Go on, ring us; it won't cost anything! 
1837 State Highway 1, Kaiwaka 
Phone 431 2823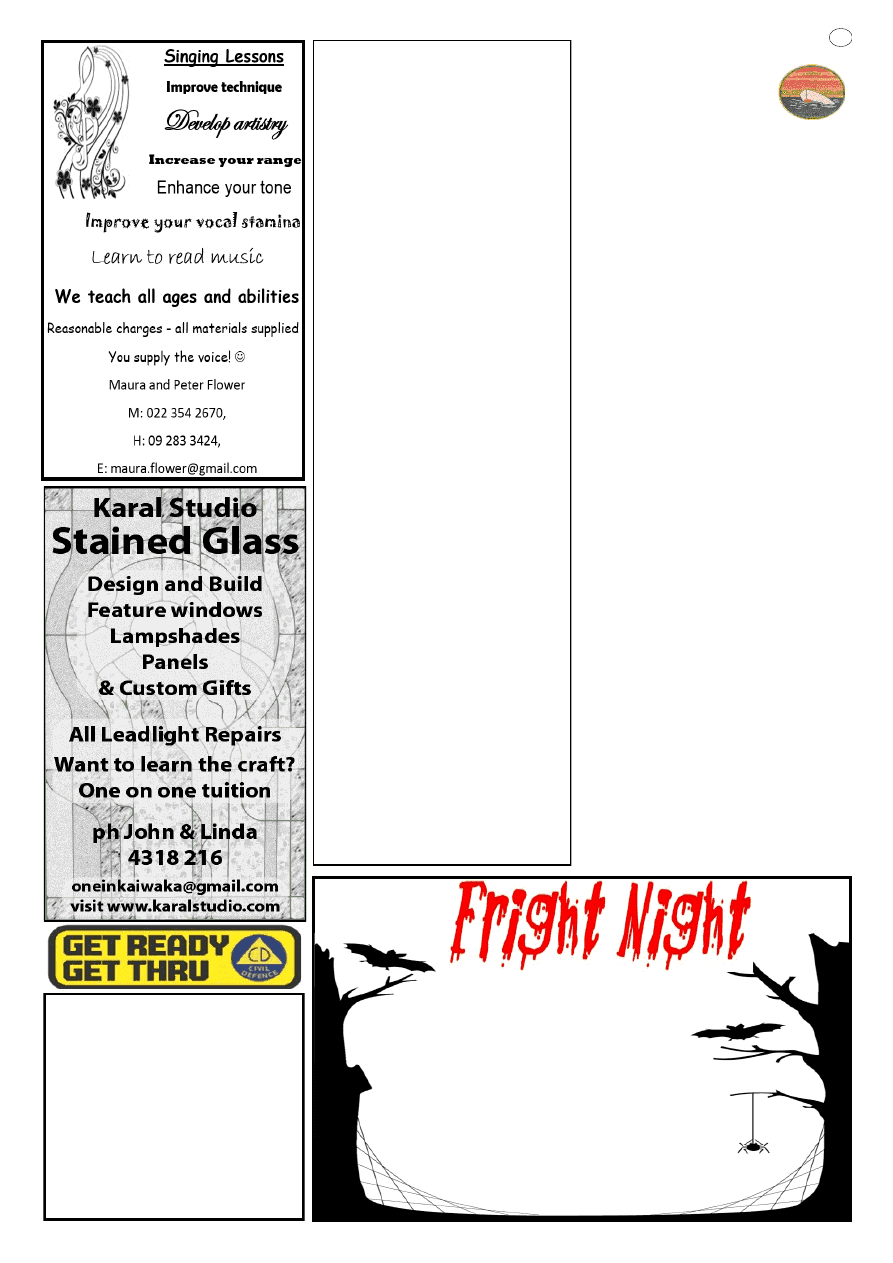 7 
 LEABOURNS 
Passenger Service
Car & Van Hire 
Bus & Coach Charters 
Airport Transfers 
 Monthly Shopper Bus 
Phone (09) 4237416 
POINT CURTIS 
CRUISING 
CLUB 
Point Curtis Cruising Club Inc Fishing 
Competition - Club Members Only 
15th & 16th November 2014 
Start time: 6am 15th November 2014 
Finish time: 6pm 16th November 2014 
Weigh In: 5pm to 6pm each day at The 
3 Furlongs Hotel 
Maximum  weigh  in:  2  species  per 
angler per day 
Prizegiving:  6:30pm  Sunday  16th 
November 2014 
BBQ:  Following  prize  giving.      Please 
bring a plate 
Ticket  outlets:  3  Furlongs  Hotel, 
Kaiwaka,  Jean  Mcleish  &  Wellsford 
Sports & Leisure 
Senior Section:  ENTRY FEE $20 
Species: Snapper, Kingfish & Kahawai 
(only  rod  &  reel  or  handline  fishing 
with a maximum of 2 hooks) 
Senior Prizes:  
Snapper:  1st:  $300,  2nd:  $200,  3rd: 
$100 
All  other species  gift  vouchers  for  1st, 
2nd & 3rd 
Junior Section: ENTRY FEE $10 
Species: Snapper, Kingfish, Kahawai & 
Eel (only rod & reel or handline fishing 
with a maximum of 2 hooks) 
Junior Prizes: 1st, 2nd & 3rd prizes for 
all species 
ALL  SNAPPER  WEIGHED  IN  GO 
INTO  THE  DRAW  FOR  THE 
AVERAGE WEIGHT PRIZE 
Competitors  must  be  fully  paid  up 
members of this club for 7 days prior to 
the  start  of  this  competition.      To 
become a member please pay your sub 
($30 family sub or $20 single sub) at 3 
Furlongs Hotel or to Jean Mcleish, C/- 
Kaiwaka  PDC,  Kaiwaka.    Please 
include your contact details.   
Please  see  posters  for  full  competition 
rules and disclaimer. 
Next committee meeting Tuesday 14th 
October,  7pm  at  3  Furlongs  Hotel, 
Kaiwaka. ~Wayne Leslie, Commodore 
Kaiwaka Sports Complex 
Saturday 1
st
 November,  7.30pm 
Music, dancing, games, face painting 
 Prizes for scariest costumes – boy, girl & adult 
  Take a walk through the haunted house - if you dare 
Glow items for sale, Lolly scramble 
- $3 entry (adults & under 5's free) 
Please bring a plate for supper: Halloween inspired food would be great  
Otamatea 
Community 
Services 
'Your Community House' 
We recently held a busy and well 
attended 
AGM 
where 
we 
welcomed  new  board  members 
Cilla  Kaiser  and  Lianne  Wilson 
and  co-opted  member  Debbie 
Brooks.  They  join  other  board 
members  Hazel  Kaio,  Gail 
Donald,  Derek  Christensen  and 
John Hoggard.  
It  was  a  pleasure  to  have  other 
agencies 
represented 
and 
especially  two  original  founding 
members.      We  now  have  a  new 
management structure.   Our team 
has 
trained 
professional 
counsellors and  advisors.    With 
front  desk  and  admin  support 
from  our  valued  volunteers  we 
offer: 
• One to one, couple, and group 
counselling 
• Parent coaching, for parents of 
children ages birth to teenage 
• Social Work support in the 
home including food parcels 
• Budget Advice in conjunction 
with any or all of the above 
services. 
If you are seeking support, or 
would just like to come and see 
what we are about -  call in/haere 
mai, we are happy to see you.  
The house is open Monday to 
Friday, 9am till 3pm.  
155 Hurndall Street, 
Maungaturoto.  Phone 431 9080. 
Email 
manager@otamateacs.org.nz 
KAIWAKA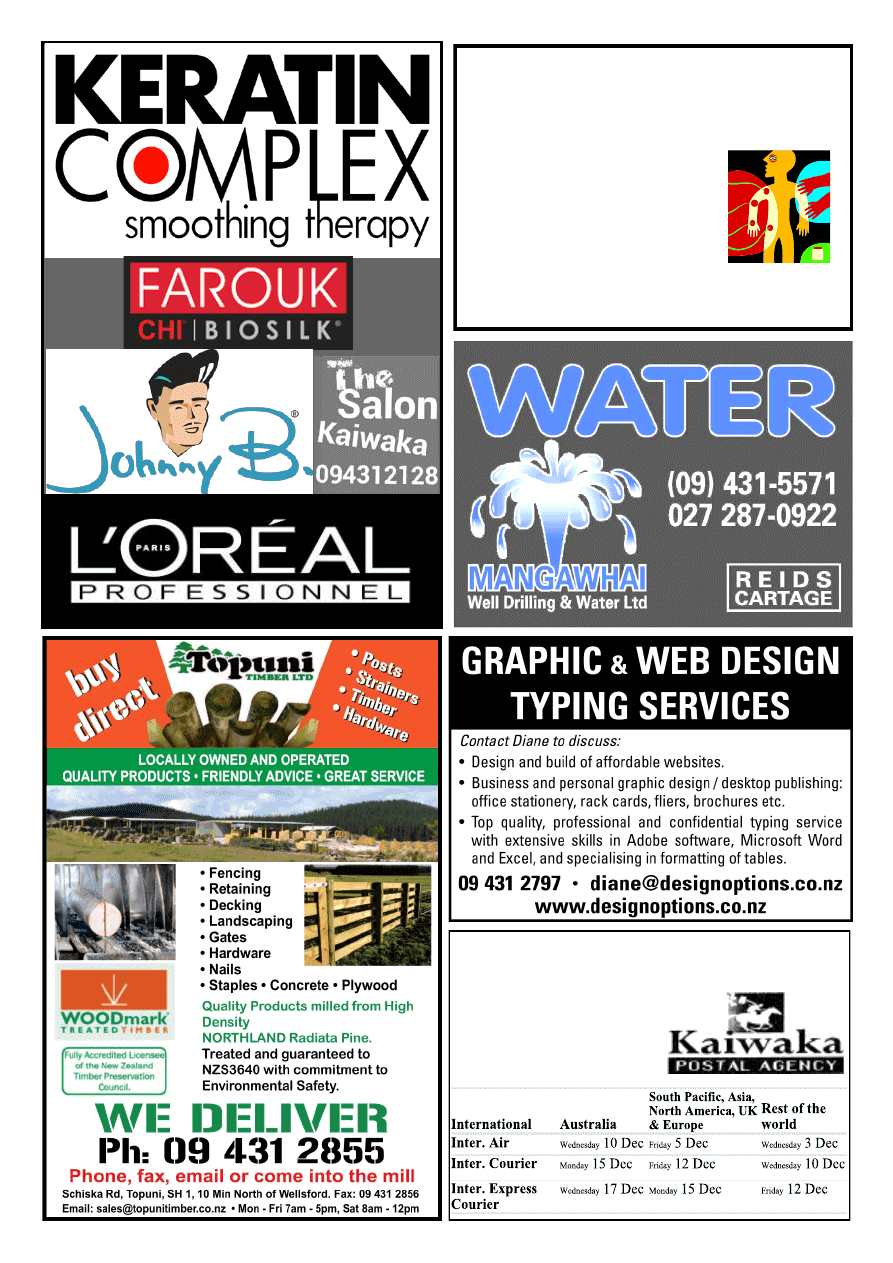 OWEN STEVENS 
Osteo Therapist
For careful adjustments to bones and joints 
Treatment for  humans and their pets 
Clinics: 
Kate's Place, Kaiwaka: 
Last Friday of month 
For bookings:9.00am-5.00pm   
Phone 
09 4312661 
Or phone Owen  09 4317123  anytime 
MAILING DATES for   
CHRISTMAS 2014  
See Rowena for 
 more information  
or phone her on
4312626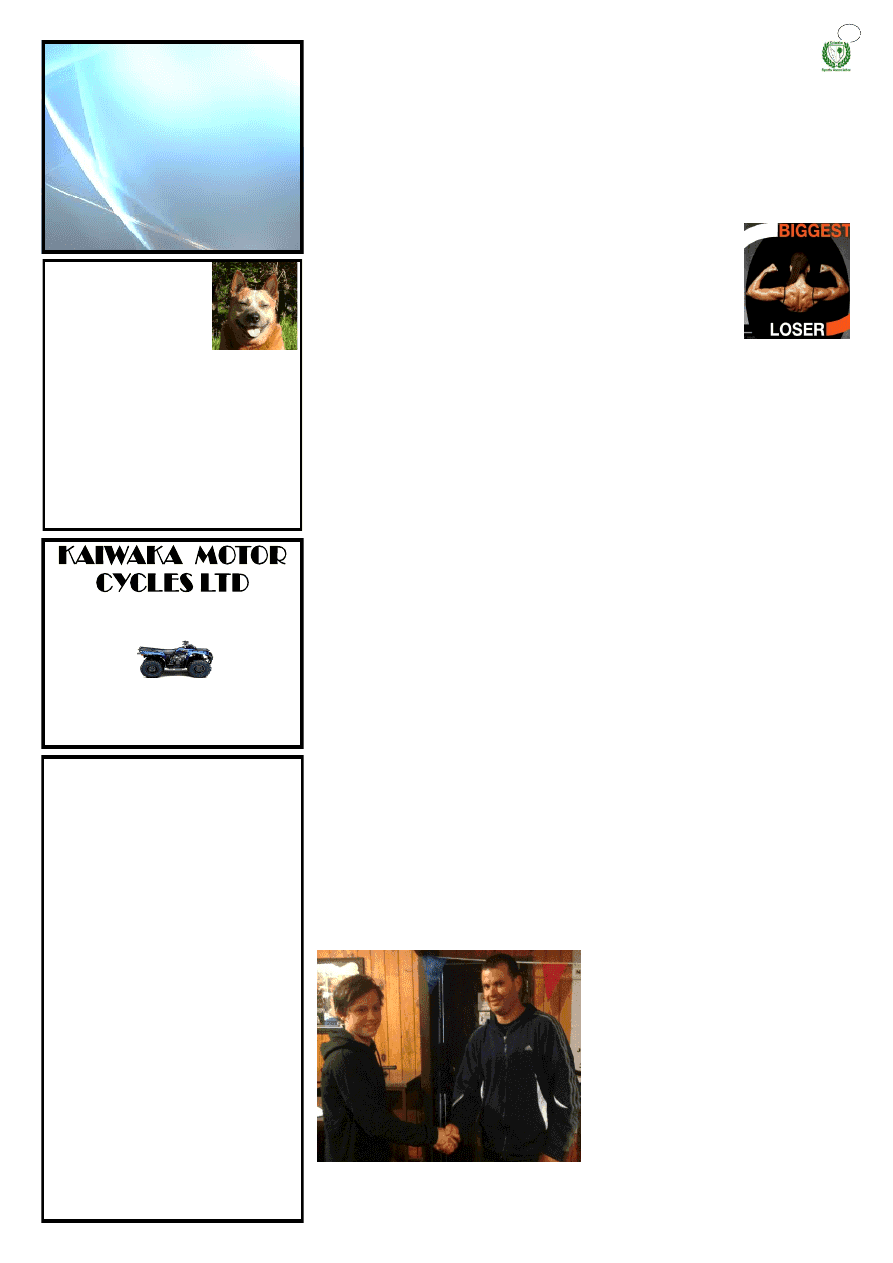 9
Laughing
Dog
Computers
www.laughingdog.co.nz 
0224344448 
Hardware and Software 
Service and Repair 
KAIWAKA SPORTS ASSOCIATION 
SALES SERVICE SPARES
FARM BIKE SPECIALIST
Phone 431 2127  
Kaiwaka-Mangawhai Rd 
Kaiwaka 
Willow Bend
HORSE  
HOTEL 
"  
Total Horse Care 
" 
Agistment 
" 
Riding Lessons 
" 
Arena Hire (60x40) 
" 
Young Horse Starting 
" 
Re-training/Exercising 
" 
Hoof Trimming 
" 
Problem Solving
Phone Sue 09 431 
2817 or 021 623 776 
Or email sue.gray@xtra.co.nz 
Freeview  
Installations 
Richard Te Haara 
25 Marram Place 
Mangawhai Heads 
021 1104056 
kiwipride@xtra.co.nz
Touch 
I  am  helping  organise  the  Whanaunga 
Touch  Tournament  to  be  held  at  the 
Sports Complex on 10th January. This 
is a fundraiser for the Otamatea Marae 
and  descendants  from  the  marae  are 
given  first  priority  to  enter.  Keen  to 
register a team? Contact me and I will 
send  you  the  registration  form.  I  am 
also looking for 12 Touch referees for 
the day – if you can help out, please let 
me know. 
Junior Tennis 
Time to get into the swing of it! If you 
have a child who is keen to give tennis 
a go, please phone Lindell Ferguson on 
431 2542 or email 
blferguson@vodafone.co.nz. 
The 
tennis  season  runs  during  term  time, 
starting  this  month  and  finishing 
around March. Fees start from $30 per 
player.  We  would  like  to  know  which 
day  and  time  suits  you  best.  (Last 
season  we  ran  two  age-group  lessons 
on Monday afternoons.) 
Squash 
Our Squash Club held their prizegiving 
last  week,  congratulations  to  the 
winners: 
Mens Champion:   Phillip Tana 
Womans Champion:   Mirna Manuell 
Junior Champion:   Danyon Tana 
Club Spirit:   Murray Emson 
Personality  of  the  Year:      Heath 
Worsfold 
Most Improved:   Bruce Leslie 
Senior Netball 
Our  senior  netball  club,  Otamatea-Ex, 
will  hold  their  end  of  season 
prizegiving  at  the  Sports  Complex  on 
Friday  24th  October,  at  5.30pm.  All 
welcome. 
Agricultural Days 
Kaiwaka  School  will  hold  their 
Agricultural  Day  at  our  grounds  on 
Monday 20th October and then Group 
Day  (regional  Agricultural  Day)  will 
be  held  at  our  grounds  the  following 
Monday.  Our  fields  will  be  packed 
with mobs of calves, lambs and excited 
children! 
Upcoming 
Annual 
General 
Meetings 
The  Otamatea  Rugby  Club  AGM  will 
be held on Tuesday 11th November at 
7pm  at  the  Sports  Complex.  The 
Rodney/Otamatea  JMB  AGM  will  be 
held on Wednesday 12th November at 
6.30pm at the Sports Complex. 
The Kaiwaka Sports Association AGM 
will  be  held  on  Wednesday  19th 
November  at  7.30pm 
at 
the 
Sports 
Complex.  
Anyone  interested  in 
becoming involved in 
any of these groups is 
encouraged to attend. 
Fitness Centre 
Looking  to  get  into  shape  before  the 
summer months? Our Fitness Centre is 
running  an  8  week  Biggest  Loser 
Challenge,  with  personal  trainer 
Siobhan Cole. The fee is $20 per week 
which  includes  all  training  and 
nutrition.  Trainings  will  be  two 
evenings  per  week  at  7  –  8pm  and 
classes  will  run  Mondays  through 
Thursdays.  You  will  need  to  purchase 
a  Fitness  Centre  membership  from 
Jaques  Four  Square  prior  to  the 
challenge ($90 plus $10 for key) which 
will give you 24/7 access to the Fitness 
Centre  until  May.  The  Biggest  Loser 
Challenge  begins  on  Monday  27th 
October  and  there  will  be  prizes  for 
first, second and third place. 
Interested?  Simply  turn  up  to  the 
Fitness Centre for Registration Day on 
Saturday 25th October at 1pm.  
For queries, please contact Siobhan on 
027 9791203. 
Hawks windup 
The  Otamatea  Hawks  will  celebrate 
their successful season with a dinner at 
Waipu's  Pizza  Barn,  this  Sunday  19
th
at  6.30pm.  All  sponsors,  players, 
supporters and committee members are 
welcome to come along (at own cost). 
Fright Night 
Fright  Night  will  be  held  on  Saturday 
1st November  – check out the flyer in 
this edition of the Bugle for details. As 
part  of  the  evening  we  transform  the 
rugby  changing  rooms  into  a  'haunted 
house' for children to walk through. 
We  have  an  earlier  session  for  the 
young  children  and  then  dial  up  the 
scare-factor  for  a  later  session  for  the 
older children! 
So,  I  am  looking  for  some  ideas  to 
make  that  later  session  really  scary. 
Last  year  we  had  a  blood-soaked, 
chainsaw-wielding  maniac  running 
down  the  halls,  so  now  we  need  to 
improve  on  that!  If  you  have  any 
suggestions,  please  get  in  touch  with 
me. 
~Cheryl Anderson 
4312 051, 027 3462702 
kaiwakasports@gmail.com 
Junior Squash Champion Danyon Tana 
with Club President Paul Greig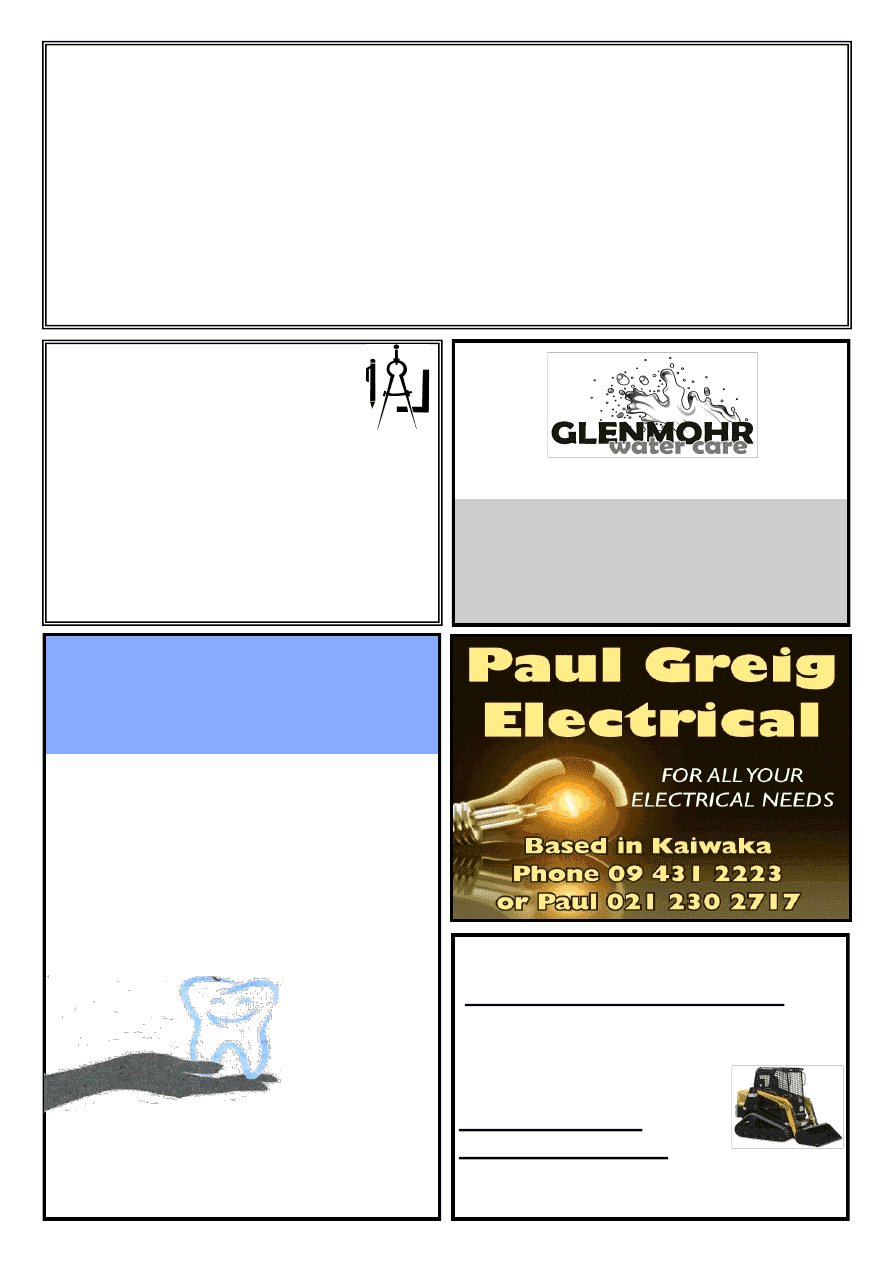 RANGANUI EARTHMOVERS 
16T Excavator 
Driveways, House Sites,
(tilt, thumb & ROPS cab) 
Drainage Dams, Section Clearing,
Transport Trailer 
Tree Work,  Rock Retaining Walls,
2 x 6 Wheeler Tip Trucks 
Quarry Work,
Suppliers of All Grades of Metal & Topsoil 
Basically Anything That a Digger Can Do
If you want a proper job done with an experienced operator ring 
Grant on    A/H 431-2131          Email  ranganui.dev@xtra.co.nz 
                     Mob  021845-246 
design drafting 
service 
Retired builder and manufacturer with over 40 years  
experience in the building industry is offering a design 
drafting service  
for domestic housing, sleepouts and sheds.  
Plans formulated in consultation with clients, with 
working drawings completed and submitted to  
council for processing.  Extensive practical experience,  
able to identify & resolve problems. 
Please ring Mike Lean on 
09 431 2260  
          or 
021 431 196 
Water Tank Cleaning 
" 
Keep your water safe & clean   
" 
Removal of sediment, silt etc 
" 
Vacuum or full scrub 
" 
Minimal water loss 
Phone Mark (09) 432 0655 or 0274 707607 
Gentle Dental 
Ruakaka 
We love to see you smile 
 
General  & Cosmetic Dentistry 
 
Emergency & ACC Treatment 
 
Denture & Hygienist Services 
 
Senior Citizen Discounts 
 
Free Adolescent Care 
 
Free WINZ Quote 
19 Ruakaka Town Centre 
Dr Sim Sood & Associates 
Ph:  432 8139 
Saturdays 
By 
Arrangement 
Open  
Mon-Fri  
8am-5pm  
Natural Earth Ltd 
 Landscape and Bobcat services 
 : Driveways  :Landscaping  :Retaining Walls 
 : Hole Boring: Land Levelling :Trenching 
 : Decks :Fences :Sections Cleared: Plus much 
more 
Tel   09 4312885 
Mob 02102391280  
For A Fast Friendly  
Service Contact Tim Hicks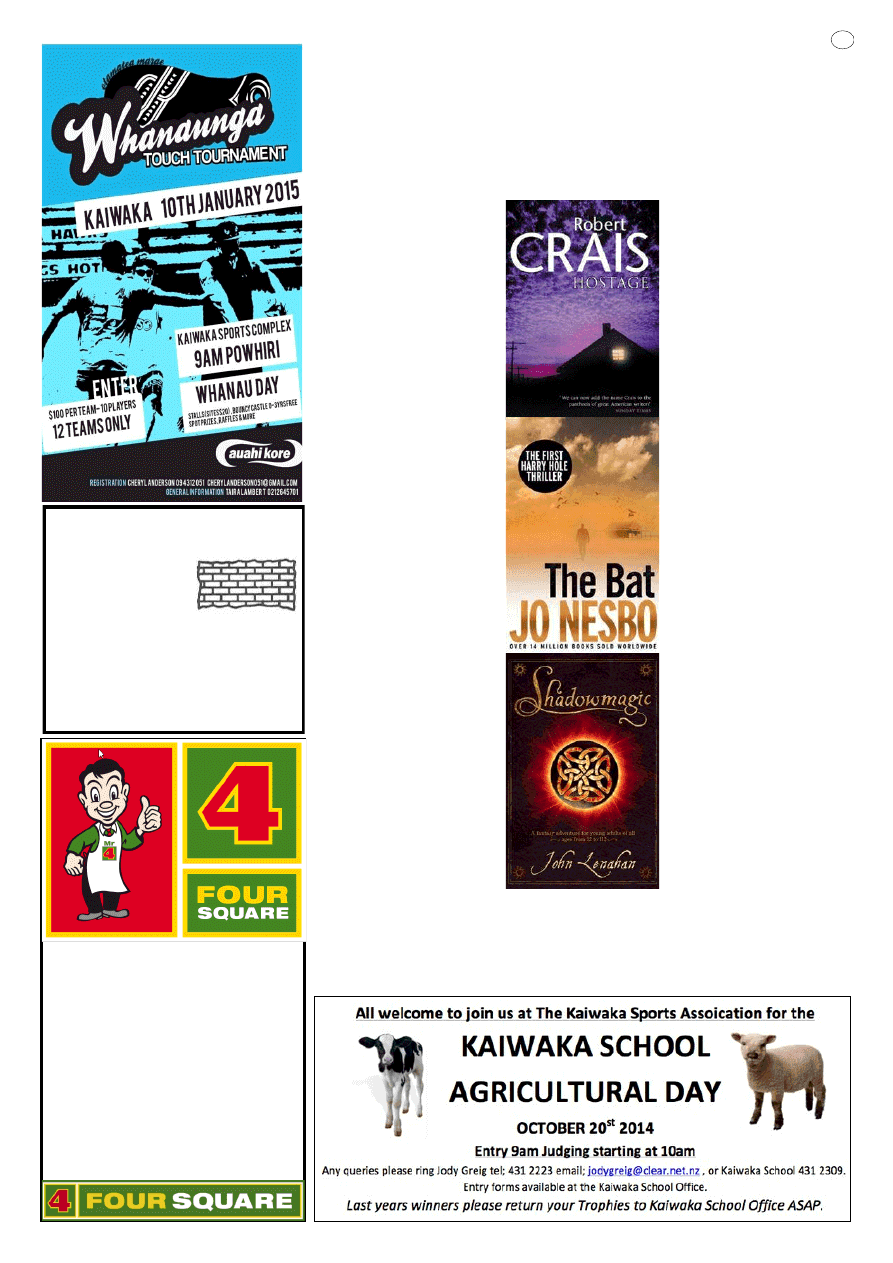 KAIWAKA LIBRARY 
BRICK/BLOCKLAYER 
All aspects of masonry:  
Fireplaces, 
Restoration  
& Remedial Work.
JAMES EAGLETON 
Tel. (09) 431 2514  
Mob. 0274 749 232 
jajueagles@yahoo.com.au 
210A Pukenui Road, RD2 Kaiwaka 0573 
11
"Gardening Season" 
Great range of fresh vege , flower 
punnets & plants $2.96 each 
McGregor Seeds $2.99 per packet 
Tools of the trade:  trowels, flax 
cutter, Japanese hoe & gloves 
Get planting now! 
Jaques Four Square  
Phone: 4312227  
No1 Kaiwaka-Mangawhai Road,  
Kaiwaka.
Many  thanks  to  Graham,  Vera,  Sue, 
Heather,  Fay  and  Amy  for  their  help  with 
the  book  swap  last  week.  It's  a  huge  job, 
made easier with all the helping hands. 
We  now  have  a  new  range  of  large  print 
and  audio  books  on  our  shelves  to  select 
from,  and  will  have  them  until  April  next 
year. 
Welcome  to  our  newest  library  volunteer, 
Jill, who starts this week. 
Next swap 
Our  next  swap  is  a  Dargaville 
one, and is in early December. 
Come  in  and  check  out  this 
collection  now  while  they're 
still here - there are some great 
titles to be found. 
Book reviews 
Recently I've read Hostage by 
Robert  Crais.  It's  mid-
afternoon  Friday, one  of those 
dry  scorchingly  sunny  days 
typical  of  these  parts  north  of 
Los  Angeles.  Three  guys, 
bored  and  restless,  decide  to 
hold  up  a  minimart  for  a  little 
light  relief.  A  simple  in-and-
out  job,  only  the  guy  behind 
the  counter  is  armed,  and  he 
ends  up  getting  shot.  They 
make  a  run  for  it,  ditching 
their  truck,  climbing  a  wall, 
and  taking  a  family  hostage. 
And  that's  where  the  real 
trouble  starts.  They  weren't  to 
know  that  the  local  police 
chief  used  to  be  a  top 
negotiator  for  the  LAPD's 
SWAT team, still on his game 
despite  his  nightmare  last  job 
in the city that split his family 
apart  and  still  caused  him 
anguish. They weren't to know 
that the house they picked was 
the home of a Mob accountant, 
who  happened  to  be  holding 
both  sets  of  books  for  his 
bosses  at  that  very  moment, 
and  whose  bosses  would  do 
anything  to  keep  those  books 
safe - and even the bosses have 
bosses,  who  are  even  more 
desperate.  What  started  out  as 
a  start  to  the  weekend  has 
turned  into  a  nightmare  for 
everyone.  The  book  is  written 
from  the  point  of  view  of 
various  participants,  from  the 
minimart  owner,  to  a  witness  across  the 
street,  and  the  protagonists  themselves. 
Each change  brings a  different perspective 
on  what's  going  on,  as  twists  and  turns 
come about. I really enjoyed this book and 
recommend  it,  though  it's  not  for  the  faint 
of heart. 
The  Bat by Jo  Nesbo. So I'm reading the 
first book in a series by a guy who is being 
touted  as  the  next  Stieg  Larsson  (The  Girl 
With  The  Dragon  Tattoo),  and  the  first 
thing his character does is fly to Australia! 
That's a good start for a Norwegian writer... 
Harry Hole  (not pronounced  Holy, but I'm 
still not sure how to say it) is a Norwegian 
police  inspector  -  not  an  up-
and-coming one, I might add - 
sent  to  Sydney  to  liaise  with 
the  local  LEOs  about  a  girl 
from  his  country  who  has 
turned up murdered in Sydney. 
I'm  not  sure  what  I  expected 
before I started this, but it was 
a  good-enough  novel.  He's  no 
Stieg Larsson in my view - his 
books  gripped  me  from  the 
start - but I'll give him another 
go  soon  and  see  how  it 
develops. 
Shadowmagic 
by 
John 
Lenahan.  " Conor   thinks  he 
is an average teenager. Ok, so 
his  father  only  has  one  hand, 
speaks  to  him  in  ancient 
languages  and  is  a  bit  on  the 
eccentric  side  but,  otherwise, 
life is fairly normal. Until two 
warriors  on  horseback  appear 
at his front door and try to kill 
him.  After  that,  things  get 
pretty  weird.  Kidnapped  and 
transported  to  the  ancient 
Celtic  land  of  Tir  Na  Nog, 
Conor  makes  friends  with 
Fergal  (a  banshee),  Araf  (an 
imp)  and  the  lovely  princess 
Essa (who he might fancy, just 
a  little  bit).  Together  they 
embark on a quest (well, what 
did  you  expect?)  to  get  him 
back  home,  but  they  find 
themselves  sidetracked  into 
saving  Tir  Na  Nog  from  an 
evil  tyrant  while  they're  at  it. 
Shadowmagic  is  a  hilarious 
fantasy adventure  written by a 
real  magician,  so  he  knows 
what  he is talking about when 
it  comes  to  escaping  from 
chains, 
making 
things 
disappear 
and 
people 
vanishing in puffs of smoke. It 
will make you laugh on nearly 
every  page,  but  it  will  also 
sweep you away with a wonderful story of 
courage,  friendship  and  destiny."  (back 
cover) Usually when I quote from someone 
else's  review  or  synopsis,  it  means  it  is  so 
long since I read the book that I can't quite 
remember  it  well 
Continued on page 13...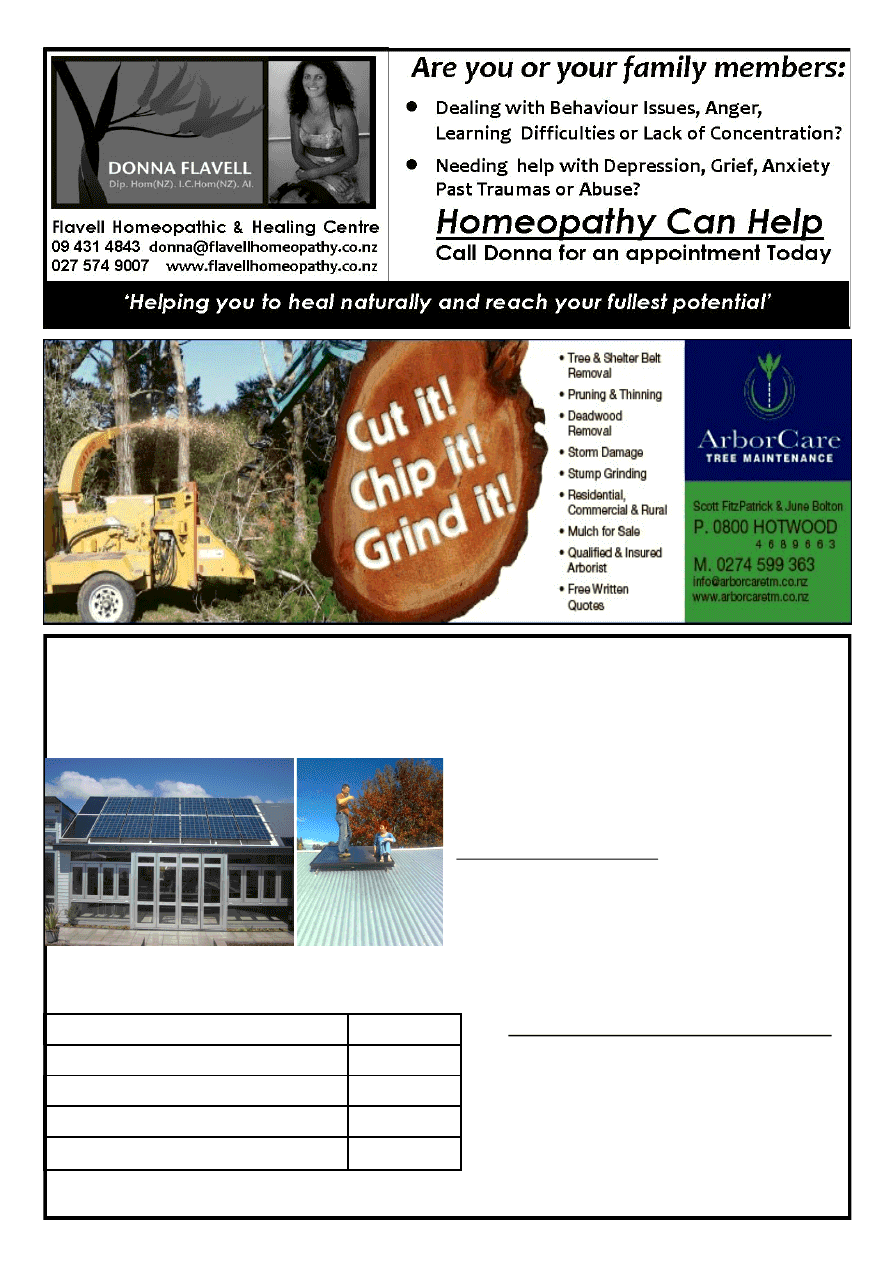 SECOND PUBLIC MEETING ENERGY COOP KAIWAKA  
Solarise your house: Energy Coop Kaiwaka organises a second group purchase. 
The Energy Coop Kaiwaka realized a successful group purchase for 12 families with the aim to buy the best available 
Solar Hot Water technology  at strongly reduced cost. The Energy Coop  is passionate about solar energy  and serious 
about  helping  the  community  to  save  energy.  Local  energy  expert  Eric  Jansseune  has  selected  carefully  the  solar 
equipment, imported from Europe with worldwide certification and proven lifespan of 30 years. Payments conditions are 
straight forward, with no hidden cost and affordable installation prices with a trained solar team. 
The combination of gas for cooking,  hot  water production 
and  solar  hot  water  is  the  most  cost-effective  way  to  run 
your  home.  The  Energy  Coop  offers  a  second  group 
purchase  including  gas  califonts,  gas  bottles,  solar  hot 
water and solar power. 
Priorities for electricity savings 
Solutions that will really reduce your energy bill: 
- Using LPG gas for hot water production and cooking.  
- Bottled LPG gas costs average 20 ct/kWh, electricity  
    almost 28 ct/kWh. ( including GST) 
- State of the art solar hot water can save 70 % on hot  
    water bill.  
- State of the art solar power will only cost you 0.11/kWh  
      for more than 25 years  
 In  the  case  of  a  typical  4  persons  house  ,  the  following 
savings can be realised compared to all electrical use at 28 ct/kWh (incl. GST): 
        Energy COOP Kaiwaka Meeting of interest on  
15 November 2014 at 9.30 am 
Place:  Kaiwaka  War  Memorial  Hall  – opposite Jaques 
Four Square 
Subject:  Presentation  on  quality,  performance,  savings, 
pricing and payment conditions. 
Enrolment: phone 09 431 24 08 cell 021 022 31 700 
Email: ericjansseune@xtra.co.nz 
What are we waiting for NZ ?  
                                                                                Let's solarise our houses now. 
Eric Jansseune- solar engineer- positive energy house Kaiwaka 
Architect Bryan Pooley: 
solar power and hot water 
Florian & Anna on their 
solar collector 
APPLICATION 
SAVINGS/Year 
Cooking on LPG gas instead of electric 
$ 56 
Hot water on LPG gas instead of electric 
$ 620 
Solar Hot Water (European state of the art ) 
$ 787 
Solar Power 2 kW peak (Northland location) 
$ 784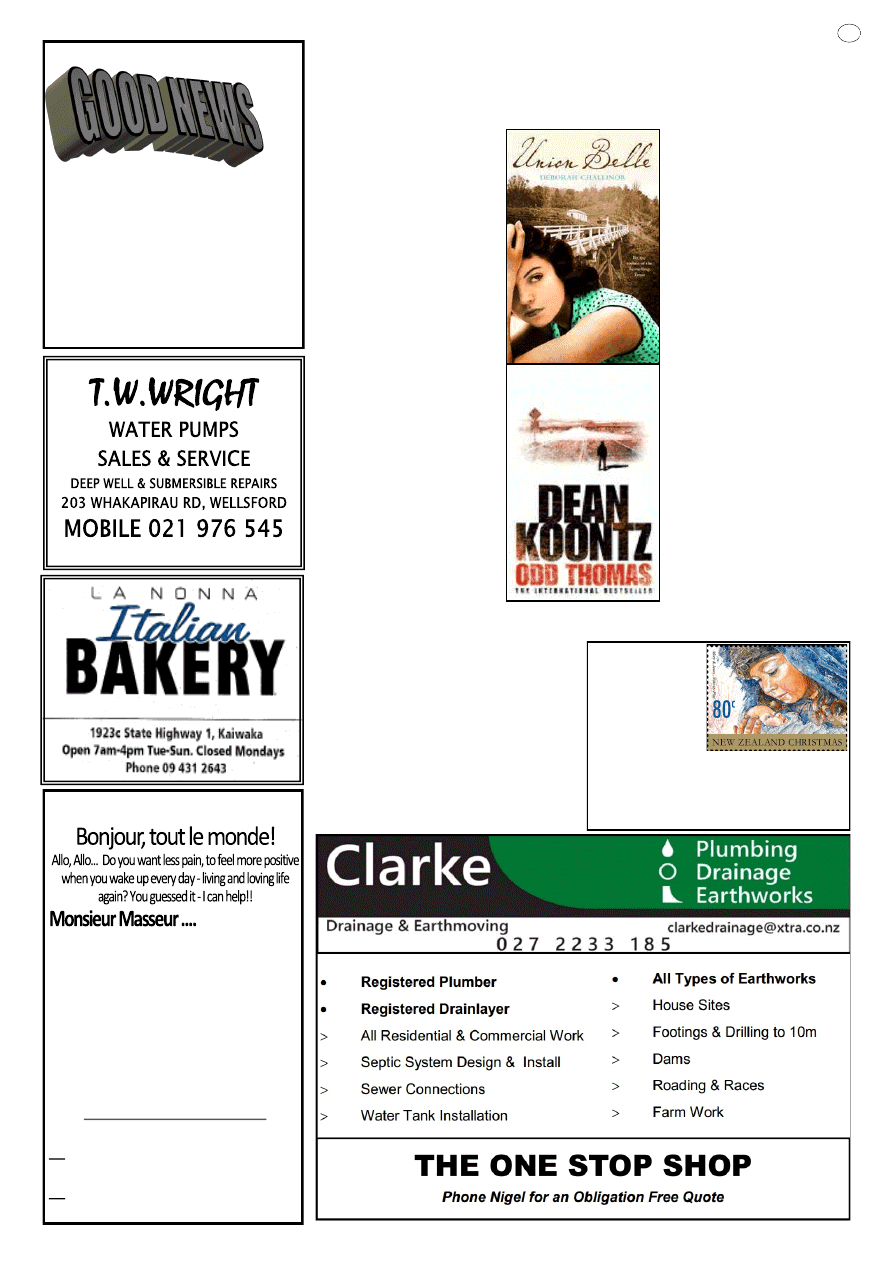 THERE'S 
@ the  
Kaiwaka Family 
Church
Your COMMUNITY CHURCH 
RECEIVE HEALING 
RECEIVE THE LOVE OF GOD 
Everyone warmly welcome 
each Sunday 10am. 
Contact: Pastor John Dekker, 
09 4318203 
 13 
RELAXING  
           MASSAGE
..... Juste pour vous" 
Call for an appointment now!
Pete Worsfold 
4312 152  or  021 825970  
 
Or  Ph. "The Well of Health" for an appt. 
09 4312 799 
Or mobile service available 
KAIWAKA LIBRARY 
continued 
enough  to  write  my  own  words  -  but  this 
one  had  me  hooked  with  the  last  sentence 
in  the  first  paragraph  and  I  really  didn't 
think I could do any better. I really enjoyed 
the  book,  and  now  wish  I 
hadn't waited so long to read it 
-  only  five  years  have  passed 
since I first saw it and put it on 
the  library  shelves.  I  hope  I 
don't  wait  so  long  to  read  the 
next one by this author. 
Union  Belle  by  Deborah 
Challinor.  It's  1951,  and  the 
waterfront  workers'  strike  has 
started. 
Its 
effects 
are 
beginning  to  be  felt  in  other 
areas  around  the  country. 
Ellen McCabe is the wife of a 
coal  miner  in  the  Waikato 
town  of  Pukemiro.  Her  life 
revolves  around  bringing  up 
her  two  sons  and  supporting 
her  husband.  When  his  union 
votes to lay down their tools in 
support  of  the  waterfront 
workers,  she's  there  ready  to 
play  her  part  in  the  fight. 
Despite  the  potential  for 
poverty  brought  by  the  strike, 
she  thinks  her  life  is  near-
perfect,  until  newcomer  Jack 
Vaughan arrives and takes her 
breath away. At first she fights 
it - how could she even look at 
another  man  when  she  loves 
her  husband?  But  the  feeling 
doesn't  fade...  "Union  Belle  is 
a  story  of  love,  duty  and 
passion played out against the backdrop of 
the infamous strike that turned friends into 
enemies, shattered communities and almost 
brought  New  Zealand  to  its  knees."  (back 
cover)  This  is  a  great  read  from  an 
excellent  author.  I  have  no  hesitation  in 
recommending it. 
Odd Thomas by Dean Koontz. " " The dead 
don't talk. I don't know  why." But they do 
try  to  communicate,  with  a  short-order 
cook in a small desert town serving as their 
reluctant confidant.  Odd Thomas thinks of 
himself as an ordinary guy, if possessed of 
a  certain  measure  of  talent  at  the  Pico 
Mundo  Grill  and  rapturously  in  love  with 
the most beautiful girl in the world, Stormy 
Llewellyn. Maybe he has a gift, maybe it's 
a  curse,  Odd  has  never  been  sure,  but  he 
tries to do his best by the silent souls who 
seek him out. Sometimes they 
want  justice,  and  Odd's 
otherworldly  tips  to  Pico 
Mundo's  sympathetic  police 
chief,  Wyatt  Porter,  can  solve 
a crime. Occasionally they can 
prevent  one.  But  this  time  it's 
different." 
©2003 
Dean 
Koontz 
(goodreads.com) 
Something is  going to  happen 
on  Wednesday  August  15. 
Odd knows this partly because 
the page for that day has been 
ripped  from  the  diary  of  a 
strange 
man 
he's 
been 
watching.  And  today  is 
August 14... I've  never been a 
Koontz fan, in fact never read 
a single one of his books until 
this year, but recently decided 
to  give  him  a  go  on  the  basis 
that  horror  was  a  genre 
missing from my recent reads. 
I  used  to  love  the  early 
Stephen  King  books,  but 
either grew out of them or his 
writing  changed  and  I  got 
bored  -  it  was  so  long  ago  I 
don't  remember;  I  expected 
Koontz  to  be  much  the  same. 
But  now  he's  in  my  line  of 
sight,  I'll  be  picking  up  a  few 
more  -  and  tracking  down 
more  of  the  books  in  this 
series (this is the first of seven, so far, with 
#7 due out next year).                     ~W endy 
For 
many 
children  across 
New  Zealand, 
performing  in  a 
nativity play is a 
festive tradition. 
The story of the 
nativity play is told through stunning 
illustrations  on  the  2014  Christmas 
stamps  See  advert  for  Christmas 
mailing dates. 
PETE WORSFOLD  
B. Soc.Sc. M. Soc.Sc. Diploma of Prof 
Couns. 
Counsellor
peteworsfold@xtra.co.nz 
 021 825 970 
Professional Service 
Variety of Modalities 
By Appointment Only 
INDIVIDUAL ONE-ON-ONE 
COUNSELLING 
Call for Appointment 
At "The Well of Health" 
09 4312799 or 021 825 970 
MODALITIES: 
  CBT 
  Gestalt 
  Person-Centred  
  Solution Focussed 
  Behavioural
FOR: 
  Grief 
  Relationship 
  Trauma 
  Couples 
  Adolescents 
   Careers
PLANNING A NEW 
KITCHEN?
CONTACT NOEL McDOWELL 
WELLSFORD KITCHENS
Ph/Fax 09 4312 888
KAIWAKA-Any time 
QUALITY CUSTOM MADE KITCHENS
~Personal and Prompt Service~ 
~
~ 
~Over 20 Years in the Trade~ 
~Free Design & Quote~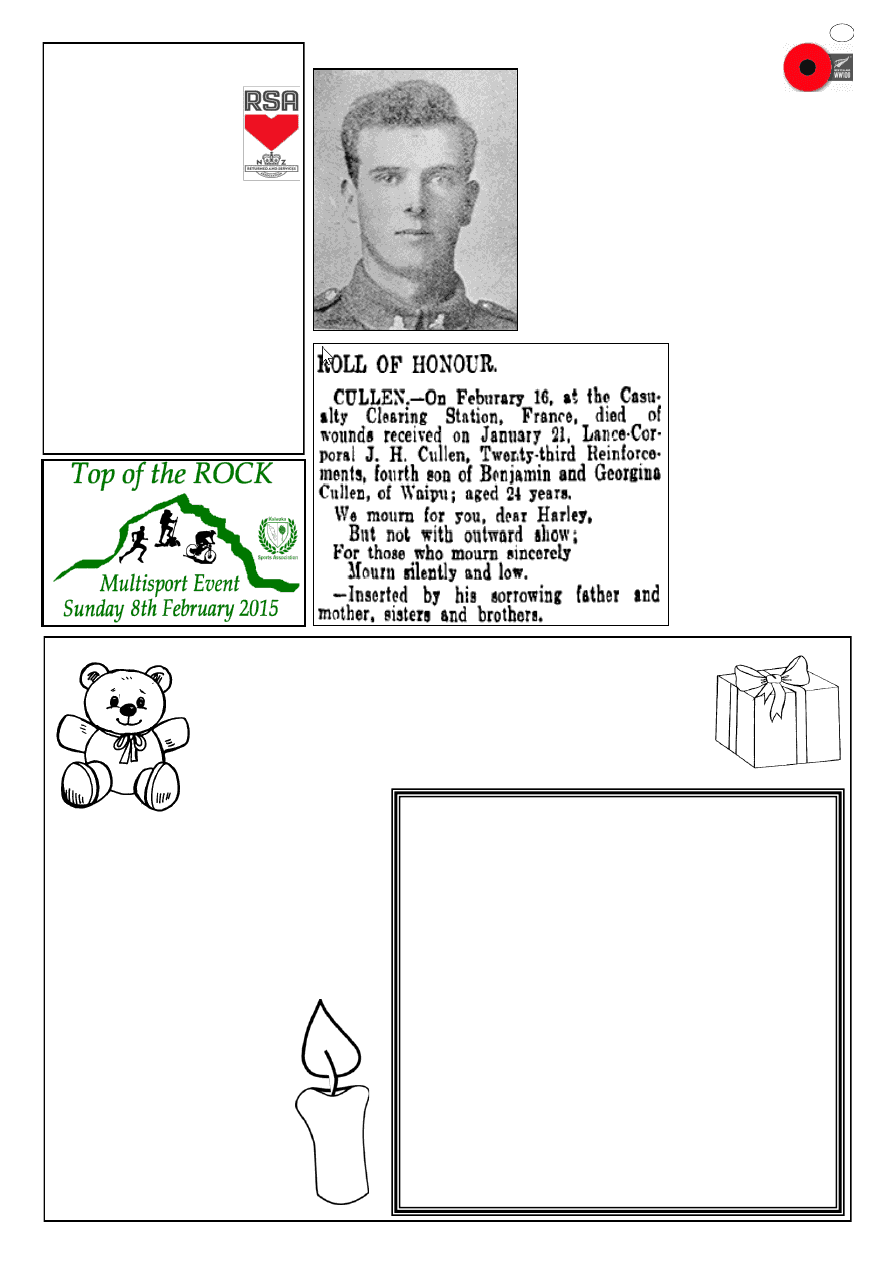 15 
Celena's Gifts 
-
gifts for all occasions 
Now located down the 
road between 
Mormor's and 
Buy The Way 
1956 State Highway 1 
KAIWAKA  
Ph: 09 4312741
MASSIVE 
Clearance Specials 
On Now 
Up to 60% off 
Selected Items 
HAKARU & 
DISTRICTS   
RSA  Inc 
Each Friday night 
From 6.30pm 
Meals will be served 
 2nd Friday of the Month 
Is Roast Dinner Special 
Come along and enjoy  
our Hospitality  
For more information 
   Ring Heather 431466 
or Jan 4314512 
Lance  Corporal John  Harley  Bowmar 
Cullen  42053,  born  7  February  1894, 
was  the  fourth  son  of  Benjamin  and  Georgina 
Cullen  of Waipu.  PapersPast  notes:  'On  May  9 
1878, at the residence of the bride, by the Rev. 
W.  Gittos,  Benjamin  Cullen  married  Georgina, 
eldest  daughter  of  Mr.  Joseph  Bowmar 
Kaiwaka'.   
He    was  farming  for  W  Bowman  [possibly 
Bowmar] prior to enlisting Auckland Regiment, 
N.Z.E.F.  on  11  November  1916  in  Wellsford, 
and is recorded as a resident of Kaiwaka on the 
Honours Board.  
John left New Zealand on the Corinthic, arriving 
in  England  in  June,  from  there  to  Rouen,  and 
was appointed Lance-Corporal in October 1917. 
John  died  at  the  Casualty  Clearing  Station, 
France  on  16  February 
1918, of wounds received 
on  21  January,    and  is 
buried  in  Lijssenthoek 
Military 
Cemetery, 
Belgium.  This  cemetery 
is  located  12  km  west  of 
Ieper  town  centre.  291 
New 
Zealanders 
are 
known to be buried there, 
including  GA  Thornton 
also  on  the  Honours 
Board, d.16 Dec 1916. 
Left: New Zealand Herald, 
Volume LV, Issue 16794, 9 
March 1918, Page 1 
KWMH Honours Board WW1: J H Cullen 42053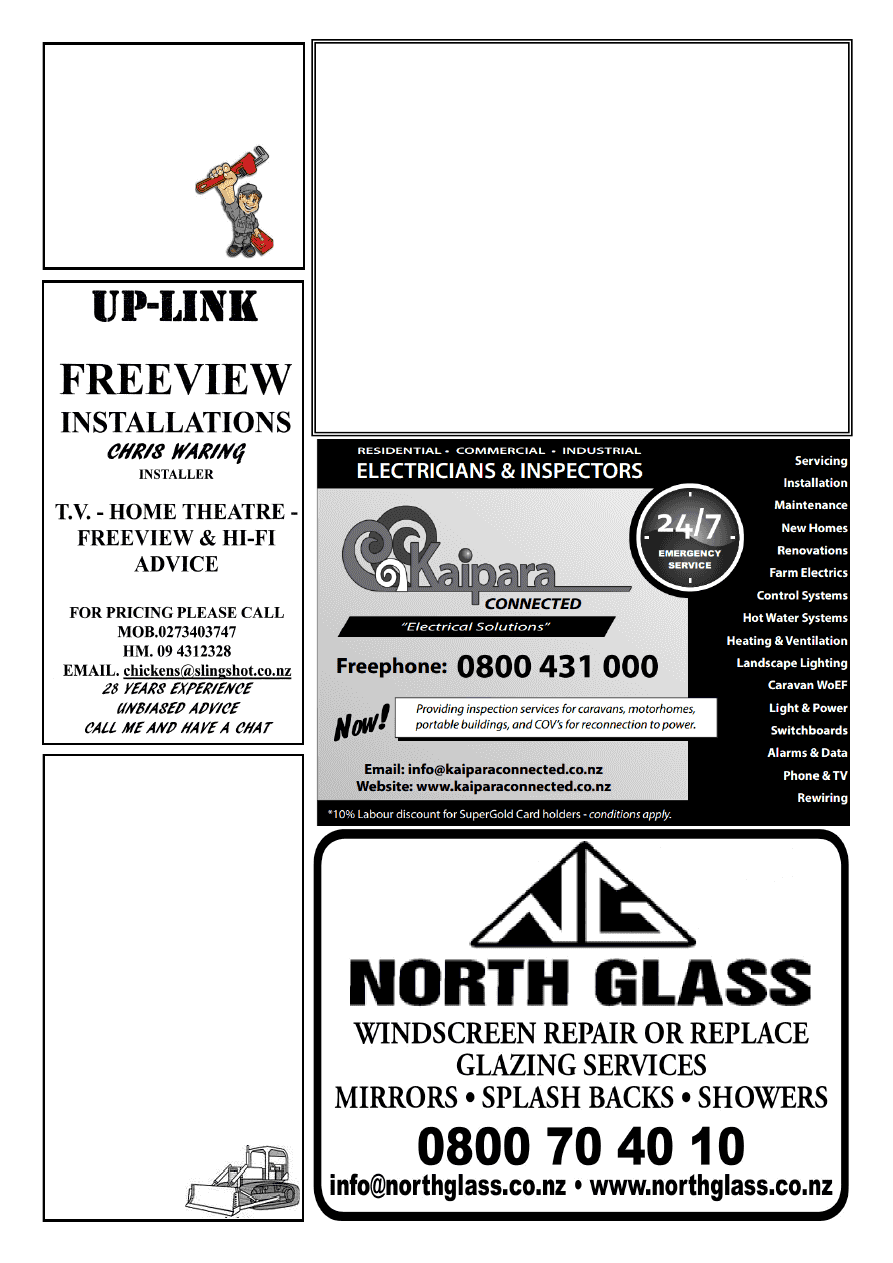 Coates  
Contracting 

D41 Bulldozer with 6 
way blade, bush rigged 
with winch 

For all tree work 

General bulldozing and  
  stick raking. 

120hp Tractor for 
ground cultivation,  

tip trailer work. 

Fencing
All enquiries phone  
Brett Coates  
094318720  
or  
 021431872
Ross Murphy 
PLUMBER 
Certifying Plumber 
09 431 7510 
021 424 252 
Paparoa Based 
+
New Housing  
+
Renovations  
+
Maintenance
KAIPARA FLOORING CO 
32 HURNDALL ST MAUNGATUROTO 
Phone 09 9469886  
or 021 515 415 
Carpet, vinyl, laminate wood look  flooring,  
vinyl planking, sanding & polyurethane service. 
Carpet Short Ends from $79pm + GST 
Vinyl D.I.Y. peel n stick tiles $10sq mtr + GST. 
Free measure & quote.   
Mobile Service 
Phone Christine or Howard anytime 
Open Saturdays by arrangement.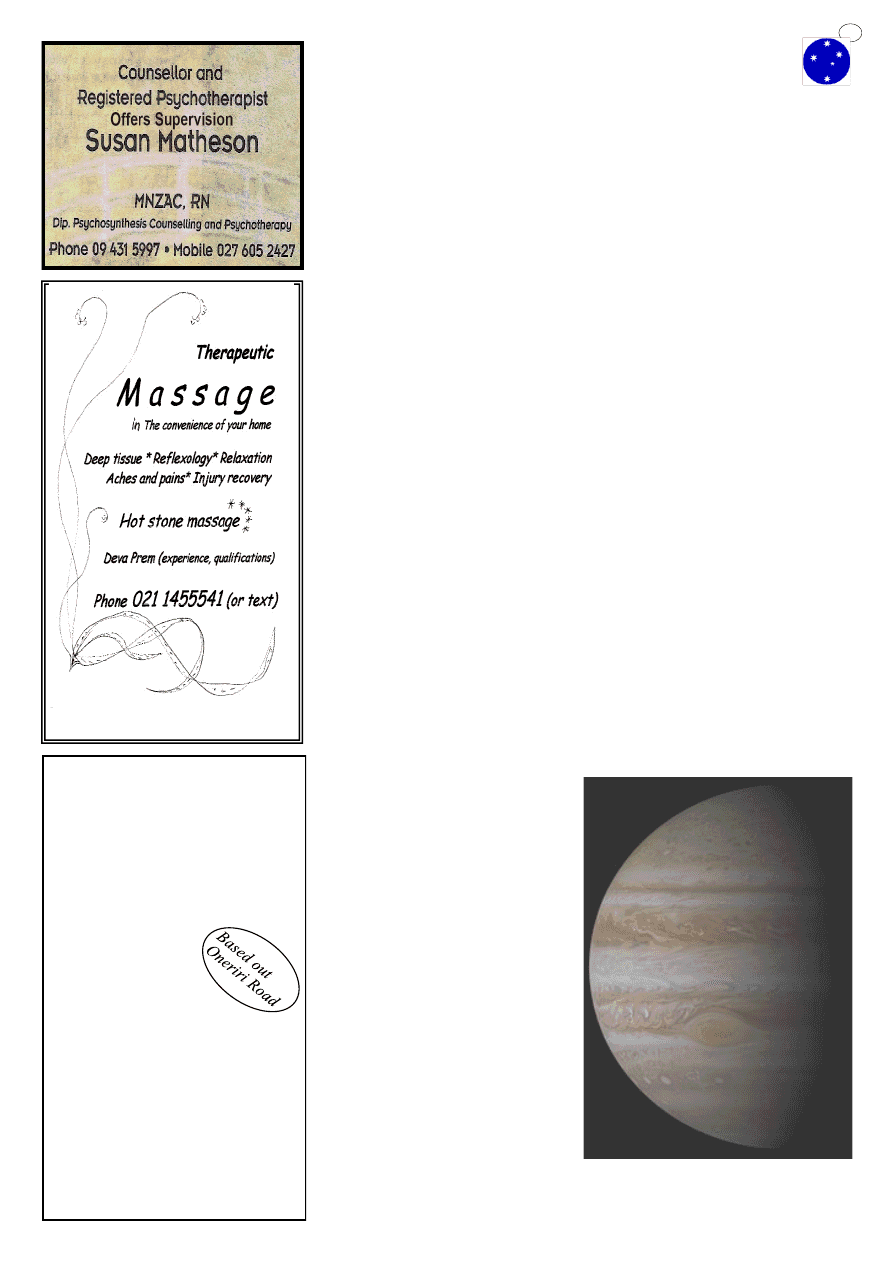 www.mangawhaimassage.co.nz 
17 
Mars  
Orange Mars holds its position midway 
down the western sky through October 
as  the  stars  progress  slowly  past  it.  It 
sets  after  midnight.  Below  Mars  is 
Antares,  a  star  the  same  colour  and 
brightness.  Mars  is  240  million  km 
away  and  small  in  a 
telescope.  Saturn  is  below 
Antares,  a  creamy-white 
colour  and  similar  in 
brightness  to  Mars.  It  sets 
after 10 pm. 
Antares 
Antares  marks  the  heart  of 
the 
Scorpion. 
The 
Scorpion's tail loops up the 
sky.  It  is  the  'fish-hook  of  Maui'  in 
Maori star lore. Above and right of the 
Scorpion's  tail  is  'the  teapot'  made  by 
the  brightest  stars  of  Sagittarius.  It  is 
upside  down  in  our  southern 
hemisphere view. 
Canopus  is  in  the  southeast  at  dusk 
often  twinkling  colourfully.  It  swings 
up  into  the  eastern  sky  during  the 
night.  Canopus  is  13  000  times  the 
sun's  brightness  and  300  light  years* 
away. On the opposite skyline is Vega, 
setting in the late evening. Vega is 50 
times brighter than the sun and 25 light 
years away. 
In  the  southwest  are  'The  Pointers', 
Beta  and  Alpha  Centauri,  making  a 
vertical pair. They point down to Crux 
the  Southern  Cross.  Alpha  Centauri, 
the top Pointer, is the closest naked eye 
star  at  4.3  light  years  away.  Beta 
Centauri  is  a  blue-giant  star,  very  hot 
and  very  luminous,  hundreds  of  light 
years away. 
The Milky Way  
The  Milky  Way  is  brightest  and 
broadest in Scorpius and Sagittarius. In 
a dark sky it can be traced down to the 
south. In the north it meets the skyline 
right  of  Vega.  From  northern  New 
Zealand  the  star  Deneb  can  be  seen 
near  the  north  skyline.  It  is  the 
brightest star in Cygnus the swan. 
The  Milky  Way  is  our  edgewise  view 
of  the  galaxy,  the  pancake  of  billions 
of  stars  of  which  the  sun  is  just  one. 
The  thick  hub  of  the  galaxy,  30  000 
light years away, is in Sagittarius but is 
mostly hidden by dust clouds in space. 
These  'interstellar'  dust  clouds  appear 
as  gaps  and  slots  in  the  Milky  Way. 
Binoculars show many clusters of new 
stars and some glowing clouds of left-
over  gas  scattered  along  the  Milky 
Way. 
Large and Small Clouds of Magellan 
The  Large  and  Small  Clouds  of 
Magellan,  LMC  and  SMC,  look  like 
two  misty  patches  of  light  in  the 
southeast sky. They are easily seen by 
eye on a dark moonless night. They are 
galaxies like our Milky Way but much 
smaller.  The  LMC  is  around  160  000 
light years (ly) away; the SMC around 
200 000 ly away. 
After  twilight  ends  on  moonless 
evenings in a dark rural sky the 
Zodiacal Light is visible in the west. It 
is seen as a faint broad column of light. 
It  is  sunlight  reflecting  off  meteoric 
dust in the solar system's plane. 
October 19 Comet  
On  October  19  Comet  Siding  Spring 
C/2013  A1  passes  close  to 
Mars.  The  comet  may  be 
bright  enough  to  see  in 
binoculars. 
It 
should 
certainly be visible in small 
telescopes. Seen from New 
Zealand  C/2013  A1  will 
approach  the  planet  from 
above.  On  the  15th  it  will 
be 4.4 degrees above Mars, 
roughly  a  binocular  field  width.  After 
the  19th  the  comet  will  continue  to 
move down the sky below Mars. Seen 
in  binoculars  on  the  20th,  C/2013  A1 
will below and left of a round smudge 
of  light,  the  globular  cluster  NGC 
6401.  The  comet  passes  just  130,000 
km from Mars. That's close enough for 
the  comet's  dust,  travelling  at  56  km 
per  second,  to  damage  spacecraft 
orbiting Mars. 
Jupiter  
Jupiter  rises  in  the  northeast  after  4 
a.m.  in  early  October.  It  is  brighter 
than  all  the  stars  and  shines  with  a 
steady  golden  light.  Jupiter  is  around 
850 million km away from us now. 
*A  light  year  (ly)  is  the  distance  that 
light  travels  in  one  year:  nearly  10 
million,  million  km.  Sunlight  takes 
eight  minutes  to  get  here;  moonlight 
about  one  second.  Sunlight  reaches 
Neptune,  the  outermost  major  planet, 
in  four  hours.  It  takes  four  years  to 
reach the nearest star, Alpha Centauri. 
~Elizabeth 
Photo: Jupiter as seen by the space 
probe Cassini, 2001 ~ Wikipedia 
OCTOBER NIGHT SKY OVER KAIWAKA 
A light year is the 
distance that light 
travels in one year: 
…sunlight takes eight 
minutes to get here; 
moonlight about one 
second…  
HODGETTS
CONTRACTING
Digger Work   

Driveways 

House Sites  

Dams 

Drains, etc
Also available for HIRE 

3 ton Vib Roller 

Heavy Duty Tow 

Waterblaster  

Lazer Level 
Phone Mark 
4312877 
027 447 8554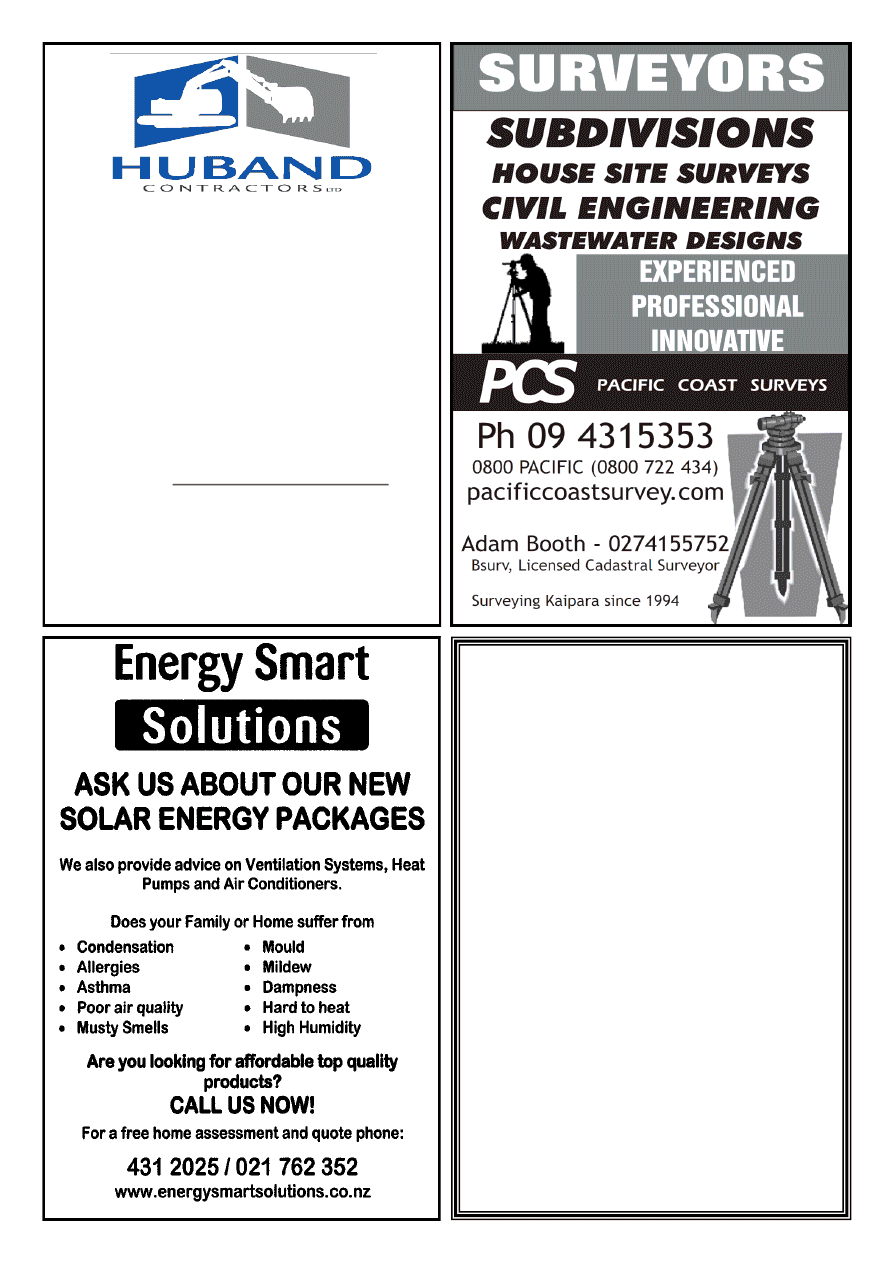 *   R O A D I N G   *   E A R T H W O R K S *    
*   D R A I N A G E   *   S I T E W O R K S   *  
For any further enquiries,  
contact Shaun on: 
Cell: 021 222 0272 
Home: 09 4318339 
Email:   
Shaun Huband:  Registered  
Drainlayer 
g.a.s. 
Mangawhai 
we have now opened a 
GARDEN CENTRE 
for all your gardening needs 
Also a great range of 
STOCKFOOD 
Wide range of 
ORGANICS AND 
 FRESH LOCAL PRODUCE 
All your motoring needs are taken care of by 
our friendly staff check us out... 
44 Moir Street, Mangawhai (09)431 4242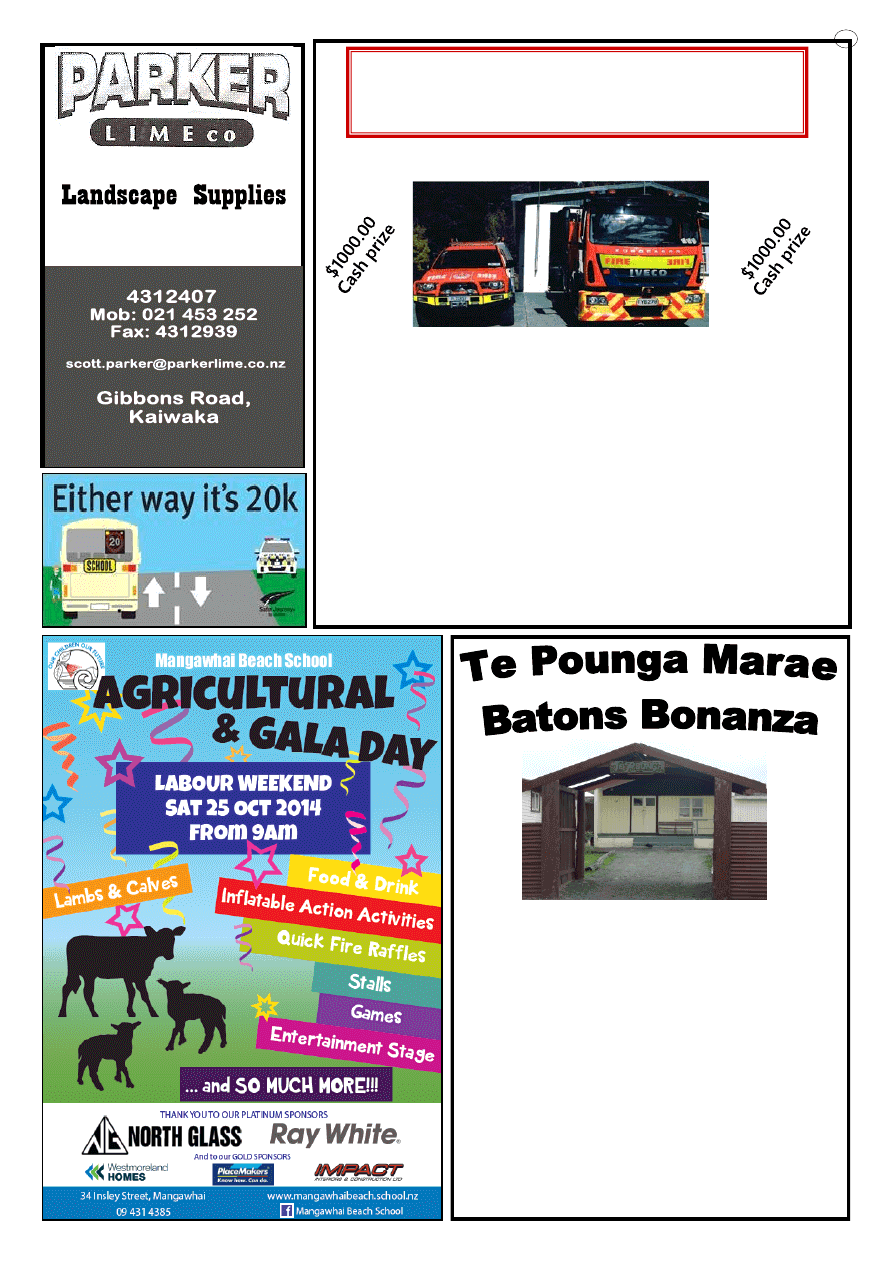 19 
Bulk Cartage 
Kaiwaka Volunteer Fire Brigade 
Open Fishing Contest 
Saturday the 1st & Sunday the 2nd November 2014 
Start time 12am on Saturday 1st. 
Adult species: Snapper, Kingfish, Kahawai & Crayfish 
1st Prize Snapper Category $1000, 1st Prize Kingfish category 1/2 beast 
1st Prize Kahawai category 1/4 beast, 1st Prize Crayfish $300.00 
Mystery Weight prize 1/4 beast. Junior prizes for Snapper & Kahawai 
Free BBQ. 
OPEN FISHING CONTEST         
Weigh in times at Kaiwaka Fire Station.  
6PM to 8PM Saturday 1st November 2014 
2PM to 4PM Sunday 2nd November 2014 
 

Auction and prizegiving to follow weigh in Sunday 2nd around 5pm. 

All people on boats must hold tickets. MAF rules and regulations apply. Maximum 2 hooks per line.  
Decisions of weigh master are final. In the events of 2 or more fish the same weight 1st weighed in wins. 

Boundaries are anywhere North of Omaha (on either coast). Kaiwaka Volunteer Fire Brigade accepts 
no liability for any damages or loss of property or injury to any person. 

All fish weighed in or donated to be auctioned accept that the proceeds are to be donated to the  
Kaiwaka Volunteer Fire Brigade and used to purchase on going equipment. All fish to be gutted and gilled 
before weigh in. 
No Tickets, No Weigh in! 
Adults $30 / Junior $10 (15 years and under) 
Anyone in line at 4pm on Sunday will be counted. 
Tickets available at Caltex Service Station, Jaques 4 
Square or Fire Brigade personnel. 
Contact John Bowmar 09 4312248 or  
Micky 021 1337269 
Saturday 1
st
 November 2014 
Kaiwaka War Memorial Hall 
Tickets start selling at 10am
BATONS - $20.00 each 
 
First table starts drawing @10.30am 
 
Peg Batons - $20-00 each 
 
1 Baton is redrawn for every prize on all tables 
 
Children's Baton draw available
CASH DRAW - $20.00 each 
 
1
st
 Money Draw @ 12.30pm 
 
2
nd
 Money Draw @ 2.30pm 
RAFFLES!!! 
On Sale – Mussel Chowder/Fried bread/sausage sizzle/cake/
soft drinks. 
For tickets contact (Phone or text) 
Kim Wallace : 0211275340 or Jeanette Nathan : 0211867382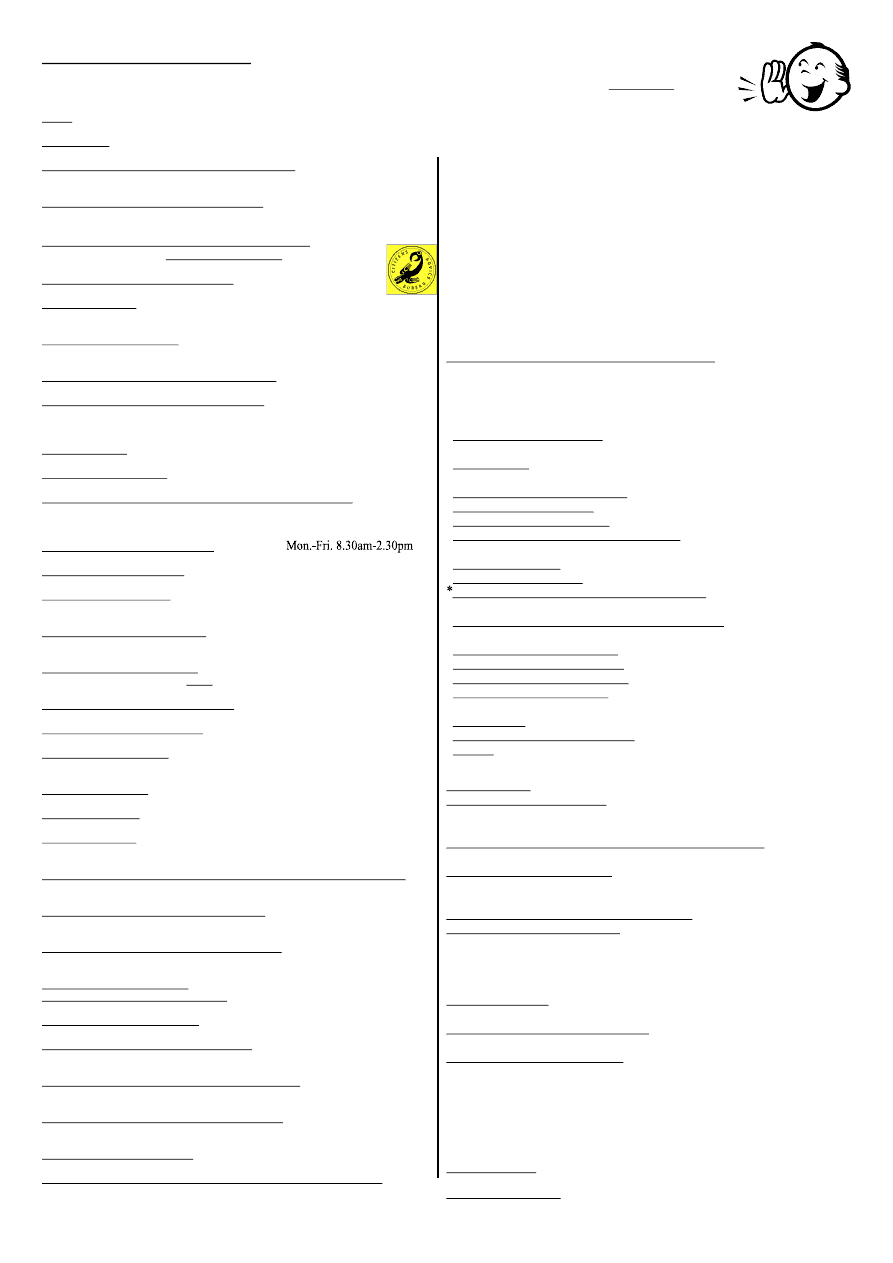 LOCAL SERVICES 
*St.John Ambulance 
111 or Freephone0800 61 0066
*Fire phone 111     *Police phone 111 or 09 4311150 
A A: Meets Wed., 8pm Kaiwaka Ph: 4312228, 4315543, 0800229 6757 
AL ANON: In recess, contact Ph: 4312228 
AGRIQUALITY (MAF) Livestock Consultant 
Phone 09 4311 820 or 021518257  
BUDGETING SERVICE,OTAMATEA:Free confidential advice & 
support - all areas of  personal finance Ph: 09 4318173 or 094318117 
CAB-
Citizens Advice Bureau.Wellsford Ph: 4237333.
0800 367 222 email:
DOG/STOCK /NOISE CONTROL 0800 105 890 
KATE'S PLACE with Govt.Day Agencies/Community Information /
Osteopathy/ IRD / Probation, etc Ph: 4312661 Hours: 9am-3pm. Mon - Fri 
FUNERAL SERVICES: Morris & Morris Ltd, 
Whangarei - Bev Jaques Ph:4312367 or 0800667747 
GRANDPARENTS Raising Grandchildren: Sarah Rogers Ph: 4312194 
HAKARU LANDFILL/Transfer Station:Open everyday except 
Tuesday10am-4pm.Ph4312629 Cost-$55 trailer load up to 1 cubic me-
tre. Ph:4258567 - office 
HOMEOPATH: Donna Flavell Ph: 4314843 
INLAND REVENUE: Last Friday each month, 11-3pm Ph4312661 
KAIPARA DISTRICT COUNCIL www.kaipara.govt.nz:  
Help Desk FREEPHONE 0800 727 059  
Service Centre Mangawhai 4313161 
KAIWAKA KOHANGA REO: Ph:4312620 
KAIWAKA CEMETERY: Ph: 4312045 
KAIWAKA LIBRARY: kaiwaka.library@gmail.com  
Mon. 4-6pm; Wed., Thurs., Fri., Sat.  10am-2pm Ph:4312539 
KAIWAKA PLAYCENTRE: Ph: 4312286. Hastie Lane 
Monday to  Friday  9.00am - 12 noon. 
KAIWAKA POST OFFICE:Ph:4312 626 Fax: 4312287  
Post Code: 0573  for RD2  and  0542 for all Kaiwaka Post Office mail 
KAIWAKA PRIMARY SCHOOL: Ph: 4312309     
KAIWAKA SPORTS ASSN: Ph 4312005; 4312129 gym 
KAIWAKA ST JOHN: Manager Steve Rosser 09 4318403, 021 
2316836 
LINKING HANDS Health Shuttle service Ph Ken Littlejohn 4314121 
NORTHPOWER: Faults Kaiwaka area 0800 104040 
PARENTPORT: Free, practical family support service Puhoi to Paparoa 
Ph or txt:  Dianne 027 2085093 
PERSONAL DEVELOPMENT COACHING, GROUP FACILITATION:  
Sabine Druckler 4312231 
PLUNKET KAIWAKA/MANGAWHAI: Ph:094318187 or 0276753488 
Kaiwaka Mobile Clinic once a month– appointments necessary;  
Mangawhai (next Domain) 1st & 3rd Thursday & Coffee Morning; 
PLUNKET CAR SEAT CO-ORDINATOR:  Pat Scott Ph 4314530 or 
0272881635 
PLUNKET FREEPHONE -0800 933 922 
PLUNKET -MAUNGATUROTO  Clinic every 2nd & 4thThursday. Ph: 
09 4318187 
PUBLIC HEALTH NURSE: Gloria Reid Ph: 094327634  
RETURNED AND SERVICES ASSN 733 Settlement Rd. Hakaru 
Ph.4312176 Bill Kerr (President) Ph.4314719 
TE KOROWAI AROHA O NGATIWHATUA Ph: 4312675 
(The Cloak of Love of Ngatiwhatua) Support and Maori Consultancy.  
VETERINARY SERVICE MANGAWHAI: 
Ph: 4314535 Mon-Fri 8.00-5.00, Sat 9-12, a/h appt. 
WELLSFORD DOCTORS: Ph: 4238 086 
WOMEN'S WELFARE LEAGUE & Reaching Out For Youth:  
4 Kaiwaka-Mangawhai Rd, M Morgan 4312293
WHAT'S ON
PLEASE ~ do let me know what is on - email 
kaiwakabugle@kaiwaka.co.nz 
Advertising in WHAT'S ON is FREE 
*16Oct~Civil Defence business workshops Ph Kim 09 470 1218 
*17Oct~Heat, 7:30pm KWMH 
*20Oct~Agricultural Day, Kaiwaka School 
*21 Oct~Writers' Group, Kaiwaka Library 10am. Ph Elizabeth 4312 522 
*27Oct~Group Day Agricultural Day, KSA, Ph Bruce 4312 542 
*28Oct~Otamatea Rugby Club AGM, 7pm KSA 
*29Oct~Knit & Natter, 10am Cafe Bianca, Ph Elizabeth 4312 522 
*31Oct~Chef, 7:30pm KWMH 
*1Nov~Te Pounga Marae Batons Bonanza, 10:00am KWMH  
*1Nov~Fright Night, 7:30pm KSA 
*1-2Nov~Kaiwaka Fire Brigade Open Fishing Contest 
*2Nov~Mr Peabody & Sherman, 2pm KWMH 
KSA=Kaiwaka Sports Association Complex 
KWMH=Kaiwaka War Memorial Hall 
See www.kaiwaka.co.nz for upcoming events.
HOUSEHOLD  RUBBISH  COLLECTION  -  Kaiwaka    Pick  up-
Mondays=Gr een  bags  ar e  picked  up  by  Nor thland  Waste-
queries  to  them  09  4303273,Wednesdays=Blue  bags  and  yellow 
recycling (at Jaques  $3.00 and $1.50)  are picked up by Kaurilands 
09 4392146.
*DIABETES Support Group -for Kaiwaka, Mangawhai, Wellsford 10am, 
3rd Friday of month Ph:A.Pert 4238242; J.Gardner 4238060 
*DRINK CAN 'tear tabs' - for Starship Hospital- please collect -  
98 Kaiwaka Mangawhai Rd, leave in mailbox, Ph. 4312625  
*GYMNASTICS OTAMATEA -  Tuesday Ph: Stephanie 022 3624998 
*HAKARU PONY CLUB-Secretary Julie Rynne 09 4314520 
*KAIWAKA BADMINTON -Tuesdays 7.30pm Ph: 4312345 
*KAIWAKA GARDEN & FLORAL Grp:2nd Thursday in month  
Ph: 4314767 
*KAIWAKA CUBS-Thursdays 5.30-7pm, Hakaru  Ph:Bruce  4312542 
*KAIWAKA SQUASH -Mondays 7pm,  Ph: Barbara Thomas 4315905 
KNITTING FOR WHANGAREI HOSPITAL - 2nd Tuesday in month, 
Apple Basket 10am Ph 4314827 
*MANGAWHAI COMBINED PROBUS CLUB: 2pm,3rd Thursday, 
Senior Citizens Hall Mangawhai. Ph: 4315777 
*NZ GENEALOGY-Wellsford - 1st Thursday in month Ph: 4237033 
*OTAMATEA GREY POWER-09 431 8138 Joan Hoggard  
*PT CURTIS CRUISING CLUB - Jean Ph: 4312 246 
*RSA,Hakaru & Dist.Women- meet 1.30pm 4th Thurs in month  
Ph: 4312 668  
*TRAMPING- Mondays 9am-2:30pm  Karen Ph: 4312 090 
*WAIPU GENEALOGYGROUP -4th Monday in month Ph: 4312725 
*YOGA- Tuesdays 6:15pm, Friday 8:30am Kaiwaka WM Hall  
Carla Ph: 4312 408, 021 296 8794
CHURCHES: 
*Gateway Worship Centre-St Mary's Church Nathan Rd off Oneriri 
Rd, Kaiwaka. Services, 10.30am 1st & 3rd Sunday of every month. 
Contact: Rev David Gage 4312528 or 0212354282 
*Kaiwaka Family Church-Your Community Church Sundays, l0am 
Home Group every Wed evening, Pastor John.Dekker Ph: 4318203 
*St Paul's Anglican Church 1st Sun. 9.30 am (Eucharist), 3rd Sun. 
9.30 am (Family Service). Contacts:  Church Office 09 431 4122; 
M. Hargreaves 431 2295; C. Bygrave 431 2057 
*Church of Christ the King, Mangawhai 9.30am every Sunday 
*St.Mary's Catholic Church: Maungaturoto – Griffins Road, Satur-
day evening Vigil Mass 6pm; Mangawhai – Senior Citizens Hall, 
Sunday Mass 8:30am; Wellsford – Matheson Road, Sunday Mass 
10:30am; Mid-week Mass times and all enquires to Fr. Bill Fletcher  
Phone 423 8170 
*Baptist Church: Sun. 10.30am Mangawhai Snr Cit.Hall 
Ph:4312339 
*Cause Way Church Mangawhai – Sundays 10.15am, Mangawhai 
Community Recreation Centre, Insley St. Ph: 09 4314782  
*St.Pauls Archie Bull Hall HIRE $20 half day, $40 full day per hire 
    Contact G. Jaques 4312048 
*Kaiwaka War Memorial Hall HlRE - Phone 4312725 or  Email  
    kaiwaka.hall.bookings@gmail.com 
*Hakaru Community Hall HIRE -Ph.  4312256 or 4312110 
*Te Pounga Marae queries -A.Gage 4312528, 4312527 
*Kaiwaka Sports Association hire/queries- C. Anderson 4312051 
Justice of Peace: B.FJaques; L.Donaldson; A.F.Hargreaves 
    -please phone to make sure they are available 
Marriage Celebrants: L.Donaldson; A.F.Hargreaves;  C.Rosseels
Next Bugle Deadline Friday 26 September 2014