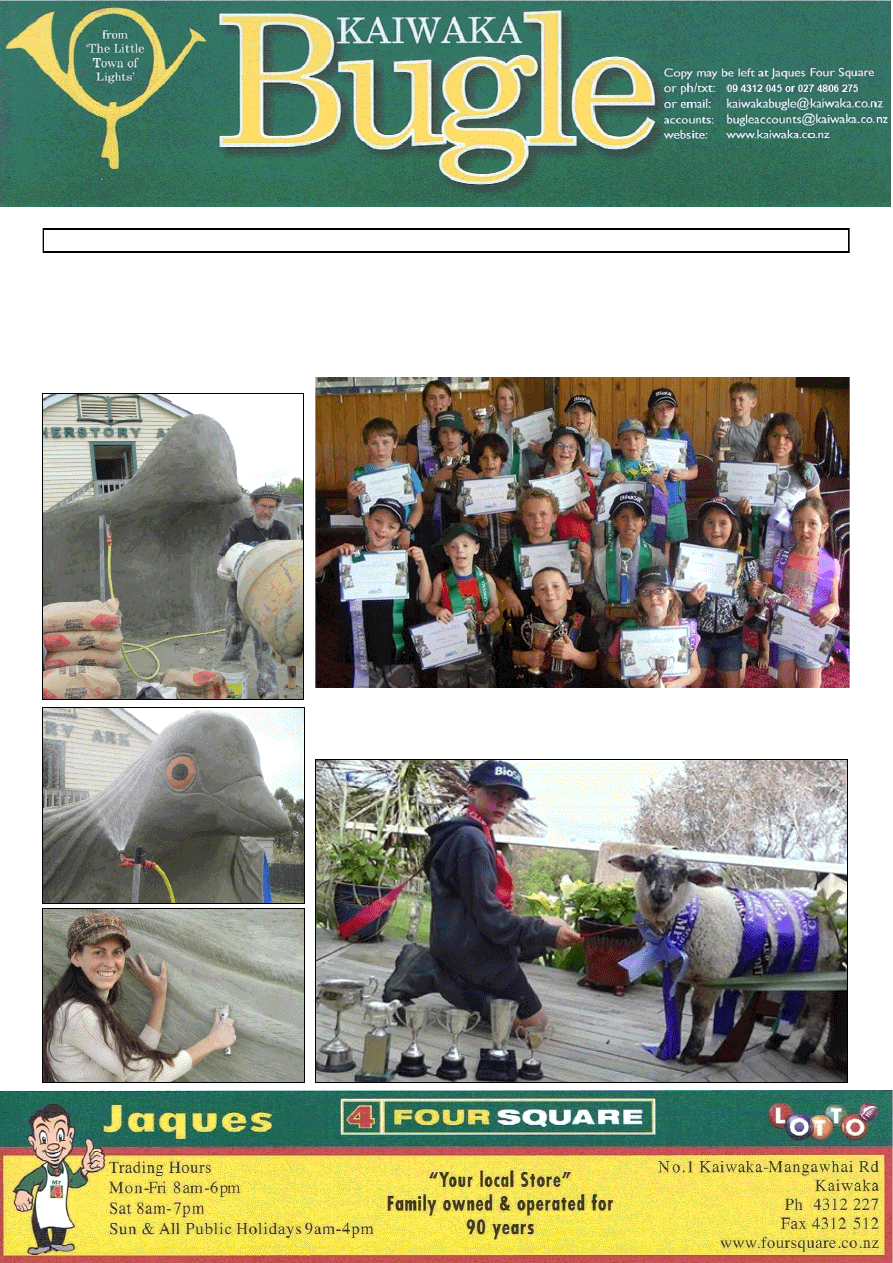 No: 21
                                                                                                                                                   28 October 2014 
THE DOVE 
As  seen  on  SH  1  on  Kaiwaka:  Peter 
Harris  builds  the  ferro-cement  'ark' 
with the dove at the bow. The cement 
is  layered  and  scored  before  the 
features  are  added. 
Top:  Peter  Harris; 
Bottom: Jenny Lyn Walker. 
Above:  Agricultural Day prizewinners - Brenda Ferguson, Sophie Gribble, Tara Moyle, 
Lucy  Gilligan,  Boyd  Wintle,  Michael  Ferguson,  Ashley  Greig,  Pyper  Buxton,  Casey 
Greig,  Toby  Lee,  Grace  Hunt-Eramiha,  William  Holden,  Nathan  Gilligan,  Gareth 
Ferguson,  Leayah  Buxton,  Erica  Julian,  Sammy  Wakeling,  Zac  Wakeling,  Caleesto 
Mills.  Below: Boyd Wintle and Lamborgini 
KAIWAKA  SCHOOL  AGRICULTURAL  DAY 
On  Monday  20  October  the  children  who  have  pet  calves  and  lambs  brought 
them to school for the annual Agricultural Day. Both animals and children were 
very  excited,  and  it  was  obvious  that  a  lot  of  work  and  care  had  gone  into 
preparing for the day. It was great to see such clever, healthy and well cared for 
lambs and calves. What a great learning experience. We thank the ASB for their 
support and Jody 
Greig for leading the organisation for the day. Results on page 13.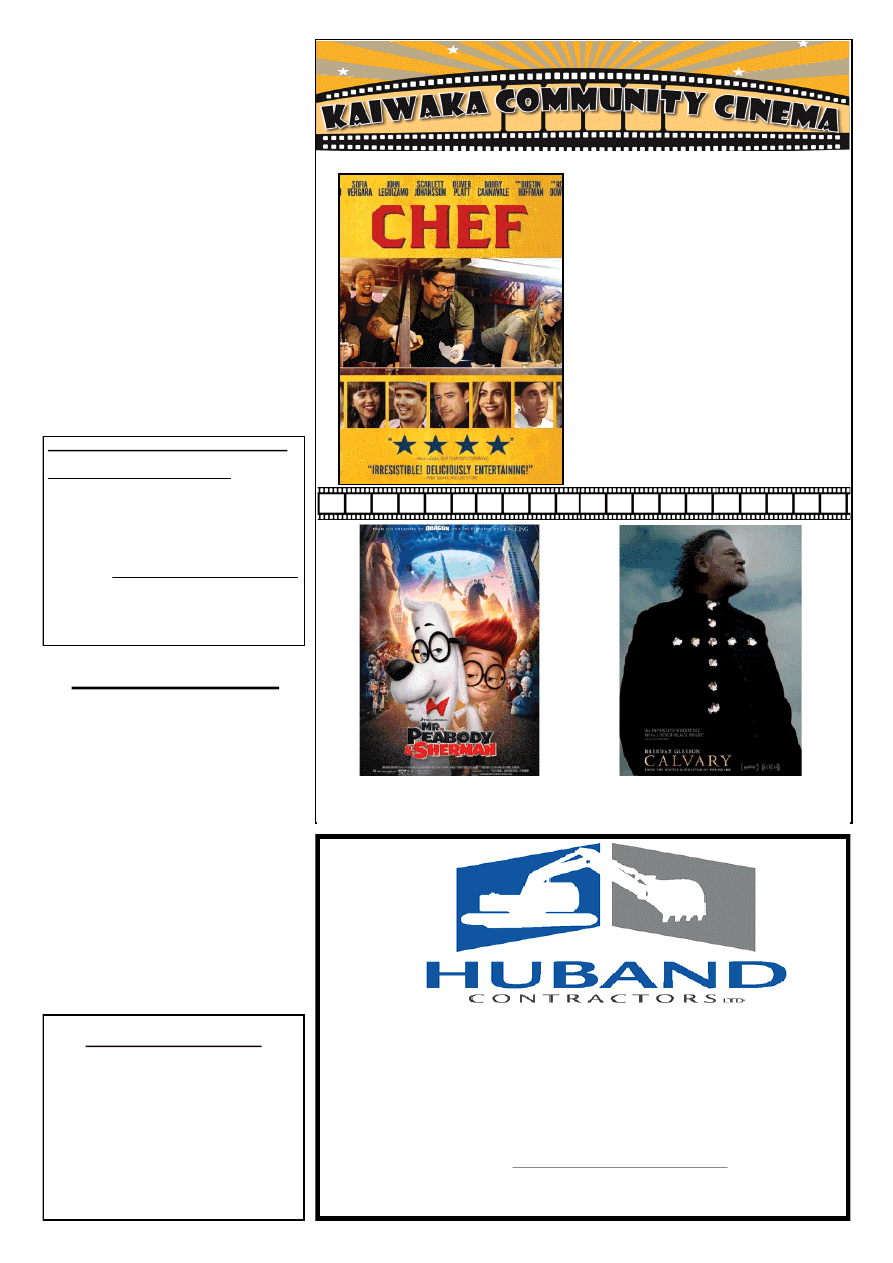 ABOUT TOWN 

 Condolences to the family of Joan 
Leslie  who  passed  away  last  week 
aged 90 years. 

 'the  local  vocals  choir  inc'  - 
Christmas  singing  series  starts 
Sunday 2nd November 3-5pm at the 
Wellsford 
District 
Community 
Centre for 5 weeks. 

The  deadline  for  the  Bugle 
Christmas  issue  -  last  one  for  the 
year - is Friday 5th December 2014. 
First  Bugle  for  2015  will  appear 
Tuesday  20  January  (deadline  for 
copy is Friday 16th). 

Well  done  to  the  local  Rotary 
group - what a fantastic scheme  for 
the whole community. See page 15. 
*   R O A D I N G   *   E A R T H W O R K S   *    
*   D R A I N A G E   *   S I T E W O R K S   *  
For any further enquiries, contact Shaun on: 
Cell: 021 222 0272 
Home: 09 4318339 
Email:   
Shaun Huband:  Registered Drainlayer 
KAIWAKA BUGLE No. 21 
28 OCTOBER 2014 
CONTENTS 
Page 3: Classifieds & Notices 
Page 5: Night Sky, WWI Honours 
Page 7: Kaiwaka Sports Association 
Page 9: Otamatea High School 
Page 11: Arthritis, OHS cont 
Page 13: Kaiwaka School 
Page 15: Paparoa A&P, Rotary 
Page 17: Cubs & Scouts 
Page 19: Garden Group, Pt Curtis 
Bugle 22 will appear 11 November 
Contact for advertising, reports, articles 
or information can be made by 
Email kaiwakabugle@kaiwaka.co.nz 
Ph: 09 4312 045 
Txt:  0274 806 275 
Copy may be left at Jaques' Four 
Square. 
View the Bugle online at: 
www.kaiwaka.co.nz/Bugle
Kaiwaka Bugle 
Founded May 1978 
Copies available in Kaiwaka at Jaques Four 
Square, Kaiwaka Postal Centre, Shamrock 
Service Station, Celena's Gifts 
Also outlets in Maungaturoto, Mangawhai and 
Paparoa. 
Can be viewed online at www.kaiwaka.co.nz 
Or a copy can be posted to you if you supply 
stamped, self-addressed DLE envelopes. 
Mr Peabody & Sherman 
Sunday 2 November 2:00pm (PG) 
Calvary 
Friday 14 November 7:30pm 
(R13) 
At Kaiwaka War Memorial Hall . Adults $10, Kids (under 16) $5, Family Pass (2 adults + 3 children) $25 
Kaiwaka Bugle Advertisements 2014: 
All 
copy 
and 
queries 
to: 
kaiwakabugle@kaiwaka.co.nz 
Classified $3 (max 30  words);  1/8 page $6; 
1/4  page  $12;  1/2  page  $24;  in  special 
circumstances  whole  page  adverts  are 
available-cost $100 
Payments  can  be  online,  posted  or  left  at 
Jaques Four Square Store. 
Accounts: bugleaccounts@kaiwaka.co.nz 
The  Kaiwaka  Bugle  is  a  community 
newspaper run by volunteers.   
Articles,  etc.  printed  are  not  necessarily 
the opinion of the Bugle Team. 
Chef 
Friday 31 October 7:30pm (M) 
"Carl  Casper  is  an  acclaimed  chef  with  a 
family  life  that  seems  as  decaying  as  his 
artistic  freedom.  Those  frustrations  boil 
over  into  a  raucous  viral-videoed  public 
confrontation  against  a  restaurant  critic 
who  panned  his  cooking  of  food  that  his 
boss  ordered  him  to  make  against  his 
instincts.  Now  with  his  career  ruined, 
Carl's  ex-wife  offers  an  unorthodox 
solution  in  Miami:  refit  an  old  food  truck 
to  offer  quality  cooking  on  his  own 
terms" (imdb.com) 
Starring:  Jon  Favreau,  Robert  Downey  Jr, 
Scarlett  Johansson,  Dustin  Hoffman, 
Oliver Platt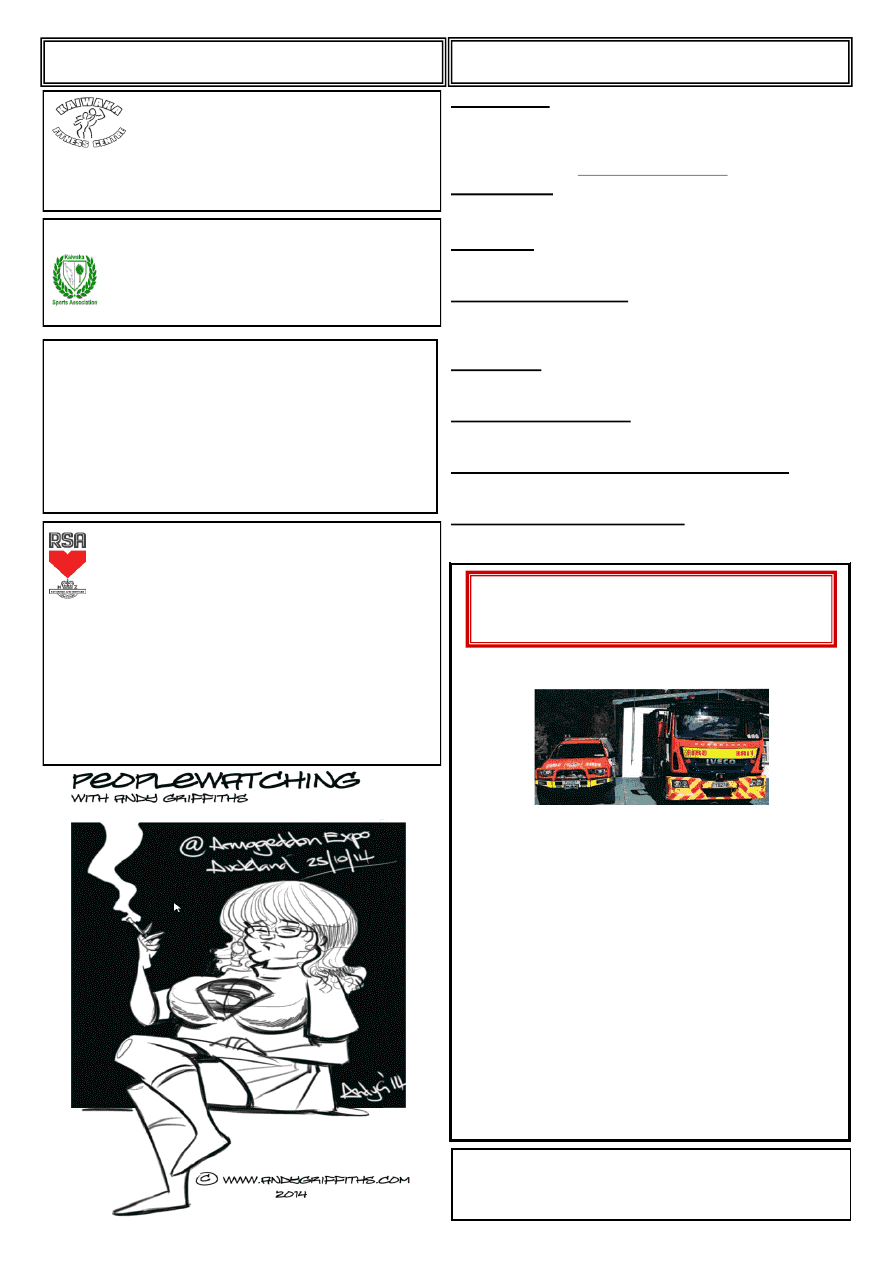 PUBLIC NOTICES 
CLASSIFIED 
FOR  SALE: Jill Shires Holistic Animal Therapies. 
Herbal  Remedies,  Bach  Flowers,  Ointments, 
Diatomaceous  Earth,  Bentonite  Clay,  Cranio  Sacral 
Therapy,  Skin  Conditions,  Arthritis,  Laminitis,  Mud 
FOR LEASE: Top quality Beef Farm for lease, 180 
hectare approx. Contact Harvest Farm Advisory 027 
315 8351 email dave.blackwell@xtra.co.nz 
TO  RENT: Tidy 3-brm house, sunny, carport, central 
Kaiwaka.  $300pw  Responsible  tenant  wanted, 
references essential. Ph Helen 431 5657, 021 238 5922 
PART-TIME  WORK:  Traffic  Controller/STMS 
Wanted! Although desirable, no experience is required. 
If  you  can  pass  a  pre-employment  drug  test  -  Please 
forward your resume to emma@trafficsafe.co.nz 
HASHTAG  Band  for  hire.    A  lively  mix  of  covers 
and original music.  Make your night special.  Ph: 021 
623 776  
BERYL  NOZEDAR:  (Middleton)  International  
Clairvoyant.  Numerology,  Tarot,  Clairvoyance,  
Mediumship. $60 for hour includes CD. Ph: 4312 080 
CLOTHING ALTERATIONS & REPAIRS: 
Hems,  Zips,  Dressmaking  Phone:  Win  4312  027    or 
027 444 8358 Winsome Designs. 
FREE GRAZING WANTED: Small or large block. 
Can  do  some  fencing  or  water.  Phone  after  6pm  
4312 006  
Proverbs 
14:10 - Only the person involved can 
know his/her own bitterness or joy- no one else can 
really share it. 
Hakaru RSA 
Settlement Road 
Come along on Friday 31st October and have 
a roast pork meal, sing along to Des Chitty, 
and wear your scariest Halloween costume. 
RSA open from 4pm 
Blackboard menu also available 
All welcome 
KAIWAKA FITNESS CENTRE 
Meeting Tuesday 28th October, 5pm 
to vote new president, plus matters arising.  
All members please try and attend.  
In the Fitness Centre 
All Welcome 
Jenny's Rural Craft Shop 
Open Wednesday to Sunday 10am to 3pm 
Come and see all the crafts from local  
people from local towns 
Eftpos Available 
134 Kaiwaka-Mangawhai Road, Kaiwaka 
Kaiwaka Volunteer Fire Brigade 
Open Fishing Contest 
Saturday the 1st & Sunday the 2nd November 2014 
Start time 12am on Saturday 1st. 
Adult species: Snapper, Kingfish, Kahawai & Crayfish 
1st Prize Snapper Category $1000,  
1st Prize Kingfish category 1/2 beast 
1st Prize Kahawai category 1/4 beast,  
1st Prize Crayfish $300.00 
Mystery Weight prize 1/4 beast.  
Junior prizes for Snapper & Kahawai 
Free BBQ.     
Weigh in times at Kaiwaka Fire Station.  
6PM to 8PM Saturday 1st November 2014 
2PM to 4PM Sunday 2nd November 2014 

Auction and prizegiving to follow weigh in Sunday 2nd around 5pm. 

All people on boats must hold tickets. MAF rules and regulations apply. Maximum 2 hooks per line.  
Decisions of weigh master are final. In the events of 2 or more fish the same weight 1st weighed in wins. 

Boundaries are anywhere North of Omaha (on either coast). Kaiwaka Volunteer Fire Brigade accepts no 
liability for any damages or loss of property or injury to any person. 

All fish weighed in or donated to be auctioned accept that the proceeds are to be donated to the  
Kaiwaka Volunteer Fire Brigade and used to purchase on going equipment. All fish 
to be gutted and 
gilled before weigh in. 
No Tickets, No Weigh in! 
KAIWAKA SPORTS ASSOCIATION 
Annual General Meeting 
Wednesday 19
th
 November, 7.30pm 
Kaiwaka Sports Complex 
All Welcome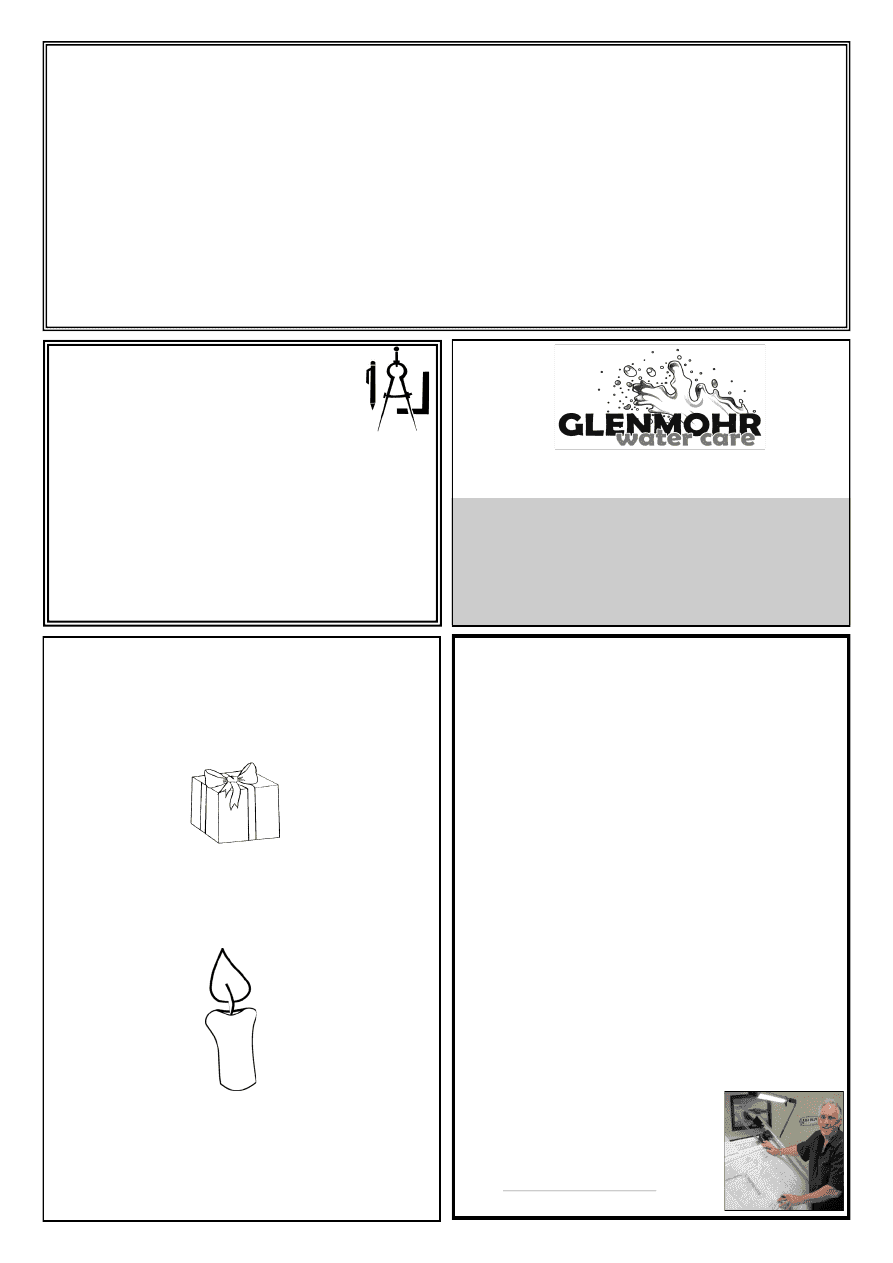 RANGANUI EARTHMOVERS 
  16T Excavator     
    (tilt, thumb & ROPS cab)     
  Transport Trailer 
  2 x 6 Wheeler Tip Trucks 
  Suppliers of All Grades of Metal & Topsoil 
If you want a proper job done with an experienced operator ring 
Grant on:  A/H  431-2131      Email  ranganui.dev@xtra.co.nz 
                      Mob  021845-246 
Driveways, House Sites,  
Drainage Dams, 
Section Clearing,  
Tree Work,  Rock Retaining Walls,  
Quarry Work, 
Basically Anything That a Digger Can Do 
design drafting 
service 
Retired builder and manufacturer with over 40 years  
experience in the building industry is offering a design 
drafting service for domestic housing, sleepouts and 
sheds.  
Plans formulated in consultation with clients, with 
working drawings completed and submitted to  
council for processing.  Extensive practical experience,  
able to identify & resolve problems. 
Please ring Mike Lean on 
09 431 2260  
          or 
021 431 196 
Water Tank Cleaning 
 
Keep your water safe & clean   
 
Removal of sediment, silt etc. 
 
Vacuum or full scrub 
 
Minimal water loss 
Phone Mark (09) 432 0655 or 0274 707607 
 ARCHITECTURAL BUILDING 
PLANS AND DESIGNS 
WRIGHT DESIGN 
 
QUALIFICATIONS 
Brian is a qualified designer (NZCAD) with over 40 years of 
varied experience in all types of building and is a registered and 
Licensed Building Practitioner in Design - L.B.P. 117345 
He ensures you will achieve the best from your budget with 
recommended excellent local contractors ready to competitively 
price and build your personal project quickly and efficiently. 
 
EXPERIENCE 
Brian's practical building and 40+ years of design experience 
means he can give you excellent advice and all the guidance 
needed for all your building needs 
v Wright Design offers free visits, consultations and all the ad-
vice you need on planning, design, building, contractors, coun-
cil permit applications, etc. 
"  Qualified and inexpensive designer – N.Z.CAD., LBP 117345 
"  Guaranteed design and working drawings 
"  Free site visit to your home or property 
"  Great service 
"  Great problem solver 
Call Brian ~Arrange a visit to discuss your needs  and obtain 
great advice and free quotation 
MAKE GOOD USE OF HIS EXPERIENCE and 
KNOWLEDGE 
WRIGHT DESIGN:  
360 Oneriri Road, Kaiwaka
Office 09 4312544   
Mobile 021 276 7389  
Email: 
www.wrightdesign.co.nz 
Celena's Gifts 
-
gifts for all occasions 
Now located down the road 
between Mormors and 
Buy The Way
4/1956 State Highway 1 
KAIWAKA  
Ph: 09 4312741 
CLOSED WEDNESDAY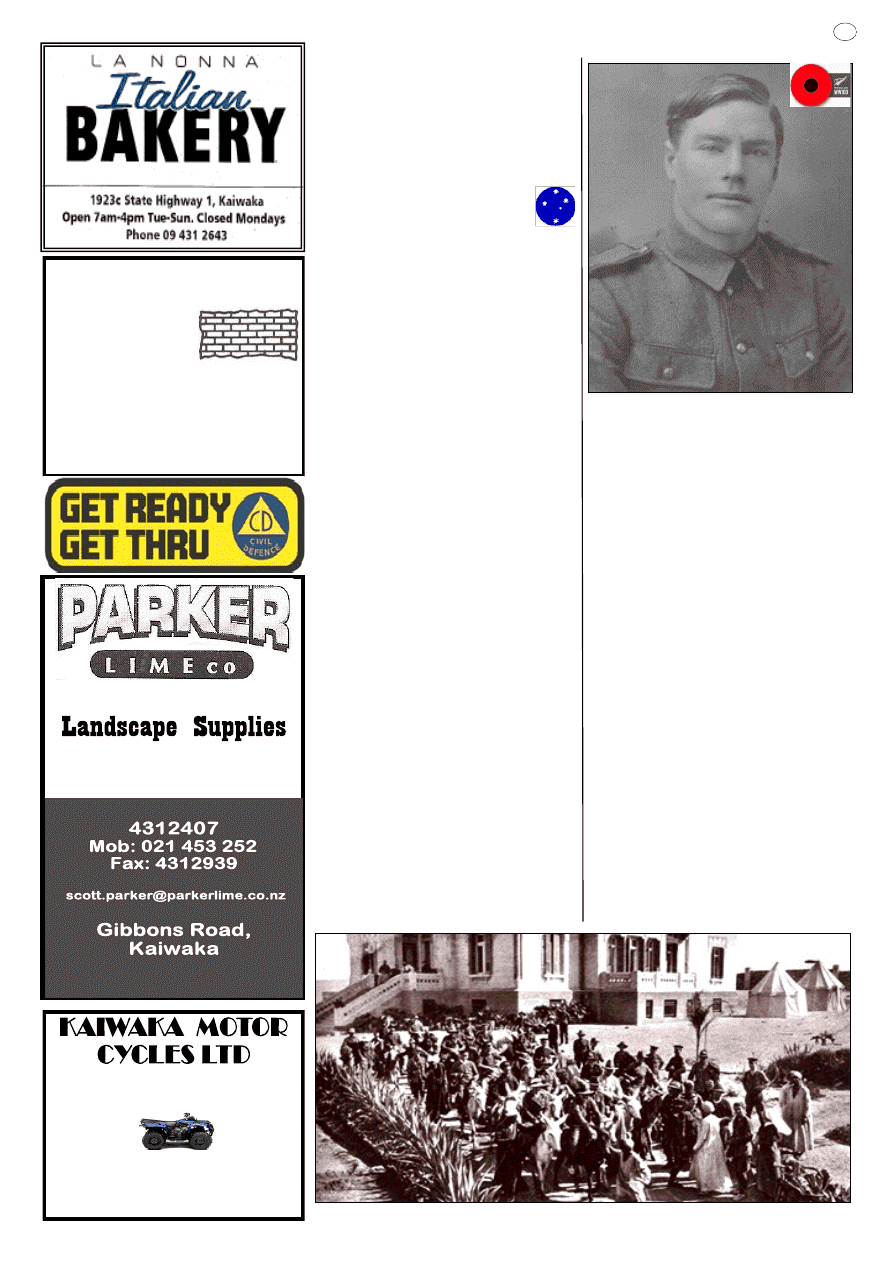 BRICK/BLOCKLAYER 
All aspects of masonry:  
Fireplaces, 
Restoration  
& Remedial Work. 
JAMES EAGLETON 
Tel. (09) 431 2514  
Mob. 0274 749 232 
jajueagles@yahoo.com.au 
210A Pukenui Road, RD2 Kaiwaka 0573 
SALES SERVICE SPARES
FARM BIKE SPECIALIST
Phone 431 2127  
Kaiwaka-Mangawhai Rd 
Kaiwaka 
5 
Bulk Cartage 
NOVEMBER NIGHT 
SKY OVER KAIWAKA 
Day  Time 
Event 
2 
08.00 
Mercury's greatest  
   elongation W(19
o
) 
3 
12.00 
Moon at perigee 
5 
06.00 
Uranus 12
o
S of Moon  
   (Occultation) 
7 
11.00 
Full Moon 
10 
12.00 
Moon 
furthest 
north  (18.6
o
) 
Lunar occultations are fascinating to 
watch.  Because  the  Moon  has  no 
atmosphere,  the  star  shines  steadily 
until the instant that it is covered, when 
it  snaps  out  like  a  candle  flame  in  the 
wind. 
Mercury  is  the  inner most  planet.  It 
is similar in size to the Moon and it is 
also similar to the Moon in appearance. 
The  Mariner  10  mission,  launched  in 
November  1973,  made  several  flybys, 
revealing  a  surface  covered  in  craters, 
mountains,  ridges  and  valleys.  There 
were  fewer  of  the  dark  plains  that 
dominate  the  lunar  surface,  however, 
the  largest  of  those  on  Mercury  being 
named the Caloris Basin.  
Uranus  is  another   of  the  gas  giants, 
consisting  primarily  of  hydrogen  and 
helium.  The  planet  looks  a  blue  green 
world to the human eye.  
Terms:  
 
Occultation  -  The  obstruction  of  the 
light  from  a  distant  astronomical 
object by the motion across the sky of 
a nearby relatively large object. Thus 
asteroids  can  occult  stars  and  the 
Moon can occult stars and planets. 
 
Elongation  -  The  angle  in  the  sky 
between  the  Sun  and  an  object.  It  is 
measured  in  degrees,  east  or  west 
from the Sun. When the angle is zero, 
we  have  an  inferior  conjunction  and 
when  it  is  180    degrees  we  call  it  a 
superior conjunction. 
 
Perigee - the closest point to the earth 
and  it  is  in  this  stage  that  the  moon 
appears larger. 
 
Full  Moon  -  The  Moon  is  fully 
illuminated  and  has  completed  one 
half  of  its  cycle,  it  is  now  opposite 
the Sun, 14 days after New Moon. 
James  was  born  on  13
th
  July  1893  in 
Kaiwaka, to James Donald and Isabella 
McKay.  The family were Presbyterian; 
he  had  a  sister  Edith  Margaret  b.1889 
and  brother  Reginald  Hector  b.  1888 
who died at 5 years. 
James  was  single,  working  as  a 
bushman  in  Dargaville,  when  he 
enlisted on 11 June 1915 aged just 21. 
His  mother  Mrs  J  McKay,  Gumtown, 
Mercury  Bay,  NZ,  was  listed  as  his 
next  of  kin.  James,  12/3100,  was  a 
Private when he embarked with the 7
th
Reinforcements,  Auckland  Infantry 
Battalion,  leaving  Wellington  on  9
th
October 1915 heading for Suez, Egypt.  
James  was  admitted  to  Aotea 
Convalescent  Home,  Heliopolis  with 
infectious enteritis on 8 January 1916 . 
Sadly  he  was  killed  in  action  at  the 
Somme,  France  on  27
th
  September 
1916 aged 23 years. 
James  is  remembered  at  Caterpillar 
Valley  Cemetery,  Longueal,  Somme, 
France.  
Below:  A  scene  of  humour  as  convalescent 
soldiers attempt to start out on a donkey ride 
from  the  grounds  of  the  Aotea  home  in 
Heliopolis.  This  picture  was  published  in 
"The Great War" magazine in 1916  shows a 
period  where  the  more  fortunate  wounded 
soldiers  are  well  along  the  recovery  road 
after  sustaining  life  threatening  diseases  and 
injuries  on  the  Gallipoli  Peninsular  during 
the eight month long campaign of 1915.  
JAMES CAMERON MCKAY  
Magazine photograph: "The Great War" published 1916. - Duotone NZMRA 2011. - Roger Shephard Collection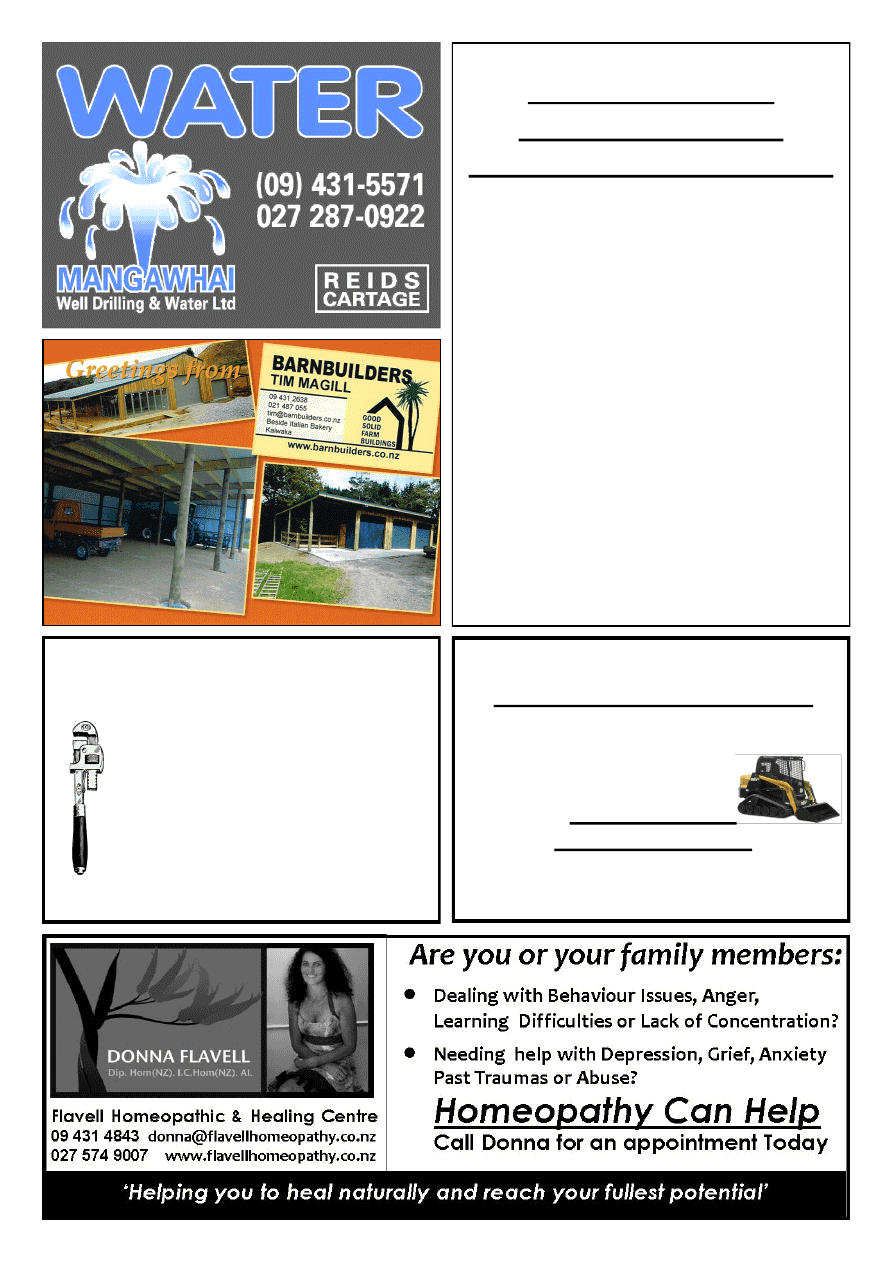 Natural Earth Ltd 
Landscape and Bobcat services 
 : Driveways  :Landscaping  :Retaining Walls 
 : Hole Boring: Land Levelling :Trenching 
 : Decks :Fences :Sections Cleared 
 : Plus much more
Tel 09 4312 885 
Mob 02102391280 
For A Fast Friendly Service  
Contact Tim Hicks 
BARRY CURTIS PLUMBING LTD 
REGISTERED CRAFTSMAN PLUMBER 
Phone 431 5572 
027 257 9884 
25 years' experience 
Friendly reliable service 
All plumbing & maintenance 
Alterations and new housing 
New wood fire installation 
Spouting 
Competitive rates
PROMPT EFFICIENT  SERVICE 
PAUL SAUNDERS  
LAWNMOWING &  
GARDEN MAINTENANCE 
Friendly and reliable service guaranteed 

Lawns and edges       

Section mowing 

Hedging and trimming      

Spraying and fertilising 

Tree planting       

Green waste removal     

Pruning 
Call now for a 
free no obligation quote 
021 886 843   
or  09 431 3318 
Servicing Mangawhai and Kaiwaka and 
surrounding areas 
paulsaunders99@gmail.com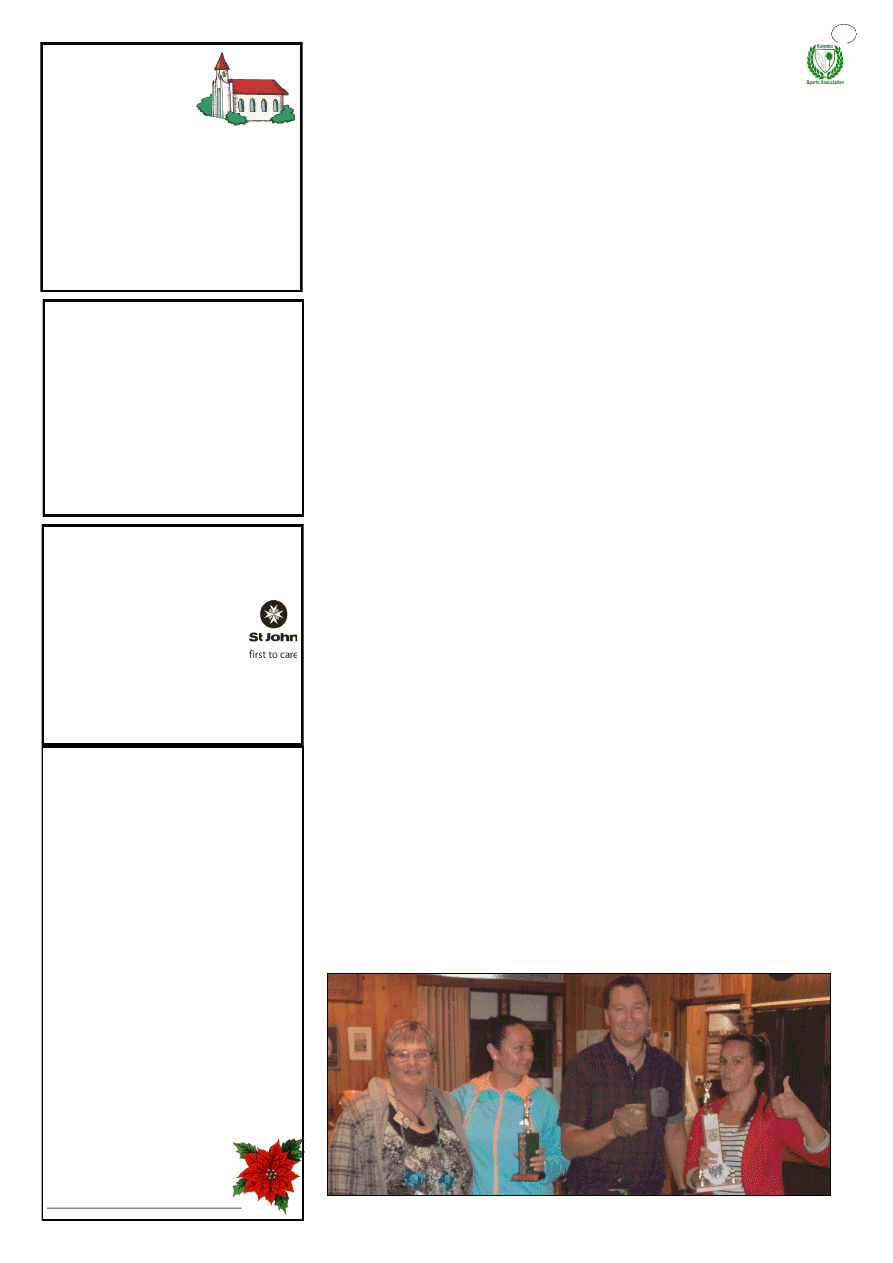 LEABOURNS 
Passenger Service
Car & Van Hire 
Bus & Coach Charters 
Airport Transfers 
 Monthly Shopper Bus 
Phone (09) 4237416 
When you need St. John 
members at your function … 
Get a Community Services 
Form 
….. see Milly at the  
Kaiwaka St John  
Op Shop.  
Phone 4312650 
MORE MEMBERS REQUIRED FOR 
THE KAIWAKA STATION. 
7
KAIWAKA SPORTS ASSOCIATION
ST PAUL'S  
ANGLICAN  
SUNDAY  
SERVICES
First Sunday 9.30am 
Third Sunday 9.30am  
St Pauls Church: Kaiwaka-Mangawhai Rd. 
1st Sun - Eucharist 
3rd Sun - Family Service 
Office 4214 122 
Contacts:M.Hargreaves 4312295, C.Bygrave 4312057  
AVON  AVON  AVON 

Christmas is now coming up 
quickly.  

I have a Sale and Demo day at 
the Coffee Pot Cafe Conference 
Room on Friday 14th November 
9.00-3.30pm. Many items 
reduced and gift sets available for 
giving.  

Brochure 1 and 2 will be 
available to order from. 

Become an Avon 
Representative on the day and 
receive $100 of free gifts. Start 
earning right away. 

Have a Get Together with your 
friends and receive special offers 
and free gift. 
Give me a call Gale Matheson  
09 4314827    
0274149576   
Otamatea-Ex Netball 
Congratulations  to  the  winners  from 
the  Otamatea-Ex  prizegiving  held  at 
the Sports Complex on Friday: 
TEAM 1 
Player of the Year - Taira Lambert 
Team Spirit - Rose O'Connell 
Most Improved - Mel Coates 
TEAM 2 
Player of the Year - Jodie Bennetto 
Team Spirit - Amy Richardson  
Most Improved - Lish Reynolds
Touch 
This summer, we will again be running 
our  Touch  Module.  It  will  be  on 
Sundays,  at  12.30pm  at  the  Sports 
Complex, from 1
st
 Feb to 29
th
 March. 
It will be a social, friendly module for 
mixed  teams  of  men,  women  and 
teenagers.  Teams  are  6-a-side  with  at 
least 3 females on the field, $100 team 
entry fee. Keen to play? Please contact 
me to register your team. 
Agricultural Day 
Well  done  to  Jody  Greig  who 
organised 
Kaiwaka 
Schools 
Agricultural Day, held last week at the 
Sports Complex. Photos can be viewed 
on the schools website 
Upcoming Annual General Meetings 
The Otamatea Rugby Club AGM will 
be  held  on  Tuesday  11
th
  November  at 
7pm at the Sports Complex.  
The  Rodney/Otamatea  JMB  AGM 
will  be  held  on  Wednesday  12
th
November  at  6.30pm  at  the  Sports 
Complex. 
The  Kaiwaka  Sports  Association 
AGM  will be  held  on  Wednesday  19
th
November  at  7.30pm  at  the  Sports 
Complex.  
Anyone 
interested 
in 
becoming 
involved  in  any  of  these  groups  is 
welcome to attend. 
Junior Tennis 
Time to get into the swing of it! If you 
have a child who is keen to give tennis 
a go, please phone Lindell Ferguson on 
4312542 
or 
email 
 The tennis 
season  runs  during  term  time,  starting 
this month and finishing around March. 
Fees  start  from  $30  per  player.  We 
would like to know which day and time 
suits you best. Last season we ran two 
age-group 
lessons 
on 
Monday 
afternoons. 
Fitness Centre 
There will be a Fitness Centre meeting 
this Tuesday 28 October at 5pm at the 
Fitness  Centre.  All  Fitness  Centre 
members are encouraged to attend.  
Fright Night 
Fright  Night  is  this  Saturday!  Turn  up 
to the Sports Complex in your scariest 
costume.  There'll  be  prizes  for  best 
dressed  boy,  girl  and  adult.  We  will 
have  music,  dancing,  games,  a  photo 
booth,  face  painting  and  a  lolly 
scramble,  then  we'll  open  up  the 
haunted  house!  Entry  fee  is  $3  (adults 
and  pre-schoolers  are free).  There  will 
also be a prize for the best halloween-
inspired supper plate – last year we had 
chocolate  spiders,  bloodshot  eyeball 
eggs,  cobweb  cupcakes,  deadman 
finger sandwiches and more! 
Fitness Boot Camp 
Keen to get into shape for the summer? 
We  are  hosting  a  Fitness  Boot  Camp, 
for 6 weeks, starting this Wednesday at 
5.45pm.  This  is  suitable  for  people  of 
all  ages  and  fitness  levels.  Just  bring 
yourself  -  fun  and  laughter  provided! 
$7 a session. 
Kaipara Sports Awards 
The  2014  Kaipara  Sports  Awards  will 
be  held  on  Friday  7
th
  November, 
6.30pm  at  the    Lighthouse  Function 
Centre  in  Dargaville.  Tickets  are  $50 
per  person  and  a  free  bus  is  available 
from  Maungaturoto  leaving  at  5pm 
from Noel Radd Motors. There are lots 
of local nominees, so if you would like 
to  support  them  by  attending,  you  can 
purchase  a  ticket  by  contacting  Sport 
Northland  representative  Roxanne 
Kelly on 
Many thanks to: 
 Jean  Mcleish  who  did  the  Sports 
Complex  cleaning  while  Mark  and 
Pam took a well-deserved holiday. 
 Willow  Boyd,  Pat  Buxton  and  Caz 
Annett  who  have  offered  to  help  do 
the decorations for our Fright Night 
 and  a  big  thank  you  to  Julie  Harris 
who is stepping down as President of 
our  Fitness  Centre.  Julie  has  run  the 
Fitness  Centre  very  efficiently  for 
over  10  years,  and  we  greatly 
appreciate  all  her  hard  work  and 
dedication. 
Cheryl Anderson 4312 051, 027 3462702 
kaiwakasports@gmail.com 
From  left:  Otamatea-Ex  Team  1  manager  Sandy  Shaw,  Rose  O'Connell,  coach  Andrew  Dunlop 
and Taira Lambert.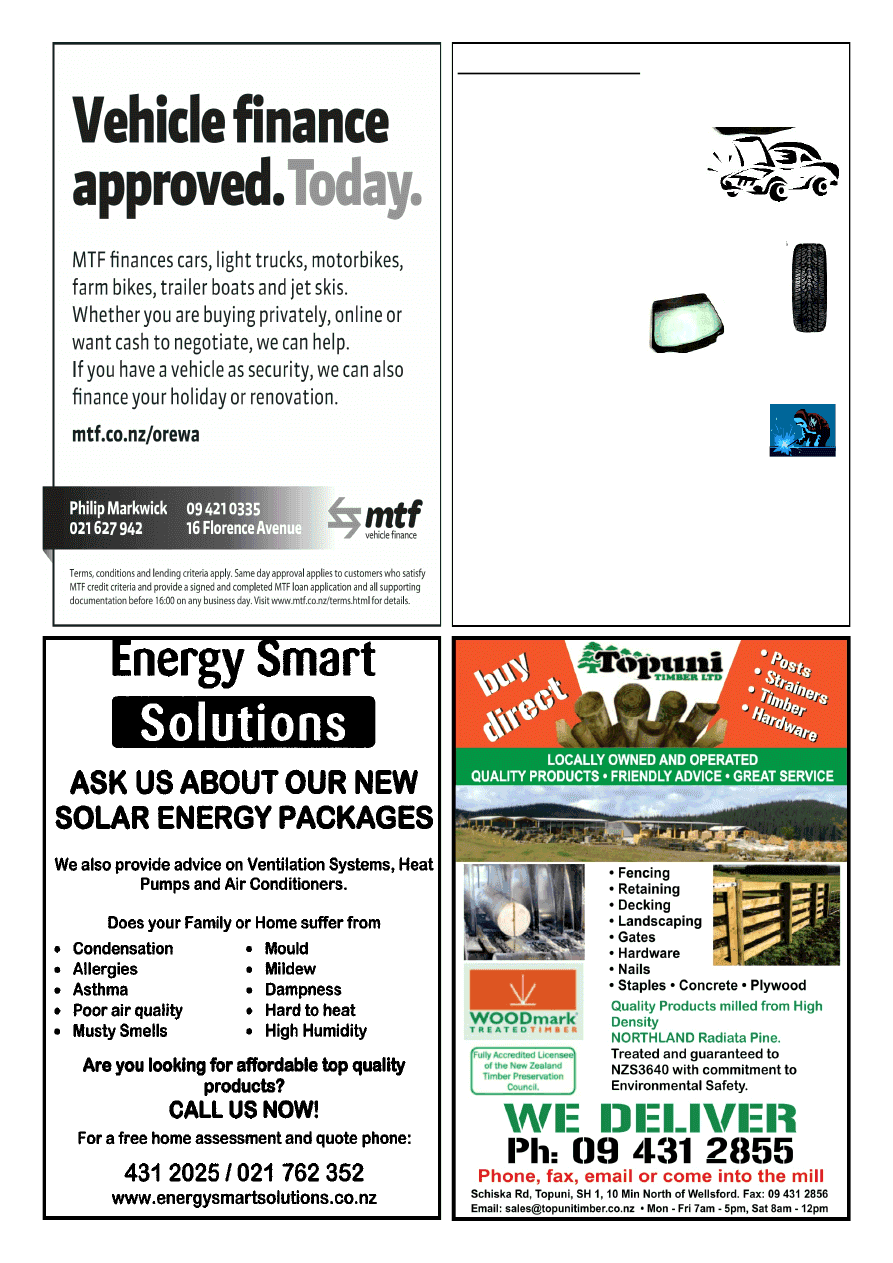 Want it done? 
Bring it to  
Twinkle Tow 'n' Tyre 
*W.O.F. 
*Tyres 
*Windscreen replacement 
*Chip repairs 
*Bulk Oil 
*Batteries 
*Welding 
*Custom built trailers 
*Trailer hire 
Think you'll get a better deal in 
the city? 
Go on, ring us; it won't cost  
anything! 
1837 State Highway 1, Kaiwaka       
Phone 431 2823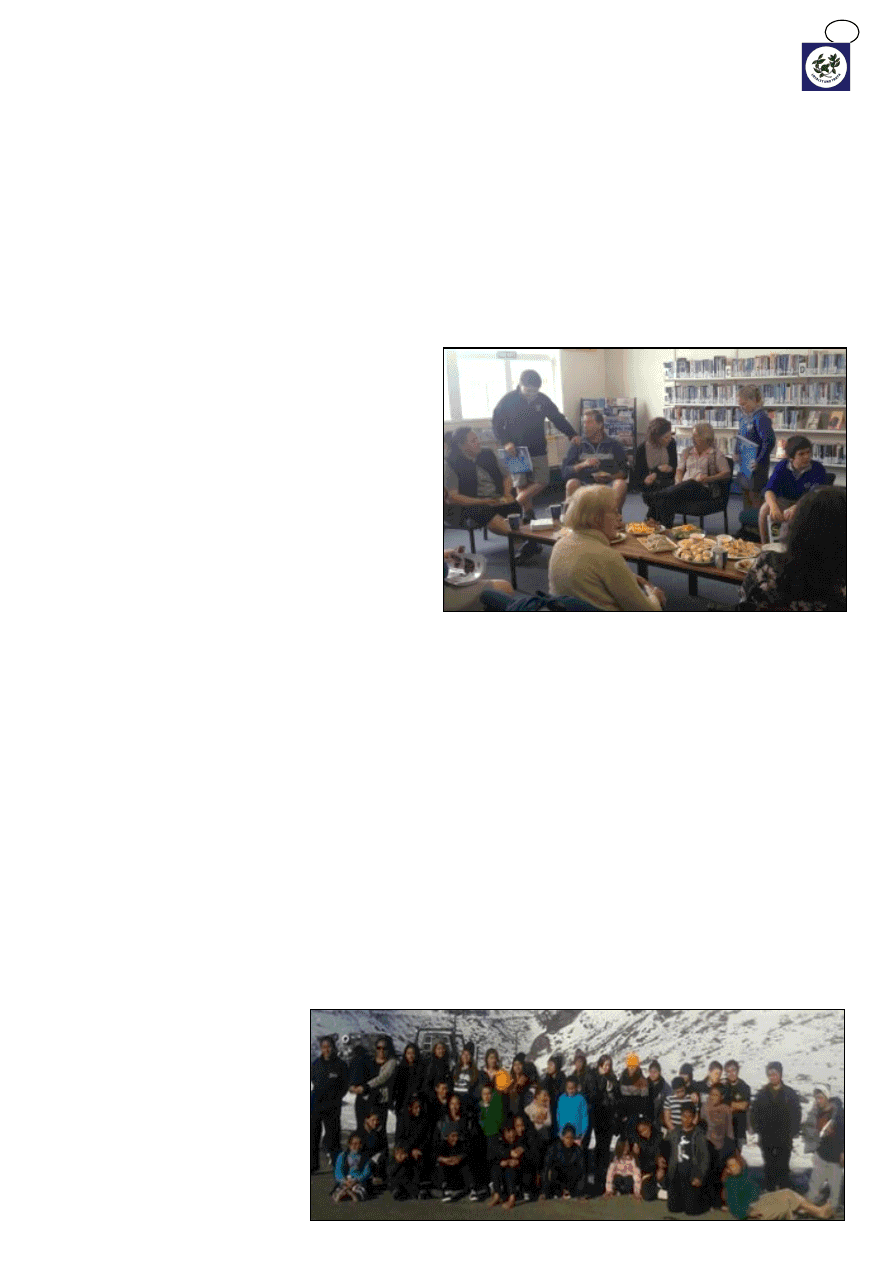 9
Principal's Comment 
We  have  recently  received  the 
confirmed  reports  from  both  the 
Education  Review  Office  (ERO)  and 
New  Zealand  Qualifications  Authority 
(NZQA) following their visits in Term 
3.  The  conclusion  of  the  ERO  report 
stated:  "Otamatea  High  School is  well 
led,  managed  and  governed.  Leaders 
and  teachers  review  the  quality  of 
teaching  and  pastoral  care  so  that 
students  learn  and  achieve  in  a 
supportive  and  affirming  environment. 
Student achievement, including that of 
Māori students, continues to improve." 
The  summary  for  the  Managing 
National  Assessment  (MNA)  visit 
included  the  following  statement: 
"Otamatea High School is commended 
for continuing to seek ways to meet the 
assessment  needs  of  its  students. 
Courses  are  reviewed  and  new  ways 
are being sought to gather evidence of, 
and 
to 
recognise 
achievement. 
Teachers  are  collaborative  and  seek 
professional  engagement  to  develop 
their  understanding  of  assessment 
practice." 
We  have  been  granted  the  three  year 
cycle  for  both  review  processes  which 
is  an  endorsement  of  our  ability  to 
continue to build sustainable practices. 
These  reports  are  a  positive  reflection 
of the hard work and dedication of the 
senior  leaders,  school  staff  and  BOT 
over the last few years. Full reports can 
be  found  on  the  ERO  website  and  the 
NZQA website under MNA Reports. 
There  have  been  some  questions  from 
the  community  about  whether  we  will 
be  operating  streaming  in  2015  for 
Year  10  students.  We  are  aiming  to 
operate  4  classes  at  Year 10  next  year 
with all Year 10 students being able to 
gain  some  NCEA  credits.  We  will 
continue to stream Year 10 classes next 
year  but  we  are  currently  reviewing 
whether  we  stream  based  on  students' 
aggregate  results  (as  is  current 
practice),  or  whether  we  are  able  to 
stream subject by subject. We are also 
considering  offering  two  academic 
Year  10  classes  next  year.  A  student 
who is gifted at Maths may struggle in 
English  and  vice  versa;  our  approach 
aims  to  build  more  flexibility  into  the 
system.  Student  engagement  results 
from  the  NZCER  survey  over  recent 
years  have  indicated  a  dip  in 
engagement  at  Year  10  level.  Our 
intention with this change is to respond 
to this data in a productive way whilst 
keeping  our  vision  of  'meeting  the 
learning  needs  of  every  student' 
central. 
Senior  Prizegiving  will soon be upon 
us  and  we  are  currently  in  the  process 
of  interviewing  candidates  for  Head 
Girl  and  Head  Boy  positions.  We 
received  a  number  of  quality 
applications  from  students  wanting  to 
serve  the  school  as  prefects  next  year. 
Prefect  positions  will  be  announced 
and  badges  awarded  at  Senior 
Prizegiving.  After  Senior  Prizegiving 
parents  will  be  able  to  collect  school 
reports.  Any  reports  which  aren't 
collected will be mailed out. 
Following Senior Prizegiving all senior 
students will be on study leave. NCEA 
Exams  begin  on  Monday  10th 
November.  Full  school  uniform  is 
expected  for  all  exams.  If  students 
want  to  come  on  the  school  bus  for 
their  exams  they  may  do  so.  Please 
note  that  afternoon  exams  start  at 
2:00pm  so  it  may  be  necessary  for 
alternative  travel  arrangements  for  the 
journey  home  to  be  organised  in 
advance, 
particularly 
if 
students are sitting 
more  than  one 
paper. 
An 
allocated 
study 
room 
will 
be 
available at school 
for  the  time  after 
morning 
exams 
and 
before 
afternoon  exams. 
Any  arrangements 
to 
meet 
with 
specific  teachers 
for 
revision 
purposes  must  be 
organised 
in 
advance  as  teachers  also  have  other 
responsibilities  and  classes  during  this 
time.  No  students  should  be  using 
school buses for any other purposes. 
The  Accelerated  Literacy  Learning 
Programme 
On  Thursday  25th  September  those 
involved  in  the  Accelerated  Literacy 
Learning  programme  held  a  morning 
tea in the school library. It was a good 
opportunity  for  students,  parents  and 
staff  to  share  the  recent  learning 
successes of these individual students. 
The  ALL  programme  is  a  Ministry  of 
Education initiative to support students 
in  the  development  of  their  literacy 
skills.  Otamatea  High  School  chose  to 
focus  on  the  writing  skills  of  Year  8 
students.  The  assessment  results  of 
students throughout New Zealand who 
are  involved  in  the  ALL  programme 
will be used by NZCER (New 
Zealand  Council  for  Educational 
Research)  to  complete  a  report 
about  the  effectiveness  of  the 
programme. 
Students  have  worked  on  a  scrapbook 
of  tasks  and  enjoyed  sharing  their 
personal  writing  with  their  parents. 
Thank  you  to  the  parents  who  were 
able  to  support  their  child  at  the 
morning tea. 
Junior Kapahaka Waiouru Trip 
On  Monday  22nd  September,  the 
juniors  in  the  kapahaka  group  along 
with the Nga Ringaomatariki went on a 
trip to extend learning about the impact 
of  war  on  Māori  that  has  been  our 
focus  for  2014  in  recognition  of  100 
years since WWI started. Our first stop 
was  Tokoroa  High  School  where  we 
made lasting impressions on our Cook 
Island hosts. We were lucky enough to 
learn  about  hydro-electricity  onboard 
the  Huka  Jet  in  Taupo  before  we 
continued  our  journey  to  the  Waiouru 
Army  Camp  where  we  stayed  for  3 
nights learning about the rigors of army 
life,  the  immense  pride  of  Ngati 
Tūmatauenga  and  the  huge  sacrifice 
our  service  men  make  for  all  of  us 
"civvies." We went tobogganing down 
Ruapehu, 
snowball 
hurling 
and 
snowmen  making.  Then  on  our  final 
day we heard a legend about Ruapehu 
and  the  other  maunga  in  the  Central 
Plateau. It was an exhilarating week of 
fun filled activities that helped impress 
upon us the value of the NZ forces. Ka 
mate  he  toa,  ka  ara  mai  he  toa.  When 
one  warrior  falls,  another  rises  in  his 
place. 
….continued on page 11 
OTAMATEA HIGH SCHOOL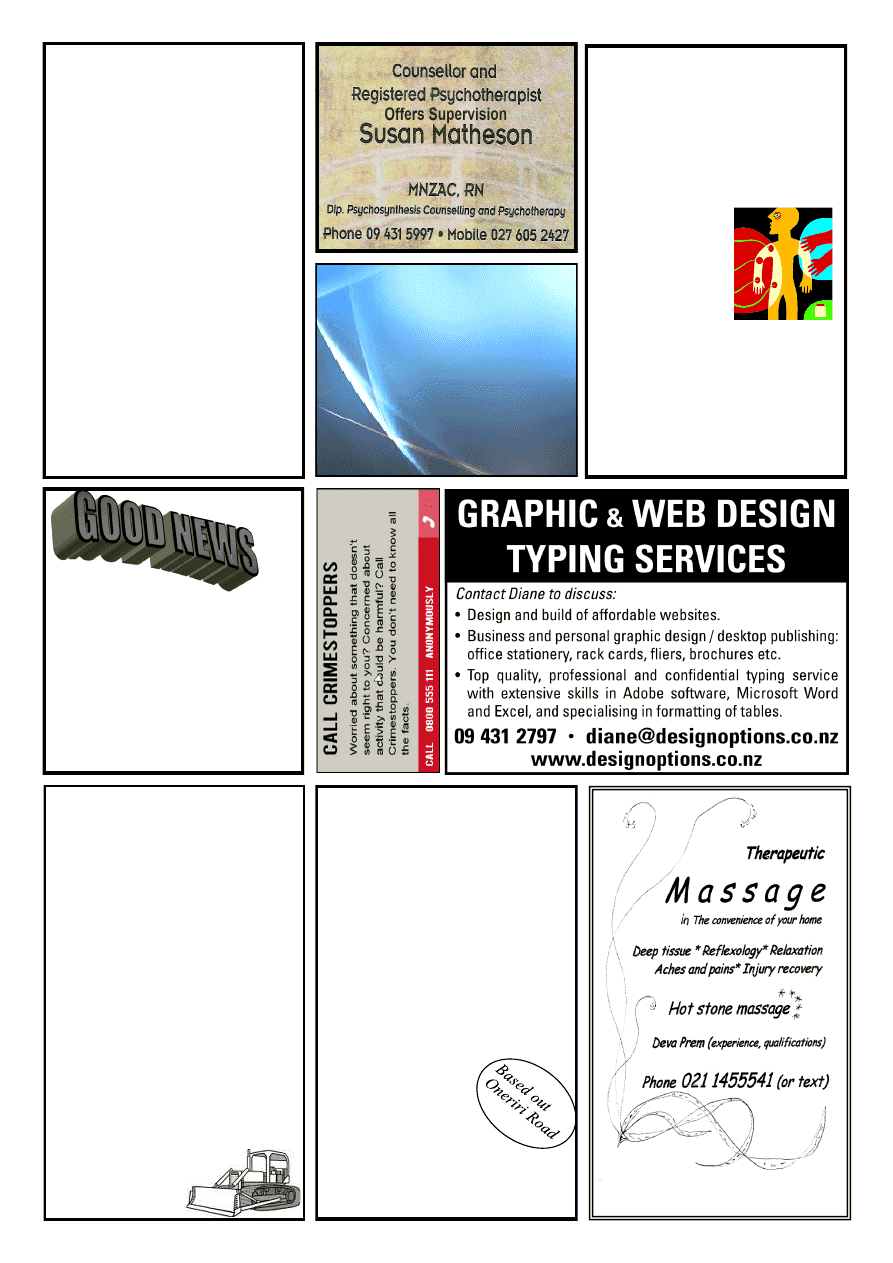 www.mangawhaimassage.co.nz 
HODGETTS 
CONTRACTING
Digger Work    

Driveways 

House Sites   

Dams 

Drains, etc
Also available for HIRE 

3 ton Vib Roller 

Heavy Duty Tow 

Waterblaster  

Lazer Level 
Phone Mark 
4312877 
027 447 8554
OWEN STEVENS 
Osteo Therapist
For careful adjustments to bones 
and joints 
Treatment for  humans and their 
pets 
Clinics: 
Kate's Place, 
Kaiwaka: 
Last Friday of 
month 
For bookings: 
9.00am-5.00pm   
Phone 
09 4312661 
Or phone Owen   
09 4317123  anytime 
Freeview  
Installations 
Richard Te Haara 
25 Marram Place 
Mangawhai Heads 
021 1104056 
kiwipride@xtra.co.nz
Willow Bend
HORSE  
HOTEL 
"   
Total Horse Care 
" 
Agistment 
" 
Riding Lessons 
" 
Arena Hire (60x40) 
" 
Young Horse Starting 
" 
Re-training/Exercising 
" 
Hoof Trimming 
" 
Problem Solving 
Phone Sue 09 431 
2817 or 021 623 776 
Or email sue.gray@xtra.co.nz 
Coates  
Contracting 

D41 Bulldozer with 6 
way blade, bush rigged 
with winch 

For all tree work 

General bulldozing and  
  stick raking. 

120hp Tractor for 
ground cultivation,  

tip trailer work. 

Fencing
All enquiries phone  
Brett Coates  
 094318720  
or 
 021431872
@ the  
Kaiwaka Family 
Church 
Your COMMUNITY CHURCH 
RECEIVE HEALING 
RECEIVE THE LOVE OF GOD 
Everyone warmly welcome 
each Sunday 10am. 
Contact: Pastor John Dekker,  
09 4318203 
THERE'S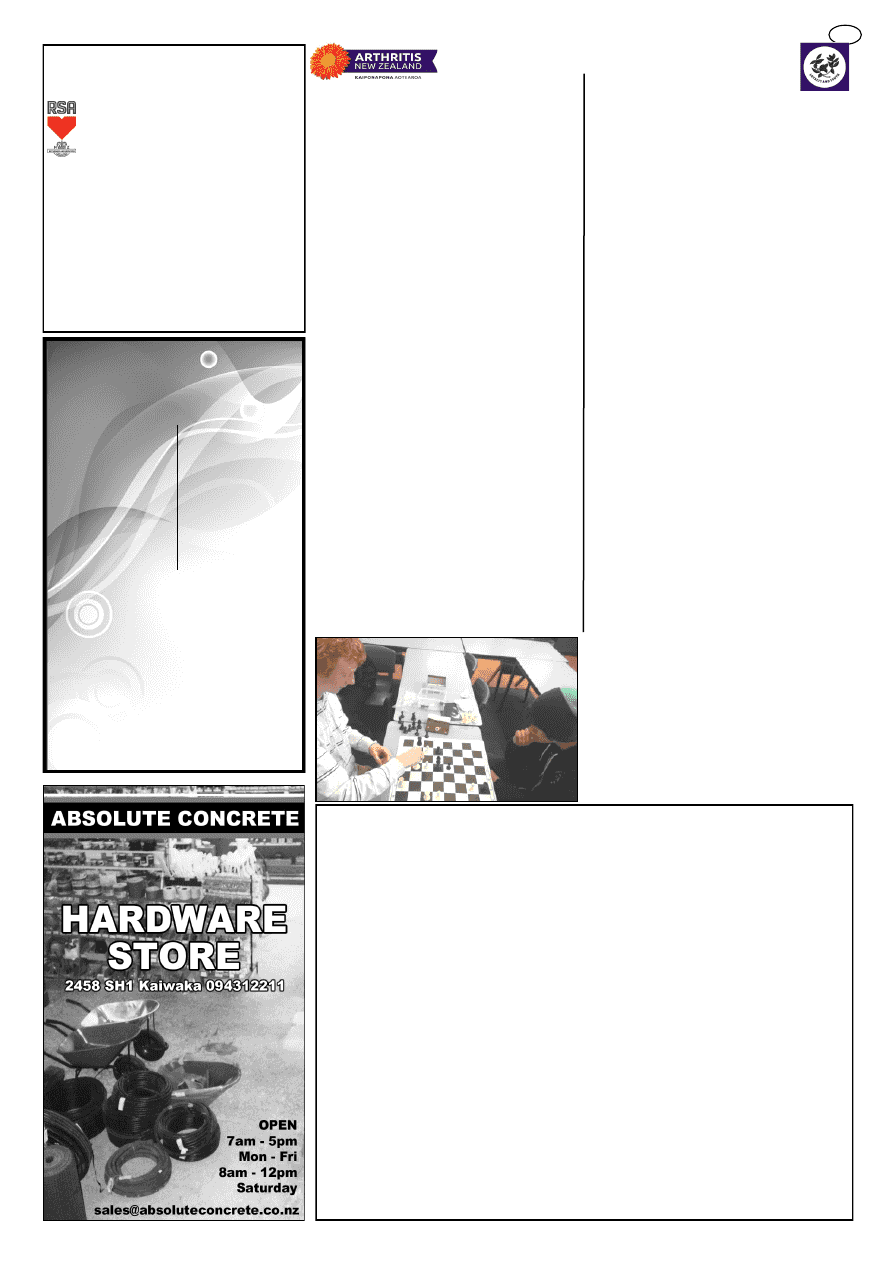 11 
KAIPARA FLOORING CO 
32 HURNDALL ST MAUNGATUROTO 
Ph: 09 9469886 or 021 515 415 
Carpet, vinyl, laminate wood look  flooring, vinyl planking, 
sanding & polyurethane service. 
Carpet Short Ends from $79pm + GST 
Vinyl D.I.Y. peel n stick tiles $10sq mtr + GST. 
Free measure & quote.   
Mobile Service 
Phone Christine or Howard anytime 
Open Saturdays by arrangement. 
HAKARU & 
DISTRICTS RSA Inc 
Each Friday night 
from 6.30pm 
Meals will be served 
2nd Friday of the Month 
Is Roast Dinner Special 
Come along and enjoy our 
Hospitality  
For more information 
Ring Heather 431466 
or Jan 4314512 
U Beauty 
Please call Nicole for bookings 
09 393 6336 or 022 0639450 
Qualified Beautician 
4 Kaiwaka – Mangawhai Rd 
Kaiwaka 
Underarm Wax  
$20 
Extended Bikini Wax 
$30 
15 min Back  Massage 
$25 
Eyebrow Wax  $10 
Eyebrow Tint  $10 
Eyelash Tint 
$20 
Lip Wax 
$10 
Chin Wax 
$10 
Bikini Wax 
$20 
Brazilian 
$50 
½ Leg Wax 
$30 
Full Leg Wax  $45 
Full Pedicure  $60 
Foot Tidy  
$35 
Manicure 
$45 
Nail Tidy 
$25 
Chest Wax 
$30 
Back Wax 
$40 
Nostrils 
$10 
Ears 
$10 
Photo left: Alex and Elias battling it out in 
the deciding chess  match. 
Water 
based 
exercise  classes 
for arthritis sufferers come to  
Te Hana 
Local  physiotherapist,  Amy  Griffiths, 
is  about  to  start  taking  water  based 
exercise  classes  for  Arthritis  New 
Zealand.  The  classes  are  open  to 
anyone with an arthritic condition such 
as osteoarthritis, rheumatoid arthritis or 
fibromyalgia.  
Scientific studies have shown that exercise 
in  water can improve  strength and  general 
fitness in people with arthritis. The warmth 
and  buoyancy  of  the  water  makes 
exercising  easier.  Plus,  exercising  in  a 
small  group  with  people  who  have  a 
similar  condition  offers  peer  support.  The 
class  will  be  suited  to  those  with  arthritis 
and  the  small  group  will  mean  that  Amy 
can  tailor  the  exercises  to  suit  each 
individual. 
Amy  says  this  is  a  great  opportunity  for 
those  with  arthritis  to  access  a  local 
programme  specifically  for  them.  There 
has  been  a  class  in  Whangarei  for  some 
time  but  that  can  be  too  far  for  someone 
with  arthritic  aches  and  pains  to  travel 
comfortably  so  having  something  local  is 
brilliant. 
The  classes  will  be  held  at  Karen 
Woolley's  pool  in  Te  Hana.    The  pool  is 
lovely and warm and has good access with 
steps  and  a  rail  into  the  water.  There  is 
even  a  hoist  for  those  unable  to  use  the 
steps. 
Classes  will  run  every  Wednesday  during 
term time at 11am – 12 midday. To register 
please call Sue at Arthritis New Zealand on 
0800  663  463.  Or  if  you  require  specific 
information  about  the  class  call  Amy  on 
021  207  2729.  Please  also  refer  to  the 
advert in this edition of The Bugle. 
Chess Tournament 
Last  month  the  inaugural  Otamatea 
High School chess tournament was run 
at school. This is an individual tourna-
ment  that  was  completed  over  4 
lunchtimes.  Ten  students  participated 
over  the  course  of  the  week,  playing 
four  games  each.  After  four  rounds, 
Elias  Giles  and  Alex  Damsted  were 
tied  on  3  wins  and  a  draw  each,  so  it 
came down to a deciding match to de-
termine  the  2014  champion.  Each 
player  was  given  15  minutes  on  the 
chess  timers,  which  was  all  the  time 
they  were  allowed  to  complete  their 
moves. In a frantic finish, Elias found 
himself  with  a  material  advantage  but 
in serious time trouble. 
Despite some frenetic moves at the end 
Elias  couldn't  beat  the  clock  and  so 
Alex  was  declared  the  winner  and 
2014 champion. 
~Dirk Smyth 
Shearing Course 
Ten  young  men  arrived  at  Lupton's 
woolshed at 8am on Tuesday morning 
–  two  wearing  shorts  and  the  rest  in 
suitable shearing clothes. That was the 
last day anyone wore shorts. Shearing 
is not kind to bare legs. The four tutors 
from TECTRA started the boys on pa-
perwork  and  graduated  to  crutching 
and  later  being  able  to  shear  three 
sheep in thirty minutes. Five days from 
8am to 5pm working in a woolshed is 
more work than most had done before, 
but  they  all  completed  the  course  and 
were  busy  shearing  when  I  saw  them 
last on Saturday. 
An excellent course with well behaved 
hard  working  students  who  hopefully 
will find the skills they learnt useful in 
the future. 
OHS continued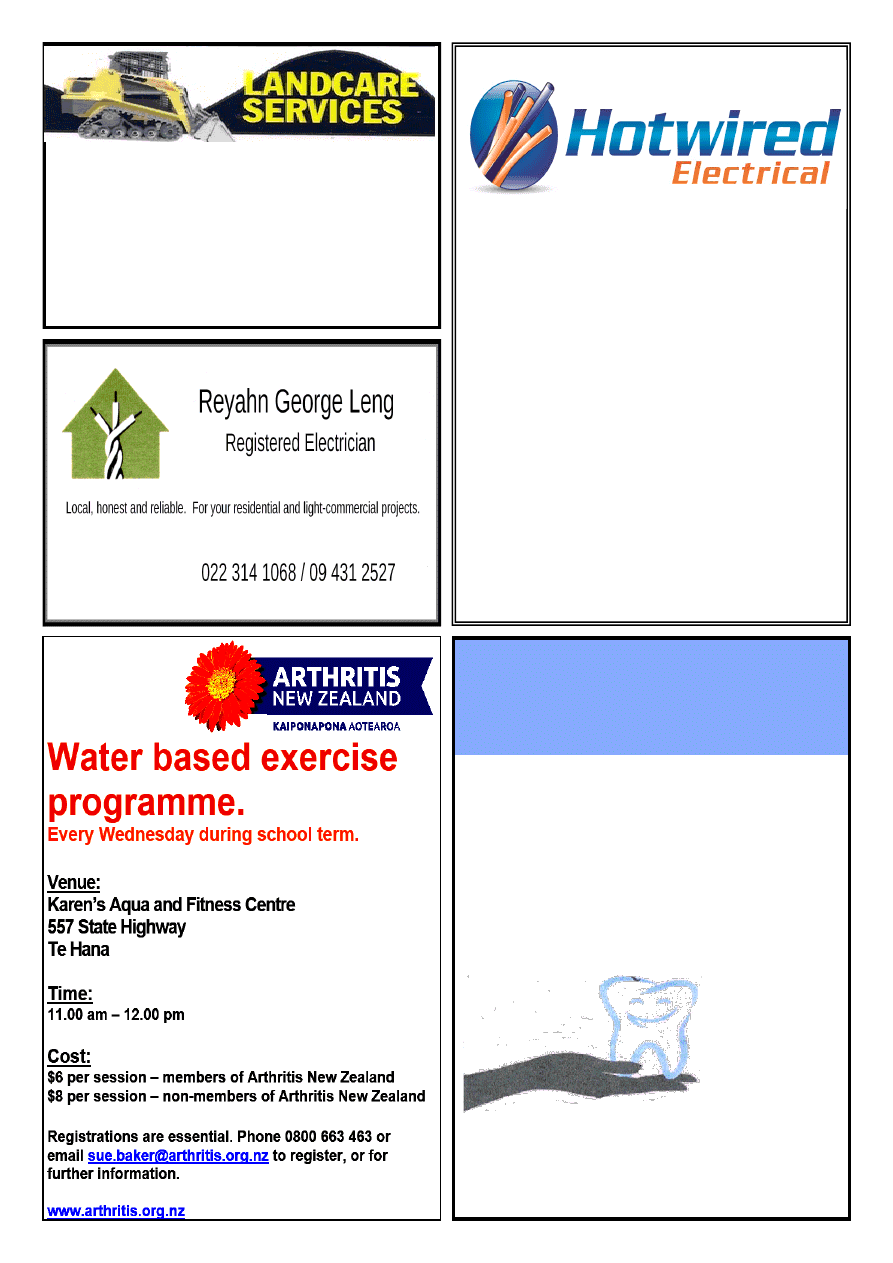 LANDSCAPING 
4 IN 1 BUCKET 
TRENCHER 
POLE HOLES 
ROTARY HOE 
COMPACT ROLLER 
OFFAL HOLES 
CAN SUPPLY WOODCHIP & POST PEEL 
5 TON TIPPER 
FOR RELIABLE AND FRIENDLY SERVICE CONTACT DAVE 
Dave Hyndman 
 
KAIWAKA 
PH: 09 4312302 
MOB: 021 431 238 
Gentle Dental 
Ruakaka 
We love to see you smile 
 
General  & Cosmetic Dentistry 
 
Emergency & ACC Treatment 
 
Denture & Hygienist Services 
 
Senior Citizen Discounts 
 
Free Adolescent Care 
 
Free WINZ Quote 
19 Ruakaka Town Centre 
Dr Sim Sood & Associates 
Ph:  432 8139 
Saturdays 
By 
Arrangement 
Open  
Mon-Fri  
8am-5pm  
For All your  
Electrical  Requirements 
 
Domestic small jobs 
 
Residential dwellings and alterations 
 
Commercial 
 
Industrial                 
No job too big  
or too small    
Contact Jason today on: 
(09) 431 5992, (021) 405 019 
www.hotwiredelectrical.co.nz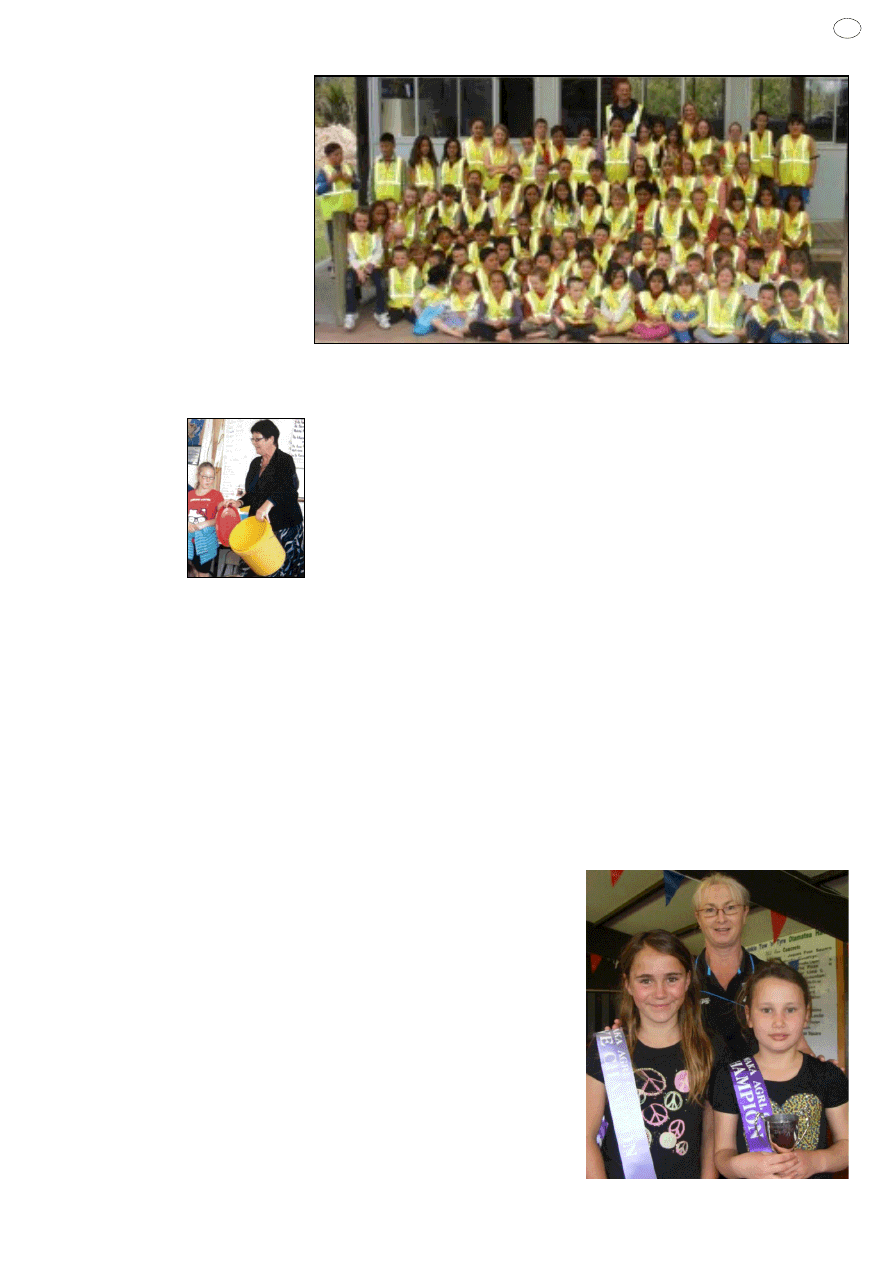 13 
KAIWAKA SCHOOL 
Speech Competition 
Our winners are: Year 1: Casey Greig; 
Year  2:  Sienna  Burkell;  Year  3:  Ryan 
Stirling; Year 4: William Holden; Year 
5:  Maia  Fairburn;  Year  6:  Matthew 
Everson. 
The 
award 
for 
overall 
best 
speechmaker  went  jointly  to  Ryan 
Stirling 
and 
Matthew 
Everson. 
Congratulations  boys.  We  thank  our 
judges  Barbara  Bronlund  and  Caroline 
Andrews. 
Hi-viz Vests 
The  Grassroots  Foundation,  Fonterra, 
have  donated  a  whole  school  set  of 
high-viz  vests  for  all  of  our  students. 
These  are  for  the  children  to  wear  to 
and  from  school,  and  any  other  time 
they are out and need to be seen. Each 
one is named. Thank you, Fonterra for 
providing these, and to Adrian Buxton 
for organising this. 
Food Scraps 
We  are  going  to  put 
aside food scraps for 
pigs.  The  children 
have  been  asked  to 
put 
their 
fruit, 
vegetables and bread 
scraps  into  a  yellow 
bucket,  which  will 
be  collected  each 
day. 
No 
meat 
products  can  go  into 
the bin. The children 
have  been told  that  uneaten  food  must 
still go home. 
Swimming Pool Operators Course 
Any  volunteers  to  attend  a  small  pool 
operators course on November the 20th 
from  8:30am  to  4:00pm?  The  school 
will  pay  the  $350  if  the  person  being 
trained is happy to be rostered on as a 
doser  for  the  school  pool  over  the 
summer  holidays.  We  can  only  keep 
the school pool open over the holidays 
with  volunteers  from  the  community. 
This 
gives 
local 
children 
the 
opportunity  to  become  familiar  with 
the water in a safe pool. 
Giant Pumpkin Competition 
Spring  is  here  and  time  to  get  your 
patch  ready  for  the  "Kaiwaka  School 
Annual  Giant  Atlantic  Pumpkin 
Competition"! Seeds are available from 
the office. 
"Weigh In" is in Autumn in Term Two 
2015!  Lots  of  categories  and  prizes. 
This  is  a  great  experience  for  your 
children.  Please  support  them.  Lots  of 
info on how to grow them on the web. 
~Megan Little, Organiser 
Hats 
Term 4 is the beginning of hat season. 
Please provide your child/children with 
a  hat  for  sun  protection  required  for 
outside play. Thank you. 
Class Photos 
Class  photos  will  be  taken  on 
Wednesday  29th  October  between  9-
10.30am.  Portraits  will  be  taken  after 
all 
the 
class 
groups 
finished 
approximately 11am. If parents, grand-
parents  or  care-givers  wish  to  be 
included  in  a  family  group  portrait 
please  arrange  a  time  with  the 
photographer by contacting him direct. 
Peter  Davies:  09  432  0356  or 
email:pldavies@xtra.co.nz 
Agricultural Day Results: 
LAMB 
Most  Obvious  Pet  -  Jubilee  Cup  -  Sophie 
Gribble;  Novice  Lamb  -  Grace  Hunt-
Eramiha; Best Natural  Condition  -  Jeffries 
Cup  -  Boyd  Wintle;  Reserve  Champion 
Leading  -  Michael  Ferguson;  Champion 
Leading  -  McAulay  Cup  -  Boyd  Wintle; 
Reserve Champion Calling - Boyd Wintle; 
Champion  Calling  -  Hargreaves  Cup  - 
Calleesto  Mills; 
Reserve  Champion 
Rearing  -  William  Holden  and  Nathan 
Gilligan;  Champion  Rearing  -  H  Linnel 
Family  Cup  -  Boyd  Wintle;  Reserve 
Champion  Wool  Class  -  Grace  Hunt-
Eramiha;  Champion  Wool  Class  - 
Champion Wool Cup - Toby Lee; Reserve 
Champion  Meat  class  -  Nathan  Gilligan; 
Champion  Meat  class  -  Champion  Meat 
Cup  -  Boyd  Wintle;  Junior  Reserve 
Champion  -  Toby Lee; Junior Champion  - 
Junior  Points  Cup  -  Nathan  Gilligan; 
Senior  Reserve  Champion  -  Michael 
Ferguson; Senior Champion - Senior Points 
Cup  -  Boyd  Wintle;  Reserve  Champion 
Lamb  -  Grace  Hunt-Eramiha;  Overall 
Champion  Lamb  -  YFC  Cup  -  Boyd 
Wintle. 
CALF 
Most Obvious Pet - Kwk Ag. Club Young 
Trophy  -  Leayah  Buxton;  Reserve 
Champion Dairy Type Light Breed Points - 
Brenda  Ferguson;  Champion  Dairy  Type 
Light  Breed  Points  -  McClean  Cup  - 
Ashley  Greig;  Reserve  Champion  Dairy 
Type  -  Brenda  Ferguson;  Champion Dairy 
Type - Kaiwaka Calf Club Trophy - Ashley 
Greig;  Reserve  Champion  Beef  Type 
Points - Sammy Wakeling; Champion Beef 
Type  Points  -  Donaldson  Cup  -  Zac 
Wakeling; Reserve Champion Beef Type  - 
Leayah Buxton and Tara Moyle; Champion 
Beef  Type  -  Blackwell  Trophy  -  Sammy 
Wakeling;  Reserve  Champion  Handling  - 
Zac Wakeling; Champion Handling - Colin 
Mason  Cup  -  Sammy  Wakeling;  Reserve 
Champion  Rearing  -  Zac  Wakeling; 
Champion Rearing - Kaiwaka School Cup - 
Sammy  Wakeling;  Junior  Points  Reserve 
Champion  -  Zac  Wakeling;  Junior  Points 
Champion  -  WF  Allen  Points  Cup  - 
Sammy  Wakeling;  Senior  points  Reserve 
Champion  -  Brenda  Ferguson;  Senior 
Points Champion - KCC Points Cup - Tara 
Moyle; Reserve Champion of Champions - 
Zac  Wakeling;  Champion  of  Champions  - 
Leslie Cup - Sammy Wakeling. 
5  YEAR  MERIT  -  Michael  Ferguson, 
Sammy  Wakeling,  Gareth  Ferguson, 
William Holden. 
7 YEAR MERIT - Brenda Ferguson 
Thanks to: Our Sponsors: ANZ, Borck 
Contracting,  Farmlands.  Our  Judges: 
Doug  Donaldson,  David  Hargreaves, 
Evan  Wright.  Our  Dress-up  Judges: 
Michelle from ANZ and Vanessa from 
Farmlands.  
Thanks  most of all the children for all 
the  hard  work  that  they  have  put  in 
caring  for  their  animals.  The  parents 
for  supporting  the  children  in  their 
efforts.  For  those  of  us  that  aren't 
farmers, the farmers that  entrusted  our 
children  with  their  animals.  The 
organising  committee  and  all  the 
helpers  on  the  day.  The  PTA  for  the 
sausage  sizzle.  Rebecca  Harris  for 
organising  this  day  for  the  past  eight 
years. 
I  would  like  to  look  at  ways  to  make 
this event bigger and even better for the 
years to come, so if you have any ideas 
please  talk  to  me  or  even  better  come 
to next years AG day meeting. 
Thank you, Jody Greig 
Mrs Ellis & Caleesto 
Mills with the new 
Piggy Bucket. 
Brenda Ferguson and Ashley Greig with 
ASB representative Michelle Thompson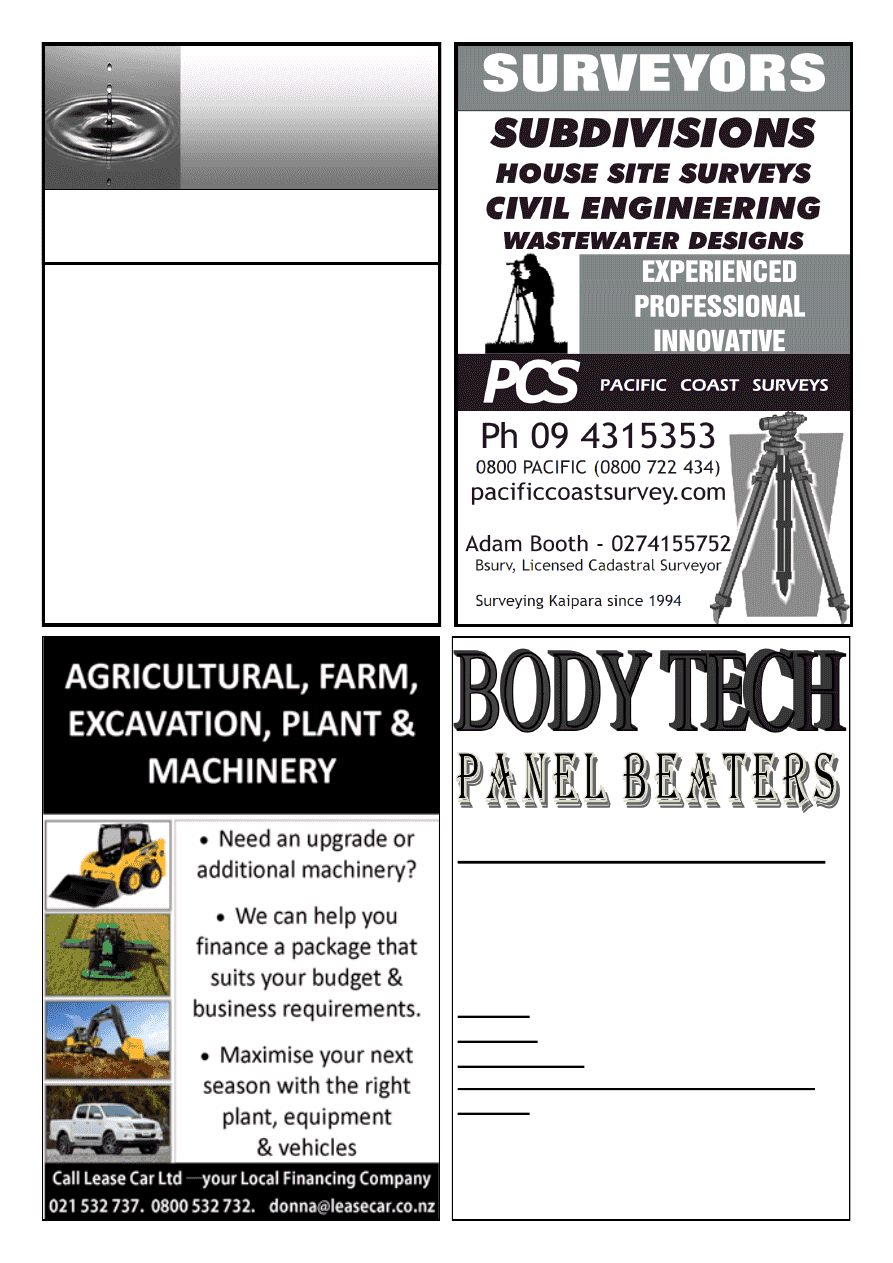 PETE WORSFOLD  
B. Soc.Sc. M. Soc.Sc. Diploma of Prof 
Couns. 
Counsellor
peteworsfold@xtra.co.nz 
 021 825 970 
Professional Service 
Variety of Modalities 
By Appointment Only 
For all your body repair needs!! 
We do: 
Rust repairs 
Insurance work 
Anti-corrosion treatment         
Hours: 8.30am-5pm Monday-Friday  
Mobile: 021 118 0462 
After hours: 09 431 2384 
Phone: Craig or Call in for a free Quote 
e-mail: 
bodytech_panelbeaters@yahoo.com
We are located at 1837 SH1 Kaiwaka, behind Twin-
kle Tow 'n' Tyre call in anytime for a free quote.  
Large and minor vehicle  
  repairs 
Industrial vehicles 
Full Cut and polishes 
INDIVIDUAL ONE-ON-ONE 
COUNSELLING 
 
MODALITIES:     FOR: 
  CBT              Grief 
  Gestalt            Relationship 
  Person-Centred     Trauma 
  Solution Focussed    Couples 
  Behavioural        Adolescents 
                  Careers 
Call for Appointment 
At "The Well of Health" 
09 4312799 or 021 825 970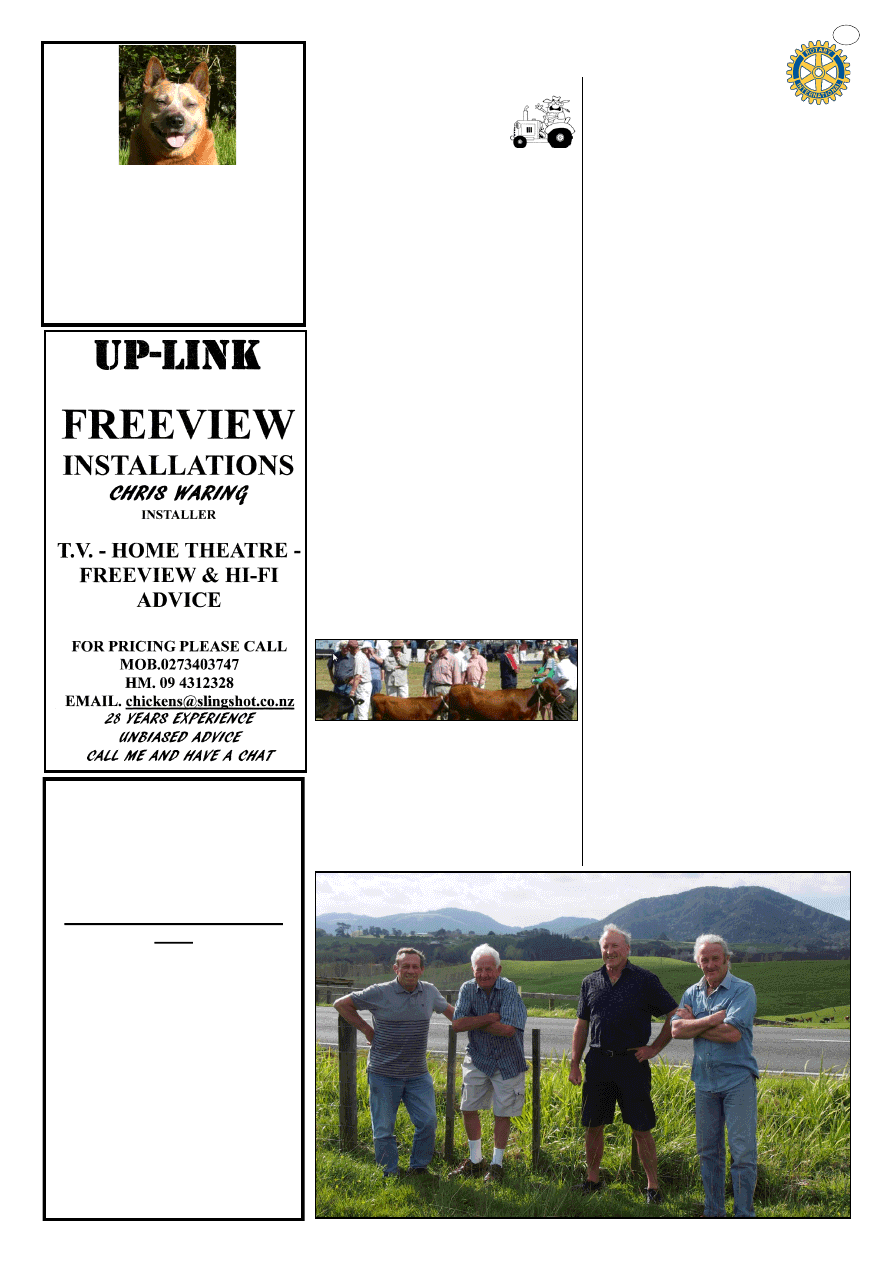 15 
Laughing Dog 
Computers 
www.laughingdog.co.nz 
0224344448 
Hardware and Software 
Service and Repair 
Yang Style Tai Chi 
Classes  
For Beginner And 
Practitioners  
at the 
Kaiwaka War Memorial 
Hall 
Every Tuesday  
Starting at 10.30 am 
Come Along And Have 
Some Fun While Improving 
Your Balance Health And 
Fitness 
For More Information Contact  
Andrew Young 
09 4223424   
PAPAROA A&P 
SHOW NEWS 
September  and  October  have 
been  very  busy  for  the  Show 
Team getting prepared for next 
year's A&P Show. 
A  brand  new  website  has  been  developed 
which  should  be  live  when  you  read  this. 
Go  to  www.paparoa.org.nz  for  up-to-date 
information about the Show. 
Also  at  the  same  time  the  Show  will 
introduce  a  range  of  new  email  addresses. 
These  will be listed on the  website. If you 
have  any  questions  whatsoever  you  can 
email info@paparoashow.org.nz  
As a result of this change the Show will no 
longer  use  the  old  email  address 
paparoashow@hotmail.co.nz 
Another  big  change  is  signage.  In 
November large new signs will go up at the  
entrance to the Showground. One sign will 
inform  viewers about the  Show, its events 
and date. 
The  other  will  be  a  dynamic  "What's  On 
At  The  Showground"  sign.  This  will  be 
updated regularly by the  Show Committee 
with  the  latest  news  about  events  and 
activities. 
Another  key  activity  for  the  N.K.A.A. 
Committee  has  been  the  Sponsorship 
campaign.  In  August/September  over  75 
North 
Kaipara 
organisations 
were 
approached 
with 
a 
multi-option 
opportunity  to  sponsor.  The  response  has 
been  excellent  with  more  sponsors  yet  to 
come.  The  funds  raised  will  be  used  to 
improve  the  infrastructure  and  quality  of 
the N.K.A.A. Showground and the Paparoa 
A&P  Show.  Details  about  sponsorship 
options are also on the website. 
Recently  prospective  stallholders  have 
been  sent  information  about  the  Market 
Stalls  and  Trade  Sites  arrangements  for 
2015. If you want to know about this then 
please go to the website. 
There  is  the  all-important  information 
about  Events  Schedules.  This  is  all  on  the 
website together with entry forms. It's now 
very easy to find out what is happening at 
the Paparoa A&P Show. 
The 
Rotary 
Club 
of 
Maungaturoto 
and 
Districts 
proudly  announces  the  undertaking  of  a 
major 
community 
project 
in 
the 
Mangawhai  –  Kaiwaka  area.  An  11,420 
square  metre  property  at  116  Kaiwaka-
Mangawhai  Road  has  been  purchased  for 
the  purpose  of  building  a  convertible  barn 
on  it  and  presenting  a  desirable  lifestyle 
block for sale by auction. The block will be 
within  walking  distance  from  Kaiwaka 
School  and  just  minutes  away  from  the 
Kaiwaka township and all of the shopping, 
eating,  sporting  and  other  community 
facilities it has to offer. 
The  building  will be  a  barn style  structure 
designed  by  Tim  Magill's  Barnbuilders  of 
Kaiwaka  and  will  be  constructed  under 
their  management  using  trainee  and  other 
voluntary help. Its design is such that it can 
be  easily  be  converted  into  a  serviced 
family home. 
It is Rotary's intention to use the project to 
raise  funds  for  its  community  work,  to 
provide a worthy project to teach carpentry 
skills to aspirants in the  building  industry, 
and  to  further  profile  the  work  of  Rotary 
and its community contribution. Assistance 
in the project will be sought and welcomed 
from  trade  suppliers,  specialist  contractors 
and indeed anyone willing. 
The  intention  is  to  have  the  project 
completed  and  available  for  auction  by 
autumn  2015.  It  is  expected  to  appeal  to 
lifestylers looking for an affordable way of 
settling  into  the  Kaiwaka  community  with 
its like-minded residents. 
The  Maungaturoto  &  Districts    Rotary 
Club  covers  the  are  area  from  Matakohe, 
Paparoa,  Maungaturoto,  Waipu,  Kaiwaka 
and  Mangawhai.  It  is  very  active  in 
supporting  youth  and  children  as  well  as 
giving to charities  nationally. Help for the 
project is required.  Donations of voluntary 
help,  material,  monetary  assistance  would 
be very welcome 
For  further  information  contact  Keith 
Shadbolt 
094315365, 
Tim 
Magill 
021487055 
or 
Merv 
Huxford 
merv@otsl.co.nz, Vern Dark 094314577 or 
Jim Taylor (Club President) 094315365 
ROTARY 
Pictured: Keith Shadbolt, Dave Orford, 
Merv Huxford and Tim Magill standing on 
the new property, with Pukekaroro and the 
Kaiwaka Dolphin in the background.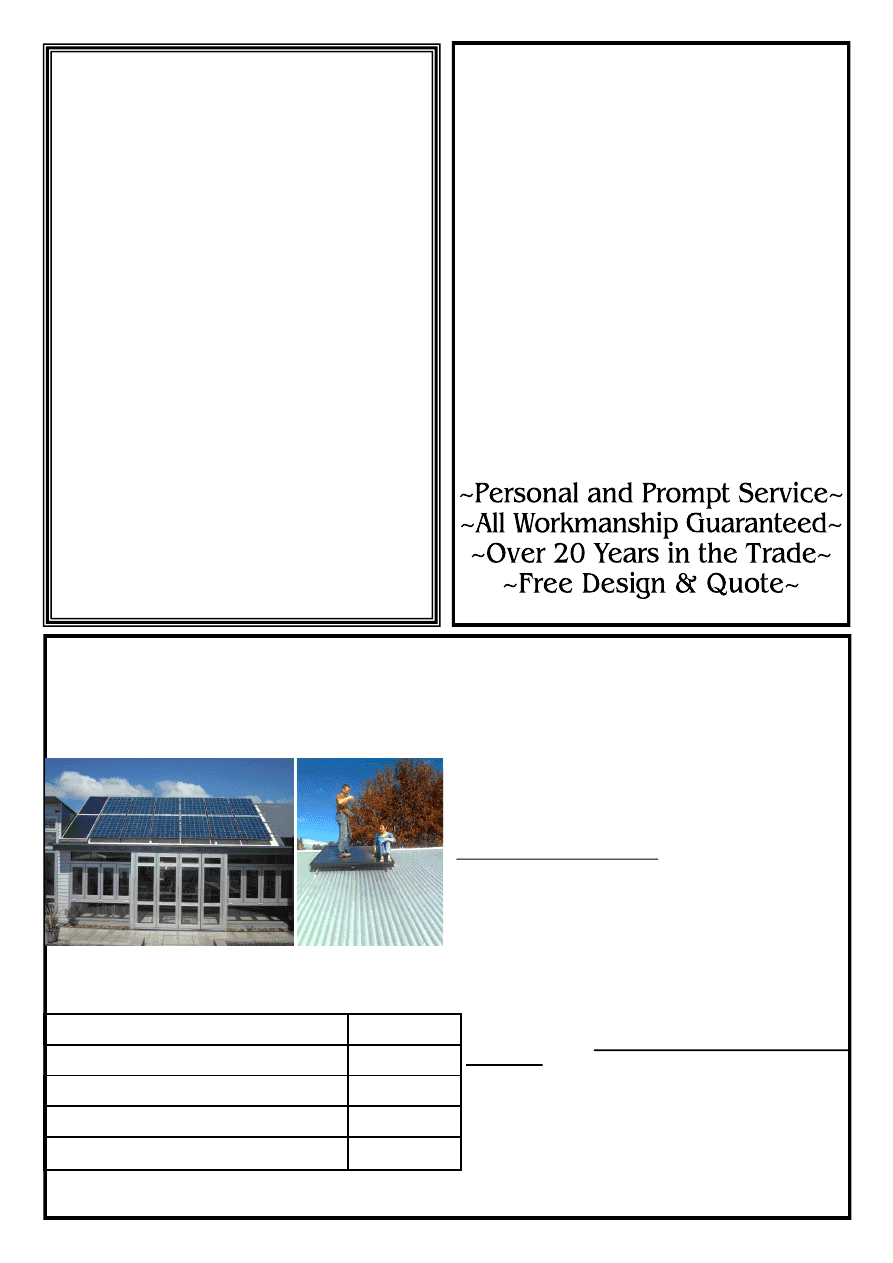 PLANNING A NEW 
KITCHEN? 
 CONTACT NOEL McDOWELL 
WELLSFORD 
KITCHENS
Ph/Fax 094312888  
KAIWAKA-Any time 
  QUALITY CUSTOM MADE 
KITCHENS  
g.a.s. 
Mangawhai 
we have now opened a 
GARDEN CENTRE 
for all your gardening needs 
Also a great range of 
STOCKFOOD 
Wide range of 
ORGANICS AND 
 FRESH LOCAL PRODUCE 
All your motoring needs are taken care of by 
our friendly staff check us out... 
44 Moir Street, Mangawhai (09)431 4242 
SECOND PUBLIC MEETING ENERGY COOP KAIWAKA  
Solarise your house: Energy Coop Kaiwaka organises a second group purchase. 
The Energy Coop Kaiwaka realized a successful group purchase for 12 families with the aim to buy the best available 
Solar Hot Water technology  at strongly reduced cost. The Energy Coop  is passionate about solar energy  and serious 
about  helping  the  community  to  save  energy.  Local  energy  expert  Eric  Jansseune  has  selected  carefully  the  solar 
equipment, imported from Europe with worldwide certification and proven lifespan of 30 years. Payments conditions are 
straight forward, with no hidden cost and affordable installation prices with a trained solar team. 
The combination of gas for cooking,  hot  water production 
and  solar  hot  water  is  the  most  cost-effective  way  to  run 
your  home.  The  Energy  Coop  offers  a  second  group 
purchase  including  gas  califonts,  gas  bottles,  solar  hot 
water and solar power. 
Priorities for electricity savings 
Solutions that will really reduce your energy bill: 
-  Using LPG gas for hot water production and cooking.  
-  Bottled LPG gas costs average 20 ct/kWh, electricity  
almost 28 ct/kWh. ( including GST) 
-  State of the art solar hot water can save 70 % on hot  
water bill.  
-  State of the art solar power will only cost you 0.11/kWh  
for more than 25 years  
 In  the  case  of  a  typical  4  persons  house  ,  the  following 
savings can be realised compared to all electrical use at 28 ct/kWh (incl. GST): 
Energy  COOP  Kaiwaka  Meeting  of 
interest on  
15 November 2014 at 9.30 am 
Place:  Kaiwaka  War  Memorial  Hall  – opposite Jaques 
Four Square 
Subject:  Presentation  on  quality,  performance,  savings, 
pricing and payment conditions. 
Enrolment: phone 09 431 24 08 cell 021 022 31 700 
Email: ericjansseune@xtra.co.nz 
What are we waiting for NZ ?  
Architect Bryan Pooley: 
solar power and hot water 
Florian & Anna on their 
solar collector 
APPLICATION 
SAVINGS/Year 
Cooking on LPG gas instead of electric 
$ 56 
Hot water on LPG gas instead of electric 
$ 620 
Solar Hot Water (European state of the art ) 
$ 787 
Solar Power 2 kW peak (Northland location) 
$ 784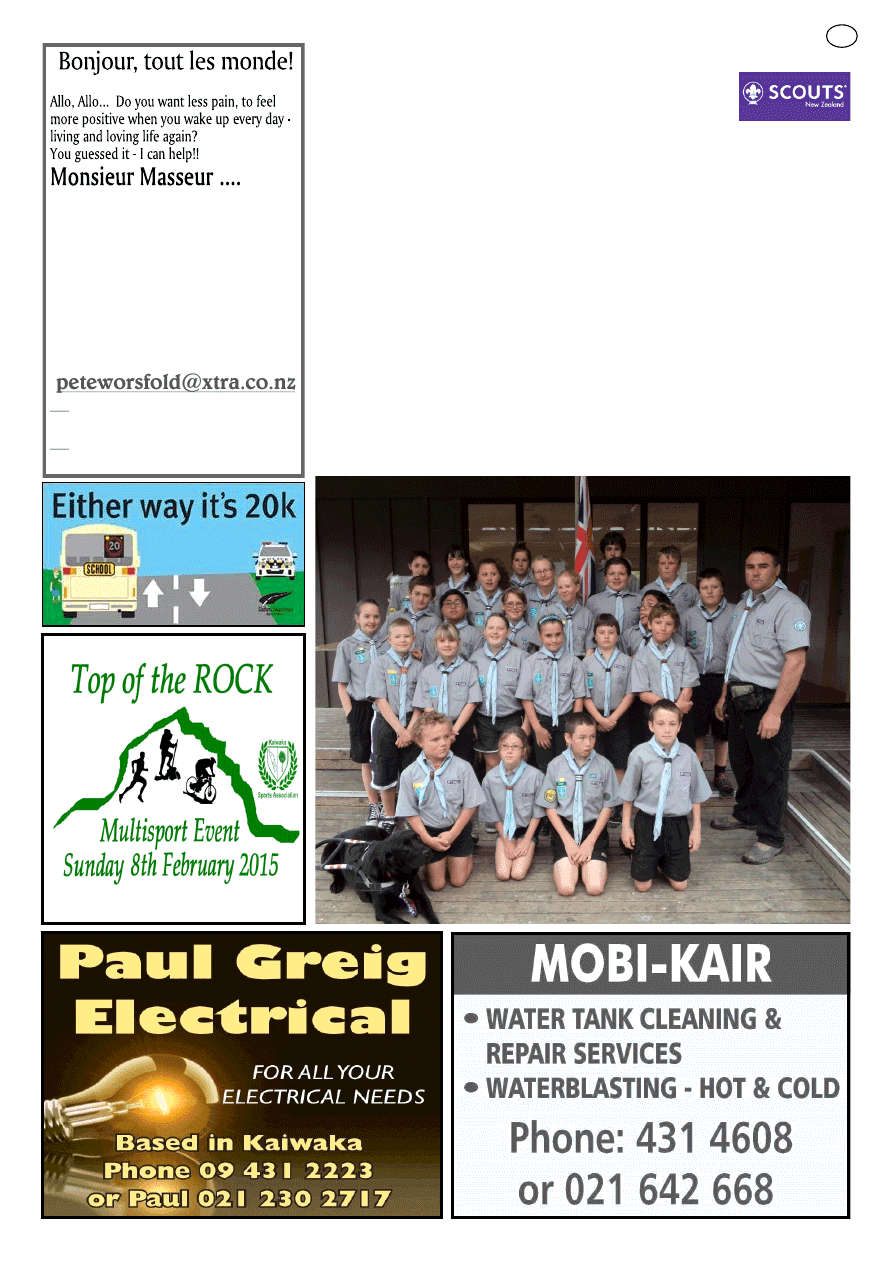 RELAXING  
MASSAGE
   ..... Juste pour vous" 
Call for an appointment now!
Pete Worsfold 
4312 152  or   021 825970 
Or  Ph. "The Well of Health" 
For an appt. 09 4312 799 
Or mobile service available 
17 
KAIWAKA/MANGAWHAI CUBS 
and 
SCOUTS 
With thanks to a substantial grant from 
the  Mangawhai  Club  our  Kaiwaka/
Mangawhai  Scout  group  was  able  to 
attend  JOTA/JOTI  last  weekend  in 
Auckland. 
Jamboree  On  The  Air  (JOTA)  takes 
places every year on the third weekend 
of  October.  This  is  an  event  where 
Scouts  can  communicate  with  each 
other  over  radio  amateur  frequencies 
with  the  assistance  of  a  local  radio 
amateur crew. 
This event is combined with Jamboree 
On  The  Internet  (JOTI),  which  is  an 
international  Scout  Meeting  on  the 
Internet. 
During 
the 
weekend, 
thousands  of  Scouts  from  all  over  the 
world 
came 
together 
and 
communicated with each other over the 
internet, using any technologies locally 
available,  from  web  browsers  to  e-
mail,  chat  programs,  microphones, 
scanners and digital cameras.  
The  group  of  24  Scouts  and  parent 
helpers  stayed  two  nights  at  Camp 
Maynard  in  Albany 
and  the  children 
were  in  charge  of 
meals and cleaning. 
We were also very fortunate to be able 
to  visit  Kelly  Tarltons,  Waiwera  Hot 
Pools  and  North  Head  where  we 
investigated  the  many  tunnels.  One  of 
the  highlights  for  the  children  was  at 
North  Head  when  a  busload  of 
Japanese tourists  pulled  up  next  to  us. 
They  all  were  intrigued  with  our 
Scouts 
in 
their 
uniforms 
and 
surrounded  us,  taking  many  photos. 
Our  Scouts  then  did  a  Haka  for  the 
tourists,  much  to  their  delight.  The 
Scouts felt like celebrities! 
The  Kaiwaka/Mangawhai troop  did  us 
proud. We are so very lucky to have so 
many  wonderful  young  people  in  our 
community. 
Many  thanks  to  Scout  Leader  Jenny 
Webb  who  organised  the  weekend  – 
the Scouts all had a wonderful time!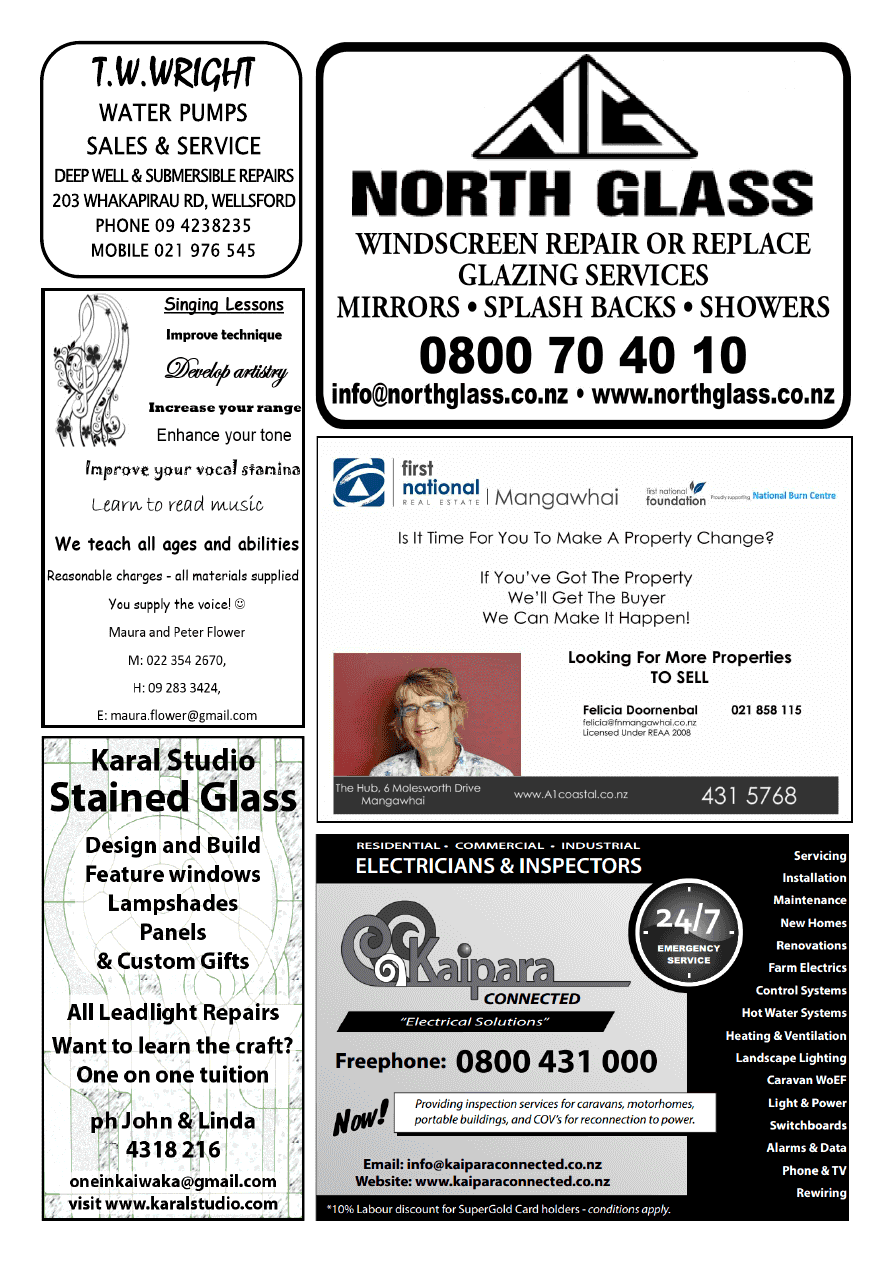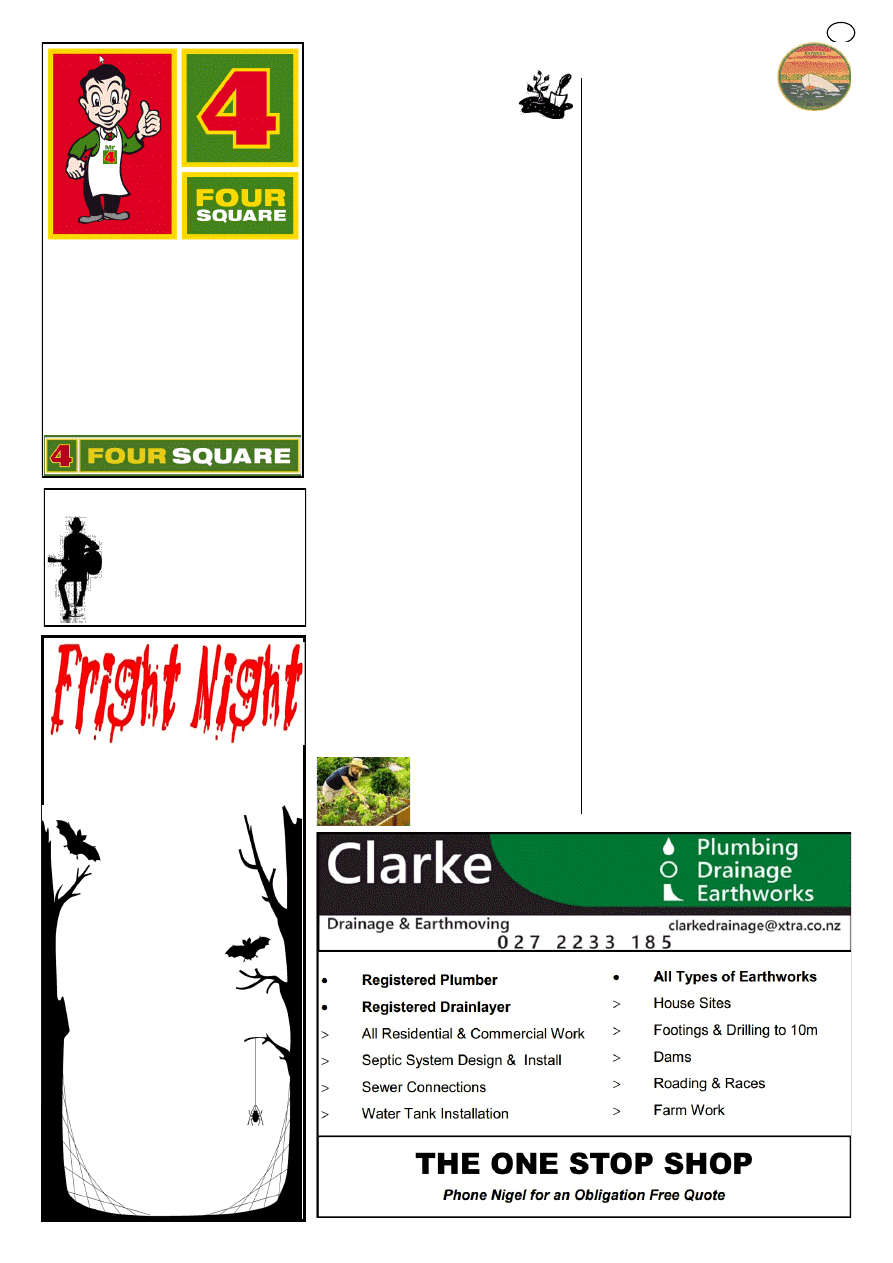 POINT CURTIS 
CRUISING 
CLUB 
Point Curtis Cruising Club Inc Fishing 
Competition - Club Members Only 
15th & 16th November 2014 
Start time: 6am 15th November 2014 
Finish time: 6pm 16th November 2014 
Weigh In: 5pm to 6pm each day at The 3 
Furlongs Hotel 
Maximum  weigh in: 2 species per angler 
per day 
Prizegiving:  6:30pm  Sunday  16th 
November 2014 
BBQ:  Following  prize  giving.      Please 
bring a plate 
Ticket  outlets:  3  Furlongs  Hotel, 
Kaiwaka, Jean Mcleish & Wellsford Sports 
& Leisure 
Senior Section:  ENTRY FEE $20 
Species:  Snapper,  Kingfish  &  Kahawai 
(only rod & reel or handline fishing with a 
maximum of 2 hooks) 
Senior Prizes:  
Snapper: 1st: $300, 2nd: $200, 3rd: $100 
All  other  species  gift  vouchers  for  1st, 
2nd & 3rd 
Junior Section: ENTRY FEE $10 
Species:  Snapper,  Kingfish,  Kahawai  & 
Eel  (only  rod  &  reel  or  handline  fishing 
with a maximum of 2 hooks) 
Junior Prizes: 1st, 2nd & 3rd prizes for all 
species 
ALL  SNAPPER  WEIGHED  IN  GO 
INTO  THE  DRAW  FOR  THE 
AVERAGE WEIGHT PRIZE 
Competitors  must  be  fully  paid  up 
members of this club for 7 days prior to 
the start of this competition.    
To become a  member please pay your 
sub ($30 family sub or $20 single sub) 
at 3 Furlongs Hotel or to Jean Mcleish, 
C/-  Kaiwaka  PDC,  Kaiwaka.    Please 
include your contact details.   
Please  see  posters  for  full  competition 
rules and disclaimer. 
Fish of the month: Snapper  
Next  committee  meeting  Tuesday  11 
November,  7pm  at  3  Furlongs  Hotel, 
Kaiwaka. ~Wayne Leslie, Commodore 
19 
Wellsford Country Music Club 
2nd Sunday of month - club day 
1:00pm 
Last Wednesday - workshop 
7:00pm 
Wellsford Co-op Parish Hall 
Contact 027 327 6604 
KAIWAKA 
KAIWAKA GARDEN 
& FLORAL 
GROUP 
The meeting for October proved a very 
interesting 
and 
enjoyable 
day 
especially as we were so lucky with the 
weather  as  well.  We  visited  three  of 
our 
members' 
gardens 
in 
the 
Mangawhai  area  and  they  were  all 
quite different. 
Agnes's  garden  in  Jack  Boyd  Drive 
was  flat  with  raised  humps  which  she 
has utilised with planting and growing 
healthy  shrubs  and  plants.  Agnes  has 
lived  there  since  2013  and  they  are 
busy  creating  a  new  area out  the  back 
of  the  house  with  the  help  of  their 
landscape  gardener-daughter  so  it  will 
be  interesting  to  see  the  progress  next 
time round. 
Meredy has lived on Molesworth Drive 
for 18 months and there are established 
trees and even a bush walk. The garden 
has  lots  of  colour  and  a  healthy  vege 
patch. 
Margaret lives in the new sub division 
at Park Avenue and has been there for 
a  year,  her  section  is  flat  and  the 
colourful garden is immaculate. 
We had afternoon tea and our meeting 
at the Parks Kitchen with two pleasant 
young ladies as hostesses. 
There  were  no  competitions  this 
month. The raffle winners were Robyn 
Moffat and Sue Hamilton Wallace. 
Happy  Birthday  to  Jean  Black  and 
Lorraine  Lusty  who  received  lovely 
posies.  We  are  sorry  to  accept  the 
resignation  of  Isa  Christensen  and  we 
hope  you  will  re-join  us  when  your 
health  is  better  Isa.  We  hope  our 
members  who  were  unable  to  be  with 
us  are  getting  better  quickly  and  we 
will see you next month. 
Next  month's  visits  are  at  Glynis 
Smith's  and  Robyn  Moffat's  both  at 
Waipu, 
travelling 
instructions 
and 
carpooling 
will 
be 
emailed  later  members. 
          ~ Ann 
"Gardening Season" 
Great range of fresh vege , flower 
punnets & plants $2.96 each 
McGregor Seeds $2.99 per packet 
Tools of the trade:  trowels, flax 
cutter, Japanese hoe & gloves 
Get planting now! 
Jaques Four Square  
Phone: 4312227  
No1 Kaiwaka-Mangawhai Road, Kaiwaka. 
Kaiwaka Sports Complex 
Saturday 1
st
 November 
 7.30pm 
Music, dancing, games,  
face painting 
 Prizes for scariest costumes  
– boy, girl & adult 
  Take a walk through the  
haunted house - if you dare 
Glow items for sale,  
Lolly scramble 
- $3 entry (adults & under 5's free) 
     Please bring a plate for supper: 
Halloween inspired food  
would be great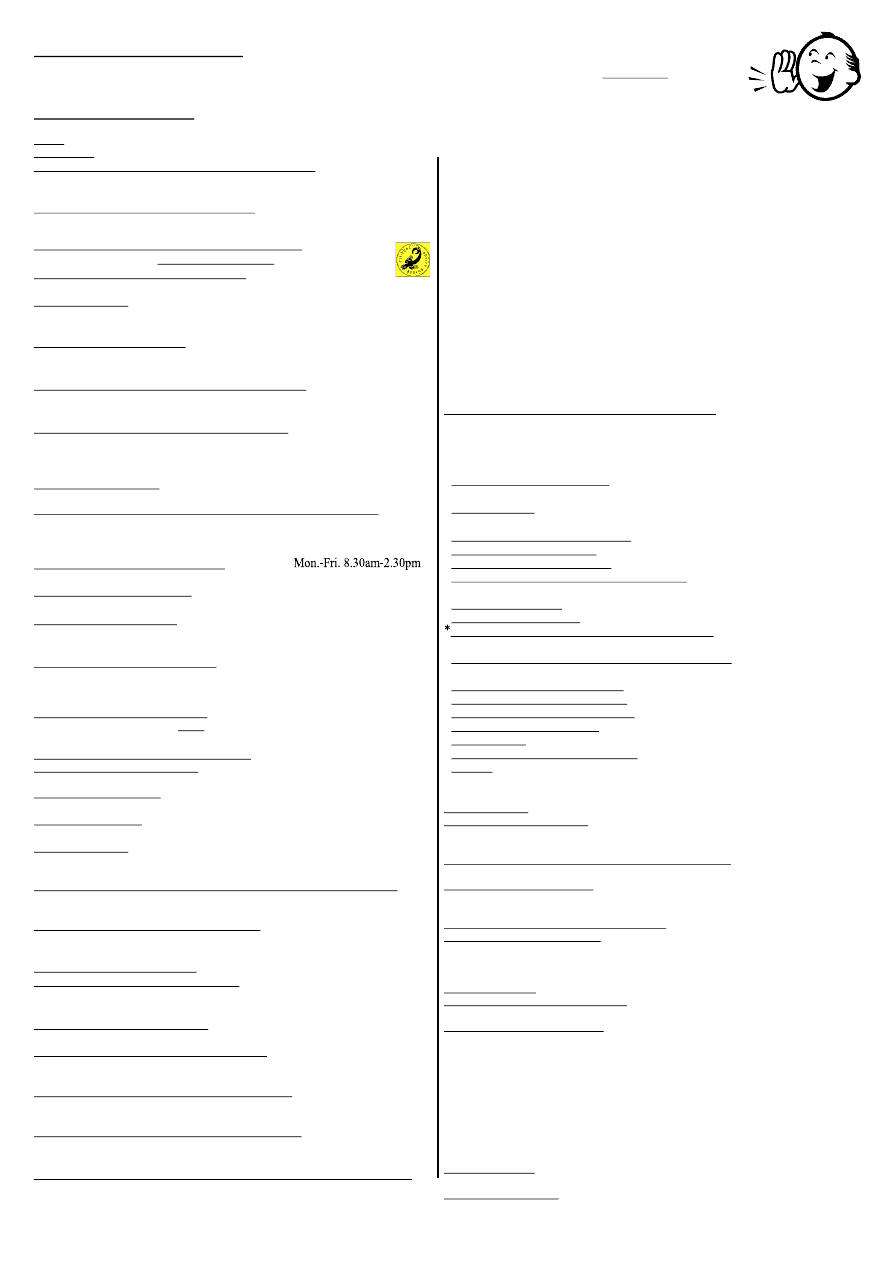 LOCAL SERVICES 
*St.John Ambulance 
111 or Freephone0800 61 0066
*Fire phone 111     *Police phone 111 or 09 4311150 
WELLSFORD DOCTORS: Ph: 4238 086 
A A: Meets Wed., 8pm Kaiwaka Ph: 4312228, 4315543, 0800229 6757   
AL ANON: In recess, contact Ph: 4312228 
AGRIQUALITY (MAF) Livestock Consultant 
Phone 09 4311 820 or 021518257  
BUDGETING SERVICE,OTAMATEA:Free confidential advice & 
support - all areas of  personal finance Ph: 09 4318173 or 094318117
CAB-
Citizens Advice Bureau.Wellsford Ph: 4237333.
0800 367 222 email:
DOG/STOCK /NOISE CONTROL 0800 105 890 
KATE'S PLACE with Govt.Day Agencies/Community Information /
Osteopathy/ IRD / Probation, etc Ph: 4312661 Hours: 9am-3pm. Mon - Fri 
FUNERAL SERVICES: Morris & Morris Ltd, 
Whangarei - Bev Jaques Ph:4312367 or 0800667747 
GRANDPARENTS  Raising  Grandchildren:  Sarah  Rogers  Ph: 
4312194 
HAKARU LANDFILL / Transfer Station:Open everyday except 
Tuesday10am-4pm.Ph4312629 Cost-$55 trailer load up to 1 cubic 
metre. Ph:4258567 - office 
INLAND REVENUE: Last Friday each month, 
11-3pm Ph4312661 
KAIPARA DISTRICT COUNCIL www.kaipara.govt.nz:  
Help Desk FREEPHONE 0800 727 059  
Service Centre Mangawhai 4313161 
KAIWAKA KOHANGA REO:
Ph:4312620 
KAIWAKA CEMETERY: Ph: 4312045 
KAIWAKA LIBRARY: kaiwaka.library@gmail.com  
Mon. 4-6pm; Wed., Thurs., Fri., Sat.  10am-2pm Ph:4312539
KAIWAKA PLAYCENTRE: Ph: 4312286. Hastie Lane 
Monday to  Friday  9.00am 
- 
12 noon. 
KAIWAKA POST OFFICE:
Ph:4312 626 Fax: 4312287  
Post Code: 0573  for RD2  and  0542 for all Kaiwaka Post Office mail 
KAIWAKA PRIMARY SCHOOL : Ph: 4312309 
KAIWAKA SPORTS ASSN: Ph 4312005; 4312129 gym 
KAIWAKA ST JOHN: Manager Steve Rosser 09 4318403, 021 2316836 
NORTHPOWER: Faults Kaiwaka area 0800 104040 
PARENTPORT: Free, practical local support service for families in crisis 
Phone or Text Dianne 027 280 5093 
PERSONAL DEVELOPMENT COACHING, GROUP FACILITATION:  
Sabine Druckler 4312231 
PLUNKET  KAIWAKA/MANGAWHAI:  Ph:
094318187 
or  0
276753488 
Kaiwaka Mobile Clinic once a month– appointments necessary;  
Mangawhai (next Domain) 
1st & 3rd Thursday & Coffee Morning; 
PLUNKET FREEPHONE -0800 933 922 
PLUNKET -MAUNGATUROTO  Clinic every 2nd & 
4thThursday. Ph: 09 4318187 
PUBLIC HEALTH NURSE: Gloria Reid Ph: 094327634  
RETURNED AND SERVICES ASSN 733 Settlement Rd. Hakaru 
Ph.4312176 Bill Kerr (President) Ph.4314719 
TE KOROWAI AROHA O NGATIWHATUA Ph: 4312675 
(The Cloak of Love of Ngatiwhatua) Support and Maori Consultancy.  
VETERINARY SERVICE MANGAWHAI: 
Ph: 4314535 Mon-Fri 8.30-4.30, Sat 9-12, a/h appt. 
WOMEN'S WELFARE LEAGUE & Reaching Out For Youth:  
4 Kaiwaka-Mangawhai Rd, M Morgan 4312293
WHAT'S ON
PLEASE ~ do let us know what is on - email 
kaiwakabugle@kaiwaka.co.nz 
Advertising in WHAT'S ON is FREE  
*28Oct~Kaiwaka Fitness Centre meeting 5pm 
*28Oct~Otamatea Rugby Club AGM, 7pm KSA 
*29Oct~Knit & Natter, 10am Cafe Bianca, Ph Elizabeth 4312 522 
*31Oct~Roast Pork dinner, RSA Hakaru from 4pm 
*31Oct~Chef, 7:30pm KWMH 
*1Nov~Te Pounga Marae Batons Bonanza, 10:00am KWMH  
*1Nov~Fright Night, 7:30pm KSA 
*1-2Nov~Kaiwaka Fire Brigade Open Fishing Contest 
*2Nov~Mr Peabody & Sherman, 2pm KWMH 
*2Nov~Local Vocals, 3-5pm Wellsford Comm Centre 
*7Nov~Full Moon 
*8-9Nov~Mangawhai Garden Ramble, 431 4333 
*9Nov~Local Vocals, 3-5pm Wellsford Comm Centre 
*12Nov~Rodney/Otamatea JMB AGM, 6:30pm KSA 
*14Nov~Calvary, 7:30pm KWMH 
KWMH=Kaiwaka War Memorial Hall 
KSA=Kaiwaka Sports Association Complex 
See www.kaiwaka.co.nz for upcoming events. 
HOUSEHOLD  RUBBISH  COLLECTION  -  Kaiwaka    Pick  up­
Mondays=Gr een bags ar e picked up by Nor thland Waste-queries 
to  them  09  4303273,Wednesdays=Blue  bags  and  yellow  recycling 
(at  Jaques    $3.00  and  $1.50)    are  picked  up  by  Kaurilands  09 
4392146.  
*DIABETES Support Group -for Kaiwaka, Mangawhai, Wellsford 
   10am, 3rd Friday of month Ph:A.Pert 4238242; J.Gardner 4238060 
*DRINK CAN 'tear tabs' - for Starship Hospital- please collect - 
    98 Kaiwaka Mangawhai Rd, leave in mailbox, Ph. 4312625  
*GYMNASTICS OTAMATEA -  Tuesday Ph: Stephanie 022 3624998 
*HAKARU PONY CLUB-Secretary Julie Rynne 09 4314520 
*KAIWAKA BADMINTON -Tuesdays 7.30pm Ph: 4312345 
*KAIWAKA GARDEN & FLORAL Grp:2nd Thursday in month 
   Ph: 4314767 
*KAIWAKA CUBS-Thursdays 5.30-7pm, Hakaru  Ph:Bruce  4312542 
*KAIWAKA SQUASH -Mondays 7pm Ph: Barbara Thomas    4315905 
KNITTING FOR WHANGAREI HOSPITAL - 2nd Tuesday in  
   month, Apple Basket 10am Ph 4314827 
*MANGAWHAI COMBINED PROBUS CLUB: 2pm,3rd Thursday  
   month in the Senior Citizens Hall Mangawhai. Ph: 4315777 
*NZ GENEALOGY-Wellsford - 1st Thursday in month Ph: 4237033 
*OTAMATEA GREY POWER-09 431 8138 Joan Hoggard  
*PT CURTIS CRUISING CLUB - Jean Ph: 4312 246 
*RSA,Hakaru & Dist.Women- meet 1.30pm 4th Thurs in month Ph: 4312 668  
*TRAMPING- Mondays 9am-2:30pm  Karen Ph: 4312 090 
*WAIPU GENEALOGYGROUP -4th Monday in month Ph: 4312725 
*YOGA- Tuesdays 6:15pm, Friday 8:30am Kaiwaka WM Hall Carla  
   Ph: 4312 408, 021 296 8794
CHURCHES:
*Gateway Worship Centre: St Mary's Church Nathan Rd off Oneriri Rd, 
Kaiwaka Services, 10.30am 1st & 3rd Sunday of every month. Contact: Rev 
David Gage 4312528 or 0212354282 
*Kaiwaka Family Church-Your Community Church:Sundays, l0am 
Home Group every Wed evening, Pastor John.Dekker Ph: 4318203 
*St Paul's Anglican Church 1st Sun. 9.30 am (Eucharist), 3rd Sun. 9.30 am 
(Family Service). Contacts:  Church Office 09 431 4122; M. Hargreaves 431 
2295; C. Bygrave 431 2057 
*Church of Christ the King, Mangawhai:9.30am every Sunday 
*St.Mary's Catholic Church: Maungaturoto – Griffins Road, Saturday 
evening Vigil Mass 6pm; Mangawhai – Senior Citizens Hall, Sunday Mass 
8:30am; Wellsford – Matheson Road, Sunday Mass 10:30am; Mid-week 
Mass times and all enquires to Fr. Bill Fletcher – phone 423 8170 
*Baptist Church: Sun. 10.30am Mangawhai Snr Cit.Hall.Ph:4312339 
*Cause Way Church Mangawhai: Sundays 10.15am, Mangawhai 
Community Recreation Centre, Insley St. Ph: 09 4314782  
*St.Pauls Archie Bull Hall HIRE  $20 half day, $40 full day per hire 
 Contact G. Jaques 4312048 
*Kaiwaka War Memorial Hall HlRE - Phone 4312725 or   
Email  
kaiwaka.hall.bookings@gmail.com 
*Hakaru Community Hall HIRE -Ph.  4312256 or 4312110 
*Te Pounga Marae queries -A.Gage 4312528, 4312527 
*Kaiwaka Sports Association hire/queries - C. Anderson 4312051 or 
Email kaiwakasports@gmail.com
Justice of Peace: B.FJaques; L.Donaldson; A.F.Hargreaves  -please phone to 
make sure they are available 
Marriage Celebrants: L.Donaldson; A.F.Hargreaves; C.Rosseels
Next Bugle Deadline Friday 7 November 2014