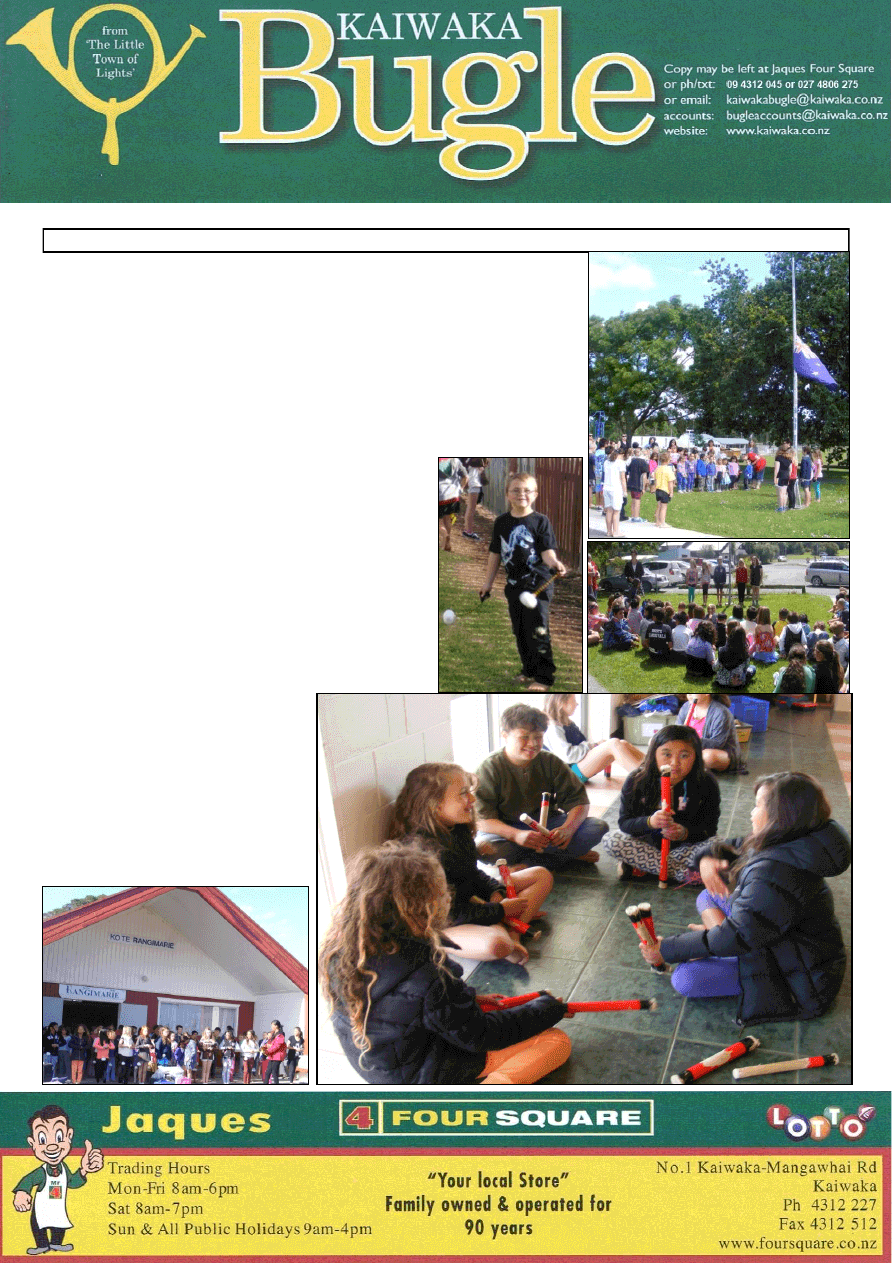 No: 23
                                                                                                                                                   25 November 2014 
KAIWAKA SCHOOL: Out and About 
Remembrance Day 
We commemorated Remembrance Day 
– The Declaration of Peace after World 
War One - on 11.11. 1914, at 11.00am. 
Our  Cubs  led  this  as  they  lowered  the 
flag, showed everyone how to stand to 
attention, and respectfully listen to The 
Last  Post.  Everyone  participated  in  a 
minute of silence. The Cub Salute was 
given  to  the  flag  when  it  was  raised 
again.  We  thank  our  Cubs,  Matthew 
Everson,  Brenda  Ferguson,  Sarah 
Everson,  Lucy  Gilligan  and  Tara 
Moyle  for  their  leadership  and  good 
example with this commemoration. 
Noho Marae visit 
What a huge success last week's Marae 
Noho  at  Oruawharo  Marae  was!
Seventy-three  students  from  Kaiwaka 
School  and  twenty-three  from  Nga 
Ringaomatariki  Kura  at  Oruawharo 
joined  together  to  share  Te  Reo  me 
onga  Tikanga  Maori  at  this  fabulous 
Marae. The students, working in mixed 
age  groups  were  assisted  by  generous 
whanau who gave up two days to guide 
our tamariki in their activities: mahi toi 
(creating  taonga,)  rarangi  harakeke 
(plaiting  flax  flowers,)  tonu  kai 
(making and eating pancakes,) tititorea 
with  rakau  roa  (practising  dexterity 
with  the  long  sticks,)  purei  kemu 
(playing  string  and  knucklebone 
games) and pakiwaitara (small plays of 
the  history  of  Ngati  Whatua  and 
Aotearoa.) 
It  was  very  special  to  have  the 
expertise of Whaea Noema and Matua 
Reno from the Kura and to hear Te Reo 
Maori spoken freely by the tauira of the 
Kura.  We  saw  a  living  language!  We 
loved  the  puppet  show  which  gave  us 
the'  missing  link'  about  the  Tohunga 
Ruawharo. 
Thank  you  to  all  the  parents  who  so 
generously  supplied  kai  and  to  those 
who  coordinated  it's  delivery  and 
purchase for us. Special thanks to those 
who 
worked 
tirelessly  in  the 
kitchen  to  keep 
our 
puku 
so 
filled  with  tino 
kai reka! 
Again  I  would 
like  to  thank  the 
whanau 
and 
friends who gave 
up  their  time  to 
stay overnight to 
support 
the 
Kaupapa  of  our 
Noho 
Marae.     
~Lindy Gaskin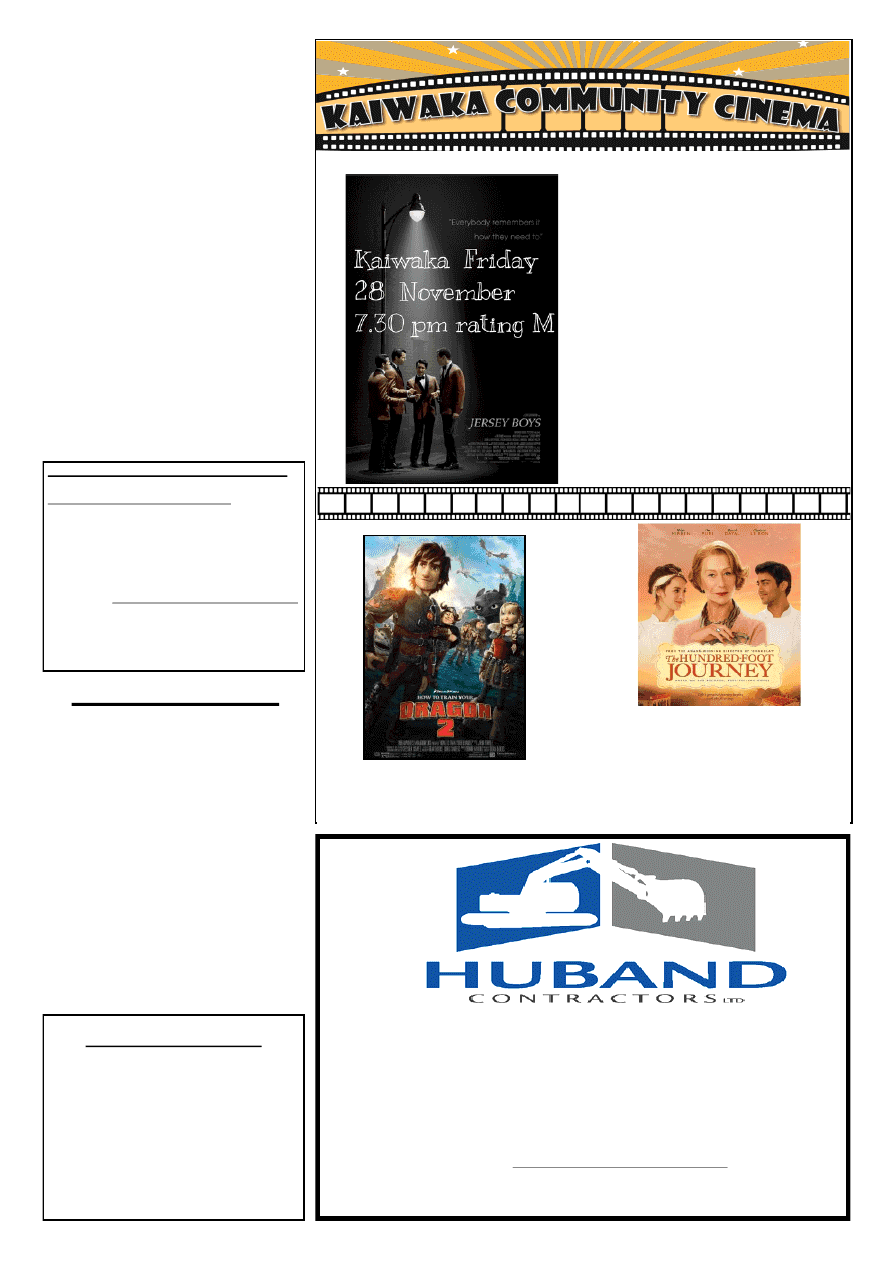 ABOUT TOWN 

 Has  anyone  noticed  that  the 
Spark/Telecom  Wi-Fi  hotspot  has 
disappeared from town? We used to 
often  see  people  sitting  near  the 
phone  box  using  it.  A  loss  to  our 
town. 

 Next  Bugle  will  be  the  last  issue 
for 2014  - deadline  for  copy Friday 
5 December. 

Deadline for Bugle 1 2015 will be 
Friday 16 January 

Note  the  movie  change:  "Jersey 
Boys" will be showing next Friday. 
*   R O A D I N G   *   E A R T H W O R K S   *    
*   D R A I N A G E   *   S I T E W O R K S   *  
For any further enquiries, contact Shaun on: 
Cell: 021 222 0272 
Home: 09 4318339 
Email:   
Shaun Huband:  Registered Drainlayer 
KAIWAKA BUGLE No. 21 
25 NOVEMBER 2014 
CONTENTS 
Page 3: Classifieds & Notices 
Page 5: Kaiwaka Garden Group; 
Otamatea Repertory Theatre 
Page 7: Kaiwaka Scouts 
Page 9: Classifieds; Point Curtis CCC 
Page 11: Kaiwaka Library 
Page 13: Kaiwaka Sports Assn 
Page 15: Otamatea High School 
Page 17:  WW Shelton, WW1 
Page 19: Paparoa A&P Show 
Bugle 24 will appear 9 December 
Contact for advertising, reports, articles 
or information can be made by 
Email kaiwakabugle@kaiwaka.co.nz 
Ph: 09 4312 045 
Txt:  0274 806 275 
Copy may be left at Jaques' Four 
Square. 
View the Bugle online at: 
www.kaiwaka.co.nz/Bugle
Kaiwaka Bugle 
Founded May 1978 
Copies available in Kaiwaka at Jaques Four 
Square, Kaiwaka Postal Centre, Shamrock 
Service Station, Celena's Gifts 
Also outlets in Maungaturoto, Mangawhai and 
Paparoa. 
Can be viewed online at www.kaiwaka.co.nz 
Or a copy can be posted to you if you supply 
stamped, self-addressed DLE envelopes. 
How To Train Your Dragon 2 
Sunday 30 November 2:00pm (PG) 
The Hundred Foot Journey 
Friday 12 December 7:30pm 
(PG) 
At Kaiwaka War Memorial Hall . Adults $10, Kids (under 16) $5, Family Pass (2 adults + 3 children) $25 
Kaiwaka Bugle Advertisements 2014: 
All 
copy 
and 
queries 
to: 
kaiwakabugle@kaiwaka.co.nz 
Classified $3 (max 30  words);  1/8 page $6; 
1/4  page  $12;  1/2  page  $24;  in  special 
circumstances  whole  page  adverts  are 
available-cost $100 
Payments  can  be  online,  posted  or  left  at 
Jaques Four Square Store. 
Accounts: bugleaccounts@kaiwaka.co.nz 
The  Kaiwaka  Bugle  is  a  community 
newspaper run by volunteers.   
Articles,  etc.  printed  are  not  necessarily 
the opinion of the Bugle Team. 
Jersey Boys 
Friday 28 November 7:30pm (M) 
(Please note change from previous advertising, due to 
delayed release of "Mrs Brown".) 
A  musical biography of the Four Seasons-
the  rise,  the  tough  times  and  personal 
clashes,  and  the  ultimate  triumph  of  a 
group  of  friends  whose  music  became 
symbolic of a generation. Far from a mere 
tribute  concert  (though  it  does  include 
numbers  from  the  popular  Four  Seasons 
songbook), Jersey Boys gets to the heart of 
the relationships at the centre of the group-
with  a  special  focus  on  frontman  Frankie 
Valli, the small kid with the big falsetto.  
Directed by Clint Eastwood. Starring John 
Lloyd  Young  as  Frankie  Valli,  also 
Vincent Piazza, Christopher Walken. 
Dinner & movie special - $25 - Limited tickets 
available - phone 4312 225 or purchase at any 
movie before this one.   
Dinner at 6:30pm. BYO alcohol.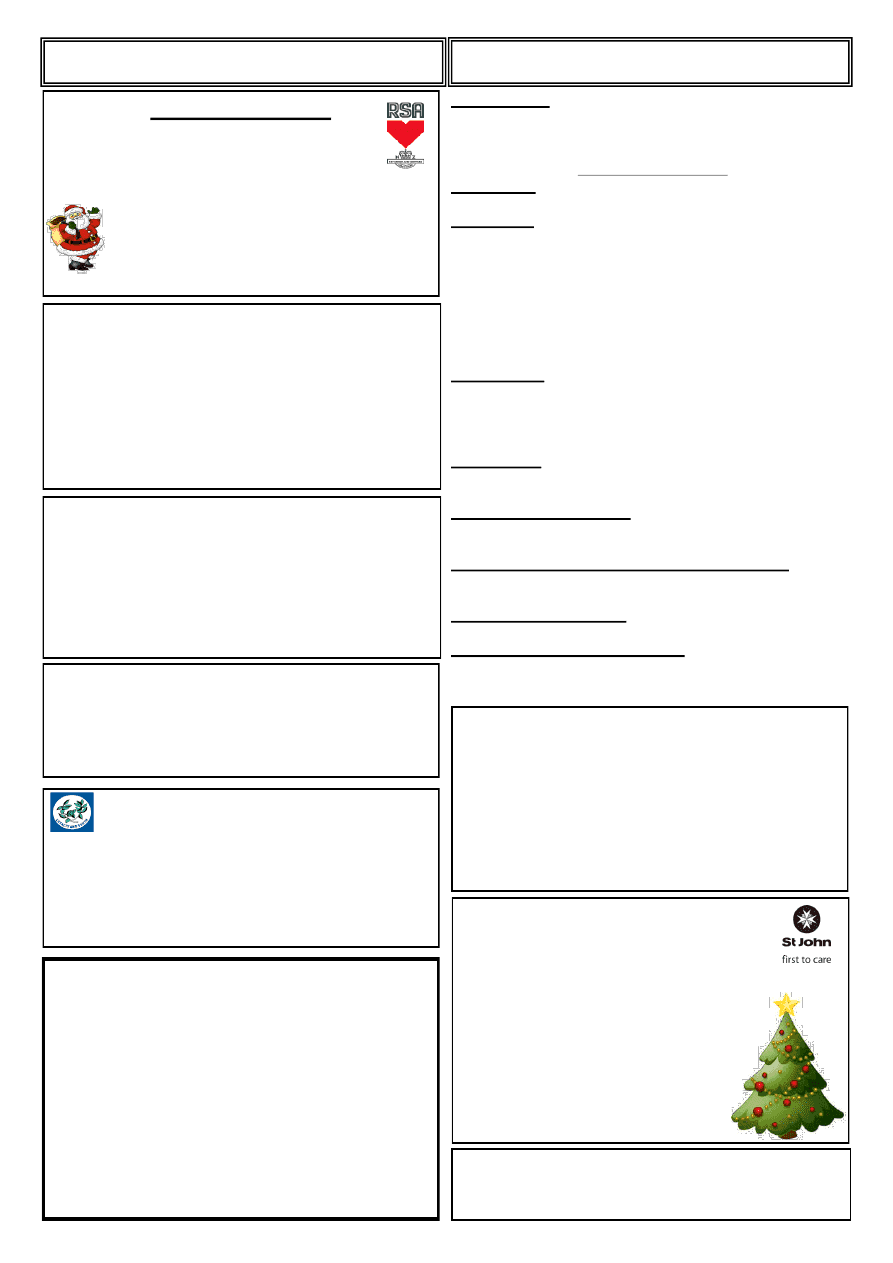 PUBLIC NOTICES 
CLASSIFIED 
FOR  SALE: Jill Shires Holistic Animal Therapies. 
Herbal  Remedies,  Bach  Flowers,  Ointments, 
Diatomaceous  Earth,  Bentonite  Clay,  Cranio  Sacral 
Therapy,  Skin  Conditions,  Arthritis,  Laminitis,  Mud 
FOR SALE: Tasman tent as new, 2 rooms, sunroom, incl 
camp kitchen & food storage. $2,000 ono. Ph 4312 821 
FOR SALE: Renovation leftovers: 1 small ceramic wall
-hung  handbasin  &  tap  $15;  1  wall-hung  plastic 
enclosed handbasin & tap $10; 3 'Hygenix' wall-hung 
paper  towel  holders,  1  wall-hung  plastic  rubbish  bag 
holder,  2  wall-mounted  soap  dispensers  -  offers;  1 
small ceiling down-light, 1 larger ceiling down-light - 
offers;  metal  framing  60x36  "U"  section  suitable  for 
internal  partitions,  approx.  26  lengths,  $30.  Ph  4312 
706 
FOR  SALE:  Water  Tank  25000  litres,  $1800.00,  5 
years  old,  green,  RX  Plastics  Ltd.  Removal  from 
Central  Maungaturoto.  For  more  information  Ph.  021 
779245 
HASHTAG  Band  for  hire.    A  lively  mix  of  covers 
and original music.  Make your night special.  Ph: 021 
623 776  
BERYL  NOZEDAR:  (Middleton)  International  
Clairvoyant.  Numerology,  Tarot,  Clairvoyance,  
Mediumship. $60 for hour includes CD. Ph: 4312 080 
CLOTHING ALTERATIONS & REPAIRS: 
Hems,  Zips,  Dressmaking  Phone:  Win  4312  027    or 
027 444 8358 Winsome Designs. 
GRAZING  WANTED:  for  quiet  cattle,  2-20  acres, 
Oneriri Rd area. Ph 09 973 3405 
FREE GRAZING WANTED: Small or large block. 
Can  do  some  fencing  or  water.  Phone  after  6pm  
4312 006  
Proverbs  28:6- Better to be poor and honest 
than rich and a cheater!  
HAKARU RSA 
Settlement Road 
Christmas Dinner 
Friday 5th December at 6:30pm 
$20.00 per person 
There will be door and spot prizes  
(so dress for Xmas!) and entertainment. 
Come along for a fun night out. 
All welcome. 
For more information phone Marlene 431 5589 
CRAFT: 
Can you help with the making of very simple cloth dolls 
that are used in Whangarei Hospital for children to: 
1. 
cuddle 
2. 
decorate 
3. 
be shown how injections are given 
4. 
have their operations explained to them. 
Starting  date  is  10  February  2015,  10am  at  the  Apple 
Basket,  SH1,  Kaiwaka.  Just  come  along,  or  for  further 
information phone Elaine 4312 338 or Gale 431 4827. 
KAIWAKA SCHOOL 
Declaration of Parent Election Results 
Parent representatives votes: 
Borck, Clare   34 
Buxton, Adrian 29 
Neil, Vicki    8 
I hereby declare the following  duly elected. 
Borck, Clare 
Buxton, Adrian                                                        
Signed,  Sara McAulay, Returning Officer 
KAIWAKA TENNIS CLUB 
Kaiwaka Tennis  Club  will hold its AGM Monday  1 
December  3.30pm  at  the  Kaiwaka  Sports 
Association.  Tennis  lessons  will  continue  while  the 
meeting is  in  progress.  Lessons  are being  offered in 
three sessions: 3pm for 8 & 9 year olds, 3.30pm for 7 
years and under, 4pm for Year 6 to Year 13 players. 
Spaces  are  still  available.  Inquiries  to  Lindell 
Ferguson 431 2542 or blferguson@vodafone.co.nz 
TERENCE WILLIAM LEABOURN 
Gail,  Lyndon,  Louise  and families  sincerely  thank  those 
who have given us love and support following the sudden 
loss of Terence.  
We have been overwhelmed by everyone's kindness with 
flowers, cards and messages and also by the large number 
who attended his final goodbye at Kaiwaka. 
Unfortunately  due  to  the  large  number  of  well-wishers, 
family,  friends,  brother  firemen,  business  associates, 
work colleagues and staff, we are unable to thank you all 
personally,  so  please  accept  this  heartfelt  thank  you  to 
you all. 
"Gone But Never Forgotten" 
KAIWAKA SCOUT GROUP 
Annual General Meeting 
Wednesday 3 December 7.30pm 
at Hakaru Hall, Settlement Rd. 
Enquiries to Group Leader Bruce Ferguson 431 2542 
ST JOHN OP SHOP 
Kaiwaka 
Shop Closure: 
The shop will be closed on the 9th December  
as we spend the day at a Christmas luncheon. 
Has anyone got any spare Christmas  
decorations? 
We could do with more children's  
clothes - summer ones, both girls and boys. 
Thank you for your support. 
Thanks, Milly & staff 
Shop 4312 650 
Otamatea High School PTCA  
Second Hand Uniform Shop 
Would you like to donate your unwanted school uni-
form to the PTCA. We are looking for any size shirts, 
shorts, skirts, jumpers etc. 
All money raised by the PTCA goes back into our 
school for our children. Donations can be left at the 
school office or ph/txt Karen    021 128 1670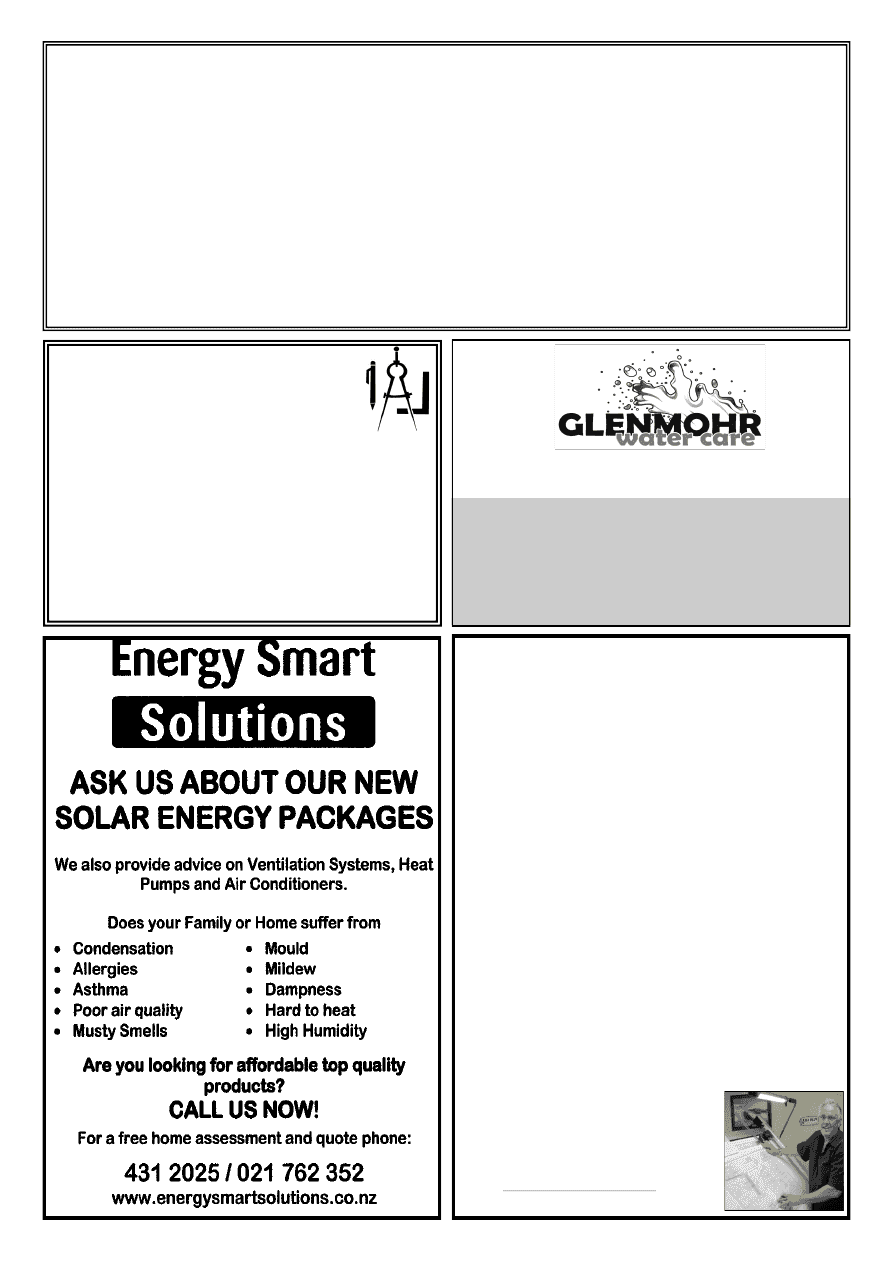 RANGANUI EARTHMOVERS 
  16T Excavator     
    (tilt, thumb & ROPS cab)     
  Transport Trailer 
  2 x 6 Wheeler Tip Trucks 
  Suppliers of All Grades of Metal & Topsoil 
If you want a proper job done with an experienced operator ring 
Grant on:  A/H  431-2131      Email  ranganui.dev@xtra.co.nz 
                      Mob  021845-246 
Driveways, House Sites,  
Drainage Dams, 
Section Clearing,  
Tree Work,  Rock Retaining Walls,  
Quarry Work, 
Basically Anything That a Digger Can Do 
design drafting 
service 
Retired builder and manufacturer with over 40 years  
experience in the building industry is offering a design 
drafting service for domestic housing, sleepouts and 
sheds.  
Plans formulated in consultation with clients, with 
working drawings completed and submitted to  
council for processing.  Extensive practical experience,  
able to identify & resolve problems. 
Please ring Mike Lean on 
09 431 2260  
          or 
021 431 196 
Water Tank Cleaning 
 
Keep your water safe & clean   
 
Removal of sediment, silt etc. 
 
Vacuum or full scrub 
 
Minimal water loss 
Phone Mark (09) 432 0655 or 0274 707607 
 ARCHITECTURAL BUILDING 
PLANS AND DESIGNS 
WRIGHT DESIGN 
 
QUALIFICATIONS 
Brian is a qualified designer (NZCAD) with over 40 years of 
varied experience in all types of building and is a registered and 
Licensed Building Practitioner in Design - L.B.P. 117345 
He ensures you will achieve the best from your budget with 
recommended excellent local contractors ready to competitively 
price and build your personal project quickly and efficiently. 
 
EXPERIENCE 
Brian's practical building and 40+ years of design experience 
means he can give you excellent advice and all the guidance 
needed for all your building needs 
v Wright Design offers free visits, consultations and all the ad-
vice you need on planning, design, building, contractors, coun-
cil permit applications, etc. 
"  Qualified and inexpensive designer – N.Z.CAD., LBP 117345 
"  Guaranteed design and working drawings 
"  Free site visit to your home or property 
"  Great service 
"  Great problem solver 
Call Brian ~Arrange a visit to discuss your needs  and obtain 
great advice and free quotation 
MAKE GOOD USE OF HIS EXPERIENCE and 
KNOWLEDGE 
WRIGHT DESIGN:  
360 Oneriri Road, Kaiwaka
Office 09 4312544   
Mobile 021 276 7389  
Email: 
www.wrightdesign.co.nz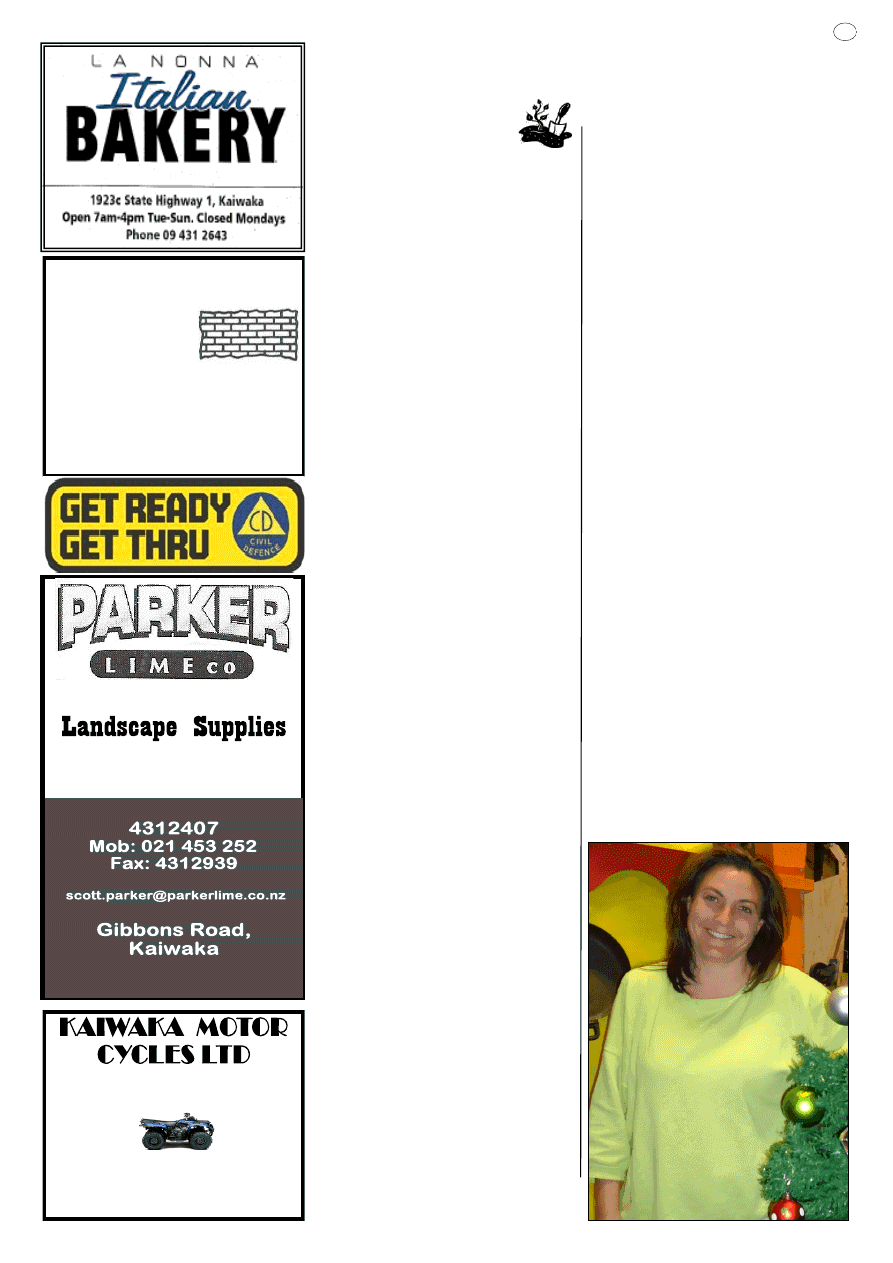 BRICK/BLOCKLAYER 
All aspects of masonry:  
Fireplaces, 
Restoration  
& Remedial Work. 
JAMES EAGLETON 
Tel. (09) 431 2514  
Mob. 0274 749 232 
jajueagles@yahoo.com.au 
210A Pukenui Road, RD2 Kaiwaka 0573 
SALES SERVICE SPARES
FARM BIKE SPECIALIST
Phone 431 2127  
Kaiwaka-Mangawhai Rd 
Kaiwaka 
5 
Bulk Cartage 
KAIWAKA GARDEN 
& FLORAL GROUP 
21 members plus two visitors 
enjoyed 
our 
November 
meeting  in  Waipu.  We  car 
pooled  to  Robyn  Moffat's 
garden to have our meeting and display 
our  entries.  Robyn's  garden  was 
magnificent,  especially  her  display  of 
roses by the front door.  
While  the  judging  was  taking  place 
Robyn  and  Glynis  had  organised  a 
"name  the  plant  in  the  plastic  bag" 
competition  and  we  worked  in  pairs, 
after  a  lot  of  hilarity  Sue  Hamilton-
Wallace  and  Meredy  Ballard  emerged 
the winners. 
Congratulations  to  the  November 
Birthday Girls Heather, Betty and Ann 
D. We all wish Sue Hamilton-Wallace 
a speedy recovery from her broken arm 
after her recent fall. 
Competition results:  
Rose  –  1st  Fay  Burnett,  2nd  A 
Dowson;  Best  bloom  -  1st  Helen 
Thwaites,  2nd  Caron  Bastable;  Spike 
or  cluster  –  1st  Agnes  Tulley,  2nd 
Glynis  Smith;  Vege  -  1st  Fay,  2nd 
Glynis;  Lemon  -  1st  Adrian  Osborne, 
2nd 
Glynis; 
Christmas 
table 
arrangement:  Novice  –  1st  Caron 
Bastable,  2nd  Margaret  Whitaker; 
Senior  –  1st  Ann  Dowson,  2nd  Sue 
Hamilton-Wallace;  Most  Outstanding 
Exhibit - Caron's Poppy. 
We  called  in  at  Glynis  Smith's  very 
tidy  and  colourful  garden  at  Waipu 
Cove  on  the  way  home,  Glynis  also 
gets a lovely sea view. 
We  visited  Jenny  Wills  garden  in 
October. Jenny's garden is immaculate, 
every space filled with plants and a real 
challenge with her three-tiered garden, 
they finally won their 2 year battle with 
gorse and toi toi. Well done. 
We  have  our  Christmas  Mystery  Bus 
Trip  on  11th  December  which 
promises to be a great day after a lot of 
research  and  careful  planning  by 
Rosemary. 
Members of the public are welcome to 
join  us  too,  the  cost  is  $45  which 
covers  Christmas  dinner,  bus  trip  and 
entry  to  two  gardens.  If  you  are 
interested  please  phone  Meredy  431 
3254 or Rosemary 431 4744 before the 
1st  of  December.  Leabourn's  bus  will 
be  leaving  The  Club  at  8:45a.m.  and 
home around 4:30p.m. Members: don't 
forget  your  wrapped  gift  for  the 
children  and  give  them  to  Rosemary 
before the bus departs. 
On  Tuesday  16th  December  we  are 
making  posies  for  the  Retirement 
Village  at  Ann's  at  1:30  p.m.  Please 
bring  small  flowers  and  greenery; 
bases provided. 
There  will  be  no  meeting  in  January. 
We  will  meet  at  Rosemary  Browne's 
on Thursday 12th February 2015, don't 
forget  to  bring  your  "Garden  Art"  if 
you have made any (Not Hubbie)!!! 
Competition: The usual plus:- 3 beans, 
Best  "Annual"  bloom,  own  choice  of 
fruit, L-shape arrangement. 
Merry  Christmas  Everyone  and  Best 
Wishes for a Happy and Healthy 2015. 
~ Ann 
Affordable Family Treat at ORT 
Shar  Dormer  is  enjoying  her  debut  in 
the  Director's  chair  for  the  Otamatea 
Repertory  Theatre  end-of-year  show  – 
'The Wind in the Willows.'   
Shar is no stranger to the stage.  Over 
the  past  three  years,  she  has  acted  in 
each  of  the  winning  plays  at  the 
TheatreFests.  'Coupon Fiesta' in 2012 
when  she  won  Best  Actress  and 
represented  ORT  at  Whakatane; 
'Joined  at  the  Hip'  which  went  on  to 
represent  ORT  at  the  2013  National 
TheatreFest 
in 
Wellington; 
and 
'Change  of  Heart'  which  was  judged 
Best  Play  at  the  2014  Northland 
TheatreFest.  She also had minor roles 
in  'The  Pajama  Game'  in  2007  and 
'The Three Little Pigs' in 2012. 
"'The team at ORT is amazing, and we 
have all worked so hard to produce the 
best show possible.  We have kept the 
ticket prices down so that families can 
come  and  enjoy  this  timeless  classic," 
says Shar.  "Kids can come to the show 
for only $5 – it is cheaper than going to 
the movies!" 
 'The  Wind  in  the  Willows'  by 
Kenneth  Grahame  is  hailed  as  one  of 
the  classic  greats  of  children's 
literature.    With  its  themes  of 
friendship  and  loyalty,  the  gentle  and 
whimsical story features the well-loved 
characters  of  Ratty,  Badger,  Toad  and 
Mole.  
Mike  Carter's  delightful  adaptation 
recreates  the  simple  charm  and  magic 
of  this  timeless  story.    It  was  first 
staged in the UK at Christmas in 1985 
where  it  broke  all  previous  box  office 
records for a Christmas show. 
Tickets  are  on  sale  at  Tony's  Lotto 
Shop  in  Maungaturoto  or  online  at 
www.ort.org.nz 
The show runs for two weekends from 
21st to 30th November at the theatre in 
Maungaturoto. 
Photo: Shar Dormer
OTAMATEA 
REPERTORY THEATRE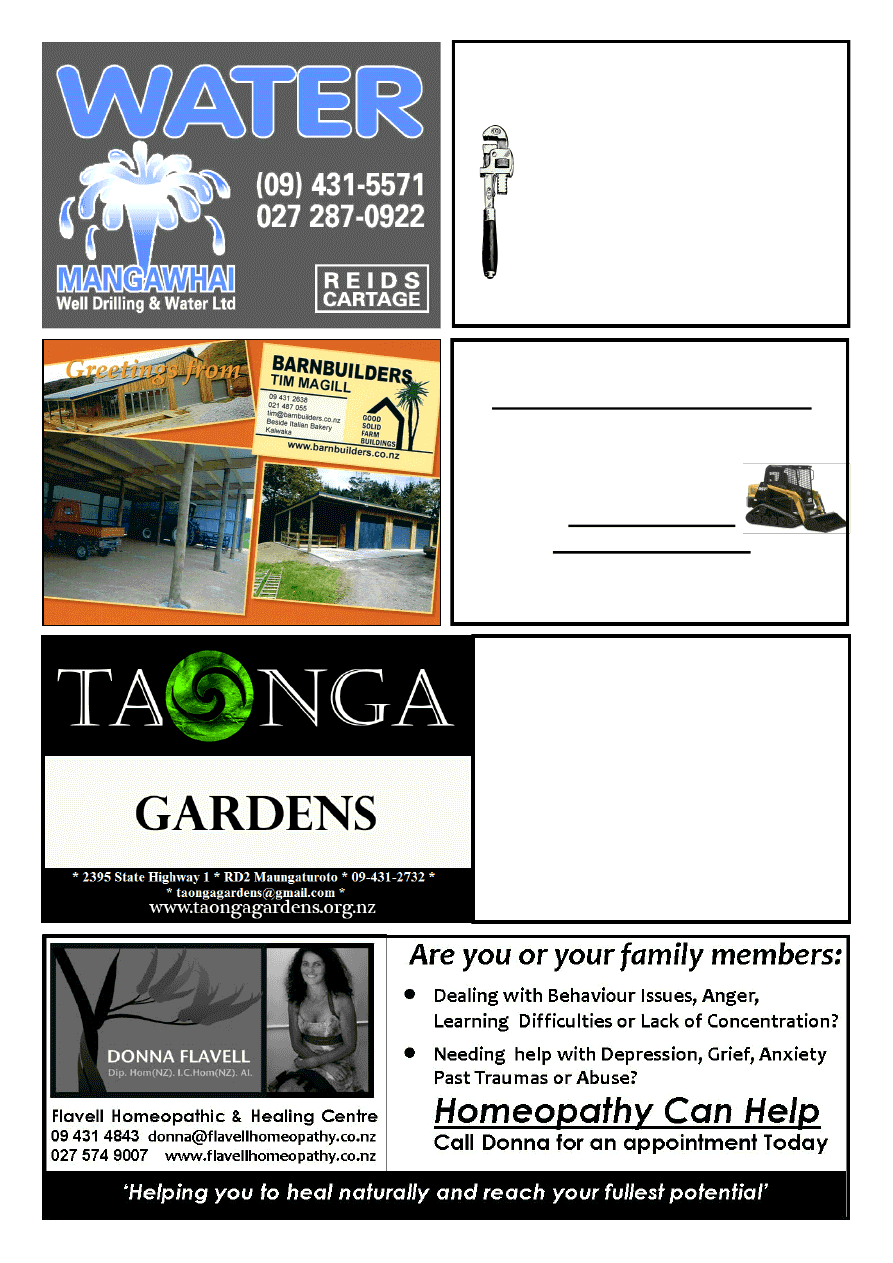 A one stop shop for all your gardening 
needs. Great  Christmas  gifts  available. 
Organic fruit trees, seasonal produce as 
available,  seedlings,  herbs,  seeds, 
books,  tools,  fertilisers,  gloves,  worm 
farms and much, much more. 
Open  -  Thursday  to  Sunday,  9.00am  - 
5.00pm,  5km  north  of  Kaiwaka,  2395 
State Highway 1, RD2 Maungaturoto. 
Tel: 09-431-2732. 
Email:taongagardens@gmail.com 
Natural Earth Ltd 
Landscape and Bobcat services 
 : Driveways  :Landscaping  :Retaining Walls 
 : Hole Boring: Land Levelling :Trenching 
 : Decks :Fences :Sections Cleared 
 : Plus much more
Tel 09 4312 885 
Mob 02102391280 
For A Fast Friendly Service  
Contact Tim Hicks 
BARRY CURTIS PLUMBING LTD 
REGISTERED CRAFTSMAN PLUMBER 
Phone 431 5572 
027 257 9884 
25 years' experience 
Friendly reliable service 
All plumbing & maintenance 
Alterations and new housing 
New wood fire installation 
Spouting 
Competitive rates
PROMPT EFFICIENT  SERVICE 
 LEABOURNS 
Passenger Service
Car & Van Hire 
Bus & Coach Charters 
Airport Transfers 
 Monthly Shopper Bus 
Phone (09) 4237416 
When you need St. John 
members at your function … 
Get a Community Services 
Form 
….. see Milly at the  
Kaiwaka St John  
Op Shop.  
Phone 4312650 
MORE MEMBERS REQUIRED FOR 
THE KAIWAKA STATION. 
7
KAIWAKA/MANGAWHAI CUBS 
and 
SCOUTS 
ST PAUL'S  
ANGLICAN  
SUNDAY  
SERVICES
First Sunday 9.30am 
Third Sunday 9.30am  
St Pauls Church: Kaiwaka-Mangawhai Rd. 
1st Sun - Eucharist 
3rd Sun - Family Service 
Office 4214 122 
Contacts:M.Hargreaves 4312295, C.Bygrave 4312057  
Campcraft 
Many  thanks  to  the  Mangawhai  Club  for 
their  sponsorship  of  our  Kaiwaka/
Mangawhai Scout  Troop. This sponsorship 
enabled  our  local  Scout  Troop  to  send  a 
Patrol  to  the  annual  Northland  Campcraft 
competition    held  on  7th,  8th,  9th 
November. 
Congratulations go  to the Moa  Patrol  who 
took out several honours over the weekend. 
Moa Patrol led by Hamish Ferguson had an 
impressive  win  by  85  points.  The  camp 
was held at Rouse Farm, Hukerenui, where 
patrols needed to provide their own shelter, 
food  and  toilet  facilities.  There  were  8 
patrols  competing  to  gain  the  very  prized 
Kudu  horns,  a  very  prestigious    Scouting 
trophy.  There  were  eight  troops  from 
Northland presenting their skills to a panel 
of judges. The patrols were judged against 
their  documentation,  food,  pioneering 
skills,  camp  structure,  general  scouting 
knowledge and ability to work together. A 
notable  individual  award  went  to  Hamish 
Ferguson  for  his  leadership  skills.  We  are 
so  very  proud  of  our  patrol  given  that  we 
have only been a troop for one year. This is 
an amazing achievement for our Scouts. As 
leaders we could not be prouder. 
Our  participating  Scouts  were:  Hamish 
Ferguson,  Patrol  Leader;  Tyler  Young, 
Assistant  Patrol  Leader;  Neitana  Blissett, 
Jade  Tornquist,  Toni  Tornquist  and  Liam 
Leslie–Sutton. 
The Takahe Patrol competed at the Le Roy 
Campcraft  competition  at  Shakespeare 
Reserve    on  the  15th  and  16th  November 
and  won  Gold  status  for  Campcraft  They 
came second overall in the Maharani Zone 
competition.  Fantastic  achievement  for 
these wonderful young people. 
Oh so Proud 
It is so rewarding when 
something you do, goes so far.  Often like 
other volunteers you think -  am I making a 
difference.    This  letter  was  forwarded  to 
me  by  our  Group  Leader  Bruce  Ferguson.  
This  is  what  makes  me  want  to  give  my 
time and my energy to our youth.  With so 
many  other  opportunities  available  to 
young  people  today  can  Scouting  make  a 
difference.    I  think  it  can,    Scouting 
provided  young  people  the  opportunity  to 
have fun, be brave and learn new skills.  It 
provides a wonderful environment to learn 
about  our  bush,  to  be  responsible,  to  care 
for others.  As a Scout Leader I am so very 
proud of our Scouts and Cubs and the way 
they represent us in the community.  These 
young people are the leaders of the future. 
~Jenny 
Letter from Sara McAulay: 
Today  at  school,  at  11.00  am,  we 
gathered 
under 
the 
flagpole 
to 
commemorate 'Remembrance Day'. 
We had a group of your Scouts lower and 
raise the flag, as the Last Post played. 
I was MOST impressed with the way the 
Scouts showed such respect for 'the flag' 
and the sombreness of the occasion. Their 
salute  at  the  end,  to  the  flag,  was 
particularly  poignant,  and  many  of  the 
Non Scouts followed suit, and saluted as 
well. 
As  a  past  Leader,  and  District 
Commissioner,  I  would  have  been  most 
proud  to  have  these  young  people  under 
'my  watch'.  Congratulations  to  the 
present  Leaders,  and  the  Scouts,  who 
could step up and accept the  challenge  – 
and do such a great job! 
Warmest regards 
Clairvoyance & Life 
Path Readings 
Fashioning Your True 
Being 
Book a Consultation 
Kaiwaka 
021 231 7447 
L-R: Tyler Young, Hamish Ferguson, Jade Tornquist, Neitana Blissett, Toni Tornquist, Liam Leslie-Sutton 
Dargaville Museum Visit 
The  Kereru  Group  went  to  the 
Dargaville  Museum  whilst  the  noho 
was on. This was very successful also. 
The parents and the students who went 
are  very  enthusiastic  about  this 
museum,  as  it  is  really  hands  on  and 
full  of  local  history.  They  all 
recommend it as a great place to visit. 
More photos are on the school website 
www.kaiwaka.school.nz 
KAIWAKA SCHOOL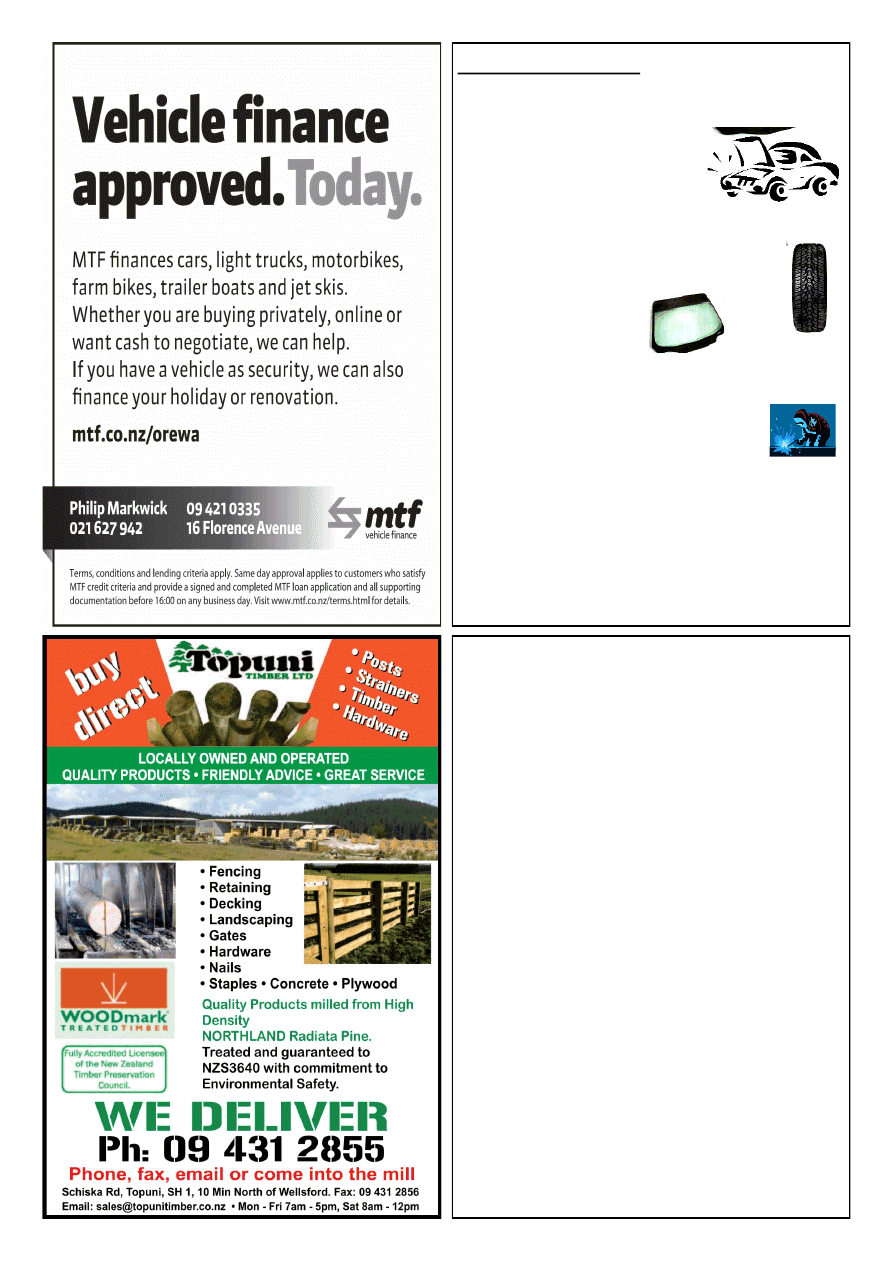 Want it done? 
Bring it to  
Twinkle Tow 'n' Tyre 
*W.O.F. 
*Tyres 
*Windscreen replacement 
*Chip repairs 
*Bulk Oil 
*Batteries 
*Welding 
*Custom built trailers 
*Trailer hire 
Think you'll get a better deal in 
the city? 
Go on, ring us; it won't cost  
anything! 
1837 State Highway 1, Kaiwaka       
Phone 431 2823 
KAIPARA  
FLOORING CO 
32 HURNDALL ST MAUNGATUROTO 
Ph: 09 9469886 or 021 515 415 
Carpet, vinyl, laminate wood look  flooring, 
vinyl planking, sanding & polyurethane 
service. 
Carpet Short Ends from $79pm + GST 
Vinyl D.I.Y. peel n stick tiles $10sq mtr + GST. 
Free measure & quote.   
Mobile Service 
Phone Christine or Howard anytime 
Open Saturdays by arrangement.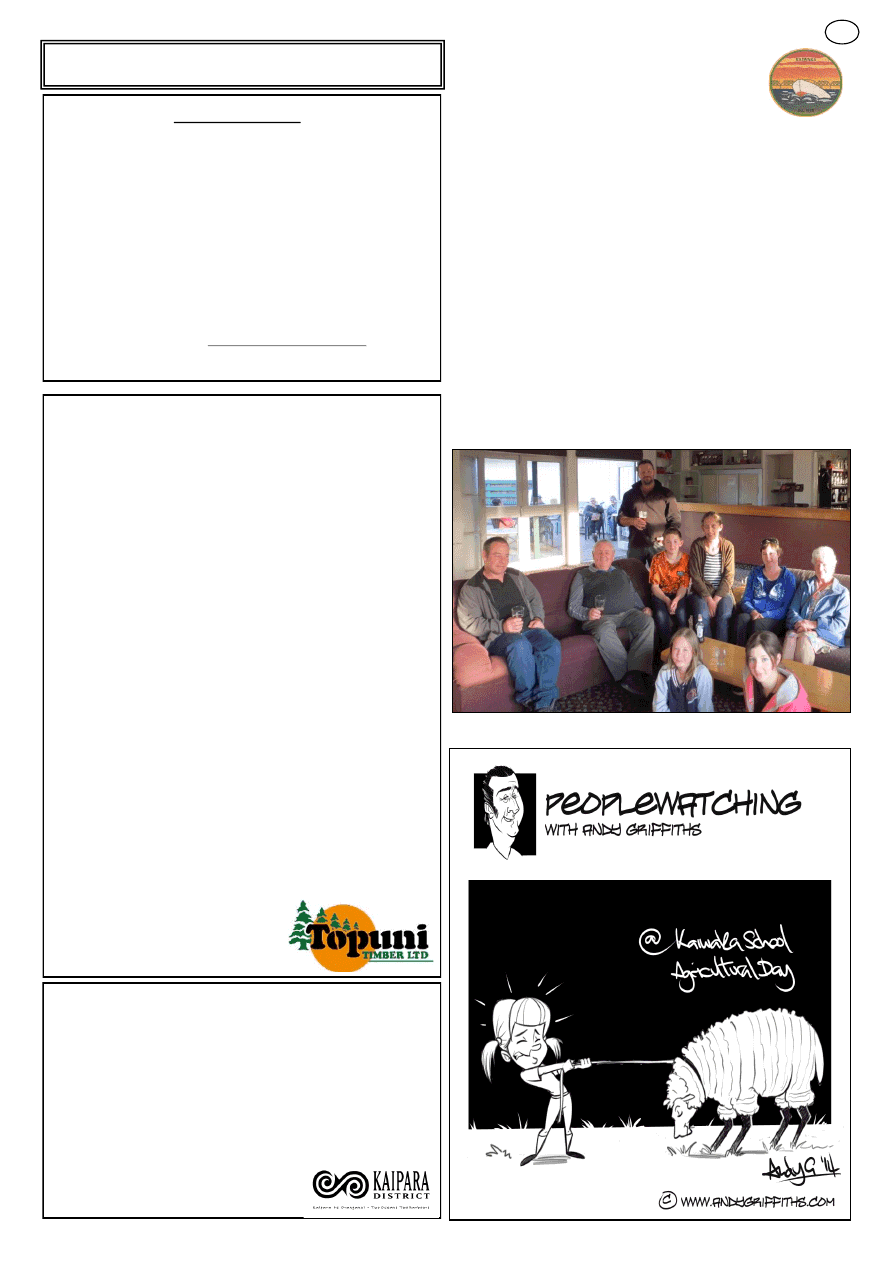 POINT CURTIS 
CRUISING CLUB 
Results for Point Curtis Cruising Club members 
only  fishing  tournament  15th  and  16th 
November 2014: 
Senior Section 
Snapper:  1st:  Linda  Leslie  4.024kg,  2nd:  Linda  Leslie 
3.529kg, 3rd: Dean Phillips 3.057kg 
Kahawai: 1st: Trevor Wright 2.880kg 
Junior Section: 
Eel:  1st:  Jayden  Ries-Wilson  5.437kg,  2nd:  Jayden  Ries-
Wilson 3.076kg, 3rd: Hunter Campbell 2.636kg 
Average snapper weight prize: Renna Brown 1.828kg 
Raffle  winners:  Jean  Mcleish  (Back  pack  with  seat)  and 
Sandy Shaw ($50 note). 
Thanks  to  everyone  who  helped  over  the  weekend,  all  the 
weighmasters and raffle sellers (and buyers!) and those who 
brought  a  plate  to  prizegiving  on  Sunday.    Thanks  to 
Russell, Barb, Tracy and staff at the 3 Furlongs.   
Next committee meeting 9 December at 7pm at 3 Furlongs 
Hotel. 
~Wayne Leslie, Commodore 
(Photo: Mills family - long time supporters of Point Curtis 
Cruising Club) 
9
KAIWAKA 
SITUATIONS VACANT 
HARVESTER OPERATOR - VALMET 430/WARATAH 618 
We are seeking an experienced machinery operator to join our 
production  thinning  forestry  team.      If  you  are  fit  and  capable 
and able to work with minimum supervision with a great work 
ethic  we look forward to hearing from you.  Excellent rates of 
pay  and  conditions  are  offered  to  the  right  person.    You  will 
need to have a clean and full licence and pass a pre-employment 
drug test. 
For further information please contact Robert on 021 458 767. 
FORWARDER OPERATOR - VALMET 860-1 
We are seeking an experienced machinery operator to join our 
production  thinning  forestry  team.    If  you  are  fit  and  capable 
and able to work with minimum supervision with a great work 
ethic  we look forward to hearing from you.  Excellent rates of 
pay  and  conditions  are  offered  to  the  right  person.    You  will 
need to have a clean and full licence and pass a pre-employment 
drug test. 
For further information please contact Robert on 021 458 767. 
ENGINEER 
We are seeking a qualified engineer, preferably with sawmilling 
experience  to  join  our  team.      Skills  in  project  management, 
preventative  maintenance, purchasing and staff supervision are 
essential.    We  are  a  medium  sized  roundwood  production 
timber  mill  located  15  minutes  North  of  Wellsford.    You  will 
need to be fit and capable and able to work unsupervised with a 
great  work ethic.  You  will also need a  full and clean driver's 
licence and pass a pre-employment drug test. 
To apply  
please 
contact 
Robert 
on  
021 458 767. 
FOR SALE:
Premium Queen Size Mattress $190 
(165 cm × 203 cm), medium firm 
very good condition, no rips/cuts/stains 
about 6 years old 
NATURE SLEEP 
NATURE PLUS COLLECTION ZENITH 
LATEX GOLD 
The label says: 
Low profile pocket spring system 
Unique imported low profile individual springs. 
Electronically heat tempered for added durability and extra life. 
Ultrasonically welded spun-bond pockets. 
Pick up only in Mangawhai Heads, please contact Barbara 
at 431 5905 or 
CLASSIFIED 
continued 
Public Meeting about Roading 
Kaiwaka Sports Complex 
7pm on Wednesday, 26th November 
Who will be there: 
 
The Roading Manager from Kaipara District Council 
 
A representative from NZTA 
 
A representative from Roading Contractors 
 
A Roading Engineer 
 Please feel free to invite anyone you 
think might be interested.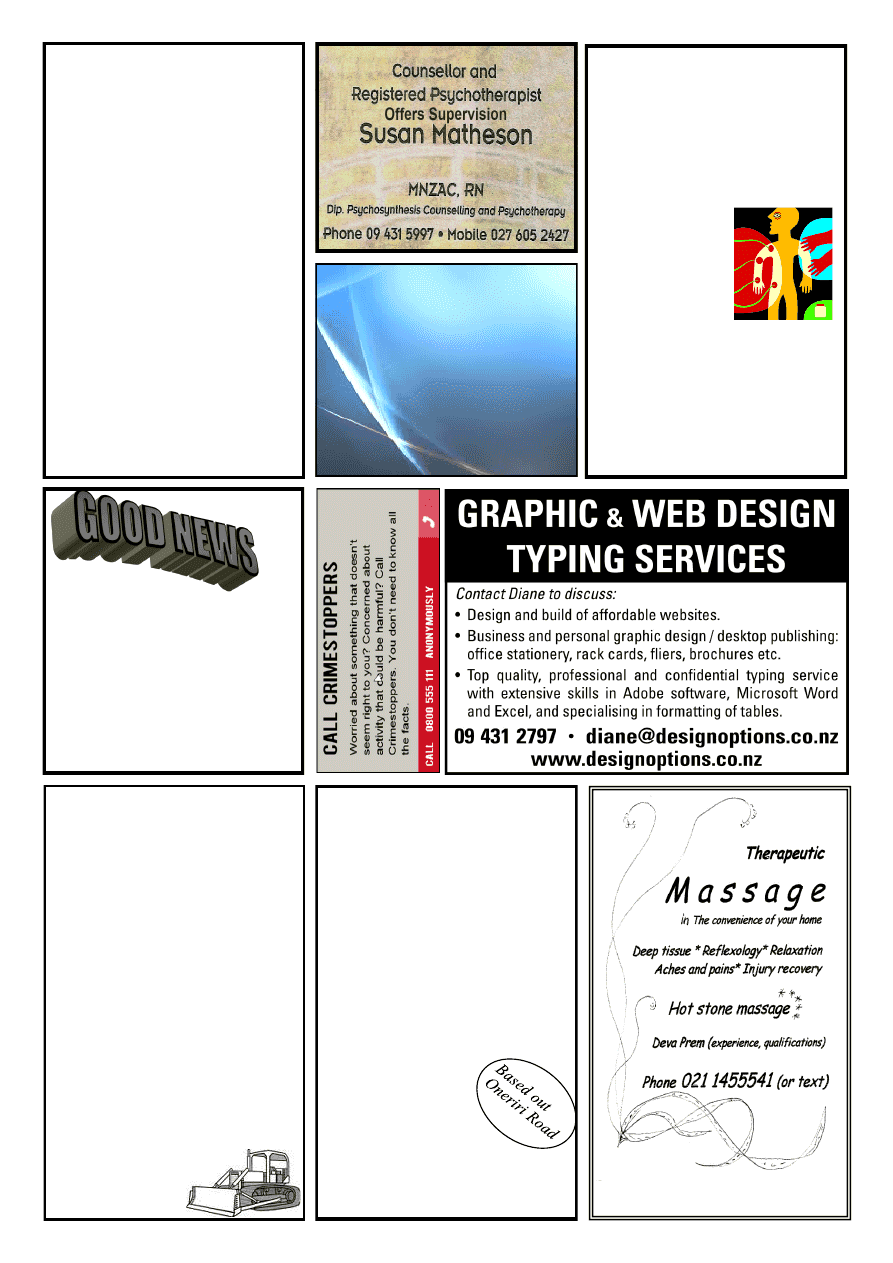 www.mangawhaimassage.co.nz 
HODGETTS 
CONTRACTING
Digger Work    

Driveways 

House Sites   

Dams 

Drains, etc
Also available for HIRE 

3 ton Vib Roller 

Heavy Duty Tow 

Waterblaster  

Lazer Level 
Phone Mark 
4312877 
027 447 8554
OWEN STEVENS 
Osteo Therapist
For careful adjustments to bones 
and joints 
Treatment for  humans and their 
pets 
Clinics: 
Kate's Place, 
Kaiwaka: 
Last Friday of 
month 
For bookings: 
9.00am-5.00pm   
Phone 
09 4312661 
Or phone Owen   
09 4317123  anytime 
Freeview  
Installations 
Richard Te Haara 
25 Marram Place 
Mangawhai Heads 
021 1104056 
kiwipride@xtra.co.nz
Willow Bend
HORSE  
HOTEL 
"   
Total Horse Care 
" 
Agistment 
" 
Riding Lessons 
" 
Arena Hire (60x40) 
" 
Young Horse Starting 
" 
Re-training/Exercising 
" 
Hoof Trimming 
" 
Problem Solving 
Phone Sue 09 431 
2817 or 021 623 776 
Or email sue.gray@xtra.co.nz 
Coates  
Contracting 

D41 Bulldozer with 6 
way blade, bush rigged 
with winch 

For all tree work 

General bulldozing and  
  stick raking. 

120hp Tractor for 
ground cultivation,  

tip trailer work. 

Fencing
All enquiries phone  
Brett Coates  
 094318720  
or 
 021431872
@ the  
Kaiwaka Family 
Church 
Your COMMUNITY CHURCH 
RECEIVE HEALING 
RECEIVE THE LOVE OF GOD 
Everyone warmly welcome each 
Sunday 10am and 7pm. 
Contact: 4312571 or 4312068
THERE'S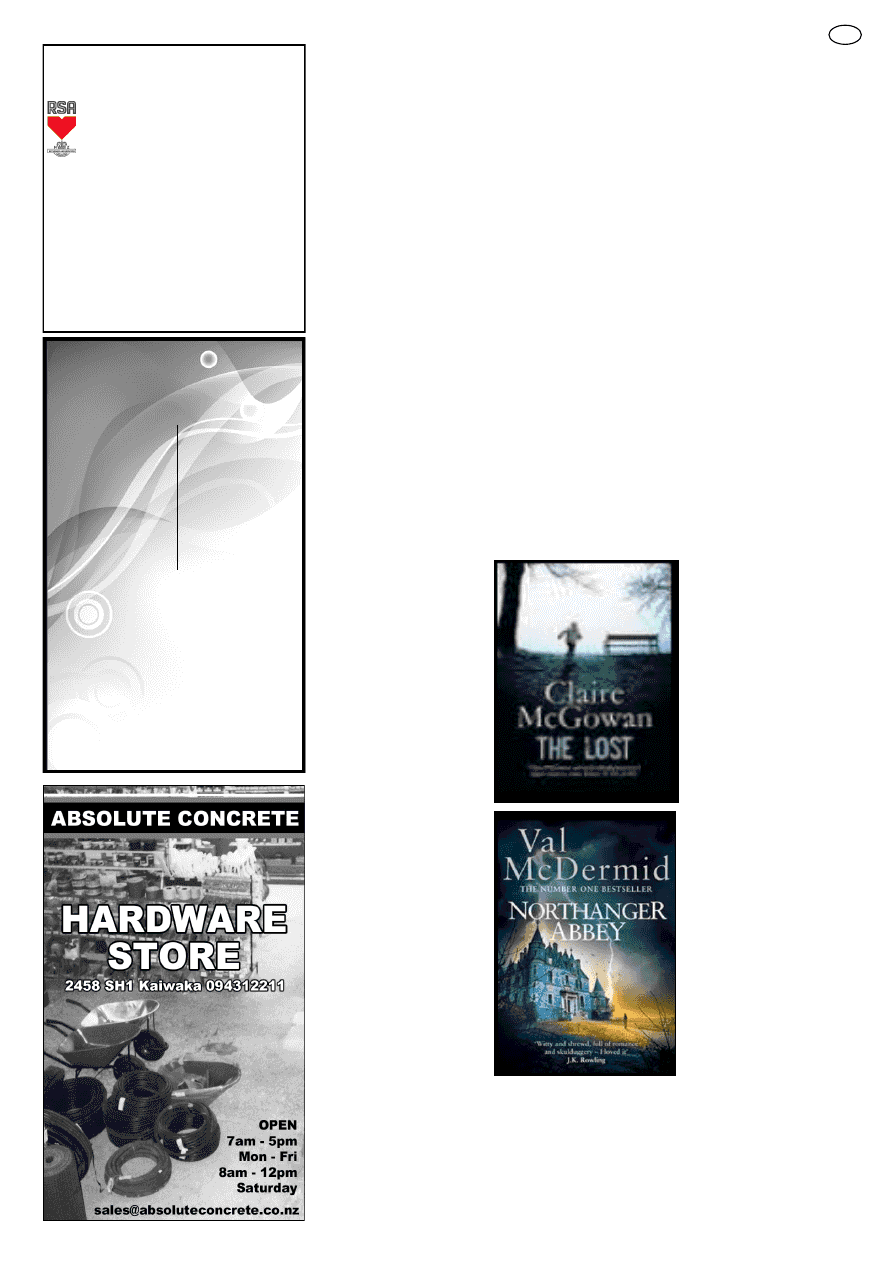 11 
HAKARU & 
DISTRICTS RSA Inc 
Each Friday night 
from 6.30pm 
Meals will be served 
2nd Friday of the Month 
Is Roast Dinner Special 
Come along and enjoy our 
Hospitality  
For more information 
Ring Heather 431466 
or Jan 4314512 
U Beauty 
Please call Nicole for bookings 
09 393 6336 or 022 0639450 
Qualified Beautician 
4 Kaiwaka – Mangawhai Rd 
Kaiwaka 
Underarm Wax  
$20 
Extended Bikini Wax 
$30 
15 min Back  Massage 
$25 
Eyebrow Wax  $10 
Eyebrow Tint  $10 
Eyelash Tint 
$20 
Lip Wax 
$10 
Chin Wax 
$10 
Bikini Wax 
$20 
Brazilian 
$50 
½ Leg Wax 
$30 
Full Leg Wax  $45 
Full Pedicure  $60 
Foot Tidy  
$35 
Manicure 
$45 
Nail Tidy 
$25 
Chest Wax 
$30 
Back Wax 
$40 
Nostrils 
$10 
Ears 
$10 
KAIWAKA LIBRARY
Book swap  
The  next  book  swap  is  fast 
approaching. Now is the time to get in 
and  take  a  look  at  what  we've  got  on 
the  Dargaville  shelves,  before  they 
disappear. No  need  to  rush  the  current 
books back, you can keep hold of them 
until their due dates and return them to 
us as usual. On Tuesday 2 December a 
group  of  us  will  be  taking  our  current 
Dargaville  books  back  to  the  public 
library,  and  choosing  our  new 
selection.  They  should  be  on  the 
shelves ready to borrow the next day. 
Holiday closing 
The library's last session for 2014 will 
be on Monday 22 December, 4 to 6pm. 
Come  in  and  choose  some  books  for 
your  holiday  reading  before  we  close, 
so  you  don't  miss  out.  We  reopen  on 
Monday  5  January  2015,  again  4  to 
6pm,  then  back  to  our  usual  hours  - 
Monday 
4-6pm, 
Wednesday 
to 
Saturday  10am-2pm;  closed  on  public 
holidays. 
Book reviews 
The  Lost  by  Claire  McGowan. 
Forensic  psychologist  Paula  Maguire 
left  Northern  Ireland  many  years  ago, 
intending to never return. But she is so 
successful at what she does in London 
at  the  Missing  Persons' 
Unit, she's been seconded 
to help set up a new cold 
case  review  team  based 
in  her  old  home  town, 
reinvestigating  missing 
people  cold  cases  from 
all over Ireland; there are 
plenty  to  be  getting  on 
with,  what  with  the 
troubles  and  all.  But 
there are two more recent 
cases that takes priority - 
two  teenaged  girls  in the 
vicinity  of  her  home 
town,  one  a  Catholic 
schoolgirl  who  has  been 
missing a week, the other 
a young traveller who no
-one  realised  was  gone 
until  three  weeks  had 
passed  by.  How  do  they 
connect  to  each  other, 
and 
to 
other 
disappearances 
from 
nearly  30  years  ago? 
Paula has her own way of 
doing things, which don't 
always  meet  with  the 
approval of her superiors 
on the force. And she has 
her  own  demons  and 
ghosts  to  face,  as  she 
returns to her father's home (her mother 
having  gone  missing  when  she  was  a 
kid)  and  faces  her  old  school  friends 
who  she  left  without  a  goodbye  all 
those years ago. Old wounds that have 
never properly healed. It all makes for 
an interesting journey... 
I really enjoyed this novel, not just the 
solving-the-cases  side  of  it,  but  the 
setting  in  modern-day  Ireland  and  all 
that  means  with  its  recent  history,  as 
well.  This  book  is  on  the  Large  Print 
shelves until April 2015. 
Northanger  Abbey  by  Val  McDermid. 
Catherine Morland (Cat to her friends) 
is a young middle-class girl, the home-
schooled daughter of a vicar and an ex-
school  teacher,  waiting  for  life  to 
happen. Only, nothing ever happens in 
Piddle  Valley,  Dorset.  Until  her 
neighbours,  the  wealthy  Allens,  invite 
her  to  the  Edinburgh  Festival  to  keep 
Susie  company  while  Mr Allen  works 
his  highly-successful  London's  West 
End  theatrical-seeking  business  there. 
And  then  life  starts  to  happen  rather 
quickly.  Susie  runs  into  an  old  school 
friend  Martha  -  who's  daughter  Bella 
claims  to  be  a  good  friend  of  Cat's 
older  brother  Jamie  (James  to  his 
family).  It's  a  very  small  world,  you 
know. And her son John quickly takes a 
liking to Cat, much to Cat's dismay as 
he's quite a bore. Meanwhile Cat meets 
the  delicious  Henry  at  a  Scottish 
Country  Dancing  lesson,  taken  to 
prepare  herself  for  one  of  the  dances 
she'll be attending with Susie, and can't 
stop thinking about him. 
Only 
John 
dislikes 
Henry and does his best 
to put her off. 
Sounds  familiar?  If 
you've  read  the  original 
Northanger  Abbey  by 
Jane  Austen,  it  might. 
This  book  is  part  of  the 
"Austen 
Project",  a 
modern  realisation  of 
the  classic  novels.  I've 
not  read  any,  but  I've 
seen  plenty  of  film  and 
tv  productions  of  them 
to recognise some of the 
quaint  language  and 
settings  in  this  book. 
Despite  the  occasional 
'quaintness' 
in 
the 
language  and  settings, 
which  while  a  bit 
different  to  what  you 
might  expect  in  a 
modern  romance  novel 
fits  perfectly  in  this 
story,  this  is  a  lovely 
book  that  I  enjoyed 
immensely.  I  have  no 
hesitation 
in 
recommending it. By the 
way,  if  you're  expecting 
a 
'normal' 
Val 
McDermid  book  based  on  thrills  and 
murder  mystery,  you'll  be  greatly 
disappointed  as  there  is  none  of  that. 
But read it anyway, you'll enjoy it too, I 
expect.  This  book  is  on  the  Rental 
Fiction shelves, due to be moved to the 
free shelves in July 2016.  
Happy reading! 
Wendy    .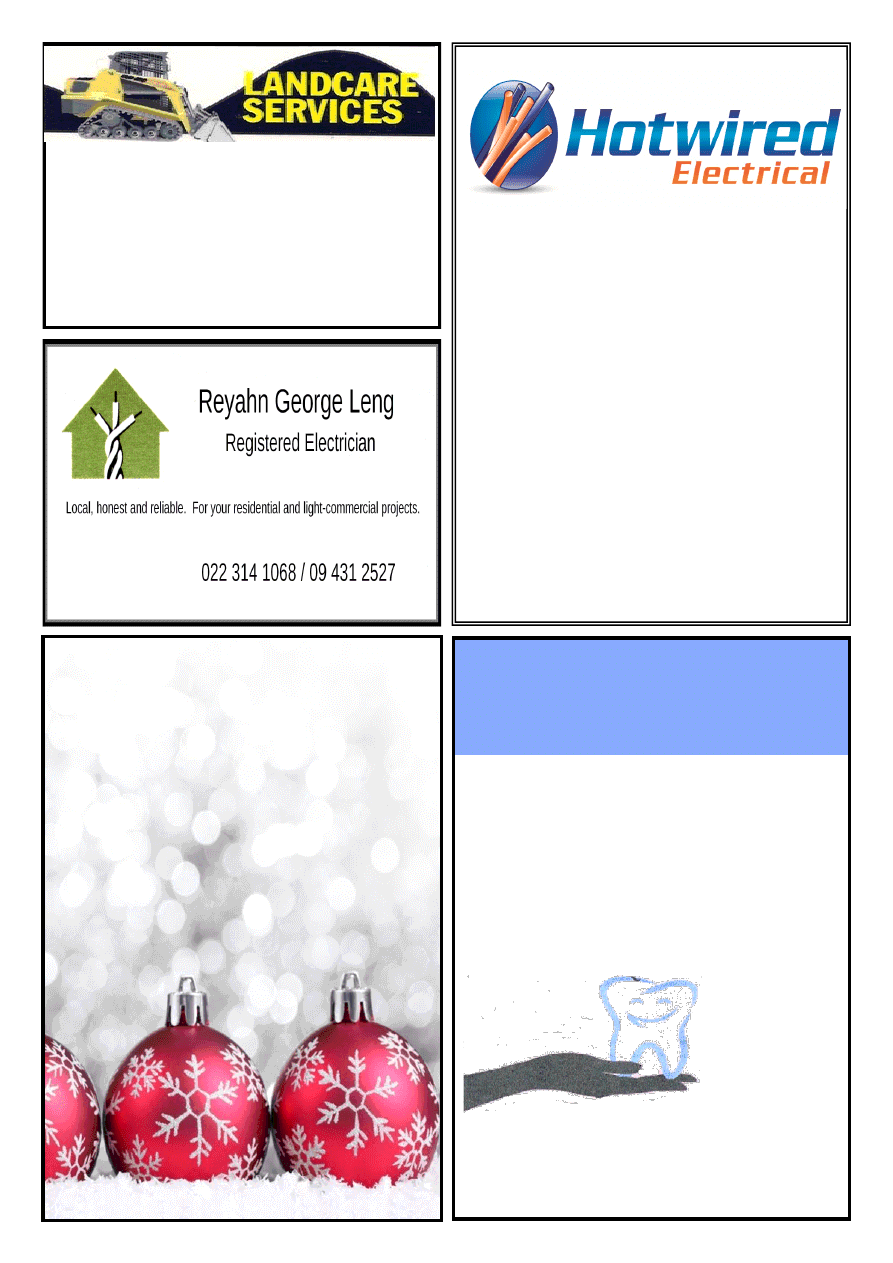 LANDSCAPING 
4 IN 1 BUCKET 
TRENCHER 
POLE HOLES 
ROTARY HOE 
COMPACT ROLLER 
OFFAL HOLES 
CAN SUPPLY WOODCHIP & POST PEEL 
5 TON TIPPER 
FOR RELIABLE AND FRIENDLY SERVICE CONTACT DAVE 
Dave Hyndman 
 
KAIWAKA 
PH: 09 4312302 
MOB: 021 431 238 
Gentle Dental 
Ruakaka 
We love to see you smile 
 
General  & Cosmetic Dentistry 
 
Emergency & ACC Treatment 
 
Denture & Hygienist Services 
 
Senior Citizen Discounts 
 
Free Adolescent Care 
 
Free WINZ Quote 
19 Ruakaka Town Centre 
Dr Sim Sood & Associates 
Ph:  432 8139 
Saturdays 
By 
Arrangement 
Open  
Mon-Fri  
8am-5pm  
For All your  
Electrical  Requirements 
 
Domestic small jobs 
 
Residential dwellings and alterations 
 
Commercial 
 
Industrial                 
No job too big  
or too small    
Contact Jason today on: 
(09) 431 5992, (021) 405 019 
www.hotwiredelectrical.co.nz 
Christmas Trees for Sale 
supporting your local 
St John Ambulance Volunteers
Trees are scarce this season, pre-order your 
tree and receive a special early bird discount, 
email: socialmaungaturoto@hotmail.co.nz 
to secure your tree now 
Trees available from: 
    St John Station, Maungaturoto 
    Powell Contracting, Paparoa 
    St John Op Shop, Kaiwaka 
Fundraiser organised by St John Social Club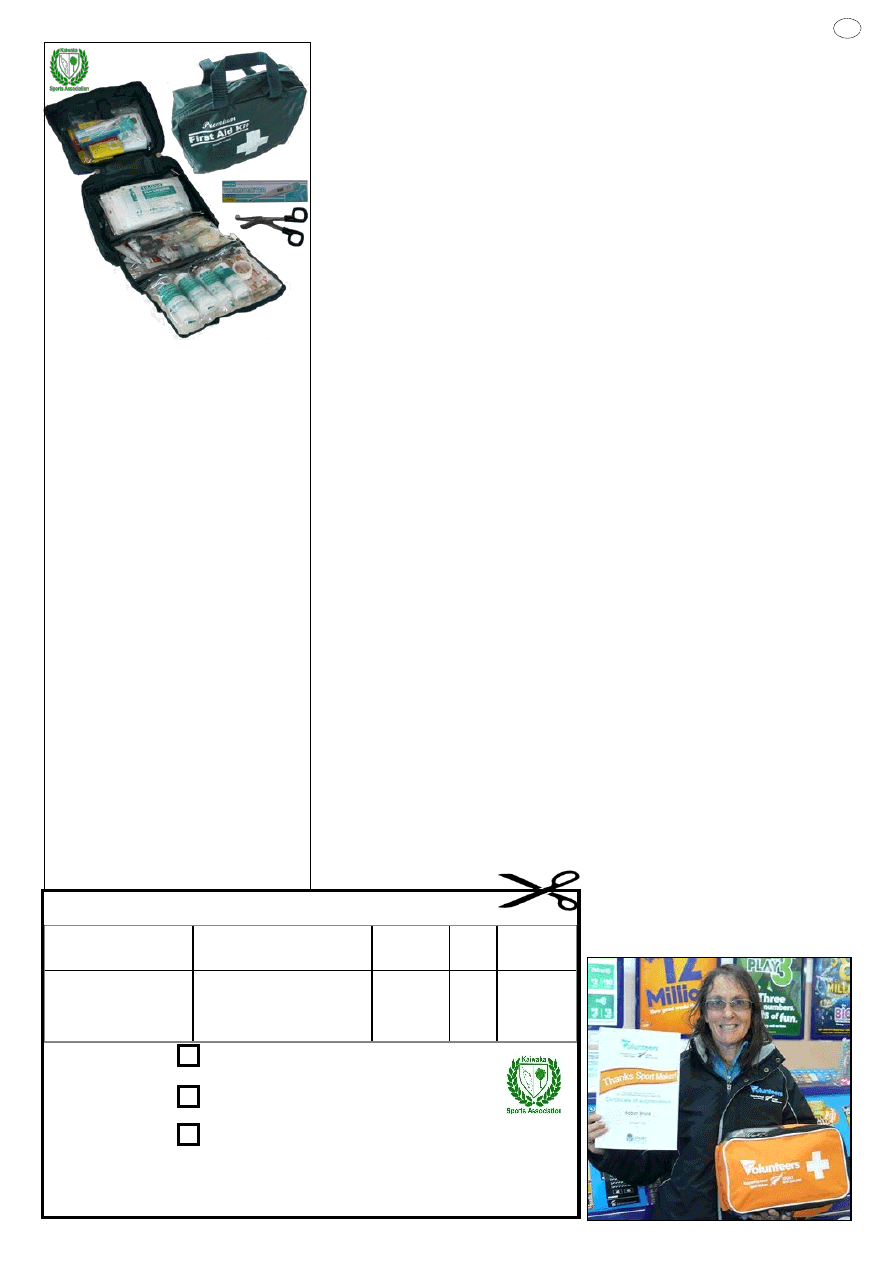 13 
Junior Tennis 
What  a  great  response  to  junior  tennis 
this  season!  We  have  increased  the 
hours that John White coaches because 
of  the  demand.  We  now  have  8  &  9 
year olds at 3pm, 7 years and under at 
3.30pm and Year 6 - Year 13 players at 
4pm.  Junior  tennis  will  run  until 
Christmas, 
then 
return 
for 
approximately seven weeks in term 1. 
The Tennis Club will hold its AGM on 
Monday 1st December at 3.30pm in the 
JK Lounge. All welcome. 
Gymnastics 
All  family  and  friends  of  Otamatea 
Gymnastics  club  members  are  invited 
to attend the end-of-season prizegiving 
on  Tuesday  2nd  Dec  in  the 
gymnasium: 
*10.45am - Preschool 1  
*4pm - 2.30pm, 3.15pm and 4pm classes 
*5:15pm - 4.45pm and Extension Class  
Fitness Centre 
The  new  Chairperson  Michael  Garrett 
and  vice-Chairperson  Gregg  Nathan 
have implemented a pro-rata system of 
subs  payment.  For  details,  check  out 
the  Fitness  Centre  facebook  page  or 
contact  Michael  on  022  1550180  or 
kaiwaka.fitnesscentre@gmail.com.  
Sportmaker Award 
Congratulations to Robyn Bruce (photo 
below),  President  of  our  hockey  club, 
who won a Sport Maker award. 
Robyn  won  this  award  for  her  many 
years  of  tireless  service  to  the  hockey 
club  and  also  for  her  dedication  to 
Otamatea  High  School's  Duke  of 
Edinburgh  programme.  The  school 
currently has over 50 students enrolled 
in  the  Duke  of  Edinburgh programme, 
and Robyn organises all their camps & 
tramps, as well as fundraising.  
In the last school holidays, Robyn went 
on  three  Duke  of  Edinburgh  tramps, 
racking up more than 100kms!  
Touch 
I  am  helping  organise  the  Whanaunga 
Touch  Tournament  to  be  held  at  the 
Sports Complex on January 10. This is 
a  fundraiser  for  the  Otamatea  marae 
and  descendants  from  the 
marae  are  given  first  priority  to  enter. 
Keen  to  register  a  team?  Download  a 
registration  form  the  Whanaunga 
facebook  page,  or  contact  me.  I  am 
looking for referees for the day – if you 
or  anyone  you  know,  is  a  competent 
Touch referee, then please contact me. 
Junior Netball 
Many thanks to Melissa Watts who has 
done a fabulous job running our Junior 
Netball club for 10 years. As Melissa's 
youngest  daughter  has  aged  out  of  the 
club,  Melissa  has  stepped  down  from 
her role as President. We welcome the 
clubs 
new 
President 
Sharlene 
Tornquist. 
Public Meeting 
There will be a public meeting on local 
roading  at  the  Sports  Complex  this 
Wednesday, 26th at 7pm. The Roading 
Manager 
from 
the 
KDC, 
a 
representative 
from 
NZTA, 
a 
representative 
from 
Roading 
Contractors  and  a  Roading  Engineer 
will be present. All welcome.  
Top of the Rock 
Our  5th  annual  multi-sport  event  Top 
of the Rock will be held on Sunday 8th 
February.  I  am  in  the  process  on 
getting  sponsorship  for  the  event,  and 
I'd  like  to  say  a  very  big  thank  you  to 
Greg  and  Paula  from  Jaques  Four 
Square and to Graham, Jenny and Clare 
from Borck Contracting who have both 
offered  sponsorship  of  $1,000!  Their 
generosity is much appreciated! 
Many  thanks  also  to  Steve  from 
Kaiwaka Motorcycles who has donated 
a  Husqvarna  lawnmower,  worth  $600, 
for  us  to  raffle  off  as  a  fundraiser  for 
Top of the Rock – thanks Steve! Raffle 
tickets are at Jaques Four Square. 
First Aid Kit Fundraiser 
I am selling first aid kits as a fundraiser 
for the KSA. At $39, these first aid kits 
are  excellent  value  for  money  and 
similar  kits  often  retail  for  over  $60. 
This  is  a  large  carry  kit  with 
transparent  fold-out  compartments 
which  contains  77  items  and  follows 
OSH  and  Consumer  regulations.  A 
great  Christmas  gift  idea  for  those 
people in your life who are hard to buy 
for! An order form on this page.  
~
Cheryl  Anderson  4312  051,  027  3462702 
kaiwakasports@gmail.com 
FIRST AID KIT 
Kaiwaka Sports Assn fundraiser:  
A quality first aid kit  for $39.  
Excellent value for money and simi-
lar kits often retail for over $60.  
Is  a  large  carry  kit  with  transparent 
fold-out  compartments  containing  77 
items and follows OSH and Consumer 
regulations. 
have an updated first aid kit handy – 
good for the home, work, boat and car. 
Great gift – Fathers Days, Christmas  
To order please return this form with 
your  payment  by  1st  December.  De-
livery  will  be  the  following  fortnight. 
Enquiries to Cheryl Anderson on kai-
wakasports@gmail.com. 
KIT CONTENTS: 
Digital  Thermometer,  Instant  Ice  Pack,  2  x 
Emergency  Blankets,  1  x  CPR  Resuscitation 
mask with valve, 1 x Eye Pad 5.5cm x 7.5cm, 2 
x Burns Dressings 20cm x 30cm, 2 x Conform-
ing Bandage Rolls 6cm x 400cm, 2 x Conform-
ing  Bandage  Rolls  8cm  x  400cm,  20  x  Band 
Aid strips 7.5cm x 2cm, 2 x Triangular Band-
ages  90cm  x  90cm  x  127cm,  Long  adhesive 
strip  6cm  x  20cm,  Adhesive  Multi-pore  Tape 
Roll 13mm x 5m, 3 x Butterfly Adhesive Plas-
ters  7.4cm  x  4.5cm,  2  x  Knuckle  Adhesive 
Plasters  7.5cm  x  3.7cm,  4  x  Semi-permeable 
Dressings  6cm  x  7cm,  3  x  Adhesive  Island 
Dressings  6cm  x  7cm,  2  x  Adhesive  Island 
Dressings  6cm  x  10cm,  Combined/Abdominal 
absorbent pad 23cm x 12.5cm, Scissors 15cm, 
Tweezers  (metal),  4  pairs  large  PVC  safety 
gloves, 10 x safety pins, 4 x Soap wipes 20cm 
x  19cm,  4  x  Saline  Cleansing  Wipes  20cm  x 
19cm, First Aid Guide. 
KAIWAKA SPORTS ASSOCIATION 
  Payment options: 
Cash 
  Cheque (payable to KSA) 
  Bank direct 060365002247200  
  (use reference first aid kit and your full name)  
  Ways to return form: * Post to Cheryl Anderson,  233 Baldrock Rd, RD2,  
Maungaturoto, 0587  
* Drop off in box at Jaques Four Square 
Name 
Address 
Phone No  Qty 
Total Price 
($39 each) 
FIRST AID KIT ORDER FORM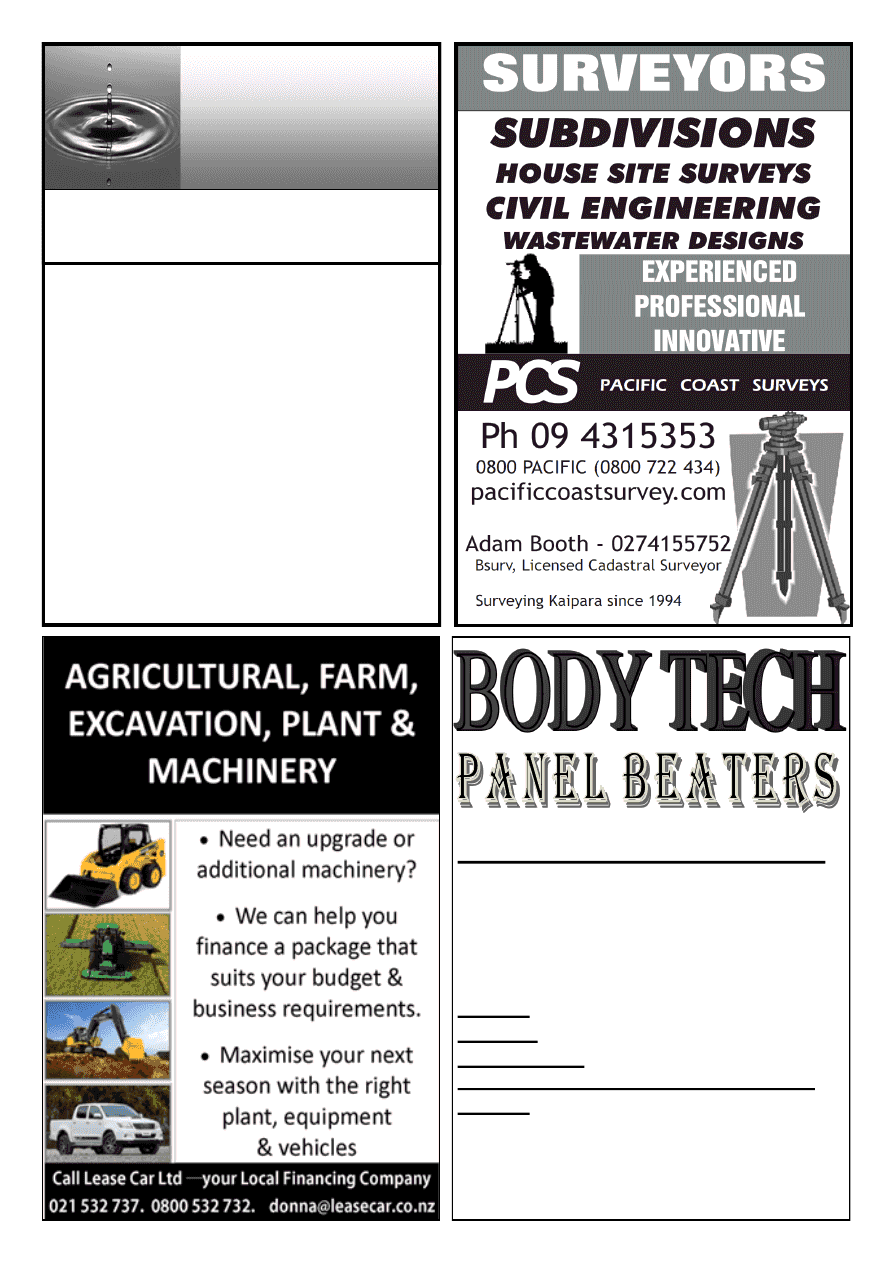 PETE WORSFOLD  
B. Soc.Sc. M. Soc.Sc. Diploma of Prof 
Couns. 
Counsellor
peteworsfold@xtra.co.nz 
 021 825 970 
Professional Service 
Variety of Modalities 
By Appointment Only 
For all your body repair needs!! 
We do: 
Rust repairs 
Insurance work 
Anti-corrosion treatment         
Hours: 8.30am-5pm Monday-Friday  
Mobile: 021 118 0462 
After hours: 09 431 2384 
Phone: Craig or Call in for a free Quote 
e-mail: 
bodytech_panelbeaters@yahoo.com
We are located at 1837 SH1 Kaiwaka, behind Twin-
kle Tow 'n' Tyre call in anytime for a free quote.  
Large and minor vehicle  
  repairs 
Industrial vehicles 
Full Cut and polishes 
INDIVIDUAL ONE-ON-ONE 
COUNSELLING 
 
MODALITIES:     FOR: 
  CBT              Grief 
  Gestalt            Relationship 
  Person-Centred     Trauma 
  Solution Focussed    Couples 
  Behavioural        Adolescents 
                  Careers 
Call for Appointment 
At "The Well of Health" 
09 4312799 or 021 825 970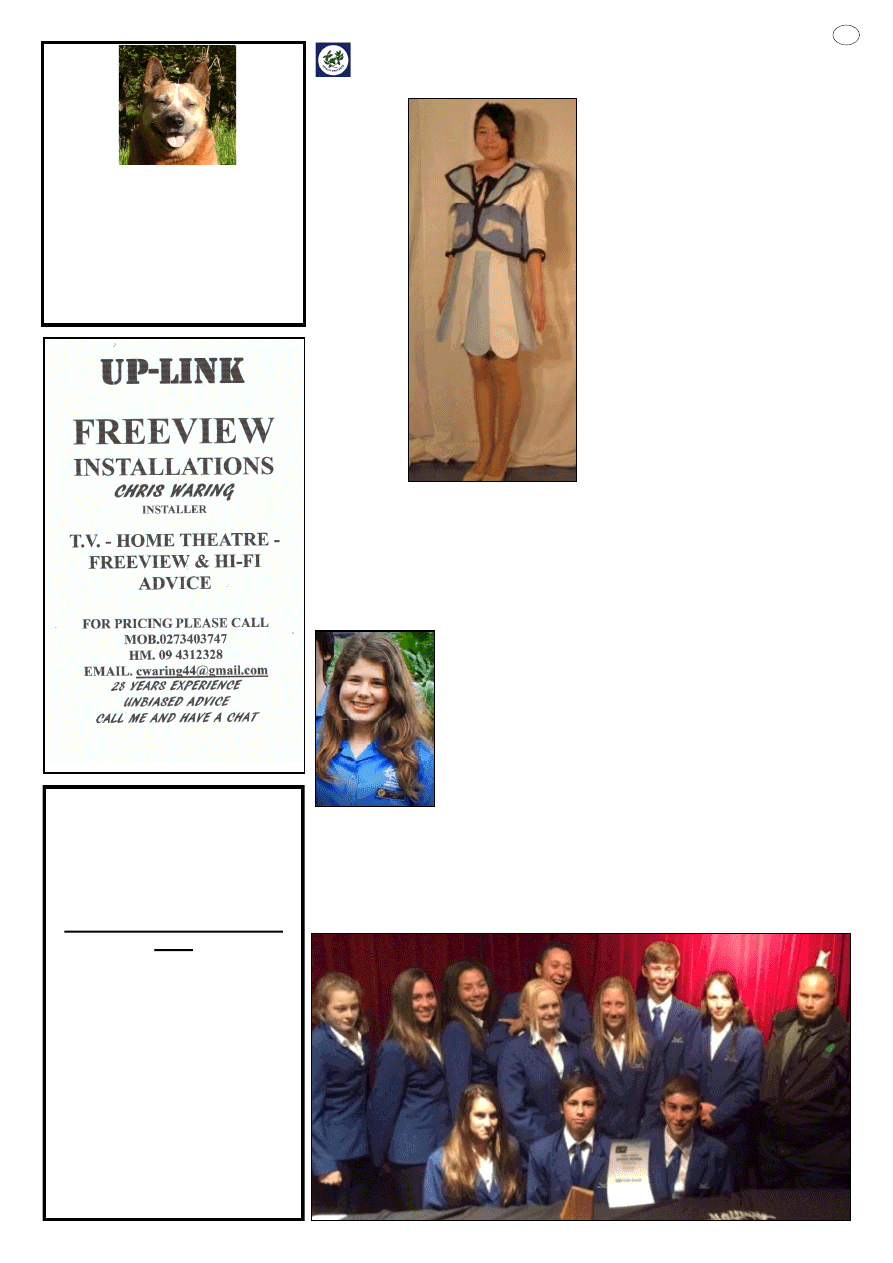 15 
Laughing Dog 
Computers 
www.laughingdog.co.nz 
0224344448 
Hardware and Software 
Service and Repair 
Yang Style Tai Chi 
Classes  
For Beginner And 
Practitioners  
at the 
Kaiwaka War Memorial 
Hall 
Every Tuesday  
Starting at 10.30 am 
Come Along And Have 
Some Fun While Improving 
Your Balance Health And 
Fitness 
For More Information Contact  
Andrew Young 
09 4223424   
OTAMATEA HIGH SCHOOL 
Imaginative designs in Textile  
Technology  
Eri  Kojima 
is 
an 
international 
student from 
Japan  who 
is  attending 
our  school 
for  the  year. 
She had 
 not 
done 
any  sewing 
before. 
Starting  this 
the  year  she 
made 
herself 
a 
complete 
costume  to 
wear  when 
playing  in 
an 
all-girl 
band. 
She 
used  a  basic 
pattern 
to 
make  the  pink  dress  and  then  the 
jacket,  but  as  she  went  along,  she 
changed  the  pattern  to  the  vision  she 
had  in  mind  for  her  creation.  The 
panelled  skirt  was  all  made  up  from  a 
picture she had seen. Eri also designed 
more ideas of what the costumes could 
look like.    
Arts Prefect  
Anna-Marie 
Southern 
was 
announced 
Arts 
Prefect  for  2015    
at  our  recent  senior    
prize  giving.  Her  
first  task  next  year  
will  be  forming  a  
committee  to  work 
with  her  and  help 
divvy  up  the  tasks 
on  the  'to  do'  list 
for  next  year.    Our  Arts  prefect  was  a 
recent  innovation  and  we  think  a 
worthwhile  compliment  to  the  student 
body.  Jim  Bokma  held  that  position 
this  year  and  will  be  known  in  OTA 
history as the first! The team promotes 
the  arts  in  school  assemblies,  through 
writing  articles  in  the  newsletter  and 
attending  and  working  behind  the 
scenes in various arts events. We think 
it  is  very  important  that  the  Arts 
department (Art, Music, Drama, Maori 
Performing  Arts)  get  to  hear  the 
student voice, and we want to cultivate 
that as much as possible. 
Silver Ferns Farms Kaipara District 
Sports Awards 
 I  was  incredibly  proud  of  these 
talented  young  sports  students  at  the 
Awards night in Dargaville. 
Youth Achievement Awards:  
Congratulations  to  the  following 
students  for  their  youth  achievement 
awards.  These  students  made  up  three 
out  of  only  seven  students  selected 
from junior nominations of all sporting 
codes  in  the  Kaipara  District.  Cullen 
Curtis  -  moto-cross;  Rhys  Shadbolt  – 
rugby; Ocean Shadbolt - multisports.  
ASB  Code  Awards  Code  awards  – 
these  students  are  competing  in  the 
open  age  category  in  the  Kaipara 
Sporting  Community.  Congratulations 
to  the  following  students:  Dylan  Sims 
for  swimming,  Tyler  Porteous  for 
equestrian, Annmarie Holst for squash, 
Kodi  Foster  for  squash,  Danyon  Tana 
for  tennis,  Connor  van  Dalsum  for 
tennis.  
Team Club Awards: Congratulations to 
Otamatea Netball team 5 Year 7/8 This 
team  was  a  finalist  for  the  Noel  Radd 
Motor's  Junior  Team  of  the  Year. 
Team  Members  -  Jayme  Curtis,  Portia 
Wehi, Tasha Perrett, Brigette Hosford, 
Blossom  Connelly,  Emma  Millard, 
Maddy  Lemuelu,  Ocean  Shadbolt  and 
Julianne Cunningham. 
Subdivideit  Team  of  the  Year  Open 
Category  Congratulations  to  our 
students Michelle Schimanski, Shawna 
Hawken,  Bayley  Coates  and  Jessie 
Allen  who  were  part  of  the 
Maungaturoto  Squash  Club  E  Grade 
Team who won this award. 
Congratulations  also  to  Bayley  Coates 
for 
netball 
refereeing 
and 
Te 
Whakakotahitanga 
Jenkins 
for 
leadership  in  the  Special  Olympics, 
who  were  finalists  in  the  Service 
Award section.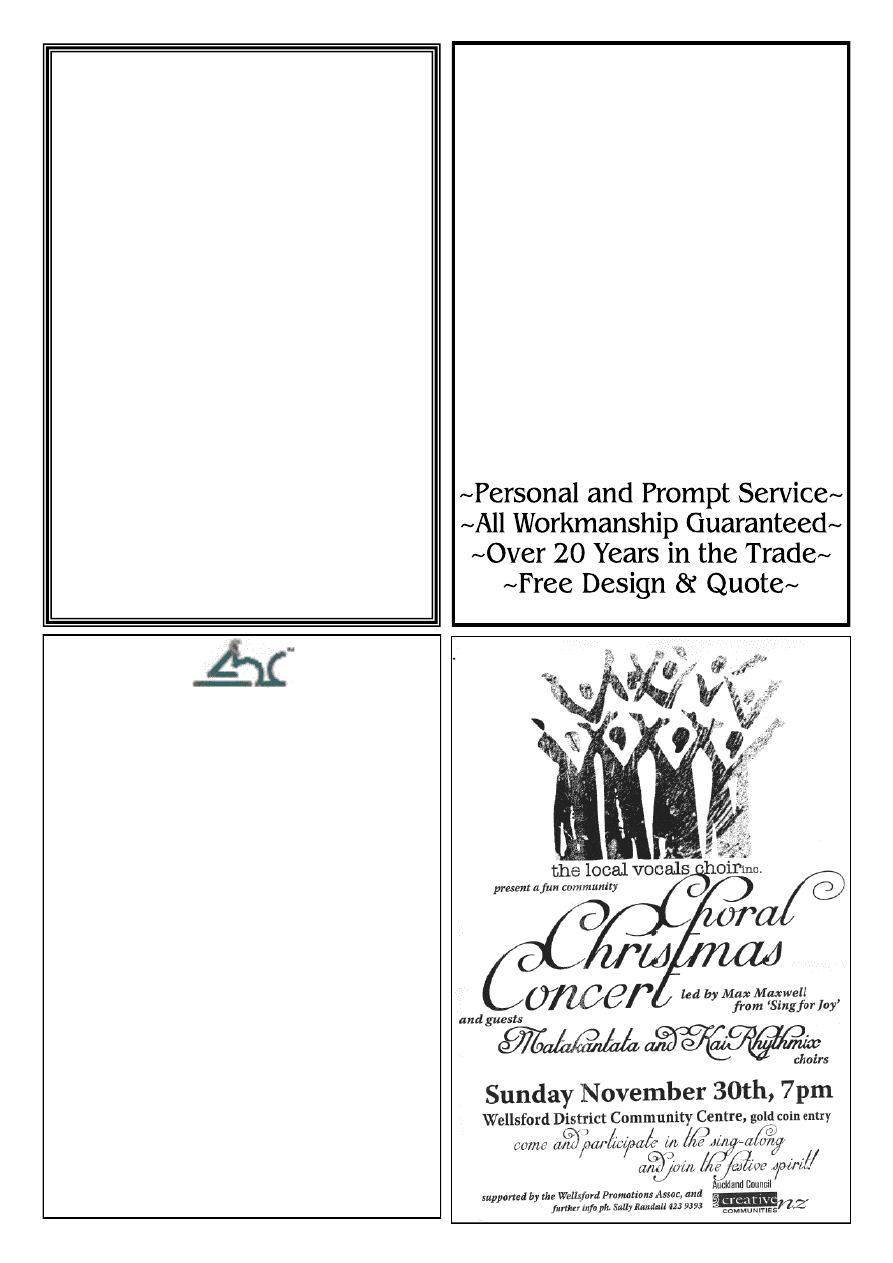 PLANNING A NEW 
KITCHEN? 
 CONTACT NOEL McDOWELL 
WELLSFORD 
KITCHENS
Ph/Fax 094312888  
KAIWAKA-Any time 
  QUALITY CUSTOM MADE 
KITCHENS  
g.a.s. 
Mangawhai 
we have now opened a 
GARDEN CENTRE 
for all your gardening needs 
Also a great range of 
STOCKFOOD 
Wide range of 
ORGANICS AND 
 FRESH LOCAL PRODUCE 
All your motoring needs are taken care of by 
our friendly staff check us out... 
44 Moir Street, Mangawhai (09)431 4242 
ANIMAL HEALTH CENTRE 
KAIWAKA
Kaipara's best selection of : 
Healthy Dog & Cat food 
Natural Pet health products & services 
Going on holiday with your pet? 
Great food  & play toy choices! 
Kibble & Dried food:  (grain-free, organic  & vegan choices) 
Vegan, Nutrience, Organix, Acana, Orijen, K9 Natural, Ziwi 
Peak, Tukka Thyme, Mighty Mix  Biscuits  
Fresh Meats: (patties, cubes, pieces, bulk buys) 
Lamb, tripe, veal, goat, possum, rabbit, horse, beef, venison, 
fish, salmon, duck, chicken. Bones – (necks, frames, meaty 
bones)  veal, chicken, duck, goat, poussin.  
Accessories: Collars, Leads, Toys, Grooming brushes, 
Christmas Gift ideas. 
Health Products : Chemical-free Flea, Tick & Lice, Worm 
controls for Pets, Farm & Equine. Travel drops, Insect Bites, 
Allergy support, 1
st
 Aid Remedies. Homeopathic & Herbal 
supplies;  Bach Flowers. (can be made to order) 
Professional Staff: Cat & Dog nail trims, Microchipping, 
Naturopathic Consultations. 
PH 09 431 2217 
Open Tuesday – Sunday 
next to Italian Bakery 
Your 'natural' choice in animal health care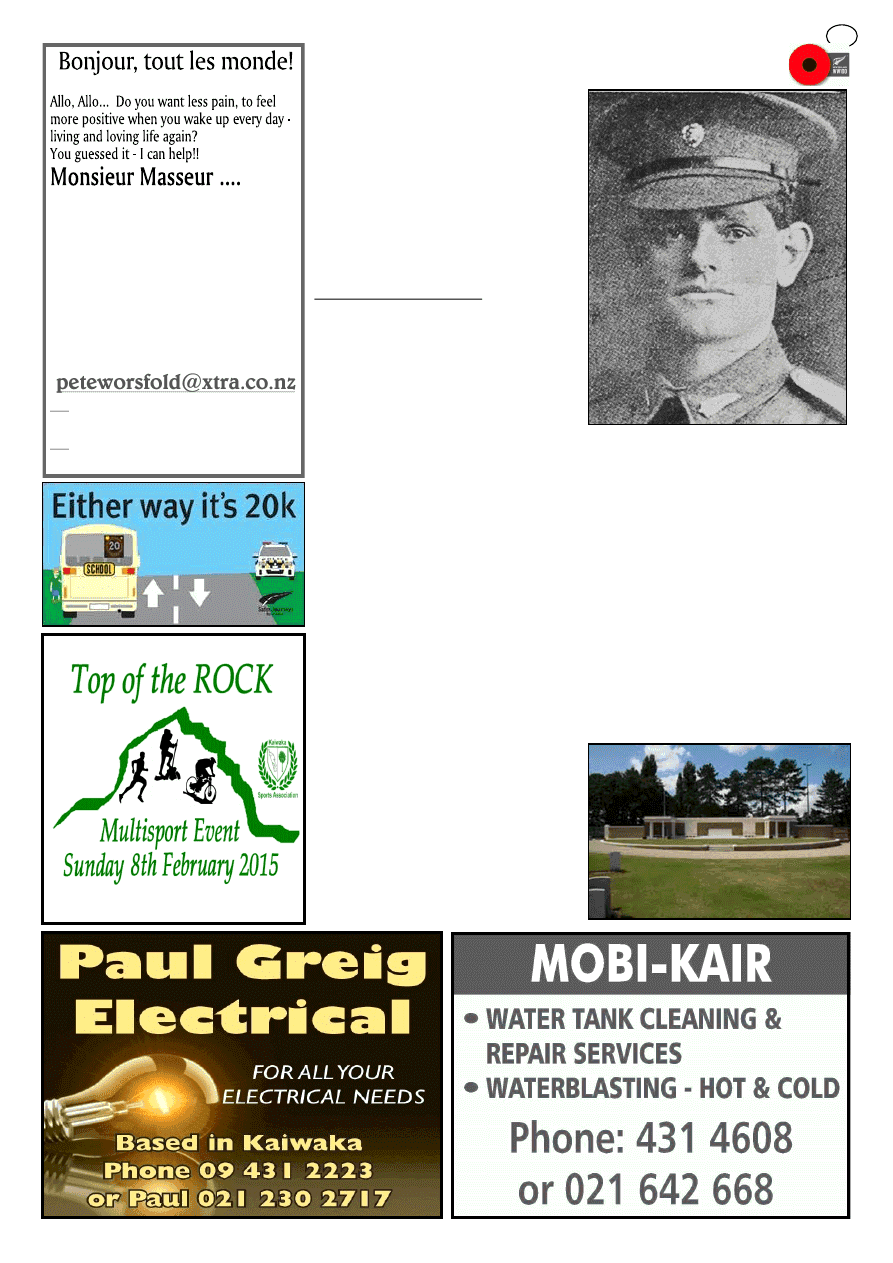 William was born in 1887 to Frederick 
and  Annie  Shelton.  He  had  three 
siblings – Frederick, Rose and Robert. 
He  was  single,  working  with  Ben  Birt 
in Mareretu, when he enlisted with the 
7
th
  Reinforcement,  Auckland  Infantry 
Battalion leaving Wellington on the 9
th
October  1915  heading  to  Suez,  Egypt.  
His older brother Fred, Ponsonby, was 
noted as his next of kin. 
William  died  from  wounds  12
th
  July 
1917 that he received in Belgium.  
"AUCKLAND WEEKLY NEWS  26
th
 July 1917 
SHELTON  12  July  1917,  died  of  wounds, 
General  Hospital,  Rouen,  France,  William 
Wynyard  Shelton,  second  s/o  F  Shelton, 
Harding Street.  [AWN 26.07.1917]" 
Yet  William's  obituary  reads  "
Private 
W. W. Shelton, died of wounds on August 
12, was the second son  of  Mr.  F.  Shelton, 
of Hardinge [sic] Street. He was a native of 
Auckland,  and  was  educated  at  Nelson 
Street  School.  He  was  29  years  old,  and 
had  been  working  in  the  Kaiwaka  district 
for several years before going to the front 
with the seventh reinforcements. His elder 
brother,  Private  Fred.  Shelton,  who  went 
with  the  fourteenth  reinforcements,  was 
wounded at the Somme last October, and 
is  now  at  Codford  Camp."  (Auckland 
Weekly News, 20 September 1917, p. 19)
He  is  buried  at  St  Sever  Cemetery 
Extension, Rouen, France. 
William's  brother,  Frederick  Shelton, 
Private,  Serial  No.  14494,  a  timber 
worker  listed  his  sister,  Mrs  Rose 
Howard of Ponsonby as his next of kin. 
He  was  single,  and  was  with  the 
Embarkation Unit 14th Reinforcements 
Auckland 
Infantry 
Battalion, 
A 
Company,  leaving  on  26  June  1916 
from 
Wellington, 
destined 
for 
Devonport, England.  Fred was serving 
with  the  New  Zealand  Machine  Gun 
Corps,  No.  1  Company,  when  he  died 
of  wounds  in  France  on  10  November 
1918  (the  day  before  Armistice  Day) 
and  is  buried  in  the  Etaples  Military 
Cemetery. 
Sadly  William's  youngest  brother, 
Robert,  died  from  spinal  injuries  after 
he  had  been  dragged  by  his  horse  on 
his farm in Kaharoa, Rotorua, in  1924, 
aged 35. 
During 
the 
First 
World 
War, 
Commonwealth  camps  and  hospitals  were 
stationed  on  the  southern  outskirts  of 
Rouen.  A  base  supply  depot  and  the  3rd 
Echelon of General Headquarters were also 
established in the city. 
Almost  all  of  the  hospitals  at  Rouen 
remained there for practically the whole of 
the  war.  They  included  eight  general,  five 
stationary,  one  British  Red  Cross,  one 
labour  hospital,  and  No.  2  Convalescent 
Depot.  A  number  of  the  dead  from  these 
hospitals  were  buried  in  other  cemeteries, 
but the great majority were taken to the city 
cemetery of St. Sever. In September 1916, 
it  was  found  necessary  to  begin  an 
extension. 
Photo: St. Sever Cemetery  
RELAXING  
MASSAGE
   ..... Juste pour vous" 
Call for an appointment now!
Pete Worsfold 
4312 152  or   021 825970 
Or  Ph. "The Well of Health" 
For an appt. 09 4312 799 
Or mobile service available 
17 
KWMH Honours Board WW1:  
William Wynyard Shelton 12/3153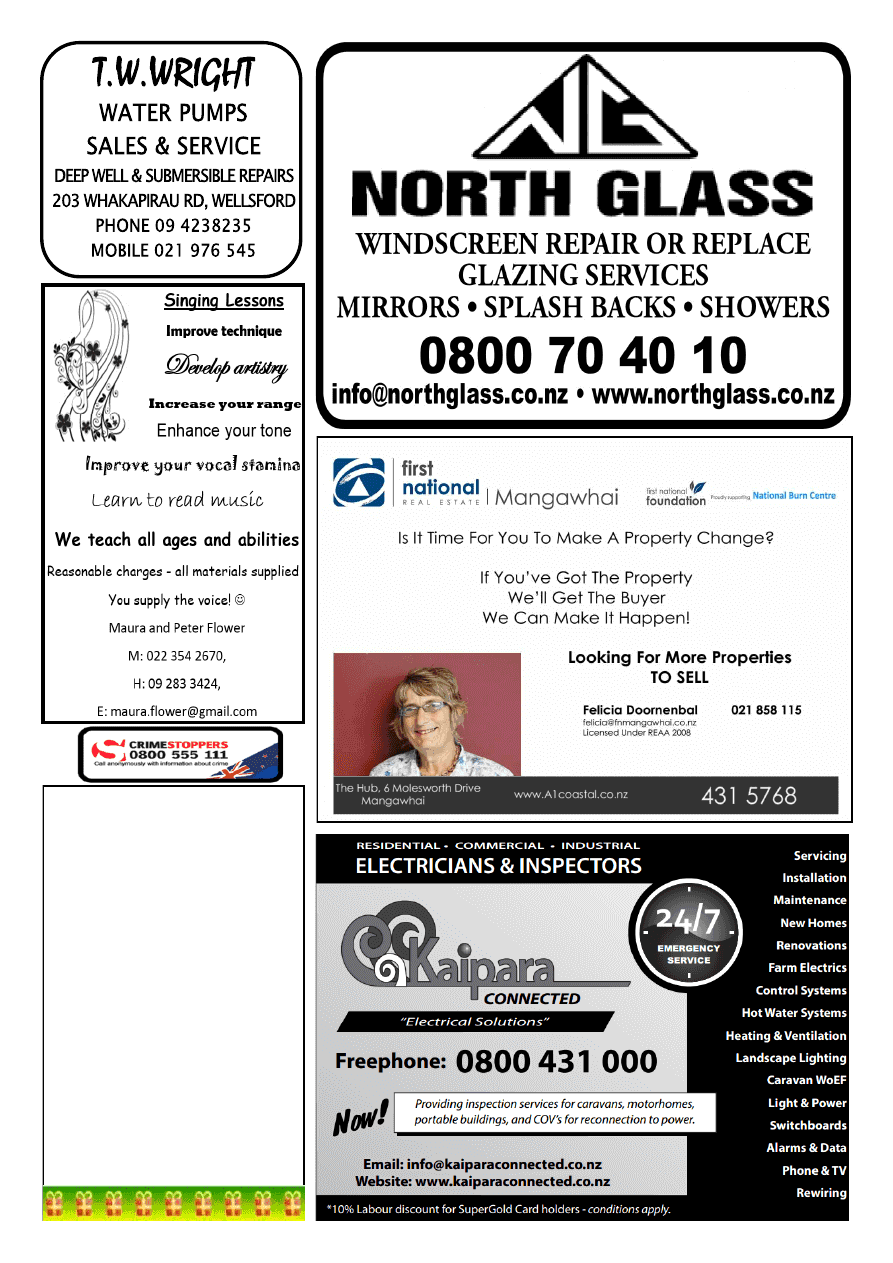 Jenny's Rural 
Craft Shop 
134 Kaiwaka & Mangawhai Road 
Kaiwaka 
Variety of local craft & for 
that special Xmas gift. 
Hand-crafted garden poppies 
only $12.00 each 
Wednesday to Sunday 
10.00am to 3.00pm 
Eftpos Available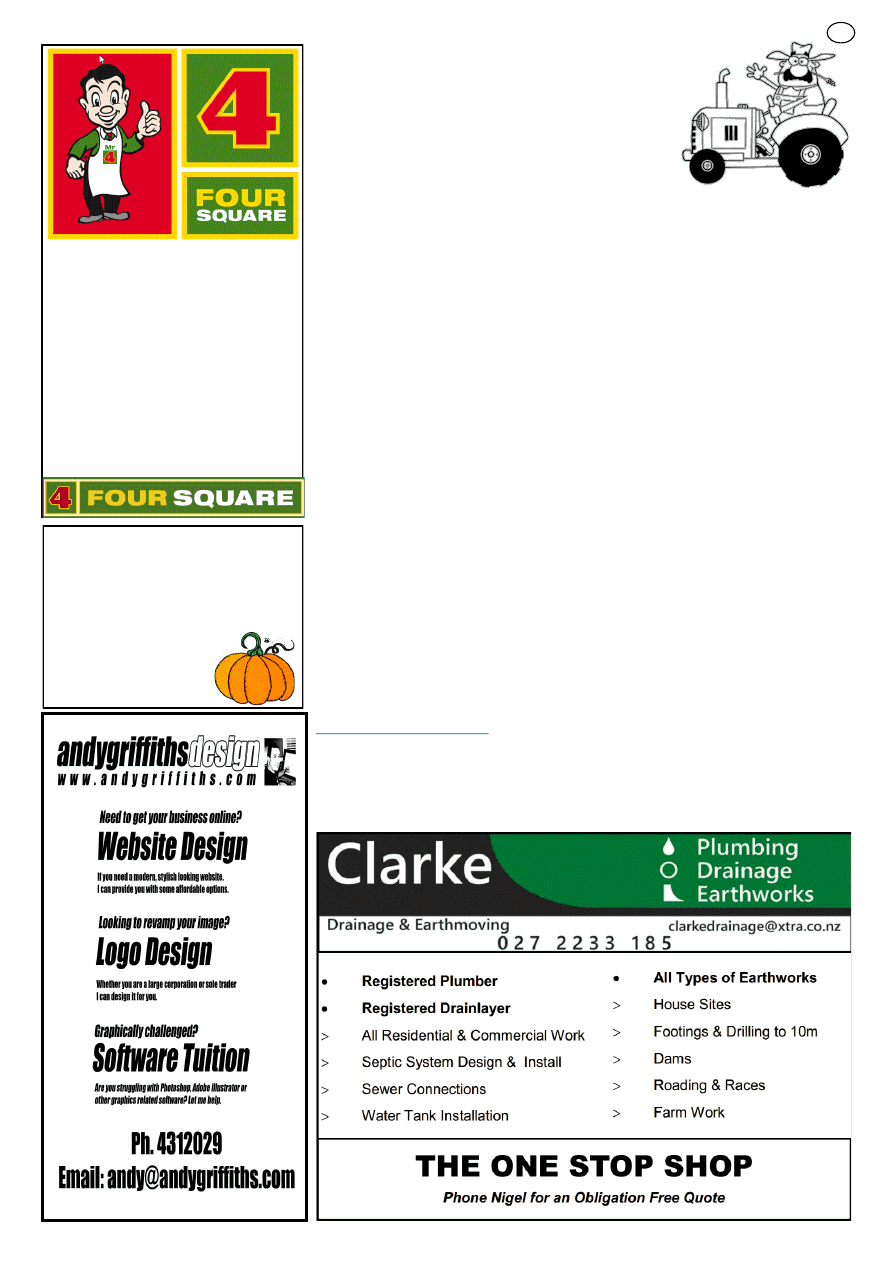 19 
"Oriental Flavours"  
See our in store display 
 Sushi Kit $12.99 &  all the ingredients you need, 
Sushi Seasoning, Rice Wine Vinegar, Nori,  
pickled ginger 
For all your Stir Fries: Pad Thai Hokkien, Soba & 
Udon Noodles, Poosin Stir Fry Mixed Vege canned,  
Fresh bok choy, kale & spinach 
 Mae Ploy Sweet Chilli Sauce 730ml $3.99  
Vietnamese Dipping Sauce $2.99 Satay Sauce $3.99 
Jaques Four Square  
Phone: 4312227  
No1 Kaiwaka-Mangawhai Road, 
Kaiwaka.
PAPAROA A&P SHOW  
ONLY 70 DAYS TO GO 
The Paparoa A&P Show is now in its 
139th  year.  Generations  of  North 
Kaipara  people  have  kept  the  Show 
alive  and  well  over  all  these  years 
maintaining 
its 
heritage 
of 
connecting  people to rural activities. 
Preparations are frantically being made 
with everything on-track.  
Painting  is happening. The Shear ing 
Shed, Spectators Stand and Water Tank 
are getting a fresh look and the Show is 
in the final stages of negotiation with a 
well-known  Company  to  sponsor  the 
repairing  and  painting  of  the  Goat 
Pavilion. The new paint colours chosen 
will  integrate  with  other  recently 
painted  buildings  and  the  forthcoming 
signage. 
Sports  Pavilion  driveway  The  ar ea 
around the Sports Pavilion was in need 
of  a  make-over.  This  has  been  made 
possible  through  the  efforts  of 
Battensby 
Brothers 
and 
Powell 
Contracting  combined  with  a  very 
generous donation of metal from Atlas 
Quarries.  Operating  with  very  modest 
financial  resources  the  Show  relies  on 
support  from  local  people  and 
organisations.  A  big  thank  you  to  our 
contractors and Atlas. 
Signage  has  been  appr oved.  In 
November  the  Show  gained  full 
approval to erect its signs knowing that 
it will comply with current regulations 
about  signs.  Off-road  sites  on  private 
property  have  been  secured  for  the  12 
new  road  signs  that  will  be  up  from 
mid-December until after Show Day. 
Positive  feedback  has  been  r eceived 
about 
the 
new 
website 
  and  people 
are  starting  to  use  the  new  email 
addresses promoted on the website. 
Gate  prizes  will be given at the 2015 
Show. The first 500 people to enter the 
gates  will  be  in  the  draw  to  win  free 
gate prizes. The biggest of these so far 
is  a  brand 
new 
household 
water  pump 
donated 
by 
McQuinn 
Pumps  from 
Whangarei 
valued  at  $975.00.  Plus  there  will  be 
many more – at least 50, maybe 100.   
New membership offer:  Equestrian, 
Cattle  and  Dairy  Goat  exhibitors  are 
being  offered  a  new  class  of 
membership  with  provides  a  25% 
discount  on  their  entry  fees  and  free 
entry  to  the  Paparoa  A&P  Show  plus 
11 other Northern Districts Shows. 
Deadlines  coming up. 30
th
 November 
is  the  date  that  Sponsor's  pledges 
should be paid by. 12
th
 December is the 
last day for Stall Holders to be eligible 
for their Early Bird discount of 5% off 
site fees. 
Volunteers 
The 
Show 
needs 
volunteers  to  help  between  now  and 
Showday. This year's Canterbury A&P 
Show  had  500  but  little  old  North 
Kaipara will obviously have much less.  
Can  you  help?  It's a  great  opportunity 
to meet new people and to contribute to 
a  valuable  community  activity  as  well 
as preserving a tradition - 2015 will be 
the  139
th
  Paparoa  A&P  Show.  To 
discuss  how  you  may  be  able  to  get 
involved please call Gary Christie (09) 
431 6011. 
The 139th  
Paparoa A&P Show  
will be held on  
Saturday 7th February 2015 
at the  
Paparoa Showgrounds  
KAIWAKA SCHOOL 
SCHOOL FAIR 
28 March 2015 
The Giant Pumpkin  
Competition judging day!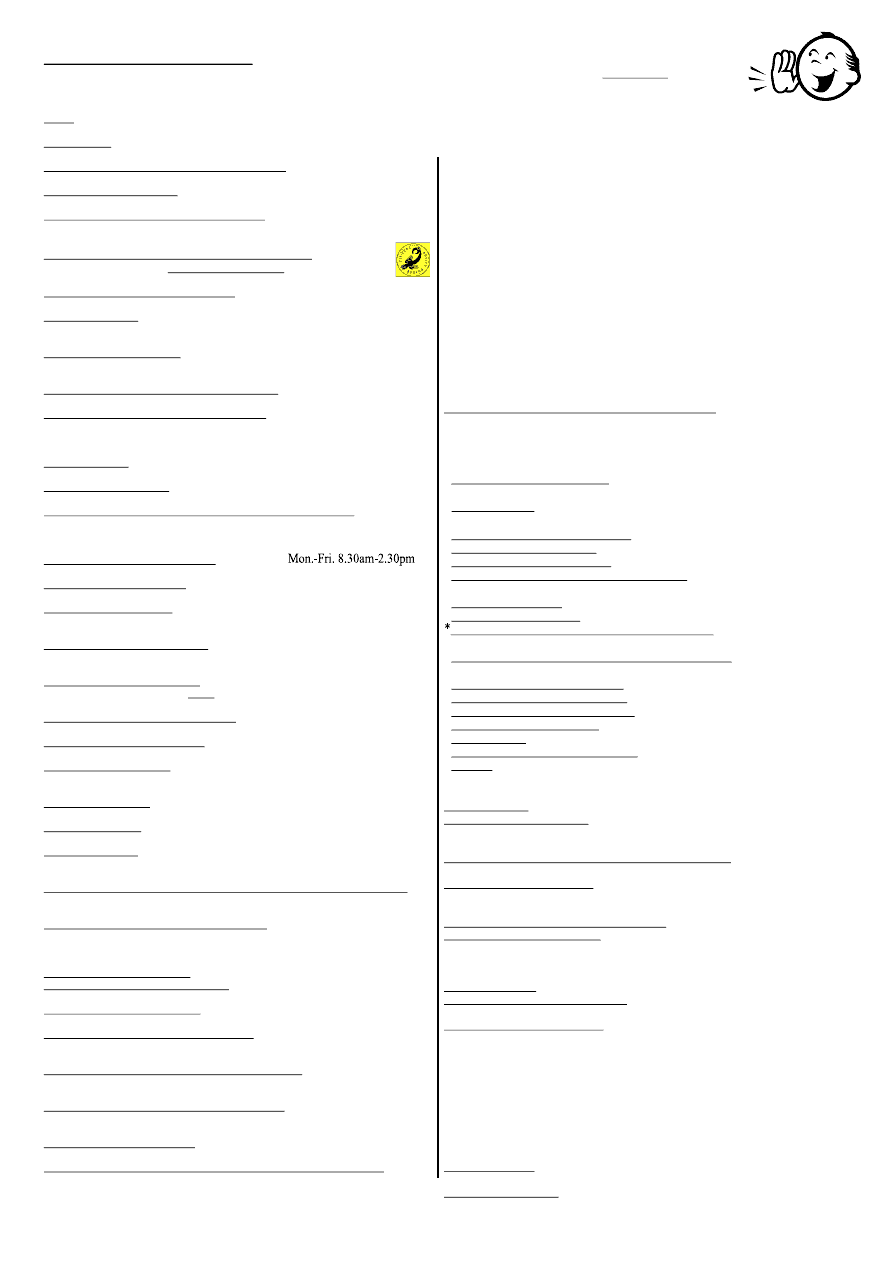 WHAT'S ON
PLEASE ~ do let us know what is on - email 
kaiwakabugle@kaiwaka.co.nz 
Advertising in WHAT'S ON is FREE  
*26Nov~Knit & Natter, 10am Cafe Bianca, Ph Elizabeth 4312 522 
*26Nov~KDC public meeting about roading, 7pm KSA 
*26Nov~Hakaru Hall AGM 7:30pm 
*28Nov~Jersey Boys, 7:30pm KWMH 
*29Nov~First Quarter Moon 
*29+30Nov~The Wind in the Willows, 2pm ORT 
*30Nov~How To Train Y our Dragon 2, 2pm KWMH 
*30Nov~Local Vocals, 3-5pm Wellsford Comm Centre 
*1Dec~Tennis Club AGM, 3:30pm KSA 
*3Dec~Scouts AGM, 7:30pm Hakaru Hall 
*5Dec~deadline for last Bugle of year 
*5Dec~ Christmas Dinner, 6:30pm Hakaru RSA Ph 431 5589 
*12Dec~The Hundred Foot Journey, dinner+movie, 6:30pm 
KWMH, tickets 4312225 
KWMH=Kaiwaka War Memorial Hall 
KSA=Kaiwaka Sports Association Complex 
See www.kaiwaka.co.nz for upcoming events. 
HOUSEHOLD  RUBBISH  COLLECTION  -  Kaiwaka    Pick  up­
Mondays=Gr een bags ar e picked up by Nor thland Waste-queries 
to  them  09  4303273,Wednesdays=Blue  bags  and  yellow  recycling 
(at  Jaques    $3.00  and  $1.50)    are  picked  up  by  Kaurilands  09 
4392146.  
*DIABETES Support Group -for Kaiwaka, Mangawhai, Wellsford 
   10am, 3rd Friday of month Ph:A.Pert 4238242; J.Gardner 4238060 
*DRINK CAN 'tear tabs' - for Starship Hospital- please collect - 
    98 Kaiwaka Mangawhai Rd, leave in mailbox, Ph. 4312625  
*GYMNASTICS OTAMATEA -  Tuesday Ph: Stephanie 022 3624998 
*HAKARU PONY CLUB-Secretary Julie Rynne 09 4314520 
*KAIWAKA BADMINTON -Tuesdays 7.30pm Ph: 4312345 
*KAIWAKA GARDEN & FLORAL Grp:2nd Thursday in month 
   Ph: 4314767 
*KAIWAKA CUBS-Thursdays 5.30-7pm, Hakaru  Ph:Bruce  4312542 
*KAIWAKA SQUASH -Mondays 7pm Ph: Barbara Thomas    4315905 
KNITTING FOR WHANGAREI HOSPITAL - 2nd Tuesday in  
   month, Apple Basket 10am Ph 4314827 
*MANGAWHAI COMBINED PROBUS CLUB: 2pm,3rd Thursday  
   month in the Senior Citizens Hall Mangawhai. Ph: 4315777 
*NZ GENEALOGY-Wellsford - 1st Thursday in month Ph: 4237033 
*OTAMATEA GREY POWER-09 431 8138 Joan Hoggard  
*PT CURTIS CRUISING CLUB - Jean Ph: 4312 246 
*RSA,Hakaru & Dist.Women- meet 1.30pm 4th Thurs in month Ph: 4312 668  
*TRAMPING- Mondays 9am-2:30pm  Karen Ph: 4312 090 
*WAIPU GENEALOGYGROUP -4th Monday in month Ph: 4312725 
*YOGA- Tuesdays 6:15pm, Friday 8:30am Kaiwaka WM Hall Carla  
   Ph: 4312 408, 021 296 8794
CHURCHES:
*Gateway Worship Centre: St Mary's Church Nathan Rd off Oneriri Rd, 
Kaiwaka Services, 10.30am 1st & 3rd Sunday of every month. Contact: Rev 
David Gage 4312528 or 0212354282 
*Kaiwaka Family Church-Your Community Church:Sundays, l0am 
Home Group every Wed evening, Pastor John.Dekker Ph: 4318203 
*St Paul's Anglican Church 1st Sun. 9.30 am (Eucharist), 3rd Sun. 9.30 am 
(Family Service). Contacts:  Church Office 09 431 4122; M. Hargreaves 431 
2295; C. Bygrave 431 2057 
*Church of Christ the King, Mangawhai:9.30am every Sunday 
*St.Mary's Catholic Church: Maungaturoto – Griffins Road, Saturday 
evening Vigil Mass 6pm; Mangawhai – Senior Citizens Hall, Sunday Mass 
8:30am; Wellsford – Matheson Road, Sunday Mass 10:30am; Mid-week 
Mass times and all enquires to Fr. Bill Fletcher – phone 423 8170 
*Baptist Church: Sun. 10.30am Mangawhai Snr Cit.Hall.Ph:4312339 
*Cause Way Church Mangawhai: Sundays 10.15am, Mangawhai 
Community Recreation Centre, Insley St. Ph: 09 4314782  
*St.Pauls Archie Bull Hall HIRE  $20 half day, $40 full day per hire 
 Contact G. Jaques 4312048 
*Kaiwaka War Memorial Hall HlRE - Phone 4312725 or   
Email  
kaiwaka.hall.bookings@gmail.com 
*Hakaru Community Hall HIRE -Ph.  4312256 or 4312110 
*Te Pounga Marae queries -A.Gage 4312528, 4312527 
*Kaiwaka Sports Association hire/queries - C. Anderson 4312051 or 
Email kaiwakasports@gmail.com
Justice of Peace: B.FJaques; L.Donaldson; A.F.Hargreaves  -please phone to 
make sure they are available 
Marriage Celebrants: L.Donaldson; A.F.Hargreaves; C.Rosseels
Next Bugle Deadline Friday 5 December 2014
LOCAL SERVICES 
*St.John Ambulance 
111 or Freephone0800 61 0066
*Fire phone 111     *Police phone 111 or 09 4311150 
A A: Meets Wed., 8pm Kaiwaka Ph: 4312228, 4315543, 0800229 6757 
AL ANON: In recess, contact Ph: 4312228 
MINISTRY FOR PRIMARY INDUSTRIES - General inquiries Call 
Free 0800 008 333 
ASUREQUALITY LTD  (was AgriQuality) Call Free 0508 0011 22  
BUDGETING SERVICE,OTAMATEA:Free confidential advice & 
support - all areas of  personal finance Ph: 09 4318173 or 094318117 
CAB-
Citizens Advice Bureau.Wellsford Ph: 4237333
0800 367 222 email:
DOG/STOCK /NOISE CONTROL 0800 105 890 
KATE'S PLACE with Govt.Day Agencies/Community Information /
Osteopathy/ IRD / Probation, etc Ph: 4312661 Hours: 9am-3pm. Mon - Fri 
FUNERAL SERVICES: Morris & Morris Ltd, 
Whangarei - Bev Jaques Ph:4312367 or 0800667747 
GRANDPARENTS Raising Grandchildren: Sarah Rogers Ph: 4312194 
HAKARU LANDFILL/Transfer Station:Open everyday except 
Tuesday10am-4pm.Ph4312629 Cost-$55 trailer load up to 1 cubic me-
tre. Ph:4258567 - office 
HOMEOPATH: Donna Flavell Ph: 4314843 
INLAND REVENUE: Last Friday each month, 11-3pm Ph4312661 
KAIPARA DISTRICT COUNCIL www.kaipara.govt.nz:  
Help Desk FREEPHONE 0800 727 059  
Service Centre Mangawhai 4313161 
KAIWAKA KOHANGA REO: Ph:4312620 
KAIWAKA CEMETERY: Ph: 4312045 
KAIWAKA LIBRARY: kaiwaka.library@gmail.com  
Mon. 4-6pm; Wed., Thurs., Fri., Sat.  10am-2pm Ph:4312539 
KAIWAKA PLAYCENTRE: Ph: 4312286. Hastie Lane 
Monday to  Friday  9.00am - 12 noon. 
KAIWAKA POST OFFICE:Ph:4312 626 Fax: 4312287  
Post Code: 0573  for RD2  and  0542 for all Kaiwaka Post Office mail 
KAIWAKA PRIMARY SCHOOL: Ph: 4312309     
KAIWAKA SPORTS ASSN: Ph 4312005; 4312129 gym 
KAIWAKA ST JOHN: Manager Steve Rosser 09 4318403, 021 
2316836 
LINKING HANDS Health Shuttle Ph 4314121 or 09 4318969 
NORTHPOWER: Faults Kaiwaka area 0800 104040 
PARENTPORT: Free, practical family support service Puhoi to Paparoa 
Ph or txt:  Dianne 027 2085093 
PERSONAL DEVELOPMENT COACHING, GROUP FACILITATION:  
Sabine Druckler 4312231 
PLUNKET KAIWAKA/MANGAWHAI: Ph:094318187 or 0276753488 
Kaiwaka Mobile Clinic once a month– appointments necessary;  
Mangawhai (next Domain) 1st & 3rd Thursday & Coffee Morning; 
PLUNKET FREEPHONE -0800 933 922 
PLUNKET -MAUNGATUROTO  Clinic every 2nd & 4thThursday. Ph: 
09 4318187 
PUBLIC HEALTH NURSE: Gloria Reid Ph: 094327634  
RETURNED AND SERVICES ASSN 733 Settlement Rd. Hakaru 
Ph.4312176 Bill Kerr (President) Ph.4314719 
TE KOROWAI AROHA O NGATIWHATUA Ph: 4312675 
(The Cloak of Love of Ngatiwhatua) Support and Maori Consultancy.  
VETERINARY SERVICE MANGAWHAI: 
Ph: 4314535 Mon-Fri 8.00-5.00, Sat 9-12, a/h appt. 
WELLSFORD DOCTORS: Ph: 4238 086 
WOMEN'S WELFARE LEAGUE & Reaching Out For Youth:  
4 Kaiwaka-Mangawhai Rd, M Morgan 4312293