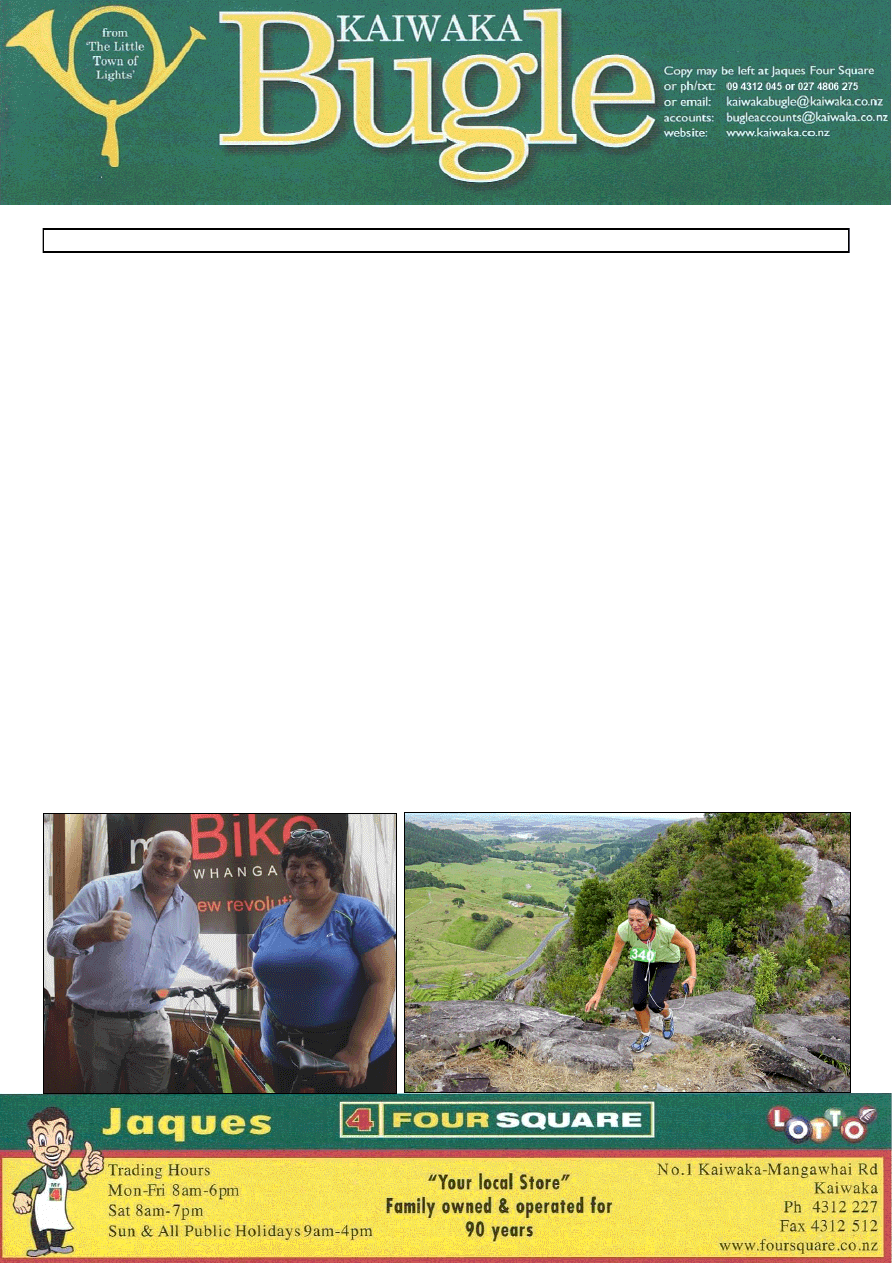 www.kaiwaka.co.nz 
Kaiwaka Bugle - 17 February 2015 
Page 1 
  No: 01
                                                                                                                                                   17 February 2015 
xxxxxxxxx 7.30am-6.30pm 
xxxxxxxxx 8am-5pm 
The Kaiwaka Sports Association's fifth 
annual  Top  of  the  Rock  multi-sport 
event was a great success! 
There were over 300 entries  – we had 
competitors from Kerikeri in the north 
to Tauranga in the south as well as lots 
of 
entries 
from 
locals. 
Some 
competitors  tackled  the  challenging 
10km  run  +  15km  mountain  bike 
course  or  the  30  and  14km  mountain 
bike  route  while  the  majority  entered 
the  10  or  5km  run  or  walk  course. 
Photos 
can 
be 
viewed 
on 
www.kaiwakasports.co.nz. 
TV3's  Brendon  'The  Money  Man' 
Johnson  was  there  to  hand  out  the 
awards. With generous sponsors, there 
were  over  90  prizes  up  for  grabs. 
Winners got first choice from the prize 
table,  then  the  remaining  prizes  were 
given out by a draw.  
Results: 
Run + bike (male)  Jeremy Smart 
Run + bike (female)  Hayley Hodgetts 
Team run + bike  Mark Hodgetts 
  +Wayne Hodgetts 
30km bike (male)  Matt Andrew 
30km bike (female)  Marquita 
Gelderman 
14km bike (male)  Bob Mills 
14km bike (female)  Katie Smart 
10km run (male)  Josh Baptist 
10km run (female) Hillary Meyer 
5km run (male) Gareth Ferguson 
5km run (female)  Holly Kenyon 
  & Holly Anderson 
Mangawhai  Tyres  kindly  donated  $50 
for  the  oldest  competitor.  This  was 
won,  for  the  third  year  in  a  row,  by 
Maungaturoto's  Trevor  Brljevich,  84 
years old. 
We  offered  two  earlybird  prize  draws 
to encourage people to register early. A 
prize pack of cycling accessories went 
to  Morris  Gray  and  a  $200  meal 
voucher  from  Smashed  Pipi  was  won 
by Leah Mitchell. 
This  year  there  were  over  fifty 
volunteers  helping  run  the  event  –  the 
winner  of  the  volunteers'  prize  draw 
was  Karen  Stewart.  Karen  won  a 
beautiful hard-carved pendant, donated 
by Perry Allan of Bone Idol Carvings. 
A  special  prize  was  given  to  Merv 
Huxford, who was passing everyone in 
the  bike  event  –  and  then  got  a 
puncture! 
A  lawnmower,  generously  donated  by 
Steve  Elliott  of  Kaiwaka  Motorcycles, 
was  raffled  off  and  went  to  Chris 
Wilson. 
The  main  spot  prize  of  a  mountain 
bike,  kindly  sponsored  by  My  Bike  in 
Whangarei was won by an excited Rita 
Roland-Kristensen. 
As with most community events this is 
a team effort, so thank you to: 
•  the  many  marshals  and  registration 
officials 
•  the  various  groups  who  provided 
food stalls 
•  Kaiwaka Fire Brigade for the route 
supervision 
•  Coates Family Trust for permission 
to climb Baldrock Mountain 
•  Roxanne  Kelly  who  did  the  traffic 
management 
•  bar staff and photographers 
•  and the many landowners who gave 
permission  for  the  routes  to  go  over 
their farmland. 
Some  feedback  received  from  the 
competitors after the event: 
"We  loved  this  event  and  it  was  very 
well  run  and  well  supported  with 
friendly, 
happy 
and 
helpful 
volunteers." 
"Fantastic  event,  as  a  first  timer  the 
climb  to  the  rock  was  a  highlight,  I'm 
still  buzzing.  Lots  of  out-of-towners, 
heaps  of  prizes,  well  done  to 
everyone." 
"Great event, we had such a good time. 
Hard  yakka  but  well  worth  the  climb 
for the spectacular view!" 
"What  a  great  community!  The 
organisers,  volunteers  and  marshalls 
were  all  so  helpful  &  loads  of  great 
prizes  from  all  those  awesome 
sponsors." 
Photos-left:  Brendon  Johnson  with  Rita 
Roland-Kristensen,  the  My  Bike  winner;  
Right: Jenni Mansell from Waipu climbs to 
the peak of Baldrock Mountain 
KAIWAKA'S TOP OF THE ROCK 2015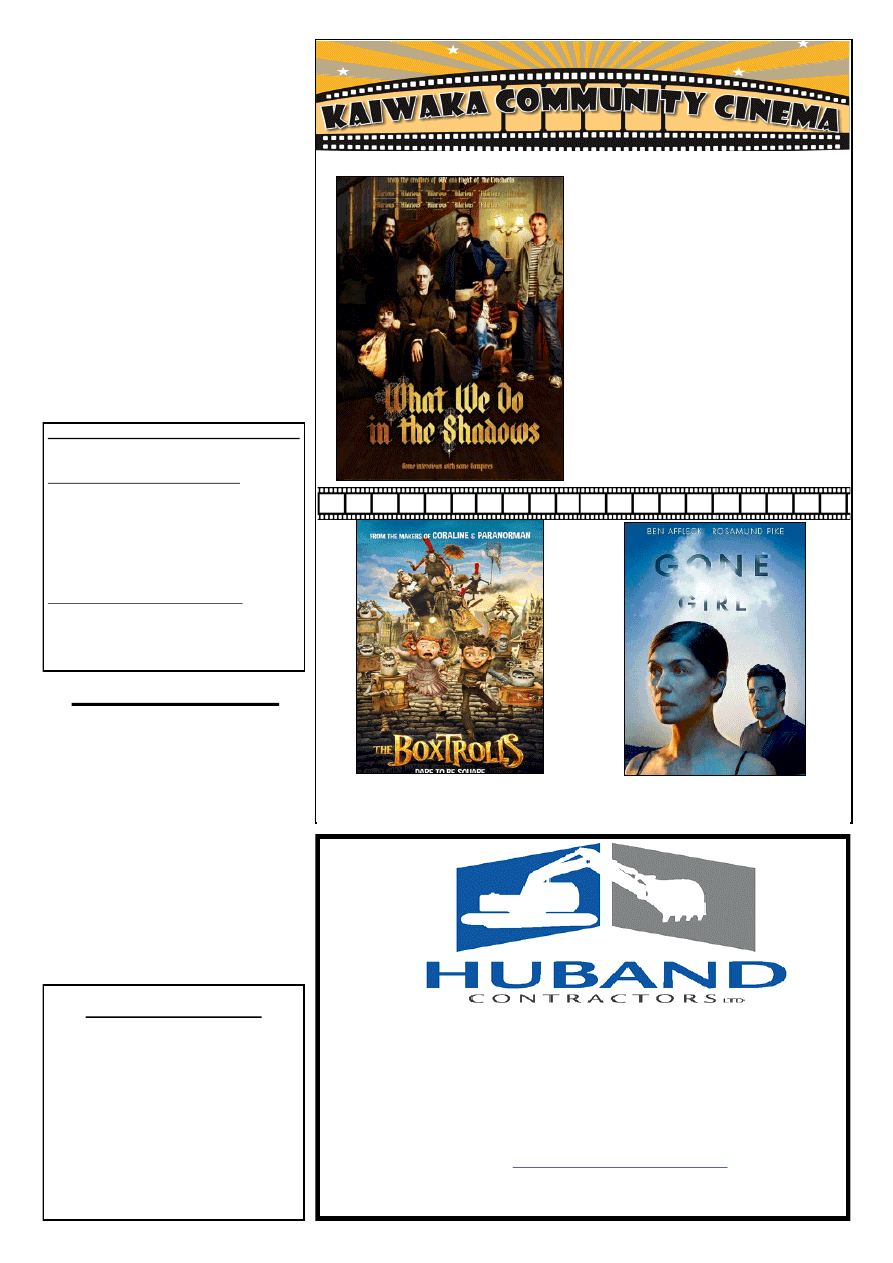 ABOUT TOWN 

 You still need a Fire Permit if you 
want to have a fire - we'll need a lot 
more  rain  yet  before  this  is  lifted. 
See  http://havingafire.org.nz/  for 
more  information,  or  call  Kaipara 
District Council 0800 727 059. 

 Do  you  have  an  interest  in  the 
future  development  and  growth  of 
Kaiwaka? 
Community 
meeting 
6:30pm Monday 23 February in  the 
Archie  Bull  Hall  (behind  the 
Anglican Church). 
*   R O A D I N G   *   E A R T H W O R K S   *    
*   D R A I N A G E   *   S I T E W O R K S   *  
For any further enquiries, contact Shaun on: 
Cell: 021 222 0272 
Home: 09 4318339 
Email:   
Shaun Huband:  Registered Drainlayer 
KAIWAKA BUGLE No. 03 
17 FEBRUARY 2015 
CONTENTS 
Page 3: Classifieds & Notices 
Page 5: Molesworth, Pt Curtis Cruising 
Page 7: ArthritisNZ, RSA, book review 
Page 9: Kaiwaka's First Road Fatality 
Page 11: St John's, Kaiwaka School 
Page 13: Top of the Rock cont 
Page 15: Kaiwaka Sports Association 
Page 17: Bulbs, Peoplewatching 
Page 19: Book review 
Bugle 04 will appear 3 March 
Contact for advertising, reports, articles 
or information can be made by 
Email kaiwakabugle@kaiwaka.co.nz 
Ph: 09 4312 045 
Txt:  0274 806 275 
Copy  may  be  left  at  Jaques'  Four 
Square.
The BoxTrolls 
Sunday 22 February 2:00pm (PG) 
Gone Girl 
Friday 6 March 7:30pm (R16)
At Kaiwaka War Memorial Hall . Adults $10, Kids (under 16) $5, Family Pass (2 adults + 3 children) $25 
Kaiwaka Bugle Advertisements 2015: 
All 
copy 
and 
queries 
to: 
kaiwakabugle@kaiwaka.co.nz 
Classified $3 (max 30 words); 1/8 page $6; 
1/4  page  $12;  1/2  page  $24;  in  special 
circumstances  whole  page  adverts  are 
available - $100. 
Payments can be made online, posted or 
left at Jaques Four Square Store. 
Accounts: 
bugleaccounts@kaiwaka.co.nz 
The  Kaiwaka  Bugle  is  a  community 
newspaper run by volunteers.   
Articles, etc. printed are not necessarily 
the opinion of the Bugle Team. 
What We Do in the 
Shadows 
Friday 20 February 7:30pm (R13) 
Taika  Waititi  (Boy)  and  Jemaine 
Clement (Flight of the Conchords) are 
the writers, directors and stars of this 
vampire mockumentary.  
Unearthing  a  secret,  supernatural 
society,  otherwise  known  as  a  bunch 
of  vampire  flatmates  in  Wellington, 
the  film  introduces  a  world  where 
friendship and camaraderie are just as 
important  as  feasting  upon  the  flesh 
of mortals.  
Kaiwaka Bugle 
Founded May 1978 
Copies available in Kaiwaka at Jaques Four 
Square, Kaiwaka Postal Centre, Shamrock 
Service Station, Celena's Gifts. 
Also outlets in Maungaturoto, Mangawhai and 
Paparoa. 
Can be viewed online at  Facebook in the 
group 
Kaiwaka community
or at www.kaiwaka.co.nz/Bugle  
Or a copy can be posted to you if you supply 
stamped, self-addressed DLE envelopes.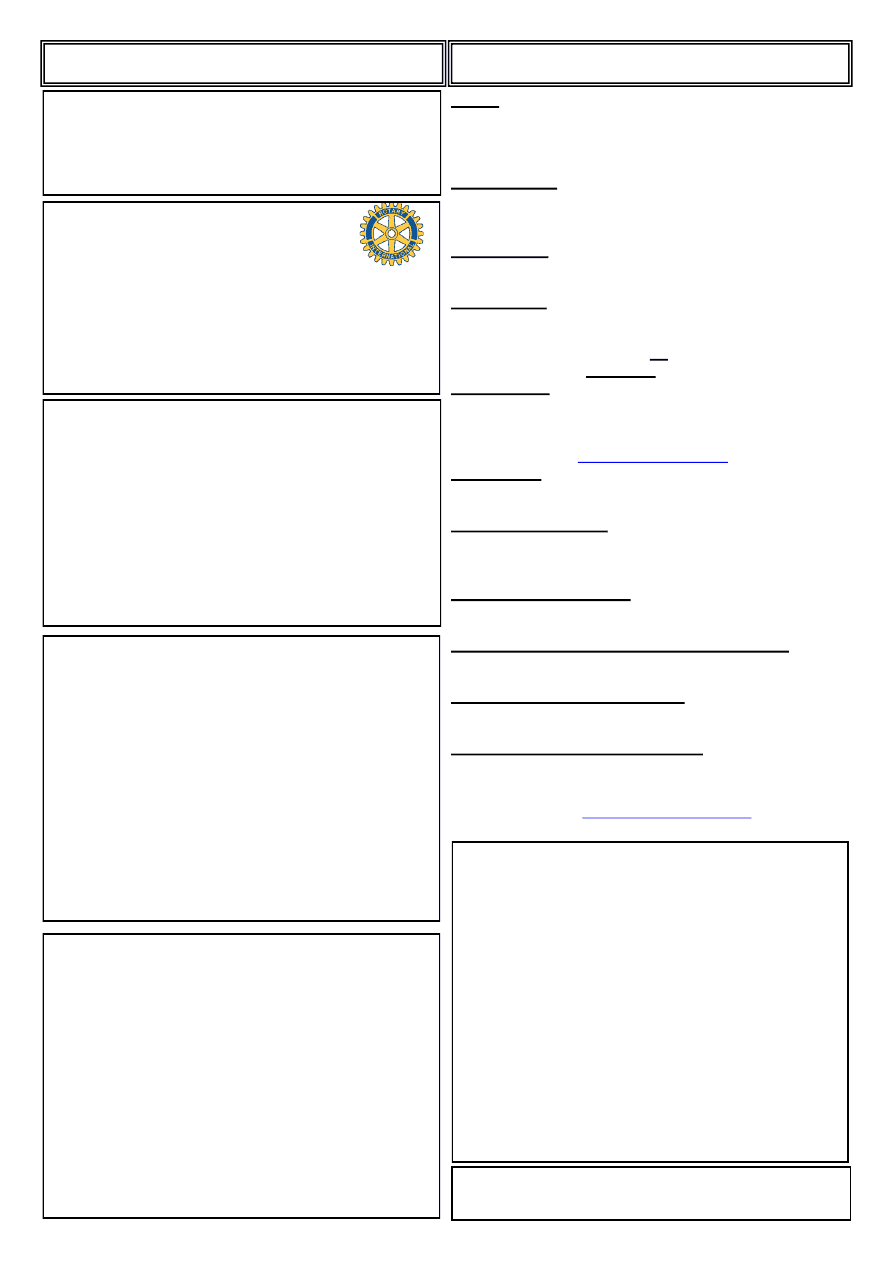 www.kaiwaka.co.nz 
Kaiwaka Bugle - 17 February 2015 
Page 3 
PUBLIC NOTICES 
CLASSIFIED 
FREE:  I  have  three  very  cute  kittens  -
9 weeks old,
flea-treated, very good with people (and are also used to our 
dog),  are  eating  solid  food,  drinking  diluted  milk  and  are 
toilet trained. You're welcome to see them at Mums house . 
Thank you, Holly Anderson, Baldrock Rd. Ph4312 051  
FOR  SALE:  Formica  sewing  table  (space  for 
machine)  ex  con  $40.  Precision  10"  bench  table  saw 
$35.  Extended  ladder  3.80m  $20.  2  framed  mirrors, 
oblong $10 each. Ph 09 4312 188 
FOR SALE: Camp kitchen $150, camp storage $50, 
2m wooden dingy with small trailer $800 ono. Ph 021 
0820 6418 (
note updated phone number from last Bugle)
FOR SALE: The Bees Nees Lavender and Herbs. 
Dry  Lavender  Rubbings  -  Lavender  Oil  -  Culinary 
Lavender  &  Dried  Herbs  grown  &  produced  in 
Kaiwaka pure and simple, no pesticides or herbicides.  
Ph: (09) 431 2046 after 3pm. 
FOR  SALE: Jill Shires Holistic Animal Therapies. 
Herbal  Remedies,  Bach  Flowers,  Ointments, 
Diatomaceous  Earth,  Bentonite  Clay,  Cranio  Sacral 
Therapy,  Skin  Conditions,  Arthritis,  Laminitis,  Mud 
HASHTAG  Band  for  hire.  A  lively  mix  of  covers 
and  original  music.  Make  your  night  special.  Ph:  021 
623 776  
WORK  WANTED:  30  year  old  able-bodied  male 
looking  for  work.  Anything  considered  -  farm  work, 
building labourer, mechanical repairs. Ph Joe 021 0232 
2806 
BERYL  NOZEDAR:  (Middleton)  International  
Clairvoyant.  Numerology,  Tarot,  Clairvoyance,  
Mediumship. $60 for hour includes CD. Ph: 4312 080 
CLOTHING ALTERATIONS & REPAIRS: 
Hems,  Zips,  Dressmaking  Phone:  Win  4312  027    or 
027 444 8358 Winsome Designs. 
FREE GRAZING WANTED: Small or large block. 
Can  do  some  fencing  or  water.  Phone  after  6pm  
4312 006  
EXPRESSION  OF  INTEREST: 
sought  for  cleaning 
the Kaiwaka War Memorial Hall on a regular basis - floors, 
toilets, kitchen, etc. Time and rate to be negotiated, perhaps 
two  hours  per  fortnight?  Please  write  to  P  O  Box  29, 
Kaiwaka  0542,  or 
  by  Friday 
27 
February 2015. 
Proverbs 13:10
 Pride leads to arguments; be 
humble, take advice, and become wise. 
Alice and Cilla Reeves are moving. 
We have been very fortunate to spend 10 years in this 
beautiful and special part of the world. We wish the 
community of Kaiwaka all the best for the future. 
SITUATION VACANT 
Starting part-time.  Administration & Accounts: 
We are looking for an administrator with accounting 
experience, preferably with Xero. 
Help us with our Traffic Management Planning 
approvals (training can be provided) too. 
Come and join our growing fun and friendly 
Temporary Traffic Management HQ team based 
right here in Mangawhai. 
Please apply with your CV to 
mynextcooljob@trafficsafe.co.nz 
TAOIST TAI CHI WELLSFORD 
Designed to promote health and wellbeing for all 
people of all ages 
New beginners class starting Monday 2nd March 2015  
5.30pm - 7pm 
in Anglican Church Hall Port Albert Road Wellsford 
Phone for details: 
Lynda   09 422 5040 
Jenny   09 422 3118 
warkworth@taoist.org 
WANTED 
Good quality items 
i.e furniture etc suitable for  
Maungaturoto & Districts Rotary Auction. 
We will pick up and store until auction  
to be held 21st March.     
Please phone  Eric Parsons 431 4874 Mangawhai, 
Dan Mills 4312 130 Kaiwaka 
or Keith Shadbolt 09 431 8646 Maungaturoto. 
All proceeds to go to local community projects. 
NORTHTEC COURSES 
2015  is  upon  us  and  after  two  years  filling  classes  for 
Level 2 carpentry and painting, we are now offering Level 
4 courses in both trades. Here we cover all of the theory 
required  to  become  a  qualified  tradesperson;  with  the 
community  projects  some  of  the  practical  work  will  be 
covered as well. The popular Level 2 course in carpentry 
will also be available. 
All of this is good for Kaiwaka and Districts but we need 
to  keep  getting  the  word  out  and  filling  our  classes,  so 
please let anyone know who might be interested... or have 
a go yourself. Thanks...Tim 
KAIWAKA KNITTING FOR 
WHANGAREI HOSPITAL 
Thanks  to  the  many  and  varied  contributions  from  the 
people in the area  we are achieving amazing amounts of 
clothing  for  the  children,  elderly  and  beanies  for 
oncology. 
We  have  an  on  going  need  for  knitting  yarn,  Knitters, 
knitted slippers etc. 
Doll  making  continues  with  helpers  making  30  a 
month  -  that  amount  is  what  the  Children's  Ward 
requires. Thank you very much to Kaiwaka Clothing for 
cutting these out. Help is always needed so if you can sew 
we would love your help. 
Children's  pyjamas:  New  or   used  ar e  r equired  for 
children to take home from hospital. 
To  find  out  more  about  the  group  and  how  you  can 
contribute please phone Gale 431 4827. 
Meetings are held on the 2nd Tuesday of the month at 
10am  at  the  Apple  Basket,  SH1.  You  ar e  most 
welcome to come and see what is happening.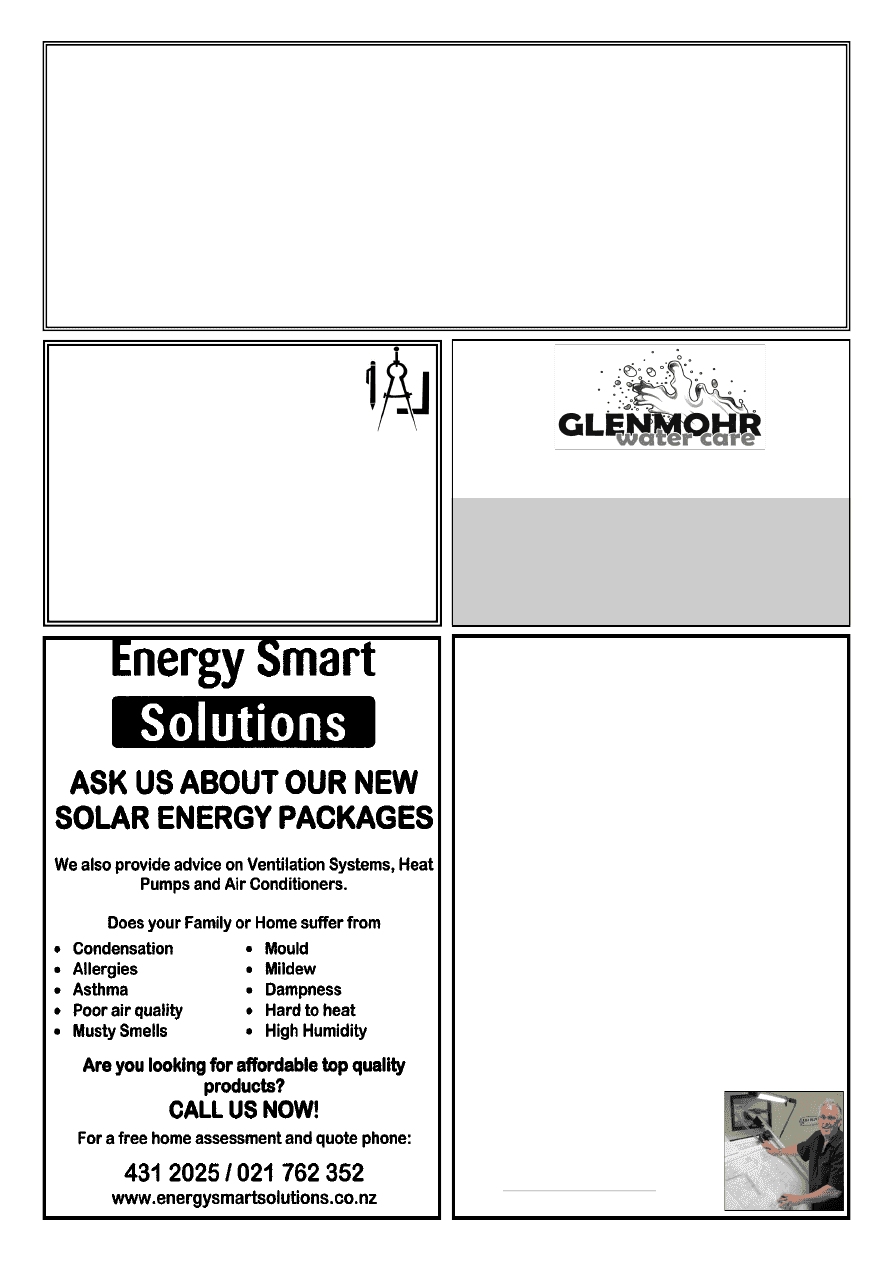 RANGANUI EARTHMOVERS 
  16T Excavator     
    (tilt, thumb & ROPS cab)     
  Transport Trailer 
  2 x 6 Wheeler Tip Trucks 
  Suppliers of All Grades of Metal & Topsoil 
If you want a proper job done with an experienced operator ring 
Grant on:  A/H  431-2131      Email  ranganui.dev@xtra.co.nz 
                      Mob  021845-246 
Driveways, House Sites,  
Drainage Dams, 
Section Clearing,  
Tree Work,  Rock Retaining Walls,  
Quarry Work, 
Basically Anything That a Digger Can Do 
design drafting 
service 
Retired builder and manufacturer with over 40 years  
experience in the building industry is offering a design 
drafting service for domestic housing, sleepouts and 
sheds.  
Plans formulated in consultation with clients, with 
working drawings completed and submitted to  
council for processing.  Extensive practical experience,  
able to identify & resolve problems. 
Please ring Mike Lean on 
09 431 2260  
          or 
021 431 196 
Water Tank Cleaning 
 
Keep your water safe & clean   
 
Removal of sediment, silt etc. 
 
Vacuum or full scrub 
 
Minimal water loss 
Phone Mark (09) 432 0655 or 0274 707607 
 ARCHITECTURAL BUILDING 
PLANS AND DESIGNS 
WRIGHT DESIGN 
 
QUALIFICATIONS 
Brian is a qualified designer (NZCAD) with over 40 years of 
varied experience in all types of building and is a registered and 
Licensed Building Practitioner in Design - L.B.P. 117345 
He ensures you will achieve the best from your budget with 
recommended excellent local contractors ready to competitively 
price and build your personal project quickly and efficiently. 
 
EXPERIENCE 
Brian's practical building and 40+ years of design experience 
means he can give you excellent advice and all the guidance 
needed for all your building needs 
v Wright Design offers free visits, consultations and all the ad-
vice you need on planning, design, building, contractors, coun-
cil permit applications, etc. 
"  Qualified and inexpensive designer – N.Z.CAD., LBP 117345 
"  Guaranteed design and working drawings 
"  Free site visit to your home or property 
"  Great service 
"  Great problem solver 
Call Brian ~Arrange a visit to discuss your needs  and obtain 
great advice and free quotation 
MAKE GOOD USE OF HIS EXPERIENCE and 
KNOWLEDGE 
WRIGHT DESIGN:  
360 Oneriri Road, Kaiwaka
Office 09 4312544   
Mobile 021 276 7389  
Email: 
www.wrightdesign.co.nz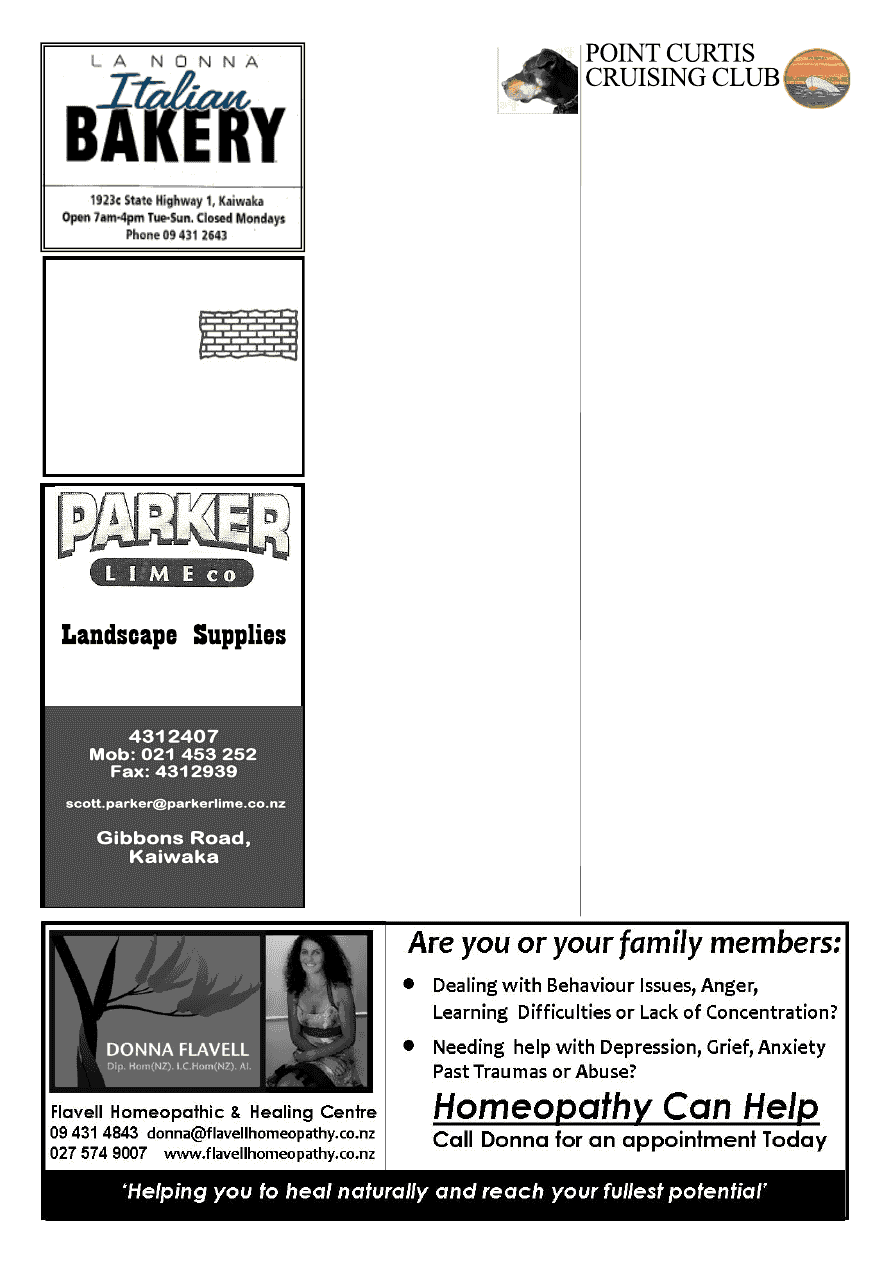 www.kaiwaka.co.nz 
Kaiwaka Bugle - 17 February 2015 
Page 5 
BRICK/BLOCKLAYER 
All aspects of masonry:  
Fireplaces, 
Restoration  
& Remedial Work. 
JAMES EAGLETON 
Tel. (09) 431 2514  
Mob. 0274 749 232 
jajueagles@yahoo.com.au 
210A Pukenui Road, RD2 Kaiwaka 0573 
Bulk Cartage 
Point  Curtis  Cruising  Club 
Inc 
Open 
Fishing 
Competition 14th & 15th March 2015 
Start  Time:  6am  Saturday  14th  March 
2015 
Finish  Time:  6pm  Sunday  15th  March 
2015 
Weigh  In:  Each  day  5pm  to  6pm  at  3 
Furlongs Hotel (No late weigh-ins) 
Maximum  Weigh  In:  2  per  species  per 
angler  per  day  TO  BE  GILLED  AND 
GUTTED 
Prize  Giving:  6.30pm  on  Sunday  15th 
March 2015 
Auction: To follow prizegiving 
BBQ: To follow Auction (Please bring 
a plate) 
Ticket  outlets:  Jean  Mcleish  09 
4312520,  3  Furlongs  Hotel,  Kaiwaka 
09  4312246,  Wellsford  Sports  & 
Leisure 09 4238873 
ADULTS: 
Entry Fee: $25 
Species: Snapper, Kingfish & Kahawai 
Adult Prizegiving:  
Heaviest  Snapper:  1st  Prize  $300,  2nd 
&  3rd  prizes  either  Fishing,  Sports  or 
Vouchers 
All  Other  Species:  1st,  2nd  &  3rd: 
either Fishing, Sports or Vouchers 
Juniors (Aged under 15) 
Entry Fee: $5 
Species: Snapper, Kingfish, Kahawai & 
Eel 
Junior  Prize  Giving:  1st,  2nd  &  3rd: 
either Fishing, Sports or Vouchers 
ALL SNAPPER WEIGHED IN GOES 
INTO  THE  DRAW  FOR  THE 
AVERAGE WEIGHT PRIZE 
All fish weighed in (must be gilled and 
gutted) will be kept by The Point Curtis 
Cruising Club Inc to be auctioned after 
prize giving. 
This  is  a  fundraiser  for  the  Rangiora 
Boat Ramp Carpark 
Please  see  poster  for  Rules  and 
Disclaimer 
Don't forget FISH OF THE MONTH is 
Snapper until 10 March 2015. 
Next  committee  meeting,  Tuesday  10 
March 2015, 7pm at 3 Furlongs Hotel 
Wayne Leslie, Commodore
KAIWAKA 
MOLESWORTH 
SHEEP DOG  
TRIALS 
As  we  look  forward  to  the  2015 
season (it's already started), we will be 
hosting the Northland Centre Champs, 
at Oneriri Road on the 17th, 18th and 
the  finals  on  the  19th  of  April.  We 
have  out-of-centre  judges  from 
Wairoa, Dannevirke and Masterton. 
The locals have been churning out the 
kilometres  of  late,  with  a  trip  to 
Kaitaia for the ever-popular Tux arena 
event. Dash made the run-off finishing 
a  very  creditable  4th  on  trying  sheep; 
not  to  be  over-awed  by  her  success, 
she produced five healthy puppies the 
next weekend. 
Sunday  the  11th  of  January  saw  us 
hosting the Tux Handy Dog at Otioro 
Road,  perhaps  the  most  successful 
event  since  we  left  Breamtail  Farm 
some eleven years ago. Unfortunately 
we  locals  were  only  making  up  the 
numbers,  with  nearly  all  the  cheques 
going south and some as far as Taupo 
and Turangi. 
At very short notice I had to judge the 
King Country and North Island Finals 
of the Tux Yarding, three full days of 
judging and another one for the finals. 
Although not winning, Northland dogs 
featured very prominently - the winner 
being  one  of  our  great  supporters 
Barney  Strong  and  Sparkle.  I  did 
enjoy  the  job  but  was  very  happy  to 
get  away  from  an  extremely  hot 
Taumarunui,  get  home  and  get  eye 
balls back in their sockets. 
We  have  already  had  two  hill  trials, 
Scott with Toby and Sceata are setting 
a very hot pace - Sceata with two wins 
and  a  second,  Toby  with  two  wins. 
Duncan  and  Tim  had  a  4th  at 
Helensville, Rob and Jack were 4th at 
the  Bay  of  Islands.  Scott  Silby  and 
Dawn  won  the  maiden  on  the  very 
tough Longhead at the Bay of Islands. 
Don't forget those dates in April, well 
worth  the  drive  down  Oneriri  Road, 
just look for the big yellow Tux signs. 
Rob H.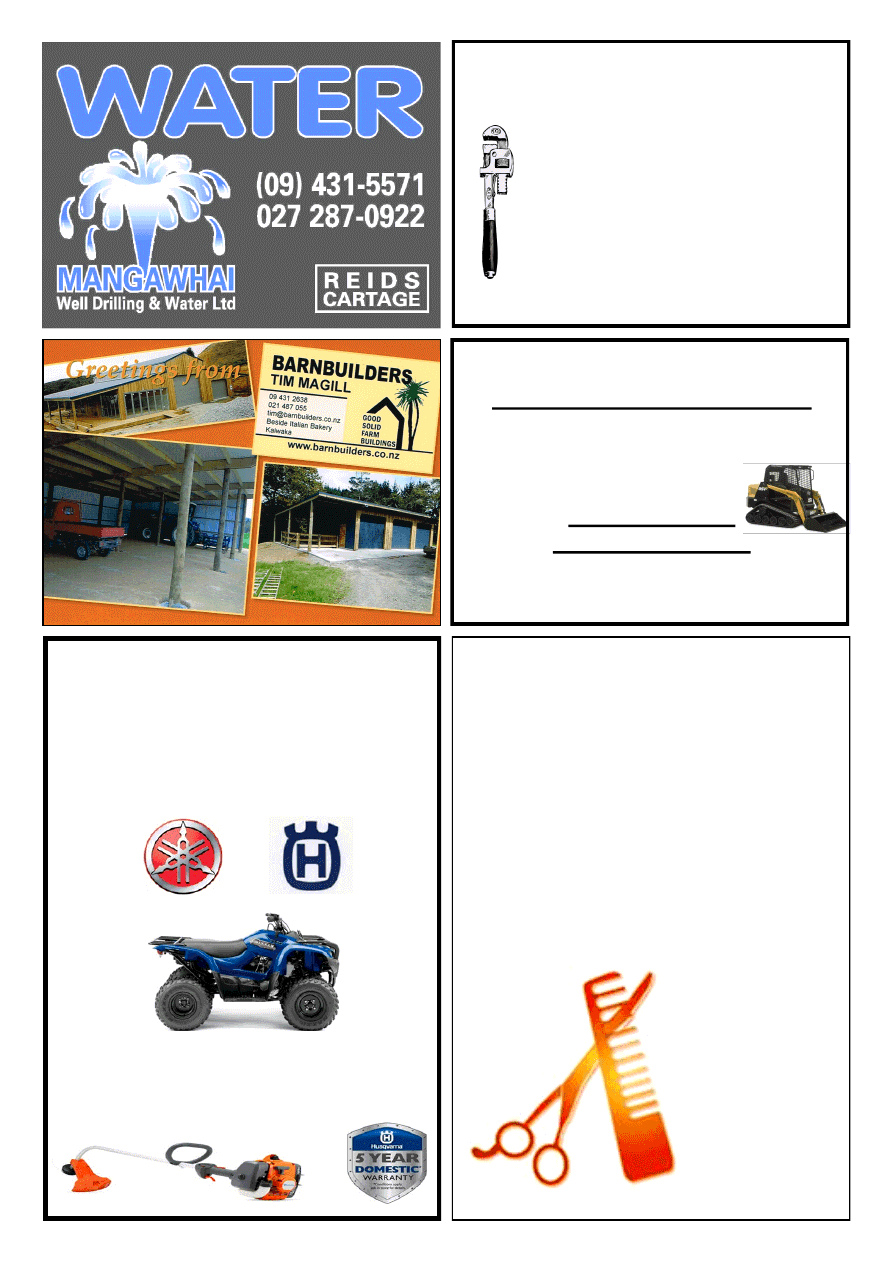 Natural Earth Ltd 
Landscape and Bobcat services 
 : Driveways  :Landscaping  :Retaining Walls 
 : Hole Boring: Land Levelling :Trenching 
 : Decks :Fences :Sections Cleared 
 : Plus much more
Tel 09 4312 885 
Mob 02102391280 
For A Fast Friendly Service  
Contact Tim Hicks 
BARRY CURTIS PLUMBING LTD 
REGISTERED CRAFTSMAN PLUMBER 
Phone 431 5572 
027 257 9884 
25 years' experience 
Friendly reliable service 
All plumbing & maintenance 
Alterations and new housing 
New wood fire installation 
Spouting 
Competitive rates
PROMPT EFFICIENT  SERVICE 
KAIWAKA  
MOTORCYCLES LTD 
SALES – SERVICE – SPARES 
FARM BIKE SPECIALIST 
PHONE 09 431-2127 
10 KAIWAKA-MANGAWHAI ROAD, KAIWAKA
TRIMMERS FROM $249  
CHAINSAWS FROM $329 
YAMAHA 
HUSQVARNA 
AFFORDABLE 
PRICES! 
MENS DRY CUT FROM $18.00 
LADIES DRY CUT FROM $15.00 
KIDS DRY CUT FROM $15.00 
COLOUR CUT FROM $90.00 
021 165 2629 
JUST CUTS'AND MORE 
NOW SELLING 
scented tealights 
Incense  
smudge sticks 
copper bracelets 
aurora ball crystals 
dream catchers 
healing stones 
rose quartz 
cds  
and much more 
open 6days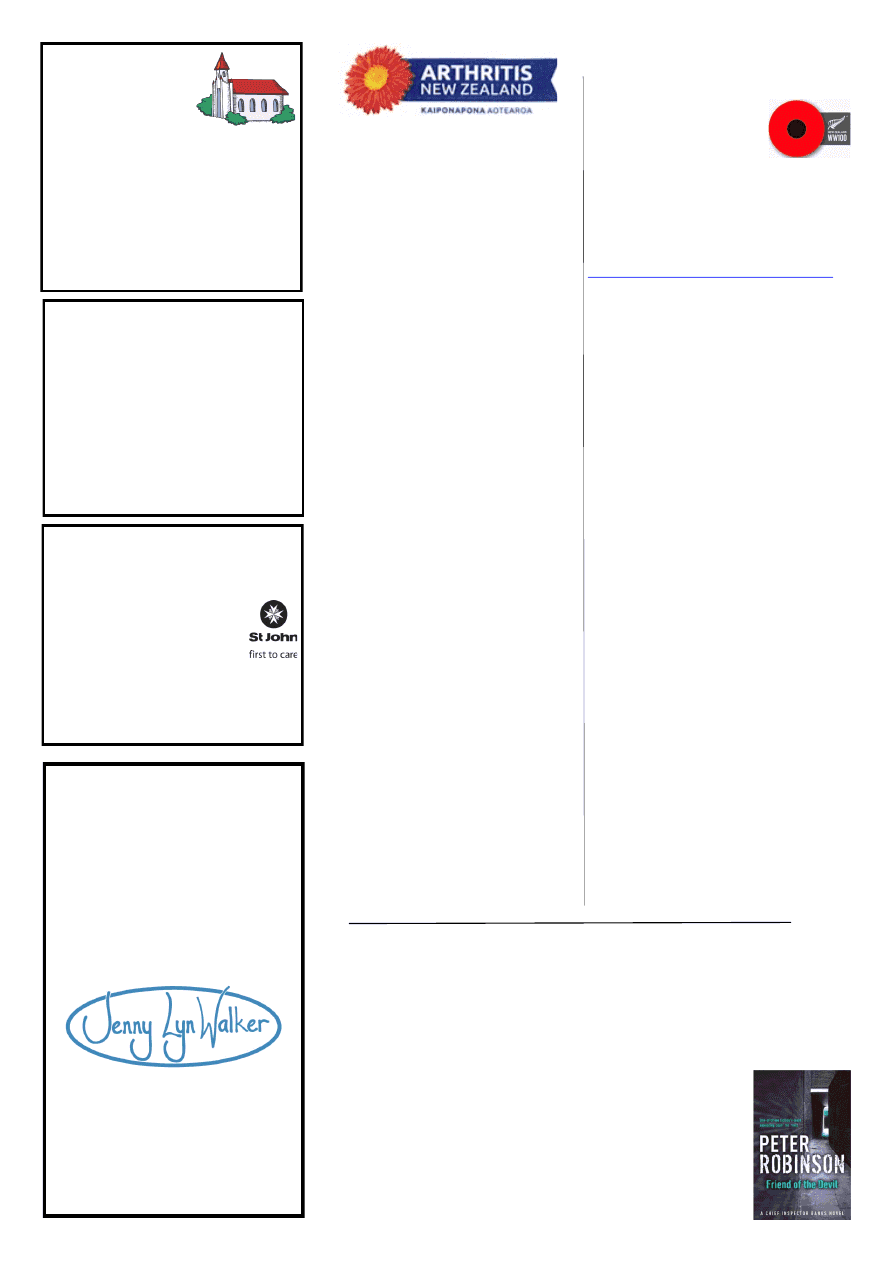 www.kaiwaka.co.nz 
Kaiwaka Bugle - 17 February 2015 
Page 7 
 LEABOURNS 
Passenger Service
Car & Van Hire 
Bus & Coach Charters 
Airport Transfers 
 Monthly Shopper Bus 
Phone (09) 4237416 
When you need St. John 
members at your function … 
Get a Community Services 
Form 
….. see Milly at the  
Kaiwaka St John  
Op Shop.  
Phone 4312650 
MORE MEMBERS REQUIRED FOR 
THE KAIWAKA STATION. 
ST PAUL'S  
ANGLICAN  
SUNDAY  
SERVICES
First Sunday 9.30am 
Third Sunday 9.30am  
St Pauls Church: Kaiwaka-Mangawhai Rd. 
1st Sun - Eucharist 
3rd Sun - Family Service 
Office 4214 122 
Contacts:M.Hargreaves 4312295, C.Bygrave 4312057  
Clairvoyance & Life 
Path Readings 
Fashioning Your True 
Being 
Book a Consultation 
Kaiwaka 
021 231 7447 
Friend  of  the  Devil,  by  Peter 
Robinson.  A  girl  is  mur der ed  in 
Taylor's  Yard, a  maze  of alleyways  in 
the  town  of  Eastvale,  on  a  Saturday 
night.  Her  body  is  found  the  next  day 
by  the  owner  of  the  nearby  leather-
goods  shop,  who's  storeroom  is  the 
scene of the grisly crime. DCI Banks is 
in charge of the investigating team. 
Meanwhile,  DI  Cabbot  is  on  loan  to 
Eastern  Area,  and  on  the  same  day  is 
called  to  investigate  a  body  found  on 
the cliffs with its throat cut, apparently 
staring out to sea. It takes little time to 
work  out  that  the  body  is  that  of  a 
woman  who  was  taken  out  from  a 
nearby  rest  home,  who  had  not  yet 
been missed. The two cases seem to be 
unconnected at first... 
I've  been  a  fan  of  the  tv  series  "DCI 
Banks" before I discovered this author, 
and  was  not  disappointed.  This  is  my 
second  Peter  Robinson  book  (though 
the  17th  book  in  the 
Inspector 
Banks 
series),  and  I'll  be 
back for more. 
This  book  is  on  the 
Dargaville 
shelves 
until June 2015. 
~Wendy 
RSA Launches Online 
DIY Commemorations 
Toolkit
The  RSA  has  launched 
DIY  Commemorations; 
a  free  online  toolkit  of 
simple  resources  designed  to  help 
Kiwis 
deliver 
their 
own 
commemorative events and to find out 
more about how they can honour their 
family's 
military 
history. 
The toolkit is available to download at 
www.rsa.org.nz/diycommemorations
and covers a range of topics; from how 
to  plan  a  commemorative  event  and 
maintaining  and  wearing  medals, 
through  to  finding  military  service 
records 
RSA National President, BJ Clark, says 
the 
RSA 
developed 
DIY 
Commemorations  to  suppor t  New 
Zealand's  World  War  One  centenary 
commemorations  and  empower  Kiwis 
to celebrate and remember in ways that 
reflect their own unique history. 
"Remembrance  is  not  just  a  salute  to 
the  past.  It's  also  a  way  to  carry  the 
stories  and  ideals  of  our  grandparents 
and  great  grandparents  forward  into 
our world today," says Mr Clark. 
"We  encourage  all  Kiwis  to  use  our 
guides  and  look  for  opportunities  to 
weave in the stories and memories that 
will  truly  bring  their  commemorations 
to life." 
Derek  Nees,  who  oversaw  the 
development 
of 
the 
DIY 
Commemorations  toolkit  as  par t  of 
the  RSA  Remembrance  Committee, 
says  many  of  the  resources  are 
particularly 
suited 
to 
schools, 
community 
organisations 
and 
workplaces  who  want  to  hold  a 
memorial service or event. 
"RSAs across the country may also be 
available  to  support  communities  and 
organisations 
with 
their 
commemorations," says Mr Nees. 
"Poppies, 
advice 
on 
protocol, 
information  on  local  military  history 
and 
a 
great 
venue 
for 
post 
commemorative  events  can  all  be 
found at your local RSA. 
HELP WITH YOUR 
ARTHRITIS and  
STOP GOUT* 
Come  and  hear  the  latest  information 
about  managing  Gout  and  other  types 
of Arthritis with Georgina Greville, 
RN 
Arthritis Educator 
Monday 23 February 
Kaiwaka War Memorial Hall 
10.00am -11.00am: Osteoarthritis 
11.00am-midday: Gout - It's not just 
about your kai 
St.John Ambulance Hall, 
Maungaturoto 
1.00pm -1.30pm: Rheumatoid Arthritis 
1.30pm- 2.30pm: Osteoarthritis 
2.30pm -3.15pm: Gout & uric acid 
testing 
Contact  Sue  Baker  to  register  or  for 
further information 
Phone 09 459 6100 or 0800 663 463 
Email sue.baker@arthritis.org.nz 
There is no cost to attend, but Arthritis 
New  Zealand  welcomes  donations. 
www.arthritis.org.nz 
*Gout is the second most common type 
of arthritis in NZ and it is a very poorly 
understood  condition.  People  often 
think it is all about food and alcohol  - 
this is what I call one of the myths and 
legends of gout. 
Gout  is  a  serious  and  very  painful 
condition which if it is not treated with 
preventative  medication  can  lead  to 
kidney and permanent bone damage. It 
is not just the pain. 
Anyone who has gout or would like to 
know  more  about  it  is  welcome  to 
come  along  to  these  sessions  at  no 
cost.    I  welcome  anyone  who  has  any 
type  of  arthritis  and  would  like 
information  and  support  to  these 
sessions. 
BOOK REVIEW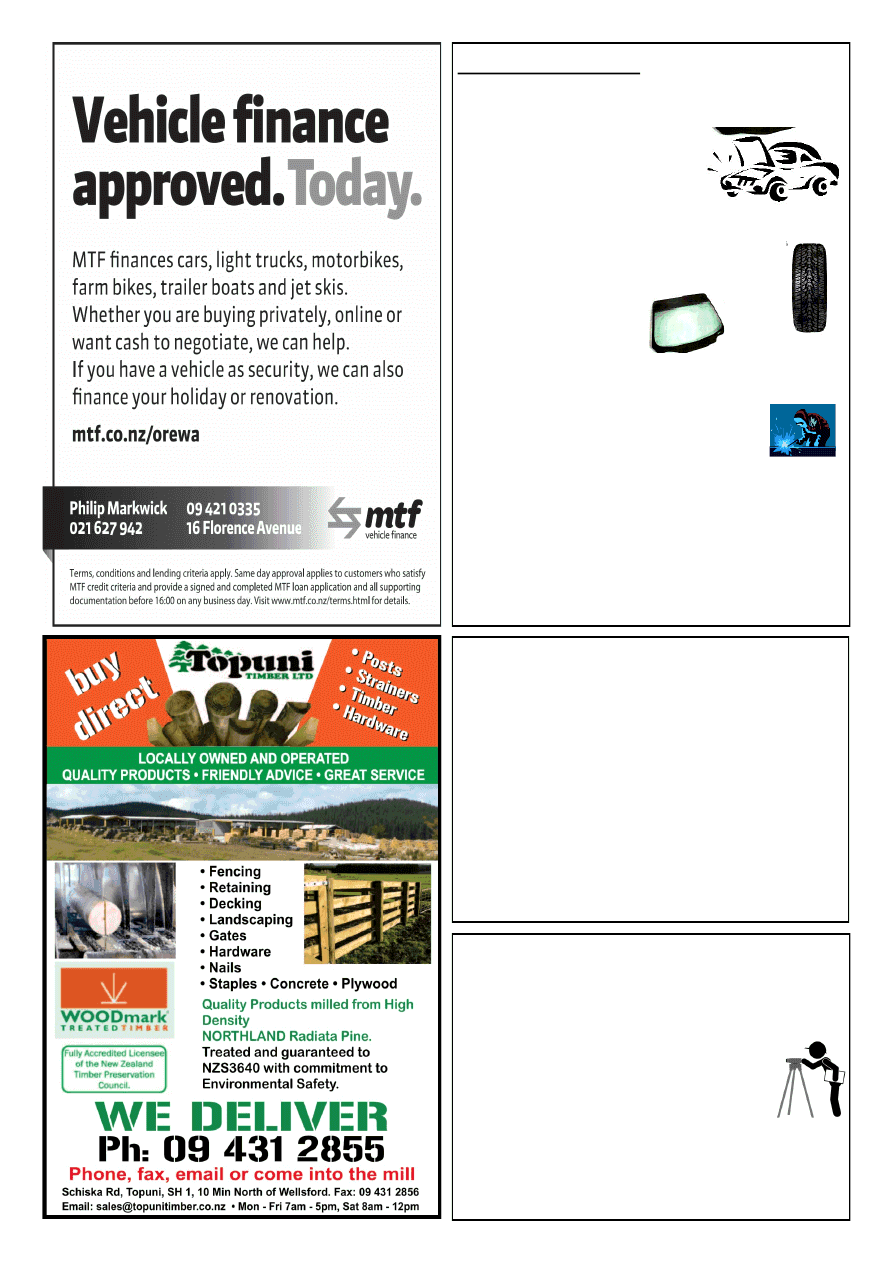 Want it done? 
Bring it to  
Twinkle Tow 'n' Tyre 
*W.O.F. 
*Tyres 
*Windscreen replacement 
*Chip repairs 
*Bulk Oil 
*Batteries 
*Welding 
*Custom built trailers 
*Trailer hire 
Think you'll get a better deal in 
the city? 
Go on, ring us; it won't cost  
anything! 
1837 State Highway 1, Kaiwaka       
Phone 431 2823 
Ken Urquhart 
KMU Surveys Ltd 
467 Bickerstaffe Road 
RD 2 
Maungaturoto 0587 
Ph 09 431 8705 
Mob 021 161 2344 
kenurquhart@xtra.co.nz 
Jenny's Rural Craft Shop 
We have a good quality range  
of craft products. 
Come and see work from local artist. 
Hours 10.00am to 3pm 
Wednesday to Sunday 
134 Kaiwaka Mangawhai Road, Kaiwaka.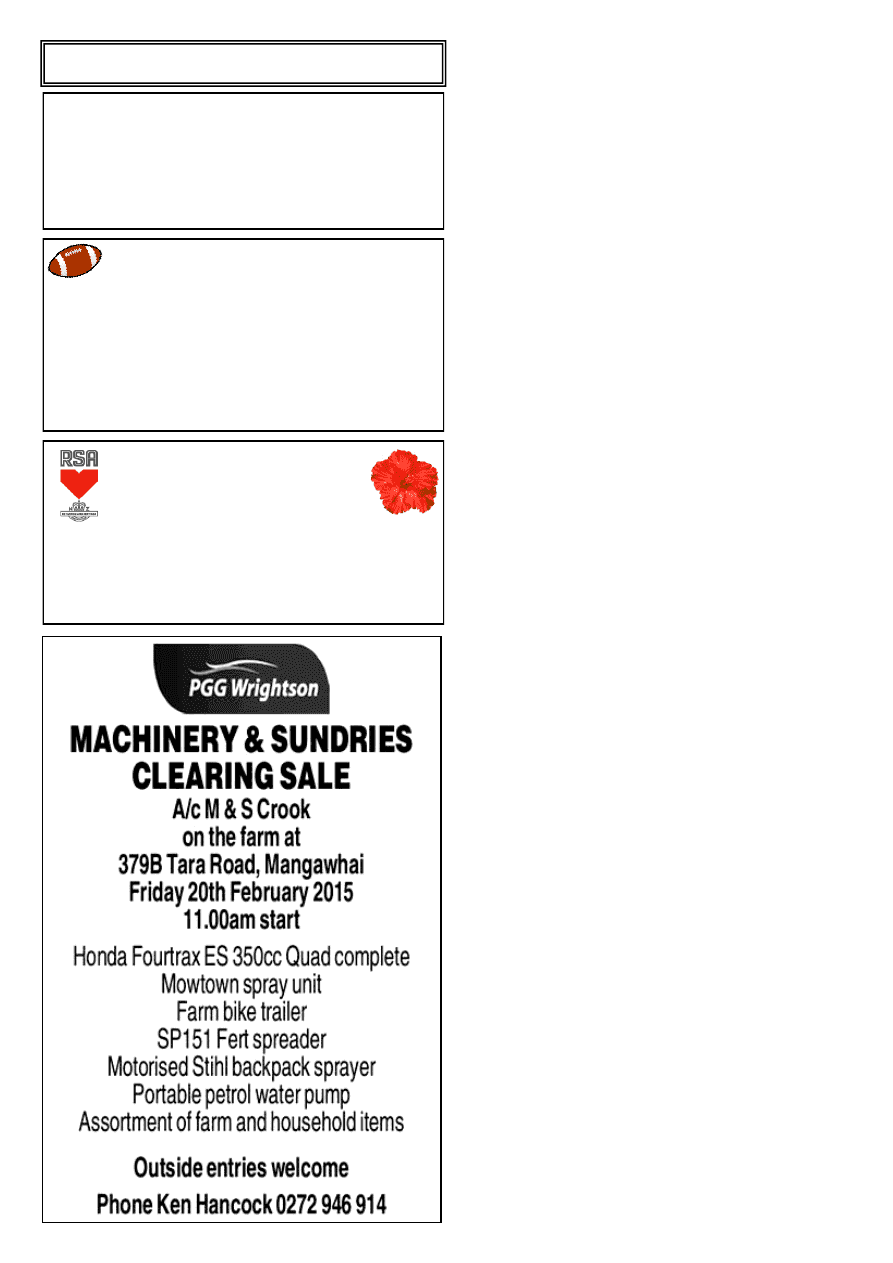 www.kaiwaka.co.nz 
Kaiwaka Bugle - 17 February 2015 
Page 9 
KAIWAKA'S FIRST ROAD 
FATALITY 
The  following  description  which  is  very  down  to  earth 
happened  135  years  ago  not  far  from  my  gateway  in 
Settlement Road and shows what had to be done at a time 
when there was no phone to call, no ambulance to summon 
and no doctor on hand. 
PUKEKARORO.— FATAL ACCIDENT. 
A  most  deplorable  accident  occurred  on  Tuesday,  December 
18,  by  which  Mr.  J.  Waldron,  Kaiwaka,  lost  his  life.  The  sad 
catastrophe  happened  almost  within  sight  of  his  own  house. 
The particulars connected with the sad affair were brought out 
in  evidence  given  at  the  inquest  held  at  his  late  residence, 
before  Mr.  J.  Ryan,  Coroner,  and  a  jury,  of  which  Mr.  T.  W. 
Dowson  was  foreman.  The  principal  witness  examined  was  a 
lad  named  Joseph  Harris,  nephew  of  deceased,  who  deposed 
that  on  the  day  of  the  accident  he  was  in  company  with  his 
uncle, who was returning from Mangawai  [sic]  with a  team of 
bullocks and dray. The dray contained stones. The two leading 
bullocks were not mates, and were very unsteady in the yoke. 
On nearing Mr. Leslie's farm deceased took charge of the team, 
leading  the  near  bullock  by  a  piece  of  rope.  His  uncle  was 
walking backwards, when his foot came in contact with a tuft of 
rushes. He overbalanced himself, falling by the roadside, which 
startled  the  bullocks,  causing  them  to  swerve  round.  Before 
deceased  had  time  to  regain  his  feet  the  wheel  of  the  dray 
passed over his left breast  and lower part  of his face. Witness 
lost  no  time  in  bringing  up  the  bullocks  and  returning  to  his 
uncle,  who  was  lying  stretched  out,  his  face  downwards. 
Witness  lifted  him  up,  setting  his  back  against  a  bunch  of 
rushes.  Deceased  desired  to  be  put  back  again  to  his  former 
position, and asked for a drink. His uncle was then bleeding at 
the  mouth.  Witness  then  left  him  to  procure  water  and 
assistance.  When  leaving,  he  heard  deceased  say,  "Good  by, 
Joe."  He  ran  to  Mr.  Leslie,  and  told  him  of  the  accident,  and 
was  afterwards  sent  for  additional  assistance.  He  went  to  the 
house of Mr.  A. Cameron, and had to pass the spot  where his 
uncle lay. He appeared to be still alive, and was surrounded by 
witness's aunt, Mr. Leslie, his wife, and their son. To a juror: he 
did  not  see  the  wheel  go  over  deceased's  head,  as  at  that 
moment his attention was directed to the bullocks. He did not 
consider the life of deceased could have been saved.—William 
Leslie  was  examined,  and  deposed  that  deceased  died  when 
they  were  conveying  him  home  on  a  stretcher.  The  time 
between the accident and the death of deceased would not be 
more  than  fifteen  minutes.  —This  being  all  the  evidence  the 
jury  considered  necessary,  the  Coroner  made  a  few  remarks, 
whereupon the jury, after a few minutes' deliberation, returned 
the  following  verdict.  "That  deceased,  John  Waldron,  was 
accidently  killed  by  being  run  over  by  the  wheel  of  his  loaded 
dray." The jury, through their foreman, desired the Coroner to 
convey to Mrs. Waldron their expression of deep sympathy for 
the sudden bereavement she had sustained. 
The funeral procession left Mr. Waldron's late residence about 
two  hours  after  the  close  of  the  inquest.  His  remains  were 
borne  to  the  grave  by  his  sorrowing  neighbours.  Through  the 
suddenness  of  the  melancholy  accident  many  friends  were 
unable  to  show  the  last  mark  of  respect  to  one  who  was  well 
known  as  an  industrious  and  thriving  settler.  Deceased  had 
been 19 years in the colony, was well known in Auckland and at 
the Thames. He was born in Lydford, Devonshire, and 52 years 
of  age.  Deceased  had  no  family,  but  leaves  his  widow 
comfortably 
provided 
for.—[Own 
Correspondent.]  
(PapersPast.natlib.govt.nz) 
The Waldron and Leslie families landed in NZ and took up 
land within a few days of one another. Joe Harris left soon 
after the accident and became prominent in the lower North 
Island, when I did an account of him for the Bugle a couple 
of years ago.                   ~Bill Leslie 
TOP OF THE ROCK 
Debrief meeting 
Monday 23rd February, 6.30pm 
Kaiwaka Sports Complex 
If you have any ideas on how we can improve our event for 
next year, you are most welcome to come along. 
HAKARU & 
DISTRICTS RSA Inc 
HAWAIIAN NIGHT 
Friday 6 March from 6pm 
Smorgasbord dinner $18pp, $10 child 
Wear your favourite floral shirt or sarong  
& pick your best hibiscus flower 
Ukulele ladies to entertain us; Spot prizes 
For more information phone Marlene 4315589 
JUNIOR RUGBY 
REGISTRATION DAY 
Sat 28th Feb, 10.30am 
Kaiwaka Sports Complex 
* Do you have a boy or girl interested in playing rugby? 
* Under 7's, Under 9's, Under 11's & Under 13's 
* Come along to Eastern United JMB's Rally Day to find 
out more! 
* Free sausage sizzle, water slide 
Enquiries to Naomi Walker 4312 750 or 021 2143180. 
PUBLIC NOTICES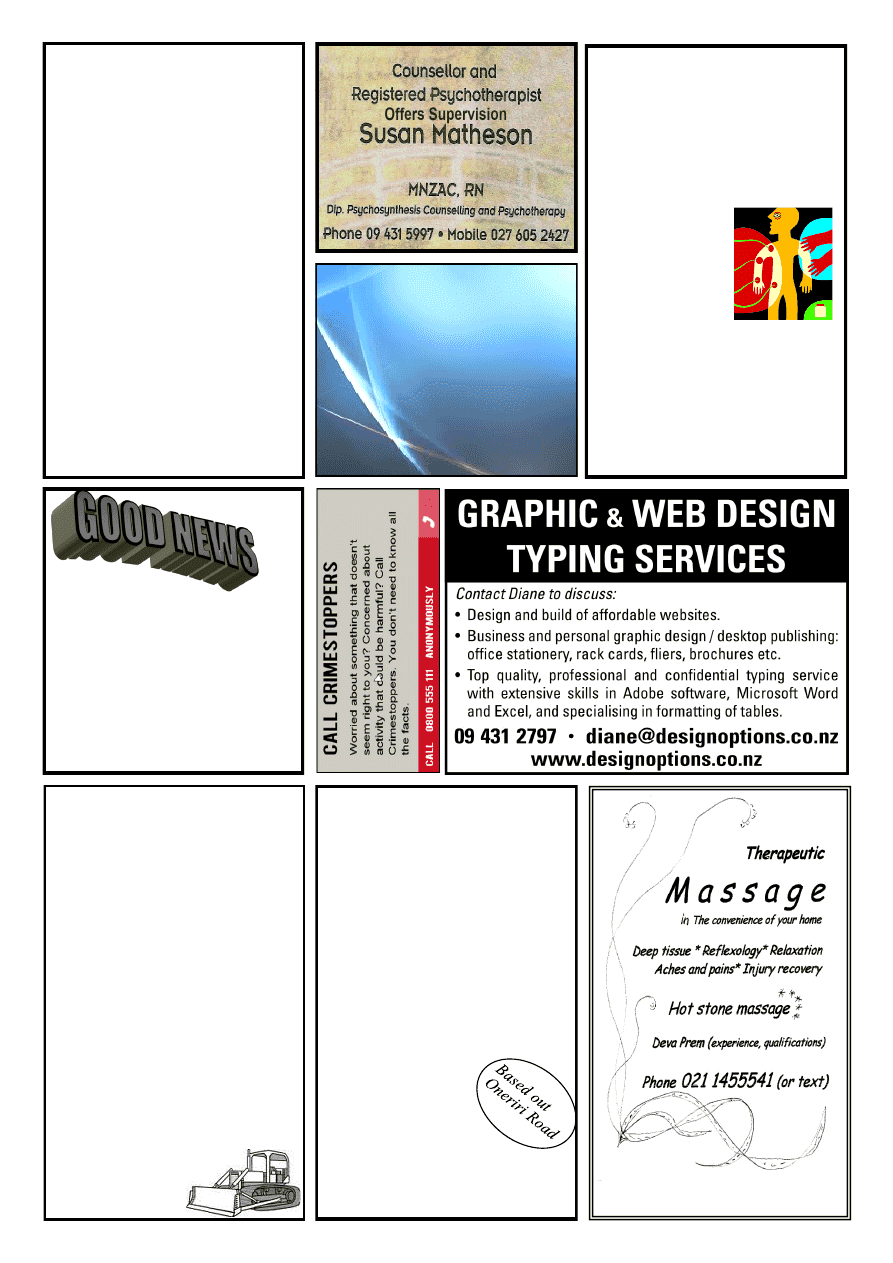 www.mangawhaimassage.co.nz 
HODGETTS 
CONTRACTING
Digger Work    

Driveways 

House Sites   

Dams 

Drains, etc
Also available for HIRE 

3 ton Vib Roller 

Heavy Duty Tow 

Waterblaster  

Lazer Level 
Phone Mark 
4312877 
027 447 8554
OWEN STEVENS 
Osteo Therapist
For careful adjustments to bones 
and joints 
Treatment for  humans and their 
pets 
Clinics: 
Kate's Place, 
Kaiwaka: 
Last Friday of 
month 
For bookings: 
9.00am-5.00pm   
Phone 
09 4312661 
Or phone Owen   
09 4317123  anytime 
Freeview  
Installations 
Richard Te Haara 
25 Marram Place 
Mangawhai Heads 
021 1104056 
kiwipride@xtra.co.nz
Willow Bend
HORSE  
HOTEL 
"   
Total Horse Care 
" 
Agistment 
" 
Riding Lessons 
" 
Arena Hire (60x40) 
" 
Young Horse Starting 
" 
Re-training/Exercising 
" 
Hoof Trimming 
" 
Problem Solving 
Phone Sue 09 431 
2817 or 021 623 776 
Or email sue.gray@xtra.co.nz 
Coates  
Contracting 

D41 Bulldozer with 6 
way blade, bush rigged 
with winch 

For all tree work 

General bulldozing and  
  stick raking. 

120hp Tractor for 
ground cultivation,  

tip trailer work. 

Fencing
All enquiries phone  
Brett Coates  
 094318720  
or 
 021431872
@ the  
Kaiwaka Family 
Church 
Your COMMUNITY CHURCH 
RECEIVE HEALING 
RECEIVE THE LOVE OF GOD 
Everyone warmly welcome each 
Sunday 10am and 7pm. 
Contact: 4312571 or 4312068
THERE'S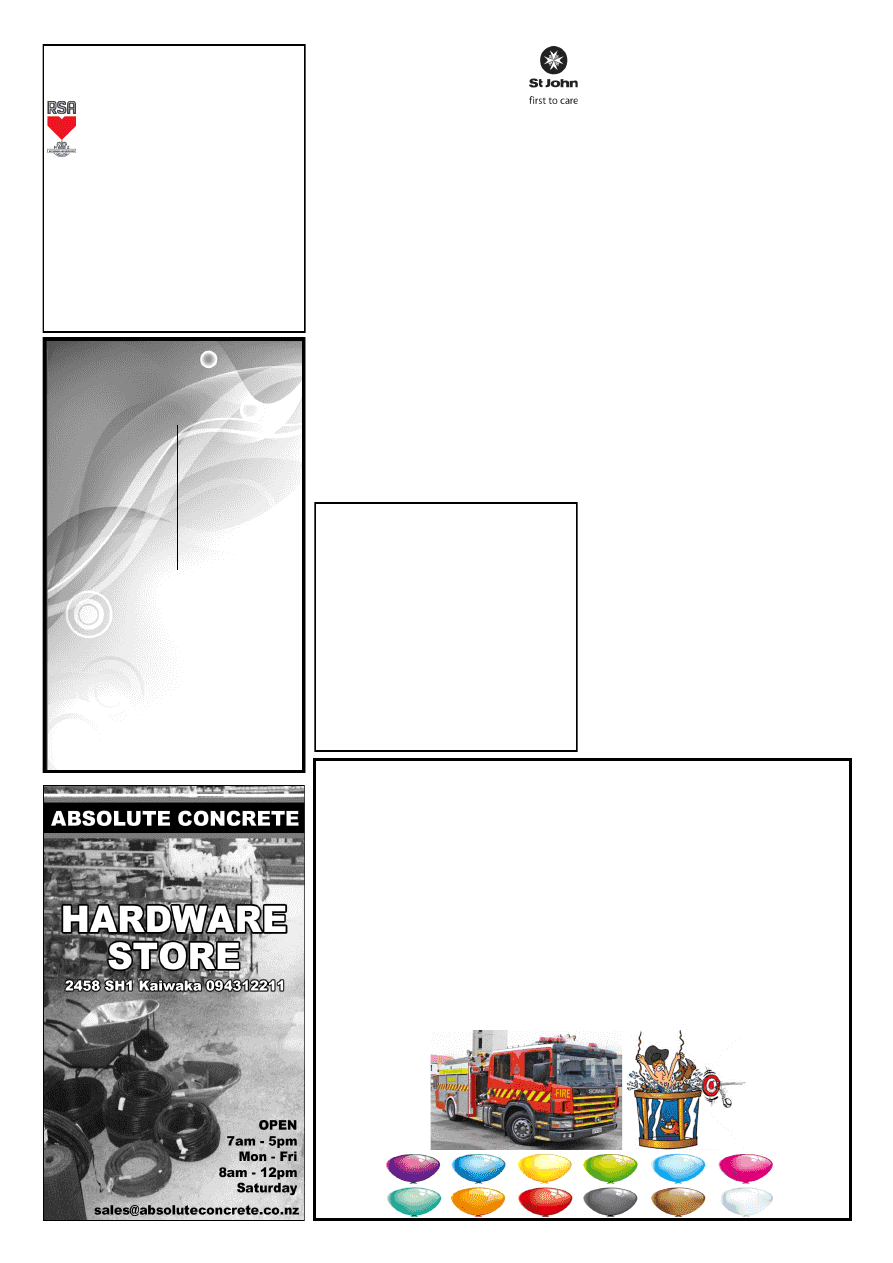 www.kaiwaka.co.nz 
Kaiwaka Bugle - 17 February 2015 
Page 11 
HAKARU & 
DISTRICTS RSA Inc 
Each Friday night 
from 6.30pm 
Meals will be served 
2nd Friday of the Month 
Is Roast Dinner Special 
Come along and enjoy our 
Hospitality  
For more information 
Ring Heather 431466 
or Jan 4314512 
U Beauty 
Please call Nicole for bookings 
09 393 6336 or 022 0639450 
Qualified Beautician 
4 Kaiwaka – Mangawhai Rd 
Kaiwaka 
Underarm Wax  
$20 
Extended Bikini Wax 
$30 
15 min Back  Massage 
$25 
Eyebrow Wax  $10 
Eyebrow Tint  $10 
Eyelash Tint 
$20 
Lip Wax 
$10 
Chin Wax 
$10 
Bikini Wax 
$20 
Brazilian 
$50 
½ Leg Wax 
$30 
Full Leg Wax  $45 
Full Pedicure  $60 
Foot Tidy  
$35 
Manicure 
$45 
Nail Tidy 
$25 
Chest Wax 
$30 
Back Wax 
$40 
Nostrils 
$10 
Ears 
$10 
KAIWAKA SCHOOL 
Kia Ora Kaiwaka School Community. 
The  school  year  has  started  off  with  a 
hiss and a roar as the saying  goes and 
the calendar is looking very busy!  
A  warm  welcome  to  those  new  and 
returning students and whanau. 
•  Today  there  was  an  all  school  and 
whanau  picnic  at  the  Mangawhai 
Estuary which was thoroughly enjoyed 
and  has  resulted  in  some  tired  and 
sandy children 
•  Next  week  there  are  three  main 
activities  happening-the  senior  school 
(Years  5  &  6)  will  be  attending  the 
Moir Point Camp at Mangawhai where 
they  will  be  doing  exciting  things  like 
archery, shooting, swimming, kayaking 
to name a few. 
•  Room  4  is  going  to  Goat  Island  and 
on  the  glass  bottomed  boat,  and  they 
get to see a real scientist (in the words 
of a 7yr old!) 
Rooms 2 & 3 are also going on a boat 
trip that is a part of a Matakana island 
adventure 
 27th March  is  Grandparents  Day  for 
grandparents 
and 
senior 
family 
relatives  and  friends.  There  will  be 
morning tea and a concert. 
• We are also having a School Gala on 
the  28th  of  March  (see  advert)  with 
food stalls, cakes and bakes, fun games 
(quite  possibly  including  dunk  the 
teachers/parents), white elephant, book 
stalls  and  more.  If  you  would  like  to 
have  a  stall  to  sell  produce/products/
food/crafts/bric  a  brac/etc    please 
contact  the  school  on  09  4312  309  or 
myself 
via 
email 
nomzmcinnes@gmail.com. 
~ Naomi Walker on behalf of Kaiwaka 
Primary School BOT 
ST JOHN News 
Thank you to those who came 
along  to  the  opening  -  St 
Johns' 
staff 
Whangarei, 
Auckland, Maungaturoto, Kaiwaka and 
some locals. 
Thanks  to  Rau  Morgan  for  his  part  in 
the blessing of our shop. To Trevor for 
cutting the ribbon. We had a very busy 
day. Thanks also ladies for morning tea 
and Trevor for his famous cream puffs. 
Thanks  also  to  Paula  and  Greg  for 
donating  shelving  and  display  stand. 
Very much appreciated. 
We are in need of cooking pots, towels, 
tea towels, mats and rugs. 
Please do not leave goods when shop is 
closed. 
This  week  will  be  a  sale  of  clothes  at 
$5 a bag full. Lots of good clothes. We 
have a two-seater couch with ottoman, 
v.g.  condition.  3-seater  lounge  and  2 
recliners,  bookshelf,  mattresses,  2 
single beds, all in very good condition. 
          ~Milly and Staff 
1919b  State  Highway  1,  next  to  new 
Post Office. Monday to Friday 9am to 
4pm,  Saturday  9:30am  to  1:30pm. 
Save the date for 
Kaiwaka Primary School 
GALA 
28
th
 of March @ Kaiwaka School 
Food Stalls, White Elephant, Book Stall,  
Fun Games, Quick Fire Raffles,  
Fire Brigade Demonstrations and More 
Why was the broom late for school? 
He over swept. 
When is a blue book not a blue book? 
When it is read! 
Why did the teacher wear sunglasses? 
Because her students were bright! 
Who invented King Arthur's round 
table? 
Sir Cumference! 
Which building has the most stories? 
A library! 
Why was the math book unhappy? 
Because he had too many problems!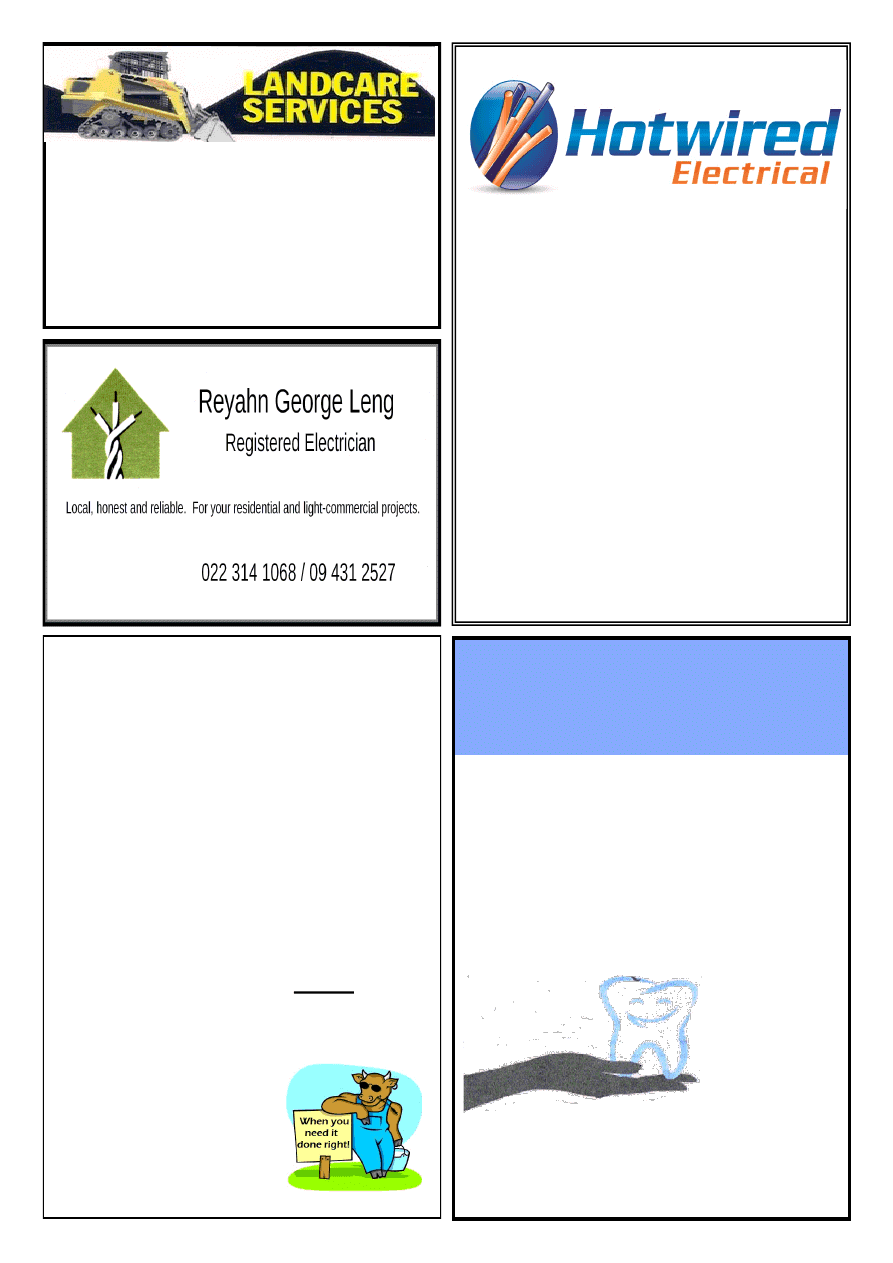 LANDSCAPING 
4 IN 1 BUCKET 
TRENCHER 
POLE HOLES 
ROTARY HOE 
COMPACT ROLLER 
OFFAL HOLES 
CAN SUPPLY WOODCHIP & POST PEEL 
5 TON TIPPER 
FOR RELIABLE AND FRIENDLY SERVICE CONTACT DAVE 
Dave Hyndman 
 
KAIWAKA 
PH: 09 4312302 
MOB: 021 431 238 
Gentle Dental 
Ruakaka 
We love to see you smile 
 
General  & Cosmetic Dentistry 
 
Emergency & ACC Treatment 
 
Denture & Hygienist Services 
 
Senior Citizen Discounts 
 
Free Adolescent Care 
 
Free WINZ Quote 
19 Ruakaka Town Centre 
Dr Sim Sood & Associates 
Ph:  432 8139 
Saturdays 
By 
Arrangement 
Open  
Mon-Fri  
8am-5pm  
For All your  
Electrical  Requirements 
 
Domestic small jobs 
 
Residential dwellings and alterations 
 
Commercial 
 
Industrial                 
No job too big  
or too small    
Contact Jason today on: 
(09) 431 5992, (021) 405 019 
www.hotwiredelectrical.co.nz 
GORSE 
IF YOU HAVE GORSE THAT YOU 
WANT  
ERADICATED
Call A Farmer
Bookings taken NOW  
for summer spraying
Phone 09 423 7585 
027 62 55 383 
info@callafarmer.co.nz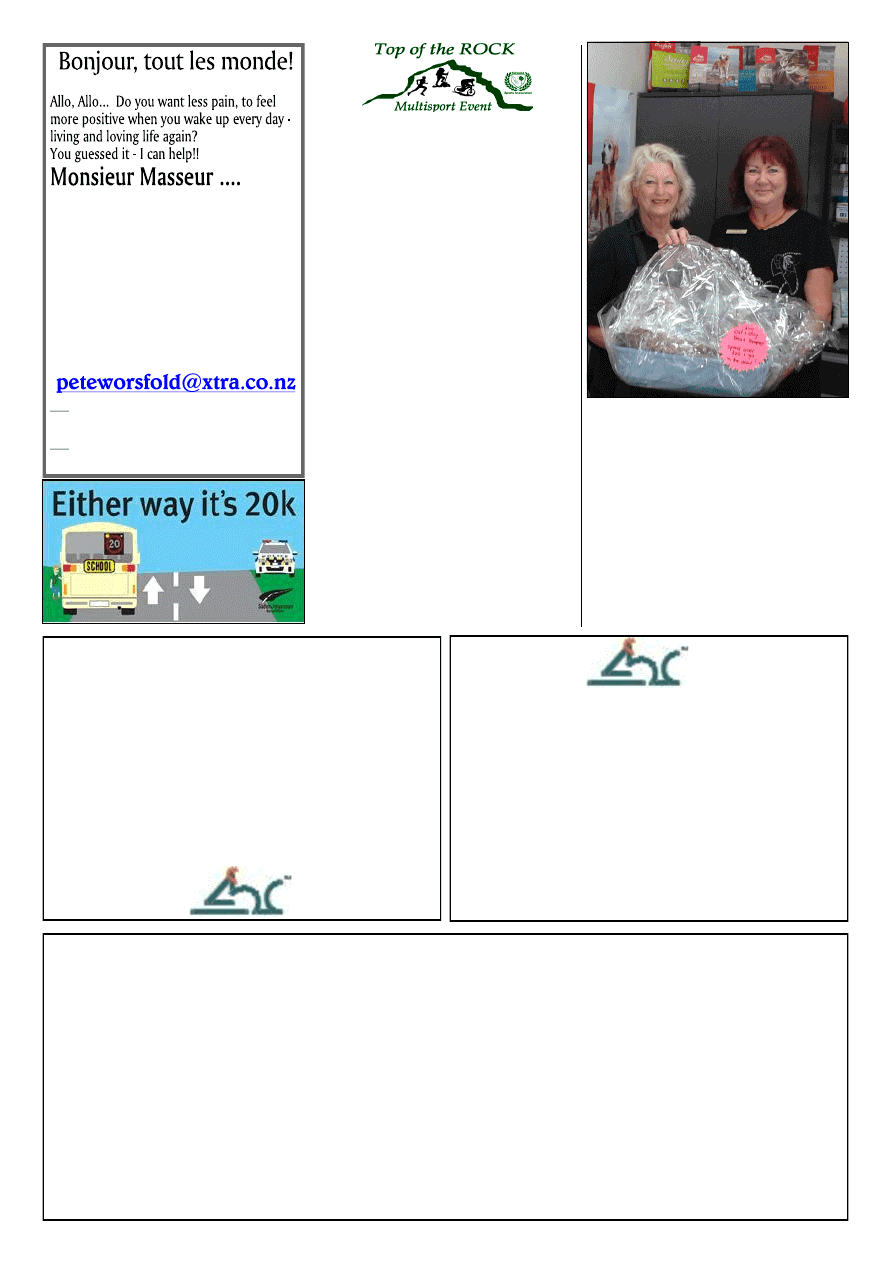 www.kaiwaka.co.nz 
Kaiwaka Bugle - 17 February 2015 
Page 13 
RELAXING  
MASSAGE
   ..... Juste pour vous" 
Call for an appointment now!
Pete Worsfold 
4312 152  or   021 825970 
Or  Ph. "The Well of Health" 
For an appt. 09 4312 799 
Or mobile service available 
ANIMAL HEALTH CENTRE  
KAIWAKA & OREWA
SUPER SPECIAL! 
Vet Nurse Microchipping 
Feb/Mar ONLY $25.00
Comfort Grooming, Nail Trims, Health Checks 
Bookings essential 
(Kaiwaka)  09 427 8122 or  (Orewa) 09 427 8122 
What Now?........How About.. 
Northtec Trade Training @  Kaiwaka - Starting Monday 16
th
 Feb. 
Elementary Construction Level 2…..20 weeks      3 days/week 
Advanced Construction Level 4…....40 weeks      3 days/week 
Painting & Decorating   Level 4……60 weeks     3 days/week
You Will Get: 
Skills and a Qualification for Life 
To Work On Community Projects 
And To Meet a Great Bunch of People 
Contact Northtec: 0800 162 100 
Tim: 021 487 055 or 431 2638, Jarrod: 027 280 0060 
Pictured  above  -  our  Kaiwaka 
Customer 
Service 
lady 
Denise 
presenting  our  $100  Festive  Season 
hamper  to  the  winner,  Cecilia  of 
Maungaturoto.  
Tickets  were  issued  to  all  of  the 
Animal  Health  Centre's  customers 
extending  from  Auckland,  Rodney, 
Kaipara  and  Northland  so  there  was  a 
huge entry. It was so pleasing to see a 
local lass receive the hamper. Cecilia is 
a  regular  customer,  caring  for  her 
beloved  cat  Versace.  Congratulations 
Cecilia! 
ANIMAL NATUROPATH 
Sarndra G. Urwin  Dip NAH (Hons), Dip Cl.Hyp 
Animal Health Centre 
Kaiwaka 09 431 2217     Orewa 09 427 8122 
Skin Problems 
Irritable Bowel 
Incontinence 
Cancer 
Arthritis 
Sensitive Stomachs 
Thyroid imbalance 
Behavioural Issues 
Kaiwaka  Sports  Assn.  members  wish 
to thank our generous sponsors: 
Jaques  Four  Square,  Borck  Contracting, 
Absolute  Concrete,  Agridustrial,  ANZ, 
Aoteoroa Surfing School, Baldrock Kennels, 
Barnbuilders,  Bavage  &  Chapman,  Bone 
Idol  Carvings, 
Carters  Mangawhai, 
Colourline  Nurseries,  David  &  Mary 
Hargreaves,  Doug  &  Lenore  Donaldson, 
First  Aid  Fundraising,  Fulton  Hogan, 
Goodbye Sandfly, John & Jan Hargreaves, 
Kaiwaka 
Cheese 
Shop, 
Kaiwaka 
Motorcycles,  Kaiwaka  Salon,  Kathmandu, 
L'Art Beauty, La  Nonna Bakery, Landcare 
Services,   Laughing 
Dog 
Computers, 
Livestock  Improvement  Corporation,  LJ 
Hooker (Craig Kenyon), Mangawhai Bikes, 
Mangawhai  Oesteopathy,  Mangawhai 
Tyres,  Mangawhai  Vet  Centre,  McLennan 
Groundspreading,  Melbourne  Aviation 
Precinct,  More  FM,  My  Bike,  Neil  Jones, 
North Glass,  Northland Rugby Union, NZ 
Alarm,  Oh  Natural,  Olsen  Contractors, 
Overviews  NZ,  Parkers,  Paul  Greig 
Electrical,  Phil  Keen  Concrete,  Powa 
Products, Printrun, Ranganui Developments, 
RD1  Wellsford,  Rob  &  Deb  Hastie,  Rob 
Leslie  Logging,  Rob  Whitehead,  Rodney 
Marine,  Rural  Design,  Silver  Fern  Farms, 
Smashed  Pipi,  Speed  Stackers,  Sport 
Northland,  Three  Furlongs  Hotel,  Tony  & 
Lindsey Hargreaves, U Beauty, Vital Zing, 
Wellsford Sports & Leisure.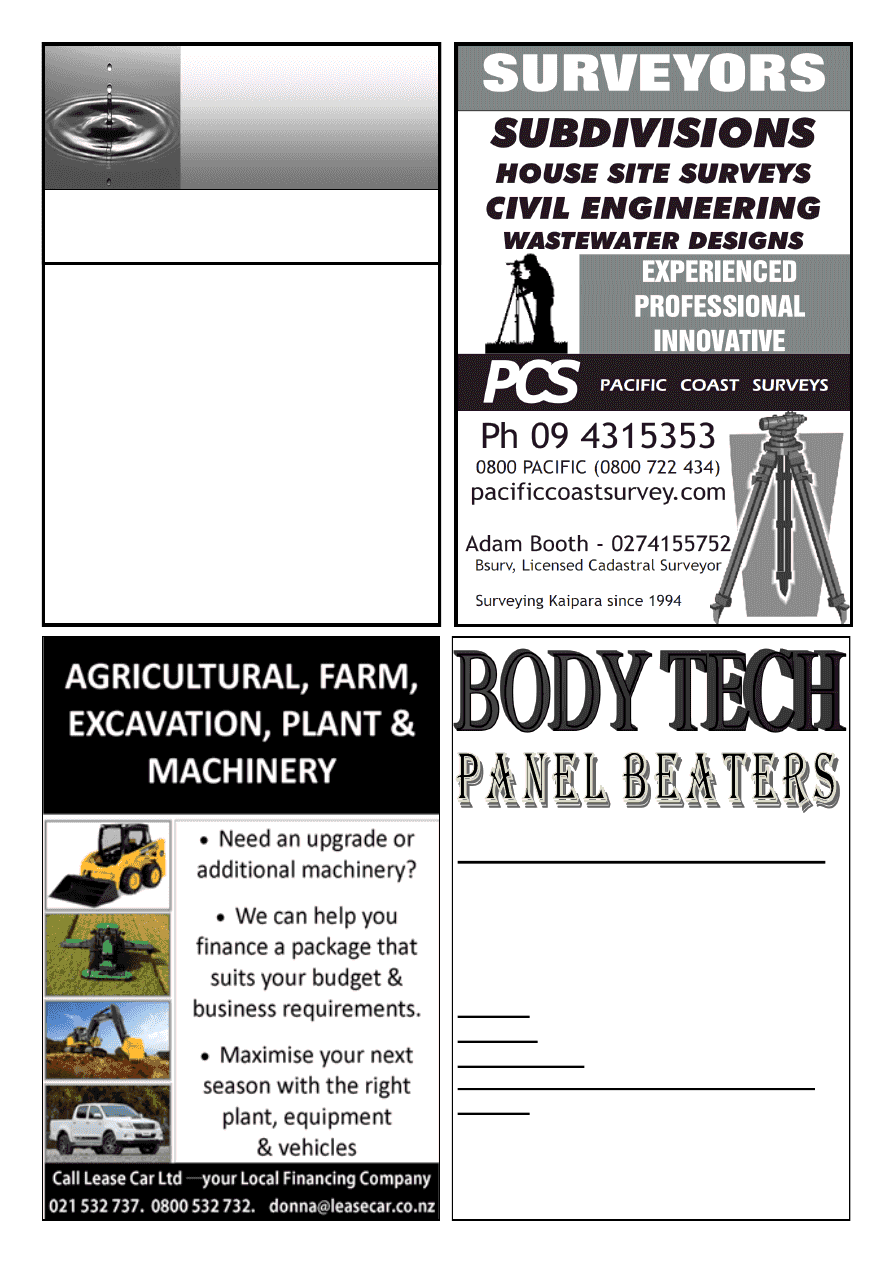 PETE WORSFOLD  
B. Soc.Sc. M. Soc.Sc. Diploma of Prof Couns. 
Counsellor
peteworsfold@xtra.co.nz 
 021 825 970 
Professional Service 
Variety of Modalities 
By Appointment Only 
For all your body repair needs!! 
We do: 
Rust repairs 
Insurance work 
Anti-corrosion treatment         
Hours: 8.30am-5pm Monday-Friday  
Mobile: 021 118 0462 
After hours: 09 431 2384 
Phone: Craig or Call in for a free Quote 
e-mail: 
bodytech_panelbeaters@yahoo.com
We are located at 1837 SH1 Kaiwaka, behind Twin-
kle Tow 'n' Tyre call in anytime for a free quote.  
Large and minor vehicle  
  repairs 
Industrial vehicles 
Full Cut and polishes 
INDIVIDUAL ONE-ON-ONE 
COUNSELLING 
 
MODALITIES:     FOR: 
  CBT              Grief 
  Gestalt            Relationship 
  Person-Centred     Trauma 
  Solution Focussed    Couples 
  Behavioural        Adolescents 
                  Careers 
Call for Appointment 
At "The Well of Health" 
09 4312799 or 021 825 970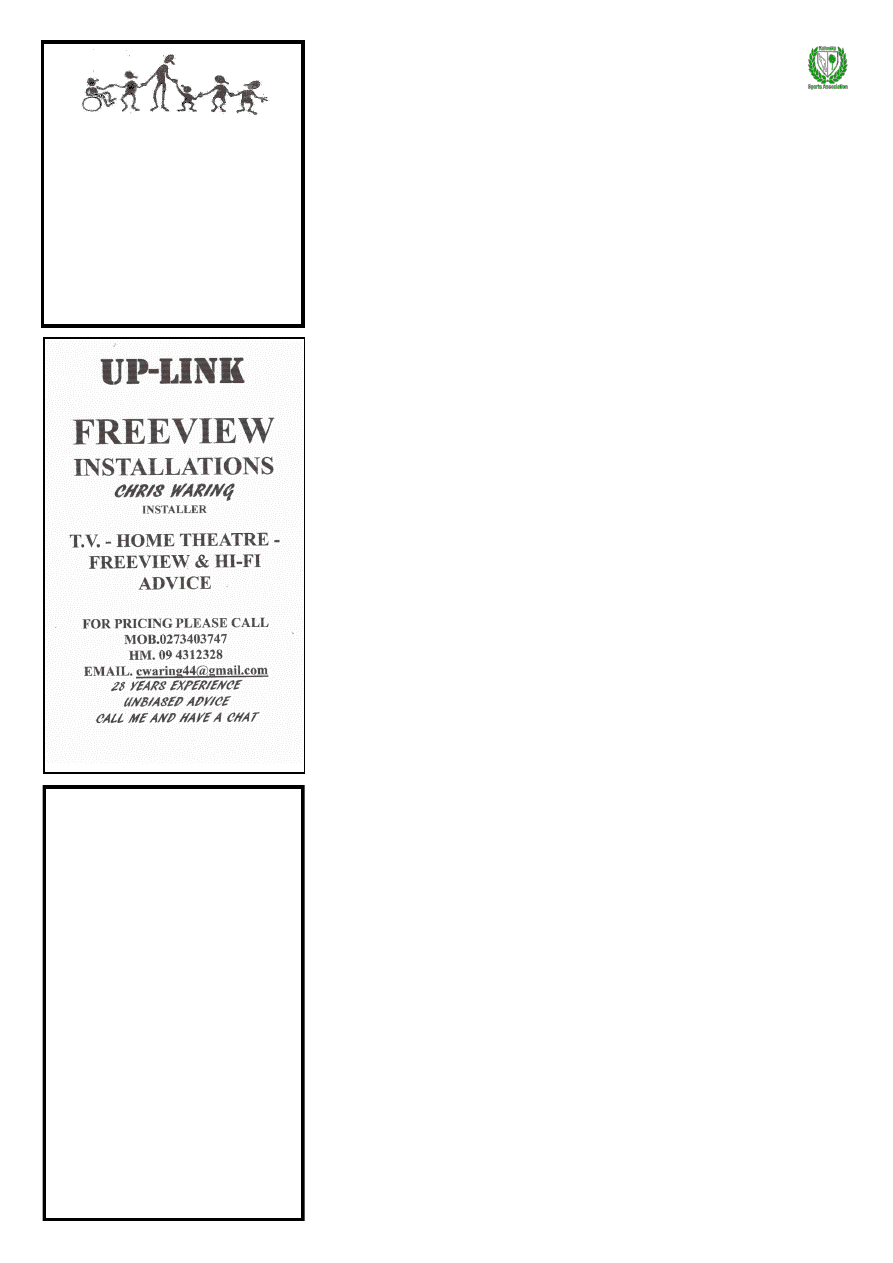 www.kaiwaka.co.nz 
Kaiwaka Bugle - 17 February 2015 
Page 15 
Yang Style Tai Chi 
Classes  
For Beginner And 
Practitioners  
at the 
Kaiwaka War Memorial Hall 
Every Tuesday  
Starting at 10.30 am 
Come Along And Have 
Some Fun While Improving 
Your Balance Health And 
Fitness 
For More Information Contact  
Andrew Young 
09 4223424   
KAIWAKA SPORTS ASSOCIATION  
LINKING HANDS INC 
Health Shuttle Service 
Maungaturoto/Kaiwaka/
Mangawhai transport to medical 
appointments in Whangarei, 
Wellsford, Warkworth &  
Mangawhai 
Bookings essential 
Phone 4318969 or 4314121  
during office hours 
Top of the Rock 
Our  annual  multi-sport  challenge  the 
Top  of  the  Rock  was  a  wonderful 
success. With 330 competitors, the day 
surpassed  our  expectations.  This  is 
truly  a  community  event,  with  many 
volunteers  working  together.  Thank 
you  to  everyone  involved  for  their 
support.   
Athletics 
The Kaiwaka Athletics Club has started 
its  season.  Sessions  are  held  on 
Mondays from 5 – 6.30pm at Otamatea 
High  School.  The  sessions  cover 
running,  long  jump,  high  jump,  shot 
put,  discus  and  javelin.  Because  of  a 
shortened  season,  the  cost  is  only  $10 
for 6yr olds and under, and $15 for 7 – 
15 year olds. All interested children are 
welcome.  Any  queries  to  Eileen 
Parsons on 4318 055. 
Boot Camp 
Following  on  from  the  success  of  the 
Biggest  Loser  Challenge  last  year, 
there is now a Fitness Boot Camp at the 
KSA.  Sessions are held on our grounds 
every Tuesday and Thursday at 6.30pm 
and  Saturday  at  7.30am.  Sessions  are 
with trainer Siobhan Cole and are $7.  
Siobhan  and  her  team  have  come  up 
with a great idea - charity Boot Camps! 
The first one will be on the Saturday 7
th
March at  7.30am.  Come  along  dressed 
up  and  your  money  will  go  to  the 
Kaiwaka  Fire  Brigade.  This  session 
will  be  $10  and  there  will  be  spot 
prizes.  Please  support  this  by  getting 
friends and family to come along.  
Junior Tennis 
Our  tennis  club's  coaching  sessions, 
with John White, have restarted for the 
year.  There  will  be  8  &  9 year  olds at 
3pm, 7 years and under at 3.30pm and 
Year  6  -  Year  13  players  at  4pm.  The 
club  is  looking  for  any  people  in  the 
community  who  may  be  available  on 
Monday afternoons to assist John with 
the  coaching.  There  will  be  a 
Community  Coaching  Course  in  early 
March  which  you'd  be  welcome  to 
attend.  Any  support  to  help  our 
youngsters would be much appreciated! 
Please ring Lindell Ferguson -4312542. 
Badminton 
Due to popular demand, our Badminton 
club  nights  are  continuing  through  the 
summer  months.  Keen  to  have  a  go? 
Simply  turn  up  on  Tuesday  nights  at 
our  gymnasium  at  7.30pm.  New  or 
casual  members  welcome.  Only  $3  a 
night  for  casual  players,  and  we  have 
racquets you can borrow.  
Touch 
The Kaiwaka Touch Module got off to 
a  great  start  with  8  registered  teams. 
The results table and draw can be found 
on 
our 
website 
are welcome, so feel free to come along 
to  the  Sports  Complex  on  Sundays  at 
12.30pm,  the  Module  runs  through 
February and March. 
Rugby – Junior 
Our  junior  rugby  club  Eastern  United 
JMB  will  hold  a  general  meeting  this 
Tuesday  at  5.30pm  at  the  Sports 
Complex.  All  parents  of  junior  rugby 
players are encouraged to attend. 
Eastern  United  will  hold  their 
Rally Day at the Sports Complex 
on  Saturday  28
th
  February  at  10.30am. 
Free sausage sizzle and bring your togs 
for the water slide! If you have a boy or 
girl  interested  in  playing  rugby  this 
season,  please  bring  them  along.  JMB 
caters for ages from Under 7's through 
to  Under  13's.  Any  queries  to  Naomi 
Walker 4312 750. 
A  Small  Blacks  coaching  course  will 
be held at the Kaiwaka Sports Complex 
on  Monday  20
th
  April  at  6.30pm.  This 
is  a  requirement  for  all  coaches  of 
rugby teams from Un. 7s - Un.13s. 
Rugby - Intermediate 
We are starting up an Under 18's team, 
with  Head  Coach  Mike  Peeni. 
Trainings  will  be  at  our  grounds  on 
Wednesdays  at  6pm,  starting  this 
Wednesday.  Contact  Mike  on  027 
2637388. 
Rugby – Senior 
Our  senior  rugby  team,  the  Otamatea 
Hawks,  are  holding  their  trainings  on 
Tuesdays  and  Thursdays  at  6.30pm  at 
our grounds – new players welcome. 
A  Hawks  meeting  will  be  held  on 
Tuesday  24
th
  February,  at  7pm  at  the 
Sports Complex. If you'd like to be part 
of the club this season, then feel free to 
come along to this meeting. 
The  first  pre-season  match  of  the  year 
will be held on Saturday 14
th
 March at 
12.30pm at our grounds, against North 
Shore,  so  come  along  to  see  how  the 
boys are shaping up for the season. 
A  Rugby  Smart  coaching  course  will 
be held at the Kaiwaka Sports Complex 
on  Wednesday  4
th 
March  at  6.30pm. 
This is a requirement for all coaches of 
rugby  teams  from  Under  14's  and 
above. 
Gymnastics 
Gymnastics has started for the year and 
we'd like to welcome our old and some 
new  coaches:  Megan,  Andrew,  Linda, 
Stephanie,  Amalie,  Holly  A,  Holly  K, 
Shaz, Emma, Brigette, Ryan and Jenna. 
Anyone  wishing  to  put  their  child's 
name  on  the  waiting  list  should  text 
their email address to Stephanie on 022 
362  4998  to  request  an  application 
form. 
Netball – OHS 
The Otamatea High School netball club 
will  hold  their  AGM  on  Wednesday 
25
th
  February  in  the  OHS  staffroom. 
All parents and supporters are welcome 
to attend. 
Netball – Otamatea -Ex 
At  last  weeks  AGM  Mirna  Manuell 
resigned  as  President/Secretary.  Mirna 
has been in this role for 15 years, so a 
big  thank  you  to  her  for  her  years  of 
dedicated service to the club. 
Bulbs Fundraiser 
I am selling spring bulbs as a fundraiser 
for  the  KSA.  Bulbs  are  easy  to  plant, 
fun  to  grow  and  will  reward  you  with 
beautiful flowers year after year! 
Prices  are  less  than  normal  retail  and 
the  KSA  will  make  30%  profit  on  all 
sales.  Your  order  will  be  delivered  to 
your home along with a handing guide. 
Order forms at Jaques Four Square, on 
  or  on  page 
17. 
~ Cheryl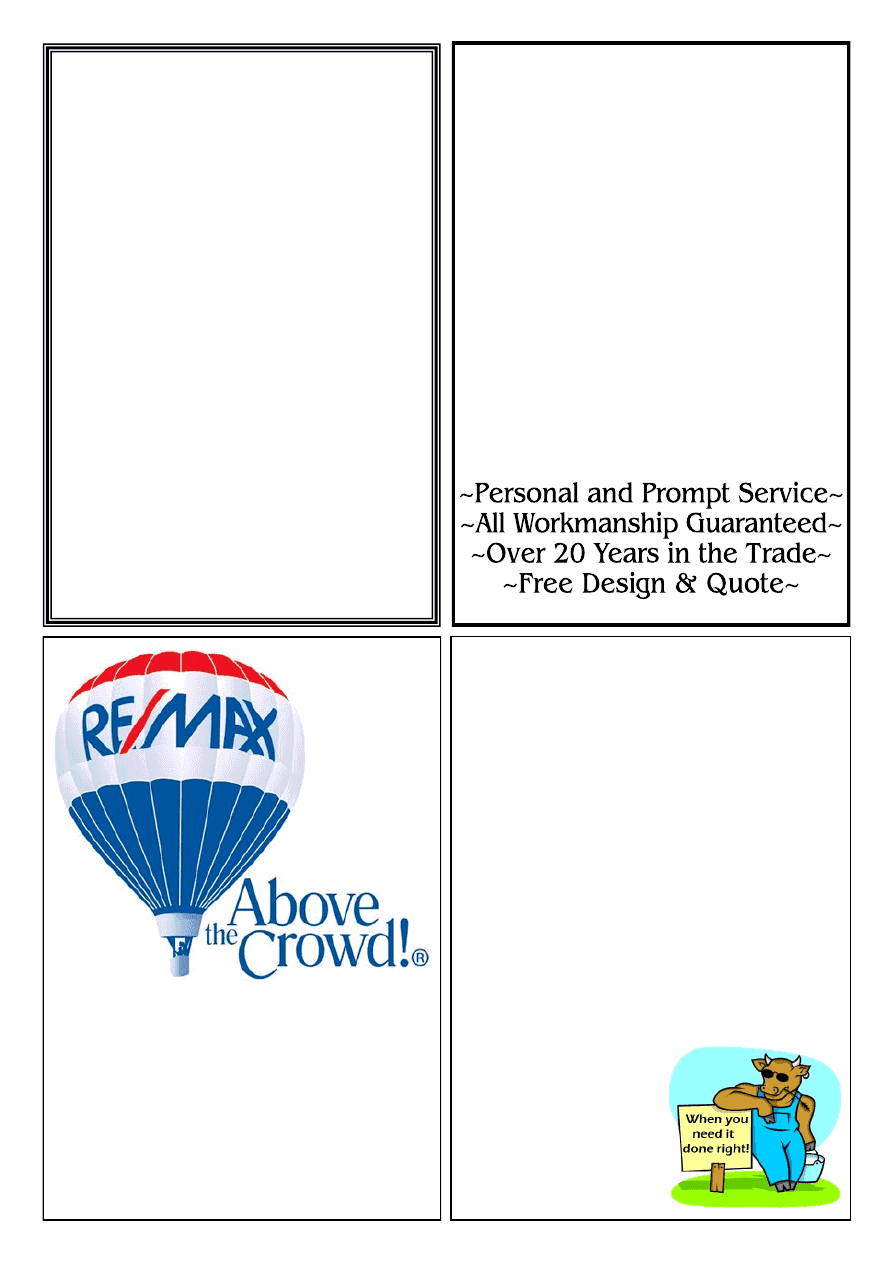 PLANNING A NEW 
KITCHEN? 
 CONTACT NOEL McDOWELL 
WELLSFORD 
KITCHENS
Ph/Fax 094312888  
KAIWAKA-Any time 
  QUALITY CUSTOM MADE 
KITCHENS  
g.a.s. 
Mangawhai 
we have now opened a 
GARDEN CENTRE 
for all your gardening needs 
Also a great range of 
STOCKFOOD 
Wide range of 
ORGANICS AND 
 FRESH LOCAL PRODUCE 
All your motoring needs are taken care of by 
our friendly staff check us out... 
44 Moir Street, Mangawhai (09)431 4242 
FENCING
COMPLETE NEW BUILD 
WIRE AND BATTEN 
ELECTRIC 
POST AND RAIL 
REPAIRS AND MAINTENANCE 
WHATEVER YOU NEED—IF YOU NEED A FENCER 
CALL A 
FARMER 
Phone 09 423 7585 
027 62 55 383 
info@callafarmer.co.nz 
Your number 1 friend in real estate. 
Beth Stone for all your real estate needs. 
Returning Kaiwaka resident. 
Talk to me to see how I work for you. 
PH: 0274 937 801 or DDI: 09 449 0803 
Email: bstone@remax.net.nz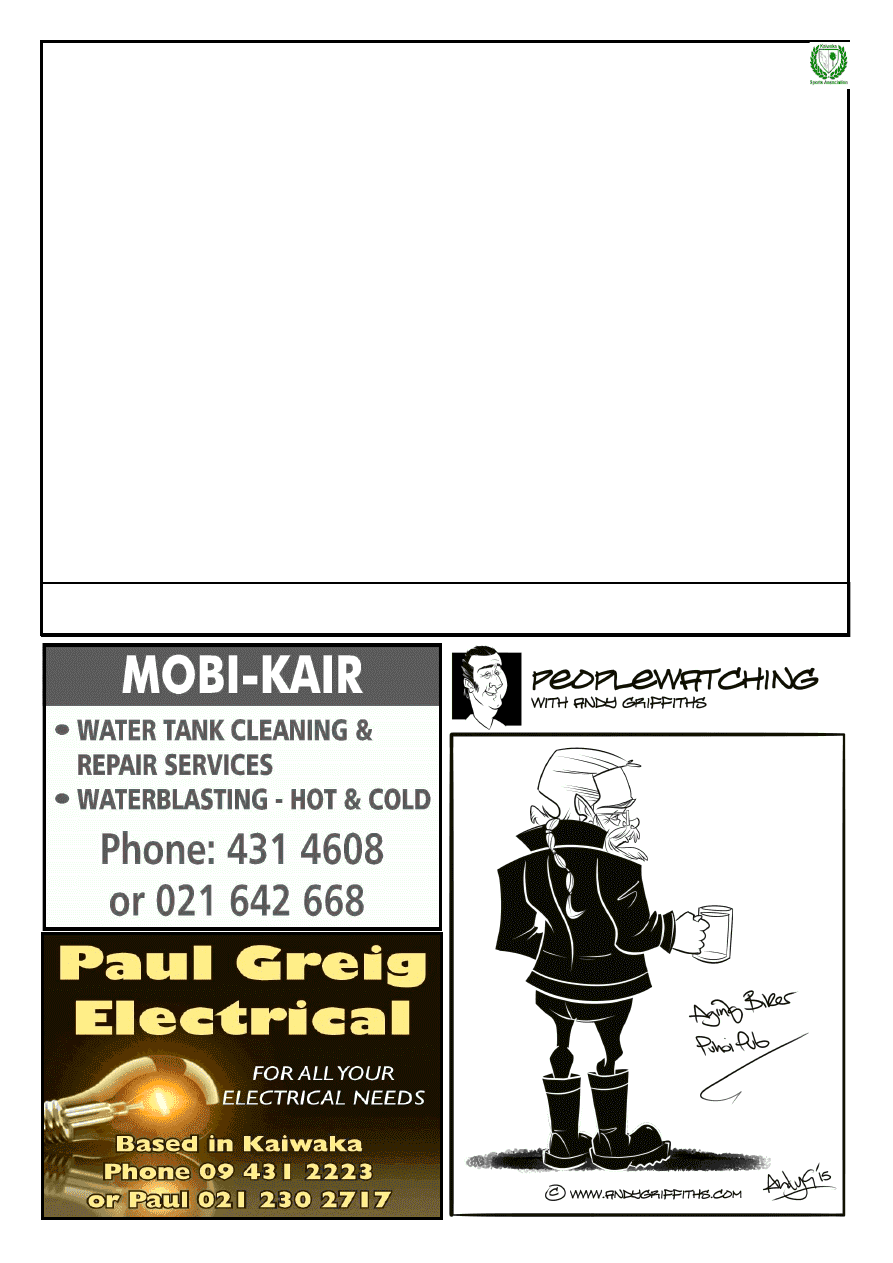 www.kaiwaka.co.nz 
Kaiwaka Bugle - 17 February 2015 
Page 17 
BULBS FUNDRAISER - 
Kaiwaka Sports Association 
Here's a great opportunity to purchase spring flowering bulbs and seeds. Bulbs are easy to plant, fun to grow and will reward  
you with beautiful flowers year after year! Bulbs are supplied by Garden Post who source bulbs from New Zealand's best growers.  
Prices offered here are less than normal retail and the KSA will make 30% profit on all sales. Your order will be delivered to your 
home and a planting guide will be enclosed with each order. To order please return this form with your payment by 20
th
 March. 
Delivery will be the following week. Any enquiries to Cheryl Anderson on 4312 051. 
Bulb Order Form 
Name:   _________________________________________ 
Address:   _____________________________________________________________ 
Phone number:   __________________________________
Bulb type  
Price  
# packs   $ total  
10 Golden Trumpet Daffodils
  Everybody's favourite and the true essence of spring! Huge flowers 
with yellow trumpets and yellow petals. Outstanding for cut flowers. Early flowering. Height 40cm
$8.50 
10 Fragrant Daffodils - Erlicheer  
Bunches of highly scented, double flowers in a soft creamy-
yellow make this an all-time favourite. Flowers for a long period in early spring. Excellent for picking. Height 40cm
$8.50 
10 Tulips Red & Yellow Mixed  
Tulips are spectacular late spring flowering bulbs with colourful and 
attractive cup-shaped flowers. Two types – Super Red and Super Yellow Mixed will give a dazzling display. So 
easy to grow. Height 40cm 
$10.00   
10 Fragrant Double Freesias 
For the true scent of spring try this mix of popular double Freesias. 
They will give a long lasting, dazzling display and have long stems for picking. Height 30cm. Protect from 
heavy frosts.
$6.00 
10 Dutch Iris 
Showy bright and airy flowers will explode into colour in spring. 
Mix of colours from blue to yellow, white and bronze. Easy to grow. 
Tall stems make these superb for cut flowers. Height 60-90cm
$7.00 
Wildflower Seed Mix—Butterfly Garden 10 grams 
Autumn is a great time to sow 
wildflowers. This mix of seeds will help attract butterflies into your garden. It will cover an area of 10 square 
metres. So easy to grow—full instructions in each packet.
$10.00   
TOTAL    
Payment options: …... Cash …...Cheque (payable to KSA) …..Bank direct 060365002247200 (
use reference bulbs and your full name)  
Ways to return form:   Post to Cheryl Anderson, 233 Baldrock Rd, RD2, Maungaturoto, 0587. Drop off in box at Jaques Four Square. 
Scan and email to Cheryl at kaiwakasports@gmail.com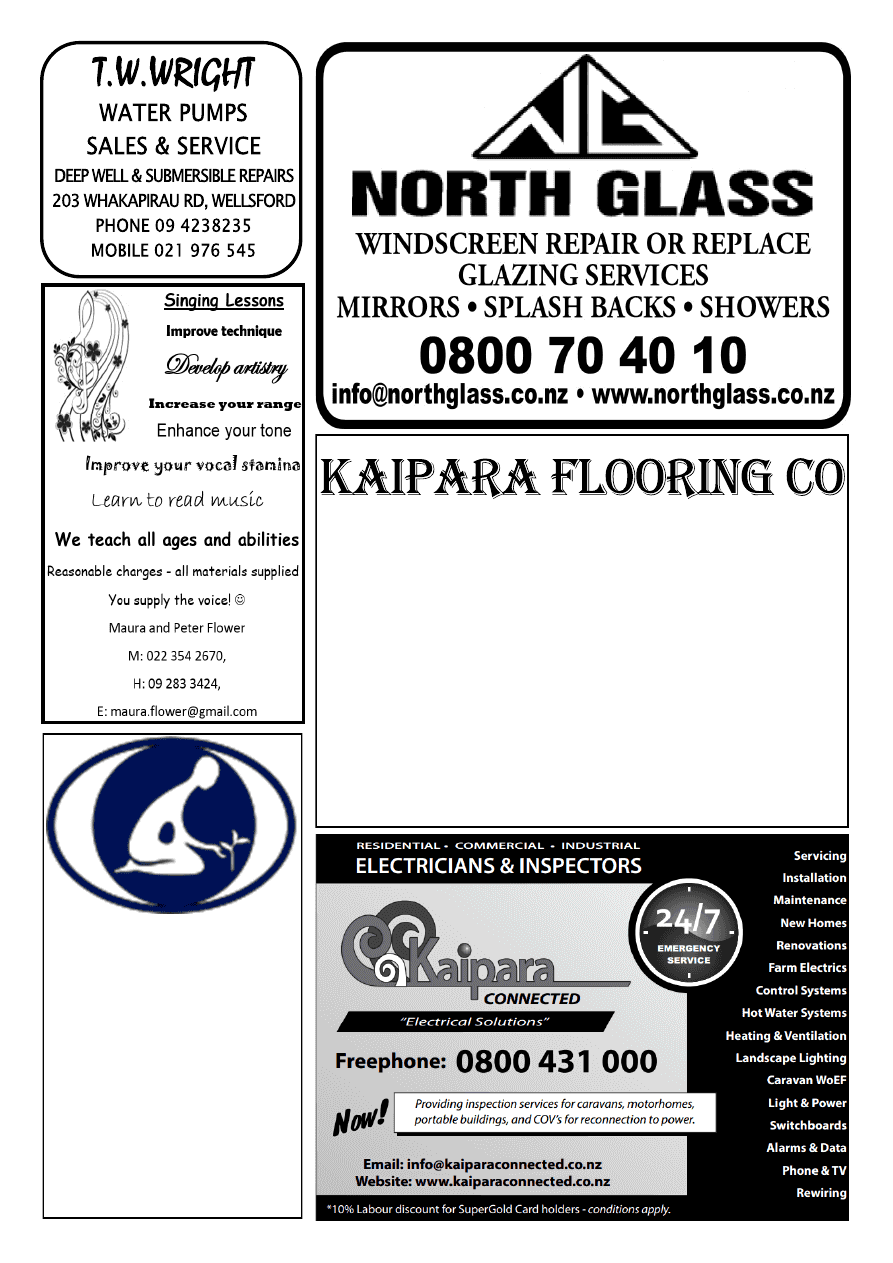 Magnetic Laser for Health 
Using a low power laser I can 
help with a variety of conditions: 
 
Joints pain, swelling, inflammation 
 
Back and neck pain 
 
Heel pain 
 
Injury or fracture recovery 
 
Phone Gala 
431 2213 
021 486 611
32 HURNDALL ST MAUNGATUROTO 
Ph: 09 9469886 or 021 515 415 
Carpet, vinyl, laminate wood look  flooring, vinyl plank-
ing, sanding & polyurethane service. 
Carpet Short Ends from $79pm + GST 
Vinyl D.I.Y. peel n stick tiles $10sq mtr + GST. 
Free measure & quote.   
Mobile Service 
Phone Christine or Howard anytime 
Open Saturdays by arrangement.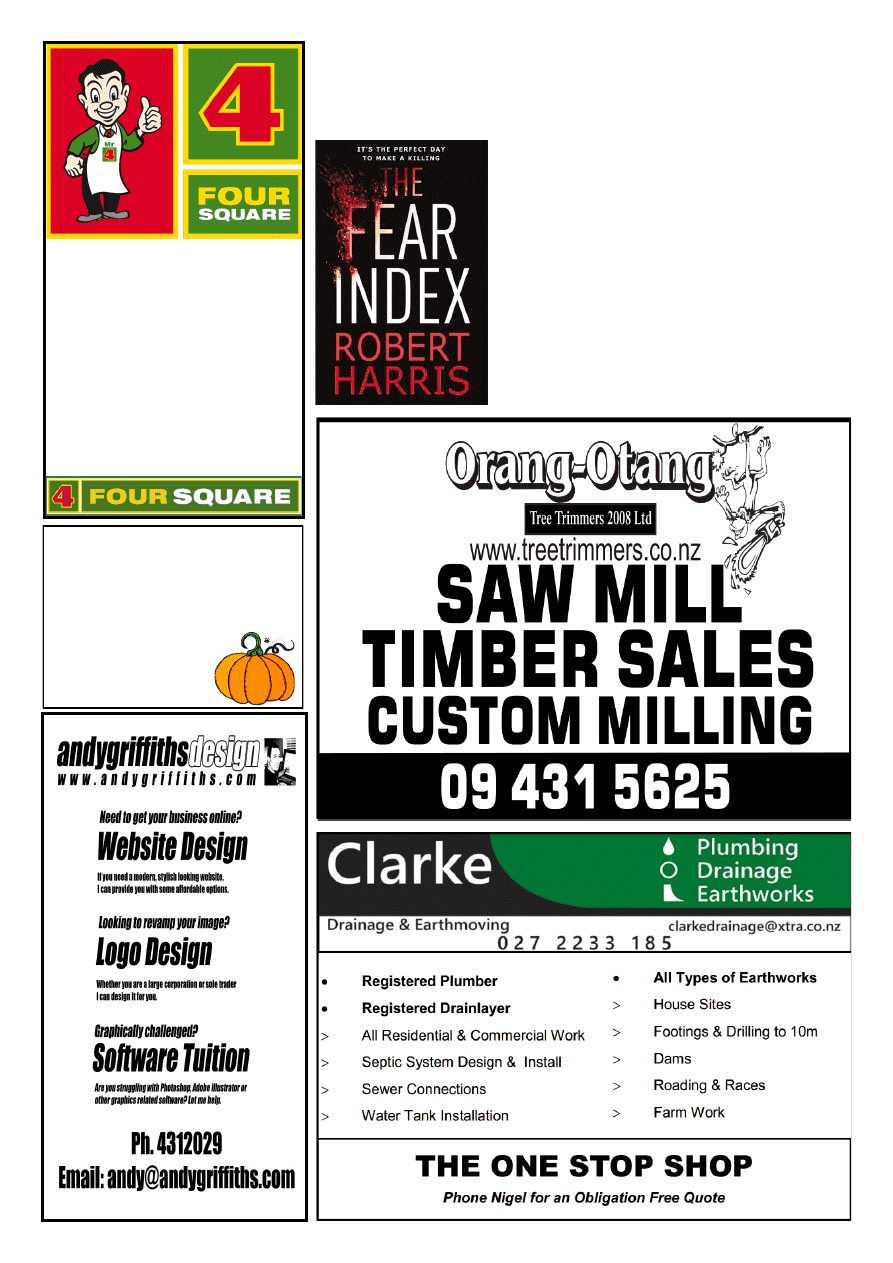 www.kaiwaka.co.nz 
Kaiwaka Bugle - 17 February 2015 
Page 19 
Exclusive stockist of  
Ecomist Insect Control 
Starter Pack $55 with Dispenser & Refill 
250ml Refills $19.95
Sodastream Refills $11.80
9Kg Swap a Gas Bottle $35.90 
Bottle plus Gas $82.90
Come & see the friendly team at Jaques 
Your One Stop Shop!
Jaques Four Square 
Phone: 4312227 
1 Kaiwaka-Mangawhai Road, Kaiwaka. 
KAIWAKA SCHOOL 
SCHOOL FAIR 
28 March 2015 
The Giant Pumpkin  
Competition judging day! 
BOOK REVIEW 
The Fear Index, by Robert Harris 
Dr  Alex  Hoffmann  is  a  very  wealthy 
scientist,  a  visionary  who  developed  a 
revolutionary  artificial  intelligence  -  a 
computer 
program that 
learned 
to 
work 
the 
investment 
hedge  fund 
system 
in 
such  a  way 
that  it  made 
money 
by 
the  bucket-
load 
even 
when  other 
investments 
were  failing. 
It 
makes 
billions 
of 
dollars  every  day,  just  in  its  testing 
phase. 
But  then  on  the  eve  of  launching  this 
"service"  to  the  top  investors  in  his 
company,  Alex's  home  is  invaded. 
Somehow  a  man  bypassed  all  the 
sophisticated  security,  and  when  Alex 
found  him  -  having  been  woken  by  a 
noise - he was laying out knives in the 
kitchen  and  sharpening  them.  To  do 
what, exactly, to Alex and his wife?  
And  so  begins  the  nightmare  of 
paranoia and violence, as Alex tries to 
find  out  who  is  doing  this,  who  is 
trying to destroy him. 
I've  read  several  Robert  Harris  books 
before, and enjoyed all of them. This is 
no exception, and I recommend it. This 
book is on the Rental Fiction shelves in 
the library. 
~Wendy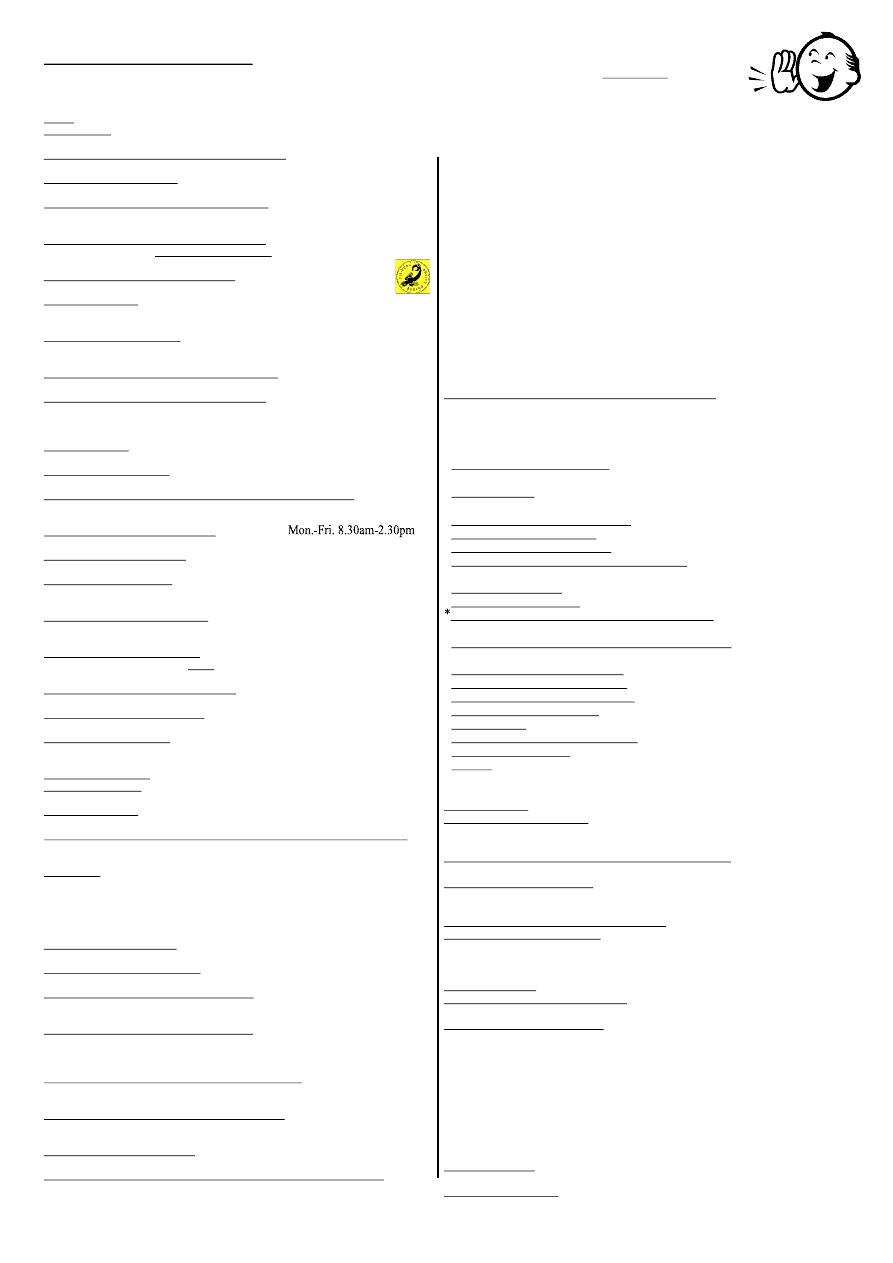 WHAT'S ON
PLEASE ~ do let us know what is on - email 
kaiwakabugle@kaiwaka.co.nz 
Advertising in WHAT'S ON is FREE  
*19Feb~Otamatea High School Meet the Teachers, 7pm OHS 
*20Feb~'What We Do In The Shadows' (R13) KWMH 7:30pm 
*21Feb~Rethink the System, KWMH 7:30pm 
*22Feb~'BoxTrolls', (PG) KWMH 2pm 
*23Feb~Top of the Rock debrief, KSA 6:30pm 
*23Feb~Community meeting, 6:30pm Archie Bull Hall 
*24Feb~Otamat3ea Hawks meeting, KSA 7pm 
*28Feb~Junior Rugby registration day, KSA 10:30am Ph 4312 750 
Naomi 
*6Mar~Hawaiian Night, Hakaru RSA, 6pm Ph Marlene 431 5589 
*6Mar~'Gone Girl' (R16) KWMH 7:30pm 
*14Mar~Otamatea Hawks pre-season match, KSA 12:30pm 
KWMH=Kaiwaka War Memorial Hall 
KSA=Kaiwaka Sports Association Complex 
See www.kaiwaka.co.nz for upcoming events. 
HOUSEHOLD  RUBBISH  COLLECTION  -  Kaiwaka    Pick  up­
Mondays=Gr een bags ar e picked up by Nor thland Waste-queries 
to  them  09  4303273,Wednesdays=Blue  bags  and  yellow  recycling 
(at  Jaques    $3.00  and  $1.50)    are  picked  up  by  Kaurilands  09 
4392146.  
*DIABETES Support Group -for Kaiwaka, Mangawhai, Wellsford 
   10am, 3rd Friday of month Ph:A.Pert 4238242; J.Gardner 4238060 
*DRINK CAN 'tear tabs' - for Starship Hospital- please collect - 
    98 Kaiwaka Mangawhai Rd, leave in mailbox, Ph. 4312625  
*GYMNASTICS OTAMATEA -  Tuesday Ph: Stephanie 022 3624998 
*HAKARU PONY CLUB-Secretary Julie Rynne 09 4314520 
*KAIWAKA BADMINTON -Tuesdays 7.30pm Ph: 4312345 
*KAIWAKA GARDEN & FLORAL Grp:2nd Thursday in month 
   Ph: 4314767 
*KAIWAKA CUBS-Thursdays 5.30-7pm, Hakaru  Ph:Bruce  4312542 
*KAIWAKA SQUASH -Mondays 7pm Ph: Barbara Thomas    4315905 
KNITTING FOR WHANGAREI HOSPITAL - 2nd Tuesday in  
   month, Apple Basket 10am Ph 4314827 
*MANGAWHAI COMBINED PROBUS CLUB: 2pm,3rd Thursday  
   month in the Senior Citizens Hall Mangawhai. Ph: 4315777 
*NZ GENEALOGY-Wellsford - 1st Thursday in month Ph: 4237033 
*OTAMATEA GREY POWER-09 431 8138 Joan Hoggard  
*PT CURTIS CRUISING CLUB - Jean Ph: 4312 246 
*RSA,Hakaru & Dist.Women- meet 1.30pm 4th Thurs in month Ph: 4312 668  
*TRAMPING- Mondays 9am-2:30pm  Karen Ph: 4312 090 
*WAIPU GENEALOGYGROUP -4th Monday in month Ph: 4312725 
*WRITER'S GROUP - Ph Elizabeth 4312 522 
*YOGA- Tuesdays 6:15pm, Friday 8:30am Kaiwaka WM Hall Carla  
   Ph: 4312 408, 021 296 8794
CHURCHES:
*Gateway Worship Centre: St Mary's Church Nathan Rd off Oneriri Rd, 
Kaiwaka Services, 10.30am 1st & 3rd Sunday of every month. Contact: Rev 
David Gage 4312528 or 0212354282 
*Kaiwaka Family Church-Your Community Church:Sundays, l0am 
Home Group every Wed evening, Pastor John.Dekker Ph: 4318203 
*St Paul's Anglican Church 1st Sun. 9.30 am (Eucharist), 3rd Sun. 9.30 am 
(Family Service). Contacts:  Church Office 09 431 4122; M. Hargreaves 431 
2295; C. Bygrave 431 2057 
*Church of Christ the King, Mangawhai:9.30am every Sunday 
*St.Mary's Catholic Church: Maungaturoto – Griffins Road, Saturday 
evening Vigil Mass 6pm; Mangawhai – Senior Citizens Hall, Sunday Mass 
8:30am; Wellsford – Matheson Road, Sunday Mass 10:30am; Mid-week 
Mass times and all enquires to Fr. Bill Fletcher – phone 423 8170 
*Baptist Church: Sun. 10.30am Mangawhai Snr Cit.Hall.Ph:4312339 
*Cause Way Church Mangawhai: Sundays 10.15am, Mangawhai 
Community Recreation Centre, Insley St. Ph: 09 4314782  
*St.Pauls Archie Bull Hall HIRE  $20 half day, $40 full day per hire 
 Contact R. Morgans, Ph 4312365 
*Kaiwaka War Memorial Hall HlRE - Phone 4312725 or   
Email  
kaiwaka.hall.bookings@gmail.com 
*Hakaru Community Hall HIRE -Ph.  4312256 or 4312110 
*Te Pounga Marae queries -A.Gage 4312528, 4312527 
*Kaiwaka Sports Association hire/queries - C. Anderson 4312051 or 
Email kaiwakasports@gmail.com
Justice of Peace: B.FJaques; L.Donaldson; A.F.Hargreaves  -please phone to 
make sure they are available 
Marriage Celebrants: L.Donaldson; A.F.Hargreaves; C.Rosseels
LOCAL SERVICES 
*St.John Ambulance 
111 or Freephone 0800 61 0066
*Fire phone 111     *Police phone 111 or 09 4311150
A A: Meets Wed., 8pm Kaiwaka Ph: 4312228, 4315543, 0800229 6757 
AL ANON: In recess, contact Ph: 4312228 
MINISTRY FOR PRIMARY INDUSTRIES - General inquiries Call 
Free 0800 008 333 
ASUREQUALITY LTD  (was AgriQuality) Call Free 0508 0011 22  
BUDGETING SERVICE, OTAMATEA:Free confidential advice &  
support - all areas of  personal finance Ph: 09 4318173 or 094318117 
CAB-Citizens Advice Bureau.Wellsford Ph: 4237333 
0800 367 222 email:cab.wells@xtra.co.nz  
DOG/STOCK /NOISE CONTROL 0800 105 890 
KATE'S PLACE with Govt.Day Agencies/Community Information /
Osteopathy/ IRD / Probation, etc Ph: 4312661 Hours: 9am-3pm. Mon - Fri 
FUNERAL SERVICES: Morris & Morris Ltd, 
Whangarei - Bev Jaques Ph:4312367 or 0800667747 
GRANDPARENTS Raising Grandchildren: Sarah Rogers Ph: 4312194 
HAKARU LANDFILL/Transfer Station:Open everyday except 
Tuesday10am-4pm.Ph4312629 Cost-$55 trailer load up to 1 cubic 
metre. Ph:4258567 - office 
HOMEOPATH: Donna Flavell Ph: 4314843 
INLAND REVENUE: Last Friday each month, 11-3pm Ph4312661 
KAIPARA DISTRICT COUNCIL www.kaipara.govt.nz:  
Help Desk FREEPHONE 0800 727 059  
KAIWAKA KOHANGA REO: Ph:4312620 
KAIWAKA CEMETERY: Ph: 4312045 
KAIWAKA LIBRARY: kaiwaka.library@gmail.com  
Mon. 4-6pm; Wed., Thurs., Fri., Sat.  10am-2pm Ph:4312539 
KAIWAKA PLAYCENTRE: Ph: 4312286. Hastie Lane 
Monday to  Friday  9.00am - 12 noon. 
KAIWAKA POST OFFICE:Ph:4312 626 Fax: 4312287  
Post Code: 0573  for RD2  and  0542 for all Kaiwaka Post Office mail 
KAIWAKA PRIMARY SCHOOL: Ph: 4312309     
KAIWAKA SPORTS ASSN: Ph 4312005; 4312129 gym 
KAIWAKA ST JOHN: Manager Steve Rosser 09 4318403, 021 
2316836 
LINKING HANDS Health Shuttle Ph 4314121 or 09 4318969 
NORTHPOWER: Faults Kaiwaka area 0800 104040 
PARENTPORT: Free, practical family support service Puhoi to Paparoa 
Ph or txt:  Dianne 027 2085093 
PERSONAL DEVELOPMENT COACHING, GROUP FACILITATION:  
Sabine Druckler 4312231 
PLUNKET: Kaiwaka - Kaiwaka War Memorial Hall: Clinic 1st Wednesday of 
the  month;  Coffee  Group  at  9:30.  Mangawhai  -  Rose  Madsen  Cottage, 
Mangawhai  Domain,  Moir  St:  Clinic  1st  and  3rd  Monday  of  month;  Young 
Babies  Coffee  Group  2nd  and  4th  Monday  10  am;  Plunket  Playgroup  every 
Thursday. Maungaturoto  - Maungaturoto Congregational Church, 100 Hurndall 
Street East: Plunket clinic 2nd and 4th Wednesday. 
PLUNKET HELPLINE -0800 933 922 (24 hours) 
PUBLIC HEALTH NURSE: Gloria Reid Ph: 094327634  
RETURNED AND SERVICES ASSN 733 Settlement Rd. Hakaru 
Ph.4312176 Bill Kerr (President) Ph.4314719 
TAITOKERAU COMMUNITY LAW: Free confidential legal advice 
and assistance, 2nd
Thursday
 of each month. Ph: 0800 155 529 for 
appointments.  
TE KOROWAI AROHA O NGATIWHATUA Ph: 4312675 
(The Cloak of Love of Ngatiwhatua) Support and Maori Consultancy.  
VETERINARY SERVICE MANGAWHAI: 
Ph: 4314535 Mon-Fri 8.00-5.00, Sat 9-12, a/h appt. 
WELLSFORD DOCTORS: Ph: 4238 086 
WOMEN'S WELFARE LEAGUE & Reaching Out For Youth:  
4 Kaiwaka-Mangawhai Rd, M Morgan 4312293 
Next Bugle Deadline Friday 27 February 2015