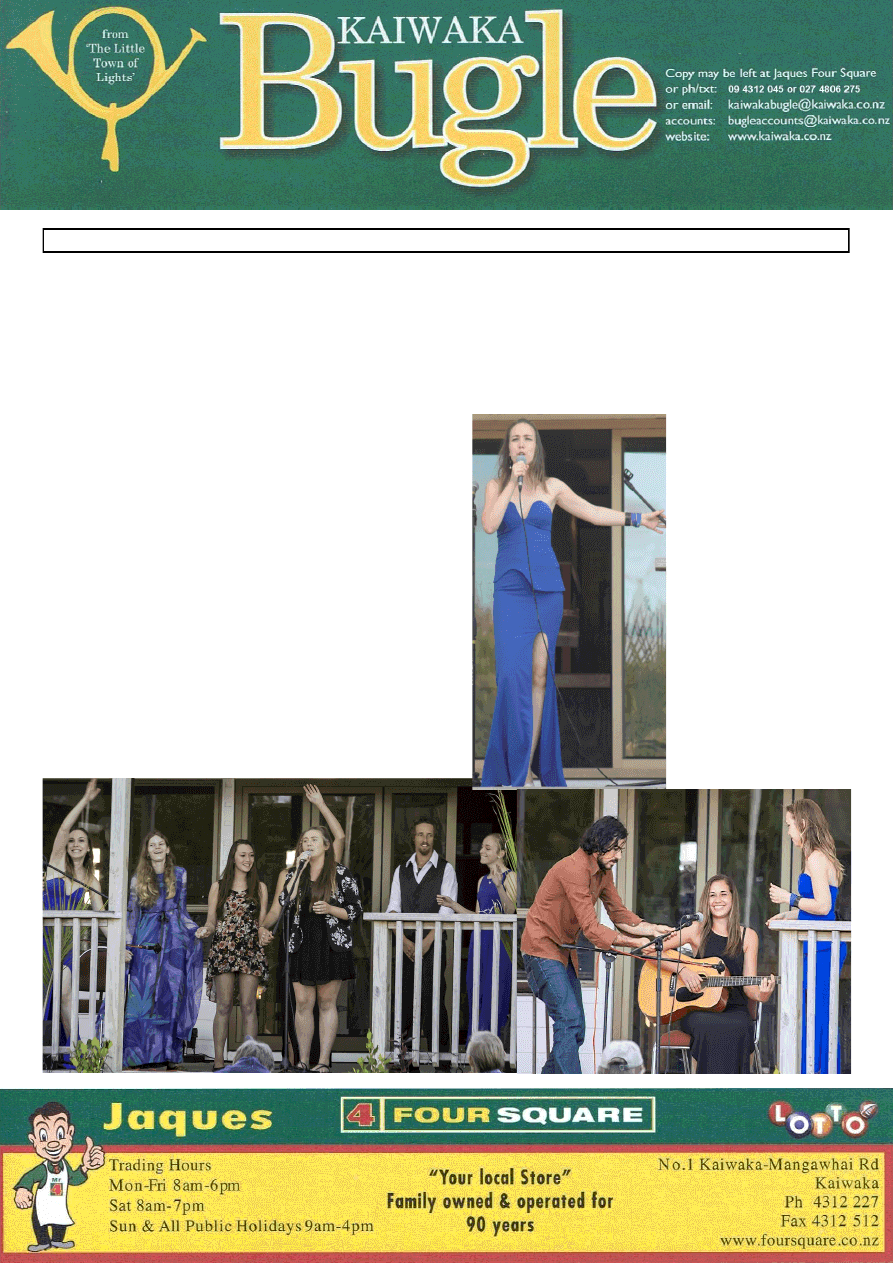 www.kaiwaka.co.nz 
Kaiwaka Bugle - 3 March 2015 
Page 1 
  No: 4
                                                                                                                                                   3 March 2015 
XXXXXXXXX 7.30am-6.30pm 
XXXXXXXXX 8am-5pm 
Russian-born singer Yulia delivered an 
evening of beautiful music at the Yulia 
& Friends concert held at the Kaiwaka 
Sports Complex recently. 
The  crowd  enjoyed  the  varied 
repertoire  from  an  internationally 
renowned  entertainer  who  speaks  four 
but sings in 11 languages.  
Known  as  'the  voice  of  rare  beauty', 
Yulia  opened  up  the  opportunity  to 
showcase  some  of  our local talent  and 
six  young  singers  Molly  Curnow, 
Jasmine  Sampson,  Tasha  Perrett, 
Mercedes  Von  Dinklage,  Michelle 
Clark  and  Ollie  Knox  conquered  their 
nerves and joined her on stage. 
"The  Yulia  and  Friends  Foundation 
was  inspired  by  people  opening  doors 
for  me  when  I  was  younger, 
wholeheartedly  without  reserve  and 
now I can do the same for others," said 
Yulia.  
Sydney-based Yulia says New Zealand 
is  still  close  to  her  heart,  and  she 
delivered six  New  Zealand  concerts  in 
one week culminating in our show. 
Proceeds  from  the  concert  went  to  the 
Kaiwaka Sports Association. Feedback 
that concert organiser Cheryl Anderson 
received afterwards was all positive: "I 
enjoyed  Yulia's  voice  and  the  whole 
event  was  magic!"  -  Heidelind,  "what 
an amazing evening with Yulia – in our 
little  town,  with  our  people,  sitting 
amongst nature, surrounded with love" 
- Lia, "the concert was a great success 
and I have heard people saying all over 
the  place  how  enjoyable  it  was"  - 
Carolyn. 
David  McCarthy  of 
Skylark 
Studio 
videoed  the  concert 
and  is  making  a  DVD 
for each of the singers 
and has offered to give 
each 
one 
a 
complimentary 
recording  session  in 
his studio.  Also,  Merv 
Huxford  who  was  in 
the  crowd  was  so 
impressed  with  the 
concert and the calibre 
of  performance  from 
the  young  singers  that 
he  has  set  up  a  grant 
for  each  of  them  for 
$350  in  the  name  of 
A.P. 
Education 
Charitable  Trust  to  be 
used  on  educational 
resources.  
Many  people  helped  pull  this  evening 
off. Thank you to:  
• Gateway  North  Motorlodge  who 
donated  a  nights  accommodation  to 
Yulia & her family 
• Shamrock  Service  Station  who 
donated a petrol voucher to Yulia 
• Kauri  Park  Nurseries 
who  loaned  plants  to 
decorate the stage 
• Reyahn  Leng  who  did 
the sound and lighting 
• Andrew  Griffiths  who 
designed the flyer 
• Lorena  Reynolds,  Bruce 
Ferguson,  Paul  Tornquist, 
Nikola 
Kemp, 
Lish 
Reynolds,  Carla  Butler, 
Carolyn  Dymock,  Holly 
Anderson,  Jessika  Wintle, 
Teresa 
Brown, 
David 
McCarthy, Sarah Christini, 
Natalie  Richards,  Steve 
Young, Adrian Buxton and 
Craig Butler who helped in 
various ways on the night 
• Jaques  Four  Square, 
Maungaturoto 
Four 
Square, Mangawhai Heads 
Four  Square  &  Wellsford 
Sports & Leisure who sold 
tickets.  
YULIA & FRIENDS CONCERT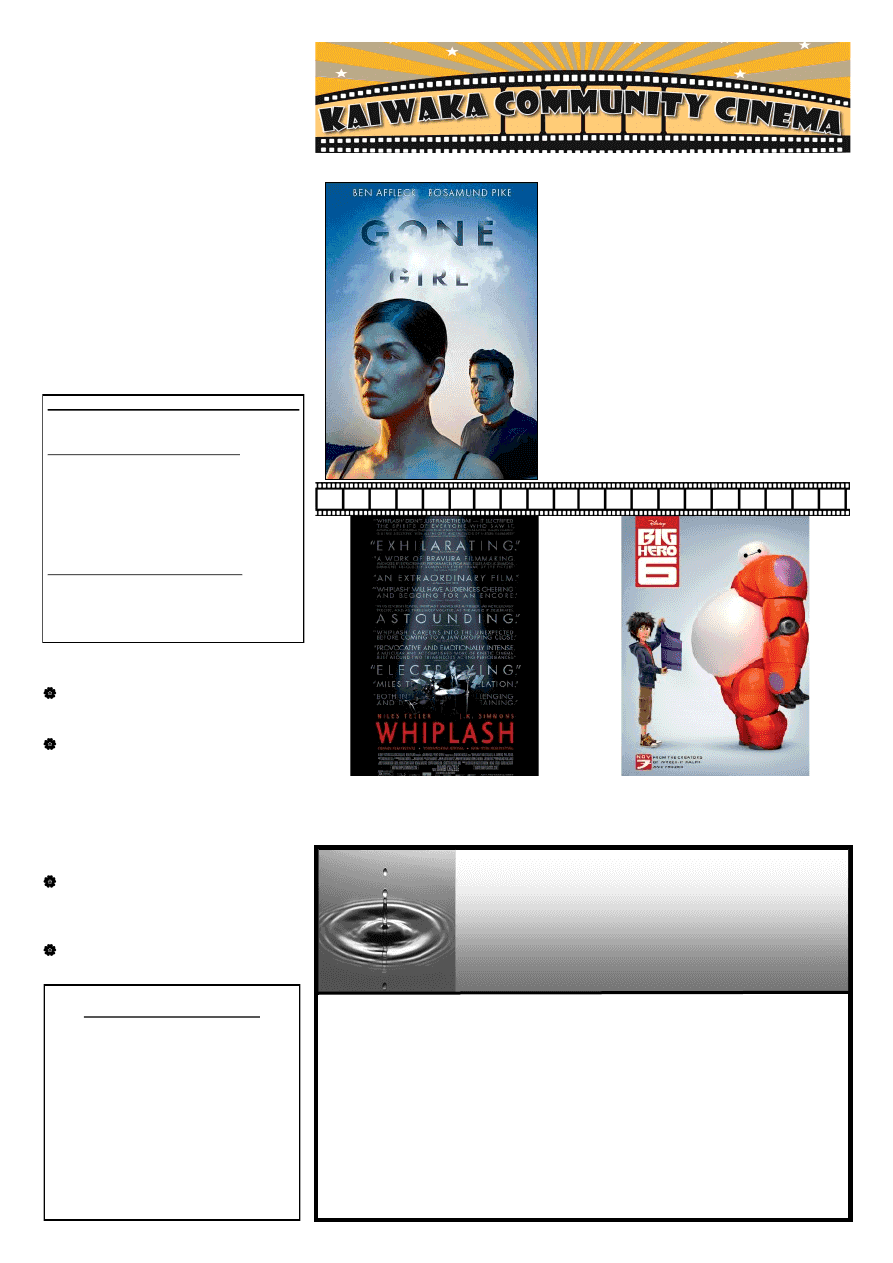 ABOUT TOWN 
......... 
Kaipara 
Council 
"Looking 
Ahead" meeting Tuesday 10 March 
6pm 
Well  done  to  the  Kaiwaka-
Mangawhai  Scout  troop  on  their 
recent  visit  to  Waitangi  for  a 
Founder's  Day  raft  race.  Their 
performance  (see  page  21)  was 
appreciated  by  the  tourists  who 
attended  and  we  were  told  it  made 
their visit all the more special. 
Northland By-Election - the local 
polling  booth  will  be  at  the 
Kaiwaka  War  Memorial  Hall  28 
March. 
Kaiwaka  Postal  Agency  new 
phone number - 4312 431 
KAIWAKA BUGLE No: 4 
3 March 2015
Page 2: Kaiwaka Movies 
Page 3: Public Notices; Classifieds 
Page 5: Kaiwaka Sports Association 
Page 7: Otamatea High School 
Page 9: OHS continued 
Page 11: Garden Club, Kaiwaka Fitness 
Page 13: Zonta, Kaiwaka Can 
Page 15: Kaiwaka School 
Page 17: Teddy Bear's Picnic 
Page 19: Infinite Kaiwaka/Mangawhai 
Page 21: Pt Curtis, Scouts, Peoplewatching 
Bugle 5 will appear 17 March 
Contact for advertising, reports, articles 
or information can be made by 
Email kaiwakabugle@kaiwaka.co.nz 
Ph: 09 4312 045 
Txt:  0274 806 275 
Copy may be left at Jaques' Four Square.
Kaiwaka Bugle 
Founded May 1978 
Copies available in Kaiwaka at Jaques Four 
Square, Kaiwaka Postal Centre, Shamrock 
Service Station, Celena's Gifts 
Also outlets in Maungaturoto, Mangawhai 
and Paparoa. 
Can be viewed online at  Facebook or 
www.kaiwaka.co.nz/Bugle  
Or a copy can be posted to you if you supply 
stamped, self-addressed DLE envelopes. 
Whiplash 
Friday 20 March 7:30pm (R13) 
Big Hero 6 
Sunday 29 March 2:00pm 
(PG) 
At Kaiwaka War Memorial Hall . Adults $10, Chn (under 16) $5, Family Pass (2 adults + 3 children) $25 
Gone Girl 
Friday 6 March 7:30pm (R16) 
Based  upon  the  global  best  selling  novel  by  Gillian 
Flynn and directed by David Fincher 
(Panic Room, Fight 
Club, The Curious Case of Benjamin Button, Se7en)
. 
Former    New  York-based  writer  Nick  Dunne  (Ben 
Affleck)  and  his  glamorous  wife  Amy  (Rosamund 
Pike)  present  a  portrait  of  a  blissful  marriage  to  the 
public.  However,  when  Amy  goes  missing  on  the 
couple's fifth  wedding anniversary, Nick becomes the 
prime suspect in her disappearance. The resulting police 
pressure and media frenzy cause the Dunnes' image of a 
happy union to crumble, leading to tantalising questions 
about who Nick and Amy truly are. 
Starring:  Ban  Affleck,  Rosamund  Pike,  Neil  Patrick 
Harris 
Kaiwaka Bugle Advertisements 2015: 
All 
copy 
and 
queries 
to: 
kaiwakabugle@kaiwaka.co.nz 
Classified $3 (max 30 words); 1/8 page $6; 
1/4  page  $12;  1/2  page  $24;  in  special 
circumstances  whole  page  adverts  are 
available - $100. 
Payments can be made online, posted or 
left at Jaques Four Square Store. 
Accounts: 
bugleaccounts@kaiwaka.co.nz 
The  Kaiwaka  Bugle  is  a  community 
newspaper run by volunteers.   
Articles, etc. printed are not necessarily 
the opinion of the Bugle Team. 
PETE WORSFOLD  
B. Soc.Sc. M. Soc.Sc. Dip Prof Couns. 
Counsellor 
peteworsfold@xtra.co.nz 
4312 152 or 021 825 970 
Well of Health - 4312 799 
NEW - PRIVATE COUNSELLING AVAILABLE
Do you want to achieve a PERMANENT STATE OF HAPPINESS? 
Men - are you having issues in your relationship? 
Couples - want to have better communication and turn your 
relationship around? 
You guessed it - I can help!
Phone me for a preliminary talk.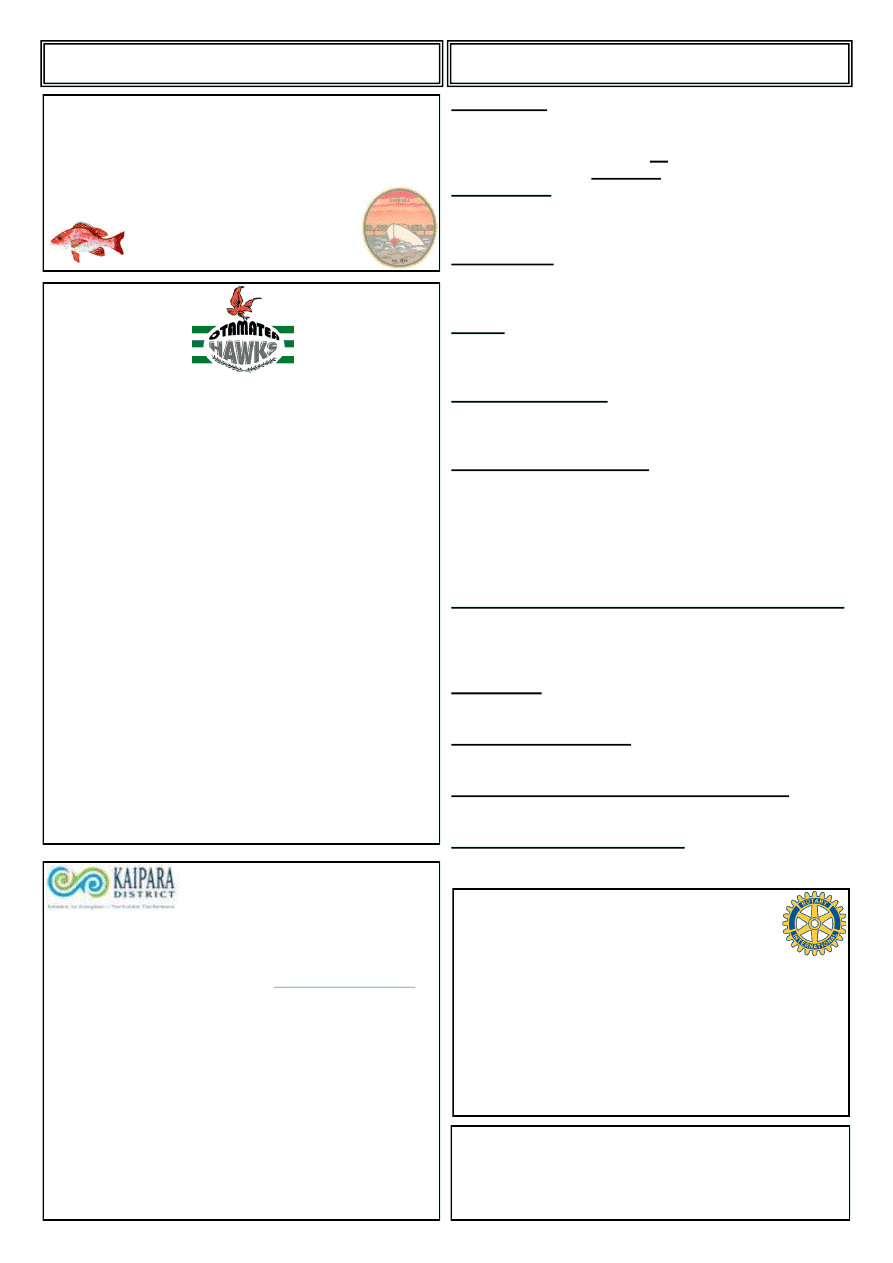 www.kaiwaka.co.nz 
Kaiwaka Bugle - 3 March 2015 
Page 3 
PUBLIC NOTICES 
CLASSIFIED 
FOR SALE: The Bees Nees Lavender and Herbs. 
Dry  Lavender  Rubbings  -  Lavender  Oil  -  Culinary 
Lavender  &  Dried  Herbs  grown  &  produced  in 
Kaiwaka pure and simple, no pesticides or herbicides.  
Tel: (09) 431 2046 after 3pm. 
FOR  SALE:  Wiltshire  Horn  ram  lamb.  Purebred 
from  pedigree  stock.  5  months  old.  Ideal  for  lifestyle 
block, self shedding, easy care. $200. Ph 09 946 9077 
or 027 357 2751 
FOR  SALE:  Original  wood  stove.  Esse  Century 
cooker.  Been  installed  for  eighteen  years.  Wet  back, 
double oven , white and black enamel. Working order 
$2,200.00 Ph 4312 605 Karen 
SALE:  Easter  Monday  6  April.  Paddy's  Opp  Shop 
will be having its 2nd Annual Sale in the Kaiwaka War 
Memorial  Hall.  Anyone  interested  in  selling  craft  or 
produce contact Adrian 09 4312 296 or 021 253 7661 
WORK  WANTED:  30  year   old  able-bodied  male 
looking  for  work.  Anything  considered  -  farm  work, 
building labourer, mechanical repairs. Ph Joe 021 0232 
2806 
SITUATIONS  VACANT:  Mature  Veterinary  Nurse 
required part time for Kaiwaka Animal Health Clinic. 
Applicant  must  have  an  interest  in  complementary 
medicine  and  nutrition,  be  able  to  work  without 
supervision,  have  good  animal  handling  skills  and 
enjoy dealing with the public. Hours may be flexible to 
suit.  Apply  to  Animal  Health  Centre,  PO  Box  642 
Orewa or e mail info@ahc-orewa.co.nz. 
ANIMAL 
CRANIO-SACRAL 
THERAPIST: 
Gentle,  non  invasive,  effective  and  lasting  energy 
work.  Horses,  Pets,  Farm  Animals.  Affordable  rates 
with  10  years experience & caring service. Jill Shires 
021 0506 592 
HASHTAG  Band  for  hire.    A  lively  mix  of  covers 
and original music.  Make your night special.  Ph: 021 
623 776  
BERYL  NOZEDAR:  (Middleton)  International  
Clairvoyant.  Numerology,  Tarot,  Clairvoyance,  
Mediumship. $60 for hour includes CD. Ph: 4312 080 
CLOTHING ALTERATIONS & REPAIRS: 
Hems,  Zips,  Dressmaking  Phone:  Win  4312027    or 
027 444 8358 Winsome Designs. 
FREE GRAZING WANTED: Small or large block. 
Can  do  some  fencing  or  water.  Phone  after  6pm 
4312006 
Thought for the day:
 Proverb 3:27+28  -  Do all you can for anyone who 
deserves your help. Don't tell your neighbour to come 
back tomorrow, if you can help today.
WANTED 
Good quality items 
i.e furniture etc suitable for  
Maungaturoto & Districts Rotary 
Auction. 
We will pick up and store until auction  
to be held 28th March (please note change of date). 
Please phone  Eric Parsons 431 4874 Mangawhai, 
Dan Mills 4312 130 Kaiwaka 
or Keith Shadbolt 09 431 8646 Maungaturoto. 
All proceeds to go to local community projects. 
The  Kaipara  District  Council  has  just 
released  its  consultation  document, 
Looking  Ahead.      This  document  sets 
out our chosen options for our 10 year plan.  It also sets out 
the  options  we  considered  and  rejected  and  why  we 
rejected these.  We want you to tell us if we have chosen 
the  right  options.    If  not,  what  should  we  be  doing?    For 
more  information  please  go  to 
come  to  a  Round  Table  meeting  near  you.    This  will  be 
your  opportunity  to  talk  with  a  commissioner  or  a  senior 
member of staff about any.  
Date 
Location 
Venue 
Time 
Sunday 01 March  Mangawhai 
Senior Citizens Hall 
2pm 
Monday 02 March  Maungaturoto  Maungaturoto Centennial 
Hall 
6pm 
Tuesday 03 
March 
Dargaville 
Northern Wairoa War 
Memorial Hall 
6pm 
Sunday 08 March  Paparoa 
Paparoa Hall 
2pm 
Tuesday 10 
March 
Kaiwaka 
Kaiwaka Sports Club 
6pm 
AUCTION AUCTION AUCTION 
Fish Fish Fish Fish 
FISH AUCTION 
(gilled and gutted) 
6.45pmish Sunday 15th March 2015 
@ 3 Furlongs Hotel Carpark 
Point Curtis Cruising Club Inc 
Fundraiser for carpark at 
Rangiora Boat Ramp 
TRANZNORTH 
OTAMATEA HAWKS RUGBY 
CLUB 
PRE SEASON GAME 
V 
NORTHSHORE 
14TH MARCH AT 1.00PM 
KAIWAKA SPORTS COMPLEX 
All welcome to come and enjoy a day at rugby see how we are 
progressing for the 2015 season. 
We  would  like  to  thank  Scott  Massey  from  Tranznorth  for 
coming on board as our major sponsor also Jaques Four Square, 
Kaiwaka Motorcycles, Northpine, Dickin Gas, Wellsford Sports 
and Leisure, Mr T  Pilbrow and others. 
If  you  are  keen  to  become  a  sponsor  contact  Jennie  at 
otahawks88@vodafone.co.nz 
We have different levels of sponsorship that may interest you. 
We  have  our  Supporters  Club  up  and  running  2015-16  season 
sub $35.00 and receive a Hawks Polo shirt. 
We  would  also  like  to  thank  all  our  Sponsors,  supporters  that 
supported  us  last  year  and  hope  to  see  you  at  our  games  this 
year. 
First Round 4th April Otamatea v Kamo away 
11th April Otamatea v Old Boys Marist at Kaiwaka 12.30pm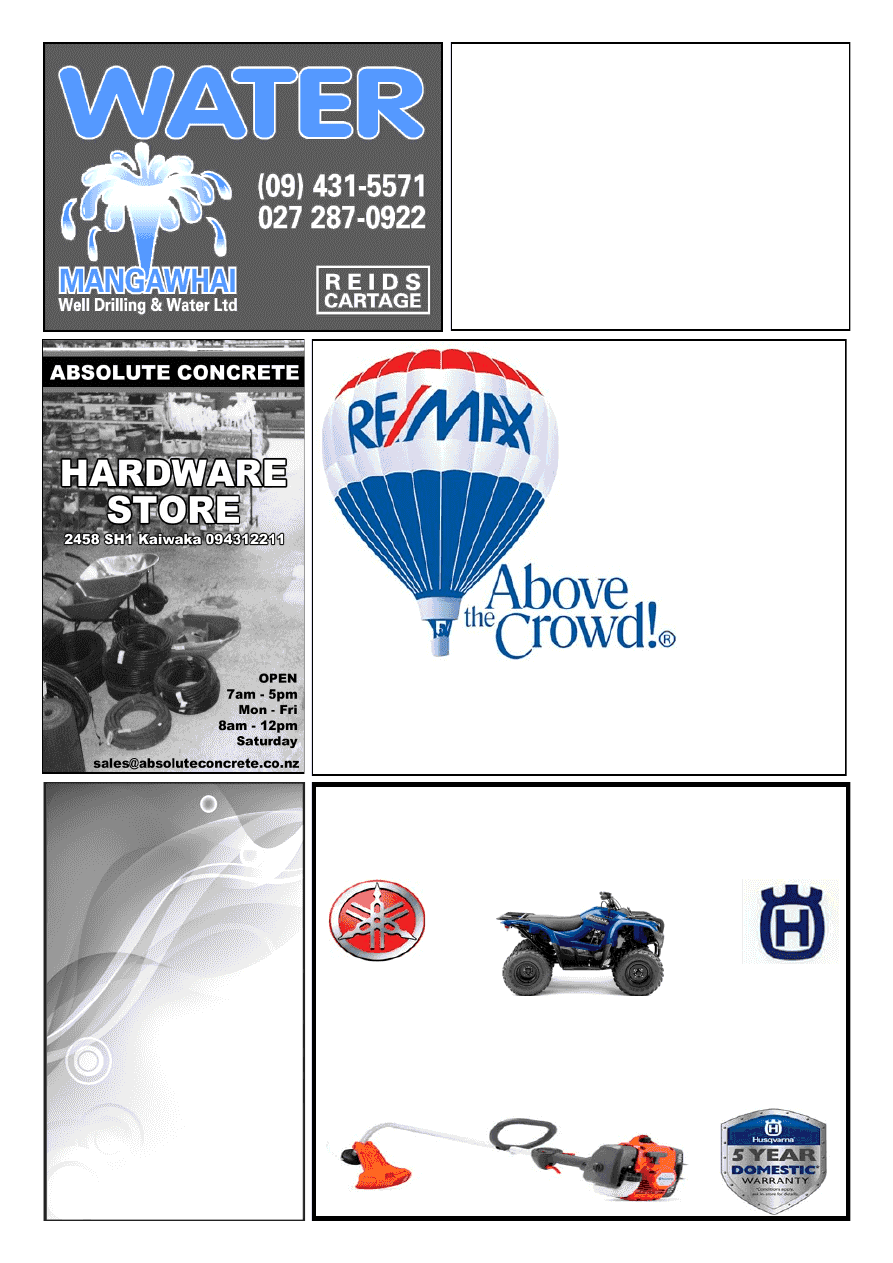 U Beauty 
            Underarm Wax  
    $20 
            Extended Bikini Wax   $30 
            15 min Back  Massage  $25 
            30 min Back Massage  $50 
Please call Nicole for bookings 
09 393 6336 or 022 0639450 
Qualified Beautician 
4 Kaiwaka – Mangawhai Rd 
Kaiwaka 
Eyebrow Wax  $10 
Eyebrow Tint  $10 
Eyelash Tint 
$20 
Lip Wax 
$10 
Chin Wax 
$10 
Bikini Wax 
$20 
Brazilian 
$50 
½ Leg Wax 
$30 
Full Leg Wax  $45 
Full Pedicure  $60 
Foot Tidy  
$35 
Manicure 
$45 
Nail Tidy 
$25 
Chest Wax 
$30 
Back Wax 
$40 
Nostrils 
$10 
Ears 
$10 
KAIWAKA MOTORCYCLES LTD
SALES – SERVICE – SPARES 
FARM BIKE SPECIALIST 
PHONE 09 431-2127 
10 KAIWAKA-MANGAWHAI ROAD, KAIWAKA
TRIMMERS FROM $249 - CHAINSAWS FROM $329 
YAMAHA 
HUSQVARNA 
Your number 1 
friend in real 
estate. 
Beth Stone for 
all your real 
estate needs. 
Returning 
Kaiwaka 
resident. 
Talk to me to 
see how I work 
for you. 
PH: 0274 937 801 or DDI: 09 449 0803 
Email: bstone@remax.net.nz 
09 4312918 
0274735171 
leecooper@xtra.co.nz 
LEE COOPER PAINTERS 
(Kaiwaka Based) 
*30 yrs Experience 
*Interior/Exterior 
*New and Restoration 
*Honest and Reliable 
*Free Quotes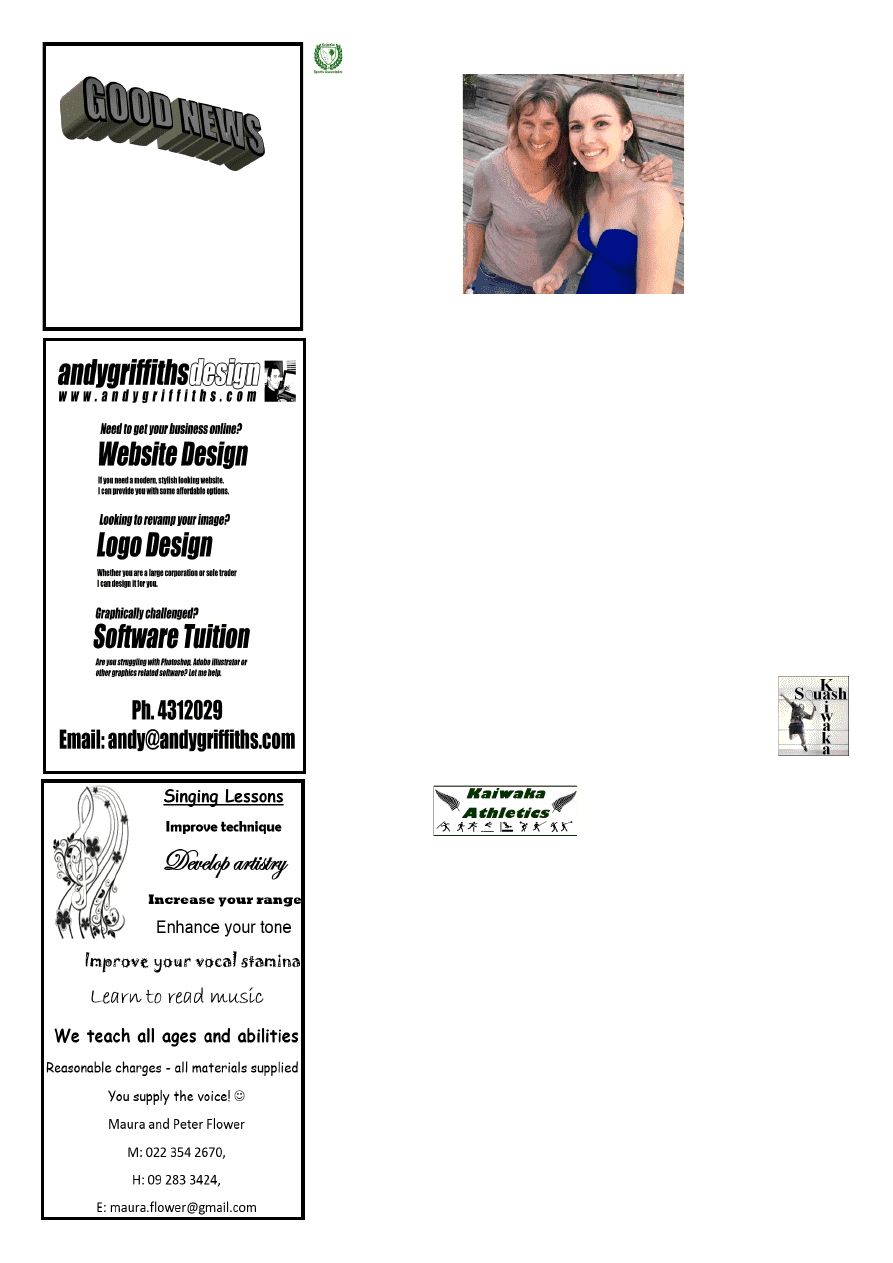 www.kaiwaka.co.nz 
Kaiwaka Bugle - 3 March 2015 
Page 5 
KAIWAKA SPORTS ASSOCIATION 
@ the  Kaiwaka 
 Family Church 
Your COMMUNITY CHURCH 
RECEIVE HEALING - RECEIVE 
THE LOVE OF GOD 
Everyone warmly welcome each 
Sunday 10am and 7pm. 
Contact: 4312571 or 4312068
THERE'S 
Yulia  &  Friends 
Concert 
We are so grateful to 
Yulia  for  performing 
a  benefit  concert  at 
the  Sports  Complex 
recently.  We  made  a 
profit of over $1,600. 
The 
singers 
performed  from  the 
balcony  while  the 
crowd sat on blankets 
on  the  field  and 
many 
people 
commented  on  a 
what an ideal concert 
venue  the  Sports  Complex  is.  Maybe 
the  Yulia  concert  will  be  the  first  of 
many concerts in Kaiwaka! Yulia very 
graciously  stayed  behind  for  over  an 
hour,  signing  CD's  and  taking  'selfies' 
with her fans. To view photos from the 
concert  you  can  visit  our  website 
www.kaiwakasports.co.nz  and  the 
Sports  Complex's  Facebook  page.  To 
follow  Yulia,  you  can  'like'  her 
Facebook  page.  You  can  read  more 
about the concert in this edition of the 
Kaiwaka Bugle. 
Boot Camp 
Following  on  from  the  success  of  the 
Biggest  Loser  Challenge  last  year, 
there  is  now  a  Fitness  Boot  Camp  at 
the  KSA.  Sessions  are  held  on  our 
grounds  every  Tuesday  and  Thursday 
at  6.30pm  and  Saturday  at  7.30am. 
Sessions are with trainer Siobhan Cole 
and are $7.  
Siobhan  and  her  team  have  come  up 
with a great idea - charity Boot Camps! 
There first one will be this Saturday at 
7.30am.  Come  along  dressed  up  and 
your  money  will  go  to  the  Kaiwaka 
Fire  Brigade.  This session will  be  $10 
and  there  will  be  spot  prizes.  Please 
support  this  by 
getting 
friends 
and  family  to 
come along.  
Athletics 
The  Kaiwaka  Athletics  Club  has 
started its season. Sessions are held on 
Mondays from 5 – 6.30pm at Otamatea 
High  School.  The  sessions  cover 
running,  long  jump,  high  jump,  shot 
put,  discus  and  javelin.  Because  of  a 
shortened  season,  the  cost  is  only  $10 
for 6yr olds and under, and $15 for 7 – 
15 year olds. All interested children are 
welcome.  Any  queries  to  Eileen 
Parsons on 4318 055. 
Rugby – Junior 
JMB  caters  for  boys  and  girls  from 
Under  7's  through  to  Under  13's.  Any 
children  who  are  keen  to  play  but 
missed  Saturday's  registration  day  can 
contact Naomi Walker on 4312 750.  
A  Small  Blacks  coaching  course  will 
be held at the Kaiwaka Sports Complex 
on Monday 20th April at 6.30pm. This 
is  a  requirement  for  all  coaches  of 
rugby  teams  from  Under  7's  →  Under 
13's. 
Rugby - Intermediate 
We  are  starting  up  an 
Under  18's  team,  with 
Head 
Coach 
Mike 
Peeni. Trainings will be 
at  our  grounds  on 
Wednesdays  at  6pm. 
Contact  Mike  on  027 
2637388. 
We will also be fielding 
an Under 16's team and 
either  an  Under  14's  or 
Under 
15's 
team 
(depending 
on 
numbers). If you have a 
boy  who  is  keen  to  play  rugby  this 
season,  please  contact  Heather  Lupton 
on  021  841115.  Trainings  will  be 
Mondays 
at 
6.30pm 
at 
the 
Maungaturoto Country Club. 
Rugby – Senior 
Our  senior  rugby  team,  the  Otamatea 
Hawks,  are  holding  their  trainings  on 
Tuesdays  and  Thursdays  at  our 
grounds – new players welcome, please 
arrive by 6pm. 
The  first  pre-season  match  of  the  year 
will be held on Saturday 14th March at 
12.30pm  at  our  grounds.  This  match 
will  be  against  North  Shore,  so  come 
along to see how the boys are shaping 
up for the season. 
A  Rugby  Smart  coaching  course  will 
be held at the Kaiwaka Sports Complex 
this  Wednesday  at  6.30pm.  This  is  a 
requirement  for  all  coaches  of  rugby 
teams from Under 14's and above. 
Thank you to St Johns who 
donated  a  stretcher  to  the 
club and to Jennie Reynolds 
who organised this. 
Squash 
Our  Squash  club  will  be 
restarting shortly, after their break over 
the summer months – watch this space 
for  details.  In  the  meantime,  if  you'd 
like  to  purchase  a  key  to  our  squash 
courts,  please  contact  Heather  Lupton 
on 021 841115. 
Netball – OHS 
The Otamatea High School netball club 
will  be  holding  their  trials  on  the 
following dates: 
Seniors (Yr 9 – Yr 13): Weds 4th, 4 – 
6pm  at  OHS  courts,  Sat  7th,  8.30  – 
11am  at  KSA  courts,  Tues    10th,  4  – 
6pm at OHS courts. 
Juniors  (Yr  7  &  8):  Sat  14th,  12.15  - 
3pm at OHS courts, Wed 18th, 4 – 6pm 
at OHS courts 
Public Meeting 
The  Kaipara  District  Council  will  be 
holding a meeting to consult the public 
on  their  10  year  Long  Term  Plan, 
Looking  Ahead.  The  meeting  will  be 
held at our Complex on Tuesday, 10th 
March at 6pm. 
~Cheryl Anderson 
4312 051, 027 3462702 
kaiwakasports@gmail.com 
Yulia with Barbara Leslie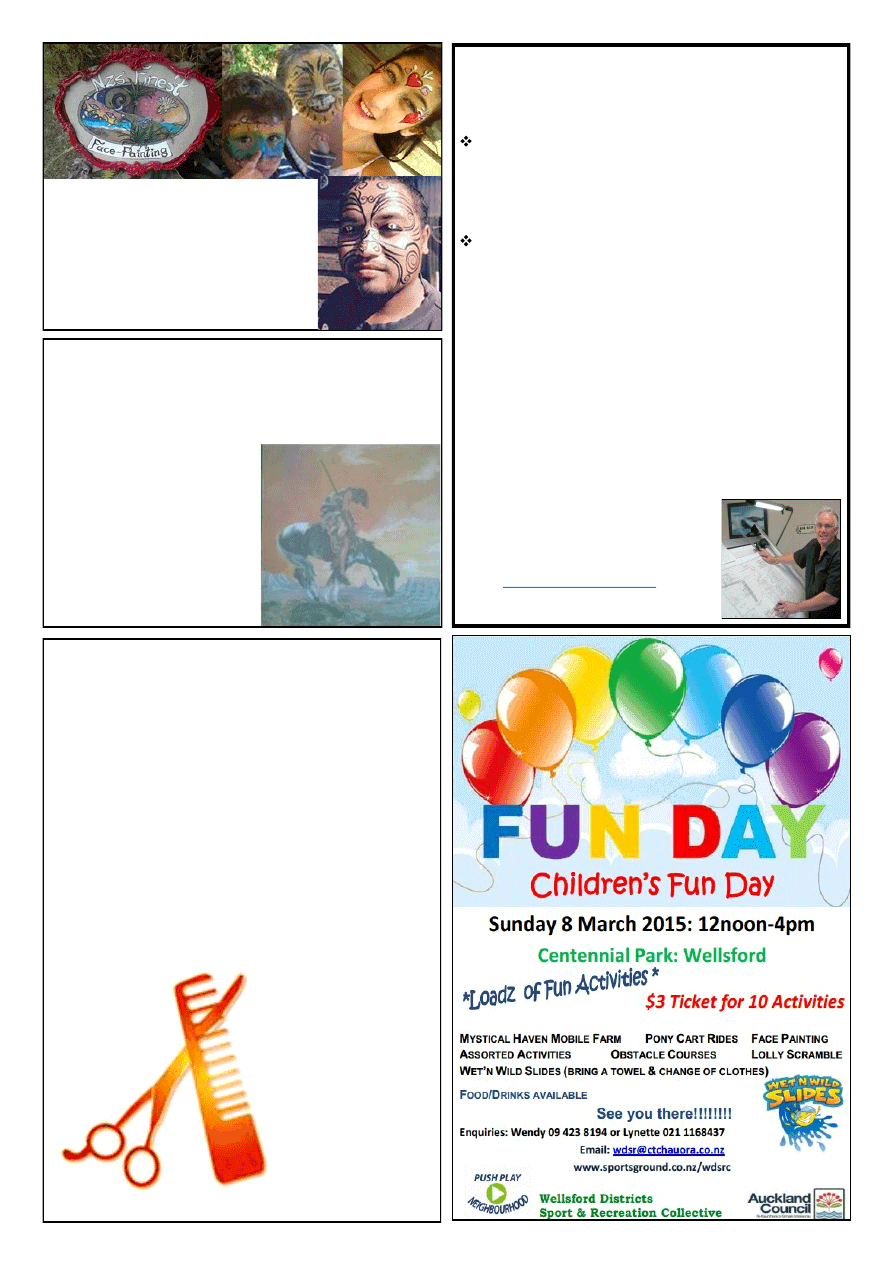 ARCHITECTURAL BUILDING 
PLANS AND DESIGNS 
WRIGHT DESIGN 
QUALIFICATIONS 
Brian is a qualified designer (NZCAD) with over 40 years of 
varied experience in all types of building and is a registered and 
Licensed Building Practitioner in Design - L.B.P. 117345 
He ensures you will achieve the best from your budget with 
recommended excellent local contractors ready to competitively 
price and build your personal project quickly and efficiently. 
EXPERIENCE 
Brian's practical building and 40+ years of design experience 
means he can give you excellent advice and all the guidance 
needed for all your building needs 
v Wright Design offers free visits, consultations and all the 
advice you need on planning, design, building, contractors, 
council permit applications, etc. 
 
" Qualified and inexpensive designer – N.Z.CAD., LBP 117345 
" Guaranteed design and working drawings 
" Free site visit to your home or property 
" Great service 
" Great problem solver 
Call Brian ~Arrange a visit to discuss your needs  and obtain 
great advice and free quotation 
MAKE GOOD USE OF HIS EXPERIENCE and 
KNOWLEDGE 
WRIGHT DESIGN:  
360 Oneriri Road, Kaiwaka
Office 09 4312544  
Mobile 021 276 7389  
Email: 
www.wrightdesign.co.nz 
AFFORDABLE 
PRICES! 
MENS DRY CUT FROM $18.00 
LADIES DRY CUT FROM $15.00 
KIDS DRY CUT FROM $15.00 
COLOUR CUT FROM $90.00 
021 165 2629 
JUST CUTS'AND MORE 
NOW SELLING 
scented tealights 
Incense  
smudge sticks 
copper bracelets 
aurora ball crystals 
dream catchers 
healing stones 
rose quartz 
cds  
and much more 
open 6days 
NZ's Finest 
Face and Body Painting
Local to Kaiwaka, Mangawhai and 
Wellsford
Call Hannah on
027-286-3352
for your next occasion!
TRAIL'S END HEALING SANCTUARY 
candles, incenses, crystals and much more
KEELEY
1758 COVE RD, MANGAWHAI
021 165 2629
trail.end@hotmail.com 
 
also selling angel cards, second 
hand clothing, dream catchers, 
jewellery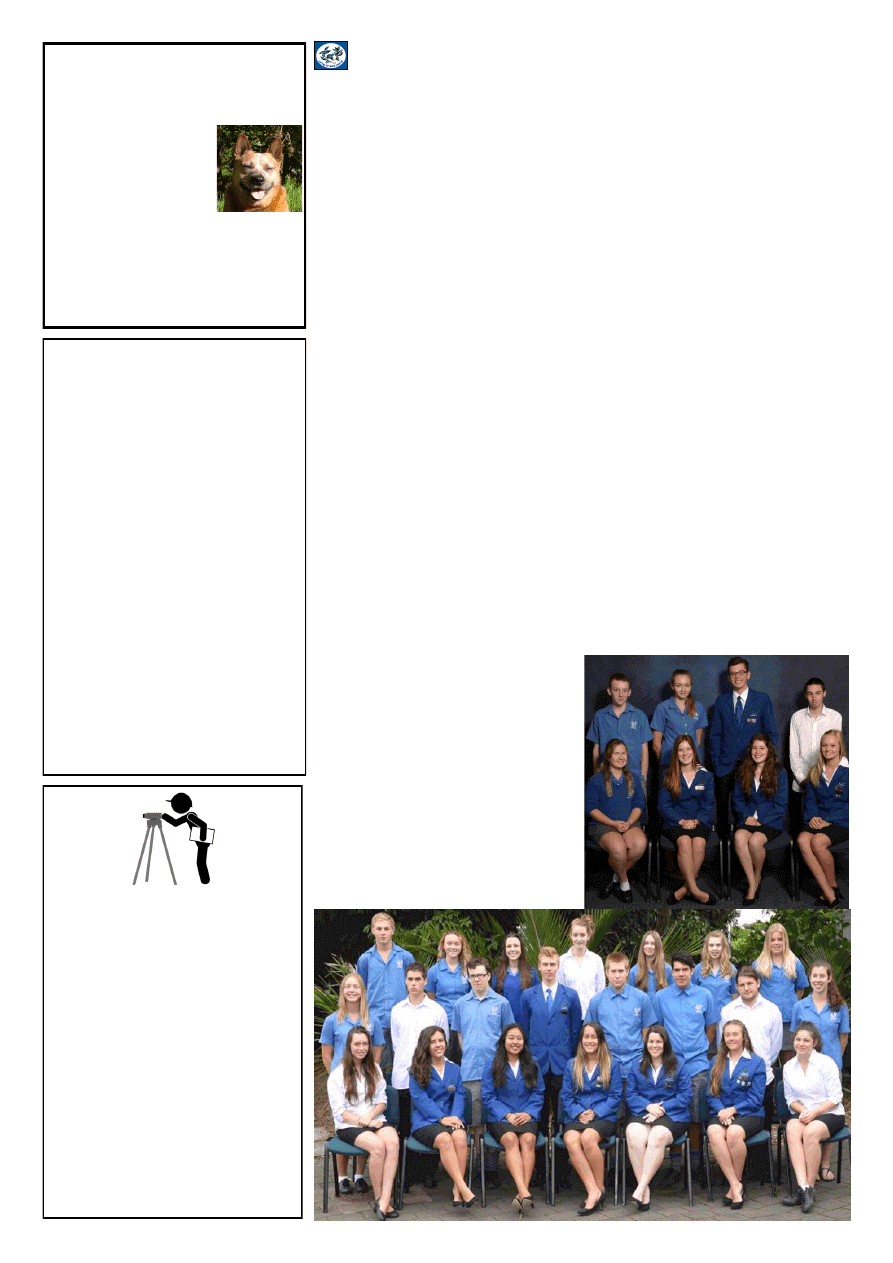 www.kaiwaka.co.nz 
Kaiwaka Bugle - 3 March 2015 
Page 7 
OTAMATEA HIGH SCHOOL 
Jenny's Rural 
Craft Shop 
We have a good quality 
range  
of craft products. 
Come and see work from 
local artist. 
Hours 10.00am to 3pm 
Wednesday to Sunday 
134 Kaiwaka Mangawhai 
Road, Kaiwaka. 
Ken Urquhart 
KMU Surveys 
Ltd
467 Bickerstaffe Road 
RD 2 
Maungaturoto 0587 
Ph 09 431 8705 
Mob 021 161 2344 
kenurquhart@xtra.co.nz 
We have had a very positive start to the 
2015  academic  year.  There  are  lots  of 
new  students  as  many  families  move 
into the surrounding area. The Year 13 
students  are  taking  the  challenge  and 
responsibility  of  leadership  seriously 
and did a great job of ensuring that the 
Year  7  and  9  camps  were  a  real 
success.  Although  there  were  periods 
of  heavy  downpours  the  spirits  were 
high 
with 
everyone 
enjoying 
themselves. The Year 7 and 8 students 
are loving the new playground area. It 
is great to see Year 13s interacting with 
the  juniors  by  playing  basketball  at 
intervals and lunchtimes. 
We  welcome  a  number  of  new  staff 
members into the school. Each of them 
brings  energy,  enthusiasm,  experience 
and  fresh  ideas.  The  staff  introduce 
themselves later in the newsletter. 
Special  congratulations  to  all  the 
students who received NCEA Levels 1, 
2  and  3  endorsed  with  Merit  and 
Excellence  and  for  the  students  who 
received  NCEA  course  endorsements. 
Students 
who 
received 
overall 
endorsements will receive a badge at a 
special assembly later in the term. The 
number 
of 
students 
receiving 
endorsements  has  risen  by  70% 
(overall  endorsements)  and  77% 
(Excellence  course  endorsements). 
Well  done  to  all  these  students  and  a 
huge  thank  you  to  the  teachers  who 
have made this a reality. 
The  50th  Annual  Swimming  Sports 
held  on  Thursday  12th  February  was 
moved back to a daytime event due to 
community  feedback.  It  was  a  superb 
day with a great mixture of competition 
and  fun.  A  number  of  records  were 
broken and the highlight of the day was 
the relays which the whole school were 
able  to  watch.  The  current  students 
won the final 
relay  which  involved  beating  teams  of 
ex students and staff. I'm sure that this 
will become a regular feature of future 
swimming sports competitions. 
The  whakatauki  for  2015  is  'He  waka 
eke  noa',  'We're  all  in  this  waka, 
without  exception'.  This  was  outlined 
to  the  Year  13s  at  their  leadership 
training,  the  staff  at  the  outset  of  the 
year  and  the  whole  school  through 
assemblies.  I  am  a  great  believer  in 
teamwork 
to 
achieve 
positive 
outcomes.  I  invite  you  all  into  this 
journey too. We have two vacancies for 
Board  of  Trustee  positions.  Consider 
carefully who could join the team. 
A  huge  thank  you  to  the  following 
companies  for  their  kind  donations  to 
the  school  over  the  past  month. 
Zealandia Horticulture for the beautiful 
flowers  for  our  garden  beds,  Atlas 
Concrete  for  sand  for  our  long  jump 
pits  and  Carters,  Maungaturoto  for the 
freight of this sand. Thank you for the 
ongoing support from 100% Electrical, 
Maungaturoto  for  the  sponsorship  of 
our  Golden  Kauri  Awards  System. 
Thank  you  also  to  the  many 
community  and  parent  helpers  who 
helped  to  ensure  that  the  50th  Annual 
Swimming Sports was a huge success. 
I'd  like  to  take  this  opportunity  to 
thank  Wayne  Linton  and  Shane 
Campbell  for  their  hard  work  and 
dedication on the BOT over the last 18 
months.  I  also  wish  Shane  Campbell 
well in the next stage of his journey as 
he  starts  his  new  position  as  Principal 
of Bohally School in Blenheim in Term 
Two. 
~Rachel Clothier-Simmonds, Principal 
OHS continued on page 9... 
Laughing Dog
Computers
Hardware and 
Software Service 
and Repair 
www.laughingdog.co.nz 
0224344448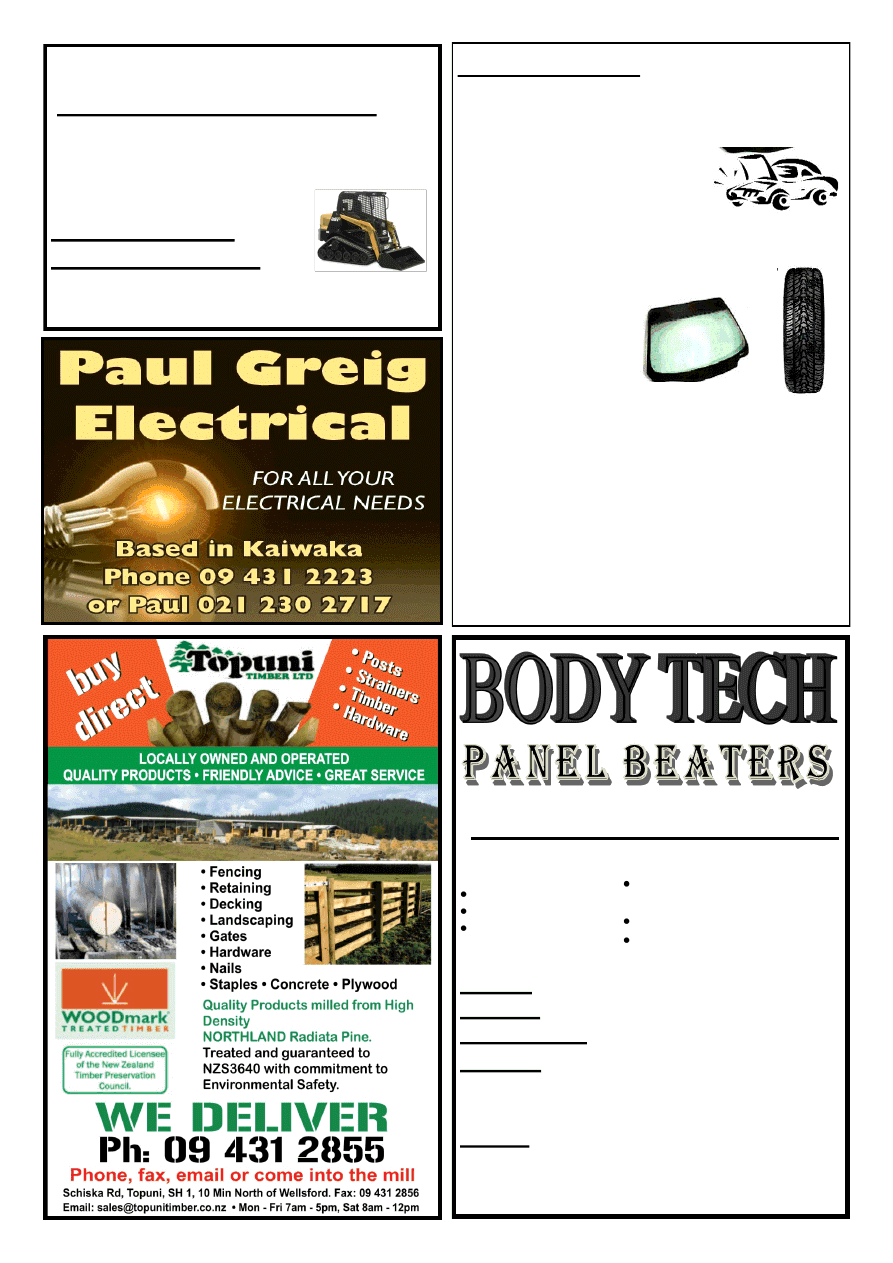 Natural Earth Ltd 
 Landscape and Bobcat services 
 : Driveways  :Landscaping  :Retaining Walls 
 : Hole Boring: Land Levelling :Trenching 
 : Decks :Fences :Sections Cleared: Plus much 
more 
Tel   09 4312885 
Mob 02102391280  
For A Fast Friendly  
Service Contact Tim Hicks 
For all your body repair needs!! 
We do: 
Rust repairs 
Insurance work 
Anti-corrosion  
   treatment   
Hours: 8.30am-5pm Monday-Friday  
Mobile: 021 118 0462 
After hours: 09 431 2384 
Phone: Craig  
                or Call in for a free Quote 
bodytech_panelbeaters@yahoo.com
We are located at 1837 SH1 Kaiwaka, behind 
Twinkle Tow 'n' Tyre call in anytime for a free 
quote.  
Large and minor vehicle 
repairs
Industrial vehicles
Full Cut and polishes
Want it done? 
Bring it to  
Twinkle Tow 'n' Tyre 
*W.O.F. 
*Tyres 
*Windscreen replacement 
*Chip repairs 
*Bulk Oil 
*Batteries 
*Welding 
*Custom built trailers 
*Trailer hire 
Think you'll get a better deal in the city? 
Go on, ring us; it won't cost anything! 
1837 State Highway 1, Kaiwaka 
Phone 431 2823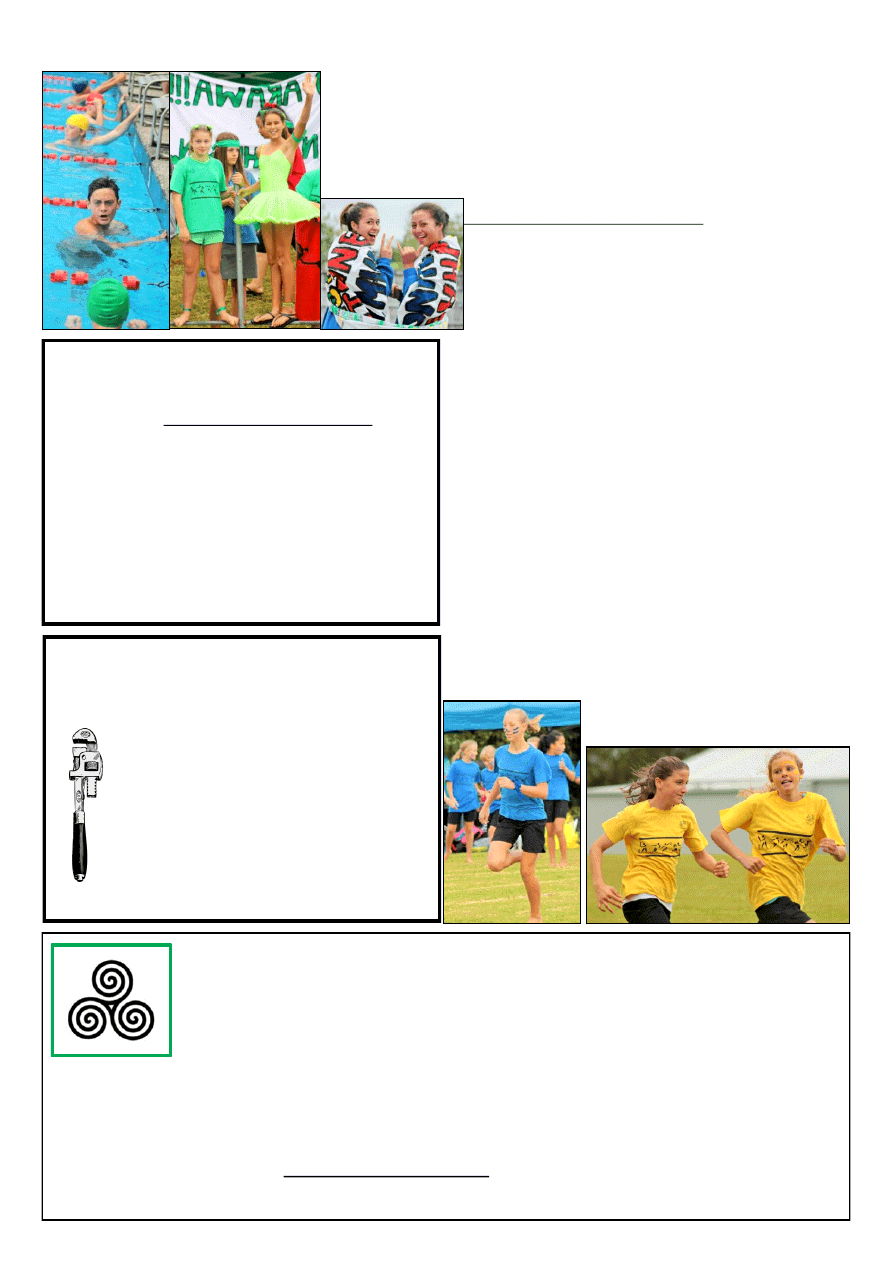 www.kaiwaka.co.nz 
Kaiwaka Bugle - 3 March 2015 
Page 9 
RANA Health 
Naturopathy- Acupuncture- Massage 
Open Mondays & Fridays 
4 Kaiwaka-Mangawhai Road; Room 4; Kaiwaka
Phone or Text for an appointment &/or price enquiry: Rebecca Wood 021854158 
Or visit www.ranahealth.co.nz & click BOOK NOW
Rebecca Wood Dip Th Mass; Dip Aroma; Dip Acu; Student Naturopath- Final semester
Swimming Sports 
On Tuesday February 12th Otamatea High School held their 50th swimming 
sports gala. The day started off a bit wet but it did not dampen the students, 
parent  helper  and  staff  participation.  This  year  was  a  special  year  as  the 
swimming sports was held during the day. Student participation was high and 
there were many heats in each event. A highlight of the day was the teacher vs 
student vs ex-student relay. It was a very close race but the students won it in 
the end.  
Congratulations to all our champion swimmers: 
Age Group - Champion - Runner up 
Sub junior Boy - Joe Rose - Finn Paton/ Pom Kaire 
Sub junior Girl - Trista Comer - Renee Allen 
Junior Boy - Patrick Butler - Aaron Lupton 
Junior Girl - Ocean Shadbolt - Zelda Sims 
Intermediate Boy - Ben Morley - Brody Shadbolt 
Intermediate Girl - Sam Cawkwell-Troost - Ann Marie 
Holst 
Senior Boy - Dylan Sims - Bailey Hamlin 
Senior Girl - Tayla Perkinson - Jasmine Sampson 
I  would  personally  like  to  acknowledge  the  parents  and 
caregivers  who  helped  out  as  time  keepers  on  the  day.  We 
could not have done it without you and your support is most 
appreciated.                                                    ~Lana Parkinson 
OHS Athletics Sports Day 
Tuesday 24th February - This was a fantastic day, even with 
the unsettled weather. Great iwi spirit shown by all students, 
staff and parents/caregivers.  
It was especially great to see students supporting each other 
at  all  levels  of  participation  and  success  and  the  record 
number of parents and caregivers either helping with record 
keeping or cheering on the students. 
~Tina Holst, Sports Co-ordinator 
Parent Teacher Interviews  
Thursday 12th March starting 1pm 
We are using an online booking system as we did last year. 
To  book  appointments  parents/caregivers  should:  log  on  to 
www.schoolinterviews.co.nz  the  event  code  is  YY3LJ.  Cut 
off for bookings will be Tuesday 10th March 12pm. 
Those  families  who  do  not  have  internet  access  are 
encouraged  to  ring  the  school  office  and  we  will  make  the 
bookings  for  you.  Buses  will  run  from 
12.30pm  on  Thursday  12th  March 
when school will close for tuition. 
BARRY CURTIS PLUMBING LTD 
REGISTERED CRAFTSMAN PLUMBER 
Phone 4315572 
027 257 9884 
25 years experience 
Friendly reliable service 
All plumbing and maintenance 
Alterations and new housing 
New wood fire installation 
Spouting 
Competitive rates 
PROMPT EFFICIENT  SERVICE 
 Yang Style Tai Chi 
Classes 
For Beginner And Practitioners  
At The Kaiwaka War Memorial Hall 
Every Tuesday  Starting at 10.30 am 
Come Along And Have Some Fun 
While Improving Your Balance Health 
And Fitness
For More Information
Contact 
Andrew Young 09 4223424 
OTAMATEA HIGH SCHOOL
 continued from page 7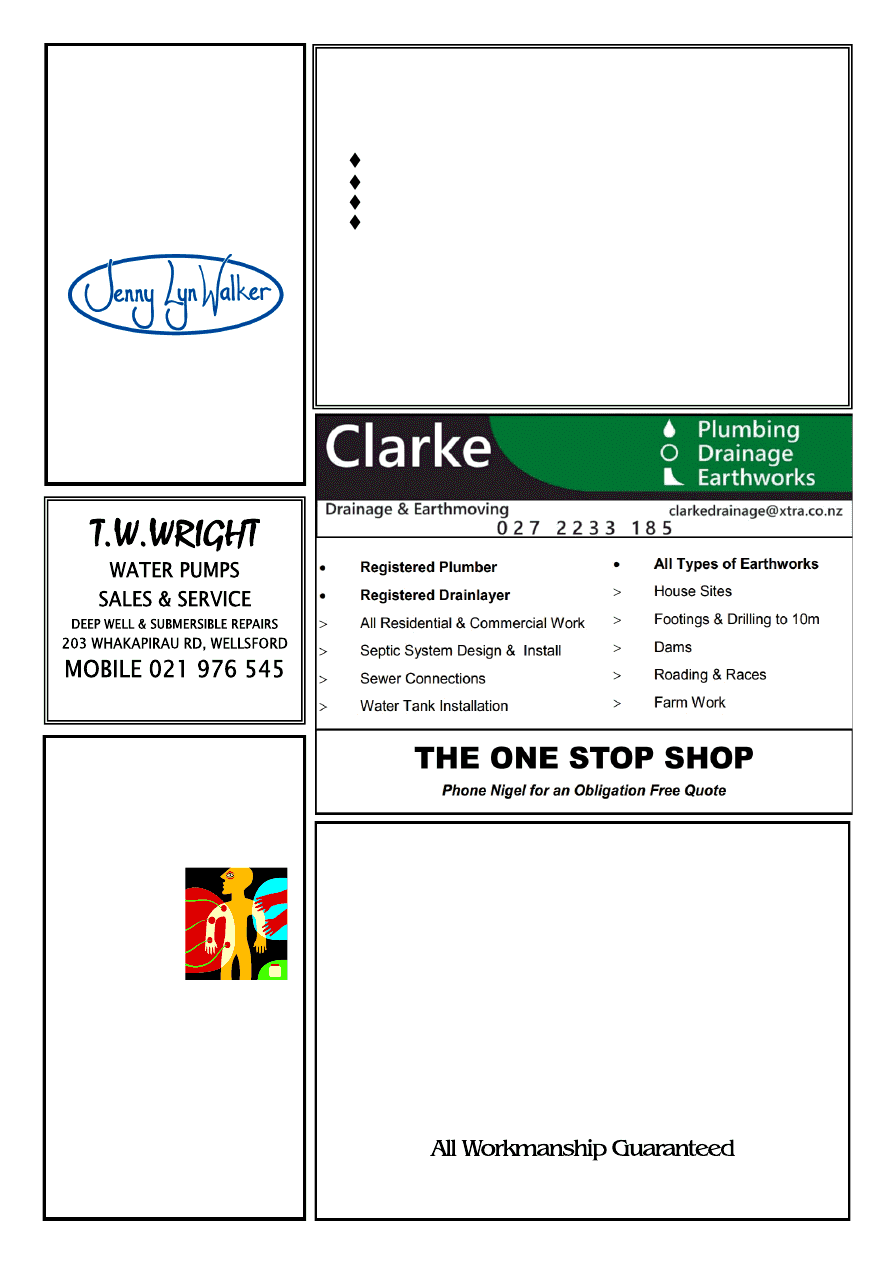 RANGANUI  
EARTHMOVERS 
16T Excavator (tilt, thumb & ROPS cab) 
Transport Trailer 
2 x 6 Wheeler Tip Trucks 
Suppliers of All Grades of Metal & Topsoil 
Driveways, House Sites, Drainage Dams, Section Clearing,  
Tree Work,  Rock Retaining Walls, Quarry Work, 
Basically Anything That a Digger Can Do
If you want a proper job done  
with an experienced operator ring 
Grant on    A/H 431-2131          Email  ranganui.dev@xtra.co.nz 
Mob  021845-246 
OWEN STEVENS 
Osteo Therapist
For careful adjustments to bones 
and joints 
Treatment for  
humans and 
their pets 
Clinics: 
Kate's Place, Kaiwaka: 
Last Friday of month 
For bookings:9.00am-5.00pm   
Phone 
09 4312661 
Or phone  
Owen  09 4317123  
anytime 
PLANNING A NEW KITCHEN?
CONTACT NOEL McDOWELL 
WELLSFORD KITCHENS
Ph/Fax 09 4312 888
KAIWAKA-any time 
QUALITY CUSTOM MADE KITCHENS
~Personal and Prompt Service~ 
~
~ 
~Over 20 Years in the Trade~ 
~Free Design & Quote~ 
Clairvoyance & Life 
Path Readings 
Fashioning Your True 
Being 
Book a Consultation 
Kaiwaka 
021 231 7447 
Herstory Ark & Dove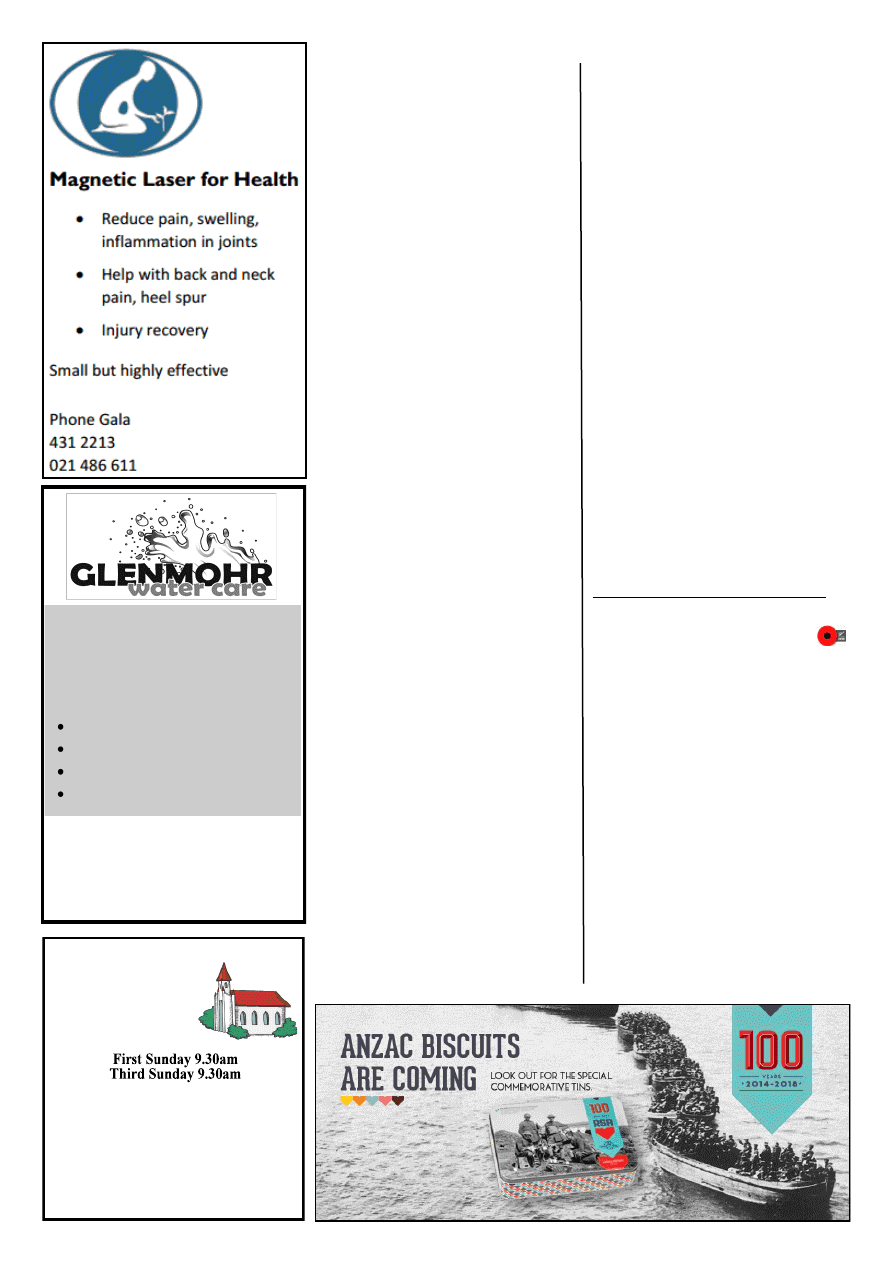 www.kaiwaka.co.nz 
Kaiwaka Bugle - 3 March 2015 
Page 11 
KAIWAKA GARDEN 
& FLORAL CLUB 
Twenty members attended the April meeting 
held at Alvin and Rosemary Browne's home 
overlooking the estuary. Rosemary's garden 
was neat and tidy even though she says she 
does have trouble with the "sea wind"; they 
have lived there permanently for 3 years. We 
thank Rosemary for still having us after the 
sudden  death  of  her  mother  and  we  all 
extend our sympathy to Rosemary and her 
family. 
In  December,  Rosemary  arranged  a  very 
enjoyable mystery bus trip for our Christmas 
outing;  we  visited  two  lovely  gardens  at 
Warkworth, and had a very nice meal at the 
Warkworth Road House Restaurant. 
Later  in  the  week  some  of  us  got  together 
and made posies and shortbread biscuits for 
the  Retirement  Village  members.  We  also 
donated the parcels for under the Wellsford 
Medical Clinic's Christmas tree. 
Jacquie Duffy from Mangawhai Village Gas 
and  plants  was  invited  to  speak  at  our 
February  meeting  and  we  enjoyed  her  talk 
on plants and sprays suitable for controlling 
bugs  and  diseases,  also  different  potting 
mixes  and  animal  food  available  and 
different brands of seeds. Jacquie had a few 
fun questions and when they were answered 
correctly  she  awarded  a  small  prize. 
Mangawhai Village Gas also donated a plant 
voucher  for  the  day  which  was  won  by 
Adrienne Osman. 
Happy Birthday to the following January and 
February  babies:  Anne  Shimmin,  Elinor 
Robinson,  Margaret  Whittaker,  and  Jenny 
Chellew;  all  received  posies  made  by 
Lorraine. The other two raffle winners were 
2nd prize Sharyn, and 3rd Ann. 
The results of the competitions were:- 
Best bloom:- 1st Fay Burnett – pom pom dahlia, 
2nd Jenny Chellew - sunflower. Spike:- 1st Fay - 
delphinium,  2nd  Meredy  Ballard  -  geranium. 
Best Annual:– 1st Jenny Wills - pansy, 2nd Fay - 
cosmos. Fruit – own choice:- 1st Fay - peach, 2nd 
an  orange  (owner  please  let  Lorraine  know).  3 
beans:– 1st Sharyn Mclean, 2nd Caron Bastable. 
L shaped arrangement:- Senior: 1st L Lusty, 2nd 
Sue Hamilton-Wallace; Novice: 1st Meredy, 2nd 
Jenny Chellew. Wild card:- 1st Fay - capsicum, 
2nd Rosemary - lettuce. Most Outstanding:- Fay - 
Delphinium. 
Next month the meeting is the A.G.M  to be 
held    1:30  p.m.  sharp  at  Sharyn  Mclean's. 
Subs are now due. Entries close 1:15 p.m. no 
late  entries  accepted.  Fruit  –  Apple, 
Vegetable  –  own  choice,  Flower  of  the 
month  –  Dahlia,  Arrangement  –  Easter 
Theme. 
Great gardening everyone.                     ~Ann 
Water Tank  
Cleaning 
Keep your water safe & clean   
Removal of sediment, silt etc 
Vacuum or full scrub 
Minimal water loss 
Phone Mark  
(09) 432 0655  
or 0274 707607 
ST PAUL'S  
ANGLICAN  
SUNDAY  
SERVICES
St Pauls Church: Kaiwaka-Mangawhai Rd. 
1st Sun - Eucharist 
3rd Sun - Family Service 
Office 4214 122 
Contacts:M.Hargreaves 4312295, C.Bygrave 4312057  
WWI ANZAC Biscuit Tins 
The  RSA  and  New  Zealand 
company  AFM  Group,  have 
joined  forces  to  produce  a  range  of 
limited  edition  WWI  commemorative 
Anzac  biscuit  tins.  Every  tin  sold  will 
result  in  a  donation  to  the  RSA's 
support  services;  helping  veterans,  ex-
service  and  service  men  and  women, 
and  their  dependants,  when  they  are 
most in need. 
They will be available in seven limited 
edition designs, featuring photographic 
scenes  of  New  Zealanders  during  the 
First World War. 
"Anzac  biscuits  are  a  part  of  our 
national  heritage.  100  years  ago  they 
were  a  comforting  taste  of  home  that 
sustained 
our 
soldiers 
on 
the 
battlefields of WWI." 
They 
will 
be 
available 
from 
Countdown, New World, PAK'nSAVE, 
The  Warehouse  and  Nosh  from  late 
February  2015,  with  a  recommended 
retail price of $9.99. 
KAIWAKA FITNESS 
The  cooler  mornings  and  clearer  skies 
show  that  whilst  Summer  is  here,  Autumn 
is  nudging  on  its  shoulders.  It's  still  hot 
though  and  our  exercise  efforts  at  the 
Fitness  Centre  come  with  that  aspect, 
especially when a smattering of rain bumps 
up the humidity. 
It's  pleasing  to  see  that  out  Fitness  Centre 
has increased its membership numbers over 
the last few months. Part of our hurdle is to 
make ourselves known other than by word 
of mouth. With that in mind if you know of 
anyone  who'd  like  to  join  the  Centre,  the 
fee is $50 from  now  until  mid-May  which 
equates  to  approximately  $4.50  a  week. 
Hear that? $4.50 a WEEK! Keys and forms 
from  our  good  friends  and  supporters  at 
Jaques 4 Square. 
Now hopefully a positive feature: I'm often 
asked  if  we  provide  fitness  programmes 
and  schedules  and  to  date  providing  these 
professionally  has  been  a  hurdle.  Starting 
Monday  23  February  we  have  been 
discussing  using  the  (paid)  services  of  a 
qualified trainer for a trial period, who will 
be  appearing  at  our  Fitness  Centre.  If  you 
are  a  member  you  will  have  access  to 
Nariano's  services  and  contact  for  future 
needs.  Protocol  requires  us  to  make  this 
official  from  the  Saturday  7  March  by 
which  time  we  will  have  all  the  necessary 
and appropriate paperwork in place. Please 
visit the Centre though in the meantime and 
at least have a chat to him if a programme 
is of interest to you. 
If you're a beach-lover enjoy this beautiful 
weather;  if  you're  struggling  to  keep  your 
gardens and/or pastures green – you're not 
alone. All the best.                       ~Michael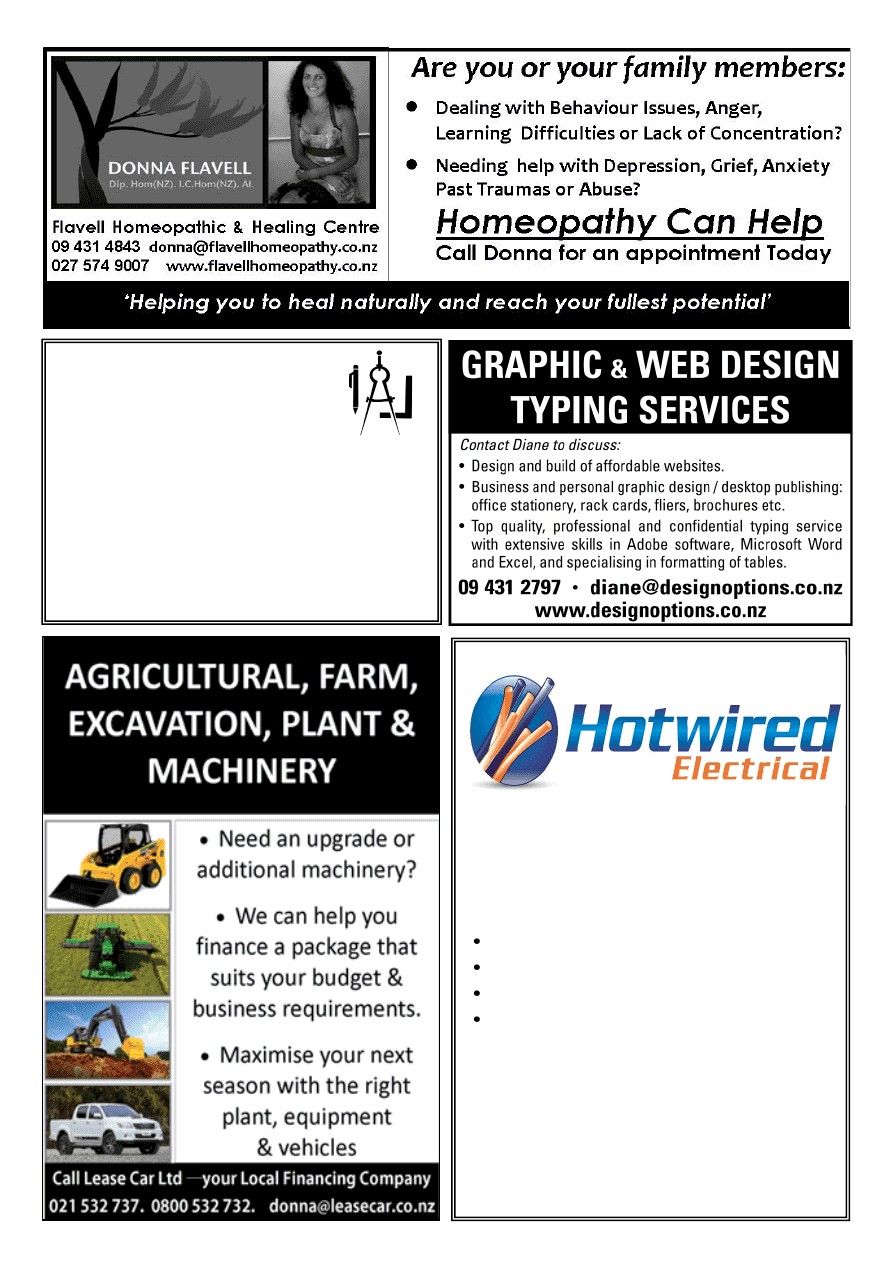 design drafting  
service 
Retired builder and manufacturer with 
over 40 years  
experience in the building industry is offering a design 
drafting service  
for domestic housing, sleepouts and sheds.  
Plans formulated in consultation with clients, with 
working drawings completed and submitted to  
council for processing.  Extensive practical experience,  
able to identify & resolve problems. 
Please ring Mike Lean on 
09 431 2260  
For All your  
Electrical  Requirements 
Domestic small jobs 
Residential dwellings and alterations 
Commercial 
Industrial                 
No job too big  
or too small    
Contact Jason today on: 
(09) 431 5992, (021) 405 019 
www.hotwiredelectrical.co.nz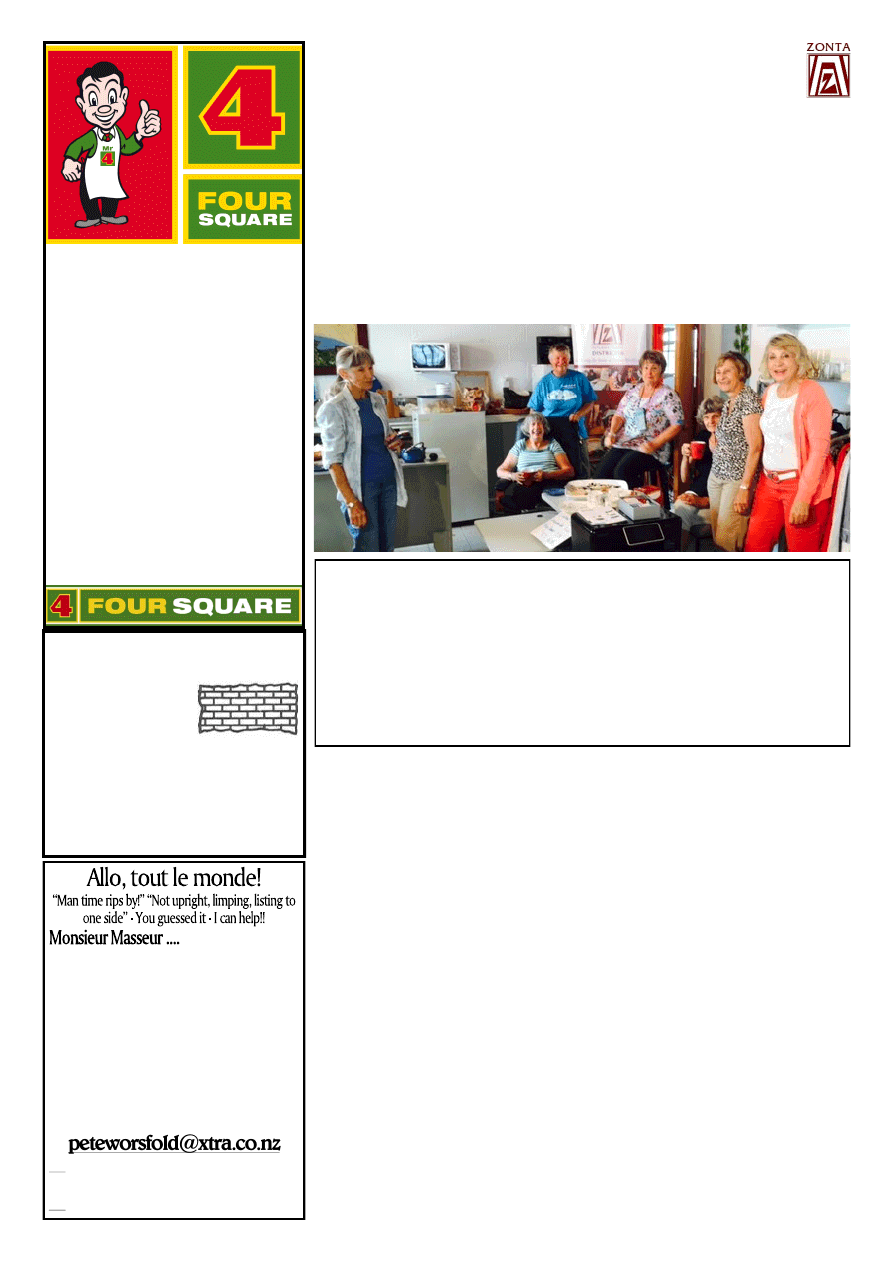 www.kaiwaka.co.nz 
Kaiwaka Bugle - 3 March 2015 
Page 13 
RELAXING MASSAGE
Juste pour vous 
A happy client after a massage: 
"I felt like I was floating on air". 
Call for an appointment now!
Pete Worsfold 
4312 152  or  021 825970  
Or  Ph. "The Well of Health" for an 
appt. 09 4312 799 
Or mobile service available 
Back in Stock!! 
.177 slug gun pellets 500s $8.99 
.22 hollow point $11.99 
Range of spray paint 
Managers Specials: 
Easiyo Yogurt Makers $21.95 
Easiyo lunch taker container 
$9.99 
Variety of yummy yogurt fla-
vours $3.99 
Jaques Four Square
Phone: 4312227
1 Kaiwaka-Mangawhai Road, 
Kaiwaka.
ZONTA
BRICK/BLOCKLAYER 
All aspects of masonry:  
Fireplaces, 
Restoration  
& Remedial Work.
JAMES EAGLETON 
Tel. (09) 431 2514  
Mob. 0274 749 232 
jajueagles@yahoo.com.au 
210A Pukenui Road, RD2 Kaiwaka 0573 
The  Zonta  garage  sale  held  on  7th/8th 
February was a marvellous success and 
raised  just  over  $2000  for  the 
Mangawhai Zonta group local projects. 
As  people  were  buying,  going  home 
and  then  returning  with  more  goods, 
the  group  has  enough  for  another 
garage sale and will be holding this on 
the  weekend  of  21st/22nd  February  at 
the same place (104 Moir Street) which 
is  the  same  day  as  the  Mangawhai 
Domain market. 
This time it has been agreed that some 
of  the  takings  will  be  given  to  the 
Sophie  Elliot  Foundation  for  the 
purchase  of  the  "Love-Me-Not"  books 
which  are  provided  on  the 
courses  run  in  schools  for 
teenagers (both boys and girls) to help 
in  teaching  what  is  good  and  what  is 
bad relationship behaviour. 
Also  on 
Sunday  8th  March  at  9am
  at 
"The  Cove  Cafe"  at  Waipu  Cove,  the 
Zonta  Club  of  Mangawhai  will  be 
making its annual award to two Waipu 
women  who  have  made  a  significant 
contribution  to  the  Waipu  Community 
as  part  of  the  International  Women's 
Day.  The  Club  President,  Jan  Barnett 
will  be  presenting  the  Yellow  Rose 
award  to  Jill  Mutch  and  Juanita 
McGoldrick all are welcome to attend.  
Kaiwaka  Can  is  the  name  taken  by  a 
group  of  people  interested  in  finding 
ways  to  support  Kaiwaka  and  its 
surrounding district.  The group formed 
after  the  meeting  held  in  Kaiwaka  by 
Kaipara  District  Council  late  last  year 
and  it  has  now  met  three  times,  more 
people joining at each meeting. 
It  has  a  fourfold  mission  statement, 
namely: 
- Managing Kaiwaka well 
- Growing Kaiwaka well 
- Enjoying Kaiwaka well 
- Caring  for  people  in  the  community 
well. 
The  aim  is  to  provide  a  forum  for  all 
interested  parties  to  meet,  explore 
ideas,  get  alongside  all  that  is  already 
happening and stimulate creative ideas 
for  the  future  of  our  district.  It 
recognises  how  much  is  already 
happening,  especially  through  the 
Sports  Association  and  the  Hall 
Committee  as  well  as  the  various 
services in the area.  However there are 
plenty of areas where people feel more 
input is needed.  The problem with the 
lights  that  gave  the  town  the  name 
"Little  town  of  lights"  is  an  example.  
Others  point  to  traffic  problems  with 
speed,  lack  of  footpaths  and  difficulty 
crossing the road as examples.  Others 
want  to  see  a  far  more  integrated 
approach  to  development  as  the 
businesses  are  developing  in  separate 
locations with no links between them. 
The group plans to meet regularly and 
is working on the best way to get good 
outcomes.    Those  who  have  already 
joined the group are diverse in gifts and 
backgrounds  and  bring  a  lot  of energy 
to  the  task.    However  we  need  even 
wider  representation  and  especially 
strong  links  with  existing  groups.    At 
the next meeting, we hope there will be 
more  adding  their  voice  and  their 
energies to the future of our fascinating 
district. 
Next  meeting  is  Monday  30th  March, 
6.30pm in the Archie Bull Hall behind 
St Paul's Anglican Church. 
If  you  have  any  ideas  or  questions, 
contact  Derek  Christensen  on  09 
9469077 or 0273572751. 
NEW COMMUNITY GROUP FINDS A NAME 
KAIWAKA 
BOOT CAMP 
CHARITY FUN DAY 
Saturday 7th March @ 7:30am sharp!     $10 per person 
All money goes to Kaiwaka Fire Brigade! 
Family fun while you train together! 
Everybody welcome!     !!Spot Prizes!! 
For info contact Siobhan 027 979 1203 
Regular Boot Camp Sessions: Tues: 6:30pm, Thurs: 6:30pm, Sat: 7:30pm 
Saturdays 
By 
Arrangement 
Open  
Mon-Fri  
8am-5pm  
LANDSCAPING 
4 IN 1 BUCKET 
TRENCHER 
POLE HOLES 
ROTARY HOE 
COMPACT ROLLER 
OFFAL HOLES 
CAN SUPPLY WOODCHIP & POST PEEL 
5 TON TIPPER 
FOR RELIABLE AND FRIENDLY SERVICE CONTACT DAVE 
Dave Hyndman 
 
KAIWAKA 
PH: 09 4312302 
MOB: 021 431 238 
Gentle Dental 
Ruakaka 
We love to see you smile 
General  & Cosmetic Dentistry 
Emergency & ACC Treatment 
Denture & Hygienist Services 
Senior Citizen Discounts 
Free Adolescent Care 
Free WINZ Quote 
19 Ruakaka Town Centre 
Dr Sim Sood & Associates 
Ph:  432 8139 
ANIMAL HEALTH CENTRE  
KAIWAKA & OREWA
SUPER SPECIAL! 
Vet Nurse Microchipping 
Feb/Mar ONLY $25.00
Comfort Grooming, Nail Trims, Health Checks 
Bookings essential 
(Kaiwaka)  09 427 8122 or  (Orewa) 09 427 8122 
ANIMAL NATUROPATH 
Sarndra G. Urwin  Dip NAH (Hons), Dip Cl.Hyp 
Animal Health Centre 
Kaiwaka 09 431 2217     Orewa 09 427 8122 
Skin Problems 
Irritable Bowel 
Incontinence 
Cancer 
Arthritis 
Sensitive Stomachs 
Thyroid imbalance 
Behavioural Issues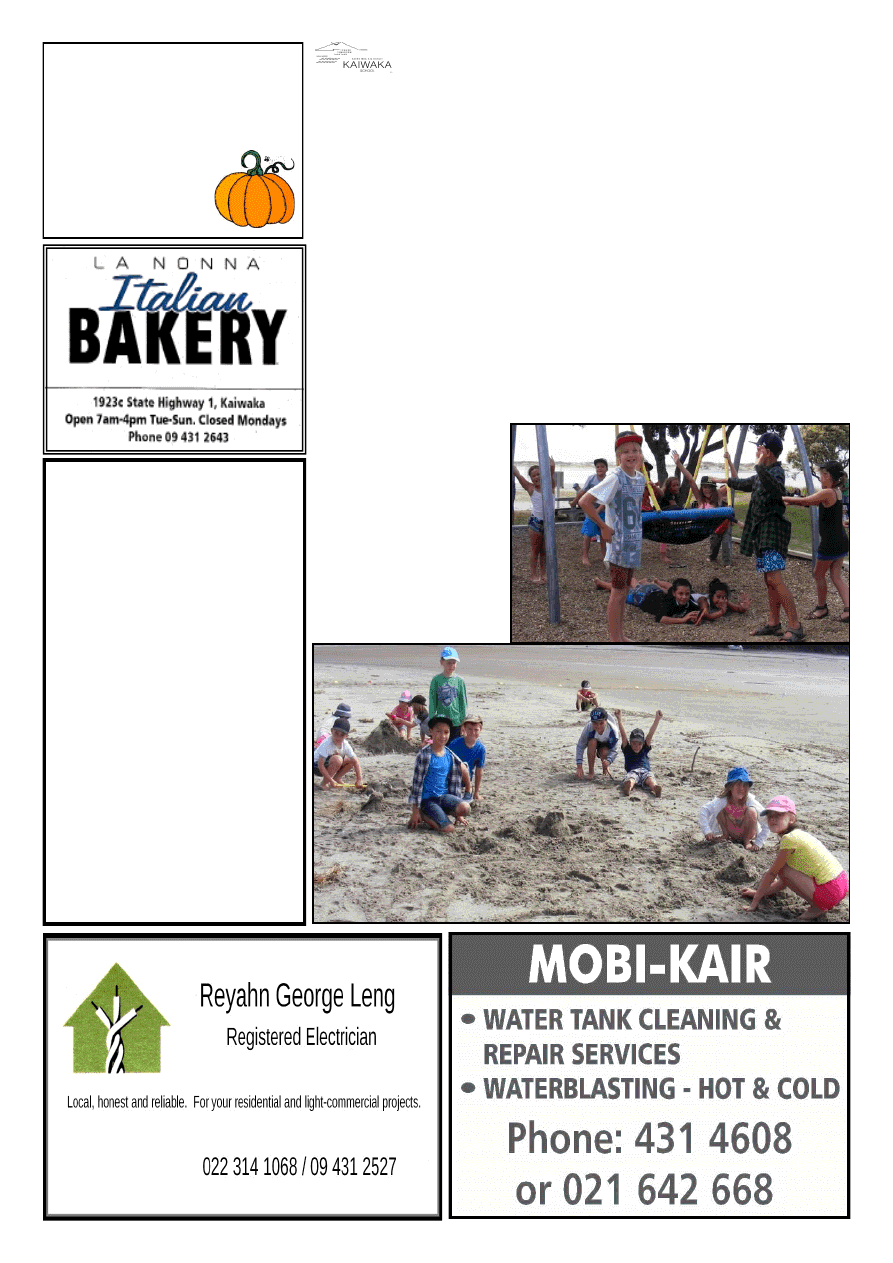 www.kaiwaka.co.nz 
Kaiwaka Bugle - 3 March 2015 
Page 15 
KAIWAKA SCHOOL 
Willow Bend
HORSE  
HOTEL 
"  
Total Horse Care 
" 
Agistment 
" 
Riding Lessons 
" 
Arena Hire (60x40) 
" 
Young Horse Starting 
" 
Re-training/Exercising 
" 
Hoof Trimming 
" 
Problem Solving
Phone Sue 09 431 2817 
or 021 623 776 
Or email sue.gray@xtra.co.nz 
KAIWAKA SCHOOL 
SCHOOL FAIR 
28 March 2015 
The Giant Pumpkin  
Competition judging day! 
Board of Trustees 
Our  Board  of  Trustees chairman, John 
Ferguson  stepped  down  from  this 
position  at  the  BOT  meeting  on 
Monday evening. I want to thank John 
most 
sincerely 
for 
being 
our 
chairperson for the last two years. John 
has led the Board very capably, giving 
his  time  and  wisdom  freely.  I  also 
thank  his  family  for  supporting  him 
and putting up with the time away from 
his family to attend meetings and be at 
school. 
Adrian  Buxton  has  been  elected  BOT 
Chairperson,  and  Naomi  Walker  has 
been  elected  Vice  Chairperson.  Thank 
you  to  you  both  for  accepting  these 
new positions.  
Parent Interviews 
We will be having Parent Interviews on 
March  3rd  and  5th.  We  would  like  to 
see every family at this important time 
of  the  year.  You  can  make 
an 
appointment 
electronically  by  going  to 
www.schoolinterviews.co.nz 
and entering the parent page. 
The  code  is  LMYLQ.  You 
then 
just 
follow 
the 
instructions,  really  easy.  If 
you  would  prefer,  please 
ring  Karen  at  the  school 
office,  and  she  can  book  an 
appointment for you. 
~Rosie Ellis, Principal 
Beach Day 
Last  week  Kaiwaka  School  students, 
teachers  and  Whanau  packed  up  their 
togs, picnic lunches and sunscreen for a 
day at Mangawhai Estuary. Playground 
fun  was  a  highlight  for  some  and 
sandcastle  construction  drew  others, 
with  two  swims  to  cool  us  down  in 
between. 
Lots of fun was had by all.  
Thanks to the proprietors of the Camp 
who  let  us  use  the  toilet  facilities  and 
also to Rob Grey and his mate Manakai 
who  stood  guard  in  the  deep  outer 
reaches  of  the  water.  (It  was  a  little 
chilly standing in one spot for so long.)  
Senior  students  took  turns  to  push  the 
younger ones on the playground.    
Students  planning  and  plotting  at  the 
start  of  construction  of  their  sand 
castles for the competition. Great sand 
for castles!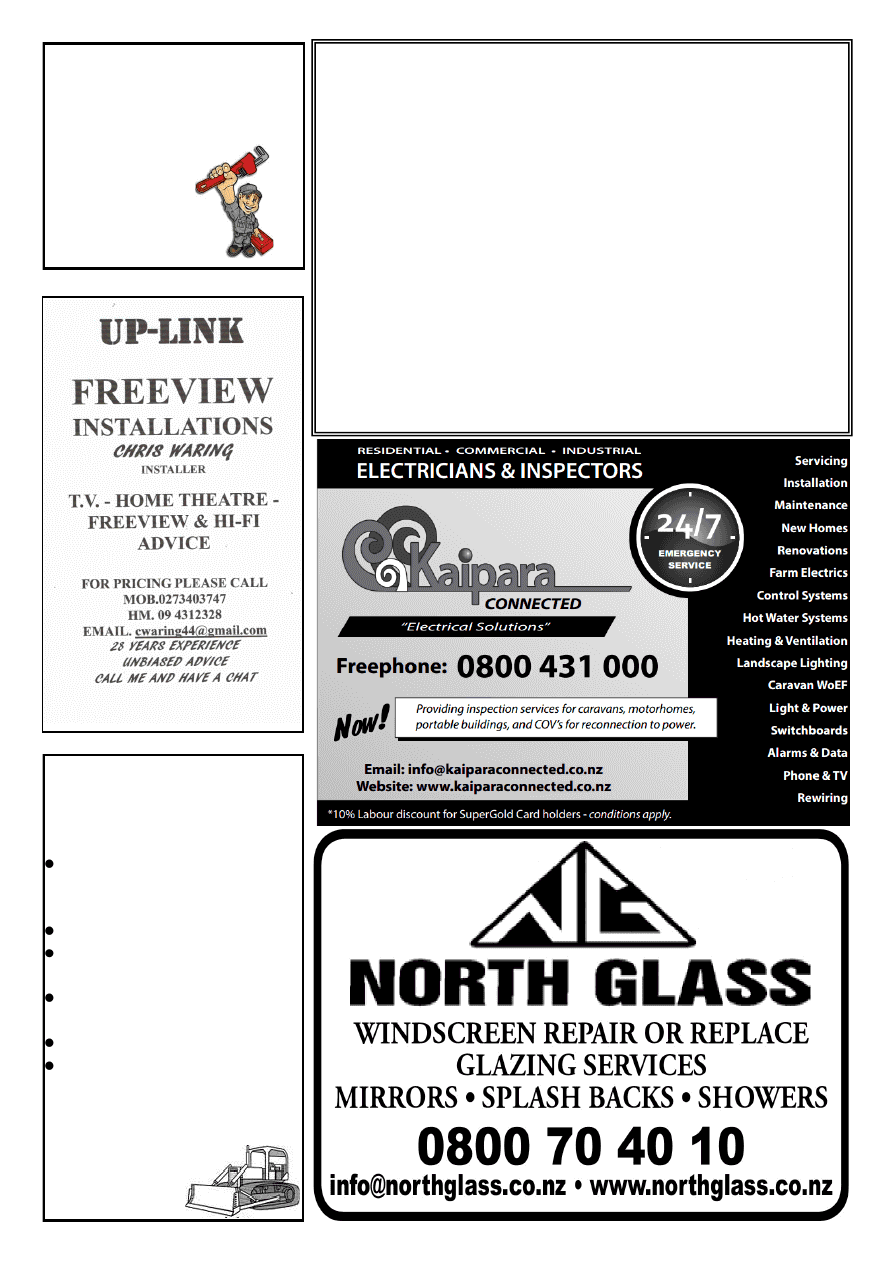 Coates  
Contracting 
D41 Bulldozer with 6 
way blade, bush rigged 
with winch 
For all tree work 
General bulldozing and  
  stick raking. 
120hp Tractor for 
ground cultivation,  
tip trailer work. 
Fencing
All enquiries phone  
Brett Coates  
094318720  
or  
 021431872
Ross Murphy 
PLUMBER 
Certifying Plumber 
09 431 7510 
021 424 252 
Paparoa Based 
+
New Housing  
+
Renovations  
+
Maintenance
KAIPARA FLOORING CO 
32 HURNDALL ST MAUNGATUROTO 
Phone 09 9469886  
or 021 515 415 
Carpet, vinyl, laminate wood look  flooring,  
vinyl planking, sanding & polyurethane service. 
Carpet Short Ends from $79pm + GST 
Vinyl D.I.Y. peel n stick tiles $10sq mtr + GST. 
Free measure & quote.   
Mobile Service 
Phone Christine or Howard anytime 
Open Saturdays by arrangement.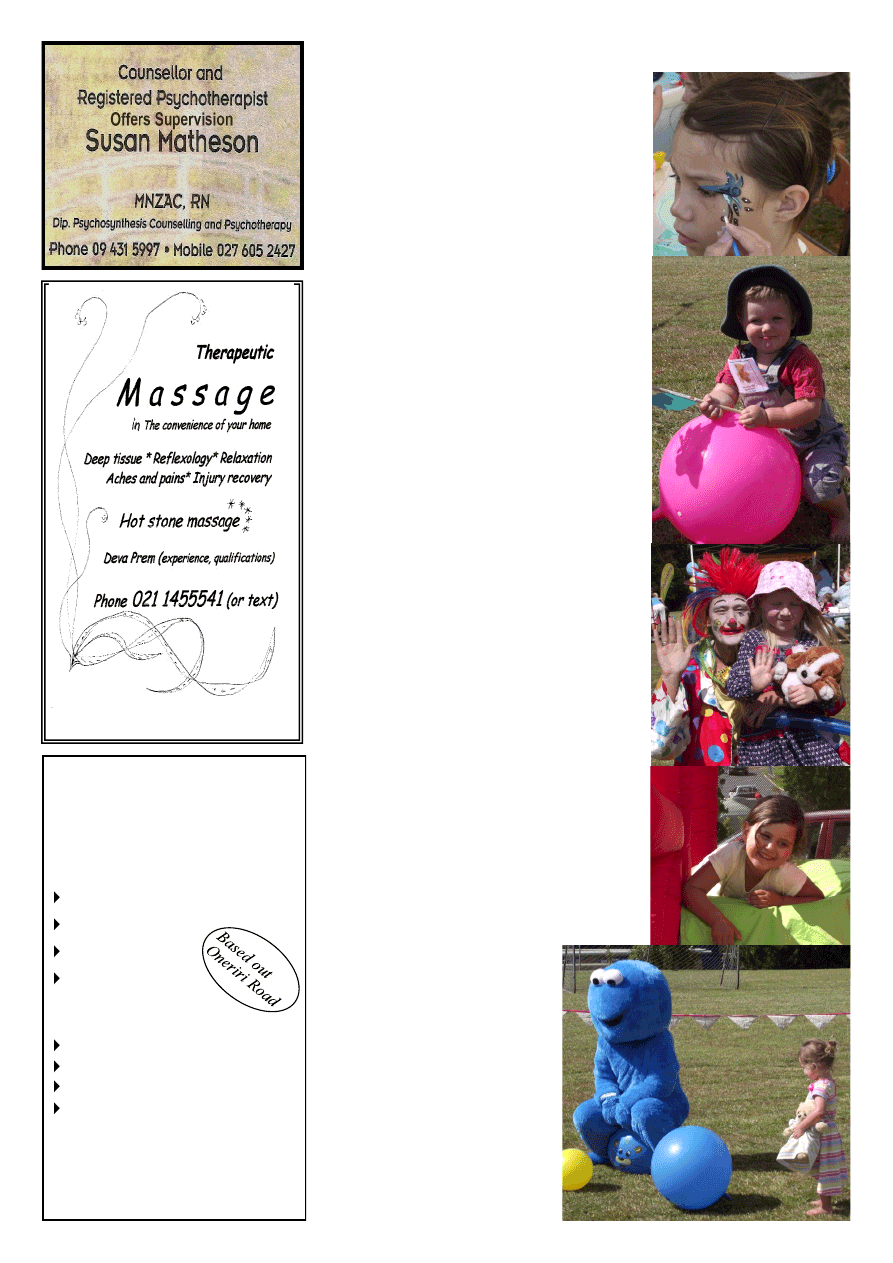 www.kaiwaka.co.nz 
Kaiwaka Bugle - 3 March 2015 
Page 17 
www.mangawhaimassage.co.nz 
HODGETTS
CONTRACTING
Digger Work   
Driveways 
House Sites  
Dams 
Drains, etc
Also available for HIRE 
3 ton Vib Roller 
Heavy Duty Tow 
Waterblaster  
Lazer Level 
Phone Mark 
4312877 
027 447 8554
After a week or two of patchy weather, Saturday 
the 14th of February was hot and sunny. With the 
gazebos;  which  were  on  loan  from  100%  Fergus 
Appliances,  The  Vet  Centre,  Small  Pukeko  and 
Play  Centre  Maungaturoto;  casting  shade  on  the 
Primary  School  field,  the  over  150  attendees 
(including an eight week old baby or two) enjoyed 
the third annual Teddy Bear's Picnic. The Picnic 
is  a  free  annual  event  organised  by  the 
Maungaturoto Residents Association, with a 5 and 
under focus. It is a fun morning where parents and 
children alike have a chance to mingle, play, take 
home prizes and have a good time, this year was 
no exception. It is such great time that both Peppa 
Pig and the Cookie monster visited! 
The  almost  continuous  story  time  was  read  by 
Sheryl  Cullen  (Epic  Kids-  Friday  afternoons  at 
the  Good  News  Congregational  Church)  as 
families  stopped  to  picnic  amongst  the  cushions. 
Play  Centre  Maungaturoto,  which is  open  beside 
the  School  Monday  and  Wednesday  mornings, 
brought  a  large  selection  of  activities  including 
water and kitchen play and play dough.   Plunket 
ran  a  colouring  in  section  with  a  competition, 
which  is  part  of  their  awareness  week.  Parents 
were  able  to  speak  with  the  Community  Co-
ordinator  Tina  Ball  about  the  current  changes 
occurring  with  Plunket  Maungaturoto  with  the 
closure of the rooms. A clinic will still be run out 
of  Maungaturoto      with  the  offices  being  in 
Paparoa.  
Small Pukeko Kaiwaka (new ownership of Small 
Poppies has instigated the name change) brought 
a  clown  who  was  skilled  in  making  balloon 
animals  for  children  to  take  home  and  they  had 
delicious  cupcakes  to  add  to  the  picnic  basket. 
Otamatea  Community  Services  and  Nga  Ripo 
helped  facilitate  the  Adopt  a  Teddy  table  with 
over 70 teddy bears and soft toys being re-homed. 
100%  Fergus  Appliances  not  only  supplied  a 
gazebo  under  which  the  free  apples,  plums  and 
milk  and  the  scavenger  hunt  could  be  collected 
but also a voucher to go along prizes from RD1, 
Dreams,  Made  by  Me  (Beth  De  Groote),  Our 
Little  Gems,  Four  Square,  Tony's  Post  Shop, 
Mainly  Music  Maungaturoto  (Tuesdays  @ 
10am),  Tulips  and  other  donors  for  the  Picnic's 
colouring  in  competition  and  the  children's  and 
adults spot prizes.  
Music  played  by  Nona  Rogers  was  a  beautiful 
compliment  to  the  dance  of  the  bubbles  around 
the Mayfair pole. The Fonterra Grassroots funded 
bouncy castle and moon hoppers were once again 
a  big  hit  as  was  the  miniature  horse  and  pony 
rides.    Maungaturoto  Fire  Brigade  brought  two 
fire  trucks  which  were  open  again 
for children to take a ride.  The Fire 
Brigade  is  run  by  volunteers  and  a 
vital part of our community.  
A big thank you goes not only to the 
Sponsors, Supporters, Attendees and 
the  Duke  of  Edinburgh  teenagers 
and their friends who help make this 
event  what  it  is  but  also  the  others 
who add their support; to setting up 
(Allan, Jamal and Justin); to helping 
(Justine,  May,  Kenny,  Shawna);  to 
judging  (Daniel)  and  just  morally 
(Amy, Terri and Mrs Parsons).   
Till next February! 
~The Teddy Bear's Picnic 
Committee 
TEDDY BEAR'S PICNIC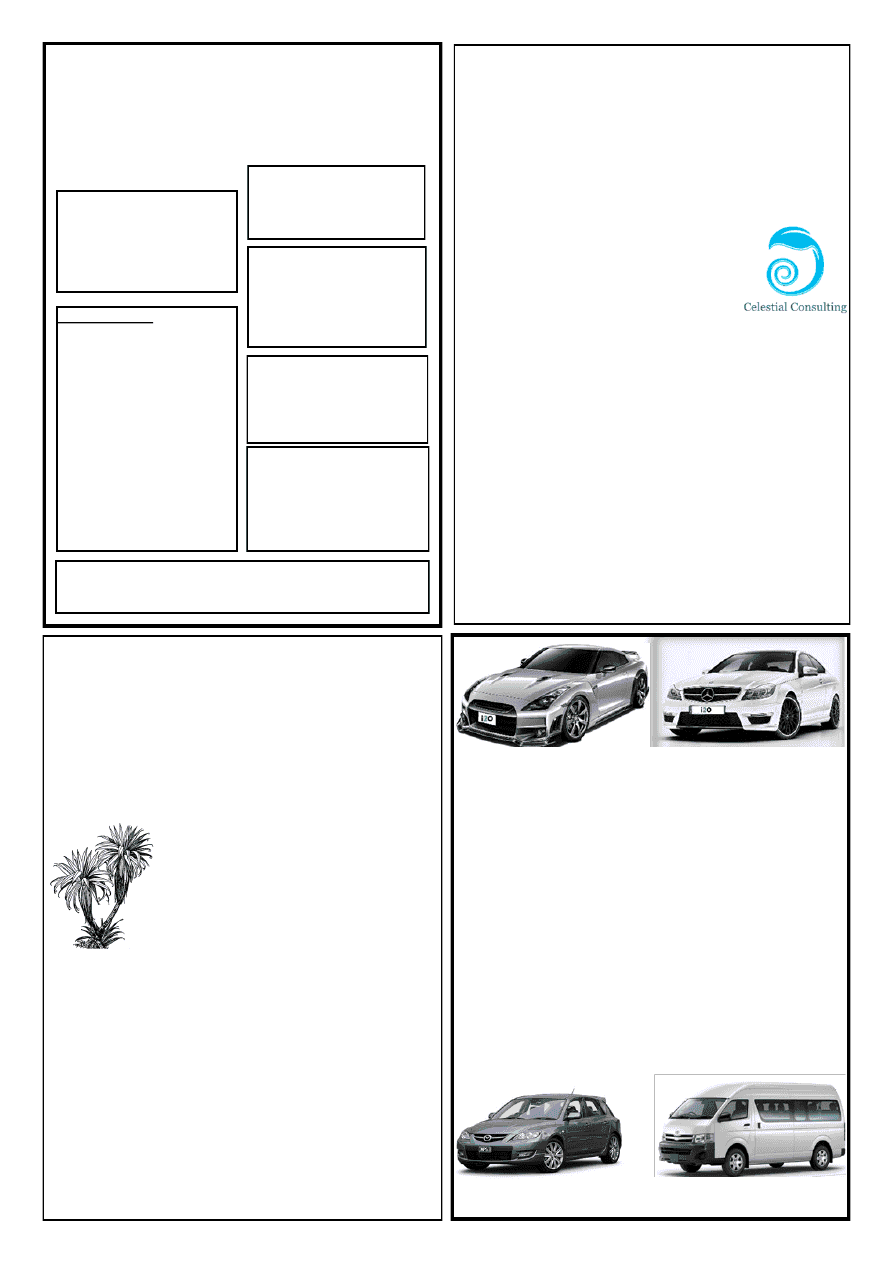 Import 2 Order 
All vehicles 
Trade-in options 
Finance available
Import 2 order is a nationwide distributor of 
wholesale vehicles, specialising in high auction 
grade quality Japanese and European vehicles 
direct from dealer only auctions to the public. 
CONTACT US NOW: 
Email: brent@import2order.co.nz 
Phone: 021 337 883 
Website: www.import2order.co.nz 
RMVT: M259127 
We are BIG on supporting the locals!
PAHI FISHING COMP 
SATURDAY 28 MARCH 2015  
FISHING STARTS 7:00am 
FINAL WEIGH IN 4:00pm 
AT PAHI CLUBROOMS 
FISH ANYWHERE IN THE 
KAIPARA HARBOUR 
ADULTS $10.00 
KIDS (up to 15) $5.00 
DUCK BUCKS – We will 
be releasing 10 Ducks 
(decoys) down the har-
bour.  If you come across 
any of them while you are 
down fishing, pick them 
up and bring them back to 
the clubrooms to win a 
great prize. 
Duck Bucks can be pur-
chased before you go 
fishing at $5 per buck.  So 
if you purchase one Duck 
Buck you can bring back 
One Duck! 
PRIZES FOR HEAVIEST 
SNAPPER, KAHAWHAI, 
GURNARD, SHARK, 
STINGRAY. KIDS PRIZES 
BE IN TO WIN A 
CHAINSAW WITH THE 
LUCKY TICKET DRAW 
SPONSORED BY 
MAUNGATUROTO AUTO 
CENTRE 
Prizegiving, dinner, raffles 
and music in the 
clubrooms.  BYO alcohol.  
Anyone is welcome to 
enter this competition. 
TICKETS CAN BE 
PURCHASED ON THE 
DAY OR AT THE 
PAPAROA HOTEL OR 
MAUNGATUROTO AUTO 
CENTRE 
FOR ANY FURTHER INFORMATION 
CALL MIKE 027 285-1408 OR 
EMAIL JACQ.DONALD@XTRA.CO.NZ 
Hi, my name is Glo, and I have been a Kaiwaka Resident 
for 7 years. 
I am pleased to advise that from Wednesday 4th March, I 
will be available for private consultations in Kaiwaka at 
the Well of Health. Initially I will be available on 
Wednesday afternoons between 1.00 pm and 4.00 pm. 
My passion is to be a catalyst for change, to provide a 
strength focused environment which enables both healing 
and coaching to transform to enrich the lives of my 
clients. 
As a healer,  I use the gentle but 
powerful energy of ThetaHealing™ which 
focuses on emotional, spiritual, and 
physical healing for your overall 
wellbeing. Helping with grief, loss, 
trauma, abuse, betrayal, and so much 
more, easing the pain, the sadness, the 
anger, to rediscover health,  happiness, joy, belief in 
yourself and your ability to achieve success, abundance.    
As a coach I offer transforming Breakthrough Life 
coaching, which includes Personal growth coaching, 
Abundance coaching, Career coaching, and Relationship 
coaching specialising in Parent coaching.  
I also offer Intuitive Readings which are enhanced with 
Angel Card readings.  I also offer Cherub Card Readings 
for kids.  
For more information on ThetaHealing™ check out 
www.celestialconsulting.co.nz  or at 
www.thetahealingnewzealand.co.nz  or call me on my 
mobile 027 363 8833 or email me at 
glo@celestialconsulting.co.nz   
Glo Ramsay 
MANZASW : Breakthrough Life Coach: Thetahealer®: 
Intuitive Reader: 
Imagine that unsightly area turned into a 
tropical paradise… 
planted in native trees and shrubs… 
practical, functional, aesthetic… 
You guessed it - I can help! 
All Planting 
Shelter 
Gardening 
Orchards 
Pete Worsfold Cert L/Des 
Sound Landscapes 
In Harmony with Nature 
4312 152  or  021 825970  
Call me to arrange a site visit at your place… 
planting season's on its way - plan now!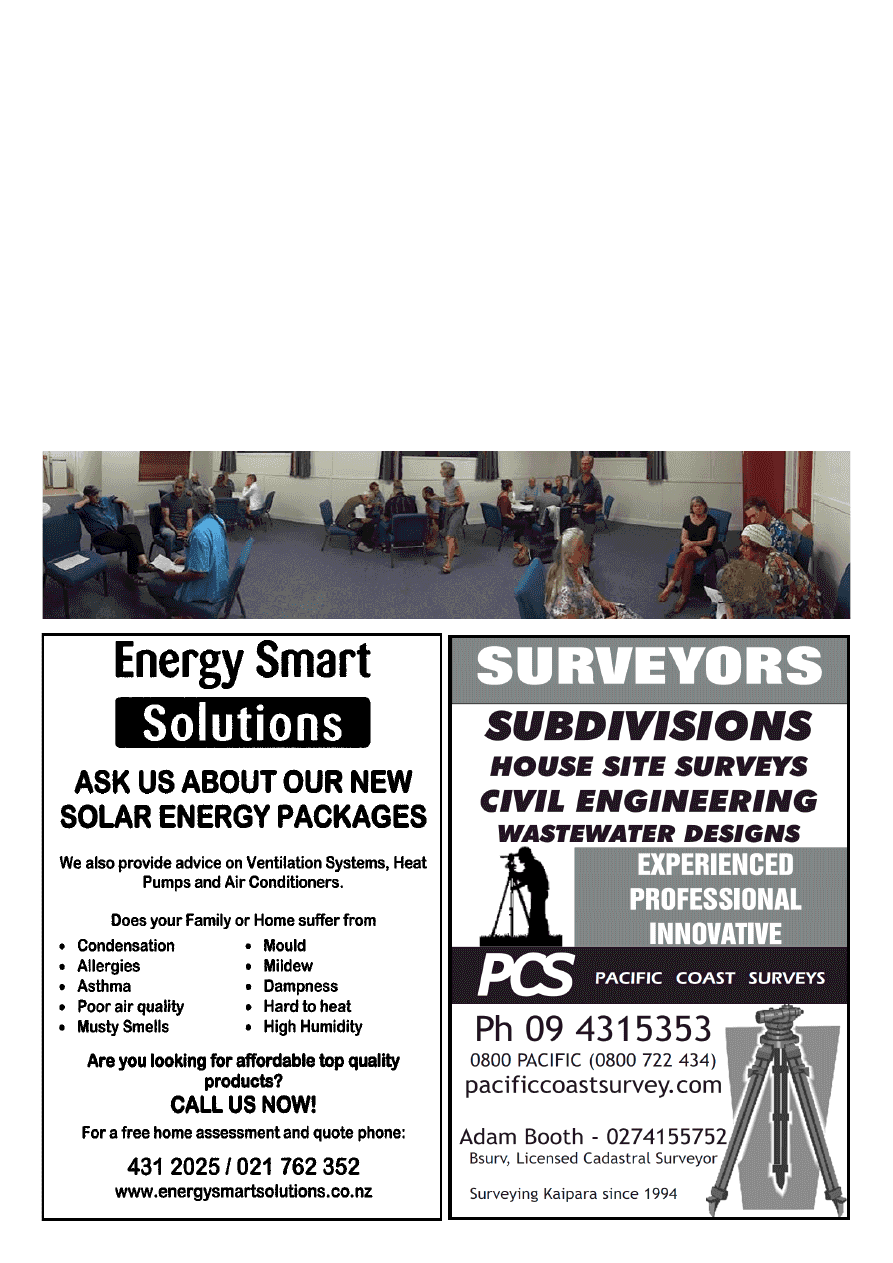 www.kaiwaka.co.nz 
Kaiwaka Bugle - 3 March 2015 
Page 19 
During  February  Niki  and  Laila  Harré 
made  a  pilgrimage  around  the  North 
Island to reconnect with people so that 
we  could  "Rethink  the  System"  with 
them.  The  idea  was  that  they  did  not 
spend  any  money  or  make  any 
arrangements  themselves  but  trusted 
that we in the communities they visited 
would  organise  ourselves  and  care  for 
them.  They  did  not  want  to  appear  to 
be  bludging  so  they  donated  a 
substantial  sum  to  chosen  charities 
ahead of time. Their dependence on the 
local  people  created  a  different 
relationship  with  us  and  particularly 
travelling by hitch-hiking allowed them 
to connect with people they would not 
otherwise have met.  
On Saturday, February 21st, it was our 
turn,  in  Kaiwaka  and  Mangawhai,  to 
host Niki and Laila. Alan Preston from 
the Travellers Rest provided them with 
accommodation and 23 people came to 
the meeting held in Kaiwaka. 
Niki  Harré,  who  is  a  psychology 
lecturer,  suggested  that  emotion 
underlies  our  responses  to  the  world, 
however realistic and logical they may 
appear.  The  emotional  response  to  the 
issue of "climate change" is often fear 
which  leads  to  denying  or  running 
away from the problem. The emotional 
response  to  injustice  is  often  anger 
which  can  be  destructive.  Responses 
founded  in  positive  emotion  are  more 
likely to be successful.  
Niki  also  challenged  us  to  think  about 
the difference between a "finite game" 
in  which the  purpose  is to  win  and  an 
"infinite game" in which the purpose is 
to  involve  everyone  and  make  the 
game  continue  to  work  for  all  players 
indefinitely.  This  is  an  idea  proposed 
by philosopher James Carse. Niki used 
a  comparison  between  test  cricket  and 
beach cricket to illustrate this. We were 
each asked for one word for something 
of  infinite  value  and  something  of 
finite value and Niki then showed us a 
cloud  diagram  with  the  size  of  the 
words representing the number of times 
people usually offer that word. 
Laila  shared  some  of  her  activist 
history  looking  at  infinite  and  finite 
games that were played and examining 
the way, since the 1980's, the emotions 
driving  activists  have  become  more 
negative. 
The  meeting  ended  with  a  workshop 
session in which we split into groups of 
4 or 5. Each member of the group was 
invited  to  present  an  idea  for  positive 
change to "the system" and relate it to 
the infinite values in the cloud diagram. 
We  all  responded  with  more  ways  the 
idea could support infinite values in the 
community.  Afterwards  we  had  time 
for  a  cuppa  and  the  level  of  eager, 
informal  conversation  suggested  that 
most  of  us  had  found  the  evening 
inspiring – Thank you, Niki and Laila. 
~Helen Marsh 
Infinite Kaiwaka/Mangawhai?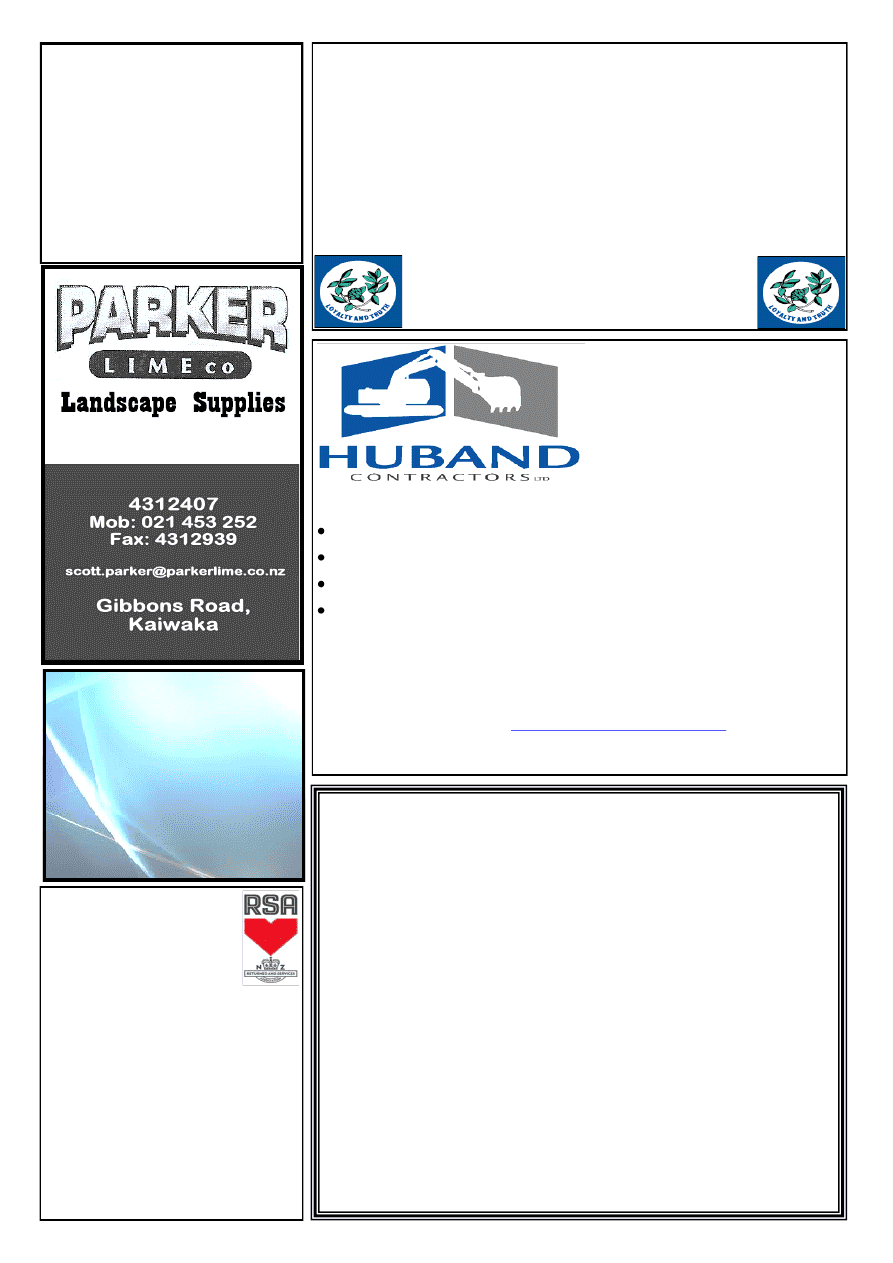 Bulk Cartage 
OFFICE 
RELOCATION 
Our Head Office has now 
moved 
Physical Address: 
2088 Paparoa Valley 
Road, Paparoa 
Mailing Address: 
PO Box 108, Paparoa 
0543 
Ph: 09 431 8839 
Office Email: 
admin@huband.co.nz 
R O A D I N G    
E A R T H W O R K S  
D R A I N A G E  
S I T E W O R K S  
For any further enquiries,  
contact Shaun on: 
Cell: 021 222 0272  / Home: 09 4318339 
Shaun Huband:  Registered Drainlayer 
HAKARU & 
DISTRICTS   
RSA  Inc 
Each Friday night 
From 6.30pm 
Meals will be served 
 2nd Friday of the Month 
Is Roast Dinner Special 
Come along and enjoy  
our Hospitality  
For more information 
 Ring Heather 431466 
or Jan 4314512 
g.a.s. 
Mangawhai 
we have a 
GARDEN CENTRE 
for all your gardening needs 
Also a great range of 
STOCKFOOD 
Wide range of 
ORGANICS AND FRESH 
LOCAL PRODUCE 
All your motoring needs are taken care of by our friendly staff 
check us out... 
44 Moir Street, Mangawhai (09)431 4242 
 LEABOURNS 
Passenger Service
Car & Van Hire 
Bus & Coach Charters 
Airport Transfers 
 Monthly Shopper Bus 
Phone (09) 4237416 
Freeview  
Installations 
Richard Te Haara 
25 Marram Place 
Mangawhai Heads 
021 1104056 
kiwipride@xtra.co.nz
Otamatea High School is 50 years young next year 
IT'S TIME TO CELEBRATE – 50th Reunion
Before the celebrations begin next year we need to get on and organise 
and promote what is set to be a FANTASTIC weekend of memories, 
sport, entertainment and fun.  
Please give me a call if you are keen to help out. We hope to form a small 
committee plus collate a list of past students and staff who can assist with 
getting the word out.
I would love to hear from you.
Nikki Donaldson   0800 682 628 or 
ohs@otamatea.school.nz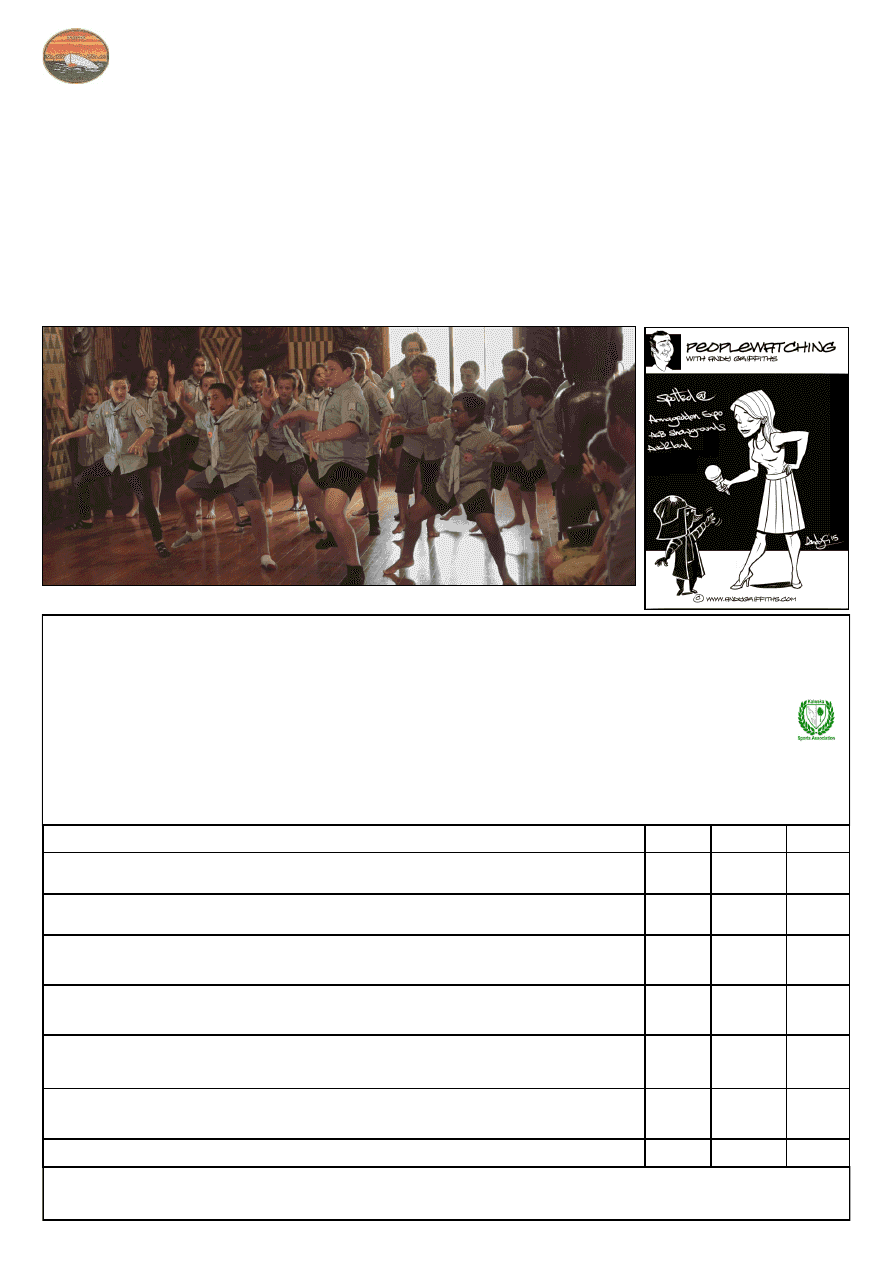 www.kaiwaka.co.nz 
Kaiwaka Bugle - 3 March 2015 
Page 21 
BULBS FUNDRAISER - 
Kaiwaka Sports Association 
Here's a great opportunity to purchase spring flowering bulbs and seeds. Bulbs are easy to plant, fun to grow and will reward  
you with beautiful flowers year after year! Bulbs are supplied by Garden Post who source bulbs from New Zealand's best growers.  
Prices offered here are less than normal retail and the KSA will make 30% profit on all sales. Your order will be delivered to your 
home and a planting guide will be enclosed with each order. To order please return this form with your payment by 20
th
 March. 
Delivery will be the following week. Any enquiries to Cheryl Anderson on 4312 051. 
Bulb Order Form 
Name:   _________________________________________ 
Address:   _____________________________________________________________ 
Phone number:   __________________________________
Bulb type  
Price  
# packs   $ total  
10 Golden Trumpet Daffodils
  Everybody's favourite and the true essence of spring! Huge flowers 
with yellow trumpets and yellow petals. Outstanding for cut flowers. Early flowering. Height 40cm
$8.50 
10 Fragrant Daffodils - Erlicheer  
Bunches of highly scented, double flowers in a soft creamy-
yellow make this an all-time favourite. Flowers for a long period in early spring. Excellent for picking. Height 40cm
$8.50 
10 Tulips Red & Yellow Mixed  
Tulips are spectacular late spring flowering bulbs with colourful and 
attractive cup-shaped flowers. Two types – Super Red and Super Yellow Mixed will give a dazzling display. So 
easy to grow. Height 40cm 
$10.00   
10 Fragrant Double Freesias 
For the true scent of spring try this mix of popular double Freesias. 
They will give a long lasting, dazzling display and have long stems for picking. Height 30cm. Protect from 
heavy frosts.
$6.00 
10 Dutch Iris 
Showy bright and airy flowers will explode into colour in spring. 
Mix of colours from blue to yellow, white and bronze. Easy to grow. 
Tall stems make these superb for cut flowers. Height 60-90cm
$7.00 
Wildflower Seed Mix—Butterfly Garden 10 grams 
Autumn is a great time to sow 
wildflowers. This mix of seeds will help attract butterflies into your garden. It will cover an area of 10 square 
metres. So easy to grow—full instructions in each packet.
$10.00   
TOTAL    
Payment options: …... Cash …...Cheque (payable to KSA) …..Bank direct 060365002247200 (
use reference bulbs and your full name)  
Ways to return form:   Post to Cheryl Anderson, 233 Baldrock Rd, RD2, Maungaturoto, 0587. Drop off in box at Jaques Four Square. 
Scan and email to Cheryl at kaiwakasports@gmail.com 
Above - members of the Kaiwaka/Mangawhai Scout troop at the Waitangi Treaty House 
Point  Curtis  Cruising  Club 
Inc 
Open 
Fishing 
Competition 14th & 15th March 2015 
Start  Time:  6am  Saturday  14th  March 
2015.  Finish  Time:  6pm  Sunday  15th 
March 2015. 
Weigh  In:  Each  day  5pm  to  6pm  at  3 
Furlongs Hotel (No late weigh-ins) 
Maximum Weigh In: 2 per species per 
angler  per  day  TO  BE  GILLED  AND 
GUTTED 
Prize  Giving:  6.30pm  on  Sunday  15th 
March 2015 
AUCTION: 
TO 
FOLLOW 
PRIZEGIVING,  BBQ:  To  follow 
Auction (Please bring a plate) 
Ticket  Outlets:  Jean  Mcleish  09 
4312520,  3  Furlongs  Hotel  09 
4312246,  Wellsford  Sports  &  Leisure 
09 4238873 
ADULTS:  Entry  Fee:  $25.  Species: 
Snapper, Kingfish & Kahawai 
Adult  Prizegiving:  Heaviest  Snapper: 
1st Prize $300, 2nd & 3rd prizes either 
Fishing, Sports or Vouchers 
All  Other  Species:  1st,  2nd  &  3rd: 
either Fishing, Sports or Vouchers 
JUNIORS (Aged under 15): Entry Fee 
$5.  Species:  Snapper,  Kingfish, 
Kahawai & Eel 
Junior  Prize  Giving:  1st,  2nd  &  3rd: 
either Fishing, Sports or Vouchers 
ALL SNAPPER WEIGHED IN GOES 
INTO  THE  DRAW  FOR  THE 
AVERAGE WEIGHT PRIZE 
All fish weighed in (must be gilled and 
gutted) will be kept by The Point Curtis 
Cruising Club Inc to be auctioned after 
prizegiving. 
This  is  a  fundraiser  for  the  Rangiora 
Boat Ramp Carpark. 
Please  see  poster  for  Rules  and 
Disclaimer. 
Don't forget FISH OF THE MONTH is 
Snapper until 10 March 2015. 
Next  committee  meeting,  Tuesday  10 
March 2015, 7pm at 3 Furlongs Hotel. 
 ~Wayne Leslie, Commodore 
KAIWAKA 
POINT CURTIS CRUISING CLUB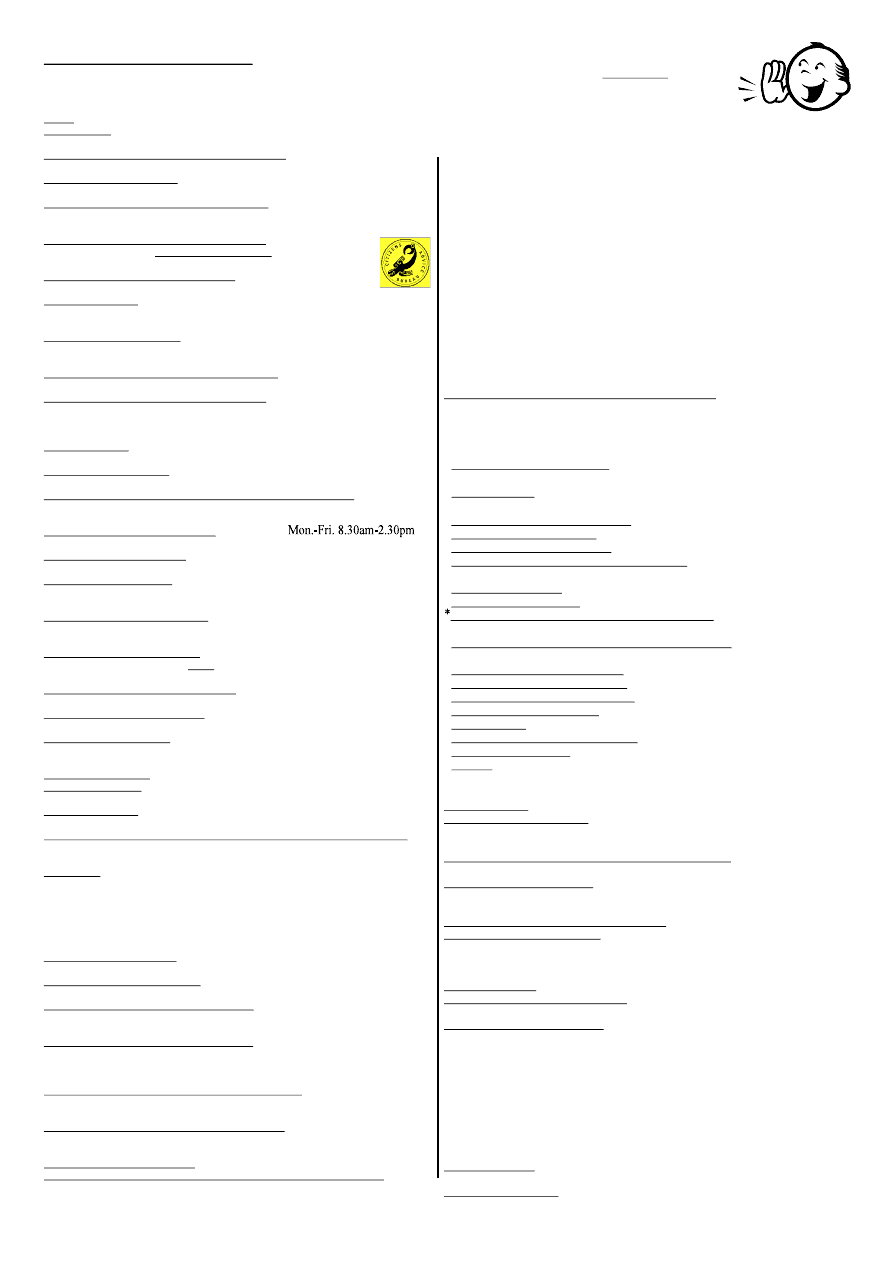 LOCAL SERVICES 
*St.John Ambulance 
111 or Freephone 0800 61 0066
*Fire phone 111     *Police phone 111 or 09 4311150
A A: Meets Wed., 8pm Kaiwaka Ph: 4312228, 4315543, 0800229 6757 
AL ANON: In recess, contact Ph: 4312228 
MINISTRY FOR PRIMARY INDUSTRIES - General inquiries Call 
Free 0800 008 333 
ASUREQUALITY LTD  (was AgriQuality) Call Free 0508 0011 22  
BUDGETING SERVICE, OTAMATEA:Free confidential advice &  
support - all areas of  personal finance Ph: 09 4318173 or 094318117 
CAB-Citizens Advice Bureau.Wellsford Ph: 4237333 
0800 367 222 email:cab.wells@xtra.co.nz  
DOG/STOCK /NOISE CONTROL 0800 105 890 
KATE'S PLACE with Govt.Day Agencies/Community Information /
Osteopathy/ IRD / Probation, etc Ph: 4312661 Hours: 9am-3pm. Mon - Fri 
FUNERAL SERVICES: Morris & Morris Ltd, 
Whangarei - Bev Jaques Ph:4312367 or 0800667747 
GRANDPARENTS Raising Grandchildren: Sarah Rogers Ph: 4312194 
HAKARU LANDFILL/Transfer Station:Open everyday except 
Tuesday10am-4pm.Ph4312629 Cost-$55 trailer load up to 1 cubic 
metre. Ph:4258567 - office 
HOMEOPATH: Donna Flavell Ph: 4314843 
INLAND REVENUE: Last Friday each month, 11-3pm Ph4312661 
KAIPARA DISTRICT COUNCIL www.kaipara.govt.nz:  
Help Desk FREEPHONE 0800 727 059  
KAIWAKA KOHANGA REO: Ph:4312620 
KAIWAKA CEMETERY: Ph: 4312045 
KAIWAKA LIBRARY: kaiwaka.library@gmail.com  
Mon. 4-6pm; Wed., Thurs., Fri., Sat.  10am-2pm Ph:4312539 
KAIWAKA PLAYCENTRE: Ph: 4312286. Hastie Lane 
Monday to  Friday  9.00am - 12 noon. 
KAIWAKA POST OFFICE:Ph:4312 431  
Post Code: 0573  for RD2  and  0542 for all Kaiwaka Post Office mail 
KAIWAKA PRIMARY SCHOOL: Ph: 4312309     
KAIWAKA SPORTS ASSN: Ph 4312005; 4312129 gym 
KAIWAKA ST JOHN: Manager Steve Rosser 09 4318403, 021 
2316836 
LINKING HANDS Health Shuttle Ph 4314121 or 09 4318969 
NORTHPOWER: Faults Kaiwaka area 0800 104040 
PARENTPORT: Free, practical family support service Puhoi to Paparoa 
Ph or txt:  Dianne 027 2085093 
PERSONAL DEVELOPMENT COACHING, GROUP FACILITATION:  
Sabine Druckler 4312231 
PLUNKET: Kaiwaka - Kaiwaka War Memorial Hall: Clinic 1st Wednesday of 
the  month;  Coffee  Group  at  9:30.  Mangawhai  -  Rose  Madsen  Cottage, 
Mangawhai  Domain,  Moir  St:  Clinic  1st  and  3rd  Monday  of  month;  Young 
Babies  Coffee  Group  2nd  and  4th  Monday  10  am;  Plunket  Playgroup  every 
Thursday. Maungaturoto  - Maungaturoto Congregational Church, 100 Hurndall 
Street East: Plunket clinic 2nd and 4th Wednesday. Cynthia 09 431 8187 or 027 
675 3488 
PLUNKET HELPLINE -0800 933 922 (24 hours) 
PUBLIC HEALTH NURSE: Gloria Reid Ph: 094327634  
RETURNED AND SERVICES ASSN 733 Settlement Rd. Hakaru 
Ph.4312176 Bill Kerr (President) Ph.4314719 
TAITOKERAU COMMUNITY LAW: Free confidential legal advice 
and assistance, 2nd
Thursday
 of each month. Ph: 0800 155 529 for 
appointments.  
TE KOROWAI AROHA O NGATIWHATUA Ph: 4312675 
(The Cloak of Love of Ngatiwhatua) Support and Maori Consultancy.  
VETERINARY SERVICE MANGAWHAI: 
Ph: 4314535 Mon-Fri 8.00-5.00, Sat 9-12, a/h appt. 
WELLSFORD DOCTORS: Ph: 4238 086 
WOMEN'S WELFARE LEAGUE & Reaching Out For Youth:  
4 Kaiwaka-Mangawhai Rd, M Morgan 4312293 
Next Bugle Deadline Friday 13 March 2015
WHAT'S ON
PLEASE ~ do let us know what is on - email 
kaiwakabugle@kaiwaka.co.nz 
Advertising in WHAT'S ON is FREE  
*6Mar~Hawaiian Night, Hakaru RSA, 6pm Ph Marlene 431 5589 
*6Mar~'Gone Girl' (R16) KWMH 7:30pm 
*7Mar~Boot Camp Charity Fun Day 7:30am Ph 027 979 1203 
Siobhan 
*8Mar~Children's Fun Day 12-4pm Centennial Park Wellsford 
*10Mar~KDC "Looking Ahead" 6pm KSA 
*12Mar~Parent Teacher Meetings, Otamatea High School 
*14Mar~Otamatea Hawks pre-season match, KSA 1:00pm 
*14-15Mar~Pt Curtis Open Fishing Comp, Ph 4312 520 Jean 
*15Mar~Fish Auction 6:45pm 3 Furlongs Carpark 
*20Mar~'Whiplash' (R13) KWMH 7:30pm 
*21-22Mar~Zonta garage sale, 104 Moir St 
KWMH=Kaiwaka War Memorial Hall 
KSA=Kaiwaka Sports Association Complex 
See www.kaiwaka.co.nz for upcoming events. 
HOUSEHOLD  RUBBISH  COLLECTION  -  Kaiwaka    Pick  up­
Mondays=Gr een bags ar e picked up by Nor thland Waste-queries 
to  them  09  4303273,Wednesdays=Blue  bags  and  yellow  recycling 
(at  Jaques    $3.00  and  $1.50)    are  picked  up  by  Kaurilands  09 
4392146.  
*DIABETES Support Group -for Kaiwaka, Mangawhai, Wellsford 
   10am, 3rd Friday of month Ph:A.Pert 4238242; J.Gardner 4238060 
*DRINK CAN 'tear tabs' - for Starship Hospital- please collect - 
    98 Kaiwaka Mangawhai Rd, leave in mailbox, Ph. 4312625  
*GYMNASTICS OTAMATEA -  Tuesday Ph: Stephanie 022 3624998 
*HAKARU PONY CLUB-Secretary Julie Rynne 09 4314520 
*KAIWAKA BADMINTON -Tuesdays 7.30pm Ph: 4312345 
*KAIWAKA GARDEN & FLORAL Grp:2nd Thursday in month 
   Ph: 4314767 
*KAIWAKA CUBS-Thursdays 5.30-7pm, Hakaru  Ph:Bruce  4312542 
*KAIWAKA SQUASH -Mondays 7pm Ph: Barbara Thomas    4315905 
KNITTING FOR WHANGAREI HOSPITAL - 2nd Tuesday in  
   month, Apple Basket 10am Ph 4314827 
*MANGAWHAI COMBINED PROBUS CLUB: 2pm,3rd Thursday  
   month in the Senior Citizens Hall Mangawhai. Ph: 4315777 
*NZ GENEALOGY-Wellsford - 1st Thursday in month Ph: 4237033 
*OTAMATEA GREY POWER-09 431 8138 Joan Hoggard  
*PT CURTIS CRUISING CLUB - Jean Ph: 4312 246 
*RSA,Hakaru & Dist.Women- meet 1.30pm 4th Thurs in month Ph: 4312 668  
*TRAMPING- Mondays 9am-2:30pm  Karen Ph: 4312 090 
*WAIPU GENEALOGYGROUP -4th Monday in month Ph: 4312725 
*WRITER'S GROUP - Ph Elizabeth 4312 522 
*YOGA- Tuesdays 6:15pm, Friday 8:30am Kaiwaka WM Hall Carla  
   Ph: 4312 408, 021 296 8794
CHURCHES:
*Gateway Worship Centre: St Mary's Church Nathan Rd off Oneriri Rd, 
Kaiwaka Services, 10.30am 1st & 3rd Sunday of every month. Contact: Rev 
David Gage 4312528 or 0212354282 
*Kaiwaka Family Church-Your Community Church:Sundays, l0am 
Home Group every Wed evening, Pastor John.Dekker Ph: 4318203 
*St Paul's Anglican Church 1st Sun. 9.30 am (Eucharist), 3rd Sun. 9.30 am 
(Family Service). Contacts:  Church Office 09 431 4122; M. Hargreaves 431 
2295; C. Bygrave 431 2057 
*Church of Christ the King, Mangawhai:9.30am every Sunday 
*St.Mary's Catholic Church: Maungaturoto – Griffins Road, Saturday 
evening Vigil Mass 6pm; Mangawhai – Senior Citizens Hall, Sunday Mass 
8:30am; Wellsford – Matheson Road, Sunday Mass 10:30am; Mid-week 
Mass times and all enquires to Fr. Bill Fletcher – phone 423 8170 
*Baptist Church: Sun. 10.30am Mangawhai Snr Cit.Hall.Ph:4312339 
*Cause Way Church Mangawhai: Sundays 10.15am, Mangawhai 
Community Recreation Centre, Insley St. Ph: 09 4314782  
*St.Pauls Archie Bull Hall HIRE  $20 half day, $40 full day per hire 
 Contact R. Morgans, Ph 4312365 
*Kaiwaka War Memorial Hall HlRE - Phone 4312725 or      Email  
kaiwaka.hall.bookings@gmail.com 
*Hakaru Community Hall HIRE -Ph.  4312256 or 4312110 
*Te Pounga Marae queries -A.Gage 4312528, 4312527 
*Kaiwaka Sports Association hire/queries - C. Anderson 4312051 or 
Email kaiwakasports@gmail.com
Justice of Peace: B.FJaques; L.Donaldson; A.F.Hargreaves  -please phone to 
make sure they are available 
Marriage Celebrants: L.Donaldson; A.F.Hargreaves; C.Rosseels