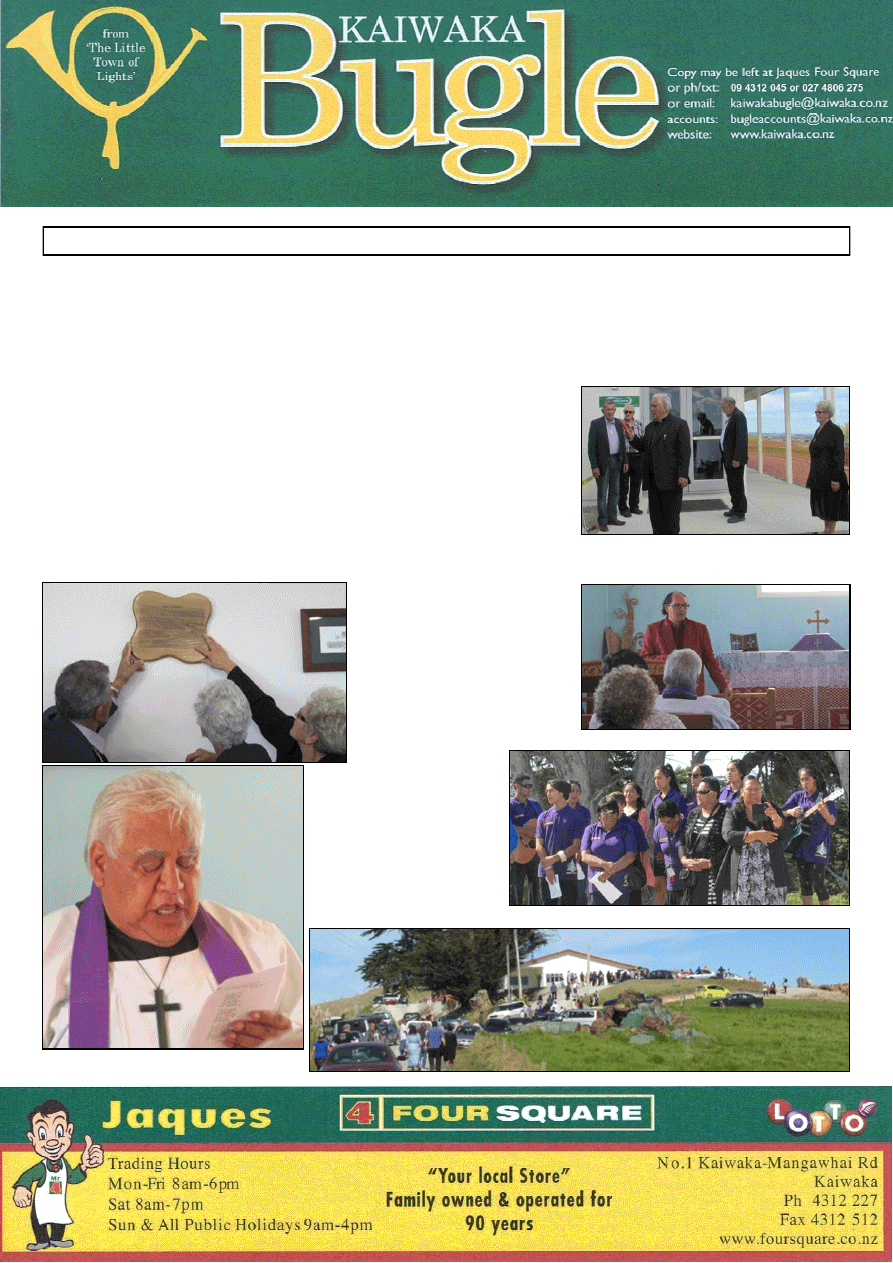 www.kaiwaka.co.nz 
Kaiwaka Bugle - 14 April 2015 
Page 1 
No: 07 
14 April 2015 
New hours from February 2015: 
Mon-Fri 7:30am-6:30pm 
Sat 8am-7pm 
Sun & Public Holidays 8am-5pm 
'NGA TAI HERE', TE POUNGA
The  opening  and  blessing  of  the  new 
wharekai, Nga Tai Here, took place on 
Saturday  4  April  2015  at  Te  Pounga 
Marae, Nathan Road Kaiwaka. 
The karakia was at St. Mary's Church , 
below  the  marae.  The  service  was  led 
by  Rev  John  Marsden  and  the  sermon 
was  given  by  Rev  Dave  Gage.  Family 
and visitors walked from the church to 
the wharenui. A group of young singers 
from  the  Rodney  College  kapa  haka 
group  sang  as  folk  walked  by. 
Speeches  of  greetings  and  thanks  then 
followed. 
Rev John Marsden led the opening and 
blessing  of  the  wharekai.  The  tables 
were  beautifully  laid  and  a  wonderful 
meal was enjoyed. 
The  first plaque to be  blessed tells  the 
meaning  of  the  name  of  the  new 
wharekai - Nga Tai Here. 
"Nga Tai Here is a name given to this 
area implying the tethering of the tides. 
This  is  in  particular  reference  to  the 
Kaipara  harbour  which  has  many 
estuaries that join the linkages with all 
Marae within Te Uri O Hau. 
Nga  Tai  Here  is  the  name  of  which, 
mauri  binds  all  Te  Uri  O  Hau  and 
ultimately 
Ngati 
Whatua 
marae 
together. 
There  will  be  many  people  who  will 
experience  the  warmth  of  our  own 
wharekai,  Nga  Tai  Here,  and  it  is  our 
fervent  hope  that  wherever 
people  come  from  they  will  also 
feel  tethered  to  our  hospitality 
through your maunga and indeed 
your  rivers  to  our  shores  of  the 
Kaipara. 
Kia tau mai te arohanui i runga i 
a  tatou  katoa.  Na  Te  Pounga 
Marae" 
The  second  plaque  was  a 
dedication: 
Nga 
Tai 
Here 
wharekai  is  dedicated 
to the memory of Naiti 
Perepe  Netana  (nee  Piripi) 
who  was/is  the  matriarch of 
the Netana whanau. 
Bruce  Gage  has  been  the 
project manager for the new 
dining hall. This project has 
been  three  years  and  has 
received  about  $900,000  in 
funding  from  the  ASB 
Community  Trust  and  the  Department 
of Internal Affairs Lottery Grants. The 
building  has  been  beautifully  finished 
and can now cater for 200 people. The 
kitchen is absolutely 'state of art'.  
Above: Rodney College kapa haka group 
Above: Rev John Marsden 
Above: Rev David Gage 
Above: at the doors of the wharekai – Ben 
Hita, Bruce Nathan, Rev John Marsden, J 
Nathan, Liz Edmonds.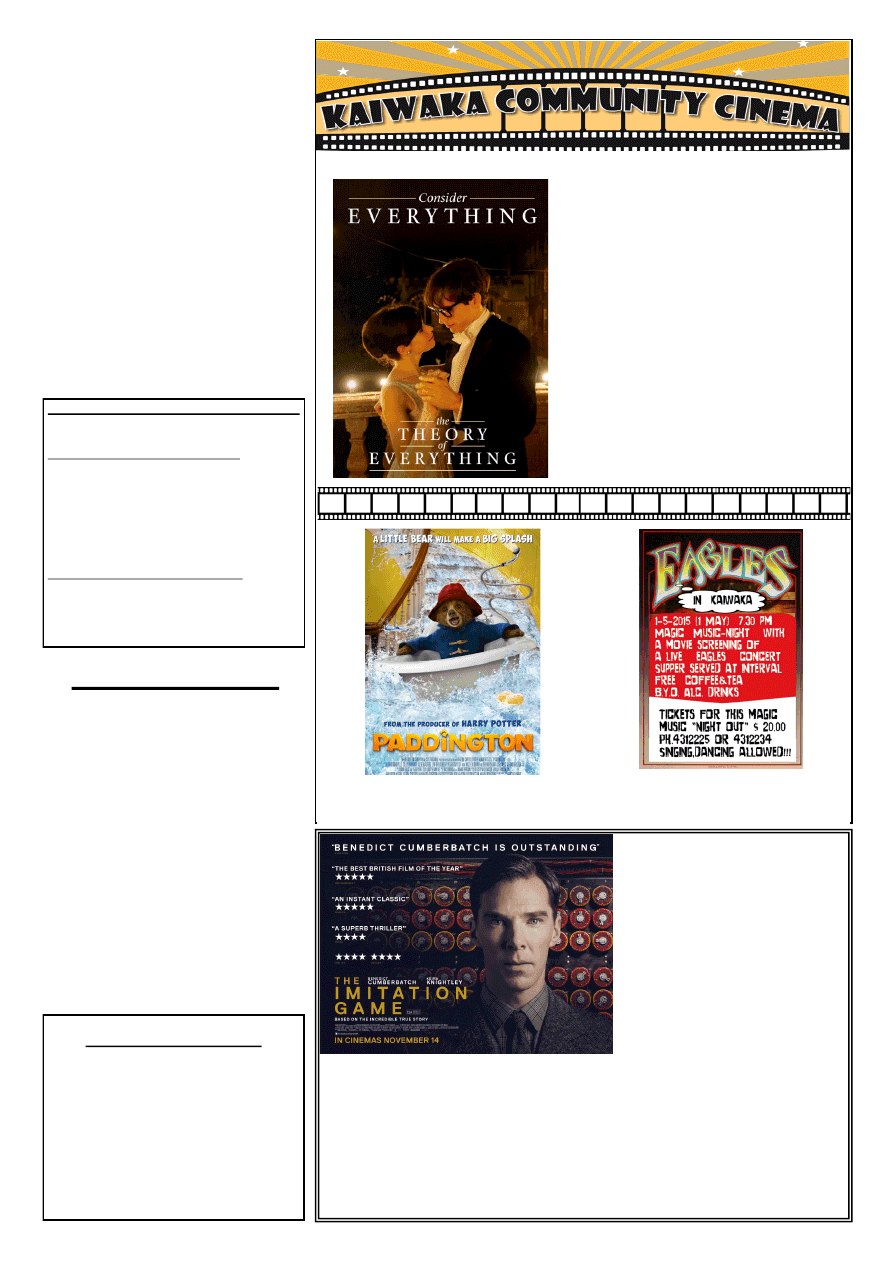 ABOUT TOWN 

 Did you check the battery in your 
smoke alarms when you changed the 
clock  the  other  week?  Do  it  now  if 
you forgot! 

Looking  for  something  to  do  on 
ANZAC Day? Start with the service 
at the RSA in Hakaru at 10am, go to 
the Mangawhai Market 1-4pm, then 
go to the movies at 7:30pm. That's a 
full day! 

Want to do something to improve 
our  town  or  just  help  out  in  some 
way? Volunteer for one of our many 
organisations  -  details  for  many  are 
on the back page of this paper.  
KAIWAKA BUGLE No. 07 
14 April 2015 
Page 3: Classifieds & Notices 
Page 5: WWI Honours, RSA 
Page 7: Kaiwaka School 
Page 9: Kaiwaka Sports Association 
Page 11: KSA cont. 
Page 13: Pt Curtis, Weather, St John 
Page 15: Kaiwaka Library 
Page 17: advertising 
Page 19: KSA 
Bugle 08 will appear 28 April 
Contact for advertising, reports, articles 
or information can be made by 
Email kaiwakabugle@kaiwaka.co.nz 
Ph: 09 4312 045 
Txt:  0274 806 275 
Copy  may  be  left  at  Jaques'  Four 
Square.
Kaiwaka Bugle 
Founded May 1978 
Copies available in Kaiwaka at Jaques Four 
Square, Kaiwaka Postal Centre, Shamrock 
Service Station, Celena's Gifts, Animal Health 
Centre 
Also outlets in Maungaturoto, Mangawhai and 
Paparoa. 
Can be viewed online at www.kaiwaka.co.nz 
Or a copy can be posted to you if you supply 
stamped, self-addressed DLE envelopes. 
Paddington 
Sunday 26 April 2:00pm (PG) 
Eagles in concert 
Friday 1 May 7:30pm (PG) 
(pre-sales only) 
At Kaiwaka War Memorial Hall . Adults $10, Kids (under 16) $5, Family Pass (2 adults + 3 children) $25 
Kaiwaka Bugle Advertisements 2015: 
All 
copy 
and 
queries 
to: 
kaiwakabugle@kaiwaka.co.nz 
Classified $3 (max 30 words); 1/8 page $6; 
1/4  page  $12;  1/2  page  $24;  in  special 
circumstances  whole  page  adverts  are 
available - $100. 
Payments can be made online, posted or 
left at Jaques Four Square Store. 
Accounts: 
bugleaccounts@kaiwaka.co.nz 
The  Kaiwaka  Bugle  is  a  community 
newspaper run by volunteers.   
Articles, etc. printed are not necessarily 
the opinion of the Bugle Team. 
The Theory of Everything 
Friday 17 April 7:30pm (PG) 
The  story  of  the  most  brilliant  and  celebrated 
physicist  of  our  time,  Stephen  Hawking,  and 
Jane Wilde the arts student he fell in love with 
whilst  studying  at  Cambridge  in  the  1960s. 
Little  was  expected  from  Stephen  Hawking,  a 
bright  but  shiftless  student  of  cosmology, 
given  just  two  years  to  live  following  the 
diagnosis  of  a  fatal  illness  at  21  years  of  age. 
He  became  galvanized,  however,  by  the  love 
of fellow  Cambridge  student, Jane  Wilde, and 
he  went  on  to  be  called  the  successor  to 
Einstein,  as  well  as  a  husband  and  father  to 
their  three  children.  Over  the  course  of  their 
marriage  as  Stephen's  body  collapsed  and  his 
academic  renown  soared,  fault  lines  were 
exposed  that  tested  the  lineaments  of  their 
relationship and dramatically altered the course 
of both of their lives. 
ANZAC DAY SPECIAL 
The Imitation 
Game 
7:30pm Saturday 
25 April 
(PG 13) 
Based on the real life story of 
legendary cryptanalyst Alan 
Turing, the film portrays the nail-biting race against time by Turing and 
his brilliant team of code-breakers at Britain's top-secret Government 
Code and Cypher School at Bletchley Park, during the darkest days of 
World War II. 
Starring: Benedict Cumberbatch, Keira Knightly 
Doors open 7pm for RSA presentation. 
Brought to you by the Kaiwaka War Memorial Hall Assn committee.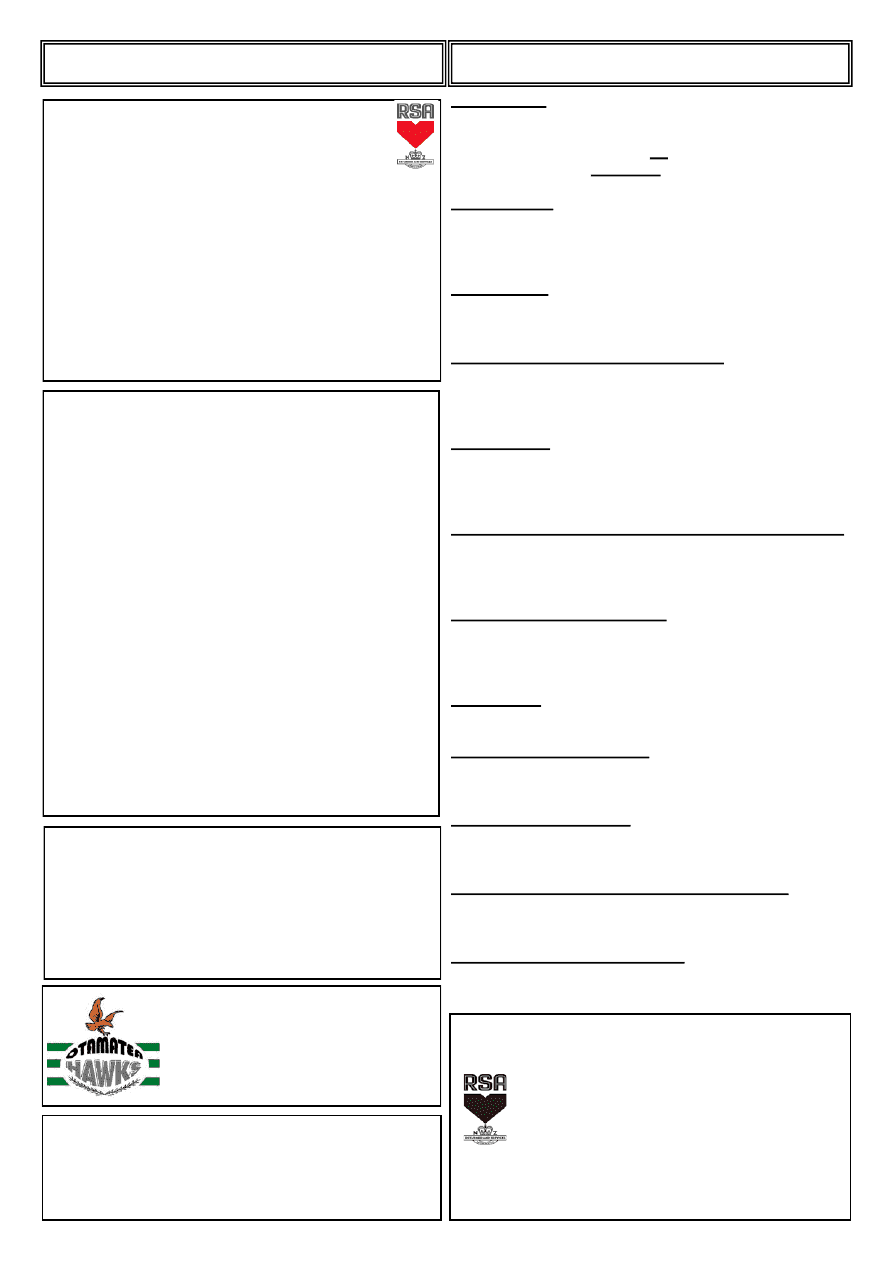 www.kaiwaka.co.nz 
Kaiwaka Bugle - 14 April 2015 
Page 3 
PUBLIC NOTICES 
CLASSIFIED 
FOR SALE: The Bees Nees Lavender and Herbs. 
Dry  Lavender  Rubbings  -  Lavender  Oil  -  Culinary 
Lavender  &  Dried  Herbs  grown  &  produced  in 
Kaiwaka pure and simple, no pesticides or herbicides.  
Tel: (09) 431 2046 after 3pm. 
FOR  SALE:  Original  wood  stove.  Esse  Century 
cooker.  Been  installed  for  eighteen  years.  Wet  back, 
double oven , white and black enamel. Working order 
$2,200.00 Ph 4312 605 Karen 
FOR SALE: Firewood, mainly split poplar (Kawa). 
$95  a  Ute  load  –  approx  1.5  cubic  metres,  delivered 
locally. Ph 431 2600 or 021 0588503 
SPINNING WHEELS FOR HIRE: Relaxing & fun. 
Free  1/2  hour  lesson  plus  wool.  Bond  $50,  $21  for  7 
days.  14  days  min.  Carded  wool  available.  Ph  Faye 
022 099 5467 
TO  RENT:  Kaiwaka-Mangawhai  Rd,  Kaiwaka. 
Unfurnished,  single  bedroom,  open-plan  cottage.  Suit 
single person. No pets.  $180 pw +power. Ph 027 478 
9065 
ANIMAL 
CRANIO-SACRAL 
THERAPIST: 
Gentle,  non  invasive,  effective  and  lasting  energy 
work.  Horses,  Pets,  Farm  Animals.  Affordable  rates 
with  10  years experience &  caring service. Jill  Shires 
021 0506 592 
THE  SUNSHINE  GIRLS:  Need  help  with  your 
house cleaning? Sometimes you just need another pair 
of hands. We offer two pair and a smile. Comparable 
hourly rate. Ph 431 2532 or 431 2711 
HASHTAG  Band  for  hire.    A  lively  mix  of  covers 
and original music.  Make your night special.  Ph: 021 
623 776  
SOUND  LANDSCAPES:  for  all  your  landscaping 
needs. Planting season is on the way! To arrange a site 
visit call Pete Worsfold 021 825 970 
BERYL  NOZEDAR:  (Middleton)  International  
Clairvoyant.  Numerology,  Tarot,  Clairvoyance,  
Mediumship. $60 for hour includes CD. Ph: 4312 080 
CLOTHING ALTERATIONS & REPAIRS: 
Hems,  Zips,  Dressmaking  Phone:  Win  4312027    or 
027 444 8358 Winsome Designs. 
FREE GRAZING WANTED: Small or large block. 
Can  do  some  fencing  or  water.  Phone  after  6pm 
4312006 
Proverbs 28:23 
In the end, people appreciate frankness 
more than flattery. 
HAKARU 
ANZAC DAY SERVICE 
DETAILS 
Assemble 10:00 am 
Parade Fall In – in car park 10:20 am 
March On / Wreath Laying / 
Last Post and Reveille 10:30 am 
Service in Club Rooms 11:00 am 
Light Luncheon / Bar opens 12:00 am  
ALL WELCOME  
Members of the public may wear their forbear's 
medals on the RIGHT breast. 
For further information, please phone: 
Bill Kerr 431 4719 – Neville Andrew 431 8191 
HAKARU AND DISTRICTS 
MEMORIAL RSA (INC) 
Annual General Meeting 
Sunday 24th May 2015 
1:30 pm in the Club Rooms 
Agenda: Apologies, Financials and reports, 
Election of new Committee, General Business. 
Nominations for Committee and Notices of 
Motion 
need to be passed to the Secretary by Monday 18th May 
2015 
The  Coast  to  Coast  Health  Care  Medical  Centres  at 
Mangawhai,  Maungaturoto,  Paparoa,  Snells  Beach, 
Matakana  and  the  Wellsford  Medical  Centre,  providing   
Acute care 24/7 will remain open and providing General 
Practice Care to their  communities and have no intention 
to  close  or  move    their  services.  We  will  be  providing 
more  services  locally  and  are  involved  with  a    new  
targeted  screening  project in  association  with  Waitemata 
District Health Board  to improve health in the month of 
May . 
The  recent  political  statements  made  during  the  
Northland bi election campaign by political candidates in 
Kaiwaka    and  debated  in  Parliament,  regarding 
"Wellsford  Community  health    services  being  removed 
"are not a reference to  our Medical Centres or our health 
services. 
We have  tried to  correct  these wrong  assumptions with 
the Political parties making the statements  and apologise 
to  the  people  and  our  communities    for  any  worry  or 
concern this has caused but need to reassure you that we 
have no intention to  move or shut down . 
If you have any more  concerns please call us and  we will 
be able  to address any concerns. 
Nancy Malloy, Manager, Coast to Coast Health Care. 
Local Vocals Choir Inc 
Annual General Meeting 
2pm Sunday 3rd May 2015 
Wellsford Community Centre Lounge 
All Welcome 
Contact Sally Randall (President) 4239393 
singlvc@gmail.com 
OTAMATEA HAWKS 
Next Games: 
18 April v Wellsford AWAY 
25 April v Hikurangi AWAY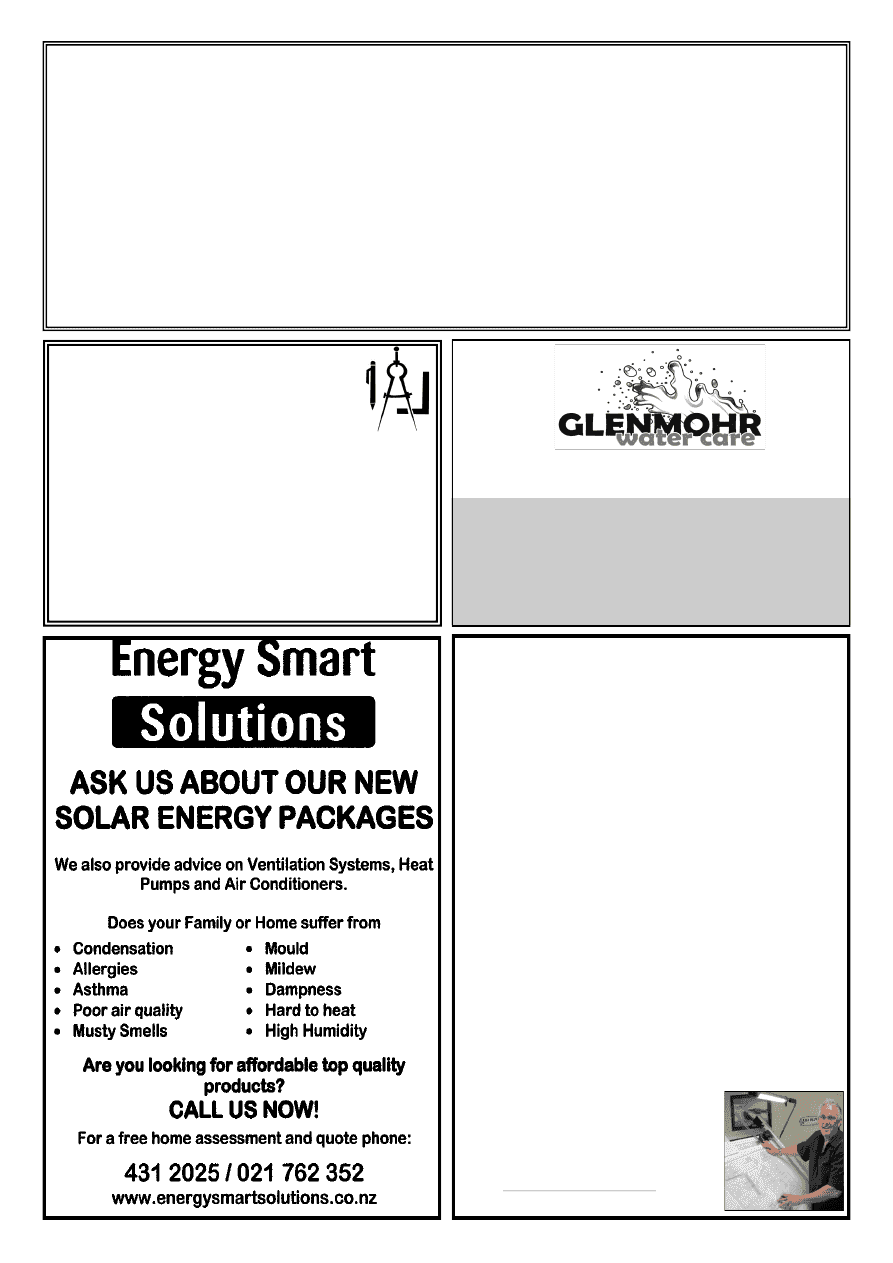 RANGANUI EARTHMOVERS 
  16T Excavator     
    (tilt, thumb & ROPS cab)     
  Transport Trailer 
  2 x 6 Wheeler Tip Trucks 
  Suppliers of All Grades of Metal & Topsoil 
If you want a proper job done with an experienced operator ring 
Grant on:  A/H  431-2131      Email  ranganui.dev@xtra.co.nz 
                      Mob  021845-246 
Driveways, House Sites,  
Drainage Dams, 
Section Clearing,  
Tree Work,  Rock Retaining Walls,  
Quarry Work, 
Basically Anything That a Digger Can Do 
design drafting 
service 
Retired builder and manufacturer with over 40 years  
experience in the building industry is offering a design 
drafting service for domestic housing, sleepouts and 
sheds.  
Plans formulated in consultation with clients, with 
working drawings completed and submitted to  
council for processing.  Extensive practical experience,  
able to identify & resolve problems. 
Please ring Mike Lean on 
09 431 2260  
          or 
021 431 196 
Water Tank Cleaning 
 
Keep your water safe & clean   
 
Removal of sediment, silt etc. 
 
Vacuum or full scrub 
 
Minimal water loss 
Phone Mark (09) 432 0655 or 0274 707607 
 ARCHITECTURAL BUILDING 
PLANS AND DESIGNS 
WRIGHT DESIGN 
 
QUALIFICATIONS 
Brian is a qualified designer (NZCAD) with over 40 years of 
varied experience in all types of building and is a registered and 
Licensed Building Practitioner in Design - L.B.P. 117345 
He ensures you will achieve the best from your budget with 
recommended excellent local contractors ready to competitively 
price and build your personal project quickly and efficiently. 
 
EXPERIENCE 
Brian's practical building and 40+ years of design experience 
means he can give you excellent advice and all the guidance 
needed for all your building needs 
v Wright Design offers free visits, consultations and all the ad-
vice you need on planning, design, building, contractors, coun-
cil permit applications, etc. 
"  Qualified and inexpensive designer – N.Z.CAD., LBP 117345 
"  Guaranteed design and working drawings 
"  Free site visit to your home or property 
"  Great service 
"  Great problem solver 
Call Brian ~Arrange a visit to discuss your needs  and obtain 
great advice and free quotation 
MAKE GOOD USE OF HIS EXPERIENCE and 
KNOWLEDGE 
WRIGHT DESIGN:  
360 Oneriri Road, Kaiwaka
Office 09 4312544   
Mobile 021 276 7389  
Email: 
www.wrightdesign.co.nz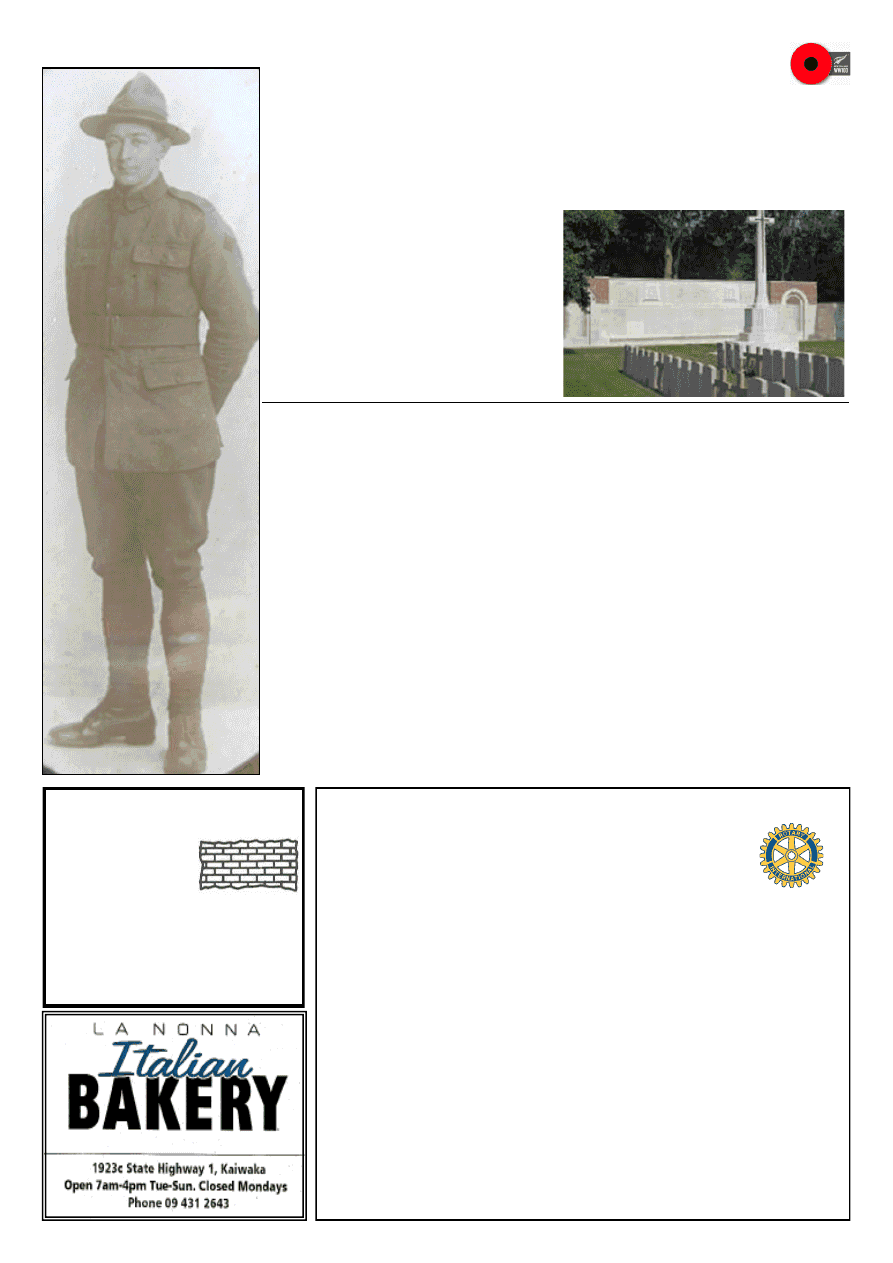 www.kaiwaka.co.nz 
Kaiwaka Bugle - 14 April 2015 
Page 5 
KWMH Honours Board WW1: William Henry Williams 23/2304  
BRICK/BLOCKLAYER 
All aspects of masonry:  
Fireplaces, 
Restoration  
& Remedial Work. 
JAMES EAGLETON 
Tel. (09) 431 2514  
Mob. 0274 749 232 
jajueagles@yahoo.com.au 
210A Pukenui Road, RD2 Kaiwaka 0573 
ROTARY CLUB OF MAUNGATUROTO 
AND DISTRICTS 
presents 
The Battle of Te Ika-a-Ranganui 
Tuesday 28 April 6pm for 6:30pm start 
Kaiwaka Sports Complex, Kaiwaka 
Come along and hear Roi McCabe BA, MA Maori Studies, and of Ngati 
Manuhiri descent, describe and discuss this significant battle here at 
Kaiwaka in 1825. 
Tickets are $10.00 each and limited to 180. Door sales not guaranteed. 
4312 130 or 09 431 7091 for further details. 
Tickets also available from Cheryl Anderson 4312 051 or 
kaiwakasports@gmail.com 
All proceeds on the night to Rotary Foundation for Charitable Purposes. 
Ian  Douglas  Donaldson  of  Ranganui, 
Kaiwaka, was working on the family farm 
when  war  broke  out;  he  enlisted  with  the 
New 
Zealand 
Rifle 
Brigade, 
8th 
Reinforcements 
3rd 
Battalion, 
G 
Company, on the 23rd September 1916. 
Ian  was  was  born  in  St  Heliers  23rd 
January  1896;  his  parents  were  Peter  and 
Annabelle  Donaldson.  The  family  moved 
north and Ian, along with his brothers and 
sisters,  attended  Kaiwaka  School.  His 
brothers,  Alexander  (Sandy)  and  TDS 
(Tommy) also served in WW1, and one of 
his  sisters,  Hilda,  was  a  VAD,  NZRCN, 
served  in  the  1st  NZ  General  Hospital, 
Brockenhurst, UK. 
Ian left Wellington on 23 September 1916 
on the Pakeha destination Devonport, UK, 
and  Sling  Camp;  a  month  later  he left  for 
Etaples,  France.  He  was  promoted  to 
Lance Corporal in June 1916. He 
returned  to  England  during  1917 
when  he  spent  time  in  hospital,  including 
Codford.  He  was  sent  back  to  Somme, 
France, in February and it was there on the 
5th  April  1918,  aged  22,  he  was  killed  in 
action. 
Ian  is  remembered  at  Grevillers  (New 
Zealand) Memorial, France. 
The  Royal  New  Zealand  RSA  is  taking  its 
support  for  the  country's  flag  to  parliament's 
Justice and Electoral Committee, which reports 
back to parliament by July 19. 
The  RSA  has  already  expressed  its  concern  at 
proposed changes to the flag and, in particular, 
the  timing  of  two  referendums  where  New 
Zealanders can vote on whether the present flag 
should be replaced. 
RSA  Chief  Executive,  David  Moger,  says  the 
RSA  will  fervently  express  its  case  to  the 
Justice  and  Electoral  Committee  and  he  calls 
on  all  Kiwis  who  oppose  this  "costly  and 
unnecessary use of money" to make their voice 
heard.  "People  should  write  to  their  MPs 
expressing  support  for  the  existing  flag  and 
opposing  the  $26  million  to  hold  two 
referendums.  Alternatively  they  could  make 
their  own  submission  to  the  Justice  and 
Electoral  Committee,"  he  says.  The  closing 
date  for  submissions  to  the  Flag  Referendum 
Bill is Thursday, April 23. The RSA's website 
www.rsa.org.nz/Community/FightforOurFlag 
offers  valuable  advice  on  how  to  prepare  and 
submit a letter or email to an MP.   
Moger says a hundred years ago New Zealand 
forces  served  and  sacrificed  under  the  same 
flag that flies today. It is inappropriate that this 
Bill  should  be  presented  to  parliament  at  this 
time and planning for the two-part referendum 
started.  "This  debate  is  insensitive  as  we 
commemorate the centenary of the First World 
War," he comments. "For many who've served, 
our current flag is symbolic of the  sacred oath 
they made to protect the peace and security of 
New  Zealand.  Our  men  and  women  made 
terrible personal sacrifices and we honour their 
courage  and  commitment  every  time  our 
current flag is flown." 
"If we are to have a referendum at all, it should 
be  a  simple  yes  or  no  to  our  existing  flag," 
David Moger says. 
RSA IN FIGHT TO RETAIN FLAG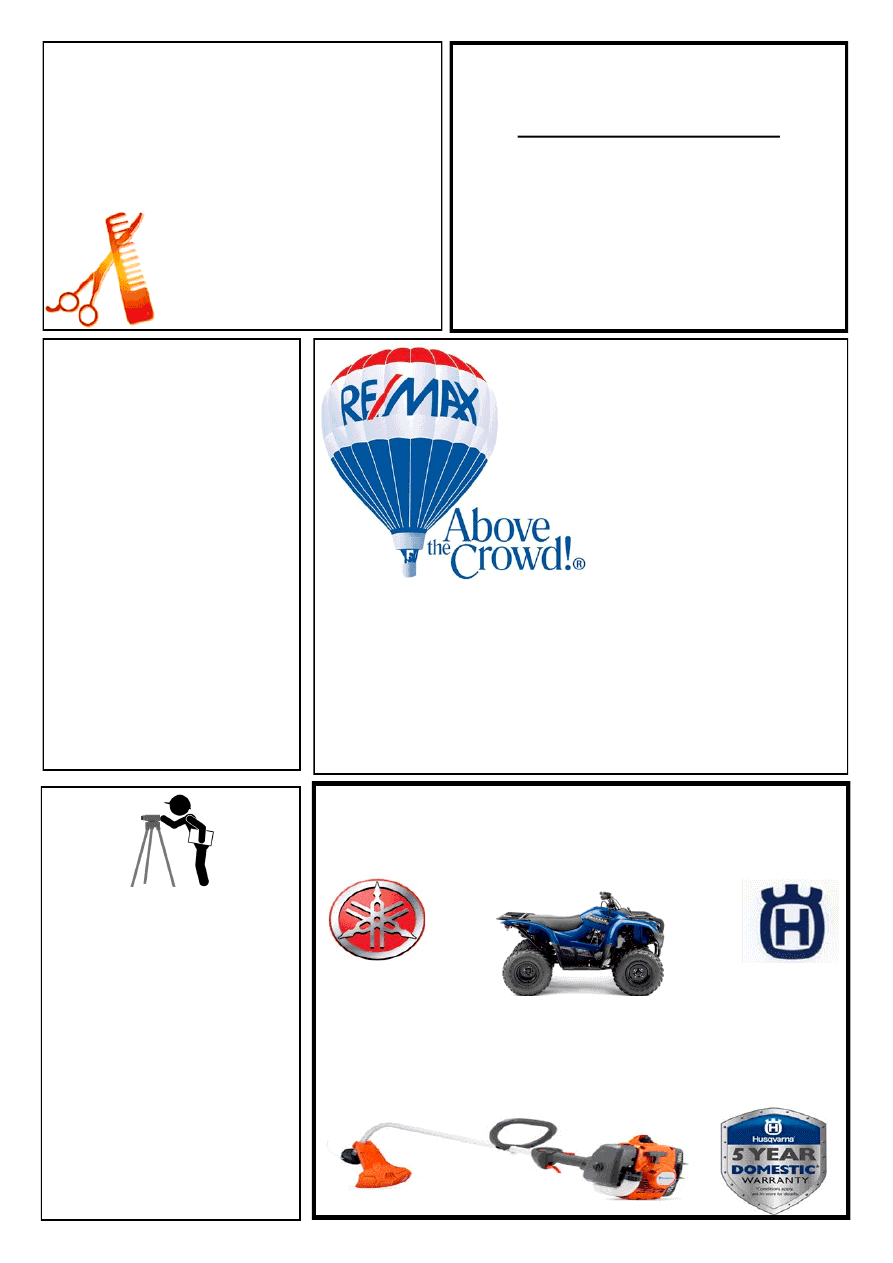 KAIWAKA MOTORCYCLES LTD
SALES – SERVICE – SPARES 
FARM BIKE SPECIALIST 
PHONE 09 431-2127 
10 KAIWAKA-MANGAWHAI ROAD, KAIWAKA
TRIMMERS FROM $249 - CHAINSAWS FROM $329 
YAMAHA 
HUSQVARNA 
Beth Stone is your local 
Re/Max Associates 
representative. 
I am available for chats 
anytime between 10AM 
and2 PM Tuesdays and 
Wednesdays 
In my Chat room at the 
rear of Mor Mors café. Or 
by appointment. Join me for coffee. 
Thinking about buying? Or selling? Or just wanting to 
talk over the options and understand more about the 
market? I can help. Use me as your sounding board.  
Phone Beth 0274 937 801 or call in. I look forward to 
meeting you. 
AFFORDABLE PRICES! 
MENS DRY CUT FROM $18.00 
LADIES DRY CUT FROM $15.00 
KIDS DRY CUT FROM $15.00 
COLOUR CUT FROM $90.00 
JUST CUTS'AND MORE 
021 165 2629 
NOW SELLING: scented tealights, incense, 
smudge sticks, copper bracelets, aurora ball 
crystals, dream catchers, healing stones, rose 
quartz, cds, and much more 
open 6 days 
Ken Urquhart 
KMU Surveys 
Ltd
467 Bickerstaffe Road 
RD 2 
Maungaturoto 0587 
Ph 09 431 8705 
Mob 021 161 2344 
kenurquhart@xtra.co.nz 
LEE COOPER 
PAINTERS 
(Kaiwaka Based) 
*30 yrs Experience 
*Interior/Exterior 
*New and Restoration 
*Honest and Reliable 
*Free Quotes 
09 4312918 
0274735171 
leecooper@xtra.co.nz 
Yang Style Tai Chi Classes  
For Beginners And Practitioners  
at the 
Kaiwaka War Memorial Hall 
Every Tuesday  
Starting at 10.30 am 
Come Along And Have Some Fun While 
Improving Your Balance Health And 
Fitness 
For More Information Contact  
Andrew Young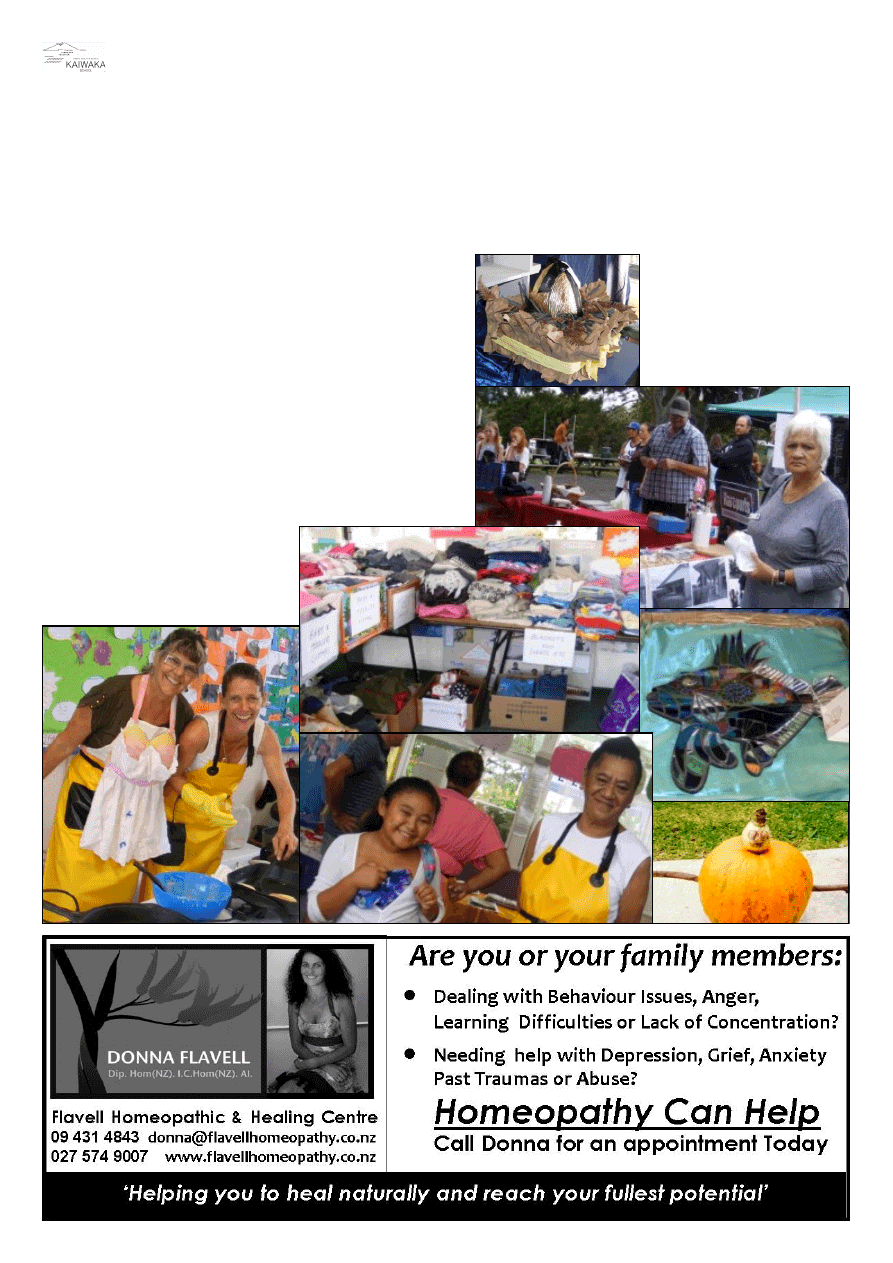 www.kaiwaka.co.nz 
Kaiwaka Bugle - 14 April 2015 
Page 7 
KAIWAKA SCHOOL 
Kaiwaka Classic Gala 
We  are  thrilled  to  bits  with  the  Kaiwaka 
Classic  Gala  last  Saturday.  Although  the 
weather became a little unhelpful, we had a 
fabulous  turnout  and  a  very  enthusiastic 
crowd  throughout  the  day.  The  kids  had  a 
great time with all the old fashioned games 
and a digger to try out their skills on. There 
were  lots  of  delicious  food  and  plenty  of 
great bargains to buy. A preliminary count 
tells us that about $7000 has been raised.  
Our  local  business  community  has  been 
absolutely wonderful with their support for 
our  school.  Please  see  the  list  of  generous 
sponsors  below,  and  use  their  services  if 
you can.  
Our  PTA  ,  staff  and  BOT  have  been 
instrumental  in  preparing  our  Gala  and 
making  it  such  a  success.  We  thank  Lish 
and  her  team,  Adrian  and  our  Board 
members  and  all  the  support  staff  and 
teachers  for  their  mighty  effort.  Your 
generosity  and  energetic  effort  have  been 
outstanding.  Finally,  thank  you  all  the 
wonderful  parents  and  family  members 
who gave up their time to assist on a stall, 
manage  parking,  MC  the  day,  clean  up 
afterwards  and  all  the  other  jobs,  on  the 
day. 
Grandparents' Day 
Our  Grandparents'  Day  was  great.  There 
were  so  many  grandparents,  aunties, 
uncles and family friends. Our kids were 
wonderfully  behaved  and  performed 
well.  Thank  you  to  those  who  went  the 
extra  mile and assisted with the  morning 
tea.  Thank  you  to  Lindy  Gaskin  who 
organised this event. 
~Rosie Ellis 
Kaiwaka  Classic  Gala  sponsors: J aques 
Four  Square,  Kaiwaka  Cheese  Shop,  U 
Beauty,  Barry  Wright  Butcher,  Parker 
Lime,  Te  Hana  Orchards,  Kaiwaka 
Motorcycles,  SEMCO,  La  Nonna  Bakery, 
The 
Spice 
Lounge, 
Maungaturoto 
Butchery,  The  Salon,  Post  Office,  Heads 
FM,  Gale  Matheson  -  Avon,  Kaiwaka 
Foodmart,  More  FM  Northland,  Kiwi 
House 
Whangarei, 
Leabourn's 
Bus 
Company,  Times  FM,  Northland  Waste, 
Mangawhai  Focus, Norm 
Brown  Rural  delivery, 
The Coffee Pot, Bennetts, 
Sara  McAulay,  Celina's 
Gift  Shop,  Rainbows 
End, 
Kaiwaka 
Liquorshop, 
Rural 
Design,  Jodi  Greig,  B.L 
Ferguson, 
Well 
of 
Health,  Coates  Family, 
Yorke 
& 
Stone 
Accountants, 
Suzuki 
Motorcycles, 
Kelly 
Tarltons,  L.J.  Hooker, 
Forgotten 
Fruits, 
Countdown, 
Taonga 
Gardens,  Rebecca  Wood 
Masseuse, 
Borck 
Contracting. 
Giant Pumpkin Competition 
Thanks to all those who participated in this 
years Giant Atlantic Pumpkin Competition, 
what  a  great  turn  out  with  some  very 
creative ideas for the Arty Farty category. 
Congratulations to..... 
Michael Ferguson  for  -  Big Boy  -  70.5kg! 
( 4th year -1st prize) 
Kaiwaka /Mangawhai cubs -  26kg. 
Tyler  Stonnex  -  Arty  Farty  -  Peter  Peter 
Pumpkin Eater. 
Zac Grigg - Ugly Fugly - Alien Pumpkin. 
Kaiwaka    /  Mangawhai  cubs  - 
Rolly Polly. 
Thank you to... 
Otamatea vet club - Mungataroto. 
My  assistants-  Matt  Gribble  and 
Shirl Gant. 
LJHooker 
Kaiwaka 
for 
sponsoring the prizes. 
~Megan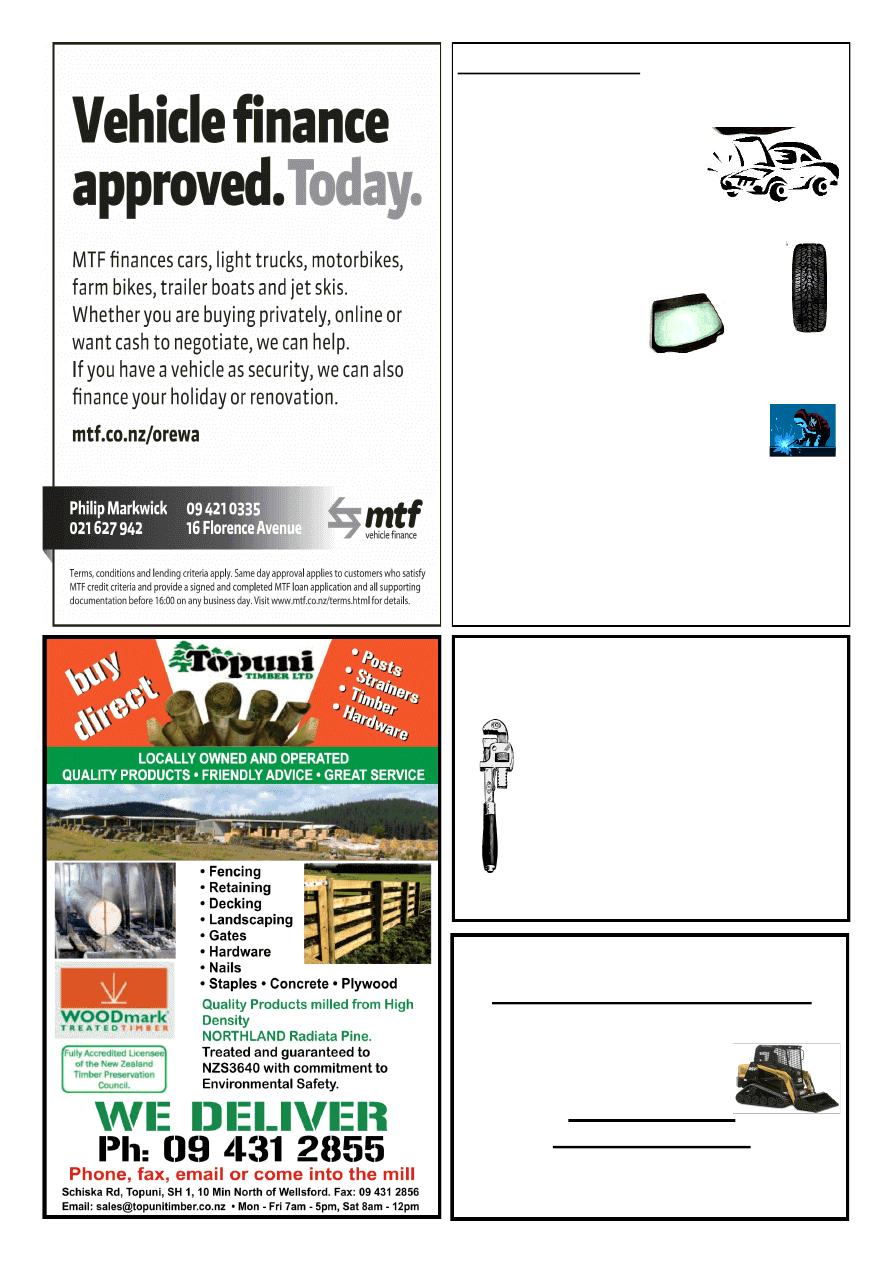 Want it done? 
Bring it to  
Twinkle Tow 'n' Tyre 
*W.O.F. 
*Tyres 
*Windscreen replacement 
*Chip repairs 
*Bulk Oil 
*Batteries 
*Welding 
*Custom built trailers 
*Trailer hire 
Think you'll get a better deal in 
the city? 
Go on, ring us; it won't cost  
anything! 
1837 State Highway 1, Kaiwaka       
Phone 431 2823 
Natural Earth Ltd 
Landscape and Bobcat services 
 : Driveways  :Landscaping  :Retaining Walls 
 : Hole Boring: Land Levelling :Trenching 
 : Decks :Fences :Sections Cleared 
 : Plus much more
Tel 09 4312 885 
Mob 02102391280 
For A Fast Friendly Service  
Contact Tim Hicks 
BARRY CURTIS PLUMBING LTD 
REGISTERED CRAFTSMAN PLUMBER 
Phone 431 5572 
027 257 9884 
25 years' experience 
Friendly reliable service 
All plumbing & maintenance 
Alterations and new housing 
New wood fire installation 
Spouting 
Competitive rates
PROMPT EFFICIENT  SERVICE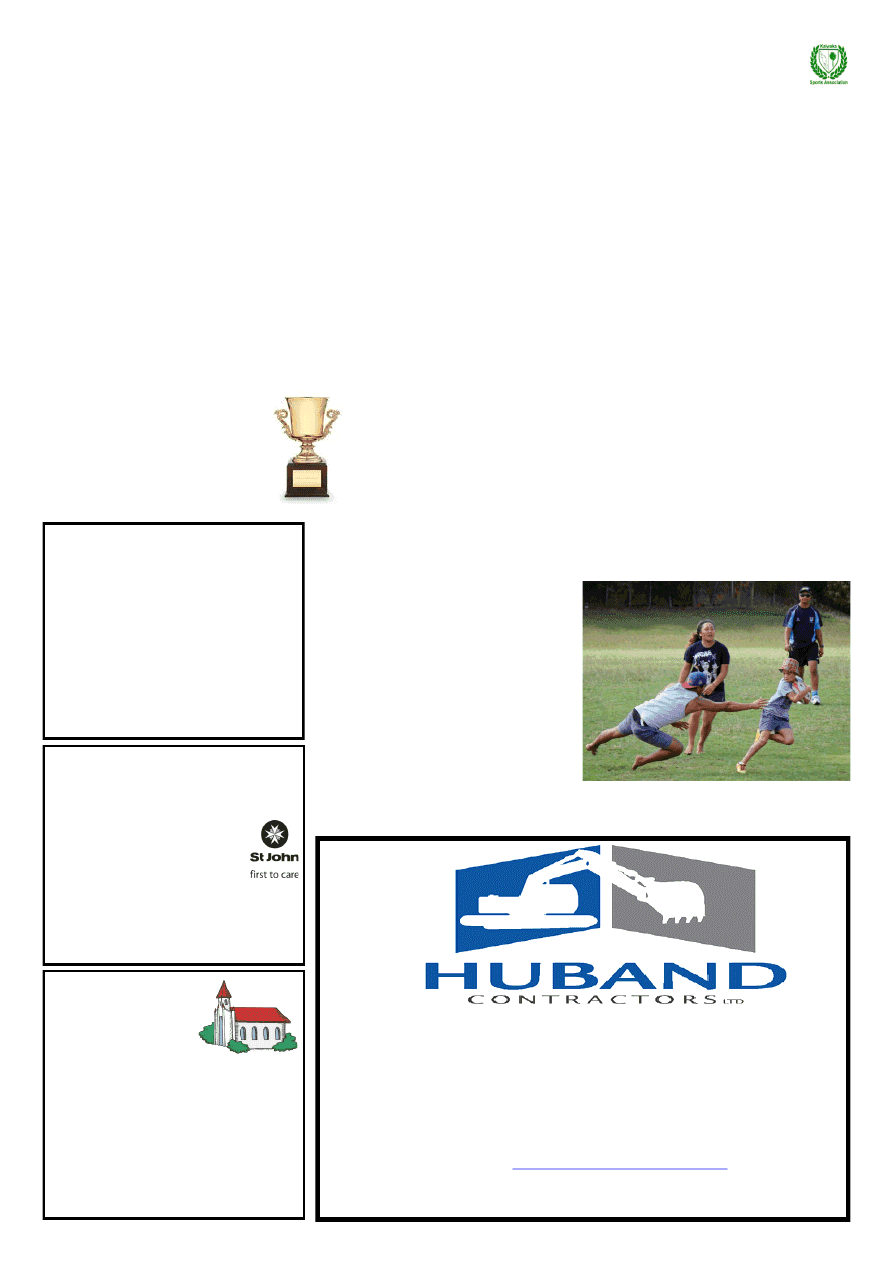 www.kaiwaka.co.nz 
Kaiwaka Bugle - 14 April 2015 
Page 9 
Kaiwaka Sports Awards 
Our annual Sports Awards will be held 
this Thursday 16th. The evening which 
will  be  emceed  by  More  FM's  John 
Markby  will  include  profiles  of  the 
nominees,  a  sports  trivia  competition 
for  the  young  ones,  a  performance  by 
singers  Tasha  Perrett  and  Michelle 
Clark  and  a  delicious  dinner!  Tickets 
are  $25  per  adult  and  $10  per  child 
(Year  9  and  under)  and  can  be 
purchased  at  Jaques  Four  Square  or 
from KSA club delegates. 
Congratulations to the nominees: 
Junior Sportsperson of the Year: 
Sophie Gribble, Otamatea Gymnastics; 
Jamie Manuell, Kaiwaka Squash; Terry 
Baldwin,  Otamatea  Hawks  Rugby; 
Brayden  Wintle,  Eastern  United  JMB; 
Ashton  Coates,  Otamatea  IMB;  Billie 
Le  Mesurier,  Kaipara  Knights 
Soccer; 
Brenda 
Ferguson, 
Kaiwaka 
School; 
Jasmine 
Sampson,  OHS  Netball;  Georgia 
Brierly,  Kaiwaka  Touch;  Faith 
Pene,  Kaiwaka  School  Netball; 
Michael  Parker,  OHS  Hockey; 
Gareth 
Ferguson, 
Kaiwaka 
Tennis. 
Senior Sportsperson of the Year: 
Matt Moulds, Otamatea Hawks Rugby; 
Shanelle Kemp, Kaiwaka Touch; Innes 
Anderson,  Kaiwaka  Tennis;  Taira 
Lambert, Otamatea-Ex Netball. 
Service to Sport: 
Steve  Campbell,  Kaiwaka  Badminton; 
Jennie Reynolds, Eastern United JMB; 
Pat  Buxton,  Kaiwaka  School  Netball; 
Brett  Coates,  Otamatea  IMB;  Kevin 
Robinson,  Otamatea  Hawks  Rugby; 
Taira  Lambert,  Kaiwaka  Touch;  Jodie 
Bennetto,  OHS  Netball;  Phillip  Tana, 
Kaiwaka  Squash;  Siobhan  Cole, 
Fitness Centre. 
Greg McRae Memorial Award: 
Hamish  Ferguson,  Kaipara  Knights 
Soccer;  Holly  Anderson,  Otamatea 
Gymnastics; 
Maia 
Fairburn, 
Kaiwaka  School  Netball;  Chantel 
Shadbolt, OHS Netball. 
Soccer 
Keen  for  soccer?  Come  along  to 
our  Registration  Day  at  our 
grounds  this  Saturday  18th  at 
11am.  There'll  be  a  free  BBQ, 
some  friendly  games  &  a  boot  swap. 
All  interested  players  are  asked  to 
come  along  to  fill  out  a  registration 
form  so  we  can  work  out  teams. 
Payment  of  fees  at  registration  day 
would be appreciated. The season runs 
from  9  May  until  early  September. 
Games are played on Saturdays at Port 
Albert  Domain,  usually  at  the  same 
time  each  week.  The  Kaipara  Knights 
Soccer  Club  involves  players  from 
Matakohe  to  Kaiwaka,  from  about  4 
years old to adults. Over 17s play open 
grade. All teams are mixed. For soccer 
enquiries, please ring Lindell Ferguson 
on 4312 542. 
Touch Module 
A  great  finish  to  our  8  week  Touch 
Module.  Thank  you  to  everyone  who 
particpated  and  congratulations  to  the 
winning  teams:  1st  $300  Te 
Kotahitanga,  2nd  $200  The  Spartans 
and 3rd $100 Tiddliwinks. 
Rugby – Junior 
The first JMB Rally Day of the season 
will be held at the Sports Complex on 
Friday 24th from 6pm. All five clubs in 
the  competition  will  be  playing 
(Maungaturoto,  Tomarata,  Wellsford, 
Paparoa and Eastern United), so it will 
be  a  very  busy  night!  Come  along  to 
cheer  on  our  young  boys  and  girls, 
refreshments available. 
A  Small  Blacks  coaching  course  will 
be held at the Kaiwaka Sports Complex 
on Monday 20th April at 6.30pm. This 
is  a  requirement  for  all  coaches  of 
rugby  teams  from  Under  7's  →  Under 
13's. 
Wanted 
Taniwha  Shield  team  coach  for  2015. 
The  Taniwha  Shield  tournament  is  for 
rugby  players  years  7  -  8  and  will  be 
held  at  the  Bay  of  Islands  during  the 
July holidays. 
Interested?  Please  contact  Jennie 
Reynolds on 021 02764171. 
Charity Boot Camp 
Siobhan  and  her  team  have  come  up 
with another Charity Boot Camp day - 
this  time  raising  funds  for  our  local 
IHC. 
 LEABOURNS 
Passenger Service
Car & Van Hire 
Bus & Coach Charters 
Airport Transfers 
 Monthly Shopper Bus 
Phone (09) 4237416 
When you need St. John 
members at your function … 
Get a Community Services 
Form 
….. see Milly at the  
Kaiwaka St John  
Op Shop.  
Phone 4312650 
MORE MEMBERS REQUIRED FOR 
THE KAIWAKA STATION. 
KAIWAKA SPORTS ASSOCIATION 
ST PAUL'S  
ANGLICAN  
SUNDAY  
SERVICES
First Sunday 9.30am 
Third Sunday 9.30am  
St Pauls Church: Kaiwaka-Mangawhai Rd. 
1st Sun - Eucharist 
3rd Sun - Family Service 
Office 4214 122 
Contacts:M.Hargreaves 4312295, C.Bygrave 4312057  
*   R O A D I N G   *   E A R T H W O R K S   *    
*   D R A I N A G E   *   S I T E W O R K S   *  
For any further enquiries, contact Shaun on: 
Cell: 021 222 0272 
Home: 09 4318339 
Email:   
Shaun Huband:  Registered Drainlayer 
Touch: Adam Bennett and Reihana Phillips from 
the Phil Keen Concrete team playing against 
Tamati Phillips from the Spartans 
Continued on page 11...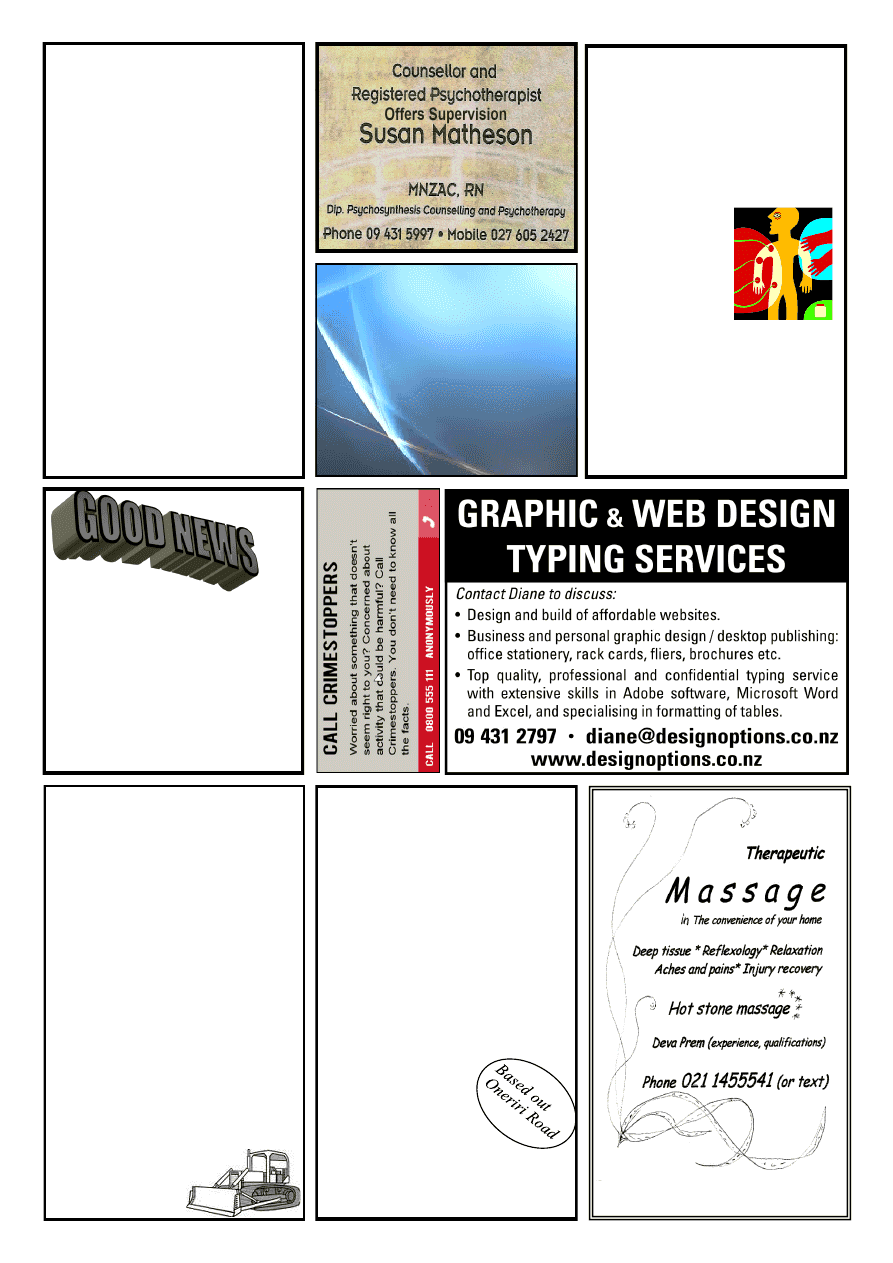 www.mangawhaimassage.co.nz 
HODGETTS 
CONTRACTING
Digger Work    

Driveways 

House Sites   

Dams 

Drains, etc
Also available for HIRE 

3 ton Vib Roller 

Heavy Duty Tow 

Waterblaster  

Lazer Level 
Phone Mark 
4312877 
027 447 8554
OWEN STEVENS 
Osteo Therapist
For careful adjustments to bones 
and joints 
Treatment for  humans and their 
pets 
Clinics: 
Kate's Place, 
Kaiwaka: 
Last Friday of 
month 
For bookings: 
9.00am-5.00pm   
Phone 
09 4312661 
Or phone Owen   
09 4317123  anytime 
Freeview  
Installations 
Richard Te Haara 
25 Marram Place 
Mangawhai Heads 
021 1104056 
kiwipride@xtra.co.nz
Willow Bend
HORSE  
HOTEL 
"   
Total Horse Care 
" 
Agistment 
" 
Riding Lessons 
" 
Arena Hire (60x40) 
" 
Young Horse Starting 
" 
Re-training/Exercising 
" 
Hoof Trimming 
" 
Problem Solving 
Phone Sue 09 431 
2817 or 021 623 776 
Or email sue.gray@xtra.co.nz 
Coates  
Contracting 

D41 Bulldozer with 6 
way blade, bush rigged 
with winch 

For all tree work 

General bulldozing and  
  stick raking. 

120hp Tractor for 
ground cultivation,  

tip trailer work. 

Fencing
All enquiries phone  
Brett Coates  
 094318720  
or 
 021431872
@ the  
Kaiwaka Family 
Church 
Your COMMUNITY CHURCH 
RECEIVE HEALING 
RECEIVE THE LOVE OF GOD 
Everyone warmly welcome each 
Sunday 10am and 7pm. 
Contact: 4312571 or 4312068
THERE'S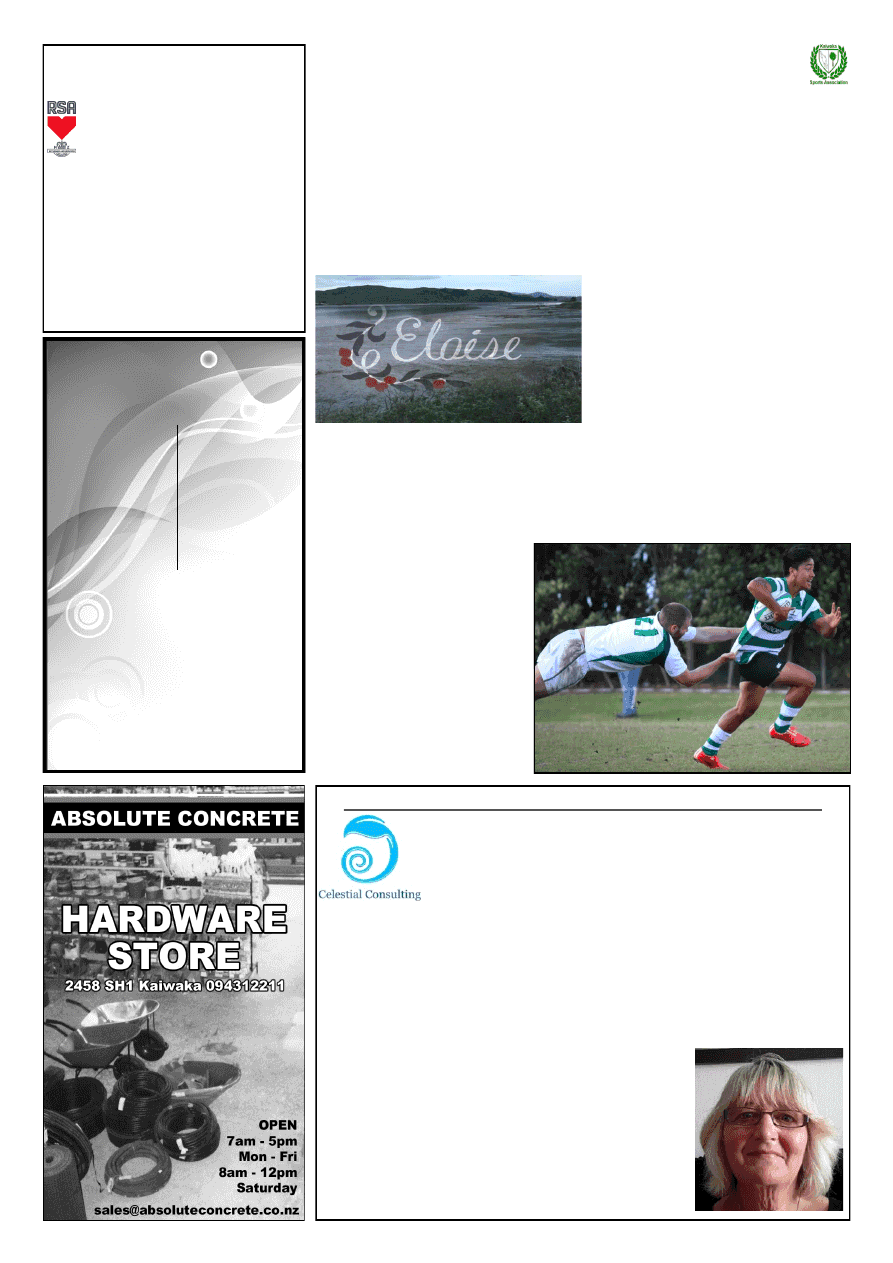 www.kaiwaka.co.nz 
Kaiwaka Bugle - 14 April 2015 
Page 11 
HAKARU & 
DISTRICTS RSA Inc 
Each Friday night 
from 6.30pm 
Meals will be served 
2nd Friday of the Month 
Is Roast Dinner Special 
Come along and enjoy our 
Hospitality  
For more information 
Ring Heather 431466 
or Jan 4314512 
U Beauty 
Please call Nicole for bookings 
09 393 6336 or 022 0639450 
Qualified Beautician 
4 Kaiwaka – Mangawhai Rd 
Kaiwaka 
Underarm Wax  
$20 
Extended Bikini Wax 
$30 
15 min Back  Massage 
$25 
Eyebrow Wax  $10 
Eyebrow Tint  $10 
Eyelash Tint 
$20 
Lip Wax 
$10 
Chin Wax 
$10 
Bikini Wax 
$20 
Brazilian 
$50 
½ Leg Wax 
$30 
Full Leg Wax  $45 
Full Pedicure  $60 
Foot Tidy  
$35 
Manicure 
$45 
Nail Tidy 
$25 
Chest Wax 
$30 
Back Wax 
$40 
Nostrils 
$10 
Ears 
$10 
KAIWAKA SPORTS
continued from page 9 
Good on them! 
To  participate,  just  turn  up  to  our 
grounds  on  Friday  17th  April  at 
6.30pm  with  $10  and  a  willingness  to 
have fun!  
Junior Netball 
Thank  you  to  Jody  Grieg  and  Pat 
Buxton  who  will  be  coaching  our 
junior netball teams this year. Practices 
will  be  at  our  courts  at  2.30pm  on 
Thursdays.  If  you  have  a  boy  or  girl 
who  wishes  to  play  netball,  please 
contact Pat Buxton on 4312 677. 
Movie Night 
Kaiwaka locals Trevor Linnell and his 
son  Jordan  star  in  a  short  film  called 
Eloise, which was shot on the banks of 
the Kaipara, and was directed by Chris 
Todd (who worked with Peter Jackson 
on the Lord of the Rings movies). 
Eloise  has  played  in  theatres 
around  NZ  and  got  into  the 
NZ  Film  Festival  -  and  now 
it's  coming  to  little  ol' 
Kaiwaka! 
The  movie  night  will  be  held 
at  the  Sports  Complex  on 
Sunday 26th April at 7pm. As 
well as Eloise, we will screen 
the  first  half  of  our  Yulia  & 
Friends  Concert  plus  a  short 
film  on  Kaiwaka  (filmed  20 
years ago). Gold coin donation 
and free popcorn! 
Battle of Te Ika-a-Ranganui 
We are proud to host Roi McCabe who 
will  lead  a  discussion  on  the  battle  of 
Te  Ika-a-Ranganui,  a  significant  battle 
which  occurred  at  Kaiwaka  in  1825. 
This will be held at the Sports Complex 
on Tuesday 28th April at 6pm. Tickets 
are  $10.  How  many  of  us  live  in 
Kaiwaka and yet know very little about 
this  important  battle  which  took  place 
here? Here's your chance to learn about 
our  history!  Please  contact  me  for 
tickets. 
Tranznorth Otamatea Hawks 
Our Hawks put on a great show for the 
spectators  at  our  grounds on  Saturday, 
with  two  strong  wins.  Our  Reserves 
won  convincingly  over  Old  Boys 
Marist  48  -  8  and  our  Premiers  pulled 
out  all  the  stops  in  the  second  half  to 
slot  a  20  -  12  win.  Thanks  to  Lorena 
and  Jennie  who  put  on  a  filling  after-
match spread for everyone.  
If  you're  interested  in  becoming  a 
member  of  the  Tranznorth  Otamatea 
Hawks  supporters  club,  please  phone 
Jennie on 021 02764171 - for $35 you 
get  a  Hawks  polo,  with  other 
merchandise to come. 
~Cheryl Anderson 
Holistic Wellness Practitioner for Women and Children.   
Gentle & Empowering Coaching for Women! 
Spiritual & Emotional Healing for Women and Children! 
Cherub Card Readings for Children!  
Angel Oracle & Tarot Readings  ! 
Life & Soul Wisdom Coaching ! 
Appointments Now available at The Well of Health in Kaiwaka on 
Wednesdays. 
Contact Glo -  Catalyst for Change!
phone or text  027 363 8833  or ph 09 431 2209
Glo Treadaway (nee Ramsay)  MANZASW   
Breakthrough Life Coach: Parent Coach: 
ThetaHealer®: Angel Intuitive: 
"ThetaHealing™ can change destructive, core, 
subconscious beliefs that may be influencing your 
thoughts, feelings, choices, and actions and 
transform your Life  ! "  Glo
www.celestialconsulting.co.nz 
glo@celestialconsulting.co.nz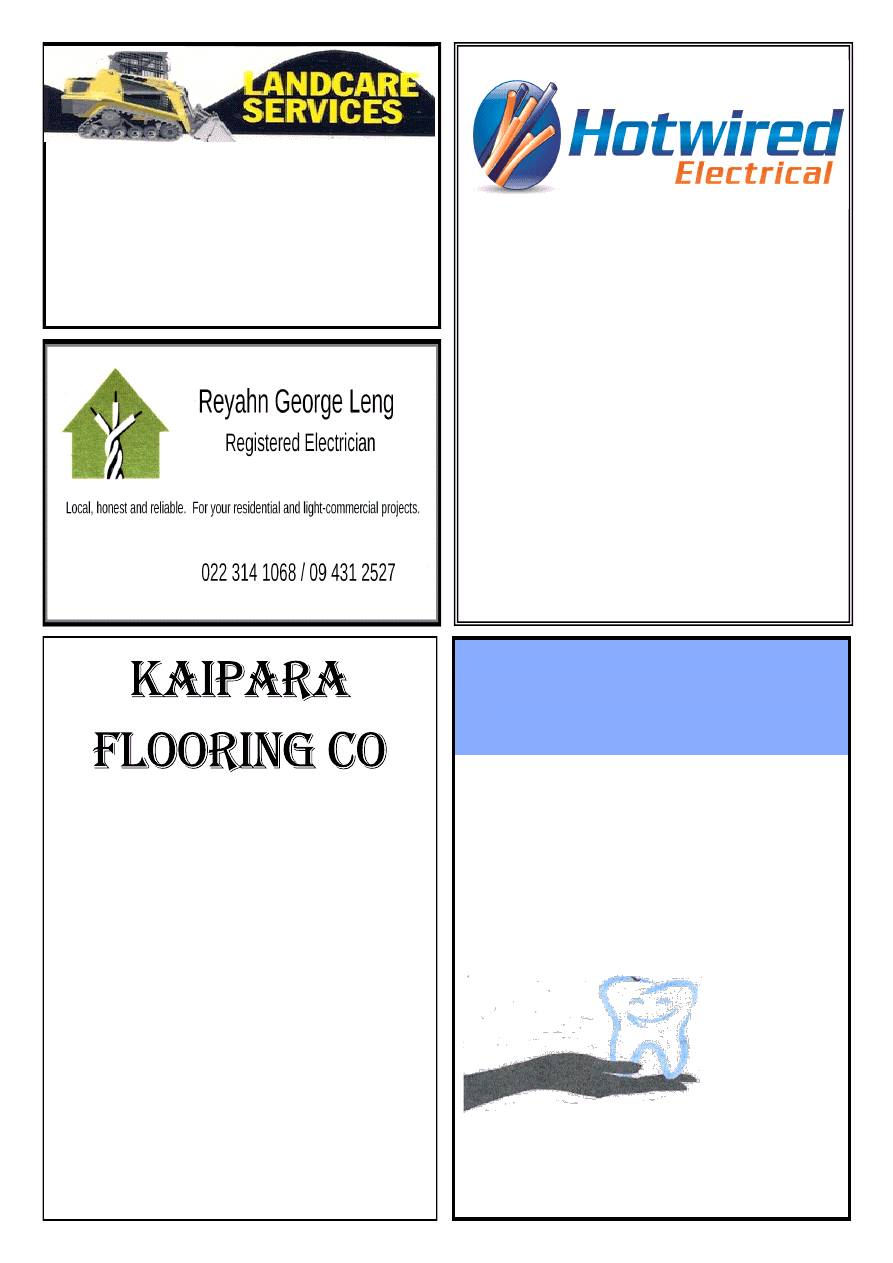 LANDSCAPING 
4 IN 1 BUCKET 
TRENCHER 
POLE HOLES 
ROTARY HOE 
COMPACT ROLLER 
OFFAL HOLES 
CAN SUPPLY WOODCHIP & POST PEEL 
5 TON TIPPER 
FOR RELIABLE AND FRIENDLY SERVICE CONTACT DAVE 
Dave Hyndman 
 
KAIWAKA 
PH: 09 4312302 
MOB: 021 431 238 
Gentle Dental 
Ruakaka 
We love to see you smile 
 
General  & Cosmetic Dentistry 
 
Emergency & ACC Treatment 
 
Denture & Hygienist Services 
 
Senior Citizen Discounts 
 
Free Adolescent Care 
 
Free WINZ Quote 
19 Ruakaka Town Centre 
Dr Sim Sood & Associates 
Ph:  432 8139 
Saturdays 
By 
Arrangement 
Open  
Mon-Fri  
8am-5pm  
For All your  
Electrical  Requirements 
 
Domestic small jobs 
 
Residential dwellings and alterations 
 
Commercial 
 
Industrial                 
No job too big  
or too small    
Contact Jason today on: 
(09) 431 5992, (021) 405 019 
www.hotwiredelectrical.co.nz 
32 HURNDALL ST MAUNGATUROTO 
Ph: 09 9469886 or 021 515 415 
Carpet, vinyl, laminate wood look 
  flooring, vinyl planking, sanding & 
polyurethane service. 
Carpet Short Ends from $79pm + GST 
Vinyl D.I.Y. peel n stick tiles $10sq mtr + GST 
Free measure & quote.   
Mobile Service 
Phone Christine or Howard anytime 
Open Saturdays by arrangement.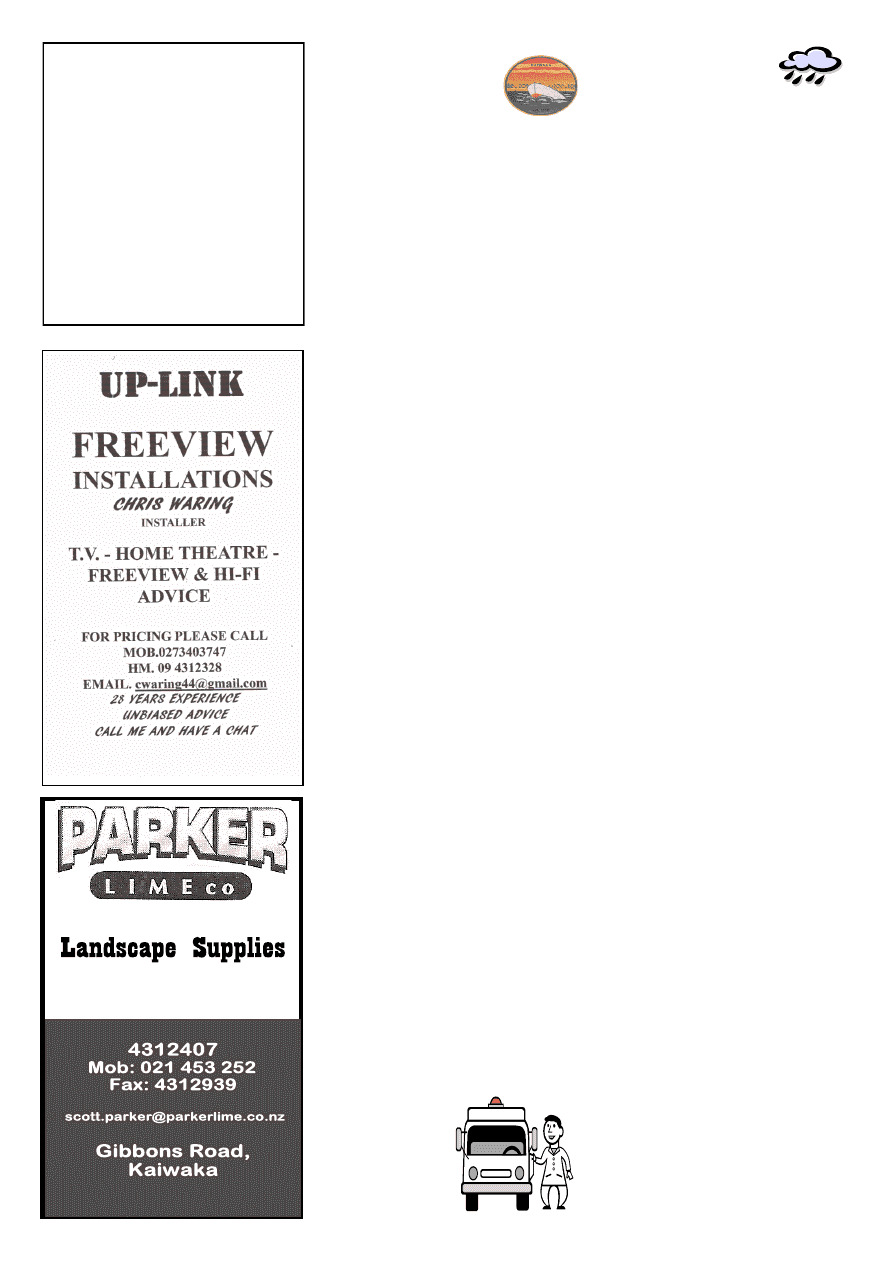 www.kaiwaka.co.nz 
Kaiwaka Bugle - 14 April 2015 
Page 13 
KAIWAKA 
POINT CURTIS 
CRUISING  
CLUB 
2015    OPENING  DAY  GAME  BIRD 
SHOOT SATURDAY 2ND MAY 
ENTRY  FEE  $20  PER  ADULT,  $5 
PER JUNIOR (AGED UNDER 15) 
Tickets  available  from  3  Furlongs 
Hotel,  Jean  Mcleish  or  Wellsford 
Sports  &  Leisure.  Tickets  must  be 
purchased  by  11pm  on  1st  May  or  by 
prior arrangement. 
Weigh  In:  Saturday  2nd  May  4pm  - 
5pm  at  3  Furlongs  Hotel.  Species: 
Mallard,  Grey,  Parry,  Pheasant, 
Canadian  Goose,  Pukeko  and  Black 
Swan.  Maximum  Weigh  In:  2  per 
species  per  shooter.  Prize giving:  6pm 
on  Saturday  2nd  May  at  3  Furlongs 
Hotel.  Prizewinners must be present to 
collect  prize.  BBQ:  To  follow  prize 
giving  on  Saturday  2nd  May  at  3 
Furlongs  Hotel.    Please  bring  a  plate 
for a shared meal. All competitors must 
be  financial  members  of  The  Point 
Curtis  Cruising  Club  Inc  for  7  days 
prior to competition.  Subs may be paid 
at  3  Furlongs  Hotel,  Kaiwaka  or  to 
Jean  Mcleish  (Secretary/Treasurer) 
4312520. 
2nd May will also be our Clubs End Of 
Season  Prize  giving  and  will  follow 
Game Bird prize giving.   
Congratulations  to  our  Fish  Of  The 
Month  Winners  (Snapper):  1st:  Glen 
Jaques  4.546kg;  2nd:  Mickey  Renton 
4.294kg;  3rd:  Tracey  O'Donoghue 
3.556kg. 
New  Fish  Of  The  Month:  SNAPPER. 
Cut off date 19th May 2015. 
POOL 
COMPETITION 
AT 
PAPAROA 19 APRIL. A list will be at 
the 3 Furlongs for all those that want to 
go to Paparoa.  
Next committee meeting Tuesday 19th 
May, 7pm at 3 Furlongs Hotel. 
~Wayne Leslie, Commodore 
KAIWAKA 
WEATHER 
I  hope  you  all  had  a  wonderful 
weekend  and  did  not  eat  too  many 
Easter  eggs.  The  weather  could  not 
have been kinder to us, it was fabulous. 
Our Mad March weather did not appear 
too  mad;  it  has  been  a  very  pleasant 
March  all  in  all  with  some  gorgeous 
sunny days and a few windblown days. 
Cyclone Pam was trying hard to do her 
thing;  a  lot  of  people  were  well 
prepared for it but it was not as bad as 
predicted,  thank  goodness  -  it  is  good 
to  be  forewarned.  I  believe  it  filled  a 
lot of lot of water tanks and has helped 
the grass grow a bit, as it is not cold yet 
so  hopefully  the  cold  is  a  bit  way  off 
yet. Reading last year's report I see we 
had Cyclone Lusi the same time of the 
month in 2014. 
For  March  2015  we  had  70mm  and 
2014  we  had  50mm.  The  first  three 
months  of  2015  we  have  had  155mm 
and for 2014 we had 160mm. 
This  March  we  had  8  days  with  rain 
being  measured.  The  wettest  March 
since 1987 was 2007 with 260mm and 
the driest was 2004 with 8mm. 
The wettest first 3 months of any year 
since 1987 was 2011 with 520mm and 
the driest was 2013 with 69mm. 
For  the  field  mushroomers  of  you  out 
there  they  should  be  starting  now;  in 
saying  that  please  check  with  the 
landowner  if  they  mind  you  going  to 
pick them though. 
Please take care out there and enjoy the 
weather we are having. 
~Bev
NIWA Climate Summary: 
March 2015 was characterised by lower air 
pressures  than  normal  over  New  Zealand, 
the  Tasman  Sea,  and  south  of  Australia. 
Higher than normal pressures were located 
south-east  of  New  Zealand.  This  pressure 
pattern  caused  a  north-easterly  flow 
anomaly  over  the  country.  As  a  result  of 
frequent airflow from the tropics over New 
Zealand,  it  was  a  warm  month  for  many 
regions, with numerous sites in all regions 
except  for  Otago  and  Southland  recording 
well  above  average  temperatures  (more 
than  1.20  °C  above  March  average).  The 
nation-wide  average  temperature  in March 
2015  was  16.7°C  (1.0°C  above  the  1981-
2010  March  average  from  NIWA's  seven 
station  temperature  series  which  begins  in 
1909) .  
Most  of  the  country  received  near  normal 
rainfall  (within  20%  of  normal)  in  March. 
There were patches of low rainfall totals in 
Northland,  Waikato,  Bay  of  Plenty, 
northern 
Canterbury, 
Otago, 
and 
Southland,  which  received  below  normal 
rainfall  (50-79%).  Localised  sites  in 
Canterbury,  Otago,  Northland,  as  well  as 
Milford Sound received well below normal 
rainfall (< 50%).  
Although  parts  of  the  country  received 
significant  rainfall,  soils  were  still  much 
drier  than  normal  for  the  time  of  year  in 
many  areas.  Specifically,  as  of  1  April 
2015, soil moisture levels were well below 
normal for the time of year for most of the 
North  Island,  particularly  for  western 
Northland and other areas.
Bulk Cartage 
The shop is doing very well. We are in 
need  of  towels,  ornaments,  children's 
clothing.  We  are  short  of  boys' 
clothing,  cooking  pots,  garden  pots, 
plants, fruit, veges. 
All  clothing  must  be  clean  and  in 
saleable  condition,  just  like  other 
goods,  please.  We  are  still  receiving 
dirty  clothes,  left  after-hours.  Once 
again, we don't need this - would you 
buy clothes like this? 
A  big  thank  you  to  Reyahn  Leng  who 
checks  all  our  electrical  goods,  we 
appreciate your time. 
~Milly and staff 
Home - 4312 423 
Shop - 4312 650 
KAIWAKA ST JOHN 
HELP 
PHONE NUMBERS 
HEALTHLINE  0800 611 116 
SAMARITANS 0800 787 797 
YOUTHLINE 0800 376 633 
LIFELINE 0800 543 354 
DEPRESSION HELPLINE  
0800 111 756 
ALCHOL & DRUG HELPLINE 
0800 787 797 
URGENT MENTAL HEALTH 
LINE   0800 223 371 
WARMLINE 0800 200 207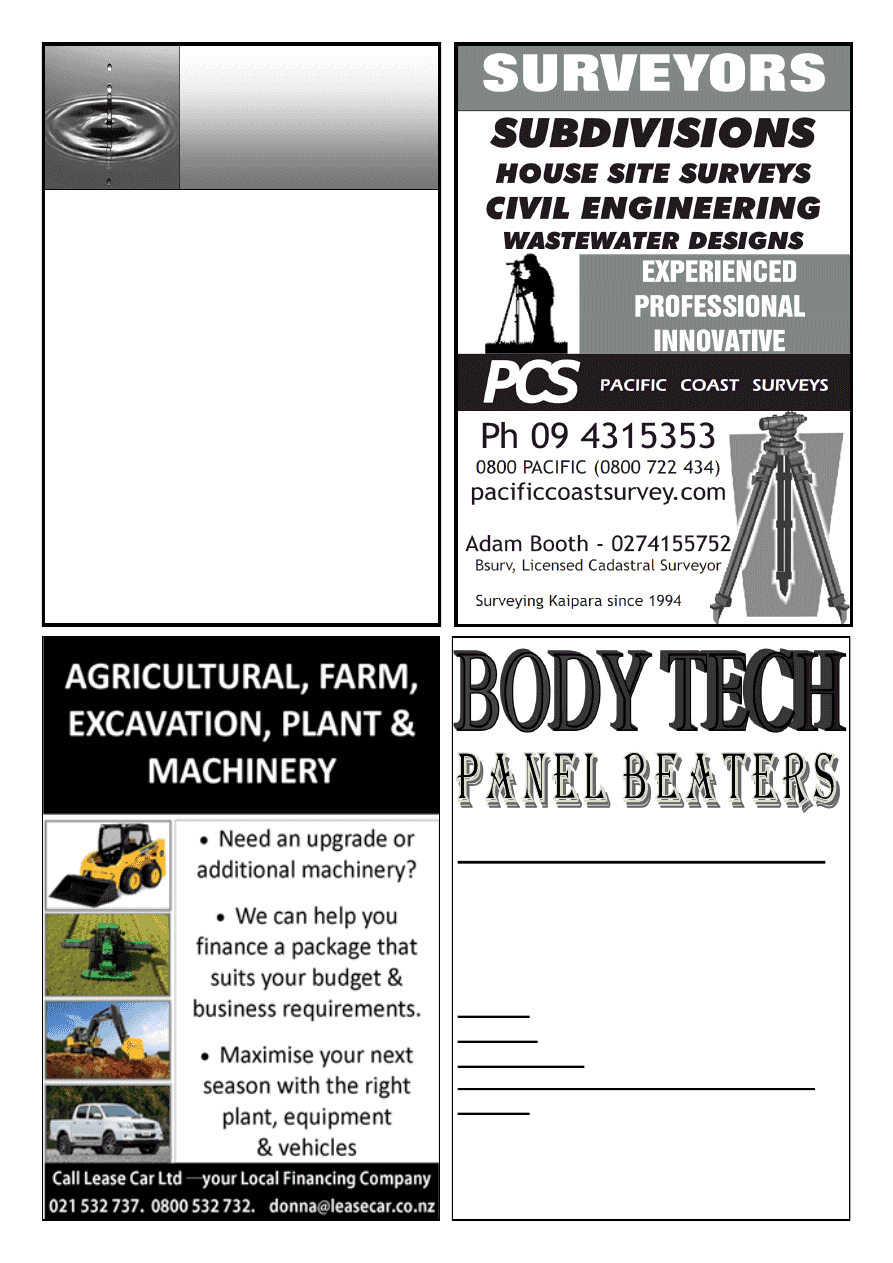 PETE WORSFOLD  
B. Soc.Sc. M. Soc.Sc. Diploma of Prof Couns. 
Counsellor 
For all your body repair needs!! 
We do: 
Rust repairs 
Insurance work 
Anti-corrosion treatment         
Hours: 8.30am-5pm Monday-Friday  
Mobile: 021 118 0462 
After hours: 09 431 2384 
Phone: Craig or Call in for a free Quote 
e-mail: 
bodytech_panelbeaters@yahoo.com
We are located at 1837 SH1 Kaiwaka, behind Twin-
kle Tow 'n' Tyre call in anytime for a free quote.  
Large and minor vehicle  
  repairs 
Industrial vehicles 
Full Cut and polishes 
peteworsfold@xtra.co.nz 
4312 152 or 021 825 970 
Well of Health - 4312 799 
if phone busy - keep trying 
NEW - PRIVATE 
COUNSELLING 
AVAILABLE 
Do you want to achieve a  
PERMANENT STATE OF HAPPINESS?
Men - are you having issues in your 
relationship?
Couples - want to have better 
communication and turn your 
relationship around?
You guessed it - I can help!
Phone me for a preliminary talk.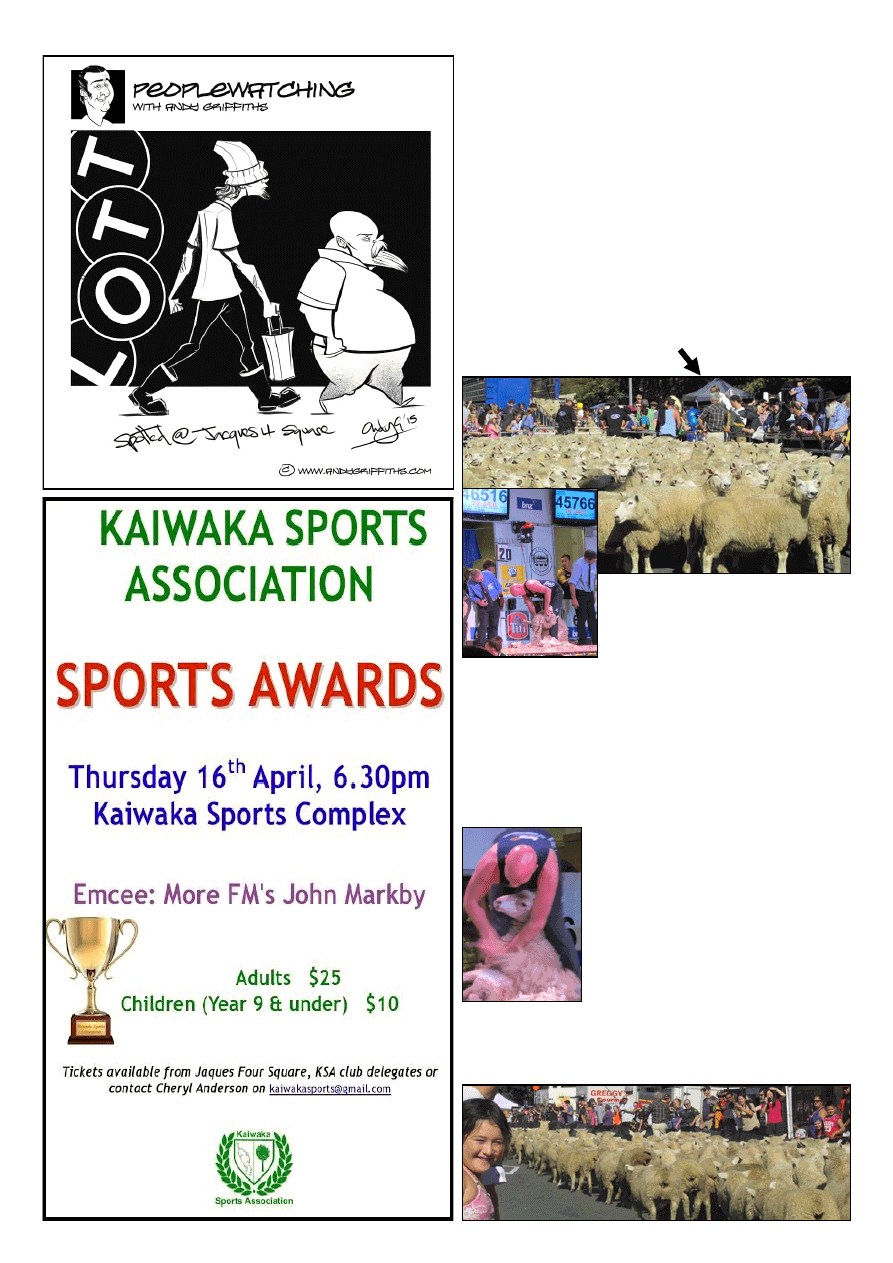 www.kaiwaka.co.nz 
Kaiwaka Bugle - 14 April 2015 
Page 15 
KAIWAKA LIBRARY
Large Print & Audio Book Swap 
By the time you read this, the Large Print and Audio book 
swap  should  be done and dusted  for another  six  months. 
Many thanks to all who helped with the work, especially 
to our three newest volunteers who haven't even had their 
library training yet but came along to assist. 
Come in and take a look at the new selection of books on 
these  shelves  -  there  is  something  for  everyone.  It  costs 
nothing  to  borrow  these  items  -  and  nothing  to  join  the 
library either, if you haven't already done that. 
Dargaville Book Swap 
Don't groan - but there's another swap coming up in the 
near-ish future! The Dargaville book swap is on Tuesday 
30  June.  There  will  be  no  rush  to  get  these  books  back, 
they can trickle in as they're read or due - but now is the 
time to come and see what we've got before it disappears. 
There  is  a  great  range  of  books  there,  just  waiting  to  be 
read.~Wendy 
The GREAT NZ 
MUSTER 
 – Te Kuiti 
Saturday  11  April  was  a  brilliant  day  in  Te  Kuiti  –  the 
Shearing Capital of the World, for the National Shearing 
Championships.  The  town  is  all  out  not  only  supporting 
the  shearing  competitors  and  the  shearing  industry  but 
holding  a  main  street  gala.  This  driven  by  the  Waitomo 
District Council. The 'running of the sheep' is part of the 
activities. This year they included a 'man on the mike' to 
tell  locals  and  many  visitors  about  sheep,  working  dogs 
and shearers as nearly 400 sheep were unloaded from one 
truck  and  trailer  unit  and  began  the  run  down  the  main 
street. 
Kaiwaka's 
own 
Tony 
Hargreaves  'ran'  with  the  sheep  as 
hundreds  of  folk  on  the  side  of  the 
street held up the scrim to watch them 
race  (not  that  fast!)  down  the  street 
over a large ramp and onto the waiting 
truck and trailer unit. 
That  evening  was  the  finals  of  the 
shearing  championships  and  the 
shearing  legend  –  David  Fagan's  last 
competition.  What  an  exciting  final  to 
watch  –  the  6  finalists  shearing  20 
sheep  each  in  15  minutes,  or  less  as  in  David's  case. 
David,  at  53  years,  was  given  a  special  presentation  not 
only  for  his  stellar  shearing  career  but  also  his  work 
behind the scenes – in New Zealand and around the world. 
Tony H in checked shirt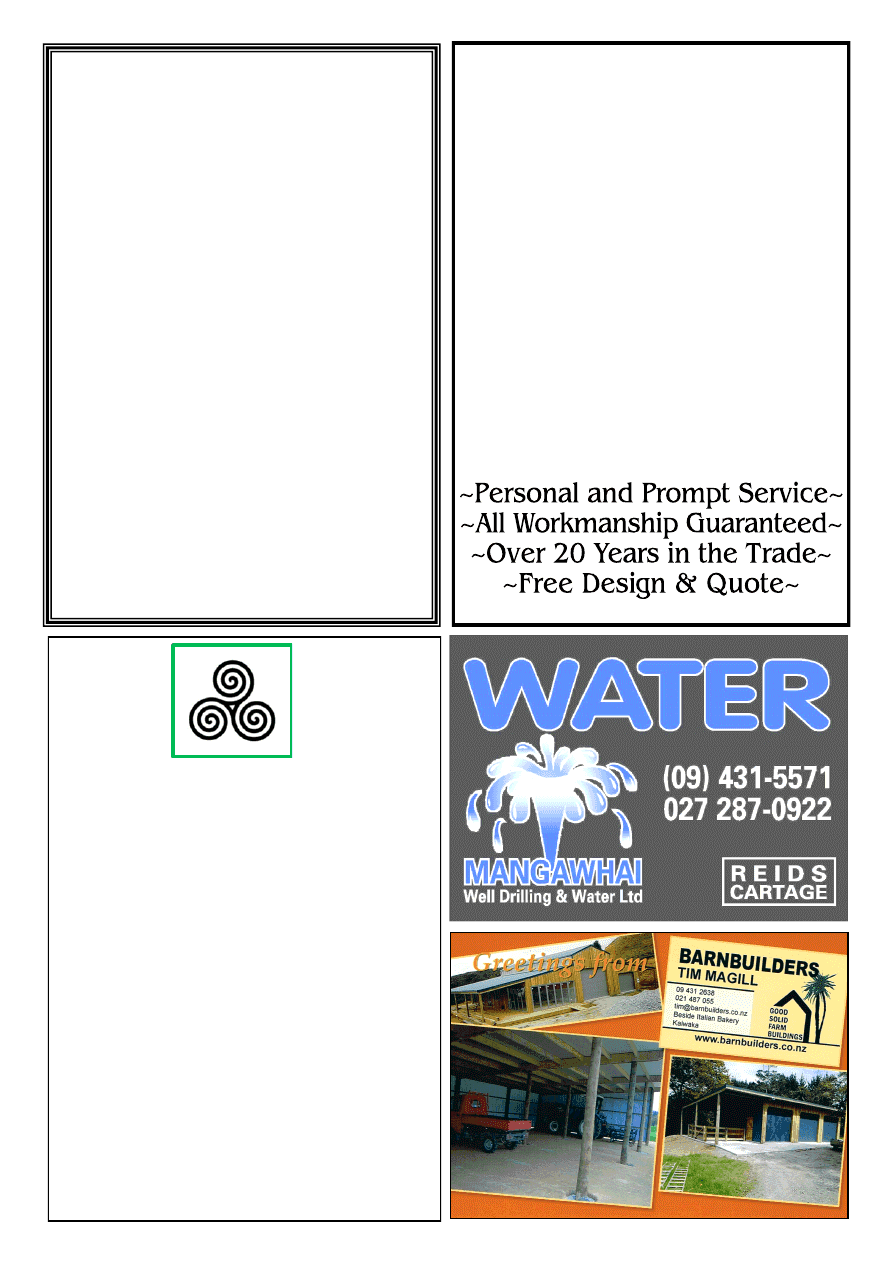 PLANNING A NEW 
KITCHEN? 
 CONTACT NOEL McDOWELL 
WELLSFORD 
KITCHENS
Ph/Fax 094312888  
KAIWAKA-Any time 
  QUALITY CUSTOM MADE 
KITCHENS  
g.a.s. 
Mangawhai 
we have now opened a 
GARDEN CENTRE 
for all your gardening needs 
Also a great range of 
STOCKFOOD 
Wide range of 
ORGANICS AND 
 FRESH LOCAL PRODUCE 
All your motoring needs are taken care of by 
our friendly staff check us out... 
44 Moir Street, Mangawhai (09)431 4242 
RANA Health 
Naturopathy - Acupuncture 
Massage 
Open Mondays & Fridays 
4 Kaiwaka-Mangawhai Road; Room 4; Kaiwaka
Phone or Text for an appointment &/or 
price enquiry:  
Rebecca Wood 021854158 
Or visit www.ranahealth.co.nz 
& click BOOK NOW
Rebecca Wood Dip Th Mass; Dip Aroma; Dip Acu; 
Student Naturopath- Final semester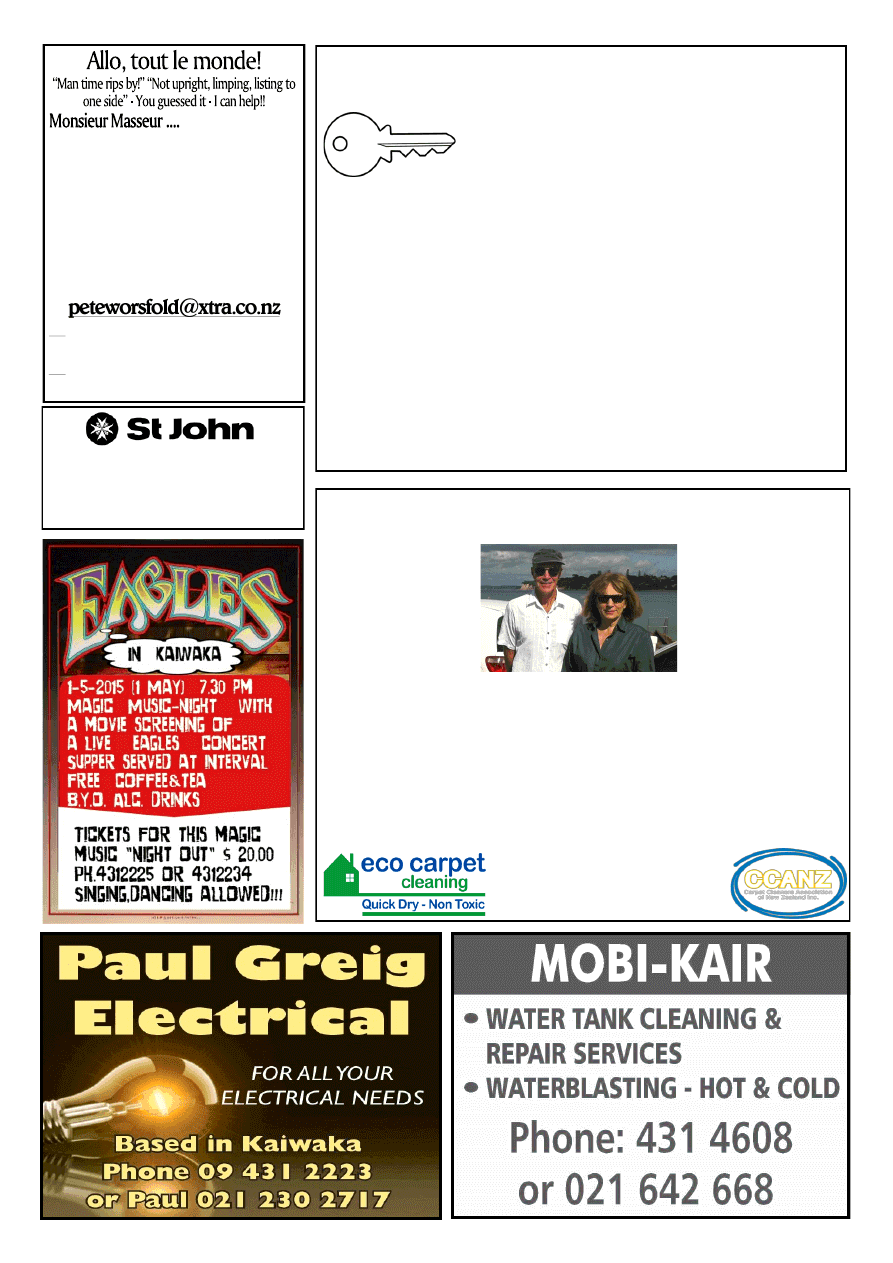 www.kaiwaka.co.nz 
Kaiwaka Bugle - 14 April 2015 
Page 17 
RELAXING MASSAGE
Juste pour vous
A happy client after a massage: 
"I felt like I was floating on air".
Call for an appointment now!
Pete Worsfold 
4312 152  or  021 825970  
Or  Ph. "The Well of Health" for an 
appt. 09 4312 799 
Or mobile service available 
If phone is busy please keep trying 
CARPET & UPHOLSTERY CLEANING 
QUICK DRYING – NON-TOXIC  - GREAT RESULTS
Mike and Marina Bagley have returned to your area 
and are delighted to offer 
carpet and upholstery cleaning 
Call 09 431 3016  or  027 2410414 
marina@ecocarpetclean.co.nz  
www.ecocarpetclean.co.nz 
Op Shop 
SH1, Kaiwaka 
Mon-Fri 9am to 4pm 
Sat 9:30am to 1:30pm 
Kaiwaka Keycutting 
& Hardware
Ph 4312 063
(Next to Kaiwaka Motorcycles)
Opening on Friday 17 April 2015
Keys Cut - Hardware - Household 
Curtain Tracks & Fittings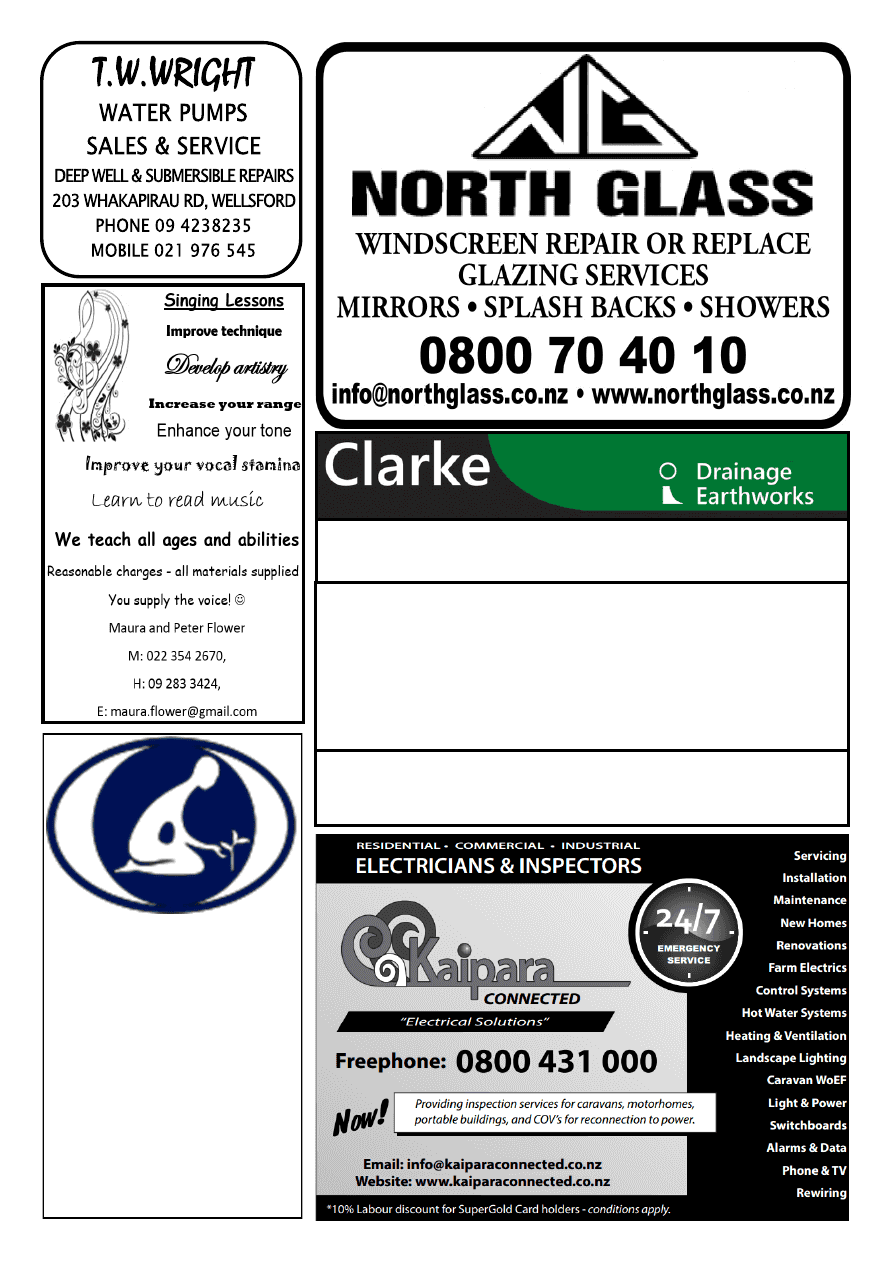 Magnetic Laser for Health 
Using a low power laser I can 
help with a variety of conditions: 
 
Joints pain, swelling, inflammation 
 
Back and neck pain 
 
Heel pain 
 
Injury or fracture recovery 
 
Phone Gala 
431 2213 
021 486 611
Registered Drainlayer 
All Types of Earthworks  
> All Residential & Commercial Work 
> House Sites 
> Septic System Design & Install 
> Footings & Drilling to 10m 
> Sewer Connections 
> Dams 
> Water Tank Installation 
> Roading & Races 
> Farm Work 
THE ONE STOP SHOP  
Phone Nigel for an Obligation Free Quote  
Drainage & Earthmoving                          clarkedrain-
age@xtra.co.nz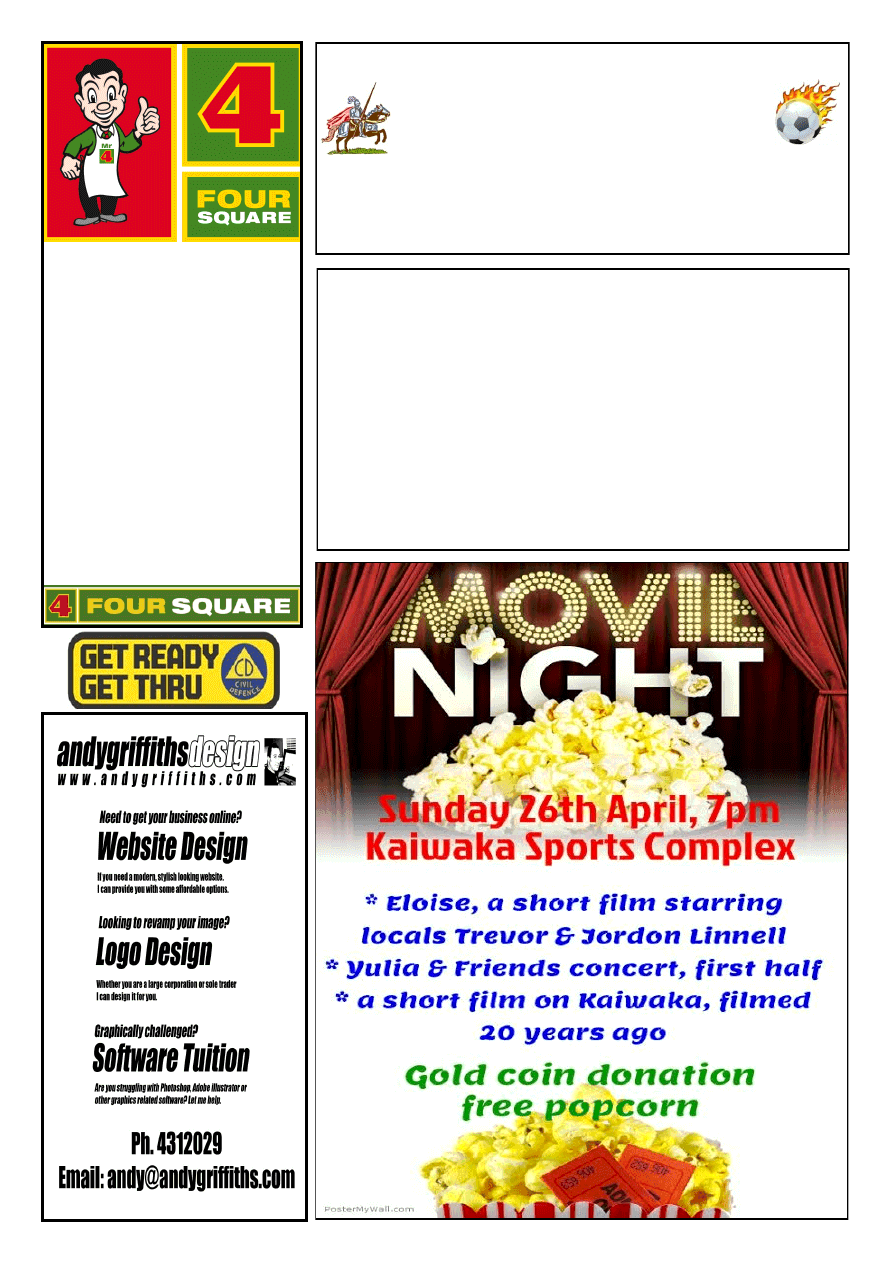 www.kaiwaka.co.nz 
Kaiwaka Bugle - 14 April 2015 
Page 19 
Check Out the 
New Range of Toys, 
Puzzles & Activities 
Loads of fun 
for the Kids 
for the School 
Holidays 
Great Prices 
Jaques Four Square
Phone: 4312227
1 Kaiwaka-Mangawhai Road, 
Kaiwaka.
KAIWAKA BOOT CAMP 
**CHARITY FUN DAY** 
Friday 17 April @ 6:30pm sharp! 
$10 per person 
>All money goes to INC KAIWAKA! 
>Family fun while you train together! 
>Everybody welcome! 
!!SPOT PRIZES!! 
For info contact Siobhan: 0279791203 
Regular Boot Camp Sessions: $7 
Tues, Thurs & Sat 
KAIPARA KNIGHTS SOCCER CLUB 
Registrations from players 4 years old 
upwards in the area 
from Matakohe to Kaiwaka 
Registrations Saturday 18 April 
11:00am Kaiwaka Sports Complex 
Enquiries to Mark Flannagan 431 8900 or Lindell Ferguson 4312 542 
Saturday games are played at Port Albert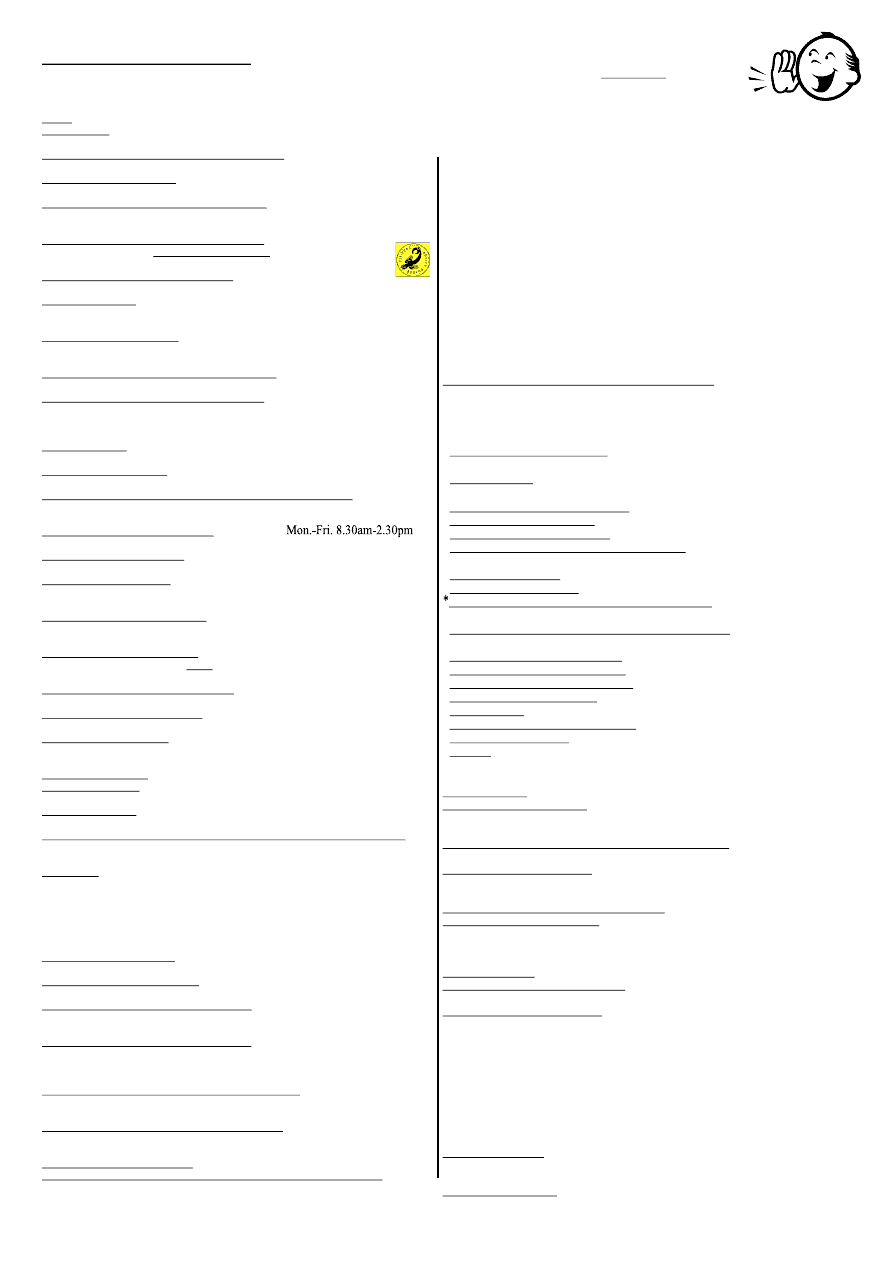 Next Bugle Deadline Friday 24 April 2015
LOCAL SERVICES 
*St.John Ambulance 
111 or Freephone 0800 61 0066
*Fire phone 111     *Police phone 111 or 09 4311150
A A: Meets Wed., 8pm Kaiwaka Ph: 4312228, 4315543, 0800229 6757 
AL ANON: In recess, contact Ph: 4312228 
MINISTRY FOR PRIMARY INDUSTRIES - General inquiries Call 
Free 0800 008 333 
ASUREQUALITY LTD  (was AgriQuality) Call Free 0508 0011 22  
BUDGETING SERVICE, OTAMATEA:Free confidential advice &  
support - all areas of  personal finance Ph: 09 4318173 or 094318117 
CAB-Citizens Advice Bureau.Wellsford Ph: 4237333 
0800 367 222 email:cab.wells@xtra.co.nz  
DOG/STOCK /NOISE CONTROL 0800 105 890 
KATE'S PLACE with Govt.Day Agencies/Community Information /
Osteopathy/ IRD / Probation, etc Ph: 4312661 Hours: 9am-3pm. Mon - Fri 
FUNERAL SERVICES: Morris & Morris Ltd, 
Whangarei - Bev Jaques Ph:4312367 or 0800667747 
GRANDPARENTS Raising Grandchildren: Sarah Rogers Ph: 4312194 
HAKARU LANDFILL/Transfer Station:Open everyday except 
Tuesday10am-4pm.Ph4312629 Cost-$55 trailer load up to 1 cubic 
metre. Ph:4258567 - office 
HOMEOPATH: Donna Flavell Ph: 4314843 
INLAND REVENUE: Last Friday each month, 11-3pm Ph4312661 
KAIPARA DISTRICT COUNCIL www.kaipara.govt.nz:  
Help Desk FREEPHONE 0800 727 059  
KAIWAKA KOHANGA REO: Ph:4312620 
KAIWAKA CEMETERY: Ph: 4312045 
KAIWAKA LIBRARY: kaiwaka.library@gmail.com  
Mon. 4-6pm; Wed., Thurs., Fri., Sat.  10am-2pm Ph:4312539 
KAIWAKA PLAYCENTRE: Ph: 4312286. Hastie Lane 
Monday to  Friday  9.00am - 12 noon. 
KAIWAKA POST OFFICE:Ph:4312 431  
Post Code: 0573  for RD2  and  0542 for all Kaiwaka Post Office mail 
KAIWAKA PRIMARY SCHOOL: Ph: 4312309     
KAIWAKA SPORTS ASSN: Ph 4312005; 4312129 gym 
KAIWAKA ST JOHN: Manager Steve Rosser 09 4318403, 021 
2316836 
LINKING HANDS Health Shuttle Ph 4314121 or 09 4318969 
NORTHPOWER: Faults Kaiwaka area 0800 104040 
PARENTPORT: Free, practical family support service Puhoi to Paparoa 
Ph or txt:  Dianne 027 2085093 
PERSONAL DEVELOPMENT COACHING, GROUP FACILITATION:  
Sabine Druckler 4312231 
PLUNKET: Kaiwaka - Kaiwaka War Memorial Hall: Clinic 1st Wednesday of 
the  month;  Coffee  Group  at  9:30.  Mangawhai  -  Rose  Madsen  Cottage, 
Mangawhai  Domain,  Moir  St:  Clinic  1st  and  3rd  Monday  of  month;  Young 
Babies  Coffee  Group  2nd  and  4th  Monday  10  am;  Plunket  Playgroup  every 
Thursday. Maungaturoto  - Maungaturoto Congregational Church, 100 Hurndall 
Street East: Plunket clinic 2nd and 4th Wednesday. Cynthia 09 431 8187 or 027 
675 3488 
PLUNKET HELPLINE -0800 933 922 (24 hours) 
PUBLIC HEALTH NURSE: Gloria Reid Ph: 094327634  
RETURNED AND SERVICES ASSN 733 Settlement Rd. Hakaru 
Ph.4312176 Bill Kerr (President) Ph.4314719 
TAITOKERAU COMMUNITY LAW: Free confidential legal advice 
and assistance, 2nd
Thursday
 of each month. Ph: 0800 155 529 for 
appointments.  
TE KOROWAI AROHA O NGATIWHATUA Ph: 4312675 
(The Cloak of Love of Ngatiwhatua) Support and Maori Consultancy.  
VETERINARY SERVICE MANGAWHAI: 
Ph: 4314535 Mon-Fri 8.00-5.00, Sat 9-12, a/h appt. 
WELLSFORD DOCTORS: Ph: 4238 086 
WOMEN'S WELFARE LEAGUE & Reaching Out For Youth:  
4 Kaiwaka-Mangawhai Rd, M Morgan 4312293 
WHAT'S ON
PLEASE ~ do let us know what is on - email 
kaiwakabugle@kaiwaka.co.nz 
Advertising in WHAT'S ON is FREE  
*16Apr~KSA Sports Awards, KSA 6:30pm 
*17Apr~Kaiwaka Boot Camp, 6:30pm 
*17Apr~'The Theory of Everything', 7:30pm KWMH 
*17-19Apr~Northland Centre Champs dog trials, Oneriri Rd 
*18Apr~Kaipara Knights registration day, 11am KSA 
*25Apr~ANZAC Day 
*25Apr~ANZAC Day service, 10am Hakaru RSA 
*25Apr~'The Imitation Game', 7:30pm KWMH 
*26Apr~'Paddington', 2pm KWMH 
*26Apr~Movie night, 7pm KSA 
*28Apr~'The Battle of Te Ika-a-Ranganui', 6:30pm KSA 
*1May~'Eagles in concert', 7:30pm KWMH 
KWMH=Kaiwaka War Memorial Hall 
KSA=Kaiwaka Sports Association Complex 
See www.kaiwaka.co.nz for upcoming events. 
HOUSEHOLD  RUBBISH  COLLECTION  -  Kaiwaka    Pick  up­
Mondays=Gr een bags ar e picked up by Nor thland Waste-queries 
to  them  09  4303273,Wednesdays=Blue  bags  and  yellow  recycling 
(at  Jaques    $3.00  and  $1.50)    are  picked  up  by  Kaurilands  09 
4392146.  
*DIABETES Support Group -for Kaiwaka, Mangawhai, Wellsford 
   10am, 3rd Friday of month Ph:A.Pert 4238242; J.Gardner 4238060 
*DRINK CAN 'tear tabs' - for Starship Hospital- please collect - 
    98 Kaiwaka Mangawhai Rd, leave in mailbox, Ph. 4312625  
*GYMNASTICS OTAMATEA -  Tuesday Ph: Stephanie 022 3624998 
*HAKARU PONY CLUB-Secretary Julie Rynne 09 4314520 
*KAIWAKA BADMINTON -Tuesdays 7.30pm Ph: 4312345 
*KAIWAKA GARDEN & FLORAL Grp:2nd Thursday in month 
   Ph: 4314767 
*KAIWAKA CUBS-Thursdays 5.30-7pm, Hakaru  Ph:Bruce  4312542 
*KAIWAKA SQUASH -Mondays 7pm Ph: Barbara Thomas    4315905 
KNITTING FOR WHANGAREI HOSPITAL - 2nd Tuesday in  
   month, Apple Basket 10am Ph 4314827 
*MANGAWHAI COMBINED PROBUS CLUB: 2pm,3rd Thursday  
   month in the Senior Citizens Hall Mangawhai. Ph: 4315777 
*NZ GENEALOGY-Wellsford - 1st Thursday in month Ph: 4237033 
*OTAMATEA GREY POWER-09 431 8138 Joan Hoggard  
*PT CURTIS CRUISING CLUB - Jean Ph: 4312 246 
*RSA,Hakaru & Dist.Women- meet 1.30pm 4th Thurs in month Ph: 4312 668  
*TRAMPING- Mondays 9am-2:30pm  Karen Ph: 4312 090 
*WAIPU GENEALOGYGROUP -4th Monday in month Ph: 4312725 
*WRITER'S GROUP - Ph Elizabeth 4312 522 
*YOGA- Tuesdays 6:15pm, Friday 8:30am Kaiwaka WM Hall Carla  
   Ph: 4312 408, 021 296 8794
CHURCHES:
*Gateway Worship Centre: St Mary's Church Nathan Rd off Oneriri Rd, 
Kaiwaka Services, 10.30am 1st & 3rd Sunday of every month. Contact: Rev 
David Gage 4312528 or 0212354282 
*Kaiwaka Family Church-Your Community Church:Sundays, l0am 
Home Group every Wed evening, Pastor John.Dekker Ph: 4318203 
*St Paul's Anglican Church 1st Sun. 9.30 am (Eucharist), 3rd Sun. 9.30 am 
(Family Service). Contacts:  Church Office 09 431 4122; M. Hargreaves 431 
2295; C. Bygrave 431 2057 
*Church of Christ the King, Mangawhai:9.30am every Sunday 
*St.Mary's Catholic Church: Maungaturoto – Griffins Road, Saturday 
evening Vigil Mass 6pm; Mangawhai – Senior Citizens Hall, Sunday Mass 
8:30am; Wellsford – Matheson Road, Sunday Mass 10:30am; Mid-week 
Mass times and all enquires to Fr. Bill Fletcher – phone 423 8170 
*Baptist Church: Sun. 10.30am Mangawhai Snr Cit.Hall.Ph:4312339 
*Cause Way Church Mangawhai: Sundays 10.15am, Mangawhai 
Community Recreation Centre, Insley St. Ph: 09 4314782  
*St.Pauls Archie Bull Hall HIRE  $20 half day, $40 full day per hire 
 Contact R. Morgans, Ph 4312365 
*Kaiwaka War Memorial Hall HlRE - Phone 4312725 or   
Email  
kaiwaka.hall.bookings@gmail.com 
*Hakaru Community Hall HIRE -Ph.  4312256 or 4312110 
*Te Pounga Marae queries -A.Gage 4312528, 4312527 
*Kaiwaka Sports Association hire/queries - C. Anderson 4312051 or 
Email kaiwakasports@gmail.com
Justice  of  Peace:  B.FJaques;  L.Donaldson;  A.F.Hargreaves,  S.Dalziell, 
W.Howard  -  please  phone  to  make  sure  they  are  available 
www.justiceofthepeace.org.nz 
Marriage Celebrants: L.Donaldson; A.F.Hargreaves; C.Rosseels