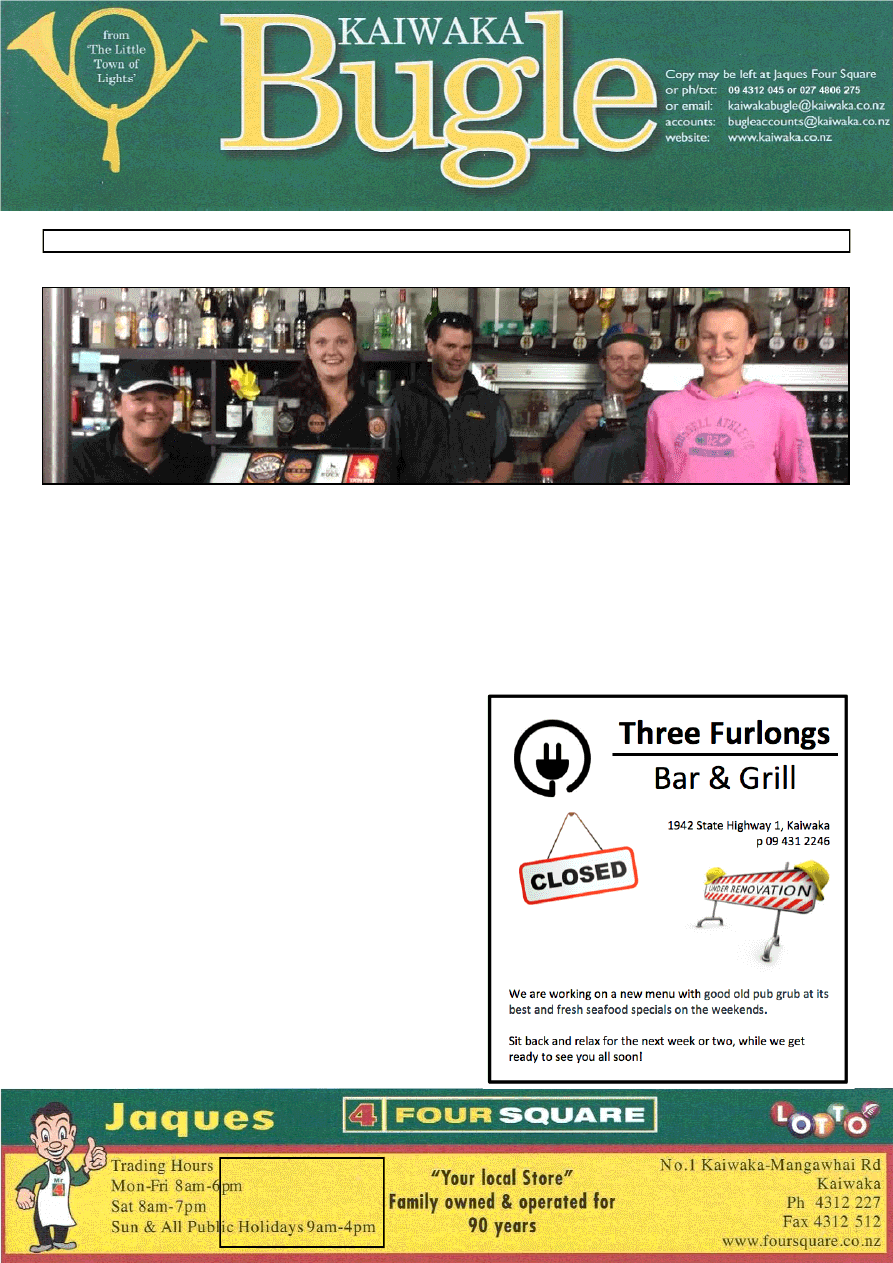 www.kaiwaka.co.nz 
Kaiwaka Bugle - 23 June 2015 
Page 1 
 No: 12
23 June 2015 
New Winter Hours: 
Mon-Tue,Thu-Fri: 8am-
6pm; Wed: 8am-6:30pm;  
Sat: 8am-7pm;  
Sun: 9am-5pm 
The new crew, from left to right: Jess (head chef), Emma, Paul, Rhys and Jody. 
TIME OUT for RENOVATION 
The Sparky Crew have taken over the ownership of the Three Furlongs Hotel from Barbara and Russell Kemp, and are 
now in the throes of renovations - setting up for their opening shortly. 
Kaiwaka's Three Furlongs Hotel opened on 22 June 1966 after twelve years of deliberations within the community, the 
local  MP  Jack  Scott,  Licencing  Commission  and  'bureaucratic  delays'.  It  was  built  on  land  owned  by  the  McClean 
family. The first publican, EC Ted Pipe, was asked at the opening how he came by the hotel's name. Being a keen racing 
man he had found his horse usually stopped at the three furlongs post, "so I hope that many travellers to the north will do 
the same". (
Reference ~Roger T.W.Smith 'Stories tall, stories short Kaiwaka 1959-2009'). 
Publicans to follow Ted Pipe have been Jim and Ruth Giles, the Browns, Jim, Robin and Mike Ward, Gary and Ngaire 
Watts, Graham and Sally Josephs, Colin and Sue Dowson, KD and Lyn Wintle, George and Sharon Culley, 
Russell, Barbara and Tracey Kemp. 
We look forward to the 50 year celebrations June next year.* 
A message from Paul, Jody, Rhys and Emma: 
'In  case  you  haven't  heard…  "The  Sparkys"  have  bought  the 
pub!  We  wish  Russell,  Barbara  and  Tracey  all  the  best,  they 
wont be the publicans anymore, but hope to see them often! 
We have changed the name to "Three Furlongs Bar & Grill", and 
the bar will be closed for a couple of weeks for renovation. We 
will be posting updates and a competition or two on Facebook, 
and please feel free to pop in and check out what we are up to. 
Since "word got out" of plans to buy the pub from the Kemps, 
we  have  been  overwhelmed  by  the  positive  response  we  have 
received around town, and we would like to thank Kaiwaka as a 
community  for  this.  We  would  also  like  to  thank  the  Kemps, 
with all their help in making our new venture happen. 
We think that Kaiwaka needs a pub with a great atmosphere for 
everyone  to  enjoy  and  of  course  great  pub  grub  too!  So  that's 
what we are hoping to provide… 
In case you are wondering, Paul and Rhys are not quitting their 
day jobs, they will still be your local sparkys, so please continue 
to call us for all your electrical needs. 
Sit back and relax for the next week or two, while we get ready 
to see you all at the "Three Furlongs Bar & Grill" soon.' 
*
Have I missed anyone? Updates welcome, Bugle Editor
CHANGES AT THE THREE FURLONGS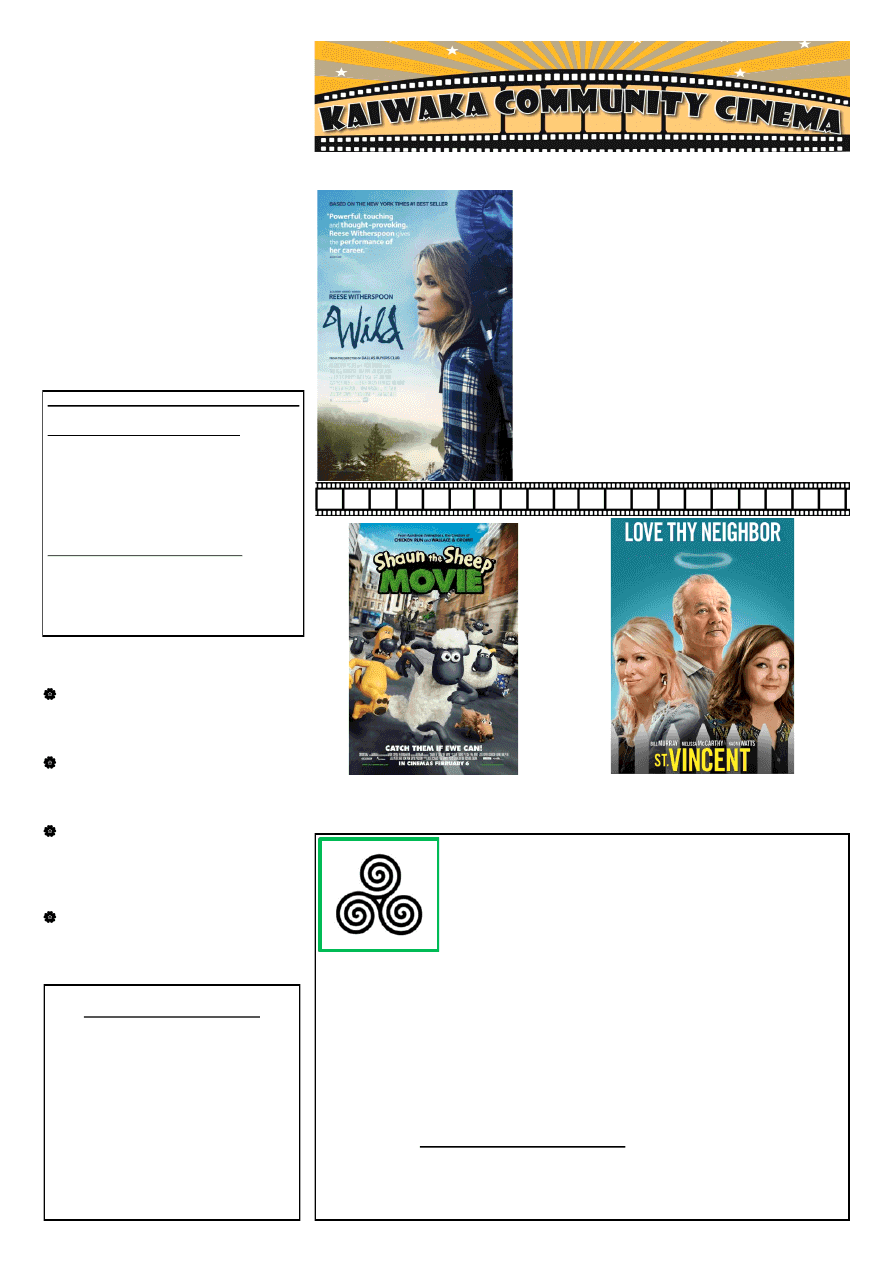 ABOUT TOWN 
......... 
Note:  Jaques  Four  Square  Store 
will  be  closed  for  stocktaking 
Saturday afternoon 27 June. 
Big  day  at  Kaiwaka  Sports 
Complex Saturday 27 June - lots of 
rugby, rugby, rugby! 
Nine  of  our  Scouts  are  working 
on the Service Section of their Gold 
Award  -  have  you  ideas?  Phone 
Bruce 4312542 
Have  an  opinion  about  traffic 
speeds  through  Kaiwaka?  See  the 
article about a petition on page 17. 
KAIWAKA BUGLE No: 12 
23 June 2015
Page 2: Kaiwaka Movies 
Page 3: Public Notices; Classifieds 
Page 5: Kaiwaka School 
Page 7: Kaiwaka Library, Scouts 
Page 9: New Gallery, WW! Honours 
Page 11: Pt Curtis Cruising Club 
Page 13: Kaiwaka Sports Association 
Page 15: KSA continued 
Page 17: Reducing Speed Petition 
Page 19: Otamatea Repertory Theatre 
Bugle 13 will appear 7 July 
Contact for advertising, reports, articles 
or information can be made by 
Email kaiwakabugle@kaiwaka.co.nz 
Ph: 09 4312 045 
Txt:  0274 806 275 
Copy may be left at Jaques' Four Square.
Kaiwaka Bugle 
Founded May 1978 
Copies available in Kaiwaka at Jaques Four 
Square, Kaiwaka Postal Centre, Shamrock 
Service Station, Celena's Gifts 
Also outlets in Maungaturoto, Mangawhai 
and Paparoa. 
Can be viewed online at  Facebook or 
www.kaiwaka.co.nz/Bugle  
Or a copy can be posted to you if you supply 
stamped, self-addressed DLE envelopes. 
At Kaiwaka War Memorial Hall . Adults $10, Chn (under 16) $5, Family Pass (2 adults + 3 children) $25 
Wild 
Friday 26 June 7:30pm (R16) 
With  the  dissolution  of  her  marriage  and  the 
death  of  her  mother,  Cheryl  Strayed  has  lost  all 
hope.  After  years  of  reckless,  destructive 
behavior,  she  makes  a  rash  decision.  With 
absolutely  no  experience,  driven  only  by  sheer 
determination,  Cheryl  hikes  more  than  a 
thousand  miles of the  Pacific Crest Trail, alone. 
Wild  powerfully  captures  the  terrors  and 
pleasures  of  one  young  woman  forging  ahead 
against  all  odds  on  a  journey  that  maddens, 
strengthen, and ultimately heals her.  
Starring: Reese Witherspoon, Laura Dern 
Kaiwaka Bugle Advertisements 2015: 
All 
copy 
and 
queries 
to: 
kaiwakabugle@kaiwaka.co.nz 
Classified $3 (max 30 words); 1/8 page $6; 
1/4  page  $12;  1/2  page  $24;  in  special 
circumstances  whole  page  adverts  are 
available - $100. 
Payments can be made online, posted or 
left at Jaques Four Square Store. 
Accounts: 
bugleaccounts@kaiwaka.co.nz 
The  Kaiwaka  Bugle  is  a  community 
newspaper run by volunteers.   
Articles, etc. printed are not necessarily 
the opinion of the Bugle Team. 
RANA Health 
Naturopathy- Acupuncture- Massage 
Open Mondays & Fridays 
4 Kaiwaka-Mangawhai Road; Room 4; Kaiwaka
Phone or Text for an appointment &/or price enquiry:  
Rebecca Wood 021854158 
Or visit www.ranahealth.co.nz & click BOOK NOW
Rebecca Wood Dip Th Mass; Dip Aroma; Dip Acu; 
Student Naturopath- Final semester
Shaun the Sheep Movie 
Sunday 28 June 2:00pm (G) 
St Vincent 
Friday 10 July 7:30pm (M)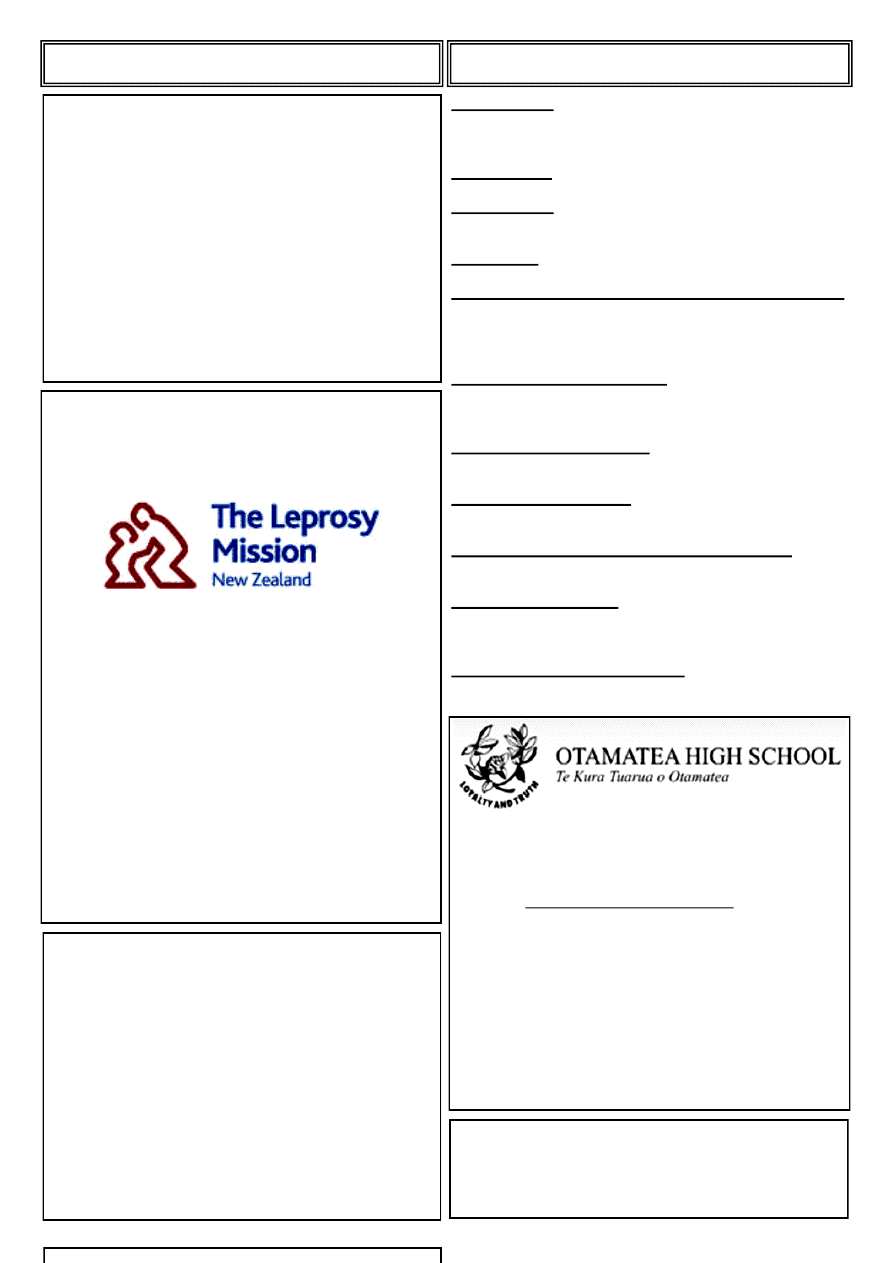 www.kaiwaka.co.nz 
Kaiwaka Bugle - 23 June 2015 
Page 3 
MANGAWHAI MISSION DISTRICT   
ANGLICAN CHURCH 
St Paul's, Kaiwaka, St Michael's Hakaru,  
Christ the King, Mangawhai 
High Tea for Nepal 
Fundraising for a generator for  
Anandaban Hospital, Kathmandu 
Date:    Sunday 12
th
 July 2015 
Time:    3 pm – 4.30 pm 
Location:   Christ the King Church, 9 Molesworth 
Drive, Mangawhai 
Cost:    $20 per person 
Join us to enjoy an awesome afternoon treat and hear 
about the impact your support will have for the peo-
ple of Nepal following the devastating earthquakes. 
 
For information re tickets contact the church office  
Ph 09 431 4122 or Gillian at the Leprosy Mission, 
0800 862 873 
PUBLIC NOTICES 
CLASSIFIED 
FOR  SALE:  Original  wood  stove.  Esse  Century 
cooker.  Been  installed  for  eighteen  years.  Wet  back, 
double oven , white and black enamel. Working order 
$2,200.00 Ph 4312 605 Karen 
FOR  SALE:  Panasonic  32in  LCD  tv,  brand  new, 
still in box. $285 Ph 4312 151 evenings 
FOR  SALE:  washing  machine,  Fisher  &  Paykel 
Intuitive  series  5kg.  In  great  condition  with  owner's 
manual. Very quiet & smooth. $250 ono. Ph 4312 852 
WANTED:  Lease  block  any  size  considered  for 
weaner/yearlings. Ph Josi 021 733 305 
ANIMAL 
CRANIO-SACRAL 
THERAPIST: 
Gentle,  non  invasive,  effective  and  lasting  energy 
work.  Horses,  Pets,  Farm  Animals.  Affordable  rates 
with  10  years experience & caring service. Jill Shires 
021 0506 592 
THE  SUNSHINE  GIRLS:  Need  help  with  your  
house cleaning? Sometimes you just need another pair 
of hands. We offer two pair and a smile. Comparable 
hourly rate. Ph 431 2532 or 431 2711 
SOUND  LANDSCAPES:  for  all  your  landscaping 
needs. Planting season is on the way! To arrange a site 
visit call Pete Worsfold 021 825 970 
BERYL  NOZEDAR:  (Middleton)  International  
Clairvoyant.  Numerology,  Tarot,  Clairvoyance,  
Mediumship. $60 for hour includes CD. Ph: 4312 080 
CLOTHING ALTERATIONS & REPAIRS: Hems, 
Zips,  Dressmaking  Phone:  Win  4312027    or  027  444 
8358 Winsome Designs. 
HEALING  ROOMS: are open for anyone needing 
prayer on Thursdays from 11am-12pm at the Railway 
Station buildings, 18 Station Road, Wellsford. Ph 423 
8469 or 423 7366 for any further information. 
FREE GRAZING WANTED: Small or large block. 
Can  do  some  fencing  or  water.  Phone  after  6pm 
4312006 
Thought for the day:
Proverb  21:28  No  one  believes  a  liar,  but 
everyone  respects  the  words  of  an  honest  man/
woman/child.  
Otamatea High School 
Parent Teacher Interviews  
Tuesday 30
th
 June starting 1pm 
To book appointments parents/caregivers should:  
log on to www.schoolinterviews.co.nz the event code 
is H5WP3.  
Bookings can be made from the 10
th
 June. 
Cut off for bookings will be Thursday 25
th
 June 
12pm.  
Those families who do not have internet 
access, are encouraged to ring the school 
office and we will make the bookings for you. 
Buses will run from 12.30pm on Tuesday 30
th
 June 
when school will close for tuition 
LOST CONTACT: 
In Gibbons Road (with Trees and Hunny) 
Dwells a lovely couple, Jen & Hubby. 
Please phone Jan 
(Whose poem don't scan) 
Please contact the Bugle to get her number(y)!!
Healing Meetings 
Christian  Fellowship  Wellsford  has  invited 
Katherine  Ruonala  from  Brisbane,  Australia  to 
speak at the Wellsford Community Centre at 7pm 
on Friday 10th July, Saturday 11th July and Sunday 
12th  July.  Katherine  travels  internationally  and 
carries a strong message of God's love for us. She 
carries  a  prophetic  and  miracle  anointing  and 
many  are  instantly  healed  in  her  meetings. 
Katherine  is  a  pastor  at  Glory  City  Church  and 
hosts her own television show in Australia, "Glory 
City TV".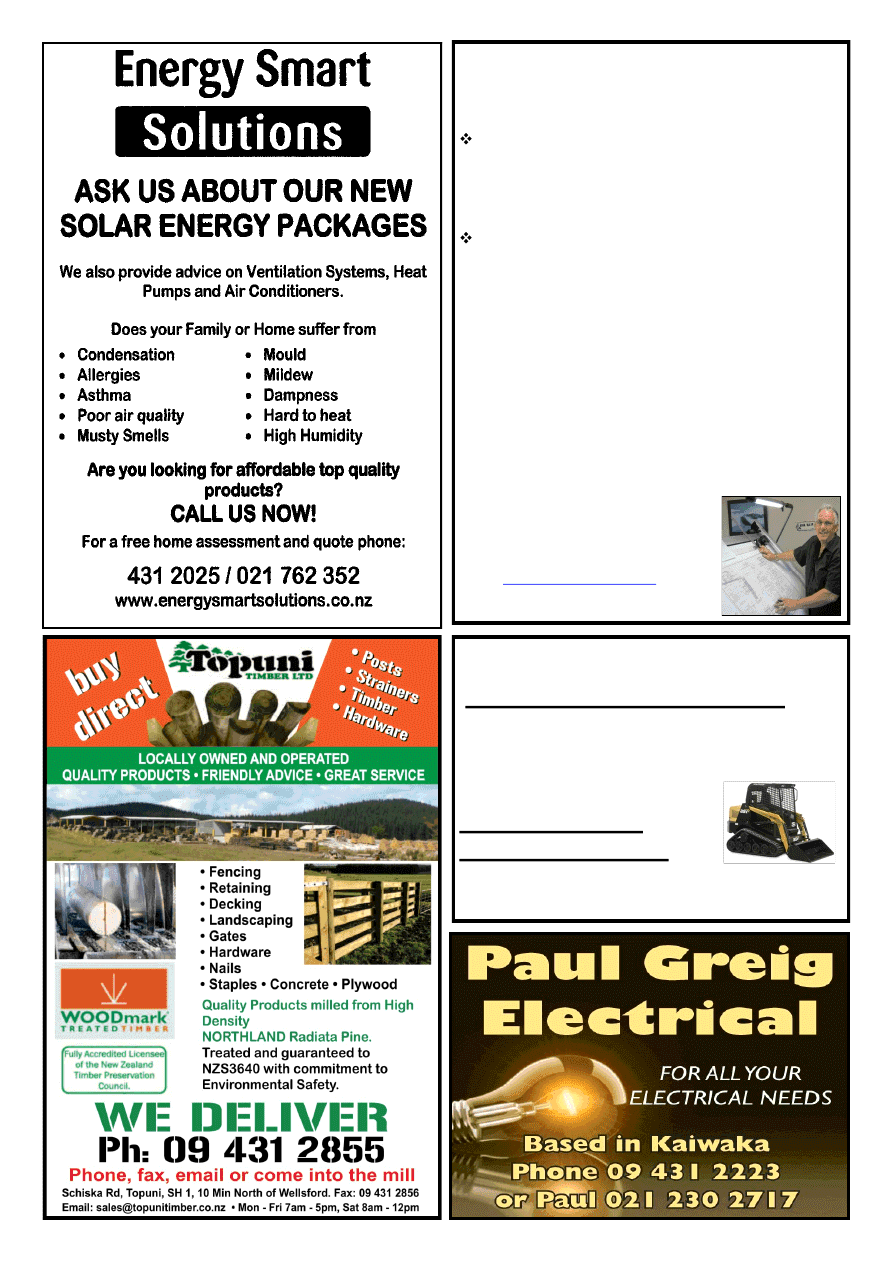 Natural Earth Ltd 
 Landscape and Bobcat services 
 : Driveways  :Landscaping  :Retaining Walls 
 : Hole Boring: Land Levelling :Trenching 
 : Decks :Fences :Sections Cleared: Plus much 
more 
Tel   09 4312885 
Mob 02102391280  
For A Fast Friendly  
Service Contact Tim Hicks 
ARCHITECTURAL BUILDING 
PLANS AND DESIGNS 
WRIGHT DESIGN 
QUALIFICATIONS 
Brian is a qualified designer (NZCAD) with over 40 years of 
varied experience in all types of building and is a registered and 
Licensed Building Practitioner in Design - L.B.P. 117345 
He ensures you will achieve the best from your budget with 
recommended excellent local contractors ready to competitively 
price and build your personal project quickly and efficiently. 
EXPERIENCE 
Brian's practical building and 40+ years of design experience 
means he can give you excellent advice and all the guidance 
needed for all your building needs 
v Wright Design offers free visits, consultations and all the 
advice you need on planning, design, building, contractors, 
council permit applications, etc. 
 
" Qualified and inexpensive designer – N.Z.CAD., LBP 117345 
" Guaranteed design and working drawings 
" Free site visit to your home or property 
" Great service 
" Great problem solver 
Call Brian ~Arrange a visit to discuss your needs  and obtain 
great advice and free quotation 
MAKE GOOD USE OF HIS EXPERIENCE and 
KNOWLEDGE 
WRIGHT DESIGN:  
360 Oneriri Road, Kaiwaka
Office 09 4312544  
Mobile 021 276 7389  
Email: 
www.wrightdesign.co.nz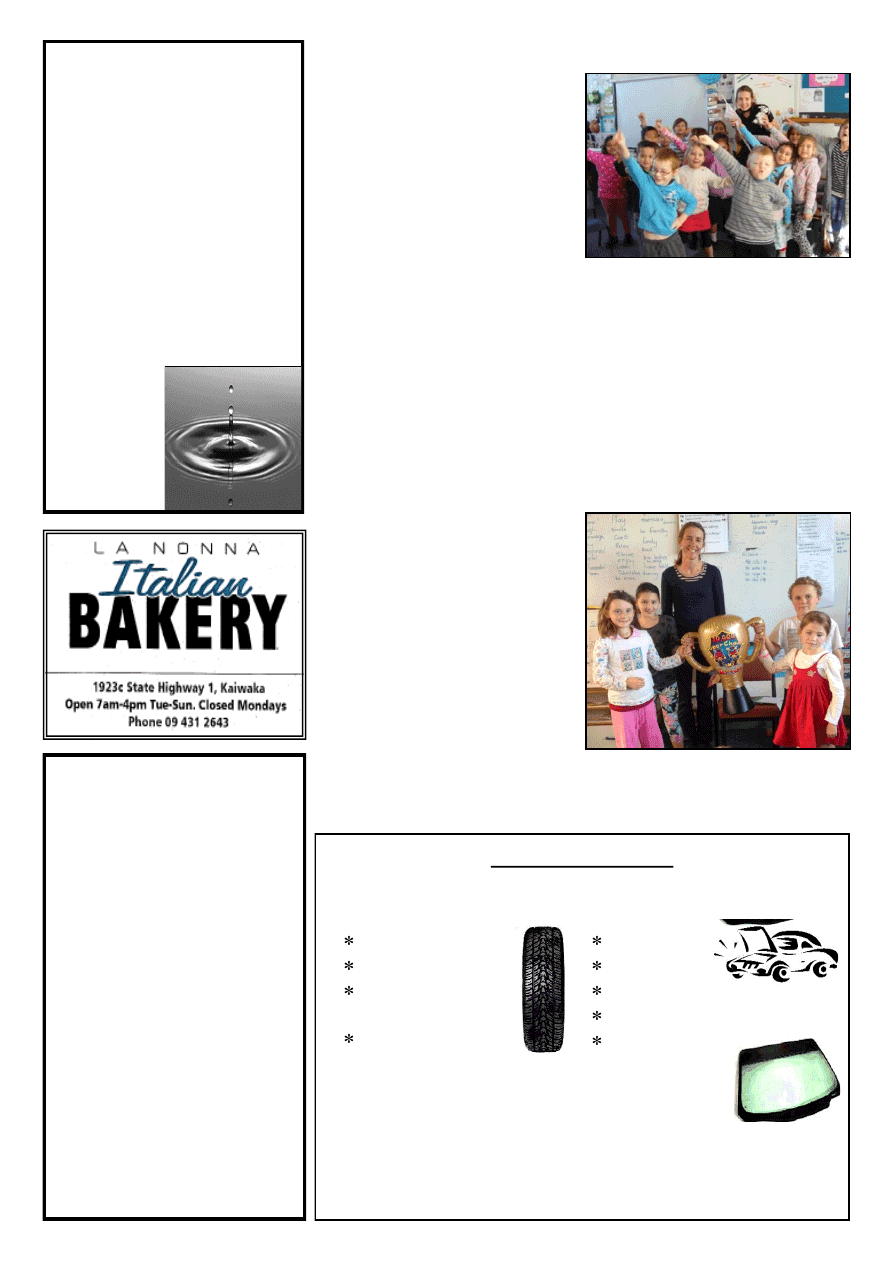 www.kaiwaka.co.nz 
Kaiwaka Bugle - 23 June 2015 
Page 5 
We  thank  Terry  Baylis  for  coming  to 
our school last week to teach the junior 
students  all  about  being  fire-wise.  The 
students enjoyed this.  
Dog  Day  was  very,  very  popular  last 
week.  Over  $280  was  raised.  Thank 
you  everyone  for  supporting  this 
Whanau Group fundraiser. ~Rosie Ellis 
Room 3 News 
Captain Cash-Tastic (photos): 
"I  found  the  treasure  at  the  back  of 
Captain  Cash-Tastic's  cape.  When  it 
was  time  to  sit  on  the  mat,  I  told 
Captain Cash-Tastic that the treasure is 
behind her cape and she looked behind 
her  cape  and  there  was  a  need  and  a 
want." ~
Nathan Gilligan, 6 years 9 months 
"When  Captain  Cash-Tastic  was  here 
we  learned  about  money  and  we 
learned  about  needs  and  wants." 
~Lily 
Adolph, 5 years 9 months 
"Captain  Cash-Tastic  was  so  amazing, 
best  I  have  ever  seen  in  my  whole 
entire  time  at  school.  She  taught  us 
amazing things that were cool, like how 
to be a Super Hero. But she couldn't fly 
and she had no powers. She can also do 
"speed to your needs and wait for your 
wants." She is an ASB girl. She told us 
a  secret.  That  she  is  a  super  hero." 
~Pyper Buxton, 7 years
Hot shots Tennis with Grant: 
"Yay!" Room 3 is going to tennis. We 
had  to  get  a  raquet  and  a  tennis  ball. 
Then  we  walked  around  the  net  with 
our  tennis  ball  and  racquet.  The  ball 
was  on  the  raquet.  Then  we  shook 
hands."~
Casey Greig, 7 years
Netball News 
Kaiwaka 1 
We  played  Tomarata,  and  all  of  their 
players were REALLY tall.  We started 
a  bit  slow,  but  got  better  as  the  game 
went on. Everyone worked really hard, 
and we were happy to win the game. 
Congratulations to Aroha Lee, who was 
"on fire" with her defence, and took our 
player of the day.~ 
Maia Fairburn (Captain) 
Kaiwaka 2 
We  had  a  fantastic  game  against 
Maungaturoto,  with  almost  every 
player  been  taken  out  of  their  comfort 
zones with there positions, and they all 
played  outstandingly.  Mina,  usually  a 
strong  attacking  player,  went  into 
defence  and  was  awesome,    Lily  and 
Dalana,  were  put  in  as  shooters  and 
made it look too easy!    Dalana scoring 
her  first  ever  goal  with  her  first  touch 
of  the  ball.  The  whole  team  made  it 
very tough to pick a Player of The Day. 
Jody  will  be  away  this  week  so  the 
lovely Pat Buxton will be taking Team 
2. ~ 
Jody (Coach)
Want it done? 
Bring it to 
Twinkle Tow 'n' Tyre 
Think you'll get a better deal in the city? 
Go on, ring us; it won't cost anything! 
1837 State Highway 1, Kaiwaka  
Phone 431 2823 
Willow Bend
HORSE  
HOTEL 
"  
Total Horse Care 
" 
Agistment 
" 
Riding Lessons 
" 
Arena Hire (60x40) 
" 
Young Horse Starting 
" 
Re-training/Exercising 
" 
Hoof Trimming 
" 
Problem Solving
Phone Sue 09 431 2817 
or 021 623 776 
Or email sue.gray@xtra.co.nz 
KAIWAKA SCHOOL 
W.O.F. 
Tyres 
Windscreen 
replacement 
Chip repairs 
Bulk Oil 
Batteries 
Welding 
Custom built trailers 
Trailer hire 
Photo  above,  with  Captain  Cash-Tastic:Jade 
Johnson,  Gareth  Ferguson,  Mya  Adolph  and 
Lisa van Blerk were awarded the Skoolbo Tro-
phy  in  Assembly  for  achieving  10,000  correct 
answers.  The  trophy  will  be  displayed  in  the 
Library. 
PROFESSIONAL 
COUNSELLING 
AVAILABLE
Want to be content in your life? 
Men... need help with your 
relationship? 
Couples... communicating a 
problem? 
I can help you!
Phone me for a preliminary 
talk. 
PETE 
WORSFOLD  
B. Soc.Sc. M. Soc.Sc. 
Dip Prof Couns. 
Prov. MNZAC 
Counsellor 
021 825 970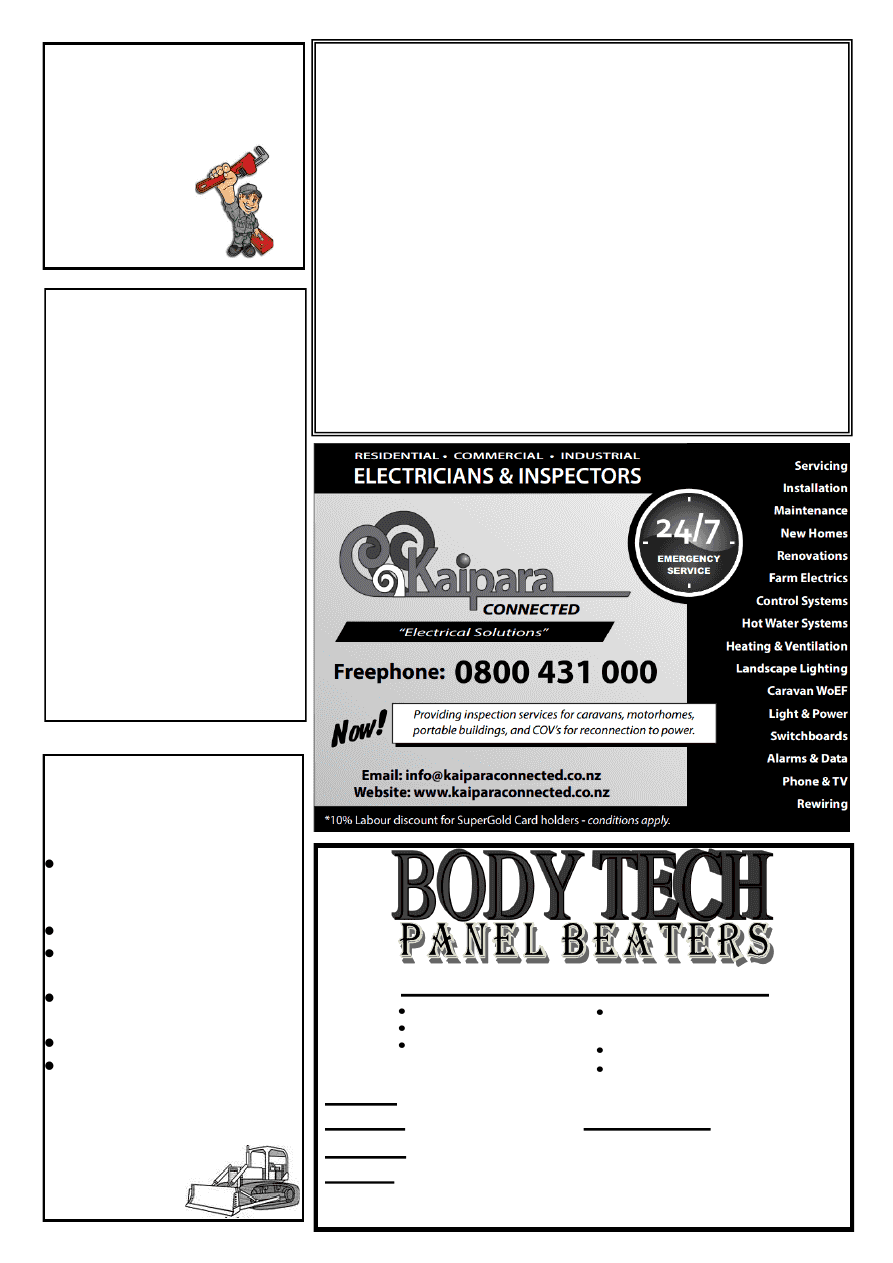 Coates  
Contracting 
D41 Bulldozer with 6 
way blade, bush rigged 
with winch 
For all tree work 
General bulldozing and  
  stick raking. 
120hp Tractor for 
ground cultivation,  
tip trailer work. 
Fencing
All enquiries phone  
Brett Coates  
094318720  
or  
 021431872
Ross Murphy 
PLUMBER 
Certifying Plumber 
09 431 7510 
021 424 252 
Paparoa Based 
+
New Housing  
+
Renovations  
+
Maintenance
KAIPARA FLOORING CO 
32 HURNDALL ST MAUNGATUROTO 
Phone 09 9469886  
or 021 515 415 
Carpet, vinyl, laminate wood look  flooring,  
vinyl planking, sanding & polyurethane service. 
Carpet Short Ends from $79pm + GST 
Vinyl D.I.Y. peel n stick tiles $10sq mtr + GST. 
Free measure & quote.   
Mobile Service 
Phone Christine or Howard anytime 
Open Saturdays by arrangement. 
For all your body repair needs!! 
Hours: 8.30am-5pm Monday-Friday  
Mobile: 021 118 0462       After hours: 09 431 2384 
Phone: Craig or Call in for a free Quote 
bodytech_panelbeaters@yahoo.com
We are located at 1837 SH1 Kaiwaka, behind Twinkle Tow 'n' Tyre 
Call in anytime for a free quote.  
Rust repairs 
Insurance work 
Anti-corrosion  
   treatment   
Large and minor 
vehicle repairs
Industrial vehicles
Full Cut and polishes
UP-LINK 
CHRIS WARING 
FREEVIEW 
INSTALLATIONS
T.V. - HOME THEATRE & 
HI-FI ADVICE/SET UP
SKY ACCREDITED 
INSTALLER
MOB.0273403747 
HM.094312328 
EMAIL cwaring44@gmail.com
28 YRS EXPERIENCE 
OFFERING 
UNBIASED ADVICE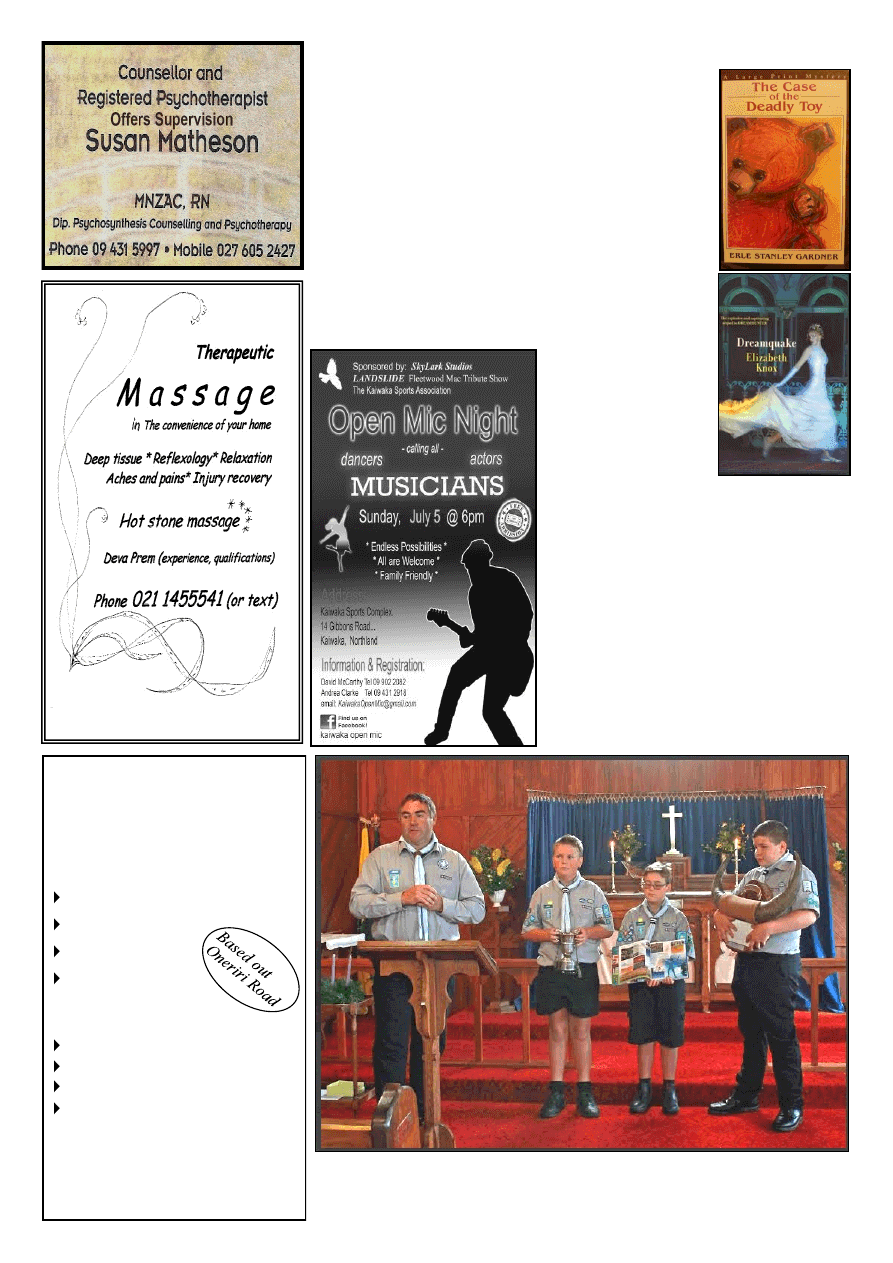 www.kaiwaka.co.nz 
Kaiwaka Bugle - 23 June 2015 
Page 7 
www.mangawhaimassage.co.nz 
KAIWAKA LIBRARY ~ Book Reviews 
HODGETTS
CONTRACTING
Digger Work   
Driveways 
House Sites  
Dams 
Drains, etc
Also available for HIRE 
3 ton Vib Roller 
Heavy Duty Tow 
Waterblaster  
Lazer Level 
Phone Mark 
4312877 
027 447 8554
Kaiwaka/Mangawhai Scouts and Cubs held their Flag Ceremony and Church 
Parade at St. Pauls Church, Kaiwaka, on Sunday7 June.  Above; Group Leader 
Bruce Ferguson with Hamish Ferguson, Liam Leslie and Neitana Blissett hold-
ing their Campcraft trophy. 
The Case of the Deadly Toy, by Erle Stanley Gardner 
Perry Mason takes on the case of a woman being stalked by 
her  ex-fiance.  She  travels  from  San  Francisco  to  Los 
Angeles to talk to his ex-wife, who had previously warned 
her about him, and things take a turn for the worse. 
I  really  enjoyed  this  book  from  the  1960s,  it  was  an 
engaging  short  read  which  I  recommend.  It  doesn't  matter 
that  this  is  the  61st  title  in  the  series,  it  stands  alone 
perfectly well. 
This large print book is on the Rental Fiction shelves in the 
library. ~ Review by Wendy 
Dreamhunter  and  Dreamquake  by  Elizabeth  Knox 
Fifteen-year-old cousins Laura and Rose are young enough 
that they have not Tried yet - to enter the Place, where only 
a  few  can  enter.  Rose's  mother  and  Laura's  father  are 
Dreamhunters, able to go to the Place and dream, and bring 
back  those  dreams  to  share  with  others  who  sleep  nearby. 
It's a wealthy living, for those who can do it. 
Their  time  is  coming 
soon,  and  there  is  some 
pressure  felt  about  their 
futures. 
Rose 
is 
determined to be a great 
Dreamhunter,  and  does 
not  bother  much  at 
school.  Laura  is  more 
circumspect, despite her 
father  being  the  greatest  Dreamhunter  ever. 
"Nothing can prepare them for what they are 
about to discover. For within the Place lies a 
horrific  secret  kept  hidden  by  corrupt 
members  of  the  government.  And  when 
Laura's  father,  the  man  who  discovered  the 
Place, disappears, she realizes that this secret 
has the power to destroy everyone she loves . 
.  .  In  the  midst  of  a  fascinating  landscape, 
Laura's  dreamy  childhood  is  ending  and  a 
nightmare beginning." (goodreads.com) 
I really enjoyed this tale, and found it hard to 
put  down.  These  two  books  are  essentially 
one  story,  and  should  be  read  in  order. 
These books are on the free Fiction shelves in 
the library. ~ Review by Wendy.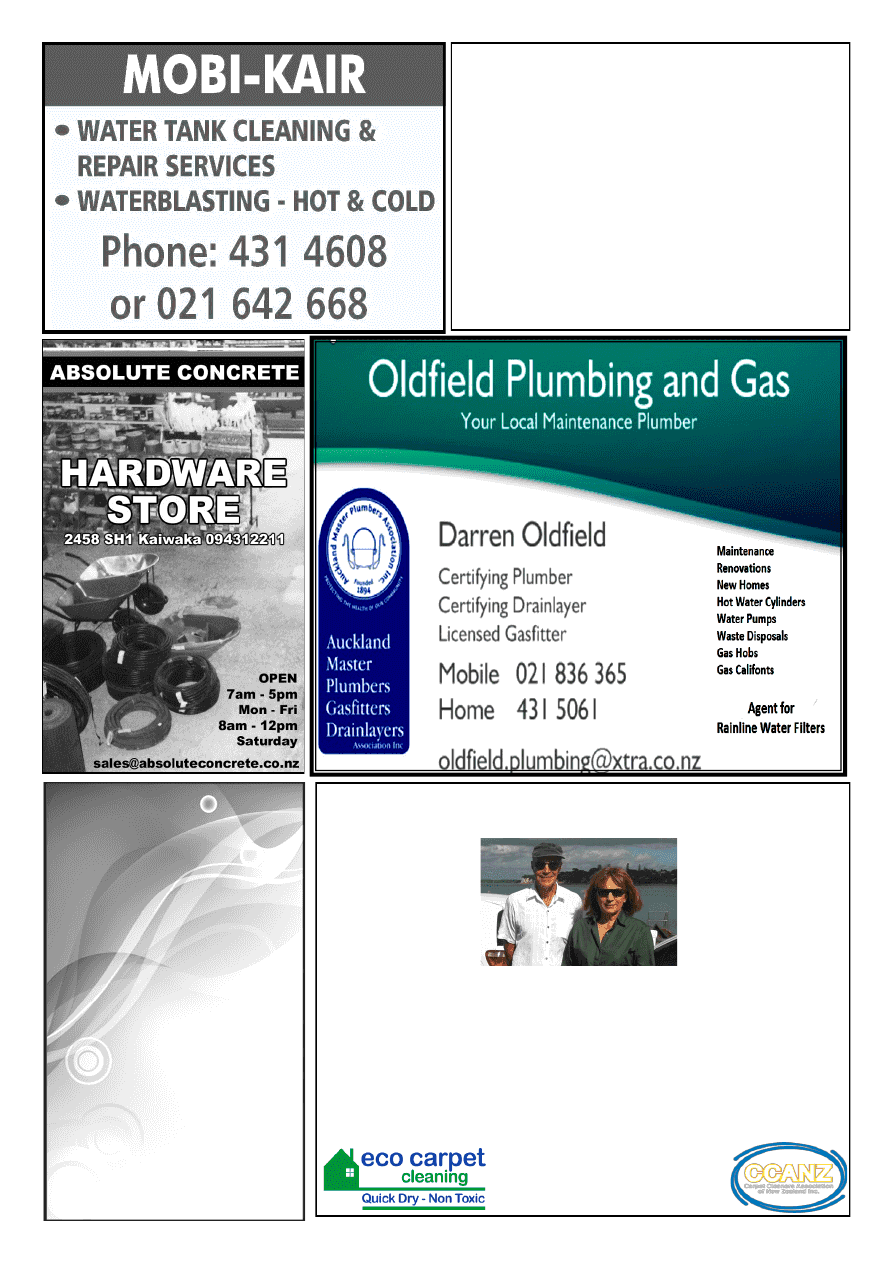 U Beauty 
            Underarm Wax  
    $20 
            Extended Bikini Wax   $30 
            15 min Back  Massage  $25 
            30 min Back Massage  $50 
Please call Nicole for bookings 
09 393 6336 or 022 0639450 
Qualified Beautician 
4 Kaiwaka – Mangawhai Rd 
Kaiwaka 
Eyebrow Wax  $10 
Eyebrow Tint  $10 
Eyelash Tint 
$20 
Lip Wax 
$10 
Chin Wax 
$10 
Bikini Wax 
$20 
Brazilian 
$50 
½ Leg Wax 
$30 
Full Leg Wax  $45 
Full Pedicure  $60 
Foot Tidy  
$35 
Manicure 
$45 
Nail Tidy 
$25 
Chest Wax 
$30 
Back Wax 
$40 
Nostrils 
$10 
Ears 
$10 
09 4312918 
0274735171 
leecooper@xtra.co.nz 
LEE COOPER PAINTERS 
(Kaiwaka Based) 
*30 yrs Experience 
*Interior/Exterior 
*New and Restoration 
*Honest and Reliable 
*Free Quotes 
CARPET & UPHOLSTERY CLEANING 
QUICK DRYING – NON-TOXIC  - GREAT RESULTS
Mike and Marina Bagley have returned to your area 
and are delighted to offer 
carpet and upholstery cleaning 
Call 09 431 3016  or  027 2410414 
marina@ecocarpetclean.co.nz  
www.ecocarpetclean.co.nz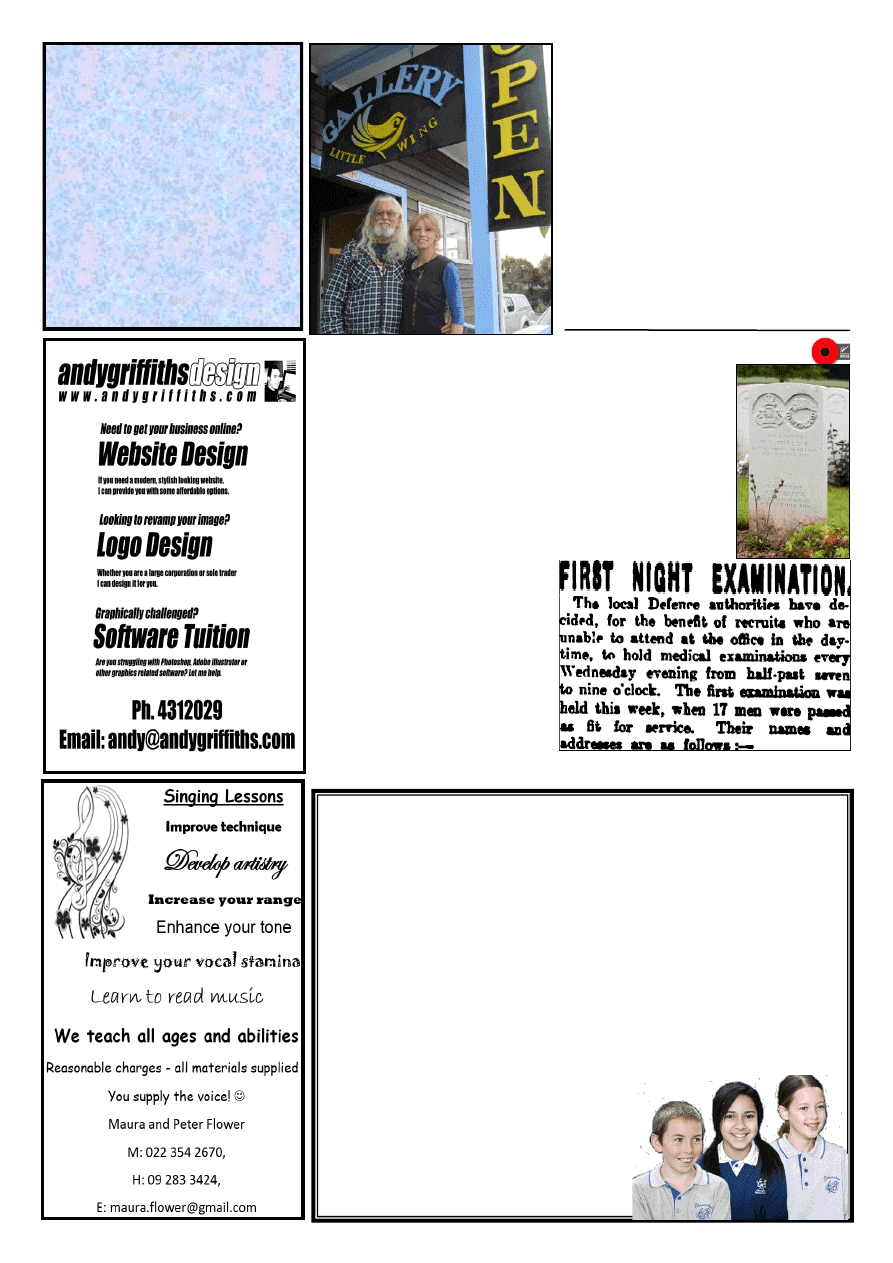 www.kaiwaka.co.nz 
Kaiwaka Bugle - 23 June 2015 
Page 9 
Otamatea High School 
Te Kura o Tuarua Otamatea 
OPEN DAY 
Friday 14 August, 9.45 start time 
Parents/Caregivers and prospective students are invited to our 
fully interactive day. 
2016 Enrolment Evening
Thursday 27th August 4.00pm - 6.30pm 
Our Senior Leadership team and Deans will be taking 
enrolments for students starting in 2016.  Please take this 
opportunity to come along with your child to complete their 
enrolment and meet our team. 
We look forward to seeing you. 
Please contact the school for further details 
www.otamatea.school.nz or 
ohs@otamatea.school.nz 
0800 682 628 
NEW GALLERY 
The  Little  Wing  Gallery  and  Ayurvedic 
Wellbeing 
Centre 
has 
opened 
in 
Kaiwaka's former post office. 
Liz  Maskill  and  Elliott  Freer  have 
transformed  this  office    into  a  very 
pleasing  place  to  visit.  There  is  unique 
handcrafted 
ancient 
swamp 
kauri 
sculptures, jewellery and art. 
Liz  is  trained  in  Ayuvedic  Wellness  and 
takes consultations by appointment. 
Both Liz and Elliott have worked in the art 
area  for  a  long  while  -  Elliott  has 
previously  tutored  in  carving  and  Liz  in 
art. They live locally and can be contacted 
on 4318391, and have now combined their 
talents in this new venture. 
KWMH Honours Board WW1: A MCALPINE 11315 
Junior Rugby  
Rally Day 
Saturday 27 June 
Kaiwaka Sports Complex 
Under 7s, 9am 
Under 9s, 9.45am 
Under 11s, 10.40am 
Maungaturoto, Paparoa,  
Tomarata, Eastern Unite, Wellsford 
Refreshments available   
Spectators welcome 
A  McAlpine  is  listed  on the  KWMHall  Honours  Board  as  a 
Kaiwaka resident. According to the records, this was Private 
Archibald  McAlpine  11315;  after  lots  of  research  we  have 
found Alex McAlpine of Kaiwaka was fit to enlist - refer 
New 
Zealand Herald, Volume LII, Issue 16055, 22 October 1915, 
Page 6
 (see image below right) 
which included him in the 17 men 
listed.  We  can  only  assume  that  Archibald  was  known  as 
Alex. 
Alex was listed as a horse trainer and his family - his parents, 
James and Margaret, along with 6 sisters and a brother - lived 
in  Australia.  When  his  mother  died  in  1939  the  notice 
included  him as
 'late NZ Forces, killed in action'.
He embarked 1st May 1916 on the Ulimaroa with the NZEF 
destined for Egypt, then to Sling by 
August,  and  posted  to  Etaples, 
France  on  22  September  with  the 
Otago  Regiment  2nd  Battalion,  4th 
Company. Sadly he died just 10 days 
later. He was wounded in action on 1 
October  1916  and  taken  to  No.36 
Casualty  Clearing  Station  where  he 
died,  and  was  buried  at  Heilly 
Station 
Cemetery, 
Mericourt-
L'Abbe,  France.  His  medals  were 
posted  to  his  mother  at  22  Charles 
Street,  Elsternwick,  Melbourne, 
Australia. Maybe family members know why he was called Alex in Kaiwaka.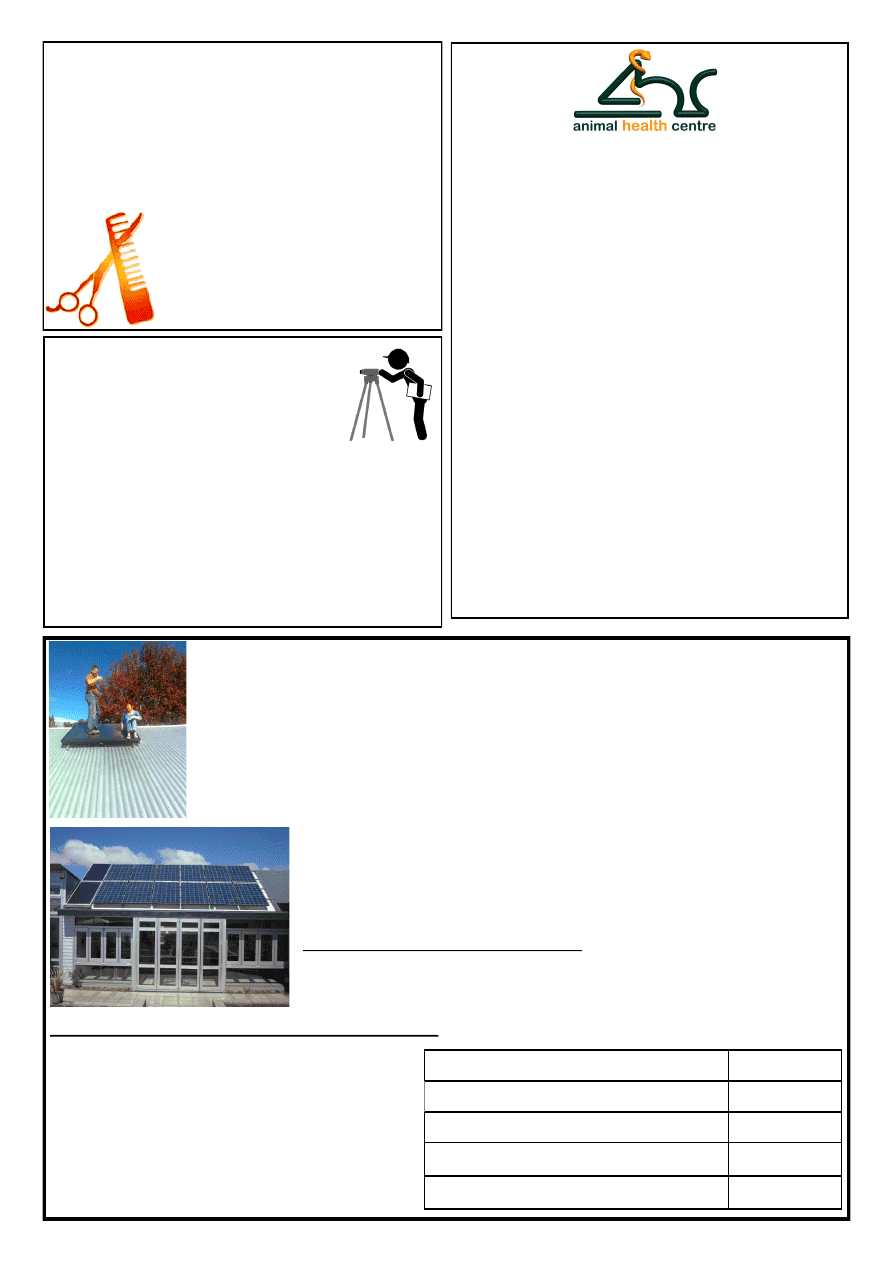 AFFORDABLE PRICES! 
MENS DRY CUT FROM $18.00 
LADIES DRY CUT FROM $15.00 
KIDS DRY CUT FROM $15.00 
COLOUR CUT FROM $90.00 
JUST CUTS'AND MORE 
021 165 2629 
NOW SELLING: scented tealights, incense, 
smudge sticks, copper bracelets, aurora ball 
crystals, dream catchers, healing stones, rose 
quartz, cds, and much more 
open 6 days 
Ken Urquhart 
KMU Surveys Ltd
467 Bickerstaffe Road 
RD 2 
Maungaturoto 0587 
Ph 09 431 8705 
Mob 021 161 2344 
kenurquhart@xtra.co.nz 
ANIMAL HEALTH CENTRE 
'choices in animal health care' 
FOOD:  
  Fresh, Game Meats, Carnivoro, Purely Pets, Bulk 
Buys, Orijen, Organix, Acana, Nutrience, Ziwi Peak, 
Mighty Mix 
VET NURSE SERVICES: 
  Microchipping ($25.), Nail Trims, Dental checks, 
Comfort Grooms;  Bookings essential 
ANIMAL NATUROPATH: 
  Sarndra G Urwin 
Dip NAH(Hons), Dip Cl.Hyp. CHAT CNTP
Arthritis, cancer, skin problems, endocrine disorders, 
incontinence,  Behaviour problems, Wellness 
through Nutrition. 
DISPENSARY: 
  Chemical-free Worm & Flea controls, Vaccination 
alternatives, 1
st
 Aid remedies,  Travel Sickness;  
farm, equine & pet prescriptions. 
Leads, collars, toys, warm winter coats,  shampoos, 
grooming aids 
OPEN: Tues – Frid  10.00am -4 .30pm 
Sat – 10.00am – 4.00pm 
Next to Italian Bakery, Main Highway, Kaiwaka. 
Ph: 09 431 2217  
ENERGY COOP KAIWAKA GROUP PURCHASE 
SOLAR ENERGY 
Solarise your house and reduce your energy bill 
The Energy Coop Kaiwaka realized 2 successful group purchases with the aim to buy the best 
available Solar Energy technology at strongly reduced cost. The Energy Coop is passionate 
about solar energy and serious about helping the community to save energy. Local energy 
expert Eric Jansseune has selected carefully the solar equipment, imported from Europe with 
worldwide certification and proven lifespan of 30 years. Payments conditions are straight 
forward, with no hidden cost and affordable installation prices with a trained solar team. 
Photos: Top - House Florian & Anna , Solar hot water; Bottom -Architect Bryan Pooley 
house , Solar Power+ Solar hot water 
The combination of gas for cooking, hot water production and solar hot water is 
the most cost-effective way to run your home. The Energy Coop offers a third 
group purchase including gas califonts, gas bottles, solar hot water and solar 
power.
Priorities for huge electricity savings in NZ 
Using bottled LPG gas for hot water production and cooking.  
European State of the art Solar Hot Water can save 70 % on hot water bill.  
European State of the art Solar Power + components for powercut backup  
Energy COOP Kaiwaka Meeting of interest on 4th July 2015 at 9.30 am
Place: 114 Vista Lane Kaiwaka – Positive Energy 
House  
Subject: Presentation on quality, performance, savings, 
pricing and payment conditions. 
Enrolment needed: Ph 09 431 2408 cell 021 022 31 
700 or Email: ericjansseune@xtra.co.nz
What are we waiting for NZ?  
Let's solarise our houses now. 
Eric Jansseune- Solar Engineer at the Positive energy 
house in Kaiwaka 
APPLICATION 
SAVINGS/Year 
Cooking on LPG gas instead of electric 
$ 56 
Hot water on LPG gas instead of electric 
$ 700 
Solar Hot Water (European state of the art ) 
$ 787 
Solar Power 2 kW peak (Northland location) 
$ 784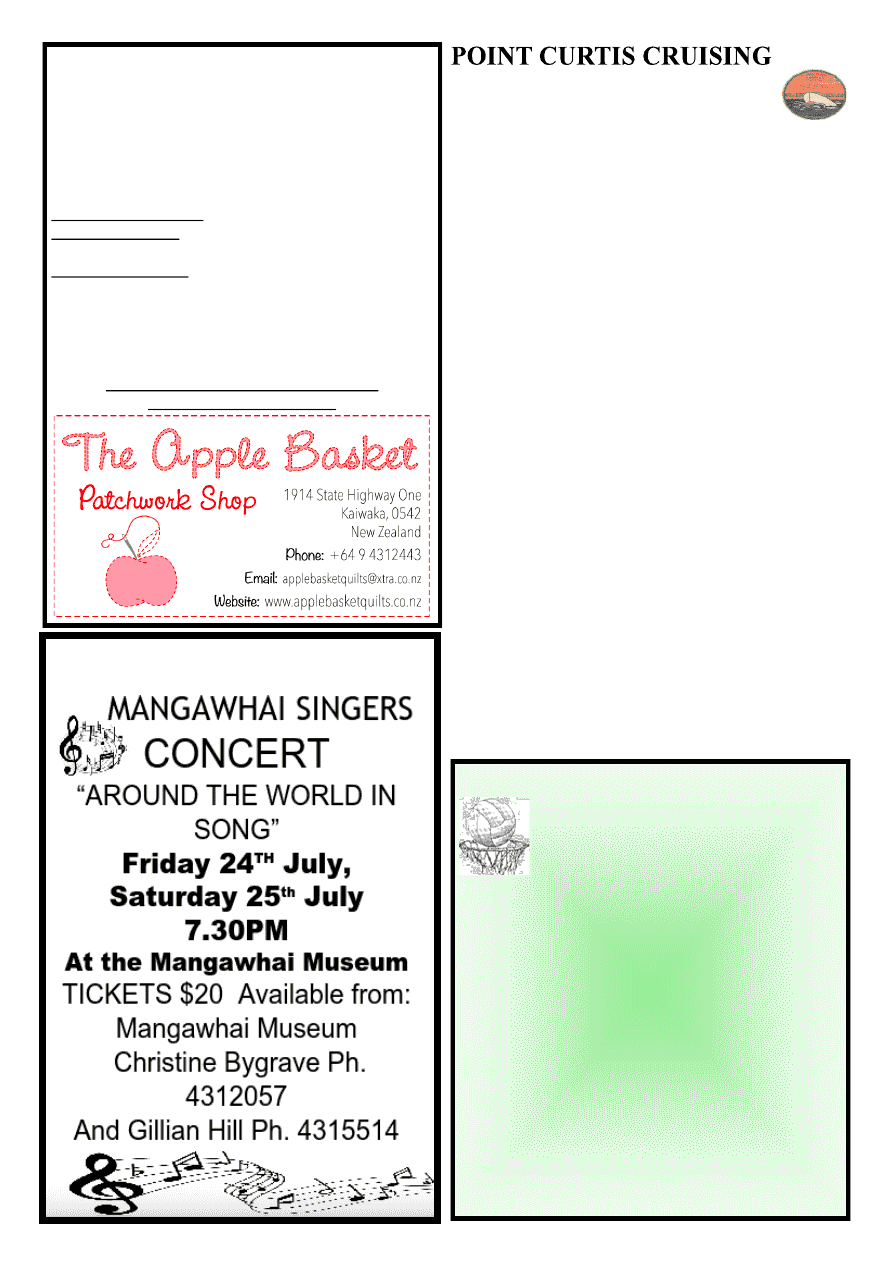 www.kaiwaka.co.nz 
Kaiwaka Bugle - 23 June 2015 
Page 11 
The Apple Basket 
Your local creative textile store  
Come in and see our new "Wool Room".  We have a 
good range of yarns to keep the knitter in you happy.  
Knit yourself a beautiful Alpaca scarf to keep away 
the winter chills, very quick to knit and so warm! 
Classes coming up are- 
Easy Knitted Boots to keep your toes warm this winter, with 
Liz Saunders.  Register your interest. 
Beginner Quilt Class  with Sally Smith.  Learn how to rotary 
cut fabric with confidence, contruction of a quilt, pressing 
seams properly, binding and finishing a quilt.  Six 3 hour long 
classes, starting 2nd July, 10th July, 16th July, 24th July, 30th 
July and the 13th August. 
Sign up for our Newsletter on our website.   
www.applebasketquilts.co.nz
Thank  you  to  those  who  attended  our  AGM  on 
Tuesday 16th June.   
Congratulations  to  Fish  Of  The  Month  winners 
for last month's Kahawai competition 
1st: Hayden Smith 2.635kg 
2nd: Gravy 2.435kg 
3rd: Gravy 1.807kg 
New fish of the month is GURNARD until 4 August. 
Subs  are  now  due!  Subs  are  $30  per  family  and  $20  per 
individual.  Subs  are  payable  by  posting  to  Jean  Mcleish 
(Secretary/Treasurer),  163  Settlement  Road,RD2  Kaiwaka 
0573 or by depositing directly into the Point Curtis Cruising 
Club Inc bank account BNZ 02 0364 0012950 00.    Please 
include your name as the reference. 
END OF SEASON GAME BIRD SHOOT 
Saturday 27th & Sunday 28th June 2015 
Adults: $20, Juniors (aged under 15) $5 
All  competitors  must  be  financial  members  of  the  Point 
Curtis  Cruising  Club  Inc.  for  7  days  prior  to  the 
competition.  Tickets must be purchased by 11pm 26th June 
or by prior arrangement.   
SPECIES: Mallard, Grey, Parry, Pheasant, Canadian Goose, 
Pukeko and Black Swan, and 2 new categories PEACOCKS 
and TURKEYS. 
Separate Prize giving for both Seniors and Juniors. 
Weigh  In  each  Day:  5pm  to  6pm  at  the  3  Furlongs  Hotel, 
Kaiwaka 
Maximum weigh in: 2 per species per shooter 
Game Bird Prize Giving: 6.30pm Sunday 28th June 2015 
Prize winners must be present to collect prize 
BBQ: (Please bring a plate) to follow prize giving 
Note: Fish & Game NZ rules apply 
Tickets  available  for  purchase  at  Wellsford  Sports  & 
Leisure  Centre  and  Jean  Mcleish  at  Jaques  Four  Square, 
Kaiwaka. 
As  the  3  Furlongs  has  closed  down  temporarily  for 
renovations  you  can  weigh  your  fish  or  birds  at  Jaques  4 
Square, Kaiwaka during shop hours. 
Next  committee  meeting  Tuesday  4  August,  7pm  at  3 
Furlongs Hotel. 
Wayne Leslie, Commodore 
KAIWAKA 
SCHOOL HOLIDAY NETBALL  
Year 5 to 8 
Wednesday 8th July 2015 
10am to 3pm (drop off from 9.30am) 
Spaces are limited and bookings are essential 
Our  Otamatea  Team  1  School  Holiday  Programme  is  a 
great way for children to spend some fun time in their 
holidays  playing  netball  games  and  getting  tips  and 
ideas  from  our  Team  1  players  and  coaches.  The 
program is designed to be high in activity and fun, with 
lots of interaction with netball games and drills. 
VENUE: Otamatea High School Courts, Bickerstaffe 
Road Maungaturoto 
TIME: 10am to 3pm (drop off from 9.30am) 
COST: $20 per person by Sunday 28 June 
CASUAL DAY RATE:$25 (after 28 June) 
Children need to war sports clothing and shoes to play 
and train in. Please also bring a morning and lunch 
snack together with a drink bottle. 
For bookings please phone 09 4318 762  or text 021 1379149or 
email martynkemp@xtra.co.nz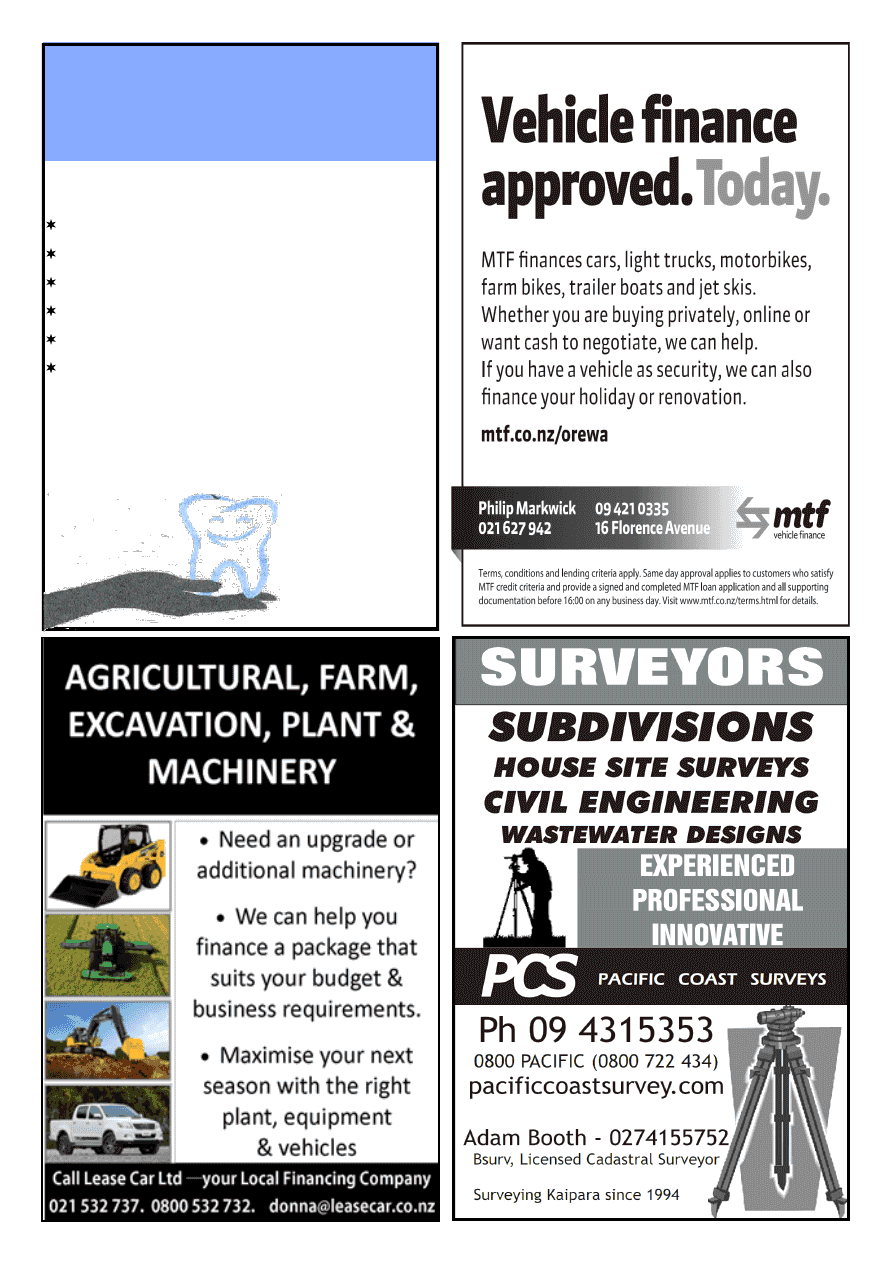 Gentle Dental 
Ruakaka 
We love to see you smile 
General  & Cosmetic Dentistry 
Emergency & ACC Treatment 
Denture & Hygienist Services 
Senior Citizen Discounts 
Free Adolescent Care 
Free WINZ Quote 
19 Ruakaka Town Centre 
Dr Sim Sood & Associates 
Ph:  432 8139 
Saturdays 
By 
Arrangement 
Open  
Mon-Fri  
8am-5pm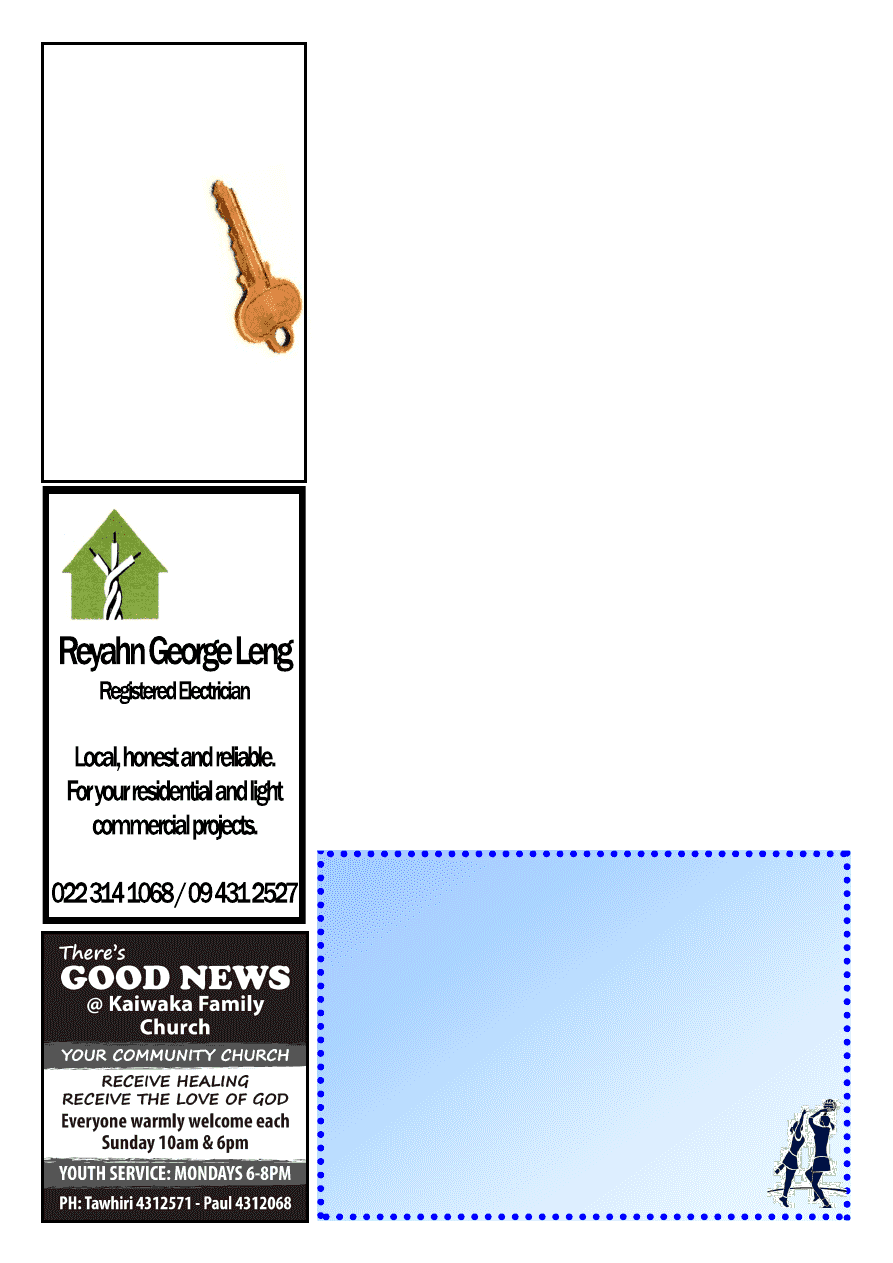 www.kaiwaka.co.nz 
Kaiwaka Bugle - 23 June 2015 
Page 13 
Kaiwaka  
Hardware  
&  
Key cutting 
 Phone 4312 063 
 022 041 6047 
 kaikey2015@gmail.com 
Keys Cut  
Household Hardware  
Curtain Tracks & Fittings
Not there? Call Doug and he'll sort
it for you.
(
Next to Kaiwaka Motorcycles)
KAIWAKA SPORTS ASSOCIATION 
Gymnastics 
Stephanie  Brown  will  step  down  as 
President of our gymnastics club at the 
end  of  the  year.  Stephanie  has  done  a 
wonderful  job  of  running  gymnastics 
for the last 8 years and we are greatly 
appreciative of the time and effort she 
has put into the club. Stephanie and her 
family members have covered most of 
the  positions  within  the  club  –  admin-
istration,  equipment  set  up,  coaching 
etc. So for the club to continue in 2016 
we need help! This could be help from 
gymnastics parents or help from people 
in the community. The Kaiwaka Sports 
Association,  along  with  Gymsport  NZ 
and Sport Northland is calling a meet-
ing in our JK Lounge on Tuesday 30th 
June  at  5pm  to  discuss  ways  for  the 
club  to  continue.  All  gymnastics  par-
ents are required to attend, and it would 
be great to have other interested people 
from our community attend also. If you 
need  help  with  childcare  during  the 
meeting,  please  text  or  phone  Stepha-
nie on 022 3624998.  
Rugby – Junior 
We are looking forward to hosting the 
next Rodney/Otamatea JMB Rally Day 
this Saturday. All five competing clubs 
(Maungaturoto,  Paparoa,  Wellsford, 
Tomarata  and  Eastern  United)  will  be 
playing  at  our  grounds,  so  it  will  be  a 
busy morning! The Under 7's will kick 
off  at  9am,  Under  9's  at  9.45am  and 
Under  11's  at  10.40am,  so  feel  free  to 
come along to cheer on our young up-
and-coming players.  
Rugby – Intermediate 
The  Under  14s  season  has  been  ham-
pered with a few injuries to key players 
but  the  boys  have  toughed  it  out  and 
achieved some hard-fought wins. They 
are currently sitting third on the table. 
Our Under 16s team, coached by Mike 
Peeni,  is  also  going  well  having  only 
lost  2  games  so  far.  They are curently 
sitting 2
nd
 on the table and are on track 
for a place in the finals. 
Rugby – Senior 
Our  Hawks  are  enjoying  a  successful 
season  –  at  the  time  of  writing,  our 
Premiers are sitting fourth on the table 
and our Reserves are first. 
The Hawks next match will be this Sat-
urday at our grounds, they will take on 
Horahora with the Reserves kicking off 
at  12.30pm  and  the  Premiers  kicking 
off  at  2.15pm.  Supporters  are  encour-
aged to come along to boost the home-
crowd advantage!  
Remember  that  we  have  a  Supporters 
Club,  so  if  you'd  like  to  purchase 
Hawks  merchandise  such  as  polos  or 
hoodies,  please  contact  Jennie  Reyn-
olds on 021 02764171. 
Win! 
I applied to the NZRU's quarterly draw 
for  All  Blacks  memorabilia  and  was 
delighted to hear that I'd won a signed 
AB's jersey! I will auction this off after 
the  Hawks  aftermatch  speeches  (about 
5pm) this Saturday at the Sports Com-
plex  with  proceeds  going  to  the  KSA, 
so if you'd like to be in with a chance 
to  own  a  piece  of  AB's  memorabilia, 
then come down. 
Netball – OHS 
The OHS netball club are holding a fun 
Mixed  Netball  Tournament  on  26th  of 
July at our courts, as part of their fund-
raising to get their AIMS team to Tau-
ranga  in  September.  $80  per  team,  up 
OTAMATEA 2015 AIMS TEAM 
  MIXED NETBALL TOURNAMENT 
Saturday 26th July, 9.30am 
Kaiwaka Sports Complex 
*** SPOT PRIZES ***  FUN  *** NETBALL *** 
$80 per team, up to 12 players, must have 2 males on court at all times, 
10 yrs+, umpire own games (umpires can be provided at a small cost) 
This is a fundraiser to help the Otamatea AIMS team get to 
Tauranga in September for a week long tournament.  
To register your tam please contact Jodie on 021 02663634 
by 20 July.  
Refreshments on sale all day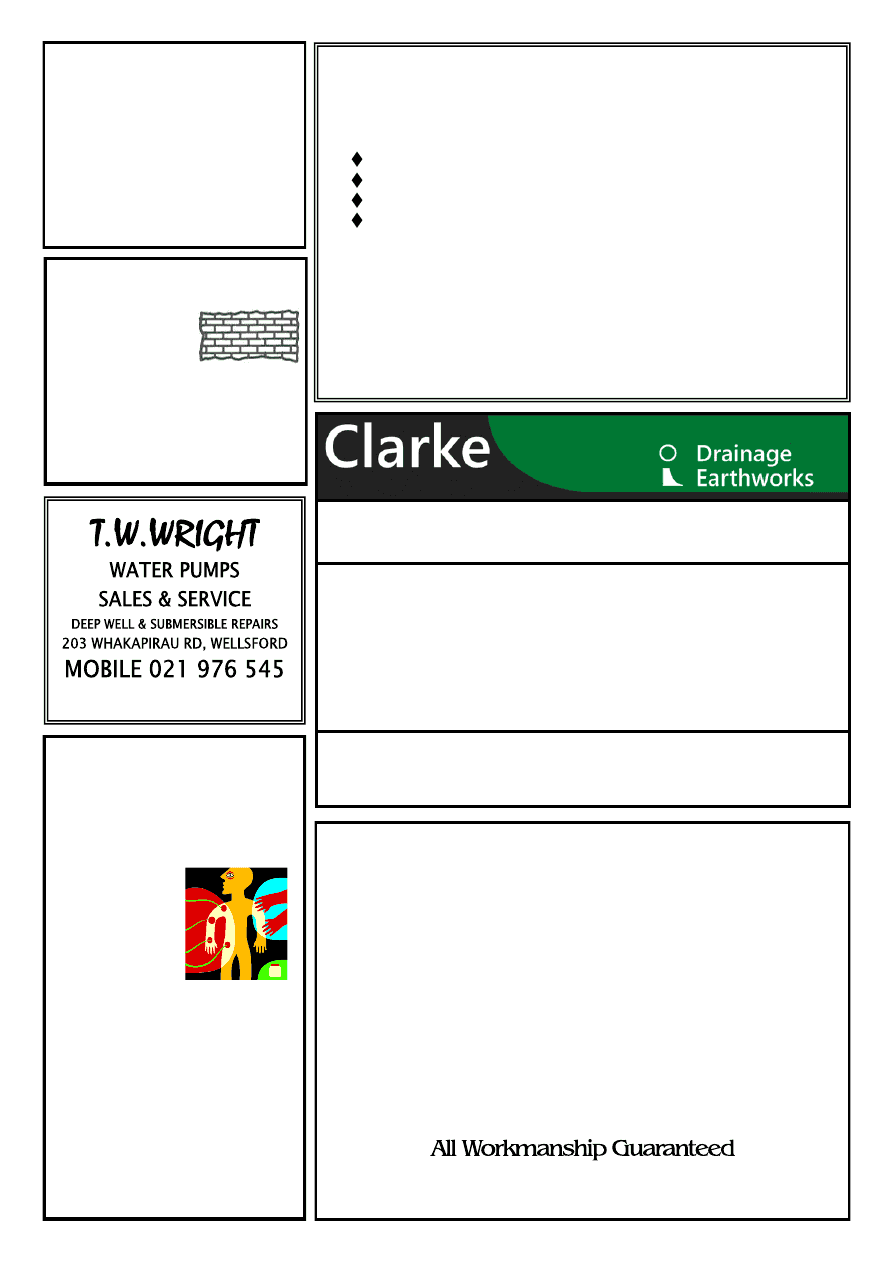 RANGANUI  
EARTHMOVERS 
16T Excavator (tilt, thumb & ROPS cab) 
Transport Trailer 
2 x 6 Wheeler Tip Trucks 
Suppliers of All Grades of Metal & Topsoil 
Driveways, House Sites, Drainage Dams, Section Clearing,  
Tree Work,  Rock Retaining Walls, Quarry Work, 
Basically Anything That a Digger Can Do
If you want a proper job done  
with an experienced operator ring 
Grant on    A/H 431-2131          Email  ranganui.dev@xtra.co.nz 
Mob  021845-246 
OWEN STEVENS 
Osteo Therapist
For careful adjustments to bones 
and joints 
Treatment for  
humans and 
their pets 
Clinics: 
Kate's Place, Kaiwaka: 
Last Friday of month 
For bookings:9.00am-5.00pm   
Phone 
09 4312661 
Or phone  
Owen  09 4317123  
anytime 
PLANNING A NEW KITCHEN?
CONTACT NOEL McDOWELL 
WELLSFORD KITCHENS
Ph/Fax 09 4312 888
KAIWAKA-any time 
QUALITY CUSTOM MADE KITCHENS
~Personal and Prompt Service~ 
~
~ 
~Over 20 Years in the Trade~ 
~Free Design & Quote~ 
Registered Drainlayer 
All Types of Earthworks  
> All Residential & Commercial Work 
> House Sites 
> Septic System Design & Install 
> Footings & Drilling to 10m 
> Sewer Connections 
> Dams 
> Water Tank Installation 
> Roading & Races 
> Farm Work 
THE ONE STOP SHOP  
Phone Nigel for an Obligation Free Quote  
Drainage & Earthmoving                         clarkedrainage@xtra.co.nz 
027 2233 185 
Laughing Dog 
Computers 
Hardware and Software 
Service and Repair 
www.laughingdog.co.nz 
09 4312 654 
BRICK/BLOCKLAYER 
All aspects of masonry:  
Fireplaces, 
Restoration  
& Remedial Work.
JAMES EAGLETON 
Tel. (09) 431 2514  
Mob. 0274 749 232 
jajueagles@yahoo.com.au 
210A Pukenui Road, RD2 Kaiwaka 0573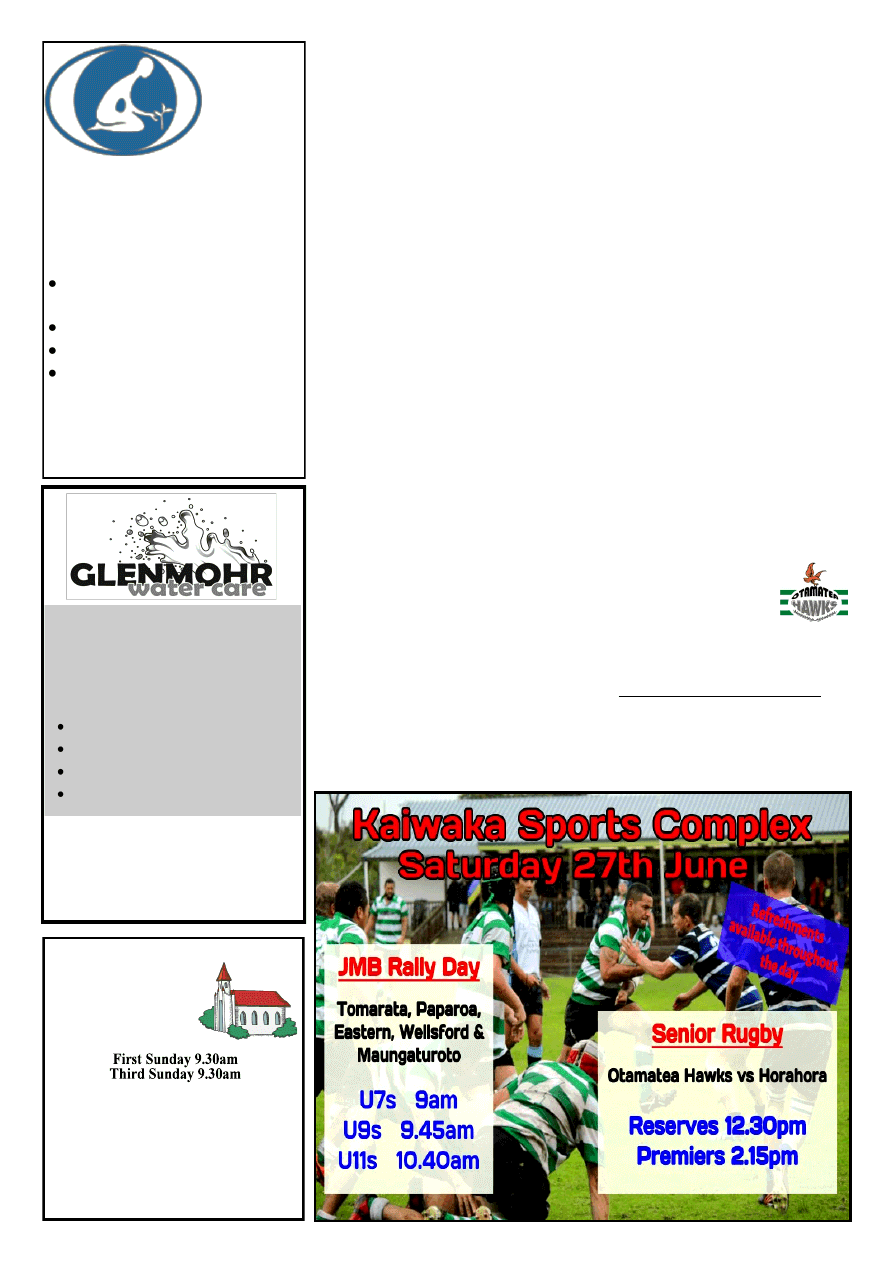 www.kaiwaka.co.nz 
Kaiwaka Bugle - 23 June 2015 
Page 15 
to  12  players  in  a  team,  10  years  and 
older, at least two males on the court at 
any time. To enter a team, please con-
tact Jodie Bennetto on 021 02663664. 
The club is also running a School Holi-
day Netball Programme on Wednesday 
8
th
 July to help Otamatea Team 1 raise 
funds  to  go  to  the  Upper North  Island 
Secondary  Schools  (UNISS)  Netball 
tournament. It costs $20 and runs from 
10  –  3pm.  If  you  have  a  child  who  is 
keen to learn some netball skills, have 
fun  and  be  active,  then  please  contact 
Nikola Kemp on 4318 762 before 28
th
June. 
Netball – Senior 
Otamatea-Ex  achieved  another  two 
wins  –  against  OHS  and  Warkworth. 
They  are  currently  first  equal  with 
Ruawai Jets on the table. A big thanks 
to  Nicole  Robinson  who  stepped  in  to 
play  for  us.  Mangawhai  is  our  next 
game, watch this space.  
Athletics 
Our  Athletics  Club  is  looking  for  12 
and  13  year  old  boys  and  girls  who 
may be interested in attending the Na-
tional Inter-provincial meeting in Dun-
edin  during  Easter  2016.  If  interested, 
please  contact  Eileen  Parsons  on  021 
1420357. 
Kids Disco 
Local teenagers Jessika Grigg and Hol-
ly Anderson are putting on a kids disco 
as a fundraiser for our local junior rug-
by club, Eastern United. The disco will 
be held at the Sports Complex on Sat-
urday 4th July from 7 til 9pm, and will 
feature great music and dancing, a lolly 
scramble,  glow  items  and  games.  If 
you  have  young  kids,  mark  it  in  your 
diary! 
Open Mic Evening 
Calling  all  musicians,  dancers,  actors 
and performers to come share your cre-
ative  muse.  The  next  Kaiwaka  Open 
Mic  night  will  be  held  at  the  Sports 
Complex  on  Sunday  5
th
  July  at  6pm. 
Free admission. It is our hope that the 
Kaiwaka Open Mic nights will create a 
hub  for  emerging  artists,  a  place  to 
meet,  exchange  inspiration  and  per-
form and to have fun. For  more infor-
mation,  please  contact  David  McCar-
thy at Skylark Studio on 902 2082. 
Upcoming events 
In August I will be running a Fast Five 
Netball tournament and also putting on 
a Meet the Neighbours afternoon. And 
further down the track we will be put-
ting  on  our  ever-popular  Fright  Night! 
To  keep  an  eye  out  for  KSA  events, 
check 
out 
our 
website 
on facebook. 
Cheryl Anderson 
4312 051, 027 3462702 
kaiwakasports@gmail.com 
UPDATE: 
Saturday 20 June  -Yes,  another nail biting 
WIN  for  the  HAWKS  Premiers  16-15. 
Well done guys.  
Reserves lost 25-17.
"Every time I get to encounter or work 
with librarians, I'm always impressed by 
their sheer awesomeness" -Neil Gaiman 
KAIWAKA SPORTS ASSOCIATION 
Water Tank  
Cleaning 
Keep your water safe & clean   
Removal of sediment, silt etc 
Vacuum or full scrub 
Minimal water loss 
Phone Mark  
(09) 432 0655  
or 0274 707607 
ST PAUL'S  
ANGLICAN  
SUNDAY  
SERVICES
St Pauls Church: Kaiwaka-Mangawhai Rd. 
1st Sun - Eucharist 
3rd Sun - Family Service 
Office 4314 122 
Contacts:M.Hargreaves 4312295, C.Bygrave 4312057  
or Rev. Wayne Thornton Ph 431 5650 
Magnetic Laser for Health
Using a low power laser I can help 
with a variety of conditions:
Joints pain, swelling, 
inflammation 
Back and neck pain 
Heel pain 
Injury or fracture recovery
Phone Gala 
431 2213 
021 486 611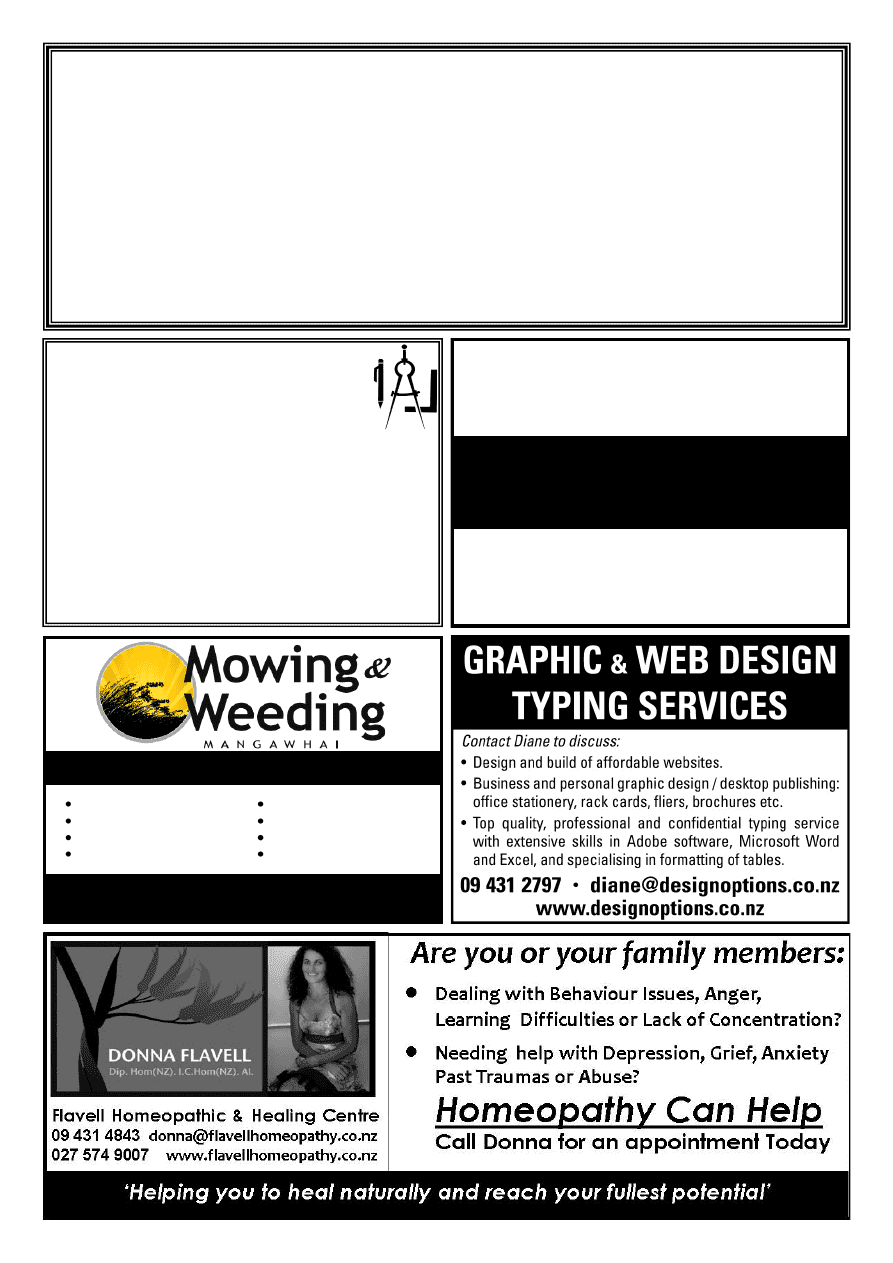 design drafting  
service 
Retired builder and manufacturer with over 40 years  
experience in the building industry is offering a design 
drafting service  
for domestic housing, sleepouts and sheds.  
Plans formulated in consultation with clients, with 
working drawings completed and submitted to  
council for processing.  Extensive practical experience,  
able to identify & resolve problems. 
Please ring Mike Lean on 
09 431 2260  
          or 
021 431 196 
Residential · Commercial · Body Corporate · Sub-divisions 
Lawn & Section Mowing 
Landscaping 
Section Clearance 
Rubbish Removal 
Garden Maintenance 
Make-overs 
Hedges 
Odd Jobs 
Free Phone 0508 80 70 60 
g.a.s. Mangawhai
we have a 
GARDEN CENTRE 
for all your gardening needs 
Also a great range of 
STOCKFOOD 
Wide range of 
ORGANICS AND FRESH LOCAL PRODUCE 
All your motoring needs are taken care of by our friendly staff check us out… 
44 Moir Street, Mangawhai (09)431 4242 
David Korach 
Your local Gib Stopper
DK PLASTERER LTD 
0274769221 
dkorach6@gmail.com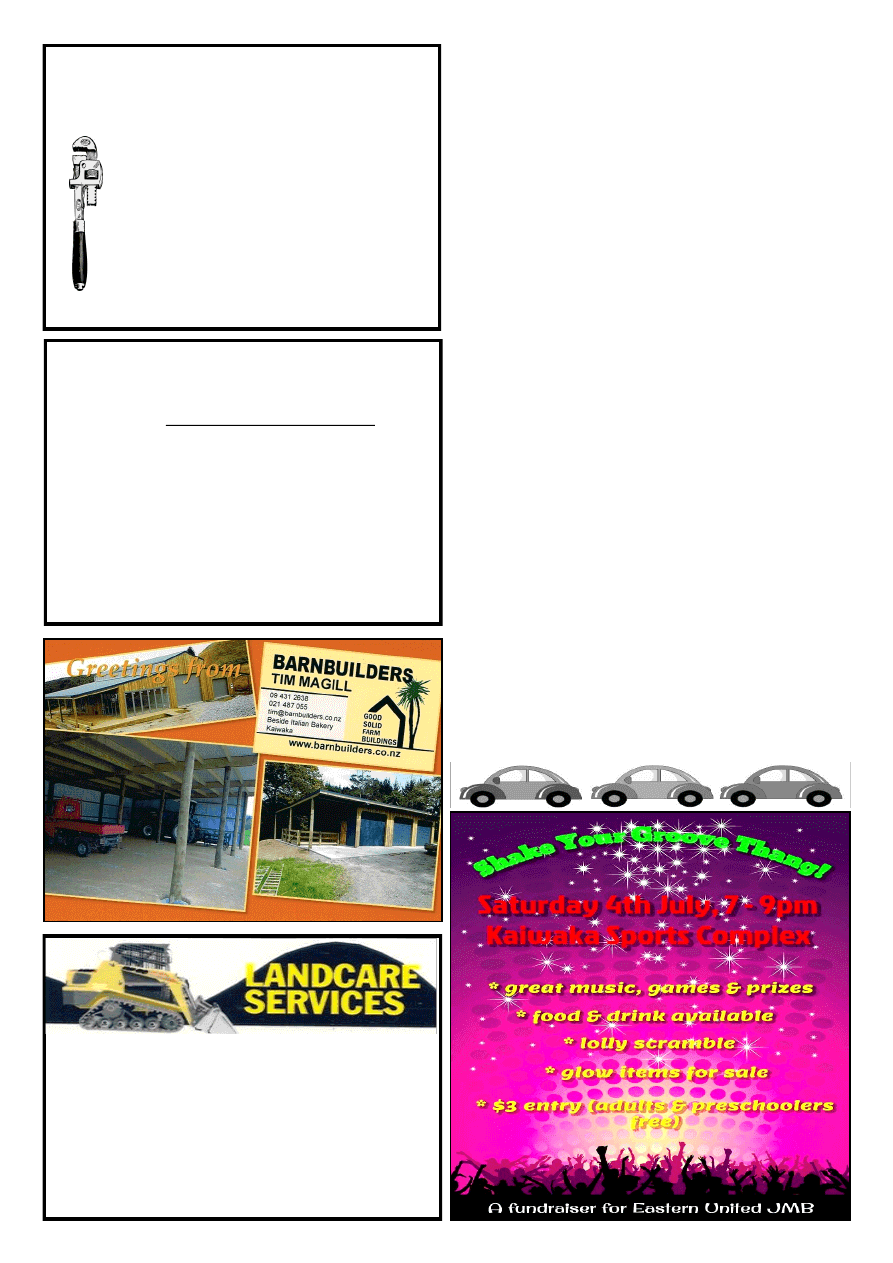 www.kaiwaka.co.nz 
Kaiwaka Bugle - 23 June 2015 
Page 17 
BARRY CURTIS PLUMBING LTD 
REGISTERED CRAFTSMAN PLUMBER 
Phone 4315572 
027 257 9884 
25 years experience 
Friendly reliable service 
All plumbing and maintenance 
Alterations and new housing 
New wood fire installation 
Spouting 
Competitive rates 
PROMPT EFFICIENT  SERVICE 
 Yang Style Tai Chi 
Classes 
For Beginner And Practitioners  
At The Kaiwaka War Memorial Hall 
Every Tuesday  Starting at 10.30 am 
Come Along And Have Some Fun 
While Improving Your Balance Health 
And Fitness
For More Information
Contact 
Andrew Young 09 4223424 
LANDSCAPING 
4 IN 1 BUCKET 
TRENCHER 
POLE HOLES 
ROTARY HOE 
COMPACT ROLLER 
OFFAL HOLES 
CAN SUPPLY WOODCHIP & POST PEEL 
5 TON TIPPER 
FOR RELIABLE AND FRIENDLY SERVICE CONTACT DAVE 
Dave Hyndman 
 
KAIWAKA 
PH: 09 4312302 
MOB: 021 431 238 
REDUCING SPEED PETITION  
in KAIWAKA 
Safe  pedestrian  road  crossings  have  been  around  since 
Roman  times  but  of  course  times  here  and  now  are  very 
different!  
State Highway 1 has a speed of a mere 50kph through a tiny 
stretch of Kaiwaka. 
If the vehicle is doing that which we know half the time, it 
is not. 
When I try to cross the highway it certainly doesn't feel like 
that.  If  it  were  really  true  that  logging  trucks  and  others 
slowed  down,  then  I  wouldn't  feel  scared  as  a  rabbit  in 
headlights. 
How about trying to pull out of Settlement Road on to the 
highway  or  just  out  of  your  driveway?  How  long  does  it 
take  you?  Especially  if  it's  a  long  weekend  and  the  sun  is 
shining? 
How  about  if  you  want  to  pull  in  to  the  shop  complex 
around the Kaiwaka Post and Food Mart? Or even from the 
Highway  around  the  corner  to  Jaques?  What  about  if  you 
wanted to walk to the Coffee Pot because all the other cafes 
were shut,  as  happened the  other  week?  You  can't,  so  you 
have to either hop in a car and go 100kph up the hill or not 
have coffee. What a great solution!  
And what about your children? How do you feel about them 
negotiating the highway and the accompanying speed? 
Many  individuals in this  community  have  fought  long  and 
hard  to  have  a  reduction  in  speed  in  the  Kaiwaka  region. 
There have been some successes. 
But the traffic volume has increased and the speed has not 
reduced, nor has the 50kph stretch been extended. 
Let's now have a united approach to this problem. 
Managing  Kaiwaka  as  a  sub  group  of  the  Kaiwaka  Can 
group  (formed  from  Council/Community  initiative)  has 
drawn up a petition to have speed reduction in the Kaiwaka 
area.  You  will  find  a  copy  of  this  petition  in  various 
locations around the community and we urge you to sign it. 
Please do so clearly  and  only  once.  There  is  no restriction 
on age. 
When  we  have  reached  the  target  of  1347  which  was  the 
population  size  of  Kaiwaka  in  2006  statistics,  we  will  be 
requesting the signatures of MPs Kelvin Davis and Winston 
Peters. 
Then  the  petition  will  be  presented  to  NZTA,  the  Police, 
and the Kaipara District Council.                                 ~Ruth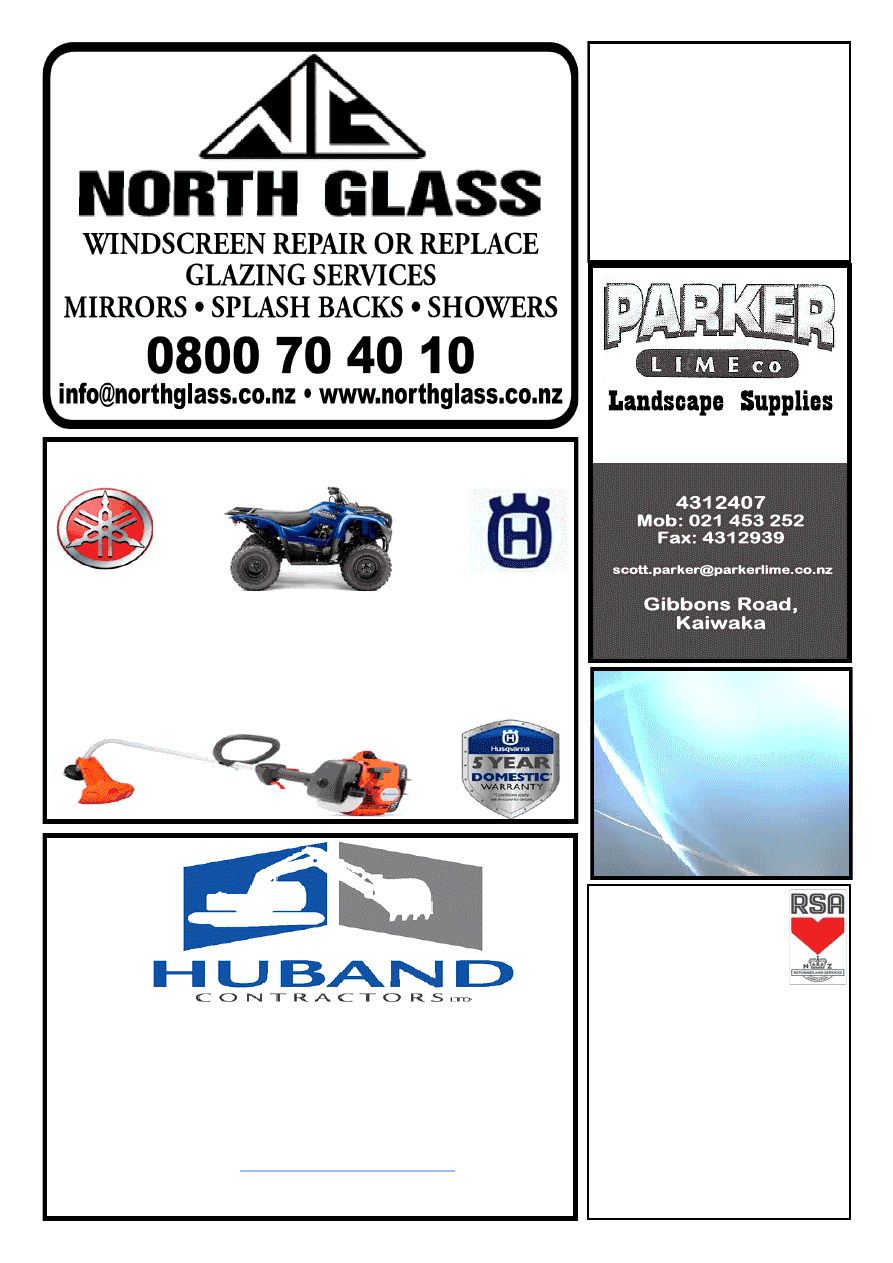 *   R O A D I N G   *   E A R T H W O R K S   *    
*   D R A I N A G E   *   S I T E W O R K S   *  
For any further enquiries, contact Shaun on: 
Cell: 021 222 0272 
Home: 09 4318339 
Email:   
Shaun Huband:  Registered Drainlayer 
Bulk Cartage 
HAKARU & 
DISTRICTS   
RSA  Inc 
Each Friday night 
From 6.30pm 
Meals will be served 
 2nd Friday of the Month 
Is Roast Dinner Special 
Come along and enjoy  
our Hospitality  
For more information 
 Ring Heather 431466 
or Jan 4314512 
 LEABOURNS 
Passenger Service
Car & Van Hire 
Bus & Coach Charters 
Airport Transfers 
 Monthly Shopper Bus 
Phone (09) 4237416 
Freeview  
Installations 
Richard Te Haara 
25 Marram Place 
Mangawhai Heads 
021 1104056 
kiwipride@xtra.co.nz
KAIWAKA MOTORCYCLES LTD
SALES – SERVICE – SPARES 
FARM BIKE SPECIALIST
PHONE 09 431-2127 
10 KAIWAKA-MANGAWHAI ROAD, KAIWAKA
TRIMMERS FROM $249 - CHAINSAWS FROM $329 
YAMAHA 
HUSQVARNA 
www.kaiwaka.co.nz 
Kaiwaka Bugle - 23 June 2015 
Page 19 
OTAMATEA REPERTORY THEATRE
Congratulations!! 
Sarah Christini for winning the 
Jelly Bean Factory competition, 
Lorena Reynolds for winning the Winter 
Warmer promotion. Well done! 
SUNDAY 28TH JUNE COME AND DO 
YOUR SHOPPING IN THE MORNING, 
WE ARE CLOSED FOR STOCKTAKE 
FROM 1PM. 
Jaques Four Square 
Phone: 4312227 
1 Kaiwaka-Mangawhai Road, 
Kaiwaka.
Otamatea Repertory Theatre is bringing 
another  classic  tale  to  life,  for  your 
enjoyment. 
Lewis  Carroll's  family  classic,  'Alice 
in  Wonderland'  which  turns  150  this 
year,  has  delighted  and  puzzled  us  in 
equal  measure.  We  have  fallen  down 
the  rabbit  hole  with  Alice,  taken  tea 
with  her  and  the  Mad  Hatter,  been 
maddened by the Cheshire Cat and had 
to  convince  the  Queen  of  Hearts  that 
we didn't steal her tarts! 
The  ORT  season  of  'Alice  in 
Wonderland' will run during the school 
holidays  from  July  4th  to  19th.    All 
matinee  performances  will  feature  a 
Mad Hatters' Tea Party at the Country 
Club.  This  year,  ORT  is  adding  an 
extra  feature,  with  the  inclusion  of  a 
Mad  Hatters'  Tea  Party  to  be  held  at 
the  Maungaturoto  Country  Club,  an 
hour  before  each  of  the  matinee 
performances.    Wear  your  own  Mad 
Hat and join in the games, fun, hilarity 
–  and  then  follow  the  White  Rabbit 
down  the  rabbit  hole  and  into  the 
theatre.    What  a  great  way  to  spend  a 
school holiday afternoon! 
Bookings  are  now  open  online  at 
www.ort.org.nz  or  at  Tony's  Lotto 
Shop in Maungaturoto. 
ORT Brings Family Fun. 
LOCAL SERVICES 
*St.John Ambulance 
111 or Freephone 0800 61 0066
*Fire phone 111     *Police phone 111 or 09 4311150
A A: Meets Wed., 8pm Kaiwaka Ph: 4312228, 4315543, 0800229 6757 
AL ANON: In recess, contact Ph: 4312228 
MINISTRY FOR PRIMARY INDUSTRIES - General inquiries Call 
Free 0800 008 333 
ASUREQUALITY LTD  (was AgriQuality) Call Free 0508 0011 22  
BUDGETING SERVICE, WELLSFORD:  Free confidential advice & 
support for all areas of personal finance. Ph (09) 423 7123 
CAB-Citizens Advice Bureau.Wellsford Ph: 4237333 
0800 367 222 email:cab.wells@xtra.co.nz  
DOG/STOCK /NOISE CONTROL 0800 105 890 
KATE'S PLACE with Govt.Day Agencies/Community Information /
Osteopathy/ IRD / Probation, etc Ph: 4312661 Hours: 9am-3pm. Mon - Fri 
FUNERAL SERVICES: Morris & Morris Ltd, 
Whangarei - Bev Jaques Ph:4312367 or 0800667747 
GRANDPARENTS Raising Grandchildren: Sarah Rogers Ph: 4312194 
HAKARU LANDFILL/Transfer Station:Open everyday except 
Tuesday10am-4pm.Ph4312629 Cost-$55 trailer load up to 1 cubic metre. 
Ph:4258567 - office 
HOMEOPATH: Donna Flavell Ph: 4314843 
INLAND REVENUE: Last Friday each month, 11-3pm Ph4312661 
KAIPARA DISTRICT COUNCIL www.kaipara.govt.nz:  
Help Desk FREEPHONE 0800 727 059  
KAIWAKA KOHANGA REO: Ph:4312620 
KAIWAKA CEMETERY: Ph: 4312045 
KAIWAKA LIBRARY: kaiwaka.library@gmail.com  
Mon. 4-6pm; Wed., Thurs., Fri., Sat.  10am-2pm Ph:4312539 
KAIWAKA PLAYCENTRE: Ph: 4312286. Hastie Lane 
Monday to  Friday  9.00am - 12 noon. 
KAIWAKA POST OFFICE:Ph:4312 431  
Post Code: 0573  for RD2  and  0542 for all Kaiwaka Post Office mail 
KAIWAKA PRIMARY SCHOOL: Ph: 4312309     
KAIWAKA SPORTS ASSN: Ph 4312005; 4312129 gym 
KAIWAKA ST JOHN: Manager Steve Rosser 09 4318403, 021 2316836 
LINKING HANDS Health Shuttle Ph 4314121 or 09 4318969 
NORTHPOWER: Faults Kaiwaka area 0800 104040 
OTAMATEA COMMUNITY SERVICES: Free counselling, parent 
coach, Family Support worker, budget advice, food bank. Mon-Fri 9am-
30m. Ph 09 431 9080 
PARENTPORT: Free, practical family support service Puhoi to Paparoa 
Ph or txt:  Dianne 027 2085093 
PERSONAL DEVELOPMENT COACHING, GROUP FACILITATION:  
Sabine Druckler 4312231 
PLUNKET: Kaiwaka - Kaiwaka War Memorial Hall: Clinic 1st Wednesday of the 
month; Coffee Group at 9:30. Mangawhai  - Rose Madsen Cottage, Mangawhai 
Domain,  Moir  St:  Clinic  1st  and  3rd  Monday  of  month;  Young  Babies  Coffee 
Group  2nd  and  4th  Monday  10  am;  Plunket  Playgroup  every  Thursday. 
Maungaturoto - Maungaturoto Congregational Church, 100 Hurndall Street East: 
Plunket clinic 2nd and 4th Wednesday. Cynthia 09 431 8187 or 027 675 3488 
PLUNKET HELPLINE -0800 933 922 (24 hours) 
PUBLIC HEALTH NURSE: Gloria Reid Ph: 094327634  
RETURNED AND SERVICES ASSN 733 Settlement Rd. Hakaru 
Ph.4312176 Bill Kerr (President) Ph.4314719 
TAITOKERAU COMMUNITY LAW: Free confidential legal advice and 
assistance, 2nd
Thursday
 of each month. Ph: 0800 155 529 for 
appointments.  
TE KOROWAI AROHA O NGATIWHATUA Ph: 4312675 
(The Cloak of Love of Ngatiwhatua) Support and Maori Consultancy.  
VETERINARY SERVICE MANGAWHAI: 
Ph: 4314535 Mon-Fri 8.00-5.00, Sat 9-12, a/h appt. 
WELLSFORD DOCTORS: Ph: 4238 086 
WOMEN'S WELFARE LEAGUE & Reaching Out For Youth:  
4 Kaiwaka-Mangawhai Rd, M Morgan 4312293 
Next Bugle Deadline midday Friday 3 July 2015
WHAT'S ON
PLEASE ~ do let us know what is on - email 
kaiwakabugle@kaiwaka.co.nz 
Advertising in WHAT'S ON is FREE  
*24Jun~Kaipara Young Farmers' dinner, 7pm La Padella, 
Wellsford 
*26Jun~'Wild', 7:30pm KWMH (R16) 
*27Jun~Rugby Rally Day, KSA 
*27-28Jun~Pt Curtis Game Bird Shoot 
*28Jun~'Shaun The Sheep', 2pm KWMH 
*30 Jun~Parent Teacher interviews, Otamatea High School 
*4Jul~Alice in Wonderland begins, Otamatea Repertory Theatre 
*4Jul~Kids Disco, 7pm KSA 
KWMH=Kaiwaka War Memorial Hall 
KSA=Kaiwaka Sports Association Complex 
See www.kaiwaka.co.nz for upcoming events. 
HOUSEHOLD RUBBISH COLLECTION -  Kaiwaka    Pick  up­
Mondays=Gr een  bags  ar e  picked  up  by  Nor thland  Waste-
queries  to  them  09  4303273,Wednesdays=Blue  bags  and  yellow 
recycling  (at  Jaques    $3.00  and  $1.50)    are  picked  up  by 
Kaurilands 09 4392146.  
*DIABETES Support Group -for Kaiwaka, Mangawhai, Wellsford 
   10am, 3rd Friday of month Ph:A.Pert 4238242; J.Gardner 4238060 
*DRINK CAN 'tear tabs' - for Starship Hospital- please collect - 
    98 Kaiwaka Mangawhai Rd, leave in mailbox, Ph. 4312625  
*GYMNASTICS  OTAMATEA  -    Tuesday  Ph:  Stephanie  022 
3624998 
*HAKARU PONY CLUB-Secretary Julie Rynne 09 4314520 
*KAIWAKA BADMINTON -Tuesdays 7.30pm Ph: 4312345 
*KAIWAKA GARDEN & FLORAL Grp:2nd Thursday in month 
   Ph: 4314767 
*KAIWAKA CUBS-Thursdays 5.30-7pm, Hakaru  Ph:Bruce  4312542 
*KAIWAKA SQUASH -Mondays 7pm Ph: Barbara Thomas    4315905 
KNITTING FOR WHANGAREI HOSPITAL - 2nd Tuesday in  
   month, Apple Basket 10am Ph 4314827 
*MANGAWHAI COMBINED PROBUS CLUB: 2pm,3rd Thursday  
   month in the Senior Citizens Hall Mangawhai. Ph: 4315777 
*NZ GENEALOGY-Wellsford - 1st Thursday in month Ph: 4237033 
*OTAMATEA GREY POWER-09 431 8138 Joan Hoggard  
*PT CURTIS CRUISING CLUB - Jean Ph: 4312 246 
*RSA,Hakaru & Dist.Women- meet 1.30pm 4th Thurs in month Ph: 4312 668  
*TRAMPING- Mondays 9am-2:30pm  Karen Ph: 4312 090 
*WAIPU  GENEALOGYGROUP  -4th  Monday  in  month  Ph: 
4312725 
*WRITER'S GROUP - Ph Elizabeth 4312 522 
*YOGA- Tuesdays 6:15pm, Friday 8:30am Kaiwaka WM Hall Carla  
   Ph: 4312 408, 021 296 8794
CHURCHES:
*Kaiwaka Family Church - Your Community Church: Sundays 10am & 
6pm. Youth Service Mondays 6-8pm. Ph: Tawhiri 4312571 or Paul 
4312068 
*St Paul's Anglican Church 1st Sun. 9.30 am (Eucharist), 3rd Sun. 9.30 
am (Family Service). Contacts:  Church Office 09 431 4122; M. 
Hargreaves 431 2295; C. Bygrave 431 2057; or Rev. Wayne Thornton Ph 
431 5650 
*Church of Christ the King, Mangawhai:9.30am every Sunday 
*St.Mary's Catholic Church: Maungaturoto – Griffins Road, Saturday 
evening Vigil Mass 6pm; Mangawhai – Senior Citizens Hall, Sunday 
Mass 8:30am; Wellsford – Matheson Road, Sunday Mass 10:30am; Mid-
week Mass times and all enquires to Fr. Bill Fletcher – phone 423 8170 
*Baptist Church: Sun. 10.30am Mangawhai Snr Cit.Hall.Ph:4312339 
*Cause Way Church Mangawhai: Sundays 10.15am, Mangawhai 
Community Recreation Centre, Insley St. Ph: 09 4314782  
*St.Pauls Archie Bull Hall HIRE  $20 half day, $40 full day per hire 
 Contact R. Morgans, Ph 4312365 
*Kaiwaka War Memorial Hall HlRE - Phone 4312725 or      Email  
kaiwaka.hall.bookings@gmail.com 
*Hakaru Community Hall HIRE -Ph.  4312256 or 4312110 
*Te  Pounga  Marae  queries  -  R.O'Leary  4312  423,  J.Nathan  021  186 
7382 
*Kaiwaka Sports Association hire/queries - C. Anderson 4312051 or 
Email kaiwakasports@gmail.com
Justice  of  Peace:  B.FJaques;  L.Donaldson;  A.F.Hargreaves,  S.Dalziell, 
W.Howard  -  please  phone  to  make  sure  they  are  available 
www.justiceofthepeace.org.nz 
Marriage Celebrants: L.Donaldson; A.F.Hargreaves; C.Rosseels