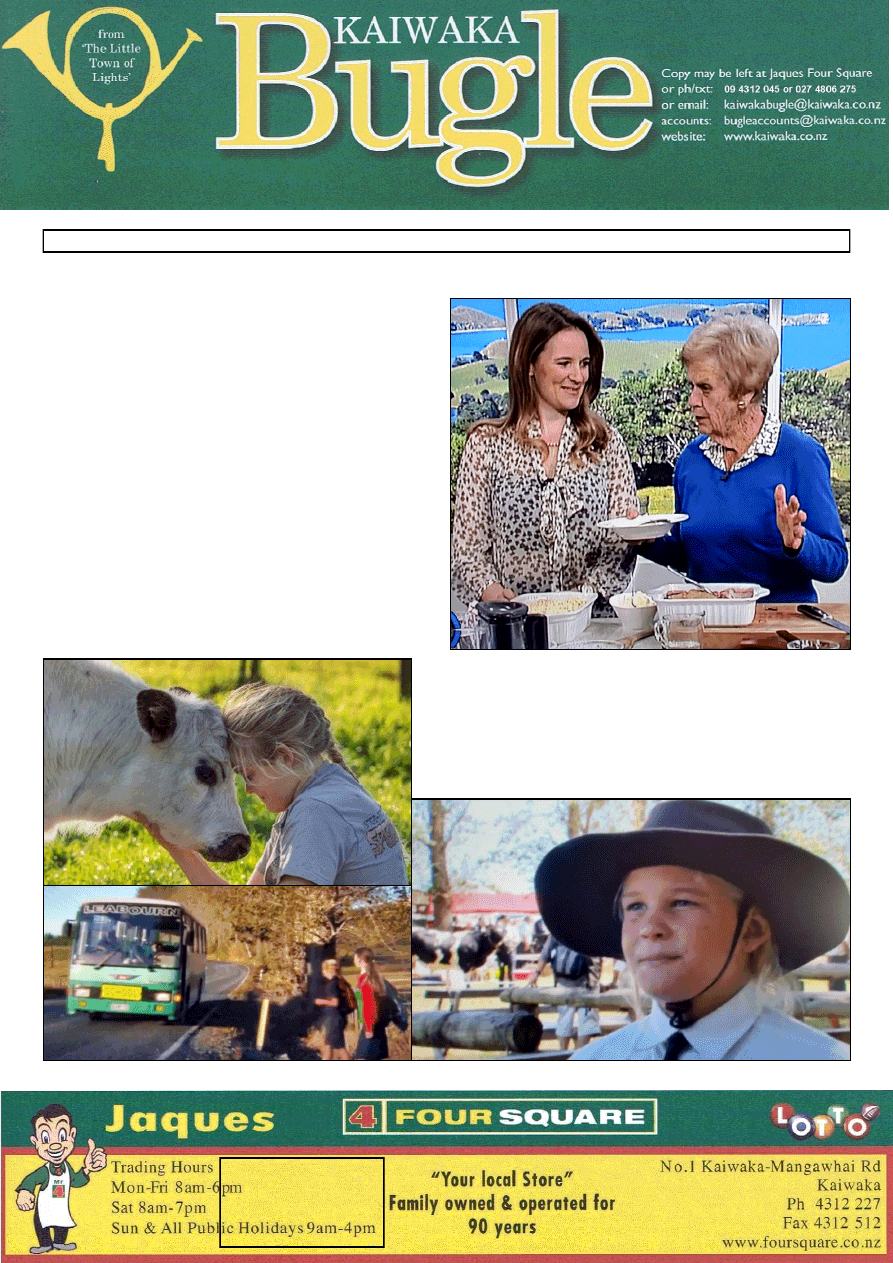 www.kaiwaka.co.nz 
Kaiwaka Bugle - 18 August 2015 
Page 1 
 No: 16
18 August 2015 
New Winter Hours: 
Mon-Tue,Thu-Fri: 8am-
6pm; Wed: 8am-6:30pm;  
Sat: 8am-7pm;  
Sun: 9am-5pm 
GOOD MORNING 
Did  you  see  TV  One's  Good  Morning  show  featuring 
Kaiwaka's own Vivienne Linnell the other week? It was in 
connection  with  Vivienne's  recipe  for  Rhubarb  Crumble 
which  is  in  the  book  Love  &  Food  At  Gran's  Table  by 
Natalie Oldfield.  Vivienne and Natalie (pictured right) met 
through their granddaughter and daughter respectively, who 
met at school. 
From  The  History  of  Education  in  Kaiwaka  District  ,  100 
yars  of  Progress  1870  -  1970,  page  78:  "In  response  to  a 
request  from  Mrs  R.  Linnell  [Vivienne]  ,  two  executive 
members  of  the  Whangarei  Play  Centre  Association 
attended a public meeting in Kaiwaka in October 1966, and 
formed the Kaiwaka Play Centre. Mrs R. Sceats [Joy] was 
elected President, Mrs R. Linnell secretary, Mrs J. McClean 
[Enid] treasurer, Mrs K. Brown [Gayle] Roster Mother and 
Mrs  M.  Hall  [Vera]  Equipment  Head;  with  a  loose 
committee of all interested mothers." 
Vivienne  and  her  husband  Dick  farmed  dry  stock  at 
Purupuru, on Oneriri Peninsula; their 3 daughters went to 
Kaiwaka School. She now lives in Mangawhai. 
KAIWAKA ON TELEVISION 
COUNTRY CALENDAR 
This  past  Saturday,  11-year-old  Arjan  Pederson  "The  Kaiwaka 
Kid" was featured in the iconic program Country Calendar. He 
breeds and shows cattle, and this year won the Northland Young 
Handler of the Year award. Well done Arjan! 
He also went to a special 'beef boot-camp' for young people at 
the  Future  Beef  Expo  in  Feilding,  designed  to  inspire  the  next 
generation of beef farmers.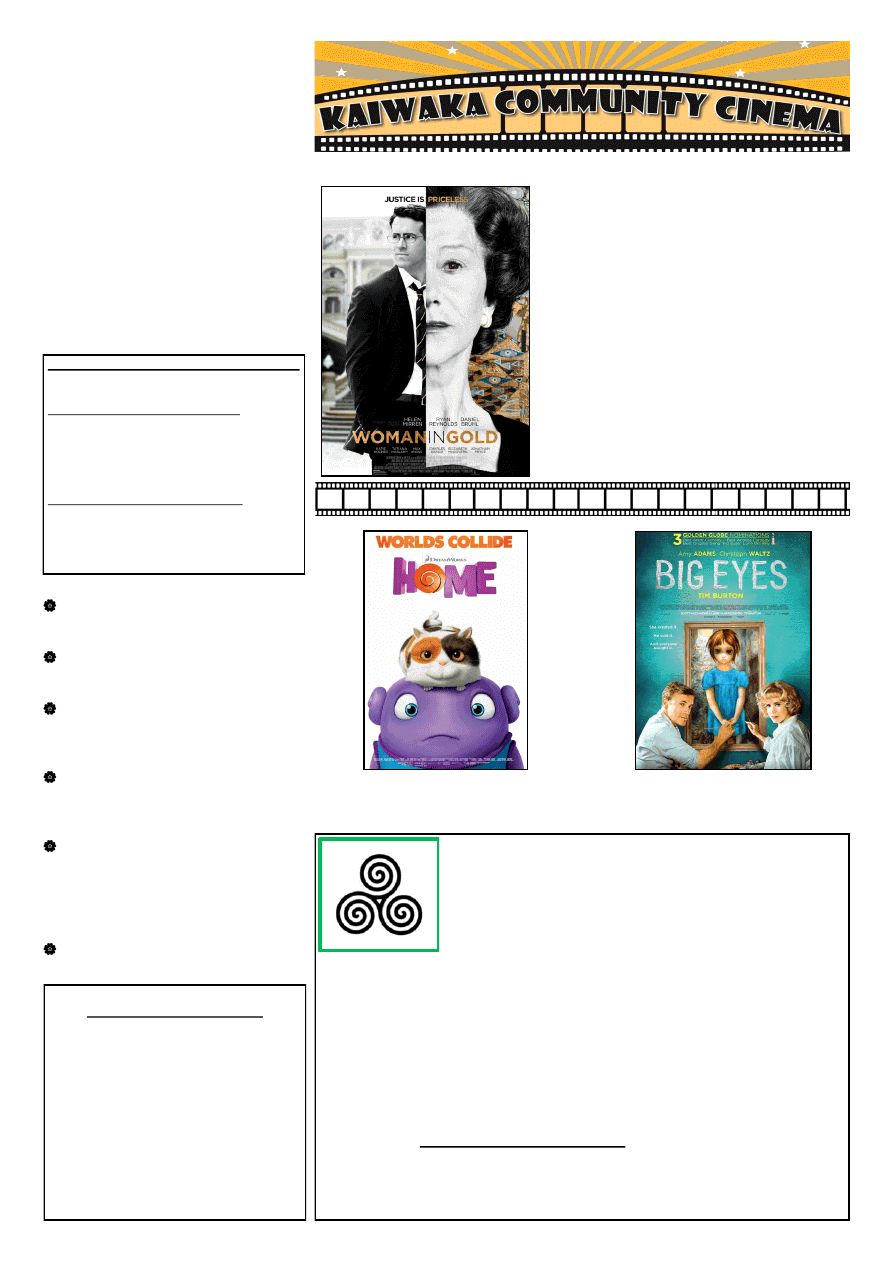 ABOUT TOWN 
......... 
Condolences  to  the  family  of 
Heather  Hyndman  who  passed 
away recently. 
Otamatea  High  School  have  a 
teacher-only  day  on  Monday  31 
August. 
Have  you  been  for  a  meal  at  the 
Three  Furlongs  Bar  &  Grill  yet? 
We're  hearing  good  reports  about 
the food and enjoyable atmosphere. 
Daffodil  Day  street  appeal  on 
Friday  28  August  -  look  out  for 
collection  points  at  Jaques  Four 
Square and La Nonna. 
New item about to hit the menu at 
Bianca's  Cafe  -  cross-cut  potato 
wedges, cut in a waffle pattern with 
a  tasty  coating.  The  editorial  team 
here  have  taste-tested  them  and 
approve! 
Meet The Neighbours was a huge 
success for everyone there. 
KAIWAKA BUGLE No: 16 
18 August 2015
Page 2: Kaiwaka Movies 
Page 3: Public Notices; Classifieds 
Page 5: Gymnastics, Pt Curtis, Daffodil 
Page 7: Kaiwaka Sports Association 
Page 9: Kaiwaka School 
Page 11: Zonta 
Page 13: Rodney Otamatea Taniwha 
Page 15: Kaiwaka Library 
Page 17: KWMH Honours Board 
Page 19: advertising 
Bugle 17 will appear 1 September 2015 
Contact for advertising, reports, articles 
or information can be made by 
Email kaiwakabugle@kaiwaka.co.nz 
Ph: 09 4312 045 (Lindsey) 
Txt:  0274 806 275 (Wendy) 
Copy may be left at Jaques' Four Square.
Kaiwaka Bugle 
Founded May 1978 
Copies available in Kaiwaka at Jaques Four 
Square, Kaiwaka Postal Centre, Shamrock 
Service Station, Celena's Gifts, Animal Health 
Centre. Also outlets in Maungaturoto, 
Mangawhai and Paparoa. 
Can be viewed online at  Facebook or 
www.kaiwaka.co.nz/Bugle  
Or a copy can be posted to you if you supply 
stamped, self-addressed DLE envelopes. 
At Kaiwaka War Memorial Hall . Adults $10, Chn (under 16) $5, Family Pass (2 adults + 3 children) $25 
Woman in Gold 
Friday 21st August 7:30pm (M) 
Maria  Altmann,  an  octogenarian  Jewish 
refugee, takes on the Austrian government to 
recover artwork she believes rightfully belongs 
to her family. 
Starring: Helen Mirren, Ryan Reynolds, Katie 
Holmes, Max Irons, Charles Dance, Elizabeth 
McGovern, Jonathan Pryce, Frances Fisher 
RANA Health 
Naturopathy- Acupuncture- Massage 
Open Mondays & Fridays 
4 Kaiwaka-Mangawhai Road; Room 4; Kaiwaka
Phone or Text for an appointment &/or price enquiry:  
Rebecca Wood 021854158 
Or visit www.ranahealth.co.nz & click BOOK NOW
Rebecca Wood Dip Th Mass; Dip Aroma; Dip Acu; 
Student Naturopath- Final semester
Home 
Sunday 30 August 2:00pm (PG) 
Big Eyes 
Friday 4 September 7:30pm (M)
Kaiwaka Bugle Advertisements 2015: 
All 
copy 
and 
queries 
to: 
kaiwakabugle@kaiwaka.co.nz 
Classified  $3  (max  30  words);  1/16  page 
$4; 1/8 page $6; 1/4 page $12. 
Payments can be made online, posted or 
left at Jaques Four Square Store. 
Accounts: 
bugleaccounts@kaiwaka.co.nz 
The  Kaiwaka  Bugle  is  a  community 
newspaper run by volunteers.   
Articles, etc. printed are not necessarily 
the opinion of the Bugle Team.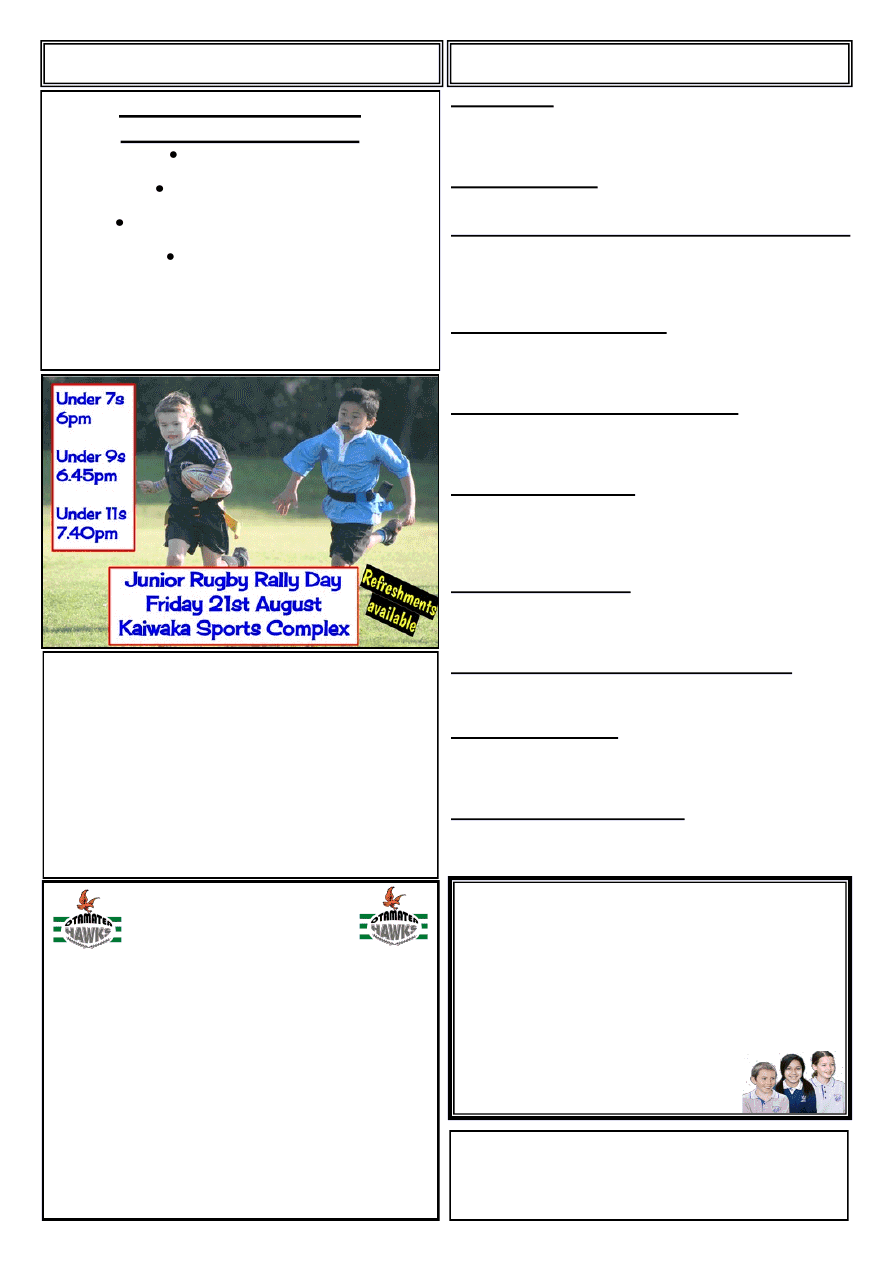 www.kaiwaka.co.nz 
Kaiwaka Bugle - 18 August 2015 
Page 3 
PUBLIC NOTICES 
CLASSIFIED 
Thought for the day:
Proverbs  12:  20   
Deceit  fills  hearts  that  are 
plotting  for  evil;    joy  fills  hearts  that  are 
planning for good!  
Otamatea High School 
Te Kura o Tuarua Otamatea 
... 
2016 Enrolment Evening 
Thursday 27th August 4.00pm - 6.30pm 
Our Senior Leadership team and Deans will be taking 
enrolments for students starting in 2016.  Please take this 
opportunity to come along with your child to complete 
their enrolment and meet our team. 
We look forward to seeing you. 
Please contact the school for further details 
www.otamatea.school.nz or 
ohs@otamatea.school.nz 
0800 682 628 
FOR  SALE:  Original  wood  stove.  Esse  Century 
cooker.  Been  installed  for  eighteen  years.  Wet  back, 
double oven , white and black enamel. Working order 
$2,200.00 Ph 4312 605 Karen 
HAY  FOR  SALE: $10 a conventional bale 4312006 
or 021 1570870 
JILL SHIRES HOLISTIC ANIMAL THERAPIES: 
Cranio  Sacral  Therapy,  Herbal  Remedies  & 
Diatomaceous Earth for Pets, Horses & Farm Animals. 
www.jillshires.nz    or  Ph:  945-0584  Based  in  Oneriri 
Road 
THE  SUNSHINE  GIRLS:  Need  help  with  your 
house cleaning? Sometimes you just need another pair 
of hands. We offer two pair and a smile. Comparable 
hourly rate. Ph 431 2532 or 431 2711 
PLANTING  AND  LANDSCAPING:  for  all  your 
advisory,  planting  and  maintenance  needs;  20  yrs 
experience; Pete Worsfold 'Sound Landscapes' Ph 021 
825 970 
ROSE FACE CREAM: nourishes, protects, soothes 
sensitive,  mature,  dry  skin.  Pure  Bulgarian  rose; 
organic  almond;  avocado  and  apricot  kernel  oils. 
Available in  'Well of Health' and  'Jenny's Rural  Craft 
Shop'. 
BERYL  NOZEDAR:  (Middleton)  International  
Clairvoyant.  Numerology,  Tarot,  Clairvoyance,  
Mediumship.  $60  for  hour  includes  CD.  Ph:  09  945 
0584 
CLOTHING ALTERATIONS & REPAIRS: Hems, 
Zips,  Dressmaking  Phone:  Win  4312027    or  027  444 
8358 Winsome Designs. 
HEALING  ROOMS: are open for anyone needing 
prayer on Thursdays from 11am-12pm at the Railway 
Station buildings, 18 Station Road, Wellsford. Ph 423 
8469 or 423 7366 for any further information. 
FREE GRAZING WANTED: Small or large block. 
Can  do  some  fencing  or  water.  Phone  after  6pm 
4312006 
BROOKS MOTORS 
UPCOMING TRIPS 
 Lord of the Dance
Sunday 23 August.  Civic Theatre, Auckland.  $185
 Phantom of the Opera
Sunday 14 February.  Civic Theatre, Auckland. Price coming.   
 Royal Edinburgh Military Tattoo
18-22 February 2016, Westpac Stadium, Wellington.  $1500-$1800 
 Mrs Brown's Boys
25 March 2016, Vector Arena, Auckland. From $210 
Be quick, limited space available for some shows. 
Enjoy the convenience of leaving your car at home – 
come by bus with us! No parking to find or pay for! 
Phone 09 431 8059 or email lorraine@brooksmotors.co.nz 
or debbie@brooksmotors.co.nz for more details. 
FAST FIVE! 
Indoor netball module 
Kaiwaka Sports Complex 
Sunday afternoons Starts 30th August 
Teams of 10, $100 per team 
Register with Cheryl at  
kaiwakasports@gmail.com 
Rugby 
Prize Giving 
* Under 14s * 
* Under 16s * 
* Senior Reserves * 
* Senior Premiers * 
Sunday, 23
rd
 August, noon 
Kaiwaka Sports  Complex 
Players, supporters and sponsors all welcome, 
lunch provided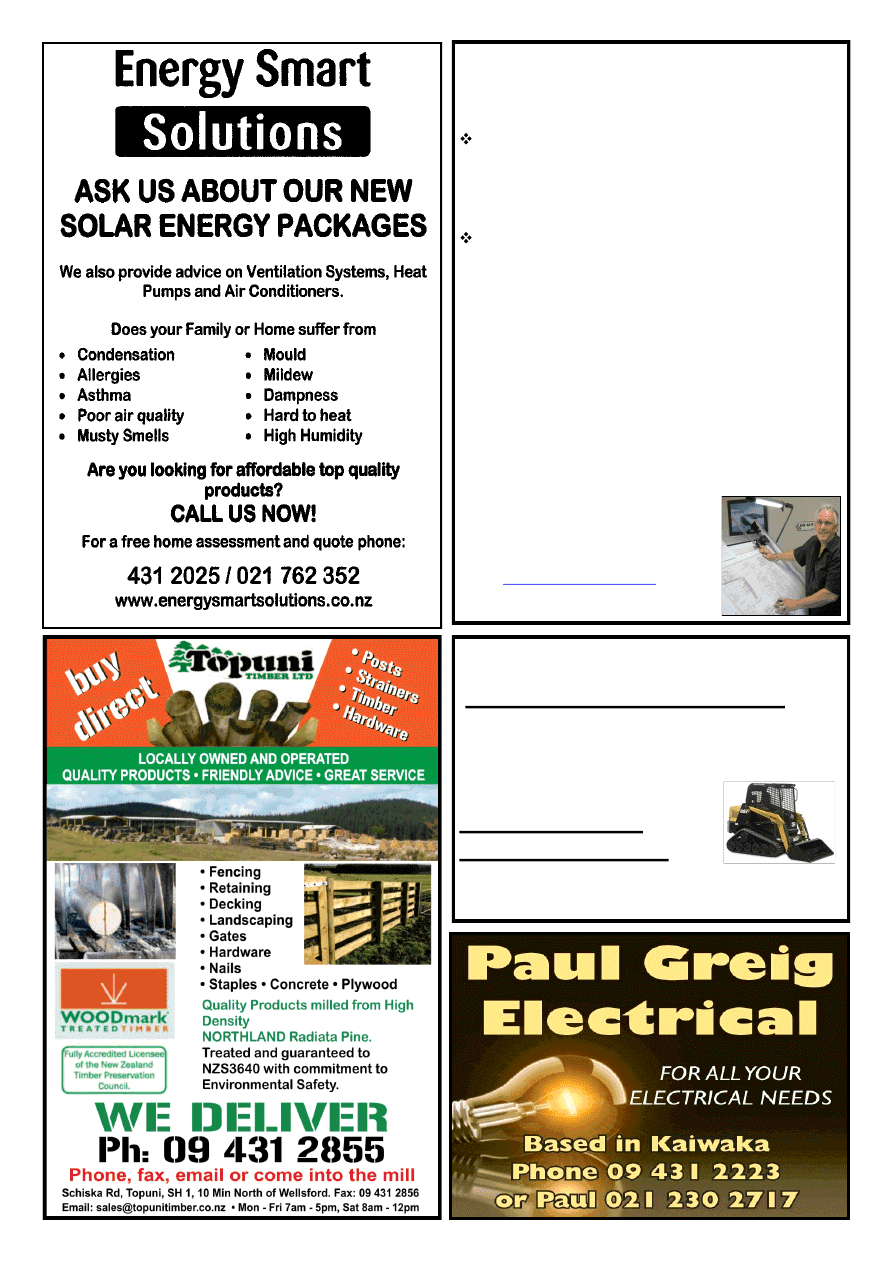 Natural Earth Ltd 
 Landscape and Bobcat services 
 : Driveways  :Landscaping  :Retaining Walls 
 : Hole Boring: Land Levelling :Trenching 
 : Decks :Fences :Sections Cleared: Plus much 
more 
Tel   09 4312885 
Mob 02102391280  
For A Fast Friendly  
Service Contact Tim Hicks 
ARCHITECTURAL BUILDING 
PLANS AND DESIGNS 
WRIGHT DESIGN 
QUALIFICATIONS 
Brian is a qualified designer (NZCAD) with over 40 years of 
varied experience in all types of building and is a registered and 
Licensed Building Practitioner in Design - L.B.P. 117345 
He ensures you will achieve the best from your budget with 
recommended excellent local contractors ready to competitively 
price and build your personal project quickly and efficiently. 
EXPERIENCE 
Brian's practical building and 40+ years of design experience 
means he can give you excellent advice and all the guidance 
needed for all your building needs 
v Wright Design offers free visits, consultations and all the 
advice you need on planning, design, building, contractors, 
council permit applications, etc. 
 
" Qualified and inexpensive designer – N.Z.CAD., LBP 117345 
" Guaranteed design and working drawings 
" Free site visit to your home or property 
" Great service 
" Great problem solver 
Call Brian ~Arrange a visit to discuss your needs  and obtain 
great advice and free quotation 
MAKE GOOD USE OF HIS EXPERIENCE and 
KNOWLEDGE 
WRIGHT DESIGN:  
360 Oneriri Road, Kaiwaka
Office 09 4312544  
Mobile 021 276 7389  
Email: 
www.wrightdesign.co.nz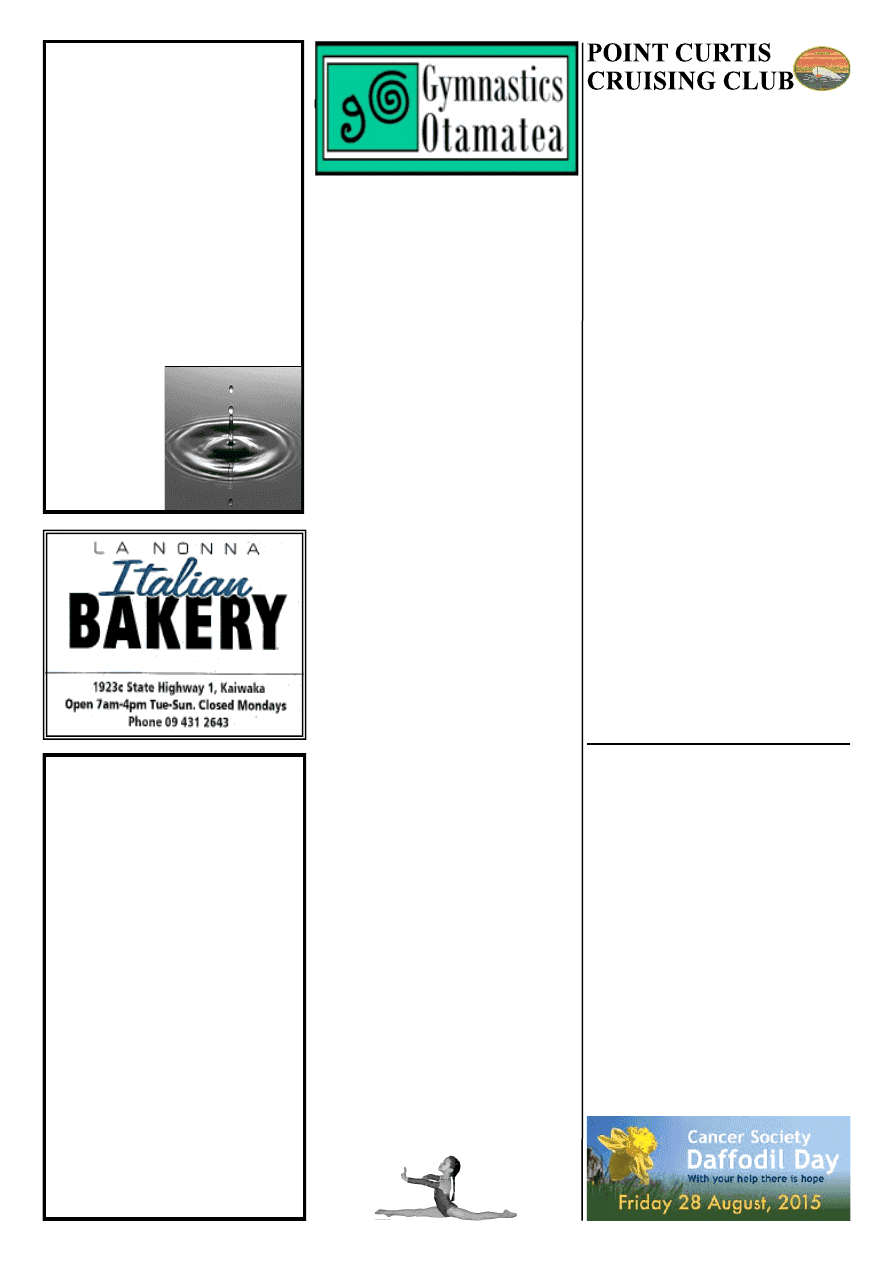 www.kaiwaka.co.nz 
Kaiwaka Bugle - 18 August 2015 
Page 5 
Willow Bend
HORSE  
HOTEL 
"  
Total Horse Care 
" 
Agistment 
" 
Riding Lessons 
" 
Arena Hire (60x40) 
" 
Young Horse Starting 
" 
Re-training/Exercising 
" 
Hoof Trimming 
" 
Problem Solving
Phone Sue 09 431 2817 
or 021 623 776 
Or email sue.gray@xtra.co.nz 
PROFESSIONAL 
COUNSELLING 
AVAILABLE
Want to be content in your life? 
Men... need help with your 
relationship? 
Couples... communicating a 
problem? 
I can help you!
Phone me for a preliminary 
talk. 
PETE 
WORSFOLD  
B. Soc.Sc. M. Soc.Sc. 
Dip Prof Couns. 
Prov. MNZAC 
Counsellor 
021 825 970 
KAIWAKA 
Results  for  Point  Curtis  Cruising  Club 
Inc  Fishing  &  Shooting  Competition 
(Members  Only)  8th  &  9th  August 
2015: 
Senior  Section:  Snapper  1st:  Tony 
Smith,  6.911kg,  2nd:  Paul  Mills 
5.492kg,  3rd:  Carol  Welsford-Mills 
3.557kg;  Kahawai  1st:  Frank  Steiner 
3.215kg, 2nd: Andrew Kenny 2.697kg, 
3rd:  Kraig  Steiner  2.514kg;  Pheasant 
1st: Hayden Smith 1.384kg, 2nd: Tony 
Smith  1.379kg,  3rd:  Kraig  Steiner 
1.374kg. 
Junior Section: Snapper 1st: Bob Mills 
2.265kg,  2nd:  Bob  Mills  1.765kg; 
Kahawai  1st:  Bob  Mills  1.284kg,  2nd: 
Bob Mills 0.706kg. 
Thank  you  very  much  to  the  new 
owners  of  the  3  Furlongs  Bar  &  Grill 
(Paul  and  Jody  and  Rhys  and  Emma) 
for  allowing  us  to  run  the  competition 
though  the  pub.  Thanks  to  the 
weighmasters  and  raffle  sellers.  Thank 
you  to  Pam  and  Ian  Lawson  for  their 
donation  of  candy  floss  and  thanks  to 
everyone that brought a plate and a big 
thanks  to  those  who  entered  the 
competition! 
Congratulations to all the winners. 
There  will  be  pool  challenges  with 
Wellsford  and  Mangawhai  in  the  near 
future  which  we  will  let  you  know 
about  as  soon  as  the  dates  are 
confirmed. 
Fish of the month: GURNARD (cut off 
date 8th September) 
Next committee meeting: Tuesday  8th 
September,  7pm  at  3  Furlongs  Bar  & 
Grill 
~Wayne Leslie, Commodore 
Volunteerism 
Like  all  of  the  sports  clubs  affiliated 
with  the  Kaiwaka  Sports  Association, 
Gymnastics  Otamatea  is  a  non-profit 
club that relies on volunteers to deliver 
all aspects of the programme. Fees are 
kept to a minimum so that each sport is 
affordable  to  members  of  our 
community. 
Unfortunately, 
sports 
groups  like  the  Kaiwaka  Sports 
Association are becoming a thing of the 
past  as  volunteerism  is  superseded  by 
the user-pays model. 
Volunteer Model 
As  a  committee,  the  Kaiwaka  Sports 
Association and their clubs believe that 
it  is  still  possible  to  run  sports  club 
following 
the 
volunteer 
model. 
However  this  requires  members  of  the 
community to take a sacrificial interest 
in  the  children  of  our  community.  For 
this  reason,  we  are  looking  to  parents, 
extended  family  and  people  from  the 
community  to  take  responsibility  for 
the  running  and  coaching  of  the  clubs 
affiliated  with  the  Kaiwaka  Sports 
Association.  This  model  could  easily 
be  successful  with  a  team  of  people 
who  are  committed  and  enthusiastic. 
Some  positive  outcomes  of  having  a 
volunteer  directed  club  are  low  fees, 
greater  diversity  thereby  greater 
enjoyment for participants, and a sense 
of achievement of being part of a team 
that  provides  children  with  an 
opportunity to build their self-esteem. 
Misconceptions 
I've  paid  my  fees,  so  I  don't  need  to 
help  –  our  fees  only  cover  the  very 
basics  such  as  affiliation  to  a  national 
parent body. 
I don't know anything about managing 
or coaching - The club will only be too 
happy  to  help  you  out!  There  are 
coaching clinics from time to time and 
people  will  be  happy  to  show  you  the 
ropes when you take on a role. 
I don't have the time – Our volunteers 
have full-time jobs, very busy lives and 
other commitments outside of the club 
but still manage to put in a lot of their 
time.  The  more  people  we  can  get  to 
help, the less time each person needs to 
spend. 
Keep  Our  Clubs  Being  A  Positive 
Influence  
Please contact Stephanie (0223624998) 
if you'd like to explore what's involved 
in  volunteering  for  gymnastics,  and 
Cheryl  (0273462702)  to  find  out  how 
you  can  help  the  other  clubs  affiliated 
with the Kaiwaka Sports Association. 
DAFFODIL DAY 
Friday 28 August 
The annual Daffodil Day Street Appeal is 
on Friday 28 August. Kaiwaka Collection 
points  will  be  at  Jaques  Four  Square  and 
La Nonna Bakery. 
Dorothy  Freeman  is  hosting  her  final 
Daffodil Day Morning Tea on Wednesday 
26  August  at  the  Mangawhai  Golf  Club 
from  10am.  Entry  is  a  $10  donation, 
which  includes  morning  tea  and  a  Bingo 
game. Additional games will be available 
to  purchase.  There  are  some  great  prizes 
to be won! Please bring a donation for the 
brown  bag  raffle.  RSVP  to  Dorothy  on 
431  5950  by  Friday  21  August.  All  are 
welcome. 
All proceeds to Northland Cancer Society 
to  help  with  costs  of  Domain  Lodge  for 
Northlanders while undergoing treatment, 
also  to  Research  and  Development  of 
cancer prevention and treatments.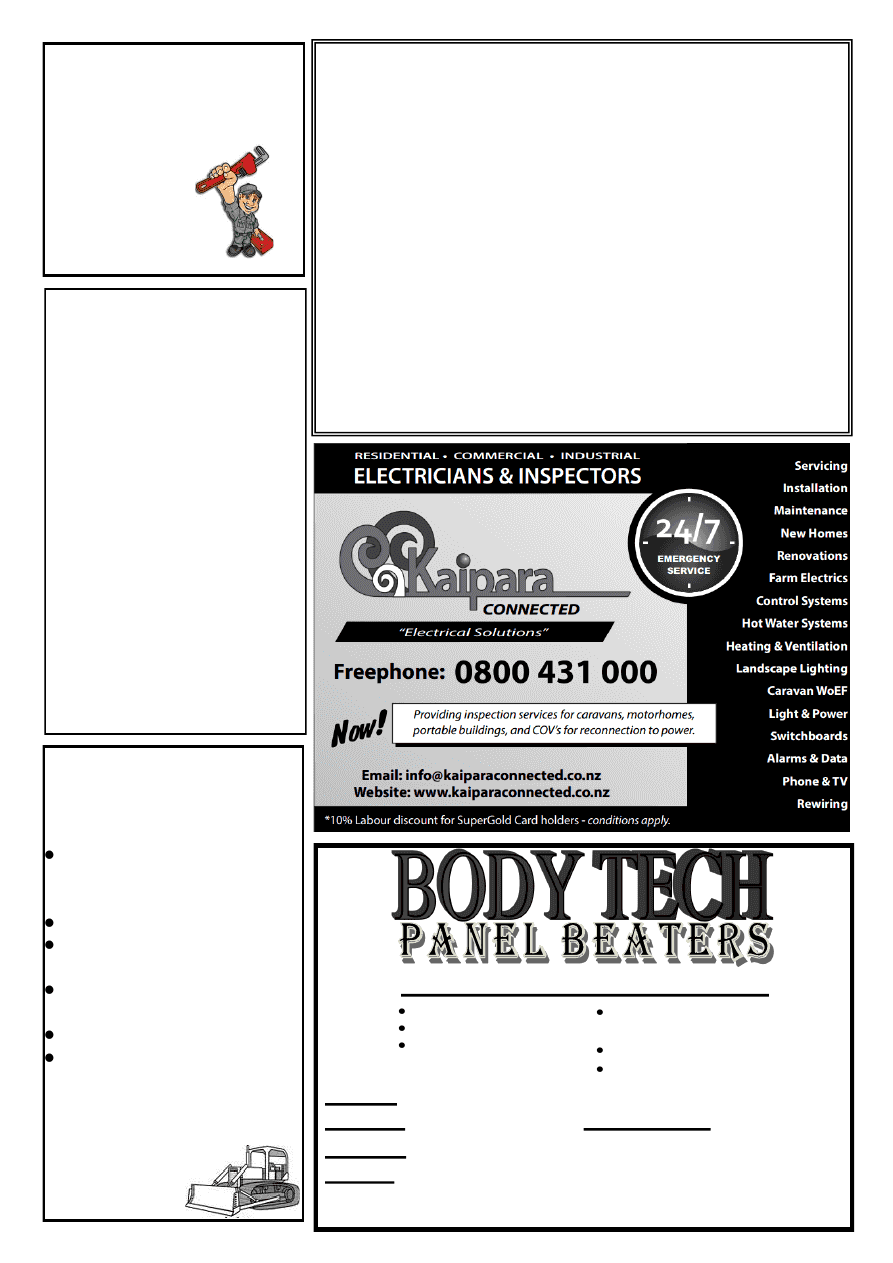 Coates  
Contracting 
D41 Bulldozer with 6 
way blade, bush rigged 
with winch 
For all tree work 
General bulldozing and  
  stick raking. 
120hp Tractor for 
ground cultivation,  
tip trailer work. 
Fencing
All enquiries phone  
Brett Coates  
094318720  
or  
 021431872
Ross Murphy 
PLUMBER 
Certifying Plumber 
09 431 7510 
021 424 252 
Paparoa Based 
+
New Housing  
+
Renovations  
+
Maintenance
KAIPARA FLOORING CO 
32 HURNDALL ST MAUNGATUROTO 
Phone 09 9469886  
or 021 515 415 
Carpet, vinyl, laminate wood look  flooring,  
vinyl planking, sanding & polyurethane service. 
Carpet Short Ends from $79pm + GST 
Vinyl D.I.Y. peel n stick tiles $10sq mtr + GST. 
Free measure & quote.   
Mobile Service 
Phone Christine or Howard anytime 
Open Saturdays by arrangement. 
For all your body repair needs!! 
Hours: 8.30am-5pm Monday-Friday  
Mobile: 021 118 0462       After hours: 09 431 2384 
Phone: Craig or Call in for a free Quote 
bodytech_panelbeaters@yahoo.com
We are located at 1837 SH1 Kaiwaka, behind Twinkle Tow 'n' Tyre 
Call in anytime for a free quote.  
Rust repairs 
Insurance work 
Anti-corrosion  
   treatment   
Large and minor 
vehicle repairs
Industrial vehicles
Full Cut and polishes
UP-LINK 
CHRIS WARING 
FREEVIEW 
INSTALLATIONS
T.V. - HOME THEATRE & 
HI-FI ADVICE/SET UP
SKY ACCREDITED 
INSTALLER
MOB.0273403747 
HM.094312328 
EMAIL cwaring44@gmail.com
28 YRS EXPERIENCE 
OFFERING 
UNBIASED ADVICE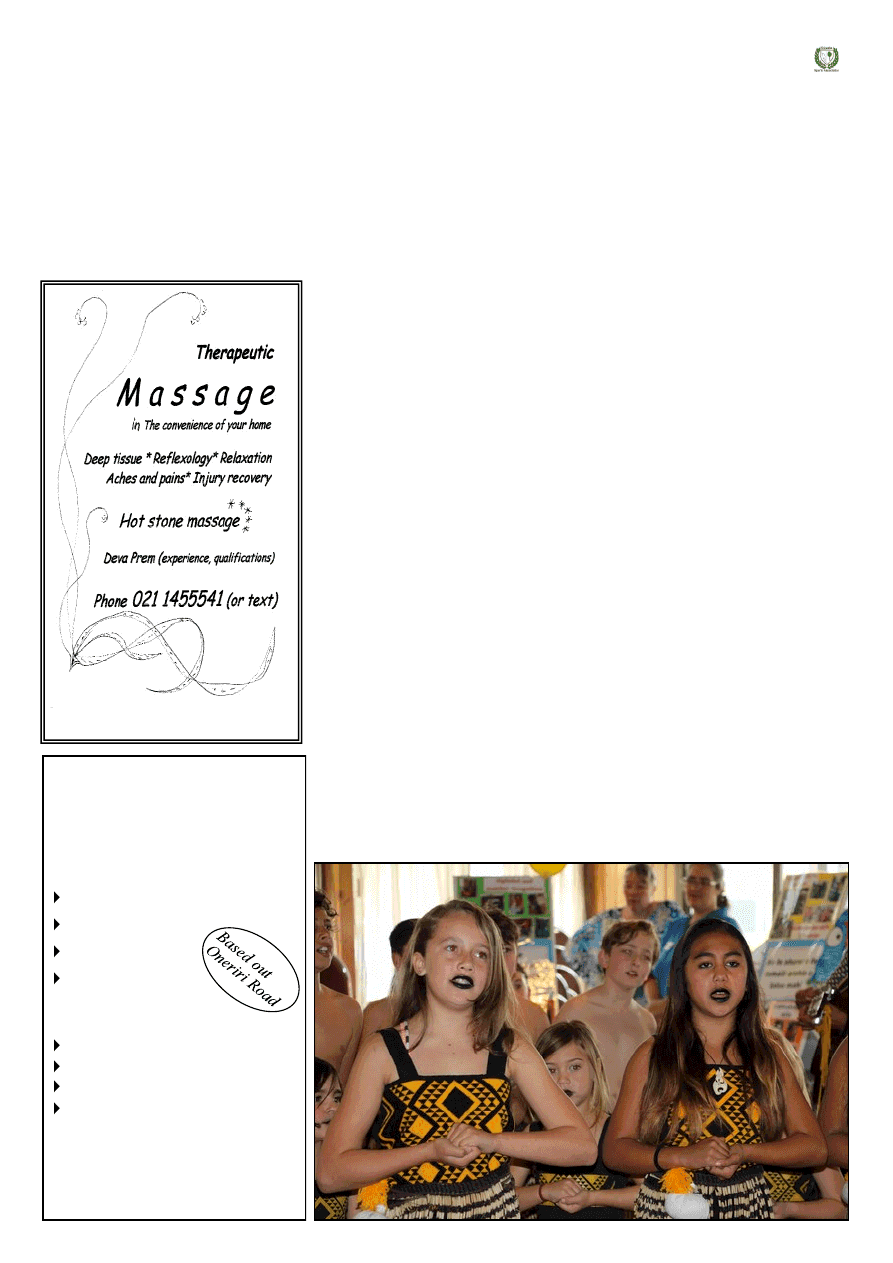 www.kaiwaka.co.nz 
Kaiwaka Bugle - 18 August 2015 
Page 7 
www.mangawhaimassage.co.nz 
KAIWAKA SPORTS ASSOCIATION 
Meet The Neighbours 
Our Meet The Neighbours event was a 
great success! A big crowd turned up to 
mix  and  mingle  and  to  enjoy 
demonstrations  from  some  of  our 
clubs. Thank you to everyone who took 
part. One special highlight for me was 
hearing  from  our  local  bone-carver 
Perry  Allen,  after  the  event.  He  had 
seen the photos that I had posted online 
of  the  Kaiwaka  School  Kapa  Haka 
group who had performed at our event. 
Perry  had  noticed  that  some  children 
weren't  wearing  pendants  and  he 
offered  to  donate  20  hand-carved 
pendants  to  the  group!  How  awesome 
to  have  such  a  community-minded 
person  in  our  town!  Photos  from  our 
Meet  The  Neighbours  event  can  be 
viewed 
on 
our 
website 
www.kaiwaka.sports.co.nz. Squash 
Our  squash  club  is  enjoying  good 
numbers  of  players  with  people  from 
Wellsford  and  Maungaturoto  coming 
over to our club nights, adding variety 
to  the  playing  roster.  Our  squash  club 
is easy to join and has very affordable 
subs, just turn up to our club nights on 
Mondays from 6pm and we'll sort you 
out for some matches. 
Rugby – junior 
We are looking forward to hosting the 
Rodney/Otamatea JMB  Rally  Day  this 
Friday  evening.  This  will  be  the  last 
Rally  Day  for  the  season.  Spectators 
are very welcome – there will be plenty 
of  refreshments  (sausage  sizzle, 
seafood  chowder,  bacon  and  egg 
sandwiches,  lolly  packs  and  drinks) 
and a couple of raffles.  
Thank you to everyone who sponsored 
JMB children for their Pass The Ball-a-
thon this Saturday – the children raised 
over $500 for their club! The prize for 
the  child  who  raised  the  most  money 
went to Gareth Ferguson. 
The  children  are  looking  forward  to 
their end-of-season  trip  to Parakai  Hot 
Pools next month. 
Rugby – intermediate 
Our Under 14s did well in making the 
semi-finals but went down to a stronger 
Rodney  side  and  ended  up  in  fourth 
place. 
The  Under  16s  had  a  great  season 
beating  the  top  seeded  Whangarei 
Vikings  in  the  semi-finals  to  cement 
their  place  in  the  finals.  They  played 
the  finals  at  Toll  Stadium  on  Friday 
against  Whangarei  Boys,  and  although 
they  played  with  a  lot  of  heart,  they 
went down 8 – 29. 
Our  IMB  teams  will  hold  their 
prizegiving  at  the  Sports  Complex  on 
Sunday  23rd  August  at  noon,  this  will 
be  a  combined  prizegiving  with  the 
senior  Hawks.  All  players,  family  and 
supporters are very welcome to attend, 
lunch will be provided. 
Netball – junior 
Netball is heading into the final stages 
of the season and our Kaiwaka 1 team 
remains  undefeated.  Our  Kaiwaka  2 
team  is  also  sitting  at  the  top  of  the 
table  in  their  pool.  The  boys  and  girls 
in both teams have really enjoyed their 
season  and  greatly  appreciate  their 
family  and  friends  who  come  along  to 
support them each week. 
Netball – OHS 
Team  1  are  selling  orchid  plants  as  a 
fundraiser  -  $5  each  or  5for  $20.  To 
order,  please  contact  Nikola  Kemp  on 
021 
1379149 
or 
martynkemp@xtra.co.nz 
Netball – Senior 
In  senior  netball  news,  Otamatea-Ex 
have had a great season and are hoping 
to make it into the finals. If you are free 
on  Friday  evening,  please  come  along 
to  cheer  them  on  -  supporters  are 
always welcome. 
Fast Five Netball 
Who is keen to give Fast Five netball a 
go?  I  am  going  to  run  a  social,  mixed 
module  with  games  held  in  the  KSA 
gymnasium  on  Sunday  afternoons 
starting  at  the  end  of  this  month. 
Only$100  team  fee  ($10  per  player) 
and  there  will  be  prizemoney  up  for 
grabs! Men, women and kids welcome. 
A  registration  form  is  on  the  Kaiwaka 
Fast Five facebook page, or contact me 
and I will email it to you. The length of 
the Module will depend on the number 
of  teams  which  enter  e.g.  if  6  teams 
enter,  it  will  go  for  6  Sundays.  The 
deadline for entries is this Friday. 
This will be a fun, friendly module, so 
why not get a group of mates together 
and give it a try! 
Cheryl 
Anderson4312 
051, 
027 
3462702kaiwakasports@gmail.com 
HODGETTS
CONTRACTING
Digger Work   
Driveways 
House Sites  
Dams 
Drains, etc
Also available for HIRE 
3 ton Vib Roller 
Heavy Duty Tow 
Waterblaster  
Lazer Level 
Phone Mark 
4312877 
027 447 8554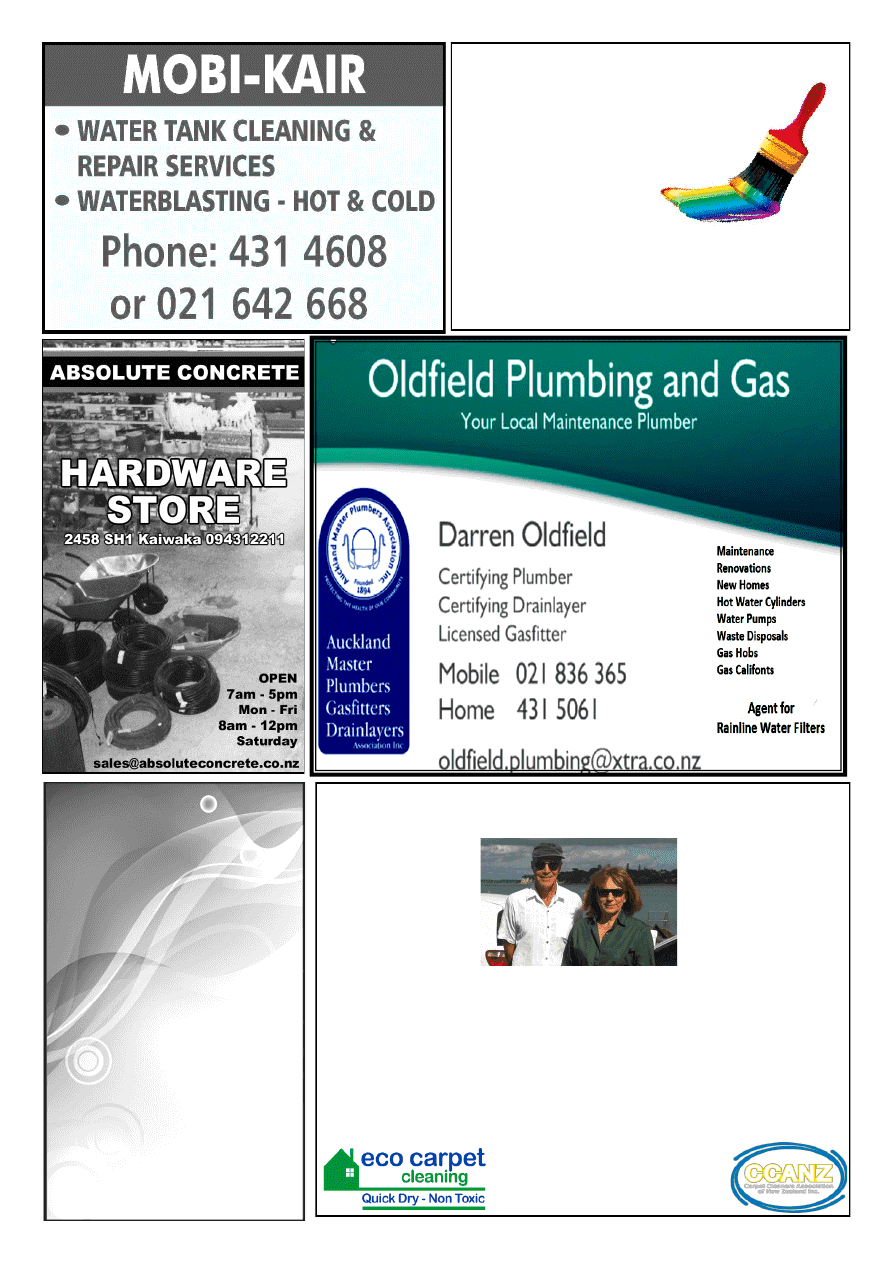 U Beauty 
            Underarm Wax  
    $20 
            Extended Bikini Wax   $30 
            15 min Back  Massage  $25 
            30 min Back Massage  $50 
Please call Nicole for bookings 
09 393 6336 or 022 0639450 
Qualified Beautician 
4 Kaiwaka – Mangawhai Rd 
Kaiwaka 
Eyebrow Wax  $10 
Eyebrow Tint  $10 
Eyelash Tint 
$20 
Lip Wax 
$10 
Chin Wax 
$10 
Bikini Wax 
$20 
Brazilian 
$50 
½ Leg Wax 
$30 
Full Leg Wax  $45 
Full Pedicure  $60 
Foot Tidy  
$35 
Manicure 
$45 
Nail Tidy 
$25 
Chest Wax 
$30 
Back Wax 
$40 
Nostrils 
$10 
Ears 
$10 
09 4312918 
0274735171 
leecooper@xtra.co.nz 
LEE COOPER PAINTERS 
(Kaiwaka Based) 
*30 yrs Experience 
*Interior/Exterior 
*New and Restoration 
*Honest and Reliable 
*Free Quotes 
CARPET & UPHOLSTERY CLEANING 
QUICK DRYING – NON-TOXIC  - GREAT RESULTS
Mike and Marina Bagley have returned to your area 
and are delighted to offer 
carpet and upholstery cleaning 
Call 09 431 3016  or  027 2410414 
marina@ecocarpetclean.co.nz  
www.ecocarpetclean.co.nz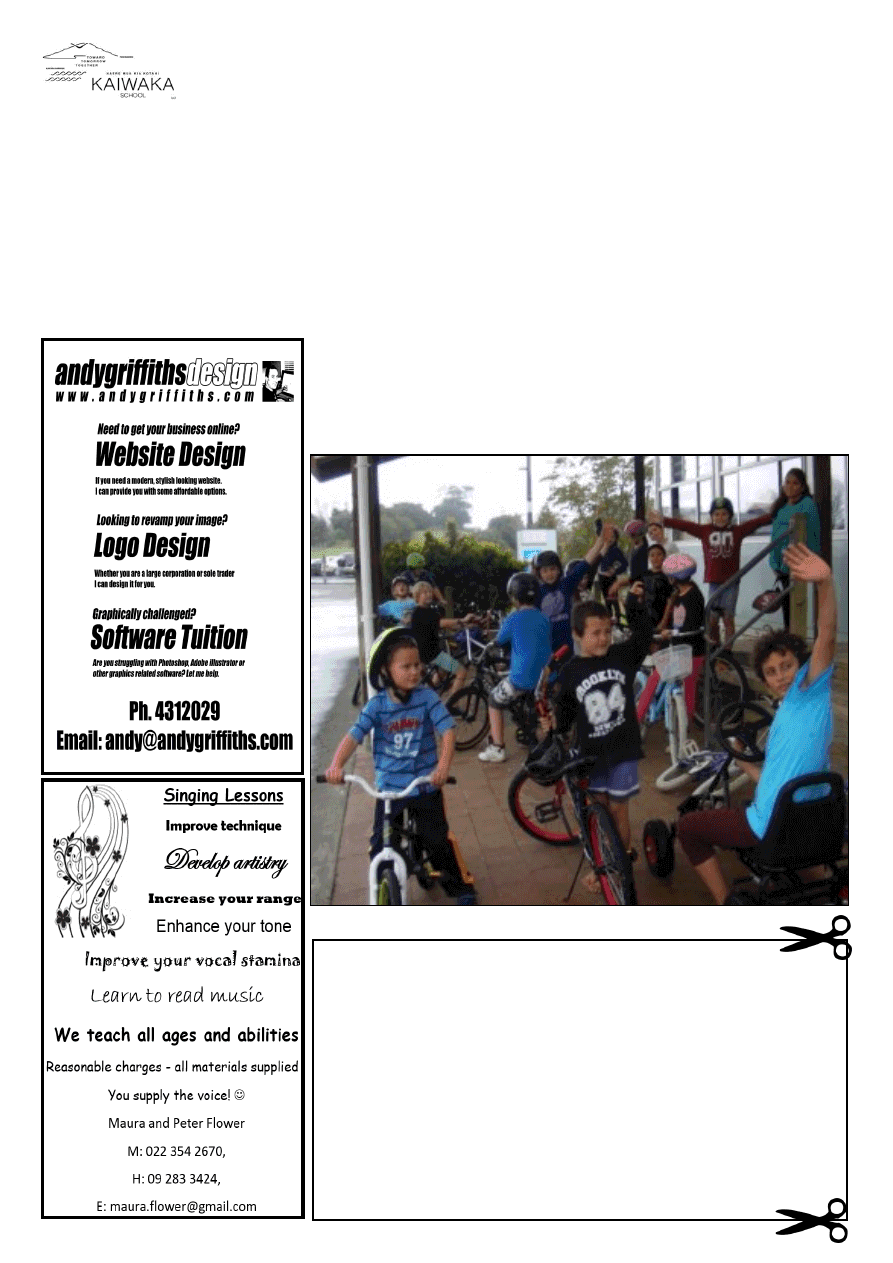 www.kaiwaka.co.nz 
Kaiwaka Bugle - 18 August 2015 
Page 9 
We  have  invited 
Te  Kura  Kaupapa 
Maori  No  Oruawharo  to  visit  our 
school on the 28th August for a sports 
day  interchange.  Everyone  is  welcome 
to join us. 
Kaiwaka  School  Agricultural  Day  is 
usually  in  October.  Thanks  to  Jody 
Greig for the excellent job she did last 
year. We need someone to organise this 
for  this  year  as  Jody  is  a  little  busy 
right  now.  Can  you  help?  Please 
contact  me  or  Linda  as  soon  as 
possible.  Please  return  the  trophies 
from last year as soon as possible. 
~Rosie Ellis 
Kaiwaka  School  would  like  to  offer 
parents and interested adults the chance 
to take part in a series of 4 workshops 
which  develop  specific,  constructive 
ways  to  make  home  reading  a  success 
in  a  Government  funded  initiative 
called: READING TOGETHER. 
*Improve your child's reading skills! 
*Raise their confidence! 
*Discover  the  skills  that  make 
READING  TOGETHER  a  huge 
success for you and your child. 
It involves 4, 1¼ hour workshops over 
a 7 week period.  
It  guides  parents  about  key  strategies 
which  make  you  an  expert  reading 
teacher in your own home.  
If  this  sounds  like  something  you 
would like to be a part, of please return 
the coupon below a.s.a.p. so we can get 
started. 
Let us know which day would best suit 
you. After School care is provided free, 
at school for all school age children. 
Check  it  out  on  the  website:  http://
www.readingtogether.net.nz 
Here  is  what  some  parents  said  about 
the  Reading  Together  Programme. 
(copied from the website) 
It has been an awesome programme. 
It helps me to know how to calm down 
when  my  child  makes  a  mistake.  It 
brings that mother/daughter bond. Now 
reading  is  fun  time  not  shouting  time, 
and  what  I  really  like  now  is  that  my 
daughter likes to read. 
It has been a time of us spending time 
together.  His  reading  has  improved 
because  of  the  interest  from  home 
knowing  we  will  not  try  to  jump  in 
with the right words or push him longer 
than he can take 
The next series of workshops will start 
Wednesday  19th  or  Thursday  20th 
August at 3:00- 4:15pm 
KAIWAKA SCHOOL 
I/We  are interested in attending  the Reading Together course.  
 
Name/s: ………………………………………………………..……………   
 
Contact phone…………. ………………………………. 
The day that best suits me is    
 
………………………………………………………………………………………………………. 
I would like to attend but these days/ times  don't suit.  
 
……………………………………………………. 
Please return this form to; Lindy Gaskin or to the school office.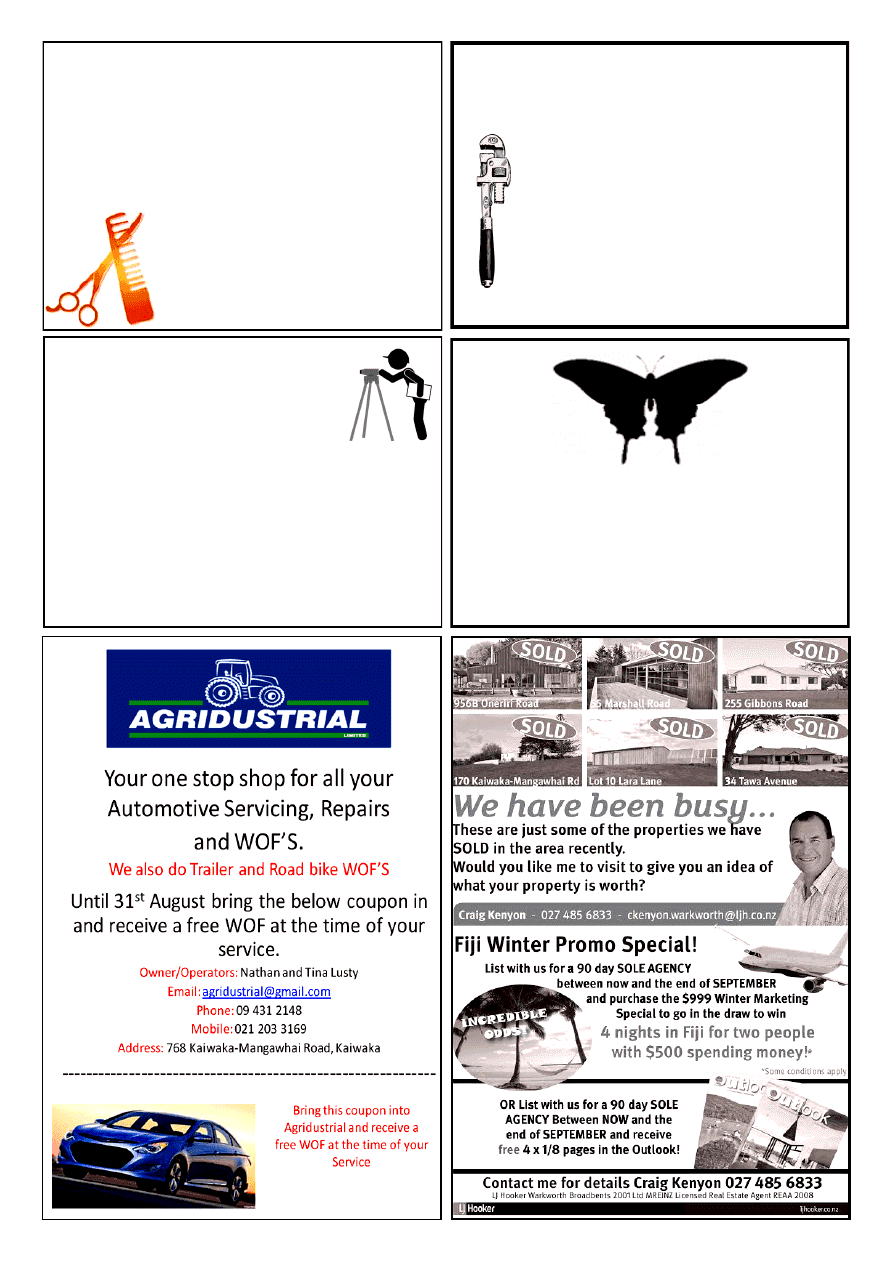 AFFORDABLE PRICES! 
MENS DRY CUT FROM $18.00 
LADIES DRY CUT FROM $15.00 
KIDS DRY CUT FROM $15.00 
COLOUR CUT FROM $90.00 
JUST CUTS'AND MORE 
021 165 2629 
NOW SELLING: scented tealights, incense, 
smudge sticks, copper bracelets, aurora ball 
crystals, dream catchers, healing stones, rose 
quartz, cds, and much more 
open 6 days 
Ken Urquhart 
KMU Surveys Ltd
467 Bickerstaffe Road 
RD 2 
Maungaturoto 0587 
Ph 09 431 8705 
Mob 021 161 2344 
kenurquhart@xtra.co.nz 
BARRY CURTIS PLUMBING LTD 
REGISTERED CRAFTSMAN PLUMBER 
Phone 4315572 
027 257 9884 
25 years experience 
Friendly reliable service 
All plumbing and maintenance 
Alterations and new housing 
New wood fire installation 
Spouting 
Competitive rates 
PROMPT EFFICIENT  SERVICE 
Glo Treadaway MANZASW 
Change Catalyst – Life Coach: Intuitive Healer:  
+0273638833 | 09 431 2209 
Change the beliefs, feelings & thoughts that hold you 
back and Heal & Transform your Life! 
www.celestialconsulting.co.nz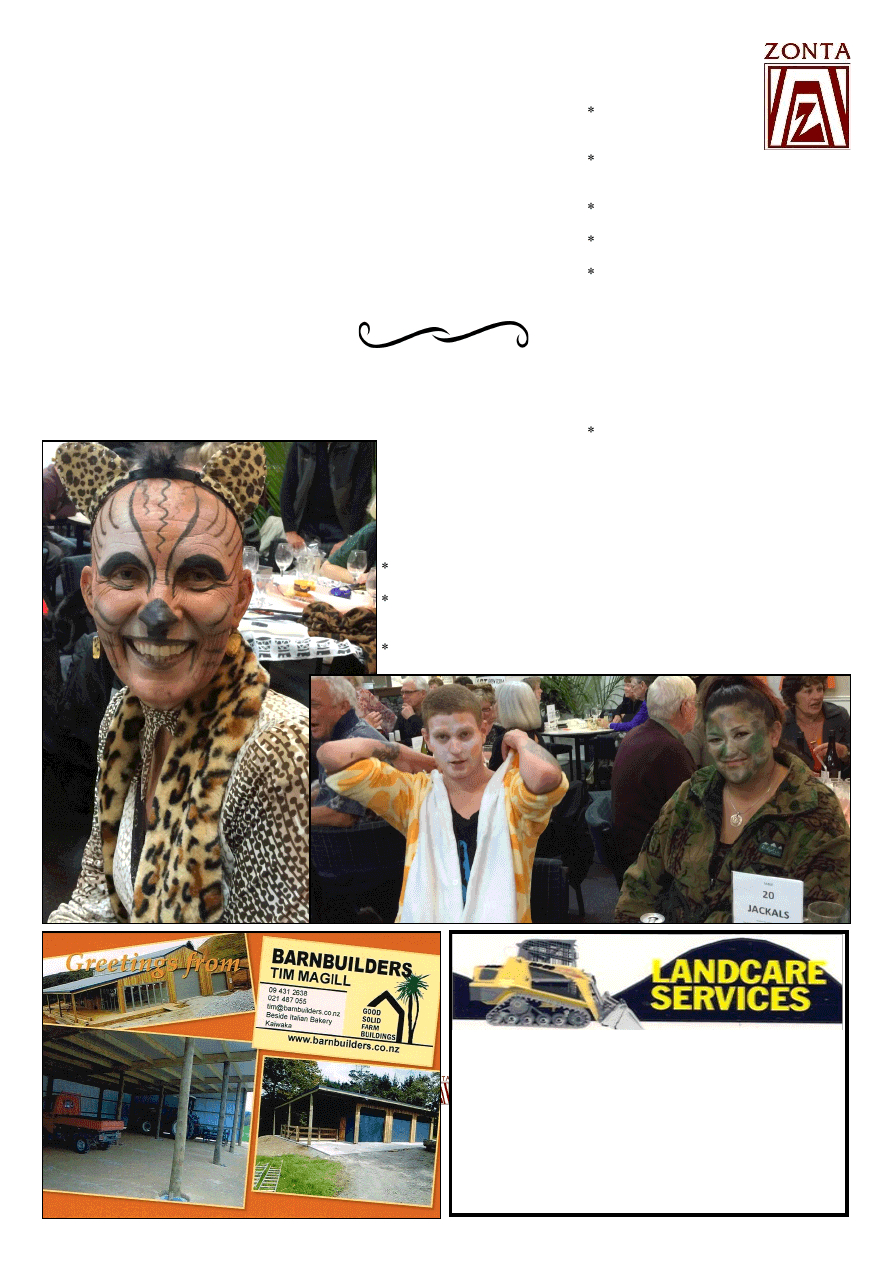 www.kaiwaka.co.nz 
Kaiwaka Bugle - 18 August 2015 
Page 11 
ZONTA
The Mangawhai Zonta Club would like 
to  thank  you  all  for  their  hugely 
successful Trival Pursuit night held on 
23rd  July.  Due  to  the  excellent 
promotion  in  the  local  press  the  quiz 
ran  at  near  capacity  and  $6125  was 
raised on the night. Donna Flavell who 
won  best  dressed  female  as  a 
wonderful tiger. 
Due to the success of the evening it has 
been  decided  to  offer  the  Spirit  of 
Adventure 
Scholarship 
to 
two 
receipents  this  year,  if  the  calibre  of 
applicants  warrents  it.  Please  see 
below. Closing date for applications is 
Friday 25th September 2015. 
The  Zonta  group  also  wishes  to  thank 
all the following sponsers of prizes and 
auction items that made the night such 
a  success,  it  would  not  be  possible  to 
raise  such  a  sum  without  them  all,  so 
thank you to each and every one: 
Armstrong  Security,  Bammas  Surf 
Shop,  Carters,  Copthorne  Hotel 
Hokianga,  Confident  Care  Ltd,  Dizzy 
Lizzys, Dreams Gifts & Décor, Estuary 
Wines,  Essences  of  D'Light,  Frog  & 
Kiwi  Restaurant,  Harvest  Blue  Café, 
Jacques  Four  Square,  Lochiel  Wines, 
Mangawhai  Pharmacy,  Mangawhai 
Golf Club, Placemakers, Pure Essence, 
Shizazz  Fashions,  Tara-Iti  Golf  Club, 
Tara  Lodge  Tamarillos,  The  Cove 
Restaurant,  Sarah  C  Kiwi  Art,  Tim 
Hemingway - The Arrow, private Hotel 
in  Arrowtown,  William  Goodfellow  - 
Explore  Auckland,  Matt  Connell  - 
Akarua  Wine,  Charlotte  Wilson  - 
Baleys Real Estate. 
The  Zonta  Club  of  Mangawhai  is 
delighted  to  offer  our  5th  Annual 
Award for young women in the form of 
a  10  Day  Youth  Development  Voyage 
on  the  Spirit  of  Adventure.  This  year, 
in response  to  the  generosity 
of the local community at our 
garage sales and Quiz Night, 
we are seeking TWO worthy 
recipients  for  this  exciting 
opportunity. 
Criteria 
for 
application are as follows: 
The applicant: 
is a young woman from 15-
18 years of age 
Is  a New Zealand citizen or 
permanent  resident  of  New 
Zealand 
Is  a resident of Mangawhai, 
Tomorata, 
Wellsford, 
Kaiwaka,  Maungaturoto 
or Waipu area 
has  shown  leadership 
potential or would like to 
develop leadership skills 
meets 
the 
medical 
criteria  of  the  Spirit  of  Adventure 
Trust 
must  be  able  to  swim  100  metres 
unaided 
will report back to the Zonta Club of 
Mangawhai after the voyage 
Application  to  include  letter  from 
applicant 
outlining 
reasons 
for 
application,  e.g.  involvement  in 
community  activities  or  associations? 
How  does  the  voyage  fit  into  your 
personal  goals  and  how  do  you  think 
this  experience  will  help  you  achieve 
them?  How  you  will  share  your 
voyage  experiences  with  your  school 
or local community.  
Application to include 2 referees (not 
a family member) 
Application  forms  are  available  by 
request 
by 
emailing 
mangawhai@zonta.org.nz  
or phone or text Sue on 027 555 6636 
with your email address 
APPLICATIONS  ARE  DUE  BY 
SEPTEMBER 25, 2015 
Previous  recipients  have  been  Briar 
Lomas, 
Charlene 
Kahotea-Smith, 
Hayley Aldworth from Rodney College 
and in 2011 the winner was was Leila 
Stephens,  a  Year  13  student  at 
Otamatea High School. 
LANDSCAPING 
4 IN 1 BUCKET 
TRENCHER 
POLE HOLES 
ROTARY HOE 
COMPACT ROLLER 
OFFAL HOLES 
CAN SUPPLY WOODCHIP & POST PEEL 
5 TON TIPPER 
FOR RELIABLE AND FRIENDLY SERVICE CONTACT DAVE 
Dave Hyndman 
 
KAIWAKA 
PH: 09 4312302 
MOB: 021 431 238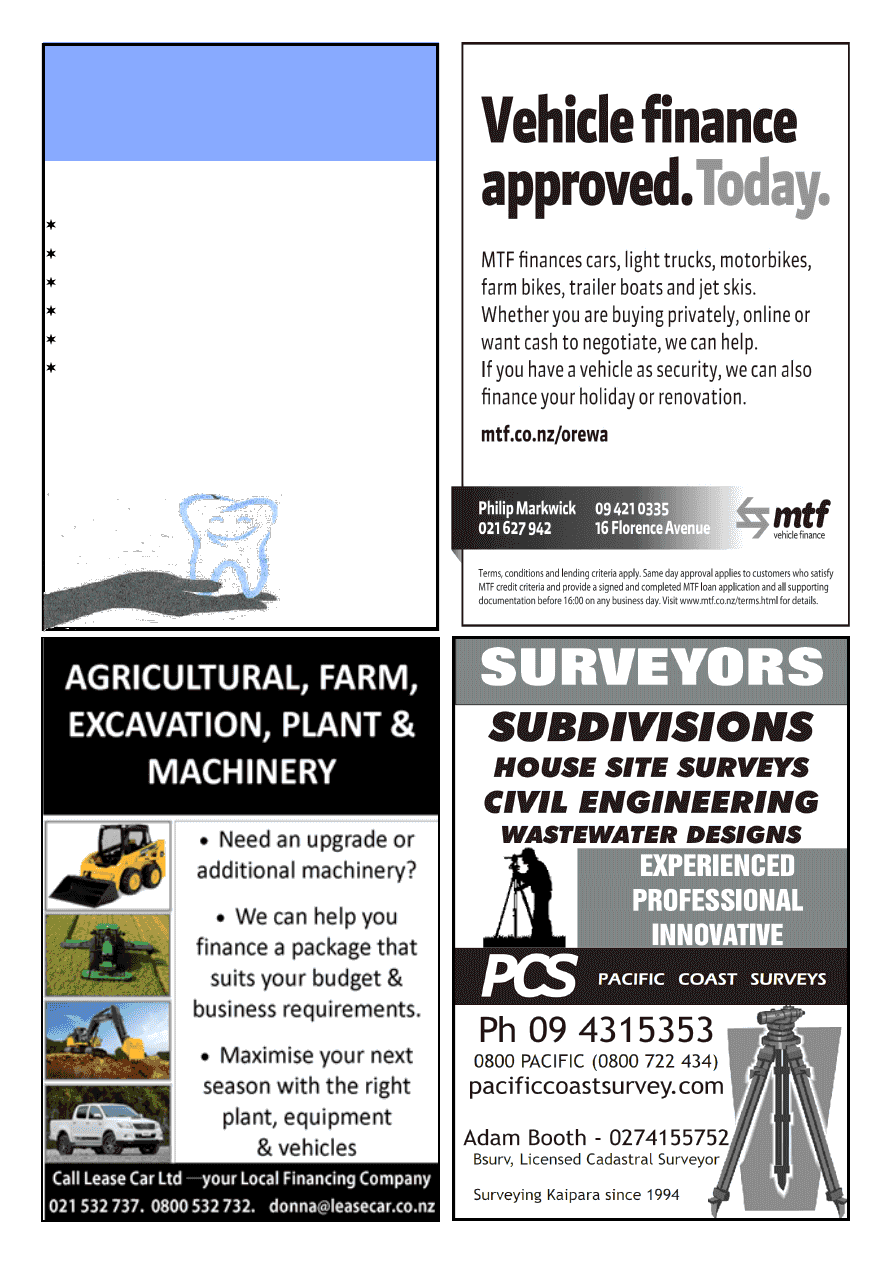 Gentle Dental 
Ruakaka 
We love to see you smile 
General  & Cosmetic Dentistry 
Emergency & ACC Treatment 
Denture & Hygienist Services 
Senior Citizen Discounts 
Free Adolescent Care 
Free WINZ Quote 
19 Ruakaka Town Centre 
Dr Sim Sood & Associates 
Ph:  432 8139 
Saturdays 
By 
Arrangement 
Open  
Mon-Fri  
8am-5pm  
www.kaiwaka.co.nz 
Kaiwaka Bugle - 18 August 2015 
Page 13 
Kaiwaka  
Hardware  
&  
Key cutting 
 Phone 4312 063 
 022 041 6047 
 kaikey2015@gmail.com 
Keys Cut  
Household Hardware  
Curtain Tracks & Fittings
Not there? Call Doug and he'll sort
it for you.
(
Next to Kaiwaka Motorcycles)
On  7th  of  July  2015  a  local 
representative  team  of  Year  7/8  rugby 
players form the Rodney and Otamatea 
area travelled  to Keri  Keri  to  compete 
in  a  week  long  tournament  against  7 
other Northland regions for the coveted 
Taniwha Shield.  
The Taniwha Shield is descended from 
the  Cadbury  Fry  Hudson  Trophy, 
which was contested in the 1930s. The 
shield  is  Northland's  most  prestigious 
primary  school  rugby  tournament  for 
players  under  13  and  weighing  under 
57kgs.  This  is  first  opportunity  for 
these  young  up  and  coming  player  to 
experience representative rugby.  
Day One brought as hard-fought battle 
against  Hokianga  in  atrocious  weather 
conditions,  the  Rodney  and  Otamatea 
RhinOs  finishing  strong  with  a  22-20 
win.  Day  two  saw  another  fiercely 
contested  game  against  Northern 
Wairoa  and  through  some  solid  line 
defence the RhinOs held onto win 22-
21.  Day Three resulted in a loss to the 
mighty Grizzlies but the boys had done 
enough to see them into the top 4. 
Competition  was  tough  from  here  on 
in.  The Rhinos were out-sized and out-
numbered  but  won  the  spectator's 
hearts with their never give up attitudes 
and  their  mighty  haka  made  them 
crowd favourites till the very end.   
The  boys  were  rewarded  for  their 
efforts  with  5  members  of  the  RhinOs 
invited  to  trial  for  the  Northland 
Primary 
School 
team,  and  currently 
two  are  still  in  the 
wider training squad 
hoping 
to 
get 
selected  to  play  in 
the  2015  Roller 
Mills 
Rugby 
tournament  held  in 
Whangarei 
September 
27-
October 3rd.  
Prize  giving  was 
held  at  Kaiwaka 
Sports  Association 
on  August  1st  where 
congratulations  were  given  to  all  for 
their mighty efforts throughout the last 
12 weeks 
Trophy  Winners  were:  Top  Points 
scorer –  Tyrone  DeArdenne,  Fair  play 
– Denzal Peeni, Best back – Tremayne 
Vakatini-Harding, Best forward – Jesse 
Manuell,  Players  of  the  Tournament  – 
Tyrone DeArdenne and Brady Foster. 
The  2015  Taniwha  Shield  RhinO's 
team,  would  like  to  extend  a  massive 
thank you to everyone who contributed 
towards  our  campaign  which  saw  our 
team  secure  a  very  respectable  4th 
place.  This experience would not have 
been 
possible 
without 
the 
overwhelming  support  from  our  local 
community, The RhinO's would like to 
acknowledge  to  following  people  for 
their  donations  of  goods,  services, 
vouchers and cash:  
Kaiwaka  Sports  Association,  Nelson 
Family  Trust,  Oxford  Trust,  Paddy  and 
Debbie  Thornton,  Mike  Greenwood, 
Maungaturoto  Op  Shop,  Matt  Oldfield, 
Whangarei  Treatment  Providers,  First 
National  Real  Estate,  Maungaturoto 
Pharmacy,  Maungaturoto  Auto  Centre, 
Kaiwaka  Clothing,  Eggs  Whangaripo,  Te 
Hana 
Orchards, 
Jaques 
4Square, 
Cadbury,  St  Johns  Maungaturoto,  Cam 
Mills,  Kyle  and  Kath  Harris,  Colin  and 
Karyn 
Hodgson, 
Owen 
Clements, 
Sanitarium, 
Neville 
Westlake, 
RD1 
Wellsford,  Farmlands  Wellsford,  Daniel 
Butler, 
John 
Massey, 
Wellsford 
Pharmacy,  Wellsford  4Squares  (top  and 
bottom),  NZ  Rugby  Union,  Kaiwaka 
Community  Cinemas, 
Mike 
and 
Karen 
Smales, 
Wyatt 
Haulage, 
Rodney/
Otamatea 
JMB, 
Rodney  sub  union, 
Fox  Earthmoving  and 
Paparoa Lions.
Winners of our meat 
raffle were: 026 Jase 
Kake  (1/2  beast), 
067 Lisa Dewes (1/2 
beast),  295  Taiawa 
(sheep)  and  066  Joe 
Harding (pig). 
RODNEY OTAMATEA 
TANIWHA SHEILD NEWS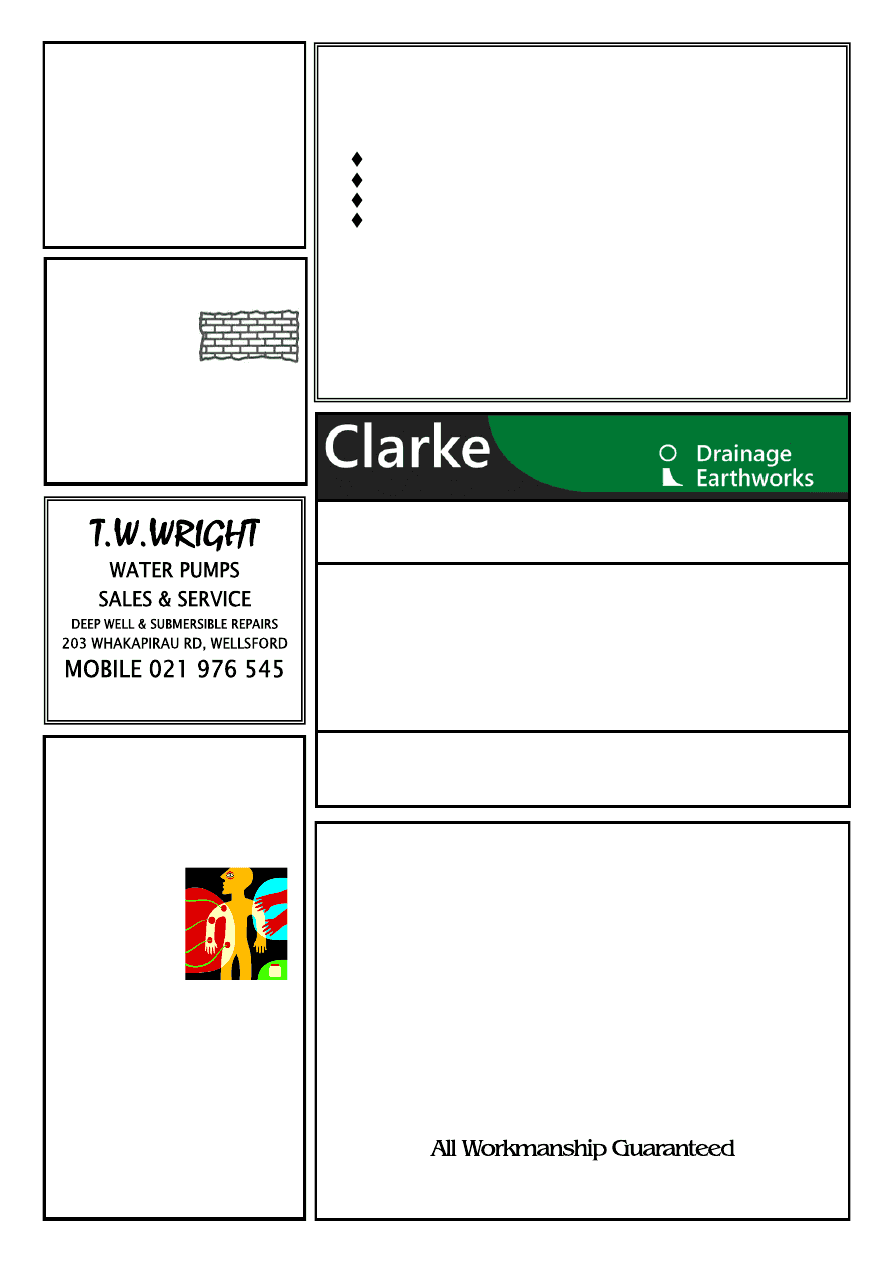 RANGANUI  
EARTHMOVERS 
16T Excavator (tilt, thumb & ROPS cab) 
Transport Trailer 
2 x 6 Wheeler Tip Trucks 
Suppliers of All Grades of Metal & Topsoil 
Driveways, House Sites, Drainage Dams, Section Clearing,  
Tree Work,  Rock Retaining Walls, Quarry Work, 
Basically Anything That a Digger Can Do
If you want a proper job done  
with an experienced operator ring 
Grant on    A/H 431-2131          Email  ranganui.dev@xtra.co.nz 
Mob  021845-246 
OWEN STEVENS 
Osteo Therapist
For careful adjustments to bones 
and joints 
Treatment for  
humans and 
their pets 
Clinics: 
Kate's Place, Kaiwaka: 
Last Friday of month 
For bookings:9.00am-5.00pm   
Phone 
09 4312661 
Or phone  
Owen  09 4317123  
anytime 
PLANNING A NEW KITCHEN?
CONTACT NOEL McDOWELL 
WELLSFORD KITCHENS
Ph/Fax 09 4312 888
KAIWAKA-any time 
QUALITY CUSTOM MADE KITCHENS
~Personal and Prompt Service~ 
~
~ 
~Over 20 Years in the Trade~ 
~Free Design & Quote~ 
Registered Drainlayer 
All Types of Earthworks  
> All Residential & Commercial Work 
> House Sites 
> Septic System Design & Install 
> Footings & Drilling to 10m 
> Sewer Connections 
> Dams 
> Water Tank Installation 
> Roading & Races 
> Farm Work 
THE ONE STOP SHOP  
Phone Nigel for an Obligation Free Quote  
Drainage & Earthmoving                         clarkedrainage@xtra.co.nz 
027 2233 185 
Laughing Dog 
Computers 
Hardware and Software 
Service and Repair 
www.laughingdog.co.nz 
09 4312 654 
BRICK/BLOCKLAYER 
All aspects of masonry:  
Fireplaces, 
Restoration  
& Remedial Work.
JAMES EAGLETON 
Tel. (09) 431 2514  
Mob. 0274 749 232 
jajueagles@yahoo.com.au 
210A Pukenui Road, RD2 Kaiwaka 0573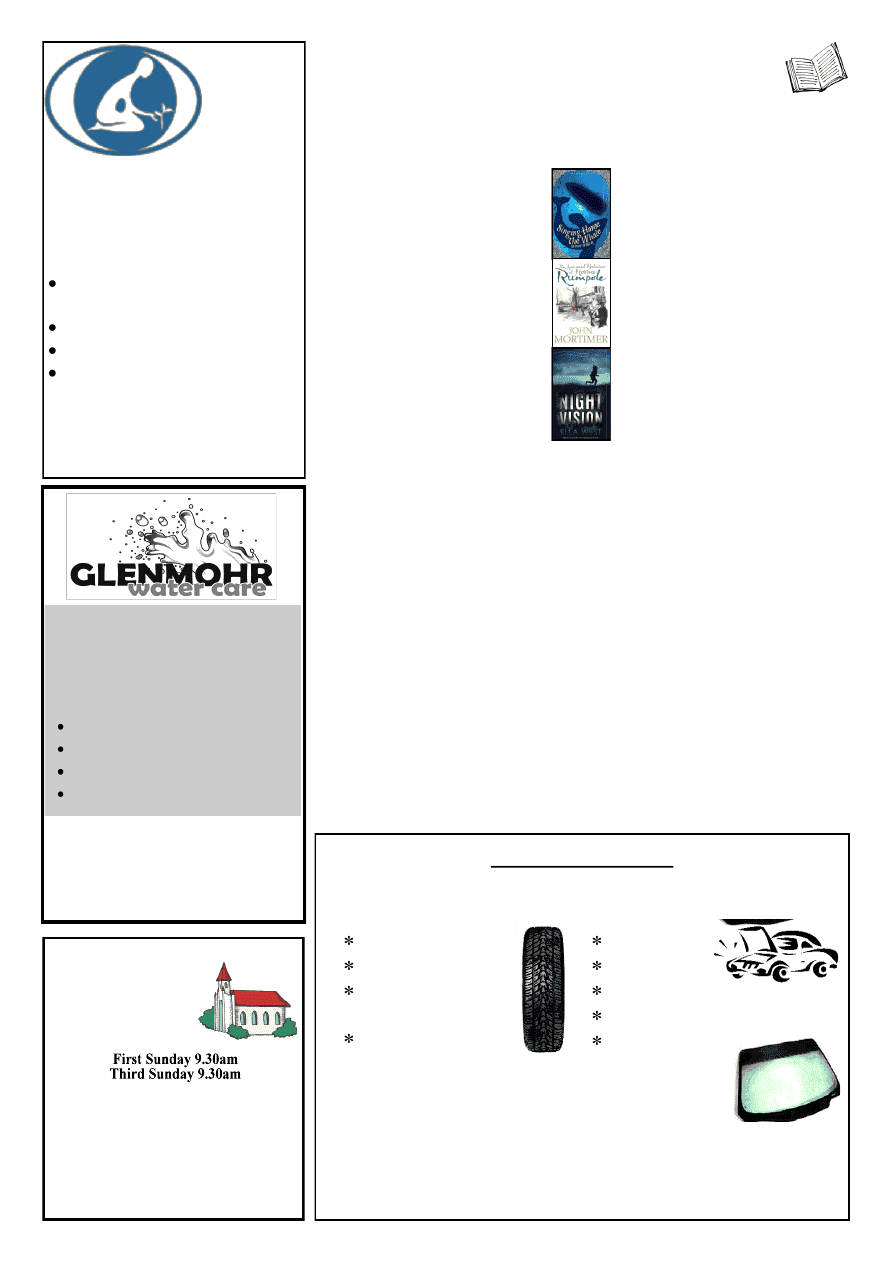 www.kaiwaka.co.nz 
Kaiwaka Bugle - 18 August 2015 
Page 15 
KAIWAKA LIBRARY 
Water Tank  
Cleaning 
Keep your water safe & clean   
Removal of sediment, silt etc 
Vacuum or full scrub 
Minimal water loss 
Phone Mark  
(09) 432 0655  
or 0274 707607 
ST PAUL'S  
ANGLICAN  
SUNDAY  
SERVICES
St Pauls Church: Kaiwaka-Mangawhai Rd. 
1st Sun - Eucharist 
3rd Sun - Family Service 
Office 4314 122 
Contacts:M.Hargreaves 4312295, C.Bygrave 4312057  
or Rev. Wayne Thornton Ph 431 5650 
Magnetic Laser for Health
Using a low power laser I can help 
with a variety of conditions:
Joints pain, swelling, 
inflammation 
Back and neck pain 
Heel pain 
Injury or fracture recovery
Phone Gala 
431 2213 
021 486 611 
Want it done? 
Bring it to 
Twinkle Tow 'n' Tyre 
Think you'll get a better deal in the city? 
Go on, ring us; it won't cost anything! 
1837 State Highway 1, Kaiwaka  
Phone 431 2823 
W.O.F. 
Tyres 
Windscreen 
replacement 
Chip repairs 
Bulk Oil 
Batteries 
Welding 
Custom built trailers 
Trailer hire 
Have you been into the library recently 
and  seen  all  the  new  books  on  our 
shelves?  There  are  new  children's 
books and teen fiction as well as books 
for  adults  -  and  some  of  those  teen 
books are a good read for adults too. 
One such book on our shelves has 
won the Margaret  Mahy  Book  of 
the  Year  awar d,  and  the  Best 
Young  Adult  Fiction  awar d  in 
the  2015  New  Zealand  Book 
Awards  for  Children  and  Young 
Adutls - Singing Home the Whale 
by Mandy  Hager. You will find it 
on  our  Rental  Fiction  shelves  at 
the  moment,  though  it  is  marked 
YP  (Young  People)  on  the  spine 
and is free to borrow. 
The judges said, "Mandy Hager is 
writing  out  of  her  skin  at  present 
and  her  understanding  of  the 
human  condition  and  human 
attitudes  towards  each  other  and 
the inhabitants of Planet Earth are 
beautifully  presented  .  .  .  a  beautiful 
story  of  hope  and  promise  set  in  the 
tranquility of the Marlborough Sounds . 
. ."  I look forward to reading it. 
Recently,  I've  read  The  Anti-Social 
Behaviour  of  Horace  Rumpole,  by 
John Mortimer 
Horace  Rumpole  is  probably  familiar 
to  you  as  a  character  in  the  tv  series 
"Rumpole  of  the  Bailey",  which  is 
based on the Horace Rumpole books. If 
you liked the program, I think you will 
like  this  book.  The  title  attracted  me 
first  -  I  could  just  picture  the  sorts  of 
things Rumpole would be getting up to 
here! 
It  did  not  disappoint.  Rumpole  is  his 
usual  old  self,  bewildering  his 
colleagues  and  fighting  the  good  fight 
for  his  clients  -  in  this  case,  we  start 
with  a  young  boy  who  is  being 
threatened 
with 
an 
Anti-Social 
Behaviour Order for playing soccer in a 
street near his home. And so 
it  goes  from  there  in  its 
charming  way,  including  Rumpole 
himself having an ASBO over his head 
for  his  habits  in  chambers,  which 
annoy  his  fellow  lawyers  (and  amuse 
us no end). 
Although there are many Rumpole 
books,  this  one  is  not  part  of  a 
series  but  a  standalone  novel.  No 
prior reading  necessary.  This  large 
print book is on the Rental Fiction 
shelves in the library. 
Night Vision by Ella West 
"Viola  was  born  with  a  genetic 
condition  that  makes  sunlight 
deadly.  In  the  dark  of  the  night, 
when most teenagers are tucked up 
in  bed,  Viola  has  the  run  of  her 
parents'  farm  and  the  surrounding 
forest. She is used to seeing hidden 
things  through  her  night-vision 
goggles,  but  one  night  she  sees 
something that could get her into a 
whole lot of trouble... 
"Now  Viola  must  decide  just  how  far 
she's  willing  to  go  to  help  her  parents 
keep  their  beloved  farm.  Is  it  okay  to 
steal  from  a  thief?  What  if  the  thief 
might be a killer? And what if the killer 
threatens  to  come  after  her  and  her 
family?" (book cover) 
I first picked this book up when it was 
still  waiting  to  be  processed  for  the 
library  shelves,  looking  for  something 
to  while  away  a  short  period  when  I 
wanted a break from what I was doing. 
What a mistake! I found it hard to put 
the book down, wanting to know more. 
I definitely recommend it. 
This  book  is  a  YP  (Young  People) 
book, free to borrow but will be found 
on the Rental Fiction shelves (to catch 
the  eye  of  borrowers)  until  July  2016, 
when it will move to the YP shelves. 
See you in the library. 
~Wendy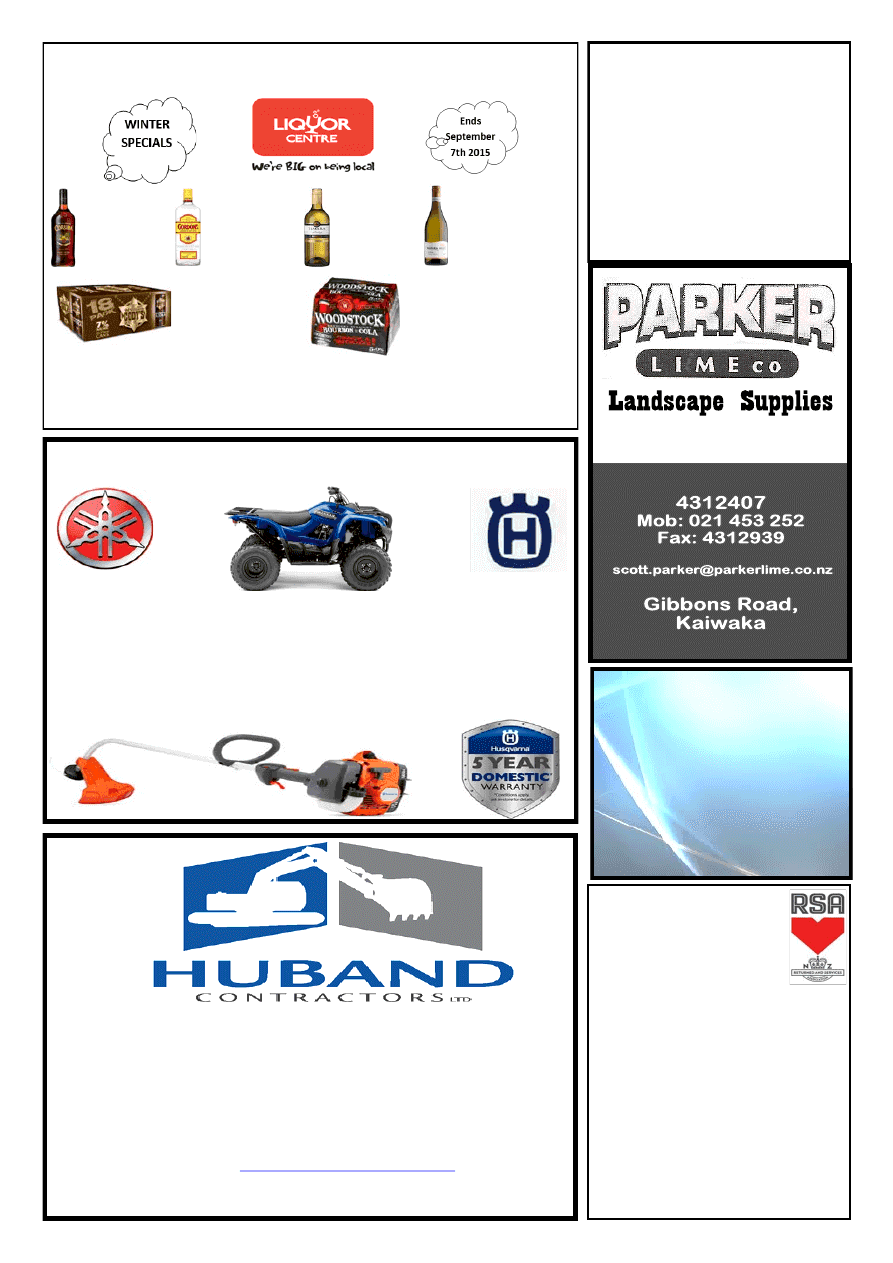 KAIWAKA LIQUOR CENTRE
For more specials visit our store at
1923 B State Highway 1, Kaiwaka Ph: 094312559
Coruba 1LT 
$39.99 
Gordons 1LT 
$35.99 
Timara Wine 
Range $9.00 
Waipara Hills Wine 
Range $15.00 
Cody's 7% 18PK 
$30.00 
Woodstock 5% 18PK 
$31.00 
*   R O A D I N G   *   E A R T H W O R K S   *    
*   D R A I N A G E   *   S I T E W O R K S   *  
For any further enquiries, contact Shaun on: 
Cell: 021 222 0272 
Home: 09 4318339 
Email:   
Shaun Huband:  Registered Drainlayer 
Bulk Cartage 
HAKARU & 
DISTRICTS   
RSA  Inc 
Each Friday night 
From 6.30pm 
Meals will be served 
 2nd Friday of the Month 
Is Roast Dinner Special 
Come along and enjoy  
our Hospitality  
For more information 
 Ring Heather 4314668 
or Jan 4314512 
 LEABOURNS 
Passenger Service
Car & Van Hire 
Bus & Coach Charters 
Airport Transfers 
 Monthly Shopper Bus 
Phone (09) 4237416 
Freeview  
Installations 
Richard Te Haara 
25 Marram Place 
Mangawhai Heads 
021 1104056 
kiwipride@xtra.co.nz
KAIWAKA MOTORCYCLES LTD
SALES – SERVICE – SPARES 
FARM BIKE SPECIALIST
PHONE 09 431-2127 
10 KAIWAKA-MANGAWHAI ROAD, KAIWAKA
TRIMMERS FROM $249 - CHAINSAWS FROM $329 
YAMAHA 
HUSQVARNA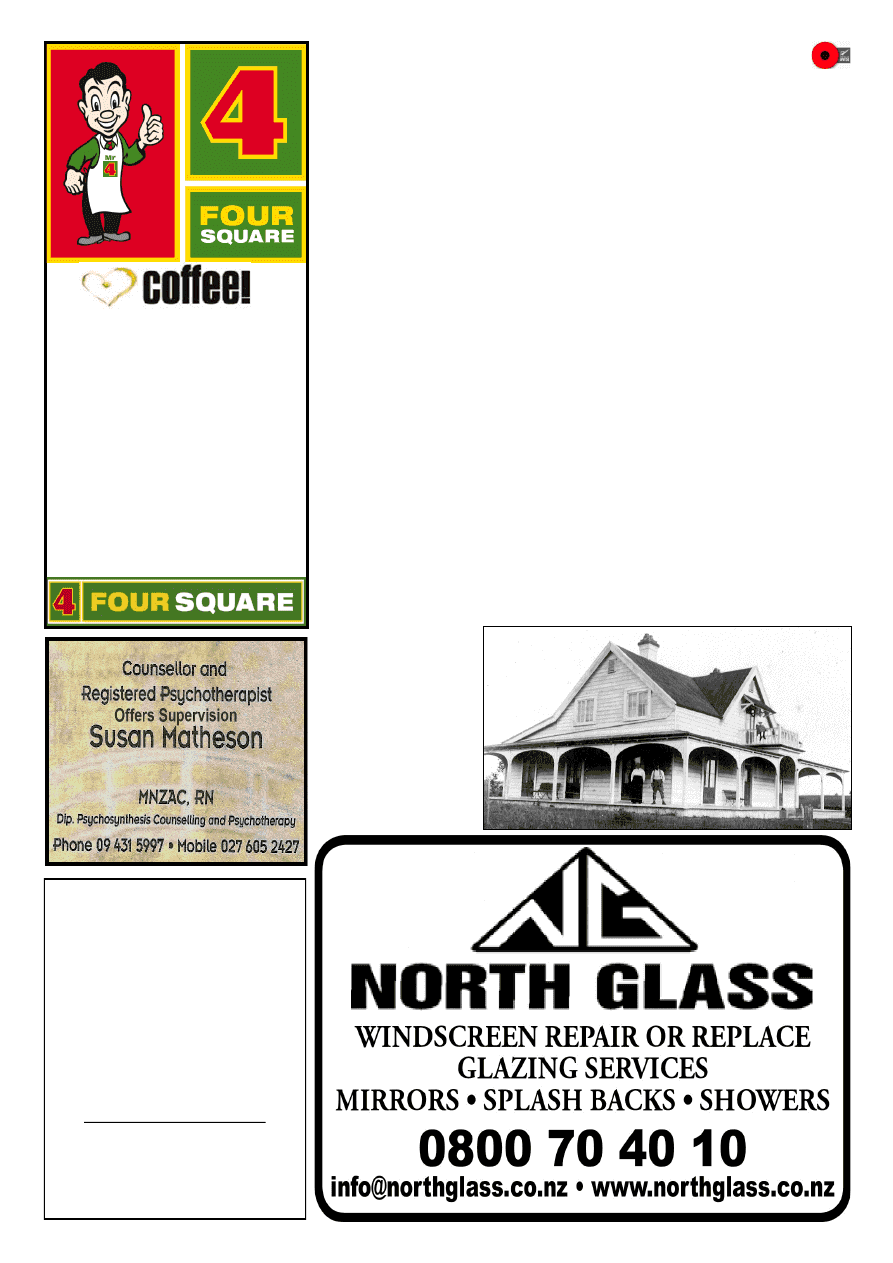 www.kaiwaka.co.nz 
Kaiwaka Bugle - 18 August 2015 
Page 17 
 Luv Coffee Express Machine in 
Store Now! 
Freshly ground Atomic Coffee 
Beans with each cup 
All types of coffee from 
Espresso to Mochaccino 
Yummy Hot Chocolate as well 
Small Cup $3-00 Large Cup $4.00 
Grab one on the go and pay at 
the checkout! 
Jaques Four Square 
Phone: 4312227 
1 Kaiwaka-Mangawhai Road, 
Kaiwaka.
Otamatea High 
School 
& Maungaturoto District High 
School 
50
th
 Reunion 
15
th
 – 17
th
 April 2016 
For more details visit:   
Contact: Phone: 0800 682628    
Email: ohs@otamatea.school.nz 
Registrations close 18
th
 March 2016 
KWMH Honours Board WW1: JW Richardson 17534 
Trooper  Joseph  William  Richardson, 
born  in  England  23  November  1894,  
was  killed  in  action  in  the  field  on  22 
September  in  Palestine.  From  his  war 
records  "After  the  action  I  helped  to 
bury  Richardson,  he  and  two  others 
were  buried  at  the  same  place  about  a 
mile  to  the  rear  of  the  bridge  at 
Danielford  on  the  Jordan.  The  graves 
were separate and each was marked by 
a  temporary  cross  with  name,  etc. 
Padre  Wilson  took  the  service.  Ref.  A 
Chapman AMR." 
It  is  also  recorded  that  he  was  a  farm 
labourer  for  TC  Coverdale,  Kaiwaka. 
Mr  Thomas  Coverdale  had  purchased 
"Pahtotara"  Station,  comprising  of 
2,400 acres, from Mr Fred Clarke who 
had  owned  it  for  the  last  forty  years 
where  he  bred  an  sold  stud  sheep  and 
cattle. 
Reference  Auckland  Star  14  April 
1915, page 6.
Further 
information 
about 
the 
Coverdales is in the book Centennial of 
Kaiwaka  1859-1959:  Page  29  -
"Charlton's  property  passed  to  Mrs 
Clayton,  on  whom  Jane  Mander  based 
her character, Mrs. Brayton. Her son by 
a former marriage was Fred Clark, and 
their  property  included  those  now 
owned  by  the  Mills  family.  G.  H. 
Greenway,  Joe  Littin,  H.  T.  Gubb,  T. 
G.  Bowmar  and  others.  Charlton  had 
considerably  increased  his  original 
holding  and  Clarke  also  bought  land, 
including 
Pukenui 
block, from Mander and 
Bradley.  Clarke  sold  to 
[Thomas] 
Coverdale, 
father 
of 
the 
eye 
specialist,  who  cut  up 
the property and sold to 
the present owners."  
Also  from    Centennial 
of  Kaiwaka  1859-1959, 
page  62  "THE  GREAT 
NORTH  ROAD  One 
winter  of  the  teens,  so 
bad  was  the  main  road 
that  a  few  chains  on  the  south 
side  of  W.  Ross's  home  (now  I. 
Marshall's)  [Marshall  Road  area]  a 
tramp  was  found  completely  bogged, 
without  a  hope  of  extricating  himself. 
The  one  to  the  rescue  was  Harry 
Webster, who, on horse-back, was able 
to  pull  the  poor  victim  out.  His  hat 
remained on top of the mud to be seen 
for a long time afterwards. 
Another  of  the  many  stories  told  of 
experiences with the muddy roads, was 
in  1917,  when  the  saddled  back  of  a 
horse was seen by Logan Balderston in 
a  hole  on  the  old  Maungaturoto  Road, 
below where Carl Stewart's house now 
is.  The  rider,  a  commercial  traveller, 
could not be seen. Only his coat was on 
the  bank.  Upon  investigation  two  men 
coming across a paddock were found to 
be  the  rider  and  Howard  Coverdale, 
who lived where A. J. and S. V. Mills 
are today (Dr Howard Coverdale, eye-
specialist  in  Auckland,  today).  The 
three  men  could  not  get  the  horse  out 
so  they  went  for  Charlie  Stewart 
(where  Glen  Stewart  lives),  who,  with 
his team  of  horses,  managed  to do  the 
job.  To  show  their  appreciation  the 
firm  that  the  traveller  represented 
rewarded the three rescuers each with a 
501b, bag of flour." 
Photo: 1920 George and Fanny Mills on 
verandah of Totara Downs/Ashton Grange, 
built by Mrs Clayton. now in Horeke.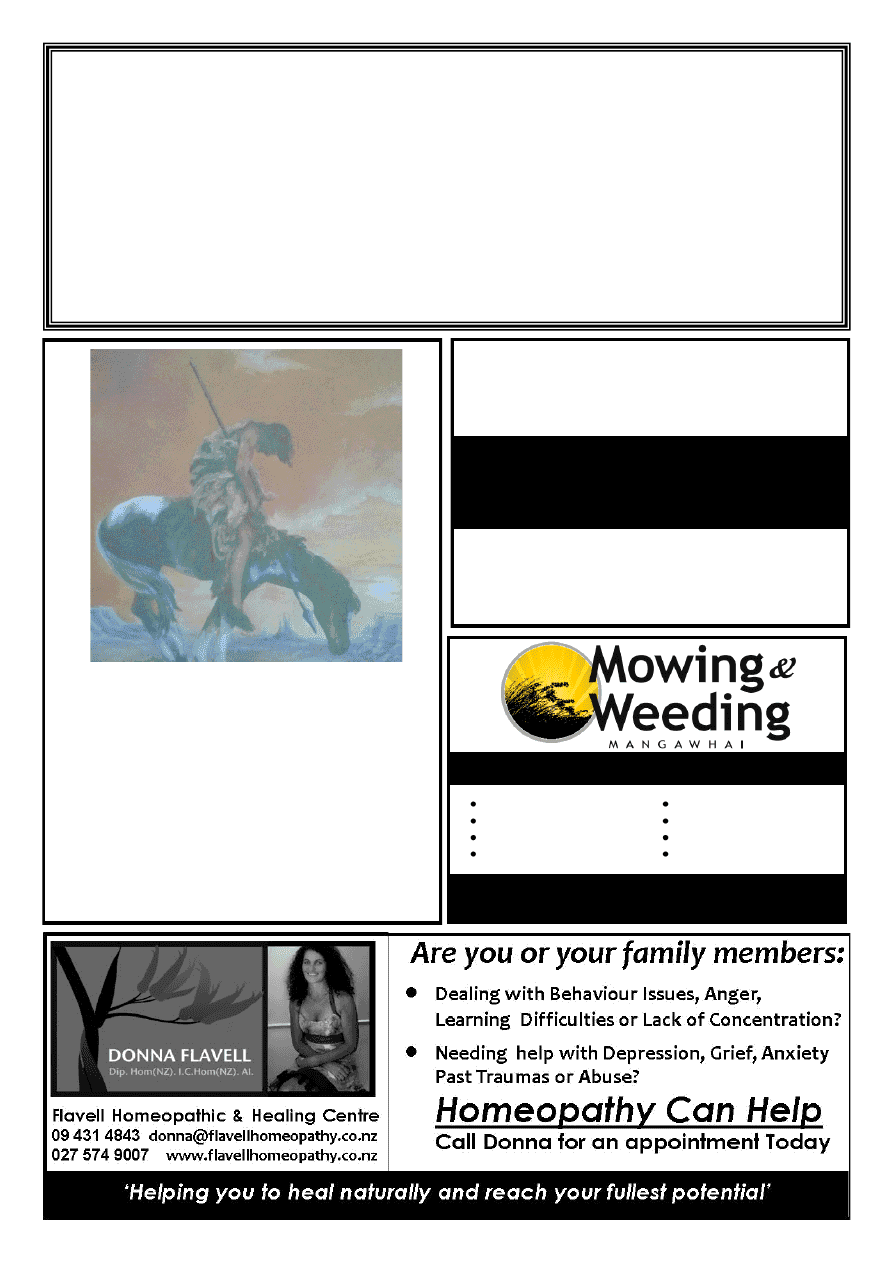 Residential · Commercial · Body Corporate · Sub-divisions 
Lawn & Section Mowing 
Landscaping 
Section Clearance 
Rubbish Removal 
Garden Maintenance 
Make-overs 
Hedges 
Odd Jobs 
Free Phone 0508 80 70 60 
g.a.s. Mangawhai
we have a 
GARDEN CENTRE 
for all your gardening needs 
Also a great range of 
STOCKFOOD 
Wide range of 
ORGANICS AND FRESH LOCAL PRODUCE 
All your motoring needs are taken care of by our friendly staff check us out… 
44 Moir Street, Mangawhai (09)431 4242 
David Korach 
Your local Gib Stopper
DK PLASTERER LTD 
0274769221 
dkorach6@gmail.com 
Trails end spiritualist church  
Last Sunday of every month  
10am tea/coffee provided  
$5koha for all inquiries  
0211652629 evenings 099450753 
Trail.end@hotmail.com 
Bringing together light minded people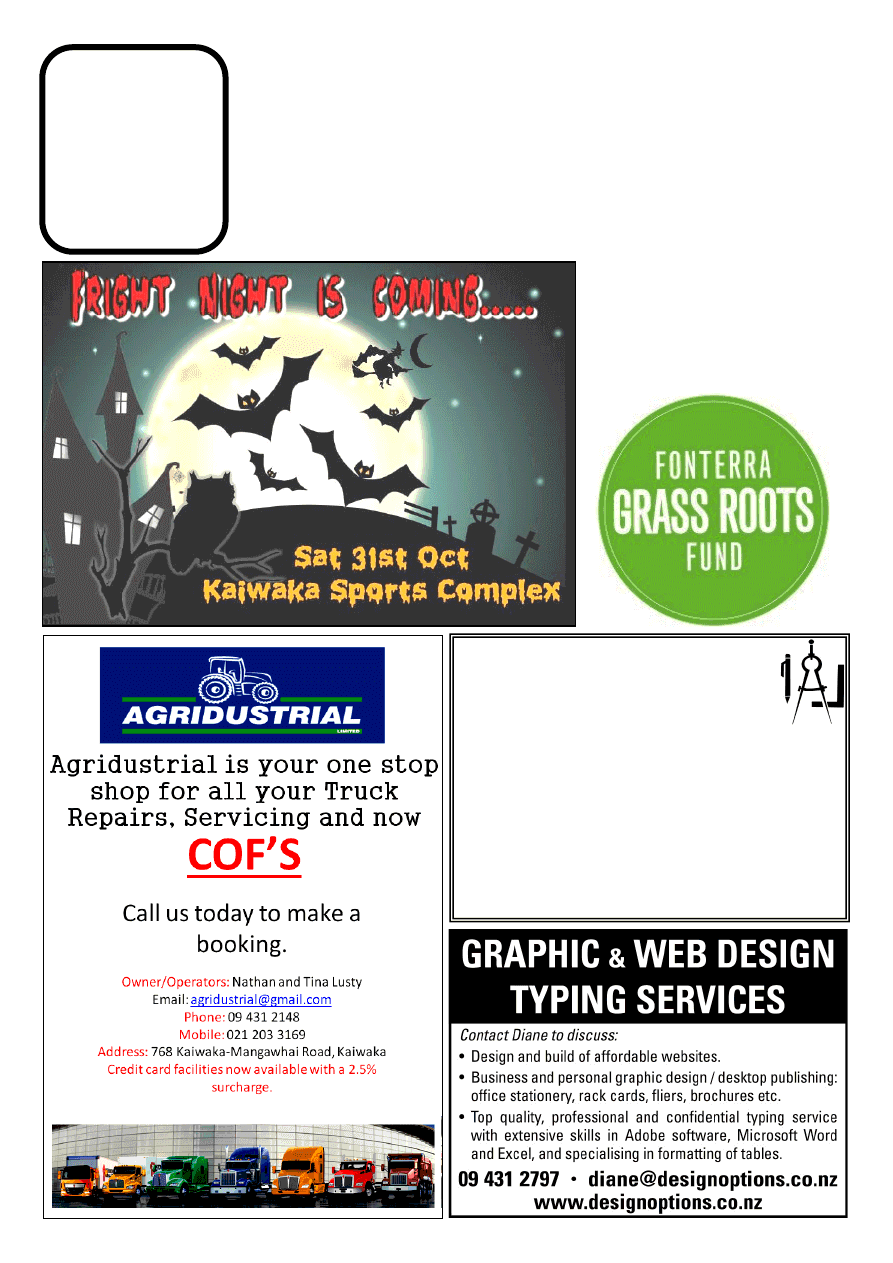 www.kaiwaka.co.nz 
Kaiwaka Bugle - 18 August 2015 
Page 19 
design drafting  
service 
Retired builder and manufacturer with over 40 years  
experience in the building industry is offering a design 
drafting service  
for domestic housing, sleepouts and sheds.  
Plans formulated in consultation with clients, with 
working drawings completed and submitted to  
council for processing.  Extensive practical experience,  
able to identify & resolve problems. 
Please ring Mike Lean on 
09 431 2260  
          or 
021 431 196 
BEFORE YOU 
COMPLAIN… 
… have you 
Volunteered 
yet??? 
You  could  receive  up  to  $5,000  to  support 
your community project.  
The  wellbeing  of  our  local  communities  is 
important to us and over the last six years we 
have  proudly  helped  more  than  1202 
community projects all over New Zealand. 
Our 
seven 
Regional 
Sponsorship 
Committees  are  spread  across  New  Zealand 
and ensure that the local communities where 
we operate each get a fair share. 
We support projects that are in line with our 
values  of  quality,  safety,  wellbeing,  the 
environment, and fostering community spirit. 
Awards are granted for between NZ$500 and 
NZ$5000  and  applications  are  considered 
twice a year. 
Apply at facebook.com/fonterragrassroots 
To  be  considered,  your  initiative  or  activity 
must fit within one of these three categories: 
1. 
Bringing communities together 
2. 
Caring for our environment 
3. 
Making our communities safer 
Please  note:  to  be  considered  for 
sponsorship,  your  application  must  fall 
within  one  of  these  categories.  All 
viable  applications  are  evaluated  by  a 
regional  sponsorship  committee  - 
however each funding round we receive 
more applications than we can support. 
If your application is unsuccessful, you 
may consider re-applying next year. 
FONTERRA GRASS ROOTS FUND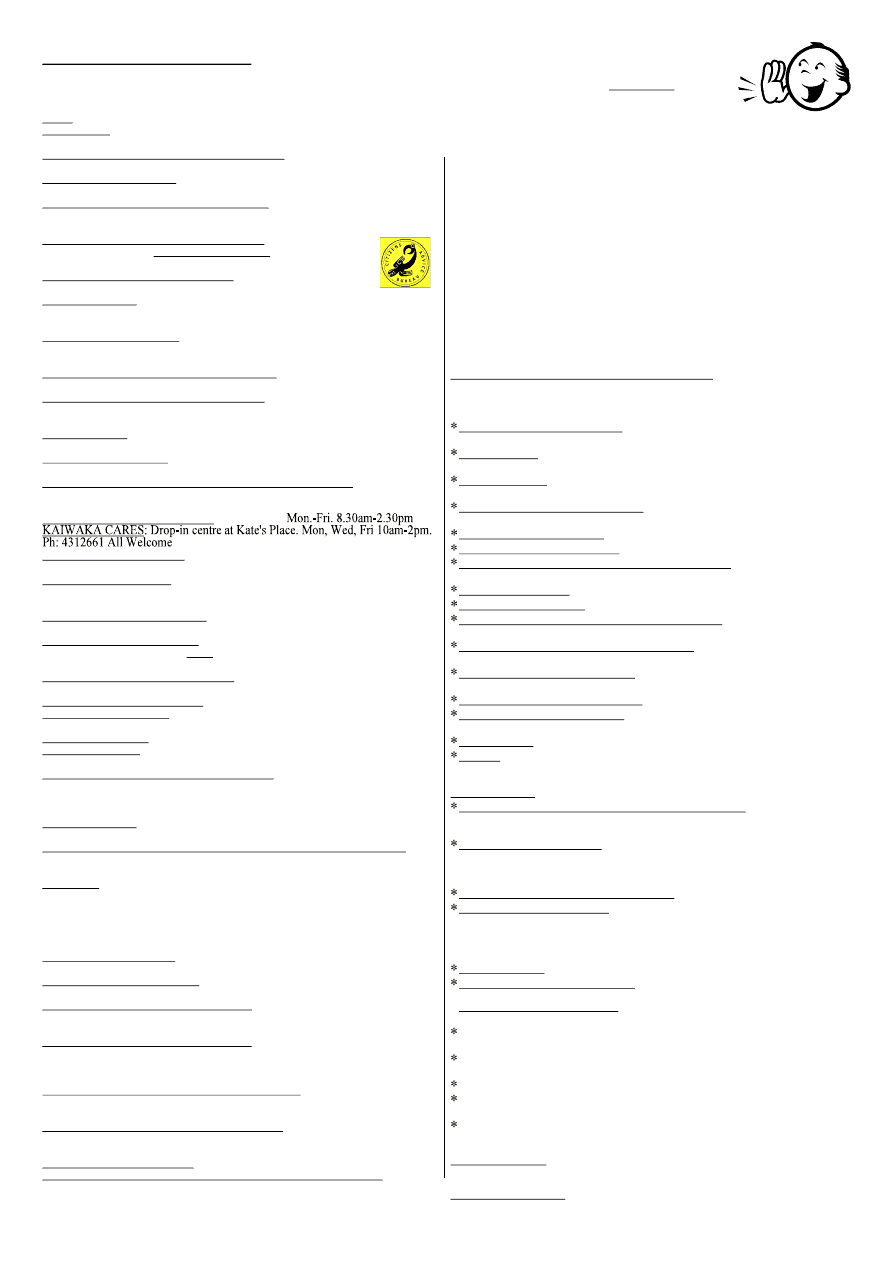 LOCAL SERVICES 
*St.John Ambulance 
111 or Freephone 0800 61 0066
*Fire phone 111     *Police phone 111 or 09 4311150
A A: Meets Wed., 8pm Kaiwaka Ph: 4312228, 4315543, 0800229 6757 
AL ANON: In recess, contact Ph: 4312228 
MINISTRY FOR PRIMARY INDUSTRIES - General inquiries Call 
Free 0800 008 333 
ASUREQUALITY LTD  (was AgriQuality) Call Free 0508 0011 22  
BUDGETING SERVICE, WELLSFORD:  Free confidential advice & 
support for all areas of personal finance. Ph (09) 423 7123 
CAB-Citizens Advice Bureau.Wellsford Ph: 4237333 
0800 367 222 email:cab.wells@xtra.co.nz  
DOG/STOCK /NOISE CONTROL 0800 105 890 
KATE'S PLACE with Govt.Day Agencies/Community Information /
Osteopathy/ IRD / Probation, etc Ph: 4312661 Hours: 9am-3pm. Mon - Fri 
FUNERAL SERVICES: Morris & Morris Ltd, 
Whangarei - Bev Jaques Ph:4312367 or 0800667747 
GRANDPARENTS Raising Grandchildren: Sarah Rogers Ph: 4312194 
HAKARU LANDFILL/Transfer Station:Open everyday except 
Tuesday10am-4pm.Ph4312629 Cost-$55 trailer load up to 1 cubic metre. 
Ph:4258567 - office 
HOMEOPATH: Donna Flavell Ph: 4314843 
INLAND REVENUE: Last Friday each month, 11-3pm Ph4312661 
KAIPARA DISTRICT COUNCIL www.kaipara.govt.nz:  
Help Desk FREEPHONE 0800 727 059  
KAIWAKA KOHANGA REO: Ph:4312620 
KAIWAKA CEMETERY: Ph: 4312045 
KAIWAKA LIBRARY: kaiwaka.library@gmail.com  
Mon. 4-6pm; Wed., Thurs., Fri., Sat.  10am-2pm Ph:4312539 
KAIWAKA PLAYCENTRE: Ph: 4312286. Hastie Lane 
Monday to  Friday  9.00am - 12 noon. 
KAIWAKA POST OFFICE:Ph:4312 431  
Post Code: 0573  for RD2  and  0542 for all Kaiwaka Post Office mail 
KAIWAKA PRIMARY SCHOOL: Ph: 4312309     
KAIWAKA SPORTS ASSN: Ph 4312005; 4312129 gym 
KAIWAKA ST JOHN: Manager Steve Rosser 09 4318403, 021 2316836 
LINKING HANDS Health Shuttle Ph 4314121 or 09 4318969 
NORTHPOWER: Faults Kaiwaka area 0800 104040 
OTAMATEA COMMUNITY SERVICES: Free counselling, parent 
coach, Family Support worker, budget advice, food bank. Mon-Fri 9am-
30m. Ph 09 431 9080 
PARENTPORT: Free, practical family support service Puhoi to Paparoa 
Ph or txt:  Dianne 027 2085093 
PERSONAL DEVELOPMENT COACHING, GROUP FACILITATION:  
Sabine Druckler 4312231 
PLUNKET: Kaiwaka - Kaiwaka War Memorial Hall: Clinic 1st Wednesday of the 
month; Coffee Group at 9:30. Mangawhai  - Rose Madsen Cottage, Mangawhai 
Domain,  Moir  St:  Clinic  1st  and  3rd  Monday  of  month;  Young  Babies  Coffee 
Group  2nd  and  4th  Monday  10  am;  Plunket  Playgroup  every  Thursday. 
Maungaturoto - Maungaturoto Congregational Church, 100 Hurndall Street East: 
Plunket clinic 2nd and 4th Wednesday. Cynthia 09 431 8187 or 027 675 3488 
PLUNKET HELPLINE -0800 933 922 (24 hours) 
PUBLIC HEALTH NURSE: Gloria Reid Ph: 094327634  
RETURNED AND SERVICES ASSN 733 Settlement Rd. Hakaru 
Ph.4312176 Bill Kerr (President) Ph.4314719 
TAITOKERAU COMMUNITY LAW: Free confidential legal advice and 
assistance, 2nd
Thursday
 of each month. Ph: 0800 155 529 for 
appointments.  
TE KOROWAI AROHA O NGATIWHATUA Ph: 4312675 
(The Cloak of Love of Ngatiwhatua) Support and Maori Consultancy.  
VETERINARY SERVICE MANGAWHAI: 
Ph: 4314535 Mon-Fri 8.00-5.00, Sat 9-12, a/h appt. 
WELLSFORD DOCTORS: Ph: 4238 086 
WOMEN'S WELFARE LEAGUE & Reaching Out For Youth:  
4 Kaiwaka-Mangawhai Rd, M Morgan 4312293 
Next Bugle Deadline midday Friday 28 August 2015
WHAT'S ON
PLEASE ~ do let us know what is on - email 
kaiwakabugle@kaiwaka.co.nz 
Advertising in WHAT'S ON is FREE  
*21Aug~Junior Rugby Rally Day, from 6pm KSA 
*21Aug~Woman in Gold, 7:30pm KWMH 
*21-22Aug~Mullet Muster, Pahi 
*23Aug~Tranznorth Otamatea Hawks Prize Giving, 12pm KSA 
*27Aug~Otamatea High School enrolment evening 4pm 
*28Aug~Daffodil Day 
*28Aug~Kaiwaka School sports day interchange 
*30Aug~Fast Five Netball starts 
*30Aug~Home, 2pm KWMH 
*4Sep~Big Eyes, 7:30pm KWMH 
*25Sep~Zonta scholarship applications closing date 
KWMH=Kaiwaka War Memorial Hall 
KSA=Kaiwaka Sports Association Complex 
See www.kaiwaka.co.nz for upcoming events. 
HOUSEHOLD RUBBISH COLLECTION - Kaiwaka Pick up: 
Mondays = Gr een bags (Northland Waste - 09 430 3273) 
Wednesdays = Blue bags and yellow r ecycling (at J aques $3.00 
and $1.50) (Kaurilands 09 4392146) 
 DIABETES  Support  Group  -for  Kaiwaka,  Mangawhai,  Wellsford 
10am, 3rd Friday of month Ph:A.Pert 4238242; J.Gardner 4238060 
 DRINK CAN 'tear tabs' - for Starship Hospital- please collect - 98 
Kaiwaka Mangawhai Rd, leave in mailbox, Ph. 4312625  
 GENEALOGY - Wellsford: 1st Thursday in month Ph: 423 7033; 
Waipu: 4th Monday in month Ph: 4312 725 
 GYMNASTICS  OTAMATEA  -  Tuesday  Ph:  Stephanie  022 
3624998 
 HAKARU PONY CLUB - Secretary Julie Rynne 09 4314520 
 KAIWAKA BADMINTON -Tuesdays 7.30pm Ph: 4312345 
 KAIWAKA  GARDEN  &  FLORAL  GROUP  -  2nd  Thursday  in 
month. Ph: 431 4767 
 KAIWAKA CUBS - Thursdays 5.30-7pm, Hakaru Ph:Bruce  4312542 
 KAIWAKA SQUASH - Mondays 7pm Ph: Barbara Thomas 431 5905 
 KNITTING FOR WHANGAREI HOSPITAL - 2nd Tuesday in 
month, Apple Basket 10am Ph 4314827 
 MANGAWHAI COMBINED PROBUS CLUB - 2pm, 3rd 
Thursday month, Senior Citizens Hall Mangawhai. Ph: 4315777 
 OTAMATEA GREY POWER - Kath Pattinson 09 431 8960, 1pm 
last Wednesday of month, Anglican Church Hall, Maungaturoto 
 PT CURTIS CRUISING CLUB - Jean Ph: 4312 246 
 RSA,Hakaru & Dist.Women - meet 1.30pm 4th Thurs in month Ph: 
4314 668  
 TRAMPING - Mondays 9am-2:30pm  Karen Ph: 4312 090 
 YOGA - Tuesdays 6:15pm, Friday 8:30am Kaiwaka WM Hall Carla 
Ph: 021 296 8794 
CHURCHES:
Kaiwaka Family Church - Your Community Church: Sundays 10am & 
6pm. Youth Service Mondays 6-8pm. Ph: Tawhiri 4312571 or Paul 
4312068 
St Paul's Anglican Church 1st Sun. 9.30 am (Eucharist), 3rd Sun. 9.30 
am (Family Service). Contacts:  Church Office 09 431 4122; M. 
Hargreaves 431 2295; C. Bygrave 431 2057; or Rev. Wayne Thornton 
Ph 431 5650 
Church of Christ the King, Mangawhai:9.30am every Sunday 
St.Mary's Catholic Church: Maungaturoto – Griffins Road, Saturday 
evening Vigil Mass 6pm; Mangawhai – Senior Citizens Hall, Sunday 
Mass 8:30am; Wellsford – Matheson Road, Sunday Mass 10:30am; 
Mid-week Mass times and all enquires to Fr. Bill Fletcher – phone 423 
8170 
Baptist Church: Sun. 10.30am Mangawhai Snr Cit.Hall.Ph:4312339 
Cause Way Church Mangawhai: Sundays 10.15am, Mangawhai 
Community Recreation Centre, Insley St. Ph: 09 4314782  
St.Pauls Archie Bull Hall HIRE  $20 half day, $40 full day per hire, R. 
Morgans, Ph 4312365 
Kaiwaka  War  Memorial  Hall  HlRE  -  Phone  4312725  or 
kaiwaka.hall.bookings@gmail.com 
Hakaru Community Hall HIRE -Ph. 4312256 or 4312110 
Te  Pounga  Marae  queries  -  R.  O'Leary  4312  423,  J.Nathan  021  186 
7382 
Kaiwaka  Sports  Association  hire/queries  -  C.  Anderson  4312051  or 
kaiwakasports@gmail.com
Justice  of  Peace:  B.FJaques;  L.Donaldson;  A.F.Hargreaves,  S.Dalziell, 
W.Howard  -  please  phone  to  make  sure  they  are  available 
www.justiceofthepeace.org.nz 
Marriage Celebrants: L.Donaldson; A.F.Hargreaves; C.Rosseels