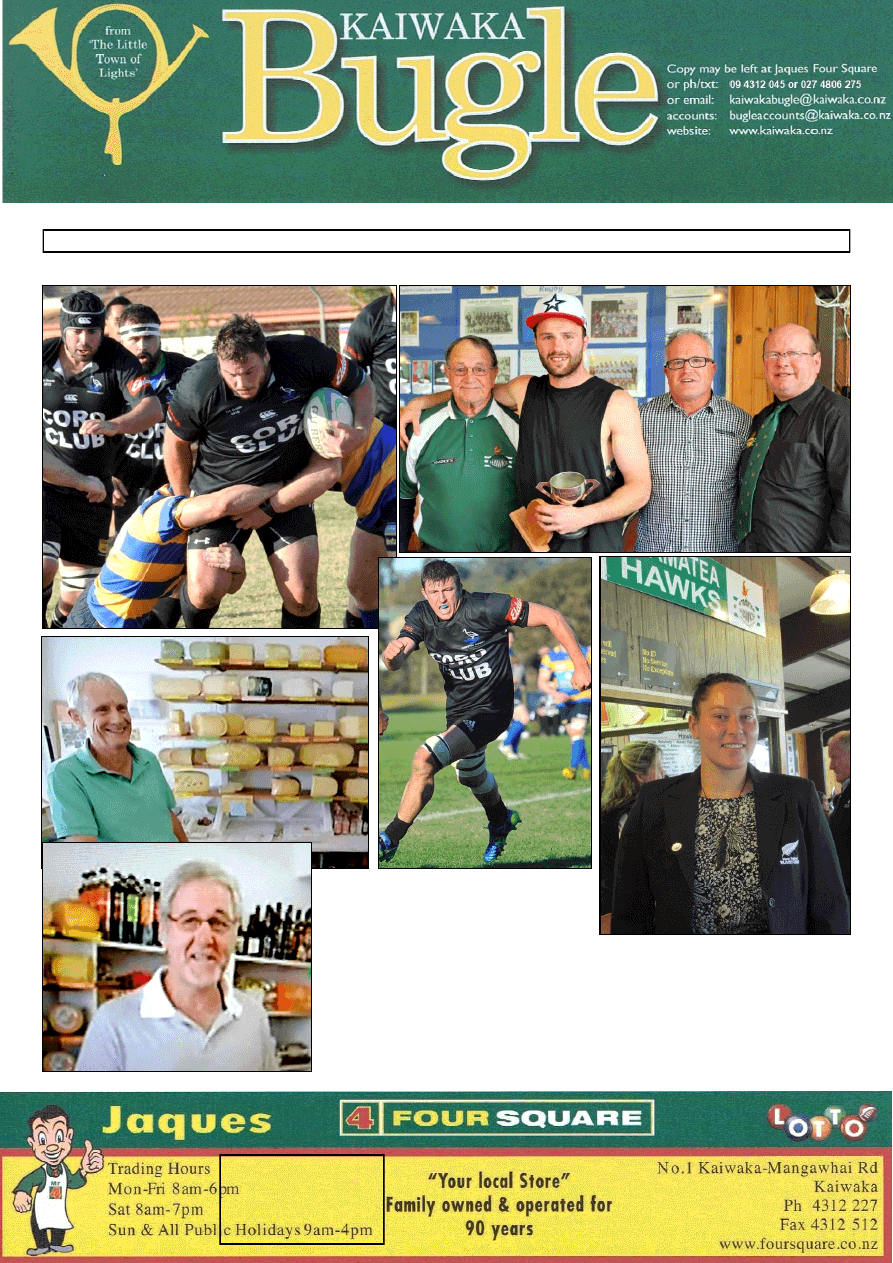 www.kaiwaka.co.nz 
Kaiwaka Bugle - 1 September 2015 
Page 1 
 No: 17
1 September 2015 
New Winter Hours: 
Mon-Tue,Thu-Fri: 8am-
6pm; Wed: 8am-6:30pm;  
Sat: 8am-7pm;  
Sun: 9am-5pm 
Top left and middle: Daniel Dowson, 
former  Kaiwaka  lad,  playing  for  the 
Griffith  Blacks  in  NSW,  Australia. 
Top  right:  Otamatea  Hawks  Senior 
Rugby: Peter Hargreaves, Dan Hawkins (captain of Northland ITM rugby 
team), Scott Massey, Kevin  Robinson, at  their prizegiving. Middle left 
and bottom: Keith Draper, Ad Clarijs, and the Kaiwaka Cheese Shop on 
Pete  &  Pio  recently;  Ad  opened  the  shop  in  1988.  Middle  right:  Black 
Ferns  rugby  forward,  Aleisha  Nelson  was  the  guest  speaker  at  the 
Otamatea  Rugby  Prizegiving;  contact  with  our  club  was  made  after 
seeing  her  wearing  a  HAWKS  shirt  at  practice;  the  Kaihu,  nurse  says 
hard work comes before success. More photos on page 15. 
KAIWAKA PEOPLE IN THE NEWS AND ON TV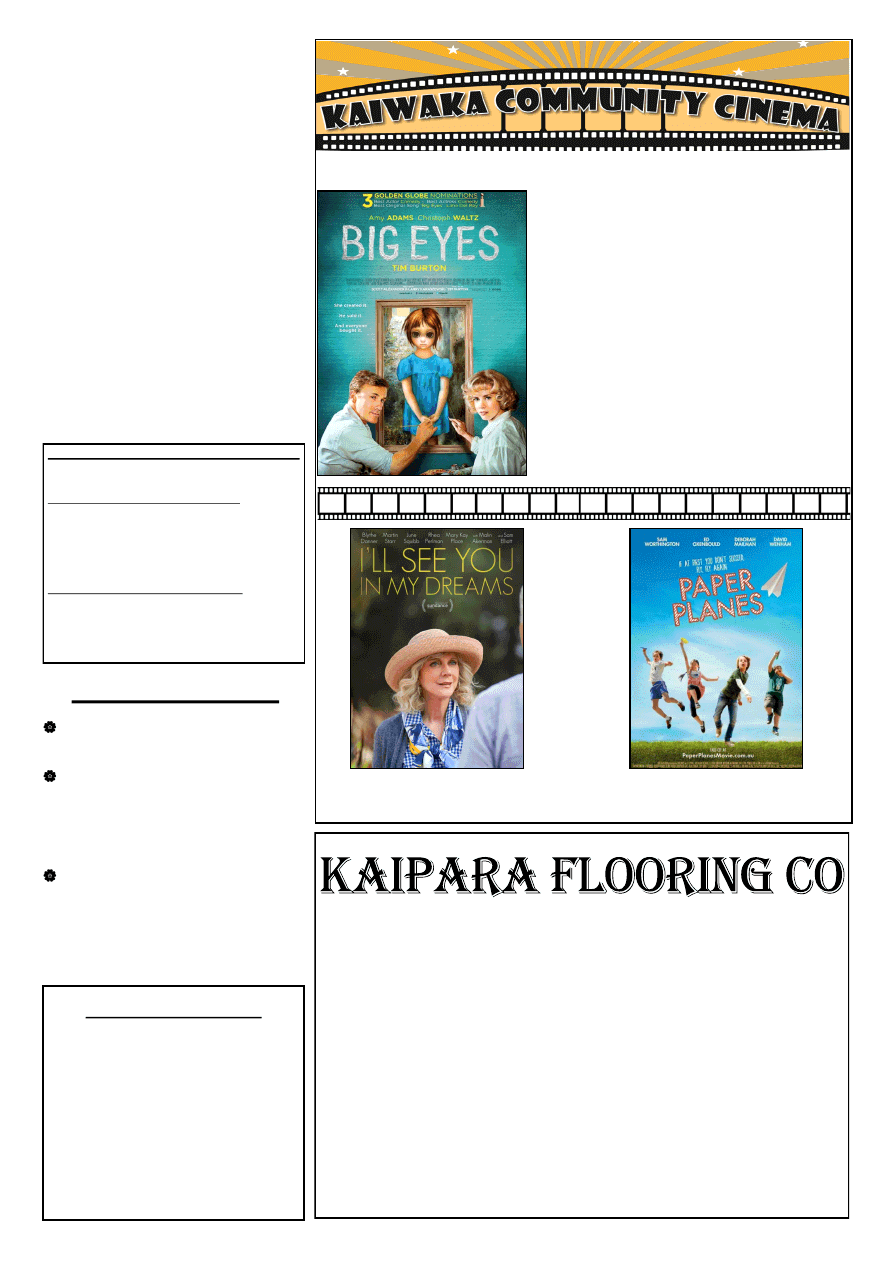 ABOUT TOWN 
Our  condolences  to  the  families  of 
Jean  Phillips  and  Ina  Baldwin,  who 
passed away recently. 
Don't forget you can find your local 
Justices of the Peace on the back page 
of  every  Bugle,  in  the  phone  book, 
and  at  www.jpfed.org.nz.  There  are 
five in your community - Brian, Tony, 
Lenore, Scott and Wendy. 
North  Kaipara  Transport  are 
opening  a  rubbish  and  recycling 
business in Maungaturoto;  the prices 
will  be  the  same  for  rubbish  as  the 
Ureititi  transfer  station  and  recycling 
will be free! More details to come. 
KAIWAKA BUGLE No. 17 
1 SEPTEMBER 2015 
CONTENTS 
Page 3: Public Notices, Classified 
Page 5: Eastern United JMB Rugby 
Page 7: Kaiwaka School 
Page 9: Kaiwaka Sports Association 
Page 11: Kaiwaka Cares, Pt Curtis 
Page 13: Historical Note 
Page 15: Kaiwaka in the News 
Page 17: Kaiwaka Library 
Page 19: advertising 
Bugle 18 will appear 15 September 
Contact for advertising, reports, articles 
or information can be made by 
Email kaiwakabugle@kaiwaka.co.nz 
Ph: 09 4312 045 (Lindsey) 
Txt:  0274 806 275 (Wendy) 
Copy  may  be  left  at  Jaques'  Four 
Square.
At Kaiwaka War Memorial Hall . Adults $10, Kids (under 16) $5, Family Pass (2 adults + 3 children) $25 
Kaiwaka Bugle Advertisements 2015: 
All 
copy 
and 
queries 
to: 
kaiwakabugle@kaiwaka.co.nz 
Classified  $3  (max  30  words);  1/16  page 
$4; 1/8 page $6; 1/4 page $12. 
Payments can be made online, posted or 
left at Jaques Four Square Store. 
Accounts: 
bugleaccounts@kaiwaka.co.nz 
The  Kaiwaka  Bugle  is  a  community 
newspaper run by volunteers.   
Articles, etc. printed are not necessarily 
the opinion of the Bugle Team. 
I'll See You In My Dreams 
Friday 18 September 7:30pm (PG13) 
Paper Planes 
Sunday 27 September 2:00pm (G)
Big Eyes 
Friday 4 September 7:30pm (M) 
A  drama  about  the  awakening  of  the 
painter 
Margaret 
Keane, 
her 
phenomenal  success  in  the  1950s,  and 
the  subsequent  legal  difficulties  she 
had  with  her  husband,  who  claimed 
credit for her works in the 1960s. 
Director: Tim Burton 
Starring:  Amy  Adams,  Christoph 
Waltz, Danny Huston, Terence Stamp. 
32 HURNDALL ST MAUNGATUROTO 
Ph: 09 9469886 or 021 515 415 
Carpet, vinyl, laminate wood look  flooring, vinyl planking, 
sanding & polyurethane service. 
Carpet Short Ends from $79pm + GST 
Vinyl D.I.Y. peel n stick tiles $10sq mtr + GST. 
Free measure & quote.   
Mobile Service 
Phone Christine or Howard anytime 
Open Saturdays by arrangement. 
Kaiwaka Bugle 
Founded May 1978 
Copies available in Kaiwaka at Jaques Four 
Square, Kaiwaka Postal Centre, Shamrock 
Service Station, Celena's Gifts, Animal Health 
Centre. Also outlets in Maungaturoto, 
Mangawhai and Paparoa. 
Can be viewed online at  Facebook or 
www.kaiwaka.co.nz/Bugle  
Or a copy can be posted to you if you supply 
stamped, self-addressed DLE envelopes.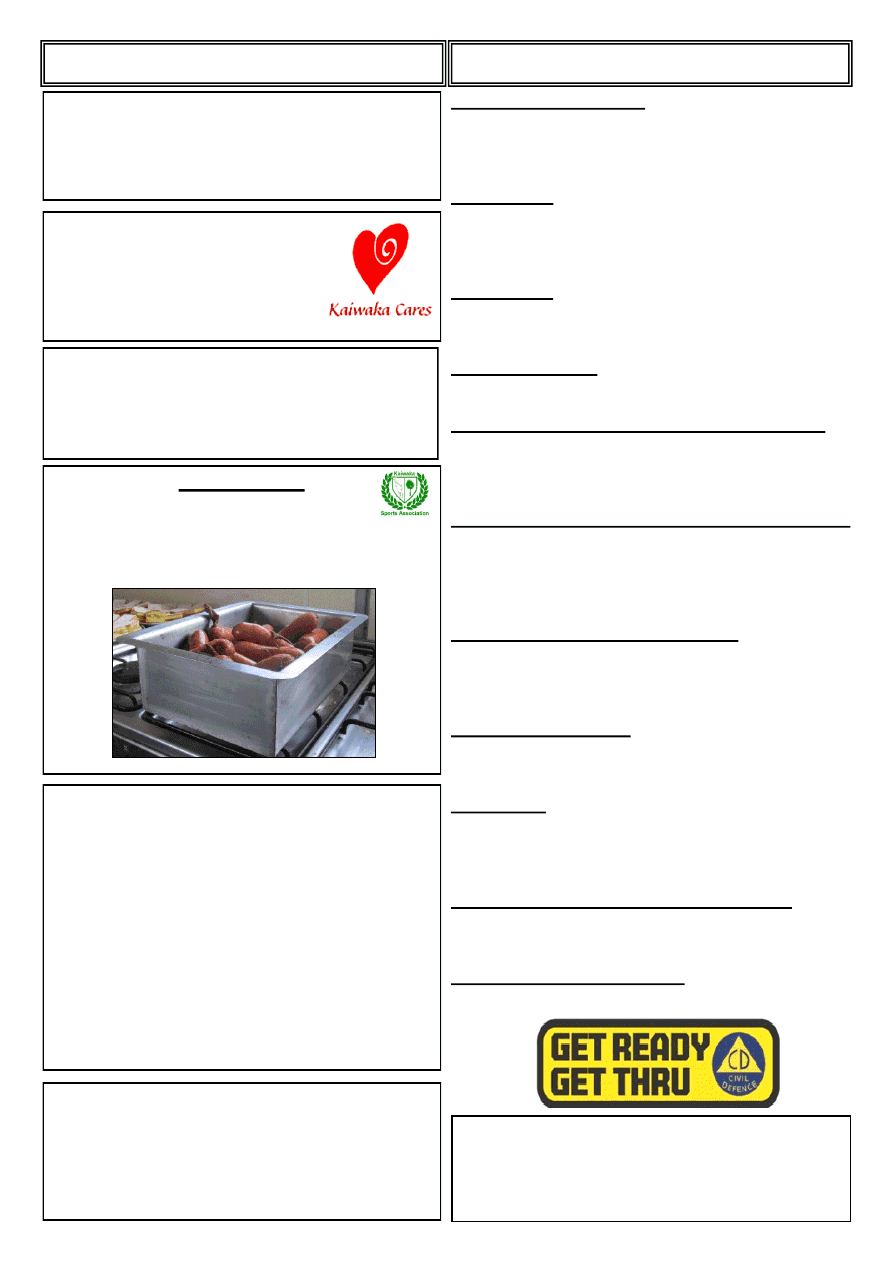 www.kaiwaka.co.nz 
Kaiwaka Bugle - 1 September 2015 
Page 3 
PUBLIC NOTICES 
CLASSIFIED 
SITUATION  VACANT:  General  worker  for  The 
Coffee  Pot  &  Gateway  North  Motor  Lodge. 
Experience required, barista & kitchen skills. CV only 
to info@gatewaynorth.co.nz 
FOR  SALE:  Original  wood  stove.  Esse  Century 
cooker.  Been  installed  for  eighteen  years.  Wet  back, 
double oven , white and black enamel. Working order 
$2,200.00 Ph 4312 605 Karen 
FOR  SALE:  Jigsaws  -  Wasjig  1000  piece,  $4  ea 
second  hand,  11  different  editions,  Ph  John  0274 
882774 or 4312400 
HAY  FOR  SALE: $10 a conventional bale 4312006 
or 021 1570870 
IT'S TIME TO SPRAY FOR ONEHUNGA WEED! To 
enjoy  a  prickle  free  lawn  this  summer,  call  or  email 
Mowing  and  Weeding    09  945  2160  or 
mowing.mangawhai@ubernet.co.nz 
JILL SHIRES HOLISTIC ANIMAL THERAPIES: 
Cranio  Sacral  Therapy,  Herbal  Remedies  & 
Diatomaceous Earth for Pets, Horses & Farm Animals. 
www.jillshires.nz    or  Ph:  431  2080  Based  in  Oneriri 
Road 
PLANTING  AND  LANDSCAPING:  for  all  your 
advisory,  planting  and  maintenance  needs;  20  yrs 
experience; Pete Worsfold 'Sound Landscapes' Ph 021 
825 970 
BERYL  NOZEDAR:  (Middleton)  International  
Clairvoyant.  Numerology,  Tarot,  Clairvoyance,  
Mediumship. $60 for hour includes CD. Ph: 431 2080 
MASSAGE:  Relaxing  massage,  Energy  Work, 
Holistic Pulsing. Engine not running well? Need a tune
-up? Call Pete Worsfold 'Monsieur Masseur' 021 825 
970 
CLOTHING ALTERATIONS & REPAIRS: Hems, 
Zips,  Dressmaking  Phone:  Win  4312027    or  027  444 
8358 Winsome Designs. 
FREE GRAZING WANTED: Small or large block. 
Can  do  some  fencing  or  water.  Phone  after  6pm 
4312006 
Proverbs 3:5+6 Trust in the Lord with all 
your heart and lean not on your own 
understanding; in all your ways acknowledge 
Him and He will direct your paths.
Market Day 
Mini Market Day on the 12th September. 
From 10.00am to 2.pm 
At 134 Kaiwaka & Mangawhai Road, Kaiwaka. 
If you would like a stall please email to 
jennysruralcraftshop@gmail.com 
LEASE GRAZING BLOCK 
WANTED 
We are looking for 20+ acres to lease for our horses - 
external fencing must be good but we can do our own 
internal fences if necessary. 
It would be great if there's a barn or any outbuildings 
on the block but not necessary and are open to long or 
short term lease.  We are a mature and respectful 
couple with years of experience on the land and with 
managing our horses.  Please phone Graeme 027 
4127548 to discuss. 
ST JOHNS 
Otamatea Area Committee  
Annual General Meeting 
 at Kaiwaka St John Station 21st September at 7.30. 
All welcome to attend. 
Community Drop-In 
Centre 
Open Monday – Wednesday – Friday 
10am – 2pm 
Free WIFI now available 
Need a JP? 
Dave Edwards will be at the  
drop-in centre @ Kate's Place  
every Wednesday 1.30-2.30pm. 
Photocopier available on site. 
MISSING:  
Please return the 4 missing bain maries (metal dishes 
for the food warmer) to the Kaiwaka Sports Complex 
or leave at Jaques Four Square.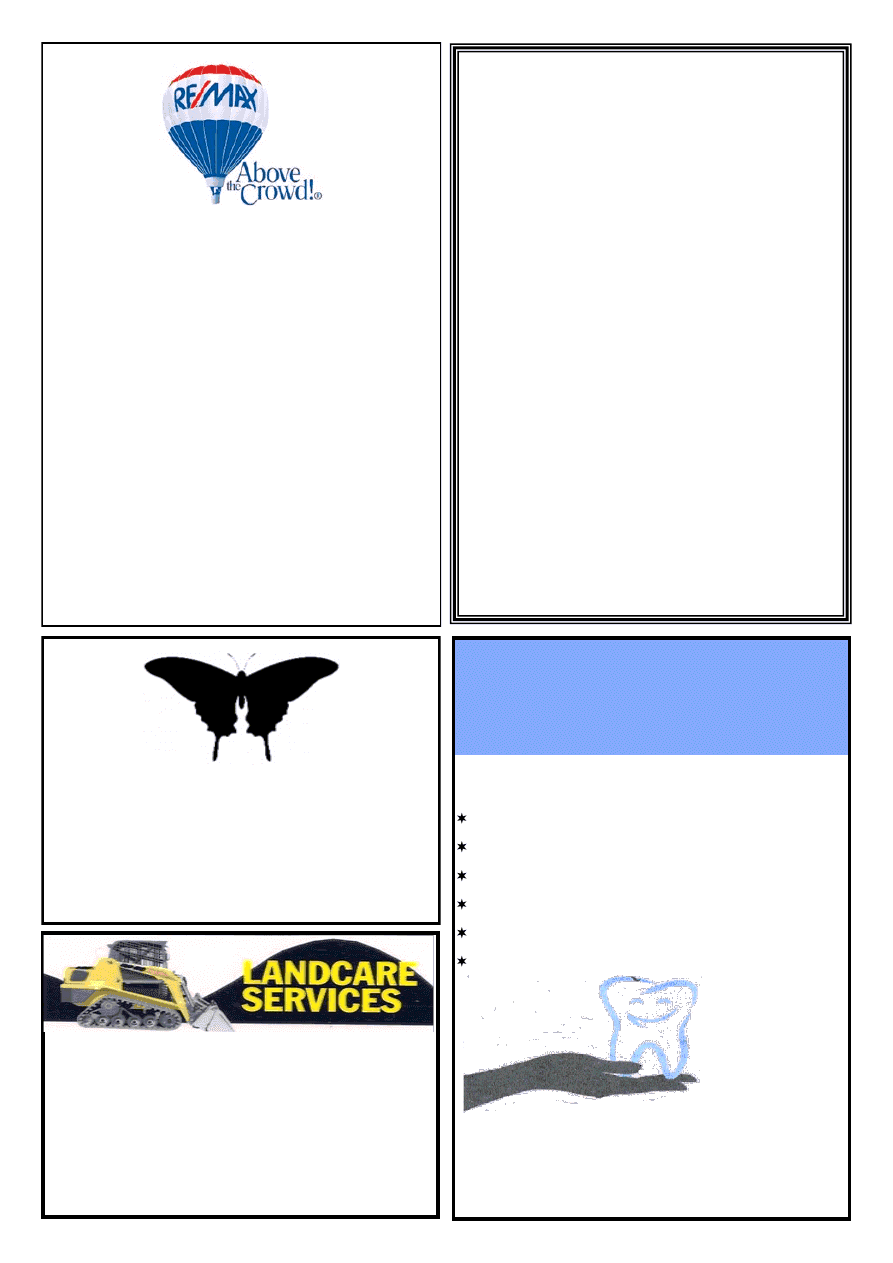 LANDSCAPING 
4 IN 1 BUCKET 
TRENCHER 
POLE HOLES 
ROTARY HOE 
COMPACT ROLLER 
OFFAL HOLES 
CAN SUPPLY WOODCHIP & POST PEEL 
5 TON TIPPER 
FOR RELIABLE AND FRIENDLY SERVICE CONTACT DAVE 
Dave Hyndman 
 
KAIWAKA 
PH: 09 4312302 
MOB: 021 431 238 
Gentle Dental 
Ruakaka 
We love to see you smile 
General  & Cosmetic Dentistry 
Emergency & ACC Treatment 
Denture & Hygienist Services 
Senior Citizen Discounts 
Free Adolescent Care 
Free WINZ Quote 
19 Ruakaka Town Centre 
Dr Sim Sood & Associates 
Ph:  432 8139 
Saturdays 
By 
Arrangement 
Open  
Mon-Fri  
8am-5pm  
g.a.s. 
Mangawhai 
we have now opened a 
GARDEN CENTRE 
for all your gardening needs 
Also a great range of 
STOCKFOOD 
Wide range of 
ORGANICS AND 
 FRESH LOCAL PRODUCE 
All your motoring needs are taken care of by 
our friendly staff check us out... 
44 Moir Street, Mangawhai (09)431 4242 
CHANGE CATALYST 
Glo Treadaway MANZASW 
Life Coach: Intuitive: ThetaHealer:  
 Create Positive Changes in Your Life! 
+0273638833 | 09 431 2209 
www.celestialconsulting.co.nz 
Beth Stone is your local  
Re/Max Associates 
representative.
I am available for chats anytime between 
10AM and 2 PM Tuesdays and Wednesdays in 
my ChatRoom in Kate's Place. Or by 
appointment. Join me for coffee and 
conversation.
Thinking about buying? Or selling? Or just 
wanting to talk over the options and 
understand more about the market? I can help. 
Use me as your sounding board. 
Phone Beth 0274 937 801 or call in. I look 
forward to meeting you.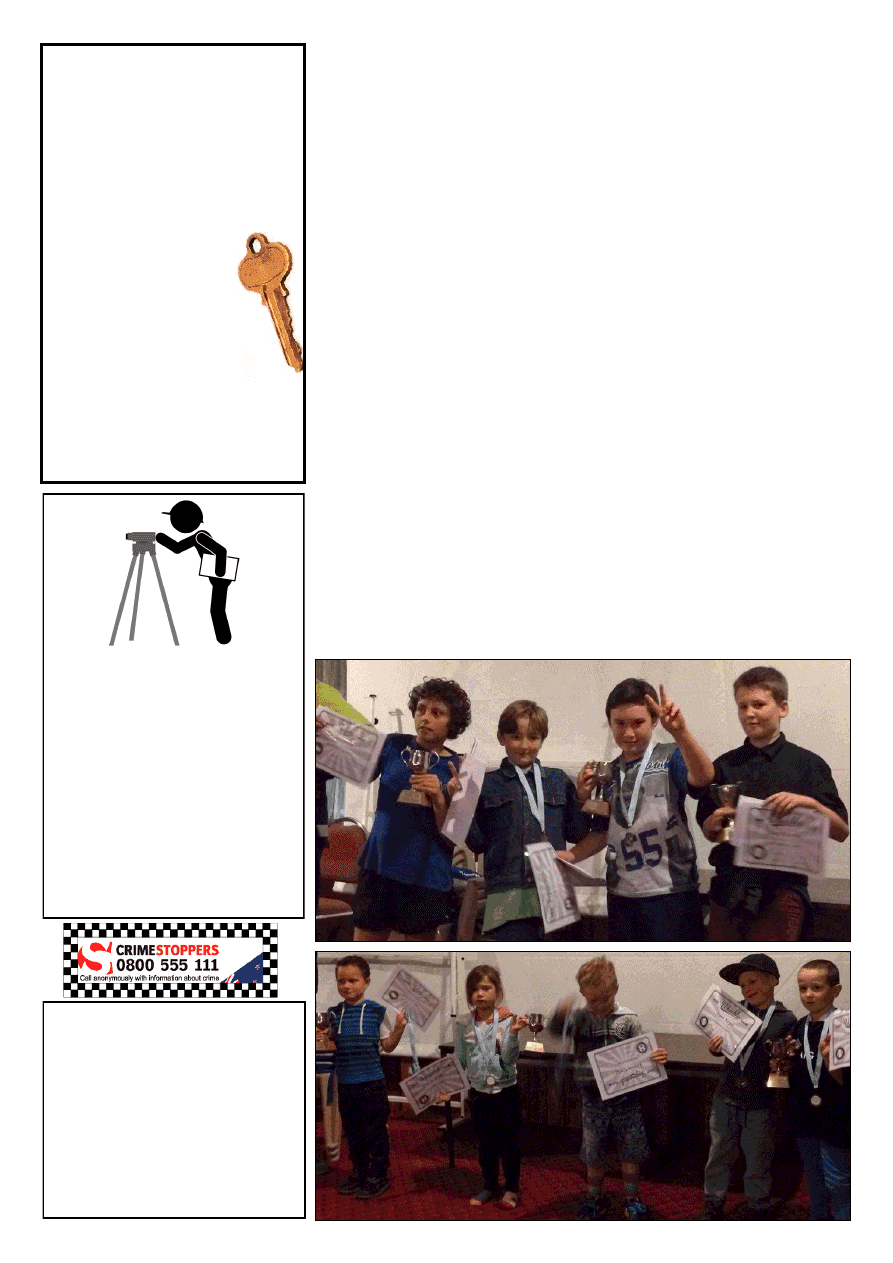 www.kaiwaka.co.nz 
Kaiwaka Bugle - 1 September 2015 
Page 5 
S.O.S Kaipara 
Support, advocacy, crisis and 
family therapy counselling, 
emergency housing to survivors of 
sexual abuse and domestic 
violence. Also Education 
prevention programmes for the 
community and clients.  
Office hours 9am to 3pm Monday to 
Friday 24/7 services available via the 
Police or phone 09 4396070 
Ken Urquhart 
KMU Surveys Ltd
467 Bickerstaffe Road 
RD 2 
Maungaturoto 0587 
Ph 09 431 8705 
Mob 021 161 2344 
kenurquhart@xtra.co.nz 
EASTERN UNITED JMB RUGBY 
Kaiwaka  
Hardware  
&  
Key cutting 
Phone 4312 063 
 022 041 6047 
kaikey2015@gmail.com
Keys Cut  
Household Hardware  
Curtain Tracks & Fittings 
Not there? Call Doug and he'll 
sort
it for you. 
(
Next to Kaiwaka Motorcycles
)
End of season report 
2015 saw us grow as a club in numbers 
of registered players - fielding two U7 
teams,  an  U9  and  an  U11s  which  we 
were  unable  to  do  last  year.  We  hope 
these  next  few  seasons  will  see  this 
growth  continue  and  hopefully  see  us 
have  the  ability  to  field  an  u13  again. 
All  of  our  fundraising  efforts  saw  a 
significant  increase  in  our  bank 
balance, cheers to all the people in the 
community  who  supported  us.  The 
concept of Rally Days where each club 
took  turns  in  hosting  all  teams, 
approximately  200  children,  worked 
really  well  and  will  likely  continue 
next season.  
Thanks  to  all  those  who  have 
contributed  to  our  successful  season  - 
the    parent  body,  those  who  attend 
meetings  and    hold  positions  in  the 
committee  -  Kate  KSA  rep,  Lish 
secretary,  Nomz  treasurer,  all  the 
parents who participated in running the 
rally  days  and  fundraising/organising. 
To  the  KSA  especially  Cheryl  for  her 
ideas  and  events  management  of  the 
rally  days  and  Carolyn  Dymock  at  the 
KSA  for  all  her  assistance  with 
finances.  To  the  local  businesses  who 
have  supported  our  club  in  various 
ways  -  Jaques  Superstore,  Te  Hana 
Orchard, Lyn and Eddie Coates, BMW 
Sporthorses  and  the  Three  Furlongs 
Bar  and  Grill.  Also  thanks  to  the  Mad 
Butcher  Whangarei  for  supplying  the 
fundraising sausages. Thanks to Lorena 
and Lish for organising the goodie bags 
for  all  our  registered  players.  Finally 
thanks  to  all  the  kids  for  playing  and 
the  parents  for  bringing  them  to 
trainings and games. 
Eastern held our annual prizegiving on 
the  26th  of  August,  the  club  was 
pleased with how well it was attended - 
the pot luck concept was great and very 
yummy  too.  As  we  know,  all  our  kids 
that  played  are  winners  for  getting  on 
the  paddock,  however  special  awards 
as below; 
U7  AKA The  Midgets:  Eastern  Blue  - 
Most  Improved  Shia  de  Ridder,  Team 
Spirit Cordell Smith, Player of the Year 
Luca  Nepia.  Eastern  Yellow  -  Most 
Improved  Leyton  Greig,  Team  Spirit 
Willow  Woodman,  Player  of  the  Year 
Zac Wakeling. 
U9:  Most  Improved  Ryan  Stirling, 
Team Spirit Wade Anderson, Player of 
the Year Hamuera Henderson. 
U11:  Most  Improved  Bo  Osborne  & 
Tai  Walker,  Team  Spirit  Branden 
Edwards,  Player  of  the  Year  Sam 
Woolley. 
Massive  thanks  to  our  coaches  and 
managers  for  the  2015  season  -  U7: 
Paul,  Matt,  Lance  Bruce,  Jody  G.  U9: 
Craig,  Marty,  Hayden  and  Jac.  U11: 
Justin, Tari and Nomz. 
Cheers and see you all in 2016.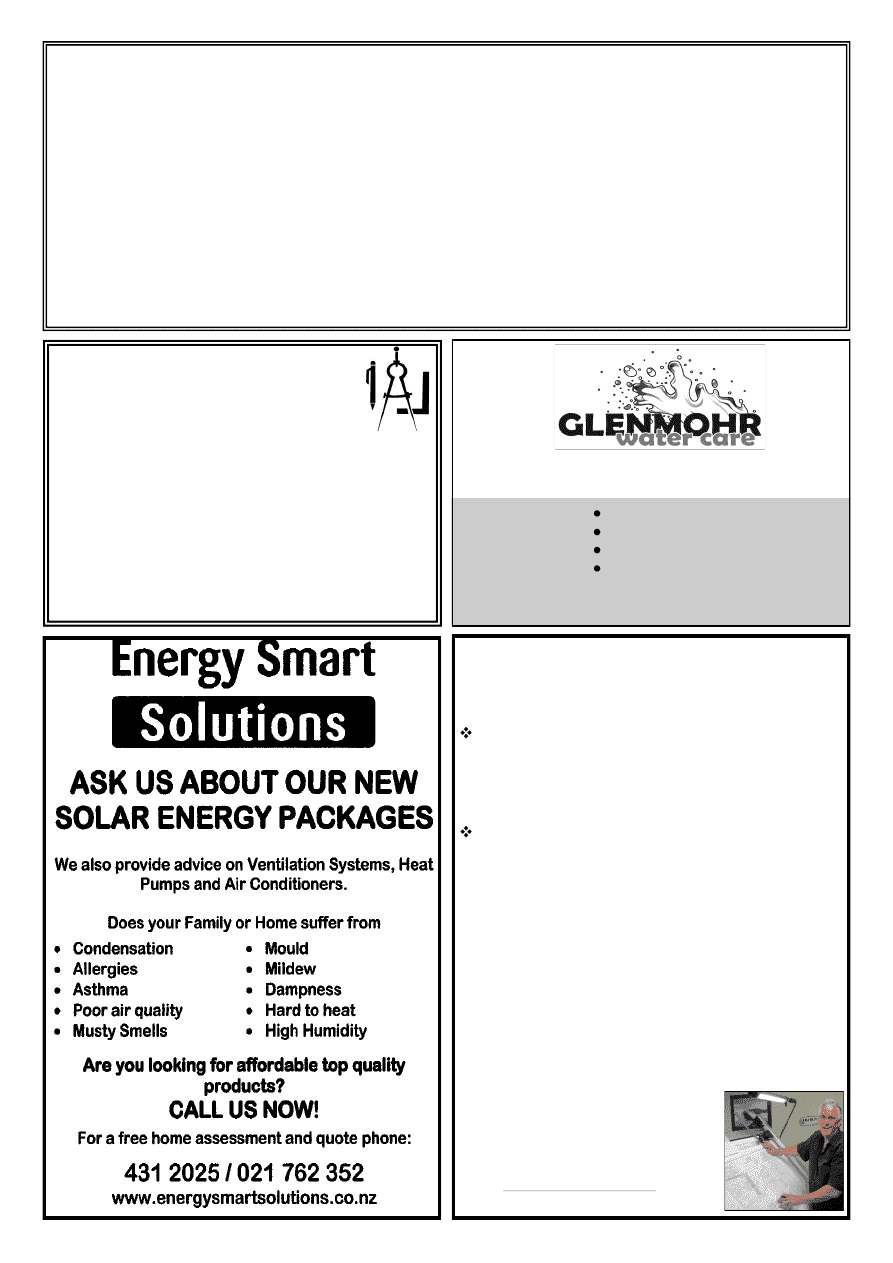 RANGANUI EARTHMOVERS 
  16T Excavator     
    (tilt, thumb & ROPS cab)     
  Transport Trailer 
  2 x 6 Wheeler Tip Trucks 
  Suppliers of All Grades of Metal & Topsoil 
If you want a proper job done with an experienced operator ring 
Grant on:  A/H  431-2131      Email  ranganui.dev@xtra.co.nz 
                      Mob  021845-246 
Driveways, House Sites,  
Drainage Dams, 
Section Clearing,  
Tree Work,  Rock Retaining Walls,  
Quarry Work, 
Basically Anything That a Digger Can Do 
design drafting 
service 
Retired builder and manufacturer with over 40 years  
experience in the building industry is offering a design 
drafting service for domestic housing, sleepouts and 
sheds.  
Plans formulated in consultation with clients, with 
working drawings completed and submitted to  
council for processing.  Extensive practical experience,  
able to identify & resolve problems. 
Please ring Mike Lean on 
09 431 2260  
          or 
021 431 196 
Water Tank Cleaning 
Keep your water safe & clean   
Removal of sediment, silt etc. 
Vacuum or full scrub 
Minimal water loss 
Phone Mark (09) 432 0655 or 0274 707607 
 ARCHITECTURAL BUILDING 
PLANS AND DESIGNS 
WRIGHT DESIGN 
QUALIFICATIONS 
Brian is a qualified designer (NZCAD) with over 40 years of 
varied experience in all types of building and is a registered and 
Licensed Building Practitioner in Design - L.B.P. 117345 
He ensures you will achieve the best from your budget with 
recommended excellent local contractors ready to competitively 
price and build your personal project quickly and efficiently. 
EXPERIENCE 
Brian's practical building and 40+ years of design experience 
means he can give you excellent advice and all the guidance 
needed for all your building needs 
v Wright Design offers free visits, consultations and all the ad-
vice you need on planning, design, building, contractors, coun-
cil permit applications, etc. 
"  Qualified and inexpensive designer – N.Z.CAD., LBP 117345 
"  Guaranteed design and working drawings 
"  Free site visit to your home or property 
"  Great service 
"  Great problem solver 
Call Brian ~Arrange a visit to discuss your needs  and obtain 
great advice and free quotation 
MAKE GOOD USE OF HIS EXPERIENCE and 
KNOWLEDGE 
WRIGHT DESIGN:  
360 Oneriri Road, Kaiwaka
Office 09 4312544   
Mobile 021 276 7389  
Email: 
www.wrightdesign.co.nz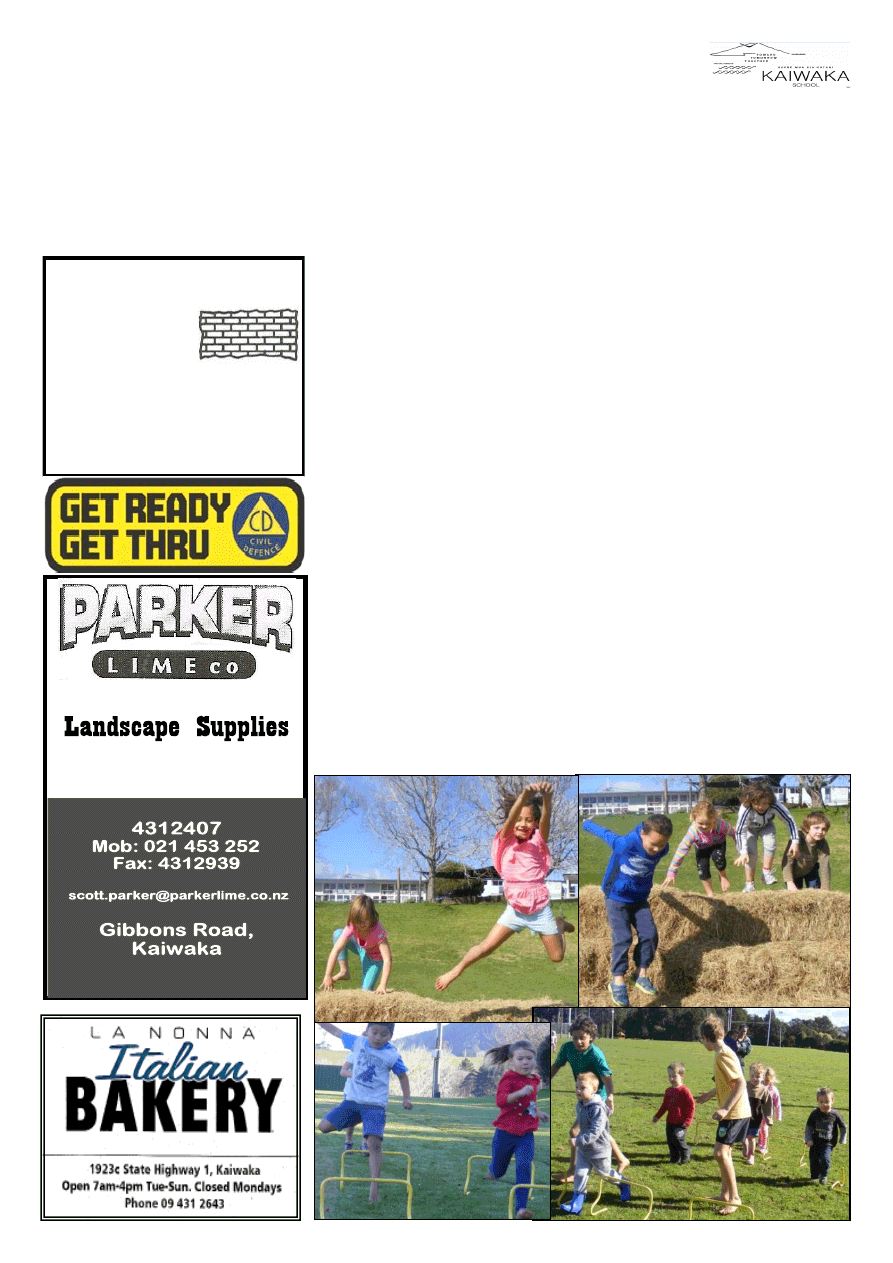 www.kaiwaka.co.nz 
Kaiwaka Bugle - 1 September 2015 
Page 7 
Congratulations to all the students who 
completed  the  school  cross  country 
competition.  The  weather  was  perfect 
and  all  our  students  participated  fully 
and  fairly.  Thanks  you  to  the  teachers 
who  set  it  up  and  who  prepared  the 
students  with  practices.  We  also  thank 
all  the  parents,  families  and  friends 
who helped or supported on the day. 
Thank you to the Room 5 parents who 
organised  the  PTA  fundraiser,  BIG 
BOYS'  BREAKFAST.  From  all 
accounts  it  was  most  successful  and 
enjoyed by lots and lots of families. A 
special thanks to Debbie Osborne, Lish 
Reynolds,  Lorena  Reynolds,  Rachel 
Johnson,  Mel  Gilligan  and  Maia 
Fairburn.  Approximately  $400  was 
fundraised.  
The  next  PTA  fundraiser  will  be  from 
the  parents  of  Room  6.  On  26th 
September  there  will  be  a  parents  and 
community  social  –  A  Masquerade 
Ball. 
Thank  you  to  Matt  Gribble  for 
constructing  a  climbing  wall  on  the 
middle playground for our kids. This is 
very  popular  and  we  are  grateful  for 
your generosity. The Board also thanks 
the  PTA  for  funding  the  materials  for 
this wall. Thanks to John Ferguson for 
organising  this  improvement  to  the 
playground.  Thanks  also  go  to  Adrian 
Buxton  for  mending  the  door  on  the 
school house garage. 
~Rosie Ellis 
Cross Country 
Thank you for all those that helped and 
came to support your children. It was a 
fantastic day with the children giving it 
their best.  
5  Year  Boys  -  1st  equal  Leyton  Greig 
and Cordell Smith , 2nd Nikau Tandy, 
3rd  Awaroa  Fairburn;  5  Year  Girls  – 
1st  Olive  Woodman,  2nd  Logan 
Burkill, 3rd Harper Dowson, 4th Chloe 
Henson;  6  Year  Boys  –  1st  Titan 
Strickland,  2nd  Hezikah  Fairburn,  3rd 
Jakob Buxton, 4th Paikea Littlejohn; 6 
Year  Girls  –  1st  Willow  Woodman, 
2nd  Gina  Ann  Smith,  3rd  Shia  de 
Ridder, 4th Ruby Stonex; 7 Year Boys 
–  1st  Toby  Lee,  2nd  Ben  Woolly,  3rd 
Zackery  –Ryan  Wintle,  4th  Joseph 
Walker;  7  Year  Girls  –  1st  Dalana 
Stonex, 
2nd 
Sienna  Burkill,  3rd  Pyper  Buxton,  4th 
Casey Greig; 8 Year Boys – 1st Keidis 
de  Ridder,  2nd  Egor  Shefer,  3rd 
Ricardo Franks, 4th Lincoln Morgan; 8 
Year  Girls  –  1st  Lisa  Van  Blerk,  2nd 
Lily  Wing,  3rd  Mya  Adolph,  4th  Jade 
Johnson  ;  9  Year  Boys  –  1st  Gareth 
Ferguson,  2nd  Hamuera  Henderson, 
3rd  Jacob  Kake  -  Moore,  4th  Lukas 
Rockell; 9 Year Girls – 1st Faith Pene, 
2nd Ashley Greig; 10 Year Boys – 1st 
Zac  Wing,  2nd  Branden  Edwards,  3rd 
Kiwi  Panui,  4th  Tai  Walker;  10  Year 
Girls – 1st Maia Fairburn, 2nd Devine 
Henderson,  3rd  Leayla  Routledge;  11 
Year  Boys  –  1st  Te  Kauri  Watene-
Kapea, 2nd Korurangi Watene–Kapea , 
3rd Bo Osborne. 
Parent Interviews 
These  are  on  Tuesday  22nd  and 
Wednesday 23rd September. Please go 
to www.schoolinterviews.co.nz to book 
your  interview.  The  Code  is  PZLG2. 
Alternatively  if  you  do  not  have 
internet  please  contact  Linda  in  the 
office. 
School Pool 
We are looking to open the School pool 
again over the Christmas holidays. We 
need two more dosers to support Craig, 
Sam  and Jody  during  this time.  If  you 
would  like  to  be  trained  up  to  be  a 
doser you will need to attend a course 
up  in  Whangarei.  This  course  will  be 
held on November the 25th 2015. The 
school will pay for the course with the 
understanding that you are happy to be 
timetabled  on  to  dose  the  pool  over 
summer.  This  commitment  will  be 
about  one  week  morning  and  night. 
Please contact the school if you would 
like  to  take  part.  The  more  people 
trained the less work for everyone. 
BRICK/BLOCKLAYER 
All aspects of masonry:  
Fireplaces, 
Restoration  
& Remedial Work. 
JAMES EAGLETON 
Tel. (09) 431 2514  
Mob. 0274 749 232 
jajueagles@yahoo.com.au 
210A Pukenui Road, RD2 Kaiwaka 0573 
Bulk Cartage 
KAIWAKA SCHOOL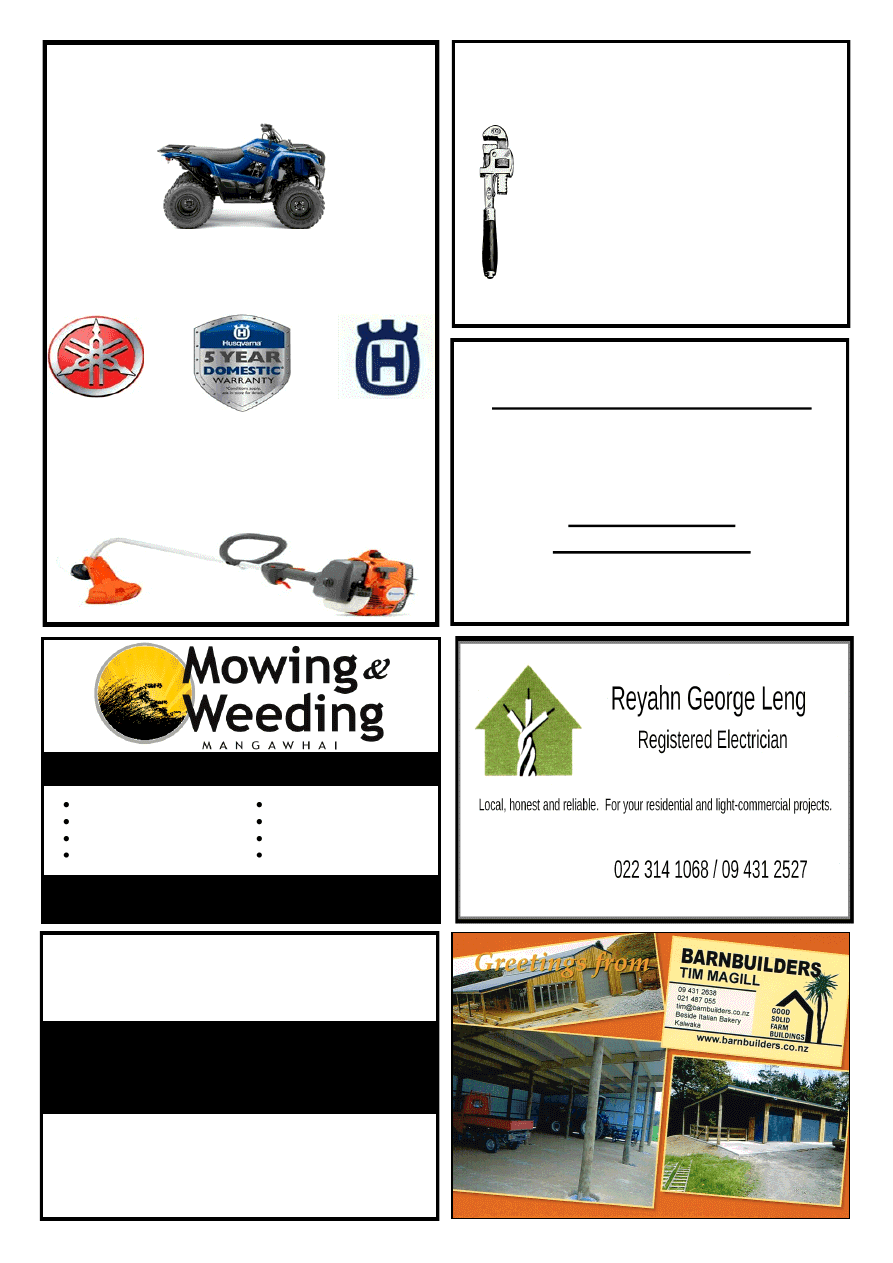 Natural Earth Ltd 
Landscape and Bobcat services 
 : Driveways  :Landscaping  :Retaining Walls 
 : Hole Boring: Land Levelling :Trenching 
 : Decks :Fences :Sections Cleared 
 : Plus much more
Tel 09 4312 885 
Mob 02102391280 
For A Fast Friendly Service  
Contact Tim Hicks 
BARRY CURTIS PLUMBING LTD 
REGISTERED CRAFTSMAN PLUMBER 
Phone 431 5572 
027 257 9884 
25 years' experience 
Friendly reliable service 
All plumbing & maintenance 
Alterations and new housing 
New wood fire installation 
Spouting 
Competitive rates
PROMPT EFFICIENT  SERVICE 
KAIWAKA 
MOTORCYCLES LTD
SALES – SERVICE – SPARES 
FARM BIKE SPECIALIST 
PHONE 09 431-2127 
10 KAIWAKA-MANGAWHAI ROAD, KAIWAKA
TRIMMERS FROM $249 - CHAINSAWS 
FROM $329 
YAMAHA 
HUSQVARNA 
Residential · Commercial · Body Corporate · Sub-divisions 
Lawn & Section Mowing 
Landscaping 
Section Clearance 
Rubbish Removal 
Garden Maintenance 
Make-overs 
Hedges 
Odd Jobs 
Free Phone 0508 80 70 60 
David Korach 
Your local Gib Stopper
DK PLASTERER LTD 
0274769221 
dkorach6@gmail.com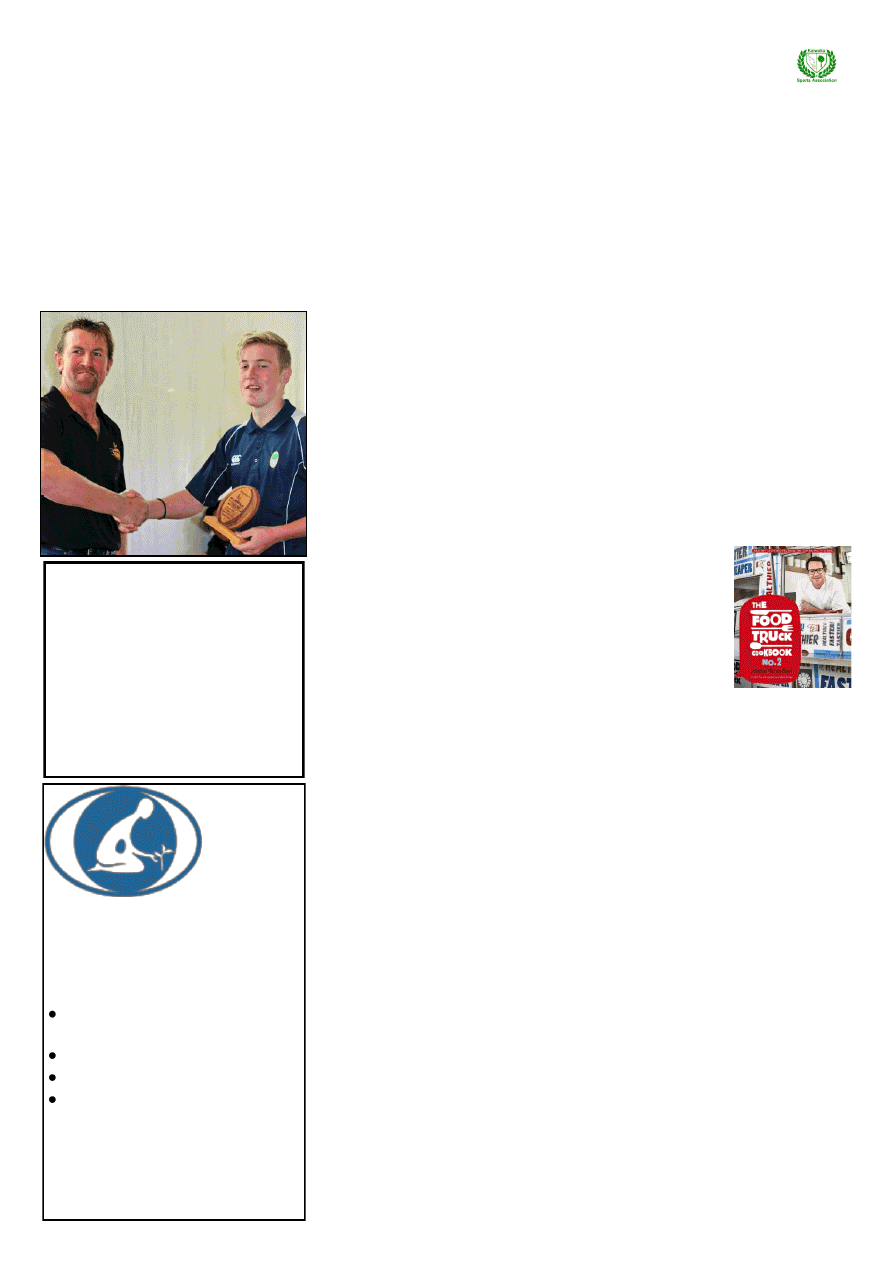 www.kaiwaka.co.nz 
Kaiwaka Bugle - 1 September 2015 
Page 9 
Rugby – junior 
Eastern United JMB celebrated the end 
of their enjoyable season of rugby with 
their prizegiving at our Sports Complex 
last week; you can read more details in 
the  report  in  this  edition  of  the  Bugle. 
Many  thanks  to  Justin  and  Naomi 
Walker  and  their  team  for  running  the 
club so successfully. 
The  children  are  looking  forward  to 
their  end-of-season trip to Parakai  Hot 
Pools next month  – the club is able to 
fully  fund  this  trip  with  thanks  to  the 
fundraising  efforts  of  the  parents  over 
the year. 
Rugby – intermediate 
Our  IMB  teams  held  their  prizegiving 
along  with  the  senior  Hawks  at  our 
Sports 
Complex 
last 
week. 
Congratulations  to  the  main  prize 
winners: 
UNDER 14 
Most Improved - Kayden French  
Best Back - Chas Mikaere  
Best Forward - Isaac Shepherd  
Player of the Year - Tyler Foster  
UNDER 16s 
Most Improved - Nathaniel Taylor/Boaz Ikahihifo  
Best Back - Rhys Shadbolt/Ashton Coates 
Best Forward - Callum Leslie  
Player of the Year - Kalani Wehi 
ANGELS Under 16s
Junior Club Sprit - Kharnse Namana Thompson  
Trophy Merit Award for Under 15s - Simon 
Parker  
Thornton Trophy Most Improved Under 15s - 
Caleb Royds 
Both teams had successful seasons and 
at  the  prizegiving  the  boys  showed 
their  appreciation  of  the  support  they 
had  received  from  many  people  – 
coaches, managers, parents who helped 
with transport and providing food, and 
their many supporters.  
Photo 
left: 
Coach 
Hayden 
Foster 
congratulating Tyler Foster 
Rugby – senior 
The  Hawks  had  a  strong  season  with 
the  Premiers  making  it  to  the  semi-
finals and the Reserves making it to the 
finals.  Congratulations  to  the  main 
prize winners: 
H.K Nathan Cup Most Improved Player (over 
15yrs) - Karanga Waata 
Colin Williams Memorial Cup (U18 player To Try 
is to Succeed) - Terry Baldwin 
Otamatea Hawks Under 19 Player of the Year - 
Logan Eager 
Wright Trophy Under 21 Player of the Year - 
Conner Woodman 
Maungaturoto Recreational Society Trophy Club 
Spirit & Personality - Adam Scott 
Pascoe Trophy Most Conscientious Club Player 
- Lance Nepia 
Top Try Scorer Dale Hutchinson Memorial Cup - 
Toby Phillips 
Bill Taurua Most Outstanding Achievement - 
Dan Hawkins 
Reserves: 
Linnell Family Cup Senior Reserve Most 
Improved - Arapeta Waata 
Ian Hargreaves Family Trophy Senior Reserve 
Back - Adam Scott 
Otamatea Hawks Rugby Club Senior Reserve 
Forward - Hayden Bootten 
Otamatea Hawks Rugby Club Senior Reserve 
Player of the Year - Hayden Bootten 
Premiers: 
Wallis Cup Most Improved Senior 1st Year 
Player - Howani Harris 
Grant Eager Trophy Senior Premier Back - 
Michael Robinson 
Maungaturoto Panelbeaters Senior Premier 
Forward - James Patterson 
Z J Sloane Trophy Best all Round Senior Club 
Player - Shane Neville 
Russell  Hargreaves  Family  Trophy  Senior 
Premier Player of the Year - Dan Hawkins 
Netball – junior 
Our  junior  teams  have  just  had  their 
final week of netball. Both teams have 
enjoyed  their  season,  playing  some 
great  netball.  Thank  you  to  coaches 
Jody Grieg and Pat Buxton. 
A  very  big  thank  you  must  go  to 
Melissa 
Watts. 
This 
is 
Melissa's  last  year  with  junior  netball, 
and she has had a massive contribution 
to the club – administration, umpiring, 
coaching,  helping  with  transport,  and 
much  more.  The  club  is  in  very  good 
shape  with  thanks  to  her  hard  work 
over  the  years.  All  the  best  to Melissa 
as she moves up to high school netball 
to follow her girls. 
The  Junior  Netball  prizegiving  will  be 
held  at  our  Sports  Complex  on  Friday 
18
th
 September at 4.30pm. 
Netball – High School 
Congratulations  to  the  girls  who  have 
made  the  Northland  netball  talent  ID 
squad: 
Bianca 
Slimo, 
Michelle 
Schimanski,  Erin  Mooney,  Shuntel 
Rika,  Jayme  Curtis,  Portia  Wehi  and 
Terina  Wallace.  Good  luck  to  OHS 
Team  1  who  have  just  left  to  compete 
in  the  upper  North  Island  secondary 
school  champs  in  Hamilton.  All  the 
best  also  to  the  Aims  team  who  head 
off  on  Sunday  6th  September  to 
Tauranga 
to 
compete 
in 
the 
International Aims games.  
The  OHS  Netball  prizegiving  will  be 
held at the Sports Complex on Sunday 
20
th
 September at 10am. 
Books Fundraiser 
I  am  running  a 
Books 
Fundraiser 
for  the  KSA,  with 
items  such  as  recipe 
books, 
children's 
books,  diaries,  cards 
and  calendars  – 
these  would  make 
great Christmas gifts! You can pick up 
a brochure from Jaques Four Square or 
check out the Kaiwaka Sports Complex 
Facebook page. 
Prices  are  less  than  normal  retail  and 
the  KSA  will  make  $4  profit  on  each 
item.  To  order  please  return  the  order 
form  to  me  by  15
th
  October.  Delivery 
will be the following week.  
Youth Night 
Youth  Night  is  a  sports  and  fitness 
evening  especially  geared  for  young 
people  and  is  held  in  our  gymnasium 
on  Friday  evenings  from  6  -  8pm. 
There  are  lots  of  fun  active  games  as 
well  as  a  sausage  sizzle.  This  is  for 
boys  and  girls  under  18  years  old,  all 
fitness levels are welcome, a gold coin 
donation is appreciated.  
Advance notice: 
Main upcoming events: 
Weds 23
rd
 Sept –  
Yrs 7 & 8 Interschools Sports Day 
Sat 26
th
 –  
Kaiwaka School Masquerade Ball 
Sat 10
th
 Oct –  
Northland Bs vs North Harbour 
Mon 19
th
 –  
Kaiwaka School Agriculture Day 
Mon 26
th
 – Regional Agriculture Day 
Sat 31
st
 – Fright Night 
Cheryl Anderson 
4312 051, 027 3462702 
kaiwakasports@gmail.com 
 LEABOURNS 
Passenger Service
Car & Van Hire 
Bus & Coach Charters 
Airport Transfers 
 Monthly Shopper Bus 
Phone (09) 4237416 
Magnetic Laser for Health
Using a low power laser I can help 
with a variety of conditions:
Joints pain, swelling, 
inflammation 
Back and neck pain 
Heel pain 
Injury or fracture recovery
Phone Gala 
431 2213 
021 486 611 
KAIWAKA SPORTS ASSOCIATION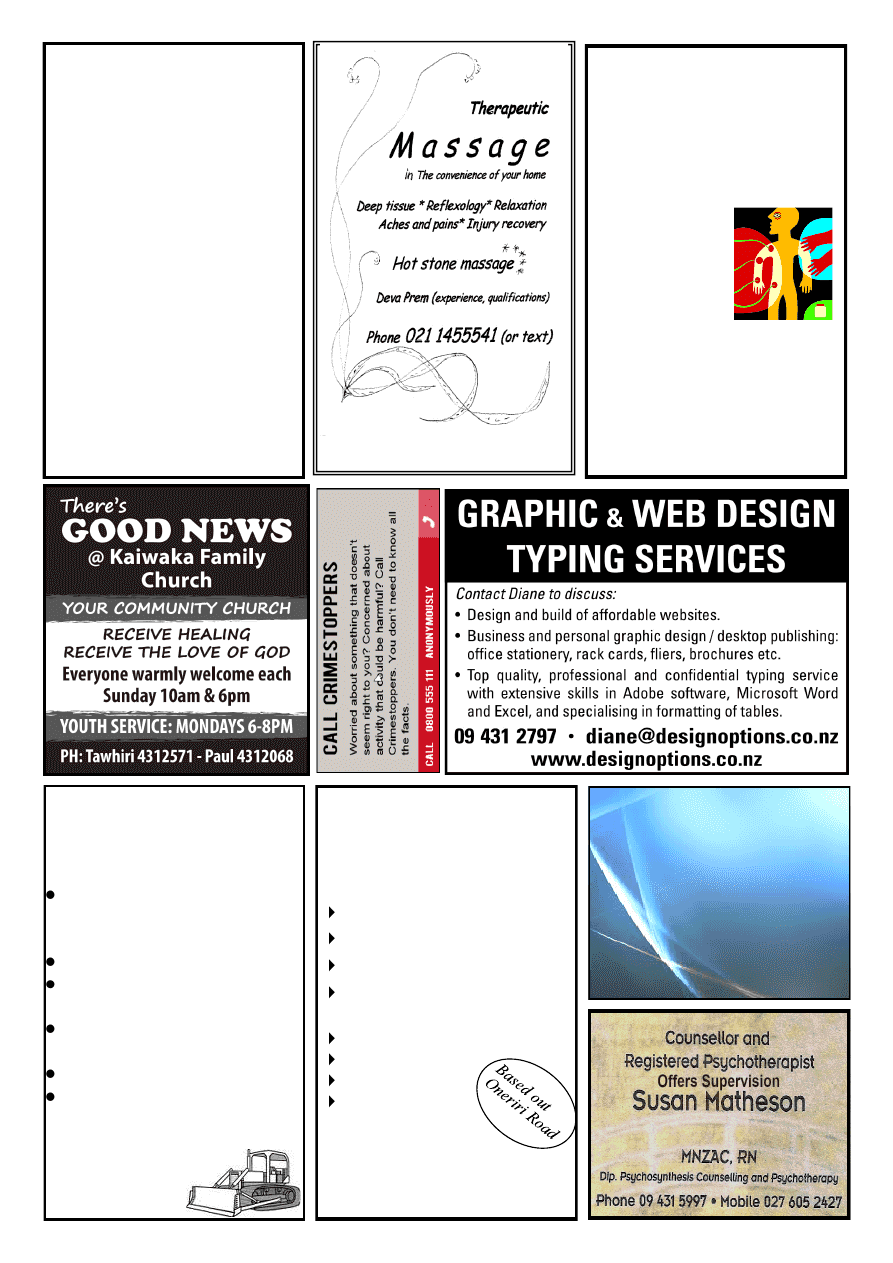 www.mangawhaimassage.co.nz 
HODGETTS 
CONTRACTING
Digger Work    
Driveways 
House Sites   
Dams 
Drains, etc
Also available for HIRE 
3 ton Vib Roller 
Heavy Duty Tow 
Waterblaster  
Lazer Level 
Phone Mark 
4312877 
027 447 8554
OWEN STEVENS 
Osteo Therapist
For careful adjustments to bones 
and joints 
Treatment for  humans and their 
pets 
Clinics: 
Kate's Place, 
Kaiwaka: 
Last Friday of 
month 
For bookings: 
9.00am-5.00pm   
Phone 
09 4312661 
Or phone Owen   
09 4317123  anytime 
Freeview  
Installations 
Richard Te Haara 
25 Marram Place 
Mangawhai Heads 
021 1104056 
kiwipride@xtra.co.nz
Willow Bend
HORSE  
HOTEL 
"   
Total Horse Care 
" 
Agistment 
" 
Riding Lessons 
" 
Arena Hire (60x40) 
" 
Young Horse Starting 
" 
Re-training/Exercising 
" 
Hoof Trimming 
" 
Problem Solving 
Phone Sue 09 431 
2817 or 021 623 776 
Or email sue.gray@xtra.co.nz 
Coates  
Contracting 
D41 Bulldozer with 6 
way blade, bush rigged 
with winch 
For all tree work 
General bulldozing and  
  stick raking. 
120hp Tractor for 
ground cultivation,  
tip trailer work. 
Fencing
All enquiries phone  
Brett Coates  
 094318720  
or 
 021431872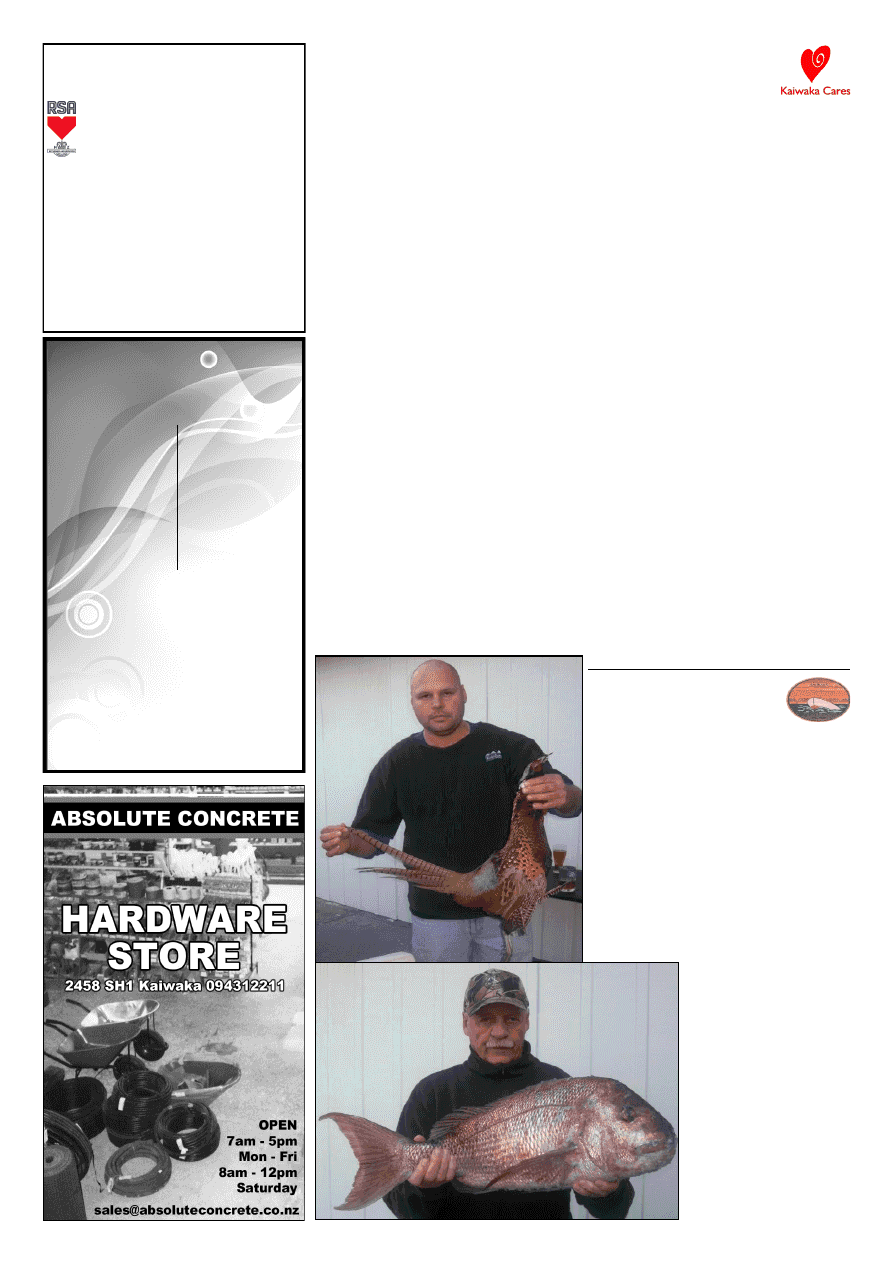 www.kaiwaka.co.nz 
Kaiwaka Bugle - 1 September 2015 
Page 11 
POINT CURTIS  
CRUISING CLUB 
Fish 
of 
the 
month: 
GURNARD, 
cut 
off 
date 
8th 
September. 
Pool 
Competition 
against 
The 
Wellsford  Inn  on  Sunday  4th  October. 
Come  along  to  the  3  Furlongs  Bar  & 
Grill  from  1pm  for  a  fun  afternoon.  A 
pot  luck  meal  will  be  provided  at  the 
conclusion of the tournament. Bring as 
many  players  and  supporters  as  you 
want  to  play  pool,  enjoy  a  drink  and 
spin a yarn or two. 
Next committee meeting: Tuesday  8th 
September,  7pm  at  3  Furlongs  Bar  & 
Grill. 
~ Wayne Leslie, 
Commodore 
Pictured:  Hayden  Smith 
with 
his 
1.384kg 
winning  Pheasant  and 
Tony  Smith  with  his 
6.911kg 
winning 
Snapper  at  Point  Curtis 
Club  Members  Only 
Fishing 
& 
Hunting 
Competition  held  8th 
and 9th August. 
HAKARU & 
DISTRICTS RSA Inc 
Each Friday night 
from 6.30pm 
Meals will be served 
2nd Friday of the Month 
Is Roast Dinner Special 
Come along and enjoy our 
Hospitality  
For more information 
Ring Heather 4314668 
or Jan 4314512 
U Beauty 
Please call Nicole for bookings 
09 393 6336 or 022 0639450 
Qualified Beautician 
4 Kaiwaka – Mangawhai Rd 
Kaiwaka 
Underarm Wax  
$20 
Extended Bikini Wax 
$30 
15 min Back  Massage 
$25 
Eyebrow Wax  $10 
Eyebrow Tint  $10 
Eyelash Tint 
$20 
Lip Wax 
$10 
Chin Wax 
$10 
Bikini Wax 
$20 
Brazilian 
$50 
½ Leg Wax 
$30 
Full Leg Wax  $45 
Full Pedicure  $60 
Foot Tidy  
$35 
Manicure 
$45 
Nail Tidy 
$25 
Chest Wax 
$30 
Back Wax 
$40 
Nostrils 
$10 
Ears 
$10 
KAIWAKA 
Time  has  gone  so  fast,  it's  over  a 
month since the drop-in centre opened 
its  door.  Thank  you  for  everyone  who 
donated  and  continues  to  support  our 
team of volunteers in providing a social 
space for the people of Kaiwaka.   
Who is the drop-in centre for? 
It's for everyone. Yes that's you, all of 
you. The drop-in centre is exactly that. 
A  space  for  people  to  meet,  grab  a 
cuppa, share thoughts and ideas.   
Where is it? 
We  are  located  at  the  front  of  Kate's 
Place. This is at 1960 State Highway 1 
in Kaiwaka.  Basically  we are  opposite 
the Cheese Shop and between Bianca's 
and  the  Community  Church.  We  are 
open at this stage Monday, Wednesday 
and Fridays from 10am to 2pm. 
What do you have there? 
The  centre  is  set-up  like  someone's 
living space. It has sofas to relax on, a 
table to do puzzles or play games. Toys 
are available to keep the smaller people 
entertained.  We  have  pamphlets  and 
magazines to read. Or you could just sit 
somewhere warm and have a cup of tea 
or coffee and enjoy the company.   
What else? 
Also  on  Wednesdays  we  will  have  a 
Justice of the Peace available from 1.30
-2.30pm  to  witness  signatures  and 
certify copies of documents for you. To 
assist  with  this  Kate's  Place  has  a 
photocopier  so  copies  of  your 
documents  can  be  made  at  30c  per 
copy. 
Do you really have WIFI? 
Yes.  Due  to  a  generous 
member  of  the  community  we  have  a 
computer  up  and  running  which  has 
internet available. It also has Microsoft 
office  so  if  you  need  to  work  on  your 
CV  you  can  do  that  here  too.  If  you 
need  help  with  anything  on  the 
computer  there  is  always  a  volunteer 
there to advise you. 
How much does it cost? 
Essentially the space is free for anyone 
to use. All we ask if you use any of the 
resources, i.e.  have  a  cuppa  or  use  the 
internet, that you pop something in the 
koha jar so we can continue to provide 
these resources for everyone. 
What fundraising are you doing? 
We  are  currently  seeking  some 
funding.  As  well  we  are  selling 
gardening  gloves  kindly  donated  to  us 
from Mitre 10 and we will be regularly 
running raffles. 
What else is Kaiwaka Cares doing? 
Well  that's  a  big  question.  We  can  do 
as  little  or  as  much  as  the  community 
needs.  All  you  have  to  do  is  tell  us 
what  you  want.  The  latest  suggestions 
have included running some workshops 
on topics from budgeting to ukulele to 
dealing  with  burns.  We  have  also  had 
members  of  the  community  offer  to 
teach  some  of  their  skills.  So  keep  an 
eye out in the Bugle for developments 
or  follow  us  on  Facebook.  Or  if  you 
want  to  get  in  touch  email  us  on 
caring4kaiwaka@gmail.com  or  come 
into the drop-in centre. 
KAIWAKA CARES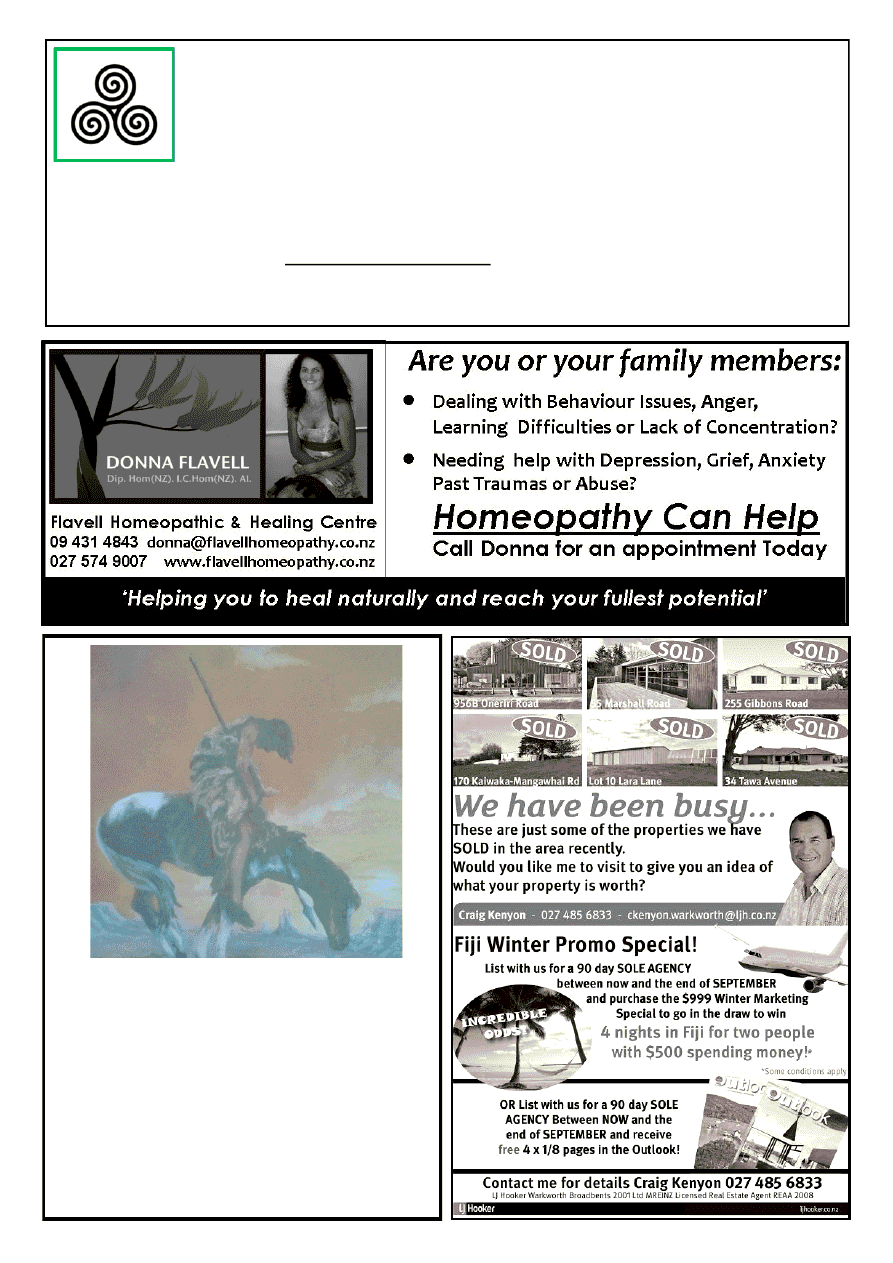 RANA Health 
Naturopathy- Acupuncture- Massage
Open Mondays & Fridays 
4 Kaiwaka-Mangawhai Road; Room 4; Kaiwaka
Phone or Text for an appointment &/or price enquiry:  
Rebecca Wood 021854158 
Or visit www.ranahealth.co.nz & click BOOK NOW
Rebecca Wood Dip Th Mass; Dip Aroma; Dip Acu; 
Student Naturopath- Final semester
Trails end spiritualist church  
Last Sunday of every month  
10am tea/coffee provided  
$5koha for all inquiries  
0211652629 evenings 099450753 
Trail.end@hotmail.com 
Bringing together light minded people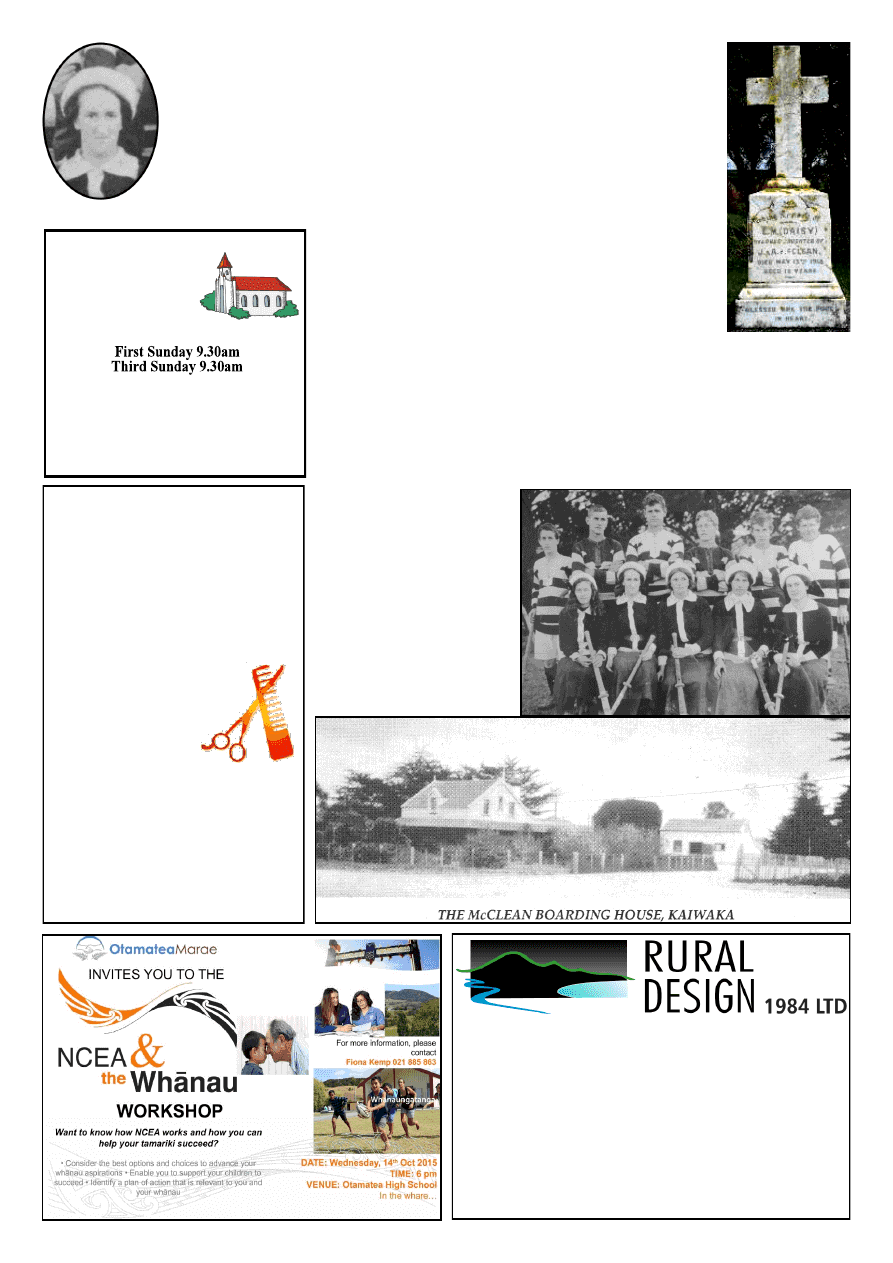 www.kaiwaka.co.nz 
Kaiwaka Bugle - 1 September 2015 
Page 13 
Known  to  all  as 
Daisy  McClean,  she 
was  the  second  child 
of  John  and  Agnes 
(nee 
Curtis) 
McClean,  born  7 
November  1896  - 
just a year before her grandfather John 
Curtis  moved  his  boarding  house  and 
temporary Post Office at Pukekaroro to 
Kaiwaka  township.  Mr  Curtis  was 
Postmaster  here  until  his  daughter 
Agnes  and  son-in-law  John  McClean 
came  and  lived  there  in  1906.  Daisy, 
along  with  her  mother  and  her  sisters 
Beattie,  Myrtle,  Vi,  Minnie,  May  and 
Olive,  helped  run  the  boarding  house, 
the  Post  Office  and  the  telephone 
exchange.  She  joined  in  the  activities 
of the Kaiwaka community and that of 
their Curtis family, and was part of the 
pre-war  mixed  hockey  team.  Sadly 
Daisy took ill in her late teens and died 
13  May  1915  of  tuberculosis.  She  is 
buried in the Kaiwaka Cemetery. 
In 1914 Kaiwaka was connected to the 
Otamatea 
Private 
Telephone 
Association,  with  Carl  Stewart  as  the 
local  linesman  and  troubleman.  The 
exchange  was  housed  in  Mrs 
McClean's  Post  Office  and  was 
operated by her and her daughters until 
December  1936,  when  the 
Government took it over with 
82  subscribers.  McClean's 
Post  Office  had  closed  in 
1935 and the new one opened 
across  the  road  until  it  too 
was closed down in 1990 (the 
telephone  exchange  having 
closed  in  1984),  and  is  now 
the  Kaiwaka  Library.  The 
Post  Office  business  moved 
up the hill to Leabourns', and 
then  at  the  end  of  last  year 
moved  next  door  to  the 
former 
Kaipara 
District 
Council 
offices 
/ 
Intrac 
engineering works. 
Reference: Centennial 
of  Kaiwaka  1859-
1959;    Kaiwaka:  A 
Photographic  History 
(see  front  cover); 
John and Eliza Curtis 
Family 
of 
Point 
Curtis  compiled  by 
Hazel C Williamson. 
Photos: 
Right: 
Daisy's  headstone  at 
Kaiwaka Cemetery. 
Below:  Hockey  1912,  Back  row:  Archie 
McClean,  Charlie  Leslie,  Bill  Shelton, 
Dick  Leslie,  Frank  Leslie,  Billy  Williams. 
Seated:  Myrtle  McClean,  Daisy  Mclean, 
Ella  Leslie,  Margaret  Leslie,  Beatie 
McClean. 
Bottom:  The  McClean  Boarding  House, 
sited  to  the  immediate  north  of  the 
Kaiwaka Cheese Shop, where there is now 
a car park and hedge. 
AFFORDABLE 
PRICES! 
MENS DRY CUT FROM $18.00 
LADIES DRY CUT FROM $15.00 
KIDS DRY CUT FROM $15.00 
COLOUR CUT FROM $90.00 
JUST     
CUTS'AND     
MORE 
021 165 2629 
NOW SELLING: scented tealights, incense, 
smudge sticks, copper bracelets, 
aurora ball crystals, dream catchers, 
healing stones, rose quartz, cds, and 
much more 
Open 6 days 
ST PAUL'S  
ANGLICAN  
SUNDAY  
SERVICES
St Pauls Church: Kaiwaka-Mangawhai Rd. 
1st Sun - Eucharist 
3rd Sun - Family Service 
Office 4314 122 
Contacts:M.Hargreaves 4312295, C.Bygrave 4312057  
or Rev. Wayne Thornton Ph 431 5650 
HISTORICAL NOTE  
Eliza Margaret McCLEAN 
Wholesale Native Plant Nursery and Planting 
Small and Large orders welcome 
By Appointment 
300 Kaiwaka-Mangawhai Road, Kaiwaka 
Phone: 09 431 2481 
Email: info@ruraldesign.co.nz 
www.ruraldesign.co.nz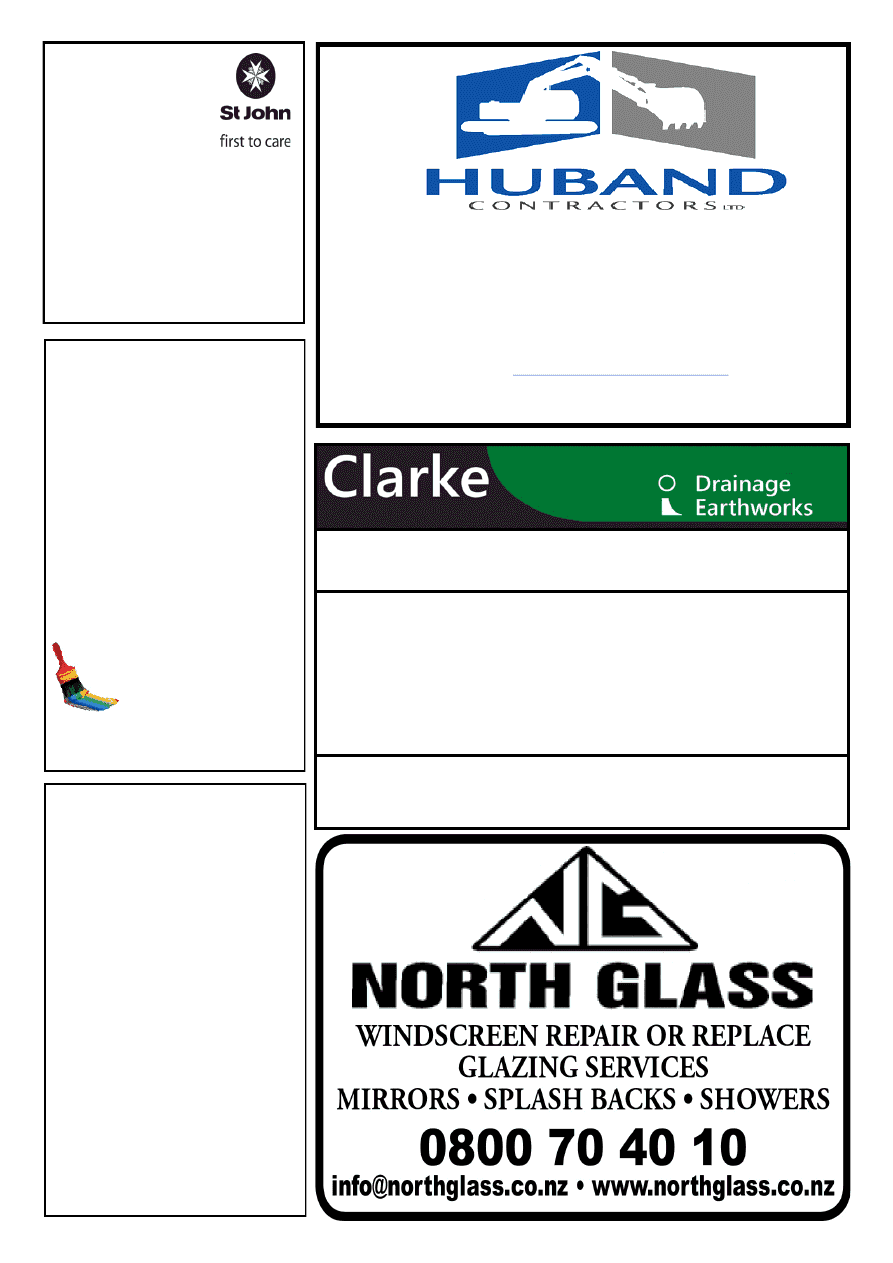 When you need St. 
John members at 
your function … 
Get a Community 
Services Form 
….. see Milly at the  
Kaiwaka St John  
Op Shop.  
Phone 4312650 
MORE MEMBERS REQUIRED FOR 
THE KAIWAKA STATION. 
Registered Drainlayer 
All Types of Earthworks  
> All Residential & Commercial Work 
> House Sites 
> Septic System Design & Install 
> Footings & Drilling to 10m 
> Sewer Connections 
> Dams 
> Water Tank Installation 
> Roading & Races 
> Farm Work 
THE ONE STOP SHOP  
Phone Nigel for an Obligation Free Quote  
Drainage & Earthmoving                          clarkedrain-
age@xtra.co.nz 
*   R O A D I N G   *   E A R T H W O R K S   *    
*   D R A I N A G E   *   S I T E W O R K S   *  
For any further enquiries, contact Shaun on: 
Cell: 021 222 0272 
Home: 09 4318339 
Shaun Huband:  Registered Drainlayer 
UP-LINK 
CHRIS WARING 
FREEVIEW 
INSTALLATIONS
T.V. - HOME THEATRE & 
HI-FI ADVICE/SET UP
SKY ACCREDITED 
INSTALLER
MOB.0273403747 
HM.094312328 
EMAIL cwaring44@gmail.com
28 YRS EXPERIENCE 
OFFERING 
UNBIASED ADVICE 
LEE COOPER 
PAINTERS 
(Kaiwaka Based) 
*30 years Experience 
*Interior/Exterior 
*New and Restoration 
*Honest and Reliable 
*Free Quotes 
09 4312 918 
027 473 5171 
leecooper@xtra.co.nz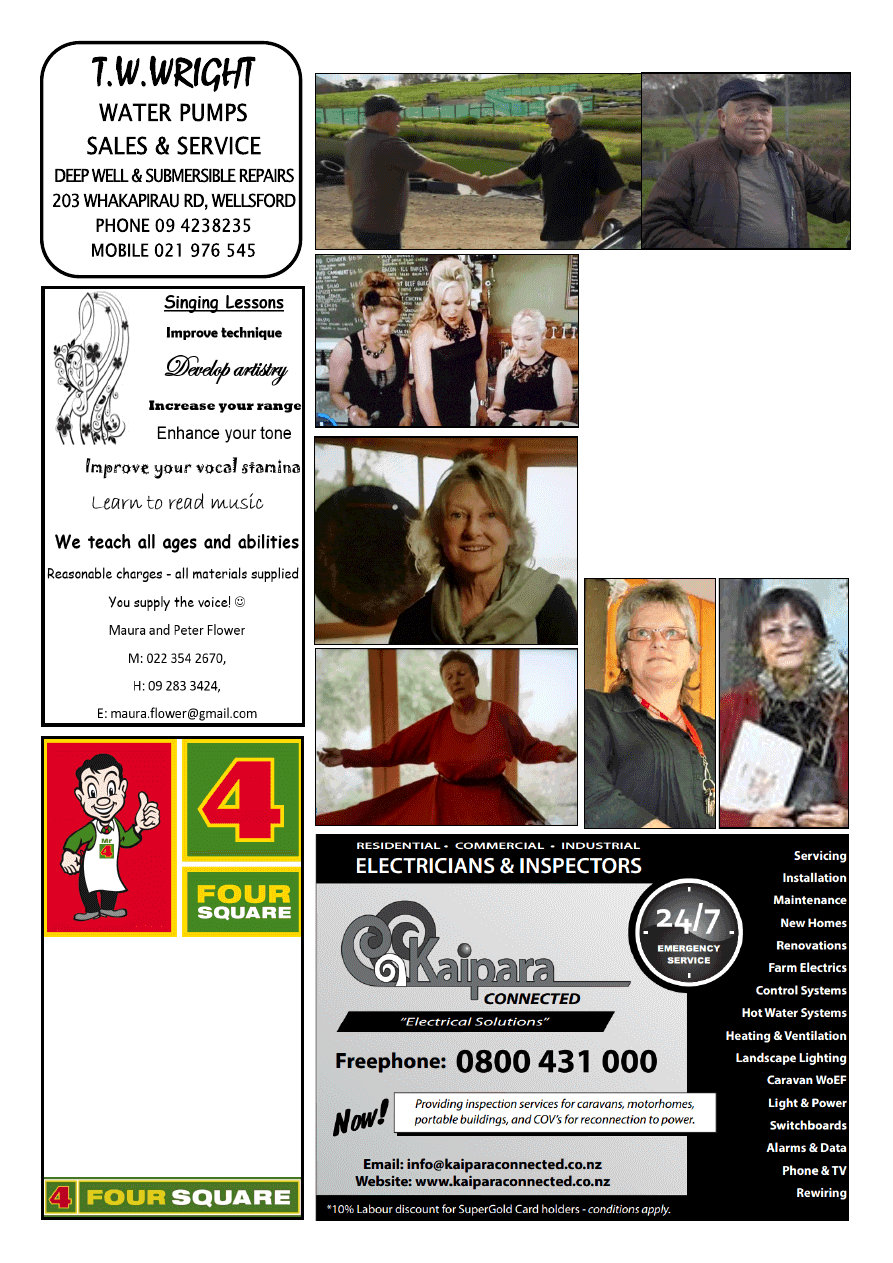 www.kaiwaka.co.nz 
Kaiwaka Bugle - 1 September 2015 
Page 15 
New Range Gluten Free Products 
Kea Cookies Yummy flavours,   
Sway Baking mixes, muffins & biscuits, 
Alexandra's Israeli couscous,  
quinoa & beans,  
Tio Pablo refried beans, salsa & sauces 
Fathers Day promo
win Dad a magazine subscription 
running 1 week 31 Aug to 6th Sep. 
Purchase any product 
to enter. 
Jaques Four Square 
Phone: 4312227 
1 Kaiwaka-Mangawhai Road, 
Kaiwaka. 
MORE KAIWAKA IN THE NEWS 
Top:  Bill  Worsfold  of  Kaiwaka  and 
Peter  Yardley  of  Whakapirau  on 
Country  Calendar  last  Saturday,  at 
Bill's  plant  nursery  at  300  Kaiwaka-
Mangawhai  Road.  The  focus  was  on 
the  Kaipara  Harbour,  and  here  they 
were  talking  about  planting  the 
margins  to  filter  the  runoff  water 
before it reaches the harbour. 
Left:  This  Town:  (TV1,  Wednesdays) 
Bianca  Hartley  and  staff  at  Cafe 
Bianca.  Yatra  Southward  and  Deva 
Prem at Absurdistan. 
Below:  Jennie  Reynolds  (secretary)  at 
the  Otamatea  Hawks  prizegiving, 
Tania  Lean  at  her  citizenship 
ceremony  at  KDC  in  Dargaville  last 
month - congratulations on becoming a 
NZ citizen, Tania!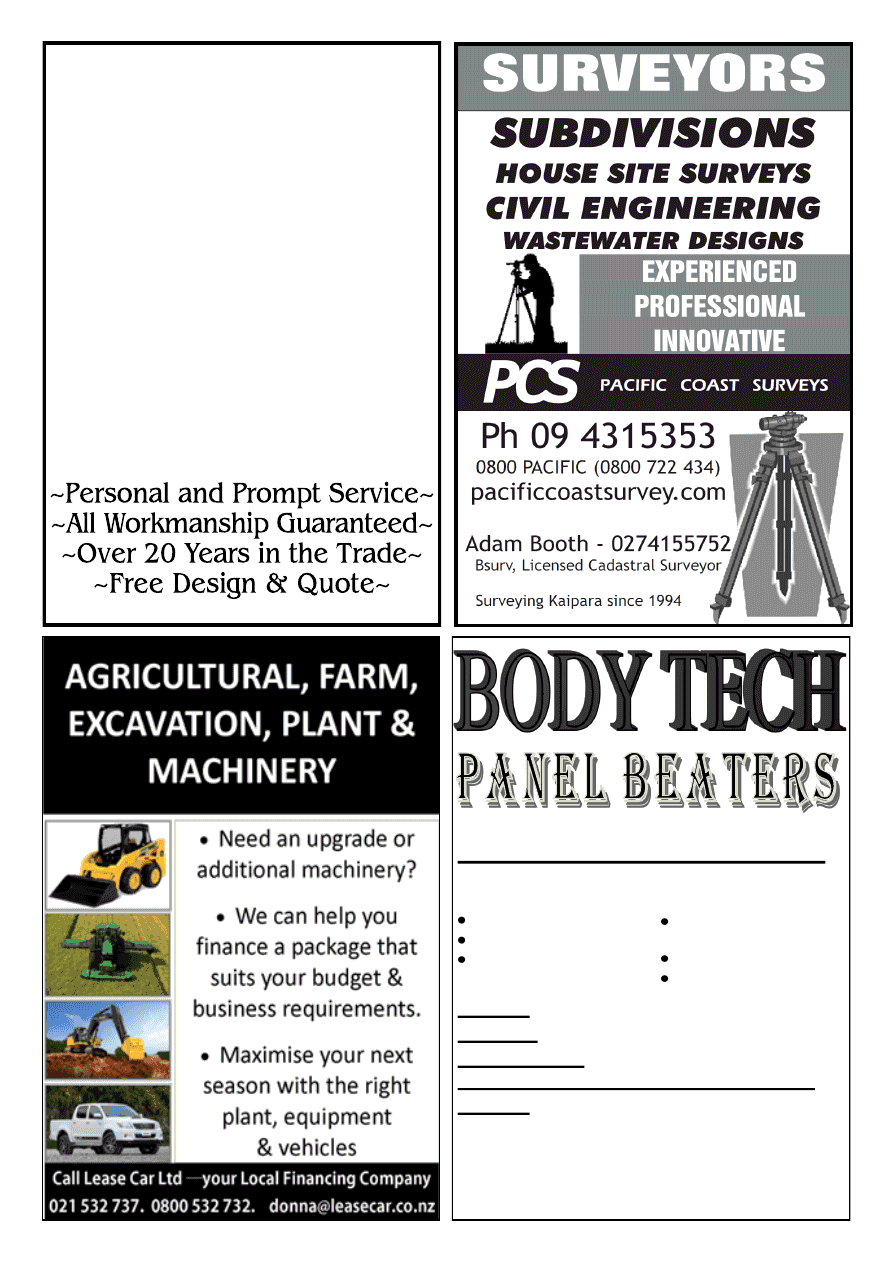 For all your body repair needs!! 
We do: 
Rust repairs 
Insurance work 
Anti-corrosion treatment         
Hours: 8.30am-5pm Monday-Friday  
Mobile: 021 118 0462 
After hours: 09 431 2384 
Phone: Craig or Call in for a free Quote 
e-mail: 
bodytech_panelbeaters@yahoo.com
We are located at 1837 SH1 Kaiwaka, behind Twin-
kle Tow 'n' Tyre call in anytime for a free quote.  
Large and minor vehicle  
  repairs 
Industrial vehicles 
Full Cut and polishes 
PLANNING A NEW 
KITCHEN? 
 CONTACT NOEL McDOWELL 
WELLSFORD 
KITCHENS
Ph/Fax 094312888  
KAIWAKA-Any time 
  QUALITY CUSTOM MADE 
KITCHENS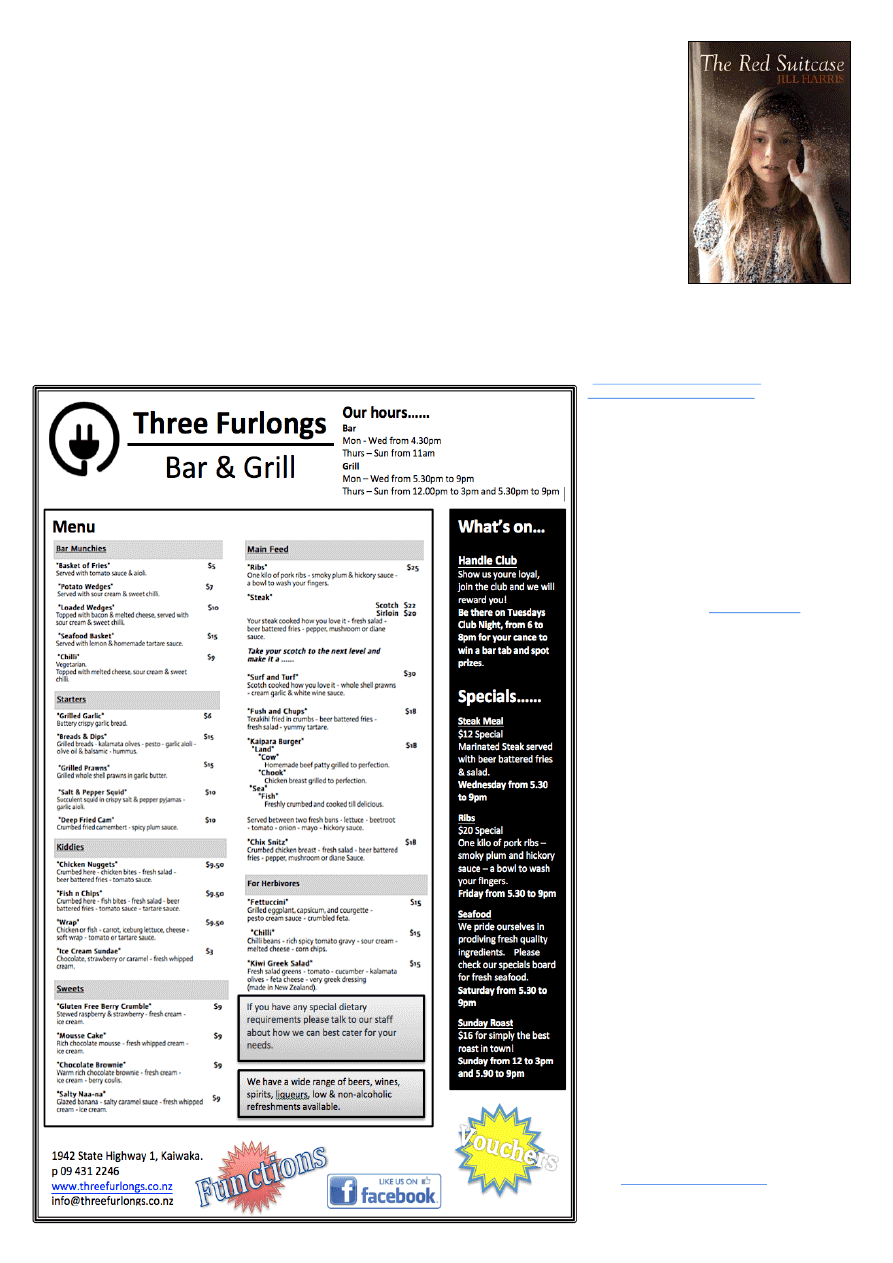 www.kaiwaka.co.nz 
Kaiwaka Bugle - 1 September 2015 
Page 17 
KAIWAKA LIBRARY
Apologies to those who came to the library 
one  day  last  week  intending  to  borrow 
some  books, etc  and found the  doors shut. 
It  was  one  of  those  rare  occasions  where 
the  rostered  volunteer  was  not  able  to  be 
there,  and  no-one  else  in  the  team  was 
available  either  because  they  were 
committed elsewhere. 
After-hours returns 
The  library  being  closed  is  no  excuse  for 
not returning items, as there is a slot beside 
the  doors  for  this  purpose.  It  isn't 
signposted, because we don't want to draw 
attention to it and perhaps have a miscreant 
or  two  take  the  opportunity  to  vandalise, 
but  it  is  clearly  visible  to  the  right  of  the 
double  doors  on  Kaiwaka-Mangawhai 
Road (facing Jaques Four Square) when the 
doors are shut. Pop your items through the 
slot,  and  we  will  process  them  when  the 
library  is  next  open.  If  it's  too  big  to  fit, 
bring  it  back  at  a  time  when  we  are  open, 
or  contact  me  for  assistance  (details 
below). Don't be concerned that the item is, 
or  will  be,  overdue  by  the  time  it  is 
processed  -  we  don't  chase  those  up  until 
after  we  have  taken  care  of  any  waiting 
returns. 
Large print and audio book swap 
The  next  swap  is  looming  on  the  horizon, 
so  now  is  the  time  to  come  in  and  check 
those  shelves  for  any  items  you  want  to 
borrow  before  they  have  to  go  back  in 
October. This is the collection where we do 
need  all  the  books  back  for  the  swap, 
regardless  of  the  due  date  based  on  when 
you  borrowed  it,  so  get  in  early  and  don't 
miss out. 
FREE online book service 
Thanks  to  Dargaville  Public  Library  and 
Kaipara  District  Council  (your  rates  in 
action!),  all  Kaipara  residents  now  have 
access  to  two 
Ebook 
providers 
through 
Kaipara 
Libraries.  We 
have 
had 
Overdrive  for 
three years and 
BorrowBox  is 
now  up  and 
running.  Both 
providers  have 
an 
excellent 
selection 
of 
Ebooks and Audio Books for loan. 
If you haven't already, stop in to the library 
with  your  library  card  and  ask  to  have  a 
PIN  set  on  your  account.  If  you've 
forgotten  your  PIN,  it  can  be  set  again. 
Then go to the Kaipara Libraries web page 
(
)  and  scroll 
down to the section on Ebooks. 
If you need help, get in touch with me and 
we'll get it sorted. 
Keeping in touch online 
We  have  a  Facebook  page  where  I  post 
book  reviews,  new  books  going  onto  the 
shelves,  and  other  items  of  interest  from 
time  to  time.  Search  for  Kaiwaka 
Library  to  find  us.  Actually,  do  a  search 
just  on  Kaiwaka  and  you  may  find  some 
other  local  pages  and/or  groups  of  interest 
too.  And  if  you  want  more  from  me, 
including  all  the  books  I read  and  not just 
the ones that get a review written, you can 
Book reviews 
Recently  I've  read  The  Red  Suitcase, 
by Jill  Harris. Ruth and her  father  have 
returned  to  Auckland  and  are  living  with 
her  grandmother  after  a  bomb  went  off  in 
her  father's  university  classroom  in 
Indonesia.  They  left  her  mother  behind  to 
complete her studies, and she will be home 
in six months. Ruth is keen to fit in at her 
new  high  school,  having  not  lived  in  New 
Zealand  for  five  years.  She  left  her  best 
friend  back  in  Indonesia,  and  misses  her 
terribly. 
Strange  things  keep  happening  to  Ruth  - 
she seems to be pulled back in time at odd 
moments, visiting the life of a World War 2 
bomber pilot, in his aircraft, on the ground, 
and  in  a  dingy  after  a  ditching  in  the  sea, 
only  to  return  to  her  own  time  and  place 
without  anyone  noticing  she  was  gone. 
How is this  happening? How  can she  stop 
it?  Why  is  it  happening  to  her?  Can  she 
take part in the events she's witnessing, and 
change  the  course  of  history?  So  many 
questions. 
I  enjoyed  this  tale,  from  the  Auckland 
setting very familiar to me to the twists and 
turns, and the mysteries it posed. I have no 
hesitation in recommending it. This book is 
on the Young People's shelves, residing on 
the  Rental  Fiction  shelves  to  increase  its 
exposure  to  borrowers  (though  free  to 
borrow) until the middle of next year when 
it will move over to the YP shelves. 
See you in the library! 
Wendy Howard, Librarian 
Kaiwaka Library, cnr State Highway 1 and 
Kaiwaka Mangawhai Road. PO Box 89, Kaiwaka 
0542. Phone 4312 539. 
10am-2pm, Mon 4-6pm. Membership is available 
to all residents in the Kaiwaka area.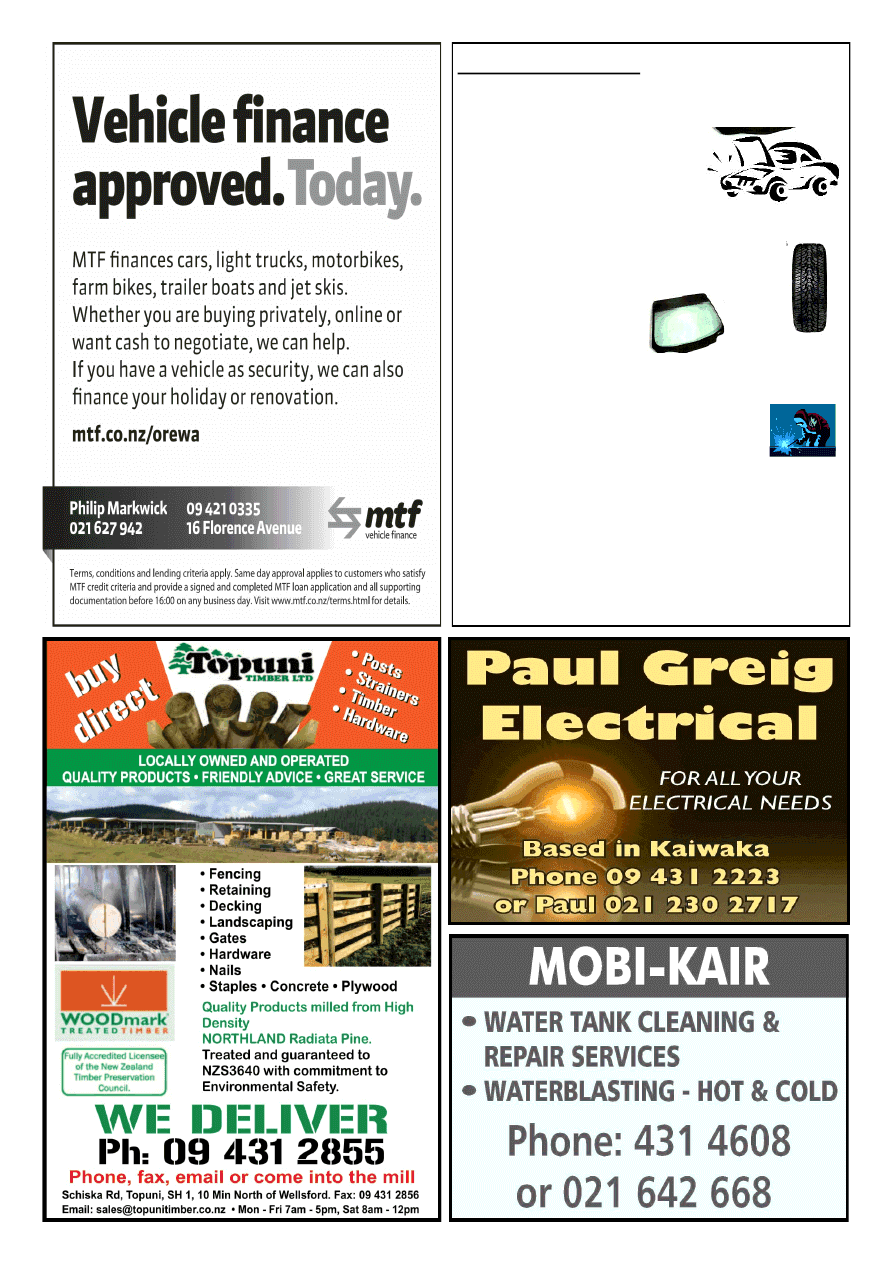 Want it done? 
Bring it to  
Twinkle Tow 'n' Tyre 
*W.O.F. 
*Tyres 
*Windscreen replacement 
*Chip repairs 
*Bulk Oil 
*Batteries 
*Welding 
*Custom built trailers 
*Trailer hire 
Think you'll get a better deal in 
the city? 
Go on, ring us; it won't cost  
anything! 
1837 State Highway 1, Kaiwaka       
Phone 431 2823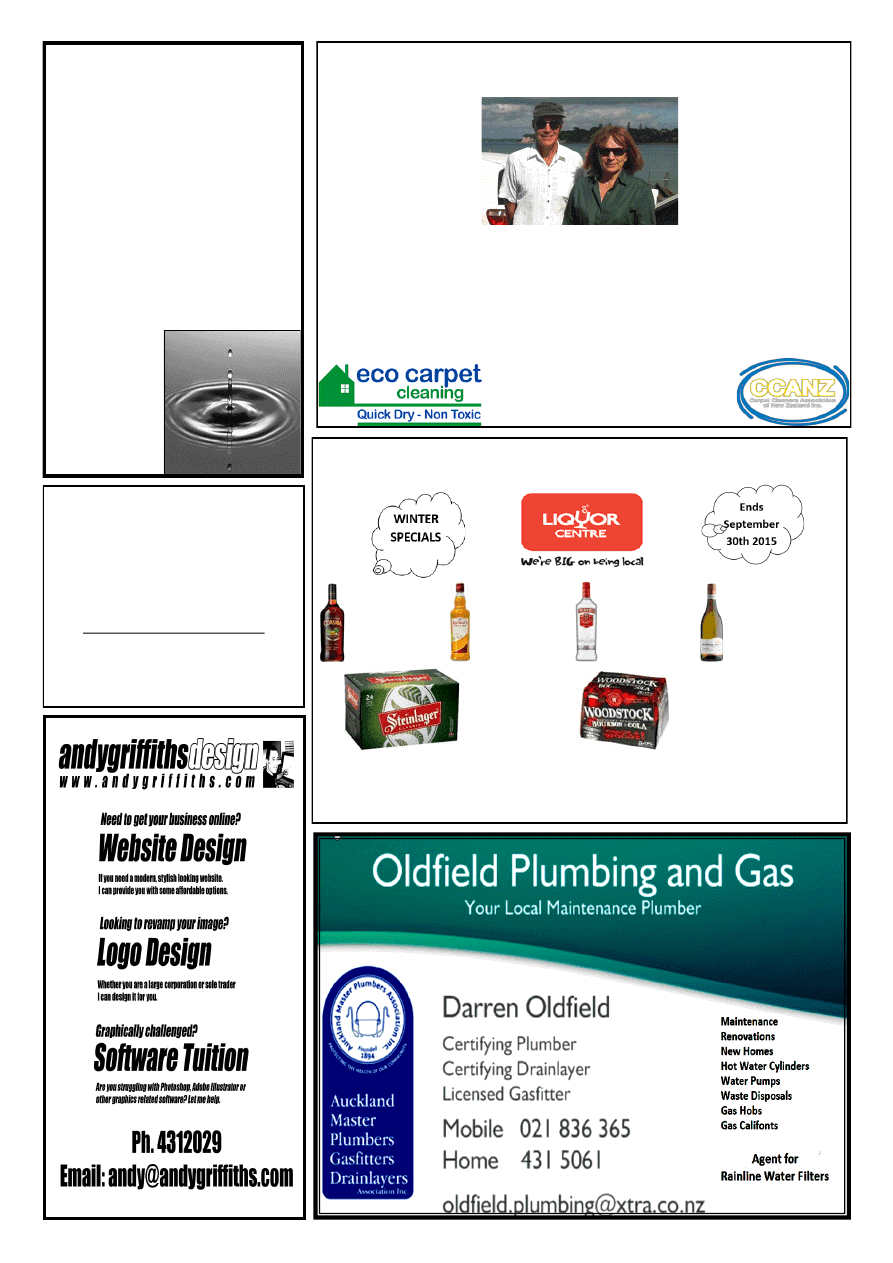 www.kaiwaka.co.nz 
Kaiwaka Bugle - 1 September 2015 
Page 19 
PROFESSIONAL 
COUNSELLING 
AVAILABLE
Want to be content in your life? 
Men... need help with your 
relationship? 
Couples... communicating a 
problem? 
I can help you!
Phone me for a preliminary 
talk. 
PETE 
WORSFOLD  
B. Soc.Sc. M. 
Soc.Sc. Dip Prof 
Couns. Prov. 
MNZAC 
Counsellor 
021 825 970 
CARPET & UPHOLSTERY CLEANING 
QUICK DRYING – NON-TOXIC  - GREAT RESULTS
Mike and Marina Bagley have returned to your area and are 
delighted to offer carpet and upholstery cleaning 
Call 09 431 3016  or  027 2410414 
marina@ecocarpetclean.co.nz  
www.ecocarpetclean.co.nz 
Otamatea High School 
& Maungaturoto District High School 
50
th
 Reunion 
15
th
 – 17
th
 April 2016 
For more details visit:   
Contact: Phone: 0800 682628    
Email: ohs@otamatea.school.nz 
Registrations close 18
th
 March 2016 
KAIWAKA LIQUOR CENTRE
For more specials visit our store at
1923 B State Highway 1, Kaiwaka Ph: 094312559
Coruba 1LT 
$39.99 
Dewars 1LT 
$35.99 
Smirnoff 1LT 
$35.99 
Waipara Hills Wine 
Range $15.00 
Steinlager 24PK 
$40.99 
Woodstock 5% 12PK 
$22.00 Next Bugle Deadline midday Friday 11 September 2015
LOCAL SERVICES 
*St.John Ambulance 
111 or Freephone 0800 61 0066
*Fire phone 111     *Police phone 111 or 09 4311150
A A: Meets Wed., 8pm Kaiwaka Ph: 4312228, 4315543, 0800229 6757 
AL ANON: In recess, contact Ph: 4312228 
MINISTRY FOR PRIMARY INDUSTRIES - General inquiries Call 
Free 0800 008 333 
ASUREQUALITY LTD  (was AgriQuality) Call Free 0508 0011 22  
BUDGETING SERVICE, WELLSFORD:  Free confidential advice & 
support for all areas of personal finance. Ph (09) 423 7123 
CAB-Citizens Advice Bureau.Wellsford Ph: 4237333 
0800 367 222 email:cab.wells@xtra.co.nz  
DOG/STOCK /NOISE CONTROL 0800 105 890 
KATE'S PLACE with Govt.Day Agencies/Community Information /
Osteopathy/ IRD / Probation, etc Ph: 4312661 Hours: 9am-3pm. Mon - Fri 
FUNERAL SERVICES: Morris & Morris Ltd, 
Whangarei - Bev Jaques Ph:4312367 or 0800667747 
GRANDPARENTS Raising Grandchildren: Sarah Rogers Ph: 4312194 
HAKARU LANDFILL/Transfer Station:Open everyday except 
Tuesday10am-4pm.Ph4312629 Cost-$55 trailer load up to 1 cubic metre. 
Ph:4258567 - office 
HOMEOPATH: Donna Flavell Ph: 4314843 
INLAND REVENUE: Last Friday each month, 11-3pm Ph4312661 
KAIPARA DISTRICT COUNCIL www.kaipara.govt.nz:  
Help Desk FREEPHONE 0800 727 059  
KAIWAKA KOHANGA REO: Ph:4312620 
KAIWAKA CEMETERY: Ph: 4312045 
KAIWAKA LIBRARY: kaiwaka.library@gmail.com  
Mon. 4-6pm; Wed., Thurs., Fri., Sat.  10am-2pm Ph:4312539 
KAIWAKA PLAYCENTRE: Ph: 4312286. Hastie Lane 
Monday to  Friday  9.00am - 12 noon. 
KAIWAKA POST OFFICE:Ph:4312 431  
Post Code: 0573  for RD2  and  0542 for all Kaiwaka Post Office mail 
KAIWAKA PRIMARY SCHOOL: Ph: 4312309     
KAIWAKA SPORTS ASSN: Ph 4312005; 4312129 gym 
KAIWAKA ST JOHN: Manager Steve Rosser 09 4318403, 021 2316836 
LINKING HANDS Health Shuttle Ph 4314121 or 09 4318969 
NORTHPOWER: Faults Kaiwaka area 0800 104040 
OTAMATEA COMMUNITY SERVICES: Free counselling, parent 
coach, Family Support worker, budget advice, food bank. Mon-Fri 9am-
30m. Ph 09 431 9080 
PARENTPORT: Free, practical family support service Puhoi to Paparoa 
Ph or txt:  Dianne 027 2085093 
PERSONAL DEVELOPMENT COACHING, GROUP FACILITATION:  
Sabine Druckler 4312231 
PLUNKET: Kaiwaka - Kaiwaka War Memorial Hall: Clinic 1st Wednesday of the 
month; Coffee Group at 9:30. Mangawhai  - Rose Madsen Cottage, Mangawhai 
Domain,  Moir  St:  Clinic  1st  and  3rd  Monday  of  month;  Young  Babies  Coffee 
Group  2nd  and  4th  Monday  10  am;  Plunket  Playgroup  every  Thursday. 
Maungaturoto - Maungaturoto Congregational Church, 100 Hurndall Street East: 
Plunket clinic 2nd and 4th Wednesday. Cynthia 09 431 8187 or 027 675 3488 
PLUNKET HELPLINE -0800 933 922 (24 hours) 
PUBLIC HEALTH NURSE: Gloria Reid Ph: 094327634  
RETURNED AND SERVICES ASSN 733 Settlement Rd. Hakaru 
Ph.4312176 Bill Kerr (President) Ph.4314719 
TAITOKERAU COMMUNITY LAW: Free confidential legal advice and 
assistance, 2nd
Thursday
 of each month. Ph: 0800 155 529 for 
appointments.  
TE KOROWAI AROHA O NGATIWHATUA Ph: 4312675 
(The Cloak of Love of Ngatiwhatua) Support and Maori Consultancy.  
VETERINARY SERVICE MANGAWHAI: 
Ph: 4314535 Mon-Fri 8.00-5.00, Sat 9-12, a/h appt. 
WELLSFORD DOCTORS: Ph: 4238 086 
WOMEN'S WELFARE LEAGUE & Reaching Out For Youth:  
4 Kaiwaka-Mangawhai Rd, M Morgan 4312293 
WHAT'S ON
PLEASE ~ do let us know what is on - email 
kaiwakabugle@kaiwaka.co.nz 
Advertising in WHAT'S ON is FREE  
*4Sep~Big Eyes, 7:30pm KWMH 
*12Sep~Market Day, 10am-2pm, 134 Kaiwaka-Mangawhai Rd 
*18Sep~Junior Netball prizegiving, 4:30pm KSA 
*18Sep~I'll See Y ou In My Dreams, 7:30pm KWMH 
*20Sep~OHS Netball prizegiving, 10am KSA 
*21Sep~St John Otamatea Area Committee AGM 7:30pm 
Kaiwaka station 
*22-23Sep~Parent Interviews, Kaiwaka School 
*23Sep~Years 7 & 8 Interschools Sports Day 
*25Sep~Zonta scholarship applications closing date 
*26Sep~Kaiwaka School Masquerade Ball 
KWMH=Kaiwaka War Memorial Hall 
KSA=Kaiwaka Sports Association Complex 
See www.kaiwaka.co.nz for upcoming events. 
HOUSEHOLD RUBBISH COLLECTION - Kaiwaka Pick up: 
Mondays = Gr een bags (Nor thland Waste - 09 430 3273) 
Wednesdays = Blue bags and yellow r ecycling (at J aques $3.00 
and $1.50) (Kaurilands 09 4392146) 
 DIABETES  Support  Group  -for  Kaiwaka,  Mangawhai,  Wellsford 
10am, 3rd Friday of month Ph:A.Pert 4238242; J.Gardner 4238060 
 DRINK CAN 'tear tabs' - for Starship Hospital- please collect - 98 
Kaiwaka Mangawhai Rd, leave in mailbox, Ph. 4312625  
 GENEALOGY - Wellsford: 1st Thursday in month Ph: 423 7033; 
Waipu: 4th Monday in month Ph: 4312 725 
 GYMNASTICS  OTAMATEA  -  Tuesday  Ph:  Stephanie  022 
3624998 
 HAKARU PONY CLUB - Secretary Julie Rynne 09 4314520 
 KAIWAKA BADMINTON -Tuesdays 7.30pm Ph: 4312345 
 KAIWAKA  GARDEN  &  FLORAL  GROUP  -  2nd  Thursday  in 
month. Ph: 431 4767 
 KAIWAKA CUBS - Thursdays 5.30-7pm, Hakaru Ph:Bruce  4312542 
 KAIWAKA SQUASH - Mondays 7pm Ph: Barbara Thomas 431 5905 
 KNITTING FOR WHANGAREI HOSPITAL - 2nd Tuesday in 
month, Apple Basket 10am Ph 4314827 
 MANGAWHAI COMBINED PROBUS CLUB - 2pm, 3rd 
Thursday month, Senior Citizens Hall Mangawhai. Ph: 4315777 
 OTAMATEA GREY POWER - Kath Pattinson 09 431 8960, 1pm 
last Wednesday of month, Anglican Church Hall, Maungaturoto 
 PT CURTIS CRUISING CLUB - Jean Ph: 4312 246 
 RSA,Hakaru & Dist.Women - meet 1.30pm 4th Thurs in month Ph: 
4314 668  
 TRAMPING - Mondays 9am-2:30pm  Karen Ph: 4312 090 
 YOGA - Tuesdays 6:15pm, Friday 8:30am Kaiwaka WM Hall Carla 
Ph: 021 296 8794 
CHURCHES:
Kaiwaka Family Church - Your Community Church: Sundays 10am & 
6pm. Youth Service Mondays 6-8pm. Ph: Tawhiri 4312571 or Paul 
4312068 
St Paul's Anglican Church 1st Sun. 9.30 am (Eucharist), 3rd Sun. 9.30 
am (Family Service). Contacts:  Church Office 09 431 4122; M. 
Hargreaves 431 2295; C. Bygrave 431 2057; or Rev. Wayne Thornton 
Ph 431 5650 
Church of Christ the King, Mangawhai:9.30am every Sunday 
St.Mary's Catholic Church: Maungaturoto – Griffins Road, Saturday 
evening Vigil Mass 6pm; Mangawhai – Senior Citizens Hall, Sunday 
Mass 8:30am; Wellsford – Matheson Road, Sunday Mass 10:30am; 
Mid-week Mass times and all enquires to Fr. Bill Fletcher – phone 423 
8170 
Baptist Church: Sun. 10.30am Mangawhai Snr Cit.Hall.Ph:4312339 
Cause Way Church Mangawhai: Sundays 10.15am, Mangawhai 
Community Recreation Centre, Insley St. Ph: 09 4314782  
St.Pauls Archie Bull Hall HIRE  $20 half day, $40 full day per hire, R. 
Morgans, Ph 4312365 
Kaiwaka  War  Memorial  Hall  HlRE  -  Phone  4312725  or 
kaiwaka.hall.bookings@gmail.com 
Hakaru Community Hall HIRE -Ph. 4312256 or 4312110 
Te  Pounga  Marae  queries  -  R.  O'Leary  4312  423,  J.Nathan  021  186 
7382 
Kaiwaka  Sports  Association  hire/queries  -  C.  Anderson  4312051  or 
kaiwakasports@gmail.com
Justice  of  Peace:  B.FJaques;  L.Donaldson;  A.F.Hargreaves,  S.Dalziell, 
W.Howard  -  please  phone  to  make  sure  they  are  available 
www.justiceofthepeace.org.nz 
Marriage Celebrants: L.Donaldson; A.F.Hargreaves; C.Rosseels