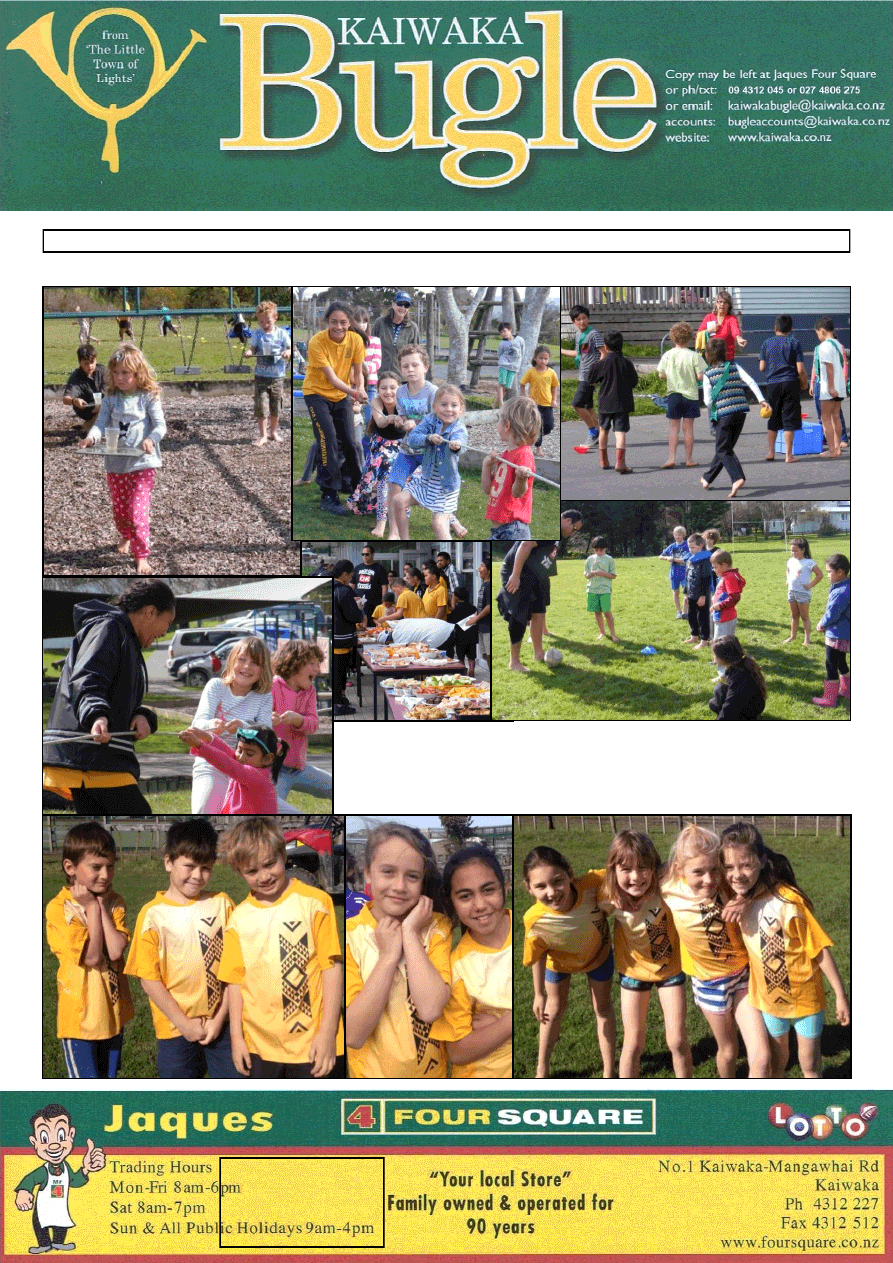 www.kaiwaka.co.nz 
Kaiwaka Bugle - 15 September 2015 
Page 1 
 No: 18
15 September 2015 
New Winter Hours: 
Mon-Tue,Thu-Fri: 8am-
6pm; Wed: 8am-6:30pm;  
Sat: 8am-7pm;  
Sun: 9am-5pm 
LOCAL KIDS HAVING A GREAT TIME 
Kaiwaka School: above: Game Day with their friends from 
the Kura Kaupapa Maori Nga Ringa O Matariki; below: at 
the Cross Country.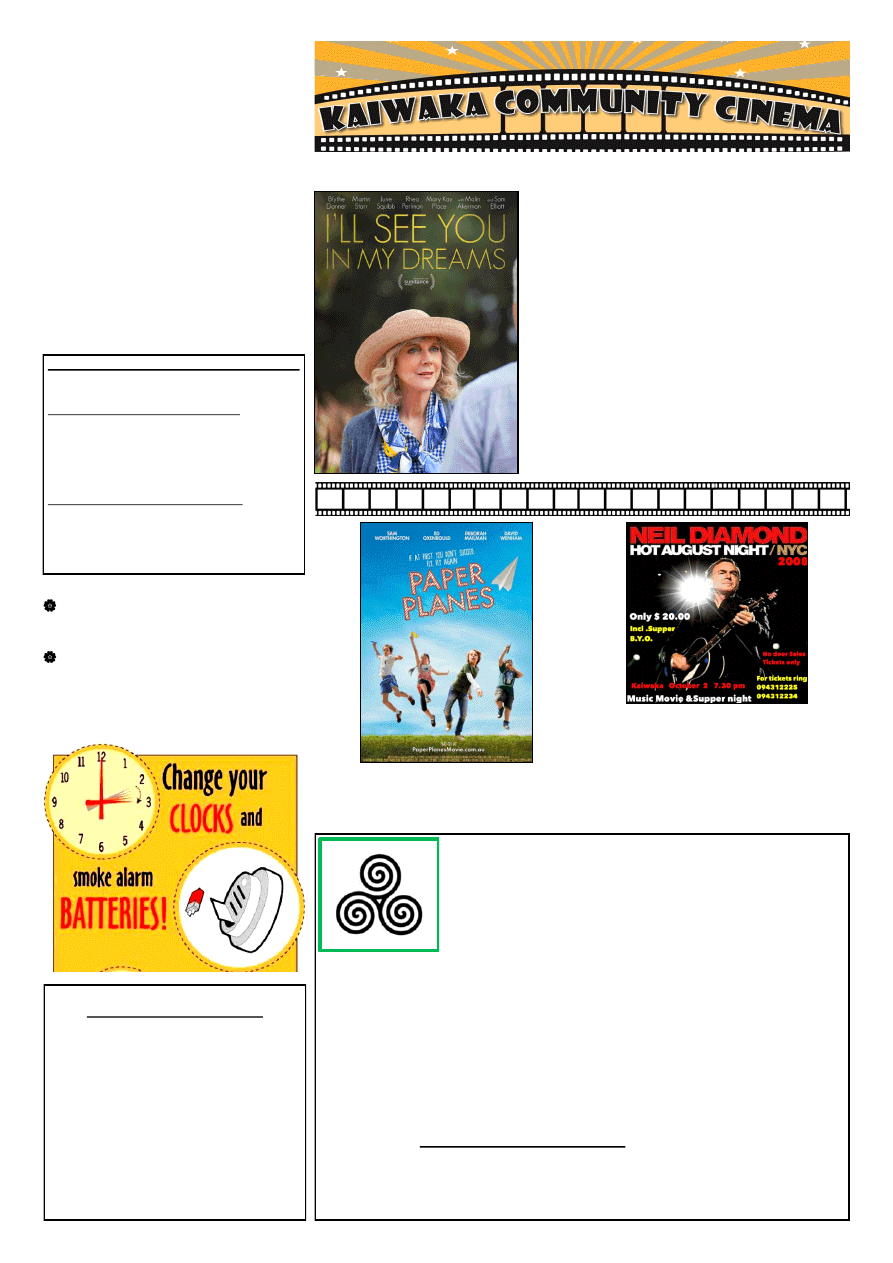 ABOUT TOWN 
......... 
 Daylight  Savings  starts  on 
Sunday  27  September  -  put  your 
clocks FORWARD one hour. 
And  while  you're  adjusting  your 
clock, take a moment to change the 
battery in each smoke alarm in your 
house.  It  might  save  your  life  one 
day. 
KAIWAKA BUGLE No: 18 
15 September 2015
Page 2: Kaiwaka Movies 
Page 3: Public Notices; Classifieds 
Page 5: Weather, Pt Curtis, Smokefree 
Page 7: Kaiwaka School 
Page 9: Kaiwaka School cont 
Page 11: Kaiwaka Sports Association 
Page 13: KSA cont 
Page 15: Isabelle Maude Wright 
Page 17: Kaiwaka Cares 
Bugle 19 will appear 29 September 2015 
Contact for advertising, reports, articles 
or information can be made by 
Email kaiwakabugle@kaiwaka.co.nz 
Ph: 09 4312 045 (Lindsey) 
Txt:  0274 806 275 (Wendy) 
Copy may be left at Jaques' Four Square.
Kaiwaka Bugle 
Founded May 1978 
Copies available in Kaiwaka at Jaques Four 
Square, Kaiwaka Postal Centre, Shamrock 
Service Station, Celena's Gifts, Animal Health 
Centre. Also outlets in Maungaturoto, 
Mangawhai and Paparoa. 
Can be viewed online at  Facebook or 
www.kaiwaka.co.nz/Bugle  
Or a copy can be posted to you if you supply 
stamped, self-addressed DLE envelopes. 
At Kaiwaka War Memorial Hall . Adults $10, Chn (under 16) $5, Family Pass (2 adults + 3 children) $25 
I'll See You In My Dreams 
Friday 18th September 7:30pm (PG13) 
A widow and former songstress discovers that 
life  can  begin  anew  at  any  age.  With  the 
support of three loyal girlfriends, Carol decides 
to  embrace  the  world,  embarking  on  an 
unlikely friendship with her pool maintenance 
man,  pursuing  a  new  love  interest,  and 
reconnecting with her daughter. 
Starring:  Blythe  Danner,  Martin  Starr,  June 
Squibb,  Rhea  Perlman,  Mary  Kay  Place, 
Malin Akerman, Sam Elliott. 
RANA Health 
Naturopathy- Acupuncture- Massage 
Open Mondays, Thursdays & Fridays 
4 Kaiwaka-Mangawhai Road; Room 4; Kaiwaka
Phone or Text for an appointment &/or price enquiry:  
Rebecca Wood 021854158 
Or visit www.ranahealth.co.nz & click BOOK NOW
Rebecca Wood Dip Th Mass; Dip Aroma; Dip Acu; 
Student Naturopath- Final semester
Kaiwaka Bugle Advertisements 2015: 
All 
copy 
and 
queries 
to: 
kaiwakabugle@kaiwaka.co.nz 
Classified  $3  (max  30  words);  1/16  page 
$4; 1/8 page $6; 1/4 page $12. 
Payments can be made online, posted or 
left at Jaques Four Square Store. 
Accounts: 
bugleaccounts@kaiwaka.co.nz 
The  Kaiwaka  Bugle  is  a  community 
newspaper run by volunteers.   
Articles, etc. printed are not necessarily 
the opinion of the Bugle Team. 
Paper Planes 
Sunday 27 September 2:00pm (G) 
Neil Diamond - Hot August 
Night 
Friday 2 October (G) 
$20 incl Supper, BYO 
Tickets - 4312 225 or 4312 234 
NO DOOR SALES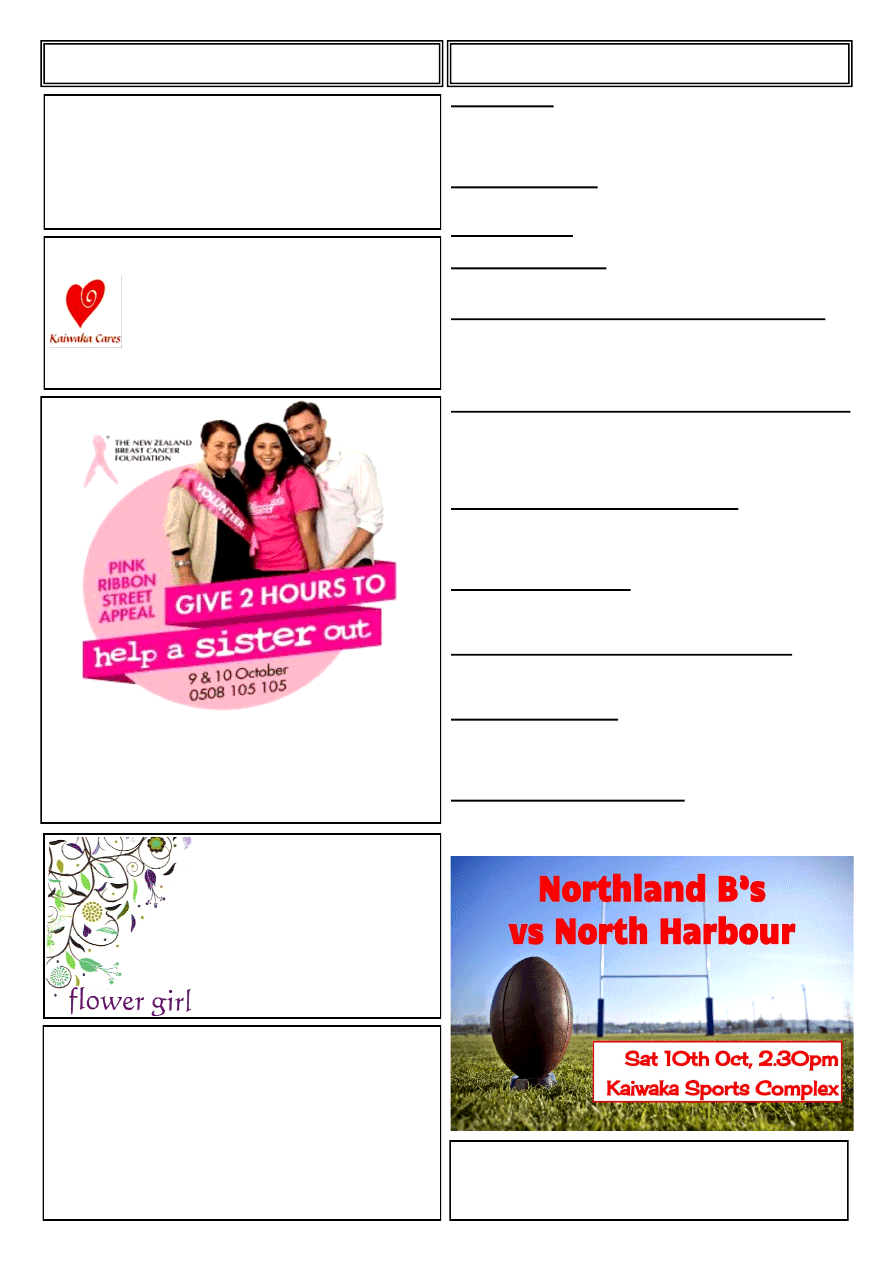 www.kaiwaka.co.nz 
Kaiwaka Bugle - 15 September 2015 
Page 3 
Community Drop-In Centre 
Open 10am – 2pm 
Monday – Wednesday – Friday 
Free WIFI now available 
Colour and black/white laser printer 
PUBLIC NOTICES 
CLASSIFIED 
Thought for the day:
Proverbs  21:  2    We  can  justify  our  every 
deed, but God looks at our motives. 
FOR  SALE:  Original  wood  stove.  Esse  Century 
cooker.  Been  installed  for  eighteen  years.  Wet  back, 
double oven , white and black enamel. Working order 
$2,200.00 Ph 4312 605 Karen 
HAY  FOR  SALE: $10 a conventional bale 4312006 
or 021 1570870 
BEE SWARMS removed. Ph Adrian 09 945 0593 
MUSIC  TUITION:  Classical  and  modern  piano, 
keyboards, guitar and voice. 021 161 8446 
IT'S TIME TO SPRAY FOR ONEHUNGA WEED! To 
enjoy  a  prickle  free  lawn  this  summer,  call  or  email 
Mowing  and  Weeding    09  945  2160  or 
mowing.mangawhai@ubernet.co.nz 
JILL SHIRES HOLISTIC ANIMAL THERAPIES: 
Cranio  Sacral  Therapy,  Herbal  Remedies  & 
Diatomaceous Earth for Pets, Horses & Farm Animals. 
www.jillshires.nz    or  Ph:  431  2080  Based  in  Oneriri 
Road 
PLANTING  AND  LANDSCAPING:  for  all  your 
advisory,  planting  and  maintenance  needs;  20  yrs 
experience; Pete Worsfold 'Sound Landscapes' Ph 021 
825 970 
BERYL  NOZEDAR:  (Middleton)  International  
Clairvoyant.  Numerology,  Tarot,  Clairvoyance,  
Mediumship. $60 for hour includes CD. Ph: 431 2080 
CLOTHING ALTERATIONS & REPAIRS: Hems, 
Zips,  Dressmaking  Phone:  Win  4312027    or  027  444 
8358 Winsome Designs. 
HEALING  ROOMS: are open for anyone needing 
prayer on Thursdays from 11am-12pm at the Railway 
Station buildings, 18 Station Road, Wellsford. Ph 423 
8469 or 423 7366 for any further information. 
FREE GRAZING WANTED: Small or large block. 
Can  do  some  fencing  or  water.  Phone  after  6pm 
4312006 
OTAMATEA COMMUNITY 
SERVICES 
Annual General Meeting 
Wednesday 21 October 1pm 
155 Hurndall Street Maungaturoto 
All welcome. 
Today 8 women will be diagnosed with breast cancer. 
This year 650 women will most likely die.  Yet 30% of 
eligible women aren't enrolled in free screening. And 60% 
of young women don't know the signs beyond a lump. 
Volunteer to help out for the Kaiwaka Street Appeal.  
Call 0508 105150 to give 2 hours to help. 
DAFFODIL DAY 
A big Thank You to all who gave so generously to the 
Daffodil Day Appeal. 
Kaiwaka raised $1105 towards Cancer Society support 
services in the Northland area - a great result. 
Many thanks to Jaques Supermarket, La Nonna 
Bakery, Shamrock Service Station, Coffee Pot Cafe 
and the team of collectors for their ongoing support. 
Well done everyone! 
Gay Young 
Kaiwaka Good Sorts 
Do you know someone in our 
community who is deserving of a 
beautiful bunch of flowers? 
Send an email or drop a note to 
Jaques Four Square to let the 
Bugle team know. We will choose 
a recipient to receive flowers from 
Lindy the flower girl.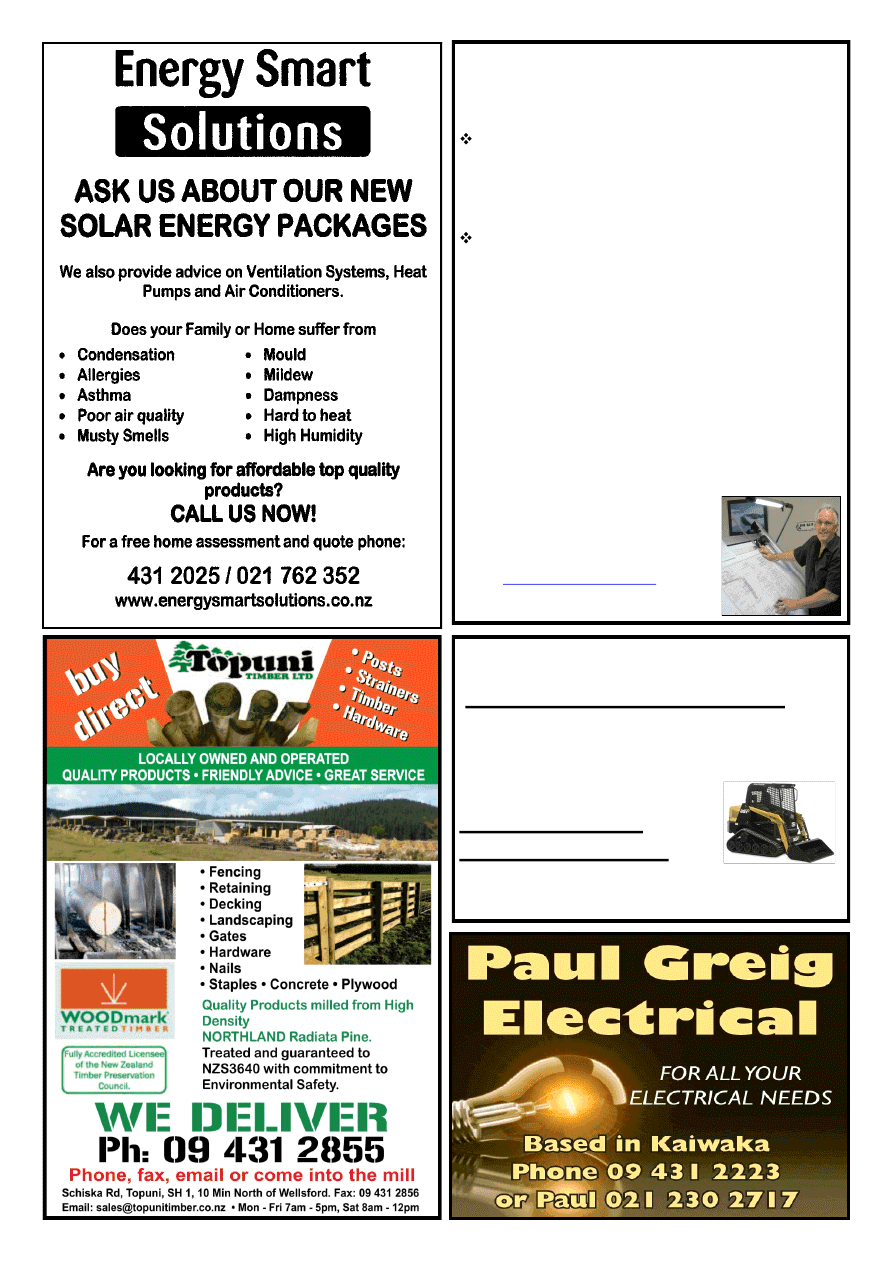 Natural Earth Ltd 
 Landscape and Bobcat services 
 : Driveways  :Landscaping  :Retaining Walls 
 : Hole Boring: Land Levelling :Trenching 
 : Decks :Fences :Sections Cleared: Plus much 
more 
Tel   09 4312885 
Mob 02102391280  
For A Fast Friendly  
Service Contact Tim Hicks 
ARCHITECTURAL BUILDING 
PLANS AND DESIGNS 
WRIGHT DESIGN 
QUALIFICATIONS 
Brian is a qualified designer (NZCAD) with over 40 years of 
varied experience in all types of building and is a registered and 
Licensed Building Practitioner in Design - L.B.P. 117345 
He ensures you will achieve the best from your budget with 
recommended excellent local contractors ready to competitively 
price and build your personal project quickly and efficiently. 
EXPERIENCE 
Brian's practical building and 40+ years of design experience 
means he can give you excellent advice and all the guidance 
needed for all your building needs 
v Wright Design offers free visits, consultations and all the 
advice you need on planning, design, building, contractors, 
council permit applications, etc. 
 
" Qualified and inexpensive designer – N.Z.CAD., LBP 117345 
" Guaranteed design and working drawings 
" Free site visit to your home or property 
" Great service 
" Great problem solver 
Call Brian ~Arrange a visit to discuss your needs  and obtain 
great advice and free quotation 
MAKE GOOD USE OF HIS EXPERIENCE and 
KNOWLEDGE 
WRIGHT DESIGN:  
360 Oneriri Road, Kaiwaka
Office 09 4312544  
Mobile 021 276 7389  
Email: 
www.wrightdesign.co.nz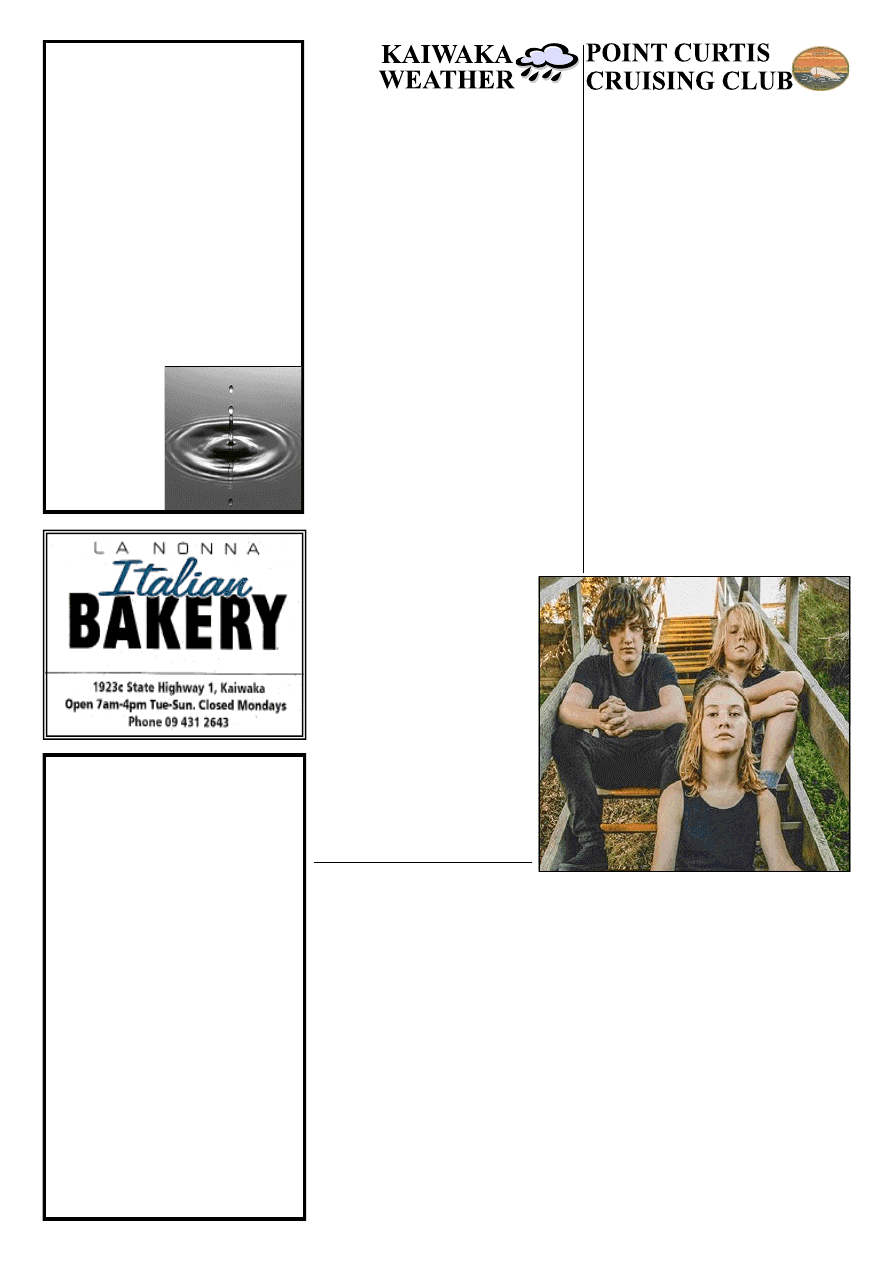 www.kaiwaka.co.nz 
Kaiwaka Bugle - 15 September 2015 
Page 5 
Willow Bend
HORSE  
HOTEL 
"  
Total Horse Care 
" 
Agistment 
" 
Riding Lessons 
" 
Arena Hire (60x40) 
" 
Young Horse Starting 
" 
Re-training/Exercising 
" 
Hoof Trimming 
" 
Problem Solving
Phone Sue 09 431 2817 
or 021 623 776 
Or email sue.gray@xtra.co.nz 
PROFESSIONAL 
COUNSELLING 
AVAILABLE
Want to be content in your life? 
Men... need help with your 
relationship? 
Couples... communicating a 
problem? 
I can help you!
Phone me for a preliminary 
talk. 
PETE 
WORSFOLD  
B. Soc.Sc. M. Soc.Sc. 
Dip Prof Couns. 
Prov. MNZAC 
Counsellor 
021 825 970 
KAIWAKA 
Pool  Contest  against  Wellsford  on 
Sunday 4th October at 3 Furlongs Bar 
&  Grill.  Come  along  from  1pm 
onwards.  Please  bring  a  plate  for  a 
shared meal. 
Congratulations to Fish Of The Month 
(Gurnard) 
winners: 
1st: 
Gravy 
1.106kg,  2nd:  Frank  Steiner  1.095kg, 
3rd: Gravy 1.023kg. 
Our next fishing competition will be an  
Open  Fishing  Contest  on    21st  and 
22nd 
November 
2015. 
Species 
included  in  contest  are  Snapper, 
Kingfish 
and 
Kahawai. 
More 
information and rules to come! 
New  Fish  of  the  month:  SNAPPER 
(Cut off date 13 October) 
New  members  are  always  welcome! 
Subs are $20 for a single sub or $30 for 
a  family.  Subs  may  be  paid  at  3 
Furlongs  Bar  &  Grill  or  to  Jean  at 
Jaques  Four  Square,  alternatively  subs 
may  be  paid  directly  into  the  clubs 
bank account, BNZ Wellsford 02 0364 
0012950  00.  Please  include  your 
surname as a reference. 
Next committee meeting: Tuesday  13 
October,  8th  September,  7pm  at  3 
Furlongs Bar & Grill 
~Wayne Leslie, Commodore 
Our  winter  has  been  and  gone  for 
another  year.  It  was  a  rather  good 
winter  although  extremely  cold.  The 
farms  were  good  enough  to  drive 
around  safely  except  for  the  last  3 
weeks  of  August  when  things  started 
getting  very  wet.  My  Oneriri  farming 
friend confirmed this. Now into spring, 
it is very wet. The upside is summer is 
not  far  away  and  the  sun  is  much 
warmer  so  if  you  can  find  a  sheltered 
spot  out  of  the  wind  it  will  help  you 
feel  a  lot  better.  There  are  so  many 
colds,  flus  and  viruses  around  the 
warmth  will  help  you.  Looks  like  we 
should have had more rain over winter 
as the water table is not up as high as it 
should be. 
In our rain gauge we recorded 131mm 
for August and 2014 there was 187mm. 
We  recorded  699mm  for  the  first  8 
months  of  this  year  and  for  2014 
1132mm. We recorded 16 days of rain 
this year and in 2014 we had 13 days of 
rain.  There  was  more  rain  on  fewer 
days than in 2014. 
Our driest August since 1987 was 2011 
with  54mm  and  the  wettest  was  1989 
with 318mm. Our driest first 8 months 
of  any  year  since 1987  was  1994  with 
612mm.  Our  wettest  was 1987 
with 1373mm. 
If you have herbs in the garden 
and  want  to  dry  them  quickly. 
Just  lay  a  sheet  of  news  paper 
on the seat of your car, arrange 
the herbs in single layer on the 
paper then roll up the windows 
and  close  the  doors.  They  will 
be dried to perfection. What is 
more, your car will smell great 
as  well.  Now  I  have  not  tried 
this  so  am  not  sure  if  your  car 
has  to  be  indoors  or  outdoors 
and they need a sunny position 
or  shady.  I  do  not  have  any 
herbs in my garden just yet. 
~Bev 
Congratulations to Alien Weaponry for 
coming  second  in  this  national 
competition last weekend. 
They  are  a  three  piece  metal  band 
whose style has been influenced by old 
school  thrash  and  hardcore.  The 
members  are  brothers  Lewis  de  Jong 
(guitar/vocals), Henry de Jong (drums) 
of  Bream  Bay  College  and  Ethan 
Trembath  (bass)  of  Otamatea  High 
School. 
The band was formed in 2010 by the de 
Jong brothers, who have been listening 
to  bands  like  Metallica,  Anthrax  and 
Pantera  since  birth;  and  started 
jamming and writing songs before they 
learnt  the  alphabet  Not  content  to  rely 
on  the  shock  value  of  their  extreme 
youth  (two  13-year-olds  and  one  15-
year-old),  the  group  understands  the 
value  of  professionalism,  and  works 
crowds  to  a  frenzy  with  their  tight, 
thrashy  energy  and  wild  stage 
performances.  They  refuse  to  play 
covers,  and  have  enough  material  to 
begin  recording  their  first  album  later 
this year. 
Their  plans  for  world  domination 
include playing at Wacken in Germany 
and touring the big international metal 
festivals.  Current  influences  include 
Lamb  Of  God,  Tryvium,  Subtract  and 
System  of  a  Down,  but  the  band  has 
developed  its  own  distinctive  thrash 
metal sound.  
At  the  Northland  regional  final  Ethan 
Trembath,  the  bass  player  for  Alien 
Weaponry,  also  won  the  MAINZ 
musicianship 
award 
with 
the 
opportunity  to  win  a  $4000  MAINZ 
scholarship. 
SMOKEFREE ROCKQUEST 2015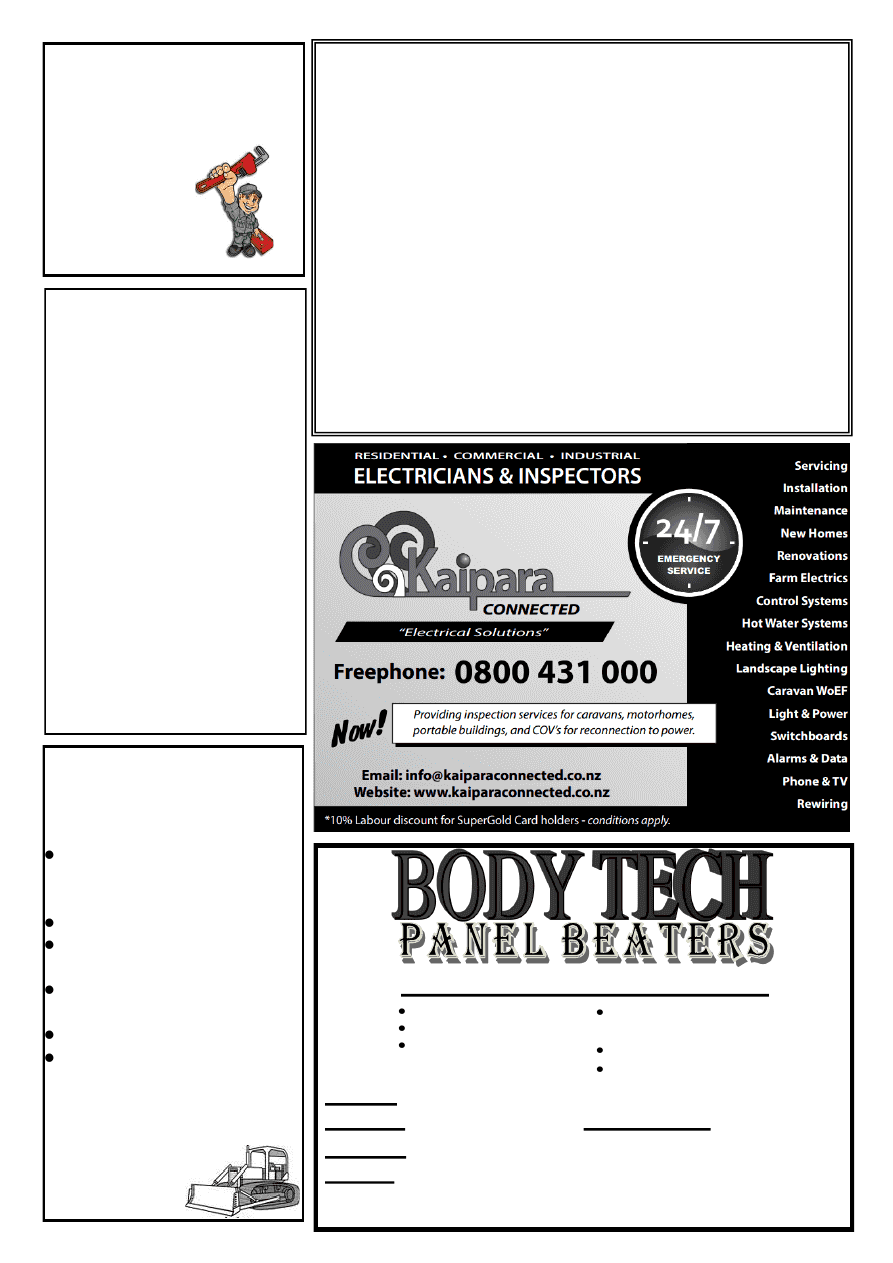 Coates  
Contracting 
D41 Bulldozer with 6 
way blade, bush rigged 
with winch 
For all tree work 
General bulldozing and  
  stick raking. 
120hp Tractor for 
ground cultivation,  
tip trailer work. 
Fencing
All enquiries phone  
Brett Coates  
094318720  
or  
 021431872
Ross Murphy 
PLUMBER 
Certifying Plumber 
09 431 7510 
021 424 252 
Paparoa Based 
+
New Housing  
+
Renovations  
+
Maintenance
KAIPARA FLOORING CO 
32 HURNDALL ST MAUNGATUROTO 
Phone 09 9469886  
or 021 515 415 
Carpet, vinyl, laminate wood look  flooring,  
vinyl planking, sanding & polyurethane service. 
Carpet Short Ends from $79pm + GST 
Vinyl D.I.Y. peel n stick tiles $10sq mtr + GST. 
Free measure & quote.   
Mobile Service 
Phone Christine or Howard anytime 
Open Saturdays by arrangement. 
For all your body repair needs!! 
Hours: 8.30am-5pm Monday-Friday  
Mobile: 021 118 0462       After hours: 09 431 2384 
Phone: Craig or Call in for a free Quote 
bodytech_panelbeaters@yahoo.com
We are located at 1837 SH1 Kaiwaka, behind Twinkle Tow 'n' Tyre 
Call in anytime for a free quote.  
Rust repairs 
Insurance work 
Anti-corrosion  
   treatment   
Large and minor 
vehicle repairs
Industrial vehicles
Full Cut and polishes
UP-LINK 
CHRIS WARING 
FREEVIEW 
INSTALLATIONS
T.V. - HOME THEATRE & 
HI-FI ADVICE/SET UP
SKY ACCREDITED 
INSTALLER
MOB.0273403747 
HM.094312328 
EMAIL cwaring44@gmail.com
28 YRS EXPERIENCE 
OFFERING 
UNBIASED ADVICE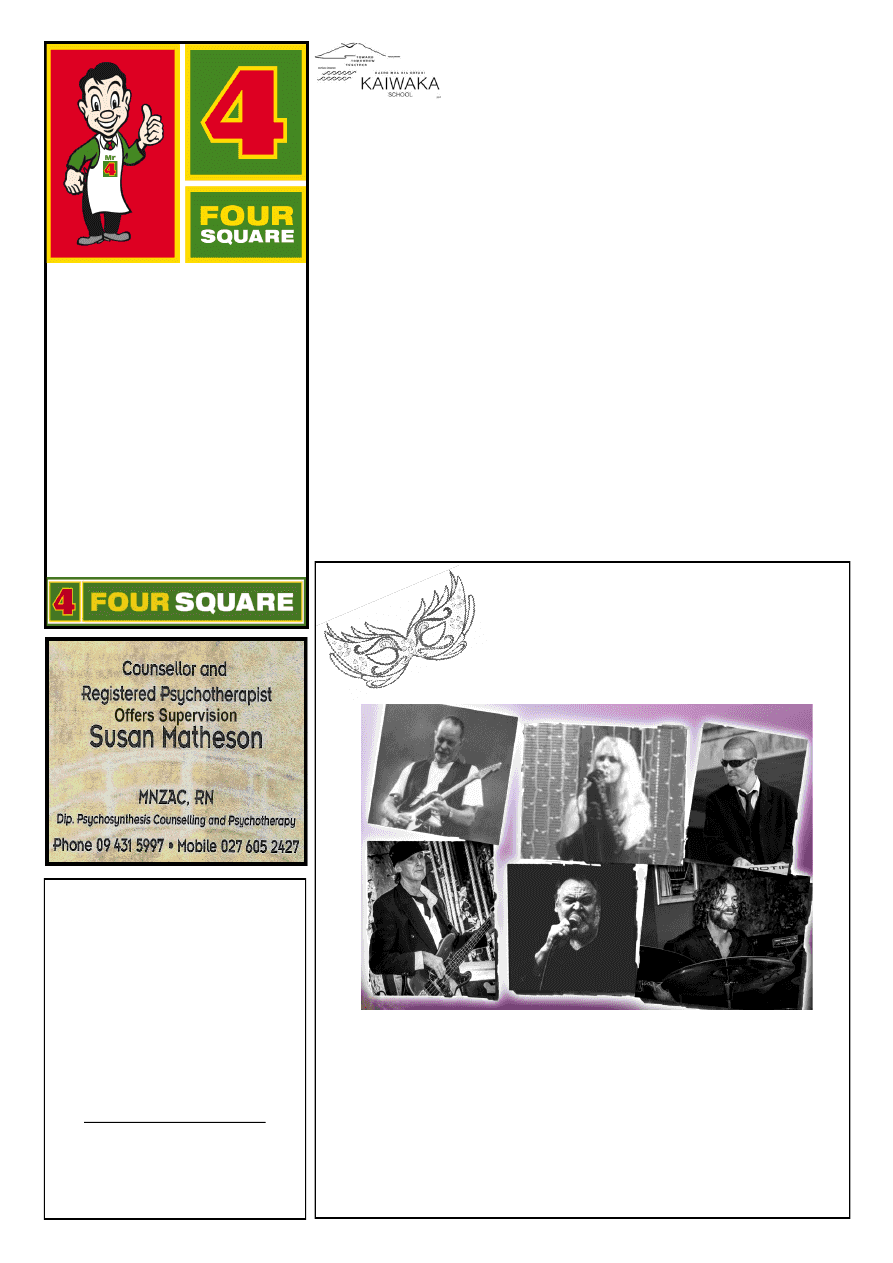 www.kaiwaka.co.nz 
Kaiwaka Bugle - 15 September 2015 
Page 7 
Congratulations  to 
all  our  wonderful 
cross country competitors who went to 
the  Bream  Bay  competition.  This  was 
apparently far muddier and challenging 
than our field. Well done all of you and 
thank you to Ms Elworthy who trained 
the runners and organised the event. 
Special  mention  for  cross  country 
achievement  goes  to  Gareth  Ferguson 
who  was  placed  3rd  in  the  9  year  old 
boys and Hamuera Henderson who was 
placed  5th  in  the  9  year  old  boys  at 
Bream  Bay.  We  also  specially 
congratulate  Kaiwaka  1  netball  team 
who won their grade trophy undefeated 
all season. 
We  had  a  wonderful  sports  and 
activities day with the Oruawharo Kura 
students.  Thank  you  to  everyone  who 
supported  this  with  a  massive  shared 
lunch.  There  was  plenty  of  great  food 
which  everyone  appreciated.  Thank 
you to Mrs Gaskin for organising this.  
Our  Noho  Marae  needs  to  be  deferred 
until  next  term.  We  need  to  find  a 
venue big enough to fit us all in. Please 
delete  it  from  your  calendars  for  this 
term, and we will keep you informed as 
to the plans for next term.  
The  Kaipara  Festival  is  on  19th 
September.  To  make  this  as  safe  as 
possible  and  managed  the  best  way  it 
can be, it has been decided that we will 
take a bus to Rodney College, with all 
our students together from the start. We 
will  perform  at  11.20.  The  bus  will 
leave  the  school  at  9.30am  and  leave 
Rodney  College  to  return  at  12.30pm. 
A gold coin koha is requested.  
Kaiwaka  School  Agricultural  Day  will 
be October 19th. 
~Rosie Ellis 
Netball 
Congratulations 
to 
Kaiwaka 
1. 
Kaiwaka  1  finished  the  2015  netball 
season  undefeated,  winning  their  final 
game  of  the  season  15-7  against 
Warkworth.  This  meant  the  team  were 
untouchable all season. Every Kaiwaka 
1 player received Rodney grade winner 
medals  and  brought  home  the  Rodney 
C Grade Winners trophy. 
A  big  thank  you  to  the  supporters  of 
Kaiwaka 1, who always exercised their 
voices  every  Saturday  on  the  sideline 
and  to  Pat  Buxton  for  giving  up  her 
time to coach the team. 
Kaiwaka  2  finished  the  2015  netball 
season  in  third  place. 
Check out the  
BAKING AISLE  
For all those yummy old 
fashioned desserts back in 
store- Sun Valley Tapioca, 
Semolina & Sago  
$2.69 500g pkt 
Pick up an Atomic Coffee on 
the go  
$3.00 small $4.00 large 
Jaques Four Square 
Phone: 4312227 
1 Kaiwaka-Mangawhai Road, 
Kaiwaka.
KAIWAKA SCHOOL 
Otamatea High 
School 
& Maungaturoto District High 
School 
50
th
 Reunion 
15
th
 – 17
th
 April 2016 
For more details visit:   
Contact: Phone: 0800 682628    
Email: ohs@otamatea.school.nz 
Registrations close 18
th
 March 2016 
continued over... 
Kaiwaka School presents 
Masquerade Ball 
twirl about at our annual dance to the 
LIVE music of 
MIDNIGHT HOUR  
The Commitments Tribute Show 
Saturday 26th September 2015 7:30pm to midnight 
Kaiwaka Sports Complex 
Formal attire and mask are mandatory 
Masks will be available at the door 
Supper provided 
Tickets $25.00 per person available from School office or 
Jaques 
Contact: Clare 0275 228 477 or Pat 0278 239 628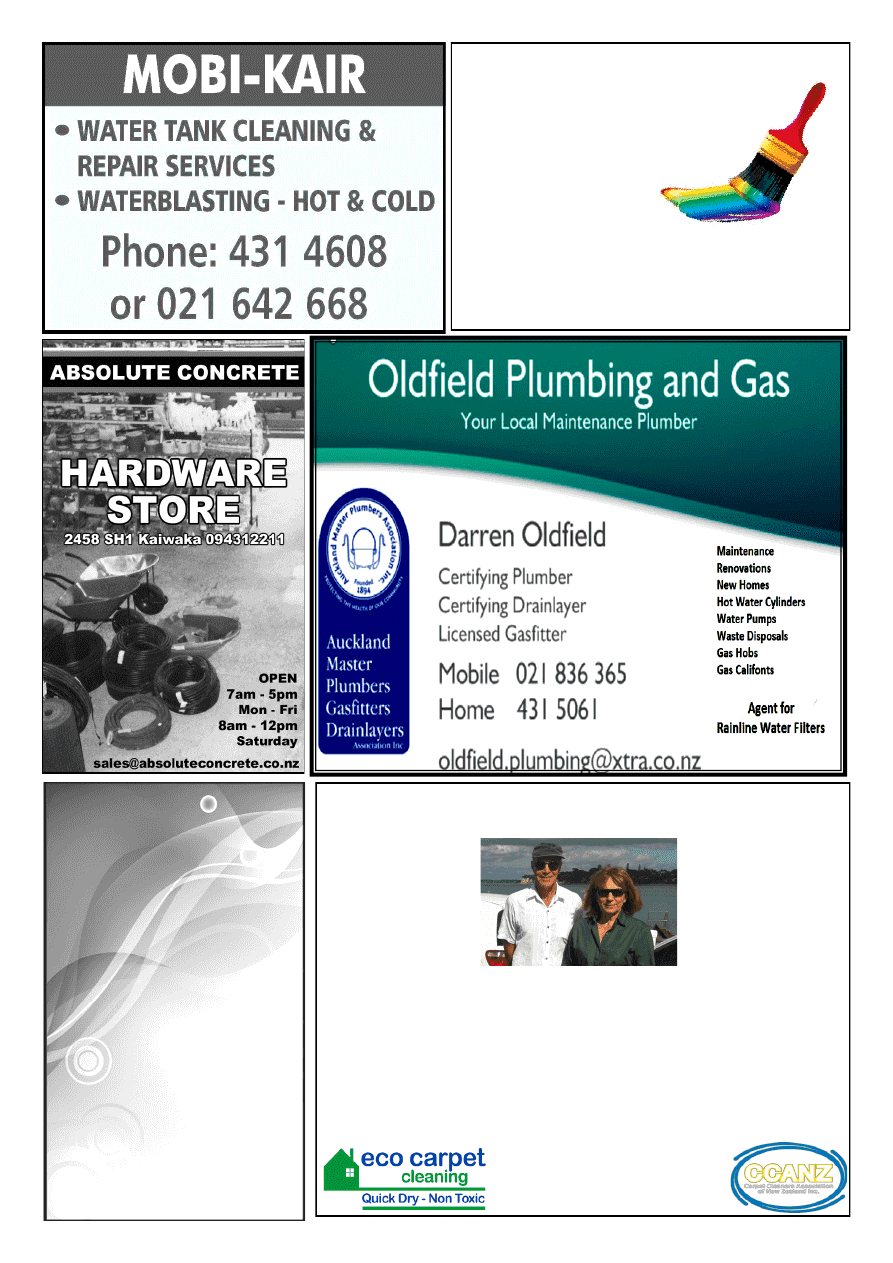 U Beauty 
            Underarm Wax  
    $20 
            Extended Bikini Wax   $30 
            15 min Back  Massage  $25 
            30 min Back Massage  $50 
Please call Nicole for bookings 
09 393 6336 or 022 0639450 
Qualified Beautician 
4 Kaiwaka – Mangawhai Rd 
Kaiwaka 
Eyebrow Wax  $10 
Eyebrow Tint  $10 
Eyelash Tint 
$20 
Lip Wax 
$10 
Chin Wax 
$10 
Bikini Wax 
$20 
Brazilian 
$50 
½ Leg Wax 
$30 
Full Leg Wax  $45 
Full Pedicure  $60 
Foot Tidy  
$35 
Manicure 
$45 
Nail Tidy 
$25 
Chest Wax 
$30 
Back Wax 
$40 
Nostrils 
$10 
Ears 
$10 
09 4312918 
0274735171 
leecooper@xtra.co.nz 
LEE COOPER PAINTERS 
(Kaiwaka Based) 
*30 yrs Experience 
*Interior/Exterior 
*New and Restoration 
*Honest and Reliable 
*Free Quotes 
CARPET & UPHOLSTERY CLEANING 
QUICK DRYING – NON-TOXIC  - GREAT RESULTS
Mike and Marina Bagley have returned to your area 
and are delighted to offer 
carpet and upholstery cleaning 
Call 09 431 3016  or  027 2410414 
marina@ecocarpetclean.co.nz  
www.ecocarpetclean.co.nz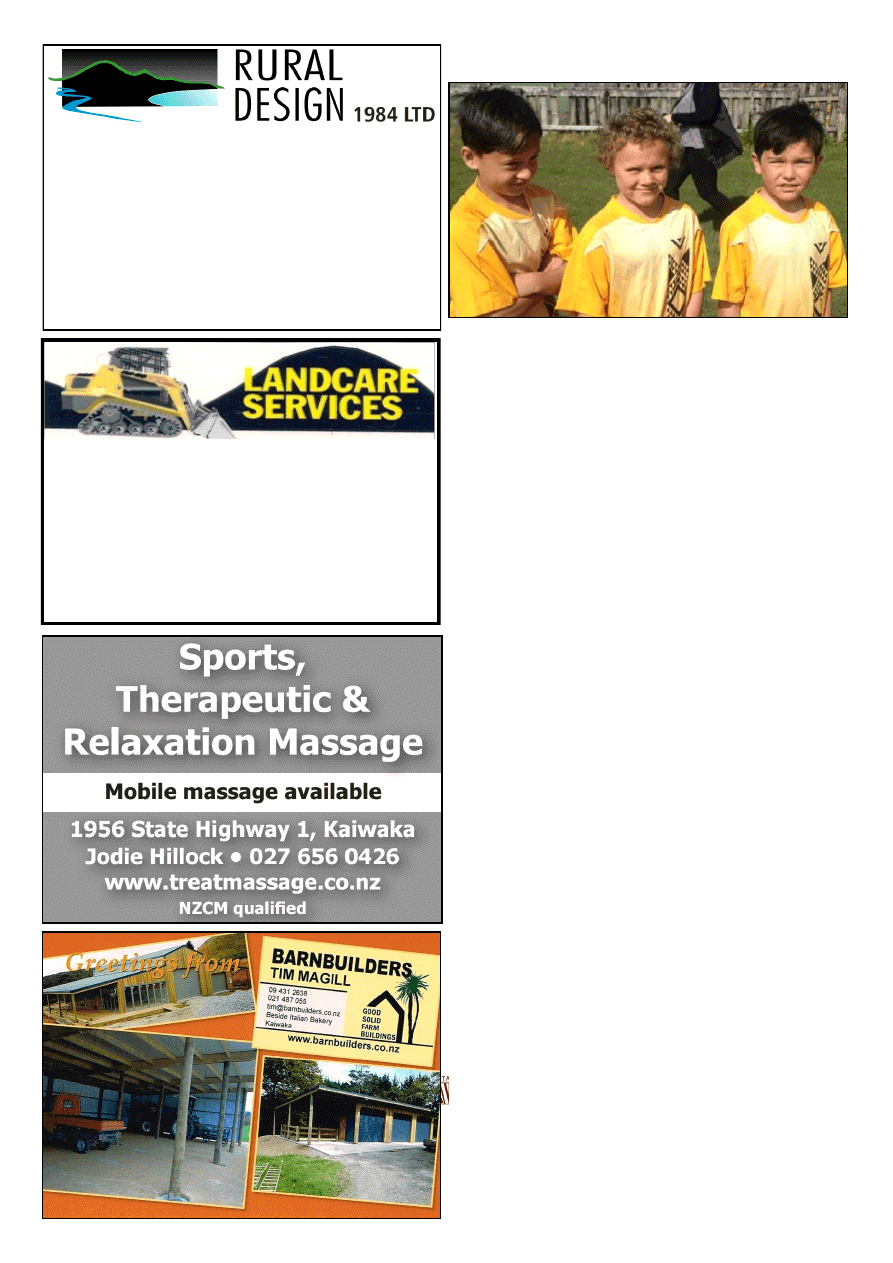 www.kaiwaka.co.nz 
Kaiwaka Bugle - 15 September 2015 
Page 9 
LANDSCAPING 
4 IN 1 BUCKET 
TRENCHER 
POLE HOLES 
ROTARY HOE 
COMPACT ROLLER 
OFFAL HOLES 
CAN SUPPLY WOODCHIP & POST PEEL 
5 TON TIPPER 
FOR RELIABLE AND FRIENDLY SERVICE CONTACT DAVE 
Dave Hyndman 
 
KAIWAKA 
PH: 09 4312302 
MOB: 021 431 238 
KAIWAKA SCHOOL 
continued 
They met a determined Snells Beach team in the play-off for 
second  position,  but  were  beaten  on  the  day  10-3.  Thank 
you  to  Zac  who  filled  in  for  2  1/2  quarters  -  and  to  the 
players for never giving up. Thank you to the parents who 
supported  the  Kaiwaka  2  team,  and  to  Jody  for  coaching 
Kaiwaka 2. 
Kaiwaka Netball prizegiving is set for Friday 18 September 
at  the  Kaiwaka  Sports  Association,  starting  at  4.30pm.  All 
netball uniforms need to be washed, dried and handed in at 
prizegiving. 
Bream Bay X Country 
I'd like to congratulate the following children, who went to 
the  Bream  Bay  Inter  School  Cross  Country.  Beforehand 
they  put  a  huge  amount  of  effort  and  dedication  into  their 
training. On the day they all gave it their best. It is a tough 
course with lots of mud and steep hills. 
Maia  Fairburn,  Devine  Henderson,  Branden  Edwards, 
Kohurangi  Watene-Kapea,  Te  Kauri  Watene-Kapea,  Zac 
Wing, Faith Pene, Hamuera Henderson, Jacob Kake, Gareth 
Ferguson,  Lilly  Wing,  Keidis  de  Ridder,  Toby  Lee,  Egor 
Sheffer Lisa van Blerk, Dalana Stonex and Morgan Jansen. 
Thank you very much to the parents that provided transport 
and came to support us. 
~Anna Elworthy 
School Pool 
We  are  looking  to  open  the  School  pool  again  over  the 
Christmas  holidays.  We  need  two  more  dosers  to  support 
Craig, Sam and Jody during this time. If you would like to 
be trained up to be a doser you will need to attend a course 
up in Whangarei. This course will be held on November the 
25th  2015.  The  school  will  pay  for  the  course  with  the 
understanding  that  you  are  happy  to  be  timetabled  on  to 
dose the pool over summer. This commitment will be about 
one  week  morning  and  night.  Please  contact  the  school  if 
you would like to take part. The more people trained the less 
work for everyone. 
Strengthening Families 
Strengthening  Families  aims  to  strengthen  families  with 
their  own  goals  around  multiple  social  needs,  for  example 
health,  finances,  employment,  parenting  support,  family 
relationships  or  education.  A  Strengthening  Families 
Coordinator  will  bring  families/whanau  and  local  agencies 
together  in  a  meeting  to  look  at  solutions  to  a  families 
various  needs.  Families/whanau  decide  what  goals  and 
information  is  shared  at  the  meeting  and  which  agencies 
they want involved. 
Anyone  can  refer  to  Strengthening  Families  if  they  have 
children that are under 17 years old, and there is more than 
one agency involved with their family. This is a free service 
in the Wellsford, Mangawhai, Tomarata and Kaiwaka areas. 
If  you  wish  to  find  out  more  about  this  service  please 
contact: Jane Hollis Strengthening Families Coordinator Ph: 
09  4236006  Extension  3  Mobile:  0274760020  Email: 
sfamilies@ctchauora.co.nz 
WHOLESALE NATIVE PLANT NURSERY 
AND LANDSCAPING 
By Appointment 
Small and Large orders welcome 
Phone: 09 431 2481 
Email: info@ruraldesign.co.nz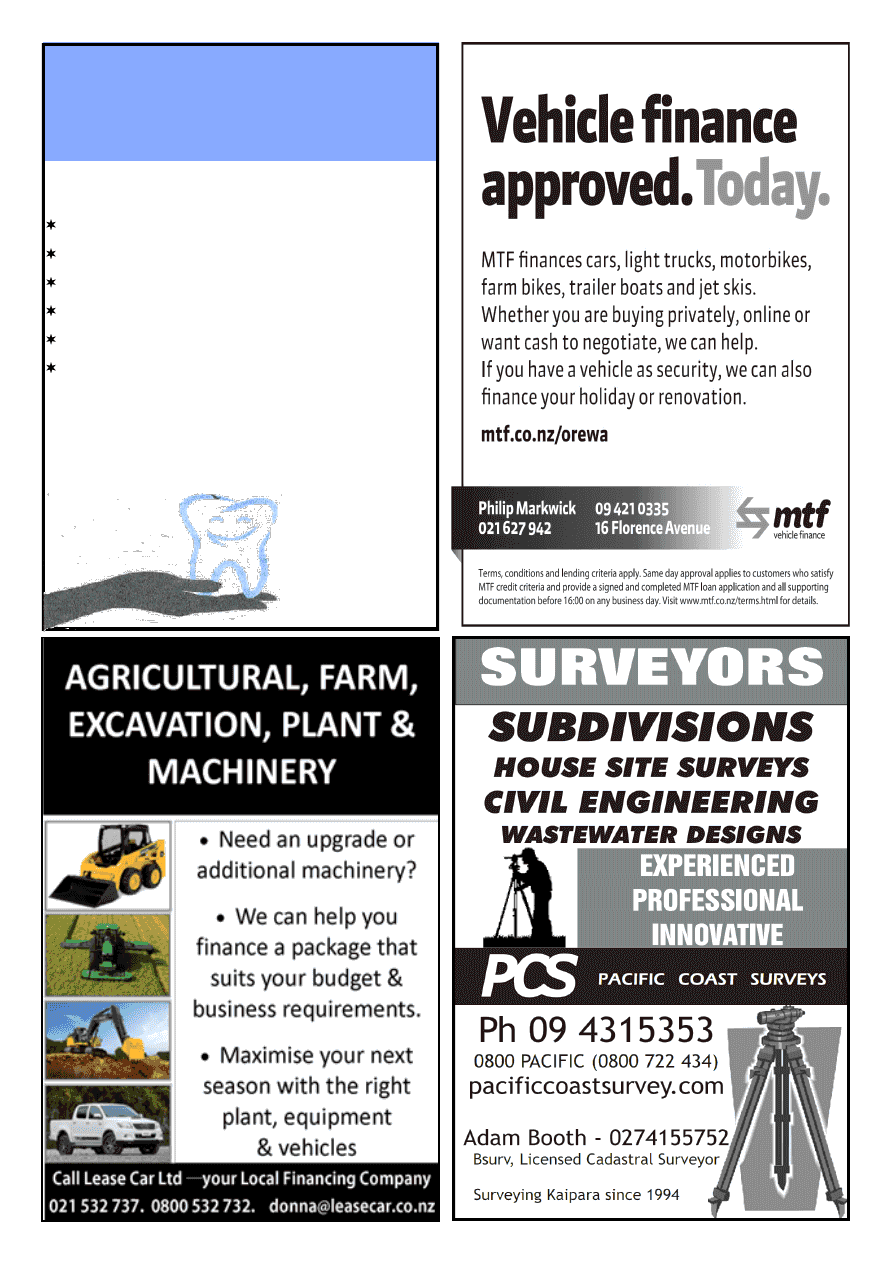 Gentle Dental 
Ruakaka 
We love to see you smile 
General  & Cosmetic Dentistry 
Emergency & ACC Treatment 
Denture & Hygienist Services 
Senior Citizen Discounts 
Free Adolescent Care 
Free WINZ Quote 
19 Ruakaka Town Centre 
Dr Sim Sood & Associates 
Ph:  432 8139 
Saturdays 
By 
Arrangement 
Open  
Mon-Fri  
8am-5pm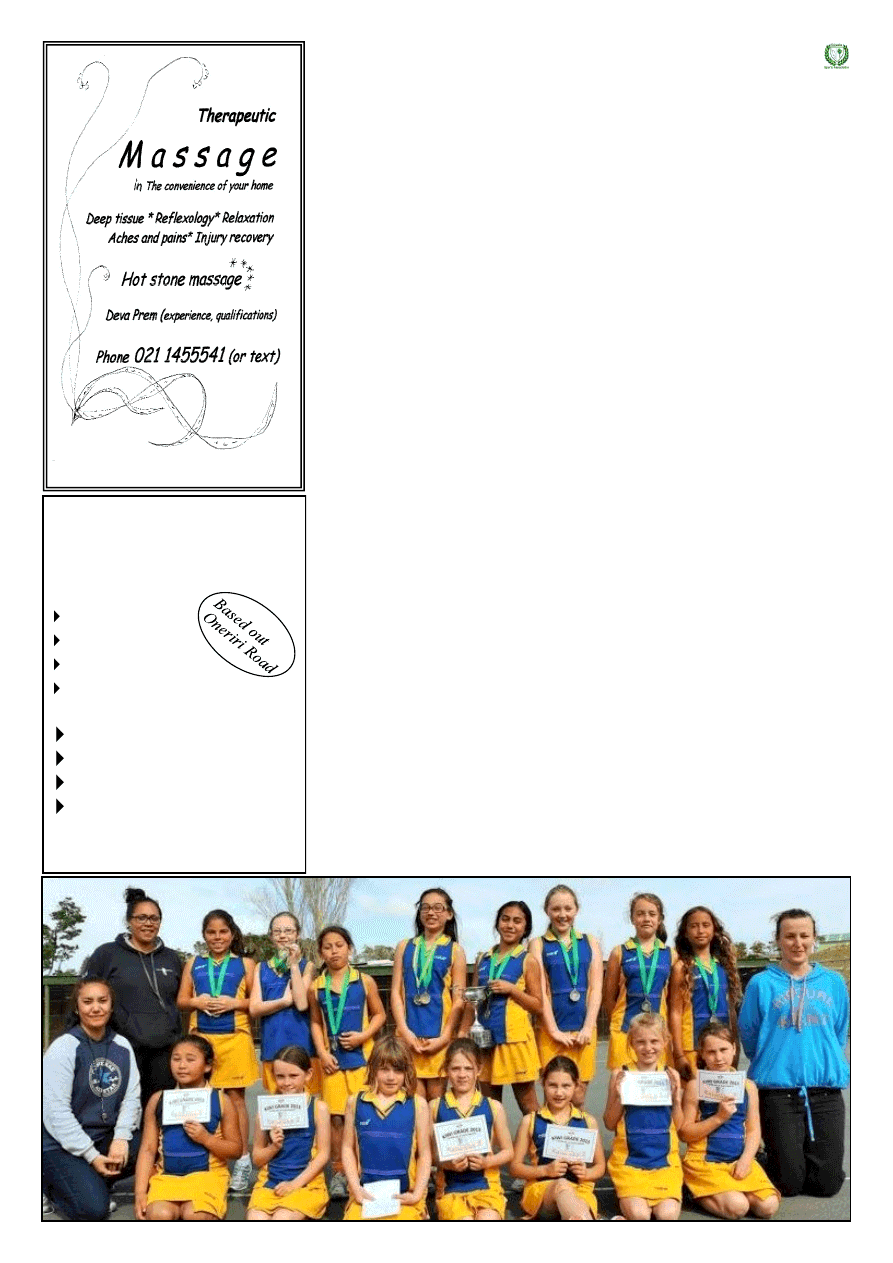 www.kaiwaka.co.nz 
Kaiwaka Bugle - 15 September 2015 
Page 11 
www.mangawhaimassage.co.nz 
KAIWAKA SPORTS ASSOCIATION 
HODGETTS
CONTRACTING
Digger Work   
Driveways 
House Sites  
Dams 
Drains, etc  
Also available for HIRE 
3 ton Vib Roller 
Heavy Duty Tow 
Waterblaster  
Lazer Level 
Phone Mark 4312877 
027 447 8554
Netball – junior 
Our  junior  netball  club  is  thrilled  with 
the  results  of  their  two  young  teams. 
Team  1  coached  by  Pat  Buxton  were 
undefeated  all  season  and  came  away 
with  the  trophy,  and  Team  2  coached 
by Jody Greig came 3
rd
. Great job girls! 
Their  prizegiving  will  be  held  at  our 
Sports  Complex  this  Friday  18
th
  at 
4.30pm. 
Netball – high school 
Otamatea  High  School's  top  junior 
netball team are currently competing in 
the AIMS intermediate age tournament 
in  Tauranga.  They  have  been  looking 
forward  to  some  exciting  competition, 
after  being  undefeated  during  the 
Rodney netball season. The year seven 
and eight girls have raised over $8,000 
to  pay  for  their trip and  are  grateful to 
their  sponsors,  various  service  clubs 
and 
their 
families 
for 
supporting them.  
The  OHS  Netball  prizegiving  will  be 
held  at  the  Sports  Complex  on  Friday 
25
th
 September at 5pm. 
Netball – senior 
Otamatea-Ex  had  a  tough  final  against 
the  Ruawai  Jets.  It  was  neck  and  neck 
at  halftime  but  our  ladies  pulled 
through  with  some  dedicated  defence 
and attack and ended up winning by 10 
points. At the prizegiving, the award of 
Most Improved Player went to Jahkodii 
Morunga, Team Spirit went to Liv King 
and Most Valuable Player went to Taira 
Ohara-Lambert.  A  special  thanks  goes 
to  manager  and  top  supporter  Lish 
Reynolds. 
Fast Five Netball Module 
We had a fantastic start to our Fast Five 
Module  last  Sunday  with  60  people 
participating  in  mixed  teams  of  men, 
women and children. Everyone seemed 
to enjoy themselves - at times there was 
more  giggling  than  goal  shooting! 
The Module will run for six weeks and 
there  will  be  prizemoney  for  the  top 
three  winning  teams.  Results,  photos 
and the draw are posted on our website 
Soccer 
Our  soccer  club,  the  Kaipara  Knights, 
had  their  last  games  of  the  season  on 
Saturday. Their prizegiving will be held 
this  Friday  18
th
  at  6pm  at  the 
Maungaturoto  Country  Club,  all 
welcome. 
Rugby 
Club  rugby  has  wound  up  for  the 
season but rep rugby is still going, and 
we were proud to host the JMB reps at 
our  grounds  last  week.  Bay  of  Islands 
travelled  down  to  play  against  our 
Rodney/Otamatea 
teams 
– 
unfortunately we were outclassed in all 
three games: Under 10s: 0  - 70, Under 
11s: 0 - 68 and Under 12s: 7 - 56. Many 
thanks  to  referees  Graham  Borck  and 
Craig Shadbolt.  
Next  month  we  will  host  a  Northland 
representative match – Northland B's vs 
North  Harbour.  This  will  be  held  on 
Saturday 10
th
 October at 2.30pm. 
Touch 
I  will  be  running  my  Touch  Module 
over  the  summer  months  again.  As 
always,  I  will  need  several  referees  to 
cover the Module. If you are interested 
in learning how to referee Touch, there 
will be a course this Thursday 17th, 6 - 
9pm at the Wellsford Rugby Club, $10 
per person (if you are happy to referee 
my  Touch  Module,  then  the  KSA  will 
pay  this  fee  for  you).  Please  let  me 
know if you are interested. 
Books Fundraiser 
I am running a Books Fundraiser for the 
KSA, with items such as recipe books, 
childrens  books,  diaries,  cards  and 
calendars  –  these  would  make  great 
Christmas  gifts!  You  can  pick  up  a 
brochure  from  Jaques  Four  Square  or 
check out the Kaiwaka Sports Complex 
facebook page. 
Prices  are  less  than  normal  retail  and 
the  KSA  will  make  $4  profit  on  each 
item.  To  order  please 
Pat Buxton, Melissa Watts and Jody Greig with Team 1 (standing) and Team 2.
continued over...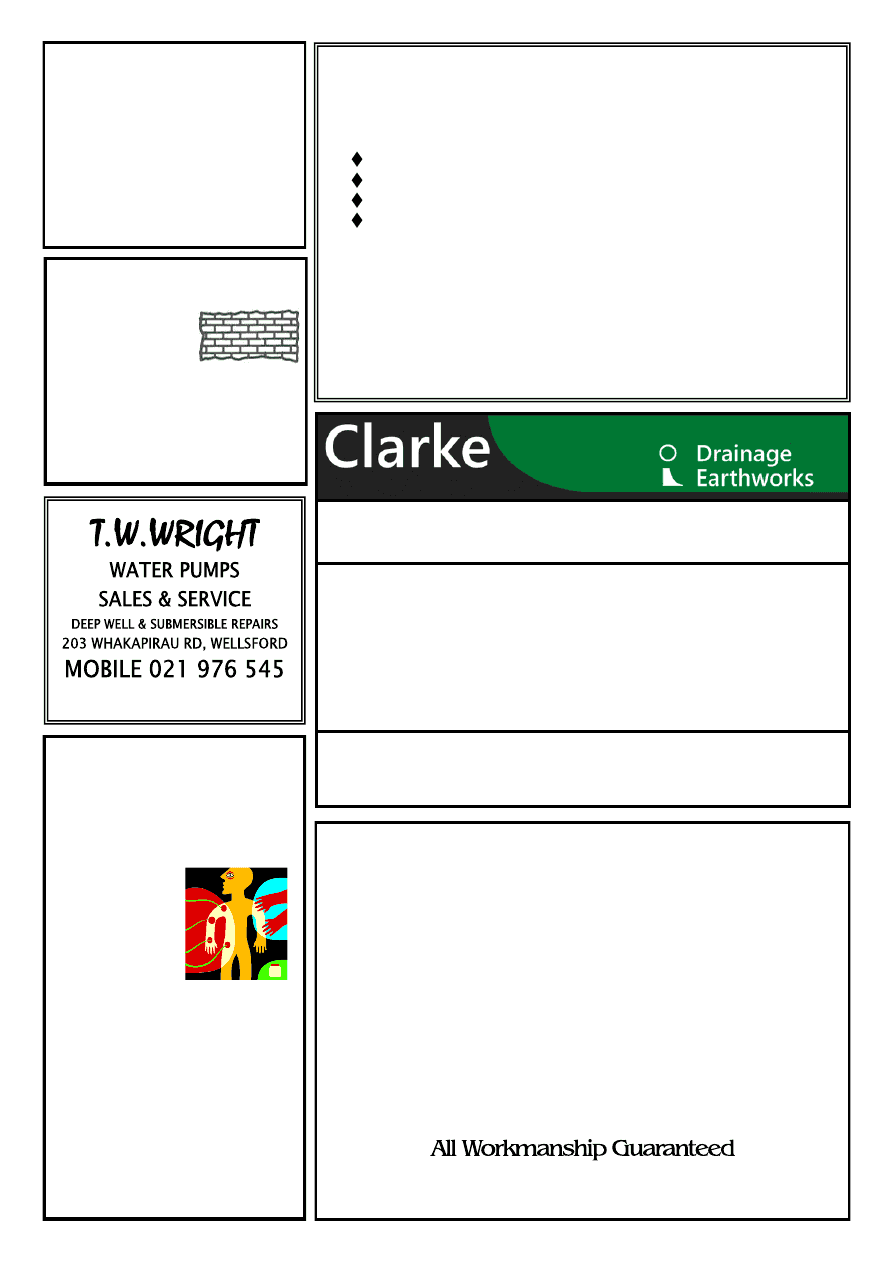 RANGANUI  
EARTHMOVERS 
16T Excavator (tilt, thumb & ROPS cab) 
Transport Trailer 
2 x 6 Wheeler Tip Trucks 
Suppliers of All Grades of Metal & Topsoil 
Driveways, House Sites, Drainage Dams, Section Clearing,  
Tree Work,  Rock Retaining Walls, Quarry Work, 
Basically Anything That a Digger Can Do
If you want a proper job done  
with an experienced operator ring 
Grant on    A/H 431-2131          Email  ranganui.dev@xtra.co.nz 
Mob  021845-246 
OWEN STEVENS 
Osteo Therapist
For careful adjustments to bones 
and joints 
Treatment for  
humans and 
their pets 
Clinics: 
Kate's Place, Kaiwaka: 
Last Friday of month 
For bookings:9.00am-5.00pm   
Phone 
09 4312661 
Or phone  
Owen  09 4317123  
anytime 
PLANNING A NEW KITCHEN?
CONTACT NOEL McDOWELL 
WELLSFORD KITCHENS
Ph/Fax 09 4312 888
KAIWAKA-any time 
QUALITY CUSTOM MADE KITCHENS
~Personal and Prompt Service~ 
~
~ 
~Over 20 Years in the Trade~ 
~Free Design & Quote~ 
Registered Drainlayer 
All Types of Earthworks  
> All Residential & Commercial Work 
> House Sites 
> Septic System Design & Install 
> Footings & Drilling to 10m 
> Sewer Connections 
> Dams 
> Water Tank Installation 
> Roading & Races 
> Farm Work 
THE ONE STOP SHOP  
Phone Nigel for an Obligation Free Quote  
Drainage & Earthmoving                         clarkedrainage@xtra.co.nz 
027 2233 185 
Laughing Dog 
Computers 
Hardware and Software 
Service and Repair 
www.laughingdog.co.nz 
09 4312 654 
BRICK/BLOCKLAYER 
All aspects of masonry:  
Fireplaces, 
Restoration  
& Remedial Work.
JAMES EAGLETON 
Tel. (09) 431 2514  
Mob. 0274 749 232 
jajueagles@yahoo.com.au 
210A Pukenui Road, RD2 Kaiwaka 0573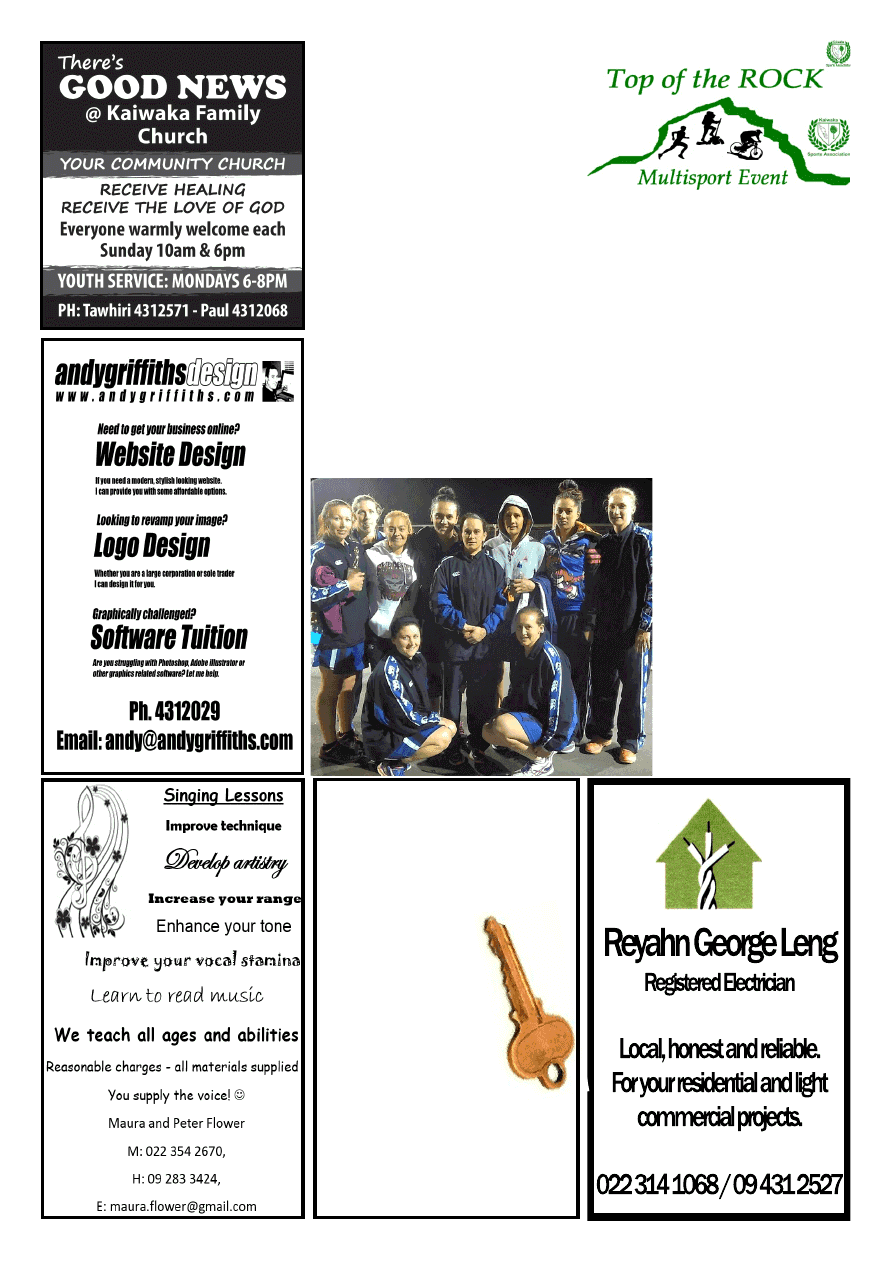 www.kaiwaka.co.nz 
Kaiwaka Bugle - 15 September 2015 
Page 13 
Kaiwaka  
Hardware  
&  
Key cutting 
 Phone 4312 063 
 022 041 6047 
 kaikey2015@gmail.com 
Keys Cut  
Household Hardware  
Curtain Tracks & Fittings
Not there? Call Doug and he'll sort
it for you.
(
Next to Kaiwaka Motorcycles)
Photo left: Otamatea-Ex - the 
Rodney Netball Champions  
return  the  order  form  to  me  by  15
th
October. Delivery will be the following 
week.  
Park Over Property 
Did you know that the Kaiwaka Sports 
Complex  is  a  registered  Park  Over 
Property?  Travellers  are  welcome  to 
park  overnight  at  our  grounds  -  toilets 
and  showers  are  available.  A  small 
donation  left  at  Jaques  Four  Square  is 
appreciated.  Share  this  information 
amongst your RV friends!  
Fright Night 
Our annual Fright Night will be held on 
Saturday  31
st
  October.  This  is  a  very 
popular  night  for  Kaiwaka  -  last  year 
we had over 300 people attend! As part 
of  the  evening  we  transform  the  rugby 
changing  rooms  into  a  'haunted  house' 
which children can walk through. 
We  have  an  earlier  session  for  the 
younger  children  and  then  dial  up  the 
scare-factor  for  a  later  session  for  the 
older children! 
So,  I  am  looking  for  some  ideas  to 
make  that  later  session  really  scary!  If 
you have any suggestions, please get in 
touch with me. 
Bookings 
Got  a  special  occasion  coming  up? 
Want to hold it at the Sports Complex? 
The  Sports  Complex  can  get  very 
heavily  booked  -  if  you  contact  me  in 
plenty  of  time,  it  is  more  likely  that 
your preferred date will be available.  
Masquerade Ball 
Masked  in  mystery  and  draped  in 
decadence,  a  masquerade  ball  is 
magical!  Our  pavilion  will  be 
transformed  into  an  opulent  ballroom 
for Kaiwaka School's Masquerade Ball, 
so  that  you  can  dance  the  night  away. 
The ball will be held on Saturday 26th 
September  at  7.30pm.  Tickets  are  $25 
per  person  and  can  be 
purchased from Jaques Four 
Square or the School Office. 
Top of the Rock 
Advance notice: the date for 
our  next  Top  of  the  Rock 
multi-sport  challenge  has 
been  set  at  Sunday  14
th
February.  This  is  one  of 
Kaiwaka's  biggest  days  of 
the  year, so  mark  it in  your 
diary! 
Cheryl Anderson 
4312 051, 027 3462702 
KAIWAKA SPORTS ASSOCIATION continued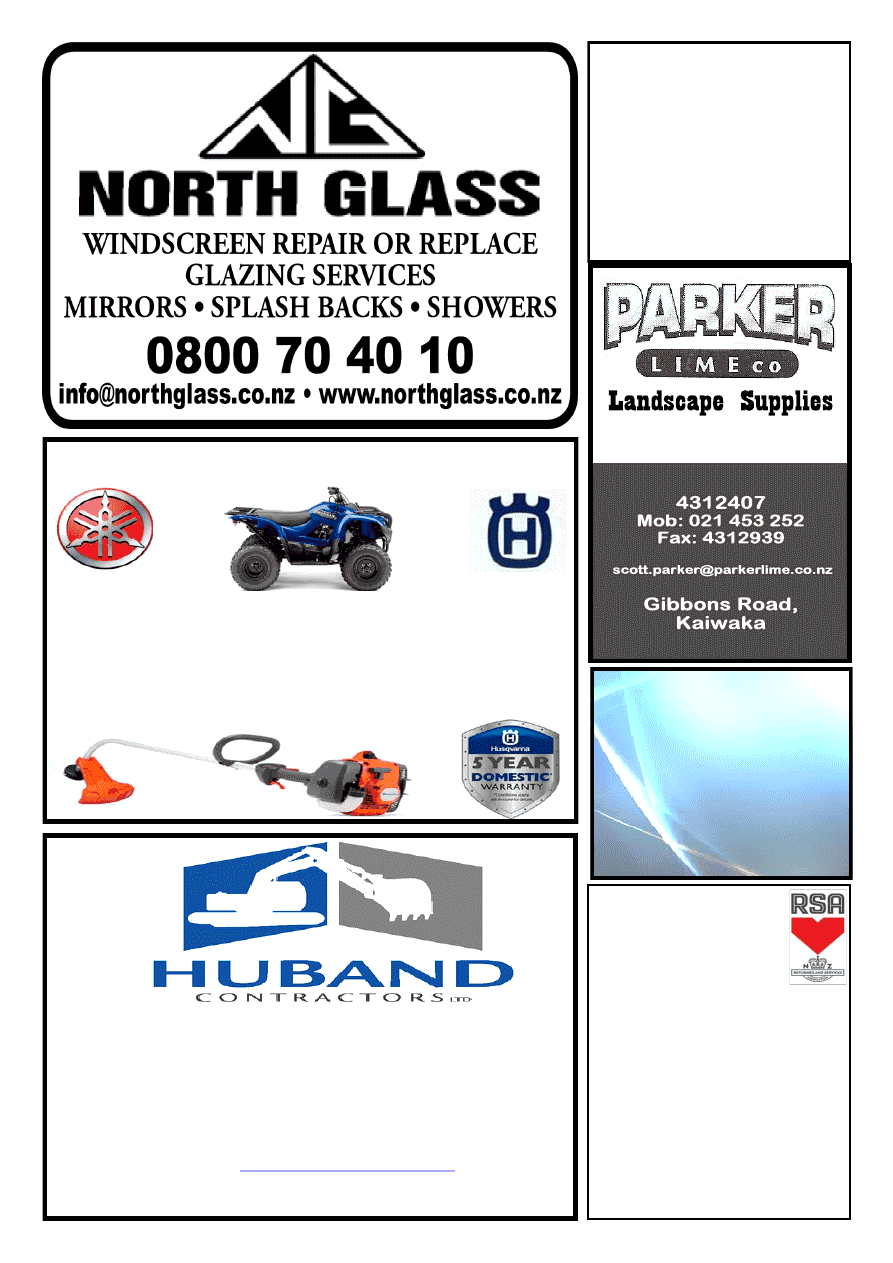 *   R O A D I N G   *   E A R T H W O R K S   *    
*   D R A I N A G E   *   S I T E W O R K S   *  
For any further enquiries, contact Shaun on: 
Cell: 021 222 0272 
Home: 09 4318339 
Email:   
Shaun Huband:  Registered Drainlayer 
Bulk Cartage 
HAKARU & 
DISTRICTS   
RSA  Inc 
Each Friday night 
From 6.30pm 
Meals will be served 
 2nd Friday of the Month 
Is Roast Dinner Special 
Come along and enjoy  
our Hospitality  
For more information 
 Ring Heather 4314668 
or Jan 4314512 
 LEABOURNS 
Passenger Service
Car & Van Hire 
Bus & Coach Charters 
Airport Transfers 
 Monthly Shopper Bus 
Phone (09) 4237416 
Freeview  
Installations 
Richard Te Haara 
25 Marram Place 
Mangawhai Heads 
021 1104056 
kiwipride@xtra.co.nz
KAIWAKA MOTORCYCLES LTD
SALES – SERVICE – SPARES 
FARM BIKE SPECIALIST
PHONE 09 431-2127 
10 KAIWAKA-MANGAWHAI ROAD, KAIWAKA
TRIMMERS FROM $249 - CHAINSAWS FROM $329 
YAMAHA 
HUSQVARNA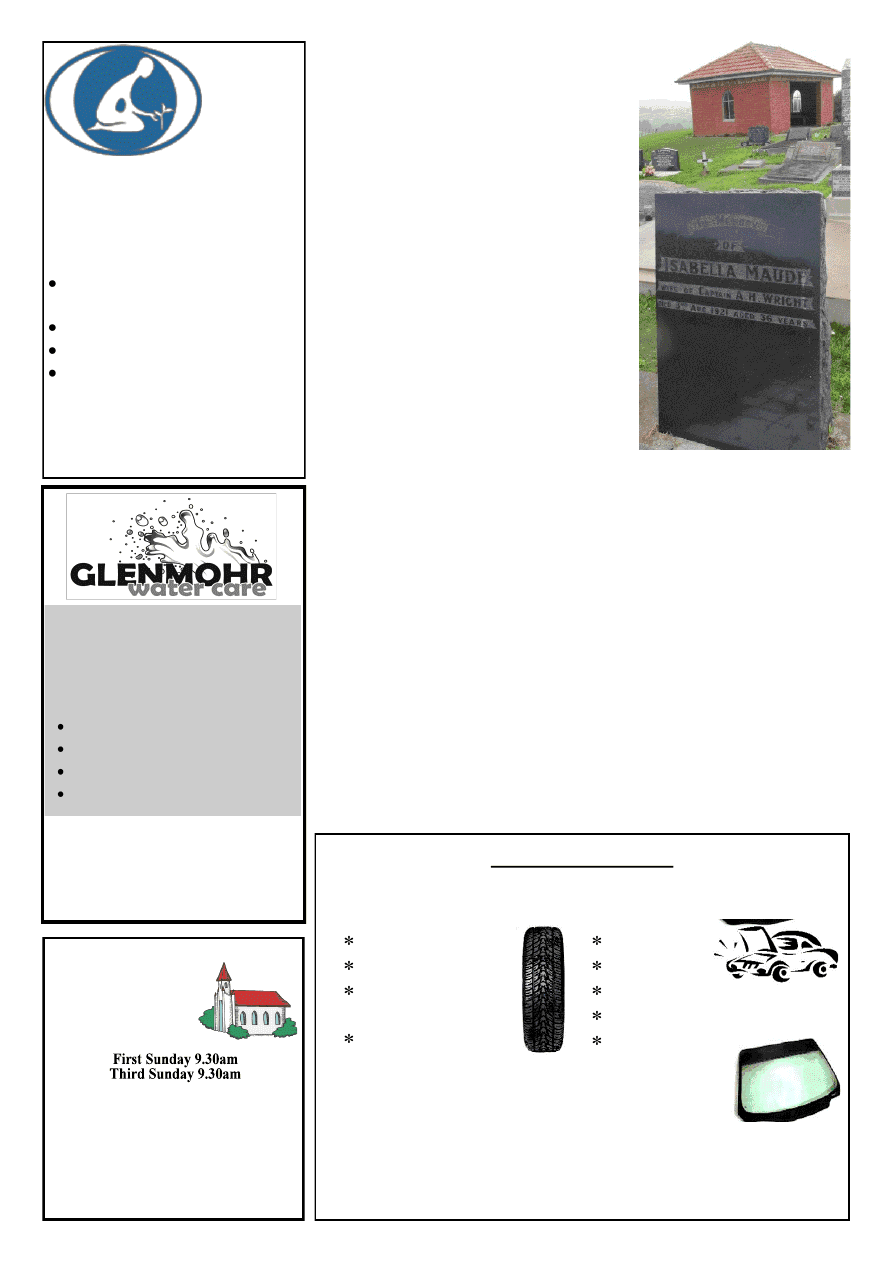 www.kaiwaka.co.nz 
Kaiwaka Bugle - 15 September 2015 
Page 15 
Water Tank  
Cleaning 
Keep your water safe & clean   
Removal of sediment, silt etc 
Vacuum or full scrub 
Minimal water loss 
Phone Mark  
(09) 432 0655  
or 0274 707607 
ST PAUL'S  
ANGLICAN  
SUNDAY  
SERVICES
St Pauls Church: Kaiwaka-Mangawhai Rd. 
1st Sun - Eucharist 
3rd Sun - Family Service 
Office 4314 122 
Contacts:M.Hargreaves 4312295, C.Bygrave 4312057  
or Rev. Wayne Thornton Ph 431 5650 
Magnetic Laser for Health
Using a low power laser I can help 
with a variety of conditions:
Joints pain, swelling, 
inflammation 
Back and neck pain 
Heel pain 
Injury or fracture recovery
Phone Gala 
431 2213 
021 486 611 
Want it done? 
Bring it to 
Twinkle Tow 'n' Tyre 
Think you'll get a better deal in the city? 
Go on, ring us; it won't cost anything! 
1837 State Highway 1, Kaiwaka  
Phone 431 2823 
W.O.F. 
Tyres 
Windscreen 
replacement 
Chip repairs 
Bulk Oil 
Batteries 
Welding 
Custom built trailers 
Trailer hire 
Isabella Maude Wright  
Isabella,  known  as  Bella,  died  on  3  August 
1921  and  is  buried  in  Row  2  at  the  Kaiwaka 
Cemetery.  She  was  only  36  and  had  been  the 
wife of Capt. A.H. Wright for just six weeks. 
Isabella  was  born  18  May  1885  to  Henry  and 
Mary  (nee  Wyatt)  Keith  in  Clarkville, 
Canterbury.  There  were  four  older  sisters  and 
two younger, and two younger brothers. 
The  Press  reported  in  1902  that  she  was 
awarded  two  scholarships,  including  the 
Gammack  scholarship  at  Christchurch  Girls 
High.  She  attended  Canterbury  University, 
graduating  in  1907  with  an  MA  degree  with 
2nd Class Honours. The NZ Gazette lists her as 
a teacher in 1908, 1910 and 1917. She taught at 
Rangiora  High  School,  resigning  from  this 
position in September 1915. She appears on the 
electoral  roll  in  1911  as  living  in  Kaiapoi 
(where her parents were also living in 1896). 
Bella  married  Leonard  Henry  Flavell,  a 
commercial  traveller,  in  1915.  They  had  a 
stillborn baby in 1916, a daughter Elsa in 1917 
and a son Leonard Henry in 1920. Young Leonard was born after his father died 
of a heart attack on 26 May 1920 and buried in Temuka. 
Allan  Henry  Wright,  son  of  Vince  William  and  Jean  Wright,  was  born  in 
Kaiapoi  on  21  October  1891.  According  to  his  war  records  Allan  served  in 
Europe  as  a  captain  in  the  army.  The  Northern  Advocate  published  articles  in 
March  and  May  of  1919  about  the  Hakaru,  Kaiwaka,  and  Mangawhai  sports 
days, mentioning him. The Advocate, on 19 April 1920, also noted the Otamatea 
sheep  dog  trial  results  in April  1920  where  Allan  ran  his  huntaway  King,  and 
won Mr T. V. Nutsford's prize for best local dog in Class III and was runner-up 
in the Mr E.A. Simmons' Gold Medal for the local dog scoring the most points 
in Classes I, II, and III. 
Allan  and  Bella  married  in  St.  Davids  Church,  Khyber  Pass,  Auckland  on  13 
July 1921 and he is recorded as a farmer at Mt. Pleasant, Kaiwaka. Bella was 36 
and Allan 29. Did they know each other when they were younger, and reconnect 
after her second husband died? Allan was already established in Kaiwaka at the 
time of their marriage. 
Sadly, while at Topuni, Bella died of appendicitis and acute peritonitis. Little is 
known of this family. Capt. Wright died in Hastings in 1960. If you know more, 
the Bugle editors would like to hear from you. 
Sources: PapersPast, Ancestry, NZ Births Deaths & Marriages.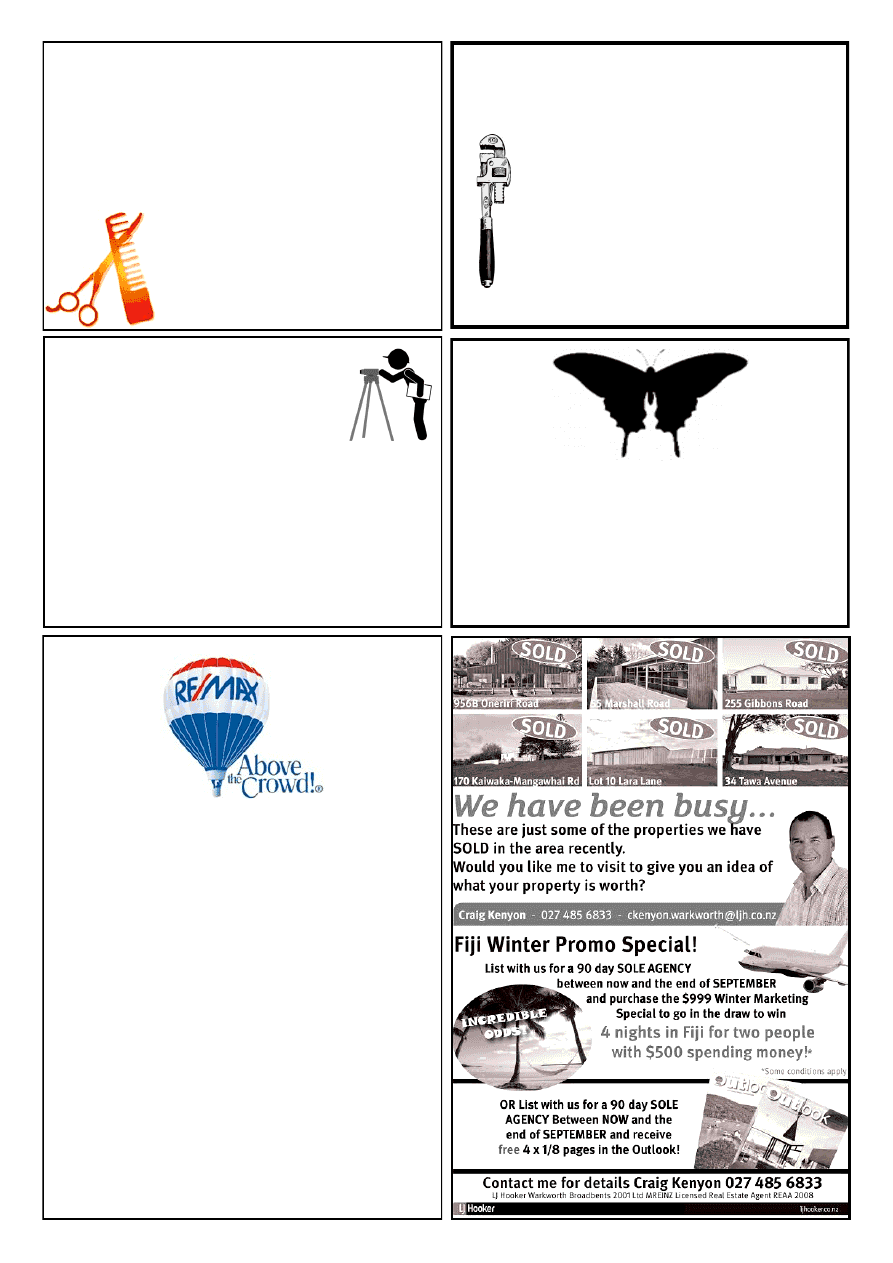 AFFORDABLE PRICES! 
MENS DRY CUT FROM $18.00 
LADIES DRY CUT FROM $15.00 
KIDS DRY CUT FROM $15.00 
COLOUR CUT FROM $90.00 
JUST CUTS'AND MORE 
021 165 2629 
NOW SELLING: scented tealights, incense, 
smudge sticks, copper bracelets, aurora ball 
crystals, dream catchers, healing stones, rose 
quartz, cds, and much more 
open 6 days 
Ken Urquhart 
KMU Surveys Ltd
467 Bickerstaffe Road 
RD 2 
Maungaturoto 0587 
Ph 09 431 8705 
Mob 021 161 2344 
kenurquhart@xtra.co.nz 
BARRY CURTIS PLUMBING LTD 
REGISTERED CRAFTSMAN PLUMBER 
Phone 4315572 
027 257 9884 
25 years experience 
Friendly reliable service 
All plumbing and maintenance 
Alterations and new housing 
New wood fire installation 
Spouting 
Competitive rates 
PROMPT EFFICIENT  SERVICE 
Beth Stone is your local  
Re/Max Associates 
representative.
I am available for chats anytime between 
10AM and 2 PM Tuesdays and Wednesdays in 
my ChatRoom in Kate's Place. Or by 
appointment. Join me for coffee and 
conversation.
Thinking about buying? Or selling? Or just 
wanting to talk over the options and 
understand more about the market? I can help. 
Use me as your sounding board. 
Phone Beth 0274 937 801 or call in. I look 
forward to meeting you. 
CHANGE CATALYST 
Glo Treadaway MANZASW 
Life Coach: Intuitive: ThetaHealer:  
 Create Positive Changes in Your Life! 
+0273638833 | 09 431 2209 
www.celestialconsulting.co.nz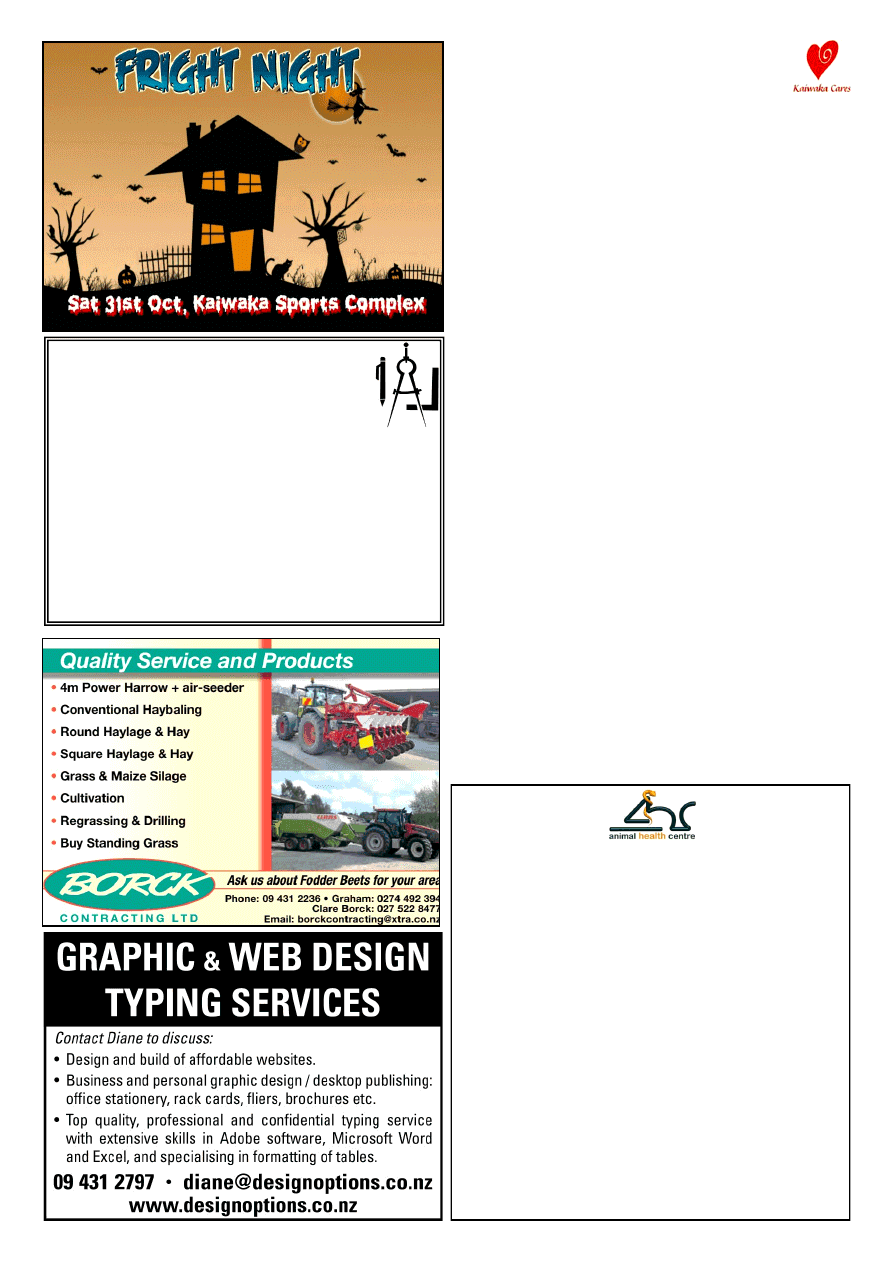 www.kaiwaka.co.nz 
Kaiwaka Bugle - 15 September 2015 
Page 17 
design drafting  
service 
Retired builder and manufacturer with over 40 years  
experience in the building industry is offering a design 
drafting service  
for domestic housing, sleepouts and sheds.  
Plans formulated in consultation with clients, with 
working drawings completed and submitted to  
council for processing.  Extensive practical experience,  
able to identify & resolve problems. 
Please ring Mike Lean on 
09 431 2260  
          or 
021 431 196 
Thanks for a great couple of weeks Kaiwaka! 
Raffles 
We drew our August raffle and there are 3 happy winners. 
1st  Prize  –  Eliza  F,  2nd  Price  –  Carron  R,  3rd  Prize  – 
Jocelyn M. 
Our  September  raffle  is  underway,  and  has  a  focus  on 
pampering. Buy your tickets from the drop-in centre or buy 
by emailing caring4kaiwaka@gmail.com or talk to Yvonne 
at Kate's Place. 
Printing now available 
Thanks to the generosity of Beth Stone @ Remax we now 
have  a  colour  laser  printer  available  for  all  your  printing 
needs.  It  prints  clear  and  fast  and  does  single  sided  or 
double-sided  plus  scanning  and  copying.  Black  and  white 
copies are 20c per side and colour copies are 50c per side. 
Just  bring  in  your  printing  on  a  flashdrive  or  email  it  to 
caring4kaiwaka@gmail.com. 
Literacy & ESOL 
We are lucky that one of the members of our team is very 
experience  in  literacy  and  English  as  a  second  language 
teaching.  She  is  more  than  happy  to  help  out  people  in 
Kaiwaka  who  may  need  assistance  in  these  areas.  If  you 
know  of  someone  then  please  get  them  to  get  in  contact 
with us or drop into the centre. 
Volunteers Needed 
Do you have spare time on a Monday, Wednesday or Friday 
to help out at our drop-in centre. We are looking for more 
volunteers  to  extend  our  roster.  You  wouldn't  need  to  be 
available  every  week,  even  once  a  month  would  help  our 
team  roster.  And  yes  we  will  provide  all  the  training  and 
support  you  may  need.  Come  talk  to  us  at  the  centre  or 
email us. 
Justice of the Peace on site 
Also  on  Wednesdays  we  will  have  a  Justice  of  the  Peace 
available  from  1.30-2.30pm  to  sign/verify  documents  for 
you. To assist with this our printer can make copies of your 
documents at 20c per copy. 
What's  coming  up?  Well  that's  a  big  question.  At  the 
moment  we  are  arranging  some  introduction  sessions  on 
various topics. This will begin in October. Each session will 
take  about  1.5  hours  and  will  be  in  the  evening  or  the 
weekend. So keep an eye out in the Bugle for developments 
or  follow  us  on  Facebook.  Or  if  you  want  to  get  in  touch 
email  us  on  caring4kaiwaka@gmail.com  or  come  into  the 
drop-in centre. 
KAIWAKA CARES 
ANIMAL HEALTH CENTRE 
KAIWAKA 
Stockists of Leading Brands Raw Meats: 
Pet Deli, Woofles, Purely Pets, Mighty Mix Concentrate,  
Bulk Buys. 
Stockists of Leading Brands Pet Food: 
Addiction, Orijen, Organix, Acana, Nutrience, Ziwi Peak, Mighty 
Mix, Vegan Pet, Tukka Thyme 
Vet Nurse Services: Nail Trims, Comfort Grooms, Dental Checks. 
Microchipping. 
Animal Naturopath: Sarndra G Urwin Dip NAH (Hons)  Dip Cl.Hyp. 
Arthritis, Cancer, Auto Immune  & Skin Conditions, Endocrine 
Disorders, Behaviour Problems. 
"There is always a choice in health care" 
Homeopathic & Herbal alternatives to parasite & vaccination 
controls. 
Organic, chemical –free cosmetic products. 
Safe Leads, Collars and Toys
Open: Tuesday-Saturday 10.00-4.30   Sunday 10.00-2.00 
Next to Italian Bakery, Main Highway, Kaiwaka. 
PHONE 09 431 2217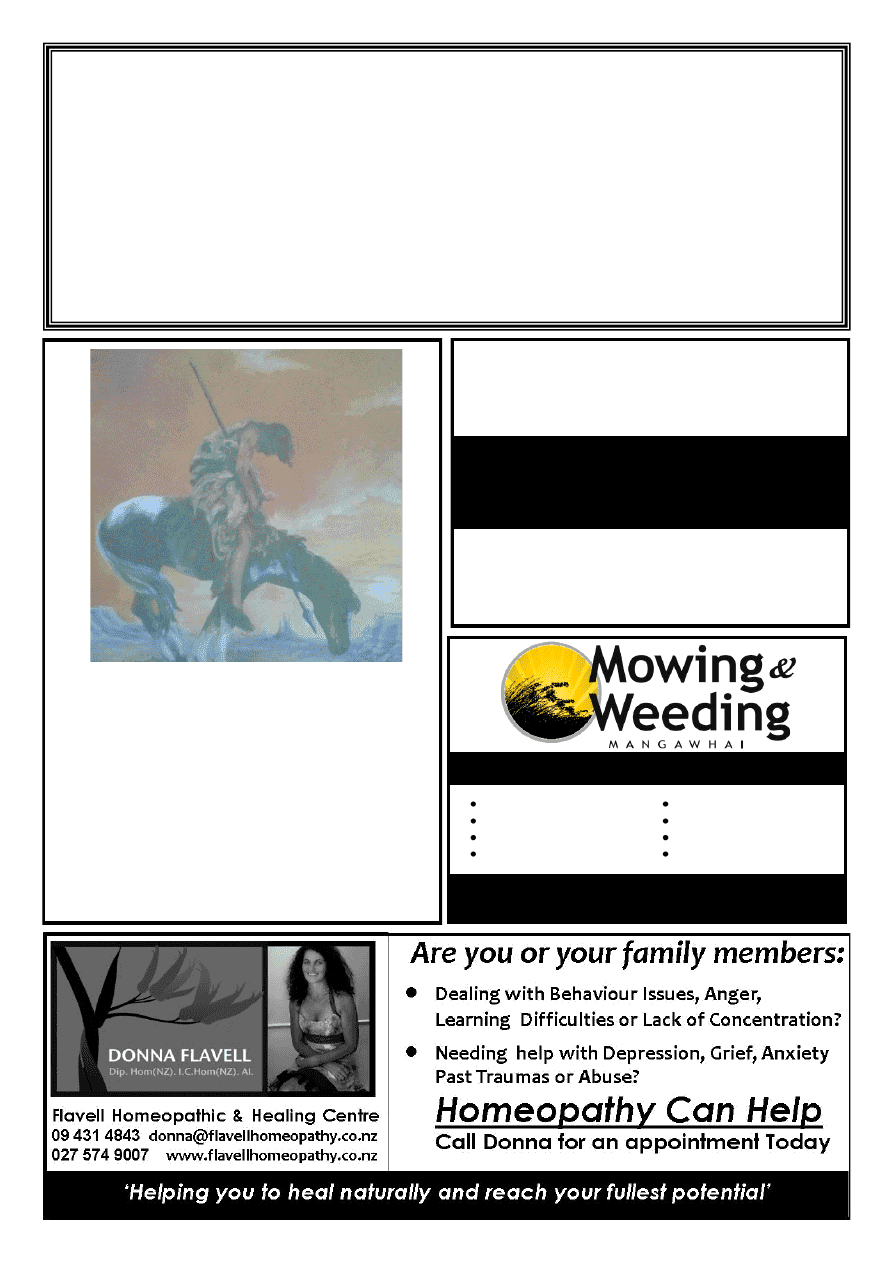 Residential · Commercial · Body Corporate · Sub-divisions 
Lawn & Section Mowing 
Landscaping 
Section Clearance 
Rubbish Removal 
Garden Maintenance 
Make-overs 
Hedges 
Odd Jobs 
Free Phone 0508 80 70 60 
g.a.s. Mangawhai
we have a 
GARDEN CENTRE 
for all your gardening needs 
Also a great range of 
STOCKFOOD 
Wide range of 
ORGANICS AND FRESH LOCAL PRODUCE 
All your motoring needs are taken care of by our friendly staff check us out… 
44 Moir Street, Mangawhai (09)431 4242 
David Korach 
Your local Gib Stopper
DK PLASTERER LTD 
0274769221 
dkorach6@gmail.com 
Trails end spiritualist church  
Last Sunday of every month  
10am tea/coffee provided  
$5koha for all inquiries  
0211652629 evenings 099450753 
Trail.end@hotmail.com 
Bringing together light minded people 
www.kaiwaka.co.nz 
Kaiwaka Bugle - 15 September 2015 
Page 19 
LOCAL SERVICES 
*St.John Ambulance 
111 or Freephone 0800 61 0066
*Fire phone 111     *Police phone 111 or 09 4311150
A A: Meets Wed., 8pm Kaiwaka Ph: 4312228, 4315543, 0800229 6757 
AL ANON: In recess, contact Ph: 4312228 
MINISTRY FOR PRIMARY INDUSTRIES - General inquiries Call 
Free 0800 008 333 
ASUREQUALITY LTD  (was AgriQuality) Call Free 0508 0011 22  
BUDGETING SERVICE, WELLSFORD:  Free confidential advice & 
support for all areas of personal finance. Ph (09) 423 7123 
CAB-Citizens Advice Bureau.Wellsford Ph: 4237333 
0800 367 222 email:cab.wells@xtra.co.nz  
DOG/STOCK /NOISE CONTROL 0800 105 890 
KATE'S PLACE with Govt.Day Agencies/Community Information /
Osteopathy/ IRD / Probation, etc Ph: 4312661 Hours: 9am-3pm. Mon - Fri 
FUNERAL SERVICES: Morris & Morris Ltd, 
Whangarei - Bev Jaques Ph:4312367 or 0800667747 
GRANDPARENTS Raising Grandchildren: Sarah Rogers Ph: 4312194 
HAKARU LANDFILL/Transfer Station:Open everyday except 
Tuesday10am-4pm.Ph4312629 Cost-$55 trailer load up to 1 cubic metre. 
Ph:4258567 - office 
HOMEOPATH: Donna Flavell Ph: 4314843 
INLAND REVENUE: Last Friday each month, 11-3pm Ph4312661 
KAIPARA DISTRICT COUNCIL www.kaipara.govt.nz:  
Help Desk FREEPHONE 0800 727 059  
KAIWAKA KOHANGA REO: Ph:4312620 
KAIWAKA CEMETERY: Ph: 4312045 
KAIWAKA LIBRARY: kaiwaka.library@gmail.com  
Mon. 4-6pm; Wed., Thurs., Fri., Sat.  10am-2pm Ph:4312539 
KAIWAKA PLAYCENTRE: Ph: 4312286. Hastie Lane 
Monday to  Friday  9.00am - 12 noon. 
KAIWAKA POST OFFICE:Ph:4312 431  
Post Code: 0573  for RD2  and  0542 for all Kaiwaka Post Office mail 
KAIWAKA PRIMARY SCHOOL: Ph: 4312309     
KAIWAKA SPORTS ASSN: Ph 4312005; 4312129 gym 
KAIWAKA ST JOHN: Manager Steve Rosser 09 4318403, 021 2316836 
LINKING HANDS Health Shuttle Ph 4314121 or 09 4318969 
NORTHPOWER: Faults Kaiwaka area 0800 104040 
OTAMATEA COMMUNITY SERVICES: Free counselling, parent 
coach, Family Support worker, budget advice, food bank. Mon-Fri 9am-
30m. Ph 09 431 9080 
PARENTPORT: Free, practical family support service Puhoi to Paparoa 
Ph or txt:  Dianne 027 2085093 
PERSONAL DEVELOPMENT COACHING, GROUP FACILITATION:  
Sabine Druckler 4312231 
PLUNKET: Kaiwaka - Kaiwaka War Memorial Hall: Clinic 1st Wednesday of the 
month; Coffee Group at 9:30. Mangawhai  - Rose Madsen Cottage, Mangawhai 
Domain,  Moir  St:  Clinic  1st  and  3rd  Monday  of  month;  Young  Babies  Coffee 
Group  2nd  and  4th  Monday  10  am;  Plunket  Playgroup  every  Thursday. 
Maungaturoto - Maungaturoto Congregational Church, 100 Hurndall Street East: 
Plunket clinic 2nd and 4th Wednesday. Cynthia 09 431 8187 or 027 675 3488 
PLUNKET HELPLINE -0800 933 922 (24 hours) 
PUBLIC HEALTH NURSE: Gloria Reid Ph: 094327634  
RETURNED AND SERVICES ASSN 733 Settlement Rd. Hakaru 
Ph.4312176 Bill Kerr (President) Ph.4314719 
TAITOKERAU COMMUNITY LAW: Free confidential legal advice and 
assistance, 2nd
Thursday
 of each month. Ph: 0800 155 529 for 
appointments.  
TE KOROWAI AROHA O NGATIWHATUA Ph: 4312675 
(The Cloak of Love of Ngatiwhatua) Support and Maori Consultancy.  
VETERINARY SERVICE MANGAWHAI: 
Ph: 4314535 Mon-Fri 8.00-5.00, Sat 9-12, a/h appt. 
WELLSFORD DOCTORS: Ph: 4238 086 
WOMEN'S WELFARE LEAGUE & Reaching Out For Youth:  
4 Kaiwaka-Mangawhai Rd, M Morgan 4312293 
Next Bugle Deadline midday Friday 25 September 2015
WHAT'S ON
PLEASE ~ do let us know what is on - email 
kaiwakabugle@kaiwaka.co.nz 
Advertising in WHAT'S ON is FREE  
*18Sep~Junior Netball prizegiving, 4:30pm KSA 
*18Sep~I'll See Y ou In My Dreams, 7:30pm KWMH 
*20Sep~OHS Netball prizegiving, 10am KSA 
*21Sep~St John Otamatea Area Committee AGM 7:30pm 
Kaiwaka station 
*22-23Sep~Parent Interviews, Kaiwaka School 
*23Sep~Years 7 & 8 Interschools Sports Day 
*25Sep~Zonta scholarship applications closing date 
*26Sep~Kaiwaka School Masquerade Ball 
*27Sep~Daylight Saving starts - clocks forward 1 hour 
*27Sep~Paper Planes, 3pm KWMH 
KWMH=Kaiwaka War Memorial Hall 
KSA=Kaiwaka Sports Association Complex 
See www.kaiwaka.co.nz for upcoming events. 
HOUSEHOLD RUBBISH COLLECTION - Kaiwaka Pick up: 
Mondays = Gr een bags (Northland Waste - 09 430 3273) 
Wednesdays = Blue bags and yellow r ecycling (at J aques $3.00 
and $1.50) (Kaurilands 09 4392146) 
 DIABETES  Support  Group  -for  Kaiwaka,  Mangawhai,  Wellsford 
10am, 3rd Friday of month Ph:A.Pert 4238242; J.Gardner 4238060 
 DRINK CAN 'tear tabs' - for Starship Hospital- please collect - 98 
Kaiwaka Mangawhai Rd, leave in mailbox, Ph. 4312625  
 GENEALOGY - Wellsford: 1st Thursday in month Ph: 423 7033; 
Waipu: 4th Monday in month Ph: 4312 725 
 GYMNASTICS  OTAMATEA  -  Tuesday  Ph:  Stephanie  022 
3624998 
 HAKARU PONY CLUB - Secretary Julie Rynne 09 4314520 
 KAIWAKA BADMINTON -Tuesdays 7.30pm Ph: 4312345 
 KAIWAKA  GARDEN  &  FLORAL  GROUP  -  2nd  Thursday  in 
month. Ph: 431 4767 
 KAIWAKA CUBS - Thursdays 5.30-7pm, Hakaru Ph:Bruce  4312542 
 KAIWAKA SQUASH - Mondays 7pm Ph: Barbara Thomas 431 5905 
 KNITTING FOR WHANGAREI HOSPITAL - 2nd Tuesday in 
month, Apple Basket 10am Ph 4314827 
 MANGAWHAI COMBINED PROBUS CLUB - 2pm, 3rd 
Thursday month, Senior Citizens Hall Mangawhai. Ph: 4315777 
 OTAMATEA GREY POWER - Kath Pattinson 09 431 8960, 1pm 
last Wednesday of month, Anglican Church Hall, Maungaturoto 
 PT CURTIS CRUISING CLUB - Jean Ph: 4312 246 
 RSA,Hakaru & Dist.Women - meet 1.30pm 4th Thurs in month Ph: 
4314 668  
 TRAMPING - Mondays 9am-2:30pm  Karen Ph: 4312 090 
 YOGA - Tuesdays 6:15pm, Friday 8:30am Kaiwaka WM Hall Carla 
Ph: 021 296 8794 
CHURCHES:
Kaiwaka Family Church - Your Community Church: Sundays 10am & 
6pm. Youth Service Mondays 6-8pm. Ph: Tawhiri 4312571 or Paul 
4312068 
St Paul's Anglican Church 1st Sun. 9.30 am (Eucharist), 3rd Sun. 9.30 
am (Family Service). Contacts:  Church Office 09 431 4122; M. 
Hargreaves 431 2295; C. Bygrave 431 2057; or Rev. Wayne Thornton 
Ph 431 5650 
Church of Christ the King, Mangawhai:9.30am every Sunday 
St.Mary's Catholic Church: Maungaturoto – Griffins Road, Saturday 
evening Vigil Mass 6pm; Mangawhai – Senior Citizens Hall, Sunday 
Mass 8:30am; Wellsford – Matheson Road, Sunday Mass 10:30am; 
Mid-week Mass times and all enquires to Fr. Bill Fletcher – phone 423 
8170 
Baptist Church: Sun. 10.30am Mangawhai Snr Cit.Hall.Ph:4312339 
Cause Way Church Mangawhai: Sundays 10.15am, Mangawhai 
Community Recreation Centre, Insley St. Ph: 09 4314782  
St.Pauls Archie Bull Hall HIRE  $20 half day, $40 full day per hire, R. 
Morgans, Ph 4312365 
Kaiwaka  War  Memorial  Hall  HlRE  -  Phone  4312725  or 
kaiwaka.hall.bookings@gmail.com 
Hakaru Community Hall HIRE -Ph. 4312256 or 4312110 
Te  Pounga  Marae  queries  -  R.  O'Leary  4312  423,  J.Nathan  021  186 
7382 
Kaiwaka  Sports  Association  hire/queries  -  C.  Anderson  4312051  or 
kaiwakasports@gmail.com
Justice  of  Peace:  B.FJaques;  L.Donaldson;  A.F.Hargreaves,  S.Dalziell, 
W.Howard  -  please  phone  to  make  sure  they  are  available 
www.justiceofthepeace.org.nz 
Marriage Celebrants: L.Donaldson; A.F.Hargreaves; C.Rosseels