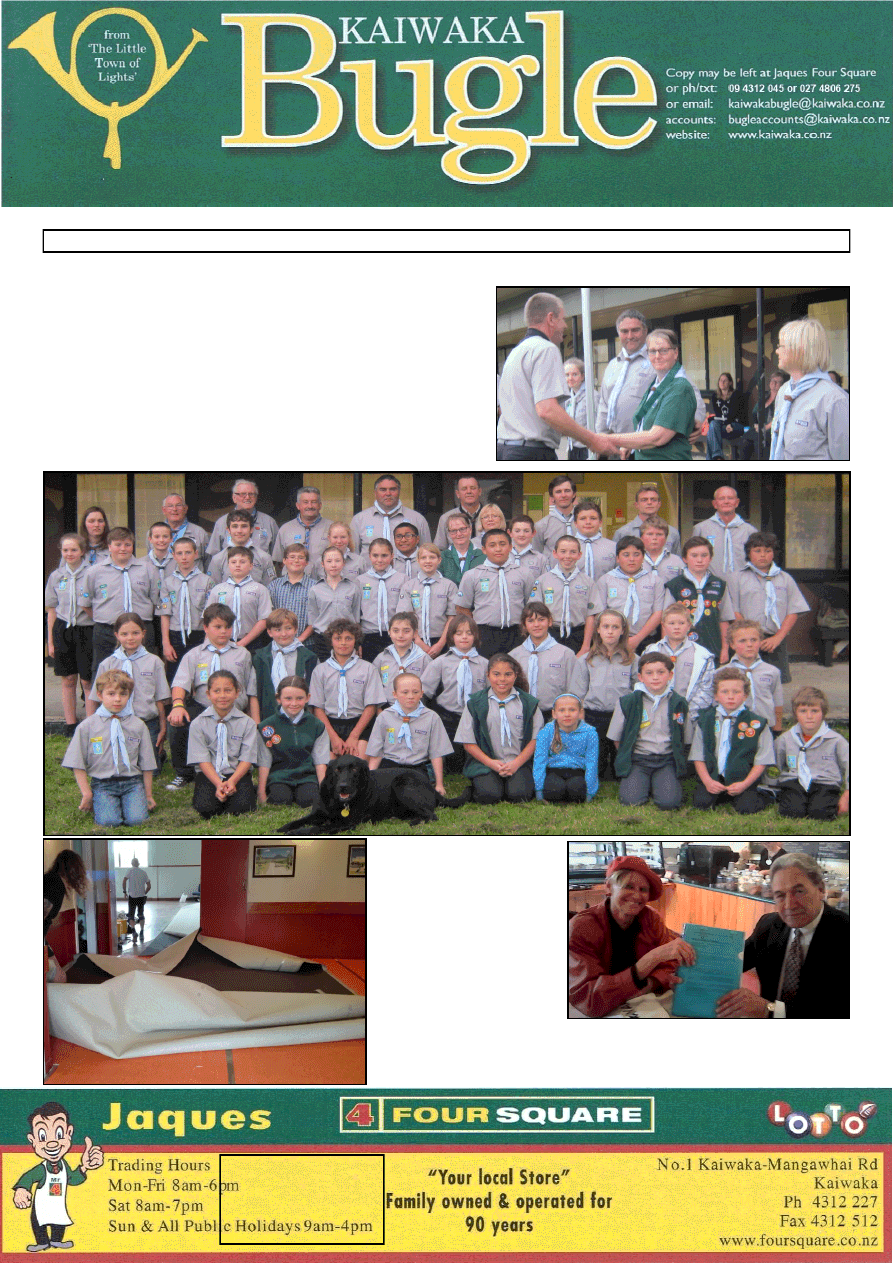 www.kaiwaka.co.nz 
Kaiwaka Bugle - 29 September 2015 
Page 1 
 No: 19
29 September 2015 
KAIWAKA/MANGAWHAI CUBS 
and 
SCOUTS 
New Winter Hours: 
Mon-Tue,Thu-Fri: 8am-
6pm; Wed: 8am-6:30pm;  
Sat: 8am-7pm;  
Sun: 9am-5pm 
As  a  sign  of  appreciation  for  being  an  amazing  leader  and  outstanding 
contribution,  Kaiwaka-Mangawhai  Scout  Troop  leader  Jenny  Webb 
("Kauri")  was  presented  with  The  Medal  of  Merit  by  Brian  Corney 
(Upper North Island Scouts regional development manager) at a special, 
surprise, ceremony during Scouts at Hakaru on 17 September. 
Being sight impaired hasn't stopped Jenny teaching our group so much 
about Scouting, and that just because you have a disability doesn't mean 
you can't get on and achieve whatever you set your mind to. Jenny was 
appointed Scout leader locally in 2013 but was a leader with Pinehaven 
Scouts, Upper Hutt, previously. 
Photo:  Brian  Corney,  Senior  Patrol  Leader  is  Jade  Tornquist,  Group 
Leader  Bruce  Ferguson,  Scout  Leader  Jenny  Webb  (Kauri)  and  Cub 
Leader Dalleise Jaques.  
Left:  New  carpet  in  the 
Kaiwaka  War  Memorial  Hall. 
New carpet was laid in the hall 
and foyer last Friday, as part of 
the 
Hall 
Committee's 
refurbishment 
programme. 
Come and take a look - movies 
are  on  two  Fridays  and  one 
Sunday  each  month,  including 
the Neil Diamond concert on 2 
October; see page 2 for details. 
Right: The Kaiwaka Speed Petition of nearly 900 signatures was presented last 
Friday. It will be taken to the CEO of NZTA  in Wellington, in the near future. 
Ruth Tidemann is pictured with the Rt Hon Winston Peters, MP for Northland 
at Cafe Bianca.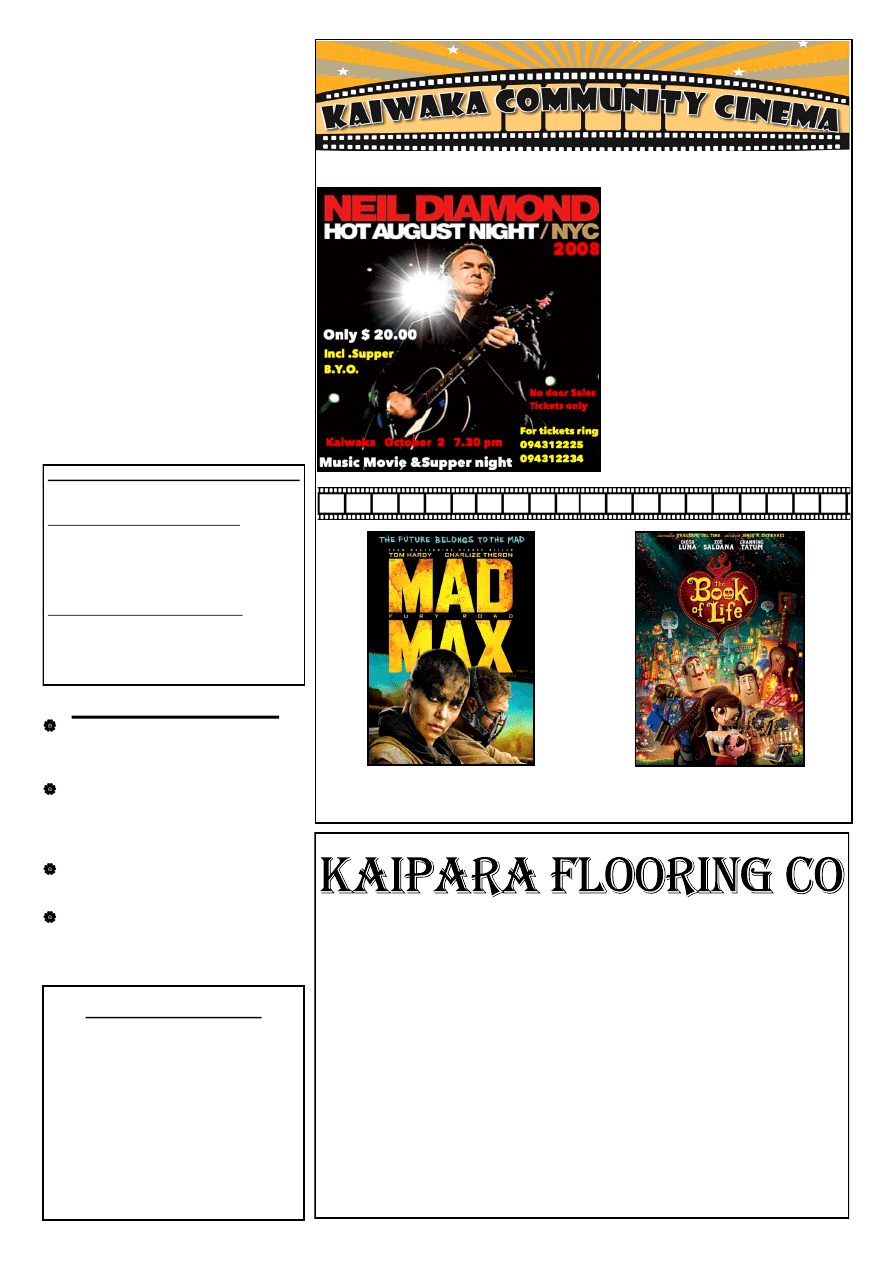 ABOUT TOWN 
Kauri  dieback  is  here.  Check  the 
article on p5, which mentions  the rahui 
on  Pukekaroro  and  Pukeareinga  (near 
Mountain Road & Tain Road). 
Julie  Harris from  Kaiwaka  Fitness  is 
going  to  Las  Vegas  in  November  to 
compete  in  the  INBA/PNBA  Natural 
Olympia  with  a  team  from  N.Z.  Good 
luck Julie! 
Looking  for  holiday  reading?  Check 
out  BorrowBox  on  the  KDC's  library 
web page. 
Large print and audio books from the 
library  -  please  have  them  returned  by 
Sunday  11  October  in  preparation  for 
the next book swap. 
KAIWAKA BUGLE No. 19 
29 SEPTEMBER 2015 
CONTENTS 
Page 3: Public Notices, Classified 
Page 5: Playcentre, 130 Years Ago, 
Kauri Dieback 
Page 7: Pragmatique, Garden Ramble 
Page 9: Otamatea High School, Pt 
Curtis, Rotary 
Page 11: Kaiwaka Sports Association 
Page 13: KSA 
Page 15: Kaiwaka School 
Page 17: Kaiwaka School 
Page 19: advertising 
Bugle 20 will appear 13 October 
Contact for advertising, reports, articles 
or information can be made by 
Email kaiwakabugle@kaiwaka.co.nz 
Ph: 09 4312 045 (Lindsey) 
Txt:  0274 806 275 (Wendy) 
Copy  may  be  left  at  Jaques'  Four 
Square.
At Kaiwaka War Memorial Hall . Adults $10, Kids (under 16) $5, Family Pass (2 adults + 3 children) $25 
Kaiwaka Bugle Advertisements 2015: 
All 
copy 
and 
queries 
to: 
kaiwakabugle@kaiwaka.co.nz 
Classified  $3  (max  30  words);  1/16  page 
$4; 1/8 page $6; 1/4 page $12. 
Payments can be made online, posted or 
left at Jaques Four Square Store. 
Accounts: 
bugleaccounts@kaiwaka.co.nz 
The  Kaiwaka  Bugle  is  a  community 
newspaper run by volunteers.   
Articles, etc. printed are not necessarily 
the opinion of the Bugle Team. 
Mad Max Fury Road 
Friday 16 October 7:30pm (R16) 
The Book of Life 
Sunday 25 October 2:00pm (PG)
32 HURNDALL ST MAUNGATUROTO 
Ph: 09 9469886 or 021 515 415 
Carpet, vinyl, laminate wood look  flooring, vinyl planking, 
sanding & polyurethane service. 
Carpet Short Ends from $79pm + GST 
Vinyl D.I.Y. peel n stick tiles $10sq mtr + GST. 
Free measure & quote.   
Mobile Service 
Phone Christine or Howard anytime 
Open Saturdays by arrangement. 
Kaiwaka Bugle 
Founded May 1978 
Copies available in Kaiwaka at Jaques Four 
Square, Kaiwaka Postal Centre, Shamrock 
Service Station, Celena's Gifts, Animal Health 
Centre. Also outlets in Maungaturoto, 
Mangawhai and Paparoa. 
Can be viewed online at  Facebook or 
www.kaiwaka.co.nz/Bugle  
Or a copy can be posted to you if you supply 
stamped, self-addressed DLE envelopes. 
Neil Diamond  
Hot August Night 
in New York City 
Friday 2 October (G) 
$20 incl Supper, BYO 
Tickets - 4312 225 or 4312 234 
NO DOOR SALES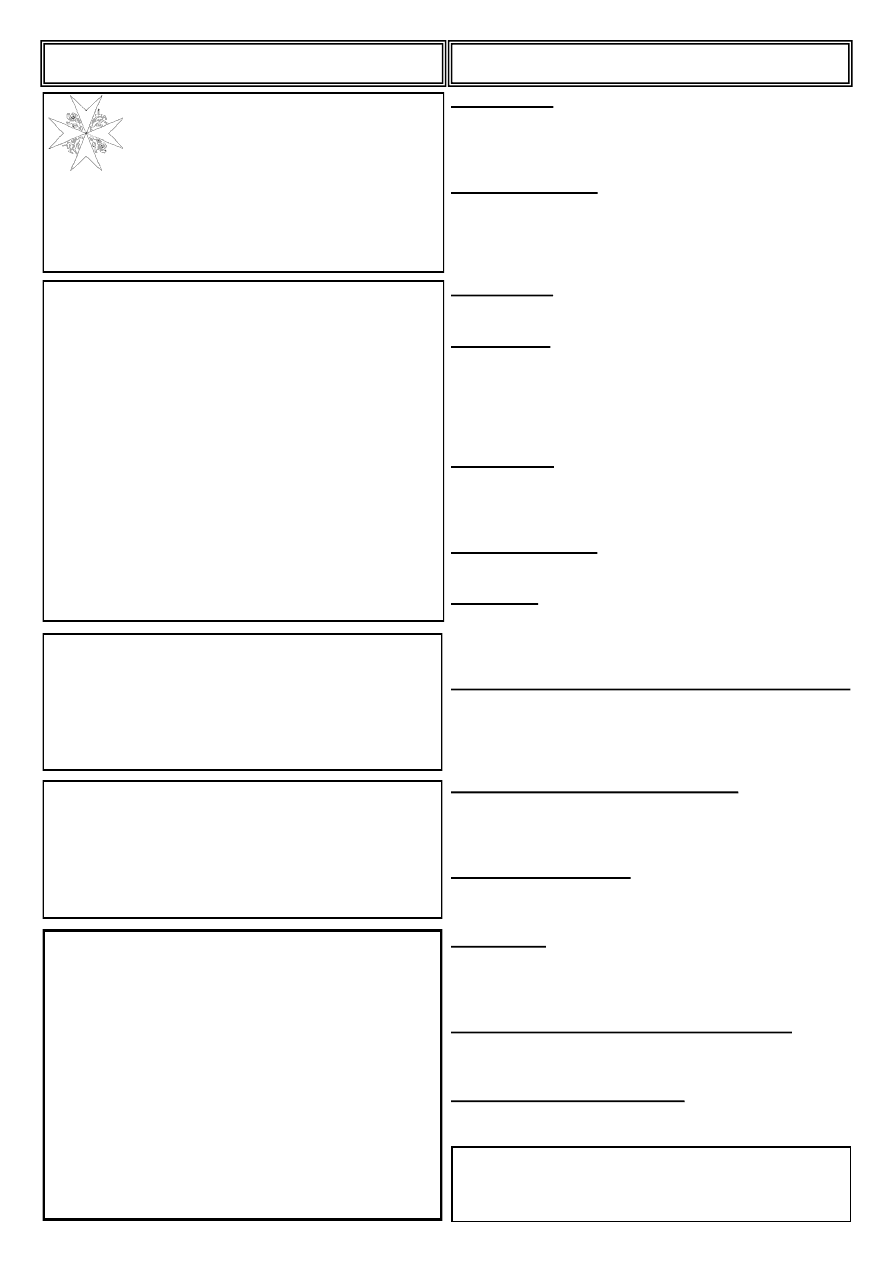 www.kaiwaka.co.nz 
Kaiwaka Bugle - 29 September 2015 
Page 3 
PUBLIC NOTICES 
CLASSIFIED 
FOR  SALE:  Original  wood  stove.  Esse  Century 
cooker.  Been  installed  for  eighteen  years.  Wet  back, 
double oven , white and black enamel. Working order 
$2,200.00 Ph 4312 605 Karen 
CAR  FOR  SALE:  Toyota  Camry  1996,  S/W,  2.2l, 
276,000  km,  WOF:  23/03/2016,  Reg:  29/02/2016, 
Reliable,  clutch  rough  but  working  fine,  good  tyres, 
tow  bar,  $1200  ono  Ph  Wolfgang  4312231  or  021 
1701581 
FOR  SALE:  Jigsaws  -  Wasjig  1000  piece,  $4  ea 
second hand, several editions, Ph John 4312 400 
FOR  SALE:  2  room  tent  +  sunroom  with  a  camp 
kitchen  &  portaloo,  $2,000.  King-size  cream  duvet 
cover & pillowcases, $50. 60 litre euro reflux still & 4 
demijohn  jars,  $700.  Baby  changing  table  &  bath, 
$100.  Small  dinghy  +  beach  trailer,  $2,000  ono.  Ph 
4312 981 evenings 
FOR  SALE:  House,    $395K,2  bdrm  Lockwood, 
Kaiwaka  rural.  Beaut  estuary  view.  Decks  garden 
trees,  1Ha  grazing,  H/W:log  burner;solar;240V.  Plus 
share 175Ac organic pasture/bush. 4312992 
HAY  FOR  SALE: $10 a conventional bale 4312006 
or 021 1570870 
WANTED:  GARDEN  HELP  $15  p/h.  School 
holidays;  snr  student,  sturdy  and  sane;  few(?)  days 
helping older couple on lifestyle block. Near Kaiwaka 
Ph: 4312992 or 021 02632149 (txt is VG) 
JILL SHIRES HOLISTIC ANIMAL THERAPIES: 
Cranio  Sacral  Therapy,  Herbal  Remedies  & 
Diatomaceous Earth for Pets, Horses & Farm Animals. 
www.jillshires.nz    or  Ph:  431  2080  Based  in  Oneriri 
Road 
PLANTING  AND  LANDSCAPING:  for  all  your 
advisory,  planting  and  maintenance  needs;  20  yrs 
experience; Pete Worsfold 'Sound Landscapes' Ph 021 
825 970 
BERYL  NOZEDAR:  (Middleton)  International  
Clairvoyant.  Numerology,  Tarot,  Clairvoyance,  
Mediumship. $60 for hour includes CD. Ph: 431 2080 
MASSAGE:  Relaxing  massage,  Energy  Work, 
Holistic Pulsing. Engine not running well? Need a tune
-up? Call Pete Worsfold 'Monsieur Masseur' 021 825 
970 
CLOTHING ALTERATIONS & REPAIRS: Hems, 
Zips,  Dressmaking  Phone:  Win  4312027    or  027  444 
8358 Winsome Designs. 
FREE GRAZING WANTED: Small or large block. 
Can  do  some  fencing  or  water.  Phone  after  6pm 
4312006 
Proverbs 29:20 There is more hope for a 
fool than for someone who speaks without 
thinking.
OTAMATEA ST JOHN 
TRASH AND TREASURE 
5th to 9th October 
Maungaturoto Centennial Hall 
9am to 5pm daily 
Please support this very worthwhile cause – we do 
end up with a large amount of "Treasure" 
KAIWAKA SCHOOL 
AGRICULTURAL DAY 
Entry 9am – Judging starting at 10am  
Monday OCTOBER 19th 2015  
Any queries please ring Linda at the office on 
431 2309 or e-mail: admin@kaiwaka.school.nz 
Entry forms available at the Kaiwaka School Office  
Last year's winners please return your Trophies to 
Kaiwaka School Office ASAP  
The PTA will be doing a Sausage Sizzle 
Tea and Coffee will be available for a Koha/Donation  
*The food provided in the pavilion is for Judges and 
Organising Committee only*  
===== 
We are looking for volunteers to help out on Calf 
Club Day. Please contact Linda at the office to leave 
your details. Thank you. 
KAIWAKA WAR MEMORIAL 
HALL ASSN INC 
Annual General Meeting 
5pm Wednesday 14 October 2015 
in the Supper Room at the hall. 
All Welcome. 
Czech band 
Praguematique 
Wednesday 7th October, 7.30. 
Absurdistan Hall. 317A Parekura Rd, Kaiwaka. 
$15 earlybird tickets from Cheese Shop, Kaiwaka. 
$20 at the door. 
Shanta  02102589015 
LIFESTYLE PROPERTY  
MAINTENANCE 
Putting life back into your style 
Mulching - gorse, scrub          Tree & hedge work     
Paddock topping, slashing       Land & section clearing     
Electric fence installation               Loader work 
Repairs – alkathene, driveways, fencing and more   
             Free quotes        
Working out of Kaiwaka; servicing Mangawhai, 
Maungaturoto, Waipu and surrounding areas. 
  With over 25 years' experience, I'm fully insured 
and any job considered so just call me – James on 
mob: 0273 808622  or  09 431 2245 
email: lifestylesorted@gmail.com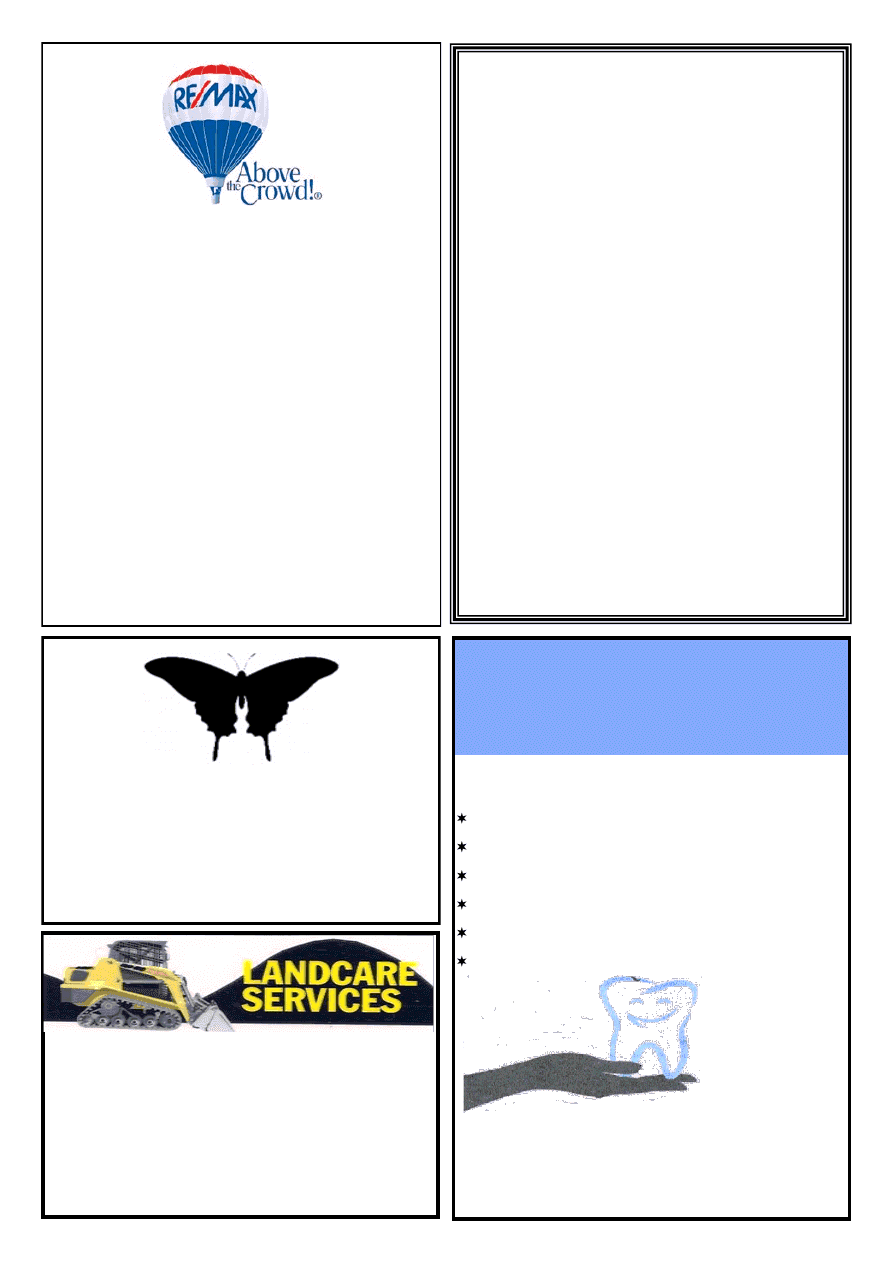 LANDSCAPING 
4 IN 1 BUCKET 
TRENCHER 
POLE HOLES 
ROTARY HOE 
COMPACT ROLLER 
OFFAL HOLES 
CAN SUPPLY WOODCHIP & POST PEEL 
5 TON TIPPER 
FOR RELIABLE AND FRIENDLY SERVICE CONTACT DAVE 
Dave Hyndman 
 
KAIWAKA 
PH: 09 4312302 
MOB: 021 431 238 
Gentle Dental 
Ruakaka 
We love to see you smile 
General  & Cosmetic Dentistry 
Emergency & ACC Treatment 
Denture & Hygienist Services 
Senior Citizen Discounts 
Free Adolescent Care 
Free WINZ Quote 
19 Ruakaka Town Centre 
Dr Sim Sood & Associates 
Ph:  432 8139 
Saturdays 
By 
Arrangement 
Open  
Mon-Fri  
8am-5pm  
g.a.s. 
Mangawhai 
we have now opened a 
GARDEN CENTRE 
for all your gardening needs 
Also a great range of 
STOCKFOOD 
Wide range of 
ORGANICS AND 
 FRESH LOCAL PRODUCE 
All your motoring needs are taken care of by 
our friendly staff check us out... 
44 Moir Street, Mangawhai (09)431 4242 
CHANGE CATALYST 
Glo Treadaway MANZASW 
Life Coach: Intuitive: ThetaHealer:  
 Create Positive Changes in Your Life! 
+0273638833 | 09 431 2209 
www.celestialconsulting.co.nz 
Beth Stone is your local  
Re/Max Associates 
representative.
I am available for chats anytime between 
10AM and 2 PM Tuesdays and Wednesdays in 
my ChatRoom in Kate's Place. Or by 
appointment. Join me for coffee and 
conversation.
Thinking about buying? Or selling? Or just 
wanting to talk over the options and 
understand more about the market? I can help. 
Use me as your sounding board. 
Phone Beth 0274 937 801 or call in. I look 
forward to meeting you.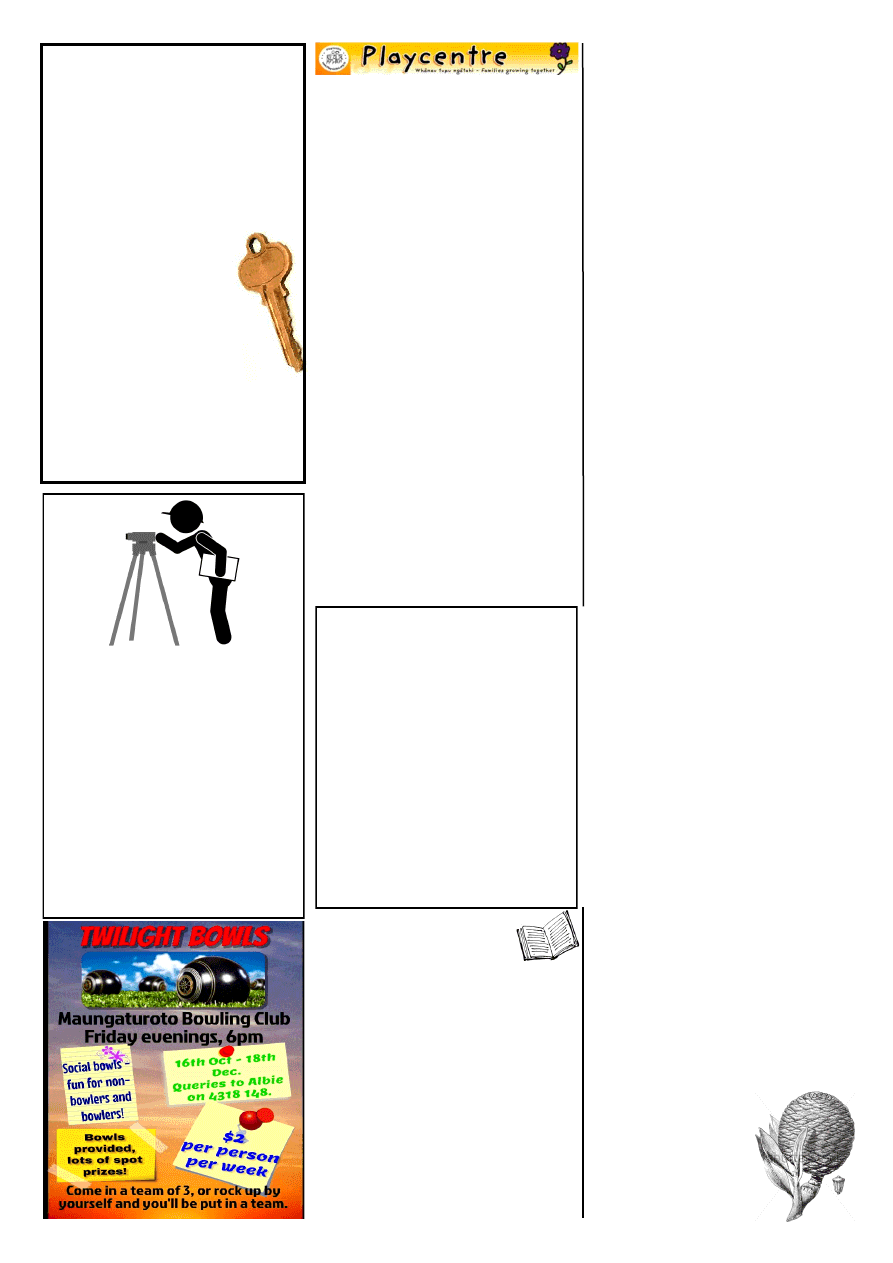 www.kaiwaka.co.nz 
Kaiwaka Bugle - 29 September 2015 
Page 5 
Ken Urquhart 
KMU Surveys Ltd
467 Bickerstaffe Road 
RD 2 
Maungaturoto 0587 
Ph 09 431 8705 
Mob 021 161 2344 
kenurquhart@xtra.co.nz 
Kaiwaka  
Hardware  
&  
Key cutting 
Phone 4312 063 
 022 041 6047 
kaikey2015@gmail.com
Keys Cut  
Household Hardware  
Curtain Tracks & Fittings 
Not there? Call Doug and he'll 
sort
it for you. 
(
Next to Kaiwaka Motorcycles
)
KAIWAKA 
LIBRARY
KAIWAKA 
PLAYCENTRE 
Term two has now finished, and what a 
fun  term  it  was,  massive  thanks  to 
Doug  and  Katie  from  the  Kaiwaka 
Hardware  Store  for  finding  us  some 
awesome new kids' carpentry tools, the 
kids  love  them,  thank  you  for  your 
support.  We  also  have  some  new 
double bikes, which the kids are having 
fun  and  learning  to  take  turns  on  and 
share. 
We are always on the lookout for new 
members,  to  find  out  if  Playcentre  is 
for you, come along to a session (your 
first 3 are FREE) and see us, we are a 
friendly  group  of  Mums,  Dads  and 
Grandparents who enjoy child-led play/
learning. 
Kaiwaka  Playcentre  is  now  open 
Fridays,  and  with  summer  coming  up 
why not get out of the house for a few 
hours  and  enjoy  some  of  the  fun 
activities  we  have  on  offer  at  our 
centre, water play, sandpit and arts and 
crafts, just to name a few. 
Next  term  we  have  some  exciting 
things  to  look  forward  to  including  a 
trip  to  the  beach,  a  bike  day,  baking 
and much more. 
We are open Mondays, Thursdays and 
Fridays 9am to 12 pm. 
KAURI DIEBACK 
IN KAIWAKA 
The  Department  of  Conservation 
supports  the  proactive  action  by 
Northland  Iwi,  Te  Uri  o  Hau,  in 
placing a rahui (temporary access ban) 
over  two  maunga  (mountains)  near 
Kaiwaka  in  Northland  to  help  prevent 
the spread of kauri die-back disease. 
Te Uri o Hau applied the rahui late last 
year  when  the  disease,  Phytophthora 
taxon Agathis (PTA) was discovered in 
kauri  trees  on  Pukekaroro.  Nearby 
Pukeareinga  was  included  in  the  ban, 
even though that maunga remains clear 
of the disease at present. Te Uri o Hau 
own  the  top  of  both  these  culturally 
important maunga. 
DOC's  Northern  Regional  Services 
director  Andrew  Baucke  said  the 
deadly  disease  has  been  having  a 
devastating  effect  on  Northland  kauri 
for  the  past  decade,  both  on 
conservation  land  and  in  privately-
owned forest. 
"DOC  is  taking  an  active  approach  to 
managing  kauri  dieback.  We  provide 
boot-spray  facilities  at  popular  track 
entrances, provide public education on 
how to reduce the spread of the disease 
and  contribute  to  a  multi-agency 
effort  .  We  accept    and  support  all 
practical  measures,  including  rahui, 
that  may  help  the  spread  of  kauri 
dieback." Andrew said. 
"Positive  actions  by  Iwi  and  other 
private  landowners  and  forest  owners 
will  support  DOC's  own  approach  to 
preventing the spread of this disease." 
About Kauri Dieback 
Kauri  dieback  is  the  deadly  kauri 
disease  caused  by  Phytophthora  taxon 
Agathis  (or  PTA).  Following  DNA 
studies,  this  fungus-like  disease  was 
formally identified in 2008 as a distinct 
and  previously  undescribed  species  of 
Phytophthora. Kauri dieback is specific 
to New Zealand kauri and can kill trees 
of all ages. 
Microscopic  spores  in  the  soil  infect 
kauri roots and damage the tissues that 
carry nutrients within the tree. Infected 
trees  show  a  range  of  symptoms 
including  yellowing  of  foliage,  loss  of 
leaves, canopy thinning, dead branches 
and lesions that bleed gum at the base 
of  the  trunk.  Nearly  all  infected  kauri 
die. In the past 10 years, kauri dieback 
has  killed  thousands  of  kauri  in  New 
Zealand. 
Scientists are currently working to find 
control  tools  for  this  disease  but  there 
is no known treatment at this time. 
The  collaborative  effort  to  address 
kauri 
dieback 
includes 
Tāngata 
Whenua, 
Ministry 
for 
Primary 
Industries, 
the 
Department 
of 
Conservation,  Northland  Regional 
Council, 
Auckland 
Council, 
Waikato 
Regional  Council  and 
Bay  of  Plenty  Regional 
Council. 
More  information  on 
Kauri  Dieback  can  be 
found 
on 
www. 
kauridieback.co.nz 
130 YEARS AGO 
KAIWAKA KULLINGS. 
The  B.R.  meeting  recently  held  in  the 
Kaiwaka  schoolroom  proved  a  great 
success.  The  Rev.  W.  Gittos  presided. 
The  rev.  gentleman  opened  the  meeting 
by giving a brief, but able, speech on the 
evils  of  alcohol.  The  programme  then 
opened, which consisted of the following 
ditties:-'Auld  Robin  Grey,'  Miss  C.; 
'Rory 
O'More, 
Miss 
T.; 
'My 
Grandfather's  Moke,'  Miss  L.  ;  'Auld 
Lang  Syne,'  Mrs  L.;  'Doctor  O'Toole,' 
Mr T.; 'Old Rosin the Bow,' Mr C.; 'Last 
May  a  Braw  Wooer,'  Mr  L.  C.;  reading 
(original) 'How he Collasped in a Ditch,' 
Mr L.; 'A Match,' Mr T.  The items were 
received with great applause. 
Observer 26 September 1885, page 16 
(from PapersPast) 
Next book swap 
Our next book swap, a Large Print and 
Audio one, is coming up soon in a few 
weeks. If you have any of those books, 
please have them back to us by Sunday 
11  October  so  they  can  be  returned to 
that  collection.  Get  in  now  and  take  a 
look if you've been meaning to borrow 
one of those books! 
Free Library Membership 
It is free to join the library if you live 
in  the  area.  Come  on  in  with  some 
identification (eg a driver's license and 
a  bank  statement  showing  your 
address),  and  you  can  complete  our 
form  and  join.  There's  something  for 
everyone to choose from here.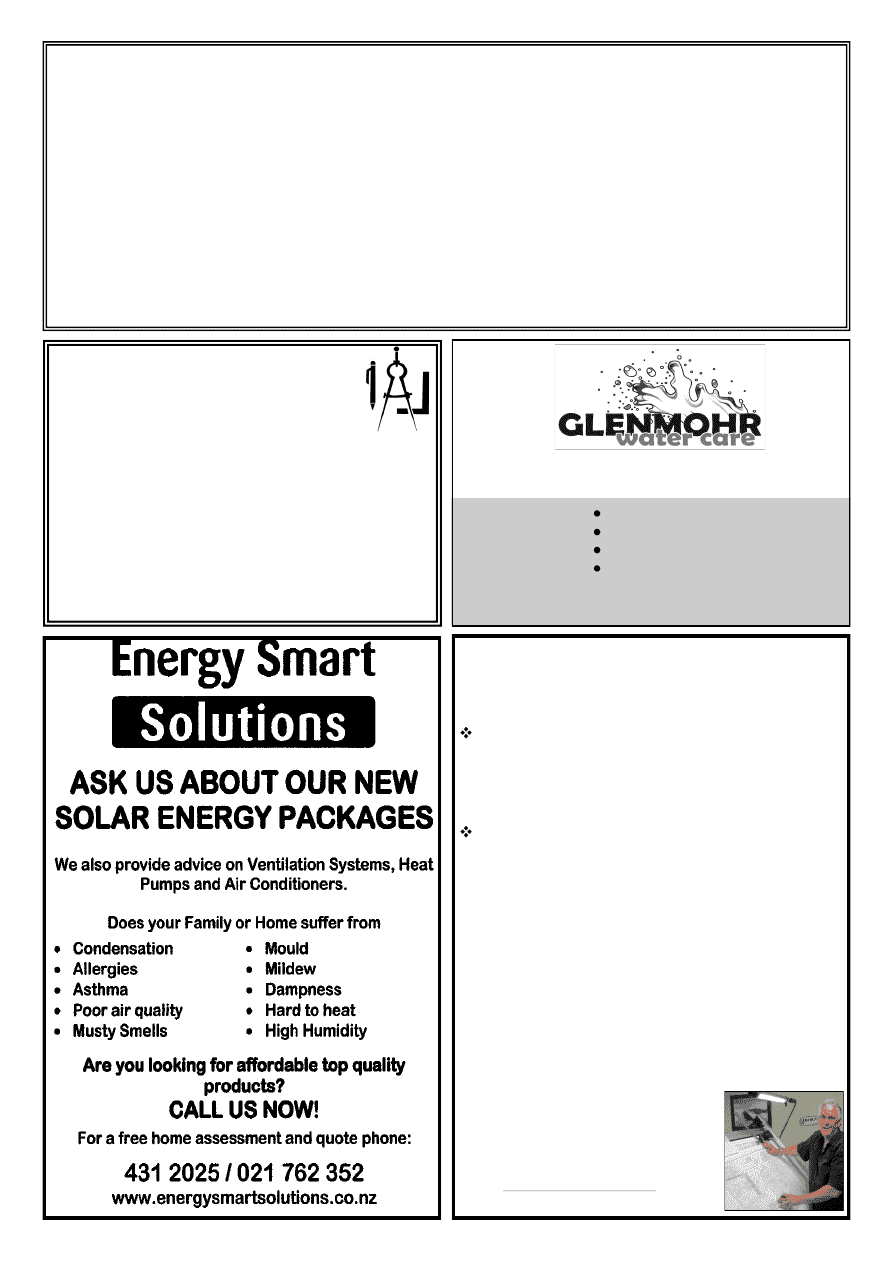 RANGANUI EARTHMOVERS 
  16T Excavator     
    (tilt, thumb & ROPS cab)     
  Transport Trailer 
  2 x 6 Wheeler Tip Trucks 
  Suppliers of All Grades of Metal & Topsoil 
If you want a proper job done with an experienced operator ring 
Grant on:  A/H  431-2131      Email  ranganui.dev@xtra.co.nz 
                      Mob  021845-246 
Driveways, House Sites,  
Drainage Dams, 
Section Clearing,  
Tree Work,  Rock Retaining Walls,  
Quarry Work, 
Basically Anything That a Digger Can Do 
design drafting 
service 
Retired builder and manufacturer with over 40 years  
experience in the building industry is offering a design 
drafting service for domestic housing, sleepouts and 
sheds.  
Plans formulated in consultation with clients, with 
working drawings completed and submitted to  
council for processing.  Extensive practical experience,  
able to identify & resolve problems. 
Please ring Mike Lean on 
09 431 2260  
          or 
021 431 196 
Water Tank Cleaning 
Keep your water safe & clean   
Removal of sediment, silt etc. 
Vacuum or full scrub 
Minimal water loss 
Phone Mark (09) 432 0655 or 0274 707607 
 ARCHITECTURAL BUILDING 
PLANS AND DESIGNS 
WRIGHT DESIGN 
QUALIFICATIONS 
Brian is a qualified designer (NZCAD) with over 40 years of 
varied experience in all types of building and is a registered and 
Licensed Building Practitioner in Design - L.B.P. 117345 
He ensures you will achieve the best from your budget with 
recommended excellent local contractors ready to competitively 
price and build your personal project quickly and efficiently. 
EXPERIENCE 
Brian's practical building and 40+ years of design experience 
means he can give you excellent advice and all the guidance 
needed for all your building needs 
v Wright Design offers free visits, consultations and all the ad-
vice you need on planning, design, building, contractors, coun-
cil permit applications, etc. 
"  Qualified and inexpensive designer – N.Z.CAD., LBP 117345 
"  Guaranteed design and working drawings 
"  Free site visit to your home or property 
"  Great service 
"  Great problem solver 
Call Brian ~Arrange a visit to discuss your needs  and obtain 
great advice and free quotation 
MAKE GOOD USE OF HIS EXPERIENCE and 
KNOWLEDGE 
WRIGHT DESIGN:  
360 Oneriri Road, Kaiwaka
Office 09 4312544   
Mobile 021 276 7389  
Email: 
www.wrightdesign.co.nz 
www.kaiwaka.co.nz 
Kaiwaka Bugle - 29 September 2015 
Page 7 
An exciting new band from the Czech 
Republic  will  be  performing  in 
Kaiwaka  on  the  Wednesday,  7th 
October. 
"Praguematique"  is  a  five  piece 
busking  ensemble,  who  met  on  the 
streets  of  Prague  in  2012  and  have 
been  playing  together  ever  since.  The 
band  is  a  popular  feature  at  weddings 
and festivals in the Czech Republic and 
regularly tours Europe. 
Many  of  you  will  remember  Craig 
Denham  and  his  band  Beyondsemble 
who  have  performed  in  Kaiwaka 
previously  (  and  indeed  all  over  New 
Zealand). 
Craig divides his time between NZ and 
the  Czech  Republic  and this  spring  he 
will  be  bringing  Pragumatique  with 
him. All the band members are keen to 
see NZ and Craig is keen to show them 
around. He has organised an extensive 
tour  throughout  the  country  for  his 
band  members.  Praguematique  will  be 
playing  at  30  locations  from  the  Far 
North  to  Stewart  Island  and  will  be 
headlining the Tauranga Arts Festival. 
The  band  plays  an  eclectic  mix  of 
whatever takes their fancy from Ska to 
Balkan  and  East  European  Folk,  to 
Gypsy  Swing,  Latin,  Pop  and  a  touch 
of Jazz and Funk. They play a range of 
instruments 
including 
keyboard, 
accordion,  violin,  guitar,  bass  guitar 
and  percussion.  You  can  view  a  video 
and  hear  some  of  their  music  on  their 
website Praguematique. 
We  are  very  fortunate  to  have  the 
opportunity  to  hear  them  in  the 
beautiful 
community 
hall 
in 
Absurdistan. 
BRICK/BLOCKLAYER 
All aspects of masonry:  
Fireplaces, 
Restoration  
& Remedial Work. 
JAMES EAGLETON 
Tel. (09) 431 2514  
Mob. 0274 749 232 
jajueagles@yahoo.com.au 
210A Pukenui Road, RD2 Kaiwaka 0573 
Bulk Cartage
PRAGUEMATIQUE IN KAIWAKA 
Born in the streets, 
underground clubs and 
bohemian weddings of 
Prague and Europe. 
Playing an eclectic mix of 
whatever takes their fancy, 
from Ska to Balkan and East 
European Folk to Gypsy 
Swing, Latin, Pop and a 
touch of jazz and funk 
Wednesday 7 October, 7:30pm 
Absurdistan, 
317 Parekura Road, Kaiwaka     
Wednesday 7 October, 7:30 pm 
Tickets: $15 earlybird from 
Kaiwaka Cheese Shop;  
$20 at door 
Delicious cakes on sale during 
the interval. Complimentary tea 
and coffee provided. 
Contact: Shanta 021 025 89015 
AFFORDABLE 
PRICES! 
MENS DRY CUT FROM $18.00 
LADIES DRY CUT FROM $28.00 
KIDS DRY CUT FROM $15.00 
COLOUR CUT FROM $90.00 
JUST     
CUTS'AND     
MORE 
021 165 2629 
NOW SELLING: scented tealights, incense, 
smudge sticks, copper bracelets, 
aurora ball crystals, dream catchers, 
healing stones, rose quartz, cds, and 
much more 
Open 6 days 
Tickets:  On  sale  fr om  mid  September ;  $15  (pur chased  befor e  Labour 
Weekend);  $20  (thereafter).  Your  ticket  provides  access  to  two  days  of 
rambling through 21 properties.  It includes full details and descriptions of each 
garden and a map showing garden locations and refreshment stops.  Everything 
you need to plan a fabulous weekend of rambling at your own speed! 
Tickets available at these local outlets:  
Fresh,  Mangawhai  Village;  Mangawhai  Books  &  Gifts,  Mangawhai  Heads; 
Jaques Superstore, Kaiwaka; Woody's Winners, Wellsford; Hammer Hardware, 
Waipu; Warkworth Information Centre, Warkworth 
Postal  Sales  can be ar r anged by contacting Mangawhai Kinder gar ten: Ph 
09 4314333, Email mangawhai@aka.org.nz.   
Payment accepted by cheque or direct debit.  Details provided on request 
Updates:  Join  us  on  Facebook  //  Palmers  Planet  Mangawhai  Gar den 
Ramble 
Contact:  For   sales  or   media  enquir ies,  please  email  the  Gar den  Ramble 
Fundraising  Team  at  mangawhai@aka.org.nz  or  phone  Mangawhai 
Kindergarten (09) 431-4333.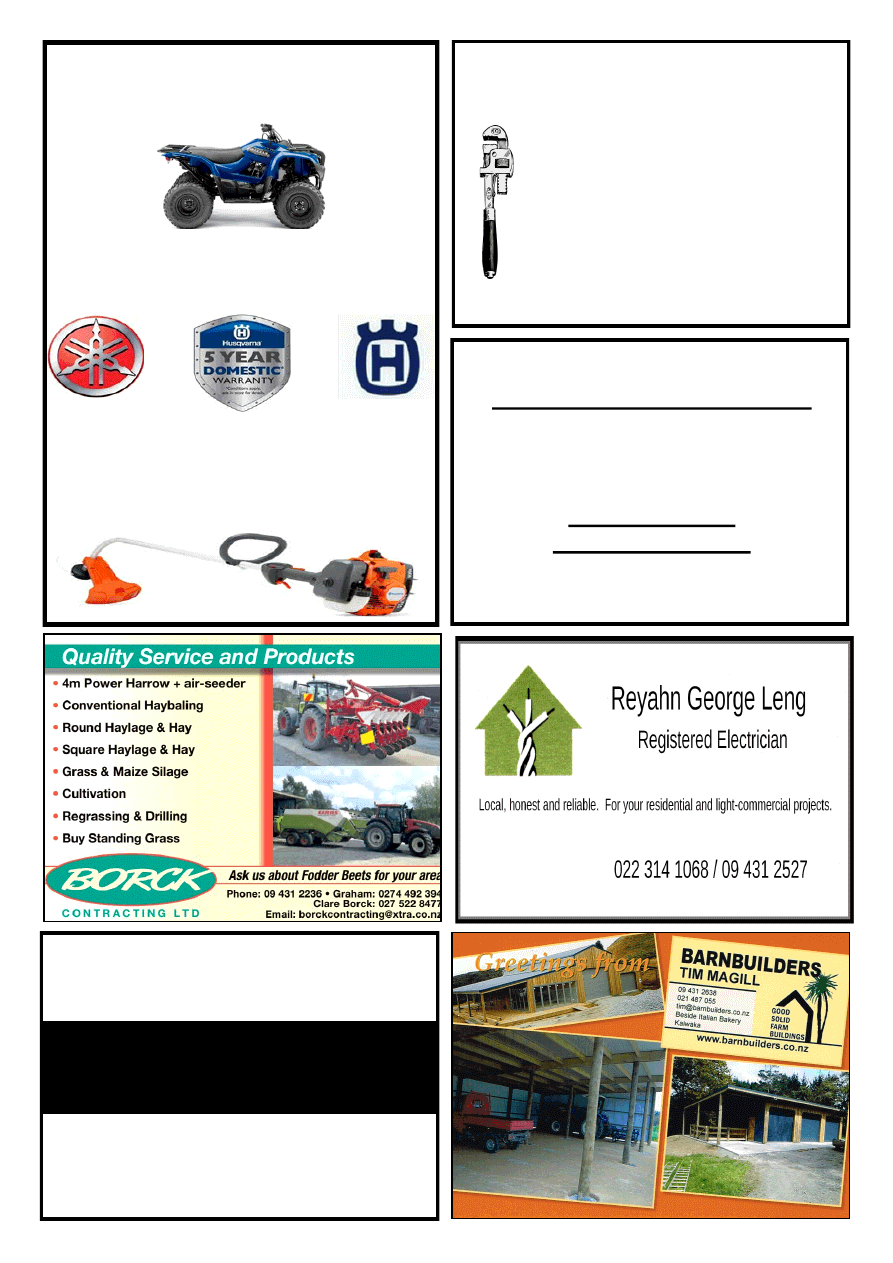 Natural Earth Ltd 
Landscape and Bobcat services 
 : Driveways  :Landscaping  :Retaining Walls 
 : Hole Boring: Land Levelling :Trenching 
 : Decks :Fences :Sections Cleared 
 : Plus much more
Tel 09 4312 885 
Mob 02102391280 
For A Fast Friendly Service  
Contact Tim Hicks 
BARRY CURTIS PLUMBING LTD 
REGISTERED CRAFTSMAN PLUMBER 
Phone 431 5572 
027 257 9884 
25 years' experience 
Friendly reliable service 
All plumbing & maintenance 
Alterations and new housing 
New wood fire installation 
Spouting 
Competitive rates
PROMPT EFFICIENT  SERVICE 
KAIWAKA 
MOTORCYCLES LTD
SALES – SERVICE – SPARES 
FARM BIKE SPECIALIST 
PHONE 09 431-2127 
10 KAIWAKA-MANGAWHAI ROAD, KAIWAKA
TRIMMERS FROM $249 - CHAINSAWS 
FROM $329 
YAMAHA 
HUSQVARNA 
David Korach 
Your local Gib Stopper
DK PLASTERER LTD 
0274769221 
dkorach6@gmail.com 
www.kaiwaka.co.nz 
Kaiwaka Bugle - 29 September 2015 
Page 9 
MAUNGATUROTO 
ROTARY 
We  recently  ran  a  fundraiser 
for  Cure  Kids  (Red  nose  appeal,  by 
raffling a picnic table) in Kaiwaka and 
were  able  to  pass  close  to  $700  on  to 
this very good cause. 
The  scholarships  that  were  the  result 
of  the  presentation  on  Te  Ika  a 
Ranganui  (valued  between  $320  and 
$600)  were  presented  at  a  recent 
school assembly and if you would like 
to read the essays written by students, 
visit  the  Otamatea  High  School 
website – all five are on display there. 
(Three are in Te Reo) 
We  were  fortunate  to  have  four 
speakers 
from 
local 
schools, 
competing  in  the  preliminary  of  the 
Whangarei speech contest. This tightly 
contested  event  was  won  by  Nadine 
Tupp  from  Rodney.  Her  speech  on 
climate  change  gave  us  food  for 
thought. 
It has been a month to celebrate youth 
as  we  have  also  had  presentations  by 
students  who  have  completed  Rotary 
science  courses  in  Whangarei  and 
Auckland, as well as the Rotary Youth 
leadership  award.  All  these  students 
epitomize  the  calibre  of  the  young 
people  who  represent  this  community 
at  a  huge  variety  of  Rotary  led  and 
sponsored courses. 
The  President's  Scholarship  ($1,000) 
is now open to all those under 19 who 
are  attending  some  form  of  training. 
This  does  not  need  to  be  university 
focused  and  is  open  to  both  young 
people who are still at school, or who 
may  have  left.  If  you  want  an 
application  form,  please  leave  your 
details on my cellphone 021 142 0357. 
As  part  of  the  Alumni  week,  we  are 
looking for people who live in our area 
and who may have been involved in a 
Rotary  Exchange  or  similar  events 
through  the  years.  We  would  like  to 
talk  to  you  so  if  you  have  a  story  to 
tell, either get in touch with a Rotarian, 
or call the number above.         ~Eileen 
 LEABOURNS 
Passenger Service
Car & Van Hire 
Bus & Coach Charters 
Airport Transfers 
 Monthly Shopper Bus 
Phone (09) 4237416 
Magnetic Laser for Health
Using a low power laser I can help 
with a variety of conditions:
Joints pain, swelling, 
inflammation 
Back and neck pain 
Heel pain 
Injury or fracture recovery
Phone Gala 
431 2213 
021 486 611 
POINT CURTIS  
CRUISING CLUB 
 Our  club  competed  in  the 
inaugural 
Super 
Fishing 
Club 
Championship  held  at  Waipu  Boating 
&  Fishing  Club  on  19th  and  20th 
September.  Club  members    were 
invited to fish for snapper and weigh in 
the two heaviest snapper caught for the 
club.  Our  club  came  4th  with  anglers 
Brayden  Mills  and  Keith  Mills 
weighing  in  4.565kg  and  6.785kg 
snapper respectively. The winning club 
this  year  was  Oakleigh  Fishing  Club 
with  two  snapper  weighed  in  at 
8.105kg  and  9.710kg.  At  the 
prizegiving club names were put into a 
hat and the club drawn out (Whangarei 
Deep Sea Anglers) will host next years 
Super  Fishing  Club  Championship. 
Thank you to all of our club members 
that  fished!  Thanks  to  Waipu  Boating 
& Fishing Club for a well run contest 
and we look forward to entering again 
next year. 
Pool  Contest  against  Wellsford  on 
Sunday 4th October at 3 Furlongs Bar 
&  Grill.  Come  along  from  1pm 
onwards.  Please  bring  a  plate  for  a 
shared meal. 
Our  next  fishing  competition  will  be 
an  Open  Fishing  Contest  on  21st  and 
22nd 
November 
2015. 
Species 
included  in  contest  are  Snapper, 
Kingfish 
and 
Kahawai. 
More 
information and rules to come! 
New  Fish  of  the  month:  SNAPPER 
(Cut off date 13 October) 
New  members  are  always  welcome! 
Subs  are  $20  for  a  single  sub  or  $30 
for  a  family.  Subs  may  be  paid  at  3 
Furlongs  Bar  &  Grill  or  to  Jean  at 
Jaques Four Square, alternatively subs 
may  be  paid  directly  into  the  clubs 
bank account, BNZ Wellsford 02 0364 
0012950  00.  Please  include  your 
surname as a reference. 
Next  committee  meeting:  Tuesday  13 
October,  8th  September,  7pm  at  3 
Furlongs Bar & Grill. 
~ Wayne Leslie, Commodore 
KAIWAKA 
We  are  currently  considering  the 
possibility  of  finishing  school  at  2pm 
one day a week in 2016. The rationale 
for  this  proposed  early  closure  is 
explained in the recent newsletter. 
The  Board  of  Trustees  has  approved 
the consultation stage of this proposal. 
We  are,  therefore,  now  inviting 
comment  from  all  of  the  stakeholders 
(school  staff,  students,  parents,  bus 
companies,  local  primary  schools) 
regarding this proposed initiative.  
Please  respond  in  writing  by  Friday 
23rd  October  to:  Nikki  Donaldson, 
Otamatea  High  School,  PO  Box  64, 
Bickerstaffe Road, Maungaturoto 0581 
or  ohs@otamatea.school.nz  with  the 
subject line 'Length of school day'. 
All  feedback  will  be  gratefully 
received. 
OTAMATEA HIGH 
SCHOOL 
OHS SCHOOL ROAD RACE 
5km, Wednesday  
21st October, 2.20pm start 
Get some training in now and 
over the holidays. 
ShakeOut 2015 
Everyone 
- 
everywhere 
should know the right action 
to take during an earthquake. 
New  Zealand  ShakeOut  is  a 
national  earthquake  drill 
taking place at 9:15am on 15 
October 2015. 
It's a chance for everyone to 
practise  the  right  action  to 
take  during  an  earthquake  - 
Drop,  Cover  and  Hold.  It's 
also  a  chance  to  learn  more 
about what to do before and 
after an earthquake. 
Signing 
up 
at 
www.shakeout.govt.nz  will 
only  take  a  couple  of 
minutes.  As  well  as  being 
counted, you'll be kept up to 
date with how to get ready.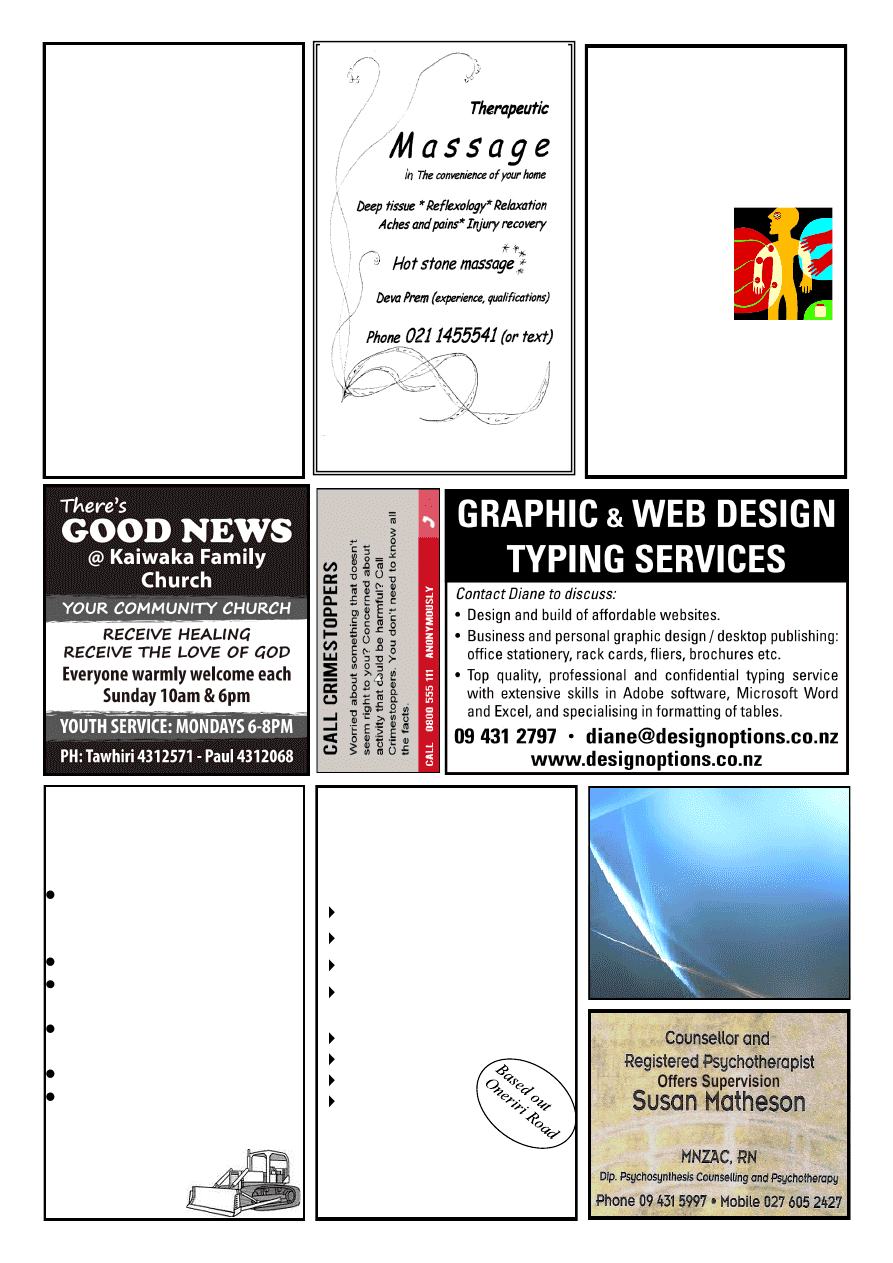 www.mangawhaimassage.co.nz 
HODGETTS 
CONTRACTING
Digger Work    
Driveways 
House Sites   
Dams 
Drains, etc
Also available for HIRE 
3 ton Vib Roller 
Heavy Duty Tow 
Waterblaster  
Lazer Level 
Phone Mark 
4312877 
027 447 8554
OWEN STEVENS 
Osteo Therapist
For careful adjustments to bones 
and joints 
Treatment for  humans and their 
pets 
Clinics: 
Kate's Place, 
Kaiwaka: 
Last Friday of 
month 
For bookings: 
9.00am-5.00pm   
Phone 
09 4312661 
Or phone Owen   
09 4317123  anytime 
Freeview  
Installations 
Richard Te Haara 
25 Marram Place 
Mangawhai Heads 
021 1104056 
kiwipride@xtra.co.nz
Willow Bend
HORSE  
HOTEL 
"   
Total Horse Care 
" 
Agistment 
" 
Riding Lessons 
" 
Arena Hire (60x40) 
" 
Young Horse Starting 
" 
Re-training/Exercising 
" 
Hoof Trimming 
" 
Problem Solving 
Phone Sue 09 431 
2817 or 021 623 776 
Or email sue.gray@xtra.co.nz 
Coates  
Contracting 
D41 Bulldozer with 6 
way blade, bush rigged 
with winch 
For all tree work 
General bulldozing and  
  stick raking. 
120hp Tractor for 
ground cultivation,  
tip trailer work. 
Fencing
All enquiries phone  
Brett Coates  
 094318720  
or 
 021431872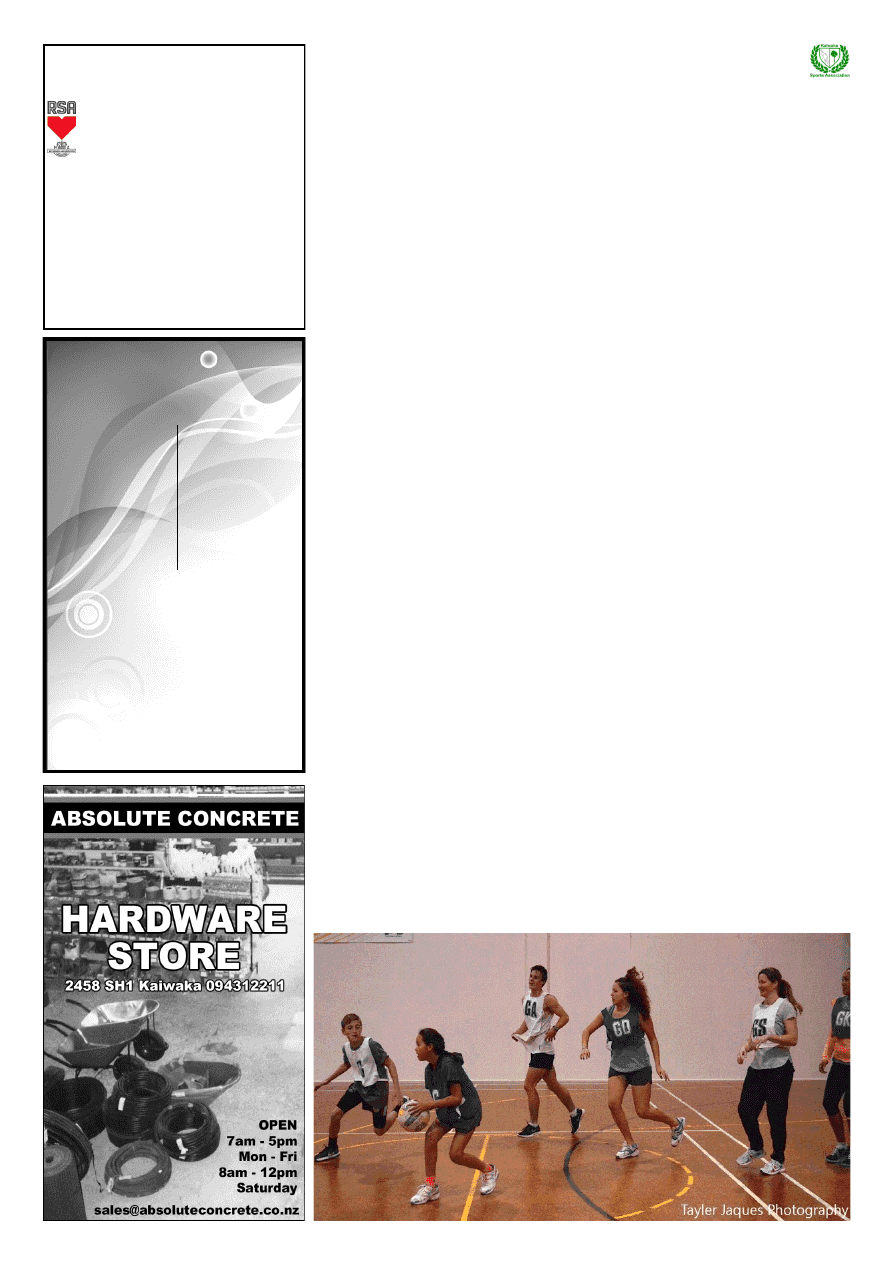 www.kaiwaka.co.nz 
Kaiwaka Bugle - 29 September 2015 
Page 11 
HAKARU & 
DISTRICTS RSA Inc
Each Friday night from 6.30pm 
meals will be served. 
Members & invited guests, new 
members welcome.
Come along & enjoy our hospitality.
2nd Friday of the month -  roast 
dinner or board menu.
Last Friday of month - roast pork 
night & sing-along with Des Chitty.
Ph Heather 4314668 or Jan 4314512 
U Beauty 
Please call Nicole for bookings 
09 393 6336 or 022 0639450 
Qualified Beautician 
4 Kaiwaka – Mangawhai Rd 
Kaiwaka 
Underarm Wax  
$20 
Extended Bikini Wax 
$30 
15 min Back  Massage 
$25 
Eyebrow Wax  $10 
Eyebrow Tint  $10 
Eyelash Tint 
$20 
Lip Wax 
$10 
Chin Wax 
$10 
Bikini Wax 
$20 
Brazilian 
$50 
½ Leg Wax 
$30 
Full Leg Wax  $45 
Full Pedicure  $60 
Foot Tidy  
$35 
Manicure 
$45 
Nail Tidy 
$25 
Chest Wax 
$30 
Back Wax 
$40 
Nostrils 
$10 
Ears 
$10 
KAIWAKA SPORTS ASSOCIATION
Netball – junior 
Congratulations  to  the  main  award 
winners for the 2015 season: 
Team Kaiwaka 1 
Player of the Year:  Maia Fairburn  
Most Improved:  Devine Henderson  
Most Consistent:  Aroha-Lee Connelly-
Nahi  
Shining Star Award:  Caleesto Mills  
Team Kaiwaka 2 
Fair Play Award:  Lily Wing  
Shining Star Award:  Mina Fairburn  
Most  Outstanding  Player:    Fiona 
Howard 
Most Improved:  Dalana Stonex  
Netball – high school 
The  OHS  Netball  prizegiving  will 
celebrate  the  end  of  their  successful 
season with their prizegiving to be held 
in  OHS  E  Block  on  Sunday  11th 
October at 1.15pm. 
Fast Five Netball Module 
We are now over half way through our 
Fast  Five  Module.  Results,  photos and 
the  draw  are  posted  on  our  website 
Photo  below:  Hot  Shots  vs  The  Fluffy 
Ducks. Thank you to Tayler Jaques for 
her great action photos. 
Soccer 
Our  Kaipara  Knights  Soccer  Club  had 
three  junior  teams  in  the  Rodney 
Otamatea 
Soccer 
Association 
competition 
this 
season. 
Their 
prizegiving 
was 
held 
recently, 
congratulations to the winners: 
6th  Grade:  Most  Improved  –  Noach 
Finlayson;  Sportsperson  of  the  Year  – 
Lauren  Browne;  Player  of  the  Year  – 
Hannah Hodgson. 
8th  Grade:  Most  Improved  –  Aaron 
Westlake;  Sportsperson  of  the  Year  – 
Evan  Fisher;  Player  of  the  Year  – 
Estella Hinsch. 
10th  Grade:  Most  Improved  –  Kate 
Cotching;  Sportsperson  of  the  Year  – 
John  Hampshire;  Player  of  the  Year  – 
Tevin Lemuelu.  
The  clubs  High  School  players  joined 
with  teams  from  the  Mangawhai  and 
Matakana 
Soccer 
Clubs. 
Congratulations  to  Cory  Browne  who 
was  awarded  Most  Improved  and 
Brenda  Ferguson  who  was  Player  of 
the  Year  for  the  combined  Matakana 
Knights  12th  grade  team  and 
congratulations to Raymond Taito who 
was  Player  of  the  Year  for  Matakana 
14th Grade. 
Rugby 
We  are  proud  to  host  a  Northland 
representative  match  –  Northland  B's 
vs North Harbour. This will be held on 
Saturday  10th  October  at  2.30pm. 
Spectators 
welcome, 
refreshments 
available. 
Tennis 
Time to get into the swing of it! If you 
have a child (5 – 17 yrs) who is keen to 
give  tennis  a  go,  please  phone  Lindell 
Ferguson  on  431  2542  or  email 
. We would 
like to know which day and time suits 
you  best  (last  season  we  ran  two  age-
group lessons on Monday afternoons). 
Gymnastics 
Our  club  has  had  a  group  of  parents 
step up to help with coaching this term 
which  is  a  good  start  toward  the 
changeover  in  management  next  year. 
An  equipment  set-up  team  has  also 
been  established and  is  well  underway 
in  learning  the  ins  and  outs  of  setting 
up  each  week.  To  ensure  the 
continuation  of  the  club,  we  still  need 
to fill the following positions:  
President  –  oversees  meetings  and 
keeps  the  club  running  true  to  the 
constitution  Head  Coach  –  oversees 
coaches and gymnasts 
Roll  Administration  –  one  person  who 
can liaise with GymSport New Zealand 
to fill out the necessary forms (usually 
three  each  term)  co-ordinating  with 
head coach in regard to admissions and 
the roll 
Coaches – especially for the preschool 
and the 3:15om class.  
Full  training  will  be  given  for  all 
positions. If you can help out our club 
by  filling  any  of  these  roles,  please 
contact 
Stephanie 
on 
Books Fundraiser 
Please  look  over  the  order  form 
attached  to  the  back  of  this  Bugle.  If 
you're looking for an easy way to make 
a start on your Christmas shopping, this 
could  be  it!  And  you'll  be  helping  out  
the 
Sports 
continued over...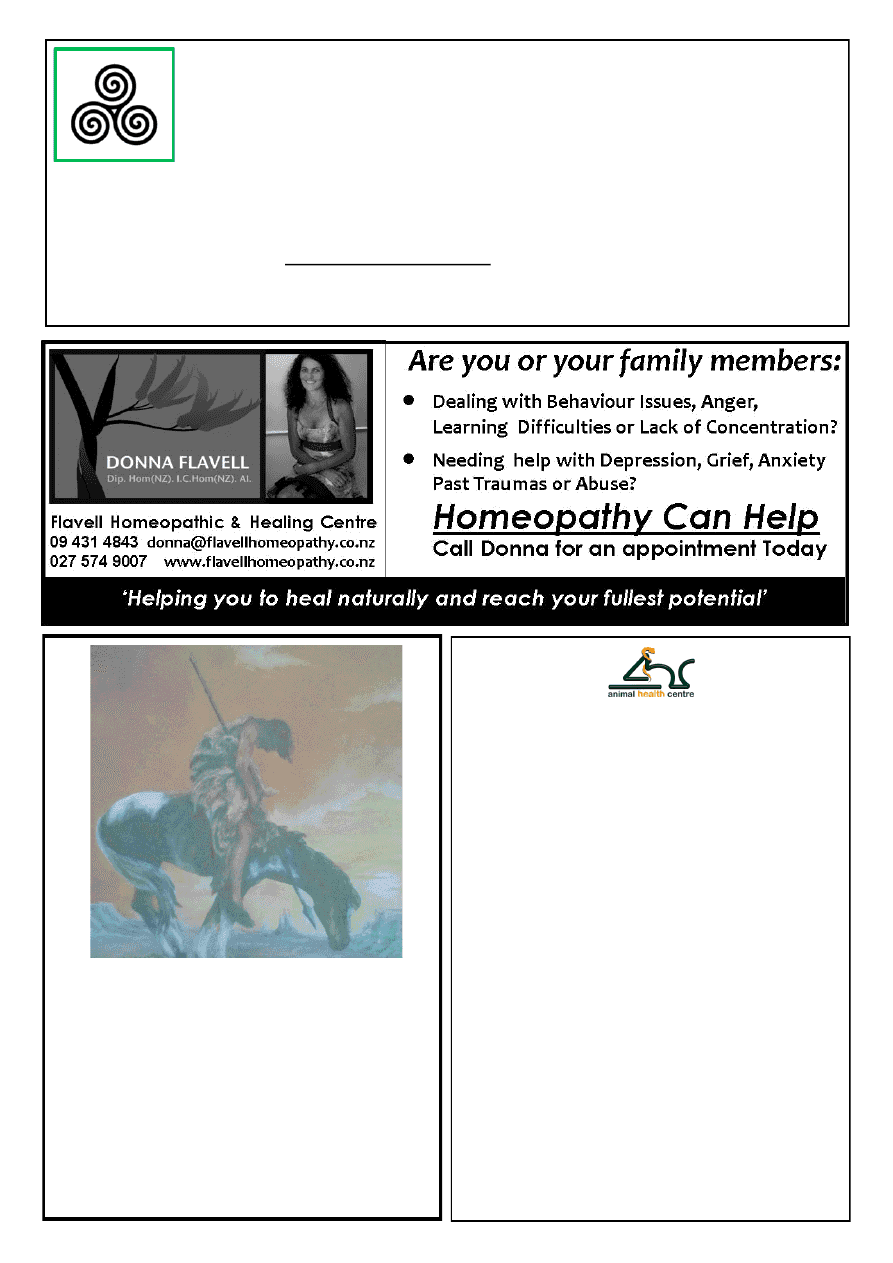 RANA Health 
Naturopathy- Acupuncture- Massage
Open Mondays, Thursdays & Fridays 
4 Kaiwaka-Mangawhai Road; Room 4; Kaiwaka
Phone or Text for an appointment &/or price enquiry:  
Rebecca Wood 021854158 
Or visit www.ranahealth.co.nz & click BOOK NOW
Rebecca Wood Dip Th Mass; Dip Aroma; Dip Acu; 
Student Naturopath- Final semester
Trails end spiritualist church  
Last Sunday of every month  
10am tea/coffee provided  
$5koha for all inquiries  
0211652629 evenings 099450753 
Trail.end@hotmail.com 
Bringing together light minded people 
ANIMAL HEALTH CENTRE 
KAIWAKA 
Stockists of Leading Brands Raw Meats: 
Pet Deli, Woofles, Purely Pets, Mighty Mix Concentrate,  
Bulk Buys. 
Stockists of Leading Brands Pet Food: 
Addiction, Orijen, Organix, Acana, Nutrience, Ziwi Peak, Mighty 
Mix, Vegan Pet, Tukka Thyme 
Vet Nurse Services: Nail Tr ims, Comfor t Gr ooms, Dental 
Checks. Microchipping. 
Animal Naturopath: Sarndra G Urwin Dip NAH (Hons)  Dip Cl.Hyp. 
Arthritis, Cancer, Auto Immune  & Skin Conditions, Endocrine 
Disorders, Behaviour Problems. 
"There is always a choice in health care" 
Homeopathic & Herbal alternatives to parasite & vaccination 
controls. 
Organic, chemical –free cosmetic products. 
Safe Leads, Collars and Toys
Open: Tuesday-Saturday 10.00-4.30   Sunday 10.00-2.00 
Next to Italian Bakery, Main Highway, Kaiwaka. 
PHONE 09 431 2217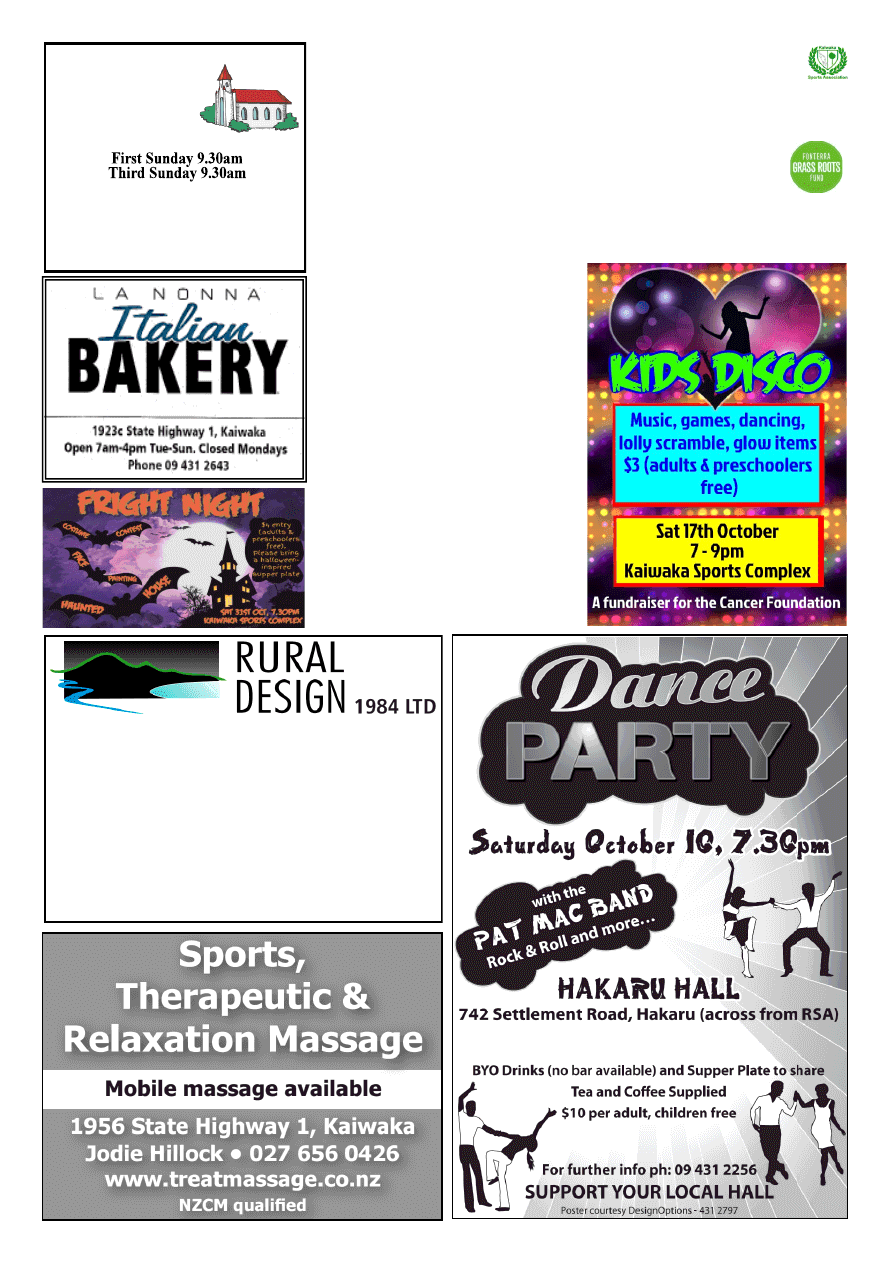 www.kaiwaka.co.nz 
Kaiwaka Bugle - 29 September 2015 
Page 13 
ST PAUL'S  
ANGLICAN  
SUNDAY  
SERVICES
St Pauls Church: Kaiwaka-Mangawhai Rd. 
1st Sun - Eucharist 
3rd Sun - Family Service 
Office 4314 122 
Contacts:M.Hargreaves 4312295, C.Bygrave 4312057  
or Rev. Wayne Thornton Ph 431 5650 
KAIWAKA SPORTS ASSOCIATION
WHOLESALE NATIVE PLANT NURSERY 
AND LANDSCAPING 
By Appointment 
Small and Large orders welcome 
Phone: 09 431 2481 
Email: info@ruraldesign.co.nz 
Association with our fundraising goals 
as well. The deadline for orders is 15th 
October  and  the  books  will  arrive  the 
following week.   
Kids Disco 
Local  teenagers  Jessika  Grigg  and 
Holly  Anderson  are  putting  on  a  Kids 
Disco  as  a  fundraiser  for  the  Cancer 
Society.  The  disco  will  be  held  at  the 
Sports  Complex  on  Saturday  17th 
October  from  7  til  9pm,  and  will 
feature great music and dancing, a lolly 
scramble,  glow  items  and  games.  If 
you  have  young  kids,  mark  it  in  your 
diary! 
Fright Night 
Our  annual  Fright  Night  will  be  held 
on  Saturday  31
st
  October.  Start 
thinking  about  your  scary  costume 
(there'll be prizes for best dressed boy, 
girl  and  adult).  We  will  have  music, 
dancing, games, a photo booth, supper 
plate  competition,  face  painting,  lolly 
scramble and a haunted house!  
Top of the Rock 
Our  next  Top  of  the  Rock  multi-sport 
challenge  will  be  held  on  Sunday  14
th 
February.  Our  funding  application  to 
the  Fonterra  Grassroots  Fund  was 
granted  and  we  will  receive  $1,400  - 
thanks Fonterra!  
Every  year  we  get  wonderful 
sponsorship from our local businesses, 
this  is  either  as  a  donation  of  product 
for  the  prize  table,  or  as  a  monetary 
donation of $50 upwards. If you would 
like  to  show  your  support  for  the 
Kaiwaka  Sports  Association 
and  the  Top  of  the  Rock  by 
offering  sponsorship,  please 
get in touch with me (contact 
details are below). 
~Cheryl Anderson,  
4312 051, 027 3462702,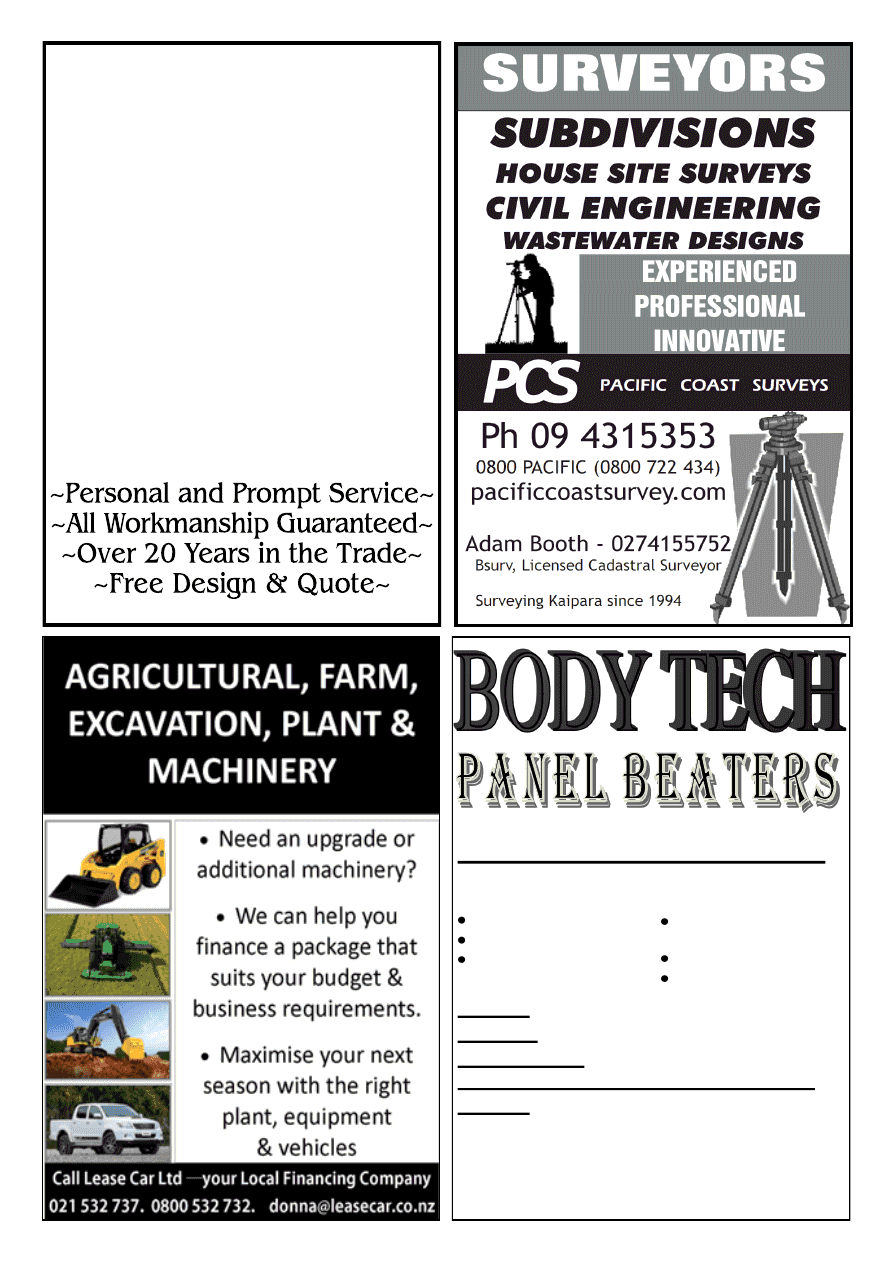 For all your body repair needs!! 
We do: 
Rust repairs 
Insurance work 
Anti-corrosion treatment         
Hours: 8.30am-5pm Monday-Friday  
Mobile: 021 118 0462 
After hours: 09 431 2384 
Phone: Craig or Call in for a free Quote 
e-mail: 
bodytech_panelbeaters@yahoo.com
We are located at 1837 SH1 Kaiwaka, behind Twin-
kle Tow 'n' Tyre call in anytime for a free quote.  
Large and minor vehicle  
  repairs 
Industrial vehicles 
Full Cut and polishes 
PLANNING A NEW 
KITCHEN? 
 CONTACT NOEL McDOWELL 
WELLSFORD 
KITCHENS
Ph/Fax 094312888  
KAIWAKA-Any time 
  QUALITY CUSTOM MADE 
KITCHENS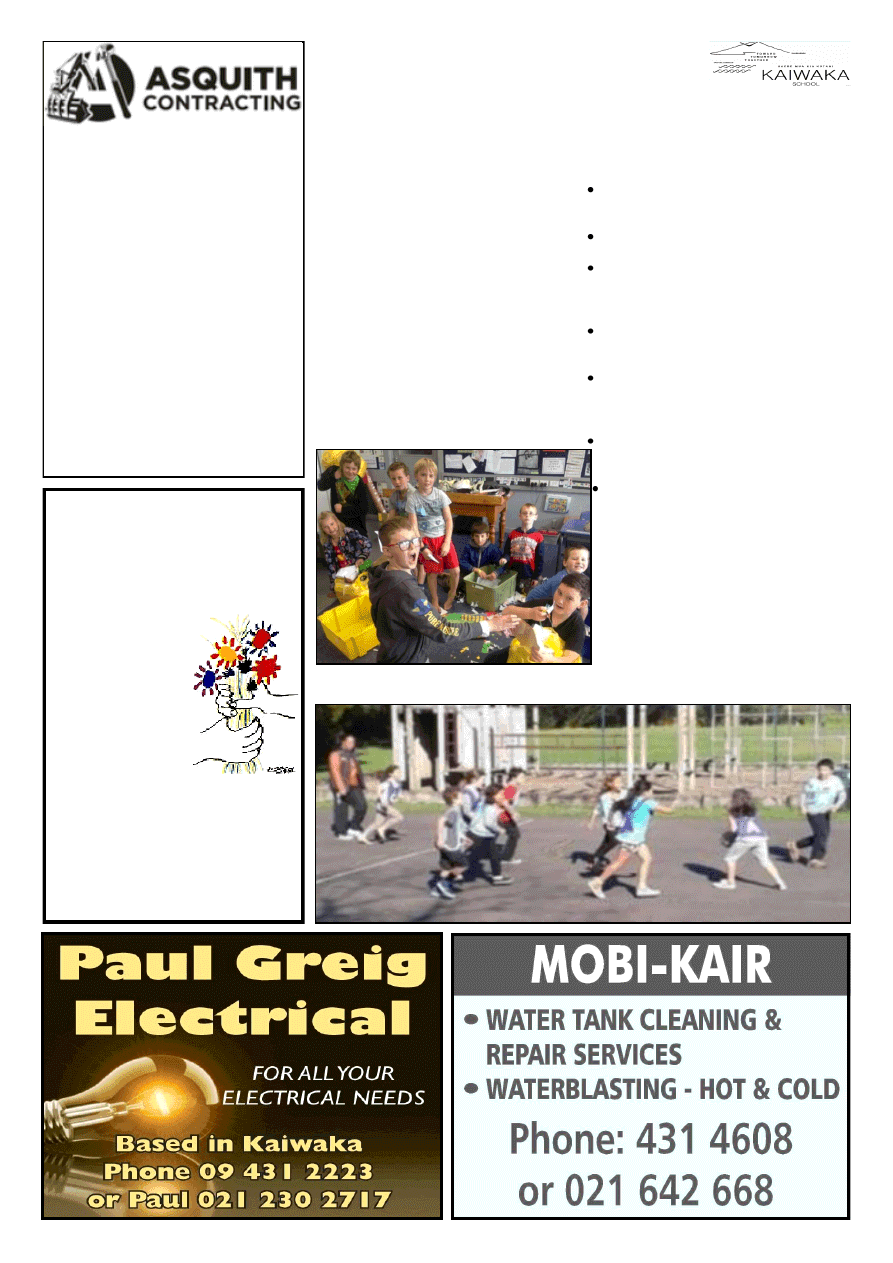 www.kaiwaka.co.nz 
Kaiwaka Bugle - 29 September 2015 
Page 15 
Congratulations  to  Gareth  Ferguson 
who was placed 16th in 9 year old boys 
Northland  regional  Cross  –  country 
race last week. A mighty achievement. 
We  had  a  wonderful  time  at  the 
Kaipara 
Kapahaka 
Festival 
last 
Saturday.  Our  school  performed  really 
well  –  we  were  all  very  proud.  We 
thank and applaud Damin Edwards for 
his  leadership  and  courage  as  our 
Kaikorero. 
Thank  you  to  Whaea  Mina,  the 
teachers  and  all  the  families  who 
supported our school at the festival.  
The  Whanau  meeting  scheduled  for 
this  week  is  now  postponed  until  23 
October. 
Thank  you  to  all  the  families  who 
responded  to  our  review  of  the  Maori 
Curriculum. There is a summary report 
below. 
We  wish  you  all  the  best  for  safe  and 
happy school holidays.  
~Rosie Ellis 
Parent/
Caregivers  Response  to  Survey  of 
Maori Curriculum 
Thank  you  very  much  to  those  who 
responded  to  this  survey.  25%  of  our 
families submitted a response. Here is a 
summary of the review: 
Every  response  indicated  that  the 
students 
enjoy 
learning 
Nga 
Tumanako at school.  
80% said that their children use some 
te reo at home, 15% use it often.  
Most  people  feel  the  time  given  to 
Nga Tumanako and Kapa Haka is just 
right,  some  people  would  like  to  see 
more time given.  
Everyone who responded appreciated 
Whaea  Mina,  Noho  Marae  and  the 
programme as it is.  
Many  want  more  communication 
about  what  the  students  are  learning 
and  how  they  can  support  at  home. 
Homework activities were suggested. 
There  were  other  good  suggestions 
for  the  teachers  to  consider  and  we 
will do this.  
Keeping  the  culture  alive  and 
relevant is important to all.  
The  Teachers  and  the  Board  of 
Trustees really appreciate the feedback 
given,  and  will  use  it  as  we  plan  for 
the future. 
Car Park 
Please  could  parents  and  pupils  walk 
on  the  footpaths  and  not  directly 
through  the  car  park  at  home  time. 
With  cars  and  buses 
KAIWAKA SCHOOL 
Flowerpower 
Northland 
Long lasting 
flowers 
delivered 
from 
Mangawhai
www.flowerpower 
northland.co.nz 
Ring Martina 
4315161 
1.7tn Digger/Operator 
for Hire.
Daily/Hourly rates 
available.
Call Tam on 
027 211 1152 
or 
asquithcontracting 
@gmail.com 
Pictured:  above:  Kereru  hard  at  work  organising  the  schools  paper  recycling;  below:  Our 
younger students have had the benefit of 5 weeks special netball training from Sports Northland. 
continued over...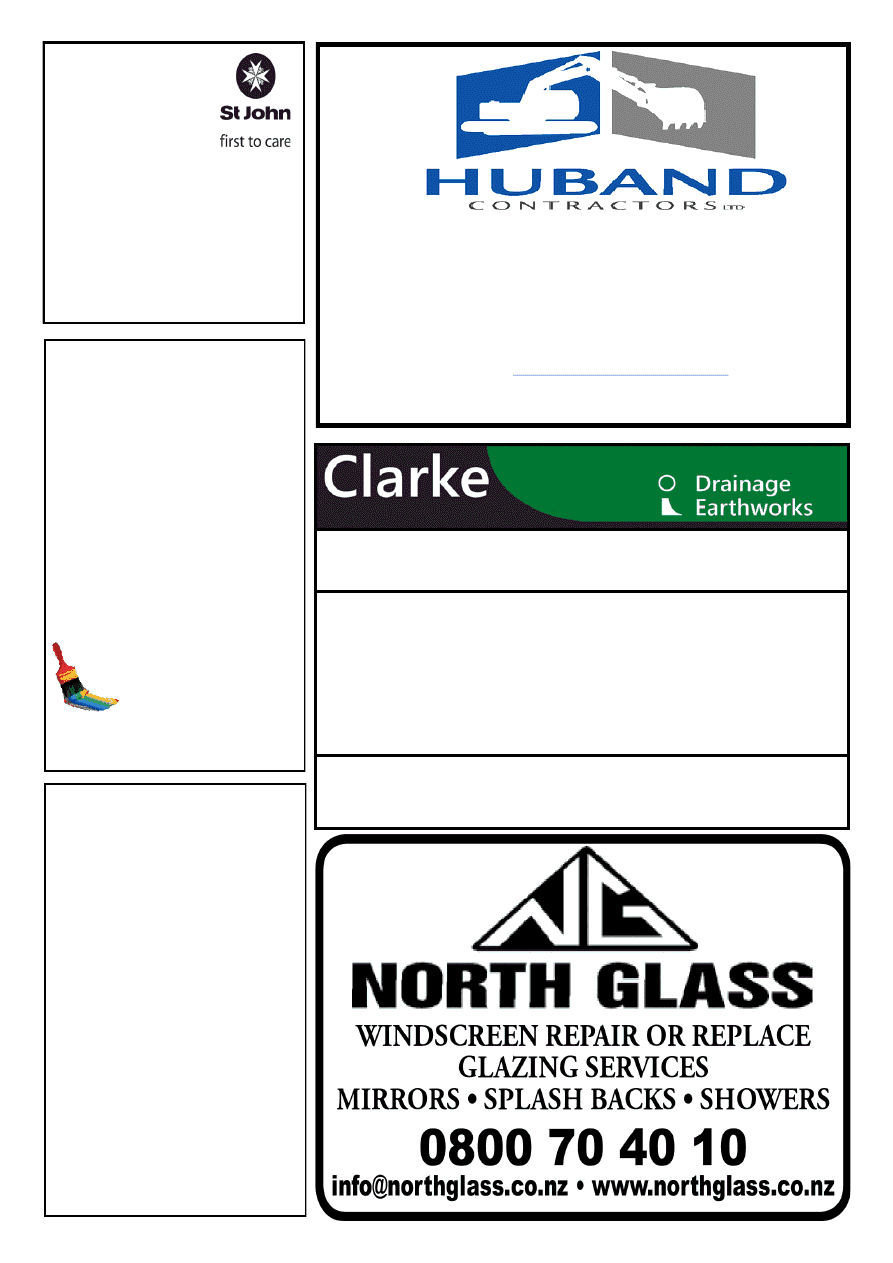 When you need St. 
John members at 
your function … 
Get a Community 
Services Form 
….. see Milly at the  
Kaiwaka St John  
Op Shop.  
Phone 4312650 
MORE MEMBERS REQUIRED FOR 
THE KAIWAKA STATION. 
Registered Drainlayer 
All Types of Earthworks  
> All Residential & Commercial Work 
> House Sites 
> Septic System Design & Install 
> Footings & Drilling to 10m 
> Sewer Connections 
> Dams 
> Water Tank Installation 
> Roading & Races 
> Farm Work 
THE ONE STOP SHOP  
Phone Nigel for an Obligation Free Quote  
Drainage & Earthmoving                          clarkedrain-
age@xtra.co.nz 
*   R O A D I N G   *   E A R T H W O R K S   *    
*   D R A I N A G E   *   S I T E W O R K S   *  
For any further enquiries, contact Shaun on: 
Cell: 021 222 0272 
Home: 09 4318339 
Shaun Huband:  Registered Drainlayer 
UP-LINK 
CHRIS WARING 
FREEVIEW 
INSTALLATIONS
T.V. - HOME THEATRE & 
HI-FI ADVICE/SET UP
SKY ACCREDITED 
INSTALLER
MOB.0273403747 
HM.094312328 
EMAIL cwaring44@gmail.com
28 YRS EXPERIENCE 
OFFERING 
UNBIASED ADVICE 
LEE COOPER 
PAINTERS 
(Kaiwaka Based) 
*30 years Experience 
*Interior/Exterior 
*New and Restoration 
*Honest and Reliable 
*Free Quotes 
09 4312 918 
027 473 5171 
leecooper@xtra.co.nz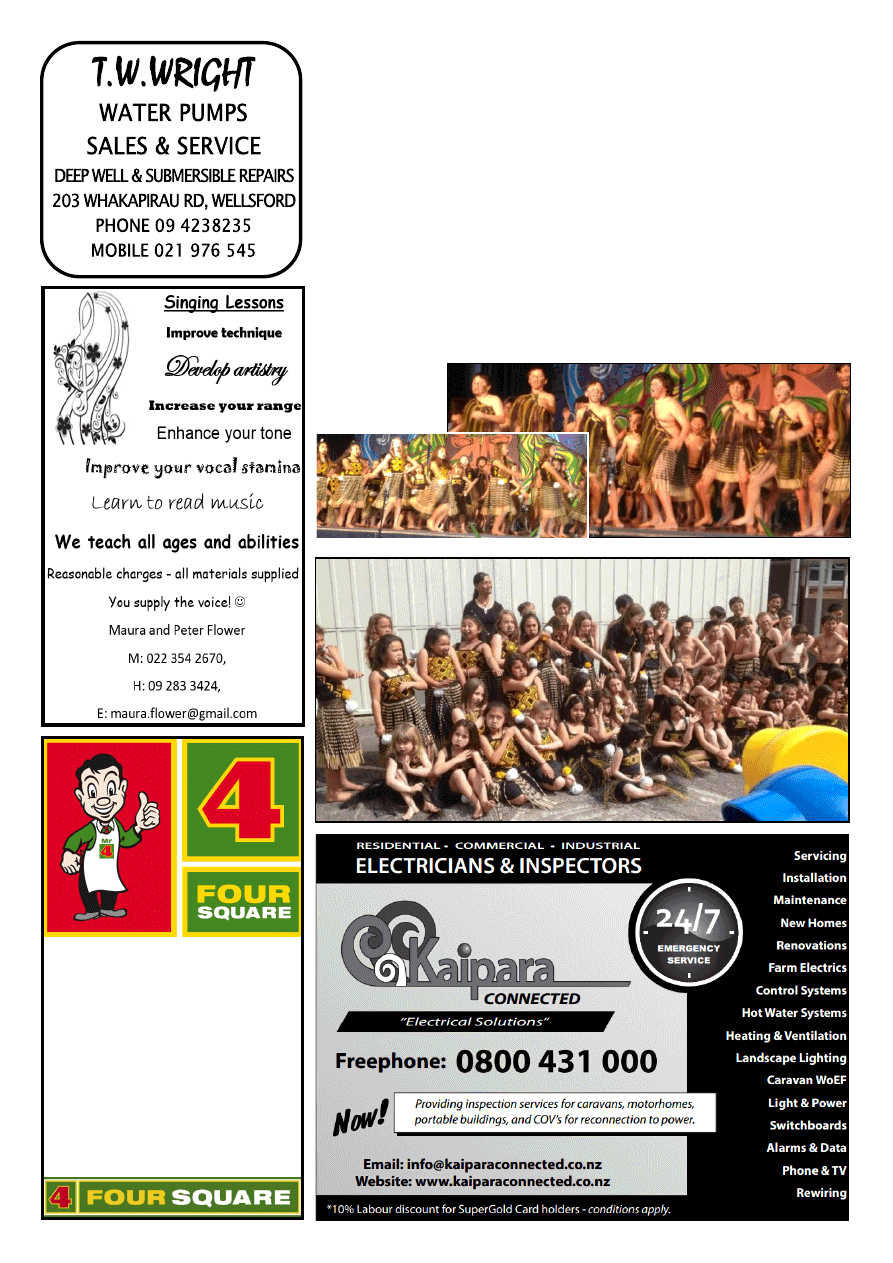 www.kaiwaka.co.nz 
Kaiwaka Bugle - 29 September 2015 
Page 17 
coming and going, it is difficult for the 
drivers,  especially  of  the  buses  to  see 
who  is  walking  around  them.  Thank 
you. 
Netball 
Again a big thank you to all the parents 
and  supporters  who  supported  the 
Kaiwaka  Netball  Players  through  the 
2015 netball season. 
Thank  you  to  the  umpires,  and  the 
coaches  -  Pat  Buxton  and  Jody  Greig, 
who  regularly  gave  up  their  time  to 
work with the teams. 
A  HUGE  thank  you  to  the  players  for 
putting in the effort across the season. 
Remember  if  you  have  not  returned 
your uniform, please do so. 
To all the players from the 2015 season 
who  are  moving 
on  to  other  clubs 
next year, we wish 
you all the best. 
Thank  you  to  all  our  netball  families 
who voted for our main award winners, 
it was a difficult task. 
Congratulations  to  our  main  award 
winners for the 2015 season. 
KAIWAKA 1 
Player of the Year: Maia Fairburn 
Most Consistent: Aroha-Lee Connelly-
Nahi 
Shining Star Award: Caleesto Mills 
Most Improved: Devine Henderson 
KAIWAKA 2 
Most 
outstanding 
Player: 
Fiona 
Howard 
Fair Play Award: Lily Wing 
Shining Star Award: Mina Fairburn 
Most Improved: Dalana Stonex 
We look forward to 2016 season. 
New Range  
Gluten Free Products 
Kea Cookies Yummy flavours,   
Sway Baking mixes, muffins & 
biscuits, Alexandra's Israeli 
couscous, quinoa & beans,  
Tio Pablo refried beans, salsa & 
sauces 
Jaques Four Square 
Phone: 4312227 
1 Kaiwaka-Mangawhai Road, 
Kaiwaka. 
KAIWAKA SCHOOL 
continued
Pictured: Our Kapahaka Group performing at the Kaipara Festival.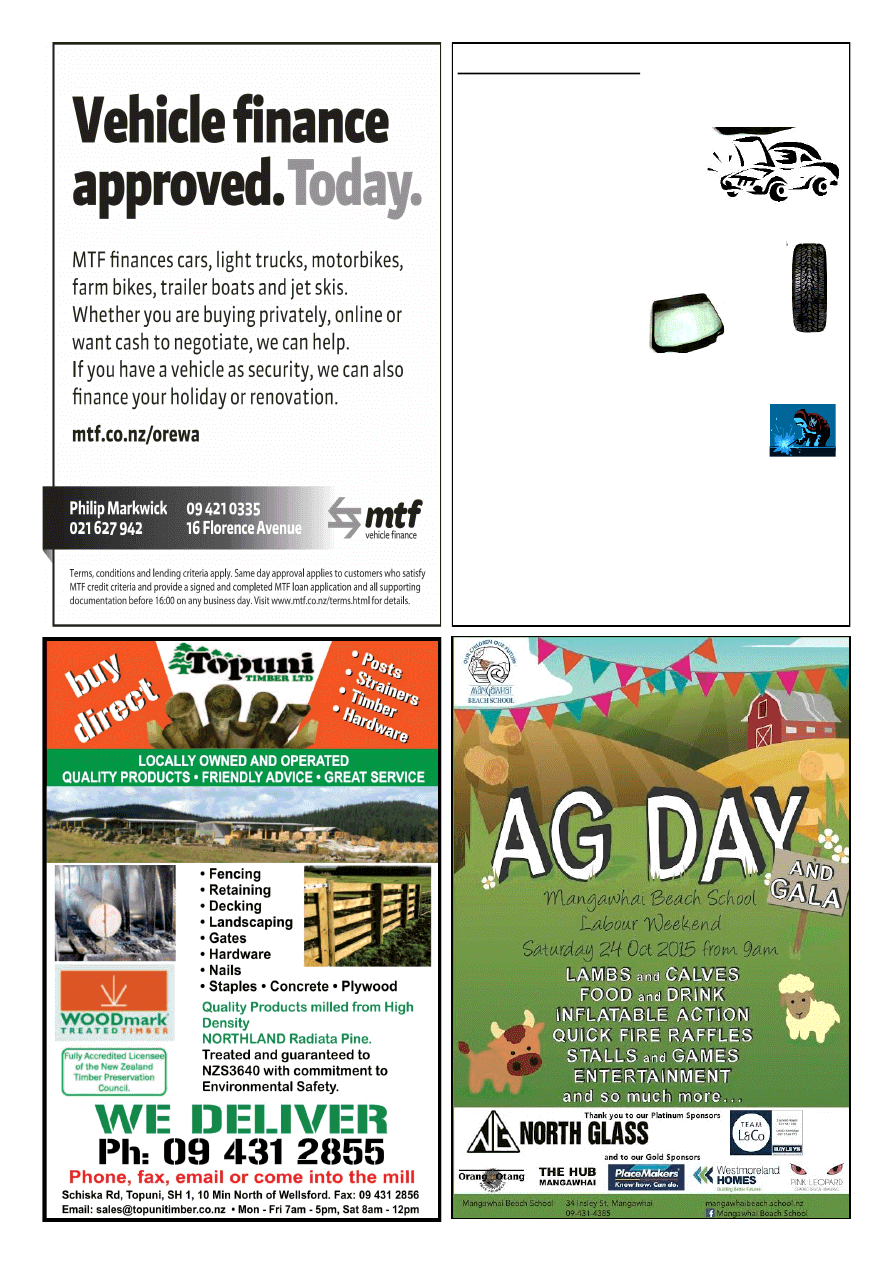 Want it done? 
Bring it to  
Twinkle Tow 'n' Tyre 
*W.O.F. 
*Tyres 
*Windscreen replacement 
*Chip repairs 
*Bulk Oil 
*Batteries 
*Welding 
*Custom built trailers 
*Trailer hire 
Think you'll get a better deal in 
the city? 
Go on, ring us; it won't cost  
anything! 
1837 State Highway 1, Kaiwaka       
Phone 431 2823 
www.kaiwaka.co.nz 
Kaiwaka Bugle - 29 September 2015 
Page 19 
PROFESSIONAL 
COUNSELLING 
AVAILABLE
Want to be content in your life? 
Men... need help with your 
relationship? 
Couples... communicating a 
problem? 
I can help you!
Phone me for a preliminary 
talk. 
PETE 
WORSFOLD  
B. Soc.Sc. M. 
Soc.Sc. Dip Prof 
Couns. Prov. 
MNZAC 
Counsellor 
021 825 970 
CARPET & UPHOLSTERY CLEANING 
QUICK DRYING – NON-TOXIC  - GREAT RESULTS
Mike and Marina Bagley have returned to your area and are 
delighted to offer carpet and upholstery cleaning 
Call 09 431 3016  or  027 2410414 
marina@ecocarpetclean.co.nz  
www.ecocarpetclean.co.nz 
Otamatea High School 
& Maungaturoto District High School 
50
th
 Reunion 
15
th
 – 17
th
 April 2016 
For more details visit:   
Contact: Phone: 0800 682628    
Email: ohs@otamatea.school.nz 
Registrations close 18
th
 March 2016 
KAIWAKA LIQUOR CENTRE
Coruba 1LT 
$39.99 
Wild Turkey 1LT 
$49.99 
Gordons 1LT 
$35.99 
Timara Wine Range 
$9.00 
Steinlager 24PK 
$40.99 
Woodstock 5% 18PK 
$30.99 
For more specials visit our store at 1923 B State Highway 1, Kaiwaka 
Ph: 094312559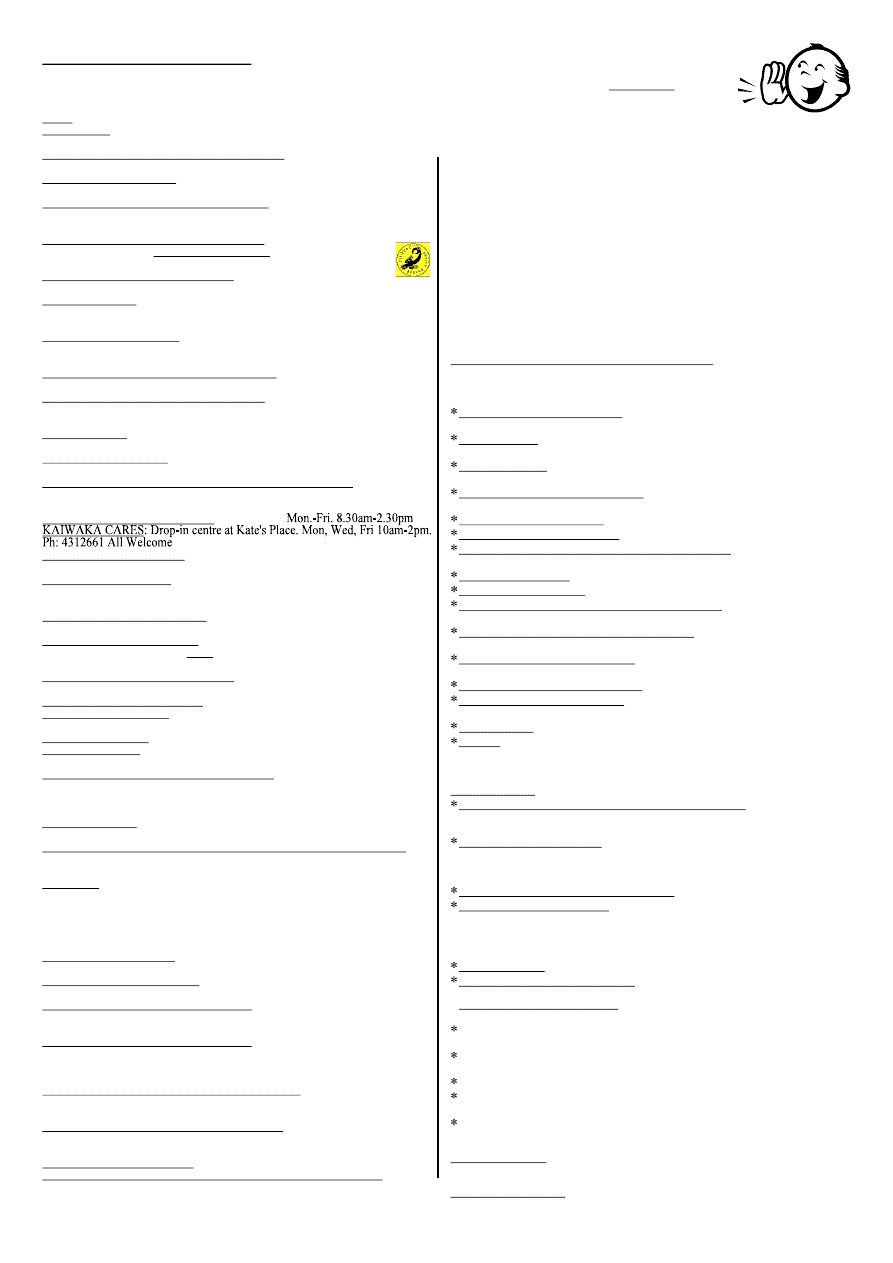 Next Bugle Deadline midday Friday 9 October 2015
LOCAL SERVICES 
*St.John Ambulance 
111 or Freephone 0800 61 0066
*Fire phone 111     *Police phone 111 or 09 4311150
A A: Meets Wed., 8pm Kaiwaka Ph: 4312228, 4315543, 0800229 6757 
AL ANON: In recess, contact Ph: 4312228 
MINISTRY FOR PRIMARY INDUSTRIES - General inquiries Call 
Free 0800 008 333 
ASUREQUALITY LTD  (was AgriQuality) Call Free 0508 0011 22  
BUDGETING SERVICE, WELLSFORD:  Free confidential advice & 
support for all areas of personal finance. Ph (09) 423 7123 
CAB-Citizens Advice Bureau.Wellsford Ph: 4237333 
0800 367 222 email:cab.wells@xtra.co.nz  
DOG/STOCK /NOISE CONTROL 0800 105 890 
KATE'S PLACE with Govt.Day Agencies/Community Information /
Osteopathy/ IRD / Probation, etc Ph: 4312661 Hours: 9am-3pm. Mon - Fri 
FUNERAL SERVICES: Morris & Morris Ltd, 
Whangarei - Bev Jaques Ph:4312367 or 0800667747 
GRANDPARENTS Raising Grandchildren: Sarah Rogers Ph: 4312194 
HAKARU LANDFILL/Transfer Station:Open everyday except 
Tuesday10am-4pm.Ph4312629 Cost-$55 trailer load up to 1 cubic metre. 
Ph:4258567 - office 
HOMEOPATH: Donna Flavell Ph: 4314843 
INLAND REVENUE: Last Friday each month, 11-3pm Ph4312661 
KAIPARA DISTRICT COUNCIL www.kaipara.govt.nz:  
Help Desk FREEPHONE 0800 727 059  
KAIWAKA KOHANGA REO: Ph:4312620 
KAIWAKA CEMETERY: Ph: 4312045 
KAIWAKA LIBRARY: kaiwaka.library@gmail.com  
Mon. 4-6pm; Wed., Thurs., Fri., Sat.  10am-2pm Ph:4312539 
KAIWAKA PLAYCENTRE: Ph: 4312286. Hastie Lane 
Monday to  Friday  9.00am - 12 noon. 
KAIWAKA POST OFFICE:Ph:4312 431  
Post Code: 0573  for RD2  and  0542 for all Kaiwaka Post Office mail 
KAIWAKA PRIMARY SCHOOL: Ph: 4312309     
KAIWAKA SPORTS ASSN: Ph 4312005; 4312129 gym 
KAIWAKA ST JOHN: Manager Steve Rosser 09 4318403, 021 2316836 
LINKING HANDS Health Shuttle Ph 4314121 or 09 4318969 
NORTHPOWER: Faults Kaiwaka area 0800 104040 
OTAMATEA COMMUNITY SERVICES: Free counselling, parent 
coach, Family Support worker, budget advice, food bank. Mon-Fri 9am-
30m. Ph 09 431 9080 
PARENTPORT: Free, practical family support service Puhoi to Paparoa 
Ph or txt:  Dianne 027 2085093 
PERSONAL DEVELOPMENT COACHING, GROUP FACILITATION:  
Sabine Druckler 4312231 
PLUNKET: Kaiwaka - Kaiwaka War Memorial Hall: Clinic 1st Wednesday of the 
month; Coffee Group at 9:30. Mangawhai  - Rose Madsen Cottage, Mangawhai 
Domain,  Moir  St:  Clinic  1st  and  3rd  Monday  of  month;  Young  Babies  Coffee 
Group  2nd  and  4th  Monday  10  am;  Plunket  Playgroup  every  Thursday. 
Maungaturoto - Maungaturoto Congregational Church, 100 Hurndall Street East: 
Plunket clinic 2nd and 4th Wednesday. Cynthia 09 431 8187 or 027 675 3488 
PLUNKET HELPLINE -0800 933 922 (24 hours) 
PUBLIC HEALTH NURSE: Gloria Reid Ph: 094327634  
RETURNED AND SERVICES ASSN 733 Settlement Rd. Hakaru 
Ph.4312176 Bill Kerr (President) Ph.4314719 
TAITOKERAU COMMUNITY LAW: Free confidential legal advice and 
assistance, 2nd
Thursday
 of each month. Ph: 0800 155 529 for 
appointments.  
TE KOROWAI AROHA O NGATIWHATUA Ph: 4312675 
(The Cloak of Love of Ngatiwhatua) Support and Maori Consultancy.  
VETERINARY SERVICE MANGAWHAI: 
Ph: 4314535 Mon-Fri 8.00-5.00, Sat 9-12, a/h appt. 
WELLSFORD DOCTORS: Ph: 4238 086 
WOMEN'S WELFARE LEAGUE & Reaching Out For Youth:  
4 Kaiwaka-Mangawhai Rd, M Morgan 4312293 
WHAT'S ON
PLEASE ~ do let us know what is on - email 
kaiwakabugle@kaiwaka.co.nz 
Advertising in WHAT'S ON is FREE  
*2Oct~Hot August Night, 7:30pm KWMH 4312 225 for tickets 
*4Oct~Pt Curtis v Wellsford Inn pool comp, 1pm Three Furlongs 
*5-9Oct~St John Trash & Treasure, Maungaturoto Cent. Hall 
*7Oct~Praguematique, 7:30pm Absurdistan Hall 
*10Oct~Northland Bs v North Harbour, 2:30pm KSA 
*10Oct~Dance Party, 7:30pm Hakaru Hall 
*14Oct~KWMH AGM 5pm 
*15Oct~NZ ShakeOut 9:15am 
*15Oct~deadline for KSA book orders 
*16Oct~Mad Max Fury Road, 7:30pm KWMH 
KWMH=Kaiwaka War Memorial Hall 
KSA=Kaiwaka Sports Association Complex 
See www.kaiwaka.co.nz for upcoming events. 
HOUSEHOLD RUBBISH COLLECTION - Kaiwaka Pick up: 
Mondays = Gr een bags (Nor thland Waste - 09 430 3273) 
Wednesdays = Blue bags and yellow r ecycling (at J aques $3.00 
and $1.50) (Kaurilands 09 4392146) 
 DIABETES  Support  Group  -for  Kaiwaka,  Mangawhai,  Wellsford 
10am, 3rd Friday of month Ph:A.Pert 4238242; J.Gardner 4238060 
 DRINK CAN 'tear tabs' - for Starship Hospital- please collect - 98 
Kaiwaka Mangawhai Rd, leave in mailbox, Ph. 4312625  
 GENEALOGY - Wellsford: 1st Thursday in month Ph: 423 7033; 
Waipu: 4th Monday in month Ph: 4312 725 
 GYMNASTICS  OTAMATEA  -  Tuesday  Ph:  Stephanie  022 
3624998 
 HAKARU PONY CLUB - Secretary Julie Rynne 09 4314520 
 KAIWAKA BADMINTON -Tuesdays 7.30pm Ph: 4312345 
 KAIWAKA  GARDEN  &  FLORAL  GROUP  -  2nd  Thursday  in 
month. Ph: 431 4767 
 KAIWAKA CUBS - Thursdays 5.30-7pm, Hakaru Ph:Bruce  4312542 
 KAIWAKA SQUASH - Mondays 7pm Ph: Barbara Thomas 431 5905 
 KNITTING FOR WHANGAREI HOSPITAL - 2nd Tuesday in 
month, Apple Basket 10am Ph 4314827 
 MANGAWHAI COMBINED PROBUS CLUB - 2pm, 3rd 
Thursday month, Senior Citizens Hall Mangawhai. Ph: 4315777 
 OTAMATEA GREY POWER - Kath Pattinson 09 431 8960, 1pm 
last Wednesday of month, Anglican Church Hall, Maungaturoto 
 PT CURTIS CRUISING CLUB - Jean Ph: 4312 246 
 RSA,Hakaru & Dist.Women - meet 1.30pm 4th Thurs in month Ph: 
4314 668  
 TRAMPING - Mondays 9am-2:30pm  Karen Ph: 4312 090 
 YOGA - Tuesdays 6:15pm,  Friday 8:30am KWMH Carla Ph: 021 
296  8794;  Wednesday  5:30-7:00pm  Archie  Bull  Hall  Dalleise  Ph 
4312 108 
CHURCHES:
Kaiwaka Family Church - Your Community Church: Sundays 10am & 
6pm. Youth Service Mondays 6-8pm. Ph: Tawhiri 4312571 or Paul 
4312068 
St Paul's Anglican Church 1st Sun. 9.30 am (Eucharist), 3rd Sun. 9.30 
am (Family Service). Contacts:  Church Office 09 431 4122; M. 
Hargreaves 431 2295; C. Bygrave 431 2057; or Rev. Wayne Thornton 
Ph 431 5650 
Church of Christ the King, Mangawhai:9.30am every Sunday 
St.Mary's Catholic Church: Maungaturoto – Griffins Road, Saturday 
evening Vigil Mass 6pm; Mangawhai – Senior Citizens Hall, Sunday 
Mass 8:30am; Wellsford – Matheson Road, Sunday Mass 10:30am; 
Mid-week Mass times and all enquires to Fr. Bill Fletcher – phone 423 
8170 
Baptist Church: Sun. 10.30am Mangawhai Snr Cit.Hall.Ph:4312339 
Cause Way Church Mangawhai: Sundays 10.15am, Mangawhai 
Community Recreation Centre, Insley St. Ph: 09 4314782  
St.Pauls Archie Bull Hall HIRE  $20 half day, $40 full day per hire, R. 
Morgans, Ph 4312365 
Kaiwaka  War  Memorial  Hall  HlRE  -  Phone  4312725  or 
kaiwaka.hall.bookings@gmail.com 
Hakaru Community Hall HIRE -Ph. 4312256 or 4312110 
Te  Pounga  Marae  queries  -  R.  O'Leary  4312  423,  J.Nathan  021  186 
7382 
Kaiwaka  Sports  Association  hire/queries  -  C.  Anderson  4312051  or 
kaiwakasports@gmail.com
Justice  of  Peace:  B.FJaques;  L.Donaldson;  A.F.Hargreaves,  S.Dalziell, 
W.Howard  -  please  phone  to  make  sure  they  are  available 
www.justiceofthepeace.org.nz 
Marriage Celebrants: L.Donaldson; A.F.Hargreaves; C.Rosseels