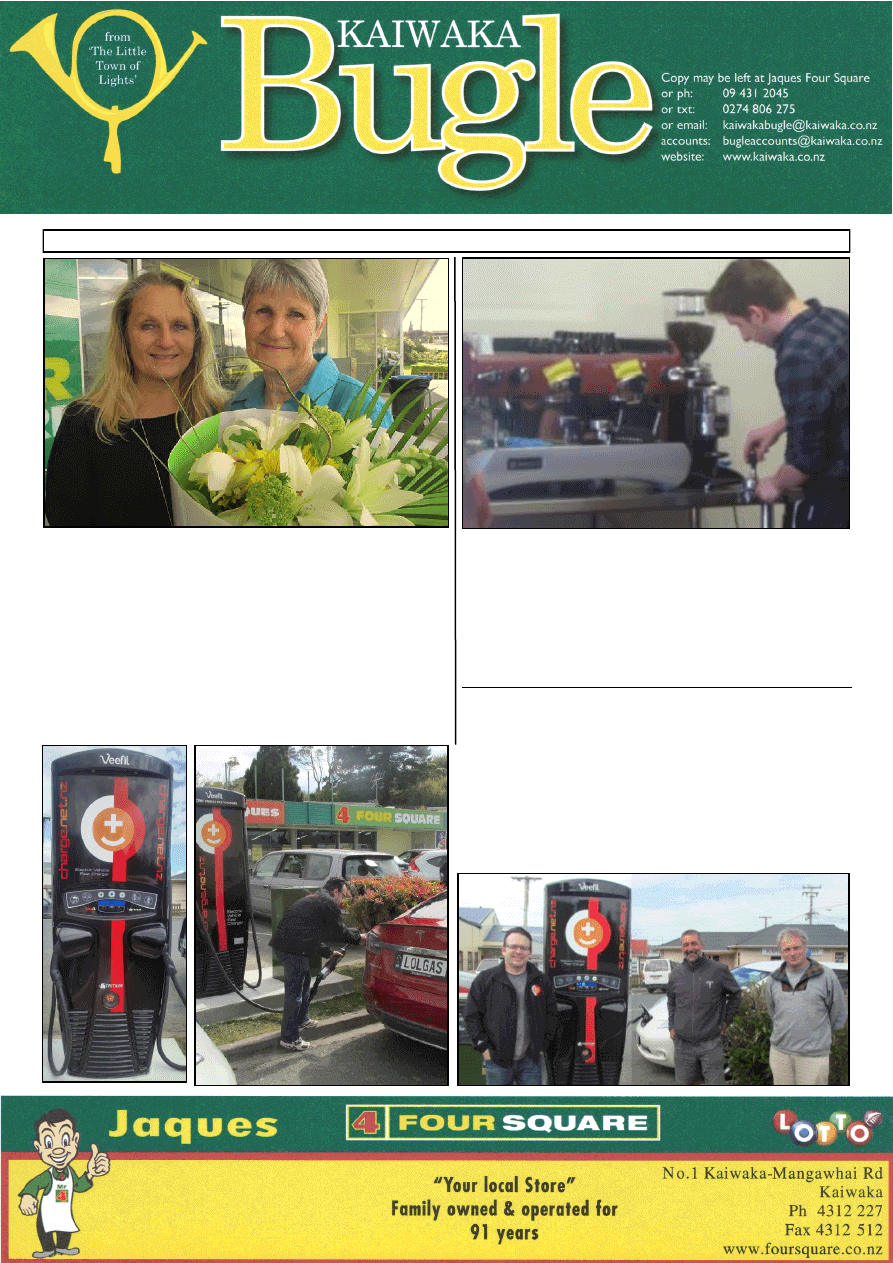 www.kaiwaka.co.nz 
Kaiwaka Bugle - 27 October 2015 
Page 1 
 No: 21
27 October 2015 
Trading Hours: 
Monday-Friday 8am to 6:30pm 
Saturday 8am to 7pm 
Sunday and public holidays 9am to 5pm 
THE FUTURE HAS ARRIVED 
IN KAIWAKA! 
A  ChargeNet  Fast  Charge  electric  car  charger  has  been 
installed  on  the  roadside  by  Jaques  Four  Square.  The 
official opening is on Friday 30 October. 
Pictured:  Steve  West  (Charge.net.nz),  Joseph  Camuso 
(Northland 
Regional 
Council), 
Russell 
Watson 
(Northpower) charging a vehicle. 
Congratulations to  Gay  Young,  who  is  the  first recipient  of 
Kaiwaka's  Good  Sorts  beautiful    bouquet  of  flowers.  Gay 
was  nominated  by  Bev  who  said  "Gay  organises  Daffodil 
Day  in  Kaiwaka  and  has  a  few  helpers  with  a  few  more 
helping  out  this  year.  She  organises  shifts  and  sits  in 
Kaiwaka at Jaques' Supermarket or up at the Italian Bakery 
every daffodil Day. No matter what the weather she is always 
there and there have been some bitterly cold Daffodil Days in 
the past." 
Do  you  know  of  someone  who  deserves  a  big  thank  you? 
Contact us with the details. 
Gay  is  pictured  above  with  Lindy  Watson  of  flower  girl 
(lindywatson@hotmail.com) who has donated the bouquet. 
Check Otamatea High  Oct newsletter 
Otamatea  High  School  was  represented  this  year  in  the 
Northland  Barista  Competitions  by  Krystal  Reyland, 
Mercedes  Von  Dincklage  and  Luca  Rosseels  (pictured 
above).  All  three  students  represented  the  school  with 
excellent skills. Luca represented OHS in the Pro section. 
He  also  made  the  finals  and  was  eventually  placed  6th. 
This is the first time that OTA has entered this section and 
Luca has truly provided an excellent result for his efforts. 
Well done.                                                        ~Julie Lewis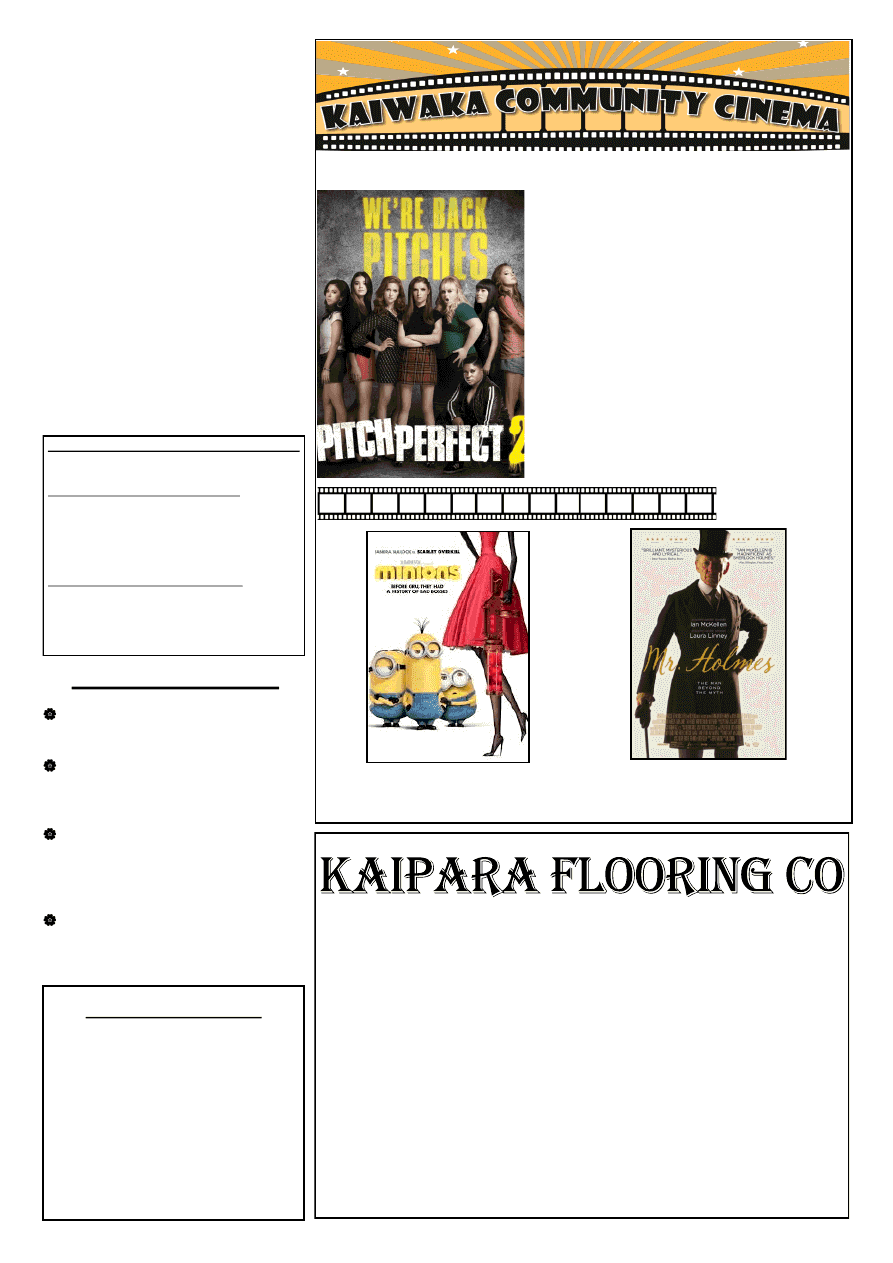 ABOUT TOWN 
Our condolences to the Brown and 
Loretz  families  on  the  passing  of 
Summer. 
Thank  you  Kaiwaka  -  the  recent 
Pink  Ribbon  Street  Appeal  raised 
$1397.60.  Thank  you  for  your 
support for such a worthy cause. 
There has been a suggestion that a 
fence  be  put  up  around  the  town 
playground.  What  do  you  envisage 
would  be  a  good,  safe,  accessible  , 
aesthetic style? 
There's a new kid's drama club in 
town,  the  Kaiwaka  Drama  Club 
(KDC). 
KAIWAKA BUGLE No. 21 
27 OCTOBER 2015 
CONTENTS 
Page 3: Public Notices, Classified 
Page 5: Pt Curtis, Tramping Group 
Page 7: Kaiwaka School 
Page 9: Kaiwaka War Memorial Hall 
Page 11: Fast Five Netball 
Page 13: Kaiwaka Sports Association 
Page 15: Kaiwaka Library, Hakaru 
RSA Women's Section 
Page 17: Paspalum in Kaiwaka 
Bugle 22 will appear 10 November 
Contact for advertising, reports, articles 
or information can be made by 
Email kaiwakabugle@kaiwaka.co.nz 
Ph: 09 4312 045 (Lindsey) 
Txt:  0274 806 275 (Wendy) 
Copy  may  be  left  at  Jaques'  Four 
Square.
At Kaiwaka War Memorial Hall . Adults $10, Kids (under 16) $5, Family Pass (2 adults + 3 children) $25 
Kaiwaka Bugle Advertisements 2015: 
All 
copy 
and 
queries 
to: 
kaiwakabugle@kaiwaka.co.nz 
Classified  $3  (max  30  words);  1/16  page 
$4; 1/8 page $6; 1/4 page $12. 
Payments can be made online, posted or 
left at Jaques Four Square Store. 
Accounts: 
bugleaccounts@kaiwaka.co.nz 
The  Kaiwaka  Bugle  is  a  community 
newspaper run by volunteers.   
Articles, etc. printed are not necessarily 
the opinion of the Bugle Team. 
Minions 
Sunday 8 November 2:00pm (PG) 
Mr Holmes 
Friday 13 November 7:30pm (PG)
Pitch Perfect 2 
Friday 30 October 7:30pm (M) 
After 
a 
humiliating 
command 
performance  at  The  Kennedy  Center, 
the 
Barden 
Bellas 
enter 
an 
international  competition  that  no 
American group has ever won in order 
to  regain  their  status  and  right  to 
perform. 
Starring: 
Rebel 
Wilson, 
Anna 
Kendrick,  Hailee  Steinfield,  Katey 
Sagal, 
32 HURNDALL ST MAUNGATUROTO 
Ph: 09 9469886 or 021 515 415 
Carpet, vinyl, laminate wood look  flooring, vinyl planking, 
sanding & polyurethane service. 
Carpet Short Ends from $79pm + GST 
Vinyl D.I.Y. peel n stick tiles $10sq mtr + GST. 
Free measure & quote.   
Mobile Service 
Phone Christine or Howard anytime 
Open Saturdays by arrangement. 
Kaiwaka Bugle 
Founded May 1978 
Copies available in Kaiwaka at Jaques Four 
Square, Kaiwaka Postal Centre, Shamrock 
Service Station, Celena's Gifts, Animal Health 
Centre. Also outlets in Maungaturoto, 
Mangawhai and Paparoa. 
Can be viewed online at  Facebook or 
www.kaiwaka.co.nz/Bugle  
Or a copy can be posted to you if you supply 
stamped, self-addressed DLE envelopes.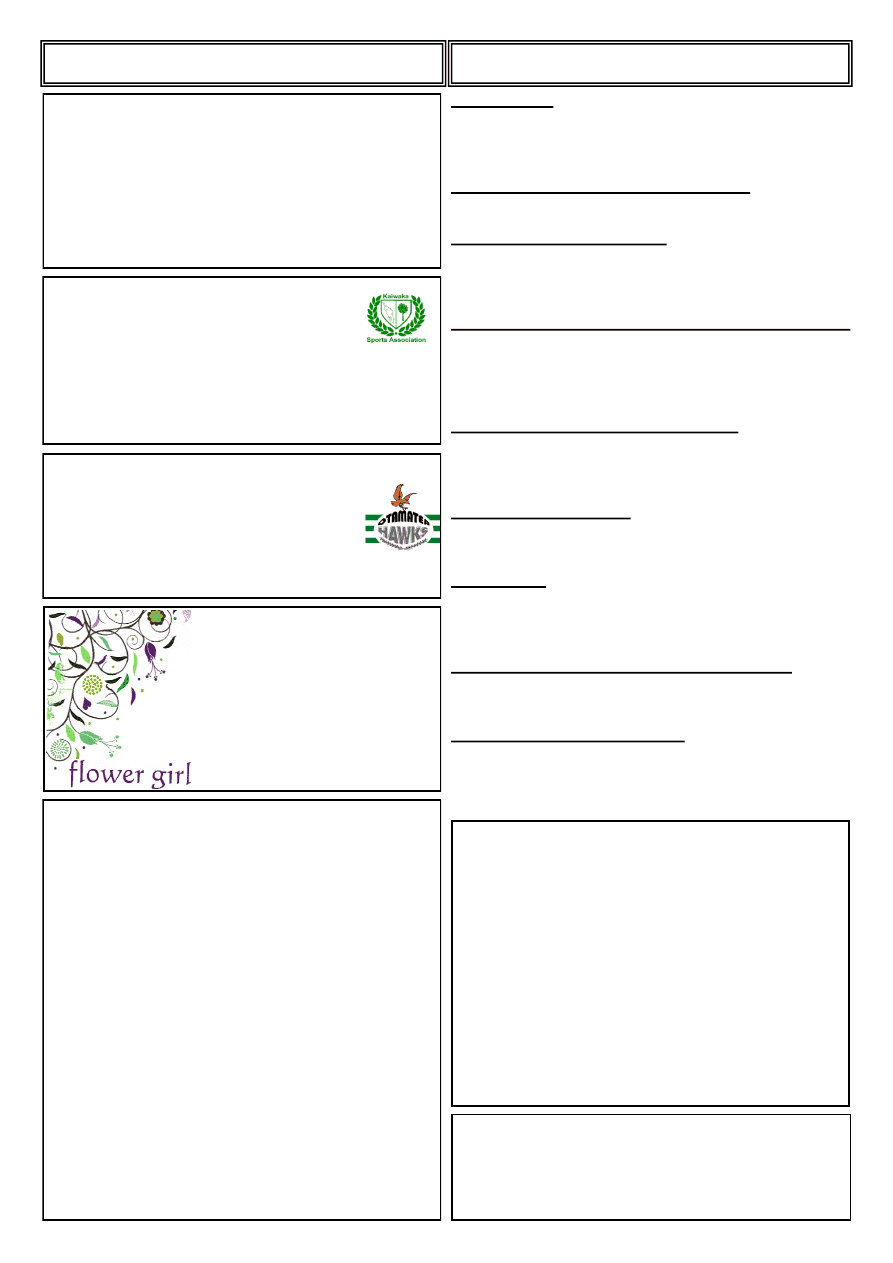 www.kaiwaka.co.nz 
Kaiwaka Bugle - 27 October 2015 
Page 3 
TRANZNORTH OTAMATEA 
HAWKS 
Annual General Meeting 
Tuesday10th November 2015 
7 PM 
Kaiwaka Sports Complex 
All Welcome 
PUBLIC NOTICES 
CLASSIFIED 
FOR  SALE:  Original  wood  stove.  Esse  Century 
cooker.  Been  installed  for  eighteen  years.  Wet  back, 
double oven , white and black enamel. Working order 
$2,200.00 Ph 4312 605 Karen 
BROKEN  CONCRETE  WANTED:  to  use  as 
garden edging. Please ph Phil & Jenny 4312 155 
THE  SUNSHINE  GIRLS:  Need  help  with  your 
house cleaning? Sometimes you just need another pair 
of hands. We offer two pair and a smile. Comparable 
hourly rate. Ph 431 2532 or 431 2711 
JILL SHIRES HOLISTIC ANIMAL THERAPIES: 
Cranio  Sacral  Therapy,  Herbal  Remedies  & 
Diatomaceous Earth for Pets, Horses & Farm Animals. 
www.jillshires.nz    or  Ph:  431  2080  Based  in  Oneriri 
Road 
PLANTING  AND  LANDSCAPING:  for  all  your 
advisory,  planting  and  maintenance  needs;  20  yrs 
experience; Pete Worsfold 'Sound Landscapes' Ph 021 
825 970 
BERYL  NOZEDAR:  (Middleton)  International  
Clairvoyant.  Numerology,  Tarot,  Clairvoyance,  
Mediumship. $60 for hour includes CD. Ph: 431 2080 
MASSAGE:  Relaxing  massage,  Energy  Work, 
Holistic Pulsing. Engine not running well? Need a tune
-up? Call Pete Worsfold 'Monsieur Masseur' 021 825 
970 
CLOTHING ALTERATIONS & REPAIRS: Hems, 
Zips,  Dressmaking  Phone:  Win  4312027    or  027  444 
8358 Winsome Designs. 
FREE GRAZING WANTED: Small or large block. 
Can  do  some  fencing  or  water.  Phone  after  6pm 
4312006 
Proverbs  28:13  -
A man/woman who refuses 
to  admit  his/her  mistakes  can  never  be 
successful.  But  if  he/she  confesses  and 
forsakes them, he/she gets another chance. 
BUGLE DATES 
The end of the year is coming up fast - there are only 
three more Bugles to come after this issue before our 
Christmas break. 
The deadline for the last Bugle of 2015 is: 
midday Friday 4 December.  
The first Bugle of 2016 will be published  
Tuesday 26 January 
The deadline for that issue is midday 22 January 
SITUATION VACANT 
Casual to Part-time 
Jenny's Rural Cleaning Services is looking for a 
trustworthy and honest person. 
Must have a clean driver licence. Be able to do early 
start and evening work and Saturday morning. 
Computer work as well. 
Email jennychellew@hotmail.com  
or phone Jenny after 7pm - 4312 826. 
HAKARU COMMUNITY HALL 
& DOMAIN SOCIETY INC 
740 Settlement Road 
ANNUAL GENERAL 
MEETING 
Wednesday 28 October 2015 
7:30pm 
As the hall is now owned by the above society on 
behalf of the Hakaru community, the committee 
invites locals and new residents to participate in the 
use of the hall by becoming a committee member. 
ALL WELCOME 
KAIWAKA SPORTS 
ASSOCIATION 
Annual General Meeting 
Wednesday 25th November, 7.30pm 
Kaiwaka Sports Complex 
The annual audit shall be replaced with a Limited 
Review and the Auditor shall be appointed at the 
Annual General Meeting. 
Kaiwaka Good Sorts 
Do you know someone in our 
community who is deserving of a 
beautiful bunch of flowers? 
Send an email or drop a note to 
Jaques Four Square to let the 
Bugle team know. We will choose 
a recipient to receive flowers from 
Lindy the flower girl.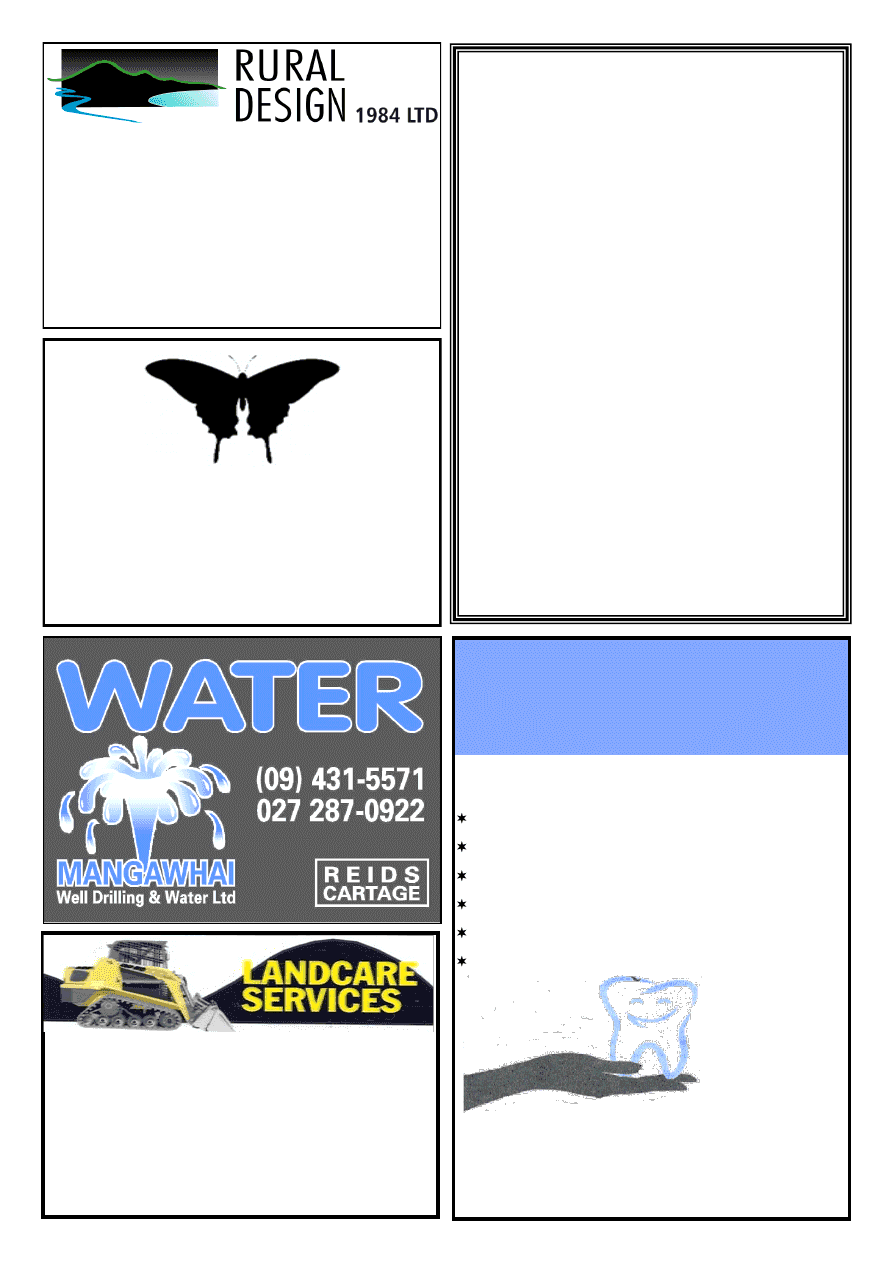 LANDSCAPING 
4 IN 1 BUCKET 
TRENCHER 
POLE HOLES 
ROTARY HOE 
COMPACT ROLLER 
OFFAL HOLES 
CAN SUPPLY WOODCHIP & POST PEEL 
5 TON TIPPER 
FOR RELIABLE AND FRIENDLY SERVICE CONTACT DAVE 
Dave Hyndman 
 
KAIWAKA 
PH: 09 4312302 
MOB: 021 431 238 
Gentle Dental 
Ruakaka 
We love to see you smile 
General  & Cosmetic Dentistry 
Emergency & ACC Treatment 
Denture & Hygienist Services 
Senior Citizen Discounts 
Free Adolescent Care 
Free WINZ Quote 
19 Ruakaka Town Centre 
Dr Sim Sood & Associates 
Ph:  432 8139 
Saturdays 
By 
Arrangement 
Open  
Mon-Fri  
8am-5pm  
g.a.s. 
Mangawhai 
we have now opened a 
GARDEN CENTRE 
for all your gardening needs 
Also a great range of 
STOCKFOOD 
Wide range of 
ORGANICS AND 
 FRESH LOCAL PRODUCE 
All your motoring needs are taken care of by 
our friendly staff check us out... 
44 Moir Street, Mangawhai (09)431 4242 
CHANGE CATALYST 
Glo Treadaway MANZASW 
Life Coach: Intuitive: ThetaHealer:  
 Create Positive Changes in Your Life! 
+0273638833 | 09 431 2209 
www.celestialconsulting.co.nz 
Wholesale Native Plant Nursery and Planting 
Small and Large orders welcome 
By Appointment 
300 Kaiwaka-Mangawhai Road, Kaiwaka 
Phone: 09 431 2481 
Email: info@ruraldesign.co.nz 
www.ruraldesign.co.nz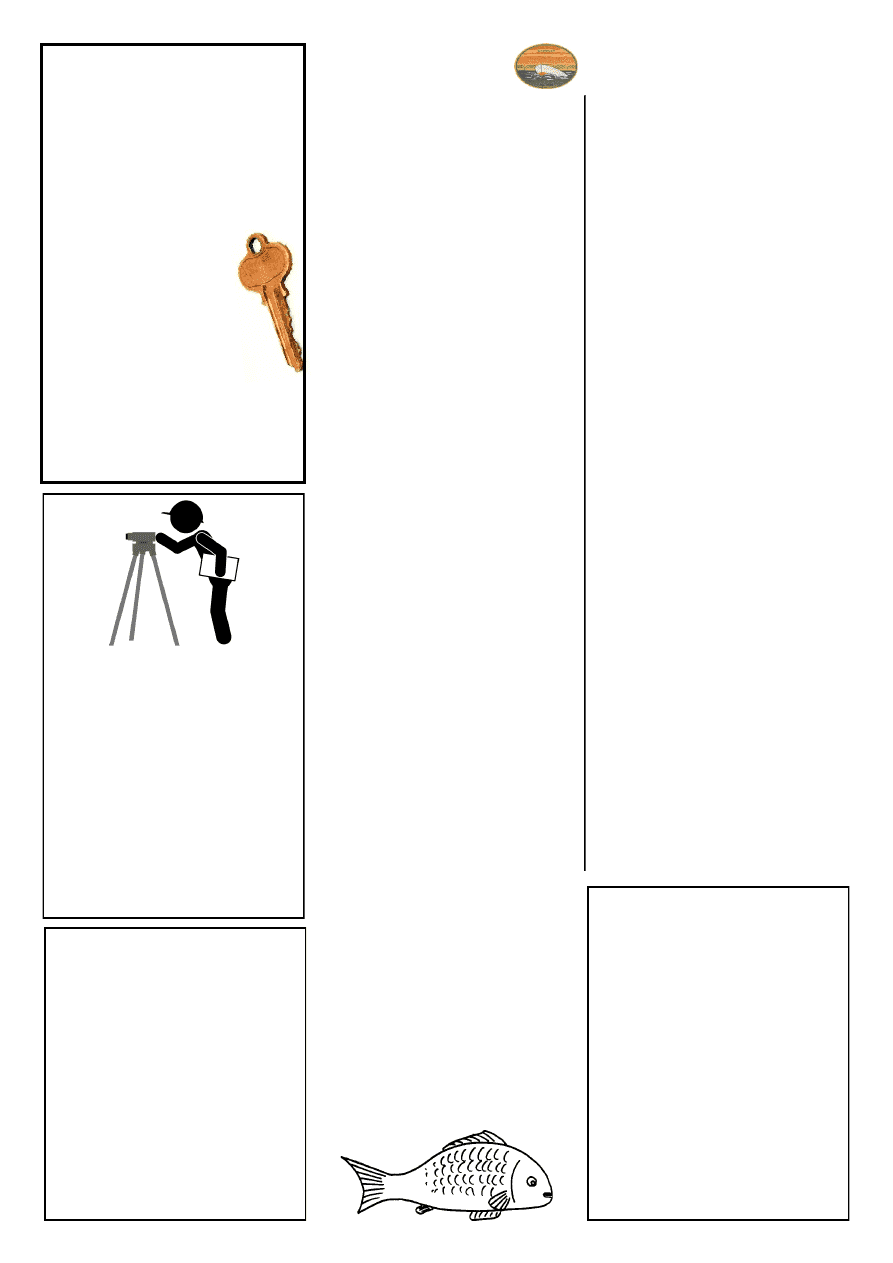 www.kaiwaka.co.nz 
Kaiwaka Bugle - 27 October 2015 
Page 5 
POINT CURTIS  
CRUISING CLUB 
Congratulations  to  Fish  Of 
The  Month  winners  (Snapper),  1st  
Keith  Mills  6.785kg,  2nd  Steve 
Maxwell  6.728kg,  3rd  Hayden  Smith 
5.144kg. 
Next Fishing Comp 
Our next fishing competition will be an 
Open Fishing Contest on 21st and 22nd 
November  2015.  Species  included  in 
contest  are  Snapper,  Kingfish  and 
Kahawai.  Junior  section  also  includes 
Eel. 
Start  Time:  6am  Saturday  21st 
November  2015;  Finish  Time:  6pm 
Sunday  22nd  November  2015.  Weigh 
in:  5pm  to  6pm  each  day  at  the  3 
Furlongs Bar & Grill, Kaiwaka.  
Maximum Weigh In: 2 of each species 
per  angler  per  day.  Prize  giving: 
6.30pm Sunday 22nd November 2015.  
Auction: To follow prize giving. BBQ: 
Following auction. Please bring a plate.  
Ticket Outlets: 3 Furlongs Bar & Grill, 
Kaiwaka,  Jean  Mcleish  at  Jaques  Four 
Square, Wellsford Sports & Leisure.  
Entry  fees  are  $30  per  senior  and  $10 
for  Juniors  (aged  under  15).  SENIOR 
SNAPPER PRIZE $1000 CASH!!!  
All  snapper  weighed  in  goes  into  the 
draw  for  the  average  weight  prize.  All 
fish  weighed  in  must  be  gilled  and 
gutted. Seniors' fish will be kept by the 
Point  Curtis  Cruising  Club  Inc  to  be 
auctioned  after  prizegiving.  Juniors 
have  the  option  whether  to  keep  their 
fish or donate them to the auction.  
MPI  rules  and  regulations  apply  with 
the  exeption  of  snapper  which  must 
measure 32cm or more.  
Decision  of  weighmaster  is  final.  This 
is  a  fundraiser  for  the  Rangiora  Boat 
Ramp  Carpark.  Please  see  full  poster 
for  full  competition  details,  rules  and 
disclaimer. 
Fish of the month 
SNAPPER & KAHAWAI (Cut off date 
17  November  2015).  Fish  do  not  have 
to be weighed in on the same day.  The 
combined total weight may be made up 
of  one  snapper  and  one  kahawai  or  it 
could  be  that  your  snapper  is  heavy 
enough  by  itself  so  Kahawai  not 
necessarily required. 
New  members  are  always  welcome! 
Subs are $20 for a single sub or $30 for 
a  family.  Subs  may  be  paid  at  3 
Furlongs  Bar  &  Grill  or  to  Jean  at 
Jaques  Four  Square,  alternatively  subs 
may  be  paid  directly  into  the  clubs 
bank account, BNZ Wellsford 02 0364 
0012950  00.  Please  include  your 
surname as a reference. 
Next committee meeting 
Tuesday  17  November,  7pm  at  3 
Furlongs Bar & Grill. 
~ Wayne Leslie, Commodore 
HELP 
PHONE NUMBERS 
HEALTHLINE  
0800 611 116
SAMARITANS 
0800 787 797
YOUTHLINE 
0800 376 633 
LIFELINE 
0800 543 354
DEPRESSION HELPLINE 
0800 111 756 
ALCOHOL & DRUG HELPLINE 
0800 787 797 
URGENT MENTAL HEALTHLINE   
0800 223 371
WARMLINE 
0800 200 207 
Ken Urquhart 
BSurv Licensed Cadastral 
Surveyor 
KMU Surveys Ltd
467 Bickerstaffe Road 
RD 2 
Maungaturoto 0587 
Ph 09 431 8705 
Mob 021 161 2344 
kenurquhart@xtra.co.nz 
Kaiwaka  
Hardware  
&  
Key cutting 
Phone 4312 063 
 022 041 6047 
kaikey2015@gmail.com
Keys Cut  
Household Hardware  
Curtain Tracks & Fittings 
Not there? Call Doug and he'll 
sort
it for you. 
(
Next to Kaiwaka Motorcycles
)
KAIWAKA 
We  are  a  group  of  enthusiastic 
trampers  meeting  each  Monday 
morning,  with  up  to  15  ladies  per 
weekly  outing  and  nicknamed  the 
Walkie Talkies for obvious reasons! 
This week we explored the new Puriri 
track  off  the  Waterfall  track.  What  a 
superb  piece  of  bush,  and  beautifully 
benched  track  provided  for  us  by  our 
local Trackies. There are seats to enjoy 
the views, rustic handrails, well signed 
junctions  and  even  walking  sticks 
provided.  The  two  huge  puriri  are  a 
highlight, but we also enjoyed the wide 
range  of  flowering  trees  and  plants  as 
well as the views over the valley and of 
the many waterfalls. Two fat kereru sat 
on  a  branch  adjacent  to  the  track, 
totally  unperturbed  by  the  chattering 
bunch  passing  by,  birdsong  is  quite 
prolific.  There  was  a  bit  of  heavy 
breathing on a few of the steeper parts 
but  the  group  is  pretty  well  seasoned 
now.  We  greatly  appreciate  the  work 
the  Trackies  have  put  into  these  and 
many  other  tracks  in  the  district,  our 
thanks to you. 
Another  highlight  of  recent  walks  was 
our trip to the city. A change from the 
bush and beach tramps, we donned our 
tidy shorts and yes, even a bit of lippy 
and drove to Albany, did the Park and 
Ride  to  Brittomart,  before  setting  off 
on  the  Coast  to  Coast  Walk  from  the 
Waitemata  Harbour  to  Onehunga  on 
the  Manukau.  The  interesting  walk 
took  us  through  numerous  parks, 
including  the  Domain,  Mt  Eden  and 
Cornwall  Park.  It  was  also  fortunate 
there were a couple of cafes along the 
way, 
so 
well 
caffeinated, 
on 
completion  of  the  walk  we  caught  the 
train  back  to  Brittomart.  The  distance 
walked overall was a healthy 20km. 
Further  information  please  phone 
Maria 4312 234. 
MANGAWHAI/
KAIWAKA 
MIDWEEK 
TRAMPING GROUP 
Some groaners   
1. Without geometry life is pointless. 
2. How do you organize a space party? 
You planet. 
3. I fear for the calendar, it's days are 
numbered. 
4. I'm reading a book on the history of 
glue - can't put it down. 
5. What do you call a sheep with no legs? 
A cloud. 
6. How do snails fight? They slug it out. 
7. Why did the scarecrow win an award? 
Because he was outstanding in his field. 
8. A blind man walks into a bar. And a 
table. And a chair. 
9. Why didn't the lifeguard save the 
hippie? Because he was too far out man. 
10. Who are the coolest people at the 
hospital? The ultra-sound guys.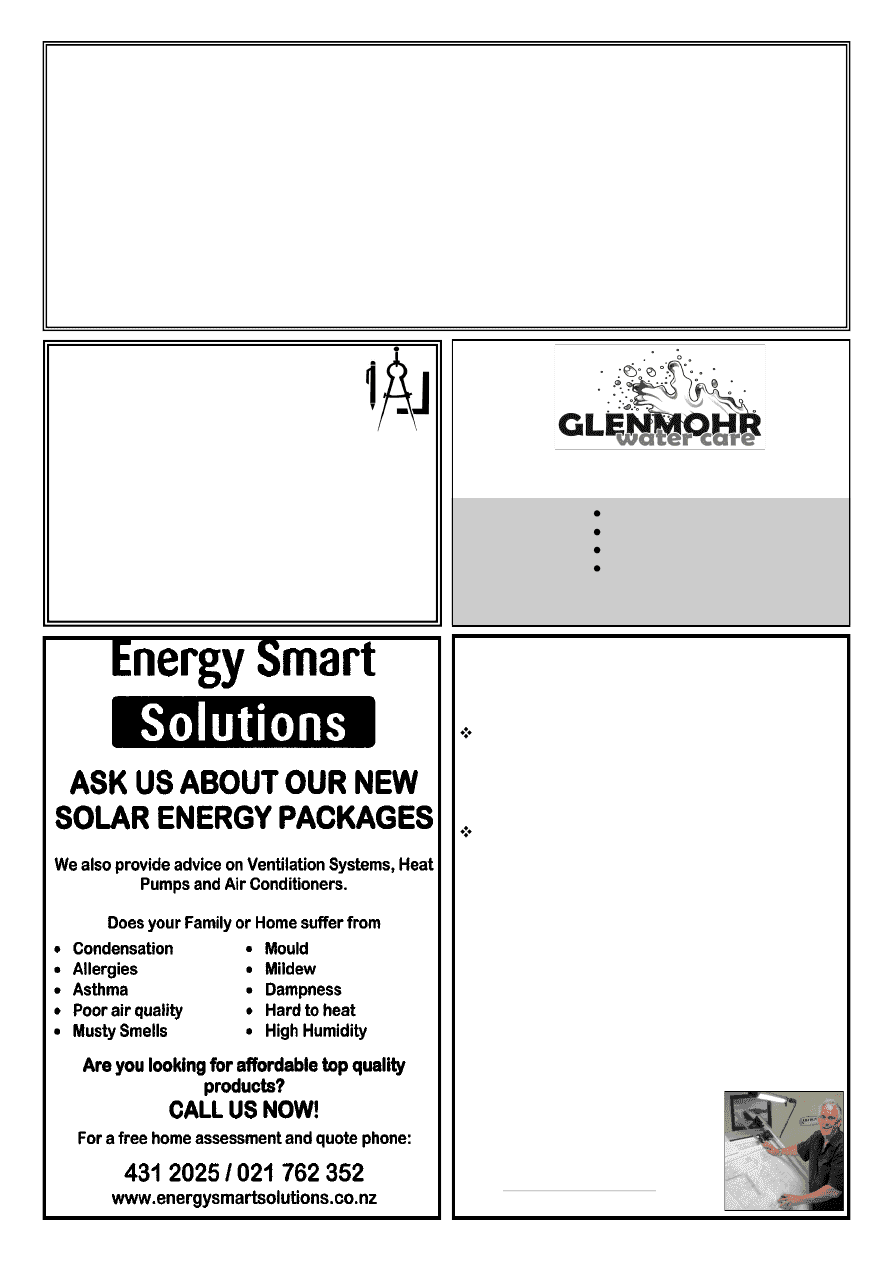 RANGANUI EARTHMOVERS 
  16T Excavator     
    (tilt, thumb & ROPS cab)     
  Transport Trailer 
  2 x 6 Wheeler Tip Trucks 
  Suppliers of All Grades of Metal & Topsoil 
If you want a proper job done with an experienced operator ring 
Grant on:  A/H  431-2131      Email  ranganui.dev@xtra.co.nz 
                      Mob  021845-246 
Driveways, House Sites,  
Drainage Dams, 
Section Clearing,  
Tree Work,  Rock Retaining Walls,  
Quarry Work, 
Basically Anything That a Digger Can Do 
design drafting 
service 
Retired builder and manufacturer with over 40 years  
experience in the building industry is offering a design 
drafting service for domestic housing, sleepouts and 
sheds.  
Plans formulated in consultation with clients, with 
working drawings completed and submitted to  
council for processing.  Extensive practical experience,  
able to identify & resolve problems. 
Please ring Mike Lean on 
09 431 2260  
          or 
021 431 196 
Water Tank Cleaning 
Keep your water safe & clean   
Removal of sediment, silt etc. 
Vacuum or full scrub 
Minimal water loss 
Phone Mark (09) 432 0655 or 0274 707607 
 ARCHITECTURAL BUILDING 
PLANS AND DESIGNS 
WRIGHT DESIGN 
QUALIFICATIONS 
Brian is a qualified designer (NZCAD) with over 40 years of 
varied experience in all types of building and is a registered and 
Licensed Building Practitioner in Design - L.B.P. 117345 
He ensures you will achieve the best from your budget with 
recommended excellent local contractors ready to competitively 
price and build your personal project quickly and efficiently. 
EXPERIENCE 
Brian's practical building and 40+ years of design experience 
means he can give you excellent advice and all the guidance 
needed for all your building needs 
v Wright Design offers free visits, consultations and all the ad-
vice you need on planning, design, building, contractors, coun-
cil permit applications, etc. 
"  Qualified and inexpensive designer – N.Z.CAD., LBP 117345 
"  Guaranteed design and working drawings 
"  Free site visit to your home or property 
"  Great service 
"  Great problem solver 
Call Brian ~Arrange a visit to discuss your needs  and obtain 
great advice and free quotation 
MAKE GOOD USE OF HIS EXPERIENCE and 
KNOWLEDGE 
WRIGHT DESIGN:  
360 Oneriri Road, Kaiwaka
Office 09 4312544   
Mobile 021 276 7389  
Email: 
www.wrightdesign.co.nz 
www.kaiwaka.co.nz 
Kaiwaka Bugle - 27 October 2015 
Page 7 
BRICK/BLOCKLAYER 
All aspects of masonry:  
Fireplaces, 
Restoration  
& Remedial Work. 
JAMES EAGLETON 
Tel. (09) 431 2514  
Mob. 0274 749 232 
jajueagles@yahoo.com.au 
210A Pukenui Road, RD2 Kaiwaka 0573 
Bulk Cartage 
KAIWAKA SCHOOL 
Most Improved for Term 3 - Jakob 
10,000 correct answers - well done! 
School Events for November: 
4th: Parents meeting -the 21st Century 
Learner 
11-12th: Noho Marae 
17th: Speech Competition 
18th: Year 6 at Otamatea High School 
19th: bream Bay Athletics 
25th: Circus visit 
26-27th: Life Education
Welcome back to school for Term 4. 
This  term  we  welcome  Mrs  Eileen 
Nesbitt who will be relieving in Room 
3 as Mrs Gaskin is on sick leave. Mrs 
Sharlene  Tornquist  is  acting  in  the 
Deputy  Principal's  role  for  this  term. 
We  also  welcome  Mrs  Althea 
Blackwell,  who  is  a  new  teacher  aide, 
helping in some of the classrooms. 
All our students and staff need to wear 
hats  this  term  when  they  are  outside. 
Please provide your child with a hat for 
this  each  day.  Those  without  hats  will 
be required to stay in the shade outside 
Room 1. 
On  4th  November  all  our  parents, 
caregivers  and  community  members 
are  invited  to  an  Information  Evening 
at  the  school.  This  is  about  schools  of 
the  21st  Century.  What  is  different 
about  our  schools  today,  and  the  way 
schools  are  preparing  our  children  for 
their futures? Everyone welcome. 7pm 
in the Library. 
We are preparing classes for 2016 now. 
If  you  know  of  any  children  coming 
into the area or who are pre- 
schoolers  ready  to  start  next  year, 
please  let  us  know  urgently.  Also,  if 
your child or children are not going to 
be  with  us  next  year,  please  let  us 
know. 
Congratulations  to all the students  and 
their families who entered a lamb or a 
calf 
in 
our 
Agricultural 
Day 
competition  this  year.  We  all  enjoyed 
seeing these beautiful animals and their 
proud  owners.  Thank  you  to  Sara 
McAulay and Linda Van Der Linde for 
organising the day for us this year. You 
did a wonderful job. Thank you also to 
all  the  helpers  on  the  day,  the  judges 
and  a  representative  from  ANZ  who 
awarded the prizes and gave the school 
a donation towards the costs of running 
this event. 
Please  note  that  Noho  Marae  dates 
have  changed.  We  are  going  on 
Wednesday  11th  and  Thursday  12th 
November instead. ~Rosie Ellis 
Agricultural Day Champion Results: 
Champion  Calf  -  Zac  Wing,  Reserve 
Champion  Calf  -  Lily  Wing;  Overall 
Champion  Lamb  -  Conner  Quirk, 
Reserve  Champion  Lamb  -  Nathan 
Gilligan.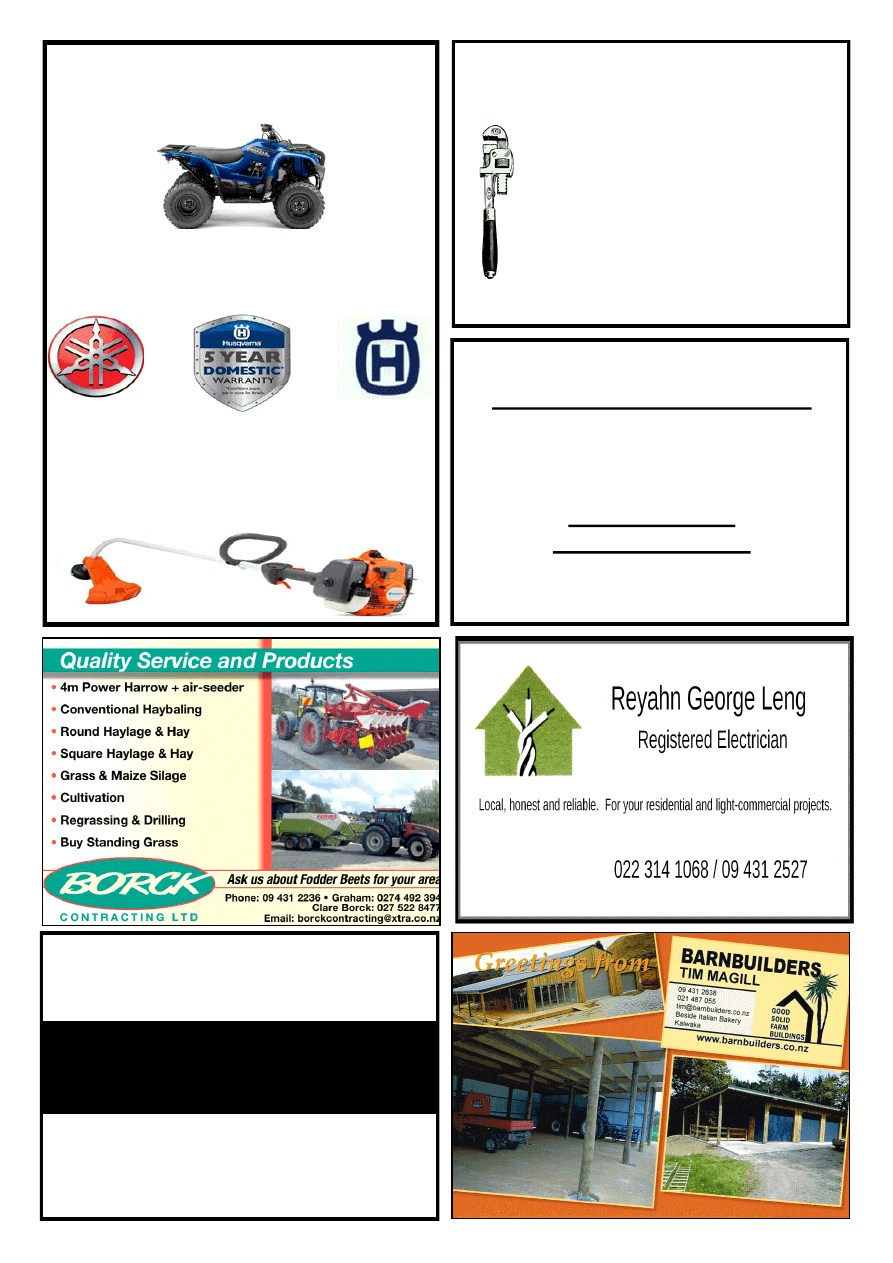 Natural Earth Ltd 
Landscape and Bobcat services 
 : Driveways  :Landscaping  :Retaining Walls 
 : Hole Boring: Land Levelling :Trenching 
 : Decks :Fences :Sections Cleared 
 : Plus much more
Tel 09 4312 885 
Mob 02102391280 
For A Fast Friendly Service  
Contact Tim Hicks 
BARRY CURTIS PLUMBING LTD 
REGISTERED CRAFTSMAN PLUMBER 
Phone 431 5572 
027 257 9884 
25 years' experience 
Friendly reliable service 
All plumbing & maintenance 
Alterations and new housing 
New wood fire installation 
Spouting 
Competitive rates
PROMPT EFFICIENT  SERVICE 
KAIWAKA 
MOTORCYCLES LTD
SALES – SERVICE – SPARES 
FARM BIKE SPECIALIST 
PHONE 09 431-2127 
10 KAIWAKA-MANGAWHAI ROAD, KAIWAKA
TRIMMERS FROM $249 - CHAINSAWS 
FROM $329 
YAMAHA 
HUSQVARNA 
David Korach 
Your local Gib Stopper
DK PLASTERER LTD 
0274769221 
dkorach6@gmail.com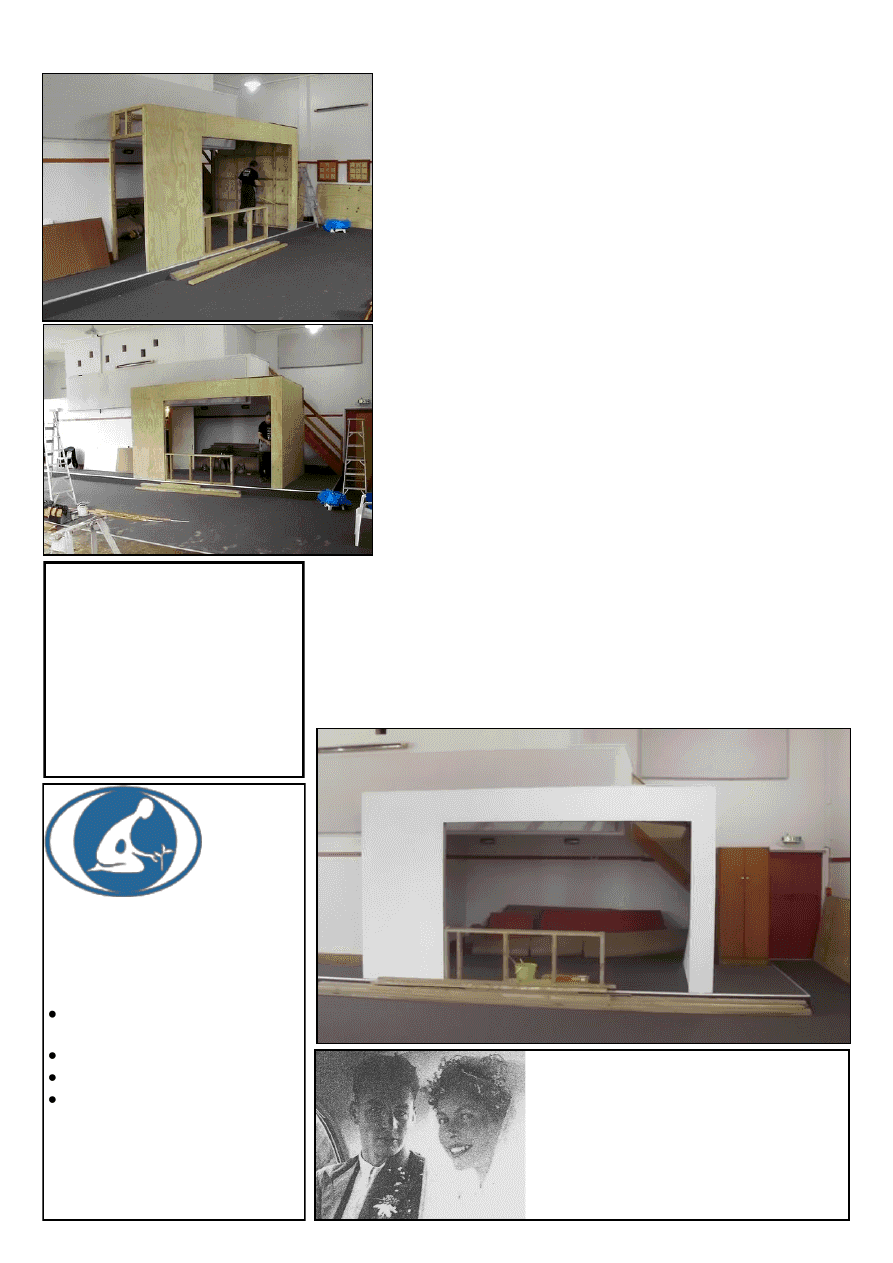 www.kaiwaka.co.nz 
Kaiwaka Bugle - 27 October 2015 
Page 9 
KAIWAKA WAR MEMORIAL HALL 
 LEABOURNS 
Passenger Service
Car & Van Hire 
Bus & Coach Charters 
Airport Transfers 
 Monthly Shopper Bus 
Phone (09) 4237416 
Magnetic Laser for Health
Using a low power laser I can help 
with a variety of conditions:
Joints pain, swelling, 
inflammation 
Back and neck pain 
Heel pain 
Injury or fracture recovery
Phone Gala 
431 2213 
021 486 611 
Photos:  Kaiwaka  Community  Cinema  -  volunteers  have  been  working  hard  to 
create  a  new  tuck  shop  inside  the  hall  for  the  movies  just  to  make  the  Movie 
experience even better! 
Presidents Report to the AGM 
Another Successful Year Gone... 
During  the  year  we  welcomed  Heather  Nash  and  Penny  Hoy  on  the 
committee. I thank everyone on the committee for the time and effort 
you  put  in!  And  to  Wendy  as  treasurer/bookings  officer  and  Jane  as 
secretary,  Tony,  Lindsey,  Heather,  Penny,  Rob,  Corina.  We  have  a 
good team. 
All  rooms  of  the  former  Medical  Centre  are  leased  out  and  there  is 
interest from someone for leasing the former waiting room area. This 
will give the Hall a steady income of $500 a month to go towards the 
cost  of  running  and  maintaining  the  Hall,  e.g.  rates,  power,  phone, 
insurance and maintenance. 
Thank you to the Kaipara District Council for paying the insurance for 
the hall (the second year in a row) - long may that continue. 
We have paid for the installation of a ramp at the Library, and more 
recently  new  carpets  in  the  main  hall  and  the  Supper  Room  -  it  was 
due for an update. We applied to Kaipara District Council for a Capital 
Grant;  they  voted  in  favour  for  a  50%  grant  of  the  total  costs.  We 
thank KDC for that; it will make a huge difference to us. 
Kaiwaka Community Cinema 
I thank the cinema group for being there every time  - Roger, Peggy, 
Heidelind,  Rik,  Amanda,  Dave,  Penny,  Alistair.  You  make  a  great 
team. 
Successful features have included movie dinner nights, held twice this 
year,  a  movie/music  and  supper  night,  Anzac  Day  movie  night  with 
the Hakaru RSA, and of course our regular Friday nights and Sunday 
matinees. 
From when we re-started the movies a couple of years ago until now 
we had approximately 2,000 visitors - 1300 adults and 700 children. 
Kaiwaka Community Garden 
It's  great  to  see  the  Community  Garden  being  put  to  good,  and 
educational, use. Thanks to all involved. 
In the future 
New  main  entrance  doors  with  the  Rolls  of  Honour  names  incorporated;  new 
lights  on  the  outside  of  the  hall;  create  a  storage  area  under  the  stage;  new 
tables. 
Again I thank everybody for their contribution to a good year. 
~Ad Clarijs, President, Kaiwaka War Memorial Hall Association Inc 
Congratulations  
and Best Wishes 
To Ruth and John Dekker on their 60th 
wedding anniversary, celebrated in June 
this year at the Kaiwaka Family Church. 
John met Ruth after he moved to New Zealand to 
be a farmer. Instead, he became a social worker, 
and has been a pastor in a Christian fellowship for 
more than 40 years.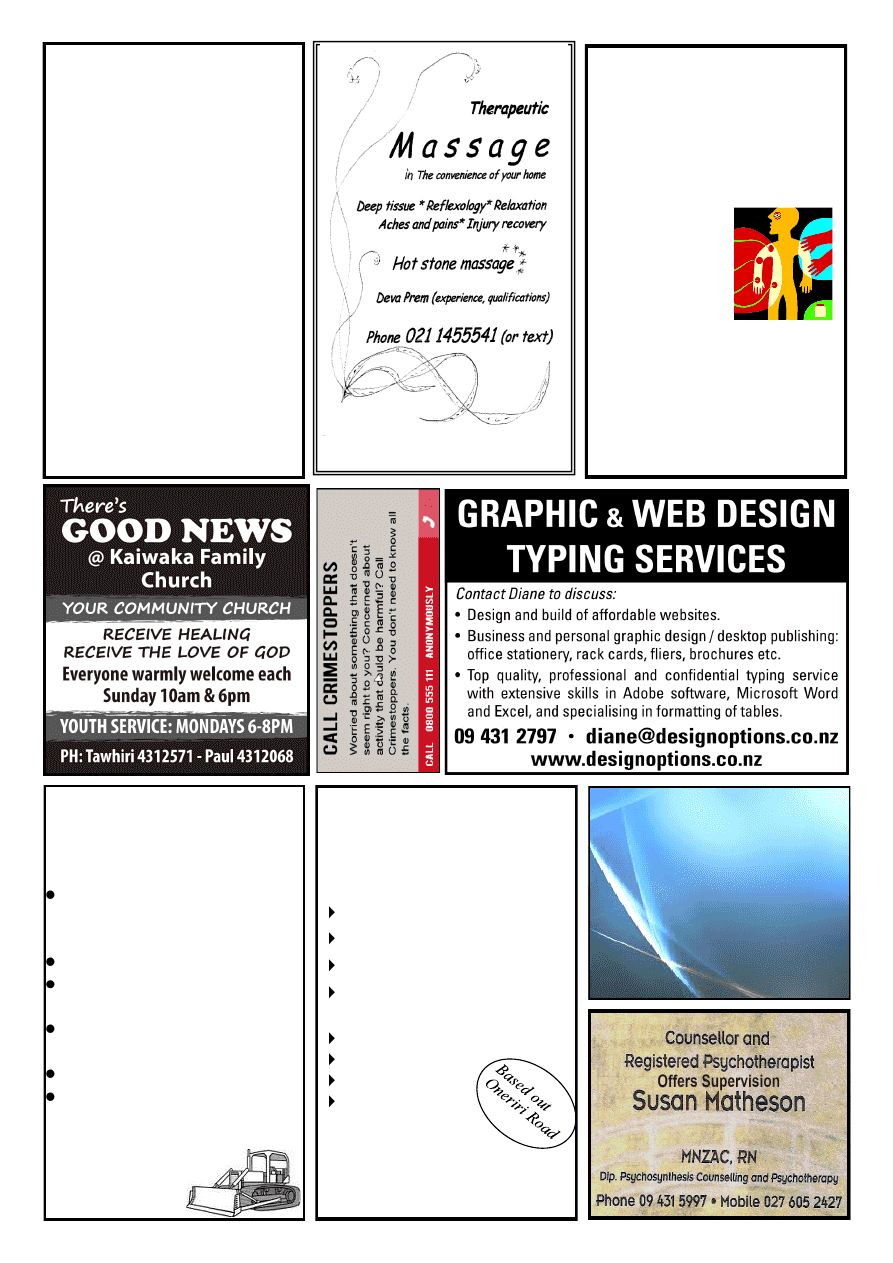 www.mangawhaimassage.co.nz 
HODGETTS 
CONTRACTING
Digger Work    
Driveways 
House Sites   
Dams 
Drains, etc
Also available for HIRE 
3 ton Vib Roller 
Heavy Duty Tow 
Waterblaster  
Lazer Level 
Phone Mark 
4312877 
027 447 8554
OWEN STEVENS 
Osteo Therapist
For careful adjustments to bones 
and joints 
Treatment for  humans and their 
pets 
Clinics: 
Kate's Place, 
Kaiwaka: 
Last Friday of 
month 
For bookings: 
9.00am-5.00pm   
Phone 
09 4312661 
Or phone Owen   
09 4317123  anytime 
Freeview  
Installations 
Richard Te Haara 
25 Marram Place 
Mangawhai Heads 
021 1104056 
kiwipride@xtra.co.nz
Willow Bend
HORSE  
HOTEL 
"   
Total Horse Care 
" 
Agistment 
" 
Riding Lessons 
" 
Arena Hire (60x40) 
" 
Young Horse Starting 
" 
Re-training/Exercising 
" 
Hoof Trimming 
" 
Problem Solving 
Phone Sue 09 431 
2817 or 021 623 776 
Or email sue.gray@xtra.co.nz 
Coates  
Contracting 
D41 Bulldozer with 6 
way blade, bush rigged 
with winch 
For all tree work 
General bulldozing and  
  stick raking. 
120hp Tractor for 
ground cultivation,  
tip trailer work. 
Fencing
All enquiries phone  
Brett Coates  
 094318720  
or 
 021431872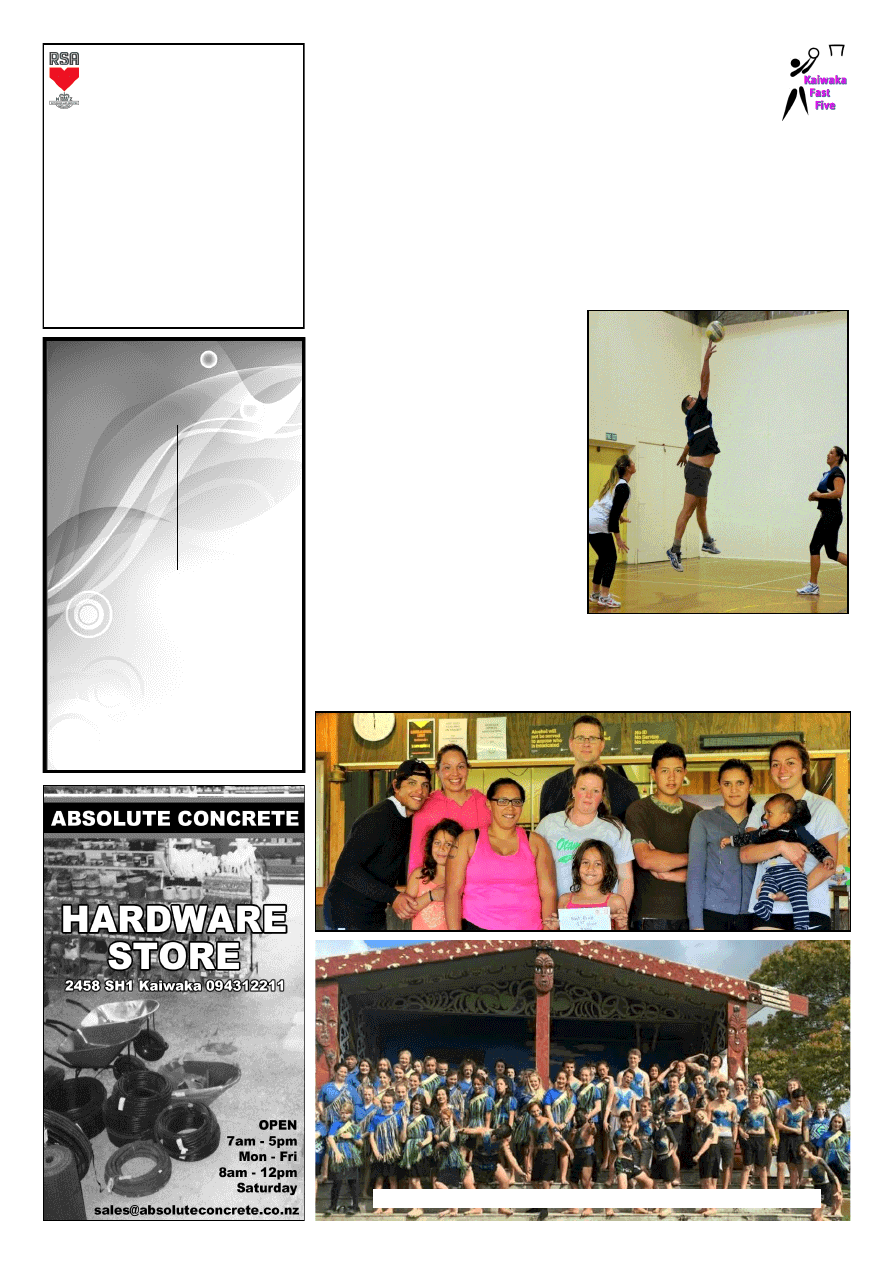 www.kaiwaka.co.nz 
Kaiwaka Bugle - 27 October 2015 
Page 11 
U Beauty 
Please call Nicole for bookings 
09 393 6336 or 022 0639450 
Qualified Beautician 
4 Kaiwaka – Mangawhai Rd 
Kaiwaka 
Underarm Wax  
$20 
Extended Bikini Wax 
$30 
15 min Back  Massage 
$25 
Eyebrow Wax  $10 
Eyebrow Tint  $10 
Eyelash Tint 
$20 
Lip Wax 
$10 
Chin Wax 
$10 
Bikini Wax 
$20 
Brazilian 
$50 
½ Leg Wax 
$30 
Full Leg Wax  $45 
Full Pedicure  $60 
Foot Tidy  
$35 
Manicure 
$45 
Nail Tidy 
$25 
Chest Wax 
$30 
Back Wax 
$40 
Nostrils 
$10 
Ears 
$10 
HAKARU & 
DISTRICTS RSA 
Inc 
Each Friday night from 6.30pm 
meals will be served. 
Members & invited guests, new 
members welcome.
Come along & enjoy our hospitality.
2nd Friday of the month -  roast 
dinner or board menu.
Last Friday of month - roast pork 
night & sing-along with Des Chitty.
Ph Heather 4314668 or Jan 4314512 
FAST FIVE NETBALL MODULE 
Sixty  people  participated  in  the  Kaiwaka  Sports  Association's  Fast 
Five Module, held over six weeks on Sunday afternoons in the KSA 
gymnasium. 
The six teams were a mixture of young and old, male and female and 
experienced  netballers  and  novices  with  players  coming  from  Kaiwaka, 
Mangawhai, Maungaturoto and Paparoa. 
With  only  five  players  on court in  each  team,  Fast  Five  games  are  very  quick 
and intense, and several older players mentioned that they really appreciated the 
rolling subs! 
The finals were hotly contested with The Saints taking on the unbeaten Mete's. 
The Mete's came out on top and took home the winners purse of $300 and the 
Saints took away the second place prize of $200. The third prize of $100 went to 
the Fluffy Ducks. 
After  the  finals,  players  moved  into  the  pavilion  for  prizegiving  and  a  shared 
meal, congratulations to the prizewinners: 
Youngest girl – Sara (10 years) 
Youngest boy – Zayde (12 years) 
Oldest lady – Nikola 
Oldest man – Neville 
Most supportive player – Lish 
Top female goal scorer – Jasmine 
Top male goal scorer – Rhys 
Team managers nominated one person 
from their team to receive a special 
prize: 
Kaipara Knockers – Raegan, team spirit 
The Mete's – Danny, most encouraging 
The Fluffy Ducks – Khanse, most 
improved 
The Saints – Era, most valuable player 
Wild Cats – Maddy, team spirit 
Hot Shots – Mya, most valuable player 
Gifts  were  also  given  to  Teresa  for 
taking  photos  and  to  Chantal,  Tasha, 
Jodie, Nikola and Rebecca for umpiring 
– many thanks guys! 
Photos from the Module are on the Fast Five facebook page. Thanks to everyone 
who participated and I hope to see you back next year! 
~Cheryl Anderson, Kaiwaka Sports Association  
Below: The winning team The Mete's 
Otamatea High School students at the recent inter iwi haka contest.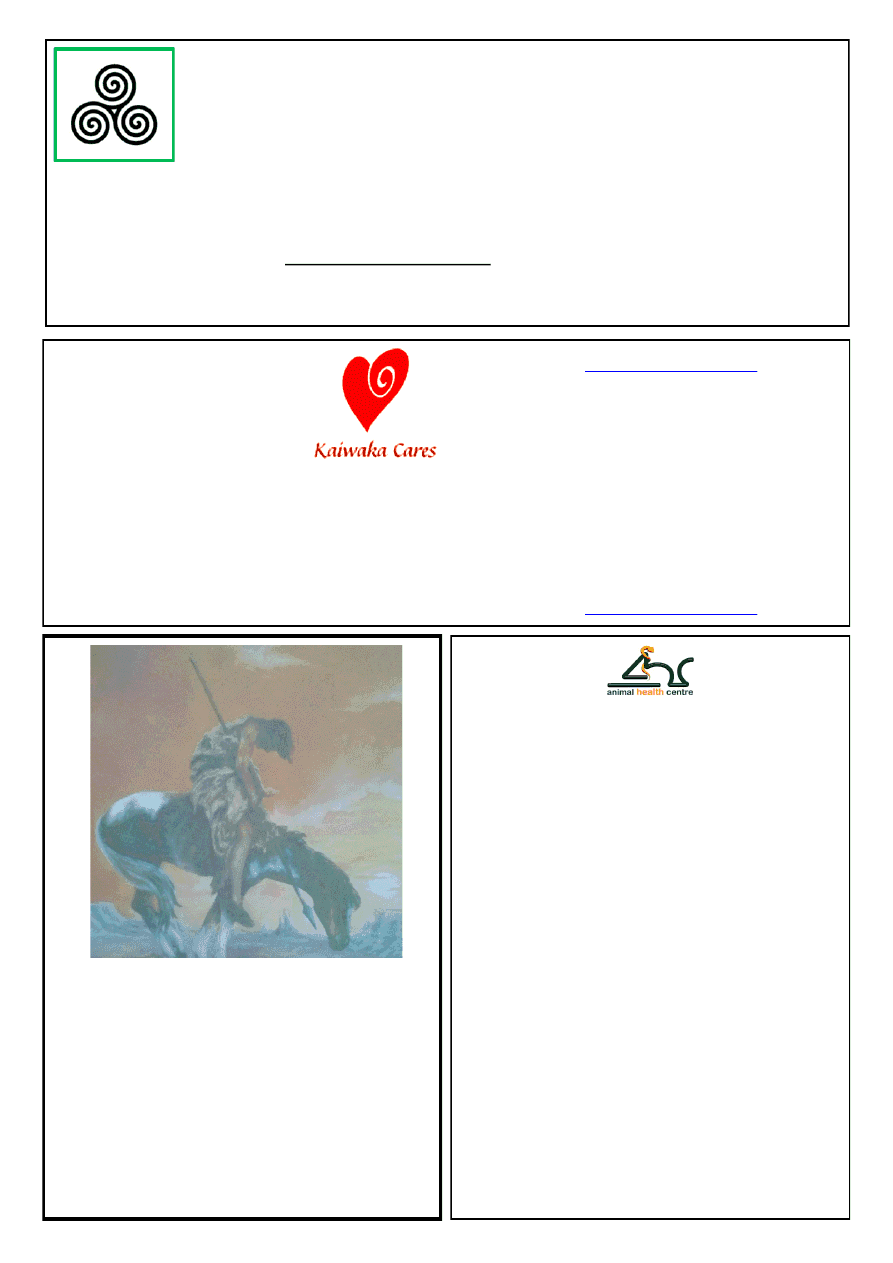 RANA Health 
Naturopathy- Acupuncture- Massage
Open Mondays, Thursdays & Fridays 
4 Kaiwaka-Mangawhai Road; Room 4; Kaiwaka
Phone or Text for an appointment &/or price enquiry:  
Rebecca Wood 021854158 
Or visit www.ranahealth.co.nz & click BOOK NOW
Rebecca Wood Dip Th Mass; Dip Aroma; Dip Acu; 
Student Naturopath- Final semester
Trails end spiritualist church  
Last Sunday of every month  
10am tea/coffee provided  
$5koha for all inquiries  
0211652629 evenings 099450753 
Trail.end@hotmail.com 
Bringing together light minded people 
ANIMAL HEALTH CENTRE 
KAIWAKA 
Stockists of Leading Brands Raw Meats: 
Pet Deli, Woofles, Purely Pets, Mighty Mix Concentrate,  
Bulk Buys. 
Stockists of Leading Brands Pet Food: 
Addiction, Orijen, Organix, Acana, Nutrience, Ziwi Peak, Mighty 
Mix, Vegan Pet, Tukka Thyme 
Vet Nurse Services: Nail Tr ims, Comfor t Gr ooms, Dental 
Checks. Microchipping. 
Animal Naturopath: Sarndra G Urwin Dip NAH (Hons)  Dip Cl.Hyp. 
Arthritis, Cancer, Auto Immune  & Skin Conditions, Endocrine 
Disorders, Behaviour Problems. 
"There is always a choice in health care" 
Homeopathic & Herbal alternatives to parasite & vaccination 
controls. 
Organic, chemical –free cosmetic products. 
Safe Leads, Collars and Toys
Open: Tuesday-Saturday 10.00-4.30   Sunday 10.00-2.00 
Next to Italian Bakery, Main Highway, Kaiwaka. 
PHONE 09 431 2217 
Who is the drop-in centre for?    This  is  a 
question  we  often  get  asked.    Essentially 
the  drop-in  centre  is  for  anyone  and 
everyone.    It  is  set  out  with  sofas  and 
chairs  with  magazines,  jigsaws  and 
children's toys.  We like to think of it as a 
social space for all of Kaiwaka.  So if you 
are in town and see our sign out do pop in.   
What else can we do for you?   Do  you 
have a suggestion for a gap that you think 
needs  to  be  filled  in  our  community?  
Please please feel free to pop into the drop
-in  centre,  email  us  or  pop  in  and  see 
Yvonne at Kate's Place. 
Gloves:    Yes  we  still  have  gloves 
available.    They  are  all  varying  sizes  of 
small.  Our gloves are great for getting out 
in the garden or when you need to protect 
your  hands.    At  $5  a  pair  they  are  a  real 
bargain.  Available from the drop-in centre 
anytime. 
Art 
@ 
Eutopia:  
Marijke  and  Robert 
have  been  working 
hard 
at 
recreating 
Eutopia.    It  was  great 
to  see  a  number  of 
people go along to see 
what  they  are  doing 
and to offer to help out.  A small team did 
some work last week on mosaicking which 
was enjoyed by all.   
Train  the  Trainer:    Have  you  always 
wanted  to  coach,  teach  or  facilitate 
learning for others.  Janine has many years 
experience  as  an  adult  educator  and 
corporate  trainer.    She  has  volunteered  to 
run some mini-sessions for anyone who is 
interested.  Dates are still to be set, if you 
are  interested  in  attending  please  contact 
Janine  on  #0276636802  or  email 
Volunteers Needed:    J ust  like  any  other 
community  service  we  rely  on  volunteers 
to  help  keep  us  going.    If  you  have  spare 
time  on  a  Monday,  Wednesday  or  Friday 
to  help  out  at  our  drop-in  centre  let  us 
know.  It's a great way to meet new people 
and to help out in the community.  We are 
looking for more volunteers to extend our 
roster.  You wouldn't need to be available 
every  week,  even  once  a  month  would 
help  our  team  roster.    And  yes  we  will 
provide  all  the  training  and  support  you 
may need.  Come talk to us at the centre or 
email us. 
Contact  Details:    Kaiwaka  Car es  @ 
Kate's  Place,  1960  State  Highway  1, 
Kaiwaka.    Phone  09  431  2661  or  email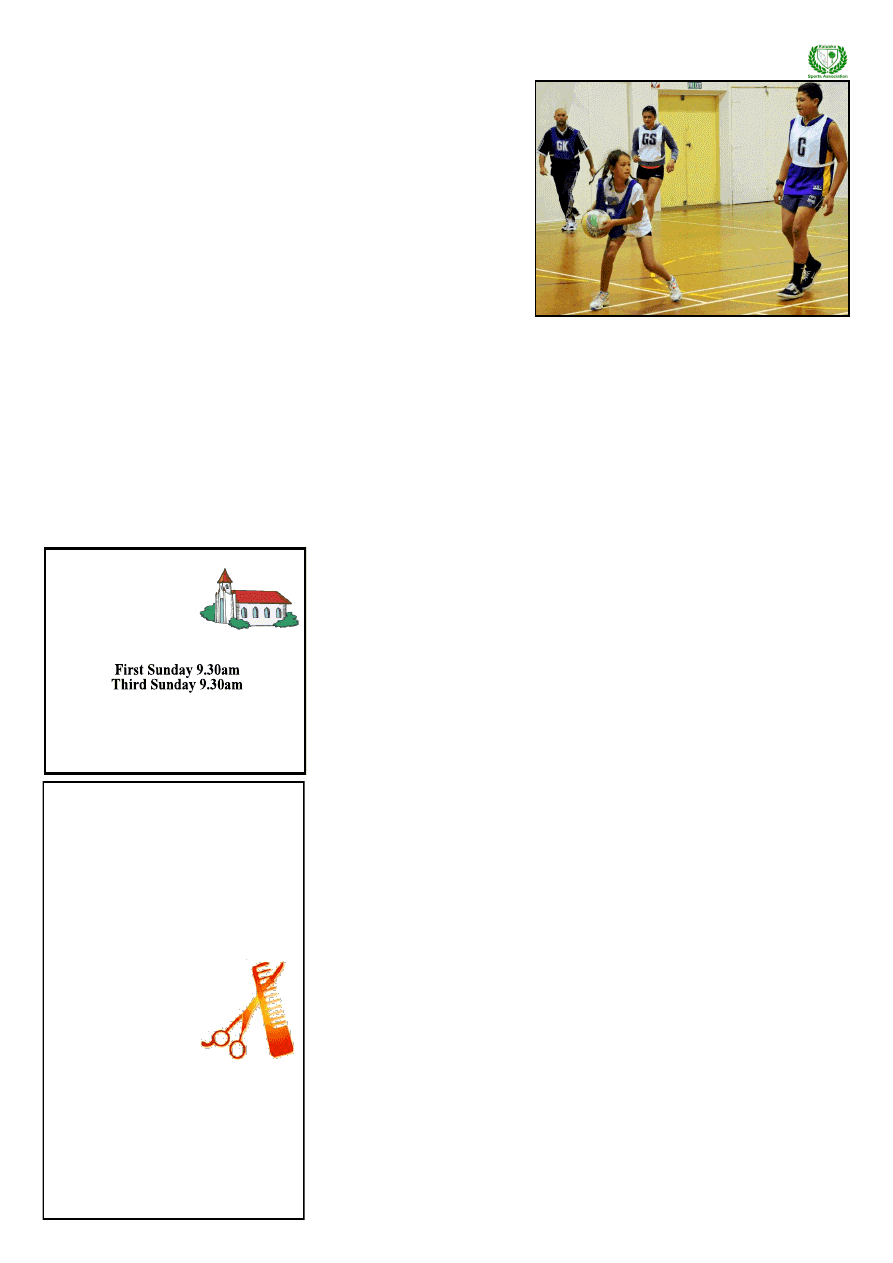 www.kaiwaka.co.nz 
Kaiwaka Bugle - 27 October 2015 
Page 13 
KAIWAKA SPORTS ASSOCIATION
Fright Night 
Fright  Night  is  this  Saturday!  Turn  up 
to  the  Sports  Complex  at  7.30pm  in 
your scariest costume (there'll be prizes 
for  best  dressed  boy,  girl  and  adult). 
We will have music, dancing, games, a 
photo booth, glow items, face painting 
and a lolly scramble, then we'll open up 
the haunted house!  
The  entry  fee  is  $4  (adults  and  pre-
schoolers are free). There will be prizes 
for  the  best  halloween-themed  supper 
plates  –  last  year  we  had  chocolate 
spiders,  bloodshot  eyeball  eggs, 
cobweb  cupcakes,  deadman  finger 
sandwiches and more! 
Last  year  we  had  over  300  people  at 
Fright  Night,  and  because  it  was  so 
busy, some children missed out on their 
turn  going  through  the  haunted  house. 
So this year I am going to give a ticket 
to  everyone  as  they  come  through  the 
door  -  this  ticket  is  then  presented  at 
the  entry  to  the  haunted  house. 
Additional tickets can be purchased for 
$1, but children will only be allowed to 
go  through  for  a  second  time  after 
everyone has gone through. 
Hope to see you there - we are looking 
forward to a spooktacular night! 
Squash 
Squash is nearing the end of the 
season  with  Club  Champs 
being  the  last  event  for  clubs 
around the country. 
This  Monday  sees  the  finals 
being  played  between  Gordon 
Pryor  and  Phillip  Tana  in 
Division 1, and Heath Horsford 
and Bruce Leslie in Division 2. 
Results  in  next  Bugle.  Phillip 
Tana  will  be  stepping  down 
from  his  role  as  Club  Captain 
after  club  champs  –  many 
thanks  to  Phillip  for  all  his 
work running the club nights.  
Tennis 
Is your child keen to give tennis a go? 
Please phone  Lindell  Ferguson on  431 
2542 
or 
email 
blferguson@vodafone.co.nz She would 
like to know which day and time suits 
you best for the lessons (last season we 
ran  two  age-group  lessons  on  Monday 
afternoons). 
Rugby 
Our  Hawks  Rugby  Club  requires  a 
Senior  Premier  Coach  for  2016.  We 
require  a  person  with  a  strong  rugby 
coaching  background  and  a  proven 
record  in  creating  a  winning  culture. 
The  Coach  will  need  to  develop 
programmes  for  our  players  and  work 
closely  with  our  club  coaching 
committee  to  ensure  the  Hawks 
perform at a consistently high level. 
Post  your  CV  to  Coaching,  112a 
Gibbons  Road,  RD2,  Kaiwaka.  For 
more information please contact Trevor 
Linnell 021 027 64 171. 
Our  Otamatea  Rugby  Club  will  hold 
their AGM on Tuesday 10
th
 November 
at 7pm in our JK Lounge. All welcome. 
Active Movement 
Ready,  steady,  wriggle!  Plunket  is 
pleased  to  announce  that  they  will  be 
delivering 
an 
active 
movement 
programme  to  help  parents  and 
children  (0-5  years  old)  with  brain 
development,  fun  active  games  plus 
lots more. 
This  will  be  run  fortnightly  on 
Wednesday 
mornings 
in 
our 
gymnasium,  the  next  one  will  be  on 
Wednesday 4
th
 November. 
Bring  some  morning  tea  for  your 
kiddies  and join us for  lots  of  fun  and 
excitement.  Everyone  is  welcome  to 
attend, a gold coin koha is appreciated 
if you can. 
Kids Disco 
Well  done  to  teenagers  Jessika  Grigg 
and  Holly  Anderson  who  ran  a  fun 
Kids  Disco  last  week.  The  girls  made 
over  $370  which  they  donated  to  the 
Cancer Foundation. 
Seeds Fundraiser 
I  am  running  a  Seeds  Fundraiser, 
offering  sweet  peas,  forget-me-nots, 
cottage  garden  mix  and  wildflowers 
mix.  A  couple  of  seed  packets  would 
make  a  great  little  Christmas  gift  for 
those people in your life who are hard 
to  buy  for!  An  order  form  is  in  this 
edition of the Bugle. 
Kaipara Sports Awards 
The  2015  Kaipara  Sports  Awards  will 
be  held  on  Friday  6
th
  November, 
6.30pm  at  the    Maungaturoto  Country 
Club.  Tickets  are  $50  per  person. 
You  can  purchase  a  ticket  by 
contacting 
Sport 
Northland 
representative  Roxanne  Kelly  on 
roxannek@sportnorth.co.nz 
Whanaunga  Touch  Tournament 
I  am  helping  organise  the  Whanaunga 
Touch  Tournament  to  be  held  at  the 
Sports  Complex  in  January.  This  is  a 
fundraiser for the Otamatea Marae and 
descendants  from  the  marae  are  given 
first priority to enter. Keen to register a 
team? Contact me and  I will send you 
the registration form.  
Fast Five Module 
Our six week Fast Five Module wound 
up recently, you can read about it in the 
report  in  this  edition  of  the  Bugle. 
People asked me if it could become an 
annual event, so I will run it again next 
year. To keep up to date with Fast Five 
news, please like my facebook page. 
Gymnastics 
Our  Gymnastics  Club  will  hold  their 
AGM  this  Tuesday  at  5.45pm  in  the 
gymnasium foyer. All welcome. 
KSA AGM 
Our AGM will be held on Wednesday 
25
th
  November  in  our  JK  Lounge  at 
7.30pm. All welcome. 
Top of the Rock 
I  am  in  the  process  of  getting 
sponsorship  for  our  Top  of  the  Rock 
multi-sport  event.  I  am  so  impressed 
with the generosity of our community – 
Jaques  Four  Square  and  Borck 
Contracting  have  both  offered  to 
sponsor us for $1,000! We are lucky to 
have 
such 
community-minded 
businesses in our little town. 
And thank you also to locals Sue Gray 
&  Gordon  Joll  who  have  offered  the 
services  of  their  band  Happy  Fish  to 
play  at  the  Sports  Complex  while  the 
Top  of  the  Rock  participants  have 
lunch. 
If you are keen to support the KSA and 
TOTR  by  providing  sponsorship, 
please  get  in  touch  with  me  (contact 
details are below). 
Cheryl Anderson, 
4312 051, 027 3462702 
AFFORDABLE 
PRICES! 
MENS DRY CUT FROM $18.00 
LADIES DRY CUT FROM $28.00 
KIDS DRY CUT FROM $15.00 
COLOUR CUT FROM $90.00 
JUST     
CUTS'AND     
MORE 
021 165 2629 
NOW SELLING: scented tealights, incense, 
smudge sticks, copper bracelets, 
aurora ball crystals, dream catchers, 
healing stones, rose quartz, cds, and 
much more 
Open 6 days 
ST PAUL'S  
ANGLICAN  
SUNDAY  
SERVICES
St Pauls Church: Kaiwaka-Mangawhai Rd. 
1st Sun - Eucharist 
3rd Sun - Family Service 
Office 4314 122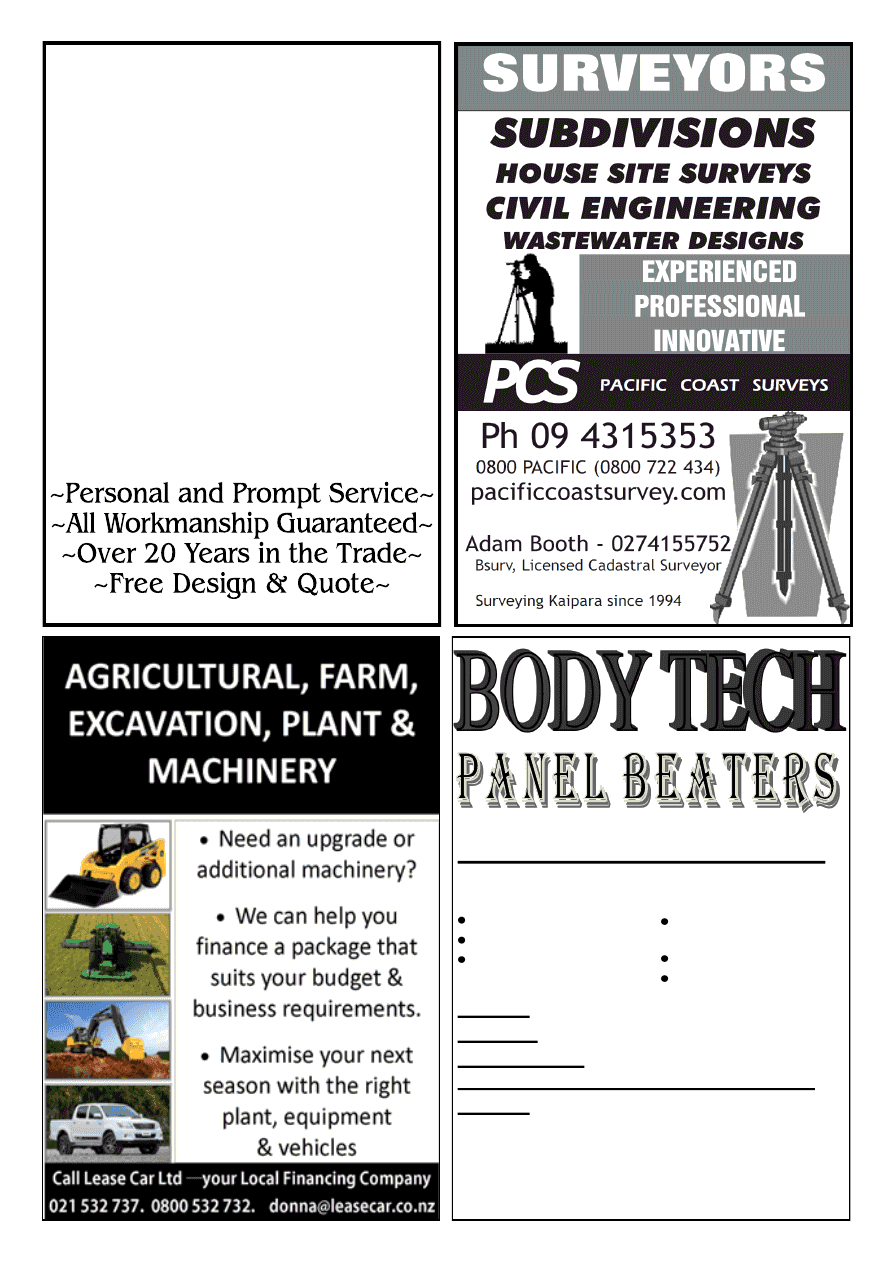 For all your body repair needs!! 
We do: 
Rust repairs 
Insurance work 
Anti-corrosion treatment         
Hours: 8.30am-5pm Monday-Friday  
Mobile: 021 118 0462 
After hours: 09 431 2384 
Phone: Craig or Call in for a free Quote 
e-mail: 
bodytech_panelbeaters@yahoo.com
We are located at 1837 SH1 Kaiwaka, behind Twin-
kle Tow 'n' Tyre call in anytime for a free quote.  
Large and minor vehicle  
  repairs 
Industrial vehicles 
Full Cut and polishes 
PLANNING A NEW 
KITCHEN? 
 CONTACT NOEL McDOWELL 
WELLSFORD 
KITCHENS
Ph/Fax 094312888  
KAIWAKA-Any time 
  QUALITY CUSTOM MADE 
KITCHENS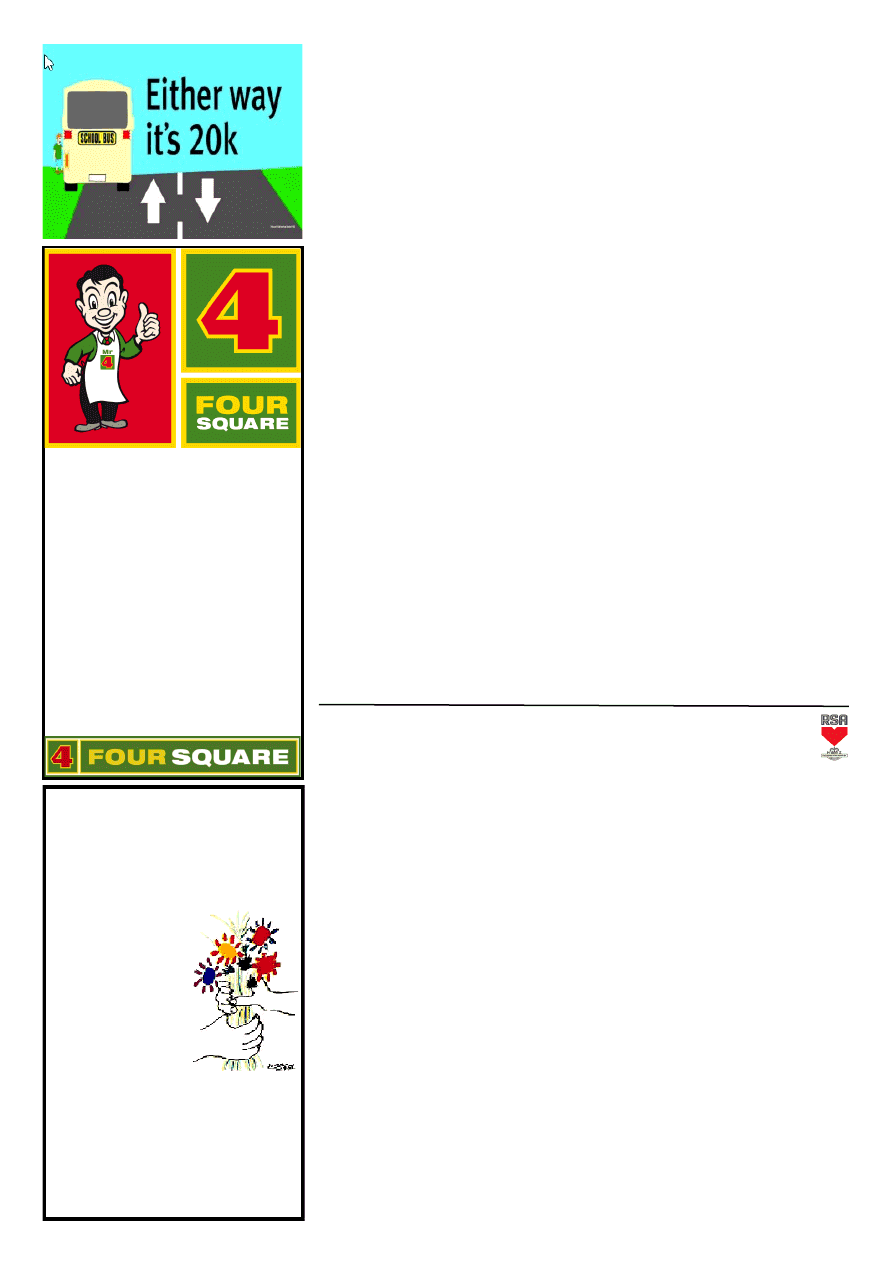 www.kaiwaka.co.nz 
Kaiwaka Bugle - 27 October 2015 
Page 15 
HAKARU RSA WOMEN'S SECTION 
Flowerpower 
Northland 
Long lasting 
flowers 
delivered 
from 
Mangawhai
www.flowerpower 
northland.co.nz 
Ring Martina 
4315161 
KAIWAKA LIBRARY
Librarian's Report to the AGM 
At  30  June  we  had  245  members,  up 
from 224 the same time last year. This 
includes 39 new members. 
Eighteen  of  these  library  members, 
including me, were volunteering in the 
library at 30 June. It is a good team of 
enthusiastic  people,  and  I  thank  them 
for their efforts to help keep the library 
running and a nice place to visit. 
We issued 5,160 books during the year, 
an average of 430 books per month, a 
slight  increase  on  the  5,108  books 
issued in the previous year. 
I  can't  tell  from  the  library  statistics 
how  many  electronic  books  are  being 
borrowed by our members through the 
free  online  services  provided  by 
Kaipara  District  Council  –  the  system 
is  not  set  up  to  distinguish  members 
from  the  different  libraries  in  the 
district. I certainly hear a good amount 
of  chatter  about  this  service  when  I'm 
talking  to  library  members,  and  the 
service is getting good use. 
During  the  year  232  new  books  were 
processed and put on the shelves. This 
is slightly fewer books than last year's 
259 books. 
We  continue  to  take  part  in  the 
Northland  Libraries  Network,  taking 
large print and audio books from their 
collection  twice  a  year.  These  books 
are very popular, with an average of27 
and  60  books  borrowed  per  month, 
respectively  –  last  year  46  and  37 
books respectively were borrowed. 
We also continue to access books from 
Dargaville  Public  Library  with  two 
books swaps each year, taking 300-odd 
books  each  time.  These  are  a  mixture 
of fiction and non-fiction, and are very 
popular with our borrowers. 
These two services are provided free to 
our  library.  Dargaville  Public  Library 
does  not  charge  us  to  access  their 
collection. 
Northland 
Libraries 
Network charges a fee, but this is paid 
on  our  behalf  by  Kaipara  District 
Council. 
Successful 
funding 
applications  by  the  Network  mean  we 
do  not  need  to  fulfill  our  membership 
requirements of supplying new titles at 
the moment. 
Our collection of disks (movies and tv 
series)  continues  to  grow.  In  the  year 
ended  30  June  2015  71  DVDs  were 
borrowed  from  our  shelves.  Most  of 
these  come  from  Dargaville  Library, 
which we exchange for new titles six-
monthly. Added to this, we now have a 
range  of  blu-ray  disks.  Seventy  eight 
blu-ray disks were borrowed this year. 
Our  funding  comes  largely  from  a 
grant from Kaipara District Council. In 
the  2015  financial  year  we  received 
$3,000.00  (including  GST  -  $2,608.70 
excluding  GST)  for  library  expenses 
including  book  purchases  and  running 
costs, a slight increase on the previous 
year.  We  also  raised  $176.09 
(excluding  GST)  in  other  income, 
mostly  by  selling  surplus  books,  and 
raised  $209.57  (excluding  GST)  from 
rental  fees  on  our  newer  books  and 
some of the DVDs. 
I  look  forward  to  another  successful 
year in the library. 
~Wendy Howard, Librarian 
Exciting new changes in store!
Longer Summer hours, open till 6.30 
Mon-Fri. 
Smaller sized trolleys available, now 
stored outside in outdoor trolley  
rack. 
New range of  Simon Gault Gourmet 
stocks and seasonings. 
Attention Gardeners: New Range of 
Tui Garden Products available 
ChargeNet Fast Charge electric car 
charger installed onsite - first in  
Northland!
Jaques Four Square 
Phone: 4312227 
1 Kaiwaka-Mangawhai Road, 
Kaiwaka. 
A  wonderful  day  was  enjoyed  on 
Thursday 23rd Oct as Hakaru Womens 
Section  RSA  celebrated  their  60th 
Birthday. 
There 
were 
approximately    90  plus  guests  and 
members  who  attended,  arriving  from 
Kaitaia,  Northern  Wairoa,  Whangarei, 
Waipu, 
Wellsford, 
Warkworth, 
Silverdale, Birkenhead and Pukekohe. 
It  was  nice  to  meet  up  again  with 
Doreen  Balderston  from  Whangarei 
who  was  a  member  many  years  ago 
when  her  husband  Laurie  who  was  a 
Returned WW2 soldier and had a farm 
in Kaiwaka. 
Congratulations  to  the  following 
members who were presented with the 
following  "Awards"  –  Lena  Carleton 
Life Membership; Helen Hawkens, and 
Shirley De Vries Long Service; Frances 
Wearing,  Bev  Ogilvy,  and  Dawn  Be 
Hague Certificates of Appreciation. 
The  Presidents  of  the  visiting  clubs 
received beautiful orchid arrangements, 
also  our  patron  Fay  Wintle,  made 
beautifully by Heather. 
Heather  received  a  well  deserved 
bouquet of flowers presented to her by 
Fay.  The  luncheon  as  usual  was  well 
received and there was also some over 
for the singers! 
There  were  approximately  20  raffles 
attractively assembled by Heather, 
and  were    much  appreciated  by 
those  who  were  lucky  enough  to  win 
them. 
The    overloaded  sales  table  was  well 
supported. 
Trish  Black  made  the  delicious,  moist 
cake, beautifully iced by Lena, and Fay 
and  Bettie  Marchant  had  the  pleasure 
of cutting it. 
The  Mangawhai  singers  entertained 
with songs and a hilarious skit from the 
men, and the ladies sang a bracket of 3 
songs  conducted  by  their  capable 
leader 
Christine. 
Reg 
Jaques 
accompanied  them  on  the  organ  and 
Des  Chitty  on  the  guitar.  Reg  played 
popular songs of bygone times most of 
the day and the ladies also had a small 
sing-song. 
Margaret  Schutt,  a  popular  singer  for 
every  birthday  from  years  back,  sang 
and  Angel  Erstich  our  N.Z  President 
from  NWA  sang  "The  Orchid"  which 
was also beautiful. 
Members  please  note:-  The  next 
meeting  will  be  our  Christmas 
Luncheon,  Please  bring  a  plate  and 
arrive at 11 a.m. on the 26th November. 
Wear Christmas colours and finery and 
bells  and  bobbles  if  you  wish.  New 
members are always welcome.     ~Ann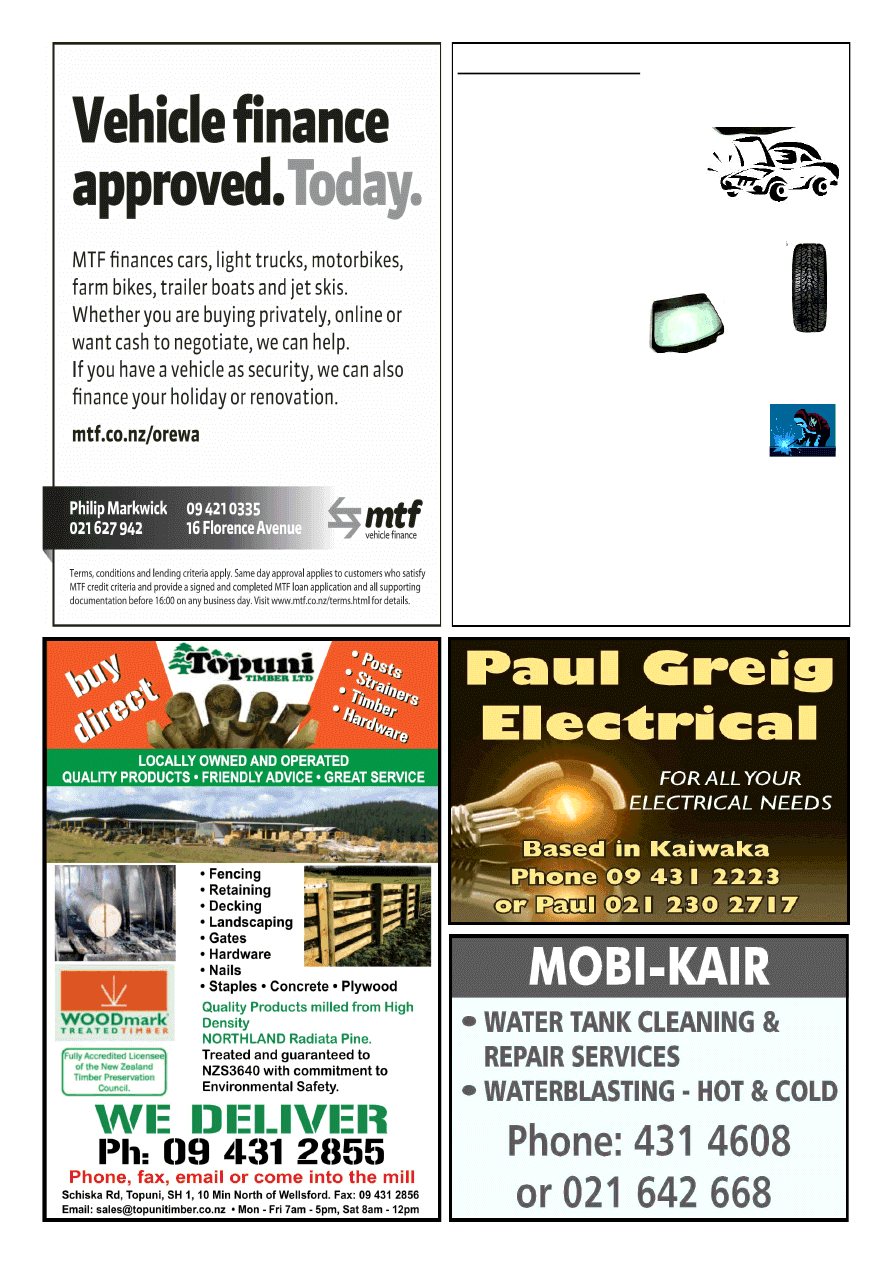 Want it done? 
Bring it to  
Twinkle Tow 'n' Tyre 
*W.O.F. 
*Tyres 
*Windscreen replacement 
*Chip repairs 
*Bulk Oil 
*Batteries 
*Welding 
*Custom built trailers 
*Trailer hire 
Think you'll get a better deal in 
the city? 
Go on, ring us; it won't cost  
anything! 
1837 State Highway 1, Kaiwaka       
Phone 431 2823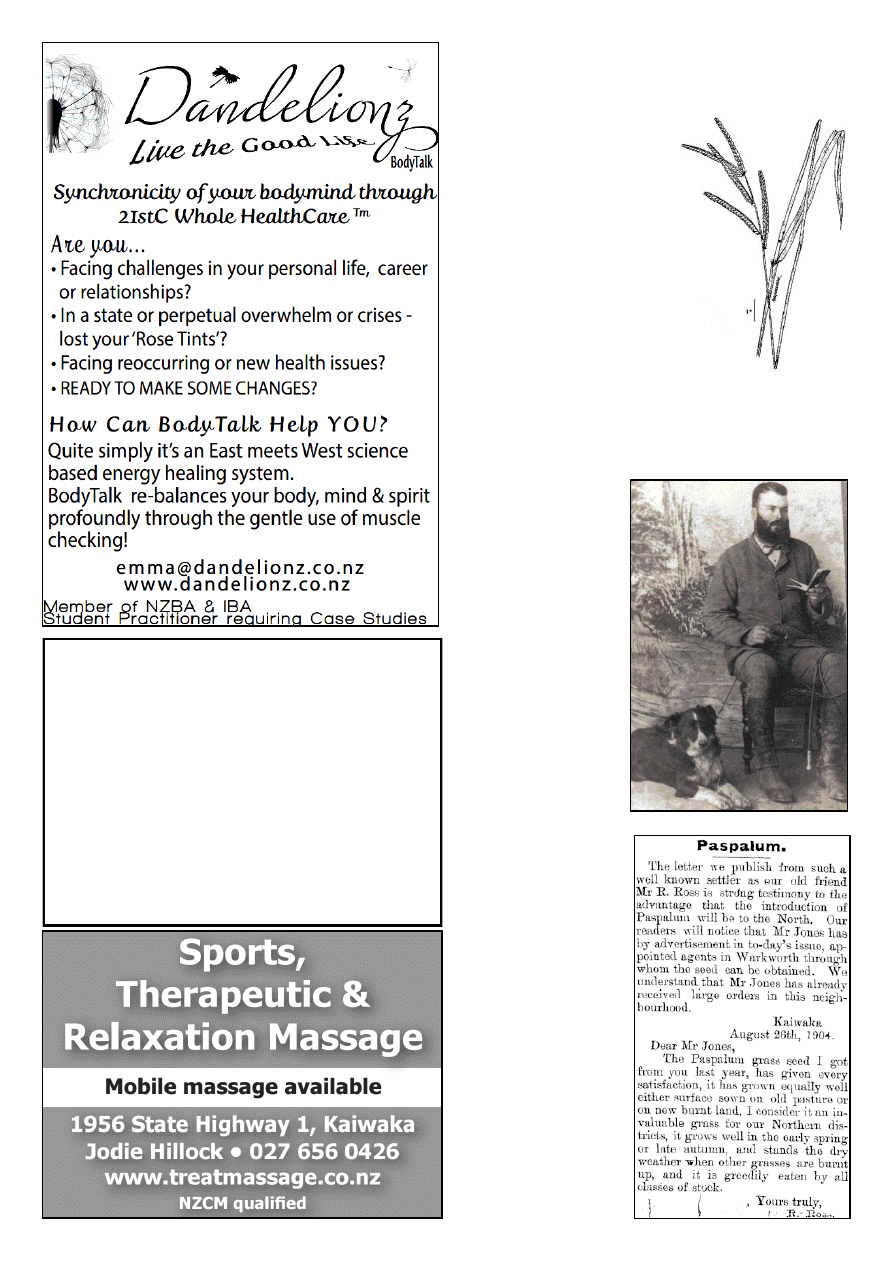 www.kaiwaka.co.nz 
Kaiwaka Bugle - 27 October 2015 
Page 17 
LIFESTYLE PROPERTY  
MAINTENANCE 
Putting life back into your style
Working out of Kaiwaka; servicing Mangawhai, 
Maungaturoto, Waipu and surrounding areas. 
  With over 25 years' experience, I'm fully insured and 
any job considered so just call me – James on mob: 0273 
808622  or  09 431 2245 
email: lifestylesorted@gmail.com  
Mulching - gorse, 
scrub 
Tree & hedge work 
Hole boring 
Alkathene laying & 
repairs 
Paddock topping, 
slashing 
Electric fence 
installation 
Weed spraying 
Free quotes 
Land & section 
clearing 
Loader work 
Rubbish removal 
Fully insured 
Repairs to driveways, fencing & buildings 
PASPALUM in KAIWAKA 
Newspaper notes about paspalum as a grass in New Zealand 
appeared  in  the  1870s,  but  not  until  the  late  1890s  did 
Paspalum  dilatatum  become  used 
as a regular farming grass. 
"This  season,  Paspalum  dilatatum 
and buffalo are the only grasses to 
withstand the drought. Paspalum is 
only  recently  introduced.  Many 
and  various  are  the  points  in  its 
favour.  If  closed  up  for  a  period 
about  the  end  of  the  year. 
Paspalum  will  give  a  quantity  of 
succulent  feed  when  all  other 
grasses  are  dried  up  and  useless 
for dairy stock. The seed stalk has 
been measured at 5ft. 6in, and the 
leaf  averages  2ft.  in  length,  broad 
in  proportion  that  is  when  closed 
for a time. All classes of stock eat 
it. Paspalum has been proved to be 
hardy,  and  will  germinate  freely  on  bush  burns,  sown  in 
autumn.  The  first  year  it  does  not  show  much,  but  grows 
ahead the second year and will stand close feeding. It can be 
propagated  by  seed  or  by  transplanting  the  divided 
roots.  Paspalum  dilatatum  is  clearly  a  first  class  grass  for 
this climate." (Northern Advocate, 24 February 1900) 
In  February  1900  the 
paspalum 
seed 
was 
selling  in  Auckland  for 
7/6 per pound (Auckland 
Star  22  February  1900), 
but by 1903 the Northern 
Advocate  advertisements 
for  this  paspalum  were 
published – "A few sacks 
of  this  seed,  direct  from 
N.S.W.  1s  7d,  per 
pound".  In  1915  H. 
Graham's 
Helensville 
store  was  advertising 
paspalum  seed  for  10½
d 
per pound. 
The  first  mention  of 
paspalum  in  Kaiwaka 
was  by  Robert  Ross,  as 
from  his  letter  published 
in August 1904 he would 
have  planted  it  in  1903  - 
Rodney  and  Otamatea 
Times,  Waitemata  and 
Kaipara 
Gazette, 
24 
September 
1904 
(see 
right). 
In 1864 an original Crown 
Grant of 100 acres of land 
was  made  to  Robert  S. 
Ross;  this  being  just  3 
kilometres 
south 
of 
Kaiwaka  –  Pukenui    that 
came  to  be  known  as 
Ross'  Hill  or  Tunnel  Hill 
following  the  rail  tunnel 
being  built  through  there 
in 1912.  
Pictured: Bob Ross (son of 
Robert  Sinclair  Ross), 
cattleman  and  drover, 
renowned  for  his  feats  of 
strength.  Is  this  the  R. 
Ross  in  the  letter,  or  his 
son?
Now,  just  when  did  kikuyu 
take hold in Kaiwaka?!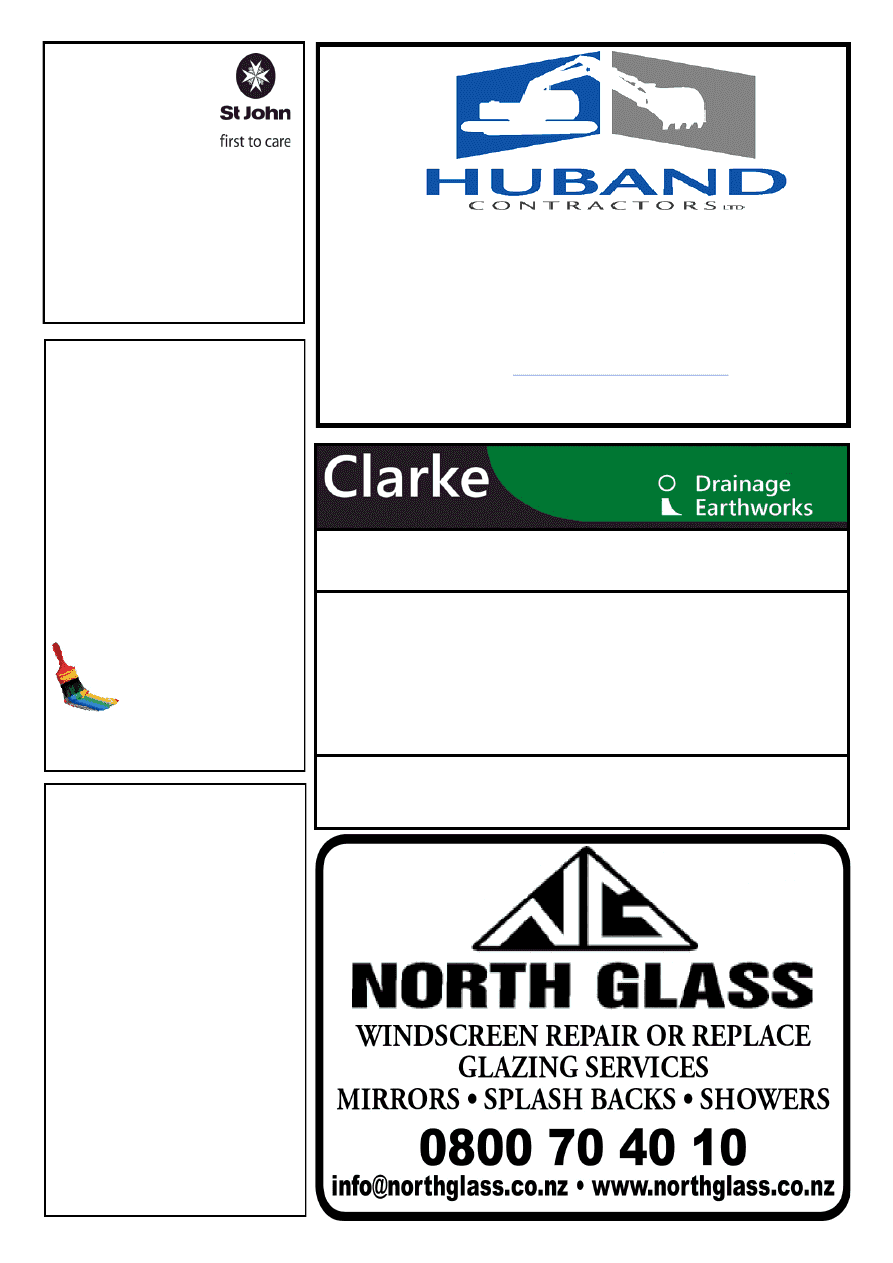 When you need St. 
John members at 
your function … 
Get a Community 
Services Form 
….. see Milly at the  
Kaiwaka St John  
Op Shop.  
Phone 4312650 
MORE MEMBERS REQUIRED FOR 
THE KAIWAKA STATION. 
Registered Drainlayer 
All Types of Earthworks  
> All Residential & Commercial Work 
> House Sites 
> Septic System Design & Install 
> Footings & Drilling to 10m 
> Sewer Connections 
> Dams 
> Water Tank Installation 
> Roading & Races 
> Farm Work 
THE ONE STOP SHOP  
Phone Nigel for an Obligation Free Quote  
Drainage & Earthmoving                  clarkedrainage@xtra.co.nz 
027 2233 185
*   R O A D I N G   *   E A R T H W O R K S   *    
*   D R A I N A G E   *   S I T E W O R K S   *  
For any further enquiries, contact Shaun on: 
Cell: 021 222 0272 
Home: 09 4318339 
Shaun Huband:  Registered Drainlayer 
UP-LINK 
CHRIS WARING 
FREEVIEW 
INSTALLATIONS
T.V. - HOME THEATRE & 
HI-FI ADVICE/SET UP
SKY ACCREDITED 
INSTALLER
MOB.0273403747 
HM.094312328 
EMAIL cwaring44@gmail.com
28 YRS EXPERIENCE 
OFFERING 
UNBIASED ADVICE 
LEE COOPER 
PAINTERS 
(Kaiwaka Based) 
*30 years Experience 
*Interior/Exterior 
*New and Restoration 
*Honest and Reliable 
*Free Quotes 
09 4312 918 
027 473 5171 
leecooper@xtra.co.nz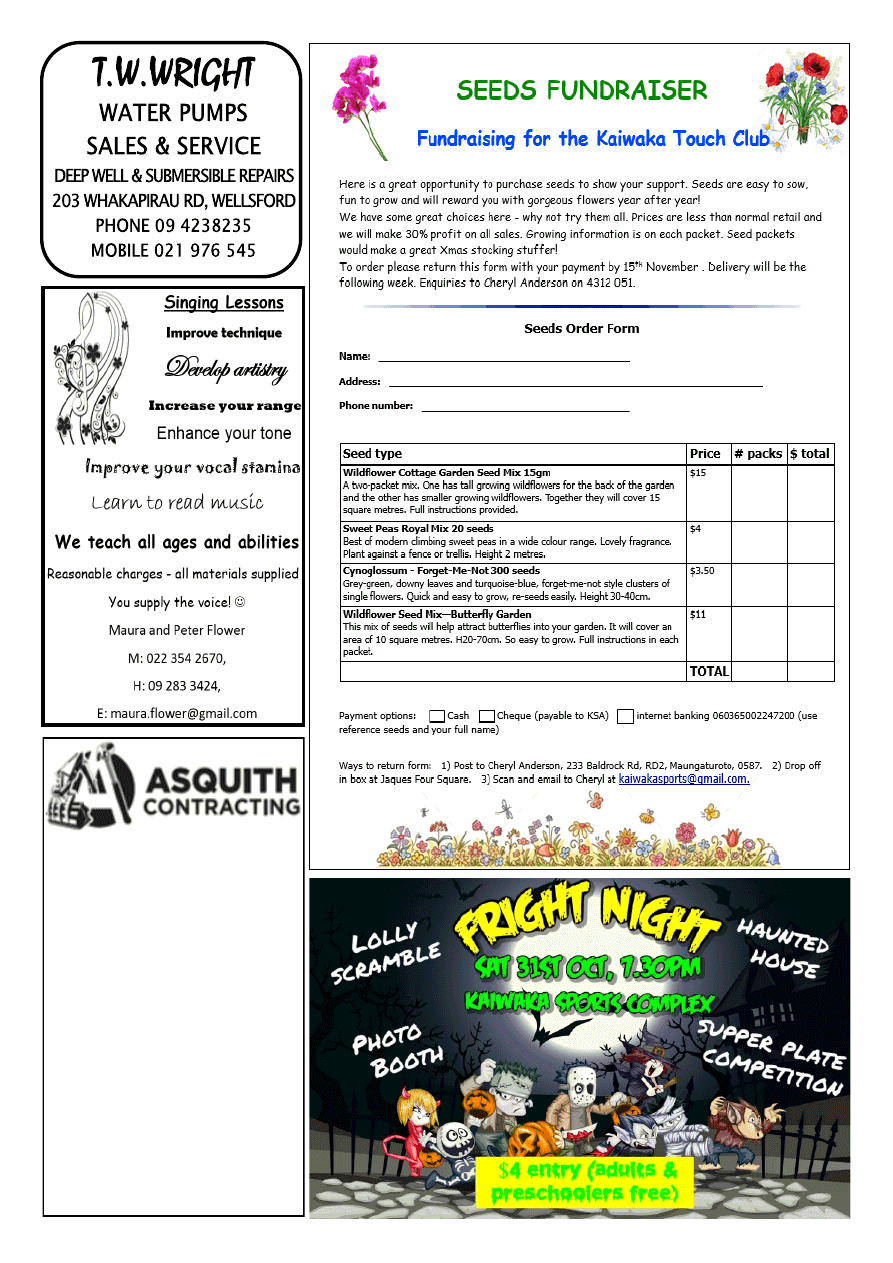 www.kaiwaka.co.nz 
Kaiwaka Bugle - 27 October 2015 
Page 19 
1.7tn Digger/Operator 
for Hire.
Daily/Hourly rates 
available.
Call Tam on 
027 211 1152 
or 
asquithcontracting 
@gmail.com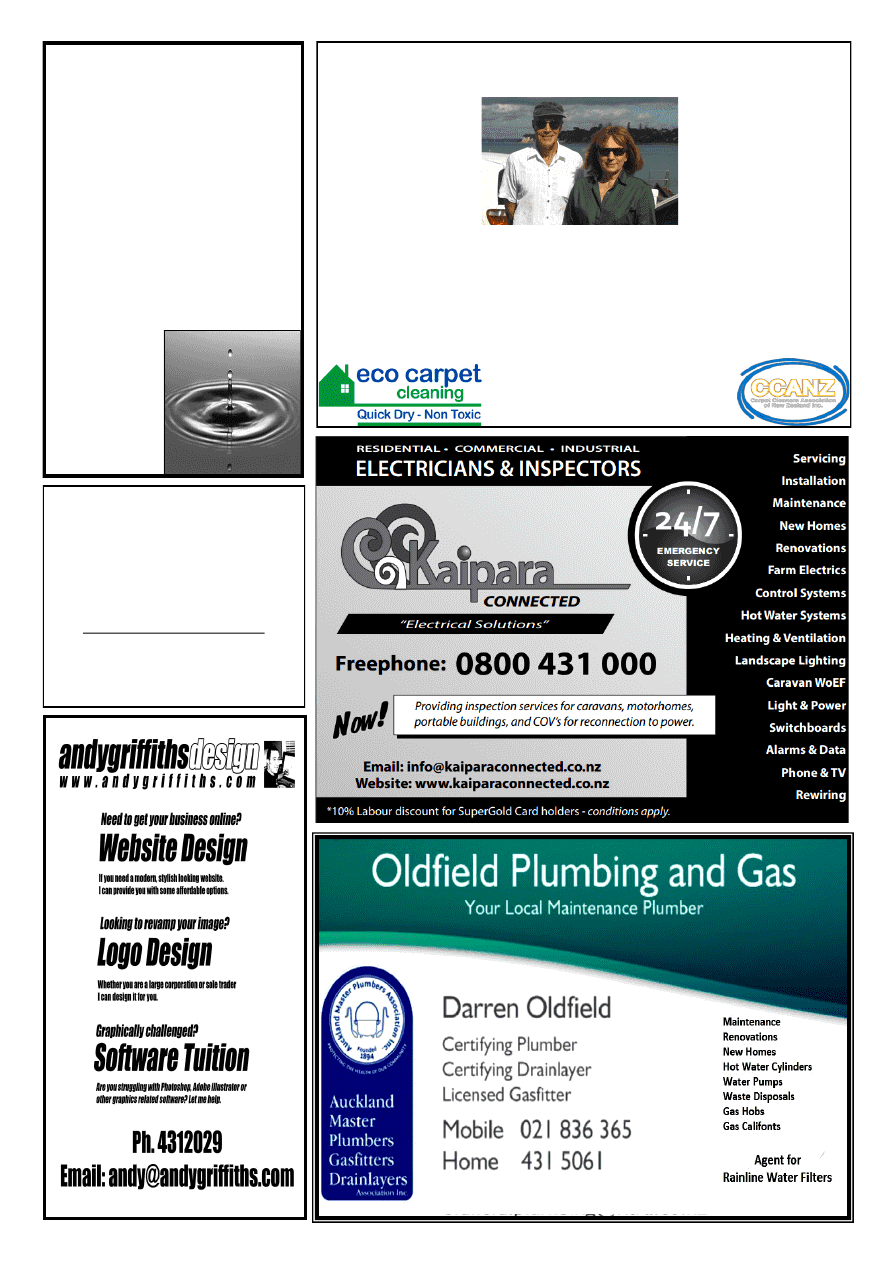 PROFESSIONAL 
COUNSELLING 
AVAILABLE
Want to be content in your life? 
Men... need help with your 
relationship? 
Couples... communicating a 
problem? 
I can help you!
Phone me for a preliminary 
talk. 
PETE 
WORSFOLD  
B. Soc.Sc. M. 
Soc.Sc. Dip Prof 
Couns. Prov. 
MNZAC 
Counsellor 
021 825 970 
CARPET & UPHOLSTERY CLEANING 
QUICK DRYING – NON-TOXIC  - GREAT RESULTS
Mike and Marina Bagley have returned to your area and are 
delighted to offer carpet and upholstery cleaning 
Call 09 431 3016  or  027 2410414 
marina@ecocarpetclean.co.nz  
www.ecocarpetclean.co.nz 
Otamatea High School 
& Maungaturoto District High School 
50
th
 Reunion 
15
th
 – 17
th
 April 2016 
For more details visit:   
Contact: Phone: 0800 682628    
Email: ohs@otamatea.school.nz 
Registrations close 18
th
 March 2016 
oldfieldplumbing@gmail.com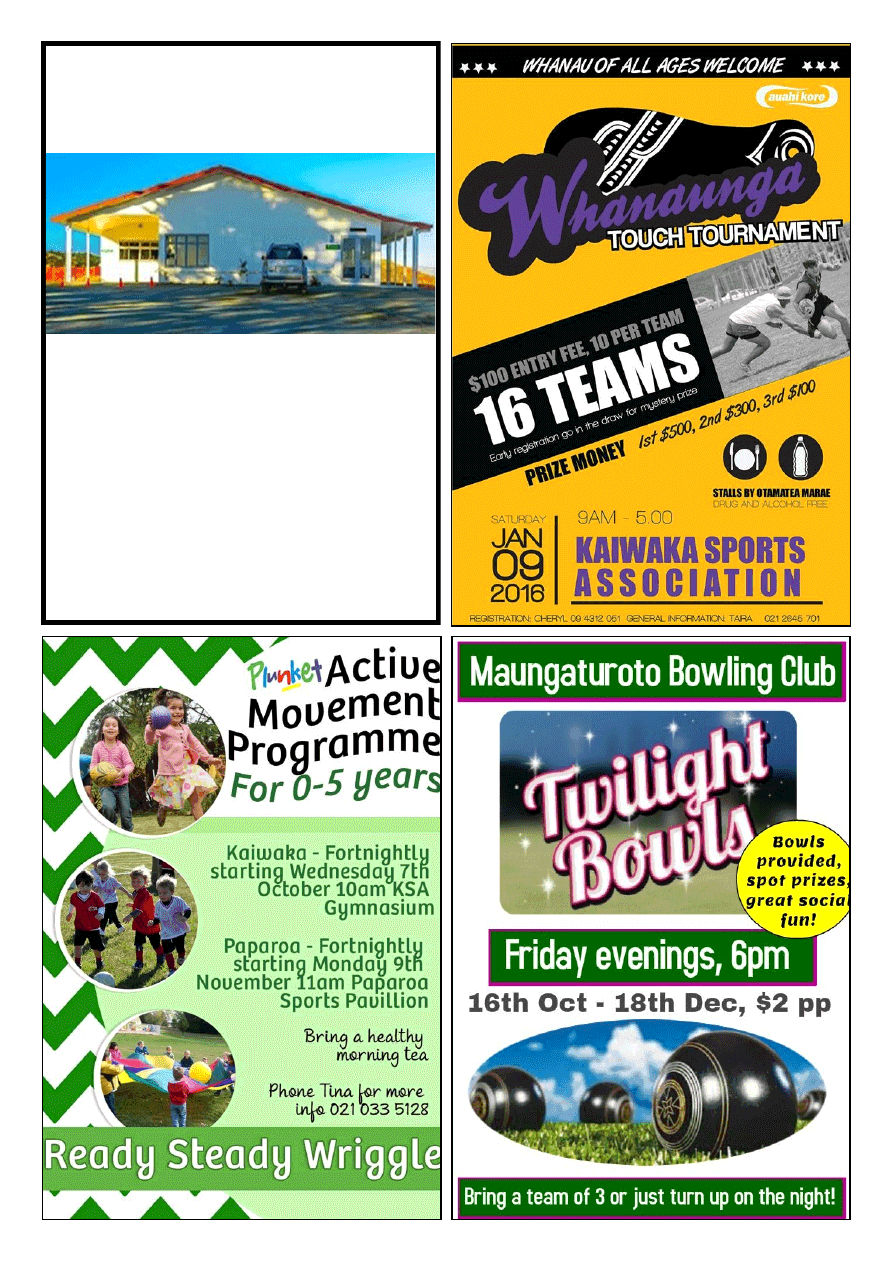 www.kaiwaka.co.nz 
Kaiwaka Bugle - 27 October 2015 
Page 21 
Te Pounga Marae 
130 Nathan Rd. Oneriri. Kaiwaka 0573 
COMPLEX FOR HIRE 
Functions 
* Weddings   *  Birthdays   *Anniversaries 
* Meetings   * Wananga 5 hour meeting 
* 12 hour stay   * Overnight 
*All welcome - No more Drink-driving 
Amenities: 
*Convo Combi Steamer * Bratt Pan * Dish 
Washer/Sterilizer * 3 Door Glass Chiller (walk in) 
etc…All Crockery * Linen Supplied * Central 
Heating and Air Conditioning and much more.  
Can also cater for small groups…. 
For more information please contact: 
Kim Wallace 
Home: 09 832 1133   Mob: 0211275340 
Email:  kimwallace@xtra.co.nz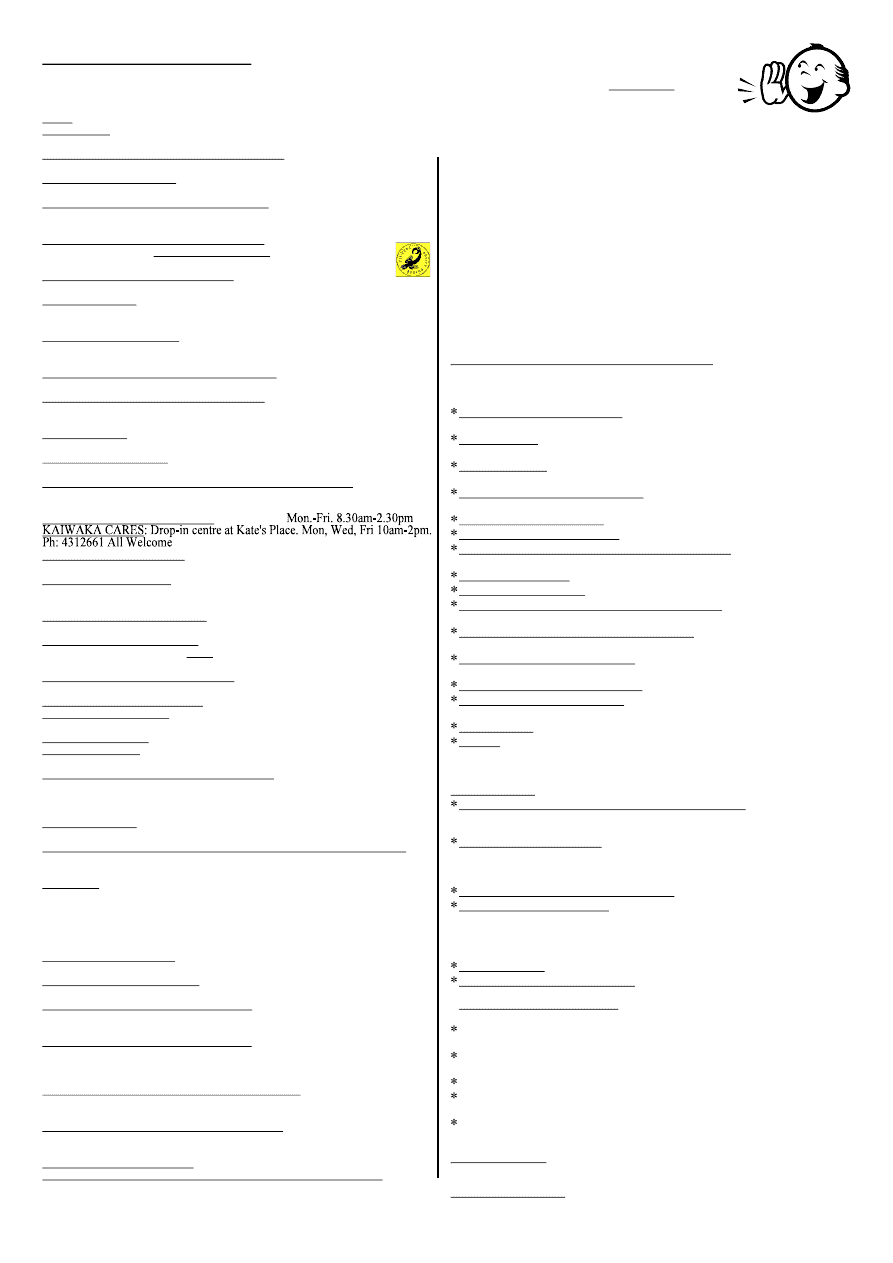 Next Bugle Deadline midday Friday 6 November 2015
LOCAL SERVICES 
*St.John Ambulance 
111 or Freephone 0800 61 0066
*Fire phone 111     *Police phone 111 or 09 4311150
A A: Meets Wed., 8pm Kaiwaka Ph: 4312228, 4315543, 0800229 6757 
AL ANON: In recess, contact Ph: 4312228 
MINISTRY FOR PRIMARY INDUSTRIES - General inquiries Call 
Free 0800 008 333 
ASUREQUALITY LTD  (was AgriQuality) Call Free 0508 0011 22  
BUDGETING SERVICE, WELLSFORD:  Free confidential advice & 
support for all areas of personal finance. Ph (09) 423 7123 
CAB-Citizens Advice Bureau.Wellsford Ph: 4237333 
0800 367 222 email:cab.wells@xtra.co.nz  
DOG/STOCK /NOISE CONTROL 0800 105 890 
KATE'S PLACE with Govt.Day Agencies/Community Information /
Osteopathy/ IRD / Probation, etc Ph: 4312661 Hours: 9am-3pm. Mon - Fri 
FUNERAL SERVICES: Morris & Morris Ltd, 
Whangarei - Bev Jaques Ph:4312367 or 0800667747 
GRANDPARENTS Raising Grandchildren: Sarah Rogers Ph: 4312194 
HAKARU LANDFILL/Transfer Station:Open everyday except 
Tuesday10am-4pm.Ph4312629 Cost-$55 trailer load up to 1 cubic metre. 
Ph:4258567 - office 
HOMEOPATH: Donna Flavell Ph: 4314843 
INLAND REVENUE: Last Friday each month, 11-3pm Ph4312661 
KAIPARA DISTRICT COUNCIL www.kaipara.govt.nz:  
Help Desk FREEPHONE 0800 727 059  
KAIWAKA KOHANGA REO: Ph:4312620 
KAIWAKA CEMETERY: Ph: 4312045 
KAIWAKA LIBRARY: kaiwaka.library@gmail.com  
Mon. 4-6pm; Wed., Thurs., Fri., Sat.  10am-2pm Ph:4312539 
KAIWAKA PLAYCENTRE: Ph: 4312286. Hastie Lane 
Monday to  Friday  9.00am - 12 noon. 
KAIWAKA POST OFFICE:Ph:4312 431  
Post Code: 0573  for RD2  and  0542 for all Kaiwaka Post Office mail 
KAIWAKA PRIMARY SCHOOL: Ph: 4312309     
KAIWAKA SPORTS ASSN: Ph 4312005; 4312129 gym 
KAIWAKA ST JOHN: Manager Steve Rosser 09 4318403, 021 2316836 
LINKING HANDS Health Shuttle Ph 4314121 or 09 4318969 
NORTHPOWER: Faults Kaiwaka area 0800 104040 
OTAMATEA COMMUNITY SERVICES: Free counselling, parent 
coach, Family Support worker, budget advice, food bank. Mon-Fri 9am-
30m. Ph 09 431 9080 
PARENTPORT: Free, practical family support service Puhoi to Paparoa 
Ph or txt:  Dianne 027 2085093 
PERSONAL DEVELOPMENT COACHING, GROUP FACILITATION:  
Sabine Druckler 4312231 
PLUNKET: Kaiwaka - Kaiwaka War Memorial Hall: Clinic 1st Wednesday of the 
month; Coffee Group at 9:30. Mangawhai  - Rose Madsen Cottage, Mangawhai 
Domain,  Moir  St:  Clinic  1st  and  3rd  Monday  of  month;  Young  Babies  Coffee 
Group  2nd  and  4th  Monday  10  am;  Plunket  Playgroup  every  Thursday. 
Maungaturoto - Maungaturoto Congregational Church, 100 Hurndall Street East: 
Plunket clinic 2nd and 4th Wednesday. Cynthia 09 431 8187 or 027 675 3488 
PLUNKET HELPLINE -0800 933 922 (24 hours) 
PUBLIC HEALTH NURSE: Gloria Reid Ph: 094327634  
RETURNED AND SERVICES ASSN 733 Settlement Rd. Hakaru 
Ph.4312176 Bill Kerr (President) Ph.4314719 
TAITOKERAU COMMUNITY LAW: Free confidential legal advice and 
assistance, 2nd
Thursday
 of each month. Ph: 0800 155 529 for 
appointments.  
TE KOROWAI AROHA O NGATIWHATUA Ph: 4312675 
(The Cloak of Love of Ngatiwhatua) Support and Maori Consultancy.  
VETERINARY SERVICE MANGAWHAI: 
Ph: 4314535 Mon-Fri 8.00-5.00, Sat 9-12, a/h appt. 
WELLSFORD DOCTORS: Ph: 4238 086 
WOMEN'S WELFARE LEAGUE & Reaching Out For Youth:  
4 Kaiwaka-Mangawhai Rd, M Morgan 4312293 
WHAT'S ON
PLEASE ~ do let us know what is on - email 
kaiwakabugle@kaiwaka.co.nz 
Advertising in WHAT'S ON is FREE  
*28Oct~Hakaru Hall AGM, 7:30pm Hakaru Hall 
*30Oct~Mangawhai Women's Institute Floral & Craft Show, 
12:45 Mangawhai Library Hall 
*30Oct~Halloween Roast Night, 6pm Hakaru RSA 
*30Oct~Pitch Perfect 2 (M), 7:30pm KWMH 
*31Oct~EBANZ Conference 
*31Oct~Monster Mash Fundraiser, 10am-2pm Te Pounga Marae 
*31Oct~Fright Night, 7:30pm KSA 
*1Nov~Te Pounga Marae AGM, 10:30am Nathan Road 
*8Nov~Minions (PG), 2pm KWMH 
*13Nov~Mr Holmes (PG), 7:30pm KWMH 
*14-15Nov~Mangawhai Garden Ramble 
KWMH=Kaiwaka War Memorial Hall 
KSA=Kaiwaka Sports Association Complex 
See www.kaiwaka.co.nz for upcoming events. 
HOUSEHOLD RUBBISH COLLECTION - Kaiwaka Pick up: 
Mondays = Gr een bags (Nor thland Waste - 09 430 3273) 
Wednesdays = Blue bags and yellow r ecycling (at J aques $3.00 
and $1.50) (Kaurilands 09 4392146) 
 DIABETES  Support  Group  -for  Kaiwaka,  Mangawhai,  Wellsford 
10am, 3rd Friday of month Ph:A.Pert 4238242; J.Gardner 4238060 
 DRINK CAN 'tear tabs' - for Starship Hospital- please collect - 98 
Kaiwaka Mangawhai Rd, leave in mailbox, Ph. 4312625  
 GENEALOGY - Wellsford: 1st Thursday in month Ph: 423 7033; 
Waipu: 4th Monday in month Ph: 4312 725 
 GYMNASTICS  OTAMATEA  -  Tuesday  Ph:  Stephanie  022 
3624998 
 HAKARU PONY CLUB - Secretary Julie Rynne 09 4314520 
 KAIWAKA BADMINTON -Tuesdays 7.30pm Ph: 4312345 
 KAIWAKA  GARDEN  &  FLORAL  GROUP  -  2nd  Thursday  in 
month. Ph: 431 4767 
 KAIWAKA CUBS - Thursdays 5.30-7pm, Hakaru Ph:Bruce  4312542 
 KAIWAKA SQUASH - Mondays 7pm Ph: Barbara Thomas 431 5905 
 KNITTING FOR WHANGAREI HOSPITAL - 2nd Tuesday in 
month, Apple Basket 10am Ph 4314827 
 MANGAWHAI COMBINED PROBUS CLUB - 2pm, 3rd 
Thursday month, Senior Citizens Hall Mangawhai. Ph: 4315777 
 OTAMATEA GREY POWER - Kath Pattinson 09 431 8960, 1pm 
last Wednesday of month, Anglican Church Hall, Maungaturoto 
 PT CURTIS CRUISING CLUB - Jean Ph: 4312 246 
 RSA,Hakaru & Dist.Women - meet 1.30pm 4th Thurs in month Ph: 
4314 668  
 TRAMPING - Mondays 9am-2:30pm  Karen Ph: 4312 090 
 YOGA - Tuesdays 6:15pm,  Friday 8:30am KWMH Carla Ph: 021 
296  8794;  Wednesday  5:30-7:00pm  Archie  Bull  Hall  Dalleise  Ph 
4312 108 
CHURCHES:
Kaiwaka Family Church - Your Community Church: Sundays 10am & 
6pm. Youth Service Mondays 6-8pm. Ph: Tawhiri 4312571 or Paul 
4312068 
St Paul's Anglican Church 1st Sun. 9.30 am (Eucharist), 3rd Sun. 9.30 
am (Family Service). Contacts:  Church Office 09 431 4122; M. 
Hargreaves 431 2295; C. Bygrave 431 2057; or Rev. Wayne Thornton 
Ph 431 5650 
Church of Christ the King, Mangawhai:9.30am every Sunday 
St.Mary's Catholic Church: Maungaturoto – Griffins Road, Saturday 
evening Vigil Mass 6pm; Mangawhai – Senior Citizens Hall, Sunday 
Mass 8:30am; Wellsford – Matheson Road, Sunday Mass 10:30am; 
Mid-week Mass times and all enquires to Fr. Bill Fletcher – phone 423 
8170 
Baptist Church: Sun. 10.30am Mangawhai Snr Cit.Hall.Ph:4312339 
Cause Way Church Mangawhai: Sundays 10.15am, Mangawhai 
Community Recreation Centre, Insley St. Ph: 09 4314782  
St.Pauls Archie Bull Hall HIRE  $20 half day, $40 full day per hire, R. 
Morgans, Ph 4312365 
Kaiwaka  War  Memorial  Hall  HlRE  -  Phone  4312725  or 
kaiwaka.hall.bookings@gmail.com 
Hakaru Community Hall HIRE -Ph. 4312256 or 4312110 
Te  Pounga  Marae  queries  -  R.  O'Leary  4312  423,  J.Nathan  021  186 
7382 
Kaiwaka  Sports  Association  hire/queries  -  C.  Anderson  4312051  or 
kaiwakasports@gmail.com
Justice  of  Peace:  B.FJaques;  L.Donaldson;  A.F.Hargreaves,  S.Dalziell, 
W.Howard  -  please  phone  to  make  sure  they  are  available 
www.justiceofthepeace.org.nz 
Marriage Celebrants: L.Donaldson; A.F.Hargreaves; C.Rosseels